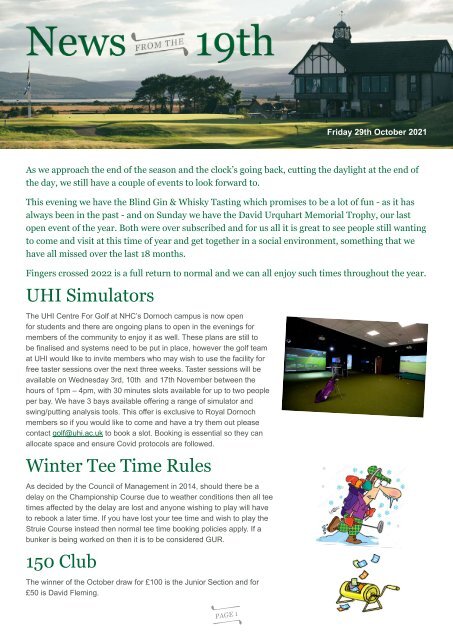 Members Weekly Newsletter 29-10-21
Create successful ePaper yourself
Turn your PDF publications into a flip-book with our unique Google optimized e-Paper software.
Friday 29th October 2021

As we approach the end of the season and the clock's going back, cutting the daylight at the end of

the day, we still have a couple of events to look forward to.

This evening we have the Blind Gin & Whisky Tasting which promises to be a lot of fun - as it has

always been in the past - and on Sunday we have the David Urquhart Memorial Trophy, our last

open event of the year. Both were over subscribed and for us all it is great to see people still wanting

to come and visit at this time of year and get together in a social environment, something that we

have all missed over the last 18 months.

Fingers crossed 2022 is a full return to normal and we can all enjoy such times throughout the year.

UHI Simulators

The UHI Centre For Golf at NHC's Dornoch campus is now open

for students and there are ongoing plans to open in the evenings for

members of the community to enjoy it as well. These plans are still to

be finalised and systems need to be put in place, however the golf team

at UHI would like to invite members who may wish to use the facility for

free taster sessions over the next three weeks. Taster sessions will be

available on Wednesday 3rd, 10th and 17th November between the

hours of 1pm – 4pm, with 30 minutes slots available for up to two people

per bay. We have 3 bays available offering a range of simulator and

swing/putting analysis tools. This offer is exclusive to Royal Dornoch

members so if you would like to come and have a try them out please

contact golf@uhi.ac.uk to book a slot. Booking is essential so they can

allocate space and ensure Covid protocols are followed.

Winter Tee Time Rules

As decided by the Council of Management in 2014, should there be a

delay on the Championship Course due to weather conditions then all tee

times affected by the delay are lost and anyone wishing to play will have

to rebook a later time. If you have lost your tee time and wish to play the

Struie Course instead then normal tee time booking policies apply. If a

bunker is being worked on then it is to be considered GUR.

150 Club

The winner of the October draw for £100 is the Junior Section and for

£50 is David Fleming.

PAGE 1
---
Sunday Roast - 7th November

Delighted to tell you that lunchtimes on Sundays will see the return of

the traditional roast dinner once again starting from 7th November. You

can have one, two or three courses and it is available from 12.30pm to

3.00pm each Sunday.

Please remember to book to avoid disappointment, we expect it to be

busy!

Looking for a game?

If you have booked some tee times but don't have a full 4 ball (or early

morning 2 ball) and would be happy for other members to join you just

ensure you only book the places you need and other members will see

you have spaces.

These spaces can only be booked via the office so if you want to join

up with someone in this scenario just drop the office team a line on

bookings@royaldornoch.com or call them on +44 1862 810219 ext. 1.

Play from Mats

As we move into the softer conditions of Autumn and Winter then the

courses are susceptible to wear that will not repair until next season.

Therefore when you see a mat left on a teeing ground then you must use

this for your tee shot. This is not required during official club competitions

but is at all other times.

Archie

The Archie Foundation is a charity which supports sick babies, children

and families all across the North of Scotland. They looking for volunteers

for a variety of roles in all areas of The Highlands to help support their

work. If you are interested then you can find out more here.

Winter Bar & Catering

Now that the main season is over and the number of golfers and people

using the clubhouse has reduced we will be moving onto winter hours

from next week. You can read the opening hours here.

Pro Shop

The pro shop hours for November will be from the first tee time to 4pm 7 days a week but may close earlier

due to weather or playing numbers. Contact them on 01862 811924 or email proshop@royaldornoch.com. The

online store is available for you to make purchases here and to get your members discount you have to register

on the site and verification may take a day or two.

PAGE 2
---
Covid 19

Even though we are "Beyond Level 0" of Lockdown you MUST still book

a tee time, check in with the Pro Shop and start from the 1st hole as

Track and Trace remains mandatory for everyone.

Signing in is also still mandatory in the Clubhouse and you can do this

using the NHS Scotland App or by writing your name, phone number and

time of arrival on the sheets provided. Please remember to CHECK OUT/

SIGN OUT when you leave the Clubhouse as failure to do this may result

in you being contacted by the NHS for track and trace purposes if a case

is identified on the day you were in the Clubhouse whether you were in

the building at that time or not.

Course Condition Updates

With the thought of the colder weather approaching and the prospect

that the Championship Course may be closed due to frost or snow, or

that buggies may not be allowed, then our team will be posting on the

dedicated Twitter channel to keep you all informed. You can follow us

here @RDCourseStatus and you can also see the feed on the Home

page of the website.

Latest COVID -19 rules

Clubhouse Bar & Catering

Winter Hours of Service from Tuesday 2nd November:

Bar - 10am to 6pm Sunday to Thursday and 10am to 8pm on Friday and Saturday.

Catering - Closed Monday and Tuesday, 10am to 4pm Tuesday, Wednesday & Sunday, 10am to 6pm on Friday

and Saturday.

Please note that the clubhouse may close earlier than these times if there are no customers.

Upcoming Club Events

• Sat 30th Oct - Whisky Stableford

• Sun 31st Oct - David Urquhart Memorial Trophy

• Tues 2nd Nov - Senior Stableford

• Thurs 4th Nov - Pro's Stableford

• Sat 6th Nov - Whisky Stableford

• Sun 7th Nov - Winter Alliance; Sunday Roast Starts

• Tues 9th Nov - Seniors Roll Up

• Thurs 11th Nov - Pro's Stableford

• Fri 12th Nov - Ladies Section Annual Dinner

• Sat 13th Nov - Whisky Stableford

• Sun 14th Nov - Sunday Roast

PAGE 3
---
Golf Courses

It's been a mild week so the cutting routine continues on both courses. The greens on both courses have

been sprayed with insecticide to combat Crane Flies. The Struie Course greens have also been sprayed with

wetting agent. We are aerating pathways with the Air2G2 to relive the compaction and this should help dry out

the surfaces and any pathways that are badly worn will be returfed during the winter. The winter greens on

the Struie Course were cut and fingers crossed it will be a while before we need to use them! We have been

stock piling sand for bunkers and topdressing at the mixing shed for next season. We continue to level and

enlarge the White Tee on the 18th of the Struie Course. The area of bushes behind the old 7th green on the

Championship Course has been cut and a few trees removed.

Please note that the winter greens have been marked on the Struie Course so please treat them as Ground

Under Repair

Bunkers - We have reinstated the Preferred Lie local rule for the time being.

Office Hours

For November the office opening hours will be 8.30am to 5.00pm Monday to Friday. It is still closed to visitors so

please contact them on 01862 810219 or bookings@royaldornoch.com

PAGE 4
---
Matchplay Competitions

So you can keep up to date with progress the latest results are linked to the newsletter. Just click the name of

the event that you are interested in. These were updated on Thursday 14th October.

Ladies Events

Sutherland Cup (Handicap Singles, Struie) - Lisa Dickenson

Sykes Cup (Handicap Singles) - Alison Bartlett

Barrow Cup (Handicap Foursomes) - Irene Hart and Fiona Hampton

Gents Events

McNaughton Rosebowl (Handicap Singles, Struie) - David Fleming beat Mark McFall in the final

Ryle Jug (Handicap Singles) - Roger Boyce

Murray Vase (Handicap Singles) - Robert Grant

Cadzow Quaich (Handicap Foursomes) - Craig MacKay and Alex MacKay

President's Cup Scratch - Daniel Holden

President's Cup Handicap - Barry Cooke

Mixed

Patterson Trophy (Handicap Foursomes) John & Tessa Palmer

Senior Men

Barry Watson Quaich (Handicap Singles) - Hamish Macrae

Thanks for reading.

Happy Golfing!

Neil D. Hampton, General Manager

Stay safe. Protect others. Save lives.

www.royaldornoch.com