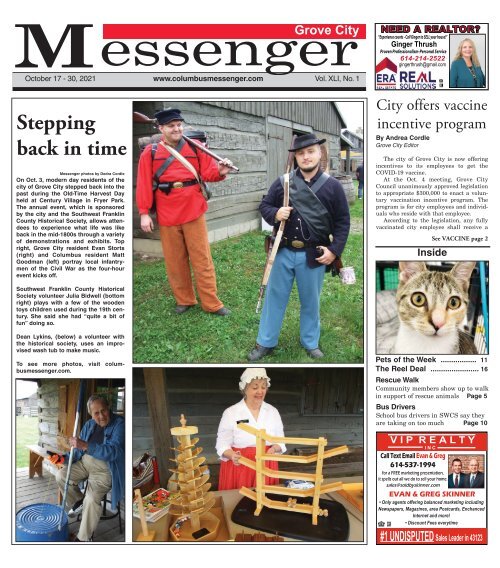 Grove City Messenger - October 17th, 2021
You also want an ePaper? Increase the reach of your titles
YUMPU automatically turns print PDFs into web optimized ePapers that Google loves.
Messenger

Grove City

October 17 - 30, 2021 www.columbusmessenger.com Vol. XLI, No. 1

NEED A REALTOR?

REALTOR?

Ginger Thrush

Call Proven Professionalism-Personal Ginger Thrush Service

614-214-2522

"Experience counts - Call Ginger to SELL your house!"

gingerthrush@gmail.com

Stepping

back in time

Messenger photos by Dedra Cordle

On Oct. 3, modern day residents of the

city of Grove City stepped back into the

past during the Old-Time Harvest Day

held at Century Village in Fryer Park.

The annual event, which is sponsored

by the city and the Southwest Franklin

County Historical Society, allows attendees

to experience what life was like

back in the mid-1800s through a variety

of demonstrations and exhibits. Top

right, Grove City resident Evan Storts

(right) and Columbus resident Matt

Goodman (left) portray local infantrymen

of the Civil War as the four-hour

event kicks off.

City offers vaccine

incentive program

By Andrea Cordle

Grove City Editor

The city of Grove City is now offering

incentives to its employees to get the

COVID-19 vaccine.

At the Oct. 4 meeting, Grove City

Council unanimously approved legislation

to appropriate $300,000 to enact a voluntary

vaccination incentive program. The

program is for city employees and individuals

who reside with that employee.

According to the legislation, any fully

vaccinated city employee shall receive a

See VACCINE page 2

Inside

Southwest Franklin County Historical

Society volunteer Julia Bidwell (bottom

right) plays with a few of the wooden

toys children used during the 19th century.

She said she had "quite a bit of

fun" doing so.

Dean Lykins, (below) a volunteer with

the historical society, uses an improvised

wash tub to make music.

To see more photos, visit columbusmessenger.com.

Pets of the Week ................. 11

The Reel Deal ....................... 16

Rescue Walk

Community members show up to walk

in support of rescue animals Page 5

Bus Drivers

School bus drivers in SWCS say they

are taking on too much Page 10

V I P R E A L T Y

I N C

Call Text Email Evan & Greg

614-537-1994

for a FREE marketing presentation,

it spells out all we do to sell your home.

sales@soldbyskinner.com

EVAN & GREG SKINNER

COMMERCIAL, INDUSTRIAL, HIGH QUALITY RESIDENTIAL

• Only agents offering balanced marketing including

Newspapers, Magazines, area Postcards, Enchanced

Internet and more!

• Discount Fees everytime

#1 UNDISPUTED Sales Leader in 43123
---
PAGE 2 - GROVE CITY MESSENGER - October 17, 2021

C.M.T

MOWER REPAIRS

614-875-5830

6446 HARRISBURG PIKE, ORIENT, OHIO 43146

Pick-up and Delivery

"We have the lowest price in town!"

Serving Your Community

Malek &

ATTORNEYS AT LAW Malek

Proudly Announcing

Adding New Attorneys

To Serve You!

WORKERS'

COMPENSATION

PERSONAL INJURY

WRONGFUL DEATH

SLIP & FALL INJURY

DOG BITE INJURY

Michael J. Bledsoe, 60, of Galloway,

passed away October 6, 2021. Michael "Mike" was

born June 21, 1961 to Samuel (Jack) and Phyllis (Akers)

Bledsoe.

Mike was a part of the semi trailer business for many

years prior to owning Tra-Serv from 1999 - 2018. He

always enjoyed taking care of and building relationships

with his customers. Mike was well respected

among the transportation industry. He enjoyed riding

his Harley Davidson motorcycle, spending time with

his children and grandchildren, as well as tinkering in the barn.

He was looking forward to retirement and spending his days with Becky on

their farm that they were building together.

Mike and Rebecca "Becky" (Miller) Bledsoe were high school sweethearts and

were happily married for 40 years.

Mike will be deeply missed by his; wife Becky; their children Jennifer (Freddie)

Wotring, Brandon (Trista) Bledsoe, Ashley (Joshua) Meyer, Evan (Allison)

Bledsoe; grandchildren Reagan, Lyla, Nolan, Amiyah, Lorelei, Roman, and

future grandchildren to come; parents Samuel and Phyllis Bledsoe; sister

Debra Bledsoe; brother Christopher Bledsoe; their dog Sophie; along with

many other family and friends.

Mike was preceded in death by his father-in-law Everett Miller and brotherin-law

Jeffrey Miller.

Visitation will be held Thursday, October 14, 2021, 5 to 7 p.m. and Friday,

October 15, 2021, 10 a.m. until the time of service at 11 a.m. at Newcomer

Funeral Home SW Chapel, 3393 Broadway, Grove City 43123. Burial will be at

Galloway Cemetery. To share a condolence with the family, please visit

www.NewcomerColumbus.com.

Since 1972

Douglas, Ed, Jim

and Kip Malek

"Hablamos Español"

FREE Initial Consultation

www.maleklawfirm.com

614-444-7440

1227 S. High St., Columbus, OH 43206

The City Beat

Grove City Council's Art Concern presents "RET-

ROSPECTIVE," an art exhibit by Lucila Linik on display

and for purchase through Friday, Dec. 17 at City

Hall, 4035 Broadway, in the Grove City Town Center.

The exhibit features a collection of mixed media,

watercolors and oil paintings.

Linik is a professional artist, trained since age 13,

at the High School of Music and Art in New York City.

Pursuing art throughout her university studies, Linik

earned a master of arts in education and a doctorate in

educational psychology from the University of Buenos

Aires (Argentina).

Teaching children and young adults a personal

approach to fine arts offered a pleasant challenge for

four decades. Linik has received awards for artistic

and educational achievements.

Boo Off Broadway

and Trick-or-Treat

The Grove City Area Chamber of Commerce will

host the 2021 Boo Off Broadway from 1:30 to 4 p.m.

Oct. 30. The event offers family-friendly Halloween

fun. Boo Off Broadway takes place on the Park Street

Promenade, 3444 Park St., across from the Broadway

VACCINE

Continued from page 1

one-time bonus of $1,000. Any fully vaccinated employee

would also receive a one-time bonus of $100 for each

fully vaccinated individual that permanently lives

with that employee. The employees who choose to participate

must be fully vaccinated by Dec. 17, 2021 and

provide a copy of their vaccination card to their human

resources coordinator.

"Our main goal is the health, safety, and welfare of

our community," said Grove City Administrator Chuck

Boso.

According to Boso, less than half of Grove City

employees are vaccinated. He reported that 127

employees have either tested positive for COVID-19 or

had come into contact with someone who tested positive.

The city of Grove City has approximately 265

employees.

Boso said just in September, there were 126 days of

absences due to the virus and 119 of those were unvaccinated

employees. Seven were vaccinated. According

to the city administrator, 84 days off came from the

police department, including dispatchers, 25 cases

came from the service department, 10 cases were

reported in the building department, and seven cases

came from the IT department.

"This time off has resulted in overtime for other

individuals," said Boso. "It puts stress on our work

force and causes fatigue. Something needs to be done.

If we do nothing, the numbers will get worse."

Grove City Law Director Stephen Smith was asked

about the impact of the legislation on those with a religious

exemption. Smith said there are those who cannot

get the vaccine for various reasons, be it a medical

condition or religious beliefs, but said because it is a

voluntary program, it would not subject the city to any

liability.

Smith also clarified that the vaccination incentive

program is just for city employees and is the same as a

www.columbusmessenger.com

Mixed media exhibit at City Hall

community events

All are invited to view the art and meet the artist at

a reception 6 to 8 p.m., Friday, Oct. 22. Visitors of City

Hall are required to wear facial coverings and check

temperatures before entering. Anyone with symptoms

of an illness may not enter a city facility.

Art can be purchased by contacting Art Concern

curator Lucila Linik at 614-357-3593.

The exhibit is open to the public weekdays, 8:30

a.m. to 4:30 p.m., or by calling clerk of council Tami

Kelly at 614-277-3065 for an appointment. Previous

exhibits can be viewed virtually on the city YouTube

page at bit.ly/gcACplaylist.

The Grove City Art Concern was founded in 1991

and is sponsored by Grove City Council. The Art

Concern was created for the express purpose of promoting

arts and culture in the Grove City community.

Station Apartments, and behind Capital City Cakes.

Visit gcchamber.org for more information.

The traditional Trick-or-Treat/Beggars' Night is on

schedule, rain or shine from 6 to 8 p.m., Thursday, Oct.

28. Residents who choose to distribute treats should

turn on their porch lights during this time. Drivers are

encouraged to watch for young pedestrians unaccustomed

to traveling at night.

taxable benefit. Council members and the mayor are

not eligible for the program, as they are elected officials,

not city employees.

Though all council members voted in favor of the

program, some did share their concerns.

Councilman Randy Holt said he was happy the program

was voluntary and not mandatory. Councilman

Ted Berry said he supported the program but does not

want employees to feel shamed for choosing not to

receive the vaccine. Aaron Schlabach said he was concerned

that the incentive would do little to encourage

people to get the vaccine; instead, it would just act as

a congratulations to those who have already received

it.

Council president Christine Houk said this incentive

program for employees is a way for the city to

stand in solidarity with the health care community.

"We are in a position to be a role model and I'm glad

we are capitalizing on that," she said.

Councilman Roby Schottke said he would like city

leaders to consider extending some type of incentive

program to city residents.

Grove City resident Jennifer Rotruck spoke out

against the measure.

"I am not happy my tax dollars are being used to

coerce people into doing something they may not want

to do," she said.

The city is using federal relief funds to pay for the

incentive program.

According to Smith, this is a "proper expenditure" of

the relief dollars. If the city does not utilize the funds,

the money would have to be returned to the federal

government.

Grove City Mayor Richard "Ike" Stage said the

objective is to protect city staff.

"If we don't have employees to operate, it affects the

whole city," said Stage.
---
www.columbusmessenger.com

Government Focus

October 17, 2021 - GROVE CITY MESSENGER - PAGE 3

Village and YMCA reach agreement on programming

By Dedra Cordle

Staff Writer

A facility usage agreement has been

reached between the village of Urbancrest

and the YMCA of Central Ohio.

At its meeting on Oct. 12, village council

approved a leasing agreement that will

allow the association to operate several

youth development programs at the

Vaughn E. Hairston Community Center

during regular school hours.

According to Urbancrest Mayor Joseph

Barnes Sr., the YMCA will operate Head

Start from 7:30 a.m. to 4:30 p.m.; After

School Child Care from 2:30 p.m. to 4:30

p.m.; and the Positive Alternative

Learning for Students (PALS) program

from 8:30 a.m. to 4 p.m.

Unlike the facility usage agreements of

the past, most recently the management

agreement reached between the village and

YMCA in 2018, the YMCA will only oversee

the youth development programs.

"They will simply be leasing certain portions

of the facility for specific programs,"

said village law director Rodd Lawrence.

Under the terms of the one-year agreement,

the YMCA will pay the village a fee

of $48,000 for the use of the facility.

Lawrence said the YMCA will not have

access to the fitness room but they will be

allowed to access to the gymnasium on a

limited basis. The YMCA will also be

allowed to use the kitchen area to make

breakfast, lunch, and snacks for the children,

and they will have exclusive use of

one office within the building.

Councilman Steven Larkins was on the

advisory committee that helped shape this

new agreement. He said he is glad this portion

of the facility's usage has been determined.

"I think both sides are satisfied with the

agreement," he stated after the meeting. "I

don't think we got everything we wanted

and I don't think they got everything they

wanted. But we negotiated in good faith

and I think everyone is happy with it."

He said the next step in the process is to

get the community back into the facility so

they can access health and wellness programs.

"We have to get some new management

in there, and the committee has come up

with new programs during our research

that we would like to try to implement,"

said Larkins. "We are not there yet, but

that will be addressed at our next committee

meeting."

Until COVID-19 started to spread

throughout the country last year, the

YMCA had been managing both youth

development programs and health and

wellness programs for all ages at the facility.

According to YMCA officials, they could

no longer sustain regular operations at the

Vaughn E. Hairston Community Center

due to financial losses caused by the pandemic.

The village is currently seeking nonexclusive

lease agreements with other parties

for the use of the facility, said

Lawrence.

He said thus far, the village has

received interest from schools for the use of

the aquatics facility but no official agreement

has been reached.

Barnes said while he is also eager to

welcome the community back into the facility,

there has to be a thorough inspection

of the premises by structural engineers.

"I spoke with them today but they didn't

give me a date (for when they can come out

and inspect the property)," said Barnes.

"But I look forward to hearing from them in

the near future."

The leasing agreement between the village

and the YMCA was unanimously

approved by the council. Though she did

vote to accept the terms of the agreement,

councilwoman Alicia Wiggins said she had

reservations about the 4: 30 p.m. end time

of the after school child care program.

"Some parents do not get off of work

until 6 p.m.," she said.

She asked council to consider requesting

that time be modified during future negotiations.

JEFFREY P. COMPTON

ATTORNEY AT LAW

General Practice

Personal Injury • Domestic

Probate • Wills

Power of Attorney

Healthcare Documents

FREE CONSULT & PARKING

614-875-7233 Fax: 929-474-9475

1665 London-Groveport Rd., Grove City

www.jeffreypcompton.com

Email: jcompton@jeffreypcompton.com

Grove City Chamber

Member

Are you or a loved one approaching

Medicare Decisions

Soon?

Call me t

Consultatio on $0 Fee

Terri

Curcio 614-460-0601

Sam

me cost,

pric

cing for

polic

cies using my

help!

Local licensed representative, I can mail you carrier(s) information to review before you

make any

decisions. Can enroll

a client without

a face-to-face meeting or schedule a

personal meeting if you prefer.

Do

phone sales rep p, sometimes you need

answers

throughout the year!

OHIO IN. #43449

Offering plans available in Central

Ohio, with top-rated carriers. I

will work for you to

find

the plan that fits your needs and lifestyle.

Or over 65 and still working

AEP for 2022 starts October 15 th though Dec 7 th

Schedule your appointment today for AEP!
---
PAGE 4 - GROVE CITY MESSENGER - October 17, 2021

Voter's Guide

www.columbusmessenger.com

The Grove City Messenger sent a questionnaire

to candidates running for local

office in contested races in the Nov. 2 election.

The following are their responses. (If

there is no photo by a candidate, one was

not provided.)

Grove City Council

Ward 1

(vote for one)

• Ted Berry, 3311 Summer Glenn Drive,

Grove City

Occupation: Business

Development Manager,

Byers and Sons LLC

Education/military/

and/or political experience:

Attended Capital

University and Ohio

State University majoring

in business and

Ted Berry

political science, Officer candidate and

branch officer programs, Soldier in Ohio

Military Reserves; VP Business

Development Aimpoint; Ten years Senior

Budget Aide Ohio Senate; Four years

Director Government Relations Ohio State

University; Grove City Council; Park

Board; Library Campaign

Goals if elected? Ensure continued fiscal

accountability without tax increases or

cuts in services. Develop a center of higher

education, expand scholarship and skilled

trade program. Ensure police are fully

funded, add 100 acres of parkland, connect

both metro parks and Columbus via bike

paths, expand employment, address traffic

issues, recreation facility/adult pool.

• Cara Tauro, 3708 Juniper St., Grove

City

Occupation: No response given

Education/military/ and/or political

experience: I have an Associate of Applied

Science degree and a Cosmetology License.

I served 23 years in the United States

Army, the Ohio Army National Guard and

did 2 tours in OIF and OEF.

Goals if elected? I would like to accomplish

strengthening our local economic by

being a welcoming place to open up small

businesses.

At-Large

(vote for one)

• John Galasso, 2229 Blue Bell Lane,

Grove City

Occupation: Attorney

Education/military/ and/or political

experience: Former Columbus police officer,

attorney for over 25 years, member of

the masonic lodge, Aladdin Shrine,

Scottish Rite, instructor Ohio Peace Officer

Academy

Goals if elected? Balance between economic

growth and maintaining that small

town atmosphere.

• Aaron Schlabach - No Response

Received

• Roby Schottke, 4912 McNulty St.,

Grove City

Occupation: Retired

from South-Western

City Schools

Education/military/

and/or political experience:

I am a graduate of

the Ohio State

University and Ashland Roby Schottke

University (M ED). I

have been a council member for 6 years and

a past council president. I am a past member

of the Planning Commission and Park

Board. I am currently involved in many

civic organizations and a trustee of the

Mid-Ohio Planning Commission.

Goals if elected? The number one need

described by our citizens is a recreation

center. We have an opportunity to build a

recreation center and aquatic facility in

undeveloped parkland on the eastside of

our city. My first task would be to work

with the Parks Department to update the

recreation center study the was done several

years ago. I also have the knowledge of

the finances to construct the facility without

additional taxes.

• Mark Sigrist, 5826 Birch Bark Court,

Grove City

Occupation: Retired

Education/military/

and/or political experience:

Bachelor's degree

from Ohio University,

with an accounting

major. Worked at

Honda in the US and

in Japan for over 33

Mark Sigrist

years. Founder of Thanksgiving Day

Wattle. Volunteer for the Grove City Food

Pantry, Grove City Buddy Ball, Keep

Grove City Beautiful Board and Our Lady

of Perpetual Help Church.

Goals if elected? Grove City is an exceptional

community of good people who care

about each other and about our city. I will

uphold GC community values, champion a

safe, healthy, and cleaner community for

our children and future generations,

strengthen services to help our seniors age

at home, and advocate fiscal responsibility.

Urbancrest Village

Council

(vote for four)

• Donna Bogue, 2671 Main St.,

Urbancrest

O c c u p a t i o n :

Board of Public

Affairs (BPA),

Board of Zoning

Appeals (BZA),

N e i g h b o r h o o d

Advocate, Landlord,

Donna Bogue

village

of

Urbancrest and self

employed

Education/military/

and/or political

experience: Sinclair Community

College, Westland High School.

Neighborhood advocate. BPA, BZA and

playground committee of Urbancrest.

Genealogy researcher. SWCS substitute

teachers aide. FROC Priority Board. Santa

Clara Neighborhood Improvement

Association. Other jobs included: consulting,

marketing, sales, restaurants, web

support, newsletter editor. Wife of military

husband, mother and foster mother.

Goals if elected? I will work to represent

the entire neighborhood with fairness and

transparency. I will work as a team player

to move our neighborhood into the future

with planning and forethought, while keeping

the small town feel. I also would like to

see an actionable/ workable emergency

plan for our village.

• Dr. Stefanie Day, Urbancrest

O c c u p a t i o n :

Mental Health

Counselor/Professor

with The Ohio State

University and

Columbus State

Community College

Education/military/

and/or political

experience: Dr. Day

has a doctoral

degree in counseling

Dr. Stefanie Day

psychology, a master's

degree in mental health counseling, a

master's degree in nonprofit management,

and a bachelor's degree in psychology. She

has worked as a mental health counselor,

agency director, and educator since moving

to Urbancrest in 1999.

Goals if elected? Dr. Day's vision is simple.

For the Village to prosper, residents

must prosper. She hopes to bring her fairminded

business ethic to the Council. She

will objectively assess Village-sponsored

actions in terms of how they benefit our

residents.

• Katina Hughes, 3533 3rd Ave.,

Urbancrest

Occupation: Education

Education/military/ and/or political

experience: I have a bachelor's degree in

early childhood education and have worked

in the education

realm for over 20

years. I have helped

register people to

vote along with

working with youth

and their understanding

the importance

of voting.

Goals if elected?

I would like to keep

the strong sense of Katina Hughes

family community by developing more

activities for the young adult. They are the

future so it would be great to develop a

neighborhood culture that is engaging and

beneficial for them. This would be accomplished

by teaching skills that would

empower them.

• Steven Larkins - no response received

• Shawn Moore, 3409 First Ave.,

Urbancrest

Occupation: Caregiver/grandmother

Education/military/ and/or political

experience: Graduate of Grove City High

School, attended Miami Jacobs, member of

Urbancrest village council.

Goals if elected? I would start the revitalization

of the Vaughn E. Hairston

Community Center. We need repairs to

roof, new lighting, paint inside and out.

This will be phase #1. The council would

appropriate monies from village funds to

make these needed repairs.

• Lacy D. Wallace, 3735 Second Ave.,

Urbancrest

Occupation: Sr. Debt advisor with Debt

Help Inc.

Education/military/ and/or political

experience: Two B.A.'s College of Wooster

(political science and black studies), U.S.

Army, 25 years in the financial sector,

intern for State Rep. Joyce Beatty, TIRC

member.

Goals if elected? I would first address

the need for a new recreation replacement.

Safety is a top priority and we need more

community events to build togetherness. I

will addresss the need for more kid programs.

On Election Day

While Election Day is an exciting time,

voters may find it frustrating if they do not

take steps to ensure things go smoothly

when they head to the polls. The following

tips can help voters prepare for Election

Day.

•Confirm your polling location. Voters

can contact their local board of elections or

visit www.Vote411.org to confirm the correct

polling locations.

•Bring photo identification.

•Confirm registration. Voters can confirm

that they have registered to vote by

contacting their local board of elections in

advance of Election Day.
---
www.columbusmessenger.com

October 17, 2021 - GROVE CITY MESSENGER - PAGE 5

These are not endorsements

The Messenger newspapers would like to

clarify that the candidates and issues featured

in this advertising section are published as

paid political advertisements. These are NOT

endorsements for the candidates and issues;

the Columbus Messenger Company does not

do any political endorsements.

Walking for

rescue dogs

Messenger photos by Dedra Cordle

Hundreds of humans and their canines

descended upon Breck Community

Park in Grove City on Oct. 3 to participate

in Ted Berry's annual 5K-9 Dog

Rescue Walk/Run. Established in 2016,

the event has raised thousands for the

special needs rescue group Speak! for

the Unspoken and the Mid-Ohio

Foodbank. This year, more than 500 participants

helped raise $16,000 in donations

and goods for both organizations.

Impressed by the effort of the humans

was Paige, (above) a 3-year-old double

merle Australian Shepherd, who wanted

to check out the donated bags of food.

The unofficial ambassador of Speak! for

the Unspoken is deaf due to improper

breeding. Tom Valletta, her "foster fail

parent," said they often bring her to

events like these to spread the word

about responsible breeding and remind

people that special needs dogs deserve

love and good homes too.

Tyler Sargent, 10, (middle right) cuddles

with Gideon after participating in the

5K. The resident of Grove City said

Gideon wouldn't stop walking in the wet

grass which created a more matted

effect. "Gideon is usually more tidy

looking than this," Sargent said.

Dutch, a Wirehaired Pointing Griffon

from Grove City, proudly displays the 5K

medal.

PAID ADVERTISING

Vote for Roby Schottke

Why vote for Roby Schottke for Council At-

Large?

Roby Schottke shares your values:

•He believes in conservative spending and is a

budget watchdog.

•He supports our police for safe neighborhoods

and shopping areas.

•He puts people first as he did when he supported

a resident's appeal to reverse an unjustified

sidewalk replacement.

•He listens and responds to residents such as in

the Landings and Home Road neighborhood

meetings.

•He gets things done when residents asked for

street lighting on Scenic Way and crosswalks on

Buckeye Parkway.

Roby

Schottke

For Grove City Council

At-Large

ELECT AN EXPERIENCE LEADER

Schottke: Listens & Responds

Schottke: Get Things Done for the Community

Schottke: Supported by Citizens

Schottke: Involved in our Community

KEEP ROBY SERVING YOU

IN GROVE CITY

He has the Momentum, Join Him!

Vote for Schottke on November 2nd.

Contact him at 614-441-8238

Councilman Roby Schottke schottkeforgc@gmail.com

Paid for by Schottke for GC Committee

Roby Schottke is an experienced civic leader:

•He has served as council president.

•He has served on the Planning Commission

and the Park Board.

•He has served as the chairman of the SW

Educational Foundation.

•He has served in the Lions Club, SW

Historical Society, and president of the Rotary

Club.

•He has served as a trustee on the Mid-Ohio

Regional Planning Commission.

Roby Schottke shares your values.

Roby Schottke gets things done.

Roby Schottke continues to work for you!

Please vote for Roby on November 2nd.
---
PAGE 6 - GROVE CITY MESSENGER - October 17, 2021

Basketball in Grove City

Hit the hardwood this winter and stay

active while working on basketball skills,

teamwork and sportsmanship. Register for

Grove City Parks and Recreation's youth

basketball league until 5 p.m., Oct. 29,

online at Recreation.GroveCityOhio.gov

any time, and at the Kingston Center by

calling 614-277-3050 or visiting 3226

Kingston Ave., from 8 a.m. to 5 p.m.,

Monday through Friday.

The registration fee is $83 for Grove

City residents, $88 for non-residents. The

News and Notes

fee includes a reversible team jersey made

from a mesh material.

Boys and girls in kindergarten through

grade 12 play in separate leagues, practicing

one evening during the week with

games on Saturdays. Practices start the

week of Dec. 6, and the season opens

Saturday, Jan. 8. Season-ending tournaments

for grades three through 12 are held

in early March. There are no games or

practices when the South-Western City

School District is closed including for

scheduled days off and inclement weather.

Volunteer coaches are needed to teach

basic basketball skills and sportsmanship

in a fun, positive environment.

Background checks are required for all

coaches. For more information, visit

bit.ly/GCYBasketball or call 614-277-3050.

www.columbusmessenger.com

but is easily damaged by branches, twigs,

grass clippings, rocks and other debris.

Leaf piles will not kill grass, although temporary

fading may occur.

Do not rake or blow leaves into the

street, as this can cause storm sewer blockages

and parking issues. Vehicles should

not be parked in front of, or on top of,

leaves during scheduled collection weeks.

Residents opting to have leaves picked

up prior to or after their scheduled date can

place leaves in yard waste bags/containers

for collection by Local Waste Services on

their regular trash pickup day.

The leaf collection map and schedule is

posted on the city website at

GroveCityOhio.gov. For more information,

call the Grove City Service Department at

614-277-1100.

3374 Sullivant Ave., Columbus, OH 43204 614-488-9951

www.shiffletautocare.com

Leaf Collection

The city of Grove City offers residential

leaf collection beginning Monday, Oct. 18.

Each of the city's four defined areas is

scheduled two collection weeks through

Friday, Dec. 17. Crews travel each street

once during the designated week.

Prior to 7 a.m. the Monday of the designated

collection week, homeowners should

rake only leaves to the grassy area between

the street and sidewalk, or to the edge of

the lawn, if there is no sidewalk. The service

equipment works efficiently on leaves,

Donation drive for museum

The Central Ohio Military Museum in

Harrisburg is hosting a donation drive to

raise $3,500. The museum honors the service

of the Armed Forces of the United

States by displaying a collection that

includes personal items from veterans such

as uniforms, helmets, books, letters, photos,

paintings, maps, documents, insignia,

and many other military items. Those who

wish to donate can mail a donation to

Central Ohio Military Museum, 1010 High

St., P.O. Box 283, Harrisburg, Ohio 43126.

Moses-Mouser Eye Care

Dr. Joshua Morris is a board-certified Optometrist

who grew up in Bellville, Ohio. He

completed his undergraduate degree at the

University of Akron, where he graduated

magna cum laude with honors.

Dr. Morris attended The Ohio State University

College of Optometry and graduated cum laude with honors to receive

his Doctor of Optometry Degree in May 2019. After completing his

studies, he was awarded the "Primary Vision Care Clinical Excellence

Award", in 2019.

Dr. Morris is a member of the American Optometric Association, the

Ohio Optometric Association, and The Ohio State Alumni Association.

He is excited to practice full scope optometry, diagnosing and treating

a variety of ocular disorders and diseases in patients of all ages, but has

a special interest in contact lenses and ocular disease.

On a personal note, Dr. Morris and his wife Tess, enjoy spending time

with their family, friends, and their Bernese Mountain dog Maverick,

cheering on The Ohio State Buckeyes, trying new foods, and exploring

Columbus breweries.

Q: Are contact lenses right for me?

A: 9/10 people who wear glasses are good candidates for contact lenses.

Contact lenses can correct for nearsightedness, farsightedness,

astigmatism, and even help you decrease your dependency on readers.

They can provide a wider field of view and the lenses won't fog up in cold

weather like glasses. Contact lenses are also a great option for when you're

exercising or playing sports where glasses could get in the way.

Q: How often should someone who

wears contact lenses get an eye exam?

A: Someone who wears contact lenses should have a comprehensive

dilated eye exam at least once a year. Contact lenses are medical devices

and need to be properly fitted and assessed by an eye care professional.

Schedule your contact lens exam today

with Dr. Morris.

1600 Gateway Circle, Grove City, OH 43123 614-963-3820
---
www.columbusmessenger.com

October 17, 2021 - GROVE CITY MESSENGER - PAGE 7

Newspapers remain a valuable resource

Newspapers have been in circulation for centuries.

Ancient Romans produced government

announcements and posted them in

prominent locations around the city. In ancient

China, news sheets were circulated

among court officials to share government

news. However, it wasn't until use of the

printing press became widespread that the

new media of newsprint became available to

the general public. The 17th century was the

first time much of Europe and other areas

around the world began to produce something

similar to what we now know as newspapers.

Nowadays, many newspapers are still being

printed on a daily or weekly basis, but publishers

also understand the benefits of digital

content. That is why newspapers are now

supplementing their print copy with digital

and interactive versions online. Should a

person desire to read a printed version, he or

she can do so. Others can access content online,

which is typically updated regularly as

newsworthy items become available.

Newspapers have frequently been the first

source people turn to for information on various

subjects, including current events and

sports. Even now, despite the prevalence of

television news, people still look to the newspapers

for in-depth coverage of hot topics.

Additionally, some newspaper content is mirrored

online or offered in some other complementary

form. For example, fans of comics in

the newspaper may not realize they're a

major source of syndication revenue. In an

effort to snag a bigger chunk of key demographics,

comics not only are being run in

the newspaper, but also are being adapted

into "apps" that can be viewed on tablets,

computers and smartphones to further their

visibility.

The Internet may be creating a dramatic

shift in the business model and the products

offered by newspapers, but that isn't necessarily

a bad thing, presenting new opportunities

for newspapers to expand on their

offerings in unique ways. Newspapers also

are shifting the mix of stories they offer to

provide a stronger balance of entertainment,

lifestyle and other subjects that are more relevant

to people's daily lives than politics and

international affairs may be. In turn, newspapers

are attracting new readers both offline

and online.

Few can argue about the validity of newspapers

for current events. Students exploring

current topics and presenting them in school

are frequently urged to look to newspapers

for content.

EARN EXTRA

$$$ $$$

MONEY

The Advertising Department at the

Columbus Messenger Newspapers

is seeking a Salesperson.

No Experience Necessary.

Base salary plus commissions, auto allowance.

Seniors welcome to apply.

Please send your resume or call:

Doug Henry, Advertising Manager

Columbus Messenger Newspapers

3500 Sullivant Ave.

Columbus, Ohio 43204

614-272-5422

or

e-mail to doughenry@columbusmessenger.com

BE YOUR OWN BOSS!

INDEPENDENT

CONTRACTORS

WANTED

If you have a reliable

car and would like to

earn extra money,

then why not deliver?

• Deliver 1 or 2 days a week

• Flexible delivery hours

• Work close to home - often

in or near your neighborhood

CONTACT US

1-888-837-4342

www.thebag.com

• Deliver 7 days a week

• Delivery before dawn

• Work close to home - often

in or near your neighborhood

CONTACT US

614-461-8585

www.dispatch.com/delivery
---
PAGE 8 - GROVE CITY MESSENGER - October 17, 2021

www.columbusmessenger.com

Crafting an effective cover letter

NOW HIRING

All Shifts

Apply in person or online at

3301 Toy Rd., Groveport, OH

skfoodgroup.com

Rates starting at $15 up to $30/hr.

A strong cover letter may not guarantee

you land a good job, but a poor cover letter

may guarantee you won't. On its own, an

effective cover letter can catch the eye of

hiring managers tasked with finding worthy

candidates among stacks of applications,

while a poor cover letter may ensure

hiring managers never even glance at an

applicant's resume.An effective cover letter

should be concise, conveying an applicant's

work history and goals in a few

paragraphs or less.

The following are some additional ways

men and women can craft effective cover

letters:

• Address a specific person when possible.

• State your purpose early on.

• Explain why you are a qualified candidate.

• Exhibit some knowledge about the company

to which you're applying.

• Be cordial in your closing

An effective cover letter can go a long way

toward making a strong first impression

on a prospective employer. Men and

women should look at their cover letters

as their first opportunities to connect with

a company and write their letters accordingly.

OPEN INTERVIEWS

ON WEDNESDAYS 10AM-1PM

UP TO $ 19.00/HR + NO MANDATORY OT

$

2000 SIGN ON BONUS + INCENTIVE OPPORTUNITIES

1568 Georgesville Rd. Columbus 43228

APPLY PRIOR @ JOBS.MSCDIRECT.COM

Applicants must sucessfully pass a background check and drug screen.

Equal Opportunity Employer: Minority, female, veteran, individuals with disabilities, sexual orientation/gender identity.
---
www.columbusmessenger.com

October 17, 2021 - GROVE CITY MESSENGER - PAGE 9

Building a business wardrobe

FREE

TRAINING

+

$1000 SIGN-ON BONUS

Kroger Pharmacy Warehouse

2nd and 3rd Shift

Positions Available

Scan for more details and

link to apply:

The transition from college student or stay-athome

mom to fulltime professional requires a number

of changes. Those changes include updating

your wardrobe to give it a more professional feel.

Clothing that's acceptable for a jaunt to the store

or a night out may not be appropriate for he office

Just what constitutes a professional wardrobe has

changed over the years, and the guidelines for such

attire are no longer as firm as they once were. But

it still behooves a woman to add some classic, professional

pieces to her closet. Any employers have

adopted dress-down days as benefits for their employees.

Although you may be invited to dress

more casually, avoid dressing for a day at the

beach or hanging around the house. Opt for

trouser-style jeans that are free of rips and embellishments.

If athletic shoes are allowed, make sure

they are clean and not the pair you wear while

tending to your garden.

Jefferson

Local Schools

NOW HIRING

BUS DRIVERS

Training Provided

Minimum Regular Driver Starting Pay $17.89/hr

Sub Drivers $16.00/hr.

Must have valid driver's license and able

to pass BCI/FBI background check

Apply at 906 W. Main St., West Jefferson, OH 43162

Contact 614-879-7654 ext. 1120

FedEx Ground is now hiring full-time and part-time Warehouse

Package Handlers at our greater Columbus locations:

Start as a

Package Handler.

Stay for a career.

COLUMBUS, OH:

Up to $23.00/hour + attendance bonus

4600 Poth Road, Columbus, OH 43213

NEW FACILITY - ETNA, OH:

Up to $23.00/hour + attendance bonus

9677 Tollgate Road SW, Etna, OH 43062

GROVE CITY, OH:

Up to $25.00/hour + attendance bonus

6120 South Meadows Drive

Grove City, OH 43123

NO EXPERIENCE REQUIRED!

• Weekly Pay

• Medical, Vision, Dental

• Flexible Schedules

• Paid Parental Leave

• Tuition Assistance

• Much more!

GROVEPORT, OH:

Up to $23.00/hour + attendance bonus

6840 Pontius Road, Groveport, OH 43125

GROVE CITY, OH:

Up to $20.00/hour + attendance bonus

2969 Lewis Centre Way

Grove City, OH 43123

PLAIN CITY, OH:

Up to $25.00/hour + attendance bonus

8285 Industrial Parkway

Plain City, OH 43064

• Must be at least 18 years of age

• Must be able to load, unload and sort

packages, as well as perform other

related duties

With 6,000+ promotions per year, this is just the start of your career.

For more information, text FXground to 33011

or visit fedexgroundjobs.com

Standard message and data rates apply. 1 message per request. Text STOP to 33011 to cancel. Text HELP to

33011 for help.

committed to a diverse workforce.
---
PAGE 10 - GROVE CITY MESSENGER - October 17, 2021

Prepare for unexpected

power outages with a

Generac home standby

generator

REQUEST A FREE QUOTE!

844-334-8353

FREE

7-Year Extended Warranty*

A $695 Value!

Limited Time Offer - Call for Details

Special Financing Available

Subject to Credit Approval

*To qualify, consumers must request a quote, purchase,

install and activate the generator with a participating dealer.

Call for a full list of terms and conditions.

HEADING SOUTH THIS WINTER?

Let Us Watch Over Your Home

"Worry Free"

PRIVATE HOME MANAGEMENT LLC.

Adjust Climate Controls

Check for Frozen or Broken Pipes

Power Outages

Coordinate Contractors

Check Buildings & Grounds

We do the little things!

Jody Decker 614-592-2474

jodedeck@yahoo.com

4850 Haughn Rd. Grove City

Drive through Fish Fry

Oct. 22 from 4:00pm to 8:00pm

$10.00 dinner - Fish, Fries, and Coleslaw

$7.00 - Sandwich & Fries

$5.00 - Sandwich

Carry-Out Only

No drinks

In Education

Drivers feel overworked and underpaid

By Dedra Cordle

Staff Writer

South-Western City School bus drivers say while

they applaud the measure the board of education took

last month to raise hourly wages to attract substitute

drivers, more needs to be done to retain the staff it currently

has on hand.

On Oct. 11, dozens of bus drivers and bus aides

packed the auditorium at Franklin Heights High

School where the regular board of education meeting

was being held. Multiple employees addressed the

board, all sharing a message that they feel overworked,

underappreciated, and underpaid.

Among those speaking at the meeting was Jason

Chadwell, who has been a bus driver for the district for

the last five years.

He said while he understands there is a nationwide

staffing shortage of bus drivers and substitute drivers,

he believes the current drivers are taking on too many

routes, adding additional stressors onto an already

stressful job.

"I love my job, we all do. That is why we are here,"

said Chadwell. "We drive because we care about our

students. We enjoy the work and we are proud of the

work we do on a daily basis. However, the driver shortage,

double trips, cross-overs, packing multiple routes

on a single bus can make transporting students more

stressful. You can imagine if you have a stressed driver

it's not as safe."

He said while it is true that by picking up additional

routes, the drivers get home more quickly but added

they would rather feel safer than be home at a certain

time.

"I cannot think of any industry where increased

speed equals increased safety," he said.

Chadwell reiterated that the staffing shortage is

being felt across the country and gave a few examples

of why he felt that was the case. He mentioned burn

out, motorists who do not pay attention to their stop

indicators, and insufficient compensation as some of

the general reasons as to why there is a shortage.

He said it was his belief that some of those issues

could be addressed if the district were to raise the

wages and benefit packages of the regular drivers to a

level that is comparable to similar-sized districts.

"Our wages represent about $21,000 a year per regular

driver," he said. "Columbus (City Schools) and

Cleveland (Metropolitan Schools) drivers both average

about $30,000 a year. What is the incentive to stay?

We do it because we like where we're from and we love

our students."

He said this problem will not be solved "from the

bottom up, asking people to do more with less."

"This problem needs people at the top to make bold

decisions, to assure that certified staff are essential to

our district and treat them as such," Chadwell.

Adam Wolfe, a driver at the district for more than

two decades, shared similar sentiments while addressing

the board.

He said these past two years have been the most

challenging years as a bus driver with the added

routes, the additional cleaning protocols and now having

to enforce mask protocols on the bus.

"It is very difficult to operate our buses safely while

making sure each student is wearing a mask properly,"

he said. "There is only so much we can do to keep

the ride safe for our students."

Wolfe said he too would like to see the district take

measures to "improve the working conditions, safety,

job security, and the long-term financial stability" of

the drivers who work at South-Western City Schools.

When asked to respond to some of the topics

broached by the transportation employees, district officials

said they cannot offer a comment as the board of

education is currently in contract negotiations with

the Ohio Association of Public School Employees. That

is the labor union that represents classified staff such

as bus drivers.

However, Monte Detterman, the district's director

of business services, did clarify some points made

about staffing shortages and masking requirements.

According to Detterman, the bus driver staffing

shortages are at the substitute level and the district

has been taking measures to address the issue. He

mentioned that the board approved an hourly rate

hike for substitute drivers last month along with an

additional monetary stipend if they continue working

at the district for a specific amount of time. He added

that the district has recently hired three new drivers

but cautioned it will not be a quick turnaround to get

them on the road.

"It can take up to six weeks to get drivers through

the CDL (Commercial Driver's License) certification

training and get them on the road," Detterman said.

"But six weeks is the minimum amount of time so it

definitely could be longer."

He said while the district wants to attract drivers

who currently have CDL certification, they will provide

training for those who do not. Interested parties

can check under the employment section on the district's

website at swcsd.us or by calling the transportation

department at 614-801-8550.

As for requiring drivers to ensure students are

wearing a mask while on the bus, Detterman said that

is a federal mandate the district has to follow.

"All riders on any kind of mass transit have to wear

a mask," he said.

A FREE ESTIMATE

15 10 5

YOUR ENTIRE

PURCHASE *

1-855-995-2490

% % %

OFF + OFF + OFF

SENIOR & MILITARY

DISCOUNTS

YEAR-ROUND

CLOG-FREE GUARANTEE

TO THE FIRST

50 CALLERS! **

| Promo Number: 285

southwest

Messenger

(Distribution: 22,500)

Andrea Cordle...................................Grove City Editor

southwest@ columbusmessenger.com

Published every other Sunday by the

The Columbus Messenger Co.

3500 Sullivant Ave., Columbus, Ohio 43204

(614) 272-5422

The Columbus Messenger Co. reserves the right to edit, reject or cancel

any advertisement or editorial copy at any time. The company is not

responsible for checking accuracy of items submitted for publication.

Errors in advertising copy must be called to the attention of the company

after first insertion and prior to a second insertion of the same advertising

copy.
---
www.columbusmessenger.com

Community Focus

Blood drives in Grove City

The American Red Cross will host several

blood drives in Grove City. The drives

include:

•Oct. 19 from 12 to 6 p.m., First Baptist

Church of Grove City, 3301 Orders Road

•Oct. 19 from 12 to 6 p.m., St John's

Lutheran Church, 3220 Columbus St.

•Oct. 2 from 1 to 7 p.m., Vineyard

Christian Fellowship, 3005 Holt Road

•Oct. 23 from 9 a.m. to 2 p.m., Bethel

Lutheran, 4501 Hoover Road

•Oct. 25 from 10:30 a.m. to 4:30 p.m., St

John's Evangelical Lutheran Church, 3220

Columbus St.

•Oct. 26 from 12 to 6 p.m., Grove City

Elks Lodge No. 37, 2140 Sonora Drive

•Oct. 29 from 9 a.m. to 3 p.m., Mount

Carmel Grove City, 5300 North Meadows

Drive

•Oct. 29 from 12 to 6 p.m., city of Grove

City, 3226 Kingston Ave.

To schedule an appointment, call 1-800-

448-3543 or visit www.redcrossblood.org.

Pet Corner

Pets of the week

News and Notes

COVID-19 vaccine clinics

Franklin County Public Health and

Mid-Ohio Food Collective are hosting walkin

COVID-19 vaccination clinics from 9

a.m. to 1 p.m. Oct. 22 and Oct. 29 at the

Mid-Ohio Foodbank, 3960 Brookham Dr.

No appointment or insurance required.

Anyone 18 and older is able to receive a

Janssen (Johnson & Johnson) or Pfizer

(12+ age) COVID-19 vaccine. Visit the

Franklin County Public Health website at

vax2normal.org/vaccine for additional

information.

S.A.L.T. at Evans Center

The Grove City Division of Police host

Seniors and Law Enforcement Together

(S.A.L.T.) meetings at 1 p.m. the second

Tuesday of each month at the Evans

Center, 4330 Dudley Ave. Adults of all ages

are welcome to attend. If you would like

additional information on other crime prevention

programs visit police.grovecityohio.gov

or call 614-277-1765.

These furry friends are available

for adoption at local

rescues and shelters

Celebrating 50 years

The Grove City Cancer Thrift Shop,

3684 Garden Court, has hit a milestone.

In 1970, a group of doctor wives and

other community women founded the

thrift shop to benefit cancer research and

patients. The shop has stayed true to its

mission over the years as it is managed and

staffed only by volunteers. In 50 years, The

October 17, 2021 - GROVE CITY MESSENGER - PAGE 11

Grove City Cancer Thrift Shop has raised

as of 2020, $1,171,443 toward the cause of

cancer.

All proceeds benefit The Columbus

Cancer Clinic of LifeCare Alliance. The

shop is open Thursdays and Fridays, 12 to

4 p.m., and Saturdays, 11 a.m. to 3 p.m.

Donations are always welcome.

Sandra is a lovely

and friendly lady.

This 10-month-old

can be very jumpy at

times, so we would

suggest a home with

no small children as

she might push them

right over in all the

excitement. If you're

ready to visit with Sandra, head over to the

Franklin County shelter.

FYI: franklincountydogs.com.

Beckie is a 5-monthold

sweet gal. She,

and her siblings,

were born on a farm

where their mother

was killed in an accident

when they were

just 10 days old.

Beckie was rescued

and was bottle fed

but is now doing well and ready for her forever

home. She is spayed, microchipped, and up

to date on vaccines. Meet her at the Pet

Supplies Plus on Lane Avenue in Upper

Arlington.

FYI: colonycats.org

Jeremy lost his

mom, like his sister,

Beckie. He is a bottle

baby and loves his

foster family. He loves

to be held like a baby

and he seeks out

attention. Jeremy is

great with other cats

and dogs. He is up for

adoption through Colony Cats.

FYI: colonycats.org

Gizmo has raised her last litter of kittens and she is ready to find her

forever home. She is about 2 years old and enjoys affection. She is

good with children and with dogs though she will get out of reach when

she needs a break. Gizmo is up for adoption through Friends for Life

Animal Haven.

FYI: fflah.org

Ted is another sibling

of Beckie and

Jeremy. He was rescued

by Colony Cats

and bottle fed until

old enough to eat on

his own. Ted is super

cuddly and sweet. He

would make a great

addition to any

household. Ted is available for adoption

through Colony Cats. You can meet him at the

Pet Supplies Plus in Upper Arlington.

FYI: colonycats.org

Looking for a small,

friendly church experience? Try

First Presbyterian Church

of Grove City

4227 Broadway, Grove City

In-person Worship 10 a.m.

Services will continue on

Facebook Live at 10 a.m. as well

www.fpcgc.org

Free Community Brown Bag Lunch Drive-through

Saturday, October 23, 11:00 am- 1:00 pm

Be a Part of Our Local Worship Guide

Our Worship Guide is geared toward celebrating faith and helping reader connect with religious

resources in our community. Make sure these readers know how you can help with a presence in

this very special section distributed to more than 22,000 households in the Grove City area.

Contact us today to secure your spot in our Worship Guide.

614.272.5422 • kathy@columbusmessenger.com

Grove City

Messenger

EMMANUEL LUTHERAN

CHURCH

80 E. Markison Ave., Columbus, OH 43207

elclife.org

SUNDAY WORSHIP SERVICE

8:30 am & 11:00 am

BIBLE CLASS

Adult and Youth (K-5)

9:45 am

*11:00 service includes a radio broadcast

in our parking lot on FM 87.9
---
PAGE 12 - GROVE CITY MESSENGER - October 17, 2021

Home Buyers

Guide

Investment Property

810 S Scioto St, Circleville, OH 43113 Asking $225,000

Excellent condition with room to grow on a 3/4 acre lot. This 2-sty home has 4

apartments, each has its own bath, heat, water heater, refrig, stove, W/D and

window A/C. Renters pay own utilities. $2075.00 monthly income. All apts. have

showers and full kit. Lot is large enough to build other buildings.

Gary Dean

REALTOR ®

(740) 207-7742

garydean156@gmail.com

Bringing the

farm to the city

Messenger photos by Dedra Cordle

Children throughout the community

flocked to the Grant-Sawyer Home in

Grove City on Oct. 2 to participate in an

animal education program called

"Bring the Farm to You." Established in

2011 by the Byerly family of

Centerburg, the educational petting

zoo allows children to get up close and

personal with animals commonly found

at small farms. "It's our way of bringing

the farm to those who may not normally

get to see one," said Chris Byerly. Here,

(top right) he holds Petunia, a piglet as

she gets some affection from Blayke

Barnes, 2, of Grove City. This program

was just one of many to take place

throughout the weekend of Oct. 1 as

part of the city of Grove City's Autumn

Adventures.

Lincoln Stollings, 6, (below) meets

Belle the Hodo rabbit. Byerly said these

dwarf rabbits only weigh one to three

pounds.

www.columbusmessenger.com

442 S. EUREKA, COLUMBUS

WOW! Loads of equity in this house for new buyers. 3-4 bedrooms, new

granite countertops, din rm w/French drs, new A/C, roof, siding and

windows, privacy fence, off street parking. Priced below market value.

Hurry! Call Fran Lyons Today! 614-496-0929

Fran Lyons

Multi-Million Dollar Producer

Office: (614) 939-0282

franlyons1@gmail.com

SOLD

5555 CARDINAL DR., ORIENT, OHIO MLS NO. 221034194

This spacious home features an enormous FR, 4 lrg bdrms, 2.5 BAs, fin. bsmnt w/lrg

lndry/strg. rm. & a bonus rm., & also lndry hkup on the 1st flr. Updates incl. kit. w/quartz

countertops, farm sink, brkfst bar & SS appls (2021), roof (2016), hot water heater

(2021), LED lighting & ceiling fans (2021). Lrg deck, nice landscaping, fen in yrd & shed

complete this beaut. home. The Auditor's sq. ft of the home does not incl. the fin. bsmnt.

Terri Ehmann

HER, REALTORS ®

Direct: (614) 216-7977

terri.ehmann@herrealtors.com

herrealtors.com/TerriEhmann

A small flock of sheep relax in their

enclosure. The Byerly family brought

seven species of animals to the event.

After many attempts, Cassidy Pfeiffer, 15, finally gets to touch

the tail of a duck.
---
www.columbusmessenger.com October 17, 2021 - GROVE CITY MESSENGER - PAGE 13

Pictorial

Past

The year was 1952 - Grove

City's Centennial. Village

leaders Neil Van Atta, E.L.

"Lightning Evans", Nial Pace,

Ray Ruoff and "Dutch" Weber

added a bit of comedy to the

celebration with their

"Keystone Cop" routine. The

1912 Ford Model T pictured is

on permanent display at the

Grove City Welcome Center

and Museum, 3378 Park St.,

open Tuesday from 10 a.m. to

8 p.m., Wednesday through

Friday from 10 a.m. to 4 p.m.,

and on Saturday from 9 a.m.

to noon.

Pam Brown

614-975-9462

Club Meetings - Historical Society

Help preserve the history of Grove City, Urbancrest and

Jackson, Pleasant. Prairie and Franklin townships. The

Southwest Franklin County Historical Society meets the first

Tuesday each month at 7 p.m. at St. John's Lutheran Church,

3220 Columbus St. For information, pick-up a society brochure at

the Grove City Welcome Center, 3378 Park St.

Thinking about

selling your home?

Call An Experienced Realtor!

42 Years of "Service with a Smile"

GREAT SELLING MARKET!

3656 Broadway Grove City, OH 43123

614.871.1000

www.era.com

CLASSIFIED ADS

Deadlines: Groveport and West editions, Wednesdays at 5 p.m., • South/Canal Winchester, Grove City, Madison editions, Tuesdays at 5 p.m.

All editions by phone, Tuesdays at 5 p.m. • Service Directory, Tuesdays at 5 p.m.

INFORMATION

ASSOCIATION ADS

xCraft Shows

ADVERTISE

Your Holiday Craft Show

Bazaar or Bake Sale!

Call Kathy

272-5422

For More Info

Craft Shows

FALL INTO

A NEW HAIR STYLE!!

Come See Me At

My New Location!

Call Marilyn Weaver

For An Appt.

For a New Haircut/Color

614-348-6670

Relax Wellness

3663 Broadway

Grove City

ASSOCIATION ADS

Replace your roof with the

best lookng and longest

lasting material! Steel

from Erie Metal Roofs!

Three styles and multiple

colors available.

Guaranteed to last a

lifetime! Limited Time

Offer - $500 Discount +

Additional 10% off install

(for military, health

workers & 1st responders)

Call Erie Metal Roofs: 1-

855-338-4807

Donate Your Car To

Veterans Today! Help and

Support our Veterans.

Fast - FREE pick up.

100% tax deductible. Call

1-800-245-0398

Long Distance moving.

Call for a free quote from

America's Most Trusted

Interstate Movers. Let us

take the stress out of

moving! Speak to a

relocation specialist! Call:

888-721-2194

Become a Published

Author. We want to Read

Your Book! Dorrance

Publishing Trusted by

Authors Since 1920 Book

manuscript submissions

currently being reviewed.

Comprehensive Services:

Consultation, Production,

Promotion and Distribution.

Call for Your Free Author's

Guide 1-866-482-1576 or

visit http://dorranceinfo.

com/macnet

The bathroom of your

dreams for as little as

$149/month! BCI Bath &

Shower. Many options

available. Quality

materials & professional

installation. Senior &

Military Discounts

Available. Limited Time

Offer - FREE virtual inhome

consultation now

and SAVE 15%! Call

Today! 1-877-540-2780

HughesNet - Finally, superfast

internet no matter

where you live. 25 Mbps

just $59.99/mo! Unlimited

Data is Here. Stream

Video. Bundle TV &

Internet. Free Installation.

Call 866-499-0141

Wesley Financial Group,

LLC Timeshare Cancellation

Experts Over

$50,000,000 in timeshare

debt & fees cancelled in

2019. Get free

informational package &

learn how to get rid of

your timeshare! Free

consultations. Over 450

positive reviews. 888-965-

0363

ASSOCIATION ADS

AMERICAN & FOREIGN

CLASSIC CARS AND

MOTORCYCLES

WANTED. $$PAYING

CA$H$$ Corvettes,

Mustangs, Jaguars, Austin

Healeys, Broncos,

Blazers, Ram Chargers,

AMX, and Triumphs

KRMiller1965@yahoo.com

717-577-8206

Internet &WIFI Starts at

$49 Call us Today to Get

Started. Find High-Speed

Internet with Fiber Optic

Technology No Credit

Check, No SSN Required.

Call us Today 866-396-

0515

Stroke & Cardiovascular

disease are leading

causes of death according

the AHA. Screenings can

provide peace of mind or

early detection! Call Life

Line Screening to

schedule a screening.

Special offer 5 screenings

for $149.. 1-833-549-4540

Update your home with

beautiful new blinds &

shades. Free in-home

estimates make it

convenient to shop from

home. Professional

installation. Top quality -

Made in the USA. Free

consultation: 877-212-

7578. Ask about our

specials!

xPublic Notice

Local Ombudsman Program Seeking Volunteers

By: Samantha Cummins

The Central Ohio Long-Term Care Ombudsman program is seeking volunteers

to connect to residents in long-term care settings such as nursing homes,

assisted livings and homes in the community. The Long-Term Care Ombudsman

program advocates for excellence for people receiving long-term care wherever

they live. These volunteers would maintain a regular presence in the facilities,

educate the residents and their families about the Ombudsman program and

their rights, and assist the staff investigating complaints. The goal would have

Ombudsman volunteers in the over 280 buildings that the program serves in

Central Ohio. Those that are interested in volunteering will receive training

which to get the skills needed to be an effective advocate for the residents.

For more information on becoming a volunteer, please contact Samantha

Cummins, Volunteer Coordinator at 614-345-9198 or 1-800-536-5891.

ASSOCIATION ADS

DENTAL INSURANCE

from Physicians Mutual

Insurance Company.

Coverage for 350 plus

procedures. Real dental

insurance - NOT just a

discount plan. Do not wait!

Call now! Get your FREE

Dental Information Kit with

all the details! 1-877-553-

1891

www.dental50plus.com/

macnet#6258

Public Notice

ASSOCIATION ADS

Looking for assisted living,

memory care, or

independent living? A

Place for Mom simplifies

the process of finding

senior living at no cost to

your family. Call 1-833-

386-1995 today!

ASSOCIATION ADS

Stroke & Cardiovascular

disease are leading

causes of death according

the American Heart

Association. Screenings

can provide peace of mind

or early detection! Call

Life Line Screening to

schedule your screening.

Special offer - 5

screenings for $149. 1-

866-518-8391
---
PAGE 14 - GROVE CITY MESSENGER - October 17, 2021

www.columbusmessenger.com

CLASSIFIED ADS

Deadlines: Groveport and West editions, Wednesdays at 5 p.m., • South/Canal Winchester, Grove City, Madison editions, Tuesdays at 5 p.m.

All editions by phone, Tuesdays at 5 p.m. • Service Directory, Tuesdays at 5 p.m.

xAdult Care

BETTY'S ELDERLY CARE

Private Home Care

Has An Opening For A New Patient

Years of Exp. • Reasonable Rates • Hot Meals • References

We take care of everything for you expcept prescriptions.

We work with Hospicce, Social Workers and Doctors.

We would love to take of your loved one

We Offer Much More.

Call Betty for more info. 614-777-5850

614-991-0652 614-376-9761

Welcome

Carolyn's Cottage

Private Assisted Living

3036 Woodgrove Dr.

Grove City, OH

xPreschool/Daycare

advertise

YOUR DAY CARE

OR PRESCHOOL

Call Kathy

at The Messenger

For More Info

272-5422

Preschool/Daycare

Adult Care

ASSOCIATION ADS

NEED IRS RELIEF

$10K-$125K+ Get Fresh

Start or Forgiveness.

Call 1-844-431-4716

Monday through Friday

7am-5pm PST

Thinking about installing

a new shower? American

Standard makes it

easy. FREE design consulation.

Enjoy your

shower again! Call 1-

833-769-0995 today to

see how you can save

$1,000 on installation, or

visit www.newshowerdeal.com/mac

Windsong is committed to providing

high quality, loving care, and affordable

home care services to our clients. With our

assistance, clients can lead

dignified and independent lives in the

comfort of their own home.

Individual needs are carefully assessed,

understood, and met through the selective

assignment of quality, trustworthy and

compassionate service-oriented personnel.

Give us a call today for a free in-home

assessment or visit our website at

www.windsongseniorcare.com

614-820-5000

advertise

ASSOCIATION ADS

AT&T Internet. Starting

at $40/month w/12-mo

agmt. 1 TB of data/mo.

Ask how to bundle &

SAVE! Geo & svc restrictions

apply. 1-888-796-

8850

HughesNet Satellite Internet

- Finally, no hard

data limits! Call today for

speeds up to 25mbps as

low as $59.99/mo! $75

gift card, terms apply. 1-

844-863-4478

Train online to do medical

biling! Become a Medical

Office Professional at CTI!

Get trained & certified to

work in months! 888-572-

6790. The Mission,

Program Information and

Tuition is located at

CareerTechnical.edu/cons

umer-information. (M-F 8-

6 ET.

YOUR ADULT

CARE SERVICES

Call Kathy

at The Messenger

For More Info

272-5422

ASSOCIATION ADS

Directv Now. No Satellite.

$40/mo 65 Channels.

Stream news, live

events, sports & on demand

titles. No contract/

commitment. 1-866-825-

6523

Wants to purchase minerals

and other oil and gas

interests. Send details to

P.O. Box 13557, Denver,

CO. 80201

DENTAL INSURANCE-

Physicians Mutual Insurance

Company. Covers

350 procedures. Real

insurance - not a discount

plan. Get your free

dental Info kit! 1-888-

623-3036 . www.dental50plus.com/58

#6258

ASSOCIATION ADS

Want Faster & Affordable

Internet? Get internet

service today with

Earthlink. Best internet &

WiFi Plans. Call us Today

to Get Started. Ask

about our specials! 866-

396-0515

HEARING AIDS!!

Buyone/get one FREE!

Nearly invisible, fully rechargeable

IN-EAR

NANO hearing aids

priced thousands less

than competitors! 45-day

trial! Call1-877-436-0234

HEARING AIDS!! Bogo

free! High-quality rechargeable

Nano hearing

aids priced 90% less

than competitors. Nearly

invisible! 45-day money

back guarantee! 833-

669-5806

The Generac PWRcell

solar plus battery storage

system. Save money,

reduce reliance on

grid, prepare for outages

& power your home. Full

installation services. $0

down financing option.

Request free no obligation

quote. Call 1-855-

270-3785

Life Alert. One press of a

button sends help fast

24/7! At home and on

the go. Mobile Pendant

with GPS. Free first aid

kit (with subscription).

877-537-8817 Free brochure

Eliminate gutter cleaning

forever! LeafFilter, the

most advanced debrisblocking

gutter protection.

Schedule a FREE LeafFilter

estimate today. 15% off

Entire Purchase. 10% Senior

& Military Discounts.

Call 1-855-791-1626

Attention oxygen therapy

users! Inogen One G4 is

capable of full 24/7 oxygen

delivery. Only 2.8

pounds. Free info kit.

Call 877-929-9587

SELL YOUR ANTIQUE

OR CLASSIC CAR.

Advertise with us. You

choose where you want

to advertise. 800-450-

6631 visit macnetonline.

com for details.

BATH & SHOWER UP-

DATES in as little as

ONE DAY! Affordable

prices - No payments for

18 months! Lifetime warranty

& professional installs.

Senior & Military

Discounts available. Call

855-761-1725

DISH TV $64.99 190

Channels + $14.95 high

speed internet. FREE installation,

Smart HD DVR

included. Free Voice Remote.

Some Restrictions

apply. Promo Expires

1/21/22. 1-833-872-2545

xFocus on Rentals

WEDGEWOOD

VILLAGE

1, 2 and 3 BR Apts.

Rent Based on Income.

Call 614-272-2800 or visit us

at 777 Wedgewood Dr.

TTY/TDD 711

EQUAL HOUSING OPPORTUNITIES

ASSOCIATION ADS

GENERAC Standby

Generators provide

backup power during

power outages, so your

home & family stay safe &

comfortable. Prepare now.

FREE 7-yr extended

warranty $695 value!

Request a free quote

today. Call for terms &

conditions. 1-844-334-

8353

Looking for auto insurance?

Find great deals

on the right auto insurance

to suit your needs.

Call today for a free

quote! 866-924-2397

Pest Control

Find Pest Control Experts

Near You! Don't let

pests overtake your

home. Protect your loved

ones! Call today to find

great deals on Pest

Control Services - 833-

872-0012

VIAGRA and CIALIS

USERS! 50 Generic pills

SPECIAL $99.00 FREE

Shipping! 100% guaranteed.

24/7 CALL NOW!

888-445-5928 Hablamos

Espanol

Attention: If you or aloved

one worked around the

pesticide Roundup

(glyphosate) for at least 2

years and has been diagnosed

with non-Hodgkin's

lymphoma, you may be

entitled to compensation.

855-341-5793

Elminate gutter cleaning

forever! LeafFilter, the most

advanced debris-blocking

protection. Schedule

Free LeafFilter Estimate

today. 15% off Entire

Purchase. 10% Senior &

Military Discounts. Call 1-

855-995-2490

Rentals

ASSOCIATION ADS

VIAGRA & CIALIS! 60

pills for $99. 100 pills for

$150 FREE shipping.

Money back guaranteed!

1-844-596-4376

READER

ADVISORY

The National Trade Association

we belong to has

purchased the following

classifieds. Determining

the value of their service

or product is advised by

this publication. In order

to avoid misunderstandings,

some advertisers do

not offer "employment"

but rather supply the

readers with manuals, directories

and other materials

designed to help

their clients establish mail

order selling and other

businesses at home. Under

NO circumstance

should you send any

money in advance or give

the client your checking,

license ID or credit card

numbers. Also beware of

ads that claim to guarantee

loans regardless of

credit and note that if a

credit repair company

does business only over

the phone it's illegal to request

any money before

delivering its service. All

funds are based in US

dollars. Toll Free numbers

may or may not

reach Canada. Please

check with the Better

Business Bureau 614-

486-6336 or the Ohio Attorney

General's Consumer

Protection Section

614-466-4986 for more

information on the company

you are seeking to

do business with.
---
www.columbusmessenger.com

xCome & Get It!

October 17, 2021 -GROVE CITY MESSENGER - PAGE 15

xClassified Services

.

COME AND GET IT

Deadlines are Tuesdays by 5 pm.

Call For Publication Schedule 614-272-5422

Need to Get Rid of Something Fast - Advertise It Here For FREE!

FREE Garden Straw for gardens or bedding. Call for appointment for pickup.

Circle S Farms, 9015 London-Groveport Road, Grove City, 43123

Grove City - 614-878-7980

Sandbox Full of Sand; Small Bookcase - Fair Condition.

MB - Columbus - 614-308-1064

WOOD from two trees that we cut down two years ago. FREE.

Call me and let me know when you canp ick it up.

TH - Canal Winchester - 614-949-8963

Come and Get It! is a bi-weekly column that offers readers an opportunity to pass

along surplus building materials, furniture, electronic equipment, crafts, supplies,

appliances, plants or household goods to anybody who will come and get them - as

long as they're FREE. NO PETS! Just send us a brief note describing what you want to

get rid of, along with your name, address and phone number. Nonprofit organizations

are welcome to submit requests for donations of items.

Send information to The Columbus Messenger, Attention: Come and Get It, 3500

Sullivant Ave., Columbus, OH43204. Deadline is Tuesdays by 5 pm for following

Mondays publication. Messenger Newspapers is not responsible for any

complications that may occur. Please contact us when items are gone. 272-5422

ASSOCIATION ADS

READY TO BUY, SELL

OR RENT YOUR

VACATION HOME OR

HUNTING CAMP?

Advertise it here and in

neighboring publications.

We can help you. Contact

MACnet MEDIA @

800-450-6631 or visit our

site at MACnetOnline.

com

New authors wanted!

Page Publishing will help

self-publish your book.

Free author submission

kit! Limited offer! 866-

951-7214

IMPORTANT

NOTICE

The following states: CA,

CT, FL, IA, IL, IN, KY,

LA, MD, ME, MI, MN,

NE, NC, NH, OH, OK,

SC, SD, TX, VT and WA

requires seller of certain

business opportunities to

register with each state

before selling. Call to

verify lawful registration

before you buy.

Donate your car to kids!

Fast free pickup running

or not - 24 hour response.

Maximum tax

donation. Help find missing

kids! 877-831-1448

Protect your home w/home

security monitored by

ADT. Starting at $27.99/

mo. Get free equipment

bundle including keypad,

motion sensor, wireless

door & windows sensors.

833-719-1073

Come & Get It!

ASSOCIATION ADS

GENERAC Standby Generators

provide backup

power during utility power

outages, so your home

and family stay safe and

comfortable. Prepare

now. Free 7-year extended

warranty ($695 value!).

Request a free

quote today! Call for additional

terms and conditions.

1-855-465-7624

The Generac PWRcell, a

solar plus battery storage

system. SAVE money,

reduce your reliance on

the grid, prepare for power

outages and power

your home. Full installation

services available. $0

Down Financing Option.

Request a FREE, no obligation,

quote today. Call

1-855-900-2894

DISH TV $64.99 FOR 190

Channels + $14.95 High

Speed Internet. Free Installation,

Smart HD DVR

Included, Free Voice Remote.

Some restrictions

apply. Promo expires

1/21/22. 1-855-270-5098

CHILD CARE

OFFERED

Depend. Quality Child care

in loving hm. Exp. Mom, n-

smkr, hot meals, sncks,

playroom, fncd yd. Reas.

rates. Laurie at 853-2472

HELP WANTED

Kings Kids Daycare in

Grove City is hiring fun,

loving teachers for PT&

FT shifts. Pleaes email

sarragc@outlook.com or

call 614-539-034,

RENTALS

3 BDRM CONDO for rent

Security, pool, a/c, appls.

$1195/mo. Call

614-557-8883

DATED SALES

GARAGE SALE

2126 Mayflower Circle

Grove City

Oct. 21 & 22, 9am-4pm

Oct. 23, 9am-Noom

We are downsizing!

Furniture, hsehld items,

home decor, men's/ladies

clothing. Some baby items

WANT TO BUY

We Buy Cars & Trucks

$300-$3000.614-308-2626

BUYING VINYL RECORDS.

LPs and 45s - 1950-80s

Rock, Pop, Jazz, Soul.

614-831-0383

We Buy Junk Cars &

Trucks. Highest Prices

Paid. 614-395-8775

WANTS TO Purchase

minerals and other oil &

gas interests. Send details

to: P.O. Box 13557,

Denver, CO 80201

WE BUY JUNK CARS

Call anytime 614-774-6797

ANTIQUES

WANTED

Victrolas, Watches,

Clocks, Bookcases

Antiques, Furn.

Jeff 614-262-0676

or 614-783-2629

VACATION RENTALS

Englewood, Florida

Palm Manor Resort

Within minutes of white

sand Gulf beaches,

world famous Tarpon

fishing, golf courses, restaurants/shopping,

Bush

Gardens. 2 BR 2 BA

condos with all ammenities,

weekly/monthly, visit

www.palmmanor.com

or call 1-800-848-8141

BLACKTOP

AGM OHIO

ROOFING &

SEALCOATING

Free Estimates

Cell 614-512-1699

SANTIAGO'S

Sealcoating & Services LLC

Quality Materials Used

FALL IS HERE!

Driveway Seal & Repair!

Top Seal Cracks!

Residential & Commercial

Mulching, Edging & Clean-ups

"Ask for whatever you need."

BBB Accredited-Fully Insured

Call or text for Free Est.

614-649-1200

CARPET CLEANING

CONCRETE

11/7

A/M

BLACKTOP SEALING

Driveways & Parking Lots

614-875-6971

CARPET CLEANING

Any 5 areas ONLY $75

Home Powerwash- $99-$200

614-805-1084

Specializing in Pet Odors

CARPET SALES

CARPET

Gray Saxony

540 sq.ft. & 6 lb

Pad & Normal Installation

Only $999.00

Phone or text Ray

740-927-3404

ALL-CITY CUSTOM

CONCRETE

All Types Concrete Work

New or Tear Out-Replace

39 Yrs. Exp.

(614) 207-5430

Owner is On The Job!

GALLION

CUSTOM CONCRETE LLC

Specializing in Custom Colors &

Custom Designs of Concrete.

Including Remove & Replace

43 yrs exp & Free Est.

Licensed & Insured

Reputation Built

On Quality

Ronnie

614-875-8364

See Us On Facebook

www.gallioncustom

concrete.com

INFORMATION

10/24 A/M

10/24 W/SW

CONCRETE

EDDIE MOORE

CONSTRUCTION

Quality Concrete Work

Lt. Hauling & Room Add.,

Block Work & Excavation

Stamp Patios,

Bsmt. Wall Restoration

35 Yrs Exp - Lic & Ins.

Free Ests. 614-871-3834

Buckeye City

Concrete & Excavating

* Concrete * Foundations

* Waterlines * Drains

*Catch Basins

614-749-2167

buckeyecityconcreteand

excavating@yahoo.com

www.hastingsnsons.com

Driveways & Extensions

Patio & Walkways,

Porches & Steps,

Garage/Basement Floors

Hot Tub/Shed Pads,

Stamped/colored concrete

Sealing of new &

existing concrete.

FREE ESTIMATES

Contact Adam

614-756-1754

hastingsandsons.

columbus@gmail.com

AJ's Concrete,

Masonry

Good Work - Fair Prices

Block Foundations

Driveways • Sidewalks

Epoxy/Overlay Floors

Bonded-Ins. • Free Ests.

614-419-9932

FLOORING

• Tile • Hardwood

• Laminate • Vinyl

11/7

614-806-6050

SW

Sales • Installation • Free Est.

INFORMATION

ONLY

$50.00

For This Ad In Our

West & Grove City

For Info Call

272-5422

INFORMATION

LOOK TO

THE PROFESSIONALS

IN OUR

SERVICE DIRECTORY

For Service

"That Is Out Of This World"

10/24 A/M

10/24 A

FENCING

EAZY FENCE

Chain Link - Wood

No Job Too Big or Small

All Repairs ~ Free Est.

Insured. 614-670-2292

GUTTERS

Bates & Sons

GUTTER CLEANING

5 ★ Google Reviews

614-586-3417

HAULING

DEAN'S HAULING

614-276-1958

HEATING

HEATING

Complete System Clean & Check

$49.95

Free Carbon

Monoxide Testing

Gas-Oil-Electric Heat/Pumps

All Makes • All Models

45 yrs exp. • Sr. Discount

614-351-9025

HOME

IMPROVEMENTS

C&JHandyman

Services LLC

Minor Plumbing

& Electric

Install Hot Water Tanks,

Dishwashers & Disposals

Also Fencing &

Interior/Exterior Painting

Free Est. ~ 18 Yrs. Exp.

CDC/EPA Approved Guidelines

614-284-2100

SINCE 1973

Phil Bolon Contr.

Windows & Siding

Decks, Kitchens, Baths

Room Additions,

Flooring, Roofing

Bsmt Waterproofing

Deal With Small Non-Pressure Co.

47 Yrs. Exp. - Refs. Avail.

Lic.-Bond-Ins.

Free Est. - Financing Avail.

Member BBB Of Cent. OH

O.C.I.E.B. ID #24273

614-419-3977

or 614-863-9912

KLAUSMAN HOME

IMPROVEMENT

Siding-Windows-

Doors-Roofing-Soffit-

Fascia-Gutters-Trim

Earn FREE Seamless

Gutters with Siding Over

1000 Sq. Ft.

FREE Shutters with

Soffit & Trim

EPA Certified

Member of BBB

Financing Available

Over 20 yrs exp. • Free Est.

Licensed-Bonded-Insured

Owner & Operator

James 614-419-7500

HOME

IMPROVEMENTS

SLAGLE

HOME REMODELING

Baths, Kitchen,

Plumbing and Electrical.

All your Handyman needs

No Job too Big or Small

Over 30 Yrs. Exp. Lic.-Bond-Ins.

Jerry

614-332-3320

LAWN CARE

SOWERS LAW N CARE

Mowing-mulching-trimming

Fall cleanup-614-397-0566

The Lawn Barber

Cut, Trim, Blow away

Hedge Trimming, Edging

Garden Tilling

614-935-1466

LET US MAINTAIN

YOUR LAWN & GARDEN

FOR YOU

Summer, Spring,

Winter or Fall

WE DO IT ALL!!!!

Lawn Cuts, Edging,

Trees & Shrubs, Garden,

Mulching, Hauling,

Garden Pond &

Home Maint.

Free Ests. Low Rates

$20 & Up

Kevin - 614-905-3117

MOVING

Aaron Allen

Moving

Local Moving since 1956

Bonded and Insured

614-299-6683

614-263-0649

Celebrating

over 60 yrs

in business

CHRIS'

PLUMBING

"Plumbing & Drain Professional

That You Can Count On"

24 Hrs., 7 Days/Week

No Overtime Charges

24 Yrs. Exp. in Plumbing &

Drain Cleaning Field

Call For A Free Phone Estimate

$100.00 For Any Small Drain

614-622-4482

30% OFF with AD

Classified Services

4/11 A

10/24

A/M

11/7 A

10/10 A

PLUMBING

10/24

SW/W

MYERS

PLUMBING

Exp. Expert Plumbing

New Work & Fast Repairs

Lic. - Permit Available

Water • Sewer • Gas

614-633-9694

All About Drains & Plumb.

Will snake any sm drain

$145. 614-778-2584

10/24 A&M

11/7 A&M

11/7 A

PAINTING

A Job Well Done Again

A lic. General Contractor

Some Skilled Services

Incl: Painting • Stucco,

Repair•Carpentry•Exterior

Drainage & Home Maint.

Call Today! 614-235-1819

PLASTERING

DRYW

YWALL &

PLASTER

11/7

A&M

REPAIR

Textured Ceilings

614-551-6963

Residential/Commercial

BIA

POWER WASHING

Bates & Sons

Soft Wash & Powerwash

5 ★ Google Reviews

614-586-3417

MRS. POWERWASH

Any house wash $149+tax

Single deck $69+tax

2 Tier deck $99+tax

Best Wash in Town

Over 45,000 washes

Ashley 614-771-3892

ROOFING

Robinson roofing & repairs

30 yrs. exp. Lifetime Cols.

resident. Lic./bonded/Ins.

Reas rates. Member of

BBB. Dennis Robinson

614-330-3087, 732-3100

SEWING MACHINE

REPAIR

REPAIR all makes 24 hr.

service. Clean, oil, adjust

in your home. $49.95 all

work gtd. 614-890-5296

TREE SERVICES

Arborists Rn

Tree Experts LLC.

For all your

trimming needs.

•Removals,

•Trimming,

•Pruning,

•Thinning,

•Stump Grinding

Give us a call today!

614-483-3204

BURNS TREE SERVICE

Trimming, Removal &

Stump Grinding.

614-584-2164

Brewer & Sons Tree Service

• Tree Removal

• Tree Trimming 10/24

A&M

• Stump Grinding

• Bucket Truck Services

Best Prices • Same Day Service

614-878-2568

10/24 A&M
---
PAGE 16 - GROVE CITY MESSENGER - October 17, 2021

Last Chance

TO GET YOUR VOTES!

Advertise in our Election Section

10/31—Ad with Free Story

BEST BUY FOR YOUR

ADVERTISING DOLLARS

Our papers reach over 81,000 households!

200 Word Story

With Your Ad

Call or Email Doug Henry

Phone: (614) 272-5422

Email: doughenry@columbusmessenger.com

In Entertainment

www.columbusmessenger.com

Film fails to find its identity

It is a truth universally acknowledged

that everyone has secrets. For the most

part, these secrets are fairly innocuous in

nature but there are those out there who

are keeping something much darker

inside, something they would hate to be

brought to light.

An untold number of novels, movies,

and television shows have centered around

these deep, dark secrets and they often

make for the most compelling forms of

entertainment. We, the audience, want to

know the hidden parts of these characters,

we want to know the lies they tell themselves,

the lies they tell us, and we want to

experience the public unraveling of their

secrets — especially if the character most

definitely had it coming.

Because of the delicious drama that can

be wrung from the exposure of secrets, it is

hard for novels, movies, and television

shows that feature this wonderful plot

device to get it wrong. But the latest theatrical

attempt at making people own up to

their past unfortunately goes awry in

Netflix's "There's Someone Inside Your

House."

This psychological horror film takes

place where psychological horrors run rampant

— in a fictionalized small town that

boasts of "everyone knowing everyone."

When it opens, we meet "everyone's"

favorite good son Jackson Pace (Markian

Tarasiuk), the star player on the Osborne

High School football team. Everyone

assumes they know who Jackson is — and

everyone assumes they know who he will

be. (Hint: it involves marrying the prettiest

girl and bringing glory to their town when

he eventually becomes a famed athlete in

the NFL). But what they do not know is

that Jackson is harboring a deep, dark

secret, one he desperately wants to take

with him to his grave.

Shortly before he and his teammates

are set to take the field in a cross-town

rivalry game, Jackson goes home to get

some shuteye as part of his pre-game routine.

Though he notices little things out of

place in his home, he thinks little of it and

goes about his rest. When he wakes, however,

he discovers incriminating pictures

all over the place — pictures that show him

savagely beating a fellow teammate in a

hazing ritual years ago.

While running throughout the house,

tearing down the photos and screaming

that "It's not who I am anymore," he comes

face-to-face with himself. And by that I

mean a masked intruder who is literally

wearing a 3-D printed mask of Jackson's

face. After a brief scuffle, and an ill-advised

attempt at offering to Venmo money to the

intruder, Jackson is killed but his longheld

secrets are not taken to the grave.

Instead, those pictures are sent to everyone

in the town, lifting the veil on someone

they all thought they knew so well.

The story then shifts to the aftermath

and to the townspeople who seem to be

more disturbed by the fact that hidden

The Reel Deal

Dedra Cordle

secrets were

exposed rather than

the brutal death of a

popular teen.

Among those suitably

more disturbed

by the former is the

film's main protagonist

Makani Young (Sydney Park).

Unlike her small group of outcast

friends — Alex (Asjha Cooper), Darby (Jesse

LaTourette), Rodrigo (Diego Josef) and

Zach (Dale Whibley) — Makani did not

grow up in this small Nebraskan town: She

transferred there during her junior year

from Hawaii. Like most "new people," she

has an air of mystery surrounding her but

it turns out she really is hiding a deep,

dark secret.

Terrified that it will somehow be

exposed, she keeps her friends at arms'

length, despite going along with their pact

that they are the "group that does not keep

secrets from each other."

After the death of another student — and

the public unveiling that this student was

behind an anonymous podcast that spewed

white supremacist views — the town begins

to fracture further, accusing one another of

spilling the beans and the blood. Because

the film can often veer into satirical territory

(at its core, it is an homage to teen

slashers like "Scream" and "I Know What

You Did Last Summer") it is never made

quite clear which aspect the townspeople

are more upset over.

And that is sort of where "There's

Someone Inside Your House" goes awry in

comparison to its counterparts; it never

quite knows what exactly it wants to be. It

tries to be a pointed critique of small town

behavior (the "everyone knows everyone"

mindset); it tries to be a psychological

thriller with the slow unraveling of the

lives of its characters; it tries to be a

straight slasher with a high body count;

and it tries have a conscious as it asks people

to take a look at themselves, to come to

grips with who they are, with what they

have done, before you figuratively kill

yourself over it. Speaking from a general

horror movie point-of-view, you can be one

or two of those things, but not all of them

combined.

While the tone of the movie is all over

the place, that doesn't mean "There's

Someone Inside Your House" is beyond salvageable.

Decent acting makes the character

feel genuine, decent writing makes

their development richer for a horror outing,

and genuine laugh-out-loud moments

make for an overall watchable horror

movie, albeit one that ultimately doesn't

live up to its potential. Grade: C+

Dedra Cordle is a Messenger staff

writer and columnist.