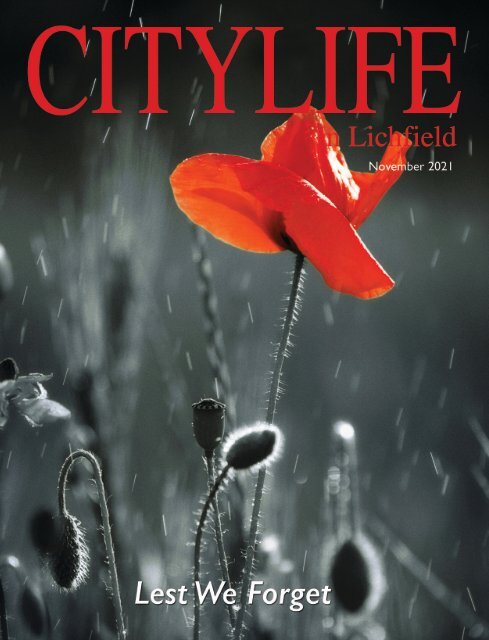 Citylife in Lichfield November 2021
We Will Remember Them in our November edition magazine, for Remembrance Sunday. We also have our usual mix of local news stories, competitions, history features, recipes, what's on events and our popular Month in Pictures compilation. The nights are drawing in, there's a touch of frost in the air, so why not enjoy reading our magazine this November over a large mug of hot chocolate and a slice of banoffee pie while sitting in front of the fire!
We Will Remember Them in our November edition magazine, for Remembrance Sunday. We also have our usual mix of local news stories, competitions, history features, recipes, what's on events and our popular Month in Pictures compilation. The nights are drawing in, there's a touch of frost in the air, so why not enjoy reading our magazine this November over a large mug of hot chocolate and a slice of banoffee pie while sitting in front of the fire!
SHOW MORE
SHOW LESS
You also want an ePaper? Increase the reach of your titles
YUMPU automatically turns print PDFs into web optimized ePapers that Google loves.
3
---
Welcome to

CITYLIFE

Welcome to CITYLIFE in Lichfield, a monthly magazine

bringing you our pick of the city's news, events and stories.

Each month CITYLIFE in Lichfield is delivered to

businesses and homes in Lichfield, Kings Bromley, Fradley,

Alrewas, Hill Ridware, Whittington, Stonnall, Shenstone,

Hammerwich, Burntwood and Longdon, completely free

of charge; bringing you the best that the city has to offer.

Each issue features heritage stories exploring the rich

history of our area, plus competitions, interviews and the

latest in fashion and style.

Got a story or charity event you want to share with our

readership? Think you've snapped an image that captures

the spirit of the city? We want to hear from you!

Our business is bringing you Lichfield's city life.

CITYLIFE Contacts

Editor - Kristen Lackajis 07885 380632

kristencitylife@gmail.com

Features - Jono Oates 07785 757201 jonocitylife@gmail.com

Advertising -

Steve Brown 07740 166497 stevebrowncitylife@gmail.com

Rebecca Hill 07970 513144 rebeccahillcitylife@gmail.com

Michele Phillips 07919 896575 michelecitylife@gmail.com

Production -

Helen Smith 07967 154187 helencitylife@gmail.com

Citylife In Lichfield Ltd

PO Box 7126 LICHFIELD WS14 4JS

CITYLIFE in Lichfield and CITYLIFE in Rugeley and

Cannock Chase magazines are not connected to any other

publication or publisher, and are wholly owned by CITYLIFE

in Lichfield Ltd.

Citylife In Lichfield

@citylifelichfield

@lichfieldcity

www.citylifeinlichfieldltd.co.uk

Citylife in Lichfield Ltd does not endorse any business or organisation

appearing in these pages, and the publication of any advertisement,

editorial, event listing or advertising editorial does not constitute an

endorsement by Citylife in Lichfield Ltd.

Your Local Magazine

Inside...

8 Local News

The latest community news from the area

.............................

20 The Bates of Bore Street

Jono Oates looks back at a local business

.............................

25 A City of Flavours

Find our dining guide to Lichfield food

.............................

38 Christmas Gift Guide

Gifts galore for men, women and children!

.............................

52 What's On

Local events this festive season

.............................

In Flanders Fields

By John McCrae

In Flanders fields the poppies blow

Between the crosses, row on row,

That mark our place; and in the sky

The larks, still bravely singing, fly

Scarce heard amid the guns below.

We are the Dead. Short days ago

We lived, felt dawn, saw sunset glow,

Loved and were loved, and now we lie,

In Flanders fields.

Take up our quarrel with the foe:

To you from failing hands we throw

The torch; be yours to hold it high.

If ye break faith with us who die

We shall not sleep, though poppies grow

In Flanders fields.
---
5
---
The Month in

Pictures

We take a look at the events

and activities over the last

month, bringing you a roundup

of the city in pictures...

Bollywood Night at the Bengal

restaurant, Bore Street

Staff from sponsors Four Oaks Financial

Services at the Lichfield Half Marathon

Allen Brown Jewellery 35th Birthday,

Heart of the Country Shopping Village

(photo by Allen Brown Jewellery)

James Bond premiere night at

Lichfield Garrick

Four Oaks Financial Services Manager

MD Martin Ward, Lichfield Half

Marathon sponsor

Artists at Black History Month

exhibition, Hub at St Mary's (photo Dan

Burns Photography)

Pennyroyal clog dancers at the Lichfield

Festival of Folk

Bakanalia Morris Dancers at the Lichfield

Festival of Folk

Ninja Mutant Ninja Turtles at the

Lichfield Half Marathon

6

Lichfield Monthly Producers Market,

Market Square

Georgian Jono leads history tour for

Richard Winterton Auctioneers prize

winners (photo Alex keller, Richard

Winterton Auctioneers)

Images by Jono Oates

www.jonotourism.co.uk

A-Plan Insurance Wears it Pink for

Breast Cancer Awareness Day
---
Advertising Feature

Robin Place – Certified Financial Adviser

I'm a fifty three year old Financial Adviser from Burntwood working for Four Oaks Financial Services based in Shenstone. I have

many Clients in the Burntwood and Lichfield area and some of you reading this will know me from my membership of Lichfield

Rotary Club, Hammerwich Parish Council or Burntwood Town Council.

I'm often asked what Financial Advisers do, what services they provide and how they can benefit me.

The answer is that Financial Advisers have a range of specialities they deal with such as mortgages, investments, protection,

financial planning and pension consolidation. Not all have the same specialities or qualifications, and some prefer to focus in certain

areas rather than others.

Most of my advice is given around financial planning, investments, pensions and inheritance tax but I have colleagues at Four

Oaks Financial Services who work in other areas as well.

I am one of a Team of Financial

Advisers supported by in-house

research, client liaison and

administration teams based in our

offices on the Birmingham Road,

Shenstone. Should you wish to have a

consultation with me your first meeting

will be at my cost and there is no

obligation to proceed any further.

Financial Advisers are qualified

professionals and get paid in a variety of

ways, which I will explain to you when

we speak. If you do decide to be a client

then you will get a personalised service

that matches your needs, whatever they

may be, as we are all individuals.

I will carry out a full fact find of your

circumstances, look at your current

plans and policies and discuss with you

your priorities, where you want to be

financially in the future and how I may

be able to help you get there. I will

speak in clear terms and do my best to

try and help you achieve your goals.

As an experienced local Financial

Adviser I work with clients at all stages

of their life to help them achieve their

financial goals, whatever they be.

You can find me on the Independent

rating sites Unbiased and Vouchedfor,

via my website -

www.financialadviser.me.uk or the Four

Oaks website – www.fouroaksfs.com

It is often said that people deal with

people, particularly local people, so

please give me a call or drop me an

email so we can have a chat and can

take it from there.

I hope to hear from you soon.

Robin Place DipFA, CeLTCI, MLIBF

Financial Adviser

0121 323 2070, 07968 504805

robin@fouroaksfs.com

7
---
LOCAL NEWS

Co-op Supports

Garrick's New Project

Lichfield Garrick Theatre has announced a new

partnership with Central England Co-

Operative, which is sponsoring its latest

Community Musical project.

The Co-op is providing vital support for the

Theatre's flagship community project. In the

summer of 2022, the Lichfield Garrick will be

bringing its own community musical to the

stage – a production that has been devised,

written, composed, and developed by

participants from the community.

For the first time ever, the Garrick will be

composing and writing the musical itself.

Members of the community are invited to

kickstart the project to write and compose the

script and score at a later date. This is a project

unlike anything the Theatre has ever done

before and would not be possible without the

rallying support of community partners such as

the Co-op, which is pleased to be supporting in

a project that aligns with its community aims.

The project is already underway, with a

community creative team developing the show

ready for rehearsals to start next year.

Businesses are invited to support Lichfield

Garrick in all sorts of ways. Contact Matt Clay

on matthew.clay@lichfieldgarrick.com or call

01543 412123 for more details.

.......................................................................................

Changes to

Council's Cabinet

Changes are being made to roles and

responsibilities within Lichfield District

Council's Cabinet following the resignation of

Councillor Liz Little from her role as Cabinet

Member for Major Projects.

Council Leader Doug Pullen will take over in

the lead cabinet member role for the Lichfield

City Centre Masterplan assisted by Councillor

Andy Smith. Deputy Council Leader

Councillor Iain Eadie will take over as lead

cabinet member for the project to build a new

leisure centre in Lichfield.

.......................................................................................

8

Store's Fund

Boost for LHCRT

Store manager Sophy Troman presents a

cheque to LHCRT's Bob Williams

Lichfield and Hatherton Canals Restoration

Trust (LHCRT) has received a donation of £333

from Waitrose & Partners Lichfield's

Community Matters Fund.

LHCRT was nominated by the store's shoppers

to receive a third of the £1,000 allocated to

three local organisations.

The Lichfield Canal, gradually being brought

back to life from its closure 60 years ago,

provides a natural corridor for public

recreation and wildlife habitats.

The Fosseway Heath section off Falkland Road,

close to the Waitrose store, is open to the

public at all times to show what is being

achieved in transforming natural landscapes

while preserving the heritage of this local canal

in the national inland waterway system.

.......................................................................................

School Plants

Jubilee Tree

Tree planting ceremony at Charnwood

Primary School

Staffordshire's Lord-Lieutenant joined pupils at

Charnwood Primary School in Lichfield to plant

a tree in celebration of Her Majesty the

Queen's Platinum Jubilee in 2022.

Lichfield became one of the latest cities in the

UK to 'plant a tree for the jubilee' on Tuesday

12th October.

The Lord-Lieutenant Ian Dudson officially

planted the Acer Campestre tree in front of

pupils, teachers and dignitaries from across the

district and county.

Charnwood Primary School is one of the 69

schools from cities in the UK to be chosen to

plant a 'school celebration tree' donated by the

Queen's Green Canopy initiative.

This is the first part in a programme of

activities around tree planting to celebrate The

Queen's Platinum Jubilee next year.

To find out more about The Queen's Green

Canopy go to www.queensgreencanopy.org.

.......................................................................................

Have Your Say on

Council Budget

Lichfield District Council has launched an

online survey for people to put forward their

views on its priorities and spending for the next

financial year on local services such as refuse

collection and recycling, street cleaning, antisocial

behaviour, the local economy,

homelessness, sports, leisure and events. The

council spends around £11 million each year on

local services. Around £7 million of this comes

from council tax with the rest from business

rates and other income.

The survey is open until 30th November at

www.lichfielddc.gov.uk/prioritiesandbudget

alongside other opportunities for taking part in

the consultation including polls, an online ideas

board and the chance to post questions to the

council about its work. The council is also

looking to organise a series of question and

answer sessions with a variety of groups across

the district to discuss local priorities as part of

the consultation.

Feedback gathered through the priorities and

budget consultation will be used to inform

discussions on spending priorities over the

next year and beyond. The final budget decision

for the 2022 to 2023 financial year will be made

at a meeting of the full council in February.
---
City Jewellers Winner

.........................

Congratulations

to Emma

Bailey of

Lichfield who was the

winner of the City

Jewellers

competition, which

ran in our August

issue of the magazine.

Emma correctly

answered the

competition question

and was randomly

selected from

hundreds of entries

to receive a beautiful

pair of Carpe Diem

earrings from the Fei

Liu range, stocked at City Jewellers on Bore Street.

Delighted Emma said: "The earrings are absolutely

gorgeous - a huge thank you both to Citylife magazine and

City Jewellers!"

Well done Emma!

9
---
LOCAL NEWS

Local Dancer Chosen

for Professional

Development

Lichfield-born Natalie

Haslam has been

selected from

hundreds of hopefuls

for the famous

c h o r e o g r a p h e r

Matthew Bourne's

New Adventures

Overture Professional

D e v e l o p m e n t

programme.

The programme is for emerging dance teachers

and community dance practitioners from a

variety of genres who have been working in

community or education settings for less than

five years.

Over the course of the programme the

selected artists meet for residential weekends.

Each residential comprises of practical

workshops, class and skills-sharing as well as

inspirational guest teachers from a variety of

dance backgrounds sharing their practice.

With workshops in areas such as personal

development, advanced community dance skills,

business development and networking, we aim

to provide the cohort with a range of skills to

support them in reaching the next level of their

careers as community dance artists.

Natalie Haslam is a dance artist working with all

ages and abilities across theatre, education,

youth and community settings. In recent years,

Natalie has worked with many different

organisations and companies, and she is

currently involved in being a Support Worker

for DanceXchange's Critical Mass 2022 (for the

Birmingham Commonwealth Games); a teacher

and social media creator for Ascendance

(Dance with Parkinson's); teacher and founder

at Dance! With Natalie (Dance classes for

Adults); Workshop Facilitator for Cherwell

Theatre Company; Area Creative Coordinator

for People Dancing's Live Well and Dance with

Parkinson's; and Operations Manager at

Lichfield Festival.

.......................................................................................

COGS' Carbon

Neutral Fundraiser

In today's climate, being carbon neutral is a best

way forward for a small firm to make the

biggest footprint. As part of its goals to move to

being carbon neutral, Cherry Orchard Garden

Services (COGS), based in Burntwood, is

crowdfunding for solar panels for its new

classroom. This, combined with the onsite

10

The new classroom

carbon savings that COGS currently partakes

in, will see the organisation closer to its goal of

becoming carbon neutral.

Because COGS works with learning-disabled

gardeners, it has found that teaching about

carbon neutrality is difficult, so showing how to

achieve this is a much more effective learning

tool.

The crowdfund page can be accessed by visiting

www.avivacommunityfund.co.uk and searching

for Cherry Orchard Garden Services or the

term Sustainable Solar.

.......................................................................................

Bypass Opening Boost

for LHCRT

A drone's-eye view by Colin Ablitt

The restoration of the Lichfield canal has taken

a huge step forward with the opening of the

city's Southern Bypass extension.

A section of the canal runs parallel to the

bypass alongside a housing development, and

Lichfield and Hatherton Canals Restoration

Trust is hoping for permission in the next few

weeks to begin work.

A great deal of preparation of the site has been

completed, courtesy of Persimmon Homes,

who are constructing St John's Grange housing

development, and Amey, who constructed the

bypass, including the installation of two bridges

over the line of the canal connecting the estate

with the bypass.

LHCRT volunteers will build a new Lock 22 and

restore a modified Lock 23 in this section,

which has been named St John's Reach.

The restoration of this section of the Lichfield

Canal will take it close to another major

obstacle, the Cross-City railway line, which the

canal has to go under, and an appeal to raise the

huge amount of money needed to build the

tunnel has been ongoing for several years.

More information can be found at

www.lhcrt.org.uk.

.......................................................................................

Community Lottery

Helps Litter Legends

A local good cause is putting the money raised

through Lichfield Community Lottery towards

its goal of a litter free Lichfield.

Lichfield Litter Legends, the group that carries

out regular litter-picking around Lichfield and

its outskirts, is one of Lichfield Community

Lottery's most popular good causes.

This is the weekly lottery where 60p of every

£1 spent goes towards causes that benefit

Lichfield District. With a jackpot of £25,000 and

other cash prizes up for grabs, it is a fun way to

support the local community while being in

with a chance to win a prize.

Lichfield Litter Legends has been using the

money raised by their lottery supporters each

week for new equipment and promotional

material. The extra funds are also helping the

group of volunteers to take their message to

local schools, to raise awareness of the

problems associated with litter, including the

impact on society and local wildlife.

Find out more about Lichfield Community

Lottery at

www.lichfieldcommunitylottery.co.uk.

.......................................................................................

To Advertise call:-

Steve Brown 07740 166497

stevebrowncitylife@gmail.com

Rebecca Hill 07970 513144

rebeccahillcitylife@gmail.com

Michele Phillips 07919 896575

michelecitylife@gmail.com
---
11
---
LOCAL NEWS

Hat Trick of Awards for

Local Company

In the late months of 2020 FootFox

Productions, a small local video production

company run by young co-directors Ben

Hatfield and Callum Thorpe, was notified that it

had been put forward for an award based on

the innovative corporate video production

services provided throughout the pandemic. In

June 2021, the duo attended Moor Hall Hotel &

Spa, Sutton Coldfield, where it was officially

announced that the firm secured two awards:

'Best Corporate Video Production - Midlands

2020/21', and 'Innovation and Excellence 2021.'

After a small celebration of these awards the

team at FootFox jumped straight back into

providing video and animation services to

businesses within Lichfield and to others within

the Midlands area. In no time the pair found

themselves nominated for another award and in

October 2021 they were presented with

Corporate Vision's Media Innovator Award

2021 for Most Innovative Video & Visual Media

Production Company West Midlands.'

.......................................................................................

12

Ben & Callum (photo courtesy of Lynsey Helen Brown)

Local Baker Crowned

'Bread Hero'

Ruth Redgate of

Hunnypot Cottage

Bakery in Elford has

been crowned the West

Midlands' Bread Hero

2021 by the Tiptree

World Bread Awards

with Brook Food.

Ruth converted an old rundown shed into her

own miniature bakery, Hunnypot Cottage

Bakery.

Ruth is very conscious of the environmental

impact of the bakery. In the conversion, she

used donated worktop and units, repurposed

shelves and wall and ceiling boards that would

have otherwise gone to landfill. In the day-today

running of the bakery, she uses

compostable packaging, forest-friendly

cardboard, and has swapped paper leaflets for

QR codes.

She has also shown great innovation in the

business of the bakery. To introduce people to

new tastes, she began a monthly bread

subscription that provided a different country's

bread with each delivery.

In addition to the bakery, Ruth runs a local food

hub which she created to bring local produce

to the community. She personally signs up the

producers, collects all the orders from them

each week and takes them to central collection

points, helping everyone have access to fresh

healthy food.

.......................................................................................

A Family Affair

The latest

addition to the

bustling city of

Lichfield is Avoir

Interiors which

opened its doors

on the busy

Market Square in

October.

This beautiful

home interior

and giftware

boutique offers

Nicola Taylor & Lesha

affordable luxury

Chaplin-Park (l-r) with

with a unique,

husbands (l-r) Anton

personal touch in

Taylor & Richard Chaplin

a friendly

e n v i r o n m e n t ,

which is the hallmark of the Avoir brand.

With an already successful store in Stafford,

founders and sisters, Nicola Taylor and Lesha

Chaplin-Park, are excited to bring to the people

of Lichfield a fabulous shopping experience for

their homes.

Visit the shop on Conduit Street or go online

at www.avoirinteriors.co.uk to find out more.

.......................................................................................

Don't Be Lonely This

Christmas

Kendall and Wall

Charitable Trust

is a registered

charity run by a

group of trustees

including both

volunteers and

clients. The

object of the

charity is to ward

off loneliness and

help people to

meet new friends on days out in interesting

places.

The Trust understands how difficult it can be to

get out if someone suffers from mobility issues

and therefore has specially equipped buses with

lifts.

Outings are organised to appeal to a wide

range of interests and tastes. Most importantly,

the Trust will pick passengers up from home in

the morning and return them to their door at

the end of the outing. The Kendall & Wall team

of helpers are on hand on every trip to look

after passengers, help to push wheelchairs,

provide a steadying arm and even help at

mealtimes.

All outings are carefully planned to ensure that

the places visited are interesting, accessible and

not too far away, and that they have easy-access

toilets and somewhere to eat close by. From

horse racing to art galleries, concerts to garden

centres, the pantomime to stately homes, canal

and river trips to theatres and cinemas, all

tastes are catered for.

Find out more by visiting

www.kendallandwall.org.

.......................................................................................

The Hub Forms

Education Partnership

The Hub at St Mary's, a community arts venue,

has announced a new partnership with

Streethay Primary School.

The Hub needs to be relevant to everyone in

the community and sometimes that means, as

with this case for younger audiences, taking the

Hub to them. The pandemic has had a physical

and economic effect on schools being able to

offer creative and artistic experiences and that

is an area where local community venues can

step in to support. The Hub as a venue has so

many shared values with the school and we are

excited about what we can achieve together.

Sonia Sabri Dance Company performed at

Streethay School on Tuesday 5th of October.

'Same, same…but different' is a lively and fun

dance performance for young children rooted

in Indian Kathak dance, with the theme of

celebrating uniqueness and diversity.

The Hub now intends to develop the

partnership further by inviting the school to

visit future shows and exhibitions at The Hub.

Find out more at www.thehubstmarys.co.uk.

Competition Winners

Congratulations to the following winners:

S Moseley who is the winner of a Just

Granite chopping board; W Martin of

Burntwood who receives a Home

Cleaning Kit courtesy of Knight & Doyle;

and M Dales of Lichfield who gets to

enjoy a Sunday Roast Dinner for two at

Bradshaws Café and Farm Shop!

Well done!

G

w

re

a

o

fr
---
Your Garden in

November

By Byron Lewis

As we head towards the end of the year, it's actually the start of the

season for planting roses and trees. They will benefit from still-warm soil

and the autumn rainfall which will help them become established more

quickly. You'll find a great selection available at the garden centre – the

advice this year more than ever is to buy early. Many growers are seeing

exceptional demand – one of our tree suppliers has gone from a nursery

with over 200,000 trees to being nearly empty!

Fruit trees are also good for planting in November. This gives them the

whole of next season to get established, with some producing fruit in

the first year of being planted. Most fruit trees are suited to small

gardens but do check the ultimate heights, as this can vary. There are

even fruit trees you can grow in pots permanently – again fruit trees are

scarce, so buy while the range is good!

Later in the month, hedging plants will be available - if you need a living

screen for your garden, choose from hawthorn, blackthorn, privet, laurel

and others. All can be planted through the winter as long as the ground

is neither frozen or waterlogged - just add some fresh compost and

powdered fertiliser to the ground when you plant.

As we hit the end of the year, most people turn their attention to

Christmas. Next month, we'll take a look at selecting the perfect REAL

Christmas tree and have plenty of tips to keep your tree looking good

into the New Year.

Talking of Christmas, our Christmas shop is due to open on 6th and 7th

of November. At the time of writing, we haven't received our full range

(due to Covid/container Ships etc!) but it should all be in soon… fingers

crossed! We're also due to start taking bookings for our 2022 coach

trips which restart after nearly two years – see our website mid-

November for more details.

Byron Lewis runs Lichfield Garden Centre, at

Curborough Countryside Centre in Lichfield.

Tel: 01543 254306, visit the website at

www.lichfieldgardencentre.co.uk or find

on Facebook and Twitter.

13
---
Allen Brown

Jewellery

35th Birthday Celebrations

............................

Afantastic time was had by all at the Allen Brown

Jewellery double celebration weekend. Not

only did the jeweller celebrate its 35th

birthday, but also 30 years at its home of Heart of the

Country Shopping Village. With personalised cupcakes

on offer and balloons to decorate the gallery, the firm

also gave out some special prizes to lucky customers.

Allen Brown enjoyed showcasing his special anniversary

piece, which consisted of an 18ct white gold kunzite and

diamond pendant.

The company wishes to thank all who visited who

helped to make the weekend extra special.

Allen Brown commented: "I've been very touched and

humbled by the response from past and present customers. 35

years is a long time but the success of the business is in largely

part due to the help and support of all my amazing Allen Brown

team. Heart of the Country has been a great location for my

business, a visionary concept of Lesley and Simon Stubbs."

Local Star to

Perform at Xmas

Events

Classical pop and musical theatre

singer Jordan Adams will take to the

stage during November to perform

at the Lichfield Christmas Fayre and

Lichfield Christmas Lights Switch On

events.

A former grand finalist in the

national singing competition Open Mic UK, Jordan is best

known for playing the lead in several Lichfield Garrick

musical runs from The Sound of Music to The King and I,

as well as for his sold-out theatre concerts in the region.

Jordan will be performing at the Lichfield Guildhall on

Sunday 21st November as part of The Lichfield

Christmas Fayre. Taking place between 10am and 4pm

with Jordan performing from 12pm onwards, this year's

fayre will be the biggest yet with a traditional Christmas

market, food and drink, and live entertainment. He'll also

be adding a touch of West End musical magic to the

Lichfield Christmas Lights Switch-On which will be held

on Sunday 28th November singing songs from stage and

screen as well as traditional Christmas carols. On the

main stage between 2pm and 2.45pm Jordan's

performance will be followed by the switch-on of the

City's spectacular illuminations at 5pm and the arrival of

Santa.

14
---
15
---
Couple

Auctioned

Lifetime Ceramic

Collection for

Medical Costs

By Alex Keller

...............................

A couple who are both battling cancer put their treasured ceramics

collection up for auction in Lichfield to help cover the costs of private

medical care.

The pair, who are in their 70s and have asked not to be named,

started collecting 30 years ago and loved travelling around the country

hunting for rare pieces until illness changed everything – except their

devotion to each other.

The gentleman is fighting bowel cancer, which has spread to his lungs

and liver, and his wife has endured four major operations for mouth

cancer, one of which necessitated repurposing a bone from her leg.

Now the collection which gave them so much pleasure to

accumulate will help bring comfort to their dotage.

It went under the hammer in a special Single Owner Sale with

Richard Winterton Auctioneers at The Lichfield Auction Centre,

Fradley Park, on Monday October 25th, realising a total of £30,000.

There are hundreds of hugely collectable pieces with many rarities

– the couple admit to losing track of the precise number some time

ago – and the collection is expected to fetch many thousands of

pounds.

"We've had a great deal of pleasure collecting and had pictured we

were going to sell them in our retirement," they said.

"But you don't know what the future holds and unfortunately

physical illness has stopped us, initially with the diagnosis of mouth

cancer 15 years ago.

"We had such plans for later in life and sometimes they don't come

to fruition.

"Now we're into our dotage and the proceeds will probably be used

to pay for private medical care."

The collection included:

• Royal Doulton Bunnykins figurines and tableware designed by

Barbara Vernon

• Royal Doulton nursery ware designed by Savage Cooper and themed

by nursery rhymes

• Shelley tableware designed by Mable Lucie Attwell

• Beatrix Potter figurines by Beswick

• Wade figurines including iconic comic character Betty Boop

• Disney figurines from the Walt Disney Classics Collection, and

• Figurines and tableware by Royal Albert.

The anthropomorphic Bunnykins series featured figurines depicting

characters ranging from Sherlock Holmes and King Arthur to Henry

VIII and his six wives, from occupations and hobbies to sport and

travel including aeroplanes and cars to ships and even dodgems.

A rare Shelley prototype by Mable Lucie

Attwell made £240.

Rare pieces included a rabbit

clown and The Oompah Band in

green jackets.

The entire collection was

overwhelmingly evocative of a

childhood idyll, although the couple

from Sutton Coldfield 'have never

been blessed' with little ones of

their own.

It started with the Beswick

Beatrix Potter feline figurine of

Ginger, bought 30 years ago as the

couple at that time had a ginger cat

named Sandy.

"We were avid collectors, visiting

fairs at Newark, Trentham Gardens

and Exeter – we've been to

Glasgow and back in a day to

collect items we'd seen," they

recalled.

"Over time you start to look for

specific items to make up a suite or

you go somewhere for something

specific and find something else

which interests you and that sends

you off on another tangent.

Rare rabbits: The Oompah Band in green

jackets sold for £800.

Just some of the collection of

Bunnykins figurines.

Beautifully illustrated Royal Doulton

nurseryware.

This Bunnykins plate can be filled

with warm water in order to keep the

child's food at temperature.

"You just collect and collect. We've had a great deal of pleasure

collecting over the years and we've only ever bought what we've liked.

"We've seen the country and met lots of lovely people with an

interest in exquisite ceramics.

"It's a passage of time we've thoroughly enjoyed – a wonderful

existence which has been cut short through illness."

The nostalgic path chosen by the couple includes suites of

'beautifully made' nursery ware – a far cry from today's utilitarian

approach.

"When you think of a toddler sitting there eating from these

beautifully illustrated pieces, it's just absolutely incredible," he said.

"You see kids today being fed with plastic beakers and things –

compare that to the sheer amount of design work and skill that went

into the nursery ware, decorated with pictures for the children to

look at while eating.

"We just fell in love with how beautiful it all was.

"Ginger was our first piece and it just grew from there.

"We had some wonderful times and absolutely loved all of it."

For valuation appointments and for enquiries about house

clearances and downsizing solutions, telephone 01543 251081

or email office@richardwinterton.co.uk. Visit

www.richardwinterton.co.uk.

16
---
17
---
Darwin's Garden

Declared

Outstanding!

Erasmus Darwin House is celebrating being

awarded 'outstanding' certification for its

gardens in the Royal Horticultural Society's 'It's

Your Neighbourhood' event.

After Lichfield city decided not to take part in the

Britain in Bloom competition this year, the museum

decided to enter the event, which is described as a noncompetitive

scheme for community groups who want to

'green up' local areas and add some colour to the

community.

Visit Erasmus Darwin House on Beacon Street to find

out more.

Light Up a Life Christmas

Services Return

...............................

Lichfield and Cannock

people will be able to

come together once

more in November and

December to remember their

loved ones at St Giles

Hospice's Light up a Life

services.

The special services, which

traditionally take place across

the St Giles Hospice region each

year before Christmas, are

returning as normal for 2021 after they had to be cancelled in 2020 due to the

coronavirus pandemic.

Light up a Life offers families the opportunity to remember loved ones they have

lost and to celebrate their lives. The events will include outdoor services at St

Giles Hospice in Whittington at 6.30pm on Thursday 2nd December; Lichfield

Cathedral at 8pm on Sunday 5th December; and St Luke's Church, Cannock at

6pm also on Sunday 5th December.

Everyone is welcome at the Light up a Life services, where the community and

those that have made a dedication for a loved one are invited to join in a moment

of reflection as our Christmas trees are illuminated and to view the messages in

the Book of Memories. Dedications can also be viewed online on the Light up a

Life virtual Christmas tree.

Dedications can be made online at www.stgileshospice.com/lightupalife and will

feature on the hospice's virtual Light up a Life Christmas tree, which is filled with

shining stars and sparkling lights. Dedications made before Thursday 11th

November will also be included in the Book of Memories.

The Book of Memories will be available to view at all Light up a Life services

and on the hospice website from 1st December. It will also be available to view in

St Giles Hospice and some service locations throughout December.

Everyone who dedicates a light will receive a special Light up a Life keepsake

card to display at Christmas time featuring the name of their loved one, their

personal message and a bookmark along with a poignant poem of remembrance.

For more information about Light up a Life services or to make a dedication,

please visit www.stgileshospice.com/lightupalife

Light Up a Life Services 2021

Saturday 27th November, 4pm

Aldridge Methodist Church

Sunday 28th November, 6pm

St Modwen's Church, Burton upon Trent

Sunday 28th November, 3pm

St Mary the Virgin Church, Uttoxeter

Sunday 28th November, 6.30pm

Four Oaks Methodist Church, Sutton Coldfield

Thursday 2nd December, 6.30pm

Outdoor service at St Giles Hospice, Whittington

Saturday 4th December, 6pm

St Editha's Church, Tamworth

Sunday 5th December, 6pm

St Luke's Church, Cannock

Sunday 5th December, 8pm

Lichfield Cathedral

18
---
19
---
James Bates and Son, confectioners and

photographers, 1912

Edgar Bates and Sid Bennett grocer,

1931

Bates, Elsdon greengrocer and

Co-operative Furniture, 1937

The Bates of

Bore Street

By Jono Oates

............................

Ihe name Bates has a long association with various shops in

Lichfield and many Lichfeldians will remember the

photography shop on Lower Bore Street, run by Edgar Bates,

although he wasn't the only Bates to have been a photographer

at that location.

Edgar's father was James who had been born in Stapenhill, near

Burton Upon Trent, in 1862 but by 1891 he was living at 41 Market

Street Lichfield with his wife Mary, daughter Florence and sons

Clement and 11-month-old William Edgar. James' profession was listed

as a grocer's manager. In 1901 James and family were living on Dam

Street and his profession was then listed as a photographer.

From the early 1900s the Bates family had moved to 45 Bore Street

where James combined photography with a sweet shop selling Fry's

and Cadbury's chocolates, sweets and ices, while his wife Mary ran a

draper's shop at 45a next door. James died aged 43 in 1905, but the

shop retained the name of James Bates until Edgar joined the business,

then becoming James Bates and Son.

By 1918 Edgar had started to concentrate on the photography

business and the shop name changed to Edgar Bates. In 1926 the

Lichfield Mercury reported that he was delighted to announce that he

had installed a fully electric photographic studio, open from 9am to

7pm. Edgar was able to offer his customers an out-of-hours service in

1929 with an automatic machine placed on the wall outside his shop

that allowed customers to buy Kodak films for 1 shilling and 2d on

Sundays or at night. He upgraded his studio yet again in 1932, which

was much better and quicker than the previous set-up, and allowed

him to take, develop and print the photographs, all while the customer

waited in the shop. The studio was fitted with the 'most up-to-date

lighting effects, using special high-powered electricity bulbs and a

screen which reflects the light evenly over the sitter. The studio is

tastefully arranged so that the background of the photo gives an

excellent contrast to the sitter.' The Lichfield Mercury reporter hoped

that the townspeople of Lichfield would support Edgar's enterprising

initiative – an initiative that would become common place in the years

to come.

His mother continued in her shop next door, selling hosiery and

women's and children underwear. In 1921 she was selling the

ubiquitous Liberty Bodice, which was 'delightfully soft and elastic' and

suitable for both boys and girls, at 3 shillings and 6d for young girls, and

6 shillings and 11d for ladies.

For nearly 50 years Edgar provided photography services from his

electric studio on Bore Street and also took photographs of weddings

and social events across Lichfield District, many of which appeared in

the Lichfield Mercury and Staffordshire Advertiser.

Edgar's son, Cyril, was also an expert photographer and helped his

father in the shop. Cyril joined the RAF in 1938, via the School of

Photography, and served in World War Two. Captured by the Japanese

in North Borneo, Cyril died in early 1945 during a 115-mile jungle

march. After the war Edgar refused to sell, repair or service any

camera made in Japan.

The two shops continued to sell a wide variety of items between

them and in October 1956 men could enjoy the taste sensation of

Ogden's Cobnuts, sliced tobacco for pipes, with the logo: 'It looks

good… it smells good… it tastes good… and it is good!' Meanwhile

at the Hosiery House at 45a, ladies could 'feel as free as a bird' with

the Exquisite Action floating action bra, which was 'blissfully different

in fit and feel', the Style 372 in superfine poplin was available in three

cup sizes for 18 shillings while the luxury 376 in nylon was 22 shillings.

After nearly 70 years of living and working at number 45, Edgar

Bates closed the shop in 1973 and retired. He died in October 1973,

aged 88, but before he died the Lichfield Mercury published a series of

photographs from Edgar Bates' large collection of iconic images from

Lichfield's golden Victorian era.

Today numbers 45 and 45a Bore Street are Caffe Nero and A-Plan

Insurance, the buildings having been significantly altered since the days

of James and Edgar Bates. The legacy of the Bates photographic

dynasty lives on however, as many of the images James and Edgar took,

or collected, are today stored in the St Mary's Photographic

Collection, including those used in this article. The Bates of Bore

Street not only provided an essential service but also captured the

history and heritage through the lenses of their cameras.

*Vintage photographs courtesy of the St Mary's Photographic Collection.

Sources: The British Newspaper Archive; Trades of a City by JP Gallagher,

www.ancestry.co.uk.

20
---
21
---
Lichfield

Christmas Fayre

WARNING: This event will fill you with vast amounts

...............................

of Christmas spirit!

Lichfield Christmas Fayre is back this year on Sunday 21st November

from 10am until 4pm. It's located, as usual, on Market Square with a

lovely Christmas Market and this year the organiser has added a market

not only inside The Hub at St Mary's Church, but also The Guildhall too!

It means, should it get a little cold, visitors can go inside for a warm

whilst admiring the inside of two absolutely stunning buildings that are

part of Lichfield's great heritage.

Expect to find a large traditional Christmas market with beautiful

handmade gifts, tasty food, drinks and charitable stalls. The likes of

award-winning English Indian, Melbourne Coffee, Fifth Spire Gin,

Hunnypot Cottage Bakery, Pom's Kitchen & Deli, and Brockleby's Pies

are just a few of the food and drink offerings that can be found.

There will be lots of fantastic festive entertainment in the streets too

with such names as Lichfield Rock Choir, The Salvation Army Band,

Great Wyrley Community Band and, of course, we can't have an event

in Lichfield without a Morris dancer or two!

The talented Jordan Adams will be performing inside The Guildhall

from 12 noon. Jordan is a familiar face in Lichfield having been featured

as the lead in four musical runs at the Lichfield Garrick Theatre and with

four single releases, one which was chosen as an official song in aid of

NSPCC.

Lichfield's Big Red Bike will also be offering free short trips to

Lichfield Cathedral during the event. This is a volunteer run charitable

organisation which help adults with limited mobility get out and about,

so why not treat yourself to a trishaw ride experience?

For the kids, there's going to be a small fair ride and bungees however

there are also two very naughty Christmas elves threatening to cause

chaos on the day, and the organisers are appealing for help from all the

local children to keep them under control! Please refrain from feeding

them sweets because… anything could happen!

Lizzy Braine, Event Organiser, says: "We are so excited that Lichfield

Christmas Fayre is back this year! Everyone needs a good, fun

Christmas after the last couple of years and so this year we are going

for it! There's a little something for everyone and it's just such a lovely

family event. It's free to come so why not bring your friends and family

to kick off Lichfield's festive season?"

For up-to-date information on Lichfield Christmas Fayre follow on Facebook

at www.facebook.com/lichfieldchristmasfayre.

Lichfield Christmas Fayre has been lovingly organised for over 50 years by

Lichfield Chamber of Trade & Commerce. The plan each year is to create

footfall in the city centre so the bars, restaurants as well as shops benefit.

Local businesses are encouraged to get involved. If you'd like more

information on Lichfield Chamber, please get in touch

www.lichfieldchamber.org.uk.

22
---
Harry Potter's Harry

Potter Book Sells for

Thousands at Auction

............................

Arare copy of Harry Potter and The Philosopher's Stone –

owned by a man named Harry Potter - has sold for tens of

thousands of pounds at auction.

Harry Potter, 33, from Waterlooville, Hampshire, so named years

before Pottermania exploded in 1997, discovered he and sister Katie

Sign owned a Potter hardback first edition.

It was given to them by their late father, David James Potter, in

1997 because he was so amazed by the name coincidence. After

much deliberation, Harry and Katie decided to sell the book in a bid

to honour their dad. Despite being in poor condition, it sold to a

private UK buyer for a hammer price of £22,000 at Hansons

Auctioneers on October 14. With buyer's premium the total paid

was £27,500.

Harry Potter, who attended the sale at Hansons' headquarters at

Etwall, near Derby, said: "We plan to use the proceeds to take my

dad's ashes to Kenya."

Charles Hanson, owner of Hansons Auctioneers, said: "We're

delighted to deliver a happy ending in this new Potter story.

Considering its well-used condition, the book did extremely well. I'm

so pleased Harry and Katie can now use the proceeds to honour

their father.

Advertising Feature

Harry Potter book -

Image Hansons

Harry and sister Katie with

the family's Potter books -

Image Hansons

Harry Potter with Charles

Hanson, owner of Hansons

Auctioneers, at the firm's

Derbyshire HQ - Image

Hansons

"Hansons' has sprinkled yet more Potter magic. It's all down to the

hard work of our hugely respected books expert Jim Spencer. He's

uncovered and sold several rare Potter books and gained a

worldwide reputation for his expertise."

Harry, a 33-year-old national sales manager, was eight when the

first Potter book came out in 1997. Thanks to Pottermania, he's

spent the last 25 years trying to convince people his name really is

Harry Potter.

"People just don't believe me," said Harry, a dad-of-three. "When I

was a young footballer, a referee threatened me with a red card for

saying my name was Harry Potter."

To arrange a free valuation of books or antiques or a home visit,

email Carol Jones at cjones@hansonsauctioneers.co.uk.

23
---
Tastes of the Season

By Simon Smith

............................

Well, that came round quickly?! Here we are again thinking about

Christmas recipes and having heard people declaring there's 'only 200

shopping days until Christmas!'

The markets are turbulent at the moment with scares about

shortages of pigs in blanket, all forms of pork and even turkeys. Whilst

one supermarket I went in today is asking for turkey orders by 15th

December local butchers may stretch it a little longer but, personally, I

think the sooner the better as far as orders are concerned. I hear the

local turkey farms don't envisage any problems so, as ever, not as bad

as the press makes out!

We are also in game season now which is not as badly affected by

price rises as beef and chicken as the majority of it is shot locally and

available from your local butcher. One of the butchers at Russell's of

Shenstone goes stalking on a regular basis so they always have a

plentiful supply of superb venison cuts. The joy of game is that it's very

healthy as it carries minimal fat because it's forever foraging and not

standing still.

This month, I have done a couple of different turkey recipes to the

normal Christmas tradition. The reason being that turkey is available

all year and an extremely healthy option, again because it has minimal

fat and is ideal for those watching their weight or food intake for

whatever reason. The turkey burger recipe can be done with any form

of mince as I always view mince as a vehicle for any number of

ingredients, and you can play about with recipes, adding any number of

spices and ingredients, replicating dishes from around the world.

Posh Turkey Burger

1 lb turkey mince

4 x rashers streaky bacon or back

if you prefer

4oz gorgonzola cheese

2 x tomatoes

1 x avocado

1 x little gem lettuce

1 x loaf mixed olive ciabbatta

1 x jar Stokes Bloody Mary

Ketchup

4 x spring onions

20 x cooked, vacuum packed

chestnuts

Salt and pepper to taste

Method

Finely dice the spring onion and roughly chop the chestnuts. Mix the

turkey mince with the chopped ingredients, season with salt and

pepper and form into 'patties' or burger shapes and place onto a

baking dish. If you like them nice and even use a mould.

Slice the ciabbatta in half lengthways and put onto a baking sheet.

Finely slice the tomatoes into eight slices. Grate the gorgonzola. Grill

the bacon rashers.

Pre-heat the oven to 180°C and

put the burgers in to cook.

Depending on how thick you have

made them the cooking time will

vary but they should be nice and

firm to the touch. Cut into one

to make sure there is no sign of

pink. Put the ciabatta into the

oven for five minutes then take

out and cut into four equal

pieces. Build your burger using

the other ingredients and serve

with the ketchup on the side.

Breast of Pheasant with

Seasonal Rösti

4 x breasts pheasant

4 x baking potatoes

1 x packet cooked chestnuts

8 x rashers smoked bacon

2 x tbsp chopped parsley

1 x pkt blackberries or 1 jar

blackberry jam

2oz sugar

1 x bunch thyme

1 x red onion

Salt and pepper to taste

Method

Par boil the jacket potatoes in

their skins the day before you

need them so they are half

cooked. Leave them to cool overnight.

Day two, remove the skin from the potatoes and grate into a bowl,

add the red onion finely diced along with half the chestnuts which

should be chopped, and the chopped parsley.

Grill the bacon rashers until crispy and then chop four of them and

add to the potato mix. Season the potato mix and stir altogether.

Form into small cake and place on an oiled baking tray.

To make a blackberry syrup either add the sugar to the packet of

blackberries with half a cup of water and simmer for 10 minutes, then

pass through a sieve or put the jar of jam in a small pan and add some

water, simmer and strain (the jam is the easier method).

Preheat the oven to 195°C and put the potato cakes in to start

cooking. After 10 minutes put the pheasant breast and cook for 10-15

minutes until firm. Serve on the potato cakes with the other four

rashers of bacon and drizzle with the blackberry syrup. Top with

watercress or alfalfa shoots and garnish with the rest of the chestnuts

and some fresh blackberries.

Simon Smith runs a catering business from his production kitchen in

Lichfield, providing bespoke private dinners plus wedding, corporate and

event catering. Simon also undertakes cookery demonstrations around the

country and with local businesses such as Arthur Price and Tippers. During

the summer months Simon works for private clients both on superyachts

and in villas in St Tropez and Europe. If you are looking for catering or a

day of cookery skills go to www.simonsmith-chef.com

*Please take extra care when preparing and handling hot foodstuffs. Go to

www.food.gov.uk for further details.

24
---
A City of

Flavours

With one of the most eclectic mixtures of

restaurants and eateries in the area, Lichfield

never fails to amaze and delight diners with the

wares on offer.

There's a huge range of different cuisines to choose from,

such as Thai, Mexican, Italian, Chinese, World Food,

Mediterranean, French, Asian, English… and everything in

between that you could possibly want.

There's also a varied range of atmospheric vibes in the city,

ranging from chilled out and laid-back; to quirky and funfilled;

exotic; quick and easy fast food; and even fine dining

experiences – whichever you prefer, you're still spoilt for

choice!

There have been several new additions to the local dining

scene recently meaning that now more than ever, Lichfield

really is A City of Flavours!

We've compiled a delicious selection of dining reviews from

just a few of our favourites over the next few pages to really

tantalise your tastebuds and whet your appetite!
---
Dining Out - A City of Flavours
---
Mexican Bread Recipe

By Ruth Redgate

.........................

Time for something completely different

with a Mexican bread called Dia de los

Muertos or 'Day of the Dead'. This

celebration, which honours the life of

deceased loved ones, starts on Halloween

however the bread is not baked until the

last day on 2nd November, and is just one

of the many offerings that either decorate the grave or are part

of an altar created at home.

It's a really easily one too as you just chuck everything in a food

mixer and let the machine do the work!

Ingredients

• 500 g strong bread flour

• 20g fresh yeast

• 100g sugar

• 1 teaspoon salt

• 160 g butter at room temperature (plus 30g to brush bread

after baking)

• 4 large eggs room temperature

• Orange zest from 2 oranges

• 60ml warm water (110 degrees)

• 1 teaspoon orange blossom water or orange essence

• 1 large egg, lightly beaten

• Sugar to decorate

Serving suggestion: Mexican hot chocolate or 'champurrado.'

Method

• Place the eggs, half of the butter, salt and half of the sugar in

the mixer bowl. Using the hook attachment start working the

dough for about two minutes. Add the flour in small amounts

alternating with the water. Add the yeast and mix until well

combined.

• Continue by adding one at a time the butter, the orange zest,

the rest of the sugar and the orange blossom essence, mixing

well after each addition until soft dough forms.

• Knead until smooth (about five mins). Let stand in a warm

place until it doubles in size, about 45 minutes to 1 hour.

• Transfer the dough from the bowl onto working surface,

separate 300g of the dough to form the decorative bones later

on. Cut the rest in two equal pieces if making two large breads.

Prepare two greased baking sheets, set aside.

Shaping the Bread

• Take one portion of the dough shape each piece into a tight

ball. Place on prepared baking sheets two inches apart.

• Now place the remaining 300g of dough onto the work

surface, dusting with flour if needed, and knead until the flour is

integrated perfectly (this is for the 'bones' to decorate).

• Take small portions of dough and roll into small logs. Once

your bones are already formed (two needed for each bread),

brush each bread forming a cross on top of each with a mix of

the remaining beaten egg with 1tbsp of water.

• Finally, with the leftover dough, form small balls, and egg glaze

the centre of the bread where the bones come together. Cover

baking sheets with plastic wrap and let rise in a warm place until

breads are touching and doubled in size (approx two hours).

• Preheat oven to 180°C degrees.

• Add a pinch of salt to egg mix and brush the breads before

placing in the oven. Bake until golden brown, about 25 mins.

• Once completely cooled, brush with the remaining butter and

dust with sugar.

Dining Out - A City of Flavours
---
Win Festive

Afternoon Tea for

Two

(excludes 19th and 24th December)

............................

The Bureau Lichfield is offering festive

afternoon teas this year! With a delicious

selection of festive themed finger

sandwiches and chef's choice of

savouries, fruity scones with clotted

cream, mince pies and lots of

Christmassy extras, you're certain to be

in for a treat! Choose your favourite tea

and coffee to accompany and enjoy it all

in the elegant and delightfully quirky

Georgian surroundings of the venue's

upstairs rooms (there's even mulled

wine and hot gin toddies to keep you warm!)

Festive Afternoon Teas are available from 28th November to 23rd

December and are priced at £20pp for adults, and £10pp for children.

There might even be a special visit from Santa Claus himself, all the way

from the North Pole, with games and presents for good boys and girls!

We've teamed up with The Bureau to offer one lucky reader the chance

to win a Festive Afternoon Tea for Two. To be in with your chance of

wining this fantastic prize, simply correctly answer the following

question and send it along with your contact details.

Where does Santa Claus live?

a) The North Pole

b) The South Pole

c) Polesworth

To enter, just send your name, contact details and answer to The Bureau

Competition at competitioncitylife@gmail.com or post your entry to Citylife in

Lichfield Ltd, PO Box 7126, Lichfield WS14 4JS by the closing date of 21st

Novemebr 2021. One entry per household. Multiple entries will be disqualified.

No cash equivalent. Please note you must be 18 or over to enter. All entrants'

information is processed in line with GDPR Data Protection Regulations and

our Privacy Policy (available at citylifeinlichfieldltd.co.uk).

Full t&cs on page 58.

Dining Out - A City of Flavours
---
Cooking and Food-Styling

Photography Course

.................................

Fancy something a bit different? Then read on! We sent our director, Helen, on a cooking and

photography course at Perrys' Field to Fork - an Artisan Butchery and Cookery School that deliver

cookery courses, based in the historic market town of Eccleshall.

On arrival we were greeted by Debbie Hill who owns the cookery school, and the setting was a lovely a

purpose built Artisan Butchery & Cookery School, built in 2019 which is surrounded by beautiful gardens. We

were made to feel welcome straight away and, after a quick brew we all introduced ourselves.

Running the course was professional baker Steph Clubb and she guided each of us through her recipes. First

off, we prepped our dough for our iced buns and let it rest whilst we moved onto making lemon, coconut and

blueberry loaf cake.

Then back onto the dough to make our finger rolls. I quite enjoyed the kneading process – I found it got rid

of a lot of tension and was rather relaxing! They then went into the oven and the fun bit began - decorating the

cake with icing! I did manage to get some on the cake as well as all over the counter! My inner child came out

as I added pretty edible flowers, berries and mint from the garden, and I finished just in time to take my buns

out of the oven – I only managed to burn a couple of them too!

Steph had boxes and boxes of stuff to help us style our food for our photographs and she shared her tips and

tricks on how to get the perfect shot every time - you don't even need a top-of-the-range camera, just your

smartphone!

We learned how to bring out the colour of food to create a beautiful and vibrant image, and discovered how

to use natural ambient lighting and props with hints of what was in the food to help enhance our dishes.

Everyone's final images were absolutely fantastic. We all had a great day and learned so much - plus the cakes

tasted pretty good too! I made that many I brought them home and shared them with my family "who were

pretty stunned that I managed to bake anything at all, given my track record - they are all alive still by the way!"

Our lunch was also included in the price and consisted of Perrys' own homemade items, all of which were

extremely tasty.

The courses are run over a full day, from 10am till 4pm. It was relaxed, fun and very informative and I will

definitely be booking another one soon!

As well as cake baking, Perrys' run a variety of courses, bread making, Indian cooking, Italian cooking, butchery,

and pie-making etc, with new courses being added all the time. Keep a look out on the website at

www.perrysfieldtofork.co.uk.

It makes the perfect gift for a loved one, a corporate team-building event, special occasion or just to treat

yourself and learn some new skills! They also offer gift vouchers for all special occasions.

Perrys' Field to Fork, The Old Cookery School, 23 Stafford Street, Eccleshall,

Stafford, ST21 6BL. Tel: 01785 851911. www.perrysfieldtofork.co.uk

Dining Out - A City of Flavours
---
A Taste of the Jungle

...........................................

If you fancy something a little bit special and totally different from the norm then Jungle Street

Kitchen is a must. As the latest new restaurant to grace the streets of Lichfield, we were invited

along to experience the beautifully vibrant, colourful and tasty food on offer.

With a wide variety of dishes for the whole family to enjoy, the World Street Food & Bubble Tea Bar

boasts a specially crafted menu and drinks which have been extremely well thought out to complement

each and every dish.

As you enter JSK (as it is affectionately known!) you are greeted with a warm welcome, just stop for

a little and take in the jungle surroundings as it really is a treat for the eyes!

Once seated, we thought we would try a 'bubble tea', which I had to admit I'd never heard of before. I

picked strawberry flavour which was rich and creamy and my partner had a mango and lychee which was

light, cool and refreshing. They were served with two types of jelly and tapioca pearls to give the 'bubblelike'

texture. Produced from loose tea leaves and homemade syrups, even the jellies are made by JSK so

it's all completely fresh and delicious, and, being served with an eco-friendly straw, means it's delicious

AND good for the environment!

Onto our starters… we kicked off with Crazy Bombs and Risotto Rice Cake, both of which are

vegetarian dishes. I would have never of thought of combining these two dishes but wow, they

complimented each other perfectly! The crispy puffs were filled with fruits and sweetened yoghurt, plus

tangy spiced water, combined with the golden and crunchy risotto rice cake with a potato stuffing and a

hint of chilli was a total tastebud explosion! Plus, the presentation and the skill which goes into making

these dishes is, quite simply, mind blowing.

Onto our mains from the Jungle 'Thrill' section which consisted of a Brazilian Lamb Steak that cut like

butter, both of which were seasoned to perfection and presented beautifully with a mash with a hint of

lemon in it. This was accompanied by a rainbow salad which was fresh and alive with pickled cucumber,

hummus, pomegranate seeds and sesame in-house dressing which gave it a slight earthy undertone - how

can a humble salad taste so great? We also had Volcanic Butter Chicken (from the 'House Kitchen'

section), which was flame-roasted and juicy simmering in aromatic butter sauce, served with jungle rice

– not just any rice! This rice is a vibrant shade of jungle green colour due to being cooked with steamed

spinach, dill, cilantro and parsley rice! Next on our culinary journey through the menu was a Dirty BAO

Burger from the 'Safari Zone' which was a Vietnamese steamed bun with lettuce, tomato, chilli mayo,

cheese onion, with lamb and veggie options available – they looked great, they tasted great!

For dessert we enjoyed a Mango Cheesecake, complete with chocolate jungle leaf, and a Chai Crème

Brulee - I love a crème brulee and the twist of adding Chai only made this tasty dessert better!

Easily one of the best meals I have tasted and, if I'm honest, I'm blown away by the attention to detail

that goes into creating each and every one of these unique dishes. Top marks from Citylife!

Did you know Jungle Street Kitchen is dog friendly? You can even take your own wine (no corkage fee)

to accompany your evening meal, plus there's a large function room upstairs that can be sectioned off

for meetings, weddings,

parties or group bookings. This

is a family friendly

establishment with a child's

menu too. No booking

required but recommended for

an evening sitting.

43 Bore Street, Lichfield.

Call: 01543 411133

www.junglestreet

kitchen.co.uk

Dining Out - A City of Flavours
---
The Inkwell

at Lichfield

.........................

..................

The Inkwell at Lichfield opens its doors this

November just in time for the festive season.

Formerly known as The Saxon Penny, the local

country pub will be completely transformed with a

six-figure investment, promising guests an authentic

pub experience and creating 20 new jobs.

To celebrate the opening, a series of soft launch offers

will also be available ahead of the grand opening on the

26th November. On the evening before the official launch,

a party will be held on 25th November in celebration.

Nestled on Stonneyland Drive, The Inkwell at Lichfield

will focus on providing quality food and drink, as well as a

home from home pub atmosphere. Alongside a complete

overhaul of the food and drink menus, a major

refurbishment of The Inkwell at Lichfield will bring all the

features of a traditional country pub, refreshed with

Farrow & Ball colours, a log burning stove, hand-crafted

wall panelling and sumptuous soft furnishings. Guests also

have the option to dine al fresco, and while away the

afternoon on the terrace, with food, drinks and friends.

The reimagined food and drink menu will feature a

seasonal selection of dishes, including classic pub

favourites guaranteed to impress and cater to any

occasion. Specials for the season include a homemade

lamb kebab, severed on garlic flatbreads, with a fresh feta

and pomegranate salad. Or, the signature Glazed Pulled

Beef Burger, prime Aberdeen Angus burger topped with

BBQ glazed pulled British beef, streaky bacon and melting

cheese.

To complete the dining experience, guests can also

select from a range of decadent desserts including a

Pudding Tasting Board – which can be personalised by

guests, who can select their bespoke choices from a

selection of the top desserts. As Christmas fast

approaches, the menu will also feature a classically festive

Turkey dinner complete with a sweet and fruity

Christmas pudding. Bookings for Christmas Day are now

being taken, with an indulgent three-course set menu at

the heart of the day's celebration.

The drinks menu features a choice of signature

cocktails refreshed for the autumn months and locally

sourced cask ales, ideal to accompany any dish perfectly.

For more information and to book a table, head to

www.inkwelllichfield.co.uk.

Dining Out - A City of Flavours
---
The Italian Job!

.................................

Located on Tamworth Street nestles one of Lichfield's most established and well-loved eateries,

having been in situ since 1987. Serving authentic Italian cuisine, the restaurant still delights locals

and those further afield, with its vast array of mouth-watering dishes. Helen Smith went along to

experience a deliciously authentic Italian treat!

After a warm and friendly greeting, we were guided to our seats - this is a cosy, relaxed restaurant, with

friendly staff and we felt very welcome indeed.

After ordering drinks and having a look over the extensive menu, I chose Gamberoni Salvatore as my starter.

The delicious, plump tiger prawns are infused with chilli, garlic, tomato and white wine, and it was easily one of

the tastiest meals I've ever eaten. With intenjse flavours of garlic and chili adorning the juicy prawns, I was in

Heaven!

My partner opted for the Beef Carpaccio – exceptionally thin slices of raw beef accompanied with rocket, an

Italian marinade and shavings of salty parmesan. Not only did this look vibrant, but it tasted fresh and peppery

thanks to the rocket, with a tang of salt to set off the beef perfectly.

With starters finished, and not a crumb left over, we were already excited about our main courses and waited

with anticipation and

mouths watering!

My Crema di

Dining Out - A City of Flavours

Salmone

Conigliato

was a beautifully

cooked fillet of salmon

in a butter, garlic,

tomato and cream

sauce. This was a fresh

fish dish and it tasted absolutely divine, with the flaky flesh

of the fish simply melting in the mouth with every bite.

Accompanied with roasted vegetables and a side order of

salad, this went down extremely well!

My partner went for Agnello Burro e Rosmarino - lamb

cutlets cooked in butter, garlic and rosemary. He received

four good-sized cutlets cooked to perfection in a delicious

sauce. They were bone licking good!

We were feeling pretty full by now, however it would have

been rude not to try the speciality dessert – a traditional

Italian Tiramisu. This homemade classic dish was the ideal

sweet treat to finish off what was an exceptionally tasty

meal, and all washed down with an expresso - Bellissimo!

If you're looking for food for a special occasion, something

romantic, or just a night out with a difference, we highly

recommend Pizza by Goli. Find out more by visiting

www.pizzabygolilichfield.co.uk

or telephone

T: 01543 250916

to make a booking.
---
Autumn Days at The Linhay

By Kristen Lackajis

...........................................

It was a fine autumn day (sunny, yet chilly), when we visited The Deer Park in Hoar Cross to

try the brand-new menu at The Linhay restaurant.

With a delightful country feel, thanks to the warm, inviting interior and gorgeous woodland-style tree

trunk tables, the expansive glass doors which line one side of the restaurant provide a stunning vista

over the rolling Staffordshire hills and forest, providing the opportunity for diners to enjoy the beauty

of the area without being out in the nippy autumn air!

For a lunchtime, the restaurant was bustling and the friendly waiting staff showed us to our seats and

presented us with a menu filled with deliciously warming offerings, such as Open Roast Packington Pork

Sandwich and Maple Glazed Bacon Loin. Needless to say we took some time deciding on our choices,

however we enjoyed a glass (or two!) of sparkling English wine while we deliberated.

I'm a big fish lover so I was delighted to find Aromatic Fish Soup on the menu. It sounded divine and

consisted of poached salmon, cod, mussels and prawns in an aromatic fish soup, parmesan puff pastry,

lobster butter and stout and cheddar sourdough. Not only was this dish hearty and warming (perfect

for a cold day) but I was incredibly impressed with the amount of fish I received, plus the size of the prawns! It was juicy, succulent, creamy and

incredibly indulgent, plus the melt-in-the-mouth lobster butter was a stroke of genius! Sheer bliss!

My friend, who is vegetarian, was spoiled for choice as there were several veggie options, all of which sounded wonderful. She finally opted for a

Roast Parsnip Tart Tatin, topped with Dovedale blue cheese, champ mash potato, parsnip crisps, parsnip and sherry vinegar puree and a port syrup.

She was certainly not disappointed! The sweet parsnip was perfectly set off by the tangy cheese flavour and she declared the entire meal 'incredible'!

Not only was the food tasty and filling, but the presentation is something to be admired as well. It is clear that at The Linhay, a lot of love and

thought have gone into each and every dish to create not only something to tantalise the tastebuds, but also a work of art on your plate!

All ingredients are fresh and local, with lots of the meat and accompaniments being sold in the adjoining farm shop meaning you can take a little

taste of heaven home with you!

Visit The Deer Park at Maker Lane, Hoar Cross, Burton on Trent, DE13 8QR, or online at www.deerpark.farm to find out more.

Dining Out - A City of Flavours
---
Steeped in Tradition

...........................................

By Kristen Lackajis

Being the longest-established Indian restaurant in Lichfield is quite some claim to fame, so

we went along to discover more about The Bengal which first opened its doors in 1968.

The Bengal, situated under the gabled archways of Bore Street, is easy to overlook. Its exterior is

modest and, being somewhat hidden under the tudor building atop of it, it's easy to miss the restaurant's

signage… but don't be fooled. This is a small restaurant with a big offering!

Go up a flight of stairs and you enter what I think of as a more traditional Indian restaurant. It's cosy

and welcoming, with ambient coloured lighting along one wall, a beautiful fish tank separating the waiting

area from the main dining area, and a well-stocked bar area too. After being greeted warmly we were

shown to our table and left to peruse the extensive menu, which features so much choice that we took

quite some time deliberating… whilst enjoying a drink and the classic poppadoms with accompaniments.

Having been around for the last 50-odd years, you would have thought that The Bengal had seen a

myriad of owners come and go over the time. However, we learned that the original owner only retired

two years ago, and it was taken over by a friend of his who is still very much in contact with him today.

They kept the original name of the restaurant too, to honour its history and reputation for excellence.

For our starters, I chose something a little big different. As a fish lover, I usually opt for a prawn puree

and, whilst this was on the menu, I decided to 'live a little' and try something I'd not had before. My

choice was King Prawn Asanok – a delicately spiced dish consisting of succulent and juicy king prawns

smothered in onions, peppers, tomatoes and herbs. It was absolutely delicious – not too spicy, but

certainly had a little heat to it.

My partner chose a Mixed Tikka Kebab, with lamb, chicken and sheikh meat, and was highly impressed

with the amount he received. With our first courses well and truly devoured, we moved on to the star

of the show.

I love my Indian food lightly spiced – I don't mind heat, but I find anything too spicy and I simply can't taste the flavours. So, I tend to always opt for

a mild to medium dish. The one which really caught my eye in this instance was the Badami – cooked with almonds in a mild sauce with fresh cream,

it sounded delicious and I went for the King Prawn option – naturally! It was perfect! Soft, slightly sweet and with a real depth of flavour.

My partner, on the other hand, likes things pretty hot, more along the Madras scale. His favourite is a Chicken Jalfrezi however, on recommendation

of the waiter, he also thought he'd branch out and tickle his tastebuds with something a bit different. He had a Chicken Kala Mirch which is cooked

extensively with hot chilli paste, fresh spinach and herbs and spices. He was not disappointed! It had the heat he craved, but was also juicy and aromatic.

We teamed our mains with a mushroom pilau rice, a beautifully fluffy cheese and garlic nan bread, and a favourite of ours – Mattar Paneer – Indian

cheese and peas cooked in mild spices.

Everything was absolutely divine and, if you've never been, this hidden gem is most definitely worth a visit. If you're after great food, cooked to

traditional recipes, in an intimate setting, then The Bengal really is one not to miss!

Find out more, or look at the menu, at www.thebengallichfield.com.

Dining Out - A City of Flavours
---
Dining Out - A City of Flavours
---
Award-winning Local Cider Company

"Every apple tree is precious and every apple has a tale to tell…"

............................................................

That's the mantra which

James Williams,

founder of Yoxall Cider

Company, has been living by

for the last three years since

opening his own business

and taking his passion for

cider one step further.

James had been making cider

for 10 years prior to starting

James and James of Yoxall Cider

up on his own, initially

beginning as a keen amateur. His goal with Yoxall Cider was to

create a smooth, rich, truly apple tasting, handmade, artisan cider

using local apples, honouring the tried and tested traditional

techniques, but using modern methodology and equipment to

produce an exceptional product.

"Cider making is a mixture of arboriculture, creativity, hard

work, patience, and a huge dose of fun," James laughs. "You can't

make great cider without having fun and being constantly in awe

of the magic and science involved in the process."

James' philosophy is simple – he believes that every apple tree

Advertising Feature

is special and has a story behind it. With so many beautiful, healthy

and delicious local apples going to waste, the team behind Yoxall

Cider have made it their mission to collect and use as many of

them as possible.

"Our orchard is everyone else's back garden," he continues.

"We also source the best traditional Dabinett cider apples from a

specialist grower in Herefordshire to ensure the perfect balance

is achieved."

It takes almost 12 months to produce Yoxall Cider's delicious

batches, meaning that there's an awful lot of hard work and

dedication that goes into each and every bottle. This hard work

has certainly paid off, however, as Yoxall Cider company has

recently gained a Great Taste Award for its innovative Iced

Dessert Perry Cider.

There's a whole range of products to cover a wide variety of

tastes, including coeliac and vegan-friendly versions too. So why

not take a look online and find the perfect refreshing and tangy

tipple for you, or taste the delicious award-winning Iced Dessert

Perry Cider this holiday season?

Visit www.yoxallcider.co.uk for more information and to order

online.

Dining Out - A City of Flavours
---
Dedication of National

Miners' Memorial

............................

Walker, members of the band and choir, those who had donated

plaques or their services as well as members of the public present on

the day.

Progress of the project can be followed on the group's Facebook

page: www.facebook.com/ChaseArtsForPublicSpaces, or on twitter

@miners_memorial.

Chase Arts for Public Spaces (CHAPS) and all connected

with the National Miners' Memorial were honoured to be

joined at the service of dedication by Their Royal

Highnesses The Duke and Duchess of Gloucester on Friday 3rd

September.

Before unveiling the stone plaque, His Royal Highness the Duke of

Gloucester spoke from the heart about the work done by all men,

women and children who worked in this country's coal industry over

hundreds of years and the part they all played in keeping other

industries operating.

Following the unveiling of the plaque the memorial itself was unveiled

by four former miners, together with the artist and the stonemason.

His Royal Highness read a passage from the Book of Revelation and

Her Majesty's Lord Lieutenant read a very moving poem written

originally by Julie Shires which accurately portrays all aspects of the life

of a miner. Lea Hall Brass Band and choristers from Wolverhampton

and Walsall Orpheus Male Voice Choirs added greatly to the occasion.

At the end of the service Mike Mellor, President of CHAPS spoke,

thanking everyone for not only being there on that day but also for

giving such wonderful support over the four years taken to reach this

point.

Following the service, Their Royal Highnesses took time to speak

with as many as possible: artist Andy DeComyn, Stonemason Mark

HRH The Duchess of Gloucester, with

Andy DeComyn

The NMM is unveiled

HRH The Duke of Gloucester with

Mike mellor, President CHAPS and

Mark walker, stonemason

HRH The Duke of Gloucester,

dedication of NMM (1)

J HOWELL &

DAUGHTERS

FUNERAL DIRECTORS LICHFIELD

LICHFIELD'S LONGEST ESTABLISHED INDEPENDENT,

FAMILY RUN FUNERAL DIRECTORS.

SECOND GENERATION BUSINESS HERE TO ASSIST YOU

AND YOUR FAMILY.

24 hours a day

We are proud to be Lichfield's longest established family run funeral directors offering a wide range of

choices to suit all requirements. Horse drawn hearse, non religious ceremonies, floral tributes and

memorials are but a few of the services we offer.

Pre-paid funeral plans are also available.

For a truly personal service please call

01543 255776

Private Chapel of Rest 116 Netherstowe,

Lichfield, Staffs. WS13 6TS

37
---
Festive Gift

Guide

.....................

Great ideas for pressies this year

from local retailers, artists and

craftspeople.

The Salon Lichfield

The Ideal gift for a loved one. Book in with

Jemma and get 10% off plus a FREE Wellaplex

treatment (Save £20). Jemma has been

hairdressing for 20 years and in that time has

gained a wealth of experience in all aspects of

hairdressing. Book in now for a free

consultation. Hair by Jemma at The Salon

Lichfield. Tel: 07583 559128.

Handmade at Hilltop

Homemade gonks with weighted bottoms, made

to order starting at £4. For all your sewing needs.

Blinds, curtains, alterations and repairs.

Please contact handmadeathilltop@gmail.com

or call Sue 07429 071156.

City Jewellers

Longines Hydroconquest watch with

41mm green dial, ceramic bezel and men's

rubber strap. Priced at £1,300 and available

from City Jewellers, Bore Street, Lichfield.

www.cityjewellers.co.uk

Needwood Living

Drink your champagne in style this Christmas with

our glitzy glassware. Set of four Gold Diamante

Champagne Flutes, priced at £42 and available

from Needwood Living, 136 Main Street, Alrewas,

DE13 7ED. Tel: 01283 711272.

www.needwoodliving.co.uk

Jewellery with Life

Emily Jane is passionate about creating her

pieces as much by hand as possible; making

each piece truly unique, just like you! This

stunning silver crescent moon is the perfect gift

to give your loved one this Christmas.

Priced at £23.

Visit www.jewellerywithlife.co.uk or join the

Instagram community at @emilyjanedesigner

38

Ryman's Christmas Trees

A selection of Christmas accessories and

stunning Christmas trees. The Christmas shop

offers a range of gifts, accessories and

decorations, stocking some truly fantastic

products in a small, well-loved shop, including

handmade wreaths. Visit Manor Farm, Wall, WS14

0AH. Tel: 07788 883512, or email

sales@rymanschristmas.co.uk

Simply Prosecco

Find the perfect Christmas gift for your employees

or individual gifts for family and friends. Bottles of

standard, skinny and rosé skinny Prosecco available

for individual or multiple order, or a bottle of your

choice with two fizz flutes presented in a gorgeous

gift box. Order via the website at

www.simplyprosecco.co.uk or contact via email at

admin@simplyprosecco.co.uk for corporate and

multiple orders. Gift boxes can be posted

nationwide.

The Callingwood

Candle Company

The Signature candle gives up to 40 hours of

fragrance and the diffuser up to 12 weeks.

None of these gift sets are complete without a

glass bottle of black tipped matches and all

come beautifully presented in a luxury kraft

magnetic gift box.

Signature Hand Poured Candle & 100ml Flower

Reed diffuser gift set - £35

www.callingwoodcandles.co.uk
---
Luxellen Candles

Luxellen

The Quirky

Emporium

Visit The Quirky

Emporium at

Bishton Hall for all

your unique and

quirky gifts this

Christmas.

Repurposed and

restored furniture,

gifts and outdoor

items as well as

Automobilia,

Militaria, F1

Memorabilia and

Railwayania. Open

daily.

The Quirky Emporium, The Old Stables, Bishton

Hall, Bellamore Lane, Wolseley Bridge, Nr Rugeley,

ST170XN.

Michael's Menswear

Everyone loves the feel a luxury material

against their skin and these Viyella Cashmere

Blend Long-Sleeved Shirts are no exception!

Priced at £79.95 and available from

Michael's Menswear, Market Street, Lichfield.

Cheese Cavern

Treat your loved one this Christmas to a cheese

hamper from The Cheese Cavern - a family run

artisan cheese mongers set under the arches in

Lichfield. Choice of cheeses and flavoured biscuits

presented in a festive hamper.

Available to order from November 25th

www.thecheesecavern.co.uk.

Greenark Animal Feeds

Established family business with treat boxes that

are full of delicious natural treats, including long

lasting deworming easy digestible tasty chews. Visit

Greenark at 16 Riverside, Power Station Road,

Rugeley WS15 2YR

(100 yards from Tesco Rugeley).

Tel: 01889 580080.

Allen Brown Jewellery

Silver 18ct gold and black rhodium,

diamond set stud earrings priced at £275.

Can be purchased in the gallery or on the

online shop. Click and collect service available

or items can be posted. Available from Allen

Brown Jewellery, located at Heart of the

Country Shopping Village, Swinfen, Lichfield,

WS14 9QR. Tel: 01543 481 948.

www.allenbrownjewellery.co.uk

MB Designs

Lichfield fine bone china bauble by artist Mandy

Billington incorporates the beautiful buildings of the

city, including the Lichfield Cathedral, Dr Johnson's

Birthplace and the old clock. Priced at £10.50 each

and available from MB Designs at

www.etsy.com/uk/shop/MBDesignsEngland.

Tel: 07841 108207. Email:

m.b.designs@hotmail.com.

Body Beautiful

Treat your loved ones to a pamper at this luxury

beauty retreat in the heart of Lichfield, overlooking

Minster pool. This beautiful three-storey listed building

boasts both history and a stylish decor. Providing a

comfortable, professional atmosphere and using the

highest quality products including Elemis and Thalgo,

treatments are delivered by qualified and experienced

therapists. Gift vouchers available. Tel: 01543 897600.

www.bodybeautifuldayspa.co.uk

Little Flock

Natural, sustainable, luxurious quality

handpicked pieces make the perfect gifts this

Christmas. Rare breed sheepskins from £65,

pure wool blankets and throws from £50, and

'Ewemoo' footstool £130. Available from

Little Flock (in the grounds of the Plant Plot

Garden Centre, Stafford Rd, Lichfield).

www.Littleflock.co.uk

39
---
Lichfield Piano

Mall baby grand piano in a beautiful mahogany

cabinet, recently reconditioned and comes with a

three-year guarantee. Priced at £1,250 and

available from Lichfield Piano Centre, Curborough

Hall Farm, Watery Lane, Lichfield, WS13 8ES.

Eden Gallery

'The Salon' framed limited edition by Dotty Earl

(framed size 49cm x 48cm). Priced at £195 and

available from Eden Gallery, The Hexagon Centre,

Curborough Countryside Centre, Watery Lane,

Lichfield, WS13 8ES. Tel: 01543 268393.

www.edenartandframing.co.uk

Luminare

For an Ideal Gift, Luminare has a superb

selection of crystal and glass lamps and fittings.

With vast experience in all aspects of lighting,

being one of Lichfield's longest established

shops, Luminare has a beautiful range on display

at the showroom at 29 Tamworth Street,

Lichfield. Tel: 01543 418254.

Tippers

Explore your culinary imagination by enjoying

authentic wood fired pizzas with the No.16 Pizza

Oven from Char Outdoors. Priced at £395.00

and available from www.pavingplace.co.uk.

Erase UK

Buy someone the

perfect gift with a

Radio Frequency Skin

Rejuvenation treatment.

This lovely, relaxing

facial is designed to

stimulate the collagen

production for a more

toned and contoured

appearance. Buy gift vouchers now for that

someone special at £39 per facial or buy a

course of three for £99. To purchase, visit Erase

UK, 1 Tudor Row, Wade Street, Lichfield, WS13

6HH. Tel: 01543 419516.

Vouchers can be posted.

Paul Martyn

Nobile fused glass cat, in red, priced at

£27.99. Football Pass metal figurine, priced at

£10.99. Both available from Paul Martyn,

Heart of the Country Shopping Village,

Swinfen.

www.paulmartyn.co.uk

Got a story or

charity event you

want to share with

our readership? Think

you've snapped an

image that captures

the spirit of the

region? We want to

hear from you!

Contact Citylife at

kristencitylife@gmail.com

40
---
41
---
Dogs & Fireworks

Hints & Tips by Lauren Hirst

............................

It's that time of year again when fireworks go off not only on Bonfire

Night but during other celebrations such as Diwali, New Year's Eve,

and also at random times too, like weddings and parties. They often

come with no warning. They are loud, bright, erratic and leave a

burning smell in the air which dogs find distressing. However, you can

help your pets by planning ahead to make them feel calm, safe, and

secure.

Avoid letting your dog outside at a time where fireworks are likely to go

off, though it's much harder to plan around random, backyard fireworks.

Research when the organised displays are in your area.

Walk earlier in the day in the daylight and keep dogs on a lead even if they

are normally off lead – fireworks can go off at any time of day and cause a

dog to bolt. Let the dog toilet in the garden before it gets dark.

Try to stay home with your dog. Remain calm yourself. Some people are

afraid that giving attention will somehow reinforce the fear, but dogs don't

want to feel afraid so it's OK to be a comforting, calming presence with

gentle reassurance. Try and be as normal as possible.

Draw the curtains to minimise the flashes. Feed early and a big meal if

they'll eat it – just like humans, dogs get sleepy on a full stomach. Panting

can make them extra thirsty so make sure the water bowl is topped up.

Create a cosy and quiet place like a crate covered by a blanket, if they're

used to one, or make a little den but don't lock them in the crate as this

can cause injury if they try to escape. Give them options on where to go

and hide. Placing some of your clothes from your laundry basket with your

scent on, might help. One of mine hides in a crate, another prefers a corner

in our bedroom pressing himself against the bed.

With one of my dogs the 'flight' response to stress kicks in and he tries

to escape, even trying to get through a small window once, so keep all

windows shut. Make sure everyone in the family goes in and out as quickly

as they can and that the dog is not behind them.

Good Neighbour Scheme

Gets Queen's Award

By Terry Tricker

............................

Whittington Village Hall was filled to capacity with volunteers,

clients and special guests attending the presentation of the

Queen's Award for Voluntary Service to the Whittington &

Fisherwick Good Neighbour Scheme. The event was filled with pride,

excitement and emotion with a tear appearing in most eyes during

parts of the presentation.

The Lord Lieutenant, Mr Ian Dudson CBE,KStJ was greeted by the

Chairman and passed through a welcoming flag escort from the Ist

Whittington Scouts. Proceedings were started with a presentation on the

history of the scheme and how from small beginnings it has become a key

and much valued part of the community.

The significant impact of the scheme on the community and vulnerable,

lonely individuals was praised by Dr Emma Hodges, CEO of St Giles

Hospice, who had nominated the scheme for the award. She spoke of the

known improvements to mental and physical health within communities

where there was a supportive compassionate environment. Garry Hyde,

The sudden bangs can be masked by turning the radio and TV up. YouTube

is a great place to find music to help calm your dog. Music that is louder and

with irregular beats that blends in can make fireworks less intrusive. In our

house we find that reggae works well - good thing we like Bob Marley!

Make sure your dog's microchip details are up to date if the worst

happens. Make sure they are wearing their ID tag even if they don't normally

wear one in the house. Familiarise yourself with who to contact to report

a missing dog.

Long-lasting chews, a stuffed Kong or licki-mat may help to distract them

and keep them occupied, though some dogs will be too stressed to take

treats.

Look into calming aids. Thunder jackets are a stretchy shirt for dogs that

acts like swaddling to make them feel secure. This works well with one of

my dogs. An alternative is a small T-shirt, wrapped snugly and tied around

your dog's middle.

There are various supplements and herbal remedies that may take the

edge off the stress (these are not drugs but natural remedies). They don't

all work on all dogs so it may be a bit of trial and error to see which works

for your dog. Some dogs are so stressed, however, that a vet may decide to

prescribe something stronger.

Lastly some of our greyhound owners report that putting a snood or

scarf around their dogs' ears has helped- it's worth a try!

Good luck, and hopefully these hints and tips will make the forthcoming

months bearable for our sound-sensitive furry friends.

Lauren Hirst is Vice Chair of Greyhound Trust Hall Green. Visit

www.greyhoundtrusthallgreen.org.uk for more information.

Chairman of the Parish Council, spoke of their financial and moral support

for the scheme from the beginning knowing the benefits it could bring to

the Community. This was demonstrated during Covid when the scheme

with its established infrastructure and volunteer network, played a key role

in supporting those most vulnerable throughout lockdown. However, the

most powerful and emotive moments came from an audio/visual piece

showing some of the highs and lows over the past 6 years and featuring four

clients who shared the impact of the scheme on them.

The Lord Lieutenant explored the reasons why the scheme had been

chosen for this prestigious award – the highest honour that could be

achieved by a voluntary group. He said that he had never come across an

organisation consisting totally of volunteers who served and supported

their community in such a professional manner. He presented the Crystal

Award to Lynne Salter who was chosen to collect it on behalf of the group

for her outstanding contribution to the scheme from the beginning.

Similarly Frank Knighton collected the accompanying certificate which had

been signed by Her Majesty the Queen. Image courtesy of Robert Yardley

42
---
43
---
Virtual Tours of the

Trent Valley

By Louise Morris

............................

Over the last couple of years, the country has seen various

stages of lockdowns and public health advice leaving many

people rightly worried about their safety. With concerns

about pre-existing health conditions, or reduced access to public

transport, may people have faced isolation and poor access to

nature.

In response to this, Transforming the Trent Valley has been working

with a group of skilled volunteers to capture stunning images of the

Trent Valley and bring nature to people at home.

Our Virtual Tours volunteer, Paul Morris, has created two interactive

tours that allow you to explore some of the beauty spots of this river

valley. The first is around the lakes of Tucklesholme Nature Reserve

near Walton-on-Trent. Panoramic views allow you to look around as

you move from point to point on the circular walk and hotspots along

the way take you to picture galleries, interactive features and further

information.

A second tour takes you around a circular walk in Branston Leas near

Burton, where you can enjoy some of the stunning wildlife as you take

a virtual stroll. More virtual tours are in the planning and can be found

on our website www.thetrentvalley.org.uk/trent_walks.php.

We have also created video walks of different sites along the river

where you can sit back and be taken on a short tour whilst enjoying

relaxing music. These can all be found on our YouTube channel by

searching for 'Transforming the Trent Valley YouTube'.

Some stunning images of the Trent Valley have been captured showing

the wildlife, heritage and scenery. These can be viewed in a photo

gallery on our website www.thetrentvalley.org.uk/gallery.php. We would

like to thank all our photography volunteers for helping us to capture

these inspiring images.

So, as the evenings draw in and the weather becomes chilly, why not

grab a warm drink and spend an evening exploring the Trent Valley from

the comfort of your armchair.

Goldfinch © Brian Triptree

Armitage © Jane Rowbottom

Coot © Martin Robinson

Doveridge © Julie Clarke

Kingfisher © Clive Ward

Pillbox © David Cowper

44
---
45
---
The Lost Pubs of Lichfield

The Constitution Inn

& The Carpenter's Arms

By Jono Oates

.................................................

The lost pubs of Lichfield series continues with a former pub flattened to make way for

a road extension and a community pub demolished to become housing.

The Constitution Inn was situated on the Stafford Road at the junction of what is now the A51

bypass to Rugeley and Featherbed Lane, the road to Kings Bromley and Ashbourne. The first listed

licensee of the inn was John Rushton in 1868, followed by John Clay in 1880.

In August 1909 two men from Newcastle-Under-Lyme were travelling to an agricultural show at

Tamworth with a waggon load of goods and stopped at the Constitution Inn where they stole two

brooms from the waggon and sold them to Emma Barlow, wife of the landlord Hebert Barlow, for

six pence. The men were later arrested and were fined £1 10s and 6d for their clumsy crime.

The winter of 1947 was one of one of the coldest winters in history when snow lay on the

ground for nearly three months. Two Lichfield men, who had been delivering food parcels across

Lichfield all day, decided that they wanted a stiff drink after all of their labours. They stopped at the

Constitution but, when they arrived, they discovered that the front door was completely

submerged by a snowdrift! Undaunted, and clearly desperate for a thirst-quenching pint, they

grabbed a couple of shovels and dug their way to the door where landlady Gertrude Wood opened

up and allowed them their well-earned drinks!

In early 1956 the area around the inn was designated for re-development due to the construction

of the A51 bypass and associated roundabout. As the Constitution was in the direct 'flight-path' it

was scheduled for demolition. Gertrude Wood died in March 1956, just a few months before her

beloved pub was due to be knocked to the ground, and the license temporarily passed to one of

her daughters, Marjorie Gertrude Wood. Marjorie held a farewell party in June 1956 for all the pub's

regulars, including Frank Horton, who lived next door to the Constitution and had been a regular

there for 75 years. He said that when he was three-years-old he had sat on the steps of the inn and

had been given a pint of beer to drink by Mrs Clay, wife of landlord John Clay! The pub shut its

doors for the last time that night and the license was then transferred to the then 'new' Windmill

pub on Grange Lane.

The Carpenter's Arms started life originally in 1848 as a private house on Christchurch Lane,

Leomansley, run by Martha Page, described in the 1851 census as a beer house keeper and her

husband, James, a carpenter. By 1880 it was recorded as the Carpenter's Arms, using the profession

of the former landlord as its name. The new landlord was Thomas Wright who, in June 1880, was

also selling a few thousand broccoli and large quantity of Dutch Savoy plants from the Carpenter's

– clearly a case of Victorian diversification!

From the late 1920s to the early 1950s the landlord was Frank Bucknall and in October 1947

the Lichfield Mercury reported he had been the landlord at the Carpenter's for 17 years – only to

issue an apology the following week, explaining that it was actually 22 years, using the title 'How

Time Flies…'

Frank's son, Wilfred, served in WWII and just before Christmas 1945 was still stationed at

Rangoon, Burma, when he wrote a letter home to his wife at the Carpenter's telling her how

surprised he'd been to open the Southeast Area Command newsletter to find a photograph of

Lichfield Cathedral on the back cover with the word 'Home!' on it. A few months later Wilf, along

with thousands of others, finally returned home.

The Revd G Mayhew, vicar of Christ Church, provided a Harvest Festival sermon from the inside

of the Carpenter's in October 1948, saying 'if we could get into our churches some of the kindly

feeling which exists among some of the customers of the local inns, it might be good for the church'

and that a public house was not just a place where men came to 'booze and argue.'

Despite being a very popular community pub the Carpenter's Arms was closed in 2002 and,

following demolition, became apartments.

Carpenters Arms, lanldord Frank

Bucknall, circa 1930

Carpenters Arms after closure in 2002

Constitution Inn just before closure, 1955

Sources: The British Newspaper Archive'; Lichfield Pubs by Neil Coley, The Old Pubs of

Lichfield by John Shaw.

46
---
47
---
Win Tickets to the

NEC Festive Gift Fair

The festive gift fair is back on

Thursday 18th – Sunday 21st

November at the NEC.

............................

Celebrating its 25th live event in 2021, the fabulous Festive

Gift Fair has been the number one event for Christmas

shopping in the heart of England for over two decades.

Missed by thousands last year, this ever popular four-day event is back

again in November and looking forward to re-uniting 300 stallholders

with thousands of high-spirited shoppers. Once again offering a fabulous

choice of gifts, decorations, food and drink in a jolly atmosphere with

live music and festive entertainers.

Dedicated to Christmas shopping and catering for all your needs over

the seasonal period, the busiest and most established Fair in the

Midlands has lots to offer in 2021.

Fabulous Foodie Section

Companies New to the fab foodie section this year are Whistler's

Storm – the newest alcoholic tea brand to hit the market. Campbell's

Chutneys – handmade mustards, marmalades, pickles and preserves.

Limpopo Biltong – The snack The Lions could not handle! Schokolat

Scotland – unique chocolate gifts made to look like teapots, tools and

so much more!

Back by demand are favourites including Ace Tea London, The Tipsy

Tart, Popcorn Kitchen, Cheshire Cheese, Condessa Welsh Liqueurs and

Georgie Porgies Puddings.

Gifts in General

So many wonderful new companies this year it's been difficult to

select just a few!

New in 2021 include Rebel Records and Toys – music vinyls, cds and

music memorabilia.

Big Chief Studios - licensed character collectables Star Wars, Doctor

Who, Only Fools and Horses, Dad's Army, James Bond, Mr Bean etc.

Wish Upon Threads - Embroidered apparel inspired by characters from

hobbies and films.

Popular favourites returning include Football Stadium Photography,

Kensington Collection, MacDonald China and The Perfume Shop.

Décor for the festive season and beyond!

Always popular, joining us again are favourites including Delightful

Decorations, 1 Stop Christmas Shop and The Rugshack.

New include At Home for Christmas – Christmas wreaths. Finishing

Touches – Christmas rugs and cushions. Step Into Christmas –

everything LED from Lanterns to fairy dolls! Foy & Co Interiors – luxury

cushions and throws.

For The Kids (Young & Old!)

More companies than ever before… seems like the kids are going to

get spoiled this year!

New include Maria Valentina Baby – trendy clothes and shoes for baby

and children.

Christmas Board Games – Christmas Eve The Race To Help Santa!

Grace's Book Adventures – kid's books and colouring activity sets.

If you're looking for Fair Trade wooden toys then Lanka Kade will be

back alongside Splat Planet selling colour-in t-shirts, Iconic Kidswear

with their 0- 8yrs clothing range. Funblox, Magic Pens and so much

more!

Be inspired and get your festive preparations off to a flying start at the

Festive Gift Fair. With ticket prices so affordable bring friends and family

with you for a fun-filled day Christmas Shopping.

Tickets available on-line from just £6 per adult (plus fulfilment fee).

Open daily 9.30am-5pm on Thursday 18th – Sunday 21st November

at the NEC, Birmingham.

For much more information, including videos, show highlights,

exhibitor list, show offers and all the Live Performers, visit

www.festivegiftfair.co.uk.

We've got 10 pairs of tickets to give to this fantastic event.

To be in with the chance of getting your hands on a pair,

simply correctly answer the following question and send

your details to us.

What anniversary is the Gift Fair celebrating this year?

a) 10 years

b) 15 years

c) 25 years

To enter, just send your name, contact details and answer to Gift

FairCompetition at competitioncitylife@gmail.com or post your entry to

Citylife in Lichfield Ltd, PO Box 7126, Lichfield WS14 4JS by the closing date of

25th November 2021. One entry per household. Multiple entries will be

disqualified. No cash equivalent. Please note you must be 18 or over to enter.

All entrants' information is processed in line with GDPR Data Protection

Regulations and our Privacy Policy (available at citylifeinlichfieldltd.co.uk).

Full t&cs on page 58.

48
---
49
---
Major Grant Helps

Ensure Cathedral's

Future

.........................

Lichfield Cathedral is to receive a grant of £264,404 from the

Government's Culture Recovery Fund to help secure the

future of the 900-year-old building for future generations.

The Cathedral is one of 142 historic sites across England to receive a

grant which will see £35 million given through the government's Culture

Recovery Fund, to keep our heritage alive by paying for vital repairs and

major building programmes.

The grant will help to address urgent masonry repair to the flying

buttresses on the south side of Lichfield Cathedral. One flying buttress

has turned significantly on its axis and the other five are deteriorating,

putting the south side of the Cathedral building at risk of collapse. The

repairs are essential to ensure the safety of the building and its

continued ability to open for worshippers, visitors and the local

community in the future.

The Dean of Lichfield, the Very Revd Adrian Dorber, said: "Lichfield

Cathedral is extremely grateful to the Culture Recovery Fund for a

Photograph courtesy of Lichfield Cathedral

grant to enable the repair of the south nave buttresses. Without this

unprecedented investment, the Cathedral's future was at risk. This grant

will ensure that vital repairs can be made, that the Cathedral continues

to be Here for Culture, and here for the 100,000 visitors who visit each

year from around the world, continuing the 1,350-year tradition of

pilgrimage to this sacred space. We are also very grateful to The

Dulverton Trust which has awarded £50,000 towards the buttress

repairs."

50
---
Advertising Feature

Talented Family

Businessman

.........................

Rich Doyle has stepped up into the role of owner of the

family business Knight & Doyle Carpet & Upholstery

Cleaning. But there is so much more to this talented young

businessman. His mum taught him to cook, and he's pretty good.

So good that he and his mum appeared on Ready Steady Cook

earlier this year. People always ask if they got to keep the aprons.

Yes, they did! Rich is also the bass player in a covers band called

The Arc in his spare time. They have played at The Feathers in

Lichfield and many other local venues.

The family business has been providing professional carpet and

upholstery cleaning for homeowners and businesses for over 20 years

and despite the pandemic continues to grow. Recently employing

another two local people. One in their workshop and an additional

trainee carpet and upholstery cleaning technician, who will undergo

rigorous training to become fully qualified. However, the training never

really stops. Although he's highly qualified, Rich has this year passed his

cleaning fine furnishings course and late last year completed training on

infection control. So, a multi-talented young man indeed!

Rich Doyle & Mum

51
---
52

What's On

November/

December

Sat 6th, Sun 7th, Mon 8th November

Lichfield's Largest Jigsaw Sale

More than 600 preloved jigsaws for sale.

Venue: Erasmus Darwin House

Time: 10am-4pm (10am-2pm Sunday)

Thursday 11th & 18th November

Thursday 9th December

Steak Night with Late Night Shopping

Dine in at the Café for a steak night meal for

two, including a bottle of wine! Plus late night

shopping experience with a fantastic selection

of meats, cheeses, gifts, alcohol and much

more!

Venue: Bradshaws Farm Shop & Café,

Ironstone Road, Burntwood

Time: Until 9pm

Price: £25 for two people (includes bottle of

wine)

Booking is essential. Call 01543 279437

(requires £5 deposit).

Saturday 20th November

Artisan & Food Festival

Come and eat, drink and enjoy! Featuring

people who are passionate about what they

do, specialists and award-winners from all over

the country.

Venue: Himley Hall, Dudley, DY3 4DF

Time: 10am-4pm

Price: Adults £3. OAP/students £2. Under 16

free.

www.himleyhallandpark.co.uk

Sunday 21st November

Lichfield Chamber Christmas Fayre

The annual Christmas market is a bustling

event with lots of food, drink and fun for all

the family!

Venue: Market Square, The Hub, The Guildhall

Time: 10am-4pm

Tues 23rd, Weds 24th & Thurs 25th

November

Christmas Flower Arranging

Demonstrations

Be inspired with some stunning ideas for

decorating your home this Christmas. The

event includes a delicious three course festive

carvery lunch.

Venue: The George Hotel, Lichfield

Time: 10am to 3pm

Price: £28 per person, includes coffee on

arrival and a three-course carvery lunch.

Book online at

www.thegeorgelichfield.co.uk/christmas/

Sunday 28th November

Christmas Light Night

Warm up while visiting the Lichfield Christmas

Light Switch On with hands-on activities and

festive refreshments including mulled wine and

mince pies.

Venue: Samuel Johnson Birthplace Museum

Time: 3.30pm-6pm

Price: Free

Mon 29th & Tues 30th November

Christmas Wreath Making Workshops

Enjoy a two-hour Christmas Wreath Making

workshop this November.

Venue: The George Hotel, Lichfield

Time: 7pm

Price: £40 per person. Includes mulled wine,

refreshments and nibbles and all equipment to

make your wreath to take home.

Book online at

www.thegeorgelichfield.co.uk/christmas/

Monday-Friday in November

Festive Afternoon Tea

Enjoy a selection of sandwiches, savoury treats,

scones and mini desserts. Special dietary

requirements catered for.

Venue: Bradshaws Farm Shop & Café,

Ironstone Road, Burntwood

Time: Various

Price: £14.95

Booking is essential. Call 01543 279437.

Sunday 5th December

The Johnson Family Christmas

Enjoy the historic house decorated for

Christmas, with activities for all including

poetry, storytelling, and the chance to enjoy a

warm glass of mulled wine.

Venue: Samuel Johnson Birthplace Museum

Time: 11am-3.30pm

Price: Free

Weds 1st, 8th, 15th & 22nd December

Late Night Shopping Event

Find a whole host of local producers and

craftspeople and enjoy finding bespoke gifts for

your loved ones!

Venue: The Deer Park, Maker Lane, Hoar

Cross, DE13 8QR.

Saturday 11th December

A-Plan Christmas Fayre

Craft fair featuring local retailers and artisans,

with professional singer and DJ.

Venue: A-Plan Insurance, Bore Street

Time: 10am-4pm

Thursday 16th - Saturday 18th December

Festive Afternoon Tea

Santa and special guest, The Grinch, will be

hosting Afternoon Tea, with a gift for every

child!

Venue: Bradshaws Farm Shop & Café,

Ironstone Road, Burntwood

Time: 3.30pm – 5.30pm (check days for times)

Price: £11.99pp

Advanced booking essential. Call 01543

279437 (option 2).

Promote your event in our What's On

guide and reach over 16,000 homes and

businesses for only £20 for businesses

and £10 for charities. Entries must be 50

words maximum. To book contact

Rebecca Hill 07970 513144

rebeccahillcitylife@gmail.com

Please clearly mark your email 'What's

On Lichfield'.
---
53
---
Lichfield

Camera Club

............................

Having resumed normal face-to-face meetings last month,

Lichfield Camera Club was able to stage its first print

competition for two years. During lockdown, competition

entries had been confined to projected digital images, however

members agreed it was good to once again take on the additional

challenge that printing images involves. Each member was able to

enter two colour prints and two in monochrome.

Leading images in the beginners/intermediate colour competition

were all wildlife shots.

1. Excellent detail in 'Bee Nectaring on Lavender' won first place for

Ivan Shaw.

2. 'The Mating Game' superbly captured by Ann Wright took second

place.

3. The delightful image of a Long Tailed Tit: 'I See You!' by Liz Thomas

took third place.

4. In the monochrome competition, Ann Wright came first with

'Monkey Business x 3.'

5. Second place went to Sandra Morgan with the still life: 'Rose with

Texture.'

6. Third place went to Liz Thomas with 'Trentham Garden Fairy.'

7. The Advanced Colour Competition, was won by Anne Anderson

with 'Skeleton Leaves.'

8. Joe Anderson was second with 'Mill at Borrowdale.'

9. A very colourful 'Pheasant' by Sue Freeman took third place.

10. In the Advanced monochrome competition, Sue Freeman also took

first place with 'Zebra.'

11. Second place went to Richard Moore with 'A Tranquil Moment.'

12. 'Ghost of Westminster' by Dean Borgazzi took third place.

13. Two other images worthy of mention were 'Moonrise' by Graham

Slight.

14. And this great example of both technical skill and creativity - 'Black,

One Sugar' by Joe Anderson.

4

6 7

8 9

5

10

11

1 2

13

54

3

12

14
---
Here at Just Granite Ltd, we pride ourselves on being the experts for any worktop needs you may have.

Be it a beautiful bespoke and unique kitchen worktop, a bar, bathroom or even a barbecue area, we have

an extensive in-house range ready to be chosen by you! We stock a varied range, in a variety of materials,

such as our own competitively priced quartz, granite, marble and porcelain, as well as all the top brands

from around the world.

There really is no reason to go anywhere else!

Win a Granite Chopping Board

If you require our services please do not hesitate

to call us on 01785 711096 or email your quote

request to stef@justgranite.ltd.uk

With the largest variety of natural stones in the Midlands, the

solid slabs are kept on-site and are available for a virtual viewing

from 9am-5pm on Monday to Friday. Located at The Stone

Works, Pillaton Hall Farm, Penkridge, ST19 5RZ.

We've got a bespoke Chopping Board (in the

colour of your choice) to give away! To be in

with a chance of winning this magnificent prize,

simply answer the following question correctly:

Where does the supply

of granite come from?

a) Spain

b) Italy

c) Germany

To enter, just send your name, contact details and answer to Just

Granite Competition at competitioncitylife@gmail.com or post your

entry to Citylife in Lichfield Ltd, PO Box 7126, Lichfield WS14 4JS by

the closing date of 16th December 2021. One entry per household.

Multiple entries will be disqualified. No cash equivalent. Please note

you must be 18 or over to enter. All entrants' information is

processed in line with GDPR Data Protection Regulations and our

Privacy Policy (available at citylifeinlichfieldltd.co.uk).

Full t&cs on page 58.

55
---
Award for Erasmus

Darwin House

............................

Erasmus Darwin House was once the home of Erasmus

Darwin, grandfather of Charles Darwin and a respected

resident of Lichfield for more than 20 years. Erasmus

established and ran a successful medical practice in Lichfield, but in

his spare time his interests were many and varied. He was

considered the foremost poet of his day, and was an inventor,

botanist, philosopher, and a founder member of the Lunar Society,

the midlands group which had such an important influence on the

development of science and industry in the late 18th century.

Restored and opened to the public as a museum and education centre

in 1999, the house is run by the Erasmus Darwin Foundation, an

independent Charitable Trust with the aim of promoting international

awareness of the life and achievements of Erasmus Darwin and the way

in which they relate to today's world, in a manner that is enjoyable and

easily understood by all. The museum is reliant almost completely upon

its own earned income and the help of a team of committed volunteers,

without whom the foundation would be unable to function.

The Queen's Award for Voluntary Service aims to recognise

outstanding work by volunteer groups to benefit their local

South Staffordshire Cruse

Bereavement Care

............................

South Staffordshire Cruse

is a local branch of Cruse

Bereavement Care

which is the leading national

charity for bereaved people.

Cruse offers support, advice

and information to children,

young people and adults

when someone dies, and

work to enhance society's care of bereaved people.

Bereavement affects everyone and can have a devastating effect on

emotional, physical and mental health. Cruse support helps people

understand their feelings, develop coping strategies, and return to everyday

life, while remembering and celebrating the lives of those who have

died.

Cruse offers face-to-face, group, telephone, email and website

support. It has a Freephone National Helpline (0808 808 1677) and local

services throughout England, Wales and Northern Ireland. In Scotland it

has a sister organisation, Cruse Scotland. Many of the local branches

provide children's services, and part of the website, Hope Again,

provides support for young people. All services are provided by trained

volunteers and are confidential and free. At present South Staffordshire

Cruse are able to offer telephone support throughout our area and will

be able to offer face-to-face sessions in the coming weeks in some areas.

Anyone who wishes to access support can contact Cruse local Helpline

01543 433479.

Cruse also provides training and consultancy for external

organisations and for those who may encounter bereaved people in the

communities. It was created in 2002 to celebrate the Queen's Golden

Jubilee. Recipients are announced each year on 2nd June, the anniversary

of the Queen's Coronation.

The Foundation was one of 230 charities, social enterprises and

voluntary groups to receive this prestigious award 2020. However, due

to the coronavirus pandemic, it was necessary to delay the presentation

of the award.

Representatives of Erasmus Darwin Foundation were delighted to

receive the award from Ian Dudson CBE, Knight of the Order of St John,

Lord Lieutenant of Staffordshire on 20th October 2021.

course of their work. Nationally Cruse has played a vital role in

responding to disasters and terrorist incidents, most recently providing

specialist services after the Manchester Arena Bombing, Borough

Market Attacks and Grenfell Tower Fire. Cruse campaigns on behalf of

bereaved people, speaking out on issues that impact them financially,

practically or emotionally.

South Staffordshire Cruse is also involved with St Giles Hospice in the

provision of local Bereavement Help Points which offer informal

support for anyone who has been touched by grief, past or present,

directly or indirectly, who can drop into the sessions without an

appointment and see how Cruse can help.

At Bereavement Help Points Cruse offers a supportive environment

to anyone who is experiencing or has experienced a bereavement,

irrespective of the nature of the bereavement or when the person died.

You can drop in for a short time or stay for the whole session. You can

meet other people who have experienced a loss and there are trained

bereavement support volunteers from Cruse Bereavement Care or St

Giles Hospice on hand to listen and offer advice and information on

emotional, practical and social aspects of bereavement.

During the pandemic these had to be closed but Cruse continued to

offer some of these sessions by Zoom so was able to continue to

support individuals in the community who have been struggling with

aspects of their bereavement. In recent weeks, a number of the

Bereavement Help Points have reopened at:

• Tamworth, Sacred heart Church Community Room, Silverlink

Road, Tamworth, B77 2EA.

Friday 10am – 12pm

• Burntwood, St Johns Community Church, High Street,

Chasetown, WS7 1LR.

Mondays 2:30pm – 4:30 pm

• Rugeley, Rugeley Community Centre, Burnthill Lane, Rugeley,

WS15 2HX.

Thursday 10:30am – 12:30 pm

Anyone wanting more details of the sessions can contact Cruse local

Helpline 01543 433479 or St Giles 01543 434536.

56
---
57
---
To Advertise call:-

Steve Brown 07740 166497

stevebrowncitylife@gmail.com

Rebecca Hill 07970 513144

rebeccahillcitylife@gmail.com

Michele Phillips 07919 896575

michelecitylife@gmail.com

CLASSIFIED

To Advertise please

contact our classified

team on

07970 513144

This ad...

£40 plus VAT

Competition and Prize Draw Terms and Conditions

1.Entrants' details will be held and processed in line with Citylife in Lichfield Ltd's Privacy Policy, which in turn adheres to

GDPR Data Protection legislation. For a copy of our Privacy Policy please email kristencitylife@gmail.com

2.By entering the prize draw/competition, you agree to the terms and conditions stated.

3.The closing date is stated on each individual prize draw or competition.

4.Entrants' details will be securely held by Citylife in Lichfield Ltd in accordance with our Privacy Policy. Details will be

held only until the closing date of the competition. After this date entrants' details will be securely destroyed/deleted.

Winners' contact details will be securely stored only until the winner has been informed of their win/prize. After this details

will be securely deleted/destroyed.

5.Entrants' details will never be shared with any third party. The only exception to this is the name (and if the prize is to

be posted) address of Competition/Prize Draw winners that will be communicated to the competition partner to allow

winners to securely claim their prize, after which all details will be securely destroyed. The initial and surname of winners

will be printed in our magazines – no other details will be published.

6.By entering the competition/prize draw, entrants agree to Citylife in Lichfield Ltd using or publishing materials provided

by the entrants (but not address or contact details apart from initial and surname) in any of their publications and online.

7.Citylife in Lichfield Ltd accepts no responsibility for any breach of copyright or breach of any other legislation entailed

by entrants in their creation or submission of materials.

8.Only one entry per prize draw/competition, per reader.

9.Except in the case of cash prizes, no cash equivalent will be offered and the prize is non-transferable.

10.All prizes are subject to availability and the prize suppliers' terms and conditions.

11.No purchase necessary.

12.Prize draws and competitions are only open to UK residents aged 18 years or over (unless otherwise stated).

13.Competitions and prize draws may not be entered by any employee of individual associated with any employee,

agent or third party of Citylife in Lichfield Ltd.

58

14.Winners will be selected at random in the case of applicable prize draws and competitions, or by an independent

judge in the case of photographic/art competitions from all entries received.

15.Winners will be notified by Citylife in Lichfield up to 28 days after the closing date of the competition/prize draw by the

contact details provided by the entrant. Winners have 28 days to respond if contact cannot be made initially. If no

response is forthcoming after 28 days, Citylife in Lichfield reserves the right to redraw the competition and select a new

winner.

16.A list of the surnames and county of residence of the winners will be available by writing to Citylife in Lichfield Ltd no

earlier than six weeks after the competition closing date.

17.When the prize draw/competition winner has been selected, this decision is final and no correspondence will be

entered into.

18.Citylife in Lichfield Ltd accepts no responsibility for the prize being lost, damaged or delayed in transit. When the prize

is provided by a third party, Citylife in Lichfield Ltd accepts no responsibility for any change to the prize, or for the quality

of the prize provided.

19.Competitions may be amended or withdrawn at any time.

20.By entering the competition or prize draw, you agree to having your name, (photograph, where stated) and city or

county of residence published in any of Citylife in Lichfield's publications and online.

21.Unless otherwise stated, the promoter is Citylife in Lichfield Ltd, PO Box 7126, Lichfield, WS14 4JS.

22. Citylife in Lichfield Ltd do not express any warranty or endorsement of any competition prize, information, service or

product provided in connection with a competition by printing or otherwise publicising any competition.

23.To the full extent of the law, Citylife in Lichfield Ltd shall not be liable for any loss, claim, punitive, indirect, incidental or

consequential damages of any kind incurred as a result of entering this prize draw or competition.

24.By submitting photos, text or artworks as part of competition/prize draw entries you agree that you own these photos

text or artworks, that it is your original work to which you own all rights to distribute, and that your entry is accurate, moral

and legal.
---
59