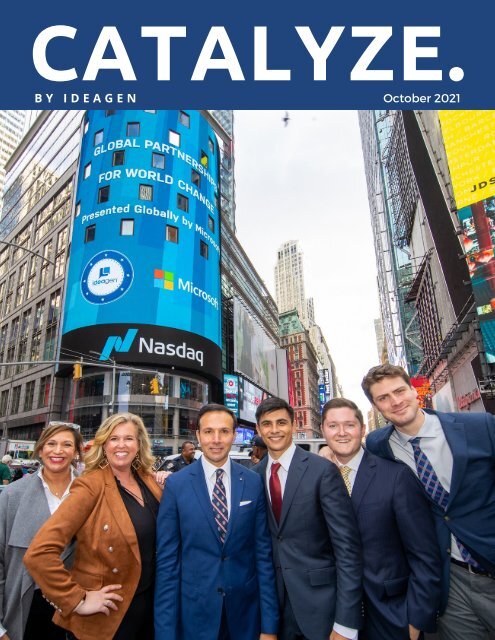 Catalyze Magazine October
With Ideagens extensive member network and influential platform, Catalyze Magazine serves as an aggregate for all the content, events, articles, and collaboration that we do. It is a monthly magazine where you will find transcriptions from Ideagen events, content, articles, and information surrounding how we are completing our mission. With this magazine, we want to highlight the nature of cross-sector collaboration and how we infuse it into our daily mission on a global scale. This edition of Catalyze Magazines highlights the 17 Days of Sustainability
With Ideagens extensive member network and influential platform, Catalyze Magazine serves as an aggregate for all the content, events, articles, and collaboration that we do. It is a monthly magazine where you will find transcriptions from Ideagen events, content, articles, and information surrounding how we are completing our mission. With this magazine, we want to highlight the nature of cross-sector collaboration and how we infuse it into our daily mission on a global scale. This edition of Catalyze Magazines highlights the 17 Days of Sustainability
SHOW MORE
SHOW LESS
Create successful ePaper yourself
Turn your PDF publications into a flip-book with our unique Google optimized e-Paper software.
CATALYZE.

B Y I D E A G E N October 2021
---
CATALYZE.

B Y I D E A G E N October 2021
---
During Ideagen's "17 Days of Sustainability", highlighting one goal of the U.N.

SDGs per day, Ideagen will showcase how the world's leading organizations

are addressing global sustainability.

Stream Now
---
Now Available!

Stream Now

A key highlight during the 17 Days of Sustainability was a spotlight on

Global Goal 5, Gender Equality, during Ideagen's Annual Empowering

Women & Girls Summit on October 11

​

By putting the voices of women leaders on a global stage we will highlight

and empower women and girls to close the gender gap across all sectors.

CATALYZE MAGAZINE | 4
---
Convening Ideagen's City & Country

Chairs at the NASDAQ

CATALYZE MAGAZINE | 8
---
CATALYZE MAGAZINE | 9
---
I D E A G E N ' S P O W E R

1 0 L I S T

Melinda Gates

Co-chair of the Bill &

Melinda Gates Foundation.

Founder of Pivotal

Ventures.

Megan Bettilyon

CTO, AdAstral Labs

Viola Davis

Academy Award Winning

Actress

Sharon John

President and CEO at

Build-A-Bear Workshop

Adena Friedman

President and CEO of

Nasdaq

Christine Lagarde

President of the

European Central Bank

Anita Whitehead

Board Chair, KPMG US

Foundation, Inc

Rebecca Grynspan

Former Vice President of

Costa Rica

Annette Franqui

Chair, AARP Board of

Directors

Thuy Vu

Co-Founder & CEO at

Global Mentor Network.

CATALYZE MAGAZINE | 13
---
Editor's Note

Dear Friends and Colleagues,

As we approach 2022, Ideagen Global continues to maximize our

efforts with a relentless commitment to convene the world's greatest

minds from the world's leading companies, NGO's, and the public

sector to address the world's most vexing issues. In 2021, Ideagen TV

content will reach over 100 Million People across the planet with

inspiring interviews and custom programming to create awareness and

partnerships to achieve the Global Goals.

We are excited for the recent release of the 17 Days of Sustainability

which began in early October and has included over 100 Global

Leaders and Luminaries focused on achieving the Global Goals by

2030! Join the movement at IdeagenMember.com and visit

IdeagenGlobal.com for all of the latest updates.

Sincerely,

GEORGE SIFAKIS

GEORGE SIFAKIS

Editor-in-Chief & CEO

-Ideagen

CATALYZE MAGAZINE | 14

COOPER HENDERSON

Publication Editor

JOHN MULBERGER

Publication Editor

Pictured Top to Bottom

2nd day, 76 session of the UN

(SDG) Moment in the Gen. Assembly Hall

Sec. Gen. Addressing the SDG's