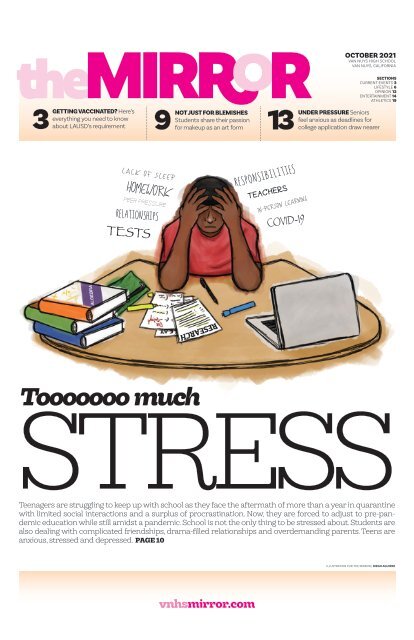 The Mirror | Issue 1 | October 2021
The student newspaper at Van Nuys High School, Van Nuys, California
The student newspaper at Van Nuys High School, Van Nuys, California
SHOW MORE
SHOW LESS
You also want an ePaper? Increase the reach of your titles
YUMPU automatically turns print PDFs into web optimized ePapers that Google loves.
theMIRROR

OCTOBER 2021

VAN NUYS HIGH SCHOOL

VAN NUYS, CALIFORNIA

SECTIONS

CURRENT EVENTS 3

LIFESTYLE 6

OPINION 12

ENTERTAINMENT 14

ATHLETICS 19

3

GETTING VACCINATED? Here's

everything you need to know

about LAUSD's requirement

9 13

NOT JUST FOR BLEMISHES

Students share their passion

for makeup as an art form

UNDER PRESSURE Seniors

feel anxious as deadlines for

college application draw nearer

LACK OF SLEEP

HOMEWORK

PEER PRESSURE

RELATIONSHIPS

TESTS

RESPONSIBILITIES

TEACHERS

IN-PERSON LEARNING

COVID-19

Tooooooo much

STRESS

Teenagers are struggling to keep up with school as they face the aftermath of more than a year in quarantine

with limited social interactions and a surplus of procrastination. Now, they are forced to adjust to pre-pandemic

education while still amidst a pandemic. School is not the only thing to be stressed about. Students are

also dealing with complicated friendships, drama-filled relationships and overdemanding parents. Teens are

anxious, stressed and depressed. PAGE 10

ILLUSTRATION FOR THE MIRROR | DIEGO AGUIRRE

vnhsmirror.com
---
OCTOBER 2021

PAGE 2

the MIRROR

THE MIRROR | ISABELLA THOMAS

Back in-person but barely staying afloat

While I was excited to return to in-person learning, I failed to anticipate just how

overwhelming it would be. So much so that I had to drop my AP class.

MENTAL HEALTH

MATTERS Senior Angela

Proca switched out of AP

Psychology to prioritize

her mental health while

trying to readjust to prepandemic

academic life.

By ANGELA PROCA

PHOTO EDITOR | THE MIRROR

Making my schedule was the easy part, actually

doing well in the classes I chose — well

that's another story.

I had gotten so used to the simplicity

and informality of online learning that returning to inperson

learning proved to be far more challenging than I

anticipated.

Originally, I had signed up for AP Psychology along

with two electives and three honors classes seeking to

push myself a bit in my last year of high school.

AP Psychology felt like the right fit at the time, it's even

known for being one of the easiest Advanced Placement

classes. For whatever reason, I didn't consider that taking

this course along with the transition into in-person learning

would be a difficult task.

The first few weeks of school I was over the moon to be

back in person, but I quickly realized how overwhelming

and stressful it would be, especially with AP Psychology.

My days were filled with seemingly endless notetaking,

anxiously awaiting a pop quiz and studying for chapter

tests every week. Then I'd move on to stressing about

how I can pay for my groceries and rent with only $1000

a month for an economics assignment and reading one

hundred pages of "East of Eden."

It was all beginning to be too much and my grades

showed for it. I was failing AP Psychology with a 47

percent and my other classes and my participation in

extracurricular activities were also negatively impacted.

We went from five-hour school days with hour-long

lunches to seven-hour long days with all six periods.

There was no transitory period back to in-person learning

for students or teachers which definitely took a toll on

my mental health.

Living in a pandemic has been draining enough and

expecting students to immediately go back to pre-pandemic

life is unrealistic.

We got so comfortable with how lax school had

become with the past year of online learning that being

back was a shock to our system.

I began to feel overwhelmed, not only was I already

failing psychology with a 47 percent but it began to take a

toll on my other classes as well. There simply isn't enough

time in one day to do work for my other classes and be

active in my extracurriculars.

After one too many emotional breakdowns I decided

I needed to switch out of AP Psychology to prioritize my

mental health.

While I was worried my counselor wouldn't switch me

out since we were five weeks into the semester, she was

very understanding.

Dropping out of my AP class was one of the best decisions

I've made. While all the stress of school has not

been resolved, I feel much less burdened and have more

time to be active in activities that I enjoy.

I'm not the only one that feels this way. After I had

switched out, half of the students in my class did as well.

It was weird to see so many students in the same boat

that I was but not surprising.

FOCUS MENTAL HEALTH

The transition back to in-person learning

after more than a year of online school has

been a difficult one for students to make

as they try to readjust to pre-pandemic life

while balancing classes and extracurriculars.

The Mirror surveyed students to learn whether

they've taken on a less stressful workload

this year to combat the challenges they've

faced returning to school. 535 answered.

Dropped or took

fewer AP or

honors classes

47%

Did not alter

schedule

253 282

''

I dropped AP Environmental

Science

because I felt overwhelmed

with the

workload. It was too

much for me at this

time and I felt like I

needed more time

to do college applications as well, which I was

not getting with the amount of APs I was doing.

The switch is overwhelming because we

are still in the middle of the pandemic, and

we now have much more problems that have

arisen from the stresses of it."

—Isabella Rivera

I dropped out of

AP Environmental

Science and

that's because I

recently gained a

younger sibling so

I literally have no

time to use on my

work. Switching from online to in-person

also made it difficult managing my classes. I

feel as though I have no time to actually get

assignments done and I have a harder time

focusing in a full classroom compared to at

home some at my desk."

—Kassandra Solorzano

'' ''

I dropped AP

Calculus AB

because once my

teacher started

going over the

reviews and

lessons I knew I

couldn't keep up

due to the switch from online to in-person

school. When it was online I hardly learned

anything and I knew that it would be way

too stressful and overwhelming to learn

everything again just so I could keep up.

—Kyla Villanueva

COURTESY | ISABELLA RIVERA, KASSANDRA SOLORZANO & KYLA VILLANUEVA
---
the MIRROR

By ALLISON ANTONIO

THE MIRROR STAFF

The Los Angeles Unified School

District announced in early

September that all students

12 years of age or older who

are eligible for the covid-19 vaccine are

required to be fully vaccinated by Jan. 10,

2022, the start of second semester, or they

will be unenrolled from school and have

the option of joining LAUSD's independent

study program City of Angels.

Athletes and students participating

in extracurricular activities that require

after-school attendance are required to

receive their first dose by Oct. 31 and their

second dose by Nov. 15.

Students 18 and older can get the

single-dose Johnson & Johnson vaccine to

comply with the directive.

Failing to obtain proof of vaccination

by this date will result in the student not

being allowed on school campuses. This

includes students who provide a medical

or religious exemption.

Individuals who choose to enroll in

City of Angels will be unenrolled from Van

Nuys High School meaning they will not

be able to participate in any athletics or

extracurriculars on campus. Seniors will

not be allowed to attend prom or walk the

stage since they are no longer a part of the

school.

City of Angels is fully accredited by the

Western Association of Schools (WASC)

which means students' coursework is accepted

for credit within the University of

California (UC) and California State (CSU)

schools.

The curriculum fulfills LAUSD's A-G

requirements and California Department

of Education's standards. The

school also offers a variety of AP courses

and electives.

Students who choose to attend must

complete at least 30 hours of schoolwork

per week to earn the 30 credits expected

each semester. Instruction will be a mix of

distance-learning classes via Zoom taught

by credentialed teachers and independent

study to complete assignments.

As of late October, 61.9 percent of

eligible Californians are vaccinated while

68.3 percent have received at least one

dose, about 26.7 million people.

The Mirror conducted an online survey

through Schoology asking what students

think about the vaccine requirement. Of

the 93 students who completed the survey,

66.7 percent of students are in support

of the mandate, while 33.3 percent

are against it.

"Having this deadline might encourage

students who haven't been vaccinated yet

to do so and the more vaccinated people,

the better," sophomore Nancy Alvarado

said.

This opinion is shared by the majority

of students.

"I would not have to worry about the

instilled fear from the recent pandemic,"

senior Magen Mozeh said. "Standing close

to my peers in a crowded area, I could just

forget about worrying to social distance

myself. Every desk, door or rail I touch

would not have to petrify me into thinking

that I would get infected from covid-19."

Many students don't abide by the

school's safety protocols.

"People still pull their masks down

sometimes around campus, so at least if

we know everyone is vaccinated, the risk

for spreading covid-19 is less likely," senior

C

CURRENT EVENTS

DEADLINE APPROACHES Students required

to be fully vaccinated to attend in-person classes

GRAPHIC & PHOTO ILLUSTRATION | ANTONY NEPEYVODA

L.A. vs. NYC: COVID-19 PROTOCOLS

The Los Angeles Unified School District (LAUSD) and the New York City Department of Education

(NYCDOE), two of the largest districts in the nation, both have strict covid-19 protocols in place to

prevent the spread of the virus among their heavily-populated campuses. Here are some of the

similar and unique ways each district is handling the virus. —Diana Zalmanov

LAUSD

• All students who are eligible for

the vaccine are required to get

vaccinated

• All classrooms contain MERV-13

air filters

• Although physical distancing is

recommended, it is not required

• Students must complete a daily

health check before entering the

school

• Schools are using classrooms for

learning

• People visiting the school must

answer the daily health check

screening questions before

entering the campus

• Masks must be worn all day un

less eating or drinking

• Provides testing for all students

once a week, regardless of

vaccination status

• Athletes must be fully

vaccinated by Nov. 15

• All students must be fully

vaccinated by Jan. 9, 2022 to

remain in school

• All teachers must be fully

vaccinated by Nov. 15

• Air conditioning must be on at all

times to keep air circulating

• Isolation instructions for

someone with a positive test

result are to stay home for at

least 10 days, after they have

tested positive and monitor their

temperature for at least 24 hours

L.A.: CREATIVE COMMONS | SALEWSKIA; NYC: CREATIVE COMMONS | PETR KRATOCHVIL

Aksel Ortiz said.

Being a student athlete, junior Brianna

Carrillo believes that the mandate will

keep her and her teammates safe from

becoming infected with the virus.

"I think it's a good idea, especially for

athletes because we're going to be in

contact with students not just from our

school but from different schools as well,"

Carrillo said. "It's ensuring our health and

our overall protection."

While a majority of students are in

favor of the LAUSD policy, some believe

that getting vaccinated should be an individual's

decision, not an ultimatum.

"I believe it should be a personal choice,"

senior David Kupelian said. "Whoever

would like to protect themselves from

the virus should get the vaccine. Whoever

does not want to, shouldn't."

Skeptical of the vaccine's safety and

effectiveness, freshman Anait Atkozyan

suggests that a more reasonable plan of

action would be to continue with current

covid-19 safety regulations while waiting

for more testing and data on the vaccines.

"I don't think it should be mandatory at

NYCDOE

• Vaccines are strongly

encouraged for eligible students

• Cafeterias contain window

exhaust fans for extra circulation

• Students must maintain at least

three feet of physical distance

from each other

• Students must complete a daily

health check before entering the

school

• Most schools are using the

Outdoor Learning Initiative to

expand the classrooms by using

school yards and street space as

additional spaces for learning

• School visitors must show proof

of at least one dose of the

vaccine before entering

• Masks must be worn all day

unless eating or drinking

• Provides testing for all students

once a week for students who

have not been vaccinated

•Students in high-risk sports must

get vaccinated before their first

day of competitive play

• No districtwide vaccination

requirement

• All teachers must be fully

vaccinated

• Electrostatic systems are used

to clean classrooms daily

• Isolation instructions for

someone with a positive test

include staying at home for at

least 10 days and learning

remotely

the moment," she said. "While continuing

to do our covid-19 safety procedures, we

could at least wait a couple more years

for a safer and more improved vaccine

rather than injecting a rushed one into

our systems."

Sophomore Sheyla Vasquez thinks that

forcing eligible students to get the shot is

harsh. She empathizes with those who are

fearful.

"Some students could be scared to

get the vaccination," Vasquez said. "I was

scared too, and I thought for a moment I

was going to pass out during the process

of receiving the vaccine. I feel like it should

be mandated but in a way where students

feel like they want to or feel safe in doing

so without having a due date."

According to The Mirror's survey, 73.1

percent of students polled have been fully

vaccinated whereas 26.9 percent have yet

to be. Of those who have not been vaccinated,

40.6 percent of students plan to

get vaccinated while 59.4 percent wish to

abstain from receiving the vaccine.

Kupelian does not plan on getting

vaccinated.

OCTOBER 2021 | 3

"I believe in human-medical freedoms

and that it should be a personal choice," he

said. "I do not believe it is selfish to not get

the vaccine."

Religion is another factor that has

seemingly influenced many individuals'

decision to remain unvaccinated.

"This epidemic is in God's hands, not

humans," junior Frank Garcia said, basing

his commitment to remain unimmunized

primarily on his religious ideals. "Let nature

take its course."

While some students believe that

there should be other options, many will

grudgingly comply. Sophomore Diana

Akopian now plans to be vaccinated, but

feels like her personal freedoms are being

trampled on.

"I feel like I don't have a choice anymore

since my two options would be to either

only go to high school for one semester

and call it my high school experience, or

get a vaccine when I still don't feel the

need to," she said.

Yet another factor which impacts a student's

vaccination statuses is the opinion

of their parents.

"I've seen parents who have been very

excited about it and I've seen some who

were protesting," social science teacher Mr.

Jacob Ferrin said. "Like anything, it's very

politically contentious for pretty much no

reason."

For the majority of students who are

minors and under the age in which they

can consent to receiving a vaccination, the

decision of whether or not they will be immunized

by Jan. 10 is up to their parents.

With a considerable number of students

disagreeing with the opinions of their parents,

this is posing a significant issue.

"I want to get it so I can have a good

working environment and be with my

friends but my parents don't think the

vaccine is safe," freshman Nicole Villanueva

said. "I might be one of the students

that might have to transfer to the City of

Angels online course, even though I work

better with in-person school."

Senior Fatiah Lawal feels sympathetic

towards students whose parents will not

let them get vaccinated despite them

wanting to.

"I feel bad for kids who aren't able to

get vaccinated because their parents are

anti-vaxx," she said. "I think they will lose a

major part of their education or the social

skills they mostly get from school."

For athletes involved in school sports,

this concern has been prevalent throughout

the semester.

"I have heard rumors that kids have

even gone to the extent to forge their

parents' signature in order to keep going

to practice," senior Marc Ruiz said.

Sophomore Lindsay Cardoza believes

the vaccine is a necessary step in returning

to pre-pandemic life.

"As a community coming from about

a year and a half of lockdown we need to

move forward with getting back to normal

and I say making vaccinations mandatory

is the right step," she said.

Mozeh too is confident in the positive

impact the mandate will have on the

District, and is optimistic that it will be

effective.

"I feel it is necessary to get back to

normalcy," Mozeh said. "Without it, we will

not hear the end of masks being worn in

classrooms, school events getting cancelled

or there being safety restrictions."
---
4 | OCTOBER 2021

C

CURRENT EVENTS

the MIRROR

FRESH FACES A new leader takes the helm

By ANI TUTUNJYAN

EDITOR-IN-CHIEF | THE MIRROR

While students are still

snoozing their alarms early

in the morning, new principal

Lourdes De Santiago is already

on campus setting up conferences,

communicating with

the District and making calls to

ensure everything is running

smoothly for students' and

teachers' arrival.

This isn't her first rodeo

either. Principal De Santiago

has held the same title for five

years prior to joining Van Nuys

High School. She worked at

East Valley High School, a small

high school on Vineland Ave. in

North Hollywood.

Despite her connection with

East Valley students, Principal

De Santiago sought to teach at

a big, comprehensive school

like Van Nuys High School because

it's where her roots lie.

She began her academic

career as a paraprofessional

at Polytechnic High School,

a large LAUSD school in Sun

Valley, where she supported

English learners in math and

science classes while finishing

her credentials.

Math was always the subject

she loved most in school.

"I remember as a young

child playing as if I was a

teacher so when the time came

to go to college, I went into the

field that I felt most comfortable

with in terms of learning

and sharing what I knew, and

that was math," Principal De

Santiago said.

After about a year and a

half, she earned her credentials

and became a math teacher at

James Monroe High School in

1998 where she taught math in

Spanish for English learners.

She loved teaching to

students who were not only

trying to solve math problems

but also trying to decode the

English language.

"When you're going to school

you're usually learning a subject

in your primary language,

so I loved being able to transfer

what I learned in English to

Spanish to teach students in

a language they understood,"

Principal De Santiago said. "I

saw that I was making a difference

in them understanding

the concept and that was

important to me."

She took what she learned

from her time at her first

teaching job back to Polytechnic

High School where she

returned to teach higher level

math such as Algebra I and II,

Geometry and AP Calculus AB

and BC.

It was at Polytechnic where

she then began her administrative

career, becoming Dean of

Discipline for three years.

As a dean, De Santiago

was responsible for helping

at-risk students improve their

academics, behavior and attendance.

"I enjoyed that aspect of my

work because I really got to see

the students and learn from

them on a different level," she

said. "I was pleased to be able to

support their learning by supporting

their social-emotional

needs first."

After that, she became a

Title I coordinator and worked

closely with the administration

to enforce district policy. Title I

schools receive financial assistance

from the federal government

since at least 40 percent

of enrolled students come from

low-income families.

De Santiago's job was to

manage and monitor budgets

to keep track of how Title I

money was being spent, which

she did by working closely with

other school staff.

"I enjoyed being able to support

not only the students but

the teachers too," she said.

For a decade, Principal De

Santiago became a master of

all trades as an administrator.

She was responsible for discipline

and attendance.

"I took my opportunity as an

administrator as a great learning

experience to learn the

ins-and-outs of almost every

aspect of running a school."

And now, Principal De

Santiago is running this school

during unprecedented circumstances

as students readjust

to pre-pandemic education

amidst a pandemic. But she

is glad to be back and see students

and staff alike in person.

"I feel happy to be back in

school because being at home

was different in that we never

got to see everyone's faces or

experience athletics, clubs and

performances."

She feels honored to be a

part of the school's diverse academic

and athletic programs.

"The other day we [administrators]

were looking at the different

plays that were already

scheduled and we're all signing

up to support with supervision

and I look forward to seeing

them," Principal De Santiago

said. "It's amazing getting to see

all the talent that our school

community has."

While she is primarily focusing

on learning the school and

its people and continuing to

support the work her predecessors

have done, she looks

forward to creating even more

programs to support students'

needs and get them college and

career ready.

"Whether it's a new club,

whether it's a new program,

I'm always open to hear what

our school community wants

to engage in and how it will

benefit our students because

my job is to ensure every single

student is college and career

ready upon graduation," she

said. "If you [students] want to

start a new club, my door is always

open to hear your ideas."

Principal De Santiago

strongly believes hard work

and a growth mindset pays off.

"I feel that difficult moments

have made me stronger and

made me a better educator,"

she said. "It's what you do with

those moments. Are you going

to learn from them or are you

going to stumble on the same

rock again?"

She encourages students

to seek the various resources

available at school to achieve

their goals.

"If you put your mind to

something, anything is possible."

After working in education

for almost a quarter century,

Principal De Santiago is thrilled

to continue her journey here.

"It just feels like home," she

said. "This is me, this is where

I'm comfortable."

NEW SHERIFF IN TOWN

After working as an administrator

for a decade and

principal for five years, Principal

De Santiago is excited

to extend her knowledge and

experience to the lead a new

student body and staff.

THE MIRROR | ISABELLA THOMAS
---
the MIRROR

C

CURRENT EVENTS

OCTOBER 2021 | 5

FRESH FACES Four teachers join the faculty

MR. RADYUK MS. DOSHI

MR. WASSERMAN MS. BARRIOS

Mr. David Radyuk

World History Teacher

Teaching inspiration? My 11th grade teacher was

awesome and made me enjoy school. This is why

I decided to pursue a career in education so I can

inspire students as well.

Five adjectives that describe you? Ambitious,

responsible, funny, understanding and calm.

Interests and hobbies? I like to travel and am

saddened that the pandemic has put a halt to

most of my plans. I was lucky that I got to visit Japan

right before the world shut down. I also enjoy

cooking new recipes and foods. Another hobby of

mine is video games.

Most rewarding aspect of your profession?

Connecting with students and learning about their

lives. Everyone has a unique journey and it gives

me a perspective into the youth of our generation.

It also keeps me connected and in the loop of what

is popular.

Most challenging? Trying to get certain students

who don't care to see the value in education.

Teaching philosophy? I personally feel that the

most important aspect of teaching is connecting

with the student. Once a student feels that they

have some common interest or share a bond

of sorts, everything else comes easy. This is the

reason I try to learn about every student and play

into their interests as it makes teaching easier and

more interesting.

Ms. Aditi Doshi

World and US History Teacher

Teaching inspiration? I became a teacher to

address educational inequity in American public

schools. Every young person in America deserves

a high quality, rigorous public school education. In

fact, our democracy depends on it. But so many

factors prevent this - your zip code, your family

background and whether your community can fill

funding gaps. Throughout my career I have sought

out schools that are committed to this goal of

equal, excellent education for all. I am grateful to

be part of such communities like Van Nuys High

School.

Five adjectives that describe you? Lifelong

learner, reader, kind, Indian-American and tired.

Interests and hobbies? I am in a graduate

program for American history, and love studying

the history of Los Angeles through the lens of

communities of color. I have three kids ages 5 to

12 and enjoy spending time at our local beaches,

museums and hiking trails with them. I enjoy

running and jogging on the Orange Line bike path

on weekends.

Most rewarding aspect of your profession? My

students allow me to explore history with new

eyes every year. They also challenge me to question

my own assumptions about race, gender,

sexuality, culture and more as our society continues

to evolve. I am grateful for their kindness,

patience and inquisitiveness.

Most challenging? Public schools are ground zero

for so many politically-charged conversations in

America. I struggle with knowing my colleagues

and I work very hard to create the best learning

opportunities for our students but are often

scapegoats for bigger social issues. I also struggle

to balance my commitment to my students and

my life outside of school.

Teaching philosophy? I try to create a classroom

where all students are honored and respected. We

approach the study of history as historians do, by

asking interesting questions and digging into historical

sources to reconstruct narratives. My role

is to guide students through this inquiry process

and provide opportunities to showcase student

work through projects like documentary films,

museum exhibits, debates and more.

Mr. Dan Wasserman

Learning Lab Teacher

Teaching inspiration? My high school coaches

hired me to work in their summer youth sports

camp when I was a high school senior. That experience

of positively impacting the lives of young

people inspired me to want to pursue a career in

education where I could strive to help others on a

daily basis.

Five adjectives that describe you? Talkative, enthusiastic,

persistent, friendly and adventurous.

Interests and hobbies? I enjoy outdoor activities,

such as mountain and road biking, trail running

and snowboarding. I also enjoy cooking and photography;

however, I am still a beginner with my

camera.

Most rewarding aspect of your profession?

Without a doubt playing a small part in helping

to instill in my students a confidence and belief

in themselves and their abilities to be successful

students; as well as kind, thoughtful, and responsible

citizens; and then being able to observe or

hear about my students applying this knowledge

to help improve their academic and personal lives.

Most challenging? Successfully getting all your

work complete on time to have enough free time

to focus on your own interests and hobbies - having

a good work-life balance.

Teaching philosophy? First and foremost, I

believe in creating a welcoming and inclusive

learning environment where all students feel

welcome and know that their voices are heard,

respected and valued within the class community.

I believe that students learn best through

active and engaging exploration of ideas and

concepts and then collaboratively sharing,

discussing and debating the many diverse perspectives,

viewpoints and ideas of their peers. I

believe social interaction enriches the learning

experience for all involved. I view my role as a

guide and mentor advising and supporting my

students through the learning process and providing

opportunities for creativity and critical

thought.

Ms. Victoria Barrios

Spanish Teacher

Teaching inspiration? No one really. I have

always wanted to be of service. To me, teaching

is a way of doing that while making a big impact

through generations.

Five adjectives that describe you? Strong, hardworking,

woman, immigrant and dedicated.

Interests and hobbies? I love to travel, read,

support social justice causes through protesting

or volunteering, spend time with my family, go to

concerts and watch movies.

Most rewarding aspect of your profession?

Influencing people to do better for themselves and

for others.

Most challenging? This year and the overwhelming

responsibilities put on teachers.

Teaching philosophy? I want students to be more

informed, tolerant and educated about other

people's cultures. Actively engaging in supporting

and helping others is also something I believe in

and want my students to learn.

DOSHI: THE MIRROR | BEVERLEY REGINO; WASSERMAN: THE MIRROR | ANGELA PROCA; BARRIOS AND RADYUK : THE MIRROR | ISABELLA THOMAS
---
6 | OCTOBER 2021

L

LIFESTYLE

the MIRROR

PHOTOGRAPHS by ISABELLA THOMAS

DRIVING HIS WAY TO THE TOP Chad Agruso uses a digital multimeter to test an electric component.

TECHNOLOGY

VROOM

VROOM

Autoshop speeds in with new projects

By ANGELICA VENTURINA

CURRENT EVENTS/LIFESTYLE EDITOR | THE MIRROR

A

student peers into a classroom,

curiously observing.

Scanning the room, they

notice several students listening

to a teacher intently. Their eyes

land on an array of electrical circuit

boards, safely situated on a table. Out

of the corner of their eye, they can see

desktop computers stationed on one

side of the room, while the other is occupied

by tools.

As the teacher drones on, their ears

perk up at the mention of disassembling

parts of a vehicle. Students nod their

heads, scribbling down notes.

For Automotive Academy students taking

the automotive course with automotive

teacher Mr. Joseph Agruso, this may

be what a regular day in the classroom

looks like. Other days, students may be taking

vehicular parts apart themselves.

The Automotive Academy at school is

associated with SkillsUSA, a nonprofit national

education association that prepares

high school, college and middle school students

for career and technical education.

They've had a long-time relationship with

Galpin Ford, being hired upon completion

of Ford training. They're an ACE certified

school, which is an accredited school with

ACCELERATING THE FUTURE Student teacher

Donna Salazar assists students with building

their sample circuits on electrical training boards.

ENGINEERED TO LAST NASA plans a return mission

to Earth's natural satellite, Luna, as early as

2024.
---
L

the MIRROR OCTOBER 2021 | 7

LIFESTYLE

TIP TOP AUTOSHOP

Mr. Agruso assists Nate

Reiwtavee with his electrical

board.

the Ford Motor Company.

Students enrolled in the Automotive

Academy are provided with

competition events, educational programs

and community service hours.

In addition, they gain the opportunity

to learn useful college, career and industry

skills in high demand careers,

such as engineering.

"We're working on setting up

electrical boards and diving into some

stuff on cars, such as brake inspection,

changing tires on rims and balancing

wheels," a member of autoshop at

SkillsUSA, Nate Reiwtavee, said.

Students taking the automotive

class with Mr. Agruso are currently

learning the fundamentals of electrical

engineering, using OHM's law

trainer electrical circuit boards to assist

them in better understanding the

basics. Along with insight into such

topics, students have been looking

into automotive systems, a study on

the various components of vehicles.

Joining Mr. Agruso's class will also

provide students access to free Ford

training in assembly and fixing.

Regarding plans for the future, Mr.

Agruso is beginning to prepare students

for the regional competitions in

January, offered at SkillsUSA.

Along with this, Mr. Agruso has two

California State Officers for "SkillsU-

SA" flying all over California, working

with the capitol office in Sacramento.

Outside enjoying all the technical

aspects of automotive engineering,

individuals within the Automotive

Academy value the joy it brings them.

"Working on cars is a passion of

mine," Reiwtavee said. "When I am

working on them, I feel calm. It gives

me a sense of comfort."

THE ULTIMATE DRIVING

MACHINE Auto shop students

gather in the workshop

awaiting advisor Chad

Agruso's demonstration.

ALL ABOUT THE DRIVE SkillsUSA students look over a previous

repair to see what is causing the golf cart engine to misfire.

AUTOMOTIVATED

SkillsUSA provides future

job opportunities for

students through handson

learning.
---
8 | OCTOBER 2021

L

LIFESTYLE

the MIRROR

Last-minute hacks for Halloween procrastinators

Being short on time won't be a hindrance to dressing up this Halloween. Here are some

easy costumes anyone can make in less than a day | ANGELICA VENTURINA

PEXELS | DAISY ANDERSON SOURCE | AMAZON THE MIRROR | BEVERLY REGINO

Scary spirit of Halloween

If you left your costume until the morning of, just

grab your bed sheet — the whiter the better — and

some scissors. Cut eye and breathing holes. Throw

the sheet over your head to achieve a simple and

spooky look.

067 anyone? Want to be a character from

the popular Netflix show "Squid Game?" Get a green

zip-up sweater, scissors, green fabric and paper.

Take several blank pieces of paper and cut out the

numbers of your favorite character. Use pins, glue

or tape to attach each individual number to a green,

rectangular-shaped fabric. Glue the numbered patch

onto the sweater. Or order next-day from Amazon.

Throw a white T-shirt under and you're all set.

Camouflage in the classroom

Another creative look that will leave people wondering

what you are is a bulletin board. All you need to

do is dig into your pencil bag and grab sticky notes

and a permanent marker. Pull on a brown T-shirt

and stick some post-it notes all over it. Scribble

some writing on each note using the marker and

you're good to go.

PEXELS | COTTONBRO

SCREEN CAPTURE | NBC NEWS

SOURCE | PARTY CITY

Take the floor

Want to stand out in a crowd of ghosts? Be a

movie theater floor. All you need is a couple

pieces of candy along with a black shirt paired

with black pants. Tape empty candy wrappers

and movie tickets all over the black shirt and

you're set.

Relive Inauguration Day

For a comedic costume inspired by the Bernie

Sanders inauguration meme, grab a puffy jacket,

a pair of glasses, knitted mittens and a mask.

This cozy look will steal laughs from anyone

who passes by.

Explore the islands from home

Looking like a tourist on vacation is a low-effort task,

and it only requires a couple things: khaki shorts, a

floral top, a straw hat, white socks and open-toe sandals.

You can even throw in a camera or sunglasses,

or you can stop by the nearest Party City.

Two days of honoring the dead

THE MIRROR | ANGELA PROCA

Día de los Muertos is unlike any other holiday.

It's a day of remembrance for both the dead

and the living.

The two-day celebration, originating in

Mexico, takes place from Nov. 1 to 2. It celebrates deceased

loved ones. Usually, family and friends come together to set

up and decorate ofrendas, or altars.

"I celebrate Dia de los Muertos by lighting candles for my

loved ones and friends who passed away," senior Isabella

Rivera said. "We light candles for them and place them in

front of their pictures. We also visit the cemetery, leaving

flowers for our other dead loved ones that have passed on."

This year, Rivera, a member of the Spanish Club, is

helping to decorate an altar with other club members to

celebrate.

Senior Antonio Hermenegildo celebrates with his family

by visiting the San Fernando Park to host arts and crafts

sessions.

"We provide sugar skulls for kids to decorate with frosting,"

Hermenegildo said. "We also share knowledge about

the history of Día de los Muertos, such as its origin and how

it is celebrated."

On Día de los Muertos, sugar skulls represent death

through sweetness and nostalgia.

But in modern-day celebrations, people paint their faces

to look like skulls, decorating it to represent a deceased

loved one or an expression of themselves.

Senior Alice Alcantar looks forward to spending the holiday

with her family, making altars for loved ones who have

passed away.

"To prepare, my family and I purchased cempasúchil

flowers and candles to decorate the altars," Alcantar said.

"On the altar itself, we put pictures of our loved ones who

have passed, and objects they liked. Once the day arrives,

we place food and drink items that they enjoyed since it's

believed that they come to visit us and eat what we leave

out for them."

• ANGELICA VENTURINA

ALTARS AND SKULLS AP Spanish Club President Isabella Rivera decorates

Spanish teacher Ms. Maricela Garcia's room in honor of Día de los Muertos.
---
L

the MIRROR OCTOBER 2021 | 9

LIFESTYLE

All glammed up

A passion for makeup

By ANGELINA KANNO

THE MIRROR STAFF

Makeup isn't just

for covering up

blemishes on a

rough day.

For a lot of people, it's an

outlet for creativity and a way

of boosting confidence.

Most teenagers today are

self-taught makeup artists and

create their own techniques

along the way to form their

distinct styles.

Some, like junior Michael

Zamarippa, take inspiration

from celebrities and pop culture

trends.

Zamarippa found his

passion for makeup through

American singer-songwriter

Lady Gaga.

He learned that makeup

shouldn't be seen as a way to

hide imperfections but rather

a mode of expression and

pride.

"Lady Gaga was my first

inspiration to start doing

makeup," he said. "She's very

talented and unique. I have

always wanted to recreate her

creative and unusual makeup

looks. During her 'Born This

Way' era, she had incredible

visuals and spread a powerful

message, which gave me the

confidence to start getting into

makeup and not care about

what others say."

Zamarippa's current influence

is American singer Ashnikko

with her vibrant graphic

eyeliner looks and punk-esque

wardrobe.

He disagrees with the

notion that makeup is only

meant for women.

"Makeup is not limited to a

specific gender," he said. "It is a

form of artistic expression."

There are different kinds of

looks people usually go for. A

few popular examples would

be smokey, natural, shimmery

and cat eye styles. Zamarippa

would describe his base

makeup as soft and natural

looking, whereas his eye

makeup is a mix of alternative

and editorial styles.

"A great artist named Bob

Ross once said, 'We don't

make mistakes, just happy

little accidents,'" Zamarippa

said. "The best part about

makeup is that there are no

mistakes, and you can always

fix something that you are

not satisfied with. There are

no right or wrong techniques

when it comes to makeup.

Each person has their own

preferences and shouldn't be

limited to any one technique."

Zamarippa's everyday

makeup is very different from

his "no makeup" look. In his

"no makeup" look, he applies

Fenty Beauty tinted moisturizer,

light-to-medium foundation

and tops it off with a

Fenty Beauty matte powder

to ensure his look lasts all

day. He finishes off his look

with cream blush and tinted

eyebrow gel.

For more vibrant looks, he

likes to incorporate accessories

such as self-adhesive

rhinestones and pearls.

A goal he hopes to accomplish

this year is to show

up at school with a different

makeup look everyday.

"From my own personal

experience, I started out practicing

makeup by following

what was popular at the time,

such as basic smokey eye and

hollywood glamour-esque

makeup," he said. "There were

certain makeup techniques

that I felt were very useful and

that I still incorporate into my

everyday routine."

Junior Merari Hernandes

started out using makeup to

cover up blemishes and correct

the redness of her skin.

She believes creating symmetric

makeup looks is essential

when first learning how to do

makeup. Knowing what facial

structure type she had helped

Hernandes improve in that

area.

"To me, the most important

thing in makeup is symmetry,"

she said. "For example,

although it may be easy to do

a design on one eye, trying to

recreate the same thing on

the other side of your face is

difficult."

As Hernandes continued

to experiment over time, she

pushed herself to work with

different colors and shapes to

come up with different looks.

Before Hernandes found what

her style was, she tried every

single one to determine what

suited her best.

"I would describe my makeup

as creative," Hernandes

said. "I love to experiment with

styles out of my comfort zone.

Your face is like a canvas, so be

creative when creating a look.

Even if it means you need

to get out of your comfort

zone, play with new colors or

shapes."

Junior Sage Carpenter Rihs

is also a self-taught artist.

Despite not having an exact

style, her go-to look is black

mascara paired with liquid

eyeliner. Rihs believes simplicity

is a great form of expression.

Like Hernandes, Rihs also

found that understanding

one's facial structure is the

most crucial part to makeup.

"I kind of started out with

just eyeliner, and went with it,"

Rihs said. "Figure out the proportion

of your face and eye

shape, especially when doing

eyeliner."

Junior Ashley Sarai Valle's

favorite product is eyeliner as

well, and her usual look ordinarily

includes e-girl aesthetics.

Rather than being swayed by

internet trends or superstars,

Valle's biggest influence in

makeup was her sister.

"Before you're going to

learn makeup, just know

you're beautiful with or without

it," Valle said.

THE MIRROR | BEVERLY REGINO

BEJEWELED Michael Zamarippa flaunts his intricate

eyeshadow look complete with rhinestones and pearls.
---
10/11 | OCTOBER 2021

COVER

Stress

Teenagers are struggling to stay afloat in school as they deal with s

By Ani Tutunjyan, Editor-in-Chief

Do math homework. Read

for English. Write history

essay. Prep for club meeting.

Clean the house. Get your life

together!!!

This is what most high

school students' daily checklists

look like, and most items

fail to get crossed off.

Whether it's academic

responsibilities or strained

relationships, teens are

stressed.

More than one in three high school students

had experienced persistent feelings

of sadness or hopelessness in 2019 according

to the Centers for Disease Control and

Prevention (CDC).

Various adolescent studies have found

that the pandemic has worsened these

conditions, leaving teenagers more stressed

and more anxious than before.

Physical distancing restrictions put in

place to contain covid-19 led to widespread

social isolation which has permanently

changed social relations today.

Many students struggled with returning

to lively social situations present at school

after being away from classmates and

friends.

"Being in quarantine really messed me

up and destroyed most of my social skills,"

freshman Kevin Rodriguez said.

Some people have developed social anxiety

from being away from others for so long.

New psychiatric social worker Kat Stockly,

who specializes in adolescent well being

and previously worked for the Pasadena

Unified School District to provide mental

health services to students, is not surprised

to see mental health issues arising from

quarantine.

"I think a lot that I'm seeing as of right

now are high anxiety being around a lot of

people which makes a lot of sense because

we spent a lot of time in isolation," Stockly

said. "So coming back to school and being

around a lot of people expecting to

participate has been difficult for students,

especially if you are a little introverted. It's

kind of a shock to the system and it takes a

lot of adjusting."

Students who may have had anxiety

prior to quarantine, have witnessed their

mental health worsen.

"During the pandemic I was diagnosed

with social anxiety, major depressive disorder,

Severe anxiety, post traumatic stress

disorder (PTSD), panic disorder,and dissociative

identity disorder (DID)," sophomore

Winter Rivers. "Being back in school just

makes me very easy to trigger."

Mental health issues arising from the

pandemic have made returning to in-person

learning challenging for many students.

"Although returning in person has helped

me actually learn and get my grades up, it

has been stressful," freshman Alexis Martinez

said. "Over the

ethic and could b

I felt so stressed a

affects me even n

still have trouble c

and finding the m

Majority of stu

struggles while tr

pandemic educat

ongoing pandemi

90 percent of s

return to campus

ing according to a

Mirror.

"It's odd going b

with the added st

mental health has

it all depends on t
---
STORY

the MIRROR

sucks

tress, anxiety and other mental health struggles prevailing from quarantine

ILLUSTRATED BY Diego Aguirre

pandemic, I lost my work

arely do any work because

nd overwhelmed. That still

ow that we're in-person. I

ompleting my homework

otivation to actually do it."

dents are facing the same

ying to adjust to preional

life in the midst of an

c.

tudents have found the

stressful and overwhelmsurvey

conducted by The

ack to old ways and now

ress of a pandemic. My

been a roller coaster and

he week," senior Jennifer

Llanos said.

Online learning was seemingly more

informal than in person. Students often

joined from bed while in pajamas. Classes

became unengaging after staring at a screen

for hours with little opportunity to collaborate

or do tactile projects. Consequently,

students struggle with staying motivated

and keeping up their work ethic.

"Online learning was much less stressful

than in-person learning," sophomore Isabell

Marroquin said. "In-person classes provide

teachers the chance to assign students

more work than necessary. It's a lot to deal

with and makes it difficult to keep motivation

for school, and in general."

The lack of motivation and focus has

made students stressed.

"I have been behind by a lot, I can't focus

much and I tend to cry at least once a day,"

sophomore Shadie Galdamez said.

Covid-19 and its effects on learning aren't

the only things to be stressed about.

Other factors of stress include homelife,

relationships, sexuality and peer pressure.

65 percent of survey respondents cited

parents as a stress factor.

"My home life with my parents is often

pretty stressful, even as an only child, just

to reach my parents standards," Marroquin

said.

Friendships are no small trek either. 55

percent of students are overwhelmed by

juggling platonic and romantic relationships.

"Just having to deal with school and

juggling friendships is very hard," freshman

Xavier Serrano.

Despite the challenges, students are finding

ways to cope with the stress of being a

teenager in extraordinary times..

"I play a lot of videos and listen to music

and just doodle sometimes to help me

forget all the pressure I have on myself for a

little bit," senior Lilly Magee said.

A majority of students use music as an

outlet for emotions.

"I tend to take a break. I distance myself

for a moment and listen to music and just

enjoy my own presence," Llanos said.

Some students look to nature to ground

themselves.

"I try to watch the clouds just so I can

focus on something that still moves but

doesn't put me into a place where I want to

feel out of reality," Serrano said.

Stockly recommends being present in

the moment and talking things out when

dealing with anxiety or stress.

"I think there is a mental aspect and

a physical aspect showing in your body,"

Stockly said. " I Think sometimes when you

have a lot of anxious thoughts and you're

kind of keeping it inside and internalizing

it, it's a little bit harder to process. Talking

about your feelings and what you're going

through can really help you process and

deal with the anxiety better."
---
12 | OCTOBER 2021

O

OPINION

MY BODY, MY CHOICE?

A seven-week-old human

embryo, above, has more

rights in Texas than the

person who carries it

according to the state's

new abortion law.

FLICKR | LUNAR CAUSTIC

theMIRROR

VOLUME 108 | ISSUE 1

EXECUTIVE EDITOR

PRINT EDITOR-IN-CHIEF

Ani Tutunjyan

ONLINE EDITORS-IN-CHIEF

Shaan Bhatia

Nathan Han

the MIRROR

EDITORIALS

Punishing the living in defense of the unborn

There's more than one virus

spreading in America and

one of them isn't coronavirus.

It's the attack on

women's rights.

A draconian six-week abortion ban —

based on when a fetus's heartbeat is first

detectable — already has pregnant Texans

scrambling to states as far as California to

get an abortion.

A period typically comes every four

weeks, which means banning abortion at

six weeks gives people just two weeks to

realize they are pregnant and make the

decision of getting an abortion. Additionally,

about one in 475 pregnancies are not

revealed until around 20 weeks because

they are hidden.

Texans seeking to get an abortion after

six weeks can be fined up to $10,000 in

"statutory damages" by civil lawsuits that

can be brought to court by any person.

These fines would also apply to abortion

providers or any person who "aided or

abetted" such as Uber drivers that drove

them to their appointment.

There are no exemptions for rape or incest.

Cisgender male politicians who have absolutely

no clue how a menstruating body

works are creating laws that only seek to

police women's bodies.

These are the same people who say the

government should not be allowed to mandate

masks because "my body, my choice,"

right? Where is that same conviction in

regards to women's rights?

Why is it okay for the government to tell

women, transgender men and nonbinary

people what they can do with their bodies?

The abortion ban is a calculated attack

on these groups.

It's not about preserving life. If that were

the case, politicians would also push for

free health care and child care, healthy

"My body, my choice."

What's the first issue you thought of

when you heard that: abortion or vaccinations?

It should be abortions but that unfortunately is not what the

phrase is being used for anymore.

The expression is now popular among a new wave of anti-vaxxers

against the covid-19 vaccine.

From unmasked protests downtown to misinforming social

media posts, anti-vaxxers are relentless.

They believe they're the lions among a herd of sheep, too wise

to fall for the lies of the government.

Well, there are some "lions" among our staff, or at least there

used to be.

Teachers and staff were required to receive their first dose of

the covid-19 vaccine by Oct. 15, and while 97 percent of LAUSD

staff did, 796 chose not to.

And now students across the second-largest school district

in the U.S. are left to their own devices, forced to face the conse-

lunches in schools and covid-19 vaccines.

They would help the nearly 35,000 children

in Texas's foster care system.

But that's not happening. Calling themselves

pro-life is just a convenient facade.

Lawmakers and other pro-life individuals

care more about an unborn fetus than

a living person in need of an abortion

whether it's because they were raped or are

simply not ready to raise a child.

Texas Gov. Greg Abbott said Texas

would work aggressively to "eliminate

all rapists" but in 2019, of 14,656 rapes

reported, around only 15 percent of

perpetrators were arrested. This number

doesn't include rape and incest victims

who are too scared to report their assault

or have no faith in the system.

Texas is yet to make any policy change

to keep its promise.

Regardless of whether a person seeking

to get an abortion is raped or simply

JERSEY VARGAS

does not want the child, they have the

right to safe, legal abortion without having

to explain themselves to anyone.

As seen throughout history and in countries

that have criminalized abortion, banning

abortions does not change abortion

rates. It just makes people seek out dangerous

alternatives, even taking matters into

their own hands by using a clothes hanger.

In a state that swears by the Constitution,

the Establishment Clause that separates

church and state seems to be ignored.

Religious and personal beliefs should

have no ties to the legality of abortions, and

if politicians cannot make that separation

when on the clock, then they are not qualified

for the job.

A blob of cells without a functioning

brain isn't a baby.

To pro-life individuals and cisgender

men: no one asked you to get an abortion

so sit down and shut up.

You lost your job, now what? Teachers and staff would

rather lose their jobs than get a vaccine to protect the

students they claim to love to teach.

quences of teachers who were meant to educate them and shape

them into functioning members of society.

They stand outside their teacherless classrooms waiting for

substitutes to arrive. English teachers are covering math classes

and science teachers covering history.

What are students learning? Not much.

Because how can an English teacher be expected to teach

Algebra 2, a subject they last visited when they were in high school

themselves.

In a time when the nation is already facing a teacher shortage

because of low wages and deplorable working conditions, the administration

is left scrambling to find people to temporarily cover

classrooms and teachers to employ long-term.

In the meantime, students aren't learning subjects required by

the district and state and elective classes they may have joined

this school specifically for.

So we ask these former teachers, now what?

How do you feel leaving behind students who once looked

up to you?

LAYOUT EDITOR

Antony Nepeyvoda

CURRENT EVENTS/LIFESTYLE EDITORS

Angelina Gevorgyan

Angelica Venturina

OPINION EDITOR

Dakota Threats

PODCAST/SOCIAL MEDIA EDITOR

Csarina Jarencio

ENTERTAINMENT EDITOR

Isabela Diaz

ATHLETICS EDITOR

Drake Hernandez

PHOTO EDITORS

Angela Proca

Beverly Regino

BUSINESS MANAGER

Makayla Enciso

STAFF WRITERS/PHOTOGRAPHERS

Allison Antonio

Gabriel Castillo

Jessica Cerventes

Jennifer Garcia

Jaden Hantman

Angelina Kanno

Emi Kim

Christopher Linares

Kimberly Luna

Julianna Macfarlane

Vannesa Machado

Kyrillos Mina

Andrea Parada

Mereline Perez

Samantha Ramos

Emma Salehi

Isabella Thomas

Diana Zalmanov

JOURNALISM ADVISER

Mr. Ron Goins

ABOUT US The Mirror is the student

newspaper of Van Nuys Senior High

School in Van Nuys, California, a district

of Los Angeles, published six times per

year. Opinions expressed in bylined commentary

articles and columns represent

the views of the individual writer and do

not necessarily reflect the views of The

Mirror or the Editorial Board.

DISTRIBUTION Copies are free

to students, faculty and staff and are

available in Room 112, Second Floor,

Main Building. Digital issues are available

at yumpu.com.

READER PARTICIPATION Unsigned

editorials represent the majority

opinion of the Editorial Board. Letters

to the Editor may be delivered to Room

112 or mailed to The Mirror, 6535 Cedros

Ave, Van Nuys, CA 91411. Letters must be

signed and may be edited for space to

conform to The Mirror style and format.

ADVERTISING Advertising questions

may be directed to Makayla Enciso at

vnhsmirroradvertising@gmail.com, or

by telephoning (818) 788-6800. Publication

of an advertisement does not imply

endorsement of the product or service

by the newspaper or the school.

MEMBERSHIPS National Scholastic

Press Association (NSPA), Columbia

Scholastic Press Association (CSPA),

Southern California Journalism Educators

Association (SCJEA) and Los

Angeles Press Club.

AWARDS 2021-22 NSPA Pacemaker

Finalist; 2020-21 NSPA Pacemaker

Award winner; 2020-21 CSPA Silver

Crown winner; 2020-21 SCJEA First

Place All-Star; 2020-21 LA Press Club

First Place High School Newspaper.
---
OL

the MIRROR OCTOBER 2021 | 13

OPINION

THE MIRROR | ANI TUTUNJYAN

College application season is in full force and I'm stressed out

JULIANA MACFARLAND

It's that time of the year when "work

on college apps!" is on my to-do list

every day but never gets checked off.

College application season is in full

force and I am stressed out.

There's so much to do from applying to

FAFSA to writing over a dozen essays, not

to mention the many parts of the application

itself that are confusing to fill out.

I need to pick one pivotal moment that

encompasses my entire personality and

reflect on it in 650 words or less. That's too

much pressure and not enough words.

Writing isn't the only thing to be overwhelmed

about when applying to college.

College costs hundreds of thousands

of dollars. And each application alone can

cost anywhere between $60 to $80.

Some people even take a gap year to

work to afford college, while others work

all summer before college instead of

having fun with their friends to pay for

textbooks the next semester.

Your worry is still not over if you manage

to write good essays, find money for

your applications and scholarships for your

tuition. Because for the next three months,

you'll be sitting at the edge of your seat

wondering if the admission officers reading

essays think you're interesting enough, if

your grades are good enough, if your extracurriculars

are unique enough and if you're

an overall good fit for their college.

There's a constant pressure of trying

to be the perfect person and make all the

right choices in high school when you're

not even old enough to vote. And college

applications are a test of how close to that

person you have become, all based on a

mysterious formula.

High school competitiveness is at an all

time high while college acceptances are at

an all time low. Students are competing

for the highest grades, the most extracurriculars,

and the best recognitions.

College acceptances have created a

toxic culture in high schools that likely will

not dissolve was college acceptance rates

continue to drop.

While I'd be happy to get into any UC or

CSU school, I've also fallen victim to college

elitism, seeking to receive acceptance

from the school with the most pristine

name and the lowest acceptance rate

even if the campus or student life might

not be for me.

It's a dilemma almost every high school

student faces. All we can hope for is that

we make the best choice for our individual

needs when the time for decisions

does come.

The intricacies of college are likely

something I won't really understand even

after I apply to college and get accepted.

Teaching the Holocaust: Sometimes there aren't two sides to an issue

The Holocaust was a horrific genocide. Six million

Jews were murdered.

That's a fact everyone agrees on. Well, everyone

except neo-Nazis and other Holocaust deniers.

Southlake, Texas school administrator Gina Peddy

seems to concur with neo-Nazis that the Holocaust is

Texas politicians

want to rewrite

history. The only

diverse perspective

on the Holocaust is

DENIAL.

a topic up for debate

in schools. That it's a

topic with "opposing

views." Southlake is a

suburb in the Dallas/

Ft. Worth area.

Peddy informed a

group of Southlake elementary school teachers that

if their classrooms include books and discussions on

the Holocaust, then students should also be exposed

to "opposing views."

After her directive was secretly recorded and posted

by one of the training

session attendees, Peddy

explained that she was

just trying to keep teachers

in compliance with

Texas House Bill 3979.

Signed into law on

Sept. 1 by Governor Greg

Abbott, the new law prohibits educators from discussing

controversial historical, social or political issues.

When these subjects do arise, the law mandates

that teachers "explore such issues from diverse and

contending perspectives without giving deference to

any one perspective."

The only "diverse perspective" on the Holocaust is

denial. Hitler didn't kill six million Jewish people and

hundreds of thousands of people who didn't fit in his

picture of a perfect specimen with blonde hair and

DAKOTA THREATS

blue eyes such as homosexuals.

Texas politicians want to rewrite

history.

Their goal is to erase America's

real history which itself is muddled

with genocide and colonization.

This both-sides-ism can also be

used to justify teaching teaching

slave owners' perspectives on slavery or even denying

the existence of slavery as a whole.

Lively debates in classrooms are an important part

of the learning process but the Holocaust is not up for

debate. Slavery is not up for debate. LGBTQ+ rights are

not up for debate. Human rights are not up for debate.

Educators should be the ones shaping the education

curriculum, not legislators who are out of touch

with the reality of their people.

Not teaching history risks repeating it.
---
14 | OCTOBER 2021 E

the MIRROR

ENTERTAINMENT

The magical

world of

PUFFS

THEATER

THE MIRROR | ISABELLA THOMAS

and the

wizards

behind it

PUTTING IN THE HOURS (Top L to R) Dante Damiano,

Breeana Gerdes, Jude Struble, Michelle Levi, Dakota Threats,

April Cho, (Bottom L to R) Rushmia Hussain, Sebastian

Estrada and Gover Olivares practice five to six times a week

in preparation for the fall play.

By GABRIEL CASTILLO &

VANNESA MACHADO

THE MIRROR STAFF

And action!

The drama department

will make a debut after

a year-long hiatus with

their fall production of

"PUFFS, or Seven Increasingly Eventful

Years at a Certain School of Magic and

Magic" from Nov. 18 to 20.

The story of PUFFS follows Wayne

Hopkins, a nerdy boy from New Mexico

who finds out that he is a wizard and goes

to Hogwarts where he spends his years

making friends and learning magic.

Hopkins will be played by senior Jude

Struble.

Though he has worked as part of the

backstage crew in other productions,

this is Struble's second time being in the

spotlight, the last time being "Peter and the

Starcatcher" as Ted, an orphan boy, in 2019.

"I haven't done in-person acting in a

year-and-a-half," Struble said. "It's weird

having to be in front of people and speak

out loud and physically interacting with

THE MIRROR | ISABELLA THOMAS

other people."

Alongside Struble, seniors Edgar Muñoz,

playing Oliver Rivers, and Michelle

Levi, assuming the role of Megan Jones,

are excited to make their return to the

stage playing best friends and sidekicks to

Hopkins as he embarks on his journey to

magical discovery.

"Going on stage brings me more joy

than nerves," Muñoz said. "I expect the

performance to spark joy and laughter

among the audience as much as it has to

everyone involved."

Alongside the trio, many actors make

their return to stage like junior Dante

Damiano with the role of Ernie Mac and

senior Gover Olivares, who plays both the

charming Cedric and the nefarious Mr.

Voldy.

"It felt like second nature when the

moment came back," Olivares said. "The

moment I walked onto the stage under

the light and faced the audience, a wave of

nostalgia and happiness washed over me

knowing I belonged there after so long."

Along with the returning actors comes

some new faces in the ensemble.

PUFFS cast

Jude Struble

Edgar Munoz

Michelle Levi

Julian Pankowski

Narrator

Dante Damiano

Emma Salehi

Hannah

Breeana Gerdes

Leanne

Noa Levy

April Cho

Gover Olivares

• Kevin "Eli" Tessier

Harry

Wayne Hopkins

Oliver Rivers

Megan Jones

Ernie Mac

Sebastian Estrada J. Finch Fletchley

Sally Perks

Susie Bones

Cedric/Mr. Voldy

SUPPORTING CAST

Adrianna Bean, Emily Chavez,

Addison Cudd, Sophia Hillestad,

Maddie KC Jordan, Lilit Aprahamian,

Jimmy Martinez, Ella Robinson,

Ethan Rodda, Jake Ruckman, Angel

Vazquez

LIGHTS, CURTAIN, ACTION! "Puffs, or Seven

Increasingly Eventful Years at a Certain School of

Magic and Magic" premiers on Thursday, Nov. 18 in

the auditorium.
---
the MIRROR E

OCTOBER 2021 | 15

ENTERTAINMENT

THE MIRROR | ISABELLA THOMAS

THE MIRROR | ISABELLA THOMAS

DIRECTOR'S CHOICE

Theater director Mollie

Lief gives students

stage directions while

rehearsing for the play.

IN THE LIMELIGHT (L to R) Michelle

Levi, Jude Struble, Edgar Munoz rehearse

with their scripts as they begin

to block the play.

Sophomore Sebastian Estrada, junior

Breeana Gerdes and freshman April

Cho are all making their acting debuts in

"PUFFS."

"Being in a production feels scary but

exciting at the same time," Cho said. "I was

so surprised when I saw I got a role, so I'm

super happy to be a part of this fun play."

Taking part in the first production back

at school since distance learning began in

March 2019, the cast is excited to finally

hit the stage and put on a long-awaited

show in person.

As the show is brought to life in front

of a live audience by the cast of "PUFFS,"

an unforeseen production is happening

behind the curtains.

The backstage crew is essential to provide

the support needed to help ensure a musical

or theater production comes to fruition.

Stage managers serve as the right hand

to the director and organize various aspects

involved in the day-to-day happenings

of a theater production.

Senior Dakota Threats, one of the leading

stage managers, and Madison Thacker,

freshman and assistant stage manager,

will join the backstage crew for the first

time.

Thacker explains that there is a stronger

sense of dedication and professionalism

in this theater program compared to

that of her middle school.

"Everybody seems more committed,"

Thacker said. "In middle school, everyone

did it for fun and now everyone seems so

down to earth and serious about it."

Threats, an experienced cast member a

step back from the spotlight and stepping

into her new role as stage manager for the

first time.

"I love the stage and acting," Threats

said. "But there's something so exhilarating

about helping with the process and

seeing the play come together in front of

me."

Also behind the scenes, junior Rushmia

Hussain controls background sounds,

music and effects as sound board operator.

The cast and crew will begin dress

rehearsals Nov. 6.

THE MIRROR | ISABELLA THOMAS

BREAK A LEG Gover Olivares and Jude Struble

listen to stage directions given by Ms. Lief.
---
16 | OCTOBER 2021 E

the MIRROR

ENTERTAINMENT

COURTESY | DIANE HULA

REVIEW

Pinkpantheress

shows off in her

new mixtape

"to hell with it"

COURTESY | PARLOPHONE

NIMBLE MOVEMENTS (L to R) Damady Verganza, Tanaj Kinchen, Fatiah Lawal, Antonella

Podesta, Ava Boris and Ariana Mariscal warm up at the barre by holding a tendu.

Back on Pointe

The Dance Company gets in the rhythm again

By JADEN HANTMAN

THE MIRROR STAFF

And five, six, seven, eight!

The dance department

is bringing movement and

flow back to campus.

Due to distance learning, Dance

Company — the school's advanced

dance team — could only host virtual

performances last year which lacked a

live audience.

Now, the dance department is preparing

for it's annual winter show in

which students display dances ranging

from jazz to hip-hop to ballet.

This year's theme is "Howling at

the Moon.'' The show is expected to

be performed outside throughout the

quad to maintain social distancing

guidelines and keep in touch with the

theme. It will take place after school

from Dec. 9 to 11.

"The audience will be treated to

something different, and acquire a renewed

connection with the performers

and with our beautiful campus,"

dance teacher Ms. Diane Hula said.

One piece the team is currently

working on for the show is a jazz

dance called "Let's Live it Up" which

was also performed during this year's

Homecoming Parade.

"I'm really excited for the show,"

dancer Abigail Lee said. "Dance showcases

were my favorite part of dance

before distance learning. Staying after

school, getting ready with everyone

else, dancing together, the feeling is

incomparable to anything else. I can't

wait to do that again this year."

Although it took nearly two months

to finish, it was the first collaboration

with all of the company members since

the return to campus.

"Being back together meant we

could finally work on more projects

and dance pieces," Dance Board President

and company member Fatiah

Lawal said.

The team practices every day during

sixth period and every Wednesday

after school.

"Being able to dance in person has

been one of the best things about returning

to in person school," Lee said.

"There is something different about

dancing in a room with people who

are just as dedicated and passionate

about dancing as you are, and it's honestly

just a lot less lonely after a year of

dancing alone in my room."

While the return to campus has

opened the door to new opportunities,

distance learning was a unique experience

that took some getting used to.

For students and teachers alike, it

was an uphill battle lacking the faceto-face

connections and interactions

necessary to teach and learn dance.

Ms. Hula recalls teaching dance as a

challenge as it was hard to give details

required for technique through Zoom.

For students, it was difficult to learn

how to dance on a computer screen

and rehearse being restricted to their

bedrooms. It was also hard to communicate

when practicing dance pieces

due to technical issues.

"Last year was the first time I was

in Dance Company and it was very

difficult to learn how to dance on

a computer screen," Lawal said. "It

was hard to bond and communicate

with each other to get our dance

pieces done."

Despite these difficulties, the program

remained hopeful.

"Even though the setting wasn't

perfect, I really connected with many

students over the school year through

the screen," Ms. Hula said.

Students were able to still learn

many dance genres, combinations

and all of the classes were involved in

virtual performances.

Prior to the school year starting, the

Dance Company performed for a live

audience.

"The dancers rehearsed in the

summer and performed an uplifting

piece called 'Born to Be Brave.' It was

televised on KLCS," Hula said.

After her surge in popularity on

TikTok, Pinkpantheress finally

releases her first mixtape

By GABRIEL CASTILLO

THE MIRROR STAFF

In the midst of her booming popularity,

internet sensation Pinkpantheress

released her debut mixtape "to hell with it"

on Oct.15.

Her short, but sweet songs have taken

social media platform TikTok by storm,

resulting in her overnight growth in popularity.

Her music went trending and has

garnered hundreds of millions of streams.

With all this hype and the constant anticipation

of new material, a project was surely

in the works. Now that it's here, how is it?

The project is filled with luscious vocals,

gorgeous beats and heartfelt lyrics.

Nearly all of the beats are made from

samples of songs, from Adam F's "Circles" on

the beat of "Break It Off" and Sweet Female

Attitude's "Flowers" on "Pain." The most

interesting sample is on "Last Valentines"

where the beat is that from "Forgotten" by

Linkin Park, pitched down and sped up.

The song lengths, while short, work in

her favor.

An issue I did have with the mixtape

was the lack of new material it brings to

the table. The album consists mainly of

singles that have already been released.

While it's nice to see some of it brought

to streaming services, I and many others

were hoping for more. The whole project

seems like it was wrapped up by her

record label rather quickly.

Nevertheless, the mixtape is a clear club

classic. There really isn't a dull moment. I

can't wait to see what else she has in store,

as she has enough talent to make a real

career for herself. I'm hoping that she isn't

just having her 15 minutes of fame.

RATING 8/10

Billie Eilish

Happier Than Ever

Lil Nas X

MONTERO

Tyler, The

Creator

CALL ME

IF YOU

GET LOST

6.1%

9.2%

Drake

Certified

Lover Boy

6.1%

13.3%

13.3%

Kanye DONDA

21.4%

Olivia Rodrigo

SOUR

17.3%

Doja Cat

Planet Her

Album of your year

As life stirs once again on campus and things inch slowly

back to normal, music inevitably follows as students

are seen listening between classes, during lunch and at

home to wind down from a stressful day at school.

The Mirror decided to take a deep dive into what

students' favorite albums were as of Sept. 17. A survey

was administered on the social media platform Instagram

where students were given the opportunity

to share their opinions and favorites. Reigning at the

top, the current queen of pop Olivia Rodrigo wins with

her album "SOUR" released on May 21. • VANNESA

MACHADO

A FRESH BEAT

Pinkpantheress

drops her

debut mixtape

inspired by

2000s garage

pop.

GRAPHIC | THE MIRROR

SCREEN CAPTURE | TO HELL WITH IT
---
the MIRROR E

OCTOBER 2021 | 17

ENTERTAINMENT

The campus is alive again with

THE SOUND OF MUSIC

The Music Department

no longer has to worry

about being out of sync

because of lagging

internet connection as

they make their return

to campus, bringing

music with them.

THEMIRROR | PHOTOS BY BEVERLY REGINO

BY ISABELA DIAZ

THE MIRROR STAFF

With quarantine and distance

learning, last year

was an atypical time for

everyone. In terms of

music, it was lonely. The return to campus

has finally broken the silence that filled the

halls.

Being restricted to their screens and

bedrooms last school year, it was almost

impossible for scholastic musicians to

group together to perform and rehearse in

real-time ensembles.

"For students deeply invested in the

language of music, going a year-and-a-half

without sharing a conversation through

their instruments was quite numbing,"

Program Director Robert Eisenhart said.

Mr. Eisenhart teaches Advanced Band, AP

Music Theory, Rhythm Lab and Orchestra.

Digital restrictions resulted in students

being unable to share their craft and passion

with the school nor one another.

"We gave ourselves permission to not

be perfect and not conquer covid-19 by

turning our art into a product to 'prove we

were alive,'" Eisenhart said. "We survived

by making music."

While the program did not win any

awards because competitions had

stopped, a small orchestra of 30 students

came together to perform live at graduation

last June.

"It wasn't a trophy, but it was a great affirmation

of the strength of our students,"

Eisenhart said.

Musicians are now able to compose

and satisfy their hunger for creative expression

through music in person.

"It's great to be back in person again.

Playing together as a group has allowed us

to further develop our skills," drum major

David Ross said.

But, the return has been far from

perfect.

"The biggest challenge we have faced is

the current protocol not allowing wind instruments

to play indoors," Eisenhart said.

Wind instruments are any instrument

that requires a musician to blow into the

instrument in order to create sound, including

trumpets and saxophones. These

pose the biggest threat to student health

and are not allowed to be played indoors

because of the increased risk of transmitting

covid-19 through the air since masks

must be off to play.

The absence of wind instruments have

the Jazz and Winds classes in disarray.

"It is definitely affecting us very negatively,"

Eisenhart said. The protocol has left

BANDING TOGETHER Anthony Sanchez and

Mary Dermenjyan wait to play the National

Anthem during practice

the program unprepared for competition

season and stumped the program participation

in football games and pep rallies.

The Marching Band and Drill Team are

currently in season but by the end of the

semester, Orchestra and Jazz classes will

begin preparing to step onto the stage for

school concerts and performances including

the Symphonic Concert.

However, the current program-wide

focus is to build a foundation that will

ultimately result in stunningly cultivated

music that is uniquely personal to the

students. They are currently learning the

fundamentals of marching and physical

training. However, most of their time

is concentrated on playing their instruments.

As of now, this semester is primarily

about getting performers' feet on the

ground and adjusting to the new reality.

"We're just looking forward to getting

through it as soon as we can and making

sure that Van Nuys High School has a

band, an orchestra and everything stepping

into the future," Eisenhart said.

DRUMMING IT AWAY Anddy Melendez, Luke Chey and

Rachel Sang split off into their own drumline sectionals.

B NATURAL Clarinet

and drumline positions

themselves to play the

National Anthem.
---
18 | OCTOBER 2021 E

the MIRROR

ENTERTAINMENT

THE MIRROR | PHOTOS BY BEVERLY REGINO

QUIET ON SET Angel Hernandez's student film "The Enfreakening" sets a scene on the quad.

Cinematographers bring

storytelling back after

distance-learning pause

By GABRIEL CASTILLO

THE MIRROR STAFF

Film students are back on set.

Students needed to get creative

with film productions during distance

learning due to covid-19 regulations.

Without access to the campus and equipment

due to distance learning, resources to create

films were scarce.

"We were limited to working mostly without

any of our gear and without being able to work in

crews or pods with other students," film production

teacher Thomas McCluskey said. "We had

to redesign our entire workflow from scratch to

accommodate all the changes."

Despite the challenges, film production persevered.

"Last year we had around 50 finished films

including an award-winning personal reflection,

a music video, several horror shorts and

trailers, a professional-caliber documentary

and a stop-motion Transformers animation."

McCluskey said.

Now, filmmakers are back in a classroom

full of professional equipment with face-to-face

collaborations and real time guidance from

teachers.

HOWLING IN,

HOWLING OUT Emma

Salehi and Anya Shayani

host the morning

announcements in

the film room which

is broadcasted live

on the Van Nuys High

School YouTube page.

"Part of me is so relieved just to have the

familiarity of everything back on campus," senior

film student Jane Luitweiler said. "A lot of it feels

foreign in a lot of ways at the same time, but I

definitely work so much better in the classroom.

Being able to build those personal connections

and have those intimate conversations that are

so meaningful to working in the entertainment

industry as a whole."

While the school year is still relatively young,

big moves are being made for video production.

As the classes start to begin creating films, student

projects will soon come into fruition.

"We're looking forward to a lot of filming at

school events and many great shows ahead,"

Executive Producer Andrea Parada said.

Students are currently transitioning from

working on films as assignments to writing

scripts and pitches and filming concepts. Eventually,

these will become films that will be shown

at the school's annual Film Showcase in which all

projects are shown to students who attend and

a select few sent to local student film festivals.

Some students are already in the production

process. Senior Andrew Choto is working on his

film "Overthinking."

"It's probably going to be about me or my

brother and his girlfriend," Choto said.

However, it's not all sunshine and rainbows like

in movies. Students have some adjusting to do.

Many students have not even stepped foot on

campus or have seen a high school classroom.

"I felt excited that I got to finally experience

working in a classroom with new people," sophomore

Damien Flores said.

Van Nuys Live, the school news production,

for example, is dealing with many big changes.

Other than being back on campus, the production

has a new crew, new hosts and new

equipment.

The live YouTube broadcast has four shows

a week: Mondays, Wednesdays, Thursdays and

an extended broadcast on Fridays, in which film

students' videos are shown.

One of the biggest additions to the news is a

teleprompter. A lot of effort has been put into

integrating it into the production.

Along with the teleprompter, the school has

acquired other equipment including an Arri

Alexa Mini Camera, a state-of-the-art video

camera used in many professional productions.

Production crews are currently learning

how to use it.

While students still have to deal with certain

covid-19 regulations when dealing with projects,

it's much less restrictive than last year,

and hopefully that will lead to better projects

this year.

"We will see what we are capable of when we

get to the advanced projects next semester," Mc-

Cluskey said. "I am hopeful that if we start with a

solid plan, we can achieve great results."

I felt excited that

I got to finally

experience work-

''

ing in a classroom

with new people"

DAMIEN FLORES

FILM STUDENT

BEHIND THE SCENES Film advisor Thomas McCluskey

teaches students how to work around a set.
---
AL

the MIRROR OCTOBER 2021 | 19

ATHLETICS

The track team has had a successful season record for multiple years.

They deserve more respect.

When someone says high school

sports, what's the first sport that

usually pops into people's heads?

Most students initially picture

football or basketball. Some may even think of soccer,

volleyball or baseball.

I believe that two sports in particular are often

overlooked: cross country and track and field.

In simplest terms, I would classify them as the

running sports.

Cross country focuses on longer distance runs

and three mile races, while track and field is more

orientated towards short sprints or and long

jumps.

These sports differ a lot from other

team sports such as football and soccer.

The biggest difference is that running

sports aren't necessarily based on

teams all the time.

The team's overall ranking may

be based on the average of the entire

team's speed and races, but there are

many ways that players can win victories

for themselves.

Runners that come in first out of both of the competing

teams or set records get rewards and earn

higher recognition in college resumes.

Our school team has had a consistently strong

record over the past

years. In 2019, they

even contested to

become city champions.

Cross country and

track aren't as popular

as football. They

never will be, but I

believe that these sports require a lot of skill too and

deserve much more recognition than they receive.

The cross country team had their first official race

on Sept. 30 at Pierce College and will continue hosting

home games there for this season.

KYRILLOS MINA

Coach in search of wrestlers

By EMI KIM & ANI TUTUNJYAN

THE MIRROR STAFF

It doesn't take much to bench press 310 pounds

and set a California bench press record. Just a preworkout

protein shake and some determination.

It also doesn't take much to deadlift over 400

pounds and then finish off a workout with rope climbing.

It takes even less to do all this before the sun is even up.

This has been wrestling coach Ramon Tovar's routine

for decades as he moved through life as a high school

wrestler to now an English teacher and coach.

Coach Tovar started the wrestling team in 2007 with

the hopes of passing down the athletic and life skills he

learned in his time as a high school wrestler.

Now, after a nonexistent athletic year due to the pandemic,

Coach Tovar is attempting to rebuild the wrestling

team.

So far, he has nine male wrestlers but

he is hoping to get more male and

female athletes.

Wrestling played a valuable role in Coach Tovar's developmental

years and he wants the sport to be the same for

other students.

"Wrestling makes you a better and tougher person," he

said. "No kid has ever come into my wrestling room and

wrestled a season or two and not walked out a stronger

person on the inside. It teaches you how to be tough."

Wrestling practice takes place after

school from 4 p.m. to 6 p.m. four to five

days a week.

Wrestlers practice in the wrestling

room located behind the cafeteria which

is decked out in new playmats and

weights thanks to Principal Yolanda

Gardea who made the purchase

before retiring last year.

A typical practice begins with warm-ups to increase

athletes' heart rates. Coach Tovar then reviews moves

learned at the previous practice then teaches any new

moves for the day.

Then comes the exciting part: sparring. Wrestlers practice

the new moves they learned on each other.

Their practice finishes off with 20-minute

conditioning which can include pushups,

sit-ups and sprints.

While tournament dates have

not all been officially planned,

the wrestling team will have

their first competition against

San Clemente High School on

Nov. 15.

"Wrestling is a very physical

sport but a very rewarding

experience."

WE WANT YOU Wrestling coach

Ramon Tovar is looking for new

students to join the wrestling

team.

''

No kid has ever come

into my wrestling room

and wrestled a season

or two and not walked

out a stronger person

on the inside. It teaches

you how to be tough."

RAMON TOVAR

WRESTLING COACH

SOURCE | NASA
---
20 | OCTOBER 2021

A

ATHLETICS

the MIRROR

THE MIRROR | ISABELLA THOMAS

THE MIRROR | ISABELLA THOMAS

PITCHING A HOME RUN JV player

Amin Zoghlami winds up for a pitch.

STAYING ALERT Varsity player Dominick Ramos is in position to catch a strike from a teammate.

By SAMANTHA RAMOS

THE MIRROR STAFF

Battttter up.

With his

baseball cap

and enthusiastic

grin,

Coach Andres

Sepulveda is

ready to start

the day's baseball practice.

Coach Sepulveda is the new head

coach for the JV and Varsity Baseball

teams which will begin their new

season in March.

It's not his first time on campus. In

fact, he was hitting home runs on the

same baseball field just a decade prior.

When he was notified of the opening

by Athletic Director Danny Levy,

he jumped at the opportunity and

was hired within a week.

Coach Sepulveda is hoping to

establish a solid foundation for the future

of the school's baseball program.

Last season which began in late

April, a later start than usual, was an

overall successful year for baseball.

The varsity team won six out of

the 10 games they played, winning

their Division II playoffs against Monroe

High School 9-6 but losing their

playoffs against Maywood Center for

Enriched Studies 8-4 under Coach

Alfredo Avila's leadership.

Now, Coach Sepulveda is looking to

prepare players to win a championship

which they last earned in 2013.

"It's going to be a big step this year

and take a big effort," Coach Sepulveda

said.

So far, he has been preparing the

teams through basic baseball conditioning

drills like running bases and

pitching, hitting and catching balls.

The teams have also been running

through practice games.

Coach Sepulveda has been working

with the JV and Varsity teams

together to create a mentorship

between players.

"Learning from the older boys will

make them [JV players] feel like they

have a brother and they have someone

to go to," he said.

Since both teams are working

together, there are no official team

captains as of now but seniors Bryan

Cruz, Anthony Ramos, Dominick Ramos,

Marc Ruiz and Adan Vega have

been taking the lead and working

with newer members.

"It feels great to be back in person.

I can finally achieve the goal of scouts

watching me perform," unofficial

team captain Ruiz said.

He's looking forward to a new

season under Coach Sepulveda's

guidance.

"He is a nice guy and well organized

in all things he does not only

in baseball but in his outside life too,"

Ruiz said. "I feel like he will change the

Van Nuys baseball program for the

better and will definitely shine a new

light on the team."

The love for Coach Sepulveda

seems to be a shared sentiment

among members.

"Coach Sepulveda in his short

time here has already made major

beneficial changes to our program,"

varsity player Steven Tostado said.

"It's definitely a step in the right

direction."

"He is a great coach. I can tell everyone

on the team loves him," unofficial

team captain Dominick Ramos

said. "He takes the time with everyone

and you can tell he's here for us."

Part of the reason Coach Sepulveda

is so favored among members

is his emphasis on the importance of

student athletes being students first

and foremost.

He plans to do this by conducting

professional development classes to

teach athletes how to write resumes

and cover letters and prepare for

interviews.

"I know that professional development

hasn't been done before in

the past but I'm a firm believer in

developing our student athletes as

students first and as people because

that is going to carry over into the

classroom as well as on the field

and even once their baseball

career is over here at Van

Nuys," he said. "They can

take those life skills up

to the real world."

Coach Sepulveda

himself started playing

baseball at his local Little League

when he was five.

His love for baseball came from

his grandfather.

"When my mom and grandmother

were working, my grandfather

would teach me baseball. He eventually

convinced them to put me in

Little League."

He continued to pursue his passion

for baseball until his last year

of high school at Van Nuys when he

injured himself while trying out for

Mission College's baseball team.

He went to rehabilitation for his

injury but was no longer able to play.

Coach Sepulveda reached out

to the other baseball coach, Coach

Christopher Tuhan, who used to be

Sepulveda's high school coach, and

began helping out the team last year.

He found himself falling in love

with a completely different aspect of

baseball he had never envisioned for

himself.

"I was able to mentor players and

show them the smaller things the

coaches couldn't show them because

they were focusing on other aspects

of the game," Coach Sepulveda said.

While the season

is set to begin in

March, there is

no definitive

date for the

team's first

competition.

BACK TO HIS

ROOTS

A former graduate and player, the new baseball

coach looks to build a championship team

NEW BEGINNINGS

Coach Andres Sepulveda

joins the staff

as the new baseball

head coach.

THEMIRROR | BEVERLY REGINO