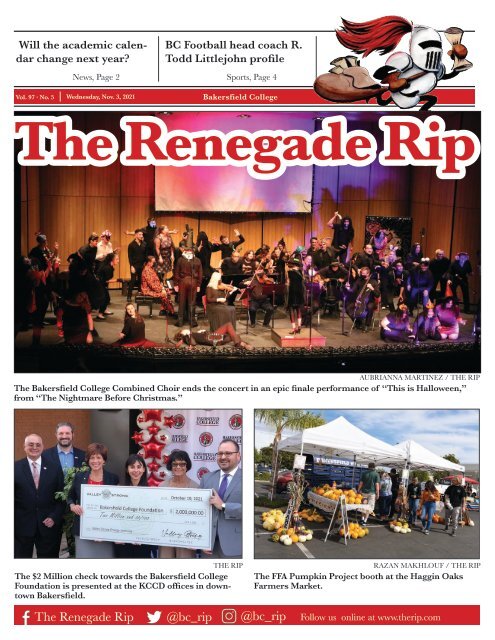 Renegade Rip Issue 5 Nov. 3, 2021
You also want an ePaper? Increase the reach of your titles
YUMPU automatically turns print PDFs into web optimized ePapers that Google loves.
Will the academic calendar

change next year?

News, Page 2

BC Football head coach R.

Todd Littlejohn profile

Sports, Page 4

Vol. 97 ∙ No. 5 Wednesday, Nov. 3, 2021 Bakersfield College

The Renegade Rip

AUBRIANNA MARTINEZ / THE RIP

The Bakersfield College Combined Choir ends the concert in an epic finale performance of "This is Halloween,"

from "The Nightmare Before Christmas."

THE RIP

The $2 Million check towards the Bakersfield College

Foundation is presented at the KCCD offices in downtown

Bakersfield.

RAZAN MAKHLOUF / THE RIP

The FFA Pumpkin Project booth at the Haggin Oaks

Farmers Market.

The Renegade Rip @bc_rip @bc_rip Follow us online at www.therip.com
---
Page 2

News

The Renegade Rip www.therip.com

Wednesday, Nov. 3, 2021

Will BC change its academic

calendar starting next year?

By Raul Padilla

Reporter

BC's academic senate virtually

gathered to discuss the

possibility of changing the

academic calendar. The virtual

meeting took place on

Wednesday, Oct. 20.

The changes would be

made with the introduction

of a winter intersession that

would change the structure

of the year.

The idea was introduced

by Dean Bill Mosely, who

had been tasked with researching

the idea of the

winter intersession.

Mosely's job was to find a

way to relieve bottlenecks in

programs with multi-course

prerequisite sequences in

STEM fields, most notably

the biology department

which was stated to need this

aid the most.

The plan is to incorporate

this new structure to help

these fields in the 2022-2033

academic year.

Proposed to the academic

senate were three drafts: Proposal

1, 1b, and 2.

Proposal 1 would begin

earlier on Aug. 6, and have

three weeks of intersession in

December and three weeks

in January. Final exams

would start the Thursday

or Friday before Thanksgiving

week and end that week.

Spring break would occur

two weeks later than the current

schedule.

Proposal 1b is similar, but

begins 1 week earlier, resulting

in finals ending the week

before Thanksgiving week,

and the intersession would

begin the following Monday.

There would be four intersession

weeks in December

and two in January, and

spring break would begin

one week later instead.

Proposal 2 would begin the

intersession in January, and

the spring semester would

begin at the end of February

and end midway into June.

Mosely, who designed the

proposals, explains that this

was created with the idea to

include more classes within

the academic calendar to

allow for more opportunities

and help keep students on

track.

"While the biology department

is one of the more vocal

supporters of this effort,

we believe that it could be

beneficial to students from a

variety of majors and areas

of campus. In particular,

students who work, students

in high unit majors, and students

whose majors require

multiple levels of prerequisites

for completion could all

benefit from this change," he

explains.

The plan now is to introduce

the concept to the

student body, then begin

surveying responses and potentially

reveal student issues

that have not yet been considered.

"Clearly, this is a big project

that involves the whole

campus, so it needs to be undertaken

with a lot of care

and information gathering,"

Mosely added.

RAUL PADILLA / THE RIP

These are two of the three academic calendars proposed

by Dean Bill Mosely at the Oct. 20 academic

senate meeting. Proposal 1 (which is not featured) would

begin instruction for the fall semester a week later than

Proposal 1b (above). Proposal 1b finishes the fall before

Thanksgiving week. Proposal 2 (below) would create a

schedule wherein the entire intersession was held after

the winter holidays. Spring semester would conclude in

mid-June.
---
Page 3

News

The Renegade Rip www.therip.com

Wednesday, Nov. 3, 2021

BC: $2 million

goes to STEM

By Nick Covello

Editor-in-Chief

Bakersfield College has

been awarded with a $2

Million donation (to be paid

over the next 20 years,) by

Valley Strong Credit Union

as part of a deal to rename

the school's various energy-related

programs the

"Valley Strong Energy Institute."

This is the first private

donation towards BC's

efforts to strengthen the local

energy-related workforce.

"One of the greatest benefits

about this generous

gift, is that it not only ensures

expansion of our current

efforts, it also gives us

the ability to be innovative

and create new energy education

programming as we

move forward." Executive

Director of BC's Foundation

Cheryl Scott said.

The large donation is expected

to accelerate the relationship

between BC and

the National Renewable Energy

Lab (NREL) by offering

free webinars to the public,

as well as a new curriculum

meant to ready the local

workforce for the possible

upcoming changes related to

energy in Kern County.

"Kern County is uniquely

positioned geographically

to be a world leader in renewable

energy, including

technologies such as wind,

solar, biomass, and more,"

BC said in a statement on

their website, " Major solar

projects are underway in

eastern Kern County, and

there are already more than

4,500 wind turbines around

Tehachapi… Research on

renewable energy will only

continue to grow, with research

on biomass energy using

agricultural waste in the

Delano area."

The college's efforts toward

energy efficiency kicked off

last year with the offering

of free webinars meant to

educate the general public

featuring the local, state,

and national perspective on

the topics of energy, agriculture,

and water, according to

THE RIP

BC interim president Zav Dadabhoy, BC Vice President

of Finance and Administrative Services Mike

Giacomini, Executive Director of the BC Foundation

Cheryl Scott, KCCD Chancellor Sonya Christian,

KCCD Trustee Kay Meek, and Valley Strong

CEO Nicholas Ambrosini present the ceremonial $2

Million check.

Scott.

"The panelists discuss the

current state of industries

that impact our local economy,

and look ahead to opportunities

in the future.

This support from Valley

Strong Credit Union will

ensure that public education

and engagement opportunities

like this continue and expand,"

Scott said, referring

to the webinars.

The Valley Strong Energy

Institute was described by

KCCD Chancellor Sonya

Christain as a "virtual campus"

that will eventually be

turned into a physical place.

Administrative error causes BC Football

to forfeit three games, record stands at 2-6

By Nick Covello

Editor-in-Chief

Bakersfield College announced that its football team has

been forced to forfeit three of their wins this season due to a

self-reported eligibility violation. The announcement was on

Oct. 28, and dropped the Renegades to a 2-6 record.

While reviewing the quarterly student athlete progress

reports, BC's Academic Success Team recognized that an

unnamed player had been left off of the preseason administrative

form sent to the conference.

Upon learning of the administrative error, BC's athletic

director Reggie Bolton immediately reported everything to

the SCFA commissioner. After a two-week inquiry, it was

determined that all of the games that the unnamed player

participated in would be forfeited.

"The player was not listed on the administrative form due

to a form being omitted by accident," Bolton said "Ultimately,

I am responsible for all compliance processes."

The player in question played in four games, with three of

them being wins. The Renegade's wins against El Camino

on Sept. 11, Golden West on Sept. 18, and San Bernardino

Valley on Oct. 2, were all rendered useless.

The unnamed player will be ineligible for the rest of the

2021 season, but he may participate with the team next fall.
---
Page 4

Sportss

The Renegade Rip www.therip.com

BC coach talks Football

By Justin White

Reporter

After coaching for a multitude

of years that includes stints with

numerous Division I football

teams and even some time in the

National Football League, Robert

Todd Littlejohn has returned

home to Bakersfield to be the

head coach of the Renegades

football team.

Littlejohn grew up going to every

Renegade home game and following

the team for most of their

road games as well. Littlejohn was

with the Renegades previously as

a player during the 1983-84 seasons,

playing for coaches Gerry

Collis and Carl Bowser, and then

returned to BC as the defensive

backs coach for the 1990-91 seasons.

"A lot", Littlejohn says laughing

when asked how much it

means to him to become the head

coach at BC. "My mom worked

here for, you know, 45 years, and

having, literally grown up and

watched all the great players that

have gone through here over the

years, having a chance to play on

this field, then having a chance to

come back and coach as an assistant,

my feeling towards Bakersfield

College even back then was

always big time, and so coming

back in this capacity is big time,

you know, to me." Littlejohn was

actually hired last year, but the

COVID-19 pandemic prevented

him from coaching his first game

until the 2021 season.

"One of the difficulties was that

I didn't have anybody to call to

ask 'em 'hey, how did you deal

with your first year as a head

coach in a year of pandemic?'

There's nobody and nothing to

reference… we just stayed prepared

every day, 'cause you never

knew when it was going to actually

happen and when the opportunity

came for our first game, we

were more focused on the techniques,

the fundamentals, the de-

COURTESY OF NICK ELLIS

BC Football coach R. Todd

Littlejohn

velopment overall as a team and

for players, and the continuity for

us as a staff… it wasn't a 'wait 'till

we get to that point, let's all of a

sudden do it', we just continued to

prepare every day."

Outside of BC, Littlejohn hascoached

at big time Division I

schools including UCLA, Syracuse,

and Cal-Berkeley. Most

recently before becoming head

coach at BC, Littlejohn spent

the previous two seasons as the

safeties and special teams coach

at Prairie View A&M in Texas.

Littlejohn's coaching experience

doesn't end at the college level

however, as he also coached for

the New York Giants and Jacksonville

Jaguars in the NFL.

In his first season as BC football's

head coach, Littlejohn's

Renegades have been ranked as

high as #7 in the state of California,

and currently hold a 4-3

record a little more than halfway

through the season. Their next

game will see them face Long

Beach College at home on Oct.

30.

For the full story, please

visit TheRip.com

Everything football

By Hilario Gomez

Reporter

Wednesday, Nov. 3, 2021

The powerhouse players

Nothing makes sense.

Half of the football fans

are looking towards the

playoffs while the other

half is focusing on

the upcoming offseason

because frankly,

their teams' postseason

hopes have dissipated.

For the lucky ones

that have football to

look forward to, both

professional and college

football slates are getting

quite juicy. The big

top ten matchups of the

weekend in the battle

for Michigan between

Michigan and Michigan

State.

The emergence of

impact offensive players

for both teams has

powered them into

the national spotlight.

For Michigan State,

it's Wake Forest transfer

Kenneth Walker at

running back. Walker

looked promising at

Wake Forest but never

really broke out, as

many expected and the

change of scenery has

done wonders for the

junior running back.

While Michigan has

a shiny quarterback

from the state of Nevada

in Cade McNamara,

who has finally broken

onto the scene after two

quiet seasons in Ann

Arbor.

On the other hand,

Payton Thorne for the

Spartans, who was originally

a Western Michigan

commit, has been

playing just as good if

not more impressive

considering he's a true

freshman.

Hilario Gomez

It'd be criminal not

to bring up Aidan

Hutchinson for the

Wolverines who have

created probably the

most buzz of any college

football players

this season with constant

dominant performances

week in and

week out. This week's

matchup, although no

one could've imagined,

will be one of this year's

best with two impressive

teams on the come up.

While in the professional

football world

the trade rumors and

playoff race is what's

dominating the news

cycle. Deshaun Watson

is back in the headlines

with a trade seemingly

imminent and the ethics

of him playing football

again being such a

tantalizing topic once

again.

Other topics such as

the emergence of the

Cardinals and the Bengals

also is very prominent.

Both are leading

their conferences and

have dominant wins

over playoff teams that

have dominated the

league for quite a while.

It seems to be a changing

of the guard.
---
Page 5

Campus

The Renegade Rip www.therip.com

Wednesday, Nov. 3, 2021

The Path to Graduate School

By Breonna Zapiain

Reporter

Undocumented Student Action Week

is a campaign to provide support and

resources to the undocumented student

population. Each day during the week

of Oct. 18-22, events were held, from

guest speakers and informational Zoom

meetings.

On Oct. 20, the Path to Graduate

School Workshop was held via Zoom.

This workshop was hosted by the AB

540 and Undocumented Students Program

Manager, Marcela Gamino, and

moderator Rene Deniz and featured

three panelists: Liliana Sánchez Coronado,

Alejandro Campos Robledo, and

Giovani Bautista.

During this meeting, Deniz asked the

panelists questions. They each spoke

about their experiences as undocumented

graduate students and the ways

they have overcome obstacles presented

to them due to their status. All three

shared similar experiences, struggling

with costs of education, the lack of financial

resources available for undocumented

students and how they had to

juggle working to support themselves

and cover their education costs while

keeping up with their classes.

When Deniz mentioned "imposter

syndrome" each panelist responded

with their encounters with it. "I was one

of three [students] that identify as Latinx

and was the only one undocumented…

it has made me feel very lonely,"

said Sánchez Coronado. Campos Robledo

shared, "I almost dropped out of

my program…being the only person

that identifies as undocumented."

They then spoke about what support

systems they looked for when picking

Start Your Medical Career

As an EMT in 8 Weeks

schools to attend and how they got help.

"I was going to have to advocate for

myself," Bautista said as he recounted

his experience when first looking to attend

school. Sánchez Coronado shared

that " I needed to count on my advisors

to advocate for me," and spoke about

loneliness and how she noticed a lack of

safe space for undocumented students

in her graduate school experience.

At the end of the meeting, as Campos

Robledo had to leave for a class but stated,

"There are always resources, don't

give up on your dreams, sí, se puede."

After he left, an attendant, Martin Perez,

asked for the panelists' information

to be sent to them as he wished to donate

$2,000 to each of them in support

of them and their education. This act

of kindness brought tears to the eyes

of many attending and concluded the

meeting.

What is an EMT?

An emergency medical

technician works on the front

line of emergency services

assisting with patient care

and transport to the hospital.

What is the Hall EMT

Academy?

We train you to become an

EMT in 8 Weeks, ready to start

your EMS career with

Hall Ambulance.

How Much Does an

EMT Make?

Hall EMT Academy graduates

start at $38,000/year and

enjoy an extensive health and

benefits plan.

The Hall EMT Academy is not a school—it is an accelerated pathway to

working in the Hall Ambulance 9-1-1 System as an Emergency Medical

Technician (EMT). Why wait? Start your medical career in 8 weeks!

Class 40 Begins February 15, 2022

Apply at: hallambcareers.com/emtacademy
---
Page 6

Campus

The Renegade Rip www.therip.com

Wednesday, Nov. 3, 2021

BC shares scholarship info

for undocumented students

By Jaylene Collins

Features Editor

The Bakersfield College AB 540 and Undocumented Students

Program hosted a webinar with Youth 2 Leaders Education

Foundation (Y2LEF) sharing financial aid resources

available for undocumented students at BC on Oct. 21.

This event was a part of Undocumented Student Action

Week, where BC's Undocumented Students Program hosted

webinars and workshops designed for undocumented students

going to college. The webinar featured Marcela Gamino

(the Program Manager of the AB 540 and Undocumented

Students Program), Rafael Centeno (an EOPS Educational

Advisor), Jazmin Reyes (Program Coordinator at Y2LEF),

and Jessica Trejo (the Executive Director at Y2LEF).

Gamino and Centeno opened the webinar by explaining

Undocumented Student Action Week and the events they

have held. Centeno also provided some resources for scholarships,

specifically for undocumented students, on the BC

website and elsewhere.

Reyes then continued by explaining the Deferred Action

for Childhood Arrivals (DACA), how undocumented students

could receive grants, internships, and opportunities

they have with Y2LEF.

Reyes urged undocumented students to see if they were eligible

for the DACA program, even though DACA was ruled

unlawful by a federal judge in July 2021. She said in hopes

the ruling will be overturned, Y2LEF will still help those prepare

their applications.

The CA Dream Act Service Incentive Grant Program was

then introduced by Reyes. The grant allows students who receive

Cal Grant B to earn $3,000 in an academic year if they

also do volunteer work. Reyes encouraged those eligible to

apply.

First place nationally for two year college Websites at

the Associated Collegiate Press 2020 midwinter conference.

Fifth place newspapers. First place for newspaper

in 2011, third place in 2013, 2014, 2015 for CNPA General

Excellence

Fourth place nationally in 2019 for website publication

by Associated Collegiate Press

The Renegade Rip is produced by Bakersfield College

journalism classes and is circulated on Thursdays

during the fall and spring semesters. The newspaper is

published under the auspices of the Kern Community

College District Board of Trustees, but sole responsibility

for its content rests with student editors. The Rip is

a member of the California Newspaper Publishers Association,

Associated Collegiate Press, and California

Colleges Media Association.

The Renegade Rip

EDITORIAL BOARD

Editor-in-Chief.........................Nick Covello

Senior Digital Editor........Hugo Maldonado

Garcia

News Editor.................Aubrianna Martinez

Photo Editor....................Razan Makhlouf

Features Editor.....................Jaylene Collins

Copy Editor...............Teresa Balmori Perez

Adviser.........................................Erin Auerbach

JAYLENE COLLINS / THE RIP

Jazmin Reyes sharing resources available to undocumented

students through Y2LEF during the webinar on

Oct. 21.

Reyes told students to seek out any scholarships and internships

they find and those provided during the event. Reyes

stated Y2LEF also has scholarships, internships, independent

contracting, and volunteer opportunities available for

students.

Reyes encouraged students to apply for scholarships they

see because they will never know if they are able to receive

the scholarship unless they try.

Some resources mentioned in the webinar were: immigrantsrising.org,

https://www.bakersfieldcollege.edu/finaid/scholarships,

bakersfieldcollege.finaidformstack.com,

and https://bakersfieldcollegefinaid.formstack.com/forms/

recovery.

To get in touch with Y2LEF, visit www.y2lef.org or call

(661)374-8817.

STAFF

Reporters/photographers:

Erami Dominguez

Hilario Gomez

Collin Acevedo

Raul Padilla

Justin White

Breonna Zapiain

Write The Rip

Letters should not exceed 300 words,

must be accompanied by a signature

and the letter writer's identity must be

verified.

The Rip reserves the right to edit

letters, however, writers will be given

the opportunity to revise lengthy or

unacceptable submissions.

If an organization submits a letter as a

group, it must be signed by only one person,

either the leader of the organization

or the letter writer. Anonymous letters

will not be published.

How to reach us

-Address: Bakersfield College,

1801 Panorama Drive, Bakersfield,

CA 93305

-Phone: (661) 395-4324

-Email: ripmail@bakersfieldcollege.edu

-Website: therip.com
---
Page 7

Our Town

The Renegade Rip www.therip.com

Wednesday, Nov. 3, 2021

Sunday Funday at Haggin

Oaks Farmers Market

By Razan Makhlouf

Photo Editor

Bakersfield is full of local farmers, small-batch

food crafters, artists, and small business owners who

make Sunday a fun day for the whole family.

The Haggin Oaks Farmers Market is one of the

many Kern County gems. This farmers market is

loaded with delicious food and community that is a

perfect treat after a year of staying indoors.

Every Sunday from 9 a.m. to 2 p.m., vendors from

Bakersfield and beyond gather to share their stories

and products. From fresh fruits and vegetables to

hot barbecue and delicious desserts, the Haggin

Oaks Farmers Market is sure to be the perfect local

getaway and cater to the entires family.

One of the vendors you will find there is Phil Beltran,

from Brother Ray's Salsa and Seasoning, is

proud that all their products are made with fresh

ingredients. Beltran's favorite part of the farmers

market experience is seeing so many happy and

smiling faces after the challenging year that we experienced.

"This is our syear at Haggin Oaks Farmer's Market.

It is so nice to see people in person again," he

said.

While there are vendors that have been established

for many years, the Haggin Oaks Farmers

RAZAN MAKHLOUF/THE RIP

Bakersfield High FFA students Lorena Cruz (right), and Rosario

Reyes (left) at their Pumpkin Project booth

Market welcomes new businesses as well. B & P Honey

was founded in 2021, and it is a business venture between

two local Kern County families. Their local orange blossom

honey is a must-try!

A farmers' market is a good way for networking, and

for small emerging projects to grow. This was the case for

the Bakersfield High FFA students who started the Pumpkin

Project in 2019. This is a group of enthusiastic high

school students who plant, seed, harvest, and sell their

very own pumpkins at the farmer's market.

Although the process can be very exhausting, students

are enjoying it a lot. Lorena Cruz, a student at Bakersfield

High School, and Project Manager of the Pumpkin Project

said, "Being part of the Future Farmers of America

(FFA) organization has allowed me to gain more handson

experience in agriculture."

Cruz also teaches new members how to work in the field.

"Having participated in the pumpkin project, it guided

me into wanting a career in agriculture" Cruz said.

Haggin Oaks Farmers Market is held at the Kaiser

RAZAN MAKHLOUF/THE RIP

Permanente parking lot, on Ming Ave and Haggin Oaks

Phil Beltran, from Brother Ray's discussing products Blvd.

with customers at the Haggin Oaks farmers market
---
Page 8

Opinion

The Renegade Rip www.therip.com

Wednesday, Nov. 3, 2021

Celebrating the

Choral Concert

By Aubrianna Martinez

News Editor

Bakersfield College

hosted the institute's

choir, chamber singers,

and chorus with

numerous special

guests for an unforgettable

Fall Choral

Concert on Oct. 27

and 28.

The concert contained

a mix of music

familiar for this

time of year, as well

as some that were not

as easily recognizable,

but all were wonderfully

performed and

well worth it.

Conductor Dr. Jennifer

M. Garrett and

the performers held

the audience in the

palm of their hands,

changing the tone of

the concert from slow

and inviting to hauntingly

operatic before

switching beautifully

to lively and popular

songs of the season,

including a performance

from one of

the special guests:

dance group DAT

Krew Academy.

The audience members

on the first night

of the performance

were greeted by an

eerie announcer's

voice belonging to

Mike Worthing, who

is a member of both

the Renegade Chorus

as well as one of

the chamber singers.

Garrett also credited

Worthing as the

musical arranger for

"Wanting Memories"

and "This is Halloween."

Worthing truly set

the stage in terms of

mood as the audience

quickly grew accustomed

to his thematic-yet-timely

warnings

and announcements

about sitting next to

strangers and wearing

'festive' masks.

The performance

highlighted how certain

things do seem to

be on the path of normalcy

once again, yet

the concert was clear

in its intention not to

make the pandemic

any less real to the audience,

but to lighten

the hearts of those in

attendance.

Between songs

when performers

changed the stage

and costumes. "These

students you see here

before you have been

so dedicated, and I

couldn't say enough

about them," Garrett

continued before

introducing the

finale song of the

concert, an all-cast

member spectacular

performance of "This

is Halloween."

"I asked the students

coming back,

what they wanted this

concert to be and they

said they wanted it to

be a celebration. They

wanted it to be joy,"

Garrett explained.

Quickly after this,

the cast took to the

stage in what can only

be described as an act

of extreme excitement.

With boisterous

singing, the audience

was encouraged to

sing along, what many

would call a classic for

the season.

While the concert

rings with joy, it

would be remiss to

not remark upon the

songs that spoke to the

yearning emotionality

that often is a part

of depictions of this

season, and the other

holidays besides Halloween

that are celebrated.

After Garrett recounted

the Mexican

practice of celebrating

El Dia de Los Muertos

and the importance

of honoring deceased

relatives, BC student,

chamber singer, and

member of the Renegade

Chorus Mauro

Laris stepped onto the

stage in an incredibly

moving solo performance

as he sang

"Remember Me"

from Disney's "Coco"

(2017). As he sang, the

other singers uniformly

took to the stage to

add to a magnificent

piece of art created by

one of the chamber

singers, Chrissy Foth.

For the full story,

visit TheRip.com

Renegade Events

Campus Events

Nov. 3 Important Date: Early Registration

for Spring 2022.

Nov. 4: Distinguished Speaker Dr.

Moogega Cooper 10:00 a.m. to 11:00 a.m.

on Zoom and BCSGA Facebook.

Nov. 4: Distinguished Speaker Dr.

Moogega Cooper 2:00 p.m. to 3:00 p.m. on

Zoom and BCSGA Facebook.

Nov. 4: Findng Articles in Periodical Databases

at 2:00 p.m. inside the Library, room

217.

Nov. 4: How to (Actually) get students to

watch your videos at 3:30 p.m. to 5:00 p.m.

on Zoom.

Nov. 5: Kung Fu-Intro to teaching with

Canvas, online all day.

Nov. 11: Veteran's Day Holiday

Nov. 17: Open Registration for Spring

2022

Nov. 18-20: BC Theatre presents R.U.R.

(Rossum's Universal Robots) Directed by

Professor Kimberly Chin at 7:30 p.m. live

via Zoom.

Nov. 25 - Nov. 26: Thanksgiving Holiday

AUBRIANNA MARTINEZ/THE RIP

The combined BC Choirs end the concert in

an epic finale performance of "This is Halloween,"

from "The Nightmare Before Christmas."