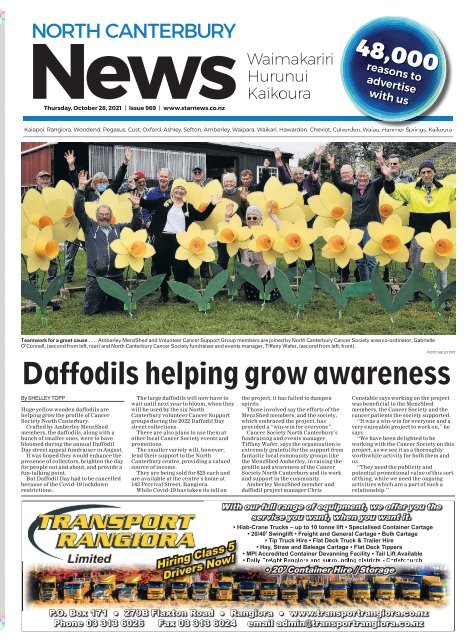 North Canterbury News: October 28, 2021
You also want an ePaper? Increase the reach of your titles
YUMPU automatically turns print PDFs into web optimized ePapers that Google loves.
48,000

reasonsto

advertise

withus

Thursday,October 28, 2021 | Issue969 | www.starnews.co.nz

Teamwork for agreat cause ... Amberley MenzShed and Volunteer Cancer Support Group members are joined by North Canterbury Cancer Society area co­ordinator, Gabrielle

O'Connell, (second from left, rear) and North Canterbury Cancer Society fundraiser and events manager, Tiffany Wafer, (second from left, front).

PHOTO: SHELLEY TOPP

Daffodils helping grow awareness

By SHELLEY TOPP

Huge yellow wooden daffodils are

helping grow the profileofCancer

Society North Canterbury.

Crafted by Amberley MenzShed

members, the daffodils, along witha

bunch of smaller ones, were to have

bloomed during the annualDaffodil

Day street appeal fundraiser in August.

It was hoped they wouldenhance the

presence of collectors, brighten the day

for people out and about, and providea

fun­talking point.

But DaffodilDay had to be cancelled

because of the Covid­19 lockdown

restrictions.

The large daffodils will now haveto

waituntilnext yeartobloom, whenthey

willbeused by the six North

Canterbury volunteer Cancer Support

groups during the 2022 Daffodil Day

street collections.

There are also planstouse them at

other local Cancer Societyevents and

promotions.

The smaller variety will, however,

lendtheir support to the North

Canterbury centre, providing avalued

source of income.

Theyare being sold for $25 eachand

are available at the centre'shome at

143 Percival Street, Rangiora.

While Covid­19 has taken its toll on

the project, it has failedtodampen

spirits.

Those involvedsay the effortsofthe

MenzShed members,and the society,

which embraced the project, has

provided a''win­win for everyone''.

Cancer Society North Canterbury's

fundraisingand events manager,

TiffanyWafer, saysthe organisationis

extremely grateful for the support from

fantastic local community groups like

the MenzShed Amberley, in raising the

profileand awareness of the Cancer

SocietyNorthCanterbury and its work

and support in the community.

Amberley MenzShed member and

daffodil project manager Chris

Constable says working on the project

was beneficial to the MenzShed

members, the Cancer Society and the

cancerpatients the societysupported.

''It was awin­win for everyone and a

very enjoyableprojecttowork on,'' he

says.

''We have been delightedtobe

working with the CancerSociety on this

project, as we see it as athoroughly

worthwhile activity for both themand

us.

''Theyneed the publicity and

potential promotional valueofthis sort

of thing, while we need the ongoing

activities which are apart of such a

relationship.''

Hiring Hiring Class Class 55

Drivers Drivers Now! Now!

With our full range of equipment, we offer you the

service you want, when you want it.

•Hiab-Crane Trucks –upto10tonne lift •Specialised Container Cartage

•20/40' Swinglift •Freight and General Cartage •Bulk Cartage

•Tip Truck Hire •Flat Deck Truck &Trailer Hire

•Hay, Straw and Baleage Cartage •Flat Deck Tippers

•MPI Accredited Container Devanning Facility •Tail Lift Available

• Daily Freight Rangiora and surrounding districts - Christchurch

•20' Container Hire /Storage

P.O. Box 171 ● 279B Flaxton Road ● Rangiora ● www.transportrangiora.co.nz

Phone 03 313 6026 Fax 03313313 6024 email admin@transportrangiora.co.nz

2386578
---
NEWS

2 North Canterbury News, October 28, 2021

Grow

customers,

salesand

profits

with North

Canterbury's

bestread

newspaper

Readership: 48,000 weekly

Circulation: 30,150copiesdelivered

to EVERY farm, RD, lifestyle block

and home inWaimakariri, Hurunui

&Kaikoura every Thursday.

news

Robyn Bristow

Managing Editor

027 312 1581

robyn.bristow

@ncnews.co.nz

Reporters

David Hill, Shelley Topp.

advertising

DaynaBurton

Sales Manager

027 312 0089

dayna.burton

@ncnews.co.nz

AmandaKeys

Advertising

027 536 6224

amanda.keys

@ncnews.co.nz

JillianDickie

Advertising

022 024 3092

jillian.dickie

@ncnews.co.nz

getintouch

Editorial

info@ncnews.co.nz

Advertising

sales@ncnews.co.nz

Graphic Design

heather.hood@ncnews.co.nz

Distribution/Deliveries

03 314 8335

Rangiora: 03 313 2840 /03314 8335

14 Ashley St, Rangiora

Christchurch: 03 364 7460

www.starnews.co.nz

Plaque to honour WW1 service

By ROBYN BRISTOW

The Rangiora War MemorialCenotaph

will be the firstinNew Zealand's historyto

honourthe war serviceofanimals,

alongsidethe listed menand womenthat

served.

Agraniteplaque will take pride­of

­placeonthe rearface of the Cenotaph in

central Rangiora, and will be unveiled by

Waimakariri Mayor Dan Gordon, on

November 19 at aspecialservice.

The unveilingwill followaparade from

the Rangiora RSA of dignitaries, including

RSA president Ian Thompson, supporters

and animals.

The plaque carries the logo designed by

local Okuku artist, Stephanie

Skjoldebrand,in2015 for the Birch Hill

Station WWI Memorial Ride. It hasbeen

crafted by Decra Art, in Christchurch, and

is the result of tireless workbya

passionate group of animal loversto

honourand remember the serviceof

animals, none of which received any

recognition for the important part they

playedinthe WWI ­1914 to 1918.

Skjoldebrand's logohas alreadyfound

its way to the Pozieres memorial in the

Somme Valley in France, in an

internationaldisplaytohonour the WWI

service animals.

It willnow takeits rightful place on the

Rangiora cenotaph, thanks to $1460 being

raisedfrom the local community during a

Birch HillStation Remember the War

Horse Ride in 2018, and the hardwork of

Thereza Rosanowski, Okuku,Ann Wilson,

Cust, and Clare Hammond, Mt Thomas.

It honours the 10,000 New Zealand

horses, alongwith donkeys, mules and

camels, and around2000 dogs,cats,

canaries and pigeons.Dogs served as

mascots, sniffed outbombs and found

injured soldiers, cats caught ratsinthe

trenches, canarieswent into tunnels to

identify the presence of gas and the

pigeons flew through gunfire or mustard

gas taking lifesavingmessages.

''These animalswere alsothe soldiers'

best friend on their darkest days. They did

not really receiveacknowledgement until

recentyears,''says Thereza.

She says theirloyalty was

unquestionable, their human partnership

Quality Collision Repairs in the

Heart ofAmberley

Plaque of honour ... This logo, honouring the WWI service of animals, will be etched on

to aplaque and placed on the Rangiora War Memorial Cenotaph at aspecial ceremony next

month.

IMAGE: SUPPLIED

unforgettable, and their sacrificehuge.

As Rangiora prepares to honourthe

animals, Purple Poppy Day has been

established in New Zealand, Australia,the

United Kingdom and the United States on

February24, to jointly show respect and

acknowledge all animalsthat diedduring

conflict. ''Itgivesmeasense of peace,''

saysThereza. She says Anzac Day honours

the men and women who sacrificed their

lives for peace. But there was now aday to

honour the animals.

Unfortunately the groupwas unable to

organise the plaque to coincide with the

Get your car repaired by us in

December and January and go into

the draw for a$100 Prezzy Card

• Competitive Rates

• Insurance repairs

• Free Quotes

• Courtesy Vehicles

• Free Pick up and Delivery

• TowTruck, Vehicle Recovery

Your car, your choice, support local

105 Carters Rd, Amberley

Ph: 314 8434

E: office@amberleycollision.co.nz

2429658

February date, but discussion with the

localRSA and president Ian Thompson,

alongwith Mr Gordon, has culminated in

the specialceremonynext month. The

cenotaph,which was built on land donated

by Charles Leech, in 1924, is amemorial to

thosewho fell in WW1.Itwill be given a

spruce up by stonemason PeterDunn for

the ceremony. Alarge stone monument at

the Birch Hill cemetery in memory of the

horses of the 8th Regimentofthe NZMR

that died in the WW1 wasofficiallyopened

by LieutenantColonelEdward Bowler

Millton in 1937.

Plan change decisions in early December

The drawn out saga of PlanChange 7and

2, are set to come to aconclusion.

EnvironmentCanterbury(ECan) is

required to decide whethertofinally

adoptPlan Change 7tothe Canterbury

Land and WaterRegional Plan and Plan

Change 2tothe Waimakariri River

RegionalPlan by December9.

They were notified in July 2019,

following extensive public consultation by

the Waimakariri Zone Committeein

developing the zoneimplementation plan

addendum. The process was further

delayed earlierthis year when

Environment Minister DavidParker

granted athree month extension to allow

ECan to consider the implications of the

Overseer review by the Ministryof

Primary Industriesand the Ministryfor

the Environment. The decisionfound

Overseer had ''overarching structural

problems''. ECan's independent hearing

commissioners have delivered their

recommendations on the proposed plan

changes. They will be made public as part

of the meetingagendawhen ECan finally

considers whether to adopt theplan

changes.

The regionalcouncil is due to meet

again on November 18.

RECYCLING FOR ACAUSE

October 31, 2021 10:30am -3:30pm

YOU DONOT WANT TO MISS THIS ONE!

HUGE SELECTIONOFRECYCLED CLOTHING

FROM ELEGANT TO EVERYDAY AND

EVERYTHING IN BETWEEN FORALL THE

FAMILY PLUSACCESSORIES GALORE

ALSO STALLS OF HORSE GEAR,PRODUCE,

WHITE ELEPHANT,PLANTSAND BAKING

COME ALONG AND HAVE SOMEFUN

HELPING OTHERS HELPING THE PLANET

ITSAFEELGOOD ALL ROUND!

Bring your own bag and head to the NCRDA

(located next to the Rangiora Showgrounds) to see

whatwe're all about,find something you'll love

knowingyou are helping out aworthy cause.

Sorryno EFTPOS cash only

NCRDA thank you for your support!

2429779
---
NEWS

North Canterbury News, October 28, 2021

3

LAWNMASTERESTATE ESTATE SPECIAL

Save $100 on the Lawnmaster

Estate range *

Was$849

Now $749

Ashley fury ... Afire volunteer keeps akeen eye on the Ashley/Rakahuri River from the Cones Road Bridge, as flood waters continued

to rise during the May 31 flood. The severity of flood damage to some properties meant the question of ''retreat scenarios'' was pondered.

Retreating afuture possibility

By DAVID HILL

''Retreat scenarios', where land is

damaged so much it is deemed

uneconomic to restore, may need to be

considered in future disaster

recoveries.

Waimakariri District Council

recovery manager Simon Hart says

council staff engaged with government

agencies and the insurance industry,

following the May 31 flood event to help

determine whether some properties

were economically viable to be

repaired.

A''retreat scenario'' is where

properties with land damage are

deemed uneconomical to restore, such

as the residential red zone following the

2010 and 2011 earthquakes in Kaiapoi.

''It's amassive issue. The discussion of

'retreat scenarios' is anational level

conversation and Ithink it will be

something councils will need to

consider in the future,'' Mr Hart says.

''As the discussion evolves, things will

become clearer how this might work in

the future, but for now we have to do the

best valuation we can and make

decisions on acase­by­case basis

alongside communities and the

appropriate agencies.''

Legislation such as the Climate

Change Adaptation Act and the revised

Resource Management Act should

provide some clarity in time, he says.

''It's adifficult conversation to have.

Someone who has just had their home

flooded is faced with the anxiety of 'is

someone going to come along and tell me

Ican't live here any more'.''

When these issues arose after the May

31 flood event the council sought advice

from Land Information New Zealand,

the Department of Conservation, the

Department of Internal Affairs, the

Insurance Council and the Ministry for

the Environment.

''The indication we got was that this

event wasn't considered to be significant

enough to trigger that and the insurance

companies said there would still be

insurance available following this

event,'' Mr Hart says.

The prospect of climate change and

sea level rise means ''retreat scenarios''

may be triggered in future events. But

Mr Hart says the experience of red

zoning in Kaiapoi after the earthquakes

shows these are complex decisions and

''the impact on people should not be

understated''.

''As Simon Markham stated from the

Kaiapoi experience, the focus has to be

the people.

''What is in the best interests of the

people who reside in those locations?

That has to be the starting point.

''It's such asignificant thing to move a

community who have been through a

significant event. It's one thing to say

'we've got afinancial package', but

people have neighbours and support

networks, workplaces and routines and

all those other things that are part of

people's lives.''

The experience of the earthquakes

and the May 31 flood event has shown

that while the event itself may not cause

significant harm to people, ''the harm

can happen during the recovery'' to

mental wellbeing due to the ongoing

dealings with agencies and insurance,

Mr Hart says. ''It needs to be aholistic

approach and not just the handing over

of acheque to rebuild ahouse.''

PHOTOS: FILE

Retreat scenarios ... The severity of flood

damage to some properties meant

questions were asked around economic

viability.

Check

Out These

Features:

• Ball Bearing Wheels ESTATEECO READYSTART

• Ready Start Engines (no priming)

• Quality Alloy Chassis with LIFETIME Warranty

• 5Year Engine Warranty

• Oiled &Fully Assembled

*Excludes the Estate 400

Turkish Leather

360 FlaxtonRoad,Rangiora

Ph 03 313 5563

www.kingsmowersheating.co.nz

AMBROSE

Khaki, Cameo

L 37 -41

$149

AMAZE

Nude, Black

L37-41

$149

Kaiapoi Mill, Ranfurly Street, Kaiapoi

Monday –Friday 9am –5pm

Saturday 10am –1pm

Closed onPublic Holidays

Ph 03 327 0576

2418841v1

2419884

2187722

• General Dentistry

• Family Dentistry

• Funded Dental Care

0-18 *

• Dental Therapy

• Hygiene Clinic

2424172

Open Monday to Friday 8.30 to 5.30 |www.pagdental.com

LATE NIGHT TUESDAY

*Conditions Apply

PAGPegasus Dental

54 Pegasus Main St Pegasus

03 920 4003

pagpegasusdental@gmail.com

• Teeth Whitening

• Minor Oral Surgery

• Facial Pain

• Oral Medicine

Specialist

• Finance Options

Available

•Ample parking, easy

access

•Clinicians all New

Zealand trained

•Super Gold and

Community Services

Card Discounts

PAGSilverstream Dental

4/42 Silverstream Boulevard Silverstream

03 925 8003

pagsilverstreamdental@gmail.com

BRING

YOUR

PASLODE

FOR A

HEALTH

CHECK

82 Carters Rd,

Amberley

03 314 8311

sales@bashersitm.co.nz

SALE NOWONON

1OCTOBER -30NOVEMBER 2021

TOOLBOX

GETYOUR HANDS ON

ALLTHE BIGGESTBRANDS.

2021

SALE

DEMOS,

DEALS &

DELICIOUS

BREAKFAST

7am

Nov 2 nd

2423058v1
---
NEWS

4 North Canterbury News, October 28, 2021

Roundabout planned at Rangiora crash site

By SHELLEY TOPP

Aroundabout willbeinstalled at one

of Rangiora'smost dangerous

intersections, but not until2025 at the

earliest.

Acrash at the intersection of

Lehmans andOxfordRoadslast week,

between atruckand autility,

highlightedthe dangerthe

intersection poses.

The drivers escaped with moderate

injuries, but around 100subscribers

were left without internet connection

afteraChorusbroadband cabinet

became avictim of the crash,

damaging it beyondrepair.

Moneyhas been budgeted by the

councilfor 2025­2026 and 2026­2027to

buildthe roundabout,says Karen

Lindsay Lees, aWaimakariri District

Council communications and

engagement officer.

It alsorecentlyfeatured in areview

on proposed new speed limits across

the district. Public feedback closed on

October 18.

Data from thatreview is still being

analysed. However, the Rangiora­

Ashley CommunityBoard recently

approvedareport recommending

''Give Way'' signs be replacedwith

''Stop''signs at three locations in

Rangiora.

''These include the intersectionsof

Lehmans Rd at Fernside Rd, Lehmans

Rd at JohnsRdand Elm Driveat

Oakwood Drive,'' Karen said.The

intersection at Lehmans Rd and

Oxford Rd is alreadycontrolled by

''Stop''signs on Lehmans Road.

The Lehmans Rd intersectionshave

had numerous nearmisses and

accidents over the years including the

latest crash.

Chorus communityrelations

manager Jo Seddon said the cabinet

had to be replaced after the

electronics in it weredecimated. It

was replacedtwo days after the crash.

Apower pole on LehmansRd, close

to the intersection, was also damaged

during the crash withdowned power

lines causingapower cut in the area.

The intersection was closed to

trafficwhile MainPowerreplaced the

pole and powerwas restored later that

day.

Restored connections ... The replacement

cabinet installed last Tuesday which

restored internet to more than 100 homes

and businesses in the area close to the crash

site.

PHOTO: SUPPLIED

0800 DEUTZNZ

Work in progress ... Downer workmen prepare to remove the broadband severely

damaged in the collision at the Lehmans Road/ Oxford Road intersection in Rangiora last

Monday morning.

PHOTO: SHELLEYTOPP

Battered and broken ... Wiring and parts of the old cabinet were scattered in apaddock

after the collision.

PHOTO: SUPPLIED

WEBSHOP

NOW OPEN

2421216

11 Bowmaker Crescent

Ravenswood

Christchurch

13A Douglas Alexander Parade

Albany

Auckland

Ph: 03595 +64 9414 28487360 Fax: +64 9414 +64 7360 9414Fax: 7365 +64 9414 7365

2018 •2019 •2020

DEALER OF

THE YEAR

www.shawdiesels.co.nz
---
NEWS

North Canterbury News, October 28, 2021

Rewriting disaster management in Waimak

5

By DAVID HILL

Multiple natural disasters in recent

yearsmay cause arethinkofhow the

WaimakaririDistrict Council

managesdisasterrecovery.

Afterleading the council's May 31

floodrecovery efforts,and responding

to Covid­19 lockdownsand storm

events, recovery managerSimon Hart

has proposed the council rewrite its

recovery plan,whichwas written in

2002.

The review would also consider

lessonsfrom the district's recovery

from the 2010 and 2011earthquakes,

when strategy and engagement

manager Simon Markham was

recovery manager.

''Theplan we have is fundamentally

OK, it covers all the normal aspects of

recovery and it was referred to

initially afterthe earthquakesand

afterthe floodevent.

''It refers to CivilDefence recovery

options and it takes you through how

to set up variousstructures.

''Butwehavelearned alot and

gathered amountain of material in

recovery documentsover the last 10

years.''

The earthquakeexperience

provided lessonsonscaleand

duration, which proved to be greater

than anticipated, and gave the council

the opportunity to thinkabout ''how

recovery happens''.

The Covid­19 experience, on top of

the earthquake recovery, has raised

the importance of considering how

people areimpacted, what agencies

are likely to be involved and ''how do

we look aftersocialwellbeing?'', Mr

Hart says.

''We stillhave adepthofknowledge

with Simon Markhamand other senior

managers who worked through the

earthquakerecovery, so while that

knowledge is still herewewant to

capture those learnings.

''If Simon Markham and Iaren't

aroundwhen the nextbig event

happens, we want to leave something

for the next recoverymanager so

they're not having to trawlthrough

mountains of documents to findwhat

they need.

''SimonMarkham has created

documents which havebeen

implemented aroundthe worldfrom

the experience of the earthquake

recovery in Kaiapoi, so we willlook to

includethat in the recoveryplan,

rather thanjust having aset of

documents.''

The reviewwouldalso consider the

National Emergency Management

Agency's ''director'sguidelines'',

which incorporate government

legislation.

Mr Hartsays the important thing for

arecoverymanager to rememberis

''that the nature of recovery is

continually evolving''.

''What you write up in the firstweek

as your priorities are likelytobe

significantly different by weeks four

and five.

''What wassignificantinweek one

may be resolved very quickly, but then

there'sthings like wellbeing,

underground infrastructure and rural

lifestyleblocks (as in the flood), which

may not be immediateemergency

situations, but become more

important as the recoveryprogresses.

''Your underlying arrangements and

the actualtasks will be continually

evolving, so you needtohave a

recovery plan which is agile.''

Under the recoverymanager, the

counciltypically callsonother

''pillars of recovery'' or expertise as

needed,such as economic,community

Simon Hart

and social, rural sector, infrastructure

and natural environmentsrecovery.

For economic recovery expertise,

Enterprise North Canterbury is called

upon,whilethe council's community

team leads communityand social

recovery,with the Ministry of Social

Development also abletobecalled

upon.

Future recoverymanagers may need

to manage simultaneous events,Mr

Hart says.

''If you think aboutthe floodevent in

May, then therewas afloodinBuller,

the windevent in June andacouple of

Simon Markham

months later we wereinlockdown and

there were other events regionally

and nationally.

''It'ssomething we need to consider

through the recoveryplan that it's

likelythat the next big event may not

be the only event in town or the biggest

event in town, and we may be working

with agencieswhich are dealing with a

numberofdifferent events andon

different scales.''

Mr Hartwill be preparing aproposal

for councillorstoconsider as part of

next year's 2022/23 Annual Plan

process.

"your best move"

Now is agreat time to sell your

property -homes across Canterbury

have been selling ataWHOPPING

average of 32.12% above RV!

We are here ready to help you achieve

the BEST sale price possible and until

30 November 2021 we will:

• Pay $1200 towards aremovalist to help

you move

• Pay $500 towards acleaner to

complete your final clean

• Provide $600 worth of marketing to

best promote your property

0508 call lime

limerealestate.co.nz

Lime Real Estate Ltd Licensed REAA 2008 |Data sourced from REINZ for the months ofJune &July

2021. Lime Real Estate takes noresponsibility for the accuracy ofthis data. This statistic excludes rural

properties, bare land and properties with no current RV.|T's &c's apply: limerealestate/readysetgo
---
OPINION

6 North Canterbury News, October 28, 2021

Around the electorate with

STUART SMITH MP FOR KAIKOURA

Electoral law review

Labour Minister KrisFaafoi's decision

earlier this month to commissionareview

of electoral law is franklyabsurd for two

reasons.

The first is that New Zealand is

currently battling through restrictions,

businesses throughout thecountry are

beingstarvedofincome, people are locked

up in their homes, the immigration system

is amess and the New Zealand economyis

losing $1 billion aweek.

But despite this, the Minister is more

interested in electoral law changes than

the pressing issues at hand.

Secondly, the Justice Select Committee

in Parliament,whichhas opposition

members on it, is already undertaking an

inquiry into the 2020 General Election

alongwith the 2019local body elections.

So the question is, why would Minister

Faafoi want to spend more tax­payerfunds

on asecond review? What is the real

reason this was suddenly announced?

It's adistraction. When the Government

is in trouble it diverts attention any way it

can.

In Minister Faafoi's review, it promises

'cross­party engagement and participation'

but it really needs to promiseNew

Zealanders therewill be no law changes

without agreement fromotherpartiesin

Parliament. Istrongly believe that the

votingage shouldbekept at 18. Thatis

when most peoplebecomeindependent,

finishschool, move out of homeand go to

university or seek full­timeemployment.

It makes logicalsense then,tohave the

votingage at apoint where peoplemake

this transition.But regardless of what I

think,any changestothe voting age,term

limits, or even the MMP threshold, should

all go to referendum.

The Government has ahabitofdoing

thingsbystealth, like the He Puapua

reportand Three Waters, but they won't

get away withthis. Our democracyisfar

too important for any single political party

with aParliamentary majority to be

tinkering with.Infact, whatshould be of

concern forNew Zealanders, is that the

current Government is abletorush

through legislation underthe guiseof

urgency using theirsheer weight of

numbers without due consideration.

This can onlylead to bad outcomes and

reinforcesthe old adage that 'power tends

to corrupt, and absolutepower corrupts

absolutely'. This applies no matter the

political persuasion.

Iamcertainly opentodiscussing change

to electorallaw, and in fact,welcome any

engagementonthe issue.

KAIKŌURA VIEWS

MAYOR CRAIG MACKLE

Vaccination the key

Getting aroundthe districtIcan feel the

tension.

And it'sall Covid uncertainty.

Deltaiscomingand we all knowit.

And as Iwrite this for the papers

deadline, aBlenheim case is

announced.

The Governmentistelling us moreof

what theyare going to do, and the key is

gettingvaccinated.

The 90% target is not goingtobeeasy.

And it needs to be aminimum, not the

finalgoal.

Kaikouramade greatprogress –thank

you to the Health Centreteam and all

thosesupporting them.

Now its even more importanttoget as

many of the rest across the line.

Iget it that it'sachoice.

But it's achoice that has serious

consequences.

The main danger is Covid's impact on

people's health, andthe pressure that

will put on local and regional health

services.

And the lateststatistics show Delta's

not justfor the elderly,it's also affecting

20 to 40­year­olds and children.

Covidisimpacting on our businesses

and jobs.

Getting around, people are worried.

It'sbeen tough as we havenot had

visitorsafter lockdown like we did last

year —many were fromAuckland.

Now we are close to summer season

and if we canget to 90%, our local

businesseswill needtooperate vaccine

certificates.

Thoseofyou who have not got the jabs

yet because you been busy, please make

it top priority.

And for thosewho have been

hesitating pleaseget advice from the

likesofthe medical centre people.

The restrictions that will apply to the

unvaccinated are becomingmuch

clearer.

Localevents are affected.

The Trotting Club had to make ahard

call.Good luck to The Hop whichis

trying to run arestricted version

complying withevent restrictions.

Let visitors know about Crayfest over

the next couple of weeks.Ispotted a

couple of dishes that I've got my eye on.

Maybecelebrate your vax with anight

out. Let's do our part. And let'ssupport

each other.

Disadvantaged elderly

DearEditor,

Iread withinterest you article

regarding digital disadvantage to the

elderly (North CanterburyNews

September 23).

The followingnight on the news we

havereport on the increase of

homelessness among our senior

citizens.

It seemstomeit is notthat long ago

theywere discussingways to keep us

all healthy, happy and independent.

Iamnot surejust howitworks —alot

don't haveorwant acomputer or

eftpos card,but Iknowyou have to do

it thatway,or go to yourbank and pay

youraccounts.

Wait, Ilive rurally andnolongerdrive

so thatmeans annoying my verybusy

family.

Use acellphone Iamtold.

Oh there hasbeenastorm or amajor

McALPINES MITRE 10 MEGA RANGIORA -OCEAN WATCH

This

Week

Sun

Fishing

Guide

Moon

Wind

Swell

Pegasus Bay

Tide Chart

3

2

earthquake, lines are not available

andanyway, Iforgot to charge it.

Is my corded phone going to be any

goodwhenpower is downfor along

time? I'm not sure.

We cannot afford to rent.

Alot of us do notunderstand modern

technology,we cannot payour bills by

cheque,and we arefeelingleftout and

isolated.

Thelatest survey tellspeoplethere a

more and moreofus suffering

depressionand what can we do about

tit.

All the availablesocialevents —

swimming, exercise classes, movies —

all cost moneywedon'thave.

We arenot going to get up at 6amto

joinkeep fitwithLes Mills on TV.

Thereare alot of veryunhappy senior

citizens out ther,e and Ithink we

deserve better.

Yours,

Yensie Eder,Oxford

Amberley

DearEditor,

There was arecent promotion for the

townofAmberley whichcovered a

numberofaspectsthatmake it a

destination.

Ireally have nothing against

Amberley, Ilive here, and lovethetown,

the peoplewho livehereand am pleased

to see apromotion to try to entice

visitors.

However, Iwould takeissuewhen the

townispromoted as agatewaytocycling

adventure,itisnot.

Twotrails arementioned,the Hurunui

HeartlandCyclerouteis just that,a

route. It is on somesealed roads anda

lot on unsealed.

The unsealed areoftenveryrough

going and dusty withvehicles, including

loggingtrucks, oftenpassingatspeed.

Certainly notaroute for afamily day

trip.

Thursday Friday Saturday Sunday Monday Tuesday Wednesday

Oct 28 Oct 29 Oct 30 Oct 31 Nov 1 Nov 2 Nov 3

Rise 6:17am

Rise 6:16am

Rise 6:15am

Rise 6:13am

Rise 6:12am

Rise 6:10am

Rise 6:09am

Set 8:08pm

Set 8:09pm

Set 8:10pm

Set 8:12pm

Set 8:13pm

Set 8:14pm

Set 8:16pm

Ok

Best 6:42am

Best 7:33am

Best 8:23am

Best 9:11am

Best 9:59am

Best 10:47am

Best 11:36am

Ok

Ok

Ok

Fair

Fair

Good

Times 7:07pm

Times 7:58pm

Times 8:47pm

Times 9:35pm

Times 10:23pm

Times 11:11pm

Times

Rise 2:22am

Rise 3:03am

Rise 3:39am

Rise 4:09am

Rise 4:35am

Rise 5:00am

Rise 5:24am

Set 11:05am

Set 12:07pm

Set 1:13pm

Set 2:23pm

Set 3:34pm

Set 4:47pm

Set 6:02pm

Gentle SW becoming Gentle Sbecoming Moderate SW turning Moderate SW turning Moderate Sturning Moderate SW turning Gentle SE becoming

moderate E

moderate E

S

S

SE

SE

moderate E

E0.8 mturning

E0.4 m E0.6 m E0.5 m

S SE 0.7 m SE 0.6 m E0.6 m

3 6 9 NOON 3 6 9 3 6 9 NOON 3 6 9 3 6 9 NOON 3 6 9 3 6 9 NOON 3 6 9 3 6 9 NOON 3 6 9 3 6 9 NOON 3 6 9 3 6 9 NOON 3 6 9

TheAmberley to Leithfield''trail'' is

again on existing roads. It is abeautiful

rideonaniceday and reasonablysafe,

butit is not amadetrail,again justa

route.

In the winteritisoftenimpassable as

there is asection which isn't atrail at all

andcrosses theKowai river which, in

thewinter, haswaterflowing, sometimes

alot of water.

Yes, in the summeritisrelatively easy

to cross asthe river bedisdry but

covered in rocks.

Amberley has littlesafe cycling, andin

comparisontoChristchurch, and the

evennearer Rangiora, offers virtually no

truecycling trails.

If you want purposemade,off road,

safe,cycletrails go to Rangiora or

Pegasus, there are many kilometres of

them.

Yours,

Mike Gilbert

Amberley

1

0

Highs Lows Highs Lows Highs Lows Highs Lows Highs Lows Highs Lows Highs Lows

Waimakariri 11:07am 2.1 4:50am 0.8 11:53am 2.1 5:37am 0.8 12:20am 2.0 6:25am 0.8 1:07am 2.1 7:14am 0.7 1:54am 2.1 8:03am 0.7 2:42am 2.2 8:54am 0.6 3:33am 2.3 9:46am 0.5

Mouth

11:34pm 2.0 5:27pm 0.8

6:15pm 0.8 12:40pm 2.2 7:03pm 0.7 1:28pm 2.2 7:48pm 0.7 2:17pm 2.3 8:34pm 0.6 3:06pm 2.3 9:21pm 0.5 3:56pm 2.4 10:10pm 0.4

Amberley 11:07am 2.1 4:50am 0.8 11:53am 2.1 5:37am 0.8 12:20am 2.0 6:25am 0.8 1:07am 2.1 7:14am 0.7 1:54am 2.1 8:03am 0.7 2:42am 2.2 8:54am 0.6 3:33am 2.3 9:46am 0.5

Beach

11:34pm 2.0 5:27pm 0.8

6:15pm 0.8 12:40pm 2.2 7:03pm 0.7 1:28pm 2.2 7:48pm 0.7 2:17pm 2.3 8:34pm 0.6 3:06pm 2.3 9:21pm 0.5 3:56pm 2.4 10:10pm 0.4

11:16am 2.1 4:59am 0.8

5:46am 0.8 12:29am 2.0 6:34am 0.8 1:16am 2.1 7:23am 0.7 2:03am 2.1 8:12am 0.7 2:51am 2.2 9:03am 0.6 3:42am 2.3 9:55am 0.5

Motunau 11:43pm 2.0 5:36pm 0.8 12:02pm 2.1 6:24pm 0.8 12:49pm 2.2 7:12pm 0.7 1:37pm 2.2 7:57pm 0.7 2:26pm 2.3 8:43pm 0.6 3:15pm 2.3 9:30pm 0.5 4:05pm 2.4 10:19pm 0.4

11:18am 2.1 5:01am 0.8

5:48am 0.8 12:31am 2.0 6:36am 0.8 1:18am 2.1 7:25am 0.7 2:05am 2.1 8:14am 0.7 2:53am 2.2 9:05am 0.6 3:44am 2.3 9:57am 0.5

Gore Bay 11:45pm 2.0 5:38pm 0.8 12:04pm 2.1 6:26pm 0.8 12:51pm 2.2 7:14pm 0.7 1:39pm 2.2 7:59pm 0.7 2:28pm 2.3 8:45pm 0.6 3:17pm 2.3 9:32pm 0.5 4:07pm 2.4 10:21pm 0.4

11:16am 1.7 5:01am 0.6

5:45am 0.6 12:29am 1.6 6:31am 0.6 1:14am 1.6 7:18am 0.5 1:59am 1.6 8:07am 0.5 2:46am 1.7 8:57am 0.4 3:36am 1.8 9:49am 0.4

Kaikoura 11:45pm 1.6 5:38pm 0.6 12:02pm 1.7 6:24pm 0.6 12:49pm 1.7 7:09pm 0.5 1:36pm 1.7 7:54pm 0.5 2:24pm 1.8 8:38pm 0.5 3:12pm 1.8 9:25pm 0.4 4:02pm 1.8 10:13pm 0.4

*Not for navigational purposes. Wind and swell are based on apoint off Gore Bay. Maori Fishing Guide by Bill Hohepa. www.ofu.co.nz www.tidespy.com Graphic supplied by OceanFun Publishing Ltd.

2118223
---
Sand dune project is hands-on

By SHELLEY TOPP

Aunique TuhaitaraCoastal Parksand

dunesprojectaimstore­establish a

coastal forest sequenceofindigenous

vegetation to mitigate againstclimate

change.

Theproject steers away from hard

engineeringand concrete seawalls.

TheNorthern Pegasus Bayproject,

whichbegan in 2020, is acollaboration

betweenthe Te Kohaka oTuhaitara Trust

andthe CoastalRestoration Trust of New

Zealand(CRTNZ).

It is partofthe Te Kohaka oTuhaitara

Trust's 200 year vision to restore thepark

land,coastal communities andprovide

opportunities for mahinga kai(food

gathering).

Greg Byrnes, the generalmanagerof

thepark,whichisrun by theTeKohaka o

TuhaitaraTrust, saysthe trust sees

strengthening thedune systembetween

theAshleyRakahuri and Waimakariri

rivers as aprioritytomitigatethe

increasing threat of storm, seaand sealevelrise.

Thehopeisthat theprojectwill

eventually restore the area to what would

have existed therebeforehuman

settlement.

MichaelBergin, of the CRTNZ says the

TuhaitaraCoastal Parkprovidesaunique

area forthe project.

``We have gotoverakilometre long

transectabout 50 metres widewhere

thereisnoinfrascructure, no roads, and

thereisnohousing or carparks.

''This is quite rare now because

historicallywehave allgoneand putour

houses up on the topofthe dunes because

that is wherethe seaisand that is where

theview is.''

This seaside developmenthas occurred

despite the sanddunesprobablybeing

themost volatile anddelicate of allthe

ecosystems in NewZealand, Michael says.

Planting day ... Te Kohaka oTuhaitara

Trust trustee Rex Anglem during a

community planting day in the sand dunes

in Northern Pegasus Bay in Waimakariri's

Tuhaitara Coastal Park recently.

PHOTO: SHELLEY TOPP

``Theyare not natural buffers.

''Natural vegetation will present afar

moreresilient buffertoerosionevents,''

Michael says.

However thePegasus Baysitedoes

present difficulties re­establishing

vegetationbecause of itsexposed, harsh,

salt­laden coastal location andoften dry

summers.

``Oncecover hasgoneitisverydifficult

to re­establish,soatthe moment we are

goingthroughthoseearlysuccession

processesofoftryingtofind which

species, whichfirstnurserycrop, will

bringthat initalshelterand shadeand

prevent weedgrowth to providenice

habitat for other moredelicatespeciesto

eventually come in,'' Michaelsays.

Managing theweedsisabalancingact

because they keep thenative plantsaway.

''Then of course every second year we

seem to be having droughts,largely

perhaps induced by climatechange, so it

is arealmission.''

Duringarecent planting day at the

park, Michael,who is from Rotorua,

joined Greg, Te KohakaoTuhaitaraTrust

trustee,Rex Anglem, andcommunity

volunteers, planting spinifexand pingao

in the foredune sectionofthe coastal

forest sequence.

''These arethe onlyindigenous species

suitedtothat exposed, harsh coastal dune

margin,'' Michaelsays.

''The arevery effectiveinbuilding a

resilientnatural buffer along our coastal

sand dunesacross the upperSouth Island

andall of the NorthIsland beaches.''

In themid to backdune areas of the

coastal forest sequence otherindigenous

coastal ground cover such as shrub

hardwoodand tree species suchasngaio,

akeake, harakeke and ti kouka,have been

planted.

''We havealso establishedaseries of

monitoring plots across thesite to assess

thesurvival and growth rates of the

plants,'' Michaelsays.

''Thiswill allow us to determinewhat is

working and which species do bestinthis

very challengingenvironment.''

Theresultsofthe project will be

disseminated and distributed to provide

recommendations to thepublic and

community groups,pluscoastal and

environmental managers to useand apply

in their ownareas.

NEWS

North Canterbury News, October 28, 2021

7

Nina Valley

award

The Hurunui College Nina Valley

Restoration group has been

recognised by the CanterburyAoraki

Conservation Board, winningthe

Schools Award in its awards.

Thegroup received a$500 grant

fromsponsor Glentanner Park (Mt

Cook) ltd.

Each yearthe CanterburyAoraki

Conservation Board acknowledges

and celebrates theconsiderable

conservation work beingdelivered by

communityand school groups across

Canterbury.

''The level of commitment and

enthusiasmfrom theselargely

volunteer groups andtheirsuccesses

for our native species are just

amazing,''says chair Paula Smith.

''We had entries fromall over

Canterbury.All the entries were of

such high calibre that we wishwe

couldgive allofthem an award.

''This is conservation leadership

andmahitobecelebrated,''she says.

Working together in the Nina

Valley of the LewisPass over thelast

13 years,thisdedicated groupofhigh

school students has installed and

maintained extensive predator

trapping lines.

There are over 200 traps forpest

control as part of supporting roroa

(great spotted kiwi) and whio (blue

duck) in the Nina Valley.

Making the experience available

forall student volunteers, regardless

of personal access to gear, is a

priority for project leadand teacher

TimKelly, along withensuring

availability to appropriate health

andsafety gearfor thischallenging

environment .
---
NEWS

8 North Canterbury News, October 28, 2021

Spending patterns normal

By DAVID HILL

Waimakariri spending patterns

have returned to ''normal''

followingthe latest lockdown,

accordingtorecentspending data.

Figuresfrom Marketview, based

on Paymark eftpostransactions,

shows retail spending patterns in

theWaimakariridistrict are

similartothe lasttwo years,

followingthe latest lockdown.

Theoverall retail spend for the

year to date was back to tracking

3% ahead of last yearbythe second

week of October.

''We did see asignificant

increaseinspend for 24 hours

before the lockdown and the trend

almost exactly mimickedMarch

2020, and then we saw adip in

spend, but it wasn't as bad thistime

around,'' Waimakariri District

Council business and centres

manager SimonHart says.

''Alot of our businesses have

become more slick,they've got

better processes in place and

they'reoffering onlineoptions.

''Overall areasonably good

result, andabig well done to our

business communityfor showing a

high level of innovationand

resilience, and to our residents for

supporting their localbusinesses.''

Enterprise North Canterbury

hasreported thatbusinesses

appeared to be better prepared

andwere aware of what

government support packages

were available.

While last yeartherewas abig

bounceback in retail spend

followinglockdown, this time the

bouncewas not as high due to

ongoing Alert Level2restrictions,

Mr Hart says.

Retail spend ... Innovation, resilience and people supporting local, has

kept the spend in the Waimakariri district on apart with the past two years.

''The levels in Delta have

changed. Last year alot of people

wentout and spent moneyonhome

improvements, buyinganew car or

going on anational holiday rather

thangoing overseas.But Idon't

think we are seeingthe same post

lockdownspikethis time,Ithink

people arejust settlingback into

their routines.''

The Waimakariri District

Council has aCovid­19 recovery

plan, whichwas prepared

following lastyear's lockdown, but

it has not been needed, Mr Hart

says. ''We were lookingatitand

having conversationstosee if we

needed to run that again, but the

lockdownwas alot shorter and we

got the sense from our

conversations withEnterprise

North Canterbury that there didn't

PHOTO: FILE

seemtobeaneed for any major

recoveryeffortsfrom this end.''

While the localeconomy

remains resilient, there is still

uncertainty with severalmajor

events includingthe Rangiora

Showbeing cancelled. How the

nextfew months playout will

determine whether the recovery

endures, Mr Hartsays.

''After Christmas we will

probably get more of asense of

how the country has responded,''

he says. ''There is still alot of

uncertainty, but Ithink New

Zealanders are pretty good in that

we would rather look aftereach

other rather than excessively go

out there and reclaimthe

freedoms we had. But it will be

interesting to see what the new

normal lookslike.''

Petition gets

broad backing

Ambulance officers and

frontline police are among

those who have put their

name to apetition calling

for helpaddressingarise

in mental healthcallouts.

More than 800 people

have signed apetition, set

up by Waimakariri MP

Matt Doocey and Rangiora

resident Matt Hennessey,

which calls on the

Canterbury District Health

Board (CDHB)toestablish

aco­response team.

''What is validating is

seeing the broadspectrum

of people backing this

initiative,'' Mr Doocey

says.

''We've got emergency

responders tellingusthis

is desperatelyneeded for

them, but we've also got

familymembers, and

peoplewith their own

mentalhealth struggles,

sayingthis could save

lives.''

Mr Hennessey initially

approached Mr Doocey

abouthow the police could

be better supported to deal

with emergency callouts

wherementalhealth

issues were afactor.

Subsequent meetings

with Rural Area

CommanderInspector

PeterCooper revealed20

per cent of Canterbury

police callouts are for

people in mentalhealth

crisis, up almost one third

between 2018and 2020.

''InCanterbury thereis

growing concernthat

police, who are not trained

in psychology, are being

heavily relied upon to

providefrontline mental

health support.''

Amental health coresponse

servicewould see

amentalhealth

professional joining

emergency respondersto

attend to mental health

emergency calls.

Mr Hennessey says this

would provide better

support for people in

distress,and ensure

frontline responders were

making best use of people,

skills and resources.

AtrialinWellington,

launched in Marchlast

yearand subsequently

extended, proved the case

for aco­responseteam

approach.

Police did agreatjob, but

it was vitally important the

mostvulnerable,intimes

of crisis, got the best help

frommentalhealth

professionals, Mr Doocey

says.

To sign the petition go to

change.org, and search coresponse

callout.

SPRING SALE

SPRING SALE

AT THE GORGE NURSERY

Monday 1 st – Thursday 11 th November

9am - 4pm

UP TO

50%

OFF

From theWaimakariri

Riverinthe southto

Kekerenguinthe north,

theNorth Canterbury

News hasgot it covered.

LARGE GRADE END OF LINE TREES – flowering

cherries, Canadian maples, Dogwoods, Ash,

Ginkgo, Pin oaks, Flowering Plums etc

NATIVES – Kahikatea, Totoara, Black Beech,

Broadleaf, Lancewoods, Ribbonwoods etc

Hedging plants, Hebes, Olerias, Purple Akeakes,

hydrangeas + much more

Please wear sturdy footwear

Cash and internet banking – sorry no eftpos

479 AshleyGorge Road, Oxford

Phone 0272837279 www.thegorgenursery.co.nz

2429870v1

Reaching

48,000 readers

every week
---
High quality garage doors

add security and value

Providing high quality New

Zealand-made garage doors is a

top priority for Hamish Gearry,

the owner-operator of Abel Garage

Doors.

The stylish garage doors he

supplies add to the look, security

and value of his clients' properties

and come with atwo-year warranty,

on the doors and motors.

Hamish has more than thirty years

experience installing garage doors,

doing residential and

commercial work, including

installations, repairs, maintenance

and preventative service work.

He services awide area, covering

Christchurch and North Canterbury,

including Kaikoura.

He gives free quotes and

consultations and specialises in

delivering tailor-made solutions for

his clients.

''We take the time to ensure that

we discuss all your options and find

the most suitable door for

your home or business,'' he says.

''Our friendly team can help you

make an informed decision.

''We will inspect your garage and

fittings, answer your questions,

and find asolution tailored to your

particular needs,'' he says.

''We offer afast, friendly and

efficient service.''

Abel Garage Doors can provide

sectional, roller and tilt doors all

made with top quality New Zealand

steel and Italian-made motors, plus

Cedar garage doors, supplied by

Christchurch company Magnum

Doors, are also available.

Hamish can

also

supply and install

automatic door

openers for

sectional, tiltt

and roller

doors.

This

includes

replacing

motors

and new

automatic

door opener

installs.

''We

professionally

service nearly every

Outdoor

Living

Hamish Gearry ...Owner of Abel Gawrage Doors has over

30 years experiece in garage doors.

brand of

residential and

commercial

garage door

opener,''

Hamish says.

He is available 24/7

for emergency work and

can do quotes for insurance work.

Abel Garage Doors is based in

Belfast.

Hamish can be contacted for

garage door requirements by

phoning him on: 027-2076128, or

(03) 3106577, or emailing him at

hamish@abelgaragedoors.co.nz.

See your

experts

in Rangiora!

2386035a

Gardens

PLUS

We Install &Service

Everything We Sell!

www.tiw.co.nz

03 313 0408

308 Flaxton Rd,

Rangiora

Landscaping

Free Quotes

Phone 027 537 2733

or 03 327 6850

www.easylawn.co.nz

2325172v1

Residential and Commercial

Installation, Repairs, Maintenance &Alterations

Services we offer for all door types:

New Garage doors: Sectional, Roller,Tilt &

Cedar

Partsand Maintenance

Door Upgrades

Supply and install automatic door openers for

sectional tilt &roller doors

Phone 027 207 6128 |03310 6577

hamish@abelgaragedoors.co.nz

www.abelgaragedoors.co.nz

2257749v1

Spring is fast approaching -

give Brett acall to discuss your

interior and exterior needs

Day Bros

Painters and Plasterers rs are

able to

handle your whole job -Nomore dealing with

two different trades!

We offer free quotes andservice Canterburywide.

Residential and commercial

properties.

We specialise in: painting

plastering roof spraying

specialised coating system

airless spraying water blasting

Local, family owned business who has been in business

for over 30 years. Members of master painters.

Please contact Brett on 0275 340 878

Email: office@daybrospainters.co.nz

www.daybrospainters.co.nz

2387068a

Need aQuality Builder in Kaikoura, Hanmer

&Hurunui? Full Builds, Extensions and Repairs

We have offices based in Rotherham and Kaikoura.

2325750v2

Jobs Large and Small

We are happy to help!

Contact ustoday for a

quote or to discuss

your next project

BGBeaven Builders

03 315 6346

www.hurunuibuilders.co.nz

wbeaven@amuri.net

Don't know where to start orhow to do it?

Gardens &Lawns doing their own thing –

not your thing?

Property maintenance falling behind?

No time for life on alifestyle block?

CALL IN THE EXPERT

LET AL-MOW AND MORE FOR YOU!

Regular maintenance or one off work

No job too big or small

Call Al Today!

P: 021 249 9495 |E:al@almows.co.nz

www.almows.co.nz

2325634v1

UPGRADE

YOUR EVERYDAY

TS138

Husqvarna SeriesEngine -14.7hp-38"Cutting Width

*

Offervalid 01/09/21-31/01/22 at participating Husqvarna Dealers, only while stocks last.

$

3,735 referstomodel TS138.

Your local authorised Husqvarna Dealer:

5YEARDOMESTIC WARRANTY #

#

Terms and Conditions apply,see HUSQVARNA.COM fordetails.

Ph.313 6640

275 Flaxton Rd,

Southbrook

sales@brandmowers.co.nz

LAWN

TRACTORS

FROM

$

4, ,449 *

WWW.HUSQVARNA.COM

2417081a
---
NEWS

10 North Canterbury News, October 28, 2021

Scooter training run

Waimakaririresidents are being

invited to take apink scooter for aspin

this weekend.

To mark the start of asix month trial

of commercial hire e­scooters in the

district, Flamingo Scooters is offering

community training days this weekend

for anyone wishes to learnhow to use

the scooters or simply enjoyafree

ride.

Training dayswill be held in the

council's Rangiora service centrecar

park on Saturdayfrom10am to 1pm

and in Charles Street parkand ride

site, next the Kaiapoi New World on

Sundayfrom 10amto1pm.

The trial will run from November

until April next year,with e­scooters

available for hire in Rangiora,

Kaiapoi, Woodendand Pegasus.

The e­scooters will be abletotravel

most places withinthe natural town

boundaries and betweenRangiora,

Kaiapoi and Woodend usingthe

Passchendaele Memorial Path and the

Rangiora­Woodend Path.

WaimakaririDistrictCouncil

business and centres advisor Vanessa

Thompson says the trial will allowthe

council to explorethe impact of

commercial hire e­scooters on public

spacesand to see if there is aplace for

this technology as an alternative

transport solution.

''One potential benefit is that the

successful uptake of e­scooters

alongside other alternative transport

options, could help alleviate pressure

on town centrecar parking and reduce

transport emissions,'' she says.

The SelwynDistrictCouncil held a

similar trial in 2019which was deemed

asuccess, with22,000 e­scooter trips

taken throughoutthe trial's duration

and permitswere issued to bothLava

and Lime to continue operating

commercial hire e­scooters.

In the pink ... Training runs are on offer this

weekend on aFlamingo Scooter. PHOTO:FILE

Council staffhave discussed the trial

with localaccessibility, youthand

olderpersongroups, with some of the

feedback incorporatedinto the trial

with the inclusionofspeed

restrictions and no­go zones in busy

pedestrian areas

Flamingo Scooters will be

responsible for covering the

infrastructure and operational costs.

More information about the trial can

be found at waimakariri.govt.nz/

scooters.

Kaikoura shows the way

Kaikouraisleading the three North

Canterburydistrictsinfullyvaccinated

rates against Covid19, with68% of the

vaccine eligible population fully

vaccinated as of lastMonday(October

25).

This compares to 66 per centofthe

vaccine eligible population in Hurunui

now fullyvaccinated,and 64 per centin

Waimakariri,MinistryofHealth

figures show.

Eighty fiveper centofthe vaccine

eligiblepopulationinWaimakariri

have hadtheir first vaccineshot.

Hurunui is nextwith84per cent and

Kaikoura has 82 per cent.

Nationwide, 87 per centofvaccine

eligibleKiwishave had their first

vaccineinjection but only 71 per cent

arefully vaccinated,which is still

considerably belowthe 90 per cent the

Governmenthas saidisrequired

beforeisolation restrictions canbe

eased.

Book printing flaw awindfall

Aminor printing flaw in abook run has

provided alucky windfall for schools in

Samoa, Fiji and Tonga.

The flaw in Just Imagine: ADrawing

BookFor Children,byWoodendartist and

children's book author, Joanne McDougall,

meant the bookscouldnot be sold and

weredestined for the landfill. But instead

of that Joannecame up withamuch better

idea.

''A bit of fluff on aprinting plate meant

there was aminor flaw,and rather than

dumping perfectly functional books in the

landfill, Caxton Pressallowedmetoget rid

of them,'' she says. ''Four hundred and fifty

copieshave goneuptothe Pacific Islands,

to be giventoschools or needy children,

thanks to Rotary International.''The books

wereloaded intoRotary International

containers destined for Samoa, Fijiand

Tonga.

''Rotary International fill containers

withmedical and educational supplies

and transport them to places in need,''

Joanna says.''Itisreally cool. Various local

church groups and charities do muchthe

samething on asmaller scale, thoughtheir

focus is generally more local.There is a

hugenetwork of people and organisations

working behind the scenes to help people

and make the world abetter place.''

Joanne McDougall

Just Imagine: ADrawingBook For

Children,provides basic drawing lessons

supplemented with practice pages.Itcan

be purchasedfrom Joanne by contacting

her on 021 064 5688 or orderingacopy at a

bookstore. Joanne has donatedafree copy

for North Canterbury News readers. To go

in the drawtowin acopy of the bookemail

your name, address and phonenumber to

info@ncnews.co.nz by Thursday,

November 4. It will be drawn on Friday,

November 5, and the winner will be

notified by phone.
---
RANGIORA

100%LOCALLY

OWNED&OPERATED.

RANGIORA

If youfind alower priceonanidentical stocked productlocally, we will beatitby15%

If youfind thesame productfromanother Mitre10store or Mitre10website, we'll matchthatprice.Excludes trade and special

quotes,stock liquidations and commercial quantities.The in-storeprice maybelower than thatadvertised.
---
RANGIORA

NEW

SEASON

MAKEOVER?

SORTED.

Free tinting

on Valspar &Accent Paint

EXCLUSIVE
---
100%LOCALLY

OWNED&OPERATED.

RANGIORA

If youfind alower priceonanidentical stocked productlocally, we will beatitby15%

If youfind thesame productfromanother Mitre10store or Mitre10website, we'll matchthatprice.Excludes trade and special

quotes,stock liquidations and commercial quantities.The in-storeprice maybelower than thatadvertised.
---
NEWS

14 North Canterbury News, October 28, 2021

Support for rehomed greyhounds

By SHELLEY TOPP

Acountry­style high tea hosted by an

adopted greyhound and his new forever

family is being planned to raise funds

for Greyhounds As Pets (GAP).

The November fundraiser is the idea

of West Eyreton's Amanda Scott­

Richards.

Her son Enzo (9) did his own

fundraising for two years to raise the

$380 he needed to adopt agreyhound,

now called Zinzan, from GAP earlier

this year.

GAP marketing team leader Emelia

Lake is thrilled with the initiative to

raise funds for GAP's national

rehoming programme.

``It is really amazing that Amanda

has stepped up and offered to do this

for GAP.

''Our amazing adoptees never cease

to surprise us with their ongoing

support and kindness.''

The casual country style high tea is

planned for November 21 between

11am and 3pm in the West Eyreton Hall.

The tea will feature arange of homebaked

sweet and savoury treats, served

with tea or coffee.

There will also be live music and

raffles, plus the chance to take part in a

silent auction to purchase agreyhound

painting by Swannanoa artist Ros Beck,

who is also agreyhound owner and has

donated one of her paintings for the

fundraiser.

The auction will be run via the GAP

Facebook page for one week.

It will start on Saturday, November

13, and end aweek later, says Emelia.

An email will be sent out to everyone

who has purchased aticket to the high

tea before the auction goes live to invite

them to bid and also let them know that

Best friends ... Enzo Scott­Richards (9), of West Eyreton, and his sister Poppy (7), play

with Zinzan, the greyhound Enzo fundraised for two years to purchase from the

Greyhounds as Pets (GAP) charity.

PHOTO:SHELLEY TOPP

if they win they can take the painting

home on the day, as it will be displayed

at the event.

''This will also open up bidding to

other hound owners in Canterbury, and

beyond, who are unable to attend the

event, as we think this will give the

painting the best chance to raise agreat

amount of funds,'' she says.

''It also means that we can share Ros's

work with awider audience as Iwould

say there may be afew hound owners

who would be interested in purchasing

her work if they don't win the auction.

''We have run lots of auctions on our

Facebook page (https://www.facebook.

com/GAPNZ) before and they are

always asuccess.

''We are really looking forward to this

one.''

The event will have two booking

times, 11am and 1pm.

Tickets are $25 per head, can be

purchased at the GAP website

greyhoundsaspets.org.nz and need to be

bought in advance as only 100 will be

sold and there will be no door sales on

the day.

The fundraiser is also an opportunity

to celebrate GAP's 15th birthday this

year and the success the organisation

has had since it was established,

finding forever homes for more than

3200 retired greyhounds.

Project offers

life lessons

Dodgeball and school work seeman

unlikelymix.

But at NorthLoburnSchool its proved to

be arecipe for success, withthe schoolnow

having its own dodgeball arena.

Towards the end of 2020senior pupil,

HarryKendrick, held asausage sizzle,with

the proceeds earmarked foraGaga

Dodgeball Arenafor the school.

Gaga is aform of dodgeball where

players start in an octagon shapedcourt,

hitting and rollingthe ballwith their hand

to eliminate other players.

The schoolwas successful with an

application to the Ministry of Education for

ashareofaspecial pool of funding

enabling it to build adodgeball arena.

The funds were used to employ ateacher,

buy materialsand complete the

constructionofthis project.

Six students were nominated by their

teacherstobeinvolved in this project.

They selected students who they felt

wouldbenefit fromthe exciting project,

and enjoy all aspects of getting completed

—Crew6was born.

The programme had astrongfocus on

differentiated and appliedlearning. It

encompassed reading, writing and maths

and led towards the completionofan

authentic outcome­adodgeball arena.

The project helpeddevelop selfmanagementskills,

embracedschool

values, encouraged co­operation, and

weekly reflection.

Aspects of the programme involved

discussing, drawing up expectations,

planning, modelling, preparing,

purchasing,contacting, constructing and

presenting.

Crew 6isextremely proud of the end

product,and can leave it as alegacy at

Tihiraki/ North Loburn,when they move

on. It will also be somethingthe community

will enjoy for manyyears to come.

another favourite charity has won afree solar system

the

solar for good

project

it's time to

let the sun in

to celebrate the opening of our

new solar hub in Christchurch

we asked you to nominate your

favourite local charity

congratulations

Edible Canterbury

winners of a$30k solar system

to find out more visit

www.lightforce.co.nz
---
STYLE & QUALITY

FOR LESS

STOREWIDE SALE

SALE

Dark Green

Golden

Greenery

WAS$1539

$

1279 Madison 3Seater

Armchair $999 $899

WAS$1899

$

1799

Vana 3+2

SALE

RusticBar

Stool

SALE

Marley Outdoor Dining Chair

Gunmetal&White

Haus Bar Stool

Avalible in:

Vintage Grey,Cognac

,

Dark Brown, Black

WA S $ 189 9

$

1799

WAS $199

$

179

WAS $249

$

219

Piha Extension

Outdoor Table BlackorWhite

W207-267 xD105xH74 CM

WAS $179

$

149

Sardinia Living

Collection

NovaBedroom

Collection

Buffet $1429 $1269

Hall Table $719 $629

Coffee Table $839 $739

Bedside $239 From $219

Bedframe $939 From $889

Under Bed Drawer $179 From $169

6DrawerTallboy $879 $829

6DrawerLowboy $769 $739

Floor Stock Bedroom Clearance

7drawHighboy

Mega Queen Bed

3draw

Bedside

Pop-Up Bed and Trundler -

King Single

WAS $979

$

899

WAS $159

$

139

WAS $399

$

339

WAS $949

$

849

FREE

CARPARKING

SOUTHCITY

BATH ST

WE ARE

HERE

255MOORHOUSE AVE

REBEL SPORT

COLOMBOST

MON-FRI 9:30AM–5:30PM

SAT-SUN 10AM–5:30PM

0800 268 264

www.affordablefurniture.nz
---
NEWS

16 North Canterbury News, October 28, 2021

Award for local winery

Waipara winery Muddy Water Wines

has taken out the Canterbury region

award in the Canterbury A&P

Association's annual wine

competition.

The winery's Muddy Water

Chardonnay 2018 was one of the

regional winners in the Aotearoa

Regional Wine Competition (formerly

the New Zealand Aromatic Wine

Competition).

The annual competition is normally

held in October ahead of the New

Zealand Agricultural Show, which has

been cancelled for the second year in a

row.

More than 240 of New Zealand's best

wines were judged by apanel of

judges, chaired by Jim Harre of

Waipara.

Several changes were made to this

year's competition, including the

requirement that at least 85 percent of

the grapes are produced from asingle

New Zealand region.

''The changes made to the show are

reflective of the re­emergence of the

traditional concept of an A&P show, to

showcase and highlight the best of

produce,'' Mr Harre says.

''Embracing this concept of a

traditional A&P show, this year we

invited all New Zealand regions to

enter their wines and compete against

each other with the criteria being, 85%

of grapes need to come from aspecific

region.

''We're delighted at being able to

showcase the different varieties each

region excels in.''

Panel lead judge Terry Copeland

says the diversity of wines, regions and

styles is ''a real testament to the depth

of the New Zealand wine industry''.

Marlborough winery Spy Valley

Wines took out the supreme champion

wine in show ribbon with its Envoy

Johnson Vineyard Riesling 2015.

Mr Copeland described the

champion wine as ''a great example of

arecognition of anew and emerging

lighter alcohol style and bottle age

when the majority of wines are

consumed young''.

''It shows areal maturity in our wine

perception of when we should be

drinking our wines.''

Other North Canterbury medal

winners included:

Gewurtstraminer: Bronze Medal:

Torlesse Wines, Torlesse

Gewurztraminer, 2020.

Pinot Gris: Bronze Medal: Mount

Brown, Mount Brown Estates Grand

Reserve Pinot Gris, 2020.

Riesling: Silver Medals: Mount

Brown, Mount Brown Estates Riesling,

2020; Mt Beautiful Winery, Mt.

Beautiful Riesling, 2018.

Sauvignon Blanc: Silver Medal:

Mount Brown, Mount Brown Estates

Sauvignon Blanc, 2021.

Chardonnay: Silver Medal: Mount

Brown, Mount Brown Estates Grand

Reserve Chardonnay, 2020.

Sweet Wines: Silver Medal: Torlesse

Wines, Torlesse Shadowy Kym, 2017.

Rose: Silver Medal: Tiki Wine &

Vineyards, Tiki Single Vineyard North

Canterbury Pinot Noir Rose, 2020.

Bronze Medals: Mischief With Wine,

Mischief Waipara Rose, 2021; Mount

Brown, Mount Brown Estates Rose,

2021.

Pinot Noir: Bronze Medals: Hanmer

Springs Wines, Hanmer Springs Pinot

Noir, 2018; Mt Beautiful Winery, Mt.

Beautiful Pinot Noir, 2018.

Red Blends: Bronze Medal: Torlesse

Wines, Cabernet Merlot, 2016.

Old style ... Alan Vliet Vlieland, of West Eyreton, leads his Clydesdale stallion Goldenlane

George at the 150th anniversary Ellesmere A&P Show on October 16.

PHOTO: SUPPLIED

Top award for local breeder

Alocal stallion claimed top honours

when Clydesdales made awelcomed

return to the Leeston Showgrounds

earlier this month.

Clydesdales were meant to be afeature

of the Ellesmere A&P Association's 150th

anniversary celebrations, until Covid­19

scuppered plans.

Last year's 150th show was cancelled

due to Covid­19 uncertainty, while this

month's second attempt ended up being

an exhibitor only show spread over the

three days to comply with Alert Level 2

restrictions.

Clydesdales were present at the

original Ellesmere A&P Show in 1871,

but it has several years since Clydesdale

classes were competed for at the show,

even though one of the association's

oldest cups was for Clydesdales.

Clydesdale classes were judged on

October 16, with West Eyreton breeders

Alan and Margo Vliet Vlieland claiming

the breed's top prize.

The couple's Clydesdale Stallion

Goldenlane George won best presented,

best male Clydesdale and supreme

champion Clydesdale.
---
NEWS

North Canterbury News, October 28, 2021

17

An evening celebrating Kaikoura'syouth

The contributions of Kaikoura youth were

celebrated on Saturday evening.

The Kaikoura Youth Council presented

awards to 20 young people across 10

categories.

InspiringChild Award: Chelsea Annen

and Georgie Kavanagh.

Chelsea often helps out at the library,

assisting behindthe counter,putting books

away or whatever else is needed and is

active in swimming, netball and at school.

Georgiealsospends her time helping out

at the locallibrary,assisting with events,

issuing booksand helping to run activities,

and she performedinapromotionalvideo

for Kaikoura.

Entrepreneurship Award: Hailey Timms

and Sienna­Belle Norton.

Hailey and Sienna­Belle both

participated in Te Ha oMatauranga's Fast

Fail youngentrepreneur programme this

year.

Hailey createdacandle and wax melt

business, securing sales withinfive

minutes of walkinginto abuilding.

Sienna­Belle came up with the ideato

make rings from small bits of rock and glass

foundonthe beach.

Contribution to Arts: Hanatia Timms­

Waihirereand Mananui Te Karu.

Hanatia is avocalist who enjoys singing

waiata as away to embraceher mauriand

feel connectedtoher culture.

Mananui wrote slam poetrywhich he

performedatthe Matariki event at Hapuku

School.

Hauora Award: DanielleBond and

Ruslan Ataria­Ivannikov.

Daniellehas beenlearning new skillsas

abarista, volunteering at the library and

embracing her Maori culturethroughKapa

Haka.

As head boy at Kaikoura High School,

Ruslan has been demonstrating leadership

and looking out for the wellbeing of others.

RuralLiving Award: Mary McGarry and

Awards evening ... Kaikoura Youth Council

secretary Theo Rae (left) and chairperson

Maia Kahu address the crowd.

Reuben Kinney.

Mary and Reubenhave been sharing

theirskills on the land, and Reubenisa

level3raft guide.

LeadershipAward: CheyenneLaugesen

and Moki Manawatu.

Cheyennehas been working at the

KaikouraDistrict Council and has been

active in the Mayor's Taskforcefor Jobs

Tuia MentoringProgramme, which aimsto

develop youngMaori.

Moki has shownleadership throughTe

Ha oMatauranga's youth employability

programme and the BlueLight

EmpoweringYouth programme and as a

member of the Kaikoura High School rugby

team.

EnvironmentalAward: Tuhawaiiki

McDonald and Josh Doughty.

Tuhawaiiki has participatedinthe

Mayor's TaskForce for Jobs ''VinesFree

Programme''and is now working on the

Jobs for Nature Project.

Josh has been volunteering with the

Banded Dotterels group and the Hutton

Wellbeing award ... Ruslan Ataria­

Ivannikov (left) and Danielle Bond receive the

Hauora (wellbeing) Award.

PHOTOS: ANDREW SPENCER PHOTOGRAPHY

Shearwaters Trust.

Volunteering Award: Amber Fissenden

and FreyaLister.

Amberisacoachwiththe Kaikoura Judo

Club,whileFreya volunteersatSunday

school at theKaikoura New Life Church.

Customer Service Award: Savannah

Manawatu and Zachary Wilson.

Savannah is the Kaiawhina runanga

office assistant at Takahanga Marae, while

Zachary has beenworking on the checkout

at Kaikoura New World.

Adult Who Supports Youth: Mani

Columbus and LaurenMartin.

Manisupports localTeKura distance

learning students at the local library, while

Lauren runs Kaikoura'snewly established

rainbow (LGBTQI+) group ''Proudly

Kaikoura''and is aGirl Guide leaderand a

netballumpire

HILUX, HIACEAND

EVERYTHING IN

BETWEEN

68 FalsgraveStreet,Woolston

W: nzvanspares.co.nz

E: nzvanspares@hotmail.com

Ph: 03 3793932/0508 698267

100% Canterbury Owned

NZ's favourite home for

Recycled Hilux &Hiace Parts

Up to

50 % Off

*Call for Terms

&Conditions

Off

*
---
Jump into summer with our

LABOUR DAY

STOREWIDE

SALE

ALL BEDROOM, LOUNGE, DINING, OUTDOOR ON SALE! Ends 01.11.21.

RIVA RECLINERS

ON SALE

ALL DINING CHAIRS

ON SALE

Ashville

Dining Chair

–Grey

WAS $ 165

NOW

$

125

Peyton PU

Dining Chair

WAS $

145

NOW

$

115

Vintage

Dining Chair

WAS $

140

3 Seater Recliner

NOW $

1999

Recliner

NOW $

999

NOW

$

95

Bedside

NOW $

275

LARVIK BEDROOM

Queen Bed

NOW $

799

ON SALE

PARIS BEDROOM

ON SALE

Queen Bed

NOW $

799

Tallboy

NOW $

799

Tallboy

NOW $

699

Bedside

NOW $

300

HEAPSof HOTDEALS!

Dallas Queen Bed

WAS $ 449

NOW

$

299

SCANQRTOSHOP

Lincoln 4 Seater

WAS $

2699

NOW

$

1999

Lincoln 2.5 Seater

WAS $ 1899

NOW

$

1499

Scantofindstore

250 Moorhouse Ave, Christchurch

0800 TARGET (0800 827438)

targetfurniture.co.nz

Offers and product prices advertised here expire

01/11/21. Sale Excludes Accessories.
---
NEWS

North Canterbury News, October 28, 2021

Out and about in North Canterbury

19

Taking flight again ... Albie Roxburgh, aged 11, in aswing made for him when he was

five years old, in the garden of his Leithfield home at The Old Vicarage, owned by his parents

Eryn and Andrew Roxburgh. The garden was part of the Leithfield Garden Tour which was

held last Saturday and Sunday to raise funds for the Leithfield Public Library. PHOTOS:SHELLEY TOPP

Supreme champion ... Richard and Wendy Farquhar, of Dunedin, travelled up to the

Rangiora Showgrounds on Saturday to win supreme champion suri alpaca with Paru Nui

Fyfe at the exhibitors only Northern A&P Association's show.

PHOTOS: DAVIDHILL

Keep him close ...

Junior herdsperson

judge Amy

Hoogenboom offers

some tips to

competitors.

Garden beauty ... A

bearded iris in Jenny

and Colin Bryce's

garden during the

Leithfield Garden

Tour.

Birds eye view ... Afloral cross at the

entrance to St Paul's Anglican Church in

Leithfield, which was part of the Leithfield

Garden Tour.

Day out in the sunshine ... Niki Hulston, of Oxford, left, and Ginny

Waghorn, of Amberley, called in at The Old Vicarage, owned by

Eryn and Andrew Roxburgh, during the Leithfield Garden Tour.

First place ... Nicola Green, of Fernside, and her

donkey Daisy after claiming first place for best jenny.

Caption7

In training ... Hillary Cooper (16), of Oxford Area

School, won the senior handler class in the junior

herdsperson competition after leading her Wagyu­

Friesian cross steer, which she has in training for the

2022 Future Beef New Zealand ''hoof and hook''

competition, in Hawkes Bay in May.
---
DAIRYING IN NORTH CANTERBURY

20 North Canterbury News, October 28, 2021

DairyNZ supports vaccine

DairyNZiscalling on rural

communities to getvaccinated.

Asocial media campaign launched by

DairyNZisstrongly encouraging rural

communities, particularly farmers, to

get behind thenationwidedrive for

Covid­19 vaccinations.

New data releasedbythe University

of Otago suggests vaccinations are

around 10 percentlowerinrural areas,

puttingour farms, rural communities

and supply chains at risk.

''Unfortunately, the biggest push for

vaccinationshas fallenright in the

middleofthe busiest time of yearon

farmwith calving, lambing, then

mating,'' DairyNZ Covid­19 response

manager Hamish Hodgson says.

''But nowisagreat time to nudge our

teams to take the opportunity to get

vaccinated.''

DairyNZ hassupportedfarmers

throughout theCovid­19 pandemic,

providing good practice on­farm

information including what would

happen if astaffmember got Covid­19

on­farm, along with broader advocacy

worktominimise the staff shortage.

''With around halfofdairyfarms

short­staffed,it's critical everyone

The Right People andEquipment forthe Bulky

Jobs!

-6Spreader Trucks, Spreadmark Certified

-Conventional, Variable Rate, Farm Mapping

-Modern Fleet, 4WD, Double Bin Side Tipper

-Grain, Fertilizer, Stock Feeds and Shingle

staysingood health andfarm teams

canalso help protect the wider

community, by being vaccinated,'' Mr

Hodgson says.

''If someone in the farm team gets

Covid­19,itwillbemuch more

disruptive than acoupleoftrips to

town.

''Getting vaccinated is thesingle

most important thingyou can do to

protect your farmbusiness from Covid­

19.''

In addition to pressures on­farm,

people living rurallyare usually

further from vaccination centres and

have unreliable phoneorinternet to

book appointments.

''Some rural areas haven't had easy

access to vaccination sites, which

makes it difficult when things are busy

on­farm,''MrHodgson says. ''We are

encouraging morerural­specific sites

to be set­up to help give farmers and

theircommunities better access.''

DairyNZ's social media vaccination

videofeaturesarange of famous Kiwis,

from comedianTeRadar, Prime

Minister Jacinda Ardern, political

leaders, farmers, farming leaders and

theirfamilies.

56 St Leonards Rd, Culverden

Livestock -stock@amuritransport.co.nz

Ph 03 315 3033 -Fax 03 315 8413

Fertiliser -fert@amuritransport.co.nz

Livestock - Golden Bay Cement -Daily Freight Services Freight -freight@amuritransport.co.nz

You'll get the Best Results

from the Best Lime!

Our High Quality Agricultural Lime offers an

outstanding 99.3% level of Calcium Carbonate!

We now also mix Lime, Mineral and Seed to Your Specifications.

2197562

Scotching carbon myths

By TIM CRONSHAW

Scientists now have proof that scotches

the widely held belief that intensive

dairy farming adds more carbon to stony

soils.

Afive­year multi­agency study led by

Landcare Research is based at dairy and

dryland units at Lincoln University's

Ashley Dene Research and Development

Station.

Climate­smart agriculture principal

researcher Dr David Whitehead said

they wanted to see if they could help

farmers reduce nitrogen losses and

secure carbon stocks on stony, shallow

soils.

''The impression out there is that if you

start with adryland site and irrigate it

and supply fertiliser then you will build

up soil carbon. Of course, the crop grows

much better and there's alot more

animal feed available, but we found if

you don't manage it carefully with

grazing and cutting and irrigation, we

can lose soil carbon from those sites.''

Higher carbon levels helped to retain

water and nutrients and made soils more

resilient to extreme climate events,

while absorbing carbon helped reduce

the warming effect, he said.

Studies included monitoring irrigated

and non­irrigated lucerne crops.

Large lysimeters —deep columns

containing undisturbed soils and crops —

were used to capture water and nutrients

draining out of the bottom.

Sophisticated technology measured

the carbon exchange.

Dr Scott Graham said they found all the

additional plant growth was being fed to

animals either on site or elsewhere at the

farm.

''The big takeaway message was that

the sites were losing soil carbon, not

gaining, under irrigation. So where

everybody's perception is that irrigation

would increase soil carbon because you

go from this dry and dusty place to this

nice green paddock, it's not actually the

case.''

The dryland system was plus or minus

one tonne of soil carbon per hectare per

year, whereas the irrigated site was

losing one to three tonnes per hectare

per year. That was aresult of more

intensive harvesting.

Dr Graham said there were also extra

nitrogen losses with irrigated lucerne

crops.

On the dryland site about 7kg­30kg of

nitrogen was being lost per hectare each

year, compared with irrigated losses of

40kg­100kg.

Abenefit of lucerne being grazed on

site was that the cows left some carbon

behind in the crop, whereas more was

removed in cut­and­carry crops, Dr

Graham said.

However, animal excrement led to

three times more nitrogen leaching when

it was grazed, so this was atrade­off, he

Digging deep ... Scientists John Hunt (left)

and Scott Graham check the instruments at

the field site at Ashley Dene Research and

Development Station.

PHOTO: SUPPLIEDLANDCARE RESEARCH /BRAD WHITE

said.

Late­season irrigation was also found

to produce more nitrogen and carbon

losses when soils were wetter. Scientists

suggest this could be reduced by

irrigation management, especially in late

summer, with better weather forecasting

and moisture sensors.

Dr Whitehead said farmers took the

messages on board at aworkshop that

growing irrigated lucerne on an intensive

farm wasn't the best use of the land.

The lucerne crops were replaced last

year with agrass combination of

perennial ryegrass, Italian ryegrass, red

and white clover and plantain.

Another part of the study looked at

different species mixes grown in smaller

lysimeters with cow urine added to see

how much came out at the bottom.

Winter­active plants such as oats and

Italian ryegrass absorbed nitrogen in the

critical autumn and winter period.

Fodder beet in animal diets was also

found to reduce leaching.

Dr Whitehead said acombination of

these could be useful for reducing losses.

Plantain was also found to make cows

urinate more often, resulting in lower

amounts of nitrogen returned to soils and

reduced leaching. Scientists hope next to

explore if improved grazing management

and the use of widely spaced trees in

rolling hill country on sheep and beef

farms will build up soil carbon and

reduce losses.

Call the specialists...

022 500 6144

www.amurilime.co.nz

Email office@amurilime.co.nz

Locally owned &operated

in Waiau since 1945

2311837

TRACK ROCK

USE WAIKARI TRACK ROCK

FOR YOUR COW DAIRY

LANES

Waikari track rock is lighter and goes further

than competing lane rock products

GET MORE FOR YOUR MONEY

HARBOURS NO BACTERIA SO CAN

HELP IMPROVE HOOF CONDITION

ph: 021 059 5521 |em: scc@unifone.net.nz

2355873v1
---
DAIRYING IN NORTH CANTERBURY

North Canterbury News, October 28, 2021

21

ALLTECH ADVERTISING FEATURE

Investment needed ... DairyNZ is calling for more research and development funding to

support farmers in meeting emissions reduction targets.

PHOTO: FILE

Research funding needed

DairyNZ is callingfor more investment in

research and development,following the

release of the Government's Emissions

Reduction Plan discussion document.

The document, Te hau marohi ki

anamata ­Transitioning to alow­emissions

and climate­resilient future,acknowledges

Kiwidairy farmers have the world's

lowestcarbon footprint, DairyNZsays.

It also reinforces agriculture needs

research and development and extension

investmenttobe more sustainable and

meet Government targets.

''The approachendorsesHeWaka Eke

Noa –the primarysector, Government

and Maori partnership–asakeypathway

for farmers and growers to play our part

in reducing emissions alongside all

kiwis,'' DairyNZchief executive Dr Tim

Macklesays.

''It'spositive to see the Government

recognising the importance of He Waka

Eke Noa. The partnershipisachieving

milestones to measure, manage and

reduceemissions.

''But we also needadaptable

regulations so farmers can start usingnew

technologies as they become available.

We're lagging behind other countries in

the toolstofight climate changeright

now, because the flexibility is not there.''

DairyNZ is callingonthe Government

to start reporting on the warming effect of

the differentgases, as well as emissions,

which it saysaligns with international

climate change science and would

improve decision­making by being

grounded in evidence.

''Addressing climatechange requires

an economy­wide shift. The document

sets pathways for all sectors and all

greenhouse gases such as long­lived

carbondioxideand short­lived methane,''

Dr Mackle says.

Under the Government's Fit for aBetter

Dr Tim Mackle

THE ULTIMATE SURFACE FOR YOUR LANES

AGS compacted Track Lime has cementing

properties for strong lane foundations. It

provides an even, smooth &durable lane

surface that contains calcium &isbacteria free,

promoting hoof health &reduces herd lameness.

Improve cow flow to &from the shed with a

stable &comfortable surface.

New lanes &existing lane maintenance, we

supply from our own quarries, provide cartage

&earthmoving services for your lane work &

general earthmoving needs.

World Strategy,DairyNZisworking

alongside Government, industry,Maori

and the science sector to develop ashared

research and developmentplan to

accelerate new mitigations to reduce

methane and nitrousoxide emissions for

farmers.

''Our workwith the Strategy will

provide guidance on wheretoinvest

additional funding to get emission

reduction technologies in the handsof

our farmers,''DrMackle says.

The new Emissions Reduction Plan

document recognisesreducing emissions

on­farm is aboutsupporting farmers

through change, by increasing extension

services and farm planning investment.

''We want to understandthe

Government's extension proposals so we

can inputinto how they will bestmeet

farmers' needs,'' Dr Mackle says.

Since 2019, DairyNZ's nationwide Step

Changeprogramme has supported

farmers to reduceemissions and improve

water quality.

Don'tcompromise

your cow'sfertility

Fertility is acomplex matterthat

involves paying attention to body

conditionscoring, heatdetection,

genetics, AB technique,bull

management,transition period, as well

as cow health and nutrition.

Thisappliesregardless of your

farmingsystem.

Getting cows off to thebestpossible

start in early lactationiscriticalon

every dairy farm. It is essentialtoensure

thatthe nutrient intake of thecow is

adequate to meether needs.Poor

managementduring this important

stage canleadtoreducedintakesand

losses in body condition score (BCS),

leading to fertility issues, which can

haveasignificant impact on adairy

farm's bottom line.

Alltech'sOn­Farm Management

Programme focuses on animal nutrition,

particularly in threedifferentways,that

willoptimize dairy cow fertility:

1. Close the energygap

In early lactation, cowswill inevitably

be in anegativeenergy balance. This

means they are notabletotakeinas

muchenergy as they requirebecause

their peakmilk yield occurs before their

peakindry matterintake.Therefore,

theywill lose acertain amountof

condition. Managing cows appropriately

can minimiseBCS loss during this

period. Oneway to do this is by feeding

adietthatwill encourage intake and

provideadequateenergy.

Often in early lactation, cows will

benefit fromthe use of rumen protected

fats thatcan encourage both fertilityand

milk production when fed adequately.

2. Maximiseimmunity and health

Early lactation is typically aperiod of

stress forthe cow,asthere are several

physiological and nutritional changes

duringthistime. It is criticaltoensure

thatcows haveanoptimal immune

status duringearly lactation to

maximize fertility.

Trace minerals, such as selenium,

copper and zinc play akey rolein

maintaining ahealthyimmune system;

if there is adeficiencyineither, the

possibility of anoestrus becomes more

likely.

Research hasproven that feeding

Bioplex®and Sel­Plex®,anorganic

formofminerals and selenium from

Alltech, leadstothese minerals being

betterabsorbed,stored andutilised by

the animal.

3. Lookafter therumen

Do youwant

more from less?

• Betterabsorption, less

excretion

• Optimise animal health

and performance

• Aids fertility and profitability

Energy solutions ... Alltech has options

to help you get the best out of your cows.

Matt Cassineri

Therumenisthe engine that drives

thecow. The keytogetting morefrom

feed is to ensurethat the rumenis

working as efficiently as possible.

Therumenisnot designed forabrupt

changes.

If turned out abruptly,itis likelythat

thecow'sintake will not be enoughto

meet her energyrequirements.This will

have anegativeimpact on herBCS.The

increase in starch and sugarlevels in

thediet duringthisperiod, will cause a

decrease in the pH levels in therumen.

The use of Yea­Sacc® from Alltech

hasbeen proven to promoteahigher

rumenpHwhen fedtocows on grass in

early lactation (AlIbrahim et al.,

UniversityCollege Dublin,2013). If you

wouldliketohave amorein­depth

conversation aboutAlltech's On­Farm

Advantage programme,please callme

on 027 2084606oremail: matt.

cassineri@alltech.com.

YOUR LOCAL HURUNUI EARTHMOVING CONTRACTOR &QUARRY SUPPLIES

2370532

The ALLTECH® MINERAL MANAGEMENT programme:

• Uses Bioplex® and Sel-Plex® trace minerals which are better absorbed, stored and utilised by the animal

• Istailored for New Zealanddairy herds

• Safe,well proven, traceableand consistent batch afterbatch

• Feed for PERFORMANCE

For more information call your local Alltech representative or call 0800 ALLTECH.

Email:newzealand@alltech.com

alltech.com/newzealand
---
RUNOUT

OUTLANDER LS 2.4L 2WD

$32,990+ORC *

The 7 seater Mitsubishi Outlander

brings everything you would need in a

family SUV: safety, technolo ogy, comfort,

unrivaled economy and that all important

space, plus a 10 Year Powertrain Warranty † .

Call 03 379 0588 or visit

christchurchmitsubish hi.co.nz

RRP WAS $41,9

90 +ORC

*Price listed is for Outlander LS 2.4L 2wd and excludes on road costs of $650 which includes registration, WoF and a full tank of fuel. Available while stocks last.

†

Visit mmnz.co.nz for full Diamond Advantage warranty conditions.

RANGIORA MITSUBISHI

321 High Street, Rangiora | 03 941 3175 | rangioramitsubishi.co.nz

RANGIORA NISSAN, 321 High Street, Rangiora

Ph: 03 941 3175

www.rangioranissan.co.nz

rangioranissan.co.nz
---
RURAL LIFE

North Canterbury News, October 28, 2021

23

Young judges exhibit their skills

By DAVID HILL

Young peopletook centre

stage, as exhibitor only

competitionswereheld at

the RangioraShowgrounds

on Saturday.

Withthe Northern

(Rangiora)A&P Show

cancelleddue to Covid­19for

the secondyear in arow,

junior herdsperson,cattle,

gumboot throwing, alpaca

and donkey competitions

wereheld in separate

bubbles in abid to keep the

showing tradition alive.

Competitorsfrom

Ashburton, Oxford Area

Schooland members of the

RangioraHigh School cattle

showteamlineduptobe

tested on their handlingand

stockjudgingskills,with

RangioraHigh School

principal Karen Stewart

attendingtosupporther

students.

''It's beengood to get it

going and I've enjoyed

watching thekids,'' organiser

PhilWorthingtonsays.

''It's amazing the bonds

theyget withtheiranimals.''

Junior herdsperson

competitionjudgeAmy

Hoogenboom offered some

tipstothe young competitors

and agumboot throwing

competitionwas tossed in for

goodmeasure.

Oxford Area School sisters

Hillary (16) and Elizabeth

(11)Cooper were thesenior

and junior herdsperson

sectionwinners,while

Champions in their field ... Judge Amy Hoogenboom (left) and Rangiora High School principal Karen

Stewart (right) congratulate the junior herdsperson champions including senior class winner Hillary

Cooper (16), junior class winner Elizabeth Cooper (11), both of Oxford Area School, and intermediate

class winner Emily Pye (14), of Rangiora High School.

PHOTO: DAVID HILL

RangioraHighSchool's

Emily Pye(14) wasthe

intermediatesectionwinner.

After lunch24beefcattle,

entered by breedersfrom

Ashburton, Oxford and

Fernside, wereput through

their paces.

By far the largestsection

was the alpacas, with 122

animalsmustered fromasfar

north as Blenheim andfrom

Dunedin, Waimate and

Fairlie in thesouth.

Dunedincouple Richard

and Wendy Farquhar

claimed supremechampion

surialpaca withParu Nui

Fyfe.

OrganiserMartinBennett

was pleased with theturnout,

withbreeders justhappy to

haveashowafter an

uncertain18months.

''It'sabit differentthis

year, withabit of adifferent

vibe,'' Mr Bennettsays.

''There'snot many shows

doing anything, so we are

reallygratefulthe Rangiora

A&P was kind enough to

allow us to exhibit.''

Mr Bennett says asidefrom

the cancellation of A&P

shows,Covid­19 has caused

minimaldisruptionsfor

alpaca breeders,with life on

the farm''just carrying­on''.

''Wehave seenexportsof

animalstoEurope slow

down, butthat'sprobably

moretodowith Brexit.''

There werealso15donkeys

entered, whichshow

president Graeme Greensays

is closetothe usual number.

Withhorse competitions

not helddue the challenges

of complying withCovid­19

restrictions,therewas plenty

of roomfor the donkeys.

''It'sprobablythe onlytime

we will be in the top of the

ring,'' Mr Green says.

''It'sjust abouttrying to

keepitgoingafter we missed

lastyear's show.''

Red meat sector seeking new recruits

Anew initiative aimstoprepare young

people for ared meat sector career.

Beef +Lamb New Zealand (BLNZ) has

signedafundingagreement with the

Growing Future Farmers Essential Farm

SkillsProgrammetohelp attract and

train more young people in the sector.

The programmeoffers arange of

specialised industry training and

development opportunities across the

country including formal New Zealand

Qualifications Authority (NZQA)

qualifications.

The agreement will give enrolled

learners aboost of $500 each in 2021,

while the programmewill receive a

$25,000 cash injection.

''The futuresuccess of our industry

reliesonattracting talented and

motivated young people and equipping

them with the skills to be successful,''

BLNZchief executive Sam McIvor says.

''Farmers have told us how important

building the next generation is to them

and emphasised that they wanted us to

focus on initiatives that would build

practical capability behind the farm gate,

so BLNZ is implementing that approach.''

Growing FutureFarmers chairman

John Jackson says BLNZ's support is a

significant step in the growth and

development of the programme.

''The success of this initiativeisvery

muchdependent on supportfrom wider

industry participants as it relies on our

farmer trainers who sponsor our students

in the workplace as they learn.

''Currently, we have 45 student trainees

on farms throughoutNew Zealand and

are expecting to start afurther 70 first

year students in February 2022,'' Mr

Jackson says.

The funding is part of BLNZ's

investmentinto recruiting,trainingand

retaining peoplefor the red meat sector.

''As well as havingour own initiatives,

BLNZ collaborateswith and provides

funding supportfor other sector

organisations to attract, train and retain

the talent we need to drive the sector

forward,'' Mr McIvor says.

For more information about BLNZ

recruitment initiativesgotobeeflambnz.

com/people­and­training.

2410273

FARMBIKE SPECIALISTS

Servicing North Canterbury for over 25yrs!

•Sales, Servicing &

Parts

•All Makes &Models

•Qualified Motorcycle

Engineers

(NCME, TRADECERT)

•Electrical &Mechanical

fault testing

•Quality 2nd Hand Bikes

&UTV's

•Repairs &Dismantling

•Insurance Repairs

2177981

ONLINE MEAT SALES

MEAT2U.NZ

HOME KILL

&WILD GAME

MEAT PROCESSING

313 0022

MASTER BUILDER

LocaltoNorth Canterbury.

CALL ARTHUR 027 2451601

arthur@robertsonbuilding.co.nz

www.robertsonbuilding.co.nz

BARNS/FARM BULDINGS•RIB RAFT FLOOR SYSTEM INSTALLATION

PROJECTMANAGEMENT•ADDITIONS•NEW HOMES

HOME MAINTENANCE•EQC REPAIRS•ALTERATIONS

FREE QUOTES

163 Stokes Road, Balcairn

Ph (03) 312 9844 or 027 205 5724 (AH)

farmbikesnc@orcon.net.nz

www.farmbikeservices.co.nz

2021055

The Widest Music Variety

Tune in nowtolistenon104.9 North Canterbury

and103.7 Hanmer Springs andKaikoura
---
FARM FOCUS ADVERTORIAL

24 North Canterbury News, October 28, 2021

Putting Kiwi farmers in the driving seat

Back in 1981, three Wairarapa

farmers decided to create a

system for farmers to improve

the way they manage their

farming business.

At that time, record­keeping

was very much about looking

back, using accounting

methodology.

The company founders

wanted to be able to look ahead,

to plan for the next season.

This radical approach proved

to be highly successful.

Forty years later this

business, now known as Farm

Focus, is still going strong.

Key to the company's success,

is that its specialised software

meets farmers' specific

management accounting

requirements, but also makes it

easy to transfer transactions

into tax­focused accounting

systems used by accountants.

Chief executive Brian Eccles

has been involved with the

company from the early days,

and says that while software

has changed massively over the

40 years, the successful formula

established all those years ago

still holds true.

Managing cashflow through

great planning was important

then and continues to be vital.

''Running afarm is full of

uncertainty,'' says Brian. ''That

can come from weather, pricing

changes or awide range of on

and off farm regulations.

''Plans help you manage

adversity because you can

quickly pivot when the plan

isn't quite working.''

Technology is constantly

evolving and the company

continues to invest in major

upgrades to ensure the product

is relevant in the modern

world.

It is currently supporting

customers to move from its

previous application,

Cashmanager RURAL, to its

new cloud­based application,

Farm Focus.

''Not everyone loves change''

says Brian,''but once customers

begin to see the value of

investing in the new they never

look back.''

Customers moving across to

the new platform, such as

Hawkes Bay farmer Caroline

Smith, notice the

improvements.

"Cashmanager RURAL was a

great package in its day but

farming practices and

requirements have changed

greatly over the years.

''Focus's automated

technology makes budgeting

much easier which has

definitely helped cut down time

spent in the office.''

Caroline says the ability to

Farm Focus ... Brian Eccles is keen to support kiwi farmers.

budget three or four years

ahead has been especially

helpful during Covid and

drought events.

''It's way easier to look ahead.

It has given us confidence in

our planning and shows we can

weather the storm''

Brian says that while the

world is full of generic

accounting systems designed

for city businesses, asystem

like Farm Focus, uniquely

designed to meet the special

needs of farmers, is extremely

rare.

''What might be ideal for an

accountant might be entirely

unsuitable for afarmer.

Software like ours that can

drive improved management

can increase revenue

massively. Potential savings in

accountancy costs are minor by

comparison'' says Brian.

In addition to marking 40

PHOTO: SUPPLIED

years in business this year,

Farm Focus is also celebrating

its recent win in the Cyber Gold

category at the Wellington Gold

Awards.

''This award really belongs to

our customers as we wouldn't

be where we are without their

support. Helping New Zealand

farmers to stay at the top of

their game and retain their

number one spot in the world is

what drives us!'' he says.

Happy

birthday

to us!

We're celebrating that we've

been successfully supporting

New Zealand farmers for 40 years.

Here's our 40th birthday gift to

new customers.

Go to farmfocus.co.nz/birthday-offer/

to redeem your goodies!

Farm Focus: Financial management

software for New Zealand Farmers.

Promo code: BIRTHDAY

Offer valid while stocks last.

Call 0800 888 080

New customers

receive FREE

3months

subscription to

award-winning

Farm Focus

+

Our first 100

new customers

receive the

Farm Focus wet

weather jacket.

RRP $450*

And

receive aFREE

$160 Allbirds

shoe voucher

*Does not apply to existing Rural or Farm Focus customers

*Terms &conditions apply
---
Four

Four

SeasonsRealty

Seasons Realty

AUCTION

LET'STALK

Real estate

WITH LIZLEWIS

Thinkingofsellingbutconcernedthatyoumaynotfindanythingtopurchase?

This is averycommonthought from many clients Ispeak to at the moment and

therefore there isgenuine hesitancy about selling which is one of reasons this

shortageishappening.

Harcourts Four Seasons are having outstanding sales results with plenty of

buyers on their books waiting fornew properties to come to the market.

With 30+ yearsinrealestate with Harcourts, Ican assureyou Ihave experienced

all the variouschanges that have happened over this time.

If you would liketodiscuss selling in this current market, please give me acall to

discuss the many options available foryou to ease the stress you maybefeeling.

Liz Lewis

027 453 0952 |03327 5379

liz.lewis@harcourts.co.nz

Liz

Four SeasonsRealty 2017 Ltd|Licensed Agent REAA2008

harcourtsfourseasons.co.nz

Four Seasons Realty
---
North Canterbury

Greta Valley 40 Valley Road

Weekend retreat or builder's dream?

Perchedonasunny elevation and surrounded by grazing pasture, you're the last stop at the end of theroad! This 5.02ha

property offersablankcanvas for those withvisionand adesire for thequiet life and the enjoymentofsweeping vistas!With

an existing11.9mx11.8m Totalspan shedon-siteoffering 140+sqm of total floorarea, complete with anin-built living space

including bedroom &ensuite, andwith theNorth-facing aspect, you can enjoyfull sun throughout the year.Large bay

garaging providesoptions to park your caravan,campervanorboatand moreorconsider the space for storage and/or

workshop potentialwhile buildingyour dream home. Completewith 3phase power,satellite dishand internet connectivity,

the existingstructure provides you with all theessentials to make thisyour weekend destinationortemporary base whileyou

build.Far enough awayfrom the hustle and bustle of daily life, you're only 20mins drive away from the nearbytownship of

Amberley, or youcouldberelaxing on the beachin Motunau. Alternatively, with an hour'sdrive you're either in central

Christchurchorsoakingthe worriesoftheworld away in the thermal pools of Hanmer Springs!

1 1 2

Auction 11.00am, Wed 10th Nov, 2021

View Sun 31 Oct 3.00 -3.45pm

Web pb.co.nz/RL96807

Dayan Muntz

M 021 432 926

E dayan.muntz@pb.co.nz

Rangiora 241A King Street

Ahidden oasis

Wakeuptobirdsong in this private 4bedroom familyhome nestledamongst native trees, featuringcaptivatinggables,

Oamaru stone and timber reminiscentofacountry farmhouse. Freshly paintedthroughout with brand newquality carpet,

upgraded kitchen,sunny openplan dining area, officenook, andlarge living withlog burner and wetback, this welcoming

homehas lovely spaces for the wholefamily. Enjoy gorgeous views upstairs from all bedrooms,including masterwith walk-in

wardrobeand atticfor storage,whiletwo toilets and aseparate laundryadd convenience for familiesand visitors.Wander

outside into thepavedentertainingarea leading to alandscapedgardenand spacious backyard, terrific forfamily games.

Savour thefruitfromyour owntreesand grow your own vegetables in the raised beds to enjoy arealtaste of the "good life".

Enthusiasts will lovethe double garage and largeextended carport providingsafe options away from the road,plus a

basketball hoop and play area for familyfun. All this in apopularnorthwest location zoned for AshgroveSchool, so close to the

town centre yet incrediblyprivate andquiet down its own separatedriveway -atrueoasis.

Property Brokers Ltd Licensed REAA 2008 |pb.co.nz

4 1 1 2 2

Auction 12.30pm, Wed10th Nov, 2021, (unless sold prior),

Rangiora Town Hall Function Room (upstairs)

View Thu 28 Oct5.00 -6.00pm

Sun 31 Oct 1.00 -1.45pm

Web pb.co.nz/RU96809

Kirstyn Barnett

M 021 312 230

E kirstyn.barnett@pb.co.nz

Proudtobehere
---
Big win for Ohoka

CRICKET

Aclassy century by openerDaniel

Lyons paved theway for an Ohoka

demolition of Weedons in the topflight

of countrycricket at the

weekend.

There werealsobig winsfor

Darfieldand Sefton duringround four

of the CRV Ambreed CountryPremier

OneDay 2021/22 competition last

Saturday.

At Mandeville, the home side batted

first against astrong­lookingWeedons

XI andimmediately got on the front

foot. Openers Lyonsand Rhys Mariu

shared in a90­runpartnershipbefore

the former New Zealand Under­19

captainfellinthe 15th overfor aruna­ball48.

Lyons continued, however, bringing

up histon andguidingOhoka through

to 230/8 in itsallotted 45 overs.

Relentless pressurebythe Ohoka

bowlers ensured Weedons never

challenged, withnobatterpassing17.

Extrastop­scoredwith 21 as Weedons

wasbundled out in 30.2 overs, falling

to aheavy 135­run defeat.

SeftonDomain witnessed a

remarkableindividual displayasthe

homeSeals sidetippedover

Southbrookinalow­scoring slog.

Southbrook was rolled forjust 66 in

its firstinnings, with onlyex­Black

Cap Shanan Stewart(11) making

double figures.

Seftondoyen JeffJones continued

his late­career early­seasonform,

snaffling afive­wicket bag.

Defending the tiny total, Southbrook

soonfelt in thegame, however,

reducing anervy Seftonto30/6 inside

10 overs.

But in the matterofmoments, the

gameswung, and wassoon over,

thankstoastunning displaybynewseasonrecruit

AmandepArora.

Arora,who joined fromRiccarton in

the off­seasonand has impressed with

his effortless strokeplay,tookthe

gametoSouthbrook, andwith afew

lusty blows ended thematch.

He nearly overtook Southbrook's

score on his own,smashing an

unbeaten60off just 28 balls in a

staggering display, and helpingSefton

to afour­wicketwin.

Darfield claimedasolideightwicket

winover Ellesmere rivals

Leeston­Southbridge on the back of a

man­of­the­matchshowingbyRyan

Hughes.

Hughesclaimed four wickets as

Leeston­Southbridge limpedto170/9

in thefirst innings.

He then teamed­upwithJesse Frew

in an unbroken159­runpartnershipto

sealthe win in the32ndover. Hughes

finished on 81 not out,while Frew was

unbeaten on 77.

In thefourthgame, Cheviot played

Lincoln whileOxford­Rangiora had

thebye.

Short scorecards

Ohoka 230/8 (D Lyons 101,RMariu 48,

WHamilton 25; JRichards 4/32,D

Nightingale 2/37) beat Weedons 95 (M

Burns 3/6, GBelcher2/12, RMariu

2/19).

Southbrook 66 (J Jones 5/10, TWaller

2/18)lost to Sefton 69/6 (A Arora 60no;

DSingh 3/22, LBlom 2/5).

Leeston­Southbridge 170/9(S

Chamberlain55, CBeatson33; R

Hughes 4/60,LFoulkes3/26) lostto

Darfield172/2(RHughes 81no,JFrew

77no).

SPORT

North Canterbury News, October 28, 2021

27

Masterclass on the Kaiapoi River ... Members of the Cure Boating Club and other rowers

taking part in the club's Rego Row initiative to attract new members and to reacquaint

rowers with their passion for rowing.

PHOTO:SHELLEY TOPP

Initiative brings rowers back

By SHELLEY TOPP

Members of Kaiapoi's CureBoating Club

say theirnew premises provide an

amazing facilityfor the Waimakariri

community.

The new clubrooms, at 136 RavenQuay,

alongside the KaiapoiRiver, also havethe

best water views in Kaiapoi and have

provided the club with an opportunity to

expandits masters rowing squad.

With this in mind the club recently held

atwo­day ''Rego Row'' programme to

showcase their facilities to new rowers

and attractnew members.

The ''RegoRow'' sessions provided an

introduction to the club and information

on rowing options in the districtfrom

rowingfor fitnesstorowing competitively.

The club's masters co­ordinator,

Catherine Kappelle, of Kaiapoi, said the

programmewas for adultrowerslooking

to improve their rowing skills and others

who may not have been involvedinthe

sport for sometime but were keen to start

rowing regularlyagain.

''Not everyone who wants to learn to

row is interestedincompetition,''

Catherine said.

''As aclub we are interestedin

accommodating awhole rangeofrowers.''

The ''Rego Row'' sessions were held on

two Saturdays this month and led by the

club's master rowers, starting with time

on the indoor rowing ergometers followed

by outdoorrowing practice in the boatson

the KaiapoiRiver.

''Rowing is agood way of keeping fit,''

Catherine said.

However, competitive rowingrequires

ahigh level of commitment, with training

on the water up to fiveorsix days aweek

near the peakofthe seasonand regular

trips away to regattas.

People interestedinbecominga

member of the club can do so by

contactingatthe club's website:

curerowing.co.nz.

From theWaimakariri River

in thesouth to Kekerengu

in thenorth, theNorth

Canterbury News

hasgot it covered.

Reaching

48,000

readers

every week
---
What's happening in your

community…

All info onchanges to Council services and facilities can be found at waimakariri.govt.nz/covid19

Thanks for Sharing Your Feedback

The Councilwere pleasedwith the amount of

feedback about speedlimits in and around our towns.

Almost 300 people provided feedback onthe

review that covered 84 roads in and around Oxford,

Cust, Kaiapoi, Ohoka, Rangiora, Woodend and

Pegasus, as well as some unsealed roads around

Tuahiwi and Ashley.

Feedbackincluded things likeasking forspeeds to be

reviewed on roads outside of areas we were seeking

feedback on, comments or suggestions includingnew

footpaths, parking spaces, additional measuresto

reduce speedand concerns around enforcement.

Staff will now prepare areport to go to each

Community Board in November and then to the

Council in December. Any changes to speeds will

be implemented in early 2022.

Wally the Whale Welcomes You

Wally the Whale and the Waikuku Beach paddling

pool is once again ready for visitors over summer.

The poolhas beendrained,washed, filledand

balanced npreparationfor the openinglast weekend.

Remember to take sunscreen and ahat as the

shade sail won't be installed until aer Guy Fawkes.

There is aCovid-19 QR code on the gate, and

please remember totry and maintain distance

between yourself and other family bubbles.

Are We Good to Grow?

There is still time to give usyour feedback on the

Proposed District Plan.

This is the 'rule book' that manages how people

use, subdivide and develop land including what and

where they can build, and what kind of activities

they can undertake.

With the Waimakariri being one of New Zealand's

fastest growing areas, up to 15,000 houses may

be needed to accommodate our population which

will near 100,000 over the next 30 years.

Mayor Dan Gordon encourages the community to

have their say on the proposed plan that will shape

development and growth for the next ten years.

Feedback closes 5pm Tuesday 26 November.

Have you signed up for

the Waimakariri District

Council Newsletter?

Tojoin visit:

waimakariri.govt.nz/subscribe

WANT TO

TRY AN

ESCOOTER?

Flamingo are hosting free community training

sessions in preparation for asix-month trial of

hire e-scooters in Waimakariri.

Learn howtouse theFlamingoScootersapp to ride and

parke-scooters safely.

Rangiora –Saturday 30 October

10am-1pm, Rangiora Service Centre Carpark

Kaiapoi –Sunday 31October

10am-1pm, Charles Street Park and Ride Site

(next to New World)

Find outmore waimakariri.govt.nz/scooters

ABOUT THE

DRAFT DISTRICT

PARKING STRATEGY

In arecent parking survey, our community

told uswhat they saw asthe key parking

issues for Waimakariri.

Respondents wanted it to be easier tofind parks

in town centres and have options for parking

longer than two hours. They wanted parking

to remain affordable, while also supporting

alternative transport options that could reduce

the need for private vehicles.

We've now produced adra District Parking

Strategy which plans for the future parking

needs of our growing District and wewant

your feedback.

Have your say waimakariri.govt.nz/letstalk

English Language Classes

Is English your second language?

Come along toourour classes to improve

your speaking and listening skills.

We cover some interesting topics in afriendly

and welcoming space with opportunities to

socialise with your classmates too.

When

Every Saturday, 13November to 11 December 2021

10am-1pm

Where

Rangiora Town Hall Function Room

303 High Street, Rangiora

Cost

Classes are free

For more information or to register

Julie Cloughley |Tutor

Email: cloughju@hotmail.com

Phone: 027 403 8245

For more info

waimakariri.govt.nz/migrants-and-newcomers

Windy

weather?

If you think your bin could be blown over,

consider putting it out on the morning of

your collection day, before 7am, and bring it

in as soon aspossible after collection.

—

Find out more collection tips at

rethinkrubbish.co.nz

rethinkrubbish.co.nz
---
NEWS &CLASSIFIED

North Canterbury News, October 28, 2021

29

Give usyour

feedback

Temporary Road Closures

The Natural Health Service, by Isabel

Hardman

In 2016, Isabel Hardman's mind, in her own

words, 'stopped working' as she fell prey to

severe depression and anxiety. She credits

her better health to her passion for exercise,

nature and the great outdoors.

Simple Comforts, by Mary Berry

Mary Berry shares over 120 of her ultimate

food recipes, all made simply and guaranteed

to get smiles around your kitchen table.

Being the Supervet, by Noel Fitzpatrick

Noel shares the moving and often funny

stories of the animals he has treated and the

unique 'animal people' he has met along the

way.

These titles are available in both

Waimakariri and Hurunui libraries. Find out more about recent additions to the library collection

by going to the library catalogue at waimakariri.kotui.org.nz or hurunui.kotui.org.nz or contact your

local library.

The Council has received applications for

various events to temporarily close the

following roads for the periods shown.

Rangiora Celebration Night

19 November 2021 | 2.30pm -10.30pm

High Street from King Street toAshley Street

Durham Street from Blake Street to

High Street

Percival Street from Alfred Street to

High Street

Victoria Street from Alfred Street to

High Street

19 November 2021 | 8.45pm -10pm

Alfred Street from Toyota car park to

Percival Street

Percival Street from Queen Street to

Alfred Street

Cust Rally Sprint

28 November 2021 | 7am -6pm

TippingsRoadfrom168 Tippings Road to

Ashley Road

Ashley Road from 172 Ashley Road to

Tippings Road

Terrace Road from 825 Terrace Road to

Ashley Road

Glews Road from 102 Glews Road to

Ashley Road

Pegasus Half Marathon

5December 2021 | 7am -6pm

Pegasus Main Street from Infinity Drive to

Kawari Drive

Detours will be in place for all events.

The closures are in accordance with

Section 11(e) of the Tenth Schedule of

the Local Government Act 1974 and will

apply to all vehicular traffic with the

exception of the Fire Service, Ambulance,

Police, Council vehicles and other vehicles

authorised by the Council.

Classic Cars

The 10th monthly classic car

gathering will be held on Sunday,

October 31, at the Better Half

Kitchen and Bar, on the corner of

State Highway 1and Ashworth's

Beach Road, Leithfield.

Do not be put off by the weather as

there is acosy log fire indoors

where you can enjoy brunch or

lunch.

We expect numbers to grow as the

weather warms up. Suggested

time is from about 10am to about

2pm.

SPORTS RESULTS

Rangiora Golf Club

Nine hole competition: Stableford /Hidden

Partners: Ralph Sinclair &Ann Martin 45, Ross

McQueen &Lyn Leech 43, Hudson Deane &Jan

Moffat 41, Dennis Brook &Jenni Brook 40 c/b,

David Klopper&Jenni Brook 40 c/b.

Rangiora Bridge Club

Grey Pairs: Robyn Dawson/Colleen Adam 1, Dawn

Simpson/JoyceGray 2, Gaynor Hurford/Helen

Paterson 3. Presidents: Dawn Simpson/Julie

Elliott 1, David McRae/Sue Solomons 2,Judy

Hayton/Noeline Goodgame 3.

Junior Night: North/South: Ian Rouse/Isabel

Better Half opens at 9am for those

wishing to start the day off with

cooked breakfast.

Christmas Cakes

The Lions Club of Woodend

Pegasus are selling Christmas

cakes, which are an ideal

Christmas gift or in ahamper for

family, friends, work colleagues

or clients.

The popular cakes are $22 each.

Order early to avoid

disappointment. Proceeds will go

to various community groups.

Contact Anne on 03 313 6124.

AMPLIFY YOUR

BUSINESS

AND BE THE

NAME THEY

REMEMBER

FIRST

Advertise with

us and get

noticed

today!

Phone us today on 03 314 8335 or email

sales@ncnews.co.nz to find out how we can help!

Waimakariri Country Music

Festival Fundraiser

The festival committee is hosting

aday of country music presented

by local and visiting musicians

and singers as afundraiser on

Saturday, November 12, from

11am to 4pm at the Rangiora

Showgrounds Pavilion.

There will be an open mic, come

along and enjoy yourselves and if

you can sing, give it ago.

There is a$5door charge.

Contact: (03) 3278920,

stkev30@gmail.com.

Goodhew1,Liz Calder/Lindsay Sigglekow 2, Val

Atkinson/StuartAtkinson 3. East/West:Terry Davis/

Louise Davis 1, Marilyn Eliet/Janet Apperley 2,

Anne Bagrie/Judith Robinson 3. PlatePairs:

Maggie Johnston/Janice Pickering 1, Jeff Bergman/

Rhondda Bergman 2, Victor Paul/Sue McIlroy 3.

AmberleyGolf Club

Men and Women, President verse Captain:

President won 3up.

Two's: DVan Turnout, KPepper.

Excel Design Longest Putt: RClifton.

Mid Week Men: BBateman 42, GWilliams 38, D

Esler 38, DFlewellen 37,.G D'Avergne 36, PWylie

36.

Two's: PWylie, MCarson.

Nine Holers: LGU:­ HAstel 34, VCrooks 39.

Men: NCarpenter 40. OPatchett 40.

Public Notices

MILITARYEXERCISE

2/1 RNZIR BATTALION

EXERCISE FOXHOUND

08 -11November2021

Thegeneral public is to be advised thatNZArmy

Training will be conductedinthe Burnham, West

Melton Rifle Range and the Oxford Forest areas

over the period 08 –11November 2021.

Theexercise will involvepersonnel of the 2/1

Battalion RoyalNew Zealand InfantryRegiment

from 1(NZ) Brigade,Burnham. Theexercise will

involvethe movementofupto200 personnel and

vehicles by dayand night.

Training will involvesmallarmslive, simulation

and blank firing ammunition as well as explosives

and pyrotechnics.The exercisewill involvemilitary

activities being run by dayand night. Activities

will be run overan80hr period starting at 0600 on

Mondaythe 8thand finishing middayThursday

the 11th.

Formoreinformation please contact

WO2J.van Arendonk on 021 941 453.
---
CLASSIFIED

30 North Canterbury News, October 28, 2021

Public Notices

PUBLIC NOTIFICATION

KATE VALLEY LANDFILL

COMMUNITY TRUST

The Trust advises that it received

one valid nomination, being James

McGuckin, for a community trustee

from the Waipara Community Area,

therefore James McGuckin will be reelected

as the Waipara Community

Area Trustee.

2430342

BOOK FAIR

WE NEED

YOUR BOOKS

DROP BOXES ARE AVAILABLE

AT: ZSERVICE STATION &

RANGIORA NEW WORLD.

Help us to do this again by donating books,

magazines, dvds, cds, puzzles &records.

Rangiora Charitable Trust

Rangiora A&P

Showgrounds Pavilion

156 Ashley St, Rangiora

If you want us to collect

your books, call:

Book Fair

26th &27th

November 2021

027 472 4439

CONWAY WAIAU TB MANAGEMENT AREA

POSSUM GROUND CONTROL -POISON WARNING

Vector Free Marlborough Limited wishes to advise that a

ground-based possum control operation will be taking place

to keep possum numbers under control to prevent the spread

of bovine tuberculosis to livestock. It is important that we keep

possum numbers low, aswework towards eradicating TB

from New Zealand over the long term. This operation will be

conducted as apartofOSPRI's TBfree programme.

Description of control area

Hanmer Basin: Located between the Hanmer Range and the

Waiau River. The area includes the pastoral farmed flats south

and west of Hanmer Springs township to the bush edge on the

foothills at the base of the Hanmer Range.

Amap of the area can be found on the Vector Free Marlborough

website under the Current Operations tab.

Operation date

20 September 2021 to 30 December 2021 (approximate)

Poisoning methods, poison used and nature of poison

• Feratox encapsulated cyanide in the form ofacapsule,

dyed green/blue, presented with feed-paste or similar

attractant contained inside areusable bait stations 130

cm above the ground.

General warning

The public are reminded of the danger that toxic baits and

possum carcasses pose, particularly to children and dogs.

• Follow advice stated on poison warning signs

• Donot touch poison baits, bait stations or traps

• Donot touch poisoned possum carcasses

• Keep children under strict supervision in the control area

• Keep pets under supervision; do not let dogs eat poisoned

carcasses

Warning signs will be erected at all main public entry points

and the public are reminded that it is an offence to remove

any of these signs. Please follow the instructions stated on

the signs.

If you suspect poisoning

• Contact your local hospital, or dial 111

• National Poisons Centre 0800 POISON –0800 764 766

• Inthe case of adomestic animal being poisoned, contact

alocal veterinarian.

Forfurther information please contact

Vector Free Marlborough Limited

Free Phone: 0508 548 008

Email: communications@vectorfree.co.nz

Website: www.vectorfree.co.nz

OSPRI helps protect and enhance the reputation of New Zealand's

primary industries and currently runs the TBfree and National

Animal Identification and Tracing (NAIT) programmes..

2427302

Public Notices

PUBLIC NOTICE OF

APPLICATION FOR

OFF-LICENCE

SECTION 101, SALE

AND SUPPLYOF

ALCOHOL ACT 2012

BVM Rae Ltd t/as New

World Kaiapoi has made

application to the District

Licensing Committee at

Rangiora for the issue of

an Off-Licence in respect

of the premises situated at

52 Charles St, Kaiapoi or

the Supermarket known as

New World Kaiapoi.

The general nature of the

business conducted (or

to be conducted) under

the licence is Retail -

Supermarket.

The days on which and the

hours during which alcohol

is (or is intended to be)

sold under the licence are

Monday -Sunday, 7am -

10pm.

The application may be

inspected during ordinary

office hours at the office

of the Waimakariri District

Licensing Committee at

215 High Street, Rangiora.

Any person who is entitled

to object and who wishes

to object to the issue of

the licence may, not later

than 15 working days after

the date of the publication

of this notice, file anotice

in writing of the objection

with the Secretary of

the Waimakariri District

Licensing Committee

at Private Bag 1005,

Rangiora.

No objection to the issue

of alicence may be made

in relation to amatter other

than amatter specified in

section 105 (1) of the Sale

and Supply of Alcohol Act

2021.

This is the first publication

of this notice.

2429868v1

THE DARNLEY

CLUB

KAIAPOI DAYCENTRE

FOR SENIORS' INC

Day Care Centre

For The Elderly

AGM

MONDAY

NOVEMBER 8,

2021, 1.30PM

Darnley Room,

Kaiapoi Community

Centre,

24 Sewell St Kaiapoi

ALL WELCOME

2428784

Got atrade

or wanting

to buy or

sell

something?

Advertise

in our

classified

section

Phone

Amanda on

313 2840

Local Democracy

Reporter

-NorthCanterbury

Jobtype: Fixed term–24months

Location: Rangiora

Closingdate:October29, 2021

Are you an outstanding reporter looking for anew challenge and wanting

to serve your community?

Allied Press, with the supportofRNZ andNZOnAir'sPublic Interest

Journalism Fund,ishiring ajournalisttojoin Local Democracy Reportingin

2022 and2023 from the North CanterburyNews office in Rangiora.

Youwillbecoveringlocal authoritiesand otherpublicly-funded

organisations, but alsogoing out and talking to thepeopleaffected by

theseorganisations'decisions, sharing their stories, and comingupwith

your own stories on similartopics.

Your focuswill be providing great publicinterestjournalism coveragedaily

throughoutthe NorthCanterbury regionincluding Waimakariri, Hurunui

and Kaikōura. This is amulti-mediarole so experienceinvideo,audio and

photography would be an advantage.

Youwillreport to Allied Press'North Canterbury bureau chief. Youwill

receive extra trainingand support from RNZ, and your workwillbemade

available at the sametime to all of the programme'smedia partners,

including RNZ.

This could be ajunior,intermediate or senior roledependingonthe

successful candidate. We arelookingfor someone with as many of the

following qualities as possible.You don't need allofthese to apply,but you

do needtohave at leasttwo years'reporting experience (although in some

caseswemay also consider exceptionalapplicants with only one year's

experience).

•Able to spotastrongstory and makeitcome alive for your audience

•Able to meet the highest standards of accuracy,fairness and balance

•UnderstandingofTeTiritioWaitangi

•Someknowledge of local government

•Excellent writing skills

Thisisafull-timerole for afixedterm(throughto31December2023).

Assistancewith relocationcosts may be considered.

Applications closeOctober29, 2021.

Please submit your CV along withyour cover letter and worksamplesto

recruitment@alliedpress.co.nz

Visit RNZ'swebsite for more

information about the LDR service:

Thursday,August2,2018 | Issue 808 | www.ncnews.co.nz

https://www.rnz.co.nz/news/ldr

Public Notices

Waimakariri Country Music

Festival

FUNDRAISER

Admission: $5 per person

Venue: Rangiora Showgrounds,

Ashley St

Date: Friday 12 th November

Time: 11am –4pm

Bring cord charts

Food for sale

ALL WELCOME

Situations Vacant

2429909

Rotary ClubofRangiora

Charitable Trust

ALEX MURRAY

EDUCATION AWARD 2021

The Rotary Club of Rangiora awards agrant each

year inmemory of aformer member, Alex Murray,

to assist ayoung person about toleave school to

undertake further training at an education centre,

polytechnic or university.

The grant, to a value of $5000, will be awarded

to ayoung person living ineither the Waimakariri

or Hurunui Districts. The grant is to assist with

course costs and/or study materials (excluding

accommodation costs) over the first two years of

tertiarystudy.

We are calling for applications for this grant for study

to becommenced in 2022.

The application form may beobtained by emailing

ayers.david@xtra.co.nz.

Applications willclose on Thursday 18 th November

2021.

2428463

Trade&Services

Log Fires

Pellet Fires

Heat Pumps

Sales

Service

Installations

Free Quotes

03 343 1651

472 Blenheim Rd

www.heatstore.co.nz

A PAINTER WITH

PASSION! Local painter

with 30 years of quality and

integrity in all aspects of

painting. Phone Mike on

021 0903 8546.

ABEL &Prestige Chimney

Cleaning. Nth Cant owned

& operated. Covering all

areas from Waimak to Hanmer.

Professional, guaranteed,

service. Firebox

repairs, carry most parts. Ph

0800 661 244.

AFFORDABLE concrete

cutting with quality and

removal work. Free quotes.

No job too small. Ph 027

442 2219, Fax 03 359 6052

or A/H 03 359 4605.

ALL TREE SERVICES,

arbour work, pruning, tree

removal. Affordable &

friendly service. Telephone

021 111 4322.

PAINTER. Qualified local

professional, Int / Ext,

roofs, wallpaper. Call or

text Corban 027 846 5035.

SAWMILL

TIMBER

WORKER

We are abusy Sawmill in

North Canterbury looking

for an enthusiastic Timber

Worker to join our

team.

This is a full time permanent

position.

If you want to be part of a

great team, are keen to

learn &have agood work

ethic, please contact us

today.

Send your CV to Maree:-

hrs@sutherland.co.nz or

phone 03 3274830

Trade&Services

PAINT & wallpaper

services. Wayne Bryant,

exterior, interior. Qualified

tradesman. Free quotes. Ph

313 5337 or 027 654 4568.

ARBORIST qualified.

Copper Beech Tree

Services. Tree removal,

pruning, height reduction,

hedge trimming, shaping,

tree planting, firewood.

Free quotes. Contact Angus

Edwards 027 259 6741

copperbeechtreeservices@gmail.com

BRIAN'S Tree Services.

Tree felling, topping,

shaping, firewood cut, rubbish

removed, stump grinding,

branch chipping.

Affordable rates. Phone 03

327 5505 or 021 124 4894.

CARAVANS

MOTORHOMES,

Interior &exterior repairs,

maintenance & upgrades.

Solar, satellite, awning

installations. Sheetmetal,

light engineering &welding

services. Professional

coachbuilder specializing

in the RV industry 25 years.

Call Darryl @ Advanced

Auto Homes 027 220 6566.

CHIMNEY

Time to service your fire.

Accumulation of soot seriously

affects performance.

Latest rotary brush technology.

Free moisture check

on wood. Safety inspection.

All work insured and guaranteed.

From $70 single

story. 0800 SWEEPME or

021 0277 1927. Visit

www.sweepnz.co.nz.

DIRTY TILES &Grout?

Professional tile cleaning,

tiled shower restoration,

mouldy silcone, shower

glass & we can even

recolour your old grout!

For all your tile and grout

issues call Grout Pro for a

free, no obligation quote.

Ph Darryl 0800 882 772.

DRESSMAKING Bev's

Sew Good Services. For all

your alterations, repairs,

dressmaking, curtains.

Phone 327 5535.

WINDOW TINTING

tintawindow

advanced film solutions

99% uv block

fade protection

heat control

reduce glare

25 Years Experience

privacy films

frosting designs

non-darkening films

Workmanship Guaranteed

Lifetime Warranties on Most Films

UV

block

Trade&Services

BUILDERS Father &son

team. Amac Builders are

available to help you with

your building needs. High

standards, low overheads.

No job too small. Check us

out on fb. Amac Builders

Ltd. Phone 027 318 4400.

GUTTER CLEANING -

SUMMER SPECIAL -

Total gutter / spouting

cleaning and repairs. For

Fast and friendly Service

call Canterbury Spouting

Services on 0508

SPOUTING or 022 375

8506. FREE QUOTES.

METAL WORX. Flashing,

Sheetmetal Fabrication,

Wrought Iron,

Welding, Custom Trailers,

General Metalwork. No job

too big or too small. Ph 021

265 5428 or 03 314 6908.

Find us on facebook/

Glenmark Metal Worx.

glenmarkmetalworx.ltd@gmail.com.

POWER TOOLS repairs,

parts &sales for over 40

years. All main brands serviced.

Grossman Trade

Tools, 23 Watts Road,

Christchurch. Ph 389 9230.

RANGIORA Rubbish

Removal and RRR skips.

Wheelie bins any frequency

and skips from 1.5 cube to

9cube. Skips and wheelie

bins for any use, rubbish,

greenwaste, building sites

or just cleanups. Give us a

phone call 313 6957 or for

skips 021 313 255.

ROOFER All roof repairs,

roof painting, water blasting,

moss treatment,

repointing, gutter cleans &

snow straps, and more. Free

quotes. Please ph Nathan

027 516 6609.

SCREEN PRINTING.

For all your printing

requirements. T-shirts,

Hoodies, Hi-Vis vests and

polos, Overalls, Caps etc.

& Please phone Heather 03

313 0261 or email heather.

norstar@gmail.com.

SHEARER. Hap's Farm &

Lifestyle Services. Shearing,

crutching, drenching,

tailing, feet trimming &

health check. — Ph. 03-

423-3713 or 021-267-4025.

SHEEP SHEARING,

drenching, feet trimming.

SWEEPS For Lifestyle blocks. Call

Stu 027 315 6916.

SUMMERFIELD

FENCING

IN YOUR AREA NOW.

Lifestyle or farm, sheep, cattle,

horse, all types of animals.

Fences, yards, sheds, arenas,

shelters, runs.

30+ years contract fencing.

Steve is available to help with

your design &planning.

Ph office03312 4747

ANTHONY SYMONDS

Forall your painting &

plastering requirements

Local with 30 years

experience

All workmanship

Guaranteed.

Phone 021 344 023

Free Quotes Canterbury and Districts

03 365 3653 0800 368 468

2091848

2220615
---
Trade&Services

SEPTIC TANK

CLEANING

Bill's Liquid

Waste

You dump it...

Blair pumps it...

Blair Tavendale

Ph 03 314 9371

0275 379-694

2225862

PAINTERS

Reg Tradesman

Interior,exterior.

North Canterbury Painters

specialising in decorating for

over 65 at adiscount rate.

Free quotes.

Covering Nth Canty,Oxford,

Kaiapoi, Rangiora, Amberley.

Rob 03 327 7899

or 027 432 3520 2227597

Trade&Services

Pride &Quality Painting

&Decorating Services

20 yrs exp, fast and friendly

service. For all your painting

needs, phone: Martin 310

6187 or 021 128 9867

LANDSCAPES

Paving

Patio &Pathways

-New or Existing

Free Quotes

–Competitive Pricing

Blair Gibson

027 699 5815 03 313 7933

VALUATION -

Specialising in North Canterbury.

Contact Geoff at

Maxwell Valuation. Phone

03 310 8541 or email

geoff@maxval.co.nz.

2253902

Trade&Services

REMOVALISTS

Movemen Ltd

2Men &agood sized truck.

From $150 plus GST per hour.

Kaiapoi based.

Call Gerard

027 668 3636

movemen.co.nz

2401953

Educational

TUITION available. Primary

and secondary up to

NCEA level 3. In centre

(Rangiora) or interactive

online from your home.

Each student onanindividually

tailored programme.

Kip McGrath Rangiora has

been serving the local community

for 30 +years.Give

us acall (03 313 3638) or

book your free assessment

online https://www.kipmcgrath.

co.nz/rangiora

Trade&Services

2362002

027 216 0000

Wanted To Rent

LONG TERM RENTAL

property wanted, with land

for horses, within 15

minutes of Rangiora.

Extremely conscientious,

professional &responsible,

no children or dogs,

respectful care taken of

property and grounds.

Experienced in gardening,

pasture management and

animal welfare. Seeking

privacy and independence.

All options considered at

petlifestyle@hotmail.com.

½PRICE

DOG FOOD

MEAT2U.NZ

313 0022

2424357

Personal

SEMI RETIRED, kind,

caring man looking for a

loving relationship.

Seeking agenuine, caring

woman in her 70's, light

drinker. Ph 020 4129 5331.

Pets

BICHON HOMESTAY

for smaller dogs. We look

after your dog in our home.

"No kennels". Phone today

03 314 6110.

Livestock

HOMEKILL & Wild

Game meat processing. Ph

313 0022. www.meat2u.nz.

Wanted To Buy

BUYING estate type old

china, crystal, collectables,

vases. Ph 027 350 3963, or

313 1878.

$$$

Amalgamated Scrap Metal

Ltd. Specialists in farm

machineryand farm clean

ups, old vehicles etc.

100% locally owned.

Ph 0800 030 712 or

027 695 0480.

2312759

Garage Sales

27 KINLEY STREET,

Rangiora. 30th October,

1pm start (no earlier). Furniture,

whiteware, clothing,

bric-a-brac, make an offer.

RANGIORA 161 Oxford

Road, Saturday 30th October,

gates open 8.30am.

CLASSIFIED

North Canterbury News, October 28, 2021

Gardening

A+ GARDEN hedges cut

to perfection. Tree &arbor

work. Also spraying. Free

quotes. Ph 021 111 4322.

Cars Wanted

ANY old cars, anything pre

1990, unfinished Hot Rods,

Classic Cars. Please call

027 258 8366.

CASH 4CARS

and 4WD'S

Phone

Automotive

Parts

03 313 7216

CARS, vans, 4WD's

wanted for dismantling or

repair. Phone 027 258

8366.

Trusted Trades &

Professional Services

31

Cars Wanted

FALCONS &

COMMODORES

WANTED

Suitable for

dismantling or repairs

2412522

Ph 313 7216

WANTED to buy Ford,

Holden, Chrysler or

Chev's, Classic cars. Any

other types considered, any

condition. Please phone

Tony 027 313 5000.

Motorcycles

SOUTH PACIFIC Motorcycle

services, local family

business based in Mandeville.

Repairs, servicing,

WOF etc for all road bikes,

classic bikes, farm bikes &

more. Collection service

available. Ph03312 0066

office@motorbiketours.co.nz

www.motorbiketours.co.nz

Guide

To book your spaceinthis guide,phoneAmanda Keys 313 2840 or email amanda.keys@ncnews.co.nz

Appliance Repairs

Butchery

Chiropractic Services

Construction &Concrete

•REGISTERED TECHNICIAN

•AUTHORISEDLOCAL SERVICE

F&P, Bosch, Smeg,

Ariston,LG, Classique,Haier,

Samsung andmore....

"For best results be sure to useauthorised service"

NORTHCANTERBURY APPLIANCESERVICES

Rangiora: 03 313 4420 Kaiapoi: 03 327 3810

2332343v2

OxfordButchery

Shane and Leanne Frahm

We cankill&process yourstock

FourGenerations of Frahms

since 1957

Ph 312 4205

Oxford

Number one

old-fashioned bacon

&ham curing.

A/H 312 4709

WE ARE OPEN, WEARE AESSENTIAL SERVICE

2227889v2

Dr Jess Ross

ACC RegisteredDrChiropractic

Monday &Thursday |03313 0350

Injury, accidents and maintenance

Libi McKinnon Physiotherapy

privatephysio@xtra.co.nz

027 868 2574

ACC Registered Provider | Tuesday&Friday

Select Health

51 Ashley Street, Rangiora

2344089v2

All Construction & Concrete Work

•Driveways, patios &paths

•Bridges and Culverts

•Floors, foundations

•Sheds and buildings

•Dairy Sheds, Herd homes

•Silage pits, effluent ponds

•Excavation and cartage

•Precast concrete

•Insulated panels

Daryl Power

027 230 9401

concretepower@scorch.co.nz

www.concretepower.co.nz

2273277

YOU

COULD

BE

HERE

Glass &Windscreens

UNDER NEW

MANAGEMENT

Allan Pethig

For all your electrical needs. Residential &Commercial

Phone 03 313 7144

027 432 1534

Fax 03 313 2144

rgrantelectrical@gmail.com

PO Box 69, Rangiora

Electrician

2269236

Engineering

For your Engineering needs

187d Ohoka Road, Kaiapoi

Phone 03 327 5246 |027 495 2821

toppeng@xtra.co.nz

Advertise

your business

in our Trades

and Services

Phone

Amanda Keys

on

03 313 2840

Landscaping

For all your landscaping needs

All Landscaping, Retaining Walls (Engineered and

Non-Engineered), Timber Fences, Landscape Structures

and more...Lifestyle Block, Rural and Residential.

Phone Jeremy 021 169 9394

www.blackhill.co.nz

www.facebook.com/blackhillltd

2372616v2

Quarry Supplies

QUARRY SUPPLIES

2426159

●CAP 65 ● CAP 40

●CAP 20 ● Pit Run

●Large Soakpit Boulders

●Crusher Dust

●Screened Sand

●Horse Arena Sand

Dean Hurley0274 336 993

hurleyexcavation@xtra.co.nz

2064 Tram Road

2420841

▪ Painting ▪ Gardening

▪ Fencing ▪ Lawn mowing

▪ All General Maintenance

Performed to the highest

standard by a straight up,

honest, Handy Guy

No job too small!

Flat hourly rate, no hidden surprises!

THE

HANDY

GUY!

Handyman

Call Guy "The Handy Guy" Now

0275 040 658

Scrap Metal

CASH PAID FOR SCRAP

•Car Bodies •Scrap Steel•Specialists in Farm

Machinery•All non Ferrous

MAINLAND

METALS LTD

Ph (03)338 7000

Mike0274 818544 •Robbie0274818 027

Locally owned and operated

1902273

CAP 65

CAP 40

CAP 20

Shingle

SHINGLE SUPPLIES

Quarry Prices

DRAINAGE CHIP

from $40 per cube

from $23 per cube

from $25 per cube

from $30 per cube

all +gst

Plus all excavation and truck hire

house excavations, driveways, subdivisions

CONTRACTING

Ph: KEN 027 201 3302

Email: stress@xtra.co.nz

2009594

To book your spaceinthis guide,phone Amanda Keys 313 2840 or email amanda.keys@ncnews.co.nz
---
RangioraToyota

Signature

CLASS

2017 Corolla GX Hatch

•1.8L PetrolAuto

•Bluetooth, Camera

•Cruise Control, 37,100km

$

22,995

2013CorollaGXHatch

•1.8L Petrol, Auto

•Bluetooth, CruiseControl

•7Airbags

2015Yaris GX Hatch

•1.3LPetrol5-speed manual

$ •Camera, Bluetooh

13,995 $

10,995

•NZ-new

2019 Corolla SX Hybrid Sedan

•1.8L Hybrid Petrol

•SafetySense, Satnav, Keyless

•Only7,200km

$

33,995

Holden Spark LS

•1.4LPetrolAuto, 5-Door

•Bluetooth, Cruise Control

•49,050kms

$

11,995

2015Toyota Ractis

•1.3LPetrolAuto, 45,550km

•CD/AUX/USB

Connectivity

WAS$15,995

NOW $ 14,995

2014 TOYOTA SPADE

•1.5Lpetrolauto,

•4-door/left side door

•Climate,5-seater

$

13,995

2016 Corolla GX Sedan

•1.8L PetrolAuto,

•Camera ,Bluetooth

•4.5-Star Safety

$

19,995

2015Mazda6GSXSedan

•2.5LPetrol, Auto

•Satnav, Cruise, Head Up Display

• Keyless

$

18,995

2015Corolla GX Hatch

•1.8L PetrolAuto,

•Rear Camera &Sensors

•62,000km

$

18,995

2015BMW320iM-Performance

•2.0L TurboPetrol, PerformanceBrakes

•Exhaust, NZ New

•Only 59,200kms

$

31,995

2017 Corolla GLXHatch

•1.8L Petrol, Auto, Alloys

•Camera, Bluetooth

•5-Star Safety, only 47,700km

$

23,995

2016 Corolla GX Sedan

•1.8L PetrolAuto, Bluetooth

•ReverseCamera&Sensors

•60,000kms

$

19,995

2019 CorollaGXHatch

•2.0L PetrolAuto, 5-Star Safety

•Satnav,Alloys

•25,250kms

$

26,995

2019 CorollaGXHatch

•2.0L PetrolAuto

•Satnav ,Radar Cruise

•Only 16,500km

$

36,995 27,995

2011 Toyota Avensis Wagon

•2.0L PetrolAuto,

•Alloys, Camera

•Bluetooth, Keyless

$

14,995

2019 CorollaGXHatch

•2.0L Petrol, Auto

•Camera, Bluetooth

•5-Star Safety,only 25,300km

$

26,995

2014 CamryGLSedan

•2.5LPetrolAuto

•Cruise Control, Bluetooth

•7Airbags

$

12,995

2011 Toyota Wish Z

•1.8L PetrolAuto, 6-Seater

•Sunroof,Alloys, Camera

•82,300kms

WAS$15,995

NOW $ 14,995

2012CamryGLSedan

•2.5LPetrolAuto

•CD&USB Connectivity

•Bluetooth

$

13,995

2009 Toyota Wish Z

•2.0L PetrolAuto, 6-seater

•Alloys, Keyless

•88,500km

WAS$14,995

NOW $ 13,995

2010 Mitsubishi Lancer VRX

•2.4LPetrolAuto

•Alloys, Leather

•80,750kms

WAS$12,995

NOW $ 11,995

2016 HiluxSR5 4x4

•2.8L Turbo Diesel Auto

•Sat Nav

•Cruise Control

WAS$46,995

NOW $ 45,995

2019 LandCruiser Prado VX

•2.8L Turbo Diesel, Facelift

• Leather, Safety Sense

•Only31,300kms

$

82,995

2019 Nissan Navara ST

Double Cab

•2.3LTurbo Diesel 6-Speed

•Manual, Camera $

• Satnav 45,800kms 45,995

2016 Holden Trailblazer

Colorado 7

•2.8L Turbo Diesel 4WD

•Leather,7-seater

•63,800km

$

44,995

2019 Ford Ranger Wildtrak

•3.2LTurboDiesel4X4,Alloys

•Satnav,Camera

• Only 39,150kms ,

$

62,995

2013Toyota AlphardSC

•2.4LPetrolAuto, 7-Seater

•DualElectricDoors

•25,250kms

WAS$36,995

NOW $ 34,995

2016 Hilux SR5 Limited 2WD

•2.8L Turbo Diesel, Leather

•18"Alloys

•SportsBar &Tonneau.

$

42,995

2018NissanNavaraRX4x4

•2.3LTurbo Diesel Manual

•Alloys, Bluetooth

•Only 58,100kms

$

41,995

2018 HiluxSR5 Cruiser

•2.7LTurboDiesel, leather

•18" alloys,Tonneau

•Only 37,250km

$

60,995

2018 HiluxSExtra Cab

•2.8L Turbo Diesel Manual

•2WD,Camera

•Only 50,100kms

$

34,995

Percival Street,Rangiora • Ph (03) 313-8186any time • www.rangiora.toyota.co.nz

Signature

CLASS

2422155

FINANCE &INSURANCE AVAILABLE