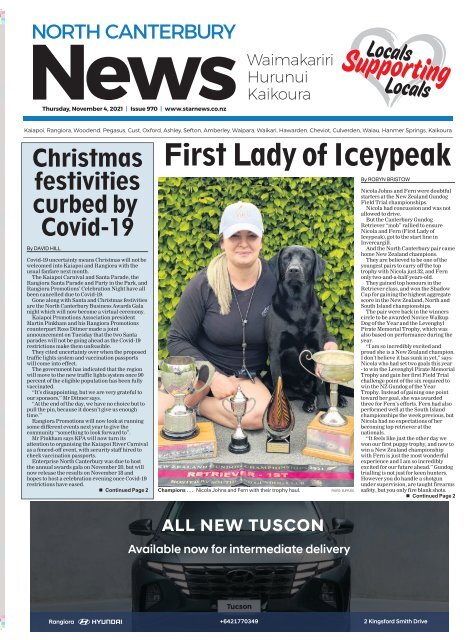 North Canterbury News: November 04, 2021
Create successful ePaper yourself
Turn your PDF publications into a flip-book with our unique Google optimized e-Paper software.
Locals

Supporting

Locals

Thursday,November4,2021 | Issue970 | www.starnews.co.nz

Christmas

festivities

curbed by

Covid-19

By DAVID HILL

Covid­19 uncertainty meansChristmaswill not be

welcomed intoKaiapoi and Rangiora withthe

usual fanfare nextmonth.

The Kaiapoi Carnival and SantaParade, the

Rangiora Santa Parade andPartyinthe Park,and

Rangiora Promotions' CelebrationNighthave all

been cancelled due to Covid­19.

Gone along with Santaand Christmas festivities

are the North Canterbury Business Awards Gala

night whichwill now becomeavirtualceremony.

Kaiapoi Promotions Association president

MartinPinkhamand his Rangiora Promotions

counterpart Ross Ditmer made ajoint

announcement on Tuesday that thetwo Santa

parades willnot be going ahead as the Covid­19

restrictions make them unfeasible.

They cited uncertainty over whenthe proposed

traffic lights system and vaccination passports

will come into effect.

The government has indicated thatthe region

will move to the new traffic lightssystem once 90

percent of the eligible populationhas beenfully

vaccinated.

''It'sdisappointing, but we are very grateful to

our sponsors,'' Mr Ditmer says.

''At the end of the day, we havenochoice but to

pull the pin, because it doesn't giveusenough

time.''

Rangiora Promotions will nowlook at running

some differenteventsnext year to givethe

community ''somethingtolook forward to''.

Mr Pinkham says KPA willnow turn its

attention to organising the Kaiapoi River Carnival

as afenced­off event, withsecuritystaffhired to

check vaccinationpassports.

Enterprise NorthCanterbury was due to host

the annual awards gala on November 20, but will

now release the results on November18and

hopes to host acelebration eveningonce Covid­19

restrictions have eased.

Continued Page 2

First Lady of Iceypeak

Champions ... Nicola Johns and Fern with their trophy haul.

PHOTO:SUPPLIED

By ROBYN BRISTOW

Nicola Johns and Fern were doubtful

startersatthe New Zealand Gundog

FieldTrial championships.

Nicola had concussionand was not

allowed to drive.

But the Canterbury Gundog

Retriever ''mob'' rallied to ensure

Nicola and Fern(First Lady of

Iceypeak), got to the start linein

Invercargill.

And the North Canterburypair came

home New Zealand champions.

They are believed to be one of the

youngest pairstocarry off the top

trophy withNicola just 32, and Fern

only two­and­a­half­years­old.

They gainedtop honours in the

Retriever class,and won the Shadow

Cup for gaining the highest aggregate

scoreinthe New Zealand, North and

SouthIsland championships.

The pair were backinthe winners

circle to be awardedNovice Walkup

Dog of the Year and the Levenghyl

Pirate Memorial Trophy, which was

also based on performance duringthe

year.

''I am so incredibly excited and

proudshe is aNew Zealand champion.

Idon'tbelieve it hassunk in yet,'' says

Nicola who had set two goals thisyear

­towin theLevenghyl Pirate Memorial

Trophy and gainher firstFieldTrial

challengepointofthe six required to

win the NZ Gundog of the Year

Trophy. Instead of gaining one point

toward hergoal, shewas awarded

threefor Fern's efforts. Fern had also

performed well at the South Island

championships the week previous, but

Nicola had no expectations of her

becoming top retriever at the

nationals.

''It feels like just the other day we

won our first puppy trophy, and now to

win aNew Zealand championship

with Fern is just the most wonderful

experienceand Iamsoincredibly

excited for our future ahead.'' Gundog

triallingisnot just for keenhunters.

However you do handleashotgun

undersupervision, are taughtfirearms

safety, but you only fire blank shots.

Continued Page 2
---
NEWS

2 North Canterbury News, November 4, 2021

Grow

customers,

salesand

profits

with North

Canterbury's

bestread

newspaper

Readership: 48,000 weekly

Circulation: 30,150copiesdelivered

to EVERY farm, RD, lifestyle block

and home inWaimakariri, Hurunui

&Kaikoura every Thursday.

news

Robyn Bristow

Managing Editor

027 312 1581

robyn.bristow

@ncnews.co.nz

Reporters

David Hill, Shelley Topp.

advertising

DaynaBurton

Sales Manager

027 312 0089

dayna.burton

@ncnews.co.nz

AmandaKeys

Advertising

027 536 6224

amanda.keys

@ncnews.co.nz

JillianDickie

Advertising

022 024 3092

jillian.dickie

@ncnews.co.nz

getintouch

Editorial

info@ncnews.co.nz

Advertising

sales@ncnews.co.nz

Graphic Design

heather.hood@ncnews.co.nz

Distribution/Deliveries

03 314 8335

Rangiora: 03 313 2840 /03314 8335

14 Ashley St, Rangiora

Christchurch: 03 364 7460

www.starnews.co.nz

Labradors are Nicola'sfamily

From Page 1

Nicola puts much of her successand

passion for thesport down to her

apprenticeshipwithher dad, Graeme,

andthe bloodlinesofhis dogKing,

Peacehaven Candy Man,Fern'ssire.

''Ihavebeen gundog triallingfor pretty

much my whole life, starting off in dad's

backpack.

''Ourholidaysweretravelling around to

various events,'' Nicola says.

''Winning the championship is very

cool, andIfeelveryprivileged forFern to

carryonKing'sbloodlines. Fern is a

special bitchand the beginningof

IceypeakLabradors.''

Nicola is addicted tothe sport, and

lovesher twodogs, which includesFern's

mumIce —Blackice ofTanara —whodid

awee bitoftrialling when Nicola wasa

shepherd.

Shepherdingdid not allowformuch

timeoff thejob.However, an ankleinjury

broughtthattoahalt, andNicolatookup

aposition in Cheviotasavetnurse.

Today sheisthe senior animal health

representative forNorth Canterbury Vets,

whohave been''incrediblysupportive'' of

Nicola's passionfor hersport.

''The dogsaremyfamily. Iwouldn't

have my lifewithout them.

''They prettymuch come everywhere

with me,'' shesays.

But behind the scenes there is another

family —the retrievertraining mob—

which includesGrahamPalmerand

SonyaTamblyn, twoardent supportersof

Nicola, Fern andthesport.

Graham is the Canterbury Gundog

Club's vice­president andsaysgundog

trialling is notalot different fromsheep

dogtrialling,except gundogsare in a

simulatedhunting environment.

''Dogsare testedtodowhattheydoin

thereal worldofhunting,'' he says.

Experienced

Podiatrist;

2431881

Erin Marsden BSc(Pod)

Now with more availability

022 1726 049

www.northcanterburypodiatry.co.nz

On target ... Nicola Johns, and her New Zealand champion retriever Fern, in action at the

New Zealand Championships near Invercargill hosted by the Southland Gundog Club.

PHOTO: SUPPLIED

This includesonland andwater ,for

marked and unmarked target birds,

whichrequire different commands for

dogstofindand retrieve.Itisatechnical

sport,and if adog goesoff line,itbecomes

acontrol exercise too, to getthemback on

track.

Graeme saysit normally takes twoor

three dogsbefore anational

championshipcomesyourway,but

Nicola was able to do it with herfirst dog.

''We areall pretty proudofher.Itisnot

adiscipline or asportthat youcan take

lightly. It takesanawfullot of time and

effort,' he says.

Mixed response to Level 2

From Page

''We heldoff for as long as we could,

hoping for achange in alertlevels,''

chiefexecutive HeatherWarwick says.

However, with the eventdate looming

and of course the sudden news of Covid­

19 returning to the South Island, it was

no longer responsible to host alarge

indoor gathering, Mrs Warwick says.

Despite the uncertain times, Mr

Ditmer, who is alsoBayleysNorth

Canterbury manager, says most local

business owners appear to be ''pretty

upbeat and positive''.

''At Bayleys we've justhad arecord

monthlast monthfor listings, so while

it's atough market, we are doing well.

''People are not spending money on

travel, so they're spending it on other

things.

''There are certainly some businesses

whichare struggling particularly in the

travel sector,but overall Ithink

businessesare pretty resilient.''

Mr Pinkham says Kaiapoi businesses

seem to be doing ''not too bad''under

Level2,but there has been fewer

weekend visitorsthan expectedin

recent weeks.

''Under Level 2the eating

establishments and hairdressers are

able to proceed and everyone seemsto

be prettybusy, but the restaurantsare

finding it hard withthe restrictions and

wearing masksall day doesmake it

difficult.''

ANOTHER ART EXHIBITION

2.0

MANDY PALMER

NIKKI PARKER

SAM YOUNG

JACKIE HANCOCK

6NOV - 14NOV

THE MILL, WAIKUKU

Nicola is averygood student,Graeme

says.When afault is pointed out, she

comesbackthe next week with it all

ironedout.

''Inaworldwhere time is preciousand

thereare lotsofdistractions,for ayoung

person to putinthe timeandeffort, and

getrewarded likethis is pretty fantastic,''

he says.

''Itisall about trainingand problem

solving,''Graemesays.

And themob cantakealot of thecredit

forNicola'ssuccess too,with several

doing ''pretty well''atthenationals

themselves.

Vaccinations

Kaikouraisleading the way in North

Canterbury for Covid­19 vaccinations,

with Ministry of Health figures

showing 71 percentofthe district's

eligible population are now fully

vaccinated against the virus and88%

having had their first jab.

This compares to 63%ofthe eligible

New Zealand population now fully

vaccinatedwith 74% havinghad their

firstjab.

Of the other NorthCanterbury

districts, in Waimakariri 85% of the

eligible population have had their first

dose with 70% fully vaccinated. In

Hurunui 70% are alsofullyvaccinated

and 83 per cent havehad their first

vaccination.

CDMP

Community Driver

Mentor Programme

BECOME SAFER

ON OUR ROADS.

Need Help to gain

your Restricted or

Full Licence?

Contact Us Now.

Contact: Julia Graham on 021 953 754

e: julia.graham@salvationarmy.org.nz

2403109v1
---
Aqua park given the go-ahead

By DAVID HILL

Kaiapoi's much anticipated aqua play

park will be readytomake asplash

this summer.

The aqua park is expected to open

laterthismonth. The consents for the

aqua park havebeen approved, and

the inflatable equipmenthas arrived

in the country.

WHoW CharitableTrust deputy

chairpersonJason Mill says it is relief

to finallyget the go ahead.

The Kaiapoi­Tuahiwi Community

Boardgranted alicense to occupy to

operate an aqua play park in

Courtenay Lake, Kaiapoi, in August,

subject to the trustobtaining the

necessary resource consents.

Land useand building consents have

nowbeen obtained from the

WaimakaririDistrictCouncil and a

resourceconsent from Environment

Canterbury.

Mr Millsays the inflatable

equipmentisnow in Hamilton,while a

shipping containerisbeing modified

to become the base of operations.Work

on the Lake Courtenay site is expected

to beginnext week for a72­hour

install.

While an opening date has yet to be

finalised,MrMill says he anticipates

thefacility will be operatingbythe

last weekend in November.

''We willbelookingtomake asoft

start,operating at 50 to 60 percent

capacity,and then slowlywinding it

up.

''We expecttooperating under Level

2tostartwith,which suits us because

it gives us achance to getunderway

and make surewehave all our systems

in place.''

Mr Mill saysthe trust contracted a

formersnowboard andsurfing

professional to managethe aquaplay

park. Theyare expected to startnext

week, while otherstaffare being

recruitedlocally.

The trustwill be arranging for some

local schools to visit the park in its

first week. The school children will

help out withplanting and carry out

othersocial projectsatthe park, with

the promise of afree swim at the aqua

park when it opens.

Waipara vineyards face tough times

By SHELLEY TOPP

Waipara Valley wines are riding the wave

of international popularity but despite this

the region's winemakers are facingtough

times.

''The combination of Covid­19 lockdown

restrictions and the effects of lastyear's

frosts, whichwipedout whole blocksof

grapesatsome vineyards, is hurting all the

vineyards,'' saysThomas Family Wines

marketing manager Nik Mavromatis.

''Times are tough to be honest,''hesays.

Although customers are returning to the

cellardoors, the extended lockdown in

Auckland has seenafall­offindemand for

wine, particularly from high­end hotels

and restaurants.

''International export markets the world

over are still strugglingwith lockdowns

and restrictions. Sometimes it is easy here

(in New Zealand) to forget how bad it has

been around other parts of the world,'he

says.

Kiwi wine­lovers canhelp Waipara

winegrowers by tryinganew winefrom the

regionthis summer, and recommendingit

to friends.

``We have great wine coming out of our

region. Call intoone of the wineries or pop

into agood local retailer and ask about

some localwines.

''We sure wouldall appreciateit,''Nik

says.

Greystone Wines wouldbeagood place

to start. The 2020Sustainable Winery of

the Yearwon two top awardsatthe

Organic Wine Awards earlier thisyear

with its 2019 chardonnay and its 2018 syrah

.

Greystone Wines and MuddyWaters

viticulturistMike Saunders says North

Canterbury has auniquemix of soilsand

aperfectmicro­climate for growing

grapes, but the regionisrightonthe edge

climatically of grape­growing conditions.

''Thismeans our winescan obtain

Harvest time ... Waipara vineyards are hoping for abetter harvest this year after frosts

badly damaged crops last year.

PHOTO:FILE

optimum ripeness with flavour and are

truly unique within NewZealand,but it

alsomeans growing conditionscan often

be challenging.''

AfrostonSeptember 30 last year

adversely affected this year's supplyof

North Canterbury wine,with grape

tonnage dropping 26 per cent on the

previousyear.

''Some people lost whole blocks, others

onlysustained partial damage,'' Mikesays.

In abig frost, primary grapevine buds

and shoots can be damaged or even killed.

However, the grapevine is incredibly

resilient and can pushsecondary shoots in

the same season, but the yieldoff these

secondary shoots will be reduced.

''We are just farmers like all othersso

we are very climate vulnerable,'' Mike

says. ''Frost, hail, too muchrain, not

enoughrain, hot destructive nor'west

winds,weare susceptibletoitall.''

The climatethisseasonhas beenless

challenging so far, withlittledamage

reported.

''We had acouple of clusters of frosts in

mid­September and in late September, but

also somelong spells of fine, warm

overnight temperatures,'' Mike says.

``Fingers crossed the most mild weather

continues.'' There are about 60 different

wine brands in North Canterbury to

choosefrom. Visitnorthcanterburywines.

co.nz to view them.

NEWS

North Canterbury News, November 4, 2021

MattDoocey

MP for Waimakariri

Kaiapoi Office

03 3270514•kaiapoi@parliament.govt.nz

137 Williams Street

RangioraOffice

03 3107468•waimakariri@parliament.govt.nz

Level1Conway Lane,188 High Street

Ienjoy holding constituent

clinicsinOxfordand in

Belfasttobeaccessible;

pleasering my officeifyou

would liketomeetwith me.

Authorised byMatt

Doocey, Parliament

Buildings, Wgtn.

Caring for North Canterbury

Dr John Dehn

Full Mole Checks

using Dermoscopy

Surgical Management

and Aftercare

Comprehensive, Affordable, Convenient

Ph 03 9204060

52 Pegasus Main Street,Pegasus 7612

www.pegasusmedicalcentre.co.nz

Southern Cross

Affiliated Provider

3

Unisex Hair Salon

We areheretolisten and make your

hair dreams become areality.

28 High St,Rangiora

Ph 03 3130054

For selected services

1890742

DISCOVER THE TASMAN GLACIER &GET UP CLOSE

TO ICEBERGS. IT'S THE ULTIMATE ICE ADVENTURE.

Unforgettable Aoraki/Mount Cook.

0800 68 68 00 | glacierexplorers.co.nz
---
NEWS

4 North Canterbury News, November 4, 2021

Bugling Bill the bandmaster

By DAVID HILL

He is afamiliar sight as the bugler at

Anzac Day events around the region

and now Bill Peck has been

recognised with Merit Award.

Mr Peck received the Merit Award,

the Royal New Zealand RSA's

second highest honour, and an RSA

badge from RSA national president

BJ Clark and chief executive Marty

Donoghue at afunction at the

Rangiora RSA Club recently.

Rangiora RSA president Ian

Thompson says Mr Peck is aservice

member, as aretired police officer.

As well as playing the bugle at

Anzac Day and other services in

Rangiora, Oxford, Cust, Amberley

and surrounding areas, Mr Peck is

also the Rangiora RSA's secretarytreasurer

and padre.

He is also the Rangiora Salvation

Army's bandmaster.

While local RSAs have been

impacted by Covid­19 cancellations

of larger gatherings, Mr Thompson

says the local groups are keeping

busy.

RSA members recently gathered at

Bromley Cemetery, off Linwood

Avenue in Christchurch, on

Saturday, October 23, to remember

local soldier Sergeant Henry James

Nicholas, who served with the 1st

Canterbury Regiment in World War

1.

Sgt Nicholas received both the

Victoria Cross and Military Medal,

but was killed in action on October

23, 1918, just 19 days before the

Armistice came into effect at 11am

on November 11.

While his grave is at Vertignuel

Churchyard near Romeries, France,

Sgt Nicholas' family has amemorial

grave at Bromley Cemetery, which

Service recognised ... Bill Peck during the Anzac Day Service at Oxford earlier this

year.

PHOTO:FILE

was badly damaged in the 2011

earthquake.

The memorial site has been

restored and acommemorate service

was held on October 23, attended by

Veteran Affairs Minister Meka

Whaitiri, Veterans Affairs chief

executive Bernadine McKenzie,

RSA national president BJ Clark and

Canterbury District president Stan

Hansen.

The Rangiora RSA has agrowing

membership of ex­Vietnam service

personnel, but aplanned Vietnam

Day commemoration on August 18

was cancelled as the region went

into lockdown.

The Kaiapoi RSA's planned

Waimakariri Passchendaele Day

commemoration service on October

SPRING SALE

SPRING SALE

AT THE GORGE NURSERY

Monday 1 st – Thursday 11 th November

9am - 4pm

12 was cancelled due to the weather

and Mr Thompson anticipates

Rangiora RSA's Armistice Day

commemorations, planned for next

week, will be another casualty.

Despite the cancellation of events,

he says local RSA members remain

in good spirits.

''We've come through the

lockdown very well. Even from a

welfare point of view, I'm very

impressed with the (Rangiora RSA

Club) staff and family and friends are

doing aheck of alot for our veterans.

''During last year's lockdown it

was just constant, answering the

phone and responding to requests

for help, but our veterans seem to be

much better supported this time

round.''

Plan Change 7

decision due

Thefateofproposed new

groundwater andsurface

water quality limits will

be known in twoweeks.

Environment

Canterbury (ECan) will

decide whether to finally

adopt PlanChange 7to

theCanterburyLand and

Water Regional Plan and

Plan Change 2tothe

Waimakariri River

RegionalPlan at an

extraordinarymeeting

on Wednesday,

November17.

Plan Change 7relates

to theWaimakariri and

theOrari Temuka Opihi

Pareorasub­regionsand

sets new water quality

limits, requirementsfor

farms to reducenitrogen

losses over time,

increases to minimum

flowsfor riversand

streams, places acap on

thevolume of water

availablefor allocation

andsetsrequirements to

excludestock froma

broader range of water

bodies.

Theplan changes were

notified by ECan in July

2019,but theprocessgoes

back much earlier asthe

Waimakariri Zone

Committee developed

theZone

ImplementationPlan

Addendum(ZIPA)in

consultationwiththe

community.

TheZIPA, which made

aseries of

recommendations, was

adopted bythe

WaimakaririDistrict

Council and ECanin

December 2018, with

PlanChange 7

addressing 59 ZIPA

recommendations.

Theprocesswas

furtherdelayed earlier

thisyearwhen

Environment Minister

David Parker granted a

three monthextension to

December 9toallow

ECan to considerthe

implicationsofa

scientificreviewofthe

modelling tool Overseer

by the Ministryof

PrimaryIndustries and

the Ministryfor the

Environment.

Thereview foundthat

Overseer had

''overarching structural

problems''.

ECan's independent

hearingcommissioners

have consideredthe

review's findingsand

have deliveredtheir

recommendationsonthe

proposed planchanges.

Speaking at Monday's

WaimakaririZone

Committeemeeting, Cr

Grant Edgesaidthe

councillors were dueto

be briefed on Wednesday

(November10),before

the recommendations

are made public thenext

day,ahead of thevote.

Arthur BurkeLtd

Amberley &Waikari Workshops

UP TO

50%

OFF

LARGE GRADE END OF LINE TREES – flowering

cherries, Canadian maples, Dogwoods, Ash,

Ginkgo, Pin oaks, Flowering Plums etc

NATIVES – Kahikatea, Totoara, Black Beech,

Broadleaf, Lancewoods, Ribbonwoods etc

Hedging plants, Hebes, Olerias, Purple Akeakes,

hydrangeas + much more

Please wear sturdy footwear

Cash and internet banking – sorry no eftpos

2429870v1

Holden certified servicing

Servicing and warrants on all makes & models

Full motorcycle workshop

Bridgestone tyres, wheel alignment & balance

Brake & clutch repairs

Full range of A C Delco parts

Suzuki genuine parts

Car mats & accessories

Batteries

On farm motorcycle servicing

Workshop: Michael 03 314 0131 (Amberley) Brian 03 314 4477 (Waikari)

Motorcycle Service: Anton 03 314 0134 Bridgestone Tyres: Ash 03 314 0137

2391347

479 AshleyGorge Road, Oxford

Phone 0272837279 www.thegorgenursery.co.nz

Markham Street, Amberley |Karaka Road, Waikari

www.arthurburke.co.nz

ARTHUR BURKELTD

Established 1935
---
Forced reform angers mayors

By ROBYN BRISTOW

Forcing water reforms on North

Canterbury communities has angered

localmayors.

The MayorsofWaimakariri, Hurunui

and Kaikoura, say the Government has

ignored feedback from their residents on

the Three Waters Reform,and are

disappointed it is forging aheadwith

legislation that will makeitmandatory for

councils nationwide to transfercontrol of

theirthree waters infrastructure.

This is despite an option to opt­out being

announced early in the reformprocess,

and calls for the Governmenttopause, and

reflect on the feedback from councils up

and down the country.

Waimakariri Mayor DanGordonand

Hurunui MayorMarie Blacksay they are

bitterlydisappointedwith the

announcement by the MinisterofLocal

GovernmentNanaiaMahuta that the

reforms willbemandatory.

This is despite bluntand lengthy

submissions to her expressing their

opposition.

KaikouraMayor Craig Mackle says her

announcement is ''unbelievable'' and is

''much, muchbiggerthan the threewaters,

it goesback to democracy''.

Mr Gordon saysGovernment has

concededtowork with local government to

ensure there is adequate governance,

representation and accountability, but he

is ''exceptionally'' disappointed at the

mandatorynature of the reform,and the

lack of informationhis council has

received,despiteaformal request for

more information.

''This is especially so as all councils

entered into this reform process on the

understanding that this was achoice,'' he

says.

"Our analysis showed the argument for

change for our community from the

Governmentisflawed,and Iamupset and

Ride-on Mower

DEMO DAY

OHOKA DOMAIN

SATURDAY 06 NOV

11am -2pm

extremely concerned that this proposal is

being forced on us.

''We received avery clear message that

95 percent of respondents to our

community survey told the councilthat

they wanted us to retainlocal decision

making,control and influenceofour

assets.''

Mr Gordonsays the councilhad

approached the review of Three Watersin

good faith and hopedthe Government

would showsimilar goodfaith, respecting

the decision of themajority of councilsto

opt­out of the reform.

''We hoped they would at leastpress

pause to allow more timetofullyconsider

the proposal based on the feedback from

local government.

"Throughout thisprocessthe council

always maintainedthat quality drinking

water and better environmental outcomes

are essentialand we wereopen to change.

Where we disagreed was withthe fixed

view on the solution.Our residents also

didn't support this fixed view and willbe

angry to hear this is beingforced on them.''

Mrs Black saysthe council engaged with

the government on its proposed Three

Waters Reform Programme on the basis

that any outcomes from the process would

be voluntary and all councilswouldhave

the opportunity to opt out of any proposed

reform.

Councillors and councilofficers

undertook arobustinformal public

consultation process togaugepublic

opiniononthe proposed reforms.

''Therewas aresoundingnotohanding

over thethree watersassets to

government.''

This flew in the face of previous

assurancesgiven by the Minister that the

processwouldbevoluntary.

''This is not how local democracy

works,'' says Mrs Black.

She says that like other councils across

New Zealand, the HurunuiDistrict

Obligation free opportunity to test-drive

&mow grass with any mower inour range

1Day

Only!

FREE Trailer

with every ride-on mower!

Valued

at

$300!

Council entered the agreement with

central government under the beliefthere

wouldbeacollective assessmentand

understanding of the impact of the

proposed reformontheirown district.

''Thegovernmenthas not honoured this

agreement.The provision for opting out

was always there,ithas neverbeen

challenged or taken off thetable,until

now.

''We find ourselves in asituation where

we havebeen removed from ademocratic

decision making process.''

Mr Macklesays nobodyhas spoken

directly to his council.

''We havea$57 millionassetand they're

saying we need to spend $280milliononit,

but they can't explainit.

''It's not good that you can justdothat

without without answering questions. I've

asked simple questions severaltimes and

they've never been answered.''

While he acknowledges reform is

needed, Mr Mackle suspects something

moresinisterisathand and wonders if the

Three Waters reform is justthe beginning.

''It's amalgamationbystealth,'' he says.

''This is biggerthan the Three Waters

reform and Ihave grave concerns forthe

future of local democracy and democracy

in general in New Zealand.''

Taking away Three Waters assets will

potentially make many councils, including

Kaikoura unviable,hesays.

''They are taking away our biggest asset,

so it cuts our ability to borrow and it means

you cannottake on any major building

projects. Majorprojectsneed to be intergenerational

so the costs are shared over

the generations who will benefitfrom

them, so you need to have the ability to

borrow.''

On the otherhand,MrMackle wonders

if the government's plan is to ''overinflate''the

value of the country's Three

Waters infrastructure so it candoubleits

borrowing capability.

CUB CADET

Residential mower

FROM

$5,799

FERRIS

Zero Turn Mower

FROM

$11,850

WALKER

Zero Turn Mower

FROM

$13,500

NEWS

North Canterbury News, November 4, 2021

2426730

MADE IN USA

5

Spring Styles by

Deputy

Black Shimmer, White Rhino

L 37-41. Leather

$169

Kaiapoi Mill, Ranfurly Street, Kaiapoi

Monday –Friday 9am –5pm

Saturday 10am –1pm

Closed on Public Holidays

Ph 03 327 0576

Exclusive

Benefits with

Full Suspension

MADE IN USA

MADE IN USA

FREE First Service (commercial mowers)* FREE 12 Months Interest Free Finance* FREE Demonstration on your lawn* FREE Delivery*
---
OPINION

6 North Canterbury News, November 4, 2021

Health care needs to

be delivered locally

Withalong weekend, andsomegood

weathertoboot, Itook my family outto

Woodend beach on Labour Day to

spend some timerelaxingwiththe kids

and makingthe most of whatweare

lucky to have on our doorstep.

We are prettyfortunate in the

Waimakariritohave agreatchoice of

swimming,fishing and recreational

spots withoutthe crowds, and after

what'sbeenadifficult winter formany,

Ihope youhave alsobeenabletoget

out andenjoyour stunning coastline

and warmer days.

It certainly feels likesummer has

arrived –let's hope it'sagoodone.

Lastweek in Parliament Ispoke

about the government's

disestablishment of our district health

boards(DHBs) acrossthe country.

The government'sown healthreview

recommendations advised reducing

DHBstoessentiallyhalvethe number,

not takeasledgehammer to the lot.

Many of youwillknow Iwas

successful helping aconstituentget

maxillofacialsurgery after the CDHB

initially declined it, makingareal

differencetothe quality of lifefor her

and herson.

As localMP, beingabletotalk to local

decision­makersdirectly is important.

It representsthe value of local

decision­makingindeliveringhealth

carethat is responsive to the

community's needs.

The government'sproposal of a

centralisedhealth system, where

decisionswillbemade in Wellington,

McALPINES MITRE 10 MEGA RANGIORA -OCEAN WATCH

This

Week

Sun

Fishing

Guide

Moon

Wind

Swell

Pegasus Bay

Tide Chart

3

2

1

In the Electoratewith

MattDoocey

MP forWaimakariri

LETTER TO THE EDITOR

Buy second­handthis

Christmas

Dear Editor,

We note thatdue to goods not coming

into the country, things to buy for

Christmas gifts are going to be inshort

supply.

There are going to be some

disappointed people, particularly

Authorised by MattDoocey,Level1ConwayLane,188 High Street,Rangiora.

willnever be the bestoutcome for

Waimakaririresidents.

Another of the government's reckless

centralisationplans, the Three Waters

asset grab, has similarramifications

for residents in ourdistrict.

Iwas inundatedwith calls andemails

after the announcement,with residents

telling me theyare going to take to the

streetsofWaimakaririinprotestto

showtheiranger.

The announcement wasakickinthe

gutsfor our district'sratepayers, who

havethroughtheirratesinvested

heavilyinour waterinfrastructure to

achievegreat outcomesand an

enviablemodel for manycouncils

around thecountry.

Iintendtokeep fightingfor therights

of the ratepayers,the vastmajority of

whomare equallyangryabout it.

On ahappier note, Iwas impressed to

hearabout Donna Somervail's

jewellery enterprise,Not Just Red

Ones, when Ivisited herinKaiapoi's

Old Woollen Millrecently.

WhenDonna foundherself outofher

corporatejob five years ago she

decidedtoturn her hobby intoan

income.

Specialising in costumeand fashion

jewellery,she has made aname for

herselfinrepairs and hasrequests

fromall over New Zealand.

Donna is so passionate about what

she does thatshe's nowteachingothers

throughworkshops in herstudio. It's

wonderfultosee suchcreativity at the

heart of our community.

children.

What do people do with gifts they do

not like or use, and toys the children

havegrownout of? We suggest they are

donated to Opportunity Shops and that

we support those charities by buying

second­hand goods for Christmas

presents this year.

This means double joy is given­once

tothe charity and again to the receiver

of the gift.

Waimakariri

Focus from Dan Gordon, Mayor

Thursday Friday Saturday Sunday Monday Tuesday Wednesday

Nov 4 Nov 5 Nov 6 Nov 7 Nov 8 Nov 9 Nov 10

Feedback ignored

The Governments decision to force

Three Waters Reform on to councils and

legislate the transferofdrinking water,

wastewater and stormwater

infrastructure assets from67Councils to

four large independent entities is

exceedingly disappointing. We have

absolutely no say.

This decision ignores the feedback

from our community, as wellasthe

overwhelming majority of councils in

New Zealand that disagreewith the

reform.

Throughout the process the

Government had afixed view that

centralisation was the solution and it is

clear from last week that this view was

never likely to alter.

The advice from the Ministerwas that

we would not need to consult with our

community as all they were seeking in

the past eight week period was feedback

on the four entity­based model and

there would be the opportunity to

consultour community after this time.

We were also assured at the startofthe

processthat there would be the ability

for councilstoopt­out.That's now gone.

Throughoutthis process the council

alwaysmaintained that quality drinking

water and better environmental

outcomes are essential and we were

open to change. Where we disagreed

was the fixed view on the solution. I'm

pleasedwedid seek our community's

opinionasitenabledthe Council to have

amandate to represent your viewsand

ninety five per cent of respondents told

the Council that they wanted to retain

local decision making, control and

influence of these assets. The Council

In that way, we are not only

supporting charities andlocal shops,

we are also helpingwith the problems

of climate change as fewer "things" are

being manufactured andflown around

the worldin planes using polluting

fuel.

Op shopping is fun to do and

treasures can be found, including

fabricand wool to make presents.

Happy sustainable Christmas.

Yours,

Helen Balneaves­McGill, Joanne

Gumbrell, Susan Laidlaw, Barbara

Surtees.

Rangiora

Rise 6:08am

Rise 6:06am

Rise 6:05am

Rise 6:04am

Rise 6:03am

Rise 6:02am

Rise 6:00am

Set 8:17pm

Set 8:18pm

Set 8:20pm

Set 8:21pm

Set 8:22pm

Set 8:23pm

Set 8:25pm

Best 12:01am

Best 12:54am

Best 1:50am

Best 2:49am

Best 3:53am

Best 4:57am

Best 5:59am

Good

Times 12:27pm

Ok

Times 1:21pm

Ok

Times 2:19pm

Ok

Times 3:21pm

Ok

Times 4:25pm

Ok

Times 5:28pm

Ok

Times 6:29pm

Rise 5:49am

Rise 6:16am

Rise 6:49am

Rise 7:28am

Rise 8:18am Set 12:32am

Set 1:32am

Set 7:20pm

Set 8:41pm

Set 10:01pm

Set 11:20pm

Rise 9:18am

Rise 10:27am

Gentle Sbecoming Gentle Sbecoming Gentle SE becoming Gentle SE becoming Gentle SW becoming Gentle Sbecoming Gentle SW becoming

moderate E

moderate E

moderate E

moderate E

moderate E

moderate E

moderate SE

SE 0.9 mturning

E1.5 m E1.6 m E1.2 m NE 1.1 m E1.1 m E1.1 m E1.0 m

3 6 9 NOON 3 6 9 3 6 9 NOON 3 6 9 3 6 9 NOON 3 6 9 3 6 9 NOON 3 6 9 3 6 9 NOON 3 6 9 3 6 9 NOON 3 6 9 3 6 9 NOON 3 6 9

unanimously represented its viewsto

Government signed by the Councillors

and myself. Since the Government's

decision to force change we have been

hearing the anger, concern and

frustration expressed, loudly .Your

council hears your anger. We share it,

and are now focusingonhow we can

best work to achieve effective

opposition and workable solutions in

partnership with other councils. This

weekIreachedout to other councilsto

join together in writingtothe Prime

Minister seeking ameetingtodiscuss

our opposition to the Government's

moves which overrides local decision

making, ownership and control.

Residents are asking how they can

help.There are several ways.

First, contact the Canterbury

Government MPs. Let them know what

you are thinking.The Government

needstheir vote to pass legislation that

will ultimately take controlofour assets.

The other is make asubmission to

Parliamentsselect committee process.

We will let you know how you can do

this, the timetable,when we have more

details.

Iwant to assure you we are not going

to drop this matter nor are other

councils, and we will find effective ways

to make sure we continue to strongly

advocate to ensureour community

continues to have asay in the provision

of the three waters in Waimakariri. As

always, Iwelcome contact from anyone

who needs assistance or has an issue

that you may want to discuss. Emailme

at dan.gordon@wmk.govt.nz or phone

021906437. I'm here to help.

Lost property

The followingproperty has beenreported

to the police as lostinNorth Canterbury ­

have you seenit? AMazdasilverkey with

blackplasticand ''Uprising''key tag, a

blackvehicle key and gold housekey

connectedtogeneric key chain, ablue

''Max'' scooter, asilverOppophone.

The followingproperty is waiting to be

claimed: Ablack and blueRepco bike with

a''Stoke Cycle Centre'' sticker, aBlack/red/

white/grey bikehelmet with visor,an

"Oppo" light blue cellphoneinclear

translucent soft plastic case (all Kaiapoi),

and ablade runner (Cheviot).

0

Highs Lows Highs Lows Highs Lows Highs Lows Highs Lows Highs Lows Highs Lows

Waimakariri 4:24am 2.4 10:41am 0.4 5:18am 2.5 11:36am 0.4 6:13am 2.6

7:09am 2.6 12:52am 0.3 8:07am 2.6 1:47am 0.3 9:05am 2.6 2:44am 0.3 10:03am 2.6 3:41am 0.3

Mouth

4:47pm 2.4 11:02pm 0.4 5:40pm 2.5 11:56pm 0.3 6:35pm 2.5 12:31pm 0.3 7:33pm 2.5 1:27pm 0.3 8:33pm 2.4 2:23pm 0.3 9:32pm 2.4 3:20pm 0.4 10:31pm 2.4 4:19pm 0.4

Amberley 4:24am 2.4 10:41am 0.4 5:18am 2.5 11:36am 0.4 6:13am 2.6

7:09am 2.6 12:52am 0.3 8:07am 2.6 1:47am 0.3 9:05am 2.6 2:44am 0.3 10:03am 2.6 3:41am 0.3

Beach

4:47pm 2.4 11:02pm 0.4 5:40pm 2.5 11:56pm 0.3 6:35pm 2.5 12:31pm 0.3 7:33pm 2.5 1:27pm 0.3 8:33pm 2.4 2:23pm 0.3 9:32pm 2.4 3:20pm 0.4 10:31pm 2.4 4:19pm 0.4

4:33am 2.4 10:50am 0.4 5:27am 2.5 11:45am 0.4 6:22am 2.6 12:05am 0.3 7:18am 2.6 1:01am 0.3 8:16am 2.6 1:56am 0.3 9:14am 2.6 2:53am 0.3 10:12am 2.6 3:50am 0.3

Motunau 4:56pm 2.4 11:11pm 0.4 5:49pm 2.5

6:44pm 2.5 12:40pm 0.3 7:42pm 2.5 1:36pm 0.3 8:42pm 2.4 2:32pm 0.3 9:41pm 2.4 3:29pm 0.4 10:40pm 2.4 4:28pm 0.4

4:35am 2.4 10:52am 0.4 5:29am 2.5 11:47am 0.4 6:24am 2.6 12:07am 0.3 7:20am 2.6 1:03am 0.3 8:18am 2.6 1:58am 0.3 9:16am 2.6 2:55am 0.3 10:14am 2.6 3:52am 0.3

Gore Bay 4:58pm 2.4 11:13pm 0.4 5:51pm 2.5

6:46pm 2.5 12:42pm 0.3 7:44pm 2.5 1:38pm 0.3 8:44pm 2.4 2:34pm 0.3 9:43pm 2.4 3:31pm 0.4 10:42pm 2.4 4:30pm 0.4

4:27am 1.8 10:43am 0.3 5:21am 1.9 11:37am 0.3 6:16am 2.0

7:12am 2.0 12:53am 0.3 8:09am 2.0 1:50am 0.3 9:07am 2.0 2:48am 0.3 10:06am 2.0 3:46am 0.3

Kaikoura 4:54pm 1.9 11:05pm 0.3 5:47pm 1.9 11:58pm 0.3 6:43pm 1.9 12:33pm 0.2 7:40pm 1.9 1:30pm 0.2 8:39pm 1.9 2:29pm 0.2 9:38pm 1.8 3:29pm 0.3 10:37pm 1.8 4:29pm 0.3

*Not for navigational purposes. Wind and swell are based on apoint off Gore Bay. Maori Fishing Guide by Bill Hohepa. www.ofu.co.nz www.tidespy.com Graphic supplied by OceanFun Publishing Ltd.

2118223
---
YOUR ULTIMATE FITNESSEXPERIENCE

TWO GREAT GYMS

AT ONE LOWPRICE

+

At Stadium Fitness Centre we've selected

the BEST cardio &strength equipment and

the latest in Group Training to ensure your

fitness experienceissecond to none.

•RevlGTGroup Training

•PRAMA Fitness interactiveclasses

•PersonalTraining from $30 /half hr

•FIT 3D Body Scans

•High PerformanceTesting &Training

•Adaptive Motion Trainers, Watt Bikes,

Exer-Fly,StairMaster and more

•BellgroveStation Cafe

AtMainpowerStadium

289 Coldstream Road

03 975 5560

stadiumfitness@sportstrust.org.nz

@stadiumfitnesscentre

FIND OUT

MORE AT...

$21 .50

ONLY

perweek

Rangiora Fitness Centre gives you MORE

variety with ahuge range of dynamic group

fitness classes along with cardio and weights

machines forall to enjoy.

•Les Mills Group Fitness Classes including

Balance, Pump,Step, CX Works, Grit,

Combat&RPM

•HIIT,Circuit, Boxfit,Zumba &Yoga

•PersonalTraining from $30 /half hr

•Sauna

•Supervisedareafor children

• CoffeeWorxFit Cafe

WWW.SPORTSTRUST.ORG.NZ

345B FlaxtonRoad

(behind the SportShop) Shop)

03 975 5556

office@sportstrust.org.nz

@rangiorafitnesscentre
---
NEWS

8 North Canterbury News, November 4, 2021

Hurunui Garden Festival ahit with visitors

By SHELLEY TOPP

The highlight of the Hurunui Garden

Festival for GaryMitchellwas being

able to proceed, after cancellation

loomedthe day it was scheduled to

open.

As chairmanofthe festival

organising committeeGary's phone

ran hot last Thursday morning after

two Covid cases were reported in

Christchurch.

''I was glued to the television

waiting for the PrimeMinister's 1pm

Covid­19 news conference,'' he says.

It was ahugerelief when the

lockdownlevelwas unchanged,

allowing the festival to go ahead.

''The really lovelyvisitorswho were

so appreciative of the gardens, were

also ahighlight,'' he says. ''Therewere

so many happypeople whichwas great

to see.

''Theywere all so grateful to us for

opening up our gardens,'' saysGary.

His award­winning Ribbonwood

Country House,and garden on the

outskirtsofCheviot, which he owns

with his partner, RobertDay, was

included in the festival.

''People love gardens, theysoothe

the soul.''

A''massive crowd'' attended the

festivallast Thursday, Friday,

Saturday and Sunday with attendance

up at all of the 21 gardens from

Amberley, Cheviot, WaiparaGorge,

Waikari and Hawarden,toCulverden,

Rotherham,Hanmer Springs, Gore

Bay and GretaValley.

''We are not just agarden festival

focusing on one area. We are the only

event thatpromotes all of Hurunui,''

Gary says. Most accommodation was

bookedout in the districtwith cafes,

shops and theHanmer Springs pools

busy during the festival.

Stark beauty ... Raymond Herber's

striking sculpture, Matagouri, on display at

his Waipara Iron Ridge Quarry Sculpture

Park during the four­day Hurunui Garden

Festival which began last Thursday.

PHOTOS: SHELLEY TOPP

Maskells Garden ... Juliet and David Hunter relaxing in their Amberley garden during the

festival.

Home sweet home ... The stunning entrance to the Karetu Downs Farmstay garden and

homestead in Waipara Gorge, owned by Karen and Bruce Forrester.

LET'S TALK...

DISTRICTPLAN

Farmers–

let'stalkabout

mahingakai &

biodiversity

Crayfish in your drain?Lizards in

your kānuka?Mudfishinyourcreek?

You'll alreadyhaveareas you're taking specialcare

of –but there will be more.

Join EnvironmentCanterbury cultural land management and

biodiversityadvisorsMakariniRupene andZipporahPloeg

to findout aboutmahinga kaiand biodiversityonyourfarm.

TheWaimakariri District Councilhas reviewed

itsDistrictPlanand is nowseeking feedback on

anew ProposedDistrict Plan.

TheProposedDistrict Plan is open foryour feedback until5pm

on Friday 26 November.

We encourage you tolook upyour property and any changes

that may affect you onthe Proposed District Plan.

Where:

When:

RSVP:

Starting attheCustCommunityCentre,

9Mill Road, Cust, thenvisitingalocalfarm

Friday 19th November, 11am (doors open at

10.45amformorning tea courtesy of Farm Source)

Email events@ecan.govt.nz

or call 027549 7646.All welcome.

Find out more and have your say

waimakariri.govt.nz/letstalk
---
HDC in November

The latest localnews, views and announcements fromthe council

Meetings&

Events

November Meetings

10th South Ward Committee

7.00pm (Venue: Council

Chambers, Amberley)

11th Audit &Risk Committee

9.30am (Venue: Council

Chambers, Amberley)

17th Amuri Community

Committee 7.30pm (Venue:

Hillcrest Chambers)

18th Operations Committee

9.30am (Venue: Council

Chambers, Amberley)

22nd Hanmer Springs

Community Board 1.00pm

(Venue: The Gallery, Hanmer

Springs Library)

23rd Road Safety

Coordinating Committee

10.00am (Venue: Council

Chambers, Amberley)

24th (TBC) Hurunui

Community Committee 7.30pm

(Venue: Waikari Hall, Waikari)

25th Council meeting 9.30am

(Venue: TBC)

30th Cheviot Community

Committee 6.00pm (Venue:

Cheviot Library/Service

Centre)

Events

Hurunui Youth Council Open

Night:

Saturday November 13th, 5-7pm

Join Youth Worker Brad and

Youth Development Coordinator

Rebecca at Hurunui District

Council for adelicious free

dinner of pizza and sushi, and

to hear about all ofthe

awesome things lined up for

HYC 2022. Please RSVP by

messaging our 'Hurunui Youth'

socials.

Applications for HYC are now

open. Close November 21st.

Time for some tailing

The Mayors Taskforce For Jobs (MTFJ) youths have been

busy onsome ofour local farms inHawarden and Masons

Flat, from fencing and storm clean uptotailing lambs. It's

great to see our youngsters learning from our locals in the

fresh air and learning plenty.

In brief

RAPID numbers

If you are in arural area we encourage you to check you

have the correct Rural Address Property Identification

(RAPID) number for each dwelling, meaning simple

identification for emergency services. Please see our

website or phone Scott Rose at Council on 0278089913.

Stormwater consents

Some stormwater consents will now be applied for through

HDC, not Environment Canterbury. Please ring Council on

03 3148 816 to find out more, or visit the News section on

our website.

Smoke Free areas are now also Vape Free

Made in consultation with the Cancer Society and

Canterbury District Health Board, these Council areas are

smoke free and vape free now, which include: all

playgrounds, parks and reserves, swimming pools,

cemeteries, within a10metre radius of the main entrances

of all libraries, service centres, community facilities and

halls, all indoor areas of council rental properties, all events

run by council, and the current Hanmer Springs smokefree

and vapefree zone which includes the entire CBD.

Road resealing season soon

The approach of summer means the start of the resealing

season. This work will be starting soon, which involves

putting adown anew layer of chipseal. While the chipseal

is fresh and there may be some surplus chip on the road,

we would ask you to take it slow, and follow any temporary

speed limits, which will help protect the seal, other road

users and yourselves.

Fun

fact!

Contact us :

www.hurunui.govt.nz

The fantastic food forest

The Hanmer Springs community is looking forward to getting

back to the basics thanks toadedicated area of Tarndale Park. A

community-run Food Forest with the support of the Kaiapoi Food

Forest Trust (KFFT) has begun.

info@hurunui.govt.nz

"A reminder of how

lucky we are to be able

to deliver these events

to showcase what

Hurunui has to offer."

Aword from your Mayor,

Marie Black.

It may be of no surprise to you that last week the government

declared its intent todeliver on an 'all in' approach tothe Three

Waters reform.

We always made it very clear our intention to formally consult with

our people about this reform. Our informal engagement process in

recent weeks was successful whereby wereceived ahigh volume

of responses. Very soon we will seek your feedback through a

formal public community consultation process, please look out for

this, as it is critical you submit your thoughts through this formal

process, even if you've already told us once.

On the lighter side of things –what afantastic celebration the

Hurunui Garden Festival was last week, a real credit to the

Committee who poured months into this four-day celebration.

Thank you to Gary Mitchell and the team for your commitment

and impeccable planning.

And of course, not to forget the Country Christmas Fete at

Amberley House and the Hanmer Springs Fete last week –they

were just wonderful, enjoyed by so many folk from all pockets of

our District, and areminder of how lucky weare to be able to

deliver these events toshowcase what Hurunui has to offer.

There really is an early summer feeling in the air, however, with

known cases of COVID-19 within Canterbury, the threat of this

nasty virus remains, and we all need toplay our part to manage

and control its effects.

Hanmer Springs Thermal Pools and Spa is home to the Conical Thrill Ride, NZ's largest waterslide, 13.5

metres high. Half the energy required comes from aheat transfer unit using energy that isabi-product ofthe

electricity generator. Previously wasted methane gas from an old gas bore and athermal deep water bore

discovered during aredevelopment ofthe complex in 2006, isconverted into electricity for the generator.

03 314 8816
---
©Elgas 2021

NEWS

10 North Canterbury News, November 4, 2021

Plan progressing

By DAVID HILL

The Kaikoura District

Council is ''chipping away''

at revising its District Plan,

despite the uncertainty of

government regulation.

While the government is

developing new legislation,

including reviewing the

Resource Management Act

(RMA), the Kaikoura

District Council is

proceeding with planned

hearings next week as it

looks to update the natural

hazards chapter in its

District Plan.

''It really comes down to,

what do we keep moving

ahead with or what do we

put on hold,'' Kaikoura

Mayor Craig Mackle says.

''We have decided we are

going to keep chipping away

with what we know, but we

are aware that we could go

through this whole process

over the next two years and

the new RMA could change

things completely.''

The council received a

report, District­scale

landslide risk analysis of

debris inundation for the

Kaikoura District,atlast

week's council meeting,

which will now be passed on

to the Hearing

Commissioners scheduled

to meet next Tuesday and

Wednesday, November 9­10.

The GNS report follows

an extensive process of

community consultation

into natural hazards, which

was triggered after the

November 2016 earthquake

significantly changed the

landscape in the district.

''We know have alot of

data and knowledge we

didn't have before, because

of the earthquake,'' Mr

Mackle says.

In the report, the risk of

landslips are assessed with

risk thresholds based on the

occurrence of aone in

10,000 year event, which is

similar approach to that

used to determine red

zoning in the Port Hills

following the 2010 and 2011

earthquakes in

Christchurch.

Instead of red zoning, the

risk thresholds will

determine if aresource

consent is required.

''Apart from the obvious,

it's not an outright 'you can't

build there','' Mr Mackle

says. ''You might have to

build massive bunding or

sink massive pillars into the

ground, so it will be a

question of 'how far are you

prepared to go to build

there'.''

The report found that the

most likely cause of

landslips was heavy

rainfall, as this is more

frequent than major

earthquakes. ''As we

anticipated, the areas

considered to be at risk of

landslips has significantly

reduced across the district

from when we began the

process,'' Mr Mackle says.

Woodend horse wins Kaikoura Cup

Impressive hat­trick ... The Woodend­beach trained pacer Classie Brigade won athird consecutive Kaikoura Cup

at Addington Raceway in Christchurch on Monday. Co­trainer Robert Dunn, who prepares Classie Brigade in

partnership with his daughter­in­law, Jenna Dunn, said the gelding was in ''the best shape of his life'' heading into

his biggest assignment of the year in the $600,000 New Zealand Trotting Cup at Addington Raceway next Tuesday.

The historic Kaikoura meeting was unable to held at the scenic South Bay Racecourse in Kaikoura this year because

of Covid­19 restrictions.

PHOTO: RACE IMAGES

Lease step forward for hot pools

The building of hot pools on

Kaikoura's Esplanade is astep

closer, with the granting of a33year

lease.

The Kaikoura District Council

last week voted to grant Joseph and

Associates Ltd a33­year lease on

the formerKaikoura Community

Poolsite, whichwill allow the

lesseetoinvestigatethe viability of

developing acommercial hot pool,

health and wellness facility. The

lease does not authorisethe

development of the site, with

Josephand Associates Ltd needing

to go through aresource consent

process.

Kaikoura Mayor Craig Mackle

says the granting of the lease

provides some certainty to allow

Josephand Associates Ltd to

further investigate the project and

begin the consentprocess,knowing

the land will stillbeavailable.

''It's only adrawing and an idea at

the moment, but if it does happen it

will be agood thing for the

community, if it pans out to the

conversations we are having with

them. It needstobecome something

that not only draws people in, but

will benefit the community

financially.''The grantingofthe

lease follows aconsultation

process, with submissions generally

in supportofthe proposal.

Join Elgas for LPG Today!

Sign up before the end of 2021 and receive a

$150 Welcome Package.

Call 0800 435 427 or click here

to find out more.

Planning an event?

Need aspecial licence?

Apply now!

Applications for special licences over the new

year period need to be lodged immediately.

Under the Sale and Supply of Alcohol Act 2012, all applications for aSpecial

Licence must bemade atleast 20working days before the event is held (the

only exceptions are for unforeseeable events such as funerals).

Under the Act, a'working day' does not include weekends, statutory holidays,

and the period between 20December and 15 January.

Please send us your application now.

Applications can be made through any Council Service Centre or

on our website.

Find out more at waimakariri.govt.nz or call 0800 965 468

Elgas does not deliver to some rural locations,

please phone 0800 435 427 to find out more.
---
RANGIORA

Doing it

yourself?

Getall the help youneedat

mitre10.co.nz/easyas

100%LOCALLY

OWNED&OPERATED.

RANGIORA

If youfind alower priceonanidentical stocked productlocally, we will beatitby15%

If youfind thesame productfromanother Mitre10store or Mitre10website, we'll matchthatprice.Excludes trade and special

quotes,stock liquidations and commercial quantities.The in-storeprice maybelower than thatadvertised.
---
RANGIORA

PLANT

FOOD?

SORTED.
---
OUTDOOR

UPGRADES?

VIEW OUR FULL

PAVER RANGE

IN-STORE.

100%LOCALLY

OWNED&OPERATED.

RANGIORA

If youfind alower priceonanidentical stocked productlocally, we will beatitby15%

If youfind thesame productfromanother Mitre10store or Mitre10website, we'll matchthatprice.Excludes trade and special

quotes,stock liquidations and commercial quantities.The in-storeprice maybelower than thatadvertised.
---
BOARDING SCHOOL

Tweenagertoteenager

-the importance of the

middleschoolyears

The unique social, emotionaland

academic needsofgirls in what we call

themiddle schoolyears,that'sYears 7

throughto10, arestill largely under

cateredfor in theNew Zealandschool

system.

Whilethere is asignificantbodyof

internationalresearchaffirmingthe

opportunities andchallengesfor 11-14

year olds,itdoesn't appear to influence

theeducational offeringfor these

students.

Girls face huge challengesatthistime.

Theyare both aworkinprogressand a

masterpiece.They arefull of hope forthe

future,theyare passionate andfun, they

areenthusiasticand abreathoffresh air.

Youngadolescents experience ahuge

range of significantphysical, cognitive,

emotional, social andmoral changes,

second only to thefirst fiveyears of

life. Changestothe brainand cognitive

developmentpeak during this time and

thecapacity andfunctioningofthe brain

undergoes amajor overhaul.

Whileresearchsupportstailoring

educationtothese years, therealityis

that this agegroup arestill the'muddle

inthe middle,' sandwiched betweenthe

formativeyears andthe specialisation

years.AtStMargaret'sCollegeour

students areofferedprogrammesof

learningthatare innovative, challenging

andrelevant. Programmes ourgirls are

interested in learning-learningthat

encouragescreativethinking andnew

initiatives.

Youngadolescents also need social

connection and, at this stageintheir

lives, theconnectiontopeers becomes

strongerthantoparents. Friendships

starttodominatemanyaspectsoftheir

livesand girls, in particular,ruminateon

many aspectsoftheir social groupings. At

this point, tweenagersand teenagersneed

to be surrounded by greatpeoplewho

canallow them to learnand grow and

encourage them to be thebesttheycan

be.This goes farbeyondgood education.

The diverseopportunities we offer at

St Margaret's College, acrossperforming

arts, sports andculture,are paramount,

whetheritbetobuild

strong relationships, to

thinkcritically,tobepart

of somethingway bigger

than themselves, or to be

surrounded by people who

believe in them.

Kathryn Gray is Head

of Middle School at St

Margaret's College, a

boardingand dayschool in

Christchurch. Herworkwas

recently recognised with an

IndependentSchoolsNew

Zealand Honours Awardfor

services to Middle School

education. To bookyour

personal tour,contactSusie

Campbell, (03) 3532563,

enrol@stmargarets.school.nz

Nurtured to thrive,inspiredtoshine.

Learnmoreabout aStMargaret's Collegeeducation foryourdaughter

–bookyourpersonaltourofour school andboardinghousestoday.

Contact Susie Campbell,

Admissions Manager

(03) 353 2563

enrol@stmargarets.school.nz
---
BOARDING SCHOOL

ABoarding Home withHeart

at Selwyn House School

Selwyn HouseSchoolisproud to offer a

safe,nurturing,family-orientedboarding

housefor girlsinYears 4to8(ages7to

13). OurBoardingHouse is conveniently

locatedwithinthe schoolgrounds,

offeringahomeawayfrom home forup

to 29 students.

Ourboarderscomefromaround

NewZealand, particularly ruralareas of

Canterbury, as well as internationally.

Casual boarding arrangementsare also

abletobemade.

We areproud of thediversity in

culturalbackgrounds that ourboarders

bringtothiscommunity andwevalue

thespecialcharacterthateachgirl

brings. Ourboardingand schoollifeis

very focusedonsupportingeachgirls'

individual passions andinterests, and

variousactivitiesare offered both on-site

andoff-site.

Thegirls aresupportedbyacaring

andprofessionalteam, whotakehuge

pride in helping each girl reachher full

potential. OurBoardingHouse Managers

will provide awarmwelcome foryour

daughter andoversee herwellbeingand

developmentthroughout hertimein

theBoardingHouse.Our full-time Chef

will ensure that she receivesahealthy,

balanceddiet,and makeprovisions

forany dietaryneeds. Ateamoftutors

supportthe girlswiththeir homework

andfulfil abig sister role to ourboarders.

At school, ourgirls areencouragedto

thinkcriticallyand creatively through

an integrated approachtolearningthat

arms students with toolsand methods

to explore newwaysofproblem-solving

andcommunicating. We arepreparing

ourstudents to be thefuturecreators,

problem-solvers andleaders, no matter

wheretheir passions lead them.

We believe boardingisaunique

opportunity foreachgirl

andwepride ourselves

on creating apositive

environmentwhere the

girls areabletodevelop

their academic, socialand

life skills.

Please contactustofind

outmoreorarrange avisit

-enrolments@selhouse.

school.nz or phone(03)

355 7299.

BOARDING

OPTIONS

AVAILABLE
---
NEWS

16 North Canterbury News, November 4, 2021

WEEK

PAMS FRESH

COOKED CHICKEN Large

(Available atSelected Stores)

12 99 ea

NEW

SEASON

PAMS FRESH

STRAWBERRIES 250g Prepack

Product of New Zealand

4 49 ea

Bird spotting ... Nick Ledgard, (left), amember and former chair of the Ashley Rakahuri

Rivercare Group, with competition winner Christian Cosgrove, and his parents Christine and

Levi, watching the pair of Wrybill Christian has named for the group.

PHOTO: SUPPLIED

Young studentwins

By ROBYN BRISTOW

Christian Cosgrove has akeen ear for

bird song and can quickly name the

birdshespots in the Ashley­Rakahuri

Riverbed.

Thoseskillshave madehim the

perfect winnerofthe competition to

name apair of ngutupare (wrybill).

The 13­year­old, from Pegasus,

namedthe malebird Wryanand the

female Billie.

Afterbeingnamed winner, Ashley

Rakahuri RivercareGroup committee

member, and formerchair, Nick

Ledgard tookChristian to see the birds

nesting in the riverbed.

Christian became interested in birds

whileworkingtowards aschoolbadge

18 months ago, and now his binoculars

are his constant companion.

He shares his sightings on e­Bird.

Christian and his parents,Christine

and Levi,were in Kaikoura to watch

albatross when Christianmentioned

he had won the competition.

They didn't even know he had

entered.

Wryanand Billie are part of a

banding programme on the river, so

Christian willnodoubt be on the

lookout for their return next year.

Christian campaigned for the

Paradise Shell duck to be Bird of the

Year,the youngest campaigner this

year.

He is also believedtobethe second

youngest campaigner ever.

PAMS STIR

FRYMIX 1kg

PAMS FRESH

ICEBERG LETTUCE

Product of New Zealand

2 99 ea

3 49 ea

TAROCASH

Allsalesuits $199.99.

T&Cs apply.

PAMS BAKED BEANS

OR SPAGHETTI 425g

PAMS FINESTCOOKIES 300g 2

3 69 ea

2FOR

29

FOURSQUARE.CO.NZ

HUFFER

Hoods and Crews1for $49,

2for $79, 3for $99.

While stockslast.

facebook.com/FourSquareNZ

Specials available South Island onlyfromMonday 1stNovember

untilSunday14thNovember2021 or while stockslast. Wine

and beer availableatstores withanofflicence. Wine and beer

purchases restricted to persons aged 18 years old and over.
---
Cars. Stadium Cars.

See the Good Sports.

$100.08

PER WEEK

$134.36

PER WEEK

$145.63

PER WEEK

$130.93

PER WEEK

2020 Suzuki Baleno GLXA

1373cc with 6,322kms, Auto, 6Airbags, Auto Lights,

Air Con, Bluetooth, Cruise, Electric Mirrors, ESC,

ISOFIX, NZ New, Multi Functional Steering Wheel,

Remote Central Locking,

Reverse Camera.

$19,990

Balance of New Car Warranty!

2014 Hyundai Santa Fe DM 2.2

4WD 2199cc, Auto Tiptronic, 6Airbags, Alloys,

Auto Lights, Bluetooth/CD/USB, Centre Diff Lock,

Climate Air Con, Cruise, Hill Start Assist, ISOFIX,

ESC, NZ New, Turbo Diesel,

Remote Central Locking,

Traction Control.

$26,990

2016 Nissan X-Trail Mode Premier

7Seater 4WD 2000cc with 24,654kms, Auto,

Alloys, CDPlayer, Dual Airbags, Dual Zone Climate

Control, ESC, Factory Privacy Glass, Fog Lights,

Heated Seats, ISOFIX,

Leather Wrapped Steering

Wheel, Smart Key. $28,990

2016 MazdaCX-5XDPro Active

4WD 2200cc with 66,810kms, Auto Tiptronic,

6Airbags, ABS, Air Con, Alloys, CD Player, Cruise,

Factory Privacy Glass, Fog Lights, ISOFIX, Mirror

Indicators, Monsoon Shields,

Rear Parking Sensors, Smart

Key, Spare Key, Turbo Diesel.

$25,990

$77.06

PER WEEK

$121.14

PER WEEK

$198.03

PER WEEK

$67.27

PER WEEK

2012 Toyota Prius Alpha S

Hybrid 1800cc, 57,747kms, Auto, 8Airbags,

CD Player, Centre Shoulder Belt in Rear, Chain

Driven, Climate Air Con, Electric Mirrors, Electric

Windows, Smart Key, ESC,

ISOFIX, Factory Privacy

Glass, Traction Control.

$14,990

2015 Subaru XV 2.0i-L EyeSight

4WD 2000cc with 59,027kms, Auto, Alloys, Auto

Lights, Dual Zone Climate Control, Electric Mirrors,

Electric Windows, ESC, Factory Privacy Glass, Fog

Lights, Idlingstop, ISOFIX,

Paddle Shift, Radar Cruise,

Smart Key, Traction Control.

$23,990

2010 Jeep Wrangler RUBICON

3.8 V6 3778cc, Auto, 4WD, Air Conditioning,

Alloy Wheels, Cruise Control, Dual Airbags, Electric

Mirrors, Fog Lights, High Seating Position, Leather

Wrapped Steering Wheel,

NZ New, Remote Central

Locking, Reverse Camera.

$39,990

2014 Toyota AQUA S(PriusC)

Hybrid 1500cc with 53,616kms, Auto, Centre

Shoulder Belt in Rear, Chain Driven, Climate Air

Conditioning, Dual Airbags, Electric Mirrors, ISOFIX,

ESC, Factory Privacy Glass,

Remote Central Locking,

Trip Computer.

$12,990

$232.31

PER WEEK

$109.88

PER WEEK

$217.62

PER WEEK

$227.41

PER WEEK

2019 Ford Endura ST-LINE 2.0D

1997cc with 73,968kms, Auto, 5Star ANCAP, Alloys,

7Airbags, Android Auto, Apple CarPlay, Auto Lights,

Bluetooth, Climate A/C, Half Leather, Heated/Cooling

Seats, ISOFIX, NZ Sat Nav,

NZ New, Reverse Camera,

Smart Key, Turbo Diesel. $46,990

2016 Kia Sportage LX Urban

1999cc, Auto Tiptronic, 5Star ANCAP, 6Airbags,

Alloys, AUX/Bluetooth/USB, Chain Driven, Cruise,

ESC, High Seating Position, ISOFIX, Multi Functional

Steering Wheel, Remote

Central Locking, Reverse

Camera, Traction Control.

$21,990

2020 Nissan Navara ST 2.3D

2298cc, Auto Tiptronic, 5Star ANCAP, 7Airbags,

Alloys, Bluetooth, Canopy, Centre Shoulder Belt in

Rear, Cruise Control, ESC, ISOFIX, Multi Functional

Steering Wheel, Reverse

Camera, Turbo Diesel.

Balance of New Car Warranty!

$43,990

2017 Mazda BT-50 GSX 4WD

3.2D 3198cc with 70,261kms, Auto Tiptronic,

6Airbags, Alloys, Auto Lights, AUX/Bluetooth, ESC,

Chain Driven, Cruise, Dual Zone Climate Control,

Fog Lights, Multi Functional

Steering Wheel, Traction

Control, Turbo Diesel.

$45,990

$217.62

PER WEEK

$222.52

PER WEEK

$315.57

PER WEEK

$232.31

PER WEEK

2018 Ford Ranger WildTrak 4WD

3198cc, Auto Tiptronic, 5Star ANCAP, 6Airbags,

Alloys, Auto Lights, AUX/Bluetooth/USB, Centre

Shoulder Belt in Rear, Climate Air Con, Cruise, ESC,

Fog Lights, Half Leather

Seats, NZ New, Traction

Control, Turbo Diesel. $43,990

2016 Nissan Navara ST-X 2.3D

4WD 2298cc with 94,213kms, 5Star ANCAP,

Alloys, 6Airbags, Auto Lights, Bluetooth,Cruise,

ESC, Hard Lid, Heated Leather Seats, ISOFIX,

NZ New, NZSat Nav, Roof

Rack, Rev. Camera, Smart

Key, Towbar, Turbo Diesel.

$44,990

2020 Mercedes Benz X-Class

X250 Power 4WD 2298cc, 27,289kms,

Auto Tiptronic, 5Star ANCAP, 7Airbags, Alloys,

Auto Lights, Bluetooth, Climate Air Con, ESC,

ISOFIX, Leather, Smart Key,

R/Camera, Tonneau Cover.

$63,990

Balance of New Car Warranty!

2019 Nissan Navara ST 2.3D

4WD 2298cc, Auto Tiptronic, 5Star ANCAP,

7Airbags, Air Con, Alloys, Bluetooth/USB Input,

Bonnet Stone Chip Deflector, Cruise, ESC, ISOFIX,

NZ New, Running Boards,

Sports Bar, Turbo Diesel.

Balance of New Car Warranty!

$46,990

Stadium Cars Rangiora 03 310 7940 | stadiumcars.co.nz

609 Lineside Road, Waimakariri, Rangiora OPEN 6DAYS

*Conditions apply. Not available with any other offer. Finance offer subject to credit and lending criteria.

Finance calculation based on 60 month term. No deposit with an annual fixed interest rate of9.95%,

includes an establishment fee of$445. See our website for full disclosure.

*On road costs may apply to some vehicles
---
STYLE & QUALITY

FOR LESS

STOREWIDE SALE

CHRISTCHURCH'SMOSTAFFORDABLE

NZ MADELOUNGE SUITES

CUSTOMISE TO YOUR REQUIREMENTS

SALE

Luna 3+2+Corner Suite

2sizes available

WAS $1929

$

1789

Luna 3Seater $859 $779

Luna 2Seater $709 $649

SALE

QUALITY

FURNITURE

SALE

Radius Coffee Table

Bradman

Lifter Chair

Affordable

PRICE TAG

WAS $799

$

679 WAS $409

$

379

SALE

Marley Outdoor Dining Chair

Gunmetal &White

Atlas Bedroom

Collection

WAS $1899

$

1749

Piha Extension

Outdoor Table Black or White

W207-267 xD105xH74 CM

WAS $179

$

149

Bed $939 From $799

Dresser $899 From $789

Bedside $279 From $239

Underbed Storage $189 From $159

Chest $879 From $159

SALE

Brompton

Queen Bed

WAS$1049

$

799

FLOOR STOCK

BEDROOM

CLEARANCE

MangroveQueen

WAS $899

$

699

FREE

CARPARKING

SOUTHCITY

BATH ST

WE ARE

HERE

255MOORHOUSE AVE

REBEL SPORT

COLOMBOST

MON-FRI 9:30AM–5:30PM

SAT-SUN 10AM–5:30PM

0800 268 264

www.affordablefurniture.nz
---
Love your home

Apicture framing business with panache

CameoFine Arts is notjust apicture

framing business.

Behind the doorsof10Cone Street,

in the heart of Rangiora, is atreasure

troveofcolourful gifts, souvenirs,

jewellery and more.

Kirsty Watson boughtthe business

in 2008. It was awell­established

NorthCanterbury business thathad

been customframing for three

decades.

Kirsty has been apicture framer

for 20+ years,and has areal passion

for the industry.

UnderKirsty's ownershipthe

business has shifted to larger,

brighterpremises across the road,

and introduced giftwarewhile still

retaining its core business of custom

framing.

CameoisNew Zealand's only

manufacturerofhandcrafted oval,

oblong, cathedraland round frames.

Theseare produced fromAmerican

WhiteOak.

Convex glass can still be acquired

for someframes to replicate

heirlooms of past generations.

Quality workmanship in both

framing and manufacture of framesis

paramount in ensuring the highest

standardofpresentation.

Kirsty is more than happy to advise

you on the right way to frameeach

Treasure trove ... Kirsty Watson at Cameo Fine Arts.

individual piece —from cherished

children'sart throughtovaluable

and sentimental items, withthe

latter requiring conservation or

museum quality framing.

Memorabilia is aspecialty of

Kirsty's and hermotto is "if you can

fit it in yourcar, we can frame it".

Some of themore memorable items

she has framed includeafull length

waterski,Sir EdmundHillary's

pickaxe and a100­year­old

christening gown.

One of her favouriteswas a

bloodied t­shirt and stickfrom a

CoasttoCoast competitor who

wanted to remember the tumble.

"We framealot of needle works,

medals, original piecesand

children's artwork" says Kirsty.

Kirsty can turn her hand to most

things, but her partnerJason is abig

help.

After his own day job,hejoins

Kirsty and hand­makes all of the oval

and roundframes to order.

Everything that walks in the door

requiresdifferent treatment and

processes, so this is where Kirsty's

20+ years of experience comes into

play.

"An heirloom is completely

different to abeloved child's

masterpiece," Kirsty says.

Kirsty can be contacted at Cameo

on 03 313 5474 or

sales@cameofinearts.co.nzorvisit

her at 10 Cone Street.

NEW YEAR,

NEW LOOK

Contact us for curtains, Romans rollers,

cushions &much more.

For afree consultation and

free installation during level two

QUALITY KITCHENS

AND JOINERY TO SUIT

ALL STYLES AND BUDGETS

• Oak Oval &Round Frames

• NZ Paua Shell

• Memorabilia Framing

• Custom Framing

• Rectangular Frames

2429071v1

• Original Art

• Prints

• Jewellery

• Needleworks

• NZ Greenstone

• Gifts • Souvenirs • Gallery • Medals

&much more!

10 Cone Street, Rangiora

03 313 5474

sales@cameofinearts.co.nz

www.cameofinearts.co.nz

Forget The Rest -Come To The Best

Phone Maureen 03 327 4919

Mauds Soft Furnishings

88 Williams Street,

Kaiapoi

(up long driveway)

www.mauds.co.nz

2426573v1

2352423v4

19 Beach Road

Ph: 03 319 5562

E. info@thejoinershop.co.nz

www.thejoinershop.co.nz

FREE

GARAGE CARPET

Carpet your home with us and we

will carpet your garage for FREE

Valued at $999

2430523v1

(Valid on homes over 25 lineal metres of

carpet, installed on new underlay)

T&C'S APPLY

03 310 8578

10 High Street, Rangiora

sales@flooringconnection.co.nz

www.flooringconnection.co.nz

Allan Pethig

For all your electrical needs.

Residential &Commercial

Phone 03 313 7144 | 027 432 1534

Fax 03313 2144

rgrantelectrical@gmail.com

PO Box 69, Rangiora

www.rgrantelectrical.co.nz

2278923
---
Love your home

Annoying flies or wasp nests? -call Spiderban

As the daysget longer and

temperaturesrise, the timefor fly and

spidercontrolisupon us again.

For flies it seems to start whenyou

hear the lawn mowers out on a

Saturday morning, as piles of warm

rotting grass clippings are the ideal

place for maggots to become

establishedearly.

Then of course the fly numbers

increase,which increasesthe activity

of spiders.

The warmernorth­westerly winds

will bring shiny new webs from the

forests north of Christchurch, each

one with aspider­ling attached,

drifting in the wind, looking for a

place to makehome.

The winds slowdown, or are

interrupted by the hills, dropping

them down and on to our homes.

That'swhere Spiderban North

Canterbury Ltd comesin.

Spiderban North Canterbury is

owned by Brian and RoseWalker and

offerspest control servicesall over

North Canterbury,including

Christchurch, Rangiora, Kaiapoi,

Rolleston, Lyttelton, Lincoln, Tai

Tapu, Leeston, Darfield and up to

Amberley and surrounding areas.

The company specialises in the

control of spiders and whitetail

spiders, flies,ants, wasp nests and

silverfish.

''We deal professionally with our

customers' needs and treattheir

properties with the utmost respect

and care,'' Brian says.

''Ourtechnicians are well trained in

ordertogive thebest servicetoeach

client.''

Brianrealises there are quiteafew

people reluctant to havespiderand

fly proofing done on their property

because of bad past experiences, such

as runnybrown streaks on wallsand a

terriblesmell.

''ButIcan assureyou with the

modern products usedbySpiderban

NorthCanterbury Ltd, alongwith

modern methods of application, there

is seldom aproblem,''hesays.

''We do get product on your

windows, as we need to coatthe

frames.

''However, our modernproducts are

waterbasedand they don'tdamage

glassorleave stains, but still giveyou

twelve monthsormore, protection.''

Before flies, spidersand other pests

get out of control, don't hesitate to

give SpiderbanNorthCanterbury a

call to make an appointment.

Call Brian on 0800 667778for more

information.

Spiderban North CanterburyLtd

also has awebsite,spiderban.com.

Spider trouble ... Brian and Rose Walker, of Spiderban North Canterbury Ltd, are ready

to respond to your spider and fly pest control needs.

PHOTO: SUPPLIED

2430553v1

Fast, Friendly, and Affordable pest

control around North Canterbury

Spiders, Ants, Flies, Wasps, Silverfish

•Warranty

available

•Minimal time

away from

home

Call for a FREE QUOTE

0800 667 778

www.spiderban.com

Quality, affordable

houseplants and everything

needed to help them thrive.

Indoor plants, pots

and accessories.

3/137 Williams Street,

Kaiapoi

Open 10am-5pm

TuesdaytoSaturday

brooke@bloomscape.co.nz

www.bloomscape.co.nz

TRUST YOUR LOCAL EXPERTS

2428825v1

LAWNMASTERESTATE ESTATE SPECIAL

Save $100 on the Lawnmaster

Estate range *

Was$849

Now $749

Check

Out These

Features:

ESTATEECO READYSTART

• Ball Bearing Wheels

• Ready Start Engines (no priming)

• Quality Alloy Chassis with LIFETIME Warranty

• 5Year Engine Warranty

• Oiled &Fully Assembled

2187722

*Excludes the Estate 400

360 FlaxtonRoad,Rangiora

Ph 03 313 5563

www.kingsmowersheating.co.nz

2429081v1

2429070v1

Lawyers

Sensible,cost-effectivesolutions

for localpeople with legal needs

We can assist with all property

transactions including:

•Pre-Auction checks

•First home purchases including

Kiwisaverwithdrawals and Kainga

Orasubsidies

•RetirementVillage Licenceto

Occupy

•Subdivisions

•Family gifting and loans

03 313 7086

4Durham St, Rangiora

admin@williamsmckenzie.co.nz

www.williamsmckenzie.co.nz

Fabulous

Christmas

Gifts

Arriving

Daily

Totalspan North Canterbury 127 Main North Road, Woodend

Phone: (03) 310 0247 Email: northcanterbury@totalspan.co.nz

0800 TOTALSPAN TOTALSPAN.CO.NZ

2429061v1

Cnr. Williams Street &Raven Quay, Kaiapoi

Open 7Days

Phone: 03 327 8029

www.blackwellsdeptstore.co.nz
---
Love your home

I'Adore adestination for gifts and more

I'Adore is the coming together of two

great passions —homeware and gifts,

and natural and organic beauty.

The unique, cosy and vibrant store

piquesyour interest as soonasyou

enter,with its offerings of high quality

homeware pieces, along withthe

smaller treasures that turn houses

into homes.

DebbieGriceopened the doors of

I'Adore at 2Durham StreetinJune

2018. Previously she managed a

Pharmacy,but for anumber of years

had been wanting to openabusiness of

her own. When the spacebecame

available in central Rangiora, she

took theopportunity.

It was not long before I'Adore

Homeware &Giftsdoubledits space,

and with that Debbie was joinedby

her daughter Ashleigh Barrett.

Ashleigh brought I'Adore Natural on

board,offeringnaturalorganicand

toxic free beauty and lifestyle

products, and more recentlythe Fabel

&Florabrand.

This comprises beautiful

handcrafted soapsand fragrantwax

melts,all carefully manufactured by

Ashleigh.

Her creativeflair hasn'tstopped

there.Ashleigh has established the

I'Adore online business making it

possible to shopmuch of the business,

online, 24/7.

I'Adore has becomeabusy

Treasures to turn your

house intoahome

destination which Debbie and

Ashleigh are continuing to grow

together. Keeping it fresh withgifts

for every occasion alsostocking a

small boutique rangeofItalian

clothing from Italy and Kimono's and

scarvesfrom India, plus many fashion

accessories such as jewelleryand

handbags.

Debbie says they focus on stocking

items where possible thatare unique

to I'Adore.

They have their ownniche product

ranges and try not to replicate what

other businesses in the area are doing,

therefore keepingitindividual.

Gift wrappingisalso abig focus. All

youhave to do is chose the gift wrap

optionand Debbieand Ashleigh will

takecare of the rest.

For those now focused on Christmas

shopping, I'Adore has plentyinstore

for you to choose from. Debbie

ordered earlyand it is with great

relief that despite the tryingtimes, the

boxes have beenflyinginthe door,

giving you plenty of options for gift

giving this Christmas season. Debbie

and Ashleigh are proud to be part of

the Rangiora communityand are

appreciative of the support theyget

fromcustomersshopping local.

Pop in and enjoy the no pressure,

relaxed shopping environment at

I'Adore Homeware &Gifts or if it is

easier, pop onlineatwww.iadore.co.n.

If you're SERIOUS about QUALITY

We seriously meet YOUR NEEDS!

Affordable,Prompt, Friendly consultativeservice

&qualityproduct–Guaranteed!

Shade Sails,Canopies

&Screens

Custom design, manufacture&install

Passionate ... Debbie Grice and Ashleigh Barrett in store at I'Adore.

PHOTO: SUPPLIED

Matthews Roofing Limited

Specialists inLongrun

Coloursteel Roofing and

Guttering Systems

We supply and install long run metal roofing,

fascia and spouting.

Home Decor

Sustainable Living Products

Clothing &Accessories

Kitchen&Pantry

Natural Body, Skin Care &Makeup

...andmuchmore

Open Mon-Fri10am -5pm

Sat10am-3pm

2Durham St,Rangiora

(oppositeColumbus Coffee)

Ph03310 6062 www.iadore.co.nz

2429494v1

2264883

•Agricultural &MachineryCovers

•BoatCovers,Caravan Awnings

•TransportCovers and Upholstery

•Canvas&PVC goods at FactoryDirectPrices

DESIGNER CANVAS

M021 114 0767

P312-9889

Pears Rd,Sefton

email designercanvas2016@gmail.com

New Builds |Renovations |Maintenance

Back flowprevention &testing

Phone 021 261 8678

josh@cottleplumbing.co.nz |facebook.com/cottleplumbing

www.cottleplumbing.co.nz

2430005v1

2429862v1

PO Box 54, Kaiapoi

Mobile:027 2458140

Email: J_amatthews@xtra.co.nz

NICOL'S

BEDSALE!

QUEEN MATTRESS

&BASE SETS

FROM$499

ALL PILLOWS

½ PRICE

343A Flaxton Road, Rangiora •P(03) 313 7886

North Canterbury

Specialising in:

•New Residential Builds

•Septic Tanks

•E1Sewer Pump

For afree, no obligation quote contact:

Ray Vincent 021 212 7885

ray@drainpro.co.nz

2429717v1
---
MainPower

Live Lines

Issue 201 November 2021

77 community groups and schools

receiveafunding boostin2021

TheMainPowerCommunity Fund providesagreatopportunity forlocal

communitygroupsand schoolstoreceive afunding boost.

Across twofunding rounds each year,atotalof$60,000 isavailable to

groups doing greatthings for NorthCanterbury andKaikōura.

Membersofthe localcommunity are invited to nominate, and vote for,who

theybelieve shouldreceiveashare of the funding.

Recipients of the latest funding roundhave nowbeen announced.

Congratulations to all the groups listed below.

CommunityGroups

-1st Rangiora GirlGuides

-All Star MarchingTeam

-Amberley Community Care

-CheviotToyLibrary

-Cure Boating Club

-Cust Community Pool

-CustToyLibrary

-Darnley Club Kaiapoi

-DementiaCharitableTrust

-KaiapoiPonyClub

-Kaiapoi Promotions

-KaikōuraWildlife Rescue

-Hurunui RangersFootballClub

-ItTakes aVillage Hub

-MakingTrax Foundation

-North Canterbury Rodders

-Oxford A&PShow

-R13YouthDevelopmentClub

-Rangiora Players

-SalvationArmyJust Brass

-Surfing for Farmers

-WaimakaririFootballClub

Schools/education providers

-Ashgrove School

-Ashley Playcentre

-BroomfieldSchool

-CheviotArea School

-CustSchool

-Fernside School

-GretaValley School

-Hanmer SpringsSchool

-Hurunui College

-Kaiapoi Borough School

-KaikōuraHigh School

-Karanga MaiEarly LearningCentre

-Rangiora Borough School

-Rangiora NewLife

-SouthbrookSchool

-Tuahiwi School

-View HillSchool

-Woodend School

The next round of nominationsare open now.Visit mainpower.co.nz for

moreinformation,and to makeanomination, either for agroup youare

involved in or that you think are makingapositiveimpact in the region.

The next funding round will be distributed in March2022.

Always engage a trained professional

to trim trees near power lines.

Keep treesout

of thefall zone

It's important to thinkabout the

hazard atree maypose if it falls.

In windyweather,trees or branches

can fall onto power lines, creating

arisk to publicsafety and causing

power outages.

Ageneralrule of thumb to assess

whether your trees are in the fall

hazardzone is to calculate the height

of the tree, then add4meters.This

is thedistance to keep between your

treesand networkequipment.

Tree ownersare responsiblefor

makingsuretheirtrees arekept out

of the fall zone.

Formoreinformationaboutthe fall

zone andtreeowner responsibilities,

or to book afree inspection of trees

onyourproperty,pleasevisit

mainpower.co.nz/trees.

MainPower24HourFaults Line

0800 30 90 80
---
•Exceptional Service

•Licensed

•Open 7Days

Now Serving

West Coast

Whitebait!

Great diningindoors

or alfresco

Mon -Thurs 8.00am -4.30pm

Fri -Sun 8.00am -5.00pm

Your Hosts,

Trent and Carolyn Allison

Main Rd, Culverden

Ph 03 315 8492

2416803

HANMER SPRINGS

24 North Canterbury News, November 4, 2021

Picnic space under the spotlight

The first step in providing picnickers

with more space in the Queen Mary

Hospital Historic reserve, while

enjoying the facilities at the Hanmer

Springs Thermal Pool and Spa (HSTPS),

has been approved.

The Hurunui District Council has

granted Ministerial consent to its chief

operations officer Dan Harris, to grant a

lease to HSTPS over 1000 square metres

of the reserve.

The council, under delegation from

the Minister of Conservation, is

required to give consent before the

administering body can grant the lease

in the reserve.

The council felt it could not justify

declining consent, as the proposed lease

meets the requirements under the

Reserves Act 1977.

HSTPS sought an extension to its

picnic area for five years, with two rights

of renewal of five years.

It already has ashort term lease for

part of the reserve adjacent to the pools.

This followed the opening of the

cascade pools and slide in November

2019, and concerns about the complex's

existing picnic areas becoming

overcrowded as people came to enjoy

the expanded offering at the pools.

It identified aneed for more space to

accommodate customers particularly

during the summer months, and sought

the new lease for alonger timeframe.

During their previous lease, HSTPS

fenced the area with agreen wrought

iron fence consistent with the existing

HSTPS fence on the west boundary.

The fence is on the east side of the

Linden (lime) trees is far enough away

from the trees so it didn't assist in

'jumping the fence'.

Security cameras will also be installed

on the fence, which will remain if the

new lease is granted. The rental charged

will be amarket rental set by a

Picnic time ... The new water slide installed in 2019, prompted asearch for an enlarged

picnic area for the Hanmer Springs Thermal Pool and Spa complex.

PHOTO: FILE

registered valuer.

The council publicly notified the

application with two submissions being

received —one in favour, and one

against. It was also discussed by the

Hanmer Springs Community Board.

The submitter against the proposed

lease considers the grounds would be

better utilised for wider community uses

such as markets, and community

gardens, and not exclusively for the

HSTPS.

The submitter also considered that

the HSTPS had plenty of picnicking area

within its own property.

The submitter in favour thought the

proposed lease for apicnic area would

add life to the area and additional

income for council.

No time has been given for adecision

on granting the lease, following the

council's decision last week.

Track closures in HS forest

The Hanmer Heritage Forest is closed

temporarily for logging operations.

Rayonier Matariki Forests closed the

forest from Monday to clear up storm

damage and improve the safety for users.

All tracks are closed, except for:

•Dog Stream;

•Forest Amble/Sculpture Trail (no

MTBs);

•Fairy Trail between Brooke Dawson

and Tarndale Reserves.

Raynoir says the forest will be

reopened, and most tracks reinstated,

well in time for Christmas.

Closures ... Amap of the closed areas.

IMAGE: SUPPLIED

• General Dentistry

• Family Dentistry

• Funded Dental Care

0-18 *

• Dental Therapy

• Hygiene Clinic

2424172

Open Monday to Friday 8.30 to 5.30 |www.pagdental.com

LATE NIGHT TUESDAY

*Conditions Apply

PAGPegasus Dental

54 Pegasus Main St Pegasus

03 920 4003

pagpegasusdental@gmail.com

• Teeth Whitening

• Minor Oral Surgery

• Facial Pain

• Oral Medicine

Specialist

• Finance Options

Available

•Ample parking, easy

access

•Clinicians all New

Zealand trained

•Super Gold and

Community Services

Card Discounts

PAGSilverstream Dental

4/42 Silverstream Boulevard Silverstream

03 925 8003

pagsilverstreamdental@gmail.com
---
Poet to chop his mop

By SHELLEY TOPP

Waimakariri Libraries' staff member

and poet Jason Clements has set aside

November 11 for anew look.

On that day Jason, who is known for his

trademark long hair and beard will have

it all chopped off to raise money for

Cancer Society North Canterbury.

Chop the Mop is part of acollaboration

between Waimakariri Libraries and

Cancer Society North Canterbury to

provide workshops for people with

cancer, and families affected by cancer.

For Jason, the libraries' learning

connections co­ordinator, it also holds a

deeply personal connection.

''I have lost two fathers to cancer, and

cancer has cast along shadow on our

family tree. Iwant to do afundraiser to

help families and their loved ones who

are living with cancer,'' he says.

''It has been an honour to help the

participants with their writing, and it

feels like agood time to shave my hair to

support the vital work done by the

Cancer Society.''

Chop the Mop is part of the Word

Christchurch Festival, with Waimakariri

Libraries assembling an all­star cast of

some of New Zealand's leading poets for

the Rangiora event.

It will feature special guest poetry

readings by John Allison, Bernadette

Hall, Ciaran Fox, Doc Drumheller, Ben

Brown, Mally Hines, Stephanie

Waterfield, Wendy Campbell,

participants from the Cancer Society

North Canterbury Writers and Orators

Group, and local high school students.

"Bernadette has done so much for

literature in New Zealand, and we are

thrilled to have her involved," Jason says.

"Ben is one of the best performance

poets in New Zealand, and if you have

never read, or heard his work, then this is

amust­see event."

Cop the mop ... Jason Clements is set to

loose his locks next week.

PHOTO: FILE

Doc Drumheller, Jason's pen name for

his poetry, and Ciaran Fox, who run the

Catalyst poetry events and literary

journal, have produced abooklet of

poetry by the featured performers, and

participants from the Cancer Society

North Canterbury Writers and Orators

group.

All money raised from the sale of the

book at Chop the Mop and the koha from

entry to the event will be donated to the

Cancer Society North Canterbury which

has organised Rangiora barber, Tom ,

from Tom's Chop Shop, in Good Street, to

chop Jason's mop.

The event is being held in the Rangiora

Library, starting at 6.30pm and ending at

8pm with entry by koha.

GET MORE BANG

FORYOURBUCK$!

FORYOURBUCK$!

NEWS

North Canterbury News, November 4, 2021 25

Local agencies join forces

Anew budgeting drop­in clinic willbe

trialled in Rangiora thismonth.

Citizens'Advice Bureau(CAB) North

Canterbury has joined forces with

Budgeting Services North Canterbury

(BSNC) to offerthe newinitiative, which

willbeavailable at the CAB's office at 209

HighStreet,Rangiora, alongside the

Waimakariri District Council offices.

The clinic willgive CAB clients the

opportunity to discuss their budgeting

needs andquestions with afinancial

mentor from BSNC.

If the trial is successful, it will become a

regularfeature on alternate Wednesdays

fromnext year.

BSNCservicemanagerSharon Grant

saysclientscan expecttolearn more about

household budgeting, managing debt,

advocacy services,support available to

those in financial hardship, and to receive

adviceoncompletinginsolvency

applications.

CAB NorthCanterbury chairperson

Jacquie Wrigley says the sessions will be

15 minuteseach, and it is recommended

thatappointments be made to secure a

spot.

Cruise open for convertibles

Owners of convertibles are being

encouraged to dust them off and join in

the second Canterbury Country

Convertible Cruise.

The Sunday, November 14, event is

only open to convertibles, and is believed

to be the only event of its type to be held

in New Zealand.

The cruise is not just for classics,

however.

Organiser Trevor Stanley­Joblin says it

is open to any convertible vehicles no

matter their age ­1886 to 2021.

The entry fee is $15 avehicle, and there

is achance to win ayear's subscription to

Budget advice ... Financial mentors will be

available at Citizens' Advice Bureau North

Canterbury's Rangiora office next week.

PHOTO: FILE

Drop­inswill also be welcome, but there

may be await, she says.

Sessionswill be offered on Wednesday,

November 10, between 9.30am and

11.30am,and on Wednesday, November24,

between 1pm and 3pm.

To make an appointment phone CAB

NorthCanterbury on (03) 3138822.

the New Zealand Classic Car magazine.

All funds raised will go toward two

local charities.

Vehicles start once again at the Better

Half Kitchen and Bar, on the corner of

Ashworths Beach Road and SH1,

Leithfield.

Registrations open from 9.15 am, with

the convertibles taking to the roads, all of

which are sealed, from 10.15 am to 11.15

am.

Participants are asked to bring apicnic

lunch. Acoffee cart will be at the lunch

break at acountry domain. It will also

sell sandwiches and cakes.

$12.99

EACH

$14.99

EACH

$15.99

EACH

$21.99

EACH

$22.99

EACH

$22.99

EACH

$23.99

EACH

$23.99

EACH

$24.99

EACH

$24.99

EACH

$26.99

EACH

Jim Beam; CC

440ml 4.8% (inc zero);

355ml 7%all 4pk cans

Diesel

7% 330ml 6pk cans

Woodstock (incl Zero) Cody's (incl zero)

7% 330ml 6pk cans 7% 250ml 12pk cans

Woodstockodstock 5% 12pk bottles

Cruiser

7% 12pk can range

Woodstock

(incl zero) 7%250ml cans 12pks

ODD Company

10pk can range

SmirnoffRed Ice

5% 10pk bottles

JB Gold; CC Premium

7% %12pkcans

Rinse

10pk can range

Long White

10pk bottle range

$29.99

EACH

$9.99

EACH

$11.99

EACH

$13.99

EACH

$14.99

EACH

$15.99

EACH

$19.99

EACH $26.99

EACH

$34.99

EACH

$35.99

EACH

$36.99

EACH

$35.99

EACH

TuiBourbon

TuiVodkaSoda

Barrel 51

7% 18pk cans

$39.99

EACH

$39.99

EACH

Jim Beam

Canadian Club

18pk 330ml cans

Jacobs Creek

(ex Sparkling range)

Montana Classic

ranges

$42.99

EACH

$52.99

EACH

Wolf Blass

Yellow Label

range (ex PN)

Brown Brothers

Moscato range

BAN GTWO FOR

BANGING

N

DEAL

The Ned

range (ex PN)

3FOR

$60.0000 $10.00

Villa Maria Cellar

Selection,Esk Valley

(exPN,Syrah,Grenache)ranges

$12.99

EACH

Pasqua 1.5ltr range

Matawhero

range (ex PN)

$12.99

EACH

Malibu

Kahlua

700ml (incl passionfruit)

Ivanov

Seagers

(incl lime) 1L

$21.99

EACH

Larios 1L

JB Honey; Devils

Cut; Black 700ml

Midori 700ml

$22.99

EACH

Jameson

JamesonColdBrew

Absolut; Beefeater

flvrd ranges all 700ml

$23.99

EACH

$19.99

EACH

FamousGrouse 1L

Famous Grouse

Smoky 700ml

Johnnie Walker Red

Bacardi

(incl Gold/Spiced) range 1L

Jim Beam

Canadian Club

Jagermeister

Mt GayEclipse 1L

(incl spiced) 1L

Tito's 750ml; Cointreau 700ml

Jim Beam

700ml

(or$31.99 each)

Kingfisher Strong

7.2% 500ml cans

BRB

6pk can range

Mac's

6pk can range

(incl cider /stunt double)

Tiger;TigerCrystal; Sol

12pk bottles

Haagen

15pk bottles

Orchard Thieves

12pk range

Asahi

12pk bottles

$24.99

EACH

$24.99

EACH

$24.99

EACH

$29.99

EACH

$34.99

EACH

$39.99

EACH

$39.99

EACH

$39.99

EACH

$41.99

EACH

Monteith's

(classic &batch brewed)

12pk range

Lion Red; Waikato; Speights

Summit

15pk bottles

THIRSTYLIQUOR RANGIORA

398 HIGH ST,RANGIORA

03 313 7207

Steinlager

15pk bottles

Heineken

15pk bottles

Tui; Export Gold; Extra

LowCarb; DB Draught

24pk bottles

THIRSTYLIQUOR BRIDGEND

1275 MAIN NORTH RD, BRIDGEND

03 323 8833

Corona

18pk bottles

Export33

24pk bottles

THIRSTYLIQUOR AMBERLEY

86 CARTERS RD, AMERLEY

03 314 7400

Carlsberg

24pk bottles

Steinlager Pure

Stella Artois

24pk bottles

Promotion period between1/11/2021 to

30/11/2021. While stocks last.Promotion only

available at participating stores –please contact

your local store to confirm whether theyare

participatinginthe promotion and check the pricing

in-store prior to purchase. Online pricing will vary.
---
NEWS

26 North Canterbury News, November 4, 2021

Local boys need big brothers

By DAVID HILL

When making aNew Year's Resolution

this summer, why not make one to

support alocal child.

Big Brothers Big Sisters of North

Canterbury manager Ellie Le Gros is

keen to hear from prospective volunteer

mentors, as her organisation looks to the

future after achallenging two years.

''Christmas is coming and people might

be looking to give back or thinking about

what they might want to do next year and

we encourage them to consider whether

mentoring could be on the cards.''

She says her organisation has survived

the last two years thanks to generous

community support, but has ashortage of

male mentors on its books as it looks to

meet agrowing demand.

''There's lots of boys who need safe

male role models. Boys often have only

female pre­school and primary school

teachers and if they're not involved in

extra­curricula activities they may miss

out on having male role models.

''You can be an amazing mum or

teacher, but you can't be the male in their

lives.

''Men often think it would be

complicated, like 'I don't do anything of

interest'. But it doesn't need to be

complicated or hard, you just have to

spend some time with them.''

While most of the mentor matches are

in Kaiapoi and Rangiora, the

organisation is in the process of setting

up acouple matches in Hanmer Springs.

''It doesn't have to be in Kaiapoi or

Rangiora, they can be anywhere in

Hurunui and Waimakariri,'' Ellie says.

''A lot of other social services stop once

they hit Rangiora, but we can go

wherever the mentors are.''

Ellie says local businesses can support

Big Brothers by making acash donation

or by allowing astaff member to donate

summer

s

mer

SALE

S

Boys day out ... Big brothers and their young friends enjoying apast ''boys' day out''.

PHOTO: FILE

an hour of their time to spend with a

child.

This could be amatch through the

schools­based programme, requires a

commitment of one hour aweek during

school hours for aminimum of one year.

''People can be frightened of the idea

of giving up their time for acommitment

of ayear, so this is another way people

can get involved and for their employer

to support us without having to make a

commitment,'' she says.

It costs $1800 to create anew match,

Jamie

Single/Single

Bunk Bed

–Black

WAS $ 699

NOW

$

499

including training and other costs to

maintain the match for the year and then

$1500 ayear thereafter.

''If people are interested in looking at

long term donations to support amatch

we can send them updates of how the

match is progressing,'' Ellie says.

Prospective mentors are asked to give a

commitment of one hour aweek for a

minimum of aone year. For more

information go to: bigbrothersbigsisters.

org.nz/north­canterbury or phone (03)

3107004.

Lennox 2Seater

WAS $

1499

Paris 7 Piece

Dining Set – W190

WAS $ 2139

NOW

$

1599

SPORTS RESULTS

AmberleyGolf Club

October30: GSmith 67, RDenby 70, K

Rattray 70, SThomas70,MHarris 70, G

McGeddie 70,BFitzgerald 72, WVan

Zuylen 72,BBalderstone 72, AGenet 72.

Women: BPettigrew 70, AWilshire70,

JBishop 70, KPepper72.

Twos: GMcGeddie, BYates, GDunlop,

SThomas. Excel Design Longest Putt: K

Rayner.Dave YoungPuttingTrophy: G

Burrows.

Mid Week Men: October 27: L

Widdowson 42, BMills 41, B

Balderstone 39, LBrown38, MBruner

38, NReeves38, JByrne 32, L

Widdowson 32, KGussette 32, RKeith

32, BGill32.

Mid Week Women:JBishop 39, KPercy

37. Longest Putt. VWormald

Nineholers: Shootout —Winner, R

Kemp; runner up, JEvans.

Movie night

Amovie­night fundraiserwill be held

in the Oxford Town Hall on Sunday,

December 5.

The fundraiser, showing the film

Respect about ''QueenofSoul'' Aretha

Franklin, is beingorganised by Cancer

Society North Canterbury.

Tickets cost $20 per person and

include adrink and nibbles on arrival.

Therewill be Christmas gift items for

sale with raffles and an auctionwith

itemsincluding an autographed copy

of Toni Street's book, Lost and Found.

Tickets are availablefrom the Cancer

Society North Canterbury Centre at

143 Percival Street,Rangiora,Emma's

at Oxford and at events.humanitix.

com.

NOW

$

999

NOW ON

ENDS 22.11.21

Maison

Living Range

ON SALE

Highboard

NOW $

999

Bookcase

NOW $

999

Buffet

NOW $

799

Marbella Outdoor Modular

Corner Chaise

WAS $

2299

NOW

$

1699

Credit criteria, exclusions, fees, terms &

conditions apply. See in store for details.

Scantofindstore

250 Moorhouse Ave, Christchurch

0800 TARGET (0800 827438)

targetfurniture.co.nz

Offers and product prices advertised here expire

22/11/21. Sale Excludes Accessories.
---
RUNOUT

OUTLANDER LS 2.4L 2WD

$32,990+ORC *

The 7 seater Mitsubishi Outlander

brings everything you would need in a

family SUV: safety, technolo ogy, comfort,

unrivaled economy and that all important

space, plus a 10 Year Power rtrain Warranty † .

Call 03 379 0588 or visit

christchurchmitsubish hi.co.nz

RRP WAS $41,9

90 +ORC

*Price listed is for Outlander LS 2.4L 2wd and excludes on road costs of $650 which includes registration, WoF and a full tank of fuel. Available while stocks last.

†

Visit mmnz.co.nz for full Diamond Advantage warranty conditions.

RANGIORA MITSUBISHI

321 High Street, Rangiora | 03 941 3175 | rangioramitsubishi.co.nz

RANGIORA NISSAN, 321 High Street, Rangiora

Ph: 03 941 3175

www.rangioranissan.co.nz

rangioranissan.co.nz
---
HAY, BALEAGE &SILAGE

28 North Canterbury News, November 4, 2021

Gains made from pre-slaughter feeds

Giving bulls hay or silage

before sendingthem to

slaughter is not awaste of feed

­itcan provide goodgains.

Different holdingconditions

pre­slaughter can affect bull

behaviour, meat quality and

carcassvalue,says Beef +

Lamb New Zealand (BLNZ).

It is knownthat mustering,

holdingand transporting cattle

before slaughter can be

stressful for animals, BLNZ

says.

Studiesinthe past have

helped confirm thatstress can

have anegativeeffecton

carcassweight, meat pH, meat

colour and can increase

bruising.

Reducing stresshelps

ensure the pH level in the meat

remainslow.

High pH meat tends to be

firm, dark, dry and less

suitable for chilled trade.

Previous research has

recommended farmers can

reduce pre­slaughter stress in

cattle and improve carcass

weightsand value by feeding

cattle while settling them in

the yard before transport,

gettingcattle used to the yard

environment and avoiding

dehydration.

Bulls heldonpasture are

more aggressive and sexually

active than bullsfed hay or

fasted during holding time.

This higher level of

interaction may increase the

risk of bruising.

Feedinghay can increase the

time spent eating, drinkingand

ruminatingbybulls.

Ruminating has acalming

effect on animals, making them

abletocope much better with

subsequent transport.

Feedinghay or silagetobulls

while off pasture for 12 to 24

hours beforecartage reduces

stress compared with fasted

cattle and thosetransported

directly from pasture.

Feedingsilage overnight (12

hours) before transport can

givecarcass weights11kg

heavier than bulls fastedfor

the same length of time.

Feedingsilage becomes

beneficial when holdingbulls

for more than 12 hours.

These benefitsare unlikely

to occur if the bulls are

unfamiliar witheach other.

Mixing unfamiliarbulls

overnight, as well as fasting

them, causesanaverage

carcass weightloss of 6­8kg.

Feedingsilage for 20 hours

before transport can result in

significantly heavier carcass

weights than eitherfasted

bulls or those fed silage for

onlythreeoreight hours

before transport.

Trial resultssuggest fasting

for up to eight hours before

transport is not detrimental to

carcass weights, in comparison

withtransporting straight off

pasture.

Stress responses to transport

can be reducedifbullsare

settledinthe yard for more

thanfour hours before loading.

Analysis showsmost bulls

are at least mildlydehydrated

No bull ... Feeding silage to bulls heading off to slaughter can pay off.

aftertransport.

Despite this, only asmall

number drinkduring the four

to five hours at the abattoir.

Farmers needtoencourage

bullstodrink as much water as

possiblebefore transport, so

feeding hay or silage is

advisable.

Transporting stock for longer

than eighthours causes

dehydrationand, for longer

than 24 hours, can seriously

affect welfare and

productivity.

Increase the animals'

familiarity with peopleand

yards to reducestress preslaughter.

Plan unit loads of cattle well

in advancetopreventmixing

unfamiliar stock in the preslaughter

period.

Bring cattle off pasture four

hours or more before transport

so they are easiertohandle.

Minimise the length of

fasting periods to less than

eight hours.

Alternatively, provide hay,

baleage or silage to avoid

weightloss, improve behaviour

and encourage water drinking.

Make sure stock are

PHOTO:FILE

collected on time.

Keep yards, gates and

loading ramps in good order

and have water available.

Farmers shouldavoid

mustering cattle off pasture

just before loading,asthey will

be more stressed and become

dirty during transport.

Mustering overlong distances

in the week before transport

and slaughter, presenting

horned stock for slaughter and

transporting unfit stock should

alsobeavoided.

Copy: Beef+Lamb New

Zealand

342 Oxford Road

Fernside

• CF Moto ATV and UTV

Sales and Service

• ATV and UTV Servicing

• Ride On Mower Service

(Amberley Kaiapoi Oxford

for Mower Free Pick up)

• Tractor Sales /Service

• Tractors sell on behalf of

• Implement Sales and

Service

• Parts and Distribution

• Tools

• Morris Oils and

Lubricants

• Batteries

NEW

Mobile Air Condition

Service

• PTO and Hydraulic

repairs

• Super mini Booster

Jump Start Pack

• NZ Couriers agency

More Photos &

Information at

www.vallance.co.nz

Facebook Vallance

Machinery LTD

Give us acall 03 313 6465

03 313 6465

parts@vallance.co.nz

sales@vallance.co.nz

Sales Hamish Marshall

027 432 3031

Workshop Darryl Price

027 432 3022

For all your

Baleage and Hay

making needs

-baleage wrap, net,

twine, Sisal, rake and

pick up tines and

mower blades

Book now

for your Tractor,

Baler &Mower

Servicing

Will save you time and

money, and prevent

mechanical failures in

the busy Season

Great service

guaranteed

Book in now

Vallance Machinery is your one stop shop for Agricultural and Lifestyle Parts, Sales &Servicing.

We have 3mobile Servicing trucks on the road to keep you going this Season

2423258v3
---
New emissions tools

The Foundation for Arable Research

(FAR) has released agreenhouse gas

emissions calculator and aplanning

module for arable farmers.

With the simultaneous release of

these two tools, arable farmers have

everything they need to meet their

greenhouse gas reporting and

planning commitments at their

fingertips, FAR says.

Obligations around agricultural

greenhouse gas emissions

understanding and management are

being phased in via the He Waka Eke

Noa, industry /government

partnership, and arable, as well as

livestock, farms are expected to

comply.

The first step for all farm businesses

is to know their annual total on­farm

biological greenhouse gas emissions

(their ''number'') and to have awritten

plan to manage emissions.

Aquarter of New Zealand farm

businesses must know their number

and have aplan by the end of this year.

That expectation expands to all

farmers knowing their number by the

end of 2022 and all having awritten

plan by the end of 2024.

It's abig ask, and it's why FAR

developed the two newly released

tools, FAR's Turi McFarlane says.

''This is new territory and most

farmers won't have much of an idea of

their number, or how to calculate it.

''At FAR, we were determined to

make the process as easy as possible

for our growers which is why we

developed E­Check, aspreadsheetbased

greenhouse gas calculator and

the farm planning module.

''E­Check and the greenhouse gas

module go hand­in­hand and will allow

growers to meet their reporting and

planning obligations using existing

data and without great effort or

expense.''

Mr McFarlane says anumber of

greenhouse gas emissions calculators

have been approved by He Waka Eke

Noa, but E­Check, developed by fellow

FAR researcher Dirk Wallace, is

unique in that it has been designed

entirely with the arable industry in

mind.

''We needed asimple emissions

calculator for arable that allowed

growers to know their emissions

numbers with minimal inputs and

time,'' Mr McFarlane says.

''The result is E­Check, aDIY tool

that uses easy­to­access information

around farm size, fertiliser applied

and stocking units on and off, to

Now with 9M MOWER O

for EFFICIENCY!

!

Rubber rollers for

conditioning sensitive,

leafy crops.

Available in Amberley, Waipara,

Omihi, Motunau &Scargill

areas.

Competitive rates.

Call John Pankhurst 03 3 314-5801 8

or r 0272 771 471

4

Trucks for everythingyou need shifted!

-Curtain- Siders tokeep itdry

-Cranetruckfordifficult lifts.

-Flat- decks for machinery

-Bulk- units for grain, feed &fertiliser

What's your number ... Arable farmers

can calculate their greenhouse gas

emissions with two new tools. PHOTO: FILE

calculate the farm's greenhouse gases

number.

''Once growers have identified their

number, they can move on to

completing their written management

plan using FAR's Greenhouse Gas

Planning Module.''

Mr McFarlane says anyone

acquainted with FAR's existing farm

environment plan templates will find

the layout of the new greenhouse gas

module very familiar, and the new

module will form part of any larger

farm environment plan or integrated

farm plan.

As with the farm environment plan

template, the greenhouse gas module

leads growers through aprocess of

assessing risks and identifying

mitigations.

''Once the risks and management

practices that contribute to emissions

and carbon storage on­farm have been

assessed, growers can move on to the

next steps ­identifying opportunities

for improvement, developing an action

plan and pulling together documents

to support the plan and provide

evidence that changes are happening.''

E­Check and the Greenhouse Gas

Farm Planning Module, along with

written and video user guides, are

available on the FAR website far.org.

nz/environment.

Copy: Foundation for Arable

Research (FAR)

Livestock -stock@amuritransport.co.nz

Fertiliser -fert@amuritransport.co.nz

56 St Leonards Rd, Culverden

Freight -freight@amuritransport.co.nz

Ph 03 315 3033 -Fax 03 315 8413

-Livestock -Bulk grain –Shingle –Coal –Golden Bay Cement -Daily Freight Services

1951439

2215674

HAY, BALEAGE &SILAGE

North Canterbury News, November 4, 2021

29

HAY &BALEAGE

• Triple and Double Mower Conditioners

• 4x3 Large Square Baling

• Round McHale Fusion Individual Wrapped Bales

• Hay Tedder

• 9 Metre Rotary Rake

• Grass Sales and Purchases

2324847

We offer afull cultivation service from discing to

drilling. Round and large square baling, grass &

whole-crop silage.

McHale Fusion Baler: plastic-on-plastic

technology, better bales; easier recycling

• Fully Computerised Spray Truck

• GPS Guidance, Proof of Placement Mapping

2429067

Harvest Time!

Local Business Serving The Local Area.

• Hay -Baleage -Straw

Medium square, round, conventional.

Double mower conditioners, wrapping.

Individual wrapping, squares and rounds

• All agricultural and cultivation work

• Direct drilling -Giant discing -Ploughing

-Power harrow -Air seeding

We look after your needs like we look after our own!

Also available •Horsch Terrano: Primary cultivator,chisel plough /ripper, discs &roller•Catros: secondary

cultivator,5.5 metrediscs and roller •Cayena Seed Drill: 6metre Tyne Air Seeder Drill •6furrow reversible

plough •6metre maxi-till &rollerwith levelling boards combination •All tractors using GPS and Auto Steering

•Operating aLexion 760 tracked combine •5.2 metreHeavy Rolling Road Transportable

Please give Sam Bethell acall

B.A. MURRAY LTD

177 Mt Thomas Road, RD 1, Rangiora 7471

Phone: 0274 343 119 | Email: office@bamurray.co.nz

Web: www.bamurrayagriculture.co.nz

"FARMERS"

•Baling

•Silage

•Hay

Agricultural Contractors

OwnedbyFarmers, forFarmers

Mobile:0274 384 378

•Cultivation

•Seeding

•Heading

•Beet Lifting

BALEAGE

HAY&STRAW!

•Medium Square (Cutter) •1.2 –1.8m Rounds

•3mMower Conditioner •VRake

•Individual and Tube Wrappers •6mTedder

Burney

Agricultural

Ph: (03) 314-9037 Mobile: (0274) 631-733

Also Full Cultivation Services

• Daily Freight Run to Ch-Ch &Return.

Ph: 0274 517 063

0274 321 581 (Bus)

03 314 4565 (H)

2331792

HURUNUI PH 0274 360 342

All heading and windrowing

requirements

Contact Steve Murray 027 434 3119

……..New Zealand Rural Contractor Of The Year 2002…….

1951428

2315106
---
FARM FOCUS ADVERTORIAL

30 North Canterbury News, November 4, 2021

Putting Kiwi farmers in the driving seat

Back in 1981, three Wairarapa

farmers decided to create a

system for farmers to improve

the way they manage their

farming business.

At that time, record­keeping

was very much about looking

back, using accounting

methodology.

The company founders

wanted to be able to look ahead,

to plan for the next season.

This radical approach proved

to be highly successful.

Forty years later this

business, now known as Farm

Focus, is still going strong.

Key to the company's success,

is that its specialised software

meets farmers' specific

management accounting

requirements, but also makes it

easy to transfer transactions

into tax­focused accounting

systems used by accountants.

Chief executive Brian Eccles

has been involved with the

company from the early days,

and says that while software

has changed massively over the

40 years, the successful formula

established all those years ago

still holds true.

Managing cashflow through

great planning was important

then and continues to be vital.

''Running afarm is full of

uncertainty,'' says Brian. ''That

can come from weather, pricing

changes or awide range of on

and off farm regulations.

''Plans help you manage

adversity because you can

quickly pivot when the plan

isn't quite working.''

Technology is constantly

evolving and the company

continues to invest in major

upgrades to ensure the product

is relevant in the modern

world.

It is currently supporting

customers to move from its

previous application,

Cashmanager RURAL, to its

new cloud­based application,

Farm Focus.

''Not everyone loves change''

says Brian,''but once customers

begin to see the value of

investing in the new they never

look back.''

Customers moving across to

the new platform, such as

Hawkes Bay farmer Caroline

Smith, notice the

improvements.

"Cashmanager RURAL was a

great package in its day but

farming practices and

requirements have changed

greatly over the years.

''Focus's automated

technology makes budgeting

much easier which has

definitely helped cut down time

spent in the office.''

Caroline says the ability to

Farm Focus ... Brian Eccles is keen to support kiwi farmers.

budget three or four years

ahead has been especially

helpful during Covid and

drought events.

''It's way easier to look ahead.

It has given us confidence in

our planning and shows we can

weather the storm''

Brian says that while the

world is full of generic

accounting systems designed

for city businesses, asystem

like Farm Focus, uniquely

designed to meet the special

needs of farmers, is extremely

rare.

''What might be ideal for an

accountant might be entirely

unsuitable for afarmer.

Software like ours that can

drive improved management

can increase revenue

massively. Potential savings in

accountancy costs are minor by

comparison'' says Brian.

In addition to marking 40

PHOTO: SUPPLIED

years in business this year,

Farm Focus is also celebrating

its recent win in the Cyber Gold

category at the Wellington Gold

Awards.

''This award really belongs to

our customers as we wouldn't

be where we are without their

support. Helping New Zealand

farmers to stay at the top of

their game and retain their

number one spot in the world is

what drives us!'' he says.

Happy

birthday

to us!

We're celebrating that we've

been successfully supporting

New Zealand farmers for 40 years.

Here's our 40th birthday gift to

new customers.

Go to farmfocus.co.nz/birthday-offer/

to redeem your goodies!

Farm Focus: Financial management

software for New Zealand Farmers.

Promo code: BIRTHDAY

Offer valid while stocks last.

Call 0800 888 080

New customers

receive FREE

3months

subscription to

award-winning

Farm Focus

+

Our first 100

new customers

receive the

Farm Focus wet

weather jacket.

RRP $450*

And

receive aFREE

$160 Allbirds

shoe voucher

*Does not apply to existing Rural or Farm Focus customers

*Terms &conditions apply
---
Show Week without the public

By DAVID HILL

The CanterburyA&P Association is looking

to the future,asitpreparestohold ashow

without the public forthe second

successive year.

While the officialNew Zealand

Agricultural Show has become acasualty of

Covid­19, the country's first virtual cattle

showwill be heldaspart of afull weekof

events.

''It's fantastic and our goalwould be to

haveonline contests as an annual event,

running parallel to our normal show,'' New

Zealand Agricultural Show general

manager TracyAhern says.

''Itmay not be all the sections thatdoit,

but Ibelievethere's an appetitefor

watching it online and it givesusanother

audiencewho wouldn't otherwise be at the

show.

''Itreally is achancetoshowcasethe

country's best sheep, cattle or horses and

there's no reason why we couldn'tattract

international competitors in thefuture.''

Entriesclosed for the virtual cattle show

on Sunday (October31) with more than80

beefcattle from all aroundNew Zealand

entered.

Participantsnow have until5pm on

Friday, November12, to submit three

photographsoftheir animal and ashort

video showing the animal being paraded as

if it was beingjudged.

2191656

FENCING

• Post Driving

• Stock Fencing

• Stockyards

• Post and Rails

• Lifestyle etc

Ph Andy Horn

021 214 1201 or

(03) 314 9460

''Normallyitwouldbemostlylocal

entrants, but if people compete and win

fromthe North Island it mightencourage

themtocome and compete at the actual

show, so it's all very exciting,'' Ms Ahern

says.

Showweek eventsatCanterbury

Agricultural Park in Wigraminclude the

judging of boer goats and dog trials on

Wednesday, November 10, withthe dog

trials continuing the next day alongside

dairy goat and shearing and woolhandling

competitions. On Show Day (November 12)

the shearing will continue, alongside

alpacas, pigs and sheep competitions.

The annual prime cattle saleand

competition was heldonTuesday

(November 2), alongside the young

auctioneers' competition.

''At the moment we can holdthe events in

bubbles of 100 people, but the worstcase

scenarioiswecould hold these eventsin

bubbles of 10,''MsAhern says. ''Wehave a

large arena and the carpark, so we have

the spacetospread out as much as we need

to.''

The boys'and girls' agricultural day is set

to return on Thursday,November 18, while

the annual Canterbury A&P Association

Elite Ram and Ewe Fair will be held on

Friday,November 26, where the mint lamb

competitionresults will be announced.

Having the officialshow cancelledhas

forced the association to have arethinkas

Role of trees needs rethink

The government's acknowledgementthat

carbon policies will likelysee too much

forestry planted is good newsfor farmers,

Beef +Lamb New Zealand (BLNZ) says.

The Government has released a

discussion paper, Transitioning to alow

emissions and climate resilient future,

which aims to help shape New Zealand's

emissions reduction plan.

''We welcome the Government's

recognition that fossil fuel emissions

must be reduced, rather than continually

offset, to ensure afair, equitable, and

efficient transition to alow emissions

economy,'' BLNZchief executive Sam

McIvor says.

''The discussion document indicates

any decision on changing the ETS

(Emission Trading Scheme) rules would

come by the end of 2022. We're concerned

that's not fast enoughgiven the scale and

pace of land conversion happening.

''What we need is urgent action to

adjust the ETS to limit the amount of

carbon forestry offsets available to fossil

fuel emitters.

''New Zealand is the only country with

aregulatory ETS thatcurrently allows

100 percent carbon forestry offsetting.''

In the last year more planting of trees

has exceeded the recommended 25,000

hectares, viewed as sustainable by the

Climate Change Commission.

''We are absolutely not anti­forestry,

we're concerned about carbon­only

forestry,'' Mr McIvor says.

''Our sector believes there is abetter

solution, where much of New Zealand's

requiredbudgets for sequestration from

forestry could come from the integration

of trees on sheep and beef farms, rather

than through conversion of whole farms

for carbonforestry and the significant

negative impacts on rural communities

and the economy.''

Mr McIvor says the red meat sector is

committed to playing its part in

addressing climate change.

''We have already made asignificant

contribution. Greenhouse gas emissions

from sheep and beef farming have

decreased by 30% in absolute terms since

1990, while production levels have

remained stable.

''Overall, total on­farm methane

emissions have either been stable or

declining over the last two decades.

''We are also further offsetting our

emissions through the native and exotic

trees on our farms.''

Mr McIvor says there are arange of

initiatives under way to deliverfurther

emissions reductions, including the He

WakaEke Noa primary sector climate

change commitment and extension

activities to help farmers and growers

gain knowledge and resources to

measure, manage, and reduce emissions.

''We note the document continues to

refertoemissions rather than warming,

whichiswhereleadinginternational

climate change science is heading.''

MT CASS

WILTSHIRES

OPEN DAY

Friday

19 th November,

12 -3pm

Symonds Rd

Waipara

Contact:

Willy Pears: 027 641 0055

Andrew Heard: 021 272 7522

2431631v1

Shear action ... Troy Pyper, of Waikari,

competes in the shearing at the 2019 New

Zealand Agricultural Show.

PHOTO: FILE

it looks for other revenuesources,Ms

Ahern says.

''In alot of ways, not havingashow for the

second year in arow has given us the

opportunitytopivot and come up with new

ideas and our committee has been

progressive and positive. It's been

heartwarming to see everyone gettingin

behind it and being supportive.''

Ideas are being explored for new events

at Canterbury AgriculturalPark, including

Christmas carols, asmall horseshow, the

New Zealand Bloodstock Sale, Equifest

and school holidayevents.

2410273

ONLINE MEAT SALES

MEAT2U.NZ

HOME KILL

&WILD GAME

MEAT PROCESSING

313 0022

RURAL LIFE

North Canterbury News, November 4, 2021

If you're moving calves, follow these steps

48

hours

Complete anASD Form

Record all farm-to-farm movements

in NAIT within 48hours

Moving animals from amovement

control area? TB test them 60 days

before moving

Failure to tag and register your calves and record any

movements inNAIT may result in fines or prosecution.

NAIT is an OSPRI programme

Built to your budget!

31

-All types of fencing including:

-deer, sheep and cattle yards

-Retaining walls –Timber gates

-Full range of specialised equipment for farm fencing and

lifestyle blocks, offers you the complete land package.

Ashley: 0274 364 776 ah: 314 8541

e: A.Duckworth@xtra.co.nz

www.duckworthfencing.co.nz

Post &Rail Fencing -Looks great &

makes life easy for the Rural Lifestyler!

2258760
---
WOODLANDSESTATE

Second andFinalRelease of Stage2

600-837m2

Address &ReservePrice (GSTInclusive)

1. Lot164 WoodlandsEstate|$355,000

2. Lot128 WoodlandsEstate|$355,000

3. Lot168 WoodlandsEstate|$355,000

4. Lot146 WoodlandsEstate|$360,000

5. Lot130 WoodlandsEstate|$365,000

6. Lot161 WoodlandsEstate|$370,000

7. Lot163 WoodlandsEstate|$370,000

8. Lot170 WoodlandsEstate|$375,000

9. Lot124 WoodlandsEstate|$375,000

10. Lot 136 WoodlandsEstate|$380,000

11. Lot 137 WoodlandsEstate |$380,000

12. Lot 133 WoodlandsEstate |$380,000

13. Lot 127 WoodlandsEstate |$380,000

14. Lot 115 WoodlandsEstate |$380,000

15. Lot 116 WoodlandsEstate |$380,000

Duetodemand, the final20sectionsinStage 2ofWoodlands Estatewill be sold at auction withdeclared

reserves,which removesany guessworkfor prospective purchasers.Developmentiswellunderwaywiththe

curbsand channelsdownand titles duefor early2022. This will be the last offeringinWoodlandsEstateStage

2and the last sectionsthat'll have titles in the next year withStage 3still yettostart.

Thefinalrelease of Stage 2atWoodlands Estate offersaselection of 20 sitesrangingfrom 600m2through to

837m2, there is asection size to suit abroad range of buyers, whetheryou requiresomething easy-careoron

afamily-sized scale.

16. Lot 118 Woodlands Estate|$380,000

17. Lot 120 WoodlandsEstate |$380,000

18. Lot 121 Woodlands Estate|$390,000

19. Lot 140 Woodlands Estate|$390,000

20. Lot 144 WoodlandsEstate|$395,000

Locatedawayfrom the hustle andbustleonthe outskirtsofChristchurch sits WoodlandsEstate, Woodend's

latest residentialneighbourhood,whichwill deliveralifestyle of relaxationand ease.Situated within an easy

driveofnumerous localbeaches,Pegasus Town, Rangiora andKaiapoi,Woodend is also under25-minutes

from the centre of Christchurchtooffer an exceptionallifestyle balance.

LoganFreeman

027 843 1405

03 322 1197

AUCTION: Wed10thNovember from 6:00PM 98 Moorhouse Ave

VIEW:harcourtsgrenadier.co.nz

AgentonsiteSaturday &Sundayfrom 2:30pm -3:30pm

Scan theQRcode

to download the

informationpack

GrenadierRealEstateLtd MREINZ.LicensedAgent REAA 2008
---
Four

Four

SeasonsRealty

Seasons Realty

Four Seasons Realty 2017 Ltd | Licensed Agent REAA 2008

MITCH & MANA

OUTSTANDING RESULTS

REQUIRES AN OUTSTANDING TEAM!

Top Selling Consultants, Harcourts Four Seasons 2019-2021

Average sale price 46% above Rateable Value, Oct 2021

Average 19 days on market before under offer, Oct 2021

Mitchell Roberts & Mana Tai

02 7 413 0797 | 027 6262 824

mitchandmana@harcourts.co.nz

facebook.com/mitchandmana

SOLD $795,00

SOLD $530,479

SOLD $876,000

SOLD $920,000

Ashley 26 Wellington St

Woodend 8 Bowie Dr

Kaiapoi 103 Sutherland Dr

Kaiapoi 28 Wakeman Way

Mitchell Roberts & Mana Tai 02 7 413 0797 or 027 6262 824 | mitchandmana@harcourts.co.nz | facebook.com/mitchandmana
---
Greta Valley 40 Valley Road

Weekend retreat or builder's dream?

Perchedonasunny elevation and surrounded by grazing pasture, you're the last stop at the end of the road!This5.02ha

property offersablankcanvas for those withvisionand adesire for thequiet life and theenjoyment of sweeping vistas!With

an existing11.9mx11.8mTotalspan shedon-siteoffering 140+sqm of total floorarea, complete with anin-built living space

including bedroom&ensuite, andwith theNorth-facing aspect, you can enjoyfull sun throughout the year.Large bay

garaging providesoptions to park your caravan,campervanorboatand moreorconsider the space for storage and/or

workshop potentialwhile buildingyour dream home. Completewith 3phase power,satellite dishand internet connectivity,

the existingstructure provides you with all theessentials to make this your weekend destinationortemporary base whileyou

build.Far enough awayfrom the hustle and bustle of daily life, you're only 20mins drive away from the nearbytownship of

Amberley, or youcouldberelaxing on the beachin Motunau. Alternatively,with an hour'sdrive you're either in central

Christchurchorsoakingthe worries of theworldaway in the thermal pools of Hanmer Springs!

1 1 2

Auction 11.00am, Wed 10th Nov, 2021

View Sun 7Nov 3.00 -3.45pm

Web pb.co.nz/RL96807

Dayan Muntz

M 021 432 926

E dayan.muntz@pb.co.nz

Looking for

anew place

to call home?

I'm thrilled to announce my newposition

as aLifestyle/Rural SalesConsultant at

PropertyBrokers Rangiora.

My quality service is backed by regional knowledge,

expert training and tools -everything youneed to

makeinformed property decisions.

If youare looking to buyorsell, call me today!

GeorgeJohnston

Lifestyle/RuralSales Consultant

M 027923 5164 E george.johnston@pb.co.nz

Property Brokers Ltd Licensed REAA 2008 |pb.co.nz

Proudtobehere
---
Cheviot Magpies swoop

SPORT

North Canterbury News, November 4, 2021

35

CRICKET

Strong wins for Darfield and Cheviot

cementedtheir placesatthe top of country

cricket at the weekend, while Oxford­

Rangiora and Lincoln remained rooted at

the bottom.

At MainPower Oval, the young and

talented CheviotMagpies dominated the

winless Oxford­Rangiora in round five of

the CRV Ambreed Country Premier One

Day 2021/22 competition on Saturday.

On abatter­friendly first­class track,

Cheviot made the most of winning the toss,

racking up 237/4 in their allotted 45 overs.

After openers Ted Whelan and Harrison

Darling put on 50 for the first wicket,

Archie Redfern, who has been one of the

early season competition standouts,topscored

with an unbeaten 73 runs off 85

balls.

He was well­supported by Harry

Fitzpatrick (42 off 42) before Angus Sidey

finished the innings with aquickfire 33 not

out.

Only young spin duo Jack Sail and

Nathan Cook had any joy with the ball for

Oxford­Rangiora, taking all four wickets

between them.

In reply, Oxford­Rangiora never really

threatened the total, losing steady wickets,

with David Fultonperforming his usual

middle­order mainstayand earning ahalf

century.

Sam Fleming smashed arapid 45 but

eventually his side fell to a52­rundefeat,

with Redfern capping off afine day,

snaring four wickets.

Darfield dismantledadisappointing

Sefton by 127 runs at Darfield Domain after

scoring 214.

Tom Dempster top­scored with 59, while

others contributed throughthe innings,

where Sefton tried eight bowlerswith

varying levels of success.

Jeff Jones was again the pick of the Seals

bowlers,grabbing three more wickets to

add to his impressive October tally.

Seftoncrumbled in the chase, with just

Amandep Arora (33 off 38) displaying much

hope, and it was bundledall out in 26 overs.

Darfield pace bowler Zak Foulkes

grabbed four wickets, while Will

Greenslade grabbed three cheap ones.

At Lincoln Domain, Southbrook

scrappedtoamuch­needed win over the

cellar­dwellinghome side. Six Lincoln

batters got starts, but none passed 25 as it

was restrictedto169 runs in 44.1 overs.

Handy contributions from Bevan Rich

(40 off 94), Shanan Stewart (30off 50), Gus

Mowat (31 off 30) and Luan Blom (18 not

out) saw Southbrookearn ahard­fought

four­wicket win with two overs to spare.

Leeston­Southbridge beat Ohoka by four

wickets at LeestonPark on aday that

neither sides' big guns fired.

Bundled out for 130, Ohokatried hard but

failed to defend the low total, with the

combined side claimingthe win in the 35th

over, thanks to an unbeaten 46­run

partnership between James Coull and

Dougald Munro.

Weedons had the bye.

Short scorecards

Cheviot 237/4 (A Redfern 73no, H

Fitzpatrick 42, TWhelan 37, ASidey 33no;

JSail 2/46, NCook 2/53) beat Oxford­

Rangiora 185 (D Fulton 54, SFleming 45; A

Redfern 4/19, CSidey 4/24, SBurnett 2/28).

Darfield 214 (T Dempster59, NGilbert 29,

RHughes 28; LTaylor 3/18, JJones 3/25)

beat Sefton 87 (A Arora 33; ZFoulkes 4/29,

WGreenslade 3/13).

Lincoln 169 (N Lerm 25, THolland 24, R

Clark 23, AGulati 21; WBaker 3/33, WShun

3/34) lost to Southbrook171/6 (B Rich 40, G

Mowat 31, SStewart 30; THolland 2/30).

Ohoka 130 (M Burns25, NCourt 21; TField

3/16, TGruijters 2/18, DMunro 2/27) lost to

Leeston­Southbridge 132/6 (J Coull 43no, D

Munro 23no, BHill 23; AHamilton 2/22).

Making history ... The Rangiora Cricket Club has agirls cricket team.

Girls take to the pitch

CRICKET

By ROBYN BRISTOW

The Rangiora Cricket Club has its first

ever girls team.

The club is the second oldestclub in

New Zealand, and while it has produced

some of Canterbury's and New Zealand's

most successful female cricketers, it has

never managed to get the numbers to

form an all girls team.

However, abig push by Barry van

Beurten, the Junior Girls Convenor, has

seen enough girls turn outtoform ateam.

It is playing inthe Christchurch Metro

competition, with halfthe games in

PHOTO: SUPPLIED

Christchurchand half in Rangiora.

Rangiora High School has offered the

girls to use of its artificial pitch for their

home games.

Aceremony was held for the girls

recently, with accomplished North

Canterbury cricketer and rugby player

Kaylee Tavendale presenting themwith

their caps after practice.

Kaylee,who plays for the Premier

women's St Albans side, is giving some

coaching assistance to the team,

alongside team coaches Nic Oram and

Chris Hawes.

Annabelle, Poppy,Hannah, Mikaela,

CharlotteH,Quincey, Nia and Charlotte

Gmet OBC Martin Girls at Marshland

School in their first gameand put up a

great effort, losing in aclose match.

HOWMARVEL HEALTH

INVESTIGATESDIGESTIVE

PROBLEMS AND

CHRONICGUT DISEASES

If yousuffer from gutproblems, many factorsneed to be

consideredtoget to their root causes.

It is notenoughtoinvestigate thestomach andintestines, as

gutdiseasescan arisefrom otherbodysystems seemingly

unrelatedtodigestion.Furthermore,diseasesofthe gut

canalsooccurfrom environmental factorssuchasfood

allergies, food additive sensitivitiesand exposureto

mycotoxins,pesticidesand otherharmful chemicals

in ourdiet.

Diseasesofthe gut-theoesophagus, stomach,intestines,

pancreas,and livercan causedigestive problemssuch

as bloating andcramps, abdominal pain, acid reflux,

constipation,diarrhoea andfood intolerances.Someofthe

hiddencausesofthese digestive problemsare

Small BowelIntestinalGrowth(SIBO), Sluggish

BowelMovement, Enzyme deficiencies,microbial

infections, andchronic inflammation.

The Diagnostic Scan PerformedatMarvelHealth is

designedtoidentifydiseasesofthe gutand their hidden

causes.Itdetectsharmful viruses, bacteria andparasites,

nutrientand enzymedeficiencies,autoimmune diseases and

many otherpathological changesthatcause chronic diseases

of thegut.

Chronic gutproblemsmay even arisefrom dysfunctionsin

othersystemsthatseemunrelated to thegut.

Adamaged immune system willpromotemicrobial

Total Health MOT

Whole Body Diagnostic Scan,

Report, Consultation and Therapy

All included: • Detailed Examination of All Organs & Systems • Diseases Present and Complications

• Detection of Viruses, Bacteria & Fungi • Food Allergies & Sensitivities • Non-invasive Blood Test

• Detection of Lead, Mercury & other Environmental Toxins • Body Composition Analysis

Unit 13/6 Cone Street, Rangiora | 293 Durham Street, Awly Building, Christchurch

CALL TODAY 03 669 5410 www.marvel.health

Disclaimer: The inspection from the scan is not asubstitute for medical inspections. It is not designed to state the final diagnosis

ADVERTISEMENT

overgrowth andfood sensitivities. When thedetoxification

system becomesdysfunctional,toxinscan buildupinthe

pancreas andlymphatic glands andcause diseases.

The Scan checksfor food allergies,contaminants, food

additive sensitivitiesand otherenvironmental causes of

digestivediseases.

After thescan, thedoctorsand healthcare specialists

at Marvel Health will studythe report andrecommend

targetedscience-based naturaltreatmentsand lifestyle

changes to supportthe body'shealing.
---
What's happening inyour

community…

All info onchanges to Council services and facilities can be found at waimakariri.govt.nz/covid19

Disappointed with Forced Three

Waters Reform

Waimakariri District Mayor Dan Gordon says he's

exceptionally disappointed the Government has forced

the Three Waters Reform proposal on communities

without adequatelytaking on feedback.

During the announcement the Government did

concede further work would be undertaken with

local government toensure there is adequate

governance, representation and accountability of

these organisations to the communities they serve.

Mayor Dan Gordon says despite this he's

exceptionally disappointed with the forced decision.

"Our analysis showed the argument for change for

our community from the Government is flawed

and Iamupset and extremely concerned that this

proposal is being forced on us. We received avery

clear message that 95 percent of respondents to

our community survey told the Council that they

wanted us to retain local decision making, control

and influence of our assets.

"We approached this review in good faith and

hoped the Government would show similar good

faith and respect the decision of the majority of

councils to opt-out of the reform. We hoped they

would at least press pause to allow more time to

fully consider the proposal based on the feedback

from local government.

"Throughout this process the Council always

maintained that quality drinking water and better

environmental outcomes are essential and we

were open to change.

"The Council will continue todiscuss the

implications of the Governments decision and our

next steps." says Mayor Gordon.

Awesome Day Enhancing Mudfish Habitat

It was all hands on spades as tamariki from

View Hill School and helpers planted 350 native

seedlings in an effort to enhance an endangered

Canterbury mudfish/kōwaro habitat.

Aplanting day was held at Kowhai Farm recently.

Owner Chris Thomas was joined by 64 children,

teachers, parent helpers, the Working Waters Trust,

Silverstream Reserve Volunteers, Waimakariri

Water Zone Committee, and Cr Niki Mealings from

the Oxford-Ohoka Community Board in what was

described as an "awesome day".

Canterbury mudfish are classified by the

Department of Conservation as the second most

endangered native fish in New Zealand. In 2020

kōwaro were found living in the creek running

through the Thomas' farm.

Kōwaro live inwetlands and slow-moving

waterways and when streams dry out, they can

burrow into damp mud and survive for several

months until water returns. Since European

settlement, alot of their habitat has been drained.

Chris was keen to see the area enhanced, and

apartnership was formed with the Working

Waters Trust and View Hill School to carry out a

restoration project for the endangered fish.

"A highlight of the day was that everyone got

to see the local kōwaro in their natural habitat,

reinforcing the significance of the work to protect

the habitat", says Niki.

The property owners worked closely with the

Working Waters Trust to develop aplan for

their project, who are acharitable organisation

who focus on biodiversity restoration projects

in Canterbury, Otago and Southland, aswell as

educational and advocacy projects.

Have you signed up for

the Waimakariri District

Council Newsletter?

Tojoin visit:

waimakariri.govt.nz/subscribe

CHOP

THE

MOP

Jason ClementsfromWaimakaririLibraries

will Chop the Mop,saying goodbye to

his beardand trademark long hair at this

fundraising event forthe Cancer Society.

Featuring special guest poetryreadings by:

North Canterbury Cancer Society Writers Group

John Allison |Ben Brown |Doc Drumheller

Ciaran Fox |Bernadette Hall

RangioraLibrary

Thursday11November•6.30-8pm (entrybykoha)

If we are still in Level 2,this event will be held at the

Victoria Park Band Rotunda, Corner of Percival and

Queen Streets, Rangiora (weather dependant), and

Waimakariri Libraries Facebook Live.

To support this Chop the Mop fundraising effort visit:

youcanforcancer.org.nz/jason-clements

Register Now

In association with:

libraries.waimakariri.govt.nz

03 311 8901

Does Your Pool

Fence Comply?

Summer is here and it's important pool barriers

and fencing comply with the Building Act.

From November to Marcheach year we'll be visiting

properties to checkifapool is still present, the type

and if the pool fence complies.

We'll leave anotice inthe letterbox aer the check, and

note any items that may need to be addressed.

Why we're doing this:

The Building Act requires us to inspect for pool barriers

regularly for compliance to the Building Code.

Call us on 03 311 8906 if you have any questions

Register your pool at waimakariri.govt.nz -

keyword search Swimming Pool Registration.

English Language Classes

Is English your second language?

Come along toourour classes to improve

your speaking and listening skills.

We cover some interesting topics in afriendly

and welcoming space with opportunities to

socialise with your classmates too.

When

Every Saturday, 13November to 11 December 2021

10am-1pm

Where

Rangiora Town Hall Function Room

303 High Street, Rangiora

Cost

Classes are free

For more information or to register

Julie Cloughley |Tutor

Email: cloughju@hotmail.com

Phone: 027 403 8245

For more info

waimakariri.govt.nz/migrants-and-newcomers
---
CLASSIFIED

North Canterbury News, November 4, 2021

37

Tenders

Public Notices

Public Notices

Give usyour

feedback

YOUTH

Development Grant

Available to young people living

in the Waimakariri District aged

between 12 and 24.

Applications are now open and will

close on Friday 11February 2022.

For more information:

com.board@wmk.govt.nz

027 254 3940

waimakariri.govt.nz

NEED FUNDING

FOR A

COMMUNITY

PROJECT?

Your Community Board can support

your project with grant funding.

Application forms and grant criteria are available

online or from any Council Service Centre. For more

information about funding visit the Council website.

Find out more at

waimakariri.govt.nz/communitygrants

Request fortender

Contract HDC 21/05 CemeterySexton

Duties 2022–2025

Tenders are invited for suitably qualified and

experienced contractors with the capability and

resources to partner with HDC to undertake

cemeterysexton dutieswhich include:

Preparing and closing in burialplots,and burialplot

maintenanceacrossthe District's cemeteries which

are located inBalcairn, Glenmark, Waiau, Waikari,

Culverden, Rotherham, Cheviot, HorslyDownsand

HanmerSprings.

Tender Documents can be downloaded on the

GETS website (www.gets.govt.nz) - reference

25026154

Tenders close at 4pmonFriday 3rd December

2021.

2432158

Wanted To Rent

LONG TERM RENTAL

property wanted, with land

for horses, within 15

minutes of Rangiora.

Extremely conscientious,

professional &responsible,

no children or dogs,

respectful care taken of

property and grounds.

Experienced in gardening,

pasture management and

animal welfare. Seeking

privacy and independence.

All options considered at

petlifestyle@hotmail.com.

Wanted To Buy

BUYING estate type old

china, crystal, collectables,

vases. Ph 027 350 3963, or

313 1878.

$$$

Amalgamated Scrap Metal

Ltd. Specialists in farm

machineryand farm clean

ups, old vehicles etc.

100% locally owned.

Ph 0800 030 712 or

027 695 0480.

2312759

Pets

BICHON HOMESTAY

for smaller dogs. We look

after your dog in our home.

"No kennels". Phone today

03 314 6110.

½PRICE

DOG FOOD

MEAT2U.NZ

313 0022

2424357

Livestock

HOMEKILL & Wild

Game meat processing. Ph

313 0022. www.meat2u.nz.

Cars Wanted

ANY old cars, anything pre

1990, unfinished Hot Rods,

Classic Cars. Please call

027 258 8366.

CASH 4CARS

and 4WD'S

Phone

Automotive

Parts

03 313 7216

CARS, vans, 4WD's

wanted for dismantling or

repair. Phone 027 258

8366.

FALCONS &

COMMODORES

WANTED

Suitable for

dismantling or repairs

Ph 313 7216

2412522

WANTED to buy Ford,

Holden, Chrysler or

Chev's, Classic cars. Any

other types considered, any

condition. Please phone

Tony 027 313 5000.

Motorcycles

SOUTH PACIFIC Motorcycle

services, local family

business based in Mandeville.

Repairs, servicing,

WOF etc for all road bikes,

classic bikes, farm bikes &

more. Collection service

available. Ph03312 0066

office@motorbiketours.co.nz

www.motorbiketours.co.nz

Gardening

A+ GARDEN hedges cut

to perfection. Tree &arbor

work. Also spraying. Free

quotes. Ph 021 111 4322.

PUBLIC NOTICE OF

APPLICATION FOR

OFF-LICENCE

SECTION 101, SALE

AND SUPPLYOF

ALCOHOL ACT 2012

BVM Rae Ltd t/as New

World Kaiapoi has made

application to the District

Licensing Committee at

Rangiora for the issue of

an Off-Licence in respect of

the premises situated at 52

Charles St, Kaiapoi or the

Supermarket known as New

World Kaiapoi.

The general nature of the

business conducted (or to be

conducted) under the licence

is Retail -Supermarket.

The days on which and the

hours during which alcohol

is (or is intended to be)

sold under the licence are

Monday - Sunday, 7am -

10pm.

The application may be

inspected during ordinary

office hours at the office

of the Waimakariri District

Licensing Committee at 215

High Street, Rangiora.

Any person who is entitled

to object and who wishes

to object to the issue of the

licence may, not later than

15 working days after the

date of the publication of this

notice, file anotice inwriting

of the objection with the

Secretary of the Waimakariri

District Licensing Committee

at Private Bag 1005,

Rangiora.

No objection to the issue

of alicence may be made

in relation to amatter other

than a matter specified in

section 105 (1) of the Sale

and Supply of Alcohol Act

2021.

This is the second publication

of this notice. This notice

was first published on 28

October 2021.

2429868v2

Personal

GENT, single (a little

older) indep, positive

chatty and tactile seeks a

slim perky well presented

lady with avibrant, happy

personality to dine out with

and enjoy company to the

Court Theatre, movies,

social occasions and to

generally hang out with.

Open to any sort of companionship

027 659 4425.

Educational

TUITION available. Primary

and secondary up to

NCEA level 3. In centre

(Rangiora) or interactive

online from your home.

Each student onanindividually

tailored programme.

Kip McGrath Rangiora has

been serving the local community

for 30 +years. Give

us acall (03 313 3638) or

book your free assessment

online https://www.kipmcgrath.

co.nz/rangiora

AMPLIFY YOUR

BUSINESS AND BE

THE NAME THEY

SEE FIRST

Advertise with us and

get noticed today!

Phone us today on 03 314 8335 or email

sales@ncnews.co.nz to find out how we can help!

Terrible

Debt

a free and

Kiwisaver

teach

manage

the Waimakariri

or Hurunui

District

www.bsnc.org.nz

other agencies

Sharon Grant

Find us on Facebook: (Budgeting Services North Canterbury)

Supported by:

Registered Charity Number: CC10710

CONWAY WAIAU TB MANAGEMENT AREA

POSSUM DETECTION SURVEY -WARNING

Vector Free Marlborough Limited wishes to advise that a

ground-based possum detection survey operation is taking

place as we work towards eradicating TB from New Zealand

over the long term. This operation will be conducted as apart

of OSPRI's TBfree programme.

Before the operation, Vector Free Marlborough staff will seek

written permission from landowners within the operational

area to gain permission before undertaking work. They will

discuss the proposed detection survey methods and answer

any questions.

Amap of the area can be found on the Vector Free Marlborough

website under the Current Operations tab.

Description of control area

Amuri Dog Creek -located immediately to the northwest of

Waiau Township from Lottery River in the East then along the

Waiau River to Cabbage Tree Island in the West and up into the

foothills of the Amuri Range in the North.

Operation date

12 July 2021 to 30 November 2021 (approximate)

Control methods, equipment used and nature of work

• Detection Devices (non-toxic chew cards affixed to trees

and structures such as fence posts presented with a

blaze of flour and icing sugar from the ground up to the

detection device) will be deployed for 7-8nights

• Leg-hold traps or sentinel kill traps will be deployed for 3

nights at the site when possum activity is detected

• Concurrent Survey -animal carcasses will be retrieved

and submitted for post-mortem

General warning

• Follow advice stated on warning signs

• Donot touch detection devices and traps

• Donot touch possumcarcasses

• Keep children under strict supervision in the control area

• Keep pets under supervision.

Warning signs will be erected at all main public entry points

and the public are reminded that it is an offence to remove

any of these signs. Please follow the instructions stated on

the signs.

Forfurther information please contact

Vector Free Marlborough Limited

Free Phone: 0508 548 008

Email: communications@vectorfree.co.nz

Website: www.vectorfree.co.nz

OSPRI helps protect and enhance the reputation of New Zealand's

primary industries and currently runs the TBfree and National

Animal Identification and Tracing (NAIT) programmes.

2427303

Read our digital

edition online at

www.ncnews.co.nz
---
CLASSIFIED

38 North Canterbury News, November 4, 2021

Public Notices

MILITARYEXERCISE

2/1 RNZIR BATTALION

EXERCISE FOXHOUND

08 -11November2021

Thegeneral public is to be advised thatNZArmy

Training will be conductedinthe Burnham, West

Melton Rifle Range and the Oxford Forest areas

over the period 08 –11November 2021.

Theexercise will involvepersonnel of the 2/1

Battalion RoyalNew Zealand InfantryRegiment

from 1(NZ) Brigade,Burnham. Theexercise will

involvethe movementofupto200 personnel and

vehicles by dayand night.

Training will involvesmall arms live, simulation

and blank firing ammunition as well as explosives

and pyrotechnics.The exercisewill involvemilitary

activities being run by dayand night. Activities

will be run overan80hr period starting at 0600 on

Mondaythe 8thand finishing middayThursday

the 11th.

Formoreinformation please contact

WO2J.van Arendonk on 021 941 453.

Public Notice

DECISION ON SUBMISSIONS ON

PROPOSEDPLANCHANGE 5TOTHE

HURUNUI DISTRICT PLAN

The decision onsubmissions to Plan Change 5–

Hanmer Springsdesign standards, hasbeenmade.

The Hurunui District Plan will be amended in

accordance with this decision from the date of this

public notice.

Anypersonwhomadeasubmission on PlanChange

5may appeal thedecisiontotheEnvironmentCourt

against adecisiononaprovisionormatterraisedin

theirsubmission.

Appeals must be filed with the Environment Court

within 30working days ofthis notice and therefore

received no later than17December 2021.

Acopyofthe decision can be viewedonthe Council's

website www.hurunui.govt.nz/pc5.

Pleasedirect any enquiries to NicolaKirby

03 3148816ornicola.kirby@hurunui.govt.nz.

2431879

AMBERLEY DISTRICT RESIDENTS

ASSOCIATION AGM

"A vision for Amberley"

The Amberley District Residents' Association Inc

would like to invite you to their AGM to be held

on Monday 15 th November 2021, 7.30 pm at

the Tin Shed, Amberley.

ADRAexists to advance the interests of residents

and promote Amberley as a great place to

live and do business. We publish The Hotline

fortnightly and support Mollie's Place, amuch

needed and valued Community Reuse Hub. We

are aregistered charity donating thousands of

dollars to the community each year.

If you have aVision for Amberley come to the

AGM and bring your ideas with you. Roger

Hornblow will be hosting the evening using

robust discussions and post it notes. We also

welcome locals who want to help.

After the brief formalities of the AGM we

plan to have an informal forum/discussion

about AVision for Amberley followed by light

refreshments so pleasecome along.

If we are still at Level 2please do the following:

•Scan or Sign in.

•Social distance 2metres.

•Use the sanitiser provided.

•Wear your mask.

Kind Regards the ADRAExecutive Committee.

Please contact the Secretary, YoTurnbull, if you

have any queries.

03 314 5875

027 387 3449

2432190

Public Notices

Extraordinary Council

meeting

To discuss astatement of proposal for formal

public community consultation on the Three

Watersreformannounced recently by government.

Date: ThursdayNovember 4, 2.00pm.

This meeting will belivestreamed, please see

Hurunui District CouncilFacebook page at thetime

of the meetingtoclick on the link.

BOOK FAIR

WE NEED

YOUR BOOKS

DROP BOXES ARE AVAILABLE

AT: ZSERVICE STATION &

RANGIORA NEW WORLD.

Help us to do this again by donating books,

magazines, dvds, cds, puzzles &records.

Rangiora Charitable Trust

Rangiora A&P

Showgrounds Pavilion

156 Ashley St, Rangiora

If you want us to collect

your books, call:

Waimakariri Country Music

Festival

FUNDRAISER

Admission: $5 per person

Venue: Rangiora Showgrounds,

Ashley St

Date: Friday 12 th November

Time: 11am –4pm

Bring cord charts

Food for sale

ALL WELCOME

Book Fair

26th &27th

November 2021

027 472 4439

2432286

2429909

Rotary ClubofRangiora

Charitable Trust

ALEX MURRAY

EDUCATION AWARD 2021

The Rotary Club of Rangiora awards agrant each

year inmemory of aformer member, Alex Murray,

to assist ayoung person about toleave school to

undertake further training at an education centre,

polytechnic or university.

The grant, to a value of $5000, will be awarded

to ayoung person living ineither the Waimakariri

or Hurunui Districts. The grant is to assist with

course costs and/or study materials (excluding

accommodation costs) over the first two years of

tertiarystudy.

We are calling for applications for this grant for study

to becommenced in 2022.

The application form may beobtained by emailing

ayers.david@xtra.co.nz.

Applications willclose on Thursday 18 th November

2021.

2428463

Situations Vacant

Tree Trimming Machine Operator Wanted

Join a cohesive, positive small team in a self-led role

Must Have:

• Proof of solid work history

• Honesty, Pride in work & customer service

• Knowledge of Machine care

• Rural mindset

• North Canterbury based

Well rewarded in both job satisfaction & payrate

Interested? Please email 1 page of relevant information

to ash@mtt.co.nz or this can be instead photo text'd to

me 0272 384 624. Job description will be included in

reply email.

2430663

Community Trust Position –North

Canterbury Sport &Recreation Trust

Upon the recent retirement of one of our Community

Trustees we are now seeking areplacement who

ideally has abackground in business management

and be able to contribute to the financial

literacy of the Trust. They will share our vision of

modern and flexible governance, and have some

understanding or exposure to the not-for profit

sector.

The North Canterbury Sport & Recreation Trust

was established in 1982 as aCharitable Trust. We

run five community Fitness Centres, with multiple

community projects and initiatives.

In recent years the Trust has expanded its charitable

activities into avariety ofrecreational programmes,

while remaining committed to dedicating its

surpluses and assets to improving the wellbeing

of the district's communities through its Charitable

Objectives and Trust Deed.

The work of the Trust extends much further than

providing gym and fitness facilities across the

region. It is also involved with anumber of primary

school sports and community initiatives, including

in-school sports coaching, swimming and cycling

programmes. We cater for Pre School and Silver

Fitness and the coordination of arange of school

sports competitions.

The Trust also organises the North Canterbury

Sports Awards, the Rakahuri Rage Mountainbike

race, and hosts acharity golf tournament each year.

It requires commitment and an investment in a

wide range of initiatives to build ahighly productive

community, in which individuals of all ages are

encouraged to reach their full health, fitness and

sporting potential. That's why the work of the

North Canterbury Sport &Recreation Trust is so

important.

If you are interested in being party of the Trusts

continuing evolvement please contact

roliver@sportstrust.org.nz by 19 th November 2021.

2431390

Public Notices

KAIAPOI CHRISTADELPHIANS

"The Key of Knowledge .."(Luke 11:52)

"GOOD NEWS"

The GODofthe Bible is "like aFATHERtoHIS children,

tender and compassionate to those that love and fear

HIM. For HE knows how weak we are; HE remember

we are only dust… But the love of the LORD remains

forever withthosewho fear HIM". Psalm 103:13-17.

2430945

Situations Vacant

HOMESITTERS

REQUIRED

Ad# 38941

Wanted: Homesitters required

over Christmas/New Year

Need achange of scenery

over the silly season? We

are looking for mature,

responsible, pet loving

people to homesit some

beautiful homes and pets.

Situations vary from

1-3 weeks in Christchurch

and surrounds. Singles/

couples only please.

Search postanote.co.nz

for more details.

Trade&Services

A PAINTER WITH

PASSION! Local painter

with 30 years of quality and

integrity in all aspects of

painting. Phone Mike on

021 0903 8546.

ABEL &Prestige Chimney

Cleaning. Nth Cant owned

& operated. Covering all

areas from Waimak to Hanmer.

Professional, guaranteed,

service. Firebox

repairs, carry most parts. Ph

0800 661 244.

AFFORDABLE concrete

cutting with quality and

removal work. Free quotes.

No job too small. Ph 027

442 2219, Fax 03 359 6052

or A/H 03 359 4605.

ALL TREE SERVICES,

arbour work, pruning, tree

removal. Affordable &

friendly service. Telephone

021 111 4322.

ARBORIST

Copper Beech Tree

Services. Tree removal,

pruning, height reduction,

hedge trimming, shaping,

tree planting, firewood.

Free quotes. Contact Angus

Edwards 027 259 6741

copperbeechtreeservices@gmail.com

BRIAN'S Tree Services.

Tree felling, topping,

shaping, firewood cut, rubbish

removed, stump grinding,

branch chipping.

Affordable rates. Phone 03

327 5505 or 021 124 4894.

BUILDERS Father &son

team. Amac Builders are

available to help you with

your building needs. High

standards, low overheads.

No job too small. Check us

out on fb. Amac Builders

Ltd. Phone 027 318 4400.

CARAVANS &

MOTORHOMES,

Interior &exterior repairs,

maintenance & upgrades.

Solar, satellite, awning

installations. Sheetmetal,

light engineering &welding

services. Professional

coachbuilder specializing

in the RV industry 25 years.

Call Darryl @ Advanced

Auto Homes 027 220 6566.

CHIMNEY SWEEPS

Time to service your fire.

Accumulation of soot seriously

affects performance.

Latest rotary brush technology.

Free moisture check

on wood. Safety inspection.

All work insured and guaranteed.

From $70 single

story. 0800 SWEEPME or

021 0277 1927. Visit

www.sweepnz.co.nz.

WINDOW TINTING

tintawindow

advanced film solutions

99% uv block

fade protection

heat control

reduce glare

25 Years Experience

privacy films

frosting designs

non-darkening films

Workmanship Guaranteed

Lifetime Warranties on Most Films

UV

block

Trade&Services

DIRTY TILES &Grout?

Professional tile cleaning,

tiled shower restoration,

mouldy silcone, shower

glass & we can even

recolour your old grout!

For all your tile and grout

issues call Grout Pro for a

free, no obligation quote.

Ph Darryl 0800 882 772.

GUTTER CLEANING -

SUMMER SPECIAL -

Total gutter / spouting

cleaning and repairs. For

Fast and friendly Service

call Canterbury Spouting

Services on 0508

SPOUTING or 022 375

8506. FREE QUOTES.

PAINT & wallpaper

services. Wayne Bryant,

exterior, interior. Qualified

tradesman. Free quotes. Ph

313 5337 or 027 654 4568.

METAL WORX. Flashing,

Sheetmetal Fabrication,

Wrought Iron,

Welding, Custom Trailers,

General Metalwork. No job

too big or too small. Ph 021

265 5428 or 03 314 6908.

Find us on facebook/

Glenmark Metal Worx.

glenmarkmetalworx.ltd@gmail.com.

PAINTER. Qualified local

professional, Int / Ext,

roofs, wallpaper. Call or

text Corban 027 846 5035.

POWER TOOLS repairs,

parts &sales for over 40

years. All main brands serviced.

Grossman Trade

Tools, 23 Watts Road,

Christchurch. Ph 389 9230.

RANGIORA Rubbish

qualified.

Removal and RRR skips.

Wheelie bins any frequency

and skips from 1.5 cube to

9cube. Skips and wheelie

bins for any use, rubbish,

greenwaste, building sites

or just cleanups. Give us a

phone call 313 6957 or for

skips 021 313 255.

ROOFER All roof repairs,

roof painting, water blasting,

moss treatment,

repointing, gutter cleans &

snow straps, and more. Free

quotes. Please ph Nathan

027 516 6609.

SUMMERFIELD

FENCING

IN YOUR AREA NOW.

Lifestyle or farm, sheep, cattle,

horse, all types of animals.

Fences, yards, sheds, arenas,

shelters, runs.

30+ years contract fencing.

Steve is available to help with

your design &planning.

Ph office03312 4747

SEPTIC TANK

CLEANING

Bill's Liquid

Waste

You dump it...

Blair pumps it...

Blair Tavendale

Ph 03 314 9371

0275 379-694

Free Quotes Canterbury and Districts

03 365 3653 0800 368 468

2091848

2225862
---
CLASSIFIED

North Canterbury News, November 4, 2021

39

Trade&Services

SCREEN PRINTING.

For all your printing

requirements. T-shirts,

Hoodies, Hi-Vis vests and

polos, Overalls, Caps etc.

Please phone Heather 03

313 0261 or email heather.

norstar@gmail.com.

Trade&Services

SHEARER. Hap'sFarm &

Lifestyle Services. Shearing,

crutching, drenching,

tailing, feet trimming &

health check. — Ph. 03-

423-3713or021-267-4025.

SHEEP SHEARING,

drenching, feet trimming.

For Lifestyle blocks. Call

Stu 027 315 6916.

Trade&Services

ANTHONY SYMONDS

Forall your painting &

plastering requirements

Local with 30 years

experience

All workmanship

Guaranteed.

Phone 021 344 023

2220615

Trade&Services

Pride &Quality Painting

&Decorating Services

20 yrs exp, fast and friendly

service. For all your painting

needs, phone: Martin 310

6187 or 021 128 9867

Trade&Services

2362002

027 216 0000

Trade&Services

REMOVALISTS

Movemen Ltd

2Men &agood sized truck.

From $150 plus GST per hour.

Kaiapoi based.

Call Gerard

027 668 3636

movemen.co.nz

2401953

Trade&Services

HAY MAKING

Rounds or

conventional with

mower /conditioner.

Ph Gary

2431786

027 478 2925

or 313 7939

Trade&Services

VALUATION -

Specialising in North Canterbury.

Contact Geoff at

Maxwell Valuation. Phone

03 310 8541 or email

geoff@maxval.co.nz.

Trusted Trades &

Professional Services

Guide

To book your spaceinthis guide,phoneAmanda Keys 313 2840 or email amanda.keys@ncnews.co.nz

2070788

Automotive &Recovery

• WOF Cars &Trailers

• Vehicle Servicing &

Repairs

• Tyres &Punctures

• Jump Starts

•

Towing &Salvage

• Courtesy Car Available

Ph Aaron Rowlands

0272 588 366

13 Stone Eyre Place,

Swannanoa

Eftpos available Mon –Fri 8am –5pm, Sat 9am –1pm

Computer Repairs

• New Builds &Renovations

• Light Commercial /Re-strengthening

• Project Management

• Bathrooms

• Farm Buildings

• House Lifting Re-piling

• Shop Fit Outs

2408831

Builder

40+ years experience

027 222 5078

markw.hills@xtra.co.nz

Construction &Concrete

DENTURE CLINIC

RANGIORA

DENTURE CLINIC

Garry WMechen

Registered Clinical DentalTechncian

Phone (03) 313-9192

38a Ashley Street, Rangiora

Butchery

OxfordButchery

Shane and Leanne Frahm

We cankill&process yourstock

FourGenerations of Frahms

since 1957

Ph 312 4205

Oxford

Ear Health

Number one

old-fashioned bacon

&ham curing.

A/H 312 4709

WE ARE OPEN, WEARE AESSENTIAL SERVICE

2227889v2

Bruce Evans

131 Ohoka Road

Kaiapoi

03 327 3111

021 293 6331

compucare@xtra.co.nz

www.compucare.co.nz

Computer Repairs &upgrades

Prompt professional services

2276525v2

Virus &malware removal

New &UsedPC's4Sale

All Construction & Concrete Work

•Driveways, patios &paths

•Bridges and Culverts

•Floors, foundations

•Sheds and buildings

•Dairy Sheds, Herd homes

•Silage pits, effluent ponds

•Excavation and cartage

•Precast concrete

•Insulated panels

Daryl Power

027 230 9401

concretepower@scorch.co.nz

www.concretepower.co.nz

2273277

NEW N W DENTURES D ES

*RELINE * *REPAIRS

* I S

HOURS

8.30am -12noon

- Monday to Friday

FREE E CONSULTATION O

AND ADVICE

A V C

For a/h repairs

phone (03) 310-3044

• Ear Health checks.

• Wax removal using Microsuction

• Removal of foreign bodies

• Basic hearing aid care

• ACC provider

• WarVeteran provider

• No medical referral

required

Clinics in Rangiora, Amberley and Kaiapoi

Rest homes/retirement villages, booking by prior arrangement.

Bookings: Online www.earcare.nz |Phone 020 4124 25 25

Email alison@earcare.nz | Ear Care Canterbury

2324849

2420841

▪ Painting ▪ Gardening

▪ Fencing ▪ Lawn mowing

▪ All General Maintenance

Performed to the highest

standard by a straight up,

honest, Handy Guy

No job too small!

Flat hourly rate, no hidden surprises!

THE

HANDY

GUY!

Handyman

Call Guy "The Handy Guy" Now

0275 040 658

Seamless Spouting

Seamless Spouting

Supply and Install

of Seamless Gutters

10 year no leaks

guarantee

• Continuous spouting made on site,

large colour range available

• High grade and thicker material used

• Repair or replace any type of gutter

• Undertake all insurance work

• Independently owned and operated

• Competitive pricing

Servicing North CanterburyDistricts

Call Danie 021 875 462

2359362

ENJOYABLE STRESS FREE LANDSCAPING

03 313 9375 •027 369 3974

www.stewartcontracting.co.nz

contact@stewartcontracting.co.nz

Landscaping

For all your landscaping needs

All Landscaping, Retaining Walls (Engineered and

Non-Engineered), Timber Fences, Landscape Structures

and more...Lifestyle Block, Rural and Residential.

Phone Jeremy 021 169 9394

www.blackhill.co.nz

www.facebook.com/blackhillltd

2372616v2

Landscaping

STEWART CONTRACTING

Landscaping -Fencing

& Earthworks

2136148

YOU

COULD

BE

HERE

Advertise

your business

in our Trades

and Services

Phone

Amanda Keys

on

03 313 2840

Skip Hire

Plumbing

For all

general

aspects of

plumbing

Discounts for over

65 years old

Fast friendly service

All work guaranteed

Aaron McCartney

Certifying Plumber

Cell 027 366 9091

A/H 03 310 2137

Free Call:

0508 44EVER

EMAIL:

plumber_27@yahoo.com

100% locally owned and operated

Hardfill |Green Waste |General Waste |BuilderSkips

Various sizes to suit all needs

Commercial placement at competitive rates

Call us directly on 021 280 1132

wastecontrolskips@gmail.com

www.wastecontrolskips.co.nz

Get 5% off your first skip order, use code WASTE5

2172994

2431576

Painter /Plasterer

HURUNUI Painting

• Qualified tradesmen, quick,neat and friendly.

• Reasonable rates. • Interior /exterior painting.

• Interior plastering &wallpapering.

• Spray painting &water blasting.

P: Rod Hermes 027 414 0830 or 03 314 2391

E: r.hermes@xtra.co.nz

2394026v2

Scrap Metal

CASH PAID FOR SCRAP

•Car Bodies •Scrap Steel•Specialists in Farm

Machinery•All non Ferrous

MAINLAND

METALS LTD

Ph (03)338 7000

Mike0274 818544 •Robbie0274818 027

Locally owned and operated

Windows & Doors

WINDOW MARKET PLACE

• New & Used

• Timber & Aluminium

• Windows & Doors

8am-5pm Weekdays

8am-2pm Saturday

215 Waltham Rd, Sydenham

Ph (03) 379 6159 info@windowmarket.co.nz

Fax (03) 962 1012 www.windowmarket.co.nz

1902273

ncn1242200aa

To book your spaceinthis guide,phone Amanda Keys 313 2840 or email amanda.keys@ncnews.co.nz
---
RangioraToyota

Signature

CLASS

2017 Corolla GX Hatch

•1.8L PetrolAuto

•Bluetooth, Camera

•Cruise Control, 37,100km

$

22,995

2013CorollaGXHatch

•1.8L Petrol, Auto

•Bluetooth, CruiseControl

•7Airbags

2015Yaris GX Hatch

•1.3LPetrol5-speed manual

$ •Camera, Bluetooh

13,995 $

10,995

•NZ-new

TZ-G LandCruiserPrado

•2.8L Turbo Diesel, Leather

•7-seater,AdaptiveSuspension

•Only78,150km

$

61,995

Holden Spark LS

•1.4LPetrolAuto, 5-Door

•Bluetooth, Cruise Control

•49,050kms

$

11,995

2015Toyota Ractis

•1.3LPetrolAuto, 45,550km

•CD/AUX/USB

Connectivity

WAS$15,995

NOW $ 14,995

2014 Toyota Spade

•1.5Lpetrolauto,

•4-door/left side door

•Climate,5-seater

$

13,995

2016 Corolla GX Sedan

•1.8L PetrolAuto,

•Camera ,Bluetooth

•4.5-Star Safety

$

19,995

2017 Toyota C-HR

•1.2LTurbo PetrolAWD

•Camera, Satnav, 5-door

• NZ-new, 44,7000km

$

29,995

2015Corolla GX Hatch

•1.8L PetrolAuto,

•Rear Camera &Sensors

•62,000km

$

18,995

2015BMW320iM-Performance

•2.0L TurboPetrol, PerformanceBrakes

•Exhaust, NZ New

•Only 59,200kms

$

31,995

2017 Corolla GLXHatch

•1.8L Petrol, Auto, Alloys

•Camera, Bluetooth

•5-Star Safety, only47,700km

$

23,995

2016 Corolla GX Sedan

•1.8L PetrolAuto, Bluetooth

•ReverseCamera&Sensors

•60,000kms

$

19,995

2019 CorollaGXHatch

•2.0L PetrolAuto, 5-Star Safety

•Satnav,Alloys

•25,250kms

$

26,995

2019 CorollaGXHatch

•2.0L PetrolAuto

•Satnav ,Radar Cruise

•Only 16,500km

$

36,995 27,995

2011 Toyota Avensis Wagon

•2.0L PetrolAuto,

•Alloys, Camera

•Bluetooth, Keyless

$

14,995

2019 CorollaGXHatch

•2.0L Petrol, Auto

•Camera, Bluetooth

•5-Star Safety,only 25,300km

$

26,995

2014 CamryGLSedan

•2.5LPetrolAuto

•Cruise Control, Bluetooth

•7Airbags

$

12,995

2011 Toyota Wish Z

•1.8L PetrolAuto, 6-Seater

•Sunroof,Alloys, Camera

•82,300kms

WAS$15,995

NOW $ 14,995

2016 Rav4 GXL

•2.5LPetrolAWD,Camera

•Keyless,Towbar,Bluetooh

•88,900km

$

28,995

2009 Toyota Wish Z

•2.0L PetrolAuto, 6-seater

•Alloys, Keyless

•88,500km

WAS$14,995

NOW $ 13,995

2010 Mitsubishi Lancer VRX

•2.4LPetrolAuto

•Alloys, Leather

•80,750kms

WAS$12,995

NOW $ 11,995

2016 HiluxSR5 4x4

•2.8L Turbo Diesel Auto

•Sat Nav

•Cruise Control

WAS$46,995

NOW $ 45,995

2008 Highlander Limited

•3.5LPetrolV6, Alloys

• Leather, 7-seater, Camera

•Bluetooth

$

22,995

2019 Nissan Navara ST

Double Cab

•2.3LTurbo Diesel 6-Speed

•Manual, Camera $

• Satnav 45,800kms 45,995

2016 Holden Trailblazer

Colorado 7

•2.8L Turbo Diesel 4WD

•Leather,7-seater

•63,800km

$

44,995

2019 Ford Ranger Wildtrak

•3.2LTurboDiesel4X4,Alloys

•Satnav,Camera

•Only39,150kms

$

62,995

2013Toyota AlphardSC

•2.4LPetrolAuto, 7-Seater

•DualElectricDoors

•25,250kms

WAS$36,995

NOW $ 34,995

2016 Hilux SR5 Limited 2WD

•2.8L Turbo Diesel, Leather

•18"Alloys

•SportsBar &Tonneau.

$

42,995

2018NissanNavaraRX4x4

•2.3LTurbo Diesel Manual

•Alloys, Bluetooth

•Only 58,100kms

$

41,995

2018 HiluxSR5 Cruiser

•2.7LTurboDiesel, leather

•18" alloys,Tonneau

•Only 37,250km

$

60,995

1998Hilux SurfSSR-G

•3.0L TurboDiesel

•Alloys, Climate Air, CD Player

•VeryTidy

$

15,995

Percival Street,Rangiora • Ph (03) 313-8186any time • www.rangiora.toyota.co.nz

Signature

CLASS

2422155

FINANCE &INSURANCE AVAILABLE