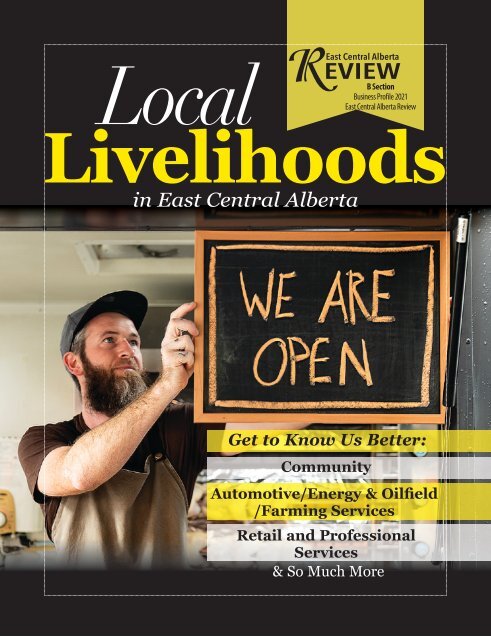 ECA Review 2021 - Local Livelihoods
ECA Review 2021 - Local Livelihoods
ECA Review 2021 - Local Livelihoods
SHOW MORE
SHOW LESS
Create successful ePaper yourself
Turn your PDF publications into a flip-book with our unique Google optimized e-Paper software.
Local

R

R

R

72 pt

East Central R Alberta

60 pt

R

48 pt

EVIEW

36 pt

R

30 pt B Section

R Business 24 pt Profile 2021

East

R

18 pt

Central Alberta Review

Livelihoods

in East Central Alberta

Get to Know Us Better:

Community

Automotive/Energy & Oilfield

/Farming Services

Retail and Professional

Services

& So Much More
---
TABLE OF CONTENTS

Amisk C-Store ................................................1B Passion Customs & Accessories ......................8B

Ampko Electric (2006) Inc ..............................1B

Ben Van Haga Trucking ..................................2B

Brenda's Cozy Cafe .........................................2B

Burmac Mechanical 2000 ..............................3B

Castor Value Drug Mart .................................3B

Coronation OK Tire .........................................4B

East Central Alberta Review...............13B & 14B

Heartland RV Medic .......................................4B

Lamontagne & Son Holdings Ltd ...................5B

Maximum Hearing ........................................5B

Netago Internet .............................................6B

Dr. Patel Family Dental ..................................7B

Rangeland Vet Clinic, Consort ......................12B

Rockpile Plumbing ........................................8B

Special Areas .................................................9B

Stettler Building Supplies ............................10B

Stettler Denture Clinic .................................10B

Stettler Flooring & Paint .............................. 11B

Teresa's Food & Catering .............................. 11B

Veterinary Medical Centre of Eastern Alberta ...12B

Waste Connections of Canada ......................12B

Xcursions .....................................................13B

Reading the newspaper is a

greener choice than you think.

We in the newspaper industry are committed to reducing our impact on the environment.

We take our responsibility seriously, and our production processes are now more energy-efficient and

environmentally friendly.

We recognize the importance of preserving and protecting Canada's forests, and we only use newsprint

from responsible producers that embrace five widely accepted sustainability principles in their forests

operations. For Canadians this means that the forest industry plants more trees than it takes and it has

successfully reduced gas emissions by 10 times what is required under Kyoto.

And then, of course, there are your efforts. You've helped make newspapers a recycling success story by

recycling over 80 per cent of all newsprint in Canada.

72 pt

Thank you for your waste reduction efforts.

East Central R Alberta

60 pt

Because sustainability isn't just another story to us.

It's how we're shaping our future.

R

R

R

EVIEW

R

R

R

48 pt

36 pt

30 pt

24 pt

R

18 pt
---
Business Profile 2021

Page 1B

Big 'Happy Face'

welcomes customers

Bill Rock and his wife Kim opened the

Amisk C-Store in May of 2013. They knew

there was a need for this type of convenience

store in the area so they decided to

fill that need.

The store is open from 6 am to 7 pm

daily. They provide the community with

basic groceries, take out foods and lots of

candy. The large variety of sandwiches

and subs, along with salads and hot dogs

are all homemade in-store. They also sell

homemade baking.

They like to be part of the community

events and provide the subs for the sub

day at the local elementary school.

The store has nine part-time employees.

Bill Rock is also the go-to plumber for

the area with six employees working for

him in the service part of that. He also

sells a small amount of plumbing supplies

at the back of the store.

The Amisk C-Store is located on

Highway 13 in Amisk, Ab., so if you want

good old-fashioned friendly service

and yummy homemade food, drive

on down and look for the Big Happy

Face.

We serve soft ice cream, milkshakes,

twisters and most recently

now introducing PIZZA.

Check us

out on

Facebook!

C-Store Hrs: 6 am -7 pm daily • 780-865-3734

Ampko Electric: All about

supporting community programming

Ampko Electric, based in Stettler,

Alta. is currently a second-generation

business with owner Kirk Blake,

spending many years learning the

tricks of the trade from his father

Owen.

The company prides itself on being

able to give back to the community

that has supported it for so long.

"Bar Harbour Camp, Heartland

Youth Centre and youth sport programs

are things we

strive to support consistently

but there are

countless other

causes we have given

to over the years,"

said Blake.

As for education,

Kirk does not fall

short having worked

in the electrical field

since 1994.

He received his

Journeyman Electrician/Red Seal

Certification in 2005, Electrical

Masters Certification in 2009,

Professional Electrical Contractor

designation in 2012, and completed

an Alberta Blue Seal (Competencies

in Business) in 2013.

Ampko, which employs an average

of four electricians, is a full-service

Electrical Contractor working in the

residential, commercial and

IF IT'S ELECTRICAL WE DO IT 403-742-5111

info@ampkoelectric.ca

Stettler, Ab

industrial fields, focusing on construction,

renovations, upgrades,

service and maintenance as well as

being the authorised area dealer for

Kohler Generators.

"I think our commitment to comprehensive

upfront pricing is what

sets us apart. We'd rather bid every

aspect of a job to a worst-case scenario

and not get the job than bid low

and have an unhappy customer that

didn't get what they

wanted from our interaction

or was shocked by

the cost. Many, many

times our final invoice is

below the quoted

amount," said Blake.

"We have had a wonderful

relationship with

East Central Alberta for

40 years and hope to continue

that for many years

to come."
---
Page 2B Business Profile 2021

When you truck with us, you're part of the family

Van Haga Trucking Ltd., established in 1982, has

been serving the area for 39 years.

At the helm of our family run operation is owner Ben

Van Haga with the support of wife Tammy and sons

Kyle and Keith, who are very much involved today.

Our family-run trucking company is based in

Stettler, Alta. and mainly operates in the agriculture

sector by hauling grain, hay and fertilizer.

We are proud to call East Central Alberta home.

At Van Haga Trucking, we strive to provide the best

custom on-farm trucking service around – focusing on

customer service, safety and reliability.

We aim to have the trucks and expertise available to

get the job done when you call.

When you truck with us, you are part of the family.

Van Haga Trucking Ltd. specializes in hauling grain,

fertilizer, bales using flat deck, step deck, and RGN

Heavy Equipment.

Closing in on four decades in business, we would like

to thank all our faithful customers who have always

kept us busy and welcome new customers to the family.

Sincerely, Ben, Tammy, Keith and Kyle Van Haga.

www.vanhagatrucking.com • benvanhaga@hotmail.com • 403.323.0060

Ready-made meals at Brenda's Cozy Cafe

Creative, homemade cuisine and a

cozy feeling all available on Main

Street Stettler? You must be heading

over to Brenda's Cozy Cafe.

Owner/operator Brenda Murray

(Brinson), a red seal chef, said

earning the Stettler Board of Trade's

2020 Business of the Year award left

her speechless. "Shocked," said

Murray, remembering how she felt

when notified of the award. "Very

humbling."

The cafe has endless

buzz surrounding it.

Murray stated she was

flattered when she read

a review of the cafe

which stated "The

world needs more restaurants

like this."

With the cafe open since the fall of

2013, Brenda's Cozy Cafe, located at

4913 50th Street (Main Street) has

plenty going on. Murray, who said

she's been cooking since she was tall

enough to reach the stove, noted a

major new offering is a line of readymade

meals to take home. They're

single-serve and microwave-ready,

available fresh or frozen. The menu

includes delectable options like

Chicken Parmigiana, Aussie Meat

Pie and Stuffing Topped Turkey Pot

Pie. Selection varies daily and customers

are invited to check out

Brenda's Cozy Cafe on facebook for

up to date info or call the cafe.

Murray said Brenda's Cozy Cafe's

menu is a simple, comfortable

offering that diners seem to love.

"That seems to be working for us,"

she said.

Murray stated she's also working

on a cafe market featuring homemade

delectables from local and

regional sources, including honey

and popcorn with the possibility of

fudge coming soon. Like

bread baked in house and

made from scratch jams.

Murray says they're available

at the cafe market.

Murray said a friendly cafe

with great food is what she wants

diners to remember. "I want them to

be happy, satisfied, content," said

Murray. "It's my goal in life just to

make people happy.

Brenda's Cozy Cafe's dining room

is fully open for business, with

amped up sanitation practices to

comply with current events. Call the

cafe at 403-742-8166. Remember,

they're open for breakfast serving up

specialty coffees and a selection of

breakfast sandwiches.
---
for as

low as

Business Profile 2021

$

80

per

month*

Page 3B

03-742-5208

www.burmacmechanical.com

611

6118 50th Av

40

403-7

• Plumbing • Sheet Metal • Sewage Pump • Heating

info@burm

i

• Septic System •

6118-50

A/C • Heating

Avenue,

Pumps

Stettler, AB www.burm T0C 2L2

• S.S. Fabrication • Pumps/Wells

FFER EXPIRES 12/31/2019.

Call Burmac Mechanical for details. Offer ends December 31, 2019. © 2019 Lennox Industries, Inc.

Certified Lennox Dealer

(403) 742-5208 6118 - 50 th Avenue, Stettler, AB

Castor Value Drug Mart

experiences evolution

06_COM_H06785.indd 1 4/18/19 1

w

IS

INTY

The Castor Value Drug Mart, currently

run by Randy Kary, his wife

and daughter, has been around since

1917, providing quality service in a

number of areas.

The Kary's purchased the business

from Mike Bain Jr. in 2008 and have

lived in Castor since 1991.

They currently have up to 11 full

time and part time staff as well as the

occasional summer student who

seeks mentorship or other

experience.

Two staff are pharmacists, both

with a history of living in the area.

"We've continued

the business

and remained

, TT SLUG OTF, ARIAL NARROW MT,

viable and

remained busy,"

said Kary.

Randy is the owner of the operation

but he has a strong background

in pharmacy APPROVALS

education.

He graduated from the University

of Alberta with a Bachelor of Science

in Pharmacy. Once out of school, he

worked at the Castor

Studio

Value Drug

Mart under the previous owners.

He is now the head pharmacist at

the Drug Mart

Retoucher

as well as owner.

Randy's wife, takes care of miscellaneous

jobs as co-owner, while his

daughter Nicole is the storefront

manager. Proofreader

Since taking ownership, Randy

Print Mgr.

Art Director

BY

5106 50 Ave, Castor, AB • (403) 882-3055

has noticed a few changes surrounding

the business, all the better

to reflect the population he serves.

DATE

What used to be the standard

filling of prescriptions and customer

education has evolved into blister

pack units and safe injection spaces

for vaccines.

"We do all kinds of injections, vaccinations,

and that kind of stuff

including the flu vaccine," said

Randy.

Castor Value Drug Mart also

caters to the local lodge that houses

roughly 50 people by providing

upfront service to

those that require

more help.

They supply

medications for

them as well.

IMA

H0

Copywriter

6118 50th Ave., Stettler, AB T0C 2L2

403-7
---
Page 4B Business Profile 2021

Faithful employees make for great service

The fact that Coronation OK Tire

has been here 57 years is an achievement

Janet Zimmer is very proud of.

In 1964 Lorne Zimmer started the

local business and has expanded

from its modest beginnings by

moving to a new shop in

1977 where it is still

located today.

Janet, with the help of

son Mark Zimmer and

several faithful

employees including

Terry Dawson for 40

years, bookkeepers Jim

Campion for 54 years and

Susan Wills for 18 years,

and Walter Jaraway who

recently retired after 19

years of service.

Also Cory Collins and

newcomers Ryan Taylor

and Roland Flint, all

provide a much-needed service for

the community.

Coronation OK Tire continues to

serve the surrounding area with the

need for tires and oil changes in the

shop and on farm sites from cars to

Coronation OK Tire here to provide the communities tire needs including,

from the left, Ryan Taylor, Jim Campion, Cory Collins, Janet Zimmer, Roland

Flint, Terry Dawson and Susan Wills.

semis, as well as after hour call outs

– they look after them all!

"I have been pleased to have the

business and I am very proud of

Lorne for doing what he did in

taking the initial risk. His motto

was 'You have to

spend money to

make money'," said

Janet.

"It's been a wonderful

experience.

The customers have

been great and the

business has been

good," she added.

In turn, OK Tire

supports many initiatives

in the

community by sponsoring

many

different events and

services utilized

throughout the

area.

Coronation Tire & Farm Service 403-578-3613

Expanding to serve you better

Heartland RV Medic, well known

not just here but across Alberta for

their RV repair and maintenance

expertise is adding another mobile

unit in 2022. This will help them serve

customer needs with prompter service.

They offer complete and comprehensive

service for all classes of

motorhomes, tent trailers, stock

trailer, horse trailers and utility

trailers.

There is 52 years of combined experience

in the RV industry with

two certified

techs and an apprentice.

Heartland RV Medic is a warranty

and insurance company approved

repair facility.

With the fully equipped mobile

units, they can respond to customers

virtually across the province. "We can

come to you, or you can come to us,"

said Braun.

Mobile RV service is not only necessary

noted Braun, but allows him to

service a huge geographic area. Many

RV owners appreciate door-to-door

service so their valuable investment

doesn't have to be moved back and

forth for service.

The permanent base in Stettler is

easy to find and easily accessible. It

offers a large showroom allowing a full

line of parts and accessories from

'hitch to tail lights'. "There is plenty of

room to work on your unit providing

the highest possible service," added

Braun.

Watch for an open house in spring

2022 with lots of specials before

camping season including information

sessions. Watch the ECA Review this

winter for more information.

Contact Heartland RV Medic for all

your service needs.

4608-44 Ave. Stettler 403-742-1209 www.heartlandmedic.com Heartland RV Medic
---
Business Profile 2021

Lamontagne & Son Holdings Ltd.

Maurice and Marion

Lamontagne started this

company over 50 years ago,

hauling grain and gravel in

the Coronation area. Their

son Dennis and his sister

Vonda are managing

the

company now.

They are based

in Coronation but

will go

throughout east central

Alberta.

They have three trucks,

one a super B train that is

used mostly for grain

hauling. They employ one

Page 5B

extra driver to help them keep

the grain moving.

If you need gravel or need to

get your grain hauled then

Dennis Lamontagne is the one

to call.

Gravel Hauling & Super B Grain Hauling

403-575-5468 dlamontagne@telus.net

4109 Victoria Ave, Box 372, Coronation AB T0C 1C0

Solution to your hearing concerns

Two years ago Maxine started out

on a grand adventure moving out of

Calgary to Three Hills and opening

her first hearing aid office.

It's been an incredible journey that

just keeps getting better with the

opening of her second office in

Hanna.

She is splitting her time between

the two offices with Monday,

Tuesday and Wednesdays in Three

Hills and Thursday and Fridays in

Hanna.

Maxine began her career in

the pace of an ever growing city a bit

overwhelming and longed to slow

things done, which brought her to

Three Hills.

After numerous requests for her to

branch out and open another office in

Hanna, she was able to realize that

goal in June of this year.

Although the original opening date

was pushed back due to Covid, once

she was able to open she was

delighted by the response and warm

welcome she received by everyone in

the community.

Maximum Hearing is a privately

owned and operated hearing clinic in

Three Hills and Hanna, Alberta.

We provide hearing services in a

relaxed, friendly environment.

It is our goal to provide you with a

solution to your hearing concerns

using the latest technology at an

affordable price. We are vendors for

AADL, WCB AB, WCB

Saskatchewan, Work

Safe BC and the

Department of

Veterans affairs.

Edmonton in 1986.

MAXINE Williams-Herbert

In 1997 she accepted a position that

Owner, Registered Hearing Aid Practitioner, BC HIS

brought her to Calgary.

OVER 34 YEARS EXPERIENCE

Her last position was at the

Calgary Ear Centre where she

Maxine

worked with a team of specialists

Williams-Herbert

providing a one stop approach to

OWNER

Registered Hearing Aid

hearing health care offering everything

from counselling, Tinnitus

OVER 34 YEARS EXPERIENCE

Practitioner, BC HIS

management, hearing aids, to surgical

solutions for clients.

119 2nd Ave. West, Hanna

Book your appointment Today! 1(888) 536-MAXX (6299)

Although she found the work

extremely rewarding she also found

Also located at 413 Main Street, Three Hills (403) 443-2288

maximumhearing.ca • hello@maximumhearing.ca

OPENING

We look forward to openin

as soon as the Government C

• We Se

and M

• Hearin

• Hearin

• Batter

• Custom

• Medic

• AADL

• No Ob

• Hearin

119 2nd Ave. W

(403) 443-2288 • 1(888)

maximumhearing.ca • hello@
---
Page 6B Business Profile 2021

Rural Internet has never been faster!

Many rural communities only have

access to slow and spotty internet

connections, leaving residents and

businesses feeling frustrated.

NETAGO provides fast and reliable

internet packages to keep you connected,

even in the most remote

locations.

Founders, Terry Duchcherer and

Jim Bietelspacher saw the need for a

better internet service option in

their rural communities. They too

felt the dissatisfaction with their

spotty and slow internet. Combined

with their previous experience in

communications engineering and

their desire to provide a better solution

for their community they built

NETAGO.

Since 2003 NETAGO has been

committed to their community. "We

believe that service should always

come first, from the setup and

installation to ongoing support, so

you have the best rural internet experience

possible," explained Terry.

"

Just because you

live in a remote area, you

shouldn't have to pay

more for internet.

Whether you are at work on the

farm or browsing at home, the team

at NETAGO believes that rural communities

should have access to fast,

reliable broadband connectivity,

regardless of where you live.

To meet the growing needs of their

customers NETAGO states that they

remain up to date on the latest fiber

and wireless solutions. By doing so

"

they are able to deliver greater scalability,

higher capacities and

enhanced coverage for their

customers.

A belief that drives NETAGO is

that just because you live in a remote

area, you shouldn't have to pay more

for internet. NETAGO offers new

service packages for business and

residential customers at some of the

lowest prices, starting at $55 with

access to speeds of up to 100Mbps.

NETAGO currently provides fast

and reliable internet to over 2,500

households and 250 businesses in the

Special Areas, MD of Acadia,

Starland County and County of

Stettler.

To find the internet package that

fits your family's or business's needs

you can visit NETAGO's website

www.netago.ca or contact their local

team at 1-800-542-7028.
---
Business Profile 2021

Page 7B

Treated like family

Here at Dr. Patel Family

Dentistry, we provide the best Oral

Care for our patients and their

family as our primary goal.

We offer a wide range of services

including restorative, crowns,

bridge and dentures, and are always

happy to welcome new patients.

We follow the Alberta Fee Guide

and provide direct/manual billing

to insurance companies, providing

payment plan options.

Dr. Viral Patel graduated with his

Doctor of Dental Surgery at New

York University in 2013 and has

been practicing in Stettler

since 2016.

His team consists of two Dental

Hygienists: Sara Hegberg and Kelli

Hoopfer; four Registered Dental

Assistants: Karen Sorensen,

Kennedy Rost, Miranda Parker and

Shaunna Ackerman (who is also the

front end Dental Administrator).

Please come visit us with your

entire family as we look forward to

meeting your every need!

Dr. Patel Family Dental

4906-51st Stettler, Alberta • Ph. 403 742 6741

Left to right, back row: Dr. Patel, Kelli, Miranda and Sara. Front row: Shaunna, Karen and Kennedy.
---
Page 8B Business Profile 2021

Full service

automotive

restoration

Big 'Happy Face'

welcomes customers

Bill Rock and his

Before

wife Kim opened the Highway 13 in Amisk, Ab., so if

Amisk C-Store in May of 2013. They

Passion

knew you

Customs

want good

& Accessories

old-fashioned

is a

there was a need for this type of convenience

store in the area so they decided

fully licensed

friendly

automotive

service

restoration

and yummy

shop

with over

to

100

homemade

years of combined

food, drive

experience

on down

fill that need.

located just

and

outside

look

of

for

Stettler,

the Big

AB.

Happy Face.

The store is open from 6 am to 7 pm

Specializing in full restoration including

daily. They provide the community

but

with

not limited to mechanical, full engine,

basic groceries, take out foods and

transmission

lots of

and rear end rebuilds, complete

car wiring, paint and body work.

candy. The large variety of sandwiches

and subs, along with salads and hot dogs

There is a full engine machine shop on

are all homemade in-store. They also

site.

sell

homemade baking.

Also offering professional

After

They like to be part of the community

vehicle appraisals for all

events and provide the subs for the

makes

sub

and models as well as

day at the local elementary school.

insurance inspections.

The store has nine part-time employees.

With a wide variety of suppliers

Bill Rock is also the go-to plumber for

we also offer a full line of

the area with six employees working

performance

for

and restoration

him in the service part of that. He

parts

also

at reasonable prices.

sells a small amount of plumbing supplies

We offer a wide variety of services and a

at the back of the store.

personalized experience for all of our

The Amisk C-Store is located on

customers.

Custom Engine Builds

Mechanical

Full Engine

Transmission Rebuilds

Wiring • Paint

Body • Appraisals

Insurance Inspections

Passion Custo ms

& Acc essori es

403-742-8797

funnycar@hotmail.ca

www.passioncustoms.com

Stettler, AB

Serving Albertans for over 30 Years

Rockpile Plumbing is a family

owned and orientated small business

based out of Amisk, Alberta, southeast

of Hardisty on Hwy. #13.

Having a team of six professionals

with combined construction and

maintenance experience of nearly

100 years Rockpile is your go to team

for your problems or project.

Whether you are putting in a

kitchen tap, renovating your bathroom,

building a house or shop, or

upgrading a whole street of water

and sewer mains we are your

solution.

Rockpile Plumbing services home

owners, farms and feedlots and

municipal governments.

With a complete line of high efficiency

furnaces, on-demand hot

water tanks and designer fixtures

your project is only limited by your

imagination and budget. And if it is

broke our team will fix it for you.

ROCKPILE

PLUMBING

24-hr, 365-day emergency service.

5111-51 Ave (Box 59) Amisk, Alberta

Office hours 7 a.m.to 2 p.m. Mon. to Fri.

Office Phone 780-856-2418 | Emergency Cell 780-806-1160

• Plumbing • Heating • Gasfitting • HVAC • Excavation •

• Furnaces • Hot Water Tanks • Boilers • Underfloor Heat • Septic Tank Repairs •
---
Business Profile 2021

Page 9B
---
OFFICE HOURS: MONDAY TO THURSDAY - 9 A.M. TO 5 P.M.

Page 10B Business Profile 2021

Dedicated customers, staff make for great business

When it comes to standing out from the

crowd, Stettler Building Supplies owner

Ralph Wiebe believes his friendly staff provide

top-notch customer service then

adding competitive prices do the job

perfectly.

New to Stettler Building Supplies is a key

cutting service as well as the addition of a

certified fireplace and wood stove inspector.

The company is also selling these units to

make for a 'one stop shop' while looking for

all kinds of construction material from

hardware to the most minute detail.

"Every area keeps growing," said Wiebe.

"The growth has been phenomenal."

What started out as one person doing

deliveries and working around the yard has

now turned into one full-time delivery

driver as well as five more who man the

yard. In total, 15 people are hired by this

local company.

Despite the hike in prices from 2020's

material market, Wiebe has been determined

to maintain competitive prices.

The team at Stettler Building Supplies is

grateful for all the amazing customers and

contractors who have been so understanding

during such a difficult time.

For all your

denture needs

David Ho came to Canada

in 1990 when his family

moved to Peace River from

Hong Kong. They later moved

to Edmonton

where David

pursued his career

as a Denturist at

NAIT, graduating

in 2006.

When the

opportunity

became available

to work in

David Ho, DD

Stettler, David

took the

advantage, and he made the

move in 2015. He has been in

Stettler since, becoming

owner and operator in

October of 2016 and

transitioning the name to

Stettler Denture Clinic.

"Thank you for your patience

when we just couldn't get everything

done in time. Whether it

was a delivery, a quote, or just a

wait for customer service, we

are doing our best and we are

still the place where 'quality and

service still count'."

Contact Stettler Building

Supplies at 403-743-0684, or check

out the website at www.stettlerbuildingsupplies.ca

or the store

in-person for all of your building

needs.

Back row, left to right: Ralph, Nic, JD, Ted, Shayne Dennis. Front row, left to right:Bobbi,

Annette, Krista, Jason, Amanda. Missing: Sheila, Mitch, Cam, Tamara.

Stettler Building Supplies Ltd.

Stettler Building Supplies Ltd.

4201 - 49th Ave Stettler, AB TOC 2LO • Office: 403-743-0684

sales@stettlerbuildingsupplies.ca • www.stettlerbuildingsupplies.ca

Destiny Jackson joined

Stettler Denture Clinic in

May of 2018. She is always

ready with a smile to get you

booked in for an

appointment. They can

book your appointment in

office or if you reside in

one of Stettler's Senior

Lodges, they are more

then happy to offer out-ofoffice

appointments.

The Stettler Denture

Clinic's team takes great

pride in caring for you

and your smile, whatever

those needs may be.

Dentures, Implant Dentures,

Partials, Reline or Repairs

they are happy to help. All

the work is done in house,

and they are ready to serve

this wonderful community.

Caring for you & your Smile!

Formerly Baird Caring Denture for you & Clinic your Smile!

Formerly Baird Denture Clinic

• Dentures • Implant Dentures

• Partials • Relines/Repairs

• Dentures • Implant Dentures

• Partials • Relines/Repairs

We offer out of office appointments to senior lodges

David Ho, DD

(owner/manager)

"Did you know, if you are

65 years or older you might

Over 10 Years experience

We offer out of office appointments be eligible to for senior up to lodges

Call now for your 100% coverage on a

FREE consultation! new set of dentures?"

David Ho, DD

(owner/manager)

OFFICE HOURS: MONDAY TO TO THURSDAY 9 - 9 A.M. A.M. TO TO 55 P.M.

FRIDAY 9 FRIDAY A.M. - 3 - 9 P.M. A.M. By TO Appointment

3 P.M.

403.742.2351 • 5021-50 - 50 St. St. Stettler

*After hours After available hours available by appointment by appointment only at 587.736.0128*

only

Over 10 Years experience

Call now for your

FREE consultation!

"Did you know, if you are

65 years or older you might

be eligible for up to

100% coverage on a

new set of dentures?"
---
Business Profile 2021

2022 colour of the year

October Mist

LEFT: INSET WALLS: October Mist 1495, Regal ® Select, Eggshell

CABINETS & ISLAND: October Mist 1495, ADVANCE ® , Satin

WALL: Steam AF-15, Regal Select, Eggshell

BELOW: WALL: Morning Dew OC-140, Regal Select, Matte

STOOL: Steam AF-15, ADVANCE, Satin

IZQUIERDA: PAREDES INCRUSTADAS: Neblina de Octubre 1495, Regal ® Select, semi-mate

GABINETES E ISLA: Neblina de Octubre 1495, ADVANCE ® , satinado

PARED: Niebla AF-15, Regal Select, semi-mate

DEBAJO: PARED: Rocío de la Mañana OC-140, Regal Select, mate

TABURETE: Niebla AF-15, ADVANCE, satinado

Page 11B

STETTLER FLOORING AND PAINT

GAUCHE : MURS ENCASTRÉS : Vert Ombré CC-550, REGAL MD Select, fini velouté

ARMOIRES is your ET ÎLOT LOCAL : Vert Ombré CC-550, SUPPLIER ADVANCE MD , fini perle for all types of

MUR : Buée AF-15, REGAL Select, fini velouté

FLOORING, HUNTER DOUGLAS blinds and

CI-DESSOUS : MUR : Lueur de Menthe OC-140, REGAL Select, fini ulti-mat

TABOURET : Buée AF-15, ADVANCE, fini perle

BENJAMIN MOORE paint.

We have COLOR CONSULTANTS on site, with

30 years of combined experience, to help

make your PROJECT STRESS FREE.

Come on in and visit our SHOWROOM today!

Mak

Luminous pa

Deje e

Los pálidos lumi

Place

Ressentez le

teintes pâl

STETTLER

FLOORING

& Paint

#2, 4707-42 ST., Stettler, AB • (403) 742-5813

Quality Food for Your Freezer

4915 51 St., STETTLER, AB 403-743-1234

5019 Main St., DONALDA, AB 403-883-2780

Also Available at: • BASHAW Meats & Sausage

• Wild Rose Food Service Distributors and Copper Arrow Collective, CAMROSE

• Farmhouse Local Foods, ROCKY MOUNTAIN HOUSE

• The Rusty Daisy, DAYSLAND Watch for new locations!

Real Food. Real Flavour.

Real Convenience.

Looking to do something

DIFFERENT for your

NEXT FUNDRAISER?

Teresa's now provides a unique

Fundraising opportunity!

sales@teresasfood.com
---
Page 12B Business Profile 2021

Expanded with a state of the art facility

Dr David Weeks has been serving

the Consort community now for 26

years. The Rangeland Veterinary

Clinic (1995) Ltd. located just off of

highway 41, offers full veterinary

services medical and surgical, for

both large and small animals.

Dr. Weeks has been through the

BSE crisis alongside the cattle

producers.

Veterinary Medical Center

of Eastern Alberta

The crisis crippled the cattle

industry and changed the way a lot of

veterinarians work with the cattle.

While the clinics still handle the

individual larger animal cases the

major emphasis is on working with

herds.

With the goal of being able to provide

the eastern side of the province

of Alberta with veterinary services

780-845-8838

with more vets and increased staff

Dr. weeks has since expanded with a

state of the art facility, the

Veterinary Medical Center of

Eastern Alberta #20, 2902-15 Ave.,

located in Wainwright, for both small

and larger animals.

Dr. Weeks is a long standing

member of the Alberta Veterinary

Medical Association.

Rangeland Veterinary

Clinic (1995) Ltd. 403-577-3509

About Us

Waste Connections is one of Canada's

largest full-service, vertically integrated

waste management companies, providing

nonhazardous solid waste collection, recycling,

composting, renewable energy production

and landfill disposal services to commercial,

industrial, municipal and residential customers.

We are here to serve

Offering

promising

careers

Supporting

sustainable

initiatives

Participating

in our

communities

www.CoronationLandfill.com

403-578-3299
---
Business Profile 2021

Travel

is Back!

Cathy Wiechnik CTC (Certified

Travel Counselor) owns and operates

XCURSIONS, a full service, accredited

and licensed travel agency based

in Consort, Alberta. The

XCURSIONS team includes travel

professionals operating out of

Lethbridge, Rocky Mountain House

and Calgary.

2020 and 2021 are going into the history

books as two of the most trying

years of our lifetime. The pandemic

has been devastating on so many

levels. Lives lost, businesses floundering,

and the freedom to

explore our world all but

taken away

Of all the industries

affected by Covid-19, the

travel industry has been one

of the most impacted. From

the early days scrambling to

get clients home as the world

was shutting down, to endless

Business

Directory

space available

for under $30

Specializing in Commercial Glazing,

Automatic Entrances & Overhead Doors

Installation and Repair

780-753-6888

Scott Lourance

403-916-4600 Cell

403-742-2551 Home

Cathy Wiechnik CTC

53' Cattle Liner

53' Ground Load

Hay Trailer

days working to secure refunds,

future travel vouchers, and insurance

claims, travel advisors have worked

tirelessly to take care of their clients.

While we are still battling this pandemic,

there is a light at the end of the

tunnel and it's getting brighter every

day. TRAVEL IS BACK. It looks a

little different, but travelers can once

again grab their passports and

escape.

As countries are opening up,

changing protocols and restrictions

have made travel planning much

more complicated. Travel advisors

are constantly monitoring everything

from a destination's current covid statistics,

entry and exit requirements,

local regulations, to hotel and resort

protocols. In our new normal, the

assistance of a professional

Services Ltd.

Well Drilling

Pumps & Repairs

Ribstone Colony

403-747-2120

drillerbill@xplornet.com

L. Strom

Professional

Directory

Custom Corral Cleaning

and Manure Spreading

Also general skid steer &

compact wheel loader service

space available

for under $30

403 574 2222 / 741 9974

Lawyer

Dentist

E. Roger Spady

Professional Corporation

Barrister & Solicitor

Coronation, AB

Coronation Mall Coronation, AB

Free standing Corral panels & Pipe processing

403-578-3131

Office Hours: Tuesday to Friday 9 a.m. to 5 p.m.

403-577-3092 or 855-577-3092 toll-free

cathy@xcursions.ca

ribstonecolonycorralpanels.ca •

780 806 3694

Discounts Available.

Coronation, Fleet, Talbot,

Brownfield, Alliance, Veteran

UNLIMITED Now Serving:

Dentist

CAN'T SEE OUT?

Financing Available

Dr.McIver

In Coronation (Located in Coronation Mall)

MONDAYS 9 a.m. - 5 p.m.

Call Anytime for Appointments

403-578-3811

CPA, CA

RWA

Naomi Roth, CPA, CGA

Kendra Walgenbach, CPA, CA

Chris Annand, CPA, CA

Kamron Kossowan, CPA

P.O. Box 1328 4702 - 51 Ave., Stettler

Tel: 403-742-3438 rwallp.ca

Option #2

Replace

the

window

Chartered Professional

Accountants LLP

Page 13B

travel advisor has never been more

crucial.

Advisors including Wiechnik have

been traveling themselves these past

months -- testing the waters. They are

able to help their clients navigate the

new rules, and more importantly conquer

the anxieties that accompany

trip planning in a pandemic world.

For the vaccinated, travel is as close

to the "old normal" as it is going to be

for the foreseeable future. Most countries

require pre arrival covid tests

and proof of vaccination. Masking,

social distancing and sanitizing are

practiced everywhere. Before

returning to Canada a Covid PCR test

is required – easily obtained in destination

as tourism has adapted.

Definitely a few hoops to jump

through, but so worth it.

Covid is not going away, but

we are learning to live with it.

The time has come to revisit

those postponed travel

dreams and make them a

reality. Contact XCURSIONS

at 403-577-3092 or 855-577-3092

Anchor Glass

403-854-4414 • 1-800-463-3148

www.anchorglass.ab.ca

tim@anchorglass.ab.ca

toll free. Visit them online at

www.xcursions.ca.

ECA Review Supporting Small Business

With Our All New Directories.

Business

Bill's Waterwell

Under $ 30/week

You Can Market Your Brand To

Over 27,000 Households Weekly.

McSteel

Oilfield Directory

Call/email today to place your ad

403-578-4111 office@ECAreview.com

Oilfield Directory

1-888-990-9922

CARPETS, UPHOLSTERY, RV'S, AREA RUGS

For the cleanest carpets, call us first.

Owner/Operators - Roger & Lorna Lawrence

Contact Your Marketing

Representative Or The Office Now.

• Specializing in Repairs to

ALL Makes & Models of RVs & Trailers

• Full selection of RV Parts & Accessories

• RV Storage

403 742 5667 generationsrv@gmail.com

Yvonne 403­575­9474, digital@ECAreview.com Judy 403­740­2492, marketing@ECAreview.com Sheree 587­990­4818, contact@ECAreview.com

Call/email today to place your ad

403-578-4111 office@ECAreview.com

SALVAGE &

53' Ground Load Services

Benson Van Hienen

403-741-5735

bvhtrucking@gmail.com
---
Page 14B Business Profile 2021

Four great

reasons to advertise

IN YOUR LOCAL

NEWSPAPER

Want your business to get noticed?

Whether it's to promote your services or

to recruit new employees, your local paper

can help! Here are four great reasons to

advertise in your community newspaper.

You'll boost

the local economy

By advertising in your

community newspaper,

you'll be supporting

the local economy. You'll help

the papers' reporters,

photographers, sales

consultants, inserters,

proofreaders, graphic

designers, copywriters

and other employees keep

their jobs. Moreover,

you'll work with people

who understand

the local market.

More Bang

for your Buck

In these days of easy travel,

online shopping and

declining populations in east

central Alberta, your business

needs to broaden your reach.

Whether it is driving people

to your online presence or

your store front,

the ECA Review can circulate

your message over

a much larger area of

potential customers

(92+ communities) for as

little as 1¢ per household.

You'll reach

your

target audience

By advertising in

your local paper, you're

sure to reach your

customer base — those

who are from your town

and surrounding areas!

Your ad campaigns

will be highly targeted and

consequently,

very effective.

You'll get

quality ads

Business owners rarely have

the time or skills

necessary to write

advertising copy, take

photos and otherwise

create professional-quality

ads. By working with your

local paper, you'll benefit

from the expertise and

skills of its team members,

including graphic

designers, writers, editors

R

R

R

72 pt

East Central R Alberta

60 pt

EVIEW

R

R

30 pt

"Your central Alberta R Hometown 24 pt Newspaper"

Coronation Stettler

Hanna

R

18 pt

4921 Victoria Ave. Main St. 203 - 2 Ave. W.

403-578-4111 403-740-2492 587-321-0030

48 pt

36 pt