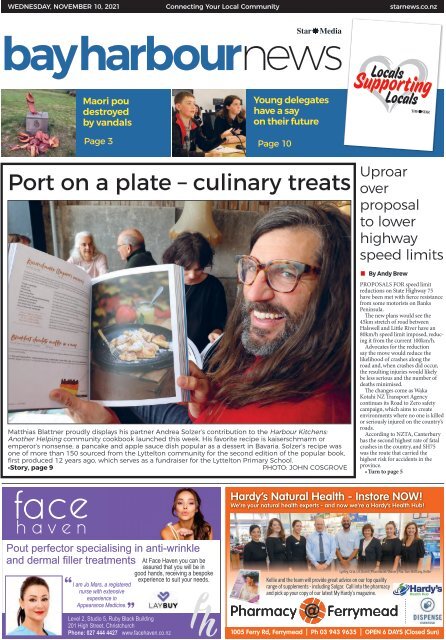 Bay Harbour: November 10, 2021
You also want an ePaper? Increase the reach of your titles
YUMPU automatically turns print PDFs into web optimized ePapers that Google loves.
WEDNESDAY, NOVEMBER 10, 2021

Connecting Your Local Community

starnews.co.nz

Maori pou

destroyed

by vandals

Page 3

Young delegates

have a say

on their future

Page 10

Locals

Supporting

Locals

Port on a plate – culinary treats

Uproar

over

proposal

to lower

highway

speed limits

Matthias Blattner proudly displays his partner Andrea Solzer's contribution to the Harbour Kitchens:

Another Helping community cookbook launched this week. His favorite recipe is kaiserschmarrn or

emperor's nonsense, a pancake and apple sauce dish popular as a dessert in Bavaria. Solzer's recipe was

one of more than 150 sourced from the Lyttelton community for the second edition of the popular book,

first produced 12 years ago, which serves as a fundraiser for the Lyttelton Primary School.

•Story, page 9

PHOTO: JOHN COSGROVE

acc

h a v c n

Pout perfector specialising in anti-wrinkle

and dermal filler treatments

"

I am Jo Mars, a registered

nurse with extensive

experience in

Appearance Medicine.

"

Level 2, Studio 5, Ruby Black Building

201 High Street, Christchurch

Phone: 027 444 4427 www.facehaven.co.nz

At Face Haven you can be

assured that you will be in

good hands, receiving a bespoke

experience to suit your needs.

• By Andy Brew

Hardy's Natural Health - Instore NOW!

We're your natural health experts - and now we're a Hardy's Health Hub!

Lynley, Orla, Lil, Grant (Pharmacist/Owner) Pav, Sue, Brittany, Kellie

Kellie and the team will provide great advice on our top quality

range of supplements - including Solgar. Call into the pharmacy

and pick up your copy of our latest My Hardy's magazine.

PROPOSALS FOR speed limit

reductions on State Highway 75

have been met with fierce resistance

from some motorists on Banks

Peninsula.

The new plans would see the

45km stretch of road between

Halswell and Little River have an

80km/h speed limit imposed, reducing

it from the current 100km/h.

Advocates for the reduction

say the move would reduce the

likelihood of crashes along the

road and, when crashes did occur,

the resulting injuries would likely

be less serious and the number of

deaths minimised.

The changes come as Waka

Kotahi NZ Transport Agency

continues its Road to Zero safety

campaign, which aims to create

environments where no one is killed

or seriously injured on the country's

roads.

According to NZTA, Canterbury

has the second highest rate of fatal

crashes in the country, and SH75

was the route that carried the

highest risk for accidents in the

province.

• Turn to page 5

Health Hub

1005 Ferry Rd, Ferrymead | Ph 03 943 9635 | OPEN 6 DAYS (Closed Sun)
---
2 Bay Harbour News Wednesday November 10 2021 Latest Canterbury news at starnews.co.nz

Advertise locally and

target customers most

likely to shop with you!

Effective Ad packages start from just $85

(inclusive full colour ad, creative setting,

photography and proofing).

No contracts required.

Your local community newspaper connects

neighbours in the following suburbs

Brookhaven • Heathcote • Ferrymead

Redcliffs • Mt Pleasant • Sumner • Lyttelton

Diamond Harbour • Governors Bay • Akaroa

9,668 homes every week.

from the reporter's desk

A PROPOSAL to reduce the speed

limit from 100km/h to 80km/h along

the 45km stretch of State Highway 75

between Halswell and Little River has

been met with fierce resistance from

some residents, who argue that better

infrastructure is the answer (page 1).

According to the NZTA, Canterbury

has the second highest rate of

fatal car crashes in the country, and

SH75 is the route that carries the

highest risk in the province. In the

past decade, there has been more

than 700 crashes along the highway,

with the majority of these happening

on the Halswell to Little River stretch

of road. It's clear that something

needs to be done.

Meanwhile, three new books

are being launched that celebrate

news

Bay Harbour voices, the first a

new collection of recipes from the

ever-popular Harbour Kitchens, the

second a history of yacht racing at

Naval Point, Sailing in a Volcano.

To read a fascinating excerpt from

the third, Voices of WWII: New

Zealanders Share Their Stories, about

the Okains Bay Home Guard, turn to

page 4.

ADVERTISING

Jo-Anne Fuller

Ph: 027 458 8590

jo.fuller@starmedia.kiwi

Rob Davison

Ph: 021 225 8584

rob.davison@starmedia.kiwi

GENERAL INQUIRIES Ph 379 7100

CLASSIFIED ADVERTISING Ph 379 1100

www.starmedia.kiwi

Yacht club celebrates

The Naval Point Yacht Club is gearing up for its centenary celebrations

this weekend.

Page 6

community events

Cuppa and scones

Get to know your Heathcote locals over a cup of tea and a chat. Take

some baking and share stories. Heathcote Community Centre, every

Wednesday 10am.

Page 15

fLOOR COvERING

York Street

By Feltex Carpets - 100% New Zealand wool carpet,

extra heavy duty contemporary textured loop pile, one

outstanding natural colour. Export overruns.

Unbelievable value $129m

SAvE OvER $100m

Only while stocks last

BARGAINs

Bases Loaded

Sensational new, entry level cut pile carpet, looks and

feels great, 4 fabulous colours, made from hardwearing

solution dyed polyester.

Great value $69m

(that's $18.85m 2 ) Only while stocks last.

Kenzi

Commercial quality vinyl planks

Exceptional value and 2 great colours in stock now.

Harper Oak & Zane Oak. Normally planks of this quality

sell for $59.00m2.

our price $29.95m2

Only while stocks last

Open Saturday ShOw weekend

ANNIVERSARY

Do you have any

unwanted, broken

or worn out gold

jewellery?

70

UP TO

■ All forms bought,

including Alluvial

gold

■we We buy also buy Estate

and Antique

Jewellery

jewellery?

MORE DETAILS ON WEBSITE

Do you have

unwanted, broken

or worn out gold

This is a Special Customer Invitation

Tuesday 7th May 9am – 5pm

Providing you the opportunity to secure a bargain

before we open our doors to the public 9am Wednesday

PLUS

MUCH

MORE

INSTORE

47 Gasson Street • Ph 353 8899 • Hours: 8.30am-5pm Mon-Fri

www.theflooringwarehouse.co.nz

03 322 4548 | Easy Parking

17 Lillian Street, Halswell

www.maxwellfashion.co.nz

Open Mon-Fri 9.30am - 5.00pm

Saturday 10.00am - 1.00pm

LAYBY WELCOME

10 DAYS ONLY

Gold & Silver Bullion/Coins

Wednesday 8th May – Saturday 18th May

Bought

& Sold

Gold & Silver Bullion/Coins Bought & Sold

Trusted 7 since 1967

WESTENDE JEWELLERS

W J Telephone 03 366 5475

421 Colombo Street, Sydenham

www.westendejewellers.co.nz
---
Wednesday November 10 2021 Bay Harbour News

Latest Canterbury news at starnews.co.nz

Maori pou destroyed by

vandals in 'pointless act'

NEWS 3

APPROVED: Work will start on the Heathcote cycle

connection next year.

PHOTO: NEWSLINE

A POPULAR Māori carving

at Cass Bay near Lyttelton was

vandalised over the weekend.

The statue, Kōauau o Tāne

Whakapiripiri, is at Pony Point

Reserve between Rapaki Bay and

Cass Bay and is part of a popular

walking track in Governors Bay.

A post on Twitter included pictures

of the destruction and said

they were "absolutely furious and

devastated to hear of this act of

pointless vandalism at Cass Bay".

Police confirmed they have

received a report of wilful damage

to a pouwhenua and want

to hear from anyone with any

information.

The pou was one of two that

were gifted and installed in the

Lyttelton area in 2012.

Kōauau o Tāne Whakapiripiri

was installed at Ōtūherekio and

marks a modern boundary

between Rāpaki territory and

Kemp's Deed – a post treaty

document. It also marks where

Māori called their guests onto

the marae.

The pou was carved by

DAMAGE: The

pouwhenua

at Pony Point

Reserve, near

Cass Bay,

has been

destroyed.

PHOTOS: NZ

HERALD

students at the Whakaraupō

Carving Centre Trust in

Lyttelton where the traditional

Māori art of carving was taught.

On installation the then deputy

mayor Ngaire Button said that

placing the pou "was a way of celebrating

the goodwill and sharing

between Pākehā and Māori that

happened in early colonial times

and this is a genuine bicultural

acknowledgement of the histories

of Christchurch and the harbour

basin".

—NZ Herald

Last stage of cycleway

gets the green light

THE FINAL section of the

Heathcote Expressway cycleway

has been given the go ahead, with

construction expected to start

early next year.

This section of the Heathcote

Expressway is one of the Government's

'shovel ready' projects to

stimulate the economy.

The cycleway runs from the

central city to Heathcote, via

Woolston. The first part, from the

central city to The Tannery, was

completed in 2019.

Last week the city council's Urban

Development and Transport

Committee approved the route

for the final section, from The

Tannery to Heathcote.

The committee agreed on a

design that keeps the two-way

access on the section of Cumnor

Tce between Maunsell St and

Chapmans Rd. The council had

consulted on the possibility of

making this section one-way.

The committee also approved

consultation on a 40km/h speed

limit on Cumnor Tce alongside

the cycleway.

Urban Development and

Transport Committee chair Mike

Davidson said, "We're already

seeing cyclists enjoying the city

end of the Heathcote Expressway

cycleway and the Heathcote end

of the route is another key part of

our city-wide cycleway network.

"We're also keen to hear from

the community on a 40km/h

speed limit along Cumnor Tce,

which would help to create a

safer environment for everyone

using the road or the cycleway by

Ōpāwaho Heathcote river."

Both construction of the

cycleway and consultation on the

speed limit is expected to start in

February. Construction will take

about a year.

Linwood Woolston Rotary

Market

Every Sunday 8am —12.30pm

at Woolston Club, Hargood Street

Stalls include:

• food/Coffee

• books

• fresh produce

• preserves

• plants

• bric a brac

• Second-hand

homewares

• Second-hand

kitchenwares

• Garden and

workshop

ALL pRoCeedS benefit tHe LoCAL Community

Thinking of Buying or Selling

your home?

Call

this

Chick!

That's Heather Chick of course!

Working exclusively for YOU. Providing a professional

service with a very competitive commission rate.

JUST

2.5%

COMMISSION

+gst & admin

M. 027 211 7205

W.chickrealestate.co.nz

E. heather@chickrealestate.co.nz

Care &

Compassion

We pride ourselves on the

very highest level of service

If you are thinking about the future, we can help

you explore pre-payment and pre-planning options.

Contact us for a Free Information Pack.

We offer funeral information talks to groups.

Please call us for a speaker to come to you.

(03) 379 0196 | www.simplicity.co.nz

Mike Chandler

Funeral Director

support local

this xmas

book your xmas party

SET MENUS STARTING FROM JUST $25 PER HEAD

2 WATERMAN PLACE, FERRYMEAD (OFF FERRY ROAD) PHONE 03 376 4900 WWW.PIZZAREPUBLIC.CO.NZ
---
Bay Harbour News Wednesday November 10 2021

4

NEWS

summer

SALE

Latest Canterbury news at starnews.co.nz

Reflections on WW2 shared in new book

Voices of

World War

II – New

Zealanders

Share Their

Stories is

a visually

captivating

compendium

of photos and

written accounts, providing a

snapshot of life during World

War 2 from the point of view of

those who lived through it.

Fascinating and genuine, it

shows the human side of war

through dozens of first-hand

memories, stories and reflections

on wartime life in New Zealand

and overseas. Edited by Renee

Hollis, the book is designed as

a tribute to the resilience and

bravery of those who served

in the conflict, and a historical

account that will teach younger

generations about the lives of

their ancestors.

The 296-page hardcover publication,

which retails for $69.99, is

the result of more than 100 families

sending Hollis letters, diaries

and photos from people living in

New Zealand or overseas during

WWII. She was inundated with

more than one million words

worth of contributions, which

was whittled down to 80,000.

Bay Harbour News has selected

the following extract:

HOME GUARD

In April, 1942, Home Guard

membership became compulsory

for civilian men aged between 35

and 50 years. Initially, the guards

were not supplied with uniforms

and had to make do with an

armband. For a long time there

was a shortage of weapons and

they depended on rifles provided

by civilians. There were compulsory

evening parades (with

fines for absentees) and weekend

training. The minimum amount

of training was eight hours a

month.

Murray Moore: Okains Bay

Home Guard

"Each village and town formed

a Home Guard unit made up

of men who were too old, unfit

or were home because they

were an essential industry. The

Okains Bay Home Guard (Banks

Peninsula) had several men, such

as my father, who had fought

overseas in WWI. The men were

issued with a tunic and a beret.

Each Sunday after church and

an early lunch all the families

went down to the long, sandy

beach and the sand dunes for

drills. It was thought that if the

Japanese invaded they maybe

would land on our beach.

At the beach were two rows of

three gallows there from which

were hung sacks stuffed with

hay. The men fixed bayonets to

HOME GUARD: Eric and Florrie Moore with their twin sons

Murray and Graham and daughter Barbara. ​

the end of their rifles. They then

charged at the target and thrust

the bayonet into the sacks as

hard as they could.

Whitehaven

Bedroom Range

ON SALE

Bedside

NOW $

250

Queen Bed

NOW $

899

When that was completed us

kids, aged eight and over, were

sent to hide in the tussocks so

the men could hunt for us. It was

Sydney 2.5 Seater

WAS $

799

scary indeed lying there curled

up in a ball when suddenly a rifle

and bayonet were pointing at you

close up!

The men also dug trenches in

the dunes under the supervision

of an instructor from the army

camp in Burnham. He also

brought weapons for the men to

train with, Bren guns, Tommy

guns and pistols.

While the men were doing this

the other people gathered mussels

from the rocks, built a fire

and boiled a big billy of water.

When the men returned a cup

of tea was made and the mussels

were placed in the embers. When

they popped open we scraped

them out of the fire and ate

them.

To spread the message that the

Japanese had landed a system of

bonfires was built on the highest

peaks around the peninsula.

My father was a Justice of

the Peace, Black Out Inspector

and also a signaller. I used to

walk with him along the road

checking that no one even had a

chink of light showing in their

windows. The fear was enemy

bombers might see it and bomb

the houses. Sometimes at night

we would hear a plane flying

over which was scary, but it was

only the trainee pilots from

Wigram air base practising

night navigation."

boxed for easy

transport!

NOW ON

ENDS 22.11.21

NOW

$

599

Sono Queen

Boxed Mattress

WAS $

599

NOW

$

399

Valletta 6 Piece Outdoor

Lounge/Low Dining Set

WAS $

2699

NOW

$

1999

24

MONTHS

INTEREST FREE *

with Q

Mastercard

Maison

Living Range

ON SALE

Buffet

NOW $

799

Highboard

NOW $

999

Bookcase

NOW $

999

Atlantic 3 Piece Dining

Set – W180

WAS $

1379

NOW

$

999

Terms & Conditions

Apply.

Scan to find store

250 Moorhouse Ave, Christchurch

0800 TARGET (0800 827438)

targetfurniture.co.nz

Offers and product prices advertised here expire

22/11/21. Sale Excludes Accessories.
---
Latest Canterbury news at starnews.co.nz

Consultation lacking – residents

• From page 1

In the past decade alone, there

has been more than 700 crashes

along the highway, resulting in

nine deaths and 72 people suffering

serious injuries, with the majority

of these happening on the Halswell

to Little River stretch.

However, the statistics have not

stopped the uproar from some

residents who believe the reduced

speed limit will not prevent crashes

or reduce the toll of dead and

injured along the highway.

Little River

resident and

strong advocate

for roading

infrastructure

upgrades and

not speed limit

Vanessa

Mitchell

downgrades,

Vanessa

Mitchell, said

the consultation

between NZTA and local residents'

groups has been almost nonexistent.

This had led to great

frustration within the community.

"I think the whole thing has been

a cop-out from NZTA," she said.

"I think they have been ignoring

our community. They have refused

to meet our community groups to

consult on the plans."

"The consultations they did

organise were so poorly advertised

that hardly anyone knew it was on,

and then they cancelled another

one at the last minute when they

learned of the feelings in the

community and how many were

planning to attend."

Mitchell said her post on

the matter to the community's

Facebook group had more than 400

comments, 95 per cent of which

were against speed reductions and

pro speed limit enforcement and

roading upgrades.

"The state of the road and any

maintenance of it has deteriorated

completely," she said.

"We've also asked for stronger

police enforcement of the current

speed limits but were told we are

too remote to have regular patrols

and our poor lack of mobile phone

coverage means our roads can't

have cameras."

Mitchell said the community

would be willing to accept a

90km/h limit but anything lower

would be dangerous.

"A 60-80km/h limit would just

cause driver boredom and distraction,

which is going to cause a lot

more accidents."

NZTA spokesperson Frances

Adank said road users' safety was

paramount in the agency's changes

and a few minutes added to a

journey could be an acceptable

price to pay for the saving of life

and limbs.

"Reductions in speed can make

the difference between walking

away from a crash or being

stretchered away," she said.

There was a similar controversy

in late 2020 when speed reductions

were proposed on SH6 between

Nelson and Blenheim.

The initial proposal was to

drop the 100km/h limit down to

80km/h, but after consultation

and mitigation with the

NZTA and motorists, it was

decided that variable speed

restrictions of between 60km/h

and 90km/h would be put in. Early

results indicate a significant drop

in the number of crashes on the

highway in the first four months

of the reductions being imposed.

Figures obtained from NZTA show

there were 28 crashes for the period

December – March 2019/20,

compared to 13 during the same

period in 2020/21, a reduction of

more than 50 per cent.

Wednesday November 10 2021 Bay Harbour News

NEWS 5

Rapaki Bay gets trial

swim, paddle craft area

A NEW swimming and paddle

craft area has been established

and is now open in Rāpaki

Bay, Lyttelton Harbour, for a

10-month trial period.

The area from the eastern side

of the boat ramp, adjacent to

Rāpaki wharf and directly across

to the eastern headland, has

been reserved for swimming and

paddle craft only.

Paddle craft include kayaks,

stand up paddle boards, canoes

and waka ama.

Gary Manch, deputy harbourmaster

(operational), says he's

excited for Rāpaki to have a safer

area dedicated for swimming

and paddle users.

"This area was established after

discussions with the local community

board and Te Hapū o

Ngāti Wheke, and a desire from

the community to have an area

for safer recreational boating.

"We will trial the area for 10

months before a decision is made

as to whether it will become

permanent."

Even though the area is

permitted for swimmers

and paddle craft users,

Manch wants people to

remember life jackets are

required to be worn at all times

on any craft 6m or less.

Grae

Ara staff

Established in 1996 by Paul and Leanne

Southorn, Southbuild is a reputable,

professional and experienced building

company. Our predominant expertise

lies in extensions, renovations (including

accessible bathroom modifications),

commercial fitouts, light civil construction

and project management.

Are you slogging it out in a job you don't really

like, or between jobs and wondering what's next?

Maybe, to change course, you need to take a course.

At Ara, we have over 150 courses that matter,

taught by inspirational mentors in real-life learning

environments to give you the skills and confidence

you need to get a job you truly love.

Take the first step towards a new direction.

Visit ara.ac.nz

SEARCH

Why Southbuild?

Experienced

As Registered Master

Builders, we have a broad

and sound knowledge of

the carpentry and building

project management required

for commercial and home

renovations, alterations and

extensions.

Cost Effective

It is important that you feel

assured of the quality of

the materials we supply as

well as the high standard

of our workmanship. We

prepare detailed quotes and

endeavour to price jobs with

the best materials at the

best price. Where possible

we request as many as three

competitive quotes before

selecting our final suppliers.

Efficient

We pride ourselves on tight

co-ordination and good

communication so your

project is completed quickly

and efficiently minimising

inconvenience to you. Our

builders realise their building

site is your home or business

and show respect at all times

being punctual, polite and as

tidy as possible.

Skilled

We are able to complete to a

very high standard large and

complex building projects such

as major renovations, structural

extensions and structural

and internal changes. We

also take on smaller projects

such as renovating kitchens,

bathrooms and installing

window joinery. We can work

with a wide range of different

building products.

Phone: Paul: 027 441 2228, Leanne: 027 648 3574 | Email: lee@southbuildltd.co.nz

www.southbuildltd.co.nz

Helpful

At all times Paul and Leanne

are available to discuss any

concerns or questions that

may arise during the job and

appreciate any feedback you

offer.

Flexible

Over the years Paul and

Leanne have developed

positive relationships with a

variety of reliable suppliers

and subcontractors you

may need to complete your

project. Or if you prefer we

can work with your existing

suppliers. We can work with

or without involvement of

architect depending on the

scope of work.
---
Bay Harbour News Wednesday November 10 2021

6

NEWS

Latest Canterbury news at starnews.co.nz

Yacht club celebrates centenary

ONE HUNDRED years of

yacht racing at Lyttelton will be

celebrated at the Naval Point

Club this weekend.

Naval Point was formed in

2001, but its predecessor club,

Canterbury Yacht & Motor Boat

Club, was established in 1921.

Research by club historian

Wayne Nolan has shown an

earlier Canterbury Yacht Club

operated at Lyttelton from 1886

until World War 1, and many

of its members were foundation

members of the new club in 1921.

The primary reason for

CYMBC's establishment was to

enable Canterbury to challenge

for the new interprovincial Sanders

Cup, which quickly became

one of New Zealand's major annual

sports events and remained

so until into the 1950s.

The most cherished achievement

by a club member came

when Peter Mander and Jack

Cropp won the Sharpie class gold

medal at the 1956 Melbourne

Olympic games – opening the

door for all the international successes

New Zealand has enjoyed

in sailing in subsequent decades.

The Melbourne games were

the first at which New Zealand

was represented in yachting, and

Mander had almost as difficult a

job to beat his brother Graham

in the New Zealand trials as he

did to win the gold medal. The

gold medal was claimed sensationally

when Australia pipped

Mander and Cropp for second

place in the last race to seemingly

clinch the medal.

However, France successfully

protested against Aussie skipper

Rolly Tasker over a collision

during the race, the Aussies were

disqualified, and New Zealand

won the gold on a countback.

Peter Mander also won world

18-footer titles in 1952 and

1954, and other CYMBC sailors

notably Peter Lester, Matthew

Stechmann, Shelley Hesson,

and Andrew May have also won

world titles.

Lester and Stechmann both

won world championships in the

popular and highly competitive

OK dinghy class and Lester was

also in Admiral's Cup and One

Ton Cup winning teams.

Both were Lyttelton boys, and

the club has always had a close

relationship with the Lyttelton

community which continued

even after the opening of the

road tunnel in 1964 brought

much more 'townie' involvement

with the club.

SAILING

HISTORY:

The Naval

Point Yacht

Club in

Lyttelton,

home of

several

of New

Zealand's

leading

sailors, is

gearing

up for its

centenary

celebrations.

It is doubtful if any New Zealand

sailing club has produced

more national championship

winners than CYMBC/Naval

Point, with George Brasell and

Eliott Sinclair in the pre-war

Sanders Cup era, Peter and

Graham Mander in a variety of

classes, and a long list of winners

in many different classes since

those days.

The club has had a particularly

close association with the R class,

and yachties like the Manders,

Steve and Paul Macintosh, Sean

Milner, Dan Leech, Paul Roe and

Malcolm Snowdon have ensured

the national Leander Trophy has

been a Canterbury monopoly for

much of its 70-year history.

The club has always had a tenaciously

loyal membership, and

there are at least 12 families who

have sailed at the club through

three generations, including

the Sinclairs, who were so well

represented that the club ran an

annual Sinclair family race in

the 1950s. This is being revived

by today's family members, and

seven Sinclairs will compete in

Young 88 keelers when centenary

events are sailed on Friday.

Quite a number of members

have been active sailors at

the club for five and even six

decades, with the standout

probably being Sumner yachtie

Tony Park, who has been sailing

at the club since 1961 and

competing in the physically

demanding R class since 1975.

He adopted to the the new

technology of foils in the class

and in 2017 the flying pensioner

scored a popular victory in the

Leander Trophy, sailing with

Steve Macintosh.

• A centenary history

of the club, Sailing in

a Volcano, has been

compiled by Nick Tolerton,

Wayne Nolan, and Mandy

and Grant Nelson, and is

being launched on Friday.

GRENADIER

more homes wanted for

strong spring buyer demand

Spring is the time of plans and projects! If your plans

include buying or selling your home/investment then

I am ready to help!

Demand is high for 'As Is Where Is' properties to

brand new family homes. If you want to know the

latest value of your home call Chris today for a free

appraisal and market update.

Read local
---
Wednesday November 10 2021 Bay Harbour News 7

make your

outdoor space your

favourite place

Big Range, Low Price, Local Advice

Tui

Compost

Encourages healthy plant

growth. Improves soil structure

and drainage. 40 litre.

141806

Fiskars

Bypass Pruner and

Loppers Set

Fully hardened, precision

ground steel blades will stay

sharp even through heavy use.

218188

Bellingham Gloves

Bamboo Fibre Gardening Gloves

PU coated palm for better grip. Lightweight and breathable.

Assorted sizes.

305902

Number 8

Pressure Sprayer

Ideal for all garden

spraying applications.

5 litre.

234818

$7 99

$42 98 Was $14.98

now

$ 12

$15 99

Number 8

Hardwearing Lawn

Seed

Suitable for lawn areas in

constant use. Coated with

bird repellent, fungicide, and

fertilizer. 1kg (covers 30m 2 ).

247094

Alstroemeria

Inticancha

Moon

A compact dwarf

variety that will

flower all summer

long. Elegant in the

garden or a container.

2.5 litre pot.

Was

333989

$28.89

now

$ 24 89

Stanley

Polypour Wheelbarrow

Heavy duty galvanized steel tube frame.

Ready to assemble. 72 litre.

341290

$119

Growfresh

Vege Cell

Packs 6pk

Assorted Veges.

188458, 188455, 188501

$3.98 each

3 each for $ 11

$10 98 $1599

Valspar

Exterior

Paint &

Primer

Low sheen.

Resists dirt,

mould and

fading white.

10 Litre.

277482

Was $165

now

$ 123 75

Valspar

Water Based

Deck &

Timber Stain

A penetrating wood

stain that adds

colour to the timber.

Kwila. 5 Litre.

318320

Was $89.98

now

$ 67 49

ADD A SPLASH OF PAINT

Wattyl you do in

mount Cook?

Purchase 4L or more of any Wattyl / Valspar

branded product and be into win a luxury

trip for two to mount Cook.

5 to be won in

Canterbury!

Promotion runs 18th October 2021 and finishes 21st of November 2021. Wattyl brands include

Valspar, Forestwood, Solagard, Fence Finish and Accent. Terms and conditions apply.

Nouveau

Luna Outdoor Corner Lounge Setting 2 Piece

Rust resistant powder-coated aluminium frame.

335976

Kamado Joe

Charcoal

BBQ 18 Inch

A grill, smoker and

oven all in one.

380214

OUTDOOR ENTERTAINING

Nouveau

Outdoor

Bar

Setting 5

Piece

Rust-resistant

powder-coated

aluminium

frame.

!89960

$1199 $1899

$999

Nouveau

Lorca Outdoor Lounge Setting 4 Piece

Powder coated aluminum frame. Wood-look heat transfer

on aluminum arm rest and tabletop. Olefin cushions.

378945

Use your airpoints dollars to

pay in-store on purchases

over $75! LAST DAYS!

Redeem until November 30th

Shop now. Pay later.

Always interest-free.

Prices valid until Nov 17th or while stocks last.

Mitre 10 MEGA Ferrymead

1005 Ferry Road. Christchurch

Phone: 366 6306

Find us at: /MEGAFerrymead

Opening Hours:

Monday – Friday:

7am – 7pm

Saturday, Sunday & Public Holidays:

8am – 6pm

www.mitre10.co.nz/local/MegaFerrymead

FERRymEAD
---
8 Bay Harbour News Wednesday November 10 2021 Latest Canterbury news at starnews.co.nz

RUNOUT

OUTLANDER LS 2.4L 2WD

$32,990+ORC *

christchurchnissan.co.nz

The 7 seater Mitsubishi Outlander

brings everything you would need in a

family SUV: safety, technology, comfort,

unrivaled economy and that all important

space, plus a 10 Year Powertrain Warranty † .

Call 03 379 0588 or visit

christchurchmitsubishi.co.nz

RRP WAS $41,990 +ORC

*Price listed is for Outlander LS 2.4L 2wd and excludes on road costs of $650 which includes registration, WoF and a full tank of fuel. Available while stocks last.

†

Visit mmnz.co.nz for full Diamond Advantage warranty conditions.

CHRISTCHURCH MITSUBISHI

386 Moorhouse Avenue, Christchurch | 03 379 0588 | christchurchmitsubishi.co.nz

CHRISTCHURCH NISSAN, 380 Moorhouse Avenue, Christchurch

Ph: 03 595 6820

www.christchurchnissan.co.nz
---
Latest Canterbury news at starnews.co.nz

Wednesday November 10 2021 Bay Harbour News

NEWS 9

New incarnation for Lyttelton cookbook

• By John Cosgrove

COOKBOOKS, like flavours

and tastes, come and go with the

times.

They are seen either as celebrations

of a chef's creative skill

in the kitchen or as a fundraiser

for hundreds of schools or community

organisations around the

country.

For Lyttelton, there has only

been one cookbook of note and

12 years ago it started its long life

in the small coastal community,

a lifespan that saw three reprints

due to its high demand both here

and overseas.

Now there is another helping

of Harbour Kitchens, celebrating

Lyttelton, its food and people.

A year and a half ago a small

group of Lyttelton artisans and

school mums got together to

look for an alternative to their

annual Peninsula art auction, on

hold due to Covid restrictions.

From that meeting came the

idea to publish a second version

of the popular book.

Editor Gaynor Stanley said she

knew of the book, it had been

sent to her years ago as a gift

earlier when she was working in

Sydney.

"We wanted to recreate its

unique style and keep its winning

formula showcasing the

essence of the community here

TASTE: Parent and member of the Lyttelton Primary School board of trustees Eve Poff

likes the shredded beef tacos recipe offered by Brent O'Meagher.

PHOTOS: JOHN COSGROVE

in Lyttelton," she said.

"We kept the format of the

original but added in more seasons

– party and lockdown, then

came the huge job of compiling

it all."

Stanley said they had a tough

job initially finding the recipes.

"First up it was a famine then

a feast as the community got

behind the project," she said,

"We eventually short-listed

them down from hundreds of

submission to about 150 and

then started the long process of

taste testing, photographing and

laying out the book."

Creative director Kim Hickford

worked on the original book

and said it's more than a cook

book.

"This book is the port on a

plate, and it represents living in

this vibrant community we have

Kim

Hickford

here," she said.

"There were

many thousands of

hours of work undertaken

by many,

many kind and

helpful volunteers

who gave their

time and talents to

make this a special view of the

community that is Lyttelton."

The entire project was a fundraiser

for the Lyttelton Primary

school.

At the launch on Monday

evening in Lyttelton, the school

principal Brandan Wright

said the project was very good

example of a community pulling

together.

"I'm staggered at what the

community here can achieve."

"In today's world, schools are

always challenged to find extra

funds to support our children

learning and this book will help

us enhance the outdoor learning

space at the school," he said.

Travelling on the

Metro network?

It's good to know we're

looking out for you.

metro.co.nz/travelsafe
---
Bay Harbour News Wednesday November 10 2021

10

NEWS

Latest Canterbury news at starnews.co.nz

Young delegates have a say on their future

• By John Cosgrove

THE NEXT generation of

influencers, environmentalists,

and community leaders got to

voice their concerns about the

future at a special session held at

the city council last week.

Twenty-four children, aged

from 10 to 15 years and from

five schools, took the chairs

inside the council chambers and

presented their ideas on coastal

hazards and climate change.

The next generation

conversation workshop focused

on seeking answers from

young people about what they

wanted to see happen on issues

associated with global warming

and climate change, as these

things directly affect their future.

City council senior news and

content editor Lois Cairns said

the point of the exercise was for

the young people to formulate

a submission on the coastal

adaptation framework.

"They had done some prework,

looking at the proposed

guiding principles within the

framework and identifying what

they liked, what they would like

to change, what was missing

and the importance of children

and young people's voices in the

conversation," she said.

Pupils from Haeata

Community College, Lyttelton

Primary School, Governors Bay

FOR REAL: In chambers, the young delegates got to vote on each of the four parts of

their final submission on the coastal adaption framework. PHOTO: JOHN COSGROVE

School, Banks Ave School and

Chisnallwood Intermediate

formed into groups and then,

in chambers, presented their

arguments which the students all

voted on.

The Lyttelton Primary School

group posed the question that

"they may invite us, they may

listen to us, but it will depend on

if they really hear us".

In front of city councillor and

Sustainability and Community

Resilience Committee

chairwoman Sara Templeton,

ECan councillor Vicky

Southworth and Future Curious

representative Sian Carvell,

the young respondents hotly

debated what their future could

look like.

Keegan Verster, 13, typified the

depth the dedicated year 9 class

at Chisnallwood Intermediate

possessed when he spoke

passionately to the audience

about his feelings for the future.

"It was an amazing experience,

we all have a capability of being

heard and I think we will be

heard," Keagan said.

His group's presentation was

about changing the education of

youth to affect change for their

future.

"It's very important that we all

should be learning about what's

happening today. How are we

going to stop it if we don't know

anything about it," Keegan said.

His class studies the changing

environment and was well

represented at the session,

supplying four of the eight

speakers.

Classmate Sarita Kotze, 13,

found it a huge opportunity, and

said the highlight was speaking

in front of the assembled group.

She hopes it will help her spread

information and influence

change.

Said Sarita: "The facts

shouldn't be sugar-coated when

discussing climate change."

Chisnallwood pupil Rosie Paul,

13, said she got so much from the

meeting.

"It was absolutely amazing as

I got to hear the student voice,"

she said.

Teacher Jude Robinson said

the Chisnallwood Intermediate

class were very passionate.

"There are 32 kids in the

class and their passion and

ability to understand the key

issues about climate change is

amazing. As teachers we want to

challenge them, to get them to

take it further and this session

here today is a result of that,"

Robinson said.

The submission the pupils

created will now be considered

along with other submissions the

city council will receive before it

makes a final decision in the

new year.

Before you

paint your

bargeboards

call us about

disconnecting

the power

03 363 9898 | 0800 363 9898

oriongroup.co.nz

Getting in there with that paintbrush around live power lines

is very dangerous. Call us about disconnecting the power,

it might cost a bit more, but it could well save your life.

You're our priority.

Orion operates, and maintains, the electricity distribution network

that provides power to central Canterbury. We are always here

to help if you have any questions or concerns about the network.
---
Latest Canterbury news at starnews.co.nz

Wednesday November 10 2021 Bay Harbour News 11
---
Bay Harbour News Wednesday November 10 2021

12

NEWS

Latest Canterbury news at starnews.co.nz

Treasures from the past:

Bringing water to Te Waipapa

DIAMOND HARBOUR was

inaugurated as a suburb of

Lyttelton by the purchase of

140ha from the Stoddart Estate

by the Lyttelton Borough Council

in 1913.

By 1926 the village had grown

to 38 houses mostly owned by

professional folk who commuted

to work via the steam launch

to Lyttelton and the train to

Christchurch.

The further development of

this lovely and rather sunny

aspect of Whakaraupō was,

however, slowed by a lack of

secure water supplies. And it was

this lack that led to the setting

up of the Diamond Harbour

Burgesses Association in 1931

which embarked on their various

fruitless campaigns in the

1930s-40s to obtain water security

for the growing settlement.

A half century beforehand,

Lyttelton itself had also

experienced water shortages

until the Lyttelton Waterworks

Act of 1878 allowed the Lyttelton

Borough Council to pipe water

through the rail tunnel from the

Heathcote Reservoir.

While this water was rather

hard, with high chlorine levels

due to sea water incursion, it

Left: A water pipe being laid to Diamond Harbour and the sea-bed pipeline to Diamond Harbour being laid from Lyttelton

in 1954 (right).

was nevertheless drinkable

and certainly allowed for an

expansion of town building

activity in the port. And it was

this precious resource that

would also lead to the relief of

Diamond Harbour … after some

decades and no small degree of

persuasion.

By the 1950s the water problem

in Diamond Harbour had grown

so acute that the village Burgesses

threatened to secede from the

Lyttelton Borough Council and

join the Mount Herbert County

for their respite.

Finally spurred into action, the

Lyttelton Councillors approved

the construction of an undersea

pipeline that was laid in 1954

from Lyttelton across the harbour

to a reservoir above the village,

fed by gravity from the Lyttelton

reservoirs.

It then came to be, that the

Diamond Harbour Water Mains

was opened to the public on April

2, 1955.

While damaged in the 1960

tsunami when a Chilean

earthquake caused water levels

in the harbour to fall and surge

by 5m, the pipeline continued to

supply fine Port Hills bore water

for several decades until being

replaced in the late 1990s. And

with it, the village of Te Waipapa

Diamond Harbour has grown

from 220 houses in 1962, into the

fine suburban settlement of 1600

good people that we know and

love today.

•See also 'Banks

Peninsula contextual

historical overview and

thematic framework'

– https://ccc.govt.

nz/culture-andcommunity/heritage/

heritage-in-the-city/

historical-overview

https://www.teuaka.

org.nz/news/bringingwater-to-te-waipapa

Up to

50 % Off

*Call for Terms

& Conditions

Off

*
---
Latest Canterbury news at starnews.co.nz

Wednesday November 10 2021 Bay Harbour News 13

WE CAN DO IT!

We're helping Canterbury reach it's 90%

The Tannery whanau is excited to

support Canterbury's "Worth the

Shot" campaign. Like everyone,

we want to get back to enjoying

the things we love and getting our

collective vaccination rates up to

90% is the fastest way to achieve

that. Please join us in getting

yourself double jabbed. Just like

the poster says, we are all worth the

shot — and together we can do it!

WE'RE WORTH THE SHOT — THETANNERY.CO.NZ
---
14 Bay Harbour News Wednesday November 10 2021 Latest Canterbury news at starnews.co.nz
---
$15,999

h tp: /kaywa.me/8aVdQ

download the Kaywa QR Code Reader (A p Store &Android market) and scan your code!

my Kaywa QR-Code

w.valuecarswarehouse.co.nz

Ce l 021 8 5 84

Cnr Main South Rd and Epsom Rd, Christchurch

Ph: 03 348 4129 | avoncityford.com

h tp: /kaywa.me/8aVdQ

download the Kaywa Qr Code reader (a p Store &android Market) and scan your code!

My Kaywa Qr-Code

w.valuecarswarehouse.co.nz

Ce l 021 8 5 84

FROM

ONLY:

h tp: /kaywa.me/8aVDQ

Download the Kaywa QR Code Reader (A p Store &Android Market) and scan your code!

My Kaywa QR-Code

w.valuecarswarehouse.co.nz

Craft Group

Monday, 10am-12pm

Enjoy knitting,

crocheting or sewing

each Monday. The cost is

$3 per session with morning

tea and great company

provided.

Heathcote Community

Centre

Sumner Bridge Club

Monday 7.15pm, Wednesday

1pm.

For friendly and competitive

bridge. For information email

sumnerbridgeclub@gmail.

com.

57 Dryden St, Sumner.

Lyttelton Harbour

TimeBank Drop-in Session

Tuesday, 10am-12pm

The Lyttelton Harbour

TimeBank exists to help

build a stronger, more

connected harbour

community. Go in for a

chat – get help with joining

or managing your account,

posting an offer or request.

Lyttelton Library

The Heathcote Valley Wool

Craft Group

Thursday, 9.15-11.45am

This group of enthusiasts

meets weekly to spin, knit

and create with wool. Anyone

is welcome. Email Felicity

Backhouse at thebackhouses@

slingshot.co.nz or phone 384

1755

St Mary's Village Hall,

Martindales Rd, Heathcote

2021 Banks Peninsula

Walking Festival

Every Saturday and Sunday

throughout November

The great variety of walks

offers something for people of

all ages, abilities and interests.

Whether it be history and

heritage, botany or geology

there is something for

everyone with a guarantee of

beautiful views and scenery

along the way. Visit bpwalks.

co.nz for further details

Locations vary

Lyttelton Farmers' Market

Saturday, 10am-1 pm

Support our local growers

and producers who sell their

Email susan.sandys@starmedia.kiwi by

5pm each Wednesday

Heathcote Community Morning Tea, Wednesday, 10am-12pm. Everyone is invited

to pop in for a cuppa, some fresh baking and to get to know some of the locals.

Every Wednesday. Heathcote Community Centre

fresh fruit and vegetables, free

range eggs, bread, meat, fish,

cheese, herbs and plants at

the market every week. We

encourage locals and visitors

to linger, catch up with friends

and enjoy a local coffee and

enjoy the eclectic mix that

makes Lyttelton so special.

London Rd, Lyttelton

Wednesday November 10 2021 Bay Harbour News 15

PICK IT UP...

DRIVE AWAY

Incorporating

ISSUE 651 | FrIday 31 JUly 2020

The biggest range of vehicles in one location

2015 mazda demio

See page 4

for more info!

32 Moorhouse Ave | P: (03) 366 7768 | www.valuecarswarehouse.co.nz

GET THAT

PEACE OF MIND

VEHICLE INSPECTIONS

free

best motorbuys

261 stanmore road, Christchurch For more, see their advert on page 25

$149

FROM

ONLY:

www.gRCAudIO.CO.Nz

PH 03 web

www.drivesouth.co.nz

Incorporating

ISSUE 652 | FrIday 7 aUgUSt 2020

2016 NIssAN LeAf 24s

$17,990 FACELIFT MODEL

LEd headlights, heated seats &

steering wheel, Bluetooth/USB

audio, 21,000km with Japanese

service history. Includes New

NZ charging cable & OrC.

1996 toyota Landcruiser

Prado $8,990

7 seater, 3.0 litre diesel,

very rare find!

See inside for this week's

4WD feature!

40 Years Finance

Experience

Cannot be Beaten!

• Talk to us about finance for your next

motor vehicle purchase

Specialising in Finance for Private Purchases

Very quick approvals, sensational interest rates

• From no deposit (terms & conditions may a ply)

Dyna spares

C h r i stC h u rCh

Now Available @ NZ Van Spares

location: 68 Falsgrave Street, Woolston, Christchurch

email: nzvanspares@hotmail.com | phone: 03 379 3932 / 0508 698 267

41 Sandyford Street

0800 400 040

• www.kickthetyres.co.nz

free

best motorbuys

PH 03 web

MOBILE INSTALLATION SERVICE 0800 212 777

www.drivesouth.co.nz

331 blenheim road, Christchurch For more, see their advert on page 25

The biggest range of vehicles in one location

2006 mitsubishi outlander

$11,999

See page 5

for more info!

32 Moorhouse Ave | P: (03) 366 7768 | www.valuecarswarehouse.co.nz

2004 BMw 530d Nz NEw

151, 0kms, black leather interior, very

economical, reliable vehicle, in exce lent

condition. Exce lent buying at only

A fordable new parts available for BMW / MERCEDES BENZ / AUDI

454 St Asaph Street, 03 378 1818 or 021 480 201

$11,999

INCLudINg ORC

Incorporating

ISSUE 653 | FrIday 14 aUgUSt 2020

see inside for this week's

Hybrid & electric feature!

40 Years Finance

Experience

Cannot be Beaten!

• Talk to us about finance for your next

motor vehicle purchase

Specialising in Finance for Private Purchases

Very quick approvals, sensational interest rates

• From no deposit (terms & conditions may a ply)

Cnr Main South Rd and Epsom Rd, Christchurch

Ph: 03 348 4129 | avoncityford.com

Hilux, Hiace &

everytHing in between

68 Falsgrave Street, Woolston W: nzvanspares.co.nz

E: nzvanspares@hotmail.com Ph: 03 379 3932 / 0508 698 267

CAR AUDIO CAR SECURITY REVERSE CAMERAS PARKING SENSORS DASH CAMERAS

AUDIO VISUAL CELLULAR RADAR DETECTORS AERIALS

GPS/TRACKING

GET THAT

PEACE OF MIND

VEHICLE INSPECTIONS

See inside for this week's

motorcycle feature!

CHRISTCHURCH

MOTORCYCLES LTd

The biggest range of vehicles in one location

See page 5

for more info!

2013 peugeot 4008

$19,999

32 Moorhouse Ave | P: (03) 366 7768 | www.valuecarswarehouse.co.nz

$149

See our ad on page 2

free

best motorbuys

www.drivesouth.co.nz

40 Years Finance

Experience

Cannot be Beaten!

• Talk to us about finance for your next

motor vehicle purchase

Specialising in Finance for Private Purchases

Very quick approvals, sensational interest rates

• From no deposit (terms & conditions may a ply)

USED CARS | TRUCKS | VANS

COMMERCIAL VEHICLES | SUVS

MOTORCYCLES | CARAVANS

BOATS | AUTOMOTIVE SERVICES

Available for FREE every

Friday at convenient

pick up points near you!

PLUS check out this week's

edition, plus past issues

online now at

bestmotorbuys.co.nz

INCORPORATING besT mOTORbuys

www.drivesouth.co.nz

Ce l 021 8 5 84

PH 03 web

For more, see their advert on page 22

Cnr Main South Rd and Epsom Rd, Christchurch

Ph: 03 348 4129 | avoncityford.com

Hilux, Hiace &

everytHing in between

68 Falsgrave Street, Woolston W: nzvanspares.co.nz

E: nzvanspares@hotmail.com Ph: 03 379 3932 / 0508 698 267

41 Sandyford Street

0800 400 040

• www.kickthetyres.co.nz

2008 Victory Vegas

Customised x USa

arlan Ness themed

$12,999
---
Bay Harbour News Wednesday November 10 2021

16

FOOD

Latest Canterbury news at starnews.co.nz

Make versatile mince go a long way

Dress up mince

to make a simple

ingredient taste great

Tortilla stack

Serves 4-5

Ingredients

2 tablespoons olive oil, place

in frypan

1 red onion, finely chopped

1 red capsicum, chopped

4 cloves garlic, crushed

500gm premium mince

2 tablespoons tomato paste

¼ cup cold water

1 420gm can Mexican chilli

beans

4 tortillas

2/3rds cup grated cheese

Sour cream to serve

Guacamole to serve

Directions

Heat oil, add onion, capsicum

and garlic, cook, stirring, for

three to four minutes or until

tender. Add mince, stirring occasionally,

for five minutes or

until browned.

Add tomato paste, water and

beans, stir to combine. Simmer

for three to four minutes

or until mixture has thickened

slightly.

Preheat oven to 200 deg C.

Line smallest springform pan

with two layers of non-stick

tinfoil. Place 1 tortilla in base of

pan, spoon 1/3rd of the mince

mixture over tortilla, repeat

layers twice with remaining

tortillas and mince mixture,

finishing with a tortilla.

Sprinkle with cheese. Bake for

20-25min or until top is golden.

Cut into wedges. Serve with

sour cream and guacamole.

Meat loaf

Serves 5

Ingredients

2 tablespoons olive oil, place

in frypan with

1 large onion, finely chopped

4 cloves garlic, crushed

600gm premium mince,

place in large bowl with

½ cup breadcrumbs

2 eggs

1 tablespoon mustard

1 tablespoon worcestershire

sauce

Pinch nutmeg

1 tablespoon parsley,

chopped

1 small bag frozen spinach,

drained of excess moisture

5 bay leaves

¼ cup tomato paste, place in

small bowl with:

1 tablespoon brown sugar

1 tablespoon malt vinegar

Directions

Saute onion and garlic until

GOODNESS:

Spinach-filled

meat loaf

will make a

wholesome

meal for all the

family.

soft, five to seven minutes,

turn frypan off and allow to

cool, then add to mince/breadcrumbs/eggs/mustard/worcestershire

sauce/nutmeg and mix

well.

Mix spinach through, place

into a casserole dish that has

been lined with two thicknesses

of non-stick tin foil.

Place bay leaves on top.

Mix tomato paste/brown

sugar/vinegar together and pour

over the top. Cover with more

non-stick tin foil, then place the

casserole lid on top.

Bake in the oven at 180 deg C

for 30min, remove from oven

and remove the lid and top tin

foil, return to oven for a further

15min.

Remove and serve.

Ferrymead

Gone Bush

by Paul Kilgour

The story of a wanderer, long-distance tramper and hutbagging

legend.

Paul Kilgour was bitten by the tramping bug early. He began

going on epic trips as a young boy, beyond the farm and

along the coast. During these wanderings, he met old folk

living simply in tiny huts out the back of farms and on clifftops,

and swaggers walking in remote and beautiful locations. Even at

that early age, deep inside Paul stirred the spirit of adventure and a

longing to go further. And further he went.

Gone Bush is about a lifetime of walking the backcountry. It tells stories of the

eccentric characters he met along the way, some of the 1200 huts he's visited,

and his most unforgettable journeys, including his 'long walk home' from deepest

Fiordland to the top of Golden Bay. It's also a book about the powerful effects of

being in the natural environment, doing what matters and living authentically. It is a

charming, meandering, transportive read - like setting off on a serene tramp in the

mountains, a heavy frost underfoot and the sun on your back.

The Last Checkmate

A Novel by Gabriella Saab

Readers of Heather Morris's The Tattooist of Auschwitz and watchers of The

Queen's Gambit won't want to miss this amazing debut set during World War II.

A young Polish resistance worker, imprisoned in Auschwitz as a political prisoner,

plays chess in exchange for her life, and in doing so fights to bring the man

who destroyed her family to justice. Maria Florkowska is many things: daughter,

avid chess player, and, as a member of the Polish underground resistance in

Nazi-occupied Warsaw, a young woman brave beyond her years. Captured by

the Gestapo, she is imprisoned in Auschwitz, but while her family is sent to their

deaths, she is spared. Realizing her ability to play chess, the sadistic camp deputy,

Karl Fritzsch, decides to use her as a chess opponent to entertain the camp guards.

However, once he tires of exploiting her skills, he has every intention of killing her.

Befriended by a Catholic priest, Maria attempts to overcome her grief, vows to

avenge the murder of her family, and plays for her life. For four grueling years,

her strategy is simple: Live. Fight. Survive. By cleverly provoking Fritzsch's volatile

nature in front of his superiors, Maria intends to orchestrate his downfall. Only then

will she have a chance to evade the fate awaiting her and see him punished for his

wickedness. As she carries out her plan and the war nears its end, she challenges

her former nemesis to one final game, certain to end in life or death, in failure or

justice. If Maria can bear to face Fritzsch—and her past—one last time.

WIN THIS BOOK

ENTER TO

WIN

THIS BOOK

Taco mince

Serves 4

Ingredients

1 tbsp olive oil

500gm beef mince

35gm taco seasoning

4 ripe tomatoes, chopped

400gm can black beans,

rinsed, drained

235gm (1 cup) sour cream,

plus extra, to serve

80gm (1 cup) coarsely grated

cheddar

Corn chips

Fresh coriander sprigs

Directions

Heat oil in a large frying pan

over high heat.

Add beef. Cook, stirring with

a wooden spoon to break up any

lumps, for 2-3 minutes or until

beef starts to brown.

Add taco seasoning and half the

tomato.

Cook for a further four to five

minutes or until beef is cooked

through.

Add 80ml (1/3 cup) water and

stir to combine. Remove from

heat.

Divide the beef, beans, sour

cream, cheddar and remaining

tomato among serving bowls. Top

with corn chips and coriander to

serve.

book

release

We have one copy of Gone Bush to give away, courtesy of Take Note Ferrymead. To be in the draw, email

giveaways@starmedia.kiwi with Gone Bush in the subject line or write to Take Note Book Giveaway, Gone Bush,

Star Media, PO Box 1467, Christchurch 8140. To be eligible for the draw, all entries must include your name, address

and contact number. Entries close Tues November 23rd. The book winner for The Women of Pearl Island is Gail

Halvorsen of Sumner.
---
Latest Canterbury news at starnews.co.nz

Wednesday November 10 2021 Bay Harbour News 17
---
Bay Harbour News Wednesday November 10 2021

18

PUZZLES

CRYPTIC CROSSWORD

1 2 3 4 5

6 7

8 9

10 11 12 13 14

15

16 17

18 19 20 21 22

23

24 25

26

5/11

Latest Canterbury news at starnews.co.nz

Across

1. There's plenty of reason for such a

row (8)

7. We sin in such a way as to make pigs

of ourselves (5)

8. As prominent as return to one in Lent

(7)

9. Remove difficulties as one pressing

does in the garden (4,3)

10. A guidance line contained in future

instructions (4)

12. Take out the crowd player and

correct the ends (7)

14. Sulphur could be decent, if given a

perfume (7)

17. A thin coat of entertainment (4)

18. Drape, as taken by performer who

takes a bow (7)

21. Do similarly if I'm to get it at teabreak

(7)

22. It's nearly October 3rd when it gets

dark (5)

23. Church books might be used as

lap-rests (8)

Down

1. It is ridiculous to confuse us with the

Bard (6)

2. Seabird with bile disorder is liable to

be taken in (8)

3. It is fitting to come face to face with

one (4)

4. It's not a foreign oyster (6)

5. Weight that will almost destroy the

ring (4)

6. Pet set out with a group of players (6)

7. Wore something, as one was playing

(7)

11. Withdraw, with the Sappers, to a

stretch of country (7)

13. How to stop ruling (8)

14. A brief time when there's one ahead

(6)

15. Says one didn't need, and is upset

(6)

16. Remember sifting some of the redhot

ashes (6)

19. Oil platforms one equips with sails

(4)

20. Its grinding makes a large number

sick (4)

SUDOKU

Fill the grid so that every column, every row and 3x3

box contains the digits 1 to 9.

QUICK CROSSWORD

1 2 3 4 5 6 7

8

9 10

11 12 13

14 15

16

17 18 19

20

21 22 23

24 25

Across

1. Having more than

one spouse (6)

4. Curt (inf) (6)

9. Theme (5)

10. Shooting with bow

and arrow (7)

11. Distress (7)

13. Formal test (4)

14. Good Friday

traditional fare (3,5,3)

17. Food list (4)

18. Without purpose or

direction (7)

21. Adept (7)

22. Play (5)

24. Dwell (6)

25. Vow (6)

Down

1. Traveller's belt (6)

2. Contemptible person

(3)

3. Plainclothes (5)

5. Core (7)

6. Too early (9)

7. Toy on a string (2-2)

8. Trendy (11)

12. Supermarket

goods (9)

15. Very pleased (inf)

(7)

16. Abscond (6)

19. Mannequin (5)

20. Exploiter (4)

23. Assistance (3)

CODECRACKER

QUICK CROSSWORD

Across: 1. Bigamy, 4. Snippy, 9. Motif, 10. Archery, 11. Anguish,

13. Exam, 14. Hot cross bun, 17. Menu, 18. Aimless, 21. Skilful,

22. Drama, 24. Reside, 25. Pledge.

Down: 1. Bumbag, 2. Git, 3. Mufti, 5. Nucleus, 6. Premature, 7.

Yo-yo, 8. Fashionable, 12. Groceries, 15. Chuffed, 16. Escape, 19.

Model, 20. User, 23. Aid.

CRYPTIC CROSSWORD

Across: 1. Premonition 8. Romantic 9. Kite 10. Comet 13. Dear

16. Gulp 17. Land 18. Oyer 20. March 24. Even 25. Impetigo 26.

Polystyrene.

Down: 2. Rump 3. Mango 4. Noise 5. Irked 6. Greengrocer 7.

Depredation 11. Minim 12. Tudor 14. Elan 15. Blue 19. Renal 21.

Admit 22. Clear 23. Limn.

TARGET

dowdier dowel dower drew

lewd lowed lower owed rowed

rowel weir weird weirdo

weld wide wider widow

widowed widower wield wild

wilder wile wire wired wold

word worded wore world

WORLDWIDE wowed

MEDIUM HARD

EASY

TARGET

D W E

I W L

R D O

Good 16

Very Good 22

Excellent 28+

ALL PUZZLES © THE PUZZLE COMPANY

How many words of four letters or more can you

make? There is at least one nine-letter word.

Each letter may be used only once and all

words must contain the centre letter.

No words starting with a capital, no plurals

ending in s unless the word is also a verb, e.g.

he fires the gun.

Mon-Thurs: 7am - 4pm

Fri-Sun: 7am - 5pm
---
REAL ESTATE

A world away...

7 Emerson Crescent,

Diamond Harbour

Auction on 25 Nov. Unless Sold Prior

2 bedrooms 1 bathrooms 1 car garaging

2 off-street parks Listing no. FM5799

Open Homes: Weds, Sats, & Suns 2-3pm

When the simplicity of a fantastic contemporary

design is combined with the gift of what

Mother Nature provides, not only do you find

yourself with something very beautiful, but also

incredibly rare.

Beautiful and rare is exactly what is on offer here!

The clever design of this home literally delivers

a "frame" capturing what can only be described

as a stunning, world class waterfront view!

Tranquillity, peace, and privacy are an everyday

treasure in this sun-drenched front row

position. The beautiful land scape, relaxing

activity on the everchanging harbour and the

incredible sunsets will keep you captivated

from one season to the next; indeed, you may

never want to leave this idyllic haven, where

every day feels like a holiday, a world away from

the reality of daily life.

A lifestyle, cherished by our current owners, in

this wonderful laid-back community, located

just 45 minutes' drive from the heart of

Christchurch. With its close proximity of the

Latest Canterbury news at starnews.co.nz

ferry terminal, many sports clubs, services and the

new shopping centre with its much awaited

supermarket, everything you need for an easy life

is right here. You would be challenged to find

another home as unique and desirable as this one!

Opportunities to own such a special property

like this one are becoming few and far between,

as once people find them, they rarely let them

go, so don't miss your chance, it may not come

along again.

This is an absolute view to appreciate the pure

magic that comes with it and around it. Call today

for your exclusive viewing or walk through.

Paradise may be closer than you think!

Sally Pomeroy

Mob. 022 074 0879

Harcourts Grenadier Ferrymead

Phone 03 384 7950

(Licensed Agent REAA 2008)

Wednesday November 10 2021 Bay Harbour News 19

ADVERTISING FEATURE

NEW LISTING

Up to

50 % Off

*Call for Terms

& Conditions

Off

*

Redcliffs 40 Celia Street

A lot to love about this home

Proudly positioned in popular Celia Street, ablaze with

colour in the summer from the Pohutukawa trees

lining the street. This spacious family home set over

two levels has many options for family living.

Three bedrooms and two living areas downstairs, both

open to private outdoor entertaining spaces, perfect

for the Summer BBQ. Upstairs, has two sunny spacious

bedrooms, open plan kitchen, dining, living with cute

balcony amongst the treetops to relax at the end of

the day. A brilliant location two minutes walk to the

beach, wharf, coastal pathway, and Redcliffs School.

bayleys.co.nz/5516936

5 3 2 2

Auction (unless sold prior) 12pm, Thu 2 Dec 2021

3 Deans Avenue, Chch

View Thu/Sun 2.30-3.15pm

Marilyn Still 027 229 8769

marilyn.still@bayleys.co.nz

WHALAN AND PARTNERS LTD, BAYLEYS, LICENSED REAA 2008
---
20 Bay Harbour News Wednesday November 10 2021 Latest Canterbury news at starnews.co.nz
---
2013 Volkswagen

Tiguan TSi

h tp: /kaywa.me/8aVDQ

Download the Kaywa Qr Code reader (A p Store &Android market) and scan your code!

my Kaywa Qr-Code

w.valuecarswarehouse.co.nz

CELLULAR

See page 5 for more info!

2

h tp: /kaywa.me/8aVDQ

Download the Kaywa QR Code Reader (a p Store &android Market) and scan your code!

REVERSE CAMERAS

My Kaywa QR-Code

w.valuecarswarehouse.co.nz

PARKING SENSORS

0800 212 777

Ce l 021 855 884

GPS/TRACKING

motor vehicle purchase

See our ad on page 2

Latest Canterbury news at starnews.co.nz

Wednesday November 10 2021 Bay Harbour News 21

Jolion will add to Haval's success

NOT SURPRISINGLY, I skim

the monthly sales figures that are

sent to the motor vehicle industry

distributors and commentators. It's

easy to work out the shakers and

movers as the year progresses.

At present it's a matter of which

company has supply as to how they

are faring in the marketplace. I can

report that the brands from China

are doing well, both Haval and

MG have constant supply and, of

course, with the way these brands

are placed in terms of price they are

favourable buys for those who are

looking for a bargain, those who

want to buy new and are comfortable

knowing they get a lengthy

warranty with their purchase.

The latest product from China to

come my way was Haval's Jolion,

a very pretty mid-size sport utility

vehicle that can only go upwards

in terms of sales, and where it

peaks is anyone's guess. You see,

it is not only nicely built, but it is

priced well for the budget-conscious

buyer. The Jolion lists from

$26,990, which by my reckoning

is a bargain, it is traditional in

the way it is powered, it has a

1.5-litre four-cylinder engine that

drives through to the front wheels

through a seven-speed dual clutch

automatic transmission.

I mentioned that it is mid-size,

yet it seems bigger than its 4.4m

length would suggest. It's massively

comfortable on the inside and

space is generous for the times

when five occupants are taken onboard.

The test car was the Lux model

which sits at $27,990 but had been

upspeced, it carried a blackout

package that includes a window

tint, black grill, side trim and

badges, along with 19in black

wheels. The price for those would

add an extra $5k that takes it to the

price of the Ultra model that sits at

$32,990.

So there are three Jolion models,

each represents value that I've mentioned,

and it's a range that comes

in six vivid colours, so the choice is

very comprehensive.

Even though the Lux model sits

in the middle pricewise it comes

with healthy specification. It gets

full leather trim with heated front

seats that are also electrically

adjustable, there is keyless entry

and ignition, a 360deg camera

system, radar cruise control and

paddle-shift gear selectors. Items

it doesn't get that surprised me are

the lack of fuel usage indicator and

reach-adjustable steering column;

nevertheless, for everything else

you get they can be forgiven.

The in-cabin area is high-class, it

is clean and aesthetically appealing.

There is a high emphasis on digitalised

graphics, the dash panel screen

sweeps across the facia and another

central screen has touch operation

that control the minor functions.

STYLISH: Haval's Jolion comes in three levels of

specification, each has a high level of fitment.

HAVAL JOLION LUX: Optional black wheels help provide an aggressive stance.

I particularly like the dial gear selector,

it is intuitive and you quickly

become one with the car. The trim

materials are high grade and fit and

finish are as good as I've seen on

any car at this price.

It's also fair to say the Jolion

travels quietly, the evaluation car

was rattle-free and smooth through

the air.

Under the bonnet sits the

turbocharged, 1497cc engine. It's

pretty much a carryover from the

H2 that also sold well in the Kiwi

market. Drive through the dual

clutch gearbox is unimpeded, the

engine is feisty when asked but also

relaxed for the inner-city commute.

In stop-start traffic it gently works

through the transmission, and if

you need a quick lane change the

turbocharger will spool quickly

and provide the impetus needed to

make that manoeuvre.

In terms of acceleration the Jolion

will make 100km/h from a standstill

in 10sec and will tackle a highway

overtake (80-120km/h) in an easy

7sec, the latter thanks to a broad

spread of torque. The engine is rated

with 220Nm available all of the

way from 2000rpm to 4400rpm, if

you add in 110kW of power at just

5600rpm you have a free-revving

engine that also works hard at the

bottom end, and that is what you

need, boost from low down is the

most important ingredient with this

type of engine design.

• Price – Haval Jolion Lux,

$27,990

• Dimensions – Length,

4472mm; width, 1841mm;

height, 1574mm

• Configuration – Fourcylinder,

front-wheeldrive,

1497cc, 110kW,

220Nm, seven-speed

automatic

• Performance –

0-100km/h, 10sec

• Fuel usage – 8.1/100km

Just as importantly, the Jolion

also has an economical fuel use

claim. Haval rate it with an 8.1-litre

per 100km combined cycle average.

I delved deep into the display menus

but I couldn't find any fuel consumption

readouts, so I was unable

to collate any figures to quantify

Haval's figure. However, the engine

is quite relaxed at 100km/h, turning

over freely at 1900rpm.

I took the Jolion west trough to

the Waimakarikri Gorge bridge

and back to my home in the suburbs

through Hororata and Burnham.

It is an adept highway cruiser

that enhances driver comfort and

has smooth highway manners.

It also equips itself well in a

corner. The optional wheels also

play their part, the big 19in tyres

are informative and steer directly

into a corner. Feedback of how

they are relating to the road

surface is encouraging, the Jolion

is directional and balanced. That

is something manufacturers often

find hard to conquer in an SUV. By

sheer nature of their height they

often lean awkwardly in a corner,

I'm pleased to report the Jolion

feels stable even when forced into a

bend quickly.

It is this controlled behaviour

that will lure buyers into the Jolion.

For one it is the quintessential

family wagon that pleases with its

style and fresh design. In terms of

driveability it exudes confidence

and ability, yet it does everything

with a relaxed demeanour.

For me, I'd be an entry level

buyer. Sure, you only get cloth

trim and miss out on a few other

goodies, but I'm not sold on leather

anyway. Buyers who want Haval are

looking at the budget carefully and

the Jolion has variants to suit those

who are stretched as well as those

who have a few bob extra to spend

on the niceties such as the blackout

add-ons and the luxury items at the

top end of the range.

Haval is going places in our

market and don't expect anything

to change soon, as the SUV

division of Great Wall Motors,

the brand has substantial backing

and it's good cars like the Jolion

that will continue both companies

momentum here in New Zealand

and globally.

has motoring covered!

Incorporating

ISSUE 667 | FrIday 20 novEmbEr 2020

sherborne st, edgeware

iggest range of vehicles

location!

2011 Jaguar

XF Premium

$18,999

See inside for this week's

4WD feature!

se Ave | P: (03) 366 7768 | www.valuecarswarehouse.co.nz

See page 4 for more info!

free

best motorbuys

Incorporating

ISSUE 668 | FrIday 27 NovEmbEr 2020

275 Colombo street, Christchurch

For more see their advert on pages 6 & 7

Ce l 021 855 884

Incorporating

ISSUE 669 | FrIday 4 dEcEmbEr 2020

See inside for this week's

Classic Car feature!

PH 03 web

www.drivesouth.co.nz

One Owner!

40 Years Finance

Experience

Cannot be Beaten!

• Talk to us about finance for your next

motor vehicle purchase

Specialising in Finance for Private Purchases

Very quick approvals, sensational interest rates

• From no deposit (terms & conditions may apply)

Hiace spares

Cnr Main South Rd and Epsom Rd, Christchurch

Ph: 03 348 4129 | avoncityford.com

2015 IsuZu D-mAX

4WD Ls D/CAb

NZ new, 3.0 intercooled turbo/dsl,

auto, rare flatdeck with ladder/pipe

racks, reverse cam, service history.

$34,995 $192pw

For more see their advert on page 31

free

best motorbuys

www.drivesouth.co.nz

See inside for this week's

marine feature!

free

best motorbuys

The South Island's leading motoring resource,

filled with news, reviews and dealer listings.

From family cars to work trucks, and supercars

to SUVs. No matter what you're looking for,

you can find it all with Drivesouth.

Magazine available for FREE every Friday

at a convenient pick up point near you!

The biggest range of vehicles

in one location!

Now Available @ NZ Van Spares

www.drivesouth.co.nz

2.4 auto, alloys, ABS, twin airbags.

2005 toyota rav

$20,999

$9,990

40 Years Finance

2008 bmW 320i

2.0lt Petrol, 5 Dr Station wagon,

Climate Control, ABS Braking,

.nz

CAR AUDIO

AUDIO VISUAL

CAR SECURITY

32 Moorhouse Ave | P: (03) 366 7768 | www.valuecarswarehouse.co.nz

MOBILE INSTALLATION SERVICE

RADAR DETECTORS

DASH CAMERAS

Cannot be Beaten!

$10,974 NoW $7,974 + orC

Experience

Automatic. $34.63pw.

AERIALS

• Talk to us about finance for your next

Specialising in Finance for Private Purchas

• Very quick approvals, sensation

• From no deposit (term
---
22 Bay Harbour News Wednesday November 10 2021 Latest Canterbury news at starnews.co.nz

152,504 reasons

to advertise with us!

2021 ABC average issue circulation — Star Max vs Press

200,000

The Star

Max *

152,504

circulation

100,000

The Press *

The latest NZ Audit Bureau of

Circulations report is out and

it shows that The Star Max

provides you more circulation

than any other newspaper in

New Zealand.

0

30,256

circulation

Grow more customers, sales and profits for your business,

Call us now for a free advertising consultancy.

Here's what our customers have to say:

We advertise Affordable Furniture specials

in The Star every week and are extremely

pleased with the results.

We find that the large circulation and

readership, really works for reaching our

target market and growing our customers.

We get people coming in with our ad and

asking about the specials we advertise.

We have been benefiting from the

Christchurch Star and Community papers

for 20 years and see no end to it.

Andrew Idour – Managing Director,

Affordable Furniture

After 4 years advertising in the Bay

Harbour News, I decided to widen

my audience by using the Star.

I am very happy with new ad

placement.

My husband Tim was in the shop

today and 2 ladies had come in

to check us out because they had

seen the ad!!! Oh yes they did buy

some goodies!!

Rose Lindley – Mumma Bear

We have advertised with The Star

over the years.

Advertising in The Star we feel we

get more response and feedback

than any other marketing.

We are lucky to have such a great

free paper in the community.

Thanks team Star.

Mark Glanville FDANZ CERT

– Manager and Funeral Director

Phone 03 379 7100

Email shane@starmedia.kiwi

Office Level 1/359 Lincoln Road, Addington

*Source: 2021 ABC Audit Report — Star Max vs Press ANP average total circulation each issue

*Star Max — The Star, Bay Harbour News, Selwyn Times, North Canterbury News
---
Latest Canterbury news at starnews.co.nz

Wednesday November 10 2021 Bay Harbour News 23

Classifieds Contact us today Phone our local team 03 379 1100

For Sale

Wanted To Buy

Trades & Services

Public Notices

Public Notices

MOBILITY SCOOTER

Heartway, great cond,

all extra's. Just had $400

battery and service.

$800.00. Ph 384 4700

Real Estate

HOME WANTED 3-4

bedrooms. Looking in Nor

West areas, Beckenham

or Somerfield. Prefer

permanent material brick

and post 1990 build. Don't

mind if it needs some TLC

- anything considered.

Cashed up buyer. Phone

021 372 479

Trades & Services

DIRTY TILES

& GROUT?

Our unique restoration

processes will make your

tiled areas look NEW again!

We specialise in professional

cost effective solutions for

all your tile & grout issues.

• Tiled shower makeovers

• Re-colouring old grout

• Mouldy silicone replacement

• Professional tile/grout

cleaning, sealing & repairs

Your local professional

FOR ALL YOUR

PLUMBING,

GAS &

DRAINAGE

• Bathroom repairs

• Renovations

• Leaks

• Blocked drains

• Gas and drainage

Carol and Chris

AAA Buying goods

quality furniture, beds,

stoves, washing machines,

fridge freezers. Same day

service. Selwyn Dealers.

Phone 980 5812 or 027

313 8156

Call today for a FREE quote on 0800 882 772

www.theprogroup.co.nz/dpc9385

Phone 376 5322 or email

chcheast@laserplumbing.co.nz

Atkinson Construction Ltd

• Local qualified builder

• Over 30 years experience

• Building alterations

• Maintenance

• No job too big or small

Dean: 021 480 093

atkinsonconstruction@xtra.co.nz

Trades & Services

CARPET LAYING

Exp. Repairs, uplifting,

relaying, restretching.

Phone John on 0800

003181, 027 240 7416

jflattery@xtra.co.nz

CHIM CHIM CHIMNEY

SWEEPS

We'll sweep your

logburner's flue, check

firebricks, baffles, airtubes

& controls. We're experts

on coal-rangers, and can

sweep any sized open fire.

We quote & undertake

repairs, flue extensions &

install bird netting. 0800

22 44 64 www.chimchim.

nz

ELECTRICIAN

JMP Electrical.

Experienced & registered..

Expert in all home

electrical repairs &

maintenance.Call James

027 4401715

ELECTRICIAN

Andrew Martin Electrical.

25 years experience.

Specialize in home

renovations, repairs and

maintenance. Call Andrew

0274 331 183

Trades & Services

WINDOW TINTING

tintawindow

advanced film solutions

99% uv block

fade protection

heat control

reduce glare

25 Years Experience

privacy films

frosting designs

non-darkening films

Workmanship Guaranteed

Lifetime Warranties on Most Films

UV

block

Trades & Services

GUTTER CLEANING /

HOUSE WASH

Total gutter / spouting

clear out & clean. House

wash & windows. For a

professioanl & reliable

service call Greg Brown

A1 Spouting Cleaning 027

616 0331 or 384 2661

HOME

IMPROVEMENTS

Decks, fencing, retaining

walls, kitchens, sleepouts,

kitsets, renovations and

more. Greg 022 475 8227

PLUMBER

Do you need a reliable

plumber? Quality and

timely services. No job

too big or small. Phone

V Plumbing Ltd. 022 351

4125

ADD

SOME

COLOUR

TO YOUR ADVERT!

Free Quotes Canterbury and Districts

03 365 3653 0800 368 468

Advertise locally in classifieds

and target readers in your

immediate catchment area.

Effective Ad packages available from

plain lineage to full colour advertising

Your local community newspaper connects

neighbours in the following suburbs

Brookhaven • Heathcote • Ferrymead

Redcliffs • Mt Pleasant • Sumner • Lyttelton

Diamond Harbour • Governors Bay • Akaroa

9,668 homes every week.

CLASSIFIED ADVERTISING Ph 379 1100

VICKY SAYERS Ph 364 7419

vicky.sayers@starmedia.kiwi

www.starmedia.kiwi

ADVERTISE YOUR

BUSINESS HERE

Phone for further details

(03) 379 1100

Closure to pāua fishing in

Onuku, Akaroa Harbour

CAR REMOVALS

$$CASH PAID$$

Pursuant to Section 11 of the Fisheries Act 1996, the

Minister for Oceans and Fisheries has closed an area

within Akaroa Harbour to commercial and recreational

pāua fishing. The closed area is in front of the Kaik at

Onuku, from Pinnacle Rock to Te One Poto Bay.

CARS, VANS, UTES

& 4X4 WANTED

This closure applies to all species of pāua and comes

into effect on 12 November 2021.

The closure has been put in place to allow pāua in

this easily accessible area to rebuild. The area will be

re-opened when the pāua have rebuilt to sustainable

levels.

NZ OWNED

AND

OPERATED

FOR

24 YEARS

A map showing the area closed to pāua fishing is

attached to the Decision Briefing on MPI's website at

mpi.govt.nz/akaroa-paua

Further information can be found by searching for

Gazette number MPI 1367 in the New Zealand Gazette

online at gazette.govt.nz

We use world class vehicle

depollution Vehicles Wanted systems

0800 77 80 80

www.pickapart.co.nz

CAR REMOVALS

$$CASH PAID$$

CARS, VANS, UTES

& 4X4 WANTED

NZ OWNED

AND

OPERATED

FOR

24 YEARS

We use world class vehicle

depollution systems

0800 77 80 80

www.pickapart.co.nz

SUPPORT

mOvembeR

wiTh RUgby newS

We're donating $4 from every

subscription to Movember, the

charity that helps men live happier,

healthier and longer lives.

SUbSCRibe FOR

Six iSSUeS OR

mORe FOR yOUR

ChanCe TO

win

a mOvembeR

PRiZe PaCK

wORTh $450

6 iSSUeS

$41

www.rugbynews.co.nz 0800 77 77 10

*Promotion valid between 4 November – 12 December 2021. Donation will be made from all subscription

periods. Percentage savings based on purchase of total number of issues at retail price of $10.99. Chance

to win applies to NZ addresses only and is for 6 issue periods and higher.
---
24 Bay Harbour News Wednesday November 10 2021 Latest Canterbury news at starnews.co.nz

STYLE & QUALITY

FOR LESS

STOREWIDE SALE

Elm

Collection

SALE

Table Large $1249 $1159

Table Small $759 $699

Buffet $1559 $1439

WAS $2869

$

2649

Valley Corner

Storm

Raisin

SALE

Rustic Bar

Stool

Available in:

Grey, Cognac, Black

SALE

Haus Bar Stool

Available in:

Grey, Cognac,

Brown, Black

FINAL

WEEK

WAS $209

$

189

WAS $259

$

229

WAS $789

$

699 Linea Coffee Table

SALE

SALE SALE

Marley

Outdoor chair

Raglan Egg

Chair

Available in:

Chocolate, Black, White

WAS $2199

$

1999

Willis Chaise

Outdoor Set

Available in

left and right facing chaise

WAS $1899

$

1799

Piha Extension

Outdoor Table

Available in: Black, White

WAS $699

$

649

WAS $179

$

149

Available in:

Black, White, gunmetal

5 Year Warranty

Indulgence Mattress

King Single $749 $689

Queen $1019 $939

King $1059 $979

Super King $1079 $989

FROM

$

689

12

Sumata

Fabric Headboard

5 Year Warranty

Riviera Mattress

Single $489 $449

King Single $509 $469

Double $609 $559

Queen $729 $669

King $799 $739

California King $879 $809

FROM

$

449

FROM

$

449

Queen $479 $449

King $489 $459

California King $589 $539

FREE

CARPARKING

SOUTH CITY

BATH ST

WE ARE

HERE

255 MOORHOUSE AVE

REBEL SPORT

COLOMBO ST

MON-FRI 9:30AM – 5:30PM

SAT-SUN 10AM – 5:30PM

0800 268 264

www.affordablefurniture.nz
---
Latest Canterbury news at starnews.co.nz

Wednesday November 10 2021 Bay Harbour News 25

PROUDLY

local

PROUDLY ray white

Ray White Ferrymead

Ready When You Are!

Phone (03) 3844 179 | Email prier.manson@raywhite.com

rwferrymead.co.nz /RayWhiteFerrymead

Prier Manson Ltd. (Licensed REAA 2008)
---
26 Bay Harbour News Wednesday November 10 2021 Latest Canterbury news at starnews.co.nz

The Good Life Found

10 Ford Road, Opawa

4 bedrooms, 1 bathroom, 2 car garaging

Sitting back from the road, amongst leafy and established gardens, this is a property that values its

proximity to the river, connects with nature, and offers a peaceful haven to retreat to, all without breaking

the bank. Opawa has a real sense of family and community with its own library, farmer's market, various

high decile schools and a selection of eclectic shops, supermarket nearby.

• Remodeled 4 bedroom family home plus studio.

• Generous back yard area perfect for kids.

• Established native garden with flourishing fruit trees.

• Large double garage and plenty of off-street parking.

• Now surplus to requirements so must be sold on or before auction day.

Prime RMD Zoning! 'As is, Where is'

15 Russell Street, Linwood

What a location for redevelopment. Situated directly opposite Eastgate mall

it doesn't get more convenient than this. A 5 bedroom, 'as is where is'.

Currently tenanted on fixed term tenancy until June 2022 (rent $420 pw),

allowing time to get plans approved with the help of a holding income. Tenants

wish to stay longer if given the opportunity - they know how lucky they are

living in such a convenient location. Hold and watch this prime Residential

Medium Density zoned site become more precious over time or get those plans

ready and realise this property's full potential as soon as possible.

This is an outstanding opportunity, too good to miss! Do not delay.

Mark gardner

M. 021 633 669

E. mark.gardner@raywhite.com

Open Homes: Thursday, Saturday & Sunday

1:00-1:30pm

Auction: Saturday 4 December 2021

at 12:15pm, On-Site (unless sold prior)

www.rwferrymead.co.nz/OPA30153

Pip Sutton

No. 2 Consultant 20-21

M. 027 224 9524

E. pip.sutton@raywhite.com

Open Homes: Wednesday 12:00-12:30pm & Sunday

11:30am-12:00pm

Auction: Thursday 18 November at 11:00am 2021, In

Rooms, Level 2, 76 Hereford Street (unless sold prior)

www.raywhite.co.nz/OPA30079

Coming Soon to the Market

COMing SOOn

COMing SOOn

1/80 McCormacks Bay Road, Mt Pleasant

2 bedrooms, 1 living, 1 study, 2 bathrooms, 1 car garaging

4a De Thier Lane, Sumner

4 bedrooms, 2 living, 2 bathrooms, 2 car garaging

COMing SOOn

45 Scarborough Road, Sumner

2 bedrooms, 1 living, 1 bathroom, 1 studio

Simon and Paula Standeven

No.1 Sales Consultants 2017 - 2021

M. 0274 304 691

E. thestandevens@raywhite.com

Ray White Ferrymead | rwferrymead.co.nz | 03 384 4179 | prier.manson@raywhite.com | Prier Manson Limited Licensed REAA 2008
---
Latest Canterbury news at starnews.co.nz

Wednesday November 10 2021 Bay Harbour News 27

Location. Lifestyle. Lyttelton!

11 Harmons Road, Lyttelton

Perfectly positioned on Harmans Road, offering expansive views out over

the harbour and bays, this 1236m2 parcel of land allows for plenty of

opportunities. Build your dream home or with dual services consider the

possibility to subdivide (subject to CCC consents).

Be the envy of your friends and family and secure this fabulous section, what a

dream to wake to breath taking water and tranquil rural/bush views.

Ideally positioned a short distance from the Lyttelton village and only

moments away from tunnel access to Christchurch. Lyttelton township has so

much to offer with bespoke shops, a wide range of eateries, not forgetting the

famous Saturdays Farmers Market. Be spoilt for choice with outdoor leisure

with plenty of walking tracks, kayaking, sailing and a leisurely walk down to

explore Te Ana Marina.

I have an extremely motivated vendor so now is the time to take advantage.

This is an opportunity not to be missed!

Information pack including Geotechnical reports available on request.

Auction: Thursday 11 November at 4pm, Ray White Ferrymead,

21 Humphreys Drive, Ferrymead (not selling prior)

www.raywhite.co.nz/OPA30096

Yvette Wright

M. 020 4172 1510

E. yvette.wright@raywhite.com

Sunny and Secure in St. Martins

1/16 Claxton Place, St Martins

3 bedrooms, 2 bathrooms, 2 car garaging

Welcome to this wonderful family home in a sought-after location on a peaceful cul-de-sac, currently

within several great school zones including Cashmere High. Close to local amenities and an easy stroll to

St Martins New World, Bohemian Bakery, Christchurch Rudolf Steiner School, St Mark's School, and the

river is just a 'stone's throw' away for your weekend walks. Comprising of three good sized bedrooms with

dual-glazed windows, the main bedroom has wonderful proportions and includes an ensuite and walk-in

robe; there is plenty of space for everyone. There is also a very spacious conservatory that is a wonderful

addition to the living space. The really decent-sized open kitchen and dining flows through to the sunny

north facing entertaining deck and out to the freshly landscaped yard, providing plenty of space to play and

relax. Act now to secure this fantastic abode!

Sumner Starter

10a Denman Street, Sumner

2 bedrooms, 1 bathroom, 1 car garaging

It's cute, it's light and it's bright. This 2 double bedroom bungalow with a mid century 1950's vibe definitely

ticks the boxes! Featuring kitchen with street outlook, separate laundry, spacious lounge, HRV system,

sunroom plus new log burner providing a warm and sunny home.

A generous 615sqm section with a great backyard for cricket and outdoor games. Fully fenced section with

single garage and garden sheds. All of this within walking distance to schools, St Leonard's Park and Village.

Ideal first home or investment with plenty of scope to add your own touch to maximize the potential of this

appealing property.

Rod Cross

M. 021 763 763

E. rod.cross@raywhite.com

Open Homes: Wednesday, Saturday &

Sunday 1:00-1:30pm

Auction:Thursday 25 November 2021

(unless sold prior), In Rooms, Level 2,

76 Hereford Street.

www.raywhite.co.nz/OPA30130

Open Homes: Wednesday & Sunday

1:00-1:30pm

Auction: Friday 26 November 2021

at 1:00pm, On-Site (unless sold prior)

www.raywhite.co.nz/OPA30143

Rochelle O'Sullivan

M. 022 027 3095

E. rochelle.sullivan@raywhite.com

Jan Edlin

M. 027 433 8025

E. jan.edlin@raywhite.com

Ray White Ferrymead | rwferrymead.co.nz | 03 384 4179 | prier.manson@raywhite.com | Prier Manson Limited Licensed REAA 2008
---
28 Bay Harbour News Wednesday November 10 2021 Latest Canterbury news at starnews.co.nz

Modernised Beach House On The Bay

23 Bay View Road, Redcliffs

3 bedrooms, 1 bathroom, 1 car garaging

Nestled against the sheltered lower slopes of Moncks Bay this modernised,

3 Bedroom home hits the feel good sweet spot where kiwi beach house

style blends with understated contemporary cool.

Solidly built in the 1940's with an extensive upgrade completed in 2014

consisting of a remodelled Styling kitchen/living area, new bathroom and

completely refurbished bedrooms.

Excellent indoor/outdoor flow is provided via stack sliders from both the

living area & master bedroom to the sun soaked north west facing deck and

cottage garden.

This is a sought after location the whole family will love, offering easy access

to high decile schools, cafes, shops and popular "coastal walkway". It is also

perfectly positioned for water sports and active outdoor pursuits being

only minutes from Moncks Bay, various surf beaches and the Port Hills park

zone. Act quickly our vendor's circumstances have changed so this property

must be sold on or before auction day.

Contact me now for more information.

Open Homes: Thursday, Saturday & Sunday 2:00-2:30pm

Auction: Sunday 28 November at 1:00pm, On-Site

www.raywhite.co.nz/OPA30103

Mark Gardner

M. 021 633 669

E. mark.gardner@raywhite.com

Ray White Ferrymead

Phone (03) 3844 179 | Email prier.manson@raywhite.com

rwferrymead.co.nz | /RayWhiteFerrymead Prier Manson Ltd. (Licensed REAA 2008)