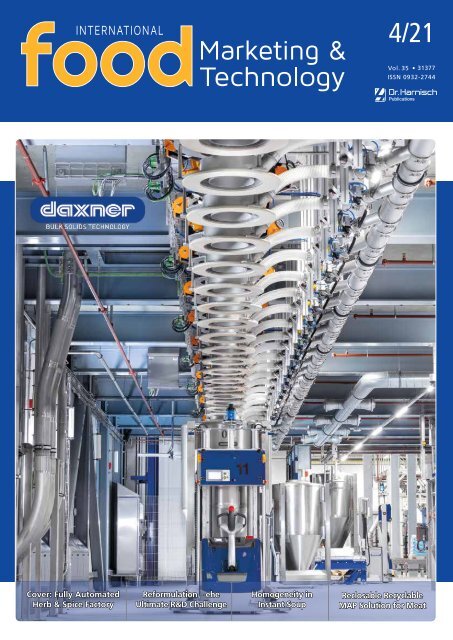 food Marketing & Technology 4/2021
You also want an ePaper? Increase the reach of your titles
YUMPU automatically turns print PDFs into web optimized ePapers that Google loves.
4/21

Vol. 35 • 31377

ISSN 0932-2744

Cover: Fully Automated

Herb & Spice Factory

Reformulation – ehe

Ultimate R&D Challenge

Homogeneity in

Instant Soup

Reclosable Recyclable

MAP Solution for Meat
---
We understand how you strive for constant

product quality and optimized costs.

CONSISTENT

+ CONFIDENT

You are poised to meet your safety and quality requirements

while optimizing resources and securing process repeatability.

Improve your processes with our comprehensive portfolio of measuring instruments:

Deltapilot FMB50:

Compact pressure sensor for

hydrostatic level measurement is

condensate-resistant and accurate.

Promag H 100:

Flow measurement specialist with

an ultra-compact transmitter is

designed for hygienic applications.

Smartec CLD134 and CLD18:

Toroidal conductivity systems

optimize cleaning and reduce

product loss.

Do you want to learn more?

www.endress.com/food-beverage

Key No. 96342
---
Editorial

Everyone's Nutrition is Personal

In every family there is someone who

doesn't eat their vegetables or who

prefers gravy next to their meat instead

of over it. There is mostly a loving mother

who wants to meet all the wishes. Is this

personalised nutrition?

There are also people who cannot - or

will not - eat nuts, fish, mushrooms,

lactose or gluten products. Some choices

are certainly personal, but some are

determined by the physical needs of

our metabolism and gut flora. These

change according to age and health or

temporarily, for example in pregnancy

or after an operation.

At first glance the whole hot topic of

personalised nutrition seems like an

unrealistic dream. However, the team

behind the NEWTRITION X Innovation

Summit scheduled alongside the

upcoming Anuga fair in Cologne,

Germany, have gone several steps

further to bring examples of trend

research and practical realisation which

go beyond theoretical science.

In Cologne, as well as online, on

October 12th, experts will build on

the experiences of the previous event

which "presented current findings and

solutions to the questions of what our

daily diet will look like in the future, how

we cook and, above all, which foods we

will choose with which decision-making

aids. While nutritional medicine is now

relying on personalisation as an effective

remedy against welfare-related diseases,

technology providers are working on

the tools for an all-round carefree

package of health tracking, smart

home appliances and nutrition plan,"

as summarised by Stephanie Mauritz,

Director of the Anuga show in her

welcome to the Newtrition event.

"At NEWTRITION X. 2021, we therefore

want to place even more emphasis on

practical implementation. Innovative

companies and start-ups show us

successful examples of how personalised

products can be created and brought to

the consumer. Renowned speakers show

how science, nutrition advice, industry

and trade together can find the way

into the future of Personalised Nutrition.

It can be much discussed, debated and

"networked," she concluded.

The whole topic is not as unlikely as it

first seems. The current Olympic Games

and the various international football

tournaments are full of athletes who

Ian Healey

Editor-in-Chief

have an individual dietary plan and even

amateur sport is boosted by protein

products and other options.

Since the discovery that food eaten by

a person at a different time of day can

have a different effect on his or her

metabolism, the concept of personalised

nutrition has developed and expanded.

Now there are algorithms and artificial

intelligence concepts to take it beyond

our dreams. Hippocrates knew this all

the time: "Let food be thy medicine and

medicine be thy food."

Photo: BK

Sincerely,

If you like it – subscribe!

food Marketing & Technology • August 2021

3

food Marketing & Technology • August 2021
---
The world's nutraceutical event

5-7 October 2021 Geneva

4-8 October 2021 Online

Contents

food Marketing & Technology August 2021

1 Editorial

50 Impressum

The world's nutraceutical event is back, and for the

first time ever it's a hybrid event. Join us in person

and online at Vitafoods Europe 2021 to share ideas,

see new products, source ingredients, and network

with an inspiring community of experts, pioneers

and trend-setters from over 110 countries.

Ingredients

10 Powder Power: Natural Anti-Caking Solution with Added

Nutritional Benefits

12 Three Preferences on Sweet Taste Perception now Decoded

13 The Natural Taste is in the Oil

14 Citrusology Educational Programme Newly Launched

15 Reformulation: the Champion of Product Development

18 Chickpea Protein Beats Eggs in Mayo

20 Lower Sodium, Higher Flavor Craveability

Processing

6 Europe's Most Innovative Spice Production

22 The Bioautomated Algae Plantation

26 Mixture of Bouillon Mass as a Technical Processing task

Homogeneity is a Winner

28 Cobot Palletizer set to Revolutionize Robotic uptake

34 Scalable CIP Automation Solutions

Packaging

30 A "Greener" Future for Snacks Packaging?

38 Reclosable, Completely Recyclable MAP Solution for

Sliced Meat – Swiss Manufacturer Bigler is Causing a Stir

at Retail with FlatMap®

Geneva: 5-7 October

Online: 4-8 October

For more details visit

vitafoods.eu.com

*Onsite visitor registration will cost €160

Key No. 100727

Departments

42 Popularity of Sports Nutrition Products to Continue to Grow

44 The 6th Edition of agrofood & plastprintpack Nigeria is a

Major Milestone Event

46 Fi Europe Combined with Hi Europe to Take Place in-person

48 PPMA's Flagship Show will go Ahead in 2021

49 Calendar of Events
---
Vol. 35 • 31377

ISSN 0932-2744

4/21

Cover: Daxner GmbH

Cover: Fully Automated

Herb & Spice Factory

Reformulation – ehe

Ultimate R&D Challenge

Homogeneity in

Instant Soup

Reclosable Recyclable

MAP Solution for Meat

Europe's most innovative spice and herb

factory is technically impressive: the plant

design guarantees a high throughput

performance and dosing accuracy. The

possibility of cross contaminations

and dust formation was reduced to a

minumum. According to the hygienic

design requirements, all components were

executed in stainless steel and designed

for easy cleaning. The centerpiece is the

Daxner Container Handling System.

Our Cover Story starts on page 6.

Successful Reformulation

Reformulation is an ongoing issue for manufacturers. It's a

complex task that involves balancing the desired sensory profile

with consumer acceptance. GoodMills Innovation is an expert

in reformulating existing recipes and supports manufacturers

with its expertise and high-quality clean label ingredients. Find

out more on page 15

Instant Soups

Instant soups and bouillon cubes are a convenient and fast

snack, but the production demands complex process technology

requirements. Not only are the ingredients numerous but also

extremely different in terms of consistency and composition. An

effective opportunity to implement this demanding mixing task

comes from the Lödige. See page 26

Meat Packaging

The Swiss family company Bigler AG supplies retailers and

butchers in Switzerland under private label, as well as under

its own Bigler brand. Always open for new ideas, the company

became a pioneer in 2017 by launching skin packaging based

on cardboard carriers, also known as FlatSkin ® . See the full story

on page 38

Key No. 97084

food Marketing & Technology • February 2016
---
Cover Story

Europe's Most Innovative Spice Production

State of the Art Plant Technology sets the Bar High for Future Quality Standards.

"We are building Europe's most innovative factory for herbs and spices," claims Euroma when talking about

its new milestone for the future in Zwolle (Netherlands), who just recently took over Intertaste. As one of

the leading producers of high-quality herb and spice mixtures as well as texture solutions, they instructed

Daxner from Wels (Austria) with engineering, fabrication and installation of a fully automated plant solution

centering around the well-proven Daxner Container Handling System DCS.

The showcase plant was taken into

operation in 2019. It was built on an

area the size of 5 soccer fields, houses a

29 m high bay storage and was awarded

the BREEAM Excellent Sustainability

Certificate. First and foremost the plant

enables Euroma, known as pioneer of

gentle herb processing, to increase

the production volume and reach a

new level of food safety. Euroma aims

to unify the entire dries processing

of all exisiting factories at the new

production site in Zwolle.

Mr. Teun van Veen, project manager at

Euroma, still remembers the start of the

project well: "Euroma was preparing

its visit to the Powtech. By preparing

the visitors list we found the company

Daxner delivering a complete concept

for a spices and herbs plant. We found

a reference article on the website of

Daxner. We were enthusiastic about

what was written in that article. First

contact was made and we filled in

our requirements on a questionnaire

of Daxner and sent some additional

information." An initial meeting

followed and Euroma placed its first

order for a pre-engineering of the

plant.

Fully automated Container

Handling System DCS

The technically impressive plant

design guarantees a high throughput

performance and dosing accuracy. The

possibility of cross contaminations

and dust formation was reduced to a

minumum. According to the hygienic

design requirements, all components

were executed in stainless steel and

designed for easy cleaning.

Perfectly in sync with the fully

automated Daxner Container Handling

System DCS, laser operated Automatic

Guided Vehicles AGV make their way

through the production facility to

collect the valuable dry components.

The raw components are divided into

large, middle and small components.

Large components, like wheat flour or

10.000 l weighing bins above the high performance mixing lines

6

food Marketing & Technology • August 2021
---
Cover Story

potato and corn starch, are delivered

in tanker trucks and stored in 12 large

outdoor silos. A pneumatical vacuum

conveying system transports them to

the day bins within the plant.

Mobile bag and big bag intake

stations

The filling of large and middle

components into day bins happens with

mobile bag and big bag intake stations.

Below the day bins, highly precise

scales were installed. Depending on the

product's qualities, separate day bins as

well as weighing systems are assigned

accordingly. This exact allocation

avoids cross mixing with any allergenic

raw materials.

Once all of the seperate raw materials

are dosed into the weighing bins, the

collection process with the Daxner

Container Handling System DCS combined

with the Automatic Guided Vehicles

AGV commences. One AGV, loaded

with a 1,500 liters container, drives from

weighing bin to weighing bin and fills

itself with the preweighed raw materials.

This concept saves time: As soon as one

raw material component is picked up, the

The containers move through the plant with the help of Automatic Guided Vehicles

weighing bin can dose the batch for the

next container immediately.

Supplying the small and minor

components

The manual feeding of the containers

for small and minor components

happens on the ground floor.

According to the goods-to-man-concept,

all ingredients are brought to the

operator: the containers with the AGV,

the small components in bags on palletts

and the pre-commissioned minor

components in crates from the minor

components storage (MCS). Therefore,

the system achieves a time optimized

Fully automated collection system with Daxner Container System DCS combined with FTS System

food Marketing & Technology • August 2021

7
---
Cover Story

supply of all components without

unnecessary ways for the operator.

Once all components are fed into

the container, it continues its fully

automated path to the assigned mixing

line. The container is transported to the

container elevator with the help of an

AGV and lifted onto the floor above the

blender. From there, another AGV picks

it up and sets the container precisely

above the respective blender. Not

only the opening of the latch but also

the emptying of the blender happens

without the help of an operator.

After the blending process of herbs,

spices and other ingredients, a quality

control of all products is conducted.

The finished mixes are weighed and

filled into mounted big bags and fed

into the according packaging lines.

Great flexibility with various

blender types

Blenders with a capacity of 1,500 up to

10,000 liters are used. There are multiple

ways of filling the blenders: directly

from the outdoor silos, with containers

or through liquid dosing. After blending,

the product is emptied directly into one

of the downstream containers.

Blender and container sizes are an

optimal match and offer immense

flexibility when it comes to possible

batch sizes. This freedom in design

emphasizes another highlight of this

plant: a container blender with a

volume of 1,500 liters where the mixing

happens directly in the container. The

advantage for the user: one saves a

whole process step because the filling

process into the blender is cut out

completely.

Packaging of the finished mixes

After the blending process, an

Automated Guided Vehicle collects

the containers with the finished mixes

and transports them without manual

help to the discharge station which is

located next to the bag filling station.

The gravimetrical bag filling and

weighing system DAX-PVS (Pinch Valve

System) fills the finished mixes into sales

packaging. The core components of the

DAX-PVS systems are the pneumatically

operated pinch valves which guarantee

the exact dosing of the products.

Fulfills HACCP and IFS

The complete blending and packaging

line is equipped with an aspiration

system which reduces dust formation

to a minimum. The central dedusting

system guarantees easy and

comfortable cleaning of the whole

facility. Furthermore, the system fulfills

the requirements for IFS and HACCP.

"From the beginning on, Euroma had a

good feeling about the Daxner concept.

We were convinced from the first

moment that Daxner was the company

to work with." states Teun van Veen

"None of the competitors could deliver

the same complete concept", Mr. Van

Veen emphasizes the project's success

further.

fmt

Contamination free filling of the day bins with big bags. On the right: vertical mixer in hygienic design

8

food Marketing & Technology • August 2021
---
Ingredients

The leading in-person and online

event in the F&B ingredients industry,

evolved to offer you MORE

JOIN US

Key No. 100725

food Marketing www.fi-europe.eu

& Technology • August 2021

9
---
Ingredients

Powder Power: Natural Anti-Caking

Solution with Added Nutritional Benefits

Calcium carbonate promises a range of technological and dietary advantages

by Carolina Diaz Quijano

Powders for food applications are

ever-present in everyday life - think

salt, sugar and spices, for example - and

represent a large proportion of the

total processed food in the world. There

are several reasons for this, including

low bulk weight, ease of transport and

storage, and relatively high stability.

The powdered drinks category is

undergoing rapid transformation, too,

as a result of exciting new innovations

and an increase in the number of

people enjoying walking, trekking

and camping holidays. According to

analyst Market Data Forecast, the

powdered soft drinks market – valued

at an estimated at 10.4bn USD in 2020

– is expected to expand at a CAGR of

2.8 per cent to 12.2bn USD by 2026.

Furthermore, the global fruit powder

market alone is poised to register a

CAGR of 4.15% during the forecast

period (2020-2025).

However, during processing, powders

are subjected to different stresses that

will impact their flowability, such as

mixing, storing, dosing and conveying.

When caking occurs, powders are

transformed into a sticky, undesirable

material as a result of their hygroscopic

(a tendency to absorb moisture from the

air) behaviour. This not only results in

loss of functionality but also negatively

impacts quality. To prevent this, the

use of anti-caking agents is necessary.

Calcium carbonate is one such solution,

as it is a natural ingredient combining

excellent performance with other

advantageous properties.

Highly effective and

multifunctional

Besides being a highly effective anticaking

aid, calcium carbonate minerals

support extrusion, act as a white

pigment for coatings, provide texture

and volume, and are also suitable for

nutritional fortification. Furthermore, as

consumers are increasingly demanding

natural and clean label ingredients,

food producers are keen to reformulate

with non-artificial but multifunctional

alternatives. Here, calcium carbonates

perfectly fit the bill.

With more than 130 years of expertise

with this natural raw material, Omya has

developed special techniques to process

these particles in order for them to fulfil

numerous functions in both food and

beverages.

Omya Calcipur ® and Omyafood ® are

multifunctional, anti-caking solutions

that help prevent the grouping of

powder particles during processing,

transportation and storage. When

the ingredient is added to powder, it

embraces the particles and reduces

their adhesive forces, thus preventing

lumps. In short, it absorbs moisture and

oil while maintaining its stability, and

so can be easily processed. And as well

as powdery products, the particles can

also be used to prevent grated cheese

clumping and stop cheese slices sticking

together. But the ingredients are not

solely suitable as anti-caking agents

in powdery food products - including

table salt and salt replacements, packet

soup, cocoa products, milk and milk

protein powders - as they also boost the

nutritional profile of end products.

First choice for fortification

Calcium is the most abundant mineral

in the body. It is not only essential

for healthy bones and teeth, but also

necessary for vascular contraction and

vasodilation, muscle function, nerve

transmission, intracellular signalling and

hormonal secretion.

Adequate, lifelong dietary calcium

intake is necessary to support bone

health. And as a consequence, calcium

fortified foods and drinks have

become mainstream. That's because

they allow consumers to easily achieve

recommended daily intake levels of

calcium without impacting individual

eating and drinking habits.

Omya's calcium carbonates are an

excellent choice for fortifying dairy and

non-dairy drinks, and certain foods, thus

optimising the nutritional value of the

end product. With a calcium content

of approximately 40%, Omya Calcipur ®

is an excellent source of this mineral.

And compared with other available

technical solutions, up to five times less

Calcipur ® is required to obtain the same

10 food Marketing & Technology • August 2021
---
Ingredients

Author:

Carolina Diaz Quijano

calcium dose in a finished foodstuff.

That makes it perfect for minimising the

cost of supplementation while enabling

promising positioning opportunities in

the bone health sector.

It can be used to enrich breads, bread

rolls, tortillas, snack bars and bagels,

for example, and is a perfect match for

the calcium fortification of fine baked

goods such as biscuits and cookies.

There is also great potential for

products that are already perceived to

be healthy, such as breakfast cookies,

which are designed to be easy to

eat on-the-go and provide valuable

nutrients and satiety at the same

time. These applications can be easily

fortified with calcium by replacing

the corresponding amount of flour

with Omya Calcipur ® . By replacing

600mg of flour in a single 35g bread

roll, a calcium dose of 240mg can

be achieved, enabling an "excellent

source of calcium" claim to be used.

Besides bakery and confectionery

produce, calcium carbonate offers a

further desirable quality that is useful for

the snack market: The ingredient is able

to intensify the perception of sweet or

salty, enabling a reduction in the amount

of sugar and salt required. The finished

product therefore boasts a better health

profile without loss of taste or texture.

Finally, as they are guaranteed non-nano

materials and hypoallergenic, Omya

Calcipur ® and Omyafood ® meet strict

safety criteria. They are also compliant

with stringent regulations that ensure

any heavy metal contaminants are

kept to an absolute minimum - a vital

consideration for food and drink

manufacturers, particularly producers of

infant foods.

fmt

References:

1 https://www.marketdataforecast.com/marketreports/powdered-soft-drinks-market

2 https://www.mordorintelligence.com/industryreports/fruit-powder-market

Switzerland-based company Omya

has established itself as a leading

global supplier of naturally derived

calcium carbonate and owns mineral

deposits all over the world, ensuring

continuous availability. Thanks

to a thorough selection process,

the company ensures that the

concentrations of heavy metals in

their raw materials are significantly

lower than the legal thresholds.

Using the latest technology, the

minerals can be processed for a wide

range of purposes and applications;

particle sizes and functionalities can

be adjusted according to individual

demand, for example.

Customers benefit from the

company's strong commitment to

R&D, including a state-of the art lab,

patented products and application

know-how. Experts are always

available to discuss specific customer

requirements. And, to keep abreast

of current developments, sciencebased

collaborations with universities

and institutes form a substantial

part of their business. In addition to

calcium carbonates, Omya also has

a distribution business with a huge

range of different ingredients. As a

result, holistic solutions and innovative

product concepts are brought to life

by combining employee experience

with deep application-related

insight and knowledge, high quality

ingredients and working closely with

customers.

food Marketing & Technology • August 2021

11
---
Ingredients

Three Preferences on Sweet Taste

Perception now Decoded

• Three taste routes to reduce the sugar level while also meeting consumer taste preferences

• Diverse consumer preferences on the ideal level of sweetness

• Taste solutions portfolio evolved to support food & drink manufacturers

One of the fastest growing demands relates to better-for-you food and drink products with a natural and

balanced level of sweetness. Symrise has done a deep dive into consumption behaviors and focused on

revealing the diversity of sensorial preferences. It has conducted studies to guide the development of new

taste solutions that meet the latest consumer taste preferences. The resulting solutions balance the taste

of a reduced sugar level from cookies to cocktails while keeping a maximum level of indulgence in different

ways, for different consumers.

Established and new labelling systems

like the UK's traffic light system or the

Nutriscore are helping consumers to

navigate their purchase. "The desire

for a healthy weight and more natural

sweetness in products has led to an

increasing number of people looking

for sugar-reduced products. These

should taste good and, ideally, contain

fewer calories," says Dr. Dariah Lutsch,

Sensory & Consumer Insights Research

Manager of the Flavor Division at

Symrise. "A purchase simulation shows

that 75 percent of consumers would

choose reduced-sugar versions within

nearly all product categories", adds

Lutsch.

This refers to a study on sweet taste

perception in Europe, Africa and

the Middle East Symrise has recently

carried out. It has found that multiple

routes exist to reduce the sugar level

while at the same time meeting taste

preferences.

Route #1 – tastes as sweet as the full

sugar version and 33 % of respondents

prefer it. Route #2 – tastes similar and

less sweet and 20 percent of consumers

prefer this route.

Route #3 – The third group of about

22 % behaves more adventurous. They

are looking for a new unique flavor

composition and accept a difference

in taste compared to the full-sugar

version.

Ideal sweetness for soft drinks

With a further study on the 'Ideal

Level of Sweetness' in 2019 for Cola

CSD (carbonated soft drinks) in

Germany, Symrise wants to determine

the optimal sweetness level with

different sugar contents from 106 g/l

to 75 g/l sugar. The study re-confirmed

the findings and also revealed that

consumers perceive a sample with 75

g/l as lacking in sweetness. Knowing

that sugar reduction in beverages

impacts the overall taste profile and

sweet taste dynamics from mouthfeel,

Symrise conducted a second study and

tried to increase the consumer liking

of sugar-reduced products by applying

Symrise taste balancing solutions

with Symlife ® . The team succeeded

in dramatically increasing the overall

liking of sugar reduced cola versions

85g/l and 75g/l by adding the taste

solution of Symrise.

Regardless, which route consumers

prefer and which target consumer food

manufacturers would like to reach,

Symrise supports their customers in

reducing calories in a range of beverage

products – from ice tea to CSDs – and

offers the final taste profile consumers

love across all three scenarios.

Ideal match for sweet goods

Especially in sweet baked goods,

consumers desire a guilt-free and

highly indulgent experience. ® Symrise

experts for sweets and baked goods

have extended the portfolio with a

new natural Symlife taste solution

'Sweet Optimizer Baking MFC" to meet

that demand. The multi-functional

compound uses flavor and bulk

ingredients and particularly focusses

on sweet baked goods to meet the

multiple challenges of sugar reduction.

The compound allows manufacturers to

reduce up to 50 % sugar and it works

like a 1:1 replacement e. g. in biscuits

while keeping the preferred taste,

appeal and texture.

"At the same time, consumers are

becoming increasingly aware of their

choices in the confectionary segment,

says Lisa Wulf, Marketing Manager

Category Confectionary. The

reduction of sugar in confectionery

products affects the entire level

of richness and mouthfeel like in a

chocolate bar. Our confectionery

customers ask us to support this

demand of healthier products with a

highest level of superior experience

and pleasure. That's why we have

developed Symlife ® solutions, to

overcome the compromises on the

indulgence level, Wulf explains.

12 food Marketing & Technology • August 2021
---
Ingredients

The dairy health trend

The Symrise studies have also revealed

that especially with dairy products

consumers want to reduce their sugar

intake and feel healthier. They are

looking for less sweet and also rich taste

experiences. As a result, the 'no added

sugar' claim trend in dairy has been

growing. To support manufacturers

in this field, Symrise has increased

its know-how to pair flavors with a

no added sugar matrix, delivering

a delicious sensory experience. In

this, the depth of the flavor forms a

no-compromising element whereas

consumers allow the sweetness level

in some cases to taste different, new

and exciting. In that regard, Symrise

benefits from global chefs inspirations

to reformulate products to taste great

with natural taste solutions.

For food manufacturers that want to

meet the target of a 1:1 replacement

Symlife ® offers taste balancing solutions

for a 25 % or even 50 % sugar reduction

with no compromise on the experience

level. Thanks to its ecosystem and

partners the taste experts can offer a

full replacement complemented with

additional balancing ingredients.

Taste expertise on all levels

Food and drink manufacturer have

started to reformulate their products

and have to meet the challenge

to maintain the taste experience

consumer love. Next to the evolved

Symlife ® portfolio, Symrise offers

regulatory guidance, sensory methods

and analytics to ensure that all

solutions are meeting latest regulatory

standards without any compromise on

experiencing indulgence.

A sugar-reduced product can fulfill

consumers' desire for healthy food and

drink in many different ways – from 1:1

replacements to completely new taste

experiences. Symrise is building on

these insights and offers natural taste

solutions across for all segments to

meet the demand of diverse consumer

groups.

fmt

The Natural Taste is in the Oil

Infuso is a natural, flavored oil that is

set to make snack production a whole

lot easier and help food manufacturers

in their quest for an outstanding

snacking experience.

The innovation team at Griffith Foods

have been busy creating a solution

that is brilliant in its simplicity and

delivers intense, bold flavors and can

create multi flavored profiles in a

savory snack.

Creating bold flavors

With Infuso, you can customize the

intensity of the taste and create a

unique, bold flavor profile.

Infuso replaces the oil that is sprayed on

the snack substrate before seasoning. It

can be used without disruption or extra

cost as it requires a single sprayer, often

already installed.

As the solution provides less, up to no

dust on site, which translates in less

product waste. And it can be applied

to a huge range of snacks including

premium crisps, veggie extruded

snacks, pop chips, breadsticks,

pretzels, rice cakes, nuts, seeds and

tortillas.

Johan Boot concludes by saying:

"Infuso provides a clear breakthrough

as a single step innovation that can

transform the flavor profiles of any snack.

It's easy to use no fuss application can

utilize existing sprayers with applications

that provide complete flexibility in oil

composition and perfectly balance flavors.

Customers can experiment with a variety

of processes as well as salt reduction and

gluten elimination which strengthen

health profiles. Its heavy concentrations

mean easy, efficient transport and less

storage requirements make infuso a

highly sustainable choice and one we

expect to make a very positive impact for

our customers, globally."

fmt

"We co-develop the right flavors

together with you, proven by our

sensory capabilities and driven

by our consumer insights," says

Johan Boot, Vice President, Product

Development & Innovation, Griffith

Foods Europe.

"Our product range offers flavored oils

in various flavor buckets: from green

herbs, to Chili flavored oil and even a

Peking Duck style.

Infuso in the production process

The standard two step seasoning

process is replaced by a smoother, less

complex single step application.

food Marketing & Technology • August 2021

13
---
Ingredients

Citrusology Educational Programme

Newly Launched

Synergy Flavors has launched a new

educational programme – ' ology'

– to inspire food and beverage

manufacturers eager to tap into

consumers' continued interest in citrus.

The programme includes a series of

educational webinars to help food and

beverage manufacturers explore the

nuances of flavor across regions and

citrus varieties. Webinars on lemon

and orange have been recorded and

are available to view online and future

sessions in 2021 will cover grapefruit

and lime.

Synergy has created this programme by

drawing on its decades of experience

in developing citrus profiles using

a range of extraction methods and

different techniques to understand

profiles and guide flavor creation. Gas

chromatography-mass spectrometry

(GC-MS) coupled with flame ionization

detection is used to analyse essential

oils and orange extracts to identify

the key flavor compounds in different

varieties of orange, for example.

Through the analysis of different

orange varietals and types, Synergy

was able to identify compounds which

make each profile unique. As an

example, analysis showed that a high

concentration of a flavor compound

called Sinensal can contribute to juicy

notes, while the flavor compounds

Dimethyl anthranilate and gamma-

Terpinene are likely to be responsible

for characteristic floral and woody

notes. Using these insights Synergy can

create authentic citrus flavor profiles to

inspire manufacturer's citrus product

development projects. Examples

include: blood orange with 'orange',

juicy and fruit notes; a mandarin flavor

with more predominant floral notes;

and a Floridian orange with peely notes.

Phil Ashman, Synergy UK Flavorist

commented: "We use sensory

evaluations by an expert panel to help

convey the flavor differences to our

customers. Sensory analysis ensures

orange profiles discriminate well in the

perceived flavor and mirror the data

obtained from the analysis. Principal

components regression analysis can

be applied to simplify the complexity

of the sensory data and retain trends

and patterns among the flavor profiles

and their flavor characteristics. The

sensory data provides customers the

opportunity to choose between a

variety of citrus flavors with unique

flavor profiles and identity the type of

orange profile they are looking for. For

example, a Floridian orange is more

'peely' in comparison to a Brazilian

orange, and the Blood orange had

balanced 'fruit' and 'juicy' intensities."

Vicky Berry, European Business Development

Manager, Synergy Flavors,

commented:

"Citrus has always been a 'core' flavor

but our technology and expertise,

coupled with 130 years of citrus

heritage, allow us to develop authentic

fruit profiles and enable us to convey

the nuances clearly to our customers.

Whether it be through a natural flavor

or the named provenance material,

our approach and our heritage help

our customers deliver the best tasting

citrus products. We're excited to

be able to provide customers with

support in every step of their citrus

journey, from profile selection and

stability to product formulation and

labelling."

fmt

14 food Marketing & Technology • August 2021
---
Ingredients

Reformulation: the Champion of Product

Development

A crucial aspect of successful reformulation is keeping the final sensory profile in mind

Reformulation is an ongoing issue for

manufacturers. Food and drink recipes

are frequently changed for several

reasons, such as adapting them to meet

regional taste preferences, to improve

the supply chain, reduce costs and/

or achieve (c)lean label status. With a

healthy diet growing in popularity and

the use of NutriScore Labelling in more

and more European countries, improving

an end product's nutritional profile is at

the very heart of reformulation. Plus,

with the booming plant-based-market,

the veganization of formulations is

also high on many manufacturers'

agendas. But it's not just about leaving

undesired ingredients out and replacing

them with "good" ones, it's a complex

task that involves balancing the

desired sensory profile with consumer

acceptance. GoodMills Innovation is an

expert in reformulating existing recipes

and supports manufacturers with its

expertise and high-quality clean label

ingredients. Jürgen Senneka, Head of

Product Development & Application

at GoodMills Innovation, talks about

challenges and solutions.

Healthier choices

COVID-19 has markedly demonstrated

just how perilous diet-related diseases

can be: obesity and diabetes both

exacerbate the effects of the virus

and increase the probability of a more

severe pathophysiology and likelihood

of mortality. Almost universally, health

experts recommend that we reduce

our dietary intake of sugar, salt and fat

to combat nutrition-related diseases.

Given the widely acknowledged fact

that changing eating behaviors is

difficult for most consumers, there

is regulatory pressure on the food

industry to "healthify" their products.

Many manufacturers are aware of

their responsibility and offer optimized

choices.

Challenge 1: Cutting sugar

Sugar has both vital sensory and

technological functions. Besides

providing a sweet taste profile, it also

acts as a flavor carrier. Technologically,

it facilitates the fermentation of yeast

in baked goods, provides body and has

a preservative role. When reducing the

amount of specific ingredients in recipes,

the mass of this particular component

always has to be compensated.

"Let's say you have a cake with a

sugar content of 20%. If you switch

When it comes to the replacement of sugar, micronized bran works well as it provides both body and sweetness.

food Marketing & Technology • August 2021

15
---
Ingredients

to a zero-mass sweetener, you have to

find a solution to balance out this gap.

Dietary fiber works well here."

Here, GoodMills Innovation offers

different solutions. On one hand,

their HIGH MAC dietary fiber is

based on bran, which is micronized

and contains natural wheat fiber,

minerals, vitamins and secondary

plant constituents. Owing to the very

fine particles (less than 100 µm), an

appealing texture is achievable that

also provides body. On the other

hand, SnowWheat is a flour made

from specific whole grain variants

(White Wheat) that delivers a mild,

white-flour-like taste profile.

Both options provide a good working

base to create a well-rounded sweet

sensory profile and a full-body texture,

all while enriching baked goods with

dietary fiber. Depending on the product

concept, GoodMills Innovation's experts

are on hand to help customers with their

reformulation processes. Depending on

the dosage, for example, manufacturers

may be able to use nutritional claims

such as "source of fiber" or "high in

fiber". When using a labelling system

such as NutriScore, enhancing the

fiber content is a good way to achieve

a better nutritional ranking. Possible

applications are biscuits, cakes, filled

wafers, granola bars and yeast-raised

products such as brioche.

Challenge 2: Cutting salt

As with sugar, salt also plays important

sensory and technological roles

in baked goods. It supports a fullbodied

mouthfeel and augments

the perception of sweetness. From a

technological perspective, it strongly

influences the dough composition. The

interaction of salt ions with the gluten

impacts the yeast's gas formation.

Overall, these interactions affect

dough composition and both the crust

and crumb of the final baked product.

To compensate for the lack of

salt, flavor enhancers can be used

to improve the sensory profile.

Baking agents can offset both the

organoleptic and technological

effects of sodium reduction. By

contrast, though, flavor enhancers

A feasible approach for replacing eggs in pound cakes recipes is the use of protein flours.

and baking improvers are likely to

introduce additives to the ingredients

list. Natural options to improve

the flavor of bread include adding

sourdough, wheat bran, wheat germ

or ingredients such as herbs or dried

vegetables.

"Within our Slow Milling range, we

have a number of flavor-enhancing

offerings, such as baking enzymes,

malted ingredients, coarse meals,

sprouts, seeds and flakes. Our

huge selection of tailored natural

ingredients can be thought of as a

modular system. And, because of

the way we gently process the raw

materials, using traditional methods

such as fermentation, the ingredients

score with a multifaceted sensory

profile that adds value to baked

goods and compensates for a certain

amount of taste loss."

Within the German bread market, for

example, the baking industry managed

to achieve consumer acceptance with

low-sodium products. Today, there's

rarely a packed bread with more

than 1.1% salt available, which is a

reduction of approximately 10-15%

compared to some ten years ago.

Challenge 3: Veganizing recipes

With the plant-based market

skyrocketing, vegan versions of classic

baked goods are increasingly in

demand. And whereas vegan varieties

of rustic baked goods such as breads,

bread rolls and pretzels are frequently

available, the fine baked good market

is a trickier hurdle to overcome.

Likewise, although dairy product

ingredients such as butter can be easily

replaced with margarine and oil, and

plant-based alternatives are available

for milk and quark, finding a proper

replacement for eggs is an ongoing

challenge for cake manufacturers.

One approach is to use protein flours

based on lupins, chickpeas, lentils or

soy, for example. This is not a new

concept and, prior to the plant-based

trend, was previously done to keep

costs down. When it comes to doughs

for pound cakes and biscuits, this

works really. But if a foam-stable

dough is needed, such as for sponge

cakes, then the options are limited

because of thermostability issues.

It's certainly possible to use plantbased

hydrocolloids — but these do

come with the downside of adding

E-numbers to the formulation.

16 food Marketing & Technology • August 2021
---
Ingredients

"Veganizing formulations is an exciting

field and one that will keep us busy in

the next few years. As experts in baked

good applications and pioneers in

clean label, we're doing comprehensive

research into appropriate solutions."

Enhancing the fiber content to compensate

for sugar reduction is, for example, possible in

yeast-raised products such as brioche.

Summary and outlook

In most examples, it's not just a matter

of removing one ingredient; it's about

balancing a number of different

components to achieve the required

result. GoodMills Innovation's approach

is to maintain the original ingredient

list as much as possible and find smart

alternatives from within our vast

portfolio that complement the overall

matrix. There are exceptions, of course;

sometimes an original recipe can be

optimized by eliminating E-numbers.

In such instances, we'll take a twopronged

approach and address both

issues at the same time. Thanks to our

extensive clean label experience and

array of ingredients, this can usually be

done without sacrificing either taste or

functionality.

fmt

Ingredient Original recipe Amount [g] Reformulated recipe Amount [g]

Wheat Flour Type 550 1000 840

Micronized bran (HIGH MAC) - 100

Protein Flour (Smart Wheat) - 60

Butter 150 -

Rapeseed oil - 70

Sugar 150 120

Skimmed milk powder 30 30

Liquid whole eggs 200 220

Clean Label Baking Improver (GOOD Briche CL) 10 10

Compressed yeast 70 70

Salt 15 15

Water 250 350

Energy [kcal] 351 301

Sugars 10,6 8,7

Saturated fat 5,5 1,1

Salt 0,9 0,9

Protein 9,9 9,9

Fiber 2,8 4,7

food Marketing & Technology • August 2021

17
---
Ingredients

Chickpea Protein Beats Eggs in Mayo

ChickP's 90% protein isolate demonstrates compelling "aquafaba" effect.

ChickP Ltd., presents its chickpea

isolate as an all-purpose, nutritionpacked,

plant-based egg alternative

for eggs in mayonnaise. The start-up

company teamed up with select

food companies to help formulate

egg-free recipes, including a creamy

mayonnaise substitute and saladdressings.

The resulting products

have the flavor, appearance, and

functionality of counterparts with real

egg, all the while adding nutritional

value. The company is commercializing

two different chickpea-sourced

isolates, each designed to impart

specific organoleptic qualities.

A 1:1 egg replacement for mayo

ChickP's proprietary isolate is starring

in different mayonnaise recipes as a

one-to-one replacement for egg yolk.

The pilots were so successful that

one formulation is now going into

large-scale pilot production. Food

producers operating in the plantbased

spaces also are turning to the

ChickP isolate as a highly functional

clean-label emulsifier allowing them

to whip up vegan creams, sauces, and

dressings as it hits key notes in sensory

and flavor qualities.

Products crafted with ChickP's isolate

exhibit long shelf life and good heat

stability, making the ingredient

suitable for dispersal into both hot

and cold applications.

The isolate, which boasts 90%

protein content, utilizes all the

extractable components of the

chickpea, providing a powerful

and holistic nutritional boost. It is a

proven and compelling egg replacer

for vegan food formulations in this

category, giving food companies' new

opportunities to shorten and simplify

their labels. The solution has the

potential to release the vegan mayo

market from traditional dependence

on modified starches, hydrocolloids,

and stabilizers for emulsification

and flavor. The unusually high

protein content eliminates the need

for adding ingredients that are less

nutritionally relevant to the final

product.

Boosting the aquafaba effect

The chickpea's unique ability to assume

egglike behavior has been gaining

traction among the global vegan

and egg allergic communities for a

number of years. Following a turning

point revelation by vegan foodie

Goose Wohlt in 2014, many have been

fervently embracing the practice of

using aquafaba — the starchy liquid

from tinned beans — to whip up

creams for meringues, macaroons,

mousses, and savory delicacies as well

as mayonnaise, creamy dressings, and

cheese substitutes.

"The discovery of the chickpea

aquafaba effect has been a culinary

gamechanger for many vegans,"

notes Ron Klein, CEO of ChickP. "The

downside is that it still doesn't present

a viable egg substitute in nutritional

terms, as it contains only a fraction

of the protein of an egg. We took

the aquafaba concept a leap further

and derived that same desired effect

from the body of the nutrient dense

chickpea isolate."

Future Market insights anticipates the

global egg replacement ingredient

market will register a CAGR of 5.8%

by 2026 reaching an estimated

value of US$1.5B as manufacturers

meet consumer demands for vegan,

vegetarian, and allergen-free

products. Various brands of egg-free

mayonnaise and dressings already are

available, but many use whey protein

concentrate. Others include various

nuts and starches. The former is nonvegan,

and all pose allergen risks.

While growing environmental

awareness is driving a consumer shift

towards the adoption of vegan and

flexitarian diets, additional factors

such as egg shortages, rising prices

of eggs, salmonella risks, and various

egg-related allergies are also making

room for the egg replacement market.

"ChickP isolate presents a highly

nutritious clean-label, plant-based

solution to replicating the role

of the egg yolk in mayonnaise

formulations," says Itay Dana, VP of

Sales and Business Development for

ChickP. "Our isolate demonstrates

superior foaming capabilities due to

its high solubility and smooth texture

and possesses minimal off-notes. This

allows us to tailor mayo recipes to

the customers' desired requirements

and produce a truly creamy product

that is visually and organoleptically

appealing, without the use of

synthetic thickening, texturizing, or

masking agents."

fmt

18 food Marketing & Technology • August 2021
---
Ingredients

Global Alternative

Protein Acquisition

Global nutrition leader ADM has just announced that it has

reached an agreement to acquire Sojaprotein, a leading European

provider of non-GMO soy ingredients. Established in 1977, Serbiabased

Sojaprotein has sales into 65 countries, offering a wide

array of non-GMO vegetable protein ingredients for an extensive

list of European and global customers in the meat alternative,

confectionary, protein bar, pharmaceutical, pet food, and animal

feed segments. The company had more than $100 million in sales

in 2020.

"Thirty years ago, ADM invented the soy vegetable burger, giving

rise to the plant-based protein segment. Today, alternative

proteins represents one of our core growth platforms, and as

this $10 billion global industry grows to $30 billion over the next

decade, we are investing to expand our unparalleled capabilities,"

said Leticia Gonçalves, ADM's president of Global Foods. "The

addition of Sojaprotein – the largest producer of plant-based

protein in southern Europe – adds production capacity in addition

to an impressive network of customers who are leading the way

in meeting consumer needs for nutritious and responsible plantbased

foods and beverages. We're particularly excited for the

opportunity to work together to meet the fast-growing demand

of European consumers who prioritize locally-sourced, non-GMO

ingredients in their food and beverages. We're looking forward

to bringing this successful, growing provider together with ADM's

global footprint, consumer insights and innovative technologies."

Cutting-Edge

Explosion Protection

for the Food Industry

"This agreement testifies to the sustainable business models that

MK Group is implementing, as an investment company with a

diversified portfolio of value-added industries in Southeastern

Europe. This is yet another confirmation of the proven track

record of our management, as well as the global recognition of

the world-class quality of our non-GMO soybean products," said

Aleksandar Kostić, vice president of MK Group, the majority

owner of Sojaprotein.

The addition would build on ADM's recent investments in alternative

proteins, including the company's soy protein complex in Campo

Grande, Mato Grosso do Sul, Brazil; its new pea protein plant in

Enderlin, North Dakota; its PlantPlus Foods joint venture; and

partnerships with innovative startups like Air Protein. "Consumers

today are looking for more from their foods and drinks – they

want great tasting products and sustainable sources of proteins,"

Gonçalves added. "ADM is in a unique position to meet those

needs: Our global, integrated value chain, which stretches from

the farm gate to the dinner table, and our unmatched portfolio

of ingredients and solutions, are why we are the partner of choice

for customers at every step of the food and agriculture value chain.

And as today's announcement demonstrates, we're not content to

stop there. We're focused on continued growth, and we're excited

about the opportunities ahead."

The transaction is subject to regulatory approvals.

fmt

For safety and protection of your production lines,

Thorwesten Vent recommends the use of self re-clo sing,

reusable explosion vents including anti-condensation

trace heating with dryers, silo and fi lter applications.

Do you want to increase product safety and plant

availability? The certifi ed, patented explosion devices

by Thorwesten Vent offer signifi cant advantages.

THORWESTEN VENT GmbH

Daimlerring 39, 59269 Beckum / Germany

Phone: +49 2521 9391-0

thorwesten.vent@thorwesten.com

www.thorwesten.com

Key No. 99677

food Marketing & Technology • August 2021

TWV_foodMarketingTechnology_04_2021_92x244_4c_Anz_Food_EN.indd 1 02.07.21 10:31

19
---
Ingredients

Low Sodium, High Fiber

Craveability

Lower sodium, higher flavor perfect for Plant-Based Bites

The consumer appetite for exciting,

nutritious, full-flavored snacks put the

spotlight on better-for-you plant-based

options. After extensive research and

lab tests, Salt of the Earth introduces its

all-natural solution for making lentils

bites tastier, using less sodium.

Salt of the Earth conducted virtual

research of social media, culinary blogs,

and retailers that indicates flexitarian

and vegan Millennials increasingly are

seeking new plant-based snacks that are

better for you as well as have high protein

content, vitamins, and minerals. After

analyzing the properties of different

legumes, they zeroed in on lentils.

"We developed an application for lentil

snack bites that can be chilled, frozen,

or dried," explains Rakefet Rosenblatt,

food technologist for Salt of the Earth.

"Lentils have lots of protein and a high

overall nutritional value, plus they

blend well with other vegetables. We

noticed that plant-based products are

getting increasing attention on the

market, yet most of the snacks are from

broccoli, cauliflower, or sweet potatoes,

which lack the same level of nutritional

value. Our new application concept can

attract a wider audience, including kids,

thanks to its great taste and reduced

sodium."

"Parents with busy lifestyles are looking

for ready-to eat nutritious treats that

can be part of a meal or an on-the-go

snack for the whole family," adds Tali

Feingold, Business Unit Director of

Salt of the Earth. "My kids won't eat

lentils but these delicious treats made

with Mediterranean Umami Bold have

become a part of our regular routine."

"This Mediterranean Umami Bold

formulation will allow food companies

to easily overcome lentils' natural

blandness and provide a savory

treat," adds Rosenblatt. "You can add

Mediterranean Umami Bold to the wet

mixture as part of the other ingredients.

It completely dissolves, naturally boosts

flavors, all while lowering sodium levels

by a third."

Mediterranean Umami Bold is a cleanlabel,

plant-based solution for flavor

enhancement and sodium reduction.

It is a versatile ingredient with

multiple uses, including boosting

savory flavors and reducing sodium

up to 45% in a variety of products.

It can also be used to reduce the

amounts of certain expensive

ingredients, such as flavorings and

spice blends.

fmt

20 food Marketing & Technology • August 2021
---
Ingredients

7-9

NOV

2021

DUBAI WORLD

TRADE CENTRE

THE YEAR'S MOST

INFLUENTIAL EVENT FOR

GLOBAL F&B MANUFACTURING

EXHIBIT NOW

gulfoodmanufacturing.com

gfm@dwtc.com

Key No. 100729

food Marketing & Technology • August 2021

Co-located with Organised by Safety assured by

21
---
Processing

The Bioautomated Algae Plantation

Amid extensive media coverage in 2018, one of the largest and first closed, year-round microalgae cultivation

facilities in the world was officially opened in Bruck an der Leitha in Lower Austria. The photobioreactor

system developed by Austrian-based ecoduna, which consists of 43,000 6-meter high glass tubes, is designed

to produce roughly 100 tons of ultrapure algae powder annually. With its high concentrations of highgrade

vegan omega 3 and omega 6 fatty acids, natural color substances and micronutrients, plus essential

amino acids, microalgae is considered a highly-sustainable and resource-efficient raw material of the future,

particularly for the food industry. One of the key issues during research and development was the creation

of an industrial-scale production infrastructure, which required an automated system for controlling the

biological growth process. Over the course of the project, Endress+Hauser proved to be a highly-engaged,

persistent partner. At that time still a startup, ecoduna was supported from the very beginning by the

measurement technology specialist with both high-quality sensor technology and comprehensive expertise

in the area of pH value and optical density (OD) measurements, two relevant pieces of the patented green

technology puzzle.

Franz Emminger and Mag. Martin

Mohr, ecoduna's two founders,

originally wanted to produce biofuels

from microalgae. The underlying idea

was, and still is, to provide the green

single-cell organisms constant and

optimal photosynthesis conditions

(light, CO 2

and nutrients) and thus be

able to continuously and systematically

cultivate and produce large quantities

of high-quality biomass. After tinkering

with this project for a number of years,

in 2010 they molded their idea into a

business model and ventured stepby-step

into independence with the

support of private investors.

The Austrian company has since

steadily enhanced and fine-tuned the

production processes and safeguarded

the technology through global patents.

As early as 2012, the company put the

demonstration and research facility

in Bruck an der Leitha into operation,

enabled intensive process tests and

created a basis for the technical and

commercial maturity of the system.

ecoduna was acquired at the end of

2020 by a private, Netherlands-based

company active in the cultivation of

organic plants and renamed Jongerius

ecoduna GmbH. The initial plan is to

concentrate on the European sales

market.

Producing like nature

"We produce our algae the way nature

does, just not in a horizontal flow, but

vertically," explains Lukas Neuwirth,

quality manager at Jongerius ecoduna.

Austrian-based Jongerius ecoduna cultivates microalgae inside a total of 43,000 glass tubes spread

over only one hectare of space. The company is producing up to 70 tones of biomass during the first

phase of operation, with plans to ramp up to a full capacity of 100 tons as quickly as possible.

"Microalgae are single-cell organisms

that under ideal conditions, divide

once each day through photosynthesis.

That means they grow into high-grade

biomass containing valuable substances

faster than soil-based plants." Optimal

light conditions for cultivating the

algae occur if there is neither too

much (such as on the surface) nor too

little (such as in deeper waters) light

available. "In natural waters, this

so-called photoactive zone is located

several centimeters below the surface,

but the zone itself has a depth of

only about three centimeters," says

the expert in more detail. "With our

vertically-aligned reactors, we simply

rotate the photoactive zone 90 degrees

to expand the available surface for the

photosynthesis process." The facility

comprises 32 photobioreactors, each

of which in turn is made up of around

1,400 vertically-installed, 6-meter

long glass tubes that serve as the

habitat for the "floating" microalgae

cultures. Altogether, that adds up to an

impressive length of 230 kilometers. No

pumping occurs in the system. Instead,

air is injected into the tubes to mix

the algae suspension, so that all of the

microalgae receive sufficient light, and

also to transport CO 2

, selected nutrients

(nitrate, phosphate and trace elements)

and O 2

as the only accumulated

"waste". "By making the shift from the

polycarbonate profile elements that we

used in the past, to the glass tubes, we

were able to significantly increase the

life cycle of the modules, and thus the

productivity of the system," says Lukas

Neuwirth, making no secret of the fact

that this decision, made roughly four

22 food Marketing & Technology • August 2021
---
Processing

years ago, was the breakthrough that

led to economically-viable, large-scale

production. "We produce a wide variety

of algae. The single-cell organisms

proliferate within an enclosed and

controlled ultrapure system, protected

against external influences, which

allows us to manufacture highquality

algae powder for the food

industry. This clearly sets us apart from

competitors that often deliver heavilycontaminated

"open-pond-quality" in

uncontrolled cultivation conditions."

"Bioautomation"

Since the photobioreactor system

operates 365 days a year, the cells

divide once a day, thus doubling the

number of microalgae in the ideal

situation. That also means that each

day, up to 50 percent of the total

volume containing the regrown

biomass can be harvested using

crossflow filtration, centrifugation

and spray drying. "Depending on the

time of year, we utilize various strains

of algae. In the summer we need

more heat-resistant strains than in

the winter," explains Lukas Neuwirth.

The cultures also age, which makes

it necessary to change them every 10

to 12 weeks. "Although microalgae

do not age, cells die and release

substances into their surroundings. The

organic material from the dead cells

act as a carbon source for bacteria. A

system with dimensions like ours is

impossible to keep sterile," says Lukas

Neuwirth, illustrating one difference

between a real large-scale production

environment and a laboratory test

setup. And it's exactly this capability

to transform years of biological

knowledge and technical know-how

into an industrial production process

that distinguishes Jongerius ecoduna.

Economic feasibility is the one reason

why the plant has to be largely

automated. That's why, parallel to

the biotechnology processes, the

automation technology was also

developed with the aim of being able

to control the growth of the protozoan

with a maximum degree of efficiency.

food Marketing & Technology • August 2021

23
---
Processing

"In a test environment, you extract

samples manually and take them to the

lab for analysis. In order to be able to

automate this analysis process, we first

had to define it, step-by-step. There

was no state of the art, recalls Lukas

Neuwirth, who was heavily involved in

the development of the process. "That's

why it was important during this phase

to find partners who understood that

we were unable to exactly formulate

the requirements at the product

level. That was immediately the case

with Endress+Hauser. We carried

out numerous tests to determine the

suitability of a wide variety of sensors.

During this phase, it was very helpful for

us as a startup to have Endress+Hauser

make numerous products available to

us at no cost and provide us solid advice

and valuable tips."

Measurement parameters and

manipulated variables

Roswitha Schützner managed the

project from Endress+Hauser Austria's

side. "The collaboration with Jongerius

ecoduna was highly exciting and

interesting from the very start," admits

the project manager for analysis

technology in describing her personal

enthusiasm. "I was impressed by the

vision and the spirit of the young and

motivated development team." A lot of

joint testing was carried out, which then

resulted in a sensor standard that could

be used to begin series production.

"The two most important measurement

parameters are pH and optical density,"

reveals Lukas Neuwirth. "We can use

the pH value to draw conclusions about

the CO 2

saturation and the optical

density provides direct information

regarding the algae concentration,

and thus the cell growth." This

measurement data makes it possible

to continuously sustain ideal growth

conditions through targeted feeding

of CO 2

and other nutrients based

on the current requirements of the

microalgae at multiple points in the

system. In concrete terms, each reactor

has an inline »OUSBT66« near-infrared

absorption sensor and a CPS11D pH

sensor from the Orbisint series, both

from Endress+Hauser. "What we

really liked about the Endress+Hauser

products was the possibility to measure

directly in the reactor without a bypass,"

adds Lukas Neuwirth. "We're testing

sensors from other manufactures as

well."

The CPS11D pH sensor - the digital

jack-of-all-trades for process control

technology within the Endress+Hauser

portfolio - is moisture- and corrosionresistant,

can be calibrated in the lab

and enables predictive maintenance

thanks to the integrated "Memosens"

technology.

The OUSBT66 absorption sensor for

monitoring optical density measures

in the 860 nm near-infrared range,

which means the performance is

unaffected by different colors of

algae. The measuring principle is

based on Beer-Lambert's law, which

relates the attenuation of light to the

properties of an absorbent material

through which the light is travelling.

Furnished with an NIST-traceable and

certified push-on filter, the OUSBT66 is

especially easy to inspect and calibrate.

Over the course of harvesting, CLS82D

digital 4-electrode conductivity sensors

are employed during cross-filtering

of the water in the filtrate, which is

then recirculated to the process. The

signals from all three sensors are

analyzed by a CM44P transmitter from

Endress+Hauser, which supplies its data

via Profibus to a control application

employed by a system integrator using

technology from Siemens.

Well looked after algae

Jongerius ecoduna was successful

in harmonizing the biological and

technological processes for the algae

production system, thus making it

suitable for industrial scale use. Lukas

Neuwirth nevertheless sees plenty of

additional optimization and research

potential for even better cultivation

conditions and is already looking

forward to another sensor envisaged

by Endress+Hauser. "The next thing we

want to do is optimize the mixing ratio

between recirculated and fresh water

by measuring the organic carbon in the

filtrate as a TOC value."

fmt

24 food Marketing & Technology • August 2021
---
Processing

We bring colour into view!

Compact capacitive level switches with

360° custom-colour status display

256 colours

Individually selectable:

Measurement in progress

Sensor switching

Process malfunction

Compact design

15 cm

Hygienic

adapter system

Adjustment via

smartphone

www.vega.com/vegapoint

food Marketing & Technology • August 2021

Key No. 99290

25
---
Processing

Mixture of Bouillon Mass as a

Technical Processing Task

Homogeneity is a Winner

Instant soups and bouillon cubes are a convenient and fast snack, but the production demands complex

process technology requirements. Not only are the ingredients numerous but also extremely different in

terms of consistency and composition. An effective opportunity to implement this demanding mixing task

provides the Lödige Ploughshare ® Mixer type FKM.

From dry powder to sticky and partly

liquid products: The ingredient list of

bouillon mass such as soft and hard

bouillon includes components of nearly

every consistency. For various products,

powder with a large amount of salt and

sugar, colouring substances, flavour

oils, spices, melted fats like palm and

chicken fat as well as additional liquids

need to be processed into a mixture

that is as homogeneous as possible.

This task is especially demanding due

to the different solubility of the recipe

ingredients in fat and water. Besides

that, a defined swelling of dry starch

components must be ensured during

the wettening phases. And last but not

least, instant soups and bouillon cube

mixtures are about the perfect pouring

and dosing properties of the product.

The challenge: The desired

characteristics for every recipe and

every batch must be produced quickly,

precisely, and reproducibly within the

shortest time possible. The process and

the machine must of course meet all

food technology and hygiene demands.

Ploughshare ® Mixer type FKM for

batch production

Using the horizontal Lödige

Ploughshare ® Mixer type FKM, these

complex technical process requirements

can be met. The mixer is preferably

used for batch production. Depending

on the production quantity and

application, the model sizes available

are designed for 300 litres for small

batches and up to 8,000 litres for largescale

production.

The mixer works according to the

mixing and fluidisiation process

developed by Lödige. Special mixing

tools that are systematically arranged

on a shaft produce a three-dimensional

mixed goods movement, a so called

mechanically generated fluid bed.

Due to this intensive and, if needed, at

the same time gentle product movement,

Special mixing tools that are arranged systematically on a shaft produce a three-dimensional mixed

goods movement, a socalled mechanically generated fluid bed.

solid or liquid small and micro

components can be distributed extremly

fast and homogeneously in a batch.

Lödige offers various liquid addition

possibilities as needed. The respective

optimal solution is designed according

to the specific needs of the application

and recipe. The amount of liquid can be

between 1% and 30%.

At the same time, the mixer meets all

requirements of "hygienic design",

which food manufacturers require as

part of their plant planning. Lödige is

a member of the European Hygienic

Engineering & Design Group (EHEDG)

and develops innovative concepts

for mixing systems corresponding

with these guidelines. Essentially the

Ploughshare ® Mixers features are: an

easy to clean design, manufactured

entirely of stainless steel, surfaces

in contact with product are at least

Ra < 0.8 µm, a completely welded

mixing unit with optimised shovel

clearance from the wall, air-purged

low-maintenance shaft seals, large

inspection/cleaning openings, enlarged

discharge opening(s) for minimised

remaining material, drives and bearings

featuring stainless steel covers, and

where required a (partially) automated

wet cleaning (Washing in Place WIP/

Cleaning in Place CIP).

Process description

In case of a batch mixing process,

the components are pre-weighed

individually or together and then added

into the mixer. After an optimised

mixing time determined by scale-up

trials, and after reaching the required

homogeneity, the batch is emptied into

the downstream bunker, container, big

bags, or similar.

26 food Marketing & Technology • August 2021
---
Processing

The mixer meets all requirements

of "hygienic design", which food

manufacturers require as part of their plant

planning.

The mixer is mainly fed from above.

Using smaller mixers the feeding can

be done manually via a large feeding

door. In case of automated production

systems, the raw materials are supplied

by upstream silos, scales, or similar

dosing into the mixer via one or more

feeding inlets. The mixer is discharged

downwards. The mixing tools are

designed in a way that the product is

moved to the center of the drum where

the discharge door is located.

Mixing times for dry recipes are

between 1 and 3 minutes and for pasty

bouillon massess between 5 and 10

minutes. One advantage of the Lödige

Ploughshare ® Mixer is that the mixing

times vary insignificantly between the

model sizes. The batch time is usually

a combination of multiple process

steps. Fragile or sensitive components

The ingredients of bouillon mass are numerous

and extremely different in terms of consistency

and composition. An effective opportunity for

implementing this demanding mixing task is

provided by a Lödige Ploughshare ® Mixer type

FKM.

are usually added at the end. Different

rotation speeds are used as needed.

Lödige Ploughshare ® Mixers

in use at an African food

manufacturer

Growth markets for these products

currently include Asia, South America,

and Africa. We're pleased that in 2018,

a new Lödige customer in western

Africa purchased our high-quality

equipment from Germany.

To increase their production capacities

to a large degree, the company

invested in sustainable machines from

Lödige, which perform a range of

mixing tasks. In this case, a decision was

made during the first expansion phase

to purchase 18 FKM mixers. This was

Lödige's largest single order in over 80

years of the company's history.

Conclusion

Excellent mixing homogeneities with

many enormously different individual

components and under food-compliant

hygiene standards: The mixing of

bouillon masses places very special

demands on the mixing technology

used. The Ploughshare ® Mixer type

FKM from Lödige offers a practical and

efficient solution for all batch sizes

customary in the industry.

fmt

STRONG BY ITSELF –

UNBEATABLE TOGETHER.

The new DuoDrive and the NORDAC PRO.

Extremely high system efficiency

Compact wash-down design

Excellent communication paired with intelligence

food Marketing & Technology • August 2021

Getriebebau NORD GmbH & Co. KG | T: +49 4532 289-0 | info@nord.com | www.nord.com

27

Key No. 99923
---
Processing

Cobot Palletizer set to Revolutionize

Robotic Uptake

OMRON and Reeco have taken collaborative robotics innovation to the next level with the development of

the RB1200 cobot palletizer that costs up to 50% less and has a 60% smaller footprint than a conventional

robot palletizer. These game-changing metrics have a radical impact on project payback, making end-of-line

robotic automation economically attractive to producers of all sizes for the first time.

The concept of collaborative robots

working alongside humans has

already been proven in automotive,

warehousing and fulfilment

environments. We believe the time

is right and the technology is ready

for this next-generation automation

approach to be adopted for palletizing

tasks across a range of industries,

from food and drink to personal care

and pharmaceuticals," comments

Dan Rossek, Marketing Manager for

OMRON UK.

He continues: "Designed together

with our solution partner Reeco

Automation, the RB1200 has the

potential to revolutionize palletizing.

Our offering is unparalleled in terms

of its size, affordability and agility.

The ease with which it can be set up

for different products and layouts and

redeployed around the factory floor is

phenomenal."

Cobots replace robots

Although a mainstay of FMCG

production lines for many years, robot

palletizers take up considerable floor

space, are complex to specify and

programme, and are almost impossible

to redeploy to another location, making

them cost-prohibitive for many SMEs.

In contrast, Reeco and OMRON's

RB1200 cobot palletizer is a compact

plug-and-play system that can be easily

switched between lines. This ensures

users can maximize their investment by

providing flexibility to cope with rapid

changes in demand across the factory.

60% smaller

Without the need for all-round

guarding, the RB1200 measures just 2.2

x 3.2m, which equates to a 60% size

reduction versus a typical 4x4m cartesian

palletizer. The cobot is inherently safe,

using optical laser scanners to monitor

The RB1200 cobot is fitted with a universal end-effector which can handle 90%+ of box-based

products

the immediate area and stopping

operation if potential human contact is

identified.

Up to 50% less expensive

Based on a standardized platform

and without the need of a heavyduty

sub-frame to support a large

robot arm, the RB1200 has a more

streamlined automation infrastructure

at a dramatically reduced cost. The

purchase price is up to 50% less than a

comparable traditional palletizer robot,

making it a viable investment for many

businesses that have previously ruled

out robotics on cost grounds.

Maximum agility

The cobot's intrinsic flexibility also

contributes to a compelling payback

case; the lack of extraneous kit makes

the RB1200 easy to move between lines.

"The RB1200 is light and transportable;

it can easily be moved by pump truck

to another line within minutes. By

contrast, to redeploy a traditional

robot palletizer to another part of the

factory would be a huge undertaking,

requiring a significant logistics effort

and considerable time," explains Dan.

Changes at the touch of a screen

Not only is it easy to relocate the

RB1200, but product, pack and

layout configuration changes can

be completed in minutes using

Reeco's EasyStack visual software. No

programming skills or robot experience

is required to redesign a pallet pattern

– the operator simply has to enter a

few parameters such as box and pallet

dimensions, define the layout for the

first and second layers, then repeat for

as many layers as required.

Off-the-shelf solution

From order to installation within 2-3

weeks, the RB1200 slashes the wait

28 food Marketing & Technology • August 2021
---
Processing

time of a traditional robot by months.

As well as minimal programming

requirements, to achieve fast fulfilment

the plug-and-play cobot is fitted with

a standard, unique, universal endeffector

which can handle 90%+ of boxbased

products. Reeco Automation can

also provide custom-designed tooling

for special application requirements.

Automation for all

With a maximum payload of 10 kg and

a cycle time of 12 picks per minute, the

RB1200 cobot palletizer is ideally suited

for small to medium volume producers.

As OMRON's first cobot solution

partner, Reeco is looking forward to

presenting the RB1200 to the market

in conjunction with OMRON. "The

cobot palletizer is an off-the-shelf,

market-ready solution that represents

great value for money, with no hidden

costs in design or engineering. Leasing

options and a fixed service contract are

also available, making next-generation,

end-of-line automation a reality for

FMCG producers of all sizes," says

Reeco Managing Director Llewelyn. fmt

Measuring just 2.2 x 3.2m, the RB1200's footprint is 60% smaller than a typical 4x4m cartesian

palletier

> extruders > feeders > components > pneumatic conveying > complete systems

PERFECT TRANSFER SOLUTIONS FOR

PLANT-BASED PROTEIN

MANUFACTURERS.

+ Widest variety of feeding and material handling solutions in the industry

+ Intensive R&D of new technologies has resulted in innovative,

safe and easy to clean process components

+ Integrated systems controls for material handling

and extrusion operations

+ All systems designed in accordance with GFSI

and FSMA safety guidelines

Key No. 99864

food Marketing & Technology • Safe August food 2021 and ingredient handling. Feeding, weighing and conveying systems

provided by Coperion and Coperion-Tron offer the highest in efficiency

and safety standards for plant-based food processing applications.

www.coperion.com/foodtransfer

29
---
Processing

A "Greener" Future for Snacks Packaging?

There are many factors to consider in seeking a more sustainable snacks packaging solution, explains John

Alimi, Product Manager for bagmakers of Ishida Europe

As the saying goes, things come full

circle. The first example of potato crisp

packaging – or potato chip, as it was

called in the USA where the first packs

emerged – came in 1926 with product

in sealed wax paper bags. Now, nearly

100 years later, as plastic in all its

forms continues to fall out of favour

with consumers, paper packaging is

suddenly back in fashion.

Of course, a lot of other things have

also happened to snacks during this

time. From the first introductions of

cheese & onion and salt & vinegar

crisp varieties, we now have a myriad

of different and increasingly exotic

flavors. Snacks manufacturers have

continued to expand and diversify

their offerings and new companies

with new ideas have entered the

market, so that today's consumers

have the choice of a huge number of

different snacks products as part of

multi-billion-pound global industry.

Packaging has played a key role in

this growth. The introduction of

new materials and their continual

refinement have enabled snack

products to withstand the rigours

of the supply chain and reach the

consumer in perfect condition. For

many of the current products, multi-

laminate foils and nitrogen gas

flushing for the filled bags are helping

to preserve quality, taste and freshness

and deliver the extended shelf life we

have all come to expect.

Packaging equipment has made a

similarly important contribution, in

particular in allowing products to be

mass produced. Ishida's introduction

of multihead weighing technology in

the 1970s, for example, was a game

changer in terms of maximizing speeds

and minimizing product giveaway;

and continual design and technical

enhancements since then have created

even faster and more accurate machines

to enable snacks manufacturers to

optimize throughput and efficiencies.

Whereas in the early 1980s our

weighers, combined with twin bagging

systems, could achieve a top speed of

110 weighments per minute for a 25g

bag of crisps, today over 270 of these

crisp bags can be churned out every

minute, with accuracy now to within

0.1g of the target weight.

Alongside this, bagmakers have also

become increasingly sophisticated. For

example, the introduction of a stripping

action is keeping the sealing area free

of product for reliable seals every time;

our latest auto-splice function has

minimized film changeover times to

less than a minute. Seal testers, metal

detectors and x-ray inspection systems

have helped to ensure product quality

and seal integrity. Case packing systems

speed up end of line operations. The

result has been the introduction of

increasingly sophisticated and fully

integrated snacks packing lines, which

a company like Ishida is able to design

and install completely from its own

equipment portfolio.

All of this means there is a lot to consider

as manufacturers seek to introduce new

'greener' forms of snacks packaging. In

particular, any alternative packaging

materials must be able to maintain

what has already been achieved in

terms of product quality and freshness.

And for the equipment supplier there

is the need to deliver the same high

speeds, throughput and efficiencies

that snacks producers are getting from

their existing machines.

One of the main requirements now

for snacks packaging is to improve

its recyclability so that packs do not

end up in landfill or become a waste

problem. This has been a key driver

behind monolayer materials and

paper and compostable alternatives.

A key consideration here, of course,

30 food Marketing & Technology • August 2021
---
is the characteristics of the product

– popcorn, for example, has a high

moisture content which could affect

the performance of paper-based or

compostable pack solutions. Monolayer

films can be recycled more easily but

they present challenges when using the

standard heat sealing, and they also

cannot reach such high packing speeds.

Equally important, recycling is not the

only factor to take into account when

assessing the sustainability of any

packaging. Unnecessary food waste is a

major environmental problem. Indeed,

according to the Eco & Beyond website,

food waste has at least ten times the

environmental impact compared with

packaging waste.

This is where the current multilayer and

barrier films have a major advantage

with their increased levels of protection,

often combined with nitrogen gas

flushing, which ensure that products

remain fresh and at their best quality

for a long shelf life of anything up to

12 months. This is also a vital factor in

the extended supply chains of today's

global markets.

Nor is the issue of the recycling of

these packs being overlooked. Both

manufacturers and retailers are

currently exploring ways of enabling

consumers more easily to recycle their

used crisp packets.

New options are also being explored

for multipacks. Paper may be a more

appropriate alternative for these packs

as they do not have to fulfil such an

important product protection role.

Using tape to group primary packs

together rather an additional large bag

is another potential solution.

It must also be remembered that in

highly competitive markets, packaging

has a role to play in creating brand

distinctiveness, so any new pack

material also needs the flexibility to

be able to cope with different pack

formats, such as the growing popularity

of gusset and block bottom bags.

With so many options and so many

factors to take into consideration, it

is vital that snacks companies work

closely with both their packaging and

equipment suppliers to find the most

appropriate solutions that meet their

sustainability as well as commercial

needs.

Equipment manufacturers are already

focusing on ways to more effectively

handle paper in bagmakers. New

box motion technology is now under

development, which will allow the

sealing jaw motion to operate in

both vertical and horizontal planes.

This provides the flexibility to handle

different materials, including new paper

varieties, and at a higher performance

level than existing intermittent motion

bagmakers. As part of this development,

technical challenges such as effectively

feeding the paper onto the former are

being addressed.

Uncompromising hygiene

with NETZSCH pumps

Gentle conveyance

of sanitary products

Pumps designed, manufactured and

tested according to EHEDG, QHD,

3A and GOST-R standards

FDA-certified elastomers

Product and cleaning temperature

up to 150° C

Explosion protection according

to ATEX

CIP and SIP capable

Decades of expertise in

uncompromising hygiene

NEMO® hygienic pump and T.Sano® pump

with cavity free exterior

food Marketing & Technology • August 2021

NETZSCH Pumpen & Systeme GmbH

Business Field Food & Pharmaceutical

Tel.: +49 8638 63-1030

info.nps@netzsch.com

www.netzsch.com

Key No. 98839
---
Processing

This ability to handle different materials

is important. Consumer attitudes and

market requirements may change yet

again; further new materials may be

developed. New machines must include

an element of future proofing to be

able to respond quickly to the latest

requirements.

Of course, continuous development,

in both products and packaging, has

always been a major characteristic

of the snacks industry. And working

with our customers to help meet and

indeed anticipate the latest changes

has been at the heart of the well over

7,000 Ishida snacks packing systems that

are currently in operation around the

world

It is this high level of collaboration

that has driven Ishida's new product

development work over the years,

from the first multihead weighers

for crisps back in the 1980s to the

latest state-of-the-art complete snacks

packing systems that today provide the

most cost-effective and efficient means

to maximize output, protect product

and preserve freshness in order to

ensure the snacks reach the consumer

in the best condition. And customer

partnerships will continue to inform our

work as we develop further advances

in packaging automation to meet the

needs of the future snacks factory.

Significantly, our developments to

date have already brought about

some important sustainability benefits.

The efficiency of the systems delivers

substantial energy savings and reduced

film usage – with film savings of up to

20% now being achieved. Noise levels

have also been improved for enhanced

working conditions.

Ultimately any environmental decisions

have to take into account cost as

well as quality implications. Effective

partnerships will therefore remain

essential in addressing these new

challenges in order to deliver the next

generation of high technology solutions

that meet the latest sustainability

requirements while continuing to

provide the most effective method of

delivering snacks into a pack. fmt

32 food Marketing & Technology • August 2021
---
Processing

SIMULATE WHOLE MUSCLE MEATS

IN LOOK, TASTE AND NUTRITION.

For meat analog and extender production,

rely on the pioneer of the process for textured

vegetable proteins by extrusion. Wenger began

the worldwide initiative over 50 years ago, and

continues to lead with ever expanding options

today.

High moisture meat analogs (HMMAs) produced on

Wenger twin screw extruders mimic whole muscle

meat, with similar characteristics for moisture,

protein and fat contents, as well as a densely

layered, somewhat fibrous structure.

After extrusion, HMMAs may be cut, sliced or

shredded – and then further processed or frozen.

In addition to soy proteins or wheat gluten

ingredients, alternative protein sources can be used

for texture, mouthfeel and appearance objectives.

Discover the latest in cutting edge extrusion

processing and product development assistance.

Email info@wenger.com now.

Key No. 99332

PHONE: 785.284.2133 | EMAIL: INFO@WENGER.COM | WENGER.COM

USA | BELGIUM | TAIWAN | BRASIL | CHINA

food Marketing & Technology • August 2021

33
---
Processing

Scalable CIP Automation Solutions

How can we support that the food safety is granted while investment and operational costs remain

competitive? Right tech solutions whatever project size and automation degree is required, are the

stronghold of a portfolio of smart sensors with pointed primary and very useful secondary functions. This

article shows how this fits into systems that grow with the user and rising challenges.

Cleaning:

CIP cleaning is a must in every automated

food plant dealing with liquid food. It

is not the most appreciated activity

of the plant manager, but mandatory

to ensure food safety and product

quality. It's time consuming, requires a

lot of energy and water and keeps the

plant busy while it should produce. The

process itself is described in the quality

handbook of the plant, defining the

parameters for food safety. We want to

show, how we can ensure to match the

required definitions without overdoing.

It is all about focused technology, doing

the job as desired and be scalable to the

users need and investment possibilities.

The basis for successful cleaning is

described by the Sinner's Circle, defining

the parameters that need to be given,

before the cleaning time really starts

to count. Temperature, to solve the

residuals, but also to support the

usually combined detergents that have

ideal working range. Flow, to create

mechanical impact to the residuals and

to ensure that the dirt is carried out

of the plant. And the concentration of

the cleaning agent that need to remain

in the desired range to support the

mechanical forces. If that parameters are

within range, the defined cleaning time

starts to run down. The smarter this is

controlled, the lower the safety margins

need to be applied to the system.

Different requirements and

investment levels:

The operational mode of a CIP process

differs from plant to plant and the

product that needs to be cleaned. The

most simple option for a CIP system,

is a one tank CIP. The tank is more

or less used as a buffer to ensure that

the pump is supplied with media. It

is a lost cleaning, as all the media is

drained after use. A one tank CIP can

be operated with very little media. This

Pic 1: CIP parameter according to Sinner Circle

34 food Marketing & Technology • August 2021
---
Processing

ensures, that not too much energy is

used to heat up cleaning agents. But it

also means, that the cleaning will take

longer, as both, the system and the

media need to be heated up all the

time to operational temperature. A

one tank system offers all the flexibility

that is needed if a variety of different

products is made in one line and require

different cleaning agents. Or if it must

be ensured, to separate batches. Cross

contamination can be safely avoided if

the cleaning liquids are not reused. Also

if CIP is done rarely, it often makes no

sense to buffer the cleaning agents. A

huge load of material that need to be

cleaned out of the system, is another

reason. Storing dirty caustic is not

practical, if it can not be used for a first

flush. Last reason for a one tank system,

maybe even portable, would be the

small installations, that want to clean

professionally, but don't have the space

and the financial opportunities to install

a huge CIP system.

Single tank:

Supporting the above mentioned

approaches, Baumer supplies scaled

packages of sensors to fulfill all quality

and safety requirements. This starts with

a set of four sensors. The CleverLevel

level switches LBFS will ensure that

media is always available to the supply

pump, protecting the tank from being

damaged by overflowing. The cleaning

process is controlled with two sensors

supplying the information defined by

Sinner in the quality measuring point

of the return line. Temperature and

velocity will in this case be measured by

FlexFlow flow sensor PF20H. Integrating

the calorimetric technology with IO-Link

will support this two readings in a very

simple way. The conductivity sensor

CombiLyz AFI for the concentration

control is a very compact and fast

responding conductivity sensor that also

can back up the temperature reading

with another signal to compare. With

a very small investment the user can

achieve a smart CIP control. Recording

the data will support the traceability of

the process in the relevant GFSI audits.

Standard CIP:

In a standard CIP system there are a

variety of tanks. To keep it simple it is

limited to three in this example. The

Pic 2: Single tank lost CIP system

water tank will enable to reuse water

that is nearly as good as fresh one.

Usually it is the last flushing water that

is used for the next first flush, pushing

out the majority of residuals directly. It

might even be used between the caustic

and the acid step if it is of high quality.

The caustic is usually used at a

Want modern

shapes?

USE OUR TECHNOLOGIES

TO CREATE DEMAND!

temperature between 55 and 80°C. So

it makes sense to isolate the tank to

save the energy between the cleaning

cycles. The more heat can be stored

in here, the least energy is needed

to heat up the caustic, and therefore

also the cleaned system. This will save

energy, but time as well. The installed

SCHAAF TECHNOLOGIE GMBH

www.foodextrusion.de

Key No. 99030

food Marketing & Technology • August 2021

35
---
Processing

temperature sensor TE2 points into a

relevant zone at the middle of the tank

with 20-30cm ingression depth. This

shall prevent to pick the temperature

from an outer layer of caustic that is not

representative. As the acid tank mostly

operates at room temperature, there

is neither isolation nor temperature

measurement. All tanks have a low level

detection as final warning to be empty,

but also a top level sensor that protects

the vessel against mechanical damage.

The level of caustic is measured with

a hydrostatic pressure sensor PBMH.

The available amount of acid is in this

example controlled with the radar sensor

RR30. It could also be an ultrasonic level

sensor UNAM if there is no foam, stream

or uneven surface bothering the signal.

The level measurements help to ensure

that for the next cleaning cycle the

required amount of cleaning agent is

available. The limit switches and pump

protection are done with CleverLevel

sensors. The LBFS is the basic solution in

the dedicated tanks. The PL20H sensors

are used where flexibility of detecting

completely different liquids is important.

Another strength is the choice to either

detect or neglect foam.

The quality measurement point is

supported with the EMF CombiFlow

PF75H. As all sensors discussed here,

the EMF is designed following the

requirements of 3A and EHEDG.

This robust and fully stainless steel

made sensor enables controlling the

velocity on a much higher level than a

calorimetric sensor. Like the CombiLyz

AFI4 it is equipped with the Baumer

DFON graphical display. This does

not only support the operator with

good readable large figures, but also

changes color when the value is out of

the desired range. Simple set up and

operation come along with both. The

temperature sensor PT20H may not

be able to utilize the fastest t90 time

on the market in this application, but

it will support the entire system with

a high class signal. In this set up, the

sensors allow to run the system directly

on the spot, saving time, energy and

water with high class signals as no

safety margin need to be involved.

Full automatic set up

At the final stage the CIP operation

and documentation will be completely

automated. This includes not only

the cleaning. As energy monitoring

gains more importance since a decade,

also a smart option to monitor the

heat consumption for each cleaning

cycle is a valuable investment. In this

example the FlexFlow PF20H measures

temperature and volume of the hot

water supply of the heat exchanger.

The data can be used to benchmark

different cleaning cycles, but also to

report the value for a carbon footprint.

The described system also includes

the automated dosing of cleaning

agents and composites, using the

very compact CombiFlow PF55S. The

electromagnetic flow meter ensures

exact dosing and as well here, the

opportunity to record the amount of

concentrates used for every cleaning

cycle. The content of the concentrate

canister can be measured form the

outside with capacitive sensors

CFDK25. To protect the environment,

the system usually will be installed in

a sealed basin. Leakages rinsing into

this basin the will be detected with

either a CleverLever PL20H or with an

optical switch type FFAM installed in

the lowest point of the system.

Pic 3: Standard CIP system

36 food Marketing & Technology • August 2021
---
Processing

PP20H pressure sensors installed

on the way to and on the line from

the cleaned process, will supply the

valuable information if leakages

appear or the system gets blocked at

a certain stage.

Basics:

All three described systems supply the

user with the necessary safety that the

cleaning cycle worked in the defined

frame. High quality cleaning is not a

question of investment. Also simple

systems support both, cleaning and

documentation to prove the quality

promised was fulfilled. The shown

solutions follow a concept that allows

to grow with the tasks. All the sensors

come with the hygienic and food

contact materials certificates. 3A, FDA

and EHEDG are the basic requirements

they fulfill on the wetted parts. The

housings are made from stainless steel

and used with the suitable connector,

supply IP 69 ingression protection.

Not only to ensure food safety, but

also to save energy, water, cleaner

and time, the hygienic design plays a

major role. Baumer supplies not only

dedicated standard process adapters,

but offers with the Baumer Hygienic

Connection as well a simple, but in the

daily operation, high end solution for

flush mounted sensor integration to

the product line. The DFON display is

another standard part we use with a

variety of flow, temperature, pressure

and conductivity sensors gathered in

our CombiSeries. Simple handling and

economical spare part stocking follow

from both standard technologies.

Summary:

Size does matter, if it come to

installation costs. But size does not

have to matter when we consider

food safety and efficient CIP cleaning.

Baumer supplies the technology from

very simple systems up to the full blown

automation systems with the same

level of professional automation and

traceability. The sensors are designed

to perform in this environment and

ensure long lasting good results. One

stop shop for all required technologies

enables to create a robust, reliable,

easy to handle system that suits exactly

to the need of the operation and

documentation.

fmt

Pic 4: Example of a fully automated CIP system

Expand the possibilities of autonomous

material transport

Contact

us for proofof-concept

testing!

Meet OMRON's family of autonomous mobile robots.

You don't just get a robot - you get a total solution.

Our family of mobile robots can safely and efficiently transport a

wide range of payloads—from lightweight tasks of 60kg all the way

up to 1500kg, even capable to replace forklifts.

They can be deployed quickly in stand-alone warehouse

applications, as well as integrated into a total automation concept

that combines motion, safety, vision, control and robotics, providing

a complete solution from one source.

+44 (0)1908 258258

oeeuk_sales@omron.com

industrial.omron.eu/mobilerobots

Key No. 100637

food Marketing & Technology • August 2021

37

mobile_robot_family_c_102,5x148,5mm_ad_en_01_d02.indd 1 07-07-21 16:29
---
Packaging

Reclosable, Completely Recyclable MAP

Solution for Sliced Meat –

Swiss Manufacturer Bigler is Causing a

Stir at Retail with FlatMap ®

After finalizing a successful project across European borders, Swiss meat manufacturer Bigler (www.

bigler.ch) now relies on the brand-new, paper-based FlatMap ® solution for its sliced meat. Packaging

equipment manufacturer SEALPAC, together with packaging materials suppliers Buergofol and Van

Genechten Packaging, found the right partner in Bigler to develop this new packaging concept, which has

now been launched at Swiss retail. More resource-saving, more eye-catching and more user-friendly is what

summarizes the result.

True pioneer in Switzerland

The Swiss family company Bigler AG,

with 700 employees and a total of six

plants at three different locations, has

its headquarters in Büren an der Aare

and has been around for 75 years

already. Under its motto "Ä Portion

Tradition," Bigler supplies retailers and

butchers in Switzerland under private

label, as well as under its own Bigler

brand. Always open for new ideas, the

company became a pioneer in 2017

by launching skin packaging based

on cardboard carriers, also known as

FlatSkin ® . As such, Bigler paved the way

for paper-based skin solutions on the

Swiss market, which have since become

the new standard.

By introducing FlatMap ® within

its business unit Charcuterie, the

company is now launching another

true innovation. This reclosable,

largely fiber-based, completely flat,

and recyclable packaging system for

sliced meat consists of an FSC-certified

cardboard carrier that can be printed

on both sides. The carrier has been

coated with a thin plastic layer, on

which the sliced meat can be served

appetizingly. The product is sealed with

a highly transparent top film, which can

be removed from the cardboard carrier

before consumption. Afterwards, the

film is easily placed over the product

again, where the edges are pressed

against the carrier to provide excellent

reclosability. The tight-fitting top film

allows for less oxygen to enter the inside

of the pack compared to common MAP

solutions. This prevents discolouration

of the product whilst keeping it

fresh and appetizing throughout the

remaining storage time. After use, it

Gérard Bigler, Head of the business unit Charcuterie at Bigler AG, presents FlatMap ®

is possible to completely separate the

plastic and cardboard components,

therefore allowing full recyclability of

these materials.

A joint development

SEALPAC initially came up with the idea

of FlatMap ® . Under its motto Forming

Innovations, also related to its "GO

sustainable!" initiative, the family

company and leader in tray-sealing and

thermorming technology decided to

develop the idea into a contemporary

packaging solution. Several years ago,

SEALPAC already entered the market

with FlatSkin ® , an innovative, paperbased

skin packaging solution. From

project discussions with customers, it

became clear that similar solutions

were also being sought for products

packaged under MAP. Together with

its proven partner Van Genechten

Packaging, the basic idea for FlatMap

was born ® . Buergofol joined as a

suitable film partner. The project was

presented to Bigler AG in Switzerland,

which had already used a number of

SEALPAC innovations before. Markus

Bigler, CEO at Bigler AG, explains: "The

idea of FlatMap ® came at the exact

right time. It became our joint goal to

combine characteristics such as product

protection, high barrier, recyclability,

low packaging weight and reclosability

in one of the most sustainable

packaging solutions on the market."

Reliability in all steps of the

process

In achieving that goal, the project

partners had to overcome several

challenges. When using a cardboard

38

food Marketing & Technology • August 2021
---
Packaging

Markus Bigler, Chief Executive Officer at Bigler AG

Vittorio Ranaldo, Head of Marketing and Communications at Bigler AG

carrier with FSC certification, the

challenge is to maintain the shape of

the carrier holding the chilled products,

as this material is particularly sensitive

to moisture. Cardboard specialist

Van Genechten Packaging was able

to demonstrate its know-how, also

obtained from the previous FlatSkin ®

project. For example, the material

used for FlatMap ® is characterized by

stability and durability throughout the

entire process chain. In order to rule

out microbial risks, only virgin fibers

are used.

Since an absolutely flat carrier is

required for the packaging process, as

well as for the presentation at retail,

Van Genechten Packaging developed

guidelines for its customers on how to

optimally handle the cardboard carrier.

The carrier can be printed in highquality

offset using low-migration

printing inks and varnishes. This gives

manufacturers like Bigler a lot of

creative freedom for an attractive

presentation, to highlight their product

at retail.

After printing, the cardboard carrier is

coated with a thin plastic layer, which

provides a reliable barrier against

moisture, fat, and oxygen. Film

partner Buergofol was faced with the

challenging task of developing a liner

that adheres well to the cardboard on

SEALPAC A7 traysealer, reliably producing the FlatMap ® packaging at Bigler AG

the one hand, but can still be easily

separated later for recycling purposes.

The company chose a polyolefin-based

and therefore recyclable material. For

meat manufacturer Bigler, a reliable

reclose function of the packaging was

an absolute must. The development

work of film specialist Buergofol

resulted in a top film that shows a

consumer-friendly opening behaviour,

but at the same time provides excellent

reclosability. In addition, it had to be

ensured that the liner of the cardboard

carrier does not come off with the top

film when the packaging is opened,

but only when it is pulled off with

the recycling tab. Last but not least,

Buergofol made sure that the thickness

of both liner and top film was reduced

to a minimum.

At Bigler, the FlatMap ® packs for sliced

meat are produced on a SEALPAC A7

traysealer in double lane execution. In

general, the new packaging system can

be reliably produced on all SEALPAC

traysealers with FlatMap ® preparation,

currently from the A6 up to the A10.

This preparation implies the use of

SEALPAC's patented transport system

to allow for optimal handling of the

flat carriers on the traysealer, as well

as the use of a suitable vacuum and

gas system for consistent modified

atmosphere packaging. Combined

with high-quality servomotors, which

provide excellent drive coordination,

these traysealers, such as the SEALPAC

food Marketing & Technology • August 2021 39
---
Packaging

A7 used by Bigler, are energy- efficient

and thus make a further contribution

to greater sustainability in the

manufacturing process.

Research confirms improved CO 2

footprint

FlatMap ® was developed to allow

for full recyclability. The result is

convincing: the plastic content of

the packaging has been reduced

by around 70% compared to

conventional MAP solutions. The

polyolefin-based liner is easily

separated from the cardboard carrier

after use. All packaging components

are then disposed of separately in

their appropriate waste collection.

The plastics can be reliably filtered

out in the recycling process by nearinfrared

technology. With these

characteristics, FlatMap ® already

meets the EU requirements for 2030

with regard to the recyclability of

packaging. Bigler had the improved

ecological properties of the FlatMap ®

packaging confirmed in a professional

study. Compared with the best

competitor products available on the

Swiss market, FlatMap ® performed

significantly better in terms of CO 2

footprint. Gérard Bigler, Head of the

business unit Charcuterie, explains:

"FlatMap ® also makes a contribution to

less food waste, thanks to its excellent

reclosability, which keeps the

contents of the packaging fresh down

to the very last slice and protects the

product against premature spoilage."

True eye-catcher at retail

FlatMap ® ensures a strong presence

at retail due to its optimal branding

possibilities. "FlatMap ® offers us a

lot of space for communication and

branding, because the cardboard

carrier can be attractively printed on

both sides and be used for various

types of information. Presented

standing, hanging, or lying down, it

is always a real eye-catcher thanks

to its entirely new look and full

visibility of the product", says Vittorio

Ranaldo, Head of Marketing and

Communications at Bigler AG. Since

the packaging is extremely flat, it can

The various types of sliced meat in FlatMap ® packaging are true eye-catchers at retail

FlatMap ® offers an entirely new level of reclosability for sliced meat packs

also be placed in larger quantities

on the retail shelves, thus ensuring

efficient transport to and storage

in the supermarkets. The consumer,

on the other hand, benefits from

improved functionality. The top film,

which is removed from the cardboard

carrier before consumption, can

afterwards easily be pressed down

again onto the completely flat carrier

for a secure reclosure, so that the

remaining content does not have

to be repacked, but can be safely

and conveniently stored in the

refrigerator.

Meeting the requirements of the

EU plastics strategy

With FlatMap ® , the project partners

have been able to create a completely

new MAP system for sliced products that

already fully meets the requirements

of the new EU plastics strategy for

2030. This sets new standards at retail.

All parties involved are extremely

satisfied with the result of the project,

which is an excellent example of

cross-border teamwork. As such, they

were able to bring a future-oriented

packaging solution to the market,

which is a real innovation in terms of

opening, reclosing, saving resources

and presentation. The companies agree

that the cooperation will continue and

have already identified starting points

for further development.

fmt

40

food Marketing & Technology • August 2021
---
Packaging

28 - 30 SEPT 2021

NEC, BIRMINGHAM

WHERE PRODUCTIVITY

MATTERS

See the latest

processing equipment,

packaging machinery,

robotics and machine vision

in action

Gain a competitive

advantage through the latest

innovations and seminars

REGISTER

TODAY

ppmashow.co.uk

OWNED AND ORGANISED BY

food Marketing & Technology • August 2021 41

PPMA Group of Associations is a trading brand of PPMA Limited.

Key No. 96580
---
Marketing

Popularity of Sports Nutrition Products

to Continue to Grow

The sports nutrition market continues to witness a surge in popularity, as everyday consumers turn to such

products for a variety of reasons. Such occasions can range from consumers wanting products that help

facilitate exercise routines, to offering a convenient health boost as they look to maximize wellbeing, to

seeking out alternative treats that are deemed guilt-free and offer taste and nutrition at the same time. As

these products continue to grow in popularity, addressing concerns about the taste and texture of products

will be crucial for the sector to increasingly compete with traditional snacking markets.

Over the last ten decades, the

sports nutrition market has become

increasingly mainstream, shifting

from a specialized and niche sector

associated with avid gym goers, to one

that is turned to by everyday consumers

seeking out better-for-you solutions. In

the wake of COVID-19, this is a trend

that will continue, as consumers look to

address overall levels of health, improve

their eating and drinking habits, and

engage in more physical activity as they

take a long-term approach to health

maintenance. Indeed, consumers want

products that help facilitate health

routines and also snack products that

they deem to be conveniently nutritious

and guilt-free.

In the last eighteen months, consumers

have significantly re-evaluated their

attitudes to health and wellness as

a result of the pandemic. Initially,

consumers were concerned about their

vulnerability to complications arising

from the virus. However, these concerns

have now become more broader, with

many recognizing that many diets and

lifestyle related problems which were

in existence before COVID-19 threaten

their long-term health. For instance,

research conducted in 2020 found

that 24% of consumers say that their

health has deteriorated in the last two

years, 41% have experienced a health

problem that has impacted their

quality of life, 23% say that their diets

are unhealthy and 6% admit that they

do not engage in any form of exercise.

Ultimately, consumers want to address

this as they want to stay fit and

healthy until as late in life as possible.

This is why research conducted in

2021 shows that 76% of consumers

say that they are making attempts to

eat and drink more healthily, whilst

35% say that they plan to increase

the levels of physical activity that they

engage in. All of these attitudes are

something that will drive demand

for sports nutrition products amongst

mainstream consumers.

Research conducted in 2021 shows

that 44% of consumers are seeking

out products that are either naturally

high in, or are fortified with functional

snacking for health benefits, compared

to 24% who said this two years earlier.

Additionally, 78% of consumers also

say that they associate protein with

boosting the immune system. These

three figures show that consumers

are seeking out products that feel

offer a convenient health boost via

the promotion of active ingredients,

42 food Marketing & Technology • August 2021
---
Marketing

something which will benefit the

sports nutrition market. It is also

worth noting that 43% of consumers

also say that they are turning to

comfort food and drink more

frequently for moments of escapism.

In times of uncertainty, consumers

can often turn to products to

help alleviate guilt, however such

consumption occasions can help

create feelings of guilt afterwards if

they are seen to conflict with wider

health goals. As such, consumers

will want products that offer taste

and nutrition simultaneously, again

something that will drive demand

for sports nutrition products.

As need states amongst consumers

continue to evolve, the opportunity

for the sports nutrition market to

compete with traditional snacking

categories such as chocolate and

confectionery continues to grow.

However, despite the positive

sentiment that can exist around

the sports nutrition market, it is

important to recognize that barriers

to purchase exist. For instance,

consumers can have concerns

about the taste and texture of

such products and irrespective of

concerns over health, are unwilling

to trade-off between enjoyment

and nutrition. If sports nutrition

brands can continue to enhance the

sensory aspect of consumption, it is

a product sector that will continue

to grow considerably over the next

five years.

fmt

food Marketing & Technology

EFFICIENT SENSORS

FOR DAILY FRESHNESS

Precise

level measurement

Compact

flow measurement

Smart

conductivity analysis

Connected Smart Sensor Solutions –

Precise. Proven. Clever.

www.baumer.com/dairy

Key No. 100336

Robust

pressure measurement

Reliable

foam detection

Fast

temperature detection
---
Marketing

The 6 th Edition of agrofood & plastprintpack

Nigeria is a Major Milestone Event

Exhibitors from 14 countries – Top level 3-day conference - Co-located: 3 rd West African Cold Chain Summit &

Exhibition

Due to upbeat market development

and an ever-increasing interest in the

Nigerian market, the 6 th edition of

agrofood & plastprintpack Nigeria

in 2021 is all set to become a major

milestone event for the Nigerian

agrofood & plastprintpack industry.

Global technology leaders will

showcase adapted technologies

and solutions for the Nigerian and

West African market towards more

than two thousand specialized trade

visitors in the fields of agriculture,

food processing, ingredients, plastics,

printing and packaging.

The exhibition is complemented by a

top level 3-day conference featuring

more than 40 Nigerian and European

experts. Organized by the German

trade show specialists fairtrade, the

event is scheduled for 26 to 28 October

2021 at the Landmark Centre in Lagos.

agrofood & plastprintpack Nigeria 2021

is all set to become a major international

event as already by the end of July

2021, exhibitors from 14 countries have

registered and there are still more

to come. They origin from Belgium,

Germany, India, Italy, Lebanon, Nigeria,

Portugal, Saudi Arabia, South Korea,

Spain, Switzerland, Tunisia, Turkey, and

USA.

Official country pavilions are present

from:

• Belgium, organized by Flanders

Investment & Trade supporting the

international activities of Flemish

companies

• Germany - The German Pavilion

features 19 leading suppliers,

presented by the German Federal

Ministry for Economic Affairs in

cooperation with the Association

of the German Trade Fair Industry

(AUMA) and supported by VDMA

Food Processing & Packaging

Machinery

• Taste Tunisia, the agrifood consortium

for Africa offering finished agrofood

products and related equipment

from Tunisian market leaders

fairtrade is happy to announce ROVEMA

as this year's registration sponsor. With

more than 60 years of experience,

Germany based ROVEMA develops and

builds packaging machines and lines

that meet the complex demands of the

modern circular economy.

44 food Marketing & Technology • August 2021
---
Marketing

WACCSE now co-located with

agrofood & plastprintpack Nigeria

fairtrade is delighted to welcome

a valuable addition to agrofood &

plastprintpack Nigeria 2021 and

announces its new partnership with

OTACCWA, the Organization for

Technology Advancement of Cold

Chain in West Africa. The partnership

agreement includes the organization of

the 3rd West African Cold Chain Summit

& Exhibition WACCSE by OTACCWA

alongside agrofood & plastprintpack

Nigeria 2021. WACCSE is the only

cold chain event in West Africa where

businesses gather to find solutions and

share best practices for managing the

complexities of the perishable food

system and pharmaceutical supply

chain.

Major institutional support

The event enjoys the strong

institutional support of the access

Bank, AHK Nigeria, Delegation

of the European Union to Nigeria

and ECOWAS, Federal German

Ministry for Economic Affairs, IOPN,

NABG, NAFDAC, NIFST, OTACCWA

- Organization for Technology

Advancement of Cold Chain in West

Africa, and VDMA Food Processing &

Packaging Machinery.

SOS Children's Villages Nigeria

fairtrade again supports SOS Children's

Villages Nigeria by donating all

proceeds from visitor entrance fees and

by promoting them to partners as well

as throughout the campaign.

30 years of Valuable business

contacts

Founded in 1991, fairtrade Messe has

long been one of the leading organizers

of professional international agrofood

& plastprintpack trade fairs in Africa

and the Middle East.

Over the decades, more than 36,000

exhibitors and 1.5 million trade visitors

have expressed their confidence

in fairtrade. Whether going down

innovative digital paths with Virtual

Events or opening-up new markets with

international trade shows the company

always finds the best possible way

to enable valuable business contacts

between exhibitors and visitors.

fairtrade is managed by its founder

Martin März and his son Paul, who

joined the company in 2016, and

builds on a highly motivated team of

experienced and young professionals,

many of them qualified in-house over

three years in partnership with the

German Cooperative State University

to a Bachelor of Arts degree in Business

Administration - Exhibition, Convention

& Event Management and Media &

Communication Management.

ISO 9001:2015 certified and a member

of UFI The Global Association of the

Exhibition Industry, fairtrade strives

for high customer satisfaction with

excellent service and innovative

products.

fmt

3-day conference program

featuring more than 40 Nigerian

and European experts

agrofood & plastprintpack Nigeria

2021 will again be supplemented by

a 3-day program full of presentations

and panel discussions, organized jointly

by fairtrade and AHK Delegation of

German Industry and Commerce in

Nigeria. More than 40 Nigerian and

European experts will discuss issues

such as:

• The Nigerian agrofood &

plastprintpack industries in times of

Free Trade

• Outlook of the plastics & packaging

industry in Nigeria

• The need for adopting global

packaging standards

• Enforcing food safety to promote

exports

• inancing opportunities for agro-tech

start-ups

• Digitalization of the agrofood &

plastprintpack industry

Key No. 99030

food Marketing & Technology • August 2021

45
---
Events

Fi Europe Combined with Hi Europe to

Take Place in-person and Online in 2021

Leading ingredients show will be held in Frankfurt as a hybrid offering, with health-related topics in the

spotlight

Informa Markets will host Food ingredients and Health ingredients Europe this year, combining an in-person

trade show with an extensive online offering. With vaccinations rate going up and restrictions lifting around

Europe, sentiment around attending event in-person is improving. The most recent survey, organised by

Informa Markets, shows over 60% of respondents would be prepared to attend an event in-person right now

and so far 86% of the available stand space at Fi Europe 2021 has already been booked. The in-person event

will open in Frankfurt from November 30 to December 2. The accompanying online event, starting November

22, will cater to attendees who are unable to visit Frankfurt due to travel restrictions or time constraints. All

attendees will therefore benefit from the new online product presentations, ingredients search functions as

well as chat and video meeting functions.

The Fi Europe team expects the new

format to attract more than 23,000

attendees and 1,200 exhibitors.

To ensure that attendees can

enjoy business and networking

opportunities in optimal conditions

at the show, the 10-point compliance

plan of the "AllSecure Health & Safety

Standard", developed by Informa

Markets, will be in place, imposing

regulations on cleaning and hygiene,

and physical distancing, along with

protection and detection measures.

Julien Bonvallet, Brand Director: "It's

the details that make the difference,

and we have paid attention to

details when it comes to added

safety for everyone involved. We are

already in contact with exhibitors

about replacing the distribution of

brochures with a QR code system that

will help reduce physical contacts.

And, of course, we're adapting our

46 food Marketing & Technology • August 2021
---
Events

hall layout with wider alleys so that

two-way traffic is feasible, while

maintaining distancing regulations.

Furthermore, as this is an F&B show,

a secure way of sampling and tasting

will be guaranteed."

Online event opens up new

markets and target groups

The 2020 online edition of Fi

Europe and Fi Global digital events

in recent month proved that the

formats were not only well-received,

but also tapped into completely

new attendee potential: between

40 and 60 per cent of participants

in those online events attended

for the first time. The global reach

also increased thus broadening

brand awareness and business

opportunities for the companies

that were exhibiting.

Health taking center stage

With the decision to combine Food

ingredients and Health ingredients, the

event team acknowledges the everincreasing

blurring of lines between

everyday foods, products with added

health benefits and nutraceuticals.

COVID-19 has led to a further surge

in healthy eating, and thus demand

for health ingredients, plant-based

alternatives, gut health and immunity

concepts and ingredients. In a

survey by the European Institute of

Innovation and Technology, one-third

of respondents from 10 countries in

Europe said healthy eating will be

very important in the post-pandemic

era. And almost as many stated that

avoiding additives and preservatives

will continue to be of great importance.

A consumer shift towards healthier

nutrition means shoppers are also

looking to make the right choice when

it comes to sugar, salt and fat reduction.

It's a trend driven by not only consumers,

but also legislative changes in the wake

of an EU 10% sugar reduction target

from 2015 to 2020.

From food ingredients and healthy

solutions to regulatory information and

new technologies, FiE will cover the entire

spectrum of trending topics in the F&B

industry. Along with virtual opportunities,

the event offers an enhanced experience,

more comprehensive and flexible than

ever.

fmt

The magazine PetFood PRO has grown out of a conviction and wish

to underline the high level of quality and care in the manufacture

of pet food, through the choice of ingredients, choice of

technology and choice of packaging materials. We will

endeavour to present this in an informative way,

through a reader-friendly style and with a

marketing perspective.

www.harnisch.com

Technology & Marketing

food Marketing & Technology • August 2021

47
---
Events

PPMA's Flagship Show will

go Ahead in 2021

Birmingham, UK, September 28-30

The PPMA (Processing and Packaging

Machinery Association) is pleased

to confirm that its flagship PPMA

Show will go ahead at the National

Exhibition Centre (NEC) on 28-30

September 2021.

Confirmation of this year's eagerly

awaited processing, packaging,

machine vision and robotics event in

Birmingham will come as welcome news

to show-goers and industry influencers

alike within the UK manufacturing

sector.

Speaking after the decision to stage

PPMA Show 2021, Richard Little,

Show Director for the PPMA Group of

Associations, said: "There were a lot of

things to take into consideration when

deciding to run this year's event; not

least of all the safety and well-being of

all concerned.

"Based on the advice we've received,

the likely scenario is that all UK adults

will have had or be eligible to receive

their second Covid-19 vaccination in

September 2021. Therefore, restrictions

that would materially impact our Show

running will have been lifted.

"We also had to gauge the appetite

of exhibitors and prospective visitors

to attend a live show, from which our

surveys generated a very favorable

response.

"The overwhelming consensus among

those within the industry is that they

want to see the return of live events;

particularly in the food, beverage

and pharmaceutical sectors. These

sectors generate over half our visitors,

many of whom have been working

flat out to support the critical

supply chain during the Coronavirus

pandemic, and subsequently have a

keen interest in the latest machinery

and equipment.

"As an event organizer, we will now be

working closely with the NEC to ensure

that the necessary Covid-19 controls

are in place, without compromising

the overall event experience. This

could mean some alternations to the

omnidirectional floorplan and onsite

catering provisions, but it will remain a

large-scale exhibition," added Little.

This year's FREE-to-attend Show will

house in-excess of over 350 exhibitors,

comprising more than 1,700 brands,

from the UK and parts of Europe.

Since the Show's inception in 1988, it is

now widely accepted as being the UK's

most important and influential industry

event in the calendar for key decisionmakers

and purchasers from the FMCG

(fast-moving consumer goods) sector.

This has recently been extended to

building materials and suppliers, pet

care, micro-breweries and distilleries,

contract packers, tobacco and vaping

industries.

PPMA shows have always attracted

high-end speakers and big-name

brands to its Conference area, and this

year's three-day event is no different.

Prominent industry representatives

from Iceland Foods and Scottish brewer

and social enterprise Brewgooder

have already pledged their support

and commitment to speak on 28-29

September.

The registration portal for PPMA Show

2021 is now open for new registrants

to apply for their complimentary

visitor pass. To register, or for more

information about this year's event,

visit: https://www.ppmashow.co.uk and

follow the links.

fmt

48 food Marketing & Technology • August 2021
---
Events

Q3 2021

22-25 September

Tehran, Iran

food + bev tec

fairtrade Messe GmbH & Co. KG

Kurfürsten Anlage 36,

69115 Heidelberg, Germany

Tel.: +49-6221/4565-0

Fax: +49-6221/4565-25

info@fairtrade-messe.de

www.fairtrade-messe.de

Q4 2021

14-16 October

Addis Ababa, Ethiopia

food + bev tec

fairtrade Messe GmbH & Co. KG

Kurfürsten Anlage 36,

69115 Heidelberg, Germany

Tel.: +49-6221/4565-0

Fax: +49-6221/4565-25

info@fairtrade-messe.de

www.fairtrade-messe.de

Q4 2021

27-29 September

Las Vegas, NV

Pack Expo International

Let's meet here

1451 Dolley Madison Blvd.,

Ste 101 McLean, VA 22101 USA

Tel.: +1 703 761 2600

info@fpsa.org

28-30 September

Nuremberg, Germany

Fach Pack

NürnbergMesse GmbH,

Messezentrum,

90471 Nuremberg

Tel.: +49-911-8606-0

Fax: +49-911-8606-8228

www.fachpack.de

28-30 September

Birmingham,UK

PPMA Show

New Progress House,

34 Stafford Road,

Wallington, Surrey SM6 9AA

Tel.: +44(0)20 8773 8111

scott.mckenna@ppma.co.uk

5-7 October

Palexpo, Le Grand-Saconnex, Switzerland

Vitafoods Europe

Informa Exhibitions,

5 Howick Place,

Let's meet here

London SW1P 1WG,

Great Britain

Tel.: +44 20 337 73111

www.vitafoods.eu.com

9-13 October

Cologne, Germany

Anuga 2021

Koelnmesse GmbH

Messeplatz 1

50679 Cologne

Germany

Tel. +49 221 821-0

Fax +49 221 821-2574

p.krause@koelnmesse.de

Let's meet here

Let's meet here

26-28 October

Lagos, Nigeria

food + bev tec

fairtrade Messe GmbH & Co. KG

Kurfürsten Anlage 36,

69115 Heidelberg, Germany

Tel.: +49-6221/4565-0

Fax: +49-6221/4565-25

info@fairtrade-messe.de

www.fairtrade-messe.de

2-5 November

Chicago, IL USA

ProcessExpo

FPSA Food Processing Suppliers Association

1451 Dolley Madison Blvd Suite 101

McLean, VA 22101

Tel: +1-678 732 2435

kim.porter@usa.messefrankfurt.com

24-27 November

Erbil, Irak

food + bev tec

fairtrade Messe GmbH & Co. KG

Kurfürsten Anlage 36,

69115 Heidelberg, Germany

Tel.: +49-6221/4565-0

Fax: +49-6221/4565-25

info@fairtrade-messe.de

www.fairtrade-messe.de

30 November-2 December

Frankfurt, Germany

Food ingredients Europe

Informa Markets

Let's meet here

PO Box 12740, de Entree 73,

Toren A, 1100 AS Amsterdam Zuid Oost,

The Netherlands

Tel.: +31-20-409 9544

Fax: +31-20-363 2616

www.figlobal.com

This list of events is accurate, to the best of

our knowledge. However potential visitors are

recommended to check with the organizer since some

details are subject to change. We make no claims to

be complete and are grateful for any corrections or

completions. Please contact: food@harnisch.com

food Marketing & Technology • August 2021

49
---
Last Page

Advertiser's Index • August 2021

Key No. Page Company Location

100336 43 Baumer Management Service AG Frauenfeld, Switzerland

99864 29 Coperion GmbH Stuttgart, Germany

99906 Cover 1 Daxner Bulk Solids Technology Wels, Austria

100729 21 Dubai World Trade Centre Dubai, UAE

96342 Cover 2 Endress+Hauser Group Services Reinach, Switzerland

97084 5 fairtrade GmbH & Co. KG Heidelberg, Germany

99923 27 Getriebebau NORD GmbH & Co. Bargteheide, Germany

100725 9 Informa Markets Amsterdam, The Netherlands

100725 4 Informa Exibitions London, UK

98839 31 NETZSCH Pumpen & Systeme. Waldkraiburg, Germany

100637 37 Omron Europe B.V. GM´s-Hertogenbosch, The Netherlands

100637 45 Piab AB Täby, Sweden

96580 41 PPMA Ltd. Wallington, UK

99030 35 Schaaf Technologie GmbH Bad Camberg, Germany

99677 19 Thorwesten Vent GmbH Beckum, Germany

99411 Cover 4 URSCHEL Chesterton, IN, USA

99290 25 VEGA Grieshaber KG Schiltach, Germany

99335 33 WENGER Manufacturing, Inc. Sabetha, KS, USA

Whilst every effort is made to ensure the accuracy of this information, we appreciate your comments and corrections if

something should be not quite right.

IMPRESSUM FMT

ISSN 0932-2744

Publishing Company:

Dr. Harnisch Publications

Eschenstr. 25

90441 Nuremberg, Germany

Tel: +49-911-2018-0

Fax: +49-911-2018-100

E-mail: food@harnisch.com

Internet: www.harnisch.com

Editor-in-Chief: Ian D. Healey

Tel: +49-911-2018-215

E-mail: ihealey@harnisch.com

Publisher: Benno Keller

International Communications Director:

Gabriele Fahlbusch

Editorial Team: Bill Kaprelian, Silke Watkins,

Carola Weise, Sebastian Martinek, Axinja Peine

Digital: Britta Steinberg

Copy Editing: Nicholas Somers

Technical Manager: Armin König

Advertising: Sabrina Maasberg

Subscriptions: Marta Bletek-Gonzalez

Art Director: Bruno Bozic

Reader Service: Zübeyde Schiener

Subscription Information:

Qualified Readers, executives in

the food industry, are put on the mailing list free

of charge. Regular delivery by subscription only.

€ 102 per year, 6 issues (surface mail)

€ 118 per year (air mail)

printed by:

Druckerei Millizer

Schwabach, Germany

Copyright © 2021 by Dr. Harnisch Verlag,

Nuremberg, Germany

PREVIEW • OCTOBER 2021

Processing Nuts

Dairy Desserts

Extrusion

Personalized Packaging

… and lots more

50 food Marketing & Technology • August 2021
---
Vol. 35 • 31377

ISSN 0932-2744

4/21

Cover: Fully Automated

Reformulation – ehe

Homogeneity in

Herb & Spice Factory

Ultimate R&D Challenge

Instant Soup

Issue 4/2021

Reclosable Recyclable

MAP Solution for Meat

Our service: If you would like to have more information on articles and/or adverts

please fax this form and quote the headline and page number.

All questions must be answered to process your inquiry!

1. Business Classification:

Type Product Function

Manufacturer Milling Dairy Products Administration/Management

Supplier Bakery Fruit + Vegetable Prod. Product Development

Distributor Confectionery Beverages, alcoholic Production

Import/Export Meat & Fish Beverages, non-alcoholic Packaging

Flavors & Spices other (please specify) Research & Development

2. Business Interests

We plan purchase Probable future purchase We need general information

3. How do you rate this publication?

excellent good fair poor

4. I wish to receive future issues of FM & T

Yes No

5. Number of employees at this location

6. How many people in your company read your copy of FM & T?

7. Headline and page no.

8. Please enter my subscription to FM & T for one year

The subscription shall start immediately beginning of

Domestic Mail ( 84,– incl. p+h+VAT)

Surface Mail ( 102,– / US $ 132 ,– incl. p+h)

Air Mail ( 118,– / US $ 153,– incl. p+h)

Check enclosed

Bill me

Charge my credit card: Euro-Card Visa Amex

valid until:

9. I would like to advertise – please call me:

Company:

Name:

Position:

Address:

Country:

Phone:

Fax:

E-mail:

Date:

Signature:

The subscription is prolonged automatically for one year unless it is cancelled 6 weeks before expiry.
---
EXPLORE

Intelligent Cutting Solutions

Urschel manufactures intelligent, sanitary food cutting machinery responsive to your

processing needs and environment. Rugged design withstands harsh production

conditions while maintaining precision cuts. Limited maintenance with the ability to run

continuously for uninterrupted production presents significant cost-savings.

As The Global Leader in Food Cutting

Technology, Urschel provides cutting solutions

for all types of potato applications.

Contact Urschel to achieve your processing goals.

Key No. 99411

Key No. 99411

The Global Leader in Food Cutting Technology

Set-up a free test-cut of your product:

®

info@urschel.com

www.urschel.com

THE GLOBAL LEADER

IN FOOD CUTTING TECHNOLOGY

NORTH AMERICA | EUROPE | SOUTH AMERICA | ASIA | AUSTRALIA | AFRICA

# Best Selling

1provider of industrial cutting

machinery throughout the world.

®Urschel, Urschel logo symbol, and The Global Leader in Food Cutting Technology are registered trademarks of Urschel Laboratories, Inc. U.S.A.