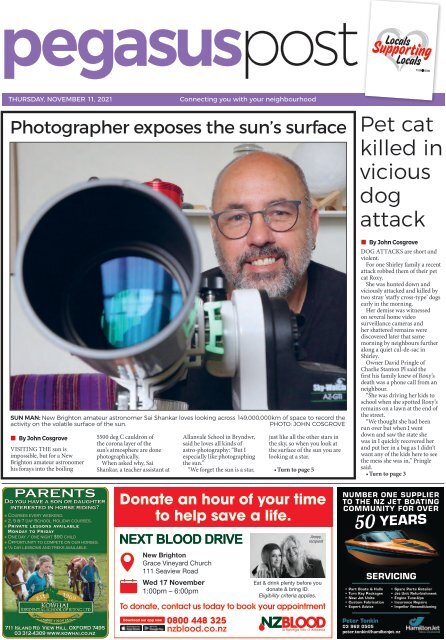 Pegasus Post: November 11, 2021
You also want an ePaper? Increase the reach of your titles
YUMPU automatically turns print PDFs into web optimized ePapers that Google loves.
Locals

Supporting

Locals

THURSDAY, NOVEMBER 11, 2021

Connecting you with your neighbourhood

Photographer exposes the sun's surface

Pet cat

killed in

vicious

dog

attack

SUN MAN: New Brighton amateur astronomer Sai Shankar loves looking across 149,000,000km of space to record the

activity on the volatile surface of the sun.

PHOTO: JOHN COSGROVE ​

• By John Cosgrove

VISITING THE sun is

impossible, but for a New

Brighton amateur astronomer

his forays into the boiling

PARENTS

Do you have a son or daughter

interested in horse riding?

✭ Courses every weekend.

✭ 2, 5 & 7 day School Holiday courses.

✭ Private lessons available

Monday to Friday

✭ One day / one night $90 child

✭ Opportunity to compete on our horses.

✭ ½ day lessons and treks available.

5500 deg C cauldron of

the corona layer of the

sun's atmosphere are done

photographically.

When asked why, Sai

Shankar, a teacher assistant at

Donate an hour of your time

to help save a life.

NEXT BLOOD DRIVE

Allanvale School in Bryndwr,

said he loves all kinds of

astro-photography: "But I

especially like photographing

the sun."

"We forget the sun is a star,

Wednesday 14 April

3:00pm – 6:30pm

just like all the other stars in

the sky, so when you look at

the surface of the sun you are

looking at a star.

• Turn to page 5

Bishopdale Reformed

Church

90 Highsted Road

New Brighton

Grace Vineyard Church

111 Seaview Road

Wed 17 November

Annee,

recipient

Eat & drink plenty before you

GIVE 1:00pm THE GIFT – 6:00pm

OF BLOOD - COSTS NOTHING! PAY

donate IF FORWARD.

& bring ID.

Eligibility criteria applies.

• By John Cosgrove

DOG ATTACKS are short and

violent.

For one Shirley family a recent

attack robbed them of their pet

cat Roxy.

She was hunted down and

viciously attacked and killed by

two stray 'staffy cross-type' dogs

early in the morning.

Her demise was witnessed

on several home video

surveillance cameras and

her shattered remains were

discovered later that same

morning by neighbours further

along a quiet cul-de-sac in

Shirley.

Owner David Pringle of

Charlie Stanton Pl said the

first his family knew of Roxy's

death was a phone call from an

neighbour.

"She was driving her kids to

school when she spotted Roxy's

remains on a lawn at the end of

the street.

"We thought she had been

run over but when I went

down and saw the state she

was in I quickly recovered her

and put her in a bag as I didn't

want any of the kids here to see

the mess she was in," Pringle

said.

• Turn to page 3

NUMBER ONE SUPPLIER

TO THE NZ JET BOATING

COMMUNITY FOR OVER

50 YEARS

• Part Boats & Hulls

• Turn Key Packages

• New Jet Units

• Custom Fabrication

• Expert Advice

SERVICING

• Spare Parts Retailer

• Jet Unit Refurbishment

• Engine Tune-Ups

• Insurance Repairs

• Impellor Reconditioning

2264064

711 Island Rd View Hill, OXFORD 7495

03 312-4309 www.kowhai.co.nz

Peter Tonkin

03 962 0505

peter.tonkin@hamiltonjet.nz
---
2 Thursday November 11 2021

Advertise locally and

target customers most

likely to shop with you!

Effective Ad packages start from just $99

(inclusive full colour ad, creative setting,

photography and proofing).

No contracts required.

Your local community newspaper connects

neighbours in the following suburbs

Linwood • Avonside • Richmond • Shirley • Bexley

Burwood • Dallington • Wainoni • Bromley

Aranui • Avondale • New Brighton • Northshore

Queenspark • Parklands • South Brighton

17,751 homes every week.

ADVERTISING

Frank Greenslade

Ph: 364 7441

frank.greenslade@starmedia.kiwi

NEWS

John Cosgrove

Ph: 021 195 0284

john.cosgrove@starmedia.kiwi

GENERAL INQUIRIES Ph 379 7100

CLASSIFIED ADVERTISING Ph 379 1100

www.starmedia.kiwi

what's on

this week

The Inaugural 'Bros for Chains

Charity Classic'

Saturday and Sunday, 8.30am-

4.30pm

Brooker Ave, Burwood

A charity event presented by Bros

For Change and RPM Discs, at the

Brooker Ave Disc Golf Park, using the

current course and pop ups. Go along

and discover the new sports of disc

golf and have a lot of fun while giving

back to the community with four

rounds of games over the weekend.

Email woody@rpmdiscs.com for more

details or to enter.

Car Boot Sale

Saturday, 9 am to noon

10 Shirley Rd

Go along and enjoy the offerings at

the Shirley Community Centre car

boot sale. Sausage sizzle and coffee

cart will be there. Covid protocols

will apply – you must wear a mask,

scan in and keep 2m apart. No eftpos,

and no toilet facilities. Free.

North Beach Bridge Club

Wednesday 1-4pm

St Andrews Anglican Church ,

Marriotts Rd, North New Brighton

Go along and join other friendly

members of the bridge club who meet

every Wednesday. Phone Margaret

Keall at 382 0274 for information.

New Brighton Seaside Market, New Brighton Pedestrian Mall,

Saturday 10am–2pm. Every Saturday, New Brighton's pedestrian mall is

filled with colour and creativity. Come down to the seaside and enjoy, live

entertainment, great food, fresh produce, arts, crafts, jewellery and more.

There's also a bouncy castle and free face-painting for the littlies. Life is

Better By the Sea. A New Brighton Project initiative. "Creating Community

Together". Inquiries please txt 027 517 4250 or email seasidemarket@xtra.

co.nz Admission free

Common Ground Crop Swap

Friday, 5.30 -8pm

91 Estuary Rd, New Brighton,

The swap is brought to you by Coastal

New Brighton Time Bank, Common

Ground and Sustain South

Brighton, and is a chance to go along

and swap and share your excess fruit

and garden produce. Free.

Anzac Fronds Unveiling

Monday, 2.30pm

Intersection of New Brighton Rd and

Anzac Drive

A ceremony will be held to

mark the unveiling of the Anzac

Fronds in their new position at

the Anzac Drive/New Brighton

Rd intersection.The fronds were

originally installed on Anzac Bridge

in 2000 but following the 2010/11

earthquakes they were removed and

have since been in storage. Mayor

Lianne Dalziel will host the official

'unfurling' of the fronds in their new

location.

SeniorNet New Brighton

Monday-Thursday, 10am-noon

202 Marine Pde, New Brighton

Come along and learn how to use

modern technology and the internet,

such as your computer, smartphones,

tablets, laptops, and discover how

to capture and send digital photos.

Bookings required.Phone 382 6048.

Community meeting

Tuesday, 6.30-8pm

ECan office, 200 Tuam St

The next Bromley Community

Liaison Group update meeting about

the organics processing plant will

be held on Tuesday. The meeting

agenda and associated reports will

be made available soon on their. Staff

from the city council, Environment

Canterbury and Living Earth will be

at the meeting to answer questions.

Up to

50 % Off

*Call for Terms

& Conditions

Off

*
---
Thursday November 11 2021 3

Concern for welfare of children

• From page 1

"We have a really special

community here, everyone has

young kids and we all look out

for each other so I didn't what

mine or any other family's kids

to see the state she was in.

"They (the dogs) had ripped

her head to shreds, so after I got

her home I went back through

the surveillance video and spotted

the attack.

"The two dogs came from

nearby Innes Rd and tracked her

through some of our neighbours

yards before they grabbed her

from her favourite place lying

under a bush out front of our

house," Pringle said.

"Then on another video I

could see them kill her.

"It was a bit of a shock and

my wife Shayle is still very upset

about it all."

He said he and many of his

neighbours had installed video

surveillance gear outside their

houses after they were victims to

a growing number of burglaries

in their quiet little street.

"It's got worse since the first

lockdown last year, they got all

my work tools in one robbery

and another neighbour was up

early one morning breastfeeding

her baby when someone

walked into her house," the self

employed electrician said.

Following the attack Pringle

contacted the city council dog

control.

"We wanted them to do

SHOCKED: Roxy's owner David Pringle with siberian husky Shinobi, her best mate,

PHOTO: JOHN COSGROVE ​

something about it as other pets

in the area have also been killed

by stray dogs, and we wanted to

protect all of the small children

here," he said.

"Many of them play in the grassy

area where the dogs came through."

City council head of regulatory

compliance Tracey Weston

said video footage can be used

as part of their investigation if

it meets the evidential requirements

of being able to clearly

identify the offending dog.

Sadly in spite of the footage

supplied by the Pringles, council

staff were unable to identify the

collarless dogs in the attack.

She added that currently there

are 38,453 dogs registered in

city area and they were aware of

4044 that are currently unregistered.

Neighbour Michelle Hall discovered

Roxy and said she didn't

want her own children to see the

remains.

"The fence the dogs came

through isn't properly closed off

from Innes Rd so stray dogs and

anyone can just walk through,

it worries me and my partner as

we have a great little street here.

"We will be asking the council

to extend the fence to close off

the access point," she said.

In Brief

PARADE CANCELLED

Santa will not be parading through

the streets of New Brighton this

year because of Covid concerns.

Unfortunately, New Brighton

Project have had to make the

hard decision to cancel this year's

parade, but said the New Brighton

Seaside Christmas market will still

go ahead.

FUNDRAISING EVENT

The North Avon BMX club will

start its fundraising drive for a

world-class pump track with a

gathering of professional cyclists

at the club's grounds on Saturday.

Top riders, such as Anton Cooper,

Billy Meaclem, Charles Murray,

Joe Nation, Kate Winton and Sam

Blenkinsop, have just raced at the

Crankworx festival in Rotorua and

are keen to help the fundraising

drive. The club requires an

additional $30,000 to reach key

funding milestones to make the

track a reality.

PROJECT FUNDING

The Christchurch Earthquake

Appeal Trust is funding the

New Brighton Community

Leadership Project with up to

$2 million available for one or

two projects selected by the

community to enhance the social

and economic environment in

the greater New Brighton area.

This will be a community-led

development programme, the

key element of which is that the

community will determine what

the projects will be.

Established in 1996 by Paul and Leanne

Southorn, Southbuild is a reputable,

professional and experienced building

company. Our predominant expertise

lies in extensions, renovations (including

accessible bathroom modifications),

commercial fitouts, light civil construction

and project management.

Why Southbuild?

Experienced

As Registered Master

Builders, we have a broad

and sound knowledge of

the carpentry and building

project management required

for commercial and home

renovations, alterations and

extensions.

Efficient

We pride ourselves on tight

co-ordination and good

communication so your

project is completed quickly

and efficiently minimising

inconvenience to you. Our

builders realise their building

site is your home or business

and show respect at all times

being punctual, polite and as

tidy as possible.

Helpful

At all times Paul and Leanne

are available to discuss any

concerns or questions that

may arise during the job and

appreciate any feedback you

offer.

Cost Effective

It is important that you feel

assured of the quality of

the materials we supply as

well as the high standard

of our workmanship. We

prepare detailed quotes and

endeavour to price jobs with

the best materials at the

best price. Where possible

we request as many as three

competitive quotes before

selecting our final suppliers.

Skilled

We are able to complete to a

very high standard large and

complex building projects such

as major renovations, structural

extensions and structural

and internal changes. We

also take on smaller projects

such as renovating kitchens,

bathrooms and installing

window joinery. We can work

with a wide range of different

building products.

Flexible

Over the years Paul and

Leanne have developed

positive relationships with a

variety of reliable suppliers

and subcontractors you

may need to complete your

project. Or if you prefer we

can work with your existing

suppliers. We can work with

or without involvement of

architect depending on the

scope of work.

Phone: Paul: 027 441 2228, Leanne: 027 648 3574 | Email: lee@southbuildltd.co.nz

www.southbuildltd.co.nz
---
4 Thursday November 11 2021

Manukura Kōrero

School Update

Naku te rourou nau te rourou ka ora ai te iwi

With your basket and my basket the people will live

There is so much to celebrate as a kura as we reflect on

what has been a very challenging year. Our ākonga and

kaimahi have not let a global pandemic dampen their

enthusiasm, they have not let the restraints of Lockdown

overwhelm them and they have not succumbed to the

fear and anxiety that often results from the plethora of

information generated on social media about COVID-19.

Instead they have remained focused and "made the

main thing the main thing," and that main thing for them

is their ako and ensuring they take advantage of all the

opportunities that are offered to them.

Ākonga and kaimahi are working extremely hard at the

moment at every level of the school. Our senior ākonga

are busy with examination preparation as NCEA external

exams get closer. I am so proud of our ākonga and the

number of Excellence and Merit Credits they have earned

in NCEA this year even though they faced the challenges

of Lockdown and online learning. For many of our senior

ākonga these exams are the culmination of a five year

journey and we wish them well for this ultimate wero.

I would like to take this opportunity to congratulate

Meshach Faafoe, Pypah Lewis-Bolten and Larnayshia Tahuri,

all of whom have received a University of Canterbury

Takere Scholarship for 2022. This prestigious scholarship

provides recipients with a fortnightly allowance of $400, free

catered accommodation in a Hall of Residence, a tailored

academic support and guidance programme with designated

Māori and Pacific Student Advisors, a fees-free 15-point

100-level course that may contribute to the recipient's

chosen degree, opportunities to engage, lead and support

social and cultural activities, as well as engagement with

whānau regularly so they can support recipients while they

are studying away from home. An added advantage of this

wonderful scholarship is the provision of Taurima (Mentors)

and tutors to assist recipients as they navigate this exciting

learning pathway.

I would like to record as well my gratitude to all those

people who have supported the recent COVID-19

vaccination programme in the East. Haeata hosts a DHB

vaccination clinic on Wednesdays 2.00pm - 4.00pm

and this has seen a positive uptake by whānau of

immunisations. There is no coercion for ākonga or whānau

to get vaccinated, rather our approach has always been

underpinned by informed consent.

If whānau wish to enter our "Crush COVID-19"

competition all they need to do is bring in the double dose

vaccination certificate to be in the draw for a $200 prize,

donated by the Manukura. Entries close on Monday, 6

December 2021 and the winner will be announced at Junior

Prizegiving on Friday,10 December 2021.

As always, it is a privilege to lead at Haeata, it is a privilege

to work with our amazing ākonga and kaimahi, and it is a

privilege to serve this wonderful community.

Kia kaha, kia toa, kia manawanui.

Arohanui

Whaea Peggy

Haeata Formal 2021

Swim Safe Programme at Taiora

The hours of planning, preparation and execution

that went into creating this spectacular and

beautiful event defies the imagination.

So many of our amazing young people lived the

dream and were amazed and overwhelmed as

they entered a transformed Te Rau Ika. Walking

the Red Carpet, we all entered a Winter

Wonderland that, on every level, took your breath

away.

We were all treated to the most sumptuous

banquet I have ever enjoyed at a school Ball,

entertained by an amazing DJ and without

exception treated like royalty.

Champagne flutes, canapés and fine cuisine, photo

op after photo op, dance after dance, the night just

litup!!

For me, these memories will endure! I have

attended many beautiful weddings over the years

and this event equaled or surpassed the standards

of excellence set on those occasions with the

attention to detail, presentation, organisation and

ultimately unbridled enthusiasm (excuse the pun!)

and celebration this

event achieved.

Thank-you to

Michelle McConnell

for the beautiful

photographs.

Thank you again

Natalie Malan, you

led your team and

created a dreamcome

true!!

Whaea Peggy

For the first two weeks this term, our Year 1-6 ākonga across Hikuawa and

Kōmanawa hapori have enjoyed travelling by bus to Taiora each day for Swim

Safe Water Education. The instructors were amazing, teaching a range of

water safety skills to our ākonga.

Ākonga enjoyed the daily 30 minute session,

learning a lot of new skills including:

• how to enter and exit the water in any

environment

• underwater skills and controlling their

breathing

• how to float on the water

• moving, rolling and turning in the water

• water safety and awareness

• what to do in an emergency

All of which support them to be

more confident in water.

Whaea Jess

Taking enrolments, please email enrol@haeata.school.nz for any enquiries or phone us on 03 930 0110

Haeata Community Campus

240 Breezes Road, Wainoni

Reception Hours: Mon - Fri 8am - 3pm

Contact 03 930 0110 • enrol@haeata.school.nz

www.haeata.school.nz
---
Thursday November 11 2021 5

Capturing Sol in all its glory

THE

• From page 1

"It amazes me that we are

living in a time when we can

do something that's been out

of reach of most amateurs

photographers up until now.

"With the help of an ordinary

refractive telescope and some

affordable specialist equipment

we can now see the sun up

close, it's quite an experience to

look at it with your own eyes,"

he said.

Shankar said it's all achieved

by using specialist filters and

some free online software.

"We start off with a white light

filter which lets all the colours

of the visible spectrum through,

but reduces them down to a tiny

percentage, less than one per

cent of what we see.

"This filter shows us the

photosphere of the sun, the layer

of the sun with all the sun spots

happening on it."

Next he uses is a hydrogen

alpha optical filter designed

to transmit only a narrow

bandwidth of light.

"This filter only lets in a

wavelength of light that is

less than one nanometre

in size; a human hair is

600,000 nanometres in

thickness.

"It gives me amazing views

of a different layer of the sun's

atmosphere, now I can now see

the chromosphere," he said.

SOLAR FLARE: A big prominence exploding on the north

east limb of the sun, estimated as high as five or six

earths. Below – a small eruption is bigger than three

earths.

PHOTOS: SAI SHANKAR

This layer has the temperature

ranging from 6000 deg C to

about 20,000 deg C.

"You can still see sun spots

but you can now see

prominences exploding on the

edge of the sun plus a lot of

surface detail.

"It looks amazing and it's

dynamic, over an hour it can

change immensely," Shankar

said.

Using a monochromatic

video camera that captures at

100 frames per second, he then

records 30 seconds of imagery at

a time.

"The atmosphere of the sun

is quite turbulent so it's called

'lucky photography,' as over that

30 seconds there will be brief

moments of clarity in the surface

turbulence.

"On screen, your watching

blurry images then suddenly it

jumps into clear sharp focus," he

said.

Free photographic stacking

software quickly sorts the

best one-to-five per cent of all

the images captured to produce

a clear, sharp result as a mosaic.

"It finds the best frames and

matches them together into a

black and white image which I

can then colourise to show the

sun."

From there Shankar said he

will manipulate with them in

Photoshop and produce the

images he is becoming well

known for.

Shanker said he plans to

display his unique imagery

online in the coming weeks.

FACTS:

•The sun is Yellow Dwarf

star composed primarily of

hydrogen and helium.

•It is over 4.6 billion years old

and compared to the largest

known stars, red giants, isn't

very big, but compared to

the most common type of

star in the universe, the red

dwarf, the sun is quite a bit

larger than most.

•The sun alone contains 99.8

per cent of the total mass in

our solar system.

•It's almost 110 times the

diameter of earth.

•About one million earth's

could fit inside the sun while

the surface area of the sun is

11,990 times that of earth.

•The sun is spinning in

the opposite direction to

earth and is travelling at

220km per second, light

takes eight minutes to reach

earth.

•The atmosphere of the

sun is composed of three

layers – the photosphere,

the chromosphere, and the

corona – and its surface

temperature is 5500 deg C

•The nuclear explosions on

the surface generate solar

winds, which are ejections

of extremely hot, charged

particles of plasma and can

travel through the solar

system at up to 450km per

second.

•Our orbital speed

around the sun is about

(107,000km/h.

PEPPERJACK RANGE

$19.99

EACH

BROWN BROTHERS

PROSECCO RANGE

$15.99

EACH

presenting our

PREMIUM

LARIOS

ROSE / CITRUS 1L

$37.99

EACH

RANGE

OF FINE WINES, RTD'S & SPIRITS

PENFOLDS

CLUB TAWNY

$25.99

EACH

VILLA MARIA

RESERVE SAUVIGNON

BLANC

$19.99

EACH

RUA CENTRAL

OTAGO PINOT NOIR

$21.99

EACH

JACK DANIEL'S 1L

WOODFORD RESERVE 700ML

HAYMAN'S GIN 1L

$54.99

EACH

BOMBAY SAPPHIRE 1L

BOMBAY BRAMBLE 700ML

WILD TURKEY 1L

$49.99

EACH

THE GLENLIVET 12 700ML

CHIVAS REGAL 12 1L

$64.99

EACH

New Flavour Alert

JAMESON

10PK CAN RANGE

$29.99

EACH

MT DIFFICULTY

PINOT NOIR / CHARDONNAY

$26.99

EACH

SCAPEGRACE

CLASSIC / BLACK 700ML

$69.99

EACH

JOHNNIE WALKER

DOUBLE BLACK 700ML

$54.99

EACH

JACK DANIEL'S

DOUBLE JACK

330ML 10PK CAN RANGE

$29.99

EACH

MAKER'S 46

BASIL HAYDEN'S

CANADIAN CLUB 20 YR

ALL 750ML

LEGENT 700ML

$74.99

EACH

THIRSTY LIQUOR LINWOOD

21 ALDWINS ROAD, LINWOOD

03 982 1753

THIRSTY LIQUOR BURWOOD

9 PARNWELL ST, BURWOOD

03 383 2564

Promotion period between 1/11/2021 to

30/11/2021. While stocks last. Promotion only

available at participating stores – please contact

your local store to confirm whether they are

participating in the promotion and check the pricing

in-store prior to purchase. Online pricing will vary.
---
6 Thursday November 11 2021

Young delegates have a say on their future

• By John Cosgrove

THE NEXT generation of

influencers, environmentalists,

and community leaders got to

voice their concerns about the

future at a special session held at

the city council last week.

Twenty-four children, aged

from 10 to 15 years and from

five schools, took the chairs

inside the council chambers and

presented their ideas on coastal

hazards and climate change.

The next generation

conversation workshop focused

on seeking answers from

young people about what they

wanted to see happen on issues

associated with global warming

and climate change, as these

things directly affect their

future.

City council senior news and

content editor Lois Cairns said

the point of the exercise was for

the young people to formulate

a submission on the coastal

adaptation framework.

"They had done some prework,

looking at the proposed Chisnallwood Intermediate

guiding principles within the formed into groups and then,

framework and identifying what in chambers, presented their

they liked, what they would like arguments which the students all

to change, what was missing voted on.

and the importance of children The Lyttelton Primary School

and young people's voices in the group posed the question that

conversation," she said.

"they may invite us, they may

Pupils

263

from Haeata

listen to us,

x

but it will depend

180

on

Community College, Lyttelton if they really hear us".

Primary School, Governors Bay In front of city councillor and

School, Banks Ave School and Sustainability and Community possessed when he spoke

FOR REAL: In council chambers young delegates, including Chisnallwood Intermediate

pupil Rosie Paul, 13 (left), voted on parts of their final submission on the coastal adaption

framework.

PHOTO: JOHN COSGROVE

Resilience Committee

chairwoman Sara Templeton,

ECan councillor Vicky

Southworth and Future Curious

representative Sian Carvell,

the young respondents hotly

debated what their future could

look like.

Keegan Verster, 13, typified the

depth the dedicated year 9 class

at Chisnallwood Intermediate

passionately to the audience

about his feelings for the future.

"It was an amazing experience,

we all have a capability of being

heard and I think we will be

heard," Keagan said.

His group's presentation was

about changing the education of

youth to affect change for their

future.

"It's very important that we all

should be learning about what's

happening today. How are we

going to stop it if we don't know

anything about it," Keegan said.

His class studies the changing

environment and was well

represented at the session,

supplying four of the eight

speakers.

Classmate Sarita Kotze, 13,

found it a huge opportunity, and

said the highlight was speaking

in front of the assembled group.

She hopes it will help her spread

information and influence

change.

Said Sarita: "The facts

shouldn't be sugar-coated when

discussing climate change."

Chisnallwood pupil Rosie Paul,

13, said she got so much from the

meeting.

"It was absolutely amazing as

I got to hear the student voice,"

she said.

Teacher Jude Robinson said

the Chisnallwood Intermediate

class were very passionate.

"There are 32 kids in the

class and their passion and

ability to understand the key

issues about climate change is

amazing. As teachers we want to

challenge them, to get them to

take it further and this session

here today is a result of that,"

Robinson said.

The submission the pupils

created will now be considered

along with other submissions the

city council will receive before it

makes a final decision in the

new year.

Need To Get Fit Fast?

Tone Up or Body Build, Get A Total Body Workout

One Machine...

That Does it All

Easy Storage

Easily Folds Away

Effective Workout

Fun, low impact workouts.

For All Ages

Personalised Settings For

Beginners and Advanced

Includes

Pilates Kit

& DVDs

Up to

50 % Off

Off

*

*Call for Terms

& Conditions

Call Now! 0800 665 665
---
Thursday November 11 2021 7

MERIVALE-SHIRLEY

HELPING KIWI'S SEE THE WORLD…

EVENTUALLY!!

It's been a while since we've been in touch but we wanted to reach out to our

community and let you know what is happening in the world of travel.

As you all know our holidays abroad have been largely quashed by the Covid-19

pandemic and we have navigated almost two years of living without the

opportunity to travel and explore the world – something that many Kiwi's love

to do. But while we wait for the vaccination levels to reach the desired 90%

outcome we thought it was the right time to say "HI" and to remind you that we

are still here, waiting to help you get that long awaited holiday.

Many of you will know that we relocated mid-2020 to the Merivale House of Travel

location and merged the two stores. While it may be a bit further to travel to,

it also offers some other great retail stores and lots of cafes to enjoy a coffee

or lunch. So, please come and visit us! Our team have an enormous amount of

experience and are well-travelled so you can trust us for honest, unbiased travel

recommendations that are relevant to your needs.

Some of you may not have booked with a travel agent in the past but travel in this

"covid-era" comes with many more complications and as we have been at the

forefront of this, our knowledge and advice is unparalleled. Simply put we are

able to give accurate advice and 24/7 support should your holiday come with

any issues or unforeseen cancellations.

Booking online is easy – we all know that. But that computer screen cannot give

you comparisons nor outline the benefits of specific products. Online travel

agents often are not upfront about terms and conditions, can come with hidden

costs and a lack of support when things go pear-shaped. We are committed

to ensuring our clients have the best experience from the initial quotation stage

right through to the return to New Zealand. House of Travel is one of

New Zealand's most trusted brands and we're with you all the way.

Across the travel and tourism industry we are hopeful that the Government will

announce a reopening of our borders soon. We anticipate this will be in the early

stages of 2022. We are also hoping to see major changes to the current MIQ

system that has been challenging to say the least. So, it really is a case of watch

this space! Many of you will still have credits to use up and if you are thinking

of travelling in 2022 or 2023 we urge you to get in touch with us as soon as you

can. Many other countries have had a head start on us and believe it or not many

cruise lines and tour operators are starting to fill up for the coming year. Many of

our suppliers are offering more flexibility with regards to bookings and deposits

so booking early is recommended.

We thought in this advert we'd highlight a few cruises that are coming up over

the next couple of years. The cruise lines are all investing heavily in new hygiene

regulations and the majority will be for vaccinated travellers only. All the work

being done by cruise lines, tour operators, hotels, airlines will mean that travel can

only become safer in the near future.

So, please get in touch with us OR pop into the office to say hello. We are all very

much looking forward to having positive, upbeat conversations again and to help

fulfil your travel needs.

Please follow us on Facebook or Instagram to keep up with all the latest deals:

www.facebook.com/HouseOfTravelMerivaleShirley

@houseoftravelmerivaleshirley

Kind regards,

Nicky de Clifford and Lisa Hutchison (Owner/Operators)

Janine McKay, Kelly Gainsford and Claire Harre (International Consultants)

HOT MERIVALE-SHIRLEY CRUISES

VIKING CRUISE

FROM

$

7199per person

Twin share

On board Viking Mars, Bangkok, Bali & Beyond 13 day

cruise, departing 29 November 2022.

Witness the fascinating juxtapositions of Southeast Asia,

where long-held traditions infuse bustling capitals.

Ports Visited: Bangkok (overnight), Kuala Lumpur, Singapore,

Jakarta, Semarang, Surabaya, Bali.

PRINCESS

CRUISE

FROM

$

3210per person

Twin share

On board the Coral Princess, New Year's Cruise 14 days,

departing 29 December 2022.

How convenient is this! Take this opportunity to explore the

beautiful scenery of Aotearoa and a slice of Queensland!

Ports Visited: Auckland, Brisbane, Fiordland National Park

(Scenic Cruising), Dunedin (Port Chalmers), Christchurch

(Lyttelton), Wellington, Napier, Tauranga, Auckland.

P&O 2023

FROM

$

697per person

Twin share

80's Party Themed Cruise 4 day cruise departing,

13 October 2023.

Grab a group of friends to boogie down for some 80's fun!

Ports Visited: Round trip from Auckland.

P&O 2024

FROM

$

5785per person

Twin share

Circumnavigate Australia, 33 days departing, 6 June 2024

What a fabulous chance to enjoy the diverse and stunning

scenery while you circumnavigate Australia and conveniently

finish in Auckland – be quick this one will sell out fast!

Ports Visited: From Sydney including a full circumnavigation

of Australia and finishes in Auckland.

"I HAVEN'T BEEN EVERYWHERE,

BUT IT'S ON MY LIST"

All the above cruises costs are subject to availability at the time of booking and subject to the terms and conditions of each cruise line – ask your consultant for more details

BETTER TOGETHER

192 PAPANUI ROAD, MERIVALE VILLAGE, CHRISTCHURCH I 03 385 0710 I MERIVALESHIRLEY@HOT.CO.NZ
---
8 Thursday November 11 2021

All set and ready to save this summer

THIS LONG weekend marks

the start of the surf lifesaving

summer season. On Christchurch

beaches, including New Brighton,

voluntary patrols will run every

weekend from tomorrow until the

second week of March 2022.

A spokesman for Surf Life

Saving New Zealand's Southern

Region team said all their

volunteers had been training

hard over the past few weeks in

preparation for the start of the

season.

Covid-19 guidelines have meant

clubs had to get creative to safely

deliver training programmes,

which have seen 45 new lifeguards

and nine new patrol support staff

qualify for duty.

Since 1910, ordinary Kiwis

have volunteered their weekends

to patrol the beaches, saving

thousands of lives.

PREMISES: The New

Brighton Surf Lifesaving

Club's new clubrooms,

officially opened at the

end of October.

PHOTO: JOHN COSGROVE

ALL SET: Ready to save lives this season are lifeguards (from left) Issac Davies, Max McClimont, Callum Sullivan-

Roberts and Angus McEwan. They were setting up the flags for the first voluntary patrol of the summer season,

which starts tomorrow on Canterbury Anniversary Day. Voluntary patrols run from 11am-5pm every weekend from

now until the second week of March. The New Brighton lifeguards have an alternating roster of five teams, taking

turns to keep New Brighton beach safe. Lifeguards on duty range from the age of 14 to over 50.

PHOTO: MATTHEW NASH ​

Up to

50 % Off

*Call for Terms

& Conditions

Off

*
---
Thursday November 11 2021 9

AUTOMOTIVE PROFESSIONALS

Solutions for your radiator and

air conditioning needs found

at Christchurch Radiators

Your vehicle is an important asset to your

family and helps keep your schedule on

task, so making sure your automobile is

operating safely and at its best is important.

Being aware of car sounds and liquid

measurements is very helpful with the

maintenance of your vehicle. If you

notice your car overheating or if your air

conditioning is not working, chances are

your car radiator or air conditioning system

is on the blink.

If this is the case and your car radiator is

not operating the way it should be, it can

have serious consequences, because your

radiator is an essential part of keeping your

car safe and operational on the road.

When you have questions about your

radiator or air conditioning systems, look

no further than Christchurch Radiators

located on Buchan Street in Waltham.

The owner, operator of Christchurch

Radiators is Chris and he has been servicing

both radiators and air conditioning systems

for decades. His shop has the reputation for

high quality service, and he is considered

an expert in his field delivering high-quality

PARKER

AUTOMOTIVE

All Automotive Repairs and

Servicing including 4WD

Suspension Brakes & Cambelts

WOF, Tyres, Batteries

23B Birmingham Drive,

Middleton

Ph 03 982 4268

Mobile: 027 331 0382

Email: parkerauto89@outlook.com

SPECIALISTS IN

• Repairs

• Overhauls

• Rebuilds

• Radiators

• Oil Coolers

results for each and every client.

Drop by their Christchurch shop at 64

Buchan Street, Waltham to explore their

range of services, or you can call to book

your car in for a repair and service.

Christchurch Radiators is well known in

the Christchurch region having been here

since the 1950's. You can count on them to

be able to repair, supply new (all makes and

models), or install and modify radiators to

your requirements. They can fit your car

out with the perfect radiator for all kinds of

cars – guaranteed, suited to your needs and

budget – even if that involves a replacement

radiator. They will help with your antifreeze

and radiator fluids.

Air conditioning solutions are another

one of their specialties. If your air condition

system isn't working, give the team a call to

ask questions and come up with a solution.

Give them a call today to ask a question,

or make an appointment, they are always

happy to help.

Call 0800 450 045 for a free quote or

to have your questions answered by

Christchurch Radiators.

European

Car Owners

NEW DIAGNOSTIC EQUIPMENT!

We can identify ANY electrical

fault & reduce repair work

with our NEW European Car

Specific Diagnostic Equipment

ROSES

AUTO ELECTRICAL

Enquiries welcome

CH 352 5090

Christchurch Radiators

& Airconditioning Specialists

• Petrol Tanks

• Car Heaters

• Classics

• Vintage

• Racing Cars etc

64 Buchan St, Sydenham | Ph (03) 366 0181

s

m

a

r

t

mall

edium

• Panel beating

• Spray painting

Fast

turnaround

utomotive

epair

echniques

Smart repairS (NZ) Limited

automotive refinishers

272 Lichfield St (Fitzgerald Ave end)

Ph 377-0409

A vonhead

utomotive

free

6 months roadside assist

with any vehicle servicing

• automatic transmission

flushing service

• Wof • tune-ups • suspension

• batteries • neW tyres • oil &

lube service • courtesy cars

• full mechanical repairs

oPen 6 days (sat until 1pm)

126 racecourse road

Ph 342 7123 or 027 495 6600

Your LoCAL

TYrE SPECIALIST

New & Quality Used Second-hand Tyres

Alloy Wheels

Replacement Rims

Puncture Repairs

8c Birmingham Drive,

Middleton

www.jcmdirect.co.nz

343 0099 or 027 22 63 805

Proud to support Hornby Hockey Club
---
10 Thursday November 11 2021

CHRISTCHURCH

CREMATORIUM

FUNERAL SERVICES

SUDOKU

Every row, column and box should

contain the digits 1 to 9.

WORDBUILDER

WordBuilder

118

6

O A N

E C B

CROSSWORD

1 2 3 4 5 6 7 8

218

How many words of three or more letters,

How including many plurals, words can you of make three from or the more six

letters, using

including

each letter

plurals,

only once?

can

No

you

foreign

words or words beginning with a capital are

make allowed. from There's the at six least letters, one six-letter using word.

each only once? TODAY

Good 18 Very Good 22 Excellent 26

No

Solution

words

117: beg,

beginning

bel, big, bile,

with

bilge,

a

bio,

capital

blog,

are bog, bogie, allowed. bogle, There's boil, bole, ego, at gel, least gibe, one glib,

glob, globe, gob, leg, lei, lib, lie, lob, lobe, log, loge,

six-letter word.

obi, OBLIGE, ogle, oil.

Good 18 Very Good 22 Excellent 26

9 10

11 12

DECO

11

13 14 15 16 17

18 19 20

21 22 23 24

25 26

27 28

SOLUTION

No.118

14 15 16 17 18 19 20 21 22 23 24 25 26

S M K G Y I D A H X B Q F

1 2 3 4 5 6 7 8 9 10 11 12 13

L C R Z N V E O U T J P W

14 15 16 17 18 19 20 21 22 23 24 25 26

W I

Decoder

Across

1. Lurch (7)

5. Anzac Day symbols (7)

9. Religious paintings (5)

10. Wrongdoer (9)

11. Utter, articulate (9)

12. Stadium (5)

13. Guides for a horse (5)

15. Pseudonym (5,4)

1 10 11 12 13

2 3 4 5 6 7 8 9 N

A B C D E F G H I J K L M N O P Q R S T U V W X Y Z

20 17 8 23 2 25 9 23 5 23

5 12 9 10 17 24 11 15 6

N

18. Widespread (9)

19. Leg bone (5)

21. Climb (5)

23. Onlooker (9)

25. High-spirited (9)

26. Public square (5)

27. Ceremonial staff (7)

28. Blocks off, forces into

place (7)

21 3 2 23 7 1 6 10 21 25 5

I

Down

1. Captain (7)

2. Express regret (9)

3. Vigour, enjoyment (5)

4. Recall the past (9)

5. Spread (5)

6. Enduring (9)

7. Likeness (5)

8. Fill to satisfaction (7)

14. Financial document (9)

16. Genuine (9)

17. Intervene (9)

18. Own (7)

20. Outstanding debts (7)

22. Entertain (5)

23. Form (5)

24. Gradually reduce (5)

16 11 17 1 7 23 11 1

W

12 20 5 25 13 23 9 22 23 2 25

All puzzles copyright

5 15 3 23 23

20 23 2 13 12 5 14 1 13 19 24 23

12 9 7 18 10

T H E P U Z Z L E C O M P A N Y

www.thepuzzlecompany.co.nz

11 23 24 13 7 23 4 21 23 9 23

3 1 2 24 10 5 21 24

DECODER

Each number in our DECODER grid represents a different

letter - there is a number for all 26 letters of the alphabet.

Each Enter number the given represents letters into a different all squares letter with of the matching alphabet. numbers. Write the

given The challenge letters into now all squares is to work with out matching which letters numbers. are Now represented work out

which by the letters other are numbers. represented As you by the get other letters, numbers. enter As you them get into the

letters, the main write grid, them and into the reference main grid and grid. the To reference keep track grid. Decoder of the

uses letters all you 26 letters have of found, the alphabet. cross them off the alphabet provided.

11 21 24 13 8 7 14 21 9 5 21

7 21 9 2 5 1

3 21 5 17 21 2 8 9 14 10 19 2

16 25 21 22 1 8 22

14 10 9 24 24 8 3 5 1 18 7

24 21 19 2 12 2 21 12 5 16 11

17 1 4 26 12 16 12 21 10

9 21 10 1 12 10 23 7 17 12

7 1 7 26 15

Each number in our DECODER grid represents a different

letter - there is a number for all 26 letters of the alphabet.

Enter the given letters into all squares with matching numbers.

The challenge now is to work out which letters are represented

by the other numbers. As you get the letters, enter them into

the main grid, and the reference grid. To keep track of the

letters you have found, cross them off the alphabet provided.

6 7 10 10 7 20 1 9 23 9 3 18

8 14 17 5 3

9 19 15 12 21 10 19 7 5 2 7

2 21 21 1 10 21 1

22 21 5 20 19 2 21 12 14 2 21 24

7 7 4 23 7 8

20 8 13 14 7 18 21 16 14 7 13

A B C D E F G H I J K L M N O P Q R S T U V W X Y Z

1 2 3 4 5 6 7 8 9 10 11 12 13

L

14 15 16 17 18 19 20 21 22 23 24 25 26

A X

L

A

X

119

118

Crossword

Across: 1. Stagger, 5.

Poppies, 9. Icons, 10.

Miscreant, 11. Pronounce,

12. Arena, 13. Reins, 15.

Stage name, 18. Prevalent,

19. Tibia, 21. Scale, 23.

Spectator, 25. Exuberant,

26. Plaza, 27. Sceptre, 28.

Corners.

Down: 1. Skipper, 2.

Apologise, 3. Gusto, 4.

Reminisce, 5. Paste, 6.

Permanent, 7. Image, 8.

Satiate, 14. Statement, 16.

Authentic, 17. Arbitrate,

18. Possess, 20. Arrears,

22. Amuse, 23. Shape, 24.

Taper.

WordBuilder

ace, acne, aeon, bacon,

ban, banco, bane, BEACON,

bean, ben, boa, bonce,

bone, cab, can, cane, canoe,

cob, con, cone, ebon, eon,

nab, neb, nob, oca, ocean,

once, one.

Sudoku

SOLUTION

No.117

1 2 3 4 5 6 7 8 9 10 11 12 13

E L I N O P V T S A F D R

14 15 16 17 18 19 20 21 22 23 24 25 26

J Y M X H B U Z K W Q G C

SUPPORT

mOvembeR

wiTh RUgby newS

We're donating $4 from every

subscription to Movember, the

charity that helps men live happier,

healthier and longer lives.

SUbSCRibe FOR

Six iSSUeS OR

mORe FOR yOUR

ChanCe TO

win

a mOvembeR

PRiZe PaCK

wORTh $450

6 iSSUeS

$41

DECODER

119

www.rugbynews.co.nz 0800 77 77 10

*Promotion valid between 4 November – 12 December 2021. Donation will be made from all subscription

periods. Percentage savings based on purchase of total number of issues at retail price of $10.99. Chance

to win applies to NZ addresses only and is for 6 issue periods and higher.
---
Thursday November 11 2021 11

Classifieds Contact us today Phone our local team 03 379 1100

Public Notices

Advertise locally in classifieds

and target readers in your

immediate catchment area.

Effective Ad packages available from

plain lineage to full colour advertising

Your local community newspaper connects

neighbours in the following suburbs

Linwood • Avonside • Richmond • Shirley • Bexley

Burwood • Dallington • Wainoni • Bromley

Aranui • Avondale • New Brighton • Northshore

Queenspark • Parklands • South Brighton

17,598 homes every week.

CLASSIFIED ADVERTISING Ph 379 1100

VICKY SAYERS Ph 364 7419

vicky.sayers@starmedia.kiwi

www.starmedia.kiwi

Real Estate

HOME WANTED 3-4

bedrooms. Looking in Nor

West areas, Beckenham

or Somerfield. Prefer

permanent material brick

and post 1990 build. Don't

mind if it needs some TLC

- anything considered.

Cashed up buyer. Phone

021 372 479

Wanted To Buy

TOOLS Garden,

garage, woodworking,

mechanical, engineering,

sawbenches, lathes, cash

buyer, ph 355-2045

TOOLS Garden,

garage, woodworking,

mechanical, engineering,

sawbenches, lathes, cash

buyer, ph 355-2045

Trades & Services

BRICKLAYER

George Lockyer. Over

40 years bricklaying

experience. UK trained.

Insurance work, EQC

repairs. Heritage

brickwork & stonework

a speciality. No job too

small. Governers Bay.

Home 329 9344. Cell

027 684 4046. E mail

georgelockyer@xtra.co.nz

BRICKLAYER

George Lockyer. Over

40 years bricklaying

experience. UK trained.

Insurance work, EQC

repairs. Heritage

brickwork & stonework

a speciality. No job too

small. Governers Bay.

Home 329 9344. Cell

027 684 4046. E mail

georgelockyer@xtra.co.nz

CARPET LAYING

Exp. Repairs, uplifting,

relaying, restretching.

Phone John on 0800

003181, 027 240 7416

jflattery@xtra.co.nz

ELECTRICIAN

Prompt & reliable

registered electrician

with 24 years experience

for all residential and

commercial work, new

housing and switch board

replacements. Phone Chris

027 516 0669

Trades & Services

FOR ALL YOUR

★Garden Clean-ups

★Pruning

★Lawn Mowing

★Garden Maintenance

Call us today for a FREE quote

PH 0800 4 546 546

(0800 4 JIMJIM)

ELECTRICIAN

Prompt & reliable

registered electrician

with 24 years experience

for all residential and

commercial work, new

housing and switch board

replacements. Phone Chris

027 516 0669

GUTTER CLEANING

SUMMER SPECIAL

Total gutter/spouting

cleaning and repairs.

For Fast and friendly

Service call Canterbury

Spouting Services on 0508

SPOUTING or 022 375

8506. FREE QUOTES

VHS VIDEO TAPES

& all camera tapes

63 x 180

converted to DVD or

USB. Video taping

special occasions, www.

grahamsvideo.co.nz ph 03

338-1655

CAR REMOVALS

CASH PAID

FOR DAMAGED

CARS & TRUCKS

Phone or text

details to

021 1056 797 - 24/7

ELECTRICIAN

Contact for a free quote

phone 027 331 0400

dave@davesimpsonelectrical.co.nz

davesimpsonelectrical.co.nz

Experienced Domestic Electrician

Quality Workmanship

• New Build

• Renovations

• Fault finding

Trades & Services

• Power

• Lighting

• Switchboards

DRIVEWAYS

Exposed Aggregate

Stamped Concrete Plain

Concrete Resurfacing

Things we offer...

Competitive/affordable pricing

Attention to detail

Professional service

free quotes/insurance scopes

Cell 0278 145 848

www.drivecrete.co.nz

Specializing in:

• Roof Painting

• Interior/exterior

residential

• Small commercial

painting

Trades & Services

PAINTERS

Painters and Decorators Ltd

Canterbury Owned and Operated

A husband and wife team

Noel 027-411-3596

kemp.painters@gmail.com

kemp painters and decorators

We offer

free quotes

Quality not

Quantity

Up to

50 % Off

*Call for Terms

& Conditions

Off

*
---
12 Thursday November 11 2021

Harcourts gold

TOP15 PERFORMERS

OCTOBER 2021

1

2

3

4

5

CAMERON BAILEY

PAPANUI

MICHELLE FU

PAPANUI

MARY TURNBULL

PAPANUI

MARK WANG

PAPANUI

MARK O'LOUGHLIN

REDWOOD

6

7

8

9

10

SANDRA O'BRIEN

PAPANUI

LEEANN MARRIOTT

PAPANUI

MIKE FRANKLIN

PAPANUI

HARRISON JOSEPH

PAPANUI

CALEB GRIFFIOEN

PARKLANDS

11

12

13

14

15

DAN VELLEKOOP

PAPANUI

ASH SUTHERLAND TODD

PAPANUI

JACK MILLIGAN

PAPANUI

ANTHONY DEYN

PAPANUI

CHANTALE JOHNSON

NEW BRIGHTON

When your brand includes the top Harcourts

office out of 900 around the world in addition

to the top franchise in the South Island for

income per sales consultant, it's clear that

you've got an extraordinary team.

So for these consultants to earn the position of one

of the top fifteen real estate sales consultants at

Harcourts gold is truly a remarkable achievement.

They are phenomenally good at what they do;

skilled, highly trained and dedicated to delivering

exceptional results for property owners. I am

extremely proud to work with these real estate

professionals.

JOHN MCFADDEN

Business Owner

JOHN MCFADDEN

BUSINESS OWNER

HARCOURTS GOLD

AREINZ

LYNETTE MCFADDEN

BUSINESS OWNER

HARCOURTS GOLD

AREINZ

CHRIS KENNEDY

BUSINESS OWNER/

MANAGING DIRECTOR

HARCOURTS GOLD

AREINZ

www.harcourtsgold.co.nz

PAPANUI 352 6166 | INTERNATIONAL DIVISION (+64) 3 662 9811

REDWOOD 352 0352 | PARKLANDS 383 0406 | NEW BRIGHTON 382 0043

GOLD PROPERTY MANAGEMENT 352 6454

LICENSED AGENT REAA 2008