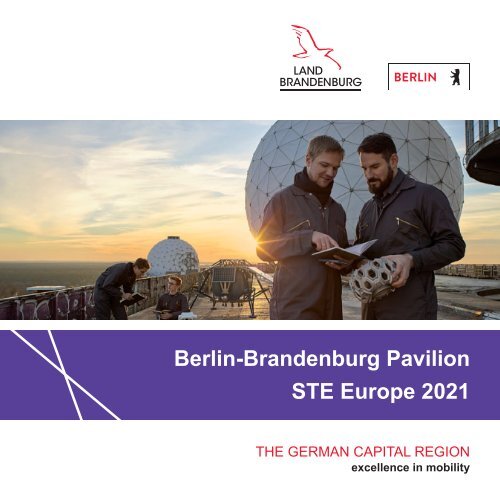 Berlin Brandenburg at Space Tech Expo 2021
Create successful ePaper yourself
Turn your PDF publications into a flip-book with our unique Google optimized e-Paper software.
Berlin-Brandenburg Pavilion

STE Europe 2021

THE GERMAN CAPITAL REGION

excellence in mobility
---
Berlin-Brandenburg Pavilion @ STE Europe 2021

3 4

i

2

1

Berlin Partner for Business and Technology ........... i

Cluster Transport, Mobility and Logistics ................ i

CBK ....................................................................... 1

Ferdinand-Braun-Institut gGmbH .......................... 4

IHP ......................................................................... 1

LiveEO GmbH ........................................................ i

ST Engineering iDirect (Germany) GmbH ............. 2

TIWARI Scientific Instruments GmbH ................... 3
---
Cluster Transport, Mobility and Logistics

When it comes to mobility – be

it in the traditional industrial

sectors, in logistics or in the field

of digital networking – the capital

region Berlin-Brandenburg ranks

among the leading European

locations. The Cluster aims

at supporting businesses in

developing and implementing

new and innovative solutions for

the mobility of tomorrow. The

Cluster Management composed

of Berlin Partner for Business

and Technology and Economic

Development Agency Brandenburg

will assist you in creating networks

and in developing cooperation

projects. Feel free to contact us!

Cluster Transport, Mobility and

Logistics Berlin-Brandenburg

mobility-bb.com

Berlin Partner für Wirtschaft

und Technologie GmbH

Wirtschaftsförderung Land

Brandenburg GmbH (WFBB)
---
Berlin Partner for Business and Technology

First choice: Berlin Partner for

Business and Technology

Business and technology support

for companies, investors and

scientific institutions in Berlin – this

is the Berlin Partner für Wirtschaft

und Technologie GmbH mission.

With customized services and an

excellent science and research

network, our many experts provide

an outstanding range of programs

to help companies launch,

innovate, expand and secure their

economic future in Berlin.

A unique public-private partnership,

Berlin Partner for Business and

Technology collaborates with the

Berlin State Senate and over 230

companies dedicated to promoting

their city. Berlin Partner is also

responsible for marketing the

German capital to the world.

Berlin Partner für Wirtschaft

und Technologie GmbH

Fasanenstr. 85

10623 Berlin | Germany

Ms. Marielies Becker

Tel +49 30 46302 – 359

marielies.becker

@berlin-partner.de

www.berlin-partner.de
---
CBK

The Space Research Centre of

the Polish Academy of Sciences

(CBK PAN) is an interdisciplinary

scientific institute conducting

scientific and technical work in

the field of space physics and

physical and geodynamic research

of planets and Earth. The CBK

PAN's distinguishing feature is

the combination of research and

construction activities: we design

and build space devices, as well

as analyze the data obtained with

their help. CBK PAN constantly

promotes the involvement of Polish

in international space missions,

works for the development of the

country's space policy, initiates the

transfer of space technologies from

science to industry and educates

staff for the Polish space industry

business.

The Space Research Centre

of the Polish Academy of

Sciences

ul. Bartycka 18a

00-716 Warszawa | Poland

Prof. Dr. Marek Banaszkiewicz

Tel +48 68 41 41 055

marekb@cbk.waw.pl

www.cbkpan.pl
---
Ferdinand-Braun-Institut gGmbH

The Ferdinand-Braun-Institut

(FBH) is an application-oriented

research institute in the fields

of high-frequency electronics,

photonics and quantum physics.

It researches and realizes

electronic and optical components,

modules and systems based on

compound semiconductors. FBH

developments are core components

in power electronic applications,

medical technology, high-precision

metrology and sensors as well as

in optical communications in space

and integrated quantum technology.

Ferdinand-Braun-Institut

gGmbH, Leibniz-Institut für

Höchstfrequenztechnik (FBH)

Gustav-Kirchhoff-Str. 4

12489 Berlin | Germany

Ms. Nicole Vlach

Tel +49 30 6392 2873

nicole.vlach@fbh-berlin.de

www.fbh-berlin.de
---
IHP

The IHP is one of the world's

leading research institutions in

the field of silicon/germanium

electronics. In this field, it has

extensive, closely coordinated

expertise in semiconductor

technology, materials research,

high-frequency circuit design and

system solutions. Its electronic and

photonic-electronic technologies

and circuits are among the most

powerful in the world. With its

technologies listed in ESA's

European Preferred Part List

(EPPL) IHP holds a leading position

as a provider of integrated circuits

and also makes an important

contribution in the field of design

methodology of reliable and

fault-tolerant circuits for space

requirements.

IHP Leibniz Institute for High

Performance Microelectronics

Im Technologiepark 25

15236 Frankfurt (Oder) |

Germany

Dr. Krzysztof Piotrowski

Tel +49 335 5625 756

piotrowski

@ihp-microelectronics.com

www.ihp-microelectronics.com
---
LiveEO GmbH

LiveEO is bringing Earth

Observation to enterprise

customers, starting in the

infrastructure sector. LiveEO

utilizes satellite technology to

monitor large infrastructure

networks globally and empowers

the operators to save operational

expenses by observing dangers

from external threats. Using AI, the

start-up is generating overviews

of thousands of kilometers for

decisions on the management

level as well as information for the

worker on the ground via a web

and mobile app. The company

has around 60 employees and is

headquartered in Berlin.

LiveEO GmbH

Gitschiner Str. 94

10969 Berlin | Germany

Mr. Sven Przywarra

Tel +49 162 341 4693

info@live-eo.com

www.live-eo.com
---
ST Engineering iDirect (Germany) GmbH

ST Engineering iDirect is a global

leader in satellite communication

providing technology and solutions

that enables its customers to

expand their business, differentiate

their services and optimize their

satcom networks.

standards in performance,

efficiency and reliability, making

it possible for its customers to

deliver the best satcom connectivity

experience anywhere in the world.

The product portfolio, branded

under the names iDirect and

Newtec, represents the highest

ST Engineering iDirect

13861 Sunrise Valley Drive,

Suite 300

Herndon, VA 20171 | USA

Ms. Meghan Smith

Tel +1 703 648 8000

marketing@idirect.net

www.idirect.net
---
TIWARI Scientific Instruments GmbH

TIWARI Scientific Instruments

GmbH is an alumni of European

Space Agency's reputed Business

Incubation Center (ESA BIC) and

specialises in the 3D-Printing

of high-performance metals

(Stainless Steel, Titanium, Copper)

and ceramics (Silicon Carbide,

Alumina, Zirconia) for aerospace

applications. Headquartered

in Berlin, they offer complete

manufacturing service for

3D-Printed parts – from design

support to surface finishing -

and also develop customised

3D-Printers tailored to customer

needs for niche applications.

TIWARI Scientific Instruments

GmbH

Rudower Chaussee 29

12489 Berlin | Germany

Mr. Siddharth Tiwari

Tel +49 30 4397 0750

info@tiwari-instruments.com

www.tiwari-instruments.com
---
The joint presentation of Germany's Capital Region is hosted by the

local economic authorities of the states of Berlin and Brandenburg:

managed by:

supported by:

Fasanenstr. 85 | 10623 Berlin

Mr. Mathias Nix

Tel +49 30 46302 – 451

mathias.nix@berlin-partner.de