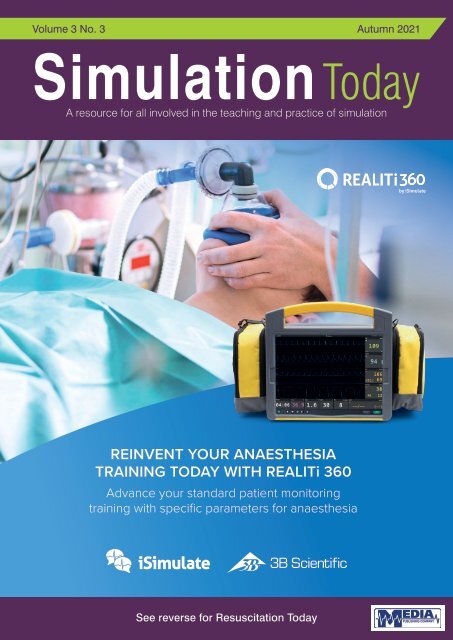 Simulation Today Autumn 2021
Simulation Today Autumn 2021
Simulation Today Autumn 2021
SHOW MORE
SHOW LESS
You also want an ePaper? Increase the reach of your titles
YUMPU automatically turns print PDFs into web optimized ePapers that Google loves.
Volume 3 No. 3

Autumn 2021

Simulation Today

A resource for all involved in the teaching and practice of simulation

REINVENT YOUR ANAESTHESIA

TRAINING TODAY WITH REALITi 360

Advance your standard patient monitoring

training with specific parameters for anaesthesia

See reverse for Resuscitation Today
---
HPSN

UK & Ireland

2021

December 1-2, 2021

Reimagining Simulation Education

Following Covid 19

DoubleTree by Hilton

Nottingham Gateway

Simulation Innovation

Always at an HPSN we like to bring something new to share with our customers and

this year is no exception. Don't miss out on your chance to get your hands on the latest

paediatric simulator CAE Aria or the new range of simulated equipment CAE SimEquip

Anaesthetic Machine, Ventilator or Defibrillator. In addition we have our cloud based

tools for distance learning such as Maestro Evolve and LearningSpace light for you

to trial and last but not least our Augmented Reality simulation applications for the

Microsoft ® HoloLens2.

#HPSNUK21

HPSN is an international conference focused on advancing the practice and innovation of healthcare

simulation for educators, technologists, technicians, nurses, doctors, midwives, allied health, patient safety

leads and other healthcare professionals. Join us in Nottingham to experience the technology behind

simulation in healthcare education and its application in all care settings.

Call for Sessions

Share your expertise in a workshop, presentation or poster. Abstract submissions deadline is November 8 th .

Register Now

Don't miss out as space is limited for this free event.

For more information visit hpsn.com or email us info.uk@cae.com

Your worldwide training partner of choice
---
CONTENTS

4 EDITORS COMMENT

6 FEATURE What are the barriers that inhibit nurses from

accessing simulation-based learning education

while working in the Emergency Department?

COVER STORY

Innovation in Clinical Simulation

For decades, 3B Scientific's experience of working with institutions and

medical educators globally has helped us gain new, innovative insights to

advance the delivery of healthcare education. The 3B Scientific group of

companies, including iSimulate and Cardionics, offers an expanded product

portfolio with reliable solutions for simulation and skills training tailored to the

evolving requirements of the healthcare industry.

iSimulate, a market leader in the simulation of patient monitoring and

defibrillation systems develops innovative solutions across a variety of

healthcare domains. REALITi 360 can be used as a tool to improve team

communication and the interaction of technical and non-technical skills.

Utilizing the REALITi 360 platform, healthcare educators are able to customize

their teaching to train life-saving interventions, improve patient safety and

enhance professional development.

REALITi 360 includes the essential vital sign,

critical care, anaesthesiology and ventilator

parameters needed by educators to create

complex and dynamic scenarios to train multidisciplinary

teams. Emergency and Trauma

Medicine, Intensive Care and Cardiac Response

teams can all be trained from a single simulation

system within REALITi 360, providing a cost

effective yet high fidelity solution.

To find out more about 3B Scientific skill trainers

and iSimulate products, visit 3bscientific.co.uk.

Our teams are happy to schedule a digital

product demonstration with you.

USE THE ADDITIONAL MONITOR FUN

TO SET UP BASIC ANAESTHESIA SIM

CONTENTS

Expand your standard patient monitoring in REALITi 360 with

numeric values only available to the Generic Monitor:

• Tidal Vol, PEEP (Positive End Expiratory Pressure),

Pinsp (Peak Inspiratory Pressure), MV (Minute Volume)

Simulation Today

• Sevoflurane, Isoflurane, Desflurane, MAC (Minimum Alveola

FiO 2

(Fraction of Inspired Oxygen), N 2

O (Nitrous Oxide)

This issue edited by:

David Halliwell

MSc Paramedic

c/o Media Publishing Company

Greenoaks

Lockhill

Upper Sapey, Worcester, WR6 6XR

• CO (Cardiac Output), BIS (Bispectral Index)

CONTACT US TODAY TO SCHEDULE AN ON

ADVERTISING & CIRCULATION:

Media Publishing Company

Greenoaks, Lockhill

Upper Sapey, Worcester, WR6 6XR

Tel: 01886 853715

E: info@mediapublishingcompany.com

www.MediaPublishingCompany.com

UK 3B Scientific Limited • 9 Regent Street • TA8 1AX B

Phone: 01934 425333 • E-mail: uk3bs@3bscientific.co

PUBLISHED:

Spring, Summer and Autumn

COPYRIGHT:

Media Publishing Company

Greenoaks

Lockhill

Upper Sapey, Worcester, WR6 6XR

PUBLISHERS STATEMENT:

The views and opinions expressed in

this issue are not necessarily those of

the Publisher, the Editors or Media

Publishing Company.

Next Issue Spring 2022

Subscription Information – Autumn 2021

Simulation Today is a tri-annual publication

published in the months of March, June and

September. The subscription rates are as

follows:-

Commercial:

£36.00 incl postage

Overseas:

£60.00 incl Air Mail postage

For payment details please email

info@mediapublishingcompany.com

Designed in the UK by me&you creative

SIMULATION TODAY - AUTUMN 2021

3
---
EDITORS COMMENT

EDITORS COMMENT

Thanks for taking time to read the Simulation Today Journal, this journal is

circulated to more than 2000 different hospitals, universities and simulation

centres throughout the U.K. but has much wider readership with comments from

teams in the USA, Middle East and Australia who are accessing on line.

The front cover highlights the isimulate REALITi Simulation system (iPad based) which is

continuing to be developed to include a wide range of realistic monitor screens for their medical

simulation solution.

SIMULATION TODAY - AUTUMN 2021

"this journal

is circulated

to more than

2000 different

hospitals,

universities

and simulation

centres

throughout the

U.K. but has

much wider

readership with

comments

from teams

in the USA,

Middle East and

Australia who

are accessing

on line."

We also feature the forthcoming CAE Conference in Nottingham, which will be taking place in

December.

Our main paper discusses the barriers to nursing staff accessing simulation and raises a great

many points that should be considered by those designing simulation strategies. It's great to

read new papers which discuss the real world issues being faced by those using simulation as an

education strategy.

We have an advert from the Safeguard medical group who have recently bought many U.K.

companies under one roof - including Prometheus, Water Gel and many other areas of military

and civil trauma medicine.

The advert from Lifecast Body Simulation showcases their toddler drowning manikin which was

used recently for Emergency Services competitors at the Finals of EMS World competitions in

Atlanta USA, and was the final scenario tool for the Association of Air Medical congress in Dallas

Texas.

The drowning manikin was described as "the worlds most realistic teaching tool" by competitors

who were faced in the competition with a blood and foam ( surfactant) filled airway.

Dates for your Simulation Diary

IMSH - 15th - 19th January 2022 Los Angeles - this is the biggest simulation conference in the

world and showcases many of the leading Simulation strategies from around the world.

SESAM - 15-17 June 2022 - Seville Spain

(note this event clashes with the ERC dates)

David Halliwell

MSc Paramedic

4
---
Visit safeguardmedical.com
---
FEATURE

WHAT ARE THE BARRIERS THAT INHIBIT

NURSES FROM ACCESSING SIMULATION-

BASED LEARNING EDUCATION WHILE WORKING

IN THE EMERGENCY DEPARTMENT?

Justin Walford - Senior Practice Development Nurse

SIMULATION TODAY - AUTUMN 2021

Introduction

This article is going to discuss the barriers that inhibit nurses from

accessing simulation-based learning education (SBLE) while working

in the Emergency Department (ED). SBLE has become a popular form

of teaching (teaching and learning method) in recent years (Becker and

Hermosura 2019). This can occur in a variety of setting, it can happen

in a classroom, in a staged area or in a clinical area, (known as in-situ

simulation) (Sørensen et al 2017).

SBLE is designed to provide immersive learning experiences that

expose students to unfolding "real-life" clinical situations within a safe

environment (Gabba, 2004). SBLE training is defined as a structured

activity that represent actual or potential situations either in education or

practice. This allows participants to develop or enhance their knowledge,

skills, and attitudes, or to analyse and respond to realistic situations in a

simulated environment (Society for Simulation in Healthcare 2020).

Poore et al (2014) states the theory of using SBLE as a teaching tool

fits with Kolb's reflective cycle (Kolb 1984). The learning cycle, created

by Kolb, consists of four phases these include (a) concrete experience

where the learner participates in an experience such as a simulation, (b)

reflective observation where the learner reflects on the experience, (c)

abstract conceptualization where the student considers thoughts and

reflections to identify the significance of the learning experience that has

just occurred and considers factors that may have been done differently

to improve the outcome, and (d) active experimentation which involves

using what was learned to direct future practice.

It could be argued though that SBLE creates a memorable concrete

experience. The reflective observations can be done though self / peer /

facilitator reflection. The abstract conceptualisation can be incorporated

in the feedback (i.e. if you did this would have happened). Then the

active experimentation could happen retrospectively, potentially in the

student's thoughts afterwards or the simulation is repeated.

SBLE are designed to put the patient and their care at the centre

all learning, the simulations can provide an immersive learning

experiences that expose students to unfolding "real-life" clinical

situations within a safe environment (Health Education England

2019). They are used widely in undergraduate nurse education

(Bruce et al 2019) and is seen as essential for emergency medicine

training (Takahashi et al 2019). It is used in certain settings to develop

emergency nurses (Fry et al 2020), it can potentially improve patient

safety and clinical outcomes (Boyde et al 2018). However, it is only used

in small amounts in postgraduate nursing education (citation needed).

SBLE can be used to assess a variety of roles such as teaching,

preventing skill deterioration, checking systems or to improve a system,

to investigate problems or test potential problems (Kenny et al 2019).

Hung et al (2016) highlights that SBLE also improves psychomotor

skills, assessment abilities, decision-making and critical thinking. Lewis

et al (2019) highlights that there is a lack rigorous evidence to support

the argument that SBLE improves patient safety. However, Davison

et al (2017) highlights that SBLE improves significant increases in

participants' confidence levels in treating new or rare scenarios.

Literature search

A literature review forms the basis of any academic inquiry knowledge

advancement must be built on prior existing work, enhance the

knowledge frontier, we must know where the boundaries currently are

(Xiao and Watson 2019).

The literature that was studied was taken from a variety of sources

publications, these include articles, text-books and journals. Sources

from worldwide were considered. A comprehensive and systematic

literature review must include all relevant databases and should include

"Grey Literature". Grey literature is unpublished literature (Bootland et

al 2017). This means literature such as academic assignments were

considered, however the strength of the piece of work was scrutinised.

The healthcare database advisory system was used to search the

following databases.

1. EMBase

2. EMCare

3. CINAHL

4. PyscINFO

5. Medline

The key search words were used, but the ED has numerous names.

Therefore, using a Boolean search the following terms were used to find

articles relevant to the ED.

* Emergency Room

* Emergency Ward

* Emergency Department

* Accident and Emergency

* Accident & Emergency

* A&E

* A & E

* A and E

* ED

* ER

6
---
FEATURE

Furthermore, to find any articles that could have been missed by

these search terms the term "emergency ADJ1 care" was searched.

This means that any words that had emergency and care one word

apart would be included in the search (NICE 2020). The search was

further augmented by the terms EMERGENCY HEALTH SERVICE"/ OR

*"HOSPITAL EMERGENCY SERVICE.

In some databases there were headings that were relevant, these

include

* Emergency Nursing

* Emergency patient

2. Do you work in the ED?

3. How frequently do you participant in simulation?

4. How useful do you find simulation to improve your practice (1-5)?

5. What factors enable you to attend simulation teaching while at

work?

6. What factors inhibit simulation you to attend simulation teaching

while at work?

7. Do you enjoy attending simulation teaching?

8. What are the last three digits of your telephone number?

9. What is your age?

Recruitment

The term "SIMULATION TRAINING" was explored. Polit and Beck (2017)

suggests improving the search by the truncation symbol "*(asterisk)",

this expands the root word, (in this case simulat* was used) to form all

other versions of the word. The results of the database searches have

been summarised in table 1.

Table 1: Database Results

Database Emergency Dept Simulation Combined

EMBase 107,528 25,521 635

EMCare 444,427 101,484 1,572

CINAHL 191,366 16,983 980

PyscINFO 37,016 54,758 267

Medline 270,340 99,836 839

Due to large number of articles any article not written in English or over

10 years-old was excluded. A secondary search of relevant paper was

performed, to strengthen the search.

A total of 74 articles were selected for further analysis. It appears there

is a paucity in the literature around the factors that both enable and

inhibit all healthcare professionals from undertaking simulation at work,

as none of the articles discuss these factors. The field of healthcare

that has the most literature written about SBLE is medicine. Other allied

healthcare professionals' fields such as nursing, paramedics, have

limited literature. Of the 74 article selected only three seemed to be very

relevant to this topic. But all failed to mention any factors that motivate

or inhibit SBLE for emergency nurses.

The literature that is published tends to focus on the pre-registered

nurse education or emergency medicine or the effect the simulation

had on individuals. There is very little written on factors which inhibit

nurses from undertaking simulation in the ED or generally. Due to the

lack of literature the author felt that to properly assess the barriers that

inhibit nurses from accessing simulation training while working in the ED

that emergency nurses needed to be asked directly. Therefore, a short

questionnaire was created.

Questionnaire

The survey had nine questions and was entitles 'simulation for nurses

in the ED' so people knew it was for nursing staff. The questions asked

were

1. Are you a nurse?

One of the problems of using questionnaires as a methodology for

data collection is, it has a poor response rate (Holloway & Galvin 2017).

All members of nursing staff for one ED were emailed once, then to

augment this one message was placed on emergency care association

(ECA) Facebook and Twitter accounts. The ECA is the Royal College of

Nursing's forum for emergency care (RCN 2020). Furthermore, three

other matrons or heads of nursing were emailed once to recruit their

staff. After 3 months the survey was closed. All but one participant

worked in an ED, this individual had only left a few weeks before and still

worked as a casual member of staff.

To improve the reliability of this questionnaire, question 8 was asked to

prevent individuals from repeatedly answering.

Inclusion criteria

Respondent's needed to be working in the ED as a member of nursing

staff, this could be part time or full time. Casual members of staff would

be considered provided they worked regularly in an ED.

Exclusion criteria

The exclusion criteria were anyone who did not work as a member of

nursing staff in an ED.

Bias

To prevent bias from nurses, both factors that enabled and inhibited

simulation were requested. Bias can be created by individuals is known

as the Hawthorne effect which is a change in response or behaviour of

subjects when included in study (Garg 2016), by asking nurses about

both sides it may prevent them from being either overly positive or

negative.

Results

The questionnaire gained 50 responses. From the respondents

86% were registered nurses and 14% were unregistered. Cultural

backgrounds were not assessed but age was, the breakdown of the

age can be seen in table 2.

The age was asked as the author wanted to explore whether the age

of participants was related to simulation enjoyment. As anecdotally

the author has seen several older nurses stating that they don't like

SIMULATION TODAY - AUTUMN 2021

7
---
FEATURE

Table 4: how useful do you find simulation-based education

widespread in pre-registration nurse education (Bruce et al 2019) and

emergency medicine training (Takahashi et al 2019) it still has not become

a standard way of teaching post registration emergency nurses.

Table 2: Age of Participants

simulation, and do not find it helpful. Blunt (2019) highlights that

anecdotally evidence is this lowest level of evidence. Due to the lack of

response from older nurses (over 60's) no conclusions can be drawn

from this. Most emergency nurses that responded only attended

simulation-based learning education between one and four times a year,

the breakdown is seen in table 3. This highlights that despite it being

Half of emergency nurses found SBLE very useful and two thirds found

it useful or very useful. Only a minority (8%) of nurses did not find it

useful. The breakdown is in table 4. This is in keeping with the general

theme of the literature that SBLE is useful and improves confidence,

however getting quantitative data on exactly how SBLE improves patient

care is difficult. This is because it is difficult to directly link the SBLE to

improvement in patient care.

Bodye et al (2018) states simulation reduces anxiety after the simulation,

but this is a small study of 50 additionally it fails to mention nurses

feeling during the simulation. Davison et al (2017) highlights that SBLE

improves significant increases in participants' confidence levels in

treating new or rare scenarios. However, a few emergency nurses that

have spoken to the author, find SBLE stressful. Dias (2016) highlights

that simulation is less stressful than reality yet Freunnd et al (2019)

argue that participants find SBLE stressful particularly in-situ simulation.

The author would argue that the stress felt is a personal feeling and if

SIMULATION TODAY - AUTUMN 2021

Table 3: frequency of simulation-based education

Table 5: How useful is SBLE to emergency nurses?

8
---
FEATURE

ADVANCE YOUR TRAINING OF ANAESTHESIA WITH REALITi 360

USE THE ADDITIONAL MONITOR FUNCTION IN REALITi 360

TO SET UP BASIC ANAESTHESIA SIMULATION

Expand your standard patient monitoring in REALITi 360 with the following

numeric values only available to the Generic Monitor:

• Tidal Vol, PEEP (Positive End Expiratory Pressure),

Pinsp (Peak Inspiratory Pressure), MV (Minute Volume)

• Sevoflurane, Isoflurane, Desflurane, MAC (Minimum Alveolar Concentration),

FiO 2

(Fraction of Inspired Oxygen), N 2

O (Nitrous Oxide)

• CO (Cardiac Output), BIS (Bispectral Index)

CONTACT US TODAY TO SCHEDULE AN ONLINE DEMO

SIMULATION TODAY - AUTUMN 2021

11/2021

UK 3B Scientific Limited • 9 Regent Street • TA8 1AX Burnham-on-Sea • Somerset

Phone: 01934 425333 • E-mail: uk3bs@3bscientific.com • 3bscientific.com

9
---
FEATURE

the participant is underconfident and / or experiencing an unfamiliar

simulation this exacerbate these feelings. Anecdotally the more senior

the person is in this situation the more they will feel this stress. The

author believes this is because they are expected by junior staff to be

knowledge and during SBLE this can be explored. This is a potential

barrier for some emergency nurses accessing simulation.

Emergency nurses generally enjoy simulation as a form of education.

50% love attending them, only 4% hating and 10% who do not mind

attending the sessions. Therefore, lack of enjoyment can only be a

factor for a small percentage of nurses. The barriers that nurses feel

stop them from participating in simulation are as seen in table 5.

Table 6: Barriers stated by nurses in accessing simulation

Subject

Percentage of nurses answering

Understaffing 44%

Busy 26%

Overcrowding 22%

No allocated time 16%

Not offered 8%

The most frequent reason that emergency nurses feel that cannot

participate in SBLE is due to understaffing. The National Quality Board

(2016) developed safe staffing levels however they stopped short of

stating what they felt these were in the Emergency Department. Ford

(2019) highlights there are 43,617 whole time nursing vacancy in

England alone, and the Royal College of Emergency Medicine (RCEM)

(2019) puts nursing vacancies in ED as high as 16%. This then causes

stress and fatigue in the already depleted nursing workforce Wolf et

al (2017) found that fatigue is a factor in burnout, and this becomes a

vicious circle making higher sickness levels and ultimately making the

understaffing problem worse.

Due to these shortages, nurses will be removed from study sessions

such as SBLE to ensure there is safe numbers of nurses in the clinical

setting. Unlike other professions such as medicine there is no protected

teaching time (El-Farargy et al 2015).

The lack of protected teaching time for nurses the author believes

is a large contributing factor in hampering nurses from attending all

education not just SBLE in ED. According to the RCN (2018) nurses

have been reporting for several years that they are struggling to have

protected time for even mandatory training, let alone developmental

training. Morrell-Scott (2019) highlights that there is a lack of funding

for continuous professional development (CPD). The NHS long term

plan (NHS England 2019) states one of the leading causes of nurses

leaving the profession as not getting the development they need.

RCN (2018) states Nurses are not afforded an equivalent framework,

funding, access or protected training compared to other professions,

demonstrating a lack of recognition and support for the profession and

for patient safety.

The next highest reason that emergency nurses felt they do not attend

SBLE is that ED's have got increasingly busy. This is multi-factorial

Meyerson (2020), highlights there has been a total reduction in the of

number NHS beds by 60% in the last 45 years, and nearly 17,000 in

SIMULATION TODAY - AUTUMN 2021

10

Because healthcare professionals deserve the

best training

For more than 6 years, Canadian-based Innov2Learn has been

creating simulation devices that leverage the latest technologies

to create immersive, realistic training scenarios. Those devices are

exact replicas of the most popular medical diagnostic devices found

in pharmacies, hospitals and clinics.

Design realistic scenarios.

Save time.

Why do they trust us?

Build immersive simulations.

Engage with your learners.

Because we provide 8 high-fidelity devices for over 250 institutional

clients all over the world. All of those devices are ready to operate.

They work with manikin or standardized patients, are Bluetooth

controlled (no Wi-Fi needed!) and are easily rechargeable.

Use your phone (Android & iOS), tablet or desktop, to send values

directly to one or more Innov2Learn devices using our free app. No

need for post-its and other less-than-ideal workarounds when you

have access to the latest tech.

Call-for-projects to co-design Innov2Learn's next

gen simulators

Innov2Learn is now looking for institutions with a need for new

simulation devices. Which tools are lacking in your classes? What

technological device could we build to make your simulations

smarter, more immersive and more realistic than ever?

Innov2Learn is now looking for institutions and individuals interested

in creating the next generation of simulation devices.

Share your suggestions with our team of experts. Your simulation

device idea could become reality!

Want to know how you can bring increased

realism to your training scenarios?

Join the next live demo to learn how to:

- Offer your students an interactive, high-fidelity training experience

- Simulate readings and build realistic training scenarios for each

student in your class (no more post-it readings!)

- Use your smartphone to create multi-symptom scenarios with

affordable devices like the SPOTV, the GLUCO III and the

OXIMETER - with or without a manikin!

Connect with us at hello@i2L.ca to register.
---
iRIS Health

FEATURE

Simulation

Authoring Platform

Develop Training Scenarios

Easily and Remotely

• iRIS is a web-based scenario development solution that

helps in easy collaboration, design and development of

high quality training scenarios

• Enables simulation teams to work more remotely with

Subject Matter Experts

• Offers a standardised approach to developing scenarios

using a simple step by step wizard

Visit caehealthcare.com/patient-simulation/iris/ to find out more

or contact shani.botha@cae.com to arrange a virtual demo.

SIMULATION TODAY - AUTUMN 2021

Your worldwide

training partner

of choice

11
---
FEATURE

England since 2010. Coupled with an increase in number of attendances

for ED's (in England). 2018-19 there were 24.8 million attendances up 4%

on the previous year and 21% since 2009-10 (NHS Digital 2019). These

two factors among others have created a situation of overcrowding in the

ED. Overcrowding or crowding is defined by Royal College of Emergency

Medicine as the inability to offload patients from ambulances, or long

delays for high acuity patients to see a doctor. Furthermore, excessive

numbers of patients on trolley or beds in the ED more awaiting cubicle

spaces, or patients waiting more than two hours for an inpatient bed after

a decision to admit has been made (RCEM 2014). These factors coupled

with the nursing shortages mean that the ED is always busy. Traditionally

mornings were quieter in ED however recent data show's that the highest

number of attendances occur between 10 am to 6pm every day (NHS

digital 2019). Furthermore, the length of stay for patients has increased

(NHS digital 2019). When combining the increased attendances and

length of stay with the reduced number of beds and staff, it is easy to see

why the ED's have got busier. This has resulted in increasing difficulties

in withdrawing nursing staff from the shop floor to participate in teaching

including SBLE.

These factors that have just been described combine again to result

in a nursing workforce that is fatigued and potentially not wishing to

participate in educational sessions (including SBLE) in their days off.

However, on the survey only one nurse stated that tiredness was a factor

that inhibited them from attending SBLE. This links with another factor

that a single nurse highlighted which was family commitments, while not

'every' emergency nurse will have family commitments 'every' nurse will

have some commitments outside of work. This results in an inability to

attend every SBLE opportunity.

One nurse stated that shift work inhibited them from attending SBLE,

nurses work a variety of shifts patterns in the ED, not just day and night

shift but shifts with variable starting times to best meet the needs of

the service. This in turn means that nurses have a higher probability of

missing SBLE sessions than those that work traditional working hours.

Emergency nurses highlighted that some departments do not have the

right resources to be able to access SBLE while working in the ED. Four

percent of respondents stated that there was a lack of senior nurses

to provide SBLE in their department. Furthermore, not all ED with have

a simulation lab located near to their department. This means if in-situ

simulations are not performed it can result in difficulties getting nurses

away from the department and potentially this could be quite difficult if

the simulation lab is on another site.

Conclusion

By understanding the barriers that inhibit nurses accessing SBLE in the

ED it means that the risks can be mitigate and some of these factors

can be improved in the future, to improve the uptake of SBLE by nurses

in the ED.

This piece of work has highlighted the paucity in the literature of factors

which inhibit nurses from undertaking simulation generally and in the

ED. Due to the lack of literature a small-scale questionnaire was devised

to explore this subject. This survey has highlighted several barriers

these are, nurse's individual anxiety although the research is conflicting

about this. The author believes that some nurses feel under greater

pressure when undertaking SBLE, and while the long-term stress maybe

Pushing the boundaries to achieving realism in medical simulation

SIMULATION TODAY - AUTUMN 2021

Now you can simulate

realistic paediatric

drowning - pulmonary

oedema, surfactant

washout and teach your

clinicians how to "breathe

through the foam".

This manikin can also be

used for ALS and Lung

Trauma scenarios.

For further information please visit www.lifecastbodysim.com

E-mail: info@lifecastbodysim.com

Visit us: Emergency Services Show, Sept 7/8 NEC - Stand 44

12
---
FEATURE

reduced by completing an SBLE, the stress of undertaking this type of

education and the process of knowledge acquisition can cause stress

to some nurse's.

Nearly half of all emergency nurses felt that understaffing inhibited their

ability to attend SBLE sessions. This factor is probably going to be a

longstanding issue due to the significant number of nursing vacancies.

Just over a quarter of emergency nurses asked felt that the ED were

to busy to facilitate nurses attending SBLE in the ED, therefore trying

to pick the optimal time or potentially arranging cover will assist the

education team in getting nurses to SBLE in the ED. Nearly a quarter

of emergency nurses felt that overcrowding not only affected patient's

but prevented them from attending SBLE. This is a difficult barrier to

overcome as generally the blocks of getting patient's out of the ED are

unable to be solely resolved by the ED. Being aware of the departmental

pressures may mean solutions can be found. For example, giving

feedback could be shortened, while not optimal, but this maybe the

difference between two or three nurses attending the sessions.

Some emergency nurses feel that the lack of sim lab located in the ED

prevents them from undertaking SBLE. But, running in-situ simulations

maybe a good compromise to improve the uptake of SBLE in the ED, as

this enables nurses to attend while working on the shop floor. It will also

facilitate a more realistic response and a reduction in simulation artifact.

Reference List

Becker, L.R. and Hermosura, B.A., (2019). Simulation Education Theory. In Comprehensive

Healthcare Simulation: Obstetrics and Gynecology (pp. 11-24). Springer, Cham.

Blunt, C.J. (2019) http://cjblunt.com/hierarchies-evidence/ last accessed 20/01/2019

Bootland, D., Coughlan, E., Galloway, R., Goubet, S. and McWhirter, E., (2016). Critical

Appraisal from Papers to Patient: A Practical Guide. CRC Press.

Boyde, M., Cooper, E., Putland, H., Stanton, R., Harding, C., Learmont, B., Thomas, C.,

Porter, J., Thompson, A. and Nicholls, L., 2018. Simulation for emergency nurses (SIREN):

A quasi-experimental study. Nurse education today, 68, pp.100-104.

Bruce, R., Levett-Jones, T. and Courtney-Pratt, H., 2019. Transfer of learning from universitybased

simulation experiences to nursing students' future clinical practice: An exploratory

study. Clinical Simulation in Nursing, 35, pp.17-24.

Davison M, Kinnear FB, Fulbrook P 2017 Evaluation of a multiple-encounter in situ

simulation for orientation of staff to a new paediatric emergency service: a single-group

pretest/post-test study BMJ Simulation and Technology Enhanced Learning ;3:149-153.

Dias, R.D. and Neto, A.S., 2016. Stress levels during emergency care: A comparison

between reality and simulated scenarios. Journal of critical care, 33, pp.8-13.

El-Farargy, N., Gailey, F., Nolte, S. and Johnston, M., 2016. Patient safety education:

what matters to you? Report of the NES Patient Safety Educational Resources Stakeholder

Consultation. 2015.

Ford, S (2019) NHS nurse vacancies in England rise to more than 43,000 https://

www.nursingtimes.net/news/workforce/nhs-nurse-vacancies-in-england-rise-to-morethan-43000-08-10-2019/

last accessed 21/12/2019

Freund, D., Andersen, P.O., Svane, C., Meyhoff, C.S. and Sørensen, J.L., 2019. Unannounced

vs announced in situ simulation of emergency teams: Feasibility and staff perception of

stress and learning. Acta Anaesthesiologica Scandinavica, 63(5), pp.684-692.

Fry, S. Walford, J. Yeoman, A. (2020) Playing a simulation game sharpens Emergency

Department skills, Emergency nurse. https://rcni.com/emergency-nurse/opinion/comment/

playing-a-simulation-game-sharpens-emergency-department-skills-157721 last accessed

16/02/2020.

Gaba, D.M., 2004. The future vision of simulation in health care. BMJ Quality & Safety,

13(suppl 1), pp.i2-i10.

Garg, R., (2016). Methodology for research I. Indian journal of anaesthesia, 60(9), p.640.

Hermann-Shores, P., (2017). Enabling pedagogy and andragogy for 21st-century sign

language users and learners. American annals of the deaf, 162(4), pp.360-364.

Holloway, I. and Galvin, K., (2017). Qualitative Research in Nursing and Healthcare [online].

Hung, C.-C. Chang-Chiao, H. Hsiu-Chen, L. Chun-Chih, L. Bih O.L. (2016) Development

and validation of the simulation-based learning evaluation scale Nurse Educ. Today, 40

(2016), p. 72

Kenny, E.F., Martin, M., McClain, A., Stanley, R., Saunders, J., Lo, C. and Cohen, D.M.,

2019. Nurse-Driven Simulations to Prepare and Educate for a Clinical Trial. Clinical

Simulation in Nursing, 28, pp.35-38.

Kolb, D.A., (1984). Experience as the source of learning and development. Upper Sadle

River: Prentice Hall.

Kurt, S. (2018) Kirkpatrick Model: Four Levels of Learning Evaluation https://

educationaltechnology.net/kirkpatrick-model-four-levels-learning-evaluation/ last accessed

09/02/2020

Lewis, K.A., Ricks, T.N., Rowin, A., Ndlovu, C., Goldstein, L. and McElvogue, C., 2019. Does

Simulation Training for Acute Care Nurses Improve Patient Safety Outcomes: A Systematic

Review to Inform Evidence-Based Practice. Worldviews on Evidence-Based Nursing, 16(5),

pp.389-396.

Meyerson, A. (2020) https://www.theguardian.com/commentisfree/2020/jan/22/a-and-estrike-junior-doctor-nhs-risk

last accessed 23/01/2020

Morrell-Scott, Nicola. "Is post registration cardiac nursing education facing its own

thrombosis?." (2019): 1-3.

National Quality Board (2016) Supporting NHS Providers to Deliver the Right Staff, with

the Right Skills, in the Right Place at the Right Time. England. www.nhs.uk/wp-content/

uploads/2013/04/nqbguidance.pdf (Last accessed: 31 October 2019.)

NHS Digital (2019) Hospital Accident and Emergency Activity 2018-19 https://files.digital.

nhs.uk/F5/ACF07A/AE1819_Annual_Summary.pdf Last accessed 16/02/2020

NHS England (2019) NHS long term plan.

NICE (2020) https://hdas.nice.org.uk/help/#what-does-combining-with-or-do-to-mysearch?

Last accessed on 07/01/2020.

Polit, D.F. and Beck, C.T., (2017). Nursing research: Ethics in nursing research. Wolters

Kluwer Health, Philadelphia,

Poore, J.A., Cullen, D.L. and Schaar, G.L., (2014). Simulation-based interprofessional

education guided by Kolb's experiential learning theory. Clinical Simulation in Nursing,

10(5), pp.e241-e247.

Royal College of Emergency Medicine (2014) Crowding in the ED. RCEM, London.

Royal College of Emergency Medicine (2019) NHS Benchmarking Network & Royal College

of Emergency Medicine https://s3.eu-west-2.amazonaws.com/nhsbn-static/Emergency%20

Care%20(Providers)/2019/RCEM_NHSBN_Staffing_Report_09-2019.pdf lasted accessed

21/12/2019

Royal College of Nursing, 2018. Investing in a safe and effective workforce: continuing

professional development for nurses in the UK.

RCN (2020) https://www.rcn.org.uk/get-involved/forums/emergency-care-association Last

accessed 04/02/2020

Society for simulation in healthcare (2020). Healthcare Simulation Dictionary 2nd ed https://

www.ahrq.gov/sites/default/files/wysiwyg/professionals/quality-patient-safety/patient-safetyresources/research/simulation_dictionary/sim-dictionary.pdf

last accessed 29/05/2020

Sørensen, J.L., Østergaard, D., LeBlanc, V., Ottesen, B., Konge, L., Dieckmann, P. and Van

der Vleuten, C., 2017. Design of simulation-based medical education and advantages and

disadvantages of in situ simulation versus off-site simulation. BMC medical education,

17(1), p.20.

Takahashi, J., Shiga, T., Funakoshi, H., Homma, Y., Mizobe, M., Ishigami, Y. and Honda,

H., 2019. Association of the Number of a Simulation Faculty With the Implementation of

Simulation-Based Education. Simulation in Healthcare, 14(4), pp.223-227.

Walford, J. (2020) What are the educational requirements for emergency nurses in managing

the ongoing care of the critically injured major trauma patient beyond the first four-hours of

the patient's stay in the Emergency Department?

Wolf, L.A., Perhats, C., Delao, A. and Martinovich, Z., (2017). The effect of reported sleep,

perceived fatigue, and sleepiness on cognitive performance in a sample of emergency

nurses. JONA: The Journal of Nursing Administration, 47(1), pp.41-49.

Xiao, Y. and Watson, M., 2019. Guidance on conducting a systematic literature review.

Journal of Planning Education and Research, 39(1), pp.93-112.

SIMULATION TODAY - AUTUMN 2021

13