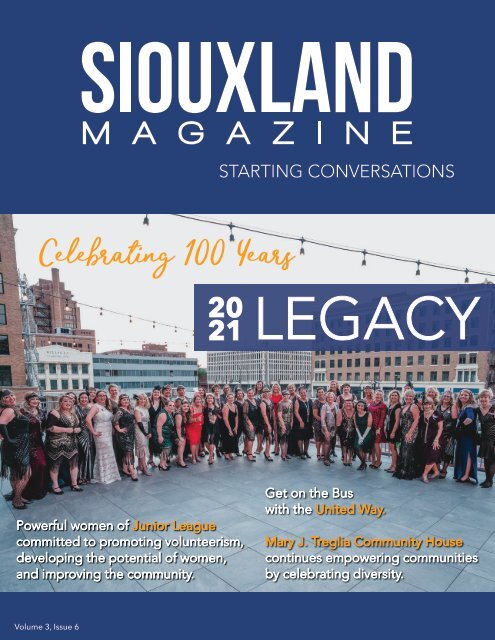 Siouxland Magazine - Volume 3 Issue 6 - version 2
Create successful ePaper yourself
Turn your PDF publications into a flip-book with our unique Google optimized e-Paper software.
STARTING CONVERSATIONS

Celebrating 100 Years

20

21

LEGACY

Powerful women of Junior League

committed to promoting volunteerism,

developing the potential of women,

and improving the community.

Get on the Bus

with the United Way.

Mary J. Treglia Community House

continues empowering communities

by celebrating diversity.

Volume 3, Issue 6
---
IMPROVING HEALTH.

TOGETHER.

WELCOMING (L TO R)

Aaron Althaus, MD

Joanie Columbia, MD

Raymond Kuwahara, MD

Kevin Liudahl, MD

Joseph Morris, MD

Phinit Phisitkul, MD

Bill Samuelson, MD

We are pleased to announce that effective January 3, 2022,

the physicians of Tri-State Specialists will join CNOS.

Together, we'll expand quality patient care through

enhanced collaboration and the addition of new specialties.

605-217-2667 • CNOS.NET
---
Welcome to Siouxland Magazine

It's in these pages we educate and inspire. Even more importantly, we

create a community that thrives on connecting with one another. At our

core, we all want to connect. When we seek to understand, by listening

more intently, we find that our relationships deepen and our community

strengthens as a result. With appreciation for the power of connection

through meaningful conversations, it only made sense to name the

b u s i n e s s Empowering Conversations.

Siouxland Magazine | Legacy / 3

Stacie Anderson, Owner

It all starts with a conversation; with a desire to learn;

to see things from another perspective; to seek

truth. The truth is, we have more in common than we have

differences. Well, maybe it would be more accurate to say, what

brings us together is stronger than anything that divides us.

We would never want to marginalize our differences. We love the words of Audre Lorde,

"It is not our differences that divide us. It is our inability to recognize, accept, and celebrate

those differences." We are unique in vast and complicated ways. It's our hope that we can

come together with our unique strengths, perspectives, and ideas to build a community with

a powerful narrative of us.

Through this humble publication, we will start having conversations. This is an ambitious and

beautifully optimistic attempt to shine light on all the things that make our community strong,

but also discuss, in a productive and compassionate manner, the challenges we face.

We are doing our small part in building a cohesive community by creating conversations

that refocus our attention on our similarities. We are bringing people together; replacing

judgment with understanding. Perspective is powerful.

We want to hear from you. At Siouxland Magazine, we feel it is imperative to understand what

the community wants and needs. Share your vision and dreams for Siouxland.

We want you to lean into the conversation and participate in the discussion.

connect@empowering-conversations.com

Facebook @siouxlandmag

E m p o w e r i n g

Conversations, LLC

siouxlandmagazine.com
---
Legacy

Converse22

Junior League of Sioux City............................................................................................8

Celebrating 100 Years of Cultural Diversity..............................10

More than Community Chest - United Way

of Siouxland..............................................................................................................................................12

Beloved Matriarch with a Big Heart..................................................14

Inclusive Peek................................................................................................................................16

DEI Self-Reflection for the Individual..................................................19

The Past and Progress.................................................................................................20

Sioux City Scoop.....................................................................................................21

Grow

Balance

Ability Tech............................................................................................................................................28

Downtown for the Holidays...............................................................................30

Siouxland Chamber Annual Dinner.......................................................31

Sioux City Regional Convention & Visitors Bureau.......33

Introducing Leadership Siouxland Class

of 2021-2022..........................................................................................................................34

Sioux City Growth Organization is now Siouxland GO...35

The Test of Time......................................................................................................................37

Leading For Longevity: What's the Secred?............................39

Playing the Long Game..................................................................................................40

Ask the Therapist........................................................................................................................42

Ask the Doctor................................................................................................................................44

The Ancient Medicine of Qigong Stimulates Longevity

of the Whole Human..........................................................................................................46

"Strive to leave a legacy beyond your limitations and far beyond the expectations of others."

– Stewart Stafford
---
"In the end, our legacy will not be based on rank or sales but by those who

cherish our stories and the impact of our words."

- Nathaniel Connors

Inspire

An Artist's Work, A Legacy of Truth.....................................................22

Kalins Celebrates 100 Years of Service

in Siouxland...........................................................................................................................................26

At our core, we all want to connect. When we

seek to understand by listening more intently, we find

that our relationships deepen and our community

strengthens as a result. That's what our Siouxland

Magazine is all about! We can't wait to talk to you

and truly connect with you and your audience. If

you are interested in learning more about how to

advertise with us, download the media kit on our

website at siouxlandmagazine.com. Always feel free

to reach out to us via phone, email, or Facebook.

We're creating a magazine you won't want to put

down. We promise not to disappoint

Want to be included in our

January issue?

Contact us soon!

Deadline to reserve space is

December 3rd!

Media Kit at siouxlandmagazine.com

explore

The Return of Holiday!......................................................................................................48

Turning a Clawfoot Vintage Tub into a Work of Art............51

Developing Leaders for Future Generations

Through 4-H..........................................................................................................................................52

Market Experience................................................................................................................54

JOIN US!

You won't want to miss...

Siouxland Magazine's Facebook

Spotlights @siouxlandmag

Monday @ 7:30 pm,

Small Business Spotlight

Wednesday @ 7:30 pm,

Nonprofit Spotlight

ON THE COVER

The Junior League of Sioux City during their

Centennial Celebration.

Photo Credit Britton Hacke Photography.
---
Siouxland Magazine writers

CONVERSE

Jetske Wauran,

People of

Siouxland -

Portraits of the

Extraordinary.

Semehar

Ghebrekidan,

Community

Inclusion Liasion

INSPIRE

Dr. Cyndi Hanson,

Executive Director for

Northeast Community

College's Extended

Campus.

Michelle Lessmann,

Fully Licensed Office

Professional in Keith

Bales Office of Thrivent.

GROW

Todd Rausch,

SBDC Regional

Director at

WITCC.

Grace Nordquist,

Business

Development

Coordinator for

Downtown Partners.

Tony Michaels,

KSUX Morning

Show Host with

Candice Nash.

BALANCE

Dr. Meghan Nelson,

Licensed Physical Therapist,

Professional Yoga Therapist &

Co-owner of Lumin Therapy.

Emily Vondrak,

President for

Sioux City Growth

Organization.

EXPLORE

Alex Watters,

Sioux City Council.

Erika Hansen,

Lifelong

Siouxland

Resident &

Model.

Gladys Smith,

Licensed Independent

Social Worker &

Co-founder of Soul

Creek Nature Therapy.

Dr. Nesrin Abu Ata,

Family Medicine

Physician, Integrative

Psychiatrist & Yoga

Instructor.

Peggy Smith,

Executive Director

for Leadership

Siouxland.

Amy Buster,

Writer & Editor.

Up From the

Earth Leadership

Team.

Emily Larson,

Licensed Massage

Therapist & Private

Yoga Instructor.

Kari Nelson,

Graphic Designer.

University of

Nebraska – Lincoln

Nebraska Extension

Educators.
---
Editors Note

How do we leave a legacy?

How do we leave our mark on the world? Even if we are not

conscious of it, we all want to live a life of significance. We want

to know that our life mattered and that we contributed in our own

unique way.

We want to contribute. We want to be valued.

We want to be remembered.

Our character, integrity, and contribution all fold into the legacy

we create in the hearts and minds of those we leave behind. Living

a life of significance goes hand in hand with living a life of service.

It's about recognizing we are part of a bigger picture, that we are

interconnected.

It's also an ongoing process and a commitment to the long game.

It's planting a tree whose shade you'll never enjoy. But how

satisfying it is to plant that seedling.

This issue celebrates a few nonprofits and a business that all hit

their centennial this year.

Day by day, committed to service, they have stood the test of time.

It's notable to point out that as you read their stories, how they

have not only served but also how they've collaborated - another

testament to our strength and capabilities when we work together.

In the end, legacy is grandiose, but the path is often unremarkable

or even unrecognized. There isn't anything overly sexy about it.

It isn't necessarily about big moments. It is the commitment to

showing up every day and giving your best. Just one day at a time.

Commitment and consistency. Over and over and over

again.

What are you committed to doing? What drives you to show

up, day after day, and give your best? How do you want to be

remembered?

I implore you to live a life of legacy, to live with integrity and

commitment to service.

It is a life lived with intention that will be remembered.

Siouxland Magazine | LEGACY / 7

Stacie Anderson

Owner of Empowering Conversations LLC & Siouxland Magazine

Certified John Maxwell Speaker, Trainer & Coach

Passionate about Leadership & Communication

Siouxland Magazine is owned and published by Empowering Conversations, LLC. All materials contained in this magazine (including text, content, and photographs)

are protected by United States copyright law and may not be reproduced, distributed, transmitted, displayed, published, broadcast or modified in any

way without the prior written consent of Empowering Conversations, LLC or in the case of third party materials, the owner of that content. You may not alter or

remove any trademark, copyright or other notice from copies of this content.
---
LEGACY

contribution

impact

Fairview Schoolhouse

Junior League of Sioux City

By, Dr. Cyndi Hanson

In April 1921, a group of ten young ladies

described by the Sioux City Journal as "the

younger social set" chartered the Junior

League of Sioux City. Their interest was creating

an organization for volunteer services. The local

Junior League has been associated with the national

organization since its founding, both of which predate

the Association of Junior Leagues International.

The Junior League is an educational, nonprofit

organization dedicated to providing

trained volunteers to the community.

Empowering women is the platform of the

Junior League.

The organization has grown and today has 55 active

members. In addition, more than 200 sustaining

members provide financial support to projects and

provide a historical perspective on the board of the

organization. This year, Nadine Meis is the Junior

League of Sioux City's president. "I hadn't really heard

about Junior League until I went golfing with some

co-workers. It turns out that event was a Junior League

fundraiser. I learned about the organization, liked that

it wasn't associated with one specific non-profit, and

decided to join."

As Nadine notes, the Junior League's focus for

community involvement changes with an active

participation process of membership determining

the projects and activities each year. Each year, nonprofit

organizations have an opportunity to submit

applications for the Junior League projects. The

Junior League's community council reviews the

applications for cultural contribution components,

alignment with overall League focus, how it will

improve the community, etc. Selected non-profits are

then invited to make a presentation to the committee

and the information is disseminated to full League

membership during the March meetings. In April, the

general membership determines which project, if any,

will be the focus of the group.

"There are so many projects the Junior League has done

in our community that most people don't associate

with Junior League," said Meis. "The first project focus

of Junior League in 1921 was the creation of a Baby

Well Clinic." The Sioux City Journal archives detail the

achievement of this goal in 1929, when a clinic was

opened in City Hall. In 1937, the clinic moved to the

Community House (now Mary J. Treglia Community

House). The Junior League sustained the project until

it was turned over to the Woodbury County Health

Unit in the 1940s; however, their volunteers continued

to staff the clinic until 1954.
---
purpose

investment

responsibility

future

Long-time Siouxlanders

may remember the

Gateway Arches, a

series of three arches

surrounded by a pond

and green space along

Interstate 29 near the

downtown exit. "The

arches were a Junior

League project," Meis

noted. "Some of our

projects are social

impact, some are

beautification or cultural.

It really depends on what

the membership wants

to focus on at the time."

Gateway Arches

Other notable projects in the community were the

purchase of the Pierce Mansion in the 1950s and the

Fairview Heritage School in the 1970s. "Pierce Mansion

is leased to the city for $1 per year," Meis explained. "It

is to be used for educational and historical purposes."

The Fairview School was purchased, moved, renovated,

and staffed by Junior League volunteers serving as

"School mamas" until 1988 when it was gifted to the

Sioux City Community School District.

The Junior League's support of The Launch Pad Children's

Museum is fairly well-known in the community. "We also

built a bus stop shelter and renovated the 'Hands On!'

gallery at the Art Center," Meis added. "You might be

surprised how many entities we've helped with over the

years. We try to stay connected with them in some way.

Maybe it's through volunteer service, holding meetings

there, or just sharing awareness."

Funding for projects comes from the operation of their

Discovery Shop on West 7th Street as well as an annual

golf outing. The fund development committee may also

seek grants or other funds to supplement as needed.

In addition to contributing to the community in many

ways, participation in the Junior League also provides

an opportunity to develop the potential of women in

non-profit leadership. "We are trained volunteers," Meis

noted. "We can attend Organizational Development

Institutes organized by the Association of Junior

Leagues International. They provide training in specific

areas such as fundraising, marketing, networking, etc.

Within the organization, we learn how boards work,

serve on committees, and develop confidence; which

helps us become stronger leaders at work and home.

Our March meetings are usually smaller groups of

women meeting in homes of our sustaining members. It

is a great way to really get to know each other."

"Recently, we decided to align our projects for a few

years under the theme of Women Empowerment. The

goal is with an underlying theme, we can have an even

greater impact," Meis explained. The Junior League of

Sioux City has already done work in this area, including

providing educational outreach to hotel and motel

operators about the signs of human trafficking and how

to respond. Projects related to women and children are

of great interest. Looking back over the projects through

the years, many have supported the empowerment of

women and investment in children.

And while the large-scale projects are important

impacts of the Junior League of Sioux City, so too is

the hands-on volunteer work done in shorter time

increments. "Done in a Day," is a program of Junior

League volunteers coming together to accomplish a

task for a non-profit in one day. By coming together as a

group they can get a lot done quickly. "Some examples

of Done in A Day include packing backpacks at the

Foodbank and seasonal clean-up at the Dorothy Pecaut

Nature Center," noted Meis. "It is a lot of fun to work

together with women you might otherwise not have

connected with outside of the organization."

This is what the Junior League ultimately hopes to

foster in Siouxland, a like-mindedness for volunteering.

With groups giving together, the impact grows and our

connections as a community grow, too.

Sioux City Art Center Hands on Gallery

Dr. Cyndi Hanson, Executive Director for Northeast Community

College's Extended Campus.

Photos Contributed by the Junior League of Sioux City.
---
Siouxland Magazine | LEGACY / 10

Mary J. Treglia Community House

Celebrating 100 Years of Cultural Diversity

By, Michelle Lessmann

Immigrants arriving in the Siouxland community

is nothing new. Neither is the place that they turn to for

help when they arrive. Since 1921 when the Sioux City

Community House was established, immigrants have

had a place where they are welcomed and celebrated

when they arrive in the Siouxland community.

What began as the Sioux City Community House

in April 1921, was renamed the Mary J. Treglia

Community House in November 1956 to honor the

woman who had spent so much of her life dedicated

to helping immigrants feel welcome in the community.

Mary J. Treglia made it her life's work to help foreignborn

people become familiar with our language and

customs. Her passion for helping immigrants lives

on through Executive Director, Becky Carlson, and

her staff. They continue her mission by welcoming,

educating, empowering, and advocating for all new

Siouxlanders.

According to Becky Carlson, the Siouxland Community

has a large population of minorities, which creates a

wonderful and broad diversity. Carlson said, "we believe

cultural diversity strengthens our community," and that

"we strive to identify and respond to the needs of the

immigrant population in Siouxland through education,

services, advocacy, and celebration of diversity." Many

Mary J. Treglia
---
immigrants and refugees come from environments

that are unsafe, which causes them to have a difficult

time asking for help when they arrive. Everyone at the

Mary J. Treglia Community House strives to make the

immigrants and refugees feel comfortable coming

there, asking for help, and to feel welcome in the

community.

The Mary J. Treglia Community House offers a wide

range of services to those who seek help there.

Services range from preschool, ESL classes for adults,

Citizenship and Legal Immigration services for those

seeking citizenship, and permanent residency or work

permits in the U.S. Their Family Services Program

includes a broad range of services to assist with

completing applications for employment, housing,

DHS, and medical services. Through these efforts, the

Mary J. Treglia Community House makes possible selfsufficiency

and empowerment of the individual.

The preschool currently has students from 10 different

countries, speaking a variety of primary languages,

and all learning English while at school. ESL classes

are offered to adults Monday through Thursday each

week, and Friday's classes are devoted to citizenship.

The citizenship classes help prepare the candidates

for their interview, which consist of more than 100

questions they must be able to answer in order to

become citizens, also while demonstrating they can

speak English.

Legal Services also include naturalization clinics at various

times each year, where attorneys work with immigrants

to complete necessary forms and help them through

the naturalization process. A recent Oath Ceremony was

held where 26 people became U.S. Citizens through the

individual's efforts in conjunction with the Mary J. Treglia

Community House.

Another feature that the organization has added is

offered in partnership with Western Iowa Tech Community

College on their radio station, KWIT, where the local news

is translated into five languages. This is shared through

social media and can also be found on the Mary J. Treglia

Community House website and the KWIT website (www.

kwit.org). A community garden has recently been added,

along with cooking and healthy eating classes to help

immigrants become accustomed to available local foods

that may be new to them.

A partnership with the United Way of Siouxland, which is also

celebrating its 100 Year Anniversary, helps provide part of

the funding for the Mary J. Treglia Community House along

with donations from individuals, other businesses, and

organizations, as well as local churches. They collaborate

with many of the Siouxland area organizations to provide

services, programs and assistance, including Siouxland

District Health, the American Red Cross Northwest Iowa

and Northeast Nebraska Chapters, the South Sioux City

Public Library, and Sunnybrook Community Church.

Donations can be mailed to the Mary J. Treglia Community

House, 900 Jennings Street, Sioux City, IA 51105, or made

securely through a link on their website, www.marytreglia.

org. They are a non-profit 501(c)(3) organization, so your

donation may be tax-deductible.

Siouxland Magazine | LEGACY / 11

Michelle Lessmann, a fully licensed Office Professional in Keith

Bales office of Thrivent. She can be contacted at mrlessmann@

hotmail.com.

Photos Contributed by Mary J. Treglia Community House.

In addition to the services that have been offered since

they were first established 100 years ago, the Mary J.

Treglia Community House has added programs to

help those new to the area as the organization has

evolved. They became a remote settlement agency

in 2017, through the United States Conference of

Catholic Bishops, creating a partnership to assist in

helping locally sponsored refugees settle in Siouxland.

They provide services for the refugees for their first 90

days in order to help them with proper housing, food,

and weather-appropriate clothing, as well as finding

employment and signing up for ESL courses. They

continue to provide services after the initial 90 days as

they are needed.
---
Siouxland Magazine | LEGACY / 12

Winners in the annual school poster contest sponsored by the Sioux City Community Fund and War Chest Campaign

pictured with their winning posters. The winners, left to right Sharon Baizer, Mary C. Zink, Mary Louise Boetje.

More than Community Chest – United Way of Siouxland

By, Dr. Cyndi Hanson

Situated between Baltic Avenue and

Mediterranean Avenue on the traditional

Monopoly board you will find the Community

Chest. You've probably never thought twice about

it, never imagined that it was more than a landing

space of chance in a board game. However, in 1921,

the organization now known as The United Way of

Siouxland was founded under the name Community

Chest. Its mission was to bring organizations together

to help identify community needs, provide services to

the poor, and raise funds to support their work. One

hundred years later, with a new name and broader

impact, the organization's activity is remarkably similar.

"Today, the United Way of Siouxland works with local

agencies, businesses, government organizations

and volunteers to focus resources on achieving

community impact in health education, and financial

stability around specific goals. Last year alone, 64

agencies received funding and other partners worked

in conjunction with the United Way to reduce the

achievement gap in our schools, eliminate violence

and improve access to health services" said Heather

Hennings, president of The United Way of Siouxland.

"Our focus is a little more tailored," she continued, "we

are solution focused. We are partnering with agencies

to identify the root cause of systemic issues keeping

people in poverty, impacting school achievement, and

limiting self-sufficiency, then addressing those root

issues for generational change."

Hennings is specifically referring to two things. One,

their partnership with Source for Siouxland, which

utilizes data and focus group teams to dive deeper

into issues and search for solutions that impact the root

cause, not simply a symptom. The recommendations

of this group can lead to new ideas to move the needle

on data.

United Way Facts:

• One in Three Siouxlanders will utilize

United Way services in their lifetime.

• 34,000 services were provided in 2020.

• More than $132,000,000 has been invested

in our community through United Way in the

last 100 years.

• First Campaign Chair in 1921 was D.P. Mahoney.

• First chair of the Board of Directors in 1921

was F.A. McCornack.
---
These boys are marching to help raise funds for the

annual Community Fund drive (today United Way).

YMCA was one of the many agencies in Sioux City

that receives funds every year from this charity drive.

Second, The United Way of Siouxland is focused on

funding agencies and programs that can demonstrate

impact. There is an expectation that agencies provide

data, reports, and stories that show the work they

do results in improved grades, better attendance

rates in school, families moving from poverty to selfsufficiency

and even senior citizens who maintain their

independence for years longer than they might have

without amazing programs.

The United Way of Siouxland's current mission statement

demonstrates the nuanced change in philosophy over

the last 100 years, "To improve lives by uniting the

caring power of our community." The United Way of

Siouxland is often a convener of groups and individuals.

The organization is a consistent presence in community

meetings focused on reducing juvenile justice

involvement, increasing access to quality childcare,

increasing mental health services, and responding to

disasters in Siouxland.

"In 2010, United Way of Siouxland partnered with

local emergency professionals to launch the Siouxland

Recovery Fund which helps coordinate resources for

local disasters," Hennings explained. "The fund first

became activated in 2011 with the Missouri River flood

and was activated again for flooding in both 2018

and 2019. In 2020, the fund helped organizations and

individuals weather the COVID-19 pandemic shutdown.

Our role is to bring people, organizations, and funding

together – we are uniting the power of caring in our

community."

This power of collaboration is reflected in other changes

that have occurred in the organization's 100-year history.

"In the 1960's, Community Chest organizations around

the country formed an alliance to better serve their

communities and grow the fundraising campaigns in the

workplace. This alliance became known as the United

Fund and the Community Chest of Sioux City became

the United Fund of Siouxland. A total of 16 agencies were

members of the United Fund of Siouxland," Hennings

shared. "It did make a difference. In a few years we had

grown to involve 22 agencies and set our first goal to

raise $1,000,000 in the annual campaign in 1979. That's

quite a difference from the $165,000 goal of the very

first campaign in 1921."

And while data and dollars are important to decisionmaking

at the United Way, the impact on individuals is

never far from mind. "We want people to know the impact

even one dollar can make," said Hennings, "and the best

way to do that is to share stories of success. Our website,

our quarterly posters, and our workplace campaigns

always feature an agency or a recipient sharing a story of

how a life has been positively impacted. We do what we

do so every person in Siouxland can have an opportunity

to know they are cared for and cared about. Many of us

take this for granted, but for others it is life-changing, it

sparks hope."

United Way kicking off 100 year celebration.

Over the last 100 years, United Way of Siouxland has

raised $132,038,989 and has served thousands upon

thousands of individuals. One in three Siouxlanders will

utilize support and services of United Way of Siouxland in

their lifetime. Last year alone more than 34,000 services

were provided by agencies receiving United Way funds.

This year's campaign slogan of "Get On The Bus" is an

invitation to every person in Siouxland to become part of

the impact. "People can get involved in so many ways,"

Hennings added, "of course monetary donations are

important, but we also need volunteers in our community.

We need people to serve on boards, dive into data, serve

as mentors, and more. Whatever your skill set or gift,

there is a place for you to be part of the caring power of

our community. Join us and 'Get On The Bus' as we drive

forward into the future."

Dr. Cyndi Hanson, Executive Director for Northeast

Community College's Extended Campus.

Photos Contributed by United Way of Siouxland.

Siouxland Magazine | LEGACY / 13
---
Siouxland Magazine | Converse / 14

Beloved Matriarch with a Big Heart

By, Jetske Wauran

Verona Trosper has spent the majority of

her life caring for more than 50 children in

foster care. Over the decades, she took in foster

children ranging from newborns to teenagers, all

while working a full-time job.

"I had them from right out of the hospital up to

16-years-old."

Verona has given them a home, regardless of

their age, race, or gender. She welcomed them

with open arms and raised them just like her own.

"How you raise a child is how they're going to

end up being."

She was first inspired to help foster children

in 1952, when her husband's parents passed

away, leaving behind their two children and

their grandson. "So, I took them to live with my

husband and me." She didn't stop there.

Verona continued opening her home to children

in need. In fact, many of these kids have grown

into adults and still keep in touch with her,

through handwritten letters, visits, and phone

calls.

"I just talked to Collin on the phone yesterday, he

wants me to send him more scriptures to read,"

Verona said, about one of her former foster

children, now 29-years-old.
---
She recalls another recent connection with one

of her fosters:

"I got a letter from one of the foster kid's wives,

thanking for raising him in the church and

instilling in him what a man is supposed to be.

She said he is a good husband and a good

father. It was Jose, I had him for two years.

He's the one who visits with his wife and kids,"

Verona said.

Verona has a loving and compassionate heart,

a nurturing personality. She embodies qualities

that come in a remarkable mother, ensuring all

the needs of the children are met, giving them

valuable experiences that have stayed with

them for a lifetime.

Siouxland Magazine | Converse / 15

Verona, who also goes by the nickname

"Cookie" or "Sister Trospee" was born on

January 31, 1934, in Waterloo, Iowa. "In my

grandma's big bedroom, my dad delivered

me."

She moved to Sioux City's Westside in 1966

with her husband. Together, they had one

daughter, now 70-years-old. Verona also

adopted a young girl in 2000, who is now 28

years old.

She has served as a church secretary at Mt. Zion

Church for nearly three decades. Last October,

Verona received very special recognition for

her years of service and dedication to the local

church.

Photo Credit Jetske Wauran

Hello, I'm Jetske Wauran-Castro and I am thrilled to team up with

Siouxland Magazine! This team effort serves as an avenue to share my

passion project, "People of Siouxland - Portraits of the Extraordinary."

I launched this in September 2020, in hopes of inspiring and uplifting

others in the most trying of times. As a visual storyteller, my mission

is to highlight the hidden gems and underrepresented individuals

that have enriched the lives of others, shown ongoing leadership,

and have become outstanding role models in our community.

Jetske Wauran-Castro is a community activist, professional

photographer, and Emmy award-winning journalist. She and her

husband, Rueben, live in Sioux City.
---
Siouxland Magazine | Converse / 16

Inclusive Peek

My name is Xiaomei Liu. An international marriage

brought me to the US in 2015.

What challenges have you experienced in

Siouxland?

Being an immigrant in my middle age, I have had a

handful of challenges in this new country. The language

barrier has been on the top of the list. It puts a wall

everywhere in my life here. From ordering food to

doing homework, the language barrier can cause a

little bit of delay in getting things done. I still remember

those embarrassing language mistakes I made before;

remember how many times I thought of giving up the

school when I felt so many difficulties listening to the

lecture and doing homework; remember the fear that I

could not survive here.

How has Siouxland been welcoming?

I can survive here because WITCC is full of kind, generous,

and supportive people and programs. TRIO program

is the biggest one of them. In the hardest time of

times, the TRIO program provided scholarships to me

so that I could stay in school and continue to pursue and

achieve my academic goals. The TRIO program also

provided me with lots of social support resources. In

addition, Women Aware of Siouxland has helped me

get through some dark times.

I am still trying to acclimate with the Siouxland

community even as I learn to write and speak better

English. But I do not fear the future anymore.

Xiaomei Liu

What do you want the people of Siouxland to know?

I want the people of Siouxland to know that many

newcomers like me are working hard to adapt to the new

life here. Despite the challenges that we are facing, we also

are trying to service the community and give back to the

society that we are living in.

Inclusive Peek – En Espanol

Mi nombre es Xiaomei Liu. Un matrimonio

internacional me trajo a Estados Unidos en 2015.

¿Qué desafíos ha experimentado en Siouxland?

¿Qué desafíos ha experimentado en Siouxland?

Siendo un inmigrante en mi mediana edad, he tenido

algunos desafíos en este nuevo país. La barrera del

idioma ha estado en la parte superior de la lista. Pone

un muro en todas partes de mi vida aquí. Desde pedir

comida hasta hacer la tarea, la barrera del idioma puede

causar un poco de retraso en hacer las cosas. Todavía

recuerdo esos vergonzosos errores de lenguaje que

cometí antes; recuerda cuántas veces pensé en dejar la

escuela cuando sentí tantas dificultades para escuchar

la conferencia y hacer los deberes; recuerda el miedo

de no poder sobrevivir aquí.

¿Cómo ha sido la bienvenida Siouxland?

La principal razón por la que puedo sobrevivir aquí

es que WITCC está lleno de personas y programas

amables, generosas y comprensivas. El programa TRIO

es el más grande de ellos. En los momentos más difíciles,

el programa TRIO me otorgó becas para que pudiera

permanecer en la escuela y continuar persiguiendo

y logrando mis metas académicas. El programa TRIO

también me proporcionó muchos recursos de apoyo social.

Además, Women Aware of Siouxland me ha ayudado a

superar tiempos difíciles.

Todavía estoy tratando y aprendiendo a aclimatarme con

la comunidad de Siouxland incluso mientras aprendo a

escribir y hablar mejor en inglés. Pero ya no le temo al

futuro.

¿Qué quieres que sepa la gente de Siouxland?

Quiero que la gente de Siouxland sepa que muchos

recién llegados como yo estamos trabajando duro para

adaptarse a la nueva vida aquí. A pesar de los desafíos

que enfrentamos, también estamos tratando de servir a

la comunidad y retribuir a la sociedad en la que vivimos.
---
Photo Credit Jetske Wauran.

Siouxland Magazine | Converse / 17
---
Siouxland's locally owned delivery

service delivering your local favorites

The Market

Delivers.com

uniforms are

printed locally

with FYVE.
---
DEI Self-Reflection for the Individual

By, Semehar Ghebrekidan, M.S.

In the last article, we learned about ourselves

as individuals through intersectionality

mapping. In case you missed it, intersectionality

mapping helps you identify the different dimensions

of your identity. This allows you to better understand

your lens, aka how you see the world daily and

what influences that. In this article, we will continue

learning about ourselves as an individual through

different available assessment tools. Please read

below to see a list of my favorite assessments you

can do today! I believe self-reflection regarding

diversity, equity, and inclusion (DEI) is vital to creating

positive and effective change within yourself.

Project Implicit - Free

Project Implicit provides Implicit Association Test

(IAT). The IAT measures attitudes and beliefs that

people may be unwilling or unable to report. It does

this by using subconscious associations between

mental representations of concepts in memory.

Project Implicit has a variety of tests that can help

indicate whether you have a preference about a

certain group. The IAT may be especially interesting

if it shows that you have an implicit attitude that

you didn't know about before. This test encourages

people to focus on strategies that deny implicit

biases the chance to operate by recognizing them.

Cultural Competence Self-Assessment

Checklist - Free

This self-assessment tool brought to you by AVMA

is designed to help you explore your individual

cultural competence. Its purpose is to help you

consider your own skills, knowledge, and awareness

in your interactions with others, and recognize what

you can do to become more effective working and

living in diverse environments.

an individual level. The IDI can help you reflect on your

experiences around cultural differences and similarities.

The results indicate a position along an intercultural

development continuum indicating a target for the next

stage of growth. The IDI provides feedback in the form

of actionable steps that you can take to help develop

better intercultural competency skills. Your IDI Profile

results can help you proactively address these and

other concerns, as well as increase your own cultural

self-awareness of your own unique experiences around

cultural differences and commonalities.

"People who have had little self-reflection

live life in a huge reality blind-spot."

– Bryant McGill

Semehar Ghebrekidan is

the Community Inclusion

Liaison for the City of

Sioux City. She is charged

with Inclusion efforts to

help connect the City and

the community. Semehar

has her master's degree

from South Dakota State

University in Sociology

and her bachelors in

Global Studies with

minors in Spanish and

Leadership & Nonprofit

Management. When

she is not working, you can catch her cooking,

reorganizing her home, and hanging out with her

family and friends.

Siouxland Magazine | Converse / 19

Clifton Strengths Finder - $20

The Clifton Strengths Finder assessment is a useful

tool in understanding what are your strengths.

Knowing these strengths is important when it

comes to cultural competency because it helps

people become known for what they do best,

as well as their demographics. This can also be

useful when communicating with others. Knowing

the strengths of the people around you can help

you communicate better with individuals, identify

similarities, uplift differences, and create a sense of

belonging.

Intercultural Development Inventory - $30+

(Administrator fees)

The IDI is an online, theory-based assessment of

intercultural competence that can provide results at

We deliver

a Hyundai for the holidays.

Experience the Eide Effect.

(712) 587-9145

VernEideHyundaiSiouxCity.com

4601 SINGING HILLS BLVD

SIOUX CITY, IA 51106
---
Siouxland Magazine | Converse / 20

The Past and Progress

By, Tony Michaels

It really pays to listen to my lovely wife.

For the last few years, she has insisted I watch Yellowstone

on Paramount TV. She convincingly said you work in

country radio, and Kevin Costner is in most of your

favorite movies of all time, so let's watch together. As

always, she was right on the money! It has become my

second favorite new show behind only,"Ted Lasso". Not

to spoil anything for ya, but one of the conflicts on the

show is revering the past yet also how progress affects

traditional businesses like ranching.

I love the theme of this issue because it highlights

businesses that have a rich history but have at the same

time evolved with their industry. When you mention

"Siouxland", you can't help but think of those corporate

names that help define the area. For me, Palmer Candy,

Jolly Time Popcorn, and Sneaky's Chicken hit home

because…. Well, I love to eat. I'm all for commerce when

it comes to satisfying my hunger. Civic pride one pound

at a time!

The real story behind businesses with a century of

service to the area is the dedication they show to the

betterment of this community. I was delighted to see the

warm-hearted folks of Kalin's making that big $100,000

donation to the United Way. There are so many generous

efforts just like that, which made the tri-state area a better

place to live and grow.

In my industry, a lot of people ask me about the future

of radio stations. It would be silly to say a radio station

today operates the same way as one did in 1980. It's a

different time. We have evolved and try our very best

to make sure the frequencies you dial in and the radio

stations apps you consume are representing your life,

your concerns, and you!

I keep thinking about the news-talk station KSCJ.

Forever just an AM station, now streaming online at kscj.

com and can be heard in the city metro area at 94.9 FM.

Launched April 4, 1927, it's not quite in the century club

yet. When there's a big story in town, you can call up

and continue the conversation during the early morning

show with Justin Barker and Jeff Heyer starting at 5:30

a.m. Have something bothering you about something

local? "Open Line host," Charlie Stone will field your call

and give you a radio platform. Mark Hahn hosts a daily

Drive Time Live show from 5-6 p.m., and there's nothing

like hearing a Sioux City X's ballgame on the radio with

play-by-play broadcaster Connor Ryan.

Although the way you listen may have changed since

1927, I bet the topics that really stir up emotions remain

the same…how do we make this area the very best place

possible?

KSCJ transmitter.

That's the same mission so many businesses with long

histories in Siouxland have in common.

Next time you drive by the KSCJ transmitter on Highway

75, just know that's where history and progress meet.

Jon Dutton will tell you that's a fight worth fighting!

Tony "Michaels" Michalski is a morning show

host on KSUX 105.7 and author.

Photos Contributed by Tony Michaels.

Paid advertisement.

Expand

mind. body. spirit.

TheE xpansionC enter Coming to Historic 4th
---
Reflecting on the Past and Looking Forward to the Future

By, Alex Watters

As we take a moment to

look back and reflect on the

companies, organizations,

and individuals that have

made such a lasting impact

on this community, I can't

help but think of the efforts

that are being pursued now

that I hope will stand the

test of time as well.

Siouxland Magazine | Converse / 21

Recently, our Parks and

Alex Watters Recreation team has brought

a number of proposals to the

City Council for their feedback. These projects alter our

landscape, establish our identity, and I believe, will be the

key to our growth in the future.

The return on these investments is already being felt.

Cone Park, for example, is gearing up for its 5th season,

serving more than 25,000 people annually and creating

a tremendous economic impact locally. The City staff is

currently looking at how we can transform this facility into

a year-round tubing hill that will make it even more of a

top attraction in Iowa! The new Siouxland Expo Center is

another example of a facility that has produced an instant

positive impact on the community. During the Siouxland

Showdown Volleyball Tournament, more than 100 teams

gathered from around the country right here in Sioux City.

Organized by the staff at the Tyson Events Center, the

Expo Center was transformed into a volleyball complex

overnight! You couldn't find a hotel room in town, and

businesses from Burger King to our local restaurants on 4th

Street saw a surge in the number of visitors.

Trail ribbon cutting and investment by MRHD.

However, there is more to come. Due to the aggressive

pursuit of grants and the generosity of our community,

local organizations have made not only these recent

developments possible, but future growth as well.

The Chesterman Company is donating $1 million to a

complete transformation of the landscape near Cone

Park to include more than eight miles of mountain

biking trails. This regional attraction is being designed

by an international agency and will attract cyclists from

all over the United States to Sioux City. With more

people exploring Sioux City, the city and local partners

have invested in the transformation of our Riverfront,

connected a number of trails throughout our region,

and see the need to make our community not only a

great place to raise a family, but a recreation destination

worth exploring. So many of these projects have been

made possible by gracious donations from MRHD,

Empirical Foods, State Steel, the Gilchrist Foundation,

Tyson Foods, Siouxland Chamber of Commerce, and

many more. Because of the overwhelming support

and generosity of Siouxland, people passing through

on the interstate and those attending a conference or

concert won't be able to deny the revitalization we are

experiencing!

As I take time to look back on the past, I can't help

but get excited about the future. Investment in these

kinds of quality-of-life projects will not only positively

affect the residents of Siouxland but have huge

economic benefits for our businesses. We can't thank

our community partners enough for making this level

of development possible, and I can't wait for you to

continue to experience the new things coming to

Sioux City.

Alex Watters, City Council of Sioux City

awatters@sioux-city.org

Volleyball tourney at Expo Center.

Photo Credit City of Sioux City.
---
Inspire

Lessons learned from stories in our community.

The Roth Fountain : The fountain was designed and built by Steve Blenderman and his best friend and business partner,

Kirk Hoefling. They utilized the original terracotta sculptures from the 1915 Livestock Exchange Building and created a

landmark that pays tribute to Sioux City's unique history. It is located on the Promenade in downtown Sioux City, and was

paid for by the Roth Family, who own Beef Products, Inc.

An Artist's Work, A Legacy of Truth

By, Amy Buster

When you hear Sioux City artist Steve

Blenderman's name, you may instantly think of

the beautiful Roth Fountain on the Promenade

in Sioux City. Steve has a passion for history and

architecture; however, his passion and knowledge for

the arts goes much deeper. He also draws and paints.

"I've been very lucky in my life, and always been a fairly

prolific artist," said Blenderman.

He attributes that fact to a number of things.

"I have always had an innate understanding since

childhood that I was an artist. I was very lucky. Not only

did my parents love me, but they also believed in me

as an artist despite the odds that success in that career

would remain elusive. There was also a nun who believed

in me as an artist. When I was about 10 years old, she

gave me private art lessons after school, and taught me

how to paint. She had become a life-long friend, and her

belief in me was essential for me to believe in myself,"

shared Blenderman.

Another life changing moment took place after

Blenderman's senior year of high school. It was 1969; he

studied abroad in Germany for 14 months.

Voltaire's Candid: The man in the painting is a young

man named Najib. Steve met Najib when he was visiting

Amsterdam. Najib is originally from Morocco. He, Najib,

was in search of 'The Truth.'
---
non-profit

community

family

small business

people

"At that time, Europe was just a better place for a career

as an artist," explained Blenderman.

He left college and returned to Europe to pursue a career

as an artist.

"When I was in my early 20's, I was in Europe. It was

during more of a pop art, abstract period, but I never

fully embraced that. I wanted as many people as possible

to have immediate access to my art. I wanted them to

be able to view my work, and not have to go through

any intellectual explanations or learning processes,"

explained Blenderman.

Sturm and Drang: This is a landscape painting by Steve.

It is symbolic of the Sky God's in cloud formation, fighting

over the Earth Goddesses.

"I finished high school and went to Germany with the

YFU Exchange Program. If I hadn't had that experience

to live and study in Europe, I wouldn't be who I am today.

That was the most important, crucial experience of my

life!" Blenderman stated.

From 1973-76, Blenderman lived and worked as an artist

in Berlin, from '76-'78 he lived and worked in London,

and from '78 to '83 he lived and worked in Paris.

"When I lived in West Berlin, I realized that I had to make

a decision as to what style of art I should pursue. My true

desire was to reach as many people as possible in the

easiest way. Therefore, I knew that the figurative form

(portraits) was the most accessible to anyone. My works

have multiple levels of content which can be understood

Returning to the US, he worked as a courier at St. Luke's

hospital. He had met a woman in Germany and fallen

in love with her. His goal was to earn enough money in

order to purchase a ticket and return to Germany and

marry her. After a year of working at St. Luke's, he had

the money he needed. His father gave him some sage

advice when he left.

"My father had told me that if things didn't work out, I

could return to the US, and he would pay for me to go

to any school I wanted for college. I had already been

accepted at the University of Iowa," said Blenderman.

Unfortunately, things did not work out with the young

woman in Germany. That, however, did allow him to

travel extensively in Europe with his friends and visit

many well-known art pieces. But he knew he needed to

return to the US to go to college.

"I went to the University of Iowa when I was 20, which was

1971. I had so much experience seeing the world the

two times I was in Europe that nobody else had. That was

a great advantage there. You get a more realistic grip on

life as well," said Blenderman.

He majored in print making, and went to classes for two

whole years, summers included. Although he loved his

time at Iowa, he longed for life back in Europe.

Steve likes to build his own frames, housings as he refers to

them, for his paintings if at all possible. It allows him to use his

passion for architecture with his artworks. Left, The Queen of

Sheba: The Queen of Sheba is the first figure mentioned in

the Hebrew Bible. In the original story, she brings a caravan

of valuable gifts for the Israelite King Solomon. Right, Joseph

and His Coat of Many Colors:. This is based on the Biblical

story of Joseph, and how he was betrayed and abandoned

by his brothers due to their jealousy of him being his father's

favorite son.
---
Siouxland Magazine | INSPIRE / 24

Le Danse Fatale: Le Danse Fatale is a seductive woman who lures men into dangerous or compromising situations. In this

painting, she is dancing across the stage.

through knowledge of the subject, or simply for its visible

reality. I always felt a responsibility for my talent and

have perceived it as a gift which should be nurtured and

passed on. In a sense it means for me to have usefulness

as opposed to an elitist's privilege," stated Blenderman.

"Michelle, the woman posing for the painting Calypso,

made an unforgettable comment to me. She said, 'If I

should someday be an old lady, I will be able to say that

when I was young, I posed for an artist as a goddess.' She

He has very fond memories of his years in Paris, especially.

"When I was living in Paris, I lived in the middle of

downtown. It was just a studio, but a lot of people came

and went in that apartment. I couldn't complain," said

Blenderman.

In that studio, he drew a couple of portraits, and one

in particular that stands out in his mind. The man in the

drawing, soon to be turned into a painting, is a young

man named Najib. Steve met Najib in Amsterdam,

although he was originally from Morocco. Later he was

painted, full figure, as Voltaire's Candid.

"I asked him if he would let me draw him, and he said yes.

I asked him what he was doing. He answered, 'I'm looking

for the truth. I'm in search of the truth,' I thought I have to

draw this guy. I just drew his head, later I drew him full

figure," shared Blenderman.

Another painting that holds a special place in

Blenderman's heart is simply titled, Calypso.

Persephone: Persephone was the daughter of Zeus and

Demeter, and the wife of Hades. She was the goddess of

fertility, and the Queen of the Underworld.
---
I found and did not interpret them as I had with the

portraits. I presented them truthfully as I saw them,"

shared Blenderman.

When asked what legacy he wants to leave people with

his artwork, Blenderman responded,

Siouxland Magazine | INSPIRE / 25

Medea: Medea in Greek

mythology was an

enchantress who helped

Jason, the leader of the

Argonauts, to obtain the

Golden Fleece from her

father, King of Accretes

of Colchis. She was of

divine descent and had

the gift of prophecy. She

married Jason and used

her magic powers and

advice to help him.

was stunning, and that was the first time I painted her. One

thing I will keep saying is the immense important feeling of

gratitude I have for the people I've met who've modeled

for me and have become friends. That never goes away.

That will always be Michelle. That was the first time she

posed for me. That was the painting that came out of it.

There is a depth and a story to it," stated Blenderman.

Another favorite drawing of Blenderman is Medea, which

had been inspired by a young student he met while

at Morningside College, where he returned as a nontraditional

student in 1989.

However, Blenderman's drawings and paintings are not

limited to portraits. When he lived in Europe, he only

lived in cities. Once he returned to Iowa, it gave him the

opportunity to study the land he loved so well.

"When I started doing landscapes, I created the scenes

exactly as I saw them. I witnessed the landscapes that

Calypso: Calypso was the goddess-nymph of the

mythical island of Ogygia, and the daughter of the Titan,

Atlas. She detained the hero, Odysseus, for many years in

the course of his wanderings after the fall of Troy but was

eventually commanded by Zeus to release him. She can

control the air and sing people back to health through

her songs of enchantment.

"To me life isn't worth living if you're not an individual,

and to achieve as much as you can, and never give up

on that. And never compromise. That's perhaps why

I never knew much commercial success. I refused to

compromise myself with the things that I did and what

I created. Be honest, be truthful, always seek the truth,

and deal with it, handle it, don't lie to yourself. Don't lie

to anyone. No matter what it costs you. Don't be a fool

either. The truth is the hardest thing to deal with, but in

the end, you have the sense of integrity of yourself for

that. You're a better person if you're honest."

Amy Buster has been working as a writer/editor for the past

25 years. The majority of her work has been writing and

editing for small-town newspapers in both the Kansas City

Metro area and the Siouxland Community

Photo Credit Britton Hacke Photography
---
Siouxland Magazine | INSPIRE / 26

Original exterior of Kalins, located at 1715 4th Street, where the business is still located today.

Kalins Celebrates 100 Years of Service in Siouxland

By, Amy Buster

Kalins Indoor Comfort

celebrated 100 years of

service in the Siouxland

area this year. It was a

celebration that was heartfelt

and spread throughout

the year with not only

the company owner and

employees, but the entire

Siouxland community.

Bruce Kalin

Bruce Kalin is the owner of

the company today, and the third generation in his

family to carry on the tradition. Bruce officially joined

the company in 1976. He worked with his father,

Sid, closely on all aspects of the business, including

marketing, throughout the years. This included the

Kalins TV commercials with Dave Lennox and the

"Atta Boy Sid," campaign. Another Kalins commercial

people fondly remember are the swimming pool

commercials.

"I can still remember shooting the commercials. I

pushed dad into the pool, and when he came up, he

had lost his glasses, which was the best part of the

commercial," shared Bruce.

In his late teens, Bruce worked for the company that

would have him taking out the old Norfolk cast iron

Kalins swimming pool commercial.

furnaces with huge ducts, resembling arms, referred to as

the 'octopus furnaces' and replacing them with the modern

air forced gas furnaces.

"If I'm on a sales call and replacing a unit with today's highefficiency

systems, I almost have to chuckle. With some of

those units, I can recall installing them," stated Bruce.
---
Kalins Historical Timeline

1921, Jacob Kalin founds the

Norfolk Furnace Company in

Sioux City.

1947, Sid Kalin, Jacob's son,

starts working at the company

called Kalins Heating and Air

Conditioning, located at 1715 4th

Street, in Sioux City.

1954, Sid Kalin appears on

'Live TV' as a heating and

air conditioning expert in

commercials. He continued to

appear on TV throughout his

career, in time with his son, Bruce.

1976, The third generation,

Bruce Kalin, Sid's son, joined

the company. The business

remains the longest, continuously

held operating heating and air

conditioning firm in Sioux City.

1983, Bruce opens the Kalins

Indoor Comfort store in

Vermillion, SD.

Jacob Kalin

Sid Kalin

2001, Sid Kalin retires. Bruce takes the helm of the

business.

2017, Bruce expanded with a new branch in Yankton,

South Dakota.

2021, Kalins Indoor Comfort celebrated 100 years in

business.

However, some sales calls may also bring with them a bit

of a more sentimental tone.

"If I'm replacing a furnace, and the owner shares with

me that this was her grandmother's furnace and that my

father had installed it, that gives you those warm, fuzzy

feelings. Those furnaces worked well for 40 years because

they were a quality product. It allowed us to take care of

generations of families," commented Bruce.

However, it isn't simply quality products that helped make

the Kalins company a lasting cornerstone in the Siouxland

community. It was also how they treated their customers.

"Honesty and integrity, always," stressed Bruce, when

he spoke of working with his customers. "I like to think

that we do things right, and we do it right the first time.

If we don't, we make it right. We want things to be done

correctly, and honestly, being ethical and always in the

best interest of our customers," said Bruce.

Accomplishing that he attributes to the team members

they've had as employees during the past 100 years.

"We've always made sure our employees were up-to-date

with the latest training. My grandfather, Jacob, worked with

IPS when he first started out. He was a pioneer in getting

gas heating for furnaces instead of coal. He believed in

taking care of his customers. That's a tradition and a belief

we carry on today," said Bruce.

Community commitment and involvement is something

else that the Kalins business and family takes to heart.

At the luncheon on Friday, September 24, with area

businesses and organizations celebrating Kalin's 100th

year Anniversary, the Kalin's company donated $100,000

to the Siouxland United Way.

"We wanted to donate $1,000 for every year we've been

able to service the Siouxland community. My father instilled

in me at a very young age, as I'm sure his father did to him,

that it is so important to give back to the community that

supports you," shared Bruce.

His wife, Linda, whom Bruce emphatically states has always

been extremely supportive of the business, shared this.

"Both Bruce and I are deeply invested in our business/

organizations, and both of us work a lot. But we're a team

and not only help support each other, but we are also

focused on giving back to this community that we love.

There is a lot of need in Siouxland and we hope this gift

can provide some support to those who need a little help

towards a better future for themselves and their children,"

said Linda.

Linda herself came from a family that ran a family-owned

business in the Twin Cities. Linda met Bruce when they

were both undergrads at UC-Boulder.

"Bruce has a group of extremely loyal and talented

employees, some of which worked for my father-in-law,

Sid, 'Dad' to me. Their growth and success in celebrating

100 years is because of everyone at Kalins through the

generations," said Linda.

Bruce shared his wife's opinion, "Our team members are

an integral part of our success because without them, we

wouldn't be here today."

An ardent supporter of Siouxland, Linda is the Executive

Director of the Iowa Poison Control Center and past

Chairwoman of the Siouxland Chamber of Commerce

Board of Directors. Bruce and Linda have been blessed

with four children, now grown and living on their own.

"I am so honored to be celebrating 100 years in business

and being able to support small businesses and the trades.

I am looking forward to what the future brings," said Bruce.

Amy Buster has been working as a writer/editor for the past 25

years. The majority of her work has been writing and editing for

small-town newspapers in both the Kansas City Metro area and

the Siouxland Community.

Photos Contributed by Kalins Indoor Comfort.

Siouxland Magazine | INSPIRE / 27
---
grow

Don't fear failure. Embrace it. It's where the learning happens.

Dustin and Kayden with the Switch Hitter in action at The Miracle League of Sioux City.

Ability Tech

Iowa's West Coast Initiative Feature

Ability Tech is an innovative company that invents and

manufactures adaptive technology to be used for universal

abilities. Ability Tech's focus is custom builds, like the

Switch Hitter. All of our builds come from ideas that we

have personal experience with our son or from families

and individuals from around the world. We also offer other

services such as our CharitAbility project, toy modifications,

Blessing Bags, and an EagleEye representative.

What has been your greatest reward?

There has been no greater reward than being able to create

what seems like a small change to most people but can be

world-altering for our customers. It's the reactions from the

individuals and their families that we have helped. There are no

words that express how it feels when an individual finds out that

these devices are made just for them, personalized just for them,

that excitement that it's all just for them.

What motivated you to start your business?

It all started with the Switch Hitter. Our son, Kayden,

absolutely loves baseball, but because of his limitations and

using a wheelchair, he cannot play without physical help

from someone else. We headed to the drawing board and

came up with the Switch Hitter. Since then, Ability Tech has

become so much more. This is not just about Ability Tech or

our son, Kayden. It is the story of many others that might feel

powerless in their situations.

What's unique about your business?

Due to our son, Kayden, and his high medical needs, we,

as a family and business, not only directly understand the

struggle families and individuals go through to receive

equipment or supplies but also when it comes to feeling left

out in everyday activities. Therefore, Ability Tech advocates

for inclusion. We do not charge for labor on any of our

products or turn away any individual or family because of

their financial stability. All our products and services are

individualized and customized to everyone. Ability Tech

uses its funds to reinvest back into the company and the

community.

What's the biggest challenge you've had to

overcome as you've grown your business?

The overall biggest challenge that we've faced, and continue

to overcome, is getting Ability Tech's name out there with

limited resources.

How have you benefited from the start up community

in Sioux City & the region? What resources did you use?

The startup community has welcomed Ability Tech. We have used

a few resources such as The Siouxland Chamber of Commerce,

Iowa's West Coast Initiative, and many influential leaders

and entrepreneurs within the community that have guided

Ability Tech in many ways. It is an amazing feeling when these

other organizations or individuals that have businesses or work

for businesses within the community treat you as a partner and

help with your growth without making it about competition or

agenda. They want to see you succeed just as much as you do.

Are there any experiences that were particularly

influential in that regard?

The impact of startups on our local economy is powerful, and it

is important for the community to support these businesses. A

successful startup company is more likely to remain in its home

community and care for its community if it receives support

through the difficult initial years. A community that supports

entrepreneurs will encourage more entrepreneurs, which will

help produce a more stable local economy.

Why is it important for the community to support

startups and small businesses? What more can be

done to help them?

It is extremely important to support and promote new and unique

businesses that bring innovative ideas into our community. This
---
personal growth

leadership

determination

business development

influence

will give the businesses access to more experts, coaching, waivers for first or

second-year businesses in larger business events.

What is one thing you know now that you wish you knew when

starting your business?

That we are not on our own. We have great community support beyond what

we ever expected.

What advice would you

give to someone looking

to start a business?

Starting a business is never

a matter of financial gains

alone. It's a matter of the

impact that business will

have on the consumers and

community at large. Set

goals and achieve them,

make mistakes, and learn

from them. Most importantly

stay true to yourself and

the reason you started or

wanted to start, no matter

what temptations are trying

to change that.

How can the community

continue to help your

business?

Due to being such a unique,

small business, with a Rhoades family photo. Top left, Emmalyn, Dustin,

small startup budget, it can Shann, Kayden. Bottom Left, Tynlie, Landyn.

often be difficult to afford to

advertise or bring attention to our mission. We rely heavily on word of mouth,

referrals, and the generosity of our community to support and share our

story. The more our community shares, likes, or follows our social media the

more individuals we can reach; but more importantly, the more lives we can

help change.

What are some future goals for your company?

We have our standard goals of expanding to an actual office/shop that individuals

can visit, advocate more in the community, offer employment or internship

opportunities, and to keep learning new skills to better our craft. Our main goal

is to keep changing the lives of the individuals we serve. As long as we meet that

goal, then we are doing what we started out to do.

Iowa's West Coast Initiative (IWCI) is a collaboration between the economic

development organizations in Plymouth, Monona, and Woodbury counties,

and includes the following organizations: City of Sioux City, Siouxland Interstate

Metropolitan Planning Council, Siouxland Economic Development Corporation,

The Siouxland Initiative, Le Mars Business Initiative Corporation, Woodbury County,

and Monona County. Learn more about IWCI at www.IAWestCoast.com.

Photos Contributed by the Rhoades family.

IAWESTCOAST.COM I 866.537.6052

Entrepreneurs and small business owners now have

access to an information specialist who can assist you

in finding solutions to your most pressing questions

by facilitating connections to the right people, data,

and resources.

IASOURCELINK.COM I 866.537.6052

IASourceLink is the premiere business resource in

Iowa for entrepreneurs and small business owners.

Free business webinars, expert advice, and a

searchable directory of organizations that assist

Iowa businesses can all be found on IASourceLink.

IOWASBDC.ORG I 712.274.6454

Do you need free, confidential and customized

business counseling? Contact SBDC for advice on

developing a successful business plan.

SIOUXLANDEDC.COM I 712.279.6430

Siouxland Economic Development Corporation

offers financial assistance programs and services to

assist small and medium sized businesses in getting

started or expanding.

SPRINGBOARDCOWORKING.COM I

515.809.0052

Springboard Coworking offers shared office

space in downtown Sioux City for entrepreneurs

that combines the best elements of cafe culture

with a productive, functional, and affordable work

environment.

ISUSTARTUPFACTORY.ORG I 515.294.7444

ISU Startup Factory is designed to help businesses

bring new products to the market and work with

companies to make them attractive to outside

capital investors.

VENTURENETIOWA.COM I 515.471.1300

VentureNet Iowa connects ideas to resources,

management, and investors, to create jobs and build

businesses in Iowa. If you have a business idea in

the areas of Biosciences, Advanced Manufacturing,

Value-Added Ag, or Information Technology, you

may qualify for assistance through VentureNet Iowa.

Did you use one of these great resources? We

want to share your story! Visit our website at

siouxlandmagazine.com, fill out the form and

connect with us today!
---
Siouxland Magazine | Grow/30

Downtown for the Holidays

By, Grace Nordquist

Downtown Partners invites you to celebrate the

holidays with us in Downtown Sioux City! Kick-off

the season on Monday, November 22, at the Downtown

Holiday Lighted Parade, sponsored by IBEW. The parade

will begin at 6:15 p.m. and travel on 4th Street from Iowa

Street to Nebraska Street, where we'll anticipate Santa's

arrival Downtown to help us light the tree at the Sioux

City Public Museum. You can register for the parade

online at www.downtownsiouxcity.com.

There are several events that evening to help kick off

downtown for the Holidays. The Festival of Trees will

begin its tree display at the Ho-Chunk Centre at 6 p.m.

Stop by to scout out your favorite tree and come back

for the auction on Sunday, December 2, at 6:30 p.m. All

proceeds from this year's auction will go to the Sioux

City Railroad Museum.

Have your kids burn off some energy before the parade

at LaunchPad Children's Museum, where they are

offering FREE admission on Monday from 3–5 p.m.,

with a donation of hand warmers, socks, or travel-sized

toiletries for the warming shelter or soup kitchen. They

will have a hands-on activity for kids starting at 4 p.m. On

your way down to the parade, warm up at Evolve Yoga

and Wellness with FREE hot chocolate from 5–6 p.m.

will pop up in vacant spaces Downtown on Saturdays

from November 27 - December 18. A list of participating

businesses and their location can be found on our

website and through Iowa's West Coast Initiative at www.

iawestcoast.com.

New for 2021…

Holiday Storefront Decorating competition: Downtown

businesses and community non-profit organizations are

invited to register to decorate a storefront in downtown. All

proceeds will be donated to the winning storefront's nonprofit

organization of choice. Voting for the competition

will open the night of the parade and will run throughout

the holiday season. To register for the storefront

decorating competition, visit our website or email us at

info@downtownsiouxcity.com. A map of participating

storefronts and voting can be found on our website and

social media beginning Monday, November 22.

Also kicking off on Monday evening is Santa's House,

located on the corner of 4th and Pierce Streets (501 4th

Street) from 6–8 p.m. Kids are invited to take a picture

with Santa, make crafts, drink hot chocolate, and more!

Santa's House is put on by UnityPoint Health St. Luke's

Partners and will be open through the holidays. Please

check online for this season's schedule.

Support our local businesses by shopping in Downtown

Sioux City this holiday season. Not only do you support

our economy, but you could be entered to win prizes

through our Small Business Saturday(s) BINGO! The

game will kick off on Small Business Saturday, November

27, and run each Saturday through December 18. Make

a purchase at a business listed on the BINGO card,

have them sign their space, get a BINGO and drop off

your card before Sunday, December 19, at 418 Pierce

Street. Each completed BINGO card will be entered for

a chance to win prizes from the businesses in Downtown

Sioux City! Our elves will be handing out Small Business

Saturday(s) BINGO cards at the parade on Monday,

November 22. You can also print off your BINGO card

at home from www.downtownsiouxcity.com, or pick one

up at retail businesses Downtown.

Do you have a business that needs a storefront this

season? Iowa's West Coast Initiative will be joining us

again this year to host the Small Business Marketplace.

Surrounding small businesses and startups in Siouxland

The 12 Days of Giveaways: The season of giving doesn't

stop with Small Business BINGO. This year Downtown

Partners will also be offering prizes during our 12 days

of giveaways. Visit our website and be sure to follow us

on social media to win prizes daily from December 1

- 12. Keep your eye out for a special guest stopping by

our small businesses and revealing the daily prizes. More

information is coming soon!

Downtown Partners is excited to spend the holidays with

you in Downtown Sioux City. We want to thank you for

supporting downtown events and shopping small this

holiday season. For more information about Downtown

Partners, visit our website at downtownsiouxcity.com and

follow us on social media.

Downtown Partners is a non-profit organization that

works with downtown stakeholders to create a vibrant,

expanding downtown. To learn more about Downtown

Partners and to stay up-to-date on downtown projects and

events, visit www.downtownsiouxcity.com.

Contributed by Downtown Partners, a non-profit

organization that works with downtown stakeholders to

create a vibrant, expanding downtown. To learn more about

Downtown Partners and to stay up to date on downtown

projects and events, visit www.downtownsiouxcity.com.
---
Shop Local

By, Heidi Reinking

The Siouxland Chamber

of Commerce is proud to

introduce our newest team

member, Angela Rogers. Ms.

Rogers joined the organization

in August and will serve as

the Manager of Membership

Retention. In this role, her primary

responsibility will be to build

strong, effective, and positive

working relationships with

Chamber members to maximize

their experience, leading to

effective and timely retention.

Angela Rogers

Angela is originally from the Twin Cities. After finishing high

school in Minnesota, she attended Drake University in Des

Moines, where she earned a Bachelor of Arts Journalism in

Broadcast News and a Bachelor of Arts in Sociology. Angela's

professional career began behind the tv camera, working

her way up to Morning Producer, Multimedia Journalist,

Senior Reporter, and then Assistant News Director. She also

worked for a public relations firm, creating marketing plans

to engage and interact with clients. Angela is excited to

continue to build her professional career in Siouxland and

we are delighted to have her on our team.

When asked what attracted her to the role at the Chamber,

Angela said, "Being new to Siouxland, I thought this role

would be the perfect way to learn about the businesses in

our area. My role is to learn about the nearly 1400 businesses

who are Chamber members, help them utilize the tools

available to them through membership, and to promote

supporting local businesses to everyone."

Promoting buying local is one way that the Chamber

supports local businesses. When you buy items and services

locally, it helps local businesses employ local people. You

are helping to keep your friends and neighbors employed.

Buying local keeps your money in your community. Buying

local invests in your community – socially & economically.

Supporting local businesses is easier than you think and

with the upcoming holidays, the Siouxland Chamber of

Commerce can help. Before you visit an online retailer,

visit www.siouxlandchamber.com and search our

directory. With nearly 1400 members in the tri-state area,

nearly everything you need on your shopping list can be

purchased at a locally owned Siouxland business. You

can search by categories (boutiques, auto supplies), by

company name, or by keywords. Get creative! Instead

of one gift…how about 12 gift cards from 12 Siouxland

Chamber members, and have dinner once a month

together at a locally owned restaurant. Or how about

season passes for one of our local sports teams or local

museums? How about searching for a non-profit that you

and your family could volunteer with or donate to with

your unwanted goods? Our locally owned businesses are

what make Siouxland what it is. Let's show them how much

they mean to us this holiday season.

Heidi Reinking, Director of Investor Relations, Siouxland

Chamber of Commerce

Siouxland Magazine | Grow/31

siouxlandchamber.com
---
Siouxland Magazine | Grow/32

turn up the flavor

Main + Abbey is Sioux City's place to catch up with friends over a pint and a

great meal. Savor the flavor of a delicious selection of new menu items including

Ahi Tuna Sliders, Double Cut Pork Chop, St. Louis Ribs, and more!

111 3RD STREET | SIOUX CIT Y, IA 51101 | hardrockcasinosiouxcity.com

Must be 21 or older to gamble. If you or someone you know needs gambling treatment, call 800.BETS.OFF.
---
Sioux City Regional Convention & Visitors Bureau

By, Kristi Franz

What is a Convention and Visitors Bureau?

Destination marketing organizations have many names –

convention and visitors bureaus, travel bureaus, visitors

bureaus, welcome centers, tourism bureaus, travel

and tourism bureaus, information centers, and more.

Regardless of the name, these institutions offer many

great services to area residents, conference and meeting

planners, group tour planners, journalists and writers,

sport tournament planners, and the traveling public.

A convention and visitors bureau is a "destination

marketing" organization. In Iowa, and nationally, most

convention and visitors bureaus are not-for-profit

organizations that work independently under the

auspices of a board of directors. The fundamental

mission of a convention and visitors bureau is the

promotion of business, conference, convention, leisure,

and sports travel, which generates overnight lodging

for a destination. They are directly responsible for travel

and tourism "product awareness". Millions of direct and

indirect revenues, and taxes are generated into the

state and local economy due to the marketing efforts of

convention and visitor bureaus.

How is a Convention and Visitors Bureau Funded?

The primary funding source is usually derived from

hotel/motel tax that a hotel guest pays on lodging in

the community of the convention and visitors bureau. In

some communities, the convention and visitors bureau

also offer a membership program to enhance its revenue.

The Sioux City Regional Convention and Visitors Bureau

(d.b.a. Explore Sioux City) is funded by the support of

the surrounding communities and a separate surcharge

with local lodging partners. Because bureau funding is

directly linked to how many hotel rooms there are in a

community, budget sizes vary greatly. The underlying

mission, however, remains the same - destination

marketing.

How Does a Convention and Visitors Bureau

Work?

A convention and visitors bureau's marketing initiatives

typically are achieved through some or all the following:

advertising, attending trade association marketplaces,

distribution of promotional and collateral material, direct

sales, hosting familiarization tours, sponsorship of events

and other hospitality functions. The target decision maker

of the marketing initiative is not typically a resident in the

community. Most often, if the visitor is going to spend

the night in a hotel, they are from at least 50 miles away.

Therefore, the marketing activity usually takes place or

is directed outside the convention and visitors bureau's

community, however some marketing activity is directed

to the local community.

What does the Sioux City Regional Convention &

Visitors Bureau/Explore Sioux City do?

We promote Siouxland – we attend trade association

marketplaces, we advertise, we distribute promotion and

collateral material, we host familiarization tours, we share

the stories of Siouxland on our social media channels, we

sponsor events that bring visitors to the community.

We work with Event/Group/Sports Planners - our team

actively sells the Siouxland region to event planners and

provides a "one-stop-shop" experience. We do this by

connecting the planner with the appropriate hospitality

partners. We don't stop there; we work with those

planners to ensure that their attendees have a great

time in Siouxland by recommending local attractions,

entertainment venues, and restaurants that fit their group's

needs.

We work for our Partners - we are an extension of their

sales and marketing efforts. We market Siouxland as a

complete destination and connect them with planners

they might not have the time or budget to connect with at

their organization.

We support our residents - start by checking out our

website; www.exploresiouxcity.org. There you will find

a wealth of information, from what events are coming up,

to where to explore, eat, and stay. You can find things to

do for arts & cultural experiences, fall and winter activities,

sports and recreation events, area attractions, event

facilities, and so much more. You didn't even know what

you were missing out on in Siouxland.

We ARE Siouxland!

Kristi has lived all over the

country, but jumped at the

opportunity to come back

home to Sioux City. Excited to

combine her experience in the

tourism industry with her love

of Siouxland, she encourages

everyone to get out and

Explore Sioux City, residents

and visitors alike!

Kristi Franz

Siouxland Magazine | | Grow/33 / 39
---
Siouxland Magazine | Grow/34

Introducing Leadership Siouxland Class of 2021 - 2022

By, Peggy Smith

As Executive Director of Leadership, I am

honored to announce our 2021 – 2022 class!

We are excited to have 42 participants in our 37th year

of existence, the largest class yet. Here is the class and

their sponsoring employer:

Maribel Araque, Goodwill of the Great Plains

Robert Armentrout, Wells Enterprises Inc.

Aleisha Barclay, Ho Chunk Inc.

Kodi Benson, Premier Bankcard

Allison Berg, Wells Enterprises, Inc.

Drew Bickford, Wells Enterprises, Inc.

Josh Breugem, Wells Enterprises, Inc.

Phil Dahlhauser, Great West Casualty Company

Tessa Dinsdale, Security National Bank

Tracy Erlandson, Epik Destinations

Alejandra Flores, WITCC

Monica Gileta, Tyson Fresh Meats

Will Hale, Goosmann Law Firm

Jennifer Hart, Heartland Counseling

Candace Jauer, Wells Enterprises, Inc.

Crystal Jauer, Bollmeyer Inc.

Casey Johnson, MercyOne Siouxland Medical Center

Samantha Kavanaugh, Sky Ranch Behavioral

Services – SHIP

Rebekah Kennelly, D2 Worldwide

Mary DeBolt, Great West Casualty Company

Duane Kraayenback, Goodwill of the Great Plains

Jessica La Fleur Malm, Girl Scouts of Greater Iowa

Jeff Lamoreux, Trinity Electric

Anne Lofgren, Chesterman's

Ron Lorenzen, 185th Air Refueling Wing

Jerod Lytton, Red's All Natural

Sandy Marin-Romero, Brows Beauty and Lashes

by Suaresa

Sydney McManamy, United Real Estate Solutions

Terri Lee Medina, Ho Chunk, Inc.

Troy Nelson, IA Division of Criminal Investigation

Tracy Pomerson, Holcomb Appraisal

Lance Roberts, FEH Design

Kasey Sandman, Security National Bank

Jon Schoenfelder, Wells Enterprises, inc.

Buffy Shrauner, Wells Enterprises, Inc.

Bryan Shusterman, Heidman Law Firm

Chase Vondrak, Wells Enterprises, Inc.

Jetske Wauran-Castro, Big Brothers Big Sisters

TJ Wilcke, L & L Builders

Tonja Winekauf, 185th Air Refueling Wing

Kevin Woockman, WITCC

Anne Yoder, Wells Enterprises, Inc.

These 42 individuals will be participating In our ninemonth

program that prepares them for leadership

positions and community involvement in the future.

The mission of Leadership Siouxland is "Leadership

Rex Mueller presenting during Leadership Siouxland meeting.

Siouxland develops diverse, informed leaders who

positively shape our community for today and tomorrow."

The curriculum focuses on providing participants with

a working knowledge of the history of Siouxland as a

foundation. Participants complete the Gallup Strength

Finder and then learn to turn their innate talents into

strengths in their personal and professional lives. Our

October session was devoted to understanding how our

community works to keep the public safe and secure and

how leadership and leadership styles matter regardless of

what job you do.

In future months, our curriculum will include a session on

IDEA: Inclusiveness, Diversity, Equity, Access/Accessibility.

Time will be spent exploring how to have meaningful

conversations that go beyond the superficial. Change

Cycle Training and how to lead through adversity is

another session topic: self-care for leaders. Later in the

program year, participants will be exposed to the missiondriven

organizations within Siouxland and learn about

board governance and how to get involved. Economic

Development in Siouxland is another topic, as well as

government within our tri-state area.

This class is a dynamic class of people who are excited

to learn and then give back to their communities. If you

are intrigued by the opportunities that participation in

Leadership Siouxland provides, please reach out to the

Executive Director at info@leadershipsiouxland.org.

Leadership Siouxland is an organization dedicated to

developing diverse, informed leaders who shape our

community for today and tomorrow.

Peggy Smith, Executive Director for Leadership Siouxland.
---
Sioux City Growth Organization is now Siouxland GO

By, Emily Vondrak

Founded in 2002, the Sioux City Growth

Organization has been working to attract

and retain young professionals to Siouxland

for nearly 20 years, and we've grown a lot

since then. Over the past two decades, we've

developed Sculpt Siouxland and other community

artwork, pioneered Innovation Market, engaged in

local politics, volunteered for countless nonprofit

efforts, supported local businesses, mentored

college students, and so, so much more. As we

approached this milestone of 20 years, we sought

to focus on the next 20 years to come.

Siouxland Magazine | | Grow/35 / 39

We are excited to announce that we are officially

changing our name to Siouxland Growth

Organization to better align with the tristate

community that we call home! Our members live

and work in all three states and various towns in

our community, and we want them and everyone

else to know we are here for all of Siouxland. Young

professionals have a positive impact on this area in

its entirety, not just one specific town.

Sioux City to Siouxland may seem like a small

change - just four letters. But, the difference of

those four letters represents almost twice as

many people, thousands of more square miles,

and hundreds of additional businesses, college

students, and of course, young professionals. We

recognized that this seemingly small difference

represented a big change as we seek to grow our

community through young professionals.

One of the questions I am most often asked about

Siouxland Growth Organization is, "How do I get

involved?" and there is no shortage of opportunities!

First and foremost-become a member! There are no age

limits or restrictions on who can join, and we welcome

all ideas and individuals. Second - donate. Whether it is

a financial contribution or event sponsorship, supplying

space or supplies for an event, or your time in helping

out, we are always in need of resources. Third - bring

ideas! How do you want to see Siouxland grow? Change?

Improve? Let's continue to work together to attract and

retain young professionals to Siouxland!

Sioux City Growth Organization welcomes progressive

and innovative ideas. As a group, we work to put these

ideas into action and build the momentum to take Sioux

City into the future.

Emily Vondrak, President for Sioux City Growth Organization.

Whoever you are,

Whatever you do, We guarantee

SERVICE THAT SUITS YOU!

Heating and Cooling

Commercial Plumbing 712-252-3007
---
Chart Your Own Course

INDEPENDENT LIVING . RESIDENTIAL CARE

Your lifestyle is up to you - if you need ideas, we have plenty!

Life at Northpark Place is an ongoing partnership between

residents, families and our team. We embrace and advance

independence, celebrate opportunities, and empower residents

to experience life as they define it!

2562 Pierce Street

Sioux City, IA 51104

CharterNorthparkPlace.com

712-255-1200

. Activities and Enrichment Programs

. Basic Utilities

. Beauty / Barber Shop

. Cable TV

. Chapel

. Concierge Services

. Community Kitchen

. Computer / Internet Access

. Emergency Call System

. General Maintenance

. Housekeeping

. Landscaped Grounds

. Laundry Service

. On-site Care Staff

. Pet-Friendly

. Private Dining Room

. Scheduled Transportation Services

Experience

THE DIFFERENCE!

Being a part of our family also means being

inspired by a supportive culture built upon

reliability, loyalty, pride, experience and

mutual respect. It means providing seniors

with exceptional services and amenities, along

with the vibrant lifestyle they so richly deserve.

SCHEDULE AN IN-PERSON

OR VIRTUAL TOUR TODAY!
---
The Test of Time

By, Todd Rausch

Here we are in 2021, and we are looking

forward to when we can get back to normal

or is this the new normal? Will our businesses

make it through 2022? How should we plan for the

next three, five or ten years? Our nation is 247 years

old from July 4, 1776, to present day. Our nation

has gone through a huge amount of change. What

if I told you before I became a college business

instructor in 2009, I had worked for a corporation

that was older than our nation? What if I told you

that the parent company of the corporation I worked

for was started in 1759?

Longevity is all about perception. Many of us think

of our businesses as being taken over by our kids or

grandkids. I don't know a single person who thinks

of their business as going on for another 263 years

from now. Yet, there I was one of more than 40,000

employees in 139 countries.

This was a British company that had grown and

survived multiple economic disasters and multiple

changes of political winds. They had stayed focused

on who they were and what their purpose was. They

had changed products and even industries over

time, acquiring and selling businesses as they went.

Their focus, however, never left out who they were.

Their values as a business did not change very often.

The pandemic has shown a lot of us the importance

of what we think, say, and do. Speaking positive

words to ourselves today as a habit lays a foundation

for how we are going to respond to circumstances in

the future. This is true of all aspects of life, especially

in business. Start today to speak to yourself in ways that

build you up. Start surrounding yourself with people who

build you up. Your future will take care of itself if you take

care of it today.

How you respond to circumstances is what defines who you

are, not the circumstances. The words you have been telling

yourself about your business determine what that response

will be. Do you see yourself as a victim or a victor over

circumstances? This past year and a half have proven the

truth of that as many owners have thrown in the towel and

said it just isn't worth it. Many others have said I didn't build

this to throw it away just because times are tough.

There isn't a right or wrong answer; there is only how you

think, talk to yourself, and respond to any circumstances in a

way that supports who you are and who you want to be.Some

businesses have a short life-span, some last a lifetime, and

some last a couple of generations. Then there are those rare

few that last for more than 12 generations. The difference

is how you as the owner envision your business. It is your

business and your dream.

Remember that we here at the SBDC are here to help you.

We want to be some of the people you surround yourself

with, we only exist to help you succeed. Don't hesitate to

contact us and make us part of your team.

Todd Rausch, Regional Director for the Small Business

Development Center at Western Iowa Tech Community College.

| 712-274-6454 | Todd.rausch@witcc.edu

Siouxland Magazine | Grow/37
---
Siouxland Magazine | Grow/38

Christmas Eve Worship

8 locations – one near you!

Candlelight. Communion for all. All are welcome!

Augustana Lutheran ELCA (Downtown)

www.augustanasc.org | 255-7694

Riverside Lutheran ELCA (Riverside)

www.nhcc.me | 233-1491

Trinity Lutheran ELCA (Downtown)

www.trinitylutheranchurchsc.org | 258-0519

St John Lutheran ELCA (Northside)

www.stjohnlutheransiouxcity.org | 277-3945

First Lutheran ELCA (Northside)

www.firstlutheransc.org | 239-3942

St Luke Lutheran ELCA (Morningside)

www.stlukechurchsc.org | 276-3346

St Mark Lutheran ELCA (Morningside)

www.scstmark.com | 276-2418

Immanuel/New Life Lutheran ELCA

(Hamilton Blvd)

255-4729
---
Leading For Longevity: What's the Secret?

By, Linda K. Krei (ActionCOACH ExcelEDGE)

What does it take? Let's begin with a recognition that

EVERYTHING influences, so being mindful that your

thinking, your 'being' and 'doing', greatly impact your

leadership. It is an important reflective place to start. Then,

with intentional commitment and persistent practice, it is

possible to strengthen your ability to influence and make

an exponentially more positive difference in your life, the

lives of others, your organization, and the world. So, what do

effective leaders do?

Lead by Valuing Others – Take an Interest in

Your People

Great leaders are intentional to effectively inspire and

influence their people by showing authenticity and genuine

interest. Inspiration means understanding and connecting

with your people. People need to know that their leaders are

interested in more than just their output. Great leaders want

their people to be at their best and are willing to help them

get there. In turn, people will engage and work harder for

those who show genuine interest in personal development

and building connections with their employees.

Great leaders do not treat employees as dispensable.

Unfortunately, there are organizations that constantly

have a revolving door with burnout through crazy hours,

(unintentionally) causing them to become disillusioned,

sometimes taking advantage of their passion for the mission

of the organization without appropriate recognition. In these

organizations, there is not a long line of others waiting to

jump on board, and the norm often evolves into an unhealthy

culture of exhaustion, stress, and burnout.

Open yourself up to develop effective relationships, including

feedback, allowing more flexibility and trust. This might

imply that productivity goes down. The results are quite the

opposite. This attitude and awareness of the importance to

value others will create a positive team culture and mindset

that harness intrinsic motivation. An individual's core need

to achieve unleashes their potential and ability to contribute

and connect. Being Intentional with such things will increase

your retention rate, increase employee satisfaction, and

increase results exponentially.

Lead by Example of Your Expectations:

Character and Competency

In his book, Developing the Leader Within You, John Maxwell

stated leadership traits may not be difficult to understand,

but they have proven to be challenging for many leaders

to master. All leadership is rooted in the leader's character.

Character is the combination of a person's values, beliefs,

and actions. Simply put, the character is walking the walk

and talking the talk. Competent leadership means being

well qualified or fit for the role with continual learning and

growing.

Competence is earned through:

• Experience, which means showing up every day to do

what's required of you

• Growth, which means working to improve yourself

intentionally

• Pursue excellence, which means never settling for average

• Exceeding expectations, which means surprising people

by going the extra mile

Lead for a Long Time - Consistency with

Commitment

At the end of the day, consistency is a must for leading a long

time. People depend on leaders to show up to 'be', to simply

be present. They depend on leaders to 'do', to follow through

on promises made, deadlines assigned, and standards of

excellence. Consistency is achieved daily. It's not a leadership

trait acquired overnight. Consistency combines character and

competence into the kind of performance that helps a leader

make a long-term impact. Consistency is steadiness, firmness,

orderliness, steadfastness, constancy, endurance, and creates

loyalty, engagement to get results. Consistency is measured

by your leadership behaviors and the example you set.

Yes, the secret to sustaining an effective leadership journey

takes a lot of intentional work and constant effort, with an

investment of life-long learning and adjustment along the

way. Invest in your people. Invest in yourself. Learn more

about partnering with the ActionCOACH ExcelEDGE Team to

guide your leadership journey to livelihood and longevity.

Take Action Today.

Contact Coach Krei for your Complimentary

Strategy Session to get you started.

As an award winning, globally recognized,

Certified Executive Business Coach and

Facilitator, Linda would love to help you take

your leadership to the next level.

Linda Krei, ActionCOACH Excel Edge

712.251.7189

E: lindakrei@actioncoach.com

https://lindakrei.actioncoach.com

Siouxland Magazine | Grow/39
---
alance

Inside and out.

Playing The Long Game

By, Dr. Meghan Nelson

It's important to consult your physician or physical therapist

before beginning any new physical activity or exercises,

and always listen to your body and respect the warnings

you hear.

Breathe in. Breathe out.

Nothing in our scope of practice is more profound. The

presence of breath defines life. Its absence, death. In

between, a lot of racing to catch a breath, a lot of running

out of breath. Denial. Deprivation. In those times in life

when time seems the shortest, it's the breath we need

to hold the most precious. We need to chill. We need to

breathe.

in our yoga practice. We can't breathe for one another.

When we breathe for ourselves, though, we are breathing

life into the whole of creation. We are connecting to the

universal design from which we all spring forth.

Breathe in. Breathe out.

In order to find longevity in our life span, we must find

longevity in our breath. The following exercises consist

of lengthening the side-body and stretching and

strengthening the intercostal muscles, which help us to

find more controlled and extended breath.

It's tough, though, right?

How can we promote length and expansion when there

are so many forces shrinking us down and shriveling

us up from all sides—political unrest, social upheaval,

economic uncertainty, a global pandemic? It can all be

too much to bear. Even within the dynamics of our most

loving relationships.

Breathe in. Breathe out.

I think about the times with my husband over these

close to twenty years—the times we were the closest, the

moments too when we were light-years apart. The key to

our longevity, I think, is so deeply rooted in our wedding

vows and in the words that inspired them from Kahlil

Gibran's, The Prophet, that we've tried so desperately

(at times) to embody—the awareness that we were "born

together" and "together […] shall be forevermore."

With this faith, there's nothing to fear.

Gibran encourages a love that leaves "spaces in your

togetherness" and to "stand together yet not too near

together: for the pillars of the temple stand apart, and

the oak tree and the cypress grow not in each other's

shadow." Our sacred vow was rooted in the notion that

our longevity would come if we would simply give each

other some space. To be a bit more blunt, we are the

healthiest when we are the most selfish in our self-care;

when we take care of ourselves. When we tend to our

own stream before we go off and muddy someone else's.

This has been true in our marriage, in our business, and

Meghan supports Megan Focht in an extended side body

stretch from hero pose.

Extended side-body stretch from hero pose starts in

a low-kneeling position with feet positioned to the

outsides of hips, toes point to the back of the mat. You

should not feel any strain in your hips, knees, or ankles.

Bolsters may be positioned under your hips to allow for

comfort in your knees.

Come down onto your elbow, finding a rounding along

the side-body. Top arm lengthens to the sky or overhead.

Breathe slowly into this pose and notice the expansion in

your ribcage and trunk, as well as the breath.

Breathe in. Breathe out.
---
eathe

clarity

nutrition

flexibility

in the mind. Through this

experience of breath regulation,

staying present and focused

with the count, we engage

the parasympathetic nervous

system, our tensions unravel,

and anxieties and worries drift

away as the mind focuses on

counting each cycle of the

breath.

4-7-8 Breath

Sawyer in seated wide legged side body stretch.

Seated wide-legged, side-body stretch begins with your

legs spread to a wide position without strain. Extend your

knees and pull your toes towards your hips to support

lengthened legs. One hand comes to the same side-leg,

ankle, or foot as the top arm reaches up overhead. Find

space and length through your trunk while your legs

stay evenly rooted to the mat.

Breathe in. Breathe out.

Find a comfortable seated

position with a tall, neutral spine.

Inhale through nose, deep into

belly for a count of four. Hold

breath gently (without strain) for a count of seven, (or shorter if

needed). Exhale fully through pursed lips for a count of eight.

Repeat.

Liam in seated meditation

for 4 7 8 Breath.

Inhale four, hold seven, exhale eight. Repeat 4-8 repetitions.

Notice the effects.

When I asked my husband, Ryan, if he knew a quote from a

master I could use on longevity, he smiled at me that way he

does and replied, "The master is within. Breathe. You'll meet

her there." I must've looked confused because he then said,

"Breathe long, live slow: it's okay if you don't break through

all at once." Aries Spears said that, "to sustain longevity, you

have to evolve." We're all changing. Learning. Growing.

Each moment, an opportunity to expand the quality of our

lives through the quality of our breath.

I study my next lesson within: lengthen the body, expand

the mind, deepen the breath. The long game is the only

one we can truly win. The joy is in the playing.

Grace in Gate Pose.

Gate Pose begins in a high kneeling position. One hand

comes down to ground and the opposite leg extends and

lengthens to the side while the opposite arm reaches up

overhead. Keep your shoulders stacked, arms reaching

to help keep your trunk lifted.

Breathe in. Breathe out.

And finally, to manage chronic stress and anxiety, try

this simple breath exercise, which extends the exhale

in order to calm the nervous system and ease tension

Breathe in. Breathe out.

Dr. Meghan Nelson, a licensed physical therapist and

professional yoga therapist with a passion for using

yoga as medicine for optimal health, injury prevention,

and overall health and wellness. Meghan is co-owner of

Lumin Therapy, which provides integrative healing of the

mind, body, and spirit through the practice of physical

therapy, medical therapeutic yoga, and mindfulness.

Photo Credit left page Britton Hacke Photography. Wide

legged side body stretch Photo Britton Hacke Photography.

Gate Pose Photo Credit Meghan Nelson. Seated Meditation

Photo Credit Ryan Allen.
---
Siouxland Magazine | Balance /42

Ask The Therapist

By, Gladys Smith

Question: Although I used to enjoy this time of

year, I find myself struggling with what feels like

depression. I've noticed that these feelings seem

to lift when the days start to get longer and there's

more sunlight. Is this really considered depression?

Response: It sounds like you're describing Seasonal

Affective Disorder (SAD), commonly referred to as the

winter blues. SAD is a major depressive disorder that has

a recurring seasonal pattern, lasting approximately 4-5

months. A less common form of SAD occurs in spring or

early summer and lasts until fall. The distinction between

major depressive disorder and SAD is the element of time.

In order to be diagnosed with major depressive disorder,

one must have experienced symptoms for at least two

weeks. SAD requires that one experiences symptoms over

the course of two fall/winter seasons. Seasonal Affective

Disorder, by and large, effects those that live furthest from

the equator, as they experience shorter days and less

sunlight during the fall and winter seasons.

According to the National Institute of Mental Health

(NIMH) 2014, research suggests that SAD results from

"reduced activity of the brain chemical serotonin, which

helps regulate mood." Sunlight plays a part in maintaining

normal serotonin levels, but in people with SAD, the

process that regulates serotonin does not function

properly.

It is estimated that 10 million Americans are effected by

SAD, with women being four times more likely than men

to be diagnosed with this condition. The age of onset is

usually between 18 and 30 years old. SAD is more common

in those with a major depressive disorder, or Bipolar, due

to the recurrent depressive symptoms. Some individuals

dealing with SAD have symptoms severe enough to

impact their quality of life and require hospitalization.

The common symptoms associated with fall/winter SAD

include:

• Feelings of hopelessness and sadness

• Thoughts of suicide

• Hyper-somnia or oversleeping

• Change in appetite, cravings for sweet or starchy foods

• Weight gain

• Legs and arms feeling heavy

• Low energy level

• Decrease in physical activity

• Fatigue

• Difficulty concentrating

• Irritability

• Increased sensitivity to social situations

• Avoiding social situations

Send Your

Questions to

the Therapist.

It's important to note that symptoms will vary among

those with SAD; however, disruptions in sleep are

present with both fall/winter and summer SAD. Having

a good sleep regimen contributes to one's overall

health, helping to balance one's mood and emotions.

This is something that I often talk with clients about

in my practice, as one of my incredibly wise mentors

once told me, "sleep is restorative."

In an article entitled, Seasonal Affective Disorder (SAD)

in College Students: More than the Winter Blues, 2021,

Jan Hall shared how this disorder can impact college

students. With the shift from having a regular routine

in high school and getting up early, to staying up late

to study and socialize, this schedule can contribute to

sleeping in and not getting enough Vitamin D from

sunlight. Hall goes on to state that it's important to

maintain a regular bedtime, ensure balance and

routine with daily activities and responsibilities, attend

to one's emotional and physical health, consider light

therapy, and visit on-campus healthcare facilities if

necessary.

In her article entitled, Lifestyle Methods to Cope with

Seasonal Affective Disorder, 2014, Lauren MacDonald

shared several tips to cope with SAD. She suggested

regular exercise to help improve mood, enhance

positive feelings and increase energy level, making

social plans to stay connected with friends and family,

let sunlight into your home whenever possible, avoid

overloading on carbohydrates,and make time for selfcare.

If symptoms persist and become concerning, it may

be necessary to consult with a healthcare professional.
---
Treatment for SAD can include a combination of

light therapy, vitamin D nutritional supplements,

antidepressants, and counseling. With fall/winter SAD

being associated with a lack of sunlight, broad-band

light therapy, which imitates outdoor light, is often

used as a treatment option. Those with SAD tend

to have a Vitamin D deficiency, so the use of Vitamin

D supplements may help improve their symptoms.

Due to the change in serotonin activity associated

with SAD, antidepressant medications (selective

serotonin reuptake inhibitors) may also be used to

treat symptoms.

Vail Health Foundation, 2020, recommends getting

exposure to sunlight by spending time in your backyard

or going for short walks in your neighborhood, using

Zoom or social media to stay connected to friends

and family, and practicing mindful meditation to treat

depressive symptoms.

In closing, I would like to leave you with the following

quote by Rachel Carson, "There is something infinitely

healing in the repeated refrains of nature – the assurance

that dawn comes after night and spring after winter."

Siouxland Magazine | Balance /43

Cognitive Behavioral Therapy (CBT) is a type of talk

therapy aimed at helping people learn how to cope

with difficult situations; CBT also has been adapted

for people with SAD (CBT-SAD)", NIMH, 2014. The

focus of CBT-SAD is on replacing negative thoughts

associated with winter with positive thoughts. In

addition, individuals are encouraged to "identify and

schedule pleasant, engaging indoor and outdoor

activities to combat the loss of interests they typically

experience in the winter," NIMH, 2014.

Symptoms of SAD may be exacerbated during the

COVID pandemic as limited opportunities to socialize

during the holiday season, and people spending

more time indoors cuts down on one's exposure

to sunlight. Those who have not experienced SAD

may be vulnerable to it during the pandemic. The

You can send your questions for "Ask the Therapist"

to gladyss@mentalhealthassoc.com. Please put

"Ask the Therapist" in the subject line.

Gladys Smith, a Licensed Independent Social Worker

with Mental Health Associates, who has over 35

years of clinical experience in inpatient, outpatient,

and residential settings. Although she provides

therapy to adults and families, she specializes in

working with adolescents who are struggling with

mental health, behavioral and substance disorders.

Gladys is a co-founder of Soul Creek Nature Therapy

that focuses on offering peace and healing through

a connection with nature.

INNOVATIVE BUSINESS

CONSULTANTS

MORE THAN INSURANCE.

INDEPENDENT. CUSTOMIZED. LEADING-EDGE.

712-277-2424

412 Water Street, Sioux City, IA
---
Siouxland Magazine | Balance /44

Ask the Doctor

By, Dr. Nesrin Abu Ata

Question: I tried non-pharmacological approaches

to help my mood, including therapy and lifestyle

changes, without feeling much better. Then my

therapist suggested that I go on medication for my

anxiety and depression. I am nervous about taking

medication because I feel like something is really

wrong with me. By agreeing to take a medication,

am I admitting that something is wrong with me? Am

I broken and would have to stay on this medicine for

the rest of my life?

Response: Great job on being proactive about your

mental well-being and making the choice to invest in your

mental health with lifestyle changes and seeking therapy.

You are not alone in feeling apprehensive about taking

medication. Actually, between 30% to 50% of people do

not adhere to prescribed medications. There are many

reasons why people do not want to take medications. One

of them is pharmacophobia (Yes, everything has a fancy

term in medicine), which refers to the fear of medication

and a less than the optimal attitude towards medications.

Why is pharmacophobia (fear of taking pills) a problem?

Untreated mental illness can grow into incapacitating

hurdles in a person's life. The illness usually starts as one

small problem. If not addressed early on or adequately, it

transforms into a gigantic issue that affects their quality of

life, relationships, work, and sense of who they are.

Let's Explore Some Potential Root Causes of Fear

of Pills

Possible Traumatic Experience with Medications:

Explore your experience with medications. Ask yourself

if you watched someone in your life have an adverse

reaction when they took medication. What happened

to them, and how did that effect you? Or, you may have

had a negative experience from taking medications from

when you were a child. Were you feeling sick and not well

and didn't like swallowing pills? Did you argue with your

parents about taking medication?

A Perceived Lack of Control:

Not being in control of the mind or body can be a

frightening experience and result in someone not feeling

safe in their mind or body. Being in control gives us a

sense of safety. It is easy to see why someone would

fear medications due to fear of becoming addicted and

feeling like they lose control. Another reason for fear of

losing control is the fear of side effects that can potentially

come with medications.

What is the antidote to fear of loss of control? Remind

Send Your

Questions to

the Doctor.

yourself that you are the one in control of how you want

your healthcare to be. Taking medication is a choice

that you make, not something that just "happens to

you." By choosing to direct your healthcare in a manner

consistent with your goals, taking medication becomes

a choice you make and that you can always change.

Remember to make decisions because of your goals

and sense of worth, not because of fear.

Social Stigma and Misinformation Can Lead to Shame:

You may also want to reflect if you have had an

experience where you felt judged or shamed for taking

a medication. What did others say to you, or was it the

way they looked at you? How old were you, and how did

you cope with it? Maybe you heard others talk negatively

about someone else being on medication.

Reframe Your Thoughts About Taking Medications:

If someone has a sinus infection, they take medication to

help them get better and suffer less. Taking medication

for mental health is no different. The goal is to improve

someone's quality of life and optimize relationships. If,

after you tried therapy and lifestyle changes and feel like

you haven't made much progress or felt any alleviation

of symptoms, evaluate how you are meeting your goal of

wellness, and is it time to consider being on medication?

What is your intention behind taking a medication?

If feelings of shame come up, can you reframe your

thoughts so that you are not taking medicine because

something is wrong with you? Instead, you choose to

take medication because you matter and care about

your wellness, and this medicine can help you with that.

Can you reframe your thoughts so that you look at taking
---
medicine as a self-care tool, no different than going to

the gym, having a yearly dental checkup, and taking care

of your body?

Seek A Reliable Information Source and Avoid

Misinformation:

Your mind or other people might tell you, "That you will

be on these medications forever." However, this is not

true. Making a decision based on misinformation, or fear,

may likely cause you harm in the long run. Seek a reliable

and trusted source of information to help guide you to

make the most informed decisions aligned with your

wellness and recovery goals.

weigh the risks and benefits of being on medications.

Remember that there is no right or wrong answer. The

right answer is what meets your needs and goals that

you can only decide.

Remember, the ball is in your court of how you want

your healthcare to be and fit your goals and needs.

You can send your questions for "Ask the Doctor"

to drnesrinabuata@gmail.com. Please put "Ask the

Doctor" in the subject line.

Siouxland Magazine | Balance /45

Build Your Wellness Dream Team and Find a Provider that

is Your Ally:

I can't stress this enough. It is important that you feel

heard and supported when working with your mental

health provider. When you meet with your mental health

provider, pay attention if they answer your concerns and

not dismiss them. Do they ask you questions and listen

to your answers till the end? You may want to create your

own checklist of what you are looking for in a mental

health provider. Ask yourself if this mental health provider

is there to support you and answer your questions as you

Dr. Abu Ata is a 0board-certified psychiatrist and

family medicine physician in private practice,

providing holistic care for the mind, body, and spirit

in the context of personal growth and relationships.

Offers a mindfully cultivated practice of presence

and expertise. Her healing practice draws on her

mindfulness, yoga, family medicine, and integrative

psychiatry training to weave a unique tapestry

supporting your YOU-nique journey. Connect at www.

nesrinabuatamd.com or drnesrinabuata@gmail.com.

MultiDrip

IV Nutritional Therapy

Sioux City, IA

MultiDrps are nutritional IV infusions that fuel your

body with vitamins, minerals and amino acids

delievered directly into your bloodstream for a

replenished, rehydrated and revitalized lifestyle.

• Boost your immune system

• Recharge energy levels

• Feel revitalized in minutes

• Rehydrate your brain

multidrip.com

3930 Stadium drive | Sioux City, ia 51106 | (712) 276-4325
---
Siouxland Magazine | Balance /46

After gathering Qi from the earth practitioners extend the arms skyward basking in heavenly energy.

The Ancient Medicine of Qigong Stimulates Longevity

of the Whole Human

By, Emily Larson

These days, there seems to be different types

of medical technology developed every day.

Our investigation of alternative ways to heal and come

home to ourselves continues as we explore the notion

of sound as therapy. In order to do so, we must start with

a side exploration of the brain and its different states of

consciousness.

With this ever-changing landscape of medicines, only a

handful have withstood the test of time. Qigong is one

of them, dating back more than 4,500 years. This unique

blend of martial arts, philosophy, meditation, breath, and

movement works to integrate mind, body, and spirit. This

integrative quality makes qigong one of many highly

accessible tools for longevity as it helps both restore and

maintain the flow of qi.

Qi (pronounced "chee") refers to life force or vital energy

of every living being. Chinese medicine recognizes that

the physical body is a manifestation of qi and that there

are twelve main paired channels, called meridians, that

circulate this life force energy throughout the body.

I like to think of this as a body system much like the

cardiovascular or digestive system. The energy body is

a bit more subtle and more difficult to see or measure,

but each meridian corresponds to a specific organ,

which has an associated element, set of emotions, and

earthly season. For example, the kidney meridian runs from

the bottom of the foot, all the way up the leg and through

the center of the body where it ends near the collarbone.

The kidneys, along with the urinary bladder, represent the

water element in the body and are associated with fear when

imbalanced and peace when in harmony and balance.

*I went more in depth on these relationships in the January

issue on Passion. Still available online at SiouxlandMagazine.

com.

Gong loosely translated means "cultivation." Thus, Qigong is

an exercise in cultivating or restoring circulation to the life

force energy (Qi), namely through dedicated practice.

You may be asking yourself, How in the world are my organs

related to my emotions? And the seasons? This is a natural

line of questioning for those of us accustomed to more

modern styles of medicine. As an ancient form of medicine,

developers of qigong had to find ways to describe and heal

the body without being able to observe it on the minute

levels we can today and without our advanced medical

technology. Thus, these humans were in much deeper touch

with what they could feel. They observed how connected

we are with our natural surroundings, including, yes, our

emotional tendencies during certain seasons. Perhaps the

creators and original practitioners of Qigong could not
---
observe, for instance, a red blood cell under a microscope,

but they could see a deep connection between the heat

associated with our bodies' circulatory system and the

heat of the Earthly summer. From these deep connections

found between the human body and the Earth, Qigong

developers made a medicinal movement practice that can

create harmony and balance on all levels of the human

form - mind, body, and spirit.

Qigong involves simple but prescriptive movements paired

with intentional breathing, which helps release blockages

in meridian channels and stimulate the flow of Qi. One

such example is a standing exercise where the practitioner

keeps the legs and feet planted while twisting the torso left

and right. The arms are allowed to remain somewhat slack

at the sides so that as the twist completes on one side, the

arms wrap around the body and one hand gently strikes

the chest on the opposite side, and the other hand strikes

the kidney area in the lower back. Intuitively, the strikes

stimulate the Qi, flow of Qi in the kidneys and lungs, as

well as their respective meridians. This flow of energy is

apparent with the invigorating buzzing at the kidney area,

lungs, and through the center of the body upon practicing

this movement.

Another example is also a standing exercise in which the

practitioner folds the torso over the legs (as much as is

accessible and bending the knees as needed) and collects

Earth Qi with the hands. The practitioner then comes back

to standing and pulls the Earth Qi in toward the center of

the body. The arms then extend overhead, embodying a

balance between the Earth and sky; giving and receiving.

This exercise has many benefits, including opening the

meridians in the back of the body and connecting with our

Earthly mother.

Each of these exercises can be done repetitively and in

series with other movements to create a flow with specific

benefits. For example, Qigong flows can work with opening

meridians, invigorating the body for morning, addressing

blockages in a single specific meridian, and always for

creating harmony of mind, body, and spirit.

This therapeutic movement style of Qigong works well with

a class of herbs called adaptogens, which are commonly

used medicinally alongside Qigong in Traditional Chinese

Medicine practices. These herbs support longevity during

the inevitable shifts in life such as changing jobs, seasons,

or schools.

Green Tea, especially of potent and integrous sourcing, is

known as one of the strongest natural antioxidants. This

means it can neutralize oxidizers from toxic substances

like cigarette smoke, over-consumption of alcohol, and

other pollutants that are common in day-to-day life. When

oxidation occurs on a cellular level it can lead to intense

dis-ease states like skin, lung, and stomach cancer or even

more mild dis-ease states like chronic inflammation and

high blood pressure. Green tea helps our bodies build antioxidation

protectors so we can have stronger cardiovascular

abilities and even reduce pain and inflammation.

Free radical fighting green tea is very high in antioxidants

which have many benefits.

Reishi Mushrooms have strong adaptogenic properties

as it helps regulate the body's hormone levels during

stress. These days, many of us experience an extensive

gamut of stressors in our day-to-day lives. By monitoring

hormone secretions from what is known as the stress axis

(pituitary gland, hypothalamus, and adrenal glands}, Reishi

helps defend the body against excessive stress and its

consequential forms of dis-ease like low immune function,

fatigue, or chronic pain.

Red Chinese Ginseng is known to increase energy and

vitality while also supporting the immune system by

increasing the release of ACTH from the pituitary gland.

This a hormone that helps the body adapt to stress and

avoid burnout, as excessive stress can deplete energy

stores and immune function. This warming and stimulating

quality of red ginseng can help lift depression associated

with low energy levels (not necessarily low serotonin levels

or uptake), offering access to more passion and enjoyment

in life.

So, even with the many different medical advancements

available today, some of the most potent have been with

us for thousands of years, growing upon the ground which

we stand; or, as in the case of Qigong, the medicine is in our

own bodies.

Emily Larson, Licensed Massage Therapist, Private Yoga

Instructor, Bachelor of Science in Kinesiology & Human

Performance, Co-Teacher of Anatomy for massage

therapy students at the Bio Chi Institute, mother to Noah.

Photo Credit (left page) Dylan Freeman.

Photo Credit (right page) Emily Larson.

Siouxland Magazine | Balance /47
---
explore

Enjoy Your Life. Adventurous

The Return of Holiday!

By, Erika Hansen

Ahhh, 2020. Remember the quarantining, the isolation,

the sudden elimination of family & friends from your

everyday life?

And yet – I must admit – I have a fondness for 2020. I think

many of us do. It gave this Universe a gigantic reset in so

many ways, and wherever we were on our own personal

journeys – I don't know one person who didn't need it.

But maybe all that 'quiet time' made 2021's re-entrance

to civilization even sweeter. And now, the holidays are

upon us! And what better time to celebrate all that's

been, and all that's to come.

If you're anything like me, you're already checking

your calendar, and making loads of plans to see family

and friends, excited to celebrate the simple act of

togetherness.

And I couldn't let all that joy descend upon us without

some great fashion tips for your holiday festivities! Who

doesn't want to look amazing for their first round of

holiday parties since 2019?

I recently made a stop at my favorite Sioux City

destination, Rooted Boutique, to do some pre-holiday

shopping. So many treasures there (with new arrivals

coming in weekly), I hardly knew where to begin. But

here are a few of my favorites.

I love a really feminine look for gatherings with friends,

and this pleated blue silk skirt from Look 1, paired with

a tres-chic padded-shoulder sleeveless t, gives me

all the girly feels I'm craving! The best part about this

ensemble? It's comfortable! The elastic-waist skirt will

give you shape, without cutting off your circulation. I also

love the color pairing. The steel blue with a silvery sheen

says "holiday," without relying on traditional shades. A

strappy velvet sandal in taupe to polish things off? Yes

please! By the way – Rooted features amazing, oneof-a-kind

jewelry pieces to complement anything and

everything. Check out the necklace featured with this

outfit. To die for!

Look 2 is for a party. It's a silky, flirty, ivory dress that's

so fun to wear. The layers of gathering at the waist are

uber-flattering. The length isn't too revealing; but it's

short enough to get a second glance (or third). This

Rooted Boutique holiday style in soft blues.

dress comes in other colors, but I love the off-white. It's

unexpected for winter, and yet totally perfect at the same

time. The snowy vibe looks especially edgy with a pair of

black heeled booties (bonus: you can literally wear these

shoes with everything else you own). A million different

ways to accessorize this look. Gold and glam, a leather

cuff, a pair of statement earrings? The options are endless!

Look 3 makes me think of gift-giving and family and

candlelight and a big meal with lots of people around the

table. The color palette is a bit more traditional, but who

doesn't love a splash of red this time of year? The tie-neck

top is sophisticated and elegant. And check out these black

pants! Nothing basic about the front kick pleat! That's an

addition that makes the whole look special, daring, and

wholly unique. And speaking of daring – those heels! This

strappy black pump features a clear/black combo to amp

up the sex appeal. And again, a pair of shoes that are so

versatile, you'll be able to wear them with all sorts of other

outfits – even jeans!
---
Community

Entertainment

Nature

Appreciation

Indulge

Rooted Boutique has a

variety of holiday styles from

pants to dresses.

The theme this holiday? Wear what brings you joy. The overall

mood in fashion right now is one of celebration. We've all been

through a lot. Let's only wear pieces that make us feel happy

and optimistic and hopeful for our collective future. Fashion

can influence your mood – so let it be a positive influence that

brings more light and life to your holiday season – and everyone

else's too.

Erika Hansen is a lifelong Siouxland resident, mom, model,

podcast host, live entertainment professional, and small

business owner. Curious about exploring the connection

between outward appearances and inner power, Erika is

passionate about making fashion fun, and fostering a spirit of

inclusion with no limits based on age or body type. You can

find out more about Erika's love of style & design, her modeling

journey, and info about her podcast, "Ages 9 to Adult", on

Instagram: @erikahansen.official.

Photo Credit Britton Hacke Photography.
---
Siouxland Magazine | EXPLORE /50

WE'RE GIVING

THANKS THIS

HOLIDAY SEASON!

Experience quality dental treatment

in a relaxed, friendly environment.

New patients are welcome.

Call us today!

lohrfamilydentistry.com

712.255.1163

2918 Hamilton Blvd.

Stop in to any Sweetwater Cafe or Pony

Express location to register to win a

special gift box from SweetGrass Trading

Company.* At Pony Express, simply use

your Pony Rewards Card to be entered. At

Sweetwater Cafe, fill out an entry form.

It's our way of thanking you for your loyal

business this year! We appreciate it!

*Winners will be drawn 11-22-21.

Emerson • Rosalie • Sloan

South Sioux City

Walthill • Winnebago

PonyExpressStores.com

Sioux City • Ho-Chunk Centre

South Sioux • Flatwater Crossing

Winnebago • Ho-Chunk Village

sweetwatercafe.com
---
Siouxland Magazine | EXPLORE / 51

Nan Wilson has turned this old tub into a garden focal point.

Turning a Clawfoot Vintage Tub into a Work of Art

By, Sandy Sabel

The vintage clawfoot tub had its origin in the

mid 18th century in Europe. The ball foot design

was initially created in Holland and then spread to

England, followed by the States. The epitome of the

historic bathroom tub is the clawfoot tub. The clawfoot

tub reached its popularity in the late 19th century. As

a child in Sioux City, I bathed in a porcelain tub with

claw feet. People who buy a home with a clawfoot tub

now want to restore it or get rid of it.

In 1973, a few months after my husband and I moved

into our new home, I received a call from an uncle,

who had purchased a Morningside home to fix up and

resell. It had an old porcelain tub with a claw foot. He

called and asked if I wanted this old tub as he knew I

liked old things. I told him I would love to have it, so

he brought it in the back of a pickup truck and put it

under our deck. I painted it red and planted flowers

in it. The last several years it has stood empty, as it sat

under our deck where we couldn't enjoy it.

I wanted to refurbish it, so I called Nan Wilson, an

Art instructor at Briar Cliff University. Thankfully, she

accepted the challenge. I told her she could develop

any design and use any colors. It was truly a 'labor of

love.' The tub has the same design on both sides and

different designs on each end. She painted the inside

of the tub white. We then had it sprayed by Gordon

Body Shop to protect the finish and keep it from fading

in the sun.

It now has a special place in one of our flower beds,

which we can enjoy from any room in the back of

our home. Paul Sundquist, our gardener, suggested

I not plant directly in the tub but rather, use two big

plastic planters painted white. The flowers he planted

compliment beautifully the colors and the design of

the tub. It certainly is the focal point in our yard!

Sandy Sabel not only inspires us to reconnect with

treasures from the past in creative ways but also to

connect with those we appreciate in our present in

meaningful ways.

Up From The Earth exists to connect extra produce from

home gardens to people in need.

Photo Credit Sandy Sabel.
---
Siouxland Magazine | EXPLORE /52

Developing Leaders for Future Generations Through 4-H

By, Angela Abts

The nation's largest youth development

organization, 4-H, celebrated more than 100

years of positive accomplishments for youth,

families, volunteers, alumni, and donors during

National 4-H Week (October 3rd-9th). In the

United States, 4-H programs empower six million

young people through 110 land-grant universities

and Cooperative Extensions in more than 3,000 local

offices, serving every county and parish in the country.

The 4-H program offers many benefits for youth,

volunteers, and communities, such as building life

skills through hands-on learning resulting in increased

confidence, resilience, leadership, and compassion

while adults provide a positive environment.

Nebraska 4-H is committed to supporting the youth in

our state with hands-on learning. Whether in a school

classroom, a cafeteria, a gym, a living room, an outside

space, or online, learning can happen anywhere.

One program in Dakota County that has a strong

collaboration with the South Sioux City Schools is First

Lego League (FLL) Robotics. It has been available for

the past ten years. Each year, approximately 40 students

compete in the experience learning valuable life skills

with Science, Technology, Engineering, and Math while

building, programming, and testing robots with more

than 15 coaches and mentors.

Youth leadership development is essential to help teens

learn about giving back to their community. These young

people will be leading our country in the near future. Yes,

sooner than everyone realizes! As community members,

the responsibility falls on everyone to ensure these

youth leaders are being provided every opportunity

they deserve. "Organizations and communities need

to consider youth-adult partnerships (see Ladder of

Youth Participation) as they work with youth audiences,"

according to Roger Hart.

How can you tell if youth are positively engaged with

caring adults? Here are few ideas to consider from

the Community Network for Youth Development:

• Young people have opportunities to participate

in decision-making.

• Young people have opportunities to develop and

practice leadership.

• Young people experience a sense of belonging.

• Young people and adults are working together,

with both groups sharing equally in the decisionmaking.

Brianna at Ag Festival.

Youth leaders come in a variety of ages, backgrounds,

and personalities. While it is a natural instinct to view

the most extroverted and boisterous youth as the

most influential leaders, that is not always the case.

Not all youth have that same personality. Just as with

any effective team, it takes a variety of personalities

and strengths to make it a success. That is why, when

seeking out potential youth leaders, it is important to

tap into a variety of personality styles. There is a need

for youth leaders that enjoy the behind-the-scenes work

just as much as there is for the ones who love to present

the ideas. When working with youth, remember to have

each stretch their comfort limit. If youth do not feel as

comfortable with the planning, make sure they still get

the practice. Just be sure to offer more guidance during

this process.

Just as important is tapping into a variety of youth

leader personalities, it is equally vital to offer a variety

of leadership opportunities. Within 4-H, depending

on the county, youth have a vast array of experiences

awaiting them. Creating a variety of leadership roles will

help to ensure each youth feels they have something

that might fit them and their family. Youth leaders are

extremely effective when there is youth representation

on a board. For example, a 4-H Council might have
---
six youth members and six adult members. This allows

the youth leaders to feel as though they have an equal

say. Teen Leaders or Youth Ambassador Programs in

4-H are unique opportunities for the youth leaders to

experience different leadership roles through the 4-H

program. Youth can plan their events, elect their own

officers, and represent 4-H members in their county.

For those youth who are extremely busy, episodic

leadership opportunities tend to work better. Youth can

serve as Jr. Superintendents during the county fair by

assisting the superintendents and helping with the event

programming. This requires less time commitment, while

still allowing them an opportunity to show leadership.

Siouxland Magazine | EXPLORE / 53

Nebraska 4-H in Dakota

County has established a 4-H

Ambassador program for

teens to demonstrate their

leadership and citizenship

skills. The current Dakota

County 4-H Ambassador

is Brianna Bousquet. She

has been a member of the

Hubbard Jr. Feeders 4-H Club

for the past 11 years. She is

an example of a young leader

in her club, community, and

Brianna Bousquet

school. The first year of the

4-H Afterschool program in Emerson, Brianna was

there helping younger youth complete their projects.

She continues to serve as a teen volunteer and positive

role model for younger youth at the monthly events.

As a 4-H Ambassador in Dakota County, she started

her experience when COVID hit. That didn't stop

Brianna's passion for becoming a 4-H Ambassador.

She has been able to practice her communication skills

through making videos about Nebraska agriculture

and 4-H promotions. She represents her club on the

Dakota County 4-H Council and serves as an officer in

her Hubbard Jr. Feeders 4-H Club and the council. Her

involvement as the first Dakota County 4-H Ambassador

has allowed her to promote a positive 4-H message to

youth, families, and stakeholders in the community.

Youth leaders are a cornerstone to the success of every

community. There is a sense of commitment and pride

to their community when youth have helped shape its

future. When moving forward to help grow the youth

leaders in the community, remember to take it slow and

grow it effectively. The 4-H program is the nation's largest

positive youth development and youth mentoring

organization, empowering six million young people in

the U.S. (4-h.org). Nebraska 4-H grows communities.

Nebraska 4-H grows leaders. For more information

about the 4-H and Youth Development and leadership

opportunities, please contact the University of Nebraska

Lincoln Extension Office in your local county or visit the

website at http://4h.unl.edu/.

Ladder of Youth Participation

Angela Abts, a 4-H and Youth Development Extension

Educator with Nebraska Extension for the past 13 years,

and eight years with K-State Research & Extension. She

focuses her extension programming on working with

youth audiences through school enrichment, afterschool,

First Lego League teams, and traditional 4-H clubs in

Dakota County and statewide.

Photos Contributed by Nebraska Extension.
---
PRESENTED BY CARLSON GROUP @ RE/MAX

RE/MAX Launches Preferred Siouxland Home Search App

Experience real estate through Siouxland's

new and preferred real estate search app

brought to you exclusively by RE/MAX

Preferred and LeadCity CRM. This app is

the game-changer for real estate from Sioux

City to Sergeant Bluff. Dakota Dunes, SD, to

South Sioux City, NE, and throughout Northwest

Iowa. The focus is purely on the consumer, and

Siouxland's Preferred Real Estate App

combines Zillow, Realtor.com, RE/MAX.com,

and PreferredSiouxland.com. It combines

the best features from each of those apps

into one power-packed app.

Download Siouxland's

Preferred Home Search App!

Scan the above QR code to download the

app or search RE/MAX Preferred Home

Search in the App Store or Google Play.

Create an account and make your real

estate dreams a reality!

Key Features:

In a fast-changing market, you need access now!

Accuracy and speed – The app provides access to

all listings on the MLS. Users will be able to pull

information in real-time. This app includes updates

on active, contingent, and pending properties.

In today's market, it's important to have accurate

information quickly and at your fingertips.
---
Create your profile.

Easily access MAP NAVIGATION while

driving around looking at homes, view nearby

amenities and schools, lookup assessor and

tax info, easily send listings to friends, use

mortgage calculator, and so much more. But

the greatest benefits come if you signup

and create a free account.

Easily keep track of all your favorites, recent

searches, and edit your profile.

The feature that sets this app apart is the access

to all your transaction info. Let's take your real

estate buying or selling EXPERIENCE to

another level. This app will literally organize your

transaction and eliminate wasted time. Whether

you are a seller or buyer that uses an agent from

RE/MAX Preferred all your documents and view

all necessary transaction data in real-time. The

app can keep you organized and literally add

time back in your day.

If you are looking to buy or sell in Sioux City

and throughout Siouxland…and you don't

have this app… you are simply missing out.

The app provides access to ALL listings on the

MLS. You deserve the highest-level experience.

Let RE/MAX show you the Preferred way to buy

and sell real estate in Siouxland.

You will have access to

all MLS listings.

Use the map navigation

to find your home search

locations.

Begin your home search by

neighborhood or subdivision

Contact an Agent by phone,

text, or email.