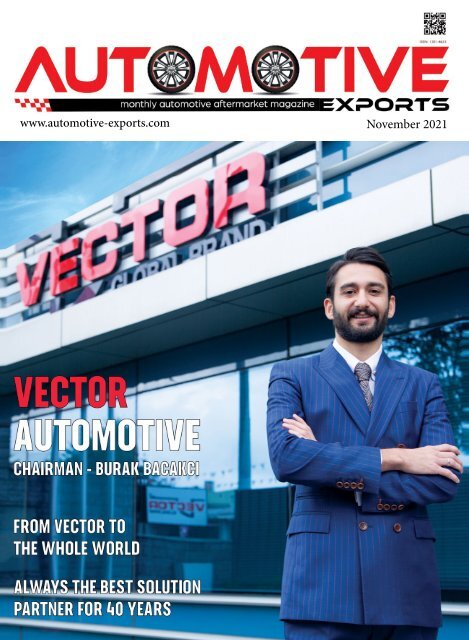 Automotive Exports November 2021
Automotive Exports November 2021
Automotive Exports November 2021
SHOW MORE
SHOW LESS
You also want an ePaper? Increase the reach of your titles
YUMPU automatically turns print PDFs into web optimized ePapers that Google loves.
www.automotive-exports.com November 2021
---
Monthly automotive aftermarket magazine

GROUP CHAIRMAN

H. FERRUH ISIK

PUBLISHER:

İstmag Magazin Gazetecilik

İç ve Dış Ticaret Ltd. Şti.

Managing Editor (Responsible)

Mehmet Söztutan

mehmet.soztutan@img.com.tr

Editor

Ali Erdem

ali.erdem@img.com.tr

Mehmet Soztutan, Editor-in-Chief

mehmet.soztutan@img.com.tr

Advertising Managers

Adem Saçın

+90 505 577 36 42

adem.sacin@img.com.tr

Enes Karadayı

enes.karadayi@img.com.tr

An integral part of the

global network...

Actually, the Turkish automotive industry has been able to consolidate and restructure

its market share both at home and abroad. With a cluster of car-makers and parts

suppliers, the Turkish automotive sector has become an integral part of the global

network of production bases.

The exports by Turkish automotive sector, which is the driving force of Turkish

economy, reached remarkable figures in the last decade. The Turkish automotive

industry has been active since the early seventies. Initially, the majority of the market

development was based on imports and some level of local system integration. Since

the full integration to the European Customs Union in 1994, Turkey has become a

major production platform for global automotive manufacturers.

Currently, there are major multinational vehicle manufacturers with their own

production facilities in Turkey. While some of these companies are engaged in a joint

venture with Turkish companies, others are operating independently.

The Turkish automotive components industry reaches into many different sub-sectors

of activity. Turkish producers of parts and components have attained high standards

reflected by large export volumes to the Western countries. There are numerous

producers of automotive components and services in Turkey. More than half of these

manufacturers compete in international markets and set high standards of export

figures. Among them are many small and medium manufacturers with advanced

technologies, constant updates and support from outside Turkey, and a dynamic

company structure. Many companies operating in the Turkish market possesses

international certifications, enhancing their global market position.

The Turkish automotive supplier industry produces almost all types of parts, components

and spare parts such as engines and engine parts, power train parts and components,

brake and clutch parts and components, hydraulic and pneumatic systems, suspension

systems, security systems, rubber and plastic parts, chassis, frames and parts, casting

and forging, electrical equipment and parts, lighting systems, accumulator batteries,

seats etc.

As noted several times in this column, we think that technology will always be the key

for the survival of the automotive industry. History says so.

Our publications remain at the service of those businesses people seeking to increase

their share in the increasingly competitive foreign markets.

We wish all business people success and lucrative business.

International Marketing Coordinator

Ayca Sarioglu

ayca.sarioglu@img.com.tr

Correspondent

İsmail Çakır

ismail.cakir@img.com.tr

Finance Manager

Cuma Karaman

cuma.karaman@img.com.tr

Accountant

Yusuf Demirkazık

yusuf.demirkazik@img.com.tr

Digital Assets Manager

Emre Yener

emre.yener@img.com.tr

Technical Manager

Tayfun Aydın

tayfun.aydin@img.com.tr

Design & Graphics

Sami aktaş

sami.aktas@img.com.tr

Subsciption

İsmail Özçelik

ismail.ozcelik@img.com.tr

HEAD OFFICE:

ISTANBUL MAGAZINE GROUP

Ihlas Media Center

Merkez Mah. 29 Ekim Caddesi No: 11B/21

Yenibosna Bahcelievler, Istanbul / TURKEY

Tel: +90 212 454 22 22

www.img.com.tr sales@img.com.tr

KONYA:

Metin Demir

Hazım Uluşahin İş Merkezi C Blok

Kat: 6 No: 603-604-605 KONYA

Tel: (90.332)238 10 71 Fax: (90.332)238 01 74

PRINTED BY:

İHLAS GAZETECİLİK A.Ş.

Merkez Mahallesi 29 Ekim Caddesi İhlas Plaza

No:11 A/41 Yenibosna–Bahçelievler/ İSTANBUL

Tel: 0212 454 30 00

www.ihlasmatbaacilik.com

automotiveexport

2021

automotiveexports
---
Turkey to

emerge from

auto chip crisis

through local

production

As the world grapples with a chip crisis that

has particularly plagued global automakers,

Turkey is relying on a local production

center that produces components for the

country's ever-growing defense industry.

The National Electronics and Cryptology

Research Institute (UEKAE) is attempting

to develop the components at its

Semiconductor Technologies Research

Laboratory (YITAL) in the Gebze district of

the northwestern industrial province of

Kocaeli.

The UEKAE is part of the Scientific and

Technological Research Council of Turkey

(TÜBITAK) Informatics and Information

Security Research Center (BILGEM).

A significant portion of the chip needs of

Turkish companies, including Roketsan,

Aselsan and TÜBITAK Defense Industries

Research and Development Institute

(SAGE), are met at the center.

YITAL executive Aziz Ulvi Çalışkan said they

have the competence to manufacture

components for the country's first

homegrown car, developed by Turkey's

Automobile Joint Venture Group (TOGG), a

consortium manufacturing the car.

"We are in preparation for this, we will be

knocking on their door soon," Çalışkan told

Turkish daily Sabah.

Turkey is among the few countries that

design and produce all components of

information security, from the algorithm

to the chip, said UEKAE Manager Erdal

Bayram.

The recent chip shortage plaguing global

automakers has forced many to halt

production and there does not seem to be

an immediate solution.

Three Turkish carmakers, Ford Otosan,

Tofaş and Oyak Renault, recently had to

temporarily suspend their production due

to the chip supply crisis.

The shortage has forced production cuts

worldwide and sparked worries across the

industry, including at Volkswagen, Ford,

General Motors, Honda, Hyundai and

Toyota, prompting countries to ramp up

efforts to resolve the shortage.

The spread of COVID-19 has scrambled

supply and demand patterns worldwide,

and as a consequence caused a chip

shortage.

Erdal says that they are confident they

have the ability to adapt the production

of microchips for the defense industry to

other sectors, including the automotive

industry.

Çalışkan said it is possible for the

domestically-developed chips to be used in

TOGG.

"In the automobile industry, there is a

power control system that transfers power

from the battery to the wheels. These

are critical materials. We have important

solutions, and we have the necessary

technology," he said.

Preparations are underway, he says. "TOGG

also needs to turn to us, tell us their needs

and shape us."

"We manufacture according to order. It

could be the same for TOGG," Çalışkan said.

The TOGG was formed in June 2018 by

five industrial giants – the Anadolu Group,

BMC, Kök Group, Turkcell and Zorlu Holding

– as well as an umbrella organization,

the Union of Chambers and Commodity

Exchanges of Turkey (TOBB), to produce the

country's first domestically manufactured

electric vehicle (EV).

The consortium will produce five different

models – an SUV, sedan, C-hatchback,

B-SUV and B-MPV – by 2030.

The country in December 2019 unveiled

prototypes of an SUV and a sedan, both

fully electric and C-segment models. Mass

production of the SUV will begin in 2022,

with the sedan to follow.

November 2021 6
---
Turkey's first

electric car to

enter European

markets via

Germany

The first models of Turkey's domestic and

fully electric vehicle, produced by Turkey's

Automobile Enterprise Group (TOGG),

will come off the mass production lines at

the end of 2022 and are to be put on the

country's market, the industrial entity's

CEO, Gürcan Karakaş, said.

Speaking to the German press, he said that

after being sold in the domestic market,

the vehicles will initially enter the German

market in around one and a half years and

then be available to European markets in

general.

Karakaş commented on the developments

during his interview for Automobilwoche,

Germany's respected automotive

publication, as the TOGG has started to find

itself wide coverage in the European press

as well.

The German publication emphasized that

TOGG's ambitious plans are preparing for a

great competition.

Underlining that TOGG, which was

established with the partnership of the

most influential companies in the sector

in Turkey with a combined investment of 3

billion euros ($3.6 billion), the article said,

"This is also a transformation project of

Turkey. Turkey is one of the most important

supplier countries of Europe in the

automotive field and has a significant cost

advantage."

TOGG has partnered with Chinese battery

company Farasis for its electric batteries.

The Chinese company has established

a factory in Germany and will supply

the battery cells from the production

conducted there.

"We have plans for joint production with

the company in Turkey," Karakaş also said.

Meanwhile, Turkish daily Akşam also

reiterated that TOGG is planning to take

its first step into European markets from

Germany, where there is a large Turkish

population.

TOGG started to establish an innovation

center in Stuttgart last May and TOGG

Europe GmbH will serve as an important

base, the report underlined.

Further commenting on the export plans

and new targets of the company Karakaş

said they currently employ around 450

people but the company is growing very

fast in terms of human resources.

"We plan to reach a total of 800 employees

by the end of the year," he said.

Until 2030, a total of 1 million units of

five different all-electric models, whose

intellectual and industrial property rights

belong entirely to TOGG, will be produced

at TOGG's Gemlik factory in Turkey's

northwestern Bursa province.

In July 2020, a groundbreaking ceremony

for the construction of this particular

factory, the country's first domestic car

plant, was held in Bursa, dubbed the

country's automotive capital. The event

came after the country unveiled prototypes

of the first fully domestically produced car

in December last year. The plant will host

an indigenous car engineering, design and

production center.

President Recep Tayyip Erdoğan said during

the ceremony that it was a "historic step"

to realize a 60-year-old dream to produce

the country's first domestic car.

The article published in the German press

also stated that Turkey has stepped up its

efforts to provide comprehensive charging

infrastructure in the country.

More than 4,000 charging stations are

planned to be put into operation. The

investments made aim to establish a

standard charging station for every 10

kilometers and fast-charging stations at

every 25 km on main roads.

TOGG will be the first nonclassical innate

electric SUV manufacturer in Europe as of

2022 when it will start production.

In June 2018, five industrial giants – the

Anadolu Group, BMC, Kök Group, Turkcell,

and Zorlu Holding as well as an umbrella

organization, the Union of Chambers and

Commodity Exchanges of Turkey (TOBB) –

joined hands to produce the TOGG. It will

produce five different models – a sport

utility vehicle (SUV), sedan, c-hatchback,

b-SUV and b-MPV – until 2030 and own all

intellectual and industrial property rights.

November 2021 8
---
Nissan to build

battery factory,

make new

electric cars

in UK

Nissan announced plans for a vast battery

factory in northeast England, where the

Japanese carmaker will manufacture a

new electric vehicle as companies and

governments accelerate away from fossilfuel

cars. The move marks a major victory

for the U.K. government's efforts to attract

jobs and investment following the country's

departure from the European Union.

Prime Minister Boris Johnson hailed the

post-Brexit investment totaling 1 billion

pounds ($1.4 billion) at Nissan's largest

European factory that is set to 6,200 jobs

as "a major vote of confidence in the U.K."

Nissan's Chinese battery supplier Envision

AESC will invest 450 million pounds to

build the battery plant that will be run

on renewable energy and power up to

100,000 Nissan electric vehicles per year.

The facility, which will be built next to

Nissan's factory in Sunderland, was hailed

as key to the U.K.'s transition away from

high-polluting fossil fuel vehicles.

The news comes just days after Nissan's

French partner Renault unveiled plans

for an Envision-owned battery factory in

France, as global carmakers race to meet

booming demand for greener transport

and governments target net-zero carbon

emissions by 2050.

The Japanese auto company is to spend

up to 423 million pounds on Britain's

all-electric EV36Zero project, while

Sunderland City Council will help to bring

the total amount of investment up to 1

billion pounds.

"This is a landmark day for Nissan, our

partners, the U.K. and the automotive

industry as a whole," said Nissan's Chief

Operating Officer Ashwani Gupta, stood

next to a line of newly-made Nissan

vehicles awaiting their final inspections.

Nissan, which had previously warned that a

no-deal Brexit would threaten its 35-yearold

Sunderland factory, said the new

investment represents 6,200 jobs at the

Japanese group and its U.K. suppliers.

There will be 900 new Nissan jobs and 750

new Envision AESC jobs.

"This is a huge step forward in our

ambition to put the U.K. at the front of

the global electric vehicle race," said U.K.

Business Secretary Kwasi Kwarteng.

"The cars made in this plant, using

batteries made just down the road at the

U.K.'s first at scale gigafactory, will have

a huge role to play as we transition away

from petrol and diesel cars."

The U.K. government, which hosts the

U.N.'s climate change summit in November,

plans to ban sales of fossil fuel cars from

2030 as part of efforts to reach net-zero

carbon emissions by 2050.

Europe now has projects to build dozens

of gigafactories that could potentially

produce 16.7 million battery-electric

vehicles by 2030, according to Transport

& Environment, a nongovernmental

organization (NGO).

Volvo and Swedish startup Northvolt

announced they were joining forces to

build a new battery factory in Europe.

"U.K. and European carmakers are engaged

in a race to develop capacity to produce

battery electric cars," Peter Wells, an expert

on the auto sector, told Agence France-

Presse (AFP).

"Those manufacturers that fail to develop

BEV (battery electric vehicle) capabilities

will simply lose market share," the Cardiff

University economics professor said.

Nissan established Britain's first electric

vehicle and battery production at

Sunderland in 2013 with its Leaf car.

The company has more recently faced a

series of trials, from weak demand during

the pandemic to the fallout from the arrest

of former boss Carlos Ghosn, now an

international fugitive after jumping bail and

fleeing Japan. It has delayed the planned

summer launch of its flagship new electric

Ariya model to this winter over the global

chip shortage plaguing automakers.

Announced in July 2020, the new 100%

electric model was initially supposed to

go on sale in Japan from mid-2021, before

arriving in Europe, North America and

China by the end of the year.

In the U.K., Lei Zhang, founder and chief

executive officer of Envision Group, said

his company was building on its long-term

partnership with Nissan "to make high

performance, longer range batteries for

electric vehicles affordable and accessible

for millions more motorists."

He said growth in demand could bring

a future investment of up to 1.8 billion

pounds and 4,500 jobs by 2030. Nissan's

Sunderland hub currently employs about

6,000 workers and produces 400,000 cars

annually, mostly for export.

November 2021 10
---
a new hologram and artificial intelligence

technology to vehicles in 2023, will be the

first person to do so.

From hack to artificial intelligence

Erbakan Malkoç… Many important names not only from Turkey, but also

from all over the world, want him to design "walking offices" in his own words.

First of all, can we listen to the adventure

of DizaynVip since its establishment?

I always had the feeling of discovering

something new. Because the situation I

was in did not make me happy. I needed

to do something different from everyone

else and I needed to make my dreams

come true. Yes, there were luxury cars

like Ferrari and Porsche at that time, but, I

decided to go this way with the idea 'Why

not a personalized car?' Just as there is

a personal tailor and a personal watch,

there must be a personal car. I decided

to establish DizaynVip with the idea that

especially business people should use the

time they spend in their vehicle efficiently.

Today, we transform the vehicles of the

most important names in the world with

our 10 thousand square meter factory

and more than 100 employees. We have

enabled a sector whose name is not

even spoken in Turkey to be appreciated

in many parts of the world. We are now

among the few companies, doing this job

best in the world. This is an indescribable

feeling. Europe recognizes us not only as a

company, transforming cars, but also as the

best company for sustainable competition

and innovation.

Erbakan Malkoç, who started his love for

cars with a horse cart he saw in the village

where he lived as a child, is today the only

authorized van partner of Mercedes-Benz

in Turkey. Malkoç, who is so well-known

and exemplary in his field in the world,

is again coming with a game-changing

innovation. Erbakan Malkoç, who will apply

What achievements have you made to

your brand?

We are making time and place independent

designs and walking offices. We are the

November 2021 14
---
only authorized van partner of Mercedes-

Benz in Turkey in terms of vehicle

conversion. We were invited from the USA

and received the "The company, using

technology best in automobile design

in the world" award. We participated in

seminars and conferences as speakers by

receiving invitations from many universities

in Turkey. We receive invitations as

speakers from engineering faculties

and entrepreneurship clubs of many

different universities, and whenever we

have time, we come together with future

engineers and entrepreneurs to share our

experiences. By sharing our success story

with our young friends, we try to be a role

model for them.

So what is your difference?

First of all, we use 100% domestic and the

best materials. We manufacture most of

our parts in DizaynVip factory. For example

we are breaking new ground with each of

our designs, from the technology that I

developed in 2009, which the automotive

industry could only detect in 2013, to the

technology that you can command your

vehicle via your smart phone or tablet

wherever you are in the world, to the

automobile that speaks to you.

You can command 196 parts of your vehicle

with your tablet or smart phone wherever

you are in the world. We have been

working on artificial intelligence technology

for a long time. We are preferred because

we offer designs that are beyond time and

we always present firsts to the world about

our industry.

To put it in titles, we built DizaynVip on a

tripod. The car will have such a design that

it will not resemble any other car. This is

the most important feature, distinguishing

us from other competitors. We do not

imitate. Everyone imitates us, including the

world's automakers. Two, we adapt such

a technology to our different design that

we equip a technology that is not in the

dream of any automobile manufacturer in

the world. Three, we offer this design and

technology in such a quality that we exceed

European standards. In other words, no

production can be offered anywhere in

the world with the quality we offer. These

three facts distinguish DizaynVip from the

people who do business in their own sector

in the world. We maintain our "handmade"

feature even in mass production. Our

most important feature is that we use

and produce our own imagination

and assemble it into our cars, without

imitating any of the world's automobile

manufacturers in technology. No one

can reach these three special structures

anywhere in the world, and our three

characteristics differentiate us.

Where from are the designs you made

demanded?

Also in 2013, we have been granted the

award "Best Automobile Design Award in

Europe" in International Brand Leaders

Summit Lob'in Europe and in 2014, "The

Company that Uses Technology the Best

in Automobile Design in the World" in

the most prestigious organization of the

USA, IMA IMPACT Technology Summit.

These have made us a brand in the

international arena. As DizaynVip, we

have become a brand that is in demand

from almost 200 countries and exports

to more than 30 countries. In addition to

having distributorships in China, Dubai,

America and Russia, we also have our own

company in Germany. During this period,

we have made significant progress in mass

production. We opened a production

facility in China. Now we will be able

to increase our exports even more by

producing more vehicles without losing our

handmade feature. Today, DizaynVip makes

a significant contribution to the Turkish

economy with an export of 250 dollars per

kilogram.

15 November 2021
---
Turkey to allocate $500M restructuring

credit to Northern Cyprus

A$500 million (TL 4.32 billion) line of credit

to the Turkish Republic of Northern Cyprus

(TRNC) was approved by Turkey according

to a decree published in the Official

Gazette.

The funds will be used in the restructuring

of the public and financial sectors in the

TRNC, as well as other fields included

within the scope of the deal.

The TRNC will make interest payments for

the provided credit per the six-month U.S.

dollar LIBOR (London Interbank Offered

Rate) published on Reuters' LIBOR page.

The interest payments will begin six

months after the signing of the credit and

payments will be made every six-month

basis.

The capital payment, meanwhile, will begin

36 months after the signing of the credit

and will be paid back every six months in

14 installments.

The two countries in March signed an

"investment-oriented" agreement for

financial cooperation.

"Our main goal in this agreement is

investments. Our aim is to contribute to

the formation of a self-sufficient TRNC

economy by strengthening the areas

with a high multiplier effect in the TRNC.

With this agreement, we allocated TL 2.5

billion ($336.83 million) of new resources

to the TRNC this year. We anticipate total

support of TL 3.25 billion with the amount

transferred from last year," Turkish Vice

President Fuat Oktay said during a joint

press conference with TRNC Prime Minister

Ersan Saner. The agreement covers

investments in important infrastructures,

including the health system, main road

projects and the establishment of a new

industrial zone in the TRNC, to which

Turkey will provide support.

Confidence in

Turkey's key

sectors improves

Turkey's sectoral confidence index improved on a monthly basis in June, according to data

the country's statistical authority, Turkish Statistical Institute (TurkStat), showed.

Among all sub-indices, the services sector index posted the largest rise with 6.2% to 108.5

this month thanks to the easing of lockdown restrictions after mid-May as coronavirus cases

and fatalities continue to ebb nationwide.

The retail trade confidence index climbed 4.8% month-on-month to 105.7, mainly driven by

business activity-sales expectation over the next three months.

Calculated from the monthly survey, results are evaluated within the range of 0-200, with

sectoral confidence indices signaling an optimistic outlook when the value is above 100,

and a pessimistic outlook when it is below 100.

November 2021 16
---
The target is Europe

Naya, planning to move to new production

facilities within 3 years, aims to produce

different products for the sector.

Naya, started to produce truck and trailer

components in 2001, continues to produce

the connection cables between the trailer

and the tractor. Bulent Nasipoğlu, the

owner of the company, said that Turkey

ranks number three in the world in terms

of aftermarket in the automotive sector,

underlined that they want to export to

Europe in their new production facilities.

When was Naya founded? Could you give

information about your production and

products?

Naya has been producing, exporting and

importing truck and trailer equipment since

2001. Our company operates in a total

area of 1500 square meters in Istanbul.

Our company, which specializes in the

production of electrical cables, air hose,

plugs and sockets, air couplings, door

handles, various valves, cargo tensioning

apparatus, customs rope, etc., also makes

efforts to develop new products in its own

molding house.

What are the products you specifically

produced?

Our main product range is trailer cables

and fittings, which we call hoses. These

connection cables between the trailer and

the tractor are divided into two as air and

electrical groups. The air group includes air

hoses, couplings, air gun and in-cab hoses.

In the electrical group, there are plugs,

sockets, circuit breakers, ABS and adapter

cables.

What other services do you have for spare

parts?

In addition to our production activities,

we also serve our customers in the supply

and sale of spare parts for many trucks

and trailers. We can briefly line up these

products such as suspension bellows,

trailer shock absorber, various valves,

repair kits, record and apparatus, lighting

products.

If you need to evaluate the last period of

the sector, what would you like to say?

We believe that in the current state of the

market, it is necessary to develop new

products. In the pandemic process, the

problems experienced in the products we

imported showed us the necessity of this.

I think we will see the positive effects of

the Automechanika fair as no fair has been

held for 2 years and we cannot go abroad.

Do you have any new investments?

This facility we established 13 years ago

is no longer sufficient. We have a place

in Gebze, Istanbul. We are planning to

move to this new place in 3 years. We are

planning to produce different and newer

products there. In the meantime, we will

continue to make an aftermarket in our

country by bringing imported products.

Can you tell us about the countries you

export to? Do you have any new plans?

Until 5 years ago, we directed 95% of our

production to export. Then we started to

open up to the domestic market. It is a

difficult situation to import and sell abroad,

except for the nearby countries. Currently,

we continue our exports mainly to Iran,

Iraq, North African countries, Nigeria and

Balkan countries. Our new target is Europe.

We will do this work when we move to our

new production facility.

If we compare Turkey and other countries

in the automotive sector, what would you

like to say?

Turkey ranks number three in the world

in terms of aftermarket in the automotive

sector. We are producing in a locomotive

sector. So, this sector is dragging many

different sectors after it. This also improves

the manufacturing infrastructure. For

example, in countries such as Russia and

Ukraine, our customers want to do some of

the production there over time. However,

their infrastructure is not suitable for this.

Our infrastructure has improved a lot,

especially thanks to the automotive sector.

We are a very developed country in terms

of raw materials, molding, engineering and

qualified personnel. In short, we can say

that the automotive sector is one of the

most important sectors that support our

country, especially in exports.

How did the events of the last 2 years

affect you and therefore the industry?

I don't think there is a problem in the

aftermarket. In real terms, we closed 2020

and 2021 with a growth of more than 20%.

We can say that these growths have taken

place because of the ability to act quickly

or because the aftermarket is a strong

sector. In addition, there were problems

with the original parts during this period.

This was reflected to the sub-industry and

therefore to us.

Finally, what would you like to add?

As Naya, we will continue our activities

with the awareness of being the first

address in the future, as it is today, in

providing services to our customers in the

production and supply of spare parts for

trucks and trailers.

November 2021 20
---
Turkey-A

global player

in autumotive

industry

During the 1990's, as other international

manufacturers like Toyota, Honda, Hyundai,

Isuzu and Mercedes-Benz

entered the market, Turkey rapidly became

an automotive production base which not

only caters to one-time

developments of the industry but rather

holds long-term development options.

Turkey has a thriving automotive sector,

demonstrating substantial growth in the

past. All players involved, including local

authorities and the government, are

participating in providing conditions to

increase output in the future. Some of the

facts are:

-High level of integration into the global

automotive industry

-14th major automotive producer in

theWorld,with 78% average export rate

-Vehicles of Turkish origin hold the leading

position among the vehicles coming from

outside of EU

-Production, export, and engineering hub

of global brands for international markets

-Quality products with high export rates

-Hundreds of Tier 1 companies working

directly with OEMs

-Center of excellence in automotive

engineering and R&D,in which new

technologies are developed

Strong international presence

-Giants of global automotive value chain

benefit from Turkey's location, cost,

andcompetitiveadvantages

-Because of their profitable business in the

country, companies in Turkey continue to

invest in the country's future

-9 R&D centers support not only the local

operations, but also the operations in other

plants of parent companies. Ford Otosan's

R&D department is one of Ford's 3 largest

global R&D centers

-R&D centerin Bursa is the only center of

Fiat outside of Italy serving the European

market.

-For Courier, Ford's new light commercial

vehicle, the Yeniköy plant is the sole

production center in the world.

-Toyota's C-HR Hybrid is produced in Turkey

for World markets

-Daimler R&D is the center of competence

for some parts and carries global

responsibility.

-With more than 40 thousand employees,

automotive OEMs are one of the major

employers in the manufacturing industry.

November 2021 24
---
Good news of 5

thousand new

employment from

GKN Kargo!

Business target of GKN Kargo for 2022

is "100% delivery, 100% customer

satisfaction thanks to digitalization."

GKN, the fastest growing player in

its sector, started the transition to

digitalization in the cargo sector. The

company, which aims to achieve 100%

delivery and 100% customer satisfaction

with its real-time vehicle tracking system,

also gave the good news of 5 thousand new

employments.

Giving the good news of 5 thousand new

employments with the management

meeting and training event held at the

Swiss Hotel on Sunday, October 10, Gökhan

Akyürek, Chairman of the Board, GKN

Kargo said, "Our goal is to reach 18 transfer

centers and 300 agencies across Turkey.

With new partners who will join us without

stopping, we will increase our daily delivery

of 350 thousand packages to 1 million."

Stating that GKN Kargo will grow its trade in

2022, as it did this year, Akyürek, referring

to the digitalization process, said, "Now is

the time to set new targets and new routes

for ourselves. We invested in technology

in order not to disappoint the trust placed

in us. With our latest software investment,

you will now be able to see all variables

from a single system, from receiving

the cargo to tracking, road and weather

conditions. In this way, we will create

the most accurate route and deliver the

products to our customers at the promised

time. With our digitalization trainings, we

will use our new software efficiently and

prevent human-induced errors, and we will

delete expressions such as 'we couldn't

find you at home' from the sector."

'We have achieved our 150 percent

growth target'

Emphasizing that it is difficult but not

unattainable to reach the target of sending

1 million cargo per day, Gökhan Akyürek

said, "We studied the industry that shifted

from retail to internet shopping during

the pandemic and took quick action. We

achieved our 150 percent growth target

in the first half of 2021, when the effects

of the pandemic began to wane. We have

no doubt that we will achieve our 2022

goals. We will continue to carry the Turkish

economy to keep it alive."

November 2021 28
---
Turkey safe

harbor for

international

investors

Turkey is a safe harbor for international

investors that offers a qualified workforce

and inclusive support, the vice president

said.

Holding a joint news conference with

Tatarstan's President Rustam Minnikhanov

in capital Ankara, Fuat Oktay said the

Turkish economy displayed a "very

successful performance" during the

COVID-19 pandemic, highlighting that

public and private sector investments

continued without slowing down.

"Turkey is a safe harbor for international

investors with its competitive production

structure, qualified workforce, strategic

location, modern logistics infrastructure,

and inclusive support and incentive

programs," he said.

His remarks came following a signing

ceremony where Turkey inked a

cooperation deal with Tatarstan and an

investment deal with Tatneft, a leading

Russian petrochemical company.

The deal between Informatics Valley, a

key Turkish technology ecosystem, and

Tatarstan's Innopolis Special Economic

Zone, is aimed at cooperation on

technology and science, Oktay said.

"Under this agreement, we will establish

an incubation center in Innopolis, Tatarstan

that will provide infrastructure, training,

consultancy, and networking services

to young entrepreneurs in the fields of

mobility, information technologies and

game development," he added.

Meanwhile, the memorandum of

understanding signed with Tatneft includes

support for a production facility that the

Russian company plans to establish in

Turkey, Oktay said.

"Like all other investments, Tatneft's maleic

anhydride production facility planned to be

established in Turkey is supported by our

Ministry and benefits from the incentives,"

he stated. The second deal with Tatneft

is a preliminary protocol in the field of

chemical industry signed with Gebze

Organized Industrial Zone for the same

investment, he elaborated. Minnikhanov,

for his part, said that many high-tech

projects have been initiated in Turkey,

adding: "We want the representatives of

the Republic of Tatarstan, Russia's leading

region, to take part in these projects."

"As a result of our two days of hard work,

interesting projects have emerged involving

both Turkey and Tatarstan," he added.

November 2021 30
---
Continued

microchip

shortage forces

Audi to shorttime

work

Due to the continuing shortage of

semiconductors, the German carmaker

Audi extends the summer holidays for

around 10,000 workers at its plants in

Ingolstadt and Neckarsulm.

The employees will work short time, a

company spokesman said and added

that the measures would mean a cut in

production of several thousand planned

cars.

At the main plant in Ingolstadt, all assembly

lines will be at a standstill until August

30. Two of these close-downs are caused

by the microchip shortage, the other

because of conversion work for the start of

production of the electric Q6 Etron.

Audi has also announced short time

work for September as a precautionary

measure, but at the same time has planned

additional shifts on several weekends.

The company has full order books but

was unable to build about 50,000 cars

in the first half of the year due to a lack

of components. When components are

delivered, the carmaker will try to catch

up with the lost production. "You have

to plan from week to week. In the past,

even planned additional shifts had to be

canceled," the spokesperson explained.

CFO Juergen Rittersberger warned in July

that there could be further production

stoppages and short-time work in August

and September due to semiconductor

shortages. Where possible, the chips would

be installed in vehicles with the highest

profit contribution and the lowest carbon

dioxide emissions.

Other carmakers are also short of

microchips. BMW could probably sell

70,000 to 90,000 more cars this year

without the shortages, according to chief

financial officer Nicolas Peter.

"At the moment, however, all plants

worldwide are well supplied," a BMW

spokesperson said.

November 2021 34
---
Global electric

car sales

leap 41% in

2020 despite

pandemic

Global electric vehicle (EV) sales jumped

by a record 41% year-on-year to around

3 million units last year, the International

Energy Agency (IEA) said.

Globally, consumers spent around $120

billion on EVs in 2020, while governments

forked out around $13 billion in subsidies,

or equivalent to around 10% of total

spending, down from 20% of total spending

in 2015, the report said.

The record rise in electric car sales came

despite the COVID-19 crisis during which

the global auto industry suffered a

major shock by contracting 16% last year

compared to 2019.

Sales of electric vehicles represented

4.6% of total global car sales last year, the

agency said.

With last year's increase, the number

of electric cars on the roads worldwide

reached over 10 million, with the addition

of approximately 1 million electric vans,

heavy trucks and buses.

The global EV fleet in 2020 consumed

over 80 terawatt-hours of electricity,

corresponding to the current electricity

demand of Belgium. Electricity demand

from EVs accounted for only about 1% of

the world's current total final electricity

consumption, according to the IEA.

Europe, for the first time last year, overtook

China to register 1.4 million cars on an

annual basis to become the center of the

global electric car market.

As electric car registrations in Europe

more than doubled last year, those in

China increased 9% to 1.2 million. These

figures compare favorably against the U.S.,

which only registered 295,000 electric

cars in 2020. China still has the biggest car

fleet, reaching 4.5 million last year, while

Europe's electric car fleet hit 3.2 million by

the end of 2020.

Fatih Birol, executive director of the IEA,

asserted in the report that electric vehicles

have an indispensable role to play in

reaching net-zero emissions worldwide and

urged governments to focus on expanding

EV infrastructure.

"Current sales trends are very encouraging,

but our shared climate and energy

goals call for even faster market uptake.

Governments should now be doing the

essential groundwork to accelerate

the adoption of electric vehicles by

using economic recovery packages to

invest in battery manufacturing and the

development of widespread and reliable

charging infrastructure," he said.

Consumer spending on electric cars

increased by another 50% in 2020 to reach

$120 billion, while governmental support

stood at $14 billion, showing a drop for the

fifth consecutive year.

"Even if government subsidies remain

important for spurring the uptake of

electric vehicles, this suggests sales

are increasingly being driven more by

consumer choice," the report revealed.

The IEA showed that automakers offered

370 electric car models in 2020, marking a

40% year-on-year increase.

Eighteen of the 20 largest automakers have

announced intentions to further increase

the number of available models and boost

production of electric light-duty vehicles

as these automakers account for 90% of all

global auto sales.

The report said: "governments helped

buffer electric cars from 2020's downturn

by extending existing policy and fiscal

support, and augment them with stimulus

measures in response to the COVID-19

crisis."

140% rise in first quarter

The strong growth maintained its trend

in the first quarter, but more government

action is needed on charging stations

and fossil-fuel vehicle bans to keep the

momentum going, the agency said.

"We still see no sign of a slowdown in

global electric car markets," said Timur Gül,

head of the IEA's energy technology policy

division, in a presentation on the global

outlook for EVs. First-quarter global EV

sales soared 140% to 1.1 million vehicles,

with strong growth in China, Europe

and the United States, the IEA said. The

report said that based on current trends

and policies, the number of electric cars,

vans, heavy trucks and buses on the roads

worldwide will see a major expansion and

reach 145 million by 2030.

However, the IEA said the global fleet could

reach 230 million if governments accelerate

efforts to reach international climate

and energy goals, as outlined in the IEA's

Sustainable Development Scenario.

It added that if governments around the

world pull together to pursue the even

more ambitious goal of reaching net-zero

emission by 2050, the global electric car

fleet would grow further.

November 2021 36
---
ABA Automotive

excels in exports

of belt tensioners,

idler pulleys,

Multi-V Belts,

timing and PK kits

Rafet Berk Bulut: "First, we need to export culture and characteristics, not products. If the name of

"Made in Turkey" improves, I have no doubt about the capability of Turkish manufacturers"

ABA Automotive, which has been serving

the sector since 1982 and started its

operations under its own name in 2002,

continues its activities in the most

important areas of the automotive sector

such as belt tensioners, idler pulleys and

OAPs. Pointing out that they export most

of their production, Rafet Berk Bulut,

ABA Automotive Business Development

Manager, stated that they are working on

the demands coming from the Americas

region in the coming period.

First of all, can you furnish us with some

information about ABA Automotive?

How long have you been serving in the

industry?

We have been in the industry since 1982.

Our journey begins as a spare part retail

shop in Istanbul-Goztepe. We still have

these retail shops. But ABA Automotive

has officially established in 2002. Since

2002, we have been manufacturing belt

tensioners, idler pulleys, OAPs and since

2017 we have Multi-V Belts, timing and PK

kits in our range. Currently, we have two

factories in Tekirdag and one distribution

hub in Istanbul with total of 200+

employees.

Could you tell us about the products you

produce on the automotive side and the

features of these products that distinguish

them from their similar products?

We are manufacturing powertrain

parts. These parts require sensitive

manufacturing and plays a big role in the

November 2021 38
---
engine performance. If your timing belt

slips from the tensioner, it may cause

whole engine to be damaged.

We have many advantages and

disadvantages compared to our

competitors. I think the biggest difference

of ABA is reliability. We have a warranty

that can cover every cost like towing,

demaged parts, labor etc. not only the

product. This is how much we trust our

production. We are offering the optimum

product in a mid-price level for the market.

This is also really important for our

customers to choose us.

What are the countries and regions you

export to? Are there any new markets and

countries that you intend to enter? What

are your export plans for the next year?

Approximately %80 of our sales are

export. Most of this %80 is Europe. France

and Germany is %50. We are exporting

tensioners every year to more than 50

countries. We have distributors in Chile,

New Zealand, Cote d'ivoire.

Regarding to the new markets, we have

a big demand from North and South

America. We are also planning to increase

our availability. In today's market,

availability is maybe the most important

point. We have some short-term plans to

open regional distribution hubs in EU and

North America in the following years.

How has COVID, which has affected the

whole world in the last 2 years, affected

you? What advantages and disadvantages

have occurred both in production and in

marketing?

Covid-19 has affected all the supplychain

for all industries. In the first year

of pandemic, everybody was panicked.

Some of our customers increased their

supply and some decreased. But the real

impact on supply-chain hit in the beginning

of 2021. All the raw material prices are

increased a lot. Today as November 2021,

Aluminum price has increase more than

%100 in the last 16 months. When it comes

to us and auto parts industry, Aluminum

is really crucial and highly consumed

raw material. But worse was not the

price increase. The biggest problem was

availability. Even with the increased prices,

manufacturers couldn't purchase the basic

raw materials with demanded volume.

We were also affected negatively on raw

material problems but, hopefully we have

had stocks and alternatives suppliers.

I think there were so many opportunities

during the pandemic. There still are.

Everybody increased their prices,

availabilities changed, that created

opportunities for manufacturers to work

with new customers. We are also one of

those manufacturers. Every crise creates

opportunities. In conclusion, I would say

that for us, pros were more than the cons.

Our sales grew %40 in one year despite the

supply chain problems.

As someone from the industry, what

would you like to say about Turkey's place

in the world in the automotive industry?

Turkey is an important country for

Automotive OEM and Aftermarket. Lots

of OE manufacturers and aftermarket

manufacturers are supplying not only for

domestic market but also exporting all

over the world. After the recent changes

in the global supply chain, manufacturing

in Turkey has improved and the trend

looks to be improved even more. That

is of course a good thing but we also

need to increase the sales of Turkish

branded products. It is really sad to see

Turkish brand names trying to be look like

German and German distributors rarely

sell Turkish branded products. This applies

for all industries in Turkey and I believe it

is still fixable. Maybe not in a short term

but long term.

First, we need to export culture and

characteristics, not products. If the name

of "Made in Turkey" improves, I have

no doubt about the capability of Turkish

manufactures. In order to that, we need

to be reliable and honest to both our

customers and suppliers in the global

trading. Trust is the most important point

in sales. As a country, I believe these are

the points that the Turkish manufacturers

should improve.

39 November 2021
---
Cars sales to

surge as Turkey

hikes tax

thresholds for

some vehicles

Turkey increased the price threshold to

impose a special consumption tax (ÖTV)

on some new vehicles, a move that will

prompt price cuts and boost sales.

The tax base for some cars was raised in

lower-tier tax brackets, which cover the

bulk of the car market, according to a

presidential decree published in the Official

Gazette. The ÖTV rates on car purchases

were kept unchanged.

The new price threshold for cars with

engine capacity of up to 1,600 cubic

centimeters that are included in the 45%

tax bracket has been increased to TL 92,000

($10,770), up from TL 85,000.

The previous base of over TL 85,000 but

below TL 130,000 for vehicles included in

the 50% ÖTV bracket has been lifted to TL

92,000-TL 150,000 range, according to the

decree. The price threshold of TL 130,000

and above for vehicles in the 80% tax

bracket has been increased to TL 150,000

and above.

For cars with an engine capacity of over

1,600 cubic centimeters but below 2,000

cubic centimeters, the ÖTV price threshold

has been increased to TL 114,000-TL

170,000 range, up from TL 85,000-TL

135,000.

The tax base change has lead to price

cuts of more than 16% for certain cars,

according to sector representatives, while

it is also expected to prompt a roughly 10%

decline in the secondhand market.

Shares in Turkish auto manufacturers Tofaş

and Ford Otosan and automotive importer

and distributor Doğuş Otomotiv were up

at market opening while the bluechip BIST

100 index traded flat.

The regulation will reflect positively

and prices could fall in some models

and brands, Hayri Erce, the head of the

Automotive Distributors' Association

(ODD) said, noting that the volatility in

the exchange rates and high interest rates

made access to cars increasingly difficult.

"The annual sales could exceed our

forecast of 775,000-825,000 with the

amendment," Erce said.

For instance, she said there would be a

discount of more than 16% on new cars

with prices below TL 350,000 since they

will shift from the 80% tax bracket to the

50% bracket.

The amendment will most positively impact

cars in the 80% tax bracket, she said. "Price

here will fall by 16% as many models

that were previously included in the 80%

bracket will now be included in the 50%

bracket. In those to be shifted to the 45%

ÖTV bracket from 50%, the price is falling

3.3%," Erce explained.

On the other hand, Hüsamettin Yalçın,

general manager of the automotive sector

data and analysis company Cardata, said

the amendment would push down the

price of the vehicles in the secondhand

market.

"While models of up to TL 350,000 will

become cheaper by around 15%, we expect

prices in the secondhand market to drop

10%," Yalçın told the Turkish business

daily Dünya. Sales of passenger cars and

light commercial vehicles across Turkey

increased by 29.6% in the January-July

period to around 442,550 units, according

to ODD data. Passenger car sales surged

27% to 346,636, the data showed.

The association had forecast that sales

of passenger cars and light commercial

vehicles would amount to between

775,000 and 825,000 this year.

Sales had jumped 61.3% to 772,788 units in

2020 despite all the obstacles during a year

overshadowed by the pandemic. Passenger

car sales surged 57.6% in the same period

to reach 610,109 units.

November 2021 40
---
'Made in Turkey'

horn to equip

global electric

vehicles

Millions of vehicles from dozens of global

automakers on the road around the world

have one thing in common: a horn built by

a Turkish auto parts manufacturer.

Seger from the northwestern province of

Bursa, dubbed Turkey's automotive capital,

has been manufacturing the only unique

voice heard from millions of vehicles on

the road for four decades now. And it

is now pushing ahead to turn into the

main supplier for the electric vehicle (EV)

industry. The company is among the main

suppliers of horns for many carmakers,

including Audi, Volkswagen, Mercedes,

Renault, Citroen, Peugeot, Hyundai, Opel

and Ford. It has invested in China as well

and employs nearly 200 people in its Bursa

factory.

The biggest horn manufacturer in Turkey

embarked on its journey in a modest

workshop with copper wire production

in Bursa in 1981. It has produced almost

110 million horns to date, 80% of which

were sent to nearly 70 countries. It also

manufactures the parts for trains and ships.

It had also equipped a Tesla Roadster, an

electric sports car that Elon Musk launched

into space on one of his SpaceX rockets in

February 2018. It is the electric vehicle (EV)

industry where Seger's parts have become

more widespread recently.

"We don't have many competitors in

our product range. This cake is shared

by three companies in Europe and 10-12

companies worldwide, said Selim Baykal,

the company's chairperson.

"We are a number player in electric

vehicles. We are producing the horns of

Tesla, and Xpeng," Baykal told Anadolu

Agency (AA), referring to the Chinese

electric vehicle manufacturer.

The company manufactures many parts

such as electromechanical, electronic,

air and reverse horns, Baykal informed,

stressing the recent intense production of

electric vehicles.

Seger will also be a supplier for Turkey's

Automobile Joint Venture Group (TOGG),

a consortium developing the nation's first

homegrown car.

TOGG will produce five different fully

electric models – an SUV, sedan,

C-hatchback, B-SUV and B-MPV – through

2030. Mass production of the SUV will

begin in 2022, with the sedan to follow.

"We will also provide the horn for our

domestic vehicle TOGG. I hope that we will

continue our path by developing further in

the coming years," said Baykal.

The company keeps the bar high as its

chairperson stressed plans to further boost

its market share.

"We want to further increase our share of

this, to bring our products together with

more companies," he noted. "Even though

it is only one, but we have our product

even in space. We are proud of this."

Baykal also informed they have started

operating in the lighting group as well.

"We began to operate not only on the

horn but also in the lighting group. We are

aiming to reach a certain market share in

this field as well," he noted.

November 2021 42
---
Turkey's Karsan to produce Renault's Megane sedan

As part of the Renault Group's strategy

to optimize its industrial footprint, the

Turkish-French joint venture Oyak Renault

signed a five-year agreement with Turkish

vehicle manufacturer Karsan for the

production of its Megane sedan model.

According to the carmaker's statement,

the agreement aims to transfer the existing

Megane sedan production to Karsan, thus

making room for a new generation of

vehicles at the Oyak Renault factory. The

agreement is expected to become effective

in the latter part of 2022.

While Karsan will be responsible for the

production and assembly of the vehicle,

the Turkish-French joint venture company

will continue to produce parts for the

chassis.

Oyak Renault will also continue to

be responsible for the quality of the

completed vehicles and the relations with

the parts suppliers. The production of the

Megane Sedan will be carried out by Karsan

for five years, while the current sales

network of the vehicle will be continued as

it is currently.

The project aims for a yearly production

capacity of 55,000 units.

Oyak Renault general manager and cowriter

of the statement, Antoine Aoun,

said he believes cooperation with a brand

like Karsan, who has deep knowledge of

the field and a competent workforce, will

contribute greatly to the Turkish economy

while adding a different perspective to the

sector.

Karsan CEO Okan Baş said his company,

which offers global electric and high-tech

transportation solutions suitable for the

mobility needs of the era, is happy for this

cooperation with Oyak Renault.

"I believe that our cooperation with Oyak

Renault will continue by getting stronger

with this project, which we have taken the

first step of. At the same time, we wish this

good development to be auspicious for our

Turkish automotive industry," he said.

Oyak Renault, one of the facilities with the

highest capacity of the Renault Group with

an annual production volume of 378,000

cars and 920,000 engines, continues to

produce and export the new Clio, new Clio

Hybrid and Megane Sedan models, as well

as the engines and mechanical parts used

in those models.

November 2021 46
---
Turkey's auto

production,

exports up in

first 9 months

Turkey's automotive production,

including light commercial vehicles,

tractors and automobiles, is up by 8%

during the first nine months of this year

versus the same period of 2020, an

association report said.

The production amounted to 921,619

units made from January to September,

according to the Automotive

Manufacturers Association (OSD).

Meanwhile, passenger car production

posted a decline of 1%, standing at

571,108 units in the same period.

The capacity utilization rate in the sector

was 63% from January to September.

On the sales side, the auto market,

including light trucks and other vehicles,

expanded 15% compared to the same

period last year, reaching 582,083 units.

Automotive industry exports also

increased by 24.5% to $21.7 billion (TL

194.37 billion) on a value basis. The

sector exported 671,674 vehicles during

the nine-month period. In September,

auto production decreased by 24.7% on

an annual basis to reach 107,029 units.

November 2021 50
---
"We have become one of the first companies that

adapt quickly to the new normal."

VECTOR Chairman Burak BACAKCI

Vector continues to increase its share in

target markets by growing more and more

each day with the service and product

quality it offers, increasing its business

volume and turnover. The company's target

is to open up to new markets, to become

the leading global brand of the world and

Turkey.

Vector company representative Burak

Bacakci evaluated their current positions in

the country and abroad and conveyed his

thoughts about his future plans.

Can you tell us about Vector Automotive?

Vector Automotive was established in 1981

and has been exporting spare parts since

its establishment. Currently, our entire

sales strategy is aimed at exporting abroad,

and there may be differences in the

future. We are offering more than 40,000

OEM, OES and Aftermarket spare parts

for Heavy Vehicles, Light Commercial and

Passenger Vehicles from Engine to Brake

System, Cooling to Wheel System, Gearbox

to Steering System, to our customers in

more than 120 countries under Vector

Automotive quality and guarantee with our

experience of more than 40 years.

As Vector Automotive, what is your

difference from your competitors?

What are your features that make you

stand out?

As Vector Automotive, we aim to establish

long-lasting relationships based on trust

with both our suppliers and the companies

we export to. In this way, we, as VECTOR

Automotive, try to do our best to ensure

that every customer we host leaves our

country happily, by ensuring mutual trust

and stability in our work, and by carrying

our customer satisfaction further in all our

commercial activities. This is one of our

most important factors ensuring we are

always one step ahead of our competitors.

Our high quality and fast product

shipments are another important feature

that brings us to the fore and thanks to

these shipments we make on time and

completely, we increase the satisfaction of

our customers even more.

With our young, dynamic and experienced

team, we offer effective solutions to all

questions and requests from our customers

without wasting time. Our first priority

is to act according to the dynamics and

values of each country within our service

philosophy. Therefore; we have brought

together our Sales Team, which is our

company's window to the world, from our

international teammates.

We are conscious of being a global

brand, which attaches great importance

to innovation and development, and

by making this situation sustainable in

order to bring dynamism to our sector, by

carrying it to the top.

What do you think is Turkey's role in the

automotive industry, its advantages and

disadvantages?

Although the automotive sector is quite

important for developing countries such

as Turkey compared to other sectors, it

is a key sector. Our country plays a very

important role in the sector, which is

divided into many branches such as spare

parts, service, fuel and transportation. In

November 2021 52
---
particular, the steps taken for domestic

automobiles in recent years are also

capable of responding to changing

consumer preferences by adapting to

the developing automotive technology

trend. With this action, we can talk about

that the automotive sector gained a new

momentum in our country.

Our country has a serious competitive

power in the automotive sector. This

situation can put companies in an

advantageous or disadvantageous position

depending on the future plans, investments

and strategies of the companies. Key words

to be emphasized here are "change and

development". As technology changes, this

affects everyone from large automotive

companies to small manufacturers. In

fact, electric vehicles, which have recently

become popular and preferred in the

world, are one of the best examples of this,

showing that even small manufacturers

are making an intense effort to adapt

themselves to this development.

As an exporter company, how do you

evaluate your position in the sector in

Turkey and abroad? What are your short,

medium and long term goals?

As Vector Automotive, we have been in

this sector for more than 40 years, so our

company has a wide network both in the

country and abroad, and our cooperation

extends to the other end of the world.

Today, if the name VECTOR is known in

many parts of our country and the world,

we owe it to our reliable and high-quality

trade understanding as well as our

experience of more than 40 years.

Our medium and long-term goals are

primarily to grow more, to increase our

business volume and turnover, to expand

our product range, to develop the services

we offer to our customers, to expand into

new regional markets by increasing our

share in target markets, and to become

the leading Global Brand of the World and

Turkey.

Despite the ongoing pandemic conditions

in 2021, we had the chance to implement

many of our business plans. We made visits

to our current foreign customers and we

also found the opportunity to host our

customers in our country. Since we will

attend the Las Vegas AAPEX fair, which is

very important for us at the moment and

will be held between 2-4 November, my

colleagues are continuing their fair work

with great care.

For 2022 our targets are to maintain

these and similar processes I mentioned

above and to expand our new customer

connections.

What are your future investments and

plans?

Our sector, which will almost completely

change due to changing trends in the

automotive industry and developing

consumer preferences as a result of

technological developments, will reach

a completely different format by 2030.

We, as VECTOR Automotive, have always

attached importance to innovation,

development and change. For that reason,

we are trying to realize all our current

investments under these three main

components in line with the advantages

offered by technology. We aim to be in

a faster and easier communication with

our customers and suppliers by improving

the technology infrastructure within our

structure.

Do you plan fairs at home and abroad?

What is your expectation from these

fairs? What are your products that you are

assertive about?

Fairs are of great importance to us as we do

international trade. For this reason, we take

care to take part in fair organizations both

at home and abroad. We have participated

in Automechanika fairs, which have been

held in many parts of the world, and we

continue to participate. In this direction,

we will participate in the AAPEX Fair, which

will be held in Las Vegas, USA, which is one

of the largest fair organizations in 2021, on

2-4 November.

How was the pandemic period? How were

your experiences in the new normal?

What did you experience?

Uncertainty in the first two months of the

pandemic period, of course, affected us

as well. Although we could not reach the

figures we expected in the first quarter of

2020, we completed the end of the year

by exceeding our export figures in previous

years. As a result of this, we have achieved

another success with the "2020 Bronze

Exporter Award" and added a new one to

numerous awards we have gained so far.

Since the technological infrastructure

of our company is suitable for remote

working, we have become one of the

first companies adapting quickly to the

new normal and switch to the home

office application. As the continuity of

business processes is one of the main

factors making a difference in this period,

we, as VECTOR Automotive, have once

again made a difference in the sector with

the satisfaction of getting the chance to

fulfill the wishes and expectations of our

customers without causing any disruption.

Could you please share your opinions

about today and the future of the

industry?

The spare parts sector is a sector, having

a responsibility and commitment to its

customers. Manufacturers in the sector

work on OEM, OES and aftermarket spare

parts. Automotive sub-industry is one of

the industries where technology develops

and changes very rapidly. In order to follow

this rapid development and change in the

world markets and to catch up with the

competition, both the manufacturer and

the producer of the spare parts sector have

to make investments together.

Despite the ever-increasing cost, Turkey

is in a strategic position in the global

competition in the automotive supplier

industry. Especially with the Covid-19

epidemic started in China, Turkey has

become a priority for the automotive

supplier industry. Today, Turkey has

reached the level to produce for OEM

companies operating in Europe and

America. Despite the economic conditions,

technological investments are continuing.

Investments should not be limited to

production and technology only. There

are many important elements between

production and reaching the consumer. For

this reason, by investing in knowledge, we

should also increase satisfaction in terms

of employee quality, human resources and

logistics processes.

The automotive industry also serves many

branches such as defense, transportation,

agriculture and manufacturing industry.

For this reason, each development in these

areas, integrated with each other, grows

like a snowball and contributes to other

areas.

What are your expectations for 2022?

2021 was a very productive year for our

company and met our expectations.

Our expectations from 2022 are to

increase our market share, to maximize

our customer satisfaction, and to ensure

that our achievements are sustainable

and continuous by reaching export figures

above the previous year.

53 November 2021
---
Chip crunch forces

Toyota to slash

September global

output by 40%

Toyota Motor Corp will reduce global

production for September by 40% from

its previous plan, the Nikkei business

daily reported. Toyota follows other

major automakers that have had to cut

production due to critical shortages of

semiconductors.

Toyota has fared better than rivals, having

built a larger stockpile of chips due to a

business continuity plan revamped in the

wake of the 2011 Fukushima earthquake.

But a resurgence in COVID-19 cases across

Asia has compounded the semiconductor

crunch.

Shares in the world's largest automaker

by sales volume slid on the report, ending

down 4.4% in their biggest daily drop since

December 2018 and pulling the benchmark

Nikkei average to a seven-month low.

Toyota had been aiming to make a little

under 900,000 vehicles in September,

but has reduced that to about 500,000,

according to the Nikkei.

A company representative said checks were

being made on the report.

Toyota said this month it was facing an

unpredictable business environment

due to fresh COVID-19 cases in emerging

economies, the semiconductor shortage

and soaring material prices. Even so, it

maintained its forecast to sell 8.7 million

cars globally for the year ending in March.

Toyota will temporarily suspend production

lines at domestic factories including its

Takaoka plant in Aichi Prefecture, the

Nikkei said. It added that production in

North America, China and Europe will also

likely be scaled back by tens of thousands

of units.

The carmaker had already halted assembly

lines at some domestic factories from late

July to early August, including its Tahara

plant, due to a surge in COVID-19 infections

in Vietnam, which had constrained the

supply of parts, the Nikkei said.

A person familiar with the matter told

Reuters this month that Toyota had

suspended production at one assembly

line in Guangzhou, China, which it operates

with its Chinese joint-venture partner

Guangzhou Automobile Group Co Ltd.

In Thailand too, Toyota suspended

production at three factories due to a

pandemic-related parts shortage.

The carmaker reported that it would also

pause production at its Turkey plant, its

biggest in Europe.

Toyota Motor Manufacturing Turkey will

halt output at its base in the Adapazarı

district of the northwestern Sakarya

province from Aug. 20 through Sept. 5,

Bloomberg said.

It cited problems with the semiconductor

supply as being behind the temporary

pause.

One of Toyota's biggest overseas

manufacturing operations, Toyota Turkey

has an annual production capacity of

around 280,000 units.

Its CEO Ali Haydar Bozkurt earlier said

supply disruptions had caused problems

in the production. He warned that the

biggest issue was the inability to respond

to customer demand, as brands do not

have enough vehicles on hand to meet

the demand. Toyota Turkey manufactures

Corolla and Toyota C-HR models. The

majority of the production is exported

to around 150 countries. Microchips are

essential for the electronics systems of

modern cars, and have been in short

supply since the end of last year. When

the pandemic hit, carmakers scaled back

orders and chipmakers shifted output to

consumer electronics as people splurged

on equipment to work and relax at home

– leaving automakers in a tight situation as

demand for vehicles picked up.

November 2021 56
---
TOGG

showcases first

body assembly

of Turkey's

homegrown car

a sport utility vehicle (SUV) and a sedan,

both fully electric and C-segment models.

TOGG will produce five different models

– an SUV, sedan, C-hatchback, B-SUV and

B-MPV – through 2030.

Mass production of the SUV will begin in

2022, with the sedan to follow.

Construction of TOGG's engineering, design

and production facilities began on July 18,

2020. The facility, built on an area of 1.2

million square meters (12.9 million square

feet) in the Gemlik district of northwestern

Bursa province, is planned for completion

in early 2022.

As for suppliers, TOGG has reached deals

with 10 global corporations – 75% of them

from Turkey and the remaining 25% from

Europe and Asia. TOGG has opted for

advanced lithium-ion battery technology

company Farasis as its business partner for

the battery. The homegrown car will reach

80% charge in under 30 minutes with fast

charging. It will have a range of between

300 to 500 kilometers (186-310 miles).

Acceleration from 0 to 100 kph (0 to

62 mph) will be 7.6 seconds with 200

horsepower, and under 4.8 seconds with a

400-horsepower engine.

Turkey's Automobile Joint Venture Group

(TOGG) announced that it had completed

the initial body assembly of the country's

first homegrown car.

The consortium developing the nation's

first domestically produced automobile

showcased the integrated body assembly in

a post on Twitter.

"Our first body assembled entirely from

domestic production parts," TOGG said on

social media.

TOGG was launched on June 25, 2018. It

is led by former Bosch executive Mehmet

Gürcan Karakaş, who was appointed chief

executive officer in 2018.

President Recep Tayyip Erdoğan in

December 2019 unveiled prototypes for

November 2021 62
---
100'ünü ihraç ediyoruz. Erin Motor

kısmına bakacak olursak da yüzde 100

özgün Türk tasarımı yerli motor üretiyoruz.

Grup olarak, İstanbul Esenyurt'taki 7.500

metrekarelik fabrikamızda 72'si beyaz yakalı

olmak üzere 431 kişiyi istihdam ediyoruz.

Ürettiğimiz motorlar jeneratörlerde, tarım

sulama alanlarında ve balıkçı teknelerinde

kullanılıyor. Projemizin temelleri 11 yıl

önce atıldı ve üniversite-sanayi işbirliğini

en etkin şekilde kullandık. Yıldız Teknik

Üniversitesi ile birlikte iki adet SANTEZ

projesi tamamladık. Buradan kazandığımız

tüm know how'ı geliştirme çalışmalarımız

sırasında kullandık. İlk defa 3 yıl önce

piyasaya sunulan motorların ihracatı o

yıl başladı. Motorlar Nijerya, Cezayir,

Moritanya, Romanya, Arnavutluk'a ihraç

edildi. 2,5 milyar dolarlık motor ithalatının

önüne geçmek için üretilen motorumuzun

dizel ve doğalgazlı olmak üzere iki farklı

çeşidi var. Firmamız aynı zamanda

savunma sanayisine de hizmet vermekte.

Teknofest'te sivil ve askeri alanda kullanılan

İHA'lar için ürettiğimiz Baykuş isimli 6bg

ve 12bg güce sahip iki motorun daha

lansmanını yaptık.

Erin Motor 'dan %100 yerli

endüstriyel motorlar

Ersin Şahin: "Ürettiğimiz İHA ve DİHA motorlarının %90'ı yerli.

Bunu %100 yerli yapmak da elimizde. En kritik ve en stratejik

parçalarını Türkiye'de üretiyoruz. Seri üretim aşamasına gelindi."

Sadece 15 yıl içerisinde tasarımından

üretimine %100 yerli motorlar üretmeyi

başlayan Erin Motor, aynı zamanda son

yıllarda yükselişte olan savunma sanayi

için de motorlar üretiyor.

Hedeflerinin bu motorları Orta Avrupa

ve Amerika pazarına ihraç etmek

olduğunu söyleyen Erin Motor Genel

Müdürü Ersin Şahin, 2,5 milyar dolarlık

motor ithalatının önüne geçmek için

üretilen bu motorların aynı zamanda zirai

ilaçlama dronlarında kullanımı üzerine de

çalıştıklarını ifade etti.

Öncelikle Erin Motor hakkında bilgi verir

misiniz?

Grup şirketlerimizden Şahin Kalıp'ın

kuruluşu 1975 yılı olup, 1989 yılında Şahin

Metal ile alüminyum pres döküm sektörüne

girdik. 2015 yılında kurulan Erin Motor

ile de içten yanmalı motorlar üzerine

tasarım ve Ar-Ge faaliyetleri yapmaya

başladık. Şahin Metal olarak kurulduğumuz

yıldan beri ihracatçı konumdayız. Dünya

otomotiv devlerinin alüminyum pres

döküm işlerini yapıyoruz ve o kısımda

ürettiğimiz ürünlerin neredeyse yüzde

İhracat yaptığınız ülke ve bölgeler nereler?

Yeni girmeyi düşündüğünüz pazar ve

ülkeler var mı? Önümüzdeki yıl için ihracat

planlarınız neler?

Şahin Metal, yüzde 100 ihracat yapan bir

firma ve ihracatımızı ağırlıklı olarak Avrupa

ülkelerine gerçekleştiriyoruz. Bunun dışında

ABD'ye de ihracatımız var. Erin Motor

kısmında ise şu ana kadar Ortadoğu, Kuzey

Afrika ve Doğru Avrupa ülkelerine ihracat

yaptık. Ancak yeni geliştirmekte olduğumuz

motorlarla Amerika ve Orta Avrupa

pazarlarını hedefliyoruz.

Özellikle İHA motorları hakkında yaptığınız

çalışmalardan da bahseder misiniz?

İçten yanmalı motor pazarının gidişatını

yakından takip ediyoruz. Bu bağlamda

uzun zamandır savunma sanayine ürünler

geliştirmek istiyorduk. Ancak küçük güç

grubuna motor geliştirmemiz Baykar ile

tanışmamızdan sonra gerçekleşti. Açıkçası

bizi bu pazara Sayın Haluk Bayraktar

Bey ve Sayın Selçuk Bayraktar Bey

yönlendirdiler. Firma ziyaretlerimizde "Siz

bu işi neden yapmıyorsunuz?" sorusuyla

biz bu işe girdik. Bu bağlamda kendilerine

müteşekkiriz. Şu anda aynı motorların zirai

ilaçlama dronlarında kullanımı üzerine de

çalışıyoruz.

Marka olarak nasıl bir farklılığınız var?

Erin Motor'un merkezinde Ar-Ge var.

Biz tasarım ve üretim yeteneklerimiz ile

November 2021 66
---
ön plana çıkıyoruz. Buna ek olarak grup

şirketimizin otomotiv tecrübesi de bizler

için çok değerli. Bu anlamda geçtiğimiz

günlerde Teknofest'te sergilediğimiz

motorlar oldukça ilgi çekti. Bunlardan bir

tanesi hat basıncı ile çalışabilen doğalgazlı

motor oldu. Jeneratörlerde kullanılabilen

bu motorlar, elektronik kontrollü.

Kontrolü yapan kartın tasarımı ve yazılımı

tamamen bize ait. Oradaki tecrübeyi

diğer iki motorumuzda da kullandık.

Baykuş ismini verdiğimiz diğer iki motor

da, İHA'larda kullanılabilen iki zamanlı,

iki silindirli motorlar. Motorlardan biri 6,

diğeri 12 beygir güç üretmekte. İnşallah

daha büyük motorlar da gelecek. Mevcut

motorumuzu farklı kullanım alanlarına göre

farklı konfigürasyonlarla üretebiliyoruz.

Elektronik kontrollü ve karbüratörlü

motorlarımıza PMU ve Starter-Alternatör

opsiyonlarını sunuyoruz.

Teknofest'te tanıtılan Bayraktar DİHA'da

da H12 motorumuz vardı. DİHA'larda

hedefimiz bizim motorumuzu kullanmaları.

Hedefimiz öncelikle yerli pazar. Ancak

uygun firmalara ihracat da yapacağız.

Savunma sanayinde fiyat avantajından çok

yurt dışına bağımlı olmamak önemli. Fiyat

konusunda da Dünya ile rekabet edebilecek

düzeydeyiz. Motorun yüzde 90'ı yerli.

Yüzde 100'ünü yerli yapmak da elimizde. En

kritik ve en stratejik parçalarını Türkiye'de

üretiyoruz. Seri üretim aşamasına gelindi.

"Baykuş" isimli motorlarımız kadar diğer

ürünümüze de çok değer veriyoruz.

Doğalgazlı motorumuzun yerli ikamesi yok.

Yurt dışında da tek silindirli bu güçte başka

bir doğalgazlı motor görmedik. Çok önemli

bir ürün, burada yaptığımız işten çok

tecrübe edindik.

Son dönemde yaşanan çip krizi hakkında

neler söyleyebilirsiniz? Sizce neler

yapılmalı?

Ben bu krizi, çip krizinden çok tedarik

zinciri krizi olarak adlandırmayı doğru

buluyorum. Sadece çip, zincirin en zayıf

halkası konumunda olduğundan dolayı bu

kadar çok konuşuluyor. Şayet çip sorunu

çıkmasaydı, farklı bir hammaddeyi de bu

kadar konuşuyor durumda olabilirdik.

Çip teknolojisi çok ileri bir teknoloji ve

yüksek Ar-Ge ve yatırım maliyetlerine

sahip. Üretim teknolojisinin çok kompleks

olmasından dolayı yapılan kapasite

yatırımlarının hayata geçmesi de

oldukça uzun sürüyor. Bu sebeplerden

dolayı muhtemelen 2023 yılına kadar

çip üretimindeki darboğaz hayatımızda

olacak. Bizim de ülke olarak bilindiği üzere

çalışmalarımız var. Bunları hızlandırmalı ve

en azından çok temel teknolojilerde dışa

olan bağımlılığımızı azaltmalıyız. Yarışın

neresinde olduğumuzun bir önemi yok.

Önemli olan bu teknoloji üzerine ülkemizde

de çalışmaların yapılıyor oluşu.

Sektörün içerisinden birisi olarak otomotiv

sektöründe Türkiye'nin dünyadaki yeri

hakkında neler söylemek istersiniz?

Türkiye, otomotiv yan sanayisinde

çok önemli ve stratejik bir noktada.

Kaliteli ürünü kıyasla ucuza üretebilen

ve zamanında sevk edebilen ülke

konumundayız. Ticaret savaşları sonrasında

stratejik konumumuz dolayısıyla yerimizi bu

noktada sağlamlaştıracağımıza inanıyorum.

Bu noktadan sonra yapmamız gereken

katma değeri artırarak alt sistemleri üreten

ülke konumuna gelmek. TOGG'un bu

bağlamda hızlandırıcı bir etkisi olacağına

inanıyorum.

67 November 2021
---
Ford Otosan to

invest $2.4B,

largest ever for

Turkish auto

industry

Ford Otosan, a joint venture of Koç Holding,

Turkey's largest conglomerate, and U.S.

automotive giant Ford, announced it will be

making a 2 billion euro (nearly $2.4 billion)

investment to manufacture new-generation

commercial vehicles and batteries at its

factory in Turkey.

The investment will make the carmaker's

factory in the industrial Kocaeli province

Turkey's first and only electric vehicle

integrated production facility that will also

manufacture batteries, Chairman of the

Board Ali Koç told a meeting in the capital

Ankara.

It also marks the largest investment ever

made in the Turkish automotive industry,

Koç said.

President Recep Tayyip Erdoğan hailed

the investment, saying it would provide

Turkish engineers with serious capabilities

in electric vehicles and batteries.

"Turkey will be the largest production

center of electrical commercial vehicles

in the future of the automotive industry,"

Erdoğan told the meeting at the

Presidential Complex.

President Recep Tayyip Erdoğan (C), Ford

Otosan Chairman of the Board Ali Koç (R)

and Ford's Europe Chief Stuart Rowley

during a meeting in the capital Ankara,

Turkey, March 16, 2021.

Once completed, the investment will

lift the Ford Otosan's annual production

capacity from 440,000 to 650,000, the

president added.

Erdoğan also announced that the

carmaker will be manufacturing a one-ton

commercial vehicle for Volkswagen, as

part of an alliance between Ford and the

German carmaker.

Ford Otosan will open its battery assembly

factory for electric vehicles (EVs) in 2022.

It is expected to produce 210,000 newgeneration

commercial vehicles and

130,000 batteries per year.

The Kocaeli facility, located in the Gölcük

district, is the largest commercial vehicle

production hub for Ford in Europe.

The investment in the EV production facility

will be the second of its kind in Turkey after

Automobile Joint Venture Group (TOGG),

the first fully domestic EV, Industry and

Technology Minister Mustafa Varank said in

his address.

The car is being developed by Turkey's

TOGG, a consortium of five major

companies.

The consortium will produce five different

models – an SUV, sedan, C-hatchback,

B-SUV and B-MPV – by 2030. Mass

production of the SUV will begin in 2022,

with the sedan to follow.

Hailing the success of the domestic

automotive industry, Varank dubbed Ford

Otosan as being among the pioneering

firms as it holds a 25% share in the sector's

overall production and exports.

Staying on top as Turkey's leading export

sector, the automotive industry's exports

exceeded $25 billion (TL 187 billion)

despite the pandemic, Erdoğan said.

"Turkey has exported more than 900,000

vehicles to 180 countries on five continents

last year," the president noted.

The government in December announced

that the joint venture's investment

November 2021 68
---
will benefit from its project-based

incentives and support such as customs

duty exemption, value-added tax

(VAT) exemption, VAT refunds and tax

deductions.

The investment is said to provide 3,000

additional jobs, and the number of

qualified personnel is projected to be 200.

The government has provided various

incentives to businesses to make the

private sector the engine of the country's

development, Erdoğan said.

Ford Otosan's Koç said making "the largest

automotive investment in our history is

the greatest proof of our community and

our partner Ford Motor Co's faith in our

country."

"We see this investment, which will

span across 10 years, as a strategic move

forward."

In a statement announcing that Ford

Otosan will make a one-ton commercial

vehicle for Volkswagen, Ford also said the

joint venture would build the next version

of its Transit van for the European market.

The vans will go into production in 2023

and include fully electric and hybrid

variants along with the combustionengined

version, the number-two U.S.

automaker said.

Previously, the firm produced Turkey's first

plug-in hybrid commercial vehicle – the

Transit Custom Plug-In Hybrid.

Ford is the top commercial vehicle brand

in Europe with a 15% share and has led the

commercial van market in Britain, Europe's

largest, for 56 years.

It said its passenger car lineup in Europe

would be all-electric by 2030.

Tightening CO2 emissions targets in Europe

and China have combined with improving

battery technology to provide greater range

at lower costs, giving commercial EVs their

moment in the sun after years of waiting.

Soaring e-commerce deliveries amid the

pandemic are also spurring interest in

commercial EVs.

Ford is betting it can profit from selling

electric vans to delivery businesses that

need to reduce carbon emissions.

Ford said in February its entire commercial

vehicle lineup would offer all-electric or

plug-in hybrid versions by 2024. It said

it expects two-thirds of its commercial

vehicle sales in Europe to be all-electric or

plug-in hybrid by 2030.

November 2021

70
---
The target in

2022 is to export

to 90 countries

Yumak has increased its investment

volume of this year

to over 30 million Euros.

Yumak, having been serving the

automotive industry for nearly half a

century, produces the heavy vehicles' all

parts, having a connection with air. Yumak

Ali Emre Gökalp Foreign Trade Manager,

stated that they are actively exporting to 7

continents, said that their target is to sell to

90 countries in 2022.

Firstly, can you give some information

about Yumak? How long have you been

serving in the sector?

Our company, laid in 1975, started to

produce sensitive spare parts in the engine

parts of heavy vehicles. As Yumak, we

always work to produce the best. Our

company, made its first export in 1993,

is proud of exporting to more than 80

countries with its 750 employees. The

countries of the world, started to meet

with Yumak products, soon accepted the

quality and durability of our products. By

increasing our investment volume to over

30 Million Euros in 2021, we are on the way

to become a world class quality together

with our advanced R&D team.

Could you tell us about the heavy vehicle

systems, brake and clutch systems you

produce? Could you tell us about the

features, distinguishing these products

from their other counterparts?

Air Brake Compressor, Clutch Servo, Gear

Lever Actuator and Valve are among the

most featured products we offer for the

industry. Our products cover all parts of

heavy-duty vehicles that are related to

air. At the same time, we try to help our

customers with other commercial parts by

adopting the satisfaction of our customers.

The controls of raw materials, warehouse

entrance, manufacturing, assembly, testing

and packaging processes of our products

are carried out meticulously. At the same

time, thanks to our professional engineer

team, we did not lose our confidence in our

quality.

What are the countries and regions you

export to? Are there any markets and

countries that you intend to enter new?

What are your export plans for 2022?

We are actively selling to 7 continents.

Since we use English, German, French,

Russian, Arabic, Spanish and Dutch

languages professionally in our sales

department, we are trying to dominate the

market completely. Our export target is to

increase to over 90 countries in 2022.

How has COVID, affected the whole

world in the last 2 years, affected you?

What advantages and disadvantages

have occurred both in production and in

marketing?

The Covid 19 virus, influenced the world in

the last 2 years, has provided advantages

for us, as well as for all companies, in

some areas and a disadvantage in others.

The quarantine conditions applied in

some countries caused the transportation

organizations in the countries to be

disrupted. For this reason, we had

problems with shipping from time to time.

But as we always have a Plan B ready, our

export volume has increased.

November 2021 72
---
National car TOGG to significantly contribute to

Turkey's know-how, industry leader says

Istanbul Chamber of Industry (ISO) head

Erdal Bahçıvan highlighted the strategic

role of Turkey's Automobile Joint Venture

Group (TOGG), which is producing the

country's first fully domestic electric car.

"TOGG is doing more than just

manufacturing a domestic automobile.

It will contribute to the technological

know-how of the country," Bahçıvan said

in a statement. Noting that, among the

industry sectors, the most fundamental

technological transformation is taking

place in the automotive sector, Bahçıvan

said that the innovations in the next

5-10 years will be much greater than the

progress made in the past 50 years. He also

mentioned the role of electric cars in this

transformation process.

"Cars are transforming into interactive

smart computers. As our cities, houses and

factories get smarter, our automobile turns

into a living space. We are approaching a

period where everything is connected to

each other," he said.

In June 2018, five industrial giants –

Anadolu Group, BMC, Kök Group, Turkcell

and Zorlu Holding – joined hands with

the umbrella organization, the Union of

Chambers and Commodity Exchanges of

Turkey (TOBB), to produce TOGG to realize

Turkey's long-term aim of producing a

fully Turkish-made automobile, unveiling

prototypes on Dec. 27.

TOGG will produce five different models

– an SUV, sedan, C-hatchback, B-SUV and

B-MPV – by 2030 and own the intellectual

and industrial property rights to each. Mass

production of the SUV will begin in 2022,

with the sedan to follow.

November 2021 74
---
Kross is on its

way to becoming

a world brand

Kross, serving the automotive

sector with 110 different

products, sends its products all

over Turkey and 80 different

countries in the world.

Kross Madeni Yağlar, one of the leading

brands in the mineral oil sector, introduces

innovations in the automotive sector with

its experience and R&D studies. General

Manager Mahmut Dalgıntekin, talking

about the product variety and the work

they have done, said "As Kross Madeni

Yağlar, we are leading many innovations

in the sector by combining our 28 years of

experience with developing technologies

and R&D studies in the world. Thanks to the

experience we have gained, we share the

needs of the day with our solution partners

in the sector. Besides, we ensure the easy

accessibility of oils that require quality, trust

and superior technology. We serve with

our product range of more than 110 in the

domestic and international market."

Export to more than 80 destinations

Dalgıntekin, talking about its market and

export activities, said "We aim to have our

brand in every point where mineral oil is

sold from the west to the east, from the

north to the south of our country in the

domestic market. We export to more than

80 countries in order to make our Kross

brand known in the world. By following

the developing technology in our country

and in the world, we share the market by

producing products with the same quality

as the preferred international top class

brands with a high market share."

November 2021 76
---
Market leader

Dalgıntekin, underlining that they are the

leader in the market, stated that they are

a brand, maintaining its leadership in the

sector thanks to their experience from

the past. "We supply raw materials and

ready-made products to many domestic

manufacturers in Turkey. With the

special training programs and after-sales

technical support services we apply to

our customers, we ensure that the right

product is used in the right place and in

the most economical way. At the same

time, we stand by our customers with real

solutions in the sector we serve by making

synergy with them." Mahmut Dalgıntekin,

General Manager of Kross Madeni Yağlar,

said and ended his words as follows: "In

the last two years, the Covid-19 epidemic,

affected the whole world, has not had

a very negative effect for us, although it

has affected the world in a global sense

in line with this plan, implementing a

strategic program by evaluating both the

health of our personnel and its impact

on the market. As the Kross family, we

follow the developing technology and

produce products with less environmental

pollution and longer life. As a known and

clued-up company in the domestic and

foreign markets, we are moving forward

in line with our goals with confident

steps."

77 November 2021
---
Record high

freight prices

make Turkish

exports

advantageous

The supply-demand imbalance caused by

COVID-19 trade restrictions sent freight

prices soaring to record highs as exporters

around the globe faced bottlenecks

in finding empty containers. On the

China-Europe route, freight prices have

increased significantly, which gives Turkey

a competitive advantage and has brought

record highs to the country's export totals.

The Baltic Dry Index, which includes freight

for Capesize, Panamax, Supramax and

Handysize vessels, reached its highest level

in 10 years with the largest jump seen on

the China-Europe route during this period.

For example, a record high price of $20,000

was set for 40-foot (12.1-meter) containers

for transport between the United States and

China. The increase in freight prices between

China-Europe and China-U.S. by five to 10

times has benefited Turkey.

While $2,000 is the going price for freight

from Turkey to Italy, it was up to $10,000 for

freight from China to Italy.

Increasing logistics costs have had less of an

impact on the Turkey-European Union route

than the China-EU route.

Experts say they have not seen such an

increase in transportation in more than 30

years. These high figures are expected to

last until the Chinese New Year in 2022.

According to Freightos' data, there are

regions that have experienced an up to

a 500% rise year-on-year. The cost of a

container, which was $11,000 at the end of

July just a month ago, has recently increased

to $20,804.

Tahsin Öztiryaki, head of the Istanbul

Ferrous and Non-Ferrous Metals Exporters'

Association, stated that Turkey sent goods

to Frankfurt for 6,000 euros ($7,018) while

Chinese companies paid $14,000.

"Our sales to the EU are increasing. Another

advantage of Turkey is road and rail

transport options ... Investments to be made

in railways will increase this advantage even

more," he said.

Officials from shipping companies that are

most active in Asia cargoes in Turkey said,

"The effects of these increases on Turkey-

Europe exports are positive. Because of

these high freight rates, shipowners used

to pile up their equipment in Asia empty.

This was a problem for Turkey. Now there is

equipment in Turkey as well," he said.

Turkish exporters managed to achieve their

best July sales to date, while the nation's

12-month rolling foreign sales also exceeded

a threshold of $200 billion (TL 1.68 trillion)

for the first time. The supply shortage for

empty containers began in the third quarter

of last year when the end of the first wave

of the pandemic produced a demand

boom in the U.S. China, which dominates

the world container trade, cut production,

triggering a hike in container prices and

leaving exporters scrambling to find empty

containers to maintain maritime trade.

Turkey's Industry and Technology Ministry

and Trade Ministry announced back in

January that to solve the container problem

they had commenced negotiations with local

manufacturers to produce freight containers.

Local firms Dorçe and Karmod, which have

been producing containers for years and are

leaders in the field, hope to produce these

containers. The Trade Ministry also said at

the time that they would support domestic

container manufacturers.

November 2021 78
---
Turkey-A

global player

in autumotive

industry

During the 1990's, as other international

manufacturers like Toyota, Honda,

Hyundai, Isuzu and Mercedes-Benz

entered the market, Turkey rapidly

became an automotive production base

which not only caters to one-time

developments of the industry but rather

holds long-term development options.

Turkey has a thriving automotive sector,

demonstrating substantial growth in the

past. All players involved, including local

authorities and the government, are

participating in providing conditions to

increase output in the future. Some of

the facts are:

-High level of integration into the global

automotive industry

-14th major automotive producers in the

World, with 78% average export rate

-Vehicles of Turkish origin hold the

leading position among the vehicles

coming from outside of EU

-Production, export, and engineering hub

of global brands for international markets

-Quality products with high export rates

-Hundreds of Tier 1 companies working

directly with OEMs

-Center of excellence in automotive

engineering and R&D, in which new

technologies are developed

Strong international presence

-Giants of global automotive value chain

benefit from Turkey's location, cost, and

competitive advantages

-Because of their profitable business

in the country, companies in Turkey

continue to invest in the country's future

-9 R&D centers support not only the local

operations, but also the operations in

other plants of parent companies.

-Ford Otosan's R&D department is one of

Ford's 3 largest global R&D centers

-R&D centerin Bursa is the only center of

Fiat outside of Italy serving the European

market.

-For Courier, Ford's new light commercial

vehicle, the Yeniköy plant is the sole

production center in the world.

-Toyota's C-HR Hybrid is produced in

Turkey for World markets

-Daimler R&D is the center of

competence for some parts and carries

global responsibility.

-With more than 40 thousand

employees, automotive OEMs are

one of the major employers in the

manufacturing industry.

November 2021 80
---
Germany looking at green

hydrogen imports from Turkey

Turkey is on the list of Germany's green hydrogen supplier countries

in line with the country's new hydrogen strategy, according to

Markus C. Slevogt, the head of the German-Turkish Chamber of

Commerce and Industry (AHK Turkey).

Turkey, along with Norway, Iceland, Australia and Chile, has been

named as potential suppliers of hydrogen using renewable energy

sources, Slevogt told Anadolu Agency (AA).

The German government released a national hydrogen strategy

in 2020 under the motto "We are making Germany a hydrogen

country."

In mid-May, Germany's Federal Ministry of Economics and the

Federal Ministry of Transport announced that it would invest 8

billion euros ($9.4 billion) for the development of 62 large-scale

hydrogen projects.

In line with this strategy, Germany anticipates an increase in

hydrogen demand from about 90 to 110 terawatt-hours by 2030.

Green hydrogen is produced by splitting water into hydrogen and

oxygen using an electrolyzer powered by electricity from renewable

energy sources such as wind and solar.

To accommodate such demand for these facilities, electrolyzers

with a total capacity of up to 5 gigawatts are to be built in Germany

by 2030, including offshore and onshore wind energy production

required to provide electricity for electrolysis.

With Turkey's renewables record and hotspots for solar and wind

both onshore and offshore, the country is said to be extremely

well-positioned to react very quickly to developing renewable

hydrogen.

Officials recently said hydrogen production from renewables could

pave the way for new opportunities for Turkey's exports to Europe,

its largest market.

Although Turkey currently does not have a national hydrogen

strategy, many believe in the potential of having green hydrogen

exports over the next 10 years. For instance, European Bank for

Reconstruction and Development (EBRD) is already in talks with

Turkey's Energy and Natural Resources Ministry to support such an

initiative.

Referring to Turkey's potential, Slevogt said the country could build

on the energy partnership between Germany and Turkey that was

established in 2012 into a long-term and stable supply relationship.

"Turkey is currently in the process of drawing up a national

hydrogen strategy. In addition to economically advantageous

electricity generation costs, which are undoubtedly available in

Turkey, safe transport naturally also plays an important role," he

said.

He advocated for the consideration of AHK Turkey, the organization

at the heart of this energy partnership, to help establish a German-

Turkish company network to boost the hydrogen sector and

facilitate joint investments.

Although this sector, which is in a fledgling stage with significant

improvements needed to improve the efficiency of electricity

generated from hydrogen, is garnering interest from companies and

investors in industrialized nations.

International Energy Agency (IEA) forecasts the scaled-up

production to 528 million tons of hydrogen by 2050 for use as fuel

in the shipping, air travel and heavy industry sectors.

The agency anticipates that around 7% of final energy use will be

supplied by renewable generated hydrogen, mainly in industrial

process heat.

November 2021 82
---
Rimac and

Bugatti Begin

Operating Under

New Company

Rimac Automobili officially joins forces with

Bugatti Automobiles under the recently

announced company, Bugatti Rimac d.o.o.

The new company sees two automotive

powerhouses generate an exciting

new movement in the automotive and

technology industries, originally initiated

and strongly supported by the sports car

manufacturer Porsche AG.

Rimac's short but rich 10-year history from

garage start-up, started by one man – Mate

Rimac – now takes its next big leap forward

to begin officially operating under Bugatti

Rimac as of 1st November 2021.

The Rimac Group will be the major

shareholder in Bugatti Rimac with a

55% stake. Mate Rimac will retain his

shareholding in Rimac Group at 35%, with

Porsche at 22%, Hyundai Motor Group

doing the same at 11% and other investors

at 32%. The development, production

and supply of battery systems, drivetrains

and other EV components that Rimac is

known for and trusted by many automotive

manufacturers will be separated into a new

entity – Rimac Technology, which will be

100% owned by the Rimac Group.

Bugatti Rimac sees the unique combination

of two automotive and technological

trailblazers. Rimac's distinctive agility,

technical expertise and relentless

innovation in the EV sphere, along with

Bugatti's 110-year heritage of design and

engineering some of the world's most

iconic hypercars, are now combined in the

leading hypercar company. Porsche will

play a strong role in the joint company

as a strategic partner. Besides two

managers, the Stuttgart based sports car

manufacturer will appoint two Supervisory

Board members, Oliver Blume and Lutz

Meschke.

Mate Rimac's leadership and strategic

direction that has seen Rimac become

an industry frontrunner means he is

exceptionally placed to lead the new

company as Chief Executive Officer. As

CEO of Rimac Group, he will run both

Bugatti Rimac and the new division, Rimac

Technology.

Bugatti Rimac's global headquarters is

situated at Rimac's current base on the

outskirts of Zagreb, Croatia, but in time

will transition to the recently announced

€200M, 200.000m2 Rimac Campus, also

serving as the home of Rimac Technology.

With construction having now begun,

joint research and development of future

Rimac Automobili and Bugatti hypercars

will ultimately take place at the Rimac

Campus – due to open in 2023. High-tech

innovation forms the basis of the state-ofthe-art

facility, with the capacity to host

2,500 curiosity-driven people and a hive

of groundbreaking developments. Bugatti

Rimac starts operating with 435 employees

as part of the new company, 300 of which

will be headquartered in Zagreb, and

135 in Molsheim, France. In addition,180

people at Bugatti Engineering's location in

Wolfsburg will support the new company.

Rimac Technology will consist of over 900

employees. The Rimac Group numbers

over 1.300 employees across its various

locations.

Bugatti Rimac's new Board of Management

sees Christophe Piochon appointed as

November 2021 84
---
Chief Operating Officer. He formerly

held the position of Director General at

Bugatti Automobiles and guarantees the

continuation of the manufactory with its

worldwide outstanding quality. Larissa

Fleischer becomes Chief Financial Officer.

She was previously head of controlling at

Porsche in the areas of digitalization and

the development of new business models.

Emilio Scervo is named Chief Technology

Officer, having previously held the same

position at Rimac Automobili.

Rimac Automobili and Bugatti Automobiles

will each continue to operate as separate

brands and manufacturers, retaining their

individual production facilities in Zagreb

and Molsheim respectively as well as the

distribution channels.

Rimac Technology will continue to

innovate, developing vehicle systems and

technologies for many global OEMs. Such

innovative technology can also be deployed

in future Bugatti and Rimac models.

Commenting on the first day of Bugatti

Rimac operations, Mate Rimac, Bugatti

Rimac CEO, says: "I am honored to be

leading this new fusion of automotive

minds and begin what will no doubt be a

successful, revolutionary and exciting new

chapter for everyone involved. I am also

extremely curious to oversee the profound

impact Bugatti Rimac will have on the

industry, and I look forward to developing

innovative new hypercars and technologies.

"It's difficult to find a better match than

Rimac and Bugatti. What each party brings

to the table in terms of technical expertise,

know-how and automotive history makes

for an electrifying recipe. Rimac's fastpaced

operations and electrification skills

are the perfect complement to Bugatti's

exceptional heritage and craftmanship. Stay

tuned for some truly extraordinary projects

in the future."

"I am convinced that we have found the

right mix of experience and know-how,

innovative strength and team spirit for the

management," says Lutz Meschke, Deputy

Chairman of the Executive Board and

member of the board for Finance and IT at

Porsche AG. "That's why I'm very optimistic.

And because the project is very close to

my heart, I will continue to accompany it

closely and passionately in the future."

Oliver Blume, Chairman of the Board

of Management at Porsche, names this

merger as "the perfect solution" for

everyone involved: "Together, we are

creating a high-performance automotive

company. We have succeeded in

positioning the traditional Bugatti brand

with its charisma for the future in a way

that creates value. Bugatti embodies

fascination and passion, and Rimac

has great innovative strength and tech

expertise."

85 November 2021
---
Turkey mulls

action plan on

EU green pact

to transform

economy

Turkey's presidential action plan on the

European Green Deal, which has been

on the country's agenda for a while, was

published in the Official Gazette.

The circular on the "Green Reconciliation

Action Plan" was prepared by the Trade

Ministry and ensures the forming of the

"Green Reconciliation Working Group" to

monitor the implementation of the action

plan and make the necessary coordination

possible.

In the presidential circular, President Recep

Tayyip Erdoğan stated that the "2030

Agenda for Sustainable Development,"

which came into effect with the unanimous

vote of 193 member states, including

Turkey, under the umbrella of the

United Nations, aims to end poverty and

increase welfare, as well as to contribute

economically and effectively to the global

fight against climate change.

The president stated that he envisages

making it an integral part of a socially

inclusive development model.

The published circular emphasized that

policies to combat climate change have

gained momentum in this direction and

that the goal of achieving sustainable

economic growth has brought climate

change to the center of international

economic and trade policies.

The EU on Dec. 11, 2019, announced that

it will adopt a new growth strategy that will

transform its economy with the "European

Green Consensus," while Erdoğan pointed

out that other leading actors of the

international economy should set targets

for the green transformation of their

economies in the following period.

The changes envisaged in EU policies

with the European Green Deal hold great

importance in line with the transformation

in international trade and the economy,

the circular stressed. It also stated that

Turkey's 2023 development goals in

terms of protecting and improving the

country's competitiveness in exports,

which is the locomotive of the national

economy, and its contribution to the global

economy with the advanced economic

integration established within the scope

of the customs union with the EU will be

improved.

To overcome climate change and

environmental degradation, the EU deal is

set to transform the bloc into a modern,

resource-efficient and competitive

economy, ensuring net-zero emissions of

greenhouse gases by 2050 and economic

growth decoupled from resource use.

All 27 EU member states committed to

turning the EU into the first climate-neutral

continent by 2050 and, to achieve this

goal, they pledged to reduce emissions by

at least 55% by 2030, compared to 1990

levels.

The action plan will contribute to Turkey's

transition to a sustainable, resourceefficient

and green economy, while

providing a road map to adapt to the

changes included in the EU pact, "in a

way that will preserve and further the

integration provided within the scope of

the EU Customs Union with Turkey."

Meanwhile, to assist the Working Group,

specialized working groups can also

be formed in case of need that would

include universities, nongovernmental

organizations (NGO), professional

associations and representatives of the

private sector.

November 2021 86
---
Turkish firm's

helicopter

engines' local

utilization

exceeds 50%

The rate of domestically produced parts

in the ongoing production of engines that

power the Turkish-built T-70 multi-role

helicopters has surpassed 50%, the head of

Turkish Aerospace Industries' (TAI) engine

manufacturing subsidiary said.

Mahmut Faruk Akşit, general manager

and CEO of TUSAŞ Engine Industries (TEI),

told that the engines that will power the

T-70 Black Hawk helicopters – based on

the Sikorsky Aircraft S-70i Black Hawk –

are currently being produced in company

facilities in central Eskişehir province

within the scope of the General-Purpose

Helicopter Program (GMHP), one of

Turkey's most important aviation programs.

Akşit said that within the framework of

the project, the body of the helicopter

was produced by TAI, its engines by TEI, its

avionics by another Turkish defense giant,

Aselsan, and the main gear that turns the

propeller by Alp Aviation.

The T700-TEI-701D engine production

initially started a few years ago and,

according to what Akşit said, they have

been constantly increasing the local

utilization rate. He said they have come

to manufacture almost every part of the

engine at the TEI facilities, including the

combustion chamber, which is the most

critical hot zone part.

"We have completed almost all of the

qualification tests. There is a final test, and

when we pass it, we will be able to sell the

combustion chamber to the world market

with a certificate, and if we

can make an agreement

with General Electric (GE),

we will be able to sell it to

them," he said.

The company so far has

produced 47 domestic

helicopter engines of the

T700-TEI-701D type and

delivered 36 of them to

TAI.

The rest will also be

delivered after completing the qualification

tests.

"As of now, we are in a position to produce

an engine almost once a week," the

company head said.

Akşit stated that producing engines and

maintaining and repairing them require

separate technologies. He emphasized that

as TEI they have both capabilities.

This capability has thrust them into an

important place in terms of the global

market, he said.

"We have become one of the major

maintenance centers for T700 engines

in the world. We also maintain the T700

engines that we do not manufacture. We

have maintained some Sikorsky engines

that care currently in the fleets of the

gendarmerie and police."

November 2021 88
---
Amid upward revisions,

Turkey sees 2021 GDP

growth at over 8%

Turkey expects its economy to expand by over 8%

this year, the nation's trade minister said, amid strong

performance and continued resilience in economic activity

that triggered upward revisions by some international

institutions.

"Those who previously lowered Turkey's growth rate

forecast have now increased it again to 7.9%," Mehmet

Muş told a meeting in the northwestern province of

Edirne.

Muş did not elaborate further but his remarks came after

Fitch revised up its forecast for Turkey's 2021 growth.

The global credit rating agency said it expects the

country's economy to expand by 7.9% this year, up from

its previous estimate of 6.3% in June. It cited performance

following the strong first quarter and base effect as well as

the continued resilience in economic activity.

"Our forecast is that our growth this year will actually rise

even above 8%," Muş said.

The economy grew 7% in the first quarter of this year.

President Recep Tayyip Erdoğan recently said the full-year

growth could exceed that, driven by an expected 20% leap

in the second quarter, mainly due to the base effect.

Data which showed the country's industrial production

surged 41.1% year-on-year in the April-June period,

further reinforced views that the gross domestic product

(GDP) growth could come in even above 20% for the

second quarter.

Turkey had imposed curfews, weekend lockdowns

and restaurant closures, including a tougher but brief

lockdown in April and May due to surging COVID-19 cases.

Manufacturing and the broader economy were largely

unaffected and the measures were lifted in June.

The economy expanded 1.8% in 2020, one of only a

few globally to avoid a contraction due to the pandemic

thanks to a state-lender-led credit boom mid-year.

Muş also cited the strong performance in the country's

exports as 12-month rolling foreign sales exceeded a

threshold of $200 billion (TL 1.7 trillion) for the first time

in June. The minister stressed the will to lift this figure

even further by the end of the year, before accelerating

the pace even further in 2022.
---
Ultrafabrics Partners with Jaguar Land Rover to

Define the Future of Sustainable Luxury with the

New Range Rover models

Ultrafabrics is pleased to announce the

most recent chapter of its partnership

with Jaguar Land Rover in the form of the

revolutionary Range Rover, JLR's most

ambitious luxury vehicle to date.

The elegant new Range Rover defines

modern luxury, providing more

refinement, customer choice and scope

for personalisation than ever before. For

the first time, customers can specify a

Range Rover with a sustainable, luxury

animal-free (vegan) leather by choosing

Ultrafabrics in both the standard and SV

Intrepid models.

Perry Hodge, Vice President of

Transportation, says of the partnership,

"We have been working closely with the

Jaguar Land Rover design team's research

and innovation team for almost eight years.

In the new models, especially the Range

Rover SV, Ultrafabrics has a much larger

presence throughout the interior which is

the result of our years-long commitment

to bringing luxury and innovation to our

customers."

He adds, "We are proud to bring their

concept of modernity and their distinct

subtle luxury to life. Ultrafabrics' materials

offer the same tactile qualities as leather

but are 30% lighter and thereby generate a

quarter of the carbon dioxide emissions."

With a soft haptic and technical aesthetic

that embodies the brands mantra of 'touch

the future', the Ultrafabrics' material, in

Light Cloud with Cinder Grey, is applied

in a future-forward duotone colourway

of the SV Intrepid interior, redefining the

sporting and dynamic nature of the vehicle.

While the standard Range Rover includes

Ultrafabrics in Ebony, offering the most

progressive materiality choices to date.

Range Rover is the original luxury SUV and

has led by example for 50 years, combining

serene comfort and composure with

all-conquering capability. The New Range

Rover is the most desirable yet, mixing

breathtaking modernity and aesthetic

grace with technological sophistication and

seamless connectivity. Ultrafabrics is proud

to be redefining the future alongside such

an iconic automotive brand.

ABOUT ULTRAFABRICS

Ultrafabrics is a range of premium,

animal-free materials that is reshaping

the world of performance fabrics. Crafted

in the company's Japanese mill using a

proprietary production process, its passion

is the creation of unrivaled sensorial

experiences.Ultrafabrics' continuous

investment in innovation, research and

development has resulted in a range of

polyurethanes suitable for both indoor and

outdoor use. The brand's growing client

list of luxury brands spans many industries,

from residential and contract furniture, to

upholstery for cars, yachts, airlines, and

private jets.

November 2021 90
---
McLaren P1 hypercar with only

433 miles goes to auction

A McLaren P1 in virtually as-new condition has gone live on

online auction platform Collecting Cars.

The exceptional single-owner hypercar is one of just 375

examples and shows a staggeringly low 433 miles from new.

Specified from the factory with Elite Fire Black paint, the car

remains completely original with no blemishes or repairs.

The car was recently detailed to showcase the exceptional

condition of the bodywork and optional satin finish Stealth

alloy wheels.

The interior cabin is also pristine with no wear or damage

to the Carbon Fibre Racing Seats, trimmed in Carbon Black

leather and Alcantara, and accented by Harissa Red stitching.

Weighing just 1395kg, the P1 boasts meticulous construction

techniques, centred on a lightweight carbon fibre monoco

que chassis weighing only 90kg and clothed in carbon body

panels. The twin-turbocharged 3.8L V8 produces 727hp and

is further assisted by a 177hp electric motor, giving the P1

November 2021 92
---
the capability to accelerate from zero to 62mph in just 2.8 seconds, zero to

124mph in 6.8 seconds, and going on to a top speed of 217mph.

Also featured are F1-derived active aerodynamics, as well as an Instant

Power Assist System (IPAS), Drag Reduction System (DRS), and a kinetic

energy recovery system (KERS).

Accompanying the car are the third- and fourth-year annual servicing

documents, including the most recent scheduled maintenance at 337 miles

at a cost of $7,062.42. This included a detailed inspection, with high-voltage

safety check, front and rear suspension tightness checks, a lithium-ion

battery condition check, along with the usual consumables.

Edward Lovett, founder of Collecting Cars, said:

"The McLaren P1 is an incredible contemporary supercar, and this sale

represents a great opportunity to acquire an exceptionally low-mileage,

one-owner car. The P1 ushered in a new era of petrol-electric performance

and remains highly collectible as one of the hypercar 'holy trinity' of its era."

Compared to traditional car auctions, Collecting Cars offers significantly

better value for sellers and buyers alike. For sellers, the detailed

photographic presentation and professional descriptions mean their car is

showcased in the best possible way, and it is marketed to a huge captive

audience of passionate enthusiasts. Furthermore, there is no listing fee, and

they receive 100% of the hammer price.

93 November 2021
---
Turkey is the 8th

best prepared

country in

Europe for

electric vehicles,

research reveals

With the looming threat of climate

change, many people, companies and

nations are looking to reduce their use of

fossil fuels and produce a lower carbon

footprint. One way they are attempting to

implement this is by making road travel

better for the environment, by way of

switching to electric vehicles (EVs) rather

than traditional cars powered by petrol

or diesel-powered internal combustion

engines. Turkey was revealed to be the 8th

best country in Europe to go fully electric,

scoring 3.28 according to the Zutobi report.

Many countries have set lofty electric

vehicle targets, for example in the United

Kingdom the government is committed

to only selling new electric vehicles

from 2030. Meanwhile, Joe Biden has

announced that he would like half of new

American cars to be electrically powered by

the same date.

But which countries are best prepared for

electric vehicle adoption? By considering

the data for numerous different factors

Zutobi established the best countries in

Europe for EV use.

November 2021 96
---
Turkey held 100

virtual trade

delegation

meetings during

COVID-19

In order not to halt trade diplomacy during the pandemic period, Turkey's Trade Ministry organized a total of 100 virtual meetings with

trade delegations beginning from May of last year.

Some 1,801 producer and exporter companies met with 4,279 foreign buyers through 14,943 business-to-business (B2B) virtual meetings.

Virtual delegations promote Turkish companies and products in foreign markets when physical events are not possible due to the

pandemic measures, such as lockdowns and travel bans.

The country has hosted 21 general and 79 sectoral virtual trade delegation meetings with Ghana, Qatar, South Africa, Nigeria, Kenya,

Tanzania, India, Romania, Bulgaria, Azerbaijan, Georgia, Argentina, Paraguay, Uruguay, Chile, Hong Kong, Kyrgyzstan, Uzbekistan and

Vietnam since May.

Turkey's foreign trade gap nearly halves in September

Turkey's foreign trade deficit fell 47.5%

year-on-year in September to $2.547 billion

(TL 24.17 billion) according to the general

trade system, official data showed.

After trade a year earlier was hit by the

coronavirus pandemic, Turkey's September

exports jumped 30% and imports rose

11.9% from the previous year to $20.78

billion and $23.3 billion, respectively, the

Turkish Statistical Institute (TurkStat) said.

Excluding the energy and gold trade,

exports and imports were $19.96 billion

and $19.6 billion, respectively. The foreign

trade surplus, excluding energy products

and non-monetary gold, was $1.38 billion

in September, the institute said.

The ratio of manufacturing industry

products in overall exports was 94.6%

in the month, followed by agricultureforestry-fishing

with 2.9% and miningquarrying

with 1.9%.

The share of high-tech products in the

manufacturing industry products was 2.8%.

"The ratios of intermediate goods,

capital goods, and consumer goods in

total imports were 78%, 12.9%, 9%,

respectively," the institute noted.

Turkey's energy import bill increased by

65.7% year-on-year to $4.44 billion last

month. The surge has been prompted by an

increase in the global energy prices ahead

of the winter season.

The data showed that energy accounted

for 19.06% of the overall import figure in

September. The country's crude oil imports

showed a 16.6% decrease from a year ago.

Turkey imported 2.84 million tons of crude

oil last month, down from 3.41 million tons

in the same month last year.

In September, Germany was the main

export destination for Turkey with $1.7

billion and China was the main import

partner with $2.9 billion.

From January through September, the

trade deficit narrowed 14.6% to $32.351

billion. Exports grew 35.9% on a yearly

basis to hit $160.95 billion, while imports

were up 23.7% to $193.3 billion.

97 November 2021
---
Turkey earmarks

new generation

free trade

deals to rev up

exports

Turkey is building a new generation of

comprehensive free trade agreements

(FTAs) to lift exports, strengthen the

competitiveness of the industry and attract

foreign capital, according to the nation's

trade minister.

"Comprehensive FTA negotiations are

currently ongoing with Japan, Thailand

and Indonesia in the Asia-Pacific region,"

Mehmet Muş told a closing session of

the 34th Foreign Economic Relations

Board (DEIK) Ordinary Financial General

Assembly.

These agreements will include services,

investments and public procurement, Muş

said.

"While negotiations with Georgia and

Moldova continue to expand the scope

of FTAs, we continue negotiations with

Ukraine, making efforts to reach a result,"

the minister added. On the other hand, he

added, in Latin America, opportunities for

pacts with Peru, Ecuador, Colombia and

Mexico have been continuing.

The government has also ramped up efforts

to further develop cooperation with the

U.S. and China.

Turkey's 12-month rolling exports exceeded

the long-awaited threshold of $200 billion

for the first time in July, exceeding both

the 2021-end target of $184 billion and the

$198 billion target set for 2022.

The January-July sales came in at $121.4

billion, marking a 35% rise from a year ago

and a 16.4% increase from the sevenmonth

figure of 2019 before the pandemic

hit. The outbreak led to a 6.26% drop in

2020 exports as Turkey closed the year with

$169.5 billion in foreign sales.

Imports were up 4.3% to reach $219.4

billion. The foreign trade gap widened

by 69.12% to $49.9 billion. Muş said the

government has been preparing a strategy

to increase exports to faraway countries,

"in order to bring the geographies we

call distant closer and to evaluate the

commercial and economic potential of

these geographies."

He said two-thirds of Turkey's exports are

to countries with an average distance of up

to 2,000 kilometers (1,243 miles), adding

Turkey can only get a 0.26% share from

the $8.2 trillion worth of imports from 17

countries far from its soil.

"We will consult with our businesspeople

when it reaches a certain point, aiming to

quadruple our exports to 17 countries with

an average distance of 8,650 kilometers

(5,375 miles)."

November 2021 98
---
Clean surfaces and safe in-cabin air –Asahi

Kasei's recent survey shows growing global needs

towards a hygienic automotive interior space

The COVID-19 pandemic has changed mobility. It has also changed the car user's perception of safety and

comfort inside the automotive. As a result, the global car user's willingness to invest into solutions against

pathogens on interior surfaces and the in-cabin air is growing. This development is one of the key findings

of the second Asahi Kasei Automotive Interior Survey conducted in December 2020.

The ongoing COVID-19 pandemic is

having a severe impact on mobility.

Recent surveys show that the use of

public transport and ride sharing services

has declined severely. In contrast,

the popularity of the private car as a

safe space with a low infection risk is

increasing. The surveys suggest that the

pandemic will have a lasting effect on

existing and future mobility concepts –

and on the materials and technologies

used inside the automotive. As the main

interface between the user and the

car, surface materials are defining how

the driver and the passengers perceive

the automotive interior and, more

importantly, the driving experience itself.

In the past, automotive interiors needed

to be comfortable, attractive, and smooth

to the touch. The COVID-19 pandemic

is adding a new dimension to this topic,

clearly raising the needs towards the

overall cleanliness and safety against

invisible threats inside the car.

This development was also confirmed by

the second representative "Asahi Kasei

Automotive Interior Survey" conducted

in December 2020 by Asahi Kasei and the

Cologne-based market research institute

SKOPOS. 500 vehicle users in each of the

November 2021 100
---
global automotive core markets Germany,

USA, China, and Japan were asked about

their preferences in regard to the future

automotive interior.

Global car users see benefit in easyto-maintain

surfaces and air filtration

systems

One key finding of the survey was the

importance of cleanliness inside the car. In

Germany, 64% of the car users are putting

a great emphasis on this topic, valuing it

even higher than connectivity, the intuitive

operation, or the personalization of the

car. The same results can be observed in

the other markets: For four out of five car

users in China cleanliness inside the car is

important (see fig. 1). While the perception

of cleanliness is subjective, it becomes

clear that this topic is moving the car users

around the world. While premium and

lasting interior looks climb in importance,

more people are increasingly aware about

the surfaces they touch and the air they

breathe – especially in a confined space

like a car. Asked about features they would

consider beneficial in their next car, 75%

of the car users in Germany pointed out

"surface and seating materials that are

easy to wash", followed by an "advanced

air filtration system filtering the OUTSIDE

AIR entering the vehicle" (69%) and "water

and dirt repellent surfaces" (66%) (see

fig. 2). The same features are also clearly

moving the car users in the USA and

China. In addition, 87% of the car users

in China see a benefit in an "advanced air

filtration system filtering the AIR WITHIN

the vehicle", 83% in "sur-faces that can

eliminate viruses in places you touch the

most".

Heiko Rother, General Manager Business

Development Automotive at Asahi Kasei

Europe, on this development: "This

new survey is confirming the results

of our first survey from October 2019,

where cleanliness already was a big

topic for the car users in Europe. The

automotive manufacturers are facing the

new challenge of taking away the user's

concerns about invisible threats, making

him or her feel safe and comfortable again

inside their vehicle. This goes specifically

for private cars, but also for all current and

future mobility concepts."

Willingness to pay for hygienic features

The car user's accelerating needs towards

hygienic features is also reflected in the

readiness to pay for solutions for safe

surfaces and air inside the car. For a

hypothetical, optional "Surface Protect"

Package*, 35% of the German car users

planning to purchase a new car would be

willing to pay an additional 1,000 Euro. In

the USA, every second car user agrees to

pay 1,000 USD, every fourth even 1,500

USD. While 70% of the car users in China

would pay 5,000 CNY, every third would

be inclined to pay 7,000 CNY, showing a

strong acceptance on the Chinese market

for additional features that contribute to

hygienic surfaces. A similar trend can be

seen in regard to features that contribute

to air safety. When purchasing a new

car, every third car user in Germany

would be inclined to pay 1,000 Euro for

a hypothetical, optional "Cabin Protect"

Package*, ensuring safe air inside the

passenger compartment. The same

development can be observed in the USA,

where around every second car user agrees

with paying 1,000 USD, and every fifth

even willing to pay 2,000 USD. In China,

the demand is clearly higher, with 71% of

the car users willing to pay 5,000 CNY, 40%

even 7,000 CNY.

Heiko Rother concludes: "In order to make

the private car, but also other existing and

future mobility concepts safer in regard

to invisible threats on surfaces and in the

air, new material and technology solutions

will quickly need to find their way into the

development process. With its "Healthy

Car" portfolio including antimicrobial seat

fabrics and plastics, as well as UVC-LED

solutions for in-car air filtration, Asahi Kasei

is already at the forefront, looking forward

to team up with the automotive industry

and to contribute to a safer mobility".

*Surface Protect Package: A hypothetical,

optional package with interior materials

that provide anti-viral/ anti-microbial

properties, stain and odor resistance

and improved weathering and scratch

resistance.

*Cabin Protect Package: A hypothetical,

optional package including an automated

ventilation system that eliminates microbes

and pathogens in cabin air, monitors CO2

levels to reduce drowsiness and provides

active occupant sensing for child/pet left

behind.

101 November 2021
---
Turkish auto

industry's

output surges

despite chip

shortage

Production in Turkey's automotive industry

increased from January through July this

year, a sectoral report revealed, amid the

global semiconductor shortage that has

been hindering output.

The Automotive Manufacturers Association

(OSD) said automakers manufactured

705,079 vehicles – including automobiles,

light commercial vehicles, and tractors – in

the first seven months, marking a nearly

11% rise year-on-year.

Automobile production rose by 2.1% yearon-year

to 449,550 in the seven-month

period, the data showed.

The overall auto sales market, including

light trucks and other vehicles, grew by

31.4%, reaching 461,730 in the same

period.

Coronavirus pandemic lockdowns caused

a shift in consumer spending toward

electronics and a spike in demand for the

semiconductor chips that run them.

Modern automobiles can use dozens of

chips in their various electronics systems,

and carmakers have had to slow production

or leave factories idle when they run out of

supplies.

Many of the automakers were planning

to rev up production this year to meet an

expected surge in demand as the pandemic

wanes and to recover from last year's

losses. But without enough chips, those

hopes are fading.

Many of the Turkish top carmakers such as

Ford Otosan, Tofaş and Oyak Renault had

to temporarily pause their outputs in their

factories in the past months.

Automakers have reduced the stocks of

parts they keep on hand in recent years

as part of cost-cutting measures, so

delivery delays can quickly force an entire

shutdown.

A report by the OSD also revealed that

automotive industry exports jumped 26.8%

on a dollar basis to $16.7 billion between

January and July.

Climbing 6.6%, the sector's export value

reached $5.4 billion, the report added.

Turkey exported 512,320 vehicles, of which

322,874 were passenger cars, during these

months. The capacity utilization rate in the

sector was around 62% in January-July.

Yet this July, automotive production fell by

44.6% year-on-year, reaching 65,418, the

data showed. Vehicle production was down

nearly 57% to 33,529 units.

All this prompted a decline of 35.1% to

50,781 units, the report noted.

November 2021 102