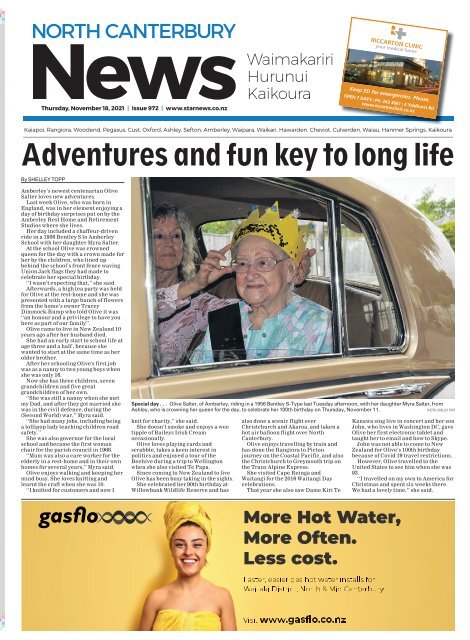 North Canterbury News: November 18, 2021
Create successful ePaper yourself
Turn your PDF publications into a flip-book with our unique Google optimized e-Paper software.
Keep ED for emergencies. Please.

Thursday,November18, 2021 | Issue972 | www.starnews.co.nz

OPEN7DAYS | Ph:343 3661 | 4Yaldhurst Rd

www.riccartonclinic.co.nz

Adventures and fun key to long life

By SHELLEY TOPP

Amberley's newest centenarianOlive

Salterloves new adventures.

Last week Olive, who was born in

England, was in her elementenjoying a

day of birthdaysurprises put on by the

Amberley Rest Homeand Retirement

Studios where she lives.

Her day included achaffeur­driven

ride in a1956 Bentley StoAmberley

Schoolwith her daughterMyra Salter.

At the school Olive was crowned

queen for the day with acrownmade for

her by the children,who lined up

behindthe school's front fence waving

Union Jack flagsthey had made to

celebrate her specialbirthday.

''I wasn't expectingthat,'' she said.

Afterwards, ahigh tea party was held

for Oliveatthe rest­homeand she was

presented with alarge bunch of flowers

from the home'sowner Tracey

Dimmock­Rump who told Olive it was

''an honour and aprivilege to haveyou

here as partofour family''.

Olive came to live in New Zealand10

years ago after her husband died.

She had an early start to school life at

age three and ahalf ,because she

wantedtostart at the same time as her

older brother.

After her schooling Olive's first job

was as ananny to two young boys when

she was only 16.

Now she has three children,seven

grandchildren and five great

grandchildren of her own.

''She was still ananny whenshe met

my Dad, and after they got marriedshe

was in the civil defence, during the

(Second World) war,'' Myra said.

''She had many jobs,including being

alollipop ladyteachingchildren road

safety.''

She was also governor for the local

schooland became the firstwoman

chair for the parish councilin1966.

''Mum was alsoacare workerfor the

elderly in arest­home and in theirown

homes for several years,'' Myra said.

Olive enjoyswalkingand keeping her

mind busy. She loves knittingand

learntthe craft when she was 10.

''I knitted for customers and now I

Special day ... Olive Salter, of Amberley, riding in a1956 Bentley S­Type last Tuesday afternoon, with her daughter Myra Salter, from

Ashley, who is crowning her queen for the day, to celebrate her 100th birthday on Thursday, November 11.

PHOTO: SHELLEY TOPP

knitfor charity,'' she said.

She doesn't smoke and enjoysawee

tipple of Baileys Irish Cream

occasionally.

Olive loves playing cards and

scrabble, takes akeen interest in

politics and enjoyedatour of the

Beehive during atrip to Wellington

whenshe also visited Te Papa.

Since coming to New Zealand to live

Olive has beenbusy taking in the sights.

She celebrated her 90th birthday at

Willowbank WildlifeReserve and has

also done ascenic flight over

Christchurch and Akaroa, and taken a

hot air balloonflight overNorth

Canterbury.

Olive enjoystravelling by trainand

has done the Rangiora to Picton

journeyonthe CoastalPacific, and also

the Christchurch to Greymouth trip on

the TranzAlpine Express.

She visited CapeReinga and

Waitangi for the 2016 Waitangi Day

celebrations.

That yearshe also saw DameKiri Te

Kanawa sing live in concert and her son

John,who lives in Washington DC, gave

Oliveher firstelectronic tablet and

taught her to emailand how to Skype.

John was not able to come to New

Zealand for Olive's 100th birthday

because of Covid 19 travel restrictions.

However,Olivetravelled to the

United Statestosee him when she was

93.

''I travelled on my own to America for

Christmas and spent six weeks there.

We had alovely time,'' she said.

More Hot Water,

More Often.

Less cost.

Faster, easier gas hot water installs for

Waitaki District, North & Mid Canterbury

Visit
---
NEWS

2 The North Canterbury News, November 18, 2021

Grow

customers,

salesand

profits

with North

Canterbury's

bestread

newspaper

Readership: 48,000 weekly

Circulation: 30,150copiesdelivered

to EVERY farm, RD, lifestyle block

and home inWaimakariri, Hurunui

&Kaikoura every Thursday.

news

Robyn Bristow

Managing Editor

027 312 1581

robyn.bristow

@ncnews.co.nz

Reporters

David Hill, Shelley Topp.

advertising

DaynaBurton

Sales Manager

027 312 0089

dayna.burton

@ncnews.co.nz

AmandaKeys

Advertising

027 536 6224

amanda.keys

@ncnews.co.nz

Agroundswell of protest in NC

By ROBYN BRISTOW

Groundswell Waimak is going to town.

It will roll in convoy into Christchurch

from the north, to join two other convoys

coming from the west and the south

during Groundswell NZ's Mother of All

Protests on Sunday, November 21.

Meanwhile Amberley will host

convoys coming in from the south, west

and north, in the Hurunui district with

the aim of filling the main street.

They will park up in the vicinity of

council chamber to listen to speakers

and Groundswell NZ's 1.35pm radio

broadcast.

Groundswell Waimak says anyone can

join the convoy on their tractors, bikes,

in their utes, and cars to ''vent their

frustrations'' at unworkable

Government regulations, with the Three

Water Reforms being at the top of the

agenda. ''Enough is Enough'' they say.

The three convoys will meet at the

Archway over State Highway One near

the airport and roll on down the west

end of Memorial Avenue, between

Burnside Park and the motorway

overbridge, and park up by 1pm in time

to listen to abroadcast at 1.35pm from

Groundswell NZ.

An organiser Shelley Drummond says

the Waimak convoy will have its origins

at Cust starting at 10.30am.

It will travel to Rangiora with other

vehicles joining in, before splitting, with

some heading to Woodend to pick up

part of the convoy there, while others

make their way to Tram Road, via

Flaxton Road.

It is expected all will converge at the

Tram Road lights before travelling to

Christchurch either down the motorway

to the archway, or going via the Cranford

Street section of the motorway and

finding their way across town to

Memorial Avenue.

Organisers hope to get amap

distributed district­wide before

Sunday's event.

Jamie McFadden, chair of the Rural

Advocacy Network (RNA), which has

aligned with Groundswell NZ, says some

traffic disruption can be expected as

people roll in to Amberley's main centre

from 12.45pm.

''It is heartening to see mayors and

councillors speaking out strongly

against state theft of our community

assets and the loss of our democracy.

But they need our support,'' says Mr

McFadden.

The three North Canterbury Mayors,

Marie Black (Hurunui), Dan Gordon

(Waimakariri), and Craig Mackle

(Kaikoura), will speak.

There will be live Facebook feeds on

the Groundswell page, and everyone

will be encouraged to turn on their

radios to listen to aGroundswell

broadcast on Newstalk ZB at 1.35pm.

Rangiora bound ... Aconvoy of tractors headed out of Cust to Rangiora during July's

Howl of Protest.

PHOTO:FILE

Mr McFadden says Groundswell NZ is

concerned the loss of democracy and

local representation has been

unprecedented under this current

Government, and now there was the

threat of community water schemes

being taken over by government.

''These schemes were dreamed up by

the community, built by the community

and funded by the community.

''Despite the vast majority of councils

being opposed to the initial voluntary

Three Waters reform proposal, the

government has now decided on

mandatory takeover of control of our

drinking water, wastewater and

stormwater assets.

''The initial consultation process by

the government has proven to be a

sham,'' says Mr McFadden.

''Councils and communities are being

stripped of their decision making

autonomy as one size fits all state

control seeks to take over. Freshwater

legislation, indigenous biodiversity/

Significant Natural Areas (SNAs) and

now Three Waters reform are all

examples where councils and

communities have lost their decision

making autonomy.''

Mr McFadden says it is heartening to

see mayors and councillors speaking out

strongly against the loss of community

assets and the loss of democracy.

''But they need our support. This

Sunday, November 21, Groundswell is

calling for the people of New Zealand to

join the Mother of all Protests in

supporting our councils against this

unprecedented state control.''

Amberley co­ordinators: Jack

Burrows 027 4390633, Mark Ireland 021

2274247 or Jamie McFadden 027

3218747.

Waimak Groundswell contacts:

Shelley Drummond 027 920 1738, or

email smdrum196504@outlook.com, or

Mark Ireland 021 2274247.

Check out the Groundswell NZ

Facebook page for more information.

JillianDickie

Advertising

022 024 3092

jillian.dickie

@ncnews.co.nz

getintouch

Editorial

info@ncnews.co.nz

Advertising

sales@ncnews.co.nz

Graphic Design

heather.hood@ncnews.co.nz

Distribution/Deliveries

03 314 8335

Rangiora: 03 313 2840 /03314 8335

14 Ashley St, Rangiora

Christchurch: 03 364 7460

www.starnews.co.nz

2429201v1

YOUR FAVOURITE

LOCAL BAKERY

YOUR FAVOURITE

LOCAL BAKERY

Mon -Tues 7am -4pm

Wed -Fri 7am -4.30pm

Sat 8am -3.30pm

138 Percival Street, Rangiora | 310 6096

WHITE ELEPHANT

STALL

HORSE GEAR

21 st November

11.00 -3.30pm

4B Millton Avenue (off Ashley Street)

NCRDA thank you for your support!

2435264
---
NEWS

North Canterbury News, November 18, 2021

Three councils take legal action

By ROBYN BRISTOW

Legal proceedings have been filed in the

Wellington High Court by three district

councils seeking to affirm Local

Government's rights and obligations as

infrastructure asset owners.

The Waimakariri District Council has

joined the Timaru and Whangarei

District Councils in the legal action,

with aStatement of Claim filed last

Friday.

The action has been prompted by the

Government's decision to ignore

feedback from their residents on the

Three Waters Reform, and

disappointment at the Government

forging ahead with legislation that will

make it mandatory for councils

nationwide to transfer control of their

three waters infrastructure.

It also seeks adeclaration on whether

it was unlawful for the Government's

public education campaign on the Three

Waters Reforms to contain ''incorrect or

misleading information in regards to

local council's rights, obligations and

duties''.

Waimakariri Mayor Dan Gordon says:

"We have significant concerns that the

Government is proceeding on the basis

of fundamental misunderstandings of

the democratic importance of its

definitions of Local Government and

asset ownership, and feel that this

process will offer us aclear and shared

understanding of our rights and

obligations for future negotiations.

''These steps are our way of ensuring

we're continuing to advocate in our

residents best interests," Mr Gordon

says.

''What we do agree on is that quality

drinking water and better

environmental outcomes are essential

and support the new regulator and

coming regulations.

''What we don't support is the flawed,

3

and now forced four entity model, when

there are anumber of alternatives and

viable delivery models that would be

supported by ratepayers across New

Zealand.

"We believe each asset owner has the

right to determine how best to meet

those requirements.''

Mr Gordon is also sending aletter to

the Prime Minister Jacinda Ardern, on

behalf of over 30 Mayors and councils

across New Zealand, seeking ameeting

to address the ''now forced'' water

reforms.

"Across the Local Government sector

there was near consensus that the model

now being mandated wasn't acceptable

to councils or our communities."

"We are seeking to meet with the

Prime Minister to express this view and

seek more viable approaches to Three

Waters Reform. Iwill make sure to keep

the community updated with our

progress."

Kaiapoi cenotaph honoured

By DAVID HILL

Caring for North Canterbury

Dr John Dehn

Full Mole Checks

using Dermoscopy

Surgical Management

and Aftercare

Comprehensive, Affordable, Convenient

Ph 03 9204060

52 Pegasus Main Street,Pegasus 7612

www.pegasusmedicalcentre.co.nz

Southern Cross

Affiliated Provider

For selected services

1890742

The Kaiapoi Cenotaph has been

recognisedasaLandmark.

FormerWaimakaririMayorDavid

Ayers unveiledaLandmarkplaque on

behalfofthe WaimakaririLandmarks

Committeeduring Kaiapoi's Armistice

Day commemoration service last

Thursday.

Christchurch stonemason William

Trethewaywas commissioned to sculpt a

marblestatue of aNew Zealand soldier

and it was unveiled in 1922.

''The Kaiapoi Soldier Memorial is

regarded as one of the finest in New

Zealand forthis kind of memorial,''Mr

Ayers says.

''Withthis memorial,Tretheway set a

benchmark for otherstofollow around

New Zealand and it was lauded as

embodying the Anzac spirit.''

The statue is consideredtobea

''realistic'' portrayal of adigger resting

after adesperate charge, withawounded

arm and tornsleeve.

It wasmodelledonPrivateJames

Douglas Stark or ''Starkie'' of the 1st

Battalion,Otago Regiment.

Starkie was known for his reckless

courage of carrying woundedsolders back

across''no man's land''and for destroying

enemy machinegun posts, but alsohis

recklessness away from the battlefield.

Nominated for both the Military Medal

and the Victoria Cross, both were declined

on account of his nine courtsmartial for

striking officers and drunkenness.

Although fromSouthland, he had a

connection to Kaiapoi through his elder

brother, Lance Corporal GeorgeSingleton

Stark,whose address upon enlistment was

Reflecting ... The official party reflects after the Kaiapoi War Memorial Cenotaph received

aplaque from the Waimakariri Landmarks Committee to coincide with Armistice Day

commemorations on Thursday.

PHOTO: DAVID HILL

listed as care of the Kaiapoi PostOffice.

While GeorgeStark was killed at the

Somme in 1916,Starkie returned home

and is thoughttohave suffered from posttraumatic

stressdisorder(PTSD).

He struggled withalcohol and spent

timeinprison for burglary, theftand

arson, and later diedin1942 agedjust

45­years.

After the Kaiapoi RSA's Passchendaele

Day commemoration service was

cancelled due to the weather (ratherthan

Covid­19), presidentNeill Price read a

messagefrom Belgium's honorary consul

to Christchurch,remindingthe small

crowd that''Belgianshave not forgotten''.

RuralCanterburypolicearea

superintendent Inspector PeterCooper

also spoke about the contributionofNew

Zealand policetoWorld War 1.

Police were actively discouragedfrom

enlisting,with the Police Minister of the

day saying ''if policemenwere allowedto

enlist in great numbers, he would not be

responsiblefor the safety of the country'',

Mr Cooper says.

Duties for police officersduring WW1

included intelligencegathering,

''managing aliens'' and ''huntingshirkers''.

He says 158 police officers, or 18

percent, did resign fromthe force to enlist.

More photos page10

Orthotic Friendly

TANYA

Pink Mosaic, Silver Moon

L 37-41. Leather

$189

TRACY

Champagne

L37-41. Leather

$189

Kaiapoi Mill, Ranfurly Street, Kaiapoi

Monday –Friday 9am –5pm

Saturday 10am –1pm

Closed onPublic Holidays

Ph 03 327 0576

243 305 82
---
NEWS

4 The North Canterbury News, November 18, 2021

Hurunui warns of threat to local democracy

By ROBYN BRISTOW

The threat to democracy was top of the

agenda at aThree Waters Reform

protest at Omihi in North Canterbury on

Sunday.

Rained failed to dampen the turnout,

with around 150 people rolling into the

Omihi Domain and parking up in front of

the embankment.

Covid­19 restrictions confined most to

their cars, so abit of adownpour had

little effect on those gathered.

The Hurunui District Council ensured

everyone could hear with an impressive

line­up of loud speakers, umbrellas for

those speaking, and aroving

microphone to give everyone achance to

have asay.

People tooted, rolled down their

windows and cheered, when Hurunui

Mayor Marie Black and chief executive

Hamish Dobbie, spoke on ''local

democracy being sold down the drain''.

There were no holds barred, the

Government copped alot of criticism

from those gathered, many seeing the

Government as thumbing its nose at

democracy —albeit in much stronger,

and at times unprintable terms.

There were gasps when Mr Dobbie

said the Government was only offering

the council 7c in the dollar for its three

waters infrastructure, just a$10 million

drop in the bucket for their $150m of

assets.

Mrs Black said the council was not

opposed to change, but ''change must

bring betterment''.

''We don't see betterment in this

reform and now the relationship with

government has been tarnished and the

trust has been eroded,'' she said.

Local authorities owned and control

assets on behalf of their communities,

and the assets reflected the investment

by generations of ratepayers.

The council didn't accept the case for

change for its district, did not believe

centralisation of community assets

without recompense was morally fair,

and considered the convoluted

governance and ownership system

proposed by the Minister of Local

Government, Nanaia Mahuta provided

no direct local input into or control over

the water services.

She urged people to use the select

committee process to have their say,

exercise their democratic right and

convince the government that the case

for change is unfounded.

Mr Dobbie assured speaker Bill

Dowle the council had enough in its

coffers to meet the cost and regulations

for its Three Waters Reforms, talked of

smoke and mirrors being used by the

Government to promote its reform, and

warned once Three Waters assets were

out of council ownership they were

vulnerable to being sold off and

privatised.

He said his council had agreat

relationship with Ngai Tahu which was

not pushing for control of Three Waters

assets, and the Scottish model the

Government was basing its reforms on

were flawed in the New Zealand setting.

''It is an asset grab. Your assets are

being stolen. Your must speak out now,''

said Mr Dobbie.

Protesting in the rain ... Hurunui Mayor

Marie Black speaks out about the council's

opposition to the Government's proposed

Three Waters Reform.

PHOTO: ROBYN BRISTOW

summer

s

mer

SALE

S

Fairview

Recliner Range

ON SALE

Recliner –

River

NOW $ 499

3 Seater Recliner

–River

NOW $ 1099

Credit criteria, exclusions, fees, terms &

conditions apply. See in store for details.

Brix Light 7Piece Dining

Set –W180

WAS $ 1689

Davos

Barstool

WAS $ 159

Dante

Barstool

WAS $ 159

NOW ON

ENDS 22.11.21

Valletta 6Piece Outdoor

Lounge/Low Dining Set

WAS $ 2699

NOW

$

1999

NOW

$

1149

NOW

$

99

NOW

$

99

Pancreaticcancer

treatmentsurvey

Have youbeendiagnosed with pancreatic cancer?

By completing thisten-minute, anonymoussurvey about aparticular medication

treatment used in pancreaticcancer,you maybeabletohelp us identifybetter access

to treatmentsfor allNew Zealanderswith pancreatic cancer.

We want to usethissurvey to identifywho hasbeenofferedPancreatic Enzyme

Replacement Therapy (PERT).The pancreasisimportant in digestionand PERTisa

treatment that canhelp peoplewithpancreatic cancerdigest their kai.

We have littleinformationinAotearoaNew Zealand about whoisbeing offeredthis

medicine andhow it is being taken. Ourgoalistoidentifywho doesand does not

have access to thistreatment and howwemight improve access to thosewho need it.

This national survey is being conductedbyinvestigators at theUniversityofOtago.

Thesurvey has beenapprovedbyaHuman Research EthicsCommittee.

If youhaveany questions or issues with thesurvey

pleasevisit: facebook.com/aspertstudy

Scan theQRcodetoaccess thesurvey.

M00444-BW

Scantofindstore

targetfurniture.co.nz

250 Moorhouse Ave, Christchurch

0800 TARGET (0800 827438)

Offers and product prices advertised here expire

22/11/21. Sale Excludes Accessories.

Dallas Queen Bed

–Light Grey

WAS $ 449

NORTH CANTERBURY

NEWS

Christmas Tree Festival

Monday 6 th to Friday 17 th December

9am –4.30pm daily

Waimakariri District Council Foyer,

High Street, Rangiora

✭ Raffles ✭ Wishing Tree ✭ Rememberance Tree

Please remember to scan in, socially distance and follow all

other covid-19 alert level two requirements.

NOW

$

349

Organised by the North Canterbury Soroptomists

Jamie Single/

Single Bunk

Bed – Black

WAS $ 699

NOW

$

499

2435395
---
Marina proposed in Kaiapoi

By ROBYN BRISTOW

NEWS

The North Canterbury News, November 18, 2021

5

LAWNMASTERESTATE ESTATE SPECIAL

Save $100 on the Lawnmaster

Estate range *

A24­berthmarina,townhouses,business

and event space,are beingproposed for

Kaiapoi.

The Waimakariri District Council is

partnering with local developer William

Hill Consulting Ltd to investigate the

concept in the heart of the town.

AMemorandum of Understanding has

been signed between the developer and

council, to explore the concept on land

marked for regeneration afterthe

Canterbury earthquakes.

The 2.9 hectare site sits adjacent to the

Kaiapoi River behind the Ruataniwha

Kaiapoi Civic Centreopposite Countdown

in HiltonStreet .

The site was transferred from Crown

ownership to the councilinJune 2018, and

set aside for futuretown centre expansion

and mixed­use development.

Aprojectworking group was tasked with

developing options for the site,and chose

the proposal fromashortlist of two,asit

best alignedwith the objectives in the

Waimakariri Residential Red Zone

Recovery Plan and the KaiapoiTown

Centre Plan.Both documents have been

endorsedbythe community.

MayorDan Gordonsays council is

excited to be sharing the proposal with the

Kaiapoi and Waimakariri community.

''This marina proposal presents ahuge

opportunity to continue looking at ways to

revitalise and bring investment to

Kaiapoi's town centre.

''Alongside other already completed

developments, like the marine precinct,

Kaiapoi has an opportunity to become

New Zealand's mosticonic riverside

location, and the council wants to work

with businessesthat sharethis vision.''

Mr Gordon saysalot of land in Kaiapoi

was significantly damagedbythe 2010

earthquakes, and red­zoned due to the

likelihood that future house­by­housesite

Development ... Kaiapoi's town centre could be transformed with aproposal for amarina,

townhouses, business and event space being investigated.

IMAGE: SUPPLIED

remediationwouldn't be aviable option.

''Sincethen council has been working to

transform the affected land,bycreating

fantastic community spaces like the

Honda Forest, BMX track, softball

diamonds, and dog parks, and now this

proposal seeks to realise opportunities for

mixed­use business andresidential

activities.''

The development is subject to afull

feasibilitystudy and engineering

investigations, includingall resource

consent processes and approvals,before

the land is sold to ensure thatthe agreed

concept plan can be deliveredin

reasonable timeframes. William Hill

Consulting's director, Jedd Pearce,says

the proposal includes mixed­usebusiness

areas, pedestrian access to the awa (river),

townhouses with some of the bestviews in

Canterbury and space for events.

''We think Kaiapoi can be New

Zealand's best river town and this marina

would be an integral partofit,'' saysMr

Pearce.This area would become areal

centre for Kaiapoi's townshipand attract a

lot of new visitors and residents intothe

towncentre.''

William Hill is aconsortium of three

businesses —PLC Group, Smith Crane&

Construction Ltd, and Hazeldine

Construction Ltd.

Check

Out These

Features:

• Ball Bearing Wheels ESTATEECO READYSTART

• Ready Start Engines (no priming)

• Quality Alloy Chassis with LIFETIME Warranty

• 5Year Engine Warranty

• Oiled &Fully Assembled

*Excludes the Estate 400

The Widest

Music

Variety

Was$849

Now $749

2187722

360 FlaxtonRoad,Rangiora

Ph 03 313 5563

www.kingsmowersheating.co.nz

Friday 6pm &

replayed at 12pm

Sunday

Tune in nowtolisten on

104.9 for North Canterbury

103.7 for Hanmer Springs

andKaikoura

2419884

LET'STALK...

DISTRICTPLAN

Find out more and have your say

waimakariri.govt.nz/letstalk

TheWaimakariri District Councilhas reviewed

itsDistrictPlanand is nowseeking feedback on

anew ProposedDistrictPlan.

TheProposedDistrict Plan is open foryour feedback until5pm on

Friday 26 November.

We encourage you to look up your property and any changes that

may affect you on the Proposed District Plan.
---
OPINION

6 The North Canterbury News, November 18, 2021

McALPINES MITRE 10 MEGA RANGIORA -OCEAN WATCH

This

Week

Sun

Fishing

Guide

Moon

Wind

Around the electorate with

STUART SMITH MP FOR KAIKOURA

Coal is lighting up NZ

Last week the Labour­led Government

updated our UN Nationally Determined

Contribution(NDC)toreduce our

emissions by 50 percent by 2030.

Currently our emissions are increasing

thanks to the recordamounts of dirty

Indonesian coalweare burning at Huntly

to keep the lights on.

A50% reduction in nineyearsis

impossible to achieve, even the

Governmentrealises this, and therefore

will use international carbonmarkets.

National supports the use of

international carbon markets,and you will

remember that Iadvisedthe Government

to negotiate for an international

agreementtoformalise international

carbon markets, in our NationalPlan for

COP 26 Iannounced last week.

However international carbonmarkets

should be used to establishan

international pricefor carbon, which

wouldestablish alevel playing field.

This is important because industries are

simply moving offshore to avoid high

carbon prices. This doesnot lower

emissions and oftenincreases them.

Many environmentalistswant to end

aluminiumproductioninNew Zealand to

lowerour emissions.

Whilethis would lower our emissions in

New Zealand, it would likely increase

global emissions as productionwould

likely be taken up in Chinawhere

aluminiumwould be produced using a

coal firedpowerstationrather than

renewable Manapouri hydrogeneration.

We would be able to appearvirtuous, but

wouldinfact be responsible for increasing

global emissions.

It gets worse. The Government estimates

the cost of this folly at $15 billion, which

will all go overseas.Itis$15 billion that

Thursday Friday Saturday Sunday Monday Tuesday Wednesday

Nov 18 Nov 19 Nov 20 Nov 21 Nov 22 Nov 23 Nov 24

Rise 5:52am

Set 8:35pm

Best 12:14pm

Good

Times

Set 5:17am

Rise 7:24pm

Moderate SW turning

S

Rise 5:52am

Set 8:36pm

Best 12:36am

Good

Times 12:58pm

Set 5:40am

Rise 8:27pm

Moderate SW turning

SE

would build 10 new Dunedin hospitals,or

is 17 times more than Labour planto

upgrade schools, or to buy 300,000electric

vehicles. The truth is thatwehave no

choicebut to use international carbon

markets as there is no existing technology

that would enable these sortsof

reductions. Our standard of living is only

made possible by accesstoreliable and

affordable energy,and for the most part,

this comes fromfossil fuels.New Zealand

is blessed with significanthydro resources,

and will havesubstantial windgeneration

in the next few years. This won't go near

the 50% reduction target.

Some suggest we should just use less

energy, however our life expectancyistied

to our standard of living. If we decrease

our energy consumptionthat will lower

GDP per capita, and that will leadtoa

correspondingly lower life expectancy. We

only have to look at the impactof

lockdowns which while they temporarily

drove downour emissions, the

Productivity Commission's research

estimates this has led to the loss of 2

million Quality AdjustedLife Years, or

QALY's. In other words our life expectancy

is projected to be shorter due to

lockdowns.

Unfortunately,thereisaclause in the

Paris Accord known as the ''no

backsliding'' provision. This means NDC

targets can onlyget tighter.The

Government has bound us to atargetwe

cannotmeet without buying indulgences

offshore.Wecan't ever lowerthe target to

one remotely achievable. We will either

miss our target or have to pull out of the

Paris Accord.The NationalPartysupports

climate action, but we will not sacrifice our

businesses and our way of life on the altar

of climatechange.

Races hobbled by Covid

Themuch lovedHurunui Raceand

Gala Day early nextyear has been

cancelled.

The committee metthis week and

decided the financial risk in this

Covid­19 environment was toohigh for

thevolunteergroup staging the event.

The event, which is held every two

years at Medbury, North Canterbury,

hasnow been scheduled to run in 2023.

The track is one of theoldest

racetracks in the country. It is on 40

hectares of recreational reserveand

wasonce part of a1214­hectareblock

of Crown land at theforkofthe Waitohi

andHurunui Rivers.

It wasfirst used forracinginApril,

1874, and in recentyears hasfeatured

harnesshorses, gallopers,stock

horses, clydesdales and ponies in its

racing programme.

Equalisator betting is used where

youare given ahorse rather than

picking your own.

Good

Rise 5:51am

Set 8:38pm

Best

Times

1:20am

1:43pm

Set 6:07am

Rise 9:30pm

Moderate Sturning

SE

Good

Rise 5:50am

Set 8:39pm

Best

Times

2:07am

2:31pm

Set 6:39am

Rise 10:31pm

Moderate Sturning

SE

Good

Rise 5:49am

Set 8:40pm

Best

Times

2:56am

3:21pm

Set 7:17am

Rise 11:28pm

Gentle SE becoming

moderate E

KAIKŌURA VIEWS

MAYOR CRAIG MACKLE

Vaccinate in time for

Christmas holidays

Ican'thelp focusing on Covid again.

Time is runningout for anyone to get

fully vaccinatedintime for Christmas.

Ican'turge you enoughplease,please

get jabbednow.

It's not just about ourselves and not

just the oldies and the vulnerable

either–this outbreakshows it affects

peopleofall ages.

I'm worriedhow things will look

when CovidmakesittoKaikoura, not

only for businessesand jobs, but for

each of us and our health.

The less people we see shipped out

to hospitals in Christchurch the better.

Last weekIattended ameeting at the

Medical Centre.

Iamreally impressed with how they

are dealing with everything and trying

to get our community fully onboard

with vaccinations. Let's all do our bit

for the communityboth young and old.

Let's all be preparedaswecan –get

vaccinated now.

This week Ihave anotherMayoral

forum to attend.

No doubtalot of it will be afollow up

to the Government's direction on

LETTER TO THE EDITOR

DearEditor,

The HurunuiCouncilisurging

residentstosupport its resistance to

the Three Waters Reforms proposed by

Government.

The Council stands to loseabouta

thirdofits operation andassociated

revenue withthe transfer of

responsibility for water to a

Governmentsponsored water entity.

The questionwhichthe council is not

addressing,ishow thenecessary

improvements to the3Waters

infrastructure will be financed if the

Council opts out.

The sweetenertoratepayersfrom the

Government isthatthe cost of

improvementstowater infrastructure

will be borne by the water entity which

will be established to manage

freshwater, waste water and

stormwater.

The down side for us, as consumers,

Good

Rise 5:48am

Set 8:41pm

Best

Times

3:46am

4:11pm

Good

Rise 5:48am

Set 8:43pm

Best

Times

4:37am

5:02pm

Set 8:03am Rise 12:18am

Set 8:56am

Gentle SE becoming

moderate E

Moderate SE

Three Waters.

You know my views of how this was

handled. It's not agood sign for how

things will unfold.

On Sunday we had the new Aquatic

Centre opening –the end of a5year

journeytoreplace the Lions pool.

Despitethe usual long list of things

to do in the leadupitwent really,

really well.

Abig thank you to everyone who has

made this possible, from the council

and the government, which

contributed $1 million each,through to

all the other donors whether it was

cash or timeorsupplies.

And aspecialthanks to the Trustees,

we made it!

The focus shifts now to keepingit

running year on year –and again I

know the community will assist

wherever they can.

What stood out for me on Sunday was

the sound of kid'slaughterechoing

round.Itwas reminder of what this is

all aboutand makes it all worthwhile.

Ihope lots of you makethe most of it

this summer.

willbedealing with amega

bureaucracy with alabyrinthine,

virtually unaccountablegovernance

structure coveringmostoftheSouth

Island.

Thelogicalsolution might be for the

Government to allocate funds for

improvement directly to localcouncils,

but it is apparent that it does not trust

New Zealand's 67 local authoritiesto

do thejob effectively.

Hurunui has had water problems

which it has struggled with and it is

required to upgrade all of its water

supply to meet health standards by

2024.

Thebottomlineofthis protest is

whether defendingHurunui District

Council's independencewill becomea

financial burdenonratepayers and

howmuchofaburdenthatcould be.

Yours,

Roy Myers, Leithfield

Swell

Pegasus Bay

Tide Chart

3

2

SE 0.6 m E0.9 m E0.9 m E0.6 m E0.8 m E1.1 m E1.2 m

3 6 9 NOON 3 6 9 3 6 9 NOON 3 6 9 3 6 9 NOON 3 6 9 3 6 9 NOON 3 6 9 3 6 9 NOON 3 6 9 3 6 9 NOON 3 6 9 3 6 9 NOON 3 6 9

1

0

Highs Lows Highs Lows Highs Lows Highs Lows Highs Lows Highs Lows Highs Lows

Waimakariri 4:47am 2.3 11:00am 0.7 5:32am 2.2 11:46am 0.7 6:15am 2.2 12:00am 0.6 6:57am 2.2 12:43am 0.6 7:40am 2.2 1:25am 0.7 8:22am 2.2 2:07am 0.7 9:05am 2.2 2:49am 0.7

Mouth

5:04pm 2.2 11:16pm 0.6 5:47pm 2.2

6:30pm 2.1 12:29pm 0.7 7:13pm 2.1 1:11pm 0.7 7:59pm 2.0 1:54pm 0.7 8:45pm 2.0 2:36pm 0.7 9:30pm 2.0 3:20pm 0.8

Amberley 4:47am 2.3 11:00am 0.7 5:32am 2.2 11:46am 0.7 6:15am 2.2 12:00am 0.6 6:57am 2.2 12:43am 0.6 7:40am 2.2 1:25am 0.7 8:22am 2.2 2:07am 0.7 9:05am 2.2 2:49am 0.7

Beach

5:04pm 2.2 11:16pm 0.6 5:47pm 2.2

6:30pm 2.1 12:29pm 0.7 7:13pm 2.1 1:11pm 0.7 7:59pm 2.0 1:54pm 0.7 8:45pm 2.0 2:36pm 0.7 9:30pm 2.0 3:20pm 0.8

4:56am 2.3 11:09am 0.7 5:41am 2.2 11:55am 0.7 6:24am 2.2 12:09am 0.6 7:06am 2.2 12:52am 0.6 7:49am 2.2 1:34am 0.7 8:31am 2.2 2:16am 0.7 9:14am 2.2 2:58am 0.7

Motunau 5:13pm 2.2 11:25pm 0.6 5:56pm 2.2

6:39pm 2.1 12:38pm 0.7 7:22pm 2.1 1:20pm 0.7 8:08pm 2.0 2:03pm 0.7 8:54pm 2.0 2:45pm 0.7 9:39pm 2.0 3:29pm 0.8

4:58am 2.3 11:11am 0.7 5:43am 2.2 11:57am 0.7 6:26am 2.2 12:11am 0.6 7:08am 2.2 12:54am 0.6 7:51am 2.2 1:36am 0.7 8:33am 2.2 2:18am 0.7 9:16am 2.2 3:00am 0.7

Gore Bay 5:15pm 2.2 11:27pm 0.6 5:58pm 2.2

6:41pm 2.1 12:40pm 0.7 7:24pm 2.1 1:22pm 0.7 8:10pm 2.0 2:05pm 0.7 8:56pm 2.0 2:47pm 0.7 9:41pm 2.0 3:31pm 0.8

4:51am 1.7 11:06am 0.5 5:38am 1.7 11:53am 0.5 6:23am 1.7 12:07am 0.5 7:06am 1.7 12:50am 0.5 7:49am 1.7 1:34am 0.6 8:31am 1.7 2:16am 0.6 9:13am 1.7 2:59am 0.6

Kaikoura 5:15pm 1.7 11:22pm 0.5 5:59pm 1.6

6:44pm 1.6 12:38pm 0.5 7:28pm 1.6 1:21pm 0.5 8:12pm 1.6 2:05pm 0.6 8:57pm 1.6 2:49pm 0.6 9:41pm 1.6 3:33pm 0.6

*Not for navigational purposes. Wind and swell are based on apoint off Gore Bay. Maori Fishing Guide by Bill Hohepa. www.ofu.co.nz www.tidespy.com Graphic supplied by OceanFun Publishing Ltd.

2118223
---
summer savings

and

coffee

and

coffee

AT YOUR DESTINATIONFOR SPORT&FITNESS

MainPower Stadium is NorthCanterbury'spremier

sporting facility, providing opportunities forEVERYONE in

our communitytokeep fit &activefor life.

Whether you're wanting aworkout at the gym or to join a

group fitness class,looking to playsome indoor sports,

or to just grab acoffee or smoothie and amuffin,

MainPower Stadium is the placetogothis summer...

•FOUR SPORTSCOURTS -with set ups forBasketball,Netball, Futsal,

Volleyball,Badminton&Korfball (pre-booking essential).

•STADIUM FITNESS CENTRE -huge range of cardio and weights

equipmentalong with Revl GT and PRAMAgroup classes,

Personal Training, FIT 3D Body Scannerand MORE.

Membership just $21.50 per week.

•BELLGROVESTATION CAFE -you don't need

to be agym member or courtuser to enjoy

barista coffee, smoothies,protein shakes and

greatfood at BellgroveStation Cafe. Stopinif

you're comingpast on foot,bike or car,ormake

aspecialtriptosoak in the sporting atmosphere

at MainPower Stadium.

Cutout anyofthese vouchers and bring intoMainPowerStadium to redeem

50 %

2for1

$ 10

OFF APERSONAL TRAINING

SESSION AT STADIUM

FITNESS CENTRE

Giveyour training session aboost with help

from one of our awesome personal trainers.

Keep motivated,learn new exercises and refineyour

techniques so youcan get morefromevery workout.

Normally from $30 perhalf hour. Exp: 31/1/22

WITH YOUR NEXT

DRINKS PURCHASE AT

BELLGROVESTATION

Buy one hot or cold drink from Bellgrove

Station Cafe at MainPower Stadium and get a

second drink absolutely FREE.

Second drink must be of equal or lesser value. Exp: 31/1/22

CASUAL VISIT TO

STADIUM FITNESS CENTRE

Come in foracasual visit to Stadium Fitness

Centre to check out all our fantastic cardio

and weights equipment, or to tryone of our

amazing Revl GT or Prama classes.

Casual visitors welcome during staffed hours. Pre-booking

required forclasses. Normally $18. Exp:31/1/22

50

%

OFF YOUR NEXT FIT 3D

BODY SCAN AT STADIUM

FITNESS CENTRE

COFFEE | SMOOTHIES | FOOD

FIND OUTMORE AT...

WWW.MAINPOWERSTADIUM.NZ

MainPowerStadium is operated by the North CanterburySport &Recreation Trust www.sportstrust.org.nz

Measureyour progress towards your fitness

goals with regular FIT 3D Body scans.

TheFIT 3D scanner measures awide rangeofbody

metrics to help youset goals and monitor your

progress as yougain fitness &strength or loseweight.

Booking required. Normally $40 perscan. Exp: 31/1/22

$ 5

CASUAL HOOPS DROPINSESSION

Drop into MainPower Stadium to shoot some

hoops on your ownorwith some matesand

payjust $5 per person per hour.

Max. 10 people pervoucher. Normally $8 each. Call first to

ensureacourtisavailable -03975 5560. Exp: 31/1/22
---
Thank you to the

Business Awards Sponsors,

Judges and Entrants.

LEAD SPONSOR:

CATEGORY SPONSORS:

Congratulations!

North Canterbury Business Awards:

MainPower

Supreme Award:

WINNER: Rangiora

Vet Centre

Misco Joinery Manufacturing

&Trades Award:

WINNER: Angus Robertson

Mechanical

Spark Business Hub

Christchurch

Innovation Award:

WINNER: Shed Specialists

Voted by the judges as

"A truly great North Canterbury

business in every sense".

Specialising incoil processing and

rollforming machines, predominately for

Mechanical is helping the New Zealand

building industry to thrive.

From lean-tos, workshops,

farm, storage, and kit-set sheds to

architecturally designed sheds and

aircraft hangers, no job is too big

or too small.

Finalists: Designer Gates,

Sutherland Timber

Finalists: Funky Monkey Bars,

International Culinary Studio

BDO

Professional Services Award:

WINNER: Rangiora Vet Centre

Providing veterinary care tothe North

Canterbury community for the last

70 years covering all species, from

pets to farm animals to the wildlife

at Orana Wildlife Park.

Finalists: MoMac, Candrive

MADE North Canterbury

Food &Beverage Award

(with Harris Meats &Patoa Farms):

WINNER: Fitfood

As New Zealand's premier health food

ready-meal and food manufacturing

company, Fitfood is amarket leader in

and tasty meals.

Finalists: Torlesse Farm Ltd,

27 Seconds

PAK'nSAVE Rangiora

Community Enterprise Award:

WINNER: Satisfy Food Rescue

Collecting and distributing surplus

edible food from local retailers and

producers to help reduce food waste

and remediate food poverty locally.

Finalists: Driving Miss Daisy, Kidsbase

Lime Real Estate

Sustainability Award:

Percival Street Bakery

Excellence in Retail Award:

WINNER: So You!

One ofNorth Canterbury's favourite

women's fashion destinations, run by

consultant and stylist.

Finalists: Kaiapoi ITM, Fi's Flowers &Art

Hanmer Springs

Thermal Pools &Spa

Tourism &Hospitality Award:

WINNER: Paris Bakery &Café

Taking pride in freshness and quality,

with everything baked daily on site,

from scratch. Authentic French baked

goods and friendly customer service.

Finalists: Waiau Motor Camp,

Hurunui Attractions

Hellers

Emerging Business Award:

WINNER: Lime Real Estate

Specialising in achieving the best

results and an amazing customer

that good old-fashioned client service

leads the way.

Finalists:

NZ Custom Trees.

WINNER: Natural

New Zealand Honey

Awhanau-owned beekeeping business

that produces premium quality

Manuka, native bush and pasture

honey with afocus on responsible

business and beekeeping practices.

Finalists: Mt Lyford Holiday Homes,

North Canterbury News

People's Choice Award:

WINNER: Dance Sock Academy

Creator of technical educational

dance socks designed to enhance

dancer performance with

strategically placed features to help

students visually learn movements.

Finalists: Waghorn Builders,

So You! Boutique

SUPPORTING SPONSORS:

DESIGN BY

JAYNE RATTRAY

DESIGN AND PRINT
---
Don't wait, get vaccinated

Waimakariri!

Drop in to apop-up vaccination eventnearyou:

Waimakariri pop-up vaccination clinic locations

Loburn Domain Pavilion,

154 Loburn-Whiterock Road, Loburn

Mandeville Sports Centre,

431 Mandeville Road, Swannanoa

Oxford Farmers' Market, 42 Main Street

Wednesday 17 to Thursday 18 November: 1–6pm

Thursday 18 November: 4.30–8.30pm

Friday 19 November: 3.30–7.30pm

Saturday 20 November: 9am–12pm

Sunday 21 November: 9am–2pm

If you can't make it to the events,visit your

local vaccination clinics:

Waimakariri drop in vaccination clinic locations

Kaiapoi Family Doctors

Pegasus Medical Centre

Durham Health, Rangiora

Unichem Medical Corner Pharmacy,

Rangiora

Stan's 7Day Pharmacy, Rangiora

Wednesday to Thursday: 5.30–8:30pm

Saturday: 10am–3.30pm

Wednesday to Thursday: 5–8pm

Saturday: 9.30am–5pm

Book via www.BookMyVaccine.nz

Monday to Friday: 5.30–8.30pm

Saturday to Sunday: 9am–4pm

Monday to Thursday: 8am–5.45pm

Friday: 8am–4.45pm

Saturday: 9am–3pm

Monday to Friday: 9am–5.30pm

Saturday: 10am–4.30pm

Protect whatwe♥

CDHB18Nov21 NCN
---
NEWS

10 The North Canterbury News, November 18, 2021

Armistice Day service

Leading the service ... The Kaiapoi RSA padre, Rev Sandy Constable, leads the Armistice

service.

PHOTOS: DAVID HILL

Unveiling ... Former Waimakariri Mayor David Ayers unveils aLandmark plaque for the

Kaiapoi War Memorial, on behalf of the Waimakariri Landmarks Committee.

Police support ... Rural Canterbury area police superintendent Inspector Peter Cooper

addresses the crowd.

The Widest Music Variety

Housing surprise

By DAVID HILL

The WaimakaririDistrictCouncil has

been''blindsided'' by the government's

proposed housingreforms, leaving

planners scrambling to make sense of

it.

The proposedResource Management

(Enabling Housing Supply andOther

Matters) AmendmentBill,announced

lastmonth to addressNew Zealand's

housingcrisis,could significantly

changethe look of Waimakariri'sfour

maintownsincluding Oxford andhas

implicationsfor theproposed District

Plan.

Mayor Dan Gordon says he receiveda

phone call just onehourbefore the

proposed legislation wasannounced.

''Wehad no advancednotification.

It'sgreattosee the Government andthe

Oppositionworkingtogether,but it

would havebeennice to have gota

heads up,but it is whatitisand we

needtodealwith it.

''Weare working withour Greater

Christchurch partnersand we will be

lookingtospeak to our submission.''

District planning manager Trevor

Ellis says theproposed legislation

''cameout of the blue''.

The legislation is expected to

becomelaw beforeChristmas and if it

passes in its present form it willmean

significantchanges for ''tierone''

councils like Waimakariri and its

GreaterChristchurch partners,asone

of the major urbangrowth areas.

Thismeans Rangiora, Kaiapoi,

Woodend, Pegasus and even Oxford

willbesubjecttonew medium density

residential standards.

''Medium density housing is set to

becomethe default position

everywhere (in urbanareas) under this

legislation,'' Mr Ellissays

Developers couldbuild threestorey

buildings or multiple unitsonasingle

section under the proposed changes,

plannerCameron Woodsays.

''Fromour discussions with

developers thepotential for having

three small units on the one block is

morelikely, so there willpotentially be

alot more smaller houses,whichwill

changethe character of ourtowns.''

Medium densityhousingzones are

normally locatedclose to town centres,

schools,public transport and

infrastructure,''soitwill be quite a

blunt change and we havetakena

systematic approach'', Mr Woodsays.

While theproposed mediumdensity

residential standardsprovide seven

building standards including site

coverage and height restrictions, the

council is concerned rules around

housingdesign arenot included.

''Weare getting advice around the

implicationsofthe legislation and

design is something we are looking at,''

Mr Gordon says.

''Ifthe government doesn't do it, we

can lookatdoing it in avoluntary

capacity.''

The council will proceed withthe

District Plan submission process,

which closesnext Friday, November

26.

''Itmakes it difficult when people are

makingsubmissionsonour proposed

District Plan,but we willkeepin

contactwithsubmitters if thereare any

changes,''MrEllissays.

Shouldthe legislation passinits

present form, the councilwillbe

required to formally withdrawaspects

of its proposed District Planrelating to

urban housing, and notifynew

provisionsbyAugust 2022.

Jabba Waka in the Hurunui

All registered patientsatHurunui's five

health centres, whoare fully vaccinated

against Covid 19, will get the opportunity to

win amajor prize.

The five healthcentres—Amberley,

CheviotCommunity,Waikari, Hanmer

Springs and Amuri Community Health

Centre, together with the Waitaha Primary

Health Organisation and Hurunui Mayor

MarieBlack, have been collaborating to

get their communities to 90 per centfully

vaccinated.

Now they wanttorewardthosewho have

had both jabs.

''We are excited to announce thatweare

well on our way to reachingthis figure,''

Hanmer Springs Health Centre practice

manager, Paul Walmsley says.

''So,all registered patients at the five

practices who are fullyvaccinated by

November 30 willbeentered in a

competition to win aHurunui­wide prize.''

Details of the prizewill be announcednext

week.

The Jabba Waka mobile vaccination

clinichad agood response in Leithfield

last Friday and Cheviot last Tuesday..

This Friday, November 19, it will be on

SH7 in Waikari from11am, Hurunui

College at 12.30pm and Four Square

Hawarden at 1.45pm.Itwill be at the

HanmerSprings pavilion car parkfrom

10am Saturday,the WaiauVillage Green

from 12.15pm and outside the Rotherham

Hotel,at2pm.

On Sunday the Jabba Waka willbeinthe

car park on Culverden'smain street from

10am and the Hurunui HotelonSH7 from

1pm.

On Monday it will movetothe Hanmer

Springs Thermal Pools and Spa from

2.30pm, and will visit some of the Hanmer

Springs Health Centrepatientsathome,

who can'tget to the clinic for vaccinations.

Friday 6pm & replayed at 12pm Sunday

Tune in nowtolistenon104.9 North Canterbury

and103.7 Hanmer Springs andKaikoura
---
This WeekendOnly
---
Graham |Verified Buyer
---
RANGIORA

100%LOCALLY

OWNED&OPERATED.

RANGIORA

If youfind alower priceonanidentical stocked productlocally, we will beatitby15%

If youfind thesame productfromanother Mitre10store or Mitre10website, we'll matchthatprice.Excludes trade and special

quotes,stock liquidations and commercial quantities.The in-storeprice maybelower than thatadvertised.
---
RANGIORA

Doing it

yourself?

Getall thehelpyou needat

mitre10.co.nz/easyas

Free tinting

on Valspar &Accent Paint

EXCLUSIVE
---
NEWWATER

FEATURE?

COME VIEW

THE RANGE

IN-STORE.

100%LOCALLY

OWNED&OPERATED.

RANGIORA

If youfind alower priceonanidentical stocked productlocally, we will beatitby15%

If youfind thesame productfromanother Mitre10store or Mitre10website, we'll matchthatprice.Excludes trade and special

quotes,stock liquidations and commercial quantities.The in-storeprice maybelower than thatadvertised.
---
See the Good Sports.

$121.14

PER WEEK

$90.29

PER WEEK

$134.36

PER WEEK

$232.31

PER WEEK

2016 Nissan X-Trail 20X 4WD

2000cc with 63,412kms, Auto, Alloys, CD Player,

Chain Driven, Dual Zone Climate Control, ISOFIX,

Factory Privacy Glass, Fog Lights, Heated Seats,

High Seating Position, ESC,

Idlingstop,Smart Key, Lane

Keep, Traction Control. $23,990

2015 Peugeot 3008 Allure 1.6

Turbo 1598cc with 85,268kms, Auto Tiptronic,

Alloys, Auto Lights, AUX/Bluetooth, Cruise, Dual

Zone Climate Control, Electric Mirrors, Half Leather

Seats, High Seating Position,

Power Steering, Remote

Central Locking.

$17,990

2014 Hyundai Santa Fe DM 2.2

4WD 2199cc, Auto Tiptronic, 6Airbags, Alloys,

Auto Lights, Bluetooth/CD/USB, Centre Diff Lock,

Climate Air Con, Cruise, Hill Start Assist, ISOFIX,

ESC, NZ New, Turbo Diesel,

Remote Central Locking,

Traction Control.

$26,990

2019 Ford EnduraST-LINE2.0D

1997cc with 73,968kms, Auto, 5Star ANCAP, Alloys,

7Airbags, Android Auto, Apple CarPlay, Auto Lights,

Bluetooth, Climate A/C, Half Leather, Heated/Cooling

Seats, ISOFIX, NZ Sat Nav,

NZ New, Reverse Camera,

Smart Key, Turbo Diesel.

$46,990

$111.34

PER WEEK

$193.13

PER WEEK

$109.88

PER WEEK

$77.06

PER WEEK

2014 Subaru XV Hybrid 2.0i-L

Eyesight 2000cc with 55,956kms, Auto, 4WD,

Alloys, Auto Lights, CD Player, Dual Zone Climate

Control, Electric Seats, ESC, Factory Privacy Glass,

Fog Lights, High Grade 4.5,

ISOFIX, Lane Keep, Radar

Cruise, Pre-Crash Safety.

$21,990

2018 Jeep Compass Trailhawk

2.4P/4WD 2359cc with 30,080kms, 9Airbags,

Auto Tiptronic, 5Star ANCAP, Alloys, Android Auto,

Apple CarPlay, Auto Lights, AUX/Bluetooth, ISOFIX,

Heated Seats, Lane Keep,

Leather, NZNew, Radar

Cruise, R/Camera, Towbar.

$38,990

2016 Kia Sportage LX Urban

1999cc, Auto Tiptronic, 5Star ANCAP, 6Airbags,

Alloys, AUX/Bluetooth/USB, Chain Driven, Cruise,

ESC, High Seating Position, ISOFIX, Multi Functional

Steering Wheel, Remote

Central Locking, Reverse

Camera, Traction Control. $21,990

2012 Toyota Auris 150X S-Package

1500cc with 58,811kms, Auto Tiptronic, Aero Body

Kit, Alloys, AutoLights, CD Player, Chain driven, Dual

Airbags, ESC, Factory Privacy Glass, ISOFIX, Leather

Wrapped Steering Wheel,

Power Steering, Remote

Central Locking, Smart Key. $14,990

$165.22

PER WEEK

$168.65

PER WEEK

$217.62

PER WEEK

$315.57

PER WEEK

2018 Mazda CX-5 XD ProActive

2200cc, Auto Tiptronic, Alloys, ESC, Auto Lights,

Dual Zone Climate Control, Lane Keep, ISOFIX,

High Grade 4.5, I-Stop, Radar Cruise, Smart Key,

Reverse/Side View Camera,

Touch Screen Media,

Turbo Diesel, USB Input.

$32,990

2019 Holden Equinox LTZ 2.0L

1998cc, 31,784kms, Tiptronic, Alloys, ESC, Cruise,

5Star ANCAP, 8Airbags, Android Auto, Apple

CarPlay, Bluetooth, Heated Leather Seats, ISOFIX,

Pre-Crash Safety, Turbo,

Lane Keep, R/Camera.

$33,990

Balance of New Car Warranty!

2020 Nissan Navara ST 2.3D

2298cc with 12,876kms, Auto Tiptronic, 7Airbags,

5Star ANCAP, Alloys, Bluetooth, Canopy, Centre

Shoulder Belt in Rear, Cruise, ESC, ISOFIX, Multi

Functional Steering Wheel,

R/Camera, Turbo Diesel.

Balance of New Car Warranty!

$43,990

2020 Mercedes Benz X-Class

X250 Power 4WD 2298cc, 27,289kms,

Auto Tiptronic, 5Star ANCAP, 7Airbags, Alloys,

Auto Lights, Bluetooth, Climate Air Con, ESC,

ISOFIX, Leather, Smart Key,

R/Camera, Tonneau Cover.

$63,990

Balance of New Car Warranty!

$222.52

PER WEEK

$222.52

PER WEEK

$217.62

PER WEEK

$232.31

PER WEEK

2017 Mazda BT-50 GSX 4WD

3.2D 3198cc with 70,261kms, Auto Tiptronic,

6Airbags, Alloys, Auto Lights, AUX/Bluetooth, ESC,

Chain Driven, Cruise, Dual Zone Climate Control,

Fog Lights, Multi Functional

Steering Wheel, Traction

Control, Turbo Diesel.

$44,990

2016 Nissan Navara ST-X 2.3D

4WD 2298cc with 94,213kms, 5Star ANCAP,

Alloys, 6Airbags, Auto Lights, Bluetooth,Cruise,

ESC, Hard Lid, Heated Leather Seats, ISOFIX,

NZ New, NZSat Nav, Roof

Rack, Rev. Camera, Smart

Key, Towbar, Turbo Diesel.

$44,990

2018 Ford Ranger WildTrak 4WD

3198cc, Auto Tiptronic, 5Star ANCAP, 6Airbags,

Alloys, Auto Lights, AUX/Bluetooth/USB, Centre

Shoulder Belt in Rear, Climate Air Con, Cruise, ESC,

Fog Lights, Half Leather

Seats, NZ New, Traction

Control, Turbo Diesel. $43,990

2019 Nissan Navara ST 2.3D

4WD 2298cc, Auto Tiptronic, 5Star ANCAP,

7Airbags, Air Con, Alloys, Bluetooth/USB Input,

Bonnet Stone Chip Deflector, Cruise, ESC, ISOFIX,

NZ New, Running Boards,

Sports Bar, Turbo Diesel.

Balance of New Car Warranty!

$46,990

Stadium Cars Rangiora 03 310 7940 | stadiumcars.co.nz

609 Lineside Road, Waimakariri, Rangiora OPEN 6DAYS

*Conditions apply. Not available with any other offer. Finance offer subject to credit and lending criteria.

Finance calculation based on 60 month term. No deposit with an annual fixed interest rate of9.95%,

includes an establishment fee of$445. See our website for full disclosure.

*On road costs may apply to some vehicles
---
Hunger relief efforts recognised

By DAVID HILL

The effortsoflocal Lions club members to

relieve hunger has been beenrecognised.

The Oxford and DistrictsLionsClub's

project to grow potatoes and other

vegetables, whichare supplied to Satisfy

Food Rescue to distribute to North

Canterburyfood banks,has beennamed

this year's best New Zealand Lions

hunger relief project.

''It's importantthat activities that the

Oxford and Districts Lions Clubare

involvedinare meaningfuland

deserving,'' secretary Lindsay Fletcher

says.

''We identified the need within North

Canterbury and through collaboration

with SatisfyFood Rescue and leave the

deserving component to them as subject

matterexperts.

''The Oxford Lions enjoy workingwith

organisations and clubs,assistingthem to

get their projects or initiatives to a

successful conclusion usingahand up not

ahand out approach.''

Because of Covid­19restrictions, the

OxfordLionswere unable to receive the

award in person.

But the pandemic has not stoppedthe

reliefefforts, whichhave grownenough

food for more than31,000mealssince the

project beganinMay last year.

''We scoped this year'srequirements

during Covid Level 2, and formedasmall

bubble to commence groundpreparation

for the current growingseason,'' Mr

Fletcher says. ''The intention this season

is to overdeliver on our promisetoSatisfy

Food Rescue, thatisatarget of 20,000kg of

freshvegetables.''

The Lions havebeen growing

pumpkins, beetroot,rhubarb and beans.

More than1000kg of pumpkins have been

donated to date.

Picking spuds ... Volunteers gather potatoes as part of the Oxford and Districts Lions

Club's efforts to relieve hunger.

PHOTOS: SUPPLIED

Potato field ... The Oxford and Districts Lions Club has been supplying Satisfy Food

Rescue with potatoes and other vegetables since May last year.

15

Board backs

speed limits

EXPERIENCE OXFORD

The North Canterbury News, November 18, 2021

Oxford's Main Street couldbeset for a

reduced speed limit to 40kph.

The Oxford­Ohoka Community Board

has recommended the adoption of speed

limit changes to 17 roads in Oxford and

Ohoka, including Main Street.

The Waimakariri District Councilwill

now vote on whether to implement

proposed new speed limitsatits

December meeting,after 297

submissionswere received duringa

consultation on adistrict­wide review of

speed limits.

The majority of respondents in the

Oxford­Ohoka ward areafavoured the

proposed speed limit reductions.

But evenifthe council votes in favour

of the new limits,Main Street'sspeed

limit will remainat50kph untilnew

traffic calming infrastructure can be

installed.

Council staff estimate the necessary

infrastructure will cost around $450,000

and this will be consideredaspart of

next year's annual plan process.

Board chairperson Doug Nicholl says

the safetyofthe area's ever­growing

population was keyinthe board's

feedback.

''Theincreaseinhousing density in

Ohoka,caused by subdivision

developments, has meant thatthe 70kph

rural townspeedlimit is now

inappropriate for the numberof

vehicles and people in the area.

''Similarly, Oxford continues to grow

with the town extendingfurther

outwards meaning greater numbers of

vehicles and people,coupled with an

increaseinintersections and access

ways.

''Therisk of severe crashesis

becoming greaterand the high speeds

currently in place are no longersafe or

appropriate.''
---
EXPERIENCE OXFORD

16 The North Canterbury News, November 18, 2021

High Country Canvas

Specialised in

Canvas Manufacturing

New and Repairs Welcome

Don't Pack and Store It All

Away

Get your Repairs Done Now

Phone Darrin Lord

312 5025 (027) 238 1624

PAINTERS

RegTradesman • Interior,exterior.

North Canterbury Painters

specialising in decorating for

over 65.

Discounts

for Seniors

Free quotes.

Covering North Canty,Oxford,

Kaiapoi, Rangiora, Amberley.

Ph Rob 03327 7899

or 027 432 3520

2423683

2202228

No Oxford welcome for Santa

By DAVID HILL

Covid­19has scuppered the efforts of the

Oxford and Districts Lions to bringa

little Christmas cheer to the community.

The Oxford Lions had hoped to

officiallywelcome SantaClaustotown

in the usual mannernext month,

alongside acommunity fun day at the

Oxford Showgrounds.

But Covid­19 restrictions have made

the eventimpossible,with the proposed

traffic lights system requiring the

checking of vaccination certificates,

presidentPhil Bay says.

The cancellationalso means the

Christmas Wonderland, organised by

the Oxford Community Trust is unable

to go ahead.

Oxford'sChristmas Eve Carolsinthe

Park has also been cancelled.

In the meantime, the Oxford Lions are

turning their attentiontofundraising to

buy anew Lions caravan for selling hot

dogs,hot chips, candyfloss and other

goodies at local events.

''Ourcaravanis26­years­old and these

days you need to haveeftpos, so we need

to have an extra persononboardand

there's just not enough room,''hesays.

Two cattlebeasts have beendonated

as prizesbylocal farmers, with the meat

beingraffled off along with other prizes

provided by local businesses.

The Lions are planning to have abusy

2022,beginning withthe second annual

Wingsand Wheels duringthe last

weekend in January.

The event,hostedatDave

McPherson'sCooper's Creek property,

proved to be asuccesslast yearwith a

display of smallplanes and vintage cars.

No Santa parade ... Covid­19 restrictions mean Father Christmas will not be officially

welcomed to Oxford this year.

PHOTO: FILE

The Lions Caravanwill be out in force

at various eventsnext yearincluding the

Coast to Coast, while agolf parade is

also planned in March.

Last year's golf paraderaised $15,000

with corporate teams travelling from as

far afieldasAmberley and Ashburton.

After asuccessful mental health

awareness evening organisedbythe

Lions in 2019, with Richard Loe and

Doug Avery, Mr Bay says the committee

is hopingtorun asimilar eventnext

autumn.

''We'vemissed out on abit of stuff this

year with Covid, but we're hoping to

have some moreevents for the

community next year,'' Mr Bay says.

The Oxford Lionsare continue to grow

potatoes, pumpkins, corn and zucchini,

which are harvested and donated to

Satisfy Food Rescuetodistribute to

local food banks. Around 23 tonnes of

firewoodwere donated to people in

need during the winter.

Next year the Lions plantohave more

firewoodwhich they can sell as a

fundraiser, while peastraw for gardens

is still availablefor sale.

1921-2021 celebrating

100 years in business

Please contact Jason:

116 Harewood Road, Oxford

Business or A/H Ph: (03) 312-4016

Fax: (03) 312-4048

oxford@frewstransport.co.nz

2364626

PARENTS

Do you haveasonordaughteror interested inhorse riding?

✭ Courses everyweekend.

✭ 2, 5&7daySchool Holiday courses.

✭ Private lessons available

Monday toFriday

✭ One day /one night $90 child

✭ Opportunity to compete on our horses.

✭ ½day lessons and treksavailable.

Enjoy the taste of

freshly produced

real milk in a

glass bottle

•$3.00alitre

•Great milk -Great price •Sold on farm

•Purchase 1litre bottlesfromdispenser

or bringyour own container

•Cash Only -365 Days

SelfService –7am to 9pm

B.A. MURRAY LTD

177 Mt Thomas Road, RD 1, Rangiora 7471

Phone: 0274 343 119 | Email: office@bamurray.co.nz

Web: www.bamurrayagriculture.co.nz

2264064

711Island Rd View Hill, OXFORD 7495

03 312-4309 www.kowhai.co.nz

2223191

027 630 2230

56 Ashley Gorge Road

www.facebook.com/CavanFarmFreshMilk

Betterfor you and the environment

"FARMERS"

•Baling

•Silage

•Hay

•Cultivation

•Seeding

•Heading

•Beet Lifting

Contact Steve Murray 027 434 3119

……..New Zealand Rural Contractor Of The Year 2002…….

2315106

Your One Stop

Pie Shop

•Over 25 varieties of

Award winning pies

to choose from

•All products made

the traditional kiwi

way using the finest

locally sourced

ingredients.

Open 7days aweek.

Mon -Fri 6.30am -4pm, Sat &Sun 7am -4pm

2266193

✓

✓

Don't know where to start orhow to do it?

Gardens &Lawns doing their own thing –

not your thing?

✓ Property maintenance falling behind?

✓ No time for life on alifestyle block?

CALL IN THE EXPERT

LET AL-MOW AND MORE FOR YOU!

Regular maintenance or one off work

No job too big or small

Call Al Today!

P: 021 249 9495 |E:al@almows.co.nz

www.almows.co.nz

2325634v1
---
Prizegiving amid Covid

Oxford Area School has

recognisedits top student

achieversfor 2021.

The schoolovercame the

challenges of Covid­19 and a

disrupted schoolyear to celebrate

the achievementsofits Year11to

13 pupils with the annual senior

prizegiving heldearlier this

month.

Principal Mike Hart says

creativity fromstaffand students

meant the school could pull off a

celebration event, albeit in ''a

slightly varied format''.

The evening was filmed and will

be edited to share withparents

and families who were unable to

attend due to Covid­19

restrictions, he says.

''A special mention mustgoto

Sharyn Varcoe andStephanie

Arthur,'' Mr Hart says.

''Wechucked themboth a

couple of curveballs thisyear with

back­to­backprize­givingevents

withvery new formats.

''Both managed this well in

organisingthese wonderful

celebrations.''

Major prizewinners:

Dux ­AlexanderSillars.

ProximeAccessit(Runner up to

the Dux) ­Ethan Wells.

Sportspersonofthe Year ­

Ashley Riley.

Student Leaders for2022 ­Amy

Riach (headstudent), Cailey

Hollard (deputy headstudent),

Ashleigh Lawlerand ZaraFrahm.

OxfordArea School's annual

Agricultural Club Day was held

recentlywith 28 pupils involved in

presenting their animals to

judges.

Dux ... Alexander Sillars (left) receives the Dux award from Oxford Area

School principal Mike Hart.

PHOTOS: SUPPLIED

Rochelle Welchsigned off after

running the Agricultural Club for

over adecade.

''Rochelle has developed an

excellent model connecting our

students with the skills of the

community and giving these

students an opportunity to shine,''

Mr Hart says.

The baton has now passed to

Jodi Glassford, who will take over

the Agricultural Club in 2022.

Runner­up ... Ethan Wells (left)

receives the Proxime Accessit

(runner­up to the Dux) award from

Oxford Area School principal Mike

Hart.

EXPERIENCE OXFORD

The North Canterbury News, November 18, 2021 17

Students do their bit

to protect mudfish

It was all hands on spades as

tamariki from View Hill

School and helpers planted

350 native seedlings in an

effort to enhance an

endangered Canterbury

mudfish /kowaro habitat.

The planting day was held at

Kowhai Farm with owner

Chris Thomas joined by 64

children, teachers and parent

helpers and community

groups.

Canterbury mudfish are

classified by the Department

of Conservation as the second

most endangered native fish

in New Zealand.

In 2020 kowaro were found

living in the creek running

through the farm.

Kowaro live in wetlands and

slow­moving water ways and

when streams dry out, they

can burrow into damp mud

and survive for several months

until water returns.

Since European settlement,

alot of their habitat has been

drained.

Mr Thomas was keen to see

the area enhanced and a

partnership was formed with

the Working Waters Trust and

View Hill School to carry out a

restoration project for the

endangered fish.

''A highlight of the day was

that everyone got to see the

local kowaro in their natural

habitat, reinforcing the

significance of the work to

protect the habitat,'' Cr Niki

Mealings says.

The property owners

Protection ... Endangered

Canterbury mudfish are set to

benefit from arecent planting

day.

PHOTO: SUPPLIED

worked closely with the

Working Waters Trust to

develop aplan for their

project.

The Working Waters Trust is

acharitable organisation

which focus on biodiversity

restoration projects in

Canterbury, Otago and

Southland, as well as

educational and advocacy.

''It was so great to see

everyone working together to

create what will be in afew

years, an amazing habitat

again for these precious

Canterbury kowaro,'' says

Jenny Bond, from the Working

Waters Trust.
---
NEWS

18 The North Canterbury News, November 18, 2021

Reforms an asset grab

OPINION

WAIMAKARIRI MP MATT DOOCEY

After failing to getlocal councils

on boardtosupport theThree

Waters plan, the government's

pushtogoahead with legislating

the asset grabofcommunities'

water assets has left Waimakariri

residents furious.

I'vebeeninundated withcalls

and emailssince thegovernment's

announcement. It was

encouragingtosee theThree

Waters protestinHurunui last

week, we shouldseriously

considerasimilarprotesthere.

Let me know your thoughts.

Havingseen and heardthe

response loud and clear from

ratepayers acrossthe district,its

reallyimportant to me to take

those voicesand views to

Wellington.

Ihave recentlybeen appointed

as oneofNational's

representatives on the select

committee thatwill hear thisBill

onceitisintroducedinto

Parliament,whereIwill be able to

bring the voicesand viewsof

Waimakariri and Canterbury to

the discussion anddebate, around

the table.

WhatIamhearingnow is the

Billwillbeintroducedinearly

December whichmeansthe

submissionprocess is likelyto

playout overthe holidayperiod.

Thisisparticularly concerning

given the amount of public

interest, and opposition,inthe

ThreeWaters asset grab. Butit

comesasnosurprisethatthe

governmentistrying to hidethe

process fromratepayersgiventhe

waythey have forcedthis

undemocratically on communities

thus far.

Earlier this year Icalledonour

local counciltospeak up on this

issuefor our ratepayers. I

cautionedthatcouncils wouldlose

theircontroloftheir waterassets

if further councilsopted outofthe

plan andIforesaw arisk theLocal

GovernmentMinisterwouldforce

compulsoryparticipation.

Unfortunately,thishas proved

true.

Thevastmajority of

Waimakariri residents opposed

ThreeWaters because theydon't

want to losecontrolofcommunity

waterassets that have beenpaid

forbylocalratepayers over the

years.Our residents havebeen

outspokenthey do notwant to lose

theirsay on how water services

areprovided.

This is akickinthe guts forour

district's ratepayers, whohave

throughtheirrates invested

heavily in our water

infrastructuretoachieve great

outcomes andanenviablemodel

formany councilsaround the

country.

To think that all thisinvestment

couldbeundermined by the

government'sfour entityproposal

is gutting,but more than that,its

undemocratic. Forcing something

on local councils against theirwill

goes against everythingelected

representation stands for.

TheMinister has constantly

referred to ''alternatives'' thatshe

considered, but they werenever

properlyraised with councils.The

broken four­entity model wasthe

only option put on thetable, and

presented as the onlyanswer.

National believesthere are plenty

of othersolutions worthexploring.

We will workinaproper spirit

of partnershipwith councils to

identifythe solutions that work

best for them.

That could be incentivising

collaboration between agroupof

neighbouring councilsthatcould

pool their resourcesand

capabilities,orcontract one

another so thathigh­performing

councils withgoodwater

management practice could

support their neighbours who

mightbefacingchallenges.SubregionalCCOs,orcouncilcontrolled

organisations, could be

bigenough to save money and

achieve economies of scale, but

small enough to remainlocaland

connected,and unlike the

Government'sfour entities, CCOs

wouldreport directlytoelected

councillors, so theywouldbe

vastlymore accountableto

ratepayers.

Whilethere are some

alternativestothe Government's

proposal,one thing is clear—we

need to continuetoopposethis

with everythingwe'vegot.

No going back ... Jason Clements, aka Oxford poet Doc

Drumheller, being shaved by Tom Weddell, owner of Tom's Chop

Shop in Rangiora. Gabrielle O'Connell is collecting his hair for awig.

PHOTO: SHELLEY TOPP

Jason'smop chopped

By SHELLEY TOPP

The mop has beenchopped

and the longhair collectedasa

fundraiserfor CancerSociety

NorthCanterbury.

Waimakariri Libraries

learningconnections coordinator

JasonClements, also

knownasOxford poet Doc

Drumheller,had been growing

his long hair forabout 10 years

and his beard for afew months

but he now has anew look after

he decided earlierthis year to

get them both shaved off to

raisefunds for the society. The

Chop The Mop fundraiserwas

held in Rangiora's Victoria

Park on Thursday eveninglast

week withRangiorabarber

Tom Weddell, owner of Good

St's Tom'sChop Shop, on hand

to shave Jason'sbeard and

head.Cancer Society North

Canterbury Area co­ordinator

Gabrielle O'Connell collected

Jason's hairwhich will be sold

to Freedom Wigs in Dunedin.

Chop The Mop was part of

the Word Christchurch Festival

and featured guestpoetry

readings from some of New

Zealand'sleading poets,

including Amberley's

BernadetteHall.Hall received

the Prime Minister's Award for

Literary Achievementin

Poetry in 2015and in 2017was

appointed amember of the

New Zealand Order of Meritfor

services to literature.
---
NEWS

North Canterbury News, November 18, 2021

19

Book fair countdown

EAT

FRESH

PRODUCE

WEEK

Books galore ... Rangiora Rotary President Marilyn Ayers and event organiser Bruce

Walker unloading books at the A&Pshowgrounds for the annual Rotary Book Fair.

Booksgalore are beingdonatedfor the

Rangiora RotaryAnnual Book Fair,with

organiser Bruce Walker saying this year's

annual salecould be the biggest yet.

''They're coming in fromall overthe

district and we havebeen clearing the

book dropoff points at the Rangiora New

Worldand ZServicestations everyfew

hours,'' he says.

The RotaryBook Fair has beengoing for

36 yearsand this year will haveanew

venueatthe Northern A&PShowgrounds,

Ashley Street,onFriday ,November 26,

and Saturday,November 27.

The fair starts at 8.30am and runs

through to 7pm each day.

One of the biggest jobs is sortingthe

donationsofbooks,CDs, records and

puzzles. Bruce sayssortingiscarried out

by adedicated team who do agreat job.

This year the sorting venue has moved to

new premises thankstothe donationof

space by Rangiora businessman, Daniel

Smith.

Rangiora Rotary president Marilyn

Ayers says the response thisyear has been

overwhelmingand very much appreciated.

"Therehas beenamazing support and the

incomefrom sales will go to our

community," she says.

Remembering the earthquake

TOMATOES Loose

Product ofNew Zealand

3 99 kg

VITOR MANDARINS Loose

Product of Australia

4 99 kg

By DAVID HILL

Kaikouraphotographer Andrew Spencer's

attempt to remember the devastating

earthquake of 5yearsago is beingthwarted

by the latest naturaldisaster.

As he prepared to hold alaunchfor his

new book, Remembering Kaikoura

Earthquake,onTuesday evening, a

shipment of books was stuck in Auckland

due to Level 3restrictions.

The projectwas born out of the 7.8

magnitudeearthquakeonNovember 14,

2016.Andrew grabbed his camera and went

out and explored the worldaround him.

''It was kind of areactivething which

turned into adailythingand went for a

month,''hesays.

''It's asnapshot of history andwhat was

happening in the town and closetothe town

and along the roadsupthe coast.''

The photosquickly gained afollowing on

Facebookasex­pats,thosewith family

connections or had visited thetown over

the years,wanting to knowwhat was

happening on the ground. Some of the

photos were captured from ahelicopter

ride whichmade Andrew deeplyaware of

the isolation of the towninthe days and

weeksafter the quake.

His wifeMichelle Spencer, who is a

school principalinBlenheim, was in

Kaikoura at the time of the quake. She flew

back to Blenheim,leaving her car in

Kaikoura.

''I didn'tsee her again for amonth and it

was anine hour trip to takeher car backto

her,''Andrew says. ''But now it'sanamazing

road, the commute is now an hourand 20

minutes. They'vedone agreatjob for us.''

The idea for the booksurfaced earlier

this yearwhen KaikouraPaperPlus owner

Mark Fissenden suggested it was time

Andrew did something with his collection

of quake photos.

''He gave me abit of ahurry up, and so I

delved intothe archives and looked at these

pictures Ihaven't looked at for awhile,''

Andrew says.

Kim Boyce­Campbell assisted with

writing an introduction and added some

stories to the book,while Ngati Kuri elder

Rawiri Manawatu provided ashortkarakia

''to captureabit of history''.

Remembering Kaikoura Earthquake,a128

page book by Andrew Spencer, with Kim

Boyce­Campbell, is selling for $29.99.

It will be available for purchase at

PaperPlusbookstores or youcan order

from asphoto.co.nz for asigned copy.

040 trainsNmodels

PAMS FRESH

ASPARAGUS 250g Bunch

Product of NewZealand

PAMS FRESH

STRAWBERRIES 250g Prepack

Product of New Zealand

2 79 ea

3 79 ea

OAKLEY'S BABY GOLDEN

GOURMET POTATOES 1.5kg

Prepack Product of New Zealand

AVOCADO PRE-RIPENED Large

Product of New Zealand

5 49 ea

1 29 ea

FOURSQUARE.CO.NZ

facebook.com/FourSquareNZ

03 307 0155

040@040trains.co.nz

www.040trainsnmodels.co.nz

Openbyappointment

2435650

Specials available South Island only from Monday 15thNovember

until Sunday 28thNovember 2021 or while stocks last. Wine

andbeeravailableatstoreswithanofflicence. Wine and beer

purchasesrestricted to persons aged 18 years old and over.
---
Professionals

in North Canterbury

Experienced

Podiatrist;

Building Trust.

Erin Marsden BSc(Pod)

2373659v3

Do you feel lethargic,

overwhelmed, have muscle

tension or crave some

time out?

Call us or book online for a

Relaxation Massage

Allow your therapist to ease your tension,

reduce your stress and enhance your

emotional &physical well-being.

2384258v3

31 Blackett Street, Rangiora

Phone 03 313 0349

Email info@head2toe.co.nz

www.head2toe.co.nz

Local support ... Christine Staines is ready to support locals with their funeral

arrangements.

Care, compassion at the end

JohnRhind Funeral Directors hasbeen

serving North Canterbury for 15 years.

Fromits Kaiapoibase,John Rhind is

availabletotravel acrossthe Waimakariri,

Hurunuiand Kaikoura districts,general

manager TonyGaring says.

"In NorthCanterbury we work as much

as we can withlocalpeople,including

caterers,florists andcelebrants.

"We arecommitted to supporting the

North Canterbury community with all of

the arrangements."

The onlyexceptionisinthe preparation

of the body, done at themortuaryin

Christchurch and then returnedto

Kaiapoi.

JohnRhind Kaiapoi is basedinan old

familyhome at 118 WilliamsStreet.

"Oneofthe biggestassetsinKaiapoi is

our funeral director Christine Staines,

who runs our Kaiapoioffice,"Tonysays.

"Sheisvery well­knowninthe

community,she knows alot of peopleand

she hasagoodknowledge of thedistrict

and knowsthe historyofKaiapoi. She's

always availabletotalkabout funeral

arrangements."

Christine is supportedbythe mainoffice

PHOTO: FILE

in London Street,Christchurch, which

includes three staffwho areNorth

Canterbury residents.

JohnRhind offers arange of different

funeraland pricing options,including

fixed price optionsthatmay suit people's

budgetsorparticular types of funerals.

"We cancater forserviceswhichare

small andverysimple, to the more

elaborateand involved," Tony says.

JohnRhind Kaiapoi moved to its

present location afterthe earthquakes.

"We wantedsomething thatwas

welcoming andhomely,sothis was an

obvious choice. It's like walking intoyour

grandparent's home," Tony says.

Families may choose to have aburial or

acremation.The funeral service can be

heldatthe Christchurch chapel,the

Harewood Crematorium or John Rhind

can arrange alocalvenue.

"Some families like to have services at

the KaiapoiClub, thegolf club,alocal

church, at homeoratthe marae and we

often use the Northbrookchapel."

Contact JohnRhindKaiapoi on (03)327

7499, email staff@johnrhind.co.nz or go to

johnrhind.co.nz.

Now with more availability

022 1726 049

www.northcanterburypodiatry.co.nz

YOUR TIME IS LIMITED

SO DON'T WASTEIT

Helping you make your

business successful

Contact Prosser Quirke Accountants

Chartered Accountants &BusinessAdvisors

6Blake Street, Rangiora

Ph 313 7824

team@prosser-quirke.co.nz

2299722v2

NORTH CANTERBURY

03 311 8008

email@helmores-law.co.nz

www.helmores-law.co.nz

2373179v2
---
THE GIFTS OF

Christas

FNGood Furniture -Orders taken now!

72 Jollies Pass Rd, Hanmer Springs |Phone 027 514 9863

Email wagonwheels72@hotmail.com |Visit www.fngoodfurniture.co.nz

Located on the main street in Cheviot. A

unique collection of NZ gifts for everyone!

Open 7days 10am-4pm |Ph: 027 740 9855

Equestrian

121 Bruces Rd, Sefton

0274 400 284

griggsefton@gmail.com

www.clipclop.co.nz

Find the perfect gift

for the horse lover

this Christmas,

with our great

range of cute gifts,

riding clothes and

accessories, covers

and jump poles.

2431931
---
NEWS

22 The North Canterbury News, November 18, 2021

Toot for Tucker to bring Christmas cheer

By DAVID HILL

Toot for Tucker is back in spiteof

Covid­19.

Volunteers will be out in force

on Tuesday, December7,tooting

as partofthe annual food drive in

Kaiapoi,Rangiora, Woodend,

Cust,Oxfordand Amberley.

''We havetobemindful of

Covidthis year,sowehave had to

put afew extra plansinplace, but

it won't stop us collecting so

please give generously and listen

for those toots,''organiser Bev

Wright says.

Next month'sfooddrivemarks

11 yearssince the event was first

held in Rangiora in the wake of

the 2010 and 2011 earthquakes.

Once againthe aim is to

restock food banks in the lead up

to Christmas.

''Covid has affectedmany small

businessesand many folk have

had theirhours reduced,''Bev

says.

''Theruralcommunity has

experienced very bad wind

storms and flooding duringthe

year and as usual the onlything

in ahousehold budgetthat is able

to be reduced, is the amount of

moneyspent on food.

''We still needtopay the

mortgageorrent,insuranceand

petrol, so when it gets hard, our

community food banks /pantries

come into their own.''

Last year'scollection saw

Kaiapoi gatherarecordhaul to

restock Kaiapoi Community

Support's community pantry.

Rangiora, Woodend, Custand

Oxford alsorecorded big hauls,

while Amberley reporteda

strongreturnfrom its firsttime

participating.

In the last two years the

Rangiora SalvationArmy food

bank has received awhopping

1500 bags fromcollections in

Rangiora and Woodend.

The Oxford and Cust

collections will go to support the

OxfordCommunity Trust's food

bank, while the Amberley

collectionwill stock up the town's

local food bank.

''I continue to be humbled by

the generosity of thecommunity

in their giving,''Bev says.

''Every year we get more and

more donations, but pleaseknow

that every little bit helps, it stays

local and it'syour friends,

neighbours and community

members thatwill benefit.

''And Imean it's there for

everyone, so don't be too proud to

ask for abit of ahand.

''I am told very few people are

regular receivers of foodparcels,

they may needone or twototie

them over, or some casesabit

more help,but it's genuine

reasons anditisvery much

appreciated.''

Once again peopleare asked to

supplytheirown bags, so please

do not wait for yourbag to arrive,

Bev says.''Perhaps start now

putting asideafew items each

week readyfor December 7.''

Bev is grateful for the support

of local community groups, sports

clubs,Fire andEmergency New

Zealand, local newsmediaand

the manyvolunteerswho make

this happen.

summer

s

mer

SALE

Record haul ... Volunteers gather outside the Kaiapoi Community Centre with last year's record haul.

PHOTO: FILE

Ready for action ...

Fairview

Recliner Range

ON SALE

Recliner –

River

NOW $

499

Volunteers get ready to disperse in Rangiora during last year's Toot for Tucker.

PHOTO: SUPPLIED

3 Seater Recliner

–River

NOW $

1099

Credit criteria, exclusions, fees, terms &

conditions apply. See in store for details.

Brix Light 7Piece Dining

Set –W180

WAS $

1689

Davos

Barstool

WAS $

159

Dante

Barstool

WAS $ 159

NOW ON

ENDS 22.11.21

Valletta 6Piece Outdoor

Lounge/Low Dining Set

WAS $

2699

NOW

$

1999

NOW

$

1149

NOW

$

99

NOW

$

99

Dallas Queen Bed

–Light Grey

WAS $

449

NOW

$

349

Jamie Single/

Single Bunk

Bed – Black

WAS $ 699

NOW

$

499

Scantofindstore

250 Moorhouse Ave, Christchurch

0800 TARGET (0800 827438)

targetfurniture.co.nz

Offers and product prices advertised here expire

22/11/21. Sale Excludes Accessories.
---
Health and Beauty

in North Canterbury

Are you sick of

being overweight?

Iwas so over it so Ilooked for help. Ifound it in

aprogram called Phattbusters. No it's not magic,

you actually have to get off your butt and do

something about it.

Yesithas acost involved, so do your chippies,

chocolate, icecream, wine and all the other rubbish

we put in our mouths. Yeswetake supplements to

help support our body during weight loss.

Can Irecommend it, hell yes, I'm down 27kgs and

my husband is down 17kgs.

It's not just about weight loss, it's about getting

healthy and having more energy and getting rid of

the inflammation around our joints.

2434416

We love Phattbusters

Over 40 kgs gone in just 6 months

Photos speak for themselves!

Call me today on

027 514 9863.

Go to

www.weighintome.com/pages/Vickie

for more information.

Free Consultation

Iambased in NorthCanterburywith

14 years experience in

Semi Permanent Make-up.

Thisprocedurelasts approximately

1to5years.

Eyebrows: microblading, feathering or

combination.Eyeliner, lips, nipple areola

re-pigmentation,Li-ft tattoo removal and

scalpmicropigmentation.

Styled to suit each client's individual needs.

2422881

By appointment 027 221 6419

CJ Cosmetic Tattoo

www.cjcosmetictattooing.co.nz

RANGIORA

DENTURE CLINIC

Garry WMechen

Registered Clinical Dental Techncian

Phone (03) 313-9192

38a Ashley Street, Rangiora

NEW N W DENTURES D ES

*RELINE * *REPAIRS

* I S

HOURS

8.30am -12noon

- Monday to Friday

FREE E

CONSULTATION O

I N AND ADVICE

A V For a/h repairs

phone (03) 310-3044

2351633

for the

feeling

Physical and Mental

Health

• Flexiblemembership options

• Great new member care

• Gym novices welcome

• Freeinitial programmes

• Body Scans available

101 WilliamsSt

Ph 327 7250

8High St

Ph 313 0909

2400892

Don't

let

your

bladder

ule your

life

NEW

NEW generation of

joint supplement

powered by

science and

vitamin MK7

Available at

your local

pharmacy

SCIENTIFICALLY FORMULATED FOR

HEALTHY BLADDER SUPPORT

AND PROSTATE SUPPORT

NATURALLY

Urox supports the tone and tissue strength of the bladder, and

supports healthy bladder function and normal urinary urge and

frequency.

Prorox supports a healthy prostate gland AND healthy bladder

tone and control.

Designed to support:

✓ Joint mobility and cartilage health

✓ Abalancedimmune system for joint

health

✓ Joint maintenance and healthy joint

aging

✓ Acomprehensive novel formula

with two pendingpatents

✓ Based on University-led research

✓ Developed by the leading vitamin

MK7 scientist Dr.Aydin Berenjian

✓ Made in New Zealand from local

and imported ingredients

2423032
---
NEWS

The North Canterbury News, November 18, 2021

25

Show Day returns without acrowd

Shearing action ... Troy Pyper, of Waikari, competes during the New

Zealand Corriedale Shearing Championship.

Sizing up the competition ...

New Zealander Sheep Breeders

Association president Tom

Burrows (left), of Horrelville near

Oxford, and James Hoban, of

Waikari, chat during judging in the

Corriedale classes during the

sheep competition at Canterbury

Agricultural Park on Show Day,

Friday.

PHOTOS: DAVID HILL

Father and son ... Andrew Sidey, of Hawarden, and his son Harry (11)

enjoyed success in the sheep competition, placing second to the

premier Corriedale ram hogget in aclass of 15.

Supreme champion ... West

Melton couple Lindsay and Sheryl

Riddle claimed supreme

champion suri alpaca with Sherlin

Albion.

In the ring ... Sheryl Johnson, of Kaiapoi, leads Silverstream Upstart

in the ring during judging of the white huacaya alpaca junior male class.

Lining up ... Martin Bennett, of Loburn, waits to enter the ring with

Oak Ridge Crossfire in the brown huacaya alpaca junior male class.

Empty pens ... Sheep returned to Canterbury Agricultural Park for Show Day, Friday, but without the usual

hive of activity.
---
NEWS

26 The North Canterbury News, November 18, 2021

Christmas Euchre

The OxfordVolunteer Fire

Brigade will holds is

Christmas Euchre annual

fundraising event on

Thursday,December2,at the

Oxford Working Men's Club.

The evening startsat7.30pm.

For further information

contact Brian Thompsonon

(03) 3124534.

Amberley District Christmas

Party

The annualChristmas party

for over65s willbeheld at the

Amberley Domain's Tin Shed

on Saturday, December 11,

from 2pm to 4pm.Admission

is free and all are welcome.

Entertainment will be

provided by the Rangiora

brassband,and apiper, and

therewill be raffles,

afternoon tea and much

more.Come along to afun

afternoon. To assist with

cateringwewould appreciate

an indicationofnumbers.You

may contact Paton(03) 314

7777 or 0210371406 to leavea

message.

Christmas Cakes

The Woodend Pegasus Lions

Club has Christmas cakes for

sale,made exclusivelyfor

Lionsfrom an ErnestAdams

recipe and produced by

Goodman Fielder. The cakes

make ideal gifts, or to help fill

hampers for family,friends,

work colleagues or clients,or

just for homeand visitors.

Cakescost $22.Proceeds will

go to variouscommunity

groups. Phone(03) 313 6124or

email

BrianAnneAtt59@gmail.com.

Amuri Area School Trailride

The CraigPickering

MemorialTrailride is this

Sunday, November 21,at828

Tekoa Road, Culverden.

Registration from 8am and

track open9am to 3.30pm.

HeldatSandford Downs,

Korari Downsand Island

Hills, signposted from

Culverden and Balmoral

StationRoad at the Hurunui

bridge. There is amain loop

track and apeewee circuit for

youngsters. Suitable for two

and four­wheel bikes. Entry

$70 for adults ($60pre­entry)

and $30 for 16­yearsand

under. Go to Amuri Area

School Craig Pickering

MemorialTrailride page on

Facebook. Covid­19 social

distancing rules apply.

Riding gearmust be clean

due to Mycoplasma bovis.

Helmet, bootsand spark

arrestormuffler compulsory.

ContactFiona 027­2602027 or

Simon 022­3198900.

Local author

Local authorTom McLaren

has written his humorous

autobiography, The Life and

Times of aRangiora Kid.His

talkatthe Waimakariri

Libraryhas been postponed

until Alert Level 1. The book

costs $40 andtellsstories of

local identities andevents

during Tom's Rangiora life

from1936. Contact Normaor

Tom (03) 3137451ormclaren.

norma585@gmail.com.

Xmas tree festival returns

Waimakaririresidentswill be

able to enjoy somefestivecheer

after all.

TheNorth Canterbury News

Christmas Tree Festival is going

ahead.

Organised by the North

Canterbury Soroptomists, the

festivalreturnstothe

WaimakaririDistrictCouncil's

RangioraServiceCentre foyer

this year.

Entries are alreadyflooding in

from groups,schoolsand

organisationstodecorate atree,

promising asparkling and

eclectic display.

TheFestivalrunsfrom

Monday, December 6, to Friday,

December17, andisopen from

9amto4.30pm daily for people to

visit, voteand enjoy.

SPORTS RESULTS

Rangiora Golf Club

9­Hole Competition: Stroke /LGU/Jingles. Ladies:

Diane Sinclair 22,Pam Holland18c/b, Jan Moffatt

18. Men: John Gregan 30, John Gardner 27, Hudson

Deane 25,Bruce Pugh 22,Richard Luisetti 21.

Rangiora Bridge Club

Grey Pairs: North/South: Judy Bruerton/Sue

Solomons 1, Margaret Pickering/Jeanette Chatterton

2, Sam Gurney/Tony Quinlivan3.East/West:Fern

McRae/David McRae 1, Gaynor Hurford/Helen

Paterson2,Janice Pickering/Heather Waldron 3.

Rimu Pairs: N/S: Irene Carson/HelenThornburgh 1,

Shirley Symns/Marion Lomax 2, Judith Driver/Jan

Roose 3. E/W: Pauline Miller/Stephanie Galbraith 1,

Jenny Shore/Liz Duke 2, Gaynor Hurford/Lynda

Grierson 3.

Junior Evening: N/S: JanCameron/Paul Williams 1,

Ian Rouse/Isabel Goodhew 2, Anne Bagrie/Denis

There willberaffles, aWishing

Tree, and aRemembrance Tree.

Covid­19 protocols willbein

place with peoplebeing asked to

scanin, socially distance and

followall otherAlert Level 2

requirements.

Lastyear's festivalsaw 32

trees entered and 723votescast,

withSwannanoa School taking

out the schooland preschool

section, whileJennaMcKenzie

School of Dance won the

business section.

Tree triumph ... Molly Hogan (left),

Stella Brown (at rear), Alex Cole and

Alyssa O'Donnell, of Swannanoa

School, with the winning tree in the

school's section at last year's North

Canterbury News Christmas Tree

Festival.

PHOTO: SUPPLIED

Milne 3. E/W: Wayne Hutchings/Stuart Atkinson 1,

Lindsey Sigglekow/Liz Calder 2,Desley Simpson/

Judith Robinson3.

Premier Pairs: N/S: RobinHassall/Jenny Hassall 1,

Noreen Thompson/Janelle Crawley Bunty Marshall/

Pauline Miller equal 2. E/W:RonaMaslowski/Tom

Rose 1, Sarah Waldron/ShirleySymns 2, Alan

Blackie/Mike Cornwall 3.

Amberley Golf Results

Kotlowski Trophy: GSmith and LRobertson. Men: B

Rayner 39,DVan Turnhout 35. Two: GSmith. Excel

Design Longest Putt: LRobertson.Mid­Week Men: S

Milne 40, BFitzgerald 40, MBruner 39, RWilshire

38, IRouse 37, DFlewellen. Two: NRhynd. Nine

holers putting competition: RKemp 12 putts, J

Douglas 13,PMander 14.Paris Bakery Longest Putt:

HKemp.

Waimakariri Gorge Women'sGolf

Stableford: 18 Holes: SMardon 39, 1; JPottinger and

JPatton, 35, equal 2; SKing, KBattersby equal 4; N

Weavers, MWatson­Brown equal 6. 9Holes: SFarrar

25, 1; JSmith 21, 2; RRoy 18, 3.

Gettingto therootcause of anydisease,especially

chronic diseases,requires examiningthe entire body

since all organs andsystems areinterconnected and

function as awhole.

To illustrate, chronic diseases of thedigestive system

maynot necessarily arisefrom thestomach and

intestines. Theymay originatefromdamages in

theimmunesystemthatpromotethe growth of

microbes whichinturncause inflammation and

diseases ofthe gut. Also,atherosclerosiscan restrict

blood flowtothe stomachand intestinesand cause

gutproblems.

Andthen,there areenvironmental factors.

Sensitivityto naturalfoodsand food additivesin

processedfoodscan causedigestive symptoms

such as chronic stomachpain, bloating,or

constipation.Nutrients play acrucial role in keeping

oursystems healthyandpreventingdiseases.

Magnesium deficiency is acommoncause of

chronic constipation.Itisnot always thecasethata

symptomwilloriginate from an associating organor

systemofthe body.

The Marvel Health Scan is unique.Itexamines

theentirebody to pinpoint thehidden causeof a

health problem. The Brain, Heart, Lungs, Stomach,

Intestines, Liver, Kidneys, andotherorgansinthe

bodyare inspected in detail.

The scan searches thebodyfor likely diseases

present andpossibleunderlyingcauses. It can

identifymicrobes, nutrientdeficiencies, food

allergens andenvironmental contaminants.

After thescan, Marvel Healthinternational doctors

review thereports andcan recommendsciencebasednaturaltherapies

andlifestyle changesto

encourage thebody'shealingprocesses.

Total Health MOT

Whole Body Diagnostic Scan,

Report, Consultation and Therapy

All included: • Detailed Examination of All Organs & Systems • Diseases Present and Complications

• Detection of Viruses, Bacteria & Fungi • Food Allergies & Sensitivities • Non-invasive Blood Test

• Detection of Lead, Mercury & other Environmental Toxins • Body Composition Analysis

Unit 13/6 Cone Street, Rangiora | 293 Durham Street, Awly Building, Christchurch

CALL TODAY 03 669 5410 www.marvel.health

Disclaimer: The inspection from the scan is not asubstitute for medical inspections. It is not designed to state the final diagnosis

ADVERTISEMENT

Testing forallergies andtoxins: Detect hidden

health threats withaMarvel Health Scan
---
Start collectingtoday

©2021KitchenAid. All rightsreserved. |Visit newworld.co.nz forfull terms and conditions
---
*Price listed isfor Next Generation Outlander 2WD LS model. Price excludes On Road Costs andVehicle Preparation fees.Model shown is aVRX. Visit christchurchmitsubishi.co.nz formore details.

RANGIORA MITSUBISHI

321 High Street, Rangiora | 03941 3175 | rangioramitsubishi.co.nz

RANGIORA NISSAN, 321 High Street, Rangiora

Ph: 03 941 3175

www.rangioranissan.co.nz

rangioranissan.co.nz
---
Show continues behind closed doors

By DAVID HILL

Livestock competitions returned to

Canterbury Agricultural Park last week,

but without the usual fanfare.

New Zealand Agricultural Show

general manager Tracy Ahern said

organisers had hoped for aShow Day

crowd of more than 60,000 people, but

had to settle for 350 after the event was

cancelled.

In its place was aweek of livestock

competitions behind closed doors and a

City Farmyard put on for local schools

last Thursday.

This year's show was meant to

celebrate the New Zealand Sheep

Breeders' Association's 125th

anniversary, but president Tom Burrows

says the association opted to postpone

until next year.

Organisers said there were more than

300 sheep entered in the Show Day

competition, around the half the usual

number.

Corriedale sheep breeders were well

represented, with several North

Canterbury farmers among them.

Hawarden farmer Andrew Sidey

enjoyed agood day, placing second to the

premier Corriedale ram hogget, in aclass

of 15.

Mr Sidey is hoping for abetter season,

after last summer's drought was followed

by awet winter and early spring.

''Our winter crops failed and we had a

cold, wet winter and early spring, so it

was tough going,'' he says.

''But the pasture has bounced back

quickly and it's looking quite good, so we

will get abit of hay for next year.''

Mr Sidey runs 3000 ewes, including 250

Corriedale stud ewes, on his farm at

Mason's Flat, near Hawarden.

The sheep were joined by alpacas, pigs

and shearing and woolhandling for Show

Day competitions, including the New

Zealand Corriedale Shearing

Presidential rounds ... Canterbury A&P Association president Chris Harris (left) chats to

North Canterbury sheep farmers Murray Sidey, Mark ''Chief'' Sidey and Ian Stevenson,

while doing the rounds at Canterbury Agricultural Park on Friday.

PHOTO: DAVID HILL

Championship.

Boer and dairy goat, and sheep dog

trial events were also held during Show

Week.

Canterbury A&P Association president

Chris Harris could be set to have the

longest stint in the show's top job.

Mr Harris was meant to be last year's

show president and says he may try for

third time lucky next year.

''I'm starting to think Imight be the

jinx, actually, but Iwon't try to take all

the blame. Covid certainly hasn't helped.

''There's talk of it. Ithink Iprobably

might deserve areal show, Ihope so.

''It's not the right way to be the longest

serving president, but we'll see.''

The former New Zealand show

jumping representative was unable to

compete for the first time, with no

equestrian event held this year.

Mr Harris says the association will

need to draw down on aloan from

Christchurch City Council to cover its

losses from this year.

''We will be relying on avery good show

for the next couple of years to get back in

the black.

''Any which way we can get people

through the gate, we will be happy.''

Membership offered to young farmers

RURAL LIFE

The North Canterbury News, November 18, 2021

2191656

29

FENCING

• Post Driving

• Stock Fencing

• Stockyards

• Post and Rails

• Lifestyle etc

Ph Andy Horn

021 214 1201 or

(03) 314 9460

FIREWOOD

• On-site processing

• Windblown trees

• Firewood Delivery

• WINZ accredited

• Kaikoura to Christchurch,

through to Culverden

• Reliable, clean, tidy

• Competitively priced

Contracting

Phone 022 135 3493

POST &RAIL FENCING

Looks great &makes life easy

for the Rural Lifestyler!

2433710

Young farmers are beingencouragedto

becomeactive in farmerpolitics.

New Zealand Young Farmers has joined

forces with FederatedFarmers to offer

complimentaryNZYF Federated Farmers

membership, exclusive to its members.

With moremembersseekingtangible

benefits, NZYF chief executive Lynda

Coppersmith says she is thrilled to add the

NZYF Federated Farmers membership to

the list.

''Providing adirect link with Federated

Farmers for our members is going to

benefitthe sector hugely,'' she says.

''As an a­political organisation, NZYF

does not promote or getinvolved in

decisions aroundGovernment or council

policy and regulation, but we have always

encouraged our members to have their

voice heard on the issues that matter to

them.

''Now, we can provide apathway to

Federated Farmers that will allow our

members to get directly involved with

ruraladvocacy, provincial networks,

policy workshops and draft regulations

that have impacts on farmers. It also gives

our members more opportunities on top of

what New Zealand Young Farmers

provides for extragovernance,

mentorships and professional

development.''

FederatedFarmers president Andrew

Hoggardsays working together acrossthe

agricultural sector was crucialtocreate a

prosperous and sustainablesector into the

The Widest Music Variety

future.

''AllowingYoung Farmers members to

sign up to our free NZYF membership

means not only will they be introduced to

the work we do at apolicy level, but also

means our membership will have an extra

cohort of young voices to influence our

work,'' he says.

''ManyFederated Farmers' members

start out as members of Young Farmers, as

Idid, so this is anaturalprogression,

basically it just means you are getting

older.''

New Zealand Young Farmers'members

will have access to Rural Market Place to

get exclusive memberdeals, weekly

FederatedFarmers' email content,

memberdiscounts and have voting rights.

-Full range of specialised equipment for farm

fencing and lifestyle blocks, offers you the

complete land package.

-All types of fencing including:

deer,sheep and cattle yards

-Land blasting

Ashley: 0274 364 776 ah: 314 8541

e: A.Duckworth@xtra.co.nz

www.duckworthfencing.co.nz

"Quality fencing built to your budget"

2266722

Friday 6pm & replayed at 12pm Sunday

Tune in nowtolistenon104.9 North Canterbury

and103.7 Hanmer Springs andKaikoura
---
RURAL LIFE

30 The North Canterbury News, November 18, 2021

2435254

MT CASS

WILTSHIRES

OPEN DAY

Friday

19 th November,

12 -3pm

Symonds Rd

Waipara

Contact:

Willy Pears: 027 641 0055

Andrew Heard: 021 272 7522

2431631v1

BALING HAY &BALEAGE

We've got abale size and shape

to suit your needs

BULK SILAGE

We've got the gear to get the job

done once and done right

TRANSPORT

We can cart anything from bulk

to bales, you name it

CULTIVATION &DRILLING

We take care of all your groundwork needs

from ploughing to precision drilling

FOR ANY ENQUIRIES CONTACT

BALING -CULTIVATION MANAGER DAN BROOKER 027 756 3743

SILAGE MANAGER ADAM GREEN 027 374 6357

ACCOUNT MANAGER DAVE KNOWLES 021 275 2432

TRANSPORT MANAGER STEVE MACAULAY 021 825 552

YARD 106 HAREWOOD ROAD OXFORD

Record number of young sires

Arecord number of youngbulls have joined

LIC's artificial breeding (AB)bull teamsas

aresult of the co­op's continued investment

into genomicselection.

Twenty­sixyoung, genomically selected

sires have made the cut to join the teams

this spring, up from 23 bulls lastyear and 17

the year before.

The 2017­born cohort, commonly known

as ''spring bulls'',securedtheir spot in the

teams aftertheirsuperior performance

2410273

ONLINE MEAT SALES

MEAT2U.NZ

HOME KILL

&WILD GAME

MEAT PROCESSING

313 0022

Top specimen ... The number of spring bulls joining LIC's Premier Sires team, including

4­year­old bull Waimata SB Ransom­ET S2F, is the highest to date.

PHOTO: SUPPLIED

predictedbygenomics was validatedby

herd testingdata fromtheirfirst crop of

daughters now being milked on farms

aroundthe country.

''The record numberofyoung bulls

graduating into our PremierSires teams

this year demonstrates the accuracy and

value in using genomicselectioninour

breeding scheme,'' LIC livestock selection

manager Simon Worth says.

''Based on thesebulls' DNA andancestry

we predictedthey wouldproduce

phenomenal dairy cows, and that haswell

and truly shown itself to be true as their

daughters are now beingmilked with great

results.''

Mr Worthsays this year'sspring bull

graduates are now some the most

genetically superior sires for AB thatNew

Zealand has to offer.

The bulls took out six of the top seven

spotsinthe industry's Ranking of Active

Sires(RAS) list,whichranks bulls from all

breedingcompanies according to their

Breeding Worth.

Two of the bulls, KiwiCrossWerders

Premonition and HolsteinFriesian

Waimata SB Ransom­ET, have also

secured the numberone position for their

respectivebreed on the RAS list.

Mr Worth says he can'tremember a

graduation rateashigh as this in the 18

yearshehas been with LIC.

''This is really gratifying for us withthe

work we do, from the contractmating

through to bull team selection,and

ultimately great news for New Zealand

dairyfarmers.''

Call for budding farmers

Buddy young farmers are being

encouragedtotest theirskillsnextyear.

Entries are open the2022AgriKidsNZ

andFMG JuniorYoungFarmerofthe

Year contests,which will be runalongside

theFMG YoungFarmer of theYear

regional finals acrossthe country.

Primary school childrenaged 8to

13­years are eligibletoenter in teamsof

threeforAgriKidsNZ competition, while

thejunior youngfarmercompetition is

open to highschool students who compete

in pairs.

NewZealand YoungFarmers chief

executive LyndaCoppersmith saysthe

best part is thatcompetitorsdon't even

need tobefromafarmtoenter.

''Most of thechallenges in both

AgriKidsNZ andJunior YoungFarmer of

theYearare agriculturallybasedto

introduce our youthtothe sector, where

theirfood comes from andtoalsoget them

excited about allofthe different

opportunities in the primaryindustries,''

shesays.

Across bothevents,teams competein

eightdifferentmodules before moving on

to thefinal roundsofthe day –the race­off

forAgriKidsNZ andabuzzerroundfor the

junior youngfarmers.

Thetop threeAgriKidsNZ teams from

each region willbeinvitedtocompete in

thenational final, which coincideswith

theYoungFarmerofthe Yeargrandfinal

being held in Whangarei next July.

Two junioryoung farmer teams from

each region willalsobeinvitedtogrand

finalweek.

''Wesee thewhole contest series as a

pathway to excellence,with many

competitors comingthroughfrom

AgriKidsNZ, to JuniorYoungFarmerof

theYear and thenontothe Young Farmer

of theYear contest,'' Ms Coppersmith says.

''Atthe end oftheday,it'sabout our

tamariki learning to work together,

develop lifelong skills, make new friends,

learn something newand most importantly

walk away withasmile ontheir face.''

North Canterburyhas beenwell

representedinthe AgriKidsNZ

competition overthe years,with North

LoburnSchooland twoWaikari School

teamsrepresentedtheTasman region in

last year's national final.

Former Rangiora High Schoolpupils

CaitlinRhodesandLuci Grigg enjoyed

successinwinning the208 Tasman region

JuniorYoungFarmers of the Year contest.

For more information and to entervisit

www.agrikidsnz.co.nz (AgriKidsNZ) or

www.teenag.co.nz (Junior YoungFarmer).

2324043
---
Can'tGet AGood Night's Sleep?

Maggie |Verified Buyer
---
STYLE & QUALITY

FOR LESS

WWW.AFFORDABLEFURNITURE.NZ

CHRISTCHURCH'SMOSTAFFORDABLE

NZ MADELOUNGE SUITES

CUSTOMISE TO YOUR REQUIREMENTS

SUPER

SPECIAL

Available in

Green

Blue

Grey

FROM

$

519

Iris Sofa

3Seater $999 $919

2Seater $819 $759

1Seater $559 $519

SUPER

SPECIAL

Hansel Chair

Bari Chair

12

SUPER

SPECIAL

Lennox Dining Chair

Available in

Black and

Cognac

WAS $219

$

199

WA S $ 17 9

$

159

WAS $519

$

479

Ash

Acacia

Birch

Ackley Dining Table

WAS $139

$

129

Sardinia Living

Collection

Raglan Bedroom

Collection

Queen Bed $1199

Bedside $399

Chest $1249

Buffet $1429 $1269

Hall Table $719 $629

Coffee Table $839 $739

OUTDOOR FURNITURE IN STOCK

SUPER

Tekapo

3+1+1+Table +Bench Outdoor Set

Palm Beach

Egg Chair

Raglan Egg

Chair

SPECIAL SUPER

SPECIAL SUPER

SPECIAL

Available in:

Chocolate,

Black, White

Tekapo 11 Piece

Extension Dining Suite

WAS$2499

$

1949

WAS $899

$

749

WAS $699

$

649

WAS $2399

$

2199

FREE

CARPARKING

SOUTHCITY

BATH ST

WE ARE

HERE

255MOORHOUSE AVE

REBEL SPORT

COLOMBOST

MON-FRI 9:30AM–5:30PM

SAT-SUN 10AM–5:30PM

0800 268 264

www.affordablefurniture.nz
---
Resort Style Living &Lifestyle!

Welcome to 234 Giles Road, where resort-style

living meets lifestyle. Set onfour hectares, this

property certainly has family in mind. Within

beautifully landscaped gardens, sits aspacious

five bedroom property, with three living areas,

two bathrooms, double garage, and amodern

kitchen. This propertyhas awonderful family vibe

theminuteyou step inside.

Acottage 20 metres from the main house with

a separate driveway offers opportunities for

extended family to live or as arental property

providing asteadyincomestream.

Location issuperb with full services including

café, bar and restaurant, medical centre, mini

supermarket and aregularbus service to the city

andairport all withinashort walk. Atwo minute

drive will take you tothe Northern Corridor and

tenminutes intothe Cityand to the Christchurch

InternationalAirport.

Being on the cusp of urban living this is aunique

opportunity to holiday athome, with anindoor

heated swimming pool separate tothe dwelling,

spapooland tennis court.

JustimagineChristmasatthisproperty,poolparty,

relaxing with acocktail in the spa, or exploring

the many options that come with the beautifully

landscaped surrounds and eight paddocks

currentlyused forgrazing horses.

WE WORKFOR YOUTOACHIEVE

THE BESTPOSSIBLE

Results

Nowmorethan ever youneedthe servicesofaknowledgeablesales

consultant to guide youthrough thesale andpurchase processand

ensureasuccessful saleisachieved!

If youorsomeone youknoware consideringamove -call us anytime.

234 Giles Road - Clarkville

Home: 5 2 3 2

Coage: 1 1 1

Auction: Wednesday 8 th December,RussleyGolf Club

428 Memorial Avenue from 2.00 pm (unless sold prior)

View: harcourtsfourseasons.co.nz ID# KI9278

Open: Phone or text to arrangeaprivate viewing

Jayne&Amanda

Thisisindeed ararefind offeringthe quietness of

03 327 5379

country living with the considerable advantages

027 517 7937|027 848 8488

of urban life atyour doorstep. Contact Jayne

janye.martin@harcourts.co.nz

or Amanda to organise aprivate viewing, this

amanda.newson@harcourts.co.nz

property willbesold on Auction day! Four Seasons Realty 2017Ltd Licensed Agent REAA 2008

1

Amanda Newson

03 327 5379 |027 848 8488

amanda.newson@harcourts.co.nz

Four Seasons Realty

Jayne Martin

03 327 5379 |027 517 7937

jayne.martin@harcourts.co.nz

Four Seasons Realty2017 Ltd|LicensedAgent REAA 2008

Amanda &Jayne
---
Four

Four

SeasonsRealty

Seasons Realty

AUCTION

THIS YEAR I EXCEEDED MY GOALS

LETMEHELP YOU EXCEED YOUR

REAL ESTATE

E goals

FourSeas

SOLD

SALE

Canterbury

REGION

QUARTERLYAWARDS

JULY -SEPTEMBER 2021

TOP50CANTERBURYREGION32 ND

GOLD AWARD

SAPPHIREPIN

Call me forafree, no obligation market appraisal. Ilook

forwardtohelping youachieve your property goals!

2013-2021

Real

Estate Agencies

Four Seasons Realty

Four Seasons Realty 2017 Ltd|Licensed AgentREAA 2008

KarenW

WARD

021 2217027|03 3136158

karen.ward@harcourts.co.nz
---
Hanmer Springs 9Denby Place

Hanmer Springs dress circle

This very wellpresented,sunny,3bedroom,fullyfurnished holidayrental is hugely popular, due to location andthe easy

indoor/outdoorflowtothe sunny north facingdeck.Perfect for family barbeques. Good size backyard for the kids to play, and

an easyshortwalk to the shops andpools,and Conical Hilltrack. Denby Place has alwaysbeenasought-after address for

holiday homes, and thislittle beauty will tick the boxes on most buyers wish-list.Recent painting, new carpets, and

modernisationsover the long period our vendors have owned it havekept it up to agood standard for holiday letting.Very

easy to maintain and operate,and lots of scope still to putyourstamponit if youwish. If you arelooking for afamily bach

with all day sun, all year, and agreat location, you really must check this one out. Open homesevery Sunday1-2pm. Other

timesbyappt. Auction Friday 10th December at 3:00pm at Rangiora Town Hall, 1st floormeeting room. Unless sold prior.

3 1 1

Auction 3.00pm, Fri 10th Dec,2021, (unless sold prior), Rangiora

Town Hall

View Sun 21 Nov 1.00 -2.00pm

Web pb.co.nz/HSU95665

Janice Clyma

M 027 434 7090

E janice.clyma@pb.co.nz

Toot for

Tucker

Food Bank Appeal

Tuesday 7 th December 2021

Rangiora |Oxford |Pegasus |Woodend |Amberley |Kaiapoi

Be creativewith your

giving, perhaps some

Christmas treats or

small gifts forchildren.

So start gathering your donations now-Theywill be

gratefully received by the Salvation Army, Wellbeing

North Canterbury and OxfordCommunity Pantry.

Please supply your ownbags forcollection this year.

With thanks to our supporters.

Proudly sponsored by PropertyBrokers

Property Brokers Ltd Licensed REAA 2008 |pb.co.nz

Proudtobehere
---
SPORT &CLASSIFIED

The North Canterbury News, November 18, 2021

35

AMBERLEY 6a &b,8a, b, c&dRopley Street

Class act ... Sundees Son, driven by John Dunn, parades after smashing his New Zealand

record for 3200m winning his second consecutive Dominion Trotting Handicap at

Addington Raceway on Show Day last Friday.

PHOTO:RACE IMAGES

'Dream horse' wins again

TROTTING

By SHELLEY TOPP

''Wedream of gettinghorses like him,''

driver John Dunn said afterchampion

trotter Sundees Son wonhis second

consecutive Dominion Handicap.

Moments earlier thechampion trotter

hadcaused asensationatAddington

Raceway by smashing his own New

Zealandrecordfor 3200m, trotting 3:56.6to

win the$315,750GroupOne Show Day

feature last week. Stablemate, Mataderos

finishedsecondalength back with the rest

of the field strugglingintheir waketen

lengths away.

The timeset anew benchmark for

squaregaiters in New Zealandand was

fasterthanthe elitepacersrecorded inthis

year's NewZealand Trotting CupwithCopy

That'swinningtimefor the3200m,3:58.8.

Sundees Sonistrained at Woodend

Beach by John'swife, Jenna Dunn and his

father, Robert,who is based in Auckland,

training their Pukekohe team, and was

unable to attendthe meetingbecauseof

Auckland's Covid 19 lockdown restrictions.

Mostofthe workwith Sundees Sonis

donebyJenna's fatherCraigEdmonds, a

talented trainer in his own right who is a

stablehand in theDunn team andalso

shoes the gelding.

Sundees Son was bred by Colin Hair and

is owned by Colin andhis wifeNancy,of

Kaiapoi.

Colin saiditwas ''verydifficult to

comprehend and come to gripswiththe

magnitude'' of SundeesSon's bigwin.

''It has beenanemotionaljourney and

verydraining.''

He is not sure what is nextfor Sundees

Sonbut thegelding is closing in on an

impressivemilestone of $1 million in prize

money andthatmight be hisnext target.

''Not many trottershave donethatsothat

is onegoalwewillprobably look at,''he

said.

''We willsit downwith Robert, John,

Jenna and Craig whenRobert canescape

his (AucklandCovid lockdown) prison up

there and get backdown here.''

That discussionislikely to include

whethertotarget overseas racingfor

Sundees Son.

Colin saidSundees Son's success wasthe

resultofahuge team effortatthe Dunn's

Woodendbeachstable.

''Theyall put alot into him.Hedoesn't

work on thetrackheonlyworks on the

beach.Itissuchaspecial environmentand

Iamsure thathas alot to do with his

success,'' Colin said.

''Sunnyissuchaspecialhorsebut he has

no real presence. If you saw himinastall

you would think he wasjustanother horse

really.''

Unlikehis dam Stardon, who wonthree

races fromonly 21 starts. She has always

beenanunforgettable,stroppymareto

handle and evennow at 23 sheisa

challenge to catch.

Brilliant Investment Opportunity!!!

This is aunique opportunity to secure three adjoining properties over three

separate titles.

•6flats,3blocks of2,consist of 2x3bedrooms flats =18bedrooms

•Three separate freehold titles

•700m 2 ,700m 2 &679m 2 on Residential 1A zonedland.

•Six internal access single garage, plus plenty of off-street parking

•Goodholding income

•Great landbank for future redevelopment

Located in Amberley township, off the main highway road, yet close to local

shops, restaurants, supermarket, Chamberlain Park and Amberley Domain.

These properties would make an excellent addition to add to your property

investors portfolio.

To be sold together as one package or sold asthree separate titles.

2430807

Deadline Sale: All offers to be

presented 24 th November at 4pm

(unless sold prior).

Neil McLaughlin

&Rebecca Manawatu

027 432 4290 or 021 570 156

or 377 7122

neil@braziers.co.nz

rebecca@braziers.co.nz

Braziers Limited

Licence REA 2008

www.braziers.co.nz ID: S2108

Do you have an opinion

on something

you've seen?

Write us aLetter

to the Editor!

Send your letters to robyn.bristow@ncnews.co.nz

Public Notices

BOOK FAIR

WE NEED

YOUR BOOKS

DROP BOXES ARE AVAILABLE

AT: ZSERVICE STATION &

RANGIORA NEW WORLD.

Help us to do this again by donating books,

magazines, dvds, cds, puzzles &records.

Rangiora Charitable Trust

Rangiora A&P

Showgrounds Pavilion

156 Ashley St, Rangiora

If you want us to collect

your books, call:

Book Fair

26th &27th

November 2021

027 472 4439
---
What's happening in your

community…

All info onchanges to Council services and facilities can be found at waimakariri.govt.nz/covid19

Kaiapoi's Rivertown Identity Enhanced by

New Marina Concept

Waimakariri District Council will partner with local

developer William Hill Consulting Ltd to investigate

amarina concept for Kaiapoi.

AMemorandum of Understanding has been

signed between the developer and Council,

which will explore the possibility of amarina, as

well as business, event and residential space

built onland marked for regeneration aer the

Canterbury earthquakes.

The 2.9ha site sits adjacent to the Kaiapoi River at

the heart of the Town Centre. It was transferred

from Crown ownership to the Council in June 2018,

and set aside for future town centre expansion and

mixed-use development.

Aproject working group was tasked with

developing options for the site, ultimately

choosing the proposal from ashortlist of two

as it best aligned with the objectives in the

Waimakariri Residential Red Zone Recovery

Plan and the Kaiapoi Town Centre Plan –both

documents having had their vision endorsed by

the community.

Mayor Dan Gordon says Council is excited to

be sharing the proposal with the Kaiapoi and

Waimakariri community.

"This marina proposal presents ahuge opportunity

to continue looking at ways to revitalise and bring

investment to Kaiapoi's town centre.

"Alongside other already completed developments

like the marine precinct, Kaiapoi has an

opportunity to become New Zealand's most iconic

riverside location, and the Council want to work

with businesses that share this vision.

"A lot of land in Kaiapoi was significantly damaged

by the 2010 earthquakes and 'red-zoned' due to

the likelihood that future house-by-house site

remediation wouldn't be aviable option.

"Since then Council have been working to transform

the affected land by creating fantastic community

spaces like the Honda Forest, BMX track, soball

diamonds, and dog park, and now this proposal

seeks to realise opportunities for mixed-use

business and residential activities."

The development is subject to afull feasibility

study and engineering investigations, including all

resource consent processes and approvals, before

the land is sold to ensure that the agreed concept

plan can be delivered in reasonable timeframes.

William Hill Consulting's Director Jedd Pearce says

their proposal has space for 24berths, mixed

use business areas, pedestrian access to the awa

(river), townhouses that will have some of the best

views in Canterbury and space for events.

"We think Kaiapoi can be New Zealand's best river

town and this marina would be an integral part of

it," says Mr Pearce.

"This area would become areal centre for Kaiapoi's

township and attract alot of new visitors and

residents into the town centre."

Get Your Second Covid-19 Vaccination

Over eighty eight percent of Waimakariri has

received their first Covid-19 vaccine. There are a

number ofbookable and walk-in clinics available

over the coming weeks to finalise your vaccination.

Visit bookmyvaccine.covid19.health.nz to find a

clinic near you.

Have you signed up for the Waimakariri

District Council Newsletter?

To joinvisit waimakariri.govt.nz/subscribe

2021/22 Rates

Instalment Due

We'd like to remind you that the

second instalment of the 2021/22

rates is due on 20 November 2021.

Please note that a10% penalty will be added to

any part of the second instalment that remains

unpaid aer 27 November 2021.

If you are having dificulty paying your rates, we

encourage you toget in touch with us at

rates@wmk.govt.nz to talk through payment options.

Online

Go to waimakariri.govt.nz/services/online-services

(credit card payments incur aconvenience fee).

Internet Banking

Account number: 01-0877-0129222-00

Use the valuation number on your rates invoice

as reference. Ifyou are paying rates on more

than one property, email details of payment to

finance@wmk.govt.nz

In Person

Epos and cash payments are welcome at any

Council service centre.

Keep the kids entertained over the summer

holidays with fun challenges and stickers to

collect every time you visit the Library!

Launching Soon

libraries.waimakariri.govt.nz/space

Does Your Pool

Fence Comply?

Summer is here and it's important pool barriers

and fencing comply with the Building Act.

From November to Marcheach year we'll be visiting

properties to checkifapool is still present, the type

and if the pool fence complies.

We'll leave anotice inthe letterbox aer the check, and

note any items that may need to be addressed.

Why we're doing this:

The Building Act requires us to inspect pool barriers

regularly for compliance to the Building Code.

Call us on 03 311 8906 if you have any questions

Register your pool at waimakariri.govt.nz -

keyword search Swimming Pool Registration.
---
Public Notices

CLASSIFIED

The North Canterbury News, November 18, 2021

37

HURUNUI DISTRICT COUNCIL

LOCAL DEMOCRACY

SOLD DOWN THE DRAIN

HAVE YOUR SAY

Mayor Marie Black and CEO Hamish

Dobbie will speak at7pm, then it's

up to you to have your say. Formal

consultation submission forms will

be there for you to fill in.

Public Meeting

When: Monday 22 November, 7-8pm

Where: Amuri Area School Hall, School Road,

Culverden.

Bring your facemasks and please abide bysocial

distancing rules

RESOURCE MANAGEMENT ACT 1991

WAIMAKARIRI DISTRICT PLAN

DECISION ON PRIVATE PLAN CHANGE

PRIVATE PLAN CHANGE 30

RAVENSWOOD DEVELOPMENTS LIMITED

NORTH WOODEND

In accordance with Clause 10 of Part 1 of the First

Schedule of the Resource Management Act 1991,

Waimakariri District Council gives notice that the decision

on submissions to Private Plan Change 30 to the

Waimakariri District Plan is now available.

Full copies of the Commissioner's decision on

submissions can be inspected at any of the following

Council offices:

•Rangiora Service Centre -215 High Street, Rangiora

•Rangiora Library-141 Percival Street, Rangiora

•Ruataniwha Kaiapoi Civic Centre -125 Raven Quay,

Kaiapoi

•Oxford Service Centre/Library-34Main Street,

Oxford

Acopy of the decision on submissions can also be

viewed online on the Council's website

www.waimakariri.govt.nz.

Any person who has made a submission on the

plan change may appeal the Council's decision to

the Environment Court. Such appeals must be in the

prescribed form and lodged with the Environment Court

within 30 working days of receiving the notice of decision

in accordance with Clause 14 of the First Schedule to the

Resource Management Act 1991.

Please note any appeal must be received 5pm Friday 14 th

January2022.

Matthew Bacon

District Plan Manager

Terrible

Debt

a free and

Kiwisaver

teach

manage

the Waimakariri

or Hurunui

District

www.bsnc.org.nz

other agencies

Sharon Grant

Find us on Facebook: (Budgeting Services North Canterbury)

Supported by:

Registered Charity Number: CC10710

THREE WATERS FORMAL CONSULATION 2021

NOTICE OF DRAIN SPRAYING

The Waimakakariri District Council will be carrying out

weed spraying of drains and water races commencing

November 2021 –April 2022 inclusive.

Drains or areas of drains will be sprayed according to

need and not all public drains will necessarily be sprayed.

Council will minimise spraying aquatic vegetation such

as watercress and monkey musk, preferring to use

mechanical methods to manage excess weed growth.

Spraying of dry drain inverts and adjacent woody weed

pest species will continue.

The active chemicals that may be used in this programme

are:

•Glyphosate for vegetation

•Triclopyr for gorse and broom

The majority of drains to be sprayed will be dry and

where watercress is to be sprayed, appropriate warning

signs will be erected.

All spraying will be completed by 30 April 2022.

Enquiries to Dan Lewis, Land Drainage Engineer,

phone: 0800 965 468

Kalley Simpson

3WatersManager

RANGIORA ART

Society Exhibition 2021.

The RAS Committee

thanks you for your support.

2021 RAS Raffle

winners: 025, 064, 103,

538, 556, 665, 714, 722. All

prizes have been collected.

Educational

2435241

TUITION available. Primary

and secondary up to

NCEA level 3. In centre

(Rangiora) or interactive

online from your home.

Each student onanindividually

tailored programme.

Kip McGrath Rangiora has

been serving the local community

for 30 +years. Give

us acall (03 313 3638) or

book your free assessment

online https://www.kipmcgrath.

co.nz/rangiora

Entertainment

ANDREW LONDON DUO

plus FIONA PEARS

Performing at BalcairnHall, Saturday 20 November

2021 at 7.30pm.$25.00 online /email ordered

tickets only -book; www.balcairnhall.com

or email balcairnpublichall@gmail.com.

Tickets limited /cancellation policy applies.

2434613

Kaiapoi Christadelphians

"The Key of knowledge..." (Luke 11:52)

GOD WILL FULFILL HIS

PROMISES -

BUT WHAT ARE THEY?

God has been active from the creation, revealing

those things that will come to pass on the Earth.

He has given promises, to reassure mankind,

that the planet and all upon it are not destined to

destruction. He always intended that his creation

would be to reflect who he is, and be abeautiful

jewel in the Universe. To learn ofthose promises,

we must go to the source-the Bible. Only here is

there true direction as to what God has promised,

and how it will be brought to pass. 'But as truly as I

live, all the earth shall be filled with the glory ofthe

LORD' Numbers 14:21

DVD presentation

Sunday 21 st November 7.00pm

Kaiapoi CommunityCentre -Sewell Street

For information -phone 03 352 5453

2426147

PUBLIC NOTICE OF

APPLICATION FOR

ON-LICENCE

SECTION 101, SALE

AND SUPPLY OF

ALCOHOL ACT 2012

Mackenzie Holdings 20201

Ltd has made application

to the District Licensing

Committee at Rangiora for

the issue of an On Licence

in respect of the premises

situated at 468 Mandeville

Road known as The Platform

Bar,Restaurant &Cafe.

The general nature of the

business conducted (or to be

conducted) under the licence

is Restaurant.

The days on which and the

hours during which alcohol

is (or is intended to be)

sold under the licence are:

Sunday to Thursday 8am

to 11pm, Friday &Saturday

8am to 12am.

The application may be

inspected during ordinary

office hours at the office

of the Waimakariri District

Licensing Committee at 215

High Street, Rangiora.

Any person who is entitled

to object and who wishes

to object to the issue of the

licence may,not later than 15

working days after the date of

the publication of this notice,

file anotice inwriting of the

objection with the Secretary

of the Waimakariri District

Licensing Committee at

Private Bag 1005, Rangiora.

No objection to the issue

of alicence may be made

in relation to amatter other

than a matter specified in

section 105(1) of the Sale

and Supply of Alcohol Act

2012.

This is the first publication of

this notice.

2436935v1

Situations Vacant

Training Advisor

About us

At PrimaryITO we provide meaningful, high-quality learning

experiencestogrowthe capability of people in the primary industry.

We understand thatpeople are the key toensuringaprosperous and

sustainable New Zealand.

About therole

We are looking for aTrainingAdviser with knowledge indairy

farming to lead and motivate the next generation of industryworkers

passionate about the Dairysector by facilitating programme training

and assessments. This role would work across the Northern Canterbury

region and would preferably be based inKaikōura orinthe Hurunui

area.Regional travel is required for this position, in whichacompany

vehicle will be provided.

We are looking for someone with:

• Atertiaryqualification NCEA level 4orabove, orequivalent industry

experience

• Arural professional with salesexperience

• Computingskills including the use ofMicrosoft Suite and Customer

DatabaseManagementSystems

• Excellent time managementand organisation skills

• Anabilitytorelate topeople from all walks oflife and deliver

impeccable customer service.

About thebenefits

We offer acompetitive salary,acompany car, health insurance, a

wellness subsidy, generous leave, full training, and the mentorship of a

seniorand experienced staff member.

To apply or view thejob description pleasevisit

primaryito.careercentre.net.nz

Applications close onTuesday, 23November 2021.

www.primaryitocareers.ac.nz
---
CLASSIFIED

38 The North Canterbury News, November 18, 2021

LANDSCAPING POSITION AVAILABLE

Experienced in Hard Landscaping or a

construction background for aNorth Canterbury

Landscaping Business.

Applicant must be reliable, physically fit, hard

working &must have acurrent &clean drivers

licence.

2435545

Please email your CV to:

contact@stewartcontracting.co.nz

Rangiora High School

Curriculum Leader

Maungatere Alternative

Education Centre

We are seeking aperson toassist the Director of

the Maungatere Alternative Education Centre in

Rangiora.

This is apart-time permanent position working 30

hours per week in term time. This is aschool support

staffpositioninvolving:

1. Developing an in-depth understanding of students

learning needs and capabilities in order to develop

Independent Learning Programmes (IEPs).

2. Developing programmes of learning.

3. Assisting Learning Assistants to deliver

programmes of teaching and learning that are

accessible to all students.

This position requires initiative and an affinity with

young people.

Please visit the Join Us /Employment page on our

website for an application pack -

www.rangiorahigh.school.nz

Applications close on at 9.00am on 24 November

2021.

Situations Vacant

SUMMER SEASON POSITIONS

AVAILABLE NOW

TAKE THEPLUNGEINTO AN EXCITING ROLE THIS SUMMER AS

WE GEAR UP FOR THE OPENING OF OURNEW FACILITY!

F u ll time, part time and temporary positions - Aged 16+ years

Bring your go-getter attitude, excellent communication skills and strong

team approach. You will need to be confident in the water, friendly,

enthusiastic, honest and enjoy a bit of fun. Fantastic customer service

skills are a must! You will play a key part in ensuring that all customers

not only have a fantastic experience, but a safe one. Experience

working in an aquatic environment and the ability to follow systems and

procedures would be advantageous.

Lifeguard duties include lifeguard watch, pool testing, H&S and

ensuring the facility is kept clean and tidy at all times. Ideally you will

hold relevant lifeguarding qualifications and a current first aid

certificate, however, training will be provided for those wanting to enter

this exciting industry.

Hours will be on a rostered basis so flexibility, reliability and

commitment to working early, late and weekend shifts is crucial. The

season runs until April 2022.

What are you waiting for? If you're ready to dive in and use your

valuable skills in the aquatic and recreation industry, apply now!

www.hurunui.govt.nz/council/jobs

If you have any questions, please contact

naomi.woodham@hurunui.govt.nz or 029 770 9151

2435538

CAREGIVER companion,

Rangiora for semi invalid

lady, some afternoon and

evenings, pay rates to be

agreed. Phone 310 7232

evenings.

HOMESITTERS REQUIRED

Ad# 39020

We are looking for mature,

dog loving homesitters for over

the Christmas/New Year

period. From December 20

onwards. All lovely homes

and pets.

Search postanote.co.nz

for more details.

Cars Wanted

WANTED to buy Ford,

Holden, Chrysler or

Chev's, Classic cars. Any

other types considered, any

condition. Please phone

Tony 027 313 5000.

ANY old cars, anything pre

1990, unfinished Hot Rods,

Classic Cars. Please call

027 258 8366.

CASH 4CARS

and 4WD'S

Phone

Automotive

Parts

03 313 7216

CARS, vans, 4WD's

wanted for dismantling or

repair. Phone 027 258

8366.

Cars Wanted

FALCONS &

COMMODORES

WANTED

Suitable for

dismantling or repairs

Ph 313 7216

2412522

Gardening

A+ GARDEN hedges cut

to perfection. Tree &arbor

work. For aquote. Phone

021 111 4322.

Wanted To Buy

BUYING estate type old

china, crystal, collectables,

vases. Ph 027 350 3963, or

313 1878.

Wanted To Buy

$$$

Amalgamated Scrap Metal

Ltd. Specialists in farm

machineryand farm clean

ups, old vehicles etc.

100% locally owned.

Ph 0800 030 712 or

027 695 0480.

WANTED TO RENT OR LEASE

3-5 acres with a2-3a brm cottage,

verylong term.

Within 20 minutes of Rangiora.

Mature, professionalfemale. female.

Clean tidy habits,reliable.

Knowledgeable, capable, self-sufficient.

Enjoys well-presentedhome and

garden.Nodogs dogs or children -has cat

andhorses. Ownfencing, sensible

horses. Preferindependence,

not willing to share space.

Ph 027 472 6391

2312759

SATURDAY 20TH LOG SPLITTERS Honda

November. 8.30am -noon.

177 Oxford Rd, Rangiora.

Deceased estate and retro.

or Rato powered, parts &

accessories. 027 262 2266

www.BLAX.nz.

For Sale

PAINT & wallpaper

services. Wayne Bryant,

exterior, interior. Qualified

RC model boats, scow tradesman. Free quotes. Ph

yacht, radio gear, all going, 313 5337 or 027 654 4568.

offers, cheap. Please phone

027 650 4665.

PAINTER. Qualified local

professional, Int / Ext,

roofs, wallpaper. Call or

Trade&Services

text Corban 027 846 5035.

POWER TOOLS repairs,

A PAINTER WITH

parts &sales for over 40

PASSION! Local painter

years. All main brands serviced.

Grossman Trade

with 30 years of quality and

integrity in all aspects of

Tools, 23 Watts Road,

painting. Phone Mike on

Christchurch. Ph 389 9230.

021 0903 8546.

RANGIORA Rubbish

ABEL &Prestige Chimney Removal and RRR skips.

Cleaning. Nth Cant owned Wheelie bins any frequency

& operated. Covering all and skips from 1.5 cube to

areas from Waimak to Hanmer.

Professional, guaran-

bins for any use, rubbish,

9cube. Skips and wheelie

teed, service. Firebox greenwaste, building sites

repairs, carry most parts. Ph or just cleanups. Give us a

0800 661 244.

phone call 313 6957 or for

AFFORDABLE concrete skips 021 313 255.

cutting with quality and ROOFER All roof repairs,

removal work. Free quotes. roof painting, water blasting,

moss treatment,

No job too small. Ph 027

442 2219, Fax 03 359 6052 repointing, gutter cleans &

or A/H 03 359 4605. snow straps, and more. Free

quotes. Please ph Nathan

ALL TREE SERVICES,

027 516 6609.

arbour work, pruning, tree

removal. Affordable & SCREEN PRINTING.

friendly service. Telephone For all your printing

021 111 4322.

requirements. T-shirts,

Hoodies, Hi-Vis vests and

ARBORIST qualified. polos, Overalls, Caps etc.

Copper Beech Tree Please phone Heather 03

Services. Tree removal, 313 0261 or email heather.

pruning, height reduction, norstar@gmail.com.

hedge trimming, shaping,

tree planting, firewood. SHEARER. Hap's Farm &

Free quotes. Contact Angus Lifestyle Services. Shearing,

crutching, drenching,

Edwards 027 259 6741

copperbeechtreeservices@gmail.com tailing, feet trimming &

health check. — Ph. 03-

BLAX TOOLS &equipment,

North Canterbury

423-3713 or 021-267-4025.

based. Free local delivery SHEEP SHEARING,

on all machines. Ph 027 drenching, feet trimming.

262 2266. www.BLAX.nz. For Lifestyle blocks. Call

Stu 027 315 6916.

BRIAN'S Tree Services.

Tree felling, topping, SMALL MOTORS Parts

HOMESTAY

shaping, firewood cut, rubbish

removed, stump grind-

Phone 027 262 2266.

& replacement engines.

ing, branch chipping. www.SMALLMOTORS.nz.

Affordable rates. Phone 03 SPRAY EQUIPMENT

327 5505 or 021 124 4894. 12v, Honda or Rato, parts

& accessories. Please ph

027 262 2266 www.BLAX.nz.

Property Wanted

PRIVATE BUYER, 24

year old wanting to buy

first home. Please phone

021 111 4322.

To Let

HOUSE FOR RENT in

Amberley. Brand new

house, 4bedroom, 2bathroom,

double garage. Close

to all services. Phone 027

348 6267.

RENT/LEASE, 2 kms

from Amberley, building

45m x 14m, Clear span

walls 4mtrs, Apex of roof

5.5mtrs, concrete floor,

raised wooden floor at end

9m x14m includes 6m x

3m lockup, 3phase power,

attached office/tea room,

area 9m x5.5m and 5m x

2.7m could be rented separately.

Please phone 027 391

3284.

SELF CONTAINED flat

to rent, 3kms from Oxford.

$350 per week including

power, sky, heating and

wifi. Phone 027 485 8012.

Grazing

HORSE GRAZING, half

acre paddock, permanent.

Waikuku area. Phone 03

313 7100.

Pets

BICHON

for smaller dogs. We look

after your dog in our home.

"No kennels". Phone today

03 314 6110.

½PRICE

DOG FOOD

MEAT2U.NZ

313 0022

2424357

Motorcycles

SOUTH PACIFIC Motorcycle

services, local family

business based in Mandeville.

Repairs, servicing,

WOF etc for all road bikes,

classic bikes, farm bikes &

more. Collection service

available. Ph 03 312 0066

office@motorbiketours.co.nz

www.motorbiketours.co.nz

Livestock

HOMEKILL & Wild

Game meat processing. Ph

313 0022. www.meat2u.nz.

2433278

Garage Sales

BUILDERS Father &son

team. Amac Builders are

available to help you with

your building needs. High

standards, low overheads.

No job too small. Check us

out on fb. Amac Builders

Ltd. Phone 027 318 4400.

CHIMNEY SWEEPS

Time to service your fire.

Accumulation of soot seriously

affects performance.

Latest rotary brush technology.

Free moisture check

on wood. Safety inspection.

All work insured and guaranteed.

From $70 single

story. 0800 SWEEPME or

021 0277 1927. Visit

www.sweepnz.co.nz.

COMPRESSORS Honda/

Rato/240v/3PH, parts &

accessories 027 262 2266

www.BLAX.nz.

DIRTY TILES &Grout?

Professional tile cleaning,

tiled shower restoration,

mouldy silcone, shower

glass & we can even

recolour your old grout!

For all your tile and grout

issues call Grout Pro for a

free, no obligation quote.

Ph Darryl 0800 882 772.

GENERATORS Honda/

Rato/Diesel, parts &accessories

027 262 2266

www.BLAX.nz.

GUTTER CLEANING -

SUMMER SPECIAL -

Total gutter / spouting

cleaning and repairs. For

Fast and friendly Service

call Canterbury Spouting

Services on 0508

SPOUTING or 022 375

8506. FREE QUOTES.

METAL WORX. Flashing,

Sheetmetal Fabrication,

Wrought Iron,

Welding, Custom Trailers,

General Metalwork. No job

too big or too small. Ph 021

265 5428 or 03 314 6908.

Find us on facebook/

Glenmark Metal Worx.

glenmarkmetalworx.ltd@gmail.com.

TOOLS Quality tools &

workshop equipment. Ph

027 262 2266 www.BLAX.nz.

TRACTOR & Lawnmower

seats. Forklift yellow,

black, blue. Phone 027

262 2266 www.BLAX.nz.

SUMMERFIELD

FENCING

IN YOUR AREA NOW.

Lifestyle or farm, sheep, cattle,

horse, all types of animals.

Fences, yards, sheds, arenas,

shelters, runs.

30+ years contract fencing.

Steve is available to help with

your design &planning.

Ph office03312 4747

2091848

Pride &Quality Painting

&Decorating Services

20 yrs exp, fast and friendly

service. For all your painting

needs, phone: Martin 310

6187 or 021 128 9867

ANTHONY SYMONDS

Forall your painting &

plastering requirements

Local with 30 years

experience

All workmanship

Guaranteed.

Phone 021 344 023

2220615

SEPTIC TANK

CLEANING

Bill's Liquid

Waste

2362002

REMOVALISTS

Movemen Ltd

2Men &agood sized truck.

From $150 plus GST per hour.

Kaiapoi based.

Call Gerard

027 668 3636

movemen.co.nz

2401953

HAY MAKING

Rounds or

conventional with

mower /conditioner.

Ph Gary

2431786

You dump it...

Blair pumps it...

Blair Tavendale

Ph 03 314 9371

0275 379-694

027 216 0000

027 478 2925

or 313 7939

CRAIGS Trees

(03) 327-4190

TREE REMOVALS

THINNING &PRUNING

STUMPGRINDING

FELLING &TOPPING

FULLYINSURED

QUALIFIED ARBORIST

Free Quotes

027 2299 454

craigstrees@xtra.co.nz

TRUCK WASH Mobile

touchless foam wash, products

& solutions. Telephone

027 262 2266.

wwwCLEANFLEET.nz.

VACUUM CLEANERS

Industrial, made in Italy

027 262 2266 www.BLAX.nz.

VALUATION -

Specialising in North Canterbury.

Contact Geoff at

Maxwell Valuation. Phone

03 310 8541 or email

geoff@maxval.co.nz.

WATER BLASTERS

Honda/Rato/Electric, hot/

cold, parts & accessories

027 262 2266 www.BLAX.nz

WATER PUMPS Trash,

semi trash, clean water,

Honda or Rato, parts &

accessories 027 262 2266

www.BLAX.nz.

WINDOW TINTING

tintawindow

advanced film solutions

99% uv block

fade protection

heat control

reduce glare

25 Years Experience

Trade &Services

privacy films

frosting designs

non-darkening films

Workmanship Guaranteed

Lifetime Warranties on Most Films

UV

block

Free Quotes Canterbury and Districts

03 365 3653 0800 368 468

2225862

2434390
---
Trusted Trades &

Professional Services

Guide

To book your spaceinthis guide,phoneAmanda Keys 313 2840 or email amanda.keys@ncnews.co.nz

Arborist

Air Conditioning

Automotive &Recovery

Builder

2435705

North Canterbury Tree Services

Tree felling, cutting and

clearing service, including

stump grinding

Insured qualified and

certified arborists

0274 537 834

northcantytrees378@gmail.com

2434425

Stay cool this summer

Call us now for your free quote

03 310 6087

18 Albert Street, Rangiora

Design |Installation |Servicing

2070788

• WOF Cars &Trailers

• Vehicle Servicing &

Repairs

• Tyres &Punctures

• Jump Starts

•

Towing &Salvage

• Courtesy Car Available

Ph Aaron Rowlands

0272 588 366

13 Stone Eyre Place,

Swannanoa

Eftpos available Mon –Fri 8am –5pm, Sat 9am –1pm

• New Builds &Renovations

• Light Commercial /Re-strengthening

• Project Management

• Bathrooms

• Farm Buildings

• House Lifting Re-piling

• Shop Fit Outs

2408831

40+ years experience

027 222 5078

markw.hills@xtra.co.nz

DENTURE CLINIC

RANGIORA

DENTURE CLINIC

Garry WMechen

Registered Clinical DentalTechncian

Phone (03) 313-9192

38a Ashley Street, Rangiora

NEW N W DENTURES D ES

*RELINE * *REPAIRS

* I S

HOURS

8.30am -12noon

- Monday to Friday

FREE E CONSULTATION O

AND ADVICE

A V C

For a/h repairs

phone (03) 310-3044

Ear Health

• Ear Health checks.

• Wax removal using Microsuction

• Removal of foreign bodies

• Basic hearing aid care

• ACC provider

• WarVeteran provider

• No medical referral

required

Clinics in Rangiora, Amberley and Kaiapoi

Rest homes/retirement villages, booking by prior arrangement.

Bookings: Online www.earcare.nz |Phone 020 4124 25 25

Email alison@earcare.nz | Ear Care Canterbury

2324849

Butchery

OxfordButchery

Shane and Leanne Frahm

We cankill&process yourstock

FourGenerations of Frahms

since 1957

Ph 312 4205

Oxford

Number one

old-fashioned bacon

&ham curing.

A/H 312 4709

WE ARE OPEN, WEARE AESSENTIAL SERVICE

2227889v2

2269236

Computer Repairs

Bruce Evans

131 Ohoka Road

Kaiapoi

Engineering

03 327 3111

021 293 6331

compucare@xtra.co.nz

www.compucare.co.nz

Computer Repairs &upgrades

Prompt professional services

For your Engineering needs

187d Ohoka Road, Kaiapoi

Phone 03 327 5246 |027 495 2821

toppeng@xtra.co.nz

2276525v2

Virus &malware removal

New &UsedPC's4Sale

2420841

Construction &Concrete

All Construction & Concrete Work

•Driveways, patios &paths

•Bridges and Culverts

•Floors, foundations

•Sheds and buildings

•Dairy Sheds, Herd homes

•Silage pits, effluent ponds

•Excavation and cartage

•Precast concrete

•Insulated panels

▪ Painting ▪ Gardening

▪ Fencing ▪ Lawn mowing

▪ All General Maintenance

Performed to the highest

standard by a straight up,

honest, Handy Guy

No job too small!

Flat hourly rate, no hidden surprises!

THE

HANDY

GUY!

Handyman

Daryl Power

027 230 9401

concretepower@scorch.co.nz

www.concretepower.co.nz

Call Guy "The Handy Guy" Now

0275 040 658

2273277

Landscaping

For all your landscaping needs

All Landscaping, Retaining Walls (Engineered and

Non-Engineered), Timber Fences, Landscape Structures

and more...Lifestyle Block, Rural and Residential.

Phone Jeremy 021 169 9394

www.blackhill.co.nz

www.facebook.com/blackhillltd

2372616v2

Scrap Metal

CASH PAID FOR SCRAP

•Car Bodies •Scrap Steel•Specialists in Farm

Machinery•All non Ferrous

MAINLAND

METALS LTD

Ph (03)338 7000

Mike0274 818544 •Robbie 0274 818 027

Locally owned and operated

1902273

Plumbing

For all

general

aspects of

plumbing

Discounts for over

65 years old

Fast friendly service

All work guaranteed

Aaron McCartney

Certifying Plumber

Cell 027 366 9091

A/H 03 310 2137

Free Call:

0508 44EVER

EMAIL:

plumber_27@yahoo.com

2172994

YOU

COULD

BE

HERE

Advertise

your business

in our Trades

and Services

Phone

Amanda Keys

on

03 313 2840

Painter /Plasterer

HURUNUI Painting

• Qualified tradesmen, quick,neat and friendly.

• Reasonable rates. • Interior /exterior painting.

• Interior plastering &wallpapering.

• Spray painting &water blasting.

P: Rod Hermes 027 414 0830 or 03 314 2391

E: r.hermes@xtra.co.nz

2394026v2

Seamless Spouting

Seamless Spouting

Supply and Install

of Seamless Gutters

10 year no leaks

guarantee

• Continuous spouting made on site,

large colour range available

• High grade and thicker material used

• Repair or replace any type of gutter

• Undertake all insurance work

• Independently owned and operated

• Competitive pricing

Servicing North CanterburyDistricts

Call Danie 021 875 462

2359362

Skip Hire

Tools &Equipment

Windows & Doors

100% locally owned and operated

Hardfill |Green Waste |General Waste |BuilderSkips

Various sizes to suit all needs

Commercial placement at competitive rates

Call us directly on 021 280 1132

wastecontrolskips@gmail.com

www.wastecontrolskips.co.nz

Get 5% off your first skip order, use code WASTE5

2431576

SALES

PARTS

SERVICE

ACCESSORIES

ON-FARM VISITS

Water Blasters, Log Splitters, Generators,

Air Compressors, Water Pumps, Air Tools, Spray

Equipment, Replacement Ag Seats, Small Motors.

Free local machinerydelivery.

Richard Black info@blax.nz

North Canterburyowned &operated

2435547

WINDOW MARKET PLACE

• New & Used

• Timber & Aluminium

• Windows & Doors

8am-5pm Weekdays

8am-2pm Saturday

215 Waltham Rd, Sydenham

Ph (03) 379 6159 info@windowmarket.co.nz

Fax (03) 962 1012 www.windowmarket.co.nz

ncn1242200aa

Thursday,August 2, 2018 | Issue 808 | www.ncnews.co.nz

HAVE YOU BEEN TO

OUR WEBSITE LATELY?

www.ncnews.co.nz

Visit now toview the paper online &more!

To book your spaceinthis guide,phone Amanda Keys 313 2840 or email amanda.keys@ncnews.co.nz
---
RangioraToyota

Signature

CLASS

2017 Corolla GX Hatch

•1.8L PetrolAuto

•Bluetooth, Camera

•Cruise Control, 37,100km

$

22,995

2019 Toyota Yaris GX

•1.3LPetrolAuto

•NZNew,Camera

•Bluetooth, Only13,550km

2015Yaris GX Hatch

•1.3LPetrol5-speed manual

$ •Camera, Bluetooh

20,995 $

10,995

•NZ-new

2018 Corolla Hybrid Hatch

•1.8L PetrolHybrid

•Alloys, NZ New,Keyless

•Camera, only30,000km

$

26,995

2009 CorollaGXSedan

•1.8L PetrolAuto

•NZ-New,FM/AM &CDPlayer

•Towbar

$

8,995

2015Toyota Ractis

•1.3LPetrolAuto, 45,550km

•CD/AUX/USB

Connectivity

WAS$15,995

NOW $ 14,995

2014 Toyota Spade

•1.5Lpetrolauto,

•4-door/left side door

•Climate,5-seater

$

13,995

2016 Corolla GX Sedan

•1.8L PetrolAuto, Bluetooth

•ReverseCamera&Sensors

•60,000kms

$

19,995

2017 Toyota C-HR

•1.2LTurbo PetrolAWD

•Camera, Satnav, 5-door

• NZ-new, 44,7000km

$

29,995

2015Corolla GX Hatch

•1.8L PetrolAuto,

•Rear Camera &Sensors

•62,000km

$

18,995

2015BMW320iM-Performance

•2.0L TurboPetrol, PerformanceBrakes

•Exhaust, NZ New

•Only 59,200kms

$

31,995

2017 Corolla GLXHatch

•1.8L Petrol, Auto, Alloys

•Camera, Bluetooth

•5-Star Safety, only47,700km

$

23,995

2014 CamryGLSedan

•2.5LPetrolAuto

•Cruise Control, Bluetooth

•7Airbags

$

12,995

2019 CorollaGXHatch

•2.0L PetrolAuto, 5-Star Safety

•Satnav,Alloys

•25,250kms

$

26,995

2019 CorollaGXHatch

•2.0L PetrolAuto

•Satnav ,Radar Cruise

•Only 16,500km

$

36,995 27,995

2011 Toyota Avensis Wagon

•2.0L PetrolAuto,

•Alloys, Camera

•Bluetooth, Keyless

$

14,995

2019 CorollaGXHatch

•2.0L Petrol, Auto

•Camera, Bluetooth

•5-Star Safety,only 25,300km

$

26,995

2017 Toyota HighlanderGX

•3.5LPetrol8-Speed Auto

•7-Seater,Camera

•Towbar,Only 42,900km

$

47,995

2011 Toyota Wish Z

•1.8L PetrolAuto, 6-Seater

•Sunroof,Alloys, Camera

• 82,300kms

WAS$15,995

$ NOW

14,995

2016 Rav4 GXL

•2.5LPetrolAWD,Camera

•Keyless,Towbar,Bluetooh

• 88,900km

$

31,995

2009 Toyota Wish Z

•2.0L PetrolAuto, 6-seater

•Alloys, Keyless

•88,500km

WAS$14,995

NOW $ 13,995

2010 Mitsubishi Lancer VRX

•2.4LPetrolAuto

•Alloys, Leather

•80,750kms

WAS$12,995

$ NOW 11,995

2016 HiluxSR5 4x4

•2.8L Turbo Diesel Auto

•Sat Nav

•Cruise Control

WAS$46,995

NOW $ 45,995

2016 Ford Ranger XLT4WD

•3.2LTurbo Diesel, Camera

• Satnav, Load Lid

•Bluetooth

$

39,995

2019 Nissan Navara ST

Double Cab

•2.3LTurbo Diesel 6-Speed

•Manual, Camera $

•Satnav 45,800kms 45,995

2016 Holden Trailblazer

Colorado 7

•2.8L Turbo Diesel 4WD

•Leather,7-seater

•63,800km

$

44,995

2019 Ford Ranger Wildtrak

•3.2LTurboDiesel4X4,Alloys

•Satnav,Camera

•Only39,150kms

$

62,995

2013Toyota AlphardSC

•2.4LPetrolAuto, 7-Seater

•DualElectricDoors

•25,250kms

WAS$36,995

2016 Hilux SR5 Limited 2WD

•2.8L Turbo Diesel, Leather

•18"Alloys

•SportsBar &Tonneau.

2020 Nissan Navara ST-X 4WD

•2.3LTurbo Diesel, Half Leather

•Keyless,Satnav

•360 Camera, 14,700kms

2018 HiluxSR5 Cruiser

•2.8L Turbo Diesel, leather

•18" alloys,Tonneau

•Only 37,250km

2009 HiluxSR5 4WD

•3.0L TurboDiesel Auto

•CanopyTowbar

•Snorkel, Bluetooth

$ $

42,995

$

59,495

$ $

NOW 34,995

60,995

31,995

Percival Street,Rangiora • Ph (03) 313-8186any time • www.rangiora.toyota.co.nz

Signature

CLASS

2430574

FINANCE &INSURANCE AVAILABLE
---
Maggie |Verified Buyer