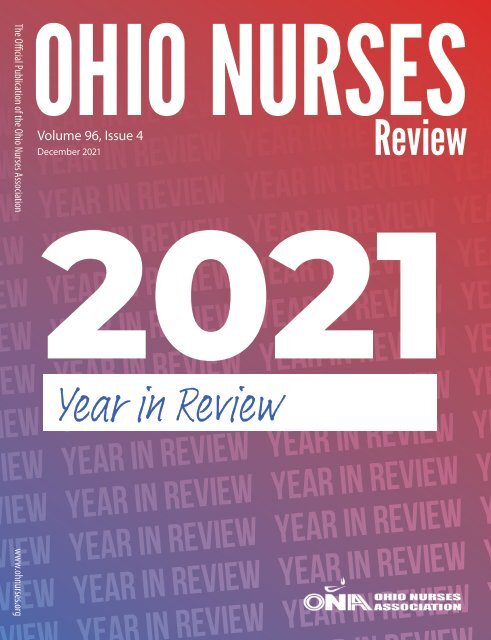 Ohio Nurse Review - December 2021
You also want an ePaper? Increase the reach of your titles
YUMPU automatically turns print PDFs into web optimized ePapers that Google loves.
The Official Publication of the Ohio Nurses Association www.ohnurses.org

OHIO NURSES

Volume 96, Issue 4

December 2021

Review

2021

Year in Review

www.ohnurses.org | Ohio Nurses Review | Volume 96, Issue 4 |

1
---
OHIO NURSES Review

The Ohio Nurses Review (ISSN 0030-0993) is the official

publication of the Ohio Nurses Association, 3760 Ridge Mill

Drive, Hilliard, OH 43026, (614) 969-3800. Indexed in International

Nursing Index and Cumulative Index to Nursing and Allied Health

Literature. Published quarterly. Circulation approximately 10,000.

Published by ONA Staff and Arthur L. Davis Publishing Agency

Inc., PO Box 216, Cedar Falls, IA 50613. Layout and Design:

Chris Hall

ANNUAL SUBSCRIPTION – Members of ONA, $15, included

in dues as a member benefit; Corporate first class postage

subscription, $40; Agencies, $40; members of the Ohio

Nursing Students' Association, $15 with a copy of NSNA

membership card. Replacement copies, $5 prepaid with order.

POSTMASTER – Send address changes to Ohio Nurses Review,

3760 Ridge Mill Drive, Hilliard, OH 43026

MISSION STATEMENT – The mission of the Ohio Nurses

Review is: To advance professional nursing practice in Ohio in

service of quality health care.

Articles appearing in the Ohio Nurses Review are presented

for the information of our members. They are not intended as

legal advice and should not be used in lieu of such advice. For

specific legal advice, readers should contact their legal counsel.

Copyright © 2021 by Ohio Nurses Association.

ONA BOARD OF DIRECTORS – 2021-2023

OFFICERS

Robert Weitzel, RN, BSN, President, Harrison

Rick Lucas, RN, BSN, OCN, VA-BC, CCRN, First Vice-President,

New Lexington

Jacinta Tucker, MSN, RN, Second Vice-President, Midvale

Michelle Thoman, MSN, RN, Secretary, Cincinnati

Janet Corbin, Treasurer, Urbana

DIRECTORS, UNSTRUCTURED

Tammi Ingledue, Neatwater

Benitha Garrett, MSN, RN, North Olmsted

Alex Watts, BSN, RN, PCCN, Hilliard

Jamie Burchett, BSN, RN, New Franklin

DIRECTORS, STRUCTURED

Catharyne Henderson, RN, Reynoldsburg,

Deborah Baker-Loyd, RN, Akron

Barbara McGhee, RN, Tallmadge

Amy Pompeii, RN, Hilliard

NEW NURSE

Taylor Mullin, MSN, RN, CNOR, Galloway

ECONOMIC & GENERAL WELFARE COMMISSIONERS

Amy Pompeii, RN, Hilliard

Chair

Barbara McGhee, RN,

Tallmadge, Co-Chair

Michelle Croker, RN,

Urbana, Secretary

Catharyne Henderson, RN,

Reynoldsburg

Deborah Baker-Loyd, RN,

Akron

Lukas Killian, BSN, RN,

Columbus

2

| Ohio Nurses Review | Volume 96, Issue 4 | www.ohnurses.org

COUNCIL ON PRACTICE

Kris Cope, DNP, RN, NE-BC,

Co-Chair

Sharon Hawkins, MPA, MSN/ed,

RN, Co-Chair

Paula Anderson, RN

Benitha Garrett, MSN, RN

Laurie Hornberger, RN

Deborah Schwytzer, DNP, RN-BC,

CEN

CONTINUING EDUCATION

COUNCIL

Barb Brunt, MA, MN, RN, NPD-BC,

NE-BC (chair)

Tahnee Andrew, MSN, RN

Lucinda Cave, MSN, RN, BC

Stephanie Clubbs, MSN, RN-BC, CNS

Susan Copeland, MS, RN, BC

Amy Knupp, PhD, RN,

APRN-CNS, CPSS

Melanie Morris, MBA, BSN,

RN-BC, CCRN-K

Diane Moyer, MS, BSN, RN

Laura Rafeld, MSN, RN

Gail Rhodes, MS, BSN, RN, OCN

Deb Shields, PhD, RN, CCRN, QTTT

Sue Smith, RN, MSN, CCHP-RN

Pam Dickerson, PhD, RN-BC (MS,

BSN, FAA, (Liaison for ANCC)

Nancy Campbell, MSN, RN-BC

(Liaison for Indiana)

ONA STAFF

Lisa Ochs, CEO

Kristen Bailey, Labor

Representative

Phillip Bloomer, Organizer

Tiffany Bukoffsky, Director of

Health Policy

Carolyn Carmack, Labor

Representative

Bob Cousins, DEO of Labor

Relations

Michelle Donovan,

Communication and

Development Coordinator

Dodie Dowden, Assistant to CEO

Dennis Dugan, Labor

Representative

Jessica Dzubak, Director of

Nursing Practice

Alex Gehrisch, Membership

Controller

Molly Homan, Director of

Communications and Marketing

Technology

James Humphreys, Organizer

HEALTH POLICY COUNCIL

MEMBERS

Robert Weitzel, Chair, BSN, RN

Kay Ball, Vice Chair, PhD, RN,

CNOR, CMLSO, FAAN

Sara Arter, PhD, RN

Peggy Berry, PHD, MSN, RN,

COHN-S, CLE, PLNC, FAAOHN

Kelly Duffey, MSN, RN, CCRN

Alyssa Figueroa, MPH, BSN, RN

Tina Foster, DNP, MSN, RN, CCRN

Catharyne Henderson, BSN, RN,

ANCC

Lukas Killian, RN

Janice Lanier, JD, RN

Rick Lucas, BSN, RN, VA-BC, OCN,

CCRN

Barbara McGhee, BSN RN, CNOR

Jeri Milstead, PhD, RN, NEA-BC,

FAAN, ANA Hall of Fame

Gina Severino, DNP, RN, ACNS-BC

Jacinta Tucker, MSN RN

Alexander Watts, RN

ALTERNATE

Kelly Hickman-Begley

PUBLICATIONS COMMITTEE

Barb Brunt, MA, MN, RN, NPD-BC,

NE-BC, Editor

Jeri Milstead, PhD, RN, NEA-BC,

FAAN

Kristine Cope, DNP, RN, NE-BC,

Lucinda Cave, MSN, RN, BC

Lataya De Jesus, BSN, RN

Sangita Koparde, Organizer

Angie Lemery, Business Office

Administrator

Cathy McClelland, Finance

Manager

Anne Mueller, Labor

Representative

Anne Ransone, Deputy Executive

Officer - Operations

Kelli Schweitzer, Senior Director of

Professional Practice

Robin Smith, Membership

Controller

Sandy Swearingen, Continuing

Education Specialist

Brittany Turner, Nurse Planner

Lisa Walker, Health Policy and

Nursing Practice Specialist

Jake Whitehurst, Customer

Service, Administrative and

Membership Support Specialist

Rachel Wolfe, Assistant to DEO,

Labor Relations
---
PRESIDENT'S MESSAGE

Robert Weitzel, BSN, RN

Dear ONA Members,

Before I share my original thoughts for this article, I want to

address the recent tragic fire on October 31st that completely

destroyed the ONA building and everything within it. We were

fortunate that no staff or ONA members were in the building

at the time. However, much of the treasured physical history

was lost leaving many members deeply saddened. While we

have not received a formal report from the fire department

investigator, Lisa is keeping abreast all that is being done

to draw the investigation to a close and updating the board

regularly. I know that we cannot replace the priceless items that

have been lost but my hope is that we will be able to capture

the great work done by our Heritage Committee and potentially

retrieve the large Dorothy Cornelius plaque that hung on

the stone wall of the Main Street building. Please know that

Lisa, the board and I are committed to keeping you informed

regarding the investigation and future plans for the building as

we move forward.

With that being said, I want you to know how proud and

honored I am to be President of the Ohio Nurses Association and

represent nurses from all walks of life within the state of Ohio.

Nurses play an important role in our state and it is imperative

that we have a voice at the bedside, in legislature, in schools and

in our communities.

As we look toward the next two years, I am committed to

working with our board and CEO to move the organization

forward by focusing on key initiatives that impact nurses.

Clearly, the challenges that nurses are facing in today's world

are overwhelming; especially in the case of unsafe staffing.

Two years ago, no one would have anticipated the additional

barriers nurses would experience due to COVID. I think it is

safe to say that COVID has turned the healthcare world upside

down and has exposed the many weaknesses and struggles

within our healthcare system. The lack of PPE and preparedness

was frustrating and alarming-especially for those of us who

experienced it firsthand. The eyes of the public have been

opened and the suffering and unconditional commitment of

nurses have been witnessed by everyone. One of the largest

issues, unsafe staffing, has become obvious to all and no longer

only known among hospital staff.

During convention, delegates discussed unsafe staffing and

have emphasized the need to make it a priority for ONA. It

is my commitment to you to address this issue and to ensure

that our organization will diligently work to have a loud voice

concerning the need for safe staffing and other issues facing

today's registered nurses.

In our meeting after convention, our board made the decision

to have board training in November so that we could meet in

December and focus on building a meaningful strategic plan

that will lay the foundation for our work these next two years

and help us navigate through these challenging times. This

board is committed to strengthening the foundation of ONA and

President's Message continued on page 13

CONTENTS

CEO's Message................................................. 4

A Tribute to Joylynn Daniels....................... 6

2021 SONA Year in Review........................... 6

2021 Council on Practice Year in Review.... 7

Local Units Year in Review .......................... 8

2021 SPDONA Year in Review .................... 9

2021 Health Policy Council Year in

Review...................................................10

2021 E&GW Year in Review ....................... 11

Annual Dues Increase .................................12

2021 GCNA Annual Report........................13

2021 Environmental and Community

Health Caucus (ECHS) Year in Review.14

2021 Caucus On Advancing Nursing

Education Year in Review ....................15

Documenting nursing assessments

in the age of EHRs...................................16

2021 Racial Equity and Inclusion in Nursing

(REIN) Caucus Year in Review................ 17

2021 Workplace Violence Caucus Year

in Review...................................................18

Workplace Violence: A Nursing Toolkit.... 18

Working Together To Combat Workplace

Violence............................................................ 21

2021

Year in Review

www.ohnurses.org | Ohio Nurses Review | Volume 96, Issue 4 |

3
---
CEO'S MESSAGE

Time is a Funny Thing

Lisa Ochs, CEO

Time is a funny thing. On one hand, it can feel like it barely

moves while conversely it can feel like it is escaping at

breakneck speed. Regardless of how it feels, time marches on

and it waits for no one. When I think about time, especially

during a global pandemic, many days felt like time was

crawling. Looking back, it feels like time has really passed

rather quickly. Perspective, as with all things we evaluate in life,

is always important. Sometimes the passage of time feels cruel.

Sometimes merciful.

As the year 2021 is nearing its end, I think its important to look

back for perspective but look forward to our future. Nothing

worth doing is easy, and the past year has been no exception.

I'm grateful to the outgoing ONA Board of Directors for their

commitment and willingness to try new ways of conducting

business as the pandemic maintained the roadblocks it's erected.

Certainly, few of us likely anticipated the endurance of the

pandemic and adjustments we would need to make in order to

carry on while doing all we can to ensure the health and safety

of our members.

Like many of you, I've learned to love and loathe the tools and

technology that make our virtual meetings possible. Having

just completed my first ONA House of Delegates with all of

you, I am grateful for the technology available to make a virtual

gathering possible. Likewise, I hope this is the only year that

convening the House of Delegates virtually is necessary. The

virtual experience lacks something important – connection with

others. That ongoing loss is cumulative and profound.

When I think about the increasing and prevalent stories of

vitriol and aggression laying out in normally sanguine settings,

I often wonder if grief underlies much of it. As social beings,

humans rely upon interactions with others for information

sharing, support, and caring. The pandemic has robbed us of

many of these opportunities, and we are mourning many losses.

The pandemic has robbed us of the lives of many loved ones,

cheated us out of properly gathering and mourning those deaths,

and deprived us of being able gather for celebrations. For our

members in direct patient care, safety and security is a loss we

mourn. For our teaching faculty, autonomy in teaching in a way

that works best for students was lost.

Time is a funny thing. I suspect that it will once again feel

like time is crawling along, but we know it waits for no one.

I'm grateful to the newly elected board of directors and

commissioners. The challenges we will face together will

be many, but I am confident that there's nothing we can't

accomplish together. We will take one day at a time, keeping

perspective in mind as we face the challenges that come our

way. Building our future won't be easy but it will be worth it.

HERITAGE COMMITTEE

Established: 2018

Lead Staff Person: Lisa Walker

Committee Chair: Linda Baas

Committee Members: Doris Edwards, Carol Jenkins, Carol

Sams, Kay Ball, Mary Beth Matthews, Donna Curry and

Joylynn Daniels

Meeting Frequency: 6 zoom meetings in 2021

In 2019 we began planning the design for Heritage Hall.

All planning was tabled from May 2020-May 2021 due to

COVID-19.

The project consists of 5 panels that memorializes the collective

activities of ONA throughout the decades. Text and pictures

of landmark events are depicted in order to tell the story of

committed nurses whose accomplishments have shaped the

profession. Roger Rousten was contracted to complete the

design and Otterbein College installed the panels on Oct. 15,

2021.

As this edition of the ONR was nearly ready to send to the

printer, members learned of another loss to mourn. The early

morning hours of Halloween delivered with it a complete loss

of the ONA headquarters to an overnight fire. We are eternally

grateful that no one was harmed, as possessions can be replaced

– people cannot. Lost to the fire were memorials to ONA's

history, memories made in the building, and reminders of the

important work we are focused on in the present.

4 | Ohio Nurses Review | Volume 96, Issue 4 | www.ohnurses.org
---
Robert Weitzel, BSN, RN, with President Joe Biden, at the White House Along with Other

Frontline Workers and their families as a "Thank You" for their Service During the Pandemic.

www.ohnurses.org | Ohio Nurses Review | Volume 96, Issue 4 |

5
---
A Tribute to Joylynn Daniels

Susan J. Stocker, Ph.D, MSN, RN

I don't remember when I met Joylynn Daniels, but eventually

we wound up on the ONA board together. Joylynn was

passionate about nursing, economic and general welfare and our

professional organization. You've probably heard the expression

that a particular coach is a "player's coach"- Joylynn was a

"nurse's nurse." Joylynn listened. She didn't always agree but

she was always respectful. Joylynn could also talk! When we

were on the ONA board together, she asked me to give her a

signal when she was talking too much!

I can still hear Joylynn's voice and see her standing at the

microphone at the last convention. I'm sorry her voice has been

silenced. Her wisdom and insight will be missed.

Joylynn was devoted to ONA. She understood ONA as the

professional association not just a union. She was schooled

by leaders like Mary Ellen Patton and Donna Hughes. And

was a comrade of the likes of Mary Runyan and Susan Tullai

McGuinness.

Joylynn was always learning. She was always well informed, not

just about staff nursing but about nursing education, government

affairs and practice standards.

Joylynn made us better, both individually and collectively. She

dedicated her life to nursing and ONA. I hope you will consider

a contribution to ONF in memory of our friend and colleague,

Joylynn Daniels.

2021 SONA Year in Review

13 Board meetings, 11 Health & Legislative Committee

meetings, 12 Program Committee meetings, 8 Human Rights

Committee meetings, 7 Finance Committee meetings, 2 Policy

Committee meetings and 1 Executive Committee meetings were

held in 2020 through 2021.

Averaged 7 people at SONA Board meetings and Committee

meetings averaged between 3 and 5 people.

Despite a global pandemic, SONA has adapted and revived

many Committees in the year 2021. The Health and Legislative

Committee meets monthly and is working to encourage SONA

members to vote in the upcoming election. They hosted virtual

candidate interviews with both Cincinnati Mayoral Candidates

this summer and provided the video for all SONA members to

view.

SONA's program Committee has been an active force in

preparing delegates for the ONA Convention. They hosted a

Delegate preparation event and worked to plan a Convention

viewing party for SONA Delegates.

The Human Rights Committee meets every other month

and they serve weekly at the Marie Hatton Women's Shelter,

building relationship, educating women, and making crafts.

SONA's Board hosted a parliamentarian procedures workshop

with ONA Parliamentarian, Mary Remson, to learn about

adapting to the virtual meeting format and procedures for a

thriving Board of Directors.

In May of 2021, SONA joined the Human Services Chamber,

a local organization that develops and advocates for public

policies that provide equitable opportunities for all community

members to reach their full potential.

SONA sent Starbucks gift cards to all of its members on

two occasions, thanking Nurses for their tireless efforts and

endurance through the pandemic.

The SONA Board has sought to strengthen their financial

portfolio and investments and has worked closely with a

representative from Merrill Lynch to this end.

SONA created a new scholarship committee in the summer of

2021 to honor its late member, Joylynn Daniels. The scholarship

is intended to honor her legacy and support for RNs seeking a

BSN.

Medical Disclaimer: This publication's content is provided

for informational purposes only and is not intended as

medical advice, or as a substitute for the medical advice of

a physician, advanced practice registered nurse or other

qualified healthcare professional.

6 | Ohio Nurses Review | Volume 96, Issue 4 | www.ohnurses.org
---
2021 CE Council Year in Review

This year the CE Council was very active in the review of

60 approved provider applications including 2 new approved

providers and nearly 700 individual activity applications.

Each CE Council member has also been actively learning the

new Standards for Integrity and Independence in Accredited

Continuing education so that they can accurately review

applications per this standard that will be fully implemented

July 2022.

In addition, Lucinda Cave was an active planning committee

member for both the Retired Nurses Forum Presents: Healthcare

Issues Potpourri and the Cornelius Leadership Conference.

Barbara Brunt and Melanie Morris were planning committee

members and speakers for the 16th Annual Nursing Professional

Development Conference.

To meet strategic plan goals, the CE Council along with the

ONA CE department did the following in 2021

• Addressing Racism as a Public Health Crisis

o Dr. May Wykle, PhD, RN, FAAN, FGSA,LL spoke at

the Retired Nurse Conference on the topic Healthcare

Disparities Among Minorities

o Dr. Ernest Grant, PhD, RN, FAAN spoke on Implicit

Bias in Policy and Procedures at the 2021 Cornelius

Leadership Conference

• Enhanced Understanding of End-of-Life Issues

o Advanced Care Planning and the Registered Nurse is an

independent study available on CE4Nurses

o Alex Wolf, DNP, RN spoke at the Retired Nurse

conference on Advanced Directives

• Create the Awareness and Impact of the Depth & Value of

Nursing

o The Human Trafficking Awareness conference had 135

registered attendees

The CE Council provided insight and feedback as the ONA CE

Department presented all our 2021 conferences and content

creation either live virtually or recorded through our learning

management system, CE4Nurses. Through CE4Nurses, ONA

has had over 2000 paid registrations for courses and nearly 6000

registrations for free courses to members. Because members

receive most courses for free, this has been a valuable member

benefit.

CE Council members include:

Chair: Barb Brunt, MA, MN, RN, NPD-BC, NE-BC

Tahnee Andrew, PhD, MSN, RN-BC

Lucinda Cave, MSN, RN, BC

Stephanie Clubbs, MSN, RN, NPD-BC CNS

Susan Copeland, MS, RN, BC

Amy Knupp, PhD, RN, APRN-CNS, CPSS

Melanie Morris, MBA, BSN, RN, NPD-BC CCRN-K

Diane Moyer, MS, BSN, RN

Laura Rafeld, MSN, RN

Gail Rhodes, MS, BSN, RN, OCN

Deb Shields, PhD, RN, CCRN, QTTT

Sue Smith, RN, MSN, CCHP-RN

Pam Dickerson, PhD, RN, NPD-BC, MS, BSN, FAAN, (Liaison

for ANCC)

Nancy Campbell, MSN, RN-BC (Liaison for Indiana)

2021 Council on Practice Year in Review

The ONA Council on Practice has been working on addressing

ONA Strategic Plan goals over the last year. Their work has

contributed to keeping members up to date on key issues.

Some activities the Council has participated in this year:

• Updated and revising Nursing Practice and Position

Statements to create a robust library of current practice

resources.

• Supported Strategic Plan Goal 3: Safe Staffing

o Began work on safe staffing Position Statement

• Supported Strategic Plan Goal 4: Immunization Education

o Completed and published two articles on immunizations -

Ohio Nurses Review (ONR) March 2021 Edition

- Educating and Empowering: How Nurse's Support

Vaccination Efforts (Kris Cope and Jessica Dzubak)

- Vaccine Myths and Misconceptions (Paula Anderson)

• Discuss proposed 5-year chapter rule reviews for Ohio

Board of Nursing. Staff Jessica Dzubak attended Interested

Party meetings.

Members 2019-2021

CO-CHAIRS

Kris Cope, DNP, RN, NE-BC

Sharon Hawkins, MPA, MSN/ed, RN

MEMBERS

Paula Anderson, RN

Benitha Garrett, MSN, RN

Laurie Hornberger, RN

Deborah Schwytzer, DNP, RN-BC, CEN

ONA Essential Workers – thank you billboard

www.ohnurses.org | Ohio Nurses Review | Volume 96, Issue 4 |

7
---
Local Units Year in Review

East Liverpool Registered Nurses Association:

In the fall of 2020, the East Liverpool Nurses Association faced

ruthless and extreme union busting attacks on their contract by

their Employer, the East Liverpool City Hospital and Corporate

owner, Prime Healthcare Foundation out of Los Angeles,

California. On the first day of negotiations, the ONA team was

met with proposals that would have stripped the nurses of all

seniority rights, union security, staffing protections, health

and safety protections and much more! The team had already

put in the work to organize their membership and so when it

was obvious the Employer was not going to move, we began to

engage in escalating tactics to pressure the hospital and Prime,

culminating in the membership voting 107-1 to engage in a three

day unfair labor practice strike in late November. This was the

first strike led by ONA members since 2013.

Since the nurses returned to work, they have continued to

stay strong and committed to winning a contract that protects

seniority benefits and that includes a competitive wage scale.

Finally, after almost nine months of investigation, the National

Labor Relations Board notified ONA in August 2021 that it

found merit on many charges against the hospital – including

bad faith bargaining, unlawful declaration of impasse, unlawful

changes to terms and conditions of employment and direct

dealing with bargaining unit nurses. At the time of this writing,

the nurses are hopeful that this is the breakthrough that we

need to get a new contract that they so rightfully deserve! In the

meantime, nurses continue to stay united and committed to each

other, their patients, their community and to ONA.

Salem Registered Nurses Association:

Not more than forty minutes away from East Liverpool

in Columbiana County, our members at Salem launched a

successful contract campaign with the hospital in the Spring

of 2021. The negotiations this year were a continuation of the

campaign that began in March 2020 – when the first wave of

the pandemic arrived in Eastern Ohio. We decided then to reach

a one year contract with the hospital with 2% wage increases

for all nurses. The theme for our campaign was 3 Rs: "Respect

and Retain RNs." Bright Red T-shirts with our theme on the

front and Salem Registered Nurses Association on the back

were distributed to every member. Lawn signs were distributed

to members, local businesses and community leaders, and

nurses showed their solidarity inside the hospital by wearing

our message on their scrubs every single day! The result of

this strong solidarity and community support was a contract

that contained no concessions, good wage increases, increased

differentials and improvements in other working conditions that

our members needed.

Hillside Registered Nurses Association:

Late in 2020, the Occupational Safety and Health

Administration (OSHA) issued a complaint and citations against

Hillside involving serious violations of federal workplace safety

regulations. The original OSHA complaint was filed on behalf of

the RNs in the spring of 2020 by ONA, after the hospital began

admitting COVID positive patients without protections for any

of its nurses. After learning of the admissions, ONA leaders

contacted the acting CEO. The CEO originally committed to

providing ONA members and all other staff with appropriate

PPE – including N95s. Then, an hour later, he reversed his

position and stated that the respirators were "not necessary"

because the patients were "no longer contagious." Determined

to protect her fellow nurses, and all other staff, the President of

the Hillside Registered Nurses Association, De Anna Fuchilla,

went to the hospital late that very evening to deliver her personal

inventory of N 95s to everyone on duty that night. She continued

to deliver them to everyone working the rest of that weekend,

while Hillside management stood by and did nothing to protect

its employees.

OSHA's citations and complaint alleged that Hillside failed to

provide the appropriate respirator for employee exposure to the

virus that causes COVID-19, and failed to provide a written

respirator program with worksite specific procedures. One

of the citations states, "The employer failed to provide the

appropriate respirator for employee exposure… to the virus that

causes COVID-19. Employees were working in the COVID-19

wing and actively treating COVID-19 positive patients along

with patients under investigation." Serious violations such as

those OSHA cited Hillside for are those violations where there

was a "substantial probability that death or serious physical

harm could result from the condition(s) alleged to exist and

(Employer) knew, or could with the exercise of reasonable

diligence have known, of the presence of the violations."

Multiple attempts by OSHA executives and the Department of

Labor attorneys to settle with Hillside and Steward Healthcare

Corporation have been futile. Apparently, they would rather

spend tens of thousands in attorney's fees than significantly less

to abate the violations and pay OSHA's relatively small fines. An

OSHA Review Commission hearing is scheduled in Cleveland

at the beginning of November, 2021.

Ashtabula General Registered Nurses Association:

In the late spring of 2021, ONA received an arbitration decision

reinstating a long-time member who had been terminated

without just cause. Unlike the other non-union employees at

ACMC, nurses represented by ONA can only be disciplined for

just cause. In her decision, the arbitrator cited several reasons

for reinstating the member, including serious violations of the

grievant's right to due process as provided in our collective

bargaining agreement. In her decision, the arbitrator stated, "In

this instance, explicit language of the Agreement is controlling.

Prior to a decision to discipline, the ACMC must inform the

nurse of an investigation, must have an investigatory meeting,

must inform the nurse of a right to union representation during

that meeting, must permit the Union representative to assist

during the meeting. The Medical Center failed to adhere to

any of the requirements of Section13.8 of the Agreement". The

arbitrator also relied upon the testimony of union RN witnesses

who disputed claims made by Nurse Managers that the nurse's

care of her patients deviated from standard nursing protocols.

Relating to a physician's titration oxygen orders, the arbitrator

stated, "The undisputed testimony establishes that it is a

'common' order which provides 'parameters ' for a nurse… ."

The ONA member was welcomed back to work on her former

unit and shift earlier this summer.

8 | Ohio Nurses Review | Volume 96, Issue 4 | www.ohnurses.org
---
Also in Ashtabula, after months of advocating for improvements

in staffing conditions, with no meaningful response from

the hospital, the ONA members began organizing their coworkers.

Our campaign was focused on retention, attendance,

incentives to pick up open shifts, additional pay for nurses

taking on additional call, and additional pay for mandatory

overtime. Finally, with nurses wearing buttons every day and

a billboard right down the street from the Medical Center, the

administration started taking our concerns seriously. An interim

agreement was reached on some of our campaign goals after

two weeks of negotiations. More work needs to be done by the

Medical Center to retain its nurses who have endured so much

during the pandemic and who have remained loyal to ACMC. At

press time, the nurses were continuing to organize to continue

our Safe Staffing campaign.

UH Geneva

In December 2020, in the midst of the COVID pandemic, UH

Geneva negotiated pay raises of 2% in the first year, 2.5% in the

second year, and 2.75% in the third year. They also negotiated

language that requires the Hospital to meet and confer with the

union prior to the implementation of any new vaccination policy.

2021 SPDONA Year in Review

This past year has been like no other. Nurses are used to being

flexible and raising to the challenge before them. SPDONA

has risen to this challenge and has adapted to the moment we

are in and are stronger for it. From May 2020 to now, we have

maintained our mission to provide high quality programming

to our members. We have sponsored members to further

their professional development and had regular virtual board

meetings throughout the pandemic. With all that has changed,

one thing will stay the same: SPDONA is here to serve our

members.

I wanted to highlight the virtual programs we were able to

offer. In May of 2020, we welcomed a nurse veteran to share his

experience and discuss the nursing needs of our veteran patients.

In the fall, we collaborated with our friends from the ONA

to provide a Law CE to our members free of charge. I know I

learned a lot from that meeting. In November, we finally were

able to welcome our friends from the Autism Society of Greater

Akron to discuss the healthcare needs of our friends on the

Autism Spectrum. Then in March, we welcomed a friend from

Hiram's College of Nursing to discuss her research working with

dementia patients in a nursing home.

It makes me very proud that we were able to keep our members

engaged with awesome programs via zoom throughout this time.

We were also able to record some of these programs to allow

members to watch at a later date. This can also be used as a

marketing tool.

We were not able to participate in health fairs in a meaningful

way as we were able to in the pre-covid times. I remain

optimistic that we will be able to continue the tradition of

engaging with the community when it is safe to do so.

We also were able to conduct a successful and secure election

virtually. The virtual format gave many more members the

chance to engage in the democratic process. As a result of the

election, we will be able to welcome two new members. I am

very proud to leave the board in great hands.

We also were able to put out two newsletters in the past year.

Due to less activity, we have not been putting out a newsletter

quarterly. When activity picks up, we will be able to resume the

quarterly newsletters.

Last May did not include our usual annual awards ceremony.

We will also forgo it this year. The virtual format does not give

our district awards the gravatas it commands. We will hope to

meet in person in May of 2022 for a district awards ceremony to

remember.

One other big move that was completed by the board was to

close the district office and to operate completely virtually. This

was a difficult decision but doing so did make the district more

flexible and adaptive to the 21st century and the conditions the

world is in due to COVID.

We also were able to maintain the tradition of investing in the

next generation of nurses through scholarships. This year, we

gave out our usual SPDONA scholarship and sponsored one of

the ONF Minority nurses scholarships to allow two outstanding

and worthy candidates to get that scholarship as opposed to one.

We also sponsored the event giving $500 to the ONF to fund

their great work.

SPDONA also invested heavily in the Cleveland Clinic Akron

General nurses week raffles to give back to our members. We

also voted to give gift cards to everyone that attends the May

2021 district program. While we were not able to do our usual

nice dinner and awards ceremony, we can still enjoy seeing

everyone's smiling faces via zoom.

All in all, we remain strong. I have always felt that our biggest

strength is in our members. We are strong in passion and heart.

We care about each other, our patients, and our community. This

is what makes SPDONA a great district.

www.ohnurses.org | Ohio Nurses Review | Volume 96, Issue 4 |

9
---
2021 Health Policy Council Year in Review

The global pandemic has continued into 2021 and the Health

Policy Council (HPC) has resumed working diligently over

the past year to review legislation introduced in Ohio's 134th

General Assembly. The Council has supported the review of

and offered recommendations for oral and written testimony

that was provided on behalf of ONA in various committees and

coalitions.

At the beginning of 2021, HPC worked with ONA's contract

lobbyists, staff, ONA leadership, Representatives Al Cutrona

and Bride Rose Sweeney, the Ohio House of Representatives

and interested parties to reintroduce mandatory overtime

language as House Bill 163. HB 163 is a bill aimed to prohibit

the unsafe practice of nurse mandatory overtime as a condition

of employment and would add Ohio to a list of 18 other states

that prohibit the same practice. If passed, HB 163 would allow

nurses to choose when to accept overtime without fear of

retaliation by their employer. The introduction of HB 163 is the

General Assembly's third attempt at passing this law, therefore

lawmakers in the Ohio House were able to move the bill during

the first part of 2021. The bill was unanimously voted out of

the Commerce and Labor Committee, and in June, the House

of Representatives passed the bill by 82-12. HB 163 has been

referred to the Senate Health Committee and it awaits sponsor

testimony.

Senate Bill 129 is a companion bill to House Bill 163 and is the

exact same language introduced in the House. Senators Tim

Schaffer and Nickie Antonio introduced SB 129 on March 16th,

and the bill was referred to the Senate Health Committee where

it awaits its first hearing. Companion bills are used to expedite

the legislative process and ONA is working with the bill's

sponsors to educate members of the Senate to move HB 163 and

SB 129 as quickly as possible.

Every two years, the Governor and state legislature is

responsible for putting together and passing the state operating

budget. January began a new legislative session, so both the

administration and legislature were tasked with approving a

new budget. The budget bill (House Bill 110) was chock full

of appropriations as well as legislative priorities, including

language that would create a statewide hospital licensing

system through the Ohio Department of Health (ODH). While

Ohio hospitals are currently required to register with ODH and

several service lines are subject to individual unit licensure

requirements, hospitals themselves are not required to hold

a license, leaving Ohio as the only state in the country to not

license hospitals. ONA fully supports a statewide hospital

licensing system and would like to see additional regulation and

inspection requirements that ensure all hospitals are meeting

appropriate standards of patient service and safety. ONA

provided oral testimony in the House Finance Committee in

March and written testimony in the Senate Health Committee

in May. Ultimately, hospital licensing remained in the operating

budget and ONA looks forward to working with the Ohio

Department of Health and the Governor's office over the next

couple of years to establish rules surrounding hospital licensing.

The Council, ONA Board of Directors and Staff worked closely

with Senator Roegner, the bill sponsor to Senate Bill 3. SB 3

allows Ohio to join the Nurse Licensure Compact and adds Ohio

to a list of 34 other Compact states. SB 3 is a repeat bill from the

last General Assembly that ONA was heavily involved in (SB

341) and that work continued through 2021, where ONA offered

several amendments to the bill to address areas of concern. The

amendments were accepted by the legislature and SB 3 was

signed into law on July 1, 2021. Effective January 1, 2023, the

Compact allows RNs and LPNs to practice in other Compact

states if they are issued a multistate license by the nurse's home

state. The Compact will not be implemented until January 1,

2023, and the Ohio Board of Nursing expects that they will

begin issuing multi-state licenses beginning January 3, 2023.

Many of the bills ONA's policy team and the Health Policy

Council have been tracking this year, as it relates to the

pandemic, include language specific to vaccine mandates

and hazard pay. House Bill 248 introduced by Representative

Jennifer Gross has been an extremely controversial bill, as

it would prohibit mandatory vaccines and vaccination status

disclosures not just for COVID-19, but for all childhood

vaccines. ONA joined forces with over 60 organizations,

including business and health care experts, to oppose HB

248. The bill has received seven hearings in the House Health

Committee and has not been able to advance to-date. Due

to HB 248 not advancing, House Bill 435 was introduced by

Representatives Rick Carfagna and Bill Seitz. HB 435 was the

House majority party's attempt to address COVID-19 vaccine

requirements for employees and students. The bill falls short of

receiving majority support from members of the House, while

the coalition and anti-vaccine folks both oppose the bill. The bill

was not able to advance to the House floor and the Speaker of

the Ohio House determined that the legislature should focus on

other work.

Over the past four months, ONA has been researching hazard

pay legislation in various states, taking note of what has

been successful and unsuccessful in other state legislatures,

while sharing this research with key Ohio lawmakers. ONA

is currently working with Representative Mark Fraizer to

introduce legislation that would provide a one-time, hazard pay

bonus to qualified nurses who worked during the pandemic.

Money used for this bonus pay would be pulled from the state's

American Rescue Plan Act provided by the federal government.

While the 2020 Nurses Day at the Statehouse (NDASH) event

was canceled due to the pandemic, ONA was able to pivot for

the 2021 NDASH and for the first time ever, held the event

virtually. Attendees heard from House Minority Leader Emilia

Sykes and Representative Erica Crawley, who discussed racial

disparities and inequities in health care; Senator Teresa Fedor

who discussed human trafficking; Governor DeWine who

provided information on the COVID-19 pandemic; Lisa Ochs

who discussed advocacy efforts and holding elected officials

accountable; lawmakers who serve on Ohio's health committees;

and colleagues who joined ONA on a nursing issues panel.

The Health Policy Council and ONA staff are excited to plan

10 | Ohio Nurses Review | Volume 96, Issue 4 | www.ohnurses.org
---
NDASH 2022, which is currently being planned as an inperson

event on March 9th, 2022. Lastly, ONA is looking

forward to hosting additional Advocacy Academies to build the

Association's grassroots efforts.

2022 will surely be a year of additional growth, activism, and

protecting nurses and patients throughout Ohio. The second

half of the 134th General Assembly will bring its own set

of priorities for the state and the Health Policy Council will

continue their incredible work with the current legislature.

2021 Health Policy Council Members:

Robert Weitzel (Chair), BSN, RN

Kay Ball (Vice Chair), PhD, RN, CNOR, CMLSO, FAAN

Sara Arter, PhD, RN

Peggy Berry, PHD, MSN, RN, COHN-S, CLE, PLNC,

FAAOHN

Kelly Duffey, MSN, RN, CCRN

Alyssa Figueroa, MPH, BSN, RN

Tina Foster, DNP, MSN, RN, CCRN

Catharyne Henderson, BSN, RN, ANCC

Lukas Killian, RN

Janice Lanier, JD, RN

Rick Lucas, BSN, RN, VA-BC, OCN, CCRN

Barbara McGhee, BSN RN, CNOR

Jeri Milstead, PhD, RN, NEA-BC, FAAN, ANA Hall of Fame

Gina Severino, DNP, RN, ACNS-BC

Jacinta Tucker, MSN RN

Alexander Watts, RN

2021 Economic & General Welfare Program Year in Review

Bob Cousins, DEO Labor Relations at Ohio Nurses Association

I would like to start this article off by thanking the 2019-2021

Economic and General Welfare Commission for all of their

hard work this year: Chair-Jessie Frymyer, Co-Chair-Robert

Weitzel, Rick Lucas, Michelle Thoman, Michelle Croker,

Alex Watts, Barbara McGhee and until her recent resignation,

Secretary-Iris Marcentile. Even in the middle of a pandemic

the E&GW Commission has been very busy. Over the past

year, with their recommendation, the ONA Board of Directors

adopted a Hardship Dues Policy and a Dues Reduction Policy.

These two policies will ensure members can remain in good

standing when facing hardships like prolonged illness, injuries

or layoffs. Additionally, the E&GW Commission implemented

an electronic Assignment Despite Objection (ADO) form that

will be utilized by all of our local units. With this new electronic

form, a nurse can access the ADO by scanning a QR code.

The form can be completed from the nurses' cell phone. Once

completed the submitted form is sent to the employer, the nurse,

the local elected officer, the Labor Representative and to the

ONA office. This uniform ADO will allow ONA to collect and

track staffing and other workplace concerns statewide.

I would also like to thank the E&GW staff for all of their hard

work: Labor Representatives Anne Mueller, Brandon Marlow,

Carolyn Carmack, Dennis Dugan, Dominic Mendiola and

Kristen Bailey; Organizers James Humphreys, Sangita Koparde

and Phillip Bloomer; and Executive Assistant Rachel Wolfe.

As usual, nothing stays quiet in the labor movement. Unlike

last year, we now have an administration that supports

organized labor and workers rights. The new appointments

to the National Labor Relations Board (NLRB) have been a

welcome change from the anti-union NLRB under the Trump

administration. This past year the NLRB has found merit in a

number of unfair labor practice (ULP) charges filed by ONA.

Most notably, with our local at East Liverpool. Our members

there have been working without a contract for several months

and recently the NLRB found merit that the employer, among

other things, engaged in bad faith bargaining by refusing to

provide information required for bargaining, dealing directly

with employees, changing terms and conditions of employment

without negotiating first with the Union and unlawfully

declaring impasse.

ONA's affiliation with the American Federation of Teachers

(AFT) continues to prove to be a valuable partnership. Because

of programs offered by the AFT, ONA was able to hire an

additional organizer, Phillip Bloomer, who started at the first of

the year. We have also been able to secure a grant from AFT that

will allow us to add another organizer position soon.

Representing our members during a global pandemic has been

challenging to say the least. Our members and staff have had

to learn how to effectively negotiate contracts and arbitration

hearings virtually. Even with these added challenges, ONA was

able to successfully negotiate contracts involving eight of our

locals.

Although not an exhaustive list, here are some highlights and

benefits secured by our members:

Ohio State University Transplant Nurses Organization

(OSUTNO) ratified a two-year agreement that included

expanding the bargaining unit by adding the per diem

transplant coordinators and wage increases averaging 7%

over the life of the agreement.

Ohio State University Nurses Organization (OSUNO)

negotiated a six-month increase in premium pay for working

overtime worth an extra $47.50 per hour. OSUNO held

Nurses Day and Labor Day events that had nearly 2,000

nurses participate. OSUNO was successful in resolving

dozens of grievances.

11 | Ohio Nurses Review | Volume 96, Issue 4 | www.ohnurses.org
---
Akron General ratified a contract that provides for a $3.00

an hour increase to the night shift differential and also

significant increases in pay, especially to nurses with fifteen

or more years of experience.

St. Vincent was able to negotiate an agreement that provided

for full medical benefit coverage for "furloughed" nurses at

no cost to the nurse.

Mercy Allen nurses have improved their nurse-to-patient

ratios and have lowered their turnover rate through

consistent engagement with management.

RNA of UCMC negotiated a new collective bargaining

agreement with UCMC that provides for an average wage

increase of 8.8% in the first year of the contract. With nurses

receiving between a 10%-26% increase in wages over the

life of the agreement. The contract automatically initiates

extra shift bonuses based on objective staffing levels. The

contract also contains a commitment on the hospitals part

to make efforts to staff to nationally benchmarked nurseto-patient

ratios. In addition to the benefits contained in

the new CBA, ONA was successful in arbitrating three

cases involving unjust terminations. In each of theses cases

arbitrators found that the employer improperly terminated

these employees and ordered that they be fully reinstated

with seniority benefits and back-pay. One reinstatement

involved nearly $90,000 in back-pay.

conditions, lack of proper PPE, exhausting hours, all while

navigating a global pandemic, you have demonstrated time and

again your dedication to your members and to your patients.

In 1956 the Ohio Nurses Association created the Economic

and General Welfare Program. ONA provided representation

to our first local in Dover in 1959. In 1959, with the passage of

the Labor-Management and Disclosure Act (LMRDA) ONA

became a Labor Organization (a union). Today 83% of ONA's

membership enjoy the benefits and protections of a union

contract. With these protections they have been able to advance

the wages, benefits and working conditions of all nurses in Ohio.

But just has important, they have also had a legal seat at the

table with management in matters dealing with patient care.

John F. Kennedy once said, "The American Labor Movement

has consistently demonstrated its devotion to the public interest.

It is, and has been, good for all Americans." I would argue

that the ONA Economic and General Welfare Program has

consistently demonstrated its devotion to the public interest. It

is, and has been, good for all of Ohio Nurses Association and for

all Ohioans."

Hoxworth Blood Center negotiations resulted in payment

of all hours on-call, including travel time, triple time

hazard pay for reporting to the Blood Center or to Hospitals

during inclement weather that resulted in the closure of the

University of Cincinnati.

In closing, I would like to take the time to thank all of the

elected officers and activists in our locals. These have been

a very trying times for all of you. With horrible staffing

UCMC billboard re safe staffing

Annual Dues Increase

The ONA bylaws call for an annual dues escalator calculated by

determining the average percentage salary increase negotiated

by ONA for its bargaining unit members as of October 1st of

each year. For 2022, this increase is 3.836% and is effective

January 1, 2022.

For monthly electronic dues payment payers: Effective January

1, 2022 your monthly dues will increase by the following

amounts:

Non-Collective Bargaining

Full Rate: $1.64

First Year Rate: $.81

Retired Rate: $.41

Collective Bargaining

Full Rate: $2.11

First Year Rate: $1.06

AFT (Collective Bargaining Only)

Full Rate: $.20

If you have questions about the annual dues increase, please

contact Cathy McClelland at cmcclelland@ohnurses.org.

12 | Ohio Nurses Review | Volume 96, Issue 4 | www.ohnurses.org
---
2021 GCNA Annual Report

Despite the pandemic, GCNA had a successful year. ZOOM

recreated our social opportunities for board, committee, and

district meetings. The board held a retreat in July for a SWOT

analysis to direct our future endeavors. In 2021, we presented

three CE programs: 1) "Advocacy in the Age of COVID-19:

Debriefing Lessons Learned from 2020," 2) "Medical Aid

in Dying for the Terminally Ill - Understanding the Law:

Focusing on how laws are passed in OH and the Nurses' Role

in Caring for Those Requesting this Option," and 3) "Am I

Dying? A Nurses Response: Communication in Serious and

Terminal Illness." The latter includes an excellent tool kit for

conversations with patients and families. We will close the year

in celebration of GCNA's 100th Anniversary on December 4th

to honor past presidents, lifetime achievement awardees, and our

rich history.

GCNA supported MedWish International by packing discarded

medical supplies through monthly volunteer opportunities.

Our greatest role in the community is service, seconded by

relationships with Student Nurses Associations. NDASH went

virtual this year. GCNA sponsored 19 students from six area

colleges. Students were engaged in the day's events and with

each other in a debriefing Zoom Call. 2021 marks our 13th year

of the Faces of Care Nursing Supplement to Cleveland Magazine

to recognized nurse leaders. Though virtual for a second time

in two years, we will celebrate our 11th Annual Faces of Care

GALA to honor the many contributions of nurses throughout

Greater Cleveland in November.

GCNA had a full delegation to the 2021 ONA Convention and

met in-person at the Holiday Inn-Rockside. Laptops, social

distancing, and masking were the 'new normal.' Congratulations

to Vida Lock, PhD for her induction into the Cornelius Congress

and to Joan Kavanaugh, PhD, Pat Sharpnack, DNP, Janterria

Matthews, DNP, Gerry Pangrac, RN and Carol Sams, MSN for

receiving 2021 ONA Awards.

East Liverpool nurses on strike

President's Message continued from page 3

supporting the nurses across this organization who make ONA

so special.

While I am aware that many within our organization have strong

and differing opinions regarding some of the issues within

ONA, I do believe that we all recognize the value of nursing

in the state of Ohio and the special opportunity we have as an

association to strengthen our profession. I truly believe when

nurses have a voice at the table and work together, those we take

care of day-in-and-day-out benefit and we are all stronger as

result.

I am excited to work with all of you. I intend to communicate

with you regularly and look forward to hearing from you as

well. If you would like to reach out to me, please contact me by

email at ONAPresident@ohnurses.org

Ohio Nurses Association

Upcoming Events

Upcoming Event Dates

2022

March 9

Nurses Day at the Statehouse

To view ONA events visit:

ohnuses.org/ona-events/month/

www.ohnurses.org | Ohio Nurses Review | Volume 96, Issue 4 | 13
---
2021 Environmental and Community Health Caucus (ECHS) Year in Review

Lucinda Cave MSN RN NPD-BC, ECHC Chair

"Reference Proposal #2, Environmental Justice, Nursing and

Health, passes without opposition," pronounced President Arms

at the 2021 ONA Convention, which was perhaps the highlight

of the year for the Environmental and Community Health

Caucus (ECHC). But behind this simple statement and adoption

of the proposal, stood considerable work by caucus members.

By ONA definition, a caucus is a special interest group of ONA

members who have a mutually defined common focus, topic/

issue to discuss, and/or research/study. For the Environmental

and Community Health Caucus (ECHC) that 'common focus' is

environmental health. Formed in 2015, eight founding members

are still actively engaged, with fourteen, plus two ONA staff

members, currently on the roster. Any ONA member can join

by signing up on the ONA Communities page. ECHC members

pursue individual environmental health interests and participate

in various local and national organizations and initiatives.

They have learned firsthand that collective action draws greater

results than individual input and had hoped to further engage

support from ONA. How to do that? Become a part of the ONA

Strategic Plan. How to become a part of the Strategic Plan? Get

a Reference Proposal adopted.

So, an adopted reference proposal became the primary 2021

goal for ECHC. But it had to be the 'right' Reference Proposal.

We knew there were many environmental health issues we could

focus on – air pollution, climate change, fracking, lead and toxic

chemical contamination to name just a few. And certainly, the

public health response to a global pandemic could be addressed.

Like any modern-day organization seeking a collective answer,

we discussed the topic at Zoom Meetings, then conducted a

Survey Monkey. The winning topic could be considered a

combination of all environmental topics, but with a needed

central focus – Environmental Justice.

Using the ONA Reference Proposal Form as a guide, ECHC

members divided up required parts to be written, discussed,

wrote and re-wrote(!) them. Parts were then combined, edited,

and submitted to the Reference Proposal Committee.

Just as ECHC Caucus members engage with environmental

groups individually, and as an ONA group, the "Suggested

Activities" part of the proposal are written for ONA (group),

ECHC (Caucus), and individual ONA members. Activities that

ECHC plan to take on this biennium include:

• Inform ONA Board and membership when important

environmental health legislation comes up. Encourage

legislative calls to action at appropriate times.

• Work with and support other nursing groups who are also

working towards improved EJ.

• Assist ONA in planning and providing professional

development activities on EJ topics.

ECHC also plans to increase ONA member engagement with

individual suggested activities listed in the reference proposal.

Issues that ECHC members have been working on individually

and sharing within the caucus are noted below:

Environmental Justice

Peggy Berry spoke on Environmental Justice for Ohio Sierra

Club on an hour-long Zoom. In addition, Dr. Berry has worked

on a weekly basis with ReImagine Appalachia doing peer

review and generally has been addressing health as an issue

within Appalachia.

Lucinda Cave participated in 'Random Acts of Brightness'

distributing free bike lights to increase safety for riders in

Cleveland low-income areas.

Anti-Fracking

Alyssa Figueroa, as part of the steering committee of Akron

DSA, helped conduct a successful campaign to stop horizontal

fracking under the LaDue reservoir in Geauga County near

the Cuyahoga River. The group quickly launched an online

campaign to get letters written and phone calls made to elected

officials. Additionally, they utilized social media to call out

council and city government on this action, raised awareness

about the health hazards of fracking, and rallied others to

participate. Ultimately, city council decided to table the deal

indefinitely. To protect community health, Akron DSA remains

on guard, assuming the fracking issue could be taken back up

at any time, Alyssa engaged ECHC members in letter writing as

part of this effort.

Plastics

Peggy Berry moderated two AtoZPlastics programs, one on the

health effects, and the other on unions and the barriers seen in

environmental activism. She has also written a couple of blogs.

All ECHC members firmly support reducing the use of plastics,

and actively engage in recycling of the plastics that they do use.

Climate Change

Lucinda Cave finally (after two previous rejections) got a Letter

to the Editor published in Cleveland Plain Dealer on harmful

effects of fossil fuel emissions and pregnancy outcomes. She

had researched the topic in preparation of an arranged phone

call to the offices of Senator Sherrod Brown and Representative

Marcy Kaptur in support of the Build Back Better Act which

includes provisions from the 'Momnibus' Act and 'Protecting

Moms and Babies against Climate Change' Act.

Safe Water

Peggy Berry started a non-profit called 'Between the Waters,'

addressing all water issues from the Great Lakes to the

Ohio River Valley and beyond, with lead piping, aquifer

contamination, PFOAS, plastics, hurdles, and water shutoffs

during a pandemic. She (and ECHC) would like to spread that

word: #WaterIsLife.​

Response to COVID-19

Linda Riazi-Kermani promoted access to vital services such

as food, transportation, WiFi, and coronavirus EBP safety

standards, for families and frontline workers in underserved

populations, through engaging local government officials,

14 | Ohio Nurses Review | Volume 96, Issue 4 | www.ohnurses.org
---
local school boards, and employers. In addition, she educated

individuals and groups on the science of viruses, vaccines,

handwashing, masks, social distancing, and navigating our

current healthcare systems to strive for community wellness.

Janet Reeves has also been active in COVID-19 education

efforts and providing vaccines.

In the spirit of sharing information, resources, and support

for better health through healthy environments, ECHC looks

forward to working with ONA throughout the upcoming

biennium.

Purpose: The purpose of the Caucus on Advancing Nursing

Education (CANE) is to engage in educational, supportive,

collaborative, regulatory and legislative activities that advance

the academic education of the Ohio nurse workforce pursuant to

directions of the ONA House of Delegates and the ONA Board

of Directors. (6/2016)

Members: Barbara Welch (Chair), Mary Beth Mathews (Vice

Chair), Tahnee Andrew, Deborah Arms, Detrice Berry, Jill

Burd, Wendy Blakely, Vivianna Carter, Linda Council, Doris

Edwards, Ella Kick, Anita McKaney, Carol Roe, Nancy Savage,

Sharon Stout-Shaffer, David Woodruff, and Beth Zwilling. ONA

Staff members: Jessica Dzubak and Lisa Walker

Meetings and reports: CANE met 5 times (Dec. 2020 & Feb,

March, May and August 2021) and sent 1 request for action to

the ONA BOD.

Select activities:

• Task Group on Nurse Educator Workload. After focusing

upon supporting clinical nurses returning to school, CANE

members shifted their attention to finding out what the

needs of nurse educators in academic settings are, and to

see how CANE/ONA can help. CANE members shared their

lived experience with gaps in support as they transitioned

from clinical practice to academic teaching roles. Members

Detrice Barry, Barbara Welch and Nancy Savage formed the

Task Group on Nurse Educator Workload within CANE for

the purpose of taking an evidence-based approach to this

area of concern with the intent of implementing a mixed

design research project. They conducted a literature review

and developed some questions around workload, adjunct

faculty, clinical teaching, educator practice environment,

and faculty development. They developed a survey on

nursing faculty workload to post on ONA Connect. Their

hope was that this needs assessment would point to actions

CANE and/or ONA at large could take to support nurse

educators and students during this trying time. CANE

members David Woodruff and Vivianna Carter expressed

interest in joining the group. They conducted a survey

research project through the ONA Connect platform and

analyzed their findings. Vivianna Carter developed a

manuscript about the theoretical framework and context for

the study. A second manuscript is planned with a focus on

the study findings with recommendations for next steps.

• Nursing education advocacy. Submitted a request to ONA

BOD to approve a letter to American Association of

Colleges of Nursing (AACN) communicating our opposition

ECHC Roster

Lucinda Cave – Chair

Alyssa Figueroa

Brandy Miller

Carol Sams

Ethelen Nda-Ackah

Janet Reeves

Linda Riazi-Kermani

Marilyn Webster

Paula Anderson

Peggy Berry

Rose Thrasher

Rosemary Chaudry

Susan Tullai-McGuinness

Taryn Hill

2021 Caucus On Advancing Nursing Education Year in Review

to the revised CCNE Essentials for Baccalaureate Nursing

Education which proposed to eliminate the policy

competence in nursing curricula. ONA Member Jeri

Milstead, an internationally known expert in health policy

and nursing, Fellow in the American Academy of Nursing,

and recent inductee into the ANA Hall of Fame, requested

the support of CANE for this action. The ONA BOD

approved the letter.

• Working to eliminate racism in nursing and nursing

education in Ohio. Developed in collaboration with the

new ONA Racial Equity and Inclusion caucus a reference

proposal on structural racism and discrimination in Nursing

in Ohio to submit to the 2021 ONA House of Delegates.

On 10/5/21 the HOD passed that resolution with two

amendments. The proposal calls for all ONA structural

units to address racism and promote inclusion in some way

within their annual goals and activities, and for ONA to

provide quarterly reports on accomplishments in this regard

on its various communication platforms. It also provides

for seeking support from the Ohio Board of Nursing to add

nurse education on structural racism among the continuing

education content required for re-licensure.

• Article submission:

o Vivianna submitted her portion of the article on the

results of the faculty workload survey on ONA Connect,

and it was published in the June 2021 issue of the Ohio

Nurses Review.

o Dr. Doris Edwards prepared a scholarly paper on racism

which she posted on ONA Connect and is planning to

publish in The Ohio Nurse so help educate the nursing

workforce on this important issue as it relates to nurses,

nursing practice and education, and the greater society.

• Unfinished business:

o Letter to Ohio educator groups to (1) determine issues

facing faculty including challenges created by COVID-19

pandemic; (2) encouraging them, in light of changes

in the CCNE Essentials for Baccalaureate Education

requirements, to include policy competency in their

nursing curricula.

o Letter to Ohio schools of nursing deans/directors

regarding our interest in finding out how educators are

doing during this difficult time and how we can support

them, and sharing about the faculty workload project to

solicit interest by DNPs needing a project.

www.ohnurses.org | Ohio Nurses Review | Volume 96, Issue 4 | 15
---
Documenting nursing assessments in the age of EHRs

Georgia Reiner, MS, CPHRM, Senior Risk Specialist, Nurses Service Organization (NSO)

Nurses have grown accustomed to documenting assessment

results in electronic health records (EHRs), rapidly clicking

responses to assessment checklist questions. However, at times,

nurses may complete this documentation without giving enough

thought to those responses because they want to move on to

their "real" work: caring for patients. But failing to properly

complete documentation can put nurses at risk.

Dangers of improper documentation

The danger of failing to properly document nursing assessments

in the EHR is threefold. First, nurses might base their

assessment on the checklist, not the patient, which can lead to

an incomplete assessment, especially if the nurse inadvertently

clicks something as being done when it hasn't. Second, nurses

might fail to adequately document a finding if it does not match

up with the available options in the checklist. Third, nurses

might fail to document assessments when a patient's condition

changes or fail to document practitioner notification of the

change. All three scenarios can leave nurses open to professional

liability lawsuits or action against their license.

Proper EHR documentation

You can take several steps to ensure you're documenting

assessments and other information correctly in the EHR:

• Follow basic documentation principles. Document

promptly, accurately, and without opinions about patients or

providers. When making a correction to previously recorded

information, include the reason for the change. Remember

that the EHR provides a date and time for each entry,

providing a clear documentation trail.

• Adhere to policies, procedures, regulations, and

guidelines. In the event of a legal action, one of the first

steps an attorney will take is to determine if you followed

your organization's policies and procedures related to

nursing assessments and documentation, as well as any

relevant state, federal, or local guidelines, and guidelines

from professional associations.

• Complete an effective assessment. You won't have the

information you need for the EHR unless you perform a

quality assessment. Don't simply consider what a computer

checklist tells you to include.

• Document changes in the patient's condition. Remember

to enter changes to the patient's status into the computer and

include if you notified the provider of the change.

• Be patient centered. The ability to document at the patient's

bedside can save time and improve accuracy, but only

if you keep your focus on the patient instead of on the

computer. Consider telling patients what you are entering

into the computer, which can help ensure the information is

accurate.

• Copy and paste cautiously. The copy and paste feature in

EHRs can be a time saver, but errors, including errors of

omission, can easily occur. Think about what is appropriate

for copying and pasting and review notes carefully.

• Beware of autofill and templates. Like copy and paste,

the autofill feature can save time by avoiding repetitive

entries, but you need to verify that the information

automatically filled in is correct. Similarly, templates for

16 | Ohio Nurses Review | Volume 96, Issue 4 | www.ohnurses.org

regular occurrences can help save time and ensure needed

information is collected, but you still need to be aware of

individual patient needs and assessment findings.

• Use notes appropriately. Sometimes what you need to

document as an assessment finding isn't in a checklist or

pull-down menu. Don't choose the "next best" option; doing

so can lead to miscommunication and clinical and billing

errors. A better approach is to add a succinct note to the

patient's record.

• Don't ignore alerts. Alerts are there to help you make better

decisions when it comes to patient care. On the other hand,

too many alerts may lessen their efficacy, leading to "alert

fatigue". Talk with your manager or informatics contact to

discuss settings.

• Don't assume the EHR is always right. The EHR isn't

infallible. If, for example, results of a test don't seem to

match the patient's symptoms, follow up with the provider –

the test may need to be redone.

A partnership

Rather than having an adversarial relationship with the EHR,

nurses should consider the EHR as a care partner. By serving as

a repository of data, providing alerts as needed, and facilitating

communication, the EHR can help ensure quality patient care—

and reduce nurses' risk of legal action.

RESOURCES

Balestra ML. Electronic health records: Patient care and ethical

and legal implications for nurse practitioners. J Nurs Pract.

2017;13(2):105-111.

ECRI Institute. Copy/Paste: Prevalence, Problems, and Best

Practices. Special Report. 2015. www.ecri.org/Resources/HIT/

CP_Toolkit/CopyPaste_Literature_final.pdf.

Kelley T. Electronic Health Records for Quality Nursing and Health

Care. Lancaster, PA: DEStech Publications; 2016.

Pagulayan J, Eltair S, Faber K. Nurse documentation and the

electronic health record. Am Nurs Today. 2018;13(9):48-52, 54.

Partnership for Health IT Patient Safety. Health IT Safe Practices:

Toolkit for the Safe Use of Copy and Paste. 2016. https://

d84vr99712pyz.cloudfront.net/p/pdf/hit-partnership/copy-pastetoolkit.pdf.

Tsou AY, Lehmann CU, Michel J, et al. Safe practices for copy and

paste in the EHR. Appl Clin Inform. 2017;8(1):12-34.

Disclaimer: The information offered within this article reflects general

principles only and does not constitute legal advice by Nurses Service

Organization (NSO) or establish appropriate or acceptable standards

of professional conduct. Readers should consult with an attorney if

they have specific concerns. Neither Affinity Insurance Services, Inc.

nor NSO assumes any liability for how this information is applied in

practice or for the accuracy of this information.

This risk management information was provided by Nurses Service

Organization (NSO), the nation's largest provider of nurses'

professional liability insurance coverage for over 550,000 nurses

since 1976. The individual professional liability insurance policy

administered through NSO is underwritten by American Casualty

Company of Reading, Pennsylvania, a CNA company. Reproduction

without permission of the publisher is prohibited. For questions, send

an e-mail to service@nso.com or call 1-800-247-1500. www.nso.com.
---
2021 Racial Equity and Inclusion in Nursing (REIN)

Caucus Year in Review

Detrice Green Barry, PhD, MSN, MEd, RN

Purpose: The purpose of the Racial Equity Inclusion in

Nursing Caucus is to embrace diversity, culture, and inclusivity

of all Nurses in Ohio towards ending structural racism and

discrimination through, education, advocacy, resources, and

policy changes.

Caucus Functions: Caucus Functions shall include:

1) Create a list of partners/organizations to work with.

2) Create an ONA Position Statement on racial, cultural and

health disparities, based on ONA's testimony provided

in the 133rd General Assembly on racial health disparity

resolutions.

3) Review the ANA micro-aggressions webinar and create

an ONA continuing education webinars.

4) Look at and review evidence of societal structures that

lead to downstream disparities based on race and culture.

5) Look at recruitment and retention, mentorship of nurses

– collaborate with Ohio League of Nursing and the Ohio

Council for Deans and Directors.

6) Encourage ONA members and leadership to be more

proactive to close the gap within health disparities.

7) Acknowledge that structural racism and discrimination

are real, and actions and reactions are intentional.

8) This Caucus will work with the ONA Health Policy

Council, Council on Practice, Caucus on Advancing

Nursing Education, and the Board of Directors to identify,

address, and make recommendations to ONA internal

Councils and leadership.

9) ONA will recommend to the Ohio Board of Nursing that

it require one hour of mandatory continuing education

during each licensing period on health disparities, racism

in the nursing profession and racism throughout the

healthcare system.

Members:

Alyssa Figueroa

Anita McKaney

Anne Ransone

Detrice Barry

Ethelen Nda-Ackah

Heidi Shank

Jacinta Tucker

Janterria Matthew

Jean Anthony

JoAnne Worthington

Kayleigh Radel

Lisa Walker

Sandra Curtis

Tiffany Bukoffsky

Meetings and Reports:

1. Initial meeting-Introduction of members. Detrice Barry

appointed Chair by Deb Arms. Anita McKaney recorder.

Reviewed purpose and functions of Racial Health

Disparities Caucus. Members voted to change the name

to Racial Equity Inclusion Nursing (REIN) to reflect the

purpose and functions of the Caucus more adequately.

2. Collaborated with Caucus Advancing Nursing Education

(CANE) for Reference Proposal #3 Toward Ending

Racism in Nursing in Ohio. Doris Edwards, member

of CANE submitted draft of Historical Perspective of

Racism in Nursing.

3. A sub group was formed (Jean Anthony, Sandra Curtis,

Jenterria Matthews and Guest-Diana Boling) and

met frequently to establish a template for activities

and outcomes of the Caucus. Detrice Barry worked

with Ximena Chrisagis WSU Librarian on a Review

of Literature on racial discrimination. Detrice Barry

presented a draft working Model for REIN. Jean Anthony

reviewed DEI statements from, ANA, AACN, OBN

and other Governing bodies in Nursing. Sandra Curtis

reviewed a dissemination plan for REIN Activities for

ONA and non ONA members.

4. REIN and CANE met to solidify Reference Proposal.

Members contributed current evidence of Reference

Proposal #3 with 9 Recommended Actions.

5. After Review from the Reference Proposal Committee,

Recommended Action 9 was deleted. ONA will

recommend to the Ohio Board of Nursing that it require

one hour of mandatory continuing education during

each licensing period on health disparities, racism in the

nursing profession and racism throughout the healthcare

system.

6. REIN Caucus believed it was vital for Recommended

Action 9 to be included in the Reference Proposal.

Members agreed for an Amendment to add Action 9 at the

ONA House of Delegates.

7. On behalf of REIN, Detrice Barry posted information

on ONA Connect to support of Reference Proposal #3.

Doris Edwards posted her Manuscript on ONA Connect

for information for members on Racism in Nursing in

Support of Reference Proposal 3.

8. The ONA Bi Annual Convention HOD voted by an

overwhelming majority to add Recommendation Action 9

to Reference Proposal 3. With much healthy debate on the

issues, the ONA HOD approved Reference Proposal #3.

9. REIN is excited of the major achievements accomplished

in a few months and appreciative of support from

members of ONA.

www.ohnurses.org | Ohio Nurses Review | Volume 96, Issue 4 | 17
---
2021 Workplace Violence Caucus Year in Review

The Workplace Violence Caucus was initiated in 2021 to

address Strategic Plan Goal 5: Decrease Workplace Violence.

The caucus' first meeting was held virtually on January 29,

2021.

During their first year, the Caucus created a Purpose Statement

and Functions document that was approved by the ONA Board

of Directors in spring 2021. Since then, the Caucus has been

working diligently to create a Position Statement on Workplace

Violence. The Statement is in its final draft stages and is

expected to be reviewed by the new ONA Board of Directors at

their winter 2021 meeting.

Members:

Heidi Shank, DNP, MSN, RN, MHFA-C - Chair

Regina Miller, BA, BSN, RN, SANE

Yvonne Smith, PhD, APRN, CNS

Rebecca Hooker, MBA, RN, BSN, CCM

Deana Sievert, DNP, MSN, RN

Naomi House, BSN, RN

Workplace Violence: A Nursing Toolkit

Brittany Turner, MSN, RN, CNEcl

Disclosures:

There is no conflict of interest among anyone with the ability to

control content for this activity.

Criteria for Successful Completion: To earn 1.0 Contact Hour,

read entire article, pass a post-test with a minimum of 80%, and

submit the evaluation.

Exp. Date: 10/1/2022

The Ohio Nurses Association is accredited as a provider of

nursing continuing professional development by the American

Nurses Credentialing Center's Commission on Accreditation.

(OBN-001-91)

This course is not legal advice. If you need legal advice, seek

legal counsel.

Violence and assaults against healthcare workers has increased

by nearly 110% in the last ten years (Benyon, 2019). It is a

multifaceted problem that involves various perpetrators from

patients to visitors, high stress environments, ethical dilemmas,

a culture of self-blame and acceptance of violence, among many

other factors.

De-escalation training is just one of many possible solutions

and should be 'another tool in the tool kit' for providers. Also,

nurses need to know the facts behind workplace violence, and

be able to identify our allies in creating safer environments.

The following is information you can use to start your personal

'workplace violence toolkit.' Then, use this information to

inform your coworkers and start advocating for better workplace

violence policies and programs in your organization or practice

setting.

Violence is a Problem

National data indicating the rise in violence against healthcare

workers is readily available.

• While the healthcare sector makes up only 11.5 percent

of the total workforce in the United States, healthcare

18 | Ohio Nurses Review | Volume 96, Issue 4 | www.ohnurses.org

workers represent 67 percent of the total nonfatal

workplace violence injuries (Locke, Bromley, &

Federspiel, 2018).

• The World Health Organization recognizes workplace

violence in healthcare settings as an epidemic

(Emergency Nurses Association [ENA], 2019).

• One recent study found 25 percent of nurses admitted to

being assaulted while on the job (Brous, 2018).

According to The Joint Commission (2019), emergency,

geriatric, and psychiatric nurses are at the highest risk for

violence. However, all nursing staff is at risk. This is especially

true considering that geriatric and psychiatric patients exist in

nearly every healthcare setting from inpatient, to outpatient, to

home health.

Nurses Must Advocate for Change for Our Collective Safety

The true rates of violence against nurses is unknown due to

underreporting (American Nurses Association [ANA], 2019a).

This is likely a result of workplace culture that does not promote

incident reporting for violence against staff members (ANA,

2019a). Further, oftentimes nurses see violence as a part of the

job (Mason Jubb & Baack, 2019). It is the responsibility of the

workplace, as well as professional organizations and individual

nurses to drive the change against accepting violence in the

workplace (ANA, 2019a). De-escalation and violence prevention

training are options that can impact the culture and promote

reporting of incidences (ANA, 2019a).

What does this mean to you? Take a self-inventory of your

personal feelings toward workplace violence. Have you ever

thought it was ' just a part of the job'? Or, have you been met

with this type of opposition while trying to advocate for your

safety? It is up to us to change the culture of nursing and how

workplace violence is perceived.

Workplace Violence Affects Patient Care

Violence in the workplace is a barrier to effective patient care,

as it fosters an environment of disorder and distraction (Locke,
---
Bromley, & Federspiel, 2018). Nurses have a duty to advocate

for safe space for themselves and their patients. Therefore,

nurses are well suited to drive change related to violence

prevention (Locke, Bromley, & Federspiel, 2018).

Falling under the umbrella of nursing, nursing assistants are also

at a very high risk of harm. According to a study by Arnetz et al.

(2015), nurses, protective services personnel, and nursing assistants

were the three professions with the highest incidence of violent

attacks from patients. Nursing assistants work right alongside

nurses at the frontlines of patient care, and they can be valuable

allies in forming and implementing violence prevention measures.

Have you been a victim of violence at work? If so, do you feel

it affected your ability to provide necessary care, either to

the violent patient or others on the unit? Take some time and

reflect on your experiences, as this may help you determine

your organization's specific needs when it comes to addressing

workplace violence.

Preserving the Profession of Nursing

Nurses choosing to leave the bedside is a major concern. We

must acknowledge workplace violence as a driving force

pushing nurses away from the bedside. Further, the culture that

allows violence and encourages acceptance and underreporting

must be faced and changed (Haddad & Toney-Butler, 2019).

This goes beyond physical violence. Verbal attacks are the

most common form of violence against nurses (Kowalczuk &

Krajewska-Kulak, 2017). Verbal attacks often lead to emotional

injury, which in turn impacts job satisfaction and overall

well-being of the individual (Haddad & Toney-Butler, 2019).

Teaching nurses how to deal with violence, and supporting them

when violence does occur, is an important part of preserving the

profession of nursing.

Facts Nurses May Use to Advocate for De-escalation Training in

the Workplace

• The Joint Commission (2019) encourages workplaces to

create de-escalation training.

• According to the ANA (2019a), making de-escalation

training a mandatory requirement for staff in the acute

care setting is the first step in a global effort to raise

awareness and initiate change regarding the prevalence

and acceptance of violence against nurses.

• OSHA (2015) calls for a robust and comprehensive

workplace program to be implemented and maintained

at every healthcare institution to address workplace

violence.

o Violence against all healthcare workers without

regard to specific discipline is the common

representation of the data. OSHA (2015) reports on all

violence that occurs in the healthcare setting without

specifying professions or roles. However, nurses are

the most common target of violence in the inpatient

healthcare setting (Kowalczuk & Krajewska-Kulak,

2017). Therefore, while all are at risk, it is reasonable

that nurses should be the target of de-escalation

training and recipients of the organizational support

needed to initiate change.

De-escalation Training Overview

De-escalation education programs as a means to curb

violence against healthcare workers is endorsed by The Joint

Commission, Occupational Safety and Health Administration,

the American Nurses Association, and the Emergency Nurses

Association (TJC, 2019; OSHA, 2015; ANA, 2015; ENA, 2019).

De-escalation is a broad term and may include:

• verbal techniques

• maintaining awareness of self-presentation and body

language

• assessment for potential of escalation to violence

• actions that maintain safety of self and others

(TJC, 2019)

Due to this vast range of items that de-escalation can refer to,

and given that there are no proven models to de-escalation, it is

up to individual organizations to offer appropriate workplace

training that offers various strategies staff may utilize (TJC,

2019). Nurses should have a seat at the table that identifies what

this training looks like for their individual organization.

While there are no proven effective methods of de-escalation,

there are proven positive outcomes when de-escalation has

successfully occurred (TJC, 2019). Preventing violence and

maintaining safety of all involved are only two of the known

positive outcomes (TJC, 2019). Given that the data reveals the

prevalence of violence against nurses, and therefore indicates a

breakdown in safety for all parties involved, it is a reasonable

assumption that effective de-escalation practices in the acute

care setting would benefit both patients and nurses.

Ohio Law

Not all states have legislation that addresses violence against

nurses, but Ohio allows for the possibility of a perpetrator being

charged with a fifth-degree felony and fined up to five thousand

dollars (Ohio Nurses Association [ONA], n.d.). Further, this

legislation provides acute care facilities the option to display

signs that inform patients and visitors that violence will not

be tolerated and can be punished criminally (ONA, n.d.).

Encourage your facility to display this information if they do not

already.

Other States

According to the ANA (2019b):

"Some states have legislated that employers develop a program

while the majority of states have advanced laws that amend

existing statute for assaults of first responders by adding nurses

and /or increasing the penalty associated with such behavior.

There is variation between states as to which settings the law

applies.

• Requires employer run workplace violence programs;

CA, CT, IL, MD, MN, NJ, OR, WA. NY is limited to

public employers only.

• Reporting of incidents: WA.

• A MD ID Tag and Badges law has added staff protections

by relaxing the requirement of using full names.

Only those states with laws designating penalties for assaults

that include "nurses" are reflected below:

• Establish or increase penalties for assault of "nurses": AL,

AK, AR, AZ, CA, CO, CT, DE, FL, GA, HI, ID, IL,

IA, KS, KY, LA, MS, MO, NE, NV, NM, NY, NC, OH,

OK, OR, RI, SD, TN, TX, UT, VT, VA, WV, and WI.

www.ohnurses.org | Ohio Nurses Review | Volume 96, Issue 4 | 19
---
Note:

Some of the states are setting specific - the law applies

only to the emergency department personnel or mental

health/psych. FL, GA, HI, SC, SD, KY, OK apply to

emergency departments only; mental health personnel

(KS); public health personnel (MS)".

Getting Started

Depending on the type of facility or organization you work

in, how you get started can vary. However, there are a few

commonalities that are applicable no matter where you work.

• Take time to sit down and plan what exactly it is you want

to advocate for, which might be more than one thing.

You may want to advocate for the signage Ohio permits

hospitals to display, obtaining safety checkpoints like

metal detectors, and de-escalation training for example.

Organize your thoughts into a list of exactly what your

perception of the needs are.

• Identify your stakeholders and start collaborating.

Stakeholders in this case are likely co-workers (nurses,

support staff and other professionals), management,

administration, and even potentially patients/visitors/

clients.

• Not all stakeholders will be equally vested from the

beginning. Start with those who are most accessible

to you and have the most to gain (likely those at the

frontlines with you). Create a plan to approach the other

stakeholders and how you will help them see the value

in what you are requesting. You may choose to start with

your immediate department and go from there. As you

gain buy-in, you will have more advocates to help you

involve others.

• Be intentional and formal in your request. Workplace

violence is a serious issue. Any possible solution should

be treated just as seriously. This means requesting

meetings, having your data ready to go, and presenting

yourself professionally. Don't sell yourself short by

making this a hallway pitch.

Know Your Rights

Unfortunately, knowing what to do if you are a victim of

workplace violence is not always clear. There are local laws,

jurisdictional differences, as well as workplace policy to

consider.

• First, if you have a reporting system at your workplace,

consider using it as consistent with your workplace policy.

If your workplace offers resources, reporting can help you

be identified by those who know how to help.

• Jurisdiction for misdemeanor prosecution is handled

by either an elected city attorney or an appointed law

director for every city in Ohio. Columbus, for example,

has an elected city attorney. Bordering Columbus,

Upper Arlington has an appointed law director. The

city of Reynoldsburg has an elected city attorney,

while Cincinnati has an appointed law director, etc.

Additionally, every county in Ohio has an elected county

prosecutor who handles felony prosecutions for the

county. If you are the victim of an assault and would like

to seek out filing charges, contact the prosecuting office

for where the assault occurred.

• While there are no specific laws protecting nurses from

retaliation at work for filing a criminal complaint for

being assaulted, there is an Ohio law that prohibits

employers from taking adverse action against an

employee due to the employee complying with a court

subpoena as a witness or victim on a criminal case.

o

See Ohio Revised Code 2945.451- "No employer shall

discharge or terminate from employment, threaten

to discharge or terminate from employment, or

otherwise punish or penalize any employee because

of time lost from regular employment as a result of

the employee's attendance at any proceeding in a

criminal case pursuant to a subpoena. This section

generally does not require and shall not be construed

to require an employer to pay an employee for

time lost as a result of attendance at any criminal

proceeding. However, if an employee is subpoenaed

to appear at a criminal proceeding and the proceeding

pertains to an offense against the employer or an

offense involving the employee during the course

of his employment, the employer shall not decrease

or withhold the employee's pay for any time lost

as a result of compliance with the subpoena. Any

employer who knowingly violates this section is in

contempt of court."

• If you experience workplace violence outside of the state

of Ohio, you can contact your local county prosecutor's

office, state prosecutor's office, or local police department

to determine appropriate steps.

• There are victim services available if you have been a

victim of a crime. If you have been a victim of a crime, go

to https://ovc.ncjrs.gov/findvictimservices/default.html to

find local resources.

To view and complete the remainder of the course visit

ce.ohnurses.org and register for the course titled "Workplace

Violence: A Nursing Toolkit." You will find this course listed in

the catalog.

References available within the CE4Nurses course.

20 | Ohio Nurses Review | Volume 96, Issue 4 | www.ohnurses.org
---
Working Together To Combat Workplace Violence

Jessica Dzubak, MSN, RN, NPD-BC

There is no shortage of data stating that workplace violence

against health care workers is on the rise (Balasubramanian,

2021). Health care workers across the country are "sounding

the alarm," and organizations are taking additional measures

in response to serious violent incidents (Kaiser Health News,

2021). As the professional association for registered nurses in

Ohio, the ONA has made addressing workplace violence an

organizational priority (Ohio Nurses Association, 2019).

In 2021, ONA members created a caucus dedicated to workplace

violence. The caucus is made up of passionate members, with

backgrounds ranging across nursing specialties: academia,

leadership, clinical practice, collective bargaining members,

and more. The ONA Workplace Violence Caucus continues to

demonstrate the power of nursing collaboration. The work of

the caucus aligns with the American Nurses Association (ANA)

Position Statement on Incivility, Bullying, and Workplace

Violence which states, in part:

"All registered nurses and employers in all settings, including

practice, academia, and research must collaborate to create a

culture of respect, free of incivility, bullying, and workplace

violence" (American Nurses Association, 2015).

The perspectives shared during caucus discussions are

invaluable to addressing this widespread problem. Combatting

workplace violence requires an interdisciplinary, holistic, and

comprehensive approach. Everything must be considered –

from raising awareness of the severity and prevalence of the

problem, to adequate education on de-escalating potential

violent situations, to thorough safety protocols, and including

post-incident care. Caucus members shared ideas about taking

a proactive approach to workplace violence mitigation, starting

at the beginning of a nurse's career with pre-licensure education

programs.

Technology, communication, education, and security are all

cogs in the wheel of protecting health care workers and the

patients they serve. Innovation is at the forefront of nursing

practice, particularly now during the pandemic. Educational

events like the ANA Policy Innovation and Advocacy forum

this year highlighted the innovation nurses have created to solve

highly complex problems throughout the pandemic. To continue

to make this kind of progress towards addressing workplace

violence and other critical issues, nurses must continue to work

with one another.

No matter where a nurse works, workplace violence impacts

their practice. Our professional and ethical obligations are to

our patients, our communities, and ourselves (American Nurses

Association, 2015). Supporting and changing our culture starts

with us, and to make change we must work together.

For more information on the ONA Workplace Violence Caucus,

please see their Year in Review in this issue of the Ohio Nurses

Review.

References

American Nurses Association. (2015). Code of ethics for nurses

with interpretive statements. http://nursingworld.org/coe-viewonly

American Nurses Association. (2015, July 22). Incivility, bullying,

and workplace violence: ANA position statement. https://

www.nursingworld.org/practice-policy/nursing-excellence/

official-position-statements/id/incivility-bullying-andworkplace-violence/?utm_campaign=290611_End%20

Nurse%20Abuse%202021&utm_medium=email&_

hsmi=141895823&_hsenc=p2ANqtz-9cwCuyznnW29Z9_

bkEvIokKYXJQPOha4W9yIKvlJrSq_-2M6uzG5sakq16

NdjVW0D9RUcIvKDPdmXwpdtTmTAnst8XQA&utm_

content=141895823&utm_source=hs_email

Balasubramanian, S. (2021, April 29). Violence against healthcare

workers is a growing problem. Forbes. https://www.forbes.com/

sites/saibala/2021/04/29/violence-against-healthcare-workers-isa-growing-problem/?sh=3c9805f2446c

Kaiser Health News. (2021, October 11). 'Are you going to keep me

safe?' Hospital workers sound alarm on rising violence. Modern

Healthcare. https://www.modernhealthcare.com/safety/hospitalworkers-sound-alarm-rising-violence

Ohio Nurses Association. (2019). Workplace violence. https://

connect.ohnurses.org/viewdocument/2019-referenceproposals?CommunityKey=684ab5d1-7f14-4e58-b8bd-1eb44ff

b89e6&tab=librarydocuments&LibraryFolderKey=&DefaultVi

ew=folder

www.ohnurses.org | Ohio Nurses Review | Volume 96, Issue 4 | 21
---
Ohio Nurses Association – Union Security Notice

I. NOTICE TO ALL EMPLOYEES IN ONA BARGAINING UNITS

This notice is being provided to all members of Ohio Nurses

Association ("ONA") private sector bargaining units pursuant

to applicable state and federal laws. Read this notice carefully.

It contains important information about your legal rights,

including a change with respect to objection procedures.

ONA collective bargaining agreements containing union

security provisions impose certain obligations on employees

covered by those agreements, consistent with state and federal

law. Employees in ONA bargaining units have the right to fulfill

their union-security obligations either by joining the ONA or

by opting to be a nonmember and paying a "fair share service

fee." If a member wishes to become a nonmember, she/he must

inform the ONA's Membership Services Department, 3760

Ridge Mill Drive, Hilliard, Ohio 43026, in writing.

All bargaining unit employees who are not members of ONA

have the right: (1) to object to paying for union activities not

germane to the union's duties as bargaining agent and to

obtain a reduction in fees for such activities; (2) to be given

sufficient information to enable the employee to intelligently

decide whether to object to the amount of the fees; and (3) to be

apprised of all internal ONA procedures for filing objections.

II. NOTICE TO NONMEMBERS REGARDING FEE CALCULATION

As a nonmember of ONA and its affiliates, you are being

charged a fair share service fee in lieu of regular dues paid

by members. As a nonmember, you do not have any voting

rights or the right to participate in the governance of your local

unit, district, ONA, American Nurses Association, American

Federation of Teachers or AFL-CIO, and you are required to pay

a fair share service fee as specified in your collective bargaining

agreement and in accordance with federal law.

ONA, ANA, AFT, AFL-CIO and their affiliates, spend fees

collected from employees in ONA bargaining units on a variety

of activities and ONA has determined that a pro rata portion

of the expenses associated with these activities is chargeable

to all nonmember fair share service fee payers. Your share

of the chargeable expenditures are for activities, training,

communications, research, or administrative efforts related to

issues such as the following: collective bargaining; contract

administration; grievance adjustment including arbitration and

court proceedings; specific terms and conditions of employment

such as wages, hours, benefits; employment discrimination;

retirement; social security; employee evaluation; unemployment

compensation; overtime and wage provisions; environmental

issues which affect working conditions, etc.; organizing in

the same competitive markets as represented units and that is

germane to them; nursing practice, including nurse education,

certification, licensing, continuing education and nursing skills

and techniques; membership meetings; conventions; committees

held in part, to discuss employment conditions of members

and fee payers that are germane to collective bargaining; social

activities to promote union solidarity; publications (to the extent

that they report on chargeable activities); impasse procedures

including fact finding, mediation, and work stoppages over

provisions of collective bargaining agreements; the prosecution

or defense of litigation or charges to enforce rights relating

to concerted activity, the duty of fair representation, and

collective bargaining, and any litigation related to chargeable

activities, including appearing before administrative agencies

in matters relating to chargeable activities; and operating and

administrative expenses, salaries, and benefits apportioned to

chargeable items, e.g. , rent, utilities, travel, automobiles.

A portion of all fees collected by the ONA, ANA, AFT,

AFLCIO, and their affiliates from members and nonmembers

is spent on activities which are not chargeable to objecting

nonmember fair share service fee payers. Objecting nonmember

fair share service fee payers will not be charged for the

following activities: training and voter registration, get-out-the

vote, and political campaigns; supporting and contributing to

charitable organizations; supporting and contributing to political

organizations and candidates for public office; legislative

lobbying; supporting or contributing to causes not germane

to the collective bargaining work of ONA, AFT or AFL-CIO

(e.g., direct contributions to such causes, expenditures designed

primarily to assist such causes, payments to fundraisers and/or

conferences for groups which promote such causes); memberonly

benefits; litigation not related to bargaining unit matters,

collective bargaining or representation; publications, portions

of publications, or any other communications addressing

nonchargeable issues; and administrative activities allocable to

each of the categories described as nonchargeable activities.

III. PROCEDURE FOR OBJECTION TO PAYING FULL FAIR SHARE

SERVICE FEE

A. Annual notice to nonmember unit employees ONA will

annually publish in the Ohio Nurses Review notices to unit

employees that the collective bargaining agreement with the

employer may require, consistent with state and federal law,

each bargaining unit employee either to become a member of the

ONA or become a nonmember and pay a fair share service fee.

The notice also will indicate the amount of the fair share service

fee and that the first deduction of the fair share service fee will

occur no sooner than thirty (30) days subsequent to the mailing

of the fair share service fee "explanation" described below.

After completion of an audit of ONA expenditures made

during the preceding year, the ONA will send each nonmember

an explanation of the basis for the fair share service fee to

enable the nonmember to gauge the propriety of that fee. ONA

generates this explanation by analyzing its expenditures for

the year ending June 30, and it details the percent of ONA's

expenditures which are related to representational activities,

and from which the amount charged objectors is derived, and

the percent of such expenditures which are not or may not so be

related. That explanation, which will be hand delivered and/or

sent by first class mail to each nonmember's home address (as

disclosed by bargaining unit or employer records) will include:

(1) a breakdown of the chargeable and nonchargeable portions

of the fair share service fee paid by to nonmembers under

applicable law; (2) the method used to calculate the chargeable

22 | Ohio Nurses Review | Volume 96, Issue 4 | www.ohnurses.org
---
and nonchargeable proportions; (3) a list of expenditures made

by the ONA, by major category, during the preceding year; (4)

verification of those expenditures by an independent auditor;

(5) notice that the auditor's report is available for review, upon

request, at the ONA office during regular business hours; and (6)

a copy of this procedure.

An employee who enters the bargaining unit after the above

described union security notice has been published, and who

elects not to join ONA, will promptly be provided the notice

after entry into the bargaining unit and notification to ONA. The

notice will be hand delivered and/or sent by first class U.S. mail

to each nonmember's home address (as disclosed by bargaining

unit or employer records).

B. Objection to payment of full fair share service fee

Any nonmember who objects to paying the full fair share

service fee must deliver a written objection, either by mail

or personal delivery, to the ONA's Membership Services

Department, 3760 Ridge Mill Drive, Hilliard, Ohio 43026.

An objection will be considered timely only if postmarked or

actually received by ONA no more than thirty (30) calendar

days after the objector's resignation, or no more than thirty (30)

calendar days after explanation of the basis for the fair share

service fee was published. The objection may be phrased in

general terms and need not identify any particular expenditures

to which the nonmember specifically objects; however, the

objection must include the nonmember's name, home address,

and place of employment. Nonmembers may register annual

objections each year or, alternatively, may register a continuing

objection by clear indication of such in the written objection.

C. Challenging the reduced fair share service fee

A nonmember paying a reduced fair share service fee pursuant

to III (B), above, may challenge the propriety of the reduction.

A challenge will be considered timely only if postmarked or

actually received by ONA no more than thirty (30) calendar

days after the explanation of the basis for the fair share service

fee was published or delivered. The challenge may be phrased in

general terms and need not identify any particular expenditure

the nonmember specifically challenges; however, the challenge

must include the nonmembers' name, home address, and place

of employment.

Subsequent to the payment by ONA of the fair share service fee

reductions described above, objectors will be responsible for

paying the full year's fair share service fee by periodic payroll

deduction over a twelve month period. For example, if fair

share service fee deductions for 2002 begin on January 1, 2002,

then fair share service fee payors will pay their 2002 fair share

service fees by periodic payroll deductions over the months of

January 2002 through December 2002. Objectors who are in

the bargaining unit only for a portion of the calendar year will

receive a proportionately smaller fair share service fee reduction

and will be responsible for payment only of a pro rata share of

the annual fair share service fee.

D. Appeal to Impartial Decision-Maker - If the ONA receives

any challenges, the ONA shall ask the American Arbitration

Association (AAA) to appoint an impartial arbitrator from its

special panel of labor arbitrators experienced in this field. The

ONA will provide the AAA with the names, addresses and

places of employment of all timely objectors, and any other

information requested by the AAA. All timely objections will be

consolidated into one hearing per year, to be held in Columbus,

Ohio at a location and on a date determined by the arbitrator.

Except as otherwise provided herein, all matters relating to the

arbitration proceeding shall be in accordance with the "AAA

Rules for Impartial Determination of Union Fees."

Each party to the arbitration shall bear its own costs. The

appellant(s) shall have the option of paying a pro rata of the

arbitrator's fees and expenses. The balance of such fees and

expenses shall be paid by ONA.

After the hearing, the arbitrator shall determine the proportion

of the fair share service fee that is chargeable to nonmembers

under applicable law. Unless an extension is approved by the

ONA, the arbitrator shall issue the decision and determination

no more than 30 calendar days after the hearing, and submit

copies to the ONA and to each objector. After the arbitrator's

decision, the ONA shall direct the disbursement of all funds in

the escrow account, including interest, to the proper parties in

accordance with that decision.

E. Appeal - Either party may challenge the arbitrator's decision,

in accord with applicable law.

ONA shall pay to the objecting nonmember an amount equal to

in accord with applicable law. The nonchargeable portion of the

full year's fair share service fee (as determined by ONA). At the

same time, ONA will place an amount equal to the chargeable

portion of the full year's fair share service fee (as determined by

ONA) in an interest-bearing escrow account. The funds received

by the escrow agent shall not be commingled with funds from

other calendar years; and, the disputed funds and accrued

interest will be distributed from the escrow account only in

accordance with the decision of an impartial decision-maker.

The procedure for appeal to the impartial decision-maker is set

forth in part D, below.

The advance fair share service fee reduction may be paid at

ONA's discretion on a quarterly basis.

East Liverpool nurses on strike

www.ohnurses.org | Ohio Nurses Review | Volume 96, Issue 4 | 23
---
Ohio Nurses Review

3760 Ridge Mill Drive

Hilliard, OH 43026

Presort Standard

U.S. Postage

PAID

Permit #14

Princeton, MN

55371

Address Service Requested

current resident or

OSUNO billboard re CEO raises

East Liverpool nurses on strike – mask saying we support ELCH nurses

PPE giveaway table at ONA

24 | Ohio Nurses Review | Volume 96, Issue 4 | www.ohnurses.org

Rick Lucas speaking about PPE from AFT