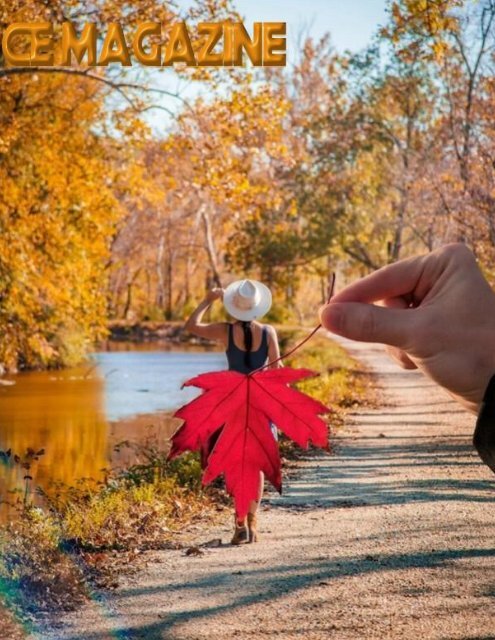 ce magazine november issue 2021
You also want an ePaper? Increase the reach of your titles
YUMPU automatically turns print PDFs into web optimized ePapers that Google loves.
1
---
Thanks to all who contributed to CE

Magazine. Have an article you would like

contribute? You can mail it to:

CE, P.O. Box 8619

Michigan City In 46360

Or E-Mail it to

computerease@juno.com

CE Magazine is part of OtherSide Ministries © all rights

reserved

Founder & Chief Editor

Peter Nadal

Editor

Pamela Kennoy

Art & Design

Peter Nadal

Our Writers

Rodrigo Esperanza

Nomar Shaw

Diane G

In our Vol. 4 November 2021 Issue 11

5 Hey Pete! Fall Foliage: Tips For Taking

Great Fall Photos

9 Biz Cards board!! Hey its free

10 CE MAGAZINE LINKS TABLET

11 5 Ways Technology Can Make Thanksgiving

Better

14 4G is Coming to the Moon

16 A Do-It-Yourself Basic PC Repair Resource

Guide

19 Windows 10 Vs Windows 8 Vs Windows 7:

What's The Difference?

30 Thanksgiving from all of us

Outside Sources On This Month issue

John Huegel / CMIT / Tegan Jones

Gordon Kelly

Front Cover... Leaf for a skirt

By Jasmine Alley

Original Computer-Ease logo ©

Michigan City, In

Vol 4 November 2021 issue 11

2
---
From Pete's Desk

Like every year, nature gives us a show of all the

shades of colors from the trees to bushes and cold

rain for you to have some hot chocolate (aaah or a

wine cooler) while seating on your cozy chair in

front of a nice fireplace looking at flames dancing for you. Our Halloween edition,

for those of you who did not see it, was based on gore and like always here at CE

Magazine or CEM we have fun creating spook, horror and some of the best gory

makeup we have seen this year., oh, and short story of John Rosetta The Vampire,

written by yours truly.

The front cover is Leaf for a skirt by Jasmine Alley . On ―Hey Pete‖ great pictures

of John Huegel, with a very easy learning with all the tips he wrote. So go to his

site, just look it over and study the adjustment with your camera… Have fun!

Nick stopped by the CEM office and asked me if I would re run the ad from last

year and naturally I said yes, we sat down and Nick poured some holiday cheer (I

have no idea what's in that bottle) had few laughs and he got up, walked to the door

waved at me and in a puff of smoke he was gone.

Be safe and wear your mask if need to.

Have a great Thanksgiving….

3
---
INVITE A VETERAN FOR YOUR THANKSGIVING!

You may know one, Nick did!

Note says: "Dear Veteran, You are cordially invited for a great Thanksgiving dinner at my house and it

starts at 6pm. Bring your appetite, your neighbor ...Nick" the photo is real!

At the request of Nick here at CE Magazine we were more than happy to repeat this ad

4
---
How do you do that?

How-to take great pictures with the expertise of John Huegel, a

very easy learning with all the tips he wrote. To go the web site,

click on the link just below… Have fun!

Fall Foliage: Tips For Taking Great Fall Photos

1. Use Indirect Light

Try to avoid bright sunny days, which tend to increase the contrast and brightness

of the colors. Instead, go for partial or full shade. Shooting on overcast or rainy

days can emphasize the earth tones and the depth of color of fall trees and leaves.

Raindrops on fresh fallen leaves deepen the colors and create great patterns of light.

Photo by Yasunari( 康 就 ) Nakamura( 中 村 ); ISO 200, f/2.4, 1/40-second exposure.

5
---
2. See Close and Far

While you may be spellbound by a mountain covered in colored leaves, your

camera may not capture the full detail. Try to get some detail of individual leaves or

trees in the foreground.

3. Compose for Impact

Foliage is usually an emphasis on color, but you can also capture shapes, lines, and

patterns through close-ups of leaves and other items.

To keep the image dynamic, consider the rule of thirds, where your object of

interest is not in the center, but placed at an intersection of imaginary vertical and

horizontal lines which split the viewfinder into thirds in both directions.

4. Control the Focus

A wide open f-stop (low number, e.g. f/2) will sharpen the item in focus but will

blur much of the background. This is good for close-up shots of leaves and people.

Point-and-shoot camera users can choose the ―portrait‖ setting to achieve this

effect. A small f-stop (large number, e.g. f/11) will put more of the background in

focus, but will also lower the shutter speed and be more susceptible to blur from

camera shake or object movement. Often the ―landscape‖ setting on a point-andshoot

will set these preferences.

5. Balance the Brightness

If you have people in your image, you may need a touch of fill flash to lessen the

―raccoon eyes‖ and give them a bit of brightness compared to the background. Try

to balance the brightness of their faces and the background foliage so that you don't

have one underexposed and the other too bright. If you place your subjects just at

the edge of a wooded area, their faces will be lit more than the trees behind them,

creating a focal point of interest.

6
---
Photo by Chris Murphy; ISO 100, f/7.1, 1/125-second exposure.

6. Know the White Balance

If you can't set a custom white balance, you may want to try the ―shade‖ setting.

Often cameras will get confused with all of that color, and you may end up with

skin tones that are strange.

7. Stabilize the Camera

If your camera settings result in a shutter speed less than 1/100 second, you may

want to stabilize your camera. This can be as simple as setting it on a rigid surface,

such as a rock or fence post, or bring a monopod or tripod. Monopods make great

hiking poles! And don't hold your point-and-shoot out at arm's length and expect to

get a crisp shot.

8. Go for High Quality

Normally I recommend higher ISO (sensitivity) for shady or darker scenes, but in

this case I recommend to keep the ISO low to capture all of the detail of the colors

and leaves. Higher ISO often brings with it noise, and you want to limit that. Try for

ISO 100–200 if you can.

7
---
9. Don't Forget the Fruit

This is a great time to get some shots of fall fruit stands. Baskets of apples, squash,

and grapes are great studies. So are pumpkins, haystacks, and corn. Take some time

to appreciate the color and fall bounty. Mums and other fall flowers are in full

bloom, as well. These images make great icons of the season.

Photo by liz west; ISO 640, f/18.0, 1/80-second exposure.

10. Finish Creatively

Even though there's lots of color, try finishing some photos in black and white

and/or sepia to emphasize lines and shape. Play around with brightness, contrast,

and saturation to provide more depth and interest. Consider printing and framing

some images or making up some note cards to give as gifts.

To summarize, you'll want high quality, stable shots, good lighting and

composition, creative framing, and good exposure control. Use your eyes and

creative talents, and capture some great fall images!

About the Author: John Huegel is a photographer in the Erie, Pennsylvania area who

specializes in Seniors, Dance Studio, Families and other groups. He operates a blog for

professional photographers at http://newphotopro.blogspot.com. He is active in many

charitable and volunteer activities in the Erie area

Enjoy yourself and Happy Thanksgiving… from Peter

8
---
9
---
CE MAGAZINE LINKS TABLET

By Nomar Shaw

Creative Father Makes Crazy Photo Manipulations

with His Three Daughters

This Designer Can Flawlessly Photoshop 5-6

Different Photos into One perfect Composite

Image

Fine Art children portraits with

Photo manipulation and compositing.

10
---
5 Ways Technology Can Make Thanksgiving Better

It's that time of year again: turkey, mashed potatoes, cranberry sauce, pumpkin pie,

the presence of friends and family, and a reason to give thanks for all of our good

fortune in the last year.

If there's one thing most of us want to NOT think about on Thanksgiving, it's

technology. Put the smartphones away, pack up the laptop, and disconnect for one

day, right? Well, technology can actually help to bring us together on this most

American of holidays, provided it's put to good use instead of as a distraction from

family time.

Here are 5 ways to put technology to work for you this Thanksgiving, all of which

will hopefully result in a more relaxing holiday:

11
---
1. Cooking and meal planning apps.

Sure, Grandma put out a delicious spread for 15 people without relying on so much

as a recipe. But in this digital day and age, doesn't it make more sense to utilize

technology when you're prepping and cooking for three days straight? From

shopping and planning list apps like Clear+ to recipe clearinghouses like Butterball

Cookbook Plus to menu assistants like Snapguide to project management sorters

like KitchenPad Timer to interactive scales and high-tech thermometers, the app

store can be your best (and cheapest) friend as you prepare for Thursday's feast.

2. Skype, FaceTime, or other video calling services.

Far away from your loved ones? Good thing Internet-based video calling is easy,

cheap, and everywhere. Whether you prefer Skype, FaceTime, or another video

conferencing service, don't let distance keep you from telling that absent relative

how much you love and miss them this Thanksgiving.

3. DVR, TiVo, or other video/TV solution.

Everybody wants to watch their own personal Thanksgiving tradition: the Macy's

Parade, football games, ―A Charlie Brown Thanksgiving‖… Rather than fighting

over the remote, though, let's put technology like DVR, TiVo, or even the

streaming service that can dial up Aunt Martha's favorite show in an instant to use.

Don't like watching TV? Use that giant screen to let everyone display family

pictures from throughout the year (Note: one tech-wise family member required).

4. The electric carving knife.

Doesn't sound very technologically involved — but ask anyone who's had to cut up

a turkey the old-fashioned way whether they'd prefer a semi-sharp blade or an

electric carving knife come dinner time on Thursday. This time-saver and

frustration-minimizer is the ultimate in basic Thanksgiving technology.

5. Tech support from the goodness of our hearts.

Let's face it: our technologically disinclined relatives will always need a hand with

their computer, smartphone, or digital camera. We know how frustrating it can be to

help them learn the ins and outs of their device, but this Thanksgiving, remember

12
---
that we do it because we love them — and they love us right back when we can

finally figure out how to turn the darn thing on.

BONUS TIP:

If you're a Black Friday aficionado, remember that lining up at 12:01 AM isn't the

only way to get a good deal. Websites and apps that catalog operating hours, sales,

and other information proliferate. And you can always stay home and relax by

shopping online, as well.

This Thanksgiving, don't let technology ruin your day. Instead, put the best

attributes of the digital age to work to make the holiday even more meaningful.

Most of all, remember to give thanks for the friends beside us, the food before us,

and the love between us. Happy Thanksgiving from all of us at CMIT Solutions!

CE Magazine public service

13
---
4G is Coming to the Moon

Tegan Jones

Published over a year ago: October 19, 2020 at 11:50 am -Filed to:4g

Image: Getty Credit: Earth image from NASA https://earthobservatory.nasa.gov/images/79790/city-lights-ofasia-and-australia

Over the past few years there's been talk of installing an LTE network on the moon.

Now, thanks to a contract between NASA and Nokia, 4G moon connectivity is

closer to becoming a reality.

4G Moon Connectivity

NASA has announced it is giving Nokia $US14.1 million (which is just why of $20

million in Aussie dollars) to build a 4G LTE network that will work on the moon.

The purpose of the network is for more reliable communication between astronauts

while on the moon.

14
---
This funding is just a small part of Project Artemis, NASA's $US370 million

attempt to land on the moon in 2024.

―With NASA funding, Nokia will look at how terrestrial technology could be

modified for the lunar environment to support reliable, high-rate communications,‖

NASA Associate Administrator James Reuter said to United Press International.

―The system would also extend to spacecraft,‖ Reuter said. ―With NASA funding,

Nokia will look at how terrestrial technology could be modified for the lunar

environment to support reliable, high-rate communications.‖

What's also interesting about this is the plans for it to be 4G, despite the launch

being four years from now. Maybe it will pivot to 5G?

It ain't the first attempt

We first learned about a 4G moon network back in 2017. German company

PTScientists was planning on the first ever privately-funded trip to the moon using

a SpaceX Falcon 9 rocket. Part of the purpose of this trip was to study an Apollo 17

rover that was left on the moon back in 1972.

At the time, Nokia and Vodafone announced a joining of forces to help transmit

video of the rover through an LTE network.

―The 4G network will enable the Audi lunar quattro rovers to communicate and

transfer scientific data and HD video while they carefully approach and study

NASA's Apollo 17 lunar roving vehicle that was used by the last astronauts to walk

on the Moon,‖ Nokia said at the time.

In the end, that trip never eventuated, but clearly the dream for 4G on the moon has

not died. When NASA returns to the moon it seems like it will be taking mobile

connectivity with it.

More From Gizmodo Australia

Amazon Boss Jeff Bezos Wants To Send Packages To The Moon Now

After 7 Months, NASA Reminds Voyager 2 Probe That Earth Is Still Here

Water on the Moon: Research Unveils Its Type and Abundance

NASA's Big Moon News: There's Water All Over the Place

15
---
A Do-It-Yourself Basic PC Repair Resource Guide

Basic computer maintenance and repair can be done easily at home. Some common

problems are random error messages, computer being too slow, blue screen, frozen screen,

and automatic rebooting. It's a common misconception that repairing a computer requires a

lot of expertise. In actuality, any common person can service simple computer problems.

There are numerous sites on the Internet that provide support for computers repairs. These

sites contain step-by-step detailed instructions so it's not hard to repair some of the more

complicated problems. For any problem, just use a search engine and type in the problem.

After that, you will learn the severity of the computer problem and determine if it can be

repaired easily.

The obvious benefit of repairing the PC is the cost advantage. You save the amount you pay

to service person and also get any parts or software to be replaced at a lower rate. You can

save hundreds of dollars by fixing the problem on your own. Another advantage is the time

taken to get the PC up and running. Service personnel can take their own sweet time to

come and repair it. Even service centers may take a couple of days to service the system

while you can get it done in matter of hours!

One common problem is when a blue screen appears and the PC does not work at all. In this

case, you will have to restart the computer as there is no other option. This is called a STOP

error and it can be fixed by using the appropriate STOP code. These codes can be found

online quite easily. Depending on the error, the user can choose the best one and resolve

the problem. By learning how to solve these basic PC problems, the user can avoid bigger

and more difficult problems down the line.

Check the computer and identify the problem. In some instances, all it takes is to restart the

computer. If this does not work, check the antivirus and spyware software to see if they are

updated. Restart the computer in safe mode and type the F8 key which displays the boot

screen. Run virus scans to check for virus issues. If the screen does not appear, you may

need to call in a professional. A scan disk or defrag check can also be done to check for

errors and mostly these steps would solve the problem on your PC.

Most of the common computer problems are a result of poor maintenance but most people

can repair their computer by themselves even if they are not too tech savvy. A logical person

16
---
with ability to follow instructions can repair a computer. If you are still not sure, it's best to

seek professional help.

For more information on basic PC repair, check out these resources.

Troubleshooting Tips: Offers a list of links to help users troubleshoot their computer.

PC Troubleshooting Manual: The page provides tips on computer troubleshooting and

repair.

Dead Computer: Learn how to get it working again.

Maintenance & Repair: A tutorial that offers basic computer maintenance and repair.

Slow Computer: Step-by-step instructions on how to speed up the computer.

Upgrade Hard Drive: The site provides a step-by-step tutorial on how to upgrade a

MacBook hard drive.

No Sound in Windows: This tutorial shows how to solve sound problems in Windows.

Replacing Sound Card: The site offers a detailed tutorial on changing a sound card.

Bad Memory: The guide shows how to diagnose bad memory on the PC.

Basic Diagnosis: The page provides instructions on diagnosing a computer.

5 Questions: Essential questions to ask to find out what's wrong with the computer.

Computer Maintenance & Repair: A full tutorial to help users solve simple computer

problems.

Maintenance Checklist: Use this checklist to find out if everything's working well.

Making Computers Run Better: The page offers some advice on how to make the

computer run better.

Improve Speed: A detailed tutorial on speeding up the PC.

Basic Computer Tutorial: Learn about some of the basic concepts of computing.

Maintenance Procedures: Follow these procedures to maintain your computer.

Maintenance Tips: The page provides 10 essential tips to a healthy computer.

Preventive Maintenance: A collection of tutorials to help maintain a working PC.

Recommended Procedures: Learn these maintenance procedures to prevent

computer problems.

Routine Maintenance: The site offers some routine maintenance tips to keep the PC

healthy.

Improve Performance: Follow these steps to get the most out of the PC.

Better PC Performance: The page offers five ways to improve a computer's

performance.

Basic Computer Terminology: A place to find descriptions on many computer terms.

Computer Basics: The University of Chicago offers a list of basic computer terms.

17
---
The Journey Inside: Intel presents a series of 35 online lessons for you to learn about

computers.

Geek Squad: The site offers a variety of PC repair services.

Boston Computing Network: Provides computer repair services for Apple Macintosh,

laptops, networking services, and more.

On-Site PC Services: The site offers all types of computer repair services for

residential as well as commercial purposes.

Computer Repair Price List: The page offers information on the cost of PC repairs

For more information on this web site click this LINK !

CE Magazine public service

18
---
Aug 2, 2015, 09:30am EDT

Windows 10 Vs Windows 8 Vs Windows 7: What's

The Difference?

Gordon Kelly

Senior Contributor

Consumer Tech

I write about technology's biggest companies

Windows 10 launched on July 29th and has already been downloaded over 14

million times. But why? Microsoft 's decision to make Windows 10 free plays a big

part (especially given warnings to wait) but it is also just the tip of the iceberg.

So let's weigh up the main differences between Windows 10, Windows 7 and

Windows 8. There are a large number of pros but also some significant cons,

including a few potential deal breakers.

1. What Makes Windows 10 Worth The Upgrade

Cost - While some Windows 7 and Windows 8 users will not get Windows 10 free,

for the vast majority there is no cost to upgrading whatsoever. On paper this is a

great deal because Windows 10 is not cheap and ‗Windows 10 Home' and

‗Windows 10 Pro' editions retail for $119 and $199 respectively.

By contrast Windows 7 and Windows 8 have not been made free by Microsoft

following Windows 10's release and the company has no plans to make them so.

Consequently even if you revert back to Windows 7 or Windows 8 in time, it would

seem to make sense to take your free Windows 10 upgrade while it lasts.

Longer Support -Another key reason for getting the latest edition of Windows is

Microsoft will support it for longer than both Windows 7 and Windows 8. The

Windows Lifecycle page (screen grab below) breaks this down into two sections:

Mainstream Support and Extended Support.

19
---
Mainstream Support is the deadline for adding new features and functionality which

makes it less crucial, but Extended Support is when Microsoft will stop supporting

the platform with security updates. As you will see Windows 10 gives five more

years Extended Support over Windows 7 and two more years over Windows 8:

Windows Lifecycles - Image credit Microsoft

Flexibility and Universal Apps -Where Microsoft deserves a lot of credit with

Windows 10 is its ambition because the OS will run across all future Microsoft

devices from desktops and laptops, to hybrids, tablets and smartphones.

The biggest benefits of this are:

1. Apps in the new Windows Store will run on any device which means a single

version of Angry Birds works everywhere.

2. Microsoft's ‗Continuum' feature allows you to potentially connect a phone or

tablet to a monitor and keyboard and use it like a PC. Yes Windows 10 really

does run through every device and the user interface can adapt to its

environment - be that phone, tablet or PC and touch, mouse or keyboard

interaction.

Read more- Windows 10: Should You Upgrade?

20
---
Gaming -Windows 10 brings with it DirectX 12 and for serious gamers this is a

must have. Initial reports suggested DX12 would bring a 30-40% performance gain

over DX11 and whereas the reality is closer to 10-20% that's still money for old

rope. Windows 7 and Windows 8 will never get access to DX12.

In addition Windows 10 supports streaming games from an Xbox One. Controllers

for the Xbox One are compatible with Windows 10 PCs and you can be playing The

Witcher 3 on your desktop or laptop in minutes. Best of all, Xbox One streaming is

fast and responsive and again it will not come to Windows 7 or Windows 8 at a

later date.

Windows 10 is the single operating system working across all Microsoft desktops, laptops, tablets and phones

Search / Cortana - Windows 8 offers fairly decent online search baked into its

controversial Start Screen and Windows 7 only offers local searches (what is on the

computer itself), Windows 10 easily trumps them both.

The secret to its success is Cortana, a voice assistant ported over from Windows

Phone and whose name comes from the Halo video game franchise. Like Siri on

iOS and Google Voice Search on Android, Cortana can respond to voice commands

21
---
and perform everything from quick Internet searches to core tasks around Windows

10 like opening a new email, creating calendar entries and much more.

Cortana isn't perfect, but she/it works pretty well out the gate and will only get

better with time.

Edge Browser and Virtual Desktops - I've listed these both together as they are

catch up features. The Edge browser (which is still feature limited at launch) is

Microsoft's attempt to claw back momentum from Chrome. Edge works

significantly faster than Internet Explorer and is only available on Windows 10.

In addition to this Windows 10 finally adds Virtual Desktops like those long seen

on Linux and Mac OS X. These allow users without multi-monitor setups to create

multiple virtual desktops which are handy for splitting usage between work and

leisure, work into projects or whatever you require. It's a great feature.

Features

Gallery: Windows 10: Best And Worst New

11 images

View gallery -->

Minimum Requirements - Technically Windows 10 doesn't win this category, but

in requiring a PC with no greater minimum specifications than both two year old

Windows 8 and five year old Windows 7 Microsoft deserves great credit. Those

specifications:

RAM: 1 gigabyte (GB) for 32-bit or 2GB for 64-bit

Hard disk space: 16 GB for 32-bit OS 20GB for 64-bit OS

Graphics card: DirectX 9 or later with WDDM 1.0 driver

Display: 800 x 600

I suspect a major motivator for Microsoft here was that Windows 10 needs to run

smoothly on both phones and tablets as well as PCs. That should make it efficient

22
---
enough to run on most PCs these days, with the exception of some very old

Windows XP machines.

Read more - When 'Free' Windows 10 Becomes Expensive, You Must Know This

Security - While both Windows 7 and Windows 8 do a pretty good job of keeping

users secure, Windows 10 ups its game with several new features. First is ‗Device

Guard' which blocks zero-day attacks by vetting unsigned software programs and

apps. Device Guard can also operate virtually so even if it is compromised a remote

version can recognise and neutralise malicious software.

Next is ‗Windows Hello' which is enhanced biometric support designed to reduce

reliance on passwords by using your face, iris, or fingerprint. You'll need hardware

support for this on your device (webcam, fingerprint reader, etc) but initial feedback

is it works well and again should improve over the lifetime of Windows 10.

Lastly in Windows 10 Microsoft now delivers security patches outside Windows

Update so they go straight to your computer the moment they are available. In

theory this means Windows 10 computers are always up-to-date which gives

hackers a much harder time, even if there are also some notable downsides.

In fact, while this list may make upgrades to Windows 10 sound like a no brainer,

there are actually serious pitfalls in moving to Microsoft's latest OS.

So now here are all the reasons you should stay put on Windows 7 or Windows 8...

2. What Makes It Worth Staying On Windows 7 Or Windows 8

Great as a free price tag, longer support, better apps and gaming, searches and

security may sound unfortunately the list where Windows 7 and Windows 8 current

beat out Windows 10 is just as strong.

These are my main concerns:

Stability - Right now Windows 10 is brand new and it has launched with a

surprisingly large number of bugs which you won't find in Windows 7 or Windows

8. Among these are disappearing icons from the taskbar, Start Menu lock-ups,

Windows Store download bugs, copy and paste errors, problems with audio and

more.

23
---
In fact Microsoft is about to release a massive one gigabyte download of bug fixes,

which gives you an idea of the scale. The trouble is such numerous patches always

bring new bugs of their own. Consequently this isn't so much a reason never to

upgrade to Windows 10, but a good reason not to upgrade to Windows 10 right

now.

By contrast Windows 7 and Windows 8 (despite the latter's bumpy start) are pretty

much rock solid these days.

Mandatory Updates - Windows 10 may be more secure and up-to-date because of

this, but Microsoft's decision to force updates upon users also has significant

downsides. This has included automatically installing a broken graphics driver

which crashed displays, a security patch which crashed Windows Explorer and

more.

By contrast Windows 8 and Windows 7 make all updates optional and you're

alerted to install them. I believe the ideal solution lies halfway between the two:

make all updates automatic by default, but give users the option to stop or delay any

update categories or individual updates they like. Right now this lack of flexibility

makes Windows 10 a deal breaker for some.

Read more - Windows 10 Automatic Updates Causing Serious New Problems

24
---
Windows Update's Nvidia driver update clashes with Nvidia's own GeForce Experience update software leading to

system instability and these contradictory notifications - Image credit Paul Monckton

Brutal Enforcement Policies - Of course mandatory updates have led to many

users devising elabourate ways to sidestep Windows 10 patches, but there's little

point in this. Microsoft requires users to accept these terms in its Windows 10

EULA (end user licence agreement) and security updates now sidestep Windows

Update and are installed to all versions of Windows 10 without warning.

Meanwhile driver and feature updates through Windows Update can be delayed up

to one month by Windows 10 Home users (the vast majority of consumers) and

eight months by Windows 10 Pro customers (most businesses), but after that time

Microsoft will cut off the next round of updates (including security patches) from

users until they accept the previous ones.

Windows 7 and Windows 8 have had similar policies for major updates in the past

(Service Packs in Windows 7, and the Windows 8.1 update) but a user doesn't face

a ticking clock for every single update - big or small - as with Windows 10.

Interestingly Microsoft recently released a tool for uninstalling bad updates on

Windows 10 which suggests its stance may be softening, but the tool only works

after updates are installed which isn't much use if a bad one stops your PC from

booting.

Privacy -If the enforcement policies were tough, however, they have nothing on the

privacy violations Microsoft requests in the Windows 10 EULA. A notable section

reads:

―We will access, disclose and preserve personal data, including your content (such

as the content of your emails, other private communications or files in private

folders), when we have a good faith belief that doing so is necessary.‖

Needless to say ―necessary‖ is a crucial qualifier and this should mean Microsoft

won't violate your privacy for no reason, but that all comes down to trust - and

there's not a great deal of that going around in a post-Snowden world.

25
---
Windows 10 is a smart mix of the new and the familiar

Ease of Use - In fairness Windows 7 is so ubiquitous that Windows 10 was never

going to be more intuitive to use than its much loved forebear. That said Windows

10 is more intuitive than Windows 8 and much of that comes down to the return of

the Start Menu. Consequently Windows 10 is a great blend of the advancements of

Windows 8 and the familiarity of Windows 7, but sight of Windows 8 elements

(and there are many) will still be too much for some.

Windows 10 also needs greater consistency across its user interface as there is still a

jarring transition between traditional desktop settings like the Control Panel and

settings pushed into the Modern UI. Microsoft really needs to get this sorted out and

it should've been by now.

Lost Features - This won't affect too many users, but the fact is Windows 10 does

kill some features Windows 7 and Windows 8 users consider essential.

The big one is Windows Media Center which is a mainstay in some home media

setups, while there's also no native DVD playback (Microsoft is reconsidering this),

no desktop gadgets and no floppy drive support. Meanwhile games like Solitaire

have been removed and are now ad supported from the Windows Store with

payment required to remove them.

Read more - Windows 10 Upgrades Explained: Who Gets It Free?

Broadband Hog - While Windows 10's mandatory update policy has split opinions,

a far less widely reported issue is also taking place: the new OS uses a peer-to-peer

26
---
(p2p) update distribution system called ‗Windows Update Delivery Optimization'

(WUDO).

The benefit of WUDO is that once one Windows 10 device has downloaded the

latest updates it will automatically distribute them to other PCs on your network,

saving time. The problem is your PC will also start to share this update with other

PCs around the world that still need it. This takes the pressure off Microsoft's

servers but also means Windows 10 will consume more of your bandwidth than

Windows 7 or Windows 8, neither of which do this.

The good news for those on metered connections is this can be changed by going to:

Settings > Update & Security > the Windows Update section > Advanced

options

Select PCs on my local network only for WUDO to only be used for your

PCs, or

Switch it off so each PC has to get their own downloads

While the option to disable is nice, WUDO is another example of where Microsoft

should be more transparent with Windows 10 and let them know upfront what their

devices will be doing behind their backs by default.

27
---
Windows 7 and 8 users are now prompted to get Windows 10

Bottom Line

Given the way Windows operating systems evolve over their lifecycles, it is

impossible right now to overly praise or damn Windows 10 but we can start

drawing conclusions compared to the differences between it and its predecessors.

My personal feeling is that Windows 10 is an improvement on both Windows 7 and

Windows 8 and in time it will be considered one of the great Microsoft releases.

That said Windows 10 launches with more bugs than it should and (while Microsoft

has crafted a super OS) it is also the most controlling and invasive version of

Windows the company has ever released and a compromise does need to be found

long term.

All of which means Windows 10 is both the best and most troubling Windows

version I've used. Those determined to be on the cutting edge will upgrade and love

it, but those more wedded to Windows 7 and Windows 8 should wait a little longer.

The Windows 10 free purchase period lasts until July 29th 2016 for eligible users so

there is time to see whether Microsoft can address the differences which make

Windows 10 worse than its predecessors compared to those that make it shine.

More Windows 10 Coverage

Windows 10: Should You Upgrade?

Microsoft Changes Windows 10 'Free Upgrade' Rules

Windows 10 Upgrades Explained: Who Gets It Free?

Microsoft Makes Windows 10 Upgrades Automatic For Windows 7 And

Windows 8

From CE Magazine:

Want to know more? Click this FORBES WINDOWS link!

28
---
29
---
From my home and staff to your family, have a great

Thanksgiving and May Peace dwell in your home.

From:

Peter Nadal, Pam Kennoy, Rodrigo Esperanza,

Nomar Shaw, Diane G and Big Poppa

And

The Nanomites

30