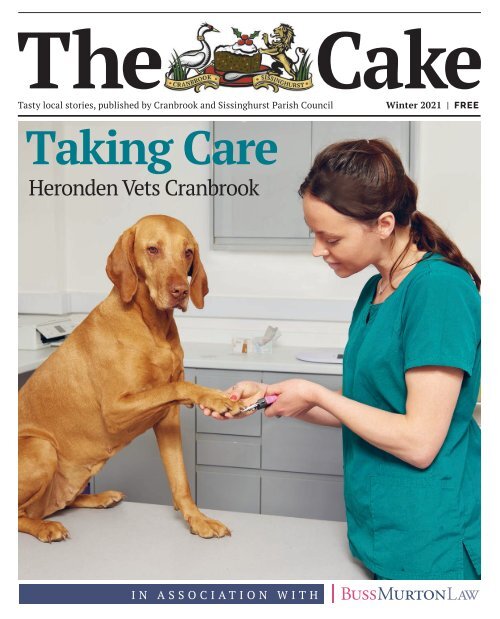 The Cake - Winter 2021
A slice of Cranbrook and Sissinghurst life
A slice of Cranbrook and Sissinghurst life
SHOW MORE
SHOW LESS
You also want an ePaper? Increase the reach of your titles
YUMPU automatically turns print PDFs into web optimized ePapers that Google loves.
Tasty local stories, published by Cranbrook and Sissinghurst Parish Council

Winter 2021 | FREE

Taking Care

Heronden Vets Cranbrook

IN ASSOCIATION WITH
---
Care Workers

FULL TIME & PART TIME CARE WORKERS

REQUIRED IN TENTERDEN, CRANBROOK, STAPLEHURST

AND MOST OF THE SURROUNDING VILLAGES

Could be your main income, or just a few hours to supplement your Furlough Pay

(subject to your contract with employer)

We have Mornings, Lunchtimes, Teatimes, Evenings and Weekend

calls available. Also some Domestic Calls & Sleep-Ins to cover.

NVQ Trained Worker

Travel Time - Now paid at £8.91 per hour

Mileage - 15p per mile

Hourly Rate - £10.00 p.h Mon - Fri and £11.00 p.h at W/E

Holiday Pay - 5.6 weeks paid seperately

Non NVQ

£8.91 per hour

15p per mile

£9.50 & £10.50

Same

Any experience is beneficial such as raising children, looking after elderly

parents/grand children. But, FULL TRAINING will be provided to all applicants

Why not contact us to discuss more about the

work and what hours you are looking for?

Call Natalie or Chloe 01580 762244

These positions are exempt from the rehabilitation of offenders act
---
Published by Cranbrook and

Sissinghurst Parish Council

EDITOR

Trisha Fermor - rt.fermor@googlemail.com

ADVERTISING SALES

Hayley Biddulph - 01892 677744

hayleyb@spacemarketing.co.uk

ADMIN SUPPORT

Graham Holmes - gpholmes@hotmail.co.uk

PRODUCED BY

Tally Rix - Coffee Shop Media Ltd - 01580 848555

tally@coffeeshopmedia.com

PUBLISHED BY

Cranbrook and Sissinghurst Parish Council: 01580 713112

www.cranbrookandsissinghurstpc.co.uk

Whilst every effort is made to ensure accuracy,

the Cranbrook and Sissinghurst Parish Council,

editor and authors cannot be held responsible

for published errors. The views or opinions

expressed do not necessarily reflect views of

the Cranbrook and Sissinghurst Parish Council.

Inclusion of any advertising material does not

constitute a guarantee or endorsement of any products or services

or claims made.

SOMETHING FOR THE CAKE?

We love to hear from you. Please send all ideas for

contributions to The Cake to rt.fermor@googlemail.com

by 1 February 2022.

welcome

Another year is almost over and what a year it

has been! Covid-19 is still in the spotlight but

during the past few months our parish has been

gradually returning to a more normal life with

some wonderful community events.

Unhappily, the parish council has been

fighting against the closure of the igh Weald

Academy and on page 12, chairman Kim

Fletcher outlines the situation as we go to press.

The effects of the pandemic have taken their

toll on many people in the parish as well as the

income of St Dunstan's Church. The Church

hierarchy is considering the closure of some

churches and fewer clergy. Please read David

Riddick's feature on page 29 and see how we

can help to keep our beautiful Cathedral of the

Weald open for many years to come.

n a final note, I would like to apologise to more than , readers who

did not receive the last edition. We are doing all we can to resolve the delivery

issues with Royal Mail. If you do not receive your December copy it can be

collected from the parish office in Stone Street or ages ewsagents in the

High Street.

A very happy Christmas and a great New Year to you all from The Cake team.

Cllr. Trisha Fermor, editor

FRONT COVER

With a new branch

open in Cranbrook,

Heronden is the

only independent veterinary practice in

both Cranbrook and Tenterden. Owned

and run by a local family, its team includes

Mark N Rowland BVSc CertZooMed MRCVS

RCVS Advanced Practitioner in Zoological

Medicine who specialises in exotic animal

medicine – from pelicans to guinea pigs,

there is literally no animal he doesn't treat!

Heronden takes in-patient care extremely

seriously and the practice has excellent

facilities. Please do come and say Hi and

introduce yourselves and extended family

members... there is always a treat to hand!

01580 763303 / info@herondenvets.co.uk /

www.herondenvets.co.uk

Inside this issue

REGUALRS

5 Directory

7 Chairman's Comment

8 Letters

12 Local News

16 Club News

18 Event News – Apple Fayre

and Cranbrook Literature

Festival

25 Local Comment – Rev

Pete Deaves, Rev Ann, hon.

mayor Linda Page and parish

warden Ivor Hatcher

38 Kids' Corner

40 Kitchen & Garden

41 Badger's Plot

49 Parish Council Update

FEATURES

11 Community Centre – GPs

give the go ahead

15 A Special Memorial – a

packed church pays respects

to Philip Mummery

23 High Weald Academy – MP

Helen Grant on action to save

the school

29 Save St Dunstan's – a plea

for help to keep St Dunstan's

alive

31 Business News – guild

certification for Cranbrook

framer and there's a new vet

in town

33 Eco Building – how

ecological design can save

you money and the planet

34 Local History – Victorian

post boxes and an historic

Cranbrook pub crawl

36 Remembrance – a

WWI Christmas tale and

remembering war time

horses

43 Farming – let's have a local

Christmas says Sarah Calcutt

45 Arts – mental wellbeing

and art

47 Legal Advice – questions on

divorce answered

50 The Cake Chats With…

Wendy Waters and Julie Sales

The Cake • Winter 2021 3
---
ALAN FORD

In Pictures

A snowy scene of The Hill, Cranbrook earlier in the year

4 The Cake • Winter 2021
---
DIRECTORY

directory

A list of useful contacts in

Cranbrook and Sissinghurst

Cranbrook and Sissinghurst

Parish Council

The Old Fire Station, Stone Street,

Cranbrook, KENT TN17 3HF

Clerk – Mrs. L. Ham

Deputy Clerk – Mrs. L. Thirkell

Deputy Clerk - Mrs. C. Bezuidenhout

01580 713112 / clerk@

cranbrookandsissinghurstpc.co.uk

BOROUGH & COUNTY

COUNCILS

Tunbridge Wells Borough Council

01892 526121

www.tunbridgewells.gov.uk

Kent County Council

03000 41 41 41 / www.kent.gov.uk

USEFUL NUMBERS

UTILITIES

Electricity: 0800 727282 (24 hrs)

Gas: 0800 111 999

Water: South East Water (drinking

water) 0800 0283399, Southern

Water (waste water) 0800 820999 (24

hrs), Emergency leak 0800 0283399,

Floodline 0845 9881188 (24 hrs)

CRIME

Non-Emergency Police: 101

Crime Stoppers: 0800 555111

KCC Community Warden: Adam

Osborn - 07813 695741

PCSO: Simon Humphreys -

simon.humphreys@kent.police.uk

Neighbourhood Watch Area

Co-ordinator: 01622 604395

In an emergency i.e. if life is in danger

or a crime is in progress call 999. To

request non urgent police assistance,

to report crime or to make enquiry

call 101. Non urgent correspondence

and crime can be reported via the Live

Chat icon at www.kent.police.uk

ROOMS & HALLS TO HIRE

St George's Institute, Sissinghurst:

Ursula O'Connor 01580 713938

The Parish Room, Sissinghurst: Sue

Crowe 01580 712567

ts.crowe74@gmail.com

The Vestry Hall, Council Chamber and

Addison VC Room, Cranbrook:

01580 713112 (10am-12pm weekdays).

A full list of over 30 venues for hire in the

parish is available from the parish office

USEFUL CONTACTS

CHURCHES

Congregational Church,

Cranbrook: 01580 388070

St. Dunstan's, Cranbrook:

01580 715861

St. Theodore's RC, Cranbrook:

01580 713364

Strict Baptist Church, Cranbrook:

01580 713212

Trinity Church, Sissinghurst:

01580 852275

Vine Church, Cranbrook: 01580 712620

SCHOOLS AND PRE SCHOOLS

Colliers Green CE Primary:

01580 211335

Cranbrook CE Primary: 01580 713249

Cranbrook Children's Centre:

03000 41 10 35

Cranbrook School: 01580 711800

Dulwich Preparatory School:

01580 712179

High Weald Academy: 01580 712754

Rainbow Pre School, Cranbrook:

01580 715570

Sissinghurst CE Primary: 01580 713895

Woodpeckers Pre School, Cranbrook:

01580 720195

DOCTORS

Old School Surgery, Cranbrook:

01580 712476

Orchard End Surgery, Cranbrook:

01580 713622

DEFIBRILLATORS

Cramp Club, Cranbrook

Cranbrook Fire Station

Cranbrook Medical Centre, Cranbrook

Cricket Club, Sissinghurst

Parish Council office

Sissinghurst Castle Garden

St. George's Institute, Sissinghurst

Tennis Club, Sissinghurst

The George Hotel, Cranbrook

The Milkhouse, Sissinghurst

POET'S CORNER

This Christmas, The Cake is happy to give

some advice to anyone who burns logs!

As coal is a "no no" in these days of climate

fears, here is an age-old poem to help you

sort the wood from the trees. The author is

unknown.

Logs to burn, logs to burn;

Logs to save the coal a turn.

Here's a word to make you

wise

When you hear the

woodman's cries;

Never heed his usual tale

That he has splendid logs

for sale,

But read these lines and

really learn

The proper kind of logs to

burn.

Oak logs will warm you well,

If they're old and dry;

Larch logs of pinewoods smell,

But the sparks will fly.

Beech logs for Christmas time;

Yew logs heat well;

"Scotch" logs it is a crime

For anyone to sell.

Birch logs will burn too fast;

Chestnut scarce at all;

Hawthorn logs are good to last

If cut in the fall.

Holly logs will burn like wax,

You should burn them green;

Elm logs like smouldering flax

No flame to be seen.

Pear logs and apple logs,

They will scent your room;

Cherry logs across the dogs

Smell like flowers in bloom.

But ash logs, all smooth

and grey

Burn them green or old;

But of all that come your way,

They're worth their weight in

gold.

The Cake • Winter 2021 5
---
SHOES • ACCESSORIES • CLOTHING • GIFTS

CHRISTMAS 2021

www.thegoldenboot.co.uk

GABRIEL'S HILL, MAIDSTONE, KENT

facebook.com/thegoldenbootshop

instagram.com/goldenboot1790
---
COMMENT

CLLR KIM FLETCHER

Chairman's

Message

Iexpect all our thoughts

are turning towards

Christmas, putting what

has been a strange year

behind us.

Going shopping (with a mask

on) has been a revelation – I had

forgotten how many products,

never seen on the internet, are

far more alluring in real life. The

Cranbrook shops have pushed

the boat out this Christmas

well worth a browse to find

some unique presents.

Covid changed our lives

and how we meet people. The

August events on the Ball Field

and at the Rugby Club reminded

us how many people we know

and had not seen for ages. Let's

hope the vaccine boosters work

and off-set the risk of infection

from the unvaccinated amongst

us, so there are no more lockdowns.

The closure of High Weald

Academy has cast a shadow over

many people, so the community

needs to find ways to rekindle

clubs and activities. Potentially,

the old sixth form centre at

High Weald may become a base

for activities. It is next to the

Weald Sports Centre where I

hear there is to be new gym

equipment.

The old climbing frame in the

Ball Field has come to the end

of its life, so look out for a new,

metal multi-play installation,

thanks to the parish council.

Sissinghurst is also getting a

new roundabout and slide.

Your councillors take a great

deal of time looking at planning

applications. Of major concern

"I wish everyone a happy Christmas and look forward to a year

that is better for our community"

is the potential flooding in

the Crane Valley. Developers

do lots of "desk studies" and

pronounce them safe, but some

unfortunate families in the new

houses at Brambling Gardens in

Sissinghurst discovered water

flowing through their houses

during a recent rainstorm.

Residents of new estates would

be well advised to be aware of

the concerns expressed at the

planning stage.

The appeal against the

Berkeley phase II housing

application has finally been

completed and a result expected

in the new year. They have

started the first phase, moving

earth and putting up hoardings.

Our vicar, Rev Ann Pollington,

has announced her retirement

so this will be her last Christmas

in Cranbrook. I would like to

thank her for all her activities,

helping and protecting the most

vulnerable, being available to

troubled souls and bringing

goodwill into the community.

I wish everyone a happy

Christmas and look forward

to a year that is better for our

community.

Cllr Kim Fletcher

The Cake • Winter 2021 7
---
letters

www.bussmurton.co.uk | T: 01580 712 215

A Rubbish

Encounter

Dear Editor,

I cannot be the only person

to be angered and frustrated

at the amount of rubbish

thoughtlessly littering oncepretty

lanes and verges in

our parish and countrywide.

But to watch a refuse

collector ignoring a piece

of paper just inches from

his foot was a red rag to a

bull. I politely asked if he

was going to add it to the

rubbish in the truck. The

answer was: "Why should

I? I haven't got time to go

round picking up every bit

of litter I see on the side of

the road." The offending

litter had probably fallen

out of the paper box he had

emptied.

Totally sympathising that

he would not be able to

pick up "every bit of litter",

I wanted to know why, as

he was standing next to

the offending rubbish (in

a conservation area) he

wouldn't put it into the

lorry.

After a bit more banter,

he did pick it up while his

colleagues emptied other

bins. I was surprised to see

that throwing empty food

waste containers is now a

recognised sport. Some were

hurled several feet from

the truck to the pavement

(damaging them?) rather

than being placed alongside

the larger containers.

Disgusted of Cranbrook

Monty Woods

Does Anyone Want to Volunteer?

At a recent meeting of the Cranbrook Tourism Board,

a suggestion was put forward that could help event

organisers in the parish.

It involves the setting up of a dedicated pool of

volunteers under the control of a co-ordinator. The team

would be available to assist any local event which was

experiencing difficulty in finding volunteers.

The group would like to hear from anyone willing

to take on the role of co-ordinator and start building a

team ready for next year.

Interested? Then please contact me on 01580 712653

or any member of The Cake team.

Graham Holmes

Old Soldiers Never Die

I would like to take this opportunity

to thank all those involved in the

tribute feature and exhibition to my

late father George Nicholls in the

autumn edition of The Cake.

Thank you to the editor Trisha

Fermor and the publication team

at Coffee Shop Media, Mike Huxley

and the volunteers at Cranbrook

Museum, the people of Cranbrook for

their interest and my husband and

family for their encouragement and

support.

Thank you all.

Rosemary Swan

8 The Cake • Winter 2021
---
We have been providing expert and

trusted legal advice to individuals and

businesses for generations.

Christmas Services

at St Dunstan's

• Sunday 19 December, Carol

Service, 6pm

• Friday 24 December, Christmas

Eve, 4pm Crib service for the

young at heart however old you

are! 11.30pm Midnight Mass with

carols

• Saturday 25 December,

Christmas Day, Communion for

Christmas Morning with

carols, 10am

• Sunday 26 December, St

Stephen's day, 10am, Said service

of Holy Communion but we will

be singing Good King Wenceslas

looked out on the feast of

Stephen!

Rev Ann Pollington

Please send

your letters to:

rt.fermor@googlemail.com

or by post to The Cake,

Cranbrook and Sissinghurst

Parish Council, The Old

Fire Station, Stone Street,

Cranbrook, TN17 3HF. Please

note, letters may be published

in a shortened form at the

discretion of the editor.

Caring for heads, shoulders…

Knees

Toes

PODIATRY

Biomechanics

Gait analysis

Orthotics

Insoles

CHIROPODY

Corns

Callus

Blisters

Verucaes

SHOE FITTINGS

Running

Walking

Trail

Back to school

MASSAGE THERAPY

Tight muscles

Stress relief

Improve mobility

Promote healing

PHYSIOTHERAPY

Manage pain

Rehab

Injury diagnosis

Posture assessment

Julie Rose Stadium, Ashford, TN24 9QX CALL 01233 660851 31 High Street, Cranbrook, TN17 3EE CALL 01580 715904
---
SPONSORED FEATURE

Exciting developments

at Heronden Vets!

NEW CRANBROOK PRACTICE

Thank you to all our wonderful clients

who have continued to support us through

the past 18months… What a torrid time

it's been. However... We are pleased to

announce two exciting additions to our

services.

Firstly we have opened a small satellite

practice in Cranbrook with a view to

better serving clients in that area. All first

opinion cases can be seen there along

with any flea or worm or prescription

collections. We are open 9am-3pm Monday

to Friday but if your animal needs further

work ups or treatments you will be seen at

Tenterden.

Please do come and say Hi and introduce

yourselves and extended family members...

there is always a treat to hand.

EXOTIC ANIMALS WELCOME

Secondly we are hugely excited to have

Mark N Rowland BVSc CertZooMed

MRCVS RCVS Advanced Practitioner in

Zoological Medicine to the team.

ark qualified from iverpool niversity

in 1996. After a period in mixed practice he

concentrated on small animal and exotic

animal medicine.

ark achieved his Certificate in

Zoological medicine in 2007. He has

lectured locally and internationally as well

as having published several times in peer

reviewed journals.

He will be based at our Tenterden

branch and is open for all exotic questions

spanning the species from pelicans to

guinea pigs. There is literally no animal he

doesn't treat.

We have a new Instagram account so

please do check us out at @herondenvets

We hope you all have a fantastic

Christmas and we are looking forward

to seeing all our existing clients and

hopefully some new ones in 2022.

01580 763303 / info@herondenvets.co.uk /

www.herondenvets.co.uk

10 The Cake • Winter 2021
---
DEVELOPMENT NEWS

Doctors Support

Community Centre

Cllr Colin Gilbert reveals the latest encouraging news on the development

of the community centre and GP services in Cranbrook

It has been some time since I updated

you on progress with our community

and medical centre and I am pleased to

report the latest in this edition of The

Cake.

Just to recap, the building at the moment

will contain the new library, multi-use

rooms, seating for 20, 40 and 60 people (a

total of 120), a large teaching kitchen, WCs,

some quiet office spaces, storage, a plant

room and bin space.

The site is situated on a sloping piece of

land, so the design must use the topography

and we hope to utilise this to the best

advantage.

We are still open to ideas on usage and

would welcome suggestions from you all

so that we can give as full a brief to the

professional team as we can.

As you are aware, there has been a delay

to the project due to Covid distractions,

lockdowns and the want of information on

the G surgery specification.

This situation has changed with our

doctors being able to visit the recentlycompleted

Southborough Medical Centre

to look at the specification and details

used there. I understand they were suitably

impressed and I am pleased to say we now

have full co-operation from the local doctors

and the Clinical Commissioning Group to

push forward with the project as soon as

possible.

We understand that the drive to move

detailed diagnosis away from major London

hospitals means local specialisms can be

catered for, which requires more clinical

space. Pembury Hospital will be teaching

GPs, so local practices will be able to train

the students in the space afforded by the new

medical centre. Our doctors are currently

working on suitable specifications for their

requirements.

As soon as they can deliver the space

needs and number of consulting and

treatment rooms, our project manager

will re-run the numbers and begin to put

together a brief for the designer, architect

and constructor. This should start by the end

of December 2021.

"No Homes on Jaeger's

Field" says TWBC

Plans to build 63 homes on land bequeathed by a wartime airman to Cranbrook

School have been thwarted by Tunbridge Wells Borough Council.

The field on Angley Road, at the rear of the school, was left by ernard "ill

aeger, an RA sergeant navigator, who flew with o Squadron. e lost his life on

the night of uly when the osquito in which he was flying was lost in the

English Channel. His body was never recovered.

An outline application was made to TWBC but the parish council objected as it

is in an Area of utstanding atural eauty, flooding is a risk and there is concern

about access onto the busy A229 Angley Road.

It is the second time a plan to build houses on the site has been rejected. More

than 20 years ago, concerned Cranbrook people objected to a similar housing

scheme. They wanted to retain the field, used for sport including rugby, and kept

untouched in the lost airman's memory. TF

The Cake • Winter 2021 11
---
NEWS

School Closure

Angers Town

Parish council chairman Kim Fletcher reflects on

the closure of the High Weald Academy

Our rural

communities have

been well and truly

'Done to' and future

generations of

children 'Done over'.

The Department of Education

runs the academies and decided

in February to close the High

Weald Academy (HWA). KCC and

TWBC have no lever on their

activities or performance.

The department appointed

Leigh Academy Trust (LAT) to

run it on 1 September, and LAT

sent out letters notifying closure

to parents a few weeks later. This

was a 'pre-pack' closure, with

no local democratic input. KCC

had been supporting the school

financially but seem to have been

unaware of the decision. The

school had poor Ofsted results,

but no warnings of closure were

ever received from the DoE.

The result is that future

generations of children across

the High Weald will have to

be bussed to Paddock Wood,

Maidstone, Lenham, Tenterden,

or into ast Sussex to find a nonselective

secondary school. The

journeys can take more than one

hour each way.

Cranbrook School is consulting

on starting another year group

to accommodate more local

children.

The academy had falling rolls

but had begun to turn this round

in 2020. There have been issues

at the school, from the days in

the 1990s when there were 1,250

pupils falling to 274 this year.

First, the sixth form was

closed, so children who did not

want to change schools at 16

started going elsewhere from the

age of 11.

The falling rolls meant the

school received less money, so

the curriculum shrank, making

it less attractive to parents who

wanted their children to have a

broad education. Teachers left

because they were not teaching

the sixth form syllabus and had

little job satisfaction.

Many parents also sent their

children to other schools as

the reputation of High Weald

Academy was damaged by

allegations of bullying, truancy

and disrupted classes.

The rebuild of the school has

left a remarkable building, but

buildings do not make a school.

Excellent teachers, with a strong

Parent Teachers Association and

community support, make strong

schools. Perhaps we all need to

look at our behaviour toward the

school and wonder if we could

have helped halt its decline

during the past eight years.

Helen Grant MP is leading a

last-ditch effort to have a Judicial

Review of the decision to close

the school and successfully asked

our community to crowd fund

£6,500 to enable a QC to make

a case to Legal Aid to fund this.

In fact, legal aid appears to have

been granted at the time of going

to press.

However, by the time the

review has been heard the school

will have become a special school

for autistic children and there

would be uproar over closing

that, immediately after its

opening. The LAT sent letters

confirming the o decision to

close the school on 10 November

so it appears a done deal.

I would have hoped that our

MP would have been aware of a

failing school over the last eight

years and alerted the community

and led efforts to improve it

before it was closed.

If the judicial review does

occur, and finds fault with the

due process, then we may be able

to campaign for a new school

to be built. With rose tinted

spectacles, this vision could be a

new school on Long Field, built

specifically for autistic children,

enabling the 'old HWA' to be

reopened for up to 1,050 pupils,

perhaps even under the auspices

of Cranbrook School.

We have to find positives

and draw strength that there

can be a better future, but all

councillors are very aware of

the pain of parents having to

change their children's school so

precipitately.

A Surprise Visitor to Trinity Church Sissinghurst

Archbishop Justin Welby with Rev Pete Deaves,

Penny Durie and retired Trinity churchwarden,

Tim Heath.

We had the most remarkable surprise on

Sunday 21 November when the Archbishop

of Canterbury Justin Welby came to preach

at our traditional 8.30am service.

We were given notice only a couple of

days before and his intention in coming

was to see a normal service, otherwise

we would not have kept his appearance a

secret.

He gave a most inspiring sermon on

"Truth" and questioned the erosion of it

in today's society. Ultimately, he said, no

matter who you are God knows what your

thoughts and motives are. Regardless of

who we are, we will all be held accountable

for what we say and do in the eyes of God.

In Jesus we see the truth of who God really

is.

After coming to Sissinghurst he went to

the 10.00am service at St Mary's Church,

Frittenden, which is united with Trinity.

The service was jointly led by the Rev Pete

Deaves, rector of both churches.

Tim Heath

12 The Cake • Winter 2021
---
NEWS

News

Ashes Discarded in Churchyard

Whoever disposed of human

ashes by dumping them in

St Dunstan's churchyard

has been condemned by

parish councillors.

The gruesome find was

discovered in late October

and reported at the monthly

full council meeting. It is

thought that whoever left

them there was trying to

avoid paying fees. One

councillor said it was sad

that anyone could carry out

such an act.

People are forbidden to

dispose of ashes without

permission. The church's

grounds have been closed

for burials for many

years while these and the

ABOVE: Parish councillors were left angered after human ashes

were found dumped in St Dunstan's churchyard.

scattering of ashes now take

place at Golford cemetery.

The vicar of St Dunstan's,

the Rev Ann Pollington, was

dismayed to hear what had

happened. She explained

that as St Dunstan's

cemetery was closed and

responsibility for burials

and the disposal of ashes

lay with the parish council.

TF

Town and Country Sets Up Listening Service

In answer to the continuing spate of anti-social behaviour in and around Cranbrook, a

drop-in service has been set up for people to discuss any issues they may have.

Fortnightly, on Thursday between 10am and 12 noon, people can go to the parish

office in Stone Street to report in confidence any issues which are affecting them.

The community service has been set up by Town and Country Housing which

rents homes in the town. It has stressed that the sessions are intended only to report

vandalism or other anti-social behaviour. TF

No to Public Loos in Carriers Road

Following a thumbs down from retailers to the siting of a public mobile lavatory in Carriers

Road, Cranbrook, parish councillors have been wracking their brains to find an alternative.

Anger at Tree

Cutting

There was uproar on Freight Lane, behind

Frythe Way, in early November when the

ancient orchard started to be cut down. A

number of parishioners contacted the parish

office and TWC officers who were quickly on

the scene.

The orchard has been uncared for during

the past few years and brambles have climbed

through the trees and the grass grown. It has

become a haven for wildlife, with many birds

and mammals visiting, including a cuckoo in

2020.

A few years ago, developers Taylor Wimpey

speculatively approached the parish council

with a plan for 79 houses on the site, with

access coming from the end of Frythe Way

through the demolition of a pair of houses

enabling the construction of a new road. It is

not known if Taylor Wimpey is still the owner.

The parish pointed out that Frythe Way was

too narrow and congested at its entrance (by

Rammell) to be considered as an access route

into a new housing estate, and that this was

the only access available. The plot is not in

the Tunbridge Wells Borough Council's local

plan for development, so the concern is that

the removal of the orchard was 'softening up'

opposition to development by a pre-emptive

strike to remove what the Taylor Wimpey

document called 'Low Grade Vegetation'.

The tree preservation order lasts for six

months, so anyone seeing someone cutting

trees should immediately call the police

on 999, saying 'crime in progress'. There

is a , fine for people cutting down

protected trees.

eanwhile the planners will try to find out

what the owner is attempting to do.

Cllr Fletcher said: "Well done to all the

people who reacted so fast to protect the

remaining 80% of the orchard. It is good to

see local activism can prevent destruction of

our environment."

Continued vandalism to the public conveniences in Crane Lane, which led to their closure,

has resulted in concerns and some anger that there are no facilities for people, and particularly

tourists, other than coffee shops, the George Hotel or the town's only pub. Councillors

sympathise with retailers who have not been forthcoming with offers because of the continued

fears of anti-social behaviour.

Councillors now feel they have no option but to reconsider the reopening of one of the

toilets, despite fears that they will be vandalised again. The borough council spent more than

£10,000 on repairing the conveniences before they were closed permanently. TF

The Cake • Winter 2021 13
---
NEWS

CUP CAKES

• NEW HOME FOR HEAD GARDENER

The parish council has supported a

planning application to return part of

Sissinghurst Castle into a home for

head gardener Troy Scott Smith and his

family.

The National Trust said the proposed

change of use back to residential is

required for operational reasons. The

work will be carried out on the building

to the right of the main archway

entrance into the garden. TWBC will

make the final decision.

• NEW HOME FOR VANDALISED

BENCH?

Plans are being considered to move

the vandalised mosaic seat outside

the closed public lavatories in Crane

Lane, Cranbrook, to a safer home. Our

honorary mayor, Linda Page, has come

up with the idea of moving it to the

grounds of the museum in Carriers

Road.

• CO-OP CASH FOR SCHOOL

The Co-op in Cranbrook has supported

plans at Cranbrook Primary School for

an "outdoor classroom for children to

access outdoor learning" by donating

£7,441 from its community fund which

is supported by shoppers.

• NEW PLAY EQUIPMENT

The parish council has accepted a

quotation for £29,999 to replace the

multi-play equipment for children in the

Ball Field, Cranbrook. Councillors have

also agreed to spend £13,241 to replace

toddler equipment in the Jubilee Field,

Sissinghurst. The existing equipment

has come to the end of its useful life and

was no longer economical or feasible to

repair.

• BLOOMING CALENDARS

FOR SALE

Cranbrook in Bloom has published its

popular calendar for 2022, packed full of

colourful pictures ranging from a snowy

Stone Street to the colourful plant boxes

which brighten the town. Also featured

are all next year's events in the town

which make Cranbrook special. Copies,

at £7.95 with all proceeds going to CiB,

are available from Page's Newsagents in

the High Street.

New Garden Safari!

The Friends of Sissinghurst

Church are planning to organise

a fundraising open garden event

next year for much-needed funds.

Villagers can volunteer to open

their garden for just one hour between 11am

and 12 noon on a Thursday or Friday, starting

in mid-May and running through to mid-

September.

There would be a different venue each

week with a £3 entrance charge to include

a choice of coffee or tea, cake, a raffle draw

FROM PATCH TO PLATE

– and a chat as you wander around. Funds

raised would be in aid of the upkeep of the

village's Trinity Church, its adjacent hall and

garden. Even those who don't want to open

their gardens can help by baking cakes and

other tempting treats.

If you would be interested in volunteering

your garden, either small and in the village or

grand and in the countryside, just once in the

summer and just for an hour, please contact

Ann Mahoney on 01580 715611 or drop her a

line at: annmahoney125@hotmail.co.uk TF

Members of the Pre-Prep Gardening Club at

Marlborough House School, Hawkhurst, have

been growing vegetables for their school kitchen.

The pumpkin patch was a particular success for

the green-fingered children and, in the autumn,

they harvested their glut of pumpkins. They

proudly delivered them to the school catering

team, who were challenged to put some pumpkin

surprises on the menu. These turned out to be pumpkin soup, pumpkin and cauliflower

salad, and pumpkin cake – which made for a very popular option at morning break.

Next term the club's members, who will be working towards their Level 4 RHS School

Gardening Award, are hoping to grow spring salads and aim to produce something for the

school kitchen each term.

As a school, Marlborough House launched 'The Great Outdoors' earlier this year to

link their focus on outdoor learning, well-being and all things eco. Pupils across the

school, from two-and-a-half years to 13 years, can also now enjoy many more outdoor

learning opportunities following the installation of the school's outdoor classroom in

the summer term.

14 The Cake • Winter 2021
---
NEWS

Sponge Cake

And Cupcake

At Special

Service

A packed church pays respects to Philip

Mummery, writes Trisha Fermor

Knowing just how

much Phil Mummery

liked a joke, it was no

surprise to see the

container with his

ashes being brought into church

in a wheelbarrow with the Dam

Busters March playing for his

remembrance service.

It was no ordinary wheelbarrow

but one piloted by Squadron

Leader Sponge Cake, alias Mickey

Law, and Wing Commander

Cupcake, AKA Stuart Cleary,

members of the Red Barrows

team which perform at the

annual Apple Fayre. In the

barrow with Phil was a mountain

of freshly picked apples, a nod to

his support for the event when he

would usually turn up dressed as

a woman.

St Dunstan's Church was

packed on 4 October with people

wanting to pay their respects to

the man who brought so much

humour to the town and who

never said no when asked to do

something for the community.

Tributes were paid by his

children Catherine and Stephen.

He was remembered for being

a governor at both the primary

school and Angley School and a

great supporter of the Cranbrook

Operatic and Dramatic Society.

He also led visitors to the top of

the church tower and supported

the town's museum.

Despite being known as an

enthusiastic eccentric, just 13

days before his death on his

77th birthday last year, he was

invested as the first honorary

mayor of Cranbrook, a role which

delighted him.

On 2 November a tree was

planted in the Ball Field to

commemorate his passing.

BELOW RIGHT Stuart Cleary, Mickey Law and Rev Ann with

wheelbarrow and ashes

The Cake • Winter 2021 15
---
CLUB NEWS

The First

Matches

Kick Off!

PHOTOS BY: GEMMA SANSOM PHOTOGRAPHY

At 10:30 on 11

September, history was

made when the newlyformed

Cranbrook

Juniors FC kickedoff

the first of two simultaneous

matches against Sevenoaks Town FC.

It was the first time in many

years that Cranbrook parents and

spectators were able to witness

junior grassroots football being

played, and what a special occasion

it was too!

There were a large number

of spectators who showed their

support; delicious refreshments were

served and there was also the fun of a

ft inflatable assault course.

After the final whistle, the club

officials, players and all their families

enjoyed a picnic social and marvelled

at how much energy the youngsters

had to keep going on the inflatable

long into the afternoon.

Ant Tomlinson, one of the club's

founders, said the last home game

before the winter break was against

Jarvis Brook but training would

carry on for several weeks before the

children hung up their boots for the

winter break on 11 December. It is

planned to take them to the Charlton

v Cambridge match that afternoon.

The club's Little Trekkers moved to

a new pitch at Colliers Green School

at the end of October because, said

Mr Tomlinson: "...as we want to get

the tiny cherubs off the wet grass,

it's no fun running around for 45

minutes with wet feet in the cold!".

TF

HELP!

A call has gone out from the new

Cranbrook Junior Football Club for

coaches. Co-founder Ant Tomlinson

said a few had stepped aside and he

hoped to fill the vacancies. Anyone

interested can contact him on

welfare@cranbrookjuniorfc.co.uk

Following rules for junior football, The

Cake is unable to tell our readers what

the scores were. Sorry!

16 The Cake • Winter 2021
---
CLUB NEWS

Do you Have a

Secret Desire

to Sing?

Singing in a group whether one can sing well

or not, is a great restorative to well-being, and

this is the driving force and the aspiration of

the TEMPO choir which aims to bring joy and

friendship to anyone of any age group.

Variety is a major contribution to the fun

of singing together, so the music covers

English folk and medieval songs, African

songs, sea shanties, rounds and songs from

musicals. Also if someone suggests trying out

a piece theyve heard and like, its definitely

considered.

Part of the philosophy of the choir is that

there are no auditions and one doesn't have

to read music; we sing one concert a year for

friends and family, usually before we break up

for the summer, and Christmas carol singing,

sometimes in the George Hotel which is great

fun.

The choir sing in parts, so whatever your

range do please feel welcome to join us,

especially if you're a tenor or bass - they're

like gold dust.

The December term will be in St Dunstan's

Church, Cranbrook, or the Performing Arts

Centre at Cranbrook School at 9.30am till

11.00am. Please phone Natalie on 01580

850110 for more details and the precise date

of the new term.

Come and join us for a free session, bring a

friend and challenge those 'little grey cells!'

The photo shows some of the choir in a

weekly sing on Zoom, during the pandemic.

Formerly known as Hartley Dyke Farm Shop

Players Needed for New

Hockey Club in Cranbook

A men's hockey side which has joined the Kent league and plays home

games at Cranbrook School is on the lookout for new members, young

or old.

With a relaxed standard of play, members range from 14-60 years.

Anyone interested in joining is asked to go along to the school on a

Saturday. For more details call Phil Morris on 07495 616895.

Fresh Fruit & Vegetables • Flowers • Plants

•Shrubs • Hot & Cold Foods • Drinks

• Groceries & Delicatessen

Charity Farm, Swattenden Lane, Cranbrook, TN173PS

Tel: 01580 712546

www.cranbrookfarmshop.co.uk

The Cake • Winter 2021 17
---
EVENTS

Red Barrels Excel

at Apple Fair

The Romans returned in force to Cranbrook on the morning

of 1 October but due to the appalling weather decided to

retreat hurriedly to a sunnier Italy in the evening.

But during their stay for the annual Apple Fayre,

they put on a wonderful display of "chariot"

racing down the High Street, not once but

twice. Known as the Red Barrels, the chariots

belched smoke while the charioteers, clad in

Roman armour, did their best to destroy each other. A

giant white statue of a naked man outside the Vestry Hall

gazed down in awe on the proceedings and equally huge

Romanesque pillars were placed at strategic points.

Actor Crispin Thompson played Mark Anthony rallying

his troops from the White Horse balcony, reciting Shakespeare

in all its glory, cheered on by the onlookers.

As always, the spectacle was the highlight of the event

but due to the inclement weather, there were fewer stalls.

But those who did take part put on splendid displays,

including Cranbrook in Bloom members showing off their

apple juicing skills. TF

18 The Cake • Winter 2021
---
EVENTS

Dick Whittington – Oh Yes It Is!

Cranbrook Operatic and Dramatic

Society is excited to be putting on the

pantomime, Dick Whittington and his

Cat, this December. It's a classic tale

of young Dick, trying to make his way

in the world with the help of his feline

friend, Tommy. Along the way, Dick

falls in love with Alice, sails the seas

with Captain Cuttle and conquers the

wicked Queen Rat and her ratlings.

This is a family friendly panto,

suitable for all ages, with classic panto

characters, such as our pantomime

Dame, Sarah the Cook, and Lazy Jack.

Performance dates and times are 28-30

December 2.30 pm, 31 December 1 pm.

Tickets can be purchased online from

www.ticketsource.co.uk/CODS or in

person from Lambert and Foster, High

Street, Cranbrook. You are guaranteed

to have some festive fun (Oh, yes you

will!)

In the New Year, we are looking

forward to our spring production of

the Vicar of Dibley. A classic comedy

featuring the bubbly, sassy, chocolate

loving vicar, Geraldine Granger. She has

quite a job on her hands when she first

arrives in Dibley, as they were expecting

a man, and quite clearly, Geraldine

is all woman!

If you would like to come and help

with our panto, we are in need of

backstage and technical crew. We are

currently looking for willing helpers to

help build and paint sets for future productions.

If you are able to help please

email cods.secretary@gmail.com

The Cake • Winter 2021 19
---
Buy delicious grass fed meat. Reared to

the highest welfare and nutritional standards.

Shop online or in-store at the farm.

Buy delicious grass fed meat. Reared to

Taking Christmas Orders.

the highest welfare and nutritional standards.

Shop online or in-store at the farm.

Taking Christmas Orders.

PaleyFarmLtdWT235.indd

Dulwich

1

Spirit

17/11/2021 11:28

Encouraging innovation and independence,

building confidence and resilience

Paley Lane, Cranbrook,

Kent TN17 2LX

01580 891046

Paley Lane, Cranbrook,

paleyfarm.co.uk

Kent TN17 2LX

01580 891046

paleyfarm.co.uk

PaleyFarmLtdWT235.indd 1 17/11/2021 11:28

dulwichprepcranbrook.org

20 The Cake • Winter 2021
---
EVENTS

Cranbrook

Literary

Festival

Deborah Moggach

entertained the

audience talking about

her latest book, The

Black Dress

Christine Newman, the force behind this

popular event, writes about this year's

sleni oerin

Authors, poets and

writers were out in

force in September

for this year's

event following the

postponement of last year's due

to Covid-19. It was a huge success

with audiences enjoying face-toface

cultural and literary events

once again.

We were very pleased with our

attendance figures overall, and

although there was a certain Covid

caution around early bookings,

the events were all very well supported

and totally enjoyed by all.

Author Deborah Moggach

entertained the audience talking

about her latest book, The Black

Dress, and screen writer

and author William Nicholson

spoke honestly

and passionately about

his work on films such

as Gladiator, and Hope

Gap, as well as his many

books.

Children were well

catered for with a great

story telling and drawing

session with author

Sophy Henn. Poetry was

well received in the sunshine of

the George Hotel terrace with

ex-local poets John Rice and Hubert

Moore being welcomed back

to the town.

The final event of the festival

was broadcaster and writer Iain

Dale in conversation with local

MP Greg Clark – but with a twist!

Greg Clark turned the tables on

Iain and conducted the interview

asking him questions about his

life as a broadcaster, publisher

and author.

The next two-day literature

INSET ABOVE: Story telling and

drawing session with author

Sophy Henn

RIGHT: Ex-local poets John Rice

and Hubert Moore

BELOW RIGHT: Screen writer

and author William Nicholson

with festival founder Christine

Newman

festival will take place in October

2023 as the event is held every

other year. However, there

will be one off literature/

book evenings between

now and then.

ABOVE: Iain Dale in conversation

with local MP Greg Clark

AUTHOR EVENT – 27 JANUARY

The Cranbrook Literature Festival will be hosting a one-off author

event on Thursday 27th January 2022 with popular author Lisa

Jewell (The Family Upstairs, Invisible Girl, Watching You and many

more) who will be talking about her latest book. This will take

place in Vestry Hall at 7.30pm with full details on the literature

festival website www.cranbrookliteraturefestival.com

The Cake • Winter 2021 21
---
SPONJEM UK Limited

Capital Allowances Consultants

Helping people in the area save money upon

their commercial buildings such as offices,

shops, restaurants, hotels and holiday let cottages

For Information contact Paul Jempson on

Tel: 0800 954 5081 Mob: 07957 822110

Email: mail@sponjem.co.uk

MR NOAH'S

NURSERY SCHOOL CIC

https://mrnoahs.org

Caring for you at home

Well established, family run business,

providing care for people living in the Weald

of Kent. Our tailored service allows you to live

at home with independence and dignity.

Call Karen Irving at our Tenterden office to

arrange a no obligation visit.

01580 762202

www.carecompany.care

Your Country Lifestyle

Department Store!

Our departments are:

Equine • Small Holder • Pets & Wild Birds

Garden • Gifts and Cards • Fuel

Clothing including:

Joules, Seasalt, White Stuff, Toggi, Jack Wolfskin, Hoggs,

Thought, Jack Murphy, Hunter Outdoor and more...

We have plenty of free parking, and we offer a free local

delivery for orders over £50 (£2.50 charge for under £50)

FRAME

FRAME

PLACE

PLACE

FRAME PLACE

FRAME PLACE

Bespoke picture framing services

Bespoke picture framing services

Bespoke picture framing services

Bespoke picture framing services

Bespoke

Bespoke

framing

framing

of

of

original

original

artwork,

artwork,

prints,

prints,

Bespoke photography framing of and original memorabilia. artwork, prints,

photography and memorabilia.

Bespoke photography framing of and original memorabilia. artwork, prints,

Accredited photography by the Fine and Art memorabilia.

Accredited by the Fine Art

Trade

Trade

Guild

Guild

as

as a

Certified Accredited Framer, by the you Fine may Art be Trade assured Guild of as our

Certified Framer, you may be assured of our

service Certified Accredited and Framer, workmanship, by the you Fine may Art whatever be Trade assured Guild you of bring as our a

service and workmanship, whatever you bring to

to

service Certified and Framer, workmanship, be you framed. may whatever be assured you of bring our to

be framed.

service and workmanship, be framed. whatever you bring to

be framed.

Open 8.30-5.30 weekdays, 9-5 Satudays and 10-4 Sundays

Swattenden Lane Cranbrook, TN17 3PS

01580 713189 | info@charityfarmcountrystore.co.uk

www.charityfarmcountrystore.co.uk

22 The Cake • Winter 2021

Bottlers, The Old Brewery, Dorothy Avenue, Cranbrook. TN17 3AL.

Bottlers, The Old Brewery, Dorothy Avenue, Cranbrook. TN17 3AL.

Bottlers, The Old Brewery, (t) (01580) 714220

(e) info@frameplace.co.uk;

(t) (01580) Dorothy

(s)

714220 Avenue, Cranbrook. TN17 3AL.

@FramePlaceCranbrook

Bottlers, (e) info@frameplace.co.uk; (t) (01580) 714220

The Old Brewery, www.frameplace.co.uk

Dorothy (s) Avenue, @FramePlaceCranbrook

Cranbrook. TN17 3AL.

(e) info@frameplace.co.uk; www.frameplace.co.uk

(s) @FramePlaceCranbrook

www.frameplace.co.uk

(t) (01580) 714220

(e) info@frameplace.co.uk; (s) @FramePlaceCranbrook

www.frameplace.co.uk
---
"It is the Simple Things

that Count", says the

Rev Pete Deaves

LOCAL COMMENT

Did you

venture

down to this

year's Apple

Fayre?

If you did, you will no

doubt recall intrepid

singers serenading and

tables groaning with

scrumptious apple cakes

and all sorts of other

tempting goodies... But

quite probably the main

thing in your memory is

just what a wet and grey

Saturday that was!

Bizarrely our daughters

didn't bat an eyelid at

the weather. They loved

the fact that we were

at an actual 'in-person'

event! They loved being

given a free apple pie by

Reverend Ann (thanks

Ann!) but also that daddy

let them choose one of

the delicious cakes for

themselves. Isn't there

something very special

about the delight small

children take in simple,

seemingly insignificant

things?

As the year has gone on,

we have been able to do

more in our churches

– and it's the simple

things that are the most

powerful and effective.

The weekly toddler

groups at each church,

fuelled by homemade

cakes and friendly

helpers who have 'been

there, done that, and

got the t-shirt.' Our

jubilant school harvest

services where parents

As the year has gone on, we have been

able to do more in our churches – and

it's the simple things that are the most

powerful and effective.

were finally able to

come along and watch

their children take part.

Dozens of delighted local

residents were deeply

appreciative of random

goodies being delivered

to them by willing pupils

from our schools.

Families have been

excited to finally gather

together in church for

christenings, while the

weddings I've had the

privilege of taking have

been extra joyful off the

back of everything that's

gone on. And go on I

could...

When you look back on

2021, will your main

memory be those things

you missed out on, or

that didn't go in the way

you'd hoped? Or will

you choose to hold onto

the simple things, those

things that could slip

by unnoticed? And as

we look ahead to what

2022 might hold, will

we choose to make time

and space for the simple

things, to look out for

those things that can

easily pass us by? Let's

do that! Every blessing.

Rev Pete

Pancake Day

Goodbye to Rev Ann

After just over six years as the vicar of Cranbrook,

the Rev Ann Pollington announced to a shocked

congregation on 7 November that she is leaving.

After thinking about retiring for more than 20

months, she said her final service would be on

Tuesday 1 March – Shrove Tuesday. Her last

Sunday service will be on 27 February.

The popular vicar told worshippers: "Over these

next four months I, along with the churchwarden,

parochial church members and all of you lovely

people will work together as we prepare St

Dunstan's worshipping community and the parish

of Cranbrook for this next stage in the life of this

church and town…

"I will have served the Church of England for

nearly 20 years and the past six and a quarter here

in Cranbrook."

After a career in horticulture and time spent

being trained, Rev Ann was ordained in 2002 in

Exeter Cathedral and began her career in Honiton,

Devon. She then took charge of St Ippolytes with

Great and Little Wymondley in Herts – a name

she easily trips off the tongue – before coming to

the Weald.

She told The Cake: "I am going to be 66 in April

and I always said I would retire then. I was

ordained in 2002 and have served nearly 20 years.

I have loved living here. I love saying prayers

with people who are dying, there is something

miraculous about it, and I love baptising little

babies. I also love the liturgy of the Church of

England."

She said she might write a book about her

experiences, adding: "Once I retire it will be nice

to have a weekend off!" TF

The Cake • Winter 2021 23
---
Why not consider micropigmentation to boost your

self-esteem and maybe even restore your confidence?

My treatments include:

Permanent makeup - eyebrows and eyeliner

Brazilian stretch mark treatment and camouflage

Scar treatment and camouflage

For a chat, more information and to book a free, no obligation consultation

Contact Lorraine at lorrainesinclairpmu@gmail.com | 07721 880114

Hair loss camouflage for women and men

MESO needling and superficial peel to improve

skin tone & texture, fine lines & wrinkles,

pigmentation and acne scarring

Helen Grant

MP for Maidstone

and the Weald

I am here to help you in

any way that I can. If there

is an issue of concern to

you, where you believe

I can assist, or if you

would like to arrange a

meeting with me, please

email me at helen.grant.

mp@parliament.uk or

telephone 020 7219 7107.

helengrant.org

@HelenGrantMP

helen-grantMP

Produced by

Helen Grant MP,

House of Commons,

London SW1A 0AA

24 The Cake • Winter 2021
---
MP'S COMMENT

High Weald Academy Closure

ur P elen rant hts aainst the traic closure o the ih eal caem

Cake readers will no

doubt be aware of the

government's decision

to close the High

Weald Academy. For

Cranbrook and the surrounding

rural villages, it is tragic. The loss

of this non-selective secondary

school goes against my core

beliefs of social mobility, equality

of opportunity, fairness, localism

and community.

The manner in which the

closure is taking place is also

shocking. The lack of regard for

the pupils, parents and teachers

being forced to act within unbelievably

short timescales, the

absence of any public consultation,

and allegations of serious

procedural failures in the decision-making

process, all stack up

to a shambles.

Since I was first notified about

this I have pressed, lobbied,

written to and met with local

government representatives,

senior government ministers

and numerous other stakeholders

to try to find a plan for a

sustainable future for the school.

Notwithstanding this effort, and

an excellent offer of partnership

support from Cranbrook School,

the decision to close the school

was taken on 27 September.

I held a public meeting at

the Vestry Hall in October to

hear from local residents and to

recruit volunteers for a campaign

working group. The editor of

this magazine, Trisha Fermor,

attended that meeting, along

with well over 100 other people.

It was agreed that an action

group would be set up and that

solicitors would be instructed to

investigate the possibility of a

Judicial Review.

Our working group is running

two equally important streams

Sine was rst notied

about this I have pressed,

lobbied, written to and

met with local government

representatives, senior

government ministers and

numerous other stakeholders

to try to nd a

plan for a sustainable

future for the school"

of work; (1) providing evidence

to support the legal challenge to

the decision, and (2) preparing a

sound business case for a sustainable

school.

Our solicitor believes there

is merit in the case and advised

that we should obtain an opinion

from specialist counsel. The

Legal Aid Agency (LAA) rejected

an application for funding of

this investigative stage of the

Judicial Review protocol and,

speaking from experience as a

former legal aid lawyer, I was not

surprised. The LAA is notoriously

tough on granting certificates,

especially for this type of application.

An appeal was lodged but, not

being comfortable relying on

this, our working group agreed

we should try to raise the funds

from private donors, businesses

and other local organisations.

A crowd funding appeal was

launched on 2 November and

within a week we had raised the

money we needed from over 80

separate donors. And then, to

our delight, we received notification

that our legal aid appeal had

been successful!

The LAA could, however, still

raise the issue of a community

contribution if we proceed beyond

the first stage of this case.

We therefore propose to hold

the donations we have raised,

subject to agreement from the

donors, until we know where

we are. As this article is being

filed with Cake magazine, I can

report that the solicitors and an

eminent QC have now prepared

the 'letter before claim' addressed

to the Regional Schools

Commissioner. We will await

their response.

When communities get together

behind a worthy common

goal there is much that can be

achieved. I believe we can make

a difference here, and I am

willing to do all in my power to

retain a non-selective secondary

school for our local children.

The Cake • Winter 2021 25
---
ENJOYING TODAY

EDUCATING FOR TOMORROW

PRE-PREP & PREP | BOYS & GIRLS 2.5-13 YEARS | DAY & FLEXI BOARDING

"The school goes far beyond

academic results and prides

itself on the development

of the whole child"

THE GOOD SCHOOLS GUIDE 2021

Book a private tour

Email registrar@marlboroughhouseschool.co.uk

Discover more at marlboroughhouseschool.co.uk

Hawkhurst, Kent, TN17 2LX
---
LOCAL COMMENT

Mayor's Message

Anyone Seen Henry?

I was so excited to see Henry in

the Jockey Lane car park three

months ago. I welcomed him and

chatted about the town and told

him how wonderful it was to see

him walking through the churchyard

and the Ball Field.

A few days later, whilst having

coffee and cake at Waterloo Tea

Rooms with friends I saw him

again. Beckoning him over, he

stayed for a chat and we felt he

was here to stay, if only for once

or twice a week, but would be

here to stay.

Many people I spoke to at that

time were also very excited to

see such a special person on our

streets.

Sadly, I have not seen him

since! I feel very disappointed

and let down that the very

keen, friendly, understanding,

knowledgeable, local Henry has

disappeared from our streets.

Has anyone else seen Henry

with his black helmet, handcuffs

and shiny boots? I fear we have

lost him. I'm sure we didn't

offend him by speaking of our

lovely town and things that we

felt needed to be kept an eye on.

Anti-social behaviour in

Cranbrook was highlighted just

a few weeks before the presence

of Henry. His appearance in

the town was as a result of the

planned, improved police commitment

in the town, but it was

very short lived.

I urge you ALL to do as

requested by the parish council

chairman and notify the police of

any crime or anti-social behaviour

immediately. The police

need statistics and we need

to give them the information

on which they can base their

statistics.

It is very frustrating that a

selfish few can upset the lives of

so many. We do not like to moan

about things but at the same time

we must not be complacent and

accept it as inevitable. We must

all be aware and report every

incident, no matter how small.

Honorary Mayor Linda Page

Community

Housing

Ivor Hatcher takes a look at

social housing in the past

In days gone by, they were called council

houses because they were built, owned and

managed by local councils, such as the former

Cranbrook Rural District Council. Now, these

homes are called social housing and managed

on behalf of borough councils by non-profit-making

organisations called housing

associations.

Court Stile, in Cranbrook, was such a council

estate but now has many privately-owned

houses. I was born at Court Stile and it was my

home for over 20 years. When I was a child,

Angley Road had minimal traffic, we were able

to cross the road and play in the woods and

the cricket field. We had a big playground.

While families lived in the houses, the older

generation, which may have been parents or

grandparents of these families, lived in the

bungalows along Quaker Lane and Kings Cottages,

or in the flats in the centre of Quaker

Drive. This made it easier for families to care

"Doors were left open by householders

to let the floor dry while

they went shopping and the rent

money or payment for tradesmen

left on the table"

for each other. Offspring looked after parents

and grandparents helped with children when

needed.

Many of the families were related in some

way and if they weren't there were strong

bonds formed with children either addressing

the adults as Mr or Mrs (whatever the surname)

and often aunty or uncle, illustrating

the closeness between families. Many of those

bonds are still there today.

There were differences, people falling out

or kids fighting with each other and that was

all set aside in times of trouble, such as when

folk were ill. Doors were left open by householders

to let the floor dry while they went

shopping and the rent money or payment for

tradesmen left on the table.

Houses and gardens were inspected regularly

with warnings given if things weren't

as they should be. The council did its bit by

keeping the infrastructure on the estate maintained

and, in turn, tenants took pride in their

houses and gardens.

But there was hardship. My dad bred rabbits

which provided extra meat for my family and

others. Most families had a vegetable garden

at the rear of the house, providing fresh vegetables

for the table, while the front garden

was devoted to flowers.

There were few cars which were mostly

parked in the garages or the car parks rather

than the front garden.

Now, many houses have been sold, leading

to a shortage of social housing. Young people

are encouraged to buy houses which are not

affordable in their hometown.

Older people are often moved to care

homes out of the area. Circumstances have

led to families living miles apart and meeting

up a few times a year and support is more

from others than family members. How times

have changed!

The Cake • Winter 2021 27
---
Sandwiches Made with Love.

Proudly making the most delicious, fresh sandwiches,

toasties & paninis right in the heart of Cranbrook High Street

Coffee & Cake

Proudly using locally roasted Bean Smitten coffee

& serving speciality teas & hot chocolate, locally baked

brownies, cookies and traybakes.

Catering for private events also available

7 Stone Street, Cranbrook, Kent TN17 3HF

07812 787307 aldoscranbrook@gmail.com

www.aldossandwiches.com

10%

discount for

readers of

The Cake

Self-contained

Studio Flat Available

Get Your Oven's

Sparkle back

AS SEEN

ON TV

ALMSHOUSE,

CENTRAL CRANBROOK.

Shower room/ WC fitted kitchen with oven,

central heating. Communal laundry room

and garden.

Criteria: Single Person, over 60's, capable of independent

living and with limited means, 'in need'.

Living in Cranbrook or connections to Cranbrook.

Sorry NO PETS.

● Ovens

● Grills

● Extractors

● Filters

● BBQs

● Microwaves

● Hobs

● Ranges

● AGAs

Before

After

OVEN CLEANING & REPAIRS

ee e e

e foreeoe

offer f re rer of

eer oe oe oo

For an application form email:

almshousecranbrook@gmail.com or

call Mrs Chapman on 07768661329

Call Steen today for your free estimate

07860 690 252

ovenclean.com

28 The Cake • Winter 2021
---
FEATURE

Plea for Help to Keep

St Dunstan's Alive

Churchwarden David Riddick appeals for vital help to

saeuar the uture o the atheral in the eal at a time

when many churches are facing closure and possible decay

You may be

aware from the

newspapers that

the Archbishops

of Canterbury and

York are considering reducing the

number of clergy in parishes and

selling unwanted churches.

The Canterbury diocese told us

back in 2019 that it intended

to sell off Cranbrook vicarage

in Waterloo Road and buy a

house in the [proposed] Brick

Kiln development as the

future vicarage. They put in

an application for three fivebedroom

luxury houses which,

fortunately, have been rejected.

Further amended applications are

expected in the years ahead until

they get approval.

This, despite the fact that the

present vicarage land was gifted

in 1947 to the then "vicar and his

successors in perpetuity for the

purpose of building a parsonage"

by Queen Marie of Jugoslavia,

who then owned the nearby Great

Swifts estate.

St Dunstan's has been the

centre of Cranbrook for many

centuries; for a parish church it is

enormous. The seating capacity

is the largest for a wide area

around making it an ideal venue

for concerts and use by local

schools for a variety of events…

it is therefore an asset for the

community of Cranbrook.

Across the country,

congregations at churches

are getting smaller and older:

St Dunstan's is no different.

We are supposed to have two

churchwardens but I have been

on my own for over a year

with no volunteers coming

forward. My main role, apart

from supporting the vicar, is to

ensure the fabric of the church,

and Church House, is properly

maintained and carried out. If

anyone in the community feels

moved to assist in preserving

or improving the fabric of St

Dunstan's I would be delighted

to welcome them as the second

churchwarden. The only

qualification is that they must

have been confirmed.

Maintaining the church is

expensive. The late Phil

Mummery used to organise trips

up the tower which raised about

£2,000 a year for the Friends of St

Dunstan's, a charity which raises

funds for the church. Is anyone

willing to take this on?

Q&A Session

The vicar, the Rev Ann

Pollington, told The Cake that

she was "extremely concerned"

about the future of many

churches and in particular St

Dunstan's. She urged people

to attend a question and

answer session in the church

on Wednesday 8 December

7pm to discuss the future of the

Cathedral of the Weald. Among

the speakers will be parish

council chairman Kim Fletcher.

David Riddick said: "All

are welcome and we look

forward to members of the

local community putting

forward their thoughts on

how the facilities offered by St

Dunstan's can be utilised by local

organisations and groups."

PHOTOS BY MICHAEL GARLICK

Christmas Tree Festival

St Dunstan's church will be

the venue for a Christmas tree

festival. To sponsor a tree and

help raise funds not only for

local charities but also the

church contact wendy@larkinsalehouse.co.uk

or phone

07786 707476.

The Cake • Winter 2021 29
---
adnan

nn

anda

We specialise in farms, families, trusts and estates and have a dedicated

team who can help you manage your financial needs. We have direct

experience with equestrian and farming matters, and we also offer an

extensive range of services including:-

n

nannn

naan

nanaad

anandad

aannn

aandnn

aandadnan

mark.howard@charter-tax.com • Telephone 01580 313108

www.charter-tax.com

Suite 1 Bedgebury Business Park, Goudhurst, Kent TN17 2QX

PERMANENT & TEMPORARY

CLEANING OPERATIVES

From £10.10 per hour

To provide professional cleaning for our client at

Bedgebury National Pinetum and Forest

Permanent

4 to 8 hours per week

Weekdays or week-ends

from 5:00 pm Winter,

from 7:00pm Summer

Temporary

Christmas 2021

2 to 20 hours per week

Weekdays or week-ends

Calibre Cleaning are looking for flexible and reliable

operatives to help our team clean at the beautiful

Bedgebury Forest site.

No experience necessary as training will be given, but you

will need your own transport to and from the Bedgebury

Visitor Centre TN17 2SJ

01233 840972 | info@calibrecleaning.co.uk

www.calibrecleaning.co.uk

30 The Cake • Winter 2021
---
BUSINESS NEWS

Guild Certification for Cranbrook Framer

Cranbrook picture

framer, Richard

Wayre GCF(APF),

has qualified as

a Guild Certified

Framer. This professional

qualification distinguishes

framers and provides consumers

with a recognised way

to find excellent craftsmanship

and service. Over

1,000 framers have

achieved this

qualification

Guild

Certified

Framers are

awarded their

qualification

by the Fine

Art Trade Guild,

the international

trade association for

the industry. Framing skills

and knowledge are examined

rigorously by an independent

Guild appointed tester.

By qualifying as a GCF,

Richard has demonstrated

that he understands the

importance of conservation

framing, the use of appropriate

materials to avoid future

problems and also the range

of framing options his customers

may require.

Unprofessional framing

may allow unsightly stains to

appear, or gradually cause artwork

to go brown and paper

to weaken; eventually

a picture may literally

fall apart.

Knowledge

and technology

are

improving

all the time

and precious

and valuable

pieces should

be checked by a

professional framer

who can take remedial action

to protect works to be kept

for future enjoyment. Richard

Wayre GCF(APF) has proved

himself able to advise on the

framing of unusual objects

and memorabilia.

"James Herriot Style" Vet Comes to Cranbrook

Victoria Vidal may have travelled the globe

gaining up to the minute veterinary experience

– and even trained rats to sniff

out landmines in Africa – but when

it came to her own business the

"James Herriot way is the best".

Mum Vicky, 45, has chosen

Cranbrook to open her

second Heronden veterinary

surgery , three

years after ing her state-ofthe

art practice in

launch-

Tenterden.

Having honed her

skills in places

as far apart as

USA, Geneva and

Africa, she returned

to England where her skills have been

concentrated on "good old fashioned James

Herriot-style" treatment.

The former Benenden School girl now

heads up a first-opinion practice with

a large team of vets, including Mark

Rowland, the UK's leading exotic pet

specialist – useful, as Vicky and her

daughter, 10-year-old Fleur, are mad

about snakes. At home in Tenterden,

they keep royal pythons which Vicky

describes as "hypnotic, calming and

placid".

Mother and daughter also play

polo with Fleur being a member

of a Cowdray Park team. Four

rescue dogs also play a large

part in their home life. Vicky's

husband, Peter Marley, an

agricultural products dealer who lives in

Dubai, spends just 10 days a month at home.

With more and more vets retiring and practices

being snapped up by corporate giants,

Vicky said she was determined to go back to

the Yorkshire vet's way of treating patients

and their owners.

"I wanted to do something which flew in the

face of corporate practices. What I want to

get across is that people can trust their animals

will be in the best possible hands".

Anxious to underline that the team's dedication,

Vicky added: "We have a very strict

policy of politeness. I have an amazing,

incredibly dedicated team and I have fired

clients for rudeness. We are the last of a

dying breed… It has been drummed into us

to do everything we can for an animal and its

owner." TF

The Cake • Winter 2021 31
---
Unlock the cash from your home

If you're a homeowner aged over 55 and are looking to boost your retirement finances, your home could

help. By releasing tax-free cash from your home, you could:

Make home and

garden improvements

Gift money

to family

Go on

holiday

Clear credit cards

and loans

Pay off an existing

mortgage

Replace

the car

The Equity Release Experts' advice is independent, face-to-face and covers the whole of the market,

so we'll be able to recommend the equity release plan that could help transform your retirement.

To find out more or to arrange a FREE, no-obligation consultation, contact me

on the details below;

John Ibbs - CII ER1, MAQ, FPC, PCertB

john.ibbs@equityrelease.co.uk

Equity Release may involve a lifetime mortgage, which is a loan secured against your home, reducing the value of your estate and

may affect your entitlement to means tested benefits. You should always think carefully before securing a loan against your home.

Unless you decide to go ahead, The Equity Release Experts' service is completely free of charge; as our usual advice fee of 1.99% of

the amount released would only be payable on completion of a plan, subject to a minimum advice fee of £1,499. CKP702 (02/2020)
---
FEATURE

Building to Save the Planet

Cllr Alison Bunyan on building to achieve minimal heating bills with the Passivhaus standard

Are you self-building,

extending, retro

fitting or otherwise

improving your

home ow is the

time to think about going above

and beyond the current uilding

Regulations requirements as far

as insulation and airtightness

are concerned. The government

is considering requiring all new

buildings to achieve zero carbon

in the next few years. Soon no

new gas boilers will be permitted.

What can you do to help And

is it worth the extra work and

investment It has to be a win,

win situation. The assivhaus

standard is well worth looking

at. The best way to save yourself

running costs is to cut out

the most expensive element

heating.

ow that does sound radical

and cold. ut if you insulate to a

value of approximately . in

the floor, the walls and the roof,

making sure there are no gaps for

air to enter, that there is no cold

bridging and that the house takes

advantage of solar gain i.e. faces

the sun during the winter and is

protected from too much sun in

the summer then youve made a

very good start. Windows have a

vital role to play and triple glazed

or double glazed with specialist

coatings are necessary and need

to be installed very carefully.

It is likely that the all-electric

house will become the norm

and much of that electricity

can be generated at home from

photovoltaic panels wind

and water are also possible but

perhaps not in this area. Air

source or ground source heat

pumps running on generated

electricity can provide the heat

for underfloor heating and hot

The following five

basic principles apply

for the construction of

Passive Houses

"It is likely that the all-electric house will become the norm

and much of that electricity can be generated at home from

photovoltaic (PV) panels (wind and water are also possible but

perhaps not in this area)"

water. Solar thermal panels can

also heat water.

If your house is airtight you

will need controlled ventilation

mechanical ventilation with

heat recovery. This is likely to

cost you more or less the same as

a central heating system to buy

and install but next to nothing to

run, literally pence per day.

We have just finished building

a assiv standard home we

have no heating apart from a

wood-burner with air supplied

from the outside directly into the

stove, we have no photovoltaics,

no solar thermal panels and

no air-source heat pump, no

underfloor heating and no gas.

ur energy electric use has

been a month and that is for

everything including hot water,

ventilation, fridge, cooking, towel

Download Your Eco Design Guide

rails, T and computers. There

have been a few mornings when

we had to light the fire but it was

literally freezing outside. When a

well-insulated and airtight home

is warm, there is nowhere for the

heat to go, so it stays warm and

if it gets too warm you open the

windows.

The parish council has an Eco Design Guide for you to download on its

website at www.cranbrookandsissinghurstpc.co.uk

PASSIVHAUS INSTITUT

The Cake Winter 33
---
LOCAL HISTORY

MUSEUM

MATTERS

n this eition eo Pier rites on the suect

of Victorian letter boxes, of which we have

seeral still in use in the ton an one on isla

in the museum

Iam not an historian and

neither am I a ictorian

postman, but I am getting

to know a bit about

ictorian post boxes. irst

you must guess when the ost

ffice was founded o ou

are wrong unless you cheated

it was in under Charles

II. niformed postmen first

appeared on the streets in

and the system, as we now know

it, was developed after Rowland

ill invented the adhesive stamp

in .

The first post boxes painted

red were established in ersey in

and mainland in .

After many complaints about

the colour the post boxes were

all painted green but they were

returned to red in so that

people could find them more

easily. The original ones were

all pillar boxes and the first wall

boxes were installed in .

They were developed because

they were only a quarter of the

price.

They were made of cast

iron with a locked, hinged

opening and over the years of

development several different

designs were made. or example,

the first ones W leaked,

so W and W were made

with hoods over the postage

slot and drainage holes at the

bottom. ther modifications were

later made to ease the opening

and removal of letters. The

modifications continued right up

to W in ictorian times.

In Cranbrook and surrounding

area, we have several ictorian

boxes still in use. The one

which most of you will have

noticed stands proudly at the

top of the igh Street where the

road narrows another outside

Goddards Green arm opposite

the War emorial and one

opposite Rammell ield close to

Sams Seat. A little out of town,

one can be found on the right of

the state odge, in front of the

former old blacksmiths forge at

Glassenbury.

ooking at them initially, the

LEFT: This Victorian post box came from Sissinghurst

and is on display at the Cranbrook Museum

ABOVE: The Victorian post box opposite Rammel

Field, Cranbrook

"These boxes have seen

nearly 200 years' service.

Just think of the stories they

could tell!"

boxes all seem the same, but on

inspection you can see different

designs. The one in Cranbrook

igh Street is labelled .R.Walker

agle oundry, irm. ingham.

thers were made in ondon.

These boxes have seen nearly

years service. ust think of the

stories they could tell

34 The Cake Winter
---
LOCAL HISTORY

An Historic

Cranbrook

Pub Crawl

nn istorian recalls the as hen eole

ha a hue rolem eciin hich u to

visit in Cranbrook

Its riday after work. A

gruelling week just like all

the others. I could really do

with a pint in Cranbrook.

The George arkins

The White orse Tough choice

eh ut if I was in the late s

about years ago. well, that

would be different. I would also

have to choose who to drink with.

illy Addison was around then

but too young to drink, but he

did go on to win a ictoria Cross

in the irst World War Thomas

Clark, who wrote the Christmas

carol, While Shepherds Watch

their locks, would have been

too old. I would certainly ask

benezer Russell who took over

running the nion ill in .

This is what I would have done.

y starting point would be The

ld ouse at ome, on the hill

opposite the windmill. In

Charles and ouisa untley ran it

till when their son, Charles,

took over. e stayed on till .

A nice, small boozer frequented

by gravedigger Sam ann and

his family who lived behind the

pub. The menu consisted of pies,

sausages and pot roasts, hardly a

chicken in sight.

After my first pint, I would

meander down the hill past the

farrier on the corner to the ird

in and. enjamin idmore ran

it with his wife ane. It was a pub

and lodging house you will know

it now as a pleasant tearoom.

In it was frequented by

labourers, travellers and pedlars.

Richard oad the cobbler stayed

there dreaming of orker

sausages maybe and reddie

and ucisa rigance were the

local hawkers. The beer was made

mainly by a local brewery which

was leased to r Tooth in

and grew to be Sharp and Winch

who built the White orse.

I continue to the ull in Stone

Street, maybe switching to cider

to kill the taste of my last pint.

The pub was a osting ouse and

a bit posher than the last two, but

not as posh as the George or the

White ion now housing loyds

harmacy.

illy Savage ran the ull

and kept a "good house full

of charitable fundraising and

memorial lunches. In , it

was demolished to make space

for Cranbrook ngineering to

construct a drive-in petrol pump

garage for the new automobiles

that were becoming popular. The

builders with surnames from

were Wright, urgess,

iper, redrick, enfold Apps and

Shephard all familiar still.

Anyway, enough I need

another drink ets go to the

apermakers Arms in the igh

Street. pened in by ohn

errill, this new boozer has a

great cellar, three bars and a

superb dining room for the well-

heeled to eat and smoke cigars.

Who would have thought that

years later it would become a

greengrocers

ne more for the road k, just

a quickie at the White ion there

since the s and still going

strong in . In illy

onday was chucked out again

for foul language and violent

behaviour. andlord r ink had

to call the police to assist The

old police station was half way up

The ill nearly opposite the ld

ouse at ome, where we started.

d f l x n

In 1890 a

pint of beer cost

about a farthing (a

quarter of a penny).

Happy

Christmas!

r

T

q

D

The Cake Winter 35
---
HISTORY

Christmas Truce For

Football

umhr att shares his irect lin to a First

World War match when soldiers from both sides,

incluin his ather lai asie their eaons

any people

may know

the story

of ritish

soldiers

playing football with Saxons

on the battlefield in rance on

Christmas ay .

y father was there as a

young officer. is story, in his

diary which I have, gives an

unusual perspective on the

events, from which we could all

learn. is soldierly discipline,

shown by his orders to his men,

probably stopped a serious

confrontation on that day.

e wrote "A message

came last night to say we

were not to fire today unless

absolutely necessary, as it was

Christmas ay. This morning

the onmouths on our left were

shouting to the Saxons ont

fire and we wont. They replied

by asking o you want a drop

of tea

"It was most interesting to

see both sides strolling about on

top of their trenches. We threw

them tins of jam and they threw

us back cigars wrapped up in

German newspapers no one

could read the latter.

Away on our right, A Company

came out and had a football

match with an old tin for a ball.

A Company won - The next

regiment to us on our left came

out and met the Saxons half way

and they shook hands and kicked

a tin about for a bit.

"y platoon were very eager

to go out but I gave an order

that no-one was to leave the

trench. inding several people

attempting to do so when I

wasnt looking, I supplemented

the order by saying that the

first man out got plugged. This

effectively quelled all that.

"owever, both sides observed

this truce most scrupulously. The

only rotten trick was someone

shooting my rescue dog Stinker

through the leg. This made the

men very angry and they wanted

to shoot the Saxons but of

course they were not allowed to.

"We could see the Saxons

"We could see the Saxons walking

about arm in arm up and down

the railway line – also they

brought in some small r trees

and put them up in their trenches"

walking about arm in arm up

and down the railway line also

they brought in some small fir

trees and put them up in their

trenches. In the evening they

hung lighted candles in the

branches.

"Well - I really had quite a

decent Christmas ay two bits

of bread and some cheese and

a canteen of rum and tea all

the rest except the cold was

imagination.

"The only sad thing was seeing

the wretched corpses which have

been there since ctober. In

the evening we walked down the

line no-one harming us, and

arrived safely at attalion Q.

Fortunately,

his dog Stinker

survived, as evidenced

by a diary entry on 4

February - my father's 25th

birthday - when Stinker

made muddy footprints on

a letter his owner was

writing to his

new wife.

36 The Cake Winter
---
We Will Remember Them Too

Remembrance Sunday is a time to

reflect on the people who gave

their lives during wars but for

one charity it is also a time to

remember the horses and mules

who fought alongside the soldiers.

uring the irst World War more than

one million were shipped from the to

fight with the ritish cavalry. ut, when

the war ended, , had perished

and almost all of the survivors were not

returned home.

Their plight was discovered in Cairo in

by nglish woman orothy rooke

who wrote to the now aily Telegraph

"Will anyone who ever loved a horse, help

us to save them With the money raised,

she found and saved , horses, the first

named ld ill.

er work continues today, and one of the

charity most ardent supporters is ouise

rown who runs the West ent fundraising

group. aving lived in hartoum in the late

s, she has seen first-hand what many

working horses and donkeys still endure

today, years after the war ended.

ELBA

ELBA PRIVATE HIRE - PERSONAL CARRIAGE

NEW 7 SEATER DISABLED ACCESS

VEHICLE IN THE ELBA FLEET.

She said "I have always had a passion for

animals. They are so dependent on people

and not much has changed. I used to hate

going out in to the streets with donkeys and

horses lying on the side of the road.

In , the mother of two saw an

advertisement for the rooke "and was

transported back to Africa. With her

children growing up, "I wanted to do

something and went to the charitys

ondon office to volunteer as the first

fundraiser in West ent.

orothy and her team have raised

thousands of pounds - , in . She

travels all over, makes banners, distributes

leaflets and collects money in buckets and

whatever else she can do to raise money for

the animals.

Admitting she has "barely been near a

horse she added "I love doing it, some

people go golfing but this is what I love

best. I have got it down to a fine art

To find out how you can help visit the

website thebrooke.org or write to rooke,

nd loor, The allmark uilding, -

eadenhall Street, ondon, CA . TF

HISTORY

griersongalleries.com

A beautiful, contemporary gallery space

showcasing art of all genres.

Events space and art workshop forum.

The go-to space for all your artistic needs.

Working with Sustainable Print & Frame Place

to create Cranbrook Arts' Quarter

"We go that extra mile"

Lady & Gentlemen Drivers

Town and Country

Travel in Style

Business and Social Pleasure

Allows you to Drink like a Lord

Leave Like a Lady!

GRIERSON

Galleries

To Book Text: 07785 11 20 21 or Call: 01580 441 302

Email: book@elbaprivatehire.com

www.elbaprivatehire.com

A bespoke group of creative businesses

The Cake Winter 37
---
KIDS' CORNER

Kids' Corner

Colour

me in

38 The Cake Winter
---
KIDS' CORNER

Word search

Copy the image

The Cake Winter 39
---
KITCHEN & GARDEN

IN THE GARDEN

How Mistletoe Became a Christmas Tradition

When I was a small

child, each Christmas I

wondered why we had

a bunch of somewhat

underwhelming leaves

and berries hanging from a beam in my

th century home.

ccasionally, my parents would have

a quick kiss underneath the mysterious

foliage as did friends and family,

occasionally picking up a somewhat

reluctant me for a peck.

What I did not know, until much later

in life, was that mistletoe was steeped

in folklore long before our house

was built. Taken from the

Anglo Saxon, "mistel and

tan, the words literally

translated mean dung

on a stick Quite how

this came to describe

this rather nondescript

plant which

was so worshipped, is

anyones guess

The tradition of

hanging mistletoe was

started by the ruids who

worshipped the plant for bringing good

luck and warding off evil spirits. The

clever ancient Greeks, however, used it

for medicine, as a pain reliever and for

curing ulcers.

In orse mythology, the plant

symbolised love which is where the

custom of kissing under the mistletoe

comes from, a tradition restored by the

ictorians and still going strong today.

There are up to , species of

mistletoe across our planet but the one

Gathering of mistletoe among the Druids

in Gaul

most associated with

the ritish Isles is

iscum album. Classed

as an evergreen shrub,

it is a parasitic plant,

relying on a host tree for

its survival. It can frequently

be found hanging on apple trees,

poplars and lime trees. If unpicked, the

shrub can produce enormous bunches

which are best seen high up on leafless

poplars in the winter.

ale and female flowers are found on

separate plants and both are needed to

produce the pearly berries from autumn

to mid-winter. Anyone can have a go

at growing their own Christmas bunch

although the plant itself is very slow

growing. ind a healthy, mature host tree,

preferably the same species as the berry

and a branch at ft or more from the

ground. Rub the ripe seed into the bark

crevices or carefully slice a flap of bark

and place the seed under it.

I can vouch for the fact that it takes an

amazing seven years for the shrub to fruit

but, if you can be prepared to wait, it is

fun to cut your own mistletoe and tempt

someone to join you under it at yuletide

erry Christmas

Penny Royal

Let's Cook

Prawns with Ricotta and Mint

I know it is coming up to Christmas but everywhere

there are recipes for yuletide meals, so I thought I

would come up with a dish which would not include

turkey or any other festive ingredient It is also

delicious but quick and easy to do too after the

stresses and strains of Christmas entertaining.

INGREDIENTS

Serves 4

500g king prawns

150g defrosted frozen peas

Handful of blanched almonds

2 cloves of garlic

4 tbsp extra-virgin olive oil

350g linguine or spaghetti

Juice of half a lemon

150g ricotta

Handful of mint leaves chopped

Salt and pepper

WHAT TO DO

1. Bring a pot of hot water (with salt) to the boil. Add the

linguine and cook until al dente.

2. While this is cooking, heat 2 tbsp of oil in a large frying

pan. Add the garlic until just golden but no more. Put it

into a bowl. Chop the almonds roughly and when golden

add to the garlic.

3. Put the peas into the pan and cook for about four

minutes and put with the garlic and nuts. Put the rest

of the olive oil in the pan over a high heat and cook the

prawns until they turn pink. Add the lemon juice.

4. Return the peas, garlic and almonds to the pan, drain

the pasta and add to the pan mixing gently. Transfer to

a serving dish (or individual plates) and scatter roughly

broken chunks of ricotta on top. Serve.

Bon appetite and a merry, scrumptious Christmas!

Emma Fraser

40 The Cake Winter
---
BADGER'S PLOT

JOBS ON THE PLOT

Winter Musings

As the year draws

to a close, a

gardeners

thoughts are

turning to next

year and plans for the kitchen

garden.

Time will need to be

spent pouring through seed

catalogues and getting to

grips with that traditional

conundrum of rotating your

crops around the beds. This

is the practise of grouping

together related vegetables and

growing them in a different

bed each year, over a three

or four year cycle. This will

go some way to controlling

pests and contribute to soil

fertility, especially since peas

and beans release nitrogen into

the soil. ut these days such

traditions are constantly being

challenged.

Alternatively, just decide

what you want to grow, how

much space it will need and

how long it takes to grow.

This ensures that you are

not wasting space as well as

giving you the opportunity

for a second cropping of a

different variety of vegetable.

This method cant completely

ignore rotation because it is

advisable to keep as long a

period as you can between

vegetables of the same family.

As part of your plans for

next year, why not create a

herb bed erbs are easy to

grow and provide much needed

flavour to dishes. Well consider

what needs to be done in the

next issue, but in the meantime

you can start by sowing any of

the following in the greenhouse

in late winter basil, chives,

parsley, mint, sage and thyme.

ike the autumn issue, I have

divided this period into three

late autumnearly winter,

midwinter and late winter.

LATE AUTUMN/EARLY

WINTER

Sowing or planting outside:

broad beans, garlic and

rhubarb.

Harvesting: russels sprouts,

cabbage, kale, leeks, parsnip,

swede and any late sown

beetroots.

MIDWINTER

Sow in a heated greenhouse

early lettuce, peas and salad

rocket.

Outside: There is very little

to be gained from sowing

anything outside at this time of

the year.

Harvesting: Subject to the soil

not being frozen it should still

be possible to lift leeks, swede

and parsnips. Any sprouts

can be collected and cabbage,

anuary ing, can also be lifted.

LATE WINTER

Sow in a heated greenhouse

broccoli, summer and autumn

cabbages, leeks, lettuce, onions

and peas.

Sow outside if conditions are

suitable: broad beans, parsnips

and spinach.

lant outside if conditions are

suitable spring cabbage, garlic,

onion sets if you prefer not to

grow from seed and shallots.

Harvesting: lift remaining

parsnips, swede and leeks.

Commence digging and

manuring beds for next year

if you are not convinced

about the no dig system.

If you are a convert, time

should now be spent clearing

your beds of weeds and

laying down your compost.

Try to finish either of these

tasks before Christmas.

A quick word about

digging and turning your

soil it is said that the upper

layers contain absorbed

carbons and digging and

turning merely releases these

harmful substances into the

atmosphere. any farmers

have now abandoned deep

ploughing in favour of a

shallower approach.

uring this period it is

advisable to sort through

your stored vegetables such

as garlic and onions and

remove any items showing

signs of rotting as this may

spread to the remainder.

In late winter it is a good

idea to start "chitting your

seed potatoes. This is the

process of starting tubers

into growth indoors to get

a slightly earlier crop. They

are placed in a seed tray in a

frost free shed or cool room,

in the light but away from

direct sunlight to encourage

shoots to develop. Always

place them with the end

containing the most "eyes

uppermost.

n drier days when the

soil is not frosty, spend

some time using a rake to

break down larger lumps of

compost on the surface.

ast but not least head

for the plot, if you need to

escape from the frenetic

activity of Christmas

Badger

The Cake Winter 41
---
Fabulous Christmas Shopping

AWARD WINNING TRADITIONALLY SMOKED FOOD

FARM SHOP | DELICATESSEN | GIFTS | TAKE AWAY

Visit our shop or order online

GIFT BOXES AND

HAMPERS MAKE

POPULAR CHRISTMAS

PRESENTS AND

CAN BE DELIVERED

COFFEES, TEAS, HOME

MADE FOOD, SOUPS,

CAKES - ALL AVAILABLE

DAILY TO TAKE AWAY

Open as usual

Opening times: 8.30am – 5.30pm Mon to Sat.

Sundays in December 10am – 4pm

The Weald Smokery, Mount Farm, Flimwell, East Sussex, TN5 7QL

Call 01580 879601 or visit wealdsmokery.co.uk

Join us at:

Search Weald Smokery
---
FARMING

DEFRA Minister

Victoria Prentis

Make a Conscious Choice

uort local roers sas our armin corresonent arah alcutt

Ihave to write about the

ational ruit Show,

it was magnificent. We

had a record number of

visitors, our second highest

number of exhibitors and such

a wonderful atmosphere as

everyone was reunited.

The fruit display, though

reduced by the challenging

growing year, was up to its usual

spectacular standards with our

show champion, Clockhouse

arms, inton, picking up the big

prize for the first time. Gala won

the Tastiest Apple of , a first

for the variety, and the inaugural

tastiest pear category was won

by Concorde pears grown near

aversham.

The show very accurately

mirrored the challenges faced by

the industry with an opening

address from ictoria rentis,

our RA inister, who

acknowledged the professional

and societal changes that are

needed to mirror the policy

changes that are challenging our

food system.

A robust challenge was issued

by the eputy resident

Tom radshaw, who was quick

to point out the benefits to G

of a thriving food and farming

sector in the . e detailed the

need for technology investment

to match the rapidly changing

farming environment both the

need to reduce environmental

impact but also to offset the

devastating shortage of staff.

acancies at peak harvest time

were this year, farms had

only of the workforce

needed to pick their crops

food went to waste in the fields

and orchards. This is so wrong

and it is driving growers out

of business. ot only are they

faced with some of the lowest

food prices in the Western

World ritons spend almost the

least on food as a proportion

of household income in the

developed world they also have

a labour crisis.

arvesting work is seasonal,

temporary, anyone on benefits

cannot reasonably apply for a

seasonal, temporary job because

they will potentially lose their

home and support wouldnt start

again until after Christmas the

reference period between a job

and support starting takes and

average of weeks. So its not

fair to say that rits dont want

to do these jobs. Geography,

support circumstances and the

need to support a family with

a sharply rising cost of living

means it doesnt work. efore

growers put wages up even

further, they already pay living

wage more than Costa they

need to be paid more for their

products. There are no large

profits in farming anymore,

we appear to be viewed as a

temporary altruistic body who

has surplus to give away for

no money whilst we wait for

legislation to prevent this nation

from growing its own food

If youre still reading my rant,

please campaign for ritish food

and drink on the shelves of all

of our retailers. lease make a

conscious choice to select ritish

in everything you purchase.

In an area like Cranbrook and

Sissinghurst everything around

us is shaped by the farming

economy, from the size of our

churches to the landscape we all

love. We are blessed with diverse

high streets, rich with wonderful

independent retailers, please

extend your shopping choices

this Christmas to a home-grown

menu and celebrate what our

maddening maritime climate

creates, the best tasting food in

the world.

erry Christmas everyone,

I hope you get to spend it with

everyone you love.

The Cake Winter 43
---
HEN HOUSE

POULTRY

Quality Point of Lay Chickens

Excellent choice available, fully

vaccinated, laying lovely fresh

eggs in a variety of shell colours

Country living at its best!

www.henhousepoultry.co.uk

01622 843649 (Sutton Valence)

LETTINGS AND SALES PROPERTY EXPERTS

Local Experts with a Network of London & Regional Offices

FOR YOUR FREE MARKET APPRAISAL PLEASE CALL US

cranbrook@jackson-stops.co.uk

www.jackson-stops.co.uk

44 The Cake Winter
---
ART

Art from the Heart

nnie atsham shares her enthusiasm or usin art to hel oost our moo

Sadly, we are currently

facing huge public

health challenges in

the and mental

ill-health accounts for

more than per cent of these

challenges.

ost-Covid, the number of

people with long-term conditions

increases and with an ageing

population, who may experience

high levels of physical inactivity

and social isolation, innovative

and effective solutions are

needed more than ever This is

where art can help.

aving been a gallery owner

for many years Ive seen a lot of

people come through the doors

who just want the quiet and

sometimes sanctuary of

a tranquil space in which

to enjoy lovely art, and

basically, just to be. f

course, art galleries

arent always quiet,

peaceful places and this

is great as theyre there

to encourage not just

artists but the public to

enjoy, appreciate and buy

art

Seeing people enjoy a

private view or an art open day

is a joy. sually lots of smiling

and laughter mixed with really

looking at a huge diversity of

art both wall hangings and

ceramics, pottery, glassware,

jewellery. When someone buys

something they love and are

going to look at it and appreciate

it every day its a great feeling

for the artists, buyer and gallery

owner

Conversely, actually taking

part, enrolling in a class and

creating art with someone who

really knows their stuff and who

can engage with their clients can

be so uplifting. ou dont have

to be an expert to take part

anything from total beginners

to advanced participants can

be catered for. It really doesnt

matter how good or bad you are,

it really is the taking part that

counts.

ou get to use your talents

and creativity often you had no

idea you had these talents, you

You don't have to be indoors to create art –

go down to the sea, get out into nature, go

on your own, go with a group of friends, let

nature and the art work their magic –

en plein air.

engage with others, have fun,

laugh, be part of something,

maybe make new friends and

you actually produce something

Art can be a different and fun

way to express yourself without

speaking and without having to

talk about emotion it can have

a powerful and lasting effect on

your health. ou dont have to be

indoors to create art go down

to the sea, get out into nature,

go on your own, go with a group

of friends, let nature and the art

work their magic en plein air.

ne of our local Cranbrookbased

artists, Amanda Averillo,

who runs watercolour and

printmaking classes for all levels,

from older students to adults,

told me "When teaching art and

printmaking I enjoy sharing my

knowledge and experience and

find that students start to gain

confidence in their abilities as a

result. They enjoy meeting each

other and the sharing of ideas

in a fun and relaxed atmosphere

generates a huge sense of

wellbeing.

So go on. Give it a go

Please do visit

www.wellbeingintheweald.co.uk

The Cake Winter 45
---
LEGAL ADVICE

Ask our

Friendly Experts

uss urtons araret culher hels ith uestions aroun iorce

The Decree Absolute finalises all matters

Q concerning my divorce, is that correct?

AIt is important to understand that the

divorce itself and the resolution of the

finances relating to the divorce are in fact

quite separate issues. The ecree Absolute

will dissolve the marriage but without a

separate inal rder dealing with the finances

it will not sort out this aspect of matters,

indeed your respective financial claims will

remain open even after divorce unless and

until they are dismissed by the Court. This

means you could go on to marry again but still

find some time later that it becomes necessary

to resolve the finances of the first marriage,

particularly where in that first marriage there

is a jointly owned property, which can of

course create difficulties.

The fact financial claims remain open

because they were not sorted out when you

divorced does mean that until they remarry

either party can make a claim against their

previous spouse at a later date, which may

be years even after the ecree Absolute

itself. These claims relate to the full remit

of financial relief and may be for continued

income, lump sums, property adjustment or

pension provision. If you were to remarry

without resolving the finances from the

previous marriage the position for you is more

complicated by the fact that the previous

spouse assuming they have not remarried

will retain a full raft of claims but your own

will be limited. In such circumstances whilst

you may still be able to make a claim against

the former spouses pension your position in

relation to property will be limited and the

Court will not be able to consider your income

or other capital needs.

If you are in the process of divorce or if you

do have a decree absolute but you have not

sorted out the money side of matters, please

do take legal advice to ensure you protect

yourself for the future and things are properly

resolved.

QI am unhappy in my marriage is it a

good idea to threaten divorce?

AIts possibly never a good idea to

threaten divorce to your spouse although

things are often said in the heat of the

moment that might not be meant to say

such things may create uncertainty for your

spouse which could be unhelpful. If things are

difficult at home its always better, if possible,

to find safe avenues to try to talk things

through, such as counselling or marriage

guidance. owever, if you are very unhappy

in your marriage and have reached the

conclusion there can be no way forward and

that it may be best to divorce, you will wish to

know what your rights are and how things can

be resolved as painlessly as possible.

nderstanding your options, where you

might go from here and how long it might

take to sort things out will help you gain

clarity and enable you to make the correct

decisions for the future. There are many

options such as collaborative law, round

the table meetings, discussions through

solicitors and mediation. I am a Collaborative

awyer and committed to sorting things out

as amicably and efficiently as possible. I can

offer advice about all aspect of divorce, the

finances and where children are concerned

to make the whole process easier for you and

your family.

MARGARET SCULPHER

Associate Solicitor

For a free 30 minute

interview to discuss just

such matters, contact

me on T: 01892 502354

or E: msculpher@

bussmurton.co.uk

and quote 'The Cake Magazine'.

Clermont House, High Street,

Cranbrook, TN17 3DN

01580 712 215 or info@bussmurton.co.uk

www.bussmurton.co.uk

The Cake Winter 47
---
SALES AND SERVICE

M&A Brown & Sons Ltd, Iden Green Farm, Cranbrook Road, Goudhurst, Kent TN17 2PA

info@mabg.co.uk ✆ 01580 211599 www.mabg.co.uk

PROUD TO BE SERVING THE

COMMUNITY SINCE 1852

Your fully independent, family owned, Funeral

Directors serving the local community with

compassion and the highest standards of

service and professionalism.

With our 24-hour emergency service, we are only

a telephone call away.

At the earliest stage possible, you will speak directly

with one of our experienced Funeral Directors, who

will be there to help, support and guide you through

the whole of the funeral process.

Bank Street, Cranbrook,

Kent TN17 3EF.

01580 713636

Dixter Road, Northiam,

East Sussex TN31 6LB.

01797 260316

enq u iries@ j perigoeandson. com www. j perigoeandson. com

J . Perigoe & Son is a Trading D iv ision of W est & Coe Lim ited,

6 0 2 Rainham Road Sou th, D agenham , Essex RM1 0 8 YP.

Whatever you want

to store...

...for whatever reason – business, house sale and

purchase not coinciding, travelling, house building

work, paperwork overload or just "de-cluttering" to

sell your house more quickly –

we offer a friendly and

flexible service in

Cranbrook.

With competitive

rates, secure storage

all on one level and

hassle free 24/7 access,

contact us now!

01580 713231

www.barn-store.co.uk

48 The Cake Winter
---
Update

Winter Strategy 2021–2022

messae rom the arish council

It is the individual responsibility of

every parishioner to take due care

and attention in adverse weather

conditions.

Cranbrook and Sissinghurst arish

Council has made no arrangements this

winter for snow and ice clearance, salting

or gritting of the Regal, Tanyard or ockey

ane car parks.

The council will not undertake clearance

of pavements within the parish. Residents

and businesses are encouraged to clear

the areas in front of their own properties,

although this will be entirely at their own

risk.

There are salt and grit bins throughout

the parish for use by parishioners. Spreaders

are available by request to the arish ffice.

Throughout the winter season all

residents and visitors to Cranbrook and

Sissinghurst must use the roads, car parks

and pavements with due care and attention.

It must be clearly understood that all users

of the car parks do so at their own risk.

Merry Christmas

and Happy

New Year

The Cake Winter 49
---
THE CAKE CHATS WITH…

Wendy Waters and Julie Sales

t seems that sisters en aters an ulie ales hae maic in their loo rites risha Fermor

Sisters Wendy Waters and ulie

Sales were born and brought up in

Cranbrook the town they love

and cant get enough of organising

events for the community.

They have turned their hands to running

such winners as the highly-praised Cranbrook

on the Green gathering which celebrated

the end of lockdown in a big way, a hugely

successful music festival, helped run the

autumn Apple ayre and launched a town

market.

The two went to Cranbrook rimary School,

Angley School and Sunday school with St

unstans Church, the chosen venue for their

weddings. Somehow, in their busy young

and teenage years, they also managed to

fit in being members of Cranbrook

ajorettes.

n leaving Angley, both

pursued careers Wendy,

when interviewed, the

mother of ordan, worked

for a T production

company. ulie, , who has

two daughters, ollie and

anielle, worked in the S

as a service manager.

As time went on, the pair

Wendy always referring to "us

rather than "I began to want

something different. They launched a

chutney business named oldans, from

combining ulies daughters names and

then hit on the idea of opening a former

ABOVE AND BELOW: Sisters Wendy and Julie

organised the highly successful Cranbrook on

the Green this year

flower shop in the

igh Street as a micro

pub. espite it being tiny in

comparison to most watering holes,

arkins Ale ouse has proved a huge hit,

winning several awards for quality ales.

Wendy explained "We were always into the

community and both in full-time jobs when

we set up the pub. ut we are not organising

events because we are running a business. We

just wanted to see Cranbrook alive again.

She explained how the ale house came

about. They had noticed the empty shop but

when they inquired about it they were told it

was let.

She said "Shortly afterwards it was weird.

We had our stall outside for the Apple ayre

on a Saturday in and I noticed it was

to let again. n the onday we rang up and

asked if we could look at it and discovered

it was owned by ichael Chambers the

Cranbrook hairdresser. e believed in us and

he loves the ale house.

The sisters worked seven days a week

for seven weeks, ulie taking a holiday for

three of those weeks, said Wendy restoring

the building and uncovered all kinds of

interesting memorabilia which is on display.

Somehow, they also find the time to do

outside catering for all sorts of functions from

weddings to funerals.

Asking Wendy how on earth they manage

their businesses and find the time to organise

hugely-successful town events, she said "To

be honest, we just keep going. ike twins we

bounce off each other.

The two are again organising the Cranbrook

Christmas Market in the Jockey Lane car

park on 10 December, starting at 5pm. The

town's Compass Choir will be singing festive

songs from 6pm.

50 The Cake Winter
---
Professional Painting Decorating service based

in Cranbrook, covering Kent Sussex.

V thewrightwaydecorators

B TheWrightWay5

the-wrightway.com

the-wright-way@outlook.com

01580 713599 | 07856 947840
---
Local firm of solicitors for all your

personal and business needs

Property Conveyancing

Family, Children & Divorce

Employment law

Wills, Trusts and Probate

Litigation & Dispute Resolution

Company & Commercial law

Our Cranbrook Office:

Clermont House

High Street

Cranbrook

Kent TN17 3DN

T: 01580 712 215

E: info@bussmurton.co.uk

www.bussmurton.co.uk

CRANBROOK | TUNBRIDGE WELLS | EAST GRINSTEAD

Buss Murton Law LLP is a Limited Liability Partnership No. OC345994 and is authorised and regulated by the Solicitors Regulation Authority