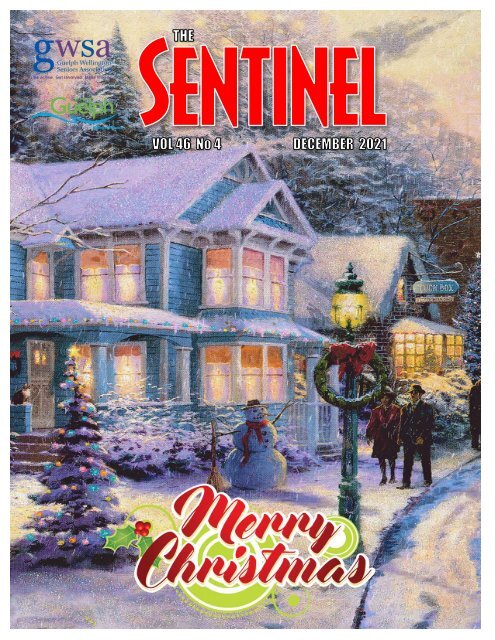 You also want an ePaper? Increase the reach of your titles
YUMPU automatically turns print PDFs into web optimized ePapers that Google loves.
T S - D 2021
---
2

T S - D 2021 — V. 46, N. 4
---
The Guelph/Wellington Seniors Association

A non-profit organization based at the

Evergreen Seniors Community Centre

http://www.gwsa-guelph.ca

Ross Knechtel - Webmaster

Directors & Officers

Brian Smith—President

tba — Vice-President

Roger Stevens — Treasurer

Tonie MacInnis — Secretary

Directors

Pat Gage Ken Fugler

Wenda King Charlie Bishop

Teresa McKeeman

Ross Knechtel

Adam Rutherford

The Sentinel Team

Carol Croft — Adminstrator, Printer

Linda Green — Editor, Printer

George Hughes — Printer

Bill Shephard, Ray Miller — Part-time

Assistants

All of the above GWSA members

are Volunteers.

GWSA Community Support Services Staff

TBA — Manager

Audrey Bishop — Administrative Assistant

Margaret Iutzi — Move Well Co-ordinator

Molly Roberts — Eat Well Co-ordinator

Paula Frappier — Outreach Co-ordinator

All others working for CSS

are GWSA Volunteers

City Staff

Adam Rutherford — Program

Manager

Sheri-Lyn Roy — Customer Service Clerk

Tonie MacInnis — Recreation Program

Director — Senior Services

Becky MacDonald — Recreation

Co-ordinator — Volunteers

Jocelynn Desroches — Chef

Brian Treleaven — Assistant Cook

Don Harris — Facility Maintainer

Lorne Wollis — Cleaner

Lynne Briggs — Manager of Recreation

Services

E S C C

A City of Guelph Recreation Facility run in

partnership with the Community Services Department

of the City of Guelph and the Guelph/

Wellington Seniors Association

683 Woolwich St., Guelph, ON, N1H 3Y8

Tel.: 519-823-1291 / Fax: 519-823-8972

Hours: 8:30 am to 4:00 pm M-F

(closed Statutory Holidays)

Read The Sentinel on our website,

www.gwsa-guelph.ca

ISSN: 0383 817X

A MESSAGE FROM THE GWSA

BOARD

As December is upon us, we look forward to crisp, clear air, snow

underfoot, and the fascinating surprises and celebrations of the holiday

season! This has been a year of change and opportunity, as we collectively

tackled the isolation arising out of pandemic, to restore life to almost

normal. We extend appreciation to many volunteers who have helped the

Board of Directors launch an amazing reopening of programs and activities,

and to the City of Guelph who has worked tirelessly alongside.

The Sentinel recently started printed copies, so be sure to pick up yours

when you come by. Remember, memberships were extended at no cost

during the shutdown, so if you haven't been by yet, there is likely a

membership card waiting for you in an envelope with your name on it.

The enthusiasm of everyone returning to the Evergreen Centre has

become contagious, as we hear of members happy to see their 'family'

again. With about 2700 members, it hasn't taken long for a hum of activity

to fill the space, and some groups already have waiting lists. Over twentyfive

activity groups have returned, with more to come. Fortunately, capacity

limits have normalized, which relieves some scheduling pressure. If you

want to try something new, consider some of our new groups, like the

Guelph Carving Club. Check the GWSA website often for the latest. And,

yes, proof of vaccination and wearing of masks are still required.

Things are happening. Did you notice the Evergreen Restaurant is

offering hot meals again? Some of our member favourites like cabbage

rolls, and liver and onions are back! You can even grab generouslyportioned

frozen meals to take home. The Craft Group has some interesting

items for sale by the front desk, and we are planning space for a larger

display. The Book Nook is seeing increased interest and has been adding to

its collection. And, you can sign up for computer mentors if you are

interested in sharpening your skills. We are pleased that a new board

member, Charlie Bishop, is eager to form a Technology Advisory

Committee that will help support our ongoing needs and set future

priorities.

You likely noticed that membership fees will increase in January, for the

first time in over a decade. With The Sentinel newsletter subscription still

included, it remains a relative bargain. Membership fees contribute to our

building lease and related expenses, maintaining and improving our

programs and equipment, and keeping technology current for the benefit of

all members.

The GWSA Community Support Services (CSS) continues to help

hundreds of vulnerable seniors, and receives funding through grants,

including the United Way. Its services remained in high demand during the

shutdown. If you know families and caregivers who would benefit from

their programs, like Outreach, Eat Well, Feel Well, Seniors Offering

Support, or Links2Wellbeing Social Prescribing, please contact CSS at the

Evergreen. The existing role of CSS manager is being broadened to provide

an Executive Director presence for the GWSA to raise our profile and

support our strategic priorities. We are strongly committed to this

remaining a members-focused organization through its active volunteer

Board of Directors and Committees.

For now, it is time for twinkling lights and holiday festivities! To all

members, we extend our wishes for health and happiness, and relaxing

times with friends and family throughout the season.

NOTE: Disclaimer—The Sentinel and the GWSA do not necessarily agree

with or support statements in the Sentinel made by advertisers, or submissions

by writers (no political or religious topics please).

T S - D 2021

3
---
4

News of Interest

The GWSA Board of Directors has been actively working towards a full resumption of services as the

Province reopens. It has been a long road, and we are thrilled to get back to normal and involved with

friends. We are working daily with the City of Guelph and are happy that room capacities are back to

normal, social distancing has relaxed and our programs can gain full participation. Please note that

requirements for Proof of Vaccination and wearing masks when not engaged in 'active' programs or when

dining remain. We will keep everyone updated and appreciate your patience.

Over the last 18 months, the GWSA Board has continued to meet and plan for the future. Our Strategic

Planning has considered Accessibility and Inclusion, Long-term Sustainability, Expansion of Programming

throughout the City and the County of Wellington, and thoughtful planning about the leadership of our

wonderful Community Support Services (CSS) team.

With these in mind, we do have some positive news to share. The opportunity for the GWSA to move

towards an Executive Director-led model has presented itself. The idea has been expressed many times over

our history, and the current Board of Directors has unanimously voted in favour of this meaningful and

future thinking decision. The responsibilities associated with GWSA stewardship can be onerous and recent

influences like COVID-19 have further illuminated the need for Board and membership-directed

professional leadership.

The transition better positions the GWSA for future funding opportunities, increased connection with

community, an expansion of programming options, and greater advocacy for the needs of older adults in

Guelph and Wellington. That means that the Executive Director will be working for you at the Evergreen

and across our community, to improve opportunities, supports and resources for all seniors. The Executive

Director will work closely with the Board and committees to implement member priorities, and will report

to the Board of Directors to ensure that we remain focused on those we serve.

This transition is made possible by incorporating the role of our vacant CSS Manager into the Executive

Director's portfolio, continuing with responsible investing, and using grant funding as we do every year to

employ our small staff. Moving forward, we expect the new position to identify additional funding

opportunities. The Board is eagerly undertaking the job search and will keep members informed.

In other news, the Board agreed to increase membership fees which incredibly have remained the same

for over 10 years. Your extra $ 0.20 per week will be recommitted to additional programming, asset

replacement and maintenance, and other GWSA needs as they arise. The change, effective in January,

improves our alignment with similar organizations and is a fiscally responsible decision. Please note that we

will always work with members to support access to the GWSA, regardless of financial means.

We hope you have friends who might like to join us. Now that the Evergreen Restaurant has reopened and

is now called Bistro 683, it is a perfect time for people to come by for a hot lunch and a tour. Thank you for

working through recent challenges with us, for your trust in your Board of Directors and for continuing on

as the reason why the GWSA exists.

T S - D 2021 — V. 46, N. 4
---
Special Printing For Members

Looking for that

Special Unique Christmas Gift?

The Sentinel can print a custom 2022 Calendar using your

own photographs (14 pictures-landscape style) for $10.00 +

HST per calendar. If you want the calendars for Christmas,

please submit them no later than December 10. Email us

your request or leave us a message in our mailbox. You can

usually find us in the office on Monday, Wednesday, or

Friday mornings.

THE EDITOR'S PAGE from The Sentinel Team

We would like to wish one and all

A Very Merry Christmas and

A Very Happy New Year 2022!

5

DONATIONS

To donate easily, with a credit

card, visit our website

www.gwsa-guelph.ca and click

on the 'Donate' button or call:

519-823-1291

December 2, 2021 is the deadline for

submissions for the

January 2022 Sentinel.

Email submissions to: sentinel@gwsa-guelph.ca

or drop yours off at the Evergreen Front Desk.

Distribution of the January issue

is on December 23, 2021.

Editor is not responsible for quality of submitted photos

(but we'll do our best).

T S - D 2021
---
6

We are pleased to announce that Charlie Bishop has been appointed as a

new GWSA Board member. This will fill a vacated three-year term

which ends at the AGM in June 2022, subject to re-election. I have

contacted him and welcomed him on behalf of the organization. Charlie

has much to contribute to the GWSA and, as part of his role, has agreed

to provide leadership for our broad range of technology needs.

Charlie Bishop is looking ahead for retirement where he can engage in

the community doing something he enjoys. His previous experiences

include: design and development for global, world class high tech

companies such as Nortel and BlackBerry, Chairman and Executive

Director on an international Board of Directors for a wireless

consortium which brought not only technology aspects but HR, multiple

years of IT support/implementation, finance and business. Charlie has

extensive background in technology and is looking to apply that

background for GWSA and its members. He is looking to meet more

people, and give back to his community while having fun and making a difference. Charlie is a forward

thinker, seeing the bigger picture. His motivation is seeing opportunities to do things. If he sees something

that isn't working, he'll be able to create ways to move forward and change what needs to be done.

Technology Advisory Committee

Attention all you Technology buffs, geeks and TechnoRats,

If you've been called one of these or aspired to be one... then we are looking for you

to come and have some fun. This committee will be looking at all kinds of wired/

wireless networking, computers, programs, audio, video and so much more.

Have you ever wanted to be a Lighting Engineer for a concert... how about a Sound

Engineer? Well, those opportunities and more are waiting for you if you simply

respond. Come out, meet people, learn some things, and most of all, have some fun.

Email me at charlie.bishop@gwsa-guelph.ca with a brief outline of your background

and interests... :)

PLEASE NOTE THAT MEMBERSHIP FEES WILL

INCREASE EFFECTIVE JANUARY 1, 2022 AS FOLLOWS:

Membership Fee (effective January 1, 2022)

The Annual Fee is $32.00 plus any cost for optional newsletter

delivery (plus HST):

$32.00 + $4.16 HST = $36.16: pick up The Sentinel at the

Evergreen Centre

$38.00 + $4.94 HST = $42.94: have The Sentinel hand-delivered

to your home (only within Guelph city limits)

$55.00 + $7.15 HST = $62.15: have The Sentinel mailed to your

home

T S - D 2021 — V. 46, N. 4
---
Bistro 683 - December 2021

7

The Evergreen Restaurant is open to the public

and serves a large variety of menu items that are

available from 8:30 am to 3:00 pm, Monday to

Friday (except holidays):

Breakfast Foods

Homemade Soups

Bakery Items

Sandwiches

Salads

Beverages

The daily featured Lunch is served from 11:30 am

to 1:00 pm Monday, Wednesday and Friday and

the menu is below. Take-out is available for your

convenience.

Our goal is to provide balanced, nutritious meals.

We provide great quality, while keeping costs

reasonable. The tremendous support of volunteers

in the restaurant helps us achieve this goal.

Featured Hot Lunch

$7.50 + tax

Each hot lunch is served with 2 sides to ensure a

balanced nutritional meal.

Catering

Catering is available by special order: Hot/cold

drinks, sweet trays, sandwiches, etc. Please have

your order to the customer service clerk in the

office at least 48 hours prior to your event. This

allows staff to ensure that your catering needs will

be met. Thank you for your co-operation in this

matter.

FRESH BAKED TEA BISCUITS

ARE AVAILABLE ON MONDAYS

Home-made pickles, relishes, chili sauce and preserves

are available for purchase.

FEATURED LUNCH served 11:30 am to 1:00 pm — Monday, Wednesday & Friday

All menu items available 8:30 am to 3:00 pm

Monday Tuesday Wednesday Thursday Friday

1

Meatloaf

2 3

Chicken a la King

6

7 8

9 10

Salmon

Lamb Shepherd's

Pie

Salisbury Steak

13

14 15

16 17

Beef & Tomato

Skillet

Stuffed Chicken

Roast Beef

20

Chicken Meat Pie

21 22

Roast Pork

23 24 CLOSED

Merry

Christmas!

27 28

29 30 31

THE DINING ROOM WILL BE CLOSED FROM DECEMBER 24 TO JANUARY 3,

REOPENING ON JANUARY 4

T S - D 2021
---
8

Volunteer Corner from Becky MacDonald

Merry Christmas!

Another year has come and passed, yet we managed to

enjoy the final few months of 2021 back together again.

Starting to see the Centre fill with activities, volunteers

and members, has truly made this holiday month shine. I

would like to wish everyone a happy, healthy good season

and looking forward to seeing you all in the new year!

Merry Christmas!

Preparing for In-Person Return

With such a long break, all volunteers will be required

to complete the mandatory Orientation & Training and

COVID Training prior to returning in person when the

time permits. These trainings are to be completed from

the comfort of your home online. For those who do not

have access to a computer, training dates will be set up

for you to attend in the near future.

Please contact Becky MacDonald for more information

and if you have any questions.

becky.macdonald@guelph.ca

For more information and for details on each position,

please contact becky.macdonald@guelph.ca

If you are a current volunteer, you are more than

welcome to take on more than one position. If you are not

a current volunteer, you will be required to complete the

"Volunteer Application Form – online" at:

https://gwsa-guelph.ca/1749-2/.

No access to a computer? Please stop into the Evergreen

Seniors Community Centre to pick up an application to

complete for a volunteer position that is of interest to you.

GWSA COMMITTEES

Board of Directors

The Board is looking to recruit up to four (4) new

members. Experience in law, fundraising and HR are an

asset. The Board meets on the third Wednesday of each

month at 9:30 virtually (min of 8 meetings per year).

Duties include: being an active member on the board and

assisting where needed on committees; provide reports

and updates to all members; review monthly financial

statements; report Board issues to the Committee and

report the Committee's issues to the Board; participate in

self-development training, where and when appropriate.

T S - D 2021 — V. 46, N. 4

Governance Committee

The GWSA is looking for up to three (3) additional

members. The Governance Committee assists the Board

of Directors with the development and review of bylaws,

policies, and procedures for the Association.

Morning meetings during a few months of the year.

Experience in governance with a not-for-profit

organization

Knowledge of legislative requirements

A keen interest in document research, development,

and review would be helpful.

Human Resources Committee

Qualified Volunteers are needed to assist on a quarterly

or as needed basis to implement the GWSA HR Policy for

GWSA staff which includes anyone who receives

payment for services. Duties also include: implementing

Board decisions based on the GWSA Human Resources;

ensure that actions of the committee are aligned with the

GWSA strategic plan. We would greatly benefit from

someone with Human Resources background.

Secretary

The Governance Committee is looking for someone

with a laptop and who is interested in taking minutes at

the meeting and updating any documents as needed.

Membership & Marketing

Three (3) more committee members needed to join the

team. Meet on the second Tuesday of each month at 9:30

am. The committee reports to the Board for all

membership and marketing initiatives, focusing on the

maximum interest of members and advancement of the

Board's Strategic Plan. The Committee provides content

and messaging advice to the webmaster for the website

and social media accounts and prepares monthly GWSA

Email Updates. Marketing and recruitment experience

would definitely be assets, but are not required.

Monitors membership satisfaction

Develops plans to improve member recruitment and

retention

Marketing responsibilities include arranging for

media coverage and creating advertisements

Developing promotional material

Arranging special events such as Open House and

New Members' Welcome - either virtually or inperson

as appropriate.

Special Events Committee

The GWSA is looking for energetic individuals to lead

the special events committee when initiated. Duties

include: responsibility for the Friday afternoon Dances

(every two months) and other significant events

throughout the year (Mental Health Symposium). The

Committee sees the overall organization of the event,

maintaining communication with the Board and the City

(Continued on page 9)
---
9

(Continued from page 8)

of Guelph staff; promote the event in the Sentinel, website

and other avenues with support from the M&M

committee.

Succession Planning Committee

Seeks people who have leadership qualities, who would

be appropriate candidates for the Board of Directors and

who are current GWSA members, or eligible for GWSA

membership. Ensures that there is a full slate of

candidates to fill the positions of retiring Board members.

facilitate one-hour gentle exercise classes in the

community. As little as one hour per week is all that is

required. No fitness experience is necessary. Full training

will be provided.

In-Home Move Well Gentle Exercise Program

We are also looking for volunteers to assist older adults

in their own homes to guide them through a 12-week

exercise program (this is a once-weekly program). Full

training and orientation will be provided. All participants

and volunteers are required to be double vaccinated.

Technology Committee

Advise the Board of Directors and provide technical

leadership in support of the Strategic Plan.

Production support: we need a group of technically

savvy and interested members to prioritize a list of needed

projects for planning and implementation.

Experience in: electrician, sound tech, lighting

technician, carpentry or design would be useful, and

possibly computer-aided design skills.

IT (Information Technology):

Make hardware and software recommendations to

address employee and volunteer needs, including the

Board, Finance Committee, and members.

Oversee a small wireless network.

Provide guidance regarding the technical aspects of the

website and membership mailing list.

Establish a modest A/V recording/live streaming

studio

Interest and background experience in IT, including

network management and video production would be

assets.

Activity Groups

The following Activity Groups are in need of volunteers:

Bid Euchre

Book Nook

Canasta

Darts President

Dominoes

Euchre Wednesdays

6-Handed Euchre

MahJongg

Secretary for various committees

Scrabble President

Scrabble Assistant

Sentinel Delivery Drivers

Walking Club

CSS VOLUNTEERS

Move Well Gentle Exercise Program

Are you interested in active living? If you are looking

for a new challenge and would like to help other seniors

maintain their physical well-being, please consider

volunteering with the Move Well Gentle Exercise

Program. We are currently seeking volunteers to

Volunteer Drivers - Outreach Program

Help make a difference to support seniors who have

trouble getting out on their own. The Outreach

Program is looking for volunteers who are willing to use

their own car to drive participants between their home and

the Outreach program at the Evergreen Seniors Centre.

This commitment can be once per month or up to 3 x per

month. Participants are picked up around 9:45 am and

brought to the centre for their program. We then ask our

volunteers to pick them up from the centre at noon and

return them to their homes. All Outreach events happen

on Fridays. All participants and volunteers are required to

be double vaccinated.

Seniors Offering Support Telephone Visiting

Volunteers

Help brighten another senior's day by making a

friendly telephone visiting call from your home to theirs.

Scheduling and time commitment are flexible according

to your availability. We are looking for men and women

volunteers as well as those who speak additional

languages. Full training will be provided. Your

commitment can be as little as 1 hour per week or more if

you wish.

Evergreen Dining Room Coffee Volunteer

Volunteers are needed to assist in the dining room

throughout the week in the morning or afternoon, serving

hot beverages, clearing tables and assisting patrons when

needed.

Bistro 683 Dining Room Cash Volunteer

Volunteers are needed to assist in the dining room on

the cash register throughout the week in the morning or

afternoon.

Bistro 683 Grocery Shoppers Needed

Assist the chef with grocery shopping at the local No

Frills on Fridays. A rotating schedule will be developed so

you might only shop once a month.

If you are interested in volunteering in any of the areas

listed, please contact Becky for more information.

becky.macdonald@guelph.ca

T S - D 2021
---
10

Solutions on pg. 22

T S - D 2021 — V. 46, N. 4
---
11

SPECIAL BIRTHDAYS

OF NOTE

"Our Young Seniors"

'We're not over the hill;

we're just gaining speed!'

Miller, Ray – December 10 (76)

SPECIAL WEDDING

ANNIVERSARIES

If you have a birthday or anniversary that

you would like to include in the Sentinel,

please let us know the month before.

This column is NOT done automatically.

We DON'T have access to your

personal information.

"Passages"

We would like to convey our

Condolences to Association Members

and their Families

Martin, Ed passed away on June 7, 2020, at

the age of 91. He was a former GWSA

member.

Hershaw, Bill passed away on March 24,

2020, at the age of 91. He was a former

GWSA member.

Klein, Ray passed away on November 7,

2020, at the age of 90. He was a former

GWSA member.

Bleach, Joan passed away on Sunday,

October 17, 2021. She was a long-time

member of the craft club and walking club.

Dennis, Shirley passed away on Thursday,

October 28, 2021, at the age of 94. She was

involved in Bridge, volunteered as a Sentinel

proofreader and helped in the dining room.

Barnes, Ray passed away on Wednesday,

November 10, 2021, at the age of 84. H was

past leader of Friday Euchre and a member of

Monday Euchre.

T S - D 2021
---
12

The service that volunteer Snow Angels provide

contributes a tremendous amount to the overall

well-being of our community. Volunteering with

the program is truly 'the neighbourly thing to do'

and is a great way for families to volunteer

together, or high school students to complete their

40-hour community service requirement.

A volunteer snow removal service for seniors

and persons with disabilities 519-822-1155

In partnership with the City of Guelph, we offer

a volunteer snow removal service for eligible

seniors and persons with physical disabilities.

During a significant snow event, after the

residential streets are plowed, volunteers visit

their match within 24 hours to clear the windrow

(the accumulation of snow left at the end of a

driveway).

Last year, 73 Snow Angels contributed 949

hours of snow shoveling service. In total, 184

residents were helped during the winter season of

which one shared, "without the help of our Snow

Angel, it would be difficult for us to stay in our

home."

Residents eligible to receive this service:

- Must reside in the City of Guelph in a single

dwelling or semi-detached house with private

driveway.

- Are unable to remove their own snow and cannot

afford to pay for snow removal.

- Have no able-bodied person living in the

household to shovel snow.

- Must be a senior citizen (aged 65 years or older)

and/or have a physical disability.

Please note that the People and Information

Network (PIN) reserves the right to ask for

documentation verifying proof of disability and/or

inability to pay for private snow removal services

in order to ensure services are provided to those in

our community who truly require assistance.

T S - D 2021 — V. 46, N. 4
---
13

REPORT FROM THE PROGRAM COMMITTEE

Now that COVID room capacities have returned to normal and social distancing is no longer a

government concern, the Activity Groups may now return to "normal", whatever that may be.

Members must still abide by the GWSA COVID rules: that means showing ID and Vaccination

Certificates at the door, using sanitizers that are available in the buckets in the rooms, and wearing

your masks. The Bistro683 is open and we can get food – hot or cold.

I would like to welcome back all our members to the groups who were brave enough to start in

September. Some of those groups are to capacity and have wait lists.

I welcome those groups who decided to take a slower approach – Monday Euchre, Cribbage, Texas

Hold 'Em, Book Club 2, Bid Euchre, Computer Mentoring and the Computer Club.

If you are interested in any of our groups, sign up at the Front Desk of the Evergreen or on-line

using RecEnroll.

We are still looking for group leaders for the following: Monday Bid Euchre, 6-Hand Bid Euchre,

Wednesday Euchre, Canasta, Chess Club, Darts Club, MahJongg, Scrabble and Walking Club. If

you have been a member of any of these clubs and wish to return, maybe you might consider

stepping up and become the group leader.

A new group started in November, Wood Carving. There is a wait list of new groups who wish to

become part of the GWSA Programs. Those groups above who do not have group leaders by

January will lose their booking spot to a new group.

Please contact me (pat.gage@gwsa-guelph.ca) if you wish to have your group "return to play".

Have a Happy Holiday Season and a very Happy New Year!

Pat Gage

Chair, Program Committee

NEW

Guelph Carving Club

est. Circa 1986

This new GWSA group is a well-established

wood carving club of mostly seniors (both men

and women) operating in the Guelph area for

decades.

We do carving in the round, like cartoon

characters, birds and wildlife, spoons, bowls etc.

Other carving techniques include relief carving,

marquetry, and pyrography. Training is available.

This group meets Monday evening 6:00 pm-9:00 pm in Evergreen Room 2. For more

information, contact activity leader: Ken Fugler at fugler@rogers.com.

T S - D 2021
---
14

GWSA Group & Activity Reports

ALL Activity Groups require that you MUST have an up-to-date GWSA Membership to participate.

Badminton

Our Badminton Club welcomes

all, from beginners to experienced

and competitive players. Join us as

many as 6 times a week for friendly,

active games and competition

at two locations. We play at the

West End Community Centre on

Monday and Wednesday afternoons

at 1:00 pm.

At the Evergreen Centre, play is

on Tuesday evening at 7 pm,

Thursday at 9 am, Friday at 10 am,

and Sunday afternoons at 1:15 pm.

We do our best to keep members

alerted of any changes to our times

or cancellations. Racquets are

available for short-term loan and

players are required to wear indoor

court shoes.

Your membership fee covers

participation at both locations. If

you are a member of the GWSA,

we allow 3 free visits to give you a

chance to discover if you are able

and will enjoy this very active

sport. The yearly fee is $60.00 and

you must have an up-to-date membership

with GWSA to be a member

of our club.

For further information regarding

our activities and membership,

contact Jeff Millard (519-993-

1362).

Book Club 1

Our group will now meet in Room

3 on the last Friday of each month

from 1:00 p.m. to 2:30 p.m. For

December, our selection is

"American Dirt" by Jeanine

Cummins. In January, we will be

reading "The Curious Charms of

Arthur Pepper" by Patrick Phaedra.

Monthly fee is $3.00.

Bridge

GWSA welcomes all Bridge players

with a basic knowledge of the

game to enjoy playing bridge in a

T S - D 2021 — V. 46, N. 4

friendly and comfortable environment.

We offer both Recreational

and Duplicate Bridge.

No partner? No problem! We mix

and mingle with a room full of eager

players so that everyone has a

partner for any of our regularly

scheduled games.

Bridge-Recreational

Join us for recreational bridge in

the afternoon or evening.

Mondays 12:30-3:15 pm (WECC)

Tuesdays 6:30-9:00 pm Evergreen

Room 3

Thursdays 12:30-3:30 pm Evergreen

Room 3

Bridge-Duplicate

This group is for individuals who

have already taken bridge lessons

and would like to work on improving

their game. Volunteers are on

hand to coach you.

We request you know the Bidding

Basics. We will make you

comfortable playing Duplicate

Bridge with Duplicate Boards and

using Bidding Boxes.

Fridays 9:00-11:30 am Evergreen

Room 3

Bunka

Bunka embroidery is created by

using a unique combination of

punch needle and special silk-like

rayon thread. When completed,

many pictures resemble delicately

shaded paintings. In fact, the needle

is held and operates in much

the same manner as an artist's

brush or pencil. The Bunka artist

uses many different stitch techniques

in order to achieve the desired

effect of depth and interest,

but unlike other forms of needle

art, there are no knots to tie and

mistakes are easily corrected. This

group is for all skill levels and

meets every Wednesday from 9:15

a.m. to noon in Room 3.

Bunkawithflair.com.

Craft Group

The Craft Group is full and

capped. There is a waiting list.

Guelph Carving Club

est. Circa 1986

A well-established wood carving

club of mostly seniors (both men

and women) has operated in the

Guelph area for decades.

We do carving in the round, like

cartoon characters, birds and wildlife,

spoons, bowls etc.

Other carving techniques include

relief carving, marquetry, and pyrography.

Training available.

Meets Monday evening 6:00 pm-

9:00 pm in Evergreen Room 2.

Line Dancing

Evergreen Auditorium

Phyllis Carnochan

(519-836-9415)

Donna Holmes (519-831-0943)

Mondays:

10:10 - 11:10 am (Beginners)

11:20 - 12:20 pm (Beginners)

Thursdays:

1:10 - 2:10 pm (Beginners)

2:15 - 3:15 pm (Improver)

We are currently restricted to 25

people in the Auditorium. Our

classes are full, but we can put you

on a waitlist and get you dancing

as soon as capacity is increased.

Into Focus Photography

We are a friendly group of amateur

photographers with equipment

ranging from mobile phones and

point-and-shoot cameras to fancy

DSLR models. We share a common

interest in photography as a

hobby and we learn from each oth-

(Continued on page 15)
---
(Continued from page 14)

er. New members are always welcome.

Our regular meetings are on

the last Monday of every month by

Zoom.

If you are interested in joining,

contact Bill Adams at:

(olar57@gmail.com).

Pickleball

Pickleball is a sport in which four

players use solid paddles made of

wood or composite materials to hit

a perforated polymer ball over a

net. The sport shares features of

other racquet sports: the dimensions

and layout of a badminton

court and a net and rules similar to

tennis, with a few modifications.

This sport is for people of all

ages who are looking for some

fun, laughter, socialization and exercise.

It's easy to learn, but can be

challenging for those with a competitive

nature. All levels of skill

invited. Pickleball equipment is

provided.

Shuffleboard

Come on out and join our group.

Enjoy some gentle exercise,

friendship and fun. Membership is

available to all paid-up GWSA

members for a $10 fee every six

months. Register the first time you

play. Beginners are welcome and

instruction is available. The group

plays Tuesdays and Wednesdays

from 1:30 to 3 p.m.

Silver Strummers

The ukulele orchestra is an unqualified

success story! There are

now 30 individuals who have

joined The Silver Strummers. We

welcome ALL skill levels, beginner

through advanced! We will

provide you with all the information

you will need to get started.

If you would like to try the universally

accessible and friendly

instrument of the ukulele, please

contact Ann Sneyd at 519-830-

6640.

Silvertones

The Choir was formed in 1980 and

now boasts almost 60 members.

Our mixed group of seniors, aged

anywhere from 55+ to 100, share

the love of singing - songs old and

new. We also love to entertain

with singing to spread good cheer.

For more information about joining

the choir, please call Doreen

Muir at 519-831-8323.

Evergreen Snooker Club

The Evergreen Snooker Club is

composed of a group of active,

friendly players with skill levels

covering the full spectrum from

learner/beginner to accomplished

player. If you are interested in

learning the game, or have played

in the past and want to get back

into it, please drop by the Snooker

Room. You will be assured a

warm welcome and a place to try

your hand at one of our three tables.

The Snooker Room is open

weekdays between 9:00 am and

4:00 pm and any other time the

Evergreen Centre may be open.

The primary focus of the club is

to have fun, build friendships and

socialize. Your snooker skill level

is irrelevant, so don't feel intimidated

if you are a beginner. Prospective

members may visit the

club room up to three times without

charge to help with their decision

on whether to join. While

most of the current members are

men, there is a small group of

women who play regularly

(typically on Tuesday mornings),

so ladies, don't be shy, give it a

try.

Membership is available to all

paid-up members of the GWSA on

payment of the prescribed annual

snooker activity fee. The current

fee of $70 (plus tax) buys you access

to the Snooker Room any

time it is open and to all the snooker

you care to play.

Texas Hold 'Em

Why not come out and have fun

with us? We are averaging about

15

16 players a week. We are situated

in the Dining Room. We charge $2

per week and pretty well all of that

goes back to the GWSA. We play

Tuesdays from 6:30 to 8:30 pm.

Each player starts off with $500

in real casino chips, and, as we do

not play for money, we work on a

point system. The one with the

most points each week is the winner.

We play until there is only one

player left or 8:30 pm comes,

whichever is first.

We will gladly teach anyone

who is interested in playing. Just

follow the laughter to find us. We

welcome everyone who wants to

play and enjoys company.

We have quite a few ladies playing

at present and would always

welcome more; we do not want to

become a men's club! Remember,

you have to be a member of the

GWSA to play.

Thank you to Mike Rooke for

his excellent leadership for many

years!

Watercolour Painters

The Evergreen Watercolour Painters

provide an opportunity for watercolour

painters to practise their

hobby along with others sharing

the same interest, while encouraging

one another and receiving information,

ideas and inspiration.

While we do not offer classes or

lessons, we welcome accomplished

watercolour painters.

There is a small annual membership

fee and membership with the

GWSA is required. We meet on

the 1st, 3rd and 5th Wednesday

from 12:30 to 4:00 p.m. in Room

2.

T S - D 2021
---
16

GWSA Groups & Activities Contact Information

You may be required to show your up-to-date GWSA membership card at any activity.

A I T H

Judith Canham

jjcanham@gmail.com

Art Studio In 2

Evergreen Room 2

Jennifer Storey

jennifersgarden2@gmail.com

Ted Pritchard

tpritcha@rogers.com

Every 2 nd & 4 th Tues.

6:30-9:30 pm, Wed. 1-4 pm

B

Evergreen Auditorium

Jeff Millard (519-993-1362)

Tues. 7-9 pm

Thurs. 10 am-1 pm

Fri. 10 am-12:30 pm

Sun. 1:30-3:30 pm

Monday 1-4 pm (WECC)

Wed. 1-4 pm (WECC)

No play at WECC during summer

C B

Various Locations in and

around Guelph

Ned Coates (519-835-9799)

Wed. - May 1-Oct. 31

9:00 am-noon

Inactive until April 2022

B E

Evergreen Room 4

Phylllis Goodhew

phyllisgoodhew@gmail.com

Thursdays - 1:00-4:00 pm

6-H B E

Evergreen Room 4

TBD

Thursdays - 1:00-4:00 pm

Inactive

B C 1

Room 3

Veronica Sanche (519-767-9991)

Last Friday of month - 1-2:30 pm

B C 2

Evergreen Room 2

Christine Trimble (519-823-2086)

3rd Friday of month 1:30-3:30 pm

T S - D 2021 — V. 46, N. 4

B - R

gwsa.bridge@gmail.com

Mondays - 12:30-3:15 pm

(WECC)

Tuesdays - 6:30-9:00 pm

Evergreen Room 3

Thursdays - 12:30-3:30 pm

Evergreen Room 3

B - D

Evergreen Room 3

Pauline Smith

(2paulinesmith@gmail.com)

Fridays - 9:00-11:30 am

B A G

Evergreen Room 3

Diane Barber (519-763-2996)

designbunny@rogers.com

Wednesdays - 9:15 am-noon

C

Evergreen Hallway

Wednesdays - 1-4 pm

INACTIVE

C C

John Ness (519-994-8611)

canoeclubmembership@gmail.com

Inactive until May 2022

C C

Evergreen Hallway

Dave Wurr (519-509-1032)

Fridays - 9:30 am-noon

Inactive

C C

Evergreen Room 3

Ross Knechtel (226-706-4058)

Ken Chupa (519-829-2476)

January, March, May

2nd Monday - 7:00-9:00 pm

C C

Evergreen Room 2

Judy Montgomery (519-824-8047)

Fridays - 8:30 am-1:30 pm

C

Evergreen Room 3

Elaine Miller (519-836-7874)

Joy Halliburton (519-822-9714)

Tuesdays - 12:30-4 pm

January, 2022

D C

Evergreen Auditorium - Stage

Contact TBA

Wednesdays, Fridays & Saturdays

10:00 am to 12:00 noon

Inactive

D

Evergreen Dining Room

Tuesdays - 1:30-3:30 pm

Inactive

E M

Evergreen Room 3

Maureen Baird (647-519-2006)

Mondays - 1:00-3:30 pm

E W

Evergreen Dining Room

TBA

4th Wednesday - 1:30-4:00 pm

Inactive

E F

Evergreen Room 4

Peter Smith (519-217-8986)

Fridays - 1:00-4:00 pm

Inactive

G

Tom Kane (519-827-1479)

Mondays, May to September

Inactive until May 2022

L D

Evergreen Auditorium

Phyllis Carnochan (519-836-9415)

Donna Holmes (519-831-0943)

Mondays:

10:10 - 11:10 am (Beginners)

11:20 - 12:20 pm (Beginners)

Thursdays:

1:10 - 2:10 pm (Beginners)

2:15 - 3:15 pm (Improver)

(Continued on page 17)
---
(Continued from page 16)

MJ

Room 2

TBD

Tuesdays - 12:30-3:30 pm

Instruction available

Inactive

P L

Barb McLeod (519-823-2531)

Andrew Webb (226-500-4755)

Mon., Tues., Thurs.

(times as assigned)

I F P

Evergreen Room 4

Stu McCannell

(smccannell@rogers.com)

2:30-5 pm - last Monday of every

month - $24.00 a year

P

Rudy Simon

gwsapickleball@gmail.com

Evergreen Auditorium

Tues. - 8:30 am-12:30 pm

(Beginners & Intermediate)

Friday - 12:45-4 pm

(all levels of play)

West End Rec Centre

Tues. - noon-4:00 pm

(advanced play)

Thurs. - 2:15-5:00 pm

(all levels of play)

Q

Evergreen Room 2

Beryl Drohan (519-827-0120)

Mondays - 12:30-4:00 pm

S

Evergreen Hallway

Contact TBA

Thursdays - 12:45-3:45 pm

Inactive

S

Evergreen Auditorium

Elaine Bigam (519-824-6498)

Ilbigam@gmail.com

Tuesdays - 1:30-3:00 pm

Wednesdays - 1:30-3:00 pm

S S

Evergreen Auditorium

Ann Sneyd 519-830-6640

Fridays (alternative weeks)

12:30-3:45 pm

S C

Evergreen Auditorium

Doreen Muir (519-831-8323)

Choir Director - Ann Sneyd

Fridays (alternate weeks)

12:30-3:45 pm

S C

Evergreen Parking Lot by

The Enabling Garden

Shane Hamilton (519-994-2204)

Email: crs.hamilton@gmail.com

Mondays from January to the end

of March

8:00 am car pool at Evergreen

to Blue Mountain

6:00 pm return to Evergreen

Inactive until December 2021

E S C

Evergreen Snooker Room

Nick Harris (519-836-4547)

Daily - 9:00 am-4:00 pm

Tuesday - 7:00-9:30 pm

1st Thursday of every month

7:00-9:30 pm

T T

Evergreen Auditorium

Petr Vales

(ttguelph@outlook.com)

Harley Nicholson (519-265-1921)

Evergreen:

Monday - 3:30-6:30 pm

Wednesday - 9:00 am-12:45 pm

Saturday - 9:00 am-12:00 noon

West End: Friday - 1:00-4:00 pm

(WE - except July/August)

T H 'E P

Dining Room

Paul Phillips (416-996-2112)

Bruno Szafran (519-823-2317)

Frank Holden

(bigbluesmon@gmail.com)

Tuesdays - 6:30-8:30 pm

17

W C

April to October

Thursdays - 9:30 am-12:30 pm

Contact TBA

Inactive until April 2022

W P C

Evergreen Room 2

Mary Mulholland (519-836-4889)

watercolourclub@gwsa-guelph.ca

12:30-4 pm on 1st, 3rd, and 5th

Wednesdays

W E A G

Rm 2 West End Rec Centre

Nancy Baker (519-822-6653)

September – June,

Tuesdays - 12:30-4:00 pm

Membership is $20.00

W H A G

Rm 2 West End Rec Centre

Dale Vardy (519-823-5746)

bdvardy@rogers.com

Jan. - June; Sept. - Dec.

Thursdays - noon-4:00 pm

Membership is $25.00

W C G

Room 2

Ken Fugler

(kenfugler@rogers.com)

Monday – 6-9

W C

Evergreen Board Room

Ross Coulter (519-823-5746)

Inactive

T S - D 2021
---
18

A VIEW FROM THE BOOK NOOK

Chris Fraser

The Book Nook — "A Lending Library"

We are now re-opened

Monday to Friday 9 am - 1 pm

* * * *

I have a great book to tell you about: The Rose Code

by Kate Quinn. This story takes place in 1940 at the

mysterious estate, Bletchley Park.

Three very different young girls sign up to use their

skills to help with the war. Osla is a debutante who

needs to prove to everyone she is not just a society

girl and lands a job translating German coded

messages. Mab comes from the poverty of the East

End of London and works on the legendary

codebreaking machines where she hopes to find a

wealthy husband. Beth is a very shy girl but, due to

her ability to do puzzles, soon is working as one of

the few female cryptanalysts.

Due to the secrecy surrounding them, they could

not discuss their jobs with each other, often working

very long hours trying to decode German messages.

Together they form a great friendship until years

later, when they receive an encrypted message, the

key to which will reveal what happened to cause one

of them to be put into an asylum. They need to find

the traitor so the three of them work together to crack

one last code.

This is a wonderfully written book which I hope

you will enjoy reading as much as I did. I could not

put it down.

Stay safe and healthy.

Happy Reading,

Your bookworm and Librarian,

Chris Fraser

Administraon Office — 519‐837‐5696

The Diabetes Support Group is a support group meeting in-person with a virtual

option at the Evergreen Community Seniors Centre.

We are welcoming new members to join us on the second and fourth Monday of the

month at 11 am in the Board Room.

This includes members who have diabetes or care for someone else who has

diabetes. We share ideas to live with diabetes and support each other. The group is

facilitated by Community Dietitian, Molly Roberts.

Consider joining us this fall on the following dates:

Monday, December 13 at 11 am

T S - D 2021 — V. 46, N. 4
---
19

GWSA Email Updates

Each month, approximately mid-month, the Membership

and Marketing Committee at the

GWSA sends out the GWSA Email Update. It

highlights a few of the exciting things happening at

the GWSA, important communications from the

Board, and upcoming programs by CSS

(Community Support Services).

You can subscribe to receive the GWSA Email

Update by completing the steps below:

1. To begin, please send an email to:

subscribe@gwsa-guelph.ca . You can enter

Subscribe in the Subject line, or just skip that

part, it will work either way. In just a few

minutes, you will receive a message with a link.

2. Click on the link you received, fill in the appropriate

fields, and click "Subscribe to List".

3. To ensure you really want to receive GWSA

Email Updates – and to make sure all emails are

error-free – we'll send a message asking you to

confirm.

4. Once you respond to the confirmation message,

your registration is complete and you'll receive

our Welcome Letter.

You can also subscribe from the "Popular

Links" section on the GWSA website. Starting

the process from the web page will take you to

step 2 above. Simply follow through with steps 2

to 4 to complete the process.

You can expect to receive your first GWSA Email

Update approximately mid-month after you sign

up.

You can unsubscribe from the GWSA Email Updates

at any time by clicking on the "unsubscribe"

link that is displayed at the bottom of every update.

Membership &

Marketing Committee

This graphic by Unknown Author is

licensed under CC BY‐ND

T S - D 2021
---
20

Wellington Foot Clinic

Professional Footcare & Custom Foot Orthotics

Jessica K. Mann

Registered Chiropodist / Foot Specialist

Professional, Safe Treatment of a Variety of Foot Conditions

- Nail Disorders, Corns, Callus, Warts, Ingrown Toenails & much more

- Custom Foot Orthotics

- Covered by most extended health insurance providers

- No referral needed!!! Free parking

- Morning, Evening and Saturday Appointments Available

3 – 245 Edinburgh Rd S. (enter off Municipal or Edinburgh)

519‐546‐3737 wellfoot@outlook.com

T S - D 2021 — V. 46, N. 4
---
21

$25.00 discount coupon

with this ad

Please call 519-821-6683

T S - D 2021
---
22

See Puzzles on pgs. 10 & 11

T S - D 2021 — V. 46, N. 4
---
23

CREMATION: $1935 +hst BURIAL: $5995 +hst

If prearranged and prepaid by December 31, 2021 If prearranged and prepaid by December 31, 2021

Membership Benefit:

Every Day is Seniors Day

at Bulk Barn!

For years, Bulk Barn has offered a Seniors Day

discount every Wednesday. Anyone over 65

years of age enjoyed a 10% discount on regular

priced merchandise. Now, Bulk Barn locations

in Guelph are offering this 10% discount every

day for all GWSA members. Show your

GWSA membership card to take advantage

of this special offer when you shop for your

favourite regular-priced Bulk Barn products.

Available at: 370 Stone Rd. W across from

Stone Road Mall, 49 Woodlawn Road W in the

Walmart Plaza, and 103 Clair Road E at the

Pergola Commons.

T S - D 2021
---
24

T S - D 2021 — V. 46, N. 4