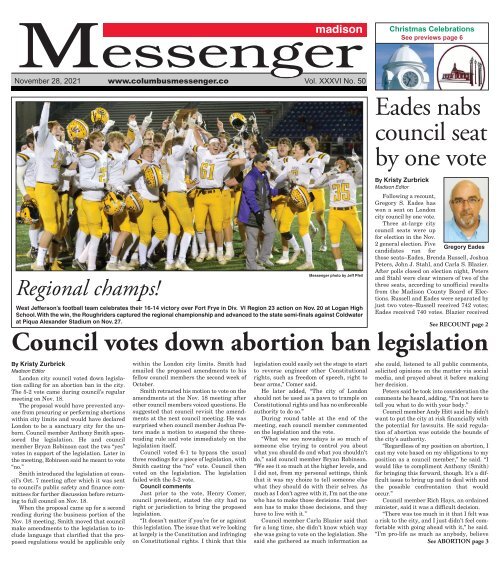 Madison Messenger - November 28th, 2021
You also want an ePaper? Increase the reach of your titles
YUMPU automatically turns print PDFs into web optimized ePapers that Google loves.
madison

Christmas Celebrations

See previews page 6

November 28, 2021 www.columbusmessenger.co Vol. XXXVI No. 50

Eades nabs

council seat

by one vote

Regional champs!

Messenger photo by Jeff Pfeil

West Jefferson's football team celebrates their 16-14 victory over Fort Frye in Div. VI Region 23 action on Nov. 20 at Logan High

School. With the win, the Roughriders captured the regional championship and advanced to the state semi-finals against Coldwater

at Piqua Alexander Stadium on Nov. 27.

By Kristy Zurbrick

Madison Editor

Following a recount,

Gregory S. Eades has

won a seat on London

city council by one vote.

Three at-large city

council seats were up

for election in the Nov.

2 general election. Five

Gregory Eades

candidates ran for

those seats—Eades, Brenda Russell, Joshua

Peters, John J. Stahl, and Carla S. Blazier.

After polls closed on election night, Peters

and Stahl were clear winners of two of the

three seats, according to unofficial results

from the Madison County Board of Elections.

Russell and Eades were separated by

just two votes—Russell received 742 votes;

Eades received 740 votes. Blazier received

See RECOUNT page 2

Council votes down abortion ban legislation

By Kristy Zurbrick

Madison Editor

London city council voted down legislation

calling for an abortion ban in the city.

The 5-2 vote came during council's regular

meeting on Nov. 18.

The proposal would have prevented anyone

from procuring or performing abortions

within city limits and would have declared

London to be a sanctuary city for the unborn.

Council member Anthony Smith sponsored

the legislation. He and council

member Bryan Robinson cast the two "yes"

votes in support of the legislation. Later in

the meeting, Robinson said he meant to vote

"no."

Smith introduced the legislation at council's

Oct. 7 meeting after which it was sent

to council's public safety and finance committees

for further discussion before returning

to full council on Nov. 18.

When the proposal came up for a second

reading during the business portion of the

Nov. 18 meeting, Smith moved that council

make amendments to the legislation to include

language that clarified that the proposed

regulations would be applicable only

within the London city limits. Smith had

emailed the proposed amendments to his

fellow council members the second week of

October.

Smith retracted his motion to vote on the

amendments at the Nov. 18 meeting after

other council members voiced questions. He

suggested that council revisit the amendments

at the next council meeting. He was

surprised when council member Joshua Peters

made a motion to suspend the threereading

rule and vote immediately on the

legislation itself.

Council voted 6-1 to bypass the usual

three readings for a piece of legislation, with

Smith casting the "no" vote. Council then

voted on the legislation. The legislation

failed with the 5-2 vote.

Council comments

Just prior to the vote, Henry Comer,

council president, stated the city had no

right or jurisdiction to bring the proposed

legislation.

"It doesn't matter if you're for or against

this legislation. The issue that we're looking

at largely is the Constitution and infringing

on Constitutional rights. I think that this

legislation could easily set the stage to start

to reverse engineer other Constitutional

rights, such as freedom of speech, right to

bear arms," Comer said.

He later added, "The city of London

should not be used as a pawn to trample on

Constitutional rights and has no enforceable

authority to do so."

During round table at the end of the

meeting, each council member commented

on the legislation and the vote.

"What we see nowadays is so much of

someone else trying to control you about

what you should do and what you shouldn't

do," said council member Bryan Robinson.

"We see it so much at the higher levels, and

I did not, from my personal settings, think

that it was my choice to tell someone else

what they should do with their selves. As

much as I don't agree with it, I'm not the one

who has to make those decisions. That person

has to make those decisions, and they

have to live with it."

Council member Carla Blazier said that

for a long time, she didn't know which way

she was going to vote on the legislation. She

said she gathered as much information as

she could, listened to all public comments,

solicited opinions on the matter via social

media, and prayed about it before making

her decision.

Peters said he took into consideration the

comments he heard, adding, "I'm not here to

tell you what to do with your body."

Council member Andy Hitt said he didn't

want to put the city at risk financially with

the potential for lawsuits. He said regulation

of abortion was outside the bounds of

the city's authority.

"Regardless of my position on abortion, I

cast my vote based on my obligations to my

position as a council member," he said. "I

would like to compliment Anthony (Smith)

for bringing this forward, though. It's a difficult

issue to bring up and to deal with and

the possible confrontation that would

occur."

Council member Rich Hays, an ordained

minister, said it was a difficult decision.

"There was too much in it that I felt was

a risk to the city, and I just didn't feel comfortable

with going ahead with it," he said.

"I'm pro-life as much as anybody, believe

See ABORTION page 3
---
PAGE 2 - MADISON MESSENGER - November 28, 2021

Activities at Hurt-Battelle Memorial Library

Hurt-Battelle Memorial Library in West Jefferson offers the following

programs and activities. Call (614) 879-8448 for details.

• It's Beginning to Look a Lot Like Christmas! Starting Dec. 1,

family crafts will be available at the library. New crafts each week.

• Wrapping Workshop 101. Learn how to wrap gifts, 5-6:30 p.m.

Dec. 2, Dec. 6, Dec. 9, Dec. 13, Dec. 16 and Dec. 20.

Prepare for unexpected

power outages with a

Generac home standby

generator

REQUEST A FREE QUOTE!

866-643-0438

FREE

7-Year Extended Warranty*

A $695 Value!

Limited Time Offer - Call for Details

Special Financing Available

Subject to Credit Approval

*To qualify, consumers must request a quote, purchase,

install and activate the generator with a participating dealer.

Call for a full list of terms and conditions.

Country Christmas Barn

Crafts, Home Décor,

Recyclable Treasurers, and

Seasonal Produce

Most items are 20% to 50% OFF

with new items each week!

Hours Open: Thurs. & Fri. 12 to 6pm Sat. 11am-5pm

DO NOT MISS OUR LAST DAY FOR THE SEASON...

SUNDAY DECEMBER 19 FROM 1 to 4

With Door Prizes, Specials, and Refreshments.

Then reopens in late Spring 2022 Watch for info.

3230 State Route 187...London, Ohio

e Buck stops here

Mt. Sterling Friends of the Library Treasurer Angela

McFarland presents a $1,500 check to Kenneth

Shafer shown here in his Ohio State University

marching band uniform. Shafer won the Marjorie

Hanson Memorial Scholarship which is awarded

each year to a Madison-Plains High School senior.

For application information for the 2022 scholarship,

email Melissa Reece, Friends president, at

reece.melissa.b@gmail.com with "scholarship" in

the subject line.

RECOUNT

Continued from page 1

80 votes.

The Board of Elections held the official

canvas of the votes on Nov. 15 at which time

provisional ballots and outstanding absentee

ballots were counted and included in the

tallies. The final totals showed Russell with

100 books read

www.madisonmessengernews.com

Annalise Winner completed the "100 Books to Read

Before Kindergarten Challenge" and earned a trophy

and certificate for her accomplishment, courtesy of

Mount Sterling Public Library.

755 votes and Eades with 756 votes.

When the difference between votes is equal to or less than 0.5

percent, Ohio law stipulates that an automatic recount take place.

The Board of Elections conducted that recount on Nov. 22. The recount

showed Eades with 755 votes and Russell with 754 votes,

thereby making Eades the winner of the third at-large council seat.

Both Eades and Russell ran as Independents. Peters and Stahl

are Republicans. Blazier ran as a write-in.

Serving Your Community

Since 1972

Malek &

ATTORNEYS AT LAW Malek

Proudly Announcing

Adding New Attorneys

To Serve You!

WORKERS'

COMPENSATION

PERSONAL INJURY

WRONGFUL DEATH

SLIP & FALL INJURY

DOG BITE INJURY

Douglas, Ed, Jim

and Kip Malek

"Hablamos Español"

FREE Initial Consultation

www.maleklawfirm.com

614-444-7440

1227 S. High St., Columbus, OH 43206
---
www.madisonmessengernews.com November 28, 2021 - MADISON MESSENGER - Page 3

ABORTION

Continued from page 1

me, I am, but again, I think the responsibility

that I have here is not to get into setting

laws that can't be taken care of. This would

be so hard to enforce; it would be a nightmare

for the city."

Hays applauded Smith for bringing forth

the proposal.

"I know where his heart's at. He's a good

man; he's a good pastor. He's doing what he

thinks is right," Hays said.

Smith said, "I can stand before my constituents.

I've represented them well. I did

what I was asked to do. I haven't brought

religion into it; I'll bring it in now. I can

stand before God and know that what I did

was right,"

Audience comments

Prior to the business portion of the meeting

and the vote, several individuals addressed

council regarding the legislation.

Among those who supported the proposal

was Brendan Shea, a London resident and

president of Madison County Right to Life.

Shea noted that most of the council members

are Republicans, that the Republican

Party platform is pro-life, and that voters

chose the council members to represent

them. He also said that all things worth

doing in life come with risk.

"The oath that you took as an elected official—and

I've taken the same oath as an

elected member of the state board of education—was

not an oath to do everything in

your power to make sure a frivolous lawsuit

never comes to London. The oath you took

was to uphold the Constitution," Shea said.

He later stated, "If, in your heart of

hearts, if in your conscience, you believe that

the Constitution provides for a right to snuff

out the child in the womb, then... you should

vote against this ordinance. But if, as I believe

many of you do, you believe in the right

to life, but also that the Constitution provides

no such right, then I would urge you to

support whole-heartedly this ordinance."

London residents Rebecca and Todd

Rickenberg spoke in favor of the legislation.

Rebecca said she grew up in Lebanon, one

of two cities in Ohio that has recently

passed similar legislation. The other is

Mason. Rebecca said she was proud that

Lebanon and Mason passed the legislation.

"A child inside the womb is no less of a

child because they are on the inside instead

of the out. They are people, too, and people

have the right to life," she said.

Addressing council, Todd Rickenberg

added, "You guys have a hard decision, but

at least you guys can make a decision. The

unborn children cannot make a decision for

themselves when someone decides to end

their life in abortion."

London resident George Schwartz supported

the legislation, as well.

"They say this is about a choice, their

choice. They say, 'It's my body, my choice.'

Well, that baby is a human being, too, and that

baby has its own DNA and its own blood, and

under the Constitution, I believe it's entitled

to life, liberty and the pursuit of happiness."

Schwartz commended city council for allowing

citizens on both side of the issue to

express their opinions.

London resident Steven Miller was

among those who spoke in opposition to the legislation.

"That opposition is not because I support abortion. It's because I

support the rule of law," he said, after which he pointed to several

sections of the proposed legislation that he said violated the U.S.

and Ohio constitutions. "This is a bad law that our (city) law director

said is unconstitutional, and I say is blatantly unconstitutional."

London resident Moriah Miller commented, "To be free to make

personal choices about my health care and the health care of my

children is something that I didn't expect to be at risk here."

Sierra Dobbs-Brown, a Columbus resident and regional field

manager for Planned Parenthood Advocates of Ohio, said she has

seen "costly litigation, the boycotts, and the public ridicule" that

other cities in Ohio and elsewhere have experienced as a result of

similar legislation.

"This ordinance is harmful. When abortion is not an option, people

and their children suffer," Dobbs-Brown said.

Ariana Ybarra, a Columbus resident and a field manager for

NARAL Pro-Choice Ohio, questioned the impetus for introducing

the legislation in London, referring to abortion ban legislation originating

in Texas. She viewed it as a way to "further stigmatize abortion

or attempt to limit or completely remove London residents'

ability to access abortions."

London resident Michael Norman opposed the legislation because

he said it could not be enforced. He pointed to a lack of city

zoning restrictions for abortion clinics, the ease of obtaining abortion-inducing

medications in cities where similar legislation has

passed, and state rulings that allow abortions up to 20 weeks.

London resident Jane Batdorf submitted a letter in which she

said pro-life advocates and those who support legislation that bans

abortion are "trying to send these young women back to the dark

ages before birth control pills and the time of coat hanger abortions

and back-store quacks."

London resident Tiffany Flax said the reasons why and circumstances

under which women seek abortions vary.

"We can't know what these women are going through," she said,

then added, "Whatever the case is, I can't tell her what to do. I don't

think anyone has the right to tell her what to do. She has to be able

to make that decision for herself."

London resident Martin Kimbler did not speak for or against the

legislation but instead said the city's time and resources would be

better spent on other issues, such as hunger, homelessness and

drug addiction.

Truck Workshop

London Art Center

121 E. First St., London, Ohio

Dec. 12, 2021 - 2pm - 4pm

$30 Fee Must be pre-registered by Dec. 6

Contact Deb Harbage 937-215-8276

This adorable truck is made of wood

It measures approx. 20 x 10 and is 3 dimensional

You will be able to choose from serveral colors to paint

your truck. I will guide you thru how to distress and glaze.

All supplies are included

You will be able to use your truck in your décor all year.

Breakfast with Santa

Dec. 11th 9:00 - 12:00

Pancakes, Sausage, Scrambled Eggs, Milk and Juice

Adults: $6.00 Children: $3.00

Kids under 12: Free

PICTURE WITH SANTA INCLUDED WITH BREAKFAST

St. John's Lutheran Church

380 Keny Blvd, London, OH 43140
---
PAGE 4 - MADISON MESSENGER - November 28, 2021

Art competition for high school seniors

To learn about the Kurt Lattimer Aspiring Artist Award, visit londonvisualartsguild.org/exhibits/kurt-lattimer-aspiring-artist-award.

A FREE ESTIMATE

15 10 5

YOUR ENTIRE

PURCHASE *

1-855-595-2102

% % %

OFF + OFF + OFF

SENIOR & MILITARY

DISCOUNTS

YEAR-ROUND

CLOG-FREE GUARANTEE

TO THE FIRST

50 CALLERS! **

| Promo Number: 285

www.madisonmessengernews.com

Messenger delivery changes

Home delivery of your Madison Messenger newspaper is changing

in December.

As of our Dec. 5 edition, your free Madison Messenger newspaper

will be mailed directly to your home. You should receive it on Tuesdays

or Wednesdays. Papers will be mailed to all residences in the

following corporation limits: London, Mount Sterling and West Jefferson.

Due to the extreme increase in the cost of mailing, we will

not be able to mail to rural areas, however, we will be adding new

drop locations and boxes.

Currently, we drop an additional 800 to 1,100 copies of each issue

of the Madison Messenger at our established drop and box/rack locations.

We monitor the situation each week and make the necessary

adjustments. We will increase the number of copies available

for pickup at all current drop and box locations,

and we will be adding locations to

make it easier for our readers to obtain

copies of the paper each week.

Paid subscriptions are available if you

live outside our circulation area and would

like to have the Messenger mailed directly

to your home. Paid subscriptions cost $104

for 52 issues. Mail your subscription check,

payable to Columbus Messenger, to 3500

Sullivant Ave., Columbus, OH 43204.

For those who have already purchased a

paid subscription, you will start receiving

your notice that your subscription will be

concluding, well in advance of the expiration

date. We sincerely thank you for being a

paid subscriber. For the very many of you

who have made voluntary payments over

these many years, we greatly appreciate

your support, as well.

Readers and advertisers can always access

our e-editions on our website which is

constantly showing a growing following. We

also have many followers on Facebook and

Twitter. The growing number of readers liking

us and following particular stories is

amazing. We thank and salute our e-edition

and social media readers.

The Madison Messenger staff appreciates

our loyal readers and advertisers, and

we will continue to bring you the best in

local news coverage, feature stories, and

photos.

We enjoy being part of the community.

Phil Daubel, publisher

Columbus Messenger Newspapers

Giveaway drawing winners

Each year, the Madison Messenger coordinates

a Thanksgiving giveaway. The public

is invited to enter at participating

merchants. Winners receive grocery gift certificates.

The following are this year's participating

merchants and winners:

• Madison County Senior Center—Linda

Wilson, London;

• Dwyer Hardware—B.J. Rodabaugh,

London;

• State Farm Insurance—Matt Dillon Jr.,

London;

• Kronk and Scaggs Insurance—Alfred

Penwell, London;

• Quick Lane—Larry Nutt, London;

• Buckeye Ford—Jackie Lindsey, London;

• Wilson Printing and Graphics—Bill

Ervin, Sedalia;

• ReMax Leading Edge—Ed Likens, London;

• Buckeye Realty—Denise Congleton,

London;

• Merchants National Bank—Carmen

Holland, London;

• Ernie's Medicine Shop—Patty Walters,

London;

• Lifetime Vision Center—Jeanette Huebner,

West Jefferson;

• Midland Title West LLC—Paula Herald,

London;

• Chaney and Thomas Insurance—Mary

Binns, London;

• Eades Insurance—Shirley Litchfield,

London; and

• Phat Daddy's Pizza—Hope Sayre, London.

madison

Messenger

Published weekly

Philip F. Daubel ..........................Publisher

Jim Durban ......................Office Manager

Grant Zerkle .............Advertising Manager

Kristy Zurbrick .................................Editor

Becky Barker....................Office Assistant

Brittany Zerkle ...............Graphic Designer

78 S. Main St.

London, Ohio 43140

(740) 852-0809

madison@columbusmessenger.com

www.madisonmessengernews.com
---
www.madisonmessengernews.com

London Schools offers tours

London City Schools Superintendent Dr.

Lou Kramer is hosting a series of community

tours and information sessions designed

for parents and community members

who would like to learn more about the district.

Those who participate will receive a

tour of each of the district's schools, a firsthand

look at several of the district's programs,

and have the opportunity to

participate in a Q&A session with Kramer,

other staff members, and students.

Tours are set for 9:30-11 a.m. Dec. 1, Dec.

15, Jan. 12 and Jan. 26. Parents and community

members interested in participating

can sign up by calling the district office at

(740) 852-5700 or by filling out an online

form at www.london.k12.oh.us (look for the

link under "News" on the home page).

obituaries

November 28, 2021 - MADISON MESSENGER - Page 5

Plain City Library storytime

For details about Plain City Library

services, visit plaincitylib.org or call (614)

873-4912. The library is located at 305 W.

Main St. and online at www.plaincitylib.org.

• Online Storytime. The program takes

place on Facebook, Youtube, and Twitter on

Mondays at 10:30 a.m. Enjoy stories,

rhymes, songs, and more with a new theme

each week. These storytimes are intended

for children ages 6 and younger, but anyone

can tune in.

Make Online Storytime even more engaging

with a Storytime From Home kit

which includes interactive learning activities,

instruments, and other age-appropriate

materials. The kits are geared to

children ages 2 to 5 years old and are available

on a first-come, first-served basis.

ZACK

David Zack, 77, of London died on Nov.

17, 2021, in his residence. Born on Jan. 5,

1944, in Elyria, Ohio, he was a son of

Theodore and Nellie (Sniezek) Zack.

A member of Kingdom Hall of Jehovah's

Witnesses, London, Ohio, David retired after

35 years of service with General Motors. He

loved sharing his faith with others, as well

as fishing, gardening, wood working, travel,

photography and going to flea markets.

Survivors include: his wife of 54 years,

Carol (Parkinson) Zack; son, Jeremy Zack;

grandchildren, Alyssa, Nick and Kendall

Zack; brothers, Tom (Jerry) Zack and twin

brother Dan (Carolyn) Zack; several nieces,

nephews and cousins; and sister-in-law,

Barbara Zack. He was preceded in death by

his mother and father and brothers, Ted

and Jim Zack.

Funeral services were held virtually on

Nov. 23. The family was served by Eberle-

Fisher Funeral Home and Crematory, London.

To share condolences with the family,

visit www.eberlefisherfuneralhome.com.

HARLEY

Jean Harley, 90, of London died on Nov.

19, 2021, in The Madison Senior Living

Community, London. Born on June 15,

1931, in Portsmouth, Ohio, she was a

daughter of Henry and Minnie D. (Clemens)

Papillon. Jean was a member of Grace Baptist

Church, London.

Survivors include: her son, William H.

(Janell) Harley of London; niece, Deanna

Pitts; great-niece and great-nephews,

Blaine, Amy and Steve.

She was preceded in death by: her parents;

husband, Richard Harley Sr.; son,

Richard Harley Jr.; sister, Mary; and

brother, Chester.

A memorial service for Jean will be held

at 2 p.m. Nov. 28 in Grace Baptist Church,

London, with Pastor Dwain Hill officiating.

Friends may call at the church from 1 p.m.

until the time of services. Memorials in

Jean's name may be made to Grace Baptist

Church.

The family is being served by Eberle-

Fisher Funeral Home and Crematory, London.

Condolences may be shared at

www.eberlefisherfuneralhome.com.

HACKETT

Gleason J. "Bud" Hackett, 77, of Springfield

died on Nov. 21, 2021, in Doctors West

Hospital, Columbus. Born on Dec. 25, 1943,

in Dingus, Ky., he was a son of Hessie

(Cantrell) Brake.

Bud was a graduate of Triad High School

where he went on to attend Gulf Coast Bible

College in Houston and later obtained his

Master of Divinity from Anderson University

located in Anderson, Ind. He also had

served in the United States Army.

Gleason spent 50 years in service of the

Lord as a pastor with The Church of God in

Anderson, Ind. Gleason served as chaplain

at St. Johns Hospital in Anderson, Ind., and

also served as chaplain with the state of Indiana.

He is survived by: his wife of 30 years

Lorraine (Cormier) Hackett of Springfield;

daughter, Julia (Richard) Chamberlin of

London; son, Bradley Hackett of Indianapolis;

grandsons, Zachary (Gillian) Wynn and

Joshua (Chauntel) Wynn; four great-grandchildren;

sister, Judy Reed of Mechanicsburg;

brother, Larry (Peggy) Brake of

Springfield; several nieces, nephews, and

cousins.

Per Bud's wishes, cremation took place.

A memorial service is being planned for a

later date. In lieu of flowers, the family suggests

donations in Bud's name be sent to the

American Heart Association at

www.heart.org/donate.

The family was served by Eberle-Fisher

Funeral Home and Crematory, London.

Condolences for the family may be shared

at www.eberlefisherfuneralhome.com.

HARRIS

Mayford Asberry "Junie" Harris Jr., 77,

of London and formerly of Xenia, died on

Nov. 21 in Kobacker House, Columbus.

Born on May 26, 1944, in Ravenswood,

W.Va., he was a son of Wilma (Suck) and

Mayford Asberry Harris Sr.

He was preceded in death by his parents,

brother, Donny, and sister, Laura.

Survivors include: his wife of 58 years,

Karen Sue (Holt) Harris; son, Mayford

"Mick" Harris and wife, Natalie (Wheeler);

daughter, Carri (Mark) Osbourne; grandchildren,

Matthew (Caroline) Osbourne,

William Osbourne (partner Evelyn), and

twins, Josie and Dean Harris. Mayford

leaves behind five sisters, four brothers, and

numerous extended family and friends

which he loved deeply.

A jack-of-all trades, he was a welder,

worked in construction and retired from the

Super Value Warehouse in Xenia after 30

years of service.

Junie was the type of person who would

do anything for anyone. Those that knew

him, loved him and knew they were loved in

return. Junie always said what needed to be

said and lived his life with no regrets.

Per his request, neither visitation nor funeral

services were observed. His ashes will

be spread so he will return from which he

came, and the wind will forever be able to

carry thoughtful prayers to his ears.

The family suggests donations in Junie's

name be made to: Kobacker House, 800 Mc-

Connell Dr., Columbus OH 43214,

https://foundation.ohiohealth.com/.

The family was served by Eberle-Fisher

Funeral Home and Crematory, London.

Condolences for the family may be shared

at www.eberlefisherfuneralhome.com.

Sally Heydon, 88, of Woodstock passed peacefully at Valley Hi Nursing and

Rehab after enduring more than 15 years with dementia. She was born August 26,

1933 in Coronado, CA to Julian D. Greer and Eleanor Jones Greer.

Sally's father was a Naval aviator who graduated from the U.S. Naval Academy. He

earned the rank of Captain before being killed in a plane crash. Due to his nomadic

military career, Sally had a charmed and well-traveled childhood, including living on

Ipanema Beach, Rio, Brazil where she attended three years of high school. Her family

also lived in Hawaii, Rhode Island, Atlanta, and California several times.

Sally attended Miami of Ohio University on an NROTC scholarship, where she majored in political science

and languages. Although she completed her initial Navy training, her career plans were waylaid when, in

1954, she married Robert M. Heydon, a Navy pilot whom she met in college. They lived in Pensacola, FL;

Oahu, HI; Coronado, CA; and Okinawa, Japan. When her husband left the service and started flying for United

Airlines, the family of five moved to Crystal Lake, IL in 1965, then to Bull Valley in 1972. After their divorce in

1977, Sally enjoyed a nearly 40-year relationship with her life partner, until his passing in 2010.

Sally enjoyed parties, celebrations, and music. Andy Williams was her favorite singer. She was also a great

dancer, especially ballroom and the hula, which she valiantly tried to teach her daughters. She was a very

intelligent, beautiful, and accomplished woman, as well as a good mother and grandmother, a great cook,

wife, and partner. As a homemaker before starting work in the mid-70's, she was a shrewd bridge player,

member of League of Women Voters and AAUW, and volunteered for multiple community organizations,

including the old Woodstock hospital. Animal lover doesn't begin to describe how much she loved furry

creatures, in particular cats, dogs and horses. She won many ribbons in equestrian jumping competitions.

She is survived by her daughters, Lisa Heydon and Julie Heydon Miller of Woodstock, IL; grandson Nick Miller

of Revere, MA; granddaughter Samantha Miller of Chicago, IL; niece Ann Pentland of Calistoga, CA; as well

as nephew Linus Heydon, III and niece Susan Heydon Szozda; plus several cousins.

She was preceded in death by her parents, Julian and Eleanor Greer; her son, David Heydon; and her sister,

Barbara Pentland.

Her daughters thank the staff at Valley Hi for their diligent care the past few years, and JourneyCare for their

gentle and capable hospice assistance at the end. The "long goodbye" that dementia creates for patients,

caregivers and families has now come to an end.

Arrangements are being handled by Schneider, Leucht, Merwin and Cooney in Woodstock. Friends and

family may sign the digital guest book at https://www.slmcfh.com. The family plans a celebration of Sally's

life in May 2022, details for which will be published at a later date.

In lieu of flowers, please consider a donation to the Alzheimer's Association or Woodstock Helping Paws in

her name.

Obituary Notices

For the latest obituary information visit our website. Updated daily.

Fine out more by visiting...

www.madisonmessengernews.com/obits.html
---
PAGE 6 - MADISON MESSENGER - November 28, 2021

www.madisonmessengernews.com

Plain City plans two-part holiday celebration

By Kristy Zurbrick

Madison Editor

Plain City is changing

things up this year, presenting

its Christmas festivities

in two parts—one in

the morning and one in the

late afternoon/evening—

both on Dec. 4.

The day starts with the

Route 42 Holiday Hop.

From 9 to 11 a.m., the spotlight

will shine on businesses

located in Plain City

along Route 42. Stores will

offer refreshments, giveaways,

coupons and sales.

Santa will visit with children at Plain City

Ace Hardware, 625 W. Main St.

From 4 to 7 p.m., the spotlight shifts to

uptown Plain City for Christmas Under the

Clock where the street will be blocked off between

Lovejoy's Plaza and Plain City Auction

House. Food and craft vendors will set

up in this area. The Biscuit Box and Rocky

Mountain Coffee food trucks will be on site.

Local restaurants will be open, as well.

Twirlers, a bell choir, and the Plain City

Community Singers will perform. Santa will

be available for photos starting at 5 p.m. at

the flatiron in the middle of town, underneath

the clock tower. (Bring your own camera.)

Home Equity Lin

ne

of Cr

redit Rates as lo

ow as 3.25

% APR and no closin

ng costs

Low Rate

Home Equity

Line

Yo ou

can do it. We

can help.

ready to help with a Civista

Bank Home Equity Line of Credit. Get a great low rate and convenient

Learn more at civista.bank

or call 800.604.9368 to schedule an appointment with your local branch.

Winners of the annual

coloring contest will serve

as tree lighting pixies, helping

Santa to flip the switch

on the town tree at 5:45

p.m. Afterwards, students

from Shekinah Christian

School will stroll through

uptown, singing carols.

Wagon rides will start at

Main and Chillicothe

streets and transport passengers

to view the lights at

Pastime Park.

Throughout the celebration,

uptown businesses

will hold open houses.

Once the celebration wraps up at 7 p.m.,

Santa will venture out on a ride through the

village. Residents are encouraged to watch

for him coming through their neighborhood.

Last year due to the pandemic, Plain

City's Christmas festivities were limited to

a live stream of the tree lighting and Santa's

ride through the village. Organizers are

happy to be back with in-person plans.

"The village is excited to bring such a

great event back with Christmas Under the

Clock and to add the Route 42 Holiday Hop.

We're encouraging people to come on out,

visit local businesses, and have a good

time," said Linda Granger, Plain City parks

*Home Equity Line

of Credit (HELOC) lowest rate is

Prime (3.25% Annual Percentage Rate (APR) as

of 10/01/2021). /

The lowest rate includes no closing costs for

e quity lines under $500,000.00 that remain open for at least 36 months. If

waived at account opening ($350.00 as of 10/01/2021) may be assessed. Annual fee is $75.00 and is waived

your monthly interest-only payment may change with market rates. Your

principal balance is only reduced when you make voluntary principal payments

during the 15 year draw period of your home equity line of credit. At maturity,

any remaining account balance

outstanding will be due in a single balloon

s *

and recreation director.

Decorating Contest

In addition to the festivities on Dec. 4,

the village of Plain City is hosting a Christmas

decorating contest. Any home or business

in the village is eligible to participate.

To enter, call (614) 873-3527, ext. 106, and

provide your name or business name, address,

and phone number. Entries are due

by Dec. 12. Prizes will be awarded in separate

home and business categories: $150,

first place; $100, second place; and $50,

third place. Judging will take place Dec. 13-

15. Winners will be announced live via the

village's Facebook page on Dec. 17.

Letters to Santa

Starting Dec. 1, children can deposit letters

to Santa in the Santa Mailbox at Bicentennial

Park in the flatiron. Santa will

respond to all letters received by Dec. 15.

Lights at the park

The light display at Pastime Park, 370 N.

Chillicothe St., Plain City, will shine nightly

starting Nov. 29.

Mt. Sterling Christmas

in the Village is Dec. 4

By Kristy Zurbrick

Madison Editor

Ho-ho-ho! Christmas in the Village

is a go! The Mount Sterling

Chamber of Commerce is hosting

its annual holiday celebration from

4 to 8 p.m. Dec. 4 in downtown

Mount Sterling.

An illuminated parade will step

off at 6 p.m. Lineup starts at 5:30 in the

parking lot at the Mount Sterling Community

Center, 164 E. Main St. The parade

route runs from the center, to Main Street,

across London Street, over to Columbus

Street, then north onto London Street. Anyone

who would like to participate is asked

to contact Tim Corbin at (614) 530-3132.

Santa will participate in the parade and

be dropped off at the gazebo across from

town hall, 1 S. London St., where he and

Mrs. Claus will light the tree, greet children,

hand out candy, and pose for photos.

Throughout the event, vendors will be

selling their wares outside on the town hall

lawn and inside Masonic Lodge 269, 54 N.

London St. Booth space is $20. To inquire

about renting a space, contact Barbie Wallace

at (614) 832-0796.

Businesses will be open, offering refreshments,

sales, and giveaways. Some will offer

activities, too, such as Urban Pineapple

where children can make reindeer food with

help from Summer Jam Festival royalty.

The Mount Sterling Market Crew encourages

visitors to participate in the Shop

Hop, collecting stamps at downtown businesses

for a chance to win prizes and Chamber

Bucks good at participating businesses.

The grand prize is a basket of merchandise

It was great to see the great turnout of

citizens for our Veterans Day event. Also on

that day, we dedicated the new flag poles

and six flags for the branches of the military.

As a member of American Legion Post

417, I would like to thank all of our veterans

worth more than $100.

New this year are a live nativity

scene, courtesy of Mount Sterling

First Church of the Nazarene, and

a petting zoo, both of which will be

set up on the town hall lawn. Also

new are horse-drawn carriage rides

provided by Horse-N-Round Fun.

The rides are $10 each. Drop-off

and pickup are at Reiterman Feed & Supply.

Other event features include a caricature

artist and face painter (location will depend

on the weather) and a giving tree at the

gazebo with free mittens, scarves and hats

for anyone who needs them.

Several contests are planned, including

Best Dressed Pet at 4:30 p.m. and Gaudy

Christmas Get-Up (for humans) at 5 p.m.,

both at the gazebo. Hammer Time Pub, 27 S.

London St., is sponsoring a chili contest. For

a donation, anyone can enter the contest or

judge the entries. Proceeds go to Mason Park.

In a change from past celebrations, the

Mount Sterling Community Center will not

be open for the event. Instead, center personnel

will be set up inside town hall where children

can make ornaments and write letters

to Santa. The center also is hosting a tree

auction at town hall. Local groups and businesses

have decorated and donated tabletop

Christmas trees. Visitors are invited to vote

on their favorites, as well as bid on trees

they'd like to take home. The silent auction

starts at 4 p.m. and ends at 7:30. Winners

will be contacted by phone to make arrangements

to pick up their trees at 8:30. Proceeds

benefit the center. Any group that would like

to decorate and donate a tree can contact

Tamra Hall at (614) 271-2316 for details.

letter to the editor

Veterans saluted, flag poles dedicated

for their service. Also, God bless the USA

and our wonderful citizens of the village of

Mount Sterling.

David Timmons

Mount Sterling
---
www,madisonmessengernews.com

November 28, 2021 - MADISON MESSENGER - PAGE 7

CLASSIFIED ADS

Deadline: Tuesdays at 2 p.m.

To place an ad, call 740-852-0809 or stop by the London office at 78 S. Main Street

xLegal Notices

NOTICE OF FORFEITURE OF OIL AND GAS LEASE

OHIO REVISED CODE 5301.332

To: W. T. McCullough and Co., and W. T. McCullough, doing business as W. T.

McCullough & Company, whose last known address is Ohio Petroleum Building,

Mount Gilead, Ohio

Please be advised that Diane L. Furbee, whose address is c/o Flax Miller Law Firm,

Attn. Aaron P. Miller, Esq., 117 W. High Street, Suite 105, London, Ohio 43140, is

the owner and current lessor of certain real property hereinafter described that

is subject to that certain Oil and Gas Lease between Edmund A. Dwyer and Mary

B. Dwyer, his wife, the original Lessor, and W. T. McCullough and Co., dated March

30, 1964, and recorded on April 7, 1964, at Lease Volume 9, Page 259, Madison

County Recorder (the "Lease").

The Lease covers that certain real property described as follows:

58 acres located on or near Madden Higgins Road, London, Ohio 43140, further

identified as Parcel Number: 13-00084.000, and more particularly described in

those certain instruments recorded at Official Records Volume 364, Page 122,

and Official Records Volume 73, Page 689, Madison County Recorder; and

265.0917 acres located at 7810 Armstrong Road, London, Ohio 43140, further

identified as Parcel Number: 29-00326.001, and more particularly described in

those certain instruments recorded at Official Records Volume 364, Page 122,

and Official Records Volume 73, Page 689, Madison County Recorder; and

Collectively, the "Property"

W. T. McCullough and Co., its successor(s) and/or assign(s), has paid no rent or

royalties to the undersigned since it acquired title to the Property, and rent or

royalty payments would be refused if offered. There are no producing oil or gas

wells located on the Property, and by such reason(s) of noncompliance with the

terms of the Lease by W. T. McCullough and Co., its successor(s) and/or assign(s),

the Lease shall be forfeited and not recognized as a valid or existing lease.

This serves as formal notice that after thirty (30) days and not more than sixty

(60) days from the date of publication of this notice, an Affidavit of Forfeiture of

the Lease pursuant to Revised Code 5301.332 declaring the Lease forfeited and

void shall be filed at the Madison County Recorder in the event the Lease is not

released within thirty (30) days from the date of publication of this notice.

By: Aaron P. Miller, Esq., Flax Miller Law Firm LLC, 117 W. High Street, Suite 105,

London, OH 43140, (740) 852-3000

MM NOVEMBER 28, 2021

MM2021468

PUBLIC NOTICE

Date of Notice: November 28, 2021

Name and address of facility:

Newport Dairy

8500 Yankeetown-Chenoweth Rd.

London, Ohio 43140

Name and address of applicant:

Blue Sky Farm, LLC

2450 Highway 86

Friona, TX 79035

Blue Sky Farms, LLC, DBA Newport Dairy

2450 Highway 86

Friona, TX 79035

In accordance with OAC rule 901:10-6-01, public notice is hereby given

that the Ohio Department of Agriculture has issued a final Permit to

Operate renewal for Newport Dairy.

The final Permit may be appealed. The notice of Appeal and the filing

fee as may be required must be sent to: The Environmental Review Appeals

Commission (ERAC), 30 E. Broad Street, 4th Floor, Columbus, Ohio

43215, (614-466-8950) by 5:00 PM on. December 28, 2021. Questions

regarding the appeal process may be directed to ERAC. A copy of the

appeal must be served on the director of agriculture within three days

after filing the appeal with ERAC

MM NOVEMBER 28, 2021

MM2021466

PROBATE COURT OF MADISON COUNTY, OHIO

ESTATE OF ROBBIN L. RHODES, DECEASED

CASE NO. 20211185

NOTICE AND CITATION OF HEARING ON

APPOINTMENT OF FIDUCIARY

[R.C. 2113.06 and 2113.07]

To the following persons:

Donna Jordan, 5327 Sandpiper Drive, Orient, OH

43146

Jacqaueline Johnson, unknown address

Reedie Rhodes, c/o Jessica Cooper, 208 N. Casel Rd.,

Vandalia, OH 45377

Jessica Cooper has filed an application in this Court,

asking to be appointed to administer decedent's

estate.

The hearing on the application will be held December

30, 2021 at 1:30 o'clock P.M. in this Court.

This Court is located at 1 North Main Street, Room

#205, London, Ohio 43140

You are one of the persons entitled to administer decedent's estate,

and if you wish to be considered for appointment to do so you must

apply to this Court. If you do not apply, it will be considered that you

renounce your right to administer the estate. The Court may appoint

any suitable and competent person to administer the estate, giving

due weight to relative priority of rights to do so. Even if you decline

appointment yourself, if you know of any reason why the above

applicant is not suitable or competent, you should appear and inform

the Court.

s/Christopher J. Brown, Probate Judge

By: Jody Pickens, Chief Deputy Clerk

MM NOVEMBER 14, 21 28, 2021

MM2021451

NOTICE OF PUBLIC HEARING

Notice is hereby given that the Planning

Commission will hold a public hearing on

Thursday, December 9, 2021 - 5:30 pm at 20

South Walnut Street to hear the following

case(s):

Applicant: Paul Gutierrez, Business: Bodycote

IMT, Inc. is requesting a site plan modification

for a building expansion in a Planned Unit

Development (PUD) located at 443 East High

Street.

Applicant: Mark Seimer, is requesting a site

plan approval for 56 Luxury apartments with

a clubhouse in a Planned Unit Development

(PUD) located at Parcel #31-01578.001.

For Information on the above case(s)

please contact 614-379-5250.

The City of London

Building and Zoning Department

20 South Walnut Street, Suite 105,

London, Ohio, 43140

Regular business hours:

(Monday – Friday 7:30 am – 12:00 pm)

MM NOVEMBER 28, 2021

MM2021470

IN THE DISTRICT COURT OF BARBER COUNTY, KANSAS

IN THE INTEREST OF:

S. C. Year of Birth 2006, A female

CASE NO. 2020 JC-4

NOTICE OF HEARING - Publication

Pursuant to K.S.A. 38-2237

TO: Kevin Frank Congrove

and all other persons who are or may be concerned

You are hereby notified that a petition has been filed in this court alleging that

the child named above is a Child in Need of Care. The Court may find that the

parents are unfit by reason or conduct or condition which renders the parents

unable to care properly for a child, the conduct or condition is unlikely to

change in the foreseeable future, the parental rights of the parent should be

terminated, and a permanent custodian should be appointed for the child.

A hearing on the petition is scheduled for the 16th day of December, 2021, at

3 :00 p.m. At the hearing the Court may issue orders relating to the care, custody

and control of the child. The hearing will determine if the parents should be

deprived of their parental rights and the right to custody of the child.

The parent(s), and any other person having legal custody are required to appear

before this Court on the date and time shown, or to file your written response

to the petition with the Clerk of the District Court prior to that time. Failure to

respond or to appear before the Court at the time shown will not prevent the

Court from entering judgment as requested in the petition, finding that the

child is a Child in Need of Care, removing the child from the custody of parent,

parents or any other present legal custodian until further order of the Court, or

finding the parents unfit, and entering an order permanently terminating the

parents' parental rights.

An attorney has been appointed as guardian ad litem for the child: Hannah L.

Brass, 124 E. Kansas Ave., Medicine Lodge, KS 67104; telephone number

620-886-5611. You have the right to appear before the Court and be heard

personally, either with or without an attorney. The Court will appoint an

attorney for any parent who desires an attorney but is financially unable to hire

one. The Court may order one or both parents to pay child support. An attorney

has been appointed for you: Mandi Stephenson, 227 N. Main St., Kingman, KS

67068; telephone number 620-532-5156

Date and time of hearing: December 16, 2021 at 3:00 p.m.

Place of hearing: Barber County Courthouse, 120 E. Washington, Medicine

Lodge, KS 67104

Jayme McDonald

Clerk of the District Court

MM NOVEMBER 21, 2021

MM2021458

NOTICE OF PUBLIC HEARING

Notice is hereby given that the Village of West

Jefferson Planning and Zoning Commission will

hold a public hearing on Wednesday, December

8, 2021 – 6:30 pm at the Community Center, 230

Cemetery Road to hear the following case(s):

Applicant; Justin Muller, Exeter Timmons, LLC is

requesting a final sale plan approval including

landscaping at the subject property Parcel

#16-00001.000.

PLEASE CONTACT THE OFFICE PRIOR TO THE

MEETING FOR THE DETAILS

For Information on the above case(s)

please contact

Tom Hale at 614-379-5250.

Regular business hours.

(Monday – Friday 7:30 am – 4:00 pm

closed from 12:00-1:00)

MM NOVEMBER 28, 2021

MM2021471
---
PAGE 8 - MADISON MESSENGER - November 28, 2021

Leg

xLegal Notices

www.madisonmessengernews.com

IN THE COURT OF COMMON PLEAS

MADISON COUNTY, OHIO

PROBATE DIVISION, JUVENILE COURT

Case No. 22130021

Summons By Publication

In the Matter of

Rn R (M)

Alleged Dependent Child

To: Tasha Hoover, LKA: 100 W. Main Street, Lot #166, West Jefferson, OH 43162

Dillion Repass aka Dylan Repass, LKA: 2341 Beverly Place, Columbus, OH 43209

A complaint for has been filed in this Court by the State of

Ohio/Madison County Children Services, alleging dependency of

Rn R (M), DOB 05/25/2019, pursuant to O.R.C. 2151.04. An adjudication

hearing has been scheduled at the Madison County

Juvenile Court, 1 North Main Street, London, OH 43140. on

Wednesday, December 8, 2021, at 1:30 p.m. and at the call of the

Court thereafter.

You are indicated as being the parent(s) of said minor child and

notice of said complaint is hereby provided in accordance with

the law and the provisions of RULE 16, Rules of Juvenile

Procedure. If a party is indigent, the Court will appoint counsel to

provide representation upon request. If you believe that you

qualify, contact the Court at (740) 852-0760.

CHRISTOPHER J. BROWN

Juvenile Judge

Madison County, Ohio

MM NOVEMBER 28, 2021

MM2021467

PLACE YOUR

LEGAL NOTICE HERE?

CALL GRANT ZERKLE

AT THE

MADISON MESSENGER

FOR PRICING

740-852-0809

INFORMATION

FALL INTO

A NEW HAIR STYLE!!

Come See Me At

My New Location!

Call Marilyn Weaver

For An Appt.

For a New Haircut/Color

614-348-6670

Relax Wellness

3663 Broadway

Grove City

STOP!

ADVERTISE

In The Messenger

To Get Great Results!

CALL FOR PRICES

740-852-0809

ASSOCIATION ADS

Protect your home w/home

security monitored by

ADT. Starting at $27.99/

mo. Get free equipment

bundle including keypad,

motion sensor, wireless

door & windows sensors.

833-719-1073

The Generac PWRcell

solar plus battery storage

system. Save money,

reduce reliance on

grid, prepare for outages

& power your home. Full

installation services. $0

down financing option.

Request free no obligation

quote. Call 1-855-

270-3785

NOTICE OF PUBLIC HEARING

Notice is hereby given that the City of London

Historic Review Board will hold a public hearing on

Tuesday, December 14, 2021 - 4:00 pm at 20 South

Walnut Street to hear the following case(s):

Applicant: Bob Patterson / CK Signs & Apparel, has

applied for a Certificate of Appropriateness for a

new sign attached to building at 61 South Main

Street.

For Information on the above case(s) please

contact 614-379-5250.

The City of London

Building and Zoning Department

20 South Walnut Street, Suite 105,

London, Ohio, 43140

Regular business hours:

(Monday – Friday 7:30 am – 12:00 pm)

MM NOVEMBER 28, 2021

ASSOCIATION ADS

DISH TV $64.99 FOR 190

Channels + $14.95 High

Speed Internet. Free Installation,

Smart HD DVR

Included, Free Voice Remote.

Some restrictions

apply. Promo expires

1/21/22. 1-855-270-5098

Pest Control

Find Pest Control Experts

Near You! Don't let

pests overtake your

home. Protect your loved

ones! Call today to find

great deals on Pest

Control Services - 833-

872-0012

Looking for auto insurance?

Find great deals

on the right auto insurance

to suit your needs.

Call today for a free

quote! 866-924-2397

Thinking about installing

a new shower? American

Standard makes it

easy. FREE design consulation.

Enjoy your

shower again! Call 1-

833-769-0995 today to

see how you can save

$1,000 on installation, or

visit www.newshowerdeal.com/mac

Donate Your Car To

Veterans Today! Help and

Support our Veterans.

Fast - FREE pick up.

100% tax deductible. Call

1-800-245-0398

Update your home with

beautiful new blinds &

shades. Free in-home

estimates make it

convenient to shop from

home. Professional

installation. Top quality -

Made in the USA. Free

consultation: 877-212-

7578. Ask about our

specials!

MM2021472

ASSOCIATION ADS

HOME BREAK-INS take

less than 60 SECONDS.

Don't wait! Protect your

family, your home, your

assets NOW for as little as

70¢ a day! Call 866-409-

0308

Long Distance moving.

Call for a free quote from

America's Most Trusted

Interstate Movers. Let us

take the stress out of

moving! Speak to a

relocation specialist! Call:

888-721-2194

Stop worrying! SilverBills

eliminates the stress &

hassle of bill pmts.

Household

bills

guaranteed to be paid on

time as long as

appropriate funds are

available. No computer

necessary. Free trial/

custom quote 1-855-703-

0555

LONG DISTANCE MOVING:

Call Today for a FREE

QUOTE from America's Most

Trusted Interstate Movers.

Let us take the stress out of

moving! Call now to speak to

one of our Quality Relocation

Specialists: 844-436-0873

HEARING AIDS!! Bogo

free! High-quality rechargeable

Nano hearing

aids priced 90% less

than competitors. Nearly

invisible! 45-day money

back guarantee! 833-

669-5806

ENJOY 100% guaranteed,

delivered-to-the-door Omaha

Steaks! Get 8 FREE Filet

Mignon Burgers! Order the

Delightful Gift this holiday

season - ONLY $99.99 CALL

1-888-409-0645 and mention

code 65658LQY or visit

www.omahasteaks.com/

thegift1107

HughesNet - Finally,

super-fast internet no

matter where you live. 25

Mbps just $59.99/mo!

Unlimited Data is Here.

Sream Video. Bundle TV

& Internet.

Free

Installation. Call 866-499-

0141

Public Notice

The 2019-2020 Report for the

Madison County-London City Health

District has been completed. The

report is available for review at

MCPH, 306 Lafayette Street, London,

between 8:30 am and 4:30 pm.

Monday – Friday.

Bridget J. Lane

Fiscal Officer

MM NOVEMBER 28, 2021

MM2021469

PUBLIC NOTICE

The 2022 Appropriations will be

available for inspection at the

Monday, December 6th meeting of

the Deercreek Township Trustees.

The meeting will take place at

the township hall, 75 Middle Street,

Lafayette, at 7:00 p.m.

MM NOVEMBER 28, 2021

ASSOCIATION ADS

Stroke & Cardiovascular

disease are leading

causes of death according

the AHA. Screenings can

provide peace of mind or

early detection! Call Life

Line Screening to

schedule a screening.

Special offer 5 screenings

for $149.. 1-833-549-4540

DENTAL INSURANCE

from Physicians Mutual

Insurance Company.

Coverage for 350 plus

procedures. Real dental

insurance - NOT just a

discount plan. Do not wait!

Call now! Get your FREE

Dental Information Kit with

all the details! 1-877-553-

1891

www.dental50plus.com/

macnet#6258

Internet &WIFI Starts at

$49 Call us Today to Get

Started. Find High-Speed

Internet with Fiber Optic

Technology No Credit

Check, No SSN Required.

Call us Today 866-396-

0515

AMERICAN & FOREIGN

CLASSIC CARS AND

MOTORCYCLES

WANTED. $$PAYING

CA$H$$ Corvettes,

Mustangs, Jaguars, Austin

Healeys, Broncos,

Blazers, Ram Chargers,

AMX, and Triumphs

KRMiller1965@yahoo.com

717-577-8206

MM2021464

ASSOCIATION ADS

Become a Published

Author. We want to Read

Your Book! Dorrance

Publishing Trusted by

Authors Since 1920 Book

manuscript submissions

currently being reviewed.

Comprehensive Services:

Consultation, Production,

Promotion and Distribution.

Call for Your Free Author's

Guide 1-866-482-1576 or

visit http://dorranceinfo.

com/macnet

Looking for assisted living,

memory care, or

independent living? A

Place for Mom simplifies

the process of finding

senior living at no cost to

your family. Call 1-833-

386-1995 today!

Wesley Financial Group,

LLC Timeshare Cancellation

Experts Over

$50,000,000 in timeshare

debt & fees cancelled in

2019. Get free

informational package &

learn how to get rid of

your timeshare! Free

consultations. Over 450

positive reviews. 888-965-

0363

The bathroom of your

dreams for as little as

$149/month! BCI Bath &

Shower. Many options

available. Quality

materials & professional

installation. Senior &

Military Discounts

Available. Limited Time

Offer - FREE virtual inhome

consultation now

and SAVE 15%! Call

Today! 1-877-540-2780

Receive local off-market

motivated seller leads

with the click of a button

at www.homeowners

motivatedtosell.com

Madison Co. Foreclosure Auction

Case# CVE20210144

United States of America, acting through the

Rural Housing Service

United States Department of Agriculture

vs.

David L. Patrick, et al.

Address: 229 Olive St. London, Oh 43140

See www.OhioSheriffSales.com for full info and legal

description.

Bids will be accepted only through said website. Bidding

will open a minimum of 7 days prior to the

auction ending on Dec. 20, 2021 at Noon. If there are

no bids, a second sale will take place on the same

website with no minimum bid on Dec. 29, 2021 at

Noon. A deposit of $10,000 is required for either sale.

The purchaser shall be responsible for those costs,

allowances, and taxes that the proceeds of the sale

are insufficient to cover. The appraisal is $200,000. The

2/3 opening bid is $133,334.

MM NOV. 28 & DEC. 5, 12, 2021

MM2021465

xInformation

MADISON

EARLY

DEADLINES

Classified Advertising

For December 26, 2021

Deadline: Wednesday, Dec. 15 - Noon

For January 2, 2022

Deadline: Wednesday, Dec. 22 - Noon

ASSOCIATION ADS

Replace your roof with the

best lookng and longest

lasting material. Steel

from Erie Metal Roofs!

Three styles and multiple

colors available.

Guaranteed to last a

lifetime! Limited Time

Offer - $500 Discount +

Additional 10% off install

(for military, health

workers & 1st responders)

Call Erie Metal Roofs: 1-

855-338-4807

Looking for assisted living,

memory care, or

independent living? A

Place for Mom simplifies

the process of finding

senior living at no cost to

your family. Call 1-833-

910-1576 today!

ASSOCIATION ADS

Business Owners.

Eliminate credit card

processing fees 100%,

pass on a legal 4% noncash

charge to the

customer. Chain stores

welcome. 337-849-8083

Don't let the stairs limit

your mobility! Discover

the ideal solution for

anyone who struggles on

the stairs, is concerned

about a fall or wants to

regain access to their

entire home. Call

AmeriGlide today! 1-844-

317-5246

Stroke & Cardiovascular

disease are leading

causes of death according

the American Heart

Association. Screenings

can provide peace of mind

or early detection! Call

Life Line Screening to

schedule your screening.

Special offer - 5

screenings for $149. 1-

866-518-8391
---
www.madisonmessengernews.com

November 28, 2021 - MADISON MESSENGER - PAGE 9

xAuctions

LIVE/ON SITE AUCTION

The following Trucks, Tractors, Farm Equipment & Bins will sell at

5895 Basil Western Road CARROLL, Ohio 43112.

SATURDAY DECEMBER 4, 2021 1 PM

FARM EQUIPMENT & MISC.

IH 1586 Diesel tractor w/cab; Two sets 20.8"x38" duals; Case 1210 Diesel tractor w/cab, 3pt. (Runs, no tach);

Case rear weights; Case CC tractor; Case SC tractor; JD X720 Ultimate rider with hydro & 62" deck; NI (Kinze) 4

row no-till planter with dry fert.; NH 55 rake; NH 105 bale wagon; Ford 530 baler; Ford 501 sickle mower; 2

Killbros 350 bu. gravity wagons; Two 350 bu. gravity wagons; Stoltzfus 10 ton lime spreader; Flat bed wagon;

; Better Bilt 1100 liquid manure tank; Barge wagon; Two 16' box wagons w/side ext. (No gears); 3pt. log splitter;

Vermeer TS-20 tree spade, 3pt. mount; 12" post hole digger; 500 gal. propane tanks; 500 gal. & misc. poly

tanks; 4" to 12" clay tile; Misc. lumber. Plus Misc.

TRUCKS, BINS & LIVESTOCK EQUIPMENT

1994 Ram 2500 SLT pickup w/V-10 & 2WD, auto, 8' bed & 220,000 miles; 2001 Jeep Wrangler w/4.0L engine

(160,070 miles); 1985 Ford 8000 truck w/16' flat bed, 5/2 speed (2 spd. has issues), remfg. engine and 252,107

miles; 30' grain bin with 7 rings (Approx. 10,000 bu.); 24' grain bin with 7 rings (Approx. 6,500 bu.); Bins removed

within 90 days at Buyers expense & risk.* 1500 bu. holding bin with auger & motor; Westfield 10"x60' swing

away auger (Top gear box as-is); Kongskilde Cushion Air 1000 Turbo 1000 rpm grain vac, pto; 15' hay conveyor;

Pax 12 hole round hog feeder; Two 2 hole & two 1 hole galv. hog feeders; Plus misc.

TERMS - Cash or check w/Pos. ID.

FOOD

OWNER – KENNETH HEMPLEMAN

Sale Conducted by Rawn's Action Service

Auctioneers - Tom Rawn (614-580-6171) & Rick Haag

www.auctionohio.com or www.auctionzip.com ID# 4889

xCraft Shows

ADVERTISE

Your Holiday

Craft Show

Bazaar or

Bake Sale!

Call Grant at

740-852-0809

ATTENTION:

AUCTIONEERS

ADVERTISE

Your Auction

with us and

reach a lot

more

customers!

For Display Rates

Call The

MADISON

MESSENGER

740-852-0809

ASSOCIATION ADS

Eliminate gutter cleaning

forever! LeafFilter, the

most advanced debrisblocking

gutter protection.

Schedule a FREE LeafFilter

estimate today. 15% off

Entire Purchase. 10% Senior

& Military Discounts.

Call 1-855-791-1626

READER

ADVISORY

The National Trade Association

we belong to has

purchased the following

classifieds. Determining

the value of their service

or product is advised by

this publication. In order

to avoid misunderstandings,

some advertisers do

not offer "employment"

but rather supply the

readers with manuals, directories

and other materials

designed to help

their clients establish mail

order selling and other

businesses at home. Under

NO circumstance

should you send any

money in advance or give

the client your checking,

license ID or credit card

numbers. Also beware of

ads that claim to guarantee

loans regardless of

credit and note that if a

credit repair company

does business only over

the phone it's illegal to request

any money before

delivering its service. All

funds are based in US

dollars. Toll Free numbers

may or may not

reach Canada. Please

check with the Better

Business Bureau 614-

486-6336 or the Ohio Attorney

General's Consumer

Protection Section

614-466-4986 for more

information on the company

you are seeking to

do business with.
---
PAGE 10 - MADISON MESSENGER - November 28, 2021

xEmployment

www.madisonmessengernews.com

xLand for Sale

OPEN INTERVIEWS

ON WEDNESDAYS 10AM-1PM

DO YOU NEED

SEASONAL EMPLOYEES?

Call GRANT to ADVERTISE!

and reach over 14,000 homes in the

Madison Messenger

740-852-0809

madisonnews@sbcglobal.net

UP TO $ 19.00/HR + NO MANDATORY OT

$

2000 SIGN ON BONUS + INCENTIVE OPPORTUNITIES

1568 Georgesville Rd. Columbus 43228

APPLY PRIOR @ JOBS.MSCDIRECT.COM

Applicants must sucessfully pass a background check and drug screen.

Equal Opportunity Employer: Minority, female, veteran, individuals with disabilities, sexual orientation/gender identity.

xFocus on Rentals

HAVE TO RENT

YOUR APARTMENTS

BEFORE THE SNOW FLIES?

CALL GRANT

Columbus Messenger

Newspapers

740-852-0809

ASSOCIATION ADS

!!OLD GUITARS WANT-

ED!! GIBSON, FENDER,

MARTIN, Etc. 1930's to

1980's. TOP DOLLAR

PAID. CALL TOLL FREE

1-866-433-8277

GENERAC Standby Generators

provide backup

power during utility power

outages, so your home

and family stay safe and

comfortable. Prepare

now. Free 7-year extended

warranty ($695 value!).

Request a free

quote today! Call for additional

terms and conditions.

1-855-465-7624

NEED IRS RELIEF

$10K-$125K+ Get Fresh

Start or Forgiveness.

Call 1-844-431-4716

Monday through Friday

7am-5pm PST

Wants to purchase minerals

and other oil and gas

interests. Send details to

P.O. Box 13557, Denver,

CO. 80201

Elminate gutter cleaning

forever! LeafFilter, the most

advanced debris-blocking

gutter protection. Schedule

Free LeafFilter Estimate

today. 15% off Entire

Purchase. 10% Senior &

Military Discounts. Call 1-

855-995-2490

DENTAL INSURANCE-

Physicians Mutual Insurance

Company. Covers

350 procedures. Real

insurance - not a discount

plan. Get your free

dental Info kit! 1-888-

623-3036 . www.dental50plus.com/58

#6258

Directv Now. No Satellite.

$40/mo 65 Channels.

Stream news, live

events, sports & on demand

titles. No contract/

commitment. 1-866-825-

6523

ASSOCIATION ADS

HEARING AIDS!!

Buyone/get one FREE!

Nearly invisible, fully rechargeable

IN-EAR

NANO hearing aids

priced thousands less

than competitors! 45-day

trial! Call1-877-436-0234

BATH & SHOWER UP-

DATES in as little as

ONE DAY! Affordable

prices - No payments for

18 months! Lifetime warranty

& professional installs.

Senior & Military

Discounts available. Call

855-761-1725

GENERAC Standby

Generators provide

backup power during

power outages, so your

home & family stay safe &

comfortable. Prepare now.

FREE 7-yr extended

warranty $695 value!

Request a free quote

today. Call for terms &

conditions. 1-844-334-

8353

Life Alert. One press of a

button sends help fast

24/7! At home and on

the go. Mobile Pendant

with GPS. Free first aid

kit (with subscription).

877-537-8817 Free brochure

Donate your car to kids!

Fast free pickup running

or not - 24 hour response.

Maximum tax

donation. Help find missing

kids! 877-831-1448

READY TO BUY, SELL

OR RENT YOUR

VACATION HOME OR

HUNTING CAMP?

Advertise it here and in

neighboring publications.

We can help you. Contact

MACnet MEDIA @

800-450-6631 or visit our

site at MACnetOnline.

com

AT&T Internet. Starting

at $40/month w/12-mo

agmt. 1 TB of data/mo.

Ask how to bundle &

SAVE! Geo & svc restrictions

apply. 1-888-796-

8850

ASSOCIATION ADS

SELL YOUR ANTIQUE

OR CLASSIC CAR.

Advertise with us. You

choose where you want

to advertise. 800-450-

6631 visit macnetonline.

com for details.

HERNIA REPAIR? DID

YOU RECEIVE A HERNIA

MESH PATCH between

2009 and present? Did

you suffer complications

from removal surgery,

bowel perforation, infection,

abdonminal wall

tears, puncture of abdominal

organs or intestinal fistulae

after placement of

this deivce? You may be

entitled to compensation.

Attorney Charles Johnson

- 1-800-535-5727

New authors wanted!

Page Publishing will help

self-publish your book.

Free author submission

kit! Limited offer! 866-

951-7214

Train online to do medical

biling! Become a Medical

Office Professional at CTI!

Get trained & certified to

work in months! 888-572-

6790. The Mission,

Program Information and

Tuition is located at

CareerTechnical.edu/cons

umer-information. (M-F 8-

6 ET.

AFFORDABLE HOME

SOLUTIONS! Foreclosures.

Rent to Own. Short

sales and more! Call Toll

Free 844-275-0948

Attention oxygen therapy

users! Inogen One G4 is

capable of full 24/7 oxygen

delivery. Only 2.8

pounds. Free info kit.

Call 877-929-9587

Attention: If you or aloved

one worked around the

pesticide Roundup

(glyphosate) for at least 2

years and has been diagnosed

with non-Hodgkin's

lymphoma, you may be

entitled to compensation.

855-341-5793

ASSOCIATION ADS

DISH TV $64.99 for 190

Channels + $14.95 high

speed internet. FREE installation,

Smart HD DVR

included. Free Voice Remote.

Some Restrictions

apply. Promo Expires

1/21/22. 1-833-872-2545

Want Faster & Affordable

Internet? Get internet

service today with

Earthlink. Best internet &

WiFi Plans. Call us Today

to Get Started. Ask

about our specials! 866-

396-0515

The Generac PWRcell, a

solar plus battery storage

system. SAVE money,

reduce your reliance on

the grid, prepare for power

outages and power

your home. Full installation

services available. $0

Down Financing Option.

Request a FREE, no obligation,

quote today. Call

1-855-900-2894

VIAGRA & CIALIS! 60

pills for $99. 100 pills for

$150 FREE shipping.

Money back guaranteed!

1-844-596-4376

IMPORTANT

NOTICE

The following states: CA,

CT, FL, IA, IL, IN, KY,

LA, MD, ME, MI, MN,

NE, NC, NH, OH, OK,

SC, SD, TX, VT and WA

requires seller of certain

business opportunities to

register with each state

before selling. Call to

verify lawful registration

before you buy.

VIAGRA and CIALIS

USERS! 50 Generic pills

SPECIAL $99.00 FREE

Shipping! 100% guaranteed.

24/7 CALL NOW!

888-445-5928 Hablamos

Espanol

HELP WANTED

Senior Citizen needs

someone to do

housecleaning. Flex

hrs in West Jefferson.

614-879-7758

WANT TO BUY

Looking for someone who

makes grave blankets.

614-389-6664

DVD's, CD's, Toys,

Costume Jewelry,

Misc Items. 614-557-3536

CASH PAID for Ohio

State and old sports

items, records, postcards,

old photos, jewelry & more

614-477-5590

WANTS TO Purchase

minerals and other oil &

gas interests. Send details

to: P.O. Box 13557,

Denver, CO 80201

ANTIQUES

WANTED

Victrolas, Watches,

Clocks, Bookcases

Antiques, Furn.

Jeff 614-262-0676

or 614-783-2629

We Buy Junk Cars &

Trucks. Highest Prices

Paid. 614-395-8775

BUYING VINYL RECORDS.

LPs and 45s - 1950-80s

Rock, Pop, Jazz, Soul.

614-831-0383

RENTALS

Newly Remodeled 2 BR

Apt 6748 ST 38

(Newport), London, 43140

$650 plus dep. Available

Nov. 1st. Elec heat. Only

Good Renters need apply!

614-975-7152

VACATION RENTALS

Englewood, Florida

Palm Manor Resort

Within minutes of white

sand Gulf beaches,

world famous Tarpon

fishing, golf courses, restaurants/shopping,

Bush

Gardens. 2 BR 2 BA

condos with all ammenities,

weekly/monthly, visit

www.palmmanor.com

or call 1-800-848-8141
---
www.madisonmessengernews.com

November 28, 2021 -MADISON MESSENGER - PAGE 11

xClassified Services

INFORMATION INFORMATION GARAGE DOORS GARAGE DOORS ROOFING ROOFING TREE SERVICES TREE SERVICES

Jeff Boyd

Tree Trimming

Tree Removal

Stump Grinding

FREE ESTIMATES

740-845-LAWN

CARPET CLEANING

CARPET CLEANING

Any 5 areas ONLY $75

Home Powerwash-$99-$200

614-805-1084

Specializing in Pet Odors

CARPET SALES

CARPET

Gray Saxony

540 sq.ft. & 6 lb

Pad & Normal Installation

Only $999.00

Phone or text Ray

740-927-3504

CONCRETE

ALL-CITY CUSTOM

CONCRETE

All Types Concrete Work

New or Tear Out-Replace

39 Yrs. Exp.

(614) 207-5430

Owner is On The Job!

EDDIE MOORE

CONSTRUCTION

Quality Concrete Work

Lt. Hauling & Room Add.,

Block Work & Excavation

Stamp Patios,

Bsmt. Wall Restoration

35 Yrs Exp - Lic & Ins.

Free Ests. 614-871-3834

www.hastingsnsons.com

Driveways & Extensions

Patio & Walkways,

Porches & Steps,

Garage/Basement Floors

Hot Tub/Shed Pads,

Stamped/colored concrete

Sealing of new &

existing concrete.

FREE ESTIMATES

Contact Adam

614-756-1754

hastingsandsons.

columbus@gmail.com

DOG GROOMING

Kountry Klipping LLC

Pet Grooming

Daycare

By Terri Lynn

46 N. London St.

Mt. Sterling, OH 43143

(614) 354-7716

Bring in this ad for $5 off

12/5 A/M

12/19 M

FENCING

EAZY FENCE

Chain Link - Wood

No Job Too Big or Small

All Repairs ~ Free Est.

Insured. 614-670-2292

WEBB & SON

FENCING

Farm & Residential

Fencing

www.webbandson

fencing.org

JEFF

740-852-0953

ED

740-852-0816

HAULING

Zane's Dumpster Rentals

4 days - $300.00

to drop off & haul away

$25 extra/day over 4 days

Tires - $10.00 each

No Hazardous Materials

Contact Zane Tabor

on Facebook or

Call 614-254-1131

JUNK REMOVAL

& MORE

HOARDING

&

DEMOLITION

10% off for Senior Citizens

Free Estimates

Mike Redding

614-352-0442

HOME

IMPROVEMENTS

12/5 M

12/5

W/GCM

CHAPMAN

PROPERTY

MAINTENANCE

Your Local Handyman

No Job Too Small!

614-598-0897

11/28 <

email:

chapm43140@gmail.com

HOME

IMPROVEMENTS

Mid-Ohio

Kitchen

and Bath, LLC

Joe Ober

Residential/Commercial

740-852-4544

614-879-5827

Choose Local & Save

midohiokitchenandbath.com

Handyman Cafe

"Serving Up Solutions

For All Your Handyman

Remodeling Needs"

Painting, Flooring,

Bathrooms, Kitchens,

Doors/Windows,

Siding/Roofing

Home Repairs/Maintenance

740-837-0287

Accepting MC/Visa/AE/Discover

SINCE 1973

Phil Bolon Contr.

Windows & Siding

Decks, Kitchens, Baths

Room Additions,

Flooring, Roofing

Bsmt Waterproofing

Deal With Small Non-Pressure Co.

47 Yrs. Exp. - Refs. Avail.

Lic.-Bond-Ins.

Free Est. - Financing Avail.

Member BBB Of Cent. OH

O.C.I.E.B. ID #24273

614-419-3977

or 614-863-9912

For Free Estimates

On Carpenter Work,

Roofs,

Siding,

Foundations,

Floors Jacked Up,

Call:

11/28 M

740-426-6731

740-505-1094

Ask For Marvin

12/12 M

12/12 M

12/19

A/M

HOME

IMPROVEMENTS

SLAGLE

HOME REMODELING

Baths, Kitchen,

Plumbing and Electrical.

All your Handyman needs

No Job too Big or Small

Over 30 Yrs. Exp. Lic.-Bond-Ins.

Jerry

614-332-3320

MOVING

Aaron Allen

Moving

Local Moving since 1956

Bonded and Insured

614-299-6683

614-263-0649

Celebrating

over 60 yrs

in business

PAINTING

WOW

Painting - Power Wash

Interior - Exterior

Residential & Commercial

Wood Repair

Drywall Repair

614-989-9759

Austin & Gary Bogenrife

Website: wwwpaintingllc.com

wowpainting@live.com

PLASTERING

DRYW

YWALL &

PLASTER

11/7

A&M

REPAIR

Textured Ceilings

614-551-6963

Residential/Commercial

BIA

12/5 M

12/12 M

12/19 A&M

PLUMBING

MYERS

PLUMBING

Exp. Expert Plumbing

New Work & Fast Repairs

Lic. - Permit Available

Water • Sewer • Gas

614-633-9694

❏ London

❏ Main St.

❏ Phone

❏ Walk In

❏ Sales/Mail

Classified Services

Classification:

columbus

Me ssenger

Established in 1974

the Columbus Messenger Co.

3500 Sullivant Avenue

Columbus, Ohio 43204

614-272-5422

Telephone: ______________________________________________

Print your Name: __________________________________________

Last

First

Print your Address: ________________________________________

Print your City ____________________ State: ______ Zip: ________

Print Your Ad Below...

One word each space. BE SURE YOUR TELEPHONE NUMBER OR ADDRESS is

included in your advertisement. The lessor of 4 words or 22 characters per line. We

reserve the right to use abbreviations when actual space exceeds amount purchased.

1. __________

2. __________

3. __________

4. __________

5. __________

6. __________

7. __________

8. __________

9. __________

10. __________

__________

__________

__________

__________

__________

__________

__________

__________

__________

__________

Your Cost Per Line –– 2 Line Minimum

1 Paper ........$1.00 per line 3 Papers ......$2.55 per line

4 Papers ......$3.00 per line

2 Papers ......$2.00 per line

5 Papers ......$4.00 per line

$

12/19 A&M

PONDS & LAKES

AQUA-DIG-IT

CLEANING

614-359-2146

Jim @

aqua-dig-it.com

❏ Eastside Messenger

❏ Westside Messenger

❏ Southeast Messenger

❏ Southwest Messenger

❏ Madison Messenger

❏ All Newspapers

1/9/22 M

❏ Cash

❏ Check

❏ Money Order

❏ VISA ❏ MC

SEWING MACHINE

REPAIR

REPAIR all makes 24 hr.

service. Clean, oil, adjust

in your home. $49.95 all

work gtd. 614-890-5296

__________

__________

__________

__________

__________

__________

__________

__________

__________

__________

TREE SERVICES

Brewer & Sons Tree Service

• Tree Removal

• Tree Trimming 11/21

A&M

• Stump Grinding

• Bucket Truck Services

Best Prices • Same Day Service

614-878-2568

__________

__________

__________

__________

__________

__________

__________

__________

Credit Card Information

$5.00 Minimum by fax or

email or $12.50 by phone

________________________

Credit Card Number

______________________

Exp. Date
---
PAGE 12 - MADISON MESSENGER - November 28, 2021

community calendar

www.madisonmessengernews.com

Madison County Senior Center

The Madison County Senior Citizens Center, 280 W. High St.,

London, offers the following activities. The cafe is open to all ages,

Monday-Thursday, 11:30 a.m.-1 p.m. For details, call (740) 852-

3001.

• Nov. 29—8:30 a.m., indoor walking/exercise class; 9 a.m., chair

volleyball; 9:30 a.m., knit, crochet and needle crafts; 10:30 a.m., sitting

exercise/strengthening; 1 p.m., euchre

• Nov. 30—9 a.m., quilters; 10 a.m., bowling at Madison Lanes

• Dec. 1—8:30 a.m., indoor walking/exercise class; 9 a.m., chair

volleyball; 10:30 a.m., aerobics/strengthening class; 1 p.m., bridge;

1:15, yoga stretch; 2 p.m., diabetes weight

loss support group

• Dec. 2—9 a.m., chair volleyball

• Dec. 3—8:30 a.m., indoor walking class;

9 a.m., painting class; 10 a.m., chimes; 1

p.m., free movie

• Dec. 4—1 p.m., departure for Holiday

Pops trip

Developmental Disabilities

Board Meeting

The Madison County Board of Developmental

Disabilities will meet at 3 p.m. Dec.

9 at the administrative office, 500 Elm St.,

London, for a public hearing to discuss goals

and objectives for the 2022 Annual Action

Plan. The board's regular monthly meeting

will follow at 4 p.m.

Republican Central Committee

The Madison County Republican Central

Committee will meet at 7 p.m. Dec. 7 at the

Madison County Engineer's Office, 825 U.S.

Rte. 42, London.

Alzheimer's Family Support

The Alzheimer's Family Support Group

meets at 6 p.m. the first Thursday of each

month at St. John's Lutheran Church, 380

Keny Blvd., London. For more information,

call Pat Baynes at (937) 269-3605.

Mt. Sterling

Library

60 W. Columbus

St., (740) 869-2430.

• Food for Fines

Week. The library

is bringing back

Food For Fines

Week, Nov. 29-Dec.

4. Bring in canned

and other non-perishable

food items

for the Mount Sterling

Community

Center food pantry.

In exchange, the library

will reduce or

remove your fines.

• Around Town

Book Club Christmas

Party. The

club will meet at

6:30 p.m. Dec. 7 in

the lounge at Deer

Creek State Park

Lodge to discuss

"Seven Days of Us'

by Francesca Hornak

and enjoy refreshments.

Bring

a wrapped used or

favorite book to exchange;

include a

clue-note with a

brief description of

the book and its

genre.