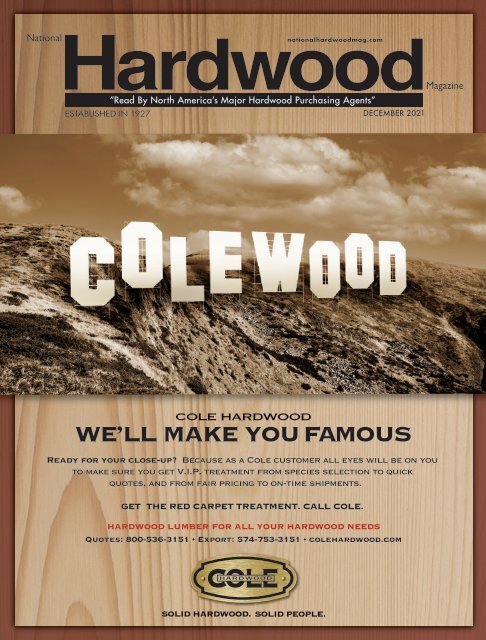 National Hardwood Magazine - December 2021
The December issue of National Hardwood Magazine features stories on Wellborn Cabinet Inc., Josey Lumber Company, the American Chestnut and much more.
The December issue of National Hardwood Magazine features stories on Wellborn Cabinet Inc., Josey Lumber Company, the American Chestnut and much more.
SHOW MORE
SHOW LESS
You also want an ePaper? Increase the reach of your titles
YUMPU automatically turns print PDFs into web optimized ePapers that Google loves.
Pink line is the bleed line

Green line is the trim line

Orange line is live area (please keep text within this area)

Blue box indicates where the masthead should be placed

COLE HARDWOOD

WE'LL MAKE YOU FAMOUS

Ready for your close-up? Because as a Cole customer all eyes will be on you

to make sure you get V.I.P. treatment from species selection to quick

quotes, and from fair pricing to on-time shipments.

GET THE RED CARPET TREATMENT. CALL COLE.

HARDWOOD LUMBER FOR ALL YOUR HARDWOOD NEEDS

Quotes: 800-536-3151 • Export: 574-753-3151 • colehardwood.com
---
ACCURATE

End Tally with

ARTIFICIAL INTELLIGENCE

Accurate

After extensive testing

TallyExpress proves to be

within 1% of a perfect tally.

The app "learns" as it's

used, which makes it even

more accurate over time.

Live in 100+

Locations

"We put a tape measure to each

board and wrote the width on

the end. Overall we were 99.5%

accurate to these tape measure

tallies, some sites were seeing

99.8 to 99.9%."

– Northwest Hardwoods

Fast

Start to finish – completed

end tally takes 60-90

seconds.

How accurate? In the field, the

"One difference day between were backed TallyExpress up

with and a 12 hand bundles tally on by our tape line.

Normally, it would have taken a

measure is less than 1%. It also

very stressful 30 minutes to get

"learns" as it's used, making it

those tallied and moved. With

TallyExpress, even more accurate we did with all 12 time.

bundles And the in app about is so ten easy minutes to use, and

it you was get a stress-free accurate measurements

experience."

– fast Granite - no matter Hardwoods, who Inc. is tallying.

A customized solution:

MIXED

LOADS

We can easily combine a wide

range of items on a single order

to suit your specific needs.

OUR PRODUCTS:

NORTHERN AND NORTH

APPALACHIAN LUMBER

Easy

Not only can

TallyExpress be taught in

minutes, it is less

physically-demanding

than having to measure

each board.

"In "The the training past, you is almost had to nothing. find

People the right take tally pictures person with who their was

smartphones detailed and patient. every day. With It's

TallyExpress, very familiar technology. we get the same,

accurate Basically, results you show regardless someone of

who how does to use the it on work." one bundle

-Brownlee and they're Lumber ready to Co. go. It really

does only take a couple of

minutes to train someone."

– Allegheny Wood Products

Contact DMSi, your exclusive TallyExpress reseller, to start your free 30-day trial.

Producer | Large Inventory | Thick Stock | Imported Wood

2 DECEMBER 2021 n NATIONAL HARDWOOD MAGAZINE

primewood.com

(402) 996-2710 | tallyexpress.com

TallyExpress

by
---
COVER TEMPLATE.indd 1

Pink line is the bleed line

Green line is the trim line

Orange line is live area (please keep text within this area)

Blue box indicates where the masthead should be placed

Ready for your close-up? Because as a Cole customer all eyes will be on you

to make sure you get V.I.P. treatment from species selection to quick

quotes, and from fair pricing to on-time shipments.

GET THE RED CARPET TREATMENT. CALL COLE.

HARDWOOD LUMBER FOR ALL YOUR HARDWOOD NEEDS

Quotes: 800-536-3151 • Export: 574-753-3151 • colehardwood.com

10/3/16 1:20 PM

Contents

National Hardwood Magazine DECEMBER 2021 Volume 95 No. 11

Features & Industry Events

COLE HARDWOOD

WE'LL MAKE YOU FAMOUS

About The Cover

COLE HARDWOOD

Flexibility in the market place and

employee involvement are hallmarks of Cole

Hardwood, Inc., a 34 acre concentration yard

supplying U.S. and overseas markets, Cole

specializes in lumber that is indigenous

to the forests of Indiana. These species

are Red Oak, White Oak, Ash, Poplar, Hard

Maple, Soft Maple, Cherry, Hickory and

Walnut. Thicknesses in most species are 4/4

through 8/4, with some species up to 16/4.

Cole Hardwood has kiln capacity of 1,300,000 BF. The facility

also has over 225,000 square feet of heated warehouse, housing

4 KD inspection stations, 2 green lumber inspection stations, 2

stackers, a retail store, the office, planing mill and approximately

8,000,000 BF of kiln dried inventory. Total kiln dried and air dried

inventory stands at 12,000,000 BF.

Cole Hardwood, Inc. is committed to making sure every step,

from computer controlled kiln drying to their one-on-one customer

service is focused on quality—the kind that is only possible with

commitment from every department, every person, every day!

In addition, Cole Hardwood has a sister company, Indiana

Dimension, Inc., which manufactures panels, mouldings, dimension

and furniture and cabinet components. Indiana Dimension is

located adjacent to Cole Hardwood, Inc.

20

22

24

26

Wellborn Cabinet Inc: Breaking

New Ground & Growing The

American Economy

Josey Lumber Company...In The

Hands Of A New Generation

The American Chestnut's Last

Stand

Inside America's Broken Supply

Chain

Departments

8 Hardwood Calendar

10 U.S.A. Trends

12 Canadian Trends

14 News Developments

16 HMA Update

18 NAFF Bulletin

52 Who's Who

54 Trade Talk

32

2022 Forecasts: In The Hardwood

Industry, 2021's Success Is

Expected To Continue In 2022

36

AWMA's Members Network,

Benefit From New Website

Paul J. Miller Jr. – President

Terry Miller – Vice President

Zach Miller – Sales

Sue Putnam – Editor

38

AHMI Learns Poplar CLT Tests

Matthew Fite – Staff Writer

Lydian Kennin – Who's Who Coordinator

Are Positive

Rachael Stokes – Graphic Artist

Pamela McFarland – Graphic Artist

Tammy Daugherty – Production Manager

Jennifer Trentman – Green Book Market Sales

Lisa Carpenter – Circulation Manager

Lexi Hardin – Subscription & List Services

20

58 Classified Profit

Opportunities

60 Advertisers Index

Founded in 1927 by: O.L. Miller – 1894-1963

Publisher: Paul J. Miller – 1963-2010

• Forest Products Export Directory • Imported Wood Purchasing Guide

• Import/Export Wood Purchasing News • Hardwood Purchasing Handbook

• Green Books's Hardwood Marketing Directory

• Green Books's Softwood Marketing Directory

• The Softwood Forest Products Buyer

ADVERTISING OFFICES:

5175 Elmore Rd., Suite 23, Memphis, TN 38134

901-372-8280 FAX: 901-373-6180

Reach us via the Internet at: www.nationalhardwoodmag.com

E-mail addresses:

ADVERTISING: tammy@millerwoodtradepub.com

EDITORIAL: editor@millerwoodtradepub.com

SUBSCRIPTIONS: circ@millerwoodtradepub.com

EDITORIAL CORRESPONDENTS:

Chicago, Los Angeles, High Point, Grand Rapids, Portland, Toronto

Controlled circulation postage paid at Memphis, TN

(USPS #917-760)

The NATIONAL HARDWOOD MAGAZINE (ISSN 0194-0910) is published

monthly, except for two issues in December, for $55.00 per year and

$65.00 (U.S. dollars) per year for Canada by National Hardwood Magazine, Inc.,

5175 Elmore Rd., Suite 23, Memphis, TN 38134. Periodicals Postage paid at

Memphis, TN, and at additional mailing offices.

POSTMASTER: Send address changes to National Hardwood Magazine,

P.O. Box 34908, Memphis, TN 38184.

Publications mail agreement No. 40739074.

Return undeliverable Canadian addresses to:

P.O. Box 503, RPO W. Beaver Cre., Rich-Hill, ON L4B 4R6.

The publisher reserves the right to accept or reject editorial

content and Ads at the staff's discretion.

2 DECEMBER 2021 n NATIONAL HARDWOOD MAGAZINE DECEMBER 2021 n NATIONAL HARDWOOD MAGAZINE 3
---
The firm manufactures 4/4 through 8/4 thicknesses.

975 Conrad Hill Mine Rd.~Lexington, NC 27292

Phone 336-746-5419~Fax 336-746-6177

www.kepleyfrank.us

EXPERIENCE QUALITY DEPENDABILITY

Facilities:

3 Sawmills Processing 50 Million' • 750,000' Dry Kiln

Capacity • 600,000' Fan Shed Capacity

2 382 Newman Planer Mills • 50 Bay Bin Sorter

Products Available:

4/4-8/4 Appalachian Lumber • 6/4-8/4 Ship Dry Capacity

Crossties (100,000 BF per week) • Timbers up to 18'

1,000,000+ Average KD Inventory • 12,000,000+

Average AD Inventory

Species:

White Oak • Red Oak • Poplar • Ash • Hickory

Elm • Beech • Gum • Hackberry • Pecan

Jimmy Kepley, owner, and Bart Jenkins, lumber sales

Sales:

Bart Jenkins - bjenkins@kepleyfrank.us

Jimmy Kepley - jkepley@kepleyfrank.us

4 DECEMBER 2021 n NATIONAL HARDWOOD MAGAZINE DECEMBER 2021 n NATIONAL HARDWOOD MAGAZINE 5
---
Contact us today for competitive rates and - Unparalleled service since 1977!

Lloyd Lovett - llovett@kingcityusa.com

Peter Lovett - plovett@kingcitynorthway.com

6 DECEMBER 2021 n NATIONAL HARDWOOD MAGAZINE DECEMBER 2021 n NATIONAL HARDWOOD MAGAZINE 7
---
HARDWOOD CALENDAR

January 2022

February

Appalachian Lumbermen's Club, Meeting, The

Grove Park Inn, Asheville, NC.

www.lumberclub.org. Jan. 11.

Lake States Lumber Association, Annual

Winter Meeting, Tundra Lodge, WI.

www.lsla.com. Jan. 19-21.

SURFACES, Mandalay Bay Convention Center,

Las Vegas, NV. www.intlsurfaceevent.com.

Jan. 25-28.

Indiana Hardwood Lumbermen's Association,

Convention, Marriott Indianapolis Downtown,

Indianapolis, IN. www.ihla.org. Feb. 7-9.

National Association of Home Builders,

International Builders' Show (IBS), Orange

County Convention Center, Orlando, FL.

Feb. 8-10. n

For over a century, Corley has given you the edge in the industry.

Our edger optimizers provide value, grade and volume-driven solutions; true random and fixed-width solutions; simultaneous

processing of multiple thicknesses, grades and species; taper solutions based on actual shape; online parameter changes

with no downtime; remote troubleshooting and software upgrades; Dynavision scanning in either 1" or 3" profiles; grade

intensive or pass through type systems; and custom control packages to meet individual mill requirements. What does this

mean? Maximum returns—year after year! Our experienced professionals can help you realize a profit potential you never

thought possible. Call us today or visit our website to discover what other lumbermen have known for over 100 years.

www.corleymfg.com

www.lewiscontrols.com

8 DECEMBER 2021 n NATIONAL HARDWOOD MAGAZINE

P.O. Box 471 | Chattanooga, Tennessee 37401 | tel: 423-698-0284 | fax: 423-622-3258
---
U.S.A. TRENDS

Supplier news about

sales, labor, prices, trends,

expansions and inventories

LAKE STATES

NORTHEAST

SOUTHEAST

WEST COAST

Sources in the Lakes States region continue to report

stable business despite challenges with supply.

"The Hardwood market is very strong," said a source

in Wisconsin. "Prices have been on the rise, other than

with Red Oak."

Some especially hot species for this contact include

the Maples, Basswood, and Aspen, according to him. "I

know our mills have been doing pretty good, but some

of the smaller 'maw-paw' mills around here are lacking

on logs."

Compared to a few months ago, this source has seen

increased demand, especially in white lumber species.

"It's been a very good year," he said. "Prices have been

high and the market has been strong all year. We are

close to record years, but it would be even better if we

could hire some help."

This lumber buyer explained that the primary challenges

he is experiencing come down to COVID issues

and workforce shortage. "They are a continuing ongoing

problem," he said.

His company handles Select and Better Maples, Aspen,

White and Black Ash, Basswood, Red Oak, a little

bit of Cherry and similarly, Birches in 4/4. Most of his

customers are end users, but the company sells to some

distributors as well.

"They are doing very good, for the most part," he said.

"A lot of them need more lumber. We have a customer

base that we supply on a regular basis, but right now

we can't produce enough lumber. Like I said, the lumber

we can sell are at good prices, we just can't produce as

much."

When asked about transportation, the source responded,

"Domestic and export containers are extremely

hard to come by. We're in Northern Wisconsin, and

our domestic container rates going out to California just

got raised $700 just last week, and that is if you can

even get containers. There are embargoes on some of

the railcar companies out there. Export containers are

nearly impossible to get right now just because all the

ports are congested, and that is related to a lack of workers

at the ports and also truck drivers."

A source in Michigan reported that his business has

been "busier than heck all summer long," with the domestic

Hardwood market doing "very well" in his area.

"We normally have 6-700,000 feet of inventory and I

have about 50,000 right now, so supply is way down and

In the Northeast, sources are reporting that the greatest

issues for the industry heading into the winter involve

transportation and workforce despite a steadier market

than earlier months.

"It's quite busy still, although I would say that it has

settled down a little bit from the near panic-level that it

was at one point earlier this year," said a lumber buyer

from Pennsylvania.

"There are some items that are settling in right now,

and I think that's healthy and good because the run-up

that we've seen with a lot of prices has been so strong,"

the source continued. The hottest items at his mill include

Hard and Soft Maple and White Oak, but his company

also produces Cherry, Red Oak, Ash, Poplar and

a few minor species in lesser volumes. Thicknesses offered

by this source range from 4/4 up to 12/4.

This contact believes the current market is behaving

similarly to two or three months ago. "The industrial

products have settled down a little bit and there's still

no oversupply. In fact, the market's still undersupplied,

but we're past the peak prices on industrial products,"

he said.

This company sells to a wide variety of customers, including

all types of end users, distributors, small local

shops and large overseas distributors. "I still think the

biggest issues that we are facing are difficulties in transportation,"

he said. "Most importantly, a lack of staffing,

whether it's in our operation or our customers' operations

or even their customers' operations, staffing is just not

available.

"There aren't enough truck drivers," he continued.

"There aren't enough people that work at the port. There

aren't enough people anywhere at this point, it seems

like. We could probably ship twice as much product if

transportation was smooth and readily available."

In New Hampshire, a source reported a strong domestic

market. "There are some high points and low points,"

he said. He listed the Maples, Ash, Poplar and Birch as

species that are currently selling strongest. "The Red

Oak market has softened, but that's mostly due to export.

Overall, I would say that supply is still behind demand,"

he said.

This contact reported a quieter market than two to

three months ago. "I'm not sure why that is, it might be

back-to-school, that type of thing," he said. "I know that

at least up here in the Northeast, the housing markets

The sentiment of lumber providers in the Southeast regarding

their markets is mainly that sales are in the positive

realm but nothing to write home about. For example,

an Alabama sawmill representative noted that his market

is "pretty good. We cut Red and White Oak, Poplar and

Ash and pretty much all species and all grades are moving

well – except for Red Oak FAS; it's at a standstill right

now."

Compared to several months ago, the market is "absolutely

better," he stated. "The way the prices went up

domestically helped."

His best sellers, he pointed out, are White Oak, all

grades; Poplar, all grades; and Red Oak, No. 1 Common.

His lumber comes in 4/4, 5/4, and a little bit of 6/4.

His customers include both end users and distribution

yards. "They have said their business is steady right now

for the most part," he noted. "We export very little right

now. Our exports were 75 percent of our production a

few years ago. Now, it's maybe 10 percent. It's not the

supply chain problem; the markets overseas are just not

as good as the domestic. You had Vietnam shut down

for about a month. You couldn't export any product into

there. In China, the demand is not there really and the

prices they offer are terrible."

When asked about transportation, he stated it is "somewhat"

of a problem. "Some of these companies we sell to

are having a hard time getting trucks to our location. It's

an issue, for sure. It's a major issue across this country."

In Tennessee, a lumber provider remarked that his

market is "decent – not great but decent. The good thing

is, we've got logs. The bad thing is, there's an overproduction

of Poplar right now. We're starting to see the prices

drop on the No. 1 and No. 2 in Poplar a little bit. White

Oak is still really good. The flooring market is good. For

us, overall, things are in pretty good shape. We have

logs to cut and lumber in stock. We're in good shape in

yard inventory."

Compared to six months earler, "It's probably stationary,"

he observed. "I've seen a little slowdown. But business

is holding up for us OK right now."

He sells Red and White Oak, Ash, Poplar, Hickory and

Soft Maple. The best seller, he noted, is White Oak, then

Poplar, then Red Oak. Thicknesses are mainly 4/4.

His sales are to distribution yards and end users. "The

distribution yards are doing well," he observed, "but they

are screaming for plywood. End users are doing well,"

The Hardwood lumber markets on the West Coast are

holding their own – or better.

A lumber provider in Oregon remarked that his market

is "holding up." However, he commented his company

can only sell at a limited pace because, "The supply

chain is so screwed up." He stated that his company

could be more profitable "if I could replace what I sell."

Transportation and lack of labor are other inhibiting factors,

he stated.

Compared to several months ago, the market is about

the same, he noted. "Supply is a little worse, but demand

is the same."

He sells all domestic Hardwoods and imports as well

as upper grades of softwood, Hardwood plywood and

other products. The best Hardwood seller is Poplar. He

sells to cabinet manufacturers, fixture companies and

display makers. He also sells to flooring contractors, and

his company has its own retail stores. He observed that

his customers are faring "surprisingly very well."

A Washington lumberman remarked, "The last two

weeks, business has been slower. Customers are looking

for discounts. Prior to those two weeks, the market

was really good."

His market, he noted, is "a little worse" than in the recent

past. "Several months ago, if you had supply and

were near the price customers wanted, it was an easy

sell. That has slowed down."

He sells all grades of Hardwood in all North American

species, including Maple, Red and White Oak, Cherry

and Birch. Best sellers are Maple and Poplar. Thicknesses

of his lumber are 4/4 through 12/4.

His customers include distribution yards and woodworking

shops like the manufacturers of cabinets,

mouldings and panels. "The best we can tell, business is

going well for our customers," he said. "They are waiting

for prices to fall.

"Transportation hasn't been that bad," he noted. "It

may be that the market is down and more trucks are

available."

A California lumber supplier had a rosier perspective.

"I think the market is still very solid," he stated. "I would

say that, compared to six months ago, the market is still

about the same."

He sells White Oak, Hickory and Walnut in 4/4 thickness.

All his lumber goes to flooring companies and

retail lumber yards. "Their business seems to be solid

Please turn to page 48 Please turn to page 49

Please turn to page 50 Please turn to page 50

10 DECEMBER 2021 n NATIONAL HARDWOOD MAGAZINE DECEMBER 2021 n NATIONAL HARDWOOD MAGAZINE 11
---
CANADIAN TRENDS

News from suppliers about prices, trends, sales and inventories

ONTARIO

QUEBEC

As we headed into fall, sellers were able to offer more

products due to increased sawmill production. The slight

slowdown in home construction, and good drying conditions

over the summer helped improve overall availability.

In the U.S., housing completion fell in August (the

most recent data available for this report), thus affecting

Hardwood finished goods demand. But it was noted

that new home completions were 9.5 percent higher this

year through August than in 2020. Demand continues

for Hard Maple, and so sawmills are focusing on this

species, which is resulting in high prices. Production is

meeting customers' needs for the majority of grades and

thicknesses for Hard Maple. With the price difference between

Hard and Soft Maple, some end users switched to

Soft Maple. Red and White Oak are reported as mixed,

and with improved drying conditions, availability of these

species has also improved. Some contacts noted they

would like to add to their inventories for these species.

With the U.S. Thanksgiving holiday behind us, and

heading into the Christmas season, businesses are focusing

on moving ahead, and are cautiously optimistic

that the fourth wave of the pandemic will subside, and

that economic conditions and business will improve for

2022.

Ash production was not high this year due to mills processing

the much in-demand Maple. The Emerald Ash

Borer also affected Ash availability and thus production

of this species. Production of green lumber supplies were

readily being absorbed. Heading into late fall and early

winter with the rainy season and hunting season, some

contacts were concerned with availability of this species.

Contacts stated kiln-dried Ash markets were solid, with

thin inventories for most grades and thicknesses.

Traditional and non-traditional customers are looking

for Basswood as production has been controlled

for some time. Contacts note kiln-dried inventories are

low for some items with prices responding accordingly.

Sawmills are producing output with marginally sufficient

supplies to satisfy demand and prices are holding firm.

Sawmillers stated their supplies of Hard Maple are

good or declining as the steady demand for this species

continues to be favored by consumers. Sawmills

and wholesalers are selling total green Hard Maple production

with prices firm for most grades and thicknesses.

Some contacts commented supplies are sufficient

for near-term needs only. Secondary manufacturers

Grade lumber is not as vibrant on the domestic markets

as in spring and summer. With sawmills ramping

up production, concentration yards, wholesalers and

end users received more lumber these past few months.

Contacts commented that markets are performing well.

Flooring manufacturing is strong at this time, as are the

markets for wood furniture, cabinets, moulding, millwork

and wood components due to the strong housing and

renovation markets continuing to perform well.

In mid-October, many people were very happy to hear

the news that the U.S. was reopening its borders in November

– another step along the path to a new normal

way of life. At the time of this writing there were not many

details, and the top question was whether the U.S. would

consider the many Canadians who received two different

vaccines to be fully immunized. There will be consistent,

stringent protocols for all travelling to the U.S. – whether

by air, land or ferry, and will account for the wide availability

of COVID-19 vaccinations. More details were

awaited in the coming weeks of the announcement. This

was good news for the economies on both sides of the

border, and another step to a return to normal.

Demand for most grades and thicknesses of kiln-dried

Ash is steady, but production remains low due to the

Emerald Ash Borer, and to slightly stronger log exports.

Some contacts noted prices are firm for this species.

Markets for the regionally important Hard Maple are

favorable. Summer demand was high and prioritizing

cutting/drying schedules to avoid possible stain supported

sales of this species. Contacts noted that certain kilndried

items were elevated, and prices were softening in

selected transactions. Green prices showed no evidence

of decline, as prices were still rising.

Wholesalers are seeking out more green Soft Maple,

as are the furniture, component and cabinet manufacturers.

With sawmill production increasing slightly, it is only

marginally adequate to meet buyers' needs. Prices also

saw a slight rise to Sap and Better and No. 1 Common

and Number 2A grades. Prices are firming as well for

kiln-dried Soft Maple.

The primary sales for Cherry are to the U.S. and to

China. Contacts noted that developing production was

not being fully absorbed by these markets. There was

not a large gap between supply and demand as loggers,

sawmillers and drying operations limited Cherry output.

Some prices were reported to have gone down depend-

Please turn to page 50 Please turn to page 51

High Quality Northern Hardwoods

Specializing High Quality in Green and Northern Kiln Dried Hard Hardwoods

Maple and Birch

- QUALITY AND SUSTAINABILITY SINCE 1882 -

Specializing in Green and Kiln Dried Hard Maple and Birch

Over 40 million FBM annual

production of hardwood makes

Over J.D. Irving, 40 million Limited FBM one of annual the

largest producers in Eastern

J.D.

Canada

Irving,

and

Limited

New England.

one of the

largest As one of producers the top 5 private in Eastern

Canada landowners and in New North England. America

we ensure a long term quality

As wood one supply. of the top 5 private

landowners in North America

we ensure a long term quality

wood supply.

Visit us online:

- QUALITY AND SUSTA INABILITY SINCE 1882 -

Contact for more info:

Denis Dubé, Sales Manager

506.992.9025

Contact for more info:

dube.denis@jdirving.com

Jan Coburn, Denis Dubé, Sales Coordinator Sales Manager

506.992.9040 506.992.9025

coburn.jan@jdirving.com

dube.denis@jdirving.com

Jonathan Connely, Sales Representave

506.992.9024

connely.jonathan@jdirving.com

Jan Coburn, Sales Coordinator

506.992.9040

coburn.jan@jdirving.com

Visit us online:

www.JDIrvingLumber.com

12 DECEMBER 2021 n NATIONAL HARDWOOD MAGAZINE DECEMBER 2021 n NATIONAL HARDWOOD MAGAZINE 13
---
NEWS DEVELOPMENTS

NEWS ABOUT NORTH AMERICAN INDUSTRIAL

HARDWOOD CONSUMERS INCLUDING MERGERS,

PLANT EXPANSIONS & ASSOCIATION ACTIVITIES

THOS. MOSER LAUNCHES NEW STUDIO

LIVING COLLECTION

Thos. Moser, Handmade American Furniture, headquartered

in Auburn, ME, and ready to celebrate its 50th

anniversary in 2022, just announced the launch of its latest

collection, The New Studio Living Collection.

Thos. Moser uses solid U.S. Hardwoods and makes its

furniture only in the United States. Species include Walnut

and Cherry along with some Ash, Maple and Red and

White Oak.

The New Studio Living Collection is an expansion of its

namesake Studio Collection, which

consists of a bed frame, vertical and

horizontal dressers, and nightstand.

The New Studio Living Collection includes

a sofa, chair, ottoman, coffee

table, console table, and media case.

The New Studio Living Collection is

designed to make the most of minimal

lines and comfort.

The cases and tables in The New

Studio Living Collection offer adaptability

for technology and storage.

For more information, go to www.

thosmoser.com.

NKBA'S FINAL KITCHEN &

BATH MARKET OUTLOOK

UPDATE OF 2021 CALLS

FOR STRONG ACROSS-THE-

BOARD GROWTH

National Kitchen and Bath Association's

(NKBA) Kitchen & Bath Market

Outlook October update, the latest

information available, revealed a fullyear

revenue projection of $167 billion

by year's end 2021 — a healthy

year, and consistent with robust expectations

resulting from the surge

in remodeling brought on since mid-

2020. While much of it solidly confirms

prior reports, there are a few,

less obvious surprises hidden in the

research. (NKBA is headquartered in

Hackettstown, NJ.)

The latest projection represents a

vigorous 19 percent increase over

the $141 billion logged in 2020. The

white-hot pace, though, will not go

on indefinitely, and there are already

clear signs that growth is beginning to

moderate, settling into a steady, sustainable

rate, stated NKBA's update.

In fact, in the July update, the full-year

revenue forecast was for $171 billion.

Although the latest expectation is a

modest revision of a great number,

directionally, it is still down.

Kitchen and bath growth has

popped for new construction. Just under

$100 billion of the projected $167

billion is expected to be earmarked for this sector, a whopping

26 percent gain over 2020. K&B remodeling should

show full-year growth of just below 10 percent — still a

healthy gain. Both, though, are a few percentage points

off the previous forecast.

Drilling down, the greatest growth by project size is

clearly in the high-end and mid-tier

segments. Full-year revenues for

premium projects are expected to run

more than 22 percent ahead of last

year, with mid-level projects exceeding

21percent. Lower-end remodels

lag, with expected gains below 11

percent.

For more information, go to www.

nkba.org.

U.S.-VIETNAM REACH AGREE-

MENT TO AVOID TARIFFS

The Office of the U.S. Trade Representative

(USTR) recently announced

that an agreement has been reached

with Vietnam to address the concerns

raised in USTR's Section 301 investigation

into Vietnam's timber sourcing

practices, as recently reported by the

International Wood Products Association.

This means that no tariffs will

be imposed as a result of the investigation.

Instead, the agreement calls

for Vietnam to implement a number of

new commitments.

Some of the steps that will be required

of Vietnam are these:

•Eliminate financial incentives to

import or export timber that is the

product of illegal logging or illegal

timber trade

•Enhance customs inspections of

timber imports

•Revise the Enterprise Classification

System under its Timber Legality

Assurance System to cover

all relevant persons in the supply

chain

•Ensure its geographic indicators

criteria account for available evidence

of risk of illegal logging and

illegal timber trade

•Ensure that all exports of domestically

harvested timber and wood

products made from that timber

are subject to verification

•Cooperate with source countries

to ensure that timber imports are

legally harvested and traded

UPGRADE YOUR

OPTIMIZATION EXPERIENCE

BIG enough to support your operation; small enough to care.

09 Members on

the software team

13 Members on

the controls team

24/7Support

with experts

in 3 time zones

across the globe

40+Optimization

systems

700+ Control

Systems installed

worldwide

The agreement also creates a U.S.-Vietnam Timber

Working Group within the current Trade and Investment

Framework Agreement.

For more information, go to www.iwpawood.org. n

704.200.2350

sales@automationelecusa.com

automationelecusa.com

14 DECEMBER 2021 n NATIONAL HARDWOOD MAGAZINE DECEMBER 2021 n NATIONAL HARDWOOD MAGAZINE 15
---
HMA UPDATE

"INVESTING IN THE FUTURE"

Those who know me well also

know that the mention of wine gets

my attention. No surprise then, that a

Wall Street Journal article about how

automation is assisting the wine industry

overcome its labor issues, made me take

notice. And it was especially interesting

to me because of the striking parallel to

the Hardwood industry.

According to the article titled

"Vineyards Turn to Automation Amid Worker Shortage,"

those vintners courageous enough to "take the robot

plunge," did so despite their concerns of cost, return on

investment, and product/production quality. Legitimate

concerns, certainly! Nonetheless, if they wanted to

harvest their grapes on time, they needed to take action.

Their admirable 'leap of faith' reminded me of

leadership expert Mark Sanborn's words, "Success isn't

always about meeting your goals. It's also about meeting

your challenges." Inspiring words, right? But how exactly

do we do that?

Well from where I sit, relying on the "same old, same

old" won't get us ahead. But … following the example of

those courageous winemakers; expanding our frame of

reference and changing our MO – modus operandi – will.

For them - and for us - success hinges upon

embracing change, embracing technology,

and looking to alternative processes to help

accomplish today's goals and tomorrow's

dreams.

HMA will be discussing this, and much

more, at our 2022 National Conference

and Expo set for March 23-25, at the

Sandestin Golf and Beach Resort, Miramar

Beach, Florida. All Hardwood industry

stakeholders are invited to attend, and I encourage you

to join us, that is if you are up to the challenge.

•The event will feature speakers, workshops and

panel discussions geared toward "Investing in the

Future." Receptions and other meal venues will offer

opportunities for networking, idea exchanges and

one-on-one relationship building. And an industry

Expo, comprised of the latest and greatest, will

offer products and solutions to put you on track for

success.

•The Sandestin Golf and Beach Resort is a 2,400-

acre destination resort, located between the Gulf

of Mexico and the Choctawhatchee Bay. It offers

4-Star accommodations, ultra-modern amenities,

gourmet dining, four award winning golf courses, and

countless adventures in or on emerald green

water. It's northwest Florida at its best. And it's

calling your name.

All of the Conference specifics – Registration,

Agenda, Sponsorships, Expo – are available

at www.HMAmembers.org. Take a look, then

mark your calendars and get your planning

started. March will be here before we know it. n

BY LINDA JOVANOVICH,

EXECUTIVE VICE PRESIDENT,

HARDWOOD MANUFACTURERS ASSOCIATION,

PITTSBURGH, PA

412-244-0440

WWW.HMAMEMBERS.ORG

Efficiency. Quality. Speed.

Check out our YouTube Video Series:

16 DECEMBER 2021 n NATIONAL HARDWOOD MAGAZINE

(800) 777-6953 Kilnsales@nyle.com www.nyle.com
---
NAFF BULLETIN

"THE GIFT THAT KEEPS ON GIVING ALL YEAR LONG"

THE DILEMMA: How many times have you unwrapped

a gift, enjoyed whatever it was (Uncle Si Bobblehead,

Bob Ross Chia Pet, Cousin Eddie bathrobe) a couple of

times and then it ends up in the trash come Spring? We'll

call them "landfill-bound gifts" with a limited shelf life.

Too many to count!

And, every year it gets harder and harder to buy more

things that people really want, since we're not 20 anymore

(wink wink) and we have all the stuff we really need.

What about kids…how many times did you spend up

and get them something big and amazing, only to find

them having a ball playing in the empty box it came in?!

THE SOLUTION: Giving the gift that keeps on giving,

of course! The gift that's renewable, lasts for years and

years, and gives you a warm fuzzy feeling inside.

The gift of education and fun! Lasts a lifetime and it'll

never end up in a landfill.

If you want to wrap it in a box and then recycle, that's

ok too.

What does the gift of education cost and how easy is

it to purchase? And, what do you get for your money,

exactly?

Head on over to NorthAmericanForestFoundation.

org and click the orange DONATE button. Select GIVE

THE GIFT OF EDUCATION and enter your info. You'll

get a pdf gift receipt and be immediately filled with holiday

cheer that will last all year long.

How does your gift make a difference?

At the North American Forest Foundation, we're on

a mission to change hearts and minds about wood, for

good.

Through generous donations from companies and

individuals, like you, we're supplying teachers and kids

with free resources, education, and support with our signature

Truth About Trees Kits in packaged and digital

formats.

Helping kids become #exTREEmelysmart creates a

healthier future for them, our industry, and the planet, for

generations.

Your gift also supports the creation of a whole new digital

Truth About Trees experience for Jr. High and High

School aged students. Introducing them to the importance

of responsible forestry and planting the seed about

choosing a career in the forest products industry.

But wait, there's more!

Your gift also ensures that we can continue supporting

hands-on experiences like the Forever Forest traveling

exhibit from the Omaha Children's Museum and IHLA's

Woods on Wheels. AND, important organizations and

efforts like Real American Hardwood Coalition, #Forest-

Proud and state-level Ag in the Classroom programs.

All that's way better than an ugly Christmas sweater,

Fruitcake of the Month, or monogrammed velour track

suit.

Go ahead! Give the gift that keeps on giving…for years

and years.

To learn more about sponsorship opportunities, to

make a donation, or find out how you can help change

hearts and minds about wood, for good, please visit us at

www.northamericanforestfoundation.org or drop me

a line at adeford@northamericanforestfoundation.

org.

Fa-la-la-la-la…becoming #exTREEmelysmart feels so

good! n

BE PART OF

BUILDING

SOMETHING

BIG

Where We've Been

It's no secret, the hardwood industry has been losing market share to

products that look like wood, but have none of the natural benefits or

authentic attributes of Real American Hardwood. In order to recapture

market share and improve industry stability, hardwood organizations

united to form the Real American Hardwood Coalition.

Where We Are

The goal is to develop a national consumer promotion campaign on a

scale that's never been seen before. And a lot has been accomplished

in a short period of time—including the completion of an extensive

consumer research initiative, establishing brand guidelines, registering

trademarks, and launching social media profiles.

Where We're Going, Together

The next steps will have the largest impact on the industry and require

buy-in from all industry stakeholders. The Coalition is preparing to

launch a comprehensive promotion campaign—including a consumeroriented

website, in-store promotion at top big box stores, a broad

media relations campaign, social media influencer partnerships, print

and web advertising, and much more.

How You Can Get Involved

Moving the campaign forward and expanding its reach will take the

support of the entire industry—for the benefit of the entire industry.

■ Make a voluntary contribution to help fund the consumer

promotion campaign.

BY ALLISON DEFORD,

EXECUTIVE DIRECTOR,

NORTH AMERICAN FOREST FOUNDATION,

COLLIERVILLE, TN

901-860-4131

adeford@northamericanforestfoundation.org

■ Use the Real American Hardwood logo on your sales and

marketing communications, facilities and vehicles, products,

and website.

■ Follow @RealAmericanHardwood on Instagram and Facebook,

and tag #RealAmericanHardwood in your social media posts.

18 DECEMBER 2021 n NATIONAL HARDWOOD MAGAZINE

Visit RealAmericanHardwood.org to learn more and get on board.
---
The perimeter wall cabinetry in Wellborn Cabinet's Messina door style with a Willow

paint finish is accented even further by the Cherry island in their Espresso finish.

Wellborn Cabinet Inc.

Breaking New Ground & Growing The American Economy

Ashland, AL—Wellborn Cabinet

Inc. recently announced

a groundbreaking and expansion

of their facilities in Ashland, AL.

This expansion will ultimately create

more than 200 jobs for Clay County,

AL and the surrounding area.

Using American-made products,

Wellborn Cabinet manufactures traditional,

contemporary, and transitional

Hardwood cabinetry. Purchasing

approximately 8 million board feet

in green Hardwood lumber annually,

products are available in Cherry, Maple,

Oak and Hickory. Committed to

keeping local workers employed and

supporting the state, regional, and

local economies, Wellborn Cabinet

employs nearly 1,400 workers from

the region.

CEO Paul Wellborn said he is

proud of his workforce and the support

he has received in reviving the

American economy. "With the help of

our local, state, and federal officials

along with our local schools, we've

been blessed with the ability to have

this expansion and have the opportunity

to add these jobs to our economy,"

he stated. "I thank God for all

the people who've played a part in

growing our American-made product.

We are especially thankful for

all of our dedicated employees who

have helped make all of this possible."

With a commitment to put the

American worker first, more than

$15 million has been invested into

both the United States and Alabama

economies. With that, Wellborn Cabinet

has expanded over 175,000

total square feet into their facility to

include improved manufacturing facilities,

additional daycare options

and healthcare capabilities.

"Wellborn Cabinet makes

high-quality, in-demand products

right here in Alabama, and it's exciting

to see the company expand

its presence in its hometown of

Ashland," Governor Kay Ivey said.

"These growth plans will not only

enhance production capabilities but

also add new jobs and enhance benefits

for workers. This investment

shows why Wellborn is a first-rate

employer in Clay County."

Founded in 1961, Wellborn Cabinet

has a long-standing history of

manufacturing innovative products

and delivering excellent, domestic

customer service, according to Di-

ABOVE AND RIGHT: Quality assurance is one of Wellborn Cabinet's key principles.

Sending products out correctly the first time eliminates construction

delays. Each of Wellborn Cabinet's pieces goes through at least six hand inspections

before it is shipped.

rector of Marketing and Advertising

Angela O'Neill. "Our choice to use

domestic forests and manufacture

cabinetry in the United States shows

our commitment to sustainability and

country, building a future for generations

of employees, customers,

and consumers," she stated. "Since

Paul Wellborn first opened the doors

60 years ago, Wellborn Cabinet remains

true to the meaning of Made in

America. All of our kitchen and bath

cabinets, including doors, drawers,

and face frames are hand-crafted

right here in Alabama by our dedicated

employees. We are proud to label

each box of cabinetry with the 'Made

In The USA' stamp."

O'Neill said Wellborn Cabinet is

committed to being the most valued

provider of kitchen, bath, and wholehome

cabinetry. "Wellborn has five

product lines," she explained. "Our

Aspire Cabinetry is a full-access frameless

brand that includes wood,

and decorative laminate textured

veneers, and matte and high gloss

acrylic doors supporting an increasing

trend of modern design. Our

framed cabinetry includes quality

wood and Wellcore MDF doors supporting

the designs from traditional

to modern complemented by stains

and unlimited paint selections."

Among the largest family-owned

cabinet manufacturers in the United

States and led by CEO Paul

Wellborn, their quality cabinetry is

manufactured from a 2.2 millionsquare-foot

facility, which includes a

timber processing mill. O'Neill said

the company seeks only the highest

quality wood products for

cabinetry and knows that

the best timber is found in

carefully managed, flourishing

forests here in the United

States. "Wellborn quality

permeates every step of the

cabinet process, beginning

with the logs that are handpicked

for our vertically integrated

sawmill," she said.

Environmental stewardship has

been part of Wellborn Cabinet's

culture since the beginning. This responsibility

has always been about

more than just words and has been

proven through decades of actions,

investments, and practices, O'Neill

said. She explained, "The Green

Choice program ensures that you

are purchasing a brand of cabinets

from a company that takes conscious

steps to protect and minimize

the overall impact on our environment.

At Wellborn, we have recycling

programs that utilize wood waste

to generate power and steam and

continue to lower VOC emissions

through technology. We partner with

our suppliers to improve their environmental

programs. You will find the

Please turn to page 41

Paul Wellborn, CEO and President of Wellborn Cabinet, has led one of the largest family-owned

cabinet manufacturers for 60 years.

20 DECEMBER 2021 n NATIONAL HARDWOOD MAGAZINE DECEMBER 2021 n NATIONAL HARDWOOD MAGAZINE 21
---
Josey Lumber and JoCo Lumber are family businesses. From left to right are Logan's Family: Vivian, 3; Sarah; Logan; John, 5;

Charlie, 7; Debbie and Joey Josey; and Tripp's family: Tripp, Hannah Claire, 5; Pammy; and Kitch, 2.

Josey Lumber Company…

In The Hands Of A New Generation

"That was extremely

important to my Dad

– that he wanted us

to have some skin in

the game, because

when you are given

something, sometimes,

it's just not as important

to you or doesn't mean

as much to you."

– Tripp Josey, co-owner,

Josey Lumber Company

By Paul Miller Jr.

Scotland Neck, NC—Joey Josey

began Josey Lumber Company,

located here, in 1983 as a green

Hardwood sawmill. With hard work,

know-how and careful financial management,

"We built that business up,"

said Joey's son Tripp Josey. In the early

1990s, Joey Josey also established

JoCo Lumber, which included a planer

mill.

Today, Josey Lumber is continuing

to advance, with ownership under a

younger generation of Josey's (Tripp,

co-owner and his brother Logan Josey,

co-owner) and new equipment installed

for both the quality of the product and

the health of the bottom line.

"We just recently completed an upgrade

of our green trim line at the sawmill,"

Tripp stated. "We turned to TS

Manufacturing of Lindsay, ON for our

equipment needs and the installation

was done by RTM Industrial Maintenance

of Dolphin, VA. The new line will

allow better and more accurate grading,

tallying and trimming. The graded

board passes through an Accutally system

then under a Cypress grade mark

reader and is then trimmed by a TS

Manufacturing 11 saw trimmer. A REA

JET printer prints the grade mark on the

board."

The equipment upgrade is expected

to yield several benefits to Josey Lum-

ber. "First," said Tripp, "when you can

trim a board more accurately, I think

it helps you in the drying process. It

just helps with the handling of the

lumber around here. It also helps

with the appearance of the lumber,

which is important. When you walk

through a warehouse, you look at

lumber and the appearance is what

kind of catches the eye. You've got to

be able to back that appearance by

quality, but that's the first thing anybody

sees. That's with anything you

see in life. When you see a car that

drives by, you immediately either like

it or you don't. You form a first impression,

and I think lumber is the

same way.

"Secondly, this will definitely allow

us to trim it more accurately," Tripp

At JoCo, the kiln-dried inspection line is a bustling place.

continued. "By putting in the tally

system, it will be an accurate tally

rather than a man laying a stick on

it which, anytime a man touches the

board or keys in something, there's

an opportunity for error. So, we are

just eliminating the human error aspect

of some of the potential problems.

"Also, I think it will gain us a little

bit of overrun, but the main intent

of the project is just for cleanliness

purposes, neatness, accuracy, efficiency,

and the fact that, thirdly, it will

streamline the payroll. It helps us on

the payback aspect of things." Tripp

went on to say that with COVID and

labor shortages, adding automation

will help continue to get the work

done.

Josey Lumber and JoCo Lumber

– that is, Joey Josey, Tripp and Logan

– planned this plant upgrade in

phases. Tripp recalled, "When we

sat down a few years ago, we had

a three-stage process in mind, to go

through our mill and upgrade some

of our equipment. It started with the

resaw, the edger, and the trimmer,

and we completed the resaw and the

edger project. Now, this is phase III,

and what we are doing is moving our

graders upstairs in front of the trimmer

so they will be making all the

trim decisions prior to the board getting

to the trimmer.

"As for our trimmer," Tripp noted,

"we installed our current trimmer

back in 1996, and it was time to do

something, so we just decided to

take that extra step and go with a

little more of the bells and whistles

than we typically would have. We will

take the sawmill trimmer and we will

move it over to our dry line and do

some modifications to that. So, we

will repurpose it."

All of this equipment represents a

significant financial investment for

Josey Lumber and JoCo Lumber. It

is a continuation of a way of doing

business that has worked well for the

Josey's. Tripp explained that when

they make a purchase, it has to be

such that they can write a check for

it. During the Great Recession, that

Please turn to page 43

Josey Lumber and JoCo Lumber employ 45 people. The sawmill

division, Josey Lumber located in Scotland Neck, NC, cuts approximately

10 to 11 million board feet a year that includes Hardwood

lumber, cants and timbers.

A truck loaded with 4/4 FAS Poplar KD is ready to depart from

JoCo Lumber.

22 DECEMBER 2021 n NATIONAL HARDWOOD MAGAZINE DECEMBER 2021 n NATIONAL HARDWOOD MAGAZINE 23
---
Chestnut saw logs ready to be milled at AAA Hardwoods in Weyauwega, WI.

Pictured left to right: William Sprink, Tim Sprink, International Veneer & Timber

(IVT), Gus Welter, Shannon Treankler and Shane Underwood (Granite Valley

Forest Products) and Shannon Underwood (IVT).

The American Chestnut's Last Stand

Chestnut 4/4 lumber awaiting kiln-drying at Granite Valley Forest

Products in New London, WI.

High Grade Chestnut sawlogs are shown sorted on the landing.

to the largest extent possible and there were very few

known merchantable stands of this tree to still exist. Over

the span of the last 50 years, only a frail supply of American

Chestnut wood has been in circulation and that has

mainly originated from reclaimed wood found during the

dismantling of century old buildings built with these patriarchs

of past forests. To this day, the wood is rare and has

been available only in small and limited quantities.

The decades have quickly and quietly passed since

that time but in the rolling forested hills of Monroe County,

near Tomah, WI, the remarkable story of the American

Chestnut still lives. One last stand of American Chestnut

shared by a trio of neighboring property owners had been

growing vigorously for more than 100 years. Its beginnings

traced back to two trees, hand planted by an original

settler, one of those is still standing in towering fashion

today. In 2020 this was the largest remaining stand

of Chestnut trees to be acknowledged by the American

Chestnut Foundation. They grew to encompass an area

of over 60 acres of forestland, towering through the canopy

above the other Hardwood species, just as their ancestors

to the east had done in previous generations.

Growing, reproducing, and thriving in isolation, hundreds

of miles from the original blight infested home

range, they amazingly stood to be enjoyed and honored.

Wayne Helming's family acquired their property

over 60 years ago and he spent his adult life tirelessly

working to preserve this piece of American history. He

solicited the help of foresters, scientists, and the American

Chestnut Foundation to keep his trees safe and

protected from the blight. He supplied Chestnuts and

seedlings to these organizations for research to assist

them in their attempt to find a blight resistant form of

the species. He hoped to bring the American Chestnut

back for everyone to experience and utilize once

again. History does seem to have a way of repeating itself

and despite those tireless efforts, this prized stand

found itself under attack. By wing and wind, the blight

found its way to this Wisconsin woodlot and began to

humble the landowner and his mighty trees. As the

Chestnut began to show signs of decline, the Helming

Please turn to page 45

The mighty and majestic American Chestnut tree (Castanea

dentata), once the dominant tree across the Appalachian

Mountain Range of the Eastern United States,

has all but disappeared. Until the beginning of the twentieth

century, their numbers exceeded four billion. Valued

for its beauty, grandeur and strength, the species has

silently but noticeably exited American forests. For centuries,

this durable tree often grew more than 100 feet tall

and was one of the primary sources for the building and

furniture industries. Valued as an ideal wood because of

the inherent strength and beauty, it was coveted by artisans

and crafts people alike, using it for homes, prized

furniture, and even musical instruments. Some of the

most famous, cherished, and long-lasting furnishings in

American history were crafted from American Chestnut.

At one time, it was said one could have walked atop the

forest canopy of these giant trees from the Carolinas all

the way to New York, never touching another species. In

summers, the forested hills would turn to a sea of white

as the Chestnut trees bloomed with flowers as they began

to produce their famed Chestnut fruits. The American

Chestnut seemed to be invincible as the king of the

forest.

Surprisingly, near the turn of the twentieth century this

story took a frightening twist as the trees began to show

signs of disease and mortality on a widespread basis.

Around 1904, a blight (Endothia parasitica) was introduced

to the U.S. from the Orient. The Chestnut blight attacked

quickly and began a devastating run through the

forests of the east coast, ravaging nearly every American

Chestnut in its path. Within a few decades nearly

all the American Chestnut trees in its home range had

succumbed to the disease. These four billion majestic

trees had shown everyone their weakness and were

gone before anyone knew how to stop it. By 1940, the

American Chestnut trees had been used commercially

International Veneer & Timber truck heading to mill with a load of prime Chestnut logs.

24 DECEMBER 2021 n NATIONAL HARDWOOD MAGAZINE DECEMBER 2021 n NATIONAL HARDWOOD MAGAZINE 25
---
Inside America's

Broken Supply Chain

By David J. Lynch

The commercial pipeline that

each year brings $1 trillion worth

of toys, clothing, electronics and

furniture from Asia to the United

States is clogged and no one

knows how to unclog it.

This month, the median cost

of shipping a standard rectangular

metal container from China

David J. Lynch to the West Coast of the United

States hit a record $20,586, almost

twice what it cost in July, which was twice what it cost

in January, according to the Freightos index. Essential

freight-handling equipment too often is not where it's

needed, and when it is, there aren't enough truckers or

warehouse workers to operate it.

As Americans fume, supply headaches that were

viewed as temporary when the coronavirus pandemic

began now are expected to last through 2022.

Dozens of cargo vessels stuck at anchor off the California

coast illustrate the delivery disruptions that have

become the signature feature of the recovery, fueling

inflation, sapping growth and calling into question the

global economic model that has prevailed for three decades.

Today's twisted supply chain is forcing companies

to place precautionary orders to avoid running out of

(c) 2021, The Washington Post

goods, which only compounds the pressure. Consumers

are confronting higher prices and spot shortages of cars,

children's shoes and exercise gear, as the holiday shopping

season looms.

"It's going to get worse again before it gets better," said

Brian Bourke, chief growth officer at SEKO Logistics.

"Global supply chains are not built for this. Everything is

breaking down."

Fallout from the once-in-a-century health crisis is the

chief culprit behind soaring freight bills and delivery delays.

Americans trapped at home slashed spending at

restaurants, movie theaters and sporting events and

splurged on goods such as laptops and bicycles, triggering

an import avalanche that has overwhelmed freight

channels.

But the pandemic also exposed weaknesses in the

nation's transport plumbing: investment shortfalls at key

ports, controversial railroad industry labor cuts, and a

chronic failure by key players to collaborate, according

to interviews with more than 50 individuals representing

every link in the nation's supply chain.

"It's like an orchestra with lots of first violins and no

conductor. . . . No one's really in charge," said Fran Inman,

a Los Angeles-based commercial real estate executive

who has advised government agencies on supply

issues.

- Port of Los Angeles

On Sept. 1, 40 container ships belonging to companies

such as Hyundai, NYK Line and Evergreen were

anchored off California, waiting for a berth. (Less than

three weeks later, the number reached 73.) Some vessels

sit for two weeks or more, effectively cutting capacity

on trans-Pacific shipping lanes and driving up costs.

"From an economic point of view, it's a disaster because

cargo is waiting," said Markus

Grote, captain of a Hapag-Lloyd container

ship.

For goods to move seamlessly from

overseas factories to American addresses,

the oceangoing vessels, shipping containers,

cargo terminals, truckers, chassis

providers and railroads all must work

together, like runners in a relay race. If

equipment gets stuck at any point, delays

ripple along the entire chain.

Yet the United States is "decades behind"

foreign ports in getting carriers, terminals

and shippers to provide each other

access to commercial data for planning

purposes, said Gene Seroka, executive

director of the Port of Los Angeles. Concerns

over data privacy, business secrets

and security have resulted in a fragmented

approach. Individual ports operate as

separate fiefdoms rather than as part of a

national system.

In the Dutch city of Rotterdam, Europe's

largest port, everyone involved in a cargo

vessel's arrival sees the same information

on a common data-sharing platform. Called "PortXchange,"

the software makes port calls "smarter and

more efficient" than the use of separate systems or the

telephone, according to the port's website.

Seroka touts a tool called the Port Optimizer, which

forecasts three weeks of incoming cargo. More informa-

Please turn the page

At Fenix Marine Services,

workers move containers

from vessel to truck at

the Port of Los Angeles.

(Photos provided by The

Washington Post/Melina

Mara)lina Mara)

26 DECEMBER 2021 n NATIONAL HARDWOOD MAGAZINE DECEMBER 2021 n NATIONAL HARDWOOD MAGAZINE 27
---
BROKEN SUPPLY CHAIN Continued

tion sharing - including over a longer time period - would

allow carriers, terminals, truckers and dockworkers to

better position equipment and people. But other than Los

Angeles, New Orleans is the only U.S. port that is even

testing the system.

"Information sharing and additional transparency is

one of the few areas where indisputably we could get

more capacity out of the current system," said Dan Maffei,

chairman of the Federal Maritime Commission.

To be sure, the United States is importing historic

amounts of goods. The L.A. port expects this year to

handle a record 10.8 million containers. To keep pace,

the International Longshore and Warehouse Union has

accelerated training of new workers. Twenty union members

have died of covid-19 while working through the

pandemic, the union said.

"Our members are tired. Our members are feeling the

pain of these covid deaths," said Mike Podue, president

of ILWU Local 63. "We're lucky there hasn't been a major

accident."

When the supply chain works, goods flow continuously,

as if borne along by a river. Today, one bottleneck follows

another. The problems are especially acute on the

Asia-to-U.S. trade route.

Once a berth becomes available, longshoremen operating

massive blue cranes lift the metal containers and

TRAC Intermodal in Long Beach.

position them to head inland via truck or train.

Ideally, a truck driver who has been alerted to the presence

of a customer's goods arrives at a terminal to find

a chassis waiting. The container is then hoisted aboard

and the driver pulls the chassis to the customer's warehouse.

But too often, congestion elsewhere keeps the port

jammed. Shippers with full warehouses won't dispatch

drivers to collect additional containers. Many loaded

chassis sit outside overstuffed warehouses for days

waiting to be unloaded, leaving ports short of needed

equipment.

Even as cargo piles up on the docks, almost a third

of the port's night-shift appointments for truckers go unfilled.

At APM Terminals, the largest container site in the

Western Hemisphere, the air echoes with truck horns,

air brakes and the warning beeps of mobile cranes.

This 484-acre facility boasts 12 miles of railroad tracks,

linking the docks to points east for customers such as

Walmart, Nike and Ikea. Across from the headquarters

building, trucks wait to navigate canyons of containers

stacked about 50 feet high.

Steven Trombley, the facility's managing director,

needs the agility of a hockey goalie to ward off the daily

complications. Today, his berths are full and four of the

ships loitering in San Pedro Bay are impatient for a spot.

Trombley has nearly a week's worth of truck chassis

on the dock. But truckers are scarce. Such mismatches

help explain why containers destined to travel by

rail sit dockside for an average of eight days, up from

two before the pandemic.

"It's a headache. Cargo is sitting here longer than

planned," Trombley said. "If I don't get the cargo moving,

then the next ship is not going to have space."

Even as total federal ports spending has increased,

the L.A. gateway has been neglected, Seroka said.

West Coast ports, including the L.A.-Long Beach complex,

which handles about 36 percent of U.S. imports,

have lagged East and Gulf Coast facilities over the

past decade, $11 billion to $1 billion.

With more money, the port could have expanded

channels, fortified wharves and improved road and rail

links, he said.

One shortcoming: The lack of a direct rail connection

to the distribution centers for companies such as

Amazon and Nordstrom 75 miles east in California's

"Inland Empire."

Advocates of a rail link say it would eliminate from

Southern California's freeways thousands of daily

truck trips and ease port congestion by moving millions

of containers off the docks. But the railroads doubt the

financial case.

The backlog got so bad last fall that port officials

opened overflow lots to store thousands of containers.

- APM Terminals, Los Angeles

At Pier S, on the other end of a harbor island from

APM, about 7,300 containers and chassis are parked.

Some have been sitting for almost three weeks.

One of the facility's users is TRAC Intermodal, the nation's

largest chassis operator. CEO Dan Walsh, a wisecracking

Australian, said current supply snags reflect

Americans' greater reliance upon e-commerce.

"They expect things to come faster, which puts pressure

on everyone in the supply chain," he said. "They

also expect to be able to return things without cost."

TRAC has spent $1 billion over the past decade upgrading

its 180,000-vehicle fleet for what Walsh calls "the

permanent whitewater of daily work."

The company has increased spending by 20 percent

this year, adding models that boast GPS locators, LED

lights and antilock brakes. But expanding more aggressively

to meet the cargo emergency would not be cost

effective: new tariffs have made Chinese models unaffordable

at a time when domestic makers struggle to fill

orders.

As demand for shipping has soared, carriers have

grown choosy about what they carry - eschewing hazardous

chemicals and heavier products that increase vessel

fuel costs. They often decline to send containers inland

to collect American farm exports, preferring to rush them

back to Asia to capitalize on high eastbound freight rates.

That's why the L.A. port exports three times as many

empty containers as full ones.

The seven largest publicly traded ocean carriers - including

companies such as Maersk, COSCO and Hapag-Lloyd

- reported more than $23 billion in profits in

the first half of this year, compared with just $1 billion in

the same period last year.

The soaring freight bills that fueled those profits, however,

have put smaller shippers at a disadvantage to giants

like Walmart or Amazon. The biggest companies not

only can more easily absorb higher costs. They also negotiate

more attractive contracts in the first place, which

means they can reliably get their goods across the ocean

while smaller companies struggle.

National Tree, a maker of artificial Christmas trees,

was able over the past three months to import only half

as many containers as planned, CEO Chris Butler said.

"We had contracts to bring in all of our containers.

Those contracts were not worth the paper they were written

on," he said.

Supply interruptions first hit the United States in early

2020, as Chinese factories closed amid coronavirus

shutdowns. Shortages of Clorox wipes, masks and other

medical goods have evolved since then into a kaleidoscope

of scarcity, with appliances, toys, industrial parts

and semiconductors all proving hard to find.

Now, persistent cargo concerns are exposing the risks

of ocean-spanning supply lines and hyper-efficient "justin-time"

production strategies that keep inventories and

costs low.

Please turn the page

28 DECEMBER 2021 n NATIONAL HARDWOOD MAGAZINE DECEMBER 2021 n NATIONAL HARDWOOD MAGAZINE 29
---
BROKEN SUPPLY CHAIN Continued

A shortage of computer chips has shuttered General

Motors and Ford auto plants and left Whirlpool scrambling

to keep refrigerators and dishwashers in stock.

Congestion in California prompted Levi Strauss to reroute

Asian cargoes to less crowded East Coast ports

despite longer, costlier journeys.

Cargo carriers are offering expedited VIP service for

truly desperate shippers, some of whom offer to pay any

price to get their goods moving.

Craig Grosscart, SEKO's senior vice president for

global ocean, said one desperate shipper recently asked:

"Do you take bribes?"

Others have pleaded to use helicopters to retrieve containers

from vessels offshore.

Long before the coronavirus, the United States lagged

other major economies in moving goods efficiently. In

2018, the World Bank ranked the U.S. 14th out of 160

countries, down from ninth four years earlier, based on a

periodic survey of freight forwarders and cargo carriers.

Likewise, regulators with the FMC warned in 2015:

"Congestion at ports and other points in the nation's intermodal

system has become a serious risk factor to the

relatively robust growth of the American economy and to

its competitive position."

Those earlier backlogs were sparked by unrest over a

West Coast dockworkers' contract. With that deal scheduled

to expire July 1, businesses in coming months will

probably order more than normal to avoid being caught

short again, further aggravating congestion, executives

said.

Seeler Industries in Joliet, a maker of chemical solutions

used in household cleaners and municipal water

treatment facilities, has been forced to turn down several

million dollars in orders because of shortages of key ingredients

and truckers to move them.

CEO Steve Seeler, who calls that a "significant" hit for

his family-owned business, said he buys whatever materials

become available for fear of missing out. Some

imported chemical ingredients that once took six weeks

to arrive now take up to three times as long, making justin-time

production "much more difficult, if not impossible,"

he said.

Asked to describe his current strategy, Seeler said:

"We're praying. That's what we're doing."

Union Pacific rail yard, Joliet, IL.

Last year, as the economy rebounded from its spring

plunge, cargo arrived faster than it could be pushed out

of the gate. This summer, the problem suddenly became

acute, with nearly 8,000 containers clogging the paved

ramp, roughly double the July 2020 figure, according to

Union Pacific.

At one point, trains trying to enter the yard were backed

up for 25 miles.

Frustrated truckers would drop containers at random

spots, making it harder to navigate the narrow aisles and

slowing operations. In late August, nearly all of the 5,500

parking spots were occupied by chassis or containers

waiting to be picked up, leading to grumbling that shippers

were using the yard as a warehouse.

"When things like this happen, the train can't get loaded

and we're wasting hours of service," said Thomas

Moses, 49, a veteran locomotive engineer.

The normal 3.5-day cycle for a chassis to exit with a

container and then return for another pickup stretched to

17 days. That slowdown meant the facility would need

an unimaginable 6,000 chassis for normal operations,

up from its customary 1,000. Those delays, in turn,

meant more train crews were needed. That takes time to

assemble and adds cost.

In July, Union Pacific took the extraordinary step of

temporarily halting all trains arriving from West Coast

ports. In Los Angeles, Seroka said he was informed of

the decision just one or two days in advance.

The railroad also reopened another yard, Global 3,

which had been closed in 2019 under a strategy known

as "precision scheduled railroading," to act as a relief

valve. Used throughout the industry, PSR is "intended

to benefit customers" by providing more predictable service,

according to Union Pacific.

But union representatives and regulators question the

associated job cuts. Union Pacific's 31,000-person payroll

is more than one-third smaller than it was in 2015,

part of a broader shrinkage across all major railroads.

"You take that many people out of the workforce, I don't

see how it could but impact service," said Martin Oberman,

chairman of the Surface Transportation Board.

"What's happening is just stripping down the workforce."

Global 4 has reopened to incoming trains at 75 percent

of its previous volume. A planned doubling of capacity,

with the introduction of five massive new cranes,

is scheduled for next year.

Union Pacific says it has reduced the number of stockpiled

containers. Managers have compiled pandemic

lessons into a crisis manual known as "the playbook" and

are hiring again.

Ongoing efficiency studies aim at additional fine-tuning.

Already, the railroad is installing uniform signage at

all Union Pacific facilities, so that truckers will see familiar

instructions no matter where they go.

"We've got it fluid," said Drew Steinkamp, general

manager of the Chicago service unit. "But we've got a

constant volume coming at us."

Alvaro Ramirez has learned to be patient. Sitting in his

green-and-white Freightliner truck, stuck in line for hours

at cargo depots, the veteran driver listens to Conan

O'Brien comedy routines, self-help audiobooks and tai

chi lessons.

"It helps me breathe and calm down," said Ramirez. "I

used to be a screamer."

He had good reason. Ramirez is almost 2,100 miles

from the Los Angeles port, where dozens of ships wait

offshore. But he confronts the same dysfunction.

With global supply lines in an epic snarl, it can take

him five hours to enter a Chicago-area rail yard, locate

a customer's shipping container and mount it on a truck

chassis before hauling it to its destination. Chronic railyard

traffic jams last so long that he has learned salsa

dancing by watching videos on his phone while waiting.

Before the pandemic, Ramirez, 44, could make seven

round trips in an 11-hour workday. That number fell to

just one or two, forcing him to switch to the less crowded

overnight shift. Still, his earnings are down 20 percent.

Ramirez is a "drayman," a 16th-century term for the

final cog in the 21st-century supply lines that link the

American heartland to Asian factories. His daily plight

shows how today's disruptions feed on themselves, like

a line of tumbling dominoes.

At Road One Intermodal, which employs Ramirez and

provides trucking services at nearly 90 ports and terminals,

a truck was out of commission for more than two

months while the company suffered its own supply chain

woes, waiting for a new clutch.

Even as business boomed, executives opted not to

order new truck cabs, after learning they could not be

delivered until the end of next year. A shortage of aluminum

and factory labor made the schedule for new trailers

even more uncertain, said David McLaughlin, Road

One's chief operating and financial officer.

"This is my 46th year in the business. I've never seen

anything like this and it's not easily resolved," he said.

In July, when two of the nation's largest railroads restricted

shipments from the West Coast to their Chicago

hubs, they reduced the backlog of containers jamming

their facilities but made port congestion worse.

As space aboard freight trains grew scarce, shippers

switched to trucks, driving over-the-road freight bills up

by 85 percent compared to April 2020, according to DAT

Solutions.

But many logistics companies are reluctant to add

permanent capacity, fearing they will be caught with too

many ships, trucks or chassis (the trailer-like frame that

holds the containers) once consumer buying patterns return

to normal.

"You don't build a church for Easter and Christmas.

You build it for the average week," said Jason Hilsenbeck,

president of Load Match, an equipment clearinghouse

in Naperville, Ill.

- American Sale Warehouse, Tinley Park, Ill.

The supply chain ends at Bob Jones's door in Tinley

Park, Ill., more than 7,700 miles from the Chinese port of

Ningbo, where many of his products originate.

The president of the American Sale retail chain is one

of the smaller shippers buffeted by supply chain tumult.

With eight stores in the Chicago area, Jones imports annually

about 150 containers of pools and patio furniture.

(Walmart, the nation's largest importer, according to the

Journal of Commerce, brings in several hundred thousand.)

Before the pandemic, the cost of shipping one container

to his 200,000-square-foot warehouse was less than

$5,000. In late August, the bill hit $26,000.

Some of his containers sit for two or three weeks once

they reach Union Pacific's rail yard or a similar facility

belonging to rival BNSF.

Jones passes some of the higher cost to consumers

and absorbs some himself. Since Americans have

stocked up on outdoor products during the work-fromhome

era, he makes up some of his losses on volume.

The uncertainty is his chief worry. Kinks in the supply

chain mean he has summer products arriving now when

summer is a memory on the shores of Lake Michigan.

More out-of-season goods will reach the Midwest as the

snow flies.

"We have a typical supply chain route. This year,

there've been hiccups all along the way," Jones said.

"It's not getting better. In fact, I would say it's getting

worse." n

- Union Pacific rail yard, Joliet, Ill.

One of the main rail routes leaving the port leads to

Union Pacific's Global 4 facility in Joliet, which sprawls

across the equivalent of 500 football fields.

The rail yard is essentially an inland version of the terminals

in Los Angeles. Like an industrial Lego set, the lot

is replete with towering walls of orange, green, white and

blue containers.

30 DECEMBER 2021 n NATIONAL HARDWOOD MAGAZINE DECEMBER 2021 n NATIONAL HARDWOOD MAGAZINE 31
---
2022 Forecasts

In The Hardwood Industry, 2021's Success

Is Expected To Continue In 2022

Compiled by Matt Fite

Asked to assess their ups and downs in 2021, many Hardwood lumber company representatives said it was

a successful year. Looking forward to 2022, their sentiment leans in the same direction. One respondent stated,

"2022 should be a reasonably good year, albeit with some downward changes in prices more likely than continued

upward." Another said that in 2021, "demand trends" were created that "will likely sustain, prosperous times for the

forest products industry into next year." Still another lumberman said without qualification that he expects "a successful

2022."

Eric Porter

Abenaki Timber Corp.

Kingston, NH

2021 has been a successful year

for us, although not without some

challenges. Labor issues have

plagued both of our production facilities in New Hampshire

and West Virginia. We have been about five people

short of full staff at both locations all year, and a lot of the

regulars are not putting in a full 40-hour shift.

Transportation is the No. 2 biggest problem, and that

has been in both exporting with container shortages and

domestic with lack of equipment to move loads. Thirdly

is the green supply line which, for us, has been tight all

year. I see these as the biggest challenges moving into

2022.

We sell to both domestic and international customers.

Our domestic business has improved this year, and up

until recently our exports have done well, too. Lack of

David Whitten

Bingaman & Son

Lumber, Inc.

Kreamer, PA

In 2021, Bingaman Export was

successful in staying ahead of the

unprecedented demand for our

products, as were most of our customers. We were unsuccessful

in increasing production and strengthening

our logistics channels.

Our end user customers fared the best, but distribution

customers also did well. All White Oak and Tulipwood

Poplar products shined.

Also this year, we connected our customers to logistics

websites that gave them shipping lines info in direct/real

time.

32 DECEMBER 2021 n NATIONAL HARDWOOD MAGAZINE

available vessels has dampened the export market as

of late.

Quality, consistency and service are the three things

we try to provide each and every time we make a sale,

and that's not new. We are expanding our European

Beech imports in more sizes and grades.

We installed a new gas-fired boiler at our West Virginia

plant, replacing the old one to be more efficient in our

drying there. We are also in the process of putting up

some T-Sheds to improve our air-drying and the appearance

of our lumber.

As stated previously, transportation is a real problem,

and, from what I've heard, it is the same basically for all

of our trading partners and competitors. The politics of

actually working for a living here in the U.S. are not favorable

for a quick solution, in my humble opinion.

At this time, I think that the issue of tariffs is secondary

to the transportation and supply line issues.

With the disruption in supply chains due to COVID-19,

our maintenance people at both of our concentration

yards are buying extra parts to put on the shelf when

available. D

We have replaced and updated worn-out equipment in

almost every area of our company at all five Pennsylvania

locations, from replacing/updating sawmill equipment

such as resaw, carriage and trim saws, to adding new

boilers for KD steam, new kilns and new rolling equipment.

Domestic obstacles were finding long distance trucking,

and then working out higher costs with our customers.

Export-wise, transportation was a nightmare at

times, as bookings were canceled or rolled oftentimes

overnight after we had picked up and loaded the empty

containers. This situation has not improved – but we are

coping with it better now.

Regarding tariffs, the current and future concern is the

dramatic effects of the Chinese government policies that

gut real estate values, cut private company ownership

by starving access to capital and reduce to half the raw

material imports and manufacturer's ability to produce by

Bo Hammond

Collins

Portland, OR

As lumber folks, we are either

inherently gifted or quickly adopt

industry practices of finding a way

to negate any positive. Quite often,

our perspective of good or bad depends on which side

of the transaction we find ourselves. With that in mind,

looking at 2021, I could certainly lament finding adequate

labor, cry over trucking woes and port delays, or wish that

I hadn't committed to a particular price when I did; but

the reality is that pricing for our products reached some

historic levels and demand trends were created from an

unexpected catalyst that created, and will likely sustain,

prosperous times for the forest products industry into

next year.

2021 saw a growth in domestic demand from manufacturers

and distributors for our company and a reduction in

overseas business. China, in particular, has been a dominant

player in Hardwoods for the past decade, and the

ability to turn our sales focus toward domestic demand

was refreshing and honestly a positive development for

our brand and ongoing sales strategy. As much as lumber

supply was strained and we sometimes found ourselves

having to delay fulfillment of orders, we were able

to strengthen the relationships we have with key customers

in all segments of our customer base from industrial

grade buyers to cutting grade component manufacturers

to high-grade buying distributors. At a time when trade

issues seem to always be looming on the horizon, diversifying

our sales reach domestically and to alternative

global markets will be a benefit going forward.

Unfortunately, the Hardwood space has been shrinking

now for over a decade. Of course, we rebound from catastrophic

supply corrections like occurred after the great

recession and most recently in 2020, but we have not

limiting electricity consumption.

As for the bandsaw shortage, we've found ways to

cope.

In terms of the supply chain disruption due to

COVID-19, we've made strategic moves in various ways

to cope.

2022 should be a reasonably good year, albeit with

some downward changes in prices more likely than continued

upward. Domestic US/Canada demand should

remain strong as well as UK/EU and some other firstworld

smaller countries. China could be quite unstable

in 2022 as it's a political year for the central committee,

and a tipping point if their policies of recent years will

continue stronger or somewhat abate. Our China wood

customers' demand is less for domestic consumption

and more for export of finished product (back to the US,

UK, EU) than has existed for many years. China domestic

consumption of wood products is following the strong

decline of real estate values. D

been recovering all that we lost during those past cycles.

I wish the Hardwood space had enough room for

everyone that wanted to participate in it. If it did, then that

would mean demand for – and understanding of – the

products we make was ingrained in consumers' minds.

Unfortunately, that isn't where we are, yet.

I am a firm believer that things happen for a reason

and in the properly anointed timeframe. I also believe

that we must recognize this and act to capitalize on the

opportunities we are presented with…turn lemons into

lemonade, find the silver lining in the clouds. The COVID

pandemic was a catastrophic event, and I am not going

to try to make the event itself into a positive. But the catalyst

it provided to our industry, and what influences our

industry's health, are undeniable. Prior to COVID, the

demise of McMansions had shifted home buying toward

smaller spaces. New generations, not so quick to start

families, were more content to rent within walking distance

of work and daily needs. The shutdown and need

for isolation created during the height of the pandemic

and persisting through the onset of COVID variants, reversed

those housing trends by creating a need for more

designated spaces in a home and a desire/ability to live

more rurally and still work where you want. This alone

didn't create a lack of adequate housing, but it accelerated

the timeframe to correct it. Government subsidies,

agreed with or not, kept households whole financially,

sparking consumer spending. Our products have never

faced a better time to be valued for what they are actually

worth than right now.

Consumers with cash in hand and a reason to make

new-home or remodeling decisions are abundant right

now. The industry finally has a promotional campaign

started that can educate the general consumer about

why wood, real wood, is a better choice than fake wood

or other alternative materials. We have an opportunity

to start controlling our own destiny instead of playing the

victim of our circumstances. Even though we may be

shrinking as an industry right now, our key demand driv-

Please turn the page

DECEMBER 2021 n NATIONAL HARDWOOD MAGAZINE 33
---
2022 FORECASTS Continued

ing segment, housing related products, is growing and

should for another year at least.

Without being a master economist, even a shrinking

product line in a growing customer segment gets a

boost. And perhaps this boost coincides with a promotional

campaign that extolls the real value in Hardwood

products and allows comfortable growth.

I am not naïve; current lumber prices, as of when I am

writing this in early October 2021, will not all hold. But it is

not naïve to understand that we have a product that adds

value to a home and has environmental benefits that far

outweigh competitive products. That is a value we as an

industry need to sell and charge for. We are approaching

2022 with hope and optimism. I believe 2022 is unlikely

to repeat the record setting prices of 2021; but I don't believe

the fundamentals of demand are collapsing either.

Manufacturing will start the year still trying to catch up

from the curtailments of 2021. Eventually, manufacturing

will achieve that and growth in manufacturing will stabilize.

Pushback on packaging prices will occur and pallet

lumber prices will adjust, but the reality of packaging as

an important, not just necessary, part of a manufacturer's

needs will keep dimension pallet lumber prices above

prior levels. Housing will take longer to catch up, and

remodeling will continue to be strong as unemployment

remains low and household income remains reliable. Increased

lumber production will come online but at a pace

for only 7.5-8BBf annually, about 10-15 percent below

the 2019-early 2020 level. Supply will maintain a better

balance with demand but will not surpass it next year,

allowing peak prices to ease but maintaining some gains

Dana Lee Cole

Hardwood Federation

Washington, D.C.

The Hardwood

Federation

works on

your behalf in

Washington, D.C. to protect the future

of the Hardwood industry. We

are the united voice of the Hardwood

industry and work to influence federal

policies that maintain a healthy

economic environment for the Hardwood

community, including family

businesses and small companies.

The Biden administration set an

ambitious agenda early in 2021…

one that is sure to carry over into

2022. There are certainly opportunities

for the Hardwood sector to

benefit from some of their plans, but

there are also some proposals that

are cause for concern. While it is difficult

to predict exactly what form that

agenda items will eventually take, in

terms of legislation, there are key

policy directions that Hardwood Federation

will pursue on behalf of the

industry in 2022.

in grade lumber. Flooring lumber will likely adjust more

in line with industrial grades, but cabinetry, furniture, and

millwork will still have strong demand, retaining some of

the price gains for No. 1 and Better lumber.

Specifically at Collins, we continue to invest in manufacturing

efficiencies at our Kane, PA plant. We installed

a 38-bin sorter/stacker in late 2020 that has been helpful

in navigating labor issues this year. We rebuilt the debarker

this year to improve the quality of our edging and

the infeed flow to the mill. We rebuilt several air-dry yards

and redesigned our stacker outfeed to allow for more

ideal weight distribution in our sticker packs to keep our

lumber flat as possible. We are entertaining an upgrade

to our kilns to improve efficiency and effectiveness and

we are paving several of our roadways which will help

with flow issues on our yard, and keep our sticker and

finished goods bundles better packaged for better quality

lumber and better presentation. Collins is a land-owning

company that believes in the environmental benefit of

not only owning timberland but also properly managing

the harvest of our timberland to generate environmentally

friendly raw material for manufacturing household

goods. We value the customer relationships we have

and approach our responsibility to honor their trust in us

by producing the highest quality lumber responsibly with

good width distribution, on grade and as on-time as possible.

Relationships, consistency and reliability have always

been stalwarts of the Hardwood industry, but never

more so than now.

Best of Luck in 2022! D

Recognize the important role

forest products play in reducing

atmospheric carbon: The Administration

recognizes that the trees in

our public and private forest lands

absorb and store significant amounts

of carbon. But it is equally important

for them to acknowledge that the

products resulting from well managed

forests are 50 percent stored

carbon by weight and that well managed,

working forests are more effective

and efficient carbon sinks

than those that remain untouched.

The Hardwood Federation will continue

our efforts to ensure that the

wood products market is not left behind

in the Administration's plans.

Prevent tax increases that harm

small and medium sized businesses:

Congress is considering a

number of tax increases in 2021 and

those deliberations could carry over

into the new year. The Federation

will oppose tax reform measures that

have negative impacts on Hardwood

businesses.

Support efforts to increase labor

pool: Lack of workers is a top

issue of concern for the industry. The

Rob Paradise

Devereaux Sawmill

Pewamo, MI

Hardwood Federation is advocating

for action that encourages workers

to rejoin the workforce.

Back infrastructure proposals

that help the Hardwood industry:

The Hardwood Federation supports

infrastructure and transportation

legislative initiatives that help our

companies transport raw materials,

manufacture goods and ship finished

products (better roads, safe bridges,

better access to international shipping,

reliable energy sources, etc.).

We also advocate for proposals to

increase the number of truck drivers,

including increasing the number of

younger drivers and women drivers.

While these are the Federation's

priority issues, we will also speak out

on other issues that impact Hardwood

companies as they come up.

As a leader in the Hardwood industry,

we encourage you to do the same.

Meet with your Member of Congress,

invite them to visit you and your employees

at your facility, call, text or

write to them about what is impeding

your ability to sustain and grow your

business. We are here to help! Write

to us at hardwoodfederation@

hardwoodfederation.com if we can

provide guidance and advice. D

2021 has been a successful year, with crazy-good demand in the first half of 2021. It will be

hard to match in 2022, but I anticipate a successful 2022 as well.

Our customers – distributors, cabinetmakers, flooring manufacturers and furniture crafters –

all have had strong years.

Availability of transportation has been tough, and rising prices have been challenging.

With COVID-19, we have just tried to stay ahead on parts for our sawmill and order further out. D

Bucky Pescaglia

MO PAC Lumber Co.

Fayette, M

2021 was a record sales year for

our company. We had a good-sized

inventory to work from at the beginning

of 2021, but it has been reduced

to a historic low for most of the second half of the year. It

will be difficult to repeat these sales volumes in 2022 as

we simply do not have the same inventory to work from.

Although we have several large end-user customers,

the majority of both international and domestic sales are to

distribution yards. As with most in the Hardwood business

in 2021, all of our products have experienced a strong and

consistent demand throughout the year.

As I write this forecast, we are installing a new Corley

carriage, Tyrone-Corley shotgun drive, and Lewis Controls

Optimization to upgrade our sawmill. This will increase

production and improve yield for our mill.

We are experiencing the same transportation issues everyone

I talk to is. Congestion at the ports and on the rail,

and lack of available trucks, result in delayed shipments

and frustrated customers.

So far, it appears that the China tariffs return has been

postponed for now. This should help stabilize the market.

We always try to stay far ahead of any possible bandsaw

shortage by having a good supply in our warehouse.

When we heard there could be shortages, we doubled our

normal order and have been able to avoid any problems.

Regarding COVID-19 supply chain disruptions, we installed

a new maintenance program this year, and it has

been very helpful in keeping our parts inventory stocked.

D

Please turn to page 40

34 DECEMBER 2021 n NATIONAL HARDWOOD MAGAZINE DECEMBER 2021 n NATIONAL HARDWOOD MAGAZINE 35
---
AWMA's Members Network,

Benefit From New Website

West Palm Beach, FL–The American Walnut

Manufacturers Association (AWMA)

met here recently during the National Hardwood

Lumber Association's annual convention

to conduct their semi-annual business meeting

with attending members.

AWMA members discussed current market

trends for lumber and logs and agreed that robust

markets continue for all things pertaining

to Walnut. Competition for logs is strong domestically

and internationally and green Walnut

lumber is in high demand for all grades and

species. The only market softness mentioned

was for kiln-dried lumber in lower grades.

Photos by Terry Miller

AWMA continues to focus on species advocacy

and marketing programs that benefit

membership. AWMA will be having a LinkedIn

profile in the near future that will combine with

their new website that features a product inquiry

opportunity that members have found very

beneficial.

AWMA will be looking for new opportunities

to educate architects and designers, in particular,

on the use and selection of Walnut for interior

projects. AWMA's next business meeting will

be in February at the annual Indiana Hardwood

Lumbermen's Association meeting in Indianapolis.

n

Learn more at www.walnutassociation.org.

Bucky Pescaglia, MO PAC Lumber Co., Fayette, MO; Bill Long,

Midwest Hardwood Corp., Maple Grove, MN; and Brian Brookshire,

Executive Director, American Walnut Manufacturers Association,

Jefferson City, MO

Tyler Kamps, Kamps Hardwoods Inc., Caledonia, MI; Tom Byers,

NHLA, Tionesta, PA; and Kevin Evilsizer, NHLA, Willard, MO

Nathan Jeppson, Northwest Hardwoods, Frisco, TX; Matt Weaber, Weaber Inc., Lebanon, PA; and Nora Race and Ed Armbruster,

Northwest Hardwoods, Beachwood, OH

Mike and Laura Penner,

Breeze Dried Inc./Townsend

Lumber Inc., Tillsonburg, ON;

Dean Miller, AHC Hardwood

Group, Mableton, GA; and

Kris Long, AHC Hardwood

Group, Huntersville, NC

36 DECEMBER 2021 n NATIONAL HARDWOOD MAGAZINE

Matt Yest, Kendrick Forest Products Inc., Edgewood, IA; Rob Kukowski,

Kamps Hardwoods Inc., Caledonia, MI; and Coby Short,

Hartzell Hardwoods Inc., Piqua, OH

Bucky Pescaglia, MO PAC Lumber Co., Fayette, MO; Brian and

Laura Brookshire, American Walnut Manufacturers Association,

Jefferson City, MO; and Terry Miller, National Hardwood Magazine,

Memphis, TN

DECEMBER 2021 n NATIONAL HARDWOOD MAGAZINE 37
---
AHMI Learns Poplar CLT

Tests Are Positive

Roanoke, WV – Recent development and testing of

Poplar for cross-laminated timber shows excellent

results, according to a report at the 2021 Appalachian

Hardwood Manufacturers, Inc. Fall Conference, held

here recently.

Virginia Tech Professor Dr. Henry Quesada and Researcher

Sailesh Adhikari said the construction and testing

Poplar CLT has been completed at SmartLam in Dothan,

AL. The preliminary results are very good and the

project is completing its report for submission to the APA

for inclusion in U.S. building codes.

Six AHMI member companies donated Poplar that was

ripped and surfaced to nominal dimensions for SmartLam

to process and test. Adhikari presented results of testing

that shows the glued timbers have great strength.

CLT is currently produced from a variety of softwood

species and typically uses softwood dimension

for boards. The project will show the strength of Poplar

equals or exceeds softwood materials and can be

cost-effective in the lower visual grades.

Structural Grading of Hardwoods

The program included a presentation on structural

grades for lumber and a workshop on the basics on

grading. Renewable Resource Associates President Lon

Sibert explained how structural grading rules are applied

to softwood lumber by viewing the size and placement of

knots or defects, the grain and other factors.

The presentation included dozens of slides and actual

examples that were passed around. The following day,

Sibert held a workshop at AFP Lumber in Buckhannon,

WV, where he explained the rules, showed examples and

allowed participants to grade Poplar boards for structural

applications.

Jeremy Pitts, Nyle Dry Kilns, Hickory, NC; Jay Reese, Penn-Sylvan

International, Spartansburg, PA; Peter McCarty, TS Manufacturing,

Dover-Foxcroft, ME; and Jeff Dougherty, Ally Global Logistics,

Jacksonville, FL

By Tom Inman

Many participants were surprised to learn the Poplar

boards that were NHLA grades 2 Common and 3 Common

would make structural grades Select or 1. A second

workshop will be scheduled soon.

Hardwood Training Institute

A final presentation was given by Dr. John Rainone of

Dabney S. Lancaster Community College (DSLCC) in

Clifton Forge, VA, who is partnering with two other colleges

and AHMI to develop the Appalachian Hardwood

Training Institute. The group has applied for a grant from

the Appalachian Regional Commission to train current

workers and prospective employees on Hardwood sawmill

and distribution yard jobs.

The lack of workers limits production at most sawmills

and secondary manufacturers. More companies

are cross-training employees to fill multiple positions so

plants can operate.

Potential workers are not aware of the industry or have

little training. Rainone said the grant will fund curriculum

development, course promotion and tuition assistance at

DSLCC, Glenville State College in West Virginia and Big

Sandy Community College in Kentucky.

The attendees were asked to complete a survey to assist

with implementation of the training curriculum. The

survey found needs for:

• Log/Lumber Grading and Scaling

• Hardwood Sawing

• Lumber Drying and Resaw Operation

• Lumber Drying Techniques

• Lumber Stresses, Figures, and Grading

• Log Yard Equipment Operation

• OSHA Safety and Environmental Monitoring

• Machinist, Welding, Electronics

• CDL – Class A and B

• Chainsaw Operation and Maintenance

It is expected that at least 75 companies will participate

in the training and 80 percent of businesses will see

an increase in productivity from workers, Rainone said.

It is forecast that 90 percent of trainees will retain their

jobs and an estimated 80 percent of trainees will improve

skills.

The plan is to expand the offerings to community colleges

in all 12 Appalachian states. It is supported by

Community Colleges of Appalachia and the American

Association of Community Colleges.

For more information on the Conference or AHMI,

please visit www.appalachianhardwood.org. n

Tom Sheets, Blue Ridge Lumber Co., Fishersville, VA; Dave Lupsha,

Associated Hardwoods, Granite Falls, NC; and Gale Keener,

Mullican Flooring, Ronceverte, WV

Lon Sibert of Renewable Resource Associates, Atlanta, GA, applies

grade rules to a Poplar board during structural grading

workshop at AHMI Fall Conference.

Chad Niman, University of Kentucky Cooperative Extension, Lexington,

KY; and Sailesh Adhikari and Dr. Henry Quesada, Virginia

Tech, Blacksburg, VA

Scott Cummings, Cummings Lumber Co. Inc., Troy, PA; Bruce

Horner, Abenaki Timber Corp., Kingston, NH; Tony Honeycutt,

Mullican Flooring, Johnson City, TN; and Wayne Law, New River

Hardwoods Inc., Mountain City, TN

Jude and Nick Ince, Walker Lumber Co., Woodland, PA; and Mark

Vollinger, WM Cramer Lumber Co., Hickory, NC

Roy Zangari, Meadow River Hardwoods, Rainelle, WV; Dave Lupsha,

Associated Hardwoods, Granite Falls, NC; and Jeff Zangari,

Meadow River Hardwoods

Jack Hatfield, Jim C. Hamer Lumber Co., Kenova, WV; Mark

Pierce, New River Hardwoods Inc., Mountain City, TN; and David

Pierson, Pierson Lumber Co., Clay, WV

Sebastian Church, Church and Church Lumber Co., Wilkesboro,

NC; Dr. Henry Quesada, Virginia Tech, Blacksburg, VA; and Gene

Blankenship, Stiles Machinery, High Point, NC

38 DECEMBER 2021 n NATIONAL HARDWOOD MAGAZINE DECEMBER 2021 n NATIONAL HARDWOOD MAGAZINE 39
---
2022 FORECASTS Continued from page 35

WELLBORN CABINET INC. Continued from page 21

Mario Lussier

Simon Lussier Ltée

Blainville, QC, Canada

At the beginning of 2021, we had

no real idea what to expect. We

knew that green lumber was difficult

to source and that the prices were going up quickly.

Many times, after purchasing significant volumes at high

prices, we would wonder if we made a mistake and misjudged

the market. We anticipated that mills might overproduce

the demand and flood the market as we have

seen so many times in the past.

Now that 2021 is coming to an end, we wished that we

had purchased a lot more lumber in the early months of

2021 because prices have not stopped rising.

COVID-19 has had a big affect on our industry. Many

mills cut down production in March 2020 and have not

been able to recover since. Many people have left the

Michael Martin

National Wood Flooring Association

Chesterfield, MO

industry and are not coming back. Many loggers are

having problems finding a market for pulpwood, which is

reducing the availability of saw logs.

Our level of sales in 2021 has been very strong in both

the domestic market and the export market. We have

been in a shortage situation on a multitude of items and

could have increased our sales to a much higher level.

We anticipate another very good year in 2022. We

think many items have probably reached their peak prices

because we are seeing more and more substitutions

with Eastern European species or African Hardwoods. It

should be some time before we see significant drops in

prices in North American species, because many wholesalers

and distributors like us are very low in inventory

and it should take a long time before we fill up. D

ABOVE AND RIGHT: Wellborn Cabinet has recently celebrated a $15 million expansion adding 200 additional jobs at their facility in

Ashland, AL.

Kitchen Cabinet Manufacturers Association Environmental

Stewardship Program seal proudly displayed on our

cabinetry."

Paul Wellborn explained a few of the species of lumber

and how they are used at Wellborn Cabinet. "Cherry is

synonymous with luxurious cabinets," he said. "The rich

red highlights give the wood a distinctive appearance.

Character Cherry's unique characteristics are emphasized

by randomly occurring various sized knots, pin

knots, pitch pockets, and small streaks of gum. Cluster

knots and open knots could also be a feature. The

amount of character will vary from each door, making

each kitchen unique.

"Character Maple's unique characteristics are brought

out by randomly occurring, variously sized knots, pinholes,

wormholes and tracks, gum and bark pockets,

sugar tracks, heartwood and mineral streaks. Cluster

knots and open knots could also be a feature. The number

of character marks will vary from each piece of wood,

making each kitchen unique."

Wellborn continued, "Maple is widely used in the cabinetry

industry. This wood species features a straight grain

with several distinctive characteristics. These include

unique figures such as bird's-eye, fiddle back, mineral

Please turn the page

The National

Wood Flooring

Association

(NWFA) just completed our annual

outlook for the wood flooring industry

which indicated that 61 percent of

our members expect to finish 2021

with an increase of 3-7 percent by

year end. And, likewise, about 60

percent expect to be up in 2022.

These answers varied by type of

company. Contractors are very enthusiastic

about 2022 as most report

being booked out up to four months

in advance for jobs. Distributors and

manufacturers are likewise enthusiastic,

but at slightly lesser levels.

The NWFA represents the entire

wood flooring supply chain. Regardless

of the type of member—manufacturer,

distributor, retailer or contractor—the

trend continues to be

longer and wider when it comes to

wood flooring. We are also finally

seeing the gray tones lose popularity

with natural wood tones coming into

design trends. In addition, natural

wood characteristics are preferred

(mineral streaks, knots, etc.), but in a

subdued way, which cannot be duplicated

with look-alike products.

As an association, we continued to

bring new online training options to

our members in 2021. Usage of our

online university has more than doubled

during the COVID-19 era. From

the product standpoint, our members

report high demand for both engineered

and solid wood flooring. In

fact, solid wood flooring had the best

year it has had since 2005, with an

increase of nearly 40 percent coming

in 2021 over last year. 2021 was

the best year for solid strip flooring in

more than a decade, with expectations

high for 2022.

Many NWFA members report making

building and equipment upgrades

during the pandemic shutdown and

the early days of the economy opening

back up. However, once things

got rolling, our industry couldn't

produce or install wood floors fast

enough and those upgrades were

postponed for the moment.

Freight costs on imports and exports

have skyrocketed with no end

in sight for 2021. Most expect container

availability to loosen up by the

second quarter of 2022, but from

trucks to planes to trains to slow

boats from China, every possible

point of the supply chain is backed

up with inflated costs.

Right now, expectations are that

the current tariffs on imported engineered

wood flooring will remain unchanged

in 2022. That said, several

manufacturers of engineered wood

flooring have moved production from

China to Vietnam to avoid tariffs, so

it is hard to say whether we will see

similar tariffs from additional countries.

D

Please turn to page 57

BINGAMANLUMBER.COM

PO Box 247, Kreamer, PA 17833

☎ 570.374.1108 | 570.374.5341

40 DECEMBER 2021 n NATIONAL HARDWOOD MAGAZINE

DECEMBER 2021 n NATIONAL HARDWOOD MAGAZINE 41
---
WELLBORN CABINET INC. Continued

JOSEY LUMBER COMPANY Continued from page 23

Quality, heirloom cabinetry made in the USA comes from a vertically

integrated plant. From logs to cabinets, it is all done in their

facility.

streaks, and curly grain patterns. Finely textured with a

natural luster, this creamy-white to light reddish-brown

wood is often used for cabinets and floors.

He said Oak is handled differently at Wellborn Cabinet.

"Authentic American Red Oak is open-pored with grain

patterns," he explained. "Wellborn's manufacturing technology

presents Oak with straighter grains than most

cabinet lines, and our process minimizes the wide grains

and reduces the widths of cathedrals in Oak.

"Hickory has distinctive contrasting colors, from light

to dark and strong grain characteristics. The texture of

Hickory is open grained. Hickories by nature are heavy,

hard, strong, and stiff – producing durable cabinetry.

Hickory is for homeowners desiring dramatic wood characteristics."

As for what Wellborn Cabinet attributes its success to,

Wellborn said, "Our diversity of experience and commitment

to achieve our vision will always be the source of

our success. We expect accountability and unyielding integrity

in everything that we do. Developing personal relationships

with our dealers, employees and associates

is imperative to us. Our passion for discipline allows us

to achieve excellence in our performance, and we treat

all individuals with dignity and respect."

He continued, "Like your family, the Wellborn Cabinet

family has values and traditions that endure. We're

American-owned and operated, providing hundreds of

jobs here in America. Keeping our whole production process

here in the U.S. also means we invest in – not just

the national economy, but local economies. We create

jobs and work to support all of our employees."

Wellborn Cabinet is a member of the Kitchen Cabinet

Manufacturers Association (KCMA); National Association

of the Remodeling Industry (NARI); National Association

of Home Builders (NAHB); and National Kitchen

and Bath Association. n

For more information, visit www.wellborn.com.

Boards are studied closely in the inspection

line by green lumber inspectors Al

Harmon and Jonas Simpson at Josey

Lumber.

served the Josey's well, as they

were able to ride out the storm.

Another fiscal move was the transition

of company ownership from

Joey Josey to Tripp and Logan. Both

sons went to work for Josey Lumber

right out of college. Tripp hired on

in 2002, and Logan began working

there four years later. Tripp recalls

that his father "knew very soon after

us getting out of college that we were

serious about it, and we weren't here

to just goof off and get a paycheck

and go do our thing. He knew from

the beginning that we were committed."

Joey wanted to sell the company

to his sons, not just to give it to

them. To pull that off, Tripp and Logan

saved a lot of money. "That was

extremely important to my Dad – that

he wanted us to have some skin in

the game, so we started working with

an estate planner to negotiate the

generational transfer of ownership. It

was decided that, beginning in 2012,

the sons would pay their father annual

installments. The target date for

the full amount to be paid was 2032,

a span of 20 years.

"We did a two-year payment in

year one and the next year," Tripp

recalls. "We just got lucky, I guess,

but we doubled up every year, and

we completed the buy-out at the end

of December 2020. We bought the

business in 8 years versus the 20-

year buy-out." So, under new ownership

– groomed by Joey Josey

himself – Josey Lumber and JoCo

Lumber are moving forward.

Additionally, JoCo Lumber complements

Josey Lumber as JoCo

has dry kilns and buys green lumber

from Josey Lumber. The two family-owned

companies operate symbiotically,

giving Josey a place to sell

its green lumber and giving JoCo

Lumber a source of material for its

dry kilns. This relationship also eliminates

freight cost for transporting

green lumber. Logan said, "We don't

bring in any outside lumber. We only

represent our lumber."

Josey Lumber and JoCo Lumber

Please turn the page

Over the centuries, wood floors have stood the test of time and leave a rich

heritage for future generations to come. Like the early craftsmen who built

this country, we proudly make all of our products in the USA, where we

help support our own American craftsmen, their families and communities.

When it's time to choose a floor that honors tradition but has timeless

appeal and can last more than a lifetime, choose a solid hardwood floor from

Maxwell Hardwood Flooring.

FAMILY OWNED & OPERATED SINCE 1992

NWFA/NOFMA

WOOD

FLOORING

www.maxwellhardwoodflooring.com | 870-367-2436

42 DECEMBER 2021 n NATIONAL HARDWOOD MAGAZINE DECEMBER 2021 n NATIONAL HARDWOOD MAGAZINE 43
---
JOSEY LUMBER COMPANY Continued

The infeed inspection line to the trimmer

was a welcome upgrade at Josey Lumber.

employ 45 people. The sawmill division,

Josey Lumber, cuts approximately

10 to 11 million board feet a

year that includes Hardwood lumber,

The new Trimmer Outfeed at Josey Lumber

from TS Manufacturing improves productivity.

cants and timbers. They manufacture

Red and White Oak, Soft Maple,

Ash, Poplar and Cypress.

Going back to the beginning, Joey

Josey started in the forest products

industry in the mid-1970's, working

for a friend who owned several sawmills.

It was then that he realized his

goal in life was to operate his own

Hardwood sawmill. The owner of

that large company admired his vision;

however, he told Joey that he

could not manage a job that he had

never done. Joey took that advice to

heart and worked his way through

his friend's company by initially pulling

lumber and sweeping floors, later

working as planer mill foreman,

purchaser and dry kiln operator. He

learned everything that he could

about machinery, lumber grading,

lumber purchasing and marketing.

In the fall of 1983, Joey started his

own Hardwood sawmill. He passed

his work ethic on to his sons. Now,

they are moving Josey Lumber and

JoCo Lumber forward. n

For more information, call

Josey Lumber Company at

252-826-5614.

AMERICAN CHESTNUT Continued from page 25

Larry Stewart is pictured with a Prime American Chestnut veneer

log.

Chestnut veneer being dried at International Timber & Veneer

during production in Jackson Center, PA.

family made a difficult and reluctant decision to harvest

their trees. They hoped to give the prized wood a second

chance at life and share its wealth one last time with

the world. Wayne Helming made a connection with Chris

Neill and Larry Stewart from Off-Kilter Timber in Eureka,

MT. A forester for the State of Wisconsin recommended

the pair to Wayne, because he felt they all shared the

same passions and appreciation for wood.

In the summer of 2020, Chris and Larry joined Wayne

Helming to see for themselves this mysterious and magnificent

stand of American Chestnuts. Being nothing

short of what the duo had imagined, they seized the opportunity

to bring new life to the wood of these trees.

When asked why he initially agreed to go see the

American Chestnuts halfway across the country, Chris

said, "My mom had a bedroom set made from Chestnut

that she got from her Grandma when I was growing up.

It is how I even knew about Chestnut. I also knew it was

one of those woods that was never available, and you

could never find it". Chris understood how rare this opportunity

was and how special it could be just to witness

a living stand of American Chestnuts in his lifetime.

"I was blown away. I could not say anything. I had to

Please turn the page

Merchandising System

for Logs or Poles

Multiple Scragg

Options

Board and Cant Edgers -

Optimized Too!

When you need

solutions to your

mill issues

THINK COOPER!

From Merchandising Systems,

Edgers, Gangs, Scraggs, Sorters

and more...

Cooper Machine has solutions

to help you save money

Give us a call to find out

what's new

for your mill

Give us a call to find out more at 478-252-5885

INFO@COOPERMACHINE.COM WWW.COOPERMACHINE.COM

44 DECEMBER 2021 n NATIONAL HARDWOOD MAGAZINE DECEMBER 2021 n NATIONAL HARDWOOD MAGAZINE 45
---
AMERICAN CHESTNUT Continued

4'x 10' top grade Chestnut veneer face panels

produced by International Veneer Company

(IVC) in South Hill, VA.

just walk around looking at those magnificent

Chestnuts, reflecting on the

trees' history," Larry said.

It was important to the Helming's

that those who assisted him in this

project understood what it meant to

him, since he had been caring for the

trees for so many years. They would

together create the opportunity for

something beautiful to come from

these cherished trees. In November

2020, Larry and Chris began harvesting

the American Chestnuts on the

Helming's property. Wayne, Chris,

and Larry were all saddened by the

loss but ecstatic to together begin this

journey of second life for the trees.

During the harvesting, Wayne introduced

his neighboring property

owners, Richard Nietzel and John

Laudon. Both landowners also had

Chestnut trees, separated only by

ownership boundaries but effected by

the blight as well. These owners were

also motivated for the same reasons

and would follow the lead of the Helming's.

Very quickly the project grew

considerably to more than 300 trees.

The trio of landowners began to add

their name to storied history pages

of the American Chestnut. As

Chris and Larry shook Mr. Netizel's

hand, he shared that recent economic

pressures had really burdened

his family in the last years

and this would help them to remain

on their farm. He also expressed

deep concerns that he wished for

his trees to be given a good home

in their second life.

With the harvest in full swing

the Off-Kilter duo began to let

the forest products industry know

that what had once been lost was

found again. They began a search

for the next partnership that could

provide marketing and manufacturing

with the same compassion

and respect of all those so far involved.

They entertained dozens

of companies as they conducted

their search. In early January,

Chris and Larry were back in Wisconsin

to check on operations and

organize logging logistics. Their

search for a marketing partner had

led them to a company in Wabeno,

WI, International Veneer & Timber

Richard and La Vae Neitzle admire the payment for

their American Chestnut trees.

(IVT) where they met the owner, Tim

Sprink.

"What do you know about Chestnut?,"

Larry asked Tim.

"Are we talking about THE famous

last stand of Wisconsin Chestnut?,"

Tim asked in response.

The conversation continued for

some time and Chris and Larry began

to realize that Tim shared their

same respect for the American

Chestnut history. IVT could provide

the infrastructure, experience, and

knowledge necessary to produce

these logs to lumber

and veneer and bring them

to a valued product.

"It has brought a tear to

my eye several times. I may

never experience anything

like this in my career again,

and I am just so honored

to be a part of this journey,"

said Tim. "This has been a

once in a lifetime opportunity

to see a stand of American

Chestnut that may never

happen again."

The veneer logs would go

on to be manufactured by the IVC/

ITV group at their own slicing mill in

Jackson Center, PA. The saw logs

were milled to lumber at AAA Lumber

in Weyauwega, WI, and the lumber

was kiln-dried at Granite Valley

Forest Products in New London,

WI. Both Companies are part of

the Welter Forest Products Group,

owned by Gus Welter. Gus was also

consumed by the idea of putting his

wood knowledge and resources into

this project. The most beautiful significance

is the drive and dedication

from everyone involved to appreciate

the task and honor these American

Chestnut trees.

The American Chestnut is a timeless

wood enjoyed and only really

known to past generations. Throughout

the wood industry, it is recognized

as a part of American history

and thought to be lost forever. Our

goal is to make sure this rare wood

has a chance to live an endeared

second life, one last time. We are

dedicated to creating a limited product

to showcase its beauty and offer

a select few consumers their piece

of American history. An opportunity

such as this may never be available

again. This group of wood enthusiasts

is currently offering a rekindled

and unexpected supply of one of the

most storied species in American

Hardwood history and are hoping to

let the American Chestnut make its

one last stand with you. n

More than your Logistics Partner — We are Your Ally

Domestic Freight International Export Transportation Management

Each shipment you place in our hands is important. Our long term global client base shows

how much we care about you. You can count on Ally Global Logistics to get the job done.

781.544.3970 • sales@allygloballogistics.com • www.allygloballogistics.com

WEYMOUTH, MA • JACKSONVILLE, FL

46 DECEMBER 2021 n NATIONAL HARDWOOD MAGAZINE DECEMBER 2021 n NATIONAL HARDWOOD MAGAZINE 47
---
LAKE STATES Continued from page 10

demand is still up," he said.

This contact described business as similar to a few

months ago. His company handles high-grade Red Oak,

Hard and Soft Maple, Aspen, Basswood, Ash and Cherry

predominantly in 4/4 but also offers 5/4 and 6/4 thicknesses.

The source said that his business sells to concentration

yards and flooring manufacturers. "Of course, that's

been a good market this year," he said. He added that

the demand for common material, especially Red Oak,

"has just been crazy. The flooring guys are just fighting

GET ON BOARD

We check all the boxes.

WWW.MCDONOUGH-MFG.COM

(715) 834-7755

EDGERS

BAND MILLS

RESAWS

CARRIAGES

MATERIAL

HANDLING

PARTS &

SERVICE

over it now, still."

Transportation issues have loosened for this source,

according to him. His company has a truck that is used

for local sales and sources other operations for out-ofstate

shipments. "It hasn't been easy most of the year,

but it's been a little better lately," he said.

In Indiana, a source reported that the current market in

his area is "still strong."

"There are a lot of people looking for what little lumber

is produced in the area now that so many mills have shut

down," he said.

He described supply as "tough" due to high competition.

"The prices stay high, so the

market is definitely supply-driven,"

he said.

When asked to compare business

to two to three months ago, the contact

responded, "It's definitely slowed

down, especially the Red Oak. Red

Oak is the main one, but everything

else is still going along fairly steady

with a little bit of resistance in price,

but you can still move it."

His company handles all major

domestic Hardwood species No. 2

Common and Better, including Ash,

Red and White Oak and Walnut,

offered in 4/4 up to 8/4 with some

available in 10/4 and 12/4.

His company sells its products to

retail stores and end users who are

reportedly stressed about increased

costs. "They can't absorb any more

prices," he said.

This source described transportation

as "hit and miss at best."

"A lot of our containers go to California

and sometimes we're waiting

two weeks to get one in," he said.

"And with the ships that are operational

out there, it's getting worse because

they're not unloading any of

the containers in a timely manner to

come back into the circuit to reload."

Another lumber buyer in Indiana

reported that he was "pleased" with

the current market, and that "orders

still seem to be good" for his company.

He described supply and demand

as "balanced."

"There are some items that seem

to have reached their peak and customers

are not as hungry for them, I

guess," he said. "You know, we were

selling lumber right out of the kiln;

and now, we might put it on the shelf

for a little bit."

His company handles a variety of

domestic Hardwood species, with

the hottest species being Ash, Red and White Oak and

Hickory, offered in thicknesses from 4/4 up to 8/4 in No.

2 Common and Better.

This contact sells predominantly to end use manufacturers

who are reporting good business, according to

him. "They feel like their orders are going to hold through

the first quarter of next year," he said.

When asked about transportation, he described it as

"getting better." n

NORTHEAST Continued from page 10

are still very strong. The tradesmen

are all busy and booking businesses

out, so we're still very optimistic, just

a little bit quieter," he said.

This company handles species

including Hard and Soft Maple, Red

Oak, Birch, Ash and Yellow Poplar

ranging from 4/4 up to 8/4 and sells

its products to large Hardwood-demand

companies ranging from distribution

yards to cabinet manufacturers.

When asked what his customers

have to say about the current market

climate, the source responded,

"They would like more lumber at lower

prices. For the hot items out there,

we're still having trouble keeping

up."

This lumber buyer reported that

after labor, transportation is his company's

second biggest challenge.

"Trucks, the cost of trucks, the availability

of trucks, all of it," he said.

Despite the challenges, the contact

concluded, "We're optimistic for the

rest of this year and for at least the

second quarter of next year."

In Maine, a source reported that

the supply of domestic Hardwood

has started to catch up with the market's

demand, but it is not as slow

for him as it was a few months ago.

"July and August were quiet, but

that's normal every year," he said. "I

mean, with scheduled maintenance,

shutdowns and vacations, I don't

think as much lumber is being produced

or is being used."

His company handles Hard and

Soft Maple, Yellow Birch and Ash in

predominantly 4/4 up to 8/4 available

in all grades and sells to a split between

end users, wholesalers and

distribution yards.

"The flooring companies we sell

to tell me that their businesses are strong, and they've

got orders for the next several months," he said. "It's the

same with the kitchen cabinet companies and the distribution

customers that we have. They are very busy."

When asked about transportation, the contact responded,

"It's a little frustrating, but not as bad as it was

in the spring when there was demand for just about every

product made. We were fighting with everybody trying

to get the lumber product to the marketplace, and

that's eased up a little bit. It's not as bad as it was, but it's

still a challenge. There are not as many trucks as there

needs to be." n

Wheeland Lumber:

Lumber:

Responsible, Responsible, Renewable Renewable & Sustainable && Sustainable

We are FSC

We are ® Certified by NEPCon,

We are FSC FSC ® by a partner of the Rainforest ® Certified by NEPCon,

Alliance

a partner partner of the of the Rainforest Alliance

Ask for our FSC® Certified Products

Ask for Ask our for FSC® our FSC® Certified Certified Products Products

With other specialized services including:

With With other other specialized services services including:

• Veneer Logs & #1 Saw Logs

• Veneer • Veneer Logs Logs & #1 & Saw #1 Saw Logs Logs

• Kiln Dried Lumber

• Kiln • Kiln Dried Dried Lumber Lumber

• Clear Strips

• Clear • Clear Strips Strips

• Surfacing-2-Sides

• • Surfacing-2-Sides

• Gang Ripping / Parallel Sawing

• Gang • Gang Ripping Ripping / Parallel / Parallel Sawing Sawing

• Straight Line Ripping

• Straight • Straight Line Line Ripping Ripping

• Optimized Cross Cut

• • Optimized Cross Cross Cut Cut

• End Matching

• End • End Matching Matching

• Edged & Face Glued Products

• Edged • Edged & Face & Face Glued Glued Products Products

• Molding Millwork

• Molding • Molding Millwork Millwork

Wheeland Lumber

Company, Wheeland

Inc.

Lumber

Company, Inc. Inc.

3558 Williamson Trail

3558 3558 Williamson Trail Trail

Liberty, PA 16930-9065 USA

Liberty, Liberty, PA PA 16930-9065 USA USA

Phone: 570.324.6042

Phone: Phone: 570.324.6042

Fax: 570.324.2127

Fax: Fax: 570.324.2127

WheelandLumber.com

WheelandLumber.com

19WLC-PFC-NationalHardwoodsMag-ProgramAd-G

19WLC-PFC-NationalHardwoodsMag-ProgramAd-G

48 DECEMBER 2021 n NATIONAL HARDWOOD MAGAZINE DECEMBER 2021 n NATIONAL HARDWOOD MAGAZINE 49
---
SOUTHEAST Continued from page 11

he added.

Transportation is problematic, he stated, because of

a shortage of truck drivers and containers. "Forty-foot

containers are just about impossible to get, especially

if you're going to Seattle or Portland. I've got six loads

right now waiting for containers. Still, business is good

right now."

In Virginia, a lumber provider remarked that her market

is "good. White Oak keeps going up in price. Everything

is moving; there's nothing that's not moving." Her market,

she stated, is better than a few months earlier.

Any Way

You Cut It...

ISK Protects It.

Proven Mold Control...Powerful Sapstain Protection

Trust ISK for Your Wood Solution.

NeXgen ® End Coatings & Paint PQ-80 ®

1-800-238-2523 • 416 E. Brooks Rd. • Memphis, TN 38109 • www.iskbiocides.com

NeXgen ® , Tuff-Brite ® and CosPaint ® are registered trademarks of ISK Americas Incorporated. PQ-8 ® and PQ-80 ®

are registered trademarks of IBC Manufacturing Company.

She sells Red and White Oak, Poplar, Walnut and Ash

in 4/4 through 8/4 thicknesses. White Oak, she stated, is

the best seller. Her sales are to distribution yards and the

export markets. Distribution yards declined in their own

sales, then picked back up again, she observed. "The

market is good for them now," she observed.

Asked if transportation is a problem, she replied, "Of

course. Isn't it a problem for everybody? It's harder to

get containers. The date they are to leave the port keeps

moving. However, I'm in pretty good shape regarding

trucks. I work with a local trucker who hauls a lot of our

product." n

WEST COAST

Continued from page 11

as long as they have product," he

noted.

"Transportation is not a problem,"

he commented. "There are so many

trucking companies in this area. As

for containers, that's a different ballgame;

it takes a while to get product

shipped from the mill out here to the

West Coast. But local trucking is not

a problem. I can call today, and tomorrow

morning, they'll come pick it

up. That's not the case in most parts

of the country." n

ONTARIO Continued from page 12

stocked up their supplies and are

now more cautious with purchases.

It was noted there existed a steadier

pricing environment at the time of

this writing.

With the price difference between

Hard and Soft Maple, many end users

are looking for more volumes

of Soft Maple. As such, there is not

enough kiln-dried stocks to meet

current demand in certain areas contacted.

Consumer demand continues to be

strong for finished Hardwood products

such as furniture, wood flooring,

cabinets, millwork and mouldings.

This is good news for Birch, as it is

one of the more popular species with

consumers. Some contacts noted

that demand for green stocks is exceeding

availability at the moment.

Production of Red Oak is not high

because demand for this species has

not been as good as last year's nor

at the beginning of this year. Prices

are reported as softer, and kiln-dried

Red Oak business has also weakened. Contacts noted

they have adequate supplies. Export sales are not robust

and highly price sensitive.

In the ManpowerGroup's most recent Employment

Outlook Survey, on hiring intentions of over 1,000 employers

surveyed across Canada, revealed that 50 percent

of employers surveyed planned to increase their

staffing levels in the fourth quarter of 2021. And this,

even with the added challenge of filling roles within a talent

shortage.

Darlene Minatel, Country Manager of ManpowerGroup

Canada, said, "With the majority of employers reporting

some difficulty hiring due to talent

shortages, we are seeing a new level

of amenability towards job flexibility

and a strong commitment to

technical and soft skills training. Understanding

what workers want and

providing a culture of learnability are

key to filling the talent gap."

The survey revealed that 50 percent

plan to increase their staffing

levels in the fourth quarter of 2021,

11 percent anticipate cutbacks, 35

percent expect current staffing levels

to remain unchanged, while the remaining

4 percent are unsure of their

hiring intentions.

59 percent of employers reported

having some difficulty filling jobs

due to a lack of skilled talent. In response,

employers are offering a

mix of incentives to fill talent shortages:

41 percent reported more flexible

work schedules; 40 percent reported

training, skills development or mentoring;

32 percent increased wages;

32 percent more flexible working locations;

20 percent more non-financial

benefits such as vacation; 19

percent incentives such as joining

bonuses; and 19 percent lower job

skills or experience requirements.

Nationwide, employers in all nine

industry sectors expect to add staff

in 4Q 2021. n

QUEBEC Continued from page 12

ing on areas contacted.

Demand for Red and White Oak

remains popular in markets. With the

housing market sectors doing well,

residential wood flooring manufacturers

are reporting vibrant sales.

Many companies are purchasing inventory

to meet their targets. Competition

among flooring plants for

available lumber eased due to the combination of increased

sawmill production and strong lumber receipts

the last several months.

Demand for Red Oak is dependent on grade. Green

and kiln-dried No. 1 Common and Better Red Oak are

not moving as much as earlier this year. Business in

the U.S., Mexico, Canada and other export markets are

keeping supplies under control, with prices relatively stable.

Poplar sales are strong in almost every market, except

for Vietnam and China, where buyers are pressing for

lower prices.

Please turn to page 56

50 DECEMBER 2021 n NATIONAL HARDWOOD MAGAZINE DECEMBER 2021 n NATIONAL HARDWOOD MAGAZINE 51

ISK BIOCIDES ISLAND.indd 7

5/18/17 3:14 PM
---
WHO'S WHO

IN HARDWOOD PURCHASING

WILLIAM PERRY is a lumber

purchaser at Powell Valley Millwork,

where he is responsible for

all lumber procurement required

by the company's Clay City and

Jeffersonville, KY facilities.

Powell Valley Millwork is a

manufacturer of Poplar products

that purchases an annual volume

of approximately 20 million board

William Perry feet of green 4/4, 5/4 and 6/4 No.

1 Common and No. 2A Common

between both facilities. The company produces a range

of products, including primed interior mouldings, plantation

shutter components, picture frames, stretcher bar

frames, finger joint blanks, S4S dimension boards and

shavings for equine bedding.

After earning a BA degree in English Literature from

the University of Kentucky, Perry gained 25 years' experience

in the forest products industry after starting out as

a lumber stacker. He also is a graduate of the National

Hardwood Lumber Association Inspection School's 119th

class. After graduation, he worked as a lumber inspector

for some of the largest lumber companies throughout the

Mid-South and Southeast, eventually traveling to Germany

to teach NHLA-based lumber inspection for five

years.

Perry also served as International Consultant with

NHLA, and currently serves on the Board of Directors for

the Kentucky Forest Industries Association and for the

Ohio Valley Lumber Drying Association.

In his free time, Perry enjoys riding his Harley, polishing

his German language skills and traveling the European

Union.

Powell Valley Millwork is a member of the Kentucky

Forest Industries Association, Indiana Hardwood Lumbermen's

Association, Ohio Forestry Association, Tennessee

Forestry Association, Appalachian Hardwood

Manufacturers Inc., World Millwork Alliance and Ohio

Valley Lumber Drying Association.

For more information about Powell Valley Millwork,

visit www.pvmillwork.com or contact Perry directly by

phone at (606) 663-9663 or email bill@pvmillwork.

com.

A BRIEF SKETCH OF THE LEADING

PURCHASING EXECUTIVES IN

THE HARDWOOD INDUSTRY

board feet of 4/4 to 8/4 Maple,

Cherry and Ash in No. 2 and Better

grade.

Durham Furniture was founded

in 1899 and manufactures

over 25 bedroom collections in

styles that range from traditional

to contemporary.

Jones attended a National

Hardwood Lumber Association

Chris Jones grading short course after graduating

high school in Guelph, ON.

He stated, "I am grateful to have gained valuable on-thejob

training from respected leaders in the industry."

Jones has worked at Durham Furniture for nearly 20

years, with 10 years spent in his current position. His

responsibilities include purchasing and selling lumber,

running day to day operations of the yard, as well as inventory

management and managing/mentoring a staff of

12. Jones also serves as an integral part of the management

team at the company.

In his spare time, Jones enjoys hunting, fishing and is

an avid gamer. He has been married to his wife, Leanne,

for 17 years and the couple has two children, Aiden and

Alyssa.

Durham Furniture is a member of various industry associations,

including the Wood Manufacturing Cluster of

Ontario, Canadian Home Furnishings Alliance, American

Home Furnishings Alliance, Excellence in Manufacturing

Consortium and WithIt.

To learn more, visit www.durhamfurniture.com.

SHAWN MCARTHUR is operations manager for Oak

Pointe LLC, located in Newcomerstown, OH.

Oak Pointe LLC is a manufacturer of stair parts, columns

and other millwork in standard and custom designs.

Each year the company purchases over 100,000

board feet of Red and White Oak, Quartersawn White

Oak, Hard and Soft Maple, Beech, Alder, American

Cherry, Walnut, Poplar, Hickory, Jatoba and Sapelle, as

well as other species upon request (Select and Better,

3/4 and 5/4, kiln-dried, S4S).

Additional products are manufactured for exterior applications,

including balusters, porch posts, railings and

more.

As operations manager McArthur oversees daily operations

as well as lumber purchasing.

For more information visit www.stairpartsandmore.

com. n

rustic

WHITE

OAK

Devereaux rustic white oak is live

sawn to reveal the natural character of

the tree. It's perfect for unforgettable,

long-lasting floors that can only be

called timeless.

48 year legacy of consistent excellence

Improve yield with widths 5¾" – 10¾"

Exceptional, timely customer service

CHRIS JONES is Lumber Supervisor for Durham Furniture

Inc., located in Durham, ON.

Download your virtual pack:

Durham Furniture is a manufacturer of solid wood bedroom

and occasional furniture with distribution across

www.DevereauxSawMill.com/VirtualPacks

North America. Annual lumber purchases total 3 million

52 DECEMBER 2021 n NATIONAL HARDWOOD MAGAZINE DECEMBER 2021 n NATIONAL HARDWOOD MAGAZINE 53

PEWAMO, MI

(989) 593-2552

Sales@DevereauxSawmill.com
---
MUELLER BROTHERS

TIMBER, INC.

TRADE TALK

AN UPDATE COVERING

THE LATEST NEWS ABOUT

HARDWOOD SUPPLIERS/VENDORS

Tracey Mueller, Log Procurement; Kevin Mueller, Mill Manager;

and Randy Mueller, Sales

SAWMILL AND TWIN BAND RESAW

Manufacturers of:

4/4 - 8/4 Grade Lumber

SPECIALIZING IN PLAIN SAWN:

• WALNUT • COTTONWOOD

• SYCAMORE • HICKORY • RED OAK

• WHITE OAK• SOFT MAPLE

• HARD MAPLE • ASH

400,000' DRY KILN CAPACITY

1,000,000' DRY STORAGE

PLANER

STRAIGHT LINE RIP

GANG RIPPING

DOUBLE END TRIM

EXPORT PACKAGING

CONTAINER LOADING

Grooved sticks used on all

whitewoods and White Oak.

P.O. BOX 175

OLD MONROE, MO 63369

PHONE: 636-665-5193

FAX: 636-665-5812

Email: randy@muellerbros.com

www.muellerbros.com

NHLA

FRISCO, TX — Northwest

Hardwoods ("NWH" or the "Company")

has made the strategic decision

to relocate the Company's

head office, currently in Tacoma,

WA, to Frisco, TX. The creation of

a centralized head office where

functions are co-located will better

position the Company for

long-term success as they continue

to serve as an industry leader.

Nathan Jeppson

NWH's CEO Nathan Jeppson

stated, "This is an important move for our company as

we position for long-term growth, and increasingly focus

on delivering a world class customer experience."

This relocation is focused on NWH's corporate and

functional teams, with commercial teams, resource and

lumber buyers and all those who need to be in local markets

across the globe unaffected. There will also be no

impact on the Company's manufacturing footprint. In the

near term, the Company's offices in Beachwood, OH and

Tacoma, WA will remain open.

Upon completion of the relocation in the coming

months, NWH will have increased efficiencies and collaboration,

which will improve the quality and service levels

and enhance the communication and connectivity the

market can expect from Northwest Hardwoods.

The Company is excited about this relocation and is

looking forward to continuing to build a world-class organization

in the Frisco area, according to Jeppson.

"We are thrilled to welcome Northwest Hardwoods to

Frisco as a market leader in their industry," said Jason

Ford, president, Frisco Economic Development Corporation.

"Frisco continues to be one of the top destinations

in the nation for out-of-state corporate headquarters relocations

because of Frisco's pro-business culture and top

tier lifestyle amenities."

NWH is the largest United States manufacturer of

North American Hardwood lumber based on sawmill capacity,

with a current estimated annual Hardwood lumber

capacity of approximately 320 million board feet. Its

North America operations include 19 facilities that produce

over 20 species of domestic Hardwoods. The Company

serves more than 2,000 active customers across

over 60 countries.

For more information, go to www.northwesthard

woods.com.

KINGSTON, NH — Abenaki Timber Corp., headquartered

here, recently upgraded its facility in Belington,

WV by replacing their old gas-fired Hurst boiler with a

new gas-fired Hurst boiler and by

adding two T-sheds of 140' each

in the air-dry yard.

"The old Hurst boiler was installed

back in the late '80s and

had served the company well,

but it was time to add a little power

and improve efficiency," said

Eric Porter, Abenaki's president.

"The T-sheds will improve the

Eric Porter quality and appearance of the

lumber."

At their Epping, NH facility Abenaki will be upgrading

all of the boiler controls in their wood waste fired system

and the company has decided to use Messersmith Manufacturing

as the provider and partner in this improvement.

"These improvements will help Abenaki continue to

provide quality, consistency, and service to all of our valued

customers," Porter said.

For more information, go to www.abenakitimber.com.

BUFFALO, NY — U-C Coatings,

LLC, based here and a

leading manufacturer and supplier

of premium wood protection

products, recently announced

the hiring of Jeff Davis as Western

Regional Sales Manager for

the Seal-Once brand.

Davis brings over 35 years of

sales and management experience

in the paint and coatings

Jeff Davis

industry. His background includes

working as the Eastern Regional Sales Manager

for OKON, Inc., a Denver-based manufacturer of waterborne

masonry sealers and stains. He also held multiple

positions with AkzoNobel, serving as the West Regional

Sales Manager for the Sikkens Wood Coatings brand,

National Sales Manager for their log home division and

Certified Trainer for the western U.S. and Canada. Davis

also brings extensive architectural coatings experience,

serving the independent dealer network. His expertise in

stains and sealers provides him with valuable insight into

the needs of customers.

Davis is based in Colorado. His main focus will be

the ongoing expansion of the Seal-Once product line of

environmentally friendly waterborne stains and sealers

for decking, siding, docks, and log homes. Davis will also

be involved in the market launch of Fence Guard®, an

Please turn the page

Family Owned And Operated Since 1976.

A.W. Stiles Contractors providing a full line of

Modern Day Lumber Drying Equipment. New

Installations and Complete Rebuilds on Existing

Equipment. Hardwood Package Kilns, Predryers,

Walnut Steamers. Also manufacturing softwood

kilns, including Dual Path Continuous Kilns.

Our kilns are all manufactured in

McMinnville, Tennessee.

Complete Kiln and Predryer Rebuilds

•Roof Replacements

•Heating Coils and Complete Steam Systems

•Doors and Carriers

•Structural Repairs

•

seals, etc.

•Protective Coatings

•Complete line of replacement parts

Providing replacement control installations

and upgrades for existing kilns and pre-dryers.

Screen shot above. User Friendly, Reliable,

Compatible with Existing Equipment.

Contact: Lee Stiles Cell: (931) 409-0144

286 Bass Lane, McMinnville, TN 37110

Email: lee@awscontractorsinc.com

Website: www.awscontractorsinc.com

54 DECEMBER 2021 n NATIONAL HARDWOOD MAGAZINE DECEMBER 2021 n NATIONAL HARDWOOD MAGAZINE 55
---
Fitz&Weller 1-4 Ad new-REV2_Layout 1 8/27/13 8:52 AM Page 1

TRADE TALK Continued

innovative water-based alkyd stain designed for new and

old fences.

For more information, go to www.uccoatings.com.

bonka River is seen as part of our natural heritage and it

must be protected, commented the Environment Minister

in a communiqué. The announcement will allow authorities

to take stock of how forests are used in terms of

logging, resort and tourist activities, noted the provincial

Forestry Minister.

Consultations with regional stakeholders were taking

place over the next months following the announcement

to determine how much of the territory requires protection

and can be used for tourism. n

FITZPATRICK & WELLER, INC.

Premium Western New York

Hardwoods Since 1895

Connecting North American

Forest Products Globally

LIKE AND FOLLOW US ON:

Gary Miller of Miller Wood Trade Publications, right,

accepts the check from NHLA Chief Inspector and Dean of

the School Dana Spessert.

2022 FORECASTS Continued from page 40

Kevin Nolan

Rives & Reynolds

Lumber Company Inc.

Louisville, MS

Kiln Dried Lumber

and Made to Order

Components–

If you can imagine it, we can make it.

@millerwoodtradepub

www.millerwoodtradepub.com

MEMPHIS, TN — Recently, the Hardwood industry

gathered in West Palm Beach, FL, for the National Hardwood

Lumber Association 2021 Convention. Throughout

the event, representatives for the Inspector Training

School Educational Foundation (ITSEF) sold 50/50 raffle

tickets. Tickets were $100 each, and the winner would

split the total earnings 50/50 with ITSEF.

During the Havana Nights Gala at the end of the

Convention, between a delicious dinner and dancing,

NHLA drew the winning ticket, which was purchased by

Miller Wood Trade Publications' very own, Gary Miller.

Gary stopped by NHLA headquarters in Memphis, TN to

collect his winnings, $5,200. Ever the comedian, Gary

asked the photographer if his hair looked okay before accepting

the check from NHLA Chief Inspector and Dean

of the School, Dana Spessert.

After a good laugh and some pleasant conversation,

Gary went home a happy man, while ITSEF had $5,200

more in their coffers to continue supplying scholarships,

technology, and more for students. To learn more about

the Inspector Training School Educational Foundation,

you can visit www.nhla.com/itsef. n

QUEBEC Continued from page 51

Walnut demand regained its momentum in October as

it gained traction on markets. Drying operations are purchasing

most grades and thicknesses of Walnut.

Furniture companies are looking for large volumes of

framestock for their finished goods, but supplies are not

abundant. Demand for pallet cants and lumber is also

vibrant.

The Quebec government announced in September it

had halted authorized logging operations along the Péribonka

River in the Lac-Saint-Jean region, and that the

area would be designated a protected zone. The Péri-

2021 has been a successful year for Rives & Reynolds

Lumber Company, but it came with limitations. When

COVID-19 first reared its ugly head, businesses were

forced to close either by way of government or the lack

of enough employees to stay open. Our customer base

has been the root of our ability to keep running but they

also had their limits.

We reduced our production due to two reasons: (1)

Customers' reduction in receipts and (2) For a time, it

was raining almost daily, reducing our log receipts to little

or none but having just enough to make a day with

some downtime during the week but not more than half

of a day to one day out of the month. Since rain is still

in the forecast daily, we are running the same schedule

today. Logs have become somewhat easier to bring in at

this time. Log cost and production are the two main focal

points for profits but with the right combination of the two

along with demand, 2022 will be in line for success and

profit.

Our customers fall under an end-user category. The

strongest products are cross-ties and switch-ties with 4/4

lumber running close behind, but we cut more lumber out

of White Oak now that lumber prices are at a level above

cross-ties and specialty timbers. We cut as many ties as

possible in Red Oak and mixed wood.

The products we are able to introduce in 2021 at the

Louisville, MS mill are switch-ties and specialty timbers

up to 17' lengths.

The Louisville mill installed a new Hurdle 3 block

heavy-duty carriage giving us better precision and quality.

Rives & Reynolds owns its own fleet of trucks, which

takes us out of a transportation problem. We sell all of

our products green and, for that reason, we do not export.

D

FITZPATRICK & WELLER, INC.

12 Mill Street

Ellicottville, New York 14731

716-699-2393 phone

716-699-2893 fax

sales@fitzweller.com

FSC ® C008376

www.fitzweller.com

56 DECEMBER 2021 n NATIONAL HARDWOOD MAGAZINE DECEMBER 2021 n NATIONAL HARDWOOD MAGAZINE 57
---
CLASSIFIED PROFIT OPPORTUNITIES

To: Anyone involved in the sawmill controls industry

There are many stories and people that have been

involved in the sawmill controls industry.

This fascinating history should be preserved. I want to write

a book about this industry and would appreciate any stories

or comments you might want to add. I am willing to meet in

person if needed.

Please contact me, Jeff Hurdle, at:

hurd2575@gmail.com

● 2 Grade Lines

● Planer

● 2 Gang Rips

● 300,000' Kilns

HELP WANTED

Bingaman & Son Lumber, Inc., a leading wood products manufacturer, is seeking

a full-time Forest Technician & Forester at our St. Marys Lumber Company

location [135 Aviation Way, St Marys PA 15857 (814)834-1209].

Forester Tech - This position is responsible for accurate timber cruise numbers,

timber harvest logistics, and aiding procurement foresters in road bonding/permitting.

Must be proficient in species identification and log grading rules. Prefer an

Associates Degree in Forestry.

Forester - We prefer a 2 year Associates degree in Forestry, 1-3 years sawmill

experience, knowledge of industry software & Microsoft experience. In addition,

the successful candidate will have a strong work ethic, self-motivated and experience

working in a team setting. A valid PA driver's license required.

We offer competitive wages and some of the best benefits in the area – health

insurance, 401K, ESOP, vacation, etc. If you are interested, please email your

resume to Aimee Bowersox at abowersox@bingamanlumber.com. E/O/E

Hardwood Sawmill and Dry Kilns For

Sale in the Midwest

● Wood Waste Boiler

● 3 Dry Storage Sheds

● 1 Air Drying Shed

● 15,000' Capacity Steamer

Sawmills and Resaws Capable of 150,000' Per Week Production.

Reply to: CMP #3577

c/o National Hardwood Magazine

PO Box 34908, Memphis, TN 38184-0908, or

email nhm@millerwoodtradepub.com – put CMP #3577 in the subject line

ALL CLASSIFIED ADS MUST BE PAID IN ADVANCE

$45.00 PER INCH - BLIND BOX NUMBER FEE: $10.00

DEADLINE: 30 Days Preceding Publication Month

800-844-1280

Classified advertising will not be accepted for Hardwood products such as lumber,

dimension, turnings, veneer, carvings, new dry kilns or dry kiln equipment, etc.

USED MACHINERY FOR SALE

●USNR 4TA30 Top Arbor Three Shifting

Saw Edger

●Infeed Landing Deck

●USNR – Lunden Cam Unscrambler

S/N 41419

●Even Ending Rolls

●Queuing Hooks (2) ahead of Scanner

●Queuing Hooks (2) after Scanner

●Edger Infeed Model 600 Maximizer

S/N 2951-A

●USNR 4TA30 Edger with 200 HP Arbor

Drive Motor

●Outfeed Belt with Shifting Edging Shears

●Specs – Hardwood 1" to 4" Thick x 4" to 24"

Wide x 6' to 16' Long

●Saw Kerf .160" x Saw Plate .120"

●Two Hydraulic Units

●Water Mizer Oil Mist Guide System

●Set of Babbitt Guide Tools

Contact: Jenness Robbins

Cell: (207) 745-2223

Email: jenness57@gmail.com

SERVICES

901.767.9126

or visit us at

www.hmr.com

Benchmark pricing and market

commentary on the North American

hardwood lumber industry.

Go online at hmr.com for a sample copy.

EQUIPMENT FOR SALE

2000 Optimil 6ft Twin Bandmill

Never used. Bandsaw with covers. $150,000.

Please call Jenness for more information at

207-745-2223 or Jeff at 207-342-5221.

USNR 4TA30 Top Arbor Three Shifting Saw Edger

200 hp drive motor, includes unscrambler, control

cab, infeed and outfeed. $95,000. Please call Jenness

for more information at 207-745-2223 or Jeff

at 207-342-5221.

Phone: (207) 342-5221

Fax: (207) 342-5201

PO Box 9, Ghent Road

Searsmont, ME 04973

Contact: Jenness Robbins

Mail running

slowwwwwwww?

We can't control mail delays so we are speeding up the way you can get your next

issue. Scan and sign-up to get all 13 digital issues FREE and delivered directly to

your inbox.

National Hardwood Magazine keeps YOU informed about Hardwood sawmill production, lumber

distribution and consumption of appearance grade Hardwoods throughout North America.

Pink line is the bleed line

Green line is the trim line

Orange line is live area (please keep text within this area)

Blue box indicates where the masthead should be placed

COLE HARDWOOD

WE'LL MAKE YOU FAMOUS

Ready for your close-up? Because as a Cole customer all eyes will be on you

to make sure you get V.I.P. treatment from species selection to quick

quotes, and from fair pricing to on-time shipments.

GET THE RED CARPET TREATMENT. CALL COLE.

HARDWOOD LUMBER FOR ALL YOUR HARDWOOD NEEDS

Quotes: 800-536-3151 • Export: 574-753-3151 • colehardwood.com

Scan this QR code with your

camera phone to sign-up.

58 DECEMBER 2021 n NATIONAL HARDWOOD MAGAZINE COVER TEMPLATE.indd 1

10/3/16 1:20 DECEMBER PM 2021 n NATIONAL HARDWOOD MAGAZINE 59
---
ADVERTISERS

INDEX

Abenaki Timber Corporation......................

Air Systems Mfg. of Lenoir, Inc..................

Ally Global Logistics...............................47

Atlanta Hardwood Corporation..................

Autolog Sawmill Automation......................

Automation & Electronics USA..............15

Baillie Lumber Co.......................................

Beard Hardwoods.......................................

Beasley Forest Products, Inc.....................

Bingaman & Son Lumber, Inc.................41

BioLube, Inc................................................

Breeze Dried Inc.........................................

Carbotech International.........................43

Cardin Forest Products LLC.......................

Church, Bryant, Hardwoods, Inc................

Clark Lumber Co.........................................

Cleereman Controls..............................IBC

Cleereman Industries...........................IBC

Cole Hardwood, Inc............................... FC

Cooper Machine Co., Inc........................44

Corley Manufacturing Co..........................9

Cramer, W.M., Lumber Co...........................

Cummings Lumber Co., Inc......................3

Deer Park Lumber, Inc................................

Devereaux Sawmill, Inc..........................53

Distribution Management Systems, inc.

(DMSi)........................................................1

Fitzpatrick & Weller Inc..........................57

Forestry Systems........................................

GF Hardwoods, Inc.....................................

Graf Bros. Flooring & Lumber....................

Graf & Thomas Lumber, Inc.......................

Granite Hardwoods, Inc.........................52

Granite Valley Forest Products..................

GTL Lumber Inc..........................................

GW Industries.............................................

Hardwood Forestry Fund........................56

HHP, Inc.......................................................

Hurdle Machine Works Inc.......................5

Irving, J.D., Limited................................13

ISK Biocides, Inc....................................50

JoCo Lumber, Inc........................................

JoeScan......................................................

Jones, Ron, Hardwood Sales, Inc..............

Josey Lumber Co., Inc................................

Kendrick Forest Products......................45

Kentucky Forest Industries Assoc.............

Kepley-Frank Hardwood Co., Inc.............4

King City Forwarding USA, Inc.................6

King City/Northway Forwarding Ltd.........6

Kretz Lumber Co., Inc.................................

Lawrence Lumber Company Inc................

Lewis Controls, Inc...................................9

Lewis, Dwight, Lumber Co., Inc.............46

Limbo..........................................................

Lucidyne Technologies Inc........................

Lumber Resources Inc...............................

Lussier, Simon, Ltd.....................................

MacBeath Hardwood Company..................

Maine Woods Company..............................

Mars Hill, Inc...............................................

Matson Lumber Company...........................

Maxwell Hardwood Flooring..................42

McDonough Manufacturing Company....48

Mellott Manufacturing Co., Inc...................

Meridien Hardwoods of PA., Inc.................

Messersmith Manufacturing, Inc...............

Midwest Hardwood Corporation................

Miller, Frank, Lumber, Inc...........................

MO PAC Lumber Company..........................

Montreal Wood Convention........................

Mueller Bros. Timber, Inc.......................54

Neff Lumber Mills, Inc................................

New River Hardwoods, Inc.........................

Nyle Systems, LLC..................................17

Oakcrest Lumber, Inc.................................

OHC | Overseas Hardwoods Company.......

O'Shea Lumber Co......................................

Patrick Lumber Company...........................

Paw Taw John Services, Inc......................

Pennsylvania Lumbermens Mutual

Insurance Company....................................

Peterson, Keith D., & Co., Inc................57

Pike Lumber Co., Inc..................................

Prime Lumber Company........................ BC

Primewood............................................ IFC

Quality Hardwoods Ltd...............................

Quebec Wood Export Bureau.....................

Ram Forest Products, Inc...........................

Real American Hardwood Coalition.......19

Rosenberry, Carl, & Sons, Lumber, Inc......

Sawmill MD.................................................

SII Dry Kilns..............................................7

Sirianni Hardwoods, Inc.............................

Smithco Manufacturing, Inc.......................

Snowbelt Hardwoods, Inc..........................

Southern Forest Products Assoc...............

Stiles, A.W., Contractors, Inc.................55

Taylor Machine Works, Inc.........................

Tigerton Lumber Co....................................

TMX Shipping Co., Inc................................

Tropical Forest Products............................

TS Manufacturing...................................14

Tuscarora Hardwoods, Inc.........................

U-C Coatings, LLC.......................................

USNR.......................................................51

VisionTally..................................................

Western Hardwood Association.................

Wheeland Lumber Co., Inc.....................49

White, Harold, Lumber, Inc.........................

Williams, R.J., Inc.....................................8

For over a

TODAY

century, Corley has been

the most trusted name in the industry.

CLEEREMAN

CLEEREMAN The most trusted name in carriages

n Over 1200 Carriages sold

n Lowest cost of ownership

Now, TWO ENTITIES TO SERVE YOU BETTER!

n All parts in stock and reasonably priced

n In-house engineering department

n Everything from single piece equipment to

turn-key mills

INDUSTRIES

CLEEREMAN the newest name in sawmill controls and optimization

n Simple easy to use touch

screen with additional

tactile buttons

n Remote access for

troubleshooting

n No custom electrical

hardware, all parts are

off-the-shelf components

n Industry Standard

JoeScan X6 heads

Cleereman Industries

and Cleereman Controls

715-674-2700

www.cleereman.com

info@cleereman.com

Hardwood Manufacturers Assoc ..............

York Legacy Mill Inc...................................

North American Forest Foundation............

Since Since 1905, 1905, our our family-owned business business has has been been built built upon upon a a reputation for for quality, quality, integrity, integrity, and and

Hartzell Hardwoods, Inc.............................

Northern Hardwoods..................................

old-fashioned business business ethics. ethics. Today, Today, our our partnership with with Lewis LewisControls brings brings you you the the best best in in

Hermitage Hardwood Lumber

Northwest Hardwoods, Inc........................

Sales, Inc....................................................

equipment and and optimization software. software. From From turnkey turnkey sawmills sawmills to to individual individual machine machine centers centers and and

retrofits, retrofits, we're we're committed to to providing providing maximum maximum returns returns on on your your investment—year after after year. year.

STEFAN DRACOBLY PAUL CLEEREMAN DAN TOOKE

Note: Advertisers with no page number carry an alternating Ad schedule.

President Of

Our Our experienced VP Cleereman

professionals Senior Optimization

can can help help you you realize realize a a profit profit potential potential you you may may have have never never thought thought

Controls

Industries & Controls & Controls Engineer

60 DECEMBER 2021 n NATIONAL HARDWOOD MAGAZINE possible. possible. Call Call Sales us us today today or or visit visit our our website website to to discover discover what what

DECEMBER lumbermen

2021 have have

n NATIONAL known known

HARDWOOD for for over over

MAGAZINE 61

100 100 years. years. Wood Wood is is Wonderful...and who who knows knows that that better better than than we we do? do?

CONTROLS

CLEEREMAN LUMBER COMPANY 1930's CLEEREMAN INDUSTRIES 1955 CLEEREMAN CONTROLS 2019

For optimal efficiency. . .

knows what a sawmill needs:

n 3D data used for

opening the log and

estimating the back of

log profile

n Realistic views of the log

n Sure Grip Joystick

handles

n Operational statistics and

reports

n Over 65 systems sold
---
Ask about our

FSC ® - certified

products

www.PrimeLumber.com 800-786-1164

DECEMBER 2021 n NATIONAL HARDWOOD MAGAZINE 63