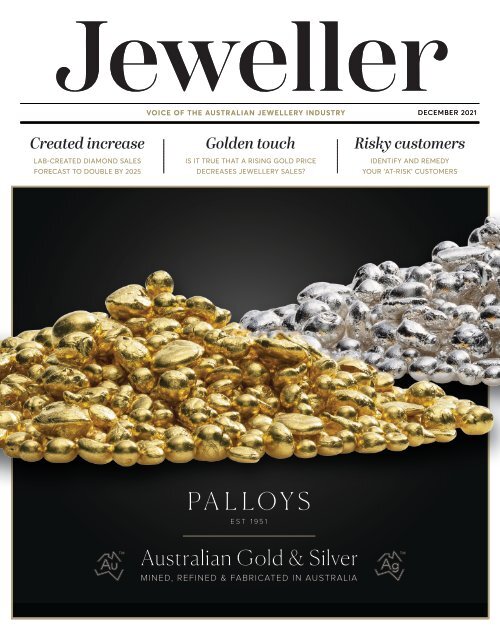 Jeweller - December 2021
• Created increase: lab-created diamond sales forecast to double by 2025 • Golden touch: is it true that rising gold price decreases jewellery sales? • Risky customers: identify and remedy your 'at-risk' customers
• Created increase: lab-created diamond sales forecast to double by 2025
• Golden touch: is it true that rising gold price decreases jewellery sales?
• Risky customers: identify and remedy your 'at-risk' customers
SHOW MORE
SHOW LESS
Do you know the secret to free website traffic?
Use this trick to increase the number of new potential customers.
VOICE OF THE AUSTRALIAN JEWELLERY INDUSTRY

DECEMBER 2021

Created increase

LAB-CREATED DIAMOND SALES

FORECAST TO DOUBLE BY 2025

Golden touch

IS IT TRUE THAT A RISING GOLD PRICE

DECREASES JEWELLERY SALES?

Risky customers

IDENTIFY AND REMEDY

YOUR 'AT-RISK' CUSTOMERS
---
AUSTRALIA'S PREMIER DIAMOND SUPPLIER

SINCE 1986

Reliability

Honesty

Integrity

RENOWNED FOR THE LARGEST RANGE OF PREMIUM WHITE AND COLOURED DIAMONDS IN AUSTRALIA

IN BOTH ROUND BRILLIANTS & FANCY CUT DIAMONDS.

ACCESS TENDER STONES, SINGLE STONES & MELEE ARGYLE PINK DIAMONDS AND

THE WORLD'S LARGEST INVENTORY OF CERTIFIED ARGYLE CHAMPAGNE DIAMONDS

Specialist in all fancy-shapes

GIA / HRD / IGI / RBC Certified stones in stock

Matched fancy and unique pairs

Calibrated melee in RBC and fancy shapes

Quality diamond-set jewellery

P +61 3 9650 2243

E SALES@ADTC.COM.AU

L13/227 COLLINS STREET

MELBOURNE VIC 3000

ADTC.COM.AU
---
Helping you shine

yesterday, today

& tomorrow.

worldshiner.com
---
Australia is enriched with amazing treasures. Sapphire Dreams pays tribute to the beauty of

natural Australian sapphires, ethically sourced from the sapphire fields of inland Eastern Australia.

Our Australian sapphire jewellery collection is crafted in 9ct or diamond set 18ct gold.

To achieve this level of uncompromised excellence, all sapphires pass through the hands of our

skilled gem cutters to become one-of-a-kind, timeless masterpieces.

Call SGA today to become an Authorised Stockist

SapphireDreams.com.au 02 9290 2199
---
We are COLOUR

Welcome to the Gift & Lifestyle Fairs in 2022

FEBRUARY 5 – 7, 2022

Melbourne Exhibition Centre

South Wharf

JULY 9 to 11, 2022

Brisbane Convention &

Exhibition Centre

SEPTEMBER 17 – 20, 2022

ICC Sydney Exhibition Centre

Darling Harbour

www.giftfairevents.com.au

Est. 1990

Phone: (02) 9452 7575

Email: info@expertiseevents.com.au
---
DECEMBER 2021

Contents

This Month

Industry Facets

12 Upfront

14 News

26 Product Spotlight

36 Jewellers Showcase

28

32

30

35

10 YEARS AGO

Time Machine: December 2011

NOW & THEN

GW Cox My Jeweller

MY STORE

Black Betty

LEARN ABOUT GEMS

Part I: Synthetic Diamonds

38 GOLD FEATURE

A Golden Age

4Consumers see and hear the price of gold

reported on a daily basis. In a rising market, do

sales of gold jewellery decrease, or is there a

counter-intuitive occurrence; they increase?

Features

38

56

58

MY BENCH

Cosimo Mirarchi

SOAPBOX

Hugh Brown

GOLD FEATURE

How is gold jewellery impacted by the gold price?

46

DIAMOND INDUSTRY UPDATE

Lab-created diamonds today and tomorrow

Better Your Business

46 FORECAST REPORT

The Great Pretender?

4The future for lab-created diamonds will

not be the great disruptor many predicted.

The potential may rest in the fashion jewellery

and in high-tech applications rather than

quality luxury pieces.

50

52

53

54

55

BUSINESS STRATEGY

Do you have 'at risk' customers? JEANNIE WALTERS explains how to handle them.

SELLING

DAVID BROWN has some great ideas for staff sales training sessions.

MANAGEMENT

We know COVID's affect on sellers, but DAVID BROCK asks: what about buyers?

MARKETING & PR

TOM MARTIN reveals what cold, hard data can, and cannot tell us.

LOGGED ON

SIMON DELL provides insight into making social media algorithms work for you.

36 JEWELLERS SHOWCASE

Talent March

4Presenting a tapestry of

local talent and jewellery

deigns that have been

meticulously crafted

right here on home soil

FRONT COVER Established in 1951, Palloys

is Australia's oldest and most respected

company for jewellery casting, custom

jewellery production, CAD/CAM and gold

refining services. It is the only company to

guarantee its products are 100 per cent

certified Australian gold from Australian

mines, as it sources and controls the supply

chain. To verify its 100 per cent Australiansourced

gold status, Palloys has recently

introduced the Au and Ag hallmark to further

provide confidence and a peace of mind.

December 2021 | 9
---
Leaders and numbers

have one thing in common...

PUBLICATION

TIME SPENT

PER VISITOR

PAGE VIEWS

PER VISITOR

LOWEST

BOUNCE RATE

COUNTRY

1

2

3

4

5

Jeweller 30:33 18.0 25.2% Australia

Rapaport Magazine 02:14 1.9 56.1% USA

JCK 02:09 1.9 68.5% USA

Instore Magazine 01:59 1.7 70.6% USA

National Jeweler 01:43 1.3 78.4% USA

Jeweller has been the leading voice of the Australian and

New Zealand jewellery industries for more than two decades.

Today we are ranked #1 in the world.

Alexa, the independent global ranking system for measuring

website traffic and readership, now ranks jewellermagazine.com

as the most widely read industry publication globally.

Better still, the daily time spent on jewellermagazine.com averages

30 minutes, far exceeding all other titles which average only

2–3 minutes per visitor, while Jeweller's social media presence

dominates and our eMags boast well over 12.3 million reads.

It's clear; the numbers speak for themselves - follow the readers

who follow the leader!

* Alexa Global Ranking statistics as at 23 November 2021

** Bounce rate represents the percentage of visitors who visit and then leave ("bounce") a website rather than

viewing more pages within the same site, meaning a higher Bounce Rate indicates less reader satisfaction.

J EWELLE R M A G AZIN E . C O M
---
Upfront

#Instagram hashtags to follow

#amethyst

5.3 MILLION POSTS

#baroquepearl

92,746+ POSTS

#engagementringgoals

59,697+ POSTS

#hesaidyes

162,864+ POSTS

#labgrowndiamonds

108,109+ POSTS

HISTORIC GEMSTONE

Stuart Sapphire

4The 104-carat oval Stuart Sapphire

forms part of the British Crown Jewels

and is believed to have originated from

Southeast Asia. Reportedly having

belonged to Charles II, who passed it

on to his successor James VII and II,

the stone was taken to France after

the Glorious Revolution in 1688. As the

last descendant of James VII and II, the

Cardinal York sold the sapphire to George

III in 1807 at which point it returned to the

United Kingdom from Italy.

Alpha Order

#naturaldiamonds

1201,407+ POSTS

#omegawatches

9.1 MILLION POSTS

#opaljewellery

102,025+ POSTS

#rarejewels

18,498+ POSTS

#samesexengagement

2,532+ POSTS

In Queen Victoria's Imperial State Crown, the sapphire was placed in the

centre just below the Black Prince's Ruby, but in 1909 it was moved to the

back of the crown to make way for the 317-carat Cullinan II diamond. Today

it is on public display with other Crown Jewels in London.

Trend Spotting

4The stars are aligned! Personalised

trinkets remain a mainstay for the

self-expressive consumer. Amulets with

zodiac motifs are on the rise; Van Cleef

& Arpels hop aboard the celestial trend

with a series of bold colourful pendants

crafted from polished yellow gold

embellished with semi-precious slates

of jade, jasper, turquoise and amazonite.

Image credit: Van Cleef & Arpels

Image credit: @dropsbyjay's Instagram

Stranger Things

Weird, wacky and wonderful

jewellery news from around the world

No bones about it

4A ground-breaking collaboration

between the University of Western

Australia and biotech company

Marine Biomedical has discovered

that mother-of-pearl may be

used as a synthetic bone

substitute. Doctors had

traditionally used calcium

carbonate or limestone as in the

past, but Professor Minghao Zheng

from UWA believes that PearlBone

is a better alternative for patients

who require bone grafting and

reconstructive surgery.

A clean sweepstake

4A 34-carat diamond was almost

mistaken for a cubic zirconia as it

sat on the desk of a valuer before it

was sent off to experts in Belgium

for verification. The huge stone

belongs to an English woman in

her 70s who was was cleaning

out her Northumberland home.

Valued at £2 million, the stone is

being kept under lock and key at

London's Hatton Garden until its

auction later this month.

Afterpay's Money

app has launched in

Australia, offering

new traditional

banking functions

to users.

Digital Brainwave

4Money by Afterpay will move beyond

buy now, pay later transactions and more

towards 'traditional' banking by offering

a savings account and a debit card to its

users via Westpac. It aims to become the

default financial management tool for young

Australians.

Afterpay says the accounts won't charge fees

and a 1% interest rate will be paid on savings.

The app will offer social media-inspired

insights based on account balances and its

buy now, pay later usage, granting users a

one-stop overview of a their financial position.

Campaign Watch

4Tiffany & Co collaborates with cult

fashion brand Supreme releasing an

androgynous six-piece collection.

Paying a playful tribute to its Return

to Tiffany collection, the taglines now

read Return to Supreme and rehash

classic Tiffany designs. With versatile

pearls to sterling silver keychains, a

star bracelet, and heart tag earrings,

this collaboration is set to draw crowds

of brand-savvy Gen-Zs.

Need to see kelp

4Sottish artist Iona Turner has been

selected by the Scottish Goldsmiths

Trust and Lyon & Turnbull for an

online exhibition featuring pieces

of jewellery made from foraged

seaweed. Using only sustainable

materials, the 22-year-old's pieces

feature necklaces and earrings to

brooches fashioned from the washed

up knotted-wrack seaweed, which

dries in varying shapes and colours

depending on the time of year and

which beach it comes from.

VOICE OF THE AUSTRALIAN JEWELLERY INDUSTRY

Published by Befindan Media Pty Ltd

Locked Bag 26, South Melbourne, VIC 3205 AUSTRALIA | ABN 66 638 077 648 | Phone: +61 3 9696 7200 | Subscriptions & Enquiries: info@jewellermagazine.com

Publisher Angela Han angela.han@jewellermagazine.com • Journalists James Briggs james.briggs@jewellermagazine.com | Richard Chiu editorial@jewellermagazine.com

Production Coordinator Lauren McKinnon art@befindanmedia.com • Advertising Toli Podolak toli.podolak@jewellermagazine.com • Accounts Paul Blewitt finance@befindanmedia.com

Copyright All material appearing in Jeweller is subject to copyright. Reproduction in whole or in part is strictly forbidden without prior written consent of the publisher. Befindan Media Pty Ltd

strives to report accurately and fairly and it is our policy to correct significant errors of fact and misleading statements in the next available issue. All statements made, although based on information

believed to be reliable and accurate at the time, cannot be guaranteed and no fault or liability can be accepted for error or omission. Any comment relating to subjective opinions should be addressed to

the editor. Advertising The publisher reserves the right to omit or alter any advertisement to comply with Australian law and the advertiser agrees to indemnify the publisher for all damages or liabilities

arising from the published material.
---
Colours of

Chemgold

Your Casting Specialist

Largest Range Of Alloys

Personalised Service

1300 984 751 | sales@chemgold.com | www.chemgold.com
---
News

Apprentice wins coveted opal

jewellery prize

Two entrants tie for coveted TAFE Queensland

Jewellery Apprentice of the Year award.

Two people were awarded Jewellery Apprentice

of the Year in TAFE Queensland's annual design

competition. It's the first in the 18-year history

of the training institution that dual winners were

awarded the top honour.

Adrian Hogan's 'Reef Glow' won the Emerging category.

Third-year apprentice Adrian Hogan has won the

Emerging Category – Jewellery Design at the Queen

of Gems International Jewellery Design Awards,

which are hosted by the Queensland Boulder Opal

Association and held during the annual Opal Festival

in Winton.

Hogan's entry, 'Reef Glow', is an ocean-inspired

pendant necklace featuring a blue Queensland

boulder opal set in finely polished gold and platinum.

Describing the creation of his piece, Hogan – a

self-described "opal addict" – said, "I was inspired to

create this piece by rays of starlight and the rich glow

of a coral reef. The rolling curves of the star's rays

take influences from the slow waves of the ocean and

the natural flow of the body of a sea urchin."

Hogan was awarded $1,000 in prize money and

a certificate. Alongside running opal cutting and

dealing business, Match Maker Opals, Hogan is

currently undertaking a Certificate III in Jewellery

Manufacture at TAFE Queensland, combined with an

apprenticeship with Matthew Alexander Jeweller in

Brisbane.

Dr Brian Heim, general manager of TAFE

Queensland, said of Hogan's winning entry, "It is

incredible to think that this stunning piece was

created by a student who is just starting in the

jewellery manufacturing industry.

"I'm proud that TAFE Queensland is producing

apprentices with the skills that make them

employable now and well into the future," he added.

Hogan plans to enter the Queen of Gems competition

again in 2022 in the Professional Category, adding,

"Now I need to find the perfect stone I can start

cutting, polishing and bringing it to life."

The other winners at this year's QBOA Queen of

Gems International Jewellery Design Awards were

Rita Williams, whose piece 'Renewal' took the

top prize, the People's Choice Award, followed by

Angela Hampton's 'Peacock' which won the High

Commendation, and Robyn Carmichael's 'The Heart

of the Reef', which earned the Commendation title.

Brock Hodgson and Paul Armstrong,

fourth-year apprentices from TAFE's South

Bank campus, tied. Both were awarded the

Apprentice Jeweller of the Year - an awards

program celebrating the talents and creativity

of graduates for Certificate III in Jewellery

Manufacturing.

Armstong completed an apprenticeship at

Hogans Family Jewellers, while Hodgson

worked at Stephen Dibb Jewellery.

According to Jackie French, director of faculty

creative arts, presenting two awards based on a

tie was a surprise for the judges.

"The judges and I were blown away by the

quality of everyone's jewellery," French said,

acknowledging the creativity of the winners.

"As we continue to recover from the pandemic,

and consumers return and drive demand in

the jewellery industry, TAFE Queensland must

provide its apprentices with the skills they need

to be employable now" French added.

For his winning pieces, Armstrong made a

signet ring with diamond and gold inlays and

a pair of sunglasses with interchangeable

lenses highlighted with gems and gold inlays

in each arm of the frame, paired with matching

Diamond Council redefines conflict diamonds

World Diamond Council (WDC) president

Edward Asscher has urged the Kimberley

Process members to reassert its stand on

expanding the definition of conflict diamonds to

promote long-term consumer confidence.

Addressing delegates during the opening

session of the 2021 Kimberley Process

Plenary in Moscow, Asscher noted that young

consumers are becoming increasingly aware

and expressing their demand to know the

environmental and social credentials of their

purchased products, especially diamonds.

"The diamond is a product that has the

potential to both speak to the aspirations of

this new generation, as a natural resource with

the potential of providing sustainable economic

and social opportunities to the communities

that produce it, or be rejected, as a nonessential

luxury item," Asscher said.

"We have the ability to decide that choice, but

Paul Armstrong, left and Brock Hodgson with awards.

cufflinks. Hodgson crafted an intricate

handmade set composed of a ring, pendant,

and bracelet.

"I have loved my block training through TAFE

Queensland," Hodgson said.

"The on-campus training blocks were so

important for learning techniques."

Armstrong had similar sentiments: "We all

come from different backgrounds, different

areas of the industry and have different career

trajectories, so we share and learn a lot when

we're together.

Competition entrants were provided four weeks

to design and create three jewellery pieces

based on specific criteria. This year's theme was

"Reflections", judging based on quality, artistry,

strength, durability and wearability of designs

and overall quality.

we will do so only through actions and not

empty words."

Asscher's challenge came in light of what he

considered as the Kimberley Process being

"unable to deliver progress" on the matter,

asking delegates, "why do we persistently fail

to make substantive progress on expanding the

definition of conflict diamonds – a move that

almost all of us understands is necessary?"

The WDC president reiterated a statement he

made during the KP inter-sessional meeting in

June about the risks of an emerging two-tier

diamond industry.

"The upper, more established tier of

companies, which are able to independently

monitor their supply chains, is able to meet

consumer expectations. But the lower, less

established tier, will see its market share

diminishing, often through no fault of its own,"

Asscher said.

14 | December 2021
---
News

More turmoil at Baselworld; 2022 show cancelled,

managing director resigns

Strong momentum seen for

trading until December

As predicted, jewellery trading has been gaining

strong momentum for the first half of November

and expected to carry on until the end of the year as

businesses are reopening throughout Australia since

the COVID-19 lockdown.

Overall, Retail Edge's mid-month report for 1

November to 15 November showed the 'bounce back'

with sales in dollars up by 8 per cent compared with

November 2020 and a significant increase of more

than 28 per cent in November 2019.

MORE BREAKING NEWS

JEWELLERMAGAZINE.COM

Visitors gather in the Messe Basel in more successful times for the once mighty watch and jewellery fair.

As if the chaos and confusion surrounding

Baselworld over the past two years has not

been enough, the show's organiser MCH Group

has announced the cancellation of the Spring

2022 event, scheduled for 30 March -5 April.

A brief media statement issued on 12

November (European time) on the MCH Group

website stated: "Baselworld organisers have

decided to take more time for the launch of the

new concept. Baselworld, scheduled for spring

2022, will therefore not take place."

The move has also triggered a decision by

Baselworld's managing director Michel Loris-

Melikoff to leave the company.

The announcement is sure to surprise the

international watch and jewellery industry

given that only five months ago MCH declared

that the newly invented name – HourUniverse

– created to re-launch the show after years

of turmoil, had been scrapped in favour of

returning to the original 'Baselworld' brand.

On 23 June this year, a media statement

announced: "Baselworld was held for the last

time in 2019. Now it is back in March-April

2022, and it will be very different.

"Instead of focusing on the spectacular

appearance of luxury brands in the watch,

jewellery and gemstone sector, the new

Baselworld will primarily be a B2B platform in

the mid-range luxury segment.

The future concept combines trends in the

experience marketing market with the needs of

the entire community in the mid-and high-end

segment of the watch, jewellery and gemstone

industry."

However, less than five months later, Beat

Zwahlen, CEO MCH Group said, "Over the

past few months, we have studied in detail our

watches, jewellery and gems ecosystem and

gained important insights from discussions

with major industry representatives.

"The conclusion is that the market exists for a

B2B2C platform that brings together mediumsized

and specialised manufacturers with

independent retailers. But their needs must be

analysed in more detail. This means we need to

have significantly more time to get there."

The 12 November media statement explained

that the decision to cancel the 2022 event was

"based on the one hand on the experience

gained from the Pop Up Event at the Geneva

Watch Days and on intensive discussions with

manufacturers and retailers.

"On the other hand, it takes into account the

fact that it is particularly difficult to launch a

new concept for a new target segment due

to the renewed aggravation of the COVID

situation and the associated uncertainty among

customers."

It also added that Michel Loris-Melikoff

managing director "has decided to leave the

company and take on a new challenge."

Loris-Melikoff joined the management team of

Baselworld in 2018 following the resignation of

Sylvie Ritter, who had been managing director

of Baselworld for 15 years. Ritter quit in May,

after the 2018 edition of the show.

Michel Loris-Melikoff was named as her

successor and assumed the position of

managing director on 1 July.

"In a short period of time, he [Loris-Melikoff]

managed to gain access to the industry and win

its respect," the media statement explained.

"He initiated and helped shape the necessary

transformation and repositioning of Baselworld.

The MCH Group regrets his decision. It thanks

him for his tireless commitment and wishes

him all the best for his future engagements."

Due to the global COVID-19 pandemic, it means

that only one event had taken place in the three

years of Loris-Melikoff's management.

The strongest growth was seen on average retail

(inventory) that increased by 9 per cent compared to

last year, but a more significant rise at 22 per cent in

2019.

According to Mike Dyer of Retail Edge, this is the

first time since the lockdown that the industry is able

to make an "apples to apples" sales comparison

and they show the figures to help businesses get

motivated by seeing the increased activity in jewellery

sales and consumer spending.

"In fact, we felt it was so important to give the

industry some insight, and hopefully some

motivation, after another very challenging period,

that we produced this information with a positive

vibe," Dyer said.

While sales units saw a slight increase of 0.2 percent

compared with November 2020, it was higher at 5

percent compared with November 2019.

Diamond jewellery sales dollars increased by 33

percent at $2.2 million, compared to $1.6 million in

November 2020, but it was significantly higher at 72

per cent based on a two-year comparison.

However, precious metal jewellery (no gemstone)

saw a 6 per cent decline in sales dollars at $170,000

compared with $182,000 in November 2020, but

saw an increase of 9 per cent based on a two-year

comparison.

"These numbers portray and reinforce that so get

on board, get motivated and get selling (and) hoping

that this first half momentum continues through the

balance of November and provides early impetus into

December," Dyer added.

Sales trends for Australian jewellers could be very encouraging

December 2021 | 15
---
News

Nationwide breakthrough report

Featuring the

delicate pink tone of

Argyle pink diamonds

Nationwide Jewellers has launched its Merchandise Performance

report that can provide members with access to vital sales and

product data to help independent retailers achieve better sales and

improve stock turnover rates.

Colin Pocklington, managing director, Nationwide Jewellers said

the new reporting 'tool' will be integrated into a store's point-ofsale

(POS) system and will be exclusively available to Nationwide

members, calling it a major breakthrough for independent jewellers.

"Our objective was to provide independent jewellers with some of

the tools that until now, have only been available to chain stores. The

chain stores have instant access to information that identifies the

best-selling products across their store network," Pocklington said.

The Merchandise Performance report is currently accessible to

members using The Edge POS system of Retail Edge Consultants

and, according to Pocklington, the software is aimed at substantially

increasing sales for independent retailers by determining the bestselling

products by price range, department, and supplier so they

know how to craft their retail strategies.

"This plays a major part in their ability to maximise sales, and is one

of the key reasons why the sales in the average jewellery chain store

are 2.5 times greater than sales in the average independent jewellery

store," Pocklington said.

He explained that most chain stores have an average turnover of $2

million a year, which is 2.5–3 times larger than the average annual

sales of $750,000 for independent stores.

According to Pocklington, the same data is used by chain stores in

marketing products on a national level, to determine which products

and suppliers generate higher sales, and strategically identify which

best-selling products to leverage based on location throughout

Australia and New Zealand.

"The two reports will assist our members to achieve substantial

increases in sales, and improvements in stock turn rates,"

Pocklington added.

The Merchandise Performance will complement the existing onepage

Retail Management Report that was made available in the Retail

Edge system ten years ago. Nationwide will support members who

wish to migrate to the Retail Edge POS system. .

E pink@samsgroup.com.au W samsgroup.com.au P 02 9290 2199
---
News

New Australian sapphire gemstone jewellery range launched

SAMS Group Australia has introduced a new

range of Australian sapphire jewellery. Sapphire

Dreams includes a wide range of sapphire and

sapphire-and-diamond jewellery set in 9 or

18-carat gold, as well as loose sapphires.

Steve der Bedrossian, CEO SAMS Group Australia,

told Jeweller: "We've been overwhelmed by the

response and had our full quota of stockists

fulfilled within weeks of releasing the range,"

going on to explain that "we've exceeded any

expectation we had, and the feedback for the

stock has been exceptional, indeed virtually every

piece has been accounted for.

Australia is enriched with amazing treasures. Sapphire Dreams pays tribute to the beauty of

natural Australian sapphires, ethically sourced from the sapphire fields of inland Eastern Australia.

Our Australian sapphire jewellery collection is crafted in 9ct or diamond set 18ct gold.

To achieve this level of uncompromised excellence, all sapphires pass through the hands of our

skilled gem cutters to become one-of-a-kind, timeless masterpieces.

The brand aims to showcase the wide variety of

colours of Australian sapphires, including the

iconic teal shade, parti-colour, orange, and blue.

"I love Australian products, and I always try

to use unique materials that are sourced in

Australia. The colours of Australian sapphires

are amazing, and there was no brand around

Australian sapphires, so I realised that it was

something that I could create."

Promotional material for the new collection

explains: "Sapphire Dreams pays tribute to

the beauty of Australian sapphires, celebrating

the art of craftsmanship and contemporary

jewellery designs. Proudly Australian owned

and operated, we have more than 50 years of

experience in luxury jewellery and working with

Australian gemstones. All of our products are

of impeccable quality, ethically sourced and

expertly crafted."

Der Bedrossian explained that "Sapphire

Dreams is the first of its kind and the only

Australian jewellery brand that celebrates

Australian sapphires and their breathtaking

colour range, which is unlike anywhere else in

the world. Many other brands use sapphires

from elsewhere, including Sri Lanka, Thailand

and Burma [Myanmar], while we, on the

other hand, wanted to honour the Australian

provenance of these mesmerising gems.

"We have also created a unique certification

and inscription process to verify the origin and

authenticity of every sapphire."

Each Sapphire Dreams gemstone bears an

inscription on the girdle and is accompanied by

a verified Sapphire Dreams certificate of origin,

with der Bedrossian saying, "We only supply and

work with ethically-sourced Australian gems

that are natural and origin-certified."

Sapphire Dreams has been recently launched with success.

Call SGA today to become an Authorised Stockist

SapphireDreams.com.au 02 9290 2199
---
News

Kunming Diamonds breaks records with final tender

Named Once in a Blue Moon this Tender collection consists of 41 lots of carefully curated Argyle blue and violet diamonds. .

Measures battery voltage, resistance

of coil block, light segmentation & the

current consumption of circuit block or

movement module. Easy to use.

Battery Man exclusive.

Just arrived from Japan.

Contact us for more details.

It's easy to place your order!

orders@thebatteryman.com.au

Rio Tinto's recent and final diamond tender included

'Once in a Blue Moon', a rare collection of blue

and violet diamonds that were won by Kumning

Diamonds, a Hong Kong-based specialist colour

diamond supplier.

Kumning purchased the entire 41-lot Argyle

collection – totalling 24.88 carats – which was titled

the Once in a Blue Moon Tender.

The Argyle mine in the East Kimberley region of

Western Australia is best know for its pink diamond

production however, small blue and violet diamonds

were the occasionally discovered. They have been

described as "a beautiful array of shades".

Following the tender, a Rio Tinto media release

stated that "with the closure of Argyle it is extremely

unlikely that there will ever be another collective

offering of iconic gems in this colour spectrum from

a single mine."

Sinead Kaufman, chief executive Rio Tinto said,

"The rarity and beauty of the Once in a Blue Moon

diamonds speaks volumes. They are highly coveted,

the ultimate limited edition and we congratulate

Kunming Diamonds on their global bid."

Kunming Diamonds, which has had a log

association with Argyle's pink diamonds, is a

founding member of the Hong Kong Indian

Diamond Association, an honorary member of the

Natural Colored Diamond Association (NCDIA), and

a member of the Fancy Color Research Foundation.

Harsh Maheshwari, executive director Kunming

Diamonds said, "We are delighted to be part of

Argyle's legacy in this historical moment, acquiring

the Once in a Blue Moon collection. We cherish

becoming the custodians of the final Australian

treasures from this iconic and industry-defining

mine, and look forward to unearthing the incredible

possibilities in the years to come."

He added, "Beyond the fact that this collection is

nature's finest and ultimate treasures, the Once in

a Blue Moon collection was the climax of the mine's

billion-year-old heritage, and its historic ascent of

over three decades to the pinnacle of luxury."

The closure of the mine has meant that diamond

suppliers have to consider life after Argyle.

"We only had one thought in mind whilst seeing

them and placing our bids, it will be extremely

unlikely that there will ever be another cumulative

offering of iconic gems in this colour, of blue and

violet, spectrum from a single mine," Maheshwari

explained.

According to Maheshwari, it meant that "there was

a lot of sentiment and psychological price additional

paid to be confident at this Tender."

In other news, Rio also conducted a pink diamond

tender consisting of 70 rare pink and red stones.

The collection, titled The Journey Beyond, is a

historical collection mined at Argyle in the final year.

According to a Rio statement, the tender was

a "record breaking price performance across

individual diamonds and for the overall collection.

The diamonds were fiercely contested around

the world in a series of virtual and face-to-face

viewings."

There were 19 successful bidders from nine

countries.

Australian jeweller, John Calleija, won Lot 1, Argyle

Eclipse, a 3.47-carat, radiant shaped fancy intense

pink diamond. He was also the successful bidder

for Lot Number 5, Argyle Bohème, a 1.01-carat,

radiant shaped, fancy red diamond.

"It is an extraordinary opportunity and a privilege to

be part of this historic collection. We are humbled

to be the custodians of these uniquely Australian

jewels and are delighted to be part of their enduring

legacy," Calleija said.

Other bidders won three diamonds from the

collection. Lot 2, Argyle Stella and Lot 4, Argyle

Solaris were purchased by Singapore interests,

while Lot 3, Argyle Lumiere went to the US.

Maheshwari said that COVID-19 had impacted the

most significant factor when placing a bid for these

quality diamonds: the travel to physically view the

stones, "but it's 2021 and technology has proven to

be an integral part to the success of the Signature

Tender - only around a third of the participants.

viewed the collection virtually."
---
News

Lightbox issues new treatment policy

AVAILABLE IN 9CT

OR 18CT GOLD

E749PB

New Argyle pink diamond

pieces to treasure,

from our new claw set

cluster drop earrings

and expanded selection

of Argyle pink diamond

wedding rings...

Lightbox's new policy of disclosing treatments covers D to F-colour stones.

Lightbox, the De Beers-owned lab-created diamond jewellery business,

has announced its new policy of disclosing treatments used in the

creation of grown diamonds but still maintains such declarations are

optional.

The new policy covers D to F-colour stones of its Finest collection

and VVS-clarity stones launched as a primary offering in August. The

diamonds are created using chemical vapour deposition (CVD) and high

pressure-high temperature (HPHT) annealing to improve the stones'

colour through a later heating-and-cooling process.

"It was important to us to be transparent with the consumer that the

higher price per carat for a Finest stone is reflective of the additional

refinement step," a Lightbox spokesperson told Rapaport but said that

any decision to make such disclosures rest with the producer.

Previously, Lightbox has not been declaring treatments stating that

such treatment is only a step in the entire production process and does

not affect the value of the stones.

A similar treatment method is used on its 1.5 to 2-carat classic line

and with all stones in the standard category. According to a Lightbox

spokesperson, all diamonds are supplied with a declaration.

The lab standard stones - roughly G to J - are "near colourless" and

have VS clarity.

Lightbox stopped offering lab-created stones of up to 1 carat since it

developed a cost-effective method of achieving the desired colours with

bigger diamonds, but becomes more difficult as longer growing time

could reduce the stone's quality.

Meanwhile, the company also started disclosures for the standard pink

and blue lab-created diamonds, both of which undergo electron-beam

treatment and another heat-treating process for pinks.

However, standard white diamonds below 1-carat are not subjected to

the treatment process.

AUSTRALIAN ARGYLE

PINK DIAMONDS

...to our striking Ceylon

sapphire double halo

showstopper with a 6x5mm

centre stone set in talon

claws — plus our new halo

design slider pendants, pearl

pieces, wide band dress

rings and more to discover.

P748P

P828PB

The company has no plans for labeling products "as grown" which is

commonly used in marketing diamonds that do not undergo postsynthesis

treatments, according to the spokesperson who also said

that Lightbox will not use it as "an excuse to not offer higher-quality

products at affordable prices."

"As we expand our lab-grown diamond product range to include stones

of larger size and even higher qualities, we will continue to bring our

fair and transparent linear pricing to all our high-quality lab-grown

diamonds, and we will look at innovative ways of continuing to deliver

exceptional quality at competitive prices," the spokesperson added.

2577PB

Bestselling favourites

still available, including more

Art Deco inspired pieces

brimming with vintage glamour.

Enquire today!
---
News

De Beers new global campaign

'A diamond is forever.' – Forevermark celebrates De Beers' famous 1947 slogan.

De Beers has launched a new global campaign reviving its iconic

"A Diamond Is Forever" slogan and centred on human relational

commitments to promote the brand.

Considered to be an ambitious move by company executives, the minutelong

"I Do" video highlighted the marketing strategy combining De Beers

Jewellers and De Beers Forevermark into a unified brand image.

Bruce Cleaver, CEO De Beers Group said, "For more than a century, De

Beers has played a central role in helping people express their enduring

commitment to their partner.

"Today we see a new generation of consumers who wish to communicate a

wider commitment: a commitment to their own personal development, to

their friendships, to their families, to society, and to the natural world."

The campaign features the diamond jewellery range of the two De

Beers houses and focuses its message on the power of forging personal

commitments through traditional wedding vows to inclusive gender-neutral

relationships.

The company also reiterated

its commitment to adhering to

responsible and sustainable practices

with its code of origin initiative, which

determines the source of natural and

conflict-free diamonds.

"We want to invest in the name De

Beers, which we consider one of our

greatest brand assets," David Prager,

De Beers executive vice president and

chief brand officer, told JCK.

"It's a far more diverse and inclusive

campaign that you've seen from us before and, frankly, that you've seen

any diamond jewellery brand. It understands the diamond dream is for

everyone," Prager said.

"The launch of the campaign marks a turning point for De Beers, and paves

the way for our ongoing commitment to being a purpose-driven company.

Solid Gold Collection

Established for over five decades, Classique is renowned

for high quality, elegant and ageless timepieces.

Classique's range of Solid Gold watches come in various designs, some

featuring diamonds and are engineered with Swiss made movements.

Suitable for every occasion. Stylish, modern, classic, and timeless pieces.

"Our two Jewellery Houses come from one powerful brand that is proud to

stand for commitments by people all over the world, to what means most to

them," Celine Assimon, chief executive officer, De Beers Jewellers and De

Beers Forevermark said.

"We lead by example, committing to creating a positive impact in the places

where our diamonds are found, and for the people that connect with them

along their journey," Assimon added.

The "I Do" campaign marks a new strategy in De Beers' 133-year history.

classiquewatches.com
---
News

Crime gang apologises to Graff Jewellers over ransom data leak

Having hacked and stolen information from

luxury jewellery, Graff, the notorious Russianbased

ransomware hacker Conti apologised to

several high-profile identities after having leaked

their personal and sensitive information on the

Dark Web last month.

In an unusual twist for a criminal gang, Conti

released a statement on 4 November saying:

"We found that our sample data was not properly

reviewed before being uploaded to the blog"

and it assured Saudi Arabia, UAE, and Qatar

families whose names appeared on the leak that

any information pertaining to the royal family

members "will be deleted without any exposure

and review."

The gang specifically mentioned Saudi Crown

Prince Mohammad bin Salman, in response

to the Daily Mail UK's report of the Graff data

attack, which also included details of high-profile

clients former US President Donald Trump,

as well as celebrities Oprah Winfrey and David

Beckham, among others.

It removed 69,000 documents posted online

following the apology, which they claimed

represented only 1 per cent of their total haul

but assured that none of the stolen files was

"sold on auctions or offered as samples, or

revealed in any other capacity to any third party."

Cybersecurity experts believe that the

unexpected response from the crime syndicate

could have been borne out of fear of possible

repercussions from any of those customers on

the list, among them are Middle East leaders.

Former British military intelligence officer

Phillip Ingram told Daily Mail that Conti could be

worried about upsetting the Saudi Crown Prince,

who was suspected in the past of ordering

cyberattacks against enemies and sanctioning

the assassination of a Saudi dissident. Salman is

also believed to be an ally of Russian President

Vladimir Putin.

The orchestrated attack was aimed at extorting

Graff for multi-million-dollar blackmail in

exchange for the hacked files that included

invoices, client lists, receipts, and credit details

of the jeweller's clientele.

Despite the removal of the controversial

documents, the group threatened to publish –

after a more "rigid" review - information from the

Graff files "regarding the financial declarations

made by the US-UK-EU Neo-liberal plutocracy,"

which they believe are engaged in expensive

purchases as their territories "are crumbling

under the economic crisis, unemployment, and

COVID."

According to global technology consultancy

firm Unit 42 of Palo Alto Networks, the FBI

has connected the syndicate to more than 400

cyberattacks worldwide - three-quarters of

which were carried out in the US - with blackmail

demands of up to $US25 million.

In other crime news, Spanish authorities have

arrested a Croatian national in Barcelona

believed to be a member of the notorious crime

gang, The Pink Panthers.

The suspect is wanted in Germany for a string

of jewellery heists worth around 715,000 euros

($AU1.12 million). He was wanted for assault

and battery, robbery with violence, and illegal

possession of weapons.

The Pink Panthers is an international criminal

network of jewellery robbers who carried

out carefully planned heists publicly in broad

daylight. The gang is believed to have been

operating for nearly two decades when a fiveperson

team stole the Millennium necklace in

2002.

Global leader in sustainable, non-extractive,

white & silver South Sea pearls.

AVAILABLE WORLDWIDE ONLINE

With 7 farms located throughout some of the most remote

South Seas, Atlas Pearls is pleased to bring each pearl harvest for

first presentation to the international market online.

Together with our finest single, pairs, sets, matched strands and bracelets,

Atlas Pearls offers the largest catalogue of loose pearls available

worldwide online.

Register for your trade account to access our online auctions

and trade pricing on our loose pearl catalogue.

VISIT & REGISTER

www.AtlasPearlsTrade.com

EMAIL

Atlas@AtlasPearls.com.au
---
News

S&S

STONES& SILVER

STERLING SILVER JEWELLERY

Swarovski introduces new board of

directors as a company milestone

Austria-based jewellery company Swarovski has announced its newly

constituted board of directors composed of the founder's family

members and independent shareholders.

Considered to be a "milestone in company history" after breaking

tradition of keeping its business affairs within the family since inception,

a Swarovski media statement advised that the designation is "in

accordance with the basic principles of the new governance and the

pursuit of new impulses and external expertise."

The new committee will "act as a link to improve management between

the owner families and the company." The non-family members are

Luisa Delgado who was elected as the new board chair, Annalisa

Loustau Elia, Markus Fiechter, Manuel Martinez and Robert Singer.

Family members who will continue to serve on the board are Robert

Buchbauer- who has been elected as the board's vice chair, Markus

Langes-Swarovski, and Mathias Margreiter.

The board assumed their roles effective 15 November and are tasked to

expedite the process of finalising the vacant positions for chief executive

officer and chief finance officer of the company.

Delgado is currently the head of Schleich - a toy company based in

Germany - and former CEO of eyewear company Safilo Group.

Non-family board members Elia previously served as EVP of Cartier

and CMO for Groupe Printemps of France; Feichter was the former CEO

of Jacobs Holding AG; Martinez- board chair for shoe giant Bally, and

Singer- former CFO of Gucci Group and COO of Abercrombie & Fitch.

The company, which was established by Daniel Swarovski in 1895

and has been run and controlled by the founder's descendants, was

reportedly marred with power struggles among family members that

prompted calls for a leadership revamp.

Haute Jewels Geneva 2022 to showcase

16 jewellery brands at event

It's all systems go for Haute Jewels Geneva 2022 on 30 March to 5 April

2022, with 16 of the world's finest jewellery brands joining the exhibit at

the Fairmont Grand Hotel in Switzerland.

Haute Jewels Geneva is expected to be "bigger and better, promising to

be a glorious celebration of fine jewels," according to organisers, where

exhibitors will be showcasing their artisan creations offering a "unique

yet like-minded approach" to haute jewellery craftsmanship.

"We are thrilled (to) be returning again in 2022," Michael Hakimian,

Haute Jewels Geneva founder and CEO Yoko London, said.

"This unique show is a collaboration between sixteen harmonious

brands, bringing together their expertise to create a forward-thinking

event that addresses the needs of the supplierand the buyer in our

fast-moving world".

Some of the participating jewellery brands include: Yoko London,

Roberto Coin, Sutra, Crivelli, Bayco, Etho Maria, Stenzhorn, Marco

Bicego, Mariani, Palmiero, Picchiotti, Gorgoglione, and Hans D. Krieger.

Ph: +61 3 9587 1215

Email: info@stonesandsilver.com.au

stonesandsilver.com.au

"Spring 2022 really feels like a brand-new start for the industry, as

important trade events are finally going to take place in person," Maria

Carola Picchiotti, director of marketing and communications, Picchiotti

told JCK.
---
News

7,525-carat emerald; one of the largest

emeralds discovered in Africa

A 7,525-carat emerald weighing 1.5 kilograms has been discovered

in the Kagem mine in Africa, which is the biggest of the three large

emeralds mined from the same area since 2010.

The emerald was named Chipembele – which translates to 'rhino'

in the local Bemba dialect and the largest – to date, followed by

the 6,225-carat Insofu meaning 'elephant' mined in 2010 and the

5,655-carat Inkalamu or 'lion' in 2018.

According to UK-based Gemfields, which owns and operates the

emerald mine in partnership with the Zambian government's Industrial

Development Corporation, the naming of uncut emeralds is a practiced

tradition reserved for the rarest and most remarkable gems.

The gemstone was discovered in July by geologists Manas

Banerjee and Richard Kapeta - leader of the team who also

discovered Inkalamu in October 2018 - whose team were surprised by

the discovery and remarked that the gemstone looked like a rhino's

horn, hence its name.

According to Jackson Mtonga, assistant manager, Kagem Sort

House, "A key Gemfields tenet is that Africa's gemstone wealth must

contribute meaningfully not only to host-country economies, but also to

conservation efforts, host communities and the next generation by way

of education, healthcare and livelihoods projects.

"We are delighted that the legacy of Chipembele will support

rhinoceros conservation efforts, bringing a positive impact to

conservation communities in Zambia."

Timeless Elegance

Chipembele will be auctioned and a share of the proceeds will assist

funding the black rhinoceros conservation efforts of the North Luangwa

Conservation Program in Zambia.

Winning bidders shall have the option to have their stones subjected

to the provenance proof service using a unique DNA nano-tag identity

certification developed by the Gübelin Gem Lab of Switzerland.

The certification process, also known as the Emerald Paternity Test,

involves the use of nanoparticles coded into the stone containing details

such as its origin, miner, mine location, and date of production.

Luxury Pearl and Opal Jewellery

+61 2 9266 0636

enquiries@ikecho.com.au

www.ikecho.com.au
---
News

Grown Diamond Association launches IGDA 2.0

The International Grown Diamond Association

(IGDA) has launched IGDA 2.0, which is a

completely revamped version of the trade

association aimed at supporting and serving the

rapidly expanding lab-created diamond industry.

"IGDA 2.0 will provide focused services to support

the growing number of global lab-grown diamond

companies," Dick Garard, executive director, said.

"We have an aggressive strategic plan that

begins with the involvement of the entire global

lab-grown diamond industry, many longtime

supporters, and the welcome addition of newer,

younger members."

The event was highlighted by the launch of its

new website, announcement of a new wideranging

board of advisors, distribution of a

new consumer point of sale and promotional

materials, sales associates training, and a newly

established network of international chapters.

Other priorities of the association include

educating consumers and promoting lab-created

diamonds internationally.

"Clearly consumer interest in the lab-grown

diamond category is growing rapidly and

globally," Anna-Mieke Anderson, founder, and

CEO of US-based lab-created diamond retailer

MiaDonna, told Instore.

"In response to the consumer demand, there

has been a significant increase in the number

of retailers stocking the product, as well as

an expansion in the number of designers

and manufacturers incorporating lab-grown

diamonds into jewellery styles."

IGDA was established in 2016 as a nonprofit

group to serve as the centre for education,

communication, and development of the

lab-created diamonds industry worldwide.

China's lab-created production hit by power crisis

Liu told Bloomberg that around three million

carats of lab-created diamonds are produced

annually in China, which is almost half of the

seven million carats made globally each year.

While the impact is "not too significant so far,"

according to Liu, producers have expressed

plans to increase prices without providing

specific details.

Manufacturer of

High Quality Findings

Since 1975

9K, 10K, 14K, & 18K Gold

1/20 14K Gold Filled

Sterling Silver

TEL: 001.585.292.0770

sales@jkfindings.com

www.jkfindings.com

HPHT Cubic Press Machines in action.

The current energy crisis in China has taken

its toll on the country's lab-created diamond

industry, as production dropped by 10-15 per cent

in the past month or so which could cause prices

to increase towards the end of the year.

The rising prices for coal used for power

generation and the effects of the COVID-19

pandemic were blamed for the power shortages,

according to Liu Houxiang, a consultant at China's

National Gemstone Testing Center.

Police have charged a 42-year-old man who was

allegedly running a diamond scam that earned

him more than a million dollars.

The Melbourne man claimed that he owned a

diamond mine in Sierra Leone. He is accused

of scamming three people by offering them the

opportunity to 'invest' in his mine.

After an initial down payment, people were asked

The manufacture of lab-created diamonds

requires extreme temperature and pressure to

replicate the diamond-making process and can

only be achieved when power demand is met.

However, the lab-created diamond industry is not

the only industry impacted by the power shortage

that started in the Chinese summer. Among the

hardest hit since September are manufacturing

companies such as apparel factories, metal

producers, and suppliers for Apple products.

Currently, China is one of the largest producer

and consumer markets for lab-created diamonds

in the world for use in jewellery, technology,

medical, and industrial use.

Diamond fraudster charged after $1 million scam

to provide equipment and gifts for his staff, and

after receiving the items the man sold them

offshore.

It was a profitable con, as police said that the

three alleged victims provided the man with more

than $1.4 million combined, with one providing

the man with more than $1 million, and the other

two 'investing' at least $100,000 each.
---
News

Colour diamonds continue to impress

The 2.83 carat oval cut Argyle Violet, graded Fancy Deep Grayish Bluish Violet colour.

The latest data from the Fancy Color Research Foundation (FCRF) indicates

blue diamond prices have further increased in price and done so again

more than pink diamonds over the third quarter of 2021.

The Q3 2021 edition of the Fancy Color Diamond Index – which tracks prices

of blue, pink, and yellow diamonds traded in New York, Tel Aviv, Geneva, and

Hong Kong – showed prices continued to rise across the board, with a 0.7

per cent increase this quarter, and a 1.1 per cent increase over the year.

The general increase was led by blues stones, which increased by 0.8 per

cent, with Pinks and Yellows following closely behind at 0.7 per cent and 0.6

per cent respectively.

"Pink diamond prices continued to rise in Q3, led by the Fancy and Fancy

Vivid grade categories. Fancy Pink 1-carats rose by 1.8 per cent and Fancy

Vivid Pink 5 carats rose by 1.7 per cent. The lowest performance was seen

in the 3-carat category in the Fancy grade, which decreased by -0.3%.".

According to FCRF Advisory Board member, Eden Rachminov, "This

increase was actually expected, as Fancy Color prices were too low for too

long. In my opinion, most colors will keep increasing in price over the next

two years, especially the yellow category in all grades."

Pink diamond prices continued to rise in Q3, led by the Fancy and Fancy

Vivid grade categories. Fancy Pink 1-carats rose by 1.8 per cent and Fancy

Vivid Pink 5 carats rose by 1.7 per cent. The lowest performance was seen

in the 3-carat category in the Fancy grade, which decreased by 0.3%.

Compared to the previous quarter Yellow diamond prices increased which

was largely due to appreciation in the 5-10-carat weight categories.

Among the smaller diamonds, 1-carat Fancy Vivid Yellow stood out, with an

increase of 1.9 per cent.

But it was Blue diamond prices that did best in Q3 with the Fancy Vivid Blue

category seeing 8-carat stones increase by 2 per cent, while 5-carat blue

diamonds rose by 1.9 per cent.The Fancy Intense grade category displayed

the lowest rise of 0.4%, with 2 carats declining by 1.1%.

Store closed; customers upset

A Gold Coast jeweller has upset customers after agreeing to repair

and sell their jewellery on consignment, and then failing to return their

pieces after his store was closed.

Inca Gold Jewellers closed unexpectedly in August, leaving customers

unable to retrieve the jewellery they allegedly entrusted with business

owner Robert Dalton.

It is still unresolved three months later, leaving some people feeling

frustrated. It has been discovered that Dalton does not possess a

current second-hand dealer's license.

Dissatisfied customers have contacted both the media and the

Queensland Office of Fair Trading, in the hopes of resolving the matter.
---
On The Market

1 2 3

4

5

DECEMBER

Product

Spotlight

Jeweller's monthly compiled

snapshot of the latest and greatest

products to hit the market.

6 7

8

1 UNODE50 | Timesupply Handmade in Spain with an organic design, this colourful bracelet is set with multi-coloured faceted crystals of irregular shapes in a geometric pattern set on leather strands.

2 ENGELSRUFER | Pride Brands The Sun, The Moon and Stars necklace and earring set is crafted in sterling silver with blue enamel inserts with each piece finished off with a dangling star that moves with

the wearer. 3 MARK MCASKILL JEWELLERY This new design aquamarine ring features a vibrant 9 x 7mm cushion cut centre stone with two 3mm trilliant cut Tanzanite side stones, framed by a fine claw

set diamond halo totalling 0.23ct. Available in 9-carat or 18-carat gold. 4 RJ SCANLAN & CO. Dora has expanded its new Tantalum collection to incorporate gold. Impress customers with contrasting colours

and weight which provides a point of difference from other wedding rings. 5 DJ DIAMOND DESIGNS Crafted in 18-carat white, yellow and rose gold, this outstanding dress ring is new to DJ Diamond's recent

collection. 6 SAMS GROUP AUSTRALIA Influenced by Australia's rich heritage, Sapphire Dreams pairs premium jewellery design with sustainably sourced Australian sapphires which are available in an

exquisite range of colours and settings. 7 FABULEUX VOUS Classic and modern worlds collide with these stunning freshwater pink pearl hook earrings complete with delicate sterling silver chains to add a

whimsical element. 8 GERRIM Regal and glorious in the deepest of blues, the London blue topaz and diamond trio set is available now and is one of Gerrim's all-time favourites.
---
Available at Pandora Concept Stores, Participating Stockists and Pandora.net
---
10 Years Ago

Time Machine: December 2011

A snapshot of the industry events making headlines this time 10 years ago in Jeweller.

Historic Headlines

4 Roy King distributor in liquidation

4 Tiffany and Pandora defy odds with solid profits

4 Ice-Watch number one

4 Liz Taylor's 'Crown Jewels' to be auctioned

4 Young Jewellers Group hits three tonne

Will Apple launch an iWatch?

It wouldn't be the first time a computer

company entered the watch market, but

Rumours about Apple Computer launching an

iWatch have been around for a few years.

The speculation began around the time of

the iPod Nano launch and when third-party

manufacturers designed plastic watchbands to

hold the Nano.

Arguably, wearable computers have been a

reality for a long time given the wide array of

high-tech digital watches already on the market,

and it wouldn't be the first time a computer

company entered the watch market, but if

Apple launches the iWatch could it be a gamechanger?

Crazy or brilliant ad campaign?

In a departure from the norm, a Norwegian

jewellery company has decided that the best

way to launch its new 2012 jewellery range is to

douse a beautiful woman in petrol and burn her

at the stake, wearing the company's jewellery,

of course!

Bjørg Jewellery created a short film titled

'Heresy', which portrays a woman being burned

at the stake. Although it's beautifully filmed, one

wonders what the message is given the viewer

sees just a fleeting glimpse of the product. Blink,

and you'll miss it!

The theme of the film and print advertising

campaign is "Not all who wander are lost", and

the company's website explains, "The collection

makes up an odyssey of imagination, mystique

and poetry, switching between dreams and reality,

thus welcoming Dark Knights, Pale Moons, Magic

Hours and Misty Mountains."

December 2011

ON THE COVER Tips to Treasure

Editor's Desk

4The one and only sales secret: "If anyone

wants to know the secret to making

money in tough times, please stand

behind your chair." Everyone in the room

stood up and the expert said, "Now turn

your chair upside down".

Bewildered, the staff upturned their

chairs only to see an envelope taped to

the bottom marked "Secret".

Inside was a crisp, new $20 note taped

to a sheet, which read: There are no

secrets in this world BUT … you just

earned $20 by getting off your arse.

When times are tough, do it more often!"

Soapbox

4Smile! It's Christmas: "When I moved

to Australia 20 years ago now, I

constantly heard people saying the

words, "No worries," when everyone

seemed worried about something.

The key is to remain positive and trust

your instincts. You can't change the

direction of the wind, but you are still

the master and commander of your

ship, so remember to adjust your

sails."

– Bunny Bedi, director,

Made in Earth Creations

STILL RELEVANT 10 YEARS ON

Pitfalls of social media marketing:

Promoting free speech and endorsing

opinions via social media platforms

can help businesses interact with their

demographic, but it's equally important

for businesses to regulate the posts of

their followers.

Jewellery World Show

cancelled?

Announced only weeks ago by the publisher

of Jewellery World magazine, it appears

Sydney's proposed second trade fair has

already been canned.

Dubbed Jewellery World Show (JWS), the

event, owned and operated by the Intermedia

Group, was scheduled for 26-28 August 2012,

only a week before the industry's official

JAA International Jewellery Fair. However,

rumours about the show's early demise

began circulating last week.

A floorplan was issued to prospective

exhibitors at the beginning of December

showing spaces for around 350 booths.

Jewellery World publisher, John Abolins,

announced that his new, rival show was

slated for Sydney's Moore Park.

Aggressive expansion

for jewellery retailer

Magnolia Jewellery has plans for an

aggressive expansion program in 2012,

along with an increased online presence.

The 27-store silver jewellery retailer is

preparing to open a dozen new stores in key

CBD locations and regional cities next year.

Magnolia Jewellery CEO, Nati Harpaz told

Jeweller the location of the new stores will be

finalised by New Year and will be opened in

areas with heavy foot traffic.

Harpaz believes the company is currently too

small. The CEO explained that he intends to

implement extensive marketing campaigns

to build brand awareness.

READ ALL HEADLINES IN FULL ON

JEWELLERMAGAZINE.COM

28 | December 2021
---
INSIDE

My Store

Black Betty

SEA POINT, CAPE TOWN & PARKHURST, JOHANNESBURG with Kristin Weixelbaumer, owner • SPACE COMPLETED 2019 & 2020

4Who is the target market and how did they

influence the store design?

Our target market is all ages. We love seeing that

journey of a young person buying their first piece

of silver or gold-plated jewellery for himself or

herself, to someone buying a lifelong gold piece

that they'll be able to pass down for generations.

Female empowerment is a core value of ours

so we generally cater towards women. We want

women to be their best, most confident selves.

We also encourage people to accept all parts of

themselves, flaws and all. Our identity as 'black'

speaks to that beautiful part of us that is not afraid

of the dark. This has been a huge influence on how

we have created the space - we play up the drama

with lots of black, skulls, candles etc.

Then we have textures and metals that shine

through beautifully, like our bright diamond that

shines at the back of our Sea Point store.

4With the relationship between store

ambience and consumer purchasing in mind,

which features in the store encourage sales?

The first thing that springs to mind is our Sea

Point store's gold-painted entrance, which gives

a feeling of walking into a display case filled with

jewels.

Our aim is to create a super creative, fun and

comfortable store environment. Both stores have

lovely couches to welcome customers to chat

with our staff about possible bespoke pieces

and to open the floor to make the jewellery

experience personal. We want our customers to

really feel heard so that's an important part of

our philosophy.

Our 'ear candy section' is also a favourite. It's

where customers can look and play with designs

before they get their ears pierced, and so they

can carefully consider how we are piercing them

and with what jewels.

4What is the store design's 'wow factor'?

The jewels, of course!

30 | December 2021
---
www.centrestone.com.au

CENTRESTONE BENEFITS

WORLDWIDE COVER

ANYWHERE, ANYTIME

YOUR CLIENTS' CLAIMS

COME BACK TO YOU

THE JEWELLERY

INSURANCE SPECIALIST

INSTANT COVER,

NO WAITING PERIODS

4 DAYS

UP TO 150% COVER OF THE

INSURED AMOUNT

AGREED VALUE AND LIKE-

FOR-LIKE REPLACEMENT

FREE COVER

Partner with us today

NO EXCESS ON ALL CLAIMS

COVER FOR ACCIDENTAL

DAMAGE, LOSS &THEFT

ANNUAL REVALUATIONS TO

MATCH REPLACEMENT COST

COMMISSION

PAID FOR

EVERY POLICY.

ALL CLAIMS

COME BACK

TO YOU

Our Mission.

Offer the best product & service,

and implement seamless solutions

for jewellery insurance.

Our Solutions.

Implementing frictionless deployment

of jewellery insurance with technology

led innovation and solutions.

Your Success.

Fast, efficient and easy to use.

Build your customer loyalty and

additional revenue.

JOIN AS A PARTNER JEWELLER

CALL NOW

+61 2 8316 3995

Centrestone Jewellery Insurance

Lvl 11, 52 Phillip Street

Sydney 2000 NSW

Info@centrestone.com.au

www.centrestone.com.au
---
INSIDE

Now & Then

G W Cox My Jeweller

Celebrating 123 Years • ADELAIDE, SA • A moment with Jon Cox, General Manager

MILESTONES

L to R: Early days of G W Cox on 23A Hindley Street, Adelaide; the team at G W Cox My Jeweller, 15 Rundle Street

1898

George William Cox with

his wife Lillian open in

Hindley Street, Adelaide

opposite Miller Anderson,

department store.

1909

George moves location

to Number 1 Rundle

Street, Adelaide.

1916

At 14 years old, Cecil

James Chilton Cox

joins the company.

L to R: George, Cecile, Gerald & Jon Cox

It has been 123 years since

watchmaker George William Cox,

together with his wife Lillian, opened

the doors of their first jewellery store

in Hindley Street, just across the road

from the former Miller Anderson

department store.

George's story as one of the most famous

jewellers in South Australia began when

his grandfather travelled from England

and set foot in Adelaide sometime in 1858

and established a brickworks business in

the Norwood area.

Wanting to make a name for himself,

George learned watchmaking by

working in a jewellery store in Parkes,

Victoria before venturing on his own.

As fate and timing would have it,

Adelaide was needing another jewellery

store, so he took on the challenge.

In 1909, George sought to expand his

small business and decided to move his

store to No.1 Rundle Street - across King

William Street - which turned out to be a

good choice as the business grew.

Cecil James Chilton Cox joined the

company in 1916, shortly after his 14th

birthday, and started learning the trade.

His son Gerald started working for the

company in 1949 and was exposed to

the business at a young age when he

used to run messages for the shop.

In 1954, when Cecil passed away, Gerald,

then 21 took over the business and

credited the success of the business to

its staff who supported and guided the

young owner in making the G.W. Cox My

Jeweller brand into what it is today.

The years that followed saw the

business become a family affair since

Gerald's wife Sue joined the company in

1955 as a bookkeeper; followed later by

their son, Jon, as General Manager and

daughters, Robyn and Meredith, who

worked part-time in the company.

Gerald regarded their employees as

part of their extended family and were

instrumental in the growth of the

business.

Most of the staff stayed with the

company until they retired from work.

G.W. Cox My Jeweller has had its fair

share of excitement from smash-andgrab

thieves, heists, and robberies

through the years. Nonetheless, the

business still stands.

Jon, currently General Manager, said

that so much has changed over the

years; "When reflecting on my time in

the business, I think the biggest change

has been the structure of the industry,

which has come about with the use of

modern technology to manage stock

and marketing," he said.

"Back in the 80s, jewellery was

manufactured in Australia and

distributed through a network of

wholesalers. If you needed a gold chain,

you could wander down the road to the

local wholesaler and get the chain for

your client.

"The client was happy to wait, you

had enough staff to leave the store.

Computers were a new toy".

He remembers his first week of fulltime

work and an occasion where he

1949

Gerald Matthew Cox

joins company, and runs

messages and learn the

business as a young

teenager.

1954

Cecile Cox passes away

and Gerald, 21, takes over

the business

1955

As the new owner, Gerald

seeks new location and

moves back to Hindley

Street after Rundle Street

lease expires.

1960

Opens shop at 15 Rundle

Street, opposite Myer.

1966

Purchases building at

99 Rundle Mall.

1976

Jon Cox starts as

Christmas Casual.

1977

Opens store in Tea Tree

Plaza Shopping Centre

1982

Jon Cox joins the

business. Jon and Gerald

travel to Europe and the

US to meet suppliers.

1998

Celebrates 100 Years.

2003

Opens store in Marion

Shopping Centre

2005

Closes Tea Tree Plaza

Shop

had to visit a jewellery store directly

across the road: "Dad had a client

who wanted a pair of cuff links. We

did not have them in stock.

So, Dad said to me, 'go and introduce

yourself to Peter Wendt [store owner]

and ask him if he can let you have a

pair of cuff links to sell to my client'.

I did, and Peter was lovely, he gave

me the cuff links and said I could

give him a replacement pair once I

received them from my supplier."

Jon believes there is a vastly reduced

wholesale and manufacturing

industry in Australia today, the

world has become 'smaller' as most

suppliers are international.

"Marketing is different. My father was

very active in the mass media of the

time, especially radio and television,

whereas today, our clients are found

online," he explained.

So, what does the future hold for the

business?

"The structure of retail today enables

growth in sales without physically

building new shops. There is a lot

of productivity under-utilised in the

shop structure.

"I think our growth will be in the

online arena, and the shop will grow

sales because of being engaged

online," Jon said.

Read the full length interview

on Jewellermagazine.com

32 | December 2021
---
RR Diamonds

Supplying Australia Since 1974

PHOTO BY CHRIS VON WANGENHEIM | CVWANGENHEIM.COM
---
Completing my Diploma in

Gemmology has benefited

me as a jeweller in more

ways than I ever expected.

I have always had an interest

in gemstones and found

the course was not only

informative and challenging

but immensely rewarding.

Studying with the GAA has also

allowed me to meet like-minded

people from many facets of the

jewellery industry and grants me access

to resources that I will continue to use

throughout my professional career.

Emma Meakes FGAA

Jeweller, John Miller Design - WA

Diploma in

Gemmology

Enrolments now open

For more information

1300 436 338

learn@gem.org.au

www.gem.org.au

Be

Brilliant

Gem-Ed Australia

ADELAIDE BRISBANE HOBART MELBOURNE PERTH SYDNEY

Passionately educating the industry, gem enthusiasts

and consumers about gemstones
---
REVIEW

Gems

Part I: Synthetic Diamonds

L to R: Anabela Chan earrings; Vrai necklace;

Diamond Foundry's lab-created diamond

rough before cutting Below: Kimai necklace;

Lightbox Jewelry earrings

Of all the great debates in the gem and

jewellery industry, the 'hottest' topic

continues to be natural versus synthetic

diamonds. Varying, and sometimes,

'opposing' information is continually

published as both synthetic and natural

diamond technologies continue to develop.

The initial confusion: what's in a name?

It appears the industry prefers the term

'lab-grown' or 'lab-created' diamonds to

'synthetic' diamonds. Technically, 'synthetic'

is the most accurate term, although both

'laboratory-grown' and 'laboratory-created',

without shortening to 'lab', are also

accepted by the CIBJO industry standard.

These names all represent diamonds

manufactured in a laboratory that have the

same chemical composition and physical

properties as natural diamond.

On the other hand there are synthetic

stones designed to look like diamonds but

are imitants because they are not the same

chemically and/or physically, such as cubic

zirconia and moissanite.

The first recorded synthetic diamonds

were largely experimental, designed for

use in advanced technological settings.

In 1970, General Electric announced it had

produced gem-quality colourless, blue, and

yellow synthetic diamonds suitable for the

jewellery industry.

As technology and the understanding of

diamond synthesis improved, new variations

of these gems were produced including

synthetic blue diamonds, supposedly

'grown from human remains'!

The first method of diamond synthesis

responsible for commercially available

synthetic diamonds, still available today, was

a High Pressure High Temperature (HPHT)

synthesis. This aims to recreate natural

diamond growth by subjecting carbon to

extreme pressure and temperature, as the

name suggests.

The apparatus grows diamonds at

pressures around 53,000 atmospheres

(1 atmosphere is the average pressure

we feel on Earth) and temperatures

around 1,300–1,600°C.

Generating this level of energy is expensive

and requires larger equipment than the

more recently introduced synthesis method

of Chemical Vapour Deposition (CVD). This

method is very different to the geological

processes that create natural diamonds.

CVD diamonds are grown within a vacuum

chamber from a gas containing carbon,

such as methane. Exposing the gas to

microwaves ionises the carbon atoms,

which deposit and grow on a diamond

seed crystal within the chamber. Over time,

changing the gas used and the purity of the

diamond seed plate has resulted in better

quality CVD synthetics.

CVD synthetic diamonds are usually

Type IIa – a 'purer' type of diamond with

negligible nitrogen impurities, found in

only 2 per cent of natural diamonds.

Although HPHT synthetic diamonds

were mostly Type Ib in earlier production,

introducing a new step in the growing

process means Type IIa are now commonly

grown for the jewellery industry.

These days, portable testing equipment

designed to identify and separate colourless

natural diamonds from synthetic, such

as the Presidium Synthetic Diamond

Screener II, measure diamond's response to

Synthetic

Diamond

Also known as labgrown

or lab-created

diamonds

Colour: Multiple

Manufactured in: China,

India, USA

Mohs Hardness: 10

Refractive Index: 2.42

Formula: C

ultraviolet light in order to suggest whether

it may be Type IIa. In the screening process,

any colourless diamonds that show signs

of being Type IIa should be sent to a

gemmological laboratory for further testing

for confirmation of natural or synthetic

growth.

The most well-known features of synthetic

diamonds include metallic inclusions

in HPHTs (which can cause them to

be attracted to magnets), stronger

fluorescence in short-wave ultraviolet light

than long-wave (the opposite of natural

diamonds), phosphorescence, and strain

patterns caused by the growth process and

their different morphology (crystal shape),

which varies between HPHT, CVD, and

natural diamonds.

Accurate and reliable identification can

be simple by identifying growth patterns,

fluorescence and phosphorescence,

or it may be difficult, requiring more

advanced gemmological testing, such as

spectroscopic analysis.

As technology continues to improve,

disclosure and education become

increasingly important. Next month will

provide insight into the treatments that

may be applied to synthetic diamonds in

Synthetic Diamonds: Part II.

Mikaelah Egan FGAA Dip DT

began her career in the industry at

Diamonds of Distinction in 2015. She now

balances her role as a gemmologist at

Vault Valuations in Brisbane with studying

geology at the University of Queensland.

Visit instagram.com/mikaelah.egan

For more information on gems and

gemmology ,go to www.gem.org.au

December 2021 | 35
---
CELEBRATING

Local Talent

MILLIE SAVAGE

'I Love Pearls'

Earrings

Metals: Available in

silver, 9-carat and

18-carat yellow gold,

rose gold and white

gold.

Gemstones:

Sapphire, ruby, pearl

Millie Savage

Melbourne, VIC

Wholesaler of Precious and Semi-Precious

Gemstones based in the Heart of the Sydney CBD

Phone 02 9262 9608

Mobile 0410 911 637

Address Suite 410, Level 4,

250 Pitt St, Sydney CBD,

NSW, 2000, Australia

Australia and New Zealand are not only home to some of the

rarest gemstones in the world, but also the most talented jewellers.

Jeweller showcases a tapestry of local masterpieces that have been

meticulously crafted with great artisanship, right here on home soil

Email sdkgemstones@gmail.com

SILK & STEEL

'Luminosa' Drop

Earrings

Metals: Silver

Gemstones: White

topaz

Sarah Cotterall

Auckland, NZ

WWW.SDKGEMSTONES.COM.AU
---
RYAN STORER

Claw Set Fiji Pearl

Cluster Necklace

Metal: Silver base

metal, 14-carat gold

plated

Gemstones: Pearl

Ryan Storer

Sydney, NSW

JOHN MILLER

DESIGNS

'Golden Arabesque'

Cuff

Metal: 18-carat yellow

gold or sterling silver

John Miller

Margaret River, WA

Burmese

Gemstones

Specialist

LEOPOLDSEDER

Mollusc Brooch

with Tahitian Pearl

Metal: Oxidised and

sterling silver

Gemstone: Tahitian

pearl

Katheryn

Leopoldseder

Melbourne, VIC

Originally from

Burma (Myanmar)

MAYS Exotic Gems of

& Jewellery has now

been established in

Melbourne serving

Australia wide. Ask

us about our Jedi

Spinel, Grey Spinel,

Unheated Burmese

Ruby and Jadeite

Jade collections.

1300 00 62 97

info@mays.com.au

mays.com.au
---
TRADE ANALYSIS

Golden Connections

THE UPS & DOWNS OF

IN A TOPSY-TURVY WORLD

Consumers see the price of gold reported on a daily basis, and in recent times that price has

been rising. Does this negatively impact sales of gold jewellery, or is there a counter-intuitive

occurrence; gold jewellery sales increase when the gold price increases?
---
TASTE OF

SUMMER

K E Y FIGURES

Gold by the

Numbers

US$271

The price of gold

in 2001

US$2,000

The price of gold

in August 20211

34%

The 2020 decline

in gold demand

for jewellery

1980

Gold jewellery

was 15% of sales

for 'average' store

The price of gold has steadily risen since the start

of the COVID-19 pandemic. There are a number of

reasons for this, and the most obvious is that gold is

always seen as a 'safe haven', or a store of value. As a physical

commodity, gold cannot be printed like money, and its value

is largely unaffected by government interest rate decisions.

For that reason gold has historically maintained its value over time;

it serves as a form of insurance against adverse economic events, of

which the global pandemic is an example.

If the above is accepted as a 'truism', then how does the price of gold

affect consumer demand for gold jewellery?

It's an excellent question and one that is not easily answered on a

global scale, largely because of differing 'relationships' some cultures

have with gold. Think India!

However, given the world has just experienced a significant global

catastrophe, and the gold price increased during the time, it does allow

us to analyse and compare what has happened over the past two years.

While the pandemic significantly impacted many industries and

international markets throughout 2020, gold was largely unaffected;

in January it was priced at around $US1,550 per ounce, a price at

which it rarely fell below. By December 2020 it had increased to

more than $US1,800 per ounce.

Plunge in sales

On the international front, data from the World Gold Council (WGC)

indicates that jewellery sales plunged: "Jewellery demand in 2020

dropped to its lowest annual level on record, decimated by the

combination of the global pandemic – with its resultant market

lockdowns – and record-high gold prices at a time of economic

slowdown."

The January 2021 report explains that "total annual jewellery demand

dropped to 1,411.6t, the lowest in our annual data series and 34 per

cent lower year-on-year. The two largest markets, India and China,

were the two major contributors to the annual decline." (See Chart A)

Understandably, the WGC collates historical annual data back to 1995.

The report goes on to explain that "although jewellery demand showed

continued signs of quarterly recovery from the lows reached in Q2 when

market lockdowns were at their peak, it remained very weak in Q4."

However, the news was not all bad because the WGC predicted that

Continued page 41

CHART A: COVID-19 THUMPED ANNUAL GOLD JEWELLERY DEMAND

Sources: ICE Benchmark Administration, Metals Focus, Refinitiv GFMS, World Gold Council;

Note: Data as of 31 December 2020. Jewellery value is calculated by multiplying the tonnage

figure and the annual average LBMA Gold Price PM in US dollars

TOLL FREE 1800 GERRIM

PO Box 3168 Yeronga

Queensland 4104

sales@gerrim.com

www.gerrim.com

FOLLOW US
---
Tiffany & Co.

2019 - 2021 GOLD JEWELLERY SALES

TRENDS THROUGH DATA

The charts below compare the sales of gold jewellery for the past three years - 2019, 2020

and 2021 (October). The data is a representative sample of more than 400 independent

Australian jewellery stores collected via Retail Edge POS software during a time where the

price of gold has steadily increased.

CHART B: 2021 – UNITS SOLD AND DOLLAR VALUE

4,500

4,000

3,500

3,000

2,500

2,000

1,500

1000

500

0

JAN FEB MAR APR MAY JUN JUL AUG SEP OCT NOV DEC

CHART C: 2020 – UNITS SOLD AND DOLLAR VALUE

14,000

12,000

10,000

8,000

6,000

4,000

2,000

0

JAN FEB MAR APR MAY JUN JUL AUG SEP OCT NOV DEC

CHART D: 2019 – UNITS SOLD AND DOLLAR VALUE

18ct Diamond & Precious Coloured Gemstone Jewellery

DJDIAMONDDESIGNS.COM.AU

Daniel Jacuk - 0412 071 103

sales@djdiamonddesigns.com.au

14,000

12,000

10,000

8,000

6,000

4,000

2,000

0

JAN FEB MAR APR MAY JUN JUL AUG SEP OCT NOV DEC
---
TRADE ANALYSIS | Golden Connections

"while jewellery demand volumes were likely to

remain relatively subdued as COVID-19 continues

to impede the normal functioning of many

markets across the globe, mass vaccination

program and signs of improving economic

indicators imply that we expect to see continued,

if tentative, improvement in the sector in 2021."

And so it was that by July this year the WGC

was reporting that "jewellery demand (390.7t)

continued to rebound from 2020's COVID-hit

weakness, although remained well below

typical pre-pandemic levels, partly due to

weaker Indian demand growth and only a few

months later its October report declared that

"Jewellery continued to draw strength from the

ongoing global economic recovery: Q3 demand

rebounded 33% year-on-year to 443t."

Macro versus micro

This data is at a macro level and does not

necessarily relate to the 'at the coalface'

experience of jewellery retailers worldwide.

In other words, what might be happening in one

country/market may not be replicated in other

markets. Local factors impact consumer buying

and trends.

Mike Dyer, sales manager at Retail Edge, a

specialist management consultancy firm in the

retail jewellery market, details a different side

or outcome from that of the WGC data.

While the pandemic

significantly impacted many

industries and international

markets throughout 2020,

gold was largely unaffected;

in January it was priced at

around $US1,550 per ounce,

a price at which it rarely fell

below. By December 2020 it

had increased to more than

$US1,800 per ounce. "

He believes "there are several factors that

influence the retail selling price of gold, the

best way to measure the comparative movement

would be the number of items sold, and to

analyse this with just gold jewellery.

"Units sold figures for full calendar year 2019

compared to full calendar year 2020 shows just

a 6.3 per cent increase in units sold. Markups

[retailer margin] achieved are almost the

same which points to an increase in consumer

demand rather than a resistance to price."

Of course, one explanation could be that

consumers who were still buying gold jewellery

during the global pandemic - and during a

period of a high gold price - could have been

choosing lower 'quality' and therefore, lowerpriced

gold items.

However, Dyer's data - collected from more than

400 independent Australian jewellery stores via

the Retail Edge POS software - suggests that

there was no shift to 9-carat designs rather than

18-carat to save money: "There is no evidence

in the items sold information [by Retail Edge

clients] that points to a drop in 18-carat unit

sales and an increase in the 9-carat unit sales."

(See Charts B, C and D left)

The three-year data from January 2019 to

October 2021 shows gold jewellery sales peaked

in December 2020, just as Australian cities were

re-opening after long lockdowns. It indicates

that 13,300 gold jewellery units were sold

FIND US ON INSTAGRAM

MILLENNIUM_CHAIN

Australian leading wholesaler, specialising in manufacturing

9ct and 18ct yellow gold, rose gold and white gold.

Machine made and hand made, any kind, chains and bracelets,

bangles and findings. Suppliers to retailers and wholesalers.

MILLENNIUM CHAIN

P: 03 9650 5955 | E: sales@millenniumchain.com.au

www.millenniumchain.com.au
---
Golden Connections | TRADE ANALYSIS

Bugari

Common Era

07 3003 1788

info@adoradiamonds.com.au

nationally in that month, with Australians spending

close to $4.5 million on gold jewellery in December

2020, which was the highest across the entire

period.

The second-highest month of the same period

was December 2019 – 11,485 pieces sold, with

$3.1 million spent on gold jewellery.

Interestingly, November, May and April 2020 resulted

in large gold jewellery sales; 4,914, 4,521 and 4,262

units sold respectively. It should be noted that

many Australian capital cities were in lockdown

during these months and, despite this, Australian

consumers continued to purchase gold jewellery.

Further, the highest performing months in 2020

outrank their respective (pre-pandemic) months in

2019 - despite the gold pricing rising across 2020.

During this timeframe, the gold price peaked in

August 2020 at more than $US2,000 per ounce

and yet Australian gold jewellery sales across the

Retail Edge client stores remained high in the same

period; with 3,643 gold jewellery units sold in August

2020, beating August 2019's 3,246.

Turning the table

Jeffrey Christian, partner CPM Group, a New York

based commodities research and consulting firm

has another slant on the topic: "Yes, it is correct

that overall higher gold prices lead to less gold

being used in jewellery. Similarly lower prices will

lead to more jewellery demand. It is not just high

prices but also volatile prices that reduce gold use

in jewellery".

He explains that the decline in demand occurs at

two levels, "Jewellers reduce their per unit gold

content in their jewellery to keep the jewellery

'affordable' and within 'price points' that are

attractive to consumers. Consumers react to higher

gold prices partly because there is some increase

"We have noticed in the past that

as the gold prices have increased,

platinum sales have nearly

tripled, as customers looks for

less expensive alternatives."

Chris Botha

Operations manager

Palloys

"Higher gold prices lead to less

gold being used in jewellery.

Similarly lower prices will lead

to more jewellery demand."

Jeffrey Christian

Partner

CPM Group

"Something I have noticed is

that when gold prices rise, the

consumers are more interested

in buying large 18-carat pieces,

and we quote a lot more of these

when the gold price rises."

Jacinta Collins

General manager

Golden Mile Jewellery

ADORADIAMONDS.COM.AU
---
TRADE ANALYSIS | Golden Connections

Million Oz

Gold Price Percent Change

CHART E: 40 YEARS OF GOLD JEWELLERY DEMAND & PRICES PROJECTED THROUGH 2020

120

Source: CPM Gold Yearbook 2021

110

120%

110%

100

100%

Gold Jewellery Demand

90

90%

80

70

60

50

40

30

20

10

0

80%

70%

60%

50%

40%

30%

20%

10%

0%

-10

-10%

Gold Price (Right Scale)

-20

-20%

-30

-30%

YEAR 79 81 83 85 87 89 91 93 95 97 99 01 03 05 07 09 11 13 15 17 19

Palloys

in the jewellery prices and partly because of the

perception that higher gold prices 'no doubt' are

increasing jewellery prices."

Christian's experience in the industry is long,

and in fact in an open letter to mining company

executives dated January 2001, he indicated that

gold jewellery production has little or no effect on

the price of gold: "Over the past few months CPM

Group has been asked by executives at several

gold mining companies that are clients of ours

about the price implications of rising jewellery

and/or investment demand for gold. Gold prices

never will rise significantly due to growth in

jewellery demand," he wrote 20 years ago.

In 2000, and when the gold price were at a low of

$US271 per ounce, the head of a bullion trading

company commissioned an advertising agency

to create a 'pitch' to the gold mining industry

for a consumer advertising and marketing

campaign to promote gold jewellery, in a similar

way that De Beers once ran generic campaigns

promoting diamond jewellery to consumers.

Following lengthy research, Christian advised

the gold miners: "As it has been explained to

us by several gold producers, the gold mining

industry is being asked to spend large amounts

of scarce financial resources to promote gold

use in jewellery. The marketing people behind

this promotional effort are said to have been

producers that only by stimulating gold jewellery

demand can producers ever hope to see gold

prices rise.

"While it is a noble and worthy effort for

producers to promote gold jewellery, mining

industry executives must understand that it

is impossible to drive gold prices significantly

higher on a sustained basis with jewellery

demand."

It should be remembered that his comments

are coming from the 'other side of the fence'.

That is, how gold jewellery production affects the

price of gold bullion rather than how the price of

gold bullion affects the pricing of gold jewellery

manufacture, which then affects jewellery

retailers, especially small independent stores.

November, May and April

2020 resulted in large

gold jewellery sales; 4,914,

4,521 and 4,262 units sold

respectively. It should be

noted that many Australian

capital cities were in

lockdown during these

months and, despite this,

Australian consumers

continued to purchase gold

jewellery."

Christian told Jeweller: There are four broad

issues that affect the volume of gold used in

jewellery design and manufacture, as well as

consumer demand for gold jewellery:

• Gold and jewellery prices

• Income levels, disposable income, senses of

economic well-being

• Fashion trends

• Advertising

"In the end the mining companies rejected the

proposed consumer advertising program."

Think globally act locally

One of the important lessons from the pandemic

is the fragility of globalisation; supply chains and

channels fell apart. Suddenly buying local became

not only paramount but also the only option.

James Bishop, operations manager Morris and

Watson, one of Australia's largest chain jewellery

manufacturers and refiners, says, "The pandemic

has impacted a number of industries over the

last two years so it is difficult to narrow down a

particular trend specific to the jewellery industry.

While the price per gram for gold has increased

this has not had a negative impact on sales.

"Jewellers appear to be very busy despite the

interruptions due to the pandemic, this is

possibly a result of national and international

travel restrictions ensuring people spend their

money locally." He believes that COVID-19 has

focused many retail businesses on local supply.

"More jewellers and retailers of all sizes are

also looking to purchase from local suppliers

due to national and international supply chain

disruptions and a customer base that is

becoming more socially and environmentally

focused," Bishop says.

Jacinta Collins, general manager Golden Mile

Jewellery Manufacturers, says that "definitely,

when the price of gold jumps up, traditionally

it always meant that retailers held off on

re-ordering stock, in the hope that the price

would drop down again. When the gold price

didn't drop down but instead continued to climb

further, we found that retailers realised that they

better hurry up and re-order." "If retailers left it

too late, then they'd find that they weren't able

to replenish their stock to the same level as the

December 2021 | 43
---
Golden Connections | TRADE ANALYSIS

COLIN POCKLINGTON'S INSIGHT

HISTORICAL PERSPECTIVE

Van Cleef & Arpels

The change in the price of gold over the past 40

years has had a major influence on sales of gold

jewellery, as would be expected.

When I worked at Hooker Retail (Prouds, Edments

and Diamond Traders) during the 1970s and early

1980s, the gold price was quite steady, and a lot

cheaper than today.

Therefore, sales of gold jewellery were not

impacted to any great degree by gold price

volatility.

However, the floating of the Australian dollar in

1983 added an additional volatility factor – currency

changes.

Once gold jewellery prices started to escalate – as

a result of the combination of higher gold prices

and a drop in the AUD/USD rate – sales of gold

jewellery were heavily impacted.

Consumers would ask for an 18-carat gold

chain, but when they realised the cost, would buy

9-carat instead. Additionally, as prices continued to

increase from 2005, consumers would often switch

from gold to silver.

Back in the 1970s and 1980s gold jewellery sales

were about 15-20 per cent of sales for an 'average'

jewellery store, with silver jewellery only 5 per cent.

For most of the past 20 years, these figures have

been reversed, with silver jewellery outselling gold

jewellery.

Several years ago, there was a resurgence in

sales of gold jewellery – our theory is that many

consumers have only known gold jewellery to be

at current price levels, and have not experienced

significant increases since 2000.

The most surprising change in gold jewellery sales

occurred in 2020/21 with sales of non-stone-set

gold jewellery increasing by about 100 per cent from

September 2020 when compared to 2019 sales.

While jewellery sales overall benefitted from the

post lockdown sales surge, sales of gold and

diamond jewellery were particularly strong, and

I think there are two reasons for this:

1. Consumers who would normally earmark

money for overseas/expensive holidays spent

on valuable items of jewellery

2. Some consumers purchased gold jewellery

on the basis that it doubles as a commodity /

safe haven for their money.

GS 3.

9-carat rose gold hinged

bangle available in 9-carat

yellow gold

SG.5

Oval profile (comfort curve)

S/S golf bangle. 63mm,

65mm, 67mm, 73mm

FANCY COLORED DIAMONDS

ARGYLE PINK, COGNAC & CHAMPAGNE

AUSTRALIAN BLACK OPALS

SG SLL. ID

Ladies and gents engravable

slave bangle with ball ends

sales@tremac.com.au

www.tremonti.com.au

stuart.miln@milnco.com.au

WWW.MILNCO.COM.AU
---
TRADE ANALYSIS | Golden Connections

amount they want to spend now, and it would get

them a reduced amount of stock to what they

had previously."

However, things have changed over the past few

years, according to Collins: "We have seen much

less of that [retailers not re-ordering], and we

are noticing customers replenishing their stock

more regularly with automated orders that keep

their stock levels constantly topped up without

needing to invest in a big lump sum."

Chris Botha, operations manager Palloys,

says that sales of gold jewellery has remained

"roughly the same, however, a notable change

is a reduction in the purity of gold. Higher gold

prices will often see people opt for 9-carat and

14-carat jewellery over 18-carat.

"It's not a lockstep correlation, but you'll often

see jewellery sales increase in the 9-carat range

rather than 18-carat as the price of fine gold

increases."

Interestingly, Botha points to another side effect.

There can also be an increase in demand for

platinum as a result of gold volatility: "We have

noticed in the past that as the gold prices have

increased, platinum sales have nearly tripled, as

customers looks for less expensive alternatives."

Arthur Papagrigoriou, director of Melbournebased

Athan Wholesalers, specialising in 9- and

18-carat pendant chains and imported Italian

chains, is another who says that the gold price

affects sales.

"We found a correlation in the increase in the gold

price and reduced gold jewellery sales during the

first sudden price rises in 2006, gold increased

and sales decreased, however, in recent times it

[sales] seems to be more steady. And there was

definitely a shift from 18-carat to 9-carat as the

gold price increased as many find the price of

18-carat out of reach," Papagrigoriou explained.

Bishop says that Morris and Watson's experience

has been different. "While there are always priceconscious

shoppers who lean towards 9-carat

gold, 18-carat gold will always remain a popular

option with many jewellers and their customers."

Collins echoes Bishop's view. "Something I

have noticed is that when gold prices rise,

the consumers are more interested in buying

large 18-carat pieces, and we quote a lot more

of these when the gold price rises. However,

most consumers realise that it is much more

expensive than they expected and generally end

up buying 9-carat as it is the more affordable

option," she says.

Industry stalwart, Ted Pevy, director Jewellery

Centre, established in 1977, is well placed to look

at long-term trends.

"We are seeing a move to women wearing fewer

pieces, but better pieces and gold fits into that

description as well. Where they had lots of little

chains, now it's one bigger, better chain. As

far as the gold price is concerned, it actually

increases the desirability of gold jewellery."

Pevy also says that while 9-carat gold pieces

are the more popular item, "18-carat gold

jewellery sales certainly have increased and our

experience is we are selling more 18-carat than

we have for quite a long time."

Bishop adds that there has been "a renewed

interest in 14-carat gold in the last couple of

years, offering a third option for people conscious

of both metal value and price. This can be helpful

for anyone that is unable to decide between

9-carat and 18-carat gold."

What can we make of all of this? Well, one thing

is clear, there is no definitive answer as to if,

and how, the price of gold affects sales of gold

jewellery, other than to say a trend in one market

may not be relevant to other markets. There is

no simple answer in a topsy-turvy world; and in a

world that has seen many ups and downs in the

past two years, it would be a bold person to claim

they have the answers.

Technology & Bench Solutions

for jewellers

Contact us today - 1300 926 296

61 7 3889 1666

anthony@evotechpacific.com.au

The perfect

Christmas gift

to yourself

Power Sharpener - $1,300AUD ex GST/freight

Evograver Micromotor/Graver - $1,600AUD ex GST/freight

Or buy them together for $2,750AUD ex GST/freight
---
FORECAST REPORT

The Synthetic Future

Lab-created diamond jewellery market :

FORECAST TO ALMOST

DOUBLE IN SIZE BY 2025

Image: Diamond Foundry

The future for lab-created diamonds will not be the great disruptor many predicted. The potential may rest

in fashion jewellery and in high-tech applications rather than quality luxury pieces, says PAUL ZIMNISKY.

T

he Diamond Foundry plans to build a

new plant that will reportedly produce

10 million carats per annum to cater for

the industrial tech market.

Along with the world's largest fashion jewellery brand

Pandora – which is currently testing a line of 'affordable'

lab-diamond jewellery - the man-made diamond market

appears to be stratifying into a more nuanced industry away

from one that was, just a few years ago, primarily focused on

'disrupting' the natural diamond jewellery market.

In the five or so years since larger, higher-quality labdiamond

jewellery began hitting the wider market (at first

in the US), production technologies have vastly improved,

the number of suppliers has greatly increased and many

retailers have begun to trial, and in some cases fullyadopt,

the novel product.

This has resulted in suppliers segmenting into more

specific business strategy aims such as lowest-cost

diamond jewellery, carbon-neutral branded diamonds or

non-jewellery super-material applications.

Estimated lab-diamond production for use in jewellery

has grown from just a few hundred thousand polished

carats per annum as recently as four or five years ago,

to almost 3 million polished carats in 2021 worth almost

US$2 billion, based on the polished diamond value at retail

('loose diamond equivalent' or excluding jewellery cost).

This figure represents an estimated mid-to-high singledigit

percentage of the total global polished diamond

IN NUMBERS

Big Picture

3 million

Number of

polished carats

in 2021

75%

Price difference

between labcreated

and natural

diamonds

10 million

Forecast annual

production of new

Diamond Foundry

plant

US$1 billion

IPO valuation of

Brilliant Earth

market (See tables right).

As the lab-made industry expands, man-made diamond

manufacturers are taking different approaches to

production and product positioning.

In recent years, US and Israeli tech start-ups such as

WD Diamonds and Lusix, have seemingly focused on

lower-emission, more sustainable production methods

to differentiate their jewellery product.

On the other hand, Diamond Foundry has publicly

expressed a longer-term aim at targeting single-crystal

diamond wafer production for use in semiconductors, an

industry many times larger than the jewellery industry.

Other companies are seemingly targeting lowest-cost

diamond jewellery production.

The number of lab-made manufacturers in India is

estimated to have increased rapidly driven by relative

cost benefits in the country as companies there benefited

from subsidised energy (the greatest variable cost for

man-made diamond manufacturers) and domestic access

to the industry's largest manufacturing hub.

In China, some legacy, high-capacity high-pressure-hightemperature

(HPHT) producers continue to upgrade their

production technologies allowing for larger, higher-quality

gem production – allowing them to compete with more modern

chemical vapour deposition production (CVD) methods.

On the downstream end of the lab-created diamond

jewellery market, it seems that many consumers who

choose a lab-diamond rather than a natural diamond

46 | December 2021
---
INTO THE CRYSTAL BALL

LOOKING AHEAD

TABLE A: LAB-GROWN POLISHED DIAMOND MARKET FORECAST

TABLE B: 1-CARAT POLISHED DIAMOND JEWELLERY PRICE COMPARISON

TABLE C: MARKET SEGMENTATION OF LAB-GROWN DIAMONDS

CHARTS AND ANALYSIS BY PAUL ZIMNISKY © 2021

REPORT REPUBLISHED WITH PERMISSION
---
Inset: Diamond Foundry

Right: Anabela Chan

are doing so because of the notable price

differential.

Based on a survey of prices, a consumer can

buy a better-than-average-quality 2.15-carat

lab-diamond solitaire for the price of an

equivalent 1.00-carat natural stone.

In general, the price differential between

generic lab-diamonds and natural diamonds

has steadily widened in recent years – in

some cases expanding from a 10–15 per cent

differential just a few years ago to as much as

75 per cent or more at present.

Consequently, the widening

wholesale price differential

between lab-created and

natural could influence the

way that down-stream retailer

brands and jewellers market

the products."

That is, the differential being the 'discount' of

a lab-diamond relative to a natural diamond of

similar size and quality (See chart on page 47).

This price variance is likely, at least in part,

due to the production fundamentals of the two

products: lab-diamonds are manufactured

product, whereas natural diamonds are a nonrenewable

resource of varying quality and size.

Consequently, the widening wholesale price

differential between lab-created and natural

could influence the way that down-stream retailer

brands and jewellers market the products.

While it is likely that some lab-diamond

companies will successfully apply branding

leverage and other strategies allowing their

product to garner a premium to most (especially

generic) lab-diamonds, longer-term it is

forecasted that an increasing amount of labdiamond

jewellery will be marketed towards

fashion jewellery consumers.

The (Red) Diamond Ring, created by

Diamond Foundry x Jony Ive & Marc Newson,

sold at Sotheby's for US$256,250 in 2018

In other words, lab-diamonds will be used in

lower-priced jewellery competing less with

higher-priced natural diamond jewellery.

For example, Pandora's new lab-diamond

collection, marketed as Pandora Brilliance,

is being positioned to 'democratise' diamonds,

according to the company.

The collection starts at a US$350 price point

and includes pendants, earrings, bracelets

and rings – although the rings are not directly

being marketed as engagement rings.

This price variance is likely,

at least in part, due to the

production fundamentals

of the two products:

lab-diamonds are

manufactured product,

whereas natural diamonds

are a non-renewable resource

of varying quality and size."

Swarovski, another iconic global fashion

jewellery brand, recently launched a fancycoloured

lab-diamond collection available in an

array of vibrant proprietary colours - colours that

are not typically available in natural diamonds.

The collection doesn't appear to be positioned

as a bridal product either. Other retailers'

strategies appear less clear.

Mid-market US department store majors,

Macy's and JCPenney, which have historically

sold an array of other man-made gems, began

offering lab-diamond jewellery in 2018.

The following year, Signet Jewelers, the

largest mid-tier jewellery conglomerate in

48 | December 2021
---
FORECAST REPORT | The Synthetic Future

the US, began selling a limited amount of labdiamonds.

All three companies are offering lab-diamond

bridal/engagement options as well as more

fashion-positioned merchandise.

Tiffany & Co., the largest fine jeweller in the

world, as well as high-jewellers such as Cartier

and Bulgari, do not directly offer lab-diamonds,

nor do the larger, jewellery chain stores in China,

the diamond industry's second largest, and fasted

growing, market.

Blue Nile, which is estimated to be the world's

largest online retailer of diamonds, began offering

De Beers' Lightbox lab-diamonds late last year.

The collection is exclusively sold as non-bridal

jewellery and is priced using a linear method of

US$800 per carat (up to 2-carat solitaire in size).

However, Blue Nile's fast-growing competitor,

Brilliant Earth, which recently went public at a

valuation exceeding US$1 billion, is speculated to be

one of the largest sellers of lab-diamonds globally –

as fine and fashion jewellery.

Looking longer-term, innovative and emerging

industrial diamond applications is forecasted

to drive the man-made diamond industry's

Moi Moi Fine Jewellery

QUICK RE V IE W

In Summary

New direction

As the lab-made industry

expands, man-made diamond

manufacturers are taking

different approaches to

product positioning

A testing time

Many retailers have begun to

trial, and in some cases fullyadopt

lab-created diamonds

Emotion still rules

The consumer's rational for

diamond jewellery is still

influenced by emotion or an

affinity for rarity.

greatest growth, whether it be in advanced thermal

management devises, medical equipment, energy

storage or semiconductors - which alone is

estimated to be almost a half-trillion-dollar industry,

noting that the demand for diamond substrate

specifically would theoretically only be a fraction

of the total market size.

The market size of these applications far exceeds

that of jewellery, and the end-user is much more

likely to be indiscriminate about whether the

diamond is manufactured or natural.

With industrial applications for diamond, the

lower-price option will theoretically win out as

long as performance is comparable.

With diamond jewellery, as is the case with luxury more

generally, the consumer rational for purchase is not

nearly as practical and is often influenced by more

intuitive factors such as emotion or an affinity for rarity.

PAUL ZIMNISKY CFA, is a leading global diamond

industry analyst based in New York. He specialises

in international diamond supply and demand

fundamentals, and the companies operating within

the industry. Visit: paulzimnisky.com

Access Australia's largest

lab-grown diamond inventory.

GROWNDIAMONDS.COM.AU

Register now

Benefits of Lab Grown Diamonds

Optically, chemically and physically identical to

earth mined diamonds

60 - 75% cheaper than mined diamonds!

Eco - Positive and are 100% mine-free

Your clients can get a bigger diamond and/or better

quality than an earth mined diamond

A great alternative for clients with a smaller budget!

Available online access of close up videos, photos

and lab certificates.

Over 27,000 diamonds available online

Over 1,200 diamonds on hand available for

consignment in Australia

Free express shipping

5% discount if you buy ONLINE

A selection of stock available in Australia for purchase / consignment | Oct 2021

Shape CT Col Cla Cut Pol Sym Fl Cert T.Price

Round 0.71 E SI1 ID EX EX N IGI $ 767

Round 1.01 D VS2 ID EX EX N IGI $ 2,063

Round 1.54 D VS2 EX EX EX N GIA $ 4,609

Round 2.02 F SI1 ID EX EX N IGI $ 5,618

Round 3.63 F VS1 ID EX EX N IGI $ 18,335

Oval 1.63 F VS2 - EX EX N GIA $ 4,390

Oval 5.01 F VS1 - VG VG N IGI $ 36,951

Marquise 1.04 G SI2 - VG VG N GCAL $ 1,531

Pear 1.31 G VS2 - VG VG N IGI $ 2,070

Emerald 1.89 E VVS2 - EX EX N IGI $ 5,826

Princess 1.93 H VS2 - EX EX N IGI $ 3,999

Radiant 2.20 F VS2 - EX EX N IGI $ 7,036

* Price in Australian dollars exclusive of GST | *Price may vary depending on AUD /USD exchange rate

GROWNDIAMONDS.COM.AU

contact@growndiamonds.com.au | Level 11, Suite 1102, 227 Collins Street, Melbourne VIC 3000 | 1800 849 291
---
BUSINESS

Strategy

Reduce customer churn:

5 ways to understand at-risk customers

Oddly enough, customers who are close to 'leaving' your business can be very valuable,

but only if you know how to recognise them. JEANNIE WALTERS reports.

Nobody thinks they're neglecting

customers, nevertheless many do. Some

of us live, breathe and constantly think

about the customer experience. But most

businesspeople, believe it or not, don't

spend their time that way.

Unfortunately, business leaders have not

been trained, educated, or even asked to

consider customer experience. Traditional

business education, and even standard

business plans, don't focus on the

customer's total interaction or 'journey'

beyond the basics of getting the sale and

delivering a product or service.

Think of a customer journey as a detailed

map that shows the full experience a person

has when dealing with your business.

Many customer journey maps can neglect

key phases of the customer experience.

They are sometimes focused on the ideal

scenarios where issues don't happen:

All customers are happy, all products are

delivered on time, and there's no need for

customer service to resolve complaints.

One of the questions I love to ask business

owners and managers who are exploring

customer experience is how much they

know about their 'at-risk' customers.

For example, do you know who your atrisk

customers are, where they are in the

journey, and to where they might drift? The

answer I tend to get from people who aren't

succeeding at customer experience is a

blank stare and maybe a shrug.

The relationship between a brand or retail

store and its customers is like any other

relationship. There is often a love story in

the beginning, and then throughout the

relationship, the love and even loyalty can

wane and drift. That's human nature.

Neglect is an emotion that is more powerful

at driving human behavior than we think.

A research study published by the

International Journal of Applied Business

and Economic Research identified four

antecedents to customer loyalty. They were

defined as satisfaction, commitment, trust

and image. All of these factors require

attention and intention. Neglect is the

antithesis to each.

And yet business leaders are often asked to

focus on customers-yet-to-be, those they

don't have; all too often heavy emphasis

(along with financial incentives) is placed on

acquiring new customers. Once customers

become great customers, there might be an

emphasis on customer advocacy programs

or customer loyalty initiatives.

Those are important parts of the customer

journey, but the overlooked opportunities

may lie in the customers who are drifting

away from the brand due to neglect. They

don't get attention and they usually don't

make a fuss. They just leave.

Leaders need to challenge their staff to

consider those quiet, but almost-gone,

customers. They are the 'at-risk' customers.

Most

businesses

used to lump

customers into

two simple

categories:

New customers

and 'the rest of

them'.

Most businesses used to lump customers

into two simple categories: New customers

and 'the rest of them'. New customer

acquisition is often used to gauge success –

the more we gain, the better we're doing!

And what about 'the rest of them'? They're

all getting automatically e-charged and

they seem happy because they're not

complaining. This is how we get lulled into

thinking everything is working well.

But meanwhile, we have at-risk customers

who are ready and willing to defect to

competitors when the right opportunity

presents itself.

Who are your at-risk customers?

Before you can develop a strategy around

at-risk customers, you first need to identify

them. These are customers who are not

happy or just have a 'meh' attitude about

what your brand does for them. Not since

they were shiny new customers have they

felt cared for.

At-risk customers don't have a strong

opinion about what you think are the best

features of your product or service. They

may have had one bad experience with your

staff and decided that was enough to open

the door to consider switching. Or maybe

they have been trying to share feedback, but

don't feel heard.

If you don't know who this group is, here are

a few ways to identify these customers:

• Evaluate sales data and investigate the

50 | December 2021
---
Business Strategy

customer journey for those who didn't

buy. Did they seek support at similar

times or stop engaging with the store or

staff?

• Review milestones along the customer

journey. Is a customer more likely to drift

away after one year, two years, or after

a significant change in their life or in the

way they interact with the store?

• Turn complaints into opportunities to

listen for what the customers who don't

complain may want to say. It's often

thought that one loud complainer may

be speaking up on behalf of many, many

others.

Now that you have identified your at-risk

customers, it's time to take action to not

only stop them from leaving but also keep

them truly engaged with your brand.

Understanding at-risk customers

You may not be able to stop all of your atrisk

customers from leaving you, but you

can learn a lot about how to avoid putting

future customer relationships at risk!

1. Identify what happens when a

customer defects: Every company has

some hard-to-forget stories about those

customers who left for your competitors.

Have a place to capture those stories.

Share them as part of your customer

experience updates. Don't shy away from

those painful discussions. Embrace them!

Find out if there are common themes

among those who left. Determine if there

is a moment in your business relationship

when they are most likely to leave. Those

moments are sometimes more tied to the

customer's life events like moving, buying

a house, or needing different options.

Customer interviews can be helpful here

in discovering those moments.

Look for trend lines with product

renewals versus cancels or those who

leave after X number of months or years.

This type of data will offer some insight

into where to prioritise efforts to keep

those customers from drifting away!

2. Set up alerts to get more details: If one

of the identifiers is a customer who has

only bought on a single occasion, then

dealing with that is imperative.

Set up triggers at intervals throughout

during or after the purchase process to

ascertain if that customer needs support.

Ask for input – don't just offer training

or webinars that are solely productcentered.

Ask for what might be missing.

Those post-event surveys can also be a

great place to look for what customers

are missing. Are they asking for followup

communication or training and not

getting it? Time to set up more processes

to close the loop with those customers.

3. Know the ideal customer journey:

Know it, understand it, and watch for

ways to support it.

Your best customers probably use your

store more often than those who will

leave. If you know what the ideal journey

looks like through customer journey

mapping, then it will stand out when your

customers veer away from the ideal and

lapse into not relying on your brand.

Product usage is a great indicator of

customer engagement. But some

products, like a savings account at a bank,

don't require active usage. Get proactive

about how to engage with customers who

might receive statements or invoices but

little else.

That bank savings account customer

might be interested in financial education,

or not. Others might be motivated

by gamification. Engagement varies

based on the industry and relationship

– especially for jewellery retailers - but

neglect still feels like neglect. A little

attention and intention in the customer

journey can go a long way.

4. Don't be afraid of the exit interview:

'You win some, you lose some', seems to

be how many organisations avoid thinking

about at-risk customers. "We're not for

everyone," some businesses will say.

The best retailers never shrug this

off as insignificant. Seek feedback

when a customer leaves. Ask the hard

questions about why they left and who

ended up serving their needs. Use that

information to inform your roadmap for

improvements.

UNDER THE

MICROSCOPE

All Ears

Listen for what

the customers

who don't

complain may

want to say

Exit

Don't be afraid

of the 'exit

interview'

when you lose a

customer

Don't fight

Make sure you

treat former

customers like

friends, not

enemies

5. Treat former customers like friends,

not enemies: Without a plan for atrisk

customers, stores lump former

customers back into the 'prospect'

category. This means those who

had relationships started receiving

communications as if they didn't.

Even after years of loyalty, the customer who

leaves might receive an email offering new

customers a special promotion, sign-up

deal, or an email explaining why the service

is so great, which the customer obviously

thinks differently about now that they've left.

It can be offensive to a loyal customer who

suddenly is treated like a stranger. We have

to do better than sending promotions and

offers to them as if they have no idea what

it's like to be a customer.

Address these customers as who they are.

They know your store or brand, they were a

customer, and now it's time to stay in touch.

Staying in touch doesn't mean just sending

promotional or sales offers. It can mean

closing the loop with them even after they've

left the organization.

One technology provider sent an email to

former customers who had requested a

certain feature once the feature was rolled

out. Instead of an offer, it was a letter from

one of the product designers thanking them

for the input and sharing their success

with the former customer directly. That

led to a lot of personal replies and former

customers coming back to a brand that no

longer was neglecting them.

This may seem overwhelming, but it doesn't

have to be done at once. I challenge you

to pick one of these five methods to try

implementing first. Then add more as you

can over time.

At-risk customers are still customers, for

now. Instead of hoping, they don't leave,

why not learn from them instead? What you

learn can help them - and future customers

like them - stick around instead of drifting.

JEANNIE WALTERS is founder and

CEO of Experience Investigators. Learn

more: experienceinvestigators.com

December 2021 | 51
---
BUSINESS

Selling

How to run a successful sales training session

Jewellers know they have to invest in stock, shop fit-outs, advertising and promotion however,

DAVID BROWN says investing in staff training is often overlooked.

Staff sales training has almost become

a cliché in business. Everyone knows

they should do it but finding the time, or

knowing how, can be part of the problem.

3. Rotate the leader of the sessions,

enabling staff to take ownership of

researching about the product or

service.

Further, 50 per cent of sales managers

say they can't put the effort into it that they

know it deserves.

4. Role-play at the end of the

presentation so staff can show their

understanding of your expectation.

Sadly sales skills can wear off over time,

like an exercise class or a good shower!

Research shows that 84 per cent of all

training is forgotten or lost after 90 days.

Given the investment in time and energy

this may make it seem pointless, but

further analysis has shown that every

dollar invested into sales training can yield

up to $29 in results, and staff can improve

their performance by up to 20 per cent with

the benefits of sales training.

Few other areas of a business can offer

this sort of return. If you're serious about

increasing the success of your store you

need to be serious about sales training.

So how does sales training make a

difference to results?

• A higher percentage of salespeople

will achieve budget. A well-trained sales

force is more likely to achieve their

budgets than those who aren't.

Research company CSO Insights

discovered that budgets were 8 per

cent more likely to be achieved by

salespeople in an organisation where

effective sales training was in place.

• It helps with improving conversion

rates.

Companies that conducted training

programs that were deemed effective

were also inclined to increase their

sales conversion rate by 30 per cent

compared to those companies where

staff believed sales training failed to

meet expectations.

• It helps meet customers needs and

expectations. Salespeople who have

been adequately trained are much more

likely to meet customer's expectations

and to make suggestions that more

Encourage interaction of staff about the topic.

suitably meets the customer's needs

than those without good sales training.

This obviously converts into better sales

results.

• And one of the best outcomes is that it

creates lower staff turnover rates.

Research has shown that companies

with strong sales training have greater

customer retention, in some cases almost

double that achieved by companies who

do little in the way of training, or whose

training is considered inadequate.

So how do you make sure your sales

training is effective? Here are seven steps

that can help you get better results from

an effective training program.

1. What is your objective with the

training session? It could be to know

the 'story' of a new product line, to

understand the benefits of 18ct, different

settings, etc.

Whatever the purpose, ideally by the

end of your training session, all of the

staff attending will be able to achieve the

objective you have set.

2. Encourage interaction of staff about

the topic but don't let them take the

session in another direction.

If a staff member interrupts with a topic

not relevant to the training, let them

know you will chat to them about this

after the session.

Retailers that

also invest

in good sales

coaching

training

programs for

their trainers

will also see a

much stronger

sales increase

with budget

attainment.

5. Add a questionnaire at different times

to reward staff that are listening and

remembering the content.

6. Go back to your objective to check you

achieved your sales training goal.

7. Ask for feedback from your team to

ensure you are adding value to their

performance and productivity.

Training staff may seem like the first step

in the process but often having an effective

sales training policy can begin with

'training the trainer'.

Retailers that also invest in good sales

coaching training programs for their

trainers will also see a much stronger

correlation between their training

efforts and sales increases with budget

attainment.

Staff training is a business investment

every bit as significant as stock and plant.

Neglecting this area is a false economy

that will restrict your business

performance now and into the future. In

the same way that giving up on the gym will

ultimately lead to poor health and other

complications, giving up on sales training

will lead your business towards illness and

less healthy profitability.

Make a decision that you are willing

to commit a portion of your time and

expenditure to this important area of your

business and enjoy the rewards that it can

bring you.

DAVID BROWN is co-founder

and business mentor with Retail

Edge Consultants. Learn more:

retailedgeconsultants.com

52 | December 2021
---
BUSINESS

Management

The global pandemic: What buyers discovered

Selling and buying are easy, right? It's gone on for millennia, but have we

just witnessed the greatest change ever? DAVID BROCK thinks so!

The global COVID-19 pandemic has forced

businesspeople to rethink our work and

how we interact with our customers.

We've seen customers reduce spending.

One of the largest adjustments we have

had to make is so-called, 'virtual selling'.

With the inability to travel or actually meet

face-to-face, we had to find a new method

for engaging our customers.

There have been some interesting results

from this. We've learned that reducing

travel frees us to spend more time actually

'meeting' with customers. We can be

more efficient, if not more productive. This

creates both opportunities and threats.

As leaders, we've seen challenges our staff

face in feeling connected and engaged.

Since they aren't coming into the office,

much of the informal communication that

is fundamental to how organisations work

wasn't happening. Therefore, we had to

invent new ways to keep staff connected

and engaged, whether more frequent

check-ins or one-on-ones, virtual cocktail

parties, or other things.

Many of these adjustments to the

workplace were probably inevitable but

accelerated because of the pandemic.

Some have been created just to survive.

We will eventually revert to some of the

things we did before COVID, abandoning

some of things that we were 'forced' upon

us. We will most likely continue some of

the new practices and behaviours – there's

a lot of talk about the power combo of

face-to-face and virtual because some

organisations have discovered profound

things that re-shaped how they sell.

The pandemic and the slow emergence

from its restrictions have, perhaps, created

discussions around the future of selling.

There is increased attention to what we

might do differently, how we sell differently,

perhaps even more effectively.

But I've had a very uncomfortable feeling in

all these discussions.

For example, where's the customer, other

than being the recipient of these new

The future of sales should be driven by the buyer, not the seller.

practices we are inflicting on them? What

has the customer learned and how did the

pandemic force them to change?

You see, what is often forgotten is that

customers were also forced to make

changes to their lives during, no different

to how many of their markets changed,

which in turn faced severe shifts in

demand, supply chain problems, and

challenges to their own ability to work

effectively.

New problems arose - some unique to

the pandemic and some that had always

existed but became more prominent and

observable.

Just as businesses had to create new ways

of selling and interacting with customers,

the customer had to figure out new ways

of buying. Many sellers might respond,

"Isn't that just the mirror image of what

we are doing?" and that might lead one to

conclude, "The future of buying is virtual!"

I suspect that's because much of the

selling paradigm is built around the

'meeting'. We have always thought in terms

of a seller interacting directly with a buyer.

Whether it's face-to-face, phone, social

platforms, or virtual; our paradigm has

always been around in-person meetings.

However, buyers are solving their

challenges differently from how sellers

want to solve the same issue. The

'meeting' is not the cornerstone to how

The pandemic

and the slow

emergence from

its restrictions

have, perhaps,

created

discussions

around the

future of selling.

they solve their buying problem, instead;

they learn through other sources – online

and offline, through colleagues and others.

In other words, the 'meeting' may no

longer be core to their learning/buying

process.

Sellers and marketers have been

fascinated with the application and

misapplication of technology to engage

prospects and customers, however; the

application of technology isn't the exclusive

discovery of sellers and marketers. Buyers

are learning how to apply technology, AI/

ML to help them search, filter, and more

effectively learn.

The interesting thing is that buying hasn't

become easier; in fact, there is a lot of

research that indicates buying has become

more difficult.

It's never been easy to navigate a complex

buying journey. Customers often don't

know how to buy; they struggle with

aligning the ever-increasing 'buying team'

among many things.

And it's getting even more difficult for

consumers! Their tools and the new digital

buying journey add greater complexity.

Whereas in the past, they may have

struggled with getting the information

they needed, now they struggle with the

abundance of high-quality information.

Consumers struggle with determining

what's most relevant to their situation.

So while buying has changed profoundly

throughout the pandemic, the strange

disconnect is that we don't hear buyers

talking about virtual meetings as their big

change, while that's been the big change

in selling.

Somehow it seems the gap between how

buyers buy and how we sell is increasing,

not decreasing.

DAVID BROCK is CEO of Partners

In Excellence, a global consultancy

focused on helping organisations

engage customers more effectively. He

writes at: partnersinexcellenceblog.com

December 2021 | 53
---
BUSINESS

Marketing & PR

The dirty little secret your data isn't telling you

Market research and data can tell us a great deal. However, TOM MARTIN believes one

of the most important things is the 'why'; and that's something best left to humans.

Steve Jobs once said, "People don't know

what they want until you show it to them.

Our task is to read things that are not yet

on the page." God, I love that quote!

It should be hung in the office of every

product designer, software engineer

and marketing executive in the world.

We'd have many more cool products that

we never knew we needed but can't live

without because of people like Steve Jobs.

And that's the power of intuition, empathy,

insight … you know, the soft skills that

truly separate great marketing strategists,

product designers and business people

from the rest of the pack.

So why don't they all have the skill? I'm

sure there are many opinions on the

subject but for me, I think the answer

is simple: Fear!

Fear kills great ideas

Like it or not, there are people in the world

such as Steve Jobs or that other famous

advertising 'shaman' Don Draper, the

fictional character from the tv series,

Mad Men. These people have an uncanny

ability to see inside the hearts and minds

of the customers they serve.

They don't need proof or data… they have

a sixth sense and the willingness to be

wrong; remember the Apple Newton?

Everyone else fears failure, but true

entrepreneurs need to predict the future,

develop new products and services, or

advertising campaigns. So what do they

do? They trust the data.

They look at all kinds of data from social

media engagement data, website traffic

data, research data, etc. It's data, data,

data; they believe that if they just consume

or study enough data the brilliant insight,

the game-changing idea, the next big thing

will appear like when John Nash cracks

the code in the movie A Brilliant Mind.

However, the fact is that data, if tortured

long enough data can be made to 'prove'

almost anything. Trust me; I've tortured

and watched others torture enough data to

Pst...Everyone fears failure, but true entrepreneurs predict the future.

know the truth of which I type.

But there is another big blind spot within

your data that far too many a marketing

strategist misses: Data only tells you

what happened.

The data wonks will have you believe that

data tells you the entire story, however;

it's historical. Fortunately for fans of

stories, these people are so busy with their

spreadsheets that they don't have time to

create literary works for our consumption

because their stories would stink.

Great stories answer five key questions in

the mind of the reader: Who, what, where,

when, and why.

And therein lies the problem. Data only

answers the first four questions.

Your data will tell you what someone did,

clicked on, bought, etc., but it won't tell

you why.

Why, at least in marketing, is almost

always the exclusive domain of the

marketing strategist. At best, data can

show you patterns, but at the end of the

day, you'll need a talented marketing

strategist to figure out the 'why' behind

the 'what'.

You need to predict a why because it

doesn't yet exist… at least not in the data.

It's true that data+insight=brilliant

marketing, but buyer beware!

The Mac wasn't

the first desktop

computer. The

iPod wasn't

the first digital

media player.

The iPhone

wasn't the first

smartphone.

Heck, Jobs

rarely, if ever,

was first to any

category.

Where are today's great marketing

strategists such as Steve Jobs? They

are few and far between.

Precious few people in the world of

marketing are fluent in research and

data analysis, digital marketing, and

traditional marketing and also have the

ability to craft a Vulcan Mind Meld with

your prospective customer.

So if you want to truly exploit the power

of data, then go find a modern-day Jobs

and the fictional Draper. Give them a test

drive or two because even a blind squirrel

can find a nut once.

Probe to see how intuitive they are, just

because they have a PhD in Applied

Mathematics does not mean they

can identify and empathise with your

target audience. They'll give you lots of

information but precious little insight.

And brilliant insight, that's where the

margin lies. The Mac wasn't the first

desktop computer. The iPod wasn't the

first digital media player. The iPhone

wasn't the first smartphone. Heck, Jobs

rarely, if ever, was first to any category.

Instead, he watched the data but more

importantly, he watched the consumer.

He saw what was there, and he intuited

what wasn't there. And that was often the

need the consumer didn't even know they

had until Jobs and Apple filled it.

The list goes on; think Tesla with super

smart, stylish, and powerful electric cars

or Fireball with its Cinnamon Whisky.

Or what about Sonos with great-sounding,

wireless speakers that can replace or

even eliminate the need for built-in wholehome

music systems or more recently

Peloton with high-energy, cost-efficient,

fun at-home workouts.

TOM MARTIN is the founder of

Converse Digital, a sales and marketing

agency. He is also a keynote speaker

and author of The Invisible Sale.

Visit: conversedigital.com

54 | December 2021
---
BUSINESS

Logged On

The truth about social media algorithms

Is social media working for your business? Could it be better?

SIMON DELL goes back to basics to help you improve your online strategy.

Many of us have heard the term 'social

media algorithms', and depending on how

much time you spend on social media,

you've probably noticed changes in your

news feed.

Many may have even seen Adam Mosseri-

Instagram CEO – announce the changes

to the Instagram algorithm. But what does

that mean for consumers, businesses, and,

of course, marketers?

For better or worse, social media

platforms such as Facebook, LinkedIn,

Twitter, and Instagram regularly change

their algorithms to reinvent how you

experience content.

Remember when Facebook just showed

you everything, with the most recent posts

at the top? Those days are long gone;

with social media platforms having more

control of the content users can see.

So, here's the truth about social media

algorithms and how they affect businesses

and marketers.

What are social media algorithms?

Essentially, social media algorithms are

simply a way to sort which posts you see

and when.

For example, your typical news feed used

to be in reverse-chronological order, so the

most recent posts were at the top. Now,

the methods are more complex and based

on artificial intelligence and machine

learning.

At the same time, you can still choose

to view your most recent posts first. But

the default setting is to be shown posts

according to the platform's algorithm.

It's all about creating a better user

experience—sort of.

Social networks want you to have a

better experience so they can sell more

advertising at a higher price. And that's

truly why algorithms exist.

How do social media algorithms work?

Every social network is different, but these

algorithms aim to give social media users

Don't be confused by the purpose of social media algorithms.

faster access to relevant content. The

algorithm will often consider relevancy,

shares, likes, retweets, user's feed, types

of content, and quality content.

For example, a high-quality piece of

content that is on-trend will have more

chances of appearing on a user's feed.

However, most of this is based on your

own behaviour on the platform. For

example, you may see posts from people

you interact with the most. So if you search

for a lot of music-related content, you'll

see more music-related posts.

Using these metrics, the algorithm has

a higher chance of showing users the

content they will likely interact with by

sharing, commenting on or becoming a

subscriber; these will, in turn, keep them

on the platform.

The issue for businesses and marketers is

that the algorithm changes frequently, and

the networks aren't terribly transparent.

However, they often give out snippets of

advice along the way, so good marketers

can keep up with what works best for their

clients.

Facebook's algorithm, for example, seems

to be moving away from content that is too

explicitly sales-based, focusing more on

relevant conversations. And why wouldn't

they? They want businesses to pay to

advertise, not do it for free using the right

hashtags.

Social networks

want you to

have a better

experience

so they can

sell more

advertising at a

higher price.

Algorithms for advertising

The same principles apply to all social

media advertising. For example, the whole

basis of Facebook's advertising program is

that you should, in theory, be able to reach

the right people at the right time.

Therefore, it delivers sponsored content

and social media ads according to

your browsing history and other online

interactions.

The problem is, the social media

algorithms are never perfect. So, if you try

to manage Facebook advertising yourself,

you get nice easy options to let Facebook

choose your target audience and market

accordingly. This is great; however, you

don't get the particular insight to your

audience that a marketing professional

could deliver.

The 'fresh content' illusion

Social media algorithms also work to keep

you interested.

Psychologically, if you keep seeing the

same posts because you don't follow many

accounts, you think there's nothing new,

and you'll check less frequently.

A solid social media marketing strategy

will help you switch it up, so every time

your users open the app, it feels fresh and

new.

This 'new news feed' experience also

allows the social media companies to

rotate more ads (impressions) through

your user's feed, which looks good when

selling advertising to businesses. .

It is important to understand how these

social media algorithms help you optimise

your social media marketing strategy and

deliver better results for you.

SIMON DELL is co-founder and CEO

of Cemoh, a Brisbane-based firm that

provides marketing staff on demand.

He specialises in digital marketing and

brand management. Visit: cemoh.com

December 2021 | 55
---
My Bench

Cosimo Mirarchi

COSIMO. Sydney NSW

Age 37 Years in Trade 16 • Training Certificate III in jewellery trade and manufacturing at Enmore Design Centre. First job Diamond Factory Jewellers Chatswood

• Other Qualifications Bachelor of business

SIGNATURE PIECE

HAND MADE 18 CT BLACK AND

WHITE DIAMOND ENCRUSTED CROSS

STOCK PIECE

Hand made 18ct white gold, black and white diamond

pavé encrusted cross. This piece was carefully crafted for

a very special client who wanted a point of difference and

to last the test of time. This cross is solid and bold, yet

subtle with beautifully curved edges.

Design is never compensated when making high quality

handmade jewellery.

4FAVOURITE GEMSTONE Pink Argyle Diamonds.

They are one of rarest diamonds in the world and

are sourced ethically and responsibly in Western

Australia. I love how luxurious and grand it makes

our clients feel when creating custom pieces.

4FAVOURITE METAL Platinum of course! If

the metal is meticulously worked with the right

processes, you will have a high lustre crisp finish.

4FAVOURITE TOOL Digital calipers! I love the

accuracy it gives me during manufacturing.

4BEST NEW TOOL DISCOVERY I find that I can

alter my current tools for multiple uses such as

using my flat nose pliers to hold the post of the

earring while polishing instead of using earring

holders.

4BEST PART OF THE JOB The best part of the job

is the creative process to incorporate your clients'

vision into reality.

4WORST PART OF THE JOB I love it all! The

deadlines, the pressure, it's all part of what pushes

me to achieve perfection.

4BEST TIP FROM A JEWELLER Always check your

work before handing it over to a customer.

4BEST TIP TO A JEWELLER Don't be afraid of

learning and trying something new. All the skills

I have learned are from trial and error.

4BIGGEST HEALTH CONCERN ON THE BENCH

Breathing in chemicals is a big one for me. I try to

use non-toxic chemicals where possible and drink

plenty of water.

4LOVE JEWELLERY BECAUSE I love jewellery as

it gives me the chance to express my creativity that

is inspired by the stories of my clients.

56 | December 2021
---
OPINION

Soapbox

Is responsible sourcing good for

the people it seeks to protect?

Politicians, the media, and various organisations tell us every day to think

about acting responsibly, however; HUGH BROWN asks: what does that mean?

Responsible sourcing. Ethical sourcing.

Sustainable sourcing. These are examples

of the many buzzwords that are currently

popular today.

There has been swathes of legislation and

due diligence guidance issued by various

organisations and governments.

An entire, new consulting and compliance

industry has not only emerged but has

become 'massive'. And this means, at

last, consumers can exert influence on the

decisions of the world's largest companies.

But what do these buzzwords mean, and are

they even worthwhile? What considerations

go into making up the meaning of these

terms and why are they even relevant to you,

as a colour gemstones buyer?

The question is relevant to you because

around 80 per cent of all mined gemstones

is carried out by artisanal miners who dig

and unearth the product with minimal or no

mechanised aids. Very often gemstones are

mined using nothing more than an airleg

drill, picks and shovels, and sometimes a

few explosives.

Therefore it's these very people that are

primarily 'in the gun' when the term

'responsible' is used because the remaining

20 per cent of gemstones are mined by

international companies using large-scale

mining equipment.

Unfortunately when broad-brush buzzwords

like 'responsible' and/or 'sustainable' are

used, typically it conjures thoughts of things

such as child labour, poor safety practices,

environmental damage, and human

trafficking. Organised crime and extremist

groups also often come to mind.

And what all of this ignores are the nuances

in terms such as responsible and ethical

sourcing.

To us, with our First World - mostly wealthy

(comparatively) - frame of reference the idea

of children working in, dangerous mines

sounds bad. Not to mention the fact that

when we were young, most of us had jobs.

My first job was mowing lawns when I was

only five years old.

These days that's something many

would probably categorise as handling a

dangerous piece of machinery! However,

what people in the developed world do not

understand about the developing world is

that children are a de facto superannuation

scheme for their parents.

That is, if the kids don't work then the kids,

and quite often the family, don't eat. Not to

mention the fact that there would simply be

no chance for those kids to venture off to

school to study to be a surgeon.

Another 'complaint' that gets wheeled out is

that of poor safety. True!

Safety practices are often deficient, however;

it's amazing what a person will do if they

see an opportunity for them self and their

family to get ahead. Though I will add that

it's amazing how much commonsense

and awareness there seems to be among

ASM workers compared to so many of the

institutionalised, let others think for you,

large-scale mining workers wearing

fluoro vests, steel-capped boots and doing a

84-hour week grind.

It's no different from what goes on for us

in the so-called, 'First World'. How many

people do you know sacrificing the lives they

could be living now for the prospect of better

lives for themselves and family in the future?

For example, the people working as fly-infly-out

miners, labourers, or the 80-hour

week office workers. Most are doing jobs

that they hate for the prospect of better lives.

Miners in the Third World are merely

versions of we in the First World; doing

the best they can for themselves and their

families. We are all 'miners' at heart!

Unfortunately, it seems the solution put

forward most frequently is that we must

abandon sourcing from ASM workers in

the Third World with these, so-called, poor

When

broad-brush

buzzwords like

'responsible'

and/or

'sustainable' are

used, typically

it conjures

thoughts of

things such as

child labour,

poor safety

mining practices and shift to supply chains

that incorporate practices that better align

with our experiences in the First World.

Which – wink, wink, nudge, nudge - more

often than not means the shifting of

sourcing to mines that just happen to be

controlled by the large-scale miners.

Unfortunately, I don't have the space here to

flesh out the definitions of business jargon

like responsible, ethical, or sustainable,

other than to say there are so many

variables that affect these terms that they

become utterly meaningless and are at

the whim of the consultants signing off the

documents on the supply chains they have

been asked to certify.

The terms are subjective - not objective

– and are incapable of a meaningful and

consistent definition or application.

They are no more than buzzwords

and marketing jargon that benefit the

bottom lines and balance sheets of the

world's major brands. They can, and do,

marginalise and diminish even further the

efforts of the world's poorest people who

continue their struggle to survive.

So when you need to buy that next beautiful

colour gemstone I urge you to carefully

consider mentions of Responsible or Ethical

Sourcing and think instead about which

option might best offer the opportunity for

those in the world's poorest countries a

chance to improve their lives.

Would that not be far more 'responsible'

than simply purchasing a gemstone mined

by an international mining conglomerate?

Name: Hugh Brown

Business: Gemstone Mining

Photographer

Position: Director

Location: Perth, Western Australia

Years in the industry: 30

58 | December 2021
---
THE JEWELLERY

INSURANCE SPECIALIST

4 DAYS

FREE COVER

for your customers

COMMISSION

PAID FOR

EVERY POLICY.

ALL CLAIMS

COME BACK

TO YOU

CENTRESTONE BENEFITS

Our Service

Guarantee if the customer ever has a claim, the full replacement

cost is paid directly to you as the customers preferred jeweller,

not shopped around to the insurers preferred jewellers

WORLDWIDE COVER

ANYWHERE, ANYTIME

INSTANT COVER

NO WAITING PERIODS

AGREED VALUE AND LIKE-

FOR-LIKE REPLACEMENT

YOUR CLIENTS' CLAIMS

COME BACK TO YOU

UP TO 150% COVER OF

THE INSURED AMOUNT

NO EXCESS ON ALL CLAIMS

Like-for-like replacement to the same quality and craftsmanship

that was lost

We do annual revaluations so the item is never under-insured

Commission for every one of your customers that process a policy

Easy, fast claims process. Claims payments made within

5 business days

COVER FOR ACCIDENTAL

DAMAGE, LOSS &THEFT

ANNUAL REVALUATIONS TO

MATCH REPLACEMENT COST

www.centrestone.com.au

JOIN AS A PARTNER JEWELLER

CALL NOW

+61 2 8316 3995
---
Australian Argyle pink diamonds are beyond rare and amongst the most precious diamonds in the world.

Pink Kimberley jewellery is crafted from an exquisite blend of white diamonds and

natural Australian pink diamonds from the Argyle Diamond Mine, located in the East

Kimberley region of Western Australia. A coveted Argyle pink diamond Certificate

accompanies all Pink Kimberley pieces containing pink diamonds greater than 0.08ct.

PinkKimberley.com.au

E pink@samsgroup.com.au W samsgroup.com.au P 02 9290 2199

SAMS GROUP

AUSTRALIA