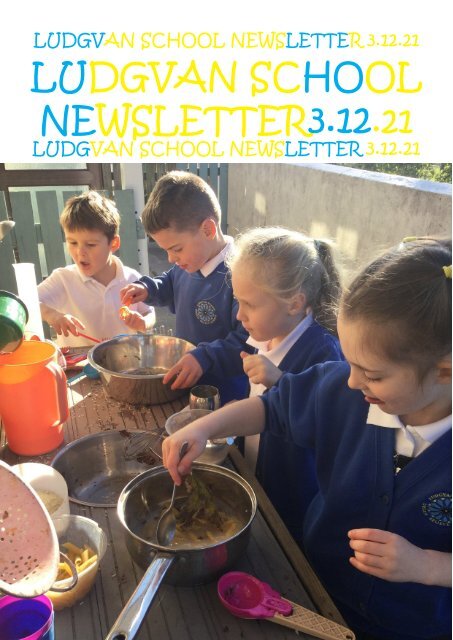 You also want an ePaper? Increase the reach of your titles
YUMPU automatically turns print PDFs into web optimized ePapers that Google loves.
LUDGVAN SCHOOL NEWSLETTER 3.12.21

LUDGVAN SCHOOL

NEWSLETTER3.12.21

LUDGVAN SCHOOL NEWSLETTER 3.12.21
---
A word from the Principal...

Welcome,

It has been lovely to see so many of you in school over the past few evenings, meeting with teachers

and discussing your child's learning. From those of you I have spoken to and from feedback from

staff, I am delighted to hear how positively the meetings went.

We are delighted to confirm that we are intending on going ahead with our Christmas festivities this

year. We are aware that some local schools have cancelled nativities etc, but we are confident that

with the no whole school performances, the use of Ludgvan Church and the measures listed below,

we can hold our events safely and enjoy the Christmas season. When attending the EYFS nativity or

the KS1 or KS2 Christingle, please follow these guidelines:

- Masks to be worn in the school hall and Ludgvan Church

- Take an LFD test prior to attendance and only attend if result is negative

- Do not attend if displaying any symptoms

- Social distance where possible

We do ask that all children attend their performance as it forms an important part of our Christmas

celebrations, but if you do not feel comfortable attending, then we fully support this decision.

You will have noticed in previous editions that Tal Macey, a former pupil, has written a book and has

had it published. Tal will be at our FLS Christmas Fair and will be signing some of his books which will

be available for purchase.

Finally, as we approach the end of term, we appreciate that there are lots of events going on and

everyone is becoming increasingly tired and feeling they are trying to keep multiple plates spinning.

However, this also goes for our staff who are putting on extra performances, attending evening performances

and holding multiple parents' evenings on top of their usual workload. I ask that you are

mindful of this when communicating via Dojo as there have been a number of messages sent recently

that have not helped maintain the positive and supportive atmosphere we pride ourselves on. Our

staff are fantastic and consistently go above and beyond for all of our children and it is awful to see

when they are upset or frustrated by messages that do not reflect the great work they are doing.

Kind regards,

Mr Adam Anderson

Principal
---
Useful information...

School Parliament Christmas Fun Run

This year's School Parliament have already had some productive meetings and they

have come up with their first fundraising idea and they need your support!

On Thursday 16th December, all children will need to come to school dressed as

Christmassy as possible. They will take part in a 1 hr Christmas fun run (weather

permitting) or a selection of Christmas themed sports activities.

The School parliament wants to get everyone smiling, but raise some money at the

same time. Therefore they are asking for sponsorship, payable on the parent pay

app. All money raised will be split between Ludgvan School and the RNLI, a charity

chosen by the children.

Important Dates

EYFS Nativity @ Ludgvan School

- 8th December @ 3:30pm

Christmas Dinner

- 8th December

FLS Christmas Fair

- Friday 10th December @1430

Christmas Jumper Day

- Friday 10th December

Christingles at Ludgvan Church

- 15th December @ 6pm KS1

- 16th December @ 6pm KS2

School Parliament Charity Christmas Fun Run

- Thursday 16th December. Christmas attire.

End of term - Early Finish

- 17th December. Collect at 1pm, 1:10pm and 1:20pm

Term Dates 21-22

Autumn Term 6 Sep - 17 Dec (Half term 25-29 Oct)

Spring Term 4 Jan - 8 Apr (Half term 21-25 Feb)

Summer Term 25 April - 26 July (Half term 30 May - 3 June)

Inset Days: 4th January, 25th July, 26th July.

Replacement Platinum Jubilee Bank Holiday: 6th June
---
Learning Outdoors...

What a busy two weeks of outdoor based learning. As part of our forest school sessions,

the children have been busy continuing with their Christmas Fair creations

ready to sell. We have a range of baubles, stars, Christmas trees, snowmen and reindeers

ready to share with you!

To add to the festivities, EYFS and year 2 planted Christmas trees in our new orchard,

which is where our sandpit is based. The hope is that when these children reach year

6, these trees might be big enough to be cut to be our school Christmas tree. We

have been very lucky to receive a delivery of fruit trees and hedgerows from The Tree

Council this week which our year 6s have helped to plant to create our new orchard

space. We are excited to develop this space to make it more nature friendly, creating

a more diverse ecosystem.
---
Learning Outdoors...

Fun on the Farm

As part of our farm curriculum, each year group has been assigned a particular type

of farming to learn about which include a visit. This means that by the time children

finish their journey at Ludgvan, they will a deep knowledge of the world of farming

which can open many different future career opportunities. These areas are:

EYFS - Arable Farming

Year 1 - Poultry Farming

Year 2 - Sheep Farming

Year 3 - Dairy Farming

Year 4 - Pig Farming

Year 5 - Arable Farming

Year 6 - Beef Farming

This week saw years 3, 4 and 5 beginning to learn about their chosen areas. It's been

great to see what the children already know, especially the facts the adults have been

taught by the children. So far we have explored the basic overviews of the selected

areas of farming, looking at the functions of the farm and how these farms can be set

up. Even after the first session, many children have suggested they would consider a

career in their area, even after seeing what a standard day looks like for the farmer.

Eggciting news! Two weeks ago year 2 began incubating a batch of 15 duck eggs.

We are pleased to say that most of the eggs are developing well. We have been able

to candle the eggs to see the embryo developing inside the egg. There have been a

few eggs that weren't successful but we are very lucky that the majority have a clear

development within. Hopefully when we get to day 28, we will be able to welcome lots

of cute ducklings into the world.'
---
Exciting and Engaging...

EYFS

We have started to make the classroom really Christmassy! We got the decorations

out of the attic; decorated 2 trees; made a Christmas post office; made a

snowy winter scene tuff tray; enjoyed working together to untangle light wires;

hang decorations and place tinsel on the tree. The classroom is looking very

festive and we can't wait to see the amazing learning that the children do over

the Christmas period!
---
Exciting and Engaging...

Y1

It was lovely to see the children support our Children in Need Day. They all

looked amazing!!! The children enjoyed exploring the Bee-Bots in ICT. They

learnt how to create and debug simple programs.

In English the children listened to the story of Goldilocks and the Three Bears

and had to write sorry letters. They have been working really hard with their

writing. They created and made their own porridge using lots of different ingredients.

They had great fun and were very creative!

In geography we explored and learnt about a nomadic way of life. We looked

at a ger, which is a type of portable home found in Mongolia. The children had

to describe how to get from one place on the map to another using compass

points.

In science we have been continuing to learn all about the Autumn season. This

week our focus was on the animals during this season. They discovered that

lots of different animals hibernate during this time.

Well done Class 1. Keep up the good work!
---
Exciting and Engaging...

Y2

Class 2 were very excited this week when they found out that they had won

the FLS spare change challenge! They were treated to ice creams with chocolate

sauce and sprinkles. Thank you very much to all of the children and parents,

who worked extremely hard to bring in lots of change and to the FLS

for the lovely surprise! Year 2 have also been creative this week, using leaves

found outside to create a lion's mane. They worked on finding different colours

and layering them to create a brilliant effect. In Geography, Year 2 looked at

the similarities and differences of two different places (one in the UK and one

in Asia). They were very excited to be able to write what they had observed on

the tables! Everyone made great observations and came up with many human

and physical features. Well done on another very successful two weeks Year 2!
---
Exciting and Engaging...

Y3

Year 3 have now finished their Pharaoh masks and I hope you agree they look great!

The children have written diary entries in the role of an ancient Egyptian to explain

what their daily life was like. This week the children have been travelling back in time

and are writing stories of when they or a friend teleported back to ancient egyptian

times. The children's stories are sounding great and we will share some of these in

our celebration assembly next week. In DT the children learnt about the River Nile

and have been designing and making River Nile boardgames. They have just designed

a 21st Century throne for Cleopatra and will be making these next week.

The class are very excited about their work share assembly with their families next

Thursday.
---
Exciting and Engaging...

Y4

Year 4 have been exploring electricity this week. Firstly, we discovered how to make a

circuit that would make a bulb light. The following day we tested many different materials

to discover the best conductors of electricity. The children were very creative

in finding different things, we had glasses, purses, pencil cases and all sorts! We then

moved on to creating circuits that worked with a switch. I was very impressed with

how quickly they mastered the concept of circuits and switches. We will be using this

information to create a Christmas craft!
---
Exciting and Engaging...

Y5

The children in Class 5 have really impressed us this week with their French understanding

and speaking. They have been working on describing people and personalities,

and are now writing great sentences in French, using the feminine and masculine

nouns and adjectives.

In Music, we have been learning about the Blues and have started to play the 12-barblues,

using our knowledge of different chords. It has been great to see so many of

the children keen to perform their Blues music on the keyboards and glockenspiels.

We are currently learning how humans develop to old age in Science and we have

been looking at the gestation of humans compared to other mammals and creating

bar graphs to show our research. We have also looked at the development of babies

in the womb, creating a scatter graph to show the relationship between the babies'

length and mass as it grows.

The children have continued with their Mars Rover projects, turning their drawings

into 3D designs. They have created some very impressive designs! In PE, the class

have also developed their tennis skills. We've got some tennis stars in the making and

everyone had begun to master backhand by the end of the session. Well done Class

5!
---
Exciting and Engaging...

Y6

Year 6 have been busy preparing for our parents' presentation this week. The

actors have been going through their dress rehearsal on stage, the tech support

have been busy sorting out mics and sound, and our prop artists have

been extremely busy creating the visual resources needed for the presentation.

They are extremely excited to be showing off our learning of WW1.

In English, we have been looking at determiners and how they are used within

sentences.

We have also been touching upon the Second World War by reading Letter's

from a Lighthouse and using chalk/ charcoal to create an image of the blitz,

inspired by the photograph by Herbert Mason.
---
Staff profiles...
---
A word from the Principal...