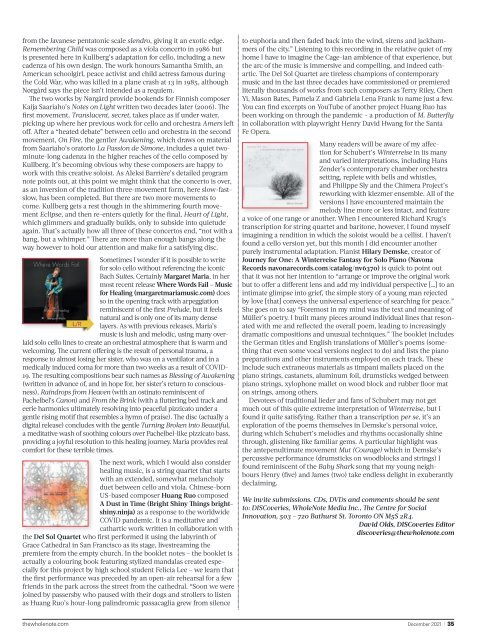 Volume 27 Issue 3 - December 2021 / January 2022
Many Happy Returns: the rebirth of Massey Hall -- from venue to hub; music theatre's re-emergence from postponement limbo; pianist Vikingur Ólafsson's return visit to to "Glenn Gould's hometown"; guest writer music librarian Gary Corrin is back from his post behind the scenes in the TSO library; Music for Change returns to 21C; and here we all are again! Welcome back. Fingers crossed, here we go.
Many Happy Returns: the rebirth of Massey Hall -- from venue to hub; music theatre's re-emergence from postponement limbo; pianist Vikingur Ólafsson's return visit to to "Glenn Gould's hometown"; guest writer music librarian Gary Corrin is back from his post behind the scenes in the TSO library; Music for Change returns to 21C; and here we all are again! Welcome back. Fingers crossed, here we go.
SHOW MORE
SHOW LESS
You also want an ePaper? Increase the reach of your titles
YUMPU automatically turns print PDFs into web optimized ePapers that Google loves.
from the Javanese pentatonic scale slendro, giving it an exotic edge.

Remembering Child was composed as a viola concerto in 1986 but

is presented here in Kullberg's adaptation for cello, including a new

cadenza of his own design. The work honours Samantha Smith, an

American schoolgirl, peace activist and child actress famous during

the Cold War, who was killed in a plane crash at 13 in 1985, although

Nørgård says the piece isn't intended as a requiem.

The two works by Nørgård provide bookends for Finnish composer

Kaija Saariaho's Notes on Light written two decades later (2006). The

first movement, Translucent, secret, takes place as if under water,

picking up where her previous work for cello and orchestra Amers left

off. After a "heated debate" between cello and orchestra in the second

movement, On Fire, the gentler Awakening, which draws on material

from Saariaho's oratorio La Passion de Simone, includes a quiet twominute-long

cadenza in the higher reaches of the cello composed by

Kullberg. It's becoming obvious why these composers are happy to

work with this creative soloist. As Aleksi Barrière's detailed program

note points out, at this point we might think that the concerto is over,

as an inversion of the tradition three-movement form, here slow-fastslow,

has been completed. But there are two more movements to

come. Kullberg gets a rest though in the shimmering fourth movement

Eclipse, and then re-enters quietly for the final, Heart of Light,

which glimmers and gradually builds, only to subside into quietude

again. That's actually how all three of these concertos end, "not with a

bang, but a whimper." There are more than enough bangs along the

way however to hold our attention and make for a satisfying disc.

Sometimes I wonder if it is possible to write

for solo cello without referencing the iconic

Bach Suites. Certainly Margaret Maria, in her

most recent release Where Words Fail – Music

for Healing (margaretmariamusic.com) does

so in the opening track with arpeggiation

reminiscent of the first Prelude, but it feels

natural and is only one of its many dense

layers. As with previous releases, Maria's

music is lush and melodic, using many overlaid

solo cello lines to create an orchestral atmosphere that is warm and

welcoming. The current offering is the result of personal trauma, a

response to almost losing her sister, who was on a ventilator and in a

medically induced coma for more than two weeks as a result of COVID-

19. The resulting compositions bear such names as Blessing of Awakening

(written in advance of, and in hope for, her sister's return to consciousness),

Raindrops from Heaven (with an ostinato reminiscent of

Pachelbel's Canon) and From the Brink (with a fluttering bed track and

eerie harmonics ultimately resolving into peaceful pizzicato under a

gentle rising motif that resembles a hymn of praise). The disc (actually a

digital release) concludes with the gentle Turning Broken into Beautiful,

a meditative wash of soothing colours over Pachelbel-like pizzicato bass,

providing a joyful resolution to this healing journey. Maria provides real

comfort for these terrible times.

The next work, which I would also consider

healing music, is a string quartet that starts

with an extended, somewhat melancholy

duet between cello and viola. Chinese-born

US-based composer Huang Ruo composed

A Dust in Time (Bright Shiny Things brightshiny.ninja)

as a response to the worldwide

COVID pandemic. It is a meditative and

cathartic work written in collaboration with

the Del Sol Quartet who first performed it using the labyrinth of

Grace Cathedral in San Francisco as its stage, livestreaming the

premiere from the empty church. In the booklet notes – the booklet is

actually a colouring book featuring stylized mandalas created especially

for this project by high school student Felicia Lee – we learn that

the first performance was preceded by an open-air rehearsal for a few

friends in the park across the street from the cathedral. "Soon we were

joined by passersby who paused with their dogs and strollers to listen

as Huang Ruo's hour-long palindromic passacaglia grew from silence

to euphoria and then faded back into the wind, sirens and jackhammers

of the city." Listening to this recording in the relative quiet of my

home I have to imagine the Cage-ian ambience of that experience, but

the arc of the music is immersive and compelling, and indeed cathartic.

The Del Sol Quartet are tireless champions of contemporary

music and in the last three decades have commissioned or premiered

literally thousands of works from such composers as Terry Riley, Chen

Yi, Mason Bates, Pamela Z and Gabriela Lena Frank to name just a few.

You can find excerpts on YouTube of another project Huang Ruo has

been working on through the pandemic – a production of M. Butterfly

in collaboration with playwright Henry David Hwang for the Santa

Fe Opera.

Many readers will be aware of my affection

for Schubert's Winterreise in its many

and varied interpretations, including Hans

Zender's contemporary chamber orchestra

setting, replete with bells and whistles,

and Philippe Sly and the Chimera Project's

reworking with klezmer ensemble. All of the

versions I have encountered maintain the

melody line more or less intact, and feature

a voice of one range or another. When I encountered Richard Krug's

transcription for string quartet and baritone, however, I found myself

imagining a rendition in which the soloist would be a cellist. I haven't

found a cello version yet, but this month I did encounter another

purely instrumental adaptation. Pianist Hilary Demske, creator of

Journey for One: A Winterreise Fantasy for Solo Piano (Navona

Records navonarecords.com/catalog/nv6370) is quick to point out

that it was not her intention to "arrange or improve the original work

but to offer a different lens and add my individual perspective […] to an

intimate glimpse into grief, the simple story of a young man rejected

by love [that] conveys the universal experience of searching for peace."

She goes on to say "Foremost in my mind was the text and meaning of

Müller's poetry. I built many pieces around individual lines that resonated

with me and reflected the overall poem, leading to increasingly

dramatic compositions and unusual techniques." The booklet includes

the German titles and English translations of Müller's poems (something

that even some vocal versions neglect to do) and lists the piano

preparations and other instruments employed on each track. These

include such extraneous materials as timpani mallets placed on the

piano strings, castanets, aluminum foil, drumsticks wedged between

piano strings, xylophone mallet on wood block and rubber floor mat

on strings, among others.

Devotees of traditional lieder and fans of Schubert may not get

much out of this quite extreme interpretation of Winterreise, but I

found it quite satisfying. Rather than a transcription per se, it's an

exploration of the poems themselves in Demske's personal voice,

during which Schubert's melodies and rhythms occasionally shine

through, glistening like familiar gems. A particular highlight was

the antepenultimate movement Mut (Courage) which in Demske's

percussive performance (drumsticks on woodblocks and strings) I

found reminiscent of the Baby Shark song that my young neighbours

Henry (five) and James (two) take endless delight in exuberantly

declaiming.

We invite submissions. CDs, DVDs and comments should be sent

to: DISCoveries, WholeNote Media Inc., The Centre for Social

Innovation, 503 – 720 Bathurst St. Toronto ON M5S 2R4.

David Olds, DISCoveries Editor

discoveries@thewholenote.com

thewholenote.com December 2021 | 35