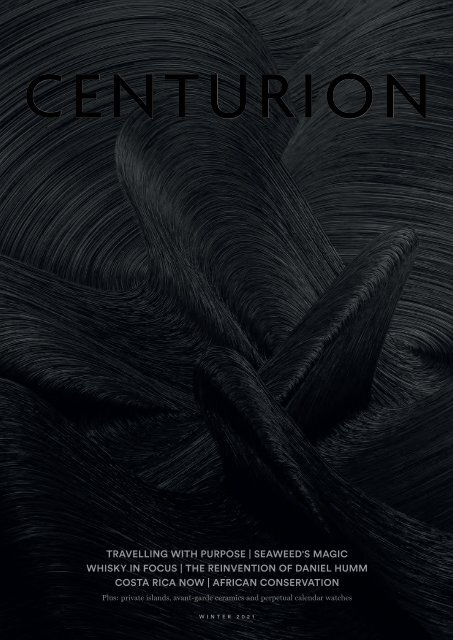 Centurion Singapore Winter 2021
Create successful ePaper yourself
Turn your PDF publications into a flip-book with our unique Google optimized e-Paper software.
TRAVELLING WITH PURPOSE | SEAWEED'S MAGIC

WHISKY IN FOCUS | THE REINVENTION OF DANIEL HUMM

COSTA RICA NOW | AFRICAN CONSERVATION

Plus: private islands, avant-garde ceramics and perpetual calendar watches

WINTER 2021
---
B O R N I N L E B R A S S U S

S É B A S T I E N F O U C A N
---
R A I S E D A R O U N D T H E W O R L D

A U D E M A R S P I G U E T B O U T I Q U E S S I N G A P O R E

O R C H A R D R O A D L I A T T O W E R S · T H E S H O P P E S A T M A R I N A B A Y S A N D S
---
Features

WINTER 2021

46 TIME AFTER TIME

The enduring allure of

perpetual calendar watches

comes into sharp focus.

Photography by Matthew Shave

Production by Elisa Vallata

66 THE ACCIDENTAL

RULEBREAKER

Eleven Madison Park chef

Daniel Humm is shaking up

the world of fine dining with

his new plant-based approach.

By Bill Knott

52 LIFE OF THE PARTY

The season's impossible-to-resist

jewellery proves that diamonds

are indeed a girl's best friend.

Photography by Alan Gelati

Production by Elisa Vallata

58 NATURE NURTURED

Investing in the protection

of Africa's wilderness has

never been more relevant –

or straightforward (pictured).

By Lisa Grainger

72 THE WHISKY ALMANAC

From new distilleries in Japan

to Scottish titans reawakening,

an all-points bulletin from inside

the industry – and a perspective

on the spirit as an emerging

asset class.

PHOTO ROSS COUPER

8 CENTURION-MAGAZINE.COM
---
Departments

34

WINTER 2021

12 FROM THE EDITOR

24

38 ARM CANDY

A wonderfully eclectic

selection of the season's

most covetable handbags

Art & Design

41 DYNAMIC CERAMICS

Xavier Mañosa updates

an ancient craft with an

outside-the-box approach

BlackBook

Plus

17 COSTA RICA

CONFIDENTIAL

A new breed of ecoresorts

is alighting in the

country's prettiest corners

22 A TEACHABLE MOMENT

Soneva Fushi co-founder

Sonu Shivdasani on the

evolution of luxury travel

24 WHERE THE BISON ROAM

On location at a horizonspanning

American

retreat with purpose

38

28 IN SEARCH OF SILENCE

Sand, sea and sumptuous

seclusion – private islands

are the ultimate hideaway

Style & Beauty

31 OUT OF THIS WORLD

Van Cleef & Arpels' latest

collection takes its cues from

the stars

34 SUNKEN TREASURE

Uncovering the remarkable

wellness-boosting

properties of seaweed

81 CENTURION IN FOCUS

A comprehensive guide

to the global real-estate

market

41

PHOTOS CLOCKWISE FROM TOP LEFT: SEAN FITZGERALD, © THALION, © APPARATU, © STELLA McCARTNEY

10 CENTURION-MAGAZINE.COM
---
F R O M T H E E D I T O R

CHRISTIAN SCHWALBACH

What does the good life look

like? It's a question chef

Daniel Humm has been

asking himself in recent years – and his

surprising answer, in part, is what led

him to transform his Michelin-three-star

gastro palace, Eleven Madison Park, into

a vegan restaurant this summer.

I'll let you turn to page 66 to read our

intimate profile of him – written by chef

and restaurateur Bill Knott, a frequent

contributor to these pages – and find out

all the nuances of why time, localism and

philanthropy have become so central to

his approach both inside and outside

the kitchen.

But Humm is not the only one who

has been reconceiving luxury in 2021. In

this issue of Centurion, we focus on the

people, places and companies that are

changing the ways we live in – and look

at – the world around us, as meaningful

moments and actions increasingly replace

staid ideas of traditional luxury.

Our feature on the philanthropists and

conservationists fighting to preserve the

wildlife of Africa details why going on a

safari might be one of the best things you

can do to help the cause.

Elsewhere, we take a deep dive into the

whisky world, looking at Scotland's ghost

distilleries coming back to life, a trio of

Japan's new passion-led craft distilleries

and the exceptionally buoyant world

of whisky investment. We also travel to

Vermejo, a conservation-oriented ranch

in the American West; consider the

virtues of various private-hire islands

across the globe; and wonder at the

transformative powers of seaweed, not

only as a superfood and skincare salve

but as a prime example of how renewable,

natural resources might be used across

the whole material world. Which is its

own perspective on the good life.

We hope you enjoy the issue as much as

we did putting it together. ¬

IVORY BLACK

American painter James

Austin Murray worked

with ivory black oil paint

and simple brushstrokes

to create his evocative

Swimming In It (2020).

jamesaustinmurray.com

12 CENTURION-MAGAZINE.COM
---
M A G A Z I N E

GROUP PUBLISHER & EDITOR IN CHIEF:

Christian Schwalbach

ASSOCIATE GROUP PUBLISHER: Michael Klotz

INTERNATIONAL EDITORIAL DIRECTOR: Thomas Midulla

ART DIRECTOR: Anja Eichinger

PHOTOGRAPHY DIRECTOR: Martin Kreuzer

DEPUTY EDITOR: Brian Noone

INTERNATIONAL MANAGING EDITOR: Claudia Whiteus

ASSOCIATE EDITOR: John McNamara

STYLE & FASHION DIRECTOR: Elisa Vallata

MANAGING EDITORS: Franziska Seng (Germany),

Alain Puchaud (France), Perz Wong (Greater China)

PHOTO EDITOR: Teresa Lemme

GRAPHIC DESIGNER: Andrew Cowan

CREATIVE CAMPAIGN MANAGER: Paula Urquiola

PROJECT EDITOR JAPAN: Hiroko Kamogawa

INTERNATIONAL ASSOCIATE EDITORS: Paul Hicks (Asia),

Isabel Areso (Spain & LatAm), Mitsuyo Matsumoto (Japan)

CHIEF SUB-EDITOR: Vicki Reeve

CONTRIBUTING EDITOR, FASHION: Avril Groom

FASHION CORRESPONDENT: Katrin Sillem (Paris)

YACHTING EDITOR: Cornelia Marioglou

PROPERTY EDITOR: Peter Swain

PRODUCTION MANAGER & SEPARATION: Jennifer Wiesner

CONTRIBUTORS: Ann Abel, Bruce Wallin, David Despau, Alan Gelati, Lisa Grainger,

Lisa Johnson, Jörn Kaspuhl, Bill Knott, Adriaane Pielou, Matthew Shave

CHIEF FINANCIAL OFFICER: Petra Prinzing

COMMERCIAL DIRECTOR: Christoph Gerth

DIRECTOR OF PRODUCTION & AD COORDINATION: Albert Keller

DIRECTOR OF MARKETING: Jennifer Floyd

DIRECTOR OF DIGITAL & STRATEGIC PARTNERSHIPS: Laura Tivey

MARKETING EXECUTIVE: Uchenna Ezenwa

MARKETING COORDINATOR: Kristina Yanushko

SALES COORDINATION: Jana Linde, Erica Breck Tavella

AD COORDINATION: Diana Veit, Maja Gredelj

INTERNATIONAL ADVERTISING SALES OFFICES

AUSTRALIA, NEW ZEALAND,

HONG KONG SAR (CHINA) &

SINGAPORE

Charlton D'Silva,

charlton.dsilva@pubintl.com.au;

+ 61 2 9252 3476

HONG KONG SAR (CHINA)

Catherine Ha,

catherine.ha@pubintl.com.hk;

+852-9460-8752

Hemant Sonney,

hemant.sonney@pubintl.com.hk,

+852-9270-6741

AUSTRALIA & NEW ZEALAND

Rowena O'Halloran,

rowena.ohalloran@pubintl.com.au;

+ 61 2 8298 9319

EUROPE

UNITED KINGDOM

Katherine Galligan,

katherine@metropolist.co.uk;

+ 44 7956 404 345

Vishal Raghuvanshi,

vishal@metropolist.co.uk;

+44 7810 353 362

BENELUX

Rita Saegerman,

rita.saegerman@adinternational.be;

+32 475 94 55 71

FRANCE

Charlotte de Monbrison,

cdemonbrison@mybubblecom.com;

+33 6 82 26 04 60

EDITORIAL OFFICES:

GLOBAL HEADQUARTERS: JI Experience GmbH, Hanns-Seidel-Platz 5,

81737 Munich, Germany; +49 89 642 797 0

INTERNATIONAL BUREAUX ASIA: Hong Kong SAR (China): Grebstad Hicks

Communications, 704 The Broadway, 54-62 Lockhart Road, Wanchai,

Hong Kong SAR (China); +852 2810 0532

JAPAN: Moji Company Ltd, Nishiyama Bld 3f, 1-1-19 Nezu, Bunkyo-Ku,

Tokyo, 113-0031, Japan; +81 3 5834 8562

SPAIN: Aretrad, Jata Kalea, 12, 48993 Andra Mari, Bizkaia, Spain; +34 944 912 261

CENTURION MAGAZINE

Edited, published and distributed by JI Experience GmbH by permission

of American Express Services Europe Limited, London, United Kingdom.

JI Experience GmbH

Hanns-Seidel-Platz 5, 81737 Munich,

Germany +49 89 6427970, jiexperience.com

American Express Services Europe Limited

Belgrave House, 76 Buckingham Palace Road,

London SW1W 9AX, United Kingdom

Copyright © 2021 by JI Experience. All rights reserved. American Express Magazines are published by JI

Experience for Europe in the UK, Germany, Austria, Switzerland, France, Italy, Spain, Sweden, Netherlands,

Croatia, Finland, in Latin America/Mexico, in the Middle East and in Asia Pacific: Chinese Mainland, Taiwan

Region, Hong Kong SAR, Japan, Singapore, Malaysia, India, Indonesia, Philippines, Australia and New Zealand.

Reproduction of editorial content including text, photographs or illustrations in whole or in part without express

written permission is strictly prohibited. American Express and the publisher, JI Experience GmbH, assume

no responsibility for errors and omissions appearing within. JI Experience regrets that no responsibility can

be accepted for unsolicited manuscripts, photographs or artwork, which will be returned only if a stamped,

addressed envelope is enclosed. Prices are checked during the production process of the magazine and are

correct at time of press. However, due to currency fluctuations, prices should be considered to be approximate

only. Centurion Magazine was established in 2000 and founded by Christian Schwalbach and Michael Klotz.

SINGAPORE

Peggy Thay,

peggy.thay@pubintl.sg;

+65 966 44 662

ASIA

CHINESE MAINLAND

Maggie Li,

maggie.li@cesanamedia.cn;

+86 10 6952 1122

INDIA

Rachna Gulati,

rachna.gulati@mediascope.co.in;

+91 11 2373 0869 (international)

Indu Joshi,

indu.joshi@mediascope.co.in;

+91 22 6137 7200 (local)

JAPAN

Kazuhiko Tanaka,

kazujt@bunkoh.com;

+81 3 3584 6420

KOREA

Jo Young Sang,

biscom@unitel.co.kr;

+82 2 739 7840

TAIWAN REGION

Janet Chen,

janet@procomintl.com.tw;

+886 2 2767 7390

THAILAND

Janya Limmanee,

janya.l@jpp-thailand.com;

+66 2051 4694

GERMANY

Sabine Bretfeld,

sabine.bretfeld@reitervs.de;

+49 69 40 58 64 0

ITALY

Paolo Cassano,

paolo.cassano@kmedianet.com;

+39 02 29 06 10 94

SPAIN

David Castelló,

david.castello@kmedianet.es;

+34 91 702 3484

SCANDINAVIA & SWITZERLAND

Neil Sartori,

neil.sartori@mediainterlink.com;

+41 22 331 00 00

THE AMERICAS

MEXICO

Pablo Glogovsky,

pablo@advmediagroup.com;

+52 55 5202 6412

FLORIDA & THE CARIBBEAN

Jill Stone,

jstone@bluegroupmedia.com;

+1 305 648 3338

MIDDLE EAST

Mamta Pillai,

mamta@sasmedia.net;

+97 15035 62723

YACHTING

Emanuele de Mari,

info@admarex.com;

+39 010 595 47 49

centurion-magazine.com
---
TIMELESS BEAUTY

Soaring by A&R

www.abeking.com
---
Black

Book

A GLOBAL GUIDE FOR

THE DISCERNING TRAVELLER

D I S P A T C H

N A T U R A L

P R O G R E S S I O N

Visionary resorts with serious eco-credentials are finding better

ways to frame Costa Rica's otherworldly beauty. By Bruce Wallin

A surfer rides the

waves at Witch's

Rock, off Playa

Naranjo, Costa Rica

PHOTOS PHOTO FEDERICO ALAMY CIAMEI

CENTURION-MAGAZINE.COM 17
---
BlackBook Dispatch

In August, Costa Rican president

Carlos Alvarado Quesada signed a law

establishing the sloth as his country's

new national symbol. A lethargic treehugger

might at first seem an unlikely

ambassador for a nation known for highadrenaline

action sports and adventures.

But Costa Rica also has a softer side, one

that emphasises slow, small and sustainable

development – and is spawning a new wave

of eco-resorts throughout the country.

"The government has done a great

job of protecting the environment," says

James McBride, the pioneering hotelier

who worked with American entrepreneur

Chris Burch to create Indonesia's revered

Nihi Sumba, and now the upcoming Nihi

Santo Tomas (nihi.com) on Costa Rica's

northwestern coast. "There's an influx of

global players coming into Costa Rica right

now, and they're all built around nature and

a healthy lifestyle."

Both admirable and ambitious, Costa

Rica's environmental efforts include having

nearly 30 per cent of its territory under

some form of protection and 98 per cent

of its energy generated from renewable

sources. The country is targeting zero carbon

emissions by 2050, and by the end of this

year, it aims to become the world's first nation

to phase out single-use plastics entirely.

This commitment to conservation

appeals to developers like McBride,

who was drawn to Costa Rica's unique

combination of wilderness, security and

Left: the majestic

scenery surrounding

the forthcoming Nihi

Santo Tomas; the

resort's co-founder,

James McBride

(left)

accessibility. "Our tagline is 'On the Edge of

Wildness'," he says. "The beauty of this edge

of wildness is that it's only two-and-a-half

hours from Miami, and it's stable and safe."

Just a 30-minute drive from the

international airport in Liberia, Nihi Santo

Tomas is set within a 1,400ha farm on a

wild stretch along the Gulf of Papagayo. ›

Lush forest meets the Pacific at the future site of Nihi Santo Tomas in the province of Guanacaste

PHOTOS FROM TOP: PEDRO ARCE, COOURTESY JAMES McBRIDE, PEDRO ARCE

18 CENTURION-MAGAZINE.COM PLEASE CHECK THE LATEST GOVERNMENT ADVICE BEFORE BOOKING TRAVEL OR DEPARTING ON ANY TRIP
---
BOVET 1822 X ROLLS-ROYCE

A UNIQUE COLLABORATION

THE SHOPPES AT

MARINA BAY SANDS

2 BAYFRONT AVENUE

#B2-200
---
BlackBook Dispatch

Clockwise from left: a Zunya

casita; sushi delicacies from

the property's plant-based

Nula kitchen; Zunya's verdant

coastal setting

"

THE LOCAL COMMUNITY HAS A

LOT OF ANCESTRAL WISDOM THAT

THEY ARE SHARING WITH US

"

– Diego Dosal Stieglitz, Zunya founder

Scheduled to open in late 2023, the resort

will include 38 villas plus a collection of

privately owned four-to-six-bedroom estate

residences. As at Nihi Sumba, guests will

have a range of outdoor pursuits on hand,

from hikes to the property's waterfall and

excursions into the adjacent Santa Rosa

National Park to horseback riding, polo

and, of course, the sport that put Costa Rica

on the tourist map.

"The fundamental of all these places

is surfing," says McBride, who notes that

Witch's Rock, one of Costa Rica's premier

breaks, is just 10 minutes by boat from Nihi

Santo Tomas. "Bali was surf-centric. Nihi

Sumba began because of the wave. Places

in Costa Rica like Nosara and Santa Teresa

are surf-centric – that was the catalyst that

made them cool."

A few kilometres from Santa Teresa, just

outside the town of Malpaís at the southern

tip of the Nicoya Peninsula, Mexican

entrepreneur Diego Dosal Stieglitz is

crafting his own surfing utopia. Called

Zunya (zunya.com), the resort community

is set on a 32ha site with its own semiprivate

point break. But Stieglitz's vision

goes far beyond waves, describing Zunya

as a regenerative ecovillage that will be

a hub of art, culture and health in the

heart of one of Earth's five Blue Zones.

(The Nicoya Peninsula was recognised as

a Blue Zone for the longevity of the local

population.) "We are connecting with the

community to learn as much as we can

from their practices," he says. "They have

a lot of ancestral wisdom that they are

sharing with us to understand what types

of plants they use for medicine, what their

diets are, what their customs are."

Zunya's relationship with the community

will be a two-way street, as Stieglitz plans

to make art, science and other workshops

available to locals and create a park that is

open to the public. For visitors, Zunya will

host multinight retreats centred on various

concepts in literature, the performing arts,

natural sciences and other subjects. The

resort will also have all the requisite water

sports and eco-adventures, as well as a

diverse set of accommodations ranging

in price from about US$90 to US$1,500

per night. The property is currently home

to three casitas and a collection of brandnew

luxury safari tents, and villas designed

by Alberto Kalach and other top Mexican

architects will follow in the coming years.

The community will be anchored by Kalach's

Serpent, a central gathering place with retail,

workshop spaces and a toy library.

Notably absent from Stieglitz's plan is

a major-brand hotel, a philosophy very

much in keeping with Costa Rica's subdued

strategy. "Tourism in Costa Rica has always

been about very intimate experiences," says

the country's Minister of Tourism, Gustavo

PHOTOS © ZUNYA

20 CENTURION-MAGAZINE.COM PLEASE CHECK THE LATEST GOVERNMENT ADVICE BEFORE BOOKING TRAVEL OR DEPARTING ON ANY TRIP
---
PHOTOS FROM TOP: RYAN FORBES (2), BRICE FERRE

J Segura, who notes that 94 per cent of its

hotels have 40 rooms or fewer. "The vast

majority of our tourism enterprises are

small."

The country, of course, is not without

its international brands and large

developments. Peninsula Papagayo, located

just south of Santo Tomas, is home to Four

Seasons and Andaz resorts as well as the

new Bahías, where the 13 private residences

begin at more than US$6 million. Auberge

Resorts will reopen its Hacienda AltaGracia

retreat in the Talamanca Mountains in

November, and Ritz-Carlton Reserve,

Aman Resorts and the ultra-high-end

developer Discovery Land Co are also

rumoured to have projects in Costa Rica.

Still, the country's independent streak

remains strong, with additional new

entries including Origins Luxury Lodge

(originslodge.com) in the northern

highlands. The seven-villa retreat, which

opened in 2018, offers nocturnal jungle

tours, medicinal plant tours, chocolate

making at a cacao farm and white-water

rafting at nearby Tenorio National Park,

as well as cuisine created by French

Michelin-starred chef Jean-Luc L'Hourre.

A couple of hours south of Origins,

Nayara Resorts has transformed the resort

town of Arenal into an eco-luxury hotspot.

The property features three distinct

lodges, the newest of which, Nayara

Top: a villa rises on stilts from a green hillside at Origins; above: the spacious

terrace of an Origins lodge

A bird's-eye view of Nayara, in Costa Rica's

Arenal Volcano Park

Tented Camp (nayaratentedcamp.com),

is an African-safari-style retreat with 29

canvas accommodations set on a hillside

looking out to Arenal's active volcano.

Costa Rica's eco-luxury evolution can

be traced to Pacuare Lodge and Lapa Rios

Lodge, sibling resorts set along the banks of

the Pacuare River and the coast of the Osa

Peninsula, respectively. Lapa Rios (laparios.

com), which opened in 1993, maintains a

405ha private nature reserve in a region

that National Geographic called "the most

biologically intense place on Earth". The

lowland tropical rainforest is home to 2.5

per cent of the world's species, including

jaguars, tapirs and scarlet macaws.

"It's what the world is looking for

right now," Segura says. "How do I go

reconnect with nature? We're becoming

a sanctuary for people coming to recreate

and recharge."¬

CENTURION-MAGAZINE.COM 21
---
BlackBook Back to the Future

D E C O N S T R U C T I N G

L U X U R Y

Sonu Shivdasani, co-founder of

pioneering eco-resort Soneva

Fushi, talks about his lessons

from the past 25 years and what

meaningful travel means now

Soneva cofounder

and

CEO Sonu

Shivdasani

Why have so many hotels and brands

followed in your footsteps to incorporate

sustainability in luxury travel?

When I first visited the Maldives with my

wife Eva, we fell in love with the place. I had

never seen anything quite like it. Eva loved

the untouched simple way of life there. We

decided we wanted to open a resort like

no other, while ensuring we protect the

environment. We believe that a company

must have a clear purpose beyond turning

a profit. It must serve and contribute to the

society in which it operates, and should not

negatively impact the environment in which

it is located. Hence our commitment to

sustainability grew from this main goal, and

our vision to create rare experiences for our

guests continues to this day.

We have since noticed that luxury travel

is not about simply being around luxury

and luxe objects. While the ultra-rich expect

a certain level of service, surroundings

etc, people are increasingly looking for an

experience that is completely different from

what they have in their everyday lives.

Over the past few decades, we have seen a

large demographic change with regard to the

rich. Historically, the wealthy were the landed

gentry, having inherited their wealth. They

would spend most of their time in their large

estates, where they had an abundance of fresh

air, fresh food, space and privacy.

Today, the rich live in densely populated

capitals of the world, whether that be

London, Paris or New York. What the rich

of the past found rare is now commonplace

for the wealthy of today, and what the rich in

the past took for granted – the fresh food, the

fresh air, time and space – is now rare.

Sustainability and health are hallmarks of

something that our guests rarely experience

in their home cities. It is rare to enjoy oneself

and not harm one's body. It is rare to enjoy

oneself and not damage the environment. It

is a luxury in which we too seldomly indulge.

Our guests come to us because they want

to reconnect with the natural environment

around them and to disconnect from their

day-to-day existence, especially as we come

out of the pandemic. Also, we have found

that guests are now extending their stays: our

guests on average stay between seven and 10

days, with some of our guests even staying for

up to three months or longer.

When it comes to genuine sustainability,

what are the key differentiators?

Expense, we would argue, is not indicative of

luxury. Rarity, however, is. The features in our

resorts are not often found in other resorts or

restaurants around the world. Sustainability

and wellness are hallmarks of something that

our guests rarely experience in their cities. It

is rare to enjoy oneself while doing something

positive for the environment. So we have

combined apparent opposites and found

ways in which they can live hand in hand.

Sometimes the more sustainable option

is the more luxurious one. For someone

living in an urban environment, dining

in the middle of a private lagoon, going

ILLUSTRATION DAVID DESPAU

22 CENTURION-MAGAZINE.COM
---
Left: "The fully carbon-neutral

island Makers' Place studio

recycles our waste plastic and

aluminium into beautiful works

of art and decor used across the

resort," says Shivdasani of Soneva

Fushi's innovative new programme,

established in collaboration with

artist Alexander James Hamilton

(left in above-right picture)

engagement. In fact, I am a big fan of the

words of Henry Ford, who described his

company as "an instrument of service rather

than as a machine for making money".

To reinforce our Slow Life Core

Purpose, in 2008 we created The Soneva

Foundation. It is a UK-registered charity.

Since then, with some Six Senses properties

contributing at the time, we have raised

$10 million from our resorts. A noteworthy

aspect of The Soneva Foundation is how it

has generated its funding. This is another

strong belief that Eva and I have, which

is that if we are to solve the social and

ecological challenges that we face in the

21st century, companies must make small

changes that do not affect their profitability,

nor negatively impact how guests perceive

them. This is a strong belief of ours. The

Soneva Foundation has been, importantly,

financed entirely by these small changes

that we have made – not by any donations.

PHOTOS CLOCKWISE FROM TOP LEFT: JULIA NEESON (2), MATT PORTEOUS

Much of the cuisine served at Soneva Fushi is informed by ingredients

from the resort's vast organic gardens

on a sunset dolphin cruise or enjoying an

intimate "no menu" meal from a Michelinstarred

chef in a stunning natural location

is rare. Dishes made with ingredients that

were picked that morning become luxurious.

Snorkelling above a swirling feeding frenzy

of manta rays or meeting a local fisherman

and learning how to fish sustainably are

incredibly unique experiences.

Our signature outdoor bathrooms are

a luxury for the urban dwellers, most of

whom cannot shower each day in a 100sq

m bathroom among waterfalls and tropical

plants while being able to look at the moon at

the same time. I liken our 25-year journey in

sustainability to the onion. Every time we peel

off a layer and feel we have cracked the code,

we discover something more we can do.

What's your personal Covid-19 lesson?

I have been fortunate enough to have

experienced many crises. "Fortunate" is

a deliberate choice of word. The Chinese

word for crisis is two characters: "danger"

and "opportunity". Over the years, I have

come to understand these words of Lao Tzu.

I have come to realise that these crises are

opportunities to learn, grow and develop. We

certainly have no control over the hand that

we are dealt, but we have total control on how

we play the hand.

I have realised that if one considers a

crisis in a positive way, one can always find

an opportunity to learn and develop and

make one's life more enriching as a result of

the crisis. My approach during this crisis has

been to consider every challenge that one

comes across each day.

With initiatives like Soneva Namoona and

Soneva Foundation and your just-launched

Makers' Place studio, this solution-based

mentality is clearly part of who you are.

We have believed for many years that a

company must have a purpose beyond

simply enriching shareholders and paying

employees a salary, and that when one

can do this, it achieves a high level of

How will luxury travel change over the

next decade?

The needs of our guests have evolved from

luxury to meta-luxury. It is no longer about

owning luxury items that indicate status like

premium whisky, luxury watches and the

latest "It" handbags. Owning status no longer

satisfies high-net-worth individuals. They

have an increasing thirst for knowledge and

learning. They seek discretion, special access

and even surprise. They want meaning,

authenticity and connection.

Meta-luxury is about authentic conviction,

experience, focus and depth, discovery

and knowledge; and understanding that

the industry is yearning for authentic

experiences. With climate change and its

effects so apparent, the world is striving for

real experiences. Living in the moment is

everything. To do that, you need to experience.

When guests go on holiday, we don't want

them to watch television or do whatever they

do at home – we want them to escape, to

dream, to feel.

Following the impact of the Covid-19

pandemic, I also suspect that travellers

will become more health-focused,

more aware of nature and more

sensitive to the challenges of the planet.

– As told to Thomas Midulla ¬

CENTURION-MAGAZINE.COM 23
---
BlackBook Land of Plenty

Wild horses roam

freely across Vermejo's

sprawling grounds

H O M E O N T H E R A N G E

On a spectacularly untamed stretch of land nearly the size of

Luxembourg, Vermejo is a quintessential American retreat with an eye

to the future. By Ann Abel

For decades now, media-mogulturned-philanthropist

Ted Turner

has been one of the biggest private

landowners in the United States. At

first, his ranches in the American West –

he once set out a goal of owning land from

the Canadian border to the Mexican one –

were private playgrounds for his family and

friends. Eventually he opened some of them

as hunting and fishing lodges, to fund his

research and conservation work.

And then, in 2016, Turner shifted to

ecotourism, creating an offering that would

appeal to all sorts of nature lovers, not only

sportsmen. I was at his flagship, Vermejo, a

Ted Turner Reserve, for the splashy launch

of Casa Grande, a multimillion-dollar

renovation of the early-20th-century estate

house. The opulent architecture matched

the scale and majesty of the Vermejo estate,

which spans 2,367 jaw-dropping square

kilometres in northern New Mexico and

southern Colorado.

"Ecotourism is on the rise all over the

world," he told me at the time. "Everybody

is interested in the planet. It's the most

interesting thing we experience in our ›

PHOTO SEAN FITZGERALD

24 CENTURION-MAGAZINE.COM
---
Childsplay Clothing. The children's style destination.

childsplayclothing.com
---
BlackBook Land of Plenty

lifetime. We don't know if there's life on any

other planet. If there is, we're not going to

see it in my lifetime. This is all we've got. We

might as well enjoy it."

The funny thing was, for all the grandeur

of that house, the guest experience was more

along the lines of a scrappy dude ranch.

Staff and guests ate from the same buffets.

Trophy heads hung on the walls, and people

were buying bottled water by the pound.

Early guest feedback was not good.

And so, they brought in the new

managing director, Jade McBride,

formerly of The Ranch at Rock Creek in

Montana and Amangiri in Utah, putting

him in charge of elevating and eco-fying

the experience.

What a transformation it's been. As of

last year, all the accommodations had been

renovated, most of the trophy heads were

gone, and single-use plastics were absent.

When I visited again in May, the guest

experience, service and dining were on par

with any luxe ranch in the American West.

Clockwise from top

left: fly-fishing in

one of the area's 19

fishable lakes; the

reserve's Costilla

Fishing Lodge, and

the snowcapped

Sangre de Cristo

mountains beyond;

a suite at Casa

Grande, once Ted

Turner's private

quarters; an up-close

encounter with the

American bison

Whip-smart guides lead guests on

archery expeditions and horseback rides,

while mountain biologists and conservation

specialists lead morning game drives to view

bison and other wildlife. Best of all, there's no

one else there. If you're in Yellowstone, there

can be 50 vehicles looking at one buffalo. At

Vermejo, you get 50 bison all to yourself.

The bison are a particular draw, as

Turner has had a longstanding fascination

with them. He brought them back from

near extinction, starting nearly 40 years

ago with just three at Vermejo. Now, says

McBride, they aim to manage the herd

to around 1,400. In addition to being

interesting to look at, they reproduce

quickly and are considered a sustainable

food source – in evidence not only at

Vermejo, but also across the other Ted

Turner Reserves and Turner Ranches as

well as his Ted's Montana Grill restaurants.

The commitment to conservation goes

further than resuscitating one species

and localising the supply chain. Between

Vermejo and two ranches in southern New

Mexico, Turner owns about 4,451 square

kilometres of the state and 8,094 square

kilometres across the US. The land is almost

entirely under conservation management

and is the cherry on top of his philanthropic

and sustainability work, including the

Turner Endangered Species Fund, the

Turner Foundation and the United Nations

Foundation, which he created in 1997 with

a $1 billion donation and which put forth

the Sustainable Development Goals that

the travel industry is now abuzz about.

In his 80s today, Turner's thoughts

have turned to his legacy. The move into

ecotourism wasn't so much a business

decision as a pragmatic one. "The estate

plan calls for the donation of the land to

a charitable organisation for conservation

science work and sharing that knowledge

with the world," says McBride. That status

hinges on sharing it not only with scientists

(like the state's forestry service, which is

using research done at Vermejo) but also

with anyone who wants to make the trip

to New Mexico to see it. If that's what it

takes to regenerate the land, then everyone

wins. Maybe the bumper stickers on the

ranch vehicles say it best: Save Everything.

vermejo.com ¬

PHOTOS CLOCKWISE FROM TOP LEFT: AMANDA HOWELL, KIRK EDWARD GITTINGS, JEN JUDGE, SEAN FITZGERALD

26 CENTURION-MAGAZINE.COM PLEASE CHECK THE LATEST GOVERNMENT ADVICE BEFORE BOOKING TRAVEL OR DEPARTING ON ANY TRIP
---
EXTRAORDINARY SERVICE, BESPOKE TO YOU.

World-leading

private jet solutions.

Discover a suite of private jet services that are tailored to suit your every need.

With 24/7 global service, we go above and beyond to ensure a seamless

experience. Founded in 1961, we have more experience than any other provider.

As the first publicly listed air charter company, our continued financial strength

means you are in trusted and reliable hands.

For more information call your

Centurion Concierge at 1800 396 8866.
---
BlackBook Water, Water Everywhere

AN ISLAND OF ONE'S OWN

Whether it's just the two of you or 20 of your closest friends, these

private islands offer seclusion with a side of natural splendour

I T H A A F U S H I

There are three villas, five pools, a full circle of white-sand

beach, a dedicated entertainment pavilion, a fully equipped

wellness area, multiple private concierges, a full brigade of

chefs and much more: the largest private island in the Maldives

is an utterly immersive experience. And that's before guests

dig into the offerings of the nearby Waldorf Astoria Maldives

Ithaafushi, the resort which runs the island and offers up all its

services and opportunities, from 11 restaurants to the largest

fleet of yachts in the country. Swim with sea turtles and whale

sharks in the morning, go on a treasure hunt with the kids in the

afternoon and wind down at the end of the day with a private

waterside yoga session – or, for the more indulgent, a 24kt-gold

body massage and polish. ithaafushiprivateisland.com ›

PHOTOS RUPERT PEACE

28 CENTURION-MAGAZINE.COM PLEASE CHECK THE LATEST GOVERNMENT ADVICE BEFORE BOOKING TRAVEL OR DEPARTING ON ANY TRIP
---
I S L A S A

F E R R A D U R A

Ibiza and the other Balearic Isles

have been winning praise for their

quieter sides in recent years, but this

islet, set on the former's north coast,

takes the prize for equal parts sea,

serenity and splendour. Mediterranean

chic predominates across the sixbedroom

villa, which incorporates

both traditional local design touches

as well as contemporary art by Spanish

stars. A team of 24 staff are on hand

to give exceptionally personal service,

including a private chef, while the

two standout spaces offer contrasting

experiences: the 250sq m spa, with

hammam and sauna, and the 750sq m

roof terrace, with DJ booth and stage.

Tropical gardens, a pair of pools and

the option to arrive by sea or road

(there's an isthmus) complete the oneof-a-kind

offering. islaferradura.com

G L A D D E N

P R I V A T E I S L A N D

PHOTOS FROM TOP: © ISLA SA FERRADURA (3), © THE AERIAL BVI, BENEDICT KIM

Cradled by an emerald lagoon and a swathe of lush island

greenery and resting atop a powder-fine cushion of the

whitest sand you've ever seen, the 280sq m villa, designed to

sleep just one couple, feels like the sort of paradise Robinson

Crusoe wishes he could have washed up on – all dark woods

and endless sea panoramas. Some 32 kilometres off the coast

of Belize on the edge of the hemisphere's second-longest

reef, life at Gladden is so blissfully isolated that even the staff

– which includes a personal chef as well as a boat captain for

excursions to nearby attractions – commute from a separate

island. Their presence on site is indicated by a "privacy

meter", so guests can feel more free to create their own daily

rhythm, whether it's sunbathing on the rooftop terrace or

enjoying a romantic sunset dinner. gladdenprivateisland.com

T H E A E R I A L B V I

Overlooking the 14 isles and blue waters of the Sir

Francis Drake Channel, the view from Buck Island,

a protected marine oasis, maybe the best way to

understand what makes the British Virgin Islands so

special. Add to that the tempting offerings of its latest

(and sole) inhabitant, a dreamy five-residence retreat

for 30 guests built to showcase the island's natural

wiles. The villas' rustic yet luxurious fittings bolster the

majesty of the surrounding biodiverse wonderland, as

does the culinary concept, which draws inspiration and

ingredients from the island gardens. An array of souland

body-soothing activities, from ocean-water therapy

to expert-led writing and hiking activities, round out a

holistic feel-good programme epitomised by the petting

zoo, where rescued zebras and ponies are all too happy

to pose for pictures. aerialbvi.com

– Claudia Whiteus

CENTURION-MAGAZINE.COM 29
---
CAPELLA SINGAPORE

Sentosa
---
Style &

Beauty

A SEASONAL COMPENDIUM

TO SARTORIAL FLAIR, ENCHANTING JEWELS

AND HAUTE HORLOGERIE

Otherworldly beauty: the

white-gold Ciel de minuit

necklace set with lapis

lazuli, sapphires and

diamonds paired with

paired with sapphire and

diamond earrings and

the Galaxie tourbillon

clip, with a blue

tourmaline, blue and

yellow sapphires, black

spinels, spessartite

garnets, diamonds, lapis

lazuli, onyx, turquoise

and three gold colours

PHOTO ANUSCHKA BLOMMERS & NIELS SCHUMM

P R E C I O U S T H I N G S

S T A R S T R U C K

The latest high-jewellery collection from Van Cleef & Arpels

looks to the sky for inspiration – and reaches astonishing heights.

By Avril Groom

31 CENTURION-MAGAZINE.COM

CENTURION-MAGAZINE.COM 31
---
Style & Beauty Precious Things

White-gold Céphéide

necklace and earrings,

set with tanzanites,

tsavorite garnets,

sapphires and diamonds

Heavenly bodies have awed mankind and inspired human

art from ancient times, and jewellery, as an applied art

form, has seen some of the greatest expressions. Indeed,

precious materials like gold, silver and diamonds lend

themselves to interpreting the shine and sparkle of the sun, moon

and stars, those universal symbols of life's rhythms.

For Van Cleef & Arpels, always focused on the romance

and poetry of jewellery, the skies are a rich source of creative

inspiration. The brand's latest collection, Sous les Étoiles,

examines the heavens from a completely novel perspective. The

designers seem to have journeyed into the further reaches of the

universe themselves – which, in a sense, they have. Other houses

have espoused space, but none has ventured quite so far when

it comes to interpreting as jewellery the wonders of deep space.

The designers had two special allies. One is noted French

astrophysicist, Professor Isabelle Grenier, who first became involved

with the brand when it created the Planétarium, the unique watch

which features planets, represented by precious mineral spheres,

revolving round a golden central sun in real time on discs of

aventurine. The timepiece created astonishment and was followed

by a smaller, three-planet-plus-diamond-moon women's version.

Sous les Étoiles is a more monumental project invoking the

second ally – the extraordinary photographs taken by the Hubble

and other deep-space telescopes of space landscapes, from galaxies

to gas clouds, which form the inspiration for the shapes and,

even more so, the colours of the new collection. Grenier believes

the publication of such photographs and

headlines surrounding space missions have

caught jewellery clients' imagination, and

growing knowledge has increased fascination.

Yet how does involving scientists sit with

the house's principles of poetic design? Very

well, according to president and CEO Nicolas

Bos. "Each collection is a new chapter of our

adventure; we travel through time and space

to unfold beautiful tales," he says. "Astronomy

is a familiar inspiration, from a star-shaped

1907 pearl-and-diamond brooch to the

dynamic 1950s Météore collection. In 2010,

Les Voyages Extraordinaires high jewels

drew on Jules Verne's novels, and now we

are renewing this historic theme with a

modern and striking vision of space." For

this, he credits a mix of references: "nature,

art, 19th-century astronomical knowledge

and, now, Isabelle's expertise, plus colourful

deep-space photographs".

The house's jewellers work with traditional

materials and methods, each piece a mix of

high-jewel crafts, of figurative and abstract.

The Terre et Lune bracelet, for instance, bears

a globe of mystery-set sapphires – incredibly

32 CENTURION-MAGAZINE.COM
---
hard to work on a curved surface – with a line of gold marking the

equator and diamonds the continents. In contrast, the moon is

symbolically depicted with diamonds, some inverted, suggesting

the irregular lunar surface and casting a soft glow.

The collection catches fire with pieces based on the photographs

that Grenier presented to the creative team. "In the past, space

photography was in black and white, and we see the stars at

night, so most jewellery inspired by them is monochromatic," she

says. "Yet the stars are full of colour, as the pictures show. I also

explained that the universe has a variety of simple shapes that

lend themselves to jewellery – circles, ovals, discs, jets, and things

change dramatically." Bos adds, "Our designers imagined abstract

forms of these shapes, less known than our figurative aesthetic.

Space's colour palette is infinite, and stones – with the play of light

that enables them to change shade – can translate the nuances of

the cosmos, truly revealing the relation between stars and gems."

They certainly do, from the swirling two-finger Iwamoto ring,

named after a blue-green comet and containing a large octagonal

Sri Lankan sapphire and a deep-green hexagonal Colombian

emerald, through the extraordinary Sentier des Étoiles bracelet

like a spiralling galaxy built of coloured sapphires, tsavorites

and diamonds round a glowing 69.23ct cabochon Sri Lankan

sapphire, to the magnificent Halley necklace with its geometric

diamond-set tail and a 11.29-carat fancy vivid yellow pearshaped

diamond at its heart.

For her part, Grenier says she was "fascinated by the craft – so

many tasks building very complex pieces that look simple. It's

beautiful when you can't see the technical

parts, and the less you see the more

beautiful it is – like science when you don't

have to be told all the complex equations

that go into a conclusion." She found more

parallels as she worked with the team,

including the atelier head who is very into

astronomy. "Scientists love novelty, and so

do creators making new objects," she says.

"We all love to meet challenges and solve

puzzles, though it seems unfair that you get

a beautiful piece of jewellery while nature

does not always grant a solution."

She hopes to continue working with the

house, but, for the moment, her ideas have

come full circle. One of the 150 items in the

collection is the first-high jewellery version

of the Planétarium, its swirling bracelet and

bezel set with diamonds, pastel sapphires,

spessartite garnets and black spinels, its solar

system dial at the heart of a jewelled galaxy

and, with its tiny turquoise bead Earth – the

most poignant statement imaginable of our

place in time and space. vancleefarpels.com ¬

PHOTOS ANUSCHKA BLOMMERS & NIELS SCHUMM; STELLAR FORGE: © NASA/ISABELLE GRENIER

Clockwise from left: white-gold Hélios necklace set with one yellow

sapphire, diamonds and pearls; a Hubble image of a stellar forge, one

of the photographs from which the collection drew inspiration; whiteand

yellow-gold Halley necklace – inspired by the eponymous comet

– featuring one yellow diamond and white diamonds

CENTURION-MAGAZINE.COM 33
---
Style & Beauty Nature's Bounty

F R O M S E A T O S O U L

Slither into it, swallow it or slap it on: seaweed is an almost supernatural

substance with an astonishing array of uses. By Adriaane Pielou

No one who has emerged from the sea

to find their mosquito bites soothed or

scratches healed will be too surprised

to learn that the new star in high-end

skincare is seaweed. Admittedly, seaweed isn't the

first ingredient you might look for when hunting

for a new moisturiser or solution to a skin problem,

especially if you only consciously encounter it when

it wraps around your ankles as you're paddling.

But seaweed is possessed of mind-boggling power

and versatility. Absorbing all the nourishing

properties of seawater, and with a velvety rich

feel, it is packed with the vitamins, minerals, fats,

trace elements and amino acids that healthy skin ›

PHOTOS © THALION

34 CENTURION-MAGAZINE.COM
---
PERFECT MOMENTS

WITH FINE HOTELS + RESORTS

Unique opportunities, unforgettable events, once-in-a-lifetime

adventures – Centurion Magazine presents a stellar selection of

tailor-made experiences to transform any trip

centurion-magazine.com/fhr

FOR EXPERIENCES OF A LIFETIME
---
Style & Beauty Nature's Bounty

Scottish maker Ishga's organic-seaweed

Invigorating Body Oil, ishga.com

needs – and in ten to 20 times the

concentration any land plant contains.

Seaweed's laundry list of proven

benefits only begins with these: improve

circulation, detoxify the system, promote

collagen production, clear up acne, reduce

rosacea, heal and tone the skin, help

with weight loss, work as a sunscreen,

reduce sun damage, lighten age spots, and

moisturise so extravagantly well it can

leave even men's shins feeling like silk.

The miraculous marine multitasker

has been ubiquitous in Asia for millennia,

and the Second World War gave it a boost

in the West, when shortages of food

thickener saw food processors discover the

wonders of seaweed-derived carrageenan.

Since then, seaweed – a catch-all term

for marine plants from minuscule algae

to great, swaying underwater forests of

kelp, and which exists in at least 10,000

different types – has steadily been moving

centre-stage.

And beyond the realm of health and

beauty, seaweed is ubiquitous in the food,

cosmetics and homecare industries and as

a fertiliser. Helping to give frozen yogurts

their luscious consistency, lipstick glide on,

and furniture spray adhere, seaweed has

also recently been successfully trialled as a

biofuel, wood-substitute for house-building,

biodegradable packaging, effective antibiotic,

and repair material for damaged heart tissue.

Natural, sustainable and abundantly

available, seaweed grows at twice the speed

of any land plant. Kelp, for example, can

grow by 60 centimetres a day. Farming – on

ropes – requires zero use of any fertiliser or

herbicide. Globally, unharvested seaweed is

brilliant at absorbing and storing CO 2

. No

wonder scientists have hailed seaweed as our

last great natural resource.

Skincare Salvation

In 2002, on Canada's Pacific Northwest

coast, Diane Bernard launched the world's

first certified organic, food-grade skincare

based on fresh, raw seaweed. Shocked to

discover a well-known European brand

contained only traces of the seaweed it

trumpeted, along with numerous additives,

she started Seaflora with the mantra, "If

it's not good enough to eat, it's not good

enough to put on your skin." Made in small

batches by hand, and shipped worldwide,

Seaflora's masks and moisturisers contain

at least 50 per cent – and usually almost 80

per cent – seaweed.

Given the many spas in Brittany have

been devoted to thalassotherapy since the

1960s, the longest-established European

providers of seaweed-based skincare are

French. Take Phytomer, Spa Technologies

and Thalgo, the latter of which supplies

20,000 spas in 90 countries. But many

newer arrivals are Irish or Scottish artisan

companies. The certified organic Irish

brand Voya, for instance, with its irresistible

new Angelicus Serratus Nourishing Body

Oil. Or Rí Na Mara, launched by a former

nurse who discovered seaweed's potency

while working in a dermatology unit.

And then there is the marvellous Maiiro,

helmed by seaweed evangelist founder

Katy Rowe. Scotland's Ishga and The

Hebridean Seaweed Company both wildharvest

from the pristine waters around the

Hebrides. In England, the ever-inventive

PHOTOS FROM LEFT: © THALION, © ISHGA

36 CENTURION-MAGAZINE.COM
---
Margate-based Haeckels sells grownto-order

Bio Restore Membranes, skinsoftening

under-eye patches. The Swedish

brand La Bruket has products so fresh

you can almost feel seaspray bouncing

off your skin. And US makers include

Naturopathica and Pursoma, whose

beautifully packaged wild-harvested

products now include Purbebe items for

children, such as Pixie Dust.

Full Immersion

The Atlantic west coast of Ireland is swept

by the purest marine waters in Europe,

providing perfect growing conditions for

a host of seaweeds. Guests at the Slieve

Donard resort in Northern Ireland who

want to sample a traditional Irish seaweed

bathhouse – all glazed-tile interiors with

deep claw-foot baths brimming with

seaweed – get directed to the nearby Soak

in County Down. Voya now runs the old

seaweed bathhouse in Strandhill, County

Sligo. Stride out onto the Irish shore where

Wild Atlantic Seaweed Baths have set up

deep wood barrels in the open air and you

can gaze out across the ocean – head cold,

body warm – as fronds undulate around

you. For those who would rather sink into

seaweed at home, you can order it fresh

or dried from enterprising outfits such as

Mungo Murphy's Seaweed Co or The Irish

Seaweed Company. Espa, Pursoma, Voya

and Ishga, among others, all sell powdered

seaweed for less messy baths at home.

Pure Indulgence

Possibly the most beautiful spa where you

can sink into a seaweed bath or have a

seaweed wrap or facial is in the Maldives,

at the Four Seasons' Kuda Huraa resort,

which uses California's Osea products.

You cross by boat to the tiny island spa,

where moonlit sessions are a special treat.

In France, the 2,730km Brittany coast

is dotted with thalasso spas, such as the

Sofitel Quiberon complex, a favourite for

weight loss. Seaweed-specialist day spas

in less-expected locations include the new

Thalgo spa in Cannes and Blythswood

Square in Glasgow, which uses Ishga

products.

To Good Health

Japanese and Korean women have

traditionally used kelp creams or

supplements to keep their hair lustrous,

and JS Health's Hair & Energy supplements

have won a huge fan base for just this reason.

Thalion's new Super Energie supplements

work as a detoxifier, as does Haeckels'

60%H2O Ocean Cleanse Concentrate.

Is there no end to seaweed's versatility?

So far, the answer seems a resolute no.

Recent research at the Kyushu University

in Japan on one seaweed extract, fucoidan,

showed it stimulated certain enzymes that

can kill cancer cells. Good for our skin,

the planet and our health? Now that's

something to think about as you lie in a

bath of velvety fronds. ¬

Right: Voya's

Angelicus

Serratus

Nourishing Body

Oil, voya.ie;

below: Douceur

Marine Soothing

Moisturizing

Cream by

French marque

Phytomer,

phytomer.fr

PHOTOS CLOCKWISE FROM TOP RIGHT: © VOYA, © PHYTOMER, © LA BRUKET, © VOYA

Left: a custom seaweed

treatment by Voya; below:

La Bruket's Restorative Algae

Hand Peel, labruket.com

CENTURION-MAGAZINE.COM 37
---
Style & Beauty In Store

1

2

3

4

5

T O H A V E A N D

T O H O L D

This season, the must-have handbags range

from classically elegant to straight-up glam.

By Elisa Vallata

7

6

PHOTOS COURTESY OF THE COMPANIES AND DESIGNERS

38 CENTURION-MAGAZINE.COM
---
8

10

11

9

12

1 Smythson Mara Ciappa

business bag in crocodileembossed

calf leather,

smythson.com 2 Marni Marni

Trunk bag in leather, from the

autumn/winter 2021 Vol 2

collection, marni.com 3 Louis

Vuitton leather Twist PM

bag, louisvuitton.com 4 Tod's

calf-leather Shirt Hobo bag,

tods.com 5 Prada transparent

sequin-embellished shopping

bag, prada.com 6 Gucci Gucci

Diana mini leather tote bag with

bamboo handles, gucci.com

7 Dior rhinestone-embellished

Small Lady Dior bag, dior.com

8 Dolce & Gabbana small

Sicily bag in cordonetto lace,

dolcegabbana.com 9 Chanel

11.12 bag in metallic leather,

chanel.com 10 Bottega Veneta

Salon 02 mirror-paillette Moon

clutch, bottegaveneta.com

11 Hermès Herbag in canvas

and cowhide leather, hermes.

com 12 Miu Miu padded nylon

tote bag, miumiu.com

CENTURION-MAGAZINE.COM 39
---
MAGAZINE

V O N

We want to

hear from you.

JOIN THE LUXURY ADVISORY BOARD.

The Luxury Advisory Board is an anonymous online survey

panel made up of your fellow Centurion readers – all of whom

are passionate about sharing their thoughts and opinions.

Gaining insight into the latest travel and lifestyle trends and

reader interests and preferences enables us to continue to

develop Centurion Magazine and centurion-magazine.com

to suit your lifestyle.

Centurion Magazine LAB QR Code

URL: https://www.lab-centurion.com/
---
Art &

Design

A CLOSE-UP ON THE ARTISTS, ARTISANS

AND ARCHITECTS ENLIVENING OUR WORLD

Xavier Mañosa's

creations often

steer clear of

classical ceramic

design

PHOTO © APPARATU

P O T T E R ' S W H E E L

I M P E R F E C T

B Y D E S I G N

The handmade ceramics of Xavier Mañosa blur the lines between art and

craft. As John McNamara discovers, that's just what he intends
---
Art & Design Potter's Wheel

I

am a ceramicist," affirms Xavier

Mañosa. It seems an obvious point to

make for the man who runs a ceramic

studio, but such is the way his family

firm, Apparatu, blurs the lines between art,

crafts, industry and design, the affirmation

seems necessary.

Apparatu pieces – vases, vessels,

lampshades and more, created with an

emphasis on irregular shapes and textures,

and often with materials not usually

associated with ceramics – are as at home

in galleries and design fairs as they are, well,

in homes. Which makes sense because this

ceramics studio, based in Rubí, a small town

near Barcelona, has a very different take on

its traditional craft.

Mañosa's circuitous route to joining

the family business came via a degree in

industrial design and a stint living in Berlin

that has undoubtedly affected his work with

such a diverse sensibility. Even the name

Apparatu is a (deliberate) mixture of "poorly

written Catalan and poorly spoken German".

Mañosa was enjoying himself in

the German capital but was eventually

persuaded to return home, where his

parents had run their pottery business

for almost half a century. It was a gradual

homecoming – he had been heading back to

Spain to help them make some pieces while

also producing small works in a "primitive"

studio in Berlin to sell at a flea market. In

the end, it was a combination of family and

heritage that inspired the final move home.

"In Berlin, I was procrastinating, not doing

much. My mother said they were planning

to close the workshop. From there, I decided

to move to Barcelona." Yet, he didn't return

simply with the idea of continuing the

traditional business: he was determined to

work to his own rules.

What those rules actually are remains

a bit mysterious. Talking to Mañosa,

who leaps between subjects with great

enthusiasm, it is very easy to understand

the sort of creative energy that goes into

his work – as well as the strong sense of

family and tradition that both clashes with

and complements his ceramics. Part of the

dynamism comes from the fact that his

parents still work in the studio. "We have

arguments – more with my mother, as we

have a more similar character. I'm happy to

have an argument, she's always very, very

happy to get into an argument. Creative

arguments," Mañosa says. "Yet after a

moment, the problem is gone."

He is used to winning these battles,

including from a logistical point of view.

His parents' preferred marketing tool was

the catalogue for many years. "They had

the idea that you design something, you

create a piece and reproduce it. I was never

comfortable with that idea. For me, it's not

just looking at these objects – it's focusing

on the material and the process."

He embraces technology in these

processes, but he is not necessarily

beholden to it. For him, technology is

Throughout his work, Mañosa experiments with different shapes, materials and glazes

PHOTOS JARA VARELA

42 CENTURION-MAGAZINE.COM
---
Mañosa at work in his

studio, just outside

Barcelona, where he

creates both works of

art and more orthodox

production designs

RESPECTED BY GAGGENAU

A mark of both devotion to craft and groundbreaking

innovation, Respected by Gaggenau is one of the

culinary world's most prestigious prizes, chosen

by 27 experienced curators from eight countries.

Joining design winner Apparatu as 2021 recipients are

Salumi Bettella (culinary), the Italian farmer of "The

Quiet Pig", and Elías López Montero (viticulture), the

visionary behind Verum winemakers in La Mancha.

gaggenau.com

PHOTOS CLOCKWISE FROM LEFT: © APPARATU (2), SALVA LOPEZ

simply a tool with which he can achieve his

goals. But what are those goals? Is he artist

or artisan? "What is art, what is design?"

he answers, reverting to a common theme:

between the lines. "What is what? These

are the questions that you have. We have

clients who want us to think in terms of

design. That is our relationship, but we

also produce materials. This is not very

common, in my experience. They are

having a conversation with the designer

but also with the supplier. For me, it makes

sense. As a designer, you will always go

for what you want but that maybe is not

what is best in terms of production. And

you have to understand the production to

make sense of every aspect."

Collaboration is also a clear theme of

Mañosa's work. He is currently coming to

the end of a five-year project with Artek, the

Finnish brand created by legendary design

Alvar Aalto, that has been "extremely

technical and a personal challenge",

although he is reluctant to divulge more.

Other collaborators have included Marset,

the Spanish lighting brand, and the Parisbased

fashion designer Isabel Marant.

And now he is working with the German

high-end home appliance manufacturer

Gaggenau, a meeting of minds that has

led to small exhibitions of Apparatu's work

featuring in the company's showrooms.

"I love that, by doing this, it produces

something physical," says Mañosa.

The innovative nature of Mañosa's work

was brought to Gaggenau's attention by

another collaborator, Isabel Martínez-

Cosentino, the owner of art showroom

Cosentino City Barcelona and a curator

for Respected by Gaggenau, the German

firm's initiative that seeks out elaborate

artisans, producers and makers around

the globe who are quietly striving to create

excellence in their field (see above). She

recognised the originality of his work,

and it's precisely this quality that Sven

Baacke, head of design for the brand,

also sees in Apparatu, the Respected

by Gaggenau design recipient for 2021.

"What is impressive about Apparatu is

while they push the possibilities of using

clay for design purposes, they also respect

traditions and history, leading to ceramics

with authenticity," he says. "I think

Apparatu is about disconnection and the

thin line between sometimes not knowing

what they are doing, and occasionally

some unusual things coming from the

studio," Baacke adds.

However unusual, there's no doubt that

whatever direction Mañosa heads in next,

his individual stamp will be writ large all

over it. apparatu.com ¬

CENTURION-MAGAZINE.COM 43
---
Share the

of holistic health

your loved ones

New flexible membership

tailored to all individual health

Emotional Wellbeing; Physical Wellbeing; Beauty &

EXCLUSIVE OFFER FOR CENTURION MEMBERS

10% discount* on membership

*Offer valid until 1 July 2022.
---
precious gift

and longevity with

this festive season

packages are available:

requirements and interests across

Aesthetics; Diet & Nutrition; Better Ageing & Longevity

DISCOVER MORE AT

register.thearccircle.com/experience

FOR TELEPHONE ENQUIRIES

+44 (0) 20 3695 1000

All applications handled with absolute confidentiality.

Scan the QR code to register.
---
REFLECTION ETERNAL

Perpetual calendar watches pair technical wizardry with

timeless design for endlessly fascinating showpieces

Photography by MATTHEW SHAVE

Production by ELISA VALLATA

46 CENTURION-MAGAZINE.COM
---
Blancpain Villeret

Quantième Perpétuel:

with 40mm red-gold

case; opaline dial;

self-winding movement;

72-hour power reserve;

alligator-leather strap
---
Breguet Classique

Grande Complication

ref 5447 with 40mm

white-gold case; handengraved,

silvered-gold

dial; manual-winding

movement; 40-hour

power reserve; minuterepeater

function;

alligator-leather strap

48 CENTURION-MAGAZINE.COM
---
Patek Philippe In-line

Perpetual Calendar ref

5236P-001 with 41.3mm

platinum case; satinfinished

dial; self-winding

movement; 48-hour

power reserve; calendar

with one-line display of

the day, date and month;

alligator-leather strap

CENTURION-MAGAZINE.COM 49
---
Audemars Piguet

Royal Oak Selfwinding

Perpetual Calendar

Ultra-Thin with 41mm

satin-brushed titanium

case and satin-brushed

dial; gold-applied hourmarkers

and Royal Oak

hands with luminescent

coating; 40-hour power

reserve; satin-brushed

titanium bracelet

50 CENTURION-MAGAZINE.COM
---
Chopard LUC Perpetual

Chrono with 45mm

Grade-5 titanium case;

black-rhodium-toned

and hand-guillochéd

solid-gold dial; manual

winding movement;

60-hour power reserve;

chronograph with flyback

and stop-seconds

function; nubuck

calfskin strap

CENTURION-MAGAZINE.COM 51
---
SCENE STEALERS

The season's spectacular diamond creations take

a decadent night out to dazzling heights

Photography by ALAN GELATI

Production by ELISA VALLATA

52 CENTURION-MAGAZINE.COM
---
Tom Ford black

pintuck-tulle dress with

velvet hem Van Cleef

& Arpels white-gold

Olympia necklace set

with diamonds Chopard

white-gold Happy

Hearts Cocktail pendant

set with diamonds;

left hand: Boucheron

white-gold Fenêtre sur

Ciel ring set with one

tanzanite and diamonds;

right hand: Pomellato

white-gold Catene

bracelet and ring set

with diamonds

Opposite: Emilia

Wickstead duchessesatin

Salma dress

David Morris white-gold

Fractal Rose brooch

set with white and pink

diamonds
---
Dolce & Gabbana

stretch-fabric bustier

with buttons

Boghossian Kissing

flat-emerald cabochon

and diamond

earrings in white gold

Graff platinum and

white-gold necklace

set with emeralds

and diamonds; on

left hand: Chatila

platinum ring set with

one emerald and

diamonds; on right

hand: Chatila whitegold

Diamond Deco

Fan ring

54 CENTURION-MAGAZINE.COM
---
Max Zara Sterck

wool jacket with

satin drape Chopard

white-gold earrings

set with diamonds,

from the Precious

Lace collection Adler

white-gold Kalambo

necklace set with

one tanzanite and

diamonds; on jacket,

from top: Chatila

brooch set with

sapphires, diamonds

and one pearl Van

Cleef & Arpels

white-, yellow- and

rose-gold Sous

les étoiles Galaxie

tourbillon clip set

with tourmaline,

sapphires, black

spinels, spessartite

garnets, lapis lazuli,

onyx, turquoise and

diamonds; on left

hand: Tiffany & Co

white-gold Paloma's

Sugar Stacks ring set

with pavé diamonds

on right hand:

Garrard white-gold

Vault ring set with

a sapphire and

diamonds
---
Emilia Wickstead

duchesse-satin

Salma dress Garrard

white-gold Fanfare

Symphony earrings

set with aquamarines,

diamonds and

turquoise inlay

Van Cleef & Arpels

white-gold Brume de

Saphir necklace set

with diamonds and

sapphires
---
Max Zara Sterck

asymmetric silk

jumpsuit Adler whitegold

Kalambo earrings

set with tanzanites

and diamonds; on

right hand: Boodles

platinum Vintage

Lace ring set with

diamonds and

platinum Ice Skaters

bangle set with

moonstones and

diamonds; on left

hand: Pragnell whitegold

Masterpiece ring

set with a sapphire

and diamonds

HAIR: KEIICHIRO HIRANO @THELONDONSTYLEAGENCY; MAKE-UP: YASMIN HEINZ @THELONDONSTYLEAGENCY USING CHANEL FALL-WINTER 2021 COLLECTION

TONE-ON-TONE AND CHANEL SUBLIMAGE LE BAUME; MANICURE: CHERRIE SNOW; MODEL: LISA CONTA @ STORM

CENTURION-MAGAZINE.COM 57
---
The Rewilding

Sunset over

Zimbabwe's

Malilangwe Wildlife

Reserve, home to

Singita Pamushana

58 CENTURION-MAGAZINE.COM
---
Climate change and Covid are bringing a renewed focus on the conservation of Africa – not only

through tourism, but philanthropy and investment in nature. By Lisa Grainger

of Africa

CENTURION-MAGAZINE.COM 59
---
has become Zimbabwe's leading high-end, low-impact

safari destination, ploughing millions of dollars a year

not only into conservation projects but the community

around.

Jones funded the trust, he says, because, like many

conservationists, he realised that if governments didn't

have the will or money to save wildernesses, private

funders had to step in. "The biggest threat in Africa," he

explains by phone from Malilangwe, "is the extinction of

its creatures. Things are disappearing every single day,

thanks to population explosion and land encroachment

in areas that were formally wild."

he southeast of Zimbabwe is not an easy place in

which to live. With an average annual rainfall of 300

millimetres, temperatures of up to 50°C and poor

soils, it's not prime agricultural land. There is little

industry and few jobs. And with international borders

closed during the pandemic and only a trickle of

vehicles passing through, desperate vendors have few

opportunities to sell their little piles of tomatoes, corn

and mangos from the roadside.

In and around the Malilangwe Nature Reserve,

though, life continues much as normal. Elephant roam

the bush, stopping under marula trees for the fruit they so

love, and (tagged, monitored) rhino browse the thickets.

A team of dedicated rangers patrols the wilderness,

alongside electric fences that separate wild animals from

people. Between villages, a clinic is open, caring for the

sick, testing for Covid and delivering babies. And in the

vegetable gardens, women are weeding their beds and

driving their cattle to a borehole-fed trough.

That this little pocket of semi-normality exists is

thanks to the Malilangwe Trust, the brainchild of Paul

Tudor Jones, one of America's most successful traders

and one of its leading philanthropists. Since the trust

purchased the former cattle farms in 1994, the game

reserve, with the Singita Pamushana Lodge at its heart,

For wildlife to be valued, though, he adds, Africa's

populations have to appreciate its value and

benefit from its survival. "You have to take care

of the people first, many of whose ancestors lived

off that land," he says. "So the wildlife has to have a

consumptive value."

Given the rapid growth of the population across Africa

– predicted to rise from around 1.36 billion people today

to 2.5 billion by 2050 – the need to set land aside is more

urgent than ever, he adds. When the philanthropist

created the Grumeti Game Reserve in Tanzania in 2002,

"there were 10,000 people on our 130km border," he says.

"Now there are close to 130,000." Which is why he, and

other international investors, have ramped up the speed

of their work in Africa around national parks endangered

by human encroachment – places where animals are

being poached for food, ancient forests cut for furniture,

brush destroyed for firewood and charcoal-making, and

wilderness transformed into agricultural land.

Having already invested in Zambia, Zimbabwe,

Tanzania, Mozambique and Rwanda, alongside

philanthropists such as Bestseller CEO Anders Holch

Povlsen and the late Microsoft co-founder Paul Allen,

Jones is now involved in three big new projects: a reserve

around the Kafue National Park in Zambia, and two

tracts of land in Mozambique, a 200,000ha private ecotourism

reserve and 130 kilometres of coastline, where

he is working with fellow American traders Louis Bacon

and Ken Griffin as well as Bedari founder Matt Harris.

While these men are at the forefront of creating new

reserves, they are following in the footsteps of others

who have spent decades trying to make a difference

to conservation and communities. In South Africa,

the Getty family has developed Phinda into a leading

private game reserve, funnelling profits through its

charitable Africa Foundation. In the Maasai Mara,

the Norwegian former banker Svein Wilhelmsen has ›

PHOTOS DAID YARROW/COURTESY TUSK TRUST; PREVIOUS SPREAD: © SINGITA

60 CENTURION-MAGAZINE.COM
---
PHOTO ROSS COUPER

A tracker and

giraffes in

Malilangwe

Wildlife Reserve,

Zimbabwe; facing

page: a silverback

gorilla in Rwanda

PLEASE CHECK THE LATEST GOVERNMENT ADVICE BEFORE BOOKING TRAVEL OR DEPARTING ON ANY TRIP CENTURION-MAGAZINE.COM 61
---
created a lasting partnership with the Maasai through

his Basecamp Explorer camps. In São Tomé and

Príncipe Mark Shuttleworth, the high-tech billionaire,

has invested millions in revitalising the reefs and

forests of Bom Bom, alongside its community. And

in Mozambique, American voicemail billionaire Greg

Carr has invested tens of millions of dollars into trying

to restore Gorongosa National Park while uplifting its

war-ravaged communities.

Although nature lovers have been buying or leasing

land across Africa for over a century, in the past ten

years – and particularly since the outbreak of Covid,

when people have had more time to appreciate the interconnectivity

of humans, nature and climate – there has

been a marked rise in investment in the natural world,

says Justin Francis, the founder of Responsible Travel.

"If there is a silver lining to Covid, it has been that the

number of billionaires has increased, and they are far

more aware of climate change and how that impacts

their legacy." In the UK, he adds, "we have previously

thought of legacy in terms of a wing of a university or an

art gallery. But in America, philanthropy has often been

driven by landscape and nature. And that's now catching

on elsewhere."

During the pandemic, when safari camps had

to close, that philanthropic funding has been

invaluable, says Charlie Mayhew, the chief

executive of Tusk Trust, a conservation NGO. Most

wildlife reserves and national parks, he says, rely on

tourism. (The World Travel and Tourism Council

estimates that, pre-Covid, wildlife tourism generated

more than $29 billion a year across Africa, and employed

3.6 million, contributing more than ten per cent of

Tanzania's GDP and almost 15 per cent of Namibia's.)

"Without any tourism, and with so many people

losing their jobs and livelihoods and food, there was a

sudden spike in poaching for bushmeat, and logging for

firewood and charcoal," says Mayhew. "Thankfully, our

donors could see what was happening and stepped up to

the plate – some new donors, some corporates, some our

old donors." One new donor, Mayhew explains, gave £50

million towards Covid-related causes "and £5 million

for us, towards our Wildlife Ranger Challenge, where he

matched every dollar we raised with one of his own. He

realised that rangers on the front line were critical and

Africa couldn't afford to lose the protection they gave."

In spite of the heroic efforts of African rangers, the

drop in the number of visitors on the ground means that

there's been a significant increase in the bushmeat trade

"as people have struggled in some places to feed their

families," says Dr Kirstin Johnson, the UK director of

the Africa-based NGO the African Wildlife Foundation.

Mayhew says Tusk has also seen a rise in poaching. "When

borders closed, and so moving ivory or rhino horn became

very difficult, poaching went down. But it's started again

in Botswana and South Africa, which is worrying. Perhaps

they are taking the opportunities to get in while they can

– when fewer tourists' eyes and ears are on the ground."

The few tourists who have been back, says Deborah

Calmeyer, the CEO and founder of the American safari

operator Roar Africa, which has sent 80 travellers back

to Africa since September 2020, have been overwhelmed

62 CENTURION-MAGAZINE.COM
---
Oryx in Gorongosa

National Park,

Mozambique

PHOTO CLIVE DREYER

by the welcome they've received. Some of the thank-you

texts, she says, have been "heartbreaking. They've said,

'My children are back at school thanks to you' or 'Without

you we would not have survived'. When you get daily texts

like that, you really understand the lifeline that tourism is

for communities, camps and conservation efforts."

Because of that, she says, her clients have become

far more aware of the impact that their travel has. On a

recent trip, travelling on a private Emirates jet around

Zimbabwe, Botswana, Kenya and Rwanda, "we offset

150 per cent of the entire trip through our partner Proof

of Impact and all funds went into projects on the ground

in Africa, from solar panels, to fresh water, bridges to

planting trees". On another trip, they raised almost half

a million dollars to donate to local community projects.

Nicola Shepherd, founder of The Explorations

Company, who has been taking wildlife-lovers to Africa

for more than 20 years, says many of her clients got on

a plane the minute they were allowed to travel, to show

communities their support. For those camps not backed

by philanthropists, she says, "the impact of Covid has

been enormous. What you have to remember is that one

person employed in Africa supports an average of ten

people. So losing one job means no food for ten people,

no education, no medicine. In areas that rely on bed

levies and entry fees, tourism is essential." Without them,

she adds, many of the community projects supported by

camps have also vanished: beehives, schools, clinics, ›

CENTURION-MAGAZINE.COM 63
---
"Instead of development coming at nature's

expense, we develop because of nature"

vegetable gardens, beading co-operatives. "For many of

those people, Covid has been an utter disaster. Without

tourists they've had nothing."

This realisation about Africa's overreliance on

tourism is why, Justin Francis says, so much new

energy is being put into finding ways of creating

funding. "In the past, tourism has been the one-shot

solution for conservation," he explains. "It has been

the go-to methodology for generating the funding and

jobs for local communities to make sense of protecting

places. What the pandemic has made us realise is how

vulnerable it is to be overreliant on one industry. Which

is why there is a drive to diversify through other methods:

things like carbon credits, biodiversity credits, the rhino

bond and philanthropy. We have all realised that as part

Zebras roam with

Mount Kenya in

the background

of reducing carbon, we need to create carbon sinks. And

that means preserving forests, peat, grasslands and

savannahs. As well as cutting carbon, preserving nature

has become a big part of the climate battle."

Ghanaian conservationist Fred Swaniker says

the diversification of the wildlife economy is a

key part of research at his African Leadership

University's School of Wildlife Conservation. Instead of

looking at it through the lens of protecting a shrinking

asset, he explains, they're looking at how they can

increase the stock of nature through environmental

investing: "Instead of development coming at nature's

expense, we develop because of nature."

And that, he says, is the incredible opportunity that

Africa has. "This is one of the last remaining parts of the

world that has not completely lost its natural environment.

If we can take full stock of this incredible asset, and invest

more in that asset, it can create tremendous wealth for

us as humans: think carbon, ecotourism, film, wildliferanching

and other opportunities that help alleviate

poverty. Africans do not want to cut down forests or

poach wildlife. They simply want a livelihood because

poverty levels are so high. So, if nature gives them that

livelihood, suddenly we will want to give more space to

nature. If someone gets paid for protecting a forest, then

they will actually want to expand the size of that forest,

not shrink it. The world underprices the contribution of

nature in all its forms – clean air, water, soils etc – but

these things are priceless. We want to put dollars and

cents – the language that humans understand – on

nature, so that we realise that it is in our best interests to

invest more in nature, not to destroy it."

Swaniker has little time for those who criticise wealthy

philanthropists buying up land in Africa. "If done

correctly, nature can be a powerful contributor to GDP,

employment, foreign exchange, tax receipts and income

for communities. The bottom line is that, when done

well, the wildlife economy can actually help to release

some of that pressure governments are facing to provide

basic amenities and opportunities to their people."

Which is why more people around the world need

to go to Africa and fall in love with it – and invest in

it – says Paul Tudor Jones. "The natural world there is

one of the world's most incredible assets. If I've learned

one thing working in Africa it is that if you give Mother

Nature a chance to breathe, it is incredible what she can

do. If you protect her, she will blossom. You just have to

give her that chance." ¬

PHOTO © TUSK TRUST

64 CENTURION-MAGAZINE.COM PLEASE CHECK THE LATEST GOVERNMENT ADVICE BEFORE BOOKING TRAVEL OR DEPARTING ON ANY TRIP
---
Back to Africa

A whistle-stop tour of some of the continent's most exciting and

conservation-focused safari lodges, camps and experiences,

from new openings and redesigns to old favourites. By Lisa Johnson

PHOTOS CLOCKWISE FROM TOP LEFT: PARIS BRUMMER, © SINGITA, © JACK'S CAMP, © ASILIA AFRICA, CROOKES & JACKSON

Angama Safari Camp

EAST AFRICA

It's hard to imagine a more

effective antidote to lockdown

than Angama Mara (angama.com),

a 30-tent camp "suspended in midair'"on

the edge of Kenya's Great

Rift Valley, overlooking the Maasai

Mara. In 2020, the company

launched a sole-use mobile camp

in the Mara Triangle; a sister camp

is upcoming in Amboseli's Kimana

Sanctuary in partnership with the

Big Life Foundation (biglife.org). At

the foot of Mount Kenya, Segera

(segera.com) is known for its

raised villas, its artworks from the

collection of owner Jochen Zeitz,

and the community-conservation

work of the Zeitz Foundation: a

second class of rangers recently

graduated from its all-female antipoaching

academy. In the remote

far north, Will Jones of Journeys

by Design (journeysbydesign.com)

recommends exclusive-use Kalepo

(kalepocamp.com) in Samburuland

as a launchpad for helicopter tours

of the harsh but mesmerising Lake

Turkana region, as well as "Greater

Turkana" trips that take in Lale's

Camp in southern Ethiopia's Omo

Valley – an impact investment

initiative of the company's sister

charity Wild Philanthropy.

Asilia Africa's Jabali Ridge

Pre-pandemic, Singita Grumeti in

Tanzania – the 1,416sq km private

reserve bordering Serengeti

National Park – was famed for

its opulent accommodation,

so redesigned Singita Sabora

(singita.com) – a stripped-back,

low-impact, "next-generation"

camp – is a shift in focus. To

the south, Asilia Africa flagship

Jabali Ridge (asiliaafrica.com)

is properly off the beaten track,

overlooking the Mwagusi River in

the gargantuan Ruaha National

Park. Its spectacular design by

Caline Williams-Wynn includes

a four-way infinity pool that's

perfect for watching elephants

among the baobabs.

Mombo

SOUTHERN AFRICA

Sabi Sands in South Africa

is known for its abundant

wildlife, and Londolozi Private

Game Reserve (londolozi.com)

certainly has that, as well as an

individuality that comes from

fourth-generation owners the

Varty family. In Marakele National

Park, Alice Gully of Aardvark

Safaris (aardvarksafaris.com)

recommends Marataba (marataba.

co.za), a privately managed section

of the park, as a fantastic place to

actively participate in conservation

projects. In Botswana, Jack's

Camp (naturalselection.travel)

has re-emerged bigger and better

from its 25th-anniversary rebuild,

but the 1940s campaign style is

intact, and the setting, on the

Makgadikgadi Salt Pans, is as

haunting as ever. In the Okavango

Delta, Wilderness flagship Mombo

(wilderness-safaris.com) is another

long-standing favourite, combining

glamorous interiors with efforts to

re-establish populations of black

and white rhino. Chris McIntyre

of Expert Africa (expertafrica.

com) also rates the Great Plains

(greatplainsconservation.com)

camps here: CEO Dereck and

his wife Beverly Joubert are

National Geographic filmmakers,

who have played a key role in

relocating rhinos from South Africa

through Rhinos Without Borders

(rhinoswithoutborders.com).

Singita Sabora

In Zambia, Time + Tide lodge

King Lewanika (timeandtideafrica.

com) is the first permanent lodge

in the Liuwa Plains National

Park, the site of an annual

wildebeest migration second

only to that in Kenya. Nicola

Shepherd of The Explorations

Company (explorationscompany.

com) recommends Green Safaris

(greensafaris.com), which has

introduced electric vehicles at new

camps such as Chisa Busanga, and

plans to do the same at Tongabezi

Lodge near Victoria Falls. And on

the opposite bank of the Zambezi

River in Zimbabwe, Matetsi

Victoria Falls (matetsivictoriafalls.

com) is included in a new "Greatest

Safari on Earth" itinerary offered

by Roar Africa (roarafrica.com)

and Emirates Executive Private

Jet. It also takes in the Okavango

Delta, the Great Migration in

Kenya and the mountain gorillas

of Rwanda's Volcanoes National

Park (from Singita Kwitonda Lodge,

singita.com), with environmental

investments to offset carbon

emissions.

Jack's Camp

CENTURION-MAGAZINE.COM 65
---
PHOTOS EVAN SUNG; FACING PAGE: CRAIG McDEAN

Cucumber with melon and smoked daikon, from Eleven Madison Park's new vegetable-centric menu; opposite: chef Daniel Humm

66 CENTURION-MAGAZINE.COM
---
The Reluctant Revolutionary

Chef Daniel Humm recently transformed his iconic NYC flagship,

Eleven Madison Park, with a plant-based menu. But this courageous

step is only the beginning of his new approach to fine dining

By Bill Knott

CENTURION-MAGAZINE.COM 67
---
W

Alice

"When I was thinking about becoming a chef," says Daniel

Humm, "my parents told me 'At least people will always

want to eat'."

Leaning his slim, 193cm frame over a corner table in

the dining room of Davies and Brook, his restaurant at

Claridge's in London, he smiles ruefully, reflecting on his

travails over the past two years. "I never thought anything

like this could happen. It was wild. Covid led me to a place

where I almost lost everything. At Eleven Madison Park,

I was facing bankruptcy. I had to sell what I owned to keep

it going." When he bought out his friend, business partner

and maître d' Will Guidara in early 2019, Covid was not on

the menu, but Humm's life has rarely stuck to the script.

Born in a small Swiss town, he left school at 14 to pursue a

career in professional cycling, only taking jobs in restaurants

to pay for it; then, at 22, a serious cycling accident landed

him in hospital, and he needed to reassess his ideas about life.

"I realised I wasn't good enough to be the world's best cyclist."

A meal at renowned Swiss chef Frédy Girardet's Michelin

three-star restaurant near Lausanne persuaded him that

cooking could become his "new sport", and he excelled. He

made his name in California, inspired in part by a meal at

Sunflower bread

rolls and butter at

Eleven Madison

Park; opposite: the

restaurant's elegant

dining room

Waters' famed Chez Panisse in Berkeley – "actually,

I thought a lot about her during lockdown, especially her

work getting healthy food into schools. I have massive

respect for her" – before, in 2006, being plucked by

restaurateur Danny Meyer, of Union Square Café and

Gramercy Tavern fame, to take over the kitchen at Eleven

Madison Park, teaming him with Guidara: "We got on

straight away."

There were wobbles, not least when, after the collapse of

Lehman Brothers, the restaurant lost money every week for

six months: "Some nights, just four guests showed up." A

four-star review from Frank Bruni in The New York Times

changed everything, and they never had another empty

seat. Meyer sold the pair his restaurant, Humm's cuisine

became celebrated around the world, a third Michelin

star was awarded and, in 2017, Eleven Madison Park was

proclaimed Best Restaurant in the World at the annual San

Pellegrino 50 Best Awards. Humm should have been on top

of the world, but he wasn't: in fact, he was so disillusioned

with life that he could barely leave the house.

The latest lurch of Humm's rollercoaster is entirely of

his own making. On 3 May of this year, just as New York

was emerging from lockdown, Humm announced that

Eleven Madison Park would reopen as a vegan restaurant.

"I underestimated the gravity of that decision," he admits.

"I didn't fully understand what it would mean to get up

PHOTO EVAN SUNG

68 CENTURION-MAGAZINE.COM
---
PHOTO © ELEVEN MADISON PARK

on a stage and say, 'Eleven Madison's going plant-based.' I

just thought creativity should move in a different direction.

I wasn't trying to start a revolution."

His announcement was front-page news in both The New

York Times and the New York Post, and sent shock waves

through the world of gastronomy. This was a man famous for

his honey-glazed, dry-aged duck with lavender and spices,

whose latest book – Eleven Madison Park: The Next Chapter

– lyrically espoused the joys of beef and venison, halibut

and scallops, with a dozen recipes for foie gras. He had just

lobbed a hand grenade into the rarefied world of high-end

luxury dining, and simultaneously torn up his own rule book.

Shocking though his decision was, Humm had been

mulling it for years, and it had its genesis in his existential

crisis four years before. Just as he and his restaurant

were being showered with praise, he became preoccupied with

the nature of luxury. "I asked myself, 'In the context of Eleven

Madison and Davies and Brook, what does luxury mean?'

I struggled with the answer for years."

"Eventually I decided that I don't have a problem with

luxury, as long as it's about something unique and rare.

A Broadway show, for instance, or a ballet, or an orchestra …

they can never be cheap because they involve so many people.

But they are unique experiences, culturally important, and

they make the world a better place."

"And a dining experience can be a form of art: it's definitely

a performance, and it has all the aspects of what artists do.

But the craft behind it has to be super-solid. Only then are

there moments when it can be art."

He thinks, however, that many of gastronomy's notions

of luxury are outdated. "Take caviar, for example: it's a

farmed product, it's not especially rare, it's mostly from

faraway places, and – if you compare it with what it once

was – it doesn't even taste that good. And big turbot … they

don't come in the back door of the kitchen now, you can

pay whatever you want, they don't exist any more. It became

clear to me during Covid: this is an outdated idea of luxury."

That enforced break also opened his eyes to the city in which

he cooks. In 2017, he co-founded Rethink Food, a non-profit

organisation that partners with restaurants and other food

businesses to prepare meals for food-insecure communities

in New York and beyond. "At the start of lockdown, the

number of food-insecure people in the city jumped from one

million to two million, and our systems totally broke down.

I turned Eleven Madison into a community kitchen, and we

cooked more than a million meals for people in need."

"And these aren't homeless people: they're people with

maybe three low-paid jobs who lost one of them. We work

closely with the Queensbridge housing projects, just over the

East River from the Upper East Side, and I saw a part of my

city that I didn't know existed. There are 15,000 people ›

CENTURION-MAGAZINE.COM 69
---
"If it's not Kobe beef or foie

gras, what is luxury? Maybe the

new luxury ingredient is time"

Humm's Milk and

Honey dessert – a

favourite at his

London restaurant,

Davies and Brook

(opposite)

and one grocery store, where the vegetable aisle is the size

of the corner we're sitting in. There's an Amazon plant right

next door, and they don't even deliver to Queensbridge.

That's how messed up it is. Things just have to change."

One thing that has not changed is the price of a meal at

Eleven Madison – $335, despite Humm eschewing

duck, lobster and foie gras – but every meal now

includes another five meals for food-insecure New Yorkers,

all prepared in the same kitchen.

How, though, can he create the same complexity and

depth of flavour, the hallmarks of the classic French cuisine

in which he was schooled, without using any stocks or dairy

products? "To start with, that was scary. But I thought about

all the go-to products that we use in a lot of recipes – fish

sauce, milk, butter – and created a new pantry. We grow

our own koji [fermented rice], for instance: I'm not saying

it tastes like chicken stock, but it serves the same purpose."

Humm refuses to talk about politics. "That's not my

language. My language is food. Food is at the centre of

so many issues: the way we farm, the way we eat, global

warming, but I'm not an expert on those things. I know

what I can do, and I know I have a platform that can make

a difference."

At Eleven Madison Park, Humm's new menu is a

revolution; at Davies and Brook, as Humm admits, it is more

about evolution. Dry-aged duck and roasted chicken are still

on the menu, but so is a dish Humm developed at Eleven

Madison – "the mother ship" – featuring broken rice, a cheap

grain not usually associated with high-end dining. "Actually,

I'm proud of serving it in a restaurant of this calibre, elevating

a humble ingredient with the craft of cooking."

"If it's not Kobe beef or foie gras, what is luxury? Maybe

the new luxury ingredient is time: our version of 'fish sauce',

for instance, which is fermented from several different

mushrooms: we made it a year ago and only now is it

starting to taste good. To me, that's luxury. Only we have it,

and you have to come here to eat it." Eleven Madison Park

is, as it has been for years, fully booked, but Humm knows

the battle to convince his well-heeled diners and sceptical

critics is only just beginning.

And he seems ready for it. "At the beginning of lockdown,

I had to get to a place where I was comfortable with the idea

that I might lose everything, and it was so liberating, because

then you realise that you have nothing more to lose and what

really matters is inside of you, and you can create it again.

Besides, the world doesn't need another butter-poached

lobster." elevenmadisonpark.com; claridges.co.uk ¬

70 CENTURION-MAGAZINE.COM
---
PHOTOS © CLARIDGE'S

CENTURION-MAGAZINE.COM 71
---
THE WHISKY

CHRONICLES

More popular than ever across the globe, the noblest

of spirits has also emerged as a particularly successful

alternative asset. Centurion takes you inside the latest

happenings in the whisky world, from re-emerging

distilleries in Scotland to new craft contenders in Japan,

along with fresh perspectives on investment.

72 CENTURION-MAGAZINE.COM
---
The reawakened Port

Ellen distillery on the

coast of Islay

SECOND COMING

You can't travel through time in Scotland, but the re-emergence of some prominent

distilleries is bringing a taste of the past back to life. By Mike MacEacheran

PHOTOS © PORT ELLEN; FACING PAGE: JAKUB IWANICKI

Crossing the Sound of Jura to Islay, towards seaweed-strewn beaches,

fields of barley and peatlands, it's tempting to think of the ferry ride as

a journey back in time. Whisky connoisseurs often speak of the island's

fabled history – its bygone malt mills, derelict stillhouses and increasingly

sought-after single malts – as if everything that is sophisticated today is

somehow tied to yesterday.

The essence of this gut feeling is best experienced at the shuttered warehouse of one

particular seafront distillery that was mothballed in 1983. This particular view frames

Port Ellen, a careworn industrial lot that once produced a dram that is now amongst the

most desirable in the world. To single-malt connoisseurs, its phenol-heavy character is

almost luxurious beyond conception.

Likewise, if you run a finger across a whisky map of Scotland you'll find other holy

relics of the past. From Islay to the country's midriff in Falkirk, you'll land on another

mothballed distillery with an equally enviable reputation among modern whisky

drinkers. This is Rosebank, on the flower-bedded banks of the Forth & Clyde Canal

between Edinburgh and Glasgow, and a site that was abandoned in 1993. Whisky

dreams were once born here, as they were farther north in the Highlands. If you

continue tracing a finger up Scotland's spine

to the Sutherland coast, you'll land on Brora,

yet another distillery mothballed in 1983, but

one still spoken about in revered tones.

Ghost distilleries are part of Scotland's

psyche, written about by historians and

regularly appearing at auctions, where their

depleted stock is sold for record-breaking

amounts to international collectors. But

now there's an unlikely twist, as a handful of

sustainably minded firms are returning to

the forgotten distilleries of yesterday, to bring

them back to life. Brora, carbon-neutral

and powered by on-site renewable energy,

reopened this May as part of a wider £185

million investment in Scotch from parent

company Diageo, and its sister distillery, ›

CENTURION-MAGAZINE.COM 73
---
2019, a 1972 bottle of 40-year-old Brora sold

for a distillery record of £54,450.

All of which means it's a sound investment

for brands to be resuscitated from the dead.

"In a sense, consumers are committing as

much to the story of the distillery as they

are the whisky," says Broom. "And, of course,

there's plenty of money to be made."

If it sounds like an unashamed pursuit

of new revenue streams, then it's also worth

noting there's more to it than reacting to a

spike in consumer demand. At Brora and

Port Ellen, for instance, master distillers now

have access to all the production parameters

of their predecessors. Acting as whisky

archivists, they know the size of the stills, the

distillation cut points and have tasting notes

and historic samples to analyse. So alongside

reviving historic, in-demand drams, they

can also retrofit whisky samples to create

new types of single malt, fusing ancient

recipes with today's cutting-edge know-how

and technology. "That's the really intriguing

aspect for me," says Broom. "It's not just

tapping into the past. It's about creating

a whole new range of spirits – something

experimental and radical."

Port Ellen, and Rosebank, owned by rival Ian Macleod Distillers, are to follow

suit in the coming years.

Few experts have followed the story more closely than Dave Broom, a worldrenowned

author of a dozen books on whisky. He's been studying the distilleries

for decades, and he credits both the growing global popularity of single malt

and the feverish interest in what he calls Scotland's "cult distilleries" for the

remarkable turnaround. "These distilleries have built an incredible following

since their closures, and there's huge appetite for more spirit," says Broom,

candidly. "It's like an artist becoming more famous after they've died. Brora, Port

Ellen and Rosebank are the Van Goghs of the whisky world."

As Broom puts it, today's connoisseurs are also akin to vinyl collectors cratedigging

for test pressings. At specialist auction houses, interest in seldom seen

whiskies from mothballed distilleries can see up to 100,000 bids per month from

as many as 75 countries. It might sound beyond logic, but true whisky believers

have kept such liquid memories alive, despite the parent distilleries shutting shop.

For instance, a recent February sale by Whisky Auctioneer saw a 1921 private

cask bottle of 64-year-old Dallas Dhu go under the hammer for £15,500. Dallas

Dhu, which means "black water valley" in Gaelic, was mothballed in 1983 and

has since been sold by Diageo to heritage authority Historic Scotland, which now

operates it as a strange tourist draw. Similarly, as part of a Sotheby's auction in

"Brora, Port Ellen and Rosebank are the

Van Goghs of the whisky world"

The thriving commerce in Scotland's

whisky heartlands today is quite at

odds with the rural backgrounds

that first saw the distilleries built. Brora,

first to showcase its new appearance with

bespoke £600 tours, was created in 1819 by

the Marquis of Stafford, with whisky used

to pivot the local economy from agriculture

to commercial industry. Its silencing more

than 150 years later, after years of distilling

a heavily peated malt, could have been the

death knell for one of Scotch's most iconic

names. But, as Diageo discovered, the

distillery overlooking the North Sea coast

was left preserved as a time capsule – as if it

were an open invitation for today's distillers

to re-kiln the fires.

"When Brora's doors closed for the last

time and the workers walked away, the

distillery was left exactly as it was, to the

extent that ledgers were left open on the

customs and excise desk," says Ewan Gunn,

Diageo's senior global brand ambassador.

"Most people who worked here have a

memory bank of the flavours that were being

created, and that was something we realised

we were losing through time. So it was a case

of now or never to reopen. If we'd not made

this decision for another 10 years, all of this

knowledge might have been lost."

74 CENTURION-MAGAZINE.COM
---
SPECIAL PROMOTION

But questions remain, foremost of all: can you even recreate the

taste of the past?

"The challenge is just how much people love this whisky," says Gunn.

"We have aficionados looking over our shoulder, making sure we live

up to the hype and history, and that's a huge responsibility. There were

plenty of tears when the first casks were filled here, believe me."

NOTEWORTHY

What to have. Where to go.

PHOTOS CLOCKWISE FROM LEFT: © BRORA, © CROMLIX, KONRAD BORKOWSKI ; FACING PAGE: MIKE WILKINSON

Master distiller

Stewart Bowman

rolls out a barrel

at Brora

While it's clear Scotland's whisky map is being redrawn, it's

not merely because of the return of lost distilleries. The

rise in global appetite for single malt has seen the launch

of several new start-ups, and their quirks are the result of the timehonoured

battle between preservation and the forces of modernisation

and profit.

To the map, several newcomers can or soon will be added. From

8 Doors Distillery in John O'Groats and the Moffat Distillery in

Dumfries and Galloway to the Glen Luss Distillery and Port of Leith

Distillery, there is plenty for Scotch lovers to get excited about. Then

there are those which had false starts because of the Covid pandemic,

including Lagg on the Isle of Arran, the stunning Ardnahoe on Islay

and Edinburgh's Holyrood Distillery, which is set to launch its first

single malt in September 2022. There is talk of more, and where soft

spring water is still drawn from lochs and malted barley turned by

hand, it's hard not to expect otherwise.

"Consumers are increasingly interested in provenance and where

their spirit comes from," says Nick Ravenhall, managing director of

Holyrood Distillery. "It's difficult to talk about the complexity and

character of a whisky if you don't know where it comes from, and the

lack of transparency and authenticity in blended whisky has helped

drive the single-malt boom. For us, if we make nothing more than a

nice unpeated malt, but one that fails to reflect Edinburgh's distilling

heritage, then we haven't achieved anything."

If Scotland continues to be the world's ultimate single-malt whisky

destination, it helps that it knows how to adapt. There's still the firesmoked

drams of Islay and Jura. There are still the fully flavoured

expressions of Speyside. There are still the grassier notes of the

Lowlands. Now, to add to this picture are new histories, unexpected

encounters and the sheer joy of the curious and the strange. That's the

enlightened craftsmanship that made Scotch whisky world-class to

begin with. That's the flag replanted in the ground.

Rolex Reveals the Radiance of

Diamonds

Rolex is presenting the latest creations brought

to life by its unique watchmaking expertise.

Among these are new versions of the Day-Date

36, adorned with sparkling diamonds. Diamonds

are forever, and come to us from the very distant

past. Formed in the depths of the Earth over more

than a billion years, the diamond's raw beauty

is showcased through faceting, which brings

out the graceful reflections in the stone. The

gemmologist and the gem-setter work in harmony

to reveal the diamond's radiance. One selects

the stones, the other sets them one by one into

the dial, bezel, case or bracelet. These incredibly

precise motions, passed from one generation to

the next, are perfected over the course of many

years. They are repeated several hundred times

when embellishing the new Day-Date 36 and

Lady-Datejust. The new versions of the Oyster

Perpetual Day-Date 36 feature hour markers and

alligator-leather straps in matching colours. They

are coral- coloured on the 18 ct yellow-gold model,

turquoise on the 18 ct white-gold version and

burgundy on the watch in 18ct Everose gold. With

these watches, the prestigious and iconic Day-

Date 36 is reimagined in swathes of diamonds.

rolex.com
---
JAPANESE NEW WAVE

Three new craft distilleries herald an innovative era of whisky

experimentation in Japan. By Shunsuke Matsuhashi

For decades, the two biggest Japanese

distilleries, Suntory and Nikka, have

held a uniquely dominant position

in Japan's whisky world. Operating on

different principles to those of traditional

Scottish whisky makers, the Japanese titans

distil multiple styles of spirit under one

roof and then leave it to their blenders to

craft the individual whisky expressions. (In

Scotland, each distillery produces a single

spirit, distinctive to each place.) Recent years

have brought new creativity to the Japanese

scene, and these three distilleries are at the

forefront of artisanal production, ushering in

a new generation of Nipponese whisky.

KIUCHI

Sake has been made at Kiuchi Shuzo in the

Ibaraki Prefecture, northeast of Tokyo, since

1823, but whisky production started only in

2016. The company is not new to branching

out: it started making beer in 1996, and now

its Hitachino Nest brews are some of the

best-known craft beers from Japan.

It was, in fact, the beer that led to

the whisky, says Toshiyuki Kiuchi, the

company's executive vice president. He

explains that approximately eight per cent

of the beer production was ending up as

waste. "In a plant like ours, with an annual

beer production of three million litres, that

means 240,000 litres were being wasted.

Disposing of this liquid is costly and, above

all, environmentally damaging. We have

started to look for alternative solutions – and

came to the idea of distilling."

An avid whisky drinker himself, Kiuchi

soon found a suitable facility – a community

centre, which was converted into a modern

distillery – and then he began to source

ingredients, focusing on top-quality barley,

with locally produced wheat and rice added

to the mixture, all to reflect the local terroir.

"Our goal," Kiuchi says, "is not to mimic

Scottish whisky, but to produce our own

Japanese whisky."

"The rice adds this daiginjyo-like flavour to

it," Kiuchi explains, referring to a particularly

nuanced and delicate bottling of sake. "And

what wheat adds is a particular richness and

acidic fruitiness. Non-peat is what we are

aiming for, but the yeast adds a hint of peatlike

flavour. It is absolutely fascinating to see

how every ingredient shifts the tastes and the

harmony they cumulatively create. Having to

discover all of these was already a great step

for us. It is just simply exciting to see how it

will age at this stage of the game – we feel a

bit nervous as well, to be honest."

Aiming for an annual output of 300,000

to 400,000 bottles, the journey at Kiuchi may

have just begun, but with such a sparkling

track record with sake and beer, the future

looks bright indeed. kodawari.cc

WAKATSURU

Sake production also dates back to the

19th century at Wakatsuru, set in Toyama

Prefecture on the country's west coast.

Surrounded by the Tonami Plain, a region

filled with vast rice fields, the firm first

started making whisky in 1953 amid the

severe rice shortages that followed the war.

Sunshine Whisky was the first product

and proved quite popular, but as Japan's

whisky consumption gradually declined

across the 1980s, mirroring much of the rest

of the world, production slowed to a trickle.

76 CENTURION-MAGAZINE.COM
---
PHOTOS HIDETAKA YAMADA

The turning point came when Takahiko

Inagaki, the fifth-generation director of

the firm and the current CEO, discovered a

55-year-old whisky bottle produced by his

great-grandfather sitting in the corner of

warehouse. "The flavour was so rich and had

this inexplicable depth that transported me

to the time of my great-grandfather. That was

the moment when I became certain that that

was exactly what I wanted to do. Creating my

own whisky that will move people in 10 years'

time – or even much later in the future."

Inagaki launched a crowdfunding

campaign in 2016 to renovate the facility

while keeping the integrity of the original

design – and showcasing the pot still,

which might well be the world's first cast

pot still made out of copper. (Most other

pot stills around the globe are fabricated

from sheets of copper.)

The surrounding region produces 90 per

cent of domestic copperware, so Inagaki,

who grew up in the region, knew just who

to approach for his unusual request: Oigo

Seisakusho, a copperware manufacturer

founded more than 300 years ago.

"Ordering from Forsyths in Scotland might

have been an obvious choice," concedes

Inagaki, "but the wait list was long – it

would have taken at least two years until

delivery. We also knew applying a standard

hammering technique wouldn't have been

a suitable choice for such intricate shape

and structure. So, we decided to approach

a master of copper casting, known for his

intricate temple-bell making."

The process was complex because copper

normally used for casting contains eight

per cent tin, and the distillers were unsure

how it might affect the distilling process

and ultimately the flavour of their whisky.

Experiments were conducted to find just

the right alloy, and "the results exceeded

our expectations", says Inagaki. First used

in 2019, the new still, known as Zemon,

"is just the beginning" for the Wakatsuru

Saburomaru Distillery. It is now testing new

wooden washbacks. "At the distilleries on

Islay, they are all using wooden washbacks,

which create distinctive, unique flavours,"

says Inagaki. "We are trying on Islay-style

peated malt right now." wakatsuru.co.jp

GAIAFLOW

The Scottish isle of Islay has also been

influential for Gaiaflow, whose managing

director, Daiko Nakamura, visited Kilchoman

distillery on Islay in 2012 in what proved to

From top: Wakatsuru Distillery;

pot stills at Kiuchi; an array

of Kiuchi bottles ready for

tasting; facing page: wooden

washbacks at Gaiaflow

be a life-changing experience. Impressed

with the small-scale but nevertheless cuttingedge

operation, Nakamura – who was at

the time running a precision equipment

manufacturer founded by his grandfather in

his hometown of Shizuoka – entrusted his

business to a relative and embarked on the

journey of creating a one-of-a-kind whisky.

One of Nakamura's founding principles is

to link his whisky with local industries. Four

out of eight washbacks he uses, for instance,

are made of cedarwood sourced from the

local forests. "A young washback made of

cedar will require some time to mature

and be ready for fermentation. But we are

convinced that it will be a perfect match with

local lactic acid bacteria that grows in the

same water – and it is the very same water

used for our whisky and that the cedar trees

absorb," explains Nakamura. "The person

who made the washbacks for us also said it

should have a longer lifespan than the ones

made with American Douglas fir. It's all

still just a theory," he smiles, "but we're very

hopeful that this combination will yield a

unique taste of the region."

It is not just washbacks that are unique:

there are piles of firewood strewn across the

distilling floor because the stills are directfired,

rather than machine-controlled, as

they have become elsewhere. (For example,

Suntory's Yamazaki and Hakushu distilleries

heat their stills over gas, and Yoichi distillery

over coal.) "In Scotland, they used firewood

before shifting to coal, but I couldn't find

any literature on it, so we had to start from

scratch. I asked my friends who run a bakery

in Okinawa if wood was safe to use in the

first place, and they said we should definitely

go for it. They said the quality of the fire is

totally different with wood," Nakamura says.

This difference seems to translate to the

spirit: there is a clear difference in taste

compared with the distilled whisky from the

distillery's gas-powered, indirectly heated pot

still named "Pot still K", which was purchased

from the Karuizawa whisky distillery that

closed down about 10 years ago. The gasdistilled

whisky was light and fruity, while

the whisky made in the wood-fired pot still,

named "Pot still W", is heavier and sweeter,

with a distinctively smoky flavour.

Nakamura bottled the different spirits as

Shizuoka Prologue K in 2020 and Shizuoka

Prologue W in June 2021, the latter after

three years of ageing. "If we can be added

to the great lineage of Japanese whiskymaking

we greatly admire and be enjoyed

as a one of its great variations, that would

make us extremely happy and proud,"

Nakamura beams. "We are determined to

continue experimenting with finding ways

to reflect our surroundings and its terroir."

gaiaflow.co.jp

CENTURION-MAGAZINE.COM 77
---
LIQUID

INVESTMENT

Prices for whisky are at an all-time high – and still growing.

Here's what distillers, merchants, auctioneers and collectors say about

this rise and whether it will continue

By Brian Noone

Whisky is booming. Collectibles of all sorts have

flourished during the pandemic, but single-malt

whisky is on its way to redefining what success looks

like. Gerry Tosh, the director of rare whiskies at Whyte & Mackay,

a 177-year-old Scottish firm whose portfolio of single malts

includes Dalmore and Jura, frames it this way: "Twenty years ago,

a distillery would put out a release with 200 bottles, hoping to

be able to convince people to buy it. Now, you make something

with 200 bottles and there's 200,000 people trying to buy it."

Tosh smiles as he says this – and quite rightly: the whisky industry

over the past 20 years, and particularly over the past decade, has

gone from a backwater British boys' club to a cosmopolitan global

industry, a rising tide that has, with few exceptions, lifted all boats.

This is particularly evident on the secondary market, where

whisky as an asset class has performed astonishingly well. If you

bought intelligently in 2010, those bottles might now be worth

500 per cent more today. Not quite Bitcoin levels of return, but

much better than gold, which is up around 50 per cent over

the same period. And as Andy Simpson from Rare Whisky 101,

a British index, points out: "The pandemic has shown us that

physical assets, such as whisky, have become ever more popular.

When combined with a growing global consumer thirst for single

malt, which shows no signs of slowing, we see no reason why

prices will not continue to rise for the right bottles."

Simpsons' careful phrasing – the right bottles – is key to

understanding the global market for whisky both now and in the

future, and why there is so much optimism across the industry, if

also a few warning signs.

"The rare-whisky market isn't as mature as that of watches,

jewellery and cars," says Jonathan Driver, managing director for

private clients at William Grant & Sons, another long-established

whisky maker whose brands include Balvenie and Glenfiddich.

Which is why, he says, "the landscape of whisky-collecting does

have a 'Wild West' feel about it", a sentiment – and a phrase –

shared by many across the industry. And yet the whisky market

is not without some guiding principles. "Rarity, age, history and

quality – these are what collectors are looking for," says Jonny

Fowle, senior whisky specialist at Sotheby's, the auction house

that has in recent years come to dominate high-end whisky sales.

These are, by and large, the same qualities that collectors of

watches, jewellery and cars are seeking.

There are also some broader market trends that are worth

understanding. Isabel Graham-Yooll, director at Whisky.Auction,

an online platform, explains that there is a "similar curve of every

whisky release: it peaks up in price initially [on the secondary

market], then it settles back down again. And then it actually dips

quite often and plateaus for ages before it starts creeping up. And

as it creeps up, it will plateau at various points. This pattern is the

same for every whisky. The differences are in scale and in time

frame – it can take months or 15 years."

Like any other asset class, the devil is in the details. Whisky

differs from other spirits like cognac and rum because the

78 CENTURION-MAGAZINE.COM
---
classification system and long history of whisky regulation go a

long way towards ensuring transparency and authenticity. "The

beauty of single-malt whisky is that it is easy to understand, which

means that people can come to it quicky," says Driver. The years

on the labels – 12, 18, 30 – display the age of the youngest spirit

in the bottle. Old age doesn't always imply high quality, but there

is usually some correlation. And, as Driver continues, "Collectors can

grasp the potential of the total landscape and then go deep into this

exciting and infinite world."

These relatively low barriers to entry have succeeded in

attracting a large, and growing, global following for whisky over

the past decades. Geoff Kirk, head of private clients at Macallan,

explains that the "wide range of price points allows people to enter

at a level they are comfortable with. Individuals can easily begin

their collection by purchasing from a local retailer and expand from

there." He also notes that there is, compared to wine and cars, "less

of a challenge around the space and complexity for storage".

History and provenance play a not-always-straightforward

role in the market. Stalwarts like Macallan, Yamazaki

and Dalmore command significant prices for most of

their bottlings – but not all of them. Speaking of Macallan, Andy

Simpson from Rare Whisky 101 says, "The brand has further

extended market share over the past year, but investment values

have slipped. In part, we believe the sheer volume of non agestatement

releases may have confused the market." He further

observes that the "recent Macallan Red Collection is a great

example of where the brand works very well, leveraging the value

of its aged stocks".

So if the labels can't always be trusted, what should collectors

rely upon? "Buy what you like," says Sukhinder Singh, co-founder

of the world's largest online whisky retailer, The Whisky Exchange,

and a prominent collector himself, with many thousands of bottles.

"Over time, the market will sort itself out, and the main question

is always: how good is the liquid?" The only way to determine that

for yourself, says Singh, is to develop your palate and try as many

whiskies as possible.

It's self-interested advice for Singh, whose site and related

ventures had a turnover last year of £72 million and which he has

just sold to Pernod Ricard, but even those not directly invested in

selling individual bottles agree that having one's own taste is the

key. "People who have done the best in the category are those who

have invested the time to understand it deeply," says Jonny Fowle

of Sotheby's. "Pleasure combined with investment." Graham-Yooll

at Whisky.Auction agrees, explaining that "if the market goes

pear-shaped, oh well. You can always drink it. But if you're an

informed consumer, then there's a good chance someone else will

like it too."

The latest major development in the whisky world is purchasing

individual casks, often through an intermediary company. The

gamble here is significant: what if the cask is mediocre and the

liquid inside doesn't age particularly well? Distilleries mitigate

this risk by blending casks together for their bottlings, an option

that individuals don't have.

There is also the gap between retail price and wholesale

price. The difference can be vast and can significantly limit the

resale value of casks – as it has during previous cask bubbles

in the 1990s and the early 20th century. It was with bridging

this gap in mind that Rupert Patrick left Diageo in 2014 to set

up WhiskyInvestDirect, an online platform for trading casks

at wholesale prices. Aimed squarely at investors – you can't

actually drink the whisky, which is stored in casks in the distillers'

warehouses – it offers a way to sidestep the vagaries of the

collecting world. "Retail investors who started with us five or six

years ago have had a fantastic return," says Patrick, "on average

seven, eight, nine per cent annual growth in their investment".

The business is still in its fledgling state – it has about 13 million

litres of whisky on the platform, a fraction of the approximately

three billion litres of maturing spirit currently stored in Scotland

– but Patrick, like the rest of the industry, is infectiously

optimistic about whisky's potential for growth. "At Diageo, I was

head of emerging markets," he explains, "and when GDP grew,

Scotch-drinking grew at almost the same rate reliably." He notes

that there is much of the globe not yet drinking whisky and the

potential markets for expansion – India, Mexico, South America,

Southeast Asia – are primed for growth.

In the end, though, the market seems destined to rise and fall

with consumer tastes. If the whisky is good, people will drink it

and, as Kirk of Macallan says, "Similar to collectible wine, the

more that is consumed the more the scarcity increases". Best, then,

to buy two bottles – one to drink and one to save – and with luck,

the latter will be able, after a few years, to pay for them both. ¬

"If the market goes pear-shaped, oh well. You can always

drink it. But if you're an informed consumer, then there's a

good chance someone else will like it too"

– Isabel Graham-Yooll, director at Whisky.Auction

CENTURION-MAGAZINE.COM 79
---
Chalet in Kirchberg, Austria

GLOBAL PROPERTY ADVISORY

SERVICE WITH A LONG DISTANCE VIEW.

Engel & Völkers Private Office is comprised of 230 accomplished real estate advisors, each one

valued for their discretion and depth of expertise. From the Far East to the West Coast, the global

group shares insights and opportunities through a dedicated confidential platform, guiding clients

over many years and multiple locations. Meet our advisors, view extraordinary real estate and

gain access to properties that you won't find anywhere else at evprivateoffice.com.

We invite Centurion Members to contact our global management team directly for assistance.

Hamburg

Vancouverstraße 2a 20457 Hamburg . Germany . +49 (0)40-36-131-105

maximilian.stamm@private-office.com

New York

430 Park Avenue . New York . NY . +1 212-234-3100

stuart.siegel@engelvoelkers.com

©2021 Engel & Völkers. All rights reserved. Each brokerage independently owned and operated. Engel & Völkers and its independent

License Partners are Equal Opportunity Employers and fully support the principles of the Fair Housing Act.
---
CENTURION IN FOCUS

PROPERTY TIMES

THE LOWDOWN ON REAL ESTATE AROUND THE WORLD: WHAT'S HOT, WHERE TO LOOK AND WHEN TO INVEST

A jaw-dropping

Central Park view from

a private residence at

Aman's NYC outpost

Staying Power

As the global market rediscovers its mojo, Peter Swain

salutes the sectors and cities that are forging ahead

CENTURION-MAGAZINE.COM 81
---
CENTURION IN FOCUS

Endless ocean views from a private residence at One&Only Kéa lsland

LIVED-IN LUXE

Home Sweet

... Hotel

Leading hostelry marques are offering

remarkable residences that combine the ease

and comfort of hotel living with all the privacy

of one's own four walls

It's all about carefree living.

A private home attached

to, and benefiting from, the

amenities of a world-class

hotel is a seductive proposition

for those with an existing

portfolio of residences. They

can enjoy weeks living in the

lap of fully serviced luxury

whenever they want, and,

when absent, make healthy

rental yields, all managed by

the on-site hotel.

The very embodiment

of hospitality excellence,

Aman (aman.com) is this

year launching its first urban

Residences worldwide in New

York's iconic Crown Building

on 5th Avenue and 57th Street.

Twenty-two Jean-Michel

Gathy-designed one- to sixbedroom

apartments, many

featuring outdoor terraces and

heated pools, demonstrate the

brand's continuing journey

into the world of private

homes. Amanzoe in the

Peloponnese already has 11

private residences including

Villa 20, a nine-bedroom,

six-pool complex, possibly the

most lavish single branded

residence worldwide. With

spectacular sea views, onsite

spa, pools, restaurants,

82 CENTURION-MAGAZINE.COM
---
Beautiful contemporary apartments at The Broadway, with exclusive residence

facilities and stunning views towards historic Westminster.

You could choose no better place to be, brought to life through Orchard Place

at The Broadway, a new city culture, and a contemporary wellness destination

that is set to reinvigorate Westminster.

This blended lifestyle ecosystem, curated with stylish simplicity, will be unlike any

neighbourhood in London, creating an enriched every day for the modern city.

Live. Work. Move. Shop. Eat. Play.

Apartments from £1.7m*

*Prices correct at time of publication

FOR ALL ENQUIRIES

enquiries@northacre.com | +44 (0) 207 349 8000

thebroadwaylondon.com
---
CENTURION IN FOCUS

A Mandarin Oriental

penthouse residence

overlooks Barcelona's

Passeig de Gràcia

"Most buyers already stay with us," says Four Seasons VP Paul White,

"so allowing us to curate their lifestyle is a natural extension of that"

concierge and housekeeping

services, five new plots have

joined the fold.

Owners of Residences

at one of seven Mandarin

Orientals (mandarinoriental.

com) worldwide enjoy similarly

sublime facilities. "Post-Covid,

time-poor UHNWIs really want

everything set up for them by

a five-star hotel," says MO's

Adelina Wong Ettelson. The

new project on Hanover Square

in London's Mayfair features

80 apartments a short stroll

from Bond Street and a host of

Michelin-starred restaurants.

Most such residences are "colocated"

with a hotel but, in

common with others, MO is

also establishing standalone

residences. On the bustling

Passeig de Gràcia, the new

Barcelona property is five

blocks from the hotel, and of

the 34 residences, the doubleheight

John Pawson-imagined

Grand Penthouse, with

360° views, is the jewel in

the crown.

Four Seasons (fourseasons.

com) has 4,200 individual

private residences across

44 sites in 19 countries,

with more in development.

According to VP Paul White,

it's all about "location,

architecture, design, amenities

and brand. Most buyers

already stay with us, so

allowing us to curate their

lifestyle is a natural extension

of that." The group's recently

opened Beverly Hills project

has 59 units and an Imax

cinema: "LA is a global

gateway, so this is a very

'sexy' market." The Bangkok

scheme is the brand's biggest

to date with 366 residences

in a 73-storey tower, while

at the other extreme, the

new Cartagena hotel, based

around a historic theatre, has

only 14 homes. "We're skating

to where the puck is going,"

says White, "unlocking value

in places where our customers

want to be."

Another hotel group

expanding into this increasingly

modish market is Raffles

(raffles.com), of Singapore fame.

As featured in five James Bond

movies and of particular interest

to the diplomatic corps, the

Grade II-listed Old War Office in

the heart of London's Whitehall

is being converted into a hotel

and 85 one- to five-bedroom

private residences. 007 himself

would surely appreciate the

gym, spa and private cinema,

as well as seven private lounges

and nine on-site restaurants.

Other luxe hotel brands

capitalising on their

global status include Ritz-

Carlton, Waldorf Astoria,

Rosewood and Fairmont.

Sol Kerzner's One&Only

(oneandonlyresorts.com) will be

up to five private residence

schemes when its Kéa Island

site in the Cyclades opens in

a year or so. An hour from

Piraeus by ferry or a brief

helicopter hop from Athens

airport, two- to six-bedroom

contemporary villas, all clean

lines and floor-to-ceiling

glass, are being built on a

hillside overlooking the

Aegean. In what could be a

mantra for the 2020s and an

encapsulation of Branded

Residences themselves,

One&Only is promising

"hassle-free living".

The idyllic terrace of one of Raffles' Old War Office Residences in London

84 CENTURION-MAGAZINE.COM
---
CENTURION IN FOCUS

The fishbowl

swimming pool

blends into the

azure Caribbean in

an Albany Marina

Residence in the

Bahamas

SHORE LEAVE

Ports

of Call

Overlooking marinas from Cyprus to the

Caribbean, a raft of exciting new homes entices

with sleek, cosmopolitan designs

The infinity pool, and the sea beyond, at a Silversands villa in Grenada

Post-pandemic, sales

of harbour-side

apartments around the

Mediterranean and

Caribbean are on the crest of

a wave as more superyachts

and mid-sized craft hit the

high seas. At the 230-berth

Portonovi (portonovi.com)

marina in Montenegro, the

six ready-to-move-into twofloor

Sky Villas, each with 400

square metres of inside living

space and 200 square metres

of terraces and infinity pool,

are the pick of the waterside

offerings. "For these, we're

definitely looking to the jet-set

crowd," says sales director

Jeff Schmitz. Some of his

prospective buyers may be

staying at the new onsite

One&Only which is itself

launching 10 more private

residences.

Just 10 kilometres across

the bay, Boka Place is Porto

Montenegro's (portomontenegro.

com) latest urban neighbourhood

to launch. Overlooking the

region's premier superyacht

marina, there are 213 reasonably

priced apartments due to

complete in 2023, of which 40

per cent have already sold.

Farther east, the

650-berth Limassol Marina

(limassolmarina.com) on Cyprus

is now selling the last homes

in its 10-year development

phase. The best of the 17

remaining Castle Residences

is a four-bedroom duplex split

across three floors with its own

garden and pool; right on the

water, each of the three- and

four-bedroom turnkey Island

Villas has a berth attached to

their garden.

In winter, yachties' thoughts

turn to the Caribbean, and

before the hurricane season

ended in November, many

chose to hunker down south of

the insurance-defined "Box",

on the island of Grenada. Just

around the headland from

Port Louis on the leeward

side, Silversands Villas

(silversandsgrenanda.com) is a

collection of eight luxurious

homes on the island's most

famous beach, Grande Anse.

The villas make an ideal base

for sailors escaping high winds,

with the added bonus for a

new owner of being able to

take out Grenadian citizenship.

CENTURION-MAGAZINE.COM 85
---
CENTURION IN FOCUS

Similar rights come with

the purchase of property

at Christophe Harbour

(christopheharbour.com) on

St Kitts. The project has

been a slow burn, but the

hospitality outlets, newly

finished Customs House

and freehold slips are major

attractions, so the plots and

finished houses ranging

from smaller three-bedroom

affairs to grand hillside villas

represent a good investment

for the future.

Able to accommodate

Tiger Woods' 47m yacht

Privacy – a frequent visitor

– and 70 other vessels as

large as 91 metres, the

most developed marina

community in the region

is Albany (albanybahamas.

com) in the Bahamas. Designed

by Squire and Partners, the

newest residential building, the

Squire, features 26 apartments

including a six-bedroom, 464sq

m penthouse with expansive

terrace overlooking the marina

and ocean. The Ernie Els golf

course is another draw for longestablished

Albany homeowners

Justin Rose and Ian Poulter.

The 129 Morning Rise

Lane residence at

Christophe Harbour

Citizenship and Residency Schemes

Rules change frequently, but currently these countries – Antigua, Dominica, Grenada, St Kitts & Nevis, and

St Lucia in the Caribbean, plus Malta, Turkey, Egypt and Montenegro around the Mediterranean, as well as

Jordan, Samoa and Vanuatu – offer citizenship by investment programmes. Of these, Malta offers visa-free

access to the most foreign nations. Since Covid struck, experts Henley & Partners report a 25 per cent uptick

in enquiries about such schemes. Other countries offer a variety of residency by investment schemes, often

called Golden Visas. These include Portugal, Greece, Spain, the US, UK and Ireland. The Cypriot and Maltese

schemes are currently under EU review.

Epicurean Estates

Château de Montravel

The vineyards attached to this 19th-century château,

between Saint-Émilion and Bergerac, produce about

10,000 bottles of AOC Bergerac wine annually (7,000

red and 3,000 white), with a state-of-the-art thermoregulated

winery, complete with storage for 100 barrels.

The fully modernised six-bedroom château sits in

beautifully landscaped gardens on one of the highest

points overlooking the Dordogne river, and comes

turnkey with all its furniture, a substantial stock of wine

and a three-bedroom staff cottage. vineyardsbordeaux.com

Château Haute Germaine

Set in the hills behind Nice, this 60ha affair has 350 olive

trees producing gourmet olive oil. Originally built in the

17th century, the beautifully restored 11-bedroom château

has 560 square metres of accommodation with panoramic

views from multiple terraces – on the upper one, there's

a circular heated saltwater swimming pool. Approached

down a lengthy private drive, the estate also includes a

caretaker's cottage, an independent studio and a Provençal

farmhouse. chateaugermaine.com

86 CENTURION-MAGAZINE.COM
---
DISCOVER THE WORLD WITH CENTURION®

WHETHER IT IS JOURNEYING

FAR AND WIDE OR STAYING

CLOSE TO HOME,

CENTURION IS HERE TO

HELP YOU GET THE BEST

OUT OF YOUR EXPERIENCES.

WE LOOK FORWARD

TO HELPING CURATE

UNFORGETTABLE MOMENTS

FOR YOU ONCE AGAIN.

Reside in style

Whether in Singapore or abroad, Centurion

members receive further benefits, in addition

to your Fine Hotels + Resorts amenities, when

booking stays at hotels across eight Centurion

partner brands.

Fine dining

Discover why American Express and Resy are

the Official Credit Card and Booking Platform

Partner for The World's 50 Best Restaurants

2021 respectively.

We are always here for you

Enjoy the reassurance that comes with

knowing you and your family are covered

with our travel and purchase protection

whenever you travel.

FOR MORE INFORMATION CONTACT YOUR CENTURION CONCIERGE AT 1800 396 8866 (OPTION 1)
---
WHEN YOU'RE READY TO TRAVEL, WE'LL BE HERE WITH INSPIRATION

AMERICAN EXPRESS TRAVEL

CAREFULLY CURATES

PROPERTIES TO BRING YOU

MEMORABLE EXPERIENCES

WITH FINE HOTELS + RESORTS.

Imagine waking up with an early morning

workout. Coming home to turndown service.

And experiencing all the luxuries in between.

Five-star restaurants and after-hours room

service, aromatherapy massages and the

fluffiest of towels. When you travel again,

experience luxury, big and small, when you

book Fine Hotels + Resorts.

As a Centurion member, you receive elevated

signature benefits at participating properties

in addition to your Fine Hotels + Resorts

benefits. Book with American Express Travel

for a room upgrade at time of reservation,

if available, and receive up to US$300 in

experience credits that are unique to each

participating property.

Enjoy your Fine Hotels + Resorts benefits, plus

additional benefits exclusive to Centurion, at

Aman, Belmond, Mandarin Oriental, Oetker

Collection, Peninsula, Rosewood, St. Regis, and

Waldorf Astoria properties when you book with

your Centurion Concierge service.
---
The Peninsula Hong Kong,

Hong Kong, China

CENTURION BENEFITS

• Complimentary daily breakfast for two

• Guaranteed 4pm late checkout

• Room upgrade at the time of reservation, if available*

• Stay two or more nights and receive up to US$300 in experience credits, such as food and beverage or spa credit**

• 12pm check-in, when available

• Complimentary Wi-Fi

* Certain room categories are not eligible for upgrade. Contact your Centurion Concierge service for details

** Experience credit varies by property. Contact your Centurion Concierge service for details.

FOR MORE INFORMATION CONTACT YOUR CENTURION CONCIERGE AT 1800 396 8866 (OPTION 1)

Terms & Conditions Valid only for new CENTURION FINE HOTELS & RESORTS bookings made through Centurion Travel Service at participating

Aman, Belmond, Mandarin Oriental Hotel Group, Oetker Collection, The Peninsula Hotels, Rosewood Hotels & Resorts, St. Regis Hotels & Resorts, and

Waldorf Astoria Hotels & Resorts properties. Payment must be made in full with an American Express Card in the Centurion Member's name. Available

for Centurion Members only. Centurion Member must travel on itinerary booked to be eligible for benefits described. Noon check-in is based on

availability and is provided at check-in. Room upgrade will be confirmed at time of reservation subject to availability, and will replace FINE HOTELS &

RESORTS room upgrade at time of check-in. Breakfast amenity varies by property, but will be, at a minimum, a continental breakfast. Complimentary

In-Room Wi-Fi is provided, with the exception of explora Patagonia where In-Room Wi-Fi is not available. In this instance, complimentary Wi-Fi will be

provided in a common space on property. In the case where a Property includes cost of Wi-Fi in a mandatory resort fee, the Cardmember will receive

a daily credit from the Property in the standard amount that the Property charges for Wi-Fi. The credit will be issued on the Cardmember's final

statement upon check-out. Benefit restrictions vary by Centurion FINE HOTELS & RESORTS property and cannot be redeemed for cash, and may not

be combined with other offers unless indicated. Certain participating Centurion FINE HOTELS & RESORTS properties will offer with a minimum paid

two consecutive night stay a Centurion benefit of (1) a $200 food & beverage or spa credit; (2) a $200 food & beverage credit only; or (3) a $100 food

& beverage or spa credit. Call Centurion Travel Service for details. Credit is applied in dollars or equivalent in local currency based on the exchange

rate on the day of check out. Unused credit will be forfeited at check-out. Advance reservations are recommended for services such as spa, dining or

golf in order to take advantage of the FINE HOTELS & RESORTS special amenity during your stay. Benefits are only applied at checkout and expire at

checkout. Limit one benefit package per room, per stay. Three room limit per Centurion Member, per stay; back-to-back stays within a 24-hour period

at the same property considered one stay. Participating FINE HOTELS & RESORTS properties and benefits are subject to change.
---
Ikoyi Restaurant, London

AMERICAN EXPRESS AND RESY – AN OFFICIAL PARTNER

OF THE WORLD'S 50 BEST RESTAURANTS 2021

American Express and Resy, the Official Credit

Card and Booking Platform Partner for The

World's 50 Best Restaurants 2021 respectively,

were proud to sponsor the prestigious One

To Watch Award this year. The American

Express One To Watch Award recognises an

emerging talent in the world of gastronomy,

and is presented to a restaurant elected by The

World's 50 Best Restaurants organisation from

the extended 51-100 list. This year's winner

was London-based Ikoyi, established by cofounders

chef Jeremy Chan and restaurant

director Iré Hassan-Odukale. Since opening

in 2017, Ikoyi has distinguished itself through

its bold use of West African flavours, unusual

ingredients and indefinable style.

Returning after a year's hiatus in 2020 due

to the global pandemic – during which 50

Best devoted its resources to its fundraising

50 Best for Recovery project – an extensive,

in person event programme culminated in a

live awards ceremony in the city of Antwerp

in Flanders, on Tuesday, 5 October 2021

representing a key milestone in the ongoing

revival of the restaurant sector. Thanks to its

panel of more than 1,000 culinary experts,

as well as its structured and audited voting

procedure, the annual list of the world's

best restaurants provides a snapshot of

some of the ultimate destinations for unique

culinary experiences, in addition to being a

barometer for global gastronomic trends.

More on Resy

Back in August 2019, Resy joined the

American Express family and since then we

have been working to redefine the dining

experience for Cardmembers together. We

have even ensured that you can continue to

safely and comfortably enjoy and support

some of your favourite restaurants during

COVID through at-home dining events,

specially curated gifts and seasonal

outdoor dining experiences alongside Resy

and American Express' broader support

for the restaurant community through

philanthropic work.

FOR MORE INFORMATION PLEASE VISIT

THEWORLDS50BEST.COM/PARTNERS/AMERICAN-EXPRESS.HTML
---
SPECIAL PROMOTION

NOTEWORTHY

What to have. Where to go.

New Two-Tone Case and Shades Of Grey For

The Code 11.59 By Audemars Piguet Tourbillon

Openworked

Swiss Haute Horlogerie manufacturer Audemars Piguet

presents a new iteration of its 41 mm Code 11.59 by Audemars

Piguet Tourbillon Openworked. The hand-finished openworked

movement adorning different shades of grey is housed in a twotone

case interweaving 18-carat white and pink gold. This gold

combination highlights the case's multifaceted geometry, while

providing an elegant contrast. audemarspiguet.com

CINDY CHAO The Art Jewel Announces Induction

into V&A Museum

Black Label Masterpiece "Peony Brooch" joins the preeminent

collection of jewels in the William and Judith Bollinger Gallery.

CINDY CHAO The Art Jewel is honoured to announce the

induction of the 2018 Black Label Masterpiece XVIII "Peony

Brooch" into the acclaimed William and Judith Bollinger Gallery

of the Victoria and Albert Museum in 2021. The brooch marks the

third Cindy Chao creation to feature in a major museum, following

the Butterflies that form part of the permanent collections of the

Smithsonian and Musée des Arts Décoratifs. cindychao.com

© Peter Kelleher, Victoria and Albert

Museum, London 2021

Explore the world by private jet

Experience the extraordinary with Air Partner. With a

suite of private jet services that are tailored to suit your

every need, Air Partner is the experts in bespoke aviation.

Whether travelling for leisure or business, its aviation

consultants will provide you with the best solution for

your journeys. With a global customer service team on

hand 24/7, 365 days a year, you can rest assured you're in

experienced hands. airpartner.com