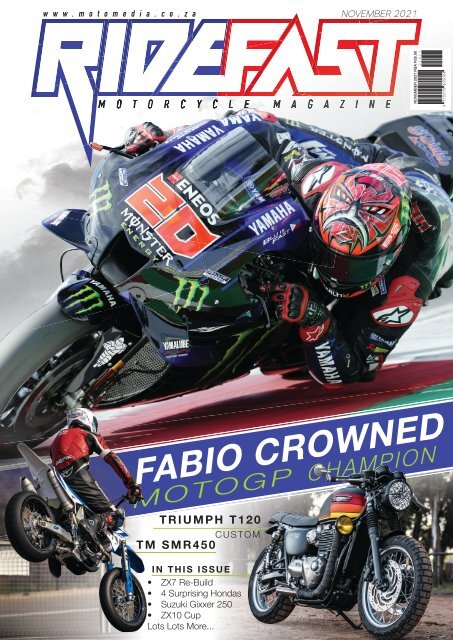 You also want an ePaper? Increase the reach of your titles
YUMPU automatically turns print PDFs into web optimized ePapers that Google loves.
NOVEMBER 2021

NOVEMBER 2021 RSA R35.00

21011

9 772075 405004

FABIO CROWNED

MOTOGP CHAMPION

TRIUMPH T120

TM SMR450

CUSTOM

IN THIS ISSUE

• ZX7 Re-Build

• 4 Surprising Hondas

• Suzuki Gixxer 250

• ZX10 Cup

Lots Lots More...
---
©FIVE Advanced Gloves 2021 *FIVE : le spécialiste du gant **sous conditions

w

www

PubFIVE_

YOU CHOOSE!

WE WILL GET YOU THERE
---
PROTECTION / FITTING / DESIGN

STUNT EVO

Black / Red

©FIVE Advanced Gloves 2021 *FIVE : le spécialiste du gant **sous conditions

THE

GLOVE

SPECIALIST*

RACING STREET CUSTOM ADVENTURE MID SEASON WINTER HEATING

WOMAN OFF ROAD

GLOVES

When riding a motorcycle, the glove isn't just an accessory. It is the essential link between the rider and his machine. So

better to trust a specialist. FIVE has based its development on a simple principle: you can't design a pair of gloves like you

design an item of clothing. Every detail counts to provide both precision in the feel of handlebar controls, comfort and protection.

That's why FIVE focuses, exclusively, on the development and production of technologically advanced gloves, resulting

from its experience of racing competition at the highest level (MotoGP, SBK, Endurance, MX, Enduro ...) To convince yourself,

just try one of our 90 models at an authorized FIVE dealer. Your hands will feel the difference.

FIVE ADVANCED GLOVES: THE glove specialist.

www.autocyclecentre.co.za

www.poweredbyautocycle.co.za

poweredbyautocycle

powered_by_autocycle

PubFIVE_OfficielDuCycle_Mars2021.indd 3 02/03/2021 10:28
---
Intro. Keeping the wheels turning...

NOVEMBER Edition 2021

We wanna hear from you info@motomedia.co.za

Read our back issues at www.motomedia.co.za

A somewhat overweight burly biker calls a weight loss company and orders their 5

day – 5 kgs weight loss program.

The next day, there's a knock on the door and standing before him is a voluptuous,

athletic 19-year-old babe dressed in nothing but a pair of running shoes and a sign

around her neck.

The sign reads, 'If you catch me, you can have me.'

Without a second thought, he takes off after her. A few kilometres later huffing and

puffing, he finally gives up.

The same girl shows up the next four days and the same thing happens.

On the fifth day, he weighs himself and is delighted to find he has lost 5 kgs as

promised.

He calls the company and orders their 5 day – 10 kgs program.

The next day there's a knock at the door and standing before him is the most

stunning, beautiful, sexy woman he has ever seen in his life.

She is wearing nothing but Reebok running shoes and a sign around her neck that

reads, 'If you catch me, you can have me'.

Well, he's out the door after her like a shot. This girl is in excellent shape and

despite his best efforts, no such luck.

So for the next four days, the same routine happens with him gradually getting in

better and better shape.

Much to his delight on the fifth day when he weighs himself, he discovers that he

has lost another 10 kgs, as promised.

He decides to go for broke and calls the company to order their 7 day – 25 kgs

program.

'Are you sure?' asks the representative on the phone.. 'This is our most rigorous

program.'

'Absolutely,' he replies, 'I haven't felt this good in years.'

The next day there's a knock at the door and when he opens it he finds a huge

muscular guy standing there wearing nothing but pink running shoes and a sign

around his neck that reads, 'If I catch you, you're mine.'

He lost 31 kgs that week.

Have a great riding month!

PUBLISHER:

Glenn Foley

foleyg@mweb.co.za

ADVERTISING AND EDITORIAL:

Sean Hendley

sean@motomedia.co.za

071 684 4546

OFFICE &

SUBSCRIPTIONS:

Anette

anette.acc@ mweb.co.za

ONLINE &

DESIGN LAYOUT:

Kyle Lawrenson

kyle.lawrenson@icloud.com

Cape Town

Lorna Darol

lorna@motomedia.co.za

074 122 4874

PHOTOGRAPHY

Stefan van der Riet

CONTRIBUTORS

Shado Alston

Donovan Fourie

Kurt Beine

Morag Campbell

202

N

TH

BE

Speci

be ab

appre

mode

and a

riding

heart,

And y

Honda

one-b

NC

NC

Videos and more

available online...

2021

NC

2021

NC750X/DCT

THE NEW NC750X: DO IT ALL, AND

BETTER THAN EVER.

WWW.MOTOMEDIA.CO.ZA

2021

Specialization may be fine for something like golf clubs, but we think great motorcycles should

be able to do it all. Case in point: The 2021 Honda NC750X. This is a bike is for motorcyclists who

Copyright © RideFast Magazine: All rights reserved. No part of this publication may be reproduced, distributed,

appreciate both versatility and virtuosity in their adventure machines. This year, we've given this

or transmitted in any form or by any means, including photocopying, articles, or other methods, without the prior

written permission of the publisher.

model some big improvements. More power. A larger integrated storage area. Lighter weight,

and a lower seat height. Plus some huge technologic upgrades like throttle by wire, selectable

riding modes, new instruments, a new frame, upgraded bodywork, and standard ABS. At its

heart, the twin-cylinder engine produces a broad torque curve as well, making it a joy to ride.

And you can choose from two transmissions: a conventional manual-clutch six-speed, or

Honda's revolutionary automatic DCT. Either way, this latest NC750X is going to be the perfect

THE

BETT

Specializati

be able to d

appreciate

model some

and a lower

riding mode

heart, the tw

And you can

NC750X/DCT

Y

p
---
21

:

2021

NC750X/DCT

THE NEW NC750X: DO IT ALL, AND

BETTER THAN EVER.

Specialization may be fine for something like golf clubs, but we think great motorcycles should

be able to do it all. Case in point: The 2021 Honda NC750X. This is a bike is for motorcyclists who

appreciate both versatility and virtuosity in their adventure machines. This year, we've given this

model some big improvements. More power. A larger integrated storage area. Lighter weight,

and a lower seat height. Plus some huge technologic upgrades like throttle by wire, selectable

riding modes, new instruments, a new frame, upgraded bodywork, and standard ABS. At its

heart, the twin-cylinder engine produces a broad torque curve as well, making it a joy to ride.

And you can choose from two transmissions: a conventional manual-clutch six-speed, or

Honda's revolutionary automatic DCT. Either way, this latest NC750X is going to be the perfect

one-bike choice for the rider who wants to do it all.

NC750X R128 500 NC750X DCT R138 200

NC750X: R126 000

2021

NC750X/DCT

You meet the nicest

people on a HONDA.

NC750X: R135 500 DCT

2021

THE NEW NC750X: DO IT ALL, AND

BETTER THAN EVER.

Randburg: 011 795-4122

2021

NC750X/DCT

YOU REALLY

NC750X/DC

SHOULD

JOIN THE

HONDA

FAMILY

THE 2021 NEW NC750X: D

BETTER THAN EVER

NC750X/DC

Specialization may be fine for something like golf c

be able to do it all. Case in point: The 2021 Honda N

appreciate both versatility and virtuosity in their a

model some big improvements. More power. A larg

and a lower seat height. Plus some huge technolog

riding modes, new instruments, a new frame, upgr

heart, the twin-cylinder engine produces a broad

THE NEW NC750X: DO

And you can choose from two transmissions: a co

Honda's revolutionary automatic DCT. Either way,

BETTER THAN EVER.

one-bike choice for the rider who wants to do it al

be able to do it all. Case in point: The 2021 Honda NC750

appreciate both versatility and virtuosity in their adventu

model some big improvements. More power. A larger int

and a lower seat height. Plus some huge technologic up

riding modes, new instruments, a new frame, upgraded b

heart, the twin-cylinder engine produces a broad torque

And you can choose from two transmissions: a conventio

Honda's revolutionary automatic DCT. Either way, this lat

one-bike choice for the rider who wants to do it all.

Specialization may be fine for something like golf clubs, but we think great motorcycles should

be able to do it all. Case in point: The 2021 Honda NC750X. This is a bike is for motorcyclists who

appreciate both versatility and virtuosity in their adventure machines. This year, we've given this

ould

ts who

n this

ht,

DCT

ble

ts

de.

fect

model some big improvements. More power. A larger integrated storage area. Lighter weight,

and a lower seat height. Plus some huge technologic upgrades like throttle by wire, selectable

THE NEW NC750X: DO IT ALL, AND

riding modes, new instruments, a new frame, upgraded bodywork, and standard ABS. At its

heart, the twin-cylinder engine produces a broad torque curve as well, making it a joy to ride.

And you can choose from two transmissions: a conventional manual-clutch six-speed, or
---
All the NEWS proudly brought to

you by HJC HELMETS

KISKA.COM Photo: R. Schedl

KMSA's Bikewise division now official AGV

importers and distributors.

We heard rumours at the beginning of the year that Bikewise

might be the new importers and distributors of AGV helmets.

The brand was well supported by Motana many years ago

and then all went a little bit quiet with the next importer taking

Bike Tyre Warehouse Cape Town

BTW really is a force to be reckoned with, with a passionate

and driven Boss Man moving and adapting as and when the

market requires. They opened a store in Cape Town about

a year ago or so and have really being making waves down

there. Recently BTW Cape Town moved to Montague Gardens

to be able to better service the market in the Cape. The new

franchise store owner Dana is a passionate biker who has

relocated from JHB to CT for the sole purpose of ensuring

the growth of the BTW brand in the Western Cape. They are

situated on the corner of Freedom and Montague Drive Unit

B2A, Spearhead Business Park, Montague Gardens, Cape

Town, 7441 and you can contact Dana on

072 820 4990 or email him at

cpt@biketyrewarehouse.com

over. Bikewise is known for growing brands in South Africa

with excellent stock holding, fair pricing and proper aftersales

service and fortunately for the AGV brand they saw its potential

and made a bid for it and got it. We do foresee AGV being a

force to reckoned with in the motorcycle industry again in the

very near future. For more information or to find your nearest

stockist 011 566 0333 or email wyatt@kmsa.co.za

NEW A450 GRIPS FROM DOMINO

The A450 was created with the aim of completing the range for

racing-road use, where every rider has personal and particular needs.

The grips consist of two materials with different hardness and

colours: a harder heart to make the grip on the handlebar stable and a

softer outer coat to promote maximum grip in all conditions. In areas

more subject to wear and tear such as the flange, the outer edge

and an extreme portion, the harder material emerges outside, better

supporting the hand and reducing the more localized wear on the

knob;

- new external multiconic finish, which allows exceptional and costant

grip - even in wet conditions - with progressive wear of the knob. This

is possible thanks to its particular shape in the world of knobs, the

result of months of studies and tests in all conditions;

- a slightly higher grip diameter than the A010, designed for those

who prefer a slightly larger ergonomic grip;

- three seats for fixing with the iron wire, of which the innermost can

be considered to adapt the socket to the shorter accelerator tubes of

the Japanese motorcycles.

At your dealer.

www.trickbitz.co.za for stockists
---
KISKA.COM Photo: R. Schedl

how

sandstorms

begin

It's time to adventure even harder. The new KTM 890 ADVENTURE R

is here – a true offroad travel specialist. With class-leading handling,

rally-like agility, and boosted power and torque figures, you can be sure

you'll never eat dust, except in the sandstorm you create.

FIND OUT MORE AT WWW.KTM.COM

Please make no attempt to imitate the illustrated riding scenes, always wear protective clothing and observe the applicable provisions of the road traffic regulations!

The illustrated vehicles may vary in selected details from the production models and some illustrations feature optional equipment available at additional cost.
---
All the NEWS proudly brought to

you by HJC HELMETS

WORX introduces the Slammer.

The most innovative Brushless Hammer Drill since the invention of the cordless

drill., this his new arrival drills into wood, metal, plastic, masonry, and concrete…

Which probably means that you can fix a Harley with it.

Called the Slammerfor a good reason, they say that this powerful

20-volt cordless hammer drill will get more done, easier,

and faster. The brushless motor technology delivers 50

percent longer runtime, 25 percent more power and 10X

longer motor lifetime. A variable 2-speed design covers a wide range of drilling,

fastening and hammer drilling applications, the fitted LED light is great for dark

areas with a handy 20 sec LED delay after the trigger is released.

The Expandable Power 20V battery is interchangeable with other WORX tools the

only cordless tool platform that uses the same battery to power their 20V and 40V

tools. To view the full range of WORX products, and view the videos go to www.

worxtools.co.za, WORX is a leading brand at Vermont Sales and is available from

all leading outlets countrywide, for more information contact, Vermont Sales on

011 314 7711 or visit their web site www.vermontsales.co.za Trade enquiries

welcome

Get all your Pro-X and All Balls products

from GAME SERVICES…

The store that has absolutely everything and the kitchen also

stocks just about everything in the Pro-X catalogue.

All the fuelling system parts from air filters, main jets, pilot jets

to carburettor rebuild kits and throttle cables. All the clutch

bits and pieces as well, baskets, spring kits, gaskets, master

cylinder rebuild kits, friction plates, clutch plates. Also in stock

are wheel bearing kits, spacer kits, steering bearings and etc.

But wait! There is more – chains, sprockets, sprocket bolt

sets, ultra-light sprockets, counter shaft seals, chain rollers,

suspension bearing kits and parts, brake discs, brake pads,

brake calliper rebuild kits, master cylinder rebuild kits. And

you thought Pro-X only did pistons, rings, cylinder sleeves,

crankshafts, con rods, big ends, pins, clips and all sorts of

engines seals and gaskets. Well, as we said, Game Services

stocks just about the whole range for the popular models and

even for some of the unpopular ones and you know the price

will be right.

Then, just to make sure they really have you covered as the

best stocked one stop shop they also stock a full range of 'All

Balls Racing' equipment as well. Whether you ride on or off

road, ATV's or Utv's All Balls has you covered with the parts

you need to handle any abuse you can dish out. Clutch,

throttle and brake cable assemblies, wheel bearing and seal

kits, countershaft rebuild kits, tapered bearing kits, chain

rollers, rear shock seal assemblies, fork bushing kits, including

new street kits added to the range, fork and dust seal kits,

swing arm repair kits, rear shock bearing kits, rear wheel

bearing upgrade kits, rear brake pedal clevis and pivot repair

kits, master cylinder with new KTM piston, diff bearing and seal

kits, master cylinder kits for road and off road, brake drum

seals, ball joints, Showa front strut upper ball joint, tie rod end

kits, tie rod upgrade kits, rack and pinion end kits, front A-arm

repair kits, independent rear suspension repair kits, centre

support bearing, A-Arm upgrade kits, sport ATV rear carrier

bearing upgrade kits and so much more.

Give them a call on 011 425 1081, or drop them a mail on

G124@mweb.co.za or get your shopping trolley and wander

around the shop at No.4 fifth avenue, Northmead, Benoni out

on the East Rand… where you don't even need to wear shoes.
---
All the NEWS proudly brought to

you by HJC HELMETS

A quick whistle stop visit at some of "The Bom's" movers

and shakers

We recently had opportunity to swing through Nelspruit or

Rudamans Yamaha

Robin Flores and his dedicated and passionate team run a tight

ship doing all things Yamaha. Bikes, marine, golf carts power

products with a well-stocked showroom and parts department

with a professional workshop. They share space with the rest

Mbombela in the new language and popped our head in at a

couple of dealers for a quick, "Howzit".

of the Rudamans group and have a whole bunch of really cool

stuff from tractors to chain saws. A real Aladdin's Cave for the

hairy chested better half in your life. Visit them at 4 Tranquil

Flow Street, Riverside Park or make contact via telephone or

email on (013) 753 3631 and info@rudamans.co.za

KTM, Honda Wing and Suzuki Nelspruit

Hennie and Mandla are the friendly faces as you walk in the

door to the multi franchise, quick with a smile and even quicker

on the service. They are the official agents for KTM, Honda

Wing and Suzuki Motorcycle in Nelspruit. Hennie mainly looks

after the motorcycle sales side with Mandla taking care of the

parts, but they do cross pollinate and help each other out. Eric,

who was on leave the day we visited is your friendly giant in

the workshop. Well known and hugely knowledgeable, Eric has

worked on most brands. Give then a shout on 013 753-7324

for sales or 013 753-7324 for service department or

013 753-7324 for parts.
---
K

R2 35

R25 R

All the NEWS proudly brought to

you by HJC HELMETS

Dream Machines

This thriving family business of Christo, JoAnne and son

Zander were formerly Nelspruit ATV. They are still Kawasaki

and SYM dealers in their new venture, with Christo running

the workshop, JoAnne on parts, admin and day to day

management of the shop and Zander looking after the sales

side. You can expect the same friendly and efficient service

this family is well known for with a good range of new and

used bikes in stock and a well stock parts department. You

can visit them at 44 Waterfall avenue, Lowveld Lifestyle Centre,

Riverside Industrial in Nelspruit or call them on 013 752 2282 or

072 321 7237

B

W

Pitlane

The only really well stocked accessory store and fitment centre

in the area that we know of. Run by Robere with the assistance

of his side kick Zac and Mom looking after the admin and the

daily runnings of the shop, you will find just about everything

you could ever need, want or lust after. Tyres, helmets, chains

and sprockets, brake pads, kit, boots, jackets, oil filters and

oil… you name it they have by the dozens. Visit them at 1

Plankie street, Mbombela or call them on 013 755 2127 or

082 802 5290

R

F70 R 4

1140

R

5

R10

Scorpion R1 Moto GP

Champ Replica on the

way:

Scorpion presents the all new,

light-weight EXO-R1 racing helmet

with many incredible features. The

large top vent scoops in more air

and the aerodynamically designed

exhaust vents pull the hot air out

efficiently but the helmet remains

quiet even when you ride fast,

thanks to slim but large vent

bodies correspond to elegant and

sleek shell shape. Even if you're

not Fabio – you'll sure look the

part…

At dealers…

R12

96 R5

R89 R18

B
---
BMW Motorrad

West Rand

K1600 Bagger, 2020

R1200 GS , 2009

R255 3500km 000 85 R75 000km

R255 R309 000 995

R75 R109 000995

S1000R, 2019

7 R319 000km000

R169 R319 995 000

R NINE T, 2020

F700GS, R 4000km NINE 2019 T, 2020

114000km

R145

500KM

000

R105 R145 000 000

R1200 GS, 2009

R299 000 6 R165 7500km 000

R269 R299 995 000 R109 R165 995 000

R1200GS, 2007

96 R185 500KM 000

R89 R185 000

F850 GS, 2018

24

R175

000km

000

R159 R175 995 000

R1200 GSA, 2008

53

R185

000km

000

R110 R185 000

BMW Motorrad West Rand

Email: japretorius@cfaomotors.co.za

RIDEFAST MAGAZINE JUNE 2021 43
---
All the NEWS proudly brought to

you by HJC HELMETS

Much like Helmets, all riders gear in SA might need

CE approval (Homologation) soon…

Motorcycle protective rider gear has become a lot safer over the years

since Europe introduced a CE legal standard for motorcycle clothing,

known as EN13595, in 1994. It was originally designed as a standard for

professional racers, but now any motorcycle clothing that does not meet

the standard cannot be sold as 'protective' wear in Europe.

This CE standard (Conformité Européene or European Conformity) is now

used throughout most of the world. If you are confused with the various

labels, CE markings, standards and information about impact protection,

double-stitched seams, and abrasion testing, read on.

CE markings and regulations:

When buying protective motorcycle clothing, it is important to know

whether the garments you are considering are produced to at least a

minimum CE standard.

A label should have a CE marking permanently attached to the garment.

What do CE standards mean?

If a product bears any type of CE marking, this means its manufacturer

has constructed this garment to an applicable standard of safety and

protection legislation.

This means the product is made to at least a particular level of quality for

the consumer's reassurance.

In 1995, Cambridge University played a big part in the development of

CE marking, which aided an increase of knowledge for anticipated CE

personal protective clothing regulations.

CE tested, certified or approved?

There is a huge difference between the terms "CE Tested", "CE Certified",

and "CE Approved":

CE Tested: The term normally implies that the manufacturer tested the

whole or just a piece of a garment within their own facility that might meet

certain standards. However, the garment is not necessarily tested in a

certified testing facility to meet officially accredited standards.

CE Certified: This term is more secure, as it states that the garment

samples were tested in certified testing facilities. In this case, you need to

find out which part of a garment was tested.

Classification A: Deemed suitable for urban riding,

with Zone 1 requiring one second of abrasion

resistance at 265.3rpm and half a second at

147.4rpm in Zone 2.

Classification B: Same as A, but impact protectors

are not required.

Classification C: Covers garments such as the mesh

under-suits that have impact protection for off-road

riding.

Samples are taken from each zone to be tested for

seam strength and abrasion resistance.

A company using the same materials and

construction methods in two or more jackets, for

example, could meet approval with one test, so long

as the tested parts are put together in a tested way

within the tested zones, and subsequent garments

are added to the certificate.

Once these materials and construction methods are

approved, they cannot be changed, and that includes

the specific supplier of the material.

Is this going to make bike kit more expensive?

Potentially, it could have done, and many brands

will have seen costs increase. For a start, everything

has to be tested and certified, but also, compared

to the testing fees that those companies already

making products to EN 13595 have paid, the new

testing process could have cost as much as three

times more; however, competition in the marketplace

among test houses has kept a check on fees. Also: In

SA, if we get homologation on riders gear specific to

motorcycle use it may lead to a relaxation of import

duties, which should lead to lower costs.

Watch this space…

CE Approved: This term means several parts of a garment were tested

in certified facilities and are accredited to meet or surpass the required

standards in all zones.

Garment testing zones

The certification test EN13595 uses two test levels, with the body divided

into four zones.

Zone 1: Must-have impact protectors and needs to last 4 seconds on the

Cambridge Abrasion Machine to meet Level 1 protection, and 7 seconds

to meet Level 2.

Zone 2: Must-have impact protectors and needs to last 4 seconds on the

Cambridge Abrasion Machine to meet Level 1 protection, and 7 seconds

to meet Level 2.

Zone 3: Requires 1.8seconds for Level 1 and 2.5 for level 2.

Zone 4: Can be used for ventilation and stretch panels, but must still last 1

second on the abrasion rig for Level 1, and 1.5 seconds for Level 2.

Usually, you will see A, B or C letters on a label that indicates garments

classification.

Classification AAA:The highest level, demanding four seconds of

abrasion resistance with the machine spinning at 707.4rpm (the equivalent

of 120km/h) in Zone 1, two seconds at 442.1rpm (about 75km/h) in Zone 2

and one second at 265rpm (around 45km/h) in Zone 3.

Classification AA: More suited to touring gear, this specifies two seconds

in Zone 1 at 412.6rpm (about 70km/h), one second at 265.3rpm in Zone 2

and 0.5 seconds at 147.4rpm (the equivalent of around 25kmh) in Zone 3.
---
All the NEWS proudly brought to

you by HJC HELMETS

Puig BMW F900 screens at

Trickbitz:

Puig are widely recognised as market

leaders when it comes to Aftermarket

MotorcycleScreens. Puig Screens are

available in a range of styles including

Standard OEM Racing Naked New Generation

and Touring together with a whole host of

Universal Handlebar Fork and Light mounted

screens - all of which are available in a variety

of styles and tints. Some models also come

equipped with factory-fitted Multi-Adjustable

Visors to offer the rider increased air flow

control and fine tuning. Manufactured from

3mm High Impact Acrylic using the latest CAD

Design and Laser Cutting Technology you are

sure to receive a high quality screen which will

fit your motorcycle perfectly and improve both

aerodynamics and styling simultaneously.

Simple to install Puig Screens will arrive safely

packaged together with comprehensive fitting

instructions and any additional fittings which

may be required. No modification to your

motorcycle is necessary. Manufactured in

3mm methacrylate, material that guarantees

high resistance to possible impacts and

provides a great aerodynamic capacity.

www.trickbitz.co.za for your stockist

News from the Mother City

Our Lady in the Cape has been very busy running around to

events, visiting dealers and just making sure everybody get fair

recognition in our magazines.

Bikes Infinity

Owner and Founder of Bikes Infinity is Kallie Botes. His love

for motorcycles started at the age of 14 when he got onto his

first bike. His love for the biking industry and community grew

the more he rode and experienced life on a bike. By the end of

2003 Kallie joined Harley-Davidson as a sales person and by

2020 he has climbed through the ranks to General Manager.

At the beginning of 2021, Kallie was ready to pursue his own

dream to offer like-minded motorcycle enthusiasts with quality

used motorcycles, exceptional customer service and sharing

his vast knowledge base with the biking community and

industry.

At Bikes Infinity, their customers come first and they pride

themselves on making sure their customers find exactly

what they are looking for, from advice to ideas, or special

requirements they are happy to help. Offering a variety

of motorcycle brands on their showroom floor and parts

department. Whether you are looking for an upgrade or

ready to sell, BIKES INFINITY in partnership with TWINZ

MOTORCYCLES is your one-stop-shop for all things twowheeled!

Nicol, owner of TWINZ Motorcycles has been in the

trade for 22 years and is a qualified Master Technician with a

huge passion for motorcycles. Twinz Motorcycles specializes

in American V-Twins and most Dual Sport Motorcycles, from

basic to major services, tyres and custom build requirements.

Two specialists in their field with a great synergy under one roof

working to offer the best service possible to the motorcycling

community. For sales and etc call Kallie Botes on 082

5533539 and for competitive pricing on anything workshop

related call Nicol Basson on 074 484 4777 or visit them at

No 8 & No.10 Brackenfell Business Park, c/o Old Paarl and

Chrome Street, Brackenfell 7560 and you can check out their

respective websites at www.bikesinfinity.co.za and www.

twinzmotorcycles.co.za
---
Moto GP Championship in the bag!

By: Donovan Fourie

donovan@thebikeshow.co.za

www.thebikeshow.co.za

Fabio and Pecco – two of the most loved title

contenders.

Rivalry plays a massive role in any sport. Of course,

we are not talking about a little spat between opposing

athletes; heavens no. We are talking about the full-on

war between supporters these athletes. They are way

more fun!

Man United versus Liverpool. Blue Bulls versus Sharks. Proteas

versus Australia. Whatever those teams are called for those

sports in America. The fans take the cake, especially with the

advent of social media where people can participate in fisticuffs

through the medium of digital words.

We are pretty sure that MotoGP fans are some of the worst. We

saw Sheene pitted against Roberts. Rainey against Schwantz.

Doohan against Criville. And more recently, we've witnessed

Rossi take on Biaggi, Gibernau, Stoner, Lorenzo and finally

Marquez and the fans have been passionately involved in the

theatre of mudslinging throughout.

Hell, the Italians at Misano are still booing Marquez - six years

after the 2015 spat. Then again Marc, that's what you get for

committing blasphemy…
---
This year has been remarkably different, in a Zen kind

of way. The championship was whittled down to a fight

between championship leader Fabio Quartararo and the

upcoming Pecco Bagnaia. Fabio has been strong all year,

but Pecco climbed the speed scales more and more as

the season wore on. On the Sunday of Misano, he lined

up in pole position for the fourth time in a row. The gap to

Quartararo was at 53 points, with 75 still on offer. Pecco

needed to get it below 50 for the championship to carry on

to Portimao and, hopefully the season finale at Valencia. It

was looking good – Pecco was on pole after looking strong

throughout the wet, cold weekend while Fabio struggled.

His Ducati rival lined up with a clear track before him; Fabio

would see 14 riders blocking his path to the front.

You probably watched the race – Pecco got out front early

with a rejuvenated Marc Marquez on his tail. Fabio made his

way through the field in an impressive fashion. He was even

on the podium for a while towards the end before eventually

finishing fourth, 11 places higher than he started.

Pecco was cool and calm as ever. He had Marquez for

company – probably the last rider anyone wants to see on

their pitboard. Many a rider would see "Marquez 0.1sec",

panic - and start putting the hammer down.

Not Pecco, though.

Putting the hammer down with plenty of laps to go

endangers wearing your tyres out and wearing yourself out,

leaving you with nothing to defend with at the end of the

race. Pecco remained calm and consistent, running a pace

he knew would give him plenty in reserve, even if it meant

feeling Marquez breathing down his neck. With a handful

of laps to go, the hammer started hitting the anvil harder

and harder. You could tell by Marquez's body language on

the bike that he was starting to struggle slightly to keep up.

Eventually, daylight started appearing between them, getting

bigger and bigger with every hammer-filled lap. It seemed

that Pecco had timed it to perfection, right up until it all went

wrong...

With five laps to go, he tipped into Turn 15, a sweeping

left-hander. This corner is fascinating because it is fast, and

it is the first left-hander after two straights and about 100

right-handers. Also, Pecco was the only rider on track at

that stage using the hard front tyre, one that was thoroughly

unrecommended by Michelin in those cold temperatures.

Up until that point, everything had been going swimmingly

for Bagnaia, except that now he was pushing to get away

from Marquez. His tyres might have still been in excellent

condition after being cunningly preserved for the entire race,

but that means nothing when the left-hand side of the tyre is

freezing cold, and the rider is pushing.

He went down – a typical front-end slide, and he was

tumbling through the gravel, thankfully uninjured.
---
It was a great attempt from Pecco – had he held

it together, he would have finished in front, and

Fabio would have been fifth. That would have

left the gap at a more manageable 39 points.

Except it didn't work out, and Fabio took an

understandably emotional title win with two

races to go.

After another cringeworthy celebratory display

from Dorna (although not nearly as bad as

the 8-Ball garbage for Marquez last year), the

Frenchman arrived back in the pitlane for a wellearned

hero's welcome. The first to greet him

was a dusty Pecco Bagnaia, who gave him a

warm hug. The second was Jack Miller because

the Australian is a nice guy, and Fabio was still

conveniently outside his pit.

Of course, social media lit up but not in the way

it usually does. There was no mudslinging, no

mention of other people's mothers, no references

to the other supporter's cognitive abilities,

nothing. What there was instead was a chorus

of congratulations for both riders, something we

haven't seen since Mark Zuckerberg first pushed

"Post".

How is this possible? A large part of it might be

down to the fact that both riders are pretty new

to the spotlight, and fans are yet to develop an

emotional attachment to either one, but it might

be something else.

If you look at Rossi versus Marquez, the

inspiration for what was probably the bloodiest

social media war ever, Rossi often tried to use

words to get into the head of his opponents,

words that didn't sit well with the opponent's

fans and sparked antagonism. On the other

hand, Marquez often used both words and

the odd ramming of opponents off the track to

achieve his goals, something that certainly didn't

ignite love and compassion for him from rival

fans.

Similar theatrics could be seen with other

rivalries throughout the ages, but not with Fabio

and Pecco. They both seem to be nothing more

than respectful and courteous – "good okes" as

the more eloquent South African society would

put it.

We even call them Fabio and Pecco instead of

Quartararo and Bagnaia, although much of that

is probably down to their first names being easier

to type, but a chunk of it must go down to us

feeling good about them like they are lad lads.

Pecco looks like a quintessential Italian cool guy.

His look and demeanour suggest that he should

walk everywhere while constantly sipping a tot of

espresso and saying "Ciao" to everyone he sees.

Fabio, with his silly colourful clothing and that

toothy grin, is nothing but thoroughly likeable.

Personally, I'd have loved to have seen Pecco

win at Misano in front of his home crowd and

then seen Fabio take the championship win at

Portimao. I feel sad that Pecco crashed and also

happy for Fabio that he is the champion.

This is a sentiment shared by all fans all over the

world. For the first time ever.

We are seeing a different kind of history in the

making.
---
Pics by:Black Rock Creative Studio

ITALIAN

FACTORY RACING RARITY

TM 450 MOTARD

As ridden by Dorren Loureiro.

We were invited along to the unboxing of a very rare

Motard at the Formula K track out Benoni Side. We

knew that the bike was coming ages ago with rumours

about a potential new distributor for the Italian TM

brand. Formula K are the importers and distributors of

the TM range of Go-Karts – so the bikes kind of make

sense… More news on all this soon.

At a mere R230.000, they were reluctant to allow our

plebs to ride it as soon as it was unpacked. But they

did give international star Dorren the key and he took

off for a few laps in order to run the bike in. Run in is a

loose term, by the third corner, he was faster than most

guys out there…

After the shakedown and a few days later, Sean sat

him down to get his take on this rare (in SA anyway)

machine.

He says:

A big highlight for me about TM, when you buy a bike from

them you send them your weight, your height, all your

measurements. They fit the right bars for the length of your

arms, they put the right shock in for your weight, they give

you a base set up for your size and weight.

They even set the rear wheel in the middle for me which

made the bike even more nimble, gearing was also perfect

for short track racing, not too long and not too short so no

need to go buy extra sprockets and chains and etc.

This means that when you get to the track for the first time

with your new TM you are not starting from zero, but rather

starting from somewhere closer to eighty percent right

for you. Essentially you order a bespoke bike for yourself,

when I went out on this bike for the first time at F-K I didn't

change 1 setting and I was completely comfortable and

confident on the TM, with the race set up they sent me the

bike is really good enough for me to compete at the highest

level and even win on.
---
They take all the data from their world championship team

from over the years at all the different tracks and apply that

to the bike they build for each customer, they already know

what the best set up is for every weight of rider in most racing

conditions on most racks. Even though it is possibly a bit more

expensive than other bikes on the market it is set up for you

with the correct suspension settings and spring weight for you,

so you do not have to spend any other money on it, it already

has the best of everything for you as an individual, including

the quick shifter and mapping which are all extra's that need

to be purchased for other bikes. So all the trick equipment and

bespoke set up not only save you time in the workshop buying

and fitting all that equipment but it also saves you 3 or 4 days

of testing at the track to get your bike working properly for you

as well as a huge amount of frustration.

My point of reference when it comes to Motards is my own

personal Husqvarna 450 Motard, firstly because it is mine and

it is the only standard factory supplied Motard on the market

here in SA at the moment, so comparing apples with apples.

I have spent quite a bit of time and money on my bike to get

it perfect for me so that I can be competitive in the national

racing scene here in SA.

I found the TM450's sitting position to be a lot more suited to

my style of riding because of how much lower the handle bars

than my Husky and how much higher the seat is. This makes

the seating position more aggressive, I could almost ride it

superbike style, but with the quickness and nimbleness of a

Motard. Most other Motards need to be backed into a corner,

or steered with the rear wheel - whereas on the TM I can corner

like a superbike. The rake angle is also a lot steeper making it

turn so much quicker than other Motards I have competed on.

Another big advantage I found was that the TM has the oil

cartridge forks and not the air forks as other bikes do and

that gave me so much more feedback and feeling when I was

riding it hard around the track. I am a big fan of the oil based

forks because of their feel and feedback, they are just more

confidence inspiring to me. The air fork might be quicker and

easier to set up because you just have to pump some air into it,

but when I am looking for that extra half a second a lap I need

the confidence and feel that the oil forks give me.

Coupled to the oil forks are essentially the same Brembo

brakes used by other manufacturers but they really do work

better on the oil forks. On the air forks you use the full length of

the stroke and it puts so much pressure into the tyre that you

cannot pull the lever harder for fear of tucking the front wheel

in. Whereas with the oil forks on the TM you only really use the

middle of the stroke and don't as much pressure into the tyre

allowing you to pull the lever more giving you more stopping

power on thew twin rotors upfront by the time you hit the

bottom of the forks stroke.
---
I really enjoyed the absolutely flat seat on the TM. You really sit

on top of the bike and my movement was not restricted by the

bum stop that most of the other bikes have. Another feature

I really liked is the fact that the fuel tank is under the seat. So

when riding the bike I find the front to be really light making it

really easy for me to flick it around and do whatever I like with it

and I could make it turn really quickly.

Another big advantage I find was that with the fuel tank under

the seat, the centre of gravity was really low and when cranked

over in a corner I didn't have the fuel sloshing around on the

top of the bike by the handle bars and pushing or unsettling the

bike. This a big advantage especially when braking really late

into a corner, there wasn't all the fuel, say 5 litres – about 5kg's,

rushing forward to the front of the tank and transferring all that

weight onto the front wheel and then when you get on the gas

it all rushes backwards, again changing the handling dynamics

of the bike. Being in the middle under the seat,

I didn't really notice that weight transference as much nor did

it have any effect on the handling of the bike which is really a

huge thing for me and my confidence in the TM under braking

and acceleration in and out of corners really makes the TM

more stable, more predictable and much more forgiving,

especially for high sides.

The TM has some incredible traction control. I was trying to

slide the TM450 coming out of corners because I like to steer

with the rear, and there is always the danger of high sides when

doing that, and I could feel the traction control kicking in and

it wasn't letting me high side. I generally switch the traction

control off when I race because I find it interferes too much with

my riding style, however the TM's traction control is really very

confidence inspiring, especially for less experienced riders…

like my Dad who used to race when he was younger but is

not riding competitively anymore and does more track day

type riding, so he can try pushing for that extra half second or

second a lap without having to worry about a high side and

breaking a collar bone. The TM 450's rear KYB shock absorber

is really good. Generally I have to change the rear spring on all

other bikes because they are too soft for me.

Coupled with the traction control is some really good wheelie

control, the TM never over-wheelied that I had to shut the

throttle off, so I could stay on the gas without worrying about

flipping, so the traction control keeps the bike stable coming

out of the corner and the wheelie control keeps the front

wheel at just a nice height so that I could ride hard for the next

corner. The TM also has the best launch control I have ever

experienced on any Motard, so good that I reckon I could easily

make half a second on my competitors by the first turn, easily

taking the holeshot from the front row over most other bikes in

the field at the moment.

Also on the electronics package the TM comes standard with a

power shifter, built internally into the motor, so it doesn't even

look like it has a quick shifter but it is definitely there – up only,

but the slipper clutch is incredible, it works really nicely and the

gearbox is so smooth that you can change down without the

clutch very easily, however you can order an auto blipper down

shift on the TM from the factory.

The TM has a map 1 and a map 2, initially I rode it in map 1 and

thought, "Wow! This thing is fast", it turned out that map 1 was

the slow mapping.

Then I put it in map 2 and the TM became incredibly fast, to

me it felt like map 1 had a bit less torque but very good top end

whereas map 2 had a huge amount of torque, the full amount

the bike has to offer with a similar top end to map 1.
---
The torque is really a whole lot more than any

Motard I have ever ridden or raced… it is A LOT,

I was braking as much as 50 metres earlier than

any other bike I have ridden on the same track

and that was just because of the speed I was

getting to the corner at. Torque is so important

on these Motards because the tracks are so

short, at most of the tracks we don't even get

into the high gears, so the torqueiest bike is the

quickest bike, it is whoever can get from the

lowest gear to the highest gear the soonest with

the most speed which has all got to do with

torque.

I would easily estimate that this TM 450 is a

good second a lap quicker than anything else I

have ever ridden or competed against.

The bike also breathes extremely well with extra

vents in the airbox so it can suck in more air as

well as double exhaust pipes which gets the

gases out quicker and delivers the power very

quickly yet smoothly and predictably, it is a very

quick revving engine. The twin exhausts also

help to distribute the weight more evenly around

the bike, also helping to increase rear grip on

the bike and all you ever really want on all these

short tracks is more rear grip.

Armando, Marius and Dorren

TM also seems to have the engine braking

sorted out, some bikes I have ridden have too

much engine braking and other too little, TM

seems to have found that optimal balance

between the two. With too much engine braking

you can't stop because the back wheel is sliding

which negates the rear brakes and puts the

rider out of control. You can put the TM into a

controlled slide with the engine braking, giving

more corner speed confidence. With no engine

braking there is no weight on the front wheel

and it feels loose and uncontrolled, TM seems

to have found the perfect balance between too

much and too little engine braking.

It's such a pity that more of these bikes aren't

racing in SA, I would love to enter this one but

the other guys are complaining because this

factory bike is so good - but I still want to enter,

not to take points but just to compare for myself

if this bike really is as good as it feels.

I really would love to see this brand grow in SA.

Uncle Philip and Uncle Marius from Formula-K

track really helped my Dad and I get this

bike into the country quite quickly and as an

international racer I must say that formula-K

really is a 5 star track, easily comparable with

tracks around the world that I have raced on. I

have to say that on Motards, I only train at F-K

when I am in SA, not only is it so close but it is

really that good. On my 600 I generally train at

Redstar because I can put in more and longer

laps there.

I really look forward to seeing more TM's on the

tracks and competing with and against them in

the near future.

Queries on the TM brand:

www.formula-k.co.za
---
RENTAL KARTS

All competitors require a once-off track access

membership @ R 50 per year.

Drop-In Races

Single Race

3-Pack

6-Pack

15 Lap Race

R260 p.p

R700 p.p

R1350 p.p

R300 p.p

10 Minute session

3x 10 Minute

session

6x 10 Minute

session

15 Laps

Group Events

Mini Grand Prix

Format: 10 mins Qualifying & Final Race (15 Laps)

Minimum of 8 Karts @ R4000

R500 per additional Kart

Grand Prix

Format: 10 mins Practise, 10 mins Qualifying &

Final Race (15 Laps)

Minimum of 8 Karts @ R5600

R700 per additional Kart

Endurance

Format: Can be 1 to 3 hours long. Each team will consist

of 2 to 5 competitors. Each competitor must aim to run

20 to 30 mins per session.

Minimum of 5 Karts per hour @ R6500

R1300 per additional kart

All drivers must download

our App:

To Book: Nerine 072 890 0103

or Visit www.formula-k.co.za
---
TRIUMPH

SOUTH AFRICAS

CUSTOM DIVISION…

CUSTOM T120.

When we called on Triumph motorcycles the

other day, we noticed this gorgeous BonnyT120

front and centre on the showroom floor. While

we were admiring the bike, Paul wandered over

and asked if we liked what we saw. "We build

customs in house"' he said. "Take it, ride it and

tell me what you think…"

So we did – and everywhere we went heads were turned as

peeps tried to get a good look. Parking in the shopping centres

and garages drew some admirers – one of whom was from the

older generation who fondly recounted how his dad used to

have a bike "JUST like this!"
---
So cool! And that's the heritage that Triumph brings to the

table.

The clubmans give the bike a sportier feel – in the traffic you

kinda feel like someone in a movie – far cooler than your fancy

car.

The pipes are beautifully crafted and they emit a great burble

without making your ears bleed. They work well too – lots of

torque low down with great midrange – hit 5000RPM and she

gets all sporty.

The seat has been shaved and recovered – without becoming

plank-like. We made a point of running this one past all of the

mates places. "stunning" is the general consensus and they

are quite correct…

We like. A lot.

And probably mostly because, despite the fact that they have

done a lot to an already retro type of bike, it looks subtle.

Not too over the top.

The finish is excellent and the bike is still a very rideable little

head turner.

Many of the components are genuine Triumph bolt on

parts – but a lot of the components are locally sourced and

manufactured.

The paintwork, exhaust and upholstery is all by South African

Artisans.

Better than new, this one is a 2019 model and is on the floor

for R185000.00

Whilst they do specialise in Triumph, the guys will undertake

custom work on most brands.

Give them a shout! Top notch workmanship and some great

ideas.

paul@triumphbikes.co.za (011) 444 4444
---
The Custom T120.

•Shortened front and rear mudguards.

•Matt Black Paint with yellow, orange and

red retro tank design (done by local artisan).

•New Triumph chrome metal 3 bar badges.

•Shaved and Re covered seat with black

vinyl and red stitching (local artisan).

•Motogadget Mo Blaze Pin indicators on

the front.

•Motogadget Mo.Blaze Tens 3 Integrated

tail lights

•CNC head light bracket.

•Locally designed and manufactured

numberplate bracket.

•4.5" Bates style Yellow Spotlight.

•Twin Shorty Silencers..

•Black Heat wrap on exhaust headers.

•Scuffed and matt clear coated outer rims

and engine tappet cover.

•Pirelli Rally STR tyres front and rear

(110/80R18 and 170/60R17).

•Triumph Original Accessories - Headlight

Grille, Black Sump Guard, Clip on style

Handlebar Kit and Brushed silver peep Bar

end Mirror.
---
Ridefast - Triumph Tailor Made DPS - CMYK Print.pdf 1 2021/10/22 10:18

C

C

M

M

Y

Y

CM

CM

MY

MY

CY

CY

CMY

CMY

K

K
---
Ridefast - Triumph Tailor Made DPS - CMYK Print.pdf 2 2021/10/22 10:18

C

M

Y

CM

MY

CY

CMY

K
---
MODERN CLASSIC

AND COLLECTABLE MOTORCYCLES.

A 1998 ZX7R

This is becoming a bit of a hard and bitter pill to swallow.

We are becoming of that age when the music from our

youth is referred to as Golden Oldies, Classic Rock and

the like … and the same applies to the cars and bikes we

grew up with and lusted after. We still think we are all 16

years old trying to impress the pretty girls with our antics

and we still think of the Lambo Countach as the 'Meneer'

sports car to desire and the Kawasaki ZX7-R the ultimate

Superbike.

Well, here we are styling it in our late forties and early

fifties, the pretty young girls are our mates daughters and

granddaughters, the Countach is a 'Marmite' classic car and

the ZX7-R is now an affordable classic bike to be restored

along with the likes of the 1998 Yamaha YZF R1, (A bike

I did my first ever track day on and still think of as the

ultimate track weapon), and other such desirables … like the

original and legendary Fire Blades and Gixxers.
---
You will read elsewhere in this month edition of our

little adventure around Redstar on an Africa Twin

at Adventure Academy's and S.A.Biking Academy's

cornering course. Well, at the track we happened to

notice a very tidy 1998 Kawasaki ZX7-R lurking in

the pits and made a few enquiries. It turns out Andy

performs magic on refurbishing customers older bikes

back to showroom specification.

His speciality is the KTM 950 and 990 Adventure

models however he admits to being smitten by the

'90s superbikes that were cutting edge when he started

motorcycling in 1999. Andy was approached by the

owner of this neglected World Super Bike legend to

restore it back to something he could be proud of not

only riding occasionally but showing off to his mates

amongst his collection of other desirable machines.

What Andy received was a solid base bike which had

unfortunately been left to rot in a shed for 12 years before

the current owner found it, rescued it and set about

ensuring it felt the wind down its massive ram tubes once

again.

He had to strip and repair panels that were botched

together with Q-Bond, restart a motor that had rusted

spark plugs and refurbish a set of exhaust headers that

looked like they had been used as an anchor for 12 years.

All of those beautiful 3D decals had to be designed and

printed from scratch, applied to the freshly painted white

and green panels and then sealed over with a smooth layer of

lacquer to ensure a perfect finish that will last for longer than

the next 24 years. While he admits to not being a mechanic

and having no formal training, with his team of reliable and

talented serviced providers Andy took a few months over

lockdown to resurrect this mean green machine you see here

and we managed to squeeze in a session on the track on the

Ninja.

Firstly I can tell you that my fifty year old body hasn't held up

as well as the ZX7-R and I am contemplating sending it in for

a refurb. The ZX7 is a lot smaller and more compact than I

remember, the same applies to my leathers.

The bike was in a very sad condition.

A

HO

Dem

Folding onto the Kawasaki suddenly had the leathers trying to

force my nuts into my brains and making me squeal in pain as

the world went a bright white around me and it was everything

I could do not to drop the newly refurbished Kawa on the deck.

Some judicious repositioning of said appendages and a couple

of more grunts as I got my legs folded up underneath me and

feet onto the pegs and I was underway. Taking a lap or two to

accustom myself to the bike, its power delivery, clutch feel and

brake bite, along with suspension and chassis handling dynamics.
---
The ZX7 is actually as good as I remember

it and even with the shady street tyres it

had on it I was able to give it quite good

horns down the straights, stomp on

the hooks quite late, tilt it over and rail

through the corners and look reasonably

professional doing so.

Admittedly the brakes are not up

to modern standards, neither is the

acceleration but then again neither am I,

but the ZX just made me feel younger and,

dumber again.

Carefree, reigniting my love of track riding

and superbikes. Maybe we need to look at

establishing a RIDEFAST magazines 'Older

Gentleman's' fun racing series on bikes

from the late 80's through the to 90's only,

no cheque book racing, just good clean

stock bikes or as close as thereto and race

for refreshments.

Start tearing up the web looking for these

old beauts, they are sure to be worth a

bit more in a couple of years and we can

have some serious fun on them in the

meantime.

ADVENTURE

FOR THE WHOLE FAMILY

NEW ARRIVAL

MOTUS HONDA

MORE SPACE MORE LUGGAGE

CRF 300 L R84 999

GL 1800 GOLD WING

HONDA CRF1100 AFRICA TWIN

Demos' with up to R 30000 trade assist

NC 750 NEW ARRIVAL

From R128 500

FAMILY FUN

WE HAVE A BIKE FOR EVERYONE

CRF50 - CRF110 - CRF125

Demo rides available. Trade-Ins Welcome. Wide Range of Pre-Owned Bikes Available.

• FREE 2 YEAR UNLIMITED MILEAGE WARRANTY • FREE RIDER ACADEMY TRAINING • FREE ROADSIDE ASSISTANCE

Sandton

William Nicol Drive

Sandton, Johannesburg,

Telephone: +27 (11) 540 3000

www.motushonda.co.za

East Rand Mall

Cnr Jan Smuts & Loizides St,

Bardene Ext, Johannesburg, 1462

Telephone: +27 (11) 826 4444

www.motushonda.co.za
---
Christian Pfeiffer
---
Photo Credit: REDBULL Content Pool
---
Four

pre-owned

Honda Motorcycles

Here's something. The cost of new motorcycles is just plain out

of reach to many consumers. Fortunately, for now, there is great

selection of pre-owned motorcycles available, with most bike

shops constantly trawling the market for good deals. And used

bike prices seem to be going up rapidly… so buy sooner rather

than later.

We chatted to the guys at Honda Wing Centurion about some of

their stock – they dragged four of their pre-owned bikes (All Honda

motorcycles of course!), down stairs and gave us the keys.

You don't need a new bike to have a great time…

The contenders:

They loaned us four very different bikes – and the prices vary

from relatively cheap to you might need to finance. www.

hondawingcenturion.co.za

The least expensive of the pack was the little 2008 600cc Honda

Hornet 69000 KM's on the clock priced at R49 900.00.
---
Integra R69 900

NC750x R 95 900

CB600 Hornet R49 900

Next in the scale of price was the 2013 Honda 700 Integra

scooter. 39000 KMs on the clock at R69 900.00

A fairly new 2019 NC750X was handed over with 23000 on the

clock at R95 900.00

Rounding things up was a 2017 V4 Crossrunner 800 with only

14500 KMs on the clock at R99 900.00

So you have a 600cc screaming Naked, a big super scoot a rare

is the 800 Crossrunner and then Honda's indomitable NC750X.

Our motley crew arrived at the store just before lunch time. We

decided to hit the streets in and around Pretoria – spectacular

at this time of the year, with the jacarandas in full bloom, all

the while chopping and changing between bikes in an urban

environment. Urban commuting. Some lekker twisties up at Fort

Klapperkop – and then some fast flowing freeways to round the

day off.

VFR 800 Crossrunner R99 000
---
We managed around 100 Kilometres for the afternoon, in between

shooting pics and the all-important lunch pies at the very interesting

Maders butchery.

Maders is a spot that you need to visit. They sell fresh pies all day long

and the butchery is cool. But… the butchery is built into a museum – or

the other way around, so there are classic cars on display, bikes, wagons,

tractors, typewriters, sewing machines…. It's brilliant just for a little

kuier! 755 Paul Kruger St, Mayville, Pretoria. 012 335 9977

Guess what?

It was just as much fun riding these as it is riding the latest and greatest

offerings available on the market. We'll run through each bike to give an

idea of what they are like. Each of these is in good nick – used, of course

but perhaps an affordable option for converting fuel… into fun.

The CB 600 Hornet.

No Frills, no electronics, no nothing. Just you, a feisty 600 engine and

a chassis package that can handle the fun and deliver a great ride. This

one is fitted with a Stealth exhaust that gives a meaty little rumble…

Seating position is quite comfy – not too superbikey with sensibly placed

footpegs and bars that you don't need to lean on too much. The bike

feels compact, small and nippy – and zipping through the cars is good

fun.

The gearbox is typical Honda, smooth and positive with a soft clutch.

We love the little triangular LCD/analogue display – suits the minimalist

nature of the bike

It's sad that Honda has eliminated nakeds from their current lineup

because they are just so fun to ride. This highly revised CB600F model

came out in April 2007. The engine of the bike is a detuned version of

2007 CBR600RR giving a maximum output power of around 102 bhp

(76 kW). She loves to be revved. The Showa suspension handles

everything you throw at it – firm and sporty and the Nssn brakes do a

great job.

The fastest bike in this company, this one is quite well used – but in our

opinion – at 50k, its great bang for your buck. Nippy, quick and pretty

sexy.

It feels mechanically sound too – and that's the most important thing

when you look at any used bike.

That's the CB600 Hornet.

Stefan Says: This bike may be old, it may have a few scratches and

dings and outdated electronics and styling, but it's a fantastic simple

little superbike. The inline-four engine sounds beautiful and rides like a

dream, though you do feel quite a bit of vibration in the pegs at certain

RPMs. Definitely the most fun of the bunch and quite comfortable as

well.

Kyle Says: This was the first bike I wanted when I was a lighty. After the

first minute in the saddle, I knew exactly why that was. It looks great,

sounds great and is just so much uncomplicated fun to ride.

Sean says: MMmmmmm… slurp! Curse this stupidly big body of mine.

This is a naughty bike, a proper old school 600cc in line 4 screamer, riding

by the seat of your pants with no electronic nannies – I freakin' love

it! Sadly, however I do look like a porker getting amorous with a rugby

ball riding it – but Who The F@%k cares, it really is just so much fun

to ride, especially when you spank it really hard and it starts to scream

properly. I really couldn't tell you the year model or the mileage off the

top of my head, but at less than R50k you really are going to have to

look far and wide to find better value for money anywhere I promise you

that, especially if you love naked screamers like I do. Yes it is showing

its age a bit, but a little bit of TLC with some polish and a few bling bits

here and there it really would be your pride and joy… I'm still trying to

work out a deal to get it into my garage that we can quietly sneak past

our respective bosses. Our resident hooligan spent most of the day on

either the front or back wheel impressing the young lasses at the local

elementary school to the cheers of their boyfriends. Undoubtedly my

favourite bike of the day, small, compact, nimble and seriously fast – well

in excess of 240kmh before having to dodge traffic. Flippit Boet! When

this thing starts screaming… OHhhhhh My Greatness!!!!
---
Honda Integra Supa Scoot:

The polar opposite of the Hornet is the Integra Scooter. Take

what you know about scoots and throw all of that out of the

window… You need to ride one of these. The Honda NC700D/

NC750D Integra is a motorcycle/scooter hybrid made by Honda

since 2012. Known internally as the RC62, the Integra was

originally unveiled as the New Mid Concept in 2010, before

being presented in production form at EICMA 2011 in Milan.

Powered by the 700cc parallel twin found in Hondas NC700,

this Integra comes complete with two rider modes, sport and

street – and DCT.

Which is very, very cool!

Honda put a lot of thought into this one – with a lekker storage

compartment up front and space under the seat to stash all

sorts of stuff. It has a wide comfortable seat and a biggish

screen that envelopes the rider in a calm bubble. It's really

comfortable for that long distance trek. One point – it's not a

step through – so if, like this rider, you wear baggy jeans or

riding pants, climbing on and off the bike requires a bit of input

– and you need to take care not to scuff the seat or panniers.

The one word to describe this bike is – Civilised.

The Integra has smooth, predictable power delivery and

although it is physically quite large, especially with all the pannier

boxes and stuff once you get going, it's so easy to ride.

And the bigger wheels are a practical touch if you need to hop

a pavement without losing the bottom plastics. It's really fun to

ride in sports mode, accelerating quickly through the gears for

a top speed at around the 175KPH mark. Yup! 170 odd is what

our skinny riders saw… not bad!

And she gets there quite rapidly too.

This is an awesome bike. Fast, Practical – and actually a lot of

fun to ride.

And this one is in really great nick too.

Stefan Says: Take the NC700, and your favourite lazy boy,

merge them together and you get the Honda Integra. Reliable

smooth Honda power in a comfortable couch of a bike. Mix

in a bit of DCT and you got yourself the perfect super scoot.

But don't let the appearance fool you, it's still a blast to ride

through the twisty roads.

Kyle Says: Honda might not like me after this, but I think I

prefer the Integra to the old NC700. Why? That big engine and

rolling chassis are a match made in heaven. Everything is easy

and comfortable – and its fast enough to pop a big smile on

your dial.

Sean Says: The only scooter-ish type bike on this test and

the one I was possibly the most excited to swing my leg over.

Kitted out with a tall screen, top box and panniers and less

than R70k and less than 40k on the clocks made it seem

ridiculously cheap. Chuck in chain drive and a DCT box with

riders modes and I have to wonder why there are thousands of

these things touring our country roads every day. Initially Granny

Glenn rode the Integra and was left far in our dust. Once I

got on to the bike I worked out it has a Sports mode and the

option of manual shift up and down which when applied properly

had it running up front of our pack. Sharing a powerplant

with the NC700 DCT the power delivery characteristics are

very similar to that of its sibling with a nice throaty, long stroke

single burble from the exhaust.

Even though it looks and feels quite wide with the touring kit

on it, it really isn't and once you get it into your head that the

panniers are no wider that your tucked elbows it suddenly

becomes quite an agile lane splitter in traffic with oodles of

torques to accelerate away from said traffic and keep going

to well in excess of 170kmh before I had to tap off because of

traffic.
---
With a relaxed, foot forward, tour riding position and good

lower back support from the bum stop on the seat making it an

excellent choice as a continent crosser but also surprisingly fun

in the twisty stuff. The chain drive made it quite perky off the line

and banging out of corners and the chassis, suspension and

brakes all working in harmony to keep it all stable and balanced

when playing in the corners. At around 40,000km's on the clock

I couldn't fault it on its condition and would rate it 'as good as

new' and might possibly have made a bid on it for myself at the

price had it not been for the leg room in the cockpit. At 2 metres

tall my knees were firmly planted against the front fairings, my

only niggle on the Integra – an otherwise excellent bike – scooter…

actually something in between, tying it in third place for my

favourite ride of the day. I really do like it and kinda regret not

being a little bit shorter.

Honda NC750 - X.

By now you must know everything there is to know about Hondas

NC lineup. This is the current models predecessor and looks

and feels virtually brand new.

This is one of Honda's best sellers thanks to solid value and

practicality. Practicality includes a big storage bin where the fuel

tank usually sits.

Aimed squarely at the guy or gal who needs a bike to get around

during the week with some exploring on the weekends, it's a

very easy bike to ride, super comfortable and roomy with wide

bars for easy manouvering.

Performance wise, there's nothing to really blow your hair back,

It's 745 cc parallel twin makes 54 hp at 6,250 rpm, and 68 Nm

at 4,750 rpm. It has more than enough grunt to run ahead of

the traffic on our manic freeways, or to dice that golf driver from

Robot to Robot.

It's nothing like the sporty little Hornet but it gives good, solid

performance with very neutral handling and braking. You get 41

mm conventional forks, a mono-shock at the back, and single

Nissin disc brakes with ABS as standard.

It's what you can describe as a sensible motorcycle. And we

know that they are bulletproof and so economical to run. And

this one is in great nick – well worth a look.

Stefan says: The king of commuter bikes. I've been seeing this

bike a lot on the road lately and I know exactly why. It's just so

easy to ride. The engine delivers smooth even power and the

handling is fantastic. Comfortable seat for long commuting and

enough power to get you ahead of the traffic with ease.

Kyle says: It's easy to understand why this bike sells so well. Big

bike presence but it does not feel like a big bike. Whilst I prefer

the DCT version, there are no complaints with this manual, the

gearbox is slick with a soft clutch and a lovely, comfortable riding

position. Great all round motorcycle.

Sean Says: I have always had a bit of a blasé attitude towards

these, pre-judging them without ever having ridden one of them

as well priced, sensible run abouts for accountant types with

little to no personality. Man! Was I ever wrong and this became

very evident to me when I rode a DCT version a year or two ago.

They are ergonomically correct in every way, equally comfortable

for people who are vertically challenged and those who walk

around with their heads in the clouds. The single pot power mill

delivers a significant amount of torque and pulls strong easily all

the way past 185kmh before traffic got in the way. The gear box

is smooth and precise, the chassis is fantastically stable and the

suspension it well planted and predictable and you cannot fault

the brakes, all culminating in a day of chucking it into corners

with a confident chuckle each time and then sitting back and

enjoying the scenery before taking ridiculous risks diving through

traffic and beating everybody back to Honda Wing Centurion

that evening to return the bikes after a day of fun in the sun.

The NC750X was the newest bike we had fir the day at a 2019

Both of these bikes are powered by Honda's parallel twin

M

AFF

C S
---
model with around 22k on the clocks and it felt like a new bike as

well. At around R75k… I think… it shouldn't be in stock for too

long I imagine. I tied this bike in third spot with its slightly older

sibling the 700 Integra and wouldn't really mind having either in

my garage.

The Honda Cross Runner 800: Sports Touring.

Now this bike! Well. What a cool bike it is.

Why?

Well – its powered by a V4 VFR800 engine which is what sets it

apart from… everything.

This bike is big, comfortable and really good fun to ride. Once

again not as manic as the Hornet, but as a well-rounded package,

this was most riders on the days choice. You'd be forgiven for

mistaking it for the NC at a glance, but it is a very different bike.

It's got a superb engine that when whipped in anger will bring lots

of grins. One of our guys mentioned that this bike is comparable

to most of the very latest sports tourers on the market…. Might be

a bit of a stretch when you consider how rapidly bike development

goes… but – it's high praise and you really should go and ride

one.

It's a blend of a brilliant V4 engine – which, in itself makes this bike

unique, a comfortable, well padded seat and an excellent, balanced

chassis that does everything you ask of it. And everything

just shouts quality and refinement.

The suspension is firm and composed and lets the bike rush

through corners with pace and poise, taking care of those shitty

potholes we have to contend with on our streets. The riding position

is great too, with a wide, deep, soft seat. It's a great all day

ride.

Sadly, the VFR800X Crossrunner, VFR1200X Crosstourer and

VFR800F were all dropped from Honda's range with the introduction

of Euro5 in 2021. If you can find one of these in good nick –

grab it! It's a rarity that we won't be seeing again.

MOST

COMMUTER

AFFORDABLE

@Honda Centurion

Commitiny Fun

Specials

DEMO RIDES

AVAILABLE

Service

Deals

STILL ON THE

CORNER OF LENCHEN

AVE SOUTH & HEUWEL

STR CENTURION.

ABOVE

MAHINDRA

COURTESY BIKES

AVAILABLE BY APPOINTMENT ONLY

EARLY OR LATE CHECK OUT COLLECTION CAN

BE ARRANGE BY APPOINTMENT ONLY

HONDA NC750 X

FROM R126 000

CONTACT US

064 527 4435 - 012 663 8718

SALES: JR@ATLANTISMOTORS.CO.ZA

SERVICE: KENNETH@ATLANTISMOTORS.CO.ZA

PARTS: QUINTIN@ATLANTISMOTORS.CO.ZA

FREE

CHAIN CHECK

AND LUBE

AVAILABLE TO ALL

MAKES AND MODELS

Honda Wing Centurion

www.hondawingcenturion.co.za

Cnr Heuwel & Lenchen South, Centurion

Find us on Facebook. Like our page.
---
Stefan says: All out touring motorcycle. The comfort of the NC750

with a lot more oomph from the 800cc V4. You even get some luxuries

like heated grips thrown in to make your touring all the more

relaxing. If I was going on a trip to the coast, this is definitely the bike

I'd pick out of the bunch.

Kyle says: I reckon that this bike was ahead of its time. I like it

simply because it is different. And that V4 engine really is something

special and it sounds so cool!

Sean Says: I'm not entirely certain of the year model, but do recall

something about it be newer that 2017 or 2018 or thereabouts and

had a very low 14,000km's or so on the clocks and for just shy of a

R100k. A late model bike with low mileage for that price does seem

to be fair value, So yes! That meets our criteria.

Being the biggest bike of the bunch and me being the biggest bloke

of the crew for the days test I set off on this bike first and was very

sad to hear that Honda has discontinued the V4 motors because it

is incredibly smooth with a surprising amount of bottom end torque

and really good top end power that is all delivered predictably…

well that is until a young Whipper Snapper of a photographer pulled

up next to me on the CB 600 Hornet at a traffic light somewhere

between Centurion and Pretoria, assumed the position and started

revving and bouncing the clutch against the front brakes. Deal done!

it was on like Donkey Kong! Lights turned green, mist of the red sort

descended and the V4 growled into life and took off like a bat out of

hell. Sadly, traffic happened, the 'Appy' backed out and no definitive

result was achieved. Even with the standard pipe, that V4 has such

a sexy burble when ridden enthusiastically and the looks are bang

up to date, which makes me think that they were a bit futuristic and

ahead of their time and possibly why they didn't sell in huge number

in this country. It pulls like a rabid Rottweiler with deep heat on its

naught and has a very similar growl, aggressive, strangely exciting

but quite other worldly. As I mentioned, it is gorgeously modern looking

as well as spot on ergonomically.

The triangular relation between foot pegs, seat and handlebars are

perfect for long days in the saddle exploring our beautiful country,

but also aggressive enough to enjoy our fantastic mountain passes

with gusto. Rider aids are as expected for the era, basic but

functional… yet better than expected for a sub R100k bike which

is nice. We rode these bikes hard, really putting them through their

paces and did pick up a few minor problems congruent with the age

and mileage of the bikes which Honda Wing Centurion would have

attended to by the time this article goes to print. This was my second

favourite bike on this test.

That's it. Four really cool, very different bikes. Four great used options.

Have a look around, there are some great choices out there and from

what we've seen, these are all good choices that are reasonably

priced…

These are all on the floor at Honda Wing Centurion. Look them up:

www.hondawingcenturion.co.za (012) 663-8718

What to look out for when you buy a used bike:

Aside from checking that the bike in question has the correct natis

documentation, which is very important in itself… you need to

check a few things before paying over your hard earned cash. Take

your time… there is nothing worse than buying a dud because you

rushed.

• General condition. Sadly we have been lured by good

looking bikes that have turned out to be duds. Is the bike in decent

general nick? This will tell you if the previous owner looked after her

or not. Has the bike been resprayed or touched up? Check the bar

ends and levers for damage. Has the bike been dropped? The general

condition of any bike affects the price point. Mileage is a factor,

but if a bike has been well cared for that's more important.
---
If the bike is generally well cared for, has matching tyres, shiny, waxed

paint, and the owner has obviously replaced wear items like grips and

seat covers — that's a good indicator of what kind of bike you're looking

at.

• Tell the seller that you want the bike cold when you first check

it out. It's very easy to hide potential problems on a bike that has been

warmed up before you arrive.

• Listen to the engine. Does it make any funny noises? Does it

smoke on start-up? Does it start easily? When it's warm give it a rev,

does it smoke? On four-strokes it might mean that it needs rings…

Check the oil level on the bike – if it's low it might mean that the bike

chews oil. Check the brake fluid levels. Look for any leaks.

• Tyre wear. Still lots of tread – or are new rubbers needed? Adds

to the cost. Flat, longitudinally grooved tyres are indicative of burnouts.

On sport machines, check the edges of the tyres. If you see "pilling"

(little blobs of rubber) or "feathering" (tell-tale tiny surface ripples) of the

tyres all the way to the edges, that's a pretty good indicator the bike was

used at the track.

• Do all of the electrics work? Lights indicators, brake

lights. Pull the seat off and have a look under the saddle. Any funny

connections?

• Take a test ride. A dealer will usually accompany you.

There really is no reason why a test ride cannot happen. If you're willing

to put the full amount of the bike in cash in the seller's hand, he has

nothing to lose but a sale. The second piece of advice here is to safety-check

the bike, especially if it has gone unridden for a bit. It's not so

lekker to be nailing it when you find out the brakes are binding…

• If you are buying from a dealer – is there some kind of

warranty or guarantee? Here's a sad tale. A schoolteacher friend of ours

bought a used bike from his local dealer with a 3 month warranty. About

half way through the warranty, he noticed that the bike smoked a bit.

He took it to the dealer who assured him that a bit of smoke is normal…

Two days after his warranty expired his bike seized due to no oil… Sure

– it's perhaps his fault for not checking the oil, but maybe the dealer

should have just given him a heads up to keep an eye on levels…
---
Gixxer

Suzuki's

250 SF…

Pics by Chris Kuun.

We happened to be at Suzuki's

offices collecting a V-Strom 650 when

we noticed this one lurking in the corner,

scheduled for a visit to the JHB annual

pantomine. Apparently this is the steed

that prince charming will be rushing in on

to save the damsel in distress… sounds

like fun Chaps. This is where the love

for motorcycles starts, in its race replica

livery this is one gorgeous little looker. We

asked if we could please take it for a little

spin…

Its no secret that our lot loved the Naked 250 Gixxer, so

a follow up with this model just kind of makes sense.

A few months ago, we ran a story on the 150 that looks

similar but… it's not a 250. That bike is pretty cool and

really inexpensive, but it lacks the real world performance

delivered by a bigger capacity motor. This one is

much more fun to ride.

The seating postion is a little bit more racey than on the

naked, but it's comfortable… even for big guys, (read

rotund), like us. Ergonomically - you are good to go, the

pegs are sensibly positioned with clubman bars that are

not overly sporty. A neat digital dash tells you everything

you need to know. LED technology is all over the

place.
---
SE

DIR

W

At W

Tickle the starter and the pipe delivers

a meaty little rumble. The clutch is soft

on the hand, the gearbox feels smooth.

Click into first, open up and off you

go…

The bike feels narrow and is really narrow,

nimble and easy to chuck around.

We love that little fuel injected engine. It

delivers such lekker poke right from the

bottom with excellent midrange and

top speeds that are in excess of the national

speed limit. The engine does not

produce any uncomfortable vibrations,

gearchanges are smooth and positive

with good ratios for urban commuting.

A quick blitz down the freeway saw

145KPH with a heavy rider, with sustained

speed of 125 odd quite easily.

However, she does prefers to rev along

in 5th rather than sixth gear. She really

loves to rev and can be exciting to ride

and mess around on. Our trick man

Kyle spent most of the morning up

on the back wheel. Stoppies are not

really possible thanks to ABS that is

not switchable. A cool standard safety

feature though.

The Bybre brakes offer good initial

bite with predictable braking and the

suspension is more than adequate for a

bike like this.

Economical, nippy, powerful, fun to

ride. Even as a second bike to use as

a commuter, or for your 18 year olds to

step up from a 125, this little Gixxer fits

the bill. Guys, we've even seen these

things, (shamefully), with delivery boxes

on the back. The RideFast kids all gasp

in horror when they see this… "Dad!

How can they do that to such a cool

bike?". And they are correct, when we

were kiddeo's we would have donated

bits of anatomy to own something so

cool!

OU

G

SP

BMW F65

BMW G65

BMW F65

(800 twin

BMW F70

(800 twin

BMW F80

Adventur

BMW S10

BMW S10

(Including
---
And that is it… An unpretencious, modern,

sexy, nippy little bike that has the added

bonus of Suzukis rock solid reputation for

reliability and durability.

It's available, NOW, at your dealer for

R51950.00

Engine Type 4-Stroke,

1-Cylinder, Oil-cooled

Valve System SOHC, 4 Valve

Displacement 249 cm³

Engine Output 26.5ps@9000rpm

Torque 22.6Nm@7500rpm

Fuel System Fuel Injection

Starter System Electric

Transmission 6 Speed, MT

Front suspension Telescopic, Coil spring,

Oil damped

Rear suspension Swing Arm Type, Mono

Suspension

www.suzukimotorcycles.co.za

The Gixxer 250 in good company.

OUR SERVICE CENTRE IS OPEN 6 DAYS A WEEK - MONDAY TO SATURDAY!

GIVE US A CALL FOR ALL YOUR MOTORCYCLE NEEDS!

SPROCKETS / CHAINS / TYRES / FILTERS / FITMENT CENTRE

AVAILABLE ON

TAKEALOT.COM

BMW

BMW F650GS 99-07 R1995.00

BMW G650GS 11-15 R1995.00

BMW F650GS

(800 twin) 08-12 R2195.00

BMW F700GS

(800 twin) 13-18 R2195.00

BMW F800GS incl.

Adventure08-18 R2595.00

BMW S1000R 13-18 R2695.00

BMW S1000RR 09-18

(Including HP4) R2695.00

HONDA

CRF230F 03-19 R1695.00

CRF250R 02-17 R1695.00

CRF450R 02-18 R1695.00

TRX400EX ATV 99-09 R1695.00

TRX450R ATV 06-14 R1695.00

CBR600RR 03-16 R2095.00

CBR1000RR 04-16 R2195.00

NC700 12-13 R2195.00

NC750 14-20 R2195.00

VTR1000 SP1/SP2 R2195.00

includes fitment or shipping country wide

KAWASAKI

KAWASAKI KX250 99-08 R1695.00

KAWASAKI KX250F 04-18 R1695.00

KAWASAKI KFX400 03-06 R1650.00

KAWASAKI KX450F 06-18 R1695.00

KAWASAKI KX500 87-04 R1695.00

KAWASAKI ER6N/ER6F 06-16 R1695.00

KAWASAKI KLE650 07-18 R1795.00

KAWASAKI KLR650 90-10 R1995.00

KAWASAKI ZX6R 07-13 R2095.00

KAWASAKI ZX10R 04-19 R2495.00

KAWASAKI ZX12R 01-05 R3395.00

KAWASAKI ZX14 06-19 R3595.00

SERVICE KITS AVAILABLE!

DIRTBIKES - ATV'S - ADVENTURES - TOURERS - CRUISERS

W E S H I P C O U N T R Y W I D E

www.wesellparts.co.za

011 088 9240/9251

38 Plantation Road, Eastleigh, Edenvale.

Open on Saturdays.

5 minutes from Edenvale Central.

Just off Terrace road.

Find us here

Scan me

KTM

KTM 250 EXC-F 07-19 R1750.00

KTM 350 EXC-F 12-17 R1750.00

KTM 350 XCF-W 13-16 R1750.00

KTM 450 EXC-F 10-19 R1750.00

KTM 450 SX-F 07-19 R1750.00

KTM 450 XC-F 08-19 R1750.00

KTM 1050 Adventure 15-16 R2995.00

(with silver ZVMX chain)

KTM 1090 Adventure/R 17-18 R2995.00

(with silver ZVMX chain)

KTM 1190 Adventure/R 13-16 R2995.00

(99with silver ZVMX chain)

KTM 1290 Super Adventure/R/S/T 14-19

(with silver ZVMX chain) R2995.00

KTM 1290 Superduke/GT/R 14-19 R2995.00

(with silver ZVMX chain)

SUZUKI

RMZ250 04-20 R1695.00

RMZ450 05-19 R1695.00

LTZ400 ATV 03-12 R1650.00

LTR450 ATV 06-09 R1695.00

GSXR600 01-19 R2195.00

DL650 V Strom 04-19 R2195.00

GSXR750 00-18 R2195.00

GSXR1000 01-08 R2295.00

GSXR1000 09-16 R2495.00

GSXR1300 Hyabusa 99-07 R3495.00

(with silver ZVMX chain)

GSXR1300 Hyabusa 08-16 R3795.00

(with silver ZVMX chain)

YAMAHA

YZ125/YZ250 05-19 R1695.00

YZ250F 01-19 R1695.00

YZ450F 03-18 R1695.00

WR450F 03-09 R1695.00

YFZ450 ATV 04-13 R1695.00

YFZ450R ATV 09-19 R1695.00

YZFR6 06-19 R2395.00

YFM660 Raptor 01-05 R1695.00

YFM700 Raptor 06-19 R1695.00

YZFR1 98-14 R2395.00

CHAIN AND SPROCKET KITS

AVAILABLE FOR MOST SUPERBIKES,

ROADBIKES, ADVENTURE BIKES,

ATV'S AND DIRT BIKES

At WeSellParts.co.za we have a passion for motorcycling. We have worked tirelessly to source the best brands available at competitive market pricing. Our team of experts is

available to provide advice on the best products for you.
---
Austrian Sightseeing
---
A ladies perspective.

Who says that Joburg does not have interesting places?

Pics by Stephan Vd Riet.

This is a different story. A travelogue if you like – with

a selection of cool spots that you can visit in a circular

route. A great way to spend a day in the saddle for sure!

No Knees or elbows down – just a chilled ride to take in

some history…

The guys from KTM asked if we'd take two of their S

models out and use them as city bikes – commuters for a

day or two.

We invited Morag Campbell, along for a ride on KTM's

small wheel adventures, the 390 and 790 'S' models.

She spends most of her life in the dirt on adventure

bikes, so this was a fresh perspective from her on two

street adventures...

She shares her thoughts on a route that took us on

approximately a 250KM route from our spot on the East

Rand and all the way back to the beginning, along some

of JHB and PTA's busiest routes…
---
Where we went:

East Rand – N12 into JHB. Past Clubhouse motorcycles

to the Troyeville hotel.

Troyeville as a suburb has been the hangout for wellknown

artists, musicians, political activists and sports

fans for generations. The Troyeville Hotel was built

in 1939 and since then the restaurant has featured

consistently in lists of the best places to eat in Johannesburg.

The Troyeville Hotels has become a fixture of

the city's cultural life, attracting everyone from strip club

owners to cabinet ministers. First licensed in 1939, it's

one of the city's oldest hotels on the eastern edge of the

Joburg CBD. And the views of the skyline are superb!

The food is fantastic – a great place to visit. Go and

check out the rooftop bar. info@troyevillehotel.co.za

From there we headed along to Ellis Park, the Emirates

Stadium. Keep an eye open for taxi's and urban traffic.

In 1889, the Transvaal Rugby Football Union (now the

Golden Lions Rugby Union) was formed and established

a domain. The first games were played at the

Wanderers Club's stadium whose grounds were situated

where Johannesburg Park Station is today. Rows between

the different rugby clubs as well as the Wanderers

Club's claim of the field for the use of cricket games,

forced the Transvaal Rugby Football Union to look for

an alternative.

An area with a quarry and garbage dumps in Doornfontein

was identified in, 1927 as the possible alternative.

The Transvaal Rugby Football Union negotiated with

the Johannesburg City Council's, Mr. J.D. Ellis, (after

whom Ellis Park was named) for the availability of these

grounds and 13 acres (53,000 m2) was made available.

On 10 October 1927 the final rental agreement was

signed. A quote of £600 was accepted for the grass

and with a loan from the city council to the amount of

£5,000, the building of the new stadium could commence.

The stadium was built in eight months and

in June 1928 the first test was played against the All

Blacks. Thus was born Ellis Park which became internationally

renowned and synonymous with rugby. Crowds

of between 38,000 and a record crowd of 100,000

against the British and Irish Lions in 1955 attended the

matches.

R1

4,0

R2

R 1

10

R2

F80 Ve

36 13

R9

B
---
R18, First Edition 2020

KTM S1000 1290 RR, SUPER 2010 DUKE 2015

4,000km E X Demo

845,000km

500km

R280 R275 000 R175 R119 R105 000

R1250 KTM 890 RS, DUKE 2021 2020

26 300km 330kmTop Box

R199 R185 000

R 1250 RS, 2019

100km

R215 000

K R1250RT, 1300 B 2018 2019

C400 G 310 X R 2020

12 18 500km 000km Remi Exhaust,Floor Boards

1,300km 800km

R299 R230 R105 000

R109 R69 R105 000

F800 Vespa GT 300 2016 GTS, 2018

36 13,500km 000km Top Box, Panniers

R99 000

Vespa 250 GTS, 2011

13, 000km

R89 000

BMW Motorrad Fourways

R1250 GSA Adventure Exclusive, 2013 2019

30 34,000km

R265 R245 000

Cnr Witkoppen and Cedar Road.

Fourways, Gauteng.

Tel: (011) 367-1600

Email: rodney.serfontein@cedarisle.co.za
---
On 28 April 1969 the Transvaal Rugby

Football Union formed a stadium committee

to investigate the possibilities of a new

stadium since the one in use did not meet

all the modern requirements. Fifteen years

later, after the game between Transvaal

and the World Team on 31 March 1979,

the old Ellis Park was demolished. Games

were played at Wanderers while the stadium

was being rebuilt.

In 2005 Ellis Park made history by becoming

the first black-owned stadium in South

Africa. The Golden Lions Rugby Football

Union passed the management of the Ellis

Park Precinct to a company with 51%

black ownership. Interza Lesego and Ellis

Park Stadium (Pty) Ltd make up the new

management of the Ellis Park Precinct.

From Ellis Park we took a route past the

Ponte Tower.

We would only do this on a bike. Hey! It's

a pretty dodgy part of town but it's really

worthwhile. If you have never been to this

neck of the woods before (Our editors

childhood stomping ground), you need

to go and check it out. Ponte Tower, also

known as the Ponte City Apartments,

was built in 1975, and is still the tallest

residential skyscraper in Africa. It is a

54-story tube with an open center to

allow additional light to reach its inner

apartments. The building was designed by

Manfred Hermer. Back in the day, it was

the height of luxury living. It fell into rack

and ruin a few years ago – but the good

news is that it's all been cleaned up – and

you can go and have a looksee and book

a tour if you like. info@dlalanje.org

From Ponte, our route wound its way past

Joubert Park and the Jhb Railway station.

We were surprised at how courteous

everyone was – no hassle with traffic or

undesirables at all… We hit a right turn

into Hospital road up into Braamfontein…

Here's a spot you won't know: The Gold

Miners monument.

The monument is right outside the JHB

city council and the Civic Theatre in

Braamfontein. We were on our way to

Constitution Hill when we spotted it and

decided to stop. Morag is an architect, so

it was a really interesting visit.

The monument to the mining industry by

sculptor David McGregor pays tribute to

Johannesburg's mining origins. The group

of gold miners represents a typical underground

team of 1936. They face west

towards Langlaagte where the Main Reef

was discovered in 1886.

The Gold Miners monument.

Joburg City Council

The artwork symbolises the contribution

of the mining industry to the wealth and

prosperity of South Africa. It was also

intended as a peoples' monument and

celebrates the working people who built

the city. Sadly, it's a bit messy, but it's

worth a quick look.

Constitution Hill:

Constitution Hill is a living museum that

tells the story of South Africa's journey

to democracy. The site is a former prison

and military fort that bears testament to

South Africa's turbulent past and, today,

is home to the country's Constitutional

Court,
---
which endorses the rights of all citizens.

Interestingly, Morag was part of the team

that refurbished parts of the fort a few

years back. Cool huh!

Constitution Hill - Old Fort

There is perhaps no other site of incarceration

in South Africa that imprisoned

the sheer number of well known men and

women as those held within the walls of

the Old Fort, the Women's Jail and Number

Four. Nelson Mandela. Mahatma Gandhi.

Joe Slovo. Albertina Sisulu. Winnie

Mandela, Fatima Meer… They all served

time here.

If you are keen on history, art and architecture,

it's a cool place to knock around for

an hour or two…

They offer daily tours of the precinct. constitutionhill.org.za

Back on the bikes, we decided to pay a

visit to the Westcliff Steps. (Yup we'd never

heard of them either…)

Situated in one of Joburg's most affluent

old suburbs, the Westcliff steps,

dubbed the "stairway to heaven" consist

of several flights of stone steps (210 in

total) that climb up the steep Westcliff

Ridge, popular with joggers and dog

walkers alike. When the jacarandas bloom

in Spring (October) the steps become

even more popular because you can walk

under the purple blooms in the surrounding

streets. The entrance to the steps is

situated on Crescent Drive. Once you

eventually get to the top, you are rewarded

with a beautiful view of Joburg's trees. We

tried to ride up the steps, but they told us

to bugger off, so we didn't get there…

Westcliff is just up the drag from the military

museum, our next stop…

South African military museum near the

JHB Zoo.

The South African National War Museum

was officially opened on 29 August 1947

by the then Prime Minister of South Africa,

Field Marshal J C Smuts. At the opening

ceremony, Smuts stated the following:

"… We are gathered here today to open

what may not unfairly be looked upon as a

memorial to the greatest united effort our

country has been called upon to produce."

The war museum is great – it's inexpensive

with heaps of war memorabilia in beautifully

kept gardens. The Museum also

serves as a popular and unusual venue for

conferences and other functions. www.

ditsong.org.za

Quick flip down the freeway:

Tummies grumbling, we hopped onto the

M1 and headed along to Costa's Fish

and grill in Newlands, Pretoria. This is a

shameless punt – Costa is the guy who

used to import the Colori range of rider

gear. As restaurants did he took a lot of

pain during lockdown. We went for a great

lunch before our next stop.

Highly recommended – great spot, great

value for money – (012) 361-8814

Ladies Prison

War Museum

Go and have a nibble at Kosta's
---
Voortrekker Monument:

This was impressive. We called the Voortrekker

Monument to ask if we could visit and take some

pics. Within ten minutes they called us back and

gave us carte blanche. What a pleasure - and such

a cool spot to visit.

The idea to build a monument in honour of God

was first discussed on 16 December 1888, when

President Paul Kruger of the South African Republic

attended the Day of the Covenant celebrations

at Danskraal in Natal. However, the movement to

actually build such a monument only started in 4

April 1931. Construction started on 13 July 1937

with a sod-turning ceremony on what later became

known as Monument Hill. On 16 December 1938

the cornerstone was laid by three descendants of

some of the Voortrekker leaders: Mrs. J.C. Muller

(granddaughter of Andries Pretorius), Mrs. K.F. Ackerman

(great-granddaughter of Hendrik Potgieter)

and Mrs. J.C. Preller (great-granddaughter of Piet

Retief).

The Monument was inaugurated on 16 December

1949 by the then-prime minister D. F. Malan. Guys

it does not matter what your background or creed

is, it's well worth a visit, with a great restaurant

and a really interesting museum… And everyone's

welcome, there's lots to see. It's a pity we got there

so late, we'll need to head back some time.

www.vtm.org.za

Our plan was to visit Freedom Park and perhaps

Fort Klapperkop – but time was not in our team

– and the gates were closed up when we arrived.

We'll visit there again soon and find more interesting

spots to visit…

Onto the Bikes:

Morag says:

What have bikes and balls got in common? …

Well, I love riding on days when I am connected

to myself and to the bike. It makes traffic riding

exceptionally pleasant. My favourite sport at school

was netball, and on days when I flow, when I am

connected to both myself and bike, I play netball in

traffic… More specifically, I play "centre"… Where

I actively look for open space, and if there are no

defense players (ie vehicles) then I throttle immediately

into that space.

I might add that I played Provincial level netball, so

I really really, really love these times when I centre

traffic…

Overlooking Freedom Park PTA

No hesitation, just flow.

Both the 390 and 790 made me Centre… they

time-travelled me back to school, to being younger,

fitter and more carefree.

The KTM 390 Adventure

The 390 is a deceptively quick bike. It easily gets

up to speed to merge and weave with traffic and

outpaces most of the cars on the highway. Because

I just had to keep up with the boys on 1100

Africa Twin and 790, I did (at times) have to implement

great spatial awareness and play netball, and

safely weave though the traffic in alternative routes,

to end up parallel and smiling with Kyle. Although

this bike is fast, it doesn't have that instant spurt

of power responsiveness required to squeeze in

ahead of a vehicle, as I would on a bigger bike…
---
I would say it's a flat powerband, no real low end or high end

spurt, but felt steady throughout, and retains speed easily at

120km/h.

I found the 390 ergonomics very comfortable, while sitting,

although the seat is quite wide, and I did have a sore butt after

only about an hour on the bike.

I did get my standing posture easily due to a previous 1 hour

demo gravel ride from one of the KTM dealers, and used this

every so often to alleviate my butt.

I felt steady on the highway, no shuddering, although I felt some

vibrations at around 120km/h, and as I love the wind, I wasn't

too fussed by the smaller windscreen.

As a lightweight single cylinder bike, the 390 is punchy, and has

good road presence, I didn't have a single vehicle not see me.

(This may also be as I sit quite high on it, which makes me feel

more connected and present. The small front wheel assists with

cornering, and with the firm suspension I was not aware of any

diving.

But if you are used to riding a larger bike you may need to adjust

your expectations,

GEZINA

079 079 1158

JB MOTORCYCLES NOW YOUR OFFICIAL

HERO DEALERS IN PRETORIA

SALES - SPARES - SERVICES

The 390 is easy riding for a beginner, and I think it's for anyone

wanting an easy-to-ride, fun bike that's great to play with on the

roads or gravel.

KTM 790 Adventure

About 5 minutes after pulling off on the 790, I had to check I

wasn't crazy, that I hadn't lapsed in concentration and taken the

390 instead of the 790… as it felt so light , small, and nimble…

and both my feet easily touched the ground at all the stops

which surprised me. I am about 175cm tall with an inseam of

around 83cm – it's a good job I could still read the numbers on

the side of the bike, and 790 it remained.

On the highway the 790 outpaced all cars if required, and is

also very easy to maneuver, with the big windscreen offering full

wind protection. Ergonomics are great for me, and like the 390,

has great road presence, with not a single hoot to other traffic

required.

I have, in the past back-to-back tested the 790R and S versions,

and preferred the R, so I was really happy and surprised to discover

I thoroughly enjoyed riding the S on the road, finding it so

light, responsive, and easy to play "Centre".

I think the 790S is easily suitable for a person new to riding,

and for anyone wanting a little bit of riding fun, its responsive,

and wheelies well. It's a very easy bike to ride, stable, great for

commuting and for the easy gravel roads, and will allow you to

learn more about how to ride, resulting in an enjoyable riding

experience.

It's fun, I enjoyed riding both these bikes, especially on a sunny

day with friends. I felt free, able to easily pull ahead of traffic from

robots, really maneuver in the traffic, find parking, stop start, reverse,

and not to mention walking them into the varied positions

for Stefan's artistic eye…

New Hero Eco Trail 150

R23 999.00

New Hero Eco Deluxe 100

R16 999.00

2004 TM 300

R28 499.00

New Hero X Pulse 200 Fi

R41 999.00

Commercial Available

New Hero Eco City 150 from

R19 999.00

2018 Linhai Rustler 400 4x4

R65 000.00

I had a great day, although I did have an identity crisis when

none of the four GS1200 riders greeted me, despite my nod and

wave …. I mean, it felt like the times when I am driving Jaycen's

car and get ignored when waving to my fellow Suzuki Jimny drivers.

Commuters and other road users on the other hand, were

only too keen to greet us on our journey.

Two great bikes and some pretty cool spots visited. Like we

always say: You need a bike in your life.

To check out the KTM's pop in to your dealer. www.ktm.com

2004 Gas Gas 300 Wild Quad 2014 Johnny Pag 320 Bobber

R89 000.00

R30 000

USE REF #HERORIDEFAST AND RECEIVE A FREE

VR1 FULL FACE HELMET.

079 079 1158

sales@jbmotorcycles.co.za

825 Steve Biko Drive.Gezina

www.jbmotorcycles.co.za
---
Pics by:Black Rock Creative Studio

VTR1000

RC 51 SP 1 Honda's Ducati beater.

Occasionally we get to ride some

real pearlers! These two VTR 1000's

belong to dad and son duo, the

Labuschagne boys. We joined them

for a ride and got a quick taste of a

forgotten generation of superbikes.

You might remember that we

featured those beautiful CBX 1000's

in our April issue. While we were

busy with that,

we saw these two lurking in the

garage and asked after them.

"I'm just going to make them look

pretty and I'll get it touch for a

feature" was the reply.

As it happens Tyson forgot… and he

posted one of the bikes up for sale,

fortunately we saw it. Calls were

made and we arranged to meet one

sunny highveld morning.
---
A Little Bit Of History – Pay Attention:

Despite dominating the premier class of racing with

Mick Doohan and the NSR500, Honda was getting

a hiding in the increasingly popular World Superbike

series by Ducati.

In 1988, new rules in superbike racing allowed V-twin

engines up to 999 cc to compete. Prior to the rules

change, 750 cc four-cylinder motorcycles were the

dominant force in production based competition.

During the first two years of the World Superbike

championship, Honda won the series with their

RC30, powered by a 750 cc V-4. In 1990, however,

Raymond Roche secured Ducati's first world title

aboard the Ducati 851. During the next 11 years,

Ducati would go on to win 8 World Superbike Championships

with their V-twins, (Honda won two and

Kawasaki, just one).

Honda was unable to win consistently, particularly

because of rival V-twins' displacement advantage

over Honda's V-4. So… Honda built The VTR 1000

to prove that they could outsmart Ducati on the track

using a V-Twin engine.

Farther and Son duo the Labuschagne Bos

The fact that Honda had already built a big V-twin

in the shape of the VTR1000 Firestorm gave them

a good foundation. Although the SP-1 has a totally

different engine, Honda had already encountered a

few of the quirks that you get on big-capacity twins

that you don't find on inline fours or V4s.

With the SP-1, Honda needed more than a road bike

motor. They needed a proper superbike engine which

led to its own issues. The new bike, the VTR1000SP1,

(suffixed 'W' for the works bikes in WorldSBK), had

a relatively upright single crank V-twin engine layout,

four valve per head fed by two fuel injectors per

cylinder. Engine capacity maxed out at 999cc, by

regulation. Philosophically radical it may have been

but it was relatively conventional, aside from the road

bikes' side mounted coolant radiators, brought to the

front on the race bike. And it worked well from the

very start.

During the SP-1's development, reliability became a

concern with crankcases and conrods unable to deal

with the huge demands placed upon them through

not only the 170bhp-plus the WSB race engines were

producing, but also their need to rev in order to hit

these power figures. All with a huge 100mm diameter

piston. On the road bike this wasn't an issue because

it only revved to 10,000rpm but the race bikes were

hitting 11,500rpm.
---
Despite all the issues, the SP-1 road bike hit the streets in

March 2000, and Colin Edwards lined up on the WSB grid

right here in South Africa on the Castrol Honda SP-1 alongside

Ducati-mounted Carl Fogarty… Edwards won both of the

opening WSB races, giving the SP-1 a dream start. Against this

background, Edwards won eight rounds on the SP-1, (more

than any other rider), and took the 2000 WSB title by 65 points

from Noriyuki Haga. The new SP-1 cleaned up in pretty much

everything it entered, from the Daytona 500 to the IoM TT, just

like the original RC30 had done in 1988. And the first batch

of road bikes flew out of showrooms. Back then Ducati's had

a reputation for being quick, nimble, exotic, but fragile and

expensive too. Here was an exotic SP Honda, built to last, for

sensible money that had Bologna beaten. In the end, the RC51

in its three years of full WorldSBK competition amassed 26

victories, a further 30 podium places and two Riders' Championship

titles in 2000 and 2002 with "The Texas Tornado", Colin

Edwards.

About the bike:

That engine is a 999cc dual overhead cam V-twin unit with two

fuel injectors and four valves per cylinder. Power is delivered to

the rear wheel by a close-ratio, six-speed transmission.

It has a 100 x 63.6mm bore and stroke, (the biggest pistons

Honda had used on a motorcycle), with a 999cc capacity. Just

like the previous RC30 and RC45 V4 machines, the Honda uses

gear-driven cams on the SP-1. On the dyno, the SP-1 made a

genuine 122bhp with 74.2ftlb of torque, just over 100Nm's in

old language.

The SP-1's huge central air scoop channels air through the

frame into the forced airbox where each cylinder has two fuel-injectors

feeding 54mm throttle bodies.

Honda used an aluminium dual beam with an aluminium

swingarm using the engine as a stressed-member, basically the

engine forms part of the chassis. Honda split the radiators on

the SP-1 and side-mounted them to give more room behind the

front wheel.

The SP 1 runs fully-adjustable 43mm Showa forks with a

fully-adjustable Showa shock and an anti-dive system. It runs

Nissin four-piston front brakes.

What's it like to ride?

Quite frankly these bikes are brilliant. It constantly amazes us

just how good these old gen bikes are and the biggest single

comment is that, while some modern bikes can feel almost

characterless because they are so smooth and fast. Some of

the old ones just beam personality and you can feel all sorts

happening when you open the throttle. These ones have quite

rowdy pipes which add to the whole effect of fast despite the

fact that they do not have nearly as much horsepower as some

of the more modern stuff.

Compact… absolutely… but not overly uncomfortable. We

love the neat little dash and the side mounted radiators, Honda

certainly knows how to build 'em.

Our VTR's headed out onto the freeway and you'll never look

for extra power as you open up. A twin is always special and

Honda certainly built an absolute pearler. The SP series love to

rev, which is nice. There was a big change from the SP-1 to the

SP-2 which saw bigger throttle bodies and smoother low-down

delivery. These ones pulled strongly and sharply right through

the rev range to speeds well in excess of the 200KPH mark.

The gear selection is stiff, but positive. The suspension feels

firm, testimony to the bikes track heritage. The brakes feel…
---
Come

kit, bo

Call

drop

0

40 G

VER

Em

well a bit old, but that's purely because braking development

has been incredible since 2000. They are good but just not up

to modern standards. She handles and turns well, has loads of

torque, pulls easily in any gear and inspires confidence to have

fun on the twistys.

The bike feels great, just don't expect all of the modern electronic

interventions that you get from a modern Fireblade. these

didn't even have traction control or ABS brakes. In fact the only

real nod to tech like that is the anti-dive modules on the forks.

But riding this thing, it's easy to understand how it became a

world beater.

You can still get these bikes at reasonable prices by today's

standards and if you are in the market for a used bike, the VTR is

a little head turner that's a lot of fun to ride. There's just something

about an SP1 that is so addictive

Castrol colours or standard… it's your choice, but we like the

one with the green…

VTR1000SP1

Production 2000 - 2006

Predecessor

RVF750 RC45

Successor

CBR1000RR

Engine

999 cc liquid-cooled 90° V-twin

Bore / stroke

100 mm × 63.6 mm (3.94 in × 2.50 in)

Compression ratio 10.8:1

Claimed Top speed 264 km/h

Power

133 hp (99 kW) (claimed)

Torque

71.4 lbft (96.8 Nm) (rear wheel)

Transmission

Close-ratio six-speed

Rake, trail

24.5 degrees / 100.5 mm (3.96 in)

SP1

Wheelbase

1,409.7 mm (55.50 in) SP1

Seat height

825.5 mm

Weight

200 kg (dry) 222 kg (wet)

Fuel capacity

18 and a bit litres.

Fuel consumption 8.4 L/100 km;

Colin Edwards:

"The old saying goes that there is no replacement for displacement,

and that still stands true," said Edwards, 20 years after he

won the first of his two WorldSBK crowns. And it was not just

a cubed route to success for the larger twin, it was also its very

nature compared to a high-revving 750 four. "The thing with the

twin was that it was like riding a Supersport bike," remembers

Edwards. "It had such easy, deliverable power. There was no 'hit'

– you could do it in your sleep. It was such an easy bike to ride

compared to the four-cylinders."

The Texas Tornado put this bike on

the map.

B U

Bi

Big

85

O

Fo

•Labo

•FREE

• FRE

• FRE

If we
---
UNDENIABLY SOUTH AFRICA'S

BEST-SELLING BRAND

Whether you're out on the open road, cruising the beach or running business deliveries,

Big Boy have a model just for you. With a 3 Year Warranty on road-legal models,

Big Boy offer 'More Ride for your Rand' than any other brand.

For more info on these and other models, see our website or visit one of our

85+ dealers nationwide today for a closer look at the model of your choice.

TSR125 ON/OFF ROAD

TSR125 R23,999.00

TSR250 R27,999.00

Swift 125/150

R16,599.00

COMMERCIAL

Velocity 150 R15,999.00

SuperLight 200 R19,999.00

SuperLight 125 R18,999.00

TTX125S R15,999.00

TTX125J R14,699.00

3 YEAR WARRANTY

ON ROAD LEGAL MODELS

SCOOTINGRevival 125/150

Adventure R18,999.00

SlingShot 125S 125/150RS

R18,499.00 R17,999.00

SCOOTING

For the full scooter, motorcycle, ATV and commercial range visit: www.samotorcycles.co.za

IMPORTED AND DISTRIBUTED BY

Join Big Boy on

* Best-selling claim made on total yearly unit sales, based on new registrations. All advertised prices include VAT, excludes On-The-Road costs & Govt. Levy.

GraphicWerx Advertising & Design cc

•Labour rate special - R350.00 per hour

Specials

•FREE collection and delivery in 100km radius

• FREE fitment of all tyres and accessories purchased in store

• FREE chain and sprocket service - no bookings necessary

Come see our amazing range and great pricing on

kit, boots, helmets, accessories and etc.

facebook

If we don't have it in stock we will get it for you ASAP.

Call Reece on 072 709 4269 or

drop him a mail at reece@vla1.co.za

email

maps

facebook

FACEBOOK EMAIL ADDRESS

email

016 018 0224

maps

40 GENERAL SMUTS ROAD,DUNCANVILLE

VEREENIGING

Email: reece@vla1.co.za
---
Pics By: Neil Phillipson

Van Breda led from start to finish - both races.

Saturday the 23rd of October saw 20

eager racers lineup at Zwartkops for

the final round of the ZX10 Cup.

Its' been 2 years of disruption on

the racing calendar and it was great

to see the guys getting ou there on

their big Kawi's – and more importantly,

lots of spectators were out

and about to watch the action.

Springs Boy Graeme Van Breda has

had a fantastic year – as far as we

can tell, he is the 2021 champ and

he put on a great show on the day

winning both heats.

In race one – he was followed home

by Trevor Westman and Sanjiv

Singh.

Race 2 was the same podium.

A great days racing by all accounts

Van Breda is your 21 champ

Dave Endicott is second on the

podium for the year

The guys are tallying up points for

the balance… more news soon.

Roll on 2022 season.

www.zx10masterscup.co.za for

more info

2021 ZX 10 Cup final round…

c

Abrie Marais

Brian Bontekoning 5th in the first race

Dr Stewie Christie

Appanna Ganapathy

Dave Enticott

Henk Schuiling

Add
---
Ian Harwood

Lafras Fritz

Peter Clark

Rob Cragg

Rodney McLachlan

Sanjiv Singh

Wayne Shelley

Some good dices through the day

Teddy Brooke

BMAX

Motorcycle

cleaning & chain care products

made in South Africa

Buy local at your nearest dealer

Address - 79 Voortrekker Road,

Parow, Cape Town

Phone - 021 939-8944

custom bike build

commissions

pre owned

customs & cruisers

accessories - workshop

man cave collectables

fragrances - jewellery

custom knives - clothing

CNR HENDRIK POTGIETER RD &

ZANDVLIET RD WILGESPRUIT

ROODEPOORT

Phone: 083 339 6966

Email:

johann@bigeazyscustoms.com

info@bigeazyscustoms.com
---
BUYERS GUIDE

Brought to you by

MODEL PRICE MODEL PRICE MODEL

PRICE

Superlight 125

R18,499

RS 660

Tuono 660

RSV4 RR 1000

RSV4 RR 1100 Factory R495,011 Monster 821

R216,000

Tuono V4 1100

Tuono V4 1100 Factory

G 310 R

G 310 GS

C 400 X Scooter

C 400 GT Scooter

F 750 GS

F 850 GS

F 850 GS Adventure

R 1250 GS

R 1250 GS Adventure

R 1250 R

R 1250 RS

R 1250 RT

R NineT Pure

R NineT

R NineT Scrambler

R NineT Urban GS

R NineT Racer

K 1600 GT

K 1600 GTL

K 1600 B

S 1000 R

F 900 R

F 900 XR

M 1000 RR

Velocity 150

Velocity 200

TSR125

TSR250

Mustang 250

APRILIA

BMW

BIGBOY

Superlight 250

R19,499

R234,660 Voge 300R

R49,999

R210,600 Voge 300 AC

R385,011

DUCATI

R54,999

R315,011 Monster 821 Stealth R220,000

R365,011 Monster 1200

R236,000

Monster 1200 S

R276,000

R99,100

R108,800

Monster 1200 R

Monster 1200 Black

POA

POA

R140,200

Hypermotard 950

R214,100

R154,100

Hypermotard 950 SP R254,000

R206,600

R213,900

Supersport

Supersport S

R215,100

R241,400

R240,200

Multistrada 950

R228,800

R322,900

Multistrada 950 S

R256,100

R343,700

Multistrada 1260

R232,000

R230,300

Multistrada 1260 S

R292,700

R254,000

Multistrada 1260 Enduro R337,500

R252,400

Multistrada Pikes Peak R345,300

R175,300

Multistrada Grand Tour R312,900

R257,940

Diavel 1260

R329,600

R232,704

R248,049

Diavel 1260 S

X Diavel

R370,500

R328,495

POA

X Diavel S

R401,000

R351,500

Panigale V4 base

R369,500

R356,200

Panigale V4 S

R439,800

R398,000

Panigale V4 Speciale R600,00

R292,250

Panigale Superleggera R1,7m

R210,700

Streetfighter V4

R323,200

R217,000

Streetfighter V4 S

R377,900

R690,299 Icon Scrambler

R163,700

Full Throttle Scrambler POA

R15,999

Classic Scrambler

POA

Desert Sled Scrambler R210 900

R19,499

Cafe Racer

POA

R23,2999

1100 Scrambler

R210,900

R26,999

1100 Scrambler Special R230,900

R35,999

1100 Scrambler Sport R264,500

HARLEY-DAVIDSON

Street 750

R109,000

Street Rod

R120,000

Iron 1200

R153,000

Superlow

R147,500

Iron 833

R151,500

1200 Custom

R163,900

Superlow 1200T

R169,000

FortyEight Special

R163,000

FortyEight

R163,000

Roadster

R171,500

StreetBob

R191,000

LowRider

R218,500

Deluxe

R276,900

Sport Glide

R234,500

Fat Bob

R229,500

Fat Bob 114

R263,000

Soft Tail Slim

R249,900

Fat Boy

R280,500

Fat Boy 114

R316,500

Brak Out 114

R316,000

Break Out

R281,000

Heritage Classic 114 R319,500

Heritage Classic

R286,900

Ultra Limited Low

R385,000

Road King

R323,500

Road King Classic

R281,000

Road King Classic

R323,500

Road King Special

R344,500

Street Glide

R354,000

Street Glide Special

Road Glide Special

R371,000

R375,000

Road Glide

R355,000

Road Glide Ultra

R379,000

Ultra Limited

R385,000

CVO Street Glide

R510,000

CVO Limited

R544,000

Free Wheeler

R407,000

TRI Glide Ultra

R514,000

FXDR114

R299,900

Prices may change so please contact local dealer.
---
BUYERS GUIDE

MODEL PRICE

MODEL

PRICE MODEL

PRICE

ACE 125

Elite 125 Scooter

NC750X

NC750X DCT

Africa Twin 1100 Manual

Africa Twin 1100 DCT

Africa Twin 1100 AS Man

Africa Twin 1100 AS ES

XR190

XR150L

XR125L

CRF250L

CRF300L

CBR 1000 RR 2019

CBR 1000 RR-R 2020

CBR 1000 RR-R SP 2020

GL1800 Goldwing M

GL 1800 Goldwinh DCT

FS 450

701 Enduro

701 Supermotard

Vitpilen 401

Svartpilen 401

Vitpilen 701

Svartpilen 701

Agility RS 125

Like 125l ABS

G-Dink 300l

Xciting 400l

AK550

HONDA

HUSQVARNA

KYMCO

BUYERS GUIDE

R24,300

FTR 1200

R269,900 125 DUKE

R82,999

R23,399

FTR 1200 Carbon

R322,900 RC125

R73,999

R114,480

Scout Sixty

R210,900 390 DUKE

R92,999

R123,120

Scout

R233,500 RC390

R93,999

R233,800 Scout Bobber

R233,500 390 Adventure

R107,999

R252,400 Chief Dark Horse

R325,900 790 DUKE

POA

R262,500 Chief Classic

POA

790 Adventure

POA

R269,000 Chief Vintage

POA

790 Adventure R

R210,00

Springfield

R464,900 690 Enduro R

R185,999

R49,620

Springfield Darkhorse

890 DUKE

R32,960

R369,900

R189,999

R30,000 Chieftan Dark Horse R489,900 1290 Super ADV S

R299,999

R74,999 Chieftan

R489,900 1290 Super ADV R

R314,999

R84,999 Roadmaster

R521,900 1290 SuperDuke R

R295,999

R209,999

TBA

TBA

R367,000

R432,200

R150,699

R186,699

R186,699

R84,699

R84,699

R146,699

R146,699

R19,950

R34,950

R54,950

R99,950

R154,950

Z300

Z400 ABS

Ninja 400 ABS

Z650

Z900 ABS

Z900 RS

Z900 Cafe Racer

Z1000R

Z1000SX

Ninja 650

Versys X300

Versys 650

Versys 1000

ZX10R WSB 2019

ZX10R WSB 2020

H2 SX SE

ZZR1400 Ohlins

INDIAN

KAWASAKI

KTM

MOTO GUZZI

V85 TT

R194,850

Audace Carbon

R430,000

MGX 21 Flying Fortress R575,000

V7 Stone lll ABS

R175,850

V7 Special III

R193,850

V85 Centenatio

R235,850

V85 TT Evovative

R239,850

V85 TT Travel Pack

R249,850

R61,995

R79,995

R104,995

R110,995

R145,995

R175,995

R168,995

R179,995

R179,995

R122,995

R85,995

R115,995

R159,995

R259,995

R289,995

R310,995

R289,995
---
BUYERS GUIDE

Brought to you by

BE

JUS

MODEL

PRICE

MODEL

PRICE

Dragster Pirelli LE

Dragster 800RR

Dragster 800 RC Limited

Super Veloce 800RR

Brutale 1000RR 208HP

RUSH 1000RR 212hp

Turismo Veloce 800 160HP

UR110

UB125

GS150

GSX150F

DL650XA L9

DL1010RC

GSXR750 L9

GSXR1000 L9

GSXS1000 R L9

GSXS1000 L9

Katana

VZR1800

Hyabusa 1300

XS125 K Delivery

NH125

XS200 Blaze

XS200 Trail Blaze

Citycom 300l

GTS 300l EV

Max Sym 600l ABS

Crox 125

Fiddle ll 150

Jet14 200

Orbit ii 125

Symphony 150

X-Pro 125

MV AGUSTA

TRIUMPH

SUZUKI

SYM

R329,900

R299,900

R359,900

R379,900

R479,900

R549,900

R299,900

R19,650

R23,500

R35,750

R35,750

R144,500

R221,950

R182,900

R273,900

R298,500

R162,500

R189,900

R209,900

R329,000

R18,995

R29,995

R18,495

R19,995

R59,995

R63,995

R121,995

R19,995

Street Triple RS

Speed Triple RS

Street Twin

Bonneville T120

Bonneville Bobber

Bonneville Bobber Black

Bonneville Speed Master

Street Scrambler

Thruxton 1200 R

Tiger 900 GT PRO

Tiger 900 Rally Pro

Rocket R

Rocket GT

XTZ125

YBR125G

TW200

XT250

XT1200Z

XT1200ZE

MT07 ABS

MT09 ABS

MT07 Tracer

MT09 Tracer

MT09 Tracer GT

FJR1300

XMax 300 Scooter

YZF R3

YZF R6

YZF R1 2020

YZF R1M 2020

Niken 3-wheeler

YAMAHA

ZONTES

R180,000

R259,000

R155,000

R183,000

R197,000

R183,000

R197,000

R179,000

POA

R215,000

R229,000

R339,000

R355,000

R43,950

R31,950

R74,950

R77,950

R224,950

R249,950

R134,950

R169,950

R134,950

R159,950

R199,950

POA

R94,950

R784,950

POA

R349,950

R424,950

POA

R20,495

R26,995 ZT250 R

R44,900

R19,995

ZT310R

R63,900

R19,995

ZT310X

R68,900

R21,995 ZT310T

R74,900

DEALERS CONTACTS WHO

ADVERTISE WITH US

Aprilia SA (IMI) Tel: 010 443 4596

BMW West Rand Tel: 011 761 3500

Ducati SA Tel: 012 765 0600

R.O.C Harley Tel: 010 492 4300

Honda East Tel: 011 826 4444

Holeshot Husqvarna Tel: 011 823 5830

Indian Motorcycles SA Tel: 010 020 6195

TRD Kawasaki Tel: 011 051 9104

Fire it Up Kawasaki Tel: 011 467 0737

RAD KTM Tel: 011 234 5007

TRAX KTM Tel: 012 111 0190

Moto Guzzi SA (IMI) Tel: 010 443 4596

Fire it Up MV Agusta Tel: 011 467 0737

KCR Suzuki Tel: 011 975 5545

SYM TRD Motorcycles Tel: 011 051 9104

Linex Yamaha Randburg Tel: 011 251 4000

Linex Yamaha Lynnwood Tel: 012 501 0120

Zontes SA Tel: 012 565 6730

MICHELIN POWER CUP 2

This dual compound tyre offers

good straight-line and cornering

grip through the use of Dual

Compound Technology + (2CT+) on

the rear and Dual Compound

Technology (2CT) on the front.

t

e

BUYERS GUIDE

Brought to you by

208

w
---
Y

BEAUTIFUL PRE-LOVED BARGAINS!

JUST ARRIVED

WE BUY BIKES

NATIONALLY

CRF 1100 AFRICA TWIN, 2022, MANUAL

H.R.C R239,000

KTM RC 390, 2015, 35 000KM

R49,000

TRIUMPH, 675R, 2015, 1300KM

R105,000

BMW R1250GS, 33 000KM

HP R219,000

CRF 1000 HRC MANUAL, 2018,

27 000km R159,000

YAMAHA R6, 2008

29 000KM R79 000

HONDA VTX1300, 2012, 25 000km

R89,000

NEW & USED BIKE SALES / SERVICE / SPARES NATION WIDE DELIVERY

Honda Wing Westrand

011 675 3222

CBR 500F, 2012, 25 000km

R75,000

XL 1000 V VARADERO, 2006, 37 000km

R55,000

cnr Hendrik Potgieter and Jim Fouche Rd

1735 Roodepoort, Gauteng

repairing, refurbishing, widening and stripping

to all makes of motorcycles, quads and car wheels.

over 25 years

experience

011 900 1341

sales@hitechmagrepairs.co.za

208 BOSWORTH STREET, ALRODE SOUTH, ALBERTON

www.facebook.com/hightechmagrepairs
---
17D_Q3+_SalesBull_2pg_r2_Layout 1 4/13/17 3:08 PM Page 1

DURABILITY THAT MATCHES PERFORMANCE

TRACK DAY

Pic by: Rob Gray (Polarity Photo)

THDO THE MATH

GPR-300

310

320

330

NCE

SPORTMAX

MORE PERFORMANCE

SPORTMAX

r,

Great Handling at an

IFE

62°

+ =

LEAN

GRIP20% ANGLE. STREET

MORE

LEGAL. .

TIRE LIFE =

affordable price.

340

Offers a balance of

350

62°

17D_Q3+_SalesBull_2pg_r2_Layout 1 4/13/17 3:08 PM Page 1

EFITS

LESS

FEATURES & B ENEFITS

GRIP

achieves lean angles up to 62 degrees*.

• This purpose-built track-day tire achieves lean angles up to 62 degrees*.

ed for street-legal use.

• The Sportmax Q4 is DOT-approved for street-legal use.

in the wet

quire tire warmers, and 62

DURABILITY

runs at street LEAN

THAT MATCHES PERFORMANCE in the wet

or chassis or electronic adjustments.

dry

WEAR

• The user-friendly Q4 does not require tire warmers, and runs at street

MORE

dry

ANGLE

pressures, eliminating the need for chassis or electronic adjustments.

bon black like Dunlop's racing slicks for TRACK DAY

conditions with

PERFORMANCE

uses a continuously wound strip compound

LONGER

MORE

• Rear tire compound contains carbon black like Dunlop's racing slicks for

maximum grip.

conditions with

20% MORE

• Jointless Tread (JLT) technology uses a continuously wound strip compound

STREET

LONGER

across the rear tread profile.

WEAR LIFE

to optimize stability, flex, and grip across the rear tread profile.

LEGAL

WHERE WEAR

ses carbon fiber reinforcement in the

• Carbon Fiber Technology (CFT) uses carbon fiber reinforcement in the

DO

0

ng performance, braking stability and feel. SPORTMAX

THE

Q4

MATH

sidewalls for exceptional cornering performance, braking stability and feel.

TRACK DAY

a.

• Dunlop branding on the tread area.

• Made in the U.S.A.

nlop retailers, as well as race distributors.

• The Q4 is available through all Dunlop retailers, as well as race distributors.

ze Load/Speed Part Number

Size Load/Speed Part Number

0/70ZR17 (58W) 45233176

Sportmax Q4 Front 120/70ZR17 (58W) 45233176

0/55ZR17 (73W) 45233177

Sportmax Q4 Rear 180/55ZR17 (73W) 45233177

0/60ZR17 (75W) 45233131

180/60ZR17 (75W) 45233131

0/50ZR17 (73W)

MORE

45233060

190/50ZR17 (73W) 45233060

0/55ZR17 (75W) 45233074 62°

PERFORMANCE

SPORTMAX190/55ZR17 SPORTMAX

(75W) 45233074

0/55ZR17 (78W) 45233092

200/55ZR17 (78W) 45233092

GPR-300

RADIAL PERFORMANCE

TOURING

SPORT TIRES RACEMore than 80% TRACK of the Q3+ Performance STREET touring SPORTtyre

Great Handling

PERFORMANCE

TOURING at an

Sportmax Q4

has been redesigned

that not only lasts longer,

affordable price.

+

Sportmax Q3+

compared to the Q3

but performs at higher

62° Sportmax LEAN

20%

GPR-300 ANGLE. STREET

MORE

LEGAL. . levels

Sportmax Roadsmart III

LESS TIRE LIFE =

Offers a balance of

FEATURES & B ENEFITS

GRIP

DunlopMotorcycleTires.com

©2018 *As tested Dunlop by Motorcycle Dunlop on a Tires. 2017 Suzuki GSX-R 1000 RR on a closed track at Barber Motorsports Park. • This purpose-built track-day tire achieves lean angles up to 62 degrees*.

@RideDunlop DUNLOPTYRESSA

DunlopMotorcycleTires.com. ©2017 DUNLOPTYRESSA

Dunlop Motorcycle Tires.

DUNLOPTYRESSA

• The Sportmax Q4 is DOT-approved for street-legal use.

62 LEAN

in the wet

WEAR

• The user-friendly Q4 does not require tire warmers, and runs at street

pressures, eliminating the need for chassis or electronic adjustments.

dry

ANGLE

• Rear tire compound contains carbon black like Dunlop's racing slicks for

maximum grip.

conditions with

310

320

330

340

350

S594/A

0

10

10

20

30

40

50

More than 80% of the Q3+

has been redesigned

compared to the Q3

20

30

40

50

60

120

60

120

70

80

110

110

MORE

PERFORMANCE

70

90

100

80

90

100

Performance touring tyre

that not only lasts longer,

but performs at higher

levels

SPORTMAX

S594/A

GPR-300

Great Handling at an

affordable price.

Offers a balance of

PEDRO ACOSTA

DUNLOP DOMINATION

2021 MOTO 3 ROOKIE OF THE YEAR

©2018 Dunlop Motorcycle Tires.

S594/A