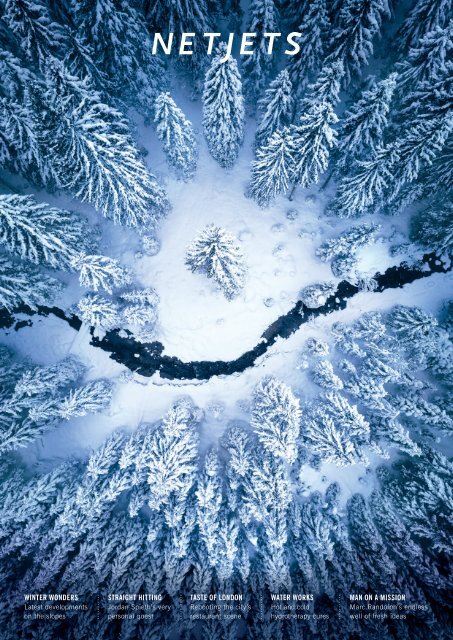 NETJETS EU VOLUME 16 2021
You also want an ePaper? Increase the reach of your titles
YUMPU automatically turns print PDFs into web optimized ePapers that Google loves.
WINTER WONDERS

Latest developments

on the slopes

STRAIGHT HITTING

Jordan Spieth's very

personal quest

TASTE OF LONDON

Rebooting the city's

restaurant scene

WATER WORKS

Hot and cold

hydrotherapy cures

MAN ON A MISSION

Marc Randolph's endless

well of fresh ideas
---
TAKING OFF

THIS YEAR HAS BEEN extraordinarily uncommon in so many ways. Not the

least of which has been the resounding return to travel that so many of you

have taken. After more than a year of at-home confinement, the rediscovery

of our favourite places feels like an awakening.

In this issue, our Editors bring you a world of possibility, whether you are

eager to hit the slopes for an exhilarating ski holiday, or tuck in for a feast at one of London's

newest culinary havens. If you can't get enough of the cold this winter, we take the plunge

for our wellness feature and discover the health benefits of hydrotherapy.

For an escape of a different sort, we catch a glimpse of entrepreneur Marc Randolph, and

hear from our own team members about this unique time in aviation.

As we welcome the promise of a new year, we hope it is one filled with adventure, reflection

and new memories.

Only NetJets!

Adam Johnson

Chairman and CEO

C O N T R I B U T O R S

FARHAD HEYDARI

The fields and

fairways of France

hold a special

attraction for our

Editor, who discovers

Old Meets New

in the Loire (page

48), when sampling

the delights of Les

Bordes, where the

latest course lives

up to a very grand

reputation.

PETRA DUFKOVA

Czech-born, Munichbased,

the illustrator

specialises in using

ink and watercolour

over sketches to

produce evocative

fashion and beauty

images – as shown

in The Art of

Jewels (page 60),

which showcases

this season's most

desirable gems.

PETER SWAIN

The veteran golf

writer gets a

glimpse beyond the

greens for Heart

of Texas (page

12), examining the

remarkable work of

The Jordan Spieth

Family Foundation,

which supports so

many good causes

in the Lone Star

state and beyond.

ALEXANDER LOBRANO

A tale of exceptional

hospitality, daring

art and great

food led to the

Paris-based writer

crossing the border

to explore Geneva's

Ascendance (page

16), where he found

a city that is at once

both truly Swiss

and intriguingly

international.

FELICE HARDY

For Alpine Agenda

(page 42), the

co-editor of website

Welove2ski.com

takes a trip round

Europe's finest

resorts to report

on the recent

developments,

from perfectly

private chalets to

über-modern lifts on

the slopes.

This symbol throughout the magazine denotes the nearest airport served by NetJets to the

story's subject, with approximate distances in miles and kilometres where applicable.

6 NetJets
---
CONTENTS

ANCIENT TREASURES

The Feuerle Collection,

page 74

8

NetJets
---
42 52 64

OUT OF THE ROUGH

The Jordan Spieth Family

Foundation shows altruistic

spirit at its best

pages 12-15

IN THE NEWS

The best of Geneva,

off-road titans, desirable

drinks and more

pages 16-29

NETJETS UPDATE

The return of events,

cyber security, sustainable

practices and staff in profi le

pages 30-35

ENTREPRENEUR IN ACTION

Beyond Netflix, Marc

Randolph is man full of

exceptional ideas

pages 38-41

HIGH-ALTITUDE HAPPENINGS

The Alps' premier ski

resorts are transforming

with bold new offerings

pages 42-47

GALLIC CHARM

Both challenging golf and

French hospitality are on

the card at Les Bordes

pages 48-51

HOT AND COLD

A thorough guide to

hydrotherapy, from heated

spas to chilling experiences

pages 52-59

GEM OF A DRAW

A curated collection of

alluring jewellery against

an illustrated backdrop

pages 60-63

GOURMET CAPITAL

London defi es the odds with

a restaurant and bar scene

that is constantly evolving

pages 64-73

HIDDEN ART

A trio of private collections

offer a rare glimpse of

fascinating works

pages 74-81

THE LAST WORD

Golfer Patrick Cantlay on

how he enjoys life away

from the course

page 82

HOLGER NIEHAUS, YVES GARNEAU, NATHANIEL ATAKORA, DAVID LOFTUS

NetJets

9
---
NETJETS, THE MAGAZINE

FRONT COVER

WINTER 2021 // VOLUME 16

Aerial view of a forest in

Salzburger Land, Austria,

between Altenmark and

Zauchensee ski resorts.

(See page 42, for all the

latest skiing news.)

Image by Christoph Oberschneider

EDITOR IN CHIEF

Thomas Midulla

EDITOR

Farhad Heydari

CREATIVE DIRECTOR

Anne Plamann

PHOTO DIRECTOR

Martin Kreuzer

ART DIRECTOR

Anja Eichinger

MANAGING EDITOR

John McNamara

SENIOR EDITOR

Brian Noone

STAFF WRITER

Claudia Whiteus

CHIEF SUB-EDITOR

Vicki Reeve

PRODUCTION DIRECTOR

Albert Keller

SEPARATION

Jennifer Wiesner

WRITERS, CONTRIBUTORS,

PHOTOGRAPHERS AND

ILLUSTRATORS

Petra Dufkova, Felice Hardy,

Bill Knott, Alexander Lobrano,

Jen Murphy, Julian Rentzsch,

Josh Sims, Peter Swain, Elisa

Vallata, Jeremy Wayne

Published by JI Experience

GmbH Hanns-Seidel-Platz 5

81737 Munich, Germany

GROUP PUBLISHER

Christian Schwalbach

Michael Klotz (Associate)

ADVERTISING SALES

Katherine Galligan

katherine@metropolist.co.uk

Vishal Raguvanshi

vishal@metropolist.co.uk

NetJets, The Magazine is the offi cial

title for Owners of NetJets in Europe.

NetJets, The Magazine is published

quarterly by JI Experience GmbH on

behalf of NetJets Management Ltd.

NetJets Management Ltd

5 Young Street

London, W8 5EH England,

United Kingdom

netjets.com

+44 (0)20 7361 9600

Copyright © 2021

by JI Experience GmbH. All rights

reserved. Reproduction in whole or

in part without the express written

permission of the publisher is strictly

prohibited. The publisher, NetJets

Inc., and its subsidiaries or affi liated

companies assume no responsibility

for errors and omissions and are

not responsible for unsolicited

manuscripts, photographs, or artwork.

Views expressed are not necessarily

those of the publisher or NetJets Inc.

Information is correct at time of

going to press.

10 NetJets
---
© UNDER ARMOUR

GOODWILL

Heart of Texas

The Jordan Spieth Family Foundation benefits from the

golfer's global success – but it also plays a significant part

in his daily journey // By Peter Swain

JORDAN SPIETH IS USED TO overcoming adversity.

On the 13th hole of Sunday's final round at

Royal Birkdale in 2017, his chances of winning

the Open were hanging by a thread. A horribly

sliced tee shot saw his ball land behind a

monstrous sand dune, buried in the heavy rough

– a double bogey beckoned. After an escape

act Tiger Woods, or maybe even Harry Houdini,

would be proud of, he dropped just one shot on

the hole and went on to win by three.

The triple major champion is blessed with

extraordinary golfing ability. But it's his steely

determination to surmount life's obstacles

that sets him apart, and which makes The

Jordan Spieth Family Foundation (JSFF)

so remarkable. For the amiable Texan, the

inspiration for his off-course charitable work

is personal. "My younger sister Ellie was born

with a neurological disorder, and my family's

focus has always prioritised her needs. My

passion for supporting individuals with special

needs is because of her role in my life, and the

perspective she allows me to have."

Founded in 2014 and based in the Dallas-

Fort Worth neighbourhood that Jordan and

wife Annie call home, "the Foundation provides

financial support for the four philanthropic areas

that mean a great deal to us: individuals with

special needs, junior golf, military families and

veterans, and paediatric cancer," Spieth says.

"Ellie and her friends have struggles

and joys that are so different, and it's very

ALL-ROUND EFFORTS

The hard work Jordan Spieth puts in

to his success on the golf course is

mirrored in his Foundation's efforts

12 NetJets
---
FROM PASSION TO PROFIT

Clients who invested in Banksy with Maddox Advisory

in 2020 saw an average realised profit of 42.6%

BANKSY, NO BALL GAMES

SOLD FOR

£130K
---
GOODWILL

"To be able to see, visit, and know

the teams and their impact is really

important to us"

© JSFF

grounding in light of what we do for a living.

Junior golf provided me with incredible

experiences and propelled my career. I've

always considered myself patriotic and felt

the military members were some of the

most selfless people. And our final pillar,

paediatric cancer, was chosen because

of Annie and I knowing and watching

childhood friends who battled cancer and

seeing the great toll it has on families."

To name a few of the 100-plus unique

charities to have benefited directly: the

1 Million 4 Anna Foundation College

Scholarship programme that supports

and honours young adults who fought Ewing

sarcoma; RISE Adaptive Sports, a program that

assists people with physical challenges, from

amputees to those with spinal-cord injuries, by

offering adaptive recreational sports programs;

Families for Effective Autism Treatment; and

many, many more.

"While we welcome grant applications and

partners from any part of the country, there is

a heavy focus on the Dallas-Fort Worth, Texas

area," says Spieth. "This is where Annie and I

grew up, so to be able to see, visit and know

the teams and their impact is really important

to us."

LOOKING UP

JSFF supports RISE Adaptive

Sports, which assists people

with physical challenges to

recover, inspire, succeed and

empower themselves

© JSFF

14 NetJets
---
Like the Ryder and Presidents Cups in

which Spieth has excelled, the Foundation

relies on teamwork. "Because of the nature

of my job, I travel often, but Annie graciously

lends quite a bit of time and efforts to our

Foundation. We are also so fortunate to

have an excellent team, including a board of

directors and family members, who contribute

to the vision and support of the JSFF."

One of the highlights of the Foundation's

year is the annual Spieth & Friends fundraising

event. "On our first night this year, Annie and

I welcomed guests into our home to thank

sponsors and showcase the work of our

Foundation grant partners throughout 2021."

The following evening's event, at Topgolf in

The Colony, featured an awesome night of golf,

food and fun, with the highlight being a concert

from the country singer Lee Brice. "We shifted

to two evenings because it's important to us to

spend time with those who support us yearlong,

but also welcome a wider group of friends

to participate and learn about the Foundation's

work. We're impact driven and every dollar we

raise at Spieth & Friends is committed directly

to our community partners."

As well as his regular sponsors, including

NetJets, Under Armour, AT&T, Titleist and

Rolex, these events are supported by Spieth's

golfing buddies and the wider PGA community.

With 15 international professional wins

and counting, the game has been good to the

Texan, but, as any golfer knows, the key to

continued success lies between the ears. In

Spieth's case, there can be little doubt that

his family and Foundation play a crucial part

in that story. As his mother, Chris, told ESPN,

"Jordan wouldn't be where he is today if he

hadn't grown up with Ellie." The player himself

credits his sister with "keeping [me] grounded

and focused as well as keeping the game of

golf in perspective".

Family, golf, caring for those in the

community facing adversity: it's all about

perspective. Whatever the challenges ahead,

Jordan Spieth has the right clubs in his

personal armoury to win by three.

jordanspiethgolf.com/foundation

© JSFF

PAR FOR THE COURSE

On the driving range at the Spieth

& Friends fundraising event,

above; the golfer at the Tesori

Family Foundation All-Star Kids

Clinic for Special Needs Golfers,

left.

NetJets

15
---
THE SMART GUIDE

Swiss attractions, exceptional home accessories, distinctive

spirits, eye-catching vehicles, Madrid marvels and more –

herewith the best, newest, boldest and brightest

© OETKER COLLECTION

GENEVA'S ASCENDANCE

Indulgence is paired with consummate style at the Swiss city's new standout hotel,

The Woodward, which reflects the booming city itself // By Alexander Lobrano

A TRULY GREAT HOTEL not only offers a definitive expression of the

place where it's located but invites you to see it differently. In

Geneva, the recently opened, 26 suites-only Woodward Hotel

(oetkercollection.com) has ticked both of these boxes with such

charm, authority and sophistication that it already has the aura

of a deeply rooted and respected local institution.

Like the city itself, the Woodward is elegant, gracious and

worldly, with a discretion that politely teases at its bon vivant

personality. The hotel occupies a handsome Belle Époque-style

1901 building with a wedding-cake façade by French architect

François Durel, and it has been completely renovated and

redesigned by renowned Paris-based interior architect Pierre-Yves

Rochon. Located on the edge of Lac Léman, just across the way

from Les Bains de Pâquis – a swimming pier, sports club, and

restaurant that's a beloved local institution – the Woodward purrs

with chic modern luxuries, including a Guerlain spa with an

indoor pool and two superb restaurants, L'Atelier Robuchon and

Le Jardinier, the Swiss branch of the Michelin-starred New York

restaurant of the same name. Both tables are run by talented chef

Olivier Jean, and they're outstanding.

Heading upstairs in a lift lined with tooled red leather, the suites

are individually decorated with plush furniture and heavy brocade

curtains in schemes of champagne, oyster and cream with powder

blue, celadon and rose accents, beautiful hand-inlaid oak parquet

floors, crystal chandeliers, contemporary art, crown molding and

wainscoting, and built-in bars. Bathrooms are faced with white

marble and come with soaking tubs and separate showers, and

spacious walk-in closets are fitted with built-in wardrobes.

Many rooms also come with dining/meeting tables, powder

rooms, working gas fireplaces and private Juliet balconies

overlooking the often sailboat-dotted lake with the majestic

snow-mantled Mont Blanc on the horizon. All guests receive

complimentary airport or train station transfers and daily breakfast

in Le Jardinier, but perhaps the hotel's best amenity is the

exceptionally warm, alert and professional hospitality offered by

everyone who works here.

16 NetJets
---
SWISS TREATS

Clockwise from right: Comédie de

Genève; local artist Philippe Cramer; a

Michel Roth creation from Bayview

Facing page: The Woodward

Hotel on Lac Léman

© BAYVIEW

RÉGIS GOLAY

The impressive contemporary art in the rooms at the Woodward

nods to the fact that Geneva has recently emerged as an important

art-market venue with many superb galleries in the Quartier des

Bains, the city's own little SoHo. When Gagosian (gagosian.com)

opened in Geneva in 2016, it was a signal to the world's collectors

that it had become an international centre of contemporary art,

but many of the city's most interesting galleries are decidedly local.

Skopia (skopia.ch) specialises in emerging artists, mostly Swiss and

European, while Galerie Laurence Bernard (galerielaurencebernard.

ch) showcases Swiss and international contemporaries with

recognised and daring multidisciplinary practices.

THE LOCAL ARTIST not to miss is Geneva native Philippe Cramer,

whose furniture, jewellery, porcelain, silverware and crystal is

displayed at Cramer + Cramer (philippecramer.com). Cramer's

signature is a style that brings together hand-crafted objects

with industrial techniques and traditional materials with the

latest technology.

The world-class excellence of the cultural scene in Geneva

continues to expand, too, with the August 2021 opening of

Comédie de Genève (comedie.ch), a dramatically modern new

performance space, and the ever-growing reputation of the

strikingly renovated Musée d'Ethnographie de Genève (ville-ge.

ch/meg), locally known as the MEG. The MEG has one of the

richest ethnological collections in Europe, including everything

from Japanese samurai armour to a breadfruit-wood slit drum

from Vanuatu – many of the objects on display were donated by

diplomats posted to Geneva, local missionaries returning from

overseas tours, or local merchants and bankers with foreign

offices. The Musée d'Art Moderne et Contemporain (mamco.ch),

Switzerland's largest contemporary art museum, is located in the

Quartier des Bains neighbourhood, too. Film buffs might want to

catch a flick at nearby Spoutnik (spoutnik.info), Geneva's premier

art-house cinema, which is housed in a former gold-processing

factory on the banks of the Rhone that once supplied local

watchmakers such as Patek Philippe.

Be sure and make time for a visit to the fascinating Patek

Philippe Museum (patekmuseum.com), which not only features

one of the world's great collections of watches, timepieces and

NICOLAS TOSI

NetJets

17
---
THE SMART GUIDE

enamels, but also timelines and exhibits that explain the history

of watchmaking in Geneva and how humanity's conception of

time – both how it's measured and how it's valued – has evolved

through the centuries.

When it's time for a meal, Geneva not only reveals how

cosmopolitan it is, but just how avidly it loves great food and

excellent wine. These credentials are very much on display at

Alma (alma-geneve.com), a popular address among trendy young

Genevans who love swapping the Alps for the Andes while enjoying

meals of ceviches, empanadas, tiraditos and other excellent Peruvian

specialities. Italian food just may be the city's favourite foreign

kitchen, and the city's best trans-Alpine table is Tosca (toscageneva.ch),

a Michelin one-star restaurant with freshly made

pastas and a superb list of Tuscan wines.

In a city that's Francophone and guardedly Francophile,

most of the best restaurants are French. They range from

Bayview (restaurantbayview.com), where Michel Roth, who

cooked impeccable Escoffier-inspired dishes when he ran

the kitchens at the Hotel Ritz in Paris, has won a Michelin

star for the technically flawless cooking served in an elegant

dining room with lake views to relaxed bistros like the Café

des Banques (cafedesbanques.com), in the city's old banking

quarter, to the stylish Le Bologne (lebologne.com), and the

very popular Café de la Paix (cafe-delapaix.ch), a brasserie

with a locavore menu featuring seasonal French produce.

Several other Genevan institutions not to miss include the

Café Papon (cafepapon.com), a café-restaurant that can trace

its roots back to 1808 and is located in a beautiful stone cellar

in the middle of the Old Town next to the Town Hall, as well as

Restaurant Le 15 (restaurant-le-15.ch) across the Arve River in

the Quartier des Arts, a contemporary bistro popular with gallery

owners, museum curators and artists for the excellent modern

European market-driven cooking of chef Jacques Modena, with

dishes like cream of Jerusalem artichoke soup and lamb shank

braised in port.

Au Vieux Carouge (41 223 426 498) in the lively Carouge

district is the best address for anyone hankering for a first-rate

fondue, and it also serves excellent rösti (a Swiss comfortfood

favourite of crispy cakes of grated potatoes with different

garnishes). Service here is ornery in a good-natured way, and

whatever you do, wear clothing that's easily washed, because

you'll emerge from a meal at this small crowded place sporting a

potent lactic perfume of melted cheese.

FOR A REVIVING STOP while shopping or gallery hopping, stop by La

Vouivre (tearoomlavouivre.ch), Geneva's most eclectic tearoom,

which has a memorable decor of purple silks and antique

chandeliers. In addition to Viennese-style coffees, tea and freshly

pressed juices, there are delicious sandwiches, pastries and

homey desserts like plum crumble.

REMEMBERING THE PAST

Musée d'Ethnographie

de Genève

Attractive, compact and walkable, Geneva is a shopper's

delight for watches – most of the major Swiss watchmakers have

boutiques in the city – but the place to go for a comprehensive

selection of different brands and excellent service is Les

Ambassadeurs (lesambassadeurs.ch), which attracts a discerning

international clientele, including many collectors.

Another destination shop is Les Illuminés Design

(lesilluminesdesign.ch), a gallery-like store that specialises in

pedigreed 20th-century design, including furniture by Romeo

Rega and Gianfranco Frattini, chandeliers by Gianfranco Sarfatti

and 1950s vintage Vallauris ceramics by Robert Picault.

Take a really savvy cold-weather gear tip from a knowing local:

Geneva native Marc Denton, general manager of the Fife Arms Hotel

in Braemar, Scotland, who rightly recommends Coup de Chapeau

(chapeaux.ch) for its spectacular selection of hats, from straw

boaters to handmade felt broad brims, gloves, and other accessories.

For cutting-edge women's clothing, including smart French labels

like Isabel Marant and A.P.C., stop by L'Adresse (ladress.ch).

A little bit of Geneva can come home with you by picking up

a couple of bags of freshly grated fondue mix from Au Gruyère

(augruyere.ch), a venerable local cheese shop that opened in

1952. (These mixes freeze well, and other famous local cheeses,

like the shop's namesake gruyère, can be vacuum-packed for

travel.) And because every good trip should have a sweet ending,

join the Genevois in their fetish for highest quality chocolates at

Auer Chocolatier (chocolat-auer.ch), which sells some of the best

– a fittingly sweet souvenir of a city in full bloom.

DANIEL STAUCH

GENEVA AIRPORT TO CITY CENTRE: 3miles/5km

18 NetJets
---
MORE THAN

HEALTHCARE,

THIS IS LIFECARE.

Private Client by Bupa is a premium service providing expertly curated health and wellbeing plans insured by Bupa Global.

Bupa Global is a trading name of Bupa Insurance Limited and Bupa Insurance Services Limited. Bupa Insurance Limited is authorised

by the Prudential Regulation Authority and regulated by the Financial Conduct Authority and the Prudential Regulation Authority.

Bupa Insurance Services Limited is authorised and regulated by the Financial Conduct Authority.
---
© FORD

THE SMART GUIDE

How to Tame

the Desert

Two American motor industry

giants have set their sights on

tackling the toughest of terrains

THE DESIRE TO EXPLORE and push boundaries is a challenge taken

up by two of the biggest names in the US car industry with their

latest offerings. Ford (ford.com) resurrected its iconic Bronco SUV

this year and has upped the ante with the Bronco DR (Desert

Racer). Primed for competing in the legendary Mexican off-road

race Baja 1000, the Bronco DR features a Ford Coyote 5.0l V8

engine, a Multimatic safety cage, 95cm BFGoodrich Mud-Terrain

T/A KM3 all-season tyres and beadlock wheels and will be

produced in a limited run of just 50 vehicles. If Ford is releasing a

real monster on the market, Chevrolet (chevrolet.com) truly plans

to unleash the Beast – at least in concept form for the moment.

The Chevy Beast is powered by a Chevrolet Performance LT4

650-horsepower supercharged crate engine and is also conceived

with off-road desert driving in mind. For all its functional, raw

power, the minimalist interior still exudes a certain sense of

style with a quartet of Recaro performance seats and has a

technological bent thanks to two 18cm screens monitoring vehicle

functions and performance data. Suddenly, the desert seems

more of an oasis of opportunities for motoring experiences.

OFF-ROAD HONOURS

The Ford Bronco DR,

top, and Chevy Beast

redefine travelling into

the desert

RICHARD THOMPSON III

20 NetJets
---
Holiday home ownership

for 1 /8 the cost

pacaso.com/uk
---
THE SMART GUIDE

A HEADY MIX

The world of mixology is an ever-inventive one, whether it is giving

a new twist to classic cocktails or creating unique concoctions to

sate a thirst. From ground level to high in the skies, there's plenty

to celebrate as we head into the festive season

COCKTAIL PARTY

Clockwise from left:

Mexico City's Licorería

Limantour; an Old

Fashioned from Dante in

New York City; Buffalo Trace

Kentucky Straight Bourbon

© BUFFALO TRACE

LUIS GALLARDO

IN THE AIR

Like choosing a fine wine on board, there is an

art to selecting the perfect cocktail for flying.

Experts suggest that strong flavours such as

tomato juice and citrus are the ingredients that

maximise tastes. The aptly named Aviation

American Gin (aviationgin.com) takes pride

of place in a standout recipe for a Bloody

Mary (including two tablespoons of grated

horseradish), which will put a spring on your

step, just as it will in a classic G&T, with lime or

lemon wheels to taste.

STAR BAR

A regular in the list of the best bars in the

world, Dante (dante-nyc.com) has established

a reputation as a must-visit destination in New

York. Famed for its range of negronis, the bar

has drawn on its recent experience of serving

only outdoor customers to produce a range of

hot cocktails to get through the winter months.

Chief among these is the Hot Smoked Toddy,

featuring cacao-washed Johnnie Walker Black,

Lagavulin 8 Year Old and Lapsang souchong.

UPDATING THE CLASSICS

At another one of the most celebrated hostelries

on the planet, Licorería Limantour (limantour.tv)

in Mexico City, lead bartender José Luis León has

won himself a wide following for his creativity, yet

his twist on a classic Margarita al Pastor, involving

a "taco mix", is perhaps his most inspired recipe

to spice up the season. For a true retro experience,

Buffalo Trace (buffalotracedistillery.com) produces

an Old Fashioned Mix that can be enjoyed in the

comfort of your own home.

A TIME TO CELEBRATE

There's no better way to toast the moment than

with champagne. Try Moët Champagne O'Clock

– a combination of Moët & Chandon Impérial

Brut, Hennessy Cognac and a dash of bitters.

STEVE FREIHON

22 NetJets
---
FROM THE

WORLD'S MOST

AWARD-WINNING

DISTILLERY

Enjoy neat, on the rocks or in the air.

Buffalo Trace is proud to be the official Bourbon

on all NetJets flights. To learn more about us,

visit the historic Buffalo Trace Distillery in

Frankfort, KY or check out:

www.buffalotracedistillery.com.

Distilled and bottled by Buffalo Trace Distillery, Frankfort, KY. 45% ALC/VOL (90 proof) buffalotracedistillery.com. 1-800-654-8471. Please Drink Responsibly.
---
THE SMART GUIDE

Spirit Journey

A curated selection of the finest elixirs

to tickle the taste buds this season

Drams of Desire

2 3

4

5

6

7

8

9

1

ALL IMAGES COURTESY THE COMPANIES

1 ABERFELDY 12 YEAR OLD Mellowed for a dozen years in handmade oak casks and presented in a gold box, this sweet dram from the Perthshire distillery also has an

environmental role to play as part of the brand's "Barrel and Bees" preservation project. aberfeldy.com //

2 & 3 BOWMORE: NO CORNERS TO HIDE/ASTON MARTIN 21

YEAR OLD Legends old and new are embraced by Islay's innovative distillery. The Scottish Isle's folklore is celebrated in the collaboration between graphic artist Frank

Quitely and Bowmore's master blender Ron Welsh in 23- and 32-year-old iterations, which capture the tale of the devil escaping the island on a boat full of Bowmore

casks. More conventional transport is celebrated with a second partnership, this time with Aston Martin, which has produced a typically sophisticated spirit. bowmore.

com // 4 THE DALMORE 30 YEAR OLD 2021 EDITION Aged in rare tawny port pipes from the renowned Porto winemaker Graham's, just 1,318 bottles of this mellow

whisky will be released globally. thedalmore.com // 5 HIGHLAND PARK VIKING HEART Stored in a remarkable bottle created by Wade Ceramics, a firm based in the heart

of England's pottery country, striking Norse images encase the aromatic peat flavour of a 15-year-old whisky from master distiller Gordon Motion. highlandparkwhisky.

com // 6 YAMAZAKI 55 For the first time, the famed Japanese distillery is releasing a limited edition of its blend of precious single malts, with donations from each bottle

sold going to The White Oak Initiative, a group committed to the long-term sustainability of America's white oak forests. whisky.suntory.com // 7, 8 & 9 THE MACALLAN:

THE HARMONY COLLECTION RICH CACAO WHISKY/ A NIGHT ON EARTH IN SCOTLAND/ DOUBLE CASK 30 YEARS OLD The prolific Speyside distillery presents a trio of

new bottlings: The Harmony Collection brings together the worlds of Michelin-starred cuisine and high-class chocolate – chef Jordi Roca and master chocolatier Damian

Allsop team up with The Macallan whiskymaker Polly Logan to create an indulgent single malt; A Night on Earth in Scotland captures the joy of Hogmanay in limited-edition

packaging created by illustrator Erica Dorn; the latest in its Double Cask range has been matured for 30 years in sherry-seasoned American and European oak casks for a

sweeter, warmer taste and character. themacallan.com

A FIEND IN NEED

Quirky Scottish whiskymaker Compass Box

has released its magnificent Peat Monster

in gift-set form for Christmas. Alongside a

bottle of the smoky blend, packaged in a box

celebrating icons from Compass Box's past,

come two glasses, which are laser-etched

with the emblematic monster character.

compassboxwhisky.com

MARKING TIME To celebrate master distiller Dennis Malcolm's six

decades of service, The Glen Grant has released a limited-edition

60 Year Old single malt scotch, in a distinctive bottle and case, each

signed by the venerable craftsman. glengrant.com

24 NetJets
---
Bottled Charm

Finishing Touch

1

2

3

1 BOATYARD SLOE BOAT GIN With plentiful wild-harvested sloe berries, the Irish

distillery has produced a rich and intense spirit that can be drunk neat or in a variety

of cocktails. boatyarddistillery.com // 2 SALCOMBE SEAMIST LIQUID GARNISH The

finishing touch to an ideal Seamist gin and tonic is presented in a refined cut crystal

atomizer. salcombegin.com // 3 X MUSE VODKA Inspired by Greek mythology, the "tenth

muse" symbolises harmony and perfection and is created from two types of Scottish

barley and the purest of water. xmusevodka.com

Reaching Out

3

1

4

Italian Masterclass

Refined in barrels that have previously been used to make

the renowned red wine Amarone della Valpolicella, this

18-year-old brandy is the latest from Vecchia Romagna,

whose work stretches back to 1820. The smooth and

sophisticated taste of Riserva 18 is matched by the iconic

triangular bottle, which stands for the three principles

of the brand: mastery, perfection and craftsmanship.

vecchiaromagna.it

2

1 CABAL NO. 1513 This blend of rums from Caribbean locales is a fitting totem for

Cabal's association with The Explorers Club – Great Britain and Ireland Chapter.

cabalrum.com // 2 PIRATE'S GROG REAPER Dubbed the hottest rum in the world, the

latest from the London-based boutique spirits firm is infused with three of the most

fiery chilli peppers on the planet. piratesgrogrum.com // 3 SUNCAMINO Infused with

hibiscus, honeybush and orange blossom, the world's first floral rum combines premium

aged spirit and natural ingredients. suncaminorum.com // 4 H by HINE x THE ROYAL

COLLEGE OF ART A limited-edition cognac housed in a case designed by 2020 Hine

Royal College of Art Painting Prize-winner, Sasha Ferré. hinecognac.com

Port of Call

Collected after a summer of idyllic warm, sunny days

and cool nights, the harvest of 1994 was a bumper one

for the port producers of the Douro Valley. Leading firm

Symington Family Estates is recognizing this with a

release of three vintages from its major brands, Dow's,

Graham's and Warre's, to mark 25 years since their

bottling. symington.com

NetJets

25
---
THE SMART GUIDE

AUTO LUXE

A Certain Sound

JBL SKEWS RETRO THIS YEAR with a pair of 1970s-inspired speakers that deliver

pitch-perfect audio via the California-based brand's cutting-edge acoustic

technologies and look remarkably handsome while doing so. Outfitted in slick

walnut-wood veneer cabinets and Quadrex foam grilles, both models make a

striking impression on any room. The L52 Classic is a 13cm, wall-mountable twoway

loudspeaker with a high-frequency-level attenuator, while the L75ms Music

System tabletop speaker, a reimagining of an old-school hifi system, impresses

with wireless network audio capabilities and selectable sound-field expander and

bass contour controls. jblsynthesis.com

Rolls-Royce has buttressed

its Connoisseur's Collection

of luxury collectibles with

a new cigar and whisky

chest. The Cellarette comes

complete with a svelte

leather-lined aluminium

bottle holder and obsidian

tray, as well as a Spanishcedarwood-lined

humidor

and S.T. Dupont cigar

cutter – all chicly cradled

in a polished aluminium

chassis that fits perfectly in

the rear of your Rolls.

rolls-roycemotorcars.com

HEALTHY OUTLOOK

Swiss wellness authority Clinique La Prairie has

applied its 90 years of lifestyle-science research

to its pioneering line of supplements, Holistic

Health. Four routines – Age-Defy, Balance,

Energy, and Purity – harness the power of potent

compounds to boost immunity and cellular

longevity, as well as to reduce symptoms of stress

and inflammation. cliniquelaprairie.com

26 NetJets
---
TIMELESS QUALITY

STORING A PRECIOUS TIMEPIECE can be done in an ever-more stylish manner

thanks to watch rolls from a duo of renowned British firms. Bennett Winch

(bennettwinch.com) has conceived such a product, above, made of Tuscan

leather panels cut from hand-selected hides, with a flexible Kevlar core and a

cushioned Alcantara suede lining, suitable for the latest timepiece on the market

or a cherished family heirloom. Fellow London leather-goods purveyor Ettinger's

(ettinger.co.uk) Capra cases, below, are equally gentle cradles for your most

valuable possessions, each shrouded in supple goat leather and lined with

butter-soft pig suede. The Capra Large zip box, ideal for both home use and

on the go, boasts a protective cushion pad that holds anything from your pens

and glasses to cufflinks and wristwatches in place and comes in a range of five

colours, including bordeaux, forest green and marine blue.

EASTERN

EXCELLENCE

Tadao Ando, SANAA, Shigeru

Ban, Kengo Kuma and more

– the names behind Japan's

architectural mastery, its unique

style and 55 exceptional

examples are profiled in Philip

Jodidio's comprehensive,

heavyweight tome. taschen.com

LIVING IN

THE MOMENT

ALL IMAGES COURTESY THE COMPANIES

TAKE IT AS RED

Italian firm FAS Pendezza is raising the bars for table

football tables with its latest models ranging from the

lightweight Apollo 20 (above) to the sculptural Ciclope –

each one created as a true study in scarlet. faspendezza.it

Thirty-six Views of Mount Fuji

by Katsushika Hokusai (1760–

1849) brings together some

of the renowned printmaker's

quintessential work of "ukiyo-e"

– woodblocks and paintings that

encapsulated life in 19th-century

Japan with the grand mountain

as a backdrop. taschen.com

NetJets

27
---
THE SMART GUIDE

Bedding Down

in Madrid

There have never been more luxe beds in the Spanish capital, thanks

to a handful of standout hotels // By Jeremy Wayne

SPANISH DREAM

A refined suite at the

Four Seasons Madrid

© FOUR SEASONS

In Madrid – newly vitalised

after a prolonged pandemic

lockdown – five new and

nearly-new hotels are

clamouring for attention.

All are situated in superb

locations and boast at

least one restaurant, a

fabulous bar and statement

swimming pool – which

is frankly a must after

sightseeing or shopping if you

visit the Spanish capital in

the warmer months.

MANDARIN ORIENTAL RITZ,

MADRID

The covers are finally off at

the Ritz – the smartest hotel

address in the city – after

its years-long renovation.

Now renamed as a Mandarin

Oriental, the hotel's Palm

Court, with its jaw-dropping

glass ceiling, is looking

resplendent and the guest

rooms have been redone in

their original Belle Époque

style. There's no spot in

the city more magical

than the Ritz garden:

its an absolute oasis.

mandarinoriental.com

FOUR SEASONS MADRID

Constructed from seven

historic buildings just steps

away from Puerta del Sol,

the heart of Madrid, the new

Four Seasons Madrid is,

perhaps surprisingly, a first

property for the luxury brand

in Spain. With an impressive

atrium – stained-glass skylight

ceiling, marble and gilt

28 NetJets
---
MADRID'S

TOP FIVE

G&Ts

Our quintet of hotels all

serve a particular take on

the classic gin and tonic:

columns – it's a jazzy number,

although the generously sized,

beautifully appointed rooms are

relatively restrained. Service

is legendary Four Seasons:

diligent, informed, and friendly.

fourseasons.com

PALACIO DE LOS DUQUES

Just off the Gran Vía and a

stone's throw from the Teatro

Real and the Royal Palace,

the ancestral home of the

Dukes of Granada de Ega

and Villahermosa is now the

flagship hotel for Gran Meliá

in Madrid. Giant replicas of

Velázquez's works animate the

oversized rooms; the Coroa bar

(which leads to a large formal

garden) is busy all day; and the

Dos Cielos restaurant is a real

humdinger. melia.com

PESTANA PLAZA MAYOR

With a superb location on

Plaza Mayor, Madrid's most

beautiful square, the Pestana

has it all, from a wonderfully

grand staircase and gorgeous

azulejo tiling to original antique

floors and exquisite stained

glass. The entire property

(part of which was formerly

a fire station) is swathed in

rich fabrics inspired by the

colours of Velázquez and

CULTURAL ESCAPE

A replica of Rokeby Venus

by Velázquez hangs in the

lobby of Gran Meliá, above;

the terrace at the Mandarin

Oriental Ritz, below

Goya, but Pestana is no old

master – it's bang up to date

with a basement pool, the

latest in-room technology

and a sexy rooftop bar

where el todo Madrid meets.

pestanacollection.com

COOLROOMS ATOCHA

From its top hat and tailcoated

doormen and women, to its

sumptuous guest rooms, vibrant

murals, antique statuary and

gorgeous pool in an exotic

plant-filled garden, CoolRooms

is well…very cool. Located in a

sensitively converted, mid-19thcentury

palace, this Madrid

newbie exudes charm by the

bucketload, and the young staff

seems to know what you want

before you do. coolrooms.com

© GRAN MELIA

MANOLO YLLERA

Pictura Bar at Mandarin

Oriental Ritz, Madrid

Hendrick's gin and Fever-Tree

tonic, with your choice of a

lemon or lime twist. Served

with a bowl of bergamotscented

almonds, tasting

weirdly of aftershave.

Four Seasons Madrid

A vast slug of Beefeater

mixed with Fever-Tree tonic,

served in a large wine goblet

with big ice cubes the size of

shoeboxes.

Palacio de los Duques

Sipsmith is the default gin at

the hotel's Coroa bar, poured

with either Fever-Tree or

Royal Bliss tonic and served

in a chilled glass with a slice

of lime.

Pestana Plaza Mayor

The bartender at the rooftop

bar mixes Seagram's Gin

with London Essence tonic,

as he pushes some salty

snacks, such as house-made

crisps and corn chips, in your

direction.

CoolRooms Atocha

In the cool bar, house

brand Gin Mare (distilled

in Barcelona) is mixed with

Schweppes tonic water and

served with a salted snack

and tapas, according to the

time of day.

MADRID-BARAJAS AIRPORT TO CITY CENTRE: 11 miles/18km

NetJets

29
---
NOTES FROM NETJETS

Latest events, onboard updates,

and companywide news and profiles

BEAUTY OF BASEL

NetJets once again

had a strong presence

at the international art

fair this September

PASCAL FEIG

ART ON VIEW

In a welcome return to hosting Owners Events this year, one of the highlights was at Art Basel in

September, as NetJets marked the 20th year of sponsoring the international art fair. As well as providing

Owners with VIP First Choice and Preview access to Art Basel ahead of the general fair opening, we

hosted Owners at the Les Trois Rois, taking over a floor in the hotel to provide respite from the show

in an area that was rebranded with artworks from the König Gallery. In addition, on the Monday of the

event, we hosted an intimate dinner at the Chef's Table in Les Trois Rois with gallery owner Johann König

and accomplished Swiss multimedia artist Claudia Comte, who gave insights into her methods. Also in

September, we continued our longstanding presence at the Monaco Yacht Show, where, alongside the

usual stand, access was provided for our Owners throughout the week.

30 NetJets
---
JULIAN RENTZSCH

INSIDE TRACK

ALEXANDRA

SEQUEIRA DE

CARVALHO

Director of Human Resources

WHAT DOES A NORMAL DAY CONSIST OF?

Having a lot of meetings and talking to

lots of people – talking to understand the

company and how we can do better.

WHAT IS THE BIGGEST CHALLENGE

YOU FACE IN YOUR ROLE?

NetJets Europe has currently more than 1,200

employees all over the continent. When people

think about Europe, they immediately think

of the number of languages, but there are

also different labour laws, different fi scal and

tax realities and different social security rules

to deal with. This has also been challenging

during the pandemic as we try to ensure the

safety of our employees according to their local

government guidelines.

WHAT DO YOU LIKE MOST ABOUT

YOUR ROLE ?

I really like to make sure that we make

a difference. I truly believe that with the

decisions we take that we are making a

difference, hopefully for the best of every

single employee at NetJets and to the

NetJets brand. There's not a single day that

I don't learn something new. It has been an

incredible journey so far.

NETJETS BY THE NUMBERS

GLOBAL

CYBERSECURITY

24/7/365

Cybersecurity monitoring and response

(Protecting Owner data with industry-standard

encryption and data-loss prevention)

810 ADVANCED

Industry-leading advanced cybersecurity rating

(The highest of any private aviation provider)

DAILY PHISHING TESTS

Consistent and persistent employee testing

(Every NetJets employee must recognise phishing

attempts)

6,500+ EMPLOYEES

Trained in cybersecurity best practices

(This includes all employees of NetJets Inc.,

including subsidiaries)

ZERO MISHAPS

Our goal, with safety as our first and highest

priority (We view data protection as a core

component of safety)

WHAT'S THE MOST IMPORTANT ASPECT

OF YOUR ROLE?

If there is a message I would really like

to make sure that everyone gets it is that

it is everyone's role to take the company

forward. So it is not, "What they are

deciding, what are they prioritising?". It's

"How are we taking those decisions? What

are our priorities in order to achieve our

company goals?".

ISTOCK

NetJets

31
---
NOTES FROM NETJETS

Sustainable management is an integral part of the

NetJets business model, and when it comes to being

environmentally and socially responsible – in the air, on

the ground and within our teams – a series of programmes

and initiatives are leading the way

THE RIGHT

STUFF

SINCE LAUNCHING A voluntary

carbon offset programme in

2008, NetJets has been at

the forefront of sustainability

in private aviation – from

achieving and maintaining a

carbon neutral status in Europe

since 2012, to establishing or

partaking in various schemes

that bring forth a more

sustainable, better society.

A large-scale investment in

sustainable aviation fuel (SAF)

is one of the most significant

advances. NetJets is the first

private aviation company to

go as far as taking a stake in

the actual production of SAF,

making a sizable investment

in SAF developer WasteFuel.

NetJets also represents the

business aviation industry in

SESAR (Single European Sky

ATM Research Programme)

on initiatives such as

addressing climate change by

enabling efficient routes for

business aviation.

Another scheme is the

Blue Skies programme,

which allows Owners a more

environmentally friendly way

to fly by paying extra on their

flights in order to offset their

emissions. The extra amount

is based on the hourly fuel

consumption of the aircraft

and the money raised is used

to purchase carbon credits

by a third-party organisation,

ClimateCare, which are then

used to invest in carefully

selected projects around the

world. These include a project

in Kenya, which provides burn

stoves for households that cut

CO 2

emissions and indoor air

pollution, and a reforestation

project in Guanare, Uruguay.

Of course, the more Owners

contribute to the scheme the

further we can reduce our

environmental footprint.

Other efforts include a

reduction in the use of singleuse

items – or replacement

with environmentally friendly

alternatives – both on board and

in NetJets facilities. Yet perhaps

the most striking aspect is the

personal commitment that

NetJets team members are

making to the cause.

To support the efforts to

move toward sustainability

in all the areas of our

business, we have created

the NetJets Philanthropy and

Sustainability Committee.

Since launching, this has

made significant strides in

reducing NetJets' carbon

footprint while supporting

local communities. The

committee includes around 90

volunteers from across NetJets

US and Europe dedicated to

United Nations Sustainable

Development Goals.

Netjets Vice President

Ireland Tiernan Butler has

embodied the volunteer ethos

within the company since he

joined the committee as a team

leader in the Quality Education

Team. "I was already in a

volunteering process; however,

this opportunity came to

collaborate and apply change

on a broader scale which

was very exciting. NetJets to

its credit follows through on

its objectives so I knew the

committee was going to

have integrity and a positive

impact," he says of his decision

to get involved.

"I think what distinguishes

sustainability from

philanthropy is addressing

issues in a manner that

makes them self-sufficient,"

he continues. "I find that

very attractive as it involves

creativity and problem-solving

with the solace that things are

improving long after you've

gone. Disadvantaged teens

and young adults face greater

hurdles at such a vulnerable

time in their lives that they

can often ignore or close

doors of opportunity without

realising it. The Quality

Education Team can reach out

to those unclear of their future

or unsure of themselves but

can in turn become reference

points and role models for

others in their community."

The target is to produce

a credible educational

programme that will inspire

the disadvantaged to seek

employment or further

education. In this and the other

areas the committee covers

there is much work to be done

but there can be no doubt

that NetJets will continue to

search for solutions for a more

sustainable future.

ISTOCK

32 NetJets
---
REIMAGINED

DESIGN

SAME BREATHTAKING

OCEAN VIEWS

W South Beach | 2201 Collins Avenue | @wsouthbeach
---
NOTES FROM NETJETS

Our featured crewmember for this issue has a

remarkable story to tell, responding to difficult

times in his home country

JULIAN RENTZSCH

CREWMEMBERS IN PROFILE

THORSTEN WOLFSHOHL

Captain, Citation XLS

MY FIRST EXPOSURE TO FLYING WAS …

when my dad did his private pilot's licence and

I was about two years old. It didn't take long for

me to fi gure that I'd never want to do anything

else in life.

FOR ME, THE BEST PART OF FLYING IS … as

my wife proclaims it: freedom (and she knows

me quite well).

BEFORE JOINING THE NETJETS TEAM, I

WAS … at fi rst fl ying Tornados for the

German Air Force. Later, fl ying politicians

around for the government.

THE ONE DAY AT NETJETS I WON'T FORGET

IS … difficult to choose – there are too many to

select one. But surely the day in July when I was

asked: "What do you need?" (see facing page).

ONE THING OWNERS PROBABLY WOULDN'T

GUESS ABOUT ME IS … that I thoroughly

enjoyed every military medevac I fl ew into the

garden spots of this planet. (Though my wife

hated these days!)

ON MY DAYS OFF I … try to spend a day or two

at my fl ying club. It is a good thing my

girls like to fl y as well. This summer I had a

period when I did some customised job training

though – power-generating and pumping

technician, bulk garbage disposal expert,

structural engineer, minister and some more.

Usually, it was a 30-second apprenticeship

followed by on-the-job training.

WITHIN THE NEXT YEAR I WOULD LIKE TO …

be a linetrainer on the mighty Excel. And, just

maybe, rebuild our basement.

WITHIN THE NEXT 10 YEARS, I WOULD LIKE

TO … cherish seeing my daughters make their

own way in life.

MY HAPPIEST DAY AS A CREWMEMBER

WAS … when I took my family along on a "ferry

me". They fi nally saw what I do for a living and

understood why I enjoy it so much.

34 NetJets
---
AFTER THE FLOOD

NetJets Captain Thorsten Wolfshohl recalls a

summer when his town was hit by disaster

I JUST HAPPENED TO live in the wrong place at the

wrong time – and now know for sure I cannot

walk on water.

Around the weekend of 10-11 July the

German weather services started to send

warnings that a significant amount of rain would

approach an area in the western part of the

country. More specifically, the mountainous

range of the Eifel region.

The procedures that were in place for such

a warning were seemingly not followed in time

or had not been initiated at all. A reservoir was

supposed to be pre-drained and rain-collecting

pools should have been emptied. When the

decisions were finally made the emergency

dump of the reservoir was malfunctioning and

the rain had already arrived.

Too little, too late – the damage was done...

The problem dates back to 1998, when a

minor gravel quarry was seeking permission to

extend its scavenging area. The extension was

granted, but the geographic peculiarities and

position of the nearby highway and river were

neglected. The concerns of a group of residents

from the village over the extension were dismissed.

The consequences were felt keenly in

Erftstadt-Blessem, a little village in the state

of North Rhine-Westphalia state, where I live

with my wife and two children. You may have

heard the name if you were watching the

evening news – it even made the front page of

The New York Times.

So my family and I had a somewhat more

"in-depth" acquaintance with the events. The

little stream – 500 metres from our house – is

usually a few metres wide and knee deep. It

now had swollen to a size wider than the Rhine,

flooding the entire village. The water rushing out

of the town towards the quarry broke through

what was certified as the "southern flood dam",

crashing down a much-too steep slope.

Around 12 to 13 million cubic metres of water

drained into the quarry within hours – causing

what geologists call retrogressive erosion. This

WATER DAMAGE

The flood had a devastating effect

on the town, but, thankfully, Captain

Wolfshohl and his family, below,

were able to manage thanks to the

"best of humanity"

COURTESY THORSTEN WOLFSHOHL

made its way the short distance to town and took

with it three houses straight away, raising the

subsoil water level and destabilising the ground

on which the town was built.

The next few weeks were filled with the

fear of losing our home, shovelling mud,

cleaning what could be salvaged amid the

personal tragedies around us. But there were

also uncountable stories of solidarity, help and

generosity: strangers who gave us the keys to

their house for us to stay; people (including

colleagues) spending their holiday to help

out in the disaster areas; volunteers were all

around and people worked together after being

separated by COVID-19 for too long – in short, it

was the best of humanity.

When I called NetJets to report the events at

home I was asked: "What do you need?"

I am fully aware that those in the office and

out on the line worked the toughest summer

there could be, yet they still provided me with

what was needed the most – time.

The only thing left to say to the whole

NetJets team: thank you.

PICTURE ALLIANCE / ASSOCIATED PRESS

NetJets

35
---
PRIVATE ESCAPE

IN GREECE

Nested on a gorgeous private sandy beach, Porto Zante Villas & Spa on

the Greek Island of Zakynthos is an award-winning hideaway of worldclass

villas, considered to be the most private beach resort in Europe at the

moment and offering unique experiences for families and couples alike.

Porto Zante Villas & Spa

Selected as one of the 24 Ultraluxe Resorts in the World by Virtuoso for

2020 and one of the World's Best Hotels & Resorts for 2020 by Condé

Nast Traveller's Gold List, Porto Zante Villas & Spa is a wonderfully discreet

hideaway, choice of famous clientele from all over the world. A member of

the Small Luxury Hotels of the World, this private beachfront paradise, located

on the magical Greek Island of Zakynthos, has perfected the merging of royal

personal services, exclusive facilities and bespoke activities, satisfying even the

most discerning guest. Escape to one of its nine world-class beachfront villas.

FOR FURTHER INFORMATION

Call +30 210 8218640 or +44 (0)20 8882 6767, email reservations@portozante.com or visit portozante.com
---
HOW TO REACH

Escape to Porto Zante Villas & Spa in under

two hours from most major European cities

either by private jet or via one of the direct

non-stop flights to the island during the

summer.

WORLD-CLASS VILLAS

Imagine your own beachfront estate,

nestled between the magnificent natural

beauty of lush tropical gardens, azure skies

and set on a picture-perfect turquoise sea.

Nine stunning world-class villas are built

amphitheatrically over a secluded sandy

beach and boast private heated pools and

stunning views of the Ionian Sea, creating an

escape in the truest sense of the word. Inside

these super-luxe havens, selected Armani/

Casa and Kettal/Gervasoni furniture add

to the laidback glamorous aesthetic; the

divine marble bathrooms are equipped with

Bulgari guest amenities, while cutting-edge

technology is represented by Bang & Olufsen

entertainment systems and iMac desktops.

BESPOKE EXPERIENCES

In case you wish to emerge from your private cocoon

and the 24-hour in-villa dining service – ideally

complementing the Club House Greek & Mediterranean

Restaurant and the Maya Contemporary Asian

Restaurant – an array of luxury experiences and fun

activities awaits. Delicious dining in one of the resort's

open-air restaurants, private training in the resorts' Gym

by Technogym, yoga sessions on the tip of the water, both

motorised and non-motorised water sports for all ages,

private yacht excursions, to the famed Navagio beach,

Marathonisi, or local landscapes like Ancient Olympia,

birthplace of Olympic Games, sample fine wines at

the local vineyard, or – naturally – a signature zen spa

treatment. Awarded Greece's Leading Hotel Spa, the

Waterfront Spa is situated in front of the cobalt waters of

the Ionian Sea and excels in over 20 therapies inspired

by Greek nature. And while parents unwind under the

care of experienced therapists, the staff at the Kids' Club

oversees children's entertainment and organises fun

activities. It is all dedicated to fun!
---
OWNER'S PROFILE

PERPETUAL

MOTION

Co-founder of Netflix Marc Randolph may have reached the

pinnacle of entrepreneurship, but he remains very much

grounded in the moment // By Josh Sims

MARC RANDOLPH RECENTLY WENT over his

handlebars. "I'm limping right now. But

listen, at my age, if I'm still doing that

kind of thing I'm not complaining," he

laughs. Indeed, Randolph, 63, is a great

outdoorsman, often found up alpine passes,

along wild rivers – and occasionally falling

off mountain bikes. It's a bug he caught

as a teenager with the National Outdoor

Leadership School, an organisation whose

board of trustees he now chairs.

"I think you're incredibly lucky if at some

point in your life you work out what really

makes you happy, and I've always loved

what you might call 'Type 2' fun – the kind

that you think of as fun retrospectively,

when at the time you're cold, hungry, and

miserable," he says. "But [all that] was

teaching me leadership skills from the

age of 14, when I got to lead a group and

had the chance to make decisions with

real consequences. Almost everything I

learned [of use in] business I learned with a

backpack on."

While the serial entrepreneur has many

successes to his name – most recently

mentoring the rise of Looker Data Sciences,

which was sold to Google for $2.6bn –

he's best known as the co-founder, with

Reed Hastings in 1997, of Netflix. That's

the subscription DVD provider turned

movie streamer and, finally, film and series

production powerhouse.

"The great irony of my [working] life is

that Netflix puts so many people in front

of a screen," he chuckles, "though I was

pleased to receive so many messages

saying what a lifesaver it had been over

the last 18 months [of the COVID-19

pandemic]. I wasn't even a film buff

when we created Netflix, not at all. Both

of us had little kids so it was more about

watching The Lion King over and over. [For

us] it was all about looking for a start-up

idea, not to build on something we were

already passionate about."

Out then went his idea for

personalised shampoo, and for custommade

dog food – both businesses

that others have since brought into

being. Randolph pitched all manner of

things to Hastings, who had acquired

a software start-up from him before a

takeover looked likely to make them both

unemployed. But it was Netflix that stuck

and not least because Randolph's wife,

Lorraine, really wasn't impressed.

"The joke is that she's like my negative

indicator for ideas that could work,"

Randolph laughs. "But then every idea

is really a bad idea to start with. That's

the nature of doing things that haven't

been done before. Almost inevitably a

new idea won't work [as you imagine].

So if someone says it won't, well, they're

probably right. The entrepreneurial process

is all about trying it anyway, learning what

didn't work, and using that to inform the

next thing you try."

It's just such a lesson that Randolph has

tried to impart to the entrepreneurs behind

many start-ups over the almost 20 years

since he left Netflix – having concluded his

skills lay in launching businesses rather

than scaling them and culminating in the

aptly titled book That Will Never Work

the story of how Netflix got going. More

unusually, it's also led to a podcast series

of the same name. Each episode sees

Randolph – who has a great voice for audio

– riffing off the cuff on possible next steps

for all manner of business ventures.

One notion he's keen to dispel for any

fledgling entrepreneur is that you need a

great idea before you get started. Sure,

Randolph says, the idea of the eureka

moment – oft-repeated stories of how "you

can't get a cab on New Year's Eve and so,

boom! There's Uber, or that you're tired of

paying late return fees on rental VHS tapes

38 NetJets
---
COURTESY MARC RANDOLPH

MOVING ON

Marc Randolph has embraced

many different projects since

leaving Netflix in 2002

NetJets

39
---
OWNER'S PROFILE

and so, boom! There's Netflix" – makes for

a great story. And, since his great-uncle was

Edward Bernays, widely considered to be the

father of public relations (making Randolph a

distant relative of Sigmund Freud, too) perhaps

that's not surprising. "Edward didn't exactly ever

sit me on his knee and tell me it was all about

the art of persuasion, but I do wonder if it was

total chance that I had a career in marketing,"

Randolph muses.

But, he stresses, the problem with the lore of

epiphanies is that it places too much emphasis on

the idea and not enough on the action. "The skill

really is not in coming up with ideas. Ideas count

for shit. It's about how quickly and cheaply you

can test them, which is so much easier to do now,"

he says. The lore too belies "the many dead-ends

and experiments required [of a start-up], the very

messy full story that nobody wants". And it creates

a mythology that dissuades many people from

getting going at all.

THAT'S BAD ENOUGH, without the many other

reasons people find not to break ground. "And

I've heard every possible reason why people

don't do something with the idea that they

have – that they need to do more research, or

quit their job, or raise money, none of which are

genuine to me," says Randolph.

"The reason people don't start is that they

can't accept the risk. They want to look around

the next corner, without actually getting to the

corner first," he adds. "You can't learn a language

from a book, either. At some point you have to go

out and speak it, be a 40-year-old feeling like a

four-year-old making an ass of yourself."

Netflix, Randolph notes, started by testing

whether a DVD could be posted locally without

damage. It could be, but then they realised

that posting between US states typically meant

much rougher handling. So they pressed on and

adapted. There was the necessarily mad rush to

decide on a name – TakeOne and NowShowing

were rejected – and Netflix was opted for despite

deep misgivings that it sounded slightly dodgy.

"If you remember the '70s you know that

pornographic films were 'skin flix', with an X,

and anything with an X seemed a scary choice

to us then," says Randolph, "and it still sounds

vaguely porny."

And then, after over 1,000 invitations to

invest were declined, there was the small

matter that, two years in, the business was

hemorrhaging money, such that at one point

they approached the then daddy of VHS rental,

Blockbuster, to see if it would buy their idea of

renting videos by mail. Blockbuster, echoing

Decca's fateful decision to turn down The

Beatles, said no. Surely Randolph must look

back on this, given Netflix's now $20bn-plus

annual revenues, with a touch of glee?

"Actually, I think of that now more as having

dodged a bullet," he explains. "At the time we

were very invested in a deal as being a way out of

desperate straits, with zero hope of venture money.

When Blockbuster essentially laughed at our

$50m price tag there was just terror: they weren't

just not going to save us, they were going to

compete with us. It was a sombre ride home. But I

still don't get any joy from seeing another business

go down because of our efforts."

Indeed, the moment arguably prompted a

refocusing on the element that really made Netflix

work, turning it into a subscription service – and

since Randolph started out in direct marketing

and mail ordering and later founded the US

version of MacUser magazine, he still can't quite

believe this didn't occur to him much earlier.

Subscription services, powered by the internet,

have, of course, since become a benchmark

model for countless businesses.

Perhaps the greatest lesson Randolph might

impart though – refreshingly, since it also speaks

"The thrill has to be in trying to solve

these complex puzzles day to day"

40 NetJets
---
COURTESY MARC RANDOLPH

to non-entrepreneurial people – is that building

businesses may be lauded in contemporary

culture, but nonetheless isn't the be all and end all.

Yes, it's better to have more money than less

money, Randolph concedes. But the notion that

success in business means "something special

will happen in your life is wrong, because you

get to the summit, and all you find out is that

it's a false summit and that there's another one

ahead of you," he says, employing a suitably

outdoorsy metaphor. "Netflix's first aspiration

was to be the size of one Blockbuster store,

and then, before you know it, it was to be

Blockbuster – it never stops. The thrill has to

be in trying to solve these complex puzzles [of

business] day to day."

That's what drove Randolph to launch

all manner of proto-businesses as a kid,

encouraged by his easy-going and openminded

parents, his father a nuclear engineer

turned banker, his mother running her own real

estate business. "If the precursor to being a

serial killer is torturing small animals, then for

entrepreneurs it's starting lots of clubs,"

he quips.

But, while perhaps it's a cliche, it's

nonetheless true that he counts his greatest

achievement as having built businesses while

maintaining his marriage of three decades – too

many entrepreneurs have as many ex-wives as

they do start-ups under their belts, he's noted–

"while bringing up kids who, as far as I know,

like me".

"Having a balanced life is just the hardest thing.

Start-ups are 24-hours-a-day things and I think it's

terrible to see entrepreneurs sacrificing their private

life to them. That understanding came late to me: it

wasn't until I was 30 that I realised I was on a bad

track and working too hard," says Randolph, who

consequently instigated an inviolable, weekly date

night with his wife.

HE RECALLS a period during the early days of Netflix

when he was flying four days a week, feverishly

running for planes all the time. He may not believe

in epiphanies when it comes to business ideas

but he certainly had one when it came to how he

wanted to live.

"About half the time the plane had already

gone [by the time I got to the gate], about 49% of

the time it was still just sitting there and I got on

board all panting and sweaty, and I think in only

one percent of cases did getting the plane, or not

getting it, actually matter," Randolph explains. "I

vowed then that I wouldn't run for a plane again.

"That's a metaphor for what goes on in

business too – that misleading idea that you have

to make every decision, that you have to oversee

everything," he adds. "[People who do that are]

running for planes, when 99% of the time it just

doesn't make any difference."

There's a pause, and a smile, maybe in

recognition that, all the same, he made it –

and made it big. "Now, of course," he says, "I

literally don't have to run for planes for a whole

other reason."

MARC OF ALL TRADES

Randolph has expounded on his

ideas on entrepreneurship via a

book and a weekly podcast, which

can be found at MarcRandolph.com

and all good podcast hosts

NetJets

41
---
SKI CENTRAL

NEIL SHARP; FACING PAGE: ARTHUR BERTRAND / LES 3 VALLEES

ALPINE

AGENDA

42 NetJets
---
POWDER POWER

On the slopes at Val Thorens;

facing page: ZEMS Lodge

in Morzine

Whether it's decadent lodges, private chalets, standout

restaurants or the latest toys for the piste, there's something for

everyone in Europe's high-altitude wonderland // by Felice Hardy
---
SKI CENTRAL

Skiing is back with a vengeance, with green shoots popping up all

over the Alps, ranging from new lifts and pistes to hotels, chalets

and lodges. Resorts and accommodation owners are ever-more

aware of sustainability, with the aim of protecting the Alps for

people who love being in nature. Protection is paramount for

health as well – an increasing number of resorts have announced

that their staff must be double-vaccinated in order to work there.

Italy has also added that resort employees must wear surgicalquality

masks and, although chairlifts and drag lifts can run

normally, enclosed gondolas and cable cars will run at 80%

capacity to avoid overcrowding.

BUSY-BEE BUILDERS

Nothing has managed to slow down the frenetic building work

that's taken grip in the Alps, starting with Verbier, where the

37-year-old Médran 1 gondola – a notorious bottleneck – has

been replaced by a Doppelmayr lift with 10-seater cabins that

will almost double the hourly uphill capacity. Head across the

border to Austria, and the Tyrol region now claims to have the

longest ski circuit in the world – created by a new connection

between the SkiWelt and neighbouring KitSki area – so you

can now slip and slide all the way from the village of Going to

Hollersbach and back, energy and daylight hours permitting.

France has a cornucopia of new additions for this season too,

with Saint-Gervais investing €1.5 million in a new beginners'

area in the Mont d'Arbois sector. MoonBikes and e-biking on

snow are two fresh-air activities available through Oxygene

(oxygene.ski) in La Plagne and Val d'Isère while Le Grand-

Bornand is launching the Noct'e-bike for night-time rides on

the empty slopes. Faster still is the new zipline in Les Arcs that

follows the route of the Flying Kilometre track and you'll reach

speeds of 130kph (one free ride on your Premium lift pass). A

five-stage gondola/cable-car now links Val Thorens with Orelle,

the "fourth valley" of the Three Valleys in the Maurienne area.

This opens the option of staying in smaller, quieter Orelle to

access this vast ski area. In Les Menuires, down the valley

from Val Thorens, there's a new state-of-the art 10-seater

cable car in the less-skied La Masse area. La Clusaz unveils

its new Reblochon run – the clue's in the name as you whizz

down the new 2.5km-long slope and make a stop to learn

about…you've guessed it…cheese. Finally, when work has

to slot in somewhere, digital nomads can base themselves in

Courmayeur, which is offering accommodation-office packages

and alpine workspaces complete with fast Wi-Fi.

STAY FAST OR SLOW, HIGH OR LOW

Speed along to Hôtel Barrière Les Neiges (hotelsbarriere.com) in

Courchevel, which has formed a partnership with Aston Martin;

guests will be driven around in a DBX, its latest SUV. Hotel Marielle

(hotelmarielle.com) is a sporty new addition for Val Thorens

– its name is a nod to local Olympic ski champion, Marielle

Goitschel. Take your foot off the accelerator at Zillergrund Rock

(zillergrundrock.tirol), the luxury mountain retreat in the Mayrhofen

area that blends into the rocks that surround it. Oozing in

greenness, the electricity comes from the hotel's hydropower plant,

there's wood pellet heating and the building was created from local

materials. Its star turns include a 3,000sq m spa and a Sky Pool.

There is a heated open-air pool at the new wellness oasis in Alpin

ART & SPA Hotel Naudererhof (naudererhof.at), on the border

where Austria, Italy and Switzerland meet; this winter, you'll be able

to relax across four floors, with a stone pine sauna, a mountain hay

bio sauna, an aromatic stone steam bath, and an indoor biotope

with a wellness garden and relaxation room.

Onwards from the Tyrol to Salzburgerland, where the young,

hip Selina Bad Gastein (selina.com) is located in a late 19thcentury

building near the landmark Bad Gastein waterfall. The

hotel's 90 rooms range from luxury suites to shared bedrooms

– with an interior designed by local architects and artists. Where

better to nest than The Storks (the-storks.com), an art and

boutique hotel with 31 rooms in one of the oldest buildings

along the road in Bad Hofgastein. Inside, traditional meets

contemporary, with artwork sprinkled throughout the building. A

new boutique hotel, The Place (flachau.com), comes to Flachau's

village square with rooms and studios for up to four people;

there's a restaurant, bar and a lounge, as well as a chill-out area

with sauna, tea bar and roof terrace. The Kempinski Palace

(kempinski.com) in Engelberg, the resort beloved of Bollywood,

has traded as the Grand Hotel Winterhaus since 1904, but is

now remodelled for a new era by Jestico + Whiles. Cosmiques

(cosmiqueschamonix.com) is a fun new hotel, restaurant and

underground bar in Chamonix; the hotel itself has 17 bedrooms

and an all-day restaurant featuring creative Alpine-Asian cuisine.

Five years after opening in Chamonix, there's a new Rocky

Pop (rockypop.com) in Flaine with a whacky interior, three

restaurants, spa and pool, and indoor basketball.

HOME FROM HOME IN THE MOUNTAINS

If you've heard rumours about a dearth of chalets, be cheered

by Ski France (skifrance.co.uk) that has bucked the trend and

MOUNTAIN HEIGHTS

Top row: the slopes of Courchevel; Julien Gatillon and

Sonia Torland of Nous, Megève; Hygna Chalets, Alpbach;

middle row: Kempinski Palace Engelberg; Le 22, Verbier;

Val Thorens resort; bottom row: Alpen Hotel, Kitzbühel;

Arla Luxury Home, Lech; the road to Aperigloo, Megève

ROWS FROM TOP AND LEFT: DAVID ANDRE, PASCAL ETIENNE LATTES, © 3D MANUFAKTUR ERLER & CEOLAN, © KEMPINSKI, CHRISTOPHE VOISIN, ARTHUR BERTRAND / LES 3 VALLEES, CHRISTIAN WOECKINGER, PATRICK SCHWIENBACHER, © MEGEVE COMMUNE

44 NetJets
---
NetJets

45
---
SKI CENTRAL LIFE

expanded its programme with its Contactless Catered Chalets.

You arrive to find fresh fruit and veg, fresh meat or fish, dairy,

beers and wines, all bought for you in advance. Beds are made,

bathrobes and slippers are in the bathrooms, logs in the fireplace.

Cooking instructions are provided and while you're out skiing,

staff you'll never see will clean the chalet midweek. Bacchus is

a brand new chalet in Courchevel Moriond from uber-luxe chalet

specialist Consensio (consensiochalets.co.uk), focusing on light

and views to bring the outside in – add to this a 10m pool, large

spa, cinema and a heated courtyard.

Ultra-convenient for Geneva is ZEMS Lodge from the Boutique

Chalet Company (theboutiquechalet.com) in Morzine, which

marries luxury with innovation in a five-storey building tucked

into the mountainside. Inside is all understated elegance with

nickel baths, soaring wood-beamed roofs, vibrant fabrics – all of

which was created by locally renowned designers, Shep & Kyles

– there's even an acoustic guitar and percussion instruments for

guests' use. Also in Morzine, the Old Macaroni (hunterchalets.

com) was restored from its farmhouse origins with a superluxurious

cinema, massive outdoor deck, hot tub and a glassfronted

barrel sauna with views. Influenced by the owner's

favourite novels, each bedroom features elements of the book it is

named after, including a Harry Potter room for children.

Every bit as magical is DAS SeeMOUNT (seemount.at) in

Paznaun near Ischgl in Austria, designed as "a chilled, cosy oasis

amid nature". Its 60 rooms are decorated in warm wood and soft

fabrics, with large windows; there's also a spa and an infinity

pool with a valley vista. For those in search of the hygge lifestyle,

Hygna Chalets (hygna.at) are 11 secluded homes in the Alpbach

valley, each with its own sauna, fireplace and a therapeutic

vibration bed. Four of the chalets have private whirlpools and the

swimming pool has mountain views.

Sölden was a location for Spectre and The Secret (the-secretsoelden.com)

has all of the style of a Bond movie with loads

of bling and sparkle, the living room acting as the social hub,

drinks and snacks on tap, and dinner served in THE VUE sky bar

complete with glass ceiling for star spotting. Arla Luxury Home

(arlalech.com) in Lech is where chalet architecture meets alpinemodern

craftsmanship; it sleeps 12 in three individually furnished

apartments with a large living and dining area and open fireplace.

Add to this two spa areas, a multifunctional yoga room, a party

room, private cinema, darts and pinball machine.

From the same team as the Vache mountain eatery in Verbier,

which is brainchild of après impresario Rob Sawyer, along with

a coterie of celebrities, is a 28-bed hotel – also called La Vache

(lavacheandermatt.net) – in Andermatt. This one has the Pot

Luck restaurant from South African chef Luke Dale Roberts, an

après-ski terrace and a cocktail lounge. In France, Bear Lodge

(vip-chalets.com) is a luxury complex on the Baptiste Giabiconi

blue piste in Arc 1950. It has 30 bedrooms named for fictional

bears such as Yogi and Baloo, a gym and cinema room.

SLOPESIDE

A new lakeside lodge opens at the Alpenhotel (alpenhotelkitzbuehel.at)

in medieval Kitzbühel, complete with restaurant

and elegant accommodation. Also in the Tyrol, there's oodles of

wood, fur and stone at Golden Marmot (chalet-stanton.com),

which opens on the slopes at St Anton, housing three spacious

apartments. In France, Antarès (antares-meribel.com) sits beside

the Rhodos piste in Méribel. Its living spaces have been designed

for mega-comfort with an 800sq m spa, 25m pool, a lounge bar

and business centre. In the next valley, Lodji Hotel (lodji.fr) is

at the foot of the chairlift in St-Martin-de-Belleville, and Chalet

le Nid (agence-des-belleville.com) is a tiny jewel set at the foot

of the slopes in a hamlet five minutes from the same resort.

Much bigger is La Plagne's first five-star residence on the slopes:

White Pearl Lodge & Spa (cgh-residences.co.uk) in Plagne

Soleil has eight wood-and-stone chalets and 91 high-end duplex

apartments, and is ski-in ski-out with a heated indoor/outdoor

pool – the only one in the resort.

SECRET SKI FOOD

Le Caribou (valthorens.com) is a new slope-side restaurant in

Val Thorens with "Kota" Finnish chalets decorating its terrace

to make it appear like a cute little village. Aperigloo (megeve.

com) in super-chic Megève is a secret après-ski venue reached

on snowshoes. More private still is Verbier's first speakeasy

dining experience, Le 22 (crock.ch), hidden behind a secret

door: you book a table for a semi-gastro meal prepared by

chef Adam Bateman (he was former chef to Richard Branson

and Raymond Blanc); the ambience is relaxed with 22 seats

and the place is run like a chef's table using local products

and ingredients either foraged from the local countryside

or the kitchen garden. Topping the private theme, Nous

(juliengatillon.fr) features Julien Gatillon, former two-Michelin

starred chef of Le 1920 at the Four Seasons in Megève, and

his partner Sonia Torland, who are hiring out their restauranthome

in the resort for two to 12 people. It's a totally unique

culinary experience with classic cuisine brought up to date and

based on the best produce of the moment.

SION AIRPORT TO VERBIER: 34miles/54km; INNSBRUCK AIRPORT TO TYROL (SKIWELT): 48miles/78km; GENEVA AIRPORT TO SAINT-GERVAIS: 48miles/77km; CHAMBÉRY

AIRPORT TO LA PLAGNE: 73miles/118km; CHAMBÉRY AIRPORT TO VAL D'ISÈRE: 71miles/114km; GENEVA AIRPORT TO LE GRAND-BORNAND: 35miles/57km; CHAMBÉRY AIRPORT

TO LES ARCS: 86miles/138km; CHAMBÉRY AIRPORT TO VAL THORENS: 75miles/121km; CHAMBÉRY AIRPORT TO ORELLE: 63miles/101km; CHAMBÉRY AIRPORT TO LES MENUIRES:

70miles/112km; ANNECY AIRPORT TO LA CLUSAZ: 21miles/33km; ANNECY AIRPORT TO COURMAYEUR: 73miles/117km; SALZBURG AIRPORT TO BAD GASTEIN: 47miles/76km;

SALZBURG AIRPORT TO BAD HOFGASTEIN: 43miles/70km; SALZBURG AIRPORT TO FLACHAU: 36miles/58km; LUCERNE-BEROMUNSTER AIRPORT TO ENGELBERG: 36miles/58km;

GENEVA AIRPORT TO CHAMONIX: 62miles/99km; GENEVA AIRPORT TO FLAINE: 55miles/89km; CHAMBÉRY AIRPORT TO COURCHEVEL: 63miles/101km; GENEVA AIRPORT TO

MORZINE: 48miles/78km; INNSBRUCK AIRPORT TO PAZNAUN: 62miles/100km; INNSBRUCK AIRPORT TO ALPBACH: 35miles/57km; INNSBRUCK AIRPORT TO LECH: 72miles/116km;

INNSBRUCK AIRPORT TO SÖLDEN: 53miles/85km; ZURICH AIRPORT TO ANDERMATT: 78miles/125km; SALZBURG AIRPORT TO KITZBÜHEL: 45miles/73km; CHAMBÉRY AIRPORT TO

MÉRIBEL: 63miles/102km; CHAMBÉRY AIRPORT TO MEGÈVE: 58miles/93km; CHAMBÉRY AIRPORT TO SAINT-MARTIN-DE-BELLEVILLE: 65miles/104km

46 NetJets
---
WHITE WONDERLAND

View from the penthouse

balcony of the Barrière Les

Neiges, Courchevel

MARC BERENGUER

NetJets

47
---
TEEING OFF

OLD

MEETS

NEW

IN THE LOIRE

The new golf course at Les Bordes is one of France's

most anticipated openings – and it's just the beginning of

development on the storied estate // By Farhad Heydari

48 NetJets
---
GREEN HEAVEN

The 7th hole on the New

Course at Les Bordes

WHEN IT COMES to naming Continental

Europe's golfing lotuslands – those instantly

recognisable courses steeped in legend and

lore – most 36-a-day types can only manage

but a handful. They'll name resort courses

(they've either played or have seen played)

in Spain and Portugal, while giving France

a pass altogether. What they won't know,

however, is that four of the top ten courses in

the continent's top 100 are of a Gallic variety.

Among these standouts is the Old Course

at Les Bordes: A gated 527ha hunting estate

in the Loire Valley where, under diktat from

the erstwhile owner, Baron Marcel Bich

(of Bic Biro fame), Texas-based architect

Robert von Hagge created his chef-d'oeuvre

in 1986, by turning a tract on this secluded

and wooded domain just 90 minutes from

Paris in what is colloquially known as the

Garden of France, into a championship opus

that is roundly considered in the highest

echelons of the global golfing firmament – on

par, in some eyes, with Augusta National.

With its watery panorama of lakes, ponds

and streams, which come into play on no

fewer than a dozen holes, all framed by

ancient oak forest, this 7,044-yard Bonsaiperfect

track would be enough of a draw for

most. However, the current owners of this

vast estate decided that the original 18-hole

NetJets

49
---
ALL IMAGES COURTESY LES BORDES

TEEING OFF

course needed a sibling, and so they drafted in

globally acclaimed American architect Gil Hanse,

who has fashioned a stunner of a New Course,

which has just debuted as his first on the continent

and has already entered Golf.com's Top 100.

Whereas von Hagge's work is a memorable

manicured mélange of photographable peninsula

and island greens delimited with railroad

sleepers and framed by shallow basin bunkers

that put the emphasis on target golf, the New

Course is a fast and firm transplanted tableau

that recalls the heathland tracks of southern

England or, in Hanse's own words, the likes of

Pine Valley, very near to his East Coast home.

BUILT ON A SANDY foundation with large waste

areas, the 7,285-yard walking-only inland links

layout has subtle elevational changes with raised

undulating greens with false backs which are large

and sometimes unreceptive to approach shots, and

menacing clusters and rows of cross-bunkering that

are disconcertingly deceptive and visually arresting

– all of it framed by vegetation such as broom,

heather and gorse that was grown and harvested

in the UK. There are plenty of risk-reward options

and, with the exception of one hole, the 18th, not a

drop of water to challenge. Yet because the course

has been designed to be played predominantly on

the ground in true links fashion, there are endless

swales, humps and bumps, and rollercoaster green

complexes framed by fescue and deep cavernous

A SPORTING HAVEN

From the hunting lodge-cumclubhouse,

top, to the par-3s of Wild

Piglet, above, and the challenges

presented by the Old and New

Courses, Les Bordes is handsomely

situated among its spectacular

wilderness surrounds

50 NetJets
---
unkers that provide ample defense on approaches.

For something more sedate, Hanse has

also designed a 10-hole short course called

the Wild Piglet. Ranging in distance from 57 to

148 yards, this collection of par-3 holes is just

as well-presented as the other 36 on site that

it is no wonder Golf.com immediately placed

it in its top-25 par-3 courses in the world.

And while golf is clearly the hero element here

(did we mention there are two absolutely enormous

putting greens and a world-class driving range?),

it is complemented by a myriad of other sporting

opportunities amid the natural splendour of the

ancient Sologne forest, a Unesco World Heritage

site. There are lakes for fishing; an equestrian

centre for riding; a petite white sand beach ringing

a lake for swimming; as well as archery and tennis.

THE ENTIRE ESTATE is anchored by a handsome

clubhouse, renovated and redesigned by Londonbased

architect Michaelis Boyd. It features a

bar and lounge, a restaurant serving up regional

specialties and superb wines (as one would

expect), and a private lounge and games room,

including a golf simulator, not to mention two

atmospheric wood-burning hearths. The same

designers also imbued the collection of rustic

cottages, with their antiqued tiled bathrooms

and double-height exposed timber A-frames

overlooking the 18th green of the Old Course,

with enough élan to make them time-appropriate.

These additions and tweaks, however, are just

the starting point for the ambitious next phase the

owners have in store for the property. This includes

plans to sensitively add a variety of residential

homes to parcels set away from the courses in

order to maintain their original grandeur and to

transform an on-site 19th-century château into a

hostelry operated by Six Senses Hotels Resorts

Spas, part of a new village square with restaurants,

shops, a farmer's market and outdoor amphitheater

centred on the estate's 13th-century priory. When

they are unveiled in 2024, you can be sure Les

Bordes will become instantly synonymous with

greatness. After all, it already is. lesbordes.com

AÉROPORT ORLÉANS LOIRE VALLEY: 16miles/26km

NetJets

51
---
LIVING WELL

CHILL

FACTOR

The secret to finding that extra performance edge

may be as simple as a cold shower // By Jen Murphy

DATING BACK TO ROMAN TIMES, communal baths were the healthgiving

jewels of the Alpine region and spa towns like Baden-

Baden in Germany, among countless others across Europe,

centred on their mineral-rich waters. Today, many of them are

still flourishing – but if you can't get to them or don't have time

to indulge in an hour-long hydrotherapy circuit, even a cold

shower can help with everything from mental clarity to muscle

inflammation. Roughly 60% of the human body is water, so it

shouldn't come as a surprise that water therapy can help bring

the body back into equilibrium when it becomes unbalanced.

Flying notoriously throws off our internal rhythms. The

foggy-headed fatigue of jet lag can be minimised by taking

a cold shower in the morning at your new location. Even a

minute-long, chilly douse can help your body adjust to the time

change by activating your central nervous system and resetting

your internal clock. The cold stimulus will also help invigorate

52 NetJets
---
ADOBE STOCK

the body and brain and improve the clarity of your thinking.

Twitter CEO Jack Dorsey, who is known to take only cold showers,

has proclaimed they're more energising than a morning cup

of coffee, and life coach Tony Robbins wakes up by diving into

a 14-degree Celsius pool of water. Tennis great and NetJets

Ambassador Rafael Nadal considers a cold shower his go-to

reset button. He takes a teeth-chattering rinse before every

match to help him find what sports psychologists refer to as his

flow, or state-of-alert concentration where his body moves by

instinct. An ever-growing body of science backs up their claims.

Hydrotherapy dates back to the 1820s, when Vincenz Priessnitz,

a farmer in Austrian Silesia, started touting the healing powers

of cold-water compresses, baths and showers. In the mid-19th

century, Irishman Dr Richard Barter took Priessnitz's observations

and applied them to treatments offered at his "hydro" or water

hospital. Barter's Roman-Irish baths consisted of a set of rooms of

NetJets

53
---
LIVING WELL

WHEN YOU COMPLIMENT THE

HEAT ELEMENT WITH A COLD

SHOWER OR JUMP IN THE OCEAN

OR A LAKE, THAT'S WHEN YOU WILL

FEEL LIKE A MILLION BUCKS."

varying heats and a series of cold pools. Moving the body between

contrasting temperatures promoted perspiration and detoxification.

Today, contrast bathing has become a pre- and post-ritual at the

world's top spas, inducing a sense of calm, reflection, relaxation and

repose, all the while getting one invigorated, enlivened and energetic.

In an era addicted to comfort, the cold component of immersion

circuits can often get overlooked. On a blustery winter day, a toasty

sauna or steamy hot tub sound way more enticing than an ice bath.

But that dunk in the cold is key to maximising health benefits.

"The sauna bathing practice is largely misunderstood in

the US," says Eero Kilpi, the NYC-based president of the

North American Sauna Society. "It is a process, and the cold

element is essential to the process. When you complement

the heat element with a cold shower or jump in the ocean

or a lake, that's when you will feel like a million bucks."

CONTRAST THERAPY

Generally speaking, heat is used to soothe and quiet the body,

and slow down the activity of our internal organs. Cold is used

to stimulate us, increasing internal activity within the body.

A growing body of evidence shows that cold exposure revs our

metabolism, reduces inflammation and can help with muscle

recovery after a strenuous workout. Basketball star LeBron

James considers post-game contrast baths his secret recovery

weapon. Five minutes in a hot shower followed by five minutes

in an ice bath, cycle through three times, and he's brand new.

The heat causes blood vessels to dilate and blood

circulation to increase. The cold triggers the blood vessels in

our skin to get narrower, reducing blood flow to the surface

of our skin to minimise heat loss. Research suggests that

alternating between hot and cold water can strengthen

the body's vasculature (veins and arteries) and improve

our cardiovascular and lymphatic systems. Additionally, it

can help filter out toxins in the body because it stimulates

constriction and subsequent relaxation of the blood vessels.

This can help to optimise blood flow to the tissues, which

may even help to regulate blood pressure. Healthy blood

circulation also improves recovery time from intense exercises.

When Scandinavians refer to sauna bathing, they don't

just mean a sweat session. Taking a sauna involves alternating

between hot and cold. It begins by sweating in a sauna heated

upwards of 93 degrees Celsius and is followed by an intensive

cooling-down process with ice, cold water, snow or even fresh

air. The positive benefits come from the body's cooling process.

BENEFITS OF BRRRR

Some studies have suggested that as the body adapts to

the cold element over time, it can help the body to increase

tolerance and adapt to stress. And researchers at Virginia

Commonwealth University School of Medicine found that

short, cold showers may stimulate the brain's primary source of

norepinephrine, which is thought to help mitigate depression.

Dutchman Wim Hof, nicknamed the Iceman for his frozen

exploits, such as running up Mount Everest wearing only shorts,

is perhaps the biggest champion of cold exposure as mood

booster. The Wim Hof Method, a combination of cold exposure

and breathing techniques, has been taught to Navy Seals and

mere mortals looking for everything from pain and stress relief.

Researchers from major universities have studied Hof and found

evidence that his method allows him to control his nervous

system, body temperature and immune response as well as

release, at will, mood-boosting chemicals, like opiates, that

provide natural pain relief and a sensation like a runner's high.

Hof, who hosts sold-out seminars around the globe, swears

he's no different than you or me. His remarkable ability to

swim in a sea of icebergs is not a physiological anomaly, but a

testament to his mental strength and willpower, he says. Your

body adapts to cold. The first few seconds in an ice bath can

feel like being stabbed by needles. Hof's breathwork techniques

help distract the mind from the initial shock of the cold, which

jolts the body into fight or flight mode. After a period of time,

that initial discomfort turns to a heady exhilaration as the body

releases endorphins and floods your brain and cells with oxygen.

The closure of indoor pools during the COVID-19 pandemic

kicked off a trend known as wild swimming, with people braving

rivers, lakes and the ocean for exercise. A report published

by Outdoor Swimmer in January revealed 45% of swimmers

increased how much they swam outdoors in 2020. And in

2018 the British Medical Journal cited open-water swimming

as a possible treatment for anxiety, something so many people

struggled with throughout the pandemic. Like any new activity,

don't just dive in. Start slow with even a few seconds of

exposure and build up your body and brain's cold tolerance.

HOW TO ALTERNATE

1 Make sure you are hydrated and hydrate throughout the

whole experience.

2 Begin in a warm pool and progress to the hot pool once you

are used to the heat. Stay for 10 to 15 minutes.

3 Enter directly into the cooling experience – either a cold or

cool shower, or a seconds-long cold plunge dunk where your

head and face submerge.

4 Rest for 10 to 15 minutes, allowing your body temperature

to equalise and enjoy the endorphin high.

Repeat two to three more cycles.

54 NetJets
---
BIG FREEZE

Ice-cold water has health

benefits that make the initial

shock more palatable

ISTOCK

NetJets

55
---
LIVING WELL

HOT-COLD

THERAPY

CHEAT SHEET

Taking the temperature on the ways to make the best of both worlds

CALDARIUM

Part of a classic Roman thermal bath, the walls, floors

and benches are warmed by floor heating and the air

humidity is almost 100%, while the air temperature

is below the wall temperature. This ensures a warm,

humid climate. A caldarium averages 45 degrees

Celsius and is often used as preparation for the

intense heat of a traditional sauna.

CRYOTHERAPY

Cryochambers use liquid nitrogen to super-cool the

skin, but not freeze it. The temperature of the liquid

nitrogen is crazy cold, between -130 and -185

degrees Celsius, but people are only exposed for a

few minutes. This is only possible because the air

is very cold, and air is not a good conductor of heat

like water. Benefits include feeling more relaxed

and positive.

HYDROTHERAPY

Originally known as hydropathy, this age-old practice

uses an aquatic environment to help manage

pain. The physiological effects of water, such as

buoyancy, viscosity, hydrostatic pressure and specific

temperatures have been shown to positively influence

the cardiopulmonary, circulatory and autonomic

systems of the body.

INFRARED SAUNA

Involves exposing the body to radiant energy

generated from an infrared radiator. The body absorbs

only a negligible amount of heat from the air, which

hovers at around 49 degrees Celsius. Relaxation and

stress relief are key benefits.

LACONIUM

A dry sweating room where heat radiates evenly

from the stone walls, floors, seats, and benches.

The average temperature is held at around 60

degrees Celsius with 15 to 20% humidity. This is a

good alternative for anyone who finds a traditional

sauna too hot.

THALASSOTHERAPY

The Greek word "thalassa", means sea or ocean. This

therapy involves the use of seawater and can include

swimming in the sea or a saltwater pool or soaking in

a calming seawater bath spiked with algae. Studies

have shown that the body time spent in seawater can

stimulate circulation, boost the immune system and

help digestion.

TRADITIONAL SAUNA

In countries like Finland, saunas are heated by wood

burned in a stove. Water is thrown on a basket of

rocks heated by the stove to increase the humidity

and create "löyly", the steam that enhances the

feeling of heat and makes you sweat. Traditional

sauna temperatures are hot, ranging anywhere from

80 to 115 degrees Celsius. Sauna sessions can lower

the risk of cardiovascular disease and ease muscle

pain, according to studies.

BODY TIME SPENT IN SEAWATER

CAN STIMULATE CIRCULATION

AND HELP DIGESTION.

56 NetJets
---
JULIAN RENTZSCH

EXPERT

EYE

Christopher T Minson, professor of human physiology at

the University of Oregon, on the benefits of staying cool

WHAT IS THE DIFFERENCE

BETWEEN ACTUALLY BEING COLD

AND FEELING COLD?

A lot of people conflate those two

concepts. When we get into an ice bath

and are not acclimated to it, the first thing

that happens is that cold receptors in our

skin send signals to our brain about the

cold. This can result in the "gasp" we

get when first immersed. Certainly, we

feel the cold. But it takes quite a while

for our body temperature to drop. As our

skin and, eventually, muscles and, finally,

our core start to cool down, we will start

to shiver. This starts by some increased

muscle tension, and then builds to actual

shivering. Our heart rate will also increase

initially with our more rapid breath, and

our metabolic rate will be increased a bit.

ARE THERE BENEFITS TO MAKING

COLD EXPOSURE, LIKE A COLD

SHOWER OR SWIM, PART OF OUR

REGULAR ROUTINE?

If we continue to do cold exposures

over time, we can start to impact our

overall energy expenditure, which may

have some benefits on body adiposity

[accumulation of body fat]. This is

combined with some metabolic changes

in which we can activate more brown

ADOBE STOCK

fat and/or convert some amount of white

fat to be more metabolically active like

brown fat. However, these changes take a

lot of time and have not yet proven to be

a huge player in body-fat management,

especially compared to exercise and good

eating habits.

IS COLD EXPOSURE BENEFICIAL AFTER

EVERY TRIP TO THE GYM OR ONLY

AFTER VERY STRENUOUS EXERCISE?

Current thinking based on research studies

has suggested that when we take a cold

bath after exercise, we can reduce some

of the inflammatory markers that occur

secondary to the exercise of moderate to

high intensity. This may reduce our muscle

soreness the next day, so we feel a bit

better. However, if people do this regularly,

like most days after exercise, they are

reducing the really important signals

within our muscles that help the healing

and adaptation processes. So long-term,

the person may get less performance

benefit from the exercise.

IS AN ICE BATH REALLY ANY

DIFFERENT THAN A COLD SHOWER?

Cold water immersion is one of the

quickest ways to actually drop body

temperature, as water is an excellent

conductor of heat, so being immersed in

cold water, especially when that water is

circulated, can most quickly lower body

temperature. Cold showers can work well,

but, typically, tap water is not as cold as

water with ice in it. Also, the coverage

of the body is not as complete, so the

transfer of heat is less.

HOW COLD DO TEMPERATURES

NEED TO BE TO YIELD BENEFITS

AND HOW LONG DO YOU NEED TO

STAY EXPOSED TO SEE BENEFITS?

Most studies on research have shown

that water about 7-13 degrees Celsius

is a good balance of cold enough to

stimulate the body, but not so cold

it's unbearable. Typically, people only

get about 5-15 minutes of this cold

exposure. But there are limited reports

of people having benefits from even

just a few minutes in the shower set to

cold. These are mostly associated with

feeling more positive and alert.

DO SAUNA AND STEAM SESSIONS

GET MORE BENEFICIAL WHEN YOU

ARE ALTERNATING HOT-COLD-HOT-

COLD AND, IF SO, WHY?

This has not been systematically

studied, but the thinking is that some

of the benefits of heat are due to the

total exposure of heat. So, if you are

doing heat-cool-heat-cool cycles, the

time your core temperature is elevated

is actually longer than just being

heated. There is also some preliminary

evidence that the changes in heat

and cold stimulate more molecular

pathways and changes to our bloodflow

patterns that are associated with

better health, compared to just heating

or just cooling.

NetJets

57
---
LIVING WELL

EUROPE'S LEADING

SPA TOWNS

Both history-rich and cutting-edge, these destinations go to extremes

when it comes to wellbeing // By Farhad Heydari

A CATHEDRAL TO WELLNESS

Thermae Bath Spa in the aptly named

English city is a modern temple to

age-old treatments

58 NetJets
---
CHRIS NORTH

LEUKERBAD, SWITZERLAND

Celebrated throughout Europe for the curative

powers of its hot springs (an estimated 3.9 million

gallons bubble to the surface daily and supply this

rarefied redoubt's 22 spa baths), Leukerbad is

located in an Alpine cul-de-sac at an altitude of

1,400 metres with one road in and out and some

good intermediate skiing superjacent. But most

who make the journey come for the cures and the

Roman-Irish baths, which combine hot and cold

air and water (hence the name), to warm and

cool the body as a way to build up one's immune

system. The sober Alpentherme, the largest Alpine

wellness centre in Europe, complements the party

atmosphere at Bürgerbad, the largest thermal

spa resort in the Alps, with ten pools, including

a dedicated one for children – all of it fed with

waters ranging from 28-43 degrees Celsius.

GENEVA AIRPORT: 118miles/190km

BATH, UK

Having been mothballed for nearly three decades,

the waters that gave this city its name (Aquae

Sulis in Latin), were re-enlivened back in 2006 in

a state-of-the-art modernist complex designed by

noted architect Nicholas Grimshaw called Thermae

Bath Spa. Since then, The Gainsborough Bath Spa,

a five-star hostelry, has debuted on the site of

the original and historic Roman bathing complex

to become the UK's only hotel with access to

natural hot springs, featuring 99 old-meets-new

guestrooms and a "spa village" complete with

colonnaded pools and a fountain room where

guests can drink the mineral waters, all designed

by Alexandra Champalimaud.

BRISTOL AIRPORT: 19miles/31km

BADEN-BADEN, GERMANY

The mother of all spa towns, with its doublebarrelled

name that boldly announces that it is the

bath town of the province of Baden-Württemberg,

features two disparate experiences, both of

which are located on Römerplatz (for the Roman

legionnaires who founded the city 2,000 years ago).

Caracalla-Therme is designed for families with its

complex of indoor and outdoor pools, whirlpools,

steam baths, waterfalls, fountains, solariums and

no less than eight adult-only saunas, including a

trio of rustic outdoor cabins located in an adjacent

wooded hillside. Friedrichsbad, on the other hand,

is the adults-only neo-Renaissance Roman-Irish

spa where beneath ornate russet-coloured domes

and a columned amphitheatre setting, sybarites

including European aristocrats, Middle Eastern

royals and Russian elites have been taking to the

waters since 1877.

KARLSRUHE/BADEN-BADEN AIRPORT: 9miles/15km

KARLOVY VARY, CZECHIA

Also known as Carlsbad, from the German Karlsbad,

this legendary spa town (it dates back to 1350) has

lured rulers like Peter the Great, Emperor Franz Josef

I and King Edward VII, composers such as Beethoven,

Chopin, Wagner and Liszt, and writers like Goethe,

Turgenev, Tolstoy and Marx. The colourful town

boasts 13 springs (ranging in temperature from 39

to a steamy 78 degrees Celsius), each infused with

sodium-bicarbonate-sulphate and carbon dioxide

that are said to cure a whole host of metabolic and

gastrointestinal maladies. The place to take to the

water is The Castle Spa or Zámecké Lázně where,

unlike other spas, visitors are encouraged to drink the

mineral-rich waters.

KARLOVA VARY AIRPORT: 4miles/7km

MONACO

Among just 19 locales (around the Med and

the Atlantic) to be credited by the Federation of

Thalassotherapy and recognised for its state-ofthe-art

facilities, the Thermes Marins Monte-Carlo,

like the handful of other thalasso (derived from the

Greek word thalassa, or sea) resorts, meets a strict

set of guidelines. It's no more than 1,000 metres

from the sea, uses natural seawater heated to no

more than 50 degrees Celsius for the purposes of

treatments and, while using natural products, never

reuses any of its mud or seaweed. Plus, it's spread

over four floors, and caters to the über jet-set in

this tiny principality.

NICE CÔTE D'AZUR AIRPORT: 19miles/31km

ICELAND

Few thermal bath experiences anywhere can rival

the sheer pomp and pantomime of Blue Lagoon

spa, Iceland's chef-d'oeuvre and the country's

most visited attraction. The man-made geothermal

spa, plonked atop an 800-year old natural bowl of

hardened lava, is located 40-minutes outside the

capital Reykjavik. Its fluorescent-blue geothermal

waters, as well as the emulsified salty, white mud

that patrons use as mudpacks, are said to have

exfoliating qualities and revitalising characteristics.

The baths are now complemented by The Retreat at

Blue Lagoon: a sleek new hotel with Nordic-style

suites and an ocean-to-plate eatery, via which

guests can experience the primordial, larger-thanlife

ecosystem on show.

KEFLAVÍK AIRPORT: 14miles/23km

MERANO, ITALY

Located along the south bank of the River Passer

in the heart of the Dolomites – a region so

breathtaking the French architect Le Corbusier

described it as the most beautiful architecture in

the world – the equally attractive Merano Thermal

Baths was designed by homegrown architect

Matteo Thun. The expansive, steel-and-glass

complex is a modernist showpiece located in the

heart of tiny Merano and sprawls across 25 indoor

and outdoor sulphur-infused pools, saunas and

steam rooms, all fed from a depth of 2,350 metres

by 33 degrees Celsius thermal waters, which were

originally discovered in 1836. All-natural therapies,

including apple-bud baths, radon water massages

and grape mudpacks, complement medical

treatments for rheumatism and hypertension,

among others.

INNSBRUCK AIRPORT: 96miles/155km

ST MALO, FRANCE

The breathtaking walled city of St Malo, located

on the northern coast of Brittany on a peninsula

abutting the Channel, has long been a favourite

of holidaymakers from Britain, among other

locales. And it's for good reason: in addition to its

breathtaking setting and historic draws, it boasts

Les Thermes Marins – a seaside thalassotherapy

centre, complete with an outdoor pool surrounded

by rose gardens, fed by the waters of the North

Atlantic. Health-seekers who soak in the heated

seawaters swear that it opens pores and, via an

osmosis effect, allows the minerals to seep in and,

among other things, loosen muscles and joints, to

say nothing of invigorating the lungs.

DINARD–PLEURTUIT–SAINT-MALO AIRPORT: 9 miles/14km

BUDAPEST, HUNGARY

There are few things more traditional than taking to

the mineral-filled hot springs in the numerous pools

and baths across the Hungarian capital – after all,

there are 120 hot springs feeding them. And none is

more feted than the opulent neo-baroque Széchenyi

Baths. Steeped in lore, this, one of the largest

medicinal bath complexes in Europe, is more than

just a place to do away with your malaise; it's a rite

of passage, enjoyed in three outdoor pools that are

fed with waters which emanate from 1,200 metres

below terra firma and are imbued with a motley

of beneficial elements, including sodium, calcium

and magnesium. Equally seminal and traditional is

the Gellért Thermal Bath, where springs, infused

with magnesium, hydrocarbonate, alkali, calcium,

chloride, fluoride and sulphate are said to ease

osteoarthritis, neuralgia, ankylosing spondylitis,

all in a shrine-like space, complete with columns,

stained-glass coronet and mosaics.

BUDAPEST AIRPORT: 12miles/20km

SPA, BELGIUM

Synonymous with pampering, this town in Belgium's

Wallonia was discovered by Romans and where the

term "spa" originates. It wasn't until the mid-18th

century that it flourished as a resort – an evolution

that continues today with the recent revamp of the

city's famed Thermes de Spa complex. Located

along a wooded couloir overlooking this archetypal,

however fading, French classicist town, the

19th-century look has been eschewed for a mod

concrete and glass construction. That forwardleaning

ethos means that while you'll still be able

to enjoy traditional remedies and water cures flush

with oodles of minerals, you can also look forward

to ground-breaking initiatives like its Mother and

Baby Institute (L'Institut Maman-Bébé), which

encourages mothers to head to the spa, unusually,

avec baby.

LIÈGE AIRPORT: 21miles/35km

BAD GASTEIN, AUSTRIA

Endowed with no fewer than 18 mineral-rich

springs, this Alpine resort 90 minutes from

Salzburg in the heart of the Hohe Tauern National

Park has beckoned emperors and empresses to

its Belle Époque hotels since the 19th century.

The reason? In addition to the 220 kilometres

of downhill ski runs, there is the brutalist

Felsentherme Gastein: a sprawling structure

replete with heated indoor and outdoor thermal

baths infused with radon-rich waters ranging

in temperature from 24-34 degress Celsius to

boost immune systems and manage inflammatory

illnesses. There is also a whole suite of adults-only

saunas and steam rooms, all perched 1,100 metres

above sea level.

SALZBURG AIRPORT: 60miles/96km

NetJets

59
---
THE ART

Showcasing the season's

most eye-catching gems

OF JEWELS

PRECIOUS PIECES

Illustrations by Petra Dufkova

Production by Elisa Vallata

60 NetJets
---
TIFFANY & CO. platinum

and yellow gold earrings,

set with emeralds and

diamonds, from the Blue

Book Collection, Colours of

Nature DIOR JOAILLERIE

yellow gold and green

lacquer Rose Futuriste ring,

set with emeralds, tsavorite

garnets and diamonds,

from the Dior Rose high

jewellery collection

CARTIER platinum Alaxoa

necklace, set with emeralds

and diamonds, from the

Sixième Sens par Cartier

high jewellery collection

Facing page:

PIAGET white gold

Extraordinary Lights

earrings, set with rubies,

spessartites, spinels and

diamonds CHAUMET white

gold Torsade de Chaumet

ring, set with a ruby and

diamonds GRAFF yellow

and white gold necklace

set with yellow and white

diamonds

NetJets

61
---
PRECIOUS PIECES

BOUCHERON holographic

ceramic Laser earrings, set

with an aquamarine, from

the Holographique high

jewellery collection

VAN CLEEF & ARPELS

white gold Sous Les Étoiles

Nébuleuse d'opale clip, set

with an opal, emeralds,

rubies, sapphires, spinels,

garnets, tourmalines and

diamonds BOGHOSSIAN

necklace, featuring

diamonds and sapphires

inlaid into opals,

aquamarine beads,

turquoise, and diamonds

set in white gold

62 NetJets
---
BOODLES yellow gold

and enamel Havana

ring, set with a vivid

yellowish-orange diamond,

rock crystal and white

diamonds, from the Travel

Collection, Around the

World DAVID MORRIS rose

gold Reticella cuff, set

with pink conch pearls and

pink and white diamonds

CHANEL yellow gold N°5

high jewellery necklace,

set with diamonds, yellow

beryl, tourmalines, spinels,

yellow sapphires and

morganites

NetJets

63
---
GOURMET GUIDE

LONDON

CALLING

DAVID LOFTUS; FACING PAGE: CHARLIE MCKAY

SCANDINAVIAN TOUCH

Oyster flambadou with smoked

apple and beurre blanc nasturtium

from Ekstedt at the Yard

64 NetJets
---
DRAMATIC DINING

The revived Theatreland

legend Joe Allen

The restaurant scene in the British capital has never

been quite so buoyant, with an impressive crop of

new openings, a roster of underappreciated gems that

premiered last year and a handful of standout bars

// By Bill Knott

NetJets

65
---
GOURMET GUIDE

NOTABLE NEWCOMERS

London's restaurateurs are a resilient bunch.

Chuck anything you like at them: a pandemic,

Brexit, supply chain glitches, rising food prices,

month after month with too many staff and not

enough customers, followed by a surfeit of eager

customers and a dearth of staff, and what do they

do? Keep calm, and carry on opening.

It has been a vintage season for new London

restaurants. Investors have been happy to put

their money where our mouths are, confirming

the underlying health of the capital's dining scene.

Locals are keen to go out and spend again, and,

with international travel back on the menu, the

city's allure as a global destination is burgeoning

once more. From trattorias to steakhouses, from

the West End to Crouch End, featuring cuisines

from five continents, there has never been a

better time to eat out in London.

One continent showing strongly this year is

North America: take old Theatreland warhorse

Joe Allen (joeallen.co.uk), for instance, revived

by restaurateurs Tim Healy, Lawrence Hartley

and Russell Norman, with ex-Ivy chef Gary Lee

presiding over a menu of hand-chopped steak

tartare, smoked baby back ribs and New York

cheesecake, served to the sound of a tinkling piano.

And in Mayfair, The Maine (themainemayfair.com)

promises the ambience of a New England brasserie

in a converted Hanover Square townhouse.

Over in Notting Hill, and following the recent

success of two other Stateside imports, Buvette

(ilovebuvette.com) and Eggslut (eggslut.com),

Sunday in Brooklyn (sundayinbk.co.uk) has

opened a two-floor outpost of the NYC original on

Westbourne Grove. It goes big on brunch (biscuits

CAPITAL FARE

Clockwise from top left: Pizzeria Mozza

at Treehouse Hotel; José Pizarro at the

RA; Manthan chef Rohit Ghai; native

lobster at MiMi Mei Fair

and gravy, steak and eggs) but the dinner menu

is enticing, too, and cocktails – as at Joe Allen –

are a strong suit. Try the Brass Taxi – mezcal and

banana pepped up with espresso and wasabi.

Rounding off a notable year for Americans in

London, famed LA chef and sourdough pioneer

Nancy Silverton has opened the Mediterranean

garden-themed Pizzeria Mozza (treehousehotels.

com) in the Treehouse Hotel on Langham Place.

Antipasti include baked mussels with salsa

calabrese and arancini alla bolognese; sourdough

pizzas variously feature sottocenere (truffled

cheese), smoked pancetta, fennel sausage, and

Fresno chilis.

London has long been home to some of the best

Indian chefs on the planet, and they are not resting

on their laurels. Atul Kochhar, who held Michelin

stars at both Tamarind and Benares, has opened

the 200-cover Mathura (mathurarestaurant.co.uk)

in the old Westminster Fire Station, referencing

one of the capitals of the ancient Kushan Empire,

and featuring dishes inspired by the cuisines of

India's neighbours. Expect clever spicing and an

über-smart tasting menu.

And chef Rohit Ghai, who found fame at

Jamavar, has returned to Mayfair to open

Manthan (manthanmayfair.co.uk), on Maddox

Street. Expect Ghai's distinctly Indian take on

osso buco (made with lamb, not veal) and tacos

(made from lentils and stuffed with jackfruit), as

well as Punjabi-inspired sarson chicken and Sri

Lankan pol sambol.

Meanwhile, his former bosses at Jamavar

have drawn inspiration from Beijing's Forbidden

Palace to open the opulent MiMi Mei Fair

(mimimeifair.com), occupying three floors of

© MOZZA

From trattorias to steakhouses,

there has never been a better

time to eat out in London

STEVEN JOYCE

66 NetJets
---
LAT PHOTOGRAPHIC

a Georgian townhouse on Curzon Street. Give

them 24 hours' notice for the whole Peking

duck roasted over applewood, or just tuck into

lobster with pickled chilli, braised abalone with

oyster sauce, or stone-seared Wagyu beef with

radish. Inventive dim sum, served at lunch,

include pan-fried mala (hot and numbing) lamb

dumplings with sea fennel, and sea urchin puffs

with white mooli.

Classic European cuisine features strongly this

winter, too. Any cultural indigestion suffered at

the Royal Academy can be alleviated by a visit to

one of José Pizarro's new onsite restaurants, his

first forays into central London. Choose between

José Pizarro at the RA (royalacademy.org.uk),

the upstairs restaurant – leeks and romesco

sauce, red prawns with chilli and garlic – or the

less formal, tapas-focused Poster Bar by José

JUSTIN DE SOUZA

THE SOMMELIER

Sandia Chang

YOU'RE AN EVANGELIST FOR GROWER

CHAMPAGNES: HOW'S THE CRUSADE

GOING? The problem used to be

persuading importers to stock them. It's

less of a struggle today than it was just a

few years ago. I think diners are now just

as concerned about the provenance of

their wine as they are about the meat or

vegetables on their plates.

WHERE DO YOU LIKE TO GO ON A

NIGHT OFF? We keep it casual: Black

Axe Mangal is a great favourite, and The

Quality Chop House.

APART FROM KITCHEN TABLE, WHO

HAS THE BEST WINE LIST IN TOWN?

The Drapers Arms, in Islington, has a

great list and it's the perfect place for a

Sunday pub lunch. And, given its wellheeled

clientele, the list at Bibendum is

surprisingly adventurous.

With chef and husband James Knappett,

sommelier Sandia Chang owns and runs

the Michelin two-starred Kitchen Table,

in Fitzrovia. kitchentablelondon.co.uk

NetJets

67
---
GOURMET GUIDE

downstairs, where Tracey Emin's favorite toasted

truffle sandwich, filled with jamón ibérico and

Ermesenda cheese, is a must-try.

Not content with reopening Joe Allen, Russell

Norman has launched Brutto (msha.ke/brutto/),

in Smithfield, with a menu of Tuscan classics,

pappardelle with rabbit among them. Try the

penne with vodka and tomato, borrowed from

Florence's Alla Vecchia Bettola, but actually an

improvement on the original.

Fashionistas, meanwhile, will flock to Il

Borro (ilborrotuscanbistro.co.uk), on Berkeley

Street, named after the Ferragamo family's

idyllic Tuscan estate. As at Brutto, gigantic

bistecca alla fiorentina looms large on the menu,

as well as hand-made spaghetti dressed with

organic tomatoes and olive oil from the estate.

THE MAÎTRE D'

Jesus Adorno

HOW HAS SERVICE IN LONDON

RESTAURANTS CHANGED OVER THE

YEARS? When I started, we had a proper

guéridon, a trolley, for steak Diane, steak

tartare, crèpes Suzette – diners expected it.

Now, most restaurants plate in the kitchen

– it's faster, with less fuss.

A TASTE OF LONDON

Clockwise from right: escargot

at Buvette; KOL's lamb leg tostada;

New Nordic cuisine from Sven-Hanson

Britt's Oxeye

The thoroughly exuberant, 295-cover Ave

Mario (bigmammagroup.com), in Covent Garden,

also claims Tuscan heritage – "inspired by an

idyllic day in Florence" – but its over-the-top

menu, like those at sister restaurants Gloria and

Circolo Popolare, comes from all over Italy. Enjoy

the ride.

High-profile chefs from around the world

continue to make a splash by the Thames:

Argentinian chef Fernando Trocca has opened an

outpost of his famous Buenos Aires restaurant

Sucre (sucrerestaurant.com) in Soho, installing a

"parrilla" grill and a wood-fired oven, hot on the

heels of fellow Latin American chef Santiago Lastra,

whose Mexican fusion menu at KOL (kolrestaurant.

com), in Marylebone, has already won awards.

Two more familiar names to London diners

are also opening new outlets in the capital. Jason

Atherton's Mediterranean terrace-inspired Café

Biltmore (lxrhotels3.hilton.com), in the Mayfair

hotel of the same name, offers wood-fired

pizza and robata-grilled fish, while the Galvin

brothers' Galvin Bar & Grill (galvinrestaurants.

com), housed in a handsome old dining room on

Russell Square, features a classic grillroom menu

laced with their distinctively French savoir-faire.

Swedish chef and TV star Niklas Ekstedt has

opened Ekstedt at the Yard (ekstedtattheyard.

com) in the new Great Scotland Yard Hotel,

WHERE IS THE BEST PLACE FOR

GREAT SERVICE IN LONDON? I really

like Clarke's, on Kensington Church Street.

Sally Clarke is a delightful chef, I love her

dishes, and the service is perfect.

AND HOW IS CHARLIE'S, YOUR NEW

RESTAURANT? Actually, we've brought

back the trolleys. We slice beef Wellington

at the table, for example. It's a bit of

theatre, and our diners appreciate it.

WHAT'S ON THE TROLLEY TODAY?

Salmon en croûte: well, it's Friday!

Legendary front-of-house Jesus Adorno

was maître d' at Le Caprice for many years

before moving recently to Charlie's, at

Brown's Hotel. roccofortehotels.com

68 NetJets
---
I N T H E

B O R O U G H S

Hackney

A short walk along the Regent's Canal from the lively bars, cafés and restaurants

of Broadway Market, Café Cecilia (cafececilia.com) is ex-River Café and St John

chef Max Rocha's first solo venture. His breakfast menu features kippers with

brown butter and capers and – betraying his Irish heritage – Guinness bread with

boiled eggs and Coolea cheese. Lunches are more Franco-Italian in inspiration:

expect porchetta and mustard baps, mussels with cider and pain grillé, or salmon

with zucchini fritti and beurre blanc.

Bermondsey

Chef Robin Gill and wife and business partner Sarah first made their names

at The Dairy, in Clapham, where their imaginative, impeccably sourced and

cooked menus won them many plaudits. Now ensconced at Bermondsey Larder

(bermondseylarder.com), just south of Tower Bridge, with – among others –

Pizarro and Café Murano as neighbours, the emphasis is very much unaltered.

Gill's celebrated aged raw beef with bone marrow and parmesan is still on the

menu, as is the potato and rosemary sourdough with chicken fat butter.

Brixton

Nigerian-born Joké Bakare cut her culinary teeth hosting supper clubs,

persuading her to enter – and win – the annual Brixton Kitchen competition.

In August last year, she opened Chishuru (chishuru.com) in Brixton's bustling

Market Row, showcasing her native West African cuisine (Filipino restaurant

Sarap, a previous winner, is a neighbour, as is the original Franco Manca). Expect

lashings of shito (spicy Ghanaian chili-and-shrimp paste), as well as goat

ayamase (a Nigerian stew) and ekuru (Yoruba stewed beans).

Peckham

A South London hotspot for great dining, Peckham is home to Thai favourite The

Begging Bowl, modern bistro Levan and the South African-accented Kudu, which

now has a sister restaurant just south of the borough. Kudu Grill (kuducollective.

com) majors in fiery "braai" (open grill) cooking: a whole black bream, for

instance with zhug (Yemeni hot sauce) butter roti, or T-bone with beer-pickled

onions and treacle bordelaise, washed down with an all-South African wine list.

© BUVETTE

Haggerston

Just west of Hackney, Haggerston is now a gastronomic destination in its own

right, especially its railway arches, which house both chef Sebastian Myers's

Planque (planque.co.uk) – offering modern French food and a well-stocked

cellar – and The Sea, The Sea (theseathesea.net), a fishmonger-cum-chef's

table that promotes the idea of ageing fish before cooking it. As demonstrated by

Portuguese chef Leandro Carreira, the results are persuasive: bag one of the 12

seats and feast on skate crackling and savoury toffee, and razor clams, roasted

yoghurt and onions.

© OXEYE

HDG PHOTOGRAPHY

Shoreditch

Five years ago, Edson and Natalie Diaz-Fuentes were forced to close Santo

Remedio, their much-praised Mexican restaurant in Shoreditch, after a

disagreement with the landlord. They decamped to London Bridge, to a bigger site

and great reviews – now they are back. Santo Remedio Café (santoremedio.

co.uk) is the couple's "ode to the bustling cafés of Mexico City," and the food is,

characteristically, as joyous and colourful as the décor. Feast on pork belly tacos

with chicharrón and tomatillo salsa, with a margarita or two on the side.

Crouch End

There is a dream team behind bistro de quartier Les Deux Garçons

(les2garconsbistro.com) in Crouch End: Robert Reid, formerly head chef at Marco

Pierre White's three Michelin-starred The Oak Room, and Jean-Christophe Slowik,

ex-patron of L'Absinthe in Primrose Hill. The menu is a Francophile's dream, too –

coquilles Saint-Jacques with smoked bacon and herb butter, perhaps, or soupe à

l'oignon gratinée; then confit de canard with Puy lentils, and baba au rhum to finish.

Clerkenwell

The new Sessions Art Club (sessionsartsclub.com) restaurant, on the lofty

fourth floor of a Clerkenwell Green townhouse, boasts food as stylish and relaxed

as its surroundings. Ex-Polpetto chef Florence Knight's menu is chic but unfussy

– grilled mackerel with datterini tomatoes and capers, clams with riesling and

crème fraîche, pork belly with fennel and orange.

NetJets

69
---
© PALI HILL

GOURMET GUIDE

Westminster. Expect fire with your food, and

some punchy flavours: Smoked venison heart,

flamed mushroom with lobster, and hay-smoked

mallard, for instance, with flatbreads from his

wood oven. Meanwhile, Sven-Hanson Britt

has finally opened the long-awaited Oxeye

(oxeyerestaurant.co.uk), in the Embassy Gardens

development at Nine Elms. Britt's exciting,

ambitious, rus in urbe menu (with distinctly

New Nordic flourishes, although, despite his

name, Britt is from Hampshire) features produce

from his own Derbyshire farm, as well as foraged

herbs, seaweeds and fruits.

From new-wave minimalism to old-school

maximalism: the mighty old behemoth that is

Langan's Brasserie (langansbrasserie.com) has

embarked on a new lease of life. Its thoroughly

refurbished three floors will offer breakfast, lunch

and dinner, with an Anglo-French menu featuring

everything from sausage and mash to Beluga

caviar, via steak Diane and Dover sole meunière.

ESSENTIALLY NEW

Even the most attentive of gourmets may have

missed some of London's openings from 2019.

Since many of them probably blew their opening

PR and marketing budget two years ago, only to

be forced to close a few months later, it might be

helpful to point out some of the establishments that

might have slipped under the gastronomic radar.

There is Maison François (maisonfrancois.

london), for example, on the site of the old

Green's, in St James's, although – judging

by the buzz from the banquettes – word has

already got out: it's a handsome, high-ceilinged

brasserie de luxe with much more than

steak frîtes on chef Matthew Ryle's perfectly

pitched menu, and a wine list the size of an

BEART

NATIONS LEAGUE

From top: Light Indian cuisine

from Pali Hill; Tagliatelle al

tartufo from Il Borro

70 NetJets
---
THE MAN

ABOUT TOWN

Pierre Koffmann

HAVE LONDON'S RESTAURANTS

IMPROVED SINCE YOU STARTED COOKING

HERE? Hugely! It used to be impossible to get

great produce; now it's much easier. And there

are lots of good small restaurants now. In the

1970s, you had to dress up and go to The Ritz

or The Savoy if you wanted something good to

eat. There is much more middle ground now.

HOW DOES LONDON COMPARE WITH

PARIS? There is so much more breadth here,

cuisines from all over the world. In Paris,

there are a few Italian and Spanish places,

and Japanese, but Chinese food, for instance,

is mostly rubbish.

WHERE HAVE YOU ENJOYED EATING

RECENTLY? The West African menu at Akoko,

in Fitzrovia – spicy, but nothing too hot! Santo

Remedio has great Mexican cuisine. A. Wong

for Chinese. And Perilla, in Newington Green

– I've never had a bad meal there.

Former Michelin three-starred chef Pierre

Koffmann now co-produces a weekly online

restaurant column with ex-Bloomberg critic

Richard Vines: koffmannandvines.com

FOOD AND DRINK

From top: The Painter's Room at

Claridge's; champagne and oysters at

Le Magritte Bar; Los Mochis' crispy

Californian mini tacos

© LOS MOCHIS

JUSTIN DE SOUZA

© THE BEAUMONT HOTEL

T O P

T I P P L E S

The Painter's Room

Perhaps London's most stylish new place for a

pre-prandial martini, the art deco-themed Painter's

Room at Claridge's features a bar sculpted entirely

from onyx, while artist Annie Morris's centrepiece – a

colourful stained glass mirror – is flanked by her

playful murals. As well as the classics, the cocktail

menu features lighter drinks: try the cognac and

tonic, flavoured with oolong tea, or the Almost A

Bellini, with pineau des Charentes, rosé and peach.

claridges.co.uk

Rondo Holborn

A collaboration between restaurateur Will Lander

(The Quality Chop House, Clipstone, Portland) and

ex-St John chef Chris Gillard, Rondo, in The Hoxton

Hotel, Holborn, offers all-day drinks at its bistrostyle

bar. Go for great cocktails (the Hox-Bee, for

example, concocted from vodka, honey cordial and

soda) and a supremely well-chosen wine list (Lander

is the son of wine guru Jancis Robinson); nibble

on pork and duck rillettes with pickled radishes, or

perhaps crispy pig's cheek with roast shallots and

watercress. thehoxton.com

The Lowback

The cocktail list at the bar in Hawksmoor's new

Canary Wharf steakhouse, in an eco-friendly

floating pavilion, owes a little to their recent New

York opening. It's a joint effort from Hawksmoor's

drinks supremo Liam Davy and NYC bar manager

Adam Montgomerie, and features martinis chilled

to -15 degrees Celsius, an exuberant range of

champagne cocktails, and the Pecan Godfather

(peanut butter bourbon and oloroso, served over a

big block of ice). The 120-cover, 9m-long bar also

boasts two waterside terraces with another 60 seats.

thehawksmoor.com

The Red Room

The newest bar at The Connaught, The Red Room,

takes its theme in part from the venerable vintages in

the cellars beneath. Even its eight signature cocktails

each contain something grapey: champagne paired

with quince and tonka cordial in the Perlage, perhaps,

or Armagnac, beaujolais, and vine leaf cordial in the

bar's Red cocktail. Louise Bourgeois' "I Am Rouge"

hangs in pride of place over the fireplace, and the

marble trolley glides effortlessly through Bryan

O'Sullivan's sleek interior. the-connaught.co.uk

Le Magritte

The new bar at the Beaumont Hotel, just north of

Grosvenor Square, has a distinctly old-school, Euro-

American feel: an example of the eponymous Belgian

artist's trademark paintings featuring a man in a

the bowler hat hangs behind the burgundy leathertrimmed

bar, stocked with an extensive range of malts,

ryes and bourbons, while the bar menu includes

cheeseburgers and Reuben bagels. Cigar aficionados

will love the 1920s-style terrace with its rattan

armchairs and lush greenery. thebeaumont.com

NetJets

71
---
GOURMET GUIDE

THE CHEF

Angela Hartnett

HOW HAS THE LONDON FOOD SCENE

CHANGED SINCE YOU'VE BEEN

COOKING HERE? For the better! I think

London is up there with Tokyo and New

York, perhaps even ahead of Paris. It's

one of the best cities in the world for food

right now.

WHERE DO YOU LIKE TO EAT ON A

NIGHT OFF? Pip Lacey, my old head

chef at Murano, opened her own place in

King's Cross a couple of years ago called

Hicce. It's really good.

WHERE ARE YOU LOOKING FORWARD

TO EATING IN THE NEXT FEW

MONTHS? I'm really excited about

AngloThai, from the people who opened

KOL and Casa do Frango. Chef John

Chantarasak is a real talent and it's great

to see him getting a permanent home.

Angela Hartnett is the chef/proprietor of

Murano, in Mayfair, and Café Murano,

with sites in Covent Garden, St James's

and Bermondsey. muranolondon.com

© GALVIN BAR & GRILL

encyclopedia. Save room for the lavishly laden

dessert trolley.

Meanwhile, in Knightsbridge on the ground

floor of the Bulgari, Sette by Scarpetta

(settelondon.co.uk) is another hotel restaurant

with a New York pedigree. On the ground floor of

the Bulgari, Knightsbridge, it is a London version

of Manhattan's popular NoMad Italian, with a

separate entrance on Knightsbridge Green. The

kitchen's elegant and fragrant interpretation of

spaghetti with tomato and basil is reason enough

to visit. There's also a very smart bar for a negroni

or two.

There's a cool bar, too, at Los Mochis

(losmochis.co.uk), Notting Hill Gate, stocked with

a huge range of small-batch tequilas, mezcals,

and sakes. The food follows suit: a similarly heady

fusion of Mexican and Japanese, with tostaditos

and tacos jostling with sashimi and maki rolls on

the inventive, Californian-tinged menu.

Arros QD (arrosqd.com), the paella specialist

on Eastcastle Street that opened in 2019, bears

the initials of three Michelin-starred chef Quique

Dacosta. His less buttoned-up London outpost

has a recently revamped menu that includes 10

different paellas, as well as Cornish tomahawk

steaks, tomatoes dressed with ajo blanco, and

chargrilled iberico presa (pork shoulder) with

Jerusalem artichoke.

More evidence of the trend for light, inventive,

modern Indian cuisine can be found at Pali

Hill, ex-River Café chef Avinash Shashidhara's

cheerfully kitsch Fitzrovia restaurant. His menu

draws inspiration from India and beyond:

Flatbreads are smothered in wild mushrooms,

chilli, Tuscan truffle, and fontina; pork spare ribs

72 NetJets
---
WHET THE APPETITE

Modern Irish restaurant, Daffodil

Mulligan, right; the kitchen at Arros

QD, below; grilled cauliflower steak,

Lincolnshire Poacher pea crumb, and

walnut sauce at Galvin Bar & Grill, left

are bathed in jaggery and garlic. Round off your

meal with a cocktail in Bandra Bhai, the downstairs

"smugglers' bar."

On the other side of Oxford Street, just off

Soho Square, one of London's most famous old

restaurants, The Gay Hussar, has been transformed

into Noble Rot Soho (noblerot.co.uk). Taking its lead

from the Bloomsbury original, there is an enticing

Modern European menu – overseen by Stephen

Harris of the much-lauded The Sportsman, in Kent –

and an even more beguiling, Old World-heavy wine

list, with more than 40 bins offered by the glass.

In late 2019, over in Shoreditch, one of the

London restaurant scene's biggest characters

Richard Corrigan opened Daffodil Mulligan

(daffodilmulligan.com), a love letter to the Dublin of

his youth. Bentley's and Corrigan's, his two Mayfair

restaurants, could hardly be described as stuffy, but

Daffodil Mulligan is deliberately less formal: there is

Corrigan's peerless soda bread; copious oysters; beef

short rib on toast; chargrilled brill with smoked crab

and clams… and, naturally, lashings of Guinness,

as well as a downstairs bar where the craic can

continue late into the night. Sláinte!

THE

RESTAURATEUR

Ruthie Rogers

WHAT WAS LONDON LIKE FOR FOOD

WHEN YOU FIRST OPENED THE RIVER

CAFE IN 1987? You couldn't buy good

anchovies or olive oil, and nobody knew what

pappa al pomodoro was, but gradually things

changed – cheaper airfares helped – and

people started to learn how to appreciate

culture through food.

© DAFFODIL MULLIGAN

THE RIVER CAFE HAS BEEN A NURSERY

FOR MANY CHEFS: WHAT MAKES YOUR

RESTAURANT SUCH FERTILE GROUND

FOR BUDDING RESTAURATEURS? I think

respect for ingredients is really important. All

our staff prepare them together in the morning,

for example. When they go, I hope they take

that ethos with them. And I never mind them

leaving, as long as they keep cooking. I'm

going to our old chef Max Rocha's Café Cecilia

soon, and I'm very excited.

© ARROS

ON YOUR HIT PODCAST, RIVER CAFE

TABLE 4, YOU ALWAYS ASK YOUR

CELEBRITY GUESTS FOR THEIR FAVOURITE

COMFORT FOOD. WHAT'S YOURS? My

favourite answer to that question was

Michael Caine's. He said, "It used to be roast

potatoes, now it's caviar!" But mine would

have to be our spaghetti with tomato sauce –

with plenty of butter stirred in at the end.

The River Cafe also has an online shop:

shoptherivercafe.co.uk

NetJets

73
---
INSIDE LOOK

ART OF

IMPROVISATION

A trio of private collections in Berlin

juxtapose astonishing works of art

with gritty architectural spaces that

tell the story of the city itself

HOLGER NIEHAUS

74 NetJets
---
NOSHE

NetJets

75
---
INSIDE LOOK

76 NetJets
---
NOSHE

NetJets

77
---
INSIDE LOOK

TRANSFORMATIVE

COLLECTIONS

Few global cities have the awkward, ethereal charisma of Berlin. Things in the German

capital are rarely what they seem, and this provocative stance extends to art spaces,

for which the city has become justly renowned over the past decades. Three private

collections are particularly notable, offering up iconoclastic mixes of sturdily practical

architecture and aesthetically daring works of art. There are few structures more

impenetrable in Berlin than former telecommunications bunker that houses The Feuerle

Collection just south of Potsdamer Platz along the River Spree. The passion project of

collector Désiré Feuerle, he allows visitors only in small groups, and everyone must

leave their mobile phones and cameras at the door. The full-immersion experience

is completed by a lack of traditional gallery texts, leaving visitors to experience the

audio installations as well as the Khmer figures, ancient Chinese furniture and striking

modern contemporary works at their own pace – and in their own way (there are

intro texts and on-site mediators in case visitors seek more traditional experiences).

There is a similar lack of texts at the Sammlung Hoffmann, an idiosyncratic former

factory that owners, Erika and Rolf Hoffmann, opened up for guided tours just once a

week by appointment in 1997. The idea, explains Erika (Rolf passed away in 2001),

is to show visitors how contemporary art can be part of life rather than gazed at

with museum-like reverence. Visitors, however, will have to hurry: Erika has donated

the collection to the Dresden State Art Collections, and the Berlin site will only be

open through 2022. The third of the German capital's most remarkable spaces is

the Boros Collection, which contains a bit of everything in its iconic Mitte location.

Another concrete bunker from World War II, the Reichsbahnbunker was designed for

railway passengers to shelter from attack, but over the years it has also been a Soviet

POW camp, tropical fruit warehouse and site of hardcore 1990s raves. Advertising

magnate Christian Boros purchased the building in 2003 and has proceeded,

alongside his wife, Karen, to create one of Europe's most compelling contemporary

art sites, spread across multiple storeys. Here, too, visits are reserved for small groups

and private tours are available – the best way to experience the one-of-a-kind site.

thefeuerlecollection.org; sammlung-hoffmann.de; sammlung-boros.de

PAGE 74

Untitled, 2009, by

Zeng Fanzhi in The

Feuerle Collection

PAGE 75

The handsome exterior

of the Boros Collection

PAGE 76-77

Katja Novitskova's Pattern

of Activation (2014) at the

Boros Collection

FACING PAGE

The Incense Room of

The Feuerle Collection

78 NetJets
---
HOLGER NIEHAUS

NetJets

79
---
HOLGER NIEHAUS

INSIDE LOOK

ABOVE

Cristina Iglesias' Pozo XII (Desde

dentro) at The Feuerle Collection

FACING PAGE

From top: an untitled work by

He Xiangyu (2017) at the Boros

Collection; Yngve Holen's Vujà dé

(2015) and Butterfly (2016) in

another concrete-frame room at

the Boros Collection

80 NetJets
---
NOSHE

NOSHE

NetJets

81
---
THE LAST WORD

PATRICK CANTLAY

The golfer and NetJets Ambassador on life away from the course

TRAVEL

Sun worshipper or thrill-seeker?

An ideal holiday, for me, consists

of spending time with friends

somewhere the weather is nice

and relaxing. I love spending time

in Lake Tahoe and have had great

trips there throughout my life with

family and friends.

ACCOMMODATION

Grandes dames, luxe design, or

eminently private? This really

depends on why I am travelling –

when I am on the road weekto-week

on Tour, I prefer renting

a home, so I can house my

team and maintain consistency

with cooking, schedules, etc.

This makes everything far more

convenient and, in some ways,

makes me feel "at home" since we

are on the road so often. However,

when I go on vacation I enjoy

finding a boutique hotel, that will

have a more low-key feel to it.

ARTS

Still life or live performance? I would

always choose a live performance,

and my preferred types of shows are

classic rock along with a few modern

rock bands. One of my favourites that I

have seen recently is Greta Van Fleet.

TRANSPORT

Fast lane or cruise control? I am

fortunate to have a great partner in

Lexus, and having driven most of

its vehicles, the comfort of its larger,

stylish sedans fit my life best.

HOME ENTERTAINMENT

Good book or big screen? I enjoy

watching movies in my free time,

a lot of my downtime is spent

reading. I am always asking for

recommendations from people in

different industries and I prefer

non-fiction.

DRINK

Chilled champagne or a cold beer?

Cold beer – Pacifico is my go-to!

FASHION

Tailored suit or smart casual? You

can't beat a custom-tailored suit from

Hugo Boss.

OFF-COURSE ACTIVITY

Social media or the quiet life? I

prefer to keep a low profile and enjoy

more private time with my friends

and family, when time permits.

FUTURE PLANS

Expansion plans or build on what you

have? Right now, I'm fully focused

on playing my best golf and believe I

have a long career on the course still

ahead. From a young age I always

loved golf course design so I could

certainly see that being something I

pursue after my on-course career.

FOOD

Top names or hidden gems?

When I travel, I love to ask for

recommendations from people

in the area. A lot of times this

leads me to places off the beaten

path and some fantastic local

restaurants that end up being

some of my favourites.

ARCHITECTURE

Classical or modern? Whether at

home or in cities I'm travelling

to, I am drawn to the classic

Spanish-style architecture. I love

the look of white buildings and

red-tiled roofs.

JULIAN RENTZSCH

82 NetJets
---
when others see a

HOUSE

we see a

WORK

of

ART

Discover your masterpiece.

Christie's International Real Estate's curated network

of property specialists are trusted advisors in the art

of connecting buyers and sellers of fine homes.

Offered by Ploumis Sotiropoulos Real Estate.

Call Maria Vamvatsikou on +30 210 3643112 ext. 1206

Timeless Elegance in Kiffisia

Athens, Greece

In an excellent location facing directly onto

Syngrou Park, a classical villa of 596 sq.m with

a garden of 12,151 sq.m, a swimming pool, a

tennis court, and views across the city of Athens

all the way to the sea.

Price upon Application

6 Panepistimiou St., Athens, 10671, Greece • Tel.: +30 210 3643112 ploumis-sotiropoulos.gr
---
WHEN THEY ASK WHERE YOU'RE FROM.

THE WORLD

Each day aboard The World, you awaken in the most remarkable home you will ever own.

As one of the few international adventurers who live this incomparable lifestyle, you explore

each continent and sail every sea surrounded by unrivaled anticipatory luxury service on

the planet's largest private residential yacht.

Learn more about ownership opportunities. aboardtheworld.com | +44 20 7572 1231