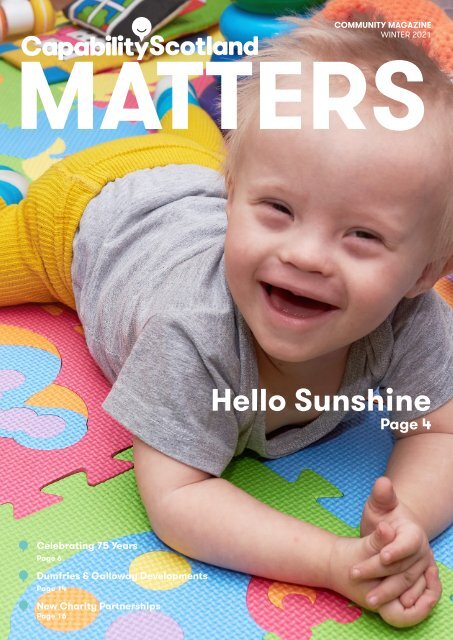 Capability Scotland Matters - Winter 2021
Introducing Capability Scotland's new Community Magazine!
Introducing Capability Scotland's new Community Magazine!
SHOW MORE
SHOW LESS
Create successful ePaper yourself
Turn your PDF publications into a flip-book with our unique Google optimized e-Paper software.
COMMUNITY MAGAZINE

WINTER 2021

Hello Sunshine

Page 4

• Celebrating 75 Years

Page 6

• Dumfries & Galloway Developments

Page 14

• New Charity Partnerships

Page 16
---
Welcome

4

6

14

16

18

19

Hello Sunshine

A look at our new toddlers group.

Celebrating 75 Years

A showcase of how we've been celebrating.

Dumfries & Galloway

A look at our expanding service in D&G.

Partnerships

Recent partnerships and projects.

We've Moved

Our new business support offices in Edinburgh.

Bertha Park

News on our biggest ever development.

20 Fundraising

How your money helps.

Welcome

Welcome to the first edition of our brand new

community magazine, Capability Scotland

Matters.

We're delighted to bring you all kinds of great

stories about how our services are operating and

all the new projects we've been working on. We

plan to publish two editions each year for you –

our fantastic supporters and community – as well

as providing our customers with their own tailormade

newsletter.

This year marks a special event for all of us

involved with Capability Scotland — our 75th

anniversary year. And what a milestone it is.

Even under the cloud of the Covid-19 pandemic,

we've found time not only to continue delivering

the exemplary Caring Support you know and

expect from us but also time to celebrate our 75th

birthday, doing so in Capability Scotland style!

We started our anniversary year in lockdown,

unable to spend time together as a whole charity

and unable to celebrate in the way we would have

wanted. However, as the year has progressed,

and restrictions have eased, we've been able to

hold great events like our summer Olympics at

Upper Springland in Perth, our mad hatter party

at Junction 52 in Glasgow, and a whole host of

other celebrations. And the fun isn't stopping

yet! We're extending our celebrations into May

2022, and I hope that we will be able to celebrate

together with you, in some way, in person, soon.

Enjoy reading this first edition of Capability

Scotland Matters and hearing about all

the great things we've been up to –

and tell us what you think or let us

know how you can help us.

As the winter comes along, and

Christmas not too far away at all,

I want to extend my best wishes to

you and your loved ones for the festive

season.

Brian Logan, Chief Executive

@CapabilityBrian

2
---
We love sharing our news with you but our

newsletter can only be packed with a certain

amount of good stories. Pop on to social

media, join our digital community and let's

talk!

Corseford School, Kilbarchan

Dr Cous Cous and Dr GoGo from

Hearts & Minds brought smiles and

laughter to Corseford School in July,

with a fun session of clowning around -

our learners loved it!

Wallace Court, Elderslie

Riccarton Hub, Edinburgh

Customers and staff from

Riccarton took part in our new

video production with Baby

Grand Productions, showcasing

what we do as a charity. You

can find the fantastic video on

our YouTube channel. Customers

loved taking part and showing

off their service on the Heriot-

Watt campus. Our Riccarton Hub

is a custom-designed building

and premises, completely

designed with accessibility at

heart.

Dundee Services, Dundee

Customers from

Craigmillar were

welcomed to the reopening

of Edinburgh Bus Tours!

A spooky Halloween at Wallace Court.

Great costumes, great company, great

party!

Across our charity, Scotland

We're delighted to now be paying a

full-time salary of over £20,000 to our

Support Worker staff! Our latest pay

offer was discussed and accepted in

partnership with our staff unions - a

great milestone to hit!

Craigmillar Hub, Edinburgh

Our friends at Kanzen

Karate, Dundee, are

donating Christmas

selection boxes for the 3rd

year - thank you!

3
---
Feature News

Hello Sunshine

4

This year, we launched our new toddler group at

Stanmore House School in Lanark. It is aimed at

children aged 0-4 years with complex support

needs, and their parents and carers, to come

together in a relaxed way, forming a support

network.

We're keeping our new service free of charge to

ensure there are no social barriers to accessing our

group. In our first term, we have welcomed children

and their families to join in the fun and experience

some high-level interactions provided by our team

of professionals (teachers, nurses, therapists and

more) to promote children's all-round development.

Our state-of-the-art facilities at Stanmore House

ensure that each individual child's needs are met

through observation and, over time, tailoring

a service to support them. Some of these are a

hydrotherapy pool, rebound therapy, digital suite,

sensory rooms, salon, cinema and an extensive

outdoor area to explore and learn about nature.

Since the formation of the United Nations

Convention on the Rights of the Child in 1989, all

children have had the right to be protected from

harm and to be encouraged to reach their

full potential. At our Sunshine

Toddlers Group, our little

learners are at the heart

of everything we do. We

endorse these beliefs,

especially Article

31: the child's right

to play.

Through our

skilled and

sensorial

approach, we

have created

an environment that promotes these rights through

learning, enjoyment and social interaction.

Our little ones always have a ball, as do our

parents! Play is so important, especially for

children with complex and additional needs, as it

helps them to develop new skills for learning, life

and work such as better hand-eye coordination,

increased cognitive skills, increased social skills,

develops memory, helps to develop problem-solving

skills, expressing ideas and emotions, develops

fine motor skills, promotes happiness, promotes

sleeping, develops muscle tone, balance and

control, encourages concentration and alertness, all

whilst having some fun!

Mum of Ollie, one of our toddlers, said "the

Sunshine Toddlers Group has been beneficial to

Ollie's development. The staff are caring and have

well thought out weekly activities. It's a great space

to let the kids run around and interact with other

children."

Benefits for the Children

Historically, sociologists have traditionally studied

children within the context of family. Contemporary

views, however, are somewhat broader now and

consider the child as an important part of their

own community and wider society (Welch, 2008).

Here at the Sunshine Toddlers Group, we view the

child as an active learner, as they investigate the

world around them and become curious about

objects and opportunities they may be presented

with. We aim to give each of our little learners the

skills to actively participate in the community life of

our school and prepare them for their educational

journey ahead. We model our practice around

GIRFEC's wellbeing indicators (Getting It Right

For Every Child), ensuring each child feels safe,
---
healthy, achieving, nurtured, active, respected,

responsible and included. Initial conversations with

parents highlighted the challenges their children

faced and the barriers that inhibited them from

learning and accessing other childcare services.

We work closely with parents and carers to ensure

these barriers are broken down and allow their

children to socialise and interact with each other,

thus becoming more accepting of change, new

faces and new experiences.

Benefits for Parents and Carers

During our planning stages, we identified the

importance of building a community for parents

and carers to come together and support each

other. We were aware of the ongoing complications

that the Covid-19 pandemic brought and identified

the additional need for promoting positive mental

health amongst service users who may have

found themselves feeling isolated throughout. By

setting up the Sunshine Toddlers Group, we offer

a destination experience that they can factor into

their weekly schedule and look forward to coming

to each week.

Our professional team are also on hand bringing a

wealth of knowledge to our group whereby parents

and carers can ask questions apropos their child's

learning and health needs. This is an added comfort

to them as they have a platform for discussion

without judgement or fear of sounding foolish. We

even recognise the value of just listening to parents

and giving them an opportunity to share how they

feel, assuring them that their confidentiality is

respected at all times.

The parents and

carers are invited

to actively

participate in

the activities on

offer, learning

new strategies

for play and

exploration they

can replicate at

home and… it's also

lots of fun too! This

level of interaction and

sharing experiences with

their child is so valuable

and creates beautiful memories

for all. This can lead to a sense

of empowerment that may help them to make

important decisions and influence positive changes.

Benefits for Stanmore House School

By engaging with families sooner in their child's

life, all staff involved can reap the benefits and

rewards of seeing progress and development firsthand,

thus giving a great sense of achievement and

job satisfaction each week. There is also potential

for children to progress onto our school for their

primary and secondary educational years, thus

securing the future of the school.

We believe that the Sunshine Toddlers Group will

strengthen our links with the local community,

enabling us to flourish and be part of something

greater. In making new connections with the wider

community, we are breaking down social barriers

and promoting an inclusive approach from all

members of society.

Hopes for the Future

We are confident that the Sunshine Toddlers Group

will go from strength to strength and become a

sustained, long-term service in our school's (and

charity's) portfolio. We have visions of using our

skills and expertise to, one day, provide workshops

for parents and carers to help them help their child

to reach their full potential.

@StanmoreSchool

StanmoreHouseSchool

StanmoreHouseSchool

5
---
Feature News

75 years ago, a group of parents and health workers got together in

Edinburgh, unhappy with the way their children with Cerebral Palsy were

treated. They formed the charity which would become Capability Scotland.

With ambitions for a rightfully fairer Scotland for their children back in 1946,

we say thanks to our founders, and a big happy birthday to our charity which

now helps disabled people across the country live their best lives.

Our services across Scotland have been celebrating in various ways

throughout the year, some of the events we have

showcased here for you to enjoy.

Congratulations and happy birthday to everyone in our CS-community,

whether you're supporter, customer, staff or friend!

6

Here's to the next 75 and beyond.
---
Upper Springland, in Perth, celebrate 75 years with a summer Olympics day.

Upper Springland consists of four distinct service provisions. Annaty, Tayview, and Rosiebank &

Tummel are permanent or long-term residential areas for many of our customers, where they live

the very best lives of their own design. Our fourth provision, The Studio, offers a day opportunities

service for customers. Many customers dressed up to represent individual countries and lots of

fun was had with our own version of the Olympic Games!

7
---
Stanmore House Residential, in Lanark, celebrate 75 years at their super heroes party.

Stanmore House campus consists of Stanmore House School, our Sunshine Toddlers Group,

Stanmore House Life Skills, and our Stanmore House Residential, home to some of Scotland's

greatest children! The young people who live at Stanmore House had a great time meeting some

super heroes - and having a good party.

8
---
Wallace Court, in Elderslie, held their Las Vegas themed Glitz & Glamour Ball.

Ever partying and living life to the fullest, the customers of Wallace Court live with us on a

permanent basis, too. They're based in Elderslie, near Johnstone. Rumour has it there were lots

of celebrities in attendance at this party and very strict security.

We couldn't get on the guest list...

9
---
Dumfries & Galloway create Schugie the Caterpillar.

Customers at our Dumfries & Galloway Services created a memorial stone caterpillar,

which was officially "opened" by visitors from the local community, including staff

from Tesco! More about our Dumfries & Galloway Services on pages 16 and 17.

10
---
Junction 52, in Glasgow, held a Mad Hatter Party

A fantastic Mad Hatter party for customers and friends! Junction 52 is one of our day

opportunities services where customers attend daily and go home afterwards.

11
---
Lanarkshire Houses, in Lanark & Carluke, celebrate with a 75th Halloween Party

Lanarkshire Houses is one of our care residences where people permanently live with us.

Celebrating 75 years and getting out after a long time inside, customers enjoyed dressing up

for Halloween and sang happy birthday to Capability Scotland. Customers enjoyed getting out

of their houses to go to the party!

12
---
North Lanarkshire Services held their circus party!

Our North Lanarkshire Services, who provide care at home and community-based services,

held their circus-themed party at our offices in Wishaw! Great to have so many customers from

across the region attending.

13
---
Service Developments

D&G@capability.scot

In each edition we will be showcasing one

of our services, highlighting their excellent

work, introducing the staff and customers and

sharing the exciting developments we have in

store. If you would like to learn more about our

work or would like to get involved please get in

touch. In this edition, we're (re)introducing our

expanded services in Dumfries and Galloway.

Capability Scotland has been part of the Dumfries

and Galloway community for over 20 years.

Dumfries and Galloway Integrated Service (DGIS)

provides support to those living with a physical

disability between the ages of 16-64 years. The

service is part-funded by the local authority

(Dumfries and Galloway Council) and NHS

Dumfries and Galloway. Currently, the service has

four years of funding, awarded in 2019.

DGIS currently offers a wide range of personcentred

support, consisting of:

14

• Light touch emotional support

• Psychological support in living with a physical

disability and coming to terms with illness

• Signposting to relevant agencies such as other

charities and partnership agencies like Citizens

Advice

• Support to regain employment and volunteering

opportunities

• Prevent social isolation through developing

group activities and peer support

• Support to build healthy communities

• Partnership working within local communities

• Promote aspects of healthy living through

activities

• Liaise with other professionals to enhance a

person's wellbeing through building meaningful

relationships.

Towards the end of 2019, Capability Scotland was

approached initially by Dumfries and Galloway

Health and Social Care Partnership and then

by Compass Brain Injury Specialists to discuss

transferring responsibility of delivering a service for

people with an acquired brain injury in Dumfries

and Galloway to Capability Scotland, in order to

ensure the long-term sustainability of the services.

An agreement was sought and received from the

relevant agencies to transfer and/or extend the

duration of funding agreements from Compass

to Capability Scotland to allow the services to

continue.

For Capability Scotland in Dumfries and Galloway,

this meant we would now be responsible for

delivering our DGIS service and we would now be

responsible for delivering a range of additional

services including:

An Acquired Brain Injury (ABI)

Rehabilitation Service:

A community-based support and rehabilitation

provision for people living with an ABI. The ethos
---
of the service is to provide vital enablement to

people with an ABI to maximise their ability to live

independent, socially included and fulfilling lives.

An ABI Assessment Service:

This is delivered by an Assessment Coordinator.

The service provides assessment and information

to people living with an ABI. This role complements

the ABI Rehabilitation Service and creates a

smooth pathway for individuals to focus on their

rehabilitation either in the community or within our

centre environment.

A Child & Families Acquired Brain Injury

Service:

This service works to improve the quality of life for

children under 18 who have an ABI caused by, for

example, road accidents, falls, stroke, meningitis,

tumours and foetal alcohol syndrome. The Child

and Families Coordinator provides support to

the families of children living with an ABI, raises

awareness of issues for young people with an

ABI and provides ABI prevention presentations to

schools within Dumfries and Galloway.

A Self-Directed Support Independent Advice

and Brokerage Service:

The Self-Directed Support service consists of two

parts:

Independent Advice and Support: this service

delivers advice to people who wish to access care.

In addition to this, the Link Practitioners assist

people looking for care to become good employers

and find Personal Assistants they directly employ,

providing tailored support to the individuals need

and empowering them to exercise their choice and

control over the way their care is delivered.

Self-Directed Support Payroll Service: this

service provides essential payroll support to people

who choose to become employers of Personal

Assistants. It provides all assistance required in

relation to paying the salaries of the Personal

Assistants.

The transfer of Compass into the Capability

Scotland family was completed in April 2020. All

staff in post at the time joined Capability Scotland

and the property at Afton Drive, in Dumfries, was

gifted to us by the Compass Board of Trustees. This

provides accommodation for both a building-based

day support service and all office-based staff,

allowing us to move from our offices in Nithbank

Hospital.

Since March 2020, the focus has been on

maintaining services in Dumfries and Galloway and

supporting people through the Covid-19 pandemic.

In response to the lockdown, services have had to

change their delivery model and have had to adjust

to providing support by online platforms, telephone

and email. This time has, however, allowed us the

opportunity to have a period of consolidation where

we have begun to review the current provision of

services as part of ensuring long term sustainability

and begin to identify opportunities for future

growth, maximising our physical assets and staffing

resources. Moving forward our aims are to:

Reflect on and review our DGIS service

experience over the last year, engaging with our

customers to listen and respond to their feedback in

relation to the online activity and, if this is positive,

include this as a new offer to our service.

Review the entire ABI service delivery model

and deliver efficient and outstanding services. We

are currently working with The Lens Initiative, who

are assisting us with creating a wraparound service

model for people living with an ABI. We are working

along with our customers and our staff to ensure

we get the model of care right for them, which will

then allow us to approach our funders for continued

funding and new funders to allow us to grow the

service.

Explore the possibility of increased efficiency

and improve the scalability of the Self-Directed

Support Independent Advice and Brokerage

service. Looking at ICT infrastructure to ensure

sustainability and expansion of the service.

The coming months for Capability Scotland

in Dumfries and Galloway are looking and

feeling really exciting. We have plans to explore

opportunities for our continued growth. Currently,

we are in discussions with Dumfries and Galloway

College looking at supporting young people

transition from school to further education. We

also want to explore the development of a Social

Enterprise as a way of diversifying from our existing

income streams.

Whatever the future holds, Capability Scotland in

Dumfries and Galloway know that the team here

are totally committed to ensuring the services they

deliver are of the highest standard and that the

people we support are getting the right support at

the right time for them.

15
---
Partnerships

Communications@capability.scot

In summer 2021 Capability Scotland

collaborated with the Scottish Poetry Library

(SPL) to develop a poem to celebrate our 75th

Anniversary. The relationship has gone from

strength to strength and we are proud to share

all we have achieved together.

At the time we approached the SPL to develop

our 75th anniversary poem we were delighted to

learn that they were interested in engaging with

disabled audiences and exploring how individuals

with alternative communication experience poetry.

As our relationship developed so has our project

and we were delighted to have the opportunity

to introduce poetry to our pupils at Stanmore

House School, but to do so in a way that took into

account their unique communication and learning

needs. This allowed us to meet the objectives of the

SPL, establish a working relationship, and deliver

a tangible learning experience to our pupils at

Stanmore House.

Three individual workshops were arranged with

classes at Stanmore, guiding the pupils through a

variety of sensory stories, one about a shipwreck

at sea, another about being lost in the desert, and

the final about camping in the jungle, within each

story a poem was introduced and this acted as the

focus for each workshop. The stories performed

by Dan were developed around the poems written

and read by Leyla. The engagement and interaction

from our young people showed a great success in

introducing poetry to an audience where one might

not necessarily think poetry would find a place -

and it absolutely did find a place!

Listening to a poem by Leyla

Discussing poetry and working together

We engaged with poet Leyla Josephine

(www.leylajosephine.co.uk), as well as a sensory

story teller, Dan Serridge (danserridge.wordpress.

com), to introduce poetry to the young people and

to bring to life the written word of poetry whilst

creating an interactive and sensory experience.

In the new year we will celebrate our partnership

with an event at the Scottish Poetry Library in

Edinburgh, bringing together all those who have

been involved in this innovative project.

We've been delighted to learn that our work with

the Scottish Poetry Library will continue beyond

this project, so keep an eye on our social media and

news for updates, as we work together with our new

partners!

16
---
Fundraising@capability.scot

We're proud and excited to be Heriot's Rugby

Club's latest charity partnership. The twoyear

partnership will support delivering rugby

coaching in a disability-accessible way to the

customers of Capability Scotland, allowing

some excited budding athletes the chance at

some professional training.

The partnership will also allow club members to

engage with a new community of disabled people,

providing new experiences and learning.

Brian Logan, Chief Executive of Capability Scotland

said: "We are incredibly excited to be partnering

with such a storied club as Heriots, who have been

an integral part of their community for many years.

This partnership will offer opportunities for people

we support to engage with the club and for club

members to engage with our services. Of course,

we are delighted Heriots have expressed a desire to

help deliver a few ambitious fundraising events!"

close to my heart, a fundraising cycle ride, all 260

miles of it over 4 days, linking up with all of the

services across Scotland. The players are so excited

to get started with some rugby training with some

of the Capability Scotland customers".

Iain Duckworth & Ben Bradbury (CS

Business Development Manager) on the

cycle trail

Members of both organisations are planning a

series of fundraising events, including an intense

cycling fundraiser for June next year around

Capability Scotland's services: a four-day course

from Edinburgh, through Lanark, to Glasgow, up to

Perth and Dundee, and back down to Edinburgh.

With other events in store and two years of working

closely together, both organisations invite you to

follow the partnership on our website:

www.capability.scot/heriots

Andrew Philip (CS Director) & Iain

Duckworth (Rugby Club President)

Iain Duckworth, President of Heriot's Rugby Club

said: "We are absolutely delighted to partner with

Capability Scotland. Not only are we partnering

with the charity themselves, but we are also

engaging in many activities. One of which is very

17
---
Other News

We've

Moved

With world events over the last two years

putting a general halt or delay to so many

plans and aspirations, it is perhaps with even

greater pride that we announce our move to a

new 'home' for Capability Scotland's business

support services.

St John's Road in Corstorphine, Edinburgh opened

its doors on 1st November 2021 after four months

of both structural and non-structural alterations,

refurbishment and redecoration.

The area is not new to us, we have always had

strong connections to Corstorphine with our

previous offices and services based at Rhumore

and Westerlea. Whilst stunning buildings in their

own right, they were less able to provide the

functionality we demand as a disability charity.

With a relatively short stint in Haymarket while

we established the new hubs for our Edinburgh

Services, we had been on the lookout for our longterm

base and are delighted to have found that,

back almost where it all started 75 years ago, in

Corstorphine.

Even with the huge strides forward in disability

awareness over the last 75 years since our

inception, we recognised that some level of

alterations would likely be required of any building

to meet our high standards and make it an office

truly accessible for all our staff and customers to

enjoy. That said, the timing wasn't ideal with the

exceptional demand for building works just as the

industry was coming out of a near 18-month hiatus

and the supply and distribution challenges due to

18

Brexit.

The fact

that we were able

to bring the project in on budget and (nearly)

on time is a testament to the commitment of

everyone involved to deliver a great standard of

accommodation with the improvements we deem

fundamental to our charity's ethos.

By enlarging the disabled access toilet to

accommodate a track and hoist and showers

facilities for use of the whole building we are

showing what it means to have truly accessible

amenities. We have also removed some glazing to

establish an additional level fire escape, and in so

doing we can finally host Customer Engagement

Meetings and Main Board Sessions in Edinburgh.

Another priority when developing the new office

space was to create the facility for delivering

our sector-leading in-house staff training

programme. Be it in person, or through our state

of the art technology, St John's Road can fulfil our

commitment to the continuous development of

Capability Scotland's staff.

The St John's Road team is made up of a mix of

relatively new faces for whom this office is the only

one they've experienced, but there are also old hats

who have packed up and moved around the West

of the city centre more times than they care to

remember. What they all share is the commitment

to deliver an exemplary service to enable our

staff across the country to continue providing

outstanding care and support

to our customers. To be able

to do that from such a

bright, welcoming and

inclusive space is a

privilege.

So, if you are ever in

the neighbourhood

of 24 St John's Road,

please do pop in!

Our new post

address:

Capability Scotland

Vantage Point

24 St. John's Road

Edinburgh

EH12 6NZ
---
Introducing

Bertha Park

The quality of care at Upper Springland has always

been and continues to be outstanding. The existing

premises in Perth are now 40 years old and are

becoming increasingly difficult and expensive to

maintain. There is also the need to protect against

a future flood risk from the River Tay, which is only

likely to intensify with climate change.

This potentially negative scenario has created

the opportunity to ask our customers and staff to

help completely re-imagine our services. To allow

this to happen effectively we have created a 'Coproduction'

role within Capability Scotland to work

directly with customers and ensure their needs and

ideas are embedded into new service and design

proposals.

Our experience of developing and managing

supported living accommodation over several

decades has led us to recognise that mixed

communities strengthen social cohesion, and

this positively impacts on everyone within that

community. We believe this approach will assist

our customers to access social networks, amenities,

services, and facilities that will help them to thrive.

We have selected a fantastic site at Bertha Park

located around four miles from Upper Springland.

This will allow us to maintain our important

presence in Perth and to be at the heart of the new

Bertha Park "village" as it grows over the next 20

years. The aim is to deliver new models of housing

and care, ready by 2025, that will be the best to be

found in the UK.

Capability Scotland's experience, the availability

of land and willing partners at Bertha Park gives

us a unique opportunity to challenge and help

break down the barriers many disabled people face

and to develop an exemplar national residential

resource to serve Scotland and beyond.

We are committed to the concept of disabled

people being able to live in their own home in the

area that they choose - wherever it is possible. We

also recognise that there will always be demand

for more specialist residential care for those with

the most complex needs. This will be at the heart

of what we provide at Bertha Park working in

partnership, to develop care solutions and facilitate

greater choice of housing options, with the ultimate

ambition of offering choices typically available

to other members of the community to live in their

own tenancies but benefiting from the facilities and

social aspects of our core facility.

To develop new 'enabling accommodation' for

all our customers which supports updated care

practice we have commissioned research to

help us develop exemplar service, operational,

technological and design practice. We are

now looking for grant sources that would allow

researchers to monitor long term operational

progress and help ensure we continually improve

our service offering. We have also been mindful

that no two people are the same and expectations

and needs can change over time.

This is without doubt the most significant,

most complex and most ambitious project that

Capability Scotland has undertaken, we look

forward to updating you on our progress as the

project develops.

19
---
Fundraising

£10

can buy seeds and supplies for

our sensory gardens to allow

our customers to grow their

own produce and enjoy sensory

experiences.

£25

can go towards PPE needed

to protect vulnerable people

and staff in changing health

climates.

£50

can help towards developing

bespoke tools for communication

with non-verbal people.

20

£100

can buy adapted musical

instruments, enabling more

people to experience the

therapeutic benefits of music.
---
Creating Smiles

Cherry & Julie

For 75 years, we have been at the forefront of developing and providing services for disabled children

and adults throughout Scotland, changing people's attitudes toward disability, and embracing the

opportunities created through progress in technology. So much of the work we have done has been

possible thanks to donations from our loyal supporters. Over the past 18 months, your gifts have had an

even greater impact than ever before.

"Last year our world was turned upside down with the onset of Covid-19. Regular visits were no

longer possible. For us, Zoom wasn't an option as it was detrimental to Julie's well-being. We didn't

see our daughter for a year. It was heart-breaking. Thank goodness for the Wallace Court team.

They assured us that Julie was doing well and they were keeping up the morale of the residents

by having extra activities like silent discos (where people dance to music listened to on wireless

headphones) and virtual music sessions. Regular photos of Julie enjoying herself helped put

my mind at rest. Most importantly, I knew they were keeping her safe. I can't put into words how

amazing it was being able to see her and hug her again now that restrictions have lessened."

- Cherry, Julies Mum, resident at Wallace Court

As we move forward and begin to adjust to a new way of life, we ask that you give what you can to

Capability Scotland so that we may continue providing the very best services, experience, and care to

disabled children and adults across Scotland. Please give generously.

Thank you.

/

21
---
If you wish to discuss any elements of this

publication, request a different format, or to appear

as an advertiser within our publication, please get in

touch with us by email: hello@capability.scot

Limited by guarantee, registered in Scotland,

number SC036524. Registered Scottish Charity,

number SC011330, regulated by the Scottish

Charity Regulator (OSCR).

Under the General Data Protection Regulations

(GDPR) we are required to specify our Privacy

Notice. A copy of our Privacy Notice can be found

online at www.capability.scot/legal/

Any questions, queries or comments regarding

your data should be referred to our Data Protection

Officer who can be contacted in writing at the

address below or through email at

DPO@capability.scot

Capability Scotland

Vantage Point

24 St John's Road

Edinburgh, EH12 6NZ

Tel: 0131 337 9876

www.capability.scot

monthly

1st of the month

22
---
Christmas cards now in stock!

Order online www.capability.scot/shop Order over phone: 0131 347 1029

Tartan Santa

Forth Bridges

Silent Night Hymn

Duke of Wellington

Happy Christmas to Mooo
---
Christmas cards now in stock!

Order online www.capability.scot/shop Order over phone: 0131 347 1029

All our Christmas cards are sold in packs of 10 with envelopes included. In the event of an item

being out of stock, we will contact you about a replacement. The greeting inside all cards reads:

"Merry Christmas and a Happy New Year"

Name Pack Cost Qty Total

Tartan Santa £3.50

Silent Night Hymn £3.50

Happy Christmas to Mooo £3.50

Duke of Wellington £3.50

Forth Bridges £3.50

Postage and Packing

1-2 packs: £2.00

3 packs: £3.00

4-5 packs: £4.00

6+ packs: £6.00

Subtotal

P&P

Donation

Total

Select payment method

Cheque made payable to Capability Scotland

Credit/Debit/CAF Card

Card No.:

Expiry Date:

Security No:

/

(the last three digits on the signature strip)

Your details

Name:.....................................................................................

Delivery Address:..................................................................

...........................................................

Postcode:....................

Telephone:.............................................................................

Email:.....................................................................................

Please return to the service you collected this from or

post to:

Capability Scotland

24 St John's Road

Edinburgh, EH12 6NZ

To ensure delivery before Christmas, please order

before 13 December.

Gift Aid

Please tick all boxes you wish to apply.

Please treat as Gift Aid all donations made:

Today In the past 4 years In the future

I confirm that I am a UK income or Capital Gains

taxpayer. I have read this statement and want

Capability Scotland to reclaim tax on the donation

detailed overleaf, given on the date shown. I

understand that if I pay less Income Tax or Capital

Gains Tax in the current tax year than the amount

of Gift Aid claimed on all of my donations it is my

responsibility to pay the difference. I understand the

charity will reclaim 25p of tax on every £1 that I have

given.

Signature.....................................................................

Date:.....................