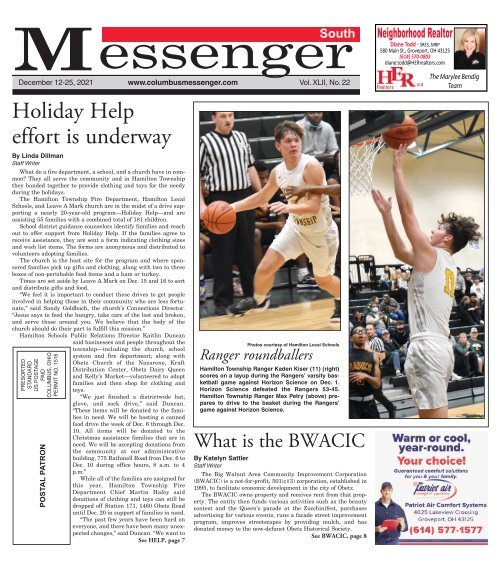 South Messenger - December 12th, 2021
You also want an ePaper? Increase the reach of your titles
YUMPU automatically turns print PDFs into web optimized ePapers that Google loves.
Messenger

South

December 12-25, 2021 www.columbusmessenger.com Vol. XLII, No. 22

Neighborhood Realtor

Diane Todd - SRES, MRP

580 Main St., Groveport, OH 43125

(614) 570-0803

diane.todd@HERrealtors.com

The Marylee Bendig

Team

Holiday Help

effort is underway

By Linda Dillman

Staff Writer

What do a fire department, a school, and a church have in common?

They all serve the community and in Hamilton Township

they banded together to provide clothing and toys for the needy

during the holidays.

The Hamilton Township Fire Department, Hamilton Local

Schools, and Leave A Mark church are in the midst of a drive supporting

a nearly 20-year-old program–Holiday Help–and are

assisting 55 families with a combined total of 181 children.

School district guidance counselors identify families and reach

out to offer support from Holiday Help. If the families agree to

receive assistance, they are sent a form indicating clothing sizes

and wish list items. The forms are anonymous and distributed to

volunteers adopting families.

The church is the host site for the program and where sponsored

families pick up gifts and clothing, along with two to three

boxes of non-perishable food items and a ham or turkey.

Times are set aside by Leave A Mark on Dec. 15 and 16 to sort

and distribute gifts and food.

"We feel it is important to conduct these drives to get people

involved in helping those in their community who are less fortunate,"

said Sandy Goldbach, the church's Connections Director.

"Jesus says to feed the hungry, take care of the lost and broken,

and serve those around you. We believe that the body of the

church should do their part to fulfill this mission."

Hamilton Schools Public Relations Director Kaitlin Duncan

said businesses and people throughout the

township–including the church, school

system and fire department; along with

Obetz Church of the Nazarene, Kraft

Distribution Center, Obetz Dairy Queen

PRESORTED

STANDARD

US POSTAGE

PAID

COLUMBUS, OHIO

PERMIT NO. 1516

POSTAL PATRON

and Kelly's Market–volunteered to adopt

families and then shop for clothing and

toys.

"We just finished a districtwide hat,

glove, and sock drive," said Duncan.

"These items will be donated to the families

in need. We will be hosting a canned

food drive the week of Dec. 6 through Dec.

10. All items will be donated to the

Christmas assistance families that are in

need. We will be accepting donations from

the community at our administrative

building, 775 Rathmell Road from Dec. 6 to

Dec. 10 during office hours, 8 a.m. to 4

p.m."

While all of the families are assigned for

this year, Hamilton Township Fire

Department Chief Martin Hafey said

donations of clothing and toys can still be

dropped off Station 171, 1460 Obetz Road

until Dec. 20 in support of families in need.

"The past few years have been hard on

everyone, and there have been many unexpected

changes," said Duncan. "We want to

See HELP, page 7

Photos courtesy of Hamilton Local Schools

Ranger roundballers

Hamilton Township Ranger Kaden Kiser (11) (right)

scores on a layup during the Rangers' varsity basketball

game against Horizon Science on Dec. 1.

Horizon Science defeated the Rangers 53-45.

Hamilton Township Ranger Max Petry (above) prepares

to drive to the basket during the Rangers'

game against Horizon Science.

What is the BWACIC

By Katelyn Sattler

Staff Writer

The Big Walnut Area Community Improvement Corporation

(BWACIC) is a not-for-profit, 501(c)(3) corporation, established in

1995, to facilitate economic development in the city of Obetz.

The BWACIC owns property and receives rent from that property.

The entity then funds various activities such as the beauty

contest and the Queen's parade at the Zucchinifest, purchases

advertising for various events, runs a facade street improvement

program, improves streetscapes by providing mulch, and has

donated money to the now-defunct Obetz Historical Society.

See BWACIC, page 8
---
PAGE 2 - MESSENGER - December 12, 2021

We are the BEST community newspaper!

Need advertising?

Call the Messenger at 614-272-5422 today.

Prepare for unexpected

power outages with a

Generac home standby

generator

REQUEST A FREE QUOTE!

866-643-0438

FREE

7-Year Extended Warranty*

A $695 Value!

Limited Time Offer - Call for Details

Special Financing Available

Subject to Credit Approval

Serving Your Community

Malek &

ATTORNEYS AT LAW Malek

Proudly Announcing

Adding New Attorneys

To Serve You!

WORKERS'

COMPENSATION

PERSONAL INJURY

WRONGFUL DEATH

SLIP & FALL INJURY

DOG BITE INJURY

*To qualify, consumers must request a quote, purchase,

install and activate the generator with a participating dealer.

Call for a full list of terms and conditions.

A FREE ESTIMATE

15 10 5

YOUR ENTIRE

PURCHASE *

% % %

OFF + OFF + OFF

SENIOR & MILITARY

DISCOUNTS

| Promo Number: 285

Since 1972

YEAR-ROUND

CLOG-FREE GUARANTEE

1-855-595-2102

TO THE FIRST

50 CALLERS! **

Douglas, Ed, Jim

and Kip Malek

"Hablamos Español"

FREE Initial Consultation

www.maleklawfirm.com

614-444-7440

1227 S. High St., Columbus, OH 43206

www.columbusmessenger.com

Official local election results

By Rick Palsgrove

Managing Editor

The Franklin County Board of Elections has

released the official results of the Nov. 2 election.

There are no changes in who was elected, however,

a recount was necessary in the Canal Winchester City

Council race.

"The Canal Winchester City Council race was within

automatic recount range," said Franklin County

Board of Elections Public Information Officer Aaron

Sellers.

In that race, only eight votes separated candidates

Patrick Shea, with 1,203 votes; and Brandon Hord,

with 1,195 votes. The recount was held on Nov. 30

with the result confirming Shea's election.

"We completed the recount of the Canal Winchester

City Council race of all votes cast in Franklin County

and nothing changed," said Sellers.

A Fairfield County Board of Elections official indicated

that the Franklin County Board of Elections

handled the recount of the race for both counties since

the majority of the precincts are in Franklin County.

Here are the official Nov. 2 local election results

according to the Franklin County Board of Elections.

Groveport

Groveport city council (top four selected):

Scott Lockett, 690; Becky Hutson, 578; Edward G.

Dildine, 547; Jack Rupp Jr., 521; Cheryl Irving, 473;

Wayne White, 374.

Groveport Madison board of education (top three

selected): Seth Bower, 2,404; LaToya Dowdell-Burger,

2,037; Libby Gray, 1,890; Wayne Bryan, 1,695; Betty

Simcox, 1,595; Polly Pierce, 1,069.

Madison Township

Madison Township trustee (top two selected): John

Pritchard, 2,142; Katherine Chipps, 1,971; Debbie

Miller, 1,808; John Kershner, 1,773.

Obetz and Hamilton Township

Obetz village council (top four selected): Robert

Cramer, 549; Guiles Richardson, 509; Mike Kimbler,

499; Todd Gibbs, 447; Bonnie Wiley, 431.

Hamilton Township board of education (top three

selected): Mary Isaac, 809; David Schutte, 804; Amber

Clark, 756; Jeff Sewell, 710; Hillary Thompson, 635;

Damon Batchelder, 486.

Hamilton Township trustee (top two selected): Chris

Hann, 1,067; Todd Blackstone, 754.

Lockbourne

Lockbourne village council (two selected): Tony

Grandstaff, 17; Bobbi Crouse, 14.

Canal Winchester

Canal Winchester city council (top four selected): Jill

Amos, 1,494; Ashley Ward, 1,281; Laurie Amick,

1,280; Patrick Shea, 1,203; Brandon Hord, 1,195;

Chuck Carpenter, 1,073; Chloe Green, 1,063.

Canal Winchester board of education (top three selected):

Dave George, 2,115; Vangela Barnes, 2,002;

Monika Talley, 1,946.

Canal Winchester City Charter amendments: Yes:

1,320; No: 756.

The amendments are:

•The clerk of council will be subject to the control of

the officers of council and shall be responsible

for other duties as assigned by council.

•Two copies of an ordinance will be kept

at all times in the clerk of council's office, or

elsewhere at city hall, and available for reference

by interested persons.

•Ordinances and resolutions will be

published by posting copies in not less than

three public places in the city, and on the

municipal website.

•On or before the last day of January in

2000 and each five years thereafter, the

mayor shall appoint five and the council

shall appoint six members of the Charter

Review Commission. This is a change from

the previous 10-year standard.

•Three references to Canal Winchester

as a village within the charter were also

amended to reflect its designation as a city.

A 10.02 recall section was also proposed for

clarification regarding advertising for a

recall election for

two consecutive

weeks in a newspaper

of general circulation

in Canal

Winchester, and on

the city website.
---
www.columbusmessenger.com

December 12, 2021 - MESSENGER - PAGE 3

Happy Holidays

We Have Moved! Now Located At

Rutherford Auto Body

601 Commerce Drive

Pickerington, Ohio

Same Owners • Same Quality

Call us at 614 837 0902

and mention Columbus Messenger for 10% OFF

GIFT CARDS AVAILABLE

Kristin Holm was born in Columbus,

Ohio, and attended the Columbus Culinary

Arts Institute. She has been a chef for over

10 years and is now realizing her dream of

becoming a published author.

The heart of the Community was corrupted

by one thing above all: human greed.

Those turned in have no choice but to work

off their debt or be sent to the Medical

Waste Facility.

While many in debt dream of living a

www.sudslingers.com

life of freedom and comfort, Evie dreams of

freedom for her loved ones. After the death

of her former assignment, she is forced into

the service of Elias Huntley, one of the most

powerful men in the Community. Evie only

wants to erase her debt so that she can work

towards saving her family.

However, nothing is that simple.

She becomes tangled in

Elias's web of secrets and realizes

just how cruel the

Holiday cooking tips

Families big and small typically celebrate

the holiday season together. For

some, celebrating the holidays with family

requires traveling, while others stay put

and welcome family and friends into their

homes.

At some point during the holiday season,

celebrants who host family and friends

will no doubt prepare a homecooked meal

for their loved ones. Cooking for a crowd

can seem like a daunting task, especially

for first-time hosts. However, there are

various ways for hosts to simplify cooking

for a crowd this holiday season.

1. Prepare a familiar dish

Hosts may agonize over their holiday

menus, and some may feel compelled to

prepare a family specialty or the same

dishes their parents or grandparents prepared

for holiday dinners when they were

children. But holiday hosts can make

things easy on themselves by choosing

dishes they've made in the past, regardless

of their place in family history. Chances

are the ingredients for hosts' own specialties

are already in the pantry, saving a

potentially time-consuming trip to the grocery

store. And thanks to the familiarity

factor, hosts' own specialties likely won't

require as much time to prepare.

2. Share some cooking duties

Another way to simplify cooking for a

crowd is to invite guests to bring along a

side dish or dessert. Guests who live nearby

can make something in advance of the

big meal, while hosts can hand over their

kitchens to overnight guests who express a

willingness to contribute their own homecooked

dish to the party. Sharing the cooking

duties gives hosts more time to connect

with friends and family and serves as a

great way to plan the menu in advance.

3. Only make what guests are likely to eat

Hosts also should not feel pressured to

cook more food than is necessary. Holiday

meals have a tendency to be lavish, but

hosts don't have to spend all day in the

kitchen preparing food that will likely end

up as leftovers or trash. Get a final headcount

in the days before everyone comes

over and adjust your recipes accordingly.

4. Start early

If the big is on Christmas Day, that does

not mean hosts have to start cooking while

everyone unwraps their presents. Hosts

who are uncertain about what to cook can

look for meals that can be prepared in

advance so come the big day all they need

to do is turn on the oven and let meals cook

while the family spends time together.

PAID ADVERTISING

Evie dreams of freedom

Community is to those in debt. While in his

service, Elias forms an obsession with Evie

that threatens her chances of freedom and

the lives of her loved ones. A race begins

between them as she must find a way to

escape before Elias can trap Evie in his

world forever.

"The Community" is available for preorder

at Amazon, Barnes & Noble and other

retailers. Title released Jan. 1, 2022. Author

Facebook: Kristin Holm - Author.

Instagram: kristin_holm_author

The Community takes place in a corrupt society

where those turned in must work off their debt,

or else face being sent to the Medical Waste

Facility. The story follows Evie, a young woman

who dreams of paying off her debt so that she

may work to free her loved ones from servitude.

However, her goal faces many obstacles, including

a man's dangerous obsession with her and

his desire to trap her in his world.

Kristin Holm - Author

Born in Columbus, Ohio

NOW AVAILABLE

PRE-ORDER - AMAZON

BARNES & NOBLE

Messenger

South
---
PAGE 4 - MESSENGER - December 12, 2021

www.columbusmessenger.com

Happy Holidays

PAID ADVERTISING

All the baked goods you love

We are The "Original" Bakery from Smith

Farm Market.

We moved to Canal Winchester in 2018. We

have all the baked goods that you have come to

know and love. Our pies are the same pies that

you have had at your dinner table for the last 30

HOLIDAY PIES & COOKIE TRAYS

100 Winchester Cemetery (614) 524-1183

www.heavenlytreatsohio.com

Celebrating 15 Years in Business!

years or so.

We are currently taking orders for Christmas

pies and Cookie Trays. Give us a call at 614-524-

1183.

Thank you to all of our customers for your

continued support.

Heavenly Treats Bakery

PAID ADVERTISING

Join today for a better tomorrow

The Holidays are a time for celebration and

that's why First Service Federal Credit Union,

your community credit union, wants to help

reduce your worry and stress with a low cost,

fixed rate Holiday Loan. It's simple to ask questions

or apply, just visit a branch office in your

area, call 614-836-0100 today or reach us at

www.firstcu.com.

Experience the credit union difference by

opening an account at First Service. We provide

members a combination of friendly service and a

better value. Whether you are purchasing a home,

buying an automobile, or refinancing your current

vehicle from another lender, our competitive rates

and flexible terms will help keep your payments

low.

First Service checking accounts provide you

with easy account access and options that will fit

your daily needs. With First Service checking,

there is no minimum balance requirement after

opening your account and transactions are unlimited.

Stay connected to your accounts everyday

with free Online and Mobile Access, Mobile

Check Deposit, Visa debit cards, and convenient

Billpayer.

First Service has many ways to make your life

easier, at a cost you can afford. Give us a chance

to save you money starting today!

First Service is your community credit union

offering services to anyone that lives, works,

attends school, or worships in Franklin, Fairfield,

Delaware, Licking, Madison, Morrow, Pickaway,

and Union counties with branch locations serving

Groveport, Grove City, Hilliard, Reynoldsburg,

and employees of Nationwide Children's

Hospital, along with online banking at

www.firstcu.com.

(Federally insured by NCUA.)

"BEST NEW YEARS PARTY IN TOWN"

17 th Annual

Mike Albert

and

The Big E. Band

Per Couple Prices

Overnight Package - $319

Party Only Packages - $250

Single Overnight - $219

Prices include

Dinner, Drinks, Room, Party favors,

Full Breakfast

Crowne Plaza • 6500 Doubletree Ave. (formerly Marriott North)
---
www.columbusmessenger.com

Happy Holidays!

December 12, 2021 - MESSENGER - PAGE 5

HOLIDAY HAPPINESS

The holidays should be a time for celebration, not

stress. Enjoy your holidays even more with a Holiday

Helper Loan that offers an affordable solution for your

travel and shopping enjoyment.

*6.99% fixed rate *11.73% APR

*Up to $1,800 availability

*Easy to budget fixed payment

*12 month repayment term

*$49 reduced processing fee

Apply Now!

This special offer ends at Noon on December 24th.

Visit Us At

100 Main Street, GROVEPORT

1660 Georgesville Square, GROVE CITY

2164 Hilliard Rome Road, HILLIARD

7610 E. Main Street, REYNOLDSBURG

614-836-0100 www.firstcu.com

Open to everyone in Franklin, Fairfield, Delaware, Madison, Morrow,

Licking, Pickaway and Union Counties All Loans On Approved Credit. No other

discounts apply. Other rates and terms may be available. Payment example based on a credit score of 720 or

higher with all other credit qualifications met: $1,800 Holiday Loan at 6.99% rate with a 12-month

repayment term and $49 processing fee, would have an 11.73% APR and a monthly payment of $160.40.

$5.00 minimum deposit to open a Membership Share Account. Federally insured by NCUA.
---
PAGE 6 - MESSENGER - December 12, 2021

www.columbusmessenger.com

Irelands Spa

Online Gift Card Available at:

Now

Book

Online

IRELANDS

Irelands Spa & Salon II

614-834-7111

209 Winchester

Cemetery RD., Canal

www.irelandspa.com

@irelandsspa on twitter

instagram.com/irelands_spa

instagram.com/irelands_spa2

GO GREEN THIS

HOLIDAY SEASON

Make a difference by taking small steps to reduce

waste and recycle right over the holidays.

DONATE DECORATIONS

AND LIGHTS

Instead of pitching unwanted

decorations or lights, donate them

to a local non-profit like Goodwill.

Irelands Spa & Salon

740-653-3228

1917 Hubbard DR.

Lancaster

REDUCE FOOD WASTE

Save money and landfill space by

only buying food you need, and find

creative ways to use leftovers!

Happy Holidays

Caring for your Christmas tree

Christmas trees are an iconic symbol of the holiday season.

Whether they are personal trees nestled in the corner of a living

room for families to enjoy or towering evergreens serving as

the focal point of a town square, Christmas trees are a wonder

to behold.

Many people have fond memories of time spent around the

Christmas tree sharing gifts and family traditions.

Live trees and their pine-like aroma can be especially nostalgic

trees to include in holiday plans.

The National Christmas Tree Association says that approximately

25 to 30 million real Christmas trees are sold in the

United States every year.

North American trees hail from all 50 states and areas of

Canada.

While freshly cut trees can be particularly beautiful and aromatic

additions to the season, they require a bit more work than

artificial trees in order to remain beautiful and thrive throughout

the holiday season.

Maintenance can help keep Christmas trees as perfect as

possible.

• Even though it is tempting to buy a real tree as early as

possible, their shelf life is limited even with the best care.

Dural Christmas Tree Farm advises that, under the best conditions,

a real tree should last up to four weeks before drying

out.

• Consider the needles when looking for a real tree. Pull

your hand toward your body along the branches. If many needles

fall off, the tree is past its peak.

• Think about the room in which the tree will be located.

Leave at least six inches between the tip of the tree and the ceiling,

accounting for the height of the tree stand as well.

• If needle retention is a goal, the Scotch pine variety has the

best needle retention and a high survival rate, lending to its

popularity, offers Precision Tree and Landscape.

Douglas fir and balsam fir are other durable trees.

• If possible, buy a freshly cut tree from a reputable nursery

or tree farm, advises The Old Farmer's Almanac. Many pre-cut

trees sold elsewhere were likely cut weeks before and may not

be fresh.

• Cut the bottom of the tree trunk before bringing it home to

facilitate the uptake of fresh water daily.

Trees can absorb as much as a gallon of water in a day, so

make sure the tree gets fresh water every day.

• Keep trees away from as many heat sources as possible

and away from direct sunlight to prolong longevity.

• According to Karabin Farms in Connecticut, to make a

Christmas tree last longer, boil a gallon of water and then dissolve

one cup of sugar in the water. Allow to cool.

After freshly cutting the trunk, pour in the warm sugar

water. Continue to add fresh, cool, plain water to the tree stand

afterward.

Wreaths bring joy

Wreaths adorn homes primarily during the

holidays of Easter and Christmas. It is believed

the first wreaths date back to ancient Greece and

Rome. Members of the Greco-Roman society

were known to hand-make ring-shaped items

using fresh tree leaves, small fruits, flowers, and

twigs. Others suggest wreaths evolved to become

a Christian symbol of immortality.

Regardless of how wreaths are viewed, many

people like to display wreaths for the holidays.

Wreaths can be purchased premade, but making a

wreath on your own can make the holidays even

more fun.

One of the easiest ways to make a wreath is to

design it around a circular floral foam form.

Gather supplies to make the wreath. For traditional

wreaths, supplies will include sprigs of evergreen

(real or artificial), ribbon, floral wire, bows,

and artificial berries. Working around the foam

form, arrange the boughs of evergreen, using the

floral wire to wrap or pin into the foam itself.

Keep the layers coming until you get the desired

coverage. Embellish with a ribbon or place a bow.

Thick card stock also can serve as the wreath

template. Attach artificial flowers or leaves, spray

snow, ornaments, or other items to the card stock

ring with a firm adhesive.

Many craft stores sell wreath forms made of

natural vines that have been strung in a ring.

These can be decorated in their entirety or left a

little sparse to let the natural twine show through.

PAID ADVERTISING

Ring in the new year with

Mike Albert's Elvis tribute show

RECYCLE RIGHT

Break down cardboard boxes

and keep recyclables loose in

the curbside recycling cart.

It's easy to have a green holiday.

Get more tips at SWACO.org!

Get out of the house and ring in 2022 at a New

Year's Eve party that is rated one of the best in

Columbus.

The Crowne Plaza Hotel, 6500 Doubletree

Ave., will host Mike Albert and The Big "E"

Band at this 15th annual New Year's Eve bash.

Albert is an award winning "Elvis Presley

impersonator." His wardrobe, voice and amazing

wit makes for a wonderful show.

You can get a full service dinner, drinks, room,

hats and horns, champaign toast at midnight

along with a full breakfast New Year's Day for

only $319 per couple. There is also a party package

for $250 per couple or $150 per single.

Tickets are limited. For reservations, call (614)

792-3135.

Early check in is at 1 p.m., ballroom doors

open at 7 p.m. Draft beer and wine, included in

the price, will be available until midnight, with

dinner at 7 p.m. The show kicks off at 9 p.m.

"Mike's New Year's Eve show is like no

other," said promoter Doug Henry. "He interacts

with the crowd, which makes for a fun time."
---
www.columbusmessenger.com

Holiday lights

Lighted Christmas figures and other

decorations will be displayed throughout

Lancaster Park and Veterans Park in

downtown Obetz through December. The

historic church will have its holiday lights

on display through December.

Judging for the Holiday Lights contest

will be Dec.13. Mayor Angela Kirk and

Obetz City Council will visit every street

in Obetz, so make sure your lights are on

all evening.

No registration required. Every decorated

home in Obetz is eligible.

There will be multiple winners in several

categories.

HELP

Continued from page 1

as many families in our community as possible,

and we want them to know that our

district is not only here to help their students,

but we are here to help the family as

a whole. Holiday Help can provide hope to

those who may lose that feeling down

around the holiday season. Holiday Help is

here to help our community as much as we

can."

If you or someone you know is in need

during the holiday season, reach out to

Hamilton Local School District school

counselors at 614-491-8044, or contact Deb

Dunn or Goldbach at Leave A Mark

church, 614-491-5262.

Obetz City Council meetings cancelled

The Obetz City Council meetings scheduled for Nov. 22 and

Dec. 27 are cancelled. The final council meeting of the year will be

on Dec. 13 at 6 p.m. in the Council Chambers at 4175 Alum Creek

Drive, Obetz.

Lockbourne Council

Lockbourne Village Council meets the second and fourth

Mondays of each month at 7 p.m. Council meets in-person at the

Lockbourne Historical Hall at 206 Vause St., Lockbourne. The

public may join the meeting virtually through Microsoft Teams.

To join the meeting, go to the village website at www.lockbourneohio.us

and click on the link to the meeting.

Emergency services in Obetz

Emergency medical, fire, and rescue services in the Obetz area

are provided by either the Hamilton Township Fire Department

or Madison Township Fire Department depending on your location.

For non-emergencies, call the Hamilton Township Fire

Department at (614) 491-1013. The Madison Township Fire

Department may be reached at (614) 837-7883.

Hamilton Township historical tidbits

•The first birth recorded in Hamilton Township was on Sept.

20, 1800 of Maximilla Fisher, the daughter of Michael and Sarah

Fisher, who lived along the banks of the Scioto River. The oldest

burial in the Walnut Hill cemetery on Rathmell Road is the

February 1811 burial of John Hornbaker.

•The first township road, which was later abandoned and

became part of farmland once owned by Timothy Sherman, was

the Franklin and Chillicothe Road.

The first township tavern, kept by James Culbertson, was

located on the roadway.

Dr. Hobbs

December 12, 2021 - MESSENGER - PAGE 7

columbusmessenger.com

3700 Parsons Ave.

Columbus, OH 43207

New Patients & Emergencies Always Welcome

(614) 491-5511

www.ScottAKellyDDS.com

CONCEALING UNSIGHTLY TEETH

If your front teeth are so unattractive

that you try to hide

them with a closed-lip smile or

with your hand covering your

mouth, you may be interested

in one of the new advances in

esthetic dentistry: laminate veneers.

Veneers are customized, laboratory-produced

coverings

that fit over the front and sides

of the tooth. They can be used

to correct a variety of smilespoiling

imperfections, including

stains, cracks, or chips. With

veneers, your teeth can be

made longer or wider, and

Dr. Kelly

many spacing problems can be

corrected. By concealing unsightly

teeth, these naturallooking

veneers mean that you

need not cover up your smile

ever again.

Veneers offer certain advantages

over other, more involved

or time consuming cosmetic

treatments. Veneering is a relatively

conservative approach,

requiring just a slight

reduction in the tooth's surface.

From the office of:

SCOTT A. KELLY, D.D.S.

Phone 614-491-5511

Learn More about

Medicare Options

That you may

Qualify

For

Ca all me T Consultation $0 Fee

Terri Curcio

614-4

460-06010601

Local representative, I can mail

you your preferre ed carrier(s) informat

ion to review. Also,

I can enroll

a client without a face-to-face meeting or schedule a one-on-one meeting if

you prefer.

Offering different types of plans with top-rated carriers. I will work

for you to find the

plan that fits your needs, budget,

and lifestyle, while offering the lo west copays.

Do I q ualify for Low Inco

me Subsidy (LIS)

to reduce my Rx co

pays?

Not a representative via an 800#,

answer your questions throughout the year!
---
PAGE 8 - MESSENGER - December 12, 2021

www.columbusmessenger.com

Christmas cheer

BWACIC

Continued from page 1

The BWACIC does these things via

ownership and leasing certain pieces of

property. It leased land to the Columbus

Crew soccer team for practice, which was

donated to the CIC in 1997. The Crew lease

agreement ends this month, at which point

the team will practice in another practice

facility built for them by OhioHealth near

the state fairgrounds. It's unknown what

will happen to that piece of property after

the lease expires.

"It depends on what Obetz decides to do

with it," said Obetz City Administrator

Rod Davisson. "There are a lot of good

ideas, but no decision yet."

The CIC is run by a board of seven

appointed trustees: the mayor (Mayor

Angela Kirk), the Obetz administrator

(Rod Davisson), the president pro-tem

(councilman Derek Varney), Buck Stewart

(president, Capitol City Trailers, Inc.),

David Tiggett (managing director at

KeyBanc Capital Markets), Matt

Cramblitt trustee/treasurer and Obetz

Messenger photo by Linda Dillman

Nearly two dozen holiday inflatables festively span Martin Hafey's yard in

Lockbourne. Hafey said he started with a couple of inflatables 15 years ago and has

added to the collection over the years.

finance director), and one seat remains

open.

The CIC holds public meetings at the

beginning of the year to determine the

budget and as needed throughout the year.

The trustees will also appoint a member to

fill the vacant seat at the first meeting in

2022.

"When there is an open spot, the

trustees generally take resumes from

interested parties and look for skills that

would help us develop," Davisson said.

"Usually, these folks come from the business

community."

Obetz also has a Convention and

Visitor's Bureau (CVB), which is governed

by the same seven member board that

makes up the BWACIC. The CVB receives

half of the lodging tax levied by the city

and is used for the promotion and marketing

of the Obetz area.

"A CIC has less regulatory oversight,

which makes it more nimble than a city or

a village," Davisson said.
---
www.columbusmessenger.com

December 12, 2021 - MESSENGER - PAGE 9
---
PAGE 10 - MESSENGER - December 12, 2021

Winter safety tips from HTFD

By Linda Dillman

Staff Writer

It is time to turn up the heat, put up the

decorations, and take a good look around

the home to make sure this holiday season

is as safe as possible.

Hamilton Township Fire Chief Martin

Hafey said now is the time to have furnaces,

fireplaces, wood burning stoves and chimneys

inspected, cleaned and repaired as temperatures

drop and thermostats are turned up.

"Electric heaters should be placed at least

36 inches from combustible materials like

furniture, curtains and bedding," said Hafey,

"and should never be left unattended. Use

the same rule for kerosene heaters. Children

should never play around these devices."

Hafey advises putting a fire safe screen

in front of the fireplace to protect from flying

embers and to keep children and pets

from injury. Have working carbon monoxide

detectors in the home as well.

From Nov. 1, 2020, until March 1, 2021,

there were four carbon monoxide runs by

the township that had positive readings.

Two were from faulty furnaces, one from a

bad exhaust pipe from a water heater, and

one from a car being warmed up in the

attached garage.

There were several other reported carbon

monoxide runs, but Hafey said many

were due to signals indicating that the battery

was low in the detector.

"The batteries should be changed twice

a year, just like smoke detector batteries,

unless it is a new style with permanent 10

year batteries," said Hafey, who also said

there were two fire runs related to space

heaters. "One was where a space heater

was too close to some furniture and had

started to scorch the material and smoke.

The other was where the space heater was

plugged into a cheap brown extension cord.

The electrical draw from the heater caused

the extension cord to overheat and began to

smoke and melt."

Hafey said electric space heaters should

be plugged directly into the wall or into a

larger size extension cord and kept at least

three feet from combustible materials like

curtains, furniture and beds.

"There was also a fire related to a child

playing with a lighter in a closet and causing

the house to catch on fire," said Hafey.

"Matches and lighters should put up and

out of the reach of children."

December is a prime time for the

ambiance of candlelight and while they set

a festive mood, candles must be in proper

holders or containers. Never leave burning

candles unattended. They should always be

out of the reach of children and the wagging

tail of a happy canine.

"Check all holiday electrical lights for

damage," said Hafey. "Repair properly as

needed or discard when necessary. Unplug

them when you leave the house or go to bed.

Make sure your artificial tree has a fireretardant

rating. It should say so on the box."

Messenger

South

Starting December 12, 2021

Pick-Up At These

Locations:

Ponderosa Steak House - 3875 S. High St.

Turkey Hill - 3900 S. High St.

Dollar Tree - 3754 S. High St.

Speedway Gas Stattion - 3860 S. High St.

Aldi Store - 3600 S. High St.

Columbus Library - High St. & Highview

CVS Pharmacy - High St. & Williams Rd.

Walgreen's - High St. & Williams Rd.

Scioto Community - 433 Obetz Rd.

Kelly's Market - 3453 Parsons Ave.

Dr. Scott Kelly, DDS - 3700 Parsons Ave.

Hamilton Township Schools - 1105 Rathmill Rd.

K & M Market - 4305 Andy Groom Blvd.

Stoney's Market - 3517 Lockbourne Rd.

READ US ONLINE: www.columbusmessenger.com

A freshly decorated fir or pine is an icon

of the season, but live holiday trees need to

be watered frequently and no flame or heat

sources should be located nearby. Discard

them when needles become brittle or fall

off in substantial amounts.

Do not overload electrical outlets or

extension cords with more light strands

than for which they are rated.

While there are special situations to

look out for during the holiday season, fire

safety awareness is a 365-day concern.

Hafey offers the following tips to follow

throughout the year–have working smoke

detectors in all bedrooms and on all levels

of the home; buy a fire extinguisher and

learn how to use it; if you smoke, use non

tipping ashtrays and never smoke in bed.

"We do have a program for Hamilton

Township residents to be provided with and

have installed a smoke detector," said

Hafey. "Captain Edwards, our community

paramedic is in charge of the program and

can be contacted at Station 172 at 614-491-

1042. At this time, we do not have a program

for CO detectors. The life expectancy

of both type of detectors is about 10 years.

After that, the sensors in the detectors don't

function as well or not at all which cause

the detector to not activate when needed."

Clearly post your house number on your

house or mailbox in the event of an emergency.

Keep matches and lighters out of the

reach of children and do not leave anything

cooking or baking unattended.

www.columbusmessenger.com

e Messenger newspaper's

delivery process is changing

eastside

Messenger

(Distribution: 6,100)

Rick Palsgrove................................South Editor

eastside@ columbusmessenger.com

Published every other Sunday by

The Columbus Messenger Co.

3500 Sullivant Ave., Columbus, Ohio 43204-1887

(614) 272-5422

Lockbourne Air Force Base

According to "Crossroads of Liberty, a

Pictorial Tribute to

Lockbourne/Rickenbacker AFB-ANGB-

IAP," written by Robert M. Stroup II and

advised by military historian Donald C.

Porter, before Pearl Harbor was attacked

in 1941, plans were already underway to

construct an airfield near the village of

Lockbourne.A site was surveyed on Oct.

23, 1941 that consisted of over 1,500 acres.

On Jan. 2, 1942, authorization was

received to proceed with construction of

base facilities. On January 17, a directive

was issued approving the acquisition of 33

parcels of land of different sizes and various

ownerships, mostly in the form of

farmland.

Construction began on facilities to first

accommodate training for glider pilots,

then B-17 pilots. Following the end of the

war, Lockbourne's mission shifted to support

of the fledgling Air Force, National

Guard and Reserve.

The Tuskegee Airmen were an important

part of the base's history in the late

1940s, as well as the Strategic Air

Command in later years. Lockbourne

nearly doubled in size in the 1950s due to

the Korean War, necessitating another

acquisition of local land.

In 1974, Lockbourne was renamed

Rickenbacker Air Force Base in honor of

Eddie Rickenbacker. Five years later, following

re-alignment recommendations at

the federal level, the base started closing

down after SAC operations were transferred

elsewhere.

Home delivery of your Messenger newspaper

is changing in December.

As of our Dec. 12 edition, your free

Messenger newspaper will be mailed

directly to your home. You should receive it

on either Tuesday or Wednesday.

The Messenger will also be available for

pick-up at no cost at numerous locations

around the community.

Paid subscriptions are available if you

live outside of our circulation area and

would like to have the Messenger mailed

directly to your home. Paid subscriptions

cost $52 for 26 issues. Mail your subscription

check, payable to Columbus

Messenger, to 3500 Sullivant Avenue,

Columbus, OH 43204.

For all of those who have already purchased

a paid subscription, you will start

receiving your notice that your subscription

will be concluding well in advance of

the expiration date. We sincerely thank

you for being a paid subscriber and for the

very many of you who have made voluntary

payments over these many years we greatly

appreciate your support as well.

Readers and advertisers can always

access our e-editions on our website, which

is constantly showing a growing following.

We have many likes on Facebook and

Twitter social media as well with a growing

number of readers liking us and the following

on particular stories is amazing. We

thank and salute our e-edition readers as

well!

The Messenger staff appreciates our

loyal readers and advertisers and we will

continue to bring you the best in local news

coverage, feature stories, and photos.

We enjoy being part of the community.

Keep tabs on the news in Obetz

and Hamilton Township

Look for South Messenger on

Become a fan!
---
It's time to bundle up and put on your hiking shoes

www.columbusmessenger.com

By Kristy Zurbrick

Madison County Editor

This year's Winter Hike Series rewards include a new hiking patch featuring a fox

design. Anyone who completes hikes at seven or more of the featured parks earns a

patch.

Go on your own time or join other hikers

at designated times—or do both! The 49th

Annual Winter Hike Series offers lots of

options for getting out into nature during

the year's colder months.

Hosted by Columbus and Franklin

County Metro Parks, the upcoming hike

series encourages folks to visit some or all

of 18 parks in the system, three of which

cross over into Madison County. The program

runs from December through

January.

While participants can hike any park at

any time during the three-month period,

the park system is highlighting certain

parks each month and offering opportunities

to gather with other hikers.

In December, the featured parks are

Battelle Darby Creek, Blacklick Woods,

Highbanks, Homestead, and Inniswood.

Participants can enjoy twinkling light displays

and hot chocolate from 5 to 7 p.m. on

Sundays at these parks. Additionally,

evening lantern walks and hot chocolate

will be offered at Chestnut Ridge Dec. 17-

18.

In January, the featured parks will offer

refreshments from 10 a.m. to 2 p.m. on certain

days: Blendon Woods (Jan. 8, chicken

noodle soup), Sharon Woods (Jan. 9, shredded

chicken sandwiches), Scioto Audubon

(Jan. 15, hot dogs), Clear Creek (Jan. 22,

doughnuts), Prairie Oaks (Jan. 23, cinnamon

rolls), and Three Creeks (Jan. 29,

sausage biscuits).

In February, the featured parks are

Glacier Ridge, Pickerington Ponds, Rocky

Fork, Scioto Grove, Slate Run, and Walnut

December 12, 2021 - MESSENGER - PAGE 11

Woods. Participants can search for and

take home wooden ornaments on trails at

these parks, plus enjoy campfires from 10

a.m. to 2 p.m. on Sundays.

Anyone who completes hikes at seven or

more of the parks earns a hiking patch. It's

a new patch this year, featuring a fox

design.

Anyone who completes all 18 hikes and

signs up to be a Friends of the Metro Parks

member ($10) earns a hiking stick and a

medallion for the stick. To track completed

park visits, pick up a hike card at any of

the parks featured in December, then flag

down a park ranger to stamp the card after

each visit.

Patches, sticks and medallions will be

distributed at the end of the series during a

celebration at Blacklick Woods Golf

Course.

During the event, planned for Feb. 27

from 11 a.m. to 3 p.m., visitors can hike the

trails at the course, enjoy hot chocolate and

a campfire, and borrow skates to glide

around the ice rink.

For more information about the Winter

Hike Series and directions to each park,

visit www.metroparks.net/events/.

The three parks that cross over into

Madison County are Battelle Darby Creek,

Glacier Ridge and Prairie Oaks.

South/Canal Winchester

Christmas Church Services

LUTHERAN CHURCH, ELCA

Friday, Dec, 24 - 4:00 , 7:00 & 10:00 PM

Prelude Music, Candlelight & Communion

In Person and Available Online

www.epiphany-lutheran.com

614-837-2826

268 Hill Rd. N. Pickerington, OH 43147

All are welcome!

and his name shall be called

Wonderful,

Counsellor,

The mighty God,

The everlasting Father,

The Prince of Peace.

Asbury United Methodist

Church South

4760 Winchester Pike, Columbus, OH 43232

614-837-4601

Christmas Eve Service Dec. 24th - 4:00 p.m.

Small gift bags for children will be handed out after service

Sunday, Dec. 26th

10 a.m. - Christmas Hymn Sing & Worship

EMMANUEL LUTHERAN

CHURCH

80 E. Markison Ave., Columbus, OH 43207

elclife.org

Friday, December 24th

Christmas Eve Services 3 & 7 pm

Saturday, December 25th

Christmas Day Service 9:30 am

Friday, Dec. 31 - New Year's Eve Service 7 pm

Bethany Lutheran

Church, LCMS

1000 Noe-Bixby Rd., Columbus, OH 43213

614-866-7755

Traditional Worship Service: 9 a.m.

Christmas Eve Service Dec. 24 @ 7 pm

Visit us on Facebook or visit our website at:

bethanylutheranchurch@weebly.com

Brice United

Methodist Church

3160 Brice Road, Brice, Ohio 43109

Pastor Phyllis Plear Dixon

Come celebrate the Birth of Jesus

Christ on Christmas Eve at 6:00 pm

Sunday Morning Worship Service

10:30 a.m.

December 12th @ 10:30 AM

Dr. David Harris — Guest Speaker

December 19th @ 10:30 AM

Christmas Celebration.

A special time of celebration with worship,

music and the Word.

December 19th @ 6:00 PM - Live Nativity.

Candlelight worship by the Live Nativity.

December 22nd @ 7:00 PM

Christmas Communion

464 Rathmell Rd., Lockbourne, 43137

www.capcitychurch.live

614-409-9421
---
PAGE 12 - MESSENGER - December 12, 2021

www.columbusmessenger.com

Frozen Lobster Tails, King Crab Legs, Snow Crab Clusters, Orange Roughy,

Lake Smelts, Fresh Chopped Clams, Squid Tubes and Tentacles, Caviar,

Salted Baklava, Fresh Cod, Fresh, Eel, Octopus, Fresh Lump Crabmeat

(Non-Pasterized), Florida Stone Crab Claws, Snow Crab Cocktail Claws,

Live Lobsters via Special Order Only!

We Carry Domestic and Imported Wines

SUPPORT YOUR LOCAL

SMALL BUSINESSES

All Orders to be Picked Up at

5249 Trabue Rd.

Columbus, OH 43228

HOURS:

Sunday, December 19th - 8 to 4

Monday thru Thursday 8 to 6

Friday, December 24th - 8 to 4

Closed December 25th & 26th

Now taking Christmas orders

We Accept All Major Credit Cards

EBT Cards (SNAP)

FRESH PRODUCE - LARGE WINE SELECTION

•Oysters Chesapeake Bay •Chilean Seabass Fillets

•Assorted Beef Steaks •Halibut Fillets

•Frozen Lobster Tails •Snow Crab Clusters

•King Crab Legs •Orange Roughy

•Faroe Island Salmon •Smoked Salmon

•Sea Scallops

•Live Lobsters via Special Order Only!

SUPPORT YOUR LOCAL

SMALL BUSINESSES

New 2nd Location

2

HOURS:

12/20-12/23: 9am-7pm

12/24: 8am-4pm

WE ACCEPT

All Major Credit Cards,

EBT Cards (SNAP)
---
www.columbusmessenger.com

I am not someone who makes fun of those who enjoy

an escape into the enchanting land of the holiday

romantic comedy, but I am also not someone who typically

wants to spend time in that world either.

In my opinion, they are the schmaltziest romantic

comedies put on steroids — triple the fluff, quadruple

the sentimentality, and raise the level of sweetness to

an intolerable degree. They are very much too much,

which I am beginning to suspect may be a part of the

general appeal.

With these closely-held feelings in mind, it came as

a big surprise to me when I found myself desiring a

journey into the world of unnatural holiday romantic

comedy escapist fare. I think I might have to lay the

blame at the feet of Wham!

It was a few weeks back when the band's poppy

albeit sad hit "Last Christmas" spent hours running

through my head, which in turn made me want to

revisit the aptly titled 2019 British film that was

inspired by this song and the work of the late and great

George Michael. Since it wasn't streaming for free on

any platforms, I placed "Last Christmas" into my

queue at the library and then was suddenly compelled

to look for more of its kind until my mental list of "holiday

romantic comedies to watch" started to rival that

of the 24-hour lineup on the Hallmark channel.

During this bizarre snowball effect to which I had

little control of my burgeoning holiday romantic comedy

impulses, I came across a new film on Netflix called

"Single All the Way." While I quickly realized that I

am not exactly the target demographic for this movie —

it is directed more toward gay men — it just looked so

sweet that I couldn't resist its lure.

"Single All the Way" does not break any new ground

in regard to the material within the traditional holiday

romantic comedy, but it is groundbreaking in a way

because it does not succumb to the popular tropes that

so many films that feature gay people, or specifically

gay couples, do. In this film, there are no unaccepting

friends or families, nor are there any awkward coming

out moments. There are no side eyes or harmful words

tossed their way when out and about with their potential

partners, showing affecting in public as others do.

Instead, "Single All the Way" is just an unapologetically

happy flick that is funny and delightful and a true

holiday gift for all.

Infusing the film with most of its potent charm is

Michael Urie and Philemon Chambers who play longtime

friends and roommates Peter and Nick, respectively.

Despite having a "meet cute" moment upon

their arrival in L.A. years prior, they have decided to

keep their relationship strictly platonic though both

have harbored crushes on the other from time to time.

When the film begins, the perpetually single Peter

is finally in a romantic relationship with a dreamy cardiologist

who is quickly stealing his heart (lots of heart

pun jokes to start the film — always a good sign).

Believing their relationship to be serious, he invites

Tim (Steven Lund) to join him in New Hampshire for

Christmas with his family and is ecstatic when he

accepts the request.

As things

are apt to

do, real life

(and uncovered

lies) brings an abrupt end to

Peter's blossoming new relationship,

leaving him brokenhearted

and wavering in going back to see

his well-intentioned but meddling

loved ones. "They always see (his

singleness) as a problem to be

solved," he laments to Nick.

Knowing that Nick has no

plans for the holidays, Peter begs

him to travel to across the country

in order to pretend to be a

couple to appease his family, a

December 12, 2021 - MESSENGER - PAGE 13

"Single All the Way" warms the heart

The Reel Deal

Dedra

Cordle

fantastic ensemble cast led by Kathy Najimy who

plays his mother Carole (as in "Christmas Carole"),

Jennifer Coolidge as his eccentric Aunt Sandy, and

Jennifer Robertson as his upbeat and uptight sister

Lisa.

When the duo arrive in the small ski town that runs

primarily on holiday cheer, their plans of romantic

subterfuge crumble when Carole announces that she

has already set Peter up on a blind date with her personal

trainer James (Luke Macfarlane). Knowing his

mother's obsession with his dating life, Peter agrees to

go on what is sure to be a disastrous date. But just as

Peter realizes that time spent with James might not be

all that bad, the rest of his family becomes convinced

that Nick is the right man for Peter — and they are

going to do everything in their power to make sure

these two realize they are in love.

What makes "Single All the Way" such a fun watch

is how it combines some of the best tropes in romantic

comedies, not just holiday themed ones. It has meddling

families, squabbling families, families coming

together for a singular purpose, longing looks, a

wrench in the plan, homesickness, and the delightful

friends to lovers aspect. In this film, however, there is

some question as to whether Peter and Nick will get

together as both have reservations about possibly losing

their friendship should any potential romantic

relationship go sour.

While we all ultimately know how it will end, the

cast makes it a blast to get to that point, infusing the

film at nearly every scene with warmth and humor and

joy. You can tell that everyone is having a great time

on this set, and that sense of enjoyment translates to

the viewer as well.

Though not a perfect film — there are pacing issues

and some clunky dialogue — "Single All the Way" is an

infectiously joyful movie, one that is sure to warm the

heart of any true holiday romcom lover, and possibly

even the ones who are slowly thawing to its awesome

powers of feel-goodness.

Grade: B

Dedra Cordle is a Messenger staff writer and columnist.

Property Tax Assistance Program available

According to Franklin County Auditor Michael

Stinziano, the Property Tax Assistance Program

(PTAP) will accept applications from low-income elderly

homeowners who need help paying their 2021 first

half property taxes.

The PTAP provides emergency one-time property

tax assistance to low-income homeowners age 60 or

older and is a nonprofit entity funded solely through

donations.

PTAP applications are reviewed by a board that

includes the Franklin County auditor's office, Franklin

County treasurer's office, Franklin County Office on

Aging, and Central Ohio Area Agency on Aging.

Applications are due by Dec. 20. Information about the

program and an application are on the auditor's office

website. Call 614-525-3243.
---
PAGE 14 - MESSENGER - December 12, 2021

www.columbusmessenger.com

CLASSIFIED ADS

Deadlines: Groveport and West editions, Wednesdays at 5 p.m., • South/Canal Winchester, Grove City, Madison editions, Tuesdays at 5 p.m.

All editions by phone, Tuesdays at 5 p.m. • Service Directory, Tuesdays at 5 p.m.

xEmployment

NOW HIRING BUS DRIVERS

$19.00 an Hour

CDL Drivers get $2,000 Sign On Bonus

Non-CDL $1,000 Sign On Bonus

Paid Training

Apply @ 4400 Marketing Pl., Groveport (Door 16)

or http://careers.nellc.com/

614-836-4962

HIRING?

Let us help you recruit the qualified employees you need to make

your business succeed. With a print and online audience of more

than 39,000 readers, our employment section is your key to meeting

local job seekers where they look first for fresh career opportunities.

Our Groveport Messenger

covers Groveport

Our South Messenger

covers Obetz,

Canal Winchester,

Madison Twp. & Hamilton Twp.

Reaches over 38,000

household in these 2 area

ASSOCIATION ADS

DISH TV $64.99 FOR 190

Channels + $14.95 High

Speed Internet. Free Installation,

Smart HD DVR

Included, Free Voice Remote.

Some restrictions

apply. Promo expires

1/21/22. 1-855-270-5098

Become a Published

Author. We want to Read

Your Book! Dorrance

Publishing Trusted by

Authors Since 1920 Book

manuscript submissions

currently being reviewed.

Comprehensive Services:

Consultation, Production,

Promotion and Distribution.

Call for Your Free Author's

Guide 1-866-482-1576 or

visit http://dorranceinfo.

com/macnet

To list a job opportunity, contact a

recruitment advertising specialist today at

614.272.5422

or

Kathy@columbusmessenger.com

columbus

ASSOCIATION ADS

Don't let the stairs limit

your mobility! Discover

the ideal solution for

anyone who struggles on

the stairs, is concerned

about a fall or wants to

regain access to their

entire home. Call

AmeriGlide today! 1-844-

317-5246

Stop worrying! SilverBills

eliminates the stress &

hassle of bill pmts.

Household

bills

guaranteed to be paid on

time as long as

appropriate funds are

available. No computer

necessary. Free trial/

custom quote 1-855-703-

0555

Employment

St Andrew's Episcopal Church

in Pickerington, Ohio,

is seeking a musician

Strong piano and keyboard skills are

essential. Vocal skills and organ

experience are a plus.

St Andrew's currently has one

Sunday service at 10am.

Interested applicants please send

resume to: Reverend Sally Cook at

pastorsally@standrewspickerington.org

ASSOCIATION ADS

Update your home with

beautiful new blinds &

shades. Free in-home

estimates make it

convenient to shop from

home. Professional

installation. Top quality -

Made in the USA. Free

consultation: 877-212-

7578. Ask about our

specials!

Replace your roof with the

best lookng and longest

lasting material! Steel

from Erie Metal Roofs!

Three styles and multiple

colors available.

Guaranteed to last a

lifetime! Limited Time

Offer - $500 Discount +

Additional 10% off install

(for military, health

workers & 1st responders)

Call Erie Metal Roofs: 1-

855-338-4807

HOME BREAK-INS take

less than 60 SECONDS.

Don't wait! Protect your

family, your home, your

assets NOW for as little as

70¢ a day! Call 866-409-

0308

LONG DISTANCE MOVING:

Call Today for a FREE

QUOTE from America's Most

Trusted Interstate Movers.

Let us take the stress out of

moving! Call now to speak to

one of our Quality Relocation

Specialists: 844-436-0873

DENTAL INSURANCE

from Physicians Mutual

Insurance Company.

Coverage for 350 plus

procedures. Real dental

insurance - NOT just a

discount plan. Do not wait!

Call now! Get your FREE

Dental Information Kit with

all the details! 1-877-553-

1891

www.dental50plus.com/

macnet#6258

ASSOCIATION ADS

Wesley Financial Group,

LLC Timeshare Cancellation

Experts Over

$50,000,000 in timeshare

debt & fees cancelled in

2019. Get free

informational package &

learn how to get rid of

your timeshare! Free

consultations. Over 450

positive reviews. 888-965-

0363

The bathroom of your

dreams for as little as

$149/month! BCI Bath &

Shower. Many options

available. Quality

materials & professional

installation. Senior &

Military Discounts

Available. Limited Time

Offer - FREE virtual inhome

consultation now

and SAVE 15%! Call

Today! 1-877-540-2780

ENJOY 100% guaranteed,

delivered-to-the-door Omaha

Steaks! Get 8 FREE Filet

Mignon Burgers! Order the

Delightful Gift this holiday

season - ONLY $99.99 CALL

1-888-409-0645 and mention

code 65658LQY or visit

www.omahasteaks.com/

thegift1107

Internet &WIFI Starts at

$49 Call us Today to Get

Started. Find High-Speed

Internet with Fiber Optic

Technology No Credit

Check, No SSN Required.

Call us Today 866-396-

0515

Stroke & Cardiovascular

disease are leading

causes of death according

the AHA. Screenings can

provide peace of mind or

early detection! Call Life

Line Screening to

schedule a screening.

Special offer 5 screenings

for $149.. 1-833-549-4540

xAdult Care

advertise

ASSOCIATION ADS

Looking for assisted living,

memory care, or

independent living? A

Place for Mom simplifies

the process of finding

senior living at no cost to

your family. Call 1-833-

386-1995 today!

AMERICAN & FOREIGN

CLASSIC CARS AND

MOTORCYCLES

WANTED. $$PAYING

CA$H$$ Corvettes,

Mustangs, Jaguars, Austin

Healeys, Broncos,

Blazers, Ram Chargers,

AMX, and Triumphs

KRMiller1965@yahoo.com

717-577-8206

VIAGRA & CIALIS! 60

pills for $99. 100 pills for

$150 FREE shipping.

Money back guaranteed!

1-844-596-4376

Life Alert. One press of a

button sends help fast

24/7! At home and on

the go. Mobile Pendant

with GPS. Free first aid

kit (with subscription).

877-537-8817 Free brochure

YOUR ADULT

CARE SERVICES

Call Kathy

at The Messenger

For More Info

272-5422

Adult Care

ASSOCIATION ADS

HughesNet - Finally, superfast

internet no matter

where you live. 25 Mbps

just $59.99/mo! Unlimited

Data is Here. Stream

Video. Bundle TV &

Internet. Free Installation.

Call 866-499-0141

Stroke & Cardiovascular

disease are leading

causes of death according

the American Heart

Association. Screenings

can provide peace of mind

or early detection! Call

Life Line Screening to

schedule your screening.

Special offer - 5

screenings for $149. 1-

866-518-8391

BATH & SHOWER UP-

DATES in as little as

ONE DAY! Affordable

prices - No payments for

18 months! Lifetime warranty

& professional installs.

Senior & Military

Discounts available. Call

855-761-1725

Elminate gutter cleaning

forever! LeafFilter, the most

advanced debris-blocking

gutter protection.

Schedule Free LeafFilter

Estimate today. 15% off

Entire Purchase. 10%

Senior & Military Discounts.

Call 1-855-995-2490

Windsong is committed to providing

high quality, loving care, and affordable

home care services to our clients. With our

assistance, clients can lead

dignified and independent lives in the

comfort of their own home.

Individual needs are carefully assessed,

understood, and met through the selective

assignment of quality, trustworthy and

compassionate service-oriented personnel.

Give us a call today for a free in-home

assessment or visit our website at

www.windsongseniorcare.com

614-820-5000

ASSOCIATION ADS

SELL YOUR ANTIQUE

OR CLASSIC CAR.

Advertise with us. You

choose where you want

to advertise. 800-450-

6631 visit macnetonline.

com for details.

Pest Control

Find Pest Control Experts

Near You! Don't let

pests overtake your

home. Protect your loved

ones! Call today to find

great deals on Pest

Control Services - 833-

872-0012

Eliminate gutter cleaning

forever! LeafFilter, the

most advanced debrisblocking

gutter protection.

Schedule a FREE LeafFilter

estimate today. 15% off

Entire Purchase. 10% Senior

& Military Discounts.

Call 1-855-791-1626

New authors wanted!

Page Publishing will help

self-publish your book.

Free author submission

kit! Limited offer! 866-

951-7214

AT&T Internet. Starting

at $40/month w/12-mo

agmt. 1 TB of data/mo.

Ask how to bundle &

SAVE! Geo & svc restrictions

apply. 1-888-796-

8850

ASSOCIATION ADS

Looking for assisted living,

memory care, or

independent living? A

Place for Mom simplifies

the process of finding

senior living at no cost to

your family. Call 1-833-

910-1576 today!

VIAGRA and CIALIS

USERS! 50 Generic pills

SPECIAL $99.00 FREE

Shipping! 100% guaranteed.

24/7 CALL NOW!

888-445-5928 Hablamos

Espanol

DISH TV $64.99 190

Channels + $14.95 high

speed internet. FREE installation,

Smart HD DVR

included. Free Voice Remote.

Some Restrictions

apply. Promo Expires

1/21/22. 1-833-872-2545

The Generac PWRcell, a

solar plus battery storage

system. SAVE money,

reduce your reliance on

the grid, prepare for power

outages and power

your home. Full installation

services available. $0

Down Financing Option.

Request a FREE, no obligation,

quote today. Call

1-855-900-2894
---
www.columbusmessenger.com

xCome & Get It!

.

COME AND GET IT

Deadlines are Tuesdays by 5 pm.

Call For Publication Schedule 614-272-5422

Need to Get Rid of Something Fast - Advertise It Here For FREE!

FREE Garden Straw for gardens or bedding. Call for appointment for pickup.

Circle S Farms, 9015 London-Groveport Road, Grove City, 43123

Grove City - 614-878-7980

WOOD from two trees that we cut down two years ago. FREE.

Call me and let me know when you canp ick it up.

TH - Canal Winchester - 614-949-8963

Come and Get It! is a bi-weekly column that offers readers an opportunity to pass

along surplus building materials, furniture, electronic equipment, crafts, supplies,

appliances, plants or household goods to anybody who will come and get them - as

long as they're FREE. NO PETS! Just send us a brief note describing what you want to

get rid of, along with your name, address and phone number. Nonprofit organizations

are welcome to submit requests for donations of items.

Send information to The Columbus Messenger, Attention: Come and Get It, 3500

Sullivant Ave., Columbus, OH43204. Deadline is Tuesdays by 5 pm for following

Mondays publication. Messenger Newspapers is not responsible for any

complications that may occur. Please contact us when items are gone. 272-5422

ASSOCIATION ADS

The Generac PWRcell

solar plus battery storage

system. Save money,

reduce reliance on

grid, prepare for outages

& power your home. Full

installation services. $0

down financing option.

Request free no obligation

quote. Call 1-855-

270-3785

Donate your car to kids!

Fast free pickup running

or not - 24 hour response.

Maximum tax

donation. Help find missing

kids! 877-831-1448

Directv Now. No Satellite.

$40/mo 65 Channels.

Stream news, live

events, sports & on demand

titles. No contract/

commitment. 1-866-825-

6523

DENTAL INSURANCE-

Physicians Mutual Insurance

Company. Covers

350 procedures. Real

insurance - not a discount

plan. Get your free

dental Info kit! 1-888-

623-3036 . www.dental50plus.com/58

#6258

IMPORTANT

NOTICE

The following states: CA,

CT, FL, IA, IL, IN, KY,

LA, MD, ME, MI, MN,

NE, NC, NH, OH, OK,

SC, SD, TX, VT and WA

requires seller of certain

business opportunities to

register with each state

before selling. Call to

verify lawful registration

before you buy.

Come & Get It!

ASSOCIATION ADS

Wants to purchase minerals

and other oil and gas

interests. Send details to

P.O. Box 13557, Denver,

CO. 80201

Train online to do medical

biling! Become a Medical

Office Professional at CTI!

Get trained & certified to

work in months! 888-572-

6790. The Mission,

Program Information and

Tuition is located at

CareerTechnical.edu/cons

umer-information. (M-F 8-

6 ET.

Want Faster & Affordable

Internet? Get internet

service today with

Earthlink. Best internet &

WiFi Plans. Call us Today

to Get Started. Ask

about our specials! 866-

396-0515

Thinking about installing

a new shower? American

Standard makes it

easy. FREE design consulation.

Enjoy your

shower again! Call 1-

833-769-0995 today to

see how you can save

$1,000 on installation, or

visit www.newshowerdeal.com/mac

Long Distance moving.

Call for a free quote from

America's Most Trusted

Interstate Movers. Let us

take the stress out of

moving! Speak to a

relocation specialist! Call:

888-721-2194

Attention: If you or aloved

one worked around the

pesticide Roundup

(glyphosate) for at least 2

years and has been diagnosed

with non-Hodgkin's

lymphoma, you may be

entitled to compensation.

855-341-5793

Looking for auto insurance?

Find great deals

on the right auto insurance

to suit your needs.

Call today for a free

quote! 866-924-2397

ASSOCIATION ADS

!!OLD GUITARS WANT-

ED!! GIBSON, FENDER,

MARTIN, Etc. 1930's to

1980's. TOP DOLLAR

PAID. CALL TOLL FREE

1-866-433-8277

GENERAC Standby

Generators provide

backup power during

power outages, so your

home & family stay safe &

comfortable. Prepare now.

FREE 7-yr extended

warranty $695 value!

Request a free quote

today. Call for terms &

conditions. 1-844-334-

8353

Protect your home w/home

security monitored by

ADT. Starting at $27.99/

mo. Get free equipment

bundle including keypad,

motion sensor, wireless

door & windows sensors.

833-719-1073

Attention oxygen therapy

users! Inogen One G4 is

capable of full 24/7 oxygen

delivery. Only 2.8

pounds. Free info kit.

Call 877-929-9587

NEED IRS RELIEF

$10K-$125K+ Get Fresh

Start or Forgiveness.

Call 1-844-431-4716

Monday through Friday

7am-5pm PST

READY TO BUY, SELL

OR RENT YOUR

VACATION HOME OR

HUNTING CAMP?

Advertise it here and in

neighboring publications.

We can help you. Contact

MACnet MEDIA @

800-450-6631 or visit our

site at MACnetOnline.

com

ASSOCIATION ADS

READER

ADVISORY

The National Trade Association

we belong to has

purchased the following

classifieds. Determining

the value of their service

or product is advised by

this publication. In order

to avoid misunderstandings,

some advertisers do

not offer "employment"

but rather supply the

readers with manuals, directories

and other materials

designed to help

their clients establish mail

order selling and other

businesses at home. Under

NO circumstance

should you send any

money in advance or give

the client your checking,

license ID or credit card

numbers. Also beware of

ads that claim to guarantee

loans regardless of

credit and note that if a

credit repair company

does business only over

the phone it's illegal to request

any money before

delivering its service. All

funds are based in US

dollars. Toll Free numbers

may or may not

reach Canada. Please

check with the Better

Business Bureau 614-

486-6336 or the Ohio Attorney

General's Consumer

Protection Section

614-466-4986 for more

information on the company

you are seeking to

do business with.

GENERAC Standby Generators

provide backup

power during utility power

outages, so your home

and family stay safe and

comfortable. Prepare

now. Free 7-year extended

warranty ($695 value!).

Request a free

quote today! Call for additional

terms and conditions.

1-855-465-7624

MISC.

FOR SALE

Contents of Workshop

w/multiple stationary tools,

rough cut lumber, 2 chain

saws, assorted hand

tools. Call/email for details

& prices. 614-327-8442

purrcy07@gmail.com

WANT TO BUY

WE BUY JUNK CARS

Call anytime 614-774-6797

BUYING VINYL RECORDS.

LPs and 45s - 1950-80s

Rock, Pop, Jazz, Soul.

614-831-0383

We Buy Cars & Trucks

$300-$3000.614-308-2626

We Buy Junk Cars &

Trucks. Highest Prices

Paid. 614-395-8775

WANTS TO Purchase

minerals and other oil &

gas interests. Send details

to: P.O. Box 13557,

Denver, CO 80201

VACATION RENTALS

Englewood, Florida

Palm Manor Resort

Within minutes of white

sand Gulf beaches,

world famous Tarpon

fishing, golf courses, restaurants/shopping,

Bush

Gardens. 2 BR 2 BA

condos with all ammenities,

weekly/monthly, visit

www.palmmanor.com

or call 1-800-848-8141

December 12, 2021 - MESSENGER - PAGE 15

xClassified Services

CARPET CLEANING

CARPET CLEANING

Any 5 areas ONLY $75

Home Powerwash $99-$200

614-805-1084

Specializing in Pet Odors

CARPET SALES

CARPET

Gray Saxony

270 sq.ft. w/6 lb Pad

$398.00

Other Carpet AvailableA

Phone or text Ray

740-927-3504

Delivery & Inst. avail.

CLEANING

Looking for Mrs. Clean?

For excellent cleaning serv

at reas. rates w/great refs,

dependable. 10% Seniorr

Disc. Free Est. Also runs

Errands - Gwen 614-226-5229

CONCRETE

AJ's Concrete,

Masonry

Good Work - Fair Prices

Block Foundations

Driveways • Sidewalks

Epoxy/Overlay Floors

Bonded-Ins. • Free Ests.

614-419-9932

www.hastingsnsons.com

Driveways & Extensions

Patio & Walkways,

Porches & Steps,

Garage/Basement Floors

Hot Tub/Shed Pads,

Stamped/colored concrete

Sealing of new &

existing concrete.

FREE ESTIMATES

Contact Adam

614-756-1754

hastingsandsons.

columbus@gmail.com

INFORMATION

EARLY

DEADLINES

Classified Advertising

For West, Grove City,

Groveport,

South/Canal Winchester

For Dec. 26, 2021 Papers

Deadline: Friday, Dec. 18, 2021- 2pm

1/2 a/m

12/19 A

GUTTERS

Bates & Sons

GUTTER CLEANING

5 ★ Google Reviews

614-586-3417

HAULING

DEAN'S HAULING

614-276-1958

HEATING

HEATING

Complete System Clean & Check

$49.95

Free Carbon

Monoxide Testing

Gas-Oil-Electric Heat/Pumps

All Makes • All Models

45 yrs exp. • Sr. Discount

614-351-9025

INFORMATION

ONLY

$50.00

For This Ad In Our

South/Canal Winchester

& Groveport

For Info Call

614-272-5422

HOME

IMPROVEMENTS

SINCE 1973

Phil Bolon Contr.

Windows & Siding

Decks, Kitchens, Baths

Room Additions,

Flooring, Roofing

Bsmt Waterproofing

Deal With Small Non-Pressure Co.

47 Yrs. Exp. - Refs. Avail.

Lic.-Bond-Ins.

12/19

A/M

Free Est. - Financing Avail.

Member BBB Of Cent. OH

O.C.I.E.B. ID #24273

614-419-3977

or 614-863-9912

INFORMATION

12/19 A

HOME

IMPROVEMENTS

KLAUSMAN HOME

IMPROVEMENT

Siding-Windows-

Doors-Roofing-Soffit-

Fascia-Gutters-Trim

Earn FREE Seamless

Gutters with Siding Over

1000 Sq. Ft.

FREE Shutters with

Soffit & Trim

EPA Certified

Member of BBB

Financing Available

Over 20 yrs exp. • Free Est.

Licensed-Bonded-Insured

Owner & Operator

James 614-419-7500

C&JHandyman

Services LLC

Minor Plumbing

& Electric

Install Hot Water Tanks,

Dishwashers & Disposals

Also Fencing &

Interior/Exterior Painting

Free Est. ~ 18 Yrs. Exp.

CDC/EPA Approved Guidelines

614-284-2100

LAWN CARE

LET US MAINTAIN

YOUR LAWN & GARDEN

FOR YOU

Summer, Spring,

Winter or Fall

WE DO IT ALL!!!!

Lawn Cuts, Edging,

Trees & Shrubs, Garden,

Mulching, Hauling,

Garden Pond &

Home Maint.

Free Ests. Low Rates

$20 & Up

Kevin - 614-905-3117

MOVING

Aaron Allen

Moving

Local Moving since 1956

Bonded and Insured

614-299-6683

614-263-0649

Celebrating

over 60 yrs

in business

PAINTING

A Job Well Done Again

A lic. General Contractor

Some Skilled Services

Incl: Painting • Stucco,

Repair•Carpentry•Exterior

Drainage & Home Maint.

Call Today! 614-235-1819

PLASTERING

DRYW

YWALL &

PLASTER

1/2

A&M

REPAIR

Textured Ceilings

614-551-6963

Residential/Commercial

BIA

Classified Services

12/5 A

11/7 A

12/19 A&M

PLUMBING

MYERS

PLUMBING

Exp. Expert Plumbing

New Work & Fast Repairs

Lic. - Permit Available

Water • Sewer • Gas

614-633-9694

All About Drains & Plumb.

Will snake any sm drain

$145. 614-778-2584

CHRIS'

PLUMBING

"Plumbing & Drain Professional

That You Can Count On"

24 Hrs., 7 Days/Week

No Overtime Charges

24 Yrs. Exp. in Plumbing &

Drain Cleaning Field

Call For A Free Phone Estimate

$100.00 For Any Small Drain

614-622-4482

30% OFF with AD

POWERWASHING

Bates & Sons

Soft Wash & Powerwash

5 ★ Google Reviews

614-586-3417

ROOFING

Robinson roofing & repairs

30 yrs. exp. Lifetime Cols.

resident. Lic./bonded/Ins.

Reas rates. Member of

BBB. Dennis Robinson

614-330-3087, 732-3100

SEWING MACHINE

REPAIR

REPAIR all makes 24 hr.

service. Clean, oil, adjust

in your home. $49.95 all

work gtd. 614-890-5296

SNOW REMOVAL

GOOD NEIGHBORS

LAWN CARE

WINTER IS COMING!

"Leave Snow Removal To Us"

SNOW REMOVAL &

SALT SPREADING

Taking on New Accounts In The Area

Servicing Resid. & Comm.

12/19

Free Estimate E/SE

614-238-9237

614-937-0658

Ask For Bob

TREE SERVICES

BURNS TREE SERVICE

Trimming, Removal &

Stump Grinding.

614-584-2164

Brewer & Sons Tree Service

• Tree Removal

• Tree Trimming 11/21

A&M

• Stump Grinding

• Bucket Truck Services

Best Prices • Same Day Service

614-878-2568

12/19 A&M

1/2 A
---
Kelly'sMarket(Messenger)NoBleed12.13.21.qxp_Layout 1 12/5/21 10:15 Page 1

PAGE 16 - MESSENGER - December 12, 2021

www.columbusmessenger.com

FRES

SH

QUALITY

YME

EAT

TS.

...

STRIP ROAST

O

HOOD GROCE

ORH

R

FOR

ER CE

NEIGHB

YE

YEA

ARS •

3453 Parsons Av

ve

614-491-4221

E

Y

$

LB. 10 99

YOUR N

R

YO

Open Daily 8:30 am – 9:00 pm

Always Av

vailable: Check Cashing

Food Stamps • WIC • Money Orders

All Ohio Lottery Games

Utility Payments • Post

tage

Stamps

LIKE US O

RKET"

AT

FACEBOOK

"KELLY

KN A

LYS MA

Open Christmas Eve 8:30 am to 6 pm – CLOSED CHRISTM MAS DAY

YOYO

OOU YOUUR

YOR YUR

UR

RRNR RNNE RNEI NEN

NEIEIG

NEGH

EIEIGIG

GGH

IGHHB

IGEI IGHB

HBHB HGHHBO

BOBO BBO

BOR

OOR

ORRHHOODDGGR

ORHH

RHOO HOH

HOD

OOO

OOD

DGR

GRR GGRO

GROC

RORO RRO

OO

OCOCER

OCER

CEC CCE

ERER RRSSE

R SEER

ERER

SER

RRV

ERVVNVINNG

RVI VIVININ

NNG

INVING

NG GGTTH GTH

THHE

THE HESSO HSO

EESSO

OSO

OOU OUU

SOU

OUTH

UUT

THTH

THHSSDSID

THS

HSSIDID

SIDE

DDE IDEDEEFFORR77

IDSI

FOFO

FOOR FR FOR

R77

77YYE

7YEA

YEEA

YEAEA

YEAR

YA

AAR

EARRS

EARS

RSRS

S!S! SRS! SS!

U.S.D.A.

CHOICE

U.S.D.A

.

CHOICE

Top

Qua

ali

ity

Top

Qua

ali

ity

F RESH

G EEF

B '

ROUND

CHUCK

$

3 99

LB.

USD DA

CHO OICE

BEEF BONELESS

NEW YORK

STRIP STE

AKS

$ 12 99

LB.

$ 4 99

USD DA

CHOI

ICE

12-

OZ.

BEEF BONEL

ENGLI

S ESS

RE

GULAR OR THICK

SG

LB.

ROAST

OR H

STEAK

S UGARDALE

LICED BACON

$ 4 99

EA.

12-OZ.

SMOKED

BOSKI

SAUSAS

AGE

2/ $ 6

FA

ALTE

ER'S

12-16-OZ.

OLD FA

ASHIONED

2 99

ROLLS,

LINKS OR PA

WHOLE $

BOB EVA

AN

HAMS

LB.

$

3 99

AT

S TTIES

SAUSAGE

EA.

GROC

CE

ERY YS

SPECIA

ALS

S.

...

XL SIZE – ALL AVA

AILABLE

VARIETIE

LAY

P OTA

Y'

AT

S

TO C

2

S

CHIPS

5

2/$ 5

H 48-OZ

Y

.

Y-TOP VEGETA

ABL

2/ $ 7

5 O

LE OIL

16-OZ.

ALL AVA

AILABLE FLAV

VO

R ORS

– OR

$2.

.99

9 EA

ACH

1

N 6-OZ.

FRES

RESH

E

S

HP

PRODUCE

P

O

U

CE.

E...

.

.

WA

ASHINGTON

FRESH

BART

TLETT

PEARS

FRESH

SOUTHERN

YA

AMS

$ 1 39

LB.

6

9 ¢

LB.

ABISCO PRE

MIUM SALT

TINES

2/ $ 5

10.5-11.25-OZ.

ALL VA

AR RIETIES

AMERICAN BE

AUTY SOUPS

5/ $ 5

FRES

AR

H

GE

49

P G LA

E

R

EG

2/ $ 1 P E PERS

EN

S

F

6 -OZ

M T

R

.

US

E AK-CUT

SH

SHROOMS

12-OZ.

BUN SIZE OR

CHEESE

ECKR

ICH

MEAT

FRANKS

12-OZ.

CANS

ALL AVAILABLE PEPSI VARIE T IES

D

P

12-PA

EPSI

AC

PRO

K

DUCTS

2 2/$

7 OR

2/ $ 5

$ 1 99

EA.

7– O $3 99 EA

ACH

7 R $3.

.99

12-OZ.

CANS ALL AV

VA

AILABLE COKE VARIETIES

12-PA 2K

AC COKE PRODUCTS

/ $

9 – OR

$4

4.99

9 EA

ACH

16-OZ. ALL VAR

BARILL 2A

PA IETIE

AST

S

TA

/ $

$

3

10-

OZ.

W

W

ITH

SAUCE

T Z

HOLEY

SHRIMP RING

4T Y-

TOP CANNED FRUIT

$ 5 99

EA. A

24.8-OZ.

ALL AV

VAILABLE FLAV

VORS

P

TOTINO'

IZZ

S

ZA ROLL

S

2/$ 10

L

14-OZ.

ORIGINAL OR ITA

ALIAN

ARMOUR

MEATBALLS

0

H 15-OZ

Y

. SELECTED VA

ARIETIES

24-OZ./FA

AMILY

SIZE SIMP PLE HA

ARVE

EST

PICTSWEET VEGGIES

4/ $ 5

DELI

LIFR

RESH.

E

S

H...

.

.

D ELI FRESH

THE

H

B

OFF

AM

ONE

DELI FRESH

BA

ACON

CHED

DDA

AR OR

SMOKED

CHIPOTLE

CHEESE

HY-

-TOP SALAD DRESSINGS

2/ $ 3

R

16-24-

2G A

OZ.

SELECTED VARIETIES

GU PA

ASTA

A SAUCE

2/ $ 5

$ 5 99

LB.

$ 699

LB.

LEAN & TE

EN

F NDER

DELI

FRESH

ROAST

BEEF

2/ $ 5

NEW YORK GARLIC TOAST

2/ $ 6

RESH $ 7 99

2/ $ 6

10-11.25-OZ.

CIABATT

TA

ROLLS, BREADSTICKS OR

Prices

Effecti

ve

Monday, December 13 thru

Friday, December 24,

2021

• Quantity Rights Res

erved • We Reserve the Right

to Correct Pricing Errors.

STOREM

MADE

BA

AKED

BEANS

STOREM

MA

DE

S

C

LAW

OL

E

LB.

$

3 99

LB.

$

3 99

LB.