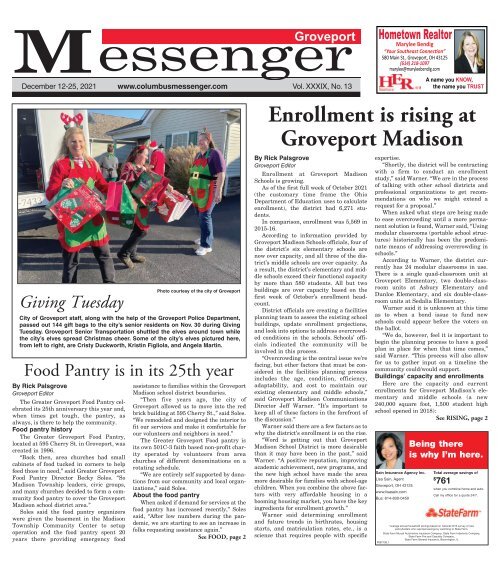 Groveport Messenger - December 12th, 2021
Create successful ePaper yourself
Turn your PDF publications into a flip-book with our unique Google optimized e-Paper software.
Messenger

Groveport

December 12-25, 2021 www.columbusmessenger.com Vol. XXXIX, No. 13

Hometown Realtor

Marylee Bendig

580 Main St., Groveport, OH 43125

(614) 218-1097

marylee@maryleebendig.com

A name you KNOW,

the name you TRUST

Enrollment is rising at

Groveport Madison

Giving Tuesday

Photo courtesy of the city of Groveport

City of Groveport staff, along with the help of the Groveport Police Department,

passed out 144 gift bags to the city's senior residents on Nov. 30 during Giving

Tuesday. Groveport Senior Transportation shuttled the elves around town while

the city's elves spread Christmas cheer. Some of the city's elves pictured here,

from left to right, are Cristy Duckworth, Kristin Figliola, and Angela Martin.

Food Pantry is in its 25th year

By Rick Palsgrove

Groveport Editor

The Greater Groveport Food Pantry celebrated

its 25th anniversary this year and,

when times get tough, the pantry, as

always, is there to help the community.

Food pantry history

The Greater Groveport Food Pantry,

located at 595 Cherry St. in Groveport, was

created in 1996.

"Back then, area churches had small

cabinets of food tucked in corners to help

feed those in need," said Greater Groveport

Food Pantry Director Becky Soles. "So

Madison Township leaders, civic groups,

and many churches decided to form a community

food pantry to cover the Groveport

Madison school district area."

Soles said the food pantry organizers

were given the basement in the Madison

Township Community Center to setup

operation and the food pantry spent 20

years there providing emergency food

assistance to families within the Groveport

Madison school district boundaries.

"Then five years ago, the city of

Groveport allowed us to move into the red

brick building at 595 Cherry St.," said Soles.

"We remodeled and designed the interior to

fit our services and make it comfortable for

our volunteers and neighbors in need."

The Greater Groveport Food pantry is

its own 501C-3 faith based non-profit charity

operated by volunteers from area

churches of different denominations on a

rotating schedule.

"We are entirely self supported by donations

from our community and local organizations,"

said Soles.

About the food pantry

When asked if demand for services at the

food pantry has increased recently," Soles

said, "After low numbers during the pandemic,

we are starting to see an increase in

folks requesting assistance again."

See FOOD, page 2

By Rick Palsgrove

Groveport Editor

Enrollment at Groveport Madison

Schools is growing.

As of the first full week of October 2021

(the customary time frame the Ohio

Department of Education uses to calculate

enrollment), the district had 6,271 students.

In comparison, enrollment was 5,569 in

2015-16.

According to information provided by

Groveport Madison Schools officials, four of

the district's six elementary schools are

now over capacity, and all three of the district's

middle schools are over capacity. As

a result, the district's elementary and middle

schools exceed their functional capacity

by more than 580 students. All but two

buildings are over capacity based on the

first week of October's enrollment headcount.

District officials are creating a facilities

planning team to assess the existing school

buildings, update enrollment projections,

and look into options to address overcrowded

conditions in the schools. Schools' officials

indicated the community will be

involved in this process.

"Overcrowding is the central issue we're

facing, but other factors that must be considered

in the facilities planning process

includes the age, condition, efficiency,

adaptability, and cost to maintain our

existing elementary and middle schools,"

said Groveport Madison Communications

Director Jeff Warner. "It's important to

keep all of these factors in the forefront of

the discussion."

Warner said there are a few factors as to

why the district's enrollment is on the rise.

"Word is getting out that Groveport

Madison School District is more desirable

than it may have been in the past," said

Warner. "A positive reputation, improving

academic achievement, new programs, and

the new high school have made the area

more desirable for families with school-age

children. When you combine the above factors

with very affordable housing in a

booming housing market, you have the key

ingredients for enrollment growth."

Warner said determining enrollment

and future trends in birthrates, housing

starts, and matriculation rates, etc., is a

science that requires people with specific

expertise.

"Shortly, the district will be contracting

with a firm to conduct an enrollment

study," said Warner. "We are in the process

of talking with other school districts and

professional organizations to get recommendations

on who we might extend a

request for a proposal."

When asked what steps are being made

to ease overcrowding until a more permanent

solution is found, Warner said, "Using

modular classrooms (portable school structures)

historically has been the predominate

means of addressing overcrowding in

schools."

According to Warner, the district currently

has 24 modular classrooms in use.

There is a single quad-classroom unit at

Groveport Elementary, two double-classroom

units at Asbury Elementary and

Dunloe Elementary, and six double-classroom

units at Sedalia Elementary.

Warner said it is unknown at this time

as to when a bond issue to fund new

schools could appear before the voters on

the ballot.

"We do, however, feel it is important to

begin the planning process to have a good

plan in place for when that time comes,"

said Warner. "This process will also allow

for us to gather input on a timeline the

community could/would support.

Buildings' capacity and enrollments

Here are the capacity and current

enrollments for Groveport Madison's elementary

and middle schools (a new

240,000 square foot, 1,500 student high

school opened in 2018):

See RISING, page 2

Sain Insurance Agency Inc.

Lisa Sain, Agent

Groveport, OH 43125

www.lisasain.com

Bus: 614-830-0450

Being there

is why I'm here.

Total average savings of

$

761

when you combine home and auto.

Call my office for a quote 24/7.

*average annual household savings based on national 2015 survey of new

policyholders who reported savings by switching to State Farm.

State Farm Murual Automotive Insurance Company, State Farm Indemnity Company,

State Farm Fire and Casualty Company,

State Farm General Insurance, Bloomington, IL

P097136.1
---
PAGE 2 - GROVEPORT MESSENGER - December 12, 2021

Prepare for unexpected

power outages with a

Generac home standby

generator

REQUEST A FREE QUOTE!

866-643-0438

FREE

7-Year Extended Warranty*

A $695 Value!

Limited Time Offer - Call for Details

Special Financing Available

Subject to Credit Approval

Serving Your Community

Malek &

ATTORNEYS AT LAW Malek

Proudly Announcing

Adding New Attorneys

To Serve You!

WORKERS'

COMPENSATION

PERSONAL INJURY

WRONGFUL DEATH

SLIP & FALL INJURY

DOG BITE INJURY

*To qualify, consumers must request a quote, purchase,

install and activate the generator with a participating dealer.

Call for a full list of terms and conditions.

A FREE ESTIMATE

15 10 5

YOUR ENTIRE

PURCHASE *

% % %

OFF + OFF + OFF

SENIOR & MILITARY

DISCOUNTS

| Promo Number: 285

Since 1972

YEAR-ROUND

CLOG-FREE GUARANTEE

1-855-595-2102

TO THE FIRST

50 CALLERS! **

Douglas, Ed, Jim

and Kip Malek

"Hablamos Español"

FREE Initial Consultation

www.maleklawfirm.com

614-444-7440

1227 S. High St., Columbus, OH 43206

FOOD

Continued from page 1

The food pantry continues to provide emergency,

short-term assistance to any person residing within

the boundaries of the Groveport Madison school district.

Food distribution is on Thursdays each week by

appointment only and to receive assistance you must

live in the Groveport Madison school district.

To use the food pantry, call (614) 836-7652 before

noon on Tuesday to make an appointment for

Thursday of that week. The Greater Groveport Food

Pantry serves residents once a month with a minimum

of four weeks in between. When picking up your

food, you must bring a state-issued photo ID and a

piece of mail verifying your address.

"We serve the entire Groveport Madison school district,

which includes five zip codes," said Soles. "Of

those five zip codes, 49 percent of those served are from

the 43125 zip code and 49 percent are from the 43232

zip code."

"The food pantry is a service to the community that

is so important," said Groveport Mayor Lance

Westcamp. "To be able to provide a location where residents

can get necessary food and everyday supplies, in

their time of need, is a source of pride for Groveport.

What a great asset for the community. We are lucky

for the volunteers who operate the food pantry."

Soles said the school district community has been

"very generous during the pandemic with financial and

food donations the entire time. We have been blessed,

during the pandemic especially, with the support we've

received of multiple financial and food donations from

the Groveport Madison school district community. We

are so grateful for the community's support."

Groveport Madison Schools Superintendent Garilee

Ogden said food insecurity is among the most serious

challenges that many families face - possibly never

more so now during the COVID pandemic.

RISING

Continued from page 1

www.columbusmessenger.com

"I think we should all be grateful to the food

pantries and the many individuals, companies, and

organizations that donate and support programs of

this nature," said Ogden. "Groveport Madison Schools

has been a leader in offering free breakfasts to all students,

regardless of their family's financial situation,

and we are looking at opportunities to build and

strengthen partnerships with the food pantry and

other organizations and service providers to assist

families wherever possible."

The Greater Groveport Food Pantry accepts donations.

To make an appointment to leave your donation

at the food pantry, call (614) 836-7652. You may also

drop off donations at Groveport Town Hall, 648 Main

St., Groveport.

Greater Groveport Food Pantry officials suggest the

following donations: canned meats/seafood,

canned/boxed potatoes, peanut butter, jelly, jam,

crackers, muffin/cornbread mixes, boxed pasta, cereal,

Jello puddings, rice (bagged or boxed), boxed dinners,

macaroni, noodles, spaghetti, mac and cheese,

spaghetti sauce, tea, coffee, juice, cake mixes with

frosting, gravy mixes, toilet tissue, paper grocery bags,

soap, and paper towels.

"Currently canned or boxed items are appreciated,"

said Soles. "A few items on the most needed list are

detergent, saltine crackers, sloppy joe mix, noodle

pasta, canned tomato products, soups (vegetable, bean,

pea, minestrone), especially Progresso and Chunky

soups."

Remember to check the expiration dates on any

items you donate.

For information about the Greater Groveport Food

Pantry, call (614) 836-7652 or visit www.groveportfoodpantry.com.

•Asbury Elementary — Built in 1963 with additions

in 1968 and 1969. Enrollment, 476. Functional capacity,

425.

•Dunloe Elementary — Built in 1967 with additions

in 1968 and 1969. Enrollment, 448. Functional capacity,

425.

•Glendening Elementary — Built in 1968 with addition

in 1974. Enrollment, 455. Functional capacity,

425.

•Groveport Elementary — Built in 1923.

Enrollment, 417. Functional capacity, 425. Placed on

the National Register of Historic Places in 2009.

•Madison Elementary — Built in 1967 with additions

in 1968 and 1969. Enrollment, 354. Functional

capacity, 425.

•Sedalia Elementary — Built in 1969 with addition

in 1974. Enrollment, 562. Functional capacity, 446.

•Middle School North — Built in 1975. Enrollment,

495. Functional capacity, 425.

•Middle School South — Built in 1975. Enrollment,

466. Functional capacity, 425.

•Middle School Central — Built in stages as a high

school between 1952-56. Enrollment, 448. Functional

capacity, 425. Placed on the National Register of

Historic Places in 2009.

(Functional capacity is 85 percent of original design

capacity and reflects modern requirements for

classroom space and programming. Source:

Groveport Madison Schools.)

School threat

Groveport Police responded to a recent

late night threat to Groveport Madison High

School that was posted on social media.

According to the Groveport Police,

overnight following the threat, its detective

bureau and officers developed a suspect

who was visited and who subsequently

confessed to posting the comments. He

was suspended from school and will face

charge(s) in juvenile court.

Groveport Police officials stated the

incident remains under investigation and

other persons found to have been sharing

the post on social media may face criminal

charges.
---
www.columbusmessenger.com

Planning for Groveport's parks

By Rick Palsgrove

Groveport Editor

The city of Groveport is growing in population

and development, but the city is also a

land of green parks.

The city itself has 19 parks. The city also

owns and operates the 18-hole Groveport

Municipal Golf Course, located along

Richardson Road. In addition, there are two

Metro Parks nearby — Three Creeks Metro

Park to the north and Walnut Woods Metro

Park south of town.

To manage and develop the city parks,

Groveport officials follow the city's Master

Parks Plan, which was developed 11 years

ago by EMH&T.

"The original Master Parks Plan was

completed in 2010. No comprehensive plan

update has been completed since," said

Groveport City Administrator B.J. King.

"We will look at doing another update in a

few years. Plans tend to be relevant for 10 to

12 years."

When asked if city officials will seek any

community feedback or comments prior to

updating the Master Parks Plan in the

future, King said, "Any time a master plan

(parks, comprehensive land-use, etc.) is

updated or created, public feedback is an

integral part of the process. Public comments

should be a part of any update. When we next

update our plan, there will be opportunities

for public input. As with all plans, it is important

to review and update plans based on

changing environments, needs, and wants.

What may have been a priority years ago,

may not be a desire now or in the future."

King said Groveport is "unique, and very

fortunate" to have the number of parks, and

the amenities in the parks, for use by the

community.

"I am sure most municipalities would like

to have a similar number of park offerings,"

said King.

The city's 2022 budget includes one

potential park upgrade: $75,000 for the

Founder's Bend Park shelter house.

Groveport's 19 city park are:

•Community parks: Cruiser Park, 55

acres; Groveport Park, 75 acres; and

Heritage Park, 16 acres.

•Neighborhood parks: Blacklick Park, 21

acres; Degenhart Park, 3 acres; Orchard

Park, 10 acres; Greenpointe Business Park,

25 acres; Newport Village, 7 acres; Village

Green, 3 acres; Hendron Cemetery with

open space, 31 acres; Founder's Bend Park,

5 acres; Founder's Bend Gateway, 6 acres;

Founder's Bend open space, 32 acres;

Bixford Green HOA, 8 acres and 6 acres;

Elmont Place Reserves, 11 acres; Hickory

Grove, 5 acres, and Homer Ohio Land open

space, 15 acres.

•Mini-parks: Veterans Park 0.1 acre.

Groveport

Christmas Church Services

Monty ompson honored

Groveport Madison School Resource

Officer Keith Mallory and the Groveport

Madison Board of Education recently recognized

Groveport Madison High School

student Monty Thompson for his quick

actions to protect Madison Township

Police Officer Keith Mallory when

Mallory had fallen and hit his head during

an incident at the school. According to

Groveport Madison Schools officials,

Thompson stepped in to shield Mallory so

the officer did not sustain any other

injuries.

Mallory, who has served as the School

Resource Officer since 2018 and a is 17-

year veteran with the Madison Township

Police, sustained injuries to his head,

elbow, and knee when he attempted to deescalate

a confrontation between two students

on Aug. 19. He was bumped by one

of the students and lost his balance, due

to a chair that had been knocked over,

and fell to the floor. Mallory reported

back to full-duty status on Aug. 23.

Gingerbread house contest

Through Dec. 20, Groveport Town

Hall, 648 Main St., will host a gingerbread

house display and contest. Visitors

to Town Hall can vote on their favorite

gingerbread house. For information call

614-836-333.

December 12, 2021 - GROVEPORT MESSENGER - PAGE 3

Cookie and candy sale

The Groveport United Methodist

Church, 512 Main St., Groveport, will

host its Christmas Cookie/Candy Sale on

Dec. 18 from 9 a.m. to noon (or until sold

out). Homemade holiday cookies and

candy will be available for purchase.

Christmas Sing-Along

A Christmas Sing-along will be held

Dec. 18 at 5 p.m. at Asbury UMC South,

4760 Winchester Pike. The evening

begins with Leonard Cohan's "Hallelujah"

followed by religious favorites such as "Do

you Hear What I Hear?" followed by

"Jingle Bells," "I saw Mommy Kissing

Santa Claus," "White Christmas," "Silver

Bells," and more. The second part of the

program will be the singing of favorite

Christmas hymns.

AUTO HOME

Beplerinsurance.com

614.837.4379

staff@beplerinsurance.com

3246 Noe Bixby Rd., Columbus, Ohio 43232

Asbury United Methodist

Church South

4760 Winchester Pike, Columbus, OH 43232

614-837-4601

Christmas Eve Service Dec. 24th - 4:00 p.m.

Small gift bags for children will be handed out after service

Sunday, Dec. 26th

10 a.m. - Christmas Hymn Sing & Worship

and his name shall be called

Wonderful,

Counsellor,

The mighty God,

The everlasting Father,

The Prince of Peace.

Bethany Lutheran

Church, LCMS

1000 Noe-Bixby Rd., Columbus, OH 43213

614-866-7755

Traditional Worship Service: 9 a.m.

Christmas Eve Service Dec. 24 @ 7 pm

Visit us on Facebook or visit our website at:

bethanylutheranchurch@weebly.com

Groveport United Methodist Church

512 Main Street, Groveport, Ohio 43125

Stepping Back in Time: December 12, 7 p.m.

Service of Hope and Remembrance:

December 16, 7 p.m. in Sanctuary

Christmas Eve: 7 p.m. and 11 p.m. services

FIRST BAPTIST

GROVEPORT

5521 Groveport Rd., Groveport, OH 43125

Christmas Eve Eve Service

Thursday, December 23rd at 7 pm

Come and celebrate the

Gift of Christmas with us!

Brice United

Methodist Church

3160 Brice Road, Brice, Ohio 43109

Pastor Phyllis Plear Dixon

Come celebrate the Birth of Jesus

Christ on Christmas Eve at 6:00 pm

Sunday Morning Worship Service

10:30 a.m.

LUTHERAN CHURCH, ELCA

Friday, Dec, 24 - 4:00 , 7:00 & 10:00 PM

Prelude Music, Candlelight & Communion

In Person and Available Online

www.epiphany-lutheran.com

614-837-2826

268 Hill Rd. N. Pickerington, OH 43147

All are welcome!
---
PAGE 4 - GROVEPORT MESSENGER - December 12, 2021

southeast

Messenger

A Groveport life

www.columbusmessenger.com

(Distribution: 7,900)

Rick Palsgrove ...................................Groveport Editor

southeast@columbusmessenger.com

Published every other Sunday by

The Columbus Messenger Co.

3500 Sullivant Ave., Columbus, Ohio 43204-1887

(614) 272-5422

The Columbus Messenger Co. reserves the right to edit, reject or cancel

any advertisement or editorial copy at any time. The company is not

responsible for checking accuracy of items submitted for publication.

Errors in advertising copy must be called to the attention of the company

after first insertion and prior to a second insertion of the same advertising

copy.

Keep tabs on the latest news in

Groveport & Madison Township

Look for Groveport Messenger on

Become a fan!

Delivery process

changing

Home delivery of your Groveport

Messenger newspaper is changing in

December.

As of our Dec. 12 edition, you will

receive your Groveport Messenger newspaper

free in the The Bag delivered in certain

areas to your home on Thursdays.

If you are a paid subscriber to the

Sunday Columbus Dispatch, you will continue

to receive your Groveport Messenger

with your Sunday Dispatch.

The Groveport Messenger will also be

available for pick-up at no cost at numerous

locations around the community. (See

page 9 for a list of these locations.)

Paid subscriptions are available if you

would like to have the Groveport

Messenger mailed directly to your home.

Paid subscriptions cost $52 for 26 issues.

Mail your subscription check, payable to

Columbus Messenger, to 3500 Sullivant

Avenue, Columbus, OH 43204.

For all of those who have already purchased

a paid subscription, you will start

receiving your notice that your subscription

will be concluding well in advance of

the expiration date. We sincerely thank

you for being a paid subscriber and for the

very many of you who have made voluntary

payments over these many years we greatly

appreciate your support as well.

Readers and advertisers can always

access our e-editions on our website, which

is constantly showing a growing following.

We have many likes on Facebook and

Twitter social media as well with a growing

number of readers liking us and the following

on particular stories is amazing. We

thank and salute our e-edition readers as

well!

The Groveport Messenger staff appreciates

our loyal readers and advertisers and we

will continue to bring you the best in local

news coverage, feature stories, and photos.

We enjoy being part of the community.

Edna Virginia (Rager) Roof loved being

the center of attention and that she was at

her 100th birthday celebration, according

to her granddaughter Tammy Roof Elliott.

Editor's Notebook

Rick

Palsgrove

Virginia, who

passed away on Oct.

25, would have been

103 years old in

January 2022. She

was the daughter of Worley and Iva Rager

whose family has long and deep historical

roots in Groveport. Rager Road is named

for the family.

Elliott said it is believed Virginia, a

1937 graduate of Groveport Madison High

School, was the oldest living Groveport

Madison High School alumnus at the time

of the most recent alumni banquet.

Virginia was born in 1919 in a house on

Rager Road and later raised in a Civil War

era home built in 1861 that still stands on

Groveport's Blacklick Street. Her father,

Worley Rager, worked for the Farm Bureau

and was well known in Groveport. Worley

Rager also served as a township trustee for

many years and the one time Chevrolet

business in Groveport was owned by the

Rager family. Virginia had two brothers,

Luther and Gayle Rager. She was married

to Earl Roof of South Bloomfield.

"Her mind was amazing," said Elliott.

"She was really sharp and could talk about

anything."

Elliott said Virginia shared stories of

her youth with her such as she and her

mother getting dressed up and riding the

Scioto Valley Traction Line electric

interurban railway from Groveport to

Columbus to go shopping at the downtown

Lazarus department store.

"The interurban railroad depot (long

since demolished) was just down the street

Official election

results

Here are the official Nov. 2

local election results, according

to the Franklin County Board of

Elections.

•Groveport city council (top four

selected):

Scott Lockett, 690; Becky

Hutson, 578; Edward G. Dildine,

547; Jack Rupp Jr., 521; Cheryl

Irving, 473; Wayne White, 374.

•Groveport Madison board of

education (top three selected):

Seth Bower, 2,404; LaToya

Dowdell-Burger, 2,037; Libby

Gray, 1,890; Wayne Bryan,

1,695; Betty Simcox, 1,595; Polly

Pierce, 1,069.

•Madison Township trustee

(top two selected): John

Pritchard, 2,142; Katherine

Chipps, 1,971; Debbie Miller,

1,808; John Kershner, 1,773.

from where she grew up," said Elliott.

It would have been a common sight for

Virginia to see electric interurban railway

cars gliding along Blacklick Street on their

journeys to Columbus, Canal Winchester,

Lancaster, or other parts of central Ohio.

The tracks are still there embedded in the

street.

Virginia grew up in a time when

Groveport was much smaller and surrounded

by small farms. Traffic was not

something anyone thought much about

back then.

"My grandmother (Virginia) told me she

and her friends used to roller skate from

Groveport to Canal Winchester down

Groveport Road," said Elliott. "Can you

imagine doing that now?"

Elliott said Virginia also loved school

dances when she was a youth and that her

mother worked at the Elmont Hotel, which

once stood where Groveport Middle School

Central now stands on Main Street.

In her adult life Virginia worked for

Federal Glass for 30 years. She loved playing

bingo and she loved country music.

"I took her to a Vince Gill concert back

in 1988 and arranged for a backstage visit,"

said Elliott. "Vince hugged her and called

her grandma."

She also loved eating and shopping at

Cracker Barrel and had been given $101

for her 101st birthday and was saving it for

one last trip, but unfortunately the COVID

pandemic halted those plans.

Through her long life, she enjoyed three

children, six grandchildren, 10 greatgrandchildren,

and three great-great

grandchildren.

"She could be a spitfire," said Elliott of

her grandmother. "She was outspoken and

you always knew where she stood. She was

also forward thinking. She did not live in

the past. She loved fashion and home decor

and stayed in touch with the latest trends.

She kept up on all her family was doing

Photo courtesy of the Groveport

Heritage Museum

Church

demolition

Workers pause (atop the

tower and on the roof) for a

photo during the demolition

work on the Methodist

church in Groveport in 1906.

This church was built at Main

and College streets in 1851

and was torn down to make

way for the current

Groveport United Methodist

Church on the site, which

itself was completed in 1908.

The dirt street at the left in

the photo is College Street.

Our Pictorial Past by Rick Palsgrove

EDNA VIRGINIA (RAGER) ROOF

and always asked about everyone and

enjoyed seeing photos of all her grandchildren.

She loved having her picture taken

as well and asked that it be put on

Facebook."

She also loved peacocks.

"Her room at Altercare Canal

Winchester was decorated in them and we

gave other residents her peacocks after she

passed," said Elliott.

Elliott said she cherishes the relationship

she had with her grandmother.

"She was my grandmother, but also my

friend," said Elliott. "I adored her."

Virginia fully lived and enjoyed her

more than century of life. We can learn

much about life and history from our elders.

Their experiences, no matter how large

or small, have meaning. They deserve to be

remembered.

Rick Palsgrove is editor of the Groveport

Messenger.
---
www.columbusmessenger.com

Cruisers ready for action

By Rick Palsgrove

Groveport Editor

Cold weather has arrived and that

means it's time for the Groveport Madison

Cruisers to gear up for the winter sports

season.

Boys basketball

"The strengths of our team will be our

defensive intensity, shooting, and transition,"

said Cruiser boys varsity basketball

coach Lamont Hampton.

The team boasts several strong and talented

players, including senior captain and

point guard Duane Davis.

"He can get anywhere on the floor and

has extraordinary defense," said Hampton.

Senior wing Marlon Elliott, Jr., has

three years of varsity experience and is a

captain and a vocal leader.

"He's also an extraordinary defender

and playmaker," said Hampton.

Senior Abubakar Diallo, according to

Hampton, has unlimited shooting range

and has improved dramatically each year

on defense.

"Senior captain Kenyatta Whiteside,

who averaged a double-double last season,

also has unlimited shooting range," said

Hampton. "He's an elite rebounder and a

great defender."

Senior Markel Holmes, Hampton said,

has unlimited shooting range and is also "a

great rebounder and defender."

Hampton said the team has high expectations

of success in the Ohio Capital

Conference this year.

"With that being said, we have the

utmost respect for all of our opponents in

the OCC, which is one of the toughest

leagues in central Ohio," said Hampton.

"Everyone we play will be formidable competition

in this great league."

Hampton noted the team is participating

in a "quadruple header" with the girls'

team against Teays Valley this season.

"I think this is a very unique evening,

allowing the boys and girls to watch each

other play against a non-league opponent,"

said Hampton.

Girls basketball

Cruiser girls varsity basketball coach

Zach Cowan said the team's strengths this

year are athleticism and defense.

"We love forcing turnovers to get easy

points and making opposing offenses feel

uncomfortable," said Cowan. "Our team is

very athletic and loves to run in transition

and control the tempo of the games. We

also have built a great team culture in the

program and it's great watching the girls

interact and hold each other accountable

on and off the court."

He said the team has several top players.

"Tyairah 'TT' Flowers (a junior) worked

very hard this past summer and fall to

develop her offensive skills," said Cowan

"She is a physical bully in the post and a

tenacious rebounder and defender."

Cowan said junior Danica Graham is

skilled offensively and a great rebounder.

"When she gets hot from three point

land it can be scary," said Cowan.

Freshman Niah Smedley is a post player

who Cowan said can score from all areas

of the court and rebound.

"Marisa Jones (a junior) worked really

hard to develop her offensive skill set this

summer and fall," said Cowan. "She's a

great defender and rebounder."

According to Cowan, freshman point

guard Jolisa Butts can distribute the ball

and score when needed, senior Alauna

Nguyen is a team leader who can fit any

role wherever needed, sophomore Milani

Eppsis the "best perimeter defender, who

worked extremely hard to develop jump

shot in off season," and freshman Zariyah

Jones is an "extremely athletic guard who

is gifted defensively."

When asked about the team's prospects

in the Ohio Capital Conference this year

and what opponents will be the most formidable

competition, Cowan said, "We look to

compete this season in probably the toughest

conference in the state of Ohio. We play

top ranked teams such as Reynoldsburg,

Newark, and Pickerington Central.

Reynoldsburg has several Division 1 commits."

He noted the Cruisers also have some

interesting non-conference games scheduled

this year against Canal Winchester,

Teays Valley, and Pickerington North.

Wrestling

"This year we have a green and very

young team," said Cruiser head varsity

wrestling coach Jacob Schultz. "The

biggest strength my guys and girls have

showed me so far is their willingness to

learn and be coachable. That skill is more

important than any other skill in this sport

and through the years will show great

results as our freshman continue to grow

in this sport at the varsity level."

Three notable Cruiser wrestlers to

watch this season are senior Jacob

Johnston (150 pounds), senior Cameron

Lightwine (175 pounds), and junior Tyler

Brown (138 pounds).

"Jacob is a top guy on our team because

his willingness to learn and his intensity

on working towards his goals this year,

being a state qualifier," said Schultz. "He

often times calls out coaches to train extra

and work towards his goals."

Lightwine missed his junior season due

to a knee injury and Schultz said "he has

taken his PT like a progressional."

"Cameron is a top guy on our team this

year because his willingness to learn and

add the things necessary to his repertoire

to hit his goals," said Schultz. "This off season

Cameron and I spent a lot of time oneon-one

to get him ready to crush his goals

in his last season."

Schultz said Brown is "a top guy on our

team due to his eagerness to wrestle and

the intensity and morale he brings to our

team everyday. He loves big moves and I

look for him to upset a lot top guys in the

district this year as we refine his skill set."

Schultz said the team looks forward to

See CRUISERS, page 8

December 12, 2021 - GROVEPORT MESSENGER - PAGE 5

Happy Holidays

Wreaths bring joy

We Have Moved! Now Located At

Rutherford Auto Body

601 Commerce Drive

Pickerington, Ohio

Same Owners • Same Quality

Call us at 614 837 0902

and mention Columbus Messenger for 10% OFF

GIFT CARDS AVAILABLE

www.sudslingers.com

GO GREEN THIS

HOLIDAY SEASON

Make a difference by taking small steps to reduce

waste and recycle right over the holidays.

DONATE DECORATIONS

AND LIGHTS

Instead of pitching unwanted

decorations or lights, donate them

to a local non-profit like Goodwill.

RECYCLE RIGHT

Break down cardboard boxes

and keep recyclables loose in

the curbside recycling cart.

Wreaths adorn homes primarily during the

holidays of Easter and Christmas. It is believed

the first wreaths date back to ancient Greece and

Rome. Members of the Greco-Roman society

were known to hand-make ring-shaped items

using fresh tree leaves, small fruits, flowers, and

twigs. Others suggest wreaths evolved to become

a Christian symbol of immortality.

Making a wreath on your own can make the

holidays even more fun.

One of the easiest ways to make a wreath is to

design it around a circular floral foam form.

Gather supplies to make the wreath. For traditional

wreaths, supplies will include sprigs of evergreen

(real or artificial), ribbon, floral wire, bows,

and artificial berries. Working around the foam

form, arrange the boughs of evergreen, using the

floral wire to wrap or pin into the foam itself.

Keep the layers coming until you get the desired

coverage. Embellish with a ribbon or place a bow.

Thick card stock also can serve as the wreath

template. Attach artificial flowers or leaves, spray

snow, ornaments, or other items to the card stock

ring with a firm adhesive.

Many craft stores sell wreath forms made of

natural vines that have been strung in a ring.

These can be decorated in their entirety or left a

little sparse to let the natural twine show through.

REDUCE FOOD WASTE

Save money and landfill space by

only buying food you need, and find

creative ways to use leftovers!

It's easy to have a green holiday.

Get more tips at SWACO.org!
---
PAGE 6 - GROVEPORT MESSENGER - December 12, 2021

"BEST NEW YEARS PARTY IN TOWN"

17 th Annual

Mike Albert

and

The Big E. Band

Per Couple Prices

Overnight Package - $319

Party Only Packages - $250

Single Overnight - $219

Prices include

Dinner, Drinks, Room, Party favors,

Full Breakfast

Crowne Plaza • 6500 Doubletree Ave. (formerly Marriott North)

www.columbusmessenger.com

Happy Holidays

PAID ADVERTISING

Join today for a better tomorrow

The Holidays are a time for celebration and

that's why First Service Federal Credit Union,

your community credit union, wants to help

reduce your worry and stress with a low cost,

fixed rate Holiday Loan. It's simple to ask questions

or apply, just visit a branch office in your

area, call 614-836-0100 today or reach us at

www.firstcu.com.

Experience the credit union difference by

opening an account at First Service. We provide

members a combination of friendly service and a

better value. Whether you are purchasing a home,

buying an automobile, or refinancing your current

vehicle from another lender, our competitive rates

and flexible terms will help keep your payments

low.

First Service checking accounts provide you

with easy account access and options that will fit

your daily needs. With First Service checking,

there is no minimum balance requirement after

opening your account and transactions are unlimited.

Stay connected to your accounts everyday

with free Online and Mobile Access, Mobile

Check Deposit, Visa debit cards, and convenient

Billpayer.

First Service has many ways to make your life

easier, at a cost you can afford. Give us a chance

to save you money starting today!

First Service is your community credit union

offering services to anyone that lives, works,

attends school, or worships in Franklin, Fairfield,

Delaware, Licking, Madison, Morrow, Pickaway,

and Union counties with branch locations serving

Groveport, Grove City, Hilliard, Reynoldsburg,

and employees of Nationwide Children's

Hospital, along with online banking at

www.firstcu.com.

(Federally insured by NCUA.)

PAID ADVERTISING

Ring in the new year with

Mike Albert's Elvis tribute show

Get out of the house and ring in 2022 at a New

Year's Eve party that is rated one of the best in

Columbus.

The Crowne Plaza Hotel, 6500 Doubletree

Ave., will host Mike Albert and The Big "E"

Band at this 15th annual New Year's Eve bash.

Albert is an award winning "Elvis Presley

impersonator." His wardrobe, voice and amazing

wit makes for a wonderful show.

You can get a full service dinner, drinks, room,

hats and horns, champaign toast at midnight

along with a full breakfast New Year's Day for

only $319 per couple. There is also a party package

for $250 per couple or $150 per single.

Tickets are limited. For reservations, call (614)

792-3135.

Early check in is at 1 p.m., ballroom doors

open at 7 p.m. Draft beer and wine, included in

the price, will be available until midnight, with

dinner at 7 p.m. The show kicks off at 9 p.m.

"Mike's New Year's Eve show is like no

other," said promoter Doug Henry. "He interacts

with the crowd, which makes for a fun time."

Website:Expert-hvac.com

Phone:614-946-8461

Experthvacllc@gmail.com

Free estimates on

system installs

$70 preventative

maintenance (tune up)

Expert service - affordable prices - Locally owned from Groveport

Mention this ad and get $20 off a $85 service call.
---
www.columbusmessenger.com

Happy Holidays!

December 12, 2021 - GROVEPORT MESSENGER - PAGE 7

HOLIDAY HAPPINESS

The holidays should be a time for celebration, not

stress. Enjoy your holidays even more with a Holiday

Helper Loan that offers an affordable solution for your

travel and shopping enjoyment.

*6.99% fixed rate *11.73% APR

*Up to $1,800 availability

*Easy to budget fixed payment

*12 month repayment term

*$49 reduced processing fee

Apply Now!

This special offer ends at Noon on December 24th.

Visit Us At

100 Main Street, GROVEPORT

1660 Georgesville Square, GROVE CITY

2164 Hilliard Rome Road, HILLIARD

7610 E. Main Street, REYNOLDSBURG

614-836-0100 www.firstcu.com

Open to everyone in Franklin, Fairfield, Delaware, Madison, Morrow,

Licking, Pickaway and Union Counties All Loans On Approved Credit. No other

discounts apply. Other rates and terms may be available. Payment example based on a credit score of 720 or

higher with all other credit qualifications met: $1,800 Holiday Loan at 6.99% rate with a 12-month

repayment term and $49 processing fee, would have an 11.73% APR and a monthly payment of $160.40.

$5.00 minimum deposit to open a Membership Share Account. Federally insured by NCUA.
---
PAGE 8 - GROVEPORT MESSENGER - December 12, 2021

CRUISERS

Continued from page 5

any and all competition.

"We don't care who that opponent is or

where they come from," said Schultz. "We

want to win against everyone. With that

being said, it's always a good evening when

we get to defeat those guys from Canal

Winchester!"

Swimming

Cruiser head swimming coach Ilana

Webber said this year's team is small.

"We only have 12 swimmers," said

Webber. "Trevor Keane, Sydney Chandler,

and Gabby Monjaras are very strong leaders

and step in when it is needed. They all

have already shown growth this season."

Webber said, to grow the program, coaches

are trying to attract athletes from other

sports, such as soccer, football, and track.

"We have been working with athletes

who have never swam before and are

already seeing improvement," said Webber.

She said all the teams the Cruisers will

swim against this season "are formidable."

Schedules

Visit gocruisers.org to see each team's

schedule. Click on the "athletics" tab and go

to the "click here for athletic schedules" box.

Editor's note: The Groveport Messenger

also hopes to preview of the Cruiser bowling

team soon.

Groveport

Messenger

Photo courtesy of

the city of Groveport

Holiday

story

time

www.columbusmessenger.com

Groveport City

Councilwoman

Jean Ann

Hilbert, who is

also a retired

elementary

school teacher,

took time out

this festive season

to read a

holiday book to

kindergarten

students at

Groveport Town

Hall during the

students' field

trip to the historic

building.

Various other community leaders - including Mayor Lance Westcamp, Police Chief

Casey Adams, and others - also participated in the Groveport Town Hall holiday

reading program this December.

The Groveport Garden Club meets the

first Tuesday each month (unless otherwise

announced) at Groveport Zion

CW formally opens

Walnut Creek Trail

Groveport Garden Club

The city of Canal Winchester formally

opened the Walnut Creek Trail on Nov. 23

with a ribbon cutting ceremony, followed

by a walk along the trail.

The newly completed trail connector is

just one of many projects related to the

overall McGill Park development. When

complete, the trail will connect McGill

Park to the historic Bergstresser Covered

Bridge. For now, the Walnut Creek Trail is

open from the covered bridge towards

McGill Park for approximately three-quarters

of a mile. The finished portion of the

trail features several benches, two bridges,

and plenty of nature-scape.

"We are excited to offer another opportunity

for our residents to connect with

nature," said Canal Winchester Mayor

Mike Ebert. "When McGill Park opens, residents

will be able to walk, run, or bike

from the high school to the park using the

Walnut Creek Trail. We expect it will get a

lot of use."

Phase I construction of McGill Park continues,

with tree plantings, pavement

work, and playground equipment being

installed. A ribbon cutting ceremony is

expected for the park next spring. The public

is invited to begin enjoying the new portion

of the Walnut Creek Trail.

As with all trails within the city, the

path is only open to foot and bike traffic.

Motorized vehicles, including ATVs, mopeds,

and golf carts, are prohibited.

Lutheran Church, 6014 Groveport Road.

Anyone interested in gardening welcome.

Call Marylee Bendig at (614) 218-1097.

The trail is open daily from dawn to

dusk. All visitors are asked to be respectful

of the continuing McGill Park construction

and avoid entering restricted areas.

For information on McGill Park, visit

www.cwmcgillpark.com.

Cruisers on the air

The Groveport Sports Network and Rick

Coope provides live play-by-play coverage

of Groveport Madison High School athletic

contests. Each broadcast begins 25 minutes

prior to the scheduled start time with

the pre-game show. Tune in after the

game for interviews with players and the

head coach, along with a look at the final

stats during the post-game show. The

broadcasts can be accessed free by anyone

on their computer or handheld device. All

broadcasts will be available to view on

demand free of charge.

Go to www.facebook.com/groveportsportsnetwork.

The schedule - boys basketball

(7:30 p.m.): Dec. 14 at Canal

Winchester; Dec. 17 at Pickerington

Central; Dec. 22 vs. Gahanna; Dec. 30 vs.

Teays Valley; Jan. 21 vs. Reynoldsburg;

Feb. 1 at Hilliard Bradley; Feb. 4 vs.

Pickerington Central; Feb. 11 at Newark;

girls basketball (3:30 p.m.): Dec. 4 vs.

Hilliard Darby; softball: March 26 at 11

a.m. vs. Westerville North; April 9 at 11

a.m. vs. Gahanna; April 11 at 5:15 p.m. vs.

Lancaster; April 15 at 5:15 p.m. vs.

Newark; April 30 at 10 a.m. vs. Canal

Winchester; May 2 at 5:15 p.m. vs.

Pickerington Central; May 4 at 5:15 p.m.

at Newark.
---
www.columbusmessenger.com

ACE

expands

According to

Groveport Madison

officials, after

piloting at Dunloe

Elementary and

Middle School

North last year,

the ACE After

School Program

has expanded to

all Groveport

Madison elementary

and middle

schools.

Approximately 180

students participate

in the program,

which promotes

healthy living,

alcohol and

drug prevention,

and academic, athletic,

and social

opportunities for

students in grades

2-8.

The cost of is covered

primarily

through

Temporary

Assistance for

Needy Families

funds.

Knitting

club helps

students

The Westerville Sit

and Stich Knitting

Club provided

more than 500

hats for Groveport

Madison students

at Glendening and

Sedalia elementary

schools.

The club worked

with the Groveport

Madison's Student

Services

Supervisor Melissa

Niemie-Nathan to

get the hats distributed

to students.

Niemie-Nathan

said, "The kids

were so excited to

get a new hat.

They were dancing

around and showing

them off to

anyone who would

pay attention."

Photo courtesy of

Eastland-Fairfield Career

& Technical Schools

Deck the

Stage!

The Performing

Arts and Culinary

Arts programs at

Eastland-Fairfield

Career & Technical

Schools collaborated

to provide a pair

of fun and spirited

holiday performances

this

December. "Deck

the Stage!" by

Lindsay Price is a

series of vignettes

based on Christmas carols that will be sure to entertain and touch those in attendance

just in time for the holiday season. The show consisted of six short plays,

all inspired by Christmas carols. Two performances, both at Reynoldsburg High

School - Summit Campus, were held Dec. 4 and Dec. 8.The second show featured

a special dinner theater performance in collaboration with the EFCTS Culinary

Arts program and featured a buffet-style dinner, plus dessert. The cast and crew

included: Kenneth Thomas, Akirah Fletcher, Brianna Roberts, William Daughtery,

Chris Kaminski, Chloe Moton, Niya Louketis, Maria Murphy, Aaliyah Santiago,

Jessica (Alex) Santislevan, August Straughter, Sydney Musinde, Genesis

Castellon-Banegas, Sadikshia Ghimire, Katherine Orellana, Madison Rider, James

Edwards, Ashmita Dhimal, and Simone Anderson. Pictured here are Hope

Schoovaerts (left) and Hannah Allen (right). For information on the Performing

Arts program, visit www.EastlandFairfield.com/PerformingArts. For information on

the Culinary Arts program, visit www.EastlandFairfield.com/CulinaryArts.

Messenger

Groveport

BEST COMMUNITY NEWSPAPER in Groveport

Starting December 12, 2021

Pick-Up At These

Locations:

Groveport Senior Village - 5124 Hendron

Madison Township Office - 4575 Madison Lane

Paddock Pub/Groveport Golf Ctr. - 1005 Richardson Rd.

Southeast Library - 3980 S. Hamilton Rd.

Asbury Methodist Church - 4760 Winchester Pike

Groveport Municipal Building - 655 Blacklick St.

Groveport Town Hall - 648 Main St.

Dollar General Store - Groveport Rd. & Route 317

Flyers PIzza/Groveport - 296 Main St.

Ace Hardware - 726 Main St.

Little Italy Pizza - 619 Main St.

Huntington Bank/Groveport - 556 Main St.

Groveport Recreation Center - 7370 Groveport Rd.

READ US ONLINE: www.columbusmessenger.com

December 12, 2021 - GROVEPORT MESSENGER - PAGE 9
---
PAGE 10 - GROVEPORT MESSENGER - December 12, 2021

www.columbusmessenger.com

CLASSIFIED ADS

Deadlines: Groveport and West editions, Wednesdays at 5 p.m., • South/Canal Winchester, Grove City, Madison editions, Tuesdays at 5 p.m.

All editions by phone, Tuesdays at 5 p.m. • Service Directory, Tuesdays at 5 p.m.

xEmployment

xAdult Care

NOW HIRING BUS DRIVERS

$19.00 an Hour

CDL Drivers get $2,000 Sign On Bonus

Non-CDL $1,000 Sign On Bonus

Paid Training

Apply @ 4400 Marketing Pl., Groveport (Door 16)

or http://careers.nellc.com/

614-836-4962

HIRING?

Let us help you recruit the qualified employees you need to make

your business succeed. With a print and online audience of more

than 39,000 readers, our employment section is your key to meeting

local job seekers where they look first for fresh career opportunities.

Our Westside Messenger

covers Lincoln Village,

Galloway, Franklin Township

Our Southwest Messenger

covers Grove City and

Southwest Columbus

Reaches over 35,000

household in these 2 area

ASSOCIATION ADS

Don't let the stairs limit

your mobility! Discover

the ideal solution for

anyone who struggles on

the stairs, is concerned

about a fall or wants to

regain access to their

entire home. Call

AmeriGlide today! 1-844-

317-5246

Wesley Financial Group,

LLC Timeshare Cancellation

Experts Over

$50,000,000 in timeshare

debt & fees cancelled in

2019. Get free

informational package &

learn how to get rid of

your timeshare! Free

consultations. Over 450

positive reviews. 888-965-

0363

To list a job opportunity, contact a

recruitment advertising specialist today at

614.272.5422

or

Kathy@columbusmessenger.com

ASSOCIATION ADS

HughesNet - Finally, superfast

internet no matter

where you live. 25 Mbps

just $59.99/mo! Unlimited

Data is Here. Stream

Video. Bundle TV &

Internet. Free Installation.

Call 866-499-0141

The bathroom of your

dreams for as little as

$149/month! BCI Bath &

Shower. Many options

available. Quality

materials & professional

installation. Senior &

Military Discounts

Available. Limited Time

Offer - FREE virtual inhome

consultation now

and SAVE 15%! Call

Today! 1-877-540-2780

Employment

St Andrew's Episcopal Church

in Pickerington, Ohio,

is seeking a musician

Strong piano and keyboard skills are

essential. Vocal skills and organ

experience are a plus.

St Andrew's currently has one

Sunday service at 10am.

Interested applicants please send

resume to: Reverend Sally Cook at

pastorsally@standrewspickerington.org

ASSOCIATION ADS

Become a Published

Author. We want to Read

Your Book! Dorrance

Publishing Trusted by

Authors Since 1920 Book

manuscript submissions

currently being reviewed.

Comprehensive Services:

Consultation, Production,

Promotion and Distribution.

Call for Your Free Author's

Guide 1-866-482-1576 or

visit http://dorranceinfo.

com/macnet

!!OLD GUITARS WANT-

ED!! GIBSON, FENDER,

MARTIN, Etc. 1930's to

1980's. TOP DOLLAR

PAID. CALL TOLL FREE

1-866-433-8277

ENJOY 100% guaranteed,

delivered-to-the-door Omaha

Steaks! Get 8 FREE Filet

Mignon Burgers! Order the

Delightful Gift this holiday

season - ONLY $99.99 CALL

1-888-409-0645 and mention

code 65658LQY or visit

www.omahasteaks.com/

thegift1107

Stop worrying! SilverBills

eliminates the stress &

hassle of bill pmts.

Household

bills

guaranteed to be paid on

time as long as

appropriate funds are

available. No computer

necessary. Free trial/

custom quote 1-855-703-

0555

DENTAL INSURANCE

from Physicians Mutual

Insurance Company.

Coverage for 350 plus

procedures. Real dental

insurance - NOT just a

discount plan. Do not wait!

Call now! Get your FREE

Dental Information Kit with

all the details! 1-877-553-

1891

www.dental50plus.com/

macnet#6258

ASSOCIATION ADS

READER

ADVISORY

The National Trade Association

we belong to has

purchased the following

classifieds. Determining

the value of their service

or product is advised by

this publication. In order

to avoid misunderstandings,

some advertisers do

not offer "employment"

but rather supply the

readers with manuals, directories

and other materials

designed to help

their clients establish mail

advertise

YOUR ADULT

CARE SERVICES

Call Kathy

at The Messenger

For More Info

272-5422

order selling and other ASSOCIATION ADS

businesses at home. Under

NO circumstance

Replace your roof with the

should you send any

best lookng and longest

ASSOCIATION ADS

money in advance or give

lasting material! Steel

the client your checking, Update your home with from Erie Metal Roofs!

license ID or credit card beautiful new blinds & Three styles and multiple

numbers. Also beware of shades. Free in-home

ads that claim to guarantee

estimates make it

loans regardless of convenient to shop from

credit and note that if a home. Professional

credit repair company installation. Top quality -

does business only over Made in the USA. Free

the phone it's illegal to request

consultation: 877-212-

any money before

delivering its service. All

7578. Ask about our

specials!

funds are based in US

Donate your car to kids!

dollars. Toll Free numbers

may or may not

Fast free pickup running

reach Canada. Please

or not - 24 hour response.

Maximum tax

check with the Better

Business Bureau 614- donation. Help find missing

kids! 877-831-1448

486-6336 or the Ohio Attorney

General's Consumer

AMERICAN & FOREIGN

Protection Section CLASSIC CARS AND

614-466-4986 for more MOTORCYCLES

information on the company

you are seeking to CA$H$$ Corvettes,

WANTED. $$PAYING

do business with.

Mustangs, Jaguars, Austin

BATH & SHOWER UP-

DATES in as little as

ONE DAY! Affordable

prices - No payments for

18 months! Lifetime warranty

& professional installs.

Senior & Military

Discounts available. Call

855-761-1725

Healeys, Broncos,

Blazers, Ram Chargers,

AMX, and Triumphs

KRMiller1965@yahoo.com

717-577-8206

Looking for assisted living,

memory care, or

independent living? A

Place for Mom simplifies

the process of finding

senior living at no cost to

your family. Call 1-833-

386-1995 today!

Adult Care

colors available.

Guaranteed to last a

lifetime! Limited Time

Offer - $500 Discount +

Additional 10% off install

(for military, health

workers & 1st responders)

Call Erie Metal Roofs: 1-

855-338-4807

Looking for assisted living,

memory care, or

independent living? A

Place for Mom simplifies

the process of finding

senior living at no cost to

your family. Call 1-833-

910-1576 today!

VIAGRA & CIALIS! 60

pills for $99. 100 pills for

$150 FREE shipping.

Money back guaranteed!

1-844-596-4376

Stroke & Cardiovascular

disease are leading

causes of death according

the American Heart

Association. Screenings

can provide peace of mind

or early detection! Call

Life Line Screening to

schedule your screening.

Special offer - 5

screenings for $149. 1-

866-518-8391

Windsong is committed to providing

high quality, loving care, and affordable

home care services to our clients. With our

assistance, clients can lead

dignified and independent lives in the

comfort of their own home.

Individual needs are carefully assessed,

understood, and met through the selective

assignment of quality, trustworthy and

compassionate service-oriented personnel.

Give us a call today for a free in-home

assessment or visit our website at

www.windsongseniorcare.com

614-820-5000

ASSOCIATION ADS

Stroke & Cardiovascular

disease are leading

causes of death according

the AHA. Screenings can

provide peace of mind or

early detection! Call Life

Line Screening to

schedule a screening.

Special offer 5 screenings

for $149.. 1-833-549-4540

VIAGRA and CIALIS

USERS! 50 Generic pills

SPECIAL $99.00 FREE

Shipping! 100% guaranteed.

24/7 CALL NOW!

888-445-5928 Hablamos

Espanol

Attention oxygen therapy

users! Inogen One G4 is

capable of full 24/7 oxygen

delivery. Only 2.8

pounds. Free info kit.

Call 877-929-9587

Internet &WIFI Starts at

$49 Call us Today to Get

Started. Find High-Speed

Internet with Fiber Optic

Technology No Credit

Check, No SSN Required.

Call us Today 866-396-

0515

LONG DISTANCE MOVING:

Call Today for a FREE

QUOTE from America's Most

Trusted Interstate Movers.

Let us take the stress out of

moving! Call now to speak to

one of our Quality Relocation

Specialists: 844-436-0873

ASSOCIATION ADS

Looking for auto insurance?

Find great deals

on the right auto insurance

to suit your needs.

Call today for a free

quote! 866-924-2397

SELL YOUR ANTIQUE

OR CLASSIC CAR.

Advertise with us. You

choose where you want

to advertise. 800-450-

6631 visit macnetonline.

com for details.

Elminate gutter cleaning

forever! LeafFilter, the most

advanced debris-blockiing

gutter protection. Schedule

Free LeafFilter Estimate

today. 15% off Entire

Purchase. 10% Senior &

Military Discounts. Call 1-

855-995-2490

DISH TV $64.99 FOR 190

Channels + $14.95 High

Speed Internet. Free Installation,

Smart HD DVR

Included, Free Voice Remote.

Some restrictions

apply. Promo expires

1/21/22. 1-855-270-5098

Attention: If you or aloved

one worked around the

pesticide Roundup

(glyphosate) for at least 2

years and has been diagnosed

with non-Hodgkin's

lymphoma, you may be

entitled to compensation.

855-341-5793
---
www.columbusmessenger.com

xCome & Get It!

.

COME AND GET IT

Deadlines are Tuesdays by 5 pm.

Call For Publication Schedule 614-272-5422

Need to Get Rid of Something Fast - Advertise It Here For FREE!

FREE Garden Straw for gardens or bedding. Call for appointment for pickup.

Circle S Farms, 9015 London-Groveport Road, Grove City, 43123

Grove City - 614-878-7980

WOOD from two trees that we cut down two years ago. FREE.

Call me and let me know when you canp ick it up.

TH - Canal Winchester - 614-949-8963

Come and Get It! is a bi-weekly column that offers readers an opportunity to pass

along surplus building materials, furniture, electronic equipment, crafts, supplies,

appliances, plants or household goods to anybody who will come and get them - as

long as they're FREE. NO PETS! Just send us a brief note describing what you want to

get rid of, along with your name, address and phone number. Nonprofit organizations

are welcome to submit requests for donations of items.

Send information to The Columbus Messenger, Attention: Come and Get It, 3500

Sullivant Ave., Columbus, OH43204. Deadline is Tuesdays by 5 pm for following

Mondays publication. Messenger Newspapers is not responsible for any

complications that may occur. Please contact us when items are gone. 272-5422

ASSOCIATION ADS

The Generac PWRcell

solar plus battery storage

system. Save money,

reduce reliance on

grid, prepare for outages

& power your home. Full

installation services. $0

down financing option.

Request free no obligation

quote. Call 1-855-

270-3785

Life Alert. One press of a

button sends help fast

24/7! At home and on

the go. Mobile Pendant

with GPS. Free first aid

kit (with subscription).

877-537-8817 Free brochure

NEED IRS RELIEF

$10K-$125K+ Get Fresh

Start or Forgiveness.

Call 1-844-431-4716

Monday through Friday

7am-5pm PST

Donate Your Car To

Veterans Today! Help and

Support our Veterans.

Fast - FREE pick up.

100% tax deductible. Call

1-800-245-0398

IMPORTANT

NOTICE

The following states: CA,

CT, FL, IA, IL, IN, KY,

LA, MD, ME, MI, MN,

NE, NC, NH, OH, OK,

SC, SD, TX, VT and WA

requires seller of certain

business opportunities to

register with each state

before selling. Call to

verify lawful registration

before you buy.

Come & Get It!

ASSOCIATION ADS

Eliminate gutter cleaning

forever! LeafFilter, the

most advanced debrisblocking

gutter protection.

Schedule a FREE LeafFilter

estimate today. 15% off

Entire Purchase. 10% Senior

& Military Discounts.

Call 1-855-791-1626

Protect your home w/home

security monitored by

ADT. Starting at $27.99/

mo. Get free equipment

bundle including keypad,

motion sensor, wireless

door & windows sensors.

833-719-1073

The Generac PWRcell, a

solar plus battery storage

system.

SAVE money,

reduce your reliance on

the grid, prepare for power

outages and power

your home. Full installation

services available. $0

Down Financing Option.

Request a FREE, no obligation,

quote today. Call

1-855-900-2894

Want Faster & Affordable

Internet? Get internet

service today with

Earthlink. Best internet &

WiFi Plans. Call us Today

to Get Started. Ask

about our specials! 866-

396-0515

READY TO BUY, SELL

OR RENT YOUR

VACATION HOME OR

HUNTING CAMP?

Advertise it here and in

neighboring publications.

We can help you. Contact

MACnet MEDIA @

800-450-6631 or visit our

site at MACnetOnline.

com

Train online to do medical

biling! Become a Medical

Office Professional at CTI!

Get trained & certified to

work in months! 888-572-

6790. The Mission,

Program Information and

Tuition is located at

CareerTechnical.edu/cons

umer-information. (M-F 8-

6 ET.

ASSOCIATION ADS

DENTAL INSURANCE-

Physicians Mutual Insurance

Company. Covers

350 procedures. Real

insurance - not a discount

plan. Get your free

dental Info kit! 1-888-

623-3036 . www.dental50plus.com/58

#6258

GENERAC Standby Generators

provide backup

power during utility power

outages, so your home

and family stay safe and

comfortable. Prepare

now. Free 7-year extended

warranty ($695 value!).

Request a free

quote today! Call for additional

terms and conditions.

1-855-465-7624

Directv Now. No Satellite.

$40/mo 65 Channels.

Stream news, live

events, sports & on demand

titles. No contract/

commitment. 1-866-825-

6523

DISH TV $64.99 190

Channels + $14.95 high

speed internet. FREE installation,

Smart HD DVR

included. Free Voice Remote.

Some Restrictions

apply. Promo Expires

1/21/22. 1-833-872-2545

AT&T Internet. Starting

at $40/month w/12-mo

agmt. 1 TB of data/mo.

Ask how to bundle &

SAVE! Geo & svc restrictions

apply. 1-888-796-

8850

New authors wanted!

Page Publishing will help

self-publish your book.

Free author submission

kit! Limited offer! 866-

951-7214

Pest Control

Find Pest Control Experts

Near You! Don't let

pests overtake your

home. Protect your loved

ones! Call today to find

great deals on Pest

Control Services - 833-

872-0012

ASSOCIATION ADS

Wants to purchase minerals

and other oil and gas

interests. Send details to

P.O. Box 13557, Denver,

CO. 80201

HughesNet Satellite Internet

- Finally, no hard

data limits! Call today for

speeds up to 25mbps as

low as $59.99/mo! $75

gift card, terms apply. 1-

844-863-4478

Long Distance moving.

Call for a free quote from

America's Most Trusted

Interstate Movers. Let us

take the stress out of

moving! Speak to a

relocation specialist! Call:

888-721-2194

Thinking about installing

a new shower? American

Standard makes it

easy. FREE design consulation.

Enjoy your

shower again! Call 1-

833-769-0995 today to

see how you can save

$1,000 on installation, or

visit www.newshowerdeal.com/mac

GENERAC Standby

Generators provide

backup power during

power outages, so your

home & family stay safe &

comfortable. Prepare now.

FREE 7-yr extended

warranty $695 value!

Request a free quote

today. Call for terms &

conditions. 1-844-334-

8353

MISC. FOR SALE

Contents of Workshop

w/multiple stationary tools,

rough cut lumber, 2 chain

saws, assorted hand tools.

email for details &prices.

614-3278442 lv msg

purrcy07@gmail.com

WANT TO BUY

WE BUY JUNK CARS

Call anytime 614-774-6797

We Buy Cars & Trucks

$300-$3000.614-308-2626

BUYING VINYL RECORDS.

LPs and 45s - 1950-80s

Rock, Pop, Jazz, Soul.

614-831-0383

WANTS TO Purchase

minerals and other oil &

gas interests. Send details

to: P.O. Box 13557,

Denver, CO 80201

We Buy Junk Cars &

Trucks. Highest Prices

Paid. 614-395-8775

ANTIQUES

WANTED

Victrolas, Watches,

Clocks, Bookcases

Antiques, Furn.

Jeff 614-262-0676

or 614-783-2629

VACATION RENTALS

Englewood, Florida

Palm Manor Resort

Within minutes of white

sand Gulf beaches,

world famous Tarpon

fishing, golf courses, restaurants/shopping,

Bush

Gardens. 2 BR 2 BA

condos with all ammenities,

weekly/monthly, visit

www.palmmanor.com

or call 1-800-848-8141

December 12, 2021 -GROVEPORT MESSENGER - PAGE 11

xClassified Services

CARPET CLEANING

CARPET CLEANING

Any 5 areas ONLY $75

Home Powerwash-$99-$200

614-805-1084

Specializing in Pet Odors

CARPET SALES

CARPET

Gray Saxony

270 sq.ft. w/6 lb Pad

$398.00

Other Carpet AvailableA

Phone or text Ray

740-927-3504

Delivery & Inst. avail.

CLEANING

Looking for Mrs. Clean?

For excellent cleaning serv

at reas. rates w/great refs,

dependable. 10% Seniorr

Disc. Free Est. Also runs

Errands - Gwen 614-226-5229

CONCRETE

AJ's Concrete,

Masonry

Good Work - Fair Prices

Block Foundations

Driveways • Sidewalks

Epoxy/Overlay Floors

Bonded-Ins. • Free Ests.

614-419-9932

www.hastingsnsons.com

Driveways & Extensions

Patio & Walkways,

Porches & Steps,

Garage/Basement Floors

Hot Tub/Shed Pads,

Stamped/colored concrete

Sealing of new &

existing concrete.

FREE ESTIMATES

Contact Adam

614-756-1754

hastingsandsons.

columbus@gmail.com

INFORMATION

EARLY

DEADLINES

Classified Advertising

For West, Grove City,

Groveport,

South/Canal Winchester

For Dec. 26, 2021 Papers

Deadline: Friday, Dec. 18, 2021- 2pm

1/2 a/m

12/19 A

GUTTERS

Bates & Sons

GUTTER CLEANING

5 ★ Google Reviews

614-586-3417

HEATING

HEATING

Complete System Clean & Check

$49.95

Free Carbon

Monoxide Testing

Gas-Oil-Electric Heat/Pumps

All Makes • All Models

45 yrs exp. • Sr. Discount

614-351-9025

INFORMATION

ONLY

$50.00

For This Ad In Our

South/Canal Winchester

& Groveport

For Info Call

614-272-5422

HOME

IMPROVEMENTS

SINCE 1973

Phil Bolon Contr.

Windows & Siding

Decks, Kitchens, Baths

Room Additions,

Flooring, Roofing

Bsmt Waterproofing

Deal With Small Non-Pressure Co.

47 Yrs. Exp. - Refs. Avail.

Lic.-Bond-Ins.

Free Est. - Financing Avail.

Member BBB Of Cent. OH

O.C.I.E.B. ID #24273

614-419-3977

or 614-863-9912

INFORMATION

12/19 A

12/19

A/M

HOME

IMPROVEMENTS

KLAUSMAN HOME

IMPROVEMENT

Siding-Windows-

Doors-Roofing-Soffit-

Fascia-Gutters-Trim

Earn FREE Seamless

Gutters with Siding Over

1000 Sq. Ft.

FREE Shutters with

Soffit & Trim

EPA Certified

Member of BBB

Financing Available

Over 20 yrs exp. • Free Est.

Licensed-Bonded-Insured

Owner & Operator

James 614-419-7500

C&JHandyman

Services LLC

Minor Plumbing

& Electric

Install Hot Water Tanks,

Dishwashers & Disposals

Also Fencing &

Interior/Exterior Painting

Free Est. ~ 18 Yrs. Exp.

CDC/EPA Approved Guidelines

614-284-2100

LAWN CARE

LET US MAINTAIN

YOUR LAWN & GARDEN

FOR YOU

Summer, Spring,

Winter or Fall

WE DO IT ALL!!!!

Lawn Cuts, Edging,

Trees & Shrubs, Garden,

Mulching, Hauling,

Garden Pond &

Home Maint.

Free Ests. Low Rates

$20 & Up

Kevin - 614-905-3117

MOVING

Aaron Allen

Moving

Local Moving since 1956

Bonded and Insured

614-299-6683

614-263-0649

Celebrating

over 60 yrs

in business

PAINTING

A Job Well Done Again

A lic. General Contractor

Some Skilled Services

Incl: Painting • Stucco,

Repair•Carpentry•Exterior

Drainage & Home Maint.

Call Today! 614-235-1819

PLASTERING

DRYW

YWALL &

PLASTER

1/2

A&M

REPAIR

Textured Ceilings

614-551-6963

Residential/Commercial

BIA

Classified Services

12/5 A

11/7 A

12/19 A&M

PLUMBING

MYERS

PLUMBING

Exp. Expert Plumbing

New Work & Fast Repairs

Lic. - Permit Available

Water • Sewer • Gas

614-633-9694

All About Drains & Plumb.

Will snake any sm drain

$145. 614-778-2584

CHRIS'

PLUMBING

"Plumbing & Drain Professional

That You Can Count On"

24 Hrs., 7 Days/Week

No Overtime Charges

24 Yrs. Exp. in Plumbing &

Drain Cleaning Field

Call For A Free Phone Estimate

$100.00 For Any Small Drain

614-622-4482

30% OFF with AD

POWER WASHING

Bates & Sons

Soft Wash & Powerwash

5 ★ Google Reviews

614-586-3417

ROOFING

Robinson roofing & repairs

30 yrs. exp. Lifetime Cols.

resident. Lic./bonded/Ins.

Reas rates. Member of

BBB. Dennis Robinson

614-330-3087, 732-3100

SEWING MACHINE

REPAIR

REPAIR all makes 24 hr.

service. Clean, oil, adjust

in your home. $49.95 all

work gtd. 614-890-5296

SNOW REMOVAL

GOOD NEIGHBORS

LAWN CARE

WINTER IS COMING!

"Leave Snow Removal To Us"

SNOW REMOVAL &

SALT SPREADING

Taking on New Accounts In The Area

Servicing Resid. & Comm.

12/19

Free Estimate E/SE

614-238-9237

614-937-0658

Ask For Bob

TREE SERVICES

Brewer & Sons Tree Service

• Tree Removal

• Tree Trimming 11/21

A&M

• Stump Grinding

• Bucket Truck Services

Best Prices • Same Day Service

614-878-2568

BURNS TREE SERVICE

Trimming, Removal &

Stump Grinding.

614-584-2164

12/19 A&M

1/2 A
---
PAGE 12 - GROVEPORT MESSENGER - December 12, 2021

www.columbusmessenger.com

Frozen Lobster Tails, King Crab Legs, Snow Crab Clusters, Orange Roughy,

Lake Smelts, Fresh Chopped Clams, Squid Tubes and Tentacles, Caviar,

Salted Baklava, Fresh Cod, Fresh, Eel, Octopus, Fresh Lump Crabmeat

(Non-Pasterized), Florida Stone Crab Claws, Snow Crab Cocktail Claws,

Live Lobsters via Special Order Only!

We Carry Domestic and Imported Wines

SUPPORT YOUR LOCAL

SMALL BUSINESSES

All Orders to be Picked Up at

5249 Trabue Rd.

Columbus, OH 43228

HOURS:

Sunday, December 19th - 8 to 4

Monday thru Thursday 8 to 6

Friday, December 24th - 8 to 4

Closed December 25th & 26th

Now taking Christmas orders

We Accept All Major Credit Cards

EBT Cards (SNAP)

FRESH PRODUCE - LARGE WINE SELECTION

•Oysters Chesapeake Bay •Chilean Seabass Fillets

•Assorted Beef Steaks •Halibut Fillets

•Frozen Lobster Tails •Snow Crab Clusters

•King Crab Legs •Orange Roughy

•Faroe Island Salmon •Smoked Salmon

•Sea Scallops

•Live Lobsters via Special Order Only!

SUPPORT YOUR LOCAL

SMALL BUSINESSES

New 2nd Location

2

HOURS:

12/20-12/23: 9am-7pm

12/24: 8am-4pm

WE ACCEPT

All Major Credit Cards,

EBT Cards (SNAP)