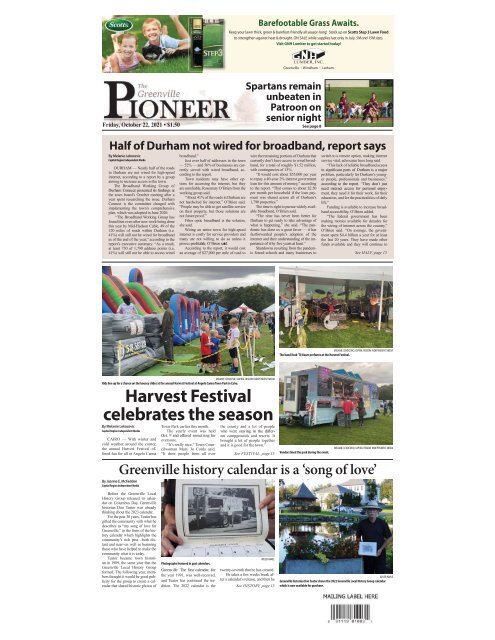 Greenville Pioneer - 2021-10-22
Greenville Pioneer - 2021-10-22
Greenville Pioneer - 2021-10-22
SHOW MORE
SHOW LESS
You also want an ePaper? Increase the reach of your titles
YUMPU automatically turns print PDFs into web optimized ePapers that Google loves.
1

Friday, October 22, 2021 • $1.50

DURHAM — Nearly half of the roads

in Durham are not wired for high-speed

internet, according to a report by a group

aiming to increase access in the town.

The Broadband Working Group of

the town board's October meeting after a

year spent researching the issue. Durham

Connect is the committee charged with

implementing the town's comprehensive

plan, which was adopted in June 2020.

"The Broadband Working Group has

found that even after new work being done

this year by Mid-Hudson Cable, 49 of the

120 miles of roads within Durham (i.e.

41%) will still not be wired for broadband

as of the end of the year," according to the

report's executive summary. "As a result,

at least 730 of 1,790 address points (i.e.

41%) will still not be able to access wired

broadband."

Just over half of addresses in the town

— 52% — and 56% of businesses are currently

served with wired broadband, according

to the report.

Town residents may have other options

for accessing the internet, but they

are unreliable, Rosemary O'Brien from the

working group said.

"About 41% of the roads in Durham are

not hardwired for internet," O'Brien said.

"People may be able to get satellite service

on their property, but those solutions are

not future proof."

Fiber optic broadband is the solution,

she said.

Wiring an entire town for high-speed

internet is costly for service providers and

many are not willing to do so unless it

According to the report, it would cost

an average of $27,000 per mile of road to

wire the remaining portions of Durham that

currently don't have access to wired broadband,

for a total of roughly $1.52 million,

with contingencies of 15%.

"It would cost about $55,000 per year

to repay a 40-year 2% interest government

loan for this amount of money," according

to the report. "That comes to about $2.50

per month per household if the loan payment

was shared across all of Durham's

1,790 properties."

The time is right to pursue widely available

broadband, O'Brien said.

"The time has never been better for

Durham to get ready to take advantage of

what is happening," she said. "The pandemic

has done us a great favor — it has

fastforwarded people's adoption of the

internet and their understanding of the im-

Shutdowns resulting from the pandemic

forced schools and many businesses to

switch to a remote option, making internet

service vital, advocates have long said.

"This lack of reliable broadband access

problem, particularly for Durham's younger

people, professionals and businesses,"

ment, they need it for their work, for their

education, and for the practicalities of daily

life."

Funding is available to increase broadband

accessibility, O'Brien added.

"The federal government has been

making monies available for decades for

the wiring of internet across the country,"

O'Brien said. "On average, the government

spent $4.4 billion a year for at least

the last 20 years. They have made other

funds available and they will continue to

See HALF, page 15

CAIRO — With winter and

cold weather around the corner,

the annual Harvest Festival offered

fun for all at Angelo Canna

Town Park earlier this month.

The yearly event was held

everyone.

"It's really nice," Town Councilwoman

Mary Jo Cords said.

"It drew people from all over

the county and a lot of people

ent campgrounds and resorts. It

brought a lot of people together

and it is good for the town."

See FESTIVAL, page 15

Before the Greenville Local

History Group released its calendar

on Columbus Day, Greenville

historian Don Teator was already

thinking about the 2023 calendar.

For the past 30 years, Teator has

gifted the community with what he

describes as "my song of love for

Greenville," in the form of the history

calendar which highlights the

community's rich past—both distant

and near--as well as honoring

those who have helped to make the

community what it is today.

Teator became town historian

in 1989, the same year that the

Greenville Local History Group

formed. The following year, members

thought it would be good publicity

for the group to create a calendar

that shared historic photos of

the year 1991, was well-received,

and Teator has continued the tradition.

The 2022 calendar is the

twenty-seventh that he has created.

He takes a few weeks break after

a calendar's release, and then he

See HISTORY, page 15
---
2

the local area and to the homeless.

3 - Green eCounty Economic Development Corp. meet-

East Durham.

Durham.

Street, Cairo.

East Durham.

Cairo.

East Durham.

Durham.

Qualified customers can now

apply for Home Energy Assistance

Program (HEAP) grants,

a federally funded program that

provides regular and emergency

assistance to help pay heating

and utility bills, and new this

year, gas and electric utility arrears

assistance grants of up to

$10,000 per household.

Both HEAP grants and Regular

Arrears Supplement (RAS)

program grants are available

through local Department of

Social Services (DSS) offices.

Applications for HEAP are also

available at Offices for the Aging

and online at mybenefits.

ny.gov.

"We are pleased that additional

assistance is available for

families in our community who

may be struggling, especially

as we continue to navigate the

COVID-19 pandemic," said

Anthony Campagiorni, vice

president of customer services

and gas operations. "We encourage

all customers who are

eligible to apply."

Families who qualify for

HEAP grants and use electricity

or natural gas as their primary

heating source could receive a

HEAP grant of $350 or more

toward their utility bill, depending

on family income and

size guidelines. For example, a

family of four with natural gas

heating and an annual income

of $62,988 would qualify for a

$350 grant.

Central Hudson customers

who receive HEAP grants or

qualify for other assistance programs

will receive additional

bill credits for up to 12 months

on their Central Hudson bill.

As an example: A Central

Hudson customer who qualifies

for a Tier 1 HEAP grant

and uses natural gas for heating

is eligible for bill credits of up

to $30 per month; while a Tier

1 customer who has electric

heating can receive a credit of

almost $40 each month. Customers

with lower incomes who

qualify for higher tiers could be

eligible for larger bill credits.

Campagiorni added,

"Households receiving a HEAP

benefit for non-utility heating

fuels such as oil, propane,

wood/wood pellets, kerosene,

coal or corn are also eligible for

a monthly credit on their electric

or non-heating gas bill."

Customers who heat with

non-utility heating fuels should

email their current Notice of

Decision letter to Central Hudson

at careunit@cenhud.com to

be enrolled and receive the bill

credit.

Regular HEAP grants for

the fall and upcoming winter

are available from now through

March 15, or until funding is

exhausted. Emergency HEAP

grants will be available between

Jan. 3 and Mar. 15. These

benefits are designed to meet an

eligible household's immediate

energy needs.

The Heating Equipment Repair

or Replacement (HERR)

program is also available to

assist customers who have primary

heating equipment that

is either inoperable or unsafe.

HERR grants are currently

available and will remain so

through Sept. 30, 2022.

WE WANT TO HEAR FROM YOU!

The Greenville Pioneer wants to hear from you.

Send information about upcoming events and

news to news@greenvillepioneer.com.

The Regular Arrears Supplement

program is a new program

providing up to $10,000 in utility

arrears assistance to eligible

households that are unable to

pay their unpaid electric and/

or gas utility arrears. This program

is open to homeowners

and renters and can apply to all

arrears, including those accrued

prior to the COVID-19 pandemic.

This program only applies to

electricity and natural gas, and

not deliverable fuels such as

home heating oil or propane. It

is currently available and will

remain open to qualified customers

until Sept. 30, 2022 or

until funding is exhausted.

In addition to Central Hudson's

bill discounts for customers

receiving HEAP grants,

these bill discounts are now

also provided to customers who

receive Lifeline; Supplemental

Nutrition Assistance Program

(SNAP); Medicaid; Supplemental

Security Income (SSI); Federal

Public Housing Assistance;

Veterans Pension or Survivors

Pension; and certain programs

for Native Americans. This program

provides a monthly bill

credit for up to 12 consecutive

months.

During the COVID-19 pandemic,

Central Hudson has

suspended service terminations

and is actively reaching out to

customers who are experiencing

financial challenges to determine

if they are eligible for

further assistance. In order to

provide necessary documentation

for certain assistance programs,

some Central Hudson

customers are being proactively

provided with statements

showing a past due balance or

a termination notice. These

statements may be necessary

for a customer to qualify for

an emergency HEAP benefit or

other charitable resources like

Central Hudson's Good Neighbor

Fund that provides "last

resort" grants to help pay the

energy bills of local residents

in need who have exhausted all

other forms of public and private

utility assistance.

For more information on

HEAP eligibility requirements

and benefits, visit www.CentralHudson.com/HEAP

or

http://otda.ny.gov/programs/

heap/program.asp; and for more

on all of Central Hudson's assistance

and billing programs,

visit www.CentralHudson.com,

and click on "My Account."

Mark Vinciguerra

Warren Dews, Jr.,

wdewsjr@gmail.com
---
Editor's Note: A charge is not a

conviction. All persons listed are

innocent until proven guilty in a court

of law. Charges can be amended or

dismissed.

3
---
4

Marion Farrenkopf née

Tisch, formerly of Durham,

(b. 12/16/27) passed away

peacefully on Thursday,

September 30, 2021, at

Jefferson's Ferry Retirement

Community in South Setauket

on Long Island, where she lived

since 2013.

Born in Brooklyn, she spent

her early years in Germany and

then the Bronx, attending Walton

High School where she was

president of the GO. Speaking

on the radio on behalf of the

Red Cross, she was also active

in the war effort at home

during World War II.

After a lengthy wartime

correspondence with U.S. Army

Sergeant Frank Farrenkopf, a

cousin of a friend, the two fell

in love and married in 1947 in

Frank's church, St. Margaret,

Middle Village. They lived in

Middle Village and were active

in St. Margaret parish until they

retired to a country home in

Durham, where they lived for

25 years.

During those years, Marion

Marion Farrenkopf

became a gifted quilter, and

was the 1998 inductee in the

Catskill Mountains Quilting Hall

of Fame. In her 40s, Marion

realized a lifelong dream to

become a nurse, graduating

lene Fuld School of Nursing in

Manhattan. She specialized in

labor and delivery nursing and

assisted at the birth of several

of her grandchildren.

Marion is survived by her

half brothers Herbert and

Jane (George) McCartney, Ann

(Michael) Gorman, Frank (Julie)

Farrenkopf, Joan and Patricia

Farrenkopf; eleven grandchildren:

Michael and Sarah

Gorman, Daniel McCraley, Alice

(Matthew)Auth, Nora (Rudy)

Sundar, George (Katie)McCartney,

Mary (EJ) Kapela, James

and Scott (Melanie) Sheridan,

and Charles and Mark Farrenkopf.

She is also survived by

fourteen great-grandchildren:

Frances, Conrad and Harold

Auth, Matthew, Thomas and

Christian Sheridan, Xavier,

Eamon and Ayla Sundar, Fiona,

Molly and Clara McCartney,

and Jay and George Kapela.

Viewing was at Our Lady

of Knock Shrine, 2052 State

Route 145 in East Durham at

11 a.m. on Monday, October

11, followed by a Mass of

Christian Burial at 12 noon.

Interment followed at Oak Hill

Cemetery. Donations may be

made to Our Lady of Knock

Shrine, c/o Sacred Heart

Condolence page is available

at ajcunninghamfh.com.

Find us on

Facebook!

www.

facebook.com/

Greenville Pioneer

Matthew Stephen Mikulski

SOUTH BETHLEHEM —

Matthew Stephen Mikulski

died peacefully on Monday,

October 4. He was an organ

donor and was able to save

two lives by donating both his

kidneys.

Matthew was born on

January 7, 1980, in Camarillo,

California. He grew up in

North Brunswick, New Jersey,

and moved to the Poconos at

21 years old. In Broadheadsville,

Pennsylvania, Matt met

the love of his life, Amanda

Marie Gager, and they had

two sons, Colin and Christian

Mikulski. He joined the Brotherhood

of the IBEW Local

164 out of Northeastern, New

Jersey, and worked there as

an industrial electrician for

20 years.

During his lifetime Matthew

raised his family in Pennsylvania,

New Jersey and New

York. Matt was an incredibly

hard worker who was the sole

bread winner of the family.

He enjoyed Amanda's cooking,

spending time with his

sons, listening to Colin play

guitar, and watching Christian

play shortstop and get hits on

the baseball diamond. Matt

was an avid Yankees, Giants

and Knicks fan. He was a history

buff and enjoyed watching

the History Channel. He

had a sharp wit and laidback

demeanor.

Matt worked just as hard

on his sobriety as he did

being a loving spouse and

father. He succumbed to his

Higher Power and is presently

in the loving arms of his

Heavenly Father.

Matthew is survived by his

love, Amanda Marie Gager;

his sons, Colin and Christian

Mikulski; his parents,

Stephen and Jacqueline

Mikulski, and Patricia Lyons;

his brothers, Daniel and Eric

Mikulski; his sisters, Alissa

Troyer (Brian), Kelly and Kimmy

Lyons; and his nephews,

Aiden and Ian. He is also survived

by his in-laws Sean and

Penny Gager; and brother-inlaw

Sean F. Gager (Lauren).

Along with so many aunts,

uncles, cousins and friends.

Matthew will be missed dearly

and his memory cherished

by all who knew him.

A calling hour was held

on Saturday, October 9,

from 9:30-10:30 a.m. at St.

Patrick's Church, 21 Main

St, Ravena, NY 12143,

followed by a Funeral Mass

at 10:30am. He will then be

privately cremated. In lieu

be made the Mikulski Sons

Education Fund c/o A.J.

Cunningham Funeral Home,

PO Box 146, Greenville, NY

12083. Arrangements by A.J.

Cunningham Funeral Home,

Ravena. Condolences can be

posted at ajcunninghamfh.

com.
---
5
---
6

You are already an expert

in eating to lose weight, gain

weight, improve your immune

system and maintain glucose

levels. Right?

Well, maybe not an "expert,"

but in truth, you can't turn on

the TV, flip through a magazine

or ignore the people at the next

table in the diner talking about

whether they should have fries

or salad with their burger. We're

literally all in this conundrum

together and becoming experts

in every "diet" imaginable.

Or we've become confused

as heck as a society about what

to eat and why no matter how

much we try, we're gaining excess

pounds while losing our

grasp on good health practices.

I honestly do not remember

my Grandma focusing on the

nutrient labels of the food we

ate. I'm pretty sure we're no

healthier now than my folks

were back in the day when we

based our meals on the seasons

and the availability of food at

the market. Meals in 20 minutes?

Ha!

Dinner was planned and

begun right after breakfast

dishes were cleared.

Fancy bone broths? That

was called chicken soup with

the old hen. Beef bones were

added to vegetables for a luscious

beef soup and stews

were the culmination of all the

small bits left over and added

to one pot later in the week.

This wasn't thought of as a

time of lack. It was how we ate.

Portion sizes, back in the

day, were never thought of as

inadequate. By today's standards

of how much is doled out

at restaurants out you'd think

this was tantamount to our last

meal on earth. Didn't anyone

consider overeating for us was

just as bad as not having enough

food to eat?

I recently had the pleasure

of spending time chatting with

Therese, a wonderful, knowledgeable

dietician affiliated

with CDPHP about the ongoing

weight issues of many who

experienced a gain during the

darkest days of the pandemic.

She explained that our metabolism

had slowed, keeping in line

with the lockdowns and closures

due to COVID outbreaks.

Best laid plans to keep active

were thwarted by ongoing anxieties

every time we stepped out

the door.

I had indeed experienced

this increase in unwanted

weight gain despite trying to

keep as active as possible and

eating well.

I asked her to offer what she

had learned in her profession

about a possible solution. She

said this: In order to stimulate

our metabolism, it was imperative

to really focus in on everything

that we consumed in

the day. She even wanted me to

measure out the half-and-half

for my coffee.

Why? Because, as a whole,

we were eating and thinking

like we were before the pandemic.

She suggested that our

chemistry had changed. But

our thought process was still

very much stuck in the past.

I've said this several times in

my previous columns as well:

"We're NOT going back but

FORWARD, and so our thinking

about being healthy and fit

had to shift into an alignment

that would yield the results we

wanted in today's world.

Therese's suggestions made

sense. I was no longer achieving

my goal of 10K a day on my

fitness tracker, but I was still

eating like I was. Remember,

calories need to be burned off

or you're going to store them

in unwanted parts of your physical

body. So, that being said,

Therese helped me to find a better

daily calorie intake to match

my activity level and goal to

drop that excess weight.

I was definitely resistant at

first, but I couldn't ignore the

facts that she presented.

She mentioned that as a

whole we are not moving nearly

as much as we did before the

pandemic. We order food for

pick-up rather than shop at the

grocery store.

We might get out to shop but

often make errands much shorter

in an attempt to have the least

contact with the community.

Many are still working from

home and no longer have a need

to walk down the hall of their

office or park farther away from

the building. All of this has contributed

to the decrease in physical

activity.

And she's totally correct. So

much food for thought.

The bottom line is to stay

focused on everything you eat:

portion sizes, extras like butter

or some extra oil to cook your

food. Measure your portions.

Keep measuring cups handy

and be accountable based on

food labels and serving potions.

Eat less. Trick your metabolism

back into high gear by exercising

more, perhaps even tracking

your food intake on one of the

many tracking programs available

for little to no cost at the

App Store. Get out of your seat

more frequently and read this

column while walking around

the room.

"Healthy and Fit" needs to

be redesigned for this pandemic

world we're living in.

We've given up so much already

because of this global situation,

we can move forward by

aligning our goals with being

the best we can be at any age

and no matter when we start.

Wellness Corner: Interested

in learning more about how to

maintain a healthy and fit lifestyle?

I'm bringing programs

to the community at The Shamrock

House in East Durham that

will enhance your goals.

This month's program is

about arthritis. If you are interested

in attending, please contact

me, Pat Larsen, at 518-275-

8686.

This program is open to my

fitness community students,

family and friends.

Pat Larsen

Licensed Zumba Fitness Instructor

Live classes ongoing. Monday

and Thursday mornings

Baby boomers and sassy seniors

welcome.

Ladies and gents

Certified Hypnotherapist for

behavior modification

Pre-surgery hypnosis; anxiety

reduction; weight management

Guided meditation and acupressure

techniques to reduce

pain

Join us. ContactPelarsen5@

aol.com or 518-275-8686
---
7

COXSACKIE — Eight correctional

Facility were injured

in two separate inmate attacks,

James Miller, director of public

relations at New York State

Benevolent Association said last

Wednesday.

dered to seek treatment at a nearby

urgent care facility, Miller

said.

the evening on Sept. 25, when an

immediately requested backup

assistance.

proached the inmate, the inmate

raised his hands in an aggressive

manner and began throwing

punches, Miller said. The inmate

and the two became entangled.

tempted to subdue the inmate

with body holds, but the inmate

continued to be combative, Miller

said.

ed and attempted to assist in getbody

holds, Miller said. While

ued to be combative and kicked

back.

restraints on the inmate, who

continued to be combative for

rendering.

at the prison and were treated for

various minor injuries. All four

remained on duty, Miller said.

The inmate, 45, was examtercation

and sustained scratches,

a bruise and abrasions. The

inmate was also noted to be unintoxicant

or substance, Miller

said.

He is serving a life sentence

after being convicted of second-degree

murder in Queens in

1999. He is being held pending

charges for this incident, Miller

said.

Department of Corrections

and Community Supervision has

control over which inmates are

housedin a particular facility,

said Chris Moreau, NYSCOPBA

Mid-Hudson Region Vice President

"Having inmates that have

committed murder in a medium-security

facility is a terrible

idea," Moreau said. "Transferring

these individuals from a

maximum- to medium-security

in danger."

"It kills me to know that my

members have to endure the perpetual

violence they face on a

daily basis, which not only results

in the physical injuries they

sustain, but the immeasurable

mental scars which they'll carry

with them forever," Moreau said.

"NYSCOPBA members have

been, and continue to be able to

count on Greene County District

Attorney Joseph Stanzione to

prosecute these violent felons to

the fullest extent allowable by

law," Moreau said.

The second incident occurred

on the evening of Sept. 30. An

from the academy saw that an

inmate was carrying a cup of

unknown liquid while walking

toward his guard station, Miller

that the liquid was hot and he

was going to throw it at him.

backup assistance, the inmate

punched him twice in the side of

attempted to defend himself and

the two fell to the ground, where

the inmate continued to punch

straints were then placed on the

inmate.

ence of an unknown intoxicant

and attempted to place him into a

transport van for treatment when

the inmate refused and became

combative again, Miller said.

force the inmate onto a secured

stretcher where he ultimately

surrendered and was transported

to the facility medical unit.

uated and treated by medical

involved in the initial incident

was ordered to seek additional

treatment at a nearby urgent

care, while the three responding

said.

Pick Your Own

On the

stand:

Open 7 days a week from 10am-5pm

(518) 731- 6196 • Cty Rt 26, Climax, NY 12042

(1/4 Mile Past Quarry Steakhouse on County Route 26. Big red barn on the hill)

Boehmfarmllc.com
---
8

CATSKILL — A Greene County

man was arrested on child pornography

charges Oct. 8 for the second time in a

year, police said.

Jason M. Carter, 35, of Catskill, was

charged with possessing an obscene

sexual performance by a child under 16

years old, a class E felony; and promoting

an obscene sexual performance by a

child under 17 years old, a class D felony,

said Steven Nevel, public information

officer for state police Troop F on

Sunday.

Carter is accused of possessing and

promoting images of an obscene sexual

performance by a child under 16, Nevel

said. State police Bureau of Criminal Investigation

started its investigation last

Dec. 11.

Carter was arraigned in Catskill

Town Court before Justice William Jacobs

and was sent to the Greene County

Jail, where he was held on $5,000 bail,

Nevel said.

Carter was arrested on similar

charges in July 2020, when he lived in

Cairo, after police found images of children

performing sexual acts on his cellphone,

Nevel said.

State police then charged Carter with

two counts of possession of an obscene

sexual performance by a child, and three

counts of possession of a sexual performance

by a child. Both were class E felonies,

Nevel said.

The 2020 charges remain pending in

court.

Under state Penal Law, a person is

guilty of possessing an obscene sexual

performance by a child when, knowing

the character and content, he knowingly

has in his possession or control any performance

which includes sexual conduct

by a child less than sixteen years of age.

Possessing an obscene sexual performance

by a child charges are a class E

felony.

If convicted, the minimum sentence

is one to three years in prison and the

maximum is 1 1/3 to 4 years.

A person is guilty of promoting a sexual

performance by a child when, knowing

the character and content, he produces,

directs or promotes any performance

which includes sexual conduct by a child

less than 17 years of age, according to

New York Penal law.

Promoting a sexual performance by a

child is a class D felony.

If convicted, sentences may include

up to seven years in prison, 10 years probation

and a fine.

The defendant will also be placed on

the sex offender registration list for at

least 20 years.

GREENVILLE — The

Greenville Spartans handed

the Maple Hill Wildcats their

first loss of the season 5-0 last

Thursday in the battle for supremacy

in Patroon Conference

boys' soccer.

The Spartans furthered their

undefeated season on senior

night, thanks to two goals each

from Liam Bowden and Joseph

Davis, as well as another score

by Caleb Motta.

Greenville controlled the

ball from the opening whistle

and put the first shots on net of

the contest. Spartan Jack Motta

had a shot on goal early that

sailed high over the crossbar

and out for a goal kick. Teammate

Evan Cotter had put a shot

towards the goal as well, but it

went wide to the left and out as

well.

Wildcat keeper Luke Hoffman

stayed busy throughout the

first half with these early attempts

by the Spartans as they

came early and often. Hoffman

punched out and caught multiple

passes that came through

the box and denied many opportunities

that Greenville had.

Joey Domermuth was no slouch

for Greenville though, redirecting

play as needed when the

Wildcats did get down into the

box.

With under 15:00 to go in

the first half, Greenville still

dictated the pace and attacked

on offense often. A corner kick

by Caleb Motta was the closest

they had gotten to that point, but

Maple Hill's defense blocked

two shot attempts by the Spartans

after the pass.

After a pair of shots by

Bowden from outside the box

were denied or deflected, the

third time was the charm and

he buried it behind Hoffman's

head and into the net for the

game's first goal.

The Spartans led 1-0 now

with under 9:00 to go before

halftime. The Wildcats looked

to tie it before the break and got

inside the box with a free kick,

but the second touch shot the

ball off of the crossbar and out

of the zone.

After another unsuccessful

free kick by Maple Hill, Greenville

earned one at the other end

and Caleb Motta scored on a

header with only a few seconds

before halftime, putting the

Spartans up 2-0.

With the confidence of a

2-0 to start the second half, the

Greenville Spartans looked to

keep their foot on the gas pedal.

The Wildcats came out of the

break aggressive as expected,

but the Spartans stayed disruptive

on defense.

Maple Hill had a breakaway

chance after a steal, but they

gave it right back after the pass

went across the field to no one.

The Spartans had a broken play

of their own and Joseph Davis

took a shot inside the box

and scored his first goal of the

night, extending the lead to 3-0.

To Greenville's delight, Davis

scored again six minutes later,

this time from far outside of

the box, putting the game pretty

much out of reach for the Wildcats.

Maple Hill continued to

have communication issues on

the field, flat out not talking to

their teammates as they tried

to run plays, contributing to

much of their difficulties in the

game. With under 20:00 left in

the game, the Wildcats still had

trouble just maintaining possession

down 4-0 with the Spartans

not relenting on their defense.

Greenville was content to

milk the clock as long as they

could and wear down Maple

Hill. After a pass from the corner,

Bowden scored his second

goal of the night with a shot that

found the top right corner of the

net, putting the game away for

good with four minutes to go.

The Spartans ran the clock

down in the final few, winning

5-0 on senior night over the Maple

Hill Wildcats. With the win

Greenville cements their place

at the top of the Patroon Conference

for the regular season

and remained unbeaten at press

time, as Maple Hills dropped its

first game of the year.

ALBANY —New York State Department

of Environmental Conservation

Commissioner Basil Seggos reminds anglers

that the state's new catch-and-release

trout stream season began Oct. 16,

expanding recreational opportunities.

"Using science, research and public

input, DEC is increasing fishing opportunities

while advancing responsible

trout management in order to ensure

trout reach their fullest ecological and

recreational potential," Seggos said.

"New York state's new catch-and-release

season in trout streams expands

opportunities for anglers so they can

enjoy the state's trout stream fishing resources

year-round."

The new catch-and-release trout

stream season is a product of DEC's

Statewide Trout Stream Management

Plan, developed to improve and modernize

the state's management of its trout

stream fishing resources.

The new season, which runs from

Oct. 1 to March 31, requires anglers to

use only artificial lures and immediately

release trout they catch. The catch-andrelease

season applies to trout streams

only.

Fishing for trout in lakes and ponds

is prohibited after Oct. 15, unless these

waters are managed under a special regulation

that allows for angling. Anglers

should consult DEC's regulations guide

for regulations associated with lakes and

ponds that harbor trout before fishing.

This time period was traditionally

closed to trout stream fishing as a precautionary

measure during the reproductive

period for wild trout. DEC biologists

concluded that fishing during the

spawning season will not result in negative

fishery impacts.

To provide due diligence, DEC will

conduct an Angler Use and Wild Trout

Young-of-Year Recruitment Study

(PDF) to gauge angling pressure and

young-of-year trout abundance on a

statewide sample of 19 wild trout stream

reaches from 2021-24. DEC biologists

will use the results of the study to evaluate

the new regulation and guide future

management.

Anglers are reminded to use best

practices when releasing fish to ensure

trout are returned to the stream immediately

and unharmed. Visit DEC's website

for more information on catching

and releasing fish.

Anglers venturing to inland trout

streams this fall should check out the

DEC's Interactive Trout Stream Fishing

Map on the DECinfo Locator. The map

provides anglers with a one-stop shop

for information about stocking, fishing

access, season dates, and regulations.

DEC encourages anglers to use this resource

before hitting the water, so they

are aware of all the trout stream fishing

opportunities available to them both locally

and afar.

For more information on freshwater

fishing in New York waters, check out

DEC's Freshwater Fishing Regulations

Guide. Anglers interested in receiving

information about fishing and fisheries

management in New York can subscribe

to the Fishing Line Newsletter.

ALBANY — New York

State Department of Environmental

Conservation (DEC)

Commissioner Basil Seggos announced

the start of DEC's annual

Arbor Day Poster contest.

Each year, DEC's Urban and

Community Forestry program

coordinates the contest to promote

the value of trees in the

environment and New Yorkers'

lives. The winner of the contest

will have their photo or artwork

reproduced as the 2022 Arbor

Day poster to commemorate the

holiday.

"From the shade and wood

products trees provide to their

role in the fight against climate

change, the benefits of trees are

often underappreciated," Seggos

said. "I encourage all New

Yorkers to join our annual celebration

of trees by submitting

art or photos that depict the

beauty and importance of New

York's trees."

The annual Arbor Day poster

contest is sponsored by the

New York State Arbor Day

Committee, which includes the

DEC, the Empire State Forestry

Foundation, the New York State

Arborist Association, state Department

of Agriculture and

Markets, and the International

Paper Company.

DEC will accept original

photograph and artwork submissions

on behalf of the committee

through Dec. 31. Entries

must feature trees within New

York state and should be sent to

arborday@dec.ny.gov.

"The Arbor Day poster contest

is a great way to honor and

celebrate New York's forested

land and the incredible benefits

that it provides to residents and

visitors alike," state Agriculture

Commissioner Richard A.

Ball said. "From giving us sap

to make sweet maple syrup, to

cleaning our air and enhancing

the scenic beauty of our state,

New York's trees are a fantastic

natural resource that contribute

so much to our daily lives."

Participants must include

their name, address, and, if submitting

a photograph, where the

photo was taken. Participants

are limited to three submissions.

Model consent forms are

required for people in submitted

photos.

For more information about

the contest, visit DEC's website

or email arborday@dec.ny.gov.

To obtain past New York

State Arbor Day posters, contact

any local DEC forestry office

at https://www.dec.ny.gov/

about/558.html or call 518-402-

9428.
---
9

You may have noticed that the

Michael D. Lanuto, CRPC,

-

-

-

-

the opioid epidemic.
---
10 11
---
12

I recently came across an article

as a Newsday special correspondent.

I am not sure what year the

piece was published but it would

seem the late 1970s since she mentions

the McGraths, who purchased

Edgewood Falls Farm in 1975.

What caught my eye was some

of the details about what the various

resorts were doing then and the

prices. You know I am not one to

mourn the good old days; I know

they were good, but so is today. I'm

going to share some of these memopart

of our past.

Katz starts with saying: "At the

center of the 'Irish Catskills' is the

little Greene County town of East

Durham, fondly called by those

who know the lush countryside surrounding

'the nearest place to Ireland

in the world.'"

Her comments on how the Irish

came to East Durham were interesting:

"The Irish Catskills grew

into a vacation center as a result

of two developments in the 1800s,

when the success of the Erie Canal

led to the digging of canals in

every direction in New York State.

During that time in Ireland, famines

led to a massive Irish emigration to

the United States. The call for labor

was answered by the Irish, reputedly

professional canal builders, to

unite Lake Erie to the Hudson River.

The canal workers brought their

families and settled in upstate towns

near the construction of the trunk

canals. At the same time, the building

of the Hudson Railroad brought

more Irish laborers who joined their

countrymen in the settlement of

the Greene County area. Rte. 145,

which runs through East Durham,

is the original turnpike route to the

Delaware and Hudson Canal and

Hudson Rail terminals."

"The Irish who settled in Greene

County took to entertaining their

families and friends from the hot,

crowded cities during the summertime.

Soon their farms became

boardinghouses, and, for generations

to follow, East Durham became

the major resort for the working-class

Irish family."

And so it is today, she continued:

"Modern resorts, motels and

housekeeping bungalows with

names like the Shamrock House,

Gavin's, O'Neill's and Mullan's

provide a range of accommodation

to suit every need at a reasonable

cost. The resort hotels like McKtheir

daily or weekly rates, which,

on a double-occupancy basis, run

from about $18 to $25 a day, $125

to $180 a week. Each resort has its

own recreation rooms and sports facilities,

including a pool, but many

visitors prefer to get closer to nature

by swimming in the cool, crystal

clear waters of nearby streams like

Catskill Creek."

"Although Labor Day is the

traditional end of the tourist season

and most of the larger resorts close

for the winter, many of the motel

and bungalow complexes remain

even winter rates to accommodate

foliage-viewers, hunters, and skiers.

Our fall foliage is comparable to

none, says Matt McGrath, who with

his wife Kathleen, owns the Edgewood

Falls Motel. And right he is.

When the emerald-green mountainsides

become ripe with the colors

of autumn — the crowds gone but

a lingering trace of summer in the

air — warm golden days and clear

crisp nights deepen the spell that

the Catskills' Emerald Isle weaves

around visitors."

"The McGraths moved to East

Durham several years ago after

vacationing there and falling in

love with it," Katz explained. "The

former owners of an Irish pub in

Lynbrook (now the Shamrock Inn)

called Kerry's Korner — both are

originally from Ireland's Country

Kerry — the McGraths initiated in

the pub at their East Durham Motel

the end-of-evening Irish breakfast

that has become the resort tradition.

"In contrast to the typical American

resort cocktail lounge and

nightclub, East Durham's social

life centers on its pubs, which, as in

Ireland's holiday camps, are combinations

of bars and dance halls. The

typical evening begins around 11

p.m. with people traveling among

the resorts' pubs until the 4 AM

closing. Then, traditionally, it's

breakfast—and what a repast it is.

For $3.50, the breakfast can hold

you until next day's dinner. It consists

of eggs, black pudding, Irish

bacon and sausages, and a variety of

breads. Afterwards, at the break of

dawn, it is time to catch up on sleep

and prepare for the next evening's

round of pub crawls."

McGrath's, today run by Colleen

McGrath-Fenlon and her husband

Dermott, with their daughters

full Irish breakfast and while the

price is no longer $3.50, the food

is just as plentiful and delicious.

Colleen, daughter of Kathleen and

Martin, has been serving these

breakfasts since she was a girl.

Katz continues: "If an Irish dina

meal outside the resorts are Hans

and Gretel's in East Durham and

Bernie O's Steak House and the

Stone Tower Restaurant in the nearby

village of Cairo."

Bernie O's Steak House and the

Stone Towner Restaurant are no

longer in operation and Hans and

Gretel's is now Angels. Today the

Shamrock House, Five Furlongs,

Gavin's and Blackthorne also serve

dinner. And you can stay in touch

husband ran the very popular Bernie

O's, by getting involved at the

Irish Cultural Center.

Katz tells readers: "Shopping in

at prices between those in Ireland

and in New York. The popular Aran

hand-knit sweaters cost $65 for

men and $70 for women at Evans

center of town, Donal Gallagher's

Shenanigan N Shillelagh has a large

collection of Irish jewelry including

the famous Claddagh rings, which

range from $16.50 for sterling silver

and Connemara marble to $52 for

gold. But the best shopping for Irish

imports is at Mullen's Mountain

Spring Hotel Gift shop. Terry Mullen's

shop has the largest and most

varied stock of all, and products are

coming in there every day."

imports at Donal Gallagher's

Guaranteed Irish in the heart of

East Durham. Gavin's, which is

celebrating its 60th anniversary

this year, has an Irish gift shop

and Lawyers store sells some Irish

products. Sadly, the Evan's New

swimming pool is no longer there.

Blackthorne, which is where Mullen's

once was, has many interesting

festivals and weekend events

throughout the season, but no large

Irish shop.

Katz writes about the Irish music,

dancing and sports, but those

are subjects for another article.

Katz told readers: "Labor Day

Weekend is the traditional ending

of East Durham's summer season

and the summer population of

6,000 or so is usually out in force

to bid goodbye to friends for another

year before the town dwindles

down again to its winter population

of 500."

Today the Shamrock House,

Gavin's, Michael Dee's Country

Campsites, Blackthorne, Five

Furlongs, McGrath's remain open

way past Labor Day Weekend. It

is best to check with the individual

houses to see what is happening

on any weekend, but it is certainly

accurate to say with Katz that there

is only one other place in the world

charm and Irish hospitality than in

East Durham, and that is in Ireland

itself.
---
13

According to a report by the

-

sociation, 61% of Americans

gained weight during the pandemic.

Also known as the "Quarantine

15," experts blame stress,

lack of exercise, changes in eating

habits and increased alcohol

consumption as contributing

factors.

However, there are some

less obvious underlying issues

stress, hypothyroidism and lack

of sleep that may be responsible

for the extra weight gain. This

post will address some of the

unintentional factors that might

be at the root of the problem.

-

-

tion interferes with your brain's

response to the satiety hormone

leptin. If your brain doesn't receive

this signal that you've had

enough to eat, you keep eating.

However, by making some key

changes in your diet you can relose

weight and lower your risk

of developing degenerative diseases.

-

gins by eliminating your intake

of processed foods, fried foods,

However, by following a high

fat/low carb diet not only reducalso

improves fat burning and

even has many anti-aging properties,

too!

Another commonly misdiag-

-

ly women is hypothyroidism.

the hormones T-3 and T-4 have

an enormous impact on your

your metabolism and other vital

functions such as body temperature

and heart rate.

When your thyroid gland

fails to produce enough of these

hormones, the result is a slow

metabolism and fat storage.

Symptoms related to an underactive

thyroid include fatigue,

sensitivity to cold, constipation,

dry skin or joint pain. If you

suspect you have an underactive

thyroid, ask your doctor to run a

complete thyroid panel to get a

proper diagnosis.

In times like these it seems

that everyone experiences some

sort of stress in their lives.

And when you are stressed,

the fat-storing hormone cortisol

is released, resulting in increased

cravings and appetite.

Researchers found that on average,

women who reported one

or more stressors burned 104

fewer calories than non-stressed

women. This could result in an

11-pound weight gain in one

year. Stressed women also had

higher levels of the fat-storing

hormone insulin, resulting in

unintentional weight gain.

When you're stressed out,

incorporating healthy lifestyle

habits such as practicing

mindful eating, incorporating

stress-reducing strategies and

exercise can help break the cycle.

When you're empowered

with the right information, you

can become your own personal

health detective and say goodbye

to weight gain for good.
---
14

Transcribed from her diary by

Kathy Saurer Osborne

Sunday, Oct. 22: Cloudy &

cold. Went to Church. Adrienne

Gertrude Joyce & I. Chuck came

on his scooter while we were in

church & went back. P.M. we went

to the Races & froze. Joyce went

home with Chuck & came later.

Monday, Oct. 23: Rain. Did every

day work & crocheted. Chuck

took Joyce to work. Children at

school. Don working on the bath.

Gertrude sick tonite. Dr. Came

up has near pneumonia. Chuck

brought my new plate for the car &

the license tonite.

Tuesday, Oct. 24: Cloudy &

cold. Doctor here again this A.M.

Grandma Mackey's Diary

Took care of Gertrude. She's better

today. Wash isn't dry or even on

the line. Children in school. Joyce

called about insurance this A.M.

Girls have gone to the "Movies"

with Janet & Allyn.

Wednesday, Oct. 25: Cloudy.

Dried the clothes etc. Brought them

in. Crocheted & did every day

work. Addie brought us squirrels.

Fixed a skirt for Adrienne. Gertrude

better & around.

Thursday, Oct. 26: Fair. Did

ironing & mending. Finished this

P.M. Gene at Tiny's while she &

Dave went to Albany. Don at a

on the kitchen storm windows. I

washed them this P.M.

1950 life in Medusa

Cleaned up stairs & down except

dusting. Crocheted. Joyce came

tonite with Don. Chuck has gone

north deer hunting. Gene found her

little black kitten today.

Saturday, Oct. 28: Fair. Cloudy

P.M. Took in porch furniture & did

Sat. Work. Took Adele & Adrienne

to Greenville to the Movies Matinee.

On to see Delite a while. Got

eggs & hens for Sunday dinner.

Went to the Donation. Addie took

me. Joyce Adrienne & Adele waited

on tables.I worked in kitchen.

Sunday, Oct. 29: Fair. Don took

Gertrude to Jersey for a while.

Adele went along. Joyce Adrienne

& I went to church. Joyce went to

Races with Gene & Delos. I staid

home. Delite Philip & Adrienne

went to Rensselaer to Youth Conf.

Wm Britton shot himself yesterday.

Monday, Oct. 30: Fair. Put out

wash. It dried nicely. Took Joyce to

Greenville. We found a little bear in

a bag on the door this A.M. Chuck

was here & we didn't hear him.

Cleaned the border up. I did myself

up too. Girls & Janet at Hallow'een

Party 4H. Don took them.

Tuesday, Oct. 31: Fair. Went

to Middleburg had 2 teeth out.

Am feeling very well tonite. P.M.

ironed & tonite went to a Movie at

church. Very good! Went to Schoharie

to the cemetery. It looks nice

now.

Wednesday, Nov. 1: Fair &

warm. Did necessary work here

& went to Delite's. Ironed cleaned

eggs & visited. Went to Applebee's

on an errand.

Thursday, Nov. 2: Fair. Cooler

tonite. Mended & helped do every

day work. P.M. went to Ethel Shulte's

for eggs. Cleaned some more.

Came home tonite. Every thing

O.K.

Friday, Nov. 3: Fair. Cleaned

bed-rooms & living-rooms. Crocheted

etc. Joyce came with Don.

Chuck came later.

Saturday, Nov. 4: Rain. Made

pies & did Saturday's work. Joyce

& Adrienne & Adele did odd jobs

& washed & ironed & played canasta.

Adele Adrienne & Don &

I went to Catskill, no stores open.

Chuck & Joyce out when we got

back.

Some of us in the higher elevations

of the Catskills had frost this

past week and the rest of you in the

valley should be getting prepared

for your turn!

In general, the closer you are to

the Hudson River, the later the aver-

High Peaks area of the Adirondacks

last weekend and they are already at

almost peak fall color now. I think

we will have peak color here the

weekend of Oct. 10.

This is the time of the year when

decorative "harvest season" items

such as ornamental ears of corn,

bundled cornstalks and gourds are

available in our own gardens as well

as at roadside stands. Ornamental

gourds are ready to harvest when

the stem begins to dry and turns

brown or when the foliage turns

brown. By now all the leaves have

probably turned white or brown

from mildew. That's OK, they are

no longer needed. You can pinch

forming because they are unlikely

to ripen this late.

One rule of thumb is to harpumpkin

is too hard to pierce with

winter squash. Pumpkins that have

already started to turn orange will

usually continue to do so after harvest

as long as some orange color

is present. Winter squash such as

acorn, butternut, buttercup, spaghetti

and Hubbard should be harvested

before a hard frost in order

to store best. They will taste best

and last longest if they are subjected

to warm temperatures in the 70s

or even 80s for two weeks. That is

not going to happen outdoors, but if

you have a warm attic, that might

they will deteriorate quickest, followed

by butternut, buttercup, spaghetti

and Hubbard. Some of my

"Beyfussinni" squash, which are

a hybrid between spaghetti squash

and zucchini, have formed hard

shells and I think they will serve

pretty well as traditional spaghetti

squash.

After harvesting, wash the fruit

with warm, soapy water. Rinse

in clear, warm water with a small

amount of household bleach added

(one cup of bleach to one gallon of

water). Or rinse with clear water,

wipe dry with a dry cloth, and wipe

again with a cloth dampened in rubbing

alcohol. Discard any diseased,

bruised and immature fruit.

Place the ornamental gourds in

a dry, warm, well-ventilated place.

Small gourds can be stored in a

mesh bag such as the type of bag

that onions are sold in. Keep them

in a dark place if possible to prevent

the colors from fading. Check

them and turn often as they dry and

discard any that start to rot or get

mushy.

Curing takes from one to six

months depending on many factors.

To speed up the process make a

small hole in the blossom end (the

bottom, not the stem end) of the

fruit. When the gourd is completely

dry the seeds will rattle around

inside.

I have had pretty good luck drying

birdhouse gourds in a barely

warm oven with the door slightly

using an electric drill with a bit

designed to make doorknob holes.

The gourds need to be turned often

and checked frequently if you put

them in the oven.

Once the gourd is dried it may

be waxed, shellacked or painted. A

high grade, transparent furniture or

varnish, which will change the natural

color. Periodic waxing will help

to preserve the gourd. You can also

sandpaper the outside of the gourd

wool to create a smooth surface.

Save the seed from the gourd to

plant next year. Since many of the

various types of gourds cross breed,

the seeds will produce some interesting

looking fruit next year. The

seeds from birdhouse gourds seem

to produce exactly the same gourds

each year, but that may be due to

the fact that these are the only type

I have grown! In fact, I don't plant

them at all! I simply leave a few

in the garden to rot and the seeds

"volunteer" to grow the following

season. I do the same thing for my

favorite "Jack B. Little" pumpkins.

If you did grow gourds this

summer as well as winter squash,

it might not be a good idea to save

seed from the edible squash crops.

Some types of gourds are somewhat

toxic and if they cross breed with

next year could be toxic as well!

Reach Bob Beyfuss at rlb14@

cornell.edu.

On the road to accomplish

your dream, you're going to have

plenty of opportunities to give up.

You may have to try many

times, but when the going gets

tough, that's when you need to

-

ance.

Accomplishing dreams requires

great strength. If you haven't

been toughened up by life

already, pursuing a dream will do

the trick.

Determination and perseverance

don't come naturally.

They're born out of failure. They

come from defeat and must be

cultivated from within. When

things don't go the way you plan

and you refuse to give up, deterwill

spark inside of you that gives

you the power to persevere.

You'll think of new ways,

-

invent yourself, develop unique

ideas and vow to become successful

no matter the odds. It is down

this path some must travel for ultimate

victory.

Victory doesn't come easy

and usually never does. If it does

come easy, it won't mean as much

to you, and maybe you ought to

set a higher goal.

president and the leader of the

Continental Army who defeated

the British, the most powerful

military in that time, said, "The

triumph."

Maybe you've had many losses

on the path to accomplishing

your dream. Don't worry; you're

not alone. Many great people

have traveled down this road and

have still secured their success.

with thoughts of victory as you

prepare yourself for the ultimate

battle.

This is a time to learn a lesson

from George Washington's experience

in the American Revolutionary

War.

No doubt Washington wondered

if victory against the British

was possible. They had more

-

cation. The American colonists

were mainly poor farmers and

many without shoes. Washington

was facing near-impossible odds.

Washington knew it was of

the highest priority to keep New

York City from falling to the British.

Washington spent much time

preparing for a bloody battle in

New York that he expected would

come in the summer of 1776.

Sure enough, in August of

1776, the British invaded the city

and it didn't go well. Washington

watched from a distance as a regiment

from Maryland repeatedly

charged the British in a suicidal

attempt to buy time for Washington's

escape.

It was still a few weeks before

Washington completely lost

control of New York. He bitterly

wept as he watched his last garrison

burn to the ground.

An average person would

have given up and surrendered,

but Washington wasn't an average

person. He found determination

and prepared to persevere.

"Perseverance and spirit have

done wonders in all ages," said

Washington.

It was then that Washington

began to plan what he called his

"Grand Strategy'' to retake New

York in the hopes of defeating the

British once and for all. In 1778,

New York was still under British

occupation, and taking it back had

become Washington's obsession.

If you're determined to accomplish

your dream, you'll need

to become obsessed. Allow nothing

to get in your way as you wait

patiently for your decisive move.

waited to implement his "Grand

Strategy." In 1781 he was begrudgingly

convinced to employ

his strategy in Virginia instead of

New York.

For many reasons, his "Grand

Strategy" wasn't going to work in

New York, but it could in Virginia.

Although Washington badly

wanted New York, he recognized

that the ultimate goal was to win

the war against the British rather

than re-taking New York.

Sometimes you'll need to reassess

your dream. Is it about taking

back New York, or is it about

winning the war?

In October 1781, Washington

employed his "Grand Strategy"

and won a decisive victory over

the British in Virginia, forcing

British surrender.

Many people in history have

faced impossible odds and found

the determination and perseverance

to succeed; you can do the

same! I believe you're capable of

great victories!

Toby Moore is a columnist, the

star of Emmy-nominated "A Separate

Peace," and CEO of Cube-

Stream Inc.

WHITTLING AWAY

by Dick Brooks

I've decided to get serious

about losing some excess weight.

I have thoroughly and thoughtfully

researched this topic and have

come to the conclusion that most

"The Daily Enquirer." I would love

to write for them, but my imagination

just doesn't stretch that far.

I envision them gathering at

the start of the work day for a little

creative brainstorming and coming

up with topics like — Brittany

Spears eats Paris Hilton's little

dog — Man discovers a potato in

Ohio that looks just like a potato —

Proof found that Andy Rooney was

an alien — Wife has taxidermist

in his recliner with TV on, says it's

been two months and the kids haven't

noticed that he's passed on yet.

They then go to their little cubicles

and write the articles for the paper.

a very talented and creative crew.

I know this sounds a little farfetched,

but how else can you explain

things like; The Pregnant

Woman's Urine Diet, The Grapefruit

Diet, The Cookie Diet, or The

Kibbles and Bits Diet. Some don't

have silly names but just don't logically

make sense. I've had success

with Dr. Atkins' diet, but just the

idea that you could consume the

whole carcass of a cow while passing

up a serving of beans or a slice

of bread really doesn't make sense.

A lot of diets ask you to keep

a journal of all the foods you eat

during the course of the day. It

seems to help; I guess the hope is

that the bookkeeping keeps you out

of the refrigerator.

I've looked at a couple of different

people's journals. When I

during the day and then looked

at the person who had written the

journal, the discrepancies were apparent.

Their bookkeeping could

have gotten them a CEO's position

at any number of large lending institutions.

Most looked like they had "forgotten"

a carton or two of "Little

Debbie" products and three or four

cheesecakes (which I've recently,

as dairy products), a couple of bags

of chips and a case of Pepsi.

In fact, I think one should keep

a food journal for a week, then be

locked in a room for the next week

and fed only what they had recorded

in their journal. My bet is at the

end of the week there'd be a goodly

weight loss if the person hadn't

died from malnutrition.

All my research and pondering

has led to the disappointingly logical

conclusion that if you're fat and

want to do something about it, you

had to consume less food and increase

your activity level. Nothing

magical, nothing mysterious, nothing

I haven't known for years, nothing

I want to do. Our diet is already

pretty healthy, but even green leafy

veggies consumed by the bale will

add to your bulk — case in point,

Less food, more activity and

reasonable expectations. I forgot

the reasonable expectations part.

I have in the past eaten less, exercised

and gotten on the scale at the

-

pointed by the lack of downward

activity. The idea that a weight loss

week really isn't going to happen

is a reality I know I'll have to face.

I'm shooting for a pound or two a

week — 50 pounds a year is a reasonable

expectation.

Well, I think my mind set is

now proper and reasonable and I'm

going to start tomorrow. Tonight,

in the freezer, the leftover pizza and

that stray box of Girl Scout cookies,

just so I can start with a clean

slate.

Thought for the week — Some

people are like Slinkies — they're

not really good for much but they

do make you smile when you push

them down stairs.

Until next week, may you and

yours be happy and well.

Reach Dick Brooks at Whittle12124@yahoo.com.
---
TASTE, from page 1

The event was hosted by the

Cairo Chamber of Commerce and

is one of the chamber's longest

running programs — more than

20 years, according to the organization's

website.

Vendors selling crafts, food,

toys and other items lined the

park, and a row of bouncy houses

for the kids.

"This is fun!" said Ellie

James, 8, of Kingston, who was

in town visiting family. "I like the

bouncy rides best."

Her brother, Rory James, 5,

agreed.

"We are having fun," Rory

said. "I like chasing my sister

down the bouncy slide."

A steady crowd was drawn to

the park all day long.

For those with a talent with

sweets, there was an apple pie

baking contest, with a $50 prize

Music lovers could grab a

front row seat with bands playing

throughout the day, including

popular local band Dusk Till

Dawn.

Town Councilman Jason

visit to the Harvest Festival and

he enjoyed it.

"This is really nice. There was

people all day long," Watts said.

"It's good for the community —

everyone is talking and it is just

so peaceful. Everyone is having a

good time, the vendors have been

busy and doing well all day long.

It's been a really good turnout

and the music has been great."

performing demonstrations with

15

festivities at nightfall.

"It's been a great day to come

out and enjoy a lovely town park,"

said Bob Halpern, of Albany. "I

was up in the mountains earlier

hiking and on the way down I saw

the signs for the Harvest Festival

and decided to check it out. And

I'm glad I did — it's a fun way

to end the day, especially for the

kids. They really liked the bounce

houses."

HISTORY, from page 1

is back to work. "I will get serious

about it after Halloween," Teator

said. He pulls out a folder where he

keeps possible topics as well as a

running list of ideas that carry over

from one year to the next, as he is

always on the lookout for potenmonths.

Some of those ideas come from

photographs that he scans for the

town's archives, which are housed

in the Greenville Public Library.

"Sometimes I see a picture and

immediately the radar goes up and

I say, 'Yeah, that's a calendar picture.'"

Occasionally, some of these

photos become new classic Greenville

history photos.

Other times, a photo might sit

in his idea folder for years before it

makes its way into the calendar. "I

have one picture that sat around for

30 years," Teator said.

There are categories that Teator

routinely includes in the calendar.

"I try to make sure I recognize,

for example, the churches and a

resort—even if it's no longer functioning--and

I usually try to recognize

someone who is preserving or

renovating a house that is in need."

This year's calendar features the

Church of Jesus Christ of Latter-Day

Saints.

Often, there are school pictures.

The 2022 calendar has three, of

periods of Greenville's school system.

One is the ground-breaking

ceremony for the Junior-Senior

photo of the high school's strings

shows the map of the Greenville

Central School District and neighboring

districts.

In addition to the photos, Teator

writes detailed captions that provide

a mini history lesson about the

topic of each photo. He also idenresidents

might notice their friends

and neighbors in some of the pictures.

Over the years, the calendar

sized photos of older photos showing

Greenville houses and scenes,"

Teator said. "Gradually, an event

would sneak in, then a map, then a

replica of a historic document, and

then recent local history matters."

More people made their way onto

the calendar's pages, especially in

2022. "It is a way to say that we

years of buildings," he said. From

the feedback he receives, the recognition

of what people have done

for the community is equally as important

as showing historic buildings.

Teator takes some of the photographs

himself. For example, April

showcases the restoration work of

Brian and Robin Johnson, as well

as the faces behind that restoration.

The couple renovated the former

owner Daniel Miller and his wife,

Betsy.

The calendar is also a means

to honor those who have contributed

to the community in a variety

of ways. The membership of the

Greenville Local History Group,

each year's honorees. While many

years the honorees are living, this

year's recognitions come posthumously

(see sidebar). Those chosen

meet one or both of the criteria

for recognition: actions and performance

that have brought acclaim to

the Greenville area and/or service

Work on the calendar takes

and December, Teator selects some

of the photos and gathers any additional

information he needs to be

able to write the captions that accompany

each photo.

During this time, the Greenville

Local History Group votes on its

honorees, and Teator begins his research

for their biographies.

Beginning in January and

through July, Teator selects additional

photos and researches them,

reaching out to those in the community

who might have the additional

details he needs.

"There tends to be a lull in the

springtime, a hazard of procrastination,

made worse this year by

COVID and the inability to get

people together for photos," Teator

said. The 2022 calendar's last

additions were pages featuring the

Turner Table and Greenville's two

centenarians, Stanley Maltzman

and nursery owner George Story.

Teator's preference for the

calendar's cover is a drawing, although

it has been a photograph

sometimes over the years. This

year, the cover features a drawing

by Mildred Reinhardt from the

a view from the Town Hall.

After he has secured all the

photos, written the content, and

organized the layout, Teator, who

taught English at Cairo-Durham

High School for a quarter century

and eight years at Taconic Hills

Middle School prior to that, meticulously

proofs the 3,000 words in

ward, backward, and out loud," he

said. It then goes to a printer in Altamont

for 250 copies.

created have allowed the Greenville

Local History Group to share over

400 photos documenting the area's

history with the community. Teator

enjoys the whole process. "It's the

idea of crafting something, putting

it together, getting the reaction

from people, and somehow the idea

of creating a vision of what I see of

being local history, representing the

community," Teator said.

Seeing people's reactions,

though, it a highlight for Teator.

"I'm hoping I've captured the

worth that people have brought to

the community," he said.

Calendars are available to pur-

Library. Teator is grateful to have

the help of these local businesses to

make the calendar available to the

public.

HALF, from page 1

do so. There is supposedly about

$500 billion earmarked for broadband

under the infrastructure bills.

"If we want to capitalize on

that, we need to be ready to go."

The goal of the working group

is to ensure that by the end of 2024,

"every residence, business and

farm in Durham is able to connect

to wired broadband," and one of

the primary recommendations is to

commit to working with others to

achieve that, according to the study.

Other recommendations by the

group include evaluating whether

the town should be part of a

possible countywide broadband

initiative or work with Mid-Hudson

Cable to try to strengthen the

relationship between the provider

and the town. By June of next

year, the report calls for the town

to determine whether the best path

forward is to join a countywide

initiative or work with

the cable provider to achieve its

goals.

The report also recommends

for what it would cost to wire the

of how the project could be paid

for, whether through grants, a loan

or a franchise fee.

Town Supervisor Shawn Marrireport

and determine next steps and

the feasibility of paying for it.

"We will look deeper into some

of these recommendations at the

next meeting, so we will have some

form of resolution at the next meeting,

which will give us a chance

to go over it and think about how

we can divvy up some of the tasks

to try to move forward," Marriott

said.
---
16

Central Hudson is again calling

on local photography enthusiasts

to send in their best images of the

Mid-Hudson Valley's Autumn

beauty for a chance to win $750

during the ninth annual Fall Foliage

Photo Contest.

New this year, a second drawing

will be held from the group of

voters who selected the winner,

awarding one lucky voter with a

framed print of the winning photo.

"The Hudson Valley is known

for its natural fall beauty, when

leaves turn from deep green to

bright orange, yellow and red,"

said Charles A. Freni, president and

CEO of Central Hudson. "We look

forward to this contest every year

to see the amazing photos our customers

submit."

To enter the contest, Central

Hudson customers must send an

original, unpublished photo taken

of this year's foliage to communications@cenhud.com

by Nov. 5

at noon. One entry per customer is

permitted.

posted to Central Hudson's Facebook

page. Users can then pick

Central Hudson Facebook page,

then liking their favorite image.

The photo with most likes on

Nov. 19 at noon, will be declared

the winner of the increased prize of

$750. The winner will also receive

a framed print of their photo.

Once the winning photo is determined,

an additional random

drawing will be held to award a

framed print of the winning photo,

drawn from among those Facebook

users who "liked" that photo.

Liking the Central Hudson

Facebook page not only allows

customers to vote in the contest, but

also stay up to date with the latest

cy tips, severe weather announcements,

new programs and services

and other useful information.

To see the complete rules, terms

and conditions of the Fall Foliage

Photo Contest, log on to https://

www.cenhud.com/about-us/community/fall-foliage-photo-contest/.

Jesus Christ is the Son of God,

and he desires to spend quiet time

with you.

Our heavenly Father beckons

us to draw near to him as He longs

to be with His children. As we go

about our busy day, many times

we do not realize His presence but

nevertheless, He is there. May we

listen with our ears, watch with our

eyes, and be aware of our thoughts

as God is always trying to communicate

with us.

The Lord of compassion gives

us breath and every heartbeat as

a gift of His endless mercy and

grace. He cares about our disappointments

and heartaches because

He loves us more than anything.

Time on earth is short, here today

gone tomorrow, but eternity

will last forever. Each person has

a spirit, and every spirit will either

live forever with God or forever

without Him. Jesus was born into

from the dead so that whoever

believes in Him can be spiritually

born again. His blood paid our ransom

and forgives our sins.

Christ, the spotless lamb of God

willingly gave His life and now is

waiting for someone to give their

heart to Him. Jesus is the way, the

truth, and the life and those who

embrace Him as Lord, are transformed

and prepared to be a vessel

of honor. As our heavenly Father is

preparing our home in heaven, as

we live, love, and trust in Christ,

the solid rock of our salvation.

God created you as a unique,

one-of-a-kind individual. There

is not another person like you. He

drew a blueprint for each person

to follow and wants to intervene,

inspire and empower us to accomplish

His plans. It is not about our

will, but His will be done.

The question is, who will do

what He says and love Him for

who He is? In this journey, you will

have tribulations and trials, but do

not be afraid because greater is He

that lives in you, than He who lives

in the world. Our heavenly Father

is in total control and has complete

authority over all powers and principalities.

His angels are all around

you and He never takes His eyes

away from you.

Within our mission and calling,

there are two great commandments

above all others; love God, and

love one another as ourselves. If

we choose to take up our cross and

follow the Savior, we will live in

the peace and joy of His presence.

He is holy and desires that we have

a clean heart so that we can walk

closely with Him. Forgive those

who have trespassed against you

and sincerely pray for them as this

will set you free. Holding on to resentment

and hatred is a snare trap

and will make our hearts hard and

cold. Be humble, give your anxieties

and fears to Jesus and He will

give you rest. Demonstrate His

light of forgiveness and compassion

that you may dwell in the secret

place of the most high.

God knows our pain and sees

every tear. You are His precious

child. Trade your bitterness and

sorrow for His joy that is unspeakfervent

prayers and burdens for the

souls that are lost and hurting.

When you reach out to help

those in need, you are reaching

out to the Lord. Jesus is the Bread

of Life and He is the living water.

Those who come to Christ will

never be spiritually hungry or

thirsty again.

Always know that God's promises

cannot fail. Lean not on your

own understanding but believe that

your steps are ordered by the Lord.

There are times the way will grow

dark and will seem as though you

are walking through the valley of

death, but fear no evil. Remember,

already been won. His word is a

lamp unto your feet and a light unto

your path.

Run into the name of the Lord

and rejoice that you are safe and secure.

Jesus is the King of kings and

the Lord of lords. He is the Alpha

and Omega, the beginning and the

end. He is the Almighty God that

considers you his highest treasure.

He will never leave you or forsake

you, he has engraved you on the

palms of his hands.

Read more about the Christian

life at billyhollandministries.com.
---
17

There's a lot of focus these days on solar

energy, on harnessing the light from our nearest

star to fuel our daily activities. Plants, of

course, have been doing just that for millions

of years.

in their leaves, is the energy that underlies

almost all plant growth. Yet, though it is so

fundamental to the garden, sunlight is very

poorly understood by most gardeners.

We distinguish only three kinds typically:

full sun, part sun, and shade. We don't bother

often with the nuanced distinctions of morning

versus afternoon sun, or the seasonal

changes in the sunlight, let alone the changes,

subtle but still quite distinct, that transpire

from day to day.

Certainly, I had only the poorest understanding

of sunlight until I met Robert Adzema

and became fascinated by his sundials.

Robert is a sculptor who originally became

interested in the varying nature of sunlight

and its natural cycles because of the impact

they have on the appearance of outdoor art.

Robert soon moved from speculation to the

study of a branch of sculpture that had, over

millennia, subjected sunlight to a rigorous

analysis. That is, sundials.

He began to explore the history of sundials,

back to the primitive use of shadows cast

by natural objects that changed with the seatold

farmers it was time to plant.

He learned how sundials served as the

-

cord very accurately the passage of the hours

– into the early 20th century, there was a

French railroad that set its engineers' watches

according to sundials, so up to the minute

and reliable were these works of craft and art.

Sundials also enabled their users to track

the rising and setting of the stars and analyze

the relation of our planet to the sun. Indeed,

as Robert taught me, as long ago as the mid

third century B.C., an ancient Greek scholar

named Eratosthenes, used a sundial to meanoon

at the two ends of Egypt and from that

measurement he extrapolated very accurately

the circumference of the earth.

With the encouragement of Robert's sundials

(he's been making them now for more

than 45 years), I've come to appreciate how

the apparent motion of the sun across the

vault of the sky changes with the seasons. I

say "apparent" because of course it is we and

the Earth that actually move relative to the

sun; the sun doesn't cross the sky, it is just

that the rotation of the earth makes it appear

to do so. In the winter, the sun appears to ride

low in the sky, rising through the spring to

summer heights, and then sets again in the

fall.

Robert has created all sorts of dials that

record this progress. One of my favorites is

a memorial he created for seven families that

had lost loved ones. He pierced that sundial

with a hole through which passes a beam of

light that at noon on each loved one's birthon

the dial in the deceased's memory.

Learning about the changes in the position

of the sun relative to the Earth has informed

my gardening. Instructions for the

placement of some light-sensitive plants, for

example, recommend setting them where

they will receive some early afternoon shade,

shelter at the hottest part of the day. I know

how to predict such a spot now, rather than

merely rely on trial and error. And I know

how to locate a spot for spring bulb plantings

that will be penetrated by the sun early in the

growing season when those plants need the

solar fuel, even though it may be shaded later

when the summer sun stands higher in the

sky, and the bulbs are dormant.

garden, according to Robert, is the connection

it creates between the viewer and the

place. Reading a sundial unites the reader

with the placement of the garden on the earth

and with the season as well as the time of day

and the heavens. Sundials, we agreed, take

their time, in every sense of the phrase.

For more information about Robert and

his sundials, go to his website at Robertadzema.com,

or listen to our conversation on

the Berkshire Botanical Garden's Growing

Greener podcast at www.thomaschristophergardens.com/podcasts/sculpting-the-sun.

Be-a-Better-Gardener is a community

service of Berkshire Botanical Garden, located

in Stockbridge, MA. Its mission, to provide

knowledge of gardening and the environment

through a diverse range of classes and programs,

informs and inspires thousands of

students and visitors each year. Thomas

Christopher is a volunteer at Berkshire Botanical

Garden and is the author or co-author

of more than a dozen books, including

Nature into Art and The Gardens of Wave Hill

(Timber Press, 2019). He is the 2021 Garden

Club of America's National Medalist for Literature,

a distinction reserved to recognize

those who have left a profound and lasting

impact on issues that are most important to

the GCA. Tom's companion broadcast to this

column, Growing Greener, streams on WEavailable

at his website, https://www.thomaschristophergardens.com/podcast.
---
18

State University of New York

-

tive course schedules for adult

students seeking a career change

and propose legislative changes to

one of the nation's largest university

systems faces historic enrollment

decline exacerbated by the

COVID-19 pandemic.

SUNY's total enrollment is

down 4.7%, or 18,600 students

across its 64 campuses, from fall

2020, according to preliminary fall

has 92,386 fewer students than it

did 10 years ago — a change of

—19.7%.

Applications were down 9%.

Only SUNY's doctoral program

showed gains of 0.2% year-overyear

and up 1% since fall 2019

before the start of the COVID pandemic.

-

ly," SUNY Chancellor Jim Malatras

told SUNY's Board of Trustees.

Malatras stressed the need to

present more enrollment opportunities

to prospective students and

posed examples of other education

models where a person can start

their degree at any point during the

year.

"Our students don't care about

our schedule — we should care

about their schedule," Malatras

concept than what we do."

Columbia-Greene Community

College in Greenport, Columbia

County, had an enrollment of 1,316

students, or a decrease of 8.9%, according

to SUNY's preliminary fall

2021 data.

The college was down about

6% for the current fall semester

as of Monday, Columbia-Greene

Community College President Carlee

Drummer said.

The southern Capital Region

SUNY community college enrollment

is down 37.4% over the last

decade, or down 786 students total

since fall 2011.

C-GCC's ongoing enrollment

decline is not expected to cause a

services, said Drummer, who anticipated

fewer students and budgeted

for a worst-case 9% reduction.

prudent," Drummer said. "We were

looking at trends ... and I am a very

cautious person. I said to our [Chief

it's going to be a 5% decline, we

should make it higher.'

"...It's not that we're not worried

— I worry all the time — but

wanted to be realistic about where

we were going to be. Once we get

COVID in the rearview mirror, I

think we're going to be holding our

own."

An increased number of students

decided to take a gap year,

or break in their academic studies,

or opted to continue their college

learning virtually since the

COVID-19 pandemic began.

"That's a national phenomenon

— that's not just Columbia-Greene

Community College," Drummer

said. "It's happening across the

country."

Drummer also noted the lower

birth rate contributing to fewer high

school and college students.

declining," Drummer said. "We

are very eager to see what's going

to happen with so many new people

coming to our counties from

the city. We're certainly hoping we

have school-aged children, but if

they're enrolling in grade school,

it's going to take them awhile to get

to college."

C-GCC's enrollment woes

are not unique, especially among

SUNY's 30 community colleges.

The 10-year enrollment trend

at SUNY's 30 community colleges

has also reached new lows, following

a consecutive reduction over

the last decade.

SUNY has 10,671 or 6.1% fewer

students enrolled in its community

colleges over one year, or since

fall 2020, according to preliminary

fall 2021 data — and is down

84,408 students or 34.1% over 10

years since fall 2011.

"We have worked hard at the

system and campus levels to engage

prospective students," SUNY

Provost-in-Charge Shadi Shahedipour-Sandvik

said during the Ac-

Board of Trustees.

The college has seen an increased

number of part-time students

in the pandemic's wake.

Drummer also stressed the need

or more opportunities outside the

typical 16-week semester to attract

post-traditional students or professionals

looking for additional skills.

"There are no boundaries," she

learning options to accommodate

student work schedules or family

responsibilities.

Drummer is speaking with other

Capital Region campuses and

organizations to share resources

and ideas to creatively attract more

students, in addition to increased

advertising.

"We will continue to try to be as

"We are the community's college

and we want to do what we can to

help the community."

SUNY cannot rely on altered

marketing strategies alone, Malatras

said last week to trustees, addongoing

enrollment decline, including

Educational Opportunity

Programs in mid-year and appealing

to 25-44-year-old learners —

SUNY's growing demographic for

students in the middle of a career

transition.

"They're going to go to a labor

training center or they're going to

go to us," Malatras said.

A new approach to the federal

posed to legislators, Malatras said.

The current model discourages

part-time attendance or students

who will not graduate on the traditional

two- or four-year schedule.

"It would be good for us to

work with CUNY and other institutions

to say we may want to have a

to be more inclusive as opposed to

more restrictive," Malatras said.

Fall 2021 enrollment counts

-

A report will be released in November

when detailed numbers

and national benchmark data will

be available.

Enrollment within SUNY's

technology sector has remained

about level.

ticked up in spring 2021, but the

-

tions during the pandemic remain

largely estimates as the public

health emergency continues into its

19th month.

In the spring, the fate of in-person

classes remained largely unknown

when most students were

applying for the fall 2021 semester,

potentially driving numbers lower.

"I am hopeful the fact our

campuses are more fully reopened

now and events are happening and

there's energy and enthusiasm,

I think that will go a long way in

demonstrating to people that we're

back," Malatras said. "We're in this

weird period over the last several

months where students were waiting

to see how it's going to go."

may have been hesitant to return

to in-person classroom instruction

during the spring application period.

SUNY boasts a 97% student

vaccination rate. In May, SUNY

mandated the COVID-19 vaccine

for all students taking in-person

classes in SUNY's 64-campus

higher education system this fall.

"Let's get that out where people

understand if you're looking for a

safe place to learn, this is it," Trustee

Stanley Litow said.

TOWN LINE MOTORSPORTS

6003 Rt. 32, Westerlo, NY 12193

(518) 797-3540 | www.townlinemotorsports.com

PARTS | SERVICE | SALES

We service all major brand motorcycles, dirt bikes, snowmobiles, and ATVs.

Call us at (518) 797-3540 to schedule your service.

TOWN LINE AUTO

Full Service Auto Repair | Body Shop & Collision Repair

6501 Route 32, Greenville, NY 1208

(518) 966-8003 | www.townlineauto.com

TOWN LINE SELF-STORAGE

Safe, Secure & Convenient | Storage Units | Boat & RV Parking

6501 Route 32, Greenville, NY 1208

(518) 966-8003 | www.townlineself-storage.com
---
19

Dear Rusty: I started Social Security

about two years ago and I thought that the

cial Security in their letter was guaranteed.

That written amount was what I based my

decision on to retire.

Now I hear on the news that we may have

to take a 24% reduction in the future. That

will make me and millions of other seniors

homeless. Was the original amount a guarantee

of monthly income, and can the government

reduce it whenever they want to?

Signed: Anxious Senior

Dear Anxious: The reason you're now

hearing about the possibility of a future rethe

SS Trustees 2021 Report to Congress was

just released.

This report, usually published in April,

end of the preceding year and provides Congress

with a very detailed analysis of Social

The Trustees report that, beginning in

2021, Social Security income will be less

be made up from Trust Fund reserves. Unless

Congress makes some changes to the SS program,

that trend will eventually result in the

Trust Fund running dry, requiring an across-

This latest report predicts that the combined

Trust Funds, which now hold nearly

$3 trillion in reserves, may be fully depleted

by the year 2034 — one year earlier than last

year's 2035 prediction.

Although the 2034 date is new news this

year, the mid-2030s potential depletion date

has been reported for years, and it is not a

new issue. Indeed, the 2019 report predicted

2034 as the possible depletion date and last

year's report predicted an improvement to

2035.

One obvious reason for the one-year acceleration

in the new report is the economic

it certainly isn't good news, the fact is that

the bad news isn't as bad as many pundits

predicted. Some were suggesting that the depletion

date may be as early as 2029, but the

economy rebounded faster than expected.

Depending on how you look at things,

the depletion date only changing by one year

could be viewed as positive considering the

economic impact of the pandemic. Rest assured

that the matter will receive continued

analysis in the months ahead.

But here's the bottom line:

It is extremely doubtful that Congress

will ever let the Social Security Trust Funds

to all recipients. To allow that to happen

would be political suicide because over 64

million people rely on Social Security.

within the boundaries of current law, which

says Social Security is allowed to only pay

tax income, interest income, income tax revwill

be cut for as long as the Trust Fund can

(by law) Social Security can only pay out as

much as it brings in.

issue and avoid a cut in Social Security benethe

political will to accomplish it, because

neither side currently appears receptive to

Congress may continue to drag its feet on

this issue, as has historically been done, until

urgency demands action. But I believe you

can rest assured that Congress will eventually

are made.

You can help by calling your congressional

representative and demanding they adopt

a bipartisan attitude toward Social Security

reform. A good place for Congress to start

would be by adopting the reform proposed

by the Association of Mature American Citizens,

which can be found at www.amac.us/

social-security.

This article is intended for information

purposes only and does not represent legal

ions and interpretations of the AMAC Foun-

National Social Security Association (NSSA).

NSSA and the AMAC Foundation and its

Social Security Administration or any other

governmental entity. To submit a question,

visit our website (amacfoundation.org/programs/social-security-advisory)

or email us

at ssadvisor@amacfoundation.org.

(Just 10 miles South of Albany)

2018 AUDI S-LINE

2.0T Quattro Premium,

AWD, Heated/Power

Leather Int, Auto,

Power Windows/Locks/

Mirrors, 32,835 Miles.

$

32,995

STK# U11057C

2016 PORSCHE PANAMERA GTS

AWD, Navigation, Heated

Front and Rear Alacantara/Leather

Trimmed

Interior, Power Moonroof,

Loaded! 32,820 Miles.

STK# U11093C $

69,800

2016 FORD SUPER DUTY F-250

Lariat Platinum, 4x4,

4dr Crew Cab, 6.2L V8,

Heated/Cooled Power

Leather Seats,Tow

Package, 75,880 Miles.

STK# U11085T $

48,995

2016 HONDA CR-V TOURING

AWD 4dr SUV, LOADED,

Heated/Power Leather

Seats, Navigation,

Power Moonroof, SATT

Radio, 48,242 Miles.

$

25,900 STK# U11081T
---
20