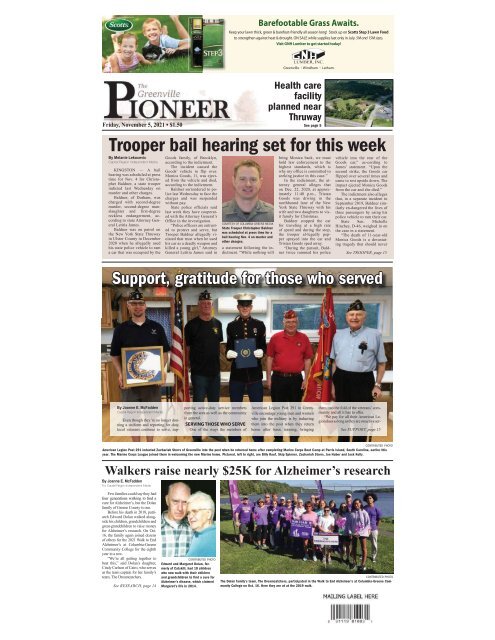 Greenville Pioneer - 2021-11-05
Greenville Pioneer - 2021-11-05
Greenville Pioneer - 2021-11-05
SHOW MORE
SHOW LESS
You also want an ePaper? Increase the reach of your titles
YUMPU automatically turns print PDFs into web optimized ePapers that Google loves.
Friday, November 5, 2021 • $1.50

By Melanie Lekocevic

KINGSTON — A bail

hearing was scheduled at press

time for Nov. 4 for Christopher

Baldner, a state trooper

indicted last Wednesday on

murder and other charges.

Baldner, of Durham, was

charged with second-degree

murder, second-degree manslaughter

and first-degree

reckless endangerment, according

to state Attorney General

Letitia James.

Baldner was on patrol on

the New York State Thruway

in Ulster County in December

2020 when he allegedly used

his state police vehicle to ram

a car that was occupied by the

Goods family, of Brooklyn,

according to the indictment.

The incident caused the

Goods' vehicle to flip over.

Monica Goods, 11, was ejected

from the vehicle and died,

according to the indictment.

Baldner surrendered to police

last Wednesday to face the

charges and was suspended

without pay.

State police officials said

last week they have cooperated

with the Attorney General's

Office in the investigation.

"Police officers are entrusted

to protect and serve, but

Trooper Baldner allegedly violated

that trust when he used

his car as a deadly weapon and

killed a young girl," Attorney

General Letitia James said in

a statement following the indictment.

"While nothing will

bring Monica back, we must

hold law enforcement to the

highest standards, which is

why my office is committed to

seeking justice in this case."

In the indictment, the attorney

general alleges that

on Dec. 22, 2020, at approximately

11:40 p.m., Tristan

Goods was driving in the

northbound lane of the New

York State Thruway with his

wife and two daughters to visit

family for Christmas.

Baldner stopped the car

for traveling at a high rate

of speed and during the stop,

the trooper al-legedly pepper

sprayed into the car and

Tristan Goods sped away.

"During the pursuit, Baldner

twice rammed his police

vehicle into the rear of the

Goods car," ac-cording to

James' statement. "Upon the

second strike, the Goods car

flipped over several times and

came to rest upside down. The

impact ejected Monica Goods

from the car and she died."

The indictment also alleges

that, in a separate incident in

September 2019, Baldner similarly

en-dangered the lives of

three passengers by using his

police vehicle to ram their car.

State Sen. Michelle

Hinchey, D-46, weighed in on

the case in a statement.

"The death of 11-year-old

Monica Goods is a devastating

tragedy that should never

See TROOPER, page 15

By Joanne E. McFadden

Even though they're no longer donning

a uniform and reporting for duty,

local veterans continue to serve, supporting

active-duty service members

from the area as well as the community

in general.

One of the ways the members of

American Legion Post 291 in Greenville

encourage young men and women

who join the military is by inducting

them into the post when they return

home after basic training, bringing

them into the fold of the veterans' community

and all it has to offer.

"We pay for all their American Legion

dues as long as they are on active ser-

See SUPPORT, page 15

Walkers raise nearly $25K for Alzheimer's research

By Joanne E. McFadden

Few families could say they had

cure for Alzheimer's, but the Dolan

family of Greene County is one.

Before his death in 2018, patriarch

Edward Dolan walked alongside

his children, grandchildren and

great-grandchildren to raise money

for Alzheimer's research. On Oct.

16, the family again joined dozens

of others for the 2021 Walk to End

Alzheimer's at Columbia-Greene

Community College for the eighth

year in a row.

"We're all getting together to

beat this," said Dolan's daughter,

Cindy Carlson of Cairo, who serves

as the team captain for her family's

team, The Dreamcatchers.

See RESEARCH, page 14
---
AUTO LOAN SALE

NOV 1 - 20

ANY YEAR • ANY MAKE

NO PAYMENTS

UNTIL 2022!* 1.69%

AS LOW AS

APPLY ONLINE AT SUNMARK.ORG/SALE

*Interest will begin to accrue immediately upon loan disbursal. Payment deferment will extend the life of your loan and may cause an increase

APR**

Mark Vinciguerra

Warren Dews, Jr.,

wdewsjr@gmail.com
---
Editor's Note: A charge is not a conviction.

All persons listed are innocent

until proven guilty in a court of law.

Charges can be amended or dismissed.

in Greenville and charged with operating

a motor vehicle with a blood

alcohol level of .08 and driving

misdemeanors. He was issued an

appearance ticket.

-

p.m. in Ashland and charged with

driving while intoxicated with a

previous conviction in the last 10

years, a class E felony. He was released

on his own recognizance.

-

in Cairo and charged with driving

while intoxicated and aggravated

driving while intoxicated, both unissued

an appearance ticket.

-

sackie, was arrested Oct. 12 at

-

gerous prison contraband, a class D

felony. He was released to a third

party.

Coxsackie, was arrested Oct. 12

at 10:08 a.m. in Cairo and charged

-

gerous criminal contraband, a class

D felony. He was released to a third

party.

Saugerties, was arrested Oct. 12 at

with aggravated driving while intoxicated

while a child, a class E

felony. She was issued an appearance

ticket.

-

fargeville, was arrested Oct. 12 at

11:22 a.m. in Catskill and charged

with second-degree criminal contempt

by disobeying the court, a

class A misdemeanor. He was released

on cash bail.

-

Cairo and charged with assault with

intent to cause physical injury with

a weapon, a class D felony. He was

issued an appearance ticket.

was arrested Oct. 14 at 12:44 a.m.

in Cairo and charged with driving

while intoxicated and aggravated

driving while intoxicated with no

-

ors. He was issued an appearance

ticket.

was arrested Oct. 14 at 10:18 p.m.

in Coxsackie and charged with 10

counts of seventh-degree criminal

possession of a controlled substance,

a class A misdemeanor;

third-degree criminal possession of

narcotic drugs with intent to sell, a

class B felony; and criminal possession

of narcotics, a class B felony.

He was issued an appearance ticket.

was arrested Oct. 16 at 1:22 a.m. in

Cairo and charged with aggravated

unlicensed operation of a vehicle

with alcohol, reckless driving, driving

while intoxicated and operating

a motor vehicle with a blood almisdemeanors.

He was issued an

appearance ticket.

New York, was arrested Oct. 16 at

2:41 a.m. in Catskill and charged

with driving while intoxicated, an

issued an appearance ticket.

with fourth-degree grand larceny of

property over $1,000, a class E felony.

He is being held.

-

p.m.. in Catskill and charged with

second-degree criminal contempt

by disobeying a court, a class A

misdemeanor, and third-degree

criminal possession of a weapon

with a previous conviction, a class

D felony. His arrestee status is unknown.

in Hunter and charged with operating

a motor vehicle with a blood

alcohol level of .08 and driving

misdemeanors. He was issued an

appearance ticket.

Acra, was arrested Oct. 17 at 2:46

a.m. in Catskill and charged with

seventh-degree criminal possession

of a controlled substance and

second-degree criminal use of drug

paraphernalia (scales), both class A

misdemeanors. He was issued an

appearance ticket.

-

sackie was arrested Oct. 17 at 6:14

a.m. in Coxsackie and charged with

assault with intent to cause physical

injury with a weapon, a class D felony;

second-degree menacing with

a weapon and fourth-degree criminal

possession of a weapon with

intent to use it, both class a misdemeanors.

He was released on his

own recognizance.

of Park City, Utah, was arrested

Oct. 17 at 2:29 a.m. in Hunter and

charged with operating a motor vehicle

with a blood alcohol level of

.08 and driving while intoxicated,

He was issued an appearance ticket.

-

son, was arrested Oct. 17 at 2:27

a.m. in Catskill and charged with

the manufacture of drug-related

paraphernalia and seventh-degree

criminal possession of a controlled

substance, both class A misdemean-

-

session of a controlled substance

(cocaine), a class D felony. He was

being held.

-

son, was arrested in Oct. 17 at 2:16

a.m. in Catskill and charged with

seventh-degree criminal possession

of a controlled substance, a class A

-

nal possession of a controlled substance

(cocaine), a class D felony;

fourth-degree criminal possession

of narcotic drugs, a class C felony;

third-degree criminal possession of

narcotic drugs with the intent to sell,

a class B felony; and second-degree

criminal use of drug paraphernalia

(scales), a class A misdemeanor. He

was being held.

Catskill, was arrested Oct. 17 at

with seventh-degree criminal possession

of a controlled substance

and second-degree criminal use of

drug paraphernalia (scales), both

class A misdemeanors. He was issued

an appearance ticket.

Cairo, was arrested Oct. 17 at 9:01

p.m. in Catskill and charged with

seventh-degree criminal possession

of a controlled substance, a class A

misdemeanor. He was issued an appearance

ticket.

-

gerties, was arrested Oct. 17 at

with two counts of criminal possession

of a controlled substance,

a class A misdemeanor. He was issued

an appearance ticket.

p.m. in Greenville and charged with

operating a motor vehicle with a

blood alcohol level of .08, driving

while intoxicated and aggravated

driving while intoxicated, all unissued

an appearance ticket.

Tannersville, was arrested Oct. 18

at 8:46 p.m. in Hunter and charged

with petty larceny, a class A misdemeanor.

He was issued an appearance

ticket.

of Lanesville, was arrested Oct. 19

at 6:20 p.m. in Hunter and charged

with driving while intoxicated and

aggravated driving while intoxicat-

-

ors.He was issued an appearance

ticket.

-

p.m. in Cairo and charged with

seventh-degree criminal possession

of a controlled substance and

second-degree criminal use of drug

paraphernalia (package), both class

A misdemeanors. He was issued an

appearance ticket.

and charged with second-degree aggravated

unlicensed operation of a

-

demeanor, and operation of a motor

vehicle by an unlicensed driver.

Their arrestee status is unknown.

Catskill and charged with third-degree

aggravated unlicensed operation

of a motor vehicle and the

operative of a motor vehicle with

suspended registration, both unclasstatus

is unknown.

-

Alzheimer's Association

virtual programs

ALBANY — The Alzheimer's

Association of Northeastern New

York presents the November and

December virtual programs.

video conference link to access and

can sign in as a guest to enter the

virtual program.

• Communication and Intimacy

at 6 p.m. Nov. 9

-

at 11 a.m. Nov. 11.

• 10 Warning Signs of Alzheimer's

presented in partnership with

• Helpful Holiday Hints for

Dementia Caregivers During

• Dementia Conversations pre-

NY at 6 p.m. Nov. 22.

LATHAM — Major General

General for the state of New York,

announces recent awards and individual

recognitions for members of

the New York Guard state defense

force for their continuing commitment

to serve community, state and

nation as part of New York State's

Military Forces.

from East Durham, serving with the

88th Area Command, received the

New York Guard Commander's

citation during recent unit training

events.

The New York Guard is a force

-

nized as a military unit, who augment

the New York National Guard

during state emergencies. They

provide administrative and logistics

support to the National Guard.

Members of the New York Guard

along the Lake Ontario shoreline in

2019 and 2020 and have been part

-

demic response since March 2020.

Unlike members of the New

York National Guard, New York

Guard members do not have a federal

military role and do not deploy

outside the state. New York Guard

• Meaningful Engagements: Ac-

• Practical Strategies to Support

-

ed Behaviors at 4 p.m. Dec. 2.

• Dementia Conversations:

-

• Effective Communication

• Understanding Alzheimer's

• Partnering with Your Doctor:

Understanding the Warning Signs

and Diagnostic Process at 4 p.m.

Dec. 9.

• Living with Alzheimer's for

• Legal and Financial Planning

presented in partnership with Herzog

Law Firm at 2 p.m. Dec. 14.

• Helpful Holiday Hints for

East Durham volunteer

with New York Guard

recognized for service

members usually train in a volunteer

status and are only paid when

they are placed on state duty during

emergencies.

The New York Guard, which

around the country, is authorized

to recruit just over 1,000 volunteers

organized into units located across

New York Guard members.

About half of the New York

Guard volunteers are former members

of the active-duty military or

National Guard who bring a wealth

of experience to the force, while the

other half have never served in the

military. Previous military member-

York Guard service.

People who have served in the

military can serve in the New York

Guard up until age 68.

The New York National Guard

(New York State Division of Military

and Naval Affairs) is the state's

executive agency responsible to

the Governor for managing New

York's Military Forces, which consists

of nearly 20,000 members

of the New York Army National

Guard, the New York Air National

Guard, the New York Naval Militia

and the New York Guard.
---
CATSKILL — The Fortnightly

Club of Catskill announces the

"Celebrate the Wonder," Nov. 12,

Hall in Leeds.

This event is open to all and

is made possible by sponsors and

decorators that have contributed

their funds and creativity.

magical fundraising event has

helped the Fortnightly Club of

Catskill raise funds to support

countless projects in the community.

Our hope is that we can 'Celebrate

the Wonder' this year by

Festival of Trees

lifting the community and inspire

the spirit of the holiday season

more than ever," said Festival of

Trees Chairwoman Christa Bush.

The club expects to have more

than 40 beautifully decorated

Christmas trees plus wreaths up

for silent auction. There will be

erously donated by local businesses,

vendors and gift ideas

with some live entertainment.

On Nov. 12, the opening night

kicks off the event with a donapeek

and light hors d'oeuvres.

While Santa events will be

bring the family out to get in the

holiday spirit. Cookies and Cocoa

with Santa will also be possible

with reservations for a donation

of $12 per person.

This year's festival will be

in-person with safety protocols

to wear masks in the indoor space

regardless of vaccination status.

If interested in attending this

event, visit Festival of Trees,

Fortnightly Club of Catskill Facebook

page or email them at thefestivaltrees@yahoo.com.
---
Delgado: $1.15B grants will

build rural broadband

By Kate Lisa

start applying next month for billions

of dollars in federal aid reserved for

broadband build-outs in rural comremaining

Greene County addresses

without internet.

U.S. Department of Agriculture Under

Secretary Xochitl Torres Small met

with Greene County broadband service

providers and utility owners, legislators

and state and federal representatives at

Catskill High School recently on her

"You've heard a lot about the common

challenges that you all are facing

in reaching that truly last mile," Torres

Small said. "I think the theme has

been public safety ... to making sure

that people can get the health care and

services they need in an emergency ...

so they can get direct telemedicine at

their door, making sure that we know

that no matter where in the country, you

are you have that fundamental public

safety."

Most of Greene County's remaining

households without internet are

concentrated on the mountaintop —

one of the county's most desolately

populated areas.

"The mountaintops can thrive if

they have that basic infrastructure to

compete when it comes to the services

and the expectations folks have when

they want to enjoy this incredible, incredible

place," she added.

Applications for the third round of

Nov. 24 through February to cover

costs of construction, improvement or

needed to provide broadband service in

eligible rural areas.

Grants, loans and a combination

million for each community, depending

-

eas with the lowest connection rate will

be prioritized.

By Melanie Lekocevic

CATSKILL — Plans are in the works to

expand available health care services at a new

business park adjacent to the New York State

Thruway.

The Exit 21 West Business Park, in the

town of Catskill, is being developed for businesses

geared to the medical and hospitality

industries, along with a new Community

with Columbia Memorial Health to develop

a health care facility dubbed CMH Medical

Plaza West, according to a statement from the

county.

The Greene County Industrial Development

Agency established the 60-acre business

21 on the Thruway. Since that time, the IDA

About 186 miles of roadway in

infrastructure to connect each southern

-

net, Deputy County Administrator

Warren Hart said.

"We went from one of the counties

that had the smallest amount of coverage

to, today, we have 96% coverage

of residents of addresses in Greene

County," Hart said. "Approximately

access, and for those households, it is

vitally important that we serve 100%...

and that we still need to work with our

The county's broadband utility

companies, including Mid-Hudson

-

Telephone Company and others, have

expanded high-speed internet infrastructure

securing millions of dollars

in federal and state grants over the last

several years.

high-speed broadband infrastructure

projects in the second round of funding,

-

cording to usda.gov.

"Greene County has a very positive

broadband story to tell; It's one of

progress, partnerships, and a lot of persistence,"

Hart said. "I'm pleased that

we've made this much progress to date,

and there's more work to be done."

Torres Small has a close working

Delgado, D-19, who she previously

served with on the House Agriculture

Committee. Delgado, a member of

-

ral Broadband Task Force, represents

all of Columbia and Greene counties

within the 19th District — the nation's

eighth-most rural district.

The funding will help communities

across the 11 counties within the

district that have struggled for years to

access high-speed broadband internet,

which help students taking classes remotely,

small business owners trying

to build their following, farmers using

parcels of land and demolition of multiple

residential structures. The IDA also completed

an environmental impact statement in

compliance with state regulations to allow for

the mitigation of archaeologically sensitive

areas at the site, according to the county.

The development will make the surrounding

area more attractive to future businesses

looking to come into the community, according

to the IDA.

"The availability of medical services

is a key factor in attracting new business to

the county," Eric Hoglund, chairman of the

Greene County IDA, said. "In our experience,

corporate site selectors are strongly interested

in investing in communities where their

-

ing, recreation and medical care, and we are

pleased to be working with Columbia Memorial

Health and Greene County in support of

their vision for multiple buildings in the medical

plaza."

The county is currently working with

-

ural gas service from Jefferson Heights to the

site, as well as a second site at Exit 21 East,

digital tools for success, senior citizens

or veterans using telehealth medicine

and more, Delgado said.

"What we're talking about here

is a basic necessity — that's it," the

congressman said Saturday. "We're

not talking about luxury, we're talking

about something that every single

American needs to have in the 21st

is a part of the puzzle — a big part

of making sure that we get to a place

where we can have 100% coverage."

More than 1 million people, or

lack high-speed broadband internet

connection, according to a report released

by state Comptroller Tom Dilow

income, or surviving on less than

$20,000 annually.

"The report said that, predominantly,

rural communities are the ones

that are being left behind — as high as

to do all we can to make sure we close

Detailed application and eligibility

reconnect.

Assemblymman Chris Tague,

Mark Evans, Greene County Paramedics

President and vice president of

State Telephone Company; and representatives

of Sen. Michelle Hinchey,

D-46; from the state Health Facilities

Association, Columbia-Greene Community

College and the Greene County

Chamber of Commerce also spoke or

were in attendance.

President Joe Biden's infrastructure

plan, which passed the Senate in

improving and expanding broadband

with a stated goal of delivering reliable

high-speed internet to every household

in the nation, a promise he made as a

presidential candidate.

-

tisan infrastructure bill awaits adoption

by the House.

where the former Quality Inn was located.

Demolition of the inn was completed in early

2019.

Extension of the natural gas lines will also

make the service available to homes and busi-

-

being paid for with funds the county received

-

cording to the county.

"I am proud to report that the investment

ALBANY — As New Yorkers prepare for

the end of daylight saving time Nov. 7, the Firemen's

Association of the State of New York

(FASNY) is reminding all New Yorkers to check

the batteries and test their smoke alarms and carremovable

batteries should have their batteries

replaced.

In 2019, New York state led the nation in

number has since decreased, but is still high —

during 2021. The upcoming winter season is typ-

Working smoke alarms save lives. According

to the National Fire Prevention Association

-

cur in homes without working smoke alarms or

smoke alarm failures are caused by dead batteries.

provide a critical warning that can help people

escape during an emergency – but only if they

are working properly," said FASNY President

John P. Farrell. "All smoke alarms should be

tested monthly. If your smoke alarm has removable

batteries, make sure you change them twice

a year to ensure that they are functioning.

years may be attributed to a New York state

law that went into effect in 2019. It banned the

sale of smoke alarms with removable batteries.

Newly installed or replacement smoke alarms in

New York must be powered by a 10-year, sealed,

non-removable battery, or hardwired to the

non-removable batteries are nearly impossible to

not sure when you last replaced the batteries, or

bought a smoke alarm, FASNY encourages you

to purchase a new one with 10-year batteries."

located smoke and CO alarms is essential to

maximize the amount of escape time," Farrell

said. "As a minimum, smoke alarms should be

installed inside every bedroom and on every levsmoke

alarms."

Smoke alarm tips from FASNY and the

NFPA:

• Test alarms at least once a month by using

the test button.

• If you have an alarm with a removable

battery, be sure to check the batteries every six

months, and change the batteries every year. If a

battery is starting to lose its power, the unit will

usually chirp to warn you. Do NOT disable the

unit.

-

cumulate in the unit.

• Never borrow a battery from an alarm to use

somewhere else.

• Never paint a smoke or CO alarm.

• Install at least one smoke alarm on every

in, or near each sleeping area.

• Smoke alarms should not be installed near a

window because drafts could interfere with their

operation.

• Families should also develop and practice a

• Always follow the manufacturer's instructions

for testing smoke alarms and replacing the

batteries.

For more information on smoke alarms, carbon

monoxide alarms, and other information on

and www.nfpa.org.

Health care facility planned near Thruway

in natural gas infrastructure to the site will

have no negative impact on our county budget,"

Greene County Legislature Chairman

investment of federal funds will directly benour

communities and spur economic growth

across the county and the region."

Plans are also being developed to site a

new county-owned Community Health Center

to replace the Mental Health Building next

to Angela Canna Town Park in Cairo, county

would include mental health care as well as

public health services such as vaccine administration,

clinical testing and pandemic or other

emergency response services, according to

The county and Columbia Memorial

-

opment of CMH Medical Plaza West, which

will supplement services currently available

at CMH's Greene Medical Arts facility in Jefferson

Heights.

positioned us to envision providing specialty

care services currently not available in Greene

County, providing local residents with convenient

access to even more care," Jay Cahalan,

president and CEO of Columbia Memorial

Health, said. "Thanks to the good work and

vision of the Greene County IDA and a strong

partnership with Greene County government

-

tives, this project will both add health care resources

and further expand health care service

offerings in Greene County."
---
By Kate Lisa

-

ernment groups alike last week stressed

the need for public meetings to take

place in person after dependence on vir-

-

demic as lawmakers weigh changing the

state Open Meetings Law.

Assemblymembers in the chamber's

Governmental Operations, Local Governments

and Cities committees led a

legislative hearing in Albany to examine

potentially changing the Open Meetings

Law to allow localities to hold public

meetings remotely.

"In-person meetings should be the

way we proceed," state Association of

Counties Executive Director Stephen

"I'm not going to ask you for that authority,"

he added of the Legislature codifying

permitting remote meetings into

law.

Lawmakers voted last month to temporarily

amend the Open Meetings Law

and allow public bodies to hold municipal

meetings via telephone or video conmeetings

are recorded and later transcribed

for the public. The measure was

passed as part of an omnibus bill extending

the statewide eviction moratorium

through the same date.

"I may not ask you to renew it in Janare

not asking to convert to remote operations.

It's always best to be in person

and the public being able to attend in

person."

Lawmakers could vote to change the

law and allow remote meetings permanently

when session resumes in January,

or the temporary statute could be extendand

transmission rates in the months

ahead.

Diane Kennedy, president of the New

York News Publishers Association, and

Judy Patrick, New York Press Association's

vice president for editorial development,

recommended the Legislature

adopt a hybrid law before the current rule

meetings both in-person and remotely.

-

connection, people speaking with their

microphone muted — sometimes inten-

"There are people who are immunocompromised

for whom leaving the

house, even with all safety protocols

in place, would be too great," Kennedy

said. "We need to be sure that those people

can participate in government and

those people can view what their government

does, so I think the hybrid law

would be the way to go."

public participation depending on a resident's

access to high-speed internet,

technology or their digital literacy.

about a controversial topic.

"Gov. Hochul is committed to ensuring

accessibility, transparency and accountability

in government, and we are

meeting with advocates and local governments

to determine how best to continue

increasing participation and openness

in the political process post-pandemic,"

Hochul's Press Secretary Hazel Crampton-Hays

said in a statement.

Kennedy and Patrick also urged the

Legislature to add a provision in the

bodies have an orderly public comment

period during a meeting. A public comcurrent

law.

Members of the state Coalition for

Open Government also voiced support

for mandated public comments and a hybrid

law, or allowing the public to participate

remotely as long as a meeting

remains open for in-person attendance.

During the pandemic, some municipalities

have accepted public comments

from in-person attendees, but did not ac-

"...The clear message was, we take

public comments as mandated by law

and if we don't have to, we're not interested

in taking public comments," coalition

President Paul Wolf said. "Because

we're clearly able to do it — we did it

for a public hearing, but we're not going

to do it for any agenda in general. And I

think that's just a terrible way to conduct

public business."

Early in the pandemic, the coalition

reviewed the transparency of 21 governmental

bodies, or 10 counties, 11 cities

and one town in spring 2020.

The May 2020 report showed 14 of

21, or 67%, of the reviewed government

bodies eliminated hearing from the public

during their April meetings, which

were held digitally because of the coronavirus.

Seven out of the 21 encouraged

residents to make comments via telephone,

voicemails, video calls or recordings

or emails.

Wolf also stressed changing the Open

Meetings Law to mandate public bodies

post meeting minutes online. The current

-

mittee on Open Government were not

among the dozens of witnesses spread

over 10 panels through Monday's hearing.

State Association of Counties counsel

Pat Cummings and Mikale Billard with

the state Association of Clerks of County

Legislative Boards asked lawmakers for

increased state funding for localities in

smaller counties and rural communities,

virtual public meetings.

-

mal," Cummings said. "If it's going to be

about public access, the smaller counties

should have more proportional costs. A

camera costs the same whether in Suffolk

County or Yates County."

-

ities to have word-for-word transcriptions

of remote meetings is a duplicate

the cost and stress on local governments,

Billard said.

B also need software to protect

against hackers and cyberattacks during

a municipal event.

Brian Fessler, the director of government

relations with the state School

Board Association, asked lawmakers for

New York school districts to have the option

to hold meetings virtually when necessary,

such as in the case of inclement

weather, and change the law so public ofhave

to disclose their physical location

to participate.

Committee on Open Government Executive

Director Shoshanah Bewlay submitted

testimony to Assembly staff last

week, but intentionally did not testify

Monday, she said, as all committee members

weigh a formal recommendation

on the pandemic's impact on the Open

Meetings Law and remote sessions.

"I did not appear today at the hearing

because the committee speaks as a body

not through a representative and the body

concerning this issue," Bewlay said.

"Accordingly, I submitted factual information

to support the legislature's goal

of determining what amendments would

The committee will speak as a body on

report to the governor and the Legislature."

The committee will meet to discuss

its recommendations at its regular meeting

next month.
---
By Pat Larsen

If you are not plagued by this annoying

ailment, then you've already chosen to line

the bird cage with this column (after reading

the paper, of course!). However, if you're

like the

millions of Americans who are experiencing

daily joint pain, discomfort and increasing

stiffness, especially with the encroaching

cold weather heading our way, then please

read on.

My style of educating those who cross

my path is to focus in on a health concern

from several different angles. In this case,

I'll be sharing what I've learned, personally,

from a mind and body connection, as we

learn about arthritis.

thritis is.

more joints. This "condition" affects the

body's moveable joints. Joints of the body

gers, toes, hips and shoulders. The neck and

the back also have joints between the bones

of the spine. All joints have the same basic

physiological structure.

There are six different types of joints located

in the body.

Normally, these joints are well lubricatthat

lines the joint. Over time (I didn't say

id membranes can thin and no longer allow

for the ease of safe "gliding" of the bony

structures. We know what that then results

in: Pain, stiffness, sometimes swelling, and

diminished activity due to feeling so uncomfortable.

That, simply put, is the basics of arthritis.

There are many different types of arthritis,

based mostly on the joints that are affected

and their proximity in your body. For the purposes

of this column, I'll be focusing on the

generality of arthritis and solutions that can

make life much easier to navigate through.

My resources are from many great resources,

but the one I use that is clear and

most helpful is the "Body Mind Workbook"

(explaining how the mind and body work

together) by Debbie Shapiro. I also refer to

the "Prescription for Nutritional Healing" by

James Balch, M.D. and Phyllis Balch, M.D.

Let's start with a more cerebral aspect of

arthritis and how that can affect the resulting

level of pain. See if this might be true for you.

According to "Body Mind Workbook,"

the arthritic condition that affects joints with

from the freedom of movement is connected

to our "innermost feelings." These "feelings"

relate to the movement or direction we are

going in. There may also be a sensation of

energy pulling us back from moving forward,

maybe out of fear of movement or because

we would rather be doing something

different than what we are presented with.

This emotional state also indicates feelings

of self-criticism (resulting in stiffness),

lack of self-worth, fear, anger (resulting in inbe

a sense of being tied down, restricted or

or a hardening attitude toward life.

If nothing else, perhaps just use this information

as a

starting point

to determine if

these feelings are

indeed present

focus on the reasons for sudden discomfort.

The overactive mind can be soothed with

a simple guided meditation audio on You-

I have many recommendations and would be

happy to suggest some for you to try.

Michael Sealey's "Guided Meditations

and the Mindful Movement" has many useful

meditations to help you with relaxing that

inner mind during painful episodes of arthritis.

Next up, how does what we eat impact

may be surprised.

Basically, it's about simply avoiding

nightshade vegetables (peppers, eggplant,

tomatoes and white potatoes). These are the

culprits that contain solanine compounds that

interfere with the enzymes in the muscles surrounding

our joints that cause all the pain. I

have personally eliminated these foods from

discomfort in my knees and elbows dropped

to almost non-existent.

Don't think this is possible or you're unsider

the alternatives being offered to us by

the medical community to feel better — prescription

drugs, knee replacement and costly

physical therapy, just to name a few.

Instead of giving up on the overwhelming

discomfort you've been experiencing, why

not consider these possible solutions as well

as dietary shifts and meditation.

Next, get up and move more. You rest,

you rust! Of course, you do.

Get regular moderate exercise. I'd written

about this often and based on my personal research

among the many students in my seattremendously.

Take vitamin D supplements or better yet,

spend time outdoors getting natural sunlight

and fresh air. Your doctor can help with the

proper dosing of vitamin D based on your

blood work. So be sure to ask during your

next physical.

If you're overweight, plan to drop at least

10% of your total body weight to kick off that

healthier version of yourself and you'll get

joints. That makes this effort a win-win all

around.

I never want to be thought of as that

"broken" record, always promoting losing

weight. I do want to perhaps trigger that

spark in you as you're reading this to make

that change you've been considering for a

while. Maybe this time, with the contents of

this column, you'll decide to step up to the

plate (I love metaphors)!

Please know, I am also very aware there

are many severe forms of arthritis that have

their origins in serious illnesses like Lyme

disease, lupus and other autoimmune conditions

that result in lots of arthritic suffering.

Meditation and the other suggestions I've

made can help alongside your health providers

recommendations.

with the desire and the belief in making positive

changes that can improve your life.

Living your best life IS your job. You can

begin doing so at any time you choose. Why

Pat Larsen, Licensed Fitness Instructor,

boomers, sassy seniors, deconditioned adults

ongoing Monday and Thursday mornings at

the Shamrock House in East Durham. You

can reach Pat at 518-275-8686 or by email

at Pelarsen5@aol.com.

Pick Your Own

On the

stand:

Open 7 days a week from 10am-5pm

(518) 731- 6196 • Cty Rt 26, Climax, NY 12042

(1/4 Mile Past Quarry Steakhouse on County Route 26. Big red barn on the hill)

Boehmfarmllc.com
---
By Matt Fortunato

-

ville Spartans defeated the Ichabod

2021 Section 2 Class B Boys Soc-

-

ers' lone goal, while Benjamin

Spartans, including the game winner

just 90 seconds into overtime.

Neither team gave their opponents

an inch of space from the

not intimidated by the undefeated

Spartans. An early free kick for the

were both denied by the opposing

defenses.

Jack Motta rattled off a shot on

the net for Greenville a few minutes

later that was on target but stopped

by Ichabod Crane keeper Luke

Desmonie. About midway through

-

inhard to tip into the goal. In fact,

called offsides on the play and the

goal was not counted.

Two minutes later Jack Motta

was onsides this time and tipped it

into the back of the net at the 19:22

mark to give Greenville a 1-0 lead.

Cody Cavagnaro took a free kick

caught out of the air by Spartan

keeper Joe Domermuth.

On another Greenville corner

-

en out from under him, hitting the

ground hard and getting the wind

knocked out of him. He had to

come off after the time stoppage

forced the Spartans to make a subminute

to recover.

Greenville kept the ball in the

box a little long for Ichabod Crane's

defense a much needed moment to

breathe. With just over four minutes

left in the half, Joe Desmonie

ripped a line drive kick from outside

the box that sailed past Domermuth

Tying the game 1-1 was an

kick save by Luke Desmonie on a

reached halftime tied at one goal

apiece.

Greenville controlled much of

the second half with slightly better

ball control and passing than their

opponents in Ichabod Crane. The

Spartans had multiple opportunities

to take the lead but they missed

kicks on a few of the possessions

that could have gone for goals.

Luke Desmonie was all over the

offense struggled to mount an attack

in the second half. Desmonie

made a diving save on one possession

to steer a grounded ball out for

a corner kick, which he followed up

by catching it out of the air on that

-

but Joe Desmonie's kick sailed high

and wide for a goal kick.

Bowden took Greenville's last

from outside the box and the wind

took it high and out. By the end of

regulation both teams needed a respite

and would get that break before

the overtime periods began.

In Sectionals, teams play two

were still tied, the game would go

to penalty kicks. The Spartans wasted

little time after winning the coin

toss for overtime, and they took the

ball to start.

-

New York State Department of Environmental

Conservation (DEC) Commissioner

Basil Seggos recently announced a propos-

New York.

The proposal includes changes to the daily

regulations on select waters across the state

as part of an experimental program to create

experiment is proposed to run from 2022 to

management strategy will depend on an evaluation

of the results and feedback from the

angling public.

The proposals include:

• Increasing the crappie statewide minimum

size limit from nine to 10 inches; and

• Implementing an eight-inch minimum

while continuing the restoration of the state's

natural resources," Seggos said. "New York

-

tunities and our goal is to increase these opportunities

for anglers while bolstering local

economies."

The proposed statewide regulations are

-

-

anglers' recognition that more conservative

harvest regulations are needed to ensure conservation

safeguards for these resources.

overharvesting.

These proposals were included in the

DEC released for public comment earlier this

year. The decision to advance these proposals

Weaver's Guild hosts 43rd annual show and sale

-

p.m. Nov. 14.

Big changes are in store for this year's

Tech Park in North Greenbush.

After going virtual for the 2020 Show

in person at a new, larger venue. After

outgrowing its previous home, the event

-

was based on the largely positive feedback

and Crappie Management webpage for the

assessment of public comments on the draft

and the rationale for the statewide regulatory

proposals.

of Pat's Barn, which offers better accessibility

(including an elevator), more space,

and ample free parking.

More than 40 handweavers will exhibmaking

it the largest display of handweaving

in the Northeast. Guild members work

for sale.

Pat's Barn, a 200-year-old landmark,

serves as the new home of the event, with

-

wares such as rugs and table linens, garments

including scarves, shawls and jackets,

as well as holiday gifts such as cards

and ornaments.

The event features a wide range of gift

options suitable for everyone's holiday

shopping list.

attend this year's event.

to take advantage of the ecological capacity

of 11 select lakes. Using minimum length

managers can better develop populations with

The show draws attendees from a wide

radius, with visitors coming from Con-

Ohio. Admission and off-street parking are

free.

-

ly by Guild members, giving the public a

chance to meet the makers and learn more

about this craft.

Daily fashion shows give visitors the

-

woven items can be styled and feature both

men's and women's fashions.

Guild members will also continuously

demonstrate both handweaving and spin-

"We missed interacting with the public

during the pandemic, and we are eager to

The regulatory proposals are available on

DEC's website for review and public comment.

Comments on the proposals should be

ny.gov or via mail to the Inland Fisheries Sec-

Comments will be accepted through Dec.

reconnect with our local audience, which

has been so supportive over the years,"

"Guild members have gotten through the

pandemic by focusing on their craft, so we

will have even more variety to choose from

opportunity for newcomers to get involved

in the guild and this craft. We will have information

on local teachers and resources

at the event."

For a preview of the event, check out

the Hudson-Mohawk Weavers' Guild Youtube

channel, which includes interviews,

demonstrations and other content produced

-

-
---
By Bill Williams

needed to be rescued after they fell while hiking

in the town of Hunter, state Department of

Environmental Conservation spokesman Jeff

Wernick said.

a group of 12 hikers were headed to Huckleberry

Point.

Greene County 911 to report that a 64-yearold

woman from Woodside fell on a steep

section of trail and injured her lower left leg.

They attempted to assist the woman by

using hiking poles so she could walk out on

her own, but she was not able to do so, Wernick

said.

-

three additional rangers to respond to assist

with possibly carrying the woman out of the

woods.

Dawson drove about a mile in on the trail

and then hiked another mile to reach the injured

woman. Dawson splinted her leg, the

hiker attempted to use crutches, but was una

steep section of trail, Wernick said.

Mitchell then brought in a wheeled litter and

the hiker was strapped into it, so she could be

carried out of the woods.

The rangers brought the hiker to the

Tague asks residents

to take broadband

survey

ALBANY — Assemblyman

constituents to take a new survey issued

by the New York State Public

Service Commission to assess the

broadband internet throughout the

state for households and businesses.

Constituents are encouraged to

complete both the internet speed test

and the survey on the Public Service

Commission's (PSC) website

in order to help the PSC develop a

detailed internet access map and pro-

-

mendations related to the availability,

reliability and cost of high-speed

broadband in New York state.

The commission's report will be

submitted to the governor and Senate

and Assembly leaders in May 2022,

who will then be able to act upon its

recommendations to improve internet

service in underserved areas.

New York residents can use this

survey link for both their households

and their businesses, which

should take less than 10 minutes to

-

"A lack of access to high-speed,

reliable broadband internet has put

families in our district at an educational

and economic disadvantage

for years now, so I can't say enough

how important it is that we have as

many people as possible participate

in this survey," said Tague.

Elliott House Thrift Shop

open through Dec. 4

Huckleberry Trail and Long Path juncture,

where she was transferred out of the litter to a

The hiker was driven out to the trailhead,

where she declined further medical care.

BUFFALO — Online purchase scams now

account for more than a third of all scam rereport

such scams lose money, making it the

No. 1 riskiest type of scam.

BBB is warning consumers ahead of the

holiday shopping season to be aware of how

scammers deceive consumers, whether they

are actively shopping or passively browsing.

The 2021 BBB Online Purchase Scams

purchase scam reports submitted to BBB

as new survey research conducted in 2021 to

get insights from those who reported online

purchase scams in 2020 and 2021.

Online purchase scams consistently rank

among the top three riskiest since 2017, and

lose money when targeted by online purchase

scams (74.8% in 2021). The median dollar loss

for this scam type has risen in recent years, up

from $76 in 2019 to $102 so far in 2021.

Experts are predicting an earlier start to

the 2021 holiday shopping season because of

supply chain concerns, microchip shortages,

and holiday hiring. BBB warns scammers will

The second rescue was last Saturday and

involved a scout troop from Long Island,

Wernick said.

At about 4 p.m., the group called DEC to

report that one of their leaders had fallen on a

rocky section of the Mary's Glen trail at North

Point.

in the fall, Wernick said.

Aaron France.

Dawson hiked in with one of the scouts

and located the injured man approximately

0.8 miles from the trailhead, Wernick said.

Dawson splinted the injured leg and

treated other minor injuries. He then provided

crutches and helped the man out of the

woods. The scout leader then declined further

medical care.

If a person needs a forest ranger, whether

it's for a search and rescue, to report

state lands and easements, they should call

-

gent assistance, they should call 911.

BBB warns holiday

shopping scams are a risk

the data by surveying people who had reported

scams to ask them more about their situation.

Whether a consumer was actively shopping

for a product or passively browsing, it appears

this activity had an impact on susceptibility.

Sixty-four percent of survey respondents were

actively searching for a product when they

lost money to an online purchase scam. Thirty-six

percent of those who lost money were

passively looking or not searching.

When it came time to placing an order

surveyed reported receiving shipment trackreceived

fake shipping information, 2% received

shipping information they didn't ver-

-

tion. Several survey respondents noted that

expected shipping delays due to the pandemic.

The analysis of online purchase scam reports

submitted to BBB Scam Tracker found

that more than 400 different types of products

were used by scammers to perpetrate scams.

Pets and pet supplies were the riskiest

open until Saturday, Dec. 4, at noon. Come see newly added Christmas items.

The shop will be adding new items daily until it closes on Saturday, Dec. 4.

The hours at the Thrift Shop are 10 a.m. to 4 p.m. on Wednesdays and Fridays,

Thursdays from 10 a.m. to 7 p.m., and Saturdays from 10 a.m. to 1 p.m.

The shop still has a large selection of items at great prices. Whether you

are looking for clothes (both adult and children), white elephant items, toys or

household items, it can all be found at the shop.

-

bury United Methodist Church.

The Elliott House Thrift Shop is located in the former Powell Store, next

by varying the product categories, capitalizing

on what people are looking for online, and focusing

on the most sought-after gifts such as

electronics, toys and other trendy gift items.

Each year, the BBB Institute issues a BBB

the previous year's data. Since the advent of

scams have jumped along with an increase in

online shopping. BBB took a deeper dive into

purchase scam reports were pet-related, with

70% of people losing money, and a median

the top breed used to perpetuate puppy scams.

For tips on how to avoid online shopping

-

er; to learn more about other risky scams, go
---
By Bob Beyfuss

The unseasonably warm

weather has continued through

much of October and I am not

complaining about it at all.

It has been a wet and warm

spell for several weeks now and

many garden plants continue to

grow. I am hoping to get a very

good harvest of beets from the

seed I planted on July 22, right

after I harvested my garlic crop. I

does not look like they will reach

harvestable size anytime soon, but

perhaps if this warm spell continues,

I may still get a decent harvest

by mid-November.

-

member that the bigger the cloves

you plant, the bigger the bulbs you

will harvest next July. Garlic prefers

rich, well-drained, fertile soil,

so take the time to till and add organic

fertilizer now.

My grandson, Danny, dug

some of my potatoes this past

weekend and I was dismayed to

see that about one-third of them

had damage from either mice,

voles or chipmunks. We cut off

the damaged parts and had "Grand

Bob's roasted potatoes" as a side

dish for dinner. Slice the potatoes

thinly, and layer in an aluminum

pan. Sprinkle olive oil on each

layer and season with salt, pepper,

garlic powder and onion powder.

Bake at 400 degrees till they are

soft, or broil a single layer of very

thin slices for the best potato chips

you will ever eat. If you have never

eaten freshly dug potatoes, you

are missing a treat.

The potatoes that "volunteered"

this season from overlooked,

unharvested, potatoes I

had planted in 2020 produced

some really huge "lunkers." Planting,

or neglecting to harvest whole

potatoes, results in "volunteers"

that are often huge in size, but

few in number. Planting smaller

cut pieces of potatoes usually results

in more, but smaller, tubers.

A couple of these "volunteers"

weighed almost a pound each.

This fall I will try to make sure I

dig them all, but I try to do that every

year and usually fail.

The rest of this week's column

comes from Ulster County

Cooperative Extension. I rarely

include recipes in these columns,

but this week is an exception on

two counts.

Did you know apples are the

during Apple Month. Zestar and

SnapDragon are two newer variand

at farm stands and farmers

markets. Zestar is zesty with a

nice crunch and SnapDragon was

developed by Cornell University

and is sweeter with a "monster

crunch."

Are you interested in taking

near you. Be sure to check with

the farm about their hours and

-

to pick apples.

no sodium, fat or added sugars and

is easy to take anywhere and eat

for a snack.

Here are some fun apple facts

from the New York Apple Association:

Apples are a member of

the rose family of plants, along

with pears, plums, peaches and

to make one gallon of apple citheir

volume is air. The world's

largest apple peel was created by

4 inches long. (She was 16 years

old at the time and grew up to be

a sales manager for an apple tree

nursery.) (Source: Guinness World

Taste test apples with your

children. At the farmers' market,

farm stand or local supermarket,

choose two to three different varieties

of apples to try. Once you get

-

home, wash and slice each apple.

As a group, try one apple variety

at a time and decide which apple is

your family favorite.

-

sauce, serves seven. Serving size:

half cup

Ingredients: Six apples, peeled,

teaspoon cinnamon.

Directions: 1. Place apples and

dish. Cover with microwave-safe

cover.

2. Cook on high for 10-12 minutes

or until the apples are soft

enough to mash.

to make chunky applesauce.

4. Add the sugar a little at a

time to reach desired sweetness.

Add cinnamon.

-

frigerate leftovers within two

hours.

Reach Bob Beyfuss at rlb14@

cornell.edu.

By Toby Moore

origin says, "A man convinced

against his will, is of the same

opinion still."

A year ago, I talked to my

good friend in Los Angeles and

he told me about two of his

friends who stopped talking to

him; they blocked his phone

calls and text messages.

He was upset. He knew them

for over 20 years. They stopped

talking to him because of too

many heated political arguments.

He ended the conversation

by telling me he was done

with their friendship forever.

through the book, "How to Win

by Dale Carnegie.

I read the book in college,

and for a time, I practiced the

principles therein. I remember

'You can't win an argument'

them working fabulously for

me. Over time I forgot some of

the valuable lessons, and eventually,

they fell out of practice.

I don't know about you, but

political arguments ruining

long-established friendships.

I'm embarrassed to admit that I,

too, have become entangled in

many of these types of discussions.

I've learned some hard

lessons.

Dale Carnegie says in his

book, "You can't win an argument;

you can't because if you

lose it, you lose it; and if you

win it, you lose it."

can you win an argument and

Of course, you can win an argument.

You can shoot holes in

your friend's viewpoint and burn

all their logic to the ground. You

and walk away feeling like you

thinking proudly to yourself, "I

showed them a thing or two!"

What you don't realize is

that you lost.

Benjamin Franklin said, "If

you argue, rankle and contradict,

you may achieve a victory

sometimes, but it will be an

empty victory because you will

never get your opponent's goodwill."

Keeping your friendship intact

As the old saying goes, "You

don't know what you've got until

it's gone." Some of us have

to learn the hard way; I know I

have.

I've lost friends due to arguing,

but I never intended it to be

that way. I guess that's called

think about them a lot and wish

I would have just asked them

how their family was doing or

what was new in their life.

Carnegie goes on to say,

in the next chapter, "The surest

way to make somebody an

enemy is to tell them they're

wrong…if you tell someone

they're wrong, do you make

Never! For you have struck a

direct blow at their intelligence,

judgment, pride and self-respect…

It will never make them

want to change their mind."

It's hard to hear something

you disagree with, but is it redisagreement

has to become an

argument. There are ways of

winning someone to your way

of thinking, but it doesn't happen

by arguing.

You probably didn't become

friends with that person because

you agree with their politics, so

why would you end it because

Back to my friend in Los Angeles.

The other day one of the

two friends who stopped talking

to him called and tried to rekindle

their friendship. He asked

replied, "What do you think you

He said he was going to forgive

him and allow the friendship

to move forward. He added,

"If I don't forgive him and

instead hold a grudge, you could

interpret that as hatred; I don't

want to carry that type of energy

inside of me."

Some of us may not be so

lucky as to have a good friend

call us back after blocking us,

but if they do, try and remember

Dale Carnegie's advice: "You

can't win an argument."

Toby Moore is a columnist,

the star of Emmy-nominated "A

Separate Peace," and CEO of

CubeStream Inc.

WHITTLING AWAY

by Dick Brooks

By Dick Brooks

Labor Day is long past. It

means the death knell of summer.

I hate to see it go, but you

don't really need a calendar to

know that fall is here.

The morning air has a crispness

to it not found during the

dog days of summer. The bright

green brought on by the summer

rains is becoming duller, browner

and patches of bright colors

are starting to appear. Pumpkins

are starting to appear on local

farm stands and in the market,

meaning the end of the growing

season is just around the corner.

-

ver are starting to appear. This

restless feeling arises in my

Transcribed from her diary by

Kathy Saurer Osborne

Cold. Went to Church. P.M.

Sam Bil-lie Carolas got the trophy

for winning the most races.

Chuck came in the even-ing.

Monday, Nov. 6: Fair. Gene

I put on the storm windows in

I went to Catskill. Had a nice

ride. Joyce is home till Wed.

A.M.

Tuesday, Nov. 7: Fair. Joyce

things in Joyce's room. I'm

I look around and see all the

little jobs I wanted to do before

winter set in are still waiting for

my attention and now the time

to do them is growing shorter. I

pause for a moment in the yard

and watch my not-so-far-distant

relatives scurrying around

gathering food for the oncoming

winter, then start my own scurry.

Porch steps need rebuilding,

the entire porch needs to

be scrapped and painted, there's

wood to be cut and split, the

gardens need work before their

winter naps. I scurry from job to

job, anxiety building.

commit suicide this time of the

year; their broken little corpses

litter the highways as they dash

rooms. Worked hard all day.

Joyce is sewing on her pajamas

tonite. Chuck here. Adrienne

at Wright's play-ing Canasta.

Adele is staying all nite there.

Wednesday, Nov. 8: Cloudy.

Took Joyce to Greenville. Did

necessary work. Took Dunham's

luncheon cloth to him.

things done. Went to Lite's for

-

Put down the linoleum. Thanks.

Thursday, Nov. 9: Fair.

Cleaned bed-rooms etc. P.M.

went to Albany with Addie. Got

this way and that trying to get

run over.

The passing tractor-trailers

are starting to look good to me.

I pause and take a deep breath.

The weather is still good,

probably another couple of

months until snow. I've got

time.

I stop, put away my tools

and head to the market to relax.

milk and head for home. I pull

into our local farmer's stand. I

load up on sweet corn and tomatoes.

I look over the pumpstill

have kale and Swiss chard,

and I get some of both. I steer

Casper, the friendly Kia, toward

capacity.

I feel more relaxed; can't let

Grandma Mackey's Diary

1950 life in Medusa

Friday, Nov. 10: Cleaned

work. Joyce came with Don.

Chuck lat-er.

Saturday, Nov. 11: Fair. Busy

started for Jersey about 1. Joyce

they went out.

Sunday, Nov. 12: Fair.

Didn't go to Church. Lite Phil-

While were eat-ing dinner, the

folks came from Jersey. Chuck's

mother called him home. Back

Joyce to Greenville. Girls got

the oncoming bad weather get

to me. Comparing myself to a

-

ly. I don't have as much hair as

they do and I'm nowhere near as

smart or agile.

Arriving at home, oncoming

rain sends me scurrying from

the car to the house, back and

forth, almost running. Passing

in the opposite direction, from

home in the maple tree, almost

I call "Lucky." The name comes

from the fact that he's lucky I

haven't shot him yet.

Back and forth we scurry,

in opposite directions. Finally

I pause, slightly out of breath.

Lucky stops and sits upon the

top of the stump of the old soft

maple we removed this spring.

Tuesday, Nov. 14: Fair. Did

the bathroom. Crocheted etc. Eleanor

Farmer up with the girls

Westerlo Baptist Donation with

Philip. HB, GE

Did everyday work. Helped

Gertrude make cookies etc.

fertilizer for the plants.

Thursday, Nov. 16: Fair. Lite

rain tonite. Cleaned bed-rooms

-

some things up to Mrs Duncan

We looked at each other for

a while and I admitted to the

panting rodent that maybe we

weren't so different after all.

Actually, we are much the same.

He tipped his head, looked at

me as if he understood, hopped

off the stump, ran to the middle

of the road and sat down to await

his inevitable fate. A stress case

if I ever saw one.

Thought for the week —

"Only Irish coffee provides in

a single glass all four essential

food groups: alcohol, caffeine,

sugar and fat." — Alex Levine

Until next week, may you

and yours be happy and well.

Reach Dick at whittle12124@yahoo.com.

Felix Perdonski's. Had a nice

-

ersary. 16 years. They've gone

for cream.

Friday, Nov. 17: Cloudy.

-

ery day work. Finished Gene's

table-cloth. Girls went to school

went from there.

Saturday, Nov. 18: Fair.

went "Dear" hunting. Don is

things sent him. I called on Ol-

having the down stairs bed-

Got clothes dried mended my

gone to Catskill so I went on to

back later.
---
Utility assistance grants of up to $10,000 available

Qualified customers can now apply

for Home Energy Assistance Program

(HEAP) grants, a federally funded program

that provides regular and emergency

assistance to help pay heating and

utility bills, and new this year, gas and

electric utility arrears assistance grants

of up to $10,000 per household.

are available through local Department

of Social Services (DSS) offices. Applications

for HEAP are also available at

Offices for the Aging and online at mybenefits.ny.gov.

"We are pleased that additional assistance

is available for families in our

community who may be struggling, especially

as we continue to navigate the

Campagiorni, vice president of customer

services and gas operations. "We encourage

all customers who are eligible

to apply."

grants and use electricity or natural gas

as their primary heating source could

toward their utility bill, depending on

family income and size guidelines. For

example, a family of four with natural

gas heating and an annual income of

Central Hudson customers who reassistance

programs will receive additional

bill credits for up to 12 months on

their Central Hudson bill.

As an example: A Central Hud-

1 HEAP grant and uses natural gas for

heating is eligible for bill credits of up to

who has electric heating can receive a

credit of almost $40 each month. Cusfy

for higher tiers could be eligible for

larger bill credits.

Campagiorni added, "Households receiving

a HEAP benefit for non-utility

wood pellets, kerosene, coal or corn are

also eligible for a monthly credit on their

electric or non-heating gas bill."

Customers who heat with non-utility

heating fuels should email their current

Notice of Decision letter to Central

Hudson at careunit@cenhud.com to be

enrolled and receive the bill credit.

upcoming winter are available from now

exhausted. Emergency HEAP grants will

an eligible household's immediate energy

needs.

available to assist customers who have

currently available and will remain so

program is a new program providing up

to $10,000 in utility arrears assistance

to eligible households that are unable

utility arrears. This program is open to

homeowners and renters and can apply

to all arrears, including those accrued

program only applies to electricity and

natural gas, and not deliverable fuels

such as home heating oil or propane. It

is currently available and will remain

In addition to Central Hudson's bill

discounts for customers receiving HEAP

grants, these bill discounts are now also

provided to customers who receive Lifeline;

Supplemental Nutrition Assistance

Program (SNAP); Medicaid; Supplemental

Security Income (SSI); Federal

Pension or Survivors Pension; and certain

programs for Native Americans.

This program provides a monthly bill

credit for up to 12 consecutive months.

Central Hudson has suspended service

terminations and is actively reaching

out to customers who are experiencing

financial challenges to determine if they

are eligible for further assistance. In order

to provide necessary documentation

for certain assistance programs, some

Central Hudson customers are being

proactively provided with statements

showing a past due balance or a termination

notice. These statements may be

an emergency HEAP benefit or other

charitable resources like Central Hudson's

Good Neighbor Fund that provides

"last resort" grants to help pay the energy

bills of local residents in need who

have exhausted all other forms of public

and private utility assistance.

For more information on HEAP eligram.asp;

and for more on all of Central

Hudson's assistance and billing programs,

visit www.CentralHudson.com,

and click on "My Account."

TOWN LINE MOTORSPORTS

6003 Rt. 32, Westerlo, NY 12193

(518) 797-3540 | www.townlinemotorsports.com

PARTS | SERVICE | SALES

We service all major brand motorcycles, dirt bikes, snowmobiles, and ATVs.

Call us at (518) 797-3540 to schedule your service.

TOWN LINE AUTO

Full Service Auto Repair | Body Shop & Collision Repair

6501 Route 32, Greenville, NY 1208

(518) 966-8003 | www.townlineauto.com

TOWN LINE SELF-STORAGE

Safe, Secure & Convenient | Storage Units | Boat & RV Parking

6501 Route 32, Greenville, NY 1208

(518) 966-8003 | www.townlineself-storage.com
---
By Mary Lou Nahas

"Beers History of Greene

County," published in 1884, tells

the Town of Durham] was probably

Gideon Brockway, who kept

a store on Meetinghouse Hill, in

1789. In 1806, Benjamin Kirtland

had a store in Broadway [that

would have been on what is Hwy

day]. In 1811, Alfred Hand had

a store in Durham village. The

W.W. Burhans, T. P. Hull, Schuyler

Ives, and Joseph Porter."

Some of these I have no information

on. A book about all of

them would be wonderful. Today,

I'm going to share pictures and

stories of a few and tell the story

of others on another day.

In 1980 Frederick Hull,

back remembered especially two

buildings, which had a number

of owners over his lifetime. First,

he says, the grocery store owned

by William and Anna Falk's was

a good small general store. The

building was later owned by

Anne Seymour who ran a seamstress

shop, opened a small store

and brought in fresh bread from

the Cairo bakery. It came two

times a week by mail. Everett

Matthews and wife Natalie Hull

ran it as a market until the mid-

1940s. Then Natalie became post

mistress there until 1978. The

barber shop was upstairs run by

Fred DeLaMater.

The second store in town was

used to be DeLaMater and Hay.

Uncle Fred Hay was a partner for

a while, but had gone to Northville

as an undertaker. It was a

real good general store – kept

more clothing than Bill Fawkes.

Dad shopped at Fawkes. After

and Ethel ran a good general store

until Fred died of a heart attack

ship with his uncle William Hann.

The store known in this period as

solved the partnership and con-

Fred died, Ethel sold the store

immediately to Marshall and then

Bell. They prospered well. It was

known as Bell's store. Marshall

store for one year to Lora Leatherman

Hulbert.

You begin to see a pattern:

members of the family took over

the business; other businesses

also occupied the building; the

store.

Oak Hill had at least two

early general stores: Tripp's and

Ford's, both which housed the

1884 says: "Isaac Utter Tripp is a

prominent merchant in Oak Hill.

He succeeds his father Alfred

who died at home on March 7,

1881.The store business was takyears

old."

torian architecture store built on

the site of the old store, which

was moved to the back and

turned sideways to function as a

warehouse. His workmen were

cost of painting the new store

was $80.The apartment above

the new store was soon rented by

the town's dentist Byron J. Hunt

who maintained his practice

there. Hunt and his wife Lonie

lived there the rest of their lives,

reportedly at a monthly rent of

Isaac's sisters Hattie and Carrie

were married in a joint ceremony

to Byron Hall and Calvin

Burnett at the Tripp home Sept.

26, 1900. By 1920, Hall and Burnett

were successors to I.U. Tripp

ership of the property, which he

left to his nephew, Alfred Tripp

Burnett. Hall and Burnett were

the last individuals to run the

business as a general store. Tripp

family ownership ended July 7,

Ford's Store was operated

by members of the Ford family

general merchandise there when

he was in partnership with G.M.

and Hallenbeck. Emerson Ford

had two sons: Ernest E. and N.

Dwight. Ernest E came into store

in 1898; which he ran helped

by his wife Bertie Conran from

Preston Hollow. Emerson's other

son N. Dwight married Millie B.

Mackey and moved to Nebraska,

where they had a son named

Theodore Leo. Leo helped at

the store during the summers of

full time in 1928. He became a

the store was known as Ford and

Ford. Last Fords at the store were

George and Lionel, sons of Leo.

The business also housed the post

upstairs.

The Potter's Hollow store was

built in the late 1800s. Nicholas

Hallenbeck owned it about 1900

but soon closed it on account of

ill health and moved to Hudson.

it was for sale. He rode his bicycle

to Catskill, took the ferry to Hudson,

bought the store and bicycled

back home the next day. This was

a general store and stocked most

anything that local people would

need. The Makelys operated the

erson.

store in Potter's Hollow, which

burned in 1917. Makely sold his

who operated the store until 1944

when daughter Lela operated it

land and Flo Young. Mrs. Young

sold it to Mr. and Mrs. James Albrecht.

In its more prosperous days,

Cornwallville boasted two stores.

Smith, who built the general

store in 1892, says that an earlier

store on the site burned down,

described Smith and his brother

as having "conducted a large

business for a place of this size,"

and noted that Smith also served

as postmaster. That store, too,

other was built on the site. By the

turn of the 21st century, only the

The hamlet of East Windham

According to Mrs. Olsen, a descendant

of the Butts family, a

general store and residence was

built by H.A. Butts for Warren

Griffen around 1900. This bethe

Butts family until 1986, when

it was sold to William Donovan.
---
By Mary Schoepe

Like most people I look forward

to celebrating the holidays

with family, friends and,

of course, the great food! But

to me, the holiday meals aren't

complete without the vibrant,

versatile, red cranberry.

Love them or not, cranberries

holiday meal. And while many

people associate cranberries

only with the holidays, there are

several good reasons to consume

them year-round.

So in today's post, we look

-

ries and how you can incorporate

them into your healthy diet.

Now a popular super food

due to its high antioxidant content,

the humble cranberry has a

-

tive to the swamps and bogs of

the Northeast, Native Americans

-

ers, laxatives, a remedy for upset

stomachs, a food source and

even as a textile dye.

And today, my favorite ruby-red

beauties are also used for

preventing cardiovascular disimproving

immune and digestive

function and may help ward off

Alzheimer's disease and reduce

brain damage after a stroke.

In this country someone dies

from Alzheimer's disease every

-

ing line of research suggests that

ursolic acid found in cranberries

may help protect brain cells from

wasting away and also delay

age-related cognitive decline.

And if you're one of the 40%

of Americans suffering from

high cholesterol, cranberries

may be able to help there, too.

According to a 2019 systematic

review published in the National

Library of Medicine, the polyphenols

contained in cranberries

can help lower (HDL) cholesterol

levels and blood pressure,

too! Just drinking two cups of

low-calorie cranberry juice a

day increases levels of good

cholesterol, lowers bad cholesterol

levels and also improves

blood-sugar levels. However,

please consult your health care

practitioner before making any

changes to your medication.

And if you're looking to drop

states cranberries are a a great

swings, prevents bloating and

constipation.

And here's something I didn't

know — due to their high antiviral

and antibacterial properties,

cranberries are the perfect food

to help cleanse your liver! So,

no need to worry about drinking

that extra glass of wine or vodka

over the holidays!

While eating raw cranberries

my chef sister says that incorporating

the versatile cranberries

into your favorite recipes is easier

and tastier than you think. For

example, she uses cranberries

in pancakes, puts a dab of cranberry

butter on top and tops it

off with cranberry maple syrup.

I put dried cranberries in stuffing

and it was so delish! I don't

know why it took me so long to

do that!

My sister also suggests addfavorite

cut of meat: Top a nice

sirloin steak or pork chop with

grilled onions, blue cheese crumbles

and cranberries. Yummy!

So go grab yourself a bag of

fresh cranberries and start the

journey to a healthier you!

Happy eating!
---
RESEARCH, from page 1

This year, the walk drew 67 parfor

the cause.

With donations being accepted

goal of $27,000.

For the Dolans and their extended

family, the annual walk is a labor

of love.

In the past, Carlson has also been

a member of the volunteer committee

that organizes the walk. "There

are smiles there and happiness, but

there are tears, too, because we've

all lost and been through Alzheimer's

with someone."

For Carlson's family, that someone

was her mother, Margaret

Dolan, who had Alzheimer's for

eight years before she died in May

year that her family participated in

the walk.

Margaret and Edward had been

children. All but one still reside in

Greene County. Each year, the surviving

children, grandchildren and

great-grandchildren get together as

a team to walk and raise money for

Alzheimer's research, support and

programming.

the organized in-person walk was

cancelled, but the family donned

their purple Alzheimer's awareness

shirts and got together to walk for

ALBANY — Medicare is a

very important healthcare asset for

assistance with health insurance in

the United States.

Those who are eligible for

Medicare can receive assistance

and affordable health care to deal

the cause. This year, their team will

gather with others from throughout

the two counties to walk in

person. Nine family members are

registered, but in past years prior to

The Columbia-Greene walk has

the goal of raising $27,000.

"Seventy-eight cents on the dollar

goes to research, care, and support,"

said walk manager Joseph

Heaney.

The Dreamcatchers is one of the

walk's top fundraising teams. In its

the family raised over $4,000. As

of press time, team members had

raised $6,600.

"I wish we did not have to fundraise,"

Carlson said, voicing the

sentiment that a cure for Alzheimer's

already existed. "What I do

enjoy is seeing the support we get

from our other family members, our

community and our co-workers."

During the walk, participants

carry orange, blue, yellow, or purple

tionship to the disease. Those who

to Alzheimer's. Those with a blue

caregivers to someone with Alzheimer's

or dementia, and those with

heimer's Association in its mission

to end the disease. At the end of the

Medicare Open Enrollment 2022

with the variety of health issues

that can crop up as we age. Enrolling

in Medicare can give you peace

of mind for yourself or other aging

family members for whom you

may be caring.

Medicare Enrollment 2022,

also known as the Medicare OEP

Dec. 7. During this annual enrollment

period, individuals who

change their Medicare policies.

If you miss your initial enrollment

period and the annual open

enrollment period for Medicare,

you might have to pay more to obtain

Medicare coverage. Additionally,

you might spend more because

of pre-existing conditions that you

have.

If you enroll during your initial

enrollment period or during an annual

open enrollment period, you

won't have to worry about your insurance

rates increasing because of

pre-existing conditions.

Greene County Department of

Human Services' counselors are

available to assist you through the

time or in changing your existing

plan.

The department will have the

new rates and updates for the plans

Promise Garden — the promise being

the end of Alzheimer's.

A few years ago, the association

added a new color, a single white

for a cure.

The Dolan family had a particularly

poignant experience at a walk

a few years ago when Carlson's father

was present. During opening

ceremonies, her great-niece represented

the recently added white

person to be cured of Alzheimer's.

"My dad was still alive to see

this," Carlson remembered.

Two years ago, at the previous

in-person walk, the youngest of her

parents' 24 grandchildren repre-

"The kids were excited to be a

part of it, too," Carlson said.

The Walk to End Alzheimer's

is the world's largest event to raise

awareness and funds for Alzheimer's

care, support, and research.

Over 6 million Americans, including

410,000 New Yorkers, are

living with the disease, which is a

leading cause of death in the United

States.

To make a contribution through

lumbiagreene21.

For information on Alzheimer's

disease, visit www.alz.org.

in this area. Many times, counseling

sessions can be completed

through telephone calls, followed

by a representative from the department

sending you written material

to review. When needed, you will

For further information or to

schedule an appointment with an

lines will be strictly enforced for

appointments. The department will

maintain social distancing and give

each client the personal attention

a mask when you show up for your

appointment.

Greene County

announced

CATSKILL — Greene County announces the recipient of the 2021

Class Thomas Andreassen of Leeds.

The ceremony will be held at 10 a.m. Nov. 6 at the Historic Catskill

Point Warehouse, Main Street, Catskill.

Naval Mobile Construction Battalion I-Navy Seabees.

month tour of duty in Antarctica.

On Aug. 1, 1969, he was honorably discharged from the United

States Navy.

Operations Insignia and two Bronze Stars; National Defense Service

The ceremony is open to the public.

Greene County

awarded competitive

family planning grant

CATSKILL — Greene County

Family Planning, a division

of Greene County Health, received

notice their competitive

grant application to provide

reproductive health services in

Greene County was selected.

This grant provides funding

to provide needed reproductive

and other health services to

Greene County. This $228,770

grant was awarded by the state

Department of Health for the

This funding is an increase

of $64,892 from the previous

competitive family planning

grants awarded.

In 2021 so far, the clinic has

seen 842 clients for 1,801 visits.

The clinic offers low-cost access

to same-day contraception,

pregnancy testing and pre-conception

counseling, testing for

sexually transmitted infections

ing for breast, cervical and other

cancers.

Additional services include

treatment for opioid-use disorder

and harm reduction services

including Narcan and fentanyl

test strips, and counseling by a

licensed medical social worker

in a partnership with Greene

County Mental Health.

The department's health educator

provides health education

to the local school districts and

community college on healthy

reproductive decisions and staying

well.

With the continuation of

funding, the department plans to

increase the numbers of clients

served as well as partner with

Greener Pathways for mobile

outreach services in local communities.

For information, go to: www.
---
SUPPORT, from page 1

Albin. "Their membership is good

at any American Legion worldwide.

If they need something

and they're serving in California,

they can reach out to their post

out there. When you're a veteran,

you're a veteran forever. It's a

community that you will forever

belong to."

Post members make it clear the

veterans are there to help them and

their families. The Legion's Auxiliary

might send an encouraging

word to a recruit at boot camp or

a care package to the unit of a deployed

sailor, soldier or Marine.

In an emergency, when a family

needs to get in touch with a service

member overseas and is not sure

how to do it, post members are

there to direct them to the Ameri-

While there is plentiful tangible

assistance from the post, the

support that veterans show active-duty

military members goes

far beyond that.

"Being inducted into the

American Legion was very welcoming

and understanding — just

the feeling of knowing the others

around you understand what

you've gone through and vice versa,"

said U.S. Marine Zachariah

Storrs, who graduated from boot

camp in February.

Generations of family members

inspired Storrs to enlist.

His great-grandfather was in the

Army and landed in Normandy on

D-Day. His maternal grandmother

and Storrs' father served in the

U.S. Navy and Coast Guard.

The American Legion's

long-standing tradition of supporting

active-duty service members is

about paying it back., Albin said.

"We were all deployed at one

point or another. We know what

it's like to be away from home,

and we know what's it's like to get

a package or a letter from home.

There's nothing like knowing

that the people at home are caring

about you," he said.

There is pleasure in the giving,

too.

"I remember when my daughter

was little, making cookies and

sending packages overseas," Albin

said. "They had a lot of fun doing

this. It's a feel-good moment that

you won't forget."

The American Legion also

supports those in need in the community,

whether or not they have a

connection with the military.

"We make sure that families in

need in the area are taken care of,"

Albin said.

Post members make discreet

communities to determine who

might need some help and then

subtly deliver it.

The following are a few of the local events to honor veterans.

• Nov. 6, 10 a.m., Historic Catskill Point Warehouse, Main

Seabees and a four-month tour of duty in Antarctica.

• Nov. 11, 11 a.m., War Memorial in Angelo Canna Park, Cai-

single mother working part-time

boys on her own when a member

of the American Legion Post 291

in Greenville discovered her about

11 years ago. Her sons used to

play with some other kids in the

neighborhood who happened to

be the grandchildren of post memlearned

about the boys' family situation,

he enlisted the post's help.

"Those gentlemen came to my

house and brought us gifts and

gave us money for the holidays,"

Deyo said.

When Whitbeck learned that

Deyo had served four years in the

U.S. Air Force as a munitions systems

specialist, he encouraged her

to join the post. Not long thereafter,

the post told her about a

job opening as the director of the

Agency. With her experience from

a pre-med program in college and

working as a legal secretary, the

county thought she would be a

her. Deyo said that without the

post, she would not have known

about the job.

Post members brought her

sons into the organization as Sons

of the American Legion.

"They participated in Legion

events and fundraisers like the Ladies

Auxiliary spaghetti dinners,"

Deyo said. "They just always had

the boys out helping, learning, and

learning responsibility. They were

always around military people,

veterans. I think their involvement

as Sons inspired them to pursue

military careers."

It did not surprise Deyo when

her second oldest son, Liam Black,

enlisted in the Marine Corps.

"Liam has wanted to go into

the Marine Corps for as long as he

could remember, so we were very

Deyo said.

Liam served four years as an

aircraft.

Deyo's oldest son, Killian

Black, surprised her when he

called from college at SUNY

Stony Brook to tell her he was

talking to recruiters. He joined the

Army after he graduated in 2019

at Fort Hood, Texas, serving as a

sance Platoon Leader.

Third son Declan Black is currently

serving as an Interior Communications

Electrician Seaman

aboard the USS Tripoli (LHA-7)

in San Diego. Post member Don

Savino attended Declan's boot

camp graduation at Great Lakes,

Illinois, with Deyo.

"After graduation, we took

him to an American Legion Post,"

Deyo said.

Deyo's youngest, Ciarán

Black, will graduate from Marine

Island, South Carolina, on Nov.

19.

Like Storrs, Deyo's sons felt

supported throughout their youth

by Post 291.

"The American Legion had

always been another family for as

Greenville. The American Legion Post 291 in Greenville will hold

a church service.

pond.

long as I could remember," Liam

said, recalling memories of Super

Bowl Sundays, corn-hole tournaspaghetti

dinners.

Killian echoed these sentiments.

"The Greenville American

Legion has always been there for

my family, an organization that

has served as really a larger family

for my brothers and I," he said.

"Without them — most notably,

Bob Whitbeck, Donny Savino and

Jack Kelly — I would not be the

person I am today. I know that

they would be there for my family

whenever we needed it the most."

Declan also credits post members

for helping to guide him to

who he is today.

The American Legion's work

with youth in the community has

inspired some to serve in the military.

"Hearing all the amazing stories

and meeting all the American

heroes has played a huge part

in my decision to join the U.S.

Navy," Declan said.

His brother Liam felt the same.

"I always looked up to many

of the members, and they're the

ones who helped motivate me to

join the Marine Corps as a young

kid all the way up 'til the day I

joined," he said. "Knowing that I

always have a group of people to

have my back when needed is an

amazing thing."

Deyo agrees.

"It's just like another family,"

she said. "It's an extension of your

family. I could not have raised

four boys by myself without the

Legion."

TROOPER, from page 1

have hap-pened and must be

investigated thoroughly and

with the utmost care," Hinchey

said. "Monica's family deserves

nothing less than concrete answers

so that they can begin to

find peace and heal."

"The allegations of previous

aggravated conduct by this state

trooper are deeply disturbing

and if, after moving through the

full legal process, this trooper

is found guilty, he must be held

account-able to the fullest extent

of the law."

The New York State Troopers

Police Benevolent Association

is providing legal representation

for Baldner, union

President Thomas Mungeer said

in a statement.

"The New York State Troopers

Police Benevolent Association

sends our condolences to

the fam-ily of the child who

died in the December 2020

crash. We respect the legal

process and are pre-paring for

the next step, which will be to

provide legal representation

to the involved trooper, a right

afforded to every American citizen

tried by a jury of peers,"

Mungeer said. "As this case

makes its way through the legal

system, we look forward to a review

and public release of the

facts, including the motorist's

reckless actions that started this

chain of events."

If convicted on the second-degree

murder charge,

Baldner could face a maximum

prison.
---
By Dr. Billy Holland

For those who occasionally

think about how to maintain and increase

the spiritual aspects of your

life, we must consider that our decisions

are directly associated with

accomplishing our destiny.

I have thought about this for

many years and have come to the

conclusion that desire is one of

the most critical steps for knowing

God. If we have a passionate and

unwavering dedication to accomplish

something, we have built a

solid foundation for the other steps

that will follow. However, without

fervent enthusiasm, our vision will

remain a whim.

When it comes to drawing nearer

to our Creator, we will discover

we will ever face. Why is it so hard

that having a personal relationship

with him includes surrendering our

control so that he can possess and

control us.

It's one thing to work toward

things such as weight loss, exercise

or training for a sport as we are

only in a battle against our bodies to

succeed. Granted, these are serious

challenges, but when we become

obsessed with advancing into God,

we will face resistance from our old

nature, the need to renew our mind

and a hostile devil who hates us and

does not want us to be victorious.

There is no doubt that many

people are lukewarm in their spiritual

life. It's true, we all have times

when we drift a little or become

distracted from the Lord. However,

there is a serious problem when we

tionship with God.

I have discovered in my own life

that it is much easier to live in the

outer courts than to be a cup-bearer

for the king. Honestly, it's simply a

time or our pleasures just to have a

more intimate connection with him

and we are all guilty. Our rebellion

refuses to pay the price that is re-

I was talking to a friend the other

day and he was telling me about

a new diet he had been following

for the last few months. He was

proud of his accomplishments and

went on to explain that when he

started out, some of his family and

friends scoffed and said he could

never do it because of his reputation

for being a foodaholic. Then he

mentioned something that caught

my attention. He said, "I became

so focused and my determination

became so strong, I demanded my

body to obey my will. In the last

and I'm only getting started."

I am very impressed with this

level of infatuation and congratuperseverance.

At the same time, I

thought about how spiritually mature

every Christian could be if

we decided to become this serious

about concentrating on the awareness

of God's presence.

One of the greatest revelations I

have discovered is that we can live

as close to God as we want, and this

brings us back to our desperate need

for desire. So, if failing to achieve

our goals is caused by a shortage of

fervency and self-discipline, where

God gives it to those who ask for

it. It's true, with certain situations

there are other factors that can make

a difference, but when it comes to

developing a personal relationship

with God, the opportunity is available

and nothing is preventing us

from knowing and loving him except

our will.

the beatitudes says, "Blessed are

they which do hunger and thirst after

righteousness: for they shall be

remain: "Do you have a relentless

craving to walk with God and how

important is it for you to know

I was watching a football game

the other night and the coaches

to dig deep within themselves and

were looking at each player in the

eyes and asking how much they

wanted to be victorious.

Have you ever sensed the Holy

Spirit convicting you with the same

the intriguing reality about motivation

is that no one can force another

person to change their mind. Most

people only want enough of God to

go to heaven, but do not love him

enough to become who He has

called them to be.

Read more about the Christian

life at billyhollandministries.com.
---
Changing the world, one podcast at a time

By Thomas Christopher

Jennifer Jewell bristles at the

low status of gardening.

A radio host and podcaster with

a national following – "Cultivating

Place" has attracted devoted listeners

far beyond its northern California

broadcast area – Jewell has also

gardens and gardening.

She told me recently that this

mum-wage workers driving mowers

or a frivolous pastime of the

well to do. In contrast, she sees gardens

as places of power, connectors

of people and their landscape, with

a potential to change for the better

our relationship to nature.

Jewell's audio work began

as what a young friend of mine

describes as "a passion project."

Indeed, Jewell produced her promanagement

realized what they

had, and she then began to receive

compensation. She describes her

program in the podcast and broadcast

title as "conversations on natural

history and the human impulse

to garden." It is the caliber of the

guests, who range from internationally

renowned horticulturists and

garden designers to those with less

expertise but special gifts, and Jewell's

insightful conversational style,

that make "Cultivating Place" so

absorbing.

and complement each other very

was titled "The Earth in Her Hands:

in the World of Plants." As the title

indicates, this is a series of portraits

of women, a group long excluded

from the horticultural and botanical

professions, who are now making

their mark. More broadly speaking,

though, it presents a comprehensive

picture of what motivates such

gifted gardeners, and how this impulse

expresses itself.

Jewell's second book, published

in the spring of this year, is

gardens by Caitlin Atkinson, this

book features personal stories, but

it focuses as well on how the character

of the local landscapes helped

to shape the gardens that grew from

them.

As Jewell puts it, "It's important

for us as gardeners to actually know

our places. To know our watershed,

to know our latitude and longitude,

to know [about] the native peoples

who lived on the land prior to our

living here. Those are all elements

that add to our gardens and to our

ability to garden as thoughtfully as

possible."

This two-way exchange, between

the gardener and the land,

makes gardening more than a hobrather

as "a calling" or "a practice,"

like meditation or yoga or learning

music. It is also "one of those common

ground activities... it's like

food, or literature, or music, it is

one of those things that transcend

all of those [differences] that might

divide us."

that converting her own front

yard to a pesticide-free, pollinator-friendly

place of climate-adapted

native plants has started so many

friendly and constructive conversations

with neighbors.

"Gardening creates all these

intersections for making our world

slightly more hopeful, and that is

not to be underestimated," she said.

Jewell's state of California,

and the West more broadly, have

so often been an exemplar of what

is new to America, a peek into our

future. Over the last few years, it

has provided a sobering perspecshortages,

of the challenge climate

change will bring to the rest of the

country as well.

Jewell doesn't overestimate

gardening. Transformations of

our personal landscapes won't, by

themselves, cure our environmental

ills. But by changing our understanding

of nature and our role in it,

gardening can have a potent impact

on what we do and start a new and

healthier pattern of behavior.

To learn more about Jennifer

Jewell and her work, join her at

the Berkshire Botanical Garden's

logical Gardening Symposium on

Nov. 14, at the Mahaiwe Theater in

Great Barrington, Massachusetts.

This day-long program will feature

talks not only by Jewell, but

of horticulture at Brooklyn Bridge

Park, who will discuss the park's

Hoadley, horticultural research

manager at Mt. Cuba Center will

focus on knockout native species

and cultivars researched at Mt.

Cuba's display garden; and Pete

Grima, a service forester with the

Massachusetts Department of Condescribe

the process of envisioning

a forest for carbon storage and climate

resilience.

For more information, or to

purchase tickets, log onto berkshirebotanical.org.

Be-a-Better-Gardener is a community

service of Berkshire Botanical

Garden, located in Stockbridge,

MA. Its mission, to provide knowledge

of gardening and the environment

through a diverse range

of classes and programs, informs

and inspires thousands of students

and visitors each year. Thomas

Christopher is a volunteer at Berkshire

Botanical Garden and is the

author or co-author of more than

a dozen books, including Nature

into Art and The Gardens of Wave

Hill (Timber Press, 2019). He is the

2021 Garden Club of America's

National Medalist for Literature,

a distinction reserved to recognize

those who have left a profound and

lasting impact on issues that are

most important to the GCA. Tom's

companion broadcast to this column,

Growing Greener, streams on

NPR and is available at his website,

https://www.thomaschristophergardens.com/podcast.

WE WANT TO HEAR

FROM YOU!

The Greenville Pioneer wants to hear

from you. Send information about upcoming

events and news to news@

greenvillepioneer.com.

We need to have announcements

at least two weeks in advance.)
---
By Russell Gloor

The basics of applying for Social Security

Dear Rusty:

I am planning to apply for Social Security

in May of 2022 and would like to

when I am 62.

Signed: Ready to Retire

Dear Ready to Retire:

Congratulations on your upcoming

retirement!

You should apply for your Social Sewhen

you apply).

Since you plan to apply at age 62, be

aware that you must be 62 for an entire

come eligible the following month.

-

ther the second, third or fourth Wednesday

of the month, depending on the day of

-

the month you were born. Born between

payment will be received on the second

Wednesday; born between the 11th and

20th of the month, payment will be made

on the third Wednesday; born after the

20th of the month your payment will be

received on the fourth Wednesday.

phone by calling Social Security at

-

-

cient way to apply is online at www.ssa.

Here's a link to a short video about

create your personal "my Social Security"

online account, which is easy to do at

-

When you have that online account

set up, you will see your estimated benthat

if you claim at age 62, your benepermanent

reduction), and you'll also

62.

Please also be aware that if you claim

before your full retirement age and you

continue to work, Social Security has a

limit for how much you can earn before

The 2022 earnings limit is not yet known,

but it will be something a bit more than

the 2021 limit of $18,960. If you exceed

the annual limit, Social Security will take

you are over the limit (half of what you

exceed the limit by). The earnings limit

reach your full retirement age and goes

Finally, your Social Security benyour

combined income from all sources

is high enough. The thresholds depend

income (yours and your husband's) is

your taxable income. If your combined

income as a married couple is more than

-

This article is intended for information

purposes only and does not repre-

-

ents the opinions and interpretations of

the AMAC Foundation's staff, trained

and accredited by the National Social

Security Association (NSSA). NSSA and

the AMAC Foundation and its staff are

-

cial Security Administration or any other

governmental entity. To submit a question,

visit our website (amacfoundation.

org/programs/social-security-advisory)

or email us at ssadvisor@amacfoundation.org.