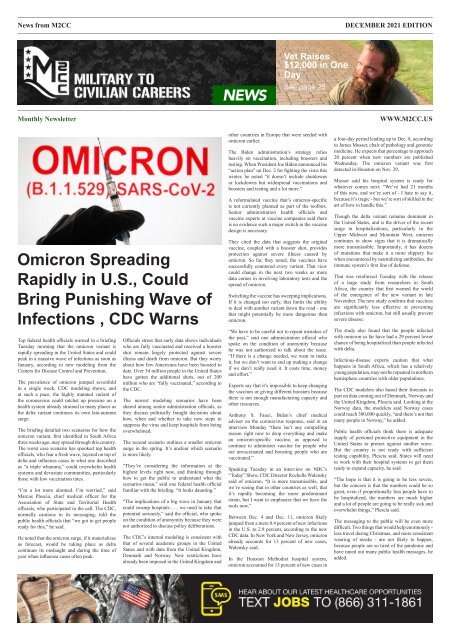 December 2021 — M2CC Newsletter
You also want an ePaper? Increase the reach of your titles
YUMPU automatically turns print PDFs into web optimized ePapers that Google loves.
News from M2CC

DECEMBER 2021 EDITION

Vet Raises

$12,000 in One

Day

See page 25

Monthly Newsletter

WWW.M2CC.US

Omicron Spreading

Rapidly in U.S., Could

Bring Punishing Wave of

Infections , CDC Warns

Top federal health officials warned in a briefing

Tuesday morning that the omicron variant is

rapidly spreading in the United States and could

peak in a massive wave of infections as soon as

January, according to new modeling from the

Centers for Disease Control and Prevention.

The prevalence of omicron jumped sevenfold

in a single week, CDC modeling shows, and

at such a pace, the highly mutated variant of

the coronavirus could ratchet up pressure on a

health system already strained in many places as

the delta variant continues its own late-autumn

surge.

The briefing detailed two scenarios for how the

omicron variant, first identified in South Africa

three weeks ago, may spread through this country.

The worst case scenario has spooked top health

officials, who fear a fresh wave, layered on top of

delta and influenza cases in what one described

as "a triple whammy," could overwhelm health

systems and devastate communities, particularly

those with low vaccination rates.

"I'm a lot more alarmed. I'm worried," said

Marcus Plescia, chief medical officer for the

Association of State and Territorial Health

officials, who participated in the call. The CDC,

normally cautious in its messaging, told the

public health officials that "we got to get people

ready for this," he said.

He noted that the omicron surge, if it materializes

as forecast, would be taking place as delta

continues its onslaught and during the time of

year when influenza cases often peak.

Officials stress that early data shows individuals

who are fully vaccinated and received a booster

shot remain largely protected against severe

illness and death from omicron. But they worry

about how few Americans have been boosted to

date. Over 54 million people in the United States

have gotten the additional shots, out of 200

million who are "fully vaccinated," according to

the CDC.

The newest modeling scenarios have been

shared among senior administration officials, as

they discuss politically fraught decisions about

how, when and whether to take new steps to

suppress the virus and keep hospitals from being

overwhelmed.

The second scenario outlines a smaller omicron

surge in the spring. It's unclear which scenario

is more likely.

"They're considering the information at the

highest levels right now, and thinking through

how to get the public to understand what the

scenarios mean," said one federal health official

familiar with the briefing. "It looks daunting."

"The implications of a big wave in January that

could swamp hospitals . . . we need to take that

potential seriously," said the official, who spoke

on the condition of anonymity because they were

not authorized to discuss policy deliberations.

The CDC's internal modeling is consistent with

that of several academic groups in the United

States and with data from the United Kingdom,

Denmark and Norway. New restrictions have

already been imposed in the United Kingdom and

other countries in Europe that were seeded with

omicron earlier.

The Biden administration's strategy relies

heavily on vaccination, including boosters and

testing. When President Joe Biden announced his

"action plan" on Dec. 2 for fighting the virus this

winter, he noted "it doesn't include shutdowns

or lockdowns but widespread vaccinations and

boosters and testing and a lot more."

A reformulated vaccine that's omicron-specific

is not currently planned as part of the toolbox.

Senior administration health officials and

vaccine experts at vaccine companies said there

is no evidence such a major switch in the vaccine

design is necessary.

They cited the data that suggests the original

vaccine, coupled with a booster shot, provides

protection against severe illness caused by

omicron. So far, they noted, the vaccines have

successfully countered every variant. That view

could change in the next two weeks as more

data comes in involving laboratory tests and the

spread of omicron.

Switching the vaccine has sweeping implications.

If it is changed too early, that limits the ability

to deal with another variant down the road - one

that might potentially be more dangerous than

omicron.

"We have to be careful not to repeat mistakes of

the past," said one administration official who

spoke on the condition of anonymity because

he was not authorized to talk about the issue.

"If there is a change needed, we want to make

it, but we don't want to end up making a change

if we don't really need it. It costs time, money

and effort."

Experts say that it's impossible to keep changing

the vaccines or giving different boosters because

there is not enough manufacturing capacity and

other resources.

Anthony S. Fauci, Biden's chief medical

adviser on the coronavirus response, said in an

interview Monday "there isn't any compelling

reason right now to drop everything and make

an omicron-specific vaccine, as opposed to

continue to administer vaccine for people who

are unvaccinated and boosting people who are

vaccinated."

Speaking Tuesday in an interview on NBC's

"Today" Show, CDC Director Rochelle Walensky

said of omicron, "It is more transmissible, and

we're seeing that in other countries as well, that

it's rapidly becoming the more predominant

strain, but I want to emphasize that we have the

tools now."

Between Dec. 4 and Dec. 11, omicron likely

jumped from a mere 0.4 percent of new infections

in the U.S. to 2.9 percent, according to the new

CDC data. In New York and New Jersey, omicron

already accounts for 13 percent of new cases,

Walensky said.

In the Houston Methodist hospital system,

omicron accounted for 13 percent of new cases in

a four-day period leading up to Dec. 8, according

to James Musser, chair of pathology and genomic

medicine. He expects that percentage to approach

20 percent when new numbers are published

Wednesday. The omicron variant was first

detected in Houston on Nov. 29.

Musser said his hospital system is ready for

whatever comes next: "We've had 21 months

of this now, and we're sort of - I hate to say it,

because it's tragic - but we're sort of skilled in the

art of how to handle this."

Though the delta variant remains dominant in

the United States, and is the driver of the recent

surge in hospitalizations, particularly in the

Upper Midwest and Mountain West, omicron

continues to show signs that it is dramatically

more transmissible. Importantly, it has dozens

of mutations that make it a more slippery foe

when encountered by neutralizing antibodies, the

immune system's first line of defense.

That was reinforced Tuesday with the release

of a large study from researchers in South

Africa, the country that first warned the world

of the emergence of the new variant in late

November. The new study confirms that vaccines

are significantly less effective at preventing

infections with omicron, but still usually prevent

severe disease.

The study also found that the people infected

with omicron so far have had a 29 percent lower

chance of being hospitalized than people infected

with delta.

Infectious-disease experts caution that what

happens in South Africa, which has a relatively

young population, may not be repeated in northern

hemisphere countries with older populations.

The CDC modelers also based their forecasts in

part on data coming out of Denmark, Norway and

the United Kingdom, Plescia said. Looking at the

Norway data, the modelers said Norway cases

could reach 300,000 quickly, "and there's not that

many people in Norway," he added.

Public health officials think there is adequate

supply of personal protective equipment in the

United States to protect against another wave.

But the country is not ready with sufficient

testing capability, Plescia said. States will need

to work with their hospital systems to get them

ready to expand capacity, he said.

"The hope is that it is going to be less severe,

but the concern is that the numbers could be so

great, even if proportionally less people have to

be hospitalized, the numbers are much higher

and a lot of people are going to be really sick and

overwhelm things," Plescia said.

The messaging to the public will be even more

difficult. Two things that would help enormously -

less travel during Christmas, and more consistent

wearing of masks - are not likely to happen,

because people are so tired of the pandemic and

have tuned out many public health messages, he

added.
---
2 | M2CC - News www.m2cc.us DECEMBER 2021 EDITION
---
WWW.M2CC.US Monthly Newsletter | 3
---
4 | M2CC - News www.m2cc.us DECEMBER 2021 EDITION
---
WWW.M2CC.US Monthly Newsletter | 5

Focus on Oversight a Key for Success at

CoreCivic

In the corrections industry, maintaining high standards of

operation is imperative to meeting the needs of the individuals

in our care. That's why CoreCivic adheres to a stringent set of

guidelines set forth by our own standards, as well as those of our

government partners and the American Correctional Association

(ACA).

Founded in 1870, the ACA is considered the national benchmark

for the effective operation of correctional systems throughout

the United States. To become accredited, a facility must achieve

compliance with ACA mandatory standards and a minimum of

90 percent non-mandatory standards. CoreCivic facilities adhere

to ACA standards, and in 2020, CoreCivic earned an average

ACA audit score of 99.6 percent across all facilities.

Key ACA audit areas include facility personnel, resident reentry

programs, resident safety, health care, and more.

holds our facilities and staff to a high standard. To be able to

represent our facility and receive reaccreditation in person is an

honor."

Adhering to ACA standards is only one part of CoreCivic's

commitment to robust oversight. When government partners

utilize CoreCivic's services, we are held not only to our own

high standards and those of the ACA, but we are often held to

the same or higher accountability of our public counterparts

through stringent government contracts, unfettered access to

our facilities for our partners, and hundreds of on-site quality

assurance monitors.

We provide access to our government partners, with most of

our facilities having government agency employees known as

contract monitors who are physically on-site to ensure we are

operating in line with partner guidelines.

Recently, the ACA held in Nashville, Tennessee, its 151st

Congress of Corrections, an annual convention that brings

together corrections professionals from across the country. In

addition to various workshops and events at the convention, the

ACA Commission on Accreditation also held panel hearings to

award accreditation to correctional facilities that meet the ACA's

rigorous requirements. Listed below are the seven CoreCivic

facilities that earned reaccreditation this year, with mandatory/

non-mandatory scores:

• Bent County Correctional Facility - 100/99.0

• Citrus County Detention Facility - 100/100

• Eloy Detention Center - 100/100

• Lake Erie Correctional Institution - 100/99.3

• Saguaro Correctional Center - 100/99.8

• Stewart Detention Center - 100/100

• Tallahatchie County Correctional Facility - 100/100

"The accreditation process is very important," said Warden

Fred Figueroa from Eloy Detention Center, one of the seven

CoreCivic facilities that was awarded reaccreditation. "ACA

To maintain our own high standards, annual on-site audits covering

all operational areas are administered to ensure compliance with

contractual and regulatory obligations and corporate-mandated

requirements. Each CoreCivic Safety facility is audited by our

internal quality assurance division, which is independent from

our operations division. Facilities are expected to be audit-ready

year-round, maintaining continuous compliance with numerous

applicable standards.

CoreCivic employs 75 staff members dedicated to quality

assurance, including several subject matter experts with extensive

experience from all major disciplines within our institutional

operations.

"A lot of hard work goes into preparing for these audits,"

Figueroa said. "Once they're complete, the staff can see their

accomplishments and feel proud."

Having multiple levels of oversight helps CoreCivic maintain

a safe environment for those in our care. By holding ourselves

accountable to our own high standards, along with our

government partners' and ACA's standards, CoreCivic continues

to be a trusted partner working to better the public good.
---
6 | M2CC - News www.m2cc.us DECEMBER 2021 EDITION
---
WWW.M2CC.US Monthly Newsletter | 7
---
8 | M2CC - News www.m2cc.us DECEMBER 2021 EDITION

Navy Commander

Fired After Refusing to

Get COVID Vaccine

WASHINGTON (AP) — A Navy commander has been fired

from his job as the executive officer of a warship because he

refused to get a COVID-19 vaccine as required and refused to be

tested for the virus, Navy officials said Friday.

Cmdr. Lucian Kins was relieved of his duties Friday as second in

command of the USS Winston Churchill, a destroyer, by Navy

Capt. Ken Anderson, commander of Naval Surface Squadron

14. Officials said Kins was the first naval officer to be fired as a

result of a vaccine refusal.

Navy spokesman Lt. Cmdr. Jason Fischer declined to give

the precise reason why Kins was relieved of command, citing

privacy concerns. Fischer, who is spokesman for the Naval

Surface Force Atlantic, said the reason for the firing was that

Anderson lost confidence in Kins' ability to perform his duties

after he failed to obey a lawful order.

Other officials, however, said it was because Kins refused the

order to get the vaccine, and refused testing to ensure he did not

have the virus.

The officials spoke on condition of anonymity to discuss

personnel issues. One official said Kins has requested a religious

exemption, which was denied. Kins is appealing that denial.

The Pentagon has made the vaccine mandatory for all service

members, and Navy personnel had until late November to

get their shots or request exemptions. Thousands of service

members have asked for religious exemptions, but so far none

of the military services have approved one.

Fischer said Kins has been reassigned to the staff of Naval

Surface Squadron 14.

Lt. Cmdr. Han Yi, the ship's plans and tactics officer, is

temporarily serving as the Churchill's executive officer until a

permanent replacement is identified.

VISIT OUR

WEBSITE AT M2CC.US
---
WWW.M2CC.US Monthly Newsletter | 9

TO ADVERTISE

contact Nathan.Stiles@mhce.us

VISIT OUR WEBSITE AT MHCE.US
---
10 | M2CC - News www.m2cc.us DECEMBER 2021 EDITION
---
WWW.M2CC.US Monthly Newsletter | 11

TO ADVERTISE

contact Nathan.Stiles@mhce.us

VISIT OUR

WEBSITE AT M2CC.US
---
12 | M2CC - News www.m2cc.us DECEMBER 2021 EDITION

The US Just Ended

Combat in Iraq, but

Thousands of Troops

Will Stay Put for Now

The U.S. military ended its

combat operations in Iraq

this week under terms from

an earlier agreement, though

thousands of troops will

remain in the country for now,

the Pentagon said Thursday.

About 2,500 service members

are in Iraq after months of

winding down the mission

against the Islamic State group;

they will continue advising

and training Iraqi security

forces after the transition was

completed this week. The

change was finalized at the

conclusion of technical talks

between the two countries

Thursday.

The move marks a deescalation

of the U.S.-led

coalition's war against the

Islamic State, or ISIS, that

began in 2014 as the terrorist

group swept through Iraq,

staged public executions, and

sponsored attacks around the

world.

This is the natural evolution,"

Pentagon spokesman John

Kirby said, but will not result

in any immediate change to

the laydown and number of

U.S. forces there.

The U.S.-Iraq agreement to

pull all combat troops from the

country by the end of this year

was hammered out in July.

Former Iraqi Prime Minister

Haider al-Abadi declared the

military defeat of ISIS in 2017,

after all territory such as the

city of Mosul was reclaimed
---
WWW.M2CC.US Monthly Newsletter | 13

and the border with Syria was

secured. But an insurgency

waged by the group continued.

The terrorist group has been

dramatically reduced to

underground networks with no

territory, but it once claimed

40,000 soldiers and controlled

110,000 square kilometers,

according to the U.S.-led

coalition.

"Many brave men and women

gave their lives to ensure

Daesh never returns, and as

we complete our combat role,

we will remain here to advise,

assist, and enable the ISF, at

the invitation of the Republic

of Iraq," Maj. Gen. John W.

Brennan Jr., commander of

Combined Joint Task Force-

Operation Inherent Resolve,

said in a released statement,

referring to ISIS with the term

used by Iraqis.

ISIS "is down, but not out,"

Brennan said in the statement.

It is the second time in a

decade that the U.S. has

pulled back forces amid an

apparent calming in Iraq.

In 2011, President Barack

Obama announced an end to

the earlier Iraq War launched

in 2003 to topple Saddam

Hussein, only to re-enter the

country three years later to

fight the burgeoning terrorist

group.

The main threat now to U.S.

troops remaining in the

country is Shia militia groups

backed by Iran. The groups are

blamed for drone and rocket

attacks on U.S. bases in Iraq

and Syria.

"We have to assume threats to

U.S. forces remain credible in

Iraq," Kirby said.

VISIT OUR

WEBSITE AT

MHCE.US

TO ADVERTISE

contact

Kyle.Stephens@mhce.us
---
14 | M2CC - News www.m2cc.us DECEMBER 2021 EDITION

National Guard Helping Virus-Sapped States,

Hospitals

More U.S. states desperate to

defend against COVID-19 are

calling on the National Guard

and other military personnel

to assist virus-weary medical

staffs at hospitals and other care

centers.

People who became sick after

refusing to get vaccinated are

overwhelming hospitals in

certain states, especially in

the Northeast and the Upper

Midwest. New York, meanwhile,

announced a statewide indoor

mask order, effective Monday

and lasting five weeks through

the holiday season.

number of people hospitalized

with COVID-19 has soared

to about 54,000 on average,

according to the Centers for

Disease Control and Prevention.

Meanwhile, the country is

approaching a new milestone of

800,000 COVID-19 deaths. More

than 200 million Americans, or

about 60% of the population, are

now fully vaccinated.

In Maine, which hit a pandemic

high this week with nearly 400

COVID-19 patients in hospitals,

as many as 75 members of the

National Guard were being

summoned to try to keep

people out of critical care with

monoclonal antibodies and to

perform other non-clinical tasks.

Maine has one of the highest

COVID-19 vaccination rates in

the country -- 73% -- but that

rate lags in many of the state's

rural pockets.

The New York National Guard

said it had deployed 120 Army

medics and Air Force medical

technicians to 12 nursing homes

and long-term care facilities to

relieve fatigued staff.

Dr. Paolo Marciano, chief

medical officer at Beaumont

Hospital in Dearborn, Michigan,

said it was a "tremendous

We're entering a time of

uncertainty, and we could either

plateau here or our cases could

get out of control," Gov. Kathy

Hochul warned Friday.

In Michigan, health director

Elizabeth Hertel was equally

blunt: "I want to be absolutely

clear: You are risking serious

illness, hospitalization and even

death" without a vaccination.

The seven-day rolling average

for daily new cases in the

U.S. rose over the past two

weeks to 117,677 by Thursday,

compared to 84,756 on Nov. 25,

Thanksgiving Day, according to

Johns Hopkins University. The
---
WWW.M2CC.US Monthly Newsletter | 15

lifeline" to get assistance from

the Defense Department, which

has more than 60 nurses, doctors

and respiratory therapists

assigned to the state.

"It allowed us to be able to care

for the COVID patients and at

the same time still maintain the

level of care that cancer patients

require or people with chronic

illnesses," Marciano said.

"Where we are today is really

just keeping our heads above

water."

New York's mask order covers

all indoor public places unless a

business or venue has a vaccine

requirement. The state reported

more than 68,000 positive tests

for the virus in a seven-day period

that ended Wednesday, the most

for any seven-day stretch since

February.

New York City and several

upstate New York counties

already have mask mandates.

Critics, however, said the

governor's announcement was

another burden for businesses.

"Government overreach at

its worst," said Republican

Assemblyman Mike Lawler.

Oklahoma Guard Leader Tells

Vaccine Refusers to Prepare for

'Career Ending Federal Action'

The leadership of the

Oklahoma National Guardhas

acknowledged that its fight with

the federal government over the

COVID-19 vaccine mandate

ultimately may lead to "career

ending federal action" for troops.

Brig. Gen. Thomas Mancino, the

top officer for Oklahoma's Guard,

released a statement Thursday

that opened with a forceful

defense of service members

under his charge exercising

their "personal responsibility"

and "the right to not take the

vaccine."

However, the message quickly

pivoted as Mancino began to

note that his and Republican

Gov. Kevin Stitt's authority is

limited.

"Anyone exercising their

personal responsibility and

deciding not to take the vaccine

must realize that the potential

for career ending federal action,

baring [sic] a favorable court

ruling, legislative intervention,

or a change in policy is present,"

Mancino wrote in the statement.

State National Guard formations

are unique in the military in that

Michigan is sending more

ventilators to hospitals and

asking for even more from the

national stockpile. Infection

rates and hospitalizations are at

record levels, 21 months into the

pandemic. The first case of the

omicron variant was confirmed

Thursday in the Grand Rapids

area

The largest hospital system

in Indiana enlisted National

Guard for support this week

at a time when the number of

COVID-19 patients in the state

has more than doubled in the past

month. The state's COVID-19

hospitalizations are now higher

than Indiana's summer surge that

peaked in September and are

approaching the pandemic peak

reached in late 2020.
---
16 | M2CC - News www.m2cc.us DECEMBER 2021 EDITION

TO ADVERTISE

contact Kyle.Stephens@mhce.us
---
WWW.M2CC.US Monthly Newsletter | 17

they have dual obligations: to both the state and federal government.

When under their governor's authority, the Guard is said to be operating

under Title 32. However, when deployed by the federal government,

they operate under so-called Title 10 orders and are commanded by

the president.

VISIT OUR WEBSITE AT MHCE.US

"The Governor has used his authority under Title 32 to grant you a

limited safe harbor within his authority to not be subject to Title 10

negative actions for not taking the vaccine," Mancino explained.

This distinction -- whom an individual Guard member ultimately

takes orders from and when -- has been the crux of the fight between

Oklahoma and the Pentagon. That fight now includes a lawsuit

launched by Stitt and threats from the Pentagon to withhold pay.

In one of the last paragraphs of his message, Mancino noted that he is

"fully vaccinated, plus the booster."

"I believe the vaccine to be safe and effective against COVID-19

based on the millions of doses administered," he wrote.

In his message, Mancino admitted that, ultimately, "continued service

in the national guard will require connections with Title 10 authority."

"Such connections including training events, schools, and mobilizations

are going to eventually force you out of that safe harbor, and subject

you to title 10 authorities. This is reality," his statement said.

Increasing politicization of the National Guardmeans that Oklahoma

Guardsmen aren't the only troops stuck between state and federal

posturing. A spokesperson for Stitt told Military.com last week that at

least five other Republican governors are considering similar moves.

While Stitt and other governors may be eager to test the limits of

their authority against the Pentagon and the rest of the federal

government, Mancino's message makes it clear the struggle could

have consequences for Guard members.

"It is important you do not mistake my vigorous defense of the

Governor's rights under Title 32 as a guarantee you will not face

consequences from Title 10 authority," Mancino wrote. "I have no

such power."
---
18 | M2CC - News www.m2cc.us DECEMBER 2021 EDITION

Join Our Team!

Embark on a new career

with Central New York

Psychiatric Center!

Our Team Promotes

Hope, Resilience and Recovery!

Central New York Psychiatric Center is seeking

candidates to fill the following positions;

TO ADVERTISE

contact Kyle.Stephens@mhce.us

Psychiatrists, Psychiatric Nurse Practitioners,

Psychologists, and Registered Nurses.

These positions are available at our Inpatient

Forensic Hospital in Marcy, New York, as

well as our Corrections Based Satellite Units

across the State.

Benefits Include:

• NYS Pension

• Competitive Salaries

• Comprehensive Health Insurance

• Flexible Spending Accounts for

Healthcare & Dependent Care

• Generous Paid Time Off

Contact Us:

315-765-3375 or by e-mail

CNpersonnel@omh.ny.gov
---
WWW.M2CC.US Monthly Newsletter | 19

VISIT OUR WEBSITE AT MHCE.US

TO ADVERTISE

contact Susan.Keller@mhce.us
---
20 | M2CC - News www.m2cc.us DECEMBER 2021 EDITION

polyfluoroalkyl substances, collectively

known as PFAS.

"I'm outraged every time I hear the stories

from the service members in my state who

unknowingly raised their families near

PFAS-contaminated bases and had no idea

of the danger," Sen. Alex Padilla, D-Calif.,

said during a hearing Thursday.

The Pentagon's inspector general released

a report in July saying that the DoD

waited five years to reduce the use of

PFAS-containing aqueous film forming

foam used for firefighting in training and

emergencies, even though its Emerging

Chemicals Program issued an alert in 2011

describing PFAS as a concern.

The delay possibly exposed "people and

the environment" to preventable risks, the

DoD IG concluded.

As the result of a bureaucratic loophole,

the DoD was not required to take action

to address the risks highlighted in the alert

until 2016, allowing years to pass while

troops continued to be exposed.

The delay -- and a subsequent focus on

firefighting foams while largely ignoring

other sources -- continued to expose

service members and their families to the

dangerous substances, the report found.

Concern has grown in the past decade over

PFAS, which have been linked to cancer

and birth defects, although research

After Years of

Delays, Congress

Prepares 2-Year

Deadline for

Pentagon to

Finish Testing

for 'Forever

Chemicals'

Frustrated by the Defense Department's

pace of identifying installations

contaminated with chemicals used in

firefighting foam as well as industrial and

commercial products, Congress plans to

order the Pentagon to complete the task in

two years.

The fiscal 2022 National Defense

Authorization Act, approved by the House

on Tuesday and expected to pass the Senate

next week, requires the DoD to complete

preliminary assessments and site testing at

all bases and National Guardfacilities by

the end of 2023

The deadline is needed, legislators

say, because the timeline and lack of

transparency by the Defense Department

has left communities wondering whether

their water and the ground they occupy

are contaminated with perfluoroalkyl and
---
WWW.M2CC.US Monthly Newsletter | 21

remains insufficient to understand the full

impact of the chemicals on people. They

are known as "forever chemicals" because

they do not break down in the environment

and can build up in the human body.

The compounds are used not only

in firefighting foam but in industrial

lubricants, non-stick cookware, cosmetics,

stain repellents and food wrappers.

The 2020 defense policy bill required

the Defense Department to test the

blood of military and civilian installation

firefighters for PFAS.

The DoD's work, according to Laura

Macaluso, DoD's acting deputy assistant

secretary for force safety and occupational

health, will help expand the body of

scientific knowledge on these substances

and lead to advances in care, if needed.

He added that the Pentagon had planned

to complete the identification and testing

process of all installations by the end of

2023.

The Pentagon has banned the use of PFAScontaining

foams for training on military

installations, although the product is still

used on installations during emergencies

and aboard ships.

The DoD has faced challenges finding

an effective PFAS-free firefighting foam,

since none is commercially available

that meets its standards, according to the

Pentagon.

The department is currently funding

research to develop a replacement.

TO ADVERTISE

contact Susan.Keller@mhce.us

"We are hopeful that there will be evidence

connecting particular blood levels of one

or more PFAS to specific adverse health

effects in the next two years, and that

we could expedite this trend analysis,"

Macaluso said.

Firefighting foams containing PFAS have

been used on military installations since

the early 1970s, with thousands of people

exposed during training and emergencies

and an unknown number possibly exposed

as the result of runoff.

As of Thursday, the DoD had identified

699 active or former military bases and

National Guard facilities where two of

the chemicals, perfluorooctane sulfonate

(PFOS) or perfluorooctanoic acid (PFOA),

may have been used or released into the

environment.

During the Thursday hearing, Richard

Kidd, the DoD's deputy assistant secretary

for environment and energy resilience,

said 190 of those installations have been

assessed, with 115 needing further review

and possibly remediation.

The other 75 showed no record of any use

of firefighting foam, and "the investigation

process has essentially stopped" for those

facilities, Kidd said.

Advance Your Nursing Career

Move Beyond

Patient Care

Become a

› Medical Case Manager

› Forensic Nurse

› Legal Nurse Consultant

› Nurse Death Investigator

Earn a Professional Certificate ONLINE

from the prestigious University of California.

Discover how to grow your nursing career

online at www.extension.ucr.edu/nurse

or call (951) 827-5104.
---
22 | M2CC - News www.m2cc.us DECEMBER 2021 EDITION

US military

booster shot drive

in Europe goes

into overdrive

amid COVID-19

surge

KAISERSLAUTERN, Germany — The

slow rollout of COVID-19 vaccine boosters

to the U.S. military community in Europe

has given way to ramped-up efforts to get the

additional jab to everyone who's eligible as

quickly as possible.

And in many locations, appointments are

being scooped up as soon as they become

available.

In the past week alone, the Army nearly

doubled the number of booster shots

administered at its base clinics on the

Continent, Gino Mattorano, a spokesman

for Regional Health Command Europe, said

Tuesday.

At the end of November, the Army had

vaccinated about 4,100 individuals with a

booster, less than 5% of the estimated 100,000

people at Army bases in Europe eligible for

vaccinations. Mattorano estimated that the

total now stands at about 25,000.

Initially, the Army had intended to expand

its booster campaign after the holidays while

it focused on administering the pediatric

vaccine, which was recently approved for

children 5 to 11.

But with Germany and other European

countries that host American troops

experiencing a record surge in cases and high

demand for the booster, the Army reversed

course and opened more appointments.

The Army's last vaccination clinics before

the holidays will be Monday, Mattorano said.
---
WWW.M2CC.US Monthly Newsletter | 23

Landstuhl Regional Medical Center, the Army's largest

overseas hospital, has administered about 11,000 boosters

and started partnering with the 21st Theater Sustainment

Command and the 30th Medical Brigade to add booster

vaccine appointments, Mattorano said.

On Monday, Ramstein Air Base opened more booster

appointments Friday for its last scheduled vaccination

clinic before the holidays.

By the end of the day Monday, time slots for all of the

approximately 600 sessions were gone, according to an

online appointment site.

For the four vaccination clinics scheduled at Ramstein in

January, only one time slot on Jan. 7 was still available as

of Tuesday morning.

Ramstein medics have administered about 2,200 booster

vaccines, both Moderna and Pfizer, base spokesman Lt.

Col. Will Powell said in a statement Monday.

"The process remains fluid," he said. "As cancellations

occur, appointments open up."

Most bases are using the Defense Health Agency's

online portal for appointments. It allows people to make

more than one appointment for the same shot. Military

officials said it's important for users to cancel previous

appointments and not double-book.

However, there is no penalty for neglecting to cancel

previous appointments, and it is permissible to make

multiple appointments simultaneously to accommodate

other family members.

In some German states, including Rheinland-Pfalz, home

to tens of thousands of U.S. personnel, a booster shot

negates vaccinated individuals' testing requirement for

indoor dining and other activities.

Germany's new government is looking at applying that

exemption across the nation to encourage more booster

shots and relieve testing capacity.

Booster shots for people ages 16 and 17 are still hard

to get, depending on location. The Centers for Disease

Control and Prevention and the U.S. Food and Drug

Administration recently approved boosters for older

teens.

LRMC was showing available booster appointments for

ages 16 and up for Jan. 6. Other Army bases were also

offering the booster to older teens, Mattorano said.

Ramstein officials said Monday that they are awaiting

official guidance from the Air Force on when to begin

offering the booster to 16- and 17-year-olds.

At Spangdahlem Air Base in Germany, health officials

"are exploring options" for making booster shots available

to 16- and 17-year-olds, 1st Lt. Megan Morrissey, a

spokeswoman for the 52nd Fighter Wing, said in a

statement Tuesday.

U.S. Navy officials did not respond by deadline about

their efforts to provide booster shots to their personnel

in Europe.
---
24 | M2CC - News www.m2cc.us DECEMBER 2021 EDITION

VISIT OUR WEBSITE AT MHCE.US
---
WWW.M2CC.US Monthly Newsletter | 25

Florida Veteran Runs 26.2

Miles, Bikes 100 Miles and

Raises $12,000 for Vets in

One Day

DESTIN, Fla. (Tribune News

Service) — For the second year

in a row, Destin resident and

Army veteran Geoff Speyrer

completed a grueling 24-hour

physical challenge to raise

awareness and money for veteran

suicide prevention.

about giving back hope to these

men and women who suffered."

Speyrer credits sponsors,

supporters, fellow athletes from

the 1st Phorm community and

runners from the Crop Dusters

and Destin running groups who

joined him with helping make

the event a success.

"This wasn't a me thing," said

Speyrer. "This isn't about me;

we had people coming in from

the Midwest, the East Coast, the

West Coast."

Collectively, all those efforts so

far have raised about $12,000

for Healing Paws for Warriors, a

local veteran-founded nonprofit

that provides trained service dogs

to veterans who are faced with

post-traumatic stress, traumatic

brain injury or military sexual

trauma.

"We're unable to run this program

unless we get community support

through donations, fundraisers,

etc., so we're very thankful for

this opportunity," said Healing

Paws for Warriors co-founder

Sheila Hale.

"Geoff is an example of a

veteran giving back, pulling the

community together and making

a difference," Hale said.

Despite battling winds that added

about three hours to the bicycle

ride, Speyrer said he was happy

with how this year's challenge

went and plans to make next

year's even bigger.

"This is just the beginning," he

said. "It's just going to get bigger

and bigger."

Want to contribute? The

fundraiser for Healing Paws for

Warriors will continue through

the end of the month. Visit the

Facebook page Geoff's SET 22

fundraiser for Healing Paws for

Warriors Inc.

The event is called SET 22, with

the SET standing for strength,

endurance, and training. Speyrer

said the 22 refers to the number

of veterans who take their lives

every day.

Beginning at midnight Friday,

Speyrer and fellow cyclists Sean

Kamm and Kathleen Carrier

made four loops by bike around

Destin and Scenic Highway 98

for a total of 100 miles. About

noon Saturday, he started off on

foot with about a dozen other

runners to make one more loop

around Destin, racking up a

26.2-mile marathon.

To cap off his day, Speyrer

then took to the track at Destin

Elementary School about 9 p.m.,

where he was joined by 25 to 30

people who cheered him on in the

dark as he flipped a 200-pound

tractor tire around the track

for total of 1 mile. He finished

the challenge about 10:45 p.m.

Saturday.

"People ask, 'Why do you put

yourself through this,' " said

Speyrer. "I know what it's like to

feel like there's no hope. It's all

Creating a Culture

of Caring

Offering master's

and doctoral

degrees for

Registered Nurses

Specialties Offered:

Nurse-Midwife

Family Nurse Practitioner

Women's Health Care NP

Psychiatric-Mental Health NP

Learn more at frontier.edu/military
---
26 | M2CC - News www.m2cc.us DECEMBER 2021 EDITION
---
WWW.M2CC.US Monthly Newsletter | 27

TO ADVERTISE

contact Kyle.Stephens@mhce.us
---
28 | M2CC - News www.m2cc.us DECEMBER 2021 EDITION

College of Nursing

Visit www.southalabama.edu/colleges/con

251-445-9400

5721 USA Drive North, Mobile, AL 36688

High Quality

Programs

Available Online

and on Campus

On Campus:

• Pre-Licensure BSN

• Accelerated BSN

Online OptiOns Offered:

• RN to BSN

• RN to MSN

• MSN

• DNP

• Post Graduate Certificates

areas Of speCializatiOn:

• Clinical Nursing Leader

• Nursing Administration

• Nurse Practitioner

(multiple tracks)

• Clinical Nurse Specialist

• Nursing Informatics

sub-speCialties:

• Cardiovascular

• Oncology

• Palliative Care

• Nursing Education

• Lipid Management