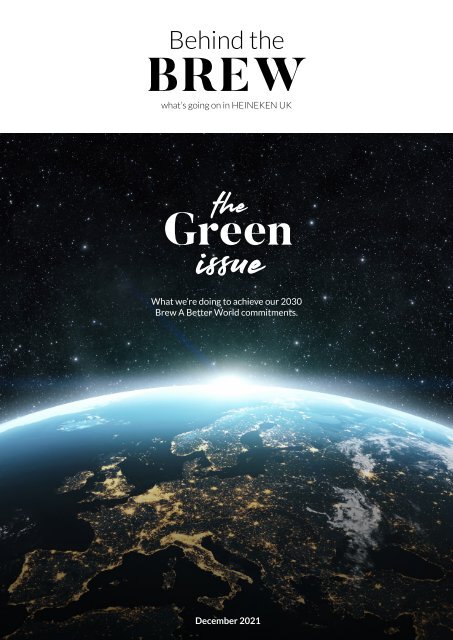 Create successful ePaper yourself
Turn your PDF publications into a flip-book with our unique Google optimized e-Paper software.
Behind the

BREW

what's going on in HEINEKEN UK

the

Green

issue

What we're doing to achieve our 2030

Brew A Better World commitments.

December 2021

1
---
Contributors

David Flochel

Managing Director

Alex Townsend

Head of Supply Planning

Chelsey Wroe

Head of Sustainability

Aileen Newall

Head of Reward

Paul Anderson

Procurement Category

Specialist

Steve Cann

Director, Future Food Solutions

Andy McKnight

Principal Project Manager,

Manchester Brewery

Chris Sladen

Head of Property,

Star Pubs & Bars

Emma Newberry

B2B & Quality Manager,

On Trade

Steve Waygood

Head of Quality of Product

Design

Henry Stremes

Trade Marketing Controller

Welcome to the third edition of Behind the Brew, our contributor-led

magazine that takes you behind-the-scenes to see what's going on

around the business.

In our Green Issue, we place a focus on sustainability, discussing the

actions we're taking to achieve our ambitious 2030 Brew A Better

World commitments.

In addition, you'll read about the recent Leadership Event in London

where the Leadership Team met to discuss EverGreen 2025 – our

bold and exciting strategy – and how it will shape the future of our

business.

I hope you enjoy catching up with what's been happening across the

business!

Wishing everyone a very Merry Christmas.

Cheers!

Editorial

by Ann McDonagh

Kelly Borland

Digital Product Owner

Joanna Dring

Head of Media

2
---
24

30

12

Contents

End of Year Message

David Flochel reflects on 2021 and looks ahead to 2022.

EverGreen 2025 in focus

A strategy for now and the future.

Who likes a challenge? The Project

Availability team do…

Unlocking our supply chain to meet customer needs.

We're supporting Christmas Plus One

Showcasing the role pubs play in tackling loneliness.

What's Brewing in Sustainability?

How we'll deliver on our Brew a Better World pledges.

Together in Electric Dreams

Our commitment to make the entire HEINEKEN car fleet electric

by 2026.

No Barley, No Beer!

Finding a more sustainable way to grow barley.

The Sustainable Pub of the Future

Roadmap to making our pubs sustainable by 2030.

Get a Green Grip

Our journey to removing customer-facing plastic.

COP26 – In Pictures

Showcasing our commitment to Net Zero in Glasgow.

Finding a Better Way to Onboard

SmartDispense Customers

Working together to achieve organisational effectiveness.

'Have a drink on us': On Trade Christmas

activations

Helping our brands win battle for market share over Christmas.

What's Hitting the Headlines

HEINEKEN news in the media this month.

Competitor News

Keeping our eye on the competition.

Green Energy in our Breweries

Our journey to achieve carbon neutrality by 2030.

Have you got a story you'd like us to cover?

If you've got anything you'd like us to cover, please get in touch at

employee.communications@heineken.co.uk

3
---
An end of year message

from David

4
---
"EverGreen 2025 will help us meet the demands of a rapidly

changing world – as we become more externally focused and

step-up our consumer and customer-centricity."

Faced once again with the unexpected, there's no denying that it's been another tough year for all of us.

We asked for your resilience, commitment and hard work and you all rose to the challenge. For this I'd

like to thank each and every one of you.

Although it might not feel like it, particularly as we continue to

navigate volatility caused by the pandemic and face unprecedented

issues in our supply chain, we are in fact, winning in the market.

We've been increasing our value share as a business in the on trade

and protecting it in the off trade, meaning we're doing better than

the competition. We've a lot to be proud of in terms of what we're

achieving and our ability to re-invent ourselves. We've been turning

around our Operating Profit into positive territories thanks to your

great efforts on savings and a needed restructure at the beginning

of the year.

We're also making great strides in addressing the challenges

presented to us. Our plan to fix availability is gaining traction, with

capacity and service levels improving. We're committed to creating

greater clarity, improving our processes and addressing the pain

points through our Organisational Effectiveness work. While we're

still on a journey, we're making great progress on clarity and

alignment and starting to get back on track on availability, step

by step.

As we look towards the final weeks of 2021, our focus must be on

protecting Christmas. This is the last peak of the year, and we can't

afford to miss it – our overall performance for the year relies on

securing the best possible Christmas that we can by maximising our

sales, despite the latest restrictions with the new COVID variant.

We've learned a lot from digital connection, hybrid working, agile

teams, more agile ways of working and we must embrace that

change.

Our revised Purpose & Values really speaks to all of us. The Joy of

True Togetherness is so very relevant at this time of polarisation,

isolation and exhaustion.

Looking ahead

We're working on future-proofing the business with the launch of

EverGreen 2025, our bold and exciting strategy which will help us

deliver superior and balanced growth as well as the next evolution

of HEINEKEN UK.

EverGreen 2025 will help us meet the demands of a rapidly

changing world – as we become more externally focused and

step-up our consumer and customer-centricity. We'll place bigger

bets on premium beers, ensure 0.0% is everywhere and do more

to go beyond beer.

Freeing up resources and reinvesting in people, in growth with more

innovation and in our supply chain will continue to be a focus, as

will becoming bolder with our technology agenda and continuing

our journey to becoming a 'Digital First' business.

And, raising the bar on our environmental, social and responsible

consumption actions, our Brew a Better World 2030 commitments

will enable faster progress towards a net zero, fairer and healthier

world.

Here's to hopefully a better, more positive and joyful 2022.

We hope you have a well-deserved break with family and friends

over the festive period – you deserve it.

Best wishes

David Flochel

Managing Director

"We hope you have a well-deserved break with family and

friends over the festive period – you deserve it."

5
---
in Focus

EverGreen 2025 will shape the future of our business. Ashleigh Lloyd, our roving reporter, heard firsthand

more about our bold and exciting strategy and the impact it will have in the UK at the recent

Leadership Event in London.

EverGreen on the agenda

Following the Global launch of our EverGreen strategy in October,

the Leadership Team came together last month to explore, in

depth, how EverGreen 2025 will shape the future of our HEINEKEN

UK business – delivering superior and balanced growth.

A strategy for now and the future

David Flochel, Managing Director, kicked off the day, reminding

attendees that throughout our 157-year history, HEINEKEN has

continued to evolve and EverGreen 2025 is the next step in this

evolution.

Inspired by nature's resilience and its ability to adapt and renew

itself, our EverGreen strategy is a multi-year journey which focuses

on both continuity – honouring and building on what has made us

great – and change – adapting to an evolving market and futureproofing

the company as we look ahead to the next 157 years.

We know it's not the biggest or the strongest that survive, but the

most agile and adaptable, and this is especially true when we look

at the disruption happening in the market today. Our success will

rely on our ability to respond to current times while staying true to

our company values and heritage.

EverGreen 2025 comes together as a new strategy on a single

page, encapsulating our new Purpose, Values and Behaviours and

clearly defining our Dream, where we'll play and how we'll win.

Unlock the full potential of our people

In an interactive People-centric session, the team were asked to

explore the impact of culture on our business and our colleagues.

Embracing the skills that enabled success pre-COVID-19, whilst

developing new skills to cope with new realities and challenges, they

discussed how our Behaviours can encourage 'real conversations'

between colleagues. The team also looked at the steps that need

to be taken now to support and develop our teams to deliver our

EverGreen 2025 ambition. Watch out for a Leadership Pledge in

the new year!

Optimising Availability, leveraging Sequoia

Our 2022 targets then came under the spotlight, with a focus placed

on optimising product and service availability – and leveraging

Sequoia, which is a Europe-wide project aimed at optimising our

supply chain.

Securing availability for Christmas is our immediate focus as a

business before shifting our attention in 2022 behind delivering our

plan, making our supply chain more efficient and fundamentally

altering our longer-term availability strategy as we target 98.5%

OTIF service levels.

Driving Superior Growth

Next on the agenda was Driving Superior Growth and the three key

principles which can help when planning for growth:

• Insight – matching our portfolio with where consumer demand

is today and will be tomorrow.

• Making bold choices – scoping out where to play and defining

what success looks like.

• Backing ourselves – executing our 2022 gameplans in both

the on and off trade and knowing how to win.

6
---
Raising the bar on Sustainability & Connectivity

The day came to a close with a look at the plans we've in place to

ensure we're winning in the area of sustainability and responsibility,

before reviewing the steps we'll be taking over the next three to

five years to revamp our digital journey and become the bestconnected

brewer, to serve customers and consumers who are

increasingly looking to buy our brands online.

Our EverGreen 2025 ambition

By the end of 2025, our global ambition is to:

• Increase our revenue to mid-single digit growth.

• Increase our operating margin by 17% by 2023 and operating

leverage beyond.

• Increase our capital efficiency.

• Cut our CO 2

emissions by 50% in production.

Our Green Diamond is our 'yardstick' for success against our

balanced growth ambition. It will ensure that we strike a balance

between short-term delivery, long-term sustainability and between

top-line growth and overall value creation.

How we'll get there...

Nothing More, Nothing Less 2022 is year one of our EverGreen

2025 strategy. It lays the foundation for future growth and outlines

the direction of travel for our business over the coming years.

Placing a focus on cultural shifts, we'll create a sense of belonging

through our new Purpose, Values and Behaviours as we continue to

meet the demands of a fast-changing world.

Becoming more externally focused and stepping-up our consumer

and customer-centricity will be key. We'll place bigger bets on our

premium beers, ensure there's Always A Choice with 0.0 and do

more to stretch and go beyond beer, to win the hearts of customers

and drinkers and regain momentum in the cider category. We'll

maximise our pub estate too, enhancing our use of capital and

creating fantastic drinkers experiences of our brands.

We must place continuous focus on productivity to free up

resources and reinvest in growth, whilst being bolder with our

technology agenda and tackling the digitisation of our business

with more urgency.

On top of this, we're raising the bar on our environmental and social

ambitions by continuing to champion responsible consumption

and prioritising the implementation of our 2022 Carbon Neutrality

plans, both of which are woven into our Brew a Better World 2030

commitments, which you can read more about in this issue of

Behind the Brew.

We shared more about our EverGreen 2025 strategy and

our Nothing More, Nothing Less plan for 2022 at the All

Colleague Townhall on 6th December. If you missed it,

you can catch up on the event website. Here you'll find

recordings from the event, along with other pre-recorded

content from the Leadership Event and a number of videos

bringing to life our new Values, our Brands and our Brew a

Better World agenda.

7
---
Who likes a Challenge?

The Project Availablity

Team Do…

8
---
"Our overall aim is to achieve 98.5% of on time

and in full deliveries to customers."

Alex Townsend

Head of Supply Planning

Alex Townsend, Head of Supply Planning, is leading Project Availability which has been established to address

the recent challenges we've encountered across our supply chain.

We're unlocking our supply chain to meet customer needs

Let's face it, we've all faced challenges since 2020, but the past 18

months exposed certain issues in our end-to-end supply chain in the

UK. So, we launched Project Availability in October to identify and

unlock the bottlenecks we were facing as a result of the pandemic,

Brexit import delays and the HGV driver shortages.

Setting Goals

Our overall aim is to achieve 98.5% of on time and in full deliveries

to customers. At the moment it's sitting at around 90% due to some

of the issues mentioned above. We've adopted a new approach and

brought in our best people to tackle the issues and help us hit our

target.

Our Strategy

We've set up four workstreams – Procurement, Logistics, Brewery

Operations and Planning – to see what we can do in each area to

improve availability and to deliver for the customer. We've started with

improvement activity across the four workstreams:

• Procurement is working with suppliers to reduce lead times and

increase flexibility so we ensure a secure supply of materials.

• Logistics is optimising transport routes and talking to hauliers to

ensure we've the right stock in the right place at the right time,

basically a stockholding strategy based on geographical location.

• Brewery Operations are focussed on improving production

performance, so we have the right products available, with output

exceeding customer demand. One key area they are working on

is reducing unplanned losses through a Sequoia initiative called

'Drive to Win'. Driven from the shopfloor, this defines the 'perfect

day' in production based on a number of operational indicators.

You'll hear more about this initiative over the coming months.

UNLOCKING OUR SUPPL

TO MEET CUSTOMER N

• Planning is revising its stock strategy and capacity planning

process to maximise availability for customers across the network.

It's complicated!

As you can see, everything is interlinked, which is why the project is

looking at the entire supply chain.

Balancing Christmas with long-term solutions

The big challenge right now is balancing the day job to deliver

availability for Christmas, whilst keeping an eye on the longer-term.

Freeing up time and resources to fix problems now so we're not facing

the same challenges this time next year.

In a perfect world…

Ideally, we want to be in a position where our customers experience

great service in line with their expectations, and we can deliver on

time and in full. We want to unlock the bottlenecks in our end-to-end

supply chain and work closer with suppliers to make us less vulnerable

to factors beyond our control. We want a more robust supply chain

that will allow us to weather all storms.

UNLOCKING OUR SUPPLY CHAIN

TO MEET CUSTOMER NEEDS

9
---
We're Supporting

Christmas Plus One

We're throwing our support behind the national campaign – Christmas Plus One – by

showcasing the role pubs play in local communities, bringing people together and

helping to fight loneliness. Chelsey Wroe, Head of Sustainability explains why.

Earlier this month we made the joint decision with our charity partners

to postpone Brewing Good Cheer this Christmas.

The majority of people we were looking to support through our

campaign are deemed to be vulnerable, and with so much uncertainty

surrounding the new COVID variant, Omicron, we feel this is the right

approach.

Time for 'true togetherness'

However, as Christmas is a time for togetherness – this December

we're supporting the Christmas Plus One campaign by inviting our

licensees to use their pub as a festive hub – helping to connect people

within their local communities.

The Christmas Plus One campaign is organised by 'Together', a

coalition of charities and organisations, with the joint aim to build

kinder, closer and more connected communities. The focus of this

year's campaign is encouraging people to take their Christmas cheer

one step further and involve someone new, or to reconnect with an

old friend, or family member they haven't seen for some time in their

festive plans.

In addition to this, pub customers, charities, community groups and

volunteers are being asked to do small acts of kindness throughout

December by taking someone along as a 'Plus One' to their local pub

for a chat, a drink, some food or to a community event.

This initiative is also being supported by Pub is The Hub – a not for

profit organisation helping pubs to broaden their range of services and

play a bigger role in their community.

Return of Brewing Good Cheer

In the new year we'll bring back our Brewing Good Cheer initiative, and

will invite people from local charities and good causes, to bring a 'plus

one' for a drink or lunch on the house, in one of our pubs.

10
---
Social isolation is not something that just affects people at Christmas

time, and so we look forward to continuing to work with the Together

Coalition, Pub is the Hub and with local good causes in the new year to

bring Brewing Good Cheer to life for a sixth year running.

The pub is a positive place for social wellbeing

Following numerous lockdowns and restrictions, the pubs has shown

itself to be crucial in bringing back normal life for communities. People

are going back to their local, and it's proving to be integral in tackling

the issue of loneliness and social isolation.

The pub is no longer just about drinking, it's a social centre and a

positive force for good.

Last year, we carried out research with the Campaign to End Loneliness,

Pub is the Hub and Loughborough University to find out if and how

pubs help to tackle loneliness.

The research confirmed that pubs are identified as places with an

important social function in providing a space for different forms and

levels of social interaction.

• 64% of people asked said their pub was one of the main places for

locals to socialise.

• 86% of people agreed that 'When a pub closes the local community

suffers'.

They said that conversations in pubs, between regulars or with

members of staff, helps people feel less lonely, even if it is just a

short chat.

11
---
What's Brewing in

Sustainability?

Our Brew A Better World strategy will shape our sustainability agenda and the future of our business. The

commitments we've made and the actions we're taking were brought to the forefront during our Sustainability

Town Hall in November.

In a first of its kind event, the Sustainability Town Hall showcased

how HEINEKEN is delivering on its Brew A Better World (BABW)

commitments. Interviews and films explored the key actions planned

to reach net zero emissions in production by 2030 and to be carbon

neutral across the value chain by 2040.

James Crampton, Corporate Affairs Director, and host of the session,

opened the Town Hall by saying how inspiring the COP26 Summit

in Glasgow had been, putting HEINEKEN at the centre of the global

debate.

With Sir David Attenborough calling for urgent action now, James said:

"I want you to feel proud of the commitments HEINEKEN has made

and understand more about some of those actions we're taking. Our

net zero journey is at the heart of our EverGreen strategy. It's a decade

since we introduced BABW, so we've raised the bar with commitments

as far as 2040 to transform the way we operate.".

Matt Callan, Supply Chain Director, who co-hosted the event, added:

"The majority of our impact lies outside our immediate sphere of

control, and so working together with suppliers, customers and other

partner businesses is key and arguably the hardest challenge. Everyone

has a role to play."

Our BABW journey

Over the past decade, our BABW strategy has had a profound

influence on our business. It's driven us to innovate and collaborate

to protect the environment, support local communities and make a

positive contribution to society.

First launched in 2009, the strategy focused on the areas where we as

a business could make the biggest impact.

Fast forward to 2021, our world is in a much different place, facing

even more pressing challenges. Challenges which require immediate

action from each and every one of us.

In response, earlier this year, we launched our 2030 Brew a Better

World programme – a new set of ambitious commitments which will

enable faster progress towards a net zero, fairer and healthier world.

Chelsey Wroe, Head of Sustainability, and speaker at the event, said:

"Our new commitments – woven into our EverGreen strategy – put

sustainability and responsibility front and centre as we write our next

chapter and transform the way we operate.

Over the next few pages, we go Behind the Brew on a number of topics

that were discussed at the Sustainability Townhall – from low carbon

farming to greener breweries and from electrifying our car fleet to

greener pubs."

If you missed the Sustainability Townhall, you can catch up

here, to gain a better understanding of why businesses, like

ours, need to act now when it comes to sustainability.

12
---
13
---
14
---
Together in

Electric Dreams

Ahead of the Government's 2030 net-zero commitment to end the sale of new petrol or diesel cars, we've

committed to making our entire company car fleet electric by 2026. We caught up with Aileen Newall, Head of

Reward, and Paul Anderson, Procurement Category Specialist, to explore the future of our fleet.

Aileen Newall

Head of Reward

Paul Anderson

Procurement Category Specialist

Planning for the future

In early 2021 our company fleet was almost entirely diesel or petrol

vehicles, some hybrid, but no fully electric vehicles. This was definitely

not supporting our sustainability credentials as a business.

After the introduction of new worldwide emission testing procedures

in April 2020, official CO 2

emissions figures generally increased, which

had a direct impact on the car tax our company car drivers were having

to pay, leaving them financially worse off.

Moving to all electric

With a large number of car lease replacements due, we realised if we

didn't act now, we'd be managing a non-eco-friendly fossil fuel fleet for

another full lease cycle, which is at least four years.

The solution was to offer only electric vehicles (EVs) or plug-in hybrid

options from 2023 and in 2024 remove the option to order hybrid. It

will be a gradual transition with no immediate pressure on colleagues

to change and, as ever, we're putting their business and safety needs

first.

The benefits to colleagues and the planet are clear

We're proud to be supporting the sustainability credentials of the

company and helping colleagues make the shift to electric before the

Government ban comes into effect.

In the first year we estimate we'll save up to 625 tonnes of CO 2

.

And for colleagues, we'll be reducing their costs. For example, at the

moment a 20% taxpayer can be paying over £160 per month for a

diesel car and £150 for a petrol car. This cost is double for drivers who

are paying a higher rate of tax. The monthly tax for a fully electric

car is typically under £6 for a 20% taxpayer or £12 for a higher rate

taxpayer.

Our move to a fully electric fleet not only generates great benefits for

colleagues, HEINEKEN and the environment, it also future-proofs our

company car strategy and champions responsible choices.

We've done our research and our electric fleet meets the needs

of colleagues

Historically the most popular brands have been Audi and BMW,

however neither have suitable EVs – as an example the BMW i3 is too

small for our drivers and, at the time of the research, the Audi e-tron

was too expensive.

Therefore, we researched a number of other electric cars on the

market. They needed to have a range of at least 200 miles, good

safety features and to be the right size for colleagues to do their work,

while also suiting any lifestyle requirements outside of work.

The ones which met all these criteria were VW, Peugeot, and Skoda.

We've also added in some Hyundai models.

Changing our mind-set

We know cars can be an important part of people's identity. We know

change can be challenging. However, we're offering interest-free loans

to fund the purchase and installation of home charging units and you

can still take advantage of local authority grants or funding. This is a

great chance to get on board with EVs before the nationwide deadline.

See you in the future!

Our electric fleet

The VW ID.3 is about the same size as

a Golf but feels more spacious inside

as there's no engine taking up room.

It comfortably seats four adults and

for those who don't want a big car,

this is perfect for squeezing into tight

parking spots in town, with excellent

navigation and safety features. The

car has a futuristic feel about it.

Next up in size is the Peugeot e-208, a

compact SUV with a large boot, and

all the latest gadgets, including a

state-of-the-art audio system. Great

navigation system, smooth drive and

all the safety features you'd expect.

Finally, the Skoda Enyaq iV is the

biggest car with the largest battery.

It's a great-looking car, inside and out.

It's refined and has the same high

specification as any Audi or BMW.

The Skoda brand is now sought after

and the Enyaq is the most popular

choice in our fleet. Style personified,

this Electric Dream car comes in a

glorious range of colours.

15
---
No Barley, No Beer!

Barley is one of the key ingredients in beer and tto ensure we meet our bold commitment of a carbon neutral

value chain by 2040, we need to find a more sustainable way to grow it. To cut our carbon emissions we're

running an innovative low carbon farming trial in Yorkshire. Our partners in the trial are malt supplier Muntons,

11 barley farmers and Future Food Solutions. Steve Cann, Director of Future Food Solutions, tells us more.

Drop the C

About 40% of the carbon footprint in HEINEKEN's beer is at the

agricultural end of production and nitrogen is a major part of that

footprint. So, one of the main aims of sustainable farming is to reduce

the amount of nitrogen that farmers use and to harness CO 2

more

efficiently.

Pop-up rainforests

Cover crops act like pop-up rainforests, drawing CO 2

out of the

atmosphere, ensuring the soil becomes nutrient-rich, whilst also

increasing organic matter in the soil.

All good things happen in Yorkshire!

It's also a fact that Yorkshire is historically a great place to grow barley.

The weather conditions mean the area is less prone to drought and

with many of the farms we work with close to Muntons Malting Plant

at Flamborough, and the Tadcaster brewery also close by, we're using

less transport in the whole process – another win for sustainability.

Better crops and better margins

Better soil health means better crops and better margins for our

farmers.

HEINEKEN also benefits from a more sustainable, more resilient

supply of barley that will help the business meet its ambition to hit

carbon neutrality through its entire value chain by 2040.

Perhaps most importantly, the consumer enjoys a tasty, refreshing

beer in the knowledge that it has had a significantly reduced impact

on the environment.

Cover crops are a variety of plant types, like radishes, clovers and

grasses. They're not for harvesting – but keeping a growing root in the

ground between harvests improves the soil health.

This, in turn, means the farmers have to add less nitrogen to the soil

which reduces the overall carbon footprint. Every 1% increase in soil

organic matter allows each hectare of land to absorb an additional

240 tonnes of water, helping the soil to act like a sponge, avoiding

drought and also preventing flooding in the area.

This saves the farmer money, reducing the amount of nitrogen that

needs to be added to the barley crop and makes the crop more

resilient to drought.

It really is a win for everyone.

A Farmer's Viewpoint:

Tamara Hall from Molescroft Farm in Beverley, East Yorkshire,

said:

"This collaboration has been a big risk, but one we had to take

as it's essential to change the way we farm going forward. The

cost of nitrogen and loss of carbon over the years means we

need to be more sustainable and working with HEINEKEN

has helped us by covering the cost of the cover crop seed.

Additionally, the capture of carbon from the atmosphere and

locking it into the soil has made a positive difference already."

16
---
"Better soil health means better crops and

better margins for our farmers.

HEINEKEN also benefits from a more

sustainable, more resilient supply of barley

that will help the business meet its ambition

to hit carbon neutrality through its entire

value chain by 2040."

17
---
18
---
Green Energy in

Our Breweries

Andy McKnight, Principal Project Manager, at Manchester brewery, tells us about our journey to

achieve carbon neutrality in Manchester by 2025, with the other breweries following by 2030.

Andy McKnight

Principal Project Manager

Green energy is the future

Currently, all our sites use a mix of electricity or natural gas creating a

carbon footprint. We're trying to achieve carbon neutrality across all

our breweries starting with Manchester, eventually running on green

energy and therefore reaching net zero emissions.

Electricity

The National Grid is decarbonising all the time and using more

electricity from renewable sources, such as solar and wind. We're

looking to support this decarbonising by investing in technology so

that in the future we'll generate our own green electricity.

Manchester 2022/23

We'll start installing this new energy efficient system in Manchester

next year, with the heat pumps in operation from 2023. That takes

us part of the way to carbon neutrality, but not to zero. Electricity is

about one-third, heat pumps another third, with the final third still left

to solve.

Natural gas

De-carbonising natural gas is harder to achieve. At our breweries we use

massive gas boilers to make steam to heat up the wort to make beer.

We also use steam in our cleaning processes and for pasteurisation.

We're replacing these boilers with heat pumps which use less natural

gas to generate heat.

Biogas

To solve the final third, one of the solutions we're looking at is how we

reuse the biogas generated through our wastewater treatment plant.

At the moment it goes to an effluent plant where there's an anaerobic

digester, that during the process of treating our wastewater, produces

biogas or methane. We may be able to put this gas back into the

boilers to produce steam.

This process will take us almost the whole way, to above 95%, with a

few final steps required to get us up to 100%.

Cooling

The cooling systems we have on site work in the same way as your

home fridge. To cool their contents they create waste energy that

comes out as heat. At the moment this heat goes straight out into

the atmosphere, so we're going to recover it and put it through a heat

pump to generate the hot water and steam we need. Clouds of steam

coming out of a brewery will be a thing of the past!

19
---
The Sustainable Pub

Of The Future

Chris Sladen, head of Property, Star Pubs & Bars, talks about the roadmap for making all pubs

in our estate sustainable by 2030.

Investing in a sustainable future for our pubs

We've teamed up with sustainability consultants, Carbon Architecture,

to establish where our carbon footprint is now and to plan a roadmap

for the future.

Last year, we ran a pilot in six Just Add Talent (JAT) managed pubs

to see how energy efficient measures affected their carbon footprint,

water usage and energy efficiency. Unfortunately, due to COVID we

were unable to capture this data, so had to turn to industry estimates

instead. This provided us with the confidence that the measures were

working and so we've now rolled out the measures to a further 30

JAT pubs.

To date, we've invested £450,000 in JAT pubs as part of this energy

saving project, which amounts to £15,000 per pub.

Our sustainability checklist

As part of our journey to make all pubs in our estate sustainable

by 2030 we've created a checklist of measures to be introduced

where possible:

• Solar Panels: we now have solar water heating at 23 sites.

• Cellar Manager and Fridge Manager: apps that monitor the

temperature and switch on and off as necessary.

• Loft Insulation.

• Movement activated and LED low energy lighting.

• Right-sizing of all cellars: installing plastic curtains to bring large

cellars down to the right size. In the past, cellars and fridges were

sometimes in the same space, by dividing the space, we make big

savings.

• Self-closing taps to save water.

• Movement activated flushing in urinals to save water.

• New windows that are airtight to reduce heat loss and save energy.

Along with Carbon Architecture we're also looking at how to change

old habits, such as leaving cellar doors open or switching on the hobs

to heat a cold kitchen when staff arrive in the morning.

Emerging technologies to help us

New legislation is being consulted on at the moment which proposes

that by 2027 pubs will not be able to trade unless their EPC (energy

performance certificate) is at Level C. By 2030 we're expected to be at

Level B or beyond. The JAT pilot has projected that we can achieve the

2027 deadline, but we'll need to use emerging new technologies to

help us reach the 2030 target.

First electric kitchen

We'll be rolling out our first electric kitchen over the coming months.

We'll monitor how much energy it uses and how this will work when

we have electric vehicle charging stations outside. Chefs traditionally

love to cook on gas – so we need to understand what this will mean

for future training of staff – exploring how to change mindsets and old

patterns of behaviour.

As well as the investment we're making to our pub infrastructure,

we now have SmartDispense in over half of our Star Pubs & Bars

outlets. Emma Newberry, B2B & Quality Manager, tells us about

how our innovative draught dispense solution is helping pubs

pour greener pints.

HEINEKEN overhauled every aspect of the traditional dispense

system to create SmartDispense, an energy-efficient smart

technology which keeps the beer chilled and away from light all

the way from the keg to the tap, meaning it stays fresher for

longer and that the time between line cleans can be extended.

This means a reduction of up to 83% of beer, cider, water and

dispense CO 2

waste, which is better for our planet, without

compromising on the great taste of your favourite pint. To date,

SmartDispense technology has allowed pubs to save over 110m

pints of water (or over 347,000 bathtubs!) and over 396 tonnes

of CO 2

.

Pubs Sustainability Cabinet

Chris and Sophie Goodall, Head of Corporate Affairs for

Star Pubs & Bars, are chairing a Pubs Sustainability Cabinet,

which includes 10 other colleagues. Their first meeting was

in November and Behind the Brew will be following their

findings and initiatives over the coming months – so watch

this space.

20
---
"To date, we've invested £450,000 in JAT

pubs as part of this energy saving project,

which amounts to £15,000 per pub."

quote here

21
---
22
---
Get a

Green Grip

Steve Waygood, Head of Quality and Product Design, explains how the cardboard

Green Grip became a reality, replacing plastic hi-cones and meeting our target to

remove customer-facing plastic.

Stephen Waygood

Head of Quality and Product Design

Aim to remain as carbon neutral as possible

Finding a sustainable replacement for plastic hi-cone rings has been

an exciting and fast paced project to work on. Tesco, one of our biggest

customers, had an ambition of having no customer-facing plastic by

early 2020 – which drove our timeline faster.

We went with the innovative, minimalist design of Green Grip rather

than the easier option of conventional packaging, such as cardboard

boxes, to keep our carbon footprint as low as possible. It's no good

finding an alternative to plastic that actually adds to our carbon

footprint.

Hitting our targets

In the breweries, we've phased out four plastic ring machines and have

just one left to go. In Tadcaster, we've installed a sleever as an interim

measure, but will remove this and install Green Grip in 2022.

Our overall target is to eliminate 500 tonnes of plastic from the market

through the introduction of the Green Grip. To date, through installing

the three Green Grip machines and the sleever we've dispensed with 50

million plastic rings, and we've done away with 100 tonnes of plastic.

COVID didn't stop us

Kudos to everyone involved – from suppliers to engineers – for getting

this done. We collaborated with production teams across the UK, the

Innovation team in the Netherlands, cardboard suppliers in Spain and

machine suppliers in Italy. When COVID hit and international travel

was restricted, this meant a lot of the work had to be done remotely.

This made getting the machines manufactured, signed off, imported,

installed, and commissioned very complicated – but we didn't let that

stop us!

Plastic's durability is one of its better attributes, and so replacing it

with cardboard that is not as strong, has resulted in some instances

where the packs have broken in store, in part due to the different

handling requirements compared to the plastic rings. And so we're

currently looking at how we can enhance the design of the Green Grip

to maximise its strength and minimise any damaged in store

Bringing customers & consumers on the journey

We're closely monitoring how Green Grip performs in trade – we

appreciate that it's quite a shift for our customers. The old plastic rings

were very robust, so we need to ensure we're bringing our customers

with us on our sustainability journey, providing them with engaging

communications which detail the environmental benefits.

From a consumer point of view, I'm pleased to say that our sales reflect

consumers' willingness to change their habits for a greener alternative.

Steve says: Thanks, Grazie, Gracias, Danke…

The delivery has required a lot of trust between the production teams, global production and international suppliers, and has required the

involvement of teams from across HEINEKEN UK. I thank them all.

23
---
COP26 in pictures

We joined NGOs, climate diplomats, government officials and like-minded companies at COP26

in Glasgow last month to discuss, learn and commit to tackling climate change.

At a number of events we outlined our commitment to reaching net

zero carbon emissions in our production by 2030 and across our full

value chain by 2040 – ahead of expectations set out in the Paris

agreement. This included co-hosting the Frontrunners Dinner together

with the Netherlands British Chambers of Commerce. Held at one

of our amazing Star Pubs & Bars, The Ardnamurchan, 50 business

leaders, including CEOs and Sustainability leads, gathered to discuss

the challenges and possible solutions businesses can offer to halt the

climate emergency.

We also sponsored the Holyrood Green Giant awards in the presence of

the Business Minister, Ivan McKee MSP. The awards recognised some

of Scotland's most notable environmental campaigners, businesses

and academics.

As well as attending the Net Zero Now COP26 fringe event, which

brought together brewers and hospitality businesses to learn more

about the journey to net zero and the actions that we can and should

already be taking.

24
---
25
---
Finding a Better Way to

Onboard SmartDispense

Customers

Powered by

Technology

26
---
Kelly Borland

Digital B2B Product Owner

Kelly Borland, Digital B2B Product Owner, describes how experts from two teams came

together to include SmartDispense on our onboarding tool for new customers.

An automated solution to help our sales teams

The onboarding tool is an online solution that allows our sales teams

to onboard new customers seamlessly. This automated tool creates a

clear process and captures all the information needed in one place. It

increases transparency for everyone involved.

Turning a vision into reality

Simon Thomas and his team were not only subject matter experts,

they also had a clear vision of what they wanted: to make selling and

onboarding customers to SmartDispense simple and efficient.

Our skill lies in turning this into a reality, it takes hard work and time

to understand the detail of the challenges. It also takes a lot of trust

from both teams to step back and let them focus on the areas in which

they excel. A perfect example of how cross functional collaboration

has worked to automate processes for our teams.

Great feedback

We've had over 400 SmartDispense applications submitted via the

tool so far. A recent survey highlighted that 87% of the sales team

believed that the onboarding tool made it easier for them to complete

a SmartDispense application. In addition, 86% of the sales team

also said that the onboarding tool will improve the experience for our

customers.

It's a win:win

The tool saves time, increases efficiency, and reduces the risk of errors,

as well as significantly improving the customer experience. It improves

the accuracy of data, meaning that the process is more streamlined

thereby enabling the sales team to have more time for conversations

with their customers.

Bringing SmartDispense on board

As a Product Owner, I'm approached on a regular basis with suggestions

to improve the tool. It's my responsibility to manage and optimise all

of these requests to maximise the tools value. When approached by

the SmartDispense team to add it as an option on the tool, it was an

easy decision to make.

Organisational Effectiveness and teamwork

A big focus within On Trade at the moment is Organisational

Effectiveness. The 2021 Climate Survey Results showed areas

needing more focus, including giving colleagues the skills to do their

job effectively, more effective collaboration across departments and

clearer communication.

The onboarding tool is a good example of how two different teams

worked together to achieve organisational effectiveness, by changing

what was a clunky process and delivering an automated solution. The

SmartDispense team were fantastic to work with and we will continue

to work together to add to this ever-evolving tool in 2022.

Word is spreading

We're always looking for feedback on the onboarding tool to improve

its performance and efficiency. Now news is travelling about the

success of the addition of SmartDispense to the tool, we're getting

approached. We'd encourage other teams looking for help in setting

up digital projects to come and see us!

"The onboarding tool has freed up a huge amount of time for

the sales teams. They no longer have to duplicate the input

of the same data manually into multiple forms. This has

improved the quality and consistency of the outputs for the

contracting team and also improved the customer experience,

making it easier for them to sell."

Simon Thomas, SmartDispense Director

"Quicker, as only having to input details in once."

Simon Ptolomey, SmartDispense Specialist

"Timescales, less paperwork, all info being in the same place,

ease of use."

James Horrocks, Regional Sales Manager

27
---
Have a

Drink on Us

Christmas is always a key trading period for us and it's important our brands are

prominent during this time to win the battle for market share. Henry Stremes, Trade

Marketing Controller for On Trade, highlights our Christmas activations for 2021.

Henry Stremes

Trade Marketing Controller

28
---
"We're encouraging consumers to visit their local great British pub over

the festive period to enjoy an evening with friends, whilst rewarding

the driver for getting them home safe at the end of the night. "

Supporting our customers during this busy time

There's no denying that it's been a challenging year for pubs with

lockdown at the beginning of 2021 and various supply issues

throughout the year. So, to help them get the most out of the festive

period we're supporting them with initiatives to help drive more people

to the pub, whilst complementing their in-outlet experience and

spreading some Christmas Cheer!

Also, in Young's outlets we'll be offering Birra Moretti blankets to

consumers when taking advantage of outdoor areas. There will also

be competitions to win free Birra Moretti gilets. In addition, a range of

goodies will also be on offer to help keep pub staff happy and warm

when serving outdoor drinkers over the colder months.

Designated Driver? Have a drink on us!

Our key campaign for the season revolves around the hero in any

group, the 'Designated Driver'. Drivers can get a free Heineken 0.0 or

Coke Zero throughout December across the on trade and in Star Pubs

& Bars outlets.

Keeping it social

Working with Lisini Group, we'll be running a digital campaign that

targets new consumers, offering them a free pint when they visit a

participating pub. To maximise this campaign, we've provided each

pub with a suite of social assets that they can use to promote the offer

across their social media platforms.

Get Home Safe

We're also supporting St Austell Brewery's 'Get Home Safe' campaign,

in collaboration with Devon and Cornwall police. Vouchers for a free

Lo & No or soft drink will be given to drinkers of Heineken 0.0 and Old

Mout Berries & Cherries alcohol-free cider, alongside Coca-Cola.

We're encouraging consumers to visit their local great British pub over

the festive period to enjoy an evening with friends, whilst rewarding

the driver for getting them home safe at the end of the night.

Baby, it's cosy outside

Helping customers make the most of their outside space is important.

At Mitchells & Butlers, we're helping achieve this with the addition of

Old Mout winter huts over the colder months. It's hoped this set up

will help them drive additional revenue during a critical trading time.

In Young's, Marston's, Greene King, Trust Inns and SSP outlets, we're

extending the cider season and creating a buzz in the category

through our Orchard Thieves Mulled Cider campaign.

Digital advent calendar

With a focus on getting more people through the door and spending

longer in pubs, Birra Moretti - in collaboration with the Stonegate Group

and some other suppliers – have created a digital advent calendar.

Celebrating the countdown to Christmas, the advent calendar will

offer a host of branded prizes for consumers throughout December.

It's a team effort

I'd like to thank my team for delivering these great ideas. We're helping

our customers drive people back to the pub, encouraging them to stay

longer and spend more, and to make the most of any outside space.

It's all about creating a special festive ambience and experience which

will get people off their sofas and into the local for a happy and safe

Christmas.

29
---
From left to right:

Hitting the

Headlines

Joanna

Dring

Head of Media

In her regular feature, Joanna Dring, Head of Media, explains the challenges

and messaging behind the headlines.

Getting the press interested

The first rule of generating media coverage is 'is the story interesting

to the audience?' And for 'interesting', read unique, a first, human

interest, timely… Because if a story doesn't have the wow factor, it's

unlikely a journalist will want to run with the news.

That's why for any press release or PR campaign we run, we need to

find that X Factor point to the story.

And this month has seen all those things come together perfectly with

the launch of our category leadership campaign in Lo & No alcohol.

Finding our X Factor moment

From the start, our objective was to be seen as leaders in this rapidly

expanding category. There are numerous articles and broadcast

packages about the rise of Lo & No, and to date, a company hasn't

'owned' the messaging. So yes, we were often mentioned, but so are

Brewdog, Lucky Saint, ABI and Carlsberg.

We wanted to do something about this! We've the most popular alcohol

free beer in our portfolio so it's right that we lead that conversation.

But where to start?! There are so many aspects of Lo & No to talk

about - the technicalities and expertise needed in brewing it, the taste,

the psychology of drinking it in pubs and the stigma which sadly still

exists, the health benefits… the list is endless!

So we needed to find that 'X Factor' moment to really get the press

interested.

Step forward Heineken 0.0 on draught. Following a successful trial in

the summer it will be available in pubs across the country from next

year. This will be the first time that an alcohol free beer will sit alongside

other beers on the bar and utilise a pub's existing cellar set up.

30
---
Celebrities Assemble

So, we had our story. However, it's all very well us telling journalists how

great our products/campaigns/innovations are, what's more powerful

is when it's told through experts and celebrities who their readers or

viewers are interested in.

We brought together a crack team of celebrities, all of whom have a

point of view on Lo & No alcohol. From Denise Van Outen who loves

going to the pub but doesn't always want the alcohol because of her

busy filming schedule, to Mark Wright who is fanatical about his fitness

so wants to balance a night out with the lads with an early morning

gym session, to the musician Lucy Spraggan who doesn't drink at all

and gets frustrated at the lack of choice for non-drinkers in pubs.

We also had experts including Marverine Cole, a beer sommelier, Laura

Willoughby MBE, the founder of the mindful drinking movement Club

Soda, and Will Higham, a consumer futurologist who likened the

launch of alcohol free on draught in pubs to be as big as the advent

of gastro pubs in the nineties. And last but in no means least was our

global master brewer himself - Willem Van Waesberghe.

A unique, interesting, exciting, game-changing news hook

Leading with the news that the UK's most popular alcohol free beer

will be available on draught, coupled with experts and celebrities who

can give their view on this and appeal to media, has given us a story

with a unique, interesting, exciting, game-changing news hook.

Exclusive with the Sunday Times

It was a courageous and bold move for us here in the UK to make the

announcement, and it was worthy of a significant exclusive, which we

landed with the Sunday Times in print and online.

Spreading the story far and wide

Once the exclusive was published on 21st November we turned our

attention to spreading the story as far and wide as possible. We've

already secured [eight] pieces of national coverage and I'm quite sure

that by the time you read this, there will be much more – delving into

the different aspect of Lo & No alcohol.

And this is just the beginning. We'll continue to push our Lo & No

category leadership message for the foreseeable future. Whether

that's around talking points such as how to moderate over the

Christmas party season or how Dry January is evolving.

31
---
COMPETITOR NEWS

We want to stay ahead of our competitors and the best way to do this is to know what they're up to! So,

what's the latest with them?

The UK's brewing sector launched a roadmap to net zero carbon

ahead of COP26, which took place in Glasgow in November. This

latest pledge, created specifically for brewers, will be distinct in

recognising the unique challenges of brewing as a key part of UK

food and drink manufacturing. See page [x] to see how we were

involved at COP26.

BrewDog has launched its first international joint venture in

Japan, with Punk IPA, Hazy Jane and Elvis Juice beers being rolled

out across the country via a partnership with Asahi Breweries. The

Ellon-based business will retain a controlling interest in BrewDog

Japan, but it will operate as a standalone entity, with its own sales,

marketing and back-office teams.

Tennent's Brewery has launched a multi-channel advertising

campaign to underline the importance of sustainable brewing

practices. The campaign hopes to show why quality, local

brewing is a sustainable option for drinkers and will highlight the

sustainable processes undertaken by the brewer; including using

100% renewable electricity at Wellpark and other sites across

Scotland, only brewing with local barley and reducing the distance

from brewery to bar.

Guinness has launched a new, single nitrogen dispense solution,

Guinness MicroDraught. Previously rolled out across pubs,

restaurants and bars earlier this year, drinkers will have the chance

for the first time to buy the dispense solution for use at home. Two

years in the making, Diageo claims that the latest launch is the

biggest innovation since the invention of the Guinness widget 30

years ago.

32
---
With a view to creating the first green hydrogen supply to a brewery,

Budweiser Brewing Group UK&I and Protium have teamed up to

explore the deployment of zero emission green hydrogen at Magor

brewery in South Wales. Bolstering Budweiser Brewing Group's

ambitious sustainability objectives, the project would build the first

large-scale hydrogen generation system at a brewery. The hydrogen

will fuel the brewery's production, as well as HGVs and forklift trucks

that deliver their beer.

Planning permission for Innis & Gunn's brewery at Heriot-Watt

University's Research Park has officially been granted by The City of

Edinburgh Council, the first major brewery to be built in Edinburgh

for over 150 years. The new facility, spanning a two hectare site,

will be built to provide increased brewing capacity and support the

brewer's growth. Guided tours will be on offer for visitors at the new

site, where Innis & Gunn's The Original, Lager Beer and Session IPA,

as well as other cask-matured beers will be brewed.

Asda has partnered with a specialist craft beer and cider retailer,

Craft on Draft, to be the first supermarket to offer a refillable

beer service to customers at its trial store in Milton Keynes. The

supermarket will offer a changing menu of 12 beers on draught,

which are freshly pumped by staff into 1L or 2L glass bottles that

can be brought back to the store to be refilled or returned to get

the deposit back.

Diageo has extended its partnership with Molson Coors Beverage

Company, which will allow Diageo's beer portfolio to be distributed

in most Central and Eastern European markets as of January. For

Diageo, the partnership will help its key brands such as Guinness,

Kilkenny and Hop House 13 grow further through the strong on

trade and off trade distribution channels Molson Coors has via its

companies in the local beer markets.

Gordon's Gin, owned by Diageo, has revealed a new bottle design,

made from up to 85% recycled glass, which is being rolled out

globally. Made at Cameronbridge distillery in Fife, which is 100%

powered by renewable electricity, the newly designed range is

an important step in Diageo's aim to make its packaging widely

recyclable by 2030.

Pub news

Chancellor Rishi Sunak announced that the retail, hospitality

and leisure sectors would be able to claim a 50% discount on

their bills up to £110,000 for a year. The tax cut worth £1.7bn

would benefit pubs, music venues, cinemas, restaurants.

Taken in conjunction with the existing small business relief,

more than 90% of hospitality, retail and leisure businesses

would see a discount of "at least 50%".

Vaccine passports will not be extended to further Scottish

hospitality venues, announced the First Minister in a

statement to MSPs in Holyrood in November. Customers

will be allowed to present negative lateral flow tests rather

than proof of two jabs to enter venues already covered by

the scheme, including nightclubs and concerts from 6th

December. Nicole Sturgeon said an extension of the scheme

to other hospitality businesses would "not be proportionate"

given its impact on business.

33
---
34