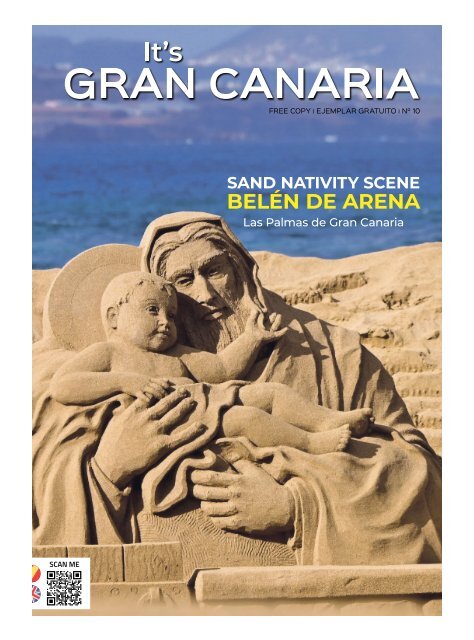 No. 10 - Its Gran Canaria Magazine
Rutas, recomendaciones y noticias de Gran Canaria Routes, tips and news about Gran Canaria
Rutas, recomendaciones y noticias de Gran Canaria

Routes, tips and news about Gran Canaria
SHOW MORE
SHOW LESS
Create successful ePaper yourself
Turn your PDF publications into a flip-book with our unique Google optimized e-Paper software.
FREE COPY I EJEMPLAR GRATUITO I Nº 10

SAND NATIVITY SCENE

BELÉN DE ARENA

Las Palmas de Gran Canaria

SCAN ME
---
2

EDITORIAL Nº 10

POR SERGIO ARÁN

Christmas photos in a

bathing costume

It is hard for anyone from outside Gran Canaria to understand that

even though we don't have snow and yet can go swimming, we

also enjoy the same iconic Christmas as in the rest of the world, with

street markets, Christmas carols and even plastic snowmen - with

their carrot-shaped noses - next to the Christmas tree.

Shopping centres and flea markets are bustling with people eager to

buy presents for their loved ones, and the streets are bursting with

life. It is a time when - pandemic permitting - more tourists than ever

before are visiting our island, while their selfies and Instagram stories

are filled with beach snaps, sunsets and tanned skin in swimming

costumes.

These photos are the envy of those from countries that themselves

boast fantastic Christmas postcards in the background. Gran Canaria

is a place to get away from all that hustle and bustle and just relax.

Take a stroll along golden sandy beaches, enjoy the local gastronomy

and discover our vast endemic richness. A thousand magical spots,

both natural and cultural, are just a stone's throw from anyone keen

to learn about the place where they are staying. We will be dealing

with just a small number of them in this month's issue.

It has to be proclaimed from the rooftops: Gran Canaria is much more

than just sun and beach, and there is plenty of both.

Fotos navideñas

en bañador

Desde fuera de Gran Canaria, es difícil comprender que aunque no

tengamos nieve y podamos ir en bañador, disfrutamos de la misma

icónica Navidad que en el resto de países del mundo, con sus mercadillos,

con sus villancicos e incluso con muñecos de nieve -con su

zanahoria en forma de nariz- de plástico al lado del árbol de Navidad.

Los centros comerciales y los mercadillos se llenan de gente deseosa

de comprar regalos para su gente querida y las calles se llenan

de vida. Fechas en las que -si la pandemia lo permite- nos visitan

más turistas que nunca. Y sus selfies y sus historias de Instagram se

llenan de instantáneas playeras, puestas de sol y pieles bronceadas

en bañador.

Fotos que son la envidia para los que viven en países con fantásticas

postales navideñas de fondo. Pero Gran Canaria está ahí para huir de

toda esa vorágine y descansar. Pasear por su arena dorada, disfrutar

de su gastronomía y descubrir nuestra riqueza autóctona. Mil rincones

con magia, tanto naturales como culturales, están al alcance de

la mano de todo el visitante que tenga inquietud por conocer el lugar

en el que se hospeda. En este número, hablamos de un pequeño

número de ellos.

Hay que decirlo alto y claro: Gran Canaria es mucho más que sol y

playa. Eso sí, menudo sol y menudas playas.
---
4

SUMMARY I SUMARIO Nº 10

SUMARIO

08 24

06

32 74

06 . Get to know Gran Canaria · Conoce Gran Canaria

Spring-like Canary Christmas

Navidad primaveral canaria

08 . Get to know Gran Canaria · Conoce Gran Canaria

10 natural swimming pools not to be missed

10 piscinas naturales que no debes perderte

24 . Get to know Gran Canaria · Conoce Gran Canaria

Triana, more than just a High Street

Triana, más que una Calle Mayor

28 . Get to know Gran Canaria · Conoce Gran Canaria

Sand Nativity Scene

Belén de Arena

32 . Get to know Gran Canaria · Conoce Gran Canaria

The island with 1150 mushroom species

La isla de las 1150 especies de setas

42 . Discover · Descubrir

Las Palmas de Gran Canaria

Las Palmas de Gran Canaria

46 . Getaways · Escapadas

Routes around Gran Canaria

Rutas por Gran Canaria

74 . Gastronomy · Gastronomía

An island fit for sampling

Una isla para catarla
---
6

GET TO KNOW GRAN CANARIA I CONOCE GRAN CANARIA Nº 10

Spring-like Canary Christmas

The Christmas season in Gran Canaria has a different

feel about it. The climate invites you to be in the

great outdoors all year round, especially in winter,

when the sun has a healing and cheerful warmth.

Another curious thing about Christmas here is that

the decorations on some streets stay on display for

quite a while afterwards, when in other parts of the

world they have long been taken down. Not here,

though, quite the opposite. Because after overcoming

the excesses of a sweet tooth and a succession

of sumptuous seasonal meals, Carnival arrives on

the island to fill the events calendar for February

and March, bringing more excess, another kind of

fun, despite the uncertainty of these times. Society's

adaptation to the new reality has generated

great expectations for the return of masks, sheets,

singing groups, dance troupes and large throngs.

The party goes on, and after the Epiphany parade

has faded, scaffolding is put in place for another

great festive and multitudinous event.

To reach that goal and draped in fancy dress, a series

of Christmas celebrations have to be negotiated

beforehand, including visits and activities, with

family gatherings, friends and colleagues. Slotted

in between seasonal toasts and lively chat, a series

of winter shows are organised, with mainly children

in mind, together with concerts and performances

catering for all audiences and tastes. Many of these

events have a charitable side to them, with a variety

of good causes. The theatre billboard is full of

possibilities and dreams.

An essential visit, and a classic at Christmas time in

Gran Canaria, is the sand nativity scene at Las Canteras

beach, a monumental and spectacular journey

through a world of fantasy, a temporary and

brilliant ensemble, thanks to the participation of

some of the most renowned sand sculptors in the

world. This large scale beach scene attracts thousands

of visitors, and is one of Las Canteras true

attractions, along with its extraordinary views and

bathing conditions and which offers the smallest

details for observers, especially children, who play

around on the sand with great joy and let their imagination

run wild.

We move on from the hands of sand sculptors to

Gran Canaria's great craft traditions, on an island

that delves into the past and prehistory and creates

art out of the knowledge of natural resources.

The Crafts Fair showcases many pieces made with

materials and utensils from the past, with some

astonishing shapes and with useful and practical

simplicity. However, the creative evolution adapted

to today's decorative arts is also highly apparent.

A visit to the pavilions and exhibitors of this fair is

part of the 'must see' route around Gran Canaria at

Christmas time. The fair is a representative sample

of the island's crafts and artisans, and is held in the

centre of the capital over several days, although

there is no town on the island that does not have

its own Christmas fair, and local shops are open

and decked out to encourage the public to browse

all over the island in search of that original gift.

On the subject of originality, the new year sees

the Canary Music Festival return to its original

spot on the calendar: this is the year's first great

classical festival, in a territory where great orchestras

and virtuoso musicians fill the archipelago's

auditoriums with sound, particularly in Gran Canaria,

with commemorations being held on 16th

December to mark the centenary of the death of

French composer and conductor, Camille Saint-

Saëns, who not only lived on the island for periods

of time while he created some of his works,

combining his stays in the capital with periods at a

retirement estate in Guía, in the Villa Melpómene,

but also collaborated assiduously with the Gran

Canaria Philharmonic Society, the first to be created

in Spain, in 1845.

Another highly original event around this time

is the TransGranCanaria, a race in which the fittest

athletes run straight across the island, from

one end to the other, from the coast to the summit

(1,950 m altitude), and then back down to the

coast. It is a spectacle for runners who face one

of the toughest races in the year's sporting calendar,

featuring the ascent and descent of one of the

toughest mountain passes in Europe.

So as you can see, Gran Canaria offers a wide

range of activities to enjoy in all kinds of locations,

all over the island. And if you don't get to one in

time, don't worry, there will always be others, all

year round.
---
Nº 10 GET TO KNOW GRAN CANARIA I CONOCE GRAN CANARIA

7

El ambiente navideño en Gran Canaria se siente

de forma distinta. El clima invita a vivir en la

calle todo el año, especialmente en invierno,

cuando el sol cura y es alegre. Otra curiosidad

de nuestra navidad es que la decoración de algunas

vías llega para quedarse un poco más de

tiempo, cuando en otros lugares del planeta ya

fue retirada. Aquí no. Todo lo contrario. Porque

tras superar los excesos golosos y la sucesión de

banquetes, llega el carnaval para llenar la agenda

de febrero y marzo. Otro exceso, otra diversión.

Otra incertidumbre en estos tiempos que

corren. Pero la adaptación a la nueva realidad ha

generado grandes expectativas para el retorno

de las mascaritas, sábanas, murgas, comparsas

y el mogollón. La fiesta continúa y tras la cabalgata

de los Reyes Magos, se coloca el andamiaje

de otro gran acontecimiento festivo y multitudinario.

Navidad primaveral canaria

Para llegar a esa meta decorada de disfraces,

hay que hacer previamente una serie de escalas,

con muchas visitas y actividades propias de

la navidad. Como es la celebración de los encuentros

familiares, de amistades y de compañeros.

Entre brindis y conversaciones, están los

espectáculos invernales, con una programación

mayoritariamente infantil, pero también con

conciertos y representaciones para todos los

públicos y gustos. Muchos de estos actos tienen

una finalidad solidaria, con diversos motivos y

todos justos. La cartelera de los teatros está repleta

de posibilidades y sueños.

Telde

Una visita imprescindible, un clásico en el periodo

navideño de Gran Canaria, es el belén de

arena de la playa de Las Canteras, un monumental

y espectacular recorrido por un mundo

de fantasía, temporal y brillante, gracias a la participación

de algunos de los escultores de arena

más reconocidos en el mundo. Este escenario

playero de grandes proporciones atrae miles de

visitantes, es uno de los atractivos de Las Canteras,

con sus extraordinarias vistas y condiciones

para el baño y que guarda pequeños detalles

para los observadores, especialmente los niños

y niñas que viajan a través de la arena a sus rincones

de imaginación y felicidad.

De las manos escultoras de arena a las tradiciones

artesanas de Gran Canaria, una isla que hunde

en el pasado y la prehistoria el conocimiento

de los recursos naturales para hacer arte. La Feria

de Artesanía nos muestra las piezas elaboradas

con materiales y utensilios del pasado, con

sus sorprendentes formas y la sencillez de lo útil

y práctico. Pero también se puede comprobar

la evolución creativa y adaptada a las artes decorativas

de actualidad. La visita a los pabellones

y expositores de esta feria forma parte de la

ruta 'obligatoria' de la navidad en Gran Canaria.

Una muestra representativa de la artesanía y los

artesanos de la isla, que se celebra en el centro

de la capital durante varios días, aunque no hay

pueblo que no cuente con su peculiar feria navideña

y los comercios abiertos y decorados para

atraer el público que curiosea por toda la isla en

busca de algo original.

Belén en el Cabildo de Gran Canaria

Y, hablando de originalidad, el nuevo año retoma

el Festival de Música de Canarias en su calendario

original: el primer gran festival clásico

del año, en un territorio donde las grandes orquestas

y los músicos más virtuosos llenan de

sonidos los auditorios del archipiélago, en particular

en Gran Canaria, donde se recuerda que el

16 de diciembre tiene lugar el centenario del fallecimiento

del compositor y director de orquesta

francés, Camille Saint-Saëns, quien no sólo

residió durante temporadas en la isla para crear

algunas de sus obras, simultaneando sus estancias

en la capital con algunas temporadas en

una hacienda para su retiro en Guía, en la Villa

Melpómene, sino que colaboraría asiduamente

con la Sociedad Filarmónica de Gran Canaria,

primera creada en España, en 1845.

Otra propuesta original es la TransGranCanaria,

la prueba deportiva que permite a aquellas

personas preparadas recorrer en línea recta la

isla, de un extremo a otro, de costa a cumbre

(1950 m), para volver a bajar a la costa. Todo un

espectáculo de corredores que se enfrentan a

una prueba de las más duras del calendario deportivo

del año, con la ascensión y descenso de

uno de los más duros puertos de montaña de

Europa.

Como podrá comprobar, Gran Canaria ofrece

una amplia oferta de actividades para disfrutar

en todo tipo de espacios, en toda la isla, Y, si no

llega a tiempo, no se preocupe, hay más. Y para

todo el año.

Belén de Arena. Playa de Las Canteras
---
8

GET TO KNOW GRAN CANARIA I CONOCE GRAN CANARIA Nº 10

10

natural swimming pools not to be missed

piscinas naturales que no debes perderte

Por Miguel Díaz

Gran Canaria's relationship with the sea goes far beyond the typical sandy

beaches highlighted in travel guides. All around its orography, the island

hides a string of treasures in the form of natural pools: some created by nature

itself and others man-made.

Be that as it may, if you are looking to turn your visit to the island into something

more memorable, we recommend a visit (and a swim, if possible), to

any of the following locations suggested for you here in this little guide. You

will thank us for it!

La relación de Gran Canaria con el mar va mucho más allá de las playas de

arena típicas de las guías de viajes. A lo largo de su orografía, la isla esconde

diferentes tesoros en forma de piscinas naturales: unas creadas por

la propia naturaleza y otras tras las que se esconde la mano del hombre.

Sea como fuere, si quieres hacer de tu visita a la isla algo memorable, te

recomendamos una visita (y un baño, si es posible), a cualquiera de las

propuestas que te lanzamos en esta pequeña guía. ¡Ya nos lo agradecerás!

1. La Laja

Las Palmas de Gran Canaria

Our tour begins in the island's capital. At the southern tip of the city, we

come to this set of three natural pools that has become one of its top

natural attractions, especially for the residents of the nearby neighbourhoods.

Are you into swimming? One of the three pools is of Olympic proportions!

1. La Laja

Las Palmas de Gran Canaria

Nuestro recorrido empieza en la capital de la isla. En el extremo sur de

la ciudad, podemos encontrar este conjunto de tres piscinas naturales

que se ha convertido en unos de los atractivos naturales de la ciudad,

especialmente para los vecinos de los barrios cercanos. ¿Te gusta la

natación? ¡Una de las tres piscinas cuenta con medidas olímpicas!

2. Los Charcones

Arucas

The majority of Gran Canaria's natural

pools are scattered around the

north of the island. Los Charcones

is the first one we encounter on

our route and is one of the most

frequented in Arucas. It is noted

for the large amount of facilities it

offers to visitors, which has led it to

being given the official Blue Flag

distinction.

2. Los Charcones

Arucas

La mayoría de las piscinas naturales

de Gran Canaria están repartidas

por el norte de la isla. Los Charcones

es la primera que nos encontramos

en la ruta y una de las más

frecuentadas de Arucas. Destaca

por la cantidad de servicios a disposición

del usuario, algo que le ha

proporcionado el distintivo oficial

de Bandera Azul.
---
Nº 10 GET TO KNOW GRAN CANARIA I CONOCE GRAN CANARIA

9

3. El Charco de San Lorenzo

Moya

Just five kilometres further along from Los Charcones

on the GC-2 main road, we come to Charco

de San Lorenzo. This is probably the island's most

traditional natural swimming pool, as it oozes a

truly local atmosphere. A 200 ml bottle of beer (a

botellín) in the canteen next to the pool will undoubtedly

provide a totally immersive introduction

to the area's local culture.

3. El Charco de San Lorenzo

Moya

A tan solo cinco kilómetros de Los Charcones por

la GC-2, nos encontramos el Charco de San Lorenzo.

Probablemente, la piscina natural con más

tradición de la isla y donde se respira un aroma

absolutamente local. Un quinto de cerveza (un

botellín) en la cantina junto a la piscina es sin

duda una experiencia totalmente inmersiva en la

cultura de la zona.

4. Roque Prieto

Santa María de Guía

We are now probing the lesser known north of the island. Although its location

is difficult to pinpoint, Roque Prieto provides a haven of peace and quiet,

a chance to get away from urban sprawls, although you will have to deal with

all that this entails. The sea can sometimes be quite rough here. So, beware

the wind, sea urchins and waves.

4. Roque Prieto

Santa María de Guía

Nos adentramos en el norte menos conocido de la isla. Difícil de precisar su

localización, en Roque Prieto encontrarás un remanso de paz y desconexión,

alejado de núcleos poblacionales. Sin embargo, hay que lidiar con todo lo que

eso comporta. Aquí, el mar se expresa en ocasiones en su versión más salvaje.

Ojo con el viento, los erizos y las olas.
---
10

GET TO KNOW GRAN CANARIA I CONOCE GRAN CANARIA Nº 10

5. El Agujero, Emiliano and Dos Roques

Gáldar

It could be said that Gáldar is home to the golden mile of natural pools in

Gran Canaria, because in a stretch covering just one kilometre we are spoilt

for choice with these three pools, especially desirable at low tide and offering

a very family-oriented atmosphere. As an added bonus, check out Caleta de

Arriba beach, because although it is not a swimming pool, it is a must-see.

5. El Agujero, Emiliano and Dos Roques

Gáldar

Podríamos decir que en Gáldar tenemos la milla de oro de las piscinas naturales

de Gran Canaria, pues en apenas un tramo de un kilómetro nos encontramos

estas tres piscinas, especialmente deseadas en marea baja y en un

ambiente muy familiar. Extra: la playa de Caleta de Arriba, aunque no es una

piscina, es visita obligada.

6. El Charco de los

Espejos and Sardina

Lighthouse

Gáldar

On both sides of the Sardina Lighthouse

there are two natural pool-like formations

that will undoubtedly delight the readers of

this article. We are not talking about manmade

formations, but small-size natural

rock formations, two real treasures that are

within the reach of a privileged few.

6. El Charco de los

Espejos y el Faro de

Sardina

Santa Lucía de Tirajana

A ambos lados del Faro de Sardina existen

sendas formaciones naturales a modo de

piscina que sin duda harán las delicias de

los lectores de este artículo. No hablamos

de formaciones tras las que se encuentra

la mano del hombre, sino formaciones

rocosas naturales de dimensiones reducidas.

Dos tesoros al alcance de unos pocos

privilegiados.
---
Nº 10 GET TO KNOW GRAN CANARIA I CONOCE GRAN CANARIA

11

7. Las Salinas

Agaete

Our journey around the natural pools at the north of Gran Canaria ends in Las

Salinas, one of the best of its kind on the island. Las Salinas offer three pools

in one, with differing depths (even for snorkeling). It has high concrete walls

to protect bathers from the crashing waves. It is the perfect place to come to

enjoy some fresh fish in the local village of Agaete.

7. Las Salinas

Agaete

Nuestro viaje por las piscinas naturales del norte grancanario termina en Las

Salinas, una de las mejores de su tipo en toda la isla. Tres piscinas en una con

diferentes profundidades (incluso para practicar snorkel). Cuenta con altos

muros de hormigón para protegerse del embate de las olas. Lugar ideal con

un almuerzo de pescado fresco en el pueblo de Agaete.

8. Charca de Los Pérez

Telde

Traditionally, Telde does not attract the attention of travel guides. Straddled

between the capital and the south, it seems merely a place for visitors to catch

a glimpse of on their way past. However, sometimes it throws up places like

the Charca de los Pérez, a charming –albeit small- spot for enjoying a cosy

private bathing space on the edge of the Avenue.

8. Charca de Los Pérez

Telde

Tradicionalmente, Telde no tiene el cariño de las guías de viajes. A caballo entre

la capital y el Sur, parece solo un sitio de paso para el visitante. Sin embargo,

en ocasiones nos regala lugares como la Charca de los Pérez, un sitio con

encanto -pequeño, eso sí- donde disfrutar de un pequeño espacio íntimo de

baño al borde de la Avenida.
---
12

GET TO KNOW GRAN CANARIA I CONOCE GRAN CANARIA Nº 10

9. Soco Negro

Agüimes

Located at the most northerly tip of Arinaga, Soco Negro meets all the conditions

to be considered a natural swimming pool, although it has a small area

that opens up to the sea. The surrounding area offers a good range of facilities

and fine eateries. A top attraction is the small wooden constructions for sunbathers,

ideal for couples or small groups.

9. Soco Negro

Agüimes

Situada en el extremo norte de Arinaga, reúne todas las condiciones para ser

considerada una piscina natural, aunque tiene una pequeña zona abierta al

mar. Cuenta con múltiples servicios y restauración en las inmediaciones. Nos

encantan las pequeñas construcciones de madera para tomar el sol en parejas

o grupos pequeños.

10. Castillo del Romeral

San Bartolomé de Tirajana

On less windy days, this is one of the most recommended natural pools, especially

if you are staying in the south of the island, thanks to its close proximity.

It is very quiet and offers ample space for visitors to spend a different kind of

day out. In addition, the village there has superb places to eat out and to round

off the experience.

10. Castillo del Romeral

San Bartolomé de Tirajana

Si el viento lo permite ese día, esta es una de las piscinas naturales que más

recomendamos. Especialmente, si te hospedas en el Sur de la isla, por su

cercanía. Muy tranquila y con amplitud de espacio para pasar un día diferente.

Además, el pueblo tiene muy buenos sitios para comer y completar la

experiencia.
---
14

GET TO KNOW GRAN CANARIA I CONOCE GRAN CANARIA Nº 10

Villa de Moya at Christmas: a magical place

Villa de Moya inaugurated its 2021 Christmas programme

on Friday 10th December with the arrival

of hundreds of people who turned up at the northern

municipality to welcome in this magical time

of the year. The lighting of the traditional Christmas

lights, the 'Villa de Moya at Christmas' Craft

and Trade Fair, with tastings of the 'Textures of the

Land' programme and local product samplings,

and the 'Christmas Polar Express' show at the Portico

of the Church of Nuestra Señora de Candelaria,

were the stars of the first day of Christmas.

The 'Villa de Moya at Christmas' Craft and Trade Fair

showcased the finest gifts for this Christmas over

three days, and enabled visitors to buy all kinds of

items and food locally produced in Gran Canaria.

The Municipal Artistic Schools will be the protagonists

from Monday 13th to Friday 17th December,

when numerous recitals will be performed by students

playing strings, flute and piano, percussion,

modern music and an instrumental ensemble, as

well as an introduction to the décima and improvised

readings, early education and piano and the

clarinet, classical guitar, singing and choirs.

The 'Dulce Villa de Moya Fun Run' also returns to

the municipality after the health situation resulting

from COVID-19 forced the 2020 race to be suspended.

The eighth edition of the event has now been

launched, whose course will run through the centre

of the municipality on Saturday, 18th December.

The race is 5 kilometres long and will offer, as it has

traditionally done, both adult and children's categories.

On the same Saturday, Father Christmas

will be along to Moya to greet the young children;

this event will take place at 17:00 at the Municipal

Sports Centre. The Children's Christmas, the Gran

Canaria Cycling Gala and the Living Nativity Scene

make up the programme for Sunday 19th December.

With the Moya senior citizens' lunch, concerts

by Tigaray and Súbito Koral, a dance performance,

a rhythmic gymnastics exhibition and the children's

show 'Around the World in 80 Days', Christmas

Eve will already be upon us.

Once this magical night is over, the programme

will get back on track with numerous concerts and

shows to ensure the enjoyment for everyone at

this family-friendly time of year. Finally, the Three

Wise Men will be travelling around all the neighbourhoods

of Moya on the 5th of January from 9:00

a.m. so that the local children can look out and see

them from their doors, windows, balconies and

rooftops.

Villa de Moya has therefore got its Christmas programme

up and running, designed to be enjoyed

in the company of loved ones and youngsters, full

of light and music but, above all, full of excitement

and fun.
---
Nº 10 GET TO KNOW GRAN CANARIA I CONOCE GRAN CANARIA

15

La Villa de Moya en Navidad: un lugar mágico

La Villa de Moya inauguró el pasado

viernes 10 de diciembre la programación

navideña de 2021 con la

afluencia de cientos de personas que

acudieron hasta el municipio norteño

para dar la bienvenida a esta mágica

época del año. El encendido de

la tradicional iluminación navideña,

la Feria Artesanal y Comercial 'Villa

de Moya en Navidad', con degustaciones

del programa 'Texturas de la

Tierra' y catas de productos locales,

y el espectáculo 'Expreso Polar de

Navidad' en el Pórtico de la Iglesia de

Nuestra Señora de Candelaria, fueron

los protagonistas de la primera

jornada de la Navidad.

La Feria Artesanal y Comercial 'Villa

de Moya en Navidad' mostró durante

tres jornadas los mejores regalos

para estas navidades y permitió adquirir

todo tipo de artículos y alimentos

producidos en Gran Canaria. Las

Escuelas Artísticas Municipales serán

las protagonistas desde el lunes

13 hasta el viernes 17 de diciembre,

cuando se sucederán numerosas

audiciones a cargo del alumnado de

cuerda frotada, flauta y piano, de percusión,

música moderna y conjunto

instrumental, así como del de introducción

a la décima y el verso improvisado,

educación temprana y piano

y del de clarinete, guitarra clásica,

canto y coros.

La Carrera Dulce Villa de Moya también

regresa al municipio después de

que la situación sanitaria derivada del

covid-19 obligara a suspender la edición

de 2020. Ahora, se ha puesto en

marcha la octava edición del evento,

que recorrerá el casco del municipio

el sábado 18 de diciembre. La prueba

es de 5 kilómetros y ofrecerá, como

ha hecho tradicionalmente, tanto categoría

de adultos como infantil. El

mismo sábado Papá Noel se acercará

hasta Moya para ver a los más pequeños;

la cita será a las 17:00 horas en el

Polideportivo Municipal. La Navidad

Infantil, la Gala de Ciclismo de Gran

Canaria y el Belén Viviente conforman

la programación del domingo

19 de diciembre. Con el almuerzo con

los mayores de Moya, los conciertos

de Tigaray y Súbito Koral, una actuación

de danza, una muestra de gimnasia

rítmica y el espectáculo infantil

'La vuelta al mundo en 80 días', ya habrá

llegado la Nochebuena.

Pasada esta noche mágica, la programación

volverá a ponerse en marcha

con numerosos conciertos y espectáculos

para disfrutar de esta época tan

familiar. Finalmente, los Reyes Magos

de Oriente visitarán, el día 5 de enero

a partir de las 9:00 horas, todos los

barrios de Moya para que los niños y

niñas puedan asomarse y verlos desde

sus puertas, ventanas, balcones y

azoteas.

De esta forma, la Villa de Moya ha

arrancado una programación navideña

pensada para disfrutar acompañados

de nuestros seres queridos

y de los más pequeños, llena de luz

y de música pero, sobre todo, de ilusión.
---
16

GET TO KNOW GRAN CANARIA I CONOCE GRAN CANARIA Nº 10

Enjoy Christmas in Valsequillo

Presentación de la Campaña de Navidad

Valsequillo began its seasonal build-up under the

slogan of "Enjoy Christmas in Valsequillo de Gran

Canaria". From 10th December to 5th January, the

municipality will be hosting traditional activities together

with a few new ones. These include the 1st

Municipal School Christmas Carol Service in which,

for the first time, all the local schools that collaborate

with the Folklore Department of the Municipal

Artistic Schools will be taking part.

Also new this year is the "Christmas Craft Fair", a

Christmas market that will take over the streets in

the old part of town with stalls to enable visitors

to get their seasonal shopping done and discover

Valsequillo at the same time. Lots of children's activities

will be laid on from 17th to 19th December,

featuring bouncy castles, craft workshops, cooking

workshops and children's shows, over a few days

which will feature a number of live evening performances

by La Trova, Kike Pérez, Aseres and Vocal

7, among others, who will get the evenings going

together with a fine range of local products.

Santa Claus will come to greet the children from

the municipality on Friday 24 December. Likewise,

youngsters will be getting the call from the Three

Wise Men before their arrival in Valsequillo, as,

once again this year, their Majesties will receive the

magic keys to the town and to all the homes to deliver

presents.

In 2021, townsfolk in Valsequillo will be able to eat

their traditional grapes early on New Year's Eve,

thanks to the town hall which has organised live

musical performances. The evening will be starring

Pedro Manuel Afonso, who will present his

"Legends" show and where Furia Joven will be the

orchestra entrusted with the evening's entertainment.

About Valsequillo...

Valsequillo has always been a reference point for

the local agricultural and livestock business. In

recent years, the municipality has become the island's

strawberry producer par excellence. Thanks

to the strawberry fair, the crop has achieved promotion

both on the island and regionally by placing

local farms at the forefront of the Canary Islands.

The wine sector has also made a quantitative and

qualitative leap in recent years, not only increasing

the land surface area dedicated to grapevines, but

also generating a high quality product, which has

won awards at on the islands, and which continues

to be professionalised through the Gran Canaria

Hillside Regional Wine Association. The municipality

is also leading the way in ecotourism and nature

tourism linked to sporting activities and promoting

sustainable development in the region.

The municipality is also a hikers' paradise, providing

a fascinating insight into the local geology, flora,

fauna, all of which is within reach of walks that

can be tackled by anyone who is reasonably fit.

The relatively humid climate and the abundance

of springs cover the geography of Valsequillo like

a green carpet, with a burst of colours during the

flowering season, which, depending on the species,

lasts from December to June. There are hundreds

of varieties of plants, many endemic to the Canary

Islands, exclusive to the island and even to the area.

Among them, the one that most attracts visitors'

attention is perhaps the blue tajinaste bush, whose

vibrant colour contrasts with the yellow of Canary

houseleek, laburnum and broom, the white of the

white brooms and brush, and the flowers of fruit

plants, especially in February with the white and

pink shades of blooming almond trees.

The chance to experience Valsequillo should not

be missed, more so now at Christmas time.
---
Nº 10 GET TO KNOW GRAN CANARIA I CONOCE GRAN CANARIA

17

Vive la Navidad en Valsequillo

Bajo el lema "Vive la Navidad en Valsequillo

de Gran Canaria", comenzó la época navideña

en Valsequillo. Entre el pasado 10 de

diciembre y hasta el próximo 5 de enero, el

municipio contará con actividades ya tradicionales

y con algunas novedades. Entre

ellas, el I Encuentro Municipal de Villancicos

Escolar en el que participan, por primera

vez, todos los colegios de la localidad que

colaboran con el Departamento de Folclore

de Escuelas Artísticas Municipales.

Otra de las novedades es la "Feria de Navidad

y Muestra de Artesanía", un mercado

navideño que invadirá las calles del casco

histórico de casetas navideñas para que

podamos realizar nuestras compras y descubrir

Valsequillo. Del 17 al 19 de diciembre

habrá infinidad de actividades infantiles

como castillos hinchables, talleres de artesanía,

talleres de cocina, manualidades,

espectáculos infantiles… Unos días cuyas

noches estarán amenizadas por diversas

actuaciones: La Trova, Kike Pérez, Aseres o

Vocal 7 , entre otros, dinamizarán unas veladas

en las que no faltarán los productos

locales.

Unas navidades en las que Papa Noel acudirá

a saludar a los niños y niñas del municipio

el viernes 24 de diciembre. Asimismo,

los más pequeños podrán recibir la llamada

de sus Majestades los Reyes Magos de

Oriente antes de su llegada a Valsequillo, y

es que, un año más recibirán las llaves mágicas

de la localidad para poder entrar en

todas las casas del pueblo.

En este 2021, en Valsequillo se podrán comer

las uvas adelantadas, en esa Noche

Vieja adelantada que ha organizado la institución

con actuaciones musicales en directo.

Una velada en la que Pedro Manuel

Afonso presentará su espectáculo "Leyendas"

y donde Furia Joven será la orquesta

encargada de amenizar la noche.

Sobre Valsequillo...

Valsequillo siempre ha sido un referente en

el desarrollo local, agrícola y ganadero. En los

últimos años, el municipio se ha convertido

en el pueblo de la fresa por excelencia. Un

cultivo que gracias a la feria que se hace ha

conseguido una promoción insular y regional

que sitúa a las explotaciones de la localidad

a la cabeza de Canarias. El sector vinícola

también ha dado un salto cuantitativo y cualitativo

en los últimos años, no solo aumentado

la superficie dedicada a este cultivo sino

generando un producto de gran calidad,

que ha conseguido premios a nivel insular,

y que sigue profesionalizándose a través de

la Asociación de Vinos de Medianías de Gran

Canaria. Asimismo, el municipio lidera una

oferta asociada al ecoturismo y al turismo de

contacto con la naturaleza vinculado a actividades

deportivas y fomentando el desarrollo

sostenible de la localidad.

Un municipio que es un paraíso para el

senderismo donde a través de sus rutas se

puede disfrutar de su geología, flora, fauna..,

todo ello, al alcance de caminatas que

puede recorrer cualquier persona en buena

forma. El clima relativamente húmedo y la

abundancia de manantiales cubren de verde

la geografía de Valsequillo, y la salpican

con el estallido de colores de la floración, que

abarca según las especies de diciembre a

junio. Cientos de variedades de plantas, muchas

endémicas de Canarias, exclusivas de

la isla e incluso de la zona. Entre ellas la que

más llama la atención del visitante es quizás

el tajinaste azul, cuyo color contrasta con el

amarillo de los bejeques, los codesos y las retamas,

el blanco de las retamas blancas y los

escobones, y las flores de las plantas frutales,

sobre todo en febrero el blanco y rosado de

los almendreros.

No debe perderse la experiencia de visitar

Valsequillo, y mucho menos, en Navidad.
---
18

GET TO KNOW GRAN CANARIA I CONOCE GRAN CANARIA Nº 10

The Christmas House comes to Valleseco

All the island's families can acquire their free tickets to come and enjoy the Christmas House, open until

2nd January 2022 in Valleseco. This attraction consists of several different rooms which will take visitors

through the enchanted forest, the toy factory and the North Pole.

The Christmas House is back! The most special time

of the year is upon us once more. Carols, Christmas

dinners, the smell of chestnuts, long, long scarves

and ...Valleseco is gearing up to welcome the elves

and the pages whose job it is to wrap up presents

and prepare hundreds of deliveries on the night

of the 24th of December and the 5th of January.

Some of them have moved to Valleseco Casino,

where the Christmas House, located at number 5,

invites the island's families along to experience a

world full of magic and fantasy.

Each and every one of the magical corners of this

incredible house are open to visitors, including the

enchanted forest, the toy factory, the North Pole

and the world of sweets, so that everyone can enjoy

the Christmas experience.

Different visiting hours have been planned over

the next few weeks, in order to minimise the risk of

contagion, and to enable families to grab their free

tickets on the www.tureservaonline.es portal. Storytelling

activities have been organised as part of

the proceedings, with María Buena Dicha; Néstor

Bolaños; Laura Boissier and the Mad Winter Tales,

plus a Christmas sweets workshop, among other

fun activities. The house is being funded by the Cabildo

de Gran Canaria and Cumbre Vive.

Don't miss the opportunity to come and enjoy

Christmas in Valleseco!

La Casa de la Navidad

llega a Valleseco

Todas las familias de la isla pueden adquirir las entradas gratuitas para disfrutar de ella, hasta el 2

de enero de 2022. La atracción consta de varias salas en las que recorrerán el bosque encantado,

la fábrica de juguetes o el Polo Norte.

¡Vuelve la Casa de la Navidad! La época más especial del año ya está aquí. Villancicos, cenas, el

olor a castañas, bufandas quilométricas y …Valleseco se prepara para recibir a los elfos y los pajes

que trabajan en envolver y preparar la entrega de cientos de regalos la noche del 24 de diciembre

y el 5 de enero. Parte de ellos se ha trasladado al Casino de Valleseco, donde la Casa de la Navidad,

situada en el número 5, abre a las familias de Gran Canaria un lugar lleno de magia y fantasía.

Recorremos todas y cada uno de los rincones mágicos de esta increíble casa, el bosque encantado,

la fábrica de juguetes, el Polo Norte o el mundo de las golosinas, todo ello, con el propósito

de vivir la navidad.

Se ha ideado diferentes pases a lo largo de estas semanas, para así minimizar el riesgo de contagios,

las familias pueden adquirir las entradas gratuitas en el portal www.tureservaonline.es de

forma paralela se ha ideado actividades de cuentacuentos, María Buena Dicha; Néstor Bolaños;

Laura Boissier o los cuentos de inviernos disparatados, también taller de dulces navideños, entre

otras acciones. Contando la finaciación del Cabildo de Gran Canaria y Cumbre Vive.

¡No dejéis escapar la oportunidad de disfrutar de la navidad en Valleseco!
---
20

INTERVIEW I ENTREVISTA Nº 10

D. Oliverio de los Reyes Armas Guillén

2nd Deputy Mayor of Arucas. Area Concillor for Socio-Community Services, People Support,

Quality of Life Enhancement, and Economic Promotion

"Arucas has been undergoing a complete transformation over

the last ten years, the results of which are plain to see today"

The finishing touches to the ring road means that

the municipality of Arucas is now just a few minutes'

drive away from the centre of Las Palmas de

Gran Canaria. Far from being an inconvenience,

this proximity has become an advantage that

makes it easier to get to know a municipality that

proudly keeps its strong personality and idiosyncrasy

intact.

Arucas has become a fashionable place to visit...

Arucas has created an accessible open shopping

area which is very convenient for both locals and

visitors. Many years ago a transformation was initiated

for just this reason, for example, along Calle

León y Castillo and around the church. This upgrading,

which at first seemed to be an issue for

the shopkeepers, who thought they would lose income,

has proved to be quite the opposite. Today,

we have a pedestrian street full of businesses, with

practically all the premises occupied.

Its impact has been so positive that part of the

business community, especially the younger community,

has been able to generate positive synergies.

There are businesses that are complementary

to each other. To give you an example: you can

have dinner in one place and continue with your

drinks in the same place because the owner of the

restaurant brings them to you from a nearby establishment.

This has generated the capacity for a

community partnership between them, in which

the client can enjoy the same environment without

having to move.

In addition, the ring road means that Arucas is

now just a stone's throw away from the capital...

It does, but people have always come up here from

Las Palmas de Gran Canaria, and from around the

North... we are the head of the region and that

means that many people come and are able to

enjoy our gastronomy, our local artistic landscape,

not only the Church, but also its streets, the Town

Park...

We have also assembled a good cultural and leisure

programme that allows people to come to

Arucas to enjoy, for example, the latest concert by

David de María, which was organised by the Department

of Economic Promotion and Tourism,

around the back of the Museum, in Gourié Park, a

very, very specific setting, with an intimate but very

privileged space. The message is clear: it's not all

about large shopping centres, it is also about creating

environments conducive to culture, leisure and

gastronomy.

The success of such intimate concert has drawn

great attention...

Access to it was only possible through a raffle. We

have launched a platform to help kickstart Arucas'

establishments, where they can publish the latest

products linked to their online shop so that the

user can find all the town's establishments and finish

their purchase directly with the seller. In other

words, we have tried to digitalise traditional commerce

through the website www.regalatearucas.

com. Thanks to this, we not only get the shops to

digitise their business, we also hold raffles for all

those who have made purchases of more than €20

to, among other things, win tickets for that concert.

What is there left to do?

We have spent the last ten or twelve years undergoing

a complete transformation, and the results

are plain to see today. But we have to move forward,

we have to continue developing the area

around the church with a project that I think will be

completed by 2023: the continuity of the area that

ends on Calle Francisco Gourié with Calle La Heredad

and goes as far as the Ron Arehucas distilleries.

All this will enable our visitors to leave the car

at the exhibition fair, visit the whole town centre,

enjoy the gastronomy, visit La Heredad and finish

at the distillery, as part of a walking tour.

Right now, with Christmas upon us, a number of

events have popped up to round off a cultural

calendar that, in its own right, was already pretty

full...

The eighth annual Gran Canaria Bestial Race has

just finished, an event that historically, except for

the first edition held in Las Palmas, has been held

in Arucas. That is to say, it has already established

itself as a top class sporting event in which 1,600

people take part, but which attracts around 5,000

people over the whole weekend, with all that this

entails. We have also held a string of concerts, such

as the one by David de María that we were talking

about just now; another by Nía, winner of last year's

Operación Triunfo talent show, and another by

Lerika. We have also just held a concert and some

Gospel workshops over the weekend and now the

Christmas programme is about to start.

We have put together a packed programme for

Christmas: from the Victor Manuel concert to the

Ptazeta concert. We have the traditional Christmas

music season held with the art schools' students.

We have an endless number of different nativity

scenes: we are once again putting on the Sand Nativity

Scene, the Traditional Nativity Scene of the

Municipality, and the one at the Cultural Centre. In

other words, we have an extensive programme indeed.

I would like to point out that not only have the

Christmas lights in the centre of Arucas been enhanced,

but for the first time ever all the districts,

all the neighbourhoods are going to have some

kind of Christmas lighting, or a small tree, a small

figure, something... so that the outlaying areas can

also enjoy a wonderful Christmas atmosphere.

We wind up today with the iconic image of the

Church of Arucas...

The church is our flagship monument. It was funded

by some wealthy people of the time, with donations

from the townsfolk, but almost as important

as the church are those who worked on its construction

because they form a fundamental part of

our history: the labourers of Arucas.

At the beginning of the 20th century, there might

have been over a thousand labourers working at

any one time at one of the most valued quarries

in Gran Canaria, La Goleta. The construction of

the church took place in several stages. The initial

stage started at the beginning of the 20th century,

and then later, between 1968 and 1969, money was

once again injected to finish off the last tower. Just

a few people from that final stage are alive today.

What I mean by this is that it is important for people

visiting Arucas to go to the Tourist Office and

ask for an explanation as to why the church looks

the way it does, why the stone was used as it was,

and the importance of the people who actually

worked on the stone. Many of them moved on to

emblematic buildings in Las Palmas and Tenerife.

That is, truly, our history.
---
Nº 10 INTERVIEW I ENTREVISTA

21

D. Oliverio de los Reyes Armas Guillén

2º Teniente de Alcalde de Arucas. Concejalía de Área de Servicios Sociocomunitarios,

Asistencia a las personas, Fomento de la Calidad de Vida y Promoción Económica

"Arucas lleva los últimos diez años en plena

transformación y hoy ya se ven los frutos"

Por Sergio Arán

Las últimas obras de la circunvalación han permitido

que el municipio de Arucas se encuentre a muy

pocos minutos del centro de Las Palmas de Gran

Canaria. Lejos de ser un inconveniente, esta cercanía

se ha convertido en una ventaja que facilita

conocer un municipio que sigue manteniendo intacta

su fuerte personalidad e idiosincracia.

Venir a Arucas está de moda...

Arucas ha creado una zona comercial abierta accesible

muy cómoda para los locales y nuestros visitantes.

En este sentido, hace muchos años se inició

una transformación, por ejemplo, en la calle León

y Castillo y en los alrededores de la Iglesia. Eso,

que en principio parecía que iba a ser un problema

para los comerciantes, que creían que iban a perder

ingresos, ha demostrado ser lo contrario. Hoy

tenemos una calle peatonal llena de negocios con

prácticamente todos los locales ocupados.

Su repercusión ha sido tan buena que parte del

empresariado, sobre todo el más joven, ha sido capaz

de generar sinergias positivas. Hay negocios

que son complementarios a otros. Te pongo un

ejemplo: tú puedes cenar en un sitio y seguir con

las copas en el mismo lugar porque el propio dueño

del restaurante te las trae de un local cercano.

Se ha generado esa capacidad de sociedad comunitaria

entre ellos en la que el cliente disfrutar del

entorno sin moverse.

Además, la circunvalación ha hecho que Arucas

esté muy cerca de la capital...

Sí, pero siempre ha venido gente de Las Palmas de

Gran Canaria, del Norte... somos cabecera de comarca

y eso hace que mucha gente venga y sea

capaz de disfrutar de nuestra gastronomía, de disfrutar

del paisaje artístico que tenemos en el municipio,

no solo la Iglesia, que también, sino de sus

calles, del Parque Municipal...

También se ha generado una buena programación

cultural y de ocio que permite que la gente pueda

venir a Arucas a disfrutar, por ejemplo, del último

concierto de David de María, que se hizo desde la

Concejalía de Promoción Económica y de Turismo,

en la parte trasera del Museo, en el Parque de Gourié,

un entorno muy, muy concreto, con un espacio

íntimo pero muy privilegiado. El mensaje es claro:

no todo son las grandes superficies, sino también

generar entornos propicios para la cultura, el ocio y

la gastronomía.

Llama la atención el éxito de un concierto íntimo...

Solo se podía acceder por sorteo. Hemos puesto

en marcha una plataforma para la dinamización

de los establecimientos de Arucas donde pueden

publicar los productos mas novedosos vinculados

a su tienda online con el fin que el usuario pueda

encontrar todos los establecimientos de Arucas

y termine su compra directamente con el vendedor.

O sea, hemos tratado de digitalizar el comercio

tradicional con la web regalatearucas.com. Con

esto, entre otras cosas, no solo conseguimos que

las tiendas opten por digitalizar su negocio sino

que hacemos sorteos entre las personas que han

realizado compras superiores a 20 euros para, por

ejemplo, conseguir entradas para ese concierto.

¿Qué falta por hacer?

Llevamos los últimos diez o doce años en plena

transformación y hoy ya se ven los frutos. Pero hay

que seguir, hay que continuar alrededor del entorno

de la Iglesia con un proyecto que creo que podremos

tener finalizado en el año 2023: la continuidad

del espacio que termina en la calle Francisco

Gourié con la calle La Heredad y que llega hasta

las destilerías de Ron Arehucas. Todo eso va a hacer

que nuestros visitantes puedan dejar el coche

en el recinto ferial, visitar todo el casco, disfrutar de

la gastronomía, visitar La Heredad y terminar en la

destilería en forma de paseo.

Ahora, en plenas Navidades, surgen numerosos

eventos que se suman a una agenda cultural

que, de por sí, está bastante repleta...

Acaba de terminar la octava edición de la Gran Canaria

Bestial Race, un evento que históricamente,

salvo la primera edición que se celebró en Las Palmas,

se ha celebrado en Arucas. Es decir, ya se ha

consolidado como un evento deportivo de primer

nivel en el que que participan 1600 personas, pero

que atrae cerca de 5000 personas en todo el fin de

semana, con todo lo que eso significa. También hemos

celebrado algunos conciertos, como el de David

de María del que hablábamos antes; el de Nía,

ganadora de Operación Triunfo el año pasado, o el

de Lerika. También hemos celebrado un concierto

y unos talleres de Gospel este fin de semana y ahora

empieza todo lo que es el programa de Navidad.

En Navidad tenemos un programa muy potente:

desde el concierto de Victor Manuel hasta el de

Ptazeta. Tenemos las tradicionales rondas de Navidad

que se celebran con la gente de las escuelas

artísticas... Tenemos una infinidad de belenes diferentes:

volvemos a hacer el Belén de Arena, el Belén

Tradicional del Municipio, el de la Casa de la Cultura...

Es decir, tenemos un programa bastante extenso.

Sí me gustaría destacar que no sólo se ha potenciado

la iluminación navideña en el casco de Arucas,

sino que por primera vez en la historia, todos

los distritos, todos los barrios, van a tener algún detalle

navideño de iluminación, o un pequeño árbol,

una pequeña figura, algo... para que también los

barrios puedan disfrutar del ambiente navideño.

Dejamos para el final la icónica imagen de la

Iglesia de Arucas...

La iglesia es nuestro buque insignia. Tuvo una financiación

de gente con poder adquisitivo de la época,

con donaciones de los ciudadanos, pero casi tan importante

como la iglesia está quienes trabajaron en

su construcción porque forman parte fundamental

de nuestra historia: los labrantes de Arucas.

A inicios del siglo XX, en una de las canteras más

valoradas de Gran Canaria, la de La Goleta, podían

estar trabajando más de mil labrantes. El desarrollo

de la construcción de la iglesia tuvo varios procesos.

El inicial, a principios del sg. XX, y después,

entre el año 68 y 69, momento en el que se volvió

a inyectar dinero para terminar la última torre. Hoy

quedan pocas personas vivas de ese último proceso.

Con esto quiero decir que es importante que la

gente que visite Arucas pase por la Oficina de Turismo

y pida que se le explique por qué la Iglesia es

así, por qué se utilizó la piedra que se utilizó y qué

importancia tiene la gente que trabajó en la piedra.

Muchos de ellos trabajaron después en edificios

emblemáticos de Las Palmas o de Tenerife. Esa es,

de verdad, nuestra historia.
---
24

GET TO KNOW GRAN CANARIA I CONOCE GRAN CANARIA Nº 10

Triana, more than just a High Street

Calle Mayor de Triana

Teatro Pérez Galdós

Gabinete Literario

Calle Mayor de Triana

By Cayetano Sánchez

An essential route to take when visiting Las Palmas

de Gran Canaria is a wander along Calle de Triana,

which now, at Christmas time, is at its most sparkling

with its illuminations and stores overflowing

with eager shoppers. It has been the city's most

historic street in its own right since the end of the

15th century, and over the subsequent centuries it

has not lost the privilege of being considered Calle

Mayor (High Street). The street name is also the

name of the neighbourhood where it is situated, in

honour of the Triana district of Seville, as many of its

early settlers following the conquest of the island

hailed from the Andalusian capital. Shops, restaurants,

cafés, hotels, theatres, libraries... everything

can be found in this pedestrianised neighbourhood

that invites you to stroll around and lose yourself

in its beautiful architectural heritage.

A showcase of modernism

"Calle de Triana in the copious

vision of its continental splendour

wide, modern, rich and industrious

aorta of the capital...".

These are the first stanzas, written at the beginning

of the 20th century, by Gran Canarian poet Tomás

Morales, one of the great Spanish modernist poets.

The author, celebrations for whom are currently

being held for the first centenary of his death, was

already referring at that time to the street's fundamental

role in the city's history.

From the end of the 19th century onwards, the

traders and the bourgeoisie who lived in the neighbourhood

began to refurbish their homes with designs

that were more in keeping with their privileged

economic and social status. At that time the

modernist design was the prevailing architectural

style, and for this reason they invested their fortunes

in buildings in featuring this aesthetic style.

Thanks to this renewing vision, the street and its

surroundings are a modern day Modernism museum;

in fact, it is considered one of the most important

Modernist locations in Spain.

It is well worth taking a stroll through Triana with

your eyes focused mainly on its façades in order to

fully enjoy its monumental splendour. Classified as

historical-artistic heritage, and thanks to its excellent

conservation, visitors are treated to the most

significant elements that characterise the style:

wrought iron balconies, stonework and ceramics,

doors and windows framed with carved stones,

and plaster floral decorations. The long-running

façades, with homogeneous aesthetics in many

different sections along the street, are an essential

stopping point, providing a real pleasure for the

senses.

Gabinete Literario

Modernist buildings are not only limited to the high

street; many more can be spotted in other streets

all around the neighbourhood. They are all of equal

architectural beauty: our best advice is to just wander

around and discover them.

Undoubtedly the most impressive example of this

architecture is the Gabinete Literario, the last of its

kind to be built in the capital of Gran Canaria in the

early 20th century. Due to both its beautiful modernist

façade and the surroundings in which it is

located, it is one of the most photographed sites

in the city.

The building's interior is no less attractive; from

the superb main staircase that provides access

to the Salón Dorado, a monumental French-style

room that offers a rich blend of artistic elements.

Its ceiling is decorated with three large canvases

painted with mythological works depicting Apollo,

Orpheus and Thalia.

The Red Room is on the same floor, with its artistic

coffered ceiling, and the equally attractive Meifren

Room. Both are well worth a visit.

San Telmo Kiosk

As we continue our brief and selective look at modernism

in Triana, mention must go to the Kiosk located

in the Parque San Telmo. It is an architectural

jewel topped by a dome, covered with tiles and

decorated with columns and ceramic garlands, displaying

ornamental fruits. Beautiful stained glass

windows and leaded glass complete the beauty of

this space where it is still possible to enjoy its cafeteria

and restaurant service. It is a perfect place to

put your feet up and get your strength back before

continuing your stroll through Triana.

The commercial city

Neither the large department stores nor the shopping

centres have subdued the district as a commercial

area with its own character. The majority

of large shops, franchises and well-known brands

are still thriving in this area of the city, together

with specialised and more exclusive shops. Sitting

alongside them are bookshops, antique shops and

art galleries. Everything can be found in Triana.

The restaurant range is also very wide, catering for

all possible tastes and budgets: most of them have

terraces, dotted around its narrow streets, thanks

to which it is possible to enjoy drinks and a vibrant

urban life... It is worth noting once again that the

vast majority of the neighbourhood of Triana is pedestrianised;

tranquillity is assured.

Living culture

Most of the city's historic theatres can be found

in the same area: Pérez Galdós, Cuyas, CICCA, SIT.

All of them run an ongoing events programme

packed with all kinds of cultural activities.

There are just so many things to see and enjoy in

this historic and artistic part of town that it is impossible

to list them in such a short article. This is

just a taster to give you an idea – so don't miss out!
---
26

GET TO KNOW GRAN CANARIA I CONOCE GRAN CANARIA Nº 10

Triana, más que una Calle Mayor

Quiosco de San Telmo

Por Cayetano Sánchez

Una ruta imprescindible en una visita a Las Palmas

de Gran Canaria es deambular por la calle de

Triana que ahora, en el tiempo de Navidad, luce su

máximo esplendor con su iluminación y comercios

desbordados de clientes. Primer núcleo urbano de

la ciudad es, desde finales del siglo XV, la más histórica

por derecho propio de la urbe, que pese a

los siglos transcurridos no ha perdido el privilegio

de ser considerada como Calle Mayor. Una vía que

también nomina al barrio donde se ubica, que recibe

su nombre del barrio del Triana sevillano; muchos

de sus pobladores tras la conquista de la isla

procedían de la capital andaluza. Comercios, restaurantes,

cafeterías, hoteles, teatros, bibliotecas...

todo está en este barrio peatonal que invita al paseo

y a perderse entre su bello patrimonio arquitectónico.

Escaparate del modernismo

"La Calle de Triana en la copiosa

visión de su esplendor continental

ancha, moderna, rica y laboriosa

arteria aorta de la capital… "

Son estas las primeras estrofas, escritas a comienzos

del siglo XX, por el poeta grancanario Tomás

Morales, uno de los grandes poetas modernistas

en español. El autor, del que ahora se celebra en

primer centenario de su fallecimiento, ya glosaba

en esa época su papel fundamental en la historia

de la ciudad.

Desde finales del siglo XIX los comerciantes y la

burguesía que residía en al barrio comienzan a remozar

sus viviendas con diseños que se aproximaban

más a su privilegiada condición económica y

social. En aquella época el estilo modernista era el

que imperaba, y por ello invirtieron sus fortunas

en construcciones en esa estética.

Gracias a esa visión renovadora la calle y sus alrededores

son una museo vivo del Modernismo; de

hecho está considerado como uno de los conjuntos

más importantes de España de ese estilo.

Conviene pasear por Triana con la vista alzada a

una buena parte de sus fachadas para disfrutar

plenamente de su esplendor monumental. Catalogado

como patrimonio histórico-artístico, y

gracias a su excelente conservación, es posible

contemplar los elementos más significativos que

caracterizan al estilo: balcones de hierro forjado,

cantería y cerámica, puertas y ventanas enmarcadas

con piedras labradas, o decoración floral en

yeso. Las fachadas continúas, y de estética homogénea

en diferentes tramos de la calle son de

parada obligatoria. Un autentico placer para los

sentidos

Gabinete Literario

Las construcciones modernistas no se limitan

sólo a la arteria principal; muchas más se pueden

contemplar en otras calles del Barrio. Todas ellas

de igual belleza arquitectónica: pasear y descubrir

es el mejor consejo.

Sin duda la obra más impresionante es el Gabinete

Literario; el último de ese estilo construido en

la capital grancanaria en la primera década del siglo

XX. Tanto por su hermosa fachada modernista

como del entorno donde su ubica es uno de los

lugares más fotografiados de la ciudad.

Pero no menos atractivo es su interior; desde la

soberbia escalera principal que da acceso al Salón

Dorado, un espacio monumental de estilo francés

que ofrece una densa combinación de elementos

artísticos. Su techo está decorado por tres grandes

lienzos pintados con temas mitológicos que

representan a Apolo, Orfeo y Talía.

En la misma planta se encuentra el Salón Rojo, en

el que destaca su artístico artesonado, o el igualmente

atractivo Salón Meifren. Visita recomendada.

Quiosco de San Telmo

Prosiguiendo nuestra mirada, breve y selectiva, del

modernismo en Triana, imposible no citar el Quiosco

situado en el Parque San Telmo. Se trata de

una joya arquitectónica rematada por una cúpula

revestida de azulejos y decorado con columnas y

guirnaldas cerámicas, donde pueden verse adornos

frutales. Bellos vidrieras de colores y cristales

emplomados completan la belleza de este espacio

en el que aún es posible disfrutar de su servicio de

cafetería y restauración. Un punto recomendable

de parada para coger fuerzas para seguir un paseo

por Triana.

La ciudad comercial

Ni los grandes almacenes ni los centros comerciales

han doblegado al Barrio como una zona comercial

con carácter propio. La mayoría de los grandes

comercios, franquicias y marcas reconocidas

siguen pujantes en estas zona de la ciudad, Junto

a ellos, tiendas especializadas y más exclusivas.

Junto a ellos, librerías, anticuarios o galerías de arte.

Todo es posible de encontrar en Triana.

La oferta de restauración también es muy amplia,

con especialidades para todos los gustos y bolsillos

posible: La mayoría de ellos cuentan con terrazas,

situadas entre sus estrechas calles, gracias a ello es

posible disfrutar de consumiciones y disfrutar de

la vibrante vida urbana.. Conviene volver a señalar

que la gran mayoría del Barrio de Triana es peatonal;

la tranquilidad está asegurada.

Cultura viva

La mayoría de los teatros históricos están en la misma

zona: Pérez Galdós, Cuyas, CICCA, SIT... Todos

ellos con programación continuada de todo tipo

de actividades culturales.

Demasiada cosas que ver y de las que disfrutar encierra

este Barrio histórico-artístico que es imposible

enumerar en tan corto espacio. Es sólo una

invitación a que lo conozcan. ¡No se lo pierdan!
---
28

GET TO KNOW GRAN CANARIA I CONOCE GRAN CANARIA Nº 10

The Las Palmas de Gran Canaria Sand Nativity Scene,

a unique Christmas picture postcard

Year after year, Las Canteras beach, in Las Palmas

de Gran Canaria, becomes the most original setting

for celebrating Christmas thanks to its Sand Nativity

Scene. It is a wholly unique work that leaves its

visitors gawping and as such is a must-see for this

festive season.

Even though the magnitude of this work is in itself

quite astonishing, a few figures will help us to imagine

its scale. Its sand sculptures, which can reach

a height of up to 4 metres, occupy 1,500 m2 on Las

Canteras beach, and use around 2,000 tons of sand.

It constitutes an incomparable Christmas picture

postcard created by 10 sculptors of eight different

nationalities, who spend a full week building up

this ephemeral work that has become a symbol

of the festive season in the city and whose image

travels around the world every year in December.

In addition, in each of its 16 editions, this Sand Nativity

Scene provides travellers and residents with

a surprisingly different artistic layout, divided into

various scenes that make up the whole nativity

scene. For 2021, the Nativity Scene is dedicated to

the resilience of the island of La Palma and its population

against the effects of the volcanic eruption

at Cumbre Vieja. These scenes have been created

by Latvian artist Sanita Ravina and Canadian artist

Guy-Oliver Devenueau.

Alongside these, the Sand Nativity Scene features

the traditional Christmas images that cannot be

missing in any nativity scene, such as The Annunciation,

the gateway to Bethlehem and the Adoration

of the Kings. In addition, the Nativity Scene

includes, as is tradition, a representation of one of

the city's emblematic buildings, on this occasion

the Alfredo Kraus Auditorium.

The Sand Nativity Scene will remain open until 7th

January to anyone who wishes to celebrate Christmas

in the most special way: with a tour around

this impressive seaside artistic work, with the

Christmas tree placed on the beach promenade,

the Christmas lights surrounding the palm trees

on the promenade and unrivalled temperatures,

even in winter.

December,

the month for christmas magic

The Christmas spirit envelops Las Palmas de Gran

Canaria in December. There is no doubt that the

city's attraction lies in its warm and sunny climate,

but in addition, its character as a cosmopolitan

and modern city makes it the perfect destination

for a well-earned break and for celebrating

the eagerly-awaited Christmas season and New

Year's Eve in idyllic surroundings.

There is not a single corner of the city that does

not reflect the magic of Christmas at this time

of year. The streets are decked out with lights,

Christmas trees, nativity scenes and Christmas

markets.

Visiting the city's Christmas markets or nativity

scenes is always a great option. In addition to the

city's imposing Sand Nativity Scene, which has a

huge impact on visitors and is a must-see in December,

there are other options, such as the nativity

scenes on display at the Palacete Rodríguez

Quegles, at San Telmo Park, in the Casas Consistoriales

(former town hall building) in Vegueta or

in Mata Castle..

The city celebrates Christmas with more than 120

events being held over seven long weeks. At Miller

Hall in Santa Catalina Park, family events include

"My first four seasons" on 22nd and 23rd December;

the great Manu Magician's Show on 29th and

30th; 3rd January is the turn for the family show

entitled "Ilusioland", by Los Cantadores; and on

4th January, the play "Legend and the storm" will

recall the myths and legends of the Archipelago.

The Palacete Rodríguez Quegles is headlining one

of the great new features of the city's Christmas

events programme, with the organisation of "Discóbolo",

a market featuring records by Canarian

groups, starting on 16th December, which will be

accompanied by acoustic sessions by bands and

performers. La Casa Azul, in the district of Triana,

will invite families to enjoy the revival of a classic:

"Scrooge", a modern-day version of Dickens' classic

A Christmas Carol.

Christmas comes to the Castillo de Mata Museum

in the form of an important exhibition dedicated

to Manolo Millares, which will be on display from

17th December until March 2022.

Plaza de Santa Ana will be the venue for two eagerly

awaited concerts: firstly, Los Gofiones (on

23rd December) followed by La Trova (on 22nd

December). These will be joined by the Atlantic

Symphonic Orchestra, on 21st December, together

with standout performers Olga Cerpa and Mestisay

and Non Trubada, who will be performing at

concerts on the key dates of Christmas Eve, in Plaza

del Pilar Nuevo, and the afternoon of Epiphany

(6th January) in Miller, respectively.

On the other hand, Christmas celebrations are

to be held at Doramas Park with "Musicando" or

"Music in the Park", and the programme will include

essential classics such as the Canary Islands

Gospel Festival and the "Eat to the Beat" project at

the Alfredo Kraus Auditorium. In addition to these

cultural events, there are two family premieres on

at the Pérez Galdós Theatre: Amelia en la Ciudad

de la Ilusión and Borondonia by Zalakadula.

www.lpavisit.com www.LPAcultura.com
---
30

GET TO KNOW GRAN CANARIA I CONOCE GRAN CANARIA Nº 10

El Belén de Arena de Las Palmas de Gran Canaria,

una postal navideña única

La playa de Las Canteras, en Las Palmas de Gran Canaria, se

convierte, año tras año, en el escenario más original para celebrar

la Navidad gracias a su Belén de Arena. Este nacimiento

es una obra única que no deja indiferente a nadie y es una

visita obligada para estas fiestas.

Si bien la magnitud de esta obra es ya de por sí una sorpresa

para el ojo visitante, algunas cifras ayudan a imaginar su envergadura.

Sus esculturas de arena, que pueden alcanzar los 4

metros de altura, ocupa 1.500 m2 en la playa de Las Canteras,

para las que se utilizan unas 2.000 toneladas de arena. Una

postal navideña incomparable creada por 10 escultores de

ocho nacionalidades, que trabajan durante una semana para

construir esta obra efímera que ya es símbolo de las fiestas en

la ciudad y cuya imagen da la vuelta al mundo cada mes de

diciembre.

Además, en cada una de sus 16 ediciones este Belén de Arena

sorprende a viajeros y vecinos con una propuesta artística

diferente, dividida en varias escenas que componen el nacimiento.

Para este 2021, el Belén está dedicado a la resiliencia

de la isla de La Palma y su población ante los efectos de la

erupción del volcán en Cumbre Vieja. Estas escenas la han

realizado la artista Sanita Ravina, de Letonia y el artista canadiense

Guy-Oliver Devenueau.

Junto a ellas, el Belén de Arena cuenta con las tradicionales

imágenes navideñas que no pueden faltar en cualquier nacimiento,

como La Anunciación, el portal de Belén y la Adoración

de los Reyes. Además, el Belén incluye, como es tradición,

una representación de un edificio emblemático de la ciudad,

en este caso el Auditorio Alfredo Kraus.

El Belén de Arena abre sus puertas hasta el próximo 7 de enero

a todos los que quieran celebrar la Navidad de la forma más

especial: con un recorrido por esta impresionante obra artística

a orillas del mar, con el árbol de Navidad colocado en el paseo

de la playa, las luces navideñas que rodean las palmeras

del paseo marítimo y una temperatura inmejorable incluso en

invierno.

Diciembre, el mes de la magia de la Navidad

El espíritu navideño envuelve Las Palmas de Gran Canaria en

diciembre. No cabe duda, de que el atractivo de la ciudad reside

en su clima cálido y soleado, pero además, su carácter de

ciudad cosmopolita y moderna, hacen que se convierta en el

destino perfecto para realizar una escapada y celebrar en un

ambiente idílico la Navidad o el fin de año tan esperado.

No hay un solo rincón de la ciudad que no refleje la magia de

la Navidad en esta época del año. Las calles se llenan de luces,

árboles de navidad, belenes y mercados navideños.

Visitar los mercados de Navidad de la ciudad o sus belenes

siempre es una opción ideal. Además del imponente Belén de

Arena de la ciudad, que no deja a nadie indiferente y es una

visita prácticamente obligada en diciembre, existen otras opciones,

como los nacimientos en el Palacete Rodríguez Quegles,

en el parque de San Telmo, en las Casas Consistoriales de

Vegueta o en el Castillo de Mata.

La ciudad celebra la Navidad con más de 120 citas a lo largo

de siete semanas. En la sala Miller en el Parque de Santa Catalina

destacan las citas familiares como «Mis primeras cuatro

estaciones» los días 22 y 23 de diciembre; el gran mago Manu

Show los días 29 y 30; el 3 de enero el espectáculo familiar

«Ilusioland», de Los Cantadores; y el 4, la obra «Leyenda y la

tormenta» rememorará los mitos y leyendas del Archipiélago.

El Palacete Rodríguez Quegles lidera una de las grandes novedades

del programa de Navidad: la organización de «Discóbolo»,

un mercadillo de discos de grupos canarios, a partir del

16 de diciembre, que se acompañará de sesiones acústicas de

bandas e intérpretes. La casa azul, en los aledaños de Triana,

invitará a las familias a disfrutar con la reposición de un clásico:

«Scrooge» revisión del clásico Cuento de Navidad de Dickens.

En el Museo Castillo de Mata la Navidad llega con una importante

exposición dedicada a Manolo Millares, que quedará instalada

desde el 17 de diciembre hasta marzo de 2022.

La plaza de Santa Ana será la sede de dos de los conciertos

muy esperados: los de Los Gofiones (23 de diciembre) y La Trova

(22 de diciembre). Pero también, la Orquesta Sinfónica del

Atlántico, el 21 de diciembre y apuestas seguras como Olga

Cerpa y Mestisay o Non Trubada que se suman con sendos

conciertos en días señalados como la Nochebuena, en la plaza

del Pilar Nuevo, y la tarde de Reyes en Miller, respectivamente.

De otro lado, la Navidad en el parque Doramas será celebrada

con «Musicando» o «Música en el parque» y no faltarán en el

programa clásicos imprescindibles como el Festival de Góspel

de Canarias y el proyecto «Eat to the Beat» en el Auditorio

Alfredo Kraus. A estas citas culturales se suman dos estrenos

familiares en el Teatro Pérez Galdós: Amelia en la Ciudad de la

Ilusión y Borondonia by Zalakadula.

www.lpavisit.com www.LPAcultura.com
---
32

Great care must be taken, as not all mushrooms

are edible, nor are they pleasant. In

fact, they are nourished by other organisms.

But the ritual of searching for these

sporadic and ephemeral products of nature

attracts many people who, after the

first rains, venture into the woods, baskets

in hand, to fill them with boletus, chanterelles

or mushrooms, and to enjoy gastronomic

gems. But this is not their only use,

as they can also be used for other purposes,

such as making natural dyes.

Gran Canaria is an ideal location for mycologists.

Occupying a tiny surface area, the

island is home to an impressive number

of mushroom species, a variety that creates

a carpet of small hats on the island's

damp and shady forest areas, mainly on

the northern slopes facing the trade winds,

at the summits with their pine forests, the

mid-altitude hilly areas with pockets of laurisilva

or fruit trees, as well as the thermophilic

region.

This growing army of mycology enthusiasts

celebrates Canarian Mushroom Day

on the last Saturday every November, as

well as dedicating each year to a type of

mushroom, with 2021 being the turn of

the Russula Turci, which is quite abundant

in the island's pine forests after the winter

rains. Over the last 28 years, numerous mycologists

have also gathered at the Osorio

Estate (Teror) to celebrate the Mycological

Conference, where an illustrated book has

been presented featuring the uses for the

islands' mushrooms as textile dyes, together

with the usual island-grown mushroom

and fungi exhibition, including some surprising

bioluminescent pieces.

The Gran Canaria Mycological Society was

founded in 1995, and is the oldest of the four

societies currently in the Canary Islands as

well as featuring among the ten oldest in

GET TO KNOW GRAN CANARIA I CONOCE GRAN CANARIA Nº 10

The island with 1150 mushroom species

Spain that remain active. In addition to the

dissemination that the Mycological Society

carries out at Conferences, it also gives talks

to associations, schools and other groups,

and undertakes recognised research work.

It has contributed over a thousand new

species of fungi to science, species that

were previously unknown on several islands,

reaching the figure of more than 1,150

recognised species on Gran Canaria. Some

of these are still under study, contributing

to the knowledge of Gran Canaria's rich island

biodiversity. These new fungal records

are published in the Mycological Society's

own bulletin and in magazines all over the

world, such as Mycotaxon, Persoonia and in

Botánica Macaronésica, the Viera y Clavijo

Botanical Garden magazine, where the

Mycological Society is responsible for the

upkeep of the Herbarium's fungal section,

containing over a thousand references.

The Mycological Society came about at a

meeting of a group of amateurs who had

been participating in the Gran Canaria Mycological

Conference at the Osorio Estate

since January 1988. This is the second longest

running environmental event held by

the Cabildo de Gran Canaria, after the Día

del Árbol (Tree Day). The Cabildo has been

the organiser for the last 33 years.

The leading figure at the Mycological Society

from the outset was writer and politician

Pedro Lezcano, a mycologist of great

renown, whose writings on mushrooms

were compiled a few years ago in a publication

entitled "The Magic of Mushrooms".

Pedro Lezcano was the teacher of a number

of amateurs who have carried on with

his teachings, and who were joined at that

time by other young mushroom enthusiasts.

The fruits of this initiative have been a

series of publications and studies that enable

us to learn about the fabulous properties

of mushrooms in Gran Canaria.

La isla de las 1150 especies de setas

Hay que tener mucho cuidado. No todas

las setas son comestibles, ni agradables.

De hecho, se nutren de otros organismos.

Pero el ritual de la búsqueda de

estos esporádicos y efímeros productos

de la naturaleza, atrae a numerosas personas

que tras las primeras lluvias recorren

los bosques con sus cestas para

llenarlas de boletus, níscalos o champiñones,

para disfrutar de joyas gastronómicas.

Pero no es su único uso, ya que

se pueden utilizar para otros usos, como

es el de elaborar tintes naturales.

Gran Canaria es un lugar ideal para los

micólogos. En muy poco espacio, el

territorio insular alberga una impresionante

cantidad de especies de setas.

Una variedad que viste de pequeños

sombreros zonas húmedas y de umbría

en los bosques de la isla, principalmente

en la vertiente norte orientada a los

vientos alisios, donde podemos encontrar

las cumbres con pinares, las medianías

con reductos de laurisilva o de

frutales de medianías, así como la zona

termófila.

Este creciente colectivo de apasionados

por la micología celebra el Día Canario

de la Seta cada último sábado de noviembre,

así como dedica cada año a

un tipo de seta, correspondiendo a 2021

a la Russula Turci, bastante abundante

en los pinares de las islas tras las lluvias

invernales. Y, desde hace 28 años, se reúnen

numerosos micólogos en la finca

de Osorio (Teror) para celebrar las Jornadas

Micológicas donde se ha presentado

un libro ilustrado con usos de setas

de las islas como tintes textiles, junto a

la muestra habitual exposición de hongos

y setas de la isla, incluidas algunas

sorprendentes piezas bioluminescentes.

La Sociedad Micológica de Gran Canaria

se fundó en 1995, siendo la más antigua

de las cuatro que hay en Canarias

y entre las diez más antiguas de España

que mantienen actividad. Además de la

divulgación que la Sociedad Micológica

hace en las Jornadas, también da charlas

a asociaciones, colegios y otros colectivos,

y tiene una labor investigadora

reconocida. Ha aportado a la ciencia

más de mil nuevas especies de hongos

que no eran conocidas hasta entonces

en varias islas, alcanzando en Gran Canaria

la cifra de más mil ciento cincuenta

especies conocidas en la isla, algunas

todavía en estudio, lo que contribuye al

conocimiento de la rica biodiversidad

insular de Gran Canaria. Estas nuevas

citas de hongos se publican en el boletín

de la Sociedad Micológica y en revistas

de todo el mundo, como Mycotaxon,

Persoonia y en Botánica Macaronésica,

la revista del Jardín Botánico Canario

Viera y Clavijo, donde la Sociedad Micológica

mantiene en el Herbario la parte

fúngica, con más de mil referencias.

La reunión de un grupo de aficionados

que participaban en las Jornadas Micológicas

de Gran Canaria en la Finca de

Osorio desde enero de 1988, dio lugar

a la Sociedad Micológica. Las Jornadas

Micológicas de Gran Canaria son el segundo

acto de medio ambiente más

longevo del Cabildo de Gran Canaria

después del Día del Árbol. El Cabildo ha

sido el organizador desde hace treinta y

tres años.

Al frente de la Sociedad Micológica figuró

desde el principio como presidente el

escritor y político Pedro Lezcano, micólogo

de gran nivel, del que hace unos

años se reunieron sus escritos sobre

setas en el libro "La Magia de los Hongos"

. Pedro Lezcano fue el maestro de

algunos aficionados que han seguido

con sus enseñanzas, y a los que se unieron

en aquella época jóvenes inquietos

interesados en los hongos. Los frutos

de esta iniciativa han sido una serie de

publicaciones y estudios que permiten

conocer las fabulosas propiedades de

las setas de Gran Canaria.
---
34

INTERVIEW I ENTREVISTA Nº 10

DANIEL AMORÍN

Commercial Manager at Gran Casino Costa Meloneras

"We are seeking new ways to come up with

the most complete leisure experience possible"

Nowadays, a casino is an accessible place where you don't even have to gamble to enjoy yourself, a space that welcomes you to

spend some quality leisure time, whether it be on the gaming machines, sports betting, with a hand of cards or simply to enjoy a

first-class dining experience at almost any time of the day.

What is the success formula at Gran Casino Costa

Meloneras?

Last year has been a tough one and we have spent

this time trying to attract new tour operators that

have come through in these most difficult times.

These small companies are capturing a new market

and bringing a new type of traveller to Gran Canaria.

That suits us down to the ground because the

type of business we are targeting is mainly visiting

tourists. We have a very loyal local client base, but

the most important part of our business is visitors.

We aim to offer them the best possible experience.

That's why we have cutting-edge technology, such

as the new slot machines that we have introduced

in the slots sector, which are at the cutting edge in

Europe... machines like the ones in the casinos at

Macau or Las Vegas. This gives us great potential.

Do people come to the casino just to gamble?

Gaming is our core business. However, we are constantly

thinking up different ways of redirecting

the business to offer a more complete leisure experience.

We have found the solution right on our

doorstep, giving prominence to local Canarian cuisine

and offering visiting tourists the chance to get

to know our products. We have organised Canarian

wine and local cheese tasting sessions, as well as

craft beers... and we would like to stick to this path

because, in the end, tourists come to the island and

they have to be able to taste and enjoy our gastronomy.

They are the best ambassadors of Gran Canaria,

and they will return to their country keen to talk

about their experiences here.

How can visitors find out when these events are

on?

After the pandemic, which has made us all change

our business model, we have placed our focus on

digital promotion. We are trying to redirect all our

advertising to our tourists' places of origin, so that

they can get to know us before they come to Gran

Canaria. A client who opens Facebook, Instagram

or Google from their country of origin and searches

for certain keywords will find the wide range of

possibilities on offer at the Gran Casino Costa Meloneras.

In addition, we have adapted and positioned our

website so that, once they are here, in the local

area, when they open their device they will see our

advertising. Tourists now carry their mobile phones

around with them, so they can read the reviews and

find out what the venue is like inside before actually

coming inside.

The idea of a casino being a meeting place is rapidly

gaining ground...

The casino is not just a place for gambling, it is also

a social centre. We have a restaurant area with an

exquisite menu - small but very, very good – that

specialises in local products. We have a wine list in

which more than 50% of the references are Canarian

wines. Our goal is for anyone who enters through

the front door not to think that they have to gamble

in order to have dinner, rather that they simply

come with the idea of enjoying an evening out with

their friends or family, with their partner, and enjoy

their dinner. One of our great advantages is that our

kitchens stay open until almost four in the morning,

something impossible to find elsewhere in the area.

In addition to the casino's gaming machines and

gastronomy is the large central gambling area

which we touched on before...

That's right. In this area we have three American

roulette tables, one Black Jack, one poker casino

hold 'em table and one I-table - machines that have

been adapted to the casino's more technological

side. They are facilities designed for people who

come to the casino. In Spain we have a more cautious

relationship with the gambling world; however,

in other countries, it is commonplace to come

to a casino just to enjoy a great evening out. Other

countries are more accustomed than we are to

what can be described as a perfectly healthy and

social form of leisure.
---
Nº 10 INTERVIEW I ENTREVISTA

35

DANIEL AMORÍN

Director Comercial del Gran Casino Costa Meloneras

"Buscamos nuevas formas para ofrecer una

experiencia de ocio lo más completa posible"

Hoy día, un casino es un lugar accesible en el que ni siquiera hay que jugar para disfrutar, un espacio que nos invita a pasar un

rato de ocio, ya sea en las máquinas de juego, en las apuestas deportivas, con una mano de cartas o simplemente, para vivir una

experiencia gastronómica de primer nivel a casi cualquier hora del día.

¿Cuál es la fórmula del éxito del Gran

Casino Costa Meloneras?

El último año ha sido complicado y lo hemos

dedicado a intentar captar a los nuevos

turoperadores que han surgido en los

momentos más difíciles. Estas pequeñas

empresas están captando un nuevo mercado

y trayendo a Gran Canaria un nuevo

tipo de viajeros. Para nosotros es perfecto

porque el tipo de negocio al que nos dirigimos

es principalmente el turista que

nos visita. Tenemos un público local muy

fiel, pero la parte más importante del negocio

es el visitante. Queremos ofrecerle

la mejor experiencia posible. Para eso

contamos con tecnología de vanguardia,

como unas nuevas máquinas que hemos

puesto en el sector de las slots y que son

punteras a nivel europeo... máquinas

como las que te puedes encontrar en los

casinos de Macao o Las Vegas. Eso nos

da un potencial bastante importante.

¿Al casino se viene a jugar?

El juego es nuestra principal finalidad.

Sin embargo, no paramos de pensar en

diferentes formas de redirigir el negocio

para ofrecer una experiencia de ocio más

completa. Nosotros hemos encontrado

la solución aquí mismo, dando protagonismo

a los productos gastronómicos canarios

y dando la posibilidad a los turistas

que nos visitan de conocer nuestros

productos. Hemos realizado catas de vinos

canarios con quesos de la zona; catas

de cervezas artesanales... y nos gustaría

seguir enfocándonos en ese camino porque,

al final, el turista llega a la isla y tiene

que poder probar y disfrutar de nuestra

gastronomía. Ellos son los mejores embajadores

de Gran Canaria y van a volver

a su país contando la experiencia.

¿Cómo se puede saber cuándo se celebran

estos eventos?

Después de la pandemia, que nos ha

hecho a todos cambiar el modelo de negocio,

nos hemos centrado en el mundo

digital. Estamos intentando redirigir toda

nuestra publicidad a aquellos lugares de

procedencia de los turistas que nos visitan,

para que ellos puedan conocernos

antes de llegar a Gran Canaria. Un cliente

que abre, desde su país de origen, el

Facebook, Instagram o Google y busca

ciertas palabras clave, va a encontrarse

con el amplio abanico de posibilidades

que ofrece el Gran Casino Costa Meloneras.

Además, hemos adecuado y posicionado

nuestra página web para que, una vez

que estén aquí, en la zona de influencia,

cuando abran su dispositivo vean nuestra

publicidad. El turista ya va con el móvil

en mano y prácticamente antes de entrar

en un local puede leer las reseñas y

conocer cómo es el local por dentro.

Cada vez más, existe la idea de un casino

como lugar de reunión...

Es que el casino no es solo un lugar de

juego, sino también un centro social. Tenemos

la zona de restauración con una

carta bastante exquisita - pequeña pero

muy, muy buena- enfocada a productos

locales. Tenemos una carta de vinos en el

que más del 50% de las referencias son

vinos canarios. Nuestro interés está en

que la persona que entre por la puerta

principal no piense que tiene que jugar

para cenar, sino con la idea de disfrutar

de una noche con sus amigos o familiares,

con su pareja y disfrutar de la cena.

Una de nuestras grandes ventajas es que

tenemos la cocina abierta hasta casi las

cuatro de la mañana, algo imposible de

encontrar en la zona en la que estamos.

Además de las máquinas de juego y la

gastronomía, está la gran zona central

de juego, de la que no hemos hablado...

Si, en esta zona tenemos tres ruletas americanas,

una de Black Jack, una de póker

sin descartes y una de I-table -unas máquinas

que se han adecuado a la parte

más tecnológica del casino-. Todo son facilidades

para las personas que vienen al

casino. En España tenemos una relación

más cautelosa con el mundo del juego;

sin embargo, en otros países, es moneda

común ir a un casino para disfrutar de

una buena velada. Están más acostumbrados

que nosotros a una forma de ocio

que puede ser muy sana y social.
---
36

GET TO KNOW GRAN CANARIA I CONOCE GRAN CANARIA Nº 10

The giant Guayadeque ravine that guards the island

Gran Canaria's ravines are like wounds that cut

deep into its eroded land. Indeed, the island's skin

is extremely wrinkly, having suffered the ravages

of the sun, rain and wind over time, with sharp

ridges running from the summit down to the sea.

The Guayadeque ravine is the most impressive of

these, due to the narrow space that lies between

its cliffs. It is a spectacle that continues to overwhelm

visitors, even if they have walked along its

course on several occasions. Any time of the year

is a good time to visit, but with the almond trees

in blossom this image is transformed into a natural

work of art. It is a place where caves were once,

and still are, a habitat for the local population. The

caves have fulfilled different roles, adapting to

each era, including the religious period and, more

recently, the restoration and tourist residential period.

The eastern side of Gran Canaria offers several references

to large former settlements and important

cave dwellings. It was one of the most populated

areas before the Castilian conquest at the

end of the 15th century. Other places of interest

include the amazing sanctuary at Cuatro Puertas,

the series of engravings at Balos, or the villages

of Agüimes and Ingenio, hidden from the eyes of

warships, pirates or Berbers, thanks to the Morro

de Ávila and the mountain of Agüimes, which

stands tall between the sea and these villages.

This mountain diverts the ravine's course just as

it is about to reach the coast, along a cleft that

starts at Caldera de Los Marteles (1500 m), and

runs right in between the towns of Ingenio and

Agüimes, until it reaches the bay of Gando. It also

forms a natural wall that blocks the view from the

coast, constituting a solid defence and watchtower

for spotting the arrival of hostile ships and others

less hostile vessels in good time, such as the

passage of Columbus' ships in 1492.

A number of basalt hills stand tall at the top of

the small mountain range, the home to one of the

most outstanding cave paintings in the Canary

Islands, with panels of engravings containing representations

with anthropomorphic motifs (sexed

and asexual human figures), geometric motifs,

mainly reticulated and parallel lines.

The most abundant representations are human

figures. Among them is what is known as the Man

of Guayadeque, a large anthropomorphic engraving,

measuring 46 cm high and 32 cm wide. It is

probably the largest anthropomorphic figure to

be found in the archipelago.

Another interesting feature of the complex is two

large artificial caves that were lived in by the ancient

inhabitants of the island, whose uses remain

a mystery. The first cave is divided into two interconnected

rooms that preserve the remains of

paintings on their walls, forming a kind of frieze

of white triangular motifs on a red ochre background.

There are also some remains of paintings

in the second cave, which is a single room.

More curious still is the presence of a number of

round and rectangular hollows that have been

dug out of the lower part of the walls and in the

floor. Dry stone walls line the outside of these cavities,

some of which may be of pre-Hispanic origin,

and were reused as a farmyard to keep livestock,

both the outer walled space and the caves themselves.

A walk along this mountain ridge is like a return

to the distant past while overlooking the island's

great modern expansion, with its airport, large

Arinaga industrial estate, the Atlantic Ocean and

the peaks of Gran Canaria, with the Guayadeque

ravine that snakes its way up inland, guarded by

the impenetrable face of an anthropomorphic engraving

that has survived for centuries, watching

over the ravine, the island and its history.
---
38

GET TO KNOW GRAN CANARIA I CONOCE GRAN CANARIA Nº 10

El gigante de Guayadeque que guarda la isla

Los barrancos de la isla son profundas heridas en la

tierra erosionada. Y Gran Canaria es una piel muy

arrugada, castigada por el sol, la lluvia yel viento,

con estrías desde la cumbre hasta el mar. El de

Guayadeque es el barranco que más impresiona,

por la estrechez del espacio entre los precipicios.

Todo un espectáculo que sobrecoge al visitante,

aunque éste haya recorrido su cauce en varias ocasiones.

Cualquier época del año es buena para visitarlo,

pero con los almendros en flor la imagen es

una obra de arte de la naturaleza. Un lugar donde

las cuevas han sido y son el hábitat de su población.

Adaptadas a cada época, las cuevas cumplen

su función. Incluso la religiosa y, ahora, de restauración

y residencial turística.

La comarca del Este de Gran Canaria tiene varios

referentes de grandes poblados anteriores y de importantes

estaciones rupestres. Se trata de uno de

los territorios más poblados antes de la conquista

castellana a finales del siglo XV. Entre otros espacios

de interés, cabe destacar el sorprendente santuario

de Cuatro Puertas, la serie de grabados de

Balos, o los poblados de Agüimes e Ingenio, ocultos

a los ojos de las naves de guerra, piratas o berberiscos,

gracias al Morro de Ávila y la montaña de

Agüimes que se interpone entre el mar los citados

pueblos.

Esta montaña desvía el cauce del barranco casi al

llegar a la costa, a lo largo de una hendidura que

nace en la Caldera de Los Marteles (1500 m), y discurre

justo en medio de los pueblos de Ingenio y

Agüimes, hasta llegar a la bahía de Gando. Y también

forma una muralla natural que impide la visión

desde la costa. Una buena defensa y atalaya

para divisar con tiempo la llegada de embarcaciones

hostiles y otras menos, como el paso de las naves

colombinas en 1492.

Probablemente el mayor antropomorfo localizado

en el archipiélago.

Dentro de este conjunto destacan también dos

cuevas artificiales de grandes proporciones que

fueron habitadas por los antiguos pobladores de la

isla, cuyos usos son un misterio. La primera, dividida

a su vez en dos estancias conectadas entre sí

que conservan en sus paredes restos de pinturas,

formando una especie de friso de motivos triangulares

en blanco sobre un fondo de rojo almagre. En

la segunda cueva, de una sola habitación, también

se conservan restos de pintura.

Más curioso todavía es la presencia de cantidad de

huecos redondos y rectangulares que se han excavado

en la parte inferior de las paredes y en el suelo.

En el exterior de dichas cavidades pueden observarse

muros de piedra seca, algunos de cuyos

paramentos pueden tener un origen prehispánico,

siendo reutilizados, tanto el espacio amurallado

exterior como las propias cuevas, como goro para

guardar el ganado.

Pasear por este morro de la montaña es retornar

al pasado mientras se divisa la gran expansión

moderna de la isla, con su aeropuerto, el gran polígono

industrial de Arinaga, el Océano Atlántico y

las cumbres de Gran Canaria, con el zigzagueante

barranco de Guayadeque que asciende hasta el interior,

guardado por el rostro impenetrable de un

grabado antropomorfo que ha sobrevivido durante

siglos, vigilando el barranco, la isla y su historia.

En lo alto de la pequeña cordillera sobresalen unos

morros de basalto, donde se encuentra una de las

estaciones rupestres más destacadas del archipiélago

canario, con paneles de grabados en los que

encontramos representaciones con motivos antropomorfos

(figuras humanas sexuadas y asexuadas),

geométricos, fundamentalmente reticulados

y líneas paralelas.

Las representaciones más abundantes son las figuraciones

humanas. Entre ellas destaca el conocido

como Hombre de Guayadeque, que corresponde

a un grabado antropomorfo de grandes dimensiones,

con unos 46 cms de alto por 32 cms de ancho.
---
42

DISCOVER GRAN CANARIA I DESCUBRE GRAN CANARIA Nº 10

Las Palmas de Gran Canaria

Las Palmas de Gran Canaria is located to the northwest of Gran Canaria,

and is both the island's capital and the most densely populated city

in the Canary Islands. It is a privileged enclave, enjoying an average annual

temperature of 21 degrees centigrade, meaning that visitors can

come to its many kilometres of beaches at any time of the year.

Las Palmas de Gran Canaria is noted for the beauty of its coastline, its

extraordinary environmental conditions and culture, and for its unique

and historical locations. These characteristics made it the cradle for the

tourist industry in the Canary Islands, and this continues to be true today,

with the city consolidating itself as a top tourist destination.

From an historic point of view, the Port of La Luz and Las Palmas played

an important role in this process, and today the capital displays

its richest identity through the port. It is connected to no less than

180 other ports around the world through 30 maritime routes, and is

a benchmark destination for tourist cruises, attracting some 800,000

travellers to the city every year, figures that endorse its great relevance.

Las Palmas de Gran Canaria is a city for everyone, an enclave whose

landscapes and architecture all tell their own story. It is packed full of

leisure and culture facilities, embraces its people and basks in tourism.

So get ready to wander around its streets with us, get to know its most

emblematic monuments and cool off in the Atlantic waters that merge

seamlessly into its five unique urban beaches along its coastline.

The beaches

Las Canteras beach is the most important urban tourist beach in the

archipelago and is one of the most outstanding in Europe. This natural

setting comprises a strip of three kilometres of golden sands that

hug the capital's coastline, with some unique features including its

ecosystem and a reef called La Barra, which runs parallel to the beach

and acts as a wave breaker, resulting in water lapping gently up to the

beach.

The beach is flanked by the Alfredo Kraus Auditorium, the Plaza de la

Música and La Cícer at one end, and La Puntilla at the other, although

visitors can continue walking as far as the wild and natural setting of

El Confital, an extension of Las Canteras. Its pleasant promenade joins

the two points together and enables us to walk along the entire bay,

stopping off to enjoy a whole range of services along the way, making

it a truly authentic tourist attraction in the city.

Another of the main attractions are the rest of the beaches: Las Alcaravaneras,

with golden sands and calm waters, is located beside the

sports harbour and is part of the Port of La Luz. It is bordered by a

promenade and two of the capital's nautical clubs; La Laja is at the southern

entrance to the city and is noted for its black sand and clean

water, although it can be hazardous due to its currents. There are some

natural salt-water pools which provide a safer place for a swim, as well

as views over the horizon and a long promenade to enjoy a pleasant

stroll.

We finally come to San Cristóbal, overlooked by the Castillo de San

Cristóbal, a small stone and pebble beach, located in the fishing district

of the same name. It is usually a hive of activity for local residents,

and it oozes marine charm, while visitors can enjoy some of the island's

typical cuisine all along its avenue.

Plaza de España
---
Nº 10 DISCOVER GRAN CANARIA I DESCUBRE GRAN CANARIA

43

En el nordeste grancanario se encuentra Las Palmas de Gran Canaria,

capital de nuestra tierra y la ciudad más poblada de Canarias.

Un enclave privilegiado con una temperatura media anual próxima

a los 21 grados centígrados, lo que permite visitar sus kilométricas

playas en cualquier época del año.

Las Palmas de Gran Canaria destaca por la belleza de su costa, sus

extraordinarias condiciones ambientales y la cultura, singularidad e

historia de sus rincones. Unas características que la transformaron

en la cuna de la industria turística en Canarias y que hoy en día la

consolidan como el destino turístico por excelencia.

Desde un punto de vista histórico, el Puerto de La Luz y Las Palmas

jugó un papel muy importante y hoy día la capital muestra su identidad

más rica a través de él. Está conectado con 180 puertos del

mundo a través de 30 líneas marítimas y es un punto de referencia

de cruceros de turismo con unos 800.000 viajantes cada año, datos

que avalan su relevancia.

Las Palmas de Gran Canaria es una ciudad de todos y para todos,

un enclave cuyos paisajes y arquitectura cuentan su propia historia.

Una ciudad de ocio y cultura, que disfruta de la gente y vive del turismo.

Así que disponte a recorrer con nosotros sus calles, a conocer

sus monumentos más emblemáticos y a refrescarte en las aguas

de un Atlántico que se difumina en la costa de cinco playas urbanas

únicas.

Las playas

Las Canteras es la playa urbana más turística e importante del Archipiélago

y una de las más destacadas de Europa. Tres kilómetros de

arena dorada frente a la capital conforman este paisaje natural en el

que sus singularidades residen en su ecosistema y en la barra, que

recorre la playa en paralelo a la orilla y actúa de rompeolas, manteniendo

así la calma en sus aguas.

Está flanqueada por el Auditorio Alfredo Kraus, la Plaza de la Música

y La Cícer en uno de sus extremos y por La Puntilla en el otro, aunque

podemos continuar nuestro paseo hasta llegar al paraje natural

y salvaje de El Confital, una prolongación de Las Canteras. Su agradable

avenida marítima une ambos puntos y nos permite recorrer la

extensa bahía, brindándonos todo tipo de servicios por el camino y

convirtiéndose en un auténtico reclamo turístico de la ciudad.

Otro de los principales atractivos lo conforman el resto de playas:

Las Alcaravaneras, de arena dorada y aguas tranquilas, se sitúa junto

al puerto deportivo y se enmarca en el Puerto de la Luz, siendo bordeada

por un paseo marítimo y dos de los clubes náuticos capitalinos;

la playa de Laja está en la entrada de la ciudad y se caracteriza

por su arena negra y aguas limpias, aunque con cierto peligro por

sus corrientes. Aquí también encontramos piscinas naturales para

un baño más seguro y con vistas al horizonte, así como una larga

avenida para disfrutar de un bonito paseo.

Playa de Las Canteras

Por último, descubrimos en San Cristóbal, vigilada por el Castillo de

San Cristóbal, una pequeña playa de callaos y piedra, localizada en

el pueblo pesquero de mismo nombre. Suele estar ocupada por los

locales, pero abunda de encanto marinero, y en su avenida puedes

degustar la gastronomía típica de la isla.
---
44

DISCOVER GRAN CANARIA I DESCUBRE GRAN CANARIA Nº 10

Vegueta

Vegueta and Triana

We now leave behind the beaches and make our

way into the historic districts of Vegueta and Triana,

that carry the footprints of kings, explorers,

illustrious visitors, with their buildings bearing witnesses

to their legacy. A stroll around the streets

is an open invitation to step back in time in a city

with over five centuries of history.

The district of Vegueta, with its cobbled streets

and traditional architecture, is linked to the city's

history and culture, so a walk along its narrow backstreets

provides a fascinating insight into some of

its most important events. We can visit museums

such as Casa de Colón, in which we can learn details

of Christopher Columbus' voyage to America

and his stay in the municipality on the island; the

Canary Museum, which delves into the life of the

ancient islanders, plus the Sacred Art Museum and

the Atlantic Modern Art Centre (CAAM), one of the

most cutting edge galleries in the world of Spanish

art.

Before leaving Vegueta we can go along to the

Guiniguada Theatre and take a stoll around the

traditional market, which dates back to 1854, as

well as marvel at several representative buildings

including the Canary Cathedral, Casa de Colón,

Santa Ana Cathedral and the Canary Museum.

Without moving far from this area, we can stop

at nearby Triana to take in its varied architecture,

featuring one of the most emblematic buildings in

the city, the Pérez Galdós Theatre. We can also recognise

one of the neighbourhood's top meeting

places, Plaza Hurtado de Mendoza and Plaza de

Cairasco, where the Hotel Madrid and the Gabinete

Literario are located. Other constructions of interest

include the Quegles Building and the Pérez

Galdós House Museum.

Lastly, we have an essential date at the pedestrian

street of Mayor de Triana, where we can enjoy a

pleasant stroll through a bustling district, the ideal

place to do our shopping.

Vegueta y Triana

Catedral de Santa Ana, Vegueta

Vegueta

Abandonando las playas, nos adentramos en los

barrios históricos de Vegueta y Triana, en los que

las huellas del paso de reyes, exploradores, visitantes

ilustres y sus edificios han sido testigos de su

legado. Caminar por ellos nos invita a retroceder

al pasado de una ciudad con más de cinco siglos

de historia.

El barrio de Vegueta, de suelos empedrados y arquitectura

tradicional, está ligado a la historia y la

cultura, por lo que caminar por sus estrechas calles

nos permite conocer algunos de sus acontecimientos

más importantes. Encontramos museos

como la Casa de Colón, donde conoceremos detalladamente

el viaje de Cristóbal Colón a América y

su estancia en el municipio; el Museo Canario, que

profundiza en la vida de los antiguos isleños, además

del Museo de Arte Sacro y el Centro Atlántico

de Arte Moderno, una de las salas más vanguardistas

del panorama artístico español.

Antes de dejar el barrio de Vegueta podemos conocer

el Teatro Guiniguada y dar un paseo por el

tradicional mercado, que data del año 1854, así

como algunas edificaciones representativas como

la catedral de Canarias, la Casa de Colón, la Catedral

de Santa Ana o el Museo Canario.

Sin alejarnos de la zona, hacemos una parada en

Triana para contemplar la variada arquitectura,

entre la que destaca uno de los edificios más emblemáticos

de la ciudad, el Teatro Pérez Galdós.

También reconocemos uno de los lugares de encuentro

en el barrio, la Plaza Hurtado de Mendoza

y la Plaza de Cairasco, en la que se ubican el Hotel

Madrid y el Gabinete Literario. Otras construcciones

de interés son el Edificio Quegles o la Casa-Museo

Pérez Galdós.

Por último, tenemos una cita obligada en la calle

peatonal Mayor de Triana, donde disfrutamos de

un ameno paseo en un enclave que está en continuo

movimiento, el lugar ideal para realizar nuestras

compras.

Port Area

As we delve deeper into the city centre, we discover

places such as Doramas Park, which is a sight

for sore eyes with its carefully-tended gardens and

endemic plant species; as well as the legendary

Hotel Santa Catalina, the Néstor Museum and the

Sports Marina, the port with the largest docking

capacity in the Canaries.

Meanwhile, in the port area we glimpse the emblematic

Santa Catalina Park, the hub for the traditional

carnival and the home of the Science Museum

and the Miller Building, and just a few metres

away the stunning Poema del Mar Aquarium and

El Muelle Shopping Centre. In addition, at nearby

Mesa y López we can roam around one of the city's

main shopping areas and top tourist attractions.

Having covered nearly all the capital city, we need

to try out some fine Canary cuisine, ranging from

the famous sancocho to meat dishes ably accompanied

by the famous papas arrugadas salty po-
---
Nº 10 DISCOVER GRAN CANARIA I DESCUBRE GRAN CANARIA

45

tatoes with spicy mojo sauce, as well as some

delicious pastries, represented by bienmesabe

from Tejeda.

Zona Puerto

Profundizando en el centro de la ciudad, descubrimos

lugares como el Parque Doramas,

que acapara las miradas con sus cuidados jardines

y ejemplares autóctonos; así como el legendario

Hotel Santa Catalina, el Museo Néstor

o el Muelle Deportivo, el de mayor capacidad

de atraque de Canarias.

Mientras, en la zona puerto observamos el emblemático

Parque Santa Catalina, epicentro

del tradicional carnaval y hogar del Museo de

la Ciencia y el Edificio Miller, y a pocos metros

el impresionante Acuario Poema del Mar y el

Centro Comercial el Muelle. Además, en Mesa

y López localizamos una de las grandes zonas

comerciales y de gran atractivo turístico.

Tras recorrer gran parte de la capital, es necesario

probar la gastronomía canaria, que

va desde el sancocho hasta platos de carne

acompañados por las famosas papas arrugadas

con mojo, así como la deliciosa repostería

representada por el bienmesabe de Tejeda.

Bandama

We now move away from the capital's best-loved

urban surroundings and venture into the

beautiful landscapes up at the residential area

of Tafira, packed full of Canary architecture and

home to the Viera y Clavijo Botanical Garden,

which contains all the leading Canary endemic

botanical species.

Vegueta

We can visit the breathtaking Caldera de Bandama,

a volcanic depression that plunges to a

depth of about 200 metres and has a perimeter

that exceeds three kilometres. This great

crater stands proud as one of the island's most

spectacular orographic landmarks. It is highly

recommended for the most adventurous visitors,

who will enjoy a stunning panoramic view

over the city, the crater and a huge part of the

northeast of the island if they go along to Pico

de Bandama.

To round off our fleeting but unforgettable

route around the capital, we should mix in with

the culture and the local people, so a tapa pub

crawl around the municipality is the perfect

plan. Vegueta, Triana, the Port and Tafira make

this activity a reality, boasting an array of terrace

bars for sampling different dishes washed

down by wines from the island, renowned the

world over.

The area of Vegueta comes into its own every

Thursday, as a string of restaurants situated

along calle Mendizábal and La Pelota hold a

weekly tapa route, offering superb culinary

creations, attracting both islanders and tourists

along to a truly unique environment.

Bandama

Nos alejamos de la estampa capitalina más conocida

para admirar la belleza paisajística de la

zona residencial de Tafira, repleta de arquitectura

canaria y lugar del Jardín Botánico Viera

y Clavijo, que recoge los principales endemismos

botánicos canarios.

Auditorio Alfredo Kraus

Visitamos la impactante Caldera de Bandama,

una gran depresión de unos 200 metros de

profundidad y con un perímetro superior a los

tres kilómetros, que se alza como uno de los

hitos orográficos isleños más espectaculares.

Una cita recomendada para los más atrevidos,

que disfrutarán de una sensacional panorámica

de la ciudad, la caldera y gran parte del noreste

si se trasladan hasta el Pico de Bandama.

Para despedir nuestra pequeña pero inolvidable

ruta capitalina debemos mezclarnos con la

cultura y la gente local, por lo que ir de tapas

por el municipio se convierte en el plan perfecto.

Vegueta, Triana, el Puerto y Tafira hacen

posible esta actividad y presumen de agradables

terrazas para degustar diferentes platos

acompañados de vino isleño, reconocido a nivel

mundial.

Aquí destaca la zona de Vegueta, donde cada

jueves se celebra la ruta del pincho, en la que

restaurantes de las calles Mendizábal y La Pelota

ofrecen sus creaciones, reuniendo a isleños

y turistas en sus alrededores bajo un ambiente

único.

Gabinete Literario
---
46

DISCOVER GRAN CANARIA I DESCUBRE GRAN CANARIA Nº 10

Routes around Gran Canaria

Artenara

Gran Canaria is a land of incredible

contrasts and landscapes, home to

an age-old tradition and culture and

the creator of a culinary world that

crosses many borders. It is a tiny continent

joined together by 21 different

municipalities that lend it a true identity

with highly representative symbols.

We offer you four routes below, so

that you can experience Gran Canaria's

most emblematic locations, as

well as other secluded and curious

spots, for yourself. This is a little guide

that adapts to all kinds of tastes,

the purpose of which is to help you

discover some of the island's most

stunning natural monuments, mysteries

hidden away behind every corner,

enigmas of ancestral traditions,

discovery of new flavours and all the

history contained in each of the municipalities.

So get ready to join us on this journey.

Discover the island's coastline and

mountains, dare to tackle the steepest

natural settings and connect

with the history of a magical land

from north to south and from east to

west. Where shall we start?

North Route

lica of Our Lady of El Pino, a religious

benchmark for the islanders.

East Route

The east side of Gran Canaria welcomes

us with a unique coastal landscape

marked by wind, one of the

features of this area, which makes

its beaches ideal places to partake in

aquatic sports such as windsurfing.

Our route runs through five different

municipalities, all with crystal clear

waters and natural spaces, with a rich

archaeological heritage and a craft

culture steeped in Canary tradition.

In this regard, the journey begins in

Las Palmas de Gran Canaria and continues

through Telde, Valsequillo, Ingenio

and Agüimes.

The many outstanding points of interest

include enclaves such as Las

Canteras or the historic district of Vegueta;

the archaeological remains at

Baladero, Tufia and Cuatro Puertas;

and stunning landscapes such as Barranco

de Los Cernícalos and Caldera

de los Marteles. You will also discover

the craft legacy of lace-making and

crotchet in Agüimes, and dive into

the clean, clear waters on Arinaga

beach.

This short journey begins in the municipality

of Arucas and takes us

through Firgas, Moya, Santa María de

Guía and Gáldar, before winding up

in Agaete.

This route will take us to some of the

steepest and most abrupt mountains

along the coastline, an image

that reflects the power of the Atlantic,

together with some delightful

coves, natural salt-water pools and

beaches set in magical locations. You

will also be treated to some other

more rugged landscapes, such as the

mountains of Arucas and Firgas, the

Barranco Oscuro Reserve and Tamadaba.

You will also see some other places of

interest, such as the Arehucas Rum

Factory, The Casa del Queso (cheese

factory) in Montaña Alta and the

Painted Cave Archaeological Park

and Museum in Gáldar. All this while

sampling some typical Canary cuisine,

including the delicious Flower

Cheese from Santa María de Guía,

suspiros and bizcochos spongecakes

from Moya, Arucas rum and home-grown

coffee and traditional dishes

at the fishing village of Agaete.

All in all the perfect plan for finishing

up in the north of the island.

Central route

Our itinerary begins in Santa Brígida,

and passes through San Mateo, Tejeda,

Artenara and Valleseco as far as

Villa Mariana de Teror. Some of the

island's most valuable natural jewels

can be found here, together with the

most enchanting villages in Gran

Canaria's interior, in which historical,

cultural and religious factors play a

huge part.

Among the great attractions on

show are Pico de las Nieves, the highest

point of the island, in addition

to pockets of laurel tree forests, large

extensions of pine woodland and

symbolic panoramic views provided

by places such as Roque Nublo over

a sea of clouds. However, along the

way we will catch a glimpse of other

kinds of stunning areas which share

a long historical and religious culture.

This route highlights one of the least

known sides to our land, and focuses

on the legacy left behind by our ancestors

and the reasons behind some

of our sacred sites, such as the Basi-

Southwest Route

The southwest route of Gran Canaria

takes in the municipalities of Santa

Lucía de Tirajana, San Bartolomé de

Tirajana, Mogán and La Aldea. Here

you will discover the island's most famous

beaches, as well as ample contrasts

all around the interior, including

landscapes that are impossible

to imagine existing in such a warm

territory.

So, we invite you to tackle this route

which covers huge and well known

locations such as the breathtaking

golden Maspalomas desert, natural

reserves comprising inexplicable panoramic

views together with villages

of outstanding beauty, such as Puerto

de Mogán, plus other places that

have remained untouched by tourism,

including Güi-Güi beach, and

archaeological vestiges such as Fortaleza

de Ansite.
---
Nº 10 DISCOVER GRAN CANARIA I DESCUBRE GRAN CANARIA

47

Gran Canaria es una tierra de contrastes y paisajes increíbles, hogar

de una tradición y cultura ancestral y creadora de un mundo

gastronómico que traspasa fronteras. Un pequeño continente

unido por 21 municipios diferentes que dotan de identidad a la

isla con sus símbolos más representativos.

A continuación, te proponemos cuatro rutas para conocer los

parajes más emblemáticos de Gran Canaria, pero también los

más recónditos y curiosos. Una pequeña guía adaptada para

todo tipo de gustos con el fin de descubrir algunos de los monumentos

naturales más impresionantes, los misterios que esconden

algunos de sus rincones, los enigmas de las tradiciones más

ancestrales, el descubrimiento de nuevos sabores y la historia

que aguardan los municipios.

Así que prepárate y acompáñanos en este viaje. Descubre la

costa isleña y sus montañas, atrévete a mezclarte con la naturaleza

más abrupta y conecta con la historia de una tierra marcada

por la magia de norte a sur y de este a oeste. ¿Por dónde

empezamos?

Ruta Norte

Este pequeño viaje comienza en el municipio de Arucas y sigue

por Firgas, Moya, Santa María de Guía y Gáldar para finalizar en

Agaete.

Rutas por Gran Canaria

En esta ruta descubrirás algunos de los acantilados más abruptos

y marcados de nuestra costa, una imagen con la que sentirás

la fuerza del Atlántico y te deleitarás con la estampa de pequeñas

calas, piscinas naturales y playas situadas en rincones

mágicos. También conocerás parajes más accidentados, como

las montañas de Arucas y Firgas, la Reserva de Barranco Oscuro

o Tamadaba.

Costa de Gáldar

Por otro lado, podrás conocer lugares de interés como la Fábrica

de Ron Arehucas, La Casa del Queso en Montaña Alta o el Museo

y Parque Arqueológico de la Cueva Pintada de Gáldar. Todo

ello, degustando la comida típica canaria como el delicioso queso

de Flor de Santa María de Guía, los suspiros y bizcochos de

Moya, el ron de Arucas o el café y platos tradicionales del pueblo

pesquero de Agaete. Un plan perfecto para acabar el día en el

norte isleño.

Ruta Centro

El itinerario empieza en Santa Brígida, pasando por San Mateo,

Tejeda, Artenara y Valleseco hasta llegar a la Villa Mariana de Teror.

Aquí conocerás algunas de las joyas naturales más valiosas y

los pueblos interiores con más encanto de Gran Canaria, en los

que los factores histórico, cultural y religioso cuentan con una

gran peso.

Entre sus grandes atractivos tropezarás con el punto más alto

de la Isla, el Pico de las Nieves, además de pequeños bosques de

laurisilva, grandes pinares o panorámicas tan simbólicas como

las que nos regala el Roque Nublo sobre un mar de nubes. Sin

embargo, por el camino también vislumbrarás otro tipo de espacios

impresionantes que comparten una larga historia y cultura

religiosa.

El trayecto expone una de las caras más desconocidas de nuestra

tierra y se centra en el legado de nuestros ancestros y en

el por qué de algunos de nuestros lugares sagrados, como la

Basílica de Nuestra Señora del Pino, referente religioso de los

isleños.

Ruta Este

Playa de Sardina- Gáldar

El Este de Gran Canaria nos recibe con un singular paisaje litoral

marcado por el viento, seña de identidad de la zona, convirtiendo

sus playas en emplazamientos ideales para la práctica de deportes

acuáticos como el windsurf.

Nuestra ruta recorre cinco municipios de playas de aguas cristalinas,

pero también de espacios naturales con un rico patrimonio

arqueológico y una cultura artesana marcada por la tradición

canaria. De esta forma, el viaje comienza en Las Palmas de Gran

Canaria y continúa por Telde, Valsequillo, Ingenio y Agüimes.

Entre los puntos de interés brillan enclaves como Las Canteras

o el barrio histórico de Vegueta; los vestigios arqueológicos de

Baladero, Tufia o Cuatro Puertas; y paisajes asombrosos como

el Barranco de Los Cernícalos y la Caldera de los Marteles. También

descubrirás el legado artesano de los calados en Agüimes

y podrás sumergirte en las limpias aguas de la playa de Arinaga.

Ruta suroeste

La ruta suroeste de Gran Canaria contempla los municipios de

Santa Lucía de Tirajana, San Bartolomé de Tirajana, Mogán y La

Aldea. En ellos descubrirás sus afamadas playas, pero también

un amplio mundo de contrastes que se cuece en la zona interior

y te desvelará parajes imposibles de imaginar en territorios

cálidos.

De esta forma, te invitamos a recorrer esta ruta que encierra

grandes y reconocidos paisajes como el imponente desierto dorado

de Maspalomas, reservas naturales de panorámicas inexplicables

y pueblos de extrema belleza como Puerto de Mogán,

pero también lugares que permanecen casi desconocidos ante

la mirada más turística como la playa de Güi-Güi, y vestigios arqueológicos

como la Fortaleza de Ansite.

Cenobio de Valerón
---
48

DISCOVER GRAN CANARIA I DESCUBRE GRAN CANARIA Nº 10

NORTH ROUTE

While Gran Canaria typically conjures up images of stunning sandy beaches and kilometres of dunes,

the northern part of the island reveals a wholly different reality: a coastline dominated by spectacular

plunging cliffs, unpoilt beaches and natural water pools, surrounded by a much steeper orography, the

result of erosion and the island's volcanic activity.

This route will take us through Arucas, Firgas, Moya, Santa María de Guía, Gáldar and Agaete. We will

discover the rugged north coast, plus some of the most interesting archaeological areas in Gran Canaria,

delving into places such as Cenobio de Valerón, the Painted Cave of Gáldar and Maipés Necropolis

as we learn of the history of our ancestors.

This is so much to do on this trip around the north of the island, including strolling around the streets

of the historic town centre of Arucas with its church towering over us, going for a hike around Firgas,

sampling the authentic suspiros and bizcochos spongecakes in Moya, and going for a splash in the most

beautiful natural water pools on the island and being seduced by the fishing environment of Agaete.

1. Arucas ■ 2. Firgas ■ 3. Moya ■ 4. Santa María de Guía ■ 5. Gáldar ■ 6. Agaete

Arucas

1. Arucas

Our first stop is at Arucas, just 12 kilometres

from Las Palmas de Gran

Canaria, a municipality that stretches

from the coast up to the hills. We begin

at the town centre, in front of one

of the north's most iconic settings,

the Church of Arucas, which paints a

picture postcard setting as it towers

over Plaza San Juan. It is a neoclassical

temple carved out of natural stone,

featuring two large towers that

capture the attention of visitors.

Other architectural sites of interest include

the Casas Consistoriales (council

offices), the old Municipal Market

building and the Casa de la Cultura

(cultural centre). These can be visited

together with the Casa y Jardín de la

Marquesa, an enchanting, romantic

and spectacular botanical garden; a

brisk walk up to the Montaña de Arucas,

and a visit to the Arehucas rum

factory, an authentic symbol of the

island, and also Salinas del Bufadero,

a wonderful and splendid spectacle

that nature has provided for us.

We cannot leave the municipality without

going for a splash in its waters,

at Bañaderos-El Puertillo beach or at

the natural water pools of Los Charcones,

and if you wish, followed by an

aperitif in the local restaurants, rounding

off the perfect start to our tour.

2. Firgas

The small town of Firgas is linked to

a natural water source, which is no

coincidence, as it is characterised by

rolling, narrow hills with a dense and

complex ravine network that crisscross

over the landscape. For this reason,

hiking is one of the top tourist

attractions around here.

We start out at the town centre, surrounded

by a good number of cultural

and religious landmarks, the most

emblematic of which include the San

Roque Parish Church, Casa de la Cultura

(cultural centre), the Town Hall

building and the Commemorative

Fountain, which we pass as we head

along to Paseo de Canarias.

At this point we come to a series of

mosaics that portray each island, and

as we continue along the pedestrian

street of Avenida de Gran Canaria, we

cross over the water fountain downstream,

on the back of which are the

coats of arms of each of the 21 municipalities

that make up the island, as

well as the generic coat of arms for

the whole island.

One of the most outstanding landmarks

here is the Firgas gofio cornmeal

mill, which stands over the

Acequia de la Heredad de Aguas de

Arucas y Firgas (the region's water

distribution centre) alongside the

former grain storage warehouse

and the miller's house. Here we are

afforded panoramic views over the

confluence of three majestic ravines

-Las Madres, Guadalupe and Aguaje-,

before moving on to the Las Madres

viewpoint, on the edge of the town

centre. The area spread out before

our eyes is part of the Doramas Natural

Park, which will stay in our memories

for ever.

In addition, part of the municipality of

Firgas sits within the former Doramas

Jungle, featuring ravines and vegetation

of stunning beauty, such as the

Azuaje Special Natural Reserve, the

deepest ravine in the north, which is

home to endemic species and one of

the last remaining bastions of laurel

tree forests on the island. Other striking

natural spaces include Montaña

de Firgas and Pico de Osorio, essential

places to visit which border Firgas

and provide splendid views over

the capital city and the north of the

island.

3. Moya

Villa de Moya perches over ravines

and a series of hills that tumble down

to the coast, giving rise to a rugged

landscape with a rich cultural heritage.

Our route around Moya cannot be

done without a walk around some

of the town's emblematic buildings,

including the Church of Our Lady of

La Candelaria, sitting on a cliff-edge

that perches over Barranco de Moya;

the Tomás Morales House Museum,

containing a wide collection of the

poet's work; the Heredad de Aguas

water distribution centre, a magnificent

piece of basalt rock, and the

Hermitage of San Bartolomé de Fontanales,

built in 1872. Having taken

in the fine architecture, we head for

the Doramas Natural Park to discover

the hiking trails of Los Tilos de Moya,
---
Nº 10 DISCOVER GRAN CANARIA I DESCUBRE GRAN CANARIA

49

another of the island's last bastions of

laurel tree forest and a must see due

to its huge diversity.

We can now build our strength back

with some home made dishes, with

a wide range of local cuisine to choose

from. For this purpose, Fontanales

offers a fine choice of cheese

manufacturing plants, although we

shouldn't leave here without trying

some local pastries. We can also pick

up some suspiros and bizcochos

cakes from Moya and savour some

aniseed and trucha cakes, also very

typical here.

We say farewell to Moya by taking a

stroll along its relaxing coastline, with

La Caleta beach and the crystal clear

natural swimming pools at Charco de

San Lorenzo.

4. Santa María de Guía

A steep and rocky coastline typifies

Santa María de Guía, containing a diverse

range of species that have led

to most of the region being given

Protected Natural Space status.

We start our tour in the town centre,

where we can admire some beautiful

and colourful buildings. We pause

here to contemplate the most

famous of these, the neoclassical

Parish Church, flanked by two towers

that keep a watchful eye over some

highly relevant works of art in its interior.

Other fine buildings include Casa

de Los Quintana, the Néstor Álamo

Museum and the Hermitage of San

Roque, which are part of the town's

historic heritage.

As we leave the town centre, we are

struck by the municipality's outlaying

natural surroundings, with the

Special Natural Reserve of El Brezal,

Doramas Rural Park, Montañón Negro

Natural Monument and the Protected

Summit Landscape, areas of

outstanding beauty shared with neighbouring

towns.

The landmark that captures our attention

above all else, however, is the

Cenobio de Valerón, an architectural

ensemble declared a Site of Cultural

Interest and a grain storage fortress

where the ancient Canarians stored

the grain from crops throughout the

year. Tagoror del Gallego is another

of the archaeological settlements of

great interest. As we reach the municipal

boundary, we can look out over

the rocky coastline so typical of the

north and make out the beaches at

San Felipe, a quiet location ideal for

going for a refreshing dip, and Roque

Prieto, with a natural water pool.

We cannot leave Guía without sampling

its wonderful Flower Cheese,

made from raw cow's and sheep's

milk together with the artichoke

flower of the cardo azul plant, a multiple

award-winner around the world.

We finish off at Montaña Alta, the

hub of the popular Cheese Fiesta.

5. Gáldar

We leave Guía behind, and move on

to Gáldar, the first capital city on the

island. It was of outstanding historical

relevance because the first Kings

of Gran Canaria decided to settle in

this region, formally known as Agáldar,

and is the reason for which the

town preserves most of its ancient

architecture, one of the few Canary

towns that has managed to save part

of its pre-Hispanic heritage.

Evidence of its rich past can be found

at the Painted Cave Archaeological

Park, and is a must see. It contains

one of the largest findings of cave

art in the Atlantic region, portraying

how the pre-Hispanic population

used to live, the development of the

conquest by the Castilian crown, and

how the town of Agáldar became

buried underground until, due to a

stroke of luck it saw the light of day

once more. In addition, we can visit

the necropolis of La Guancha, an

archaeological settlement that explains

how the ancient dwellers carried

out their burials. Among other

pre-Hispanic edifications, it is the largest

currently conserved burial site.

As we go deeper into the historic

town centre, we come to an emblematic

piece of architecture in the

form of the Church of Santiago de

Gáldar, one of the Canaries' most

beautiful temples; the former Town

Hall building, featuring one of the

oldest dragons trees in Gran Canaria

growing inside it; the Municipal

Theatre, the so called "Plaza Grande",

one of the finest 19th century

tree-lined avenues, or Alameda, in

the Canaries, and finally the Antonio

Padrón Museum. On calle Capitán

Quesada, we come to La Recova

Market of Gáldar, perfect for picking

up some local products and trying

out the local cheese.

We know how important it is to admire

panoramic views, and for this

reason we go up to Montaña de Gáldar

and Montaña de Amagro to take

in a landscape of unique beauty, revealing

more and more the further

we go up. We can also go to Pinos

de Gáldar, again with grand panoramic

views and highly interesting surroundings.

The Gáldar coastline is varied, combining

many beaches with natural

swimming pools. However, our choice

is to go to the unrivalled Sardina

beach before making the short trip

to the unmistakeable Faro de Sardina,

a lighthouse which affords one of

the most iconic nightfalls on the island,

with a colourful sky that resembles

a painting. Other relevant coastal

locations are the beaches at Dos

Roques, Punta de Gáldar and the natural

swimming pools at El Agujero.

6. Agaete

Our route winds up at the municipality

of Agaete, one of the island's top

tourist locations. It is a village with

whitewashed buildings, a long-standing

fishing tradition and rugged

beauty, the result of the meeting of

the sea with the mountains.

To get a feel for the place, we should

take a stroll around its historic town

centre, to the Church of La Inmaculada

Concepción and accompanying

square, as well as the Huerto de las

Flores, a botanical garden featuring

many different exotic plant species

and a traditional meeting place for

Canarian poets.

We can also immerse ourselves in

Tamadaba Natural Park, a protected

area containing the largest extension

of Canary pine trees, access to

which is only possible on foot. Once

there we are treated to views over

the Valley of Agaete, a beautiful spot

with tropical and citric fruit estates,

and coffee plantations, the latter being

a key product in the municipality.

Agaete' topography is a steep one,

with El Risco and Guayedra jutting

out, reaching a maximum altitude

of 1,180 metres at the summit area of

Pinar de Tamadaba. It is also home

to one of the most important burial

sites on the island, Maipés, which is

well worth a visit.

Leaving the greenery behind and

coming back into town, we can take

a leisurely walk in the gentle breeze

along the promenade at Puerto de

Las Nieves, with Playa de Las Nieves,

the remains of the Dedo de Dios

(rock formation resembling a hand

and finger) and views of the cliffs in

the shape of a dragon's tail featuring

the stunning Roque Faneque, one

of the highest clifftops in the world.

The walk ends at Plaza de Los Poetas

and the three natural inter-connecting

swimming pools at Las Salinas,

the ideal place for diving into the

calm Atlantic waters, or simply putting

our feet up to admire a stunning

sunset over the neighbouring island

of Tenerife on the horizon.

Firgas

Maipes. Agaete

Vista aérea del Puerto de Agaete

Ruta Agaete-Artenara
---
50

DISCOVER GRAN CANARIA I DESCUBRE GRAN CANARIA Nº 10

RUTA NORTE

Gran Canaria trae a la mente imágenes de impresionantes playas de arena y kilómetros de

dunas, pero su zona norte nos revela otra realidad: una costa dominada por espectaculares

acantilados, playas vírgenes y piscinas naturales rodeadas por una orografía mucho más abrupta,

resultado de la erosión y la condición volcánica de nuestra tierra.

Esta ruta nos conduce por Arucas, Firgas, Moya, Santa María de Guía, Gáldar y Agaete. Conoceremos

la accidentada costa norte, pero también algunas de las zonas arqueológicas más interesantes

de Gran Canaria, adentrándonos en lugares como en el Cenobio de Valerón, la Cueva

Pintada de Gáldar o la necrópolis de Maipés para conocer la historia de nuestros antepasados.

Recorrer las calles del centro histórico de Arucas con su iglesia como protagonista, hacer

senderismo en Firgas, probar los auténticos suspiros y bizcochos de Moya, sumergirnos en las

aguas de las piscinas naturales más bonitas de la isla y fundirnos con el ambiente marinero de

Agaete son solo algunas de las citas ineludibles de esta gran ruta por el norte isleño.

1. Arucas ■ 2. Firgas ■ 3. Moya ■ 4. Santa María de Guía ■ 5. Gáldar ■ 6. Agaete

Agaete

1. Arucas

La primera parada es Arucas, a 12 kilómetros

de Las Palmas de Gran Canaria,

un municipio que se extiende

desde la costa hasta las medianías.

Comenzamos en el centro histórico,

junto a una de las imágenes más icónicas

del norte: la Iglesia de Arucas,

que dibuja una postal única e imponente

de la plaza de San Juan. Se trata

de un templo neoclásico íntegramente

esculpido en piedra con dos

grandes torres que roban la atención

de todas las miradas.

Otros sitios de interés arquitectónico

son las Casas Consistoriales, el edificio

del antiguo Mercado Municipal o

la Casa de la Cultura. Citas a las que

añadimos un paseo por la Casa y Jardín

de la Marquesa, un encantador,

romántico y espectacular jardín botánico;

la caminata hasta la montaña

de Arucas, y la visita a la fábrica de

ron Arehucas, todo un símbolo de

nuestra tierra, y las Salinas del Bufadero,

un espectáculo espléndido en

el que la naturaleza nos hace partícipes

de sus maravillas.

No podemos movernos del municipio

sin refrescarnos en sus aguas, por

lo que un chapuzón en la playa de

Bañaderos-El Puertillo o en las piscinas

naturales de Los Charcones, si lo

prefieres, seguido de un aperitivo en

los restaurantes de la zona, se convertirá

en el plan perfecto para terminar

la estancia en nuestro primer

destino.

2. Firgas

El pequeño pueblo de Firgas está

ligado al agua, lo que no es casualidad,

ya que se caracteriza por presentar

zonas de lomos alargados y

estrechos que son atravesadas por

una densa y compleja red de barrancos.

Por este motivo, el senderismo

es uno de los principales atractivos

turísticos de la zona.

Partiendo del casco urbano, observamos

numerosos rincones culturales y

religiosos. Los más emblemáticos son

la Iglesia Parroquial de San Roque, la

Casa de la Cultura, el Ayuntamiento y

la Fuente Conmemorativa, punto desde

el que salimos hasta llegar al Paseo

de Canarias.

Aquí contemplamos los mosaicos que

representan a cada isla y, siguiendo la

calle peatonal por la avenida de Gran

Canaria, vemos atravesar el agua calle

abajo a través de una fuente a cuyo

costado están los escudos heráldicos

de los 21 municipios que nos conforman

y el escudo insular.

Otro de los enclaves a destacar es el

molino de gofio de Firgas, situado

sobre la Acequia de la Heredad de

Aguas de Arucas y Firgas junto con el

antiguo almacén de grano y la casa

del molinero. Centrándonos en las

vistas y para admirar la confluencia de

tres majestuosos barrancos -Las Madres,

Guadalupe y Aguaje-, debemos

movernos hasta el mirador de Las Madres,

próximo al casco histórico. Una

estampa enmarcada en el Parque Rural

de Doramas, lugar que quedará en

nuestra memoria para siempre.

Además, parte del municipio está enclavado

en la antigua Selva de Doramas,

por lo que descubrimos barrancos

y vegetación de extrema belleza

como la Reserva Natural Especial de

Azuaje, el barranco más profundo del

norte, que engloba endemismos y

uno de los escasos reductos de laurisilva

que existen. Otro de los espacios

naturales más llamativos son la Montaña

de Firgas y el Pico de Osorio, visitas

ineludibles que bordean Firgas

permitiendo unas panorámicas espléndidas

de toda la capital y el norte

de la Isla.

3. Moya

La villa de Moya se erige entre barrancos

y una serie de lomos que descienden

hacia la costa, dando lugar a un

espacio accidentado con un rico patrimonio

cultural.

En nuestra ruta no puede faltar un

paseo para conocer los edificios emblemáticos

de la villa, entre los que

destaca la Iglesia de Nuestra Señora

de la Candelaria, localizada en riscos

que se precipitan sobre el Barranco

de Moya; la Casa Museo Tomás

Morales, con una amplia colección

del poeta; la Heredad de Aguas, una

magnifica pieza de piedra basáltica, o

la Ermita de San Bartolomé de Fontanales,

construida en 1872. Una vez hayamos

contemplado su arquitectura,

Gáldar

tomamos dirección el Parque Natural

de Doramas para descubrir los senderos

de Los Tilos de Moya, otro de

los últimos reductos de laurisilva de

la Isla y punto de visita obligada por

su diversidad.

Después, recargamos energía con un

buen plato casero en la zona y tratamos

de adquirir una buena muestra

de gastronomía local. Para ello, Fontanales

cuenta con un buen número

de queserías, aunque no debemos

alejarnos sin probar su representativa

repostería. Así que no dudes en comprar

suspiros y bizcochos de Moya y

disfruta de los bollos de anís y las truchas,

también muy típicos.

Para despedirnos, pasearemos por

el relajante litoral, que cuenta con la
---
Nº 10 DISCOVER GRAN CANARIA I DESCUBRE GRAN CANARIA

51

Firgas

playa de La Caleta y las piscinas naturales de aguas

transparentes del Charco de San Lorenzo.

4. Santa María de Guía

Una costa abrupta y rocosa identifica a Santa María

de Guía, cuyo entorno recoge una gran diversidad

que presume de que gran parte de sus espacios

naturales estén catalogados como Espacios Naturales

Protegidos.

Comenzamos el viaje en el casco histórico, que

nos permite admirar la belleza de sus edificaciones,

gobernadas por el color. Aquí nos detenemos

a contemplar las más notorias como la neoclásica

Iglesia Parroquial, flanqueada por dos torres que vigilan

obras de arte de gran importancia, la Casa de

Los Quintana, el Museo de Néstor Álamo y la Ermita

de San Roque, que forman parte del Patrimonio

Histórico.

Saliendo del casco urbano, apreciamos el entorno

natural del municipio, en el que resalta la Reserva

Natural Especial del Brezal, el Parque Rural de Doramas,

el Monumento Natural del Montañón Negro

o el Paisaje Protegido de Las Cumbres, espacios

de gran belleza compartidos con localidades

colindantes.

Pero si existe un lugar al que prestar toda nuestra

atención es el Cenobio de Valerón, un conjunto

arqueológico declarado Bien de Interés Cultural y

un granero fortaleza donde los antiguos canarios

almacenaban los granos recolectados durante el

año. El Tagoror del Gallego es otro de los yacimientos

arqueológicos de interés. Aproximándonos al

límite, contemplamos la costa rocosa propia del

norte isleño y distinguimos las playas de San Felipe,

poco transitada e ideal para sumergirnos en

sus aguas, y la de Roque Prieto, con una piscina

natural.

No podemos irnos de Guía sin probar su fabuloso

Queso de Flor, elaborado con leche cruda de vaca

y oveja y utilizando la alcachofa de la flor de cardo

azul, un producto premiado en todo el mundo. Así,

finalizamos nuestra ruta en Montaña Alta, epicentro

de la popular Fiesta del Queso.

5. Gáldar

Tras abandonar Guía, procedemos a conocer Gáldar,

la que fuera primera capital isleña. Un acontecimiento

histórico marcado porque los primeros

reyes de Gran Canaria decidieron asentarse en el

territorio, llamado antiguamente Agáldar, y razón

por la que el pueblo mantiene gran parte de su arquitectura

antigua, siendo de las pocas ciudades

canarias que conservan parte del patrimonio prehispánico.

Reflejo de su pasado lo hallamos en el Parque Arqueológico

de la Cueva Pintada, de visita obligatoria,

uno de los principales hallazgos del arte rupestre

del área atlántica que muestra cómo vivía la población

prehispánica, el desarrollo de la conquista de la

corona castellana y cómo Agáldar quedó sepultada

hasta que un golpe de suerte permitió que viera

la luz. Además, encontramos la necrópolis de La

Guancha, un yacimiento arqueológico que explica

cómo eran los enterramientos de los antiguos pobladores.

Entre otras edificaciones prehispánicas,

el mayor de los Túmulos conservados actualmente.

Profundizando en el casco histórico, reconocemos

una emblemática arquitectura de la mano de la

Iglesia de Santiago de Gáldar, uno de los templos

más bellos de Canarias; el antiguo Ayuntamiento,

custodiado por uno de los ejemplares del drago

más antiguo de Gran Canaria; el Teatro Municipal, la

llamada "Plaza Grande", uno de los mejores ejemplos

de Alameda del siglo XIX en Canarias, y el Museo

de Antonio Padrón. En la calle Capitán Quesada,

encontramos el Mercado La Recova de Gáldar,

perfecto para adquirir productos locales y probar el

queso.

Sabemos que admirar las vistas es importante y

por ello nos trasladamos a las Montañas de Gáldar

y Amagro para ver un paisaje de singular belleza a

medida que vamos ascendiendo. También iremos a

los Pinos de Gáldar, debido a la grandiosidad de la

panorámica y el interés del entorno.

La costa de Gáldar es variada, combina playas con

piscinas naturales. Sin embargo, nos decantamos

por visitar la inigualable playa de Sardina para luego

acercarnos al inconfundible Faro de Sardina, que

nos brinda uno de los atardeceres más icónicos de

la Isla, con unos colores que dibujan el cielo como

si de un cuadro se tratara. Otros destinos costeros

relevantes son las playas de los Dos Roques, Punta

de Gáldar y las piscinas naturales de El Agujero.

6. Agaete

La ruta norte finaliza en el municipio de Agaete,

de los más turísticos de la Isla. Un pueblo caracterizado

por sus típicas casas blancas y marcado por

la tradición pesquera y una abrupta belleza. Para

conocerlo en profundidad, es necesario recorrer su

casco histórico, acercarnos a la Iglesia de La Inmaculada

Concepción y su plaza, así como al Huerto

de las Flores, un jardín botánico con variedad de

especies vegetales exóticas y lugar de reunión de

poetas canarios.

Asimismo, nos adentramos en el Parque Natural

de Tamadaba, un espacio protegido con el mayor

pinar de Gran Canaria y cuyo acceso solo es posible

a pie. En él vislumbramos el Valle de Agaete, precioso

paraje con fincas de frutas tropicales, cítricos

y café, producto clave del municipio.

La topografía de Agaete es abrupta y sobresalen El

Risco y Guayedra, alcanzando una altitud máxima

de 1.180 m en la zona cumbrera del Pinar de Tamadaba.

Volviendo al casco, paseamos disfrutando de la brisa

marina por el Puerto de Las Nieves, con la playa

de Las Nieves, los restos del Dedo Dios de fondo y

vistas a los acantilados con forma de cola de dragón

donde destaca el impresionante Roque Faneque.

Al final del trayecto reconocemos la plaza de

Los Poetas y más tarde tres piscinas naturales conectadas

entre sí, Las Salinas, enclave inmejorable

para sumergirnos en las serenas aguas del Atlántico

o, si lo prefieres, despedir el viaje con un ocaso

extraordinario y el Teide perfilando el horizonte.
---
52

DISCOVER GRAN CANARIA I DESCUBRE GRAN CANARIA Nº 10

CENTRAL ROUTE

If you are looking to discover some of the most valuable natural jewels and the most charming

villages in Gran Canaria, this is the route for you. It will take you to the highest point of the

island, where you will get to see some stunning locations, all with a long history and a deeprooted

religious culture, as well as build your strength back with some typical local cuisine.

We set off from Las Palmas de Gran Canaria on course for our first destination, the picturesque

town of Santa Brígida, followed by San Mateo, Tejeda, Artenara, Valleseco and Teror.

1. Santa Brígida ■ 2. San Mateo ■ 3. Tejeda ■ 4. Artenara ■ 5. Valleseco ■ 6. Teror

Artenara

1. Santa Brígida

Tejeda, officially one of the prettiest

villages in Spain.

As we approach the town centre we

are struck by its architecture, a peculiar

fusion between its agricultural

past and modern-day residential

buildings, with eminently traditional

Canary features. Of special note is the

Parish Church of Santa Brígida, with

its neo-gothic exterior and a typical

island church structure on the inside.

Another local attraction is Atalaya de

Santa Brígida, an ensemble of cave

houses from the pre-Hispanic period

where traditions such as pottery are

still preserved, using age-old techniques,

the results of which can be admired

in the Casa Panchito Eco-Museum.

At weekends in the town centre, set

in a ravine brimming with beautiful

palm trees, we can stroll around the

market along the high street and

pick up some fine local crafts, before

stopping off at La Casa del Vino, the

perfect haven for sampling a range

of Gran Canaria Designation of Origin

wines, together with some local

cheeses.

Villa de Santa Brígida is known for

its stunning countryside, featuring

the famous Drago de Barranco Alonso

dragon tree, perched on a steep

cliff in the area of the same name,

which is a focal point due to its majestic

appearance and the fact it is

nearly 500 years old. As we follow

along the main road towards Bandama,

we come to Monte Lentiscal,

where we find the Natural Bandama

Monument, a stunning 200-metre

deep volcanic crater with a one-kilometre

diameter. This is one of the

island's most visited attractions, with

a viewing point that provides some

spectacular views over the capital

city and part of the northwest of the

island.

2. San Mateo

We now move on towards Vega de

San Mateo, eight kilometres on from

Santa Brígida. Once we reach the

town centre, we must make our way

to the old part of town and see its

Parish Church, the tree-lined Alameda

de Santa Ana and the Town Hall,

an exquisite neo-Canarian style building.

Another of the places not to be

missed is the farmers and crafts market,

the main economic driving force

of the region, which has become

highly popular and which offers all

kinds of arts and crafts.

The municipality is also home to

some unique views over Gran Canaria's

hillsides and summit, at Pozo de

Las Nieves. Other important landmarks

include Hoya del Gamonal, El

Roque Cruz del Saucillo, which together

make up a protected natural

landscape around the summit area

and are of high value due to the endemic

species growing there.

3. Tejeda

Santa Brígida

As we continue along winding roads,

taking in the colours and scents of the

surrounding vegetation, we come to

Here we are witnesses to a strong

cultural and artistic presence, in

the shape of the Abraham Cárdenes

Sculpture Museum, the Ethnographic

Museum and the Medicinal

Plant Centre, which highlights Tejeda's

wide variety of local plant species.

Paying special attention to the

architecture, we divert our course to

the Parish Church of Our Lady of El

Socorro.

A visit to Tejeda is essential for those

who wish to learn about the island's

rich archaeological heritage, as we

come across some archaeological

vestiges including burial caves, etchings,

paintings and houses. A good

example is Roque Bentayga, a sacred

site for the aboriginal dwellers and,

alongside it, the Bentayga Archaeological

Park, a visitor centre for the

different archaeological complex of

rocks -Bentayga, Andén de Tabacalete,

Cuevas del Rey and El Roqueteand

surrounding area.

The Degollada de Becerra visitor

centre is another place of interest. It

is located between Cruz de Tejeda,

where we stop to look over the horizon,

and Llanos de la Pez. Its purpose

is to provide information on the local

ethnography, but also boasts stunning

views. We set off towards one of

the best-known symbols of Gran Canaria,

the Roque Nublo, an enormous

basalt rock standing over 70 metres

tall, a result of volcanic activity. As one

of the most popular picture postcard

settings, it is a beguiling sight which

will linger long in the memory.

We cannot leave Tejeda without sampling

its specialities, so we head to
---
Nº 10 DISCOVER GRAN CANARIA I DESCUBRE GRAN CANARIA

53

Artenara

Teror

6. Teror

The final stage of our route around

the centre of the island takes us to

Teror. It is a municipality with a huge

historical and natural relevance that

is also the centre of pilgrimage in

Gran Canaria and one of the most

important in the Canaries, as for local

Canarians we cannot conceive of the

town's history without its beloved Virgin

of El Pino.

Tejeda

Legend has it that on 8th September

1481 a virgin appeared on the top of

a pine tree, who they called Virgin

of El Pino, the current Patron Saint

of the Diocese of the Canaries in the

province of Las Palmas and a revered

religious figure for the islanders. The

Villa Mariana de Teror has a carving of

the virgin at the Basilica of Our Lady

of El Pino, declared a Historic and Artistic

Site in 1979, the most important

building in the municipality and one

of the leading religious architectural

structures in the archipelago.

the market to pick up some marzipan

and the celebrated bienmesabe,

made with its famous local almonds,

the star product which has its own

Almond Trees in Bloom Fiesta, held

every February.

4. Artenara

Artenara is situated at the island's

summit and is noted for its steep orography

which is the setting for a diverse

range of natural spaces, joining

up typical interior landscapes with

other coastal landscapes. Its territory

runs down to the coast, surrounded

by huge extensions of Canary pine

woodland peculiar to the area of Tamadaba,

from where we look down

over Agaete and the stunning Teide

mountain in the neighbouring island

of Tenerife.

Likewise, places such as Tirma, Tamadaba,

Barranco Hondo and Mesa de

Acusa stand out all around. In addition,

Artenara is home to archaeological

settlements which provide an

insight into the lives of the ancient

Canary dwellers and archaeological

tours to decypher them. We should

also not miss going to the Miguel de

Unamuno Viewpoint, which provides

another fine view over the volcanic

crater, the Bentayga and Nublo rocks

emerging from the clouds.

5. Valleseco

Valleseco is a region that was once

a huge laurel forest and which today

preserves a lush vegetation, so

not surprisingly 80% of its territory

is designated as a Protected Natural

Area. It boasts a wide variety of trails

and footpaths and a bastion of laurel

woodland of great botanical value at

Barranco de la Virgen, located in the

Doramas Rural Park, from where we

can look out over La Laguna de Valleseco

and Pico de Osorio.

La Laguna Recreational Area is worth

a visit, as it is home to a wide range

of Canary flora and has a range of facilities

for visitors. Calderetas, another

place not to miss, stands out as one

of the most beautiul volcanic craters

on the island, with its fine blend of

Valleseco

natural colours, creating quite a unique

picture. Continuing towards Cueva

Corcho y Crespo, we discover the

vast pine woodland of the Protected

Summit Area with panoramic views

all the way down to the sea. At the

municipality's border, we are treated

to a landscape of contrasts alongside

Gran Canaria's most recent volcano,

Montañón Negro.

As for cultural heritage, we can see

fountains, pillars, irrigation channels

and mills of high ethnographic value.

We can also visit to the Church of San

Vicente Ferrer, probably the town's

most important building.

Having seen the religious hub of Teror,

we take a stroll around Plaza de

Teror and neighbouring areas such as

La Alameda, the Town Hall, La Fuente

Agria and the Cister Monastery. There

is no doubt you will be enamoured by

its colourful houses, cobbled streets,

typical Canary balconies and the natural

surroundings that wrap around

the old part of town and adorn most

of the region.

On the subject of the natural surroundings,

we should visit its protected

areas at Caldera de Pino Santo, Finca

de Osorio, Doramas Natural Park or

Agujereada. Teror thus stands as an

essential place to visit in Gran Canaria,

and is an ideal location for hiking

enthusiasts.

Finca de Osorio should also not be

missed, because it is the maximum

expression of nature. The estate is

home to trails, mountains and ravines

in an ecosystem featuring chestnut

trees together with laurel forests, making

it a truly magical, relaxing place,

perfect to escape our daily routine

and to admire nature with no distractions.

We cannot finish this route without

trying the famous chorizo from Teror.

The town centre is the place to go to

order a chorizo roll with a strawberry

flavoured Clipper, a local soft drink,

which is one of the most typical combinations

here. If you prefer, you can

purchase some delicious pan de huevo

(bread made with egg) and cheese,

which are sold at market stalls

which are open on Sundays.
---
54

DISCOVER GRAN CANARIA I DESCUBRE GRAN CANARIA Nº 10

RUTA CENTRO

Si quieres descubrir algunas de las joyas naturales más valiosas y los pueblos con más encanto de

Gran Canaria, esta es tu ruta. Aquí alcanzarás el punto más alto de la Isla, pero también conocerás

parajes impresionantes con una larga historia y cultura religiosa, además de reponer fuerzas con

la cocina más típica.

Partimos desde Las Palmas de Gran Canaria para conocer nuestro primer destino, el pintoresco

pueblo de Santa Brígida, al que siguen San Mateo, Tejeda, Artenara, Valleseco y Teror.

1. Santa Brígida ■ 2. San Mateo ■ 3. Tejeda ■ 4. Artenara ■ 5. Valleseco ■ 6. Teror

Tejeda

Valleseco

Teror

1. Santa Brígida

Visitamos el casco urbano y observamos

su arquitectura, una peculiar fusión

entre el pasado agrícola y el presente

residencial en la que sobresalen

elementos de la tradición canaria. En

especial, brilla la Iglesia Parroquial de

Santa Brígida, con un exterior neogótico

pero con la estructura típica de

iglesias isleñas en su interior.

Otro de los atractivos es la Atalaya de

Santa Brígida, un poblado de casas

cueva de la época prehispánica que

aún conserva tradiciones como la alfarería,

que sigue técnicas antiquísimas

y cuyas obras podrás admirar en

el Ecomuseo Casa Panchito.

En el núcleo urbano, establecido en

un barranco repleto de bellos palmerales,

podemos pasear por el mercadillo

de la calle principal durante el

fin de semana y adquirir productos

artesanales y hacer una parada en La

Casa del Vino, el marco perfecto en el

que degustar los caldos de Denominación

de Origen Gran Canaria con

quesos isleños.

La Villa es conocida por su riqueza

paisajística, donde destaca el Drago

de Barranco Alonso, colgado de

un risco en la zona del mismo nombre,

que acapara la atención por su

majestuosidad y una antigüedad

próxima a los 500 años. Siguiendo

la carretera en dirección Bandama,

en Monte Lentiscal, encontraremos

el Monumento Natural de Bandama,

una impactante caldera volcánica

con una profundidad de 200 metros

y un kilómetro de diámetro. Una de

las atracciones isleñas más visitadas,

que brinda una panorámica de la capital

y parte de la zona noroeste desde

su mirador.

2. San Mateo

Seguimos nuestro camino hacia la

Vega de San Mateo, a ocho kilómetros

de Santa Brígida. Ya en el pueblo,

es imprescindible pasear por el casco

antiguo para hallar su Iglesia Parroquial,

la Alameda de Santa Ana y el

Ayuntamiento, un conjunto de exquisito

estilo neocanario. Otra de las citas

ineludibles es el mercado agrícola y

artesanal, el principal motor económico,

que ha ganado gran notoriedad

y ofrece todo tipo de productos artesanales.

El municipio también nos descubre

panorámicas únicas de las medianías

y de la Cumbre de Gran Canaria, donde

se localiza el Pozo de Las Nieves.

Otro de los enclaves más importantes

son la Hoya del Gamonal, el Roque y

la Cruz del Saucillo, que constituyen el

paisaje natural protegido enmarcado

en la zona de cumbres y presentan un

gran valor por sus endemismos.

3. Tejeda

Atravesando sinuosas carreteras y

disfrutando de los colores y olores

que nos regala la vegetación, llegamos

a Tejeda, oficialmente uno de los

pueblos más bonitos de España.

Aquí somos testigos de una fuerte

presencia cultural y artística y tropezamos

con el Museo de Esculturas

Abraham Cárdenes, el Museo Etnográfico

y el Centro de Plantas Medicinales,

que muestra las variedades vegetales

propias de Tejeda. Haciendo

hincapié en la arquitectura, nuestro

recorrido se desvía a la Iglesia Parroquial

de Nuestra Señora del Socorro.

Visitar Tejeda es primordial para quienes

deseen conocer el rico patrimonio
---
Nº 10 DISCOVER GRAN CANARIA I DESCUBRE GRAN CANARIA

55

Artenara

arqueológico de la Isla, porque encontramos

vestigios arqueológicos como

cuevas de enterramientos, grabados,

pinturas y casas. Un buen ejemplo

es el Roque Bentayga, lugar sagrado

para los aborígenes y, junto a él, distinguiremos

el Parque Arqueológico

del Bentayga, un centro de interpretación

del complejo arqueológico de

los roques -Bentayga, Andén de Tabacalete,

Cuevas del Rey y el Roquete- y

de su entorno.

El Centro de Interpretación Degollada

de Becerra es otro lugar de interés.

Se localiza entre La Cruz de Tejeda,

donde nos detenemos a observar el

horizonte, y los Llanos de la Pez. Está

dedicado a informar de la etnografía

local, pero también presume de espectaculares

vistas. Ponemos rumbo

a uno de los símbolos más reconocidos

de Gran Canaria, el Roque Nublo,

una enorme roca basáltica de más de

70 metros de altura, producto de la

actividad volcánica. Una de las estampas

más turísticas, atrapa al observador

y permanece en sus recuerdos.

No podemos abandonar Tejeda sin

probar sus especialidades, así que en

el mercadillo conseguimos mazapanes

y el célebre bienmesabe, elaborados

con sus famosas almendras, producto

estrella de su gastronomía que

cuenta con la Fiesta del Almendro en

Flor, celebrada en febrero.

4. Artenara

Artenara se sitúa en la cumbre isleña

y se caracteriza por una abrupta

orografía que facilita la existencia de

espacios naturales diversos, reuniendo

paisajes propios del interior y otros

típicos del litoral. Su territorio llega

hasta una costa rodeada de grandes

extensiones de bosques de pino canario

tan peculiares de las zonas de

Tamadaba, desde donde podemos

vislumbrar Agaete y el imponente Teide

de la isla vecina.

De esta forma, localizaciones como

Tirma, Tamadaba, Barranco Hondo

o Mesa de Acusa destacan entre sus

parajes. Además, en Artenara apreciamos

yacimientos arqueológicos que

muestran cómo vivían los antiguos

pobladores canarios y disponemos

de rutas arqueológicas para descifrarlos.

Tampoco podemos perdernos el

Mirador de Miguel de Unamuno, que

nos regala otra de las fotografías de la

caldera del volcán, el Roque Bentayga

y el Nublo emergiendo entre las nubes.

5. Valleseco

Valleseco es una villa que formó parte

de un gran bosque de laurisilva y que

conserva una abrigada vegetación

actualmente, y es que el 80% de su

territorio es Espacio Natural Protegido.

Dispone de una gran variedad de

senderos y caminos y un reducto de

laurisilva de gran valor botánico como

el Barranco de la Virgen, en el Parque

Rural de Doramas, donde admiramos

La Laguna de Valleseco y el Pico de

Osorio.

Visitamos el Área Recreativa de La Laguna,

que alberga una extensa representación

de flora canaria y cuenta con

servicios adaptados para visitantes.

Calderetas, otra cita ineludible, se alza

Santa Brígida

San Mateo

como una de las calderas volcánicas

más bellas, en ella se entremezclan los

colores de la naturaleza, creando un

cuadro único. Continuando nuestro

recorrido hacia Cueva Corcho y Crespo,

descubrimos los vastos pinares del

Espacio Protegido de las Cumbres y

unas vistas que se extienden hasta el

mar. En el límite municipal, nos deleita

un paisaje lleno de contrastes junto al

volcán más reciente de Gran Canaria,

el Montañón Negro.

En cuanto al patrimonio cultural, contemplamos

fuentes, pilares, acequias

o molinos de gran valor etnográfico.

También reconocemos la Iglesia de

San Vicente Ferrer, probablemente el

edificio más importante de la localidad.

6. Teror

En la fase final de nuestra ruta por el

centro nos adentramos en Teror. Un

municipio con gran valor histórico y

natural que, además, es el centro de

peregrinación de Gran Canaria y uno

de los más relevantes de Canarias,

pues los canarios no concebimos la

historia del pueblo sin la Virgen del

Pino.

Cuenta la leyenda que el 8 de septiembre

del 1481 apareció una virgen

en lo alto de un pino, a la que llamaron

Virgen del Pino, la actual patrona de

la Diócesis de Canarias de la provincia

de Las Palmas y referente religioso de

los isleños. Así, la Villa Mariana de Teror

la acoge en la Basílica de Nuestra

Señora del Pino, declarado Conjunto

Histórico Artístico en 1979, el edificio

más importante del municipio y uno

de los más destacados de la arquitectura

religiosa del Archipiélago.

Tras conocer el epicentro religioso,

paseamos por la Plaza de Teror y zonas

como La Alameda, el Ayuntamiento,

La Fuente Agria o el Monasterio

del Cister. Sin duda, te enamoras

de sus casas coloridas, las calles adoquinadas,

los balcones típicos canarios

y la naturaleza que rodea el casco

antiguo, que adornan gran parte del

territorio.

Respecto al entorno natural, estamos

obligados a visitar sus espacios protegidos

de la Caldera de Pino Santo, la

Finca de Osorio, el Parque Natural de

Doramas o la Agujereada. Así, Teror

se alza como un imprescindible de

Gran Canaria, convirtiéndose en una

de las localizaciones más óptimas

para hacer senderismo.

La Finca de Osorio es una cita obligatoria,

el recurso natural por excelencia.

Aquí hallamos caminos, montañas

y barrancos en un ecosistema

lleno de castañeros junto a bosques

de laurisilva, que la convierten en un

lugar mágico y en calma, perfecto

para desconectar de la rutina y admirar

la naturaleza sin distracciones.

No podemos terminar esta ruta sin

probar el chorizo de Teror. En los alrededores

del casco histórico, pedimos

un bocadillo de chorizo con un

Clipper de fresa, un refresco local, una

de las combinaciones más típicas. Si

lo prefieres, puedes comprar el delicioso

pan de huevo o el queso, que se

venden en los puestos del mercadillo,

abierto los domingos.
---
56

DISCOVER GRAN CANARIA I DESCUBRE GRAN CANARIA Nº 10

EAST ROUTE

The east of Gran Canaria has a unique coastline, where gentle slopes fuse with steep

ravines, lending a certain mystery and identity to the beaches, accentuated by the

area's windy conditions and its crystal clear waters. There are five municipalities, each

with their own enchanting beaches, a rich archaeological heritage and a culture with

deep-rooted Canary tradition that make up this fascinating route, one not to be missed.

Our journey starts in Las Palmas de Gran Canaria, and continues at the island's former

capital, Telde, before moving on to Valsequillo, Ingenio and Agüimes. Don't forget to

bring your swimming gear, and dare to dive in to this adventure with us. You won't

regret it.

1. Las Palmas de Gran Canaria ■ 2. Telde ■ 3. Valsequillo ■ 4. Ingenio ■ 5. Agüimes

Las Palmas de Gran Canaria

1. Las Palmas de Gran Canaria

Our first port of call is around the historical

streets and façades of the district

of Vegueta, featuring buildings

such as the Santa Ana Cathedral, the

Casas Consistoriales council offices,

the Episcopal Palace and the Casa Regental,

which were the first to spring

up in the fledging capital city. Other

emblematic constructions with quite

stunning architecture and of cultural

relevance are: Plaza de Santo Domingo

and Plaza del Espíritu Santo, the

Canary Museum, the Columbus House

Museum and the Atlantic Modern

Art Centre (CAAM).

On the opposite side to Vegueta, separated

by the Guiniguada ravine, is

the district of Triana. This area is home

to the Pérez Galdós Theatre, the Hotel

Madrid, the Gabinete Literario, the

Pérez Galdós House Museum and

the modernist Quegles palace, from

where we can access the long pedestrian

street of Calle Mayor de Triana,

which opens out in San Telmo.

This is the picture postcard area of

the city and is a wonderful place for

a stroll, although there is always a

lot of hustle and bustle going on, as

it constitutes one of the city's main

shopping areas. Leaving behind Triana,

we continue along Paseo de Tomás

Morales as far as the El Obelisco

or Plaza de la Constitución. Here, we

turn down towards the beach where

we come to Plaza de la Feria and admire

its surroundings, where we can

catch a glimpse of the monument in

honour of Benito Pérez Galdós, the island's

most internationally renowned

writer.

At the heart of the capital its the oldest

hotel, the iconic Hotel Santa

Catalina, and the Néstor Museum,

which displays the majority of the

work of artist Néstor Martín-Fernández

de la Torre. This area also features

the gardens at Doramas Park, which

combines the Pueblo Canario with

endemic plant species. Its waterfalls

and extensive vegetation invite us to

sit back and relax following our brief

visit to the capital.

As we move out of this enclave,

we look over to the Sports Marina,

which culminates in Las Alcaravaneras

beach and the shopping area of

Mesa y López. Along the promenade

leading to the Port, we are treated to

stunning views as we cross Santa Catalina

Park, featuring the Elder Science

Museum and the Miller Building.

Our walk finally opens out onto the

immense Las Canteras beach, which

stretches for three kilometres from

the Auditorio Alfredo Kraus to La Isleta,

joined up by a long promenade.

This is an ideal spot to watch the sun

go down, an essential treat for all visitors

to Gran Canaria.

2. Telde

10 kilometres to the south of the capital

is Telde, famous for its many archaeological

remains, reflecting its

important role as one of the orginal

aboriginal kingdoms. The region has

settlements at Baladero, Tufia, Cuatro

Puertas, Tara and Cendro, providing

us with a fascinating insight into the

lives of the islanders' ancestors.

The settlements of Cendro, Tara and

Baladero are made up of sets of cave

houses, with Baladero being one of

the most important sacred sites in

aboriginal culture, while Tufia is the

largest settlement of them all.

Meanwhile, the town centre of Telde

is an essential place to visit, with

its two main neighbourhoods, San

Juan and San Francisco. The former is

home to the church of San Juan Bautista

and the Plaza Mayor, which contains

the main council and religious

buildings. Two other places not to be

missed here are the León y Castillo

House Museum and Rincón Plácido

Fleitas. The narrow and splintered

streets of the district of San Francisco

are characterised by gabled tile roofs

and long whitewashed walls that are

interspersed with cobbled streets.

We can stop here to take a look at the

Church of San Francisco.

We now turn our attention to the

coast, with beautiful cliffs and crushed

lava beaches, which are a delight.

The coastline is packed with family

beaches such as La Garita, Salinetas

and Melenara, as well as other more

mysterious and wild beaches such

as Playa del Cura, Playa del Hombre,

Aguadulce and Tufia. We say farewell

to Telde from any one of these charming

settings, after having sampled

some typical cuisine, with fish and

seafood among its main ingredients.

3. Valsequillo

Valsequillo offers us a tour around

the church of San Miguel, the Benito

Pérez Galdós Municipal Library and El

Colmenar barracks, which constitute

one of the municipality's most important

historic heritage sites, given Site

of Cultural Interest status by the Government

of the Canariy Islands.

However, the real attraction of this

municipality is its landscapes, which

constitute a high ecological value.

We refer to Barranco de Los Cerníca-
---
Nº 10 DISCOVER GRAN CANARIA I DESCUBRE GRAN CANARIA

57

los, the hillsides of which are covered with wild olive groves and an important

willow tree wood along its ravine bed. Its top attraction is Caldera de

los Marteles, a crater considered to be of great geological relevance and

defined as an ecologically sensitive area.

Our visit to Valsequillo is rounded of with a stroll around the town's streets,

where we can pick up some fine pieces of craftwork or some fresh, local

produce.

4. Ingenio

The city of Ingenio emerged from water, agriculture and reedbeds, a legacy

that is conserved today, as the area is recognised for its craft and

agricultural activity. Indeed, it is the foremost craft region in Gran Canaria.

Our tour kicks off around its historical area, made up of an old town centre

at Plaza de la Candelaria, with the Town Hall and the Church of La Candelaria,

and the district of Carrizal, with its Church of Virgin of El Buen

Suceso. We can observe how the streets have preserved their traditional

Canary-style architecture, where we come to Néstor Álamo Park, home

to the tallest palm tree in the Canaries, standing around 30 metres high.

To get to know the soul of this municipality with its craftwork tradition we

should head for the Casa del Reloj (watch house), the Ruta de los Molinos

de Agua (water mills) and the Museo de Piedras y Artesanía Canaria (Canary

craft and stone museum); as well as the Municipal Craft Workshop,

which delves into the local craft industry, represented by many fine examples

of typical crotchet work that has been applied to fashion garments.

Ingenio

The town is well known for its location near to stunning natural monuments,

including Guayadeque Ravine and El Draguillo Ravine, and the

natural reserve at Caldera de los Marteles, El Palomar or Granero Cuevas

Muchas. Likewise, it is the site for rural settlements such as La Pasadilla,

with its recreational area. At El Ratiño and Montaña Las Tierras we can

appreciate a multitude of caves that were used as a necropolis, houses

and funeral sites during the pre-Hispanic period. Make a beeline for them

along their trails and footpaths.

Down at the coast, we come to El Burrero, a small sand and pebble beach

that is ideal for sailing and windsurfing, thanks to the prevailing wind and

the waves in the area. It is the ideal spot to get clear our heads before we

set off for our final destination.

5. Agüimes

A stroll around the historic town centre of Agüimes, its green areas and

natural settings, and gaining an insight into its legacy is highly recommended

here in the east of Gran Canaria. The municipality is home to a

wide range of traditional Canary architecture, the highlight of which is the

Parish Church of San Sebastián, declared a Municipal Historic and Artistic

Monument back in 1981. The Plaza de San Antón is the site for the Agüimes

Visitor Centre, which gives a clear insight into the architectural, artistic

and historical features of the town centre.

Agüimes

The town is also home to two other natural settings that are an essential

visit: Temisas, with its spectacular mountainous landscape, Roque

Aguayro and the most important olive grove in the Archipelago; and Guayadeque,

with the settlement of Cueva Bermeja and the chapel of San

Bartolomé Apóstol.

We should also stop off at Montaña de Agüimes, which preserves archaeological

vestiges of aboriginal cave paintings. The most influential settlement

is at Morro del Cuervo, which has a unique ensemble of petroglyphs.

The Balos petroglyphs, situated in the ravine of the same name, constitute

one of the most important engravings in the Archipelago.

There are a good number of beaches along its coastline, Arinaga beach

being a fine example, while one of the busiest is Vargas beach, considered

one of the finest in the world for windsurfing, and El Cabrón beach, which

boasts one of the richest seabeds in the Canaries.

Vegueta. Las Palmas de Gran Canaria

Telde
---
58

DISCOVER GRAN CANARIA I DESCUBRE GRAN CANARIA Nº 10

RUTA ESTE

El este de Gran Canaria nos muestra un singular paisaje litoral, en el que delicadas pendientes se

fusionan con abruptos barrancos, otorgando cierto misterio e identidad a sus playas, enfatizadas por

el viento característico de la zona y sus aguas cristalinas. Cinco municipios de encantadoras playas,

un rico patrimonio arqueológico y una cultura marcada por la tradición canaria componen esta ruta

que no te puedes perder.

Nuestro viaje comienza en Las Palmas de Gran Canaria y continúa en la antigua capital de la Isla, Telde,

hasta llegar a Valsequillo, Ingenio y Agüimes. No te olvides de tu bañador y atrévete a sumergirte con

nosotros en esta aventura por el este, no te arrepentirás.

1. Las Palmas de Gran Canaria ■ 2. Telde ■ 3. Valsequillo ■ 4. Ingenio ■ 5. Agüimes

Las Salinas de Arinaga

Valsequillo

Ingenio

Telde

1. Las Palmas de Gran Canaria

Nuestro viaje comienza entre las históricas

calles y fachadas del barrio de

Vegueta, donde edificios como la Catedral

de Santa Ana, las Casas Consistoriales,

el Palacio Episcopal o la Casa

Regental encierran las primeras pinceladas

que dieron vida a la capital.

Otras construcciones emblemáticas

de impresionante arquitectura y relevancia

cultural son: la Plaza de Santo

Domingo y la del Espíritu Santo,el

Museo Canario, la Casa de Colón o el

Centro Atlántico de Arte Moderno.

Al margen de Vegueta, separado

por el barranco Guiniguada, reconocemos

el barrio de Triana. Aquí descubrimos

el Teatro Pérez Galdós, el

Hotel Madrid, el Gabinete Literario, la

Casa Museo Pérez Galdós y el palacete

modernista Quegles, enclaves

desde los que podemos acceder a la

Calle Mayor de Triana, que desemboca

en San Telmo.

Se trata de una de las postales por

excelencia de la ciudad y resulta muy

agradable transitar por ella, aunque

siempre mantiene un ritmo frenético,

pues se trata de uno de los núcleos

comerciales de la Isla. Dejando

atrás Triana, seguimos el Paseo de

Tomás Morales para ver el Obelisco o

la Plaza de la Constitución. Aquí, tomamos

rumbo al mar para detenernos

en la Plaza de la Feria y admirar

sus alrededores, donde vislumbramos

el monumento a Benito Pérez

Galdós, nuestro escritor más internacional.

En el centro capitalino nos sorprende

el hotel más antiguo de la ciudad,

el icónico Hotel Santa Catalina, y el

Museo Néstor, que recoge la mayor

parte de la obra del artista Néstor

Martín-Fernández de la Torre. Por la

zona, nos deslumbran los jardines del

Parque Doramas, que reúne el conjunto

del Pueblo Canario y especies

autóctonas. Sus fuentes en cascada

y la extensa vegetación, nos invitan

a relajarnos tras esta breve estancia

en la capital.

Saliendo del enclave, observamos el

Muelle Deportivo, que culmina en la

playa de Las Alcaravaneras y Mesa y

López, otro de los núcleos comerciales.

En el paseo marítimo en dirección

al Puerto, admiramos las vistas

y disfrutamos del trayecto hasta cruzarnos

con el Parque Santa Catalina,

donde se sitúan el Museo Elder de la

Ciencia y el Edificio Miller.

Por último, callejeamos hasta llegar

a la inmensidad de la Playa de Las

Canteras, cuyo recorrido se extiende

en tres kilómetros de paseo marítimo

desde el Auditorio Alfredo Kraus hasta

La Isleta. Podemos ver el atardecer,

un imprescindible de Gran Canaria

para cualquier visitante.

2. Telde

A 10 kilómetros de la capital nos situamos

en Telde, destacada por sus numerosos

vestigios arqueológicos, ya

que fue cabeza de uno de los reinos

aborígenes. La zona cuenta con los

yacimientos de Baladero, Tufia, Cuatro

Puertas, Tara y Cendro, por lo que

nos acercamos para profundizar en la

vida de los antepasados isleños.

Los yacimientos de Cendro, Tara y el

Baladero están formados por conjuntos

de cuevas de habitación, el de

Baladero fue uno de los lugares sagrados

más importantes de la cultura

aborigen, y Tufia se alza como el yacimiento

de más proporciones.

Por otro lado, en el casco histórico es

imprescindible visitar dos de sus barrios,

el de San Juan y el de San Francisco.

En el primero están la Iglesia de

San Juan Bautista y la Plaza Mayor,

en las que se sitúan los principales

edificios civiles y religiosos. Otras dos

visitas esenciales son la Casa Museo

de León y Castillo, y el Rincón Plácido

Fleitas. Calles estrechas y quebradas

caracterizan al barrio de San Francisco,

constituido sobre casas bajas con

tejados a dos aguas y de largas paredes

encaladas que se comunican

entre sí por calles empedradas. Aquí

debemos contemplar el Templo de

San Francisco.

Centrándonos en su costa, acantilados

y playas de lava triturada nos

deleitan con su belleza. Un litoral gobernado

tanto por playas familiares

como La Garita, Salinetas o Melenara

como por otras más misteriosas y salvajes

como Playa del Cura, Playa del

Hombre, Aguadulce y Tufia. En cualquiera

de sus encantadoras playas

despedimos Telde, y degustamos sus

platos típicos, con el pescado y el marisco

como principales ingredientes.

3. Valsequillo

Valsequillo nos lleva hasta la Iglesia

de San Miguel, la Biblioteca Municipal

Benito Pérez Galdós y el Cuartel de El

Colmenar, que constituye uno de los

patrimonios históricos más importantes

del municipio, declarado Bien
---
Nº 10 DISCOVER GRAN CANARIA I DESCUBRE GRAN CANARIA

59

Las Palmas de Gran Canaria

de Interés Cultural por el Gobierno de

Canarias.

Sin embargo, el verdadero interés del

municipio son sus paisajes, que presentan

un alto valor ecológico. Hablamos

del Barranco de Los Cernícalos,

en cuyas laderas habita uno de los

mejores acebuchales y en su cauce

una importante sauceda. Aunque su

principal atractivo es La Caldera de

los Marteles, considerada de interés

geológico y definida como área de

sensibilidad ecológica.

Como última cita,Valsequillo merece

un paseo por las calles más céntricas,

en las que podemos adquirir obras artesanales

o productos frescos locales.

4. Ingenio

La ciudad de Ingenio se fundó entre

aguas, agricultura y cañaverales, un

legado que permanece en la actualidad,

ya que es reconocida por su alto

carácter artesano y agrícola. De hecho,

es el pueblo artesano por excelencia

de Gran Canaria.

Nuestro recorrido empieza en su zona

histórica, compuesta por el casco antiguo

de la plaza de la Candelaria, con

el Ayuntamiento y la Iglesia de la Candelaria,

y el barrio de Carrizal, con la

iglesia de la Virgen del Buen Suceso.

Observamos que las calles conservan

casas de arquitectura tradicional canaria,

entre las que hallamos el parque

Néstor Álamo, hogar de la palmera

más alta de Canarias, de unos

30 metros de longitud.

Para conocer el alma de este municipio

artesanal es necesario conocer la

Casa del Reloj, la Ruta de los Molinos

de Agua y el Museo de Piedras y Artesanía

Canaria; además del Taller Municipal

de Artesanía, que profundiza

en su industria artesana, altamente

representada por los bellos calados

típicos que se han aplicado a la moda.

Agüimes

Por otro lado, la Villa está definida por

su cercanía a imponentes monumentos

naturales: los barrancos de Guayadeque

y del Draguillo, y la reserva

natural de la Caldera de los Marteles,

el Palomar o Granero Cuevas Muchas.

Asimismo, se convierte en el hogar de

asentamientos rurales como La Pasadilla,

con su área recreativa. El Ratiño

y Montaña Las Tierras, donde apreciamos

multitud de cuevas que funcionaban

como necrópolis, viviendas o

funerarias durante la época prehispánica.

No dejes de visitarlas a través de

sus senderos y rutas.

Llegando a la costa, hallamos El Burrero,

una pequeña playa de arena y

callado que es idónea para la práctica

de los deportes de vela y windsurf,

debido a la ventosidad y el oleaje de

la zona. La escapada ideal para desconectar

y partir a nuestro destino final.

5. Agüimes

Transitar por el casco histórico de

Agüimes, sus zonas verdes y parajes

naturales, y profundizar en su legado

se convierte en un imprescindible de

la zona este de Gran Canaria. El municipio

acoge una gran representación

de la arquitectura tradicional canaria

en la que destaca el Templo Parroquial

de San Sebastián, declarado

Monumento Histórico Artístico Municipal

en 1981. Asimismo, en la plaza

de San Antón situamos el Centro de

Interpretación de Agüimes, que permite

interpretar las características

arquitectónicas, artísticas e históricas

del casco.

Por otro lado, la localidad recoge dos

entornos naturales de vital visita: Temisas,

donde se contemplan los paisajes

montañosos, el Roque Aguayro

y el olivar más importante del Archipiélago;

y Guayadeque, con el poblado

de Cueva Bermeja y la capilla de

San Bartolomé Apóstol.

También nos detenemos en la Montaña

de Agüimes, que conserva vestigios

arqueológicos con arte rupestre

y cuevas aborígenes. El yacimiento

más influyente es el Morro del Cuervo,

que cuenta con un singular conjunto

de petroglifos. Los petroglifos

de Balos, situados en el barranco del

mismo nombre, se constituyen como

uno de lo grabados más importantes

del Archipiélago.

En su litoral, observamos numerosas

playas, entre las que brillan las playas

de Arinaga, una de las más transitadas

es Vargas, considerada como una

de las mejores playas del mundo para

la práctica del windsurf, y la playa del

Cabrón, que presume de uno de los

paisajes submarinos más ricos de Canarias.
---
60

DISCOVER GRAN CANARIA I DESCUBRE GRAN CANARIA Nº 10

SOUTHWEST ROUTE

The southwest region offers the most emblematic images of Gran Canaria, offering stark

contrasts between its green hilly areas down to its warm coastline. This area is the favourate

holiday destination for thousands of tourists thanks to its amazing beaches and exquisite

tourist facilities. For this reason, it is necessary we learn about everything that symbolises our

land, which includes the sun and the beach, but by also looking further afield to other locations

that are in no way inferior to the coast.

So we start our route in Santa Lucía de Tirajana before going around the municipalities of San

Bartolomé, Mogán and La Aldea.

1. Santa Lucía de Tirajana ■ 2. San Bartolomé de Tirajana ■ 3. Mogán ■ 4. La Aldea de San Nicolás

Puerto de Mogán

1. Santa Lucía de Tirajana

Santa Lucía de Tirajana is on the way

down to the south. Our starting point

is the Church of Santa Lucía, where

its unique quarry stone façade and

dome attract the attention of all visitors.

Close by is the El Hao Fortress Museum,

of great archaeological interest,

which displays remains found

at the region's settlements and is

surrounded by an attractive garden

with endemic plant species.

As we go down to the coast we come

to the Castillo de la Fortaleza Museum

and the archaeological settlement

of Fortaleza de Ansite, belonging to

Barranco de Tirajana, a ravine containing

house caves and burial caves

plus a huge array of archaeological

material which, according to legend,

was one of the last dwelling areas of

the pre-Hispanic inhabitants. In the

surrounding area we can make out

the Tirajana and Sorrueda reservoirs,

along with a number of palm groves

and beautiful landscapes that we can

admire from one of the strategically

placed viewing points at Guriete, El

Ingenio and La Sorrueda.

From here we can access any of the

municipality's three main towns, namely

Sardina del Sur, El Doctoral and

Vecindario. The latter is a highly developed

shopping and industrial area,

home to the Zafra Museum, which

provides a fascinating insight into the

region's agricultural traditions.

Down at the coast, Pozo Izquierdo

beach comes into view, an internationally

famous beach for windsurfing

enthusiasts and a regular venue for

many world championship events.

This coastal fishing resort is also famous

for its fine local gastronomy.

2. San Bartolomé de Tirajana

Having enjoyed the wonders of Santa

Lucía we move into the largest municipality

on the island in terms of land

surface area, San Bartolomé de Tirajana.

The contrast between its historic

interior and its coastal tourist resort

is highly apparent.

Our route takes us inland which,

thanks to its priviledged position

at the heart of Caldera de Tirajana,

boasts being a top location for sports

and mountain tourism. We come into

the village of Tunte, with its Church

of San Bartolomé de Tirajana and the

Los Yánez House Museum opposite,

where we take a welcome break to

sample the exquisite wines from the

Bodega de las Tirajanas.

The hills and summit area are home

to some breathtaking ravines such

as Tirajana, Arguineguín, Fataga, Los

Vicentes, La Data and Barranco de

Chamoriscan, which open out in Maspalomas.

At Fataga ravine, described

as a place "where Canarians said that

no Christian would ever set foot" according

to the chronicles by Governor

Pedro de Vera and Captain Miguel

Muxica, we can contemplate the Arteara

Necropolis, the largest aboriginal

cemetery in Gran Canaria and one

of the largest in the Archipelago.

On our descent down to the coast,

we stop off at the Vista de Fataga

viewpoint, the small hamlet of the

same name and the viewpoint at Degollada

de las Yeguas, to take in some

superb panoramic views, which allow

for calm reflection.

However, the main tourist resort now

awaits us on its shimmering coast,

which begins at Playa de Tarajalillo

and ends at Pasito Blanco. Strung out

between these two points are Bahía

Feliz Residential Area, Playa del Águila,

San Agustín, Las Burras, Playa del

Inglés, Maspalomas and Meloneras.

The last two constitute what is known

as the Maspalomas Costa Canaria

tourist resort, home to the stunning

sand dunes, the Palmeral palm grove

and the Charca (pond) de Maspalomas,

catalogued as a Special Natural

Reserve. It is a truly unique landscape

and botanical setting in the Canaries,

and one of the favourite spots on the

island for taking that special holiday

snap.

We also come to Faro de Maspalomas,

a lighthouse that rises 60 metres up

from the ground. It is an absolutely

idyllic spot for enjoying a sunset while

we take a stroll along the avenue.

3. Mogán

Following our itinerary we move onto

Mogán, famous for its steep and rugged

terrain, which stretches out

along stunning ravines down to the

sea. The natural spaces not to be missed

are the Soria reservoir, the largest

in Gran Canaria and a haven for cardon

and tabaiba bushes, and the Veneguera

and Mogán ravines, where

we can enjoy green summits topped

with pine trees, an oasis of Canary

palm trees and exotic fruit trees that

create wholly spectacular landscapes.

As for beaches, the ones at Arquineguín,

Patalavaca, Anfi del Mar, Puerto

Rico, Amadores, Tauro, Playa del Cura,

Taurito and Puerto de Mogán are all

quite outstanding. They all feature

promenades for walking along, water

sports facilities and nautical tourism

activities, including cetacean watching.
---
Nº 10 DISCOVER GRAN CANARIA I DESCUBRE GRAN CANARIA

61

Maspalomas. San Bartolomé de Tirajana

The route is rounded off at the fishing neighbourhood

of Puerto de Mogán, renowned for its extraordinary

beauty and nicknamed "Gran Canaria's

Little Venice", with a string of canals that are

reminiscent of the Italian city. Here we can enjoy

the traditional whitewashed houses, the seal of

identity of this little town, decorated with flowers,

especially the best known flower in the Canaries,

the bird of paradise flower.

We are guaranteed an enjoyable ramble around

this little town, including a visit to the Church of

San Antonio de Padua, the walls of Nicolás Quesada

Park and the sports marina, a meeting point

for many international nautical sports enthusiasts.

Another place not to miss is Molino Quemado,

meaning burnt mill, built back in the 19th century,

which supplied the whole region with gofio cornmeal

and flour back in the day. It is the largest windmill

on the island, standing seven metres high.

4. La Aldea de San Nicolás

We now come to our last stop on our route: La Aldea,

an emminently agricultural municipality with

a stunningly beautiful high, rocky coastline and

unique landscapes.

In the town centre we can appreciate popular Canary

architecture in the form of the Balcony Houses,

the Stone and Clay Houses, the Whitewashed

Houses and the Corridor House. Equally popular is

the Live Museum, which offers a live portrayal of

local culture and traditions; Calle Real, Rubén Díaz

Park and the Municipal Cultural Centre.

Santa Lucía de Tirajana

The region's aboriginal legacy weighs heavily in

this municipality and at Los Caserones Archaeological

Complex, where the rich collection of engravings

and stone and clay idols was once exhibited,

before being moved to the Canary Museum in the

capital. We can also visit the burial site at Lomo de

Caserones, the four flour windmills and water mills;

the lime and tar kilns and the former Ron Aldea

rum factory.

La Aldea's natural surroundings offer a wide variety

of hiking trails and footpaths that enable visitors

to admire the sheer beauty of the western side of

Gran Canaria. These include the natural parks of

Roque Nublo and Tamadaba, and the Inagua Integral

Natural Reserve, spread all around the different

municipalities.

It is worth pointing out that 90% of this area is protected

and a large part of its territory opens out

onto unspoilt beaches, such as Playa de La Aldea,

Tasarte and Tasartico beaches, and especially, the

area of Güi-Güi, which is home to stunning landscapes,

endemic plant species and a unique range

of marine birdlife.

Another of the town's attractions is El Charco, a natural

pond that was formed out of sea water and

fresh water running down from the summit area,

constituting a diverse sanctuary for unique bird

species. In this regard, La Aldea stands out as one

of the island's great treasures.

Puerto de Mogán
---
62

DISCOVER GRAN CANARIA I DESCUBRE GRAN CANARIA Nº 10

RUTA SUROESTE

El suroeste recoge las imágenes más emblemáticas de Gran Canaria, caracterizadas por los

marcados contrastes que presenta su orografía desde sus zonas más verdes hasta la costa más

cálida. Esta zona se alza como el destino favorito de miles de turistas gracias a sus impresionantes

playas y la exquisita oferta turística. Por ello, es necesario que conozca todo aquello que simboliza

a nuestra tierra, el sol y la playa, pero abriéndose a un nuevo mundo de parajes que no tienen

nada que envidiar a la costa.

Así, nuestra ruta comienza en Santa Lucía de Tirajana para luego recorrer los municipios de San

Bartolomé, Mogán y La Aldea.

1. Santa Lucía de Tirajana ■ 2. San Bartolomé de Tirajana ■ 3. Mogán ■ 4. La Aldea de San Nicolás

Santa Lucía de Tirajana

1. Santa Lucía de Tirajana

En dirección al sur está Santa Lucía

de Tirajana. Nuestro punto de partida

es la Iglesia de Santa Lucía, donde

su particular fachada empedrada de

canto labrado y su cúpula atraen el

centro de todas las miradas.

Muy cerca se ubica el Museo de la

Fortaleza El Hao, de interés arqueológico,

donde se exhiben restos hallados

en los yacimientos arqueológicos

de la zona y en cuyos alrededores

reconocemos un bonito jardín de flora

autóctona.

Bajando hacia la costa nos cruzamos

con el Museo Castillo de la Fortaleza

y el yacimiento arqueológico de

la Fortaleza de Ansite, perteneciente

al Barranco de Tirajana, en la que

existen cuevas de habitación y enterramiento

con una gran cantidad de

material arqueológico que, según la

leyenda, fue uno de los últimos lugares

de los pobladores prehispánicos.

En sus alrededores vislumbramos

las Presas de Tirajana y Sorrueda,

así como numerosos palmerales y

paisajes de singular belleza que admiramos

desde los estratégicos miradores

del Guriete, el Ingenio y la

Sorrueda.

A través de este lugar accedemos a

los tres núcleos urbanos principales

del municipio: Sardina del Sur, el

Doctoral y Vecindario. Este último,

importante por su desarrollo comercial

e industrial, también acoge el

Museo de la Zafra, permitiéndonos

ahondar en la tradición agrícola del

lugar.

En la costa distinguimos la playa de

Pozo Izquierdo, referente internacional

de amantes del windsurf y sede

de celebraciones de innumerables

campeonatos mundiales. También

cabe destacar la posibilidad de disfrutar

la rica gastronomía pesquera

de este pueblo costero.

2. San Bartolomé de Tirajana

Tras disfrutar de las maravillas de

Santa Lucía nos adentramos en el

municipio isleño con mayor extensión,

San Bartolomé de Tirajana. Haciendo

hincapié en el gran contraste

entre su interior más histórico y su

litoral turístico.

El trayecto nos dirige al interior, que

gracias a su privilegiada posición

en el centro de la Caldera de Tirajana,

presume de ser un referente en

el turismo deportivo y de montaña.

Nos asentamos en el pueblo de

Tunte, con la Iglesia de San Bartolomé

de Tirajana y la Casa Museo de

los Yánez al frente, y realizamos una

parada gastronómica para degustar

el exquisito vino de la Bodega de las

Tirajanas.

La zona de medianías y cumbres

acoge impresionantes barrancos

como los de Tirajana, Arguineguín,

Fataga, Los Vicentes, La Data o el

Barranco de Chamoriscan, que desembocan

en Maspalomas. En el barranco

de Fataga, descrito como un

lugar "donde los canarios decían que

ningún cristiano podía llegar" en las

crónicas del gobernador Pedro de

Vera y el capitán Miguel Muxica, contemplamos

la Necrópolis de Arteara,

el cementerio aborigen de mayor

entidad de Gran Canaria y uno de los

más grandes del Archipiélago.

Siguiendo el descenso hacia la costa,

paramos en el Mirador de la Vista de

Fataga, el Caserío de mismo nombre

y el Mirador de la Degollada de las

Yeguas para admirar sus vistas, que

nos invitan a reflexionar.

Sin embargo, el atractivo turístico

por excelencia se concentra en su

reluciente costa, que empieza en la

Playa de Tarajalillo y finaliza en Pasito

Blanco. Entre ellas se encuentra

el Conjunto Residencial Bahía Feliz,

la Playa del Águila, San Agustín, Las

Burras, Playa del Inglés, Maspalomas

y Meloneras. Las últimas conforman

lo que se conoce como la zona turística

Maspalomas Costa Canaria,

donde se localizan las impresionantes

dunas, el Palmeral y la Charca de

Maspalomas, catalogadas como Reserva

Natural Especial. Un conjunto

paisajístico y botánico único en Canaria,

y una de las estampas favoritas

de la Isla.

Descubrimos también el Faro de

Maspalomas, que se eleva 60 metros

sobre el suelo. Un lugar absolutamente

idílico para disfrutar de la

puesta del sol mientras paseas por la

avenida.

3. Mogán

Siguiendo nuestro itinerario nos

trasladamos hasta Mogán, característico

por su relieve escarpado, que

se extiende hasta el mar dando forma

a espectaculares barrancos. Los

parajes naturales ineludibles son la

presa de Soria, la presa más grande

de Gran Canaria y refugio de cardonales

y tabaibales, y los barrancos de
---
Nº 10 DISCOVER GRAN CANARIA I DESCUBRE GRAN CANARIA

63

Veneguera y Mogán, donde encontramos

verdes cumbres colmadas

de pinares, oasis de palmeras canarias

y árboles de frutas exóticas

que crean paisajes de indescriptible

belleza.

En cuanto a las playas, distinguimos

Arquineguín, Patalavaca, Anfi del

Mar, Puerto Rico, Amadores, Tauro,

Playa del Cura, Taurito y Puerto de

Mogán. En todas ellas se puede disfrutar

de paseos marítimos, deportes

acuáticos y actividades de turismo

náutico, entre las que se incluye

el avistamiento de cetáceos.

El broche final de la ruta lo pone el

barrio marinero de Puerto de Mogán,

ampliamente conocido por su

extraordinaria belleza y llamado "La

pequeña Venecia de Gran Canaria",

ya que sus pequeños canales

recuerdan al destino italiano. Aquí,

reconocemos las casas blancas tradicionales,

sello distintivo de esta

pequeña localidad que son decoradas

con flores, entre las que distinguimos

la más conocida flor de

Canarias, la esterlizia.

Puerto de Mogán

Disfrutar el paseo por el pueblo

está más que garantizado, pudiendo

visitar la Iglesia de San Antonio

de Padua, los murales del parque

Nicolás Quesada y el muelle deportivo,

punto de encuentro de numerosos

entusiastas de la náutica

internacional. Otra cita que no podemos

perdernos es Molino Quemado,

construido en el siglo XIX y

que abasteció de gofio y de harina

a toda la comarca. Se trata del molino

de viento más grande de la Isla,

pues alcanza los siete metros de altura.

4. La Aldea de San Nicolás

Llegamos a nuestra última parada:

La Aldea, un municipio eminentemente

agrícola con un litoral alto

y rocoso de gran belleza y paisajes

únicos.

En su casco histórico apreciamos la

arquitectura popular canaria como

las Casas Balcón, las Casas de Piedra

y Barro, las Casas Blancas y la

Casa del Corredor. También es muy

popular el Museo Vivo, que escenifica

la cultura y la tradición canaria

en vivo; la Calle Real, el Parque de

Rubén Díaz y el Centro Municipal

de Cultura.

La Aldea

Sin duda, el legado aborigen tiene

un fuerte peso en el municipio

y en el Complejo Arqueológico de

Los Caserones, donde se recogió

una rica colección de pintaderas e

ídolos de barro y piedra que ahora

aguarda el Museo Canario. También

nos acercamos al Túmulo Funerario

del Lomo de Caserones, a los cuatro

molinos harineros de viento y de

agua; a los hornos de cal y brea y a

la antigua fábrica del Ron Aldea.

Los espacios naturales del municipio

disponen de una variedad de

rutas y senderos en los que admirar

la belleza paisajística de la zona

oeste de Gran Canaria. Los parques

naturales del Roque Nublo y el de

Tamadaba,y la Reserva Natural Integral

de Inagua, repartidos entre

distintos municipios, son algunos

de los ejemplos.

Cabe destacar que el 90% de estos

parajes está protegido y que gran

parte de su territorio desemboca en

playas casi vírgenes como la Playa

de La Aldea, las playas de Tasarte y

Tasartico, y, en especial, el entorno

de Güi-Güi, que encierra grandes

valores paisajísticos, especies vegetales

endémicas y una avifauna

marina singular.

San Bartolomé de Tirajana

Otro de los atractivos es El Charco,

formado por el encuentro entre el

mar y las aguas dulces procedentes

de las cumbres, un santuario

de aves únicas y una valiosa diversidad.

De esta forma, La Aldea se

erige como uno de los grandes tesoros

de nuestra tierra.
---
64

Poema del Mar devuelve al océano a una tortuga encontrada

en estado crítico que se recuperó en sus instalaciones

Hace poco, Poema del Mar y el Centro de Recuperación

de Fauna Silvestre de Taliarte han devuelto

al mar a un gran ejemplar de tortuga boba (Caretta

caretta) que fue encontrada en estado crítico y que

se había estado recuperando en el acuario hasta

que pudiera ser reintroducida en el océano. La suelta

ha tenido lugar en la zona de La Puntilla, en Las

Canteras.

Localizado a finales de junio en la costa del término

municipal de Mogán, al sur de la isla, este ejemplar

macho adulto de 76 kilos de peso es el más grande

que ha ingresado nunca en Taliarte. Cuando lo encontraron,

estaba en muy mal estado, enredado en

basura marina flotante, como mallas y redes abandonadas,

y con una gran parasitación por sanguijuelas.

Una vez estabilizada y curada, esta tortuga fue trasladada

a Poema del Mar, donde permaneció hasta

poder ser reintroducida en el océano. En la gran

NEWS I NOTICIAS Nº 10

Poema del Mar returns a turtle to the ocean that was found

in critical condition and recovered in its facilities

This large loggerhead turtle was rescued by the Wildlife Recovery Centre of Taliarte and then taken to the aquarium, where it has

remained until it was reintroduced into the ocean

A few weeks ago, Poema del Mar and the Wildlife Recovery

Centre of Taliarte returned to the sea a large loggerhead

turtle (Caretta caretta) that was found in critical

condition and had been recovering in the aquarium until

it could be reintroduced into the ocean. The release has

taken place in the area of La Puntilla, in Las Canteras.

Found at the end of June on the coast of the municipality

of Mogán, in the south of the island, this 76-kilo adult

male is the largest ever to be brought to Taliarte. When it

was found, it was in a very bad state, entangled in floating

marine rubbish, such as abandoned nets, and with a

large parasite infestation of leeches.

Once stabilised and cured, this turtle was transferred to

Poema del Mar, where it remained until it could be reintroduced

into the ocean. In the large Deep Sea exhibition,

in addition to strengthening its muscles, eating

fresh fish and receiving vitamin reinforcement, it was living

with numerous species that are common in its natural

environment and which it will encounter now that it

has been returned to the sea.

Genetic tests are currently being carried out to determine

its exact origins, although it is thought that it may

be originally from the southern seas, probably Cape

Verde.

Loro Parque Fundación has funded the installation of a

satellite tag that will be used to collect essential information

on its movement, as not much is known about

male loggerhead turtles. In addition, the Foundation has

prepared software that will allow visitors of Loro Parque

and Poema del Mar to know the history of its rescue and

to see where the turtle is moving at any given moment.

Este gran ejemplar de tortuga boba fue rescatado por el Centro de Recuperación de

Fauna Silvestre de Taliarte y luego llevado al acuario, donde ha permanecido hasta ser

reintroducida en el océano

exhibición Deep Sea, además de fortalecer sus

músculos, comer pescado fresco y recibir refuerzo

vitamínico, estuvo conviviendo con numerosas especies

habituales en su medio natural y con las que

se encontrará ahora que ha sido devuelta al mar.

En la actualidad, se están realizando pruebas genéticas

para determinar con exactitud su población de

procedencia, aunque se cree que pueda ser originaria

de los mares del sur, probablemente de Cabo

Verde.

Loro Parque Fundación ha financiado la colocación

de una marca de satélite que servirá para recoger

información esencial sobre su movimiento, pues no

se tiene mucho conocimiento sobre los ejemplares

machos de tortuga boba. Además, la Fundación ha

preparado un software que permitirá a los visitantes

de Loro Parque y Poema del Mar conocer la historia

de su rescate y ver por dónde se está moviendo en

cada momento.
---
Nº 10 NEWS I NOTICIAS

65

Having been sold out for several months, the

emblematic bottle-ageing wine by the famille

BELONDRADE is finally available once more

The magic of Belondrade and Lurton

is back with its 2020 vintage

wine in time for Christmas

To toast, to share and to remember, these three words take

on greater meaning around any table at this time of year. The

elegance of BELONDRE AND LURTON 2020 will provide diners

with sophistication and maximum enjoyment with every glass

that is raised to toast life's sweetest moments. The 2020 vintage

is a limited and unique production because its artisanal

processes require painstaking care and detail, and because

excellence only is achieved with respect, dedication, passion

and high demands. These values are packed into each and

every bottle, and have represented the famille Belondrade

brand every Christmas now for over 25 years.

Belondrade wines are full-bodied and voluptuous, the kind of

wines that last over time and leave their mark and aroma lingering

on the palate. They boast their own personality, thanks

to their winemaking philosophy, their assemblage, a method

that characterises wine-maker Didier Belondrade and his

flagship product, BELONDRADE and LURTON, considered by

some critics to be the finest bottle-ageing white wine in Spain.

This assemblage, which involves integrating wines from each

wine-growing plot in different proportions in order to achieve

the perfect final wine, confers it this highly acclaimed and appreciated

exclusivity by lovers of everything unique. They are

like small jewels, ideal for gifts, that allow us to travel to the

world's great capitals, because this year the magic of BELON-

DRADE and LURTON 2020 will reach them together with the

traditional greeting card that accompanies each box.

"Our tastes continue to evolve, which, together with a better

knowledge of our vineyards, enables us to make wines that

are not as strong, but that much finer and more elegant. This

vintage in particular reflects the ageing potential of our wines,

which we predict will ensure a long life in the bottle", explains

Didier.

BELONDRADE and LURTON 2020 is available from mid-December

in gourmet shops, wine shops and restaurants.

Recommended Price: €40.00

Available in boxes containing 6 and 12 bottles

Después de varios meses agotado, el

emblemático vino de guarda de la famille

BELONDRADE por fin vuelve a estar disponible

La magia de Belondrade y Lurton

llega con su añada 2020

para celebrar la Navidad

Brindar, compartir y recordar, tres verbos que cobran mayor

protagonismo en esta época del año alrededor de cualquier

mesa. La elegancia de BELONDRE Y LURTON 2020 aportará

sofisticación y máximo disfrute con cada copa que sirvamos

para celebrar los buenos momentos de la vida. La añada 2020

es una producción limitada y única porque los procesos artesanales

requieren mimo y detalle, porque la excelencia se logra

con respeto, dedicación, pasión y exigencia. Valores que se concentran

en cada botella y que representan a la famille Belondrade

todas las Navidades desde hace más de 25 años.

Los de Belondrade son vinos con carácter y voluptuosos, de los

que perduran en el tiempo y dejan su impronta por lo especiales

que resultan en aroma como en boca. Gozan de personalidad

propia gracias a su filosofía de elaboración, el assemblage,

método que caracteriza al bodeguero Didier Belondrade y su

buque insignia, BELONDRADE Y LURTON, considerado por algunos

críticos el mejor blanco de guarda de España.

Este assemblage, consistente en integrar los vinos procedentes

de cada parcela en distintas proporciones para obtener un

vino final perfecto, le confiere esa exclusividad tan valiosa y

apreciada por los amantes de las cosas únicas. Pequeñas joyas,

idóneas para regalar, que nos permiten viajar a grandes capitales

del mundo, pues hasta ellas llega este año la magia de

BELONDRADE Y LURTON 2020 con el tradicional tarjetón que

acompaña cada caja.

"Nuestros gustos siguen evolucionando, lo que junto a un mayor

conocimiento de nuestro viñedo nos permite hacer vinos

menos potentes, pero más finos y elegantes. Esta añada en

particular refleja el potencial de guarda de nuestros vinos. ¡Le

auguramos un gran recorrido en botella!", explica Didier.

BELONDRADE Y LURTON 2020 disponible a partir de mediados

de diciembre en tiendas gourmet, vinotecas y restaurantes.

Precio recomendado: 40,00€

Viene en cajas de 6 y de 12
---
66

With enviable temperatures all year round and a

superb location at the heart of the tourist municipality

of San Bartolomé de Tirajana, at exit 48 of

the southbound GC-1 motorway, we come to El Tablero

Shopping Centre. The centre is a fashion and

accessories hotspot, a place for visitors to shop in

total comfort and find the perfect Christmas gift.

El Tablero is home to the only ZARA brand in the

south of the island which, together with other

brands such as Stradivarius, Pull&Bear, Timberland

and Calzedonia, are part of the commercial

mix that combines trendy brands with young and

sophisticated fashions, as well as a wide variety of

jewellery and accessories stores, perfect for finding

the ultimate Christmas outfit. For food, there

is the local Hiperdino supermarket chain, which offers

a wide variety of products at the best prices.

The gastronomic offer is complemented by brands

such as Burger King, which has a large terrace

boasting fine views over Maspalomas Dunes, making

for a pleasant day out.

Over the holiday period, El Tablero Shopping Centre

offers a programme of children's activities every

Sunday in December, enabling families to enjoy a

great day and experience the excitement of Christmas,

together with attractive decorations that will

whisk visitors off to a toy factory to sense the magic

of each gift being made with loving care. A unique

experience in a special environment and an open

air setting are features that this shopping centre

has opted for.

As Christmas is a time for sharing and caring, El Tablero

Shopping Centre is promoting charitable initiatives

once more by installing a "Charity Gift Box"

for collecting clothes, especially warm clothes, for

those who need them the most. This campaign is

organised in conjunction with non-profit organisation

Solidaria Activa to ensure that nobody will

go cold this Christmas. El Tablero has indeed become

a benchmark centre for the many solidarity

campaigns that it supports throughout the year,

through various different social initiatives.

El Tablero is the top place to go in the south of Gran

Canaria for your Christmas shopping, a different

kind of shopping centre that is open every day of

the year, including Sundays and public holidays.

Opening hours:

Monday to Sunday from 10:00 to 22:00.

NEWS I NOTICIAS Nº 10

Your best open air christmas shopping experience

Tus mejores compras

navideñas a cielo abierto

Con una temperatura envidiable

durante todo el año y en pleno municipio

turístico de San Bartolomé

de Tirajana, en la salida 48 de la

autopista hacia al sur, nos encontramos

con el Centro Comercial

El Tablero. Un referente en moda

y complementos donde poder realizar

las compras con total comodidad

y encontrar el regalo perfecto

para estas Navidades.

La única implantación de la marca

ZARA en el sur de la isla la encontramos

en este Centro Comercial,

que junto a otras marcas como

Stradivarius, Pull&Bear, Timberland

o Calzedonia forman parte

del mix comercial que combina

marcas en tendencia con moda juvenil

y sofisticada, además de una

gran variedad de joyerías y tiendas

de complementos para encontrar

el outfit perfecto para estas Navidades.

En alimentación, está la

cadena de supermercados local

Hiperdino con una gran variedad

de productos a los mejores precios.

La oferta gastronómica se complementa

con marcas como Burger

King que cuenta con una gran

terraza con las mejores vistas hacia

las dunas de Maspalomas para disfrutar

de un agradable día.

El Centro Comercial El Tablero te

propone, estas Navidades, una

programación de actividades infantiles

todos los domingos del

mes de diciembre para disfrutar

de estas fechas en familia y vivir la

ilusión de la Navidad con una decoración

que hará que los visitantes

se teletransporten a una fábrica

de juguetes y sientan la magia de

elaborar cada regalo con cariño y

entusiasmo. Una experiencia única

en un entorno especial y abierto al

cielo son los factores por los que

ha apostado este centro comercial.

La Navidad es una época de compartir,

de amar, por eso, un año

más, el Centro Comercial El Tablero

promueve las iniciativas solidarias

instalando una "Caja de Regalo

Solidaria" para la recogida de ropa,

especialmente de abrigo, para los

más necesitados. Es una acción

que se hace conjuntamente con

la organización sin ánimo de lucro,

Solidaria Activa, para que estas

navidades nadie pase frío. El Centro

Comercial El Tablero se convierte

así en todo un referente en

acciones solidarias que apoya a lo

largo de todo el año con diversas

iniciativas sociales.

Tus mejores compras navideñas en

el sur de Gran Canaria las podrás

realizar en El Tablero, un centro

comercial diferente abierto todos

los días del año, incluido domingos

y festivos.

Horario:

De lunes a domingo.

De 10:00 a 22:00 h.
---
La Cava de Piñero

Vinos y productos gourmet que formarán parte de tus momentos más especiales

Wines and gourmet products that will be a part of your most special moments

En La Cava de Piñero contamos con 26 años de experiencia dedicándonos a la distribución de vinos y

productos gourmet en exclusiva para el sector de la restauración y hostelería de Canarias.

Trabajamos en exclusiva con más de 70 bodegas y más de 700 referencias de marcas canarias, nacionales e

internacionales, además de una selección de productos gourmet como son ibéricos BEHER,

conservas La Brújula, conservas braseadas Güeyumar, los Quesos Finca de Uga y el Caviar Zar Imperial.

Vinoteca abierta al público de lunes a viernes de 10:00 a 18:00 h.

La Cava de Piñero has a track record spanning 26 years, dedicated to the distribution of exclusive wines and gourmet

products for the Canary restaurant and hospitality sector.

We have exclusivity rights with over 70 bodegas and over 700 different Canary, Spanish and international brand references,

in addition to a selection of gourmet products including BEHER Iberian hams, La Brújula tinned foods,

Güeyumar braised preserves, Quesos Finca de Uga cheese and Caviar Zar Imperial.

Wine exhibition and sampling centre open to the public Monday to Friday from 10:00 to 18:00.

Conoce www.lacavadepinero.es

Compra de forma fácil y segura y te lo llevamos a casa, en cualquier rincón de las Islas Canarias.

La Cava de Piñero, Calle los Dragos, 39, 35118 Agüimes, Gran Canaria

Teléfono 928 75 22 05
---
68

NEWS I NOTICIAS Nº 10

Two years of intense efforts by Gran Canaria Spa, Wellness & Health

and one of its partners culminates in the signing of an agreement

between Hospitales San Roque and CNAM

On Monday, San Roque University Hospitals (HUSR)

and the Mauritania National Health Insurance Fund

(CNAM) signed a collaborative framework agreement

for the care of patients from Mauritania who

cannot be treated at the health facilities of their place

of residence. This agreement is the result of two years

of intense work and is part of a strategy implemented

by the Gran Canaria Spa, Wellness & Health association,

which is responsible for promoting the island

as a health platform for Africa.

The perseverance and resolve that has been its hallmark

over the last two years has enabled the Gran

Canaria Spa, Wellness & Health Association to take

another step forward in the island's internationalisation

strategy to consolidate itself as a health and

wellness destination and a health platform for African

markets, at the same time helping one of its associates,

San Roque University Hospitals, to sign an

agreement "of great and valuable interest for all the

organisations involved".

This agreement is not the first of its kind to be signed

with an African country. In 2018, the Gran Canaria Spa,

Wellness & Health Association and the Government

of Senegal signed an agreement, which is currently

in force, providing the country's civil servants with

medical services and surgical expertise available in

Gran Canaria, in addition to a training programme for

Senegalese public health professionals.

The work carried out over the last few years by Gran

Canaria Spa, Wellness & Health in Africa has included

reciprocal visits and bilateral meetings between the

heads of institutions and organisations representing

the health sector, as well as information campaigns

in the main media, among other actions.

The result of this strategy has led not only to the signing

of these two important agreements, but also to a

stronger positioning of Gran Canaria as a health platform

in African, especially French-speaking, countries,

that attracts patients interested in undergoing

treatments or surgical interventions that are not covered

in their countries of origin, or to simply undergo

a medical check-up, coinciding with their stay on the

island and its restful and relaxing environment.

The main objective of the Gran Canaria Spa, Wellness

& Health Association, the official brand of the

Gran Canaria Tourist Board, is to promote and market

the island as a health and wellness destination.

The Health area is made up of two highly prestigious

hospital groups in the Canary Islands, namely San

Roque University Hospitals and San José Hospital,

while the Wellness area comprises ten large hotel

and extra-hotel complexes, which offer a multitude

of treatments and massage circuits and which belong

to hotel chains Salobre Hotel Resort & Serenity,

Gloria Thalasso & Hotels, Be Cordial Hotels & Resorts

and Seaside Collection.

Specifically, the accommodations integrated in the

association are the Gloria Palace San Agustín Thalasso

& Hotel, Seaside Sandy Beach, Seaside Grand

Hotel Residencia, Seaside Palm Beach, Salobre Hotel

Resort & Serenity, Gloria Palace Amadores Thalasso

& Hotel, Gloria Palace Royal Hotel & Spa, Hotel Cordial

Mogán Playa, Apartamentos Cordial Mogán Valle

and Hotel & Spa Cordial Roca Negra.

In addition, the association manages, directly and

without charging fees, the contracting of medical

treatments together with accommodation and wellness

treatment bookings.

Dos años de intenso trabajo de Gran Canaria Spa, Wellness &

Health y uno de sus socios culmina en la firma de un acuerdo

entre Hospitales San Roque y la CNAM

Hospitales Universitarios San Roque (HUSR) y el

Fondo Nacional de Seguros de Salud de Mauritania

(CNAM) han suscrito este lunes un acuerdo

marco de colaboración para la atención de los

pacientes de este país que no puedan ser atendidos

en las instalaciones sanitarias de su lugar

de residencia. Este acuerdo es fruto de dos años

de intenso trabajo y se enmarca en la estrategia

llevada a cabo por la asociación Gran Canaria

Spa, Wellness & Health, responsable de la promoción

de la isla como plataforma sanitaria para

África.

La constancia y la perseverancia que ha caracterizado

el trabajo de estos dos últimos años ha

permitido a la Asociación Gran Canaria Spa, Wellness

& Health dar un paso más en la estrategia

de internacionalización de Gran Canaria como

destino de salud y bienestar y como plataforma

sanitaria para mercados africanos, contribuyendo

además a que uno de sus asociados, Hospitales

Universitarios San Roque, firme un acuerdo

"de grandísimo y valioso interés para todas las

organizaciones involucradas".

Este acuerdo no es el primero de estas características

que se firma con un país africano. En

2018, la Asociación Gran Canaria Spa, Wellness &

Health y el Gobierno de Senegal suscribieron un

acuerdo, vigente en la actualidad, por el que se

proporciona a los funcionarios públicos de este

país los servicios médicos y la experiencia quirúrgica

disponibles en Gran Canaria, además de un

programa de formación para los profesionales

de la salud pública senegalesa.

El trabajo desarrollado a lo largo de los últimos

años en África por parte de Gran Canaria Spa,

Wellness & Health ha incluido visitas recíprocas y

reuniones bilaterales entre responsables de instituciones

y organizaciones representativas del

sector sanitario, así como campañas informativas

en los principales medios de comunicación,

entre otras acciones.

El resultado de esta estrategia ha dado lugar, no

solo a la firma de estos dos importantes acuerdos,

sino a un mayor posicionamiento de Gran

Canaria como plataforma sanitaria en países africanos,

especialmente francófonos, con la captación

de un paciente interesado en someterse a

tratamientos o intervenciones quirúrgicas no cubiertos

en sus países de origen, o simplemente

hacerse un chequeo médico, al tiempo que desean

pasar su estancia en la isla en un entorno

de descanso y relax.

www.grancanariawellness.com

La Asociación Gran Canaria Spa, Wellness &

Health, marca oficial del Patronato de Turismo de

Gran Canaria, tiene como objetivo principal la promoción

y comercialización de la isla como destino

de salud y bienestar. El área de Salud está integrada

por dos grupos hospitalarios de reconocido

prestigio en Canarias: Hospitales Universitarios

San Roque y Hospital San José, mientras que el

área de Bienestar reúne a diez grandes complejos

hoteleros y extrahoteleros, que ofrecen multitud

de tratamientos y circuitos de masajes y que

pertenecen a las cadenas hoteleras Salobre Hotel

Resort & Serenity, Gloria Thalasso & Hotels, Be

Cordial Hotels & Resorts y Seaside Collection.

En concreto, los alojamientos integrados en la asociación

son el Gloria Palace San Agustín Thalasso

& Hotel, Seaside Sandy Beach, Seaside Grand

Hotel Residencia, Seaside Palm Beach, Salobre

Hotel Resort & Serenity, Gloria Palace Amadores

Thalasso & Hotel, Gloria Palace Royal Hotel & Spa,

Hotel Cordial Mogán Playa, Apartamentos Cordial

Mogán Valle y Hotel & Spa Cordial Roca Negra.

Además, desde la asociación se gestiona, de forma

directa y sin comisiones, la contratación de

tratamientos médicos junto con la reserva de alojamiento

y tratamientos de bienestar.
---
70

NEWS I NOTICIAS Nº 10

A sun-packed christmas at Mogan Mall

Navidades al sol

en Mogan Mall

El 19 de noviembre tuvo lugar la inauguración

del encendido y decoración navideña en el

Centro Comercial Mogan Mall.

Este año, Mogan Mall le da una bienvenida de

luz y color a la navidad, para que puedas disfrutar

de unas navidades al sol. El girasol es el elemento

protagonista, que combinado con una

decoración tradicional, brinda una sensación

de optimismo, que los visitantes esperaban con

mucha ilusión después de un época complicada.

On 19th November the Christmas lights were switched on and the decorations were put on display

at Mogan Mall Shopping Centre.

Mogan Mall welcomes Christmas this year with a blaze of light and colour, a place where visitors can

enjoy the holiday season in the sun. This year's main feature is the sunflower which, combined with

traditional decorations, gives a sense of optimism which everyone is longing for after such a difficult

period.

The shopping centre's communal areas feature highly original decorations, as well as a traditional

sand Nativity scene, a reminder that the island's best climate is right here, a fact which enables visitors

to enjoy a unique shopping experience 365 days a year.

For the second time, the centre also opens a Christmas Market on the weekends. Visitors can find a

wide variety of handmade and traditional Canary crafts, with Christmas decorations that, together

with the musical fountain, create a magical seasonal atmosphere for everyone to enjoy.

El centro comercial presenta la decoración con

unos estanciales muy originales, además de un

belén tradicional con arena, recordando el mejor

clima de la isla, que invita a vivir una experiencia

única de compra los 365 días del año.

Por segunda vez, también inaugura un Mercado

Navideño los fines de semana, en el que

podrán encontrar una amplia variedad de detalles

artesanales y de tradición canaria, con una

decoración navideña que hacen de este lugar,

junto con la fuente musical, un ambiente mágico

para disfrutar de estas fechas.
---
Nº 10 GASTRONOMY I GASTRONOMÍA

73

Restaurante Gambrinus Las Palmas

Para los amantes

del buen comer

Desde que en el año 2002 abriera

sus puertas, el Restaurante Gambrinus

Las Palmas se ha convertido

en un clásico de obligada visita. Con

un estilo muy personal, a muy poca

distancia del popular parque Santa

Catalina, Gambrinus Las Palmas

es una apuesta culinaria segura. Se

ha ganado su fama de dar bien de

comer, según palabras de Manuel y

Miro Bouzón, dos reconocidos profesionales

de la restauración, gracias

a "un producto de primera calidad

que intentamos respetar al máximo".

Eso, unido a su excelente servicio,

hace que la experiencia de acudir a

Gambrinus sea completamente satisfactoria,

un dato que conoce bien

gran parte de la ciudad de Las Palmas

de Gran Canaria, que ha convertido

este restaurante en un lugar de

encuentro habitual.

For lovers

of fine food

Since opening its doors back in 2002, Restaurante

Gambrinus Las Palmas has become

a classic and essential place to visit. With its

very personal style, and just a short distance

from the popular Santa Catalina Park, Gambrinus

Las Palmas is a safe culinary bet. It has

earned its fame as a fine eaterie, in the words

of Manuel and Miro Bouzón, two highly acclaimed

restaurant professionals, thanks to "a

top quality product that we try to respect to

the full". This, together with its excellent customer

service, provides a fully satisfactory experience

for visitors, a fact that is well known

by many in the city of Las Palmas de Gran Canaria,

who have made this restaurant a popular

meeting place.

Although Gambrinus Las Palmas caters for

all tastes, a highlight would be its bar tapas

service featuring excellent Iberian ham, Galician

pasties, octopus, cockles, anchovies or

the wonderful pimientos de padrón peppers.

There are also fine tuna, meat and seafood

recipes. The standout dish is white beans with

deboned quail. Other choices include prawn

and monkfish salad, crab canelloni, tuna tartare,

Arcade oysters, shrimps, edible crab,

clams… Order some lobster salad, Bibao-style

hake, salted sea bass, roast rack of lamb, cod

and rice in broth…

Restaurante Gambrinus has been designed

so that every event will be a true celebration.

Its huge rooms can hold business and family

meetings that are an immediate success;

and its terrace is perfect for slightly less informal

gatherings. In the words of the Bouzón

brothers, "you can come for a formal lunch or

evening meal but we also specialise in tapas

with fine beers, which can be enjoyed at the

bar, on the terrace or at a table, with a number

of Spanish culinary specialities and plenty to

share". Enjoying some fine tapas and a beer

or two is a dream come true for lovers of fine

food.

There is a highly varied wine list (the bodega

features over 400 references of designated

origin, including Rioja, Ribera del Duero, Toro,

Castilla y León and the Canary Islands, among

many others). If you prefer, your meal can be

washed down by a cool and refreshing glass of

Cruzcampo, pulled "in the proper way". Gambrinus

Las Palmas is a safe bet thanks to the

variety and quality of its dishes, the excellent

customer service provided by its team, and its

spacious rooms, a place that every keen food

enthusiast should come and try.

Aunque en Gambrinus Las Palmas

hay para todos los paladares, cabe

destacar el tapeo en barra con un

excelente jamón ibérico, empanada

gallega, pulpo, berberechos, boquerones

o unos magníficos pimientos

de padrón. Buenas recetas de atún,

carnes y mariscos de primera. Su

plato estrella, las pochas con codorniz

deshuesada. Entre otros, hay salpicón

de gambas y rape, canelones

de txangurro, tartar de atún, ostras

de Arcade, camarón, buey de mar,

almejas de carril… Pida ensalada de

langosta, cogote de merluza a la bilbaína,

lubina a la sal, carré de cordero

lechal al horno, arroz caldoso con

bacalao…

El Restaurante Gambrinus parece

diseñado para que cada evento

sea una verdadera celebración. Sus

grandes salones pueden acoger encuentros

de empresa o familiares

que se convierten, de forma instantánea,

en un éxito absoluto; y su terraza

es perfecta para las reuniones

un poco más informales. En palabras

de los hermanos Bouzón "se puede

venir a comer o cenar muy formalmente

pero también estamos especializados

en el tapeo acompañado

de una buena cerveza, que se puede

hacer en la barra, en la terraza o en

mesa, con algunas especialidades

de la cocina española y muchas cosas

para compartir". Y es que disfrutar

de unas tapas y una cerveza en

condiciones es un auténtico sueño

para los amantes del buen comer.

Su carta de vinos es muy variada (en

bodega cuentan con más de 400 referencias

de vinos con D.O. Rioja, Ribera

del Duero, Toro, Castilla y León

o de las Islas Canarias, entre otras

muchas). Si lo prefiere, puede acompañar

la comida con una refrescante

caña de cerveza Cruzcampo, bien fría

y tirada y "como Dios manda". Gambrinus

Las Palmas es una apuesta

segura por la variedad y calidad de

sus platos, la excelente atención de

su equipo y sus espaciosos salones.

Un lugar que todo amante del buen

comer debería conocer.

RESTAURANTE GAMBRINUS

LAS PALMAS

LOCATION I DIRECCIÓN

Calle Secretario Artiles, 34

RESERVAS: 928 222 725

gambrinuslaspalmas@hotmail.com

OPENING HOURS I HORARIO

Monday to Saturday I

Lunes a sábado

12.00 a 00.00h

Sunday I Domingo de

12.00 a 17.00h.
---
74

GASTRONOMY I GASTRONOMÍA Nº 10

An island fit for sampling

By Míchel Jorge Millares

Few people have the skills to sit on gastronomic tasting juries.

These precious few were born -or educated- with very sensitive

senses to perceive all the nuances that each type of product

has to offer, as many as the types of food there are to consume.

These include, for example, wine, salt, honey, oil, cheese...

everything that, as well as satisfying our appetite, can leave a

telling mark on our sense of smell, sight, taste, touch and even

hearing.

But we must not think that all tastings are the same. There is

no single manual or model for tasters to decide which the best

virgin olive oil is and to then apply that premise to a cider or rum

tasting. On the contrary, each product has its own characteristics

and its own forms of presentation and tasting ritual. In the

case of oil, the product is not served in a transparent glass as

is usual in wine tastings, but rather with a colour that prevents

the oil's tones from being seen. Similarly, the container is heated

up a little, mechanically or by hand, so that it is lukewarm or at

around 28º. Afterwards, the members of the jury will taste the

oils one by one and evaluate aspects such as fruitiness, bitterness

and spiciness. This is not a very gratifying process, as the

only elements that can be tasted are the results of the harvest

after its processing through the oil mill, together with some biscuits

or a green apple, to wash down the remains of the sample's

flavour. It is quite different too in the case of salt, for example,

where the first thing to be observed is the intensity of

the white colour (from the purest white to off-white) as well as

the brightness. Then the size of the grain is checked (the smaller

the better), the type of grain (look for the cubic shape), the

moment in which it crumbles between the fingers and the degree

of humidity (salt must have some humidity, even though it

might be thought otherwise).

And so we could continue with different types of tasting, such

as wine, water, honey, or the cheese produced on the island,

with their enormous number of varieties. If we add to this the

island's different gastronomic specialities, from the summit to

the coast, we can go along to various attractions in the form of

tasting days that allow us to sample different meats and different

ways of preparing goat, lamb, pork, rabbit or beef. But the

amazing thing about this journey of flavours on Gran Canaria

is that most of these events coincide with the end of the year,

which turns the island into a great flavour fair. This reality truly

amazes visitors because this island is probably the only place

in the world where so many flavours co-exist and, moreover,

because they are the standout products at major international

competitions, such as the World Cheese Awards, in which the

islands' cheeses win out over samples from all over the world,

from regions where sampling competitions are held, but not as

many as those that coincide every year in Gran Canaria.

It comes naturally to us, something we call our own, something

that is different. We live on a 'miniature continent' as Domingo

Doreste 'Fray Lesco' coined it a century ago, which allows us

not only to enjoy a variety of quality products, but also to hold

competitions with them, their main characteristic being that

they come from top quality raw materials and our own varieties.

The fact that Gran Canaria is an island and has different microclimates

affords crops of excellence, variety and originality, at

different altitudes, humidity, in the sun or with rain, but without

ever suffering such extreme temperature swings as can occur

on the mainland, which differentiates the island's products

from those from the mainland. Here they are grown on small

plantations, as the island's limitations oblige crops to be grown,

but they are of extraordinary quality.

So it is well worth going on a journey around an island that is fit

for sampling.
---
MELONERAS

Tel. 928 148 883

Whatsapp 669 400 374

c/ Mar Mediterráneo, s/nº

San Bartolomé de Tirajana

LAS PALMAS DE G.C.

Tel. 928 272 077

WhatsApp 682 773 207

c/ Olof Palme, 33

Las Palmas de Gran Canaria

The M&M Restaurant Group offers

visitors one of the finest culinary

choices to be found in Gran Canaria.

We are specialists in grilled meats

and many other exquisite foods,

which can all be washed down with

our own exclusive Familia Gil wines.

The El Churrasco restaurants are located

at two equally unique spots

on the island: one at the heart of Las

Palmas de Gran Canaria, on calle Olof

Palme, and the other at the south of

the island, at Paseo de Meloneras,

with their wonderful views over the

Atlantic and the Maspalomas Lighthouse.

Our El Churrasco restaurants and

Café Regina cafeterias keep a close

eye on our basic ingredients from

their point of origin; in the case of

our meats, the Angus breed; and in

coffee, of Columbian origin. We even

produce our own different varieties.

These raw materials follow tight controls

from production of origin, transport

to our facilities, their preparation

and cooking, through to the time

they are put on our meal tables.

So we cordially invite you along to

enjoy a truly unique culinary experience.

Grupo M&M Restauración ofrece

una de las mejores propuestas gastronómicas

para disfrutar en Gran

Canaria. Somos especialistas en

carnes a la brasa y otras exquisiteces,

con la opción de maridarlas

con nuestros exclusivos vinos Familia

Gil.

Los restaurantes El Churrasco están

situados en dos localizaciones

únicas en la Isla: en pleno corazón

de Las Palmas de Gran Canaria, en

la calle Olof Palme, y en la zona sur,

en el Paseo de Meloneras, donde

acompañan las mejores vistas al Atlántico

y al Faro de Maspalomas.

Nuestros restaurantes El Churrasco

y nuestras cafeterías Café Regina tienen

un control de sus materias primas

desde el origen; en carnes, de

la raza Angus; y en cafés, de origen

Colombia, contamos con lotes de

producción propia con diferentes variedades.

Estas materias primas siguen un riguroso

control de producción en

origen, de recepción hasta nuestras

instalaciones, de transformación y de

puesta en escena en nuestras mesas.

Les invitamos a que disfruten de una

experiencia gastronómica única.

@elchurrascorest

@caferegina_es

Las Canteras

Tel. 928 267 046

Paseo las Canteras 21

Las Palmas de G.C.

Triana

Tel. 828 075 894

Calle de Triana, 43

Las Palmas de G.C.

Vecindario

Tel. 928 01 56 42

Avda. de Canarias, 225

Vecindario

C.C. Mogán Mall

Tel. 928 56 08 02

Avda. Tomás Roca Bosch

Puerto Rico

El Corte Inglés

Tel. 928 23 11 58

Avda. Mesa y López, 13

Las Palmas de GC

C.C. Alisios

Tel. 928 272 077

Centro Comercial Alisios

Las Palmas de G.C.

Avda. Mesa y López

Tel. 928 918 812

Avda. Mesa y López, 43

Las Palmas de GC

www.caferegina.es / www.elchurrascorestaurante.com
---
76

GASTRONOMY I GASTRONOMÍA Nº 10

Una isla para catarla

Por Míchel Jorge Millares

Pocas son las personas que tienen las habilidades

para formar parte de los jurados de cata de productos

gastronómicos. Se trata de personas que

han nacido -o educado- con sus sentidos muy sensibles

para percibir todos los matices que puede

ofrecer cada tipo de producto, tantos como alimentos

que podemos consumir. Como, por ejemplo, los

vinos, sal mieles, aceite, quesos... todo aquello que,

además de saciar nuestro apetito, nos puede dejar

una huella en el olfato, la vista, el gusto, el tacto e

incluso el oído.

Pero no se crea que todas las catas son iguales. No

existe un manual o un modelo único para catadores

que permita decidir cuál es el mejor aceite de

oliva virgen y, a la vez, aplicarlo a una cata de sidra,

o de ron. Por el contrario, cada producto tiene sus

características y sus formas de presentación y ritual

de cata. En el caso del aceite, el producto no se

sirve en copa transparente como es habitual en las

catas de vino, sino con un color que impide ver las

tonalidades del aceite. Asimismo, el recipiente se

calienta un poco, mecánicamente o con las manos,

para que esté templado o a unos 28º. Después, los

miembros del jurado probarán uno a uno los aceites

y valorarán aspectos como el frutado, el amargor

y el picante. Un proceso no muy gratificante,

ya que los únicos elementos que podrá degustar

son los resultados de la cosecha tras su paso por

la almazara, junto a unos bizcochos o una manzana

verde, para arrastrar los restos de sabor de la

muestra. Bien distinto es el caso de, por ejemplo, la

sal, en la que lo primero que se observa es la intensidad

del color blanco (desde el blanco de mayor

pureza al blanco roto) así como el brillo. Después

se comprueba el tamaño del grano (cuanto más

pequeño, mejor), el tipo de grano (en busca de la

forma cúbica), el momento en que se deshace entre

los dedos y el grado de humedad (la sal debe

tener algo de humedad, a pesar de que se piense

lo contrario).

Y así podríamos continuar con diversas modalidades

de cata, como la del vino, el agua, las mieles, o

los quesos que se producen en la isla, con su enorme

cantidad de variedades. Si a esto le sumamos

las diferentes especialidades gastronómicas de la

isla, de cumbre a costa, nos encontramos con diversos

atractivos en forma de jornadas de degustación

que nos permiten catar las diversas carnes

y formas de preparación del cabrito, cordero,

cochino, conejo o vacuno. Pero, lo asombroso de

este recorrido por los sabores de Gran Canaria es

que la mayoría de estos eventos coinciden con la

finalización del año, lo que convierte la isla en una

gran feria de sabores. Una realidad que asombra

a quienes nos visitan porque, probablemente, esta

isla sea el único lugar del mundo donde se puede

dar cita a tantos sabores y, además, por tratarse de

productos estrella de grandes certámenes internacionales,

como la World Cheese Awards, en la que

los quesos de las islas se imponen sobre muestras

llegadas de todo el planeta, de regiones donde tengan

algún concurso de cata, pero no tantos como

los que coinciden cada año en Gran Canaria.

Para nosotros es algo natural, propio, diferencial.

Vivimos en un 'continente en miniatura' como acuñara

hace un siglo Domingo Doreste 'Fray Lesco', lo

que nos permite no sólo disfrutar de diversos productos

de calidad, sino también celebrar con ellos

concursos que tienen como característica principal

que vienen de materias primas de primera calidad

y de variedades propias. El hecho insular y los diferentes

microclimas que tiene Gran Canaria, hacen

que contemos con cultivos de excelencia, variedad

y originalidad, a diferentes alturas, humedades, al

sol o con lluvias, pero nunca con temperaturas tan

extremas como pueden producirse en los territorios

continentales, lo que diferencia los productos

isleños de los provenientes del continente, cultivados

en pequeñas plantaciones, como obliga el hecho

insular, pero de calidad extraordinaria.

Vale la pena recorrer la isla para catarla.
---
Nº 10 GASTRONOMY I GASTRONOMÍA

77

Bandera Tapas y Copas es un tradicional punto de encuentro en

uno de los mejores lugares de Maspalomas: el Centro Comercial

Boulevard Oasis, frente al Hotel Lopesan Costa Meloneras. Su amplia

y confortable terraza invita a relajarse y disfrutar del picoteo

con alguna de sus exquisitas tapas de autor, o ir directamente a

tomar el menú del día a un precio razonable. A la vez, es el sitio perfecto

para conocer la cocina típica de España: chistorra, ensaladilla

rusa, tortilla, croquetas, embutidos ibéricos o quesos forman parte

del día a día. Para gustos más selectos, su carta contiene platos

como un Timbal de aguacate con salmón o un pincho de pollo con

salsa de yogur que son creaciones del chef y auténticos manjares.

Todo ello acompañado de excelentes vinos españoles.

Además, son especialistas en coctelería de diseño, mojitos, gin

tonic, daiquiris y otros destilados. Cada fin de semana cuentan con

el Dj Pícaro pinchando la mejor música, lo que garantiza un ambiente

muy agradable al que se suman foráneos y residentes.

Bandera Tapas y Copas is a traditional meeting point set within

one of the best locations in Maspalomas: the Boulevard Oasis

Shopping Centre, opposite the Lopesan Costa Meloneras Hotel. Its

ample and comfortable terrace invites visitors to relax and enjoy

some fine snacks with some of their designer tapas, or maybe go

straight for the daily menu, at very reasonable prices. At the same

time, it is the perfect spot to get to savour some typical Spanish

cuisine, including chistorra sausage, Russian salad, tortilla, croquettes,

Iberian dry meat, and cheeses. For more selective palates,

its a la carte menú boasts dishes such Avocado Timbal with salmon,

and a Chicken Bite in yoghourt sauce, the chef´s own creations

and real culinary delights. All of these dishes can be washed down

by some excellent Spanish wines.

They are also specialist in designer cocktails, mojitos, gin & tonics,

daiquiris and other spirits. Every weekend they have resident DJ

Pícaro spinning the hottest tracks, making for a very pleasant atmosphere

that draws in both foreigners and residents.

pizzería trattoría & café

Location • Localización:

C.C. Boulevard Oasis

Avenida Mar Mediterráneo, 2

35100 Meloneras - San Bartolomé de Tirajana

Phone: (+34) 928 146 831

Delicious home made pasta

At one of Maspalomas' finest spots, the Boulevard

Oasis Shopping Centre, opposite the Hotel Lopesan

Costa Meloneras, we come to a restaurant dedicated

to making painstaking Italian cuisine: Trattoria & Cafe

Mezzaluna.

They are specialists in artisan pizzas, pastas and salads,

and have a home made ice-cream and cake corner.

They also boast their own production centre that

lends their dishes an exclusive and exquisite quality.

Their stuffed pasta comes highly recommended,

with home delivery also an option for clients.

After more than five years since the business first

opened its doors, its manager, Yeray Marichal, and

his wonderful human team have given the restaurant

a distinguished touch and unbeatable atmosphere

that invites guests to enjoy a fine table with the best

Mediterranean cuisine.

Deliciosa pasta casera

En uno de los mejores lugares de Maspalomas, en

el Centro Comercial Boulevard Oasis, frente al hotel

Lopesan Costa Meloneras, nos encontramos un local

con una cuidada gastronomía italiana: Trattoria &

Cafe Mezzaluna.

Especialistas en pizzas elaboradas artesanalmente,

así como las pastas, ensaladas y su rincón de helados

y tartas caseras, cuenta con su propio centro de

producción que proporciona una calidad exclusiva y

exquisita a sus platos. Recomiendan especialmente

la pasta rellena, y existe la opción de poder llevar la

comida a casa.

Tras más de un lustro desde su apertura, su responsable,

Yeray Marichal, y su gran equipo humano le han

dado un toque inmejorable y un ambiente que invita

a disfrutar de la buena mesa con los mejores platos

de la cocina mediterránea.

Location • Localización:

C.C. Boulevard Oasis

Avenida Mar Mediterráneo, nº 2

35100. Meloneras. San Bartolomé de Tirajana

Phone • Teléfono: (+34) 928 146 831
---
78

USEFUL DATA I DATOS ÚTILES Nº 10