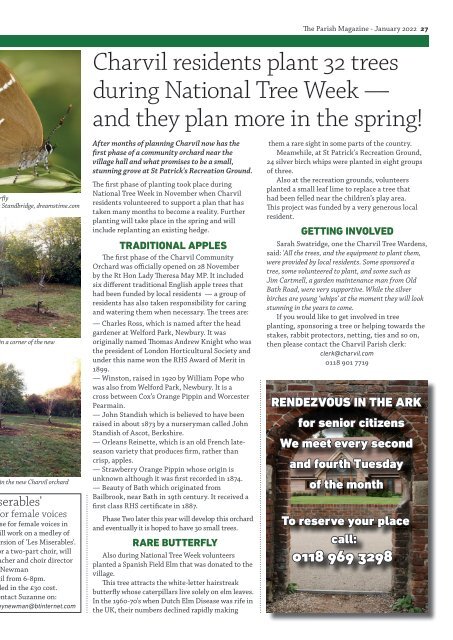 The Parish Magazine January 2022
Serving the communities of Charvil, Sonning and Sonning Eye since 1869
Serving the communities of Charvil, Sonning and Sonning Eye since 1869
SHOW MORE
SHOW LESS
Create successful ePaper yourself
Turn your PDF publications into a flip-book with our unique Google optimized e-Paper software.
fly

Standbridge, dreamstime.com

n a corner of the new

n the new Charvil orchard

erables'

r female voices

e for female voices in

ll work on a medley of

rsion of 'Les Miserables'.

r a two-part choir, will

cher and choir director

ewman

il from 6-8pm.

ed in the £30 cost.

ntact Suzanne on:

ynewman@btinternet.com

After months of planning Charvil now has the

first phase of a community orchard near the

village hall and what promises to be a small,

stunning grove at St Patrick's Recreation Ground.

The first phase of planting took place during

National Tree Week in November when Charvil

residents volunteered to support a plan that has

taken many months to become a reality. Further

planting will take place in the spring and will

include replanting an existing hedge.

TRADITIONAL APPLES

The first phase of the Charvil Community

Orchard was officially opened on 28 November

by the Rt Hon Lady Theresa May MP. It included

six different traditional English apple trees that

had been funded by local residents — a group of

residents has also taken responsibility for caring

and watering them when necessary. The trees are:

— Charles Ross, which is named after the head

gardener at Welford Park, Newbury. It was

originally named Thomas Andrew Knight who was

the president of London Horticultural Society and

under this name won the RHS Award of Merit in

1899.

— Winston, raised in 1920 by William Pope who

was also from Welford Park, Newbury. It is a

cross between Cox's Orange Pippin and Worcester

Pearmain.

— John Standish which is believed to have been

raised in about 1873 by a nurseryman called John

Standish of Ascot, Berkshire.

— Orleans Reinette, which is an old French lateseason

variety that produces firm, rather than

crisp, apples.

— Strawberry Orange Pippin whose origin is

unknown although it was first recorded in 1874.

— Beauty of Bath which originated from

Bailbrook, near Bath in 19th century. It received a

first class RHS certificate in 1887.

Phase Two later this year will develop this orchard

and eventually it is hoped to have 30 small trees.

Also during National Tree Week volunteers

planted a Spanish Field Elm that was donated to the

village.

This tree attracts the white-letter hairstreak

butterfly whose caterpillars live solely on elm leaves.

In the 1960-70's when Dutch Elm Disease was rife in

the UK, their numbers declined rapidly making

The Parish Magazine - January 2022 27

Charvil residents plant 32 trees

during National Tree Week —

and they plan more in the spring!

RARE BUTTERFLY

them a rare sight in some parts of the country.

Meanwhile, at St Patrick's Recreation Ground,

24 silver birch whips were planted in eight groups

of three.

Also at the recreation grounds, volunteers

planted a small leaf lime to replace a tree that

had been felled near the children's play area.

This project was funded by a very generous local

resident.

GETTING INVOLVED

Sarah Swatridge, one the Charvil Tree Wardens,

said: 'All the trees, and the equipment to plant them,

were provided by local residents. Some sponsored a

tree, some volunteered to plant, and some such as

Jim Cartmell, a garden maintenance man from Old

Bath Road, were very supportive. While the silver

birches are young 'whips' at the moment they will look

stunning in the years to come.

If you would like to get involved in tree

planting, sponsoring a tree or helping towards the

stakes, rabbit protectors, netting, ties and so on,

then please contact the Charvil Parish clerk:

clerk@charvil.com

0118 901 7719

RENDEZVOUS IN THE ARK

for senior citizens

We meet every second

and fourth Tuesday

of the month

To reserve your place

call:

0118 969 3298