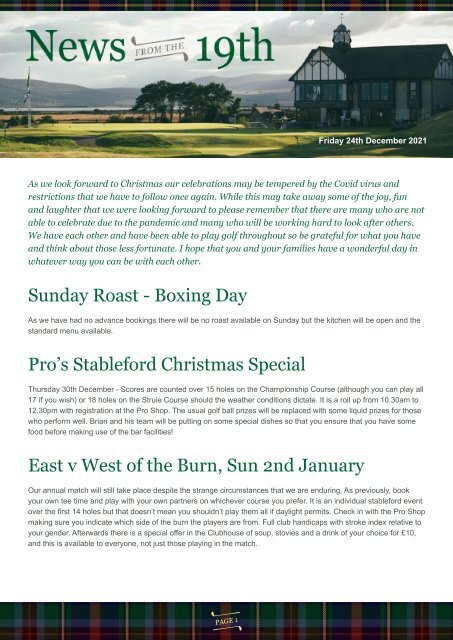 Members Weekly Newsletter 24-12-21
Create successful ePaper yourself
Turn your PDF publications into a flip-book with our unique Google optimized e-Paper software.
Friday 24th December 2021

As we look forward to Christmas our celebrations may be tempered by the Covid virus and

restrictions that we have to follow once again. While this may take away some of the joy, fun

and laughter that we were looking forward to please remember that there are many who are not

able to celebrate due to the pandemic and many who will be working hard to look after others.

We have each other and have been able to play golf throughout so be grateful for what you have

and think about those less fortunate. I hope that you and your families have a wonderful day in

whatever way you can be with each other.

Sunday Roast - Boxing Day

As we have had no advance bookings there will be no roast available on Sunday but the kitchen will be open and the

standard menu available.

Pro's Stableford Christmas Special

Thursday 30th December - Scores are counted over 15 holes on the Championship Course (although you can play all

17 if you wish) or 18 holes on the Struie Course should the weather conditions dictate. It is a roll up from 10.30am to

12.30pm with registration at the Pro Shop. The usual golf ball prizes will be replaced with some liquid prizes for those

who perform well. Brian and his team will be putting on some special dishes so that you ensure that you have some

food before making use of the bar facilities!

East v West of the Burn, Sun 2nd January

Our annual match will still take place despite the strange circumstances that we are enduring. As previously, book

your own tee time and play with your own partners on whichever course you prefer. It is an individual stableford event

over the first 14 holes but that doesn't mean you shouldn't play them all if daylight permits. Check in with the Pro Shop

making sure you indicate which side of the burn the players are from. Full club handicaps with stroke index relative to

your gender. Afterwards there is a special offer in the Clubhouse of soup, stovies and a drink of your choice for £10,

and this is available to everyone, not just those playing in the match.

PAGE 1
---
New Struie Membership Applications

The Council of Management have decided that due to the continued flow of new applications coupled with the very

small number of upgrades this year no new applications will be accepted after those approved at the Council meeting

on Monday 10th January 2022.

Tee Times in 2022

The Council of Management have decided that no further visitor bookings will be taken for the period 1st April 2022

to 31 March 2023. This means that all available visitor tee times in this period can now be booked by members. If you

wish to do this please contact the office on bookings@royaldornoch.com

Covid 19

Please remember you MUST still book a tee time, check in with the Pro Shop and start from the 1st hole as Track and

Trace remains mandatory for everyone.

Signing in is still mandatory in the Clubhouse and you can do this using the NHS Scotland App or by writing your name,

phone number and time of arrival on the sheets provided. Please remember to CHECK OUT/SIGN OUT when you

leave the Clubhouse.

Within the clubhouse try and use a one way system of up the main stairs and down the back stairs and it is

recommended that there are no more than 3 households seated at a table with at least 1 metre between tables.

Castle Stuart Golf Links

As a member of Royal Dornoch you can take advantage of reduced green fees at Castle Stuart. In 2022 you will pay

£125 per round or £190 if you want to play 36 holes within a 7 day period - the standard fees for this is £245 and £315

respectively. You can also take non members of Royal Dornoch along with you at a reduced rate of £215 per round. If

you want to take advantage of that next year contact them direct on bookings@castlestuartgolf.com

Pitchmarks

It seems that we are now into the season for them and they have been making quite a number of appearances in

recent times. Not only are they unsightly but if they go unrepaired will leave blemishes that will take several months to

come out, but only once the growing season starts again. Please make sure that you look for and repair your own, and

also ensure that your playing partners do the same. Our greenkeeping team do a great job in presenting the course for

us all to enjoy so let's make sure we do what we can to help.

Course Condition Updates

Our team will be posting on the dedicated Twitter channel to keep you all informed. You can follow us here @

RDCourseStatus and you can also see the feed on the Home page of the website.

PAGE 2
---
Pro Shop

The Pro Shop hours for December will be from the first tee time to 4pm 7 days a week but may close earlier due to

weather or playing numbers. Contact them on 01862 811924 or email proshop@royaldornoch.com. The online store is

available for you to make purchases here and to get your members discount you have to register on the site but please

note that verification may take a day or two.

Remember - In addition to the above the Pro Shop will be closed on Christmas Day and New Year's Day.

Office Hours

For December the office opening hours will be 8.30am to 5.00pm Monday to Friday. It is still closed to visitors so please

contact them on 01862 810219 or bookings@royaldornoch.com

Please note that the office will be closed on Monday 27th, Tuesday 28th December, Monday 3rd and Tuesday 4th

January.

Clubhouse Bar & Catering

Remember - In addition to the following the clubhouse will be closed on Christmas Day and New Year's Day.

Bar - 10am to 6pm Sunday to Thursday and 10am to 8pm on Friday and Saturday.

Catering - Closed Monday and Tuesday; 10am to 4pm Wednesday, Thursday & Sunday; 10am to 6pm on Friday and

Saturday.

Please note that the clubhouse may close earlier than these times if there are no customers.

Upcoming Club Events

• Sat 25th Dec - Courses CLOSED and Clubhouse CLOSED

• Sun 26th Dec - No Sunday Roast but standard menu is available.

• Thurs 30th Dec - Pro's Stableford Christmas Special

• Sat 1st Jan 2022 - Clubhouse CLOSED

• Sun 2nd Jan - East of the Burn v West of the Burn; No Sunday Roast due to the competition

• Tues 4th Jan - Senior Roll Up

• Thurs 6th Jan - Pro's Stableford

• Fri 7th Jan - Pizza Night

• Sat 8th Jan - Whisky Stableford

• Sun 9th Jan - Sunday Roast

• Mon 10th to Fri 28th Jan - Championship Course CLOSED

PAGE 3
---
Golf Courses

After the mild week last week winter frosts have come back with a vengeance, going as down as low as -4.5

centigrade, but this doesn't stop the team getting on with the winter programmes.

On the Championship Course we have sprayed the greens with a dew dispersant as this will help over the Christmas

period by keeping the dew on the greens to a minimum. The fairways and tees have been sprayed with Iron Sulphate

which will help harden the plant during the winter and also combat any moss that may appear. The bunkers at the top

of the 17th are now finished and we did start to returf the path at the 14th tees and areas at the 7th fairway until it was

unworkable due to the frozen conditions. This meant we turned our attention to cutting and trimming bushes around

the course. The main area is the right of the 15th and also around the tees at the 3rd and 18th. These cut bushes were

stockpiled and burnt. We have also started to remove the roots of the bushes on the 15th.

On the Struie course we have also sprayed the greens with the dew dispersant and sprayed the fairways with Iron

Sulphate. There has been a problem with Ivy at the back of the Clubhouse and this has now been removed with the

back of the building now looking tidy.

Play from Mats - When you see a mat on a teeing ground then you MUST use this for your tee shot.

Bunkers - We have reinstated the Preferred Lie local rule for the time being.

Thanks for reading.

Happy Golfing!

Neil D. Hampton, General Manager

Stay safe. Protect others. Save lives.