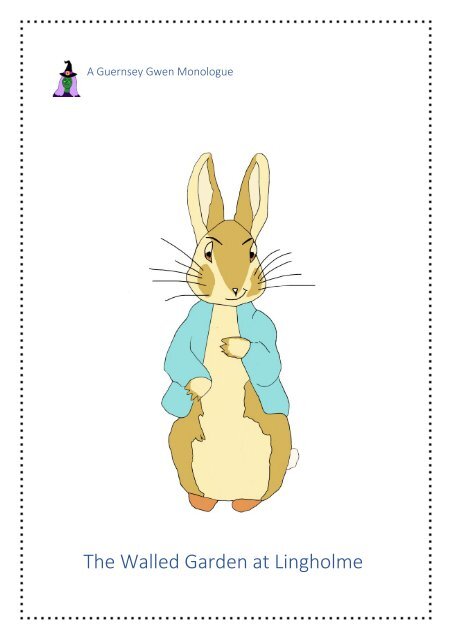 The Walled Garden at Lingholme
A story about naughty rabbits and squirrels
A story about naughty rabbits and squirrels
SHOW MORE
SHOW LESS
You also want an ePaper? Increase the reach of your titles
YUMPU automatically turns print PDFs into web optimized ePapers that Google loves.
A Guernsey Gwen Monologue

The Walled Garden at Lingholme
---
Welcome to Lingholme in the Lake District. Come and join me as we walk around the

grounds.

The sun is shining on the red brick walls of the walled garden at Lingholme.

How many sides does the garden wall have?

Help me count.

Well done, sixteen walls and three gates.

Shall we see if we can find any of our friends in the walled garden on this lovely sunny

summer day?

Look over there. Peter Rabbit's bright blue coat is just visible by the rows of red and green

lettuces and his little fluffy bobtail is peeping out just a tiny bit.

Did you hear that commotion? It is coming from over here. The carrot tops seem to be

shuffling and shuddering in the vegetable patch. Look carefully, you can just see the

twitching whiskers and little pink nose of Benjamin Bunny. Listen. Can you hear him

munching and crunching the carrots?

Goodness what was that? Something flew past my eye. It came from up there in that

towering pine tree, the one hanging over the wall.

Ouch, that must hurt. A pine cone has just hit Peter Rabbit on the nose. He looks very

surprised and a little bit annoyed. Where has that come from?
---
I might have known. Can you see squirrel Nutkin up there

in the tree? His big, bushy, red tail is darting around. That

naughty squirrel. There he goes again! Peter Rabbit has

seen the squirrel. Look at his little fist pointing at the tree.

Squirrel Nutkin is not the least bit bothered and is laughing.

Can you hear him? It is quite a soft sound, a bit like a

sneeze.

What else can you see in the garden?

Where are you pointing? Oh yes, I can see it too.

The McGregor family have entered the garden.

There is mist coming out of the door of the white, glass greenhouse. Let's take a closer look.

Oh dear, it's Mr McGregor watering his plants on this hot day. Those bunnies had better

watch out. Surely, he can see all the strange movements amongst his vegetables, courtesy

of the bunny family.

Look, there is Mrs McGregor and baby Hughie.

Oh! Mr McGregor has come to the door of his greenhouse.

What is he doing now?

He is talking to Mrs McGregor and pointing out towards the vegetable patch.

Can you see what he is pointing to?

Oh! it's baby Hughie – he is toddling towards the carrot patch, straight towards those

naughty bunnies. He is laughing and pointing to Peter and Benjamin bunny.

Mrs McGregor has heard baby Hughie and has looked up. She is quickly walking towards the

moving vegetables with a pitchfork in her hand, and she's heading……. towards the carrot

patch with a glint in her eye. I think she has seen the contents of a rabbit pie that will go

very nicely with the vegetables from the garden.

Peter Rabbit watch out!

That silly rabbit is so busy filling up his tummy with soporific carrot and lettuce leaves that

he has not noticed Mrs McGregor coming straight towards him.

Oh no, Mrs McGregor has lifted up her pitchfork. Peter, MOVE!

Ouch, that must have hurt!

Mrs McGregor has just been hit on the nose by a pine cone. She is turning around to look at

the tree and the bunnies are escaping. There is Peter's blue coat and green hat moving very
---
quickly near the cabbages and you can you just see over there, near the gate, Benjamin's

brown coat. Baby Hughie is watching, giggling, and calling out," runny, bunny"

Did you hear that? Squirrel Nutkin is laughing. Ha! Ha! Oh look! a pine cone is heading

towards the greenhouse and it has just landed on Mr McGregor's hat. He looks very puzzled.

He is standing still looking up at the tree. He hasn't seen the squirrel.

What is he going to do now?

He has turned around and is heading out of the garden with Mrs McGregor and baby

Hughie.

Phew!

Lucky Peter!

Lucky Benjamin!

Well done Squirrel Nutkin! Your naughtiness today helped Peter and Benjamin Bunny

escape from the clutches of Mrs McGregor once again and there will be no rabbit pie for the

McGregor family tonight.

The END