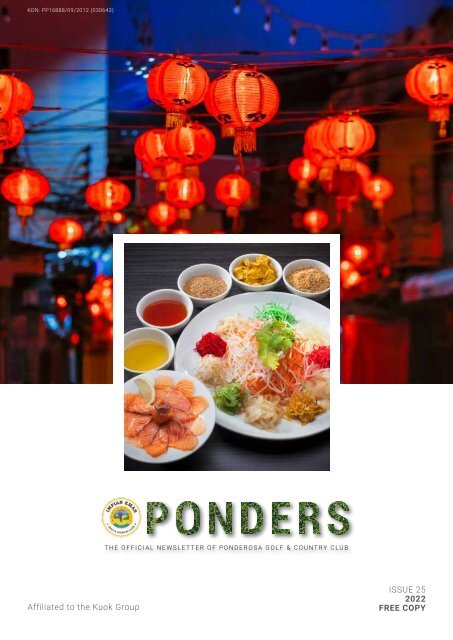 PONDERS by Ponderosa ISSUE 25
Create successful ePaper yourself
Turn your PDF publications into a flip-book with our unique Google optimized e-Paper software.
KDN: PP16888/09/2012 (030643)

THE OFFICIAL NEWSLETTER OF PONDEROSA GOLF & COUNTRY CLUB

Affiliated to the Kuok Group

ISSUE 25

2022

FREE COPY
---
PONDEROSA GOLF & COUNTRY CLUB NEWSLETTER

MY SHARING …

FREEBIES

2022 shall be the celebration year for all of us,

rewarding ourselves for the perseverance and patience

throughout the global crisis.

Golf tournaments and sports activities are returning

with more excitement and new surprises. Feel free

to approach our team for more details and to sign up

soon. Let's not miss the opportunity to become a

Champion again!

SCAN ME

GET

15% Discount

OFF RAMADAN

DULANG SET

(Delivery Only)

* Scan now but VALID FOR

REDEMPTION ONLY during the

month of Ramadan from 2 April

2022 onwards.

For safety, Ponderosa emphasizes greatly on Indoor

Air Quality (IAQ) and had installed numerous active air

purifiers around the Club. Now not only are we fully

vaccinated, our team is working in a more secured

environment and this also extends to all of you and your

guests who step within our premises. You can now feel

at ease and in peace with our indoor events, meetings

and seminars and we invite you to contact us for your

dream Garden Wedding as well.

We are glad to welcome our members and guests

back to the club and enjoy upgraded facilities and

golf course conditions. Especially for our friends

in Singapore who are gradually allowed to cross the

causeway, you deserve a comfortable and safe haven

to rejuvenate your healthy lifestyle after a long break.

Ponderosa is honoured to be the popular choice on

your 2022 calendar.

Lastly, I wish A Very Happy New Year to all our

supportive members and guests. May you all embark

on a highly-accomplished year 2022!

TAN KAI YANG

General Manager

PONDERS newsletter is published by Ponderosa Golf & Country Club (No. 3, Jalan Ponderosa 1, Taman Ponderosa, 81100 Johor Bahru, Johor)

& Printed by Sin Hua Printing [No 7 & 9, Jalan Anggerik 3/2, Taman Anggerik, 81200 Johor Bahru, Johor]. Copyright of articles, contributions and

photos which are published are the property of Ponderosa Golf & Country Club.
---
PONDEROSA GOLF & COUNTRY CLUB NEWSLETTER

THE RETURN OF TUESDAY

9-HOLE GOLF CHALLENGE

Keeping Golf Fun, Few & Friendly!

Due to the repeated phases of MCO in 2021, the

9-Hole Golf Challenge series which ran on Tuesdays

were interrupted and only started again when

NRP Phase 4 rolled into Johor in October 2021.

Winner: Tan Zi Yond

Winner: Lim Joon Seng

Runner-Up: Tang Sim Cheow

Week 4 of the 9-Hole Golf Challenge on 26 October

2021 played to the Flag Challenge format.

Runner-up: Wee Liam Gee

Week 5 of the 9-Hole Golf Challenge on 9 November

2021 played to the Raja Rules format.

9-HOLE GOLF

CHALLENGE

CALENDAR

for 1st

Quarter of

2021

Winners of every series of the 9-Hole Golf Challenge will have their names listed on a plague at

the Café, and will compete in a Grand Final organised either at Home Club or at an Off-site Club

at the end of each year's run.
---
PONDEROSA GOLF & COUNTRY CLUB NEWSLETTER

RAIN OR SHINE,

The Spirit of Golf

Prevails!

On Deepavali Day, they went for the ultimate

challenge by tackling play of 54 Holes at

Ponderosa. As if that was not enough, they

were tested further when it rained cats and

dogs!

Little did they know that enthusiasm and

perseverance became a precious mental

commodity when 17 avid golfing members

organised a 54-Hole Deepavali Golf Marathon

on 2 November 2021. What was expected was a

usual day of fun but the sky decided to turn the

table and call the shots!

Our players laboured through heavy downpour

and strong winds, manoeuvred muddy paths

on squelching shoes and was soaked wet right

through. While in spirit they are all champions,

6 golfers trudged on to finish the race. They

cleared all 54-holes while the light had gone

out of the sky to be replaced with lights on at

the golf course.

An arduous drive on a wet, wet cart path with

grim skies at the height of the day.

But THEY DID IT!! Aching and hungry, but victorious and exhilarated!

(From left) Jason Low, Lee Soo Bang, Tang Sim Cheow, Sher Lee Yong, Sally Lim and Ricky Ooi
---
PONDEROSA GOLF & COUNTRY CLUB NEWSLETTER

THE YEAR OF THE WATER

TIGER – 2022

Year of the Tiger 2022 will be brimming with opportunities and prosperity. An unprecedented number of

common people will join the ranks of millionaires while technological breakthroughs will be made and the

stock market will probably continue to rise. The Year can dramatically change our lives for the better, as

long as we are not afraid to turn our dreams into reality and where new projects can be started. Don't be

surprised that the year will expose us to situations never encountered before.

The Tiger VS Other Zodiacs

The luckiest zodiacs are the Ox and Goat, while the Rabbit, Dragon, Horse, and Rooster people are

destined to enjoy a smooth life and good luck in making money.

For those born in the years of the Rat, Snake, Monkey and Dog, you will need to make comparatively

more effort in order to make achievements in 2022.

RAT

The Rat needs lots of patience to serve a Tiger. Devote more time to your career

with a passion that will bring you a better income and warmer recognition. You

will have good luck with your career and wealth.

COW

The Cow and the Tiger live in a harmonious environment where the Tiger will

protect the Cow. Your people relationship is excellent and you will be blessed with

a blissful love relationship. You have mentors to ensure a smooth career.

TIGER

One mountain allows only one tiger to rule. When one Tiger meets another Tiger,

there will be competition for the leadership. Negotiate for cooperation with a view

to shared interests with opponents is a better policy for this year.

RABBIT

The Rabbit is the tender climbing vine while the Tiger is a tall tree. By climbing on a tall tree, the

vine can step up onto a higher position. Carefully choose your partner, follow the benefactor,

aim for the opportunity, and prepare for achievement.

(A compilation of sources: chinesefortunecalendar.com; chinahighlights.com; the chinesezodiac.org; karmaweather.com)
---
PONDEROSA GOLF & COUNTRY CLUB NEWSLETTER

DRAGON

The flying Dragon can team up with a roaring Tiger as an invincible dynamic duo.

The Tiger brings you good luck in career, wealth, and fame. It's a good time to grasp

opportunities and to show off your best.

SNAKE

The Snake meeting the Tiger is likened to sunshine on a tall tree, where the sun

nurtures the tree over time to grow. The result of your expectation will come slowly.

Don't focus on career development as there will not be much changes to the status.

However, there are good signs for starting a new business but it will take time to

flourish. You need to play on all your strengths in order to overcome the challenges.

It's also time to pay attention to the people you care about.

HORSE

The Horse outruns the Tiger; the Tiger helps the Horse to run faster. A complementary

relationship, there will be opportunities to show your speed, strength, and talent. With

the support and recognition from your mentor, you can overcome the challenge and

confidently win the leadership.

SHEEP

The Tiger is protective of the Sheep as its companion. A job opportunity might come

to your door and if you have a chance for promotion in a new position, go for it. If you

are hoping for a windfall however, there will be no luck. When investing in something,

you must not be too greedy. Be wary of giving your relatives or friends a big loan.

MONKEY

The Monkey meeting the Tiger has the Monkey dancing on the tree. It's going to

be a challenging year where you will need to play all your strengths to conquer the

obstacles. You may win a big fortune because there are signs of joy, victory, and

enjoyment.

ROOSTER

You are blessed where your luck in wealth augurs prosperity. The opportunities of

career, money, and love will come together this year.

DOG

As the underdog to the Tiger, the Dog knows how to serve the Tiger and hence, they

work perfectly together. You should focus on your career development, look for a

business partner and is a good time to seek a new working environment. You have a

chance to show your talent and to win your boss' trust. Someone will guide you to a

promising career path.

BOAR

The Boar enters the woods and will find lots of food to eat. The Boar likes to serve the

Tiger and the latter will reward the Boar for the service. The year of the tiger will bring

you a luxurious lifestyle, career opportunity, and love relationship. However, things

can be too good to be true. So do think twice before you leap. If you are indulgent in

something, you might lose your freedom.
---
PONDEROSA GOLF & COUNTRY CLUB NEWSLETTER

CNY REUNION WITH A ROAR!

The Tiger leaps in 2022 in celebration of freedom and

reunion with family, friends and business associates.

Ponderosa, still with SOP for safety in mind, keeps

groups tight and safely distanced for peace of mind

while enabling indulgence in honest-to-goodness,

home-cooked cuisine without bursting the seams

of your pocket.

REUNION LUNCH & DINNER SETS

24 January - 15 February 2022

A'LA CARTE YEE SANG

DINE-IN or DELIVERY

(RM5 Delivery Charge

applies within 10km radius)

For Bookings and Enquiries, contact Lai Yee at

019-758 8093.
---
PONDEROSA GOLF & COUNTRY CLUB NEWSLETTER

PERSONA...

"Due to injury it affected my No. 1

hobby that is swimming. In order to

strengthen my muscles so I could go

back to it, I started to go to the Gym"

Patrick Tan,

Social Term Member of 15 years

swimming pool.

"I am a swimming enthusiast and have been

doing so for more than 35 years. Swimming is

my No. 1 hobby and it helps me to relax especially

during stressed and busy times. Unfortunately,

I hurt myself many years ago and in order to

continue to do what I love, I needed to strengthen

my muscles and that is when I started to go to

the Gym to strengthen targeted muscles," said

Patrick.

Happy with his new lease in being able to pursue

both of his favourite sports at Ponderosa, Patrick

regards the Club as his social domain where he

meets many people who eventually became

his friends. Being a member had expanded his

social circle.

Businessman and Ponderosa's term member,

Patrick Tan, will put many young men to shame

as he spends a total of 6 hours in the Gym and

swims an average of 6 – 8 kilometres in a week!

Having been a member of Ponderosa for 15

years, Patrick devotes at least 3 times a week

for a few hours each time to both workout at

the Gym or to swim in the Club's Olympic-size

"To keep healthy at my age, it is my wish to

continue maintaining this healthy lifestyle.

Swimming can increase concentration and my

happiness quotient, while going to the Gym can

build up my body and muscles so as to decrease

unwanted injuries as well as boost my overall

well-being."

Patrick hopes that today's young people will

spend more time at the outdoors, engage in

activities or go to the Gym, so as to stay robust,

healthy, positive and to benefit from a wellrounded

life.

BOOST YOUR LIFE ACTIVELY & SOCIALLY

FOR OVERALL WELL-BEING!

Our Individual Social Term Memberships are selling at RM1,299+

while for Families its RM2,000+

with no limit to number of family members.

Email: enquiry@ponderosagolf.com
---
PONDEROSA GOLF & COUNTRY CLUB NEWSLETTER

5 COMMON STEREOTYPES

OF WOMEN GOLFERS

Adaptation of article written by Olivia de Fouchier (NCCGA's 2015 Director of Women's Golf

(nextgengolf.org, 2015)

There is undoubted traditional misconception that golf is generally for "gentlemen only, ladies

forbidden" partly due to the origin of the sport itself which was a way for gentlemen to get away from

their wives and female friends. Golf has been a male-dominated sport for far longer than women

have been allowed to play, and this has made it difficult for women to wedge their way into the game

without confronting prejudice today.

Till today, women cannot get away from these stereotypes and that needs to change:

Women only play to socialize

A widespread stereotype about women golfers

is that they only play golf to socialize. Indeed

golf is a wonderful

opportunity to

network with likeminded

friends but

then, are women

the only ones who

enjoy meeting new

friends and striking

up friendships on

the golf course?

There are as many

social golfers among

men and women,

just as there are

competitive players

of both genders.

prefer to play with their own kind and move within

their own circle of friends. Justifiable, of course.

But then, don't men clique together too?

Women have a slow pace of play

Many male golfers may regard that women golfers

are slow and will reduce pace of play. To be fair,

we've all played with that one person, be it woman

or man, who takes five practice swings before

changing their club twice. Still, no one assumes

that all players their age or gender plays with the

same pace. Some men play slowly just as some play

fast, the same applies to women.

Women don't know rules (and won't care if you

break them)

Women aren't sociable on the course

These are probably founded by men who failed

to strike up female friendships while on the golf

course.

The fact of the matter is that women have a selfprotective

instinct and are naturally wary of

strangers especially men. Undeniably, there will

be men out there who think that women are easy

targets for their ill-intentions. Hence women may

Some men golfers have the misconception that

women golfers are ignorant or tend to disregard

USGA rules and regulations. The writer stated, "I

cannot count the number of times I've been in

tournaments where my playing partners will shoot

a ball out of bounds and then just assume that I will

let them drop one at the exit point."

Not a fair stereotype because men can be guilty of

it as well. Otherwise, why would Ponderosa need

to reiterate repeatedly that rules and basic golf

etiquette must be followed?
---
PONDEROSA GOLF & COUNTRY CLUB NEWSLETTER

Women don't know how to

play

Let's debunk this myth. Take

Malaysian top women's golfer,

Kelly Tan, as a shining example.

She put up a wonderful

performance to finish strongly

in joint-34th place out of a cast

of 60 golfers on her last day

campaign at the Tokyo Olympics

recently, improving her record

over her first Olympics debut in

Rio 2016 at 51st place.

And she is only one of many

such Malaysian women golfers

who have made their mark in

the international golf arena

such as Aretha Pan, Michelle

Koh, Jean Chua and Ainil Johani

Abu Bakar.

You may become

a Lady Golf Champ

too.

Start your practice

to excel now and

aim to enter for the

Ponderosa Ladies

Open in August

2022.
---
PONDEROSA GOLF & COUNTRY CLUB NEWSLETTER

SWIMMING IS FOR ALL AGES …

SWIMMING FOR ALL-ROUNDED THERAPY!

Other than being a highly cooling activity

that suits our Malaysian often sunny weather,

swimming is actually but unknown to many, a

low-impact workout. As you move your whole

body to resist the water, it results in the following:

• Keeps your heart rate up but takes some of

the impact stress off your body

• Builds endurance, muscle strength and

cardiovascular fitness

• Helps maintain a healthy weight, healthy

heart and lungs

• Tone muscles and builds strength

• Provide an all-over body workout, as nearly all

of your muscles are used during swimming.

Swimming has many other benefits including:

• A relaxing and peaceful form of exercise

• Alleviating stress

• Improving coordination, balance and posture

• Improving flexibility

• Providing good low-impact therapy for some

injuries and conditions

IT IS SO MUCH FUN!

The best part is that in learning how to swim, you

can swim anywhere - swimming pools, beaches,

lakes and rivers, but provided they are safe to

swim and where children are accompanied by

adults.

"Teach in the way you learn, instead of you learning the way we

teach" is our teaching core value – Calvin Leu,

SWIMA Swimming Instructor

SWIMA based at Ponderosa is a Swimming Academy

specializing in teaching programs for those aged 4 years & above.

"Swimming is not just a sport but a survival skill that

everybody needs," said Calvin.

The teaching syllabus include 'swim stroke' and skills to

exercise and relax in a 4ft deep pool that is the average height of condo or hotel

pools, as well as intensive cardio and

advanced survival skills to help swimmers to cope in times of danger such as in

a deep pool, when a boat overturns,

swimming against sea waves and strong currents, etc.

For more information, Call or WhatsApp the Sports Team at 016-702 7852.
---
PONDEROSA GOLF & COUNTRY CLUB NEWSLETTER

KICKING-START & BACK TO SHAPE

It's been a tough year socially for almost the whole of 2021 with phases of long lockdowns due to the

unrelenting spread of Covid-19. Ponderosa Golf & Country Resort wishes to welcome a socially active

year for 2022 with OUTDOOR FITNESS as the highlight. Why?

Most fitness centres are indoors. At Ponderosa we have the intrinsic advantage of the outdoors with

ample natural breeze, space and sunlight, keeping away congestion while introducing a novel way to

fitness rather than the conventional limited norms. Most important is to be safe as we are not out of

the woods yet.

SOCIAL HIGHLIGHT 2022

JANUARY – DECEMBER 2022

MONTH

EVENT

January

KICK-START THE YEAR 2022

March

LETS BOND 4.0 - H20 & MORE

April

TABLE TENNIS FRIENDLY MATCH

May

GET FIT & FAB

June

MATCH POINT TENNIS CHAMPIONSHIP

July

LETS BOND 5.0 - PREVENTION IS THE KEY

Aug & Sept

CELEBRATING MALAYSIA

October

ENERGY EFFICIENCY MONTH

November

LET'S BOND 6.0 - ME & U

December

COMMUNITY CARE
---
PONDEROSA GOLF & COUNTRY CLUB NEWSLETTER

EARMARK MARCH!

In the month of March 2022, our Sports &

Recreation team will share with everyone, young

and old, on the value of water through Let's Bond

4.0 "H2O & More" with these activities:.

• Children Water Play at the Wading Pool

• Water Fitness Classes

• Best-Lap-Forward Swimming Relay

Competition

• Online seminars & talks, and many more!

Follow us on FB to know more on how to

participate in all these physical and online

activities.

DAY TO DAY SPORTS ACTIVITIES

*Tennis lessons, swimming lessons, diving sessions, personal training and paint ball games are by

appointment only.

*Ponderosa members are entitled to a 10% discount on classes/lessons.

FOR MORE INFORMATION, CALL OR WHATSAPP THE NUMBER 016-702 7852.
---
PONDEROSA GOLF & COUNTRY CLUB NEWSLETTER

GOLF IS

A GENTLEMAN'S GAME

Golf is called a gentleman's game for a good reason.

It is not just a game but a noble sport where good

manners and behaviour gives consideration to

other players as well as taking care of the very

ground you play on. It also shapes one's character

and social reform.

Here are the basic Golf Etiquette that one needs

practice before one can truly be called a golfer:

(Credit: Golf Digest, July 2018)

• DON'T BE THE SLOWEST PLAYER: Evaluate your

pace and ensure you are close behind the group

in front of you.

• KEEP YOUR TEMPER UNDER CONTROL: It may

cause unease to the rest of your accompanying

players

• RESPECT OTHER PEOPLE'S TIME: Always make

your tee times so as not to keep your playing

companions waiting

• REPAIR THE GROUND YOU PLAY ON: Ask

yourself: "Would I be upset if I had to play from

that spot?" Please repair divots and rake bunkers.

• BE A SILENT PARTNER: Never stand on the line of

play when a player is about to hit a shot. Think of

the fairway as a cathedral and the green a library.

• MAKE YOUR GOLF BUGGY 'INVISIBLE': Avoid

wet areas and spots so as not to damage the turf

with your cart wheels.

• ALWAYS LOOK YOUR BEST: Dressing well on

the course means you think the golf course and

the people are special and is worthy of respect.

• TURN OFF THE CELL PHONE: Make your calls

brief if there is no choice, or move away from the

other players if you need to make a call.

• LEND A HAND WHEN YOU CAN: Always be

helpful to fellow players e.g. watching for errant

balls so that they don't become lost balls.

Golf has a way of returning favours and every piece

of etiquette you practice will be repaid tenfold.

The Impian Emas Golf & Country Club sits in a guarded

and secluded enclave in the luxurious self-contained

neighbourhood of Taman Impian Emas in Skudai.

Managed by Ponderosa Golf & Country Resort, it is a

great practice ground for with 18 Bays at the Driving

Range and a well-manicured 9-hole golf course for

aspiring golfers

Membership Offers:

Impian Emas Pass: RM 1300

Play weekdays, weekends and Public Holidays

AM Pass: RM 350

Play weekday mornings only

Junior Pass: RM 450

For those aged 18 years and below;

Play weekday mornings only

For enquiries, contact Diana or

Rokiyah at 607-554 4747

The iconic Signature Hole No. 9 at

Impian Emas Golf & Country Club
---
RECIPROCAL & AFFILIATED CLUBS

Kindly obtain a letter of introduction from the Golf Dept. if you wish to visit any of below

Reciprocal & Affiliated Clubs at least seven (7) days before the visit.

KELAB GOLF DIRAJA PEKAN

Jalan Padang Polo,

26600 pekan Bandar DiRaja,

Pahang Darul Makmur,

Malaysia.

Tel: 09-422 4139

Green Fee: Special Green Fee

KELAB GOLF DIRAJA PAHANG

Jalan Padang Golf,

Kuantan 25050 Pahang,

Malaysia.

Tel: 09-567 5812

Green Fee: Special Green Fee

BUKIT UNGGUL COUNTRY CLUB

Lot PT 2180-2182, Mukim Dengkil,

43800 Sepang, Selangor

Tel: 03-8920 2888

Green Fee: FOC

SEREMBAN INTERNATIONAL GOLF CLUB

3 ¼ Miles, Kuala Pilah Road,

PO Box 88, 70710 Seremban,

Negeri Sembilan.

Tel: 06-677 5787/06-677 5277

Green Fee: Special Green Fee

SULTAN ABDUL AZIZ SHAH GOLF & COUNTRY

CLUB

No.1, Rumah Kelab,

Jln Kelab Golf 13/16,

40100 Shah Alam, Selangor

Tel: 03-5510 5900

Green Fee: FOC

KELAB RAHMAN PUTRA

Jln BRP 2/1, Bukit Rahman Putra,

47000 Sg Buloh, Selangor

Tel: 03-6156 6870

Green Fee: FOC

TEMPLER PARK COUNTRY CLUB

KM 21, Jalan Rawang,

48000 Rawang Selangor

Tel: 03-6091 99617

Green Fee: FOC

NILAI SPRING GOLF & COUNTRY CLUB

Pt 4770, Nilai Spring,

71800 Putra Nilai, Negeri Sembilan

Tel: 06-850 8 888

Green Fee: FOC

ROYAL PERAK GOLF CLUB

Jalan Sultan Azlan Shah,

31350 Ipoh, Perak

Tel: 05-542 3266

Green Fee: FOC

DALIT BAY GOLF & COUNTRY RESORT

BERHAD

Pantai Dalit,P.O Box 600,

89208, Tuaran Sabah

Tel: 08-879 2888

Green Fee: FOC

KELAB GOLF KUDAT

Jalan Lintas, Kudat W.D.T 18,

89059 Kudat, Sabah

Tel: 08-861 1002

Green Fee: FOC

SABAH GOLF & COUNTRY CLUB

Jalan Kolam, Bukit Padang,

P.O Box 11876,88820 K.K Sabah

Tel: 08-8247 533

Green Fee: FOC

DAMAI GOLF & COUNTRY CLUB

Damai Beach, Jalan Santubung,

P.O. Box B203, 93862 Kuching, Sarawak

Tel: 08 246 8088

Green Fee: FOC

KUALA TERENGGANU GOLF RESORT

Persiaran KTGR Tok Jembal, Mukim Kuala

Nerus, 21300 Kuala Terengganu,

Terengganu

Tel: 09-666 6836

Green Fee: FOC

CINTA SAYANG GOLF & COUNTRY RESORT

Persiaran Cinta Sayang,

08000 Sungai Petani, Kedah

Tel: 04-441 4666

Green Fee: Special Green Fee

NEXUS GOLF RESORT KARAMBUNAI

Off Jln Sepangar Bay,

88993 Kota Kinabalu, Sabah

Tel: 08-8411 2222

Green Fee: Special Green Fee

BORNEO GOLF & COUNTRY CLUB

KM 59, Papar-Beaufort Highway,

89700 Bongawan, Sabah

Tel: 08-786 1888

Green Fee: Special Green Fee

TERING BAY GOLF & COUNTRY CLUB

J1. Hang Lekiu KM 4,

Nongsa Batam, Indonesia

Tel: 077-8761 818

Green Fee: FOC (Weekdays)

GRAHA METROPOLITAN GOLF

Ruko Graha Metropolitan 88-90,

Medan Indonesia

Tel: 626-1846 1232

Green Fee: FOC

PALM SPRING GOLF & BEACH RESORT

PT.AFP Dwilestari,Jalan Hang Lekiu,

Nongsa, Batam, Indonesia

Tel: 077-876 1222

Green Fee: FOC

PALM SPRING GOLF & BEACH RESORT

Tol Jakarta – Cikampek KM 47,

Karawang, Indonesia

Tel: 622-6794 4733

Green Fee: FOC

LOTUSLAKES GOLF CLUB

PT Karawang Sports Centre,

Karawang, Indonesia

Tel: 622-6740 5888

Green Fee: FOC

SOUTHLINKS COUNTRY CLUB

Jln Gajah Mada KM 9,

Sei Ladi Sekupang Batam Indonesia

Tel: 077-832 4128

Green Fee: Special Green Fee

PADANG GOLF SUKAJADI

JI Jendral Sudirman,

Batam 29432 Indonesia

Tel: 627-78807 3008

Green Fee: Special Green Fee

AKARANA GOLF CLUB

1388 Dominion Rd, Mount Roskill, Auckland

1041, New Zealand

Tel: 64-9621 0024

Green Fee: FOC

MIMOSA GOLF & COUNTRY CLUB

Clarkfield, Angeles City, 2009 Pampanga,

Philippines

Tel: 63-4559 93 333

Green Fee: FOC

MONTGOMERIE LINKS

Dien Ngoc, Dien Ban, Quang Nam,

Vietnam

Tel: 02-35 3941 942

Green Fee: Special Green Fee

LAKELANDS COUNTRY CLUB INC.

Clubhouse Ln, Gnangara WA 6077,

Australia

Tel: 61-8 9405 4888

Green Fee: FOC

WANNEROO GOLF CLUB INC

44Flynn Dr, Neerabup Wa 6031, PO Box

188, Wanneroo Wa,

6946, Australia

Tel: 61-8 9405 3677

Green Fee: FOC

THE VINES RESORT & COUNTRY CLUB

Verdeldo Drive The Vines Western Australia

6069, Australia.

Tel: 61-8 9297 3000

Green Fee: FOC

HOPE ISLAND GOLF CLUB

P.O.Box ox 427,

Oxenford Queensland 4210 Australia

Tel: 16-7 5530 9000

Green Fee: Special Green Fee

AOMORI ROYAL GOLF CLUB

100-9 Takinosawa, Owani-machi,

Minamitsugarugun, Aomori, Japan

Tel: 81-172 48 2881

Green Fee: FOC

KARUIZAWA KOGEN GOLF CLUB

2032, Kitakaruizawa,

Naganohara-machi,Nagano, Japan

Tel: 81-27 98 45454

Green Fee: Special Green Fee

THE SAPPORO COUNTRY CLUB LTD

199 Tokiwa Minami-ku Sapporo Hokaido

005-0863 Japan.

Tel: 81-11 59 24944

Green Fee: Special Green Fee

HIGASHI ROKKO GOLF CLUB

1645-1, Shimoyamaguchi, Azatakamaru

Yamaguchi, Japan.

Tel: 81-789 04 2121

Green Fee: Special Green Fee

MUKONODAI GOLF COURSE

1176-16 Ikunoji Kitayama Dojo Cho, Kita ku

Kobe, Hyogo JAPAN 651-1503V

Tel: 81-789 85 2361

Green Fee: Special Green Fee
---
YEAR TERM MEMBERSHIP

1

1099+ (ORIGINAL PRICE: RM1299+)

RM

YEAR TERM FAMILY MEMBERSHIP

1

2000+ (ORIGINAL PRICE: RM2300+)

RM

STAY FIT

STAY WITH US

WHERE YOUR SOCIAL WELL-BEING COUNTS

EXTENSION OF MEMBERSHIP BY SIX (6) MONTHS TO TOTAL

TENURE OF 1.5 YEARS.

EXTENSION OF MEMBERSHIP BY SIX (6) MONTHS TO TOTAL TENURE

OF 1.5 YEARS.

BENEFITS OF MEMBERSHIP

20% F&B DISCOUNT AT CAFÉ / HOP SING RESTAURANT.

15% OFF ROOMS AT THE LODGE, PONDEROSA GOLF & COUNTRY RESORT.

TERMS & CONDITIONS:

PRICE IS SUBJECT TO 6% SERVICE TAX.

PROMOTION IS VALID FROM 01/03/2022 – 30/06/2022.

FOR SIGN-UPS AFTER THIS DATE, THE STANDARD RATE WILL APPLY.

PROMOTION IS VALID FOR SOCIAL LIFE MEMBERS ONLY.

FULL PAYMENT IS REQUIRED UPON SIGN-UP.

DON'T WAIT, SIGN-UP NOW! TO SIGN-UP, PLEASE CONTACT:

enquiry@ponderosagolf.com

+6019-779 9841

Like, share & follow us:

Ponderosa Golf & Country Club (Johor Bahru)

ponderosagolfresortjb