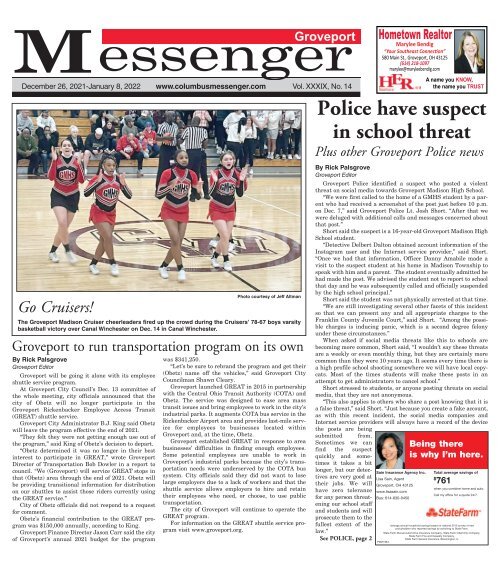 Groveport Messenger - December 26th, 2021
You also want an ePaper? Increase the reach of your titles
YUMPU automatically turns print PDFs into web optimized ePapers that Google loves.
Messenger

Groveport

December 26, 2021-January 8, 2022 www.columbusmessenger.com Vol. XXXIX, No. 14

Go Cruisers!

Photo courtesy of Jeff Altman

The Groveport Madison Cruiser cheerleaders fired up the crowd during the Cruisers' 78-67 boys varsity

basketball victory over Canal Winchester on Dec. 14 in Canal Winchester.

Groveport to run transportation program on its own

By Rick Palsgrove

Groveport Editor

Groveport will be going it alone with its employee

shuttle service program.

At Groveport City Council's Dec. 13 committee of

the whole meeting, city officials announced that the

city of Obetz will no longer participate in the

Groveport Rickenbacker Employee Access Transit

(GREAT) shuttle service.

Groveport City Administrator B.J. King said Obetz

will leave the program effective the end of 2021.

"They felt they were not getting enough use out of

the program," said King of Obetz's decision to depart.

"Obetz determined it was no longer in their best

interest to participate in GREAT," wrote Groveport

Director of Transportation Bob Dowler in a report to

council. "We (Groveport) will service GREAT stops in

that (Obetz) area through the end of 2021. Obetz will

be providing transitional information for distribution

on our shuttles to assist those riders currently using

the GREAT service."

City of Obetz officials did not respond to a request

for comment.

Obetz's financial contribution to the GREAT program

was $150,000 annually, according to King.

Groveport Finance Director Jason Carr said the city

of Groveport's annual 2021 budget for the program

was $341,250.

"Let's be sure to rebrand the program and get their

(Obetz) name off the vehicles," said Groveport City

Councilman Shawn Cleary.

Groveport launched GREAT in 2015 in partnership

with the Central Ohio Transit Authority (COTA) and

Obetz. The service was designed to ease area mass

transit issues and bring employees to work in the city's

industrial parks. It augments COTA bus service in the

Rickenbacker Airport area and provides last-mile service

for employees to businesses located within

Groveport and, at the time, Obetz.

Groveport established GREAT in response to area

businesses' difficulties in finding enough employees.

Some potential employees are unable to work in

Groveport's industrial parks because the city's transportation

needs were underserved by the COTA bus

system. City officials said they did not want to lose

large employers due to a lack of workers and that the

shuttle service allows employers to hire and retain

their employees who need, or choose, to use public

transportation.

The city of Groveport will continue to operate the

GREAT program.

For information on the GREAT shuttle service program

visit www.groveport.org.

Hometown Realtor

Marylee Bendig

580 Main St., Groveport, OH 43125

(614) 218-1097

marylee@maryleebendig.com

A name you KNOW,

the name you TRUST

Police have suspect

in school threat

Plus other Groveport Police news

By Rick Palsgrove

Groveport Editor

Groveport Police identified a suspect who posted a violent

threat on social media towards Groveport Madison High School.

"We were first called to the home of a GMHS student by a parent

who had received a screenshot of the post just before 10 p.m.

on Dec. 7," said Groveport Police Lt. Josh Short. "After that we

were deluged with additional calls and messages concerned about

that post."

Short said the suspect is a 16-year-old Groveport Madison High

School student.

"Detective Delbert Dalton obtained account information of the

Instagram user and the Internet service provider," said Short.

"Once we had that information, Officer Danny Amabile made a

visit to the suspect student at his home in Madison Township to

speak with him and a parent. The student eventually admitted he

had made the post. We advised the student not to report to school

that day and he was subsequently called and officially suspended

by the high school principal."

Short said the student was not physically arrested at that time.

"We are still investigating several other facets of this incident

so that we can present any and all appropriate charges to the

Franklin County Juvenile Court," said Short. "Among the possible

charges is inducing panic, which is a second degree felony

under these circumstances."

When asked if social media threats like this to schools are

becoming more common, Short said, "I wouldn't say these threats

are a weekly or even monthly thing, but they are certainly more

common than they were 10 years ago. It seems every time there is

a high profile school shooting somewhere we will have local copycats.

Most of the times students will make these posts in an

attempt to get administrators to cancel school."

Short stressed to students, or anyone posting threats on social

media, that they are not anonymous.

"This also applies to others who share a post knowing that it is

a false threat," said Short. "Just because you create a fake account,

as with this recent incident, the social media companies and

Internet service providers will always have a record of the device

the posts are being

submitted from.

Sometimes we can

find the suspect

quickly and sometimes

it takes a bit

longer, but our detectives

are very good at

their jobs. We will

have zero tolerance

for any person threatening

our school staff

and students and will

prosecute them to the

fullest extent of the

law."

See POLICE, page 2

Sain Insurance Agency Inc.

Lisa Sain, Agent

Groveport, OH 43125

www.lisasain.com

Bus: 614-830-0450

Being there

is why I'm here.

Total average savings of

$

761

when you combine home and auto.

Call my office for a quote 24/7.

*average annual household savings based on national 2015 survey of new

policyholders who reported savings by switching to State Farm.

State Farm Murual Automotive Insurance Company, State Farm Indemnity Company,

State Farm Fire and Casualty Company,

State Farm General Insurance, Bloomington, IL

P097136.1
---
PAGE 2 - GROVEPORT MESSENGER - December 26, 2021

www.columbusmessenger.com

Domestic violence incident

results in police pursuit

A FREE ESTIMATE

15 10 5

YOUR ENTIRE

PURCHASE *

% % %

OFF + OFF + OFF

Serving Your Community

Malek &

ATTORNEYS AT LAW Malek

Proudly Announcing

Adding New Attorneys

To Serve You!

WORKERS'

COMPENSATION

PERSONAL INJURY

WRONGFUL DEATH

SLIP & FALL INJURY

DOG BITE INJURY

SENIOR & MILITARY

DISCOUNTS

| Promo Number: 285

Since 1972

YEAR-ROUND

CLOG-FREE GUARANTEE

1-855-595-2102

TO THE FIRST

50 CALLERS! **

Prepare for unexpected

power outages with a

Generac home standby

generator

REQUEST A FREE QUOTE!

866-643-0438

FREE

7-Year Extended Warranty*

A $695 Value!

Limited Time Offer - Call for Details

Special Financing Available

Subject to Credit Approval

*To qualify, consumers must request a quote, purchase,

install and activate the generator with a participating dealer.

Call for a full list of terms and conditions.

Douglas, Ed, Jim

and Kip Malek

"Hablamos Español"

FREE Initial Consultation

www.maleklawfirm.com

614-444-7440

1227 S. High St., Columbus, OH 43206

By Rick Palsgrove

Groveport Editor

A domestic violence incident, allegedly involving a

gunshot, resulted in police pursuing a suspect from

Groveport to east Columbus.

According to the Groveport Police, on Dec. 16 near

10 p.m., a 27-year-old woman, who is professionally

contracted to clean city of Groveport facilities, had completed

her cleaning duties at the Groveport Municipal

Golf Course when she saw her 27-year-old ex-boyfriend

approaching her in his vehicle. (Both the man and the

woman reside on the westside of Columbus.)

Groveport Police indicated the woman did not want

to see the ex-boyfriend and drove away from the golf

course northbound on Richardson Road while also calling

9-11. With the ex-boyfriend pursuing her in his

vehicle, she drove east on Groveport Road and turned

into the Groveport Recreation Center parking lot.

"She was trying to get away from him and he followed

her into the Groveport Recreation Center parking

lot," said Groveport Police Chief Casey Adams.

The woman told police that, while in the parking

lot, she (allegedly) heard a gunshot. The Groveport

Police said the man allegedly said he fired his gun in

the air to get her attention.

According to the Groveport Police report, the suspect

had a .40 caliber handgun and a .40 caliber shell

casing was found on the scene.

Adams said the woman then drove from the parking

lot and headed westbound on Groveport's Main Street

with her ex-boyfriend in pursuit of her.

POLICE

Continued from page 1

Elmont Place subdivision shooting

On Dec. 9 around 5:40 p.m., shots were fired at a

house in the 4900 block of Whispering Falls Drive in

the Elmont Place subdivision, according to the

Groveport Police.

According to Groveport Police Detective Josh

Gilbert, an 18-year-old Columbus man came to the

door of a house on Whispering Falls Drive and asked to

see an 18-year-old Groveport man who he believed was

in the house. Gilbert said the suspect worked his way

into the house and began to search for the 18-year-old

Groveport man. The suspect ran out the back door of

the home when he was confronted by an adult in the

household

According to Gilbert, the suspect ran to a waiting

car and, as the vehicle drove off, the suspect allegedly

fired six rounds from a .40 caliber weapon at the front

of the house.

"Rounds went through the house and garage," said

Gilbert. "One round exited the house's west wall and

went into a neighbor's occupied bedroom. Luckily

nobody was injured in this incident."

Gilbert said a warrant was issued for one suspect

School board meetings

The Groveport Madison Board of Education will

hold its annual organization meeting at 7 p.m. on Jan.

12 at the District Service Center, 4400 Marketing

Place, Suite B, Groveport.

While the board will not formally act on their meeting

dates for 2022 until the Jan. 12 organizational

meeting, they have proposed resuming a two meeting

Groveport Police officers responded and the exboyfriend

fled down West Street, Elm Street, and then

over the railroad tracks north on old Hamilton Road in

his vehicle with the police in pursuit. Officers indicated

the suspect at times "went dark" by turning off the

lights on his car during the chase. The pursuit continued

north on State Route 317 to westbound U.S. Route

33 toward Columbus with three Groveport Police

cruisers following the suspect.

Adams said Franklin County Sheriff deputies

deployed stop sticks at I-270 and U.S. Route 33, but

the suspect avoided them and continued on to I-70

westbound exiting at Livingston Avenue where another

Franklin County Sheriff deputy was waiting.

According to Adams, the suspect drove around the

deputy, ran a red light and then his vehicle was broadsided

by another vehicle.

"His vehicle was pushed into a pole and then the suspect

fled on foot to a nearby bike path and wooded area,"

said Adams, where an Ohio State Highway Patrol helicopter

spotted the suspect and he was arrested.

Adams said that during the vehicle pursuit at no

time did the speed of the vehicles exceed 50 to 60 mph.

"There were no injuries," said Adams.

According to the Groveport Police, the suspect was

charged with domestic violence, aggravated menacing,

menacing by stalking, a weapons charge, and fleeing

and eluding.

Adams said the suspect is in the Franklin County

Jail with a $50,000 bond for the misdemeanor charges

and a $50,000 bond for the felony charges.

for a felony of the second degree improper discharge of

a firearm into a habitation. He said the investigation is

ongoing.

Other Groveport Police news

•Groveport Police Lt. Bary Murphy said an $87,000

forgery and receiving stolen property case from 2017-

18 was plead out with the defendant receiving an 18

month prison sentence.

•In a case from 2021, Murphy reported a suspect

was charged with four counts of felonious assault for

driving a vehicle at four people in a front yard. The

defendant plead to one count of attempted felonious

assault and was sentenced to 36 months of community

control.

November Groveport Police statistics

November crime statistics, according to the

Groveport Police: 14 arrests, 22 accidents, 4 assaults, 0

burglary, 5 domestic disputes, 5 domestic violence, 1

OVI and alcohol, 21 thefts/robberies, 2 stolen/unauthorized

use, 1 missing persons, 2 weapon related calls, 1

narcotic related offense, 2 parking, 1 threat, 2 vandalism,

0 juvenile complaint, 22 traffic citations, 1 sex

related crime, 1 suicide attempt - DOA.

per month schedule taking place on the second and

fourth Wednesdays of the month at 7 p.m.

School roofing project

The Groveport Madison Board of Education unanimously

approved contracting with Dynamix for a $1.7

million in roofing projects for Glendening Elementary,

Dunloe Elementary, and Middle School South.

Funding comes from federal ESSER III grant funds.
---
www.columbusmessenger.com

Vehicle crashes increase at

SR 317 and Groveport Road

Plus other Groveport news

By Rick Palsgrove

Groveport Editor

The busy intersection of State Route 317 and

Groveport Road has seen its share of traffic accidents

recently.

Groveport Police Chief Casey Adams said there has

been an increase in traffic accidents recently in the

area of the Groveport Road, State Route 317, and

Greenpointe Drive corridor during the peak season of

new seasonal employees working in the warehouses in

the city's industrial parks.

"Two of these accidents caused extensive road closure

time on State Route 317 in the area of Groveport

Road," said Adams. "The accidents involved semitrucks

that either jack-knifed north of the intersection

or a semi-truck that ran off the road south of the intersection.

Both incidents caused about six hours of State

Route 317 road closures and more than 10 hours of

man power (police) over time."

Adams said, overall, the city of Groveport has seen

a four percent decrease in auto accidents from 2020 to

2021. However, there is a 41 percent increase in auto

accidents when specifically comparing November 2020

to November 2021. He said 27 percent of these

November accidents occurred between 6-9 a.m. and 64

percent occurred between 2-10 p.m.

Other Groveport news

•Council approved legislation to prohibit parking

on the fire hydrant side of West Street.

Groveport City Administrator B.J. King said there

is an ongoing issue of multiple vehicles being parked

on both sides of West Street making it difficult for

snow plows, leaf clean up trucks, and delivery trucks

to maneuver on the street. Additionally, he said, having

vehicles parked on the fire hydrant side of the

street is a safety issue.

There is also an issue of parked cars blocking mailboxes.

The mailboxes in this area are on both sides of

Photo courtesy of the Groveport

Police

Fire on

Front Street

the street.

City officials will contact the Post Office to see if all

the mailboxes can be placed on the fire hydrant side of

the street.

•Council rejected, by a 5-1 vote, a final development

plan for a temporary storage and stockpile area on 24

vacant acres on South Hamilton Road east of the railroad

and north of Lowery Court. Councilman Ed

Dildine was the lone approving vote.

King said council indicated it prefers a more permanent

use be developed on the site. The Planning and

Zoning Commission also did not recommend the plan.

•Groveport's fourth annual Blacklick Haunted

Park event last October raised $3,816 that was donated

to Groveport Madison Human Needs. Groveport

Finance Director Jason Carr said the funds were generated

from the sale of 632 tickets for the event plus

additional donations.

"It's the most money that has been generated from

this event," said Carr.

Added Councilman Shawn Cleary, "This event is a

class act. The people running it put in a lot of work."

•The city of Groveport's income tax revenue yearto-date

as of Nov. 30 was $16.9 million, which is 17

percent higher than the same time in 2020, according

to Carr. Income tax revenues year-to-date comprise 64

percent of all city total revenues. Carr also noted the

city's general fund balance as of Nov. 30 is $2.6 million

higher compared to the same time last year.

•Groveport Public Service

Director Brian Strayer said city

workers collected nearly 61,000

pounds of leaves in November.

•Regarding street tree maintenance,

Strayer said: 61 trees

were removed, including 35

identified as hazardous; 65 trees

will be pruned this winter by

Arbor Barber; and 80 new trees

will be planted in 2022.

Just after 6 a.m. on Dec.

13, the Groveport Police

were dispatched to the

100 block of Front Street

to assist the Madison

Township Fire

Department on a fire with

a possible juvenile

female outside screaming.

"Upon arrival, we

immediately observed a skid steer pulling a fully flame engulfed travel trailer

toward Front Street from the rear of the property," said Groveport Police Lt. Josh

Short. "As the skid steer reached the roadway, he dropped the trailer and moved to

a safe location. Firefighters arrived and immediately went to work on the fire while

we kept Front Street closed from the railroad tracks to Ebright Road until they were

done. We had the road closed for about an hour." Short said the man who moved

the camper, a neighbor of the property owner, said he wanted to get the camper

away from the other structures on the property and he believed some bad electrical

wiring was the cause of the fire. "Definitely not something you see every day,"

said Short. There were no injuries.

December 26, 2021 - GROVEPORT MESSENGER - PAGE 3

columbusmessenger.com

Be a Part of Our

Local Worship Guide

Our upcoming Worship Guide is geared toward

celebrating faith and helping readers connect with

religious resources in our community. Make sure these

readers know how you can help with a presence in this

very special section distributed to more than 20,000

households in the Groveport area.

The cost is $20 per issue. (must run twice)

Contact us today to secure your spot in Worship Guide.

614.272.5422 • kathy@columbusmessenger.com
---
PAGE 4 - GROVEPORT MESSENGER - December 26, 2021

Groveport history films

Two documentary films on the history

of Groveport, produced by the Groveport

Heritage Society and Midnet Media, are

now available for viewing online on

YouTube.

The films are: "Groveport: A Town and

Its People" and "The Story of John S.

Rarey and Cruiser."

Letters policy

The Groveport Messenger welcomes letters

to the editor. Letters cannot be libelous. Letters

that do not have a signature, address, and telephone

number, or are signed with a pseudonym,

will be rejected. PLEASE BE BRIEF AND TO

THE POINT. The Messenger reserves the right

to edit or refuse publication of any letter for any

reason. Opinions expressed in the letters are not

necessarily the views of the Messenger. Mail letters

to: Groveport Messenger, 3500 Sullivant

Avenue, Columbus, OH 43204; or by email to

southeast@columbusmessenger.com.

southeast

Messenger

(Distribution: 7,900)

Rick Palsgrove ...................................Groveport Editor

southeast@columbusmessenger.com

Published every other Sunday by

The Columbus Messenger Co.

3500 Sullivant Ave., Columbus, Ohio 43204-1887

(614) 272-5422

The Columbus Messenger Co. reserves the right to edit, reject or cancel

any advertisement or editorial copy at any time. The company is not

responsible for checking accuracy of items submitted for publication.

Errors in advertising copy must be called to the attention of the company

after first insertion and prior to a second insertion of the same advertising

copy.

Keep tabs on the latest news in

Groveport & Madison Township

Look for Groveport Messenger on

Become a fan!

www.columbusmessenger.com

Riding the rails electrically

There's an old joke that goes like this:

First person: "Train's been here."

Second person: "How can you tell?"

First person: "There's its tracks!"

Corny joke, but still funny and, actually, a true statement as

well. The tracks are there and a train passed by on them at some

point and will again

Editor's Notebook

Rick

Palsgrove

soon.

That is, except for

the steel rail tracks

embedded in the bricks of Groveport's

Blacklick Street. The well preserved tracks

remain, but the Scioto Valley Traction Line's

electric interurban railway cars are never

going to roll along them again. All that's left of

that busy transportation system that once

passed through Groveport are these steel rails.

The rails are a historical reminder of the

then modern and thriving Scioto Valley

Traction Line electric railway that operated

in Groveport and the surrounding area from

1904 to 1930.

The interurban, or traction line, was powered

by electricity. A "third rail" carried a 600

volt electric current that propelled railway

cars along standard rails. The interurban

moved passengers and freight between regional towns and

Groveport's location between Columbus and Lancaster made it

logical to run an interurban line through the then village.

The Scioto Valley Traction Line ran southeast of Columbus

along Groveport Road through Obetz and to Groveport. It passed

through Groveport on Blacklick Street and then followed the Ohio

and Erie Canal route to Canal Winchester. Originally the traction

line company wanted the line to run down Groveport's Main

Street, but the village council in the early 20th century felt it

would be a danger to traffic there and instead jogged the route to

the lesser traveled Blacklick Street.

A depot was built on the northwest corner of Blacklick Street

and Brook Alley. If you take a walk along Blacklick Street today

you will notice a switch area where part of the track curves north

out of the street's right of way. That sidetrack lead to the now long

gone interurban depot.

Other remnants of the interurban's former rail bed through

Groveport can be partially seen along the south side of Groveport

Road west of State Route 317 (though much of it was taken out

with the recent road work near Saltzgaber Road) and in

Groveport's Blacklick Park where the interurban right of way is

now a walking path that extends from the park to Rager Road

alongside the remains of the Ohio and Erie Canal.

On July 19, 1904, the first interurban car ran from Columbus

to Canal Winchester. The speed of the car amazed riders and

Our Pictorial Past by Rick Palsgrove

Photo courtesy of the Groveport Heritage Museum

An early 1900s view of a then unpaved Blacklick Street looking

west shows the electric interurban railway tracks embedded in

the dirt street and the interurban depot at right. In the background

the bell tower of Groveport High School, which once

sat where Naomi Court is today, can be seen.

observers alike. The five mile trip from Groveport to Canal

Winchester took a little over five minutes as the car reached a

speed of 62 mph. A much faster trip between the two towns than

a horse and wagon or a canal boat could make.

This speed immediately seemingly shrank the distance

between Groveport and Columbus and would forever change

Groveport's relation to the capital city.

During the 19th century, Groveport was somewhat isolated

from downtown Columbus by distance. Now, that 12 mile distance

could be crossed in a matter of minutes. People no longer had to

live near where they worked since the interurban could shuttle

them back and forth to work. This enabled people to work in

Columbus while still living in Groveport. The interurban also

made Columbus a more viable alternative for shopping and entertainment.

The interurban's presence was the beginning of

Groveport becoming a suburb of Columbus.

Groveport's population nearly doubled between 1900 and 1930

and the town's accessibility via the interurban no doubt played a

major role in this growth.

The Scioto Valley Traction Line operated passenger service

through Groveport until 1930 when automobiles and buses made

the electric railway obsolete. However, some coal delivery continued

on the line for several years afterward.

The electric interurban railway cars are gone, but I know

they've been here, because, there's their tracks.

Rick Palsgrove is editor of the Groveport Messenger.

BIRTHDAY • ENGAGEMENT • WEDDING • ANNIVERSARY

• GRADUATION • RETIREMENT

IN MEMORIUM • ARMED FORCES

Say it with an announcement ad in

the Messenger and spread the word.

You can download the appropriate form from

our Web site or stop by our office

Monday-Thursday, 8:30 a.m.-5 p.m.

Friday, 8:30 a.m.-2 p.m.

Columbus Messenger

3500 Sullivant Ave.

614-272-5422

www.columbusmessenger.com

Photo courtesy of the Groveport Heritage Museum

Groveport School,

1950

Pictured here is Groveport School (now

Groveport Elementary) as it looked in 1950.

This photo is unique in that it was taken looking

west toward the school. Most of the well

known photos of this historic school are taken

from the front or looking east toward the

school. It is interesting to note the tree and

garden at the corner of the building that were

there in 1950 and which are now long gone.

Also visible to the right is the low hedge that

once ringed the school's front lawn.
---
www.columbusmessenger.com

Long time trustee retires

By Linda Dillman

Staff Writer

The end of the year also closes the books on a long

history of public service and public by Ed Dildine as he

prepares for his last meeting as a Madison Township

trustee on Dec. 28.

Dildine started as a Madison Township firefighter

in May 1979, where he worked until his retirement in

2009. He later ran for trustee and was sworn in on Jan.

1, 2010 and served the township for a combined total of

43 years. Dildine said he became a firefighter to help

people and was happy to continue to do that as a

trustee.

A 1967 graduate of Groveport Madison High School,

Dildine was honored for his 12 years as an elected official

during the Dec. 14 Madison Township trustees'

meeting when he was presented an encased flag from

Trustee Chairman John Pritchard, a flag that was

flown over each township building.

"When he came on the board, I was still a trustee,"

reported Madison Township Administrator Susan

Brobst. "You've been extremely supportive and have a

lot of insight."

Local Firefighters Union 2507 President Rashid

Taylor said he had worked alongside Dildine as a firefighter

in addition to collaborating with him as a

trustee.

"His job and passion were not to be a firefighter and

trustee, but to make a difference in other peoples'

lives," said Taylor before telling Dildine he has the

appreciation of the union for all he has done for township

firefighters.

Other Madison Township news

•The trustees approved moving their regular meeting

dates in 2022 to the third Thursday of each month.

However, the annual organizational meeting will take

place on Jan. 4 at 5 p.m.

•As announced in November, the township's gas

aggregation contract with Colum-bia Gas has expired

and all residents enrolled in the program were returned

to the gas company's standard pricing default.

"We did not renew…because rates were so high

there was no savings for residents," said Brobst.

According to communications specialist Jessica

Wood-worth, the township does anticipate another

aggregation contract in the future, although an exact

date is not known. Consultant Trebel LLC is watching

PAID ADVERTISING

Reduce food, packaging, and

electronic waste during the holidays

It's easy for the waste we create to increase

over the holidays.

We've been busy buying and wrapping gifts,

decorating, entertaining and baking. Preventing

waste and recycling correctly during this time can

help reduce reliance on landfills and decrease our

carbon footprint. As you continue your celebrations

into the new year and begin to clean up from

the holidays, SWACO is helping families reduce

waste and recycle right with these five tips:

1. Prevent food waste. Turn the leftover holiday

ham into bean soup on New Year's Day and

turn rolls into croutons for salads. Get food waste

reduction tips and recipes at

savemorethanfood.org

2. Recycle right. Flatten cardboard and place

in your curbside recycling cart or before taking it

to SWACO drop off locations. Visit

recycleright.org to find a drop off location near

Messenger photo by Linda Dillman

Sworn in as a Madison Township trustee in 2010,

Ed Dildine (right) attended one of his last regular

meetings as a trustee on Dec. 14 and was presented

a flag by Trustee Chairman John Pritchard that

was flown over the township offices.

gas rates continuously and will secure a contracted

rate when prices drop.

"This will allow Treble to shop for us," said Brobst,

regarding a resolution giving permission to the company

to pursue lower gas and electric

rates and to secure those

rates with the approval of the

trustees.

•The trustees authorized

Brobst to submit a grant application

for state capital funds to

improve drainage at Brobst

Park.

"We continue to have more

and more issues with flooding at

the park," said Brobst. "Last

week, due to a lot of rain, we

had to close the park early."

you.

3. New electronics are popular holiday items

to give and receive. Have electronic waste to discard?

Check with the retailer for a take back program

or use the Reuse and Recycling Search Tool

at recycleright.org to find an e-waste recycler

near you.

4. Compost live holiday wreaths and trees

by removing decorations and setting them at the

curb on your yard waste collection day. Check

your local municipality's website for a yard waste

collection schedule.

5. Take Styrofoam to a post-holiday recycling

event like the one being held on Thursday,

Dec. 30 at the Hilliard Municipal Building, 10

a.m. – noon.

It's easy to make a difference when you commit

to reduce waste and recycle right.

December 26, 2021 - GROVEPORT MESSENGER - PAGE 5

Madison Township Police statistics

November crime statistics from the Madison Township Police:

10 accidents with injuries, 3 assaults, 1 burglary, 30 domestic

complaints, 2 fights, 7 hit skip accidents, 11 juvenile complaints,

14 larceny/theft, 6 missing persons, 27 parking violations, 2 person

with gun, 26 property damage accidents, 1 sex offense, 7 shots

fired in area, 7 stolen vehicles, 7 suspicious cars, 20 suspicious

persons, 12 suspicious persons/vehicles, 7 threats or harassment,

99 traffic stops, and 5 vandalism.

Groveport Garden Club

GO GREEN THIS

HOLIDAY SEASON

Make a difference by taking small steps to reduce

waste and recycle right over the holidays.

DONATE DECORATIONS

AND LIGHTS

Instead of pitching unwanted

decorations or lights, donate them

to a local non-profit like Goodwill.

RECYCLE RIGHT

Break down cardboard boxes

and keep recyclables loose in

the curbside recycling cart.

The Groveport Garden Club meets the first Tuesday each

month (unless otherwise announced) at Groveport Zion Lutheran

Church, 6014 Groveport Road. Anyone interested in gardening

welcome. Call Marylee Bendig at (614) 218-1097.

REDUCE FOOD WASTE

Save money and landfill space by

only buying food you need, and find

creative ways to use leftovers!

It's easy to have a green holiday.

Get more tips at SWACO.org!
---
PAGE 6 - GROVEPORT MESSENGER - December 26, 2021

AUTO HOME

Beplerinsurance.com

614.837.4379

staff@beplerinsurance.com

3246 Noe Bixby Rd., Columbus, Ohio 43232

Website:Expert-hvac.com

Phone:614-946-8461

Experthvacllc@gmail.com

Free estimates on

system installs

$70 preventative

maintenance (tune up)

Expert service - affordable prices - Locally owned from Groveport

Mention this ad and get $20 off a $85 service call.

Our Family Caring For Yours

Dr. Sacheen Garrison

5055 S. Hamilton Road

Groveport, OH 43125 614-836-0500

www.groveportsmiles.com

Have you ever come across a recipe you

were sure you were going to love?

While you may have had reservations

about the lengthy prep time or the steps

therein, you were certain the combination

of favored ingredients would be worth the

effort, thus creating a new staple on the

menu for when you need that thing that

hits a particular spot.

Have you ever tried the recipe in question,

the one that on paper made your salivary

glands go all aflutter, and had it taste

like complete rubbish through no fault of

your own. And while you may later recognize

that the "complete rubbish" descriptor

may have been too harsh because you liked

that sprig of mint or something, the end

result was all the same — something that

was not what you wanted, not what you

needed, nor what you expected.

The experience of disappointing food is

an awful and universal feeling — my

regards to your buds if you just recently

tried a new thing and are still exorcizing

that palate — and one that can be applied to

just about any other thing that intrigues

you and ultimately lets you down. For

instance, that recipe metaphor is the

absolute best way I can think of to relay

how I felt upon watching "Nightmare

Alley."

"Nightmare Alley" is that recipe in a

magazine or a cookbook that catches your

eye. It paints a beautiful and stylish picture

of its product (don't they all?) but

what keeps it there are the ingredients

promised inside, all of those darker thematic

elements you love immersing together

for what could amount to an unusual

and compelling film.

But, like that recipe from above, the end

result was not something you wanted,

needed, or really expected. Instead, what

you get is a slow simmering and time consuming

mess with just enough panache to

make you not completely hate it despite

however much you may want to.

The film begins with a mysterious flourish:

a body carelessly wrapped in sheets

being dragged across a dirty, dusty floor.

The person doing the dragging is Stanton

Carlisle (played by Bradley Cooper), who

promptly lights the place on fire, but not

before donning a sweet Fedora and lighting

a cigarette as he makes his great escape. In

the silhouette of this scene, the first of

many gorgeous shots peppered throughout

the film, Stanton looks like Indiana Jones

preparing for one of his grand adventures,

but the film makes it clear from the jump

that Stanton is no hero.

Rather than rushing off into the jungle

while on the lam (the film is primarily set

in the Midwest circa the 1940's), Stanton

finds the perfect spot in a traveling carnival

full of misfits who "pay no mind to what

you've done in the past." Initially, Stanton

takes a job as a roustabout as they go from

town to town but eventually he begins to

learn the tricks of the mentalist trade from

GIFT CARDS AVAILABLE

www.sudslingers.com

"seer" Zeena (Toni

Collette) and her alcoholic

husband Pete

(David Strathairn).

After an inspired act

that saves the carnival

from the wrong end of

the law (think snake

oil preachers who

probably bury "stolen"

money in their walls)

Stanton believes he is

www.columbusmessenger.com

"Nightmare Alley" not a tasty cinematic treat

The Reel Deal

Dedra

Cordle

"ready for the big time" and asks the sweet

natured ingenue Molly Cahill (Rooney

Mara) to join him in a two-person swindling,

er, performing act.

Two years later, the duo has established

roots in New York where they perform

shows for the wealthy in hotels. Through a

complex system of coded words, they hold

the crowd in the palm of their hands as

"The Great Stanton" sees all. What he fails

to see, or really comprehend however, is

just how much his life is going to change

when he meets the crafty psychologist Dr.

Lilith Ritter (Cate Blanchett) and a rich

business owner who wants Stanton to use

his "skills" so he can commune with the

dead.

While director and co-writer Guillermo

del Toro has a penchant for using the

supernatural in his films, there are no true

supernatural elements in "Nightmare

Alley." Instead, his focus is more on the

horror the living can inflict on another

being, which in my opinion is far scarier

than anything else.

There are so many things to like, and

even love, about this movie: it has a terrific

cast who all give great performances, it's

stylish and visually arresting, and it has a

punch in the gut ending that makes an

impact despite hints along the way that it

was bound to happen.

But for however hard this film tries to

be something new, something different and

engaging, there is a disconnect in between

how it was presented as a genuine adult

thriller and how it comes across, which is

maddeningly slow and not at all thrilling.

Grade: C

Dedra Cordle is a Messenger staff writer

and columnist.

We Have Moved! Now Located At

Rutherford Auto Body

601 Commerce Drive

Pickerington, Ohio

Same Owners • Same Quality

Call us at 614 837 0902

and mention Columbus Messenger for 10% OFF
---
www.columbusmessenger.com

December 26, 2021 - GROVEPORT MESSENGER - PAGE 7

Frozen Lobster Tails, King Crab Legs, Snow Crab Clusters, Orange Roughy,

Lake Smelts, Fresh Chopped Clams, Squid Tubes and Tentacles, Caviar,

Salted Baklava, Fresh Cod, Fresh, Eel, Octopus, Fresh Lump Crabmeat

(Non-Pasterized), Florida Stone Crab Claws, Snow Crab Cocktail Claws,

Live Lobsters via Special Order Only!

We Carry Domestic and Imported Wines

SUPPORT YOUR LOCAL

SMALL BUSINESSES

All Orders to be Picked Up at

5249 Trabue Rd.

Columbus, OH 43228

HOURS:

Monday 8am- 5pm

Tuesday thru Thursday 8am-6pm

Friday 8 am - 4 pm

Now taking New Year's orders

We Accept All Major Credit Cards

EBT Cards (SNAP)

FRESH PRODUCE - LARGE WINE SELECTION

•Oysters Chesapeake Bay •Chilean Seabass Fillets

•Assorted Beef Steaks •Halibut Fillets

•Frozen Lobster Tails •Snow Crab Clusters

•King Crab Legs •Orange Roughy

•Faroe Island Salmon •Smoked Salmon

•Sea Scallops

•Live Lobsters via Special Order Only!

SUPPORT YOUR LOCAL

SMALL BUSINESSES

New 2nd Location

2

HOURS:

Monday thru Thursday

9am-7pm

Friday 8am-4pm

WE ACCEPT

All Major Credit Cards,

EBT Cards (SNAP)
---
PAGE 8 - GROVEPORT MESSENGER - December 26, 2021

By Kristy Zurbrick

Staff Writer

www.columbusmessenger.com

Put on your hiking shoes

Go on your own time or join other

hikers at designated times—or do

both! The 49th Annual Winter Hike

Series offers lots of options for getting

out into nature during the year's colder

months.

Hosted by Columbus and Franklin

County Metro Parks, the upcoming

hike series encourages folks to visit

some or all of 18 parks in the system,

three of which cross over into

Madison County. The program runs

from December through January.

While participants can hike any

park at any time during the threemonth

period, the park system is

highlighting certain parks each

month and offering opportunities to

gather with other hikers.

In December, the featured parks were Battelle

Darby Creek, Blacklick Woods, Highbanks,

Homestead, and Inniswood. Participants enjoyed twinkling

light displays and hot chocolate from 5 to 7 p.m.

on Sundays at these parks. Additionally, evening

lantern walks and hot chocolate were offered at

Chestnut Ridge Dec. 17-18.

In January, the featured parks will offer refreshments

from 10 a.m. to 2 p.m. on certain days: Blendon

Woods (Jan. 8, chicken noodle soup), Sharon Woods

(Jan. 9, shredded chicken sandwiches), Scioto

Audubon (Jan. 15, hot dogs), Clear Creek (Jan. 22,

doughnuts), Prairie Oaks (Jan.

23, cinnamon rolls), and Three

Creeks (Jan. 29, sausage biscuits).

In February, the featured

parks are Glacier Ridge,

Pickerington Ponds, Rocky Fork,

Scioto Grove, Slate Run, and

Walnut Woods. Participants can

search for and take home wooden

ornaments on trails at these

parks, plus enjoy campfires from

10 a.m. to 2 p.m. on Sundays.

Anyone who completes hikes

at seven or more of the parks

earns a hiking patch. It's a new

patch this year, featuring a fox

design. Anyone who completes all

18 hikes and signs up to be a

Friends of the Metro Parks member

($10) earns a hiking stick and

a medallion for the stick. To track completed park visits,

pick up a hike card at any of the parks featured in

December, then flag down a park ranger to stamp the

card after each visit.

Patches, sticks and medallions will be distributed

at the end of the series during a celebration at

Blacklick Woods Golf Course. During the event,

planned for Feb. 27 from 11 a.m. to 3 p.m., visitors can

hike the trails at the course, enjoy hot chocolate and a

campfire, and borrow skates to glide around the ice

rink.

Visit www.metroparks.net/events/.

This year's Winter Hike Series

rewards include a new hiking patch

featuring a fox design. Anyone who

completes hikes at seven or more of

the featured parks earns a patch.

Messenger

Groveport

BEST COMMUNITY NEWSPAPER in Groveport

Starting December 12, 2021

Pick-Up At These

Locations:

Groveport Senior Village - 5124 Hendron

Madison Township Office - 4575 Madison Lane

Paddock Pub/Groveport Golf Ctr. - 1005 Richardson Rd.

Southeast Library - 3980 S. Hamilton Rd.

Asbury Methodist Church - 4760 Winchester Pike

Groveport Municipal Building - 655 Blacklick St.

Groveport Town Hall - 648 Main St.

Dollar General Store - Groveport Rd. & Route 317

Flyers PIzza/Groveport - 296 Main St.

Ace Hardware - 726 Main St.

Little Italy Pizza - 619 Main St.

Huntington Bank/Groveport - 556 Main St.

Groveport Recreation Center - 7370 Groveport Rd.

Wagnalls

Memorial

Library

Wagnalls

Memorial Library

is located at 150 E.

Columbus St.,

Lithopolis. all

(614) 837-4765 or

visit www.wagnalls.org.

Southeast

Library

The Southeast

Branch of the

Columbus

Metropolitan

Library is located

at 3980 S.

Hamilton Road,

Groveport. For

information visit

www.columbuslibrary.org

or call

614-645-2275.

READ US ONLINE: www.columbusmessenger.com
---
www.columbusmessenger.com

Who stole the gingerbread cookies?

By Rick Palsgrove

Groveport Editor

Someone stole gingerbread cookies from

the head cook at Glendening Elementary

and the students are hot on the case!

Glendening teacher Jenn Minton's second

grade class received a helping hand

from the Groveport Police to solve the mystery,

which included advice and assistance

from Minton's father, Groveport Police

Officer Ernie Bell, as well as officers

Shellie Rimmer, Kristin Didyk, and Kyle

Smith.

"I was so excited to partner with my dad

and the Groveport Police again for another

project," said Minton.

Bell said he enjoys being a part of projects

like this at the school.

"It's a good way to make a positive connection

between the kids and the police,"

said Bell.

This is the second collaboration between

Minton's students and Groveport Police.

"This is the second time we have done

this type of project together," said Minton.

"The first was in 2018, when the kids

helped to solve who stole Santa's toy sack."

The case

For this year's detective work, Minton

said students were read the case file stating

that Ms. Sheri's (the school's cook) gingerbread

cookies were stolen.

"Then the students are provided with

the suspect photos, which are photos I have

taken of our staff members," said Minton.

"But each one is looking suspicious and

some are holding specific clues. They also

have items in the background that could

possibly be reasoned as evidence, such as

snacks, big bags to hide cookies, and so on."

According to Minton, based off the photos

and the case file, students make a prediction

about who they think is guilty.

"Then each day, the police officers read

clues that would help to eliminate a suspect,

students read the written clue, and

use the photos to help eliminate a suspect,"

said Minton. "After clue three, students

look at their initial predictions and then,

like good readers, they could adjust by

selecting someone new, especially if their

initial suspect was eliminated, or they

could confirm that their prediction was still

a suspect."

Once students get the final clue, they

write up their report and submit it to Bell.

"In this report, they explain who stole

the missing cookies and provide an explanation

of their inferencing skills as to what

clues they used to determine they had the

right suspect," said Minton.

The project enables students to learn

the skill of inferencing - going beyond the

author's words to understand what is not

being said in the text.

"We teach second graders to use all

parts of the story - the text and pictures -

as well as their background knowledge to

gain information," said Minton.

Ultimately the students deduced it was

the school guidance counselor who stole the

Photo courtesy of Jennifer Minton

Groveport Police Officer Ernie Bell helping

students in Jennifer Minton's second

grade class at Glendening Elementary

solve the case.

gingerbread cookies.

"Once the students solved the case, we

brought her to the classroom and asked her

why she did it," said Minton. "She

explained to the students that she was in

the blue/red zone (feeling sad/angry)

because she had a fight with a sibling and

then got into trouble, all things my students

can relate to."

Once students hear the suspect's reasons,

they help her brainstorm ways to deal

with those emotions and solve her problem.

"So many students tend to react to situations

impulsively without thinking

through the consequences, whether they be

positive or negative," said Minton. "It's my

hope that we can provide students with

strategies and tools to help them think

through these situations the next time one

may arise."

Engaged learning is rewarding

When asked how she came up with the

theme for this year's case, Minton said,

"Dad (Bell) and I wanted to create a new

case to keep the ideas fresh for students.

Also, with the 'suspects' being real adults

at school, I knew we could not only practice

the inferencing skills the lesson was originally

designed for, but we could add in the

social emotional learning (SEL) that is a

huge focus in our district."

According to Minton, SEL is the process

where students acquire and apply the

knowledge, skills, and attitudes to develop

healthy identities, manage emotions and

achieve personal and collective goals, feel

and show empathy for others, establish

and maintain supportive relationships, and

make responsible and caring decisions."

She said the kids enjoy the project

because they feel like they are helping the

Groveport Police.

"It really makes them feel like they are

a part of the Groveport Police team," said

Minton. "The visiting officers are all amazing

in playing along. They show up at our

classroom door with great energy and

ready to interact with the students."

She said students also enjoy projects

like this because they see the real-life

applications of what they are learning in

school.

"Students tend to put forth more effort

and are more engaged, when they know the

'why' behind their learning," said Minton.

"It's the age old question, 'Why do I have to

learn this or that?' In partnering with the

police, students see how adults, outside of

the school setting, are using the same skills

they are learning about in their daily lives:

reading skills, writing, legible handwriting,

math and so on."

Minton said Bell plays a large role in the

project.

"This year he 'deputized' the kids and

provided the badge stickers and police

notebooks and pencils," said Minton. "Once

we solve the case, he is our corresponding

officer, we let him know that we have

solved the case. Then he comes back on the

last day to thank them for helping to solve

the case and working with them. Then they

get to trade in their sticker badges, for little

honorary Groveport Police badge pins."

December 26, 2021 - GROVEPORT MESSENGER - PAGE 9

"BEST NEW YEARS PARTY IN TOWN"

Mike Albert

and

The Big E. Band

Per Couple Prices

Overnight Package - $319

Party Only Packages - $250

Single Overnight - $219

ree elementaries honored

The Ohio Department of Education

recently recognized three Groveport

Madison elementary schools in a virtual

ceremony honoring 237 of Ohio's 9,020

public schools.

The schools were honored for their integration

and implementation of Positive

Behavior Interventions and Supports system.

PBIS aims to establish and implement

social, emotional, and behavioral

supports and expectations to improve academic

outcomes for all students.

Schools being recognized included:

•Groveport Elementary, 2021 Ohio

PBIS Gold Award Winner;

•Asbury Elementary, 2021 Ohio PBIS

Silver Award Winner; and

•Dunloe Elementary, 2021 Ohio PBIS

Bronze Award Winner.

Special Olympics

The mission of Special Olympics Ohio

and its Groveport Special Olympics chapter

is to provide year round sports training

and competition in a variety of Olympic

type sports for intellectually disabled individuals.

For information contact local coordinators

Penny and Cassandra Hilty at groveportspecialolympics@gmail.com

or at (614)

395-8992 or 395-6640.

Donations may be sent to Groveport

Special Olympics, P.O. Box 296,

Groveport, OH 43125.

17 th Annual

Prices include

Dinner, Drinks, Room, Party favors,

Full Breakfast

Crowne Plaza • 6500 Doubletree Ave. (formerly Marriott North)
---
PAGE 10 - GROVEPORT MESSENGER - December 26, 2021

www.columbusmessenger.com

CLASSIFIED ADS

Deadlines: Groveport and West editions, Wednesdays at 5 p.m., • South/Canal Winchester, Grove City, Madison editions, Tuesdays at 5 p.m.

All editions by phone, Tuesdays at 5 p.m. • Service Directory, Tuesdays at 5 p.m.

xEmployment

NOW HIRING BUS DRIVERS

$19.00 an Hour

CDL Drivers get $2,000 Sign On Bonus

Non-CDL $1,000 Sign On Bonus

Paid Training

Apply @ 4400 Marketing Pl., Groveport (Door 16)

or http://careers.nellc.com/

614-836-4962

xNew Year's Greeeting

The Classified Department

THE COLUMBUS MESSENGER

Greeting

ASSOCIATION ADS

Donate your car to kids!

Fast free pickup running

or not - 24 hour response.

Maximum tax

donation. Help find missing

kids! 877-831-1448

Employment

2

0

2

2

ASSOCIATION ADS

Donate Your Car To

Veterans Today! Help and

Support our Veterans.

Fast - FREE pick up.

100% tax deductible. Call

1-800-245-0398

"HELP WANTED"

SIGN

NOT WORKING?

TO ADVER

VERTISE

Call Kathy at

The Columbus Messenger

272-5422

For More Info

ASSOCIATION ADS

Replace your roof with the

best lookng and longest

lasting material! Steel

from Erie Metal Roofs!

Three styles and multiple

colors available.

Guaranteed to last a

lifetime! Limited Time

Offer - $500 Discount +

Additional 10% off install

(for military, health

workers & 1st responders)

Call Erie Metal Roofs: 1-

855-338-4807

Become a Published

Author. We want to Read

Your Book! Dorrance

Publishing-Trusted by

Authors Since 1920

Book manuscript submissions

currently being reviewed.

Comprehensive Services:

Consultation, Production,

Promotion and Distribution. Call

for Your Free Author's Guide 1-

866-482-1576 or visit

http://dorranceinfo.com/macnet

Thinking about installing

a new shower? American

Standard makes it

easy. FREE design consulation.

Enjoy your

shower again! Call 1-

833-769-0995 today to

see how you can save

$1,000 on installation, or

visit www.newshowerdeal.com/mac

Stop worrying! SilverBills

eliminates the stress &

hassle of bill pmts.

Household

bills

guaranteed to be paid on

time as long as

appropriate funds are

available. No computer

necessary. Free trial/

custom quote 1-855-703-

0555

ASSOCIATION ADS

Wesley Financial Group,

LLC Timeshare Cancellation

Experts Over

$50,000,000 in timeshare

debt & fees cancelled in

2019. Get free

informational package &

learn how to get rid of

your timeshare! Free

consultations. Over 450

positive reviews. 888-965-

0363

HughesNet Satellite Internet

- Finally, no hard

data limits! Call today for

speeds up to 25mbps as

low as $59.99/mo! $75

gift card, terms apply. 1-

844-863-4478

Train online to do medical

biling! Become a Medical

Office Professional at CTI!

Get trained & certified to

work in months! 888-572-

6790. The Mission,

Program Information and

Tuition is located at

CareerTechnical.edu/cons

umer-information. (M-F 8-

6 ET.

Looking for assisted living,

memory care, or

independent living? A

Place for Mom simplifies

the process of finding

senior living at no cost to

your family. Call 1-833-

386-1995 today!

Become a Published

Author. We want to Read

Your Book! Dorrance

Publishing Trusted by

Authors Since 1920

Consultation, Production,

Promotion and Distribution.

Call for Your Free Author's

Guide 1-833-719-3029 or

visit http://dorranceinfo.

com/acp

xInformation

SCIENTOLOGY CAN HELP YOU

We can give you

1. A higher IQ to handle your problems

2. Higher awareness to get a better job

3. More energy to make more money

4. Better health to breast life

5. Better morale to handle upsets

6. Less despair

7. More life

8. More years to live

Come to our free introductory workshop:

Monday-Friday at 7pm; Saturday & Sunday 2pm.

1266 Dublin Road,Columbus, Ohio 43215

Information

ASSOCIATION ADS

Stroke & Cardiovascular

disease are leading

causes of death according

the AHA. Screenings can

provide peace of mind or

early detection! Call Life

Line Screening to

schedule a screening.

Special offer 5 screenings

for $149.. 1-833-549-4540

Paying top cash for men's

sportwatches! Rolex,

Breitling, Omega, Patek

Pillippe, Heuer, Daytona,

GMT, Submariner and

Speedmaster. Call 833-

603-3236

Long Distance moving.

Call for a free quote from

America's Most Trusted

Interstate Movers. Let us

take

the stress out of

moving! Speak to a

relocation specialist! Call:

888-721-2194

The bathroom of your

dreams for as little as

$149/month! BCI Bath &

Shower. Many options

available. Quality

materials & professional

installation. Senior &

Military Discounts

Available. Limited Time

Offer - FREE virtual inhome

consultation now

and SAVE 15%! Call

Today! 1-877-540-2780

Internet &WIFI Starts at

$49 Call us Today to Get

Started. Find High-Speed

Internet with Fiber Optic

Technology No Credit

Check, No SSN Required.

Call us Today 866-396-

0515

VIAGRA & CIALIS! 60

pills for $99. 100 pills for

$150 FREE shipping.

Money back guaranteed!

1-844-596-4376

ASSOCIATION ADS

READER

ADVISORY

The National Trade Association

we belong to has

purchased the following

classifieds. Determining

the value of their service

or product is advised by

this publication. In order

to avoid misunderstandings,

some advertisers do

not offer "employment"

but rather supply the

readers with manuals, directories

and other materials

designed to help

their clients establish mail

order selling and other

businesses at home. Under

NO circumstance

should you send any

money in advance or give

the client your checking,

license ID or credit card

numbers. Also beware of

ads that claim to guarantee

loans regardless of

credit and note that if a

credit repair company

does business only over

the phone it's illegal to request

any money before

delivering its service. All

funds are based in US

dollars. Toll Free numbers

may or may not

reach Canada. Please

check with the Better

Business Bureau 614-

486-6336 or the Ohio Attorney

General's Consumer

Protection Section

614-466-4986 for more

information on the company

you are seeking to

do business with.

Looking for assisted living,

memory care, or

independent living? A

Place for Mom simplifies

the process of finding

senior living at no cost to

your family. Call 1-833-

910-1576 today!

xAdult Care

Windsong is committed to providing

high quality, loving care, and affordable

home care services to our clients. With our

assistance, clients can lead

dignified and independent lives in the

comfort of their own home.

Individual needs are carefully assessed,

understood, and met through the selective

assignment of quality, trustworthy and

compassionate service-oriented personnel.

Give us a call today for a free in-home

assessment or visit our website at

www.windsongseniorcare.com

614-820-5000

Adult Care

ASSOCIATION ADS

LONG DISTANCE MOVING:

Call Today for a FREE

QUOTE from America's Most

Trusted Interstate Movers.

Let us take the stress out of

moving! Call now to speak to

one of our Quality Relocation

Specialists: 877-541-6320

DENTAL INSURANCE

from Physicians Mutual

Insurance Company.

Coverage for 350 plus

procedures. Real dental

insurance - NOT just a

discount plan. Do not wait!

Call now! Get your FREE

Dental Information Kit with

all the details! 1-877-553-

1891

www.dental50plus.com/

macnet#6258

VIAGRA and CIALIS

USERS! 50 Generic pills

SPECIAL $99.00 FREE

Shipping! 100% guaranteed.

24/7 CALL NOW!

888-445-5928 Hablamos

Espanol

AMERICAN & FOREIGN

CLASSIC CARS AND

MOTORCYCLES

WANTED. $$PAYING

CA$H$$ Corvettes,

Mustangs, Jaguars, Austin

Healeys, Broncos,

Blazers, Ram Chargers,

AMX, and Triumphs

KRMiller1965@yahoo.com

717-577-8206

ASSOCIATION ADS

SELL YOUR ANTIQUE

OR CLASSIC CAR.

Advertise with us. You

choose where you want

to advertise. 800-450-

6631 visit macnetonline.

com for details.

Stroke & Cardiovascular

disease are leading

causes of death according

the American Heart

Association. Screenings

can provide peace of mind

or early detection! Call

Life Line Screening to

schedule your screening.

Special offer - 5

screenings for $149. 1-

866-518-8391

Elminate gutter cleaning

forever! LeafFilter, the most

advanced debris-blockiing

gutter protection. Schedule

Free LeafFilter Estimate

today. 15% off Entire

Purchase. 10% Senior &

Military Discounts. Call 1-

855-995-2490

The Generac PWRcell

solar plus battery storage

system. Save money,

reduce reliance on

grid, prepare for outages

& power your home. Full

installation services. $0

down financing option.

Request free no obligation

quote. Call 1-855-

270-3785
---
www.columbusmessenger.com

xCome & Get It!

.

COME AND GET IT

Deadlines are Tuesdays by 5 pm.

Call For Publication Schedule 614-272-5422

Need to Get Rid of Something Fast - Advertise It Here For FREE!

FREE Garden Straw for gardens or bedding. Call for appointment for pickup.

Circle S Farms, 9015 London-Groveport Road, Grove City, 43123

Grove City - 614-878-7980

WOOD from two trees that we cut down two years ago. FREE.

Call me and let me know when you canp ick it up.

TH - Canal Winchester - 614-949-8963

Come and Get It! is a bi-weekly column that offers readers an opportunity to pass

along surplus building materials, furniture, electronic equipment, crafts, supplies,

appliances, plants or household goods to anybody who will come and get them - as

long as they're FREE. NO PETS! Just send us a brief note describing what you want to

get rid of, along with your name, address and phone number. Nonprofit organizations

are welcome to submit requests for donations of items.

Send information to The Columbus Messenger, Attention: Come and Get It, 3500

Sullivant Ave., Columbus, OH43204. Deadline is Tuesdays by 5 pm for following

Mondays publication. Messenger Newspapers is not responsible for any

complications that may occur. Please contact us when items are gone. 272-5422

ASSOCIATION ADS

DISH TV $64.99 FOR 190

Channels + $14.95 High

Speed Internet. Free Installation,

Smart HD DVR

Included, Free Voice Remote.

Some restrictions

apply. Promo expires

1/21/22. 1-855-270-5098

ENJOY 100% guaranteed,

delivered-to-the-door Omaha

Steaks! Get 8 FREE Filet

Mignon Burgers! Order the

Delightful Gift this holiday

season - ONLY $99.99 CALL

1-888-409-0645 and mention

code 65658LQY or visit

www.omahasteaks.com/

thegift1107

Don't let the stairs limit

your mobility! Discover

the ideal solution for

anyone who struggles on

the stairs, is concerned

about a fall or wants to

regain access to their

entire home. Call

AmeriGlide today! 1-844-

317-5246

Update your home with

beautiful new blinds &

shades. Free in-home

estimates make it

convenient to shop from

home. Professional

installation. Top quality -

Made in the USA. Free

consultation: 877-212-

7578. Ask about our

specials!

Attention oxygen therapy

users! Inogen One G4 is

capable of full 24/7 oxygen

delivery. Only 2.8

pounds. Free info kit.

Call 877-929-9587

!!OLD GUITARS WANT-

ED!! GIBSON, FENDER,

MARTIN, Etc. 1930's to

1980's. TOP DOLLAR

PAID. CALL TOLL FREE

1-866-433-8277

NEED IRS RELIEF

$10K-$125K+ Get Fresh

Start or Forgiveness.

Call 1-844-431-4716

Monday through Friday

7am-5pm PST

Come & Get It!

ASSOCIATION ADS

READY TO BUY, SELL

OR RENT YOUR

VACATION HOME OR

HUNTING CAMP?

Advertise it here and in

neighboring publications.

We can help you. Contact

MACnet MEDIA @

800-450-6631 or visit our

site at MACnetOnline.

com

BATH & SHOWER UP-

DATES in as little as

ONE DAY! Affordable

prices - No payments for

18 months! Lifetime warranty

& professional installs.

Senior & Military

Discounts available. Call

855-761-1725

AT&T Internet. Starting

at $40/month w/12-mo

agmt. 1 TB of data/mo.

Ask how to bundle &

SAVE! Geo & svc restrictions

apply. 1-888-796-

8850

IMPORTANT

NOTICE

The following states: CA,

CT, FL, IA, IL, IN, KY,

LA, MD, ME, MI, MN,

NE, NC, NH, OH, OK,

SC, SD, TX, VT and WA

requires seller of certain

business opportunities to

register with each state

before selling. Call to

verify lawful registration

before you buy.

DENTAL INSURANCE-

Physicians Mutual Insurance

Company. Covers

350 procedures. Real

insurance - not a discount

plan. Get your free

dental Info kit! 1-888-

623-3036 . www.dental50plus.com/58

#6258

ASSOCIATION ADS

Eliminate gutter cleaning

forever! LeafFilter, the

most advanced debrisblocking

gutter protection.

Schedule a FREE LeafFilter

estimate today. 15% off

Entire Purchase. 10% Senior

& Military Discounts.

Call 1-855-791-1626

GENERAC Standby Generators

provide backup

power during utility power

outages, so your home

and family stay safe and

comfortable. Prepare

now. Free 7-year extended

warranty ($695 value!).

Request a free

quote today! Call for additional

terms and conditions.

1-855-465-7624

Directv Now. No Satellite.

$40/mo 65 Channels.

Stream news, live

events, sports & on demand

titles. No contract/

commitment. 1-866-825-

6523

DISH TV $64.99 190

Channels + $14.95 high

speed internet. FREE installation,

Smart HD DVR

included. Free Voice Remote.

Some Restrictions

apply. Promo Expires

1/21/22. 1-833-872-2545

HughesNet - Finally, superfast

internet no matter

where you live. 25 Mbps

just $59.99/mo! Unlimited

Data is Here. Stream

Video. Bundle TV &

Internet. Free Installation.

Call 866-499-0141

New authors wanted!

Page Publishing will help

self-publish your book.

Free author submission

kit! Limited offer! 866-

951-7214

Pest Control

Find Pest Control Experts

Near You! Don't let

pests overtake your

home. Protect your loved

ones! Call to find great

deals on Pest Control

Services - 833-872-0012

ASSOCIATION ADS

Looking for auto insurance?

Find great deals

on the right auto insurance

to suit your needs.

Call today for a free

quote! 866-924-2397

GENERAC Standby

Generators provide

backup power during

power outages, so your

home & family stay safe &

comfortable. Prepare now.

FREE 7-yr extended

warranty $695 value!

Request a free quote

today. Call for terms &

conditions. 1-844-334-

8353

AUCTIONS

Personal Property of

Raymond Bridgeman-B26;

Chase Burke-C8, C15, J8;

Greg Clark-C26; Jeffrey

Workman-E20; Micheal

Anderson-F13; Shannon

Revilork-F16; Cody

Dalton-G6; Anthony Reed-

G15; Charles Dugan-G21,

G25; Chanthasene

Nouhak-H24; Christoper

Law-H33, I13; Teresa

Simpson-H48; Andre

Coleman-I48; Wanda

Dalton-J31; Derrick

Kodzer-K10; Bobby

Sullivan-K20 to be

auctioned at Noon on

Friday, January 14th,

2022 at Access Storage

Ohio Inc, 5625 Groveport

Rd., Groveport, OH 43125

PETS

GROOM

-N-

GO

Our Mobile Salon

Comes To You.

Small Dogs Under 30 lbs.

"Gentle Hands for Cold

Noses & Wagging Tails!"

614-804-1615

WANT TO BUY

BUYING VINYL RECORDS.

LPs and 45s - 1950-80s

Rock, Pop, Jazz, Soul.

614-831-0383

WE BUY JUNK CARS

Call anytime 614-774-6797

We Buy Cars & Trucks

$300-$3000.614-308-2626

WANTS TO Purchase

minerals and other oil &

gas interests. Send details

to: P.O. Box 13557,

Denver, CO 80201

We Buy Junk Cars &

Trucks. Highest Prices

Paid. 614-395-8775

ANTIQUES

WANTED

Victrolas, Watches,

Clocks, Bookcases

Antiques, Furn.

Jeff 614-262-0676

or 614-783-2629

VACATION RENTALS

Englewood, Florida

Palm Manor Resort

Within minutes of white

sand Gulf beaches,

world famous Tarpon

fishing, golf courses, restaurants/shopping,

Bush

Gardens. 2 BR 2 BA

condos with all ammenities,

weekly/monthly, visit

www.palmmanor.com

or call 1-800-848-8141

7/4 E/SE

December 26, 2021 -GROVEPORT MESSENGER - PAGE 11

xClassified Services

CARPET CLEANING

CARPET CLEANING

Any 5 areas ONLY $75

Home Powerwash-$99-$200

614-805-1084

Specializing in Pet Odors

CARPET SALES

CARPET

Gray Saxony

270 sq.ft. w/6 lb Pad

$398.00

Other Carpet AvailableA

Phone or text Ray

740-927-3504

Delivery & Inst. avail.

CLEANING

Looking for Mrs. Clean?

For excellent cleaning serv

at reas. rates w/great refs,

dependable. 10% Seniorr

Disc. Free Est. Also runs

Errands - Gwen 614-226-5229

CONCRETE

AJ's Concrete,

Masonry

Good Work - Fair Prices

Block Foundations

Driveways • Sidewalks

Epoxy/Overlay Floors

Bonded-Ins. • Free Ests.

614-419-9932

www.hastingsnsons.com

Driveways & Extensions

Patio & Walkways,

Porches & Steps,

Garage/Basement Floors

Hot Tub/Shed Pads,

Stamped/colored concrete

Sealing of new &

existing concrete.

FREE ESTIMATES

Contact Adam

614-756-1754

hastingsandsons.

columbus@gmail.com

GUTTERS

Bates & Sons

GUTTER CLEANING

5 ★ Google Reviews

614-586-3417

INFORMATION

1/2 a/m

12/19 A

HEATING

HEATING

Complete System Clean & Check

$49.95

Free Carbon

Monoxide Testing

Gas-Oil-Electric Heat/Pumps

All Makes • All Models

45 yrs exp. • Sr. Discount

614-351-9025

HOME

IMPROVEMENTS

SINCE 1973

Phil Bolon Contr.

Windows & Siding

Decks, Kitchens, Baths

Room Additions,

Flooring, Roofing

Bsmt Waterproofing

Deal With Small Non-Pressure Co.

47 Yrs. Exp. - Refs. Avail.

Lic.-Bond-Ins.

12/19

A/M

Free Est. - Financing Avail.

Member BBB Of Cent. OH

O.C.I.E.B. ID #24273

614-419-3977

or 614-863-9912

C&JHandyman

Services LLC

Minor Plumbing

& Electric

Install Hot Water Tanks,

Dishwashers & Disposals

Also Fencing &

Interior/Exterior Painting

Free Est. ~ 18 Yrs. Exp.

CDC/EPA Approved Guidelines

614-284-2100

INFORMATION

LOOK TO

THE PROFESSIONALS

IN OUR

SERVICE DIRECTORY

For Service

"That Is Out Of This World"

12/19 A

11/7 A

HOME

IMPROVEMENTS

KLAUSMAN HOME

IMPROVEMENT

Siding-Windows-

Doors-Roofing-Soffit-

Fascia-Gutters-Trim

Earn FREE Seamless

Gutters with Siding Over

1000 Sq. Ft.

FREE Shutters with

Soffit & Trim

EPA Certified

Member of BBB

Financing Available

Over 20 yrs exp. • Free Est.

Licensed-Bonded-Insured

Owner & Operator

James 614-419-7500

INFORMATION

ONLY

$50.00

For This Ad In Our

South/Canal Winchester

& Groveport

For Info Call

614-272-5422

LAWN CARE

LET US MAINTAIN

YOUR LAWN & GARDEN

FOR YOU

Summer, Spring,

Winter or Fall

WE DO IT ALL!!!!

Lawn Cuts, Edging,

Trees & Shrubs, Garden,

Mulching, Hauling,

Garden Pond &

Home Maint.

Free Ests. Low Rates

$20 & Up

Kevin - 614-905-3117

MOVING

Aaron Allen

Moving

Local Moving since 1956

Bonded and Insured

614-299-6683

614-263-0649

Celebrating

over 60 yrs

in business

PAINTING

INTERIOR PAINTING

'Affordable - Top Quality

30 yrs. exp.

614-369-9380

A Job Well Done Again

A lic. General Contractor

Some Skilled Services

Incl: Painting • Stucco,

Repair•Carpentry•Exterior

Drainage & Home Maint.

Call Today! 614-235-1819

PLASTERING

DRYW

YWALL &

PLASTER

1/2

A&M

REPAIR

Textured Ceilings

614-551-6963

Residential/Commercial

BIA

Classified Services

12/5 A

12/19 A&M

PLUMBING

MYERS

PLUMBING

Exp. Expert Plumbing

New Work & Fast Repairs

Lic. - Permit Available

Water • Sewer • Gas

614-633-9694

All About Drains & Plumb.

Will snake any sm drain

$145. 614-778-2584

CHRIS'

PLUMBING

"Plumbing & Drain Professional

That You Can Count On"

24 Hrs., 7 Days/Week

No Overtime Charges

24 Yrs. Exp. in Plumbing &

Drain Cleaning Field

Call For A Free Phone Estimate

$100.00 For Any Small Drain

614-622-4482

30% OFF with AD

POWER WASHING

Bates & Sons

Soft Wash & Powerwash

5 ★ Google Reviews

614-586-3417

ROOFING

Robinson roofing & repairs

30 yrs. exp. Lifetime Cols.

resident. Lic./bonded/Ins.

Reas rates. Member of

BBB. Dennis Robinson

614-330-3087, 732-3100

SEWING MACHINE

REPAIR

REPAIR all makes 24 hr.

service. Clean, oil, adjust

in your home. $49.95 all

work gtd. 614-890-5296

SNOW REMOVAL

GOOD NEIGHBORS

LAWN CARE

WINTER IS COMING!

"Leave Snow Removal To Us"

SNOW REMOVAL &

SALT SPREADING

Taking on New Accounts In The Area

Servicing Resid. & Comm.

12/19

Free Estimate E/SE

614-238-9237

614-937-0658

Ask For Bob

TREE SERVICES

Brewer & Sons Tree Service

• Tree Removal

• Tree Trimming 11/21

A&M

• Stump Grinding

• Bucket Truck Services

Best Prices • Same Day Service

614-878-2568

BURNS TREE SERVICE

Trimming, Removal &

Stump Grinding.

614-584-2164

12/19 A&M

1/2 A
---
PAGE 12 - GROVEPORT MESSENGER - December 26, 2021

Groveport's "A Heritage Holiday"

www.columbusmessenger.com

Ice carvers from Rock on Ice created frozen wonders at

Groveport's "A Heritage Holiday" on Dec. 11.

Messenger photos by Rick Palsgrove

Santa Claus greets a child on his way to the Groveport Log House during the city of Groveport's "A Heritage

Holiday" event held in Heritage Park on Dec. 11. The event featured children's visits with Santa, the traditional

tree lighting in Heritage Park, carolers, ice carvers, train rides, and food.

Lauren Burnett enjoys a train ride during "A Heritage Holiday."

Merry Christmas and a Happy New Year to you

from the Groveport Messenger!