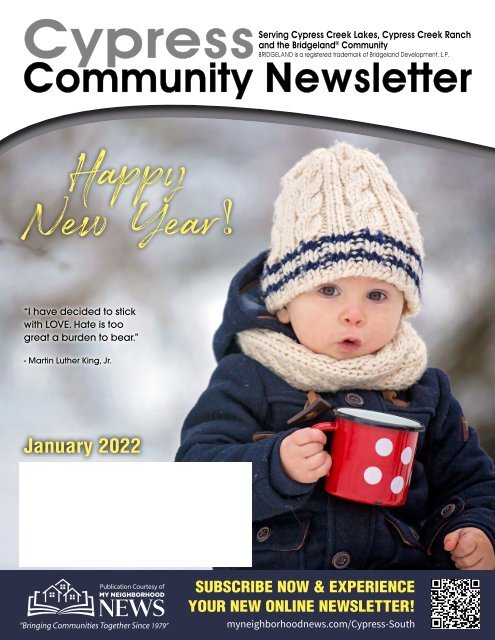 Cypress South January 2022
You also want an ePaper? Increase the reach of your titles
YUMPU automatically turns print PDFs into web optimized ePapers that Google loves.
Cypress

Community Newsletter

Happy

New Year!

"I have decided to stick

with LOVE. Hate is too

great a burden to bear."

- Martin Luther King, Jr.

January 2022

Publication Courtesy of

SUBSCRIBE NOW & EXPERIENCE

YOUR NEW ONLINE NEWSLETTER!

myneighborhoodnews.com/Cypress-South

"Bringing

Cypress

Communities

South | January

Together

2022

Since 1979"

1
---
THERE'S A

BETTER APPROACH

TO CANCER CARE in Northwest Houston

At Houston Methodist Cancer Center, we treat every aspect of your cancer.

Leading oncologists work with our specialists across disciplines to minimize

cancer's effects on major organs. One comprehensive team — dedicated to

your individual care — uses the latest research, treatments and technology

to stop your cancer. From infusion and clinical trials to surgery and

reconstruction, our innovative care is available at our Willowbrook location,

which also serves the Cypress, Spring and Tomball communities.

That's the difference between practicing medicine and leading it.

The Woodlands

Willowbrook

West Houston-Katy

Sugar Land

Baytown

Texas Medical Center

Clear Lake

281.737.2500

houstonmethodist.org/cancer-wb
---
Cypress South Important Numbers

SECURITY

CCL - Harris County Constables 281-463-6666

Harris County Sherriff's Department

Non-Emergency 713-221-6000

SCHOOLS

Pope Elementary School 281-373-2340

Wells Elementary School 832-349-7400

Warner Elementary School 281-213-1650

Smith Middle School 281-213-1010

Bridgeland High School 832-349-7600

Cy-Ranch High School 281-373-2300

www.cfisd.net

TRASH/WATER

CCL - Best Trash 281-313-2378

Waste Management 713-686-6666

ST Environmental 281-398-8211

Republic Waste 281-446-2030

CCL - MUD #374

www.hcmud374.com

CCR - MUD #371(Inframark) 281-579-4500

Lakeland Village - MUD #419 (Inframark) 281-579-4500

WCID #157

Parkland Village - MUD #489

WCID #157 (1-8), WCID #159 (9+)

HELPFUL NUMBERS

Fire/Ambulance 911

Poison Control 800-222-1222

Animal Control 281-999-3191

Texas Wildlife Rehabilitation 713-468-8972

Mosquito Control 713-796-6900

Children's Protective Svs 713-394-4000

Harris Co. Public Health & Envir 713-439-6000

U. S. Post Office 800-275-8777

AT&T

www.att.com

Comcast Cable 713-341-1000

En-Touch Systems 281-225-1000

Reliant Energy (Repair) 713-207-7777

Centerpoint Energy 713-659-2111

Street Light Repair 713-207-2222

www.centerpointenergy.com/outage

To report gas leaks 713-659-3552

Street Repair 281-463-6300

METRO 713-635-4000

Cy-Fair Sports Association 281-970-8080

Langham Creek YMCA 281-859-6143

Northwest Library 281-890-2665

Boy Scouts of America 713-756-3383

Girl Scouts of America 800-392-4340

Beatriz Ogarek LMT

201-937-0466

YOUR PREGNANCY JUST GOT A LITTLE EASIER!

hello@cypresspregnancymassage.com

www.CypressPregnancyMassage.com

Cypress Crossing - 8118 Fry Rd, Suite 401, Cypress, TX 77433

Custom built is our specialty!

Golf Cars • Utility Vehicles • Sales • Service • Parts

Trade-Ins

Welcomed

100% Financing

Available

Gary Conway, "Your golf car guy"

713-GOLF-CAR

Cell 713-703-3818 • 281-702-3000

gconway@wallercountygolfcars.com

Always there

for you!

Water Heaters • Drain Problems • Faucet Installation & Repair

Gas Test • Water Leaks & Much More

35+ Years Experience

MPL#40815

832-890-8449

info@tonysplumbingtx.com

www.tonysplumbingtx.com

Low Price Guarantee

Licensed & Insured

Cypress South | January 2022 3
---
FLY OLD GLORY YARD FLAG PROGRAM

Serving Coles Crossing and Cypress Creek Lakes residents, show

your pride while supporting the local Rotary Club of Cypress-Fairbanks

by subscribing to our HOA approved Fly Old Glory Flag Program.

In exchange for an annual subscription price of $52, we will

place a 3' x 5' American Flag on a 10-foot pole between the curb

and sidewalk in front of your house. These are high quality sewn

all weather flags that are made right here in the USA. After each

holiday, the flags are removed and properly stored at our facility.

All proceeds from the flag programs contribute to a variety of

worthwhile local charitable programs such as Boy Scouts of America,

Cypress Assistance Ministries, Disaster Aid USA, The Living

Legacy Center, CFISD programs and more!

Flag Holidays

• Presidents' Day - February

• Flag Day - June

• Labor Day - September

• Veterans Day - November

4

• Memorial Day - May

• Independence Day - July

• Patriot Day - September

Yearly subscriptions can be purchased on the Cypress Fairbanks

Rotary website www.rotarycypressfairbanks.org/

If you have any questions or concerns, please contact the following:

Cypress Creek Lakes: Colleen Hawkins - cehawkins616@gmail.com.

General Information: Wayne Beaumier - wbeaumier@me.com

STOP THAT BARKING

Many dogs left alone all day get lonely, bored and restless. Many

find relief in barking. Some respond noisily to any and all activity.

But, nothing is as annoying as incessant barking - even for dog

lovers. If your dog is a yapper or a yowler, please consider some of

these bark-abatement ideas to keep the noise down in your area.

Your neighbors will thank you!

• Training. Always the first recommendation for any behavioral

problem! Help is as close as the Yellow Pages. Training not only

helps your dog, you'll be surprised how much it helps you, too.

You may get some insight into why your dog barks so much or

what it is trying to communicate.

• Citronella collars. A humane alternative to the electric-shock,

anti-barking collar and costs about the same. Available on the

web and in pet stores.

• Confinement. Sometimes simply bringing an outspoken dog

indoors or confining it to a crate can cut down on the disturbance

to neighbors.

• For inside dogs, reduce stimulus. Close drapes to help muffle

street noise or leave a radio on to mask it.

• Companionship. Dogs are pack animals; they need

companionship - a cat, bird or another dog. Consider a mid-day

visit from a pet-sitting service or drop your pooch off at a friend's

place or a day-care facility once or twice a week.

Keep in mind that dogs who bark from loneliness or boredom, may not

do it when you are home. Meanwhile, your neighbors may be getting

serenaded while you are away.

TEENAGE JOB SEEKERS

If you are between 12 and 18 and would like to be added to the

teenage job seeker's list, please fill out the form on our website

(www.krenekprinting.com, click submissions and choose Jobseekers)

with your name, birthdate (mo. & yr.), phone number,

year you will graduate and the name of your newsletter/subdivision.

Check the list of jobs you want on your form. Please make

sure your email is correct, we send emails in the summer to make

sure all the info is still good and that you want to stay on the list.

If we do not hear back from you after 3 tries, we will remove you

from the list until we do. Must have parent(s) permission.

DISCLAIMER

Neither the subdivision, nor Krenek Printing is responsible for

those listed on the Teenage Job Seeker List. Please ask for and

check out references if you do not personally know those listed.

This is just a list of teenagers from the subdivision who wish to find

part time jobs. Responsibility for any work done by these teenagers

is between those seeking helpers and the teens and their

parents.

CODE KEY:

B - BABYSITTING, CPR - CPR CERT., FAC - FIRST AID CERT., RCC

- RED CROSS CERT., SS - SAFE SITTER, SL - SWIM LESSONS, PP -

PET/PLANT SITTER, P - PET CARE ONLY, H - HOUSE CARE, L - LAWN

CARE, C- CAR CARE/DETAILING, T - TUTORING

BRIDGELAND

Devin Hess - PP, L 16 571-291-5701

Madison Jones - B, PP 18 832-262-7582

Apple Goers - B, SL, PP, H, T 16 540-935-1207

Aubrey Owen - B, PP, H 17 281-703-0147

Soheila Hernandez - PP 18 281-889-6688

Thomas Mitschke - PP 14 713-542-4168

Aiden Rivas - SS, PP 14 832-725-2009

CYPRESS CREEK LAKES

Eileen Roberts - SS, PP, H, L 17 832-334-5075

Kayla Cao - B, T (K-6 M ) 14 713-936-2146

Noah Schaake - PP 15 210-833-9221

January 2022 | Cypress South
---
LOSING

WEIGHT IS

A SHARED

VICTORY

GET THE SUPPORT YOU NEED TO REACH

YOUR IDEAL WEIGHT

The bariatric specialists at NewStart help patients navigate the life-changing

journey of weight loss with personalized programs. We provide a wide range

of solutions to meet the needs of every patient, from minimally invasive surgery

to more advanced treatments. Our tailored plans even offer flexible payment

options to accommodate every budget. Now's the perfect time to get started.

Contact us today and our experienced staff will provide a free, no-obligation

verification of your insurance benefits.

memorialhermann.org/newstart

• Painting: Interior and Exterior all types

• Drywall, Textures

• Pressure Washing

• Hardi Plank Siding

• Install Doors and Windows

• Bathroom and Kitchen Remodels

• Electrical: Install Receptacles,

Light Fixtures, Ceiling Fans

• Decking and Fences

• Professional Pressure Washing

• Replace Water Heaters,

Faucets, Toilets

PLUMBING

REPLACEMENT

* References

Available in

Your Area

Call for Honest,

Reliable &

Prompt Service

Call Wallace at:

281-686-4827

Same phone number since 2001

wallacelpiper@gmail.com

Cypress South | January 2022 5
---
Glazed Apple

Cream Pie

INGREDIENTS:

1/2 cup white sugar

1/2 cup milk

1/2 cup heavy cream

1/4 cup butter

2 tablespoons cornstarch

2 tablespoons milk

1 teaspoon vanilla extract

2 tart apples - peeled, cored and sliced

1 tablespoon all-purpose flour

1/4 teaspoon ground cinnamon

1 (15 ounce) package pastry for double-crust pie

1/2 cup confectioners' sugar

1 tablespoon milk

1/4 teaspoon vanilla extract

1 tablespoon butter, softened

DIRECTIONS:

In a medium saucepan over medium heat, combine 1/2 cup sugar, 1/2 cup milk, 1/2 cup cream and 1/4 cup butter. Heat until butter is

melted, stirring occasionally. In a small bowl, whisk together the cornstarch, 2 tablespoons milk and vanilla; stir into saucepan. Cook

until thickened, stirring constantly. Remove from heat, and set aside to cool slightly.

Preheat oven to 400 degrees F (200 degrees C). In a medium bowl, combine the apples, flour and cinnamon. Mix well. Line a 9

inch pie pan with pie dough. Pour thickened filling mixture into pastry-lined pie pan. Arrange apple mixture evenly over filling.

Top with second crust, seal and flute the edges. Cut slits in top crust. Bake for 30 to 40 minutes or until crust is golden brown and

apples are tender. Cool for at least 30 minutes.

In small bowl, combine confectioners' sugar, 1 tablespoon milk, 1/4 teaspoon vanilla and 1 tablespoon softened butter. Blend until

smooth; pour evenly over warm pie. Refrigerate for at least 1 1/2 hours before serving (longer is better). Source: allrecipes.com

Chinese New Year

Chocolate Candy

INGREDIENTS:

2 cups semisweet chocolate chips

2 cups butterscotch chips

2 1/2 cups dry-roasted peanuts

4 cups chow mein noodles

DIRECTIONS:

Butter a 9x13 inch dish. Melt chocolate and butterscotch chips

in the top of a double boiler over simmering water. Remove

from heat and stir in peanuts. Stir in noodles until all is well

coated. Press into prepared dish. Chill until set; cut into

squares. Source: allrecipes.com

6

January 2022 | Cypress South
---
Your newsletter has come to life!

More content, real-time updates, easy

online access - whenever you want

to see it, wherever you are.

MyNeighborhoodNews.com

brought to you by Krenek Printing

See how your newsletter has transformed in the online space! Easily submit articles

and be part of the conversation as we continue to bring your community together.

This new platform allows us to deliver the most content-rich, relevant news without

spacing limitations and deadlines.

Subscribe today to

MyNeighborhoodNews.com

to stay plugged into

your community.

March 2022 will be the

last printed issue.

We will devote all of our resources to

bringing you the best experience possible.

Your newsletter will be exclusively

online starting in April 2022.

Cypress South | January 2022 7
---
JUST FOR TODAY By Dear Abby

This is one of the more popular requested columns from the famous advice columnist Dear Abby. Read

on: "Today is the day we have an opportunity to discard destructive old habits for healthy new ones

and with that in mind, I will share Dear Abby's often-requested list of New Year's Resolutions, which

were adapted by my late mother, Pauline Phillips, from the original credo of Al-Anon:

Just for today

I will live through this day only. I will

not brood about yesterday or obsess

about tomorrow. I will not set far-reaching

goals or try to overcome all of my

problems at once. I know that I can

do something for 24 hours that would

overwhelm me if I had to keep it up for

a lifetime.

Just for today

I will be happy. I will not dwell on

thoughts that depress me. If my mind

fills with clouds, I will chase them away

and fill it with sunshine.

Just for today

I will refrain from improving anybody

but myself.

Just for today

I will accept what is. I will face reality. I

will correct those things that I can correct

and accept those I cannot.

Just for today

I will improve my mind. I will read something

that requires effort, thought and concentration.

I will not be a mental loafer.

Just for today

I will make a conscious effort to be agreeable. I

will be kind and courteous to those who cross

my path and I'll not speak ill of others. I will

improve my appearance, speak softly and not

interrupt when someone else is talking.

Just for today

I will gather the courage to do what is right and

take responsibility for my own actions.

Just for today

I will do something positive to improve my

health. If I'm a smoker, I'll quit. If I am overweight,

I will eat healthfully - if only just for today.

And not only that, I will get off the couch

and take a brisk walk, even if it's only around

the block.

STEVE TOUCHY

Attorney At Law

Serving Businesses and Families Since 1983

Copperfield/Cypress

• Wills • Trusts • Probate

• Divorce • Employment

• Adoption • Consumer Law

• Incorporation • Collections

• Partnership • Liens

• Real Estate • Commercial Law

281-858-0700

stevetouchy@yahoo.com

15840 FM 529, Suite 280

Houston, Texas 77095

Located in the Chase Bank Building on FM 529

STOP PAYING RENT,

OWN YOUR OFFICE BUILDING,

BUILD YOUR WEALTH!

With current interest rates on commercial and SBA loans,

there has never been a better time to make the move to

ownership and earn equity on your office space, while

creating an income producing asset for when you retire.

• 2236 sqft

• Close Proximity To FM 529 and Highway 6 N.

• Unique Cul De Sac Area That Creates Comfortable

Work Environment

• Close Proximity To First Community Credit Union,

24 Hour Fitness, Best Buy, Sprouts, Chase Bank, Walmart

• Close Proximity To Restaurants - Outback Steakhouse,

Willies Grill and Icehouse, Fuddruckers

PROPERTY LOCATED IN THE HEART OF COPPERFIELD:

7110 Glen Chase Ct

For more information visit Loopnet.com

or call Ryan Ward at 832-545-3031

8

January 2022 | Cypress South
---
LIGHT JARS

Do you get that let down feeling in January once all

the decorations come down? My favorite part of the

holiday season is the lights and my husband teases

that YEAR ROUND I would have the inside of our

house looking like the Griswald's outdoors if he let

me. (He is probably right, lol.)

So my compromise is that I get Mason jars, mayo or

pickle jars or even some vases and I use the battery

operated string lights to make "normal" decorations.

In one, along with the lights, I have the glass beads

you can get at the dollar store in many colors; in

another I have seashells we got in Galveston. I am

sure you can find something that would match your

own home and style to place in these.

So if you are like me and just need that pick-me-up

of some bright twinkling lights once the decorations

are all down, make one or more of these and have

them year round! - By Michelle Gray, KPC Editor

NEW YEAR KEEPSAKE

14654 Spring Cypress Rd.

Cypress Fairbanks Swim Club

HOME OF THE FLEET EST. 1975

Cy-Fair Swim Club is a USA Swimming,

year-round competitive swim team offering high

quality professional coaching and technique

instruction for swimmers of all ages and abilities.

It's not too late to register for the 2021-22 swim

season! Call the office at 281-376-2372 or email

fleetoffice@fleetswimming.com for more information.

Check out our website at www.fleetswimming.com

FLEET FIRST

LEARN TO SWIM SCHOOL

Heated Indoor Aquatic Center

It's not too late! Monthly Swim Lessons available

or get 10% off for a New Year Package.

Call the office at 281-376-0847 to schedule your FREE

evaluation or email fleetfirst@fleetswimming.com

for more information. Check out our website at

www.fleetfirstswimschool.com

Cypress South | January 2022 9
---
GEYER ROOFING

LANDSCAPE, L

, LAWN L & POOL

P

Lawn Service

STARTING AT JUST

Pool Service

STARTING AT JUST

"We work as unto

the Lord"

Specializing in

Re-Roofing

Ron Geyer

713-462-3898

PER VISIT

Basic to Full Service Packages Available

PER VISIT

Complete Pool Service

RESIDENTIAL &

COMMERCIAL

10

Also available: Mulching & Yard Cleanups • Lawn Aeration • Sprinkler &

Drainage Systems • Tree Pruning & Removals • Sod/Grass Planting

Pressure Washing • Fencing

Call Now for your FREE ESTIMATE!

(281) 861 - 0962

www.pristinelawn.com

INTERIOR & EXTERIOR

• FAMILY OWNED • REFERENCES • INSURED & BONDED • 22 YEARS EXPERIENCE

FREE

Estimates

Estimates@cphou.com

Call or Text

• Carpentry

• Pressure Washing

• Sheetrock /Texture

• HardiePlank ®

• Crown Molding

• Refinish-Staining

• Fences

AVAILABLE!

FINANCING

281-345-9800

www.cphou.com

LOU'S PAINTING, Ltd.

• Interior - Exterior

• Power Washing

• Sheetrock & Texture

• HardiPlank ® Replacement

• Minor Repairs

Your home is an expensive investment!

Painting beautifies &

preserves that investment!

Free Estimates

O 281-492-2643 C 281-844-4338

"Doing business from the same location since 1978"

Law Offices Of

candace L. Kunz-freed, PLLc

9545 Katy Freeway, Ste. 400 • Houston, TX 77024

713.467.1060 FAX: 713.467.9191

www.FREEDLAWYER.COM

Do You Have An Estate Plan?

A well-designed and up to date estate plan can

provide peace of mind for you and your family.

CALL FOR A CONSULTATION TODAY!

ESTATE PLANNING AND ADMINISTRATION

WILLS, TRUSTS, PROBATE, TRUST ADMINISTRATION, GUARDIANSHIP, ASSET PROTECTION, ESTATE & GIFT TAX PLANNING,

HEIRSHIP, MEDICAL DOCUMENTS, LIVING WILLS, BUSINESS ENTITY FORMATION AND SUCCESSION PLANNING

REMODELING

• Kitchens • Bathrooms • Windows / Doors • Floors • Hardi Siding

• Rooms Additions • Complete Renovations • Patio Covers

Rob Geyer

281-477-3456

Our gift shop has something

for your Valentine!

VERA BRADLEY • CONSUELA

UNO de50 • KATIE LOXTON

SPARTINA 449 • ENEWTON

MUD PIE

WAXING POETIC

NORA FLEMING

AND MORE!

281-855-6801

18020 FM 529

Kroger Center

FM 529 @ Barker Cypress

Locally Owned & Operated

Mon - Sat: 8 am - 7 pm | Sun: 9 am - 6 pm

www.langhamcreekace.com

20%

OFF

Any Regular

Priced Item

$30 or Less

Valid at Langham Creek ACE

Hardware only. Excludes gift

cards and licenses. Does not

apply to Yeti, propane, service or

engraving. Cannot be combined

with any other offer. Limit one per

customer. Expires 1/31/22.

January 2022 | Cypress South
---
Cypress South | January 2022 11
---
JUMP INTO A

CUSTOM POOL BY

• Diagnose & Repair

• Panel Upgrades

• Generators

• Surge Protection

• Custom Lighting

• Smart Switches

Our Services Also Include:

Remodeling • Patio Covers • Summer Kitchens • Full Service & Maintenance

Randy & Sandi Deyo, Owner-operator TMEL 33838

FREE Estimates ● 2 Hour Appointment Windows

5 Year Warranty ● Flexible Payment Plans

Military/Veteran Discount ● Senior Discount

TO SCHEDULE A FREE CONSULTATION OR SPEAK TO A SPECIALIST:

281.890.3040 • BPSPOOLS.COM

SERVICING CY-FAIR AREA FOR OVER 40 YEARS

10710 Barker Cypress

(about one mile south of Hwy. 290 in the

HSE Medical Parking Lot)

The Vitelli Law Firm

Attorney and Mediator

Serving Harris, Fort Bend and Montgomery Counties.

Family Law • Divorce • Modification

Adoption • Criminal Law

DWI • Tickets • Wills

281-898-0941

sherea@vitellilawfirm.com

12010 Fullers Grant Ct

Cypress, TX 77433

www.vitellilawfirm.com

CALL TODAY TO HAVE YOUR HEATER CHECKED

TO KEEP YOUR FAMILY SAFE!

• Annual

Maintenance

Programs

• All Repairs

Guaranteed

• Serving Area

Since 1994

FREE ESTIMATE OR 2 ND OPINION

License TACLB 24777E and Insured

281-347-2665

$25 OFF

ANY REPAIR

Expires 12/31/21

AIR QUALITY TESTED

WITH TUNE-UP

Expires 12/31/21

0% Interest

financing available

WAC

Expires 12/31/21

IdealAirServices.com