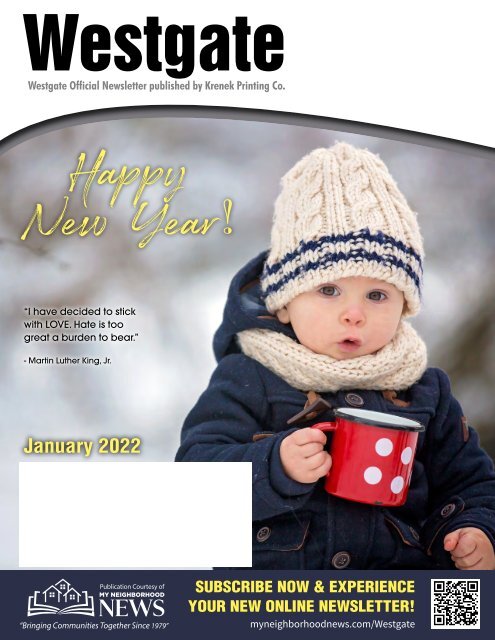 Create successful ePaper yourself
Turn your PDF publications into a flip-book with our unique Google optimized e-Paper software.
Westgate

Westgate Official Newsletter published by Krenek Printing Co.

Happy

New Year!

"I have decided to stick

with LOVE. Hate is too

great a burden to bear."

- Martin Luther King, Jr.

January 2022

Publication Courtesy of

SUBSCRIBE NOW & EXPERIENCE

YOUR NEW ONLINE NEWSLETTER!

myneighborhoodnews.com/Westgate

"Bringing

Westgate

Communities

| January

Together

2022

Since 1979"

1
---
THERE'S A

BETTER APPROACH

TO CANCER CARE in Northwest Houston

At Houston Methodist Cancer Center, we treat every aspect of your cancer.

Leading oncologists work with our specialists across disciplines to minimize

cancer's effects on major organs. One comprehensive team — dedicated to

your individual care — uses the latest research, treatments and technology

to stop your cancer. From infusion and clinical trials to surgery and

reconstruction, our innovative care is available at our Willowbrook location,

which also serves the Cypress, Spring and Tomball communities.

That's the difference between practicing medicine and leading it.

The Woodlands

Willowbrook

West Houston-Katy

Sugar Land

Baytown

Texas Medical Center

Clear Lake

281.737.2500

houstonmethodist.org/cancer-wb
---
WESTGATE IMPORTANT NUMBERS

HARRIS COUNTY SHERIFF'S OFFICE INFORMATION

Westgate Subdivision falls within District 4 of the Harris County Sheriff's Department. Suspicious behavior should be called in to the Non-Emergency

number, general questions should be directed to the Patrol District Office and emergencies should always call 911:

INFRAMARK INFRASTRUCTURE MANAGEMENT SERVICES

2002 West Grand Parkway, Ste. 100 Katy, TX 77449

Ph: 281-870-0585 • Fax: 281-870-9170

Mgr: Angela Bumann - angela.bumann@inframark.com

EMERGENCY NUMBERS

Fire or Sheriff Emergency 911

Sheriff (non-emergency) Press Option 1 for Dispatch 713.221-6000

Patrol District Office (gen. info) 281-463-2648

16715 Clay Rd., Houston, TX 77084

Cy-Fair Vol. Fire Dept. 713-466-6161

Cy-Creek Vol. Fire Dept. 281-440-0079

Child Protective Services 713-394-4000

Poison Control 800-764-7661

COMMUNITY EVENTS & ACTIVITIES COMMITTEES

HOA Board of Directors: board@westgatetx.net

Newsletter Editor: Kimberly McGaughy • kbmcgaughy@gmail.com

Garage Sale Chairs: Philip & Adrean Rowell • garagesale@westgatetx.net

Social Chair: social@westgatetx.net

Parks/Pools Chair: poolandparks@westgatetx.net

Deed Restriction Committee Contact:

deedrestrictions@westgatetx.net (to report problems)

Crime Watch Chair: Helen Daglas • crimewatch@westgatetx.net

PUBLISHED COURTESY OF KRENEK PRINTING

281-463-8649 • www.KrenekPrinting.com

Business Ads: ads@krenekprinting.com

Non-Profit Articles: news@krenekprinting.com

UTILITIES

Reliant Energy (elec) 713-207-7777

CenterPoint Energy 713-659-2111

CenterPoint Energy (to report gas leak) 888-876-5786

CenterPoint Energy (power outage/downed lines) 713-659-2111

MOC Water Emergency 24 hr service line 281-367-5511

MOC Utility Operations (Katy office) 281-347-8686

www.municipalops.com

MUD #70 contact: Schwartz, Page & Harding Attys. 713-623-4531

ktranchin@sphllp.com

WCA Waste Corp. (garbage) 281-368-8397

www.wcawaste.com/Houston/houston-residential.html

Houston North 281-766-1914

SCHOOLS

Cy-Fair ISD 281-897-4000

Copeland Elementary 281-856-1400

Jowell Elementary 281-463-6966

Hoover Elementary 832-667-7301

Anthony Middle School 281-373-5660

Cy-Spring HS 281-345-3000

Langham Creek HS 281-463-5400

Local Services Bear Post Office 800-275-8777

Bear Creek Library 281-550-0885

Cy-Fair College Library 281-890-2665

Langham Creek YMCA 281-859-6143

Animal Control 281-999-3191

ASPCA (24 Hr Poison Control) 888-426-4435

Spills 713-439-6000

TX Wildlife Rehabilitation 713-941-8972

Humane Wildlife Removal 281-354-2293

Bob Leared Interest, Inc. (property taxes for MUD #70) 713-932-9011

Westgate | January 2022 3
---
WESTGATE NEWS & EVENTS

DO YOU WANT TO HELP

KEEP YOUR PROPERTY VALUE UP?

We need your help! We need volunteers who care about deed restrictions

and curb appeal in Westgate to help us form our volunteer

Westgate Architecture Review Committee. Texas law requires

homeowners to hold these positions that help keep our property

values up and our neighborhood looking nice. Please contact our

manager Angela Bumann at Angela.bumann@inframark.com and

the Westgate Board at board@westgatetx.net to inquire and help

keep Westgate looking good.

ANNUAL MAINTENANCE FEES STATEMENT

The annual HOA Dues statement has been mailed to all homeowners.

We put off raising dues for the last two years, but we couldn't

avoid it for this coming year, 2022: costs for everything have gone

up, so we increased dues $25 to $660. Once again, we included

four payment coupons to help residents avoid having to pay all at

once right after Christmas.

If you anticipate not being able to pay your Westgate fees for 2022

on time, be sure to call Inframark (281-870-0585) to discuss getting

on a payment plan before more fees are tacked on-from the

attorney, etc. $660 can turn into $1000+ very quickly. Even if you

don't think you can pay all at once, you need to call Inframark

to make payment arrangements; DON'T WAIT and cost yourself

MORE money.

These dues help pay for landscaping, electricity, water, refurbishing

and adding amenities and pool management, among other

things. It helps Westgate continue to be a great community with

stable or increasing property values. If you'd ever like details of

how your dues are spent, you can always ask our management

company. Also, go to our annual meeting and you will receive a

copy of the financials.

DO YOU KNOW YOUR DEED RESTRICTIONS?

In an effort to educate our residents, we'll periodically highlight

some deed restriction or other item that needs improvement in

Westgate:

PARKING AND PROHIBITED VEHICLES: According to our Declarations

of Covenants, Conditions, Restrictions and Easements, pg.

12-13, cars etc. must be IN WORKING ORDER, have current stickers

etc. and are in daily use. Vehicles like a "boat, trailer…recreational

vehicle" cannot be stored on your lot unless it is concealed; a TEM-

PORARY permit can be issued for certain situations.

Regarding parking, vehicles MUST NOT "BLOCK A SIDEWALK."

Also, "NO MORE THAN THREE VEHICLES…may be parked on the

driveway."

Any repair work to vehicles that is visible to the street MUST BE

COMPLETED WITHIN 12 HOURS AND NOT OCCUR ON A FREQUENT/

REGULAR BASIS, so as to prevent disorderly and unkempt appearance

in Westgate.

4

IMPORTANT NOTE: It's been reported in some sections that residents

are parking on BOTH sides of the street. While I understand

the difficulties of where to park, parking on both sides of the street

CREATES A DANGEROUS SITUATION. Emergency vehicles cannot

pass through to save a life! PLEASE, when parking on the street,

stagger your vehicles so they are NOT PARKED DIRECTLY ACROSS

FROM ANOTHER VEHICLE on the other side of the street!

Following these instructions helps keep our neighborhood looking

neat and thus keeps up our property values, as well as helping

keep Westgate safe. Let's be considerate of our neighbors!

COPIES OF ALL WESTGATE FOUNDING DOCUMENTS (including the

ARC form) can be downloaded from the Westgate website www.

westgatetx.net.

HARRIS COUNTY SHERIFF'S OFFICE INFORMATION

Westgate Subdivision falls within District 4 of the Harris County

Sheriff's Department. Suspicious behavior should be called in to

the Non-Emergency/Dispatch number, general questions should

be directed to the Patrol District Office and emergencies should

always call 911:

Procedure When Filing a Report with the Sheriff's Dept:

If you ever have to file a report with the Sheriff's Department,

whether after calling 911 or the nonemergency number (713-221-

6000), be sure to let the deputy know that Westgate has a contract

with the Sheriff's Dept. through our MUD district (Harris County

MUD #70). That way, the incident will be reported to our contract

deputies, giving them information on what to look for in our community.

Also, be sure to report the issue to our Crime Watch committee

at crimewatch@westgatetx.net. They discuss the problems

with our deputies as well.

NON-EMERGENCY NUMBER: 713-221-6000

PATROL DISTRICT OFFICE: 281-463-2648, 16715 Clay Road, Houston,

TX 77084 (for general information only)

EMERGENCY: 9-1-1 (emergencies only)

STREETLIGHT OUTAGES

If you see a streetlight out, please report outages to CenterPoint

Energy at 713-207-2222 or 800-332-7143; also at www.centerpointenergy.com.

You will need the pole number, the black and

white numbers listed vertically on the pole, to report the outage.

This is something you can do to help keep your community safe.

Otherwise, it may take a while for Centerpoint to notice it is out.

STAY UP TO DATE WITH WESTGATE NEWS

To get the latest information on what's happening in Westgate, be

sure to check our other Westgate sources:

1.) the WESTGATE WEBSITE, www.westgatetx.net

2.) the Westgate FACEBOOK page is Westgate's official Social Media

outlet for information (on Facebook, search for "WESTGATE

SUBDIVISION Official" and you must sign up); you can find goodies

like pictures of our events, HOA information, etc. If you have

January 2022 | Westgate
---
10710 Barker Cypress

(about one mile south of Hwy. 290 in the

HSE Medical Parking Lot)

trouble finding it on Facebook, type this into your address bar: www.facebook.

com/groups/WestgateSubdivision/.

Within a day or two, you will then be asked to verify your address, as it is a residents-only

group. Look for this in your "messages" section and you may be

asked to accept a message.

3.) Send questions to the WESTGATE HOA EMAIL, Board@westgatetx.net.

The newsletter only comes out once a month and information is a month old,

so the other methods are used when something happens last minute and if you

missed the newsletter.

TEENAGE JOB SEEKERS

If you are between 12 and 18 and would like to be added to the teenage job

seeker's list, please fill out the form on our website (www.krenekprinting.com,

click submissions and choose Jobseekers) with your name, birthdate (mo. & yr.),

phone number, year you will graduate and the name of your newsletter/subdivision.

Check the list of jobs you want on your form. Please make sure your email

is correct, we send emails in the summer to make sure all the info is still good

and that you want to stay on the list. If we do not hear back from you after 3 tries,

we will remove you from the list until we do. Must have parent(s) permission.

DISCLAIMER

Neither the subdivision, nor Krenek Printing is responsible for those listed on

the Teenage Job Seeker List. Please ask for and check out references if you do

not personally know those listed. This is just a list of teenagers from the subdivision

who wish to find part time jobs. Responsibility for any work done by these

teenagers is between those seeking helpers and the teens and their parents.

CODE KEY: B - BABYSITTING, CPR - CPR CERT., FAC - FIRST AID CERT., RCC - RED

CROSS CERT., SS - SAFE SITTER, SL - SWIM LESSONS, PP - PET/PLANT SITTER,

P - PET CARE ONLY, H - HOUSE CARE, L - LAWN CARE, C- CAR CARE/DETAILING,

T - TUTORING

WESTGATE JOB SEEKERS LIST

Sharlene Gallego - B, P, PP, L, T (M), C 17 346-332-7065

Minh Nguyen - B, PP, H, L, T (M, S), C 17 832-232-2013

Italy Vasquez - PP 17 361-484-5432

Jacquelyn Nguyen - B, SS, PP 16 281-323-2622

Nastassia Beck - P 15 713-818-9067

Brooke Spofford - P 16 281-690-3755

LIGHT JARS

Do you get that let down feeling in January once all

the decorations come down? My favorite part of the

holiday season is the lights and my husband teases

that YEAR ROUND I would have the inside of our

house looking like the Griswald's outdoors if he let

me. (He is probably right, lol.)

So my compromise is that I get Mason jars, mayo or

pickle jars or even some vases and I use the battery

operated string lights to make "normal" decorations.

In one, along with the lights, I have the glass beads

you can get at the dollar store in many colors; in

another I have seashells we got in Galveston. I am

sure you can find something that would match your

own home and style to place in these.

So if you are like me and just need that pick-me-up

of some bright twinkling lights once the decorations

are all down, make one or more of these and have

them year round! - By Michelle Gray, KPC Editor

Westgate | January 2022 5
---
JUST FOR TODAY

By Dear Abby

This is one of the more popular requested columns

from the famous advice columnist Dear Abby. Read

on: "Today is the day we have an opportunity to

discard destructive old habits for healthy new ones

and with that in mind, I will share Dear Abby's often-requested

list of New Year's Resolutions, which

were adapted by my late mother, Pauline Phillips,

from the original credo of Al-Anon:

LIFE IS THE MOMENT WE'RE LIVING RIGHT NOW.

JUST FOR TODAY

I will live through this day only. I will not brood about yesterday

or obsess about tomorrow. I will not set far-reaching

goals or try to overcome all of my problems at once.

I know that I can do something for 24 hours that would

overwhelm me if I had to keep it up for a lifetime.

JUST FOR TODAY

I will be happy. I will not dwell on thoughts that

depress me. If my mind fills with clouds, I will

chase them away and fill it with sunshine.

JUST FOR TODAY

I will refrain from improving anybody

but myself.

JUST FOR TODAY

I will accept what is. I will face reality. I will correct those

things that I can correct and accept those I cannot.

JUST FOR TODAY

I will improve my mind. I will read something

that requires effort, thought and concentration.

I will not be a mental loafer.

JUST FOR TODAY

I will make a conscious effort to be agreeable. I

will be kind and courteous to those who cross

my path and I'll not speak ill of others. I will

improve my appearance, speak softly and not

interrupt when someone else is talking.

JUST FOR TODAY

I will gather the courage to do what is right and

take responsibility for my own actions.

JUST FOR TODAY

I will do something positive to improve my

health. If I'm a smoker, I'll quit. If I am overweight,

I will eat healthfully - if only just for today.

And not only that, I will get off the couch

and take a brisk walk, even if it's only around

the block.
---
Your newsletter has come to life!

More content, real-time updates, easy

online access - whenever you want

to see it, wherever you are.

MyNeighborhoodNews.com

brought to you by Krenek Printing

See how your newsletter has transformed in the online space! Easily submit articles

and be part of the conversation as we continue to bring your community together.

This new platform allows us to deliver the most content-rich, relevant news without

spacing limitations and deadlines.

Subscribe today to

MyNeighborhoodNews.com

to stay plugged into

your community.

March 2022 will be the

last printed issue.

We will devote all of our resources to

bringing you the best experience possible.

Your newsletter will be exclusively

online starting in April 2022.

Westgate | January 2022 7
---
Glazed Apple

Cream Pie

INGREDIENTS:

1/2 cup white sugar

1/2 cup milk

1/2 cup heavy cream

1/4 cup butter

2 tablespoons cornstarch

2 tablespoons milk

1 teaspoon vanilla extract

2 tart apples - peeled, cored and sliced

1 tablespoon all-purpose flour

1/4 teaspoon ground cinnamon

1 (15 ounce) package pastry for double-crust pie

1/2 cup confectioners' sugar

1 tablespoon milk

1/4 teaspoon vanilla extract

1 tablespoon butter, softened

DIRECTIONS:

In a medium saucepan over medium heat, combine 1/2 cup sugar, 1/2 cup milk, 1/2 cup

cream and 1/4 cup butter. Heat until butter is melted, stirring occasionally. In a small bowl, whisk

together the cornstarch, 2 tablespoons milk and vanilla; stir into saucepan. Cook until thickened, stirring

constantly. Remove from heat, and set aside to cool slightly.

Preheat oven to 400 degrees F (200 degrees C). In a medium bowl, combine the apples, flour and cinnamon. Mix well. Line a

9 inch pie pan with pie dough. Pour thickened filling mixture into pastry-lined pie pan. Arrange apple mixture evenly over filling.

Top with second crust, seal and flute the edges. Cut slits in top crust. Bake for 30 to 40 minutes or until crust is golden brown and

apples are tender. Cool for at least 30 minutes.

In small bowl, combine confectioners' sugar, 1 tablespoon milk, 1/4 teaspoon vanilla and 1 tablespoon softened butter. Blend until

smooth; pour evenly over warm pie. Refrigerate for at least 1 1/2 hours before serving (longer is better). Source: allrecipes.com

STOP PAYING RENT,

OWN YOUR OFFICE BUILDING,

BUILD YOUR WEALTH!

• Diagnose & Repair

• Panel Upgrades

• Generators

• Surge Protection

• Custom Lighting

• Smart Switches

Randy & Sandi Deyo, Owner-operator TMEL 33838

FREE Estimates ● 2 Hour Appointment Windows

5 Year Warranty ● Flexible Payment Plans

Military/Veteran Discount ● Senior Discount

With current interest rates on commercial and SBA loans,

there has never been a better time to make the move to

ownership and earn equity on your office space, while

creating an income producing asset for when you retire.

• 2236 sqft

• Close Proximity To FM 529 and Highway 6 N.

• Unique Cul De Sac Area That Creates Comfortable

Work Environment

• Close Proximity To First Community Credit Union,

24 Hour Fitness, Best Buy, Sprouts, Chase Bank, Walmart

• Close Proximity To Restaurants - Outback Steakhouse,

Willies Grill and Icehouse, Fuddruckers

PROPERTY LOCATED IN THE HEART OF COPPERFIELD:

7110 Glen Chase Ct

For more information visit Loopnet.com

or call Ryan Ward at 832-545-3031

8

January 2022 | Westgate
---
STEVE TOUCHY

Attorney At Law

Serving Businesses and Families Since 1983

Copperfield/Cypress

• Wills • Trusts • Probate

• Divorce • Employment

• Adoption • Consumer Law

• Incorporation • Collections

• Partnership • Liens

• Real Estate • Commercial Law

281-858-0700

stevetouchy@yahoo.com

15840 FM 529, Suite 280

Houston, Texas 77095

Located in the Chase Bank Building on FM 529

INTERIOR & EXTERIOR

• FAMILY OWNED • REFERENCES • INSURED & BONDED • 22 YEARS EXPERIENCE

FREE

Estimates

Estimates@cphou.com

Call or Text

• Carpentry

• Pressure Washing

• Sheetrock /Texture

• HardiePlank ®

• Crown Molding

• Refinish-Staining

• Fences

AVAILABLE!

FINANCING

281-345-9800

www.cphou.com

FORD PIANO STUDIO

Lessons to go with that Christmas Piano

Classically Trained Teacher

Experienced & References

832-978-6566

czerny32@sbcglobal.net Telge Rd. Area

POST OAK & PECAN

FIREWOOD

Other Cooking Wood Available • Delivery Available Upon Request

Stay Warm & Cozy with Papa Don's Firewood throughout the year

346-287-9146

papadonsfirewood@gmail.com

D. Prince, Owner

Online Scheduling Available

6 months - Early Teens

832-684-0024

PediatricSmilesofCypress.com

NOW OPEN!

A GENTLE EXPERIENCE

No more Dental Anxiety - we offer

conscious sedation dentistry for kids!

Cleanings • Exams • X-Rays • White Crowns • And more!

We accept

Most Insurances!

17823 Longenbough Rd. Ste. A • Cypress, TX 77433

Always there

for you!

Water Heaters • Drain Problems • Faucet Installation & Repair

Gas Test • Water Leaks & Much More

35+ Years Experience

MPL#40815

832-890-8449

info@tonysplumbingtx.com

www.tonysplumbingtx.com

Low Price Guarantee

Licensed & Insured

Westgate | January 2022 9
---
14654 Spring Cypress Rd.

Cypress Fairbanks Swim Club

HOME OF THE FLEET EST. 1975

Cy-Fair Swim Club is a USA Swimming,

year-round competitive swim team offering high

quality professional coaching and technique

instruction for swimmers of all ages and abilities.

It's not too late to register for the 2021-22 swim

season! Call the office at 281-376-2372 or email

fleetoffice@fleetswimming.com for more information.

Check out our website at www.fleetswimming.com

FLEET FIRST

LEARN TO SWIM SCHOOL

Heated Indoor Aquatic Center

It's not too late! Monthly Swim Lessons available

or get 10% off for a New Year Package.

Call the office at 281-376-0847 to schedule your FREE

evaluation or email fleetfirst@fleetswimming.com

for more information. Check out our website at

www.fleetfirstswimschool.com

LOU'S PAINTING, Ltd.

• Interior - Exterior

• Power Washing

• Sheetrock & Texture

• HardiPlank ® Replacement

• Minor Repairs

Free Estimates

O 281-492-2643 C 281-844-4338

"Doing business from the same location since 1978"

Family & Cosmetic Dentistry

Caring Professionals for over 35 years in the Bear Creek Area!

16100 Cairnway, Suite 285

Your home is an expensive investment!

Painting beautifies &

preserves that investment!

281-859-5637

New Year SPECIAL

$

75 Off for New Patient Exams

$

25 Off Dental Treatment for (existing patients)

(Not valid with any other offer. EXPIRES 1/31/22. Must present

coupon at the time of service. Valid for only one use per patient)

• Advanced Laser Dentistry

• Digital X-Rays for reduced Radiation

• Affordable, Flexible, No interest payment options.

www.CAREYDENTISTRY.com

10

January 2022 | Westgate
---
Real estate moves at

its own pace. We are

here to help you

move at yours.

JUST SOLD

8607 Crossriver

3 OFFERS, SOLD OVER LIST PRICE,

5 DAYS ON THE MARKET

Prepared to help you act fast.

Patient when you need time to

think. We guide clients through

the process—at whatever pace

they need.

Reach out to start the conversation.

Scan the QR Code to

contact us, search and

view our listings, and to

get your free home

valuation!

JUST SOLD

17603 Quiet Dawn

8 OFFERS, SOLD OVER LIST PRICE,

8 DAYS ON THE MARKET

jillsmithteam.com | 281-864-1766

Compass is a licensed real estate broker. All material is intended for informational purposes only and is compiled from sources deemed reliable but is subject to

errors, omissions, changes in price, condition, sale, or withdrawal without notice. No statement is made as to the accuracy of any description or measurements

(including square footage). This is not intended to solicit property already listed. No financial or legal advice provided. Equal Housing Opportunity.

Westgate | January 2022 11
---
LANDSCAPE, L

, LAWN L & POOL

P

Lawn Service

STARTING AT JUST

PER VISIT

Basic to Full Service Packages Available

Pool Service

STARTING AT JUST

Call Now for your FREE ESTIMATE!

www.pristinelawn.com

PER VISIT

Complete Pool Service

Also available: Mulching & Yard Cleanups • Lawn Aeration • Sprinkler &

Drainage Systems • Tree Pruning & Removals • Sod/Grass Planting

Pressure Washing • Fencing

(281) 861 - 0962

Call Blue

Frog

• Water Heaters

• Toilets

• Sewer Line Service

• REPIPE & REPAIRS

• Garbage Disposals

• Maintenance

Agreements

• Gas Leak

Detection/Repair

• Trenchless Repairs

• WHOLE HOUSE

WATER

FILTRATION

AND

TREATMENT

• CLOGGED DRAINS

• Tankless Water Heaters

• Faucets & Sinks

• Water Line Service

• Hydro-jetting

• Backflow Prevention

• French Drains

• Video Inspection

"We work as unto

the Lord"

We to it

346-209-2155

H

O

P

Our Services: Emergency Service Available 24/7 at Regular Prices

$40 OFF

Not Valid with any other offer

$125 OFF

Not Valid with any other offer

Call today for your free estimate. Financing Available

Best Warranty in the Business • Bonded, Insured & Licensed Plumbers

www.bluefrogplumbingnwhouston.com

GEYER ROOFING

Specializing in

Re-Roofing

Any Job

over $100

Water Heater

Install

Ron Geyer

713-462-3898

RMP41368

RESIDENTIAL &

COMMERCIAL

Our gift shop has something

for your Valentine!

VERA BRADLEY • CONSUELA

UNO de50 • KATIE LOXTON

SPARTINA 449 • ENEWTON

MUD PIE

WAXING POETIC

NORA FLEMING

AND MORE!

281-855-6801

18020 FM 529

Kroger Center

FM 529 @ Barker Cypress

Locally Owned & Operated

Mon - Sat: 8 am - 7 pm | Sun: 9 am - 6 pm

www.langhamcreekace.com

20%

OFF

Any Regular

Priced Item

$30 or Less

Valid at Langham Creek ACE

Hardware only. Excludes gift

cards and licenses. Does not

apply to Yeti, propane, service or

engraving. Cannot be combined

with any other offer. Limit one per

customer. Expires 1/31/22.

REMODELING

• Kitchens • Bathrooms • Windows / Doors • Floors • Hardi Siding

• Rooms Additions • Complete Renovations • Patio Covers

Rob Geyer

281-477-3456

CALL TODAY TO HAVE YOUR HEATER CHECKED

TO KEEP YOUR FAMILY SAFE!

281-347-2665

$25 OFF

ANY REPAIR

Expires 12/31/21

FREE ESTIMATE OR 2 ND OPINION

License TACLB 24777E and Insured

AIR QUALITY TESTED

WITH TUNE-UP

Expires 12/31/21

• Annual

Maintenance

Programs

• All Repairs

Guaranteed

• Serving Area

Since 1994

0% Interest

financing available

WAC

Expires 12/31/21

IdealAirServices.com