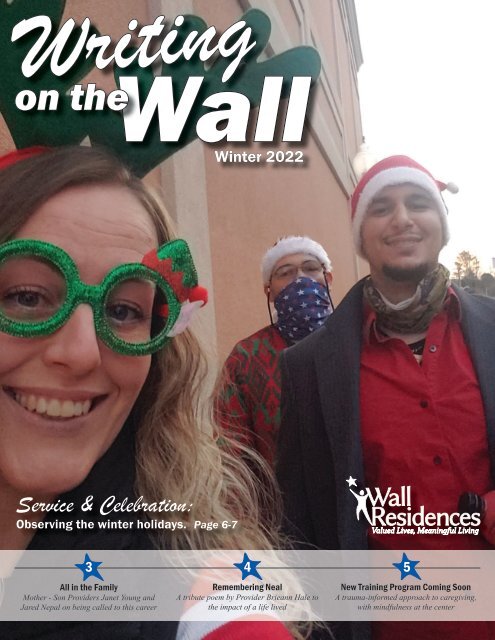 Writing on the Wall: Winter 2022
The quarterly newsletter of Wall Residences: a Virginia agency who provides services for individuals with intellectual or developmental disabilities. Services include sponsored residential, group homes, community engagement & community coaching, nursing, therapeutic consultation, and behavioral support. This issue highlights recent achievements of residents, providers, staff, and the agency as a whole during the final quarter of 2021.
The quarterly newsletter of Wall Residences: a Virginia agency who provides services for individuals with intellectual or developmental disabilities. Services include sponsored residential, group homes, community engagement & community coaching, nursing, therapeutic consultation, and behavioral support. This issue highlights recent achievements of residents, providers, staff, and the agency as a whole during the final quarter of 2021.
SHOW MORE
SHOW LESS
Create successful ePaper yourself
Turn your PDF publications into a flip-book with our unique Google optimized e-Paper software.
ong>Writingong>

on the

Wall

Winter 2022

Service & Celebration:

Observing the winter holidays. Page 6-7

3

All in the Family

Mother - Son Providers Janet Young and

Jared Nepal on being called to this career

4 5

Remembering Neal

A tribute poem by Provider Brieann Hale to

the impact of a life lived

New Training Program Coming Soon

A trauma-informed approach to caregiving,

with mindfulness at the center
---
Director's Corner

John Weatherspoon

The final Rate Model Proposal has

been released and despite recommendations

from the Virginia Sponsored

Residential Provider Group,

Wall Residences and multiple other

agencies the proposal for Sponsored

Residential Services did not include

the same formula used during the

refresh for determining the Home

Payment. Due to this decision most

Sponsored Residential providers will

receive a cut in pay on July 1, 2022.

The Governor's proposed budget

was released on December 17th, and

included funding that was based on

recommendation from DMAS and the

rate model. This is the rate model that

will be in place for the next 3-5 years

and any updates to rates will be based

on it. The rate model fails to recognize

that Direct Support Professionals

(DSPs) outside of the Sponsor (Host)

Family exist within homes or that

Sponsors have to increase their pay to

staff just like all other agencies when

prices and minimum wage goes up.

Currently the service is receiving

the temporary rate increase from the

American Rescue Plan Act funds

which is in place until July 1, 2022. In

the proposed budget most sponsored

providers will actually experience

a 3-5 % cut in pay on July 1, while

group homes will receive a substantial

increase for serving the same person

in their residential service.

Sponsored Residential will continue

to fall further behind other residential

payments with this model as changes

are made in the next 3-5 years. The

proposed model includes differences

of more that $100/day for serving

the same person in a Group Home

vs a Sponsored Home. The model

proposed by the Virginia Sponsored

Residential Provider Group did not

expect parity with group homes, but

asked that DSPs be included and

recognized in the rate model which

would have lead to increases over

the current temporary ARPA rate and

safe from cuts. We are beginning to

reach out to members of the General

Assembly to educate them about the

discrepancies for Sponsored Residential

within the proposed rate model

and the risk of cuts to sponsored

providers if the current recommendations

are followed. Our representatives

need to be reminded that DSPs

exist within the model, though they

are not included within proposed rates

for Sponsored Residential and that the

current model will not suffice when

changes are made due to increases in

minimum wage. The regulations and

expectations of DBHDS and DMAS

are that DSPs exist within the model

but they continue to fail to recognize

them when it comes to rate setting.

It looks like it will be another busy

session advocating for Sponsored

Residential Services!

I am excited to welcome Valerie Cooper as the

newest member of the Board of Directors for Wall

Residences! Valerie has decades of experience

in the rehabilitation field as an Occupational

Therapist and Manager. In addition, she has

been a contracted residential provider with Wall

Residences since 2013. Welcome Valerie!

Diversity Corner

Though Dr. King is most remembered for his "I Have A Dream" speech in Washington, DC in 1963,

his work toward equality through non-violence started long before that. He led the Montgomery, AL

bus boycott in 1955. He became the first president of the Southern Christian Leadership

Conference, which worked to promote equal rights in voting, education and labor laws by

strategically organizing protests. We can continue Dr. King's dream of equality for all by

incorporating the principles of inclusion, respect, and peace

with everyone we encounter.

2
---
All in the Family

For longtime provider Janet Young

and new provider Jared Nepal, caretaking

is a family business. Janet, a

former realtor, and her husband Kenneth

bought and renovated their home

with the idea of caring for the elderly.

Their drywall installer told them about

Wall Residences. Janet met with the

agency and soon was introduced to a

hospitalized man in need of a home

and caretaker. Janet decided on the

spot to become his provider and a

week later brought him home. That

was the beginning of her journey in

2008 as a Wall Residences provider.

Jared, her son, was ten at the time.

Within a year, Janet was licensed as a

four bed group home and specializes

in complex referrals. "We are the kind

of provider, we stick to it no matter

what," she says. "The people they look

at and say, 'Where will they go?' We

say, 'They will come here.'" She said

she doesn't see impossibility or wonder,

"Can I do this?" Instead, she sees

a need she can fill and a life she can

impact for the better, creating chosen

family along the way. Jared expands

on his mother's statement by saying,

"You get the opportunity to support

people to live their best lives. You see

how people come in and then you see

how they leave." Watching that positive

growth is what they both love best

about their work as providers.

create a log of every senior center in

Montana and was a representative for

a guardianship reform program. His

roots called him home, however. "By

18, I knew I'd be a provider, but after

Americorps, I was all in."

At just 24, he is one of Wall Residence's

youngest providers, and like

his mother, he is ably supporting

individuals with complex needs. "You

make a living and you do it in such

a dignified way," Jared notes. "It's

the perfect job. You get paid, yes, but

you also get the emotional reward of

doing something you love."

Jared is not the first of Janet's backup

workers to become a provider. In

fact, he is the sixth! This wonderful

mentor shares, "I want my back-up

workers to flourish. I show them they

can become providers too. I help

them get their home ready." She sees

the positive impact of this lifestyle

on her family too. "To do this work,

you have to have compassion." She

believes in the benefit of this care

model for families of individuals as

well, mentioning parents and siblings

who now worry less about their loved

one because they know the individual

is loved and cherished by their

providers. Jared agrees. "They... the

individuals and their families... they

know we care about them," he says.

Being providers has made the two

closer as mother and son, as well.

Doing the same type of work means

they understand each other's day to

day life in a very real way.

As for that life and career choice, it is

one they foresee continuing for years

to come. Janet says with a laugh, "I

could not go back to being a realtor. I

love what I am doing!"

~Angie Covington

Jared grew up interacting with the

individuals his mom supported and

was licensed as a back-up worker at

18. He echoes Janet's words about

family, lifting up Neal who has lived

with them for 14 years. "He's like

my uncle. He's family." After graduating

from VCU, Jared moved to

Montana as part of Americorps, a

service organization. He worked with

Adult Protective Services, helping

Front: Neal, Jordan, and Ruth Ann. Back: Provider Jared Nepal,

Provider Janet Young, and Back-Up Worker Kenneth Young.

3
---
Remembering Neal

Provider Brieann Hale and her family recently suffered the loss of

Russell "Neal" Ball, who had been in their home for over 10 years. She held

a memorial for him at her home, planting a red maple tree (his favorite) in

his honor. She shared this beautiful poem she wrote in tribute to Neal for the

lessons he taught and the joy he brought her and her family.

As a caregiver I've learned many things

Things I thought I understood, things I thought I knew

I've learned how to listen, with not just my ears, but also my heart

I've learned that often listening plays the very biggest part!

I've learned how to walk, sometimes with the strength for two

I've learned, while walking, to consider: In whose shoes

I've learned how to share, and I've learned how to give

I've learned to love each one's very special story they live

Yes, as a caregiver I've learned many things anew

Things I thought I understood, things I thought I knew

I've learned how to set goals, and how to go with the flow

I've learned how a smile can help heal most any woe

I've learned to have hope, ya know, a little goes a long way

I've learned to lean on HIS grace, His mercies are new each day!

Yes, truly, as a caregiver, I've learned many things anew

But, how do I say "Goodbye?" My friend, my buddy, my sweet Neal.

www.wallresidences.com

Neal with provider Brieann Hale, who was his caretaker for over a decade.

4
---
New Training Program Coming Soon

Wall Residences Training Department

is excited to announce that our new

Crisis Management and Response

Training (CMRT) program is in

progress! Its key components are

trauma-informed care and mindfulness.

Both help us recognize states of

high arousal in the people we support

– as well as ourselves. This is important

because trauma causes physical

changes to the brain resulting in

over-interpretation of threats, which

in turn result in fight, flight, or freeze

reactions.

Individuals with developmental disabilities

are two to four times more

likely to have had traumatic experiences

than those without developmental

disabilities. People cannot think

or rationalize when they are having

a trauma-triggered response, because

the most developed part of their brain

is not working. Regular practice of

mindfulness helps bring brain functioning

back to more optimal states.

It improves our ability to co-regulate

with others, which helps heal trauma.

Mindfulness also assists us to assess

situations calmly instead of reactively.

Evidence from research supports the

many benefits of mindfulness. People

with developmental disabilities who

practice mindfulness reduce anxiety,

aggression, self-injury, emotional

outbursts, and incidents that require

physical restraint and/or use of PRN

medication. They increase happiness,

learning, hope, and the quality of

relationships with staff. Caregivers

who practice mindfulness increase

satisfaction with their work while

decreasing stress levels and the use

of physical restraints. There are so

many ways to integrate mindfulness

practice into daily routines and the

time we are already spending pro-

viding services. It's a win-win for

everyone!

Other topics in the CMRT curriculum

include relationships, inclusion, health

and sensory issues, the crisis cycle, assessment

of risks in different environments,

and most importantly: self-care.

The physical skills are similar to those

people may have used in the past, with

a greater focus on non-verbal dynamics,

prevention, self and environmental

awareness, threat assessment, and

holding the person in place while

moving ourselves. Special thanks

go out to Kevin Hiatt, BS, for his

extensive work on the physical skills

development within this program.

We aim to transition from TOVA to

CMRT throughout 2022. We hope to

see everyone soon for an in-person

class (as safety allows). Be well!

~Rebecca Ledingham

Group Home Door Decor Contest

The residents and staff of the Boonsboro

and Longwood group homes

enjoyed a Thanksgiving Door

Decorating Contest. Staff partnered

with individuals, with the winning

teams enjoying prizes of fun outings

for meals, movies, or bowling. Congratulations

to our winning individuals

and the staff who assisted them:

Boonsboro

First Place:

Titana Palmer & Shelisha Turpin

Runner-Up:

Belinda Dean and Brittney White

Longwood

First Place: Kathilla Clark

Runner-Up: Linda Anderson Longwood's winning door Boonsboro's winning door

5
---
Merry

&

BRIGHT

Know Someone Who Could Benefit from Our Services?

The Wall Residences Admissions team has staff in all parts of the state to respond to your referral needs and

answer questions about the services we offer. We work quickly to find the right match for longterm success

while striving for the quickest placement in services possible. The Admissions Team is here to serve you.

www.wallresidences.com

Alex Jackson

Admissions

Director

(434) 610-7578

Emily Eagle

Central Virginia, Danville,

Charlottesville, Staunton/

Waynesboro/Lexington

(434) 907-5067

Ashea Green

Northern

Region

(202) 760-6411

Brooke Keen

Roanoke, NRV,

SWVA

(540) 541-8563

Lisa Schalasny

Eastern

Region

(804) 380-4309

6
---
7

Individuals,

Providers, Back-Up

Workers, Family

Members, and Staff

celebrated the

holiday season.
---
Healthy Habits Pay Off for Jamie

Jamie moved in with provider Masambe Tate

in 2018. At the first appointment with his

Nutritionist, she let the two know that it was

important for Jamie's health that he lose weight.

Masambe didn't want him to do it alone, so

together the two followed the instructions

the Nutritionist provided. They began to eat

healthier and drank plenty of water. They

also began walking twice a week for about

30 minutes each time. Masambe notes that

Jamie really stuck to the directions given by

the Nutritionist to pursue this goal.

Three years later, you can see at right the results!

In December of 2021, Jamie hit his goal weight,

having lost 60 pounds! Masambe says, "I'm

extremely proud of him!"

Well done Jamie! You're looking great and we

hope you are feeling even better!

Digital

Bonus

An extra peek at all the

fun had around Wall

Residences this fall

and through the winter

holidays. For ongoing

news and photos,

connect with us on

Facebook and/or

Instagram.

FOLLOW US

ON SOCIAL MEDIA!

www.wallresidences.com