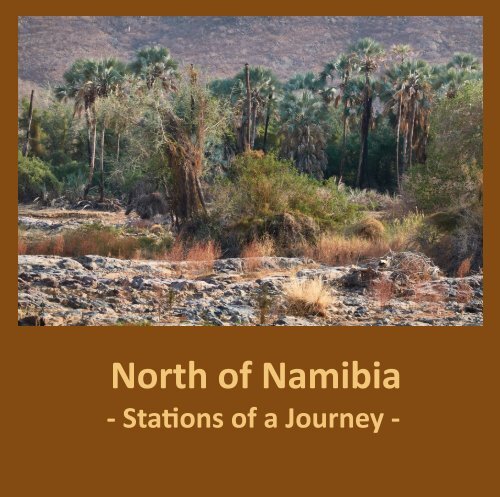 namibias north
English translation of my Journey report concerning Namibia in September 2021.
English translation of my Journey report concerning Namibia in September 2021.
SHOW MORE
SHOW LESS
Create successful ePaper yourself
Turn your PDF publications into a flip-book with our unique Google optimized e-Paper software.
North of Namibia

- Staons of a Journey -
---
Epupa Falls

Ongula Village

Homestad Lodge

Onguma Bush Camp

Khowarib

Hobatere

Mount Etjo

Ai Aiba

Hosea Kutako Airport

Here's the route of our Namibia in September 2021
---
Hakusembe

Mahangu

Lianshulu

The Prehistory

Fortunately, aer we had taken a break in Namibia

journeys and thus "only" the planned trip to Scotland fell

vicm to Sars CoV 2, we definitely wanted to go back this

me to pay a visit to our land of longing and

booked, opmisc as we are, a three week journey

through Namibia's far north. Relavely shortly before the

start of the trip, it seemed that our plans wouldn't work,

because Namibia for variants area had been declared

what meant for us a 2 week quaranne aer return

but this for Andrea for professional reasons

wouldn' have been an opon. Fortunately, the rule just

had changed in me, so that we could start our trip at the

beginning of September, and so this is how the route on

the le came about.
---
Ai Aiba

The Lodge is situated in the Erongo mountains and offers, among other things, trips to rock

drawings of the San. A Living Museum of the San lies nearby the lodge. We visited both of them.
---
The rocks behind our bungalows

On the way to Ai Aiba
---
The rocks and the bungalows in direct neighburhood
---
View to northwest
---
Animal sighngs in the lodge and on the nature drive, a turtle shell, rocks and rock painngs as

well as "lessons in art history".
---
Impressing things in

different sizes.
---
Lessons in art history
---
At the San's

We visited the San Living Museum together with a group of people of colour from Windhoek.

Material tesng;

It shall become a rope.

Love and talent for dancing
---
Tradional lightning a fire
---
Father and

daughter
---
Khowarib Lodge

Rusc Lodge, in a very beauful li3le valley near an also small but water bearing creek, in

a distance of 35 km southwest from Sesfontein.

Fortunately westwind (We're going north)
---
In Damaraland
---
Views of Khowarib lodge:
---
Lapa, tent bungalow and creek
---
Desert adapted elephants in Hoanib valley

In 2019 we had booked an 8-hour trip from Palmwag lodge through Damaraland, and naturally

we carried it (see "Überraschendes Namibia", September 2019). Already then I had a enormous

longing for the Hoanib valley and its fauna, especially its desert adapted elephants; now they

are being fulfilled.
---
The Photographs on the next pages have been taken by our guide and driver Ueera Kasaona

with my camera, therefore he ran up a mountain like an antelope a mountain at the edge of

the valley.
---
*

*

*
---
*

Landscape and

elephants – put in

relaonship
---
...or simply water?

Mummy's milk...
---
"Don't push me!"
---
Evening silence aAer the overwhelming ride
---
Epupa Falls

Besides the Hoanib valley I really wanted to see on this journey hippos and crocodiles.

Concerning landscapes I was interested in the border rivers to Angola, the Kunene and the

(O)Kawango River with their waterfalls or rapids. Therefore our next desnaon were the Epupa

Falls which however had li3le water at that me, with the adjacent Lodge of same name.

View towards Angola
---
View towards northwest

Not exactly lush, right?
---
A closer...
---
...and a broader perspecve
---
Breakfast

Grey heron
---
Jungle
---
Where's the crocodile?
---
On trip with John, our guide
---
Ongula Village Homestead Lodge

Unfortenately there's no pic of this lodge because I felt very bed already on arrival and

developed a severe gastrointesnal flu. So there are only fotos of our drive over the D3700,

first nearly always along the Kunene River. We didn't see the Ruacana Falls either because you

have to cross the Angolan border first as we experienced later.

At Kunene River
---
A Himba hut

Agriculture
---
CaEle on the move on foot and hitchhiking
---
The only wet "challenge"
---
Namibian "Civilisaon"

Child transport
---
The less beauful side of Namibias
---
"School's out"
---
Water reservoires
---
Hakusembe River Lodge

Aer we came through happily the ride to the Hakusembe Lodge aer my gastrointesnal

intermezzo but I wasn't fit again, we decided not to absolve any program but only relax, and

therefore there are only very few corresponding pics from here.

No, that isn't the pool of Hakusembe.

This bathing area, is it really hygienic?

This place opposite the Hakusembe

Lodge on Angolan bank should be much

healthier for the caEle.
---
View from our bungalow
---
Sunset at Okawango
---
Stopover at Popa Falls

Here we were informed by a San guide about a planned tourisc project. Here a camp and a

luxury lodge shall be built.

On the way: big laundry by the river
---
Popa Falls

Another pic of a

poorly recognizable

crocodile
---
Popa Falls, seen from above
---
Mahangu Safari Lodge

Lodge and Campsite, directly at Kawango*, 20 km southeast of Divundu, in the western part of

Sambesi Region, which was named "Caprivi Zipfel" unl 2013, aer Leo von Caprivi, the Prussian

general and German Reichskanzler 1890-94. we've been here already in 2018. From here you

can explore the Core Area of Bwabwata NP with your own car. There is also a game drive beyond

the Kawango, where, with a bit of luck, you can encounter the river fauna, i.e. hippos and

crocodiles, as well as the "usual suspects" such as various antelopes, warthogs, vervet monkeys,

buffalos and elephants.

* The river called "Okawango" by the Ovambo is called "Cubango" or "Kawango" by the local

ethnies
---
The lapa of the lodge

Houseboat at Kawango
---
In Mahangu Naonalpark

Nile crocodiles

and hippos
---
Vervet monkeys
---
Roan antelope buck on bridal hunt
---
Father ostrich...
---
...and the already somewhat larger chickens
---
Birds and

monkeys
---
Lion vs. ostrich
---
Two male teenies
---
Sunset in Bwatwata NP
---
Lianshulu Lodge

The Lodge is situated on the vertex of our journey, also in the Sambesi Region, but farer

in the east, directly at Cuando River, at the border to Botsuana which begins on the other

bank of the river. Our bungalow had an outdoor shower with free sight to the river. However,

I didn't see any animal while taking a shower. But on the offered boat trip we had our most

impressive encounter with a small herd of bathing elephants.
---
The lapa
---
Veranda of our bungalow. Seems somewhat

rusc, but inside it's very comfortable.
---
Black kite, African fish eagle,

Bee-eater and African jacana
---
Kudu cow with 3 Oxpeckers

Buffalos in the bush

Roan antelopes
---
On the lookout, in hunng fever

Plains zebras
---
Such a beauful animal, therefore here

it's once again, in large.
---
Encounters with elephants

In Lianshulu we not only did a

game drive, but also a boat trip

with sundowner. During this

trip we met several mes

grazing and bathing elephants.

These were thrilling

encounters!
---
Contact aEempt
---
He (she?) has us in view
---
Playful jostling
---
"Hey, you're knocking me over!"
---
Sundowner at

River Kwando
---
Hakusembe again

If you don't want to or can't drive back via Botsuana, you have to take the B8 back to Rundu.

So we came a second me, this me aer nearly 5 hours and 460 km, we had the pleasure

of a second relaxing aernoon and evening in the extremely comfortable Hakusembe River

Lodge, although again only for one night.
---
CaEle drive in Angola

Also birds love sundowners
---
Evening in Hakusembe
---
Onguma Bush Camp

Of course, a visit to Etosha Naonal Park is a must on a trip through northern Namibia, and

so we again stay at one of my favorite lodges, Onguma Bush Camp, which borders Etosha

directly to the east. We have for the 2nd me a bungalow without fence to the environment.

This me, however, we get the first me that there are also lions on this area, which means

that you should be quite careful when going "home" in the dark. To compensate we get this

me already, without a step away from the chair in front of our hut, a whole animal show

offered.
---
Glossy star

Red-billed hornbill
---
Etosha water holes
---
First excursion to Etosha

Since we stay two nights at Onguma Bush Camp, aer the first night and a resRul morning with

the already menoned animal sighngs, we drive back into the already very familiar nature

park. What is new this me, although it is called normal, are bush fires and wide charred park

secons.
---
African ibex
---
Wheatear and Red-billed shrike

Horned vulture and

white-backed vulture
---
2 "Loners"
---
The eternal migraon

between food

and water

Seeming stone turned

patriarch in Nebrownii
---
The patriarch

of Nebrownii

sulks (?) today
---
Arrived at the water, but first

taking a look at the situaon...
---
The Magnificent Five
---
Mother spoEed

hyena and son
---
At the water hole
---
Ostrich's life
---
Black &white
---
Red Hartebeests
---
Mountain or panther turtle
---
Okaukuejo

For us, a tradional part of a visit to Etosha Naonal Park is an overnight stay at Okaukuejo

Camp with its water hole that is illuminated in the dark. Here you can always see Etosha's

largest inhabitants, giraffes, elephants and black and white rhinos, as well as various predators

such as hyenas and lions, and of course all the antelope species found here. I have also seen

eagles drinking here.
---
Loner Black Rhino in

front of seJng sun

Tradional welcome

of the conspecific
---
Giraffe at (late)

blue hour
---
On the way to

check out
---
Red moon over

Okaukuejo
---
Etosha's western part

As in 2019, we drive west from Okaukuejo towards Galton Gate again, this me much more

stress-free without a glowing oil pressure lamp (see "Überraschendes Namibia").
---
Crowd at

first waterhole
---
Pedestrians

on the street
---
Encounters with large

and small creatures
---
Olifantsrus

with hide and

water hole
---
Here oryx antelopes

call the shots
---
All others wait in a

respecKul distance
---
Oschs walking in

one direcon...
---
...A secretary bird

in the other one
---
Elephants grow all their lives; so the

biggest ones are also the oldest
---
Well protected
---
Hobatere Lodge

This lodge, which we already visited in 2019 and were thrilled with

(see "Überraschendes Namibia"), is located right on the western border of the Etosha area

in Damaraland and is possessed and managed by the local Damara(?) community. It impresses

with a great wildlife, including lions and elephants.
---
Access road to the lodge. It has a

length of 16 km and clearly falls under

the category "African Massage". A

sign at the entrance warns against

geJng out of the car: "Beware of

lions and elephants!"
---
The lodge and the welcoming commiEee
---
All that in direct neighbourhood!
---
Bloodbill weavers
---
Masked bulbul
---
Forked roller
---
Shade seeking impalas and springboks
---
Kudu herd being thirsty
---
Giraffe, impalas and springboks,

about 100 m in front of the lodge
---
Lion life: 20 hours sleeping and snoozing
---
Meanwhile, many lions

wear GPS bands.

Here, so that neighbours

who are ranchers

are warned when lions

approach their herds.

Slowly awaking
---
Producon of new lions,

completely shameless
---
Otjiwarongo, crocodile farm

On the way to Mount Etjo we visited a crocodile farm on the western outskirts of the city. These

Nile crocodiles are, if they are not selected for breeding, aer about 7 years they are processed

into leather goods and meat.
---
This monster

seems to be a

"breeding bull"
---
Mount Etjo Safari Lodge

Absolute Luxury lodge, with all the trimmings including lion and leopard feeding. In our

Suite – yes, that's what you have to call it – there was a living room, a bedroom and even a

large bathroom with whirlpool. The buildings remind of a Spanish hotel complex. Despite

the pandemic, it was well visited, mainly by excursionists from Windhoek or Swakopmund.

What we liked was a small hidden wooden veranda over the water of a small reservoir,

where you could watch for hours all kinds of water birds and a there se3led hippo.
---
Off to the siesta!
---
And a last game drive...

A white rhino, as if formed from clay
---
Nyala antelope
---
The last giraffe of this journey
---
LiEle dik-dik, very great
---
Mother hippo with twins
---
Different moods of a hippo

"Don't bug me!"
---
"Pay aEenon!"
---
"Was a joke!"
---
"Life is cool!"
---
Farewell

"Bye! Come again! We miss you already now!"
---
Text appendix

In the course of the compleon of this photo travel report I noced nevertheless several mes that

some background informaon would be perhaps not so completely bad. But since I don't want to

interrupt the picture viewing of those who primarily want to look at photos, but one or the other

would like to know a bit more about the trip, I thought I would simply append the diary I wrote

during it. I wish all readers and image viewers a lot of fun while watching my fourth Namibia e-book!

Namibia trip 2021

3.9.:

So, in the meanme I am siUng on a veranda chair of the Ai Aiba Lodge, looking into once again

dreamlike landscape in the light of the late aernoon sun...

How do I get here? Aer saying goodbye to Germany was very annoying, I was somewhat grounded

again this morning aer about five hours of sleep. The check-in at Hosea Kutako Airport was actually

quite speedy this me, and I already thought that we would get through very quickly today, but then

there was a third check, which was due to the pandemic and was unfortunately inially carried out by

only one woman, and so I prepared myself for an extremely long wait. Fortunately, an airport

employee approached an elderly Italian couple and us and escorted us past everyone else to checkin,

gave the lady our papers, and almost immediately we were through. Strange, but of course we

were happy. Then Andrea and me split up again; she reported to Europ Car while I went to change

money. Although at least the la3er was quite bureaucrac, since I was the first to get to the counter

immediately, we were on our way to our rental car aer about 1/4 hour, a brand new Toyota

Fortuner 4x4 with appropriately excellent re tread, automac transmission, cruise control and

rearview mirror. We were happy! Since I had drunk two small bo3les of red wine the night before

and had taken another sleeping pill at night, I had promised Andrea that she would be allowed to

drive first, and so I made myself comfortable in the passenger seat.

This me we didn't get lost in Windhoek, but turned as planned into Nelson Mandela Avenue and

were so very quickly on the B1 (since some years on the first secon A1) out of the city in the

direcon of Okahandja, where we drove to a supermarket I had already picked out at home to buy a

few more cookies and for Andi a Bi3er Lemmon to "thicken" the water, which we had already procured

at the airport. We found it quickly too, but then I had to shop alone because we couldn't get

the car locked. Fortunately, Andi spied a Toyota repair shop a short me later, where they showed us

the trick with the car lock. But unlocking the passenger and rear doors should sll cause problems for

a longer me…
---
But now the drive through the known beauful landscapes connued, however, we saw up to 4

horses, some lizards and birds so far not a single animal. Striking!

The Ai Aiba is as usual beaufully embedded in the landscape of the Erongo Mountains. Aer a

wonderfully cool Rock Shandy* and a delicious salad we went back to our bungalow; Andi into bed,

me, I sat into an armchair on our veranda, where I fell asleep every now and then.

So, now Andi has woken up and is siUng next to me on her armchair. And now we see, for the first

me on this trip, an oryx at the waterhole of the lodge! But now we also have the impression that the

sunset is geUng closer.

4.9.:

Slept remarkably well. As usual here in Namibia, rich breakfast. Aer an extensive "warm-up" we

drive to the neighboring Living Museum of the San**. When we arrive, there is a whole troop of San,

but in "civilian" clothes. When I ask if I could take a picture of them, the chief, who is wearing a tradi-

onal apron, denies it. Only later, when more tradionally dressed San join them and the show

begins, we are allowed. With us sll 2 other cars came, from which, which was new for us - and very

sympathec - people of color from Windhoek emerge. We will be confronted with black tourists even

more oen on these days; Covid 19 makes it possible...

The show is again the usual: ostrich trap, hunt with poisoned arrow, dance aer successful hunt.

Well... Aerwards it is me to rest. Shortly aer us the Windhoekers arrive for a drink, then it's quiet

again.

At 4:30 p.m. we go on the usual Nature Drive, which brings us first of all Springboks, a dead turtle and

the informaon about their problems with climate change*** and 3 and a young giraffes. Later, 2

more kudus jump in front of the car. One of the main targets are the 2000 years old San rock

painngs. Impressive, if one stands then so directly in front of them; that is something different than

in photos! Since yesterday's dinner was too rich, we leave out the soup today and take only one

dessert for both of us. Andi disappears aerwards pre3y quickly in the trap, while I sll transfer the

photos to the laptop and then try in vain to post a few on Facebook and send via "WeTransfer" to the

lodge. Since all this does not work, I also go to bed.

————————————————————————————————————————————

*So drink with lemonade and Angostura

** Oldest ethnic group that immigrated to Namibia and s#ll lives here today.

***The sexing of turtles is temperature dependent. Below 32,5° they become males, above that

females. At 32.5° the percentage is 50:50.
---
5.9.:

Since we have today a rather long distance to Khowarib before us - over 400 km - , I push myself at

6:30 a.m. from the bed under the shower and wake a li3le later with my ra3ling noises promptly also

Andi, what I had intended anyway. Aer all, there is an absolute luggage hullabaloo on our table, and

we sll have to sort it all. But we actually manage to arrive punctually at 8:00 a.m. for breakfast, aer

we have completely loaded the car!

I give away the first jeans and shirts (good clothes are always

appreciated), and then we hit the road again. Up to Uis Andi drives, then I take over aer we have

refueled there. The next secon of the route goes to Palmwag, where we reminisce and have a rich

snack. Aerwards we refuel again and take the remaining distance of about 80 km under the res.

The lodge makes a original impression with quite rusc tents with outdoor toilet and shower. WiFi is

not available. But most of the tent bungalows have wooden verandas, from which you can look at a

small river, which actually has water. An idyll! At the river we find a lot of tracks and remains, but

apart from birds no animals, not even Andi, who remains siUng at the steep bank for a while. Aer

wring, I get lost in the trap.

6.9.:

Awesome! Andi has booked another 8-hour tour, this me through the Hoanib Valley. The only stupid

thing is that the tour starts already at 7:00 a.m. due to the distance from the lodge and it's freezing

cold the first two hours on the safari car on which we are - once again - alone. But this is soon compensated

as soon as we enter the Hoanib valley. The river has dried up in the meanme and is therefore

a so-called rivier, but it must sll carry a lot of water underground, because there is lush vegeta-

on here, framed by insanely impressive mountains. Aer about an hour of "african massage "*,

Ueera, our guide, shows us a grey back in the midst of lush greenery, sll quite far away, which we

recognize as elephant only aer a close look at movement.

At first I'm pre3y disappointed because I think we're staying at this considerable distance, but I have

to correct myself very quickly; Ueera curves back and forth a few mes and suddenly we are standing

at a distance of about 20 -100 m from (at first) four peacefully feeding elephants of different sizes.

We stay there for a very long me; I am quite excited and take pictures like stupid.

The next two hours we are constantly in the vicinity of feeding, wandering and drinking elephants at

an arficial waterhole. In the end, Ueera even chases the car up a mountain, both for lunch and also

—————————————————————————————————————————————

*During the off-road rides, you get a good shake, a massage, so to speak. Surprisingly, these rides

have done to my back a lot of good.
---
to view and photograph the elephants more extensively from above. It is somehow sll something

completely different than standing in Etosha at the waterhole, especially since we are the only peoplehere.

Pure highlight!!!

At some point, however, we head - unfortunately - to go back towards civilizaon...

From a lion we see only paw prints, excrements and urine, both however quite fresh, so that we must

assume that the lion is in the proximity. Ueera tries to find a giraffe by driving around, but it doesn't

work. But the landscape is again excingly varied and somemes even gets a Dead Valley touch! Back

"at home", we are completely exhausted and are almost only available for bed.

7.9.:

We landed at Epupa Falls. From the lodge there is a great view of the jagged rocks between which the

river meanders before it falls. However, the falls look very unspectacular from the lodge. Since we

have been driving for a very long me, there is no acvity today. The preparaons for a later milky

way photo prove to be useless; in the sky, as far as I can see it, no milky way is visible. Well, not then!

8.9.:

Following my wish, it goes today on crocodile search, which turns out, let's say, as ¼ mes successful.

Our guide John shows us a small reple, about 1 m of length, which lies on an island in the river about

50 m away from us. This gives a search picture " where is a crocodile here?". I take a picture of it

anyway, but honestly I don't really recognize it unl I zoom in on the photo later on the laptop. John

is a bit cresRallen that he can't offer us more, but I try to comfort him with the hint that we would

sll spend some nights and days at the Okawango* and Quando (Kwando)* and therefore there

would definitely sll be hope in this regard.

We arrange to meet the next aernoon at 5:00 p.m. to view the waterfall from a be3er perspecve,

namely from the rock, in its full glory. John warns us as a precauon that this me there is quite li3le

water, since it has not rained at all up here this year. We sll find it impressive.

Side note: John is already wearing my sloppy linen pants today that I gave him yesterday and is

thrilled with the jeans he tried on at home.

9.9.:

Aer a day of idleness, we meet at 5:00 p.m., as arranged, to get a be3er viewing posion of the

waterfall. John seems to interpret the informaon that I'm not very sure-footed and good on my feet,

—————————————————————————————————————————————

*border rivers to Angola and Botsuana
---
and the fact that I fell lengthwise the day before, to mean that we should firstly cover a distance of

about 200 or later another 100 m be3er with the car and he would have to support me crazy precau-

onary and affeconately like an old man. But since I have my two scks, the distance is no problem.

Aer John's forewarning we find the view of the waterfall nevertheless quite impressive. Aerwards

we invite him to the bar for a drink and talk longer about his life here, with which he is very sasfied

as a Himba. At 8:00 p.m. we are ready for bed aer the dinner.

10./11.9.:

The day starts promisingly: I am looking forward to the varied drive on the D 3700 along the Kunene

River, which turns out to be completely harmless except for a small stretch of rock and two ulmately

unproblemac water crossings.

Our preliminary desnaon, the Ruacana Falls, we do not reach them, however, because the signs

lead us into a dead end, where everywhere the further travel is forbidden. But since John had already

told us that they are currently much less spectacular than the Epupa Falls, we don't take it too hard.

Later, however, my mood slowly lts: The area is now urban, very crowded and full of ugly houses.

Since Andi sll wants to change money at the bank, I stay in the car; a big mistake - or not; I would

probably have freaked out in there, because in there hyperbureaucrasm is paired with absolute incompetence:

What took 5 minutes at the airport, stretches here over well more than an hour. I'm

geUng warmer and warmer in the car. At first, I try to give Andi ps via WhatsApp on how she can

exert more pressure on the lady in the bank, but as me goes by, I really feel worse. I do open the

door again and again, but the car sll heats up quite a bit.

Even when the lady, as Andi texts me, says she's done now, it takes another 10 minutes unl Andi

finally has the money in his hands. I'm pissed off, my circulaon is not good, and when we arrive at

the Ongula Village Homestead Lodge, which we find only with the help of all available documents due

to the inaccurate maps, I praccally keel over: I have headache and stomach ache, I feel sick, and at

the next toilet I realize that I have caught a proper gastrointesnal inflammaon, which means that I

have to go to the toilet about 10 mes during the night.

11.9.:

So I have to stay in bed during our enre stay at this lodge, consuming the various an-diarrheal

medicaons and, aer addional voming, anbiocs, and otherwise only having Coke, with

reluctance some water, and later a few bananas that the staff has charmingly procured for me in

———————————————————————————————————————————--

*pub with serving alcohol. Alcoholism is a big problem in Namibia
---
Oshaka. Andi takes part in a guided tour of the "Shebeen* Escape Academy" located there and is

told that the training in the various professions of tourism and agriculture is intended to combat the

lack of prospects of young people and their path to alcoholism. At least I feel be3er in the evening,

so that I can congratulate my ex-brother-in-law Jorge on his 81st birthday. But I am sll not able to

read or write. The following night is again somewhat be3er, so that I hope to survive the trip to the

Hakusembe River Lodge the next day.

12.9.:

This morning I have the feeling to be somewhat stable again in terms of circulaon and join Andi and

a group of 3 Swiss people, but even there I drink only 2 Coke and eat an apple. Aer a short me,

however, I get a li3le shaky again, so I remain a li3le in the horizontal. When it finally goes on the

distance, I am relavely fit again, only the thought of food intake does not want to succeed me quite.

The ride itself goes smoothly, except for the fact that one or the other road we want to take does not

exist in reality. Aer 3 ½ hours we arrive at the very well-kept Hakusembe Lodge, where I am offered

a special meal with fish instead of meat at my request. Let's see. The Rock Shandy does not get me

already … What I don't like here: Two luxury bitches of colour, one skinny, with silver all-over pantsuit

and record-breaking high heels, with which she can hardly walk here, one fat, who constantly

photographs her in silly poses with her cell phone....Otherwise, the lodge is, once again, firmly in German

hands… But then I do not want the fish, but instead of being angry that I make them useless

work,employees in the kitchen rack their brains, with which they can do me something good, and come

on the idea of a tomato soup; hit! Although I make the 2nd poron then no longer, but the soup

is sll extremely tasty, and I actually eat it with appete!

13.9.:

Waking up in Hakusembe: I slept like a baby for 10 hours; it's a luxury lodge! Unfortunately (or not)

we have to go on again today. Fortunately my intesne says yes to this trip and stays decently calm.

And so we connue to Mahangu Safari Lodge. We stop at Popa Falls, White Sands, where we are met

by a guide named Pieter, a San, and learn, among other interesng things, that the area belongs to

the local San community and that they plan to build both a basic and a luxury lodge here which

should be ready in about 2 years. A prospect for us for our next Namibia vacaon?

The Popa Falls are be3er rapids, but spread over the whole width of the (O)Kavango* and beauful to

look at. And, though again hardly recognizable, there is another crocodile to see....

————————————————————————————————————————————-

*The name "Kawango" prevails among the ethnic groups living here
---
The Mahangu is then only a stone's throw away; however, we get lost and end up at the entrance of

the Mahangu Park, because the turn-off sign is misleading. But finally we arrive.

Now, by chance, I created a new drink: the Lutz Shandy; since I don't know how the Rock Shandy gets

me in the meanme, I want a smaller glass. Quanty and mixing rao of the Rock Shandy, however,

are fixed, and so I try to order the individual ingredients separately in the quanty I want. But the

term "Angostura" doesn't come to mind, instead I order an Amarula, which looks and tastes completely

different. But to my surprise not bad at all, however probably rather something for ladies…

For dinner I get on request kindly fish, which tastes altogether excellent. Since I am sll in the Rekonvalkeszence

and Andi here anyway always falls over against 8:00 p.m., I browse only something in my

photos and then also dive off, acouscally accompanied by the grunts of the hippos in front of our

tent...

14.9.:

Apart from some giraffes at Ai Aiba, a hint of a crocodile at Epupa, every now and then different kinds

of antelopes and the overwhelming elephant flash in the Hoanib valley, today is our first day where

we really get to see a lot of animals; it already starts great: lots of hippos and also some crocodiles on

the breakfast boat trip, and that in just 1 ½ h of duraon! Aerwards we drive again on our own to

the Mahangu Naonal Park, where we get to see antelopes, among others lyre antelopes, roan

antelopes and my beloved sable antelopes, some zebras and of course springboks and impalas in a

great number. In the aernoon at 2:30 p.m. we go by motorboat to the other side of the Kavango,

where we are picked up by Toyota and Land Rover and driven through this part of the Bwabwata

naonal park. There we get to see again some antelopes, also quite a lot of buffalos, but this me

with one excepon very far away, some different eagles, vultures and (almost) at the end even some

lions, about 4-5 cubs + mother with GPS collar, because our guide, in order to track them down, really

breaks powerfully with the car through the bush. And, this me really, at the end as a surprise a herd

of about 20 elephants! That is already madness! Later again I transfer the photos of so far, in addion

I drink 4 Windhoek Light (alcohol-free), and then it goes into bed!

15.9.:

Yesterday evening and this morning my digeson once again played a trick on meL! Kindly our host

has given us the p that you can get Imodium in Divundu in an outpaent clinic. Aer breakfast,

which I eat today again only in diet form, we try it. It works great and completely unbureaucrac.

On the way to the next lodge we visit the Living Museum of the Khwer, a subgroup of the San, but we

don't like it very much: just always the same: Fires are made, hunng methods are shown, handicras
---
etc. We plan to write a le3er to the administraon of the Living Museums to make the programs more

varied and to add informaon about social coexistence and its rules as well as the problems of life

in today's Namibia and the tension between modernity and tradion. Then it's back on the road,

most of it a completely boring, because dead straight, stretch with excellent concreng. Aer an appropriate

amount of me, but a smooth ride, we are warmly greeted by Anne3e on Lianshulu, who

mothers and pampers us from the front and the back throughout our stay.

On this evening not much more happens. Lianshulu is located, just like Epupa, Hakusembe and Mahangu,

directly at the river, which is here the Kwando (also called Cuando), respecvely at a tributary

with corresponding wilderness around it. We can hear the hippos grunng again, which is also the

reason that we are not allowed to walk alone in the dark, but only in company of the local male staff

with a strong flashlight, because the above-menoned animals like to explore the terrain here from

me to me...

The room, which we may occupy - we are once again the only guests -, is very large, perfectly furnished

- WiFi is however as usual only in the main house and is also not very potent - with the possibility

of the outdoor shower, the second so far, with free view of the river arm and the landscape! There's

no air condioning here in the far northeast, of course, and it's also pre3y hot, up to 36 ° C during the

day, so that the night is for me again quite restless and so you roll towards the next day.

16.9.:

Breakfast at 7:30 a.m. Aerwards we go on the usual game drive, where we are primarily thrilled by

the landscape, a mixture of steppe, bush, somemes even a bit jungle, and again and again, very unusual

for us, we end up at the river. What parcularly inspires us: Our guide discovers half behind a

termite mound actually a leopard! Incidentally, I am thrilled by the abundance of bee-eaters living

here. At noon we are back at the lodge to relax. Besides the bee-eaters I discover 3 different birds of

prey, among others a African Fish Eagle!

At 4: 00 p.m. we are also invited to a boat trip on the river. In this late aernoon mood we first dream

ourselves in a dream landscape towards the evening. We don't get to see crocodiles and hippos; our

guide has a lot of respect for them and avoids the corresponding water movements quickly and

widely. What we then get to see, however, totally flashes us: We drive directly to a group of bathing

elephants, which leave the water slowly, annoyed by the engine noise, but unl then I can sll shoot

a lot of - hopefully! - great photos! And from now on we are accompanied for quite a while by always

new pachyderms, unl we look for and find a reasonably animal-safe place for the sundowner. Aerwards

it goes in quite a speed into the sunset to "home". Dinner, and shortly aer 9:00 p.m. off to

bed; the heat and the experiences have us but again quite exhausted...
---
17.9.:

Today, apart from connuing or be3er returning to Hakusembe, no acvity is planned, just resng in

luxury, documenng and sorng. The only thing that happens today - unplanned - is the following:

We have already mocked on the outward journey about special elephant warning signs, which

"recommend" 80 km/h, and now Andi goes because of it also not very much from the gas. And what

happens, relavely late on the way to Divundu? Indeed, a whole herd of elephants crosses the road,

but far ahead of us! Unfortunately, they have almost all disappeared into the bush by the me we

arrive, so I can't get any decent photos. Too bad...

In Divundu I unfortunately get a headache, which increases towards the end of the drive, so that I

gladly let Andi drive on. When we arrive, I am happy about the great, cool apartment, pull me an IBU

and let me slowly feel be3er, so that I leave the hut at some point to put these lines on paper. The

only thing that disturbs the beauful evening-over-the-Okawango mood are 2 German couples who

have found themselves virtually at the next table and chat without end clearly audible, so far anyway.

But we would probably do the same in the same situaon...

Dinner is at the buffet, so I can choose the amount and composion freely. And what comes aer

dinner? Right! Li3le photographers go to sleep, especially since the moon is already shining almost as

a full moon in the sky and pushes away most of the stars; It seems that with the Milky Way I won't

succeed on this trip.

18.9.:

The day begins calmly; we have recovered well. For safety's sake we drive - with wrong ways, but

aer consultaon of Andi's Google Maps finally successfully - sll to Rundu purely - we must refuel

anyway - to get again Imodium supply. At 10:00 we start again on the route, which is supposed to

take just under 7 hours. Andi starts and rips off the secon on the B8 towards GrooRontein on one

bu3 cheek, so to speak, then she takes over the first part of the Gravel Pad D3016, later from

Tsintsabis D3001, then it's my turn again. This also runs smoothly. And so we arrive red but happy at

Onguma Bush Camp around 2:00 p.m. Aer the welcome, the unpacking and the tradional Rock

Shandy I take a dip in and around the pool, Andi joins me, but only at, not into the water, unl it's

me to get ready for the sundowner tour we booked this me.

This runs unfortunately quite unspectacular; what impresses us most is what havoc elephants wreak

on the trees while feeding. The final sundowner goes nicely, we get into conversaon with 4 South

Africans, but the real great thing happens only aer our return: an animal that appears quite far away

at the edge of the bush turns out to be a lioness who probably wants to quench her (aer)thirst. Of

course it occupies the whole dinner eang audience. I succeed aer some a3empts actually so 2, 3

acceptable photos of her. That was the highlight today. Good night!
---
19.9.:

Spent the night, breakfast full of culinary sins at the lake, then Andi gets a massage, I transfer the last

photos and then write this down; besides animal observaon: jackals, kudus, springboks, gray herons,

impalas, zebras. And all this without taking a step away from the house!

Of course we don't stay here anyway, but first we relax a li3le bit and wait for the early aernoon

before we set off into the naonal park. And we are, once again, rewarded: lots of wildebeest, lots of

zebra, an amazingly large number of giraffe, an insane amount of springbok, some oryx, 2 hyenas and

- and this is our highlight of the day - a hyena cub waing for Mummy in front of its den. In addion,

we come across a collecon of cars, where our a3enon is drawn to 2 cheetahs on a hill, of which,

however, just the upper part of the heads with the ears can be seen, if at all. But I don't have the

paence to wait for hours unl they show themselves photogenic, especially since that is quite

unlikely as long as there are 6 cars. In the meanme we return again to Namutoni, because I fear that

Montezuma strikes again, but that guy has probably moved - hopefully for eternety - to Mexico.

For the first me we also get (almost) up close and personal with smaller bush fires in Etosha and note

that significant areas to the east of the park have already fallen vicm to these fires; but the locals

think that this is normal at this me of year; we just haven't seen it yet.

With slowly sinking sun we return to the Bush Camp. Then, as usual, we have dinner and go to bed,

especially since there are no lionesses here today.

20.9.:

Tonight there was a surprise! Thunder and lightning! Actually a thunderstorm! The online weather

forecast actually shows thunderstorms and even rain, but it doesn't happen here. And the next morning,

everything is back to normal.

Unfortunately, today we have to say goodbye to Onguma again. Today there are not many animals

here, and also the way to Okaukuejo is, apart from the fact that some animal species, e.g. great

bustards, are very common and also springboks appear in huge herds, quite unspectacular. But a previously

unseen animal appears: a turtle, this me alive and kicking! If I idenfy it correctly, it is a

mountain or panther turtle. Today the drive to Okaukuejo lasts unl 16:00. Here, as usual, there is

quite a hustle and bustle, lots of campers. Again we have a hut close to the famous waterhole, but at

the moment there is not much going on.

Aer some rest we drive for an hour in the direcon of Anderson Gate, but except for the beauful

evening atmosphere we experience nothing this me. Dinner begins with the usual, somewhat chao-

c, table allocaon, the hake, which forms one of the main meals, is, as well as the vegetables, very

tasty prepared. Aerwards we go to the waterhole for a while, where the usual scenario takes place:

Giraffes that take forever to get to the water, a few elephants and finally two Black Rhinos that greet
---
each other tenderly as usual. I realize that by now I'm already pre3y saated, maybe even

oversaturated. Good night!

21.9.:

We want to start early, so we are already before 8:00 a.m. at breakfast. Packing is quick and so we

are on the track relavely early. At the first waterhole - there is a natural and an arficial - there is

a mad jostling and pushing of many zebras, oryx and red hartebeests; the also present numerous

springboks prefer the almost empty natural waterhole. At the following ones - the paths to them are

short here in the west of Etosha - acon is again announced between the numerous Oryx. A few

wildebeests complete the picture.

On the further way we keep a lookout for lions, but this me they don't do us the favor to appear in

front of our eyes. Also elephants did not show up so far, about which we mumble, half in jest. Therefore,

without much expectaon, we turn to the last waterhole before the exit - and what do we see?

About 20 elephants, which offer us a wonderful spectacle for quite a while: Playing children, scuffling

teenagers, sovereign adults and an older animal, which

unfortunately slips, thereby falls properly on the flank, roars in elephanne "Ouch" and spares his le

front foot for a while. We hope that he(?) did not hurt himself seriously...

At Galton Gate it's almost like a state border: papers, where from, where to, Andi even has to get out

and repeat the whole thing in the office, then we are allowed to drive. First we drive - briefly - into

the wrong gate, the one to the camp, but realize our mistake very quickly aer a few meters, turn

around and get 1.5 km further the right one. This me we drive the 16 km to the lodge much more

relaxed than the last me with the broken oil pump (see e-book "Überraschendes Namibia").

Shortly aer entering the lodge we are greeted by a few mountain zebras, which we find exceponally

pre3y. The rest of the drive is unevenRul, I remember a few rather rough passages, but I master

them without any problems, just like Andi did back then. On arrival at the lodge we are not only

recognized, but can also - again! - greet some elephants that are enjoying themselves at the waterhole

right next to the lodge; distance from the fence 10 to 50 m! They stay for a long me unl they

migrate in the evening. Also several oryxes can be seen again, springboks anyway.

In the evening we meet a Swiss couple - and aer the - excellent - dinner we experience a nice

surprise: It is the Swiss woman's birthday, and so suddenly the whole kitchen staff comes in, dancing

in a row and singing "happy birthday" and then offers some dances and songs. Very funny! The first

three dances I sll join in, but then the condion leaves me, and I support the ensemble only siUng.

Aer the first 1 ½ glasses of red wine, which I take since 2018 in Namibia, I have then someme,

around 9:30 pm. the necessary bed heaviness. Off to bed!
---
22.9.:

Aer a pre3y good night we both, independently, hear sounds that sound like distant lions roaring,

which is later confirmed by the staff. At first, however, we see nothing, but later actually 5 lions, one

male and 4 females come from the east and lie down in the shade of a large mopane tree, a li3le

more than 60 m from the house. For the me being, however, I enjoy huge swarms of bloodbill

weavers, as I realize later at home, which keep rising in fascinang swarms of thousands. A beauful

sight, however, as I read later, they cause considerable damage due to their quanty and are

therefore also considered pests.

Aer some me a considerable herd of kudus, 3 bucks, the rest cows, arrives, but they seem to be

very aware of the proximity of the lions: one buck keeps looking over at them, but then moves away

past them at a loose trot. The herd crowds around the waterhole, but jumps up for a few steps at the

slightest irritaon before also moving away aer some me, but in the other direcon.

Aer that, there are only two springboks under two other mopanes. The lions are sll sleeping.

Only much later there is an excing intermezzo: Two lionesses chase a giraffe, The chase is short and

frustrang, however, and the two return to their males, for another one has joined them in the

meanme. By the way, the kings and queens of the desert are clearly in a mang mood: Aer their

aernoon nap, there is constant acvity unl the evening.

We sll join in the sundowner game drive, which this me does not offer us any animals, except that

we briefly get closer to the lions from the other side; but they retreat behind bushes for sex. The

evening ends quietly and unevenRully on the terrace.

23.9.:

Farewell to Hobatere. For breakfast we are once again accompanied by a large herd of kudu, some

oryx and springbok.

In Outjo we refuel again and then take the route to Mount Etjo Safari Lodge, which is supposed to

take 7 (!) hours (it turns out to be 5 h), under the res. Since the drive, except for the last few km on

the D2483 Lodge, is exclusively on tarred roads, it is completely unevenRul.

Madness! The absolute luxury lodge! Looks like a Spanish hotel complex of the high class. Our accommodaon

is a suite with living room, bedroom and bathroom with whirlpool! Completely stupid, if

one thinks of the dryness in this country.

However, there's such a big pond here - and nearby another small reservoir, so they can keep several

hippos here. Of course, they don't belong here at all. But well, they also offer lion and cheetah feeding;

somehow everything fits together...
---
We are shocked, also by the restaurant rondell, which does not fit Namibia at all. Sure, the food -

buffet, which is partly fried by chefs in front of our eyes, tastes great, but this excessive luxury

reinforces us that we just don't really feel comfortable here. The whole thing just doesn't fit in this

area, and we don't fit in here. Even another birthday serenade we experience here has by far not the

cheerful spontaneity we know from Hobatere. So we also soon disappear into our, admi3edly

pleasantly tempered, suite and are soon in the land of dreams.

24.9.:

For breakfast we sit right next to a rich Boer family. Aer breakfast Andi goes near the recepon

(stable Wi-Fi), while I throw myself at the pool to read something and finally cool down a bit. The bar

here only opens - a novelty for us in Namibia! - at 12:00, so we have to fall back on our own drinks

before we get our rock shandies later, with which we go to a hidden terrace above the water, which

Andi has discovered and which makes us forget the luxury all around, and do bird and hippo watching

and photography. We connue doing this unl about 3:00 p.m. before heading out for coffee and

cake. At 4:00 p.m. the game drive begins. Although the lodge is quite well occupied - it is the weekend

- we are once again the only ones on our safari vehicle (except for the guide, of course!). Once again a

beauful drive through the local landscape, including a last "African massage", which also includes a

short, but tough stretch over a rocky mountain. Highlight of the game drive: A White Rhino, a Nyala

Antelope and a few Hippos, although imported. The guide tells us that they seem to feel well,

because they have had offspring in the meanme. Otherwise, as usual, lots of springboks and impalas,

which I embarrassingly mistook from a distance two mes for kudus, as they are a bit more graytoned

here than I'm used to. Vultures also any quanty. Aerwards shower and final dinner. A last,

hopefully pleasant, night....

25.9.:

Departure day, irrevocably! Shortly before 6:30 a.m. we are both awake, and the packing and geUng

ready goes sadly, but without problems. Aer breakfast and luggage stowage as well as frustrang

search in the souvenir store for a new tablet box for me, we leave at 9:15 a.m. But also this day

delivers two surprises: First, on the way out, unfortunately behind a fence, three white rhinos say

"Good Bye" to us, and second, Andi actually dares to go to the wooden art market in Okahandja to

find a wooden box for me. Coward that I am I don't want to expose myself to the expected and, of

course, really occurring hustle and bustle of the traders and stay in the car, but Andi enjoys it. And so

she comes with a dealer and five different, actually all very pre3y, boxes to the car, so that I can

choose one. Thanks to the commitment of my dear wife, I have my pill box aer all!
---
From Okahandja it is only a stone's throw to Windhoek, the route through the city in the direcon of

the airport we find again good, because it is excellently signposted and in some passages also appears

familiar to us. At the turnoff to Etango Ranch, where we want to spend the remaining me unl our

departure, we drive past, once again because of misleading arrows on the sign. So back again and

second, this me successful a3empt. The ranch seems cozy, we drive past cows and geese,

somewhere a rooster crows. However, contrary to the impression the ranch gives on the web, we get

nothing to eat and, since we have only very limited N$ le, only one Rock Shandy each. But no

ma3er! It is anyway only two hours, which we sll have... Andi daddels, I write, and eventually we go

on the way again.

Refueling and returning the car are no problem at all. The only thing that is uncomfortable now is the

control process. Suitcase check-in goes smoothly, as does security. But while we are waing in the

departure lounge, it is suddenly said that women and men must separate, then in two different, crazy

long queues first scanned separately and their hand luggage is rummaged through rather unsystema-

cally. I am once again lucky and do not have to queue, because again a man from the security staff

lets me and a few other older men directly through to boarding. Now only the two catheters from the

check-in building up to the airplane (here one must never take the direct way, but has to follow up to

height of the airplane the way and may turn only then right-angled), and then we can let ourselves

sink on our seats, however not on the ordered ones, which are not available once again for inexplicable

reasons, but this me on center seats, at least however also with leg liberty. And so we fall

asleep aer a while, sleep through breakfast on September 26th and land happily in the early

morning at FfM airport.

However, there is sll a complicaon: We do not find our suitcases at the appropriate belt and finally

learn on inquiry that these, because we had booked a combined flight-train trip, were brought to the

exit to the long-distance trains. This means for us that we have to rush through a large part of the

airport twice, namely to the plaRorms, where we actually get our suitcases, and then back to the

cars, where we have to wait for the shu3le. The transfer goes smoothly, and so we sit someme,

around 9:00(?) o'clock a.m., again in our beloved BMW. The change to right-hand traffic and le-hand

steering also succeeds without major problems, with one excepon: I confuse a few mes turn

signals and windshield wipers!!!!
---
Thanks

Of course, I was not the only one involved in the creaon and compleon of this photographic travelogue,

and so I would like to express my gratude to all contributors:

First and foremost, there is my wife Andrea, who first of all fully shares my love for this country and

meculously and with a lot of perseverance improved and refined my amateurish design so that the

whole thing becomes viewable and readable.

On the other hand, I would like to thank all the helpful spirits of all the great lodges we visited, who

once again made our stay as pleasant as possible; in this context, my special thanks go to the kitchen

staff of Ongula Village Homestad Lodge and Hakusembe Lodge, who took care of me in a touching

gastronomic way during my illness. I would also like to thank the guides, with whom we were able to

experience totally evenRul and extremely impressive game drives. In this context, I would like to especially

thank Ueera Kasaona, with whom we experienced the Hoanib Valley and its desert elephants,

and who grabbed my camera for me, who was unable to do so due to fear of heights and limited mobility,

and took inspiring photos (marked with *) from the mountains.

Can you thank a country, nature with its flora and fauna? Certainly not in the usual sense, but in conclusion

I would sll like to express here how grateful I am, now already for the 4th me this great

country, which certainly sll has many difficules to overcome, but on the whole I think is on a good

path, may visit and appreciate. If at all possible, we will come again!
---
Good bye! Hope to see you soon!
---
Photos and text:

Lutz Stegemann

Ueera Kasaona

Cameras:

Sony A 7III

Sony A 6300

Sony RX 100 VI