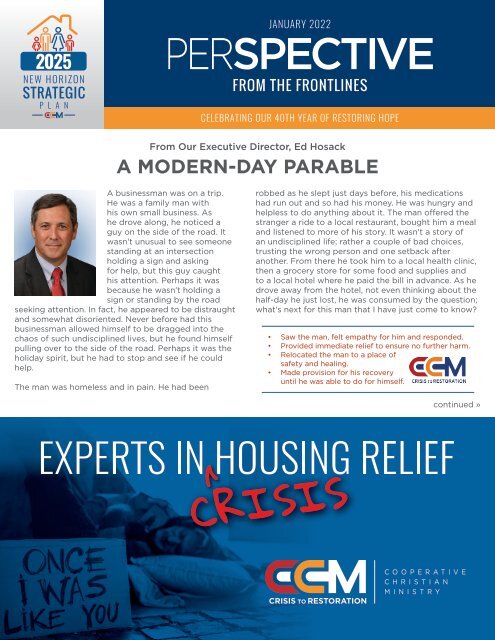 CCM January 2022 Perspective Newsletter
Create successful ePaper yourself
Turn your PDF publications into a flip-book with our unique Google optimized e-Paper software.
JANUARY 2022

PERSPECTIVE

FROM THE FRONTLINES

CELEBRATING OUR 40TH YEAR OF RESTORING HOPE

From Our Executive Director, Ed Hosack

A MODERN-DAY PARABLE

A businessman was on a trip.

He was a family man with

his own small business. As

he drove along, he noticed a

guy on the side of the road. It

wasn't unusual to see someone

standing at an intersection

holding a sign and asking

for help, but this guy caught

his attention. Perhaps it was

because he wasn't holding a

sign or standing by the road

seeking attention. In fact, he appeared to be distraught

and somewhat disoriented. Never before had this

businessman allowed himself to be dragged into the

chaos of such undisciplined lives, but he found himself

pulling over to the side of the road. Perhaps it was the

holiday spirit, but he had to stop and see if he could

help.

The man was homeless and in pain. He had been

robbed as he slept just days before, his medications

had run out and so had his money. He was hungry and

helpless to do anything about it. The man offered the

stranger a ride to a local restaurant, bought him a meal

and listened to more of his story. It wasn't a story of

an undisciplined life; rather a couple of bad choices,

trusting the wrong person and one setback after

another. From there he took him to a local health clinic,

then a grocery store for some food and supplies and

to a local hotel where he paid the bill in advance. As he

drove away from the hotel, not even thinking about the

half-day he just lost, he was consumed by the question;

what's next for this man that I have just come to know?

• Saw the man, felt empathy for him and responded.

• Provided immediate relief to ensure no further harm.

• Relocated the man to a place of

safety and healing.

• Made provision for his recovery

until he was able to do for himself.

continued »
---
PARABLE cont.

In the rest of the story not told, he took care of

business for the day and then began exploring

resources in his community. He discovered a

network of resources that help people to stop the

cycle of loss, work through the challenges, and

restore the life they once lived. He also learned that

every one of those resources was full to capacity

serving individuals just like his new friend.

There are many more heartbreaking stories like this

one in our community; some that involve children

and senior citizens. Unfortunately, most of the

resources serving these needs are operating at

full capacity. This is our challenge for 2022. We

need a sense of urgency to expand the capacity of

resources like CCM and others in order to restore

lives that are being damaged and futures that are

being lost.

WE NEED A SENSE OF URGENCY.

IN THIS EDITION...

Pastor / Leader Update...................................2

Dental Care for Adults and Children......... 4

Families Adopted.............................................. 4

The Uptake...........................................................5

Annual Report.....................................................5

Honoring the Past............................................. 6

The Power of Prayer......................................... 6

Thank You!............................................................7

Breaking Free graduation.............................. 8

Point In Time Count......................................... 8

With your help, we can do this together.

Coming Soon...

CCM's Senior Adult

Resource Guide,

packed full of

information on topics

such as

Housing, Health

& Wellness, Food

& Nutrition,

Transportation, and

Volunteerism.
---
From Our Director of

Community Engagement, Jeremy Burleson

WE START BY SAYING THANK YOU!

As I began to type this January 2022 newsletter message, candidly I struggled to

wrap up my thoughts around an impactful topic or thought-provoking theme to

begin this New Year. As I prayed and asked God for that direction, I couldn't help but

be increasingly thankful for the position that He has put CCM in as we leap into 2022

with confidence that His provision is right in front of us.

Oftentimes, we in the nonprofit space tend to amplify our thank you messages to our

partners, supporters and friends as we wrap up a given calendar year. However, I'd like to START this 2022

year by simply saying THANK YOU!

THANK YOU to our wonderful supporters throughout the Faith Community here in Cabarrus and Southern

Rowan Counties. It is a privilege to partner with each of our churches in obedience to God's Word and to

carry the Gospel of Jesus to those community members we serve daily. We eagerly await opportunities in

2022 to reconnect with those churches that we incidentally lost connection with as we collectively navigated

through the pandemic.

"Whoever is generous to the poor lends to the Lord, and He will repay him for his deed."

– Proverbs 19:11

To our numerous corporations and businesses that

have made collaborating with CCM a priority in its

core company values, we also say THANK YOU. The

impact that you all have, even beyond monetary

support, is instrumental to our overall influence here

in this community.

To those individuals and families that make

the decision to support CCM and our crisis to

restoration efforts, we offer our sincerest THANKS.

In 2021, God blessed our Ministry with over 200

first-time donors and for that, we are very grateful.

Each and every one of YOU who walk alongside and

minister with Cooperative Christian Ministry year

upon year is VALUED and APPRECIATED beyond

measure. CCM certainly could not serve in the

capacity in which we serve currently, without that

support.

2022 is here … and the needs in our community

continue to grow. As has been the case for the past

40 years, CCM will continue to respond to those

needs. But only through God's grace, His provision

and by way of partners, supporters and friends like

you is that response even possible!

THANK YOU to our partners and friends at Habitat for Humanity Cabarrus County, Elder

Orphan Care, AYA House, and N.C. Works for joining CCM during a recent meeting where

two bold housing initiatives were discussed. Our ministry is grateful to partner with each

of you as collectively we work to remedy the housing crisis in Cabarrus County.
---
ACCESS

AND

Family

EDUCATION

OUTCOMES

FOR

CHILDREN

IMPROVE THE OVERALL

DEVELOPMENT OF YOUNG

CHILDREN IN VULNERABLE

HOUSEHOLDS

• Access to Early Nutrition and

Prenatal Care

• Proactive Medical and Dental

Care for young Children

• The Spiritual Well-being of the

CLICK TO VIEW

the full Strategic Plan

OUTCOMES

FOR

CHILDREN

• Linkage to Educational Programs

and Opportunities

CAREER

SERVING

STRATEGY: CHOICES & Establish Dental Home

SENIOR

structure to achieve the optimum

FUNDAMENTALS

level of oral health and preventative ADULTS care for young children birth to

age 5.

• Engage families within CCM's programs to adopt prevention oral

health care

• Create a referral mechanism to connect individuals accessing CCM

programs to appropriate oral health care

• Incorporate oral health education into CCM's programs

CCM AND THE CABARRUS HEALTH ALLIANCE (CHA) HAVE

PARTNERED TO PROVIDE:

• Access to Dental Care for adults and children who are uninsured

and underserved at or below 200% federal poverty level.

• A Community CAREERHealth Worker to SERVING improve health literacy and

insurance CHOICES enrollment, & to increase SENIOR regular medical and dental care,

coordinate FUNDAMENTALS access to prescription ADULTS medications; and referrals to

healthy activities, nutrition, and lifestyles for those with chronic

disease.

For more information call

CCM's Education & Support Services: 704-918-1502

"We are thrilled to create an official partnership with CCM to help

serve the people who need it the most in our community. Dental care

is unfortunately overlooked as a necessary part of health and this is

one way that we can help address this need."

Elly Steel, DMD, MPH

Dental Director, Cabarrus Health Alliance

• CCM received 140 applications through our Empty Stocking Fund/

Adopt a Family program. Every applicant was adopted by an

individual, church, or organization that reached out wanting to help

a family in need. Many have adopted families consecutively for many

years and several people took more than one family providing gift

cards, gifts and food for our clients.

• All of CCM's housing families/clients were adopted, which included

several single adults and seniors in our housing programs.

• The Kannapolis Cannon YMCA, assisted 9 families with toys through

their Toy Closet.

• Through CCM's Senior Care & Share Shoebox program, 298 Senior

Care & Share boxes were collected and distributed by Meals on

Wheels to their clients. Bobby Moffitt, our CCM weekly volunteer,

helped distribute the boxes.

The Christmas needs in our community were great this year, with

COVID-19, continuing to make this year extra challenging. Thanks to

the generous support of our community partners including, Connect

Christian Church, Crossroads Church, Gilwood Presbyterian Church

and First Citizens Bank in Concord, who were instrumental in providing

Christmas gifts and gift cards to all of our families in need.
---
Click To Read Our

Annual Report

Through this video series entitled "CCM's Uptake,"

CCM gives the Cabarrus and Southern Rowan

county community insight into a variety of relevant

community topics that align with the Mission of our

Ministry.

Serving as program hosts, CCM's Executive Director

Ed Hosack and Director of Community Engagement,

Jeremy Burleson offer these 7-10 minutes videos on a

bi-monthly basis on CCM's YouTube page.

Episode 7

"Financial Assistance"

EPISODE 7

Episode 8

"Annual Appeal"

EPISODE 8

Episode 9

"The Cabarrus Dream Center"

EPISODE 9

MIKE WOJCIECHOWSKI

Congratulations on your retirement from CCM after

12 years of service! We're so glad we could surprise

you with a party, and we know you will be living

your best life!

Episode 10

"Christmas Episode"

EPISODE 10

VISIT OUR YOUTUBE CHANNEL

to view previous episodes

by clicking the button below:

EPISODES 1-6
---
HONORING THE PAST

Throughout its 40 years of ministry here

in Cabarrus and Southern Rowan counties,

CCM has developed a reputation for being

ever-so-present in times of crises for the

members of our community in need. In

2003, our community faced the largest

permanent mass layoff in the history of

our state with the closure of Pillowtex in

Kannapolis, N.C. God showed His favor

indeed on our Ministry during that time by

allowing CCM to serve as a vessel for those

facing uncertainty following those layoffs.

POWER OF PRAYER

By: Ashley Dudley

Over the past decade, CCM's Adopt-A-Family has played an integral part in

my Christmas tradition. Similar to years past, community outreach, family and

friends have been instrumental in our mission to bring Christmas cheer to

those in need. Prior to obtaining a family, I have always prayed to ask the Lord

to guide me in whichever family I am able to bless and have the opportunity

to help them in ways other than simply gifts. Out of all of the families I have

adopted, God has bestowed the tools needed to complete the Christmas

mission. Over the years, I have gained knowledge through my assessments and

delivery. More importantly, I have learned each family's needs and circumstances

differ. This year, I was reminded of the power of

prayer and how our community came together

to help a family with five children. Through the

prayers of many, God led, directed, and blessed the

family in every avenue we had set out to conquer.

I have never received so much community support

in a matter of 10-15 days. With prayer being the

common denominator, our ultimate thanks were

lifted to our Savior prior to the distribution of

Christmas Cheer.

Grandparents embrace the

challenge of caring for five

children under the age of

twelve

Adopt-A-Family

As I began to collect furniture, I quickly ran out of

space. Like clockwork, friends offered their homes

as storage. When I fretted over how to deliver

furniture acquired through generous donors,

Caliber Packaging and Supply offered their truck

with two workers. When I thought there would

be no way the repairs required by DSS could be

completed, Journey UMC Men's Group offered to

construct, deliver and build the items necessary to

be compliant. As I tried to come up with enough

money to have an outdoor playset purchased and constructed, Matthew's Family

Tree Lot of Weddington offered to purchase and build a new one. I prayed over

not supplying daily necessities, food and supplies. The next day, the Carolina

Fire Department of Ballantyne, Concord Fire Department & Safe Kids Cabarrus,

and Cabarrus Professional Firefighters Association reached out to provide car

seats, food, clothing as well as gifts which included Santa himself! Countless

coworkers, friends, friends of friends, new Facebook marketplace supporters as

well as family offered gifts, gift cards, food, baby-related items, and furniture.

This mission reiterated my trust, belief in God's work, and to have faith despite

the circumstance. At every roadblock, God stepped in, asked me to trust, believe,

and allow Him to work through others.
---
CCM is grateful to have received a

$3,500 grant from Food Lion Feeds

Charitable Foundation to help our

ministry battle hunger in Cabarrus

County. Food Lion Feeds has donated

more than 800 million meals since

2014 and has committed to donating

1.5 billion meals by 2025. We are thankful for their partnership in our

mutual mission of ensuring the food security of our community.

Thank you to the Executive Leadership team from Food Lion for their

recent visit to our CCM Food Program Crisis Center.

Seventeen members of their staff packed individual food boxes in support of CCM's Food Desert Drop program.

Those boxes were delivered to the families within the Logan community in Concord just before Christmas.

CCM thanks the United Way of

Central Carolinas for their recent

grant of $24,375 in support of

our Education & Support Services

division, specifically to advance

programmatic outcomes through

CCM's services! Thank you!

Thank you to the Corning

Incorporated Foundation for

generously granting $5,000

to support CCM's Education &

Support Services division!

Through leadership and

collaboration, the Corning

Incorporated Foundation strives

to foster vibrant, enriching, and

supportive Corning communities.

CCM is grateful for its partnership

in creating life-changing

opportunities for Cabarrus County

residents.

CCM is grateful to the Cabarrus

County Community Foundation

for gifting a $10,000 grant to

expand our Education & Support

Services division! With their help,

we will provide critical life skills

education to disadvantaged

community members throughout

Cabarrus County.

Thank you CCCF!

Thank you!

• NOVA Credit Union & The Sweetest

Thing Ice Cream Shop, for

designating CCM as the beneficiary

during the 2021 Trees of Hope

event at Atrium Health Ballpark in

Kannapolis.

• The City of Kannapolis Youth

Council, for gifting each CCM

Housing resident child with a

personalized stocking filled with

Christmas goodies. The smiles on our

resident kid's faces are permanent!

• Bourbon Club of Concord, for your

generous donation of $3,500 to CCM.

Those funds will certainly be used to

further the mission of our ministry

here in the county.

• S&D Coffee, who conducted an

employee-driven food drive during

the Holiday's. CCM picked up the

donation in late December and we

couldn't be more thankful.

• Treece Financial, for their generous

donation to the CCM Food Program,

by way of an employee food drive.

• Army Reserves, for their incredible

labor on our Poplar Tent Road

Teaching House property, in

preparation for a resident to move in.
---
Cabarrus County

HOMELESS POINT-IN-TIME

COUNT

January 26, 2022

Identifying Cabarrus County's:

• Unsheltered homeless individuals

• Homeless in shelters and transitional

housing

• Sheltered victims of domestic violence

BREAKING FREE

Our second ever Breaking Free From the Money

Traps course was recently completed by 13

participants, who met weekly from September

25 through November 20. All participants were

celebrated with a graduation ceremony.

Participants included residents of CCM's Housing

Programs, AYA House, and one Atrium employee.

Thank you to co-facilitators from Nova Credit Union

and Prosperity Unlimited,

to Midway UMC for the

use of their facility, and to

Chick-Fil-A.

CCM thanks Ketchie, Inc.

for recent work conducted at our Mothers & Children (MaC) facility. Courtney Silver and

her staff are tremendous and we're very grateful for the years of support of our ministry.

246 Country Club Drive NE, PO Box 1717

Concord, NC 28026 TEL: 704-786-4709

GIVE ONLINE: www.CooperativeMinistry.com or TEXT: ccmhelps to 44321