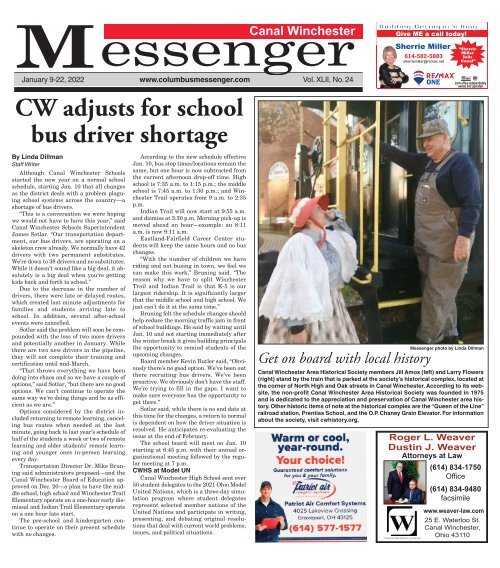 Canal Winchester Messenger - January 9th, 2022
Create successful ePaper yourself
Turn your PDF publications into a flip-book with our unique Google optimized e-Paper software.
Messenger

Canal Winchester

January 9-22, 2022 www.columbusmessenger.com Vol. XLII, No. 24

Building, Buying or Selling...

Give ME a call today!

Sherrie Miller

614-582-5803

sherriemiller@remax.net

"Sherrie

Miller

Sells

Canal"

Each office independently

owned and operated.

CW adjusts for school

bus driver shortage

By Linda Dillman

Staff Writer

Although Canal Winchester Schools

started the new year on a normal school

schedule, starting Jan. 10 that all changes

as the district deals with a problem plaguing

school systems across the country–a

shortage of bus drivers.

"This is a conversation we were hoping

we would not have to have this year," said

Canal Winchester Schools Superintendent

James Sotlar. "Our transportation department,

our bus drivers, are operating on a

skeleton crew already. We normally have 42

drivers with two permanent substitutes.

We're down to 38 drivers and no substitutes.

While it doesn't sound like a big deal, it absolutely

is a big deal when you're getting

kids back and forth to school."

Due to the decrease in the number of

drivers, there were late or delayed routes,

which created last minute adjustments for

families and students arriving late to

school. In addition, several after-school

events were cancelled.

Sotlar said the problem will soon be compounded

with the loss of two more drivers

and potentially another in January. While

there are two new drivers in the pipeline,

they will not complete their training and

certification until mid-March.

"That throws everything we have been

doing into chaos and so we have a couple of

options," said Sotlar, "but there are no good

options. We can't continue to operate the

same way we're doing things and be as efficient

as we are."

Options considered by the district included

returning to remote learning, canceling

bus routes when needed at the last

minute, going back to last year's schedule of

half of the students a week or two of remote

learning and older students' remote learning

and younger ones in-person learning

every day.

Transportation Director Dr. Mike Bruning

said administrators proposed–and the

Canal Winchester Board of Education approved

on Dec. 20–a plan to have the middle

school, high school and Winchester Trail

Elementary operate on a one-hour early dismissal

and Indian Trail Elementary operate

on a one hour late start.

The pre-school and kindergarten continue

to operate on their present schedule

with no changes.

According to the new schedule effective

Jan. 10, bus stop times/locations remain the

same, but one hour is now subtracted from

the current afternoon drop-off time. High

school is 7:35 a.m. to 1:15 p.m.; the middle

school is 7:45 a.m. to 1:30 p.m.; and Winchester

Trail operates from 9 a.m. to 2:35

p.m.

Indian Trail will now start at 9:55 a.m.

and dismiss at 3:30 p.m. Morning pick-up is

moved ahead an hour–example: an 8:11

a.m. is now 9:11 a.m.

Eastland-Fairfield Career Center students

will keep the same hours and no bus

changes.

"With the number of children we have

riding and not busing in town, we feel we

can make this work," Bruning said. "The

reason why we have to split Winchester

Trail and Indian Trail is that K-5 is our

largest ridership. It is significantly larger

that the middle school and high school. We

just can't do it at the same time."

Bruning felt the schedule changes should

help reduce the morning traffic jam in front

of school buildings. He said by waiting until

Jan. 10 and not starting immediately after

the winter break it gives building principals

the opportunity to remind students of the

upcoming changes.

Board member Kevin Butler said, "Obviously

there's no good option. We've been out

there recruiting bus drivers. We've been

proactive. We obviously don't have the staff.

We're trying to fill in the gaps. I want to

make sure everyone has the opportunity to

get there."

Sotlar said, while there is no end date at

this time for the changes, a return to normal

is dependent on how the driver situation is

resolved. He anticipates re-evaluating the

issue at the end of February.

The school board will meet on Jan. 10

starting at 6:45 p.m. with their annual organizational

meeting followed by the regular

meeting at 7 p.m.

CWHS at Model UN

Canal Winchester High School sent over

50 student delegates to the 2021 Ohio Model

United Nations, which is a three-day simulation

program where student delegates

represent selected member nations of the

United Nations and participate in writing,

presenting, and debating original resolutions

that deal with current world problems,

issues, and political situations.

Messenger photo by Linda Dillman

Get on board with local history

Canal Winchester Area Historical Society members Jill Amos (left) and Larry Flowers

(right) stand by the train that is parked at the society's historical complex, located at

the corner of North High and Oak streets in Canal Winchester. According to its website,

the non-profit Canal Winchester Area Historical Society was founded in 1975

and is dedicated to the appreciation and preservation of Canal Winchester area history.

Other historic items of note at the historical complex are the "Queen of the Line"

railroad station, Prentiss School, and the O.P. Chaney Grain Elevator. For information

about the society, visit cwhistory.org.

Roger L. Weaver

Dustin J. Weaver

Attorneys at Law

(614) 834-1750

Office

(614) 834-9480

facsimile

"A name you know, Experience you can trust"

www.weaver-law.com

25 E. Waterloo St.

Canal Winchester,

Ohio 43110
---
PAGE 2 - MESSENGER - January 9, 2022

We are the BEST community newspaper!

Need advertising?

Call the Messenger at 614-272-5422 today.

Prepare for unexpected

power outages with a

Generac home standby

generator

REQUEST A FREE QUOTE!

866-643-0438

FREE

7-Year Extended Warranty*

A $695 Value!

Limited Time Offer - Call for Details

Special Financing Available

Subject to Credit Approval

Serving Your Community

Malek &

ATTORNEYS AT LAW Malek

Proudly Announcing

Adding New Attorneys

To Serve You!

WORKERS'

COMPENSATION

PERSONAL INJURY

WRONGFUL DEATH

SLIP & FALL INJURY

DOG BITE INJURY

*To qualify, consumers must request a quote, purchase,

install and activate the generator with a participating dealer.

Call for a full list of terms and conditions.

A FREE ESTIMATE

15 10 5

YOUR ENTIRE

PURCHASE *

% % %

OFF + OFF + OFF

SENIOR & MILITARY

DISCOUNTS

| Promo Number: 285

Since 1972

YEAR-ROUND

CLOG-FREE GUARANTEE

1-855-595-2102

TO THE FIRST

50 CALLERS! **

Douglas, Ed, Jim

and Kip Malek

"Hablamos Español"

FREE Initial Consultation

www.maleklawfirm.com

614-444-7440

1227 S. High St., Columbus, OH 43206

www.columbusmessenger.com

Commissioners approve 2022 county budget

Budget adds to rainy day fund

At their final meeting of 2021, the Franklin County

Commissioners voted unanimously in favor of a budget

for 2022 that is balanced and contains no fee or tax

increases.

"The past two years have been challenging, both for

our residents and for local governments all over the

country," said Board of Commissioners President,

Kevin Boyce. "Franklin County has been able to

weather this tough period well because we entered the

pandemic in a strong financial position due to smart,

conservative planning in years past."

The commissioners oversee 14 county agencies

directly and are responsible for the entire county's

budgets, including those of other elected officials and

agencies.

Next year's all funds budget is $1.99 billion, an

increase of about 7.9 percent.

The all funds budget includes the general fund as

well as state and federal funding, and about 40 percent

of it is used to fund human and social services such as

the Office on Aging, Job and Family Services,

ADAMH, and Children Services.

"We're proud of our reputation for financial prudence,

and to be able to continue to invest in things

like affordable housing and economic development in

order to keep our county on the right track as we recover

from the pandemic and its health and economic

impacts," said Commissioner John O'Grady.

The commissioners held three public budget hearings

this fall to consider an original budget proposal

from county administration.

The final budget incorporates a few changes from

that proposal, including adjustments for additional

contracts to use American Rescue Plan funding in 2022

and to account for higher-than-expected sales tax revenue.

The county's final 2022 general fund budget is

about $543 million, a 1.75 percent increase over 2021.

The general fund is mostly made up of sales tax revenue

and is largely used to support public safety and

justice initiatives such as the sheriff and prosecutor's

offices, 911 call centers, and the court system.

"Many central Ohio families were already living

paycheck-to-paycheck, and the pandemic has only

exacerbated the barriers that already excited," said

Commissioner Erica Crawley. "I've always said, show

me you budget and that will show me your values. Our

value is to invest intentionally in our people. Our

efforts this year have been focused on helping our

neighbors survive and meet their basic needs, such as

staying in their home."

The budget will allow the commissioners to add to

the county's "rainy day fund," which has been steady at

$62.5 million for some years.

Information about the 2022 budget can be found at

budget.franklincountyohio.gov/Budgets/2022.

Library partners with ADAMH

The Columbus Metropolitan Library , along with

the Alcohol, Drug and Mental Health Board of

Franklin County (ADAMH) and other local agencies,

announced a partnership to supply the lifesaving overdose

reversal medication naloxone at key locations

throughout central Ohio — including all 23 CML locations

serving Franklin County.

The partnership comes in response to increasing

overdoses in Franklin County: overdose deaths

climbed 47 percent in 2020 to more than 800 deaths.

With $242,442 of State Opioid Response Funds made

available through the Ohio Department of Mental

Health and Addiction Services, ADAMH is purchasing

150 NaloxBox kits and installing them in public spaces

in ZIP codes experiencing higher numbers of overdoses.

"Many individuals in recovery from addiction are

here today because they had another chance. Recovery

is only possible if someone is still alive to take that

step," said ADAMH CEO Erika Clark Jones.

"Columbus Metropolitan Library and other community

partners are helping ADAMH save lives with this commitment

to ensure naloxone is easily available in public

spaces."

"Right now, our communities are grappling with not

one, but two deadly health crises," said Columbus

Metropolitan Library Chief Community Engagement

Officer Donna Zuiderweg. "As a public library with 23

locations throughout Franklin County, we're uniquely

positioned to respond — and act — in the event of an

overdose. We're proud to be a partner."

The first 50 NaloxBox kits are being installed in

locations at CML, Columbus Recreation and Parks

community centers and St. Stephen's Community

House.

The kits are currently available at 12 CML locations

— with plans to install them at the remaining 11

locations in the coming weeks and months. They will

be available at the community centers by the end of

December.

Additionally, ADAMH is working with community

partners to install an additional 100 NaloxBox kits in

ZIP codes with high incidents of overdoses in the first

quarter of 2022.

To oversee the NaloxBoxes, ADAMH has identified

two providers — Southeast Healthcare and CompDrug

— to install them, train staff on their use and maintain

the supplies within them. Southeast Healthcare will

serve in this capacity as it pertains to CML's

NaloxBoxes.

Each NaloxBox contains: one clear UV-stabilized

box; two doses of naloxone (nasal spray); an

English/Spanish instructional guide; a QR code linking

to a page on the ADAMH website that includes a

naloxone administration instructional video and

resources for someone looking to start recovery; one

rescue breathing barrier device; and ties to close and

open the NaloxBox.

Naloxone is a medicine that rapidly reverses an opioid

overdose and is easy to administer. Naloxone only

works on overdoses caused by opioids. This family of

drugs includes prescription painkillers like OxyContin,

fentanyl, methadone and Vicodin, as well as illicit

drugs like heroin.

Naloxone will not reverse an overdose resulting

from non-opioid drugs, like cocaine, benzodiazepines

("benzos") or alcohol.

A victim of a non-opioid overdose, or an overdose

caused by a mixture of drugs, will not be harmed by

naloxone.

ADAMH offers life-changing possibilities to individuals

and families living with mental health or

addiction issues. A

DAMH, a levy-funded county agency, partners with

more than 30 nonprofit agencies located in neighborhoods

throughout the county to provide accessible and

affordable behavioral health services.

Visit adamhfranklin.org for information.
---
www.columbusmessenger.com

January 9, 2022 - MESSENGER - PAGE 3

SWACO celebrates Save More an Food initiative

Sing along

Z

Q

H

L

J

N

S

B

T

A

C

S

Z

W

S

P

W

S

P

A

W

S

J

B

E

C

X

K

O

I

Z

A

R

C

Y

Q

A

Y

A

I

T

I

P

H

G

I

N

O

G

M

U

B

Q

R

R

T

R

I

L

P

P

W

M

Y

B

S

A

Y

I

O

A

H

P

I

O

X

O

N

E

R

E

L

L

T

N

M

D

T

Z

G

D

W

Y

G

L

T

L

L

O

Y

U

C

Z

E

T

E

N

T

N

V

O

A

T

N

A

H

C

T

E

E

R

L

P

A

I

N

D

O

E

O

S

H

J

K

U

D

I

B

R

B

N

M

Y

R

P

O

W

O

O

D

C

S

L

R

R

R

O

U

Z

S

L

R

D

A

C

K

M

K

F

A

L

S

E

T

T

O

S

C

R

J

U

Q

D

H

T

W

I

G

L

N

K

N

V

A

L

G

P

W

W

O

E

I

Z

E

F

K

P

B

K

L

Y

R

Y

O

D

E

L

T

S

I

H

W

L

H

K

Puzzle solution on page 9.

Franklin County mental health assistance

Franklin County has launched a new online tool to

connect residents and families with national and local

resources to address their mental and emotional

health challenges.

FranklinCountyOhio.CredibleMind.com, allows residents

to take a self-paced approach to learn about

more than 200 different emotional and mental health

topics and find mental health providers in Franklin

County.

The website was funded by the board of commissioners

and supports the work of the Rise Together

Blueprint to Reduce Poverty in Franklin County by

increasing access to mental health services. It was

developed in collaboration with county health and

human services agencies, including the Department of

Job and Family Services (JFS), and the Alcohol, Drug

and Mental Health Board of Franklin County

(ADAMH).

The website offers more than a dozen different selfassessments

to help visitors get a better idea of their

mental health profile. After completing the assessment,

visitors are referred to a variety of resources —

articles, videos, podcasts and more — all tailored based

off their results. All the resources are vetted by experts

and all the assessment tools are confidential.

The site provides direct links to ADAMH's network

of more than 30 local behavioral health providers.

Residents can also get information about obtaining

Medicaid, which covers mental health and addiction

treatment, through JFS as well as resources from

other health and human services agencies like Office

on Aging, Child Support Enforcement and Justice

Policy and Programs.

Messenger Word Search

ALTO

BALLAD

BARITONE

BASS

BELT

CHANT

CHORUS

CROON

DOOWOP

DUET

FALSETTO

HARMONY

HUM

KARAOKE

LYRICS

MELODY

NOTES

PITCH

RANGE

TRILL

SCAT

SOLO

SOPRANO

TENOR

VIBRATO

WARBLE

WHISTLE

YODEL

SWACO is celebrating the first anniversary of the Save

More Than Food initiative, a public education campaign

launched in fall 2020 as a way to help homes, schools and

businesses reduce their food waste and contribute to a

Franklin County-wide goal to cut food waste in half by

2030.

Central Ohio's efforts are being noticed nationally.

Last year, SWACO received a $60,000 federal grant

from the US Environmental Protection Agency to study

food waste behaviors and the positive benefits education

programs like Save More Than Food can have. Under the

grant, SWACO partnered with the city of Upper Arlington

and The Ohio State University to study the behaviors of

hundreds of central Ohio households receiving Save More

Than Food educational materials.

Not only did the city capture and divert 138,000 pounds

of food waste from the landfill since the start of the campaign,

the partners also documented a reduction in overall

food waste being generated by families and residents when

given Save More Than Food resources.

"Food waste presents one of the best opportunities to

increase our diversion rate in Franklin County, further

reducing our reliance on the landfill," said Ty Marsh, executive

director for SWACO. "I'm thrilled at the progress

we've made as a community, but this is only the beginning.

We have a responsibility as community leaders to invest in

initiatives that not only support and strengthen our local

economy but that help protect the health of our environment

for generations to come."

Every day, central Ohio residents, schools and businesses

discard nearly a million pounds of food which arrives at

the local landfill, making it the largest portion of the local

waste stream.

In many instances, that food can be used to feed hungry

families or returned to the earth in the form of compost, a

nutrient-rich soil enhancement.

To help tackle this, SWACO created the Central Ohio

Food Waste Initiative (COFWI), a collective of more than

150 non-profit, education, government and businesses who

have come together to address food waste in the Columbus

region. The Save More Than Food campaign was a

priority included in the Central Ohio Food Waste

Action Plan published by COFWI. The Food Waste

Action Plan laid out 20 specific initiatives for preventing

food waste, rescuing and redistributing

usable, edible food, and recycling food through composting

and other technologies. SWACO's successful leadership

of the COWFI earned the organization an award for

Outstanding Recycling Organization for 2020 from the

National Recycling Coalition.

Later this year, SWACO and COFWI will release an

update to the Food Waste Action Plan.

"The Central Ohio Food Waste Initiative is a truly

unprecedented example of a collective impact model that's

working toward a significant reduction in food waste in our

region," said Kyle O'Keefe, director of innovations and programs

at SWACO. "More importantly, recognition of our

food waste diversion work at the national level is evidence

of a best-in-class model for communities across the country

with similar issues. It's thrilling to see leaders across central

Ohio have a leading voice in an issue that impacts

every person on this planet. The possibilities are limitless,

and we look forward to reporting out on future progress."

Be a Part of Our

Local Worship Guide

Our upcoming Worship Guide is geared toward

celebrating faith and helping readers connect with

religious resources in our community. Make sure these

readers know how you can help with a presence in this

very special section distributed to more than 20,000

households in the South area.

The cost is $20 per issue. (must run twice)

Contact us today to secure your spot in Worship Guide.

614.272.5422 • kathy@columbusmessenger.com

Messenger

South
---
PAGE 4 - MESSENGER - January 9, 2022

Letters policy

The Messenger welcomes letters to the

editor. Letters cannot be libelous. Letters that

do not have a signature, address, and telephone

number, or are signed with a pseudonym,

will be rejected. PLEASE BE BRIEF

AND TO THE POINT. The Messenger

reserves the right to edit or refuse publication

of any letter for any reason. Opinions

expressed in the letters are not necessarily

the views of the Messenger. Mail letters to:

South Messenger, 3500 Sullivant Avenue,

Columbus, OH 43204; or email

southeast@columbusmessenger.com.

eastside

Messenger

(Distribution: 6,100)

Rick Palsgrove................................South Editor

eastside@ columbusmessenger.com

Published every other Sunday by

The Columbus Messenger Co.

3500 Sullivant Ave., Columbus, Ohio 43204-1887

(614) 272-5422

Keep tabs on the news in Obetz

and Hamilton Township

Look for South Messenger on

Become a fan!

BIRTHDAY • ENGAGEMENT • WEDDING • ANNIVERSARY

• GRADUATION • RETIREMENT

IN MEMORIUM • ARMED FORCES

Say it with an announcement ad in

the Messenger and spread the word.

You can download the appropriate form from

our Web site or stop by our office

Monday-Thursday, 8:30 a.m.-5 p.m.

Friday, 8:30 a.m.-2 p.m.

Columbus Messenger

3500 Sullivant Ave.

614-272-5422

www.columbusmessenger.com

www.columbusmessenger.com

"Mixtape" is like finding an old relic in the storage box

As a child of the '80s who spent a majority

of the adolescent stages in the '90s, I am

feeling some kind of way about the recent

trend of movies and television shows set

during these decades.

While I admit to experiencing the occasional

twinge of pain from the reminder of

the passage of time, I can say I am mostly

comfortable with these "blasts from the

past" as they have a way of rekindling lost

loves — and no, I am not talking about

searching social media platforms for former

crushes.

For example, I recently searched

through the streaming services for a new

release for review week when I came across

a film titled, "Mixtape" on Netflix. Though

I had not heard of this film before — streamers

seldom advertise unless they are pushing

for award consideration — I was

intrigued because the name brought forth

so many positive emotions.

I loved everything to do with the mixtape,

especially the creation of one. My

crowning achievement in high school —

beyond managing to graduate, that is —

was my music-loving history teacher

telling me the mixtape I made for a project

on the 1960s was "sublime." (Side note: he

asked to keep it.)

My love for the mixtape created so many

magical memories during my adolescence,

but almost all of them were tucked away in

my adult brain, covered in cobwebs until I

stumbled across this aptly titled movie.

Though flooded with positivity on name

alone, I was hesitant to watch because it

had already laid a nostalgic-whammy on

me and one can only take so much.

Ultimately, I was glad I decided not to skip

it because "Mixtape" is probably the sweetest

non-animated film I have seen in years.

Part musical discovery, part coming-ofage

story, "Mixtape" begins in a time of

By Rick Palsgrove

Managing Editor

Former Groveport Police Chief Ralph

Portier passed away Dec. 31 after an illness.

He was 71.

"Chief Portier was a very special person,"

said Groveport Mayor Lance

Westcamp. "He was a great leader, mentor,

friend and a very caring person. He was all

about family and community. The

Groveport Police Department is so respected

because of the leadership skills Chief

Portier brought with him. He never met a

stranger. Chief Portier always said he was

truly blessed to work in Groveport. As

mayor of the city, we were the ones who

were truly blessed to have him as our police

chief."

Portier had a 50 year career of service in

fire, EMS, and law enforcement. He began

as police chief in Groveport in 2009 and

served until he retired in April 2021.

"Chief Ralph Portier was an individual

who believed in making sure everyone he

came in contact with should be treated

unrest. It is nearing the end of 1999 and

the leading character Beverly Moody

(Gemma Brooke Allen) is a tween on the

cusp of becoming a teenager. While most of

the world, including her grandmother Gail

(Julie Bowen) is worried that this "Y2K

bug" will crash markets, Beverly's primary

concern is that of her deceased parents who

died when she was a toddler.

For years, Beverly has tried to get Gail

to open up about what her parents were

like, what they were interested in while

alive, but the grief over losing her daughter

is still too much to bear. Still, Beverly

dreams of the day when her grandmother

can talk about them, and she hopes the

realization that there is nothing to fear

from 2000 will do the trick.

While cleaning the basement one day,

Beverly comes across a mixtape dubbed

"Love Riot" which was created by her parents.

Unfamiliar with the list of largely

obscure punk bands from the '80s, she is

eager to get that first glimpse of who they

are through their musical choices.

Unfortunately for Beverly, the tape deck

gets a case of the destructive munchies as

the opening riff to "Getting Nowhere Fast"

by Girls at Our Best blares through the

headphones.

Believing the cure to her unspooled tape

can be found in a record store, she is dispelled

of that belief by the misanthropic

owner Anti (Nick Thune). She does, however,

learn the number one rule of the mixtape:

it must be listened to in order: "It is a

message from the maker to the listener."

It's a romantic telling of the mixtape,

one in which Beverly gloms onto, wanting

to hear anything her parents could tell her.

Of course, listening to the songs on the tape

are not as easy as once thought, especially

considering that Beverly doesn't exactly

have the Internet right at her fingertips at

with fairness and a smile, whether in a

general encounter, or in our official capacity

as a police officer," said current

Groveport Police Chief Casey Adams.

"There was not a day that went by that our

officers and city officials did not hear how a

citizen or visitor to our community somehow

knew Chief Portier from his days as a

public servant in Guernsey County, to his

time as a police officer and supervisor in

the city of Pickerington, and then the

countless individuals and police officers he

touched through his instructional training

throughout Ohio on taking care of ourselves

in the policing community."

Adams said the Groveport Police

Department and the city of Groveport lost

a true ambassador of the community.

"Chief Portier invested each and every

day of his service to our community to making

sure people came first, and he always

spoke how Groveport welcomed him with

open arms from day one and he felt like

this was his home and not just a place to

work," said Adams.

Groveport City Councilman and former

The Reel Deal

this stage in her life.

Throughout the

course of the film, the

lonely Beverly opens up

and finds two equally

lonely friends (Ellen

and Nicky, played by

Dedra

Cordle

Audrey Hseih and

Olga Petsa, respectively)

who are willing

to help her on her

quest of musical discovery.

Though the soundtrack is full of

bangers, it is this budding relationship

that really makes the film something special.

When they are together, this film

becomes like the process of creating a mixtape,

one of those special ones with inside

jokes put in place of actual song titles.

There is a lot of sweetness going on in

this film, especially with Beverly who is so

earnest in her desire to find out more about

her parents, and it could grate if not in the

right mood. But the deft hands of director

Valerie Weiss and writer Stacey Menear

manage to keep it from falling into the

overly corny territory by creating a great

balance between levity and grief.

Overall, I would have to say finding

"Mixtape" in the vast library of new releases

on Netflix was like finding an "old relic"

in the storage box. It was a delightful surprise,

one full of warmth mixed with a little

twinge of sadness, but a great time of discovery

nonetheless.

Grade: B

Dedra Cordle is a Messenger staff writer

and columnist.

Well known area police chief passes away

Groveport police officer Shawn Cleary

recalls he and Westcamp interviewing

Portier for the job as police chief.

"I remember feeling right away he was a

perfect fit for the Groveport," said Cleary.

"His commitment ot the citizens of

Groveport went beyond expectations. He

quickly earned the trust of the citizens and

officers. This is a tragic loss for the community

and the Portier family."

Adams said Portier never made any

excuses to take time away from his job during

his health struggles.

"He showed up each and every day giving

it his all, and he made sure that his officers

came first," said Adams. "Even after

he retired earlier in 2021, he still loved to

stop by the police department, send out a

text or email, or just make a phone call and

tell us how he loved each and everyone of

us. He always asked how we were doing

personally, he wanted to make sure we

watched out for each other, and that we

took time each and every day to have quality

family time."
---
www.columbusmessenger.com

Long time trustee retires

By Linda Dillman

Staff Writer

Retiring Madison Township

Trustee Ed Dildine was honored

during his final trustee meeting

in December with the news that a

township firehouse now bears his

name.

Trustee Chairman John

Pritchard told Dildine, who spent

12 years as a trustee and 40 years

as a township firefighter, that

Madison Township Station 183,

located in an area where the retired

firefighter started his career,

will now be called Edward

Dildine Station 183.

"You are like a father to me,"

Trustee Michele Reynolds told

Dildine and added it was a privilege

to serve alongside him.

She then presented him with a

certificate from the governor recognizing

the station dedication as

well as Dildine's work and dedication

to the township and community.

"On behalf of the fire department

I thank you for all of your

40 years as a firefighter and 12

years as a trustee," said Madison

Township Fire Chief Derek Robinson. "You

played such an important role in having

that (station) built."

Dildine, A 1967 graduate of Groveport

Madison High School, started as a Madison

Township firefighter in May 1979, where he

worked until his retirement in 2009. He

later ran for trustee and was sworn in on

Jan. 1, 2010 and served the township for a

combined total of 43 years.

Dildine said he became a firefighter to

help people and was happy to continue to do

that as a trustee.

"When he came on the board, I was still

a trustee," said Madison Township Administrator

Susan Brobst. "You've been extremely

supportive and have a lot of

insight."

Local Firefighters Union 2507 President

Rashid Taylor said he had worked alongside

Dildine as a firefighter in addition to collaborating

with him as a trustee.

"His job and passion were not to be a firefighter

and trustee, but to make a difference

in other peoples' lives," said Taylor before

telling Dildine he has the appreciation of

the union for all he has done for township

firefighters.

Other Madison Township news

•On Dec. 28, the trustees approved temporary

appropriations for 2022 and set the

salaries and health care/life benefits for

elected officials at Ohio Revised Code statutory

limits.

According to a chart supplied by Brobst,

trustee compensation per day–not to exceed

200 days per year–is now $121.52,

which is $24,304 per year and distributed

on a monthly basis. In 2021, the per day pay

was $119.43. The 2022 pay reflects a 1.75

percent increase.

Messenger photo by Linda Dillman

Dildine was honored for his 12 years as an elected

official during the Dec. 14 Madison Township

trustees' meeting when he was presented an encased

flag from Trustee Chairman John Pritchard,

a flag that was flown over each township building.

The compensation for the township fiscal

officer for 2022 is $33,297 and reflects the

same 1.75 percent increase from 2021.

According to the Ohio Revised Code,

township trustee and fiscal officer salaries

are based on the township's annual budget.

•The trustees also approved a one-year

contract, not to exceed $9,400, with Easterday's

Cleaning Service for cleaning the police

department building.

•The trustees approved moving their

regular meeting dates in 2022 to the third

Thursday of each month.

•As announced in November, the township's

gas aggregation contract with Columbia

Gas has expired and all residents

enrolled in the program were returned to

the gas company's standard pricing default.

"We did not renew…because rates were

so high there was no savings for residents,"

said Brobst.

According to communications specialist

Jessica Woodworth, the township does anticipate

another aggregation contract in the

future, although an exact date is not known.

Consultant Trebel LLC is watching gas

rates continuously and will secure a contracted

rate when prices drop.

"This will allow Treble to shop for us,"

said Brobst, regarding a resolution giving

permission to the company to pursue lower

gas and electric rates and to secure those

rates with the approval of the trustees.

•The trustees authorized Brobst to submit

a grant application for state capital

funds to improve drainage at Brobst Park.

"We continue to have more and more issues

with flooding at the park," said Brobst.

"Last week, due to a lot of rain, we had to

close the park early."

School Help Centers

The Columbus Metropolitan Library's

School Help Centers offer K-12 students

after-school help, plus 24/7 access to free

tools and resources. Students can get connected

with virtual tutors for one-on-one

help Monday through Friday from 2-11 p.m.

using HelpNow. Masks are required to visit

School Help Centers. Hours vary by library

location. Visit columbuslibrary.org/schoolhelp

for information.

Special Olympics

The mission of Special Olympics Ohio

and its Groveport and Canal Winchester

Special Olympics chapter is to provide year

round sports training and competition in a

variety of Olympic type sports for intellectually

disabled individuals. For information

contact Penny and Cassandra Hilty at

groveportspecialolympics@gmail.com or at

(614) 395-8992 or 395-6640.

Donations may be sent to Groveport Special

Olympics, P.O. Box 296, Groveport, OH

43125.

eastside

Messenger

(Distribution: 6,500)

Rick Palsgrove........................Canal Winchester Editor

eastside@ columbusmessenger.com

Published every other Sunday by

The Columbus Messenger Co.

3500 Sullivant Ave., Columbus, Ohio 43204-1887

(614) 272-5422

January 9, 2022 - MESSENGER - PAGE 5

Dog license extension

Franklin County Auditor Michael Stinziano

announced the 2022 dog license renewal period

is extended from Jan. 31 to March 31.The extension

only applies to the 2022 dog license

renewal period.

The auditor's office continues to expand

the opportunities for dog owners to purchase

licenses, including through the auditor's mobile

office, the Franklin County Dog Shelter

and Adoption Center, and at various community

events.

Dog licensing ensures that a dog has been

vaccinated against rabies, which is required

in Franklin County. It also ensures any lost

dog is returned quickly to their owner. License

fees help support the Franklin County

Dog Shelter and Adoption Center.

One-year, three-year and permanent dog

licenses can be purchased without penalty

beginning Dec. 1. Licenses can be purchased

online at doglicense.franklincountyohio.gov,

or at the auditor's office license counter, 373

S. High St., 21st floor in downtown Columbus.

The counter is open Monday through

Friday, from 8 a.m. to 4 p.m.

Keep tabs on the news

in Canal Winchester

Look for CW Messenger on

Become a fan!

Messenger

Canal Winchester

Starting December 12, 2021

Pick-Up At These

Locations:

Walgreen's - Gender & Winchester Blvd.

BP Gas Station - Gender Rd. & Freeway

Aldi - Gender Rd. & Freeway (behind BP Station)

Kroger - Winchester Square

Frances Steube Senior Center - 22 S. Trine St.

The Wigwam Restaurant - 4 South High St.

Shade on the Canal - 19 South High St.

Canal Winchester Library - 115 Franklin St.

Canal Winchester Municipal - 36 South High St.

Canal Winchester School Adm. - 100 Washington St.

Fairfield Co. Sheriff - NW Corner N. High & Waterloo

Harvest Moon - 7 N. High St.

Rex Barber Shop - 1 W. Waterloo

Sunoco Gas Station - 501 W. Waterloo St.

Panera - 685 W. Waterloo St.

Schirm Farm Apts. - 6340 Saddler Way

READ US ONLINE: www.columbusmessenger.com
---
PAGE 6 - MESSENGER - January 9, 2022

www.columbusmessenger.com

CW City Council prepares for the coming year

By Linda Dillman

Staff Writer

Canal Winchester City Council spent

some time getting organized for 2022.

A quartet of council members were sworn

in at council's Jan. 3 meeting and Councilman

Chuck Milliken was elected council

president and Councilman Bob Clark

elected council vice president.

Jill Amos, Laurie Amick, Patrick Shea,

and Ashley Ward join Milliken, Clark and

Mike Walker on council. Walker was appointed

Human Services council representative,

Milliken is council's Destination:

Canal Winchester representative, and Ward

represents council on the CWICC. Amos and

Shea were appointed council Joint Recreation

District board members and Amos,

Amick, and Walker are on the rules committee.

Council is reviewing Mayor Mike Ebert's

proposed appointments of Mark Caulk and

Chuck Carpenter to the planning and zoning

commission.

Amos and Ward questioned the appointees'

qualifications and also wanted to

know why long-time commission member

and attorney Mike Vasko was not re-appointed

by the mayor to the commission. Development

Director Lucas Haire said a route

was created to open up the process to more

people by accepting applications, which are

good for two years.

"We're struggling to get qualified

people. It's becoming more and

more difficult. Many people do not

qualify because they are not residents

of the city. We struggle with

many boards and commissions."

- Lucas Haire

CW Development Director

"We're struggling to get qualified people,"

Haire said. "It's becoming more and more

difficult. Many people do not qualify because

they are not residents of the city. We struggle

with many boards and commissions."

According to Clark, it is the prerogative

of the mayor to appoint members of the

planning and zoning commission. Council

then signs off on the recommendation.

Ward asked why Carpenter was chosen

over Vasko as she felt Vasko appeared to be

more qualified.

"It seems there were other candidates

much more qualified to review those engineering

and technical documents," said

Ward.

Amos said there were a large number of

applicants and, in looking at the applications

provided by the city, she questioned

whether or not the candidates submitted for

approval by the mayor are the right ones at

this point in the process.

"I do believe we should reconsider the

previous applications and look at past candidates

as well," said Amos.

Ebert defended his appointment recommendations

by noting Carpenter was raised

in Canal Winchester, owned two different

businesses during his time away from the

city, and is business smart. When asked

about his selection criteria, Ebert said it is

based on integrity, honesty, and knowing

the city and its history.

"Mr. Vasko has been doing it (serving on

the planning and zoning commission) for 18

years," said Ebert. "I had people approach

me in the past and said it was time for a

change."

Council will consider taking action on the

planning and zoning commission appointments

at its Jan. 18 meeting.

Other CW Council news

•An ordinance amending the city zoning

map rezoning 51 acres on Hill and Basil

Western roads, owned by Weiser Development

and Sonya and Mark Poff, was taken

off the agenda after the applicants withdrew

their request to rezone the property.

•The council held the first reading of two

ordinances authorizing the mayor to enter

into pre-annexation and developments

agreement with L & D Family Farms and

Roebing Development Corporation for a

nearly 58 acre site along Basil Western

Road in Fairfield County.

around Canal Winchester

•Council is considering the purchase of

2.5 acres for $99,900 on Franklin Street

from Timothy Fisk and Lee Oster as a potential

park connector, but is first requesting

a residential appraisal.

CW City Council meetings

Canal Winchester City Council meetings

are held on the first and third Monday of

every month.

Meetings begin at 7 p.m. and are held at

Town Hall, 10 N. High St. The meetings are

open to the public.

CW Council work sessions

Canal Winchester City Council meets in

work session at 6 p.m. prior to each city

council meeting to discuss legislative items

and other issues of the city prior to being included

on a city council agenda.

Council work session consists of all members

of council with the vice-president serving

as chair.

The work sessions are divided into two

areas of focus. The first work session of the

month focuses on finance/economic development

items and the second monthly work

session focuses on service/safety items.

While each work session includes specific

areas of focus, other items may be brought

before council as needed.

Council work sessions are open to the

public.

First baby of 2022

The first baby born in 2022 at Fairfield

Medical Center in Lancaster arrived on Jan.

2, according to Michelle George Fairfield

Medical Center public relations specialist.

Rhyver Phoenix Olyver Thweatt made his

debut at 5:54 a.m. weighing in at 9 pounds

and 21 inches long.

Parents are Amanda Love and James

Thweatt of Nelsonville. On behalf of FMC's

Maternity Department, the family was

given a large basket full of baby necessities,

including a blanket and piggy bank.

GriefShare group

Groveport United Methodist Church, 512

Main St., sponsors a GriefShare group commencing

Feb. 17 at 7 p.m. Register online at

www.griefshare.org/groups/144263.Email

groveportgriefsharegroup@gmail.com for information.

Barber Museum

The National Barber Museum in Canal

Winchester is located at 135 Franklin St.

(behind the former CW High School building).

The museum, housed in approximately

5,000 square feet, showcases art, artifacts,

and memorabilia from decades of the barbering

profession. For information call(614)

837-8400.

Wagnalls Memorial Library

Wagnalls Memorial Library is located at

150 E. Columbus St., Lithopolis. For information

call (614) 837-4765 or visit

www.wagnalls.org.

Southeast Library

The Southeast Branch of the Columbus

Metropolitan Library is located at 3980 S.

Hamilton Road, Groveport. For information

visit For information visit www.columbuslibrary.org

or call 614-645-2275.

Foster a dog

The Franklin County Dog Shelter and

Adoption Center offers individuals in

Franklin County the opportunity to foster

shelter dogs while they are still available for

direct adoption. While fostering a dog, it is

possible to learn more about how that dog

will act in a home setting, increase the dog's

network of potential adopters, and give

them time out of the shelter to decompress.

Many dogs enter the shelter as stray dogs,

so nothing is known about them. Foster

homes provide a chance to learn important

details about dogs in the shelter's care.

For information visit the shelter website,

www.franklincountydogs.com or email foster@franklincountyohio.gov.

Foster candidates at the shelter include

both dogs with medical issues and those

who would benefit from time outside the

shelter environment.
---
www.columbusmessenger.com

Spreading the wealth with bed tax grants

By Linda Dillman

Staff Writer

Heads in beds are putting money into city of Canal

Winchester coffers and helping to benefit both local

tourism and non-profit organizations throughout the

community.

The city levies a six percent transient occupancy

(bed) tax that is assessed when guests use lodging furnished

by a local hotel, motel, or similar business. One

half of the tax revenue benefits Destination: Canal Winchester,

which is the city's designated visitor and convention

bureau.

Canal Winchester City Council designates the other

three percent to fund the annual bed tax grant program.

During its Dec. 20 meeting, council approved a resolution

distributing 2022 bed tax grants to 13 organizations

that applied between Oct. 1 and Nov. 30 for funding.

The list of recommended grants includes: $2,000 for

Boy Scout Troop 103 to repair, maintain an operate a

troop bus; $2,000 for the BrockStrong Foundation for

their 2022 Labor Day Baseball Tournament; and $2,000

to the CW Art Guild for the 2022 Mural Project.

David's Way/Canal Village asked for $2,000 for computers,

a printer and supplies and chairs for older

adults; $2,000 for Friends for Life Animal Haven to fund

their City Kitty Round Up; $2,000 for Veterans of Foreign

Wars Post 10523 for supplies and advertising for

the annual Veterans Day Celebration and $2,000 for Indians

Cross Country Boosters Dr. Bender 5K Classic.

Canal Winchester Finance Director Amanda Jackson

anticipates new hotels will add to the bed tax fund and

asked council for their advice on how additional funding

should be distributed.

"Do we put it in the general fund?" asked Jackson.

"Do we put it in parks? Do we put it towards the historical

society? What do we do with it?"

A preliminary suggestion put 10 percent of any excess

in support of the historical society; 10 percent to

the CWICC, which is a non-profit that allocates bed tax

grants for building improvements; 45 percent set aside

for city parks; and 35 percent to the organizers of the

Blues and Ribs Fest and the Labor Day Festival.

"My hope is that a certain portion of that could be allocated

for a DORA (designated outdoor refreshment

area for supplies)," said Councilwoman Jill Amos. "It's

also one of the things that can attract and draw people

in."

Councilman Bob Clark said additional park money

could help accelerate construction instead of city administrators

trying to find funding.

Councilman Mike Coolman felt it was best to wait to

make a decision until the new council is seated after the

first of the year.

Amos used the opportunity to open a discussion on

the DORA and said businesses are supportive of the endeavor,

but would like to see it phased in slowly instead

of held for the first time during a large-scale city event

like the Labor Day Festival, which can draw thousands

to Canal Winchester.

Coolman said the first smaller event is the Art Stroll,

which is held the Saturday after Mother's Day.

"Their thoughts were if we start to introduce it,

they'll slowly get their staff introduced to it," said Amos.

"The restaurants and businesses were hoping for a slow

thing, to work it in and make it sustainable. I think it

can be done. I think the businesses are on board to

help."

Madison Township news

January 9, 2022 - MESSENGER - PAGE 7

The Madison Township trustees approved moving their regular

meeting dates in 2022 to the third Thursday of each month. However,

the annual organizational meeting will take place on Jan. 4

at 5 p.m.

In other Madison Township news:

•As announced in November, the township's gas aggregation

contract with Columbia Gas has expired and all residents enrolled

in the program were returned to the gas company's standard pricing

default.

"We did not renew…because rates were so high there was no savings

for residents," said Madison Township Administrator Susan

Brobst.

According to communications specialist Jessica Woodworth, the

township does anticipate another aggregation contract in the future,

although an exact date is not known. Consultant Trebel LLC

is watching gas rates continuously and will secure a contracted rate

when prices drop.

"This will allow Treble to shop for us," said Brobst, regarding a

resolution giving permission to the company to pursue lower gas

and electric rates and to secure those rates with the approval of the

trustees.

•The trustees authorized Brobst to submit a grant application

for state capital funds to improve drainage at Brobst Park.

"We continue to have more and more issues with flooding at the

park," said Brobst. "Last week, due to a lot of rain, we had to close

the park early."

Canal Winchester

Board of Education meetings

The Canal Winchester Board of Education meets on the third

Monday of each month at 7 p.m. in the Canal Winchester Education

Center, 100 Washington St. on the second floor in room 204/206.

The public is welcome to attend.

Moses-Mouser Eye Care

Dr. Joshua Morris is a board-certified Optometrist

who grew up in Bellville, Ohio. He

completed his undergraduate degree at the

University of Akron, where he graduated

magna cum laude with honors.

Dr. Morris attended The Ohio State University

College of Optometry and graduated cum laude with honors to receive

his Doctor of Optometry Degree in May 2019. After completing his

studies, he was awarded the "Primary Vision Care Clinical Excellence

Award", in 2019.

Dr. Morris is a member of the American Optometric Association, the

Ohio Optometric Association, and The Ohio State Alumni Association.

He is excited to practice full scope optometry, diagnosing and treating

a variety of ocular disorders and diseases in patients of all ages, but has

a special interest in contact lenses and ocular disease.

On a personal note, Dr. Morris and his wife Tess, enjoy spending time

with their family, friends, and their Bernese Mountain dog Maverick,

cheering on The Ohio State Buckeyes, trying new foods, and exploring

Columbus breweries.

Q: How often should someone with diabetes

get an eye exam?

A: Someone with diabetes should see an eye care professional at least

once a year for a comprehensive dilated eye exam.

Q: How can diabetes affect my vision?

A: Over time, diabetes damages small blood vessels throughout the body,

including the retina. Diabetic retinopathy occurs when these tiny blood

vessels leak blood and other fluids. This causes the retinal tissue to swell,

resulting in cloudy or blurred vision. The condition usually affects both

eyes. The longer a person has diabetes, the more likely they will develop

diabetic retinopathy. If left untreated, diabetic retinopathy can cause

blindness. (AOA)

Symptoms include: seeing spots or "floaters", blurred vision, and difficulty

seeing at night.

Schedule your diabetic eye exam today

with Dr. Morris.

6441 Winchester Blvd. E., Canal Winchester, OH 43110 614-963-3827
---
PAGE 8- MESSENGER - January 9, 2022

www.columbusmessenger.com

Eastland-Fairfield students' works displayed in Columbus

Eastland-Fairfield Career & Technical

Schools' architecture/construction management

satellite program's Orange Line exhibit

was on display through December at

the Lazarus Company Department Store

Museum, 50 W. Town St. in downtown

Columbus.

Seniors from the architecture/construction

management program undertook the

challenge to build a model for The Center

for Architecture and Design's contemporary

holiday train exhibit -

The Orange Line. For the fifth consecutive

year, the program participated in building

a LEGO® model to be displayed during

the holiday season.

Participants are provided a theme to

guide their creations. Builders then use

their own creativity to interpret that message

as they wish and represent it through

their submitted model.

This year, the theme is Rise Up in a Post-

Pandemic World.

The class had the opportunity to construct

two models with the aid of business

partner TRIAD Architects, allowing for multiple

interpretations for students to express

themselves through this year's theme. Students

split into two groups, built individual

sample models, and then shared their proposals

and discussed how to move forward.

The first model was built to show the

spirit of a Phoenix rising from the ashes and

spreading its wings to take flight once

again. The second model's foundation resembles

ruins of destruction, however, a

tower protrudes from the rear of the structure

and takes a life of its own showing

"pristine rising from the rubble of an old

building."

Canal Winchester High School senior

Amari Fisher was part of the group that

conceived the Phoenix Rising model, citing

that the objective was to build something

that was uplifting and showed flight toward

a better place.

Fisher revealed for as much planning

that went into the idea's origins, the structure

evolved as it was being built.

"As we built it (the model) it was coming

to life a lot more, and while you're building

other ideas start coming to you," said

Fisher.

She cited new ideas that manifested during

the construction process inspired structural

changes to allow the model to be built

with greater height than originally planned.

"These two towers were the best that

we've ever done!" said instructor Jason

McGee. "I am very proud [of the students]

for their work on these models."

McGee began the class's involvement in

The Orange Line shortly upon his arrival to

Eastland-Fairfield. To his knowledge, Eastland-Fairfield

was the first school to have

students allowed to participate in the winter

tradition.

With limited space available the number

of student submissions is still few, but now

schools such as The Ohio State University

have joined Eastland-Fairfield as regular

participants.

While in years past an opening reception

has been held to support the unveiling of the

exhibit, that has been absent due to caution

being taken involving the global pandemic.

The change in routine has morphed this

It's easy for the amount of waste we create

to increase during the holidays, a time

when families and individuals are busy buying

and wrapping gifts, decorating, entertaining

and baking.

The Ohio Environmental Protection

Agency estimates waste can increase by as

much as 25 percent this time of year. This

holiday season, SWACO is making it easy to

have a green holiday by recommending a

few easy steps to reduce waste and recycle

right.

•Donate decorations or lights. Have unwanted

decorations or working Christmas

lights? Don't pitch them; instead consider

donating to a local non-profit (e.g., Goodwill)

that can sell them in their store or use them

in their facility. Or, check out this list of locations

that accept holiday lights for recycling.

•Reduce food waste. In Franklin County,

nearly a million pounds of food waste enters

Keep it green

project into more than just an assignment.

What has manifested are new traditions

that allow the students in the program an

opportunity to further bond and call a piece

of this annual undertaking their own.

McGee said that, in lieu of an official reception,

he now takes the class to Condado's

Tacos before walking over to the gallery to

see their hard work being displayed among

professional architectural firms.

After admiring the train exhibit in its entirety,

the class then spends quality time together

enjoying the Columbus Commons

where holiday decorations adorn the area.

"It's really turned into a fun break at the

end of the semester," said McGee. "It is a

breath of fresh air being embedded in a fun

project like this."

The act of togetherness may culminate

into an enjoyable field trip, but it began in

the classroom.

Fisher noted that this project would not

have been as successful had it not been for

the group's teamwork.

"It (teamwork) was very important," said

Fisher. "That was how we got the unique

ideas for our tower. Everyone participated.

Ideas from everyone were used in the tower.

It would not have been as good as it was

without that teamwork."

In addition to the fun surrounding the

project, Fisher noted that seeing their lab's

work on display and knowing others will see

it, too, was a satisfying treat. "It was very

fun to be able to go downtown, meet people,

and see our work. To be only one of three

student towers that fit in perfectly with professional

architects was really cool. Seeing

it [the model] with the lights and among the

other buildings just said 'we made it'."

And now, the architecture/construction

management students are using their skills

and collaborative efforts in their next holiday

project - building gingerbread houses.

Visit www.EastlandFairfield.com/ACM

for information.

the landfill every day. Save money — and reduce

your reliance on the landfill — by

preparing only the food you need. Still have

leftovers? Enjoy them longer by trying out

recipes with new flavors. For example, ham

and carrots can be turned into a ham and

bean soup for Near Year's Day.

•Recycle Right. Break down and empty

cardboard boxes before you discard them,

and keep recyclables loose in the curbside

recycling cart to ensure materials can reach

their potential as new products for future

use.

Visit recycleright.org for a list of what's

accepted for recycling in Franklin County.

•Compost live trees, garland and

wreaths after the holidays by removing decorations

and setting them at the curb on

yard waste collection day.

For more tips, and to download SWACO's

green holiday guide, visit www.swaco.org.
---
www.columbusmessenger.com

Obetz Historians

By Katelyn Sattler

Staff Writer

The Obetz Historians continues to plan

on how to document Obetz's history.

On Dec. 8, the group discussed ho to

incorporate as a non-profit 501(c)(3).

Incorporating as a non-profit will cost abo

ut$200, which concerns Obetz Historians

President Joyce Blake.

"We don't have any money," said Blake.

"Does this mean I will have to pay for it

until we do some fundraisers to be able to

reimburse me? If I make a mistake, how

much will the amendments cost."

The group decided to approach city of

Obetz Law Director Gene Hollins to ask for

legal guidance. Blake and Jerry Benson

talked to Hollins during a break at the

recent Obetz City Council meeting where

he suggested they use the 501(c)(3) filings

from the now-defunct Obetz Historical

Society and the Secretary of State's website

as a guide to the necessary documents

for the Obetz Historians.

He also suggested looking for an

accounting firm for IRS purposes to

become a non-profit.

The IRS rules for nonprofits have

changed over the years.

The Obetz Historians will also need a

federal ID, which is free to do online.

After incorporation, the group will focus

on collecting more stories of Obetz's history.

They asked everyone in attendance at

their recent meeting to write something

about their own family to get everyone

involved.

The group is considering fundraisers so

they can afford to proceed.

The Historians elected Connie

Callander as the new hospitality coordinator

and Heather Coffenberry is the new

membership chairperson.

These officers add to the ranks of

President Joyce Blake, Vice President

Jerry Benson, Secretary Bonnie Wiley, and

co-Treasurers Becci Thacker-Dunn and

Diane Brooker.

The next Obetz Historian meeting is

Jan. 19 at 6:30 p.m. in the Senior Center,

1650 Obetz Avenue.

All meetings in 2022 will be on the third

Wednesday of the month.

Puzzle solution

Z

Q

H

L

J

N

S

B

T

A

C

S

Z

W

S

P

W

S

P

A

W

S

J

B

E

C

X

K

O

I

Z

A

R

C

Y

Q

A

Y

A

I

T

I

P

H

G

I

N

O

G

M

U

B

Q

R

R

T

R

I

L

P

P

W

M

Y

B

S

A

Y

I

O

A

H

P

I

O

X

O

N

E

R

E

L

L

T

N

M

D

T

Z

G

D

W

Y

G

L

T

L

L

O

Y

U

C

Z

E

T

E

N

T

N

V

O

A

T

N

A

H

C

T

E

E

R

L

P

A

I

N

D

O

E

O

S

H

J

K

U

D

I

B

R

B

N

M

Y

R

P

O

W

O

O

D

C

S

L

R

R

R

O

U

Z

S

L

R

D

A

C

K

M

K

F

A

L

S

E

T

T

O

S

C

R

J

U

Q

D

H

T

W

I

G

L

N

K

N

V

A

L

G

P

W

W

O

E

I

Z

E

F

K

P

B

K

L

Y

R

Y

O

D

E

L

T

S

I

H

W

L

H

K

American Rescue Plan

The Franklin County Commissioners have launched a new

webpage where residents can track how the county uses funds

from the American Rescue Plan (ARP) to help the community

recover from the pandemic.

The site, Recovery.FranklinCountyOhio.gov provides information

about the ARP, what it means for Franklin County, a graph

of expenditures so far, and links to information about the individual

expenditures. The commissioners have already allocated more

than $26 million for recovery.

"Our community will be feeling the effects of the pandemic for

years to come," said board president Kevin Boyce. "We got lots of

input from our residents about how we can best use this money to

help them and their families, and this webpage represents an

unprecedented level of transparency in how we're going to use this

funding so that they can see in real-time what we're doing to help

them recover."

The American Rescue Plan was passed by Congress and signed

into law by President Joe Biden to help Americans who are suffering

from the ongoing effects of the COVID-19 pandemic. It

includes significant federal resources to support a strong public

health response and vaccination strategy, provide direct assistance

to families, and deliver resources to local governments to

use in their own communities. Franklin County will be receiving

$256 million over the next two years. Other parts of the ARP provided

resources for schools, healthcare providers, public health

agencies, and small businesses.

The commissioners held a public hearing and solicited written

testimony from the community to learn about the challenges residents

have faced over the past 18 months and how they think this

funding can best be used to aid in recovery. Video of that hearing

and text of the written testimony can be found on the commissioners'

new webpage along with federally mandated reports on ARP

spending and a link for residents to continue to submit ideas for

recovery funding.

An update to the commissioners' American Rescue Plan webpage

is already planned, and will connect residents in need directly

to the resources that the commissioners have funded with ARP

dollars.

Visit Recovery.FranklinCountyOhio.gov.

SUPPORT

your

Community Paper

Through advertising, community newspapers like the

Messenger have always been FREE papers. In these

tough economic times we are asking you the reader to

help offset the current decline in advertising revenue by

participating in a VOLUNTARY payment program*.

To those who have already participated -

We Thank You.

For those who would like to, below is a form

you can mail with your DONATION.

*This is not a subscription.

.Name:

Address:

City/State/Zip

3500 Sullivant Ave., Columbus, OH 43204

1 year ($9) 2 year ($18)

Eastside Westside Southwest

Southeast

January 9, 2022 - MESSENGER - PAGE 9
---
PAGE 10 - MESSENGER - January 9, 2022

www.columbusmessenger.com

CLASSIFIED ADS

Deadlines: Groveport and West editions, Wednesdays at 5 p.m., • South/Canal Winchester, Grove City, Madison editions, Tuesdays at 5 p.m.

All editions by phone, Tuesdays at 5 p.m. • Service Directory, Tuesdays at 5 p.m.

xEmployment

NOW

HIRING

All Shifts

Apply in person at

3301 Toy Rd., Groveport, OH

or online at

skfoodgroup.com

Rates starting at $15 up to $30/hr.

Depending on skillset

Come Join Our Team!

ASSOCIATION ADS

Wants to purchase minerals

and other oil and gas

interests. Send details to

P.O. Box 13557, Denver,

CO. 80201

Thinking about installing

a new shower? American

Standard makes it

easy. FREE design consulation.

Enjoy your

shower again! Call 1-

833-769-0995 today to

see how you can save

$1,000 on installation, or

visit www.newshowerdeal.com/mac

Long Distance moving.

Call for a free quote from

America's Most Trusted

Interstate Movers. Let us

ASSOCIATION ADS

Replace your roof with the

best lookng and longest

lasting material! Steel

from Erie Metal Roofs!

Three styles and multiple

colors available.

Guaranteed to last a

lifetime! Limited Time

Offer - $500 Discount +

Additional 10% off install

(for military, health

workers & 1st responders)

Call Erie Metal Roofs: 1-

855-338-4807

ENJOY 100% guaranteed,

delivered-to-the-door Omaha

Steaks! Get 8 FREE Filet

Mignon Burgers! Order the

Delightful Gift this holiday

season - ONLY $99.99 CALL

1-888-409-0645 and mention

code 65658LQY or visit

www.omahasteaks.com/

thegift1107

Looking for assisted living,

memory care, or

independent living? A

Place for Mom simplifies

the process of finding

senior living at no cost to

your family. Call 1-833-

910-1576 today!

Donate Your Car To

Veterans Today! Help and

Support our Veterans.

Fast - FREE pick up.

100% tax deductible. Call

1-800-245-0398

NEED IRS RELIEF

$10K-$125K+ Get Fresh

Start or Forgiveness.

Call 1-844-431-4716

Monday through Friday

7am-5pm PST

ASSOCIATION ADS

The bathroom of your

dreams for as little as

$149/month! BCI Bath &

Shower. Many options

available. Quality

materials & professional

installation. Senior &

Military Discounts

Available. Limited Time

Offer - FREE virtual inhome

consultation now

and SAVE 15%! Call

Today! 1-877-540-2780

Aloe Care Health, medical

alert system. The most

advanced medical alert

product on the market.

Voice-activated! No wi-fi

needed! Special offer-call

and mention offer code

CARE20 to get $20 off

Mobile Companion. Call

today-1-877-728-4065

Wesley Financial Group,

LLC Timeshare Cancellation

Experts Over

$50,000,000 in timeshare

debt & fees cancelled in

2019. Get free

informational package &

learn how to get rid of

your timeshare! Free

consultations. Over 450

positive reviews. 888-965-

0363

Stroke & Cardiovascular

disease are leading

causes of death according

the AHA. Screenings can

provide peace of mind or

early detection! Call Life

Line Screening to

schedule a screening.

Special offer 5 screenings

for $149.. 1-833-549-4540

NOW HIRING BUS DRIVERS

$19.00 an Hour

CDL Drivers get $2,000 Sign On Bonus

Non-CDL $1,000 Sign On Bonus

Paid Training

Apply @ 4400 Marketing Pl., Groveport (Door 16)

or http://careers.nellc.com/

614-836-4962

ASSOCIATION ADS

Become a Published

Author. We want to Read

Your Book! Dorrance

Publishing - Trusted by

Authors Since 1920

Book manuscript submissions

currently being reviewed.

Comprehensive Services:

Consultation, Production,

Promotion and Distribution. Call

for Your Free Author's Guide 1-

866-482-1576 or visit

http://dorranceinfo.com/macnet

Internet &WIFI Starts at

$49 Call us Today to Get

Started. Find High-Speed

Internet with Fiber Optic

Technology No Credit

Check, No SSN Required.

Call us Today 866-396-

0515

AMERICAN & FOREIGN

CLASSIC CARS AND

MOTORCYCLES

WANTED. $$PAYING

CA$H$$ Corvettes,

Mustangs, Jaguars, Austin

Healeys, Broncos,

Blazers, Ram Chargers,

AMX, and Triumphs

KRMiller1965@yahoo.com

717-577-8206

Paying top cash for men's

sportwatches! Rolex,

Breitling, Omega, Patek

Pillippe, Heuer, Daytona,

GMT, Submariner and

Speedmaster. Call 833-

603-3236

Stop worrying! SilverBills

eliminates the stress &

hassle of bill pmts.

Household

bills

guaranteed to be paid on

time as long as

appropriate funds are

available. No computer

necessary. Free trial/

custom quote 1-855-703-

0555

ASSOCIATION ADS

HughesNet - Finally, superfast

internet no matter

where you live. 25 Mbps

just $59.99/mo! Unlimited

Data is Here. Stream

Video. Bundle TV &

Internet. Free Installation.

Call 866-499-0141

Business Owners.

Eliminate credit card

processing fees 100%,

pass on a legal 4% noncash

charge to the

customer. Chain stores

welcome. 337-849-8083

DENTAL INSURANCE

from Physicians Mutual

Insurance Company.

Coverage for 350 plus

procedures. Real dental

insurance - NOT just a

discount plan. Do not wait!

Call now! Get your FREE

Dental Information Kit with

all the details! 1-877-553-

1891

www.dental50plus.com/

macnet#6258

Stroke & Cardiovascular

disease are leading

causes of death according

the American Heart

Association. Screenings

can provide peace of mind

or early detection! Call

Life Line Screening to

schedule your screening.

Special offer - 5

screenings for $149. 1-

866-518-8391

Become a Published

Author. We want to Read

Your Book! Dorrance

Publishing Trusted by

Authors Since 1920

Consultation, Production,

Promotion and Distribution.

Call for Free Author's Guide

1-833-719-3029 or visit

http://dorranceinfo.com/acp

Employment

"HELP WANTED"

SIGN

NOT WORKING?

TO ADVER

VERTISETISE

Call Kathy at

The Columbus Messenger

ASSOCIATION ADS

HOME BREAK-INS take

less than 60 SECONDS.

Don't wait! Protect your

family, your home, your

assets NOW for as little as

70¢ a day! Call 866-409-

0308

Train online to do medical

biling! Become a Medical

Office Professional at CTI!

Get trained & certified to

work in months! 888-572-

6790. The Mission,

Program Information and

Tuition is located at

CareerTechnical.edu/cons

umer-information. (M-F 8-

6 ET.

GENERAC Standby

Generators provide

backup power during

power outages, so your

home & family stay safe &

comfortable. Prepare now.

FREE 7-yr extended

warranty $695 value!

Request a free quote

today. Call for terms &

conditions. 1-844-334-

8353

Looking for assisted living,

memory care, or

independent living? A

Place for Mom simplifies

the process of finding

senior living at no cost to

your family. Call 1-833-

386-1995 today!

New authors wanted!

Page Publishing will help

self-publish your book.

Free author submission

kit! Limited offer! 866-

951-7214

614-272-5422

ASSOCIATION ADS

take the stress out of

moving! Speak to a

relocation specialist! Call:

888-721-2194

Don't let the stairs limit

your mobility! Discover

the ideal solution for

anyone who struggles on

the stairs, is concerned

about a fall or wants to

regain access to their

entire home. Call

AmeriGlide today! 1-844-

317-5246

Update your home with

beautiful new blinds &

shades. Free in-home

estimates make it

convenient to shop from

home. Professional

installation. Top quality -

Made in the USA. Free

consultation: 877-212-

7578. Ask about our

specials!

Elminate gutter cleaning

forever! LeafFilter, the most

advanced debris-blocking

gutter protection.

Schedule Free LeafFilter

Estimate today. 15% off

Entire Purchase. 10%

Senior & Military Discounts.

Call 1-855-995-2490

SELL YOUR ANTIQUE

OR CLASSIC CAR.

Advertise with us. You

choose where you want

to advertise. 800-450-

6631 visit macnetonline.

com for details.

The Generac PWRcell, a

solar plus battery storage

system. SAVE money,

reduce your reliance on

the grid, prepare for power

outages and power

your home. Full installation

services available. $0

Down Financing Option.

Request a FREE, no obligation,

quote today. Call

1-855-900-2894

Eliminate gutter cleaning

forever! LeafFilter, the

most advanced debrisblocking

gutter protection.

Schedule a FREE LeafFilter

estimate today. 15% off

Entire Purchase. 10% Senior

& Military Discounts.

Call 1-855-791-1626

LONG DISTANCE MOVING:

Call Today for a FREE

QUOTE from America's Most

Trusted Interstate Movers.

Let us take the stress out of

moving! Call now to speak to

one of our Quality Relocation

Specialists: 877-541-6320

ASSOCIATION ADS

AT&T Internet. Starting

at $40/month w/12-mo

agmt. 1 TB of data/mo.

Ask how to bundle &

SAVE! Geo & svc restrictions

apply. 1-888-796-

8850

Want Faster & Affordable

Internet? Get internet

service today with

Earthlink. Best internet &

WiFi Plans. Call us Today

to Get Started. Ask

about our specials! 866-

396-0515

VIAGRA and CIALIS

USERS! 50 Generic pills

SPECIAL $99.00 FREE

Shipping! 100% guaranteed.

24/7 CALL NOW!

888-445-5928 Hablamos

Espanol

DISH TV $64.99 190

Channels + $14.95 high

speed internet. FREE installation,

Smart HD DVR

included. Free Voice Remote.

Some Restrictions

apply. Promo Expires

1/21/22. 1-833-872-2545

!!OLD GUITARS WANT-

ED!! GIBSON, FENDER,

MARTIN, Etc. 1930's to

1980's. TOP DOLLAR

PAID. CALL TOLL FREE

1-866-433-8277
---
www.columbusmessenger.com

xCome & Get It!

.

COME AND GET IT

Deadlines are Tuesdays by 5 pm.

Call For Publication Schedule 614-272-5422

Need to Get Rid of Something Fast - Advertise It Here For FREE!

FREE Garden Straw for gardens or bedding. Call for appointment for pickup.

Circle S Farms, 9015 London-Groveport Road, Grove City, 43123

Grove City - 614-878-7980

WOOD from two trees that we cut down two years ago. FREE.

Call me and let me know when you canp ick it up.

TH - Canal Winchester - 614-949-8963

Come and Get It! is a bi-weekly column that offers readers an opportunity to pass

along surplus building materials, furniture, electronic equipment, crafts, supplies,

appliances, plants or household goods to anybody who will come and get them - as

long as they're FREE. NO PETS! Just send us a brief note describing what you want to

get rid of, along with your name, address and phone number. Nonprofit organizations

are welcome to submit requests for donations of items.

Send information to The Columbus Messenger, Attention: Come and Get It, 3500

Sullivant Ave., Columbus, OH43204. Deadline is Tuesdays by 5 pm for following

Mondays publication. Messenger Newspapers is not responsible for any

complications that may occur. Please contact us when items are gone. 272-5422

Come & Get It!

xInformation

SCIENTOLOGY CAN HELP YOU

We can give you

1. A higher IQ to handle your problems

2. Higher awareness to get a better job

3. More energy to make more money

4. Better health to breast life

5. Better morale to handle upsets

6. Less despair

7. More life

8. More years to live

Come to our free introductory workshop:

Monday-Friday at 7pm; Saturday & Sunday 2pm.

1266 Dublin Road,Columbus, Ohio 43215

Information

ASSOCIATION ADS

Donate your car to kids!

Fast free pickup running

or not - 24 hour response.

Maximum tax

donation. Help find missing

kids! 877-831-1448

Directv Now. No Satellite.

$40/mo 65 Channels.

Stream news, live

events, sports & on demand

titles. No contract/

commitment. 1-866-825-

6523

GENERAC Standby Generators

provide backup

power during utility power

outages, so your home

and family stay safe and

comfortable. Prepare

now. Free 7-year extended

warranty ($695 value!).

Request a free

quote today! Call for additional

terms and conditions.

1-855-465-7624

ASSOCIATION ADS

IMPORTANT

NOTICE

The following states: CA,

CT, FL, IA, IL, IN, KY,

LA, MD, ME, MI, MN,

NE, NC, NH, OH, OK,

SC, SD, TX, VT and WA

requires seller of certain

business opportunities to

register with each state

before selling. Call to

verify lawful registration

before you buy.

READY TO BUY, SELL

OR RENT YOUR

VACATION HOME OR

HUNTING CAMP?

Advertise it here and in

neighboring publications.

We can help you. Contact

MACnet MEDIA @

800-450-6631 or visit our

site at MACnetOnline.

com

ASSOCIATION ADS

READER

ADVISORY

The National Trade Association

we belong to has

purchased the following

classifieds. Determining

the value of their service

or product is advised by

this publication. In order

to avoid misunderstandings,

some advertisers do

not offer "employment"

but rather supply the

readers with manuals, directories

and other materials

designed to help

their clients establish mail

order selling and other

businesses at home. Under

NO circumstance

should you send any

money in advance or give

the client your checking,

license ID or credit card

numbers. Also beware of

ads that claim to guarantee

loans regardless of

credit and note that if a

credit repair company

does business only over

the phone it's illegal to request

any money before

delivering its service. All

funds are based in US

dollars. Toll Free numbers

may or may not

reach Canada. Please

check with the Better

Business Bureau 614-

486-6336 or the Ohio Attorney

General's Consumer

Protection Section

614-466-4986 for more

information on the company

you are seeking to

do business with.

Looking for auto insurance?

Find great deals

on the right auto insurance

to suit your needs.

Call today for a free

quote! 866-924-2397

Attention oxygen therapy

users! Inogen One G4 is

capable of full 24/7 oxygen

delivery. Only 2.8

pounds. Free info kit.

Call 877-929-9587

ASSOCIATION ADS

BATH & SHOWER UP-

DATES in as little as

ONE DAY! Affordable

prices - No payments for

18 months! Lifetime warranty

& professional installs.

Senior & Military

Discounts available. Call

855-761-1725

VIAGRA & CIALIS! 60

pills for $99. 100 pills for

$150 FREE shipping.

Money back guaranteed!

1-844-596-4376

The Generac PWRcell

solar plus battery storage

system. Save money,

reduce reliance on

grid, prepare for outages

& power your home. Full

installation services. $0

down financing option.

Request free no obligation

quote. Call 1-855-

270-3785

Protect your home w/home

security monitored by

ADT. Starting at $27.99/

mo. Get free equipment

bundle including keypad,

motion sensor, wireless

door & windows sensors.

833-719-1073

DENTAL INSURANCE-

Physicians Mutual Insurance

Company. Covers

350 procedures. Real

insurance - not a discount

plan. Get your free

dental Info kit! 1-888-

623-3036 . www.dental50plus.com/58

#6258

DISH TV $64.99 FOR 190

Channels + $14.95 High

Speed Internet. Free Installation,

Smart HD DVR

Included, Free Voice Remote.

Some restrictions

apply. Promo expires

1/21/22. 1-855-270-5098

PETS

GROOM

-N-

GO

Our Mobile Salon

Comes To You.

Small Dogs Under 30 lbs.

"Gentle Hands for Cold

Noses & Wagging Tails!"

614-804-1615

WANT TO BUY

BUYING VINYL RECORDS.

LPs and 45s - 1950-80s

Rock, Pop, Jazz, Soul.

614-831-0383

WE BUY JUNK CARS

Call anytime 614-774-6797

We Buy Cars & Trucks

$300-$3000.614-308-2626

We Buy Junk Cars &

Trucks. Highest Prices

Paid. 614-395-8775

WANTS TO Purchase

minerals and other oil &

gas interests. Send details

to: P.O. Box 13557,

Denver, CO 80201

VACATION RENTALS

Englewood, Florida

Palm Manor Resort

Within minutes of white

sand Gulf beaches,

world famous Tarpon

fishing, golf courses, restaurants/shopping,

Bush

Gardens. 2 BR 2 BA

condos with all ammenities,

weekly/monthly, visit

www.palmmanor.com

or call 1-800-848-8141

7/4 E/SE

January 9, 2022 - MESSENGER - PAGE 11

xClassified Services

CARPET CLEANING

CARPET CLEANING

Any 5 areas ONLY $75

Home Powerwash $99-$200

614-805-1084

Specializing in Pet Odors

CARPET SALES

CARPET

Gray Saxony

270 sq.ft. w/6 lb Pad

$398.00

Other Carpet AvailableA

Phone or text Ray

740-927-3504

Delivery & Inst. avail.

CLEANING

Looking for Mrs. Clean?

For excellent cleaning serv

at reas. rates w/great refs,

dependable. 10% Seniorr

Disc. Free Est. Also runs

Errands - Gwen 614-226-5229

CONCRETE

AJ's Concrete,

Masonry

Good Work - Fair Prices

Block Foundations

Driveways • Sidewalks

Epoxy/Overlay Floors

Bonded-Ins. • Free Ests.

614-419-9932

www.hastingsnsons.com

Driveways & Extensions

Patio & Walkways,

Porches & Steps,

Garage/Basement Floors

Hot Tub/Shed Pads,

Stamped/colored concrete

Sealing of new &

existing concrete.

FREE ESTIMATES

Contact Adam

614-756-1754

hastingsandsons.

columbus@gmail.com

INFORMATION

1/2 a/m

12/19 A

GUTTERS

Bates & Sons

GUTTER CLEANING

5 ★ Google Reviews

614-586-3417

HAULING

DEAN'S HAULING

614-276-1958

HEATING

HEATING

Complete System Clean & Check

$49.95

Free Carbon

Monoxide Testing

Gas-Oil-Electric Heat/Pumps

All Makes • All Models

45 yrs exp. • Sr. Discount

614-351-9025

INFORMATION

ONLY

$50.00

For This Ad In Our

South/Canal Winchester

& Groveport

For Info Call

614-272-5422

HOME

IMPROVEMENTS

KLAUSMAN HOME

IMPROVEMENT

Siding-Windows-

Doors-Roofing-Soffit-

Fascia-Gutters-Trim

Earn FREE Seamless

Gutters with Siding Over

1000 Sq. Ft.

FREE Shutters with

Soffit & Trim

EPA Certified

Member of BBB

Financing Available

Over 20 yrs exp. • Free Est.

Licensed-Bonded-Insured

Owner & Operator

James 614-419-7500

INFORMATION

LOOK TO

THE PROFESSIONALS

IN OUR

SERVICE DIRECTORY

For Service

"That Is Out Of This World"

12/19 A

1/30 A

HOME

IMPROVEMENTS

SINCE 1973

Phil Bolon Contr.

Windows & Siding

Decks, Kitchens, Baths

Room Additions,

Flooring, Roofing

Bsmt Waterproofing

Deal With Small Non-Pressure Co.

47 Yrs. Exp. - Refs. Avail.

Lic.-Bond-Ins.

Free Est. - Financing Avail.

Member BBB Of Cent. OH

O.C.I.E.B. ID #24273

614-419-3977

or 614-863-9912

C&JHandyman

Services LLC

Minor Plumbing

& Electric

Install Hot Water Tanks,

Dishwashers & Disposals

Also Fencing &

Interior/Exterior Painting

Free Est. ~ 18 Yrs. Exp.

CDC/EPA Approved Guidelines

614-284-2100

LAWN CARE

LET US MAINTAIN

YOUR LAWN & GARDEN

FOR YOU

Summer, Spring,

Winter or Fall

WE DO IT ALL!!!!

Lawn Cuts, Edging,

Trees & Shrubs, Garden,

Mulching, Hauling,

Garden Pond &

Home Maint.

Free Ests. Low Rates

$20 & Up

Kevin - 614-905-3117

MOVING

Aaron Allen

Moving

Local Moving since 1956

Bonded and Insured

614-299-6683

614-263-0649

Celebrating

over 60 yrs

in business

PAINTING

A Job Well Done Again

A lic. General Contractor

Some Skilled Services

Incl: Painting • Stucco,

Repair•Carpentry•Exterior

Drainage & Home Maint.

Call Today! 614-235-1819

INTERIOR PAINTING

'Affordable - Top Quality

30 yrs. exp.

614-369-9380

BRYAN PAINTING

Interior/Exterior Painting

Drywall Repair, Staining

& Gutter Clean-outs

330-775-9421

Classified Services

12/19

A/M

11/7 A

12/19 A&M

PLASTERING

DRYW

YWALL ALL &

PLASTER

1/30

A&M

REPAIR

AIR

Textured Ceilings

614-551-6963

Residential/Commercial

BIA

PLUMBING

All About Drains & Plumb.

Will snake any sm drain

$145. 614-778-2584

MYERS

PLUMBING

Exp. Expert Plumbing

New Work & Fast Repairs

Lic. - Permit Available

Water • Sewer • Gas

614-633-9694

CHRIS'

PLUMBING

"Plumbing & Drain Professional

That You Can Count On"

24 Hrs., 7 Days/Week

No Overtime Charges

24 Yrs. Exp. in Plumbing &

Drain Cleaning Field

Call For A Free Phone Estimate

$100.00 For Any Small Drain

614-622-4482

30% OFF with AD

POWERWASHING

Bates & Sons

Soft Wash & Powerwash

5 ★ Google Reviews

614-586-3417

SEWING MACHINE

REPAIR

REPAIR all makes 24 hr.

service. Clean, oil, adjust

in your home. $49.95 all

work gtd. 614-890-5296

SNOW REMOVAL

GOOD NEIGHBORS

LAWN CARE

WINTER IS COMING!

"Leave Snow Removal To Us"

SNOW REMOVAL &

SALT SPREADING

Taking on New Accounts In The Area

Servicing Resid. & Comm.

12/19

Free Estimate E/SE

614-238-9237

614-937-0658

Ask For Bob

TREE SERVICES

BURNS TREE SERVICE

Trimming, Removal &

Stump Grinding.

614-584-2164

Brewer & Sons Tree Service

• Tree Removal

• Tree Trimming 11/21

A&M

• Stump Grinding

• Bucket Truck Services

Best Prices • Same Day Service

614-878-2568

12/19 A&M

1/30 A
---
PAGE 12 - MESSENGER - January 9, 2022

Heating assistance

The AEP Ohio Neighbor to Neighbor Program is now accepting

applications for utility assistance grants for the 2021-22 winter

heating season.

Through a partnership between AEP Ohio and Dollar Energy

Fund, the Neighbor to Neighbor Program supports families in need

with a grant applied directly to their AEP Ohio account to prevent

disconnection of, or to restore their electric service. Heating assistance

is available once per program year on a first-come, first-served

basis. Eligible account holders may apply through April 30, 2022,

while funds are available.

"We're committed to providing assistance to those who may be

struggling to make ends meet whether it is due to job loss or unexpected

expenses," said Brian Billing, energy efficiency consumer

programs manager for AEP Ohio. "Through this heating program,

we can help to ensure our customers, especially the elderly and

those with health problems, can maintain their electric service during

the cold winter months."

Since AEP Ohio and Dollar Energy Fund launched the Neighbor

to Neighbor Program in May 2009, more than $15.6 million in assistance

has been granted to more than 65,000 Ohio households.

To apply, customers may contact one of the AEP Ohio Neighbor

to Neighbor Program's network of more than 120 Ohio communitybased

organizations. To qualify, an applicant's total gross household

income must be at or below 300 percent of the Federal Poverty Income

Guidelines.

Full eligibility guidelines and application instructions can be

found at AEPOhio.com/helpaneighbor.

The AEP Ohio Neighbor to Neighbor Program is funded by public

contributions that are matched dollar-for-dollar by AEP Ohio. Utility

customers may make a contribution through their monthly AEP

Ohio bill. Donations also can be made online at www.AEPOhio.com.

Every donation to the Neighbor to Neighbor Program is used to assist

eligible families residing in Ohio. Every dollar donated to the

Neighbor to Neighbor Program will be matched by AEP Ohio.

For information visit dollarenergy.org.

Our Pictorial Past by Rick Palsgrove

www.columbusmessenger.com

Messenger photo by Rick Palsgrove

Sweepin' Santa helped out 10 years ago

After a long night delivering Christmas presents, Santa Claus relaxed on Christmas Day in 2011 by sweeping

the artificial turf at Canal Winchester High School's Mike Locke Stadium. The three basket sweepers being

pulled by Santa picked up things like leaves, twigs, loose fibers, old mouth guards, hair bands, tape and

other assorted debris. The turf was installed in 2010.

Protect yourself from

title theft and fraud

Franklin County Auditor Michael

Stinziano launched a new Property eAlert

system that helps protect homeowners from

title theft and fraud.

The auditor's Property eAlerts notification

system is a free service that allows

property owners to sign up to receive an

email alert whenever a change is made to

the owner name, address, or appraised

value associated with a property's record.

The Property eAlerts system is integrated

into the office's real estate record database

and provides registered homeowners with

immediate notification of a change in their

property's ownership or value.

"The Property eAlerts system is a simple

way to protect homeowners and give them

peace of mind about the security of one of

their most valuable assets," Stinziano said.

The new system addresses concerns

about the security of property deeds and the

threat that a home's title could be stolen by

a fraudulent actor who files a counterfeit

deed and transfers the home out of their

ownership.

In addition to the new eAlerts system, all

property transfers are processed by the auditor's

office and require notarization as a

safeguard against fraud.

Anyone who suspects they are a victim of

fraud can call the auditor's office fraud hotline

at 614-525-7226.

Health literacy grant

Franklin County Public Health, in collaboration

with Nationwide Children's Hospital

and Columbus Public Health, was

awarded a two-year federally-funded $3.99

million health literacy grant from the U.S.

Department of Health and Human Services.

The goal is to reduce Franklin County

COVID-related health disparities and improve

health outcomes among racial and

ethnic minorities, through the implementation

of a community health literacy plan.

"Throughout the COVID-19 pandemic

many of our residents have not had the opportunity

to receive public health information

in a way that is most helpful to protect themselves

and their loved ones." said Joe Mazzola,

Franklin County Health Commissioner.

The plan will be developed through a collaborative

process with nearly 20 community-based

organization and health

partners, including public health, community

health centers, hospitals, and social

service and health worker organizations.

The partners will work together to enhance

existing and future community

COVID-19 messaging to strengthen people's

ability to find, understand, and use information

and services to help them make the

best health-related decisions for themselves

and others. Organizational health literacy

expertise will be fostered using a train-the

trainer model, creating a sustainable infrastructure

supported by tailored health literacy

knowledge and skills development and

supporting resources.