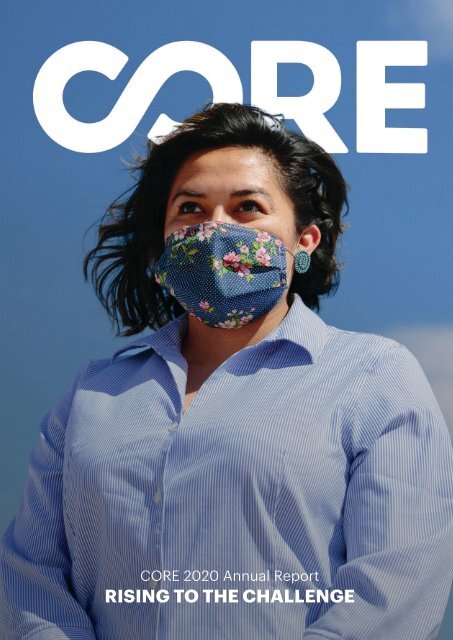 CORE Response - Annual Report 2020
A document summarizing the mission, leadership, and work performed by CORE Response in 2020. In addition to highlighting individuals and communities served, the 2020 Annual Report focuses on transparency through the inclusion of key donors and the standard financial disclosures from the year.
A document summarizing the mission, leadership, and work performed by CORE Response in 2020. In addition to highlighting individuals and communities served, the 2020 Annual Report focuses on transparency through the inclusion of key donors and the standard financial disclosures from the year.
SHOW MORE
SHOW LESS
Create successful ePaper yourself
Turn your PDF publications into a flip-book with our unique Google optimized e-Paper software.
CORE 2020 Annual Report

RISING TO THE CHALLENGE
---
3 www.COREresponse.org

05

MESSAGE FROM LEADERSHIP

06

POINTS OF DISTINCTION

TABLE OF CONTENTS

08

LLOYD BILLY

12

CHRISTY NYEING

18

CARLOS BURGOS

20

DONORS
---
4

INTRO

- OUR MISSION

We empower

communities

in and beyond

crisis.

- OUR VISION

We envision a more

equitable world in which

underserved communities

are prepared and can

effectively respond to crisis

from within.

- OUR VALUES

Empathy

We listen, we learn, and then we

act. Everything we do is driven by

compassion, respect, inclusion, diversity,

and equity.

Community

It begins our name for a reason. Our

efforts revolve around the community.

It's in our staff, teamwork, collaboration

with partners, engagement, and our

integrated approach.

Resilience

Like the communities

we serve, we are

determined and

resolute. We exceed

challenges to get the

job done.

Passion

We are hopeful and

optimistic. We channel our

frustration at injustice and

inequity into action to make

positive things happen.

Preparedness

We are ready to respond at a moment's

notice and scale rapidly. We support

communities to be prepared for the

future and help them pave a road to

long-term recovery.

Adaptability

We are flexible, nimble, and innovative.

We are resourceful. We forge creative

and collaborative solutions and are not

afraid to rethink traditional methods to

support those in need.
---
5 www.COREresponse.org

MESSAGE FROM LEADERSHIP

We could never have predicted what this year has

had in store for us as a country, global community,

and as an organization. At the beginning of 2020,

we were run by a team of less than 10 U.S.-based

staff members. Twelve months later, we are a body

of over 1,500 volunteers and staff spread across the

U.S. battling on the frontlines of a global health crisis.

The COVID-19 pandemic is unlike anything we've

encountered. We, like the rest of the world, were

not prepared for a crisis of this magnitude and

devastation. But as it began to run its calamitous

course, we had to do something. We couldn't sit

idle, knowing that marginalized and vulnerable

communities are often left to fend for themselves in

times of crisis.

CORE sprung forth to do what we know best:

mobilizing communities within their existing structures to provide support during their greatest

times of need. Beginning in Los Angeles in March, we began partnering with local governments

and community partners to administer free tests. Within a matter of weeks, we expanded our

testing program across California, and then the entire nation, to Georgia, Chicago, Detroit, North

Carolina, New Orleans, Washington, D.C., and the Navajo Nation.

We listened and learned, and broadened our COVID-19 relief program to revolve around an

integrated approach inclusive of contact tracing, resource coordination, and supported solutions

for safe quarantine to provide communities with the holistic relief they need.

As the most challenging year of our collective lifetimes comes to a close, we are humbled by

and grateful for your incredible support. It is because of your passionate dedication that CORE is

able to scale and change with the evolving landscape of this crisis. Your generosity and care for

underserved communities continues to inspire hope for what we can accomplish together.

As a new year dawns, our work to protect the most underserved and at-risk communities is far

from over. The coming year will hold some of our most important and urgent work yet. And once

again, we can't do it alone. Together, we will meet this challenge and emerge with a deeper

commitment to our mission.

On behalf of all those we serve, we thank you for your steadfast support.

With gratitude,

Sean Penn & Ann Lee

Co-founders, CORE
---
6

POINTS OF DISTINCTION

In March 2020, CORE partnered with the

City of LA, the Mayor's Office, and LAFD

to begin taking over operations at testing

sites across Los Angeles and allow first

responders to return to their vital work in

the community. By the end of April, CORE

was administering over 6,000 tests per

day citywide.

By May 2020, CORE was operating the

largest testing site in the U.S. in the

parking lot of Dodger Stadium, which at

its height could test 13,000 people daily.

At peak operations, CORE administered

over 40,000 tests per day in Los

Angeles alone and thousands more in

communities across the U.S.

In addition to sustained efforts with

Haiti Takes Root, the School of Hope,

reconstructing the Faculty of Sciences

Department building, and other legacy

programs, CORE provided tailored

COVID-19 relief in Haiti, working with

communities through education,

establishing water stations, and

distributing hygiene kits to support safety

in markets and neighborhoods.

In the void of a unified approach to

battling the pandemic in the U.S., CORE

developed "The CORE 8" as guidelines

for an integrated approach to combatting

COVID-19 for both government and

citizens. CORE also created guides for

widespread replication on how to run

community-based testing operations and

a site manager's manual based on lessons

learned on the frontlines.

To best serve hard-hit and at-risk

communities, CORE adapted its

operations from fixed sites to mobilize

directly to these communities with a fleet

of nimble mobile units providing testing

and wraparound services, such as food,

PPE, and unemployment resources.

As protestors took to the streets against

police brutality and racial injustice, CORE

stationed mobile units in Washington,

D.C., and Georgia to provide free

COVID-19 testing to those exercising their

civic right to safely protest.

Through an integrated approach of testing, contact

tracing, and essential resource coordination, CORE

and its partners helped flatten the curve and slow

the rapid spread of COVID-19 on the Navajo Nation,

which was one of the hardest-hit regions in the world in the spring. In 2020, CORE distributed 30,000 hygiene

kits and built 100 shelters to proactively shield Diné elders and vulnerable family members in overcrowded

households from COVID-19.
---
7 www.COREresponse.org

IMPACT

CORE Internal

Statement of Activities

Your investment helps communities in crisis.

REVENUE

Government Contracts

$37,263,697

48.9%

Contributions and Grants

$38,994,933

51.1%

TOTAL REVENUE

$76,258,630

100%

EXPENSE

Program

$41,875,543.00

86.3%

Management & General

$3,705,653.00

7.6%

Fundraising

$2,937,691.00

6.1%

TOTAL EXPENSES

$48,518,887.00

100%

CHANGE IN NET ASSETS $27,739,743

Total Assets $34,420,311

Total Liabilities $5,239,778

Fund Balance $29,180,533
---
8

LLOYD BILLY

Family is everything

in Diné culture.

For Lloyd Billy, when a piece of his everything was stolen by COVID-19,

he was determined to do something.

In the spring of 2020, no place was hit harder by COVID-19 in the

United States than Navajo Nation. The 17.5 million-acre Indigenous

territory, which spans across the Southwest, held the nation's highest

case positivity and death ratios. It was during that devastating first

wave that Lloyd Billy lost his sister.
---
9 www.COREresponse.org
---
10
---
11 www.COREresponse.org

"I came on this job for a reason,"

said Lloyd. "I had to do something.

I'm a carpenter and I love

building. I was so happy to find

this job because I could finally do

something to help. This is what I do

and this is what I'm about."

"Her whole family got it, but the rest of

them recovered. She went to the hospital

and stayed there for a month, then she got

worse," said Lloyd. "That was one of the

worst feelings, being so helpless. You can't

visit, you can't comfort her."

A month after the tragic loss of his kin,

Lloyd joined CORE as head foreman of the

Shielding Shelter team building shelters to

provide multigenerational, overcrowded

houses with auxiliary space to proactively

shield elders and vulnerable family members

from COVID-19 and quarantine when

needed.

With our partners at the Navajo government,

Johns Hopkins Center for American Indian

Health, Protect the Sacred, and other local

organizations, CORE's integrated relief

efforts helped flatten the curve and slow the

rapid spread of COVID-19 on the reservation

through a combination of testing, tracing,

and wraparound services, including

shelters and hygiene kits, to address

widespread lack of infrastructure.

The success of the efforts was fueled

by inspired local staff, who worked

tirelessly to provide resources to protect

their fellow Diné community members,

especially their beloved elders, and keep

their culture alive during the pandemic.

For many, like Lloyd, it was more than a

job. It was everything.

"I want each shelter to be the best it can

be for these families. When I see the

purpose of something then I pour all my

effort into it," Lloyd said. "If it comes from

your heart, you don't get tired as fast. If

your mindset is there, physically it just

comes naturally. And when you love what

you're doing, time flies."
---
12

CHRISTY NYEING

For Christy Nyeing,

community is at the

heart of who she is.

Christy's childhood was marked by extreme adversity. She grew up in a refugee camp in

Thailand, where she and her family had no electricity, no access to healthcare and suffered

from malnutrition. Her mother abandoned their family and Christy had to step up to raise

her younger sister and two younger brothers. While Christy's father worked, she cleaned,

cooked and managed the household. But Christy didn't do it alone.

"I always had help from the camp community," said Christy. "We were there for each other

no matter what. Despite all the challenges we faced, I always felt so grateful for that. They

were my family."

This compassion is what inspired Christy to pursue a career in health education when

she came to the U.S. as a refugee in 2011. It is also why she joined CORE to work on the

frontlines at a COVID-19 testing site in Georgia.

"When the pandemic hit, I immediately wanted to do everything I could to help my

community and pay forward the kindness I had received as a child," Christy said. "I am so

happy I have the opportunity to give back and play a role fighting the biggest health crisis

of our time."

Christy saw a CORE job posting for a Burmese speaker and joined the team immediately

in the summer of 2020. As a full-time student at Georgia State University studying

public health, she worked in between classes, helping the CORE team at the Clarkston

site translate for Myanmar refugees who needed COVID tests. Clarkston is a small town

in DeKalb County that is home to refugees from over 60 countries, including Bhutan,

Eritrea, Somalia, Liberia and Vietnam. Because of Christy's background, she was uniquely

positioned to provide access to CORE's life-saving services for this underserved and

vulnerable population.

Christy currently works with CORE Georgia as an Assistant Site Manager on one of CORE's

DeKalb County mobile units. This site offers free COVID-19 tests and vaccinations for highrisk

communities.
---
13 www.COREresponse.org
---
14
---
15 www.COREresponse.org

"This work is so incredibly

fulfilling," Christy said. "But it's

also an opportunity for me to

learn from and network with

healthcare professionals. It's my

goal to return to Thailand after

college so I can teach health

classes at refugee camps like the

one where I grew up. As part of

the CORE team, I feel like I am

one step closer to realizing that

dream every day."
---
16

39.000

Single day testing

capacity for Los Angeles

including 13,000 tests at

Dodger Stadium alone

49

Testing Sites across the

country, including

36 mobile units

6.500

NAVAJO NATION

30.000

Hygiene kits distributed

100

Temporary dwellings built

Testing Events supported

across the U.S.
---
17 www.COREresponse.org

OUR IMPACT

3.800.000

Free tests administered

nationwide

1.500

2.000

Volunteers and Staff

joined together in the

fight against COVID-19

Home visits to

COVID-positive Fulton

County residents for

contact tracing, resource

coordination, or in-home

testing of household

contacts

HAITI
---
18

CARLOS BURGOS

In 2020, life was

flipped upsidedown

for people across the world. It was too for Carlos Burgos, in a

way he never could have imagined when he was living on Skid

Row.

What Carlos thought would be a short break became over a

decade of homelessness, addiction, stab and bullet wounds,

jail visits, daily struggles to find food, and long nights sleeping

in a tent with one eye open, awaking some mornings with all his

belongings gone.
---
19 www.COREresponse.org

"It had me hit rock bottom. I was there, feeling

hopeless without my family, struggling every

day," said Carlos. "Skid Row was kind of like

quicksand, where you struggle to get out and

you just can't."

When Carlos' legal troubles had him on the

cusp of being sent to a federal penitentiary,

he enrolled in a START (Substance Treatment

and Re-entry Transition) program in jail, which

he refers to as a "reset button." Little by little,

he started to reclaim his life, getting an ID for

the first time in a decade, obtaining financial

support through General Relief, and moving into

a sober living home.

When the pandemic hit, Carlos joined CORE

to fight on the frontlines at COVID-19 testing

sites across Los Angeles, including the nation's

largest site at Dodger Stadium. He also joined

CORE's mobile unit serving the Skid Row

community alongside LAFD.

"It's been incredible

to give back and

be a part of a

group of people

coming together

to shut down this

pandemic. The

energy is amazing."

"It's been incredible to give back and be a part

of a group of people coming together to shut

down this pandemic. The energy is amazing,"

said Carlos. "Being with CORE, I feel what it

is to really be a team, being able to count on

the person next to you. It's like having family,

and that's something that I really never had.

CORE has been the one that has given me that

chance. In my mind, in my heart, because of

CORE I've been able to grow and become a

great person."

As he focuses on furthering his recovery and

personal growth, Carlos' ambitions continue

to burgeon, from having a family and owning

a house, to furthering his education and

continuing to support the community he

called home for many years. Above all, he

wants to inspire others.

"I would like everyone to remember me as a

person that hit rock bottom and changed his

life for the best," said Carlos. "A person that,

through all the things he's been through, still

loves life and really cares about others. And

a person that is willing to go the extra mile to

make things happen, not only for myself but

for others. A person that could. That did."
---
20

DONORS

Thank you

INDIVIDUAL

A. Wong

Adam Hurley

Adrienne Douglas

Ahmed Samad

Aimee and Nick Franz

Al Segel

Alain and Helene Lebleu

Alecia Foster

Aletta Wilson

Alfred Sim

Ana Gomez

Ana Maria and Matthew O'Connell

Andrea Watt

Anette Musich

Angela Shannon

Annabel Mehran

Anne McGlamry

Annmarie Hudson

Anthony Scaramucci

Anthony Zerbe

Arde Bedjanian

Ardis Rubenstein

Arna and David Pillemer

Art Linson and Fiona Lewis

Atia Khan

Barbara Joseph

Bart Walker

Beth Mayer

Beverly and Edward Kim

Bobby Stutzman

Brad Garrett

Brad Gattis

Bradley Skinner

Brandon Creed

Brian Relth

Brooke Adams and Tony Shalhoub

Bruce Martin

Candace Dwan

Carey Donly

Carl and Fenia Hiaasen

Carol Binion

Carol Hermann

Carol Hove-Ahmanson

Carol Lim

Carol Mechanic

Carol Mendelsohn

Caroline Heinz-Youness

Carolyn Deutschman

Carolyn Sax

Carson Boden

Caryl Schratz

Catherine Hardwicke

Catherine Smith

Chal Productions

Charle Thomas

Charles and Karen Julien

Chris Hutchison

Christina Harris

Christina Varotisis

Christine Coulter

Christine Whelan

Christy Rector

Cindy Lopez

Clarke Beauchamp

Clem Shin

Coco Gorodetsky

Courtney Kivowitz

Cynthia Bhimani

Cynthia Boyd

Cynthia Cannam

Cynthia Walton

Dale Cochran

Dan and Catalina Hathaway

Dane Cook

Daniel Foote

Danny Lee

Dave Flinn

David and Kerry Dick

David Bernstein

David Caster

David Derdeyn

David Garcia

David Genson

David Keister

David Matalon

David Resnik

David Sachs

David Shannon

David Swann

Dayle Ahrens

Deborah Martinez

Deborah Sanchez

Deborah Stark

Debra Connor

Diana Baron

Dominique Charmot

Don Collins

Don Hartline

Don Henley

Donald Dolce

Donna Clare Lawson

Donna Karan

Donny Jackson

Doretta Boden

Dwana Bush

Edgar Lo

Edward Haider

Elise Donalson

Elizabeth Hartsel

Elizabeth Porter

Elizabeth Ulmer

Ellen Prenelus

Ellie Kanner

Eric Laug

Eric Smallowitz

Eugene Hawkins

Evander Schley

Everst Lang and Kailash Lang

Farah Peters

Feisal Afzal

Felicia French

Felix Fernandez

Fernando Sulichin

Fox Russell

Frank Mastrobattista

Gary Hurd

Gary Richards

Gasner and Marilyn Guerrier

George Gund

George Thorogood

George Lawes

Gianluca Galtrucco

Glenn Baker

Glenn Fruchtnis

Gloria Williams

Heather Thomas

Helen Schorr

Helmut and Patricia Meissner

Henry Ong

Howard Dessau

Howard Feuerstein

Iris Lee

J. Paschal

Jack Angelo

Jack Dorsey

Jacqui Patterson

Jaka Bizilj

James Burnett

James Henrich

James Hopper

James Kimmel

James Slezak

James Tate

James Williams

Janet Lockhart

Jared Morgenstern

Jarrell Mitcham

Jason Colodne

Jason Gaby

Jason Segel

Jeff and Gisela Friedman

Jeff and Joan Jacobson

Jeffrey C. Rodman and Adrienne

Hirt

Jennifer Ferro

Jennifer Grappone

Jennifer Raymond

Jess Cagle

Jessica Drake

Jim Stebbins

Joan Akalaonu
---
21 www.COREresponse.org

Joanna Samberg

Joanne West

Joe Chapin

Joel Allen

John Baldwin

John Kuehn

John Lamonica

John Macke

John McCulloch

Jon Kilik

Jon Kuyper

Jon Rushing

Jordan Adair

Jordan Goldman

Joseph Donovan

Joseph Pratt

Joseph Sandez

Joshua Vanderberg

Joyce Ferry

Joyce Lee

JT Sharp

Julie Boehning

Justin Wells

K. Maki

Karenn Colby

Karin Slaughter

Kate Davies

Katherine Dempster

Katherine Harmon

Katherine Hirsch-Arndt

Katherine Lyon

Kathryn Geyer

Kathryn Roark

Katie Michael

Keith Addis

Keith Manchester

Kelly Barclay

Kelly Gomez

Ken Lippmann

Ken Nilsen

Kenneth Brown

Kenneth Merten

Kevin Heffernan

Kevin Leong

Kim West

Kimberly Worth

Kristi Haas

Kristieanne Reed

Kurt Dunteman

Lana Nichols

Lance Johnson

Larry Meli

Larry Ranahan

Laura Dunn

Laura Marks

Laura Oberfeld

Laura Wagner

Laurie Cohn

Laurie Neder

Lawrence Schorr

Leisa Winters

Lene Russell

Leslie Wise

Linda Manasee

Linda McBride

Linda Urcioli

Lisa Manzano

Lisa Oropeza

Lisa Partridge

Liz Greenspan

Lon Garwood

Louis Diblosi

Lucy Stutz and

Jared Levine

Luz Thompson

Lynn Brennan

Lynn Goldstein

Lynne Galli

M. Duane Rutledge

Mad Dog PAC

Margaret Amodeo

Margaret Clark

Margaret Dunleavey

Margaret McKay

Margaret Starley

Margarette Macedo

Maria-Loreto Maldonado

Marie-Alise Recasner

de Marco

Marietta Kruells

Marilee Neale

Marilyn M. Ayres

Mark Finucane

Mark Hoppe and

Darlene Reynolds-Hoppe

Mark Mitrovich

Marlena Casellini

Marta Ortega

Martha Chowning

Martha Kennedy

Marty Bartelstone

Marvin Rolnick

Mary Celano

Mary Ellen Callahan

Mary Keymer

Mary Lucille Worth

Max Ruben

Meaghan Register

Melody Beattie

Melonie Kastman

Merla Hubler

Micaela Trumbull

Michael Kidson

Michael Page

Michael Patrick King

Michael Samuels

Michael Thomson

Michael Toibb

Michael Wunderman

Michelle Rado

Mike Clelland

Mike Kurzman

Mike Ruf

Milton Gaines

Mitra Fiuzat

Mona Girodet

Mr Jacobson

Nancy Burnett

Nancy Sanders

Navid Feizy

Neal McDougal

Ngai-Chiu Wong

Nicolaas Arnold

Nicole Jebson

Nora Lewis

Nora Tatar

O. Lebleu

Opal Holley

Pam Sime

Pamela Baron

Pamela Drew

Pamela Levine

Patricia Barron

Patricia Loch

Patricia Plenty

Patricia Rand-Allen

Patricia Salazar

Patton Oswalt

Paul George

Paul Pilcher

Paulette Cavillis

Penelope Coscia

Peter Delgrosso

Phil Sgriccia

Pierre Blondeau

Post Malone

Pratima Naithani

Rachelle Nolan

Rebecca Wilkinson

Regina Jackson

Renda Dowling

Richard Alexander

Richard Robbins

Richard Shor

Richard Sperber

Robert Cardillo

Robert Kaczorowski

Robert L. Hudson

Robert Nevil

Robert Oppenheimer

Robert Ross

Robert Schacter

Roberto Levinson

Robin Quivers

Roger Alexander

Rosetta Getty

Ryan Burdick

Ryan Rothmaier

Ryotaro Kinno

Sally Sussman

Sandra Lyon-Frakes

Sandra Moran

Sandy and Karen Harlow

Sara Freer

Sara Wasserman

Sarah Duncanson

Scot Brewer

Scott Martin

Scott Rimkus

Shantha and Nagaraja

Patil

Shelley Floyd

Sherry Johnson

Sheryl Cooper

Sheryl Shark

Shirley Familian

Simon Tuohy

Simone Orellana

SJ Horton

Smita Nayak

Soleil Moon Frye

Sonya Christensen

Stacy Conner

Stephanie Cutler

Stephen Zimmerman

Steve Burkhalter

Steven Friedman

Steven Horman

Steven Mischel

Steven Zaillian

Susan Sabia

Susan Traylor

Susan Williams

Sushi Beckett

Suzan Hughes

T. Farnsworth and

George Pavlov

Taylor Helgren

Ted Vadakan

Ted Williams

Teresa McGowan

Terri Sheafor

Terry Curtin

The Strelow Family

The Wender Family

Thomas DeGraff

Thomas Lidner

Thor Halvorssen

Tim and Caitlin Frampton

Tim Brennan

Tim Murphy and Kila Hua

Tom Beck

Tom Leclair

Tracy Kroner

Uncle Lefty

Urs Fischer

Valerie Bickell

Valerie Viterbi

Vicki Thompson

Victoria Brown

Vilma Horvath

Vincent Clements

Viola Denson

Wanda Barnett

Wendy Raspanti

Wendy Thomson

Whitney J Jonas

William Brown, IV

William Crain

William Driver

William Howard and

Cindy Pitzer

William Langan

William McKnight

William Pace

William Vohsing

Winnie O'Neill

Yair Greenberg
---
22

DONORS

CORP Fdn

A.C. Israel Foundation, Inc.

Alameda County Health Care Services Agency

Amparano Family Foundation

Anekant Community Center of CA

Apatow-Mann Family Foundation, Inc.

Armin & Esther Hirsch Foundation

Arthur M. Blank Family Foundation

Atlanta Fulton Emergency Management Agency

Bayshore Global Management

Berger Family Foundation, Inc.

Berman Family Fund

Bernstein Wasser Charitable Fund

Blackman Family Foundation

Bremeau Family Fund

California Community Foundation

Charter Oak Fund

City of Chicago Department of Health

City of Clarkston

Cobb/Douglas County Public Health

Columbia Sportswear

Community Partners

Conway Family Charitable Fund

Creative Artists Agency

Dave and Sally Hackel Charitable Fund

Davidson Sandler Charitable Fund

District of Columbia Department of Health

Eastwood Charitable Foundation

Embassy of the State of Qatar

Expedia, Inc.

Falconwood Foundation

Fleischaker Family Foundation

Foundation for the Carolinas

Frank R. And Faye M. Zimmerman Family Fund

Fulton County Board of Health

Gwinnett County Health Department

Hirt/Rodman Family Trust

International Organization for Migration

Jacob Edward Hoffman Philanthropic Fund

Jeff and Sheri Rosenberg Giving Fund

Jesse Parker Williams Foundation

Kathryn Roark

Ladybug Foundation

Lee Ann and Steve VanAmburgh Foundation

Leon and Gloria Pelvin Family Foundation

Leon Lowenstein Foundation

Los Angeles County Department of Health Services

Marilee Neale

Mariposas Hernandez Fund

Maxwell Alexander Gallery

MBMG Media Placement Company

McNamara Charitable Fund

Merrill

Mid-Hudson Kennel Association

MPower

Muller Family Foundation

Munich Reinsurance America Inc

Music Heals Foundation

Nancy and Richard Pine Family Foundation Inc

NantMedia Holdings LLC

Napa Valley Vintners HCF

Neal McDougal

On My Writer's Block Room

Oppenheimer & Co Inc

Paramount Contractors & Developers Inc

R. Anthony & Sheila L. Carter Family Foundation

R. Edward Pfiester Jr. Charitable Fund

Reed-Goldstein Family Fund

Rione St. Andre Family Trust

Robert Half

Sermoonjoy Fund

Snap Genomics Inc.

Snaxational Brands LLC

Southern CA Children's Museum, Inc

Speedy Bee Tees

Steven Horman

Ted Arison Family Foundation

The Begley Family Foundation

The Carell Family Trust

The Carol Moss Foundation

The Conrad Hilton Foundation

The Curran Giving Fund

The David Butler Family Foundation

The Denver Foundation

The Downey Family

The East Grove Fund

The Eisner Foundation Inc

The Entertainment Industry

The Fulk Family Charitable Trust

The Greater New Orleans Foundation

The Home Depot Foundation

The Horowitz Family Memorial Foundation

The Lucy Fund

The Material World Foundation LTD

The Navajo Nation

The Rockefeller Foundation

The Tides Foundation

The Tyler Perry Foundation Inc

The Walt Disney Company Foundation

The Warley Avenue Trust

Thomas Lavin Inc

Turnaround Management Association

UNDP

United Way of Greater Atlanta

Villoutreix Family Charitable Foundation

Walter ED Miller Charitable Fund

William Grant & Sons Inc

WPH Cap Foundation
---
23 www.COREresponse.org
---
24

LEADERSHIP

Sean Penn

Co-Founder & Chairperson of the Board

Ann Lee

Co-Founder & Chief Executive Officer

BOARD MEMBERS

Bryan Lourd

Partner & Managing Director, Creative Artists Agency (CAA)

Soleil Moon Frye

Actor, Director & Author

Fernando Sulichin

Founder of New Element Media, Executive Producer

LT General P.K Ken Keen (Retired)

Leadership Executive, Goizueta Business School at Emory University

Linda Perry

Musician, Songwriter & Producer

Gregory Milne

Chief Metrics and Impact Officer, Clinton Foundation

Paul G. Vallas

Politician & Former Public School Superintendent and CEO

6464 Sunset Boulevard, Suite 530,

Los Angeles, CA 90028

323.934.4400

information@coreresponse.org

@COREresponse

www.COREresponse.org