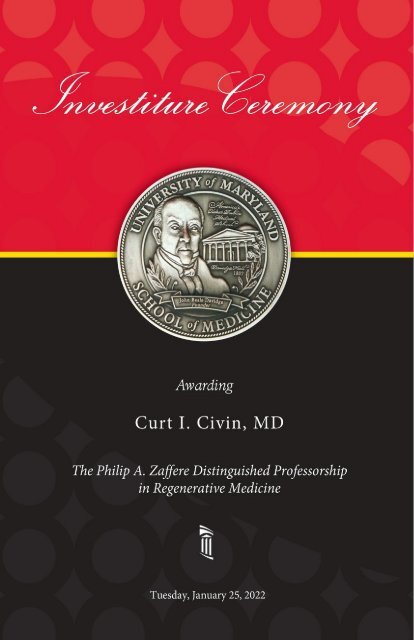 Dr. Civin's Virtual Investiture Program
Create successful ePaper yourself
Turn your PDF publications into a flip-book with our unique Google optimized e-Paper software.
CURT I. CIVIN, MD

Curt I. Civin, MD is a pioneer in cancer and

stem cell research who has received

international acclaim for developing a

technique to isolate stem cells from other blood

cells. His groundbreaking discovery of the

CD34 antibody has had a major and enduring

impact in basic research in stem cell and

leukemia biology and has improved stem cell

transplantation for thousands of patients. Dr. Civin accomplished the rare

feat of making multiple discoveries that are used today not only in laboratory

research but also in clinical bone marrow stem cell transplantation and

leukemia diagnosis.

Dr. Civin is currently a principal or collaborating investigator on several peer

-reviewed research projects funded by the National Institutes of Health, the

State of Maryland Stem Cell Research Fund, and private foundations. Dr.

Civin taught and led research and clinical pediatric oncology and held the

King Fahd Chair in Pediatric Oncology and the Herman & Walter

Samuelson Chair in Cancer Research at Johns Hopkins University School of

Medicine for 30 years before becoming founding director for the University

of Maryland's Center for Stem Cell Biology & Regenerative Medicine and

Associate Dean for Research.

Throughout his career, he has mentored a large number of talented scientists

to pursue academic careers in translational research. He has lectured around

the world, published more than 250 scientific articles and 40 book chapters,

holds numerous biomedical patents, and has served in leadership positions

for multiple distinguished committees and editorial boards. He has received

numerous honors and awards, including the National Inventor of the Year

Award, Leukemia Lymphoma Society's Return of the Child Award,

American Association of Blood Banks' Karl Landsteiner Award, Maryland

Stem Cell Research Fund's John L. Kellerman Memorial Lecture, American

Society of Hematology's Mentor Award, America's Top Doctors Award,

American Association for the Advancement of Science's Fellow Award, and

an Honorary ScD from Amherst College.
---
WELCOME

Mary Pooton

Associate Dean for Development

University of Maryland School of Medicine

James B. Kaper, MD

Vice Dean for Academic Affairs

James and Carolyn Frenkil Distinguished Dean's Professor and Chair

Department of Microbiology & Immunology

University of Maryland School of Medicine

REMARKS

E. Albert Reece, MD, PhD, MBA

Executive Vice President for Medical Affairs, UM Baltimore

John Z. and Akiko K. Bowers Distinguished Professor and

Dean, University of Maryland School of Medicine

DONOR RECOGNITION

E. Albert Reece, MD, PhD, MBA

REMARKS

Cindy Orban

Donor's niece

SPEAKERS

Donald Small, MD, PhD

Kyle Haydock Professor of Oncology

Professor of Oncology, Pediatrics, Cellular and Molecular Medicine, and Human Genetics

Director, Division of Pediatric Oncology

The Johns Hopkins University School of Medicine

Kathleen H. Burns, MD, PhD

Chair, Department of Pathology

Dana-Farber Cancer Institute

Professor of Pathology

Harvard Medical School

Diane Heiser, PhD

Executive Director, Translational Medicine

Prelude Therapeutic

Director, Protein Therapeutics

Valo Health

MEDAL PRESENTATION

E. Albert Reece, MD, PhD, MBA

REMARKS

Curt I. Civin, MD

The Philip A. Zaffere Distinguished Professor of Regenerative Medicine

CLOSING REMARKS

James B. Kaper, MD
---
T

he first endowed professorships were established more than

500 years ago with the creation of the Lady Margaret chairs

in divinity at Oxford and Cambridge Universities. The

original endowed chairs were sponsored by Lady Margaret,

countess of Richmond, and grandmother of Henry VIII in 1502.

Subsequently, private individuals began making financial contributions

to establish other endowed professorships and chairs such as the

Lucasian Chair of Mathematics, which Sir Isaac Newton held beginning

in 1669. Professor Stephen Hawking, the internationally renowned

physicist and recipient of the 2010 US Medal of Freedom, was another

prominent holder of this endowed chair.

The honor associated with appointment to an endowed position has

remained unchanged for the last 500 years and is recognized as one of

the highest tributes that an academic institution can bestow upon its

most distinguished faculty. These endowed professorships and chairs

continue to reward exceptional scholars uninterrupted to the present

time.

The Office of Development is charged with securing private gifts to

ensure the School's tradition of excellence is sustained through robust

research, clinical, and educational programs and initiatives. The

University of Maryland School of Medicine is fortunate to have nearly

85 endowed chairs & professorships in various stages of completion

and held by esteemed faculty members.
---
PHILIP A. ZAFFERE

Philip A. Zaffere was born in Federalsburg,

Maryland, in 1930. Following his father's

serious illness, and in spite of being the

younger son, he left college in his second year

to assume responsibility for the family bakery.

He never completed his college education,

instead worked tirelessly, keeping baker's

hours, with little life beyond the business.

It was his creative, outside-the-box thinking, his relentless ingenuity, his

single-minded conviction that there is always a better, more efficient way

to do everything, that grew a small family bakery into a model of

innovation, with food giants like General Foods relying on his business

for their products. He developed successful formulas for the mass

production of baking crumbs and transformed his family's company into

Shoreman Food Technologies. Under Mr. Zaffere's leadership,

Shoreman—which was ultimately sold to the PET Food Corporation in

1988—became the main supplier for nationwide brands such as Stove

Top Stuffing and Mrs. Paul's frozen foods. While the needs of his

family's business interrupted his own college studies, Mr. Zaffere

maintained a deep and lifelong curiosity for the sciences and engineering

as well as a commitment to supporting education and his community.

Mr. Zaffere was tenacious in his friendships, making endless phone calls

to check in, to pump a friend for the latest news - or gossip; to make sure

they were well and safe. And if he found a need, he'd take care of it. He

paid for medical insurance for a former employee, set up and paid for an

emergency notification device for several friends, hired a driver to take a

friend to appointments at the Wilmer Eye Clinic. He bought lift chairs for

friends and family with mobility issues. Mr. Zaffere had an almost

endless well of compassion. He passed away in January 2016.
---
LOUIS F. FRIEDMAN, ESQ AND

PHYLLIS C. FRIEDMAN, ESQ

Louis and Phyllis Friedman have been generous

supporters of the University of Maryland,

Baltimore (UMB) for over 20 years through their

Louis and Phyllis Friedman Foundation, as well as

other foundations they manage.

They have provided impactful philanthropic

support to the Center for Stem Cell Research and Regenerative Medicine at the

School of Medicine. They established the Emmert Hobbs Fellowship in Stem

Cell Research Endowment, the Herman & Walter Samuelson Foundation Prize

and Lecture, and the Philip A. Zaffere Endowed Professorship in Regenerative

Medicine for the Director of the Center, Dr. Curt Civin. These momentous gifts

complete an entire umbrella of philanthropy that will continue to catalyze

translational research and economic development in the Center in perpetuity.

The Friedman's also established the Robert A. Fuld, M.D, '81 Prize and

Lectureship Endowment in Nephrology at the School of Medicine, named in

honor of their son, who is a nephrologist and a 1981 graduate of the School of

Medicine.

As alumni of the School of Law, they have provided funding to the Erin Levitas

Initiative for Sexual Assault Prevention Endowment, as well as supported the

Capital Campaign Building Fund. They have also supported the School of

Nursing by establishing the Herman & Walter Samuelson Foundation

Scholarship endowment.

Louis and Phyllis Friedman have truly made an impact at UMB by making

foundational contributions to medicine and science. We salute their dedication as

community philanthropists for decades, and we are grateful they have chosen to

partner with us across our mission areas. The University of Maryland, Baltimore

Foundation recognized Louis and Phyllis Friedman for their dedication to higher

education and scientific advancement with the 2021 Distinguished Service

Award.